Power & Glory
London's Docklands is a strange place. I say that having worked there for a while back in the day and lived near London all my life. Packed during office hours, typically empty in the evenings around the office districts, Docklands is kind of the enemy of the car – a place where architecture has organically evolved on a step by step basis, meaning roads snake around buildings, arcing up and round and over and under each other in a forlorn effort to maintain arteries. It's the only place I've been where a Smart just seems like the sensible car to have. Was this really the place for a collection of some of the most beautiful cars on the planet?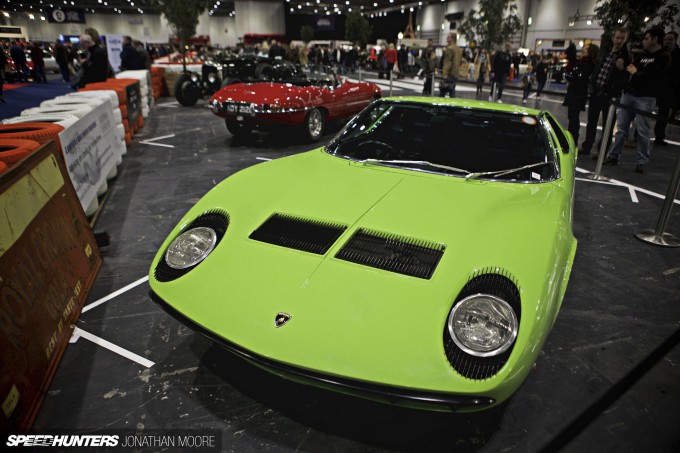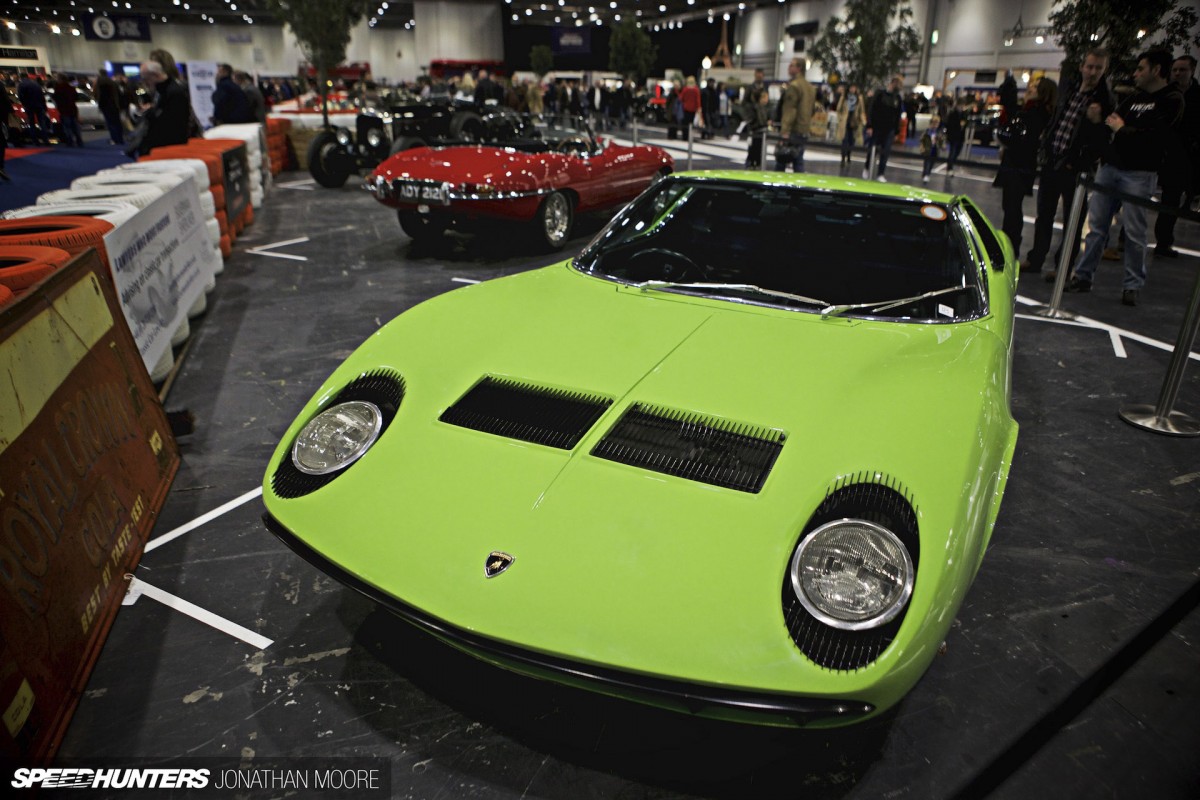 The ExCel London exhibition centre, which squats by the still water of the old Royal Victoria Dock, was home to the inaugural running of the London Classic Car Show. It's a place whose halls are home to a seemingly constant run of boat shows, with the odd major international armaments fair thrown in. So it wasn't a surprise that I was greeted with – of course – hall upon hall of yachts as my friend and I trudged down the endless main thoroughfare in search of the actual car show.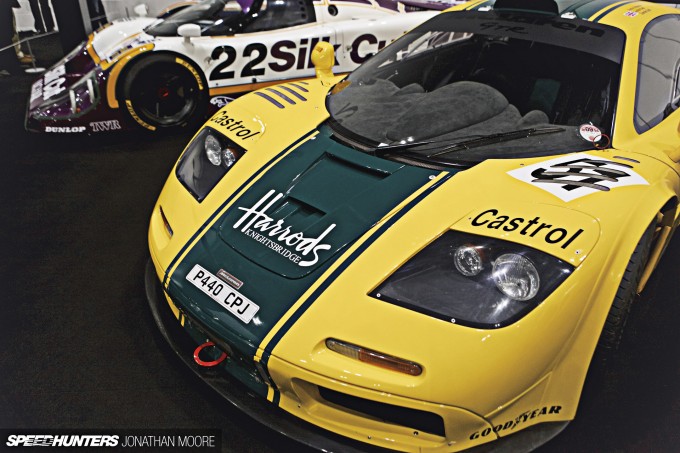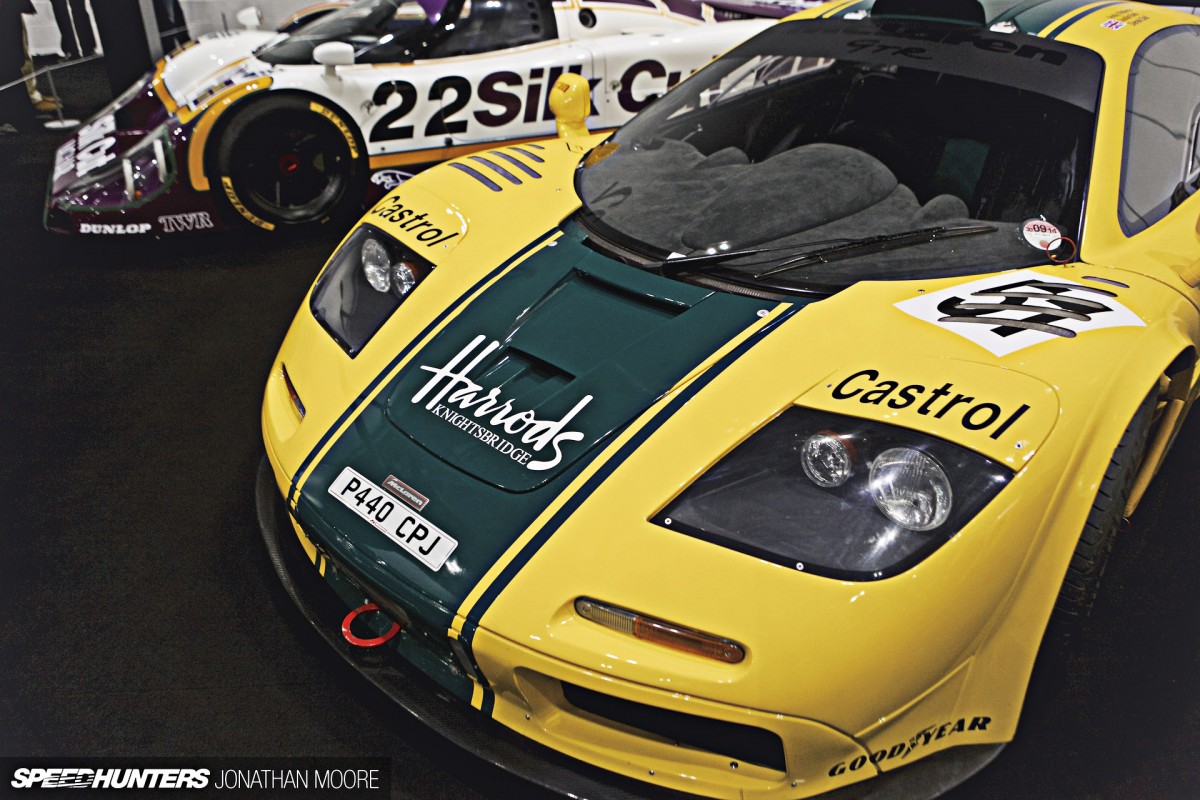 With all the gleaming hulls and flapping sails we passed, I was half expecting a dusty back room with a couple of battered cars and a caretaker in a corner being all surprised that someone had turned up wanting to see a car not a boat.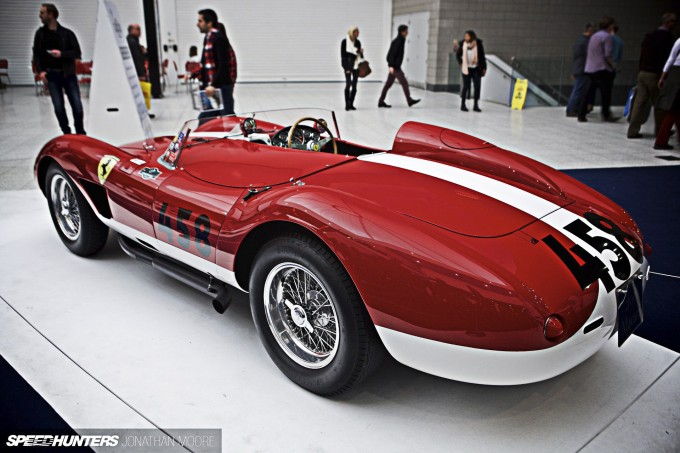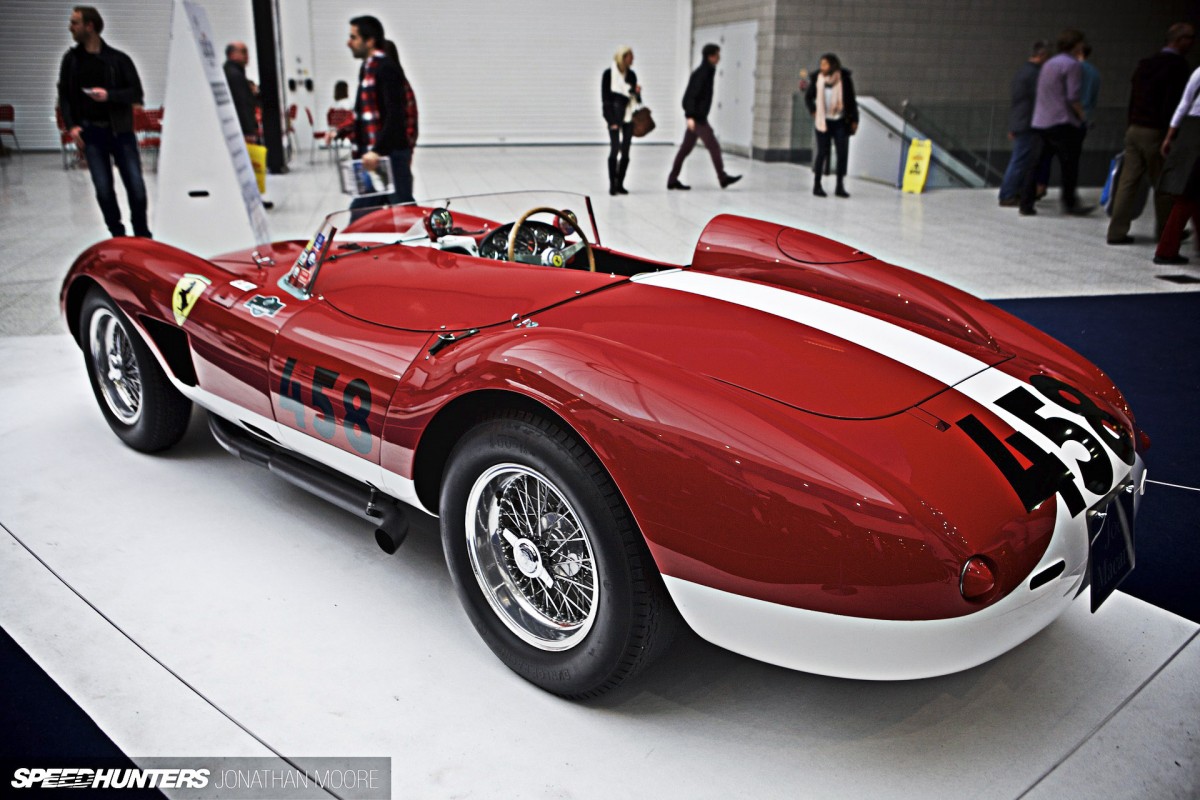 It was slightly more impressive than that.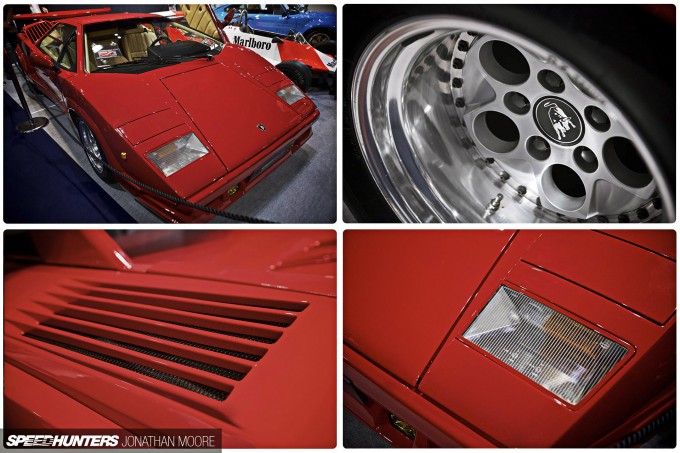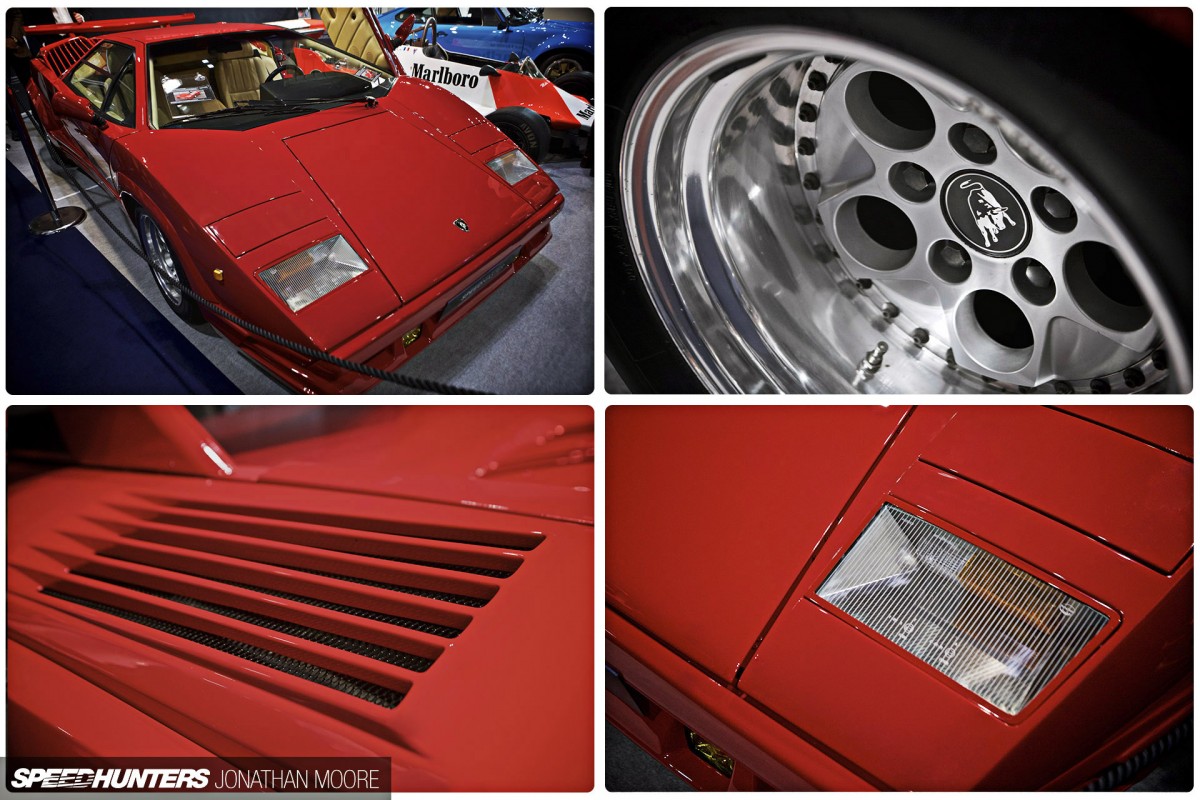 Admittedly, if you were looking for a diverse collection of affordable auto ephemera, this wasn't the place. This show was predominantly about the exclusive and the influential – the cream of the crop, curated from across the decades to display the pinnacle of automotive excellence.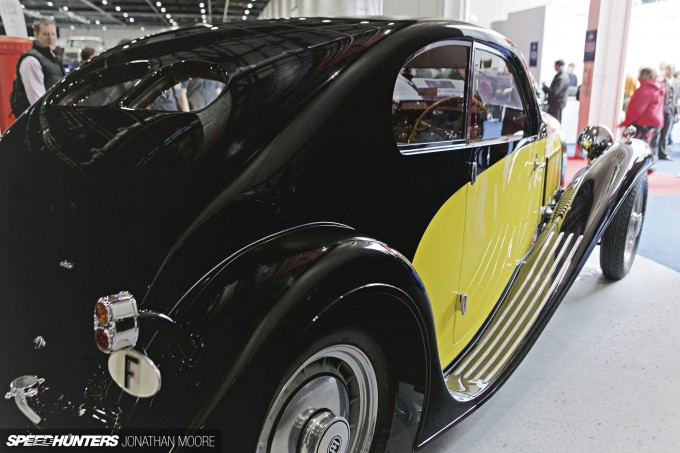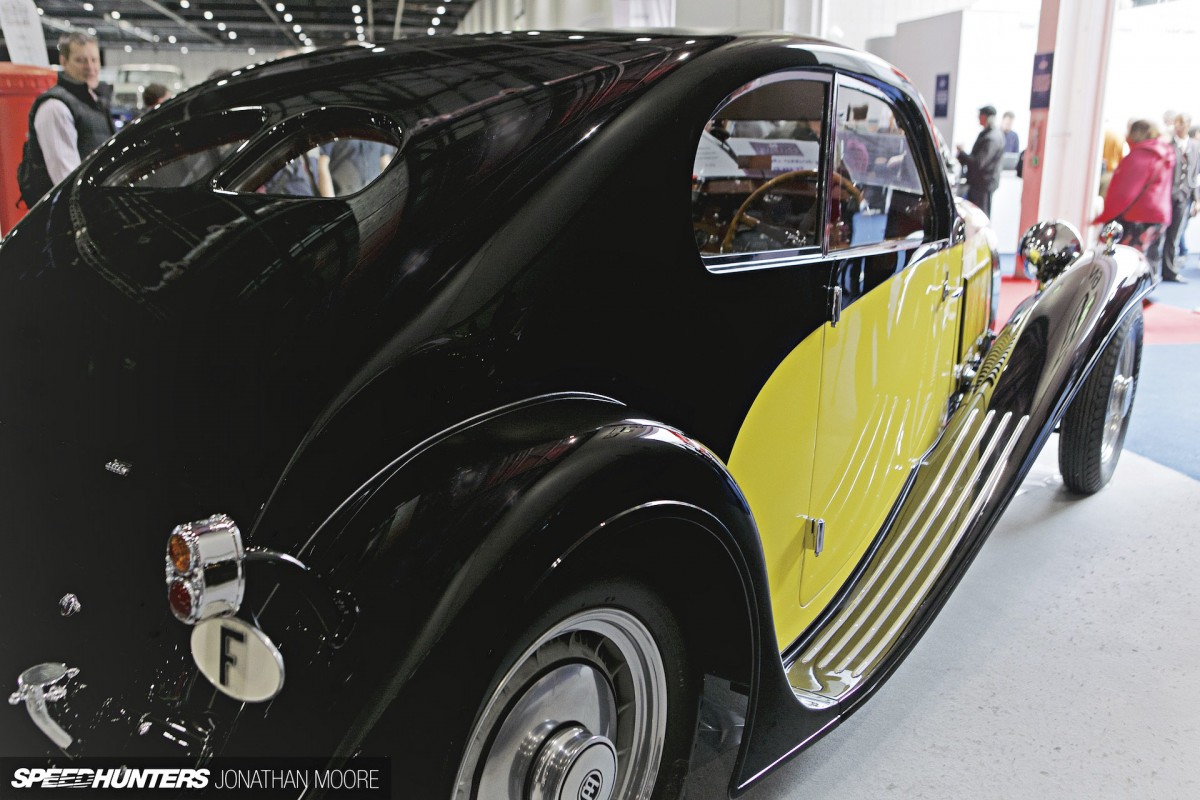 The names on the top of the list were all the ones you'd expect. Ferrari. Bugatti. Porsche. Jaguar. Lamborghini.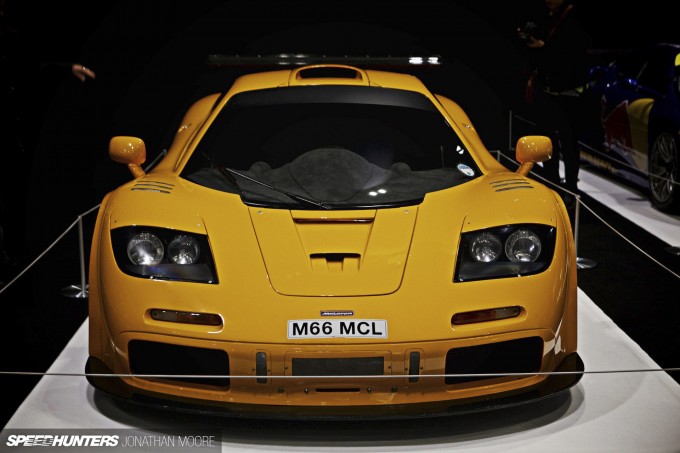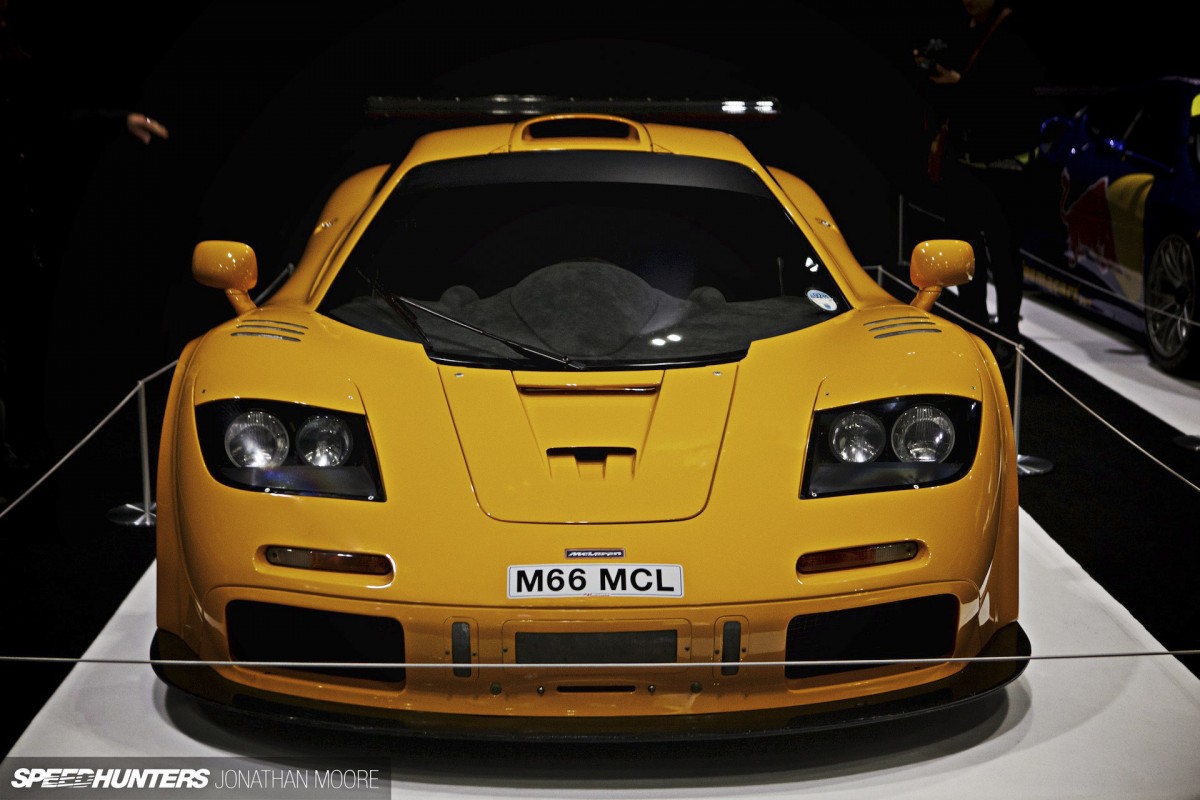 But although the champagne might have been flowing in the VIP area and the cars for sale mostly gave away no prices (suffice to say there would be too many zeroes for our end of the scale), this was a classic car show with a difference. A glorious one, a reminder of the value of automotive times past in aesthetic terms, despite the money undoubtedly flowing through back rooms.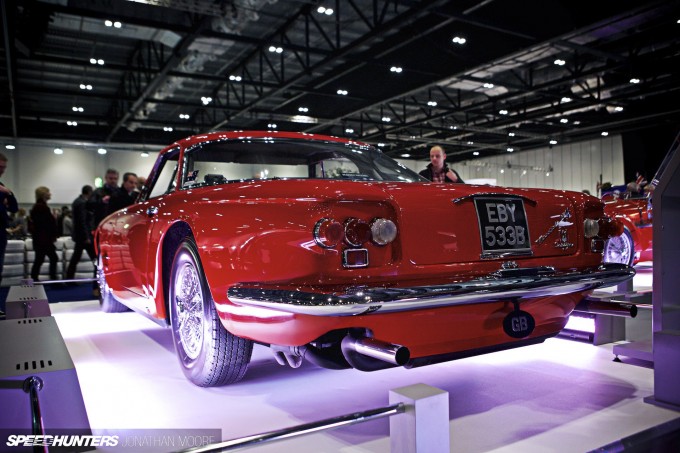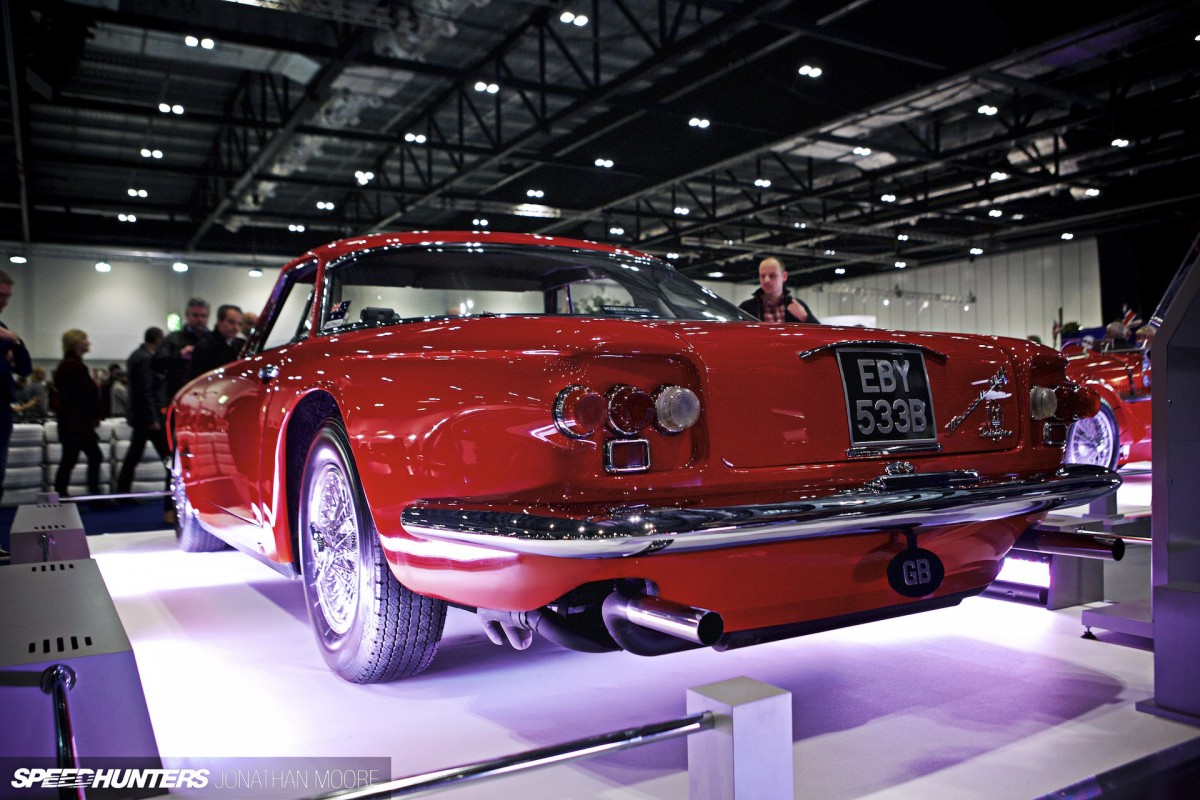 Having scooted back down south after the Autosport Racing Car Show, via a feature car shoot of a Marcos Mantula on the way, the bright white lights, gleaming paintwork and prestigious badges on show at ExCel London were quite the counterpoint.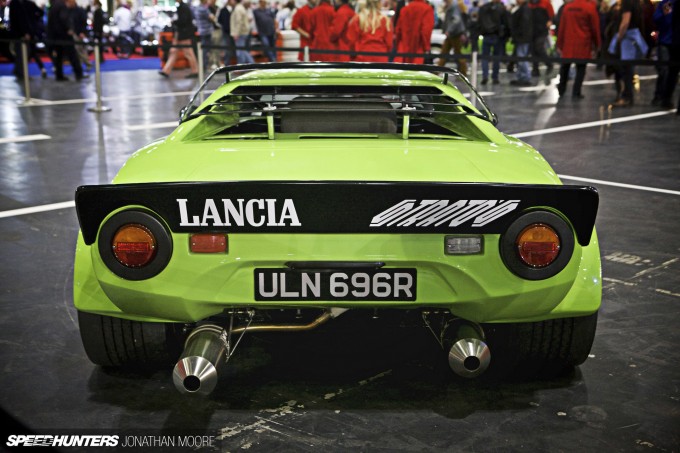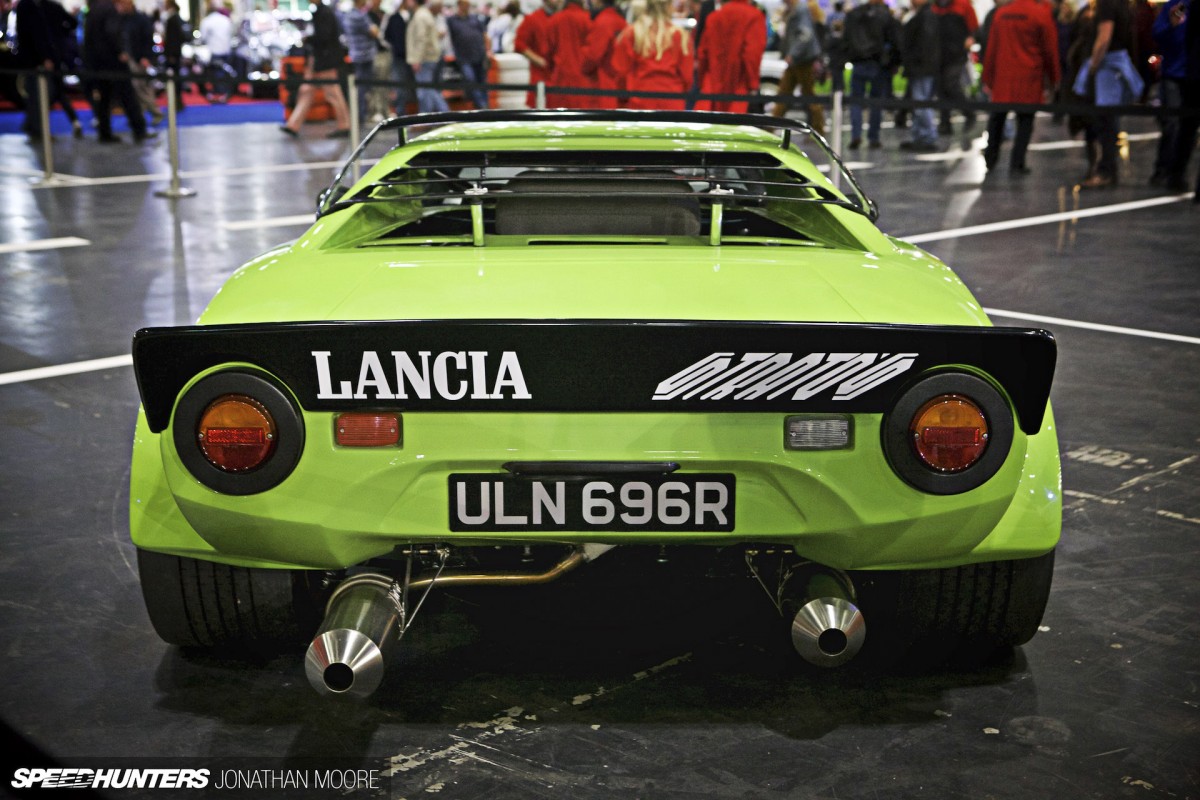 But that's fine. If the Autosport show invigorated me to get out on track more this year (read: even once, such is the hectic nature of Speedhunting), then the London Classic Car Show could be appreciated on a purely superficial, joyful level.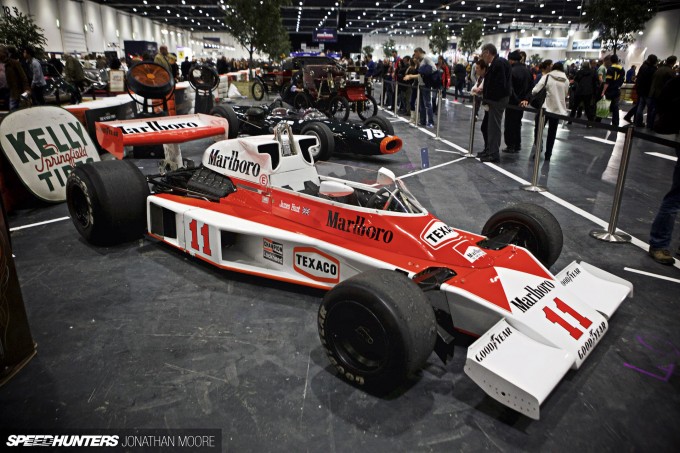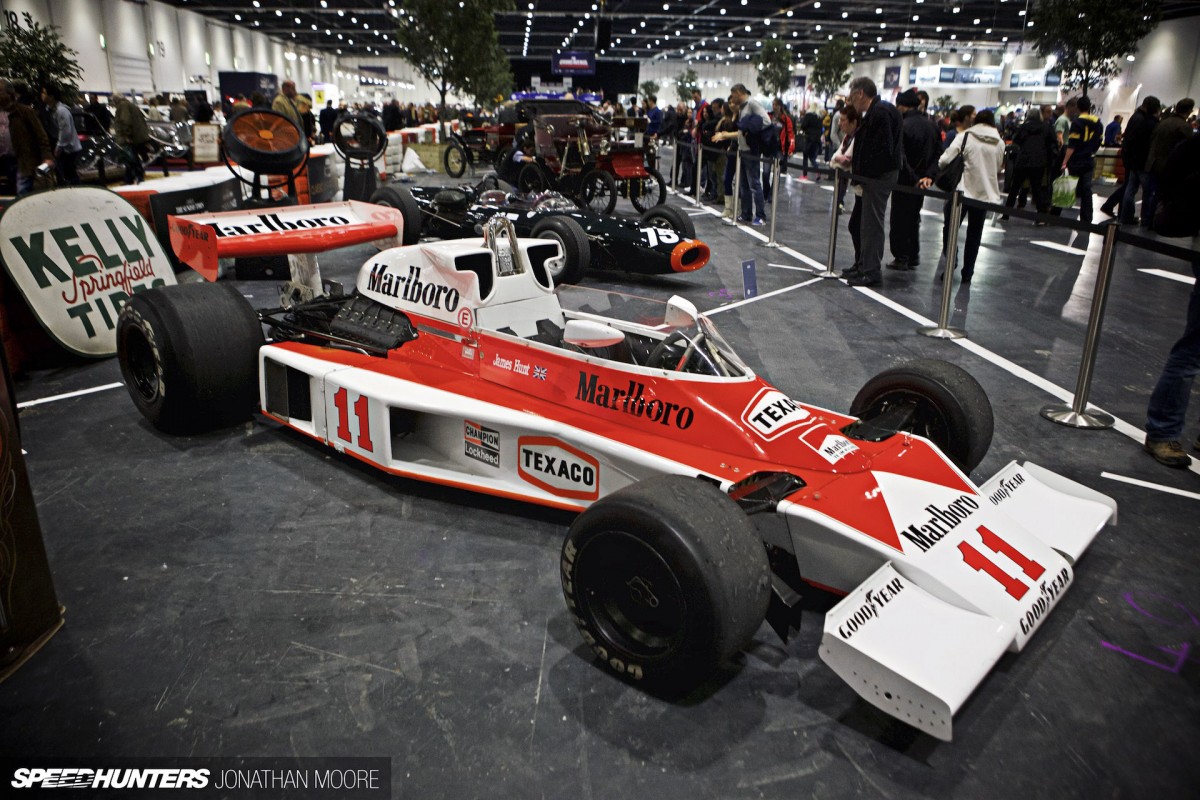 With the slew of historic racers at Autosport there was some crossover in genre terms of course, but generally this was a different affair.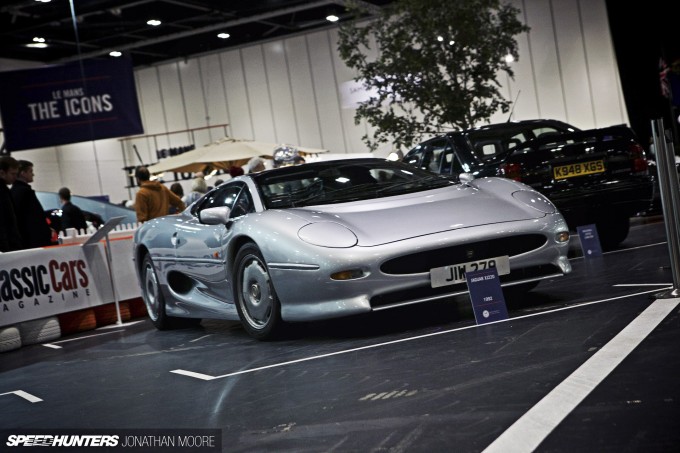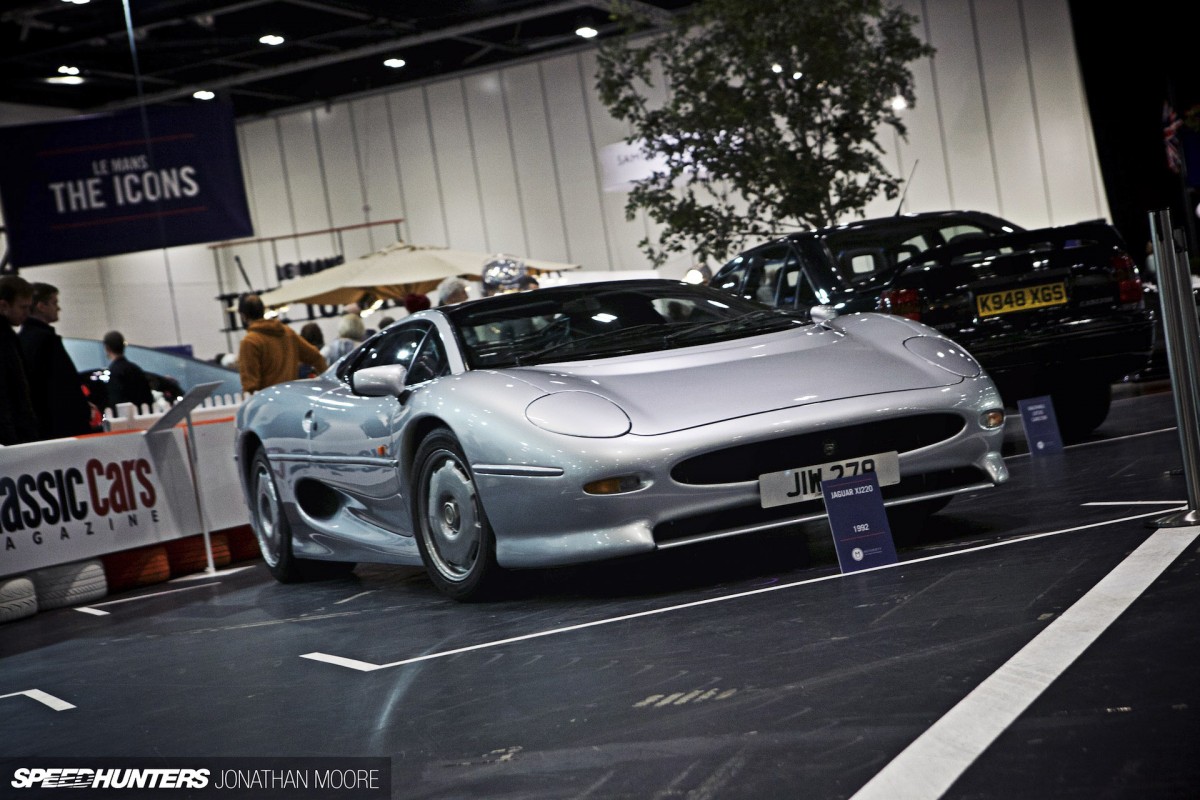 A huge hall full of some of the most stunning, desirable cars there have ever been, from road, track and rally stage – with some surprises thrown in. Yes, this was a place I think we could all deal with.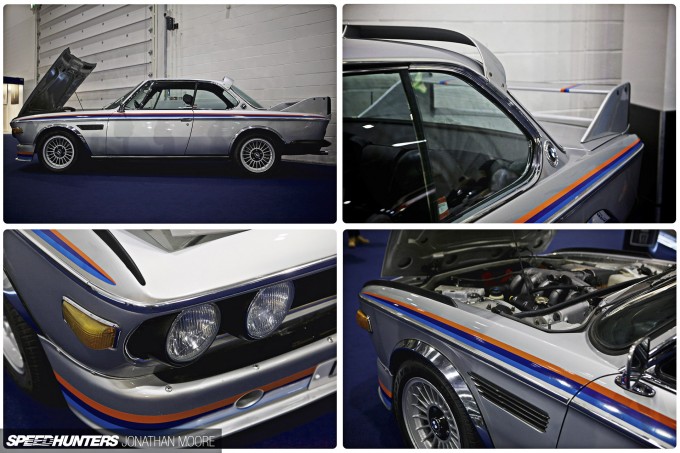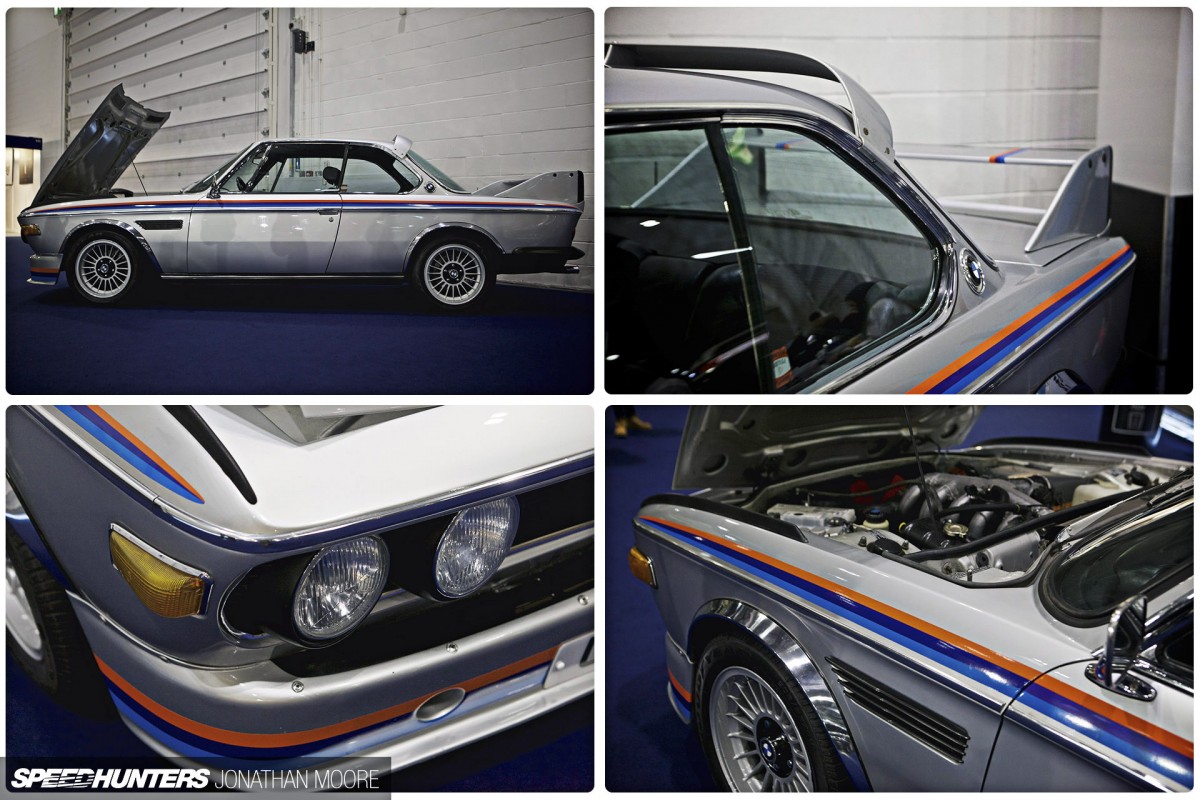 One the surprises was the efforts the organisers had put in to make the show open and inviting, and this was as much for the rest of us as the people who were buying and selling. Virtually everywhere was open access, with some rare and amazing cars sitting pretty in the open for us to gawp over.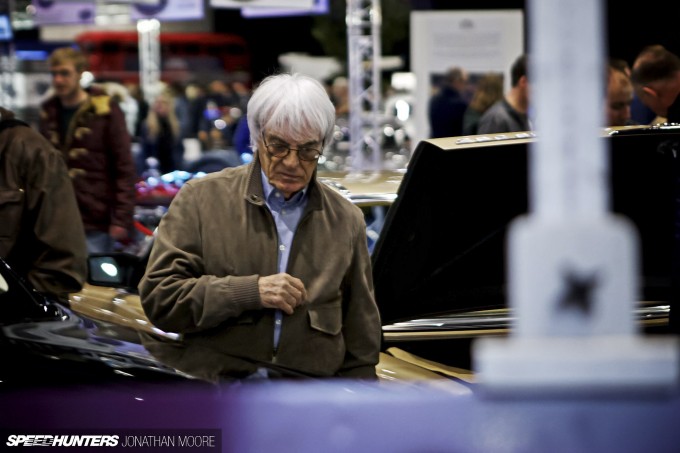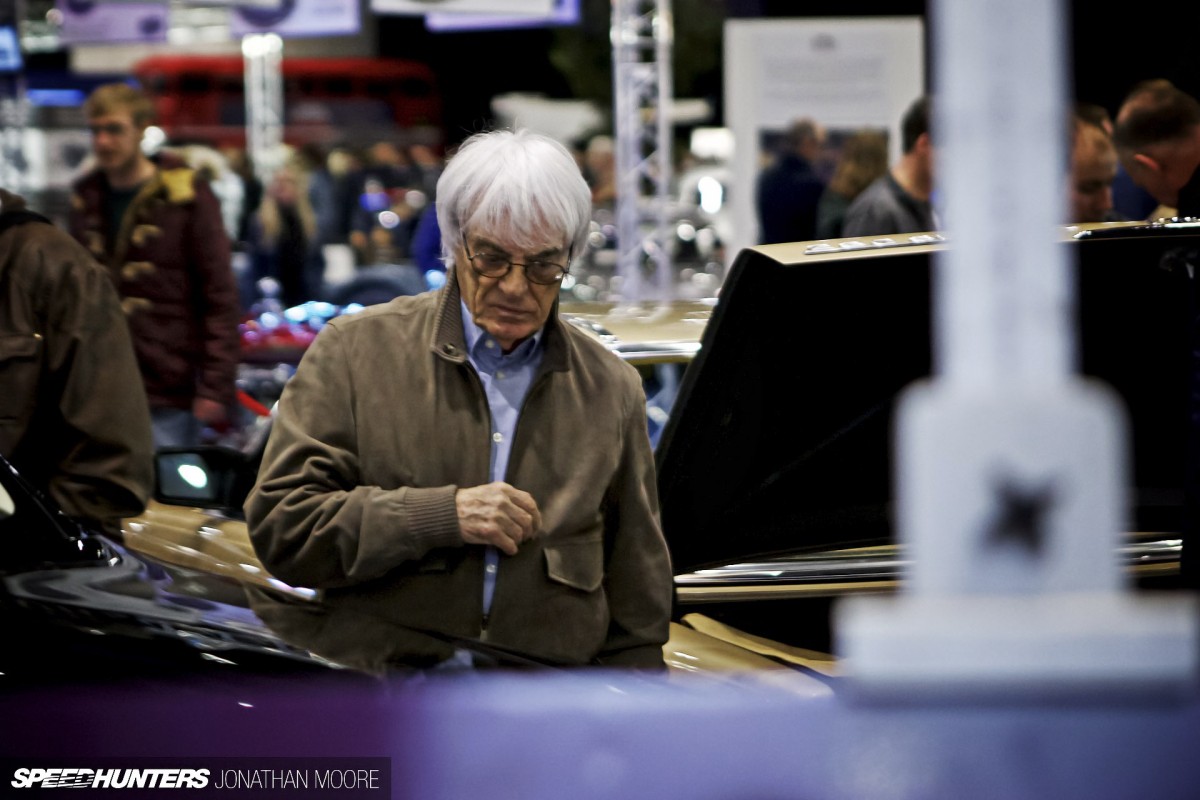 This was not a show just for the rich, elderly gentleman, though there were a number around. I'm sure I recognise the face… Bertie? Brian?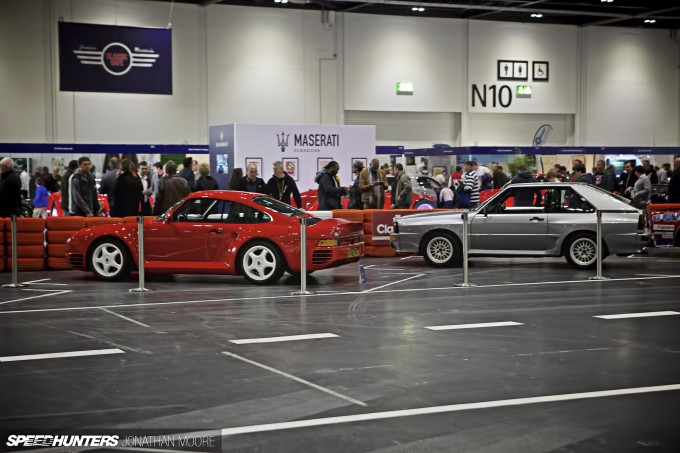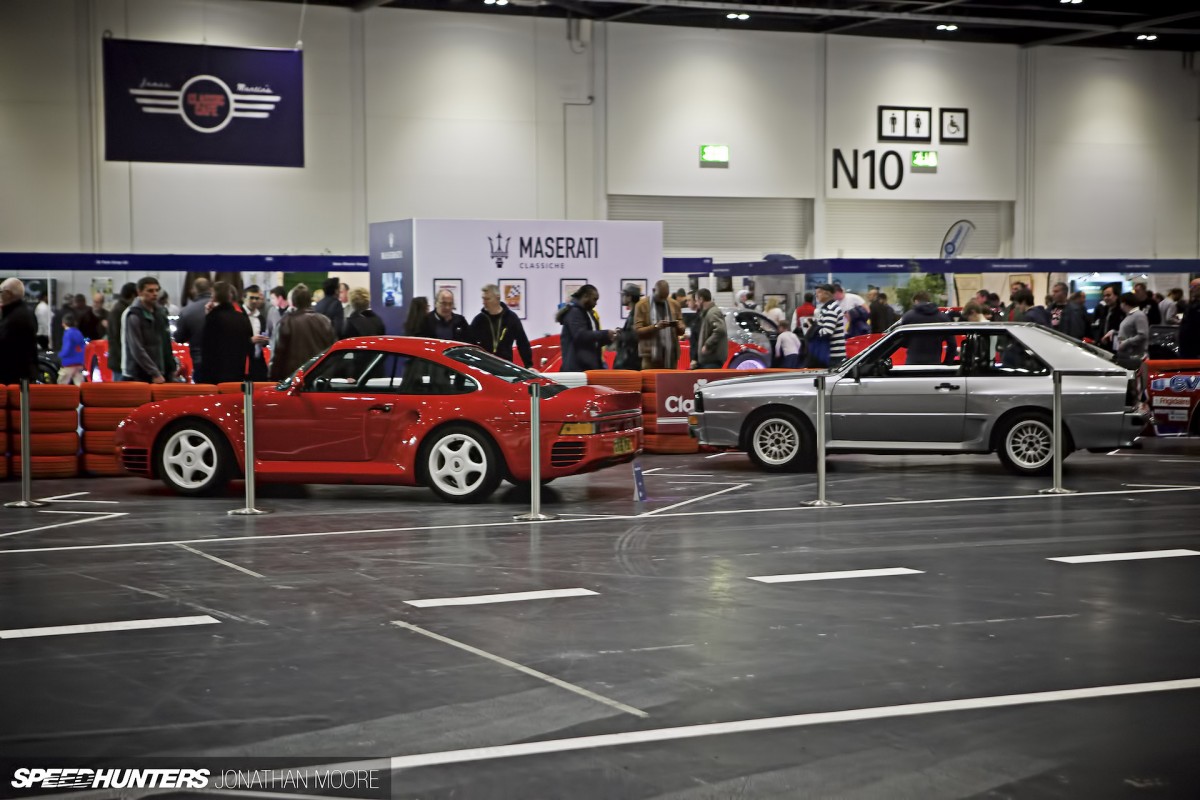 An interesting idea was leaving a central runway down the middle of the hall, flanked with an array of impressive machinery. Every hour or so, cars were fired up and driven down the concourse, adding an aural note to the show that can often be missing at this kind of event.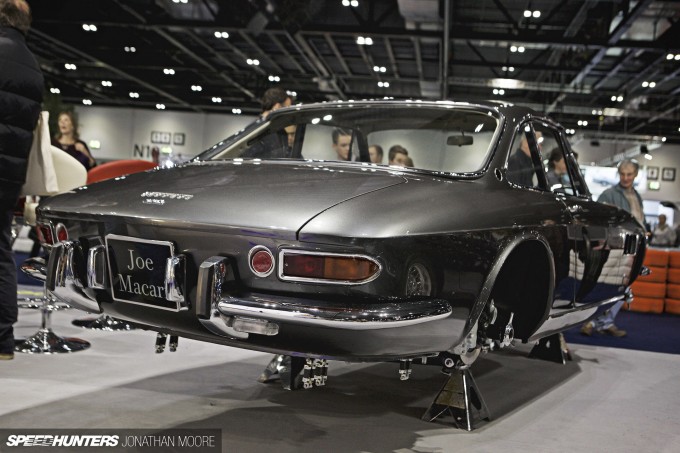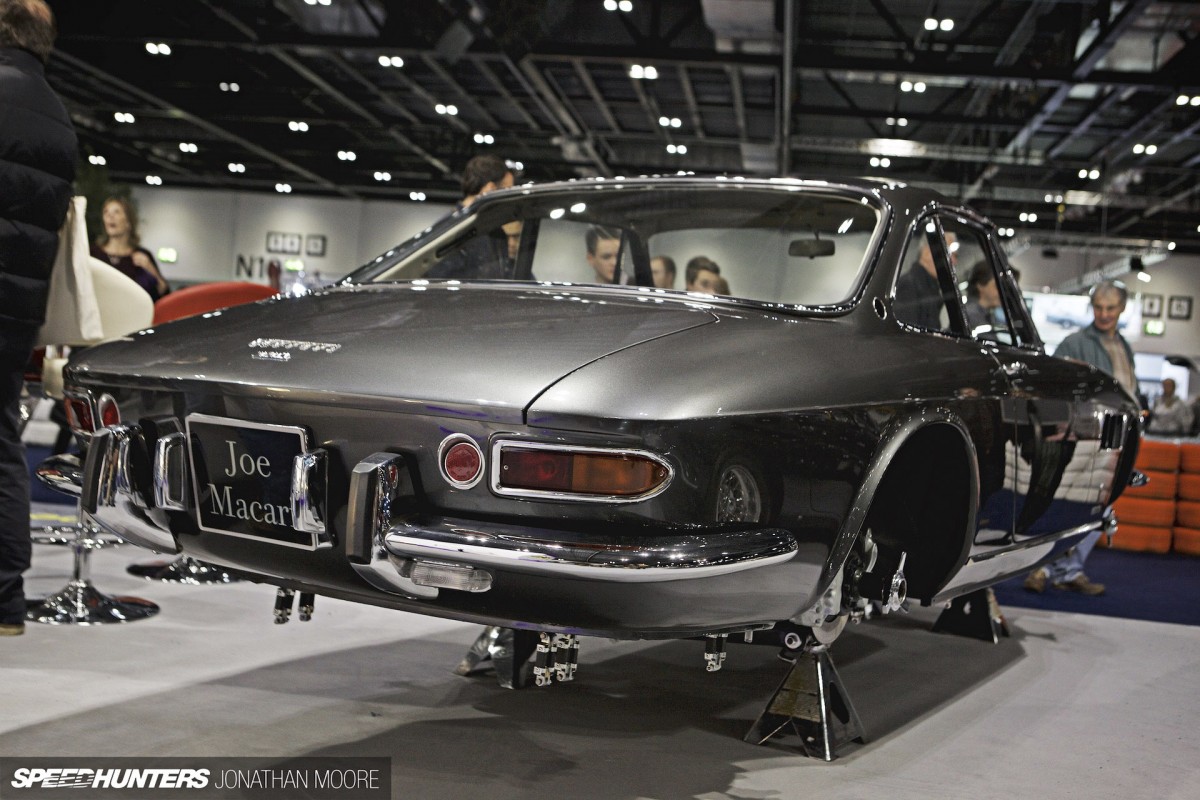 It's easy to get the feeling that a lot of classic cars have become mere investments for the rich, to go alongside stocks and shares, and like fine wines to be bought not for emotional or enjoyment reasons but purely for financial payback. Why buy a wine and not drink it? How can you buy a car and not drive it?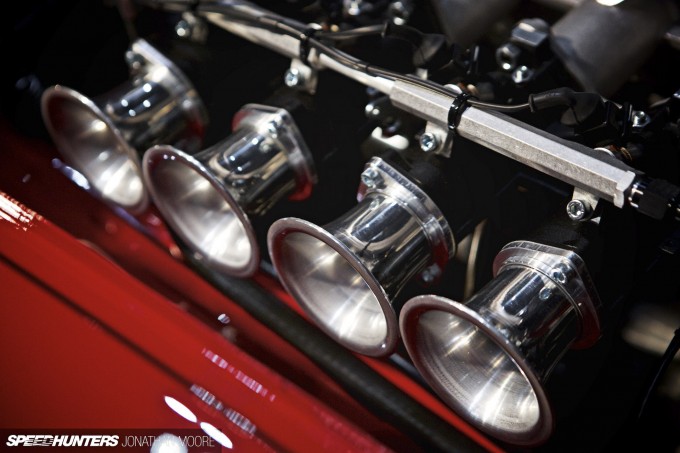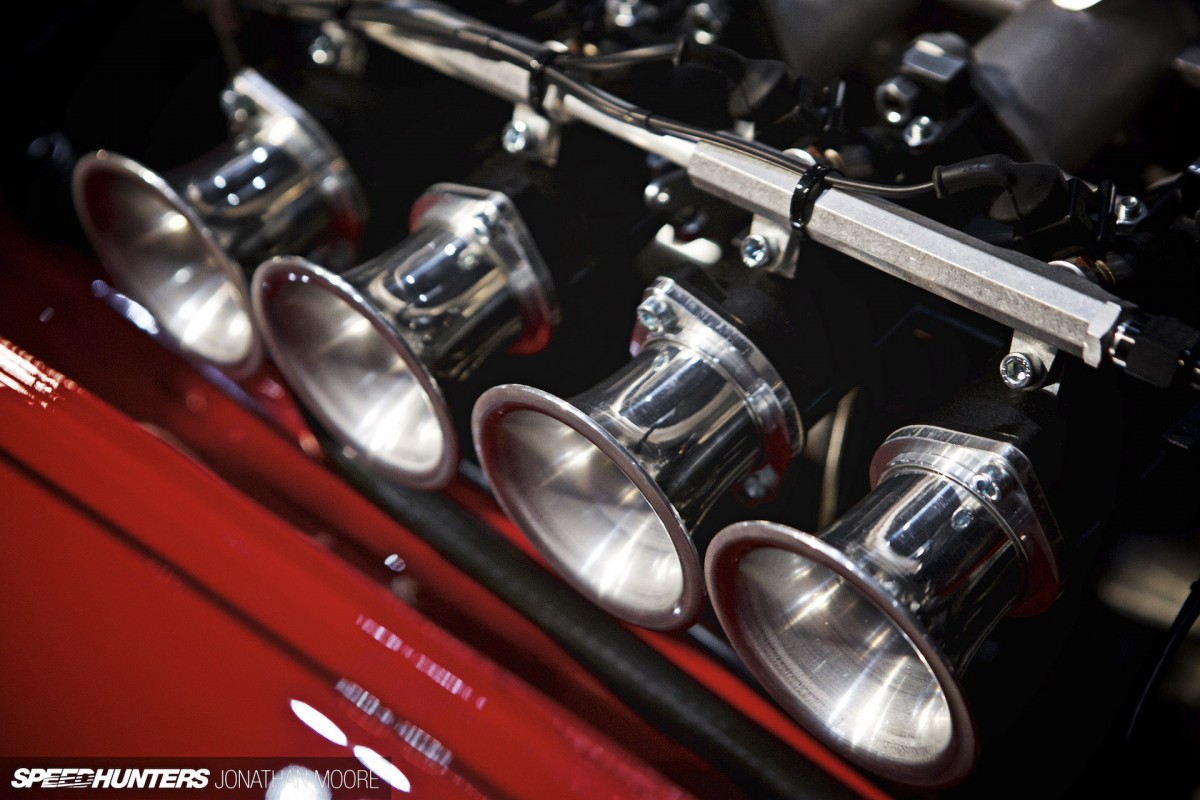 Well, the good thing was that personally I felt that this show was about driving and the pure love of cars. Restoration and performance tuning firms rubbed shoulders with dealers. Race preparation teams were as prominent as manufacturers.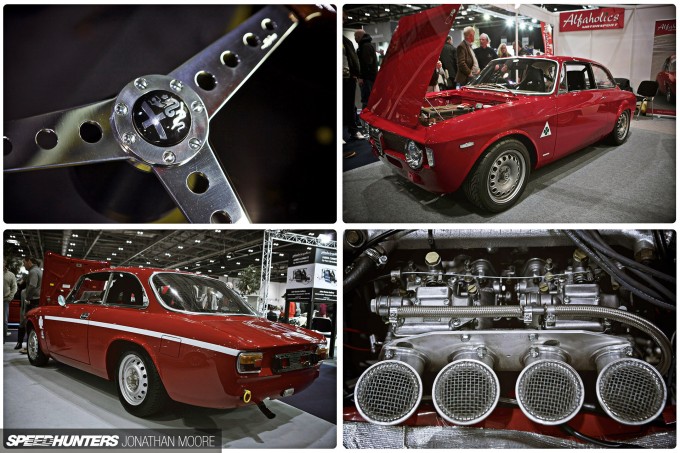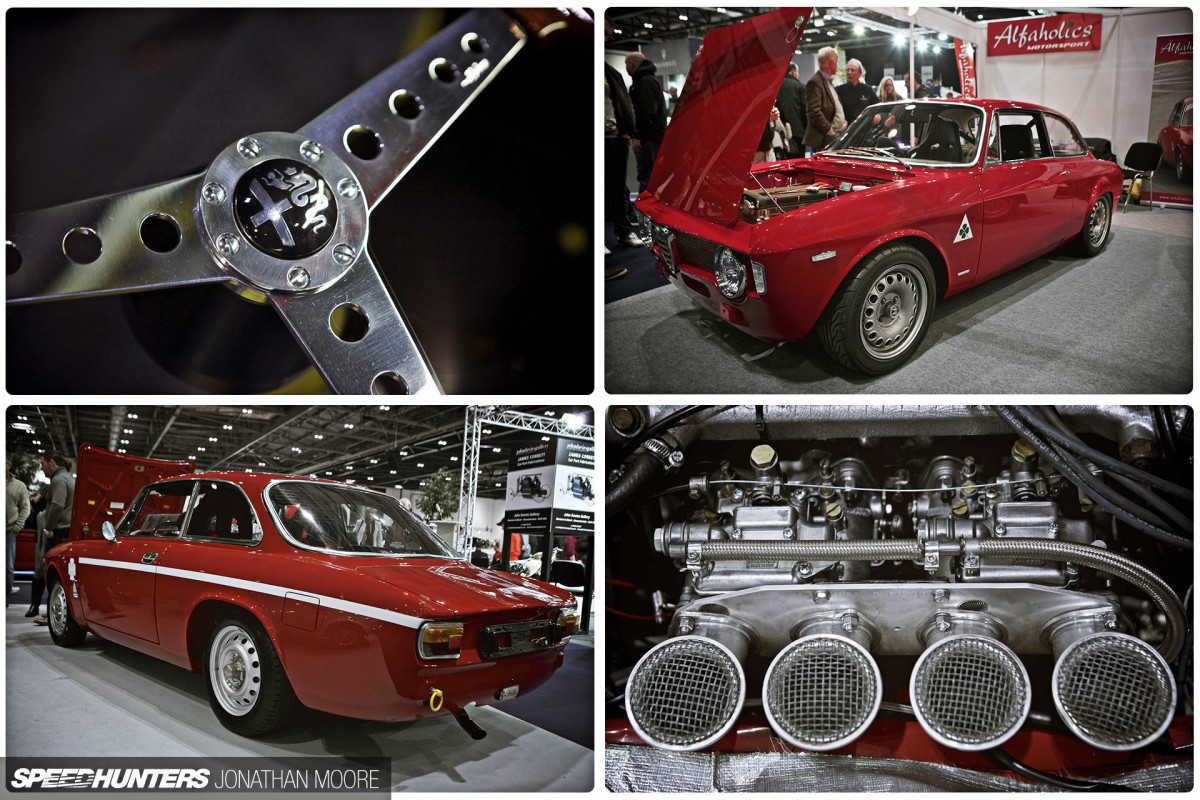 The number of Alfa GTs around reinforced the point; videos of Alfaholics-prepped GTAs zipping round the Nordschleife, harassing confused 911 drivers, kept me in orbit for some time…
Reality, Replicas & Recreations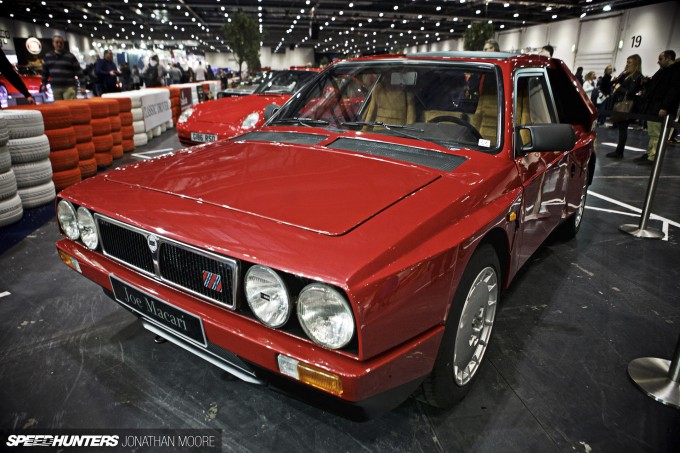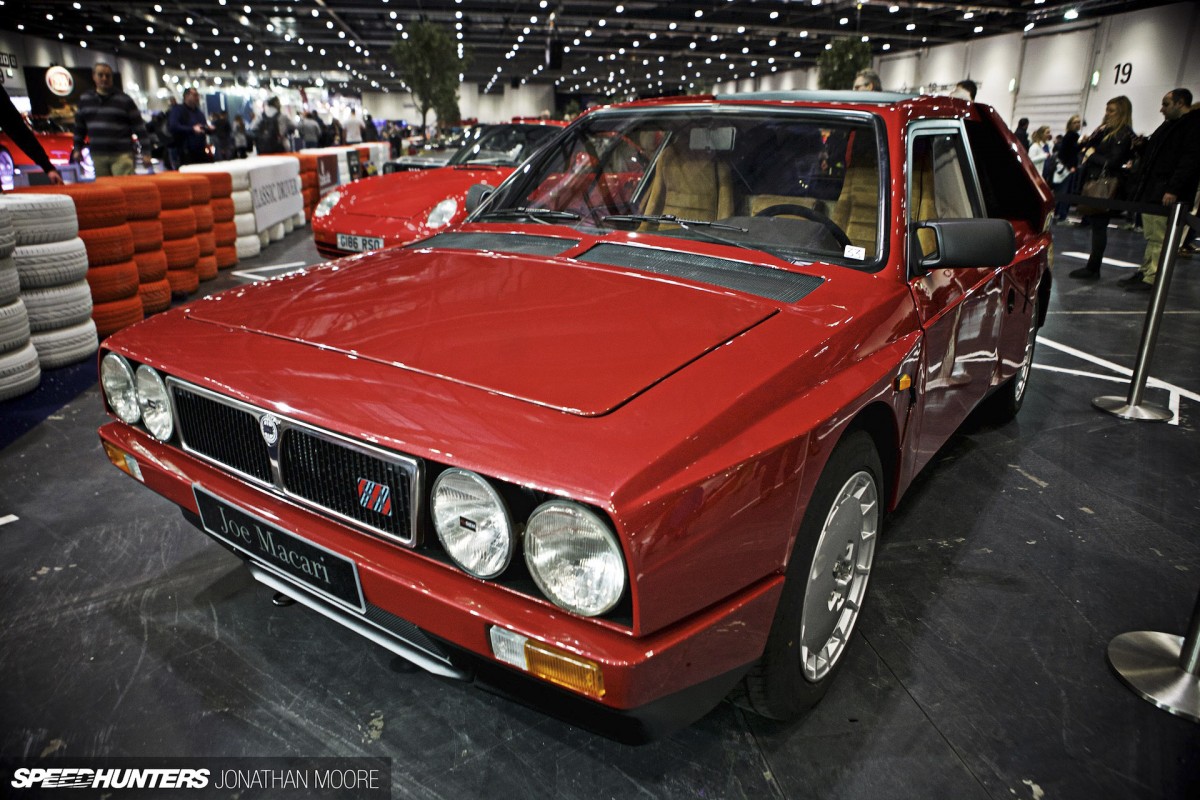 That central runway was chock full of some stunning machinery, from F1 cars through the decades (descriptions could have been better than '90's Lotus' – sic – in every sense) through classic sportscars to performance icons of the modern era: the XJ220, Porsche 959 and their ilk. But tucked away at the top end was something that took my breath away – one of the road-going homologation specials Lancia created to push through their Group B S4 behemoth. 200 were promised, 65 were thought to have actually been built and only 45 remain.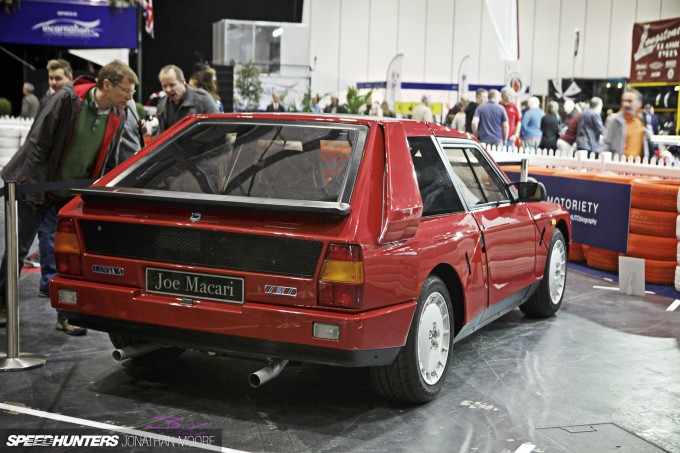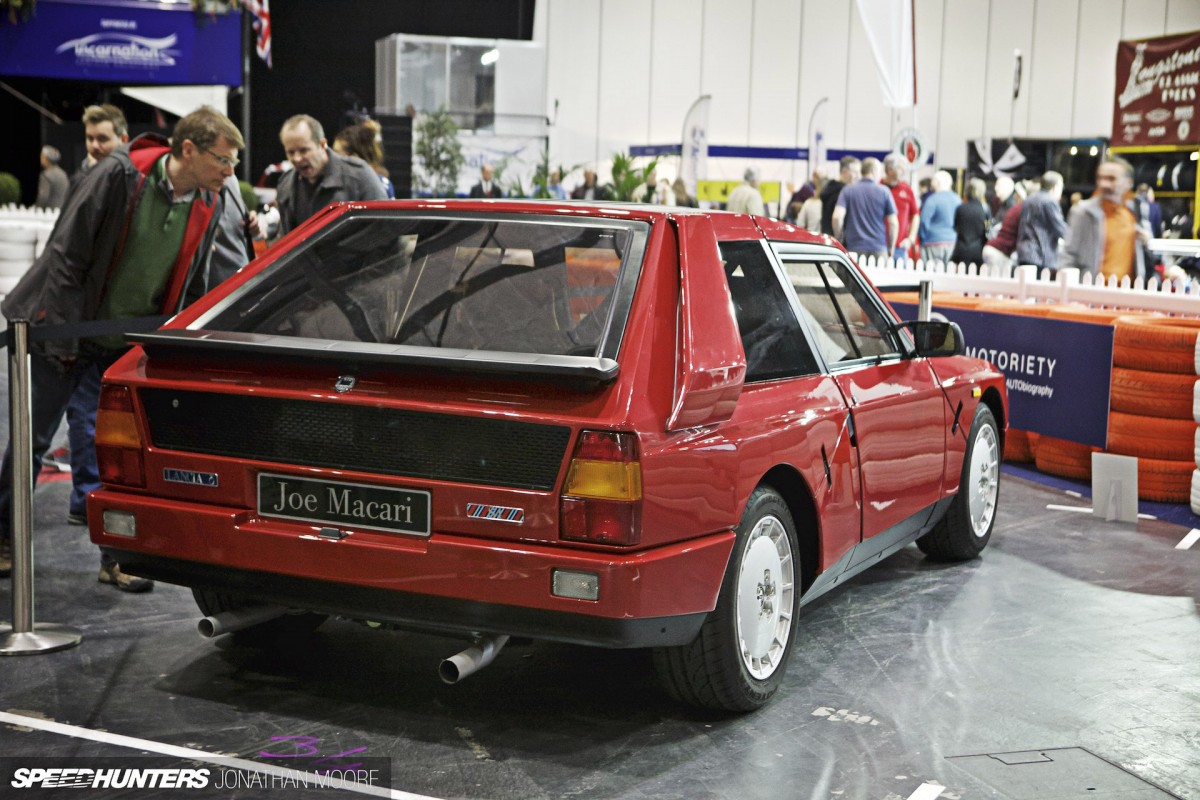 The S4 Stradale might not have been a looker, with its drooping tail and protruding side intakes, but this was a car built for a single-minded purpose. Performance on rally stages was the only goal, aesthetics not even close to important. What a machine.
To me this was as impressive as the brutal Porsche 959 by its side and the rare 'street-legal' versions of the late '90s Le Mans prototypes that I've seen elsewhere, like the Porsche GT1 and Toyota GT-One: raw, uncompromising, definitely-not-really-for-the-street street cars. This car had been restored to Potenziato spec with a wider rear and uprated clutch, and was offered with the possibility of sourcing full-on Group B parts – if you had the requisite cash.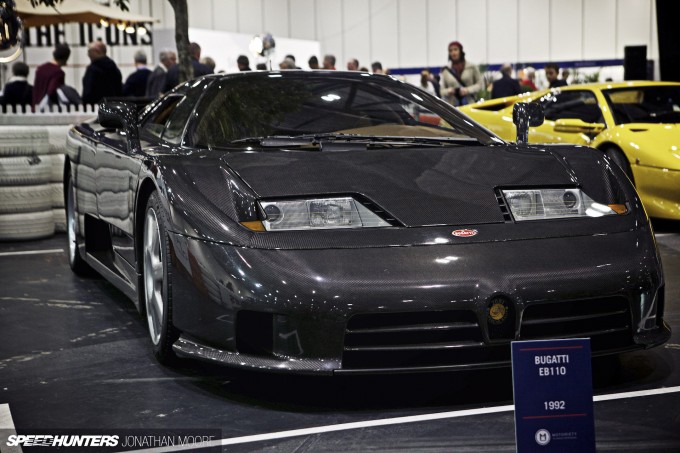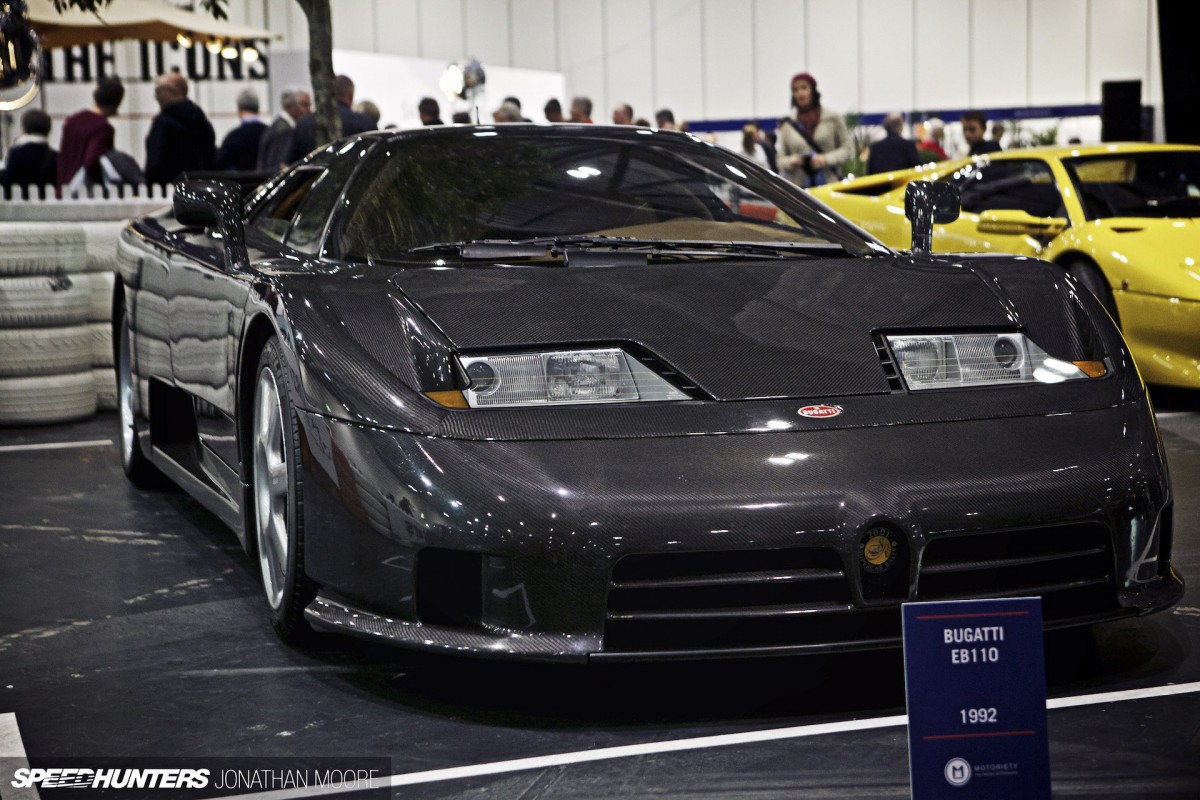 Bugatti Veyrons now come in as many different flavours as Coke, so it's nice to step back a generation with the straight-forward model that was the Bugatti EB110. Released in 1991 to celebrate 110 years since the company founder's birth, the EB110 was actually hardly less bonkers than the Veyron that followed, with its four-wheel drive, quad turbo V12 and 216mph top speed. This looked like it was one of the Dauer versions, with a full carbon fibre body, power upped to 865hp and weight slashed by 25 per cent.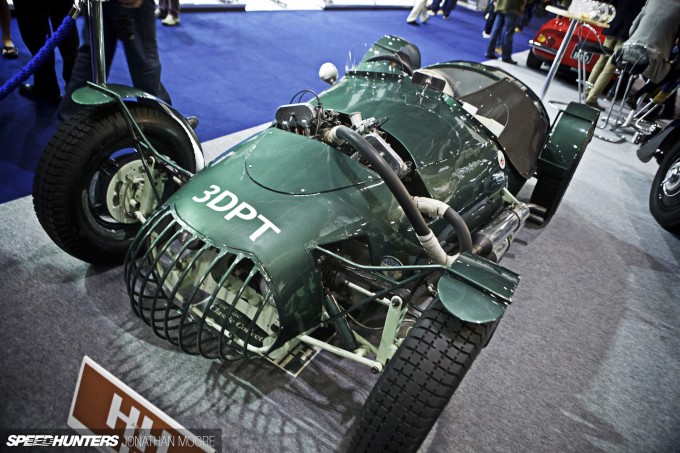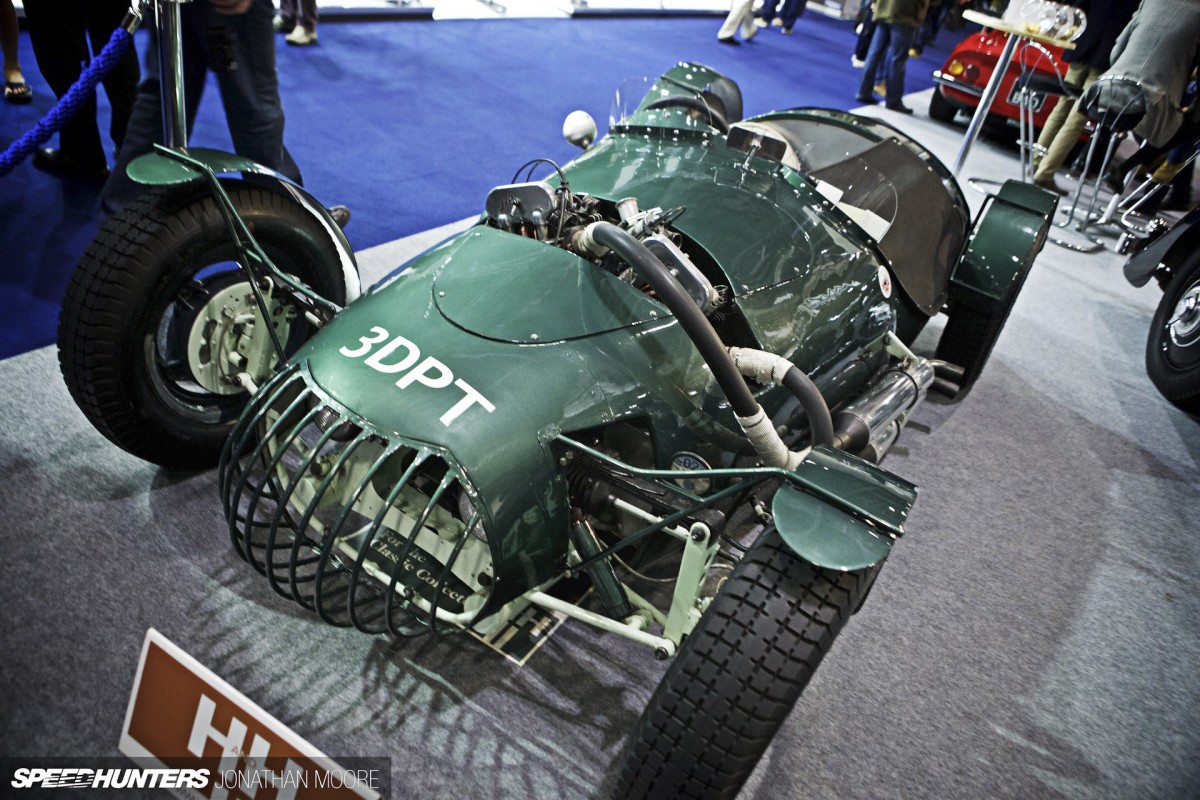 If you wanted a slightly simpler lightweight racer, then I offer you this 1951 Toreiro-JAP. For a start, I love its super raw look, but even better it was nicknamed 'The Asteroid' – which gives some idea of its performance in period.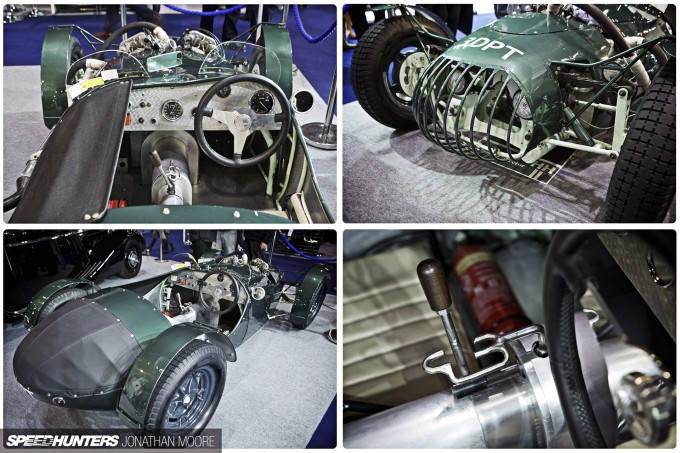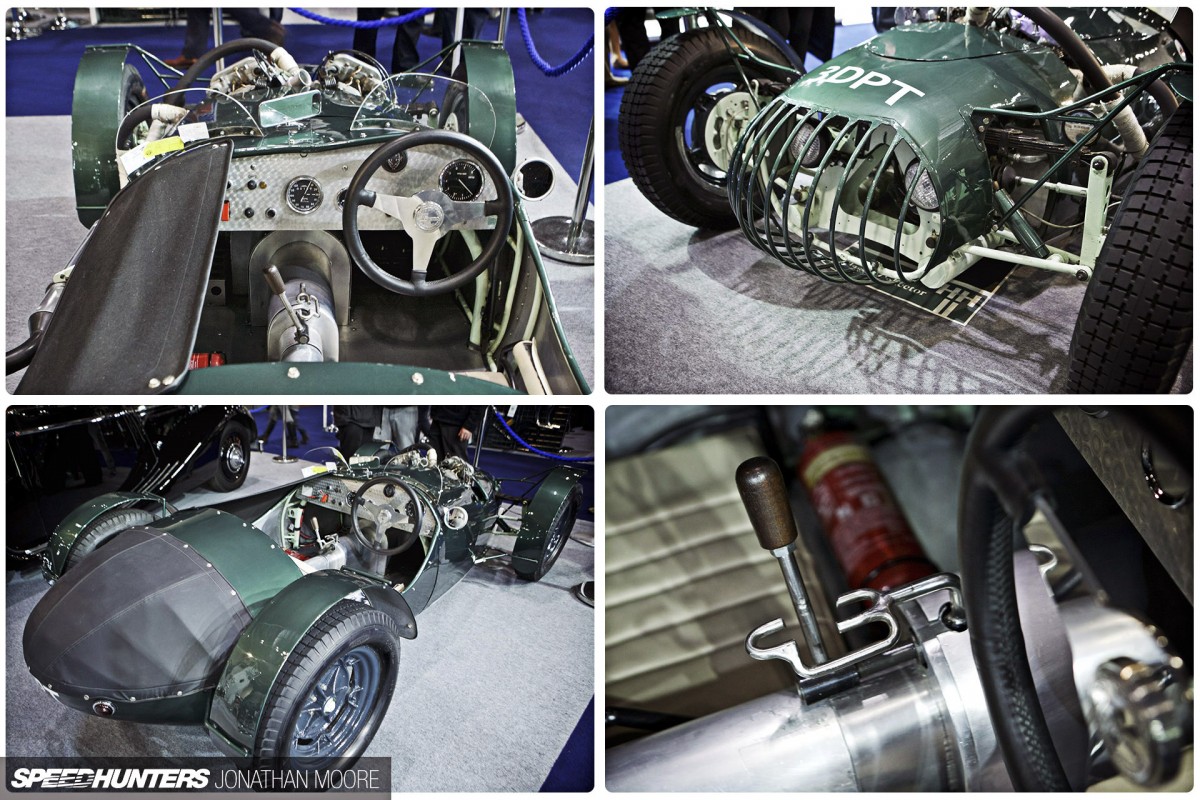 From the Kendo-mask nose, button-down canvas panels and open-to-view substructure, it's such a cool little monster. The little JAP 1100cc vee-twin is connected to a 4-speed Jowett gearbox. Check out the gated short-throw stick.
Coincidentally, this sparse and stripped-down thing also is the root of a whole lot of different motorsport icons. Its designer, John Tojeiro, went on to create the AC Ace, which morphed into the Cobra; Brian Lister built it, who become famous for his Jaguar-powered sports racers.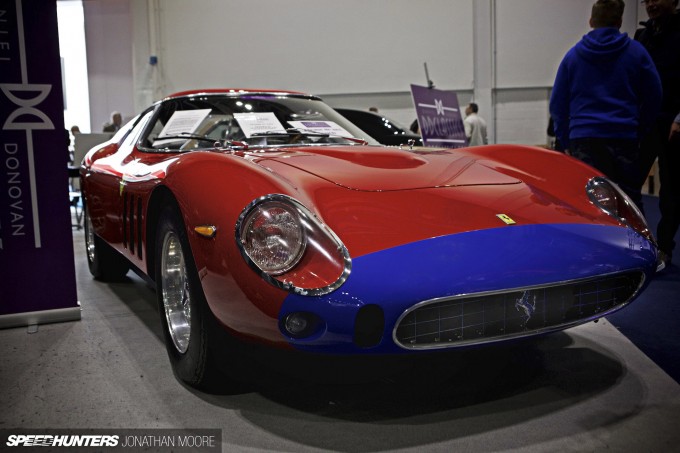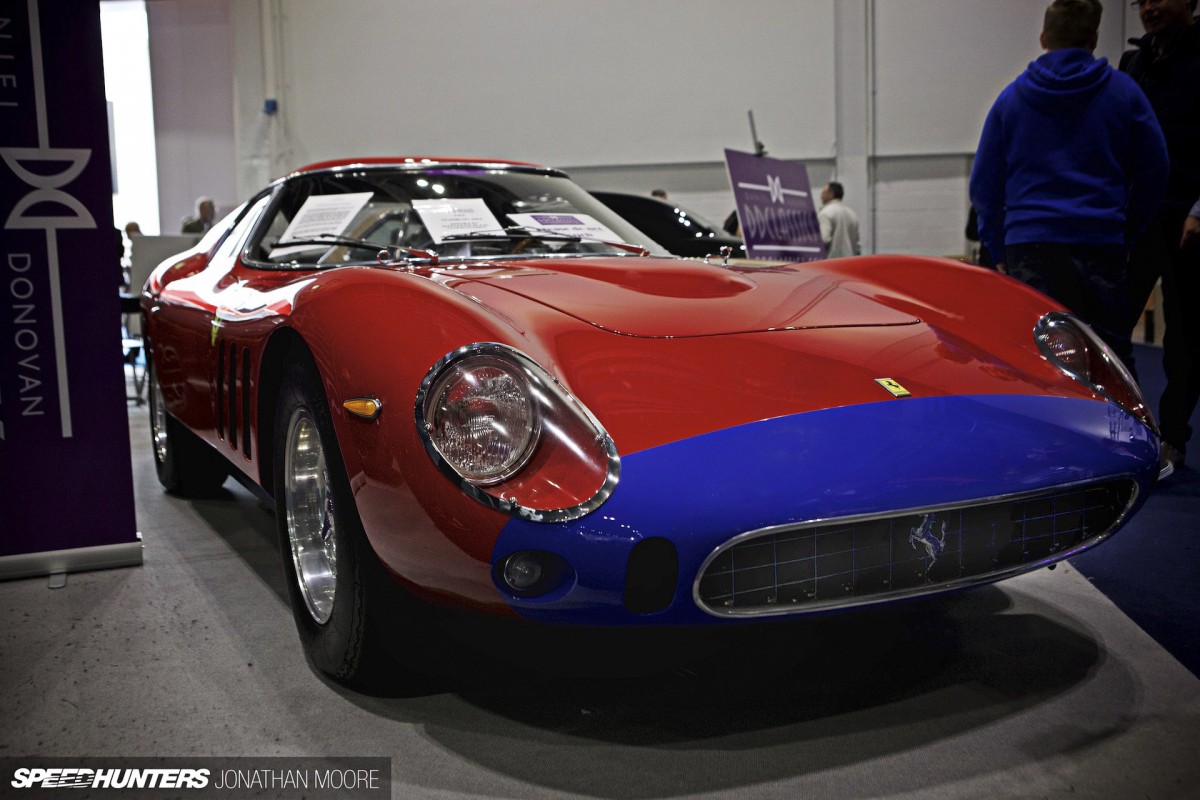 I recently had a long conversation with a friend of mine about replicas and recreations. I'm down on the side of being more generous, with replicas being the only way most people can get near owning their dream car. Then there's also the apocryphal story of the London street sweeper who's still using the same broom his grandfather did. Of course, the handle has both been replaced countless times. As has the brush. But it's still his grandfather's brush…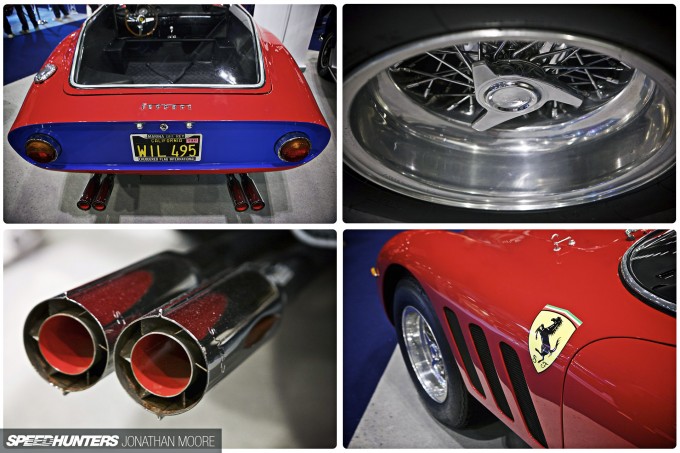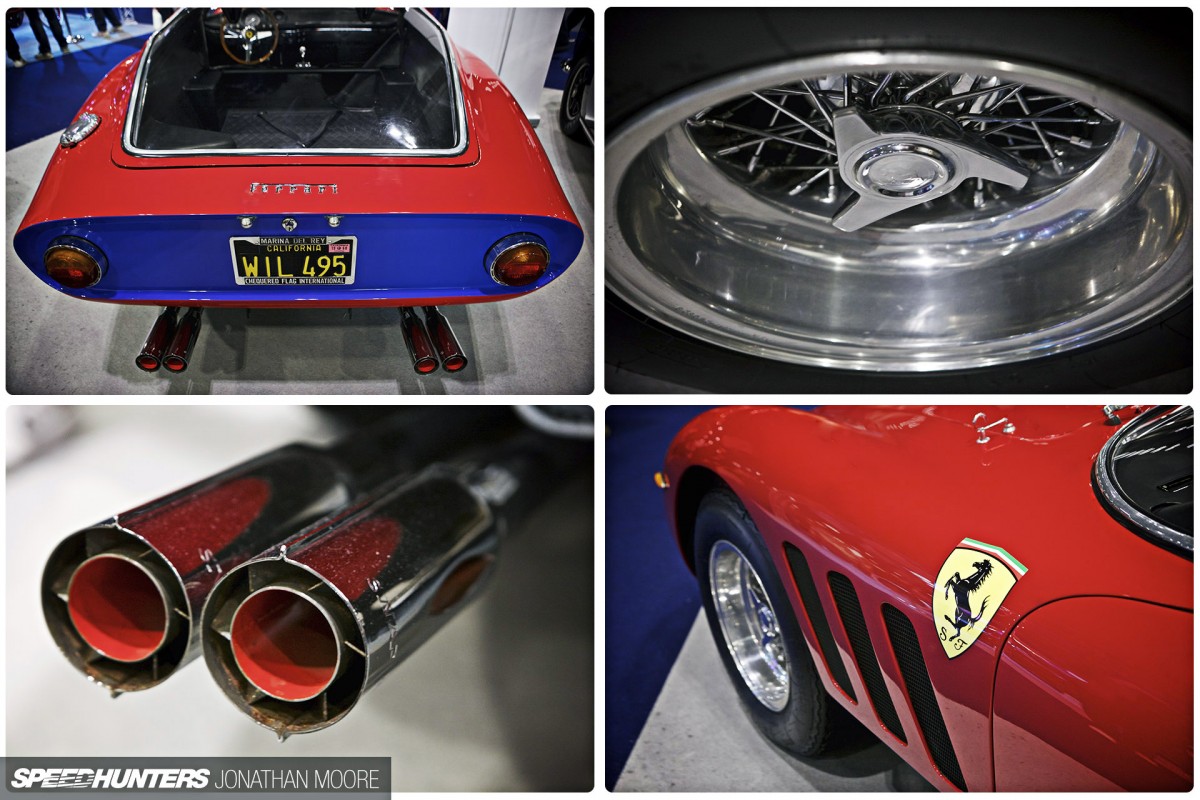 I'm so used to seeing replicas that sometimes I have to pinch myself when I see the real deal – the bona fide Lancia Stratos shown earlier in the story was a case in point. You never see real ones! Then there are really confusing situations like this: a genuine 1963 Ferrari 250 GTE converted in the 1980s to recreate a 250 Drogo Speciale, using original drawings and bucks. So, it is a real 250, just not the real 250 it says it is now! Whatever, it's still a beautiful machine.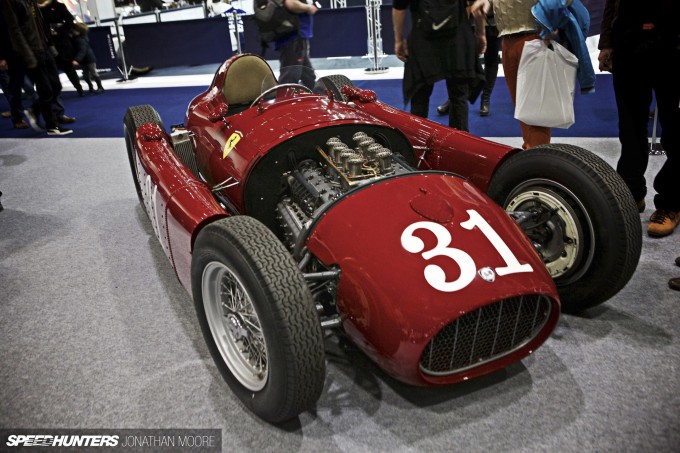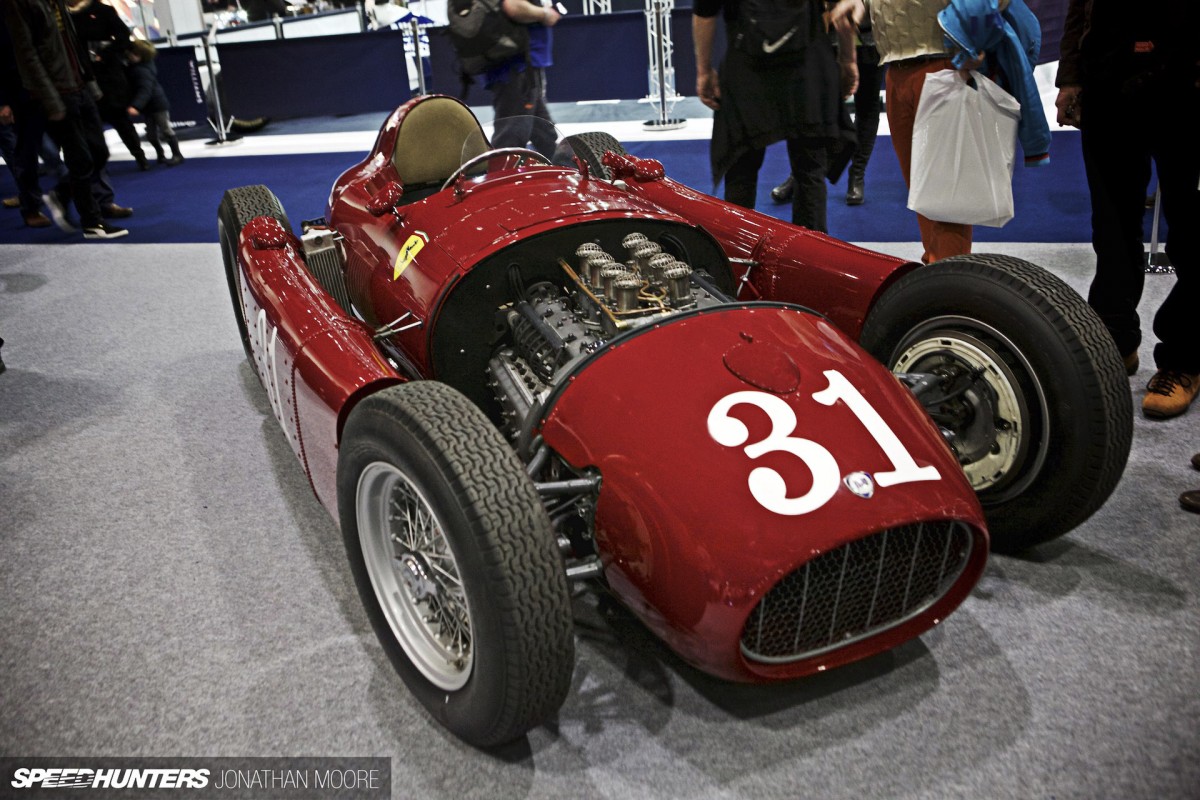 Similarly, there's this Lancia D50, one of the most important racers from the 1950s, These cars that kickstarted Ferrari's rise to motorsport prominence and were the only serious opposition to Mercedes' W196 steamrollers. This example is one of five 'continuation' models with a difference: all the original drawings and specs were followed, and genuine D50 gearboxes and engines were used. An original D50 was loaned by Lancia to use as reference.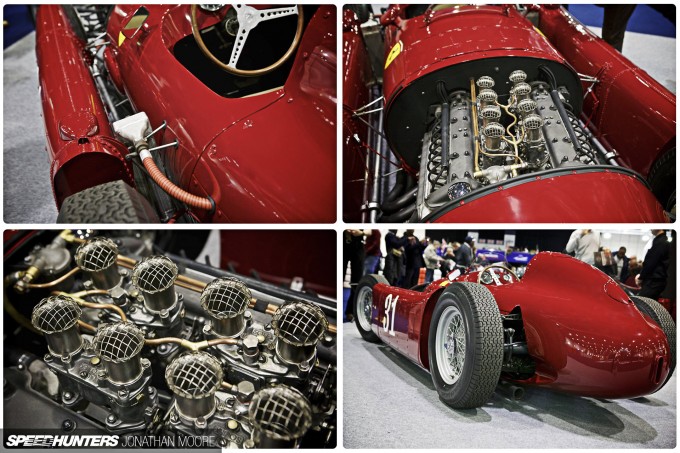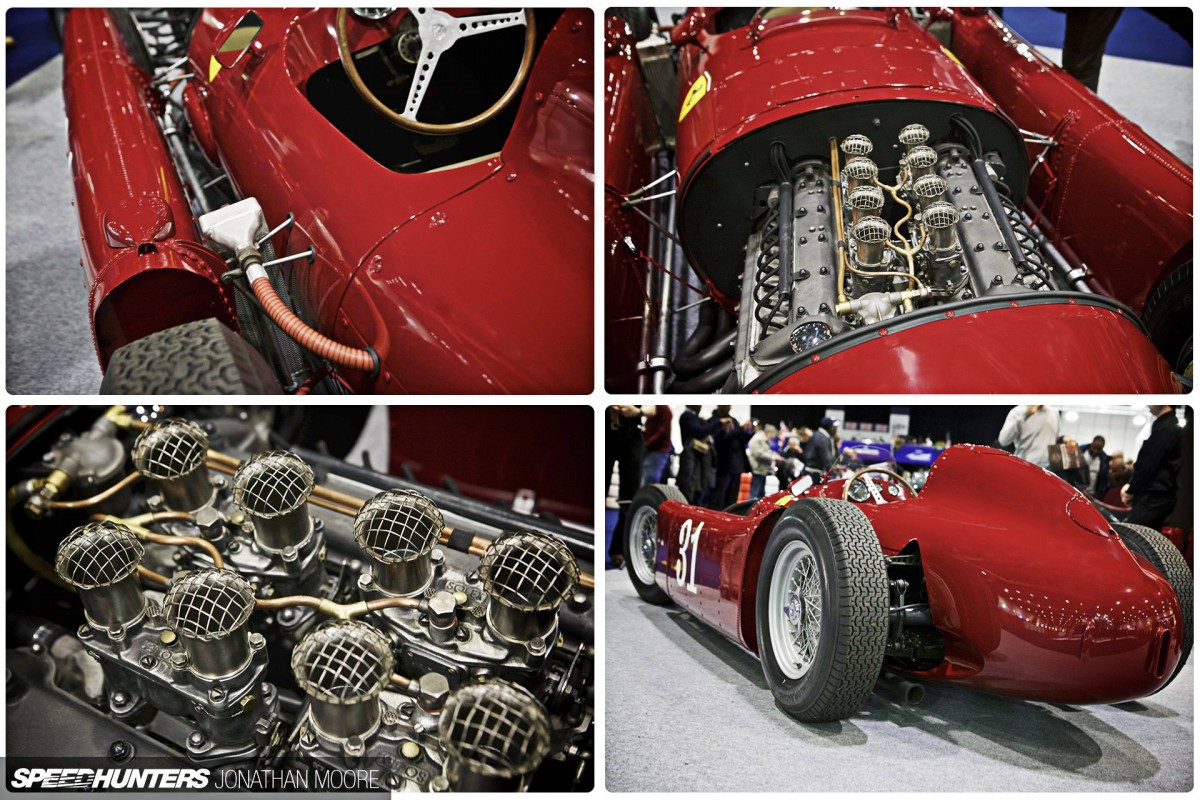 The D50 is a beautiful car in the flesh. It's barely kneecap high, with the 2.5-litre V8 mounted at a slant to allow the driveshaft to run beside the driver rather underneath him as most other cars had, significantly lowering the driving position and improving the centre of gravity. The outboard fuel tanks are both practical for weight distribution and helped airflow – though you wouldn't want a side impact… 285hp for 620kg: that's a serious set of numbers.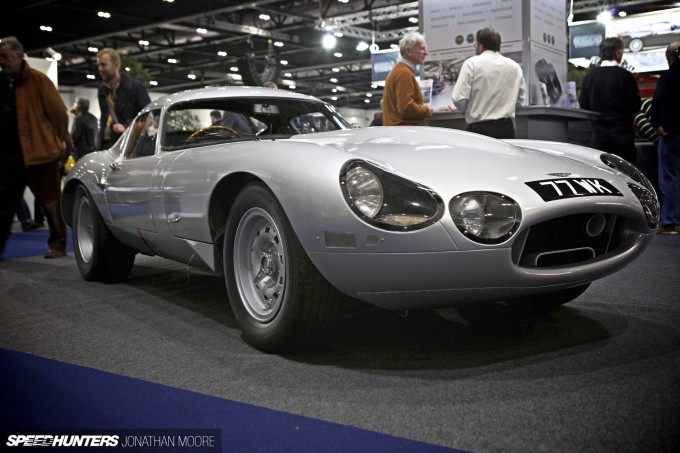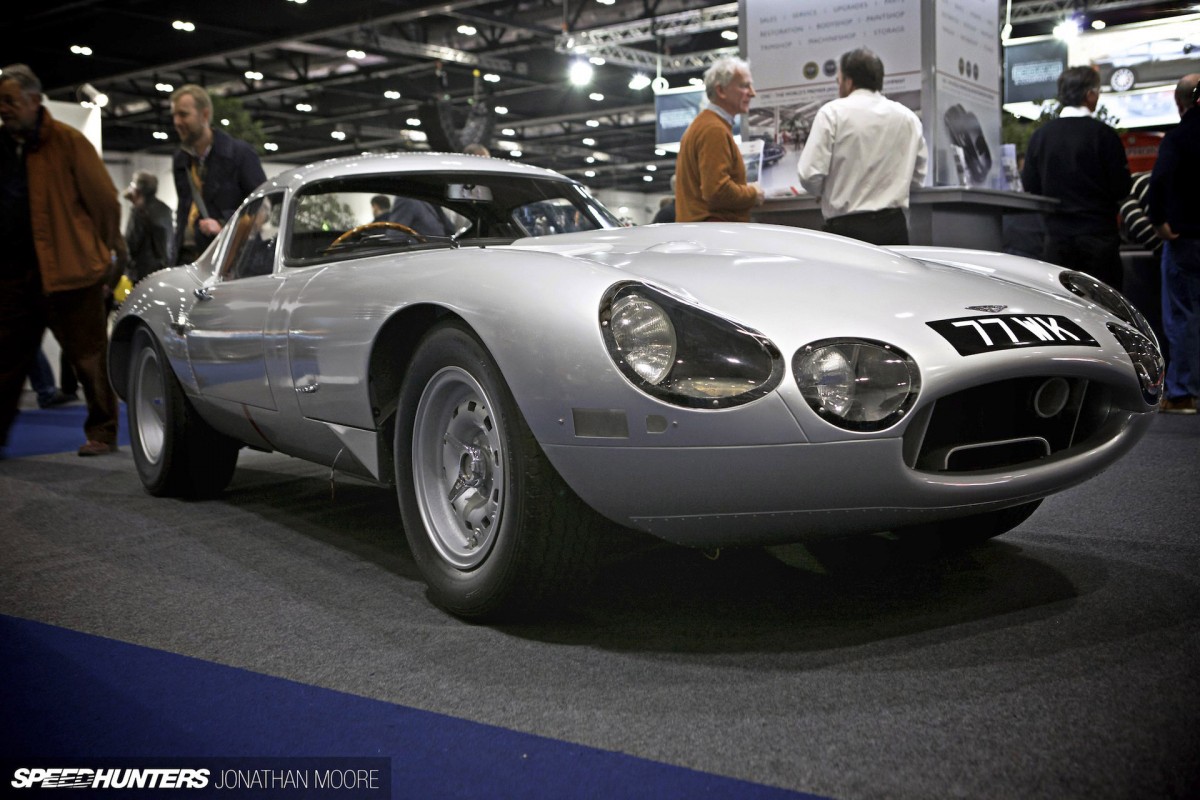 Certain cars have a history of being built by third parties, whether under license or not, like the Cobra and Lotus 7. But Jaguar E-Types are also on the up, and if I was in the market I'd definitely go for a Low Drag coupé.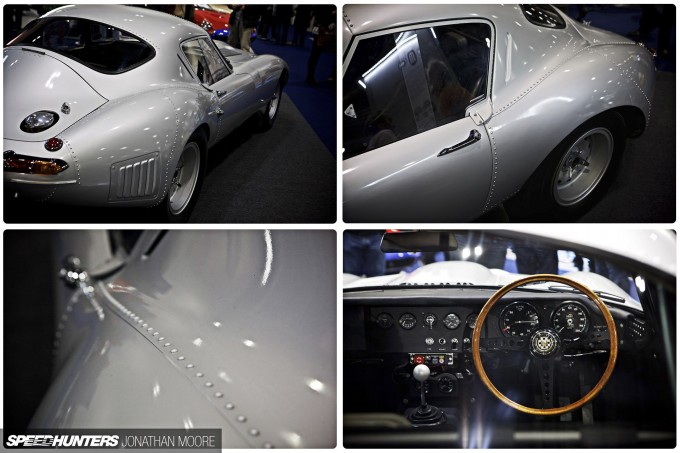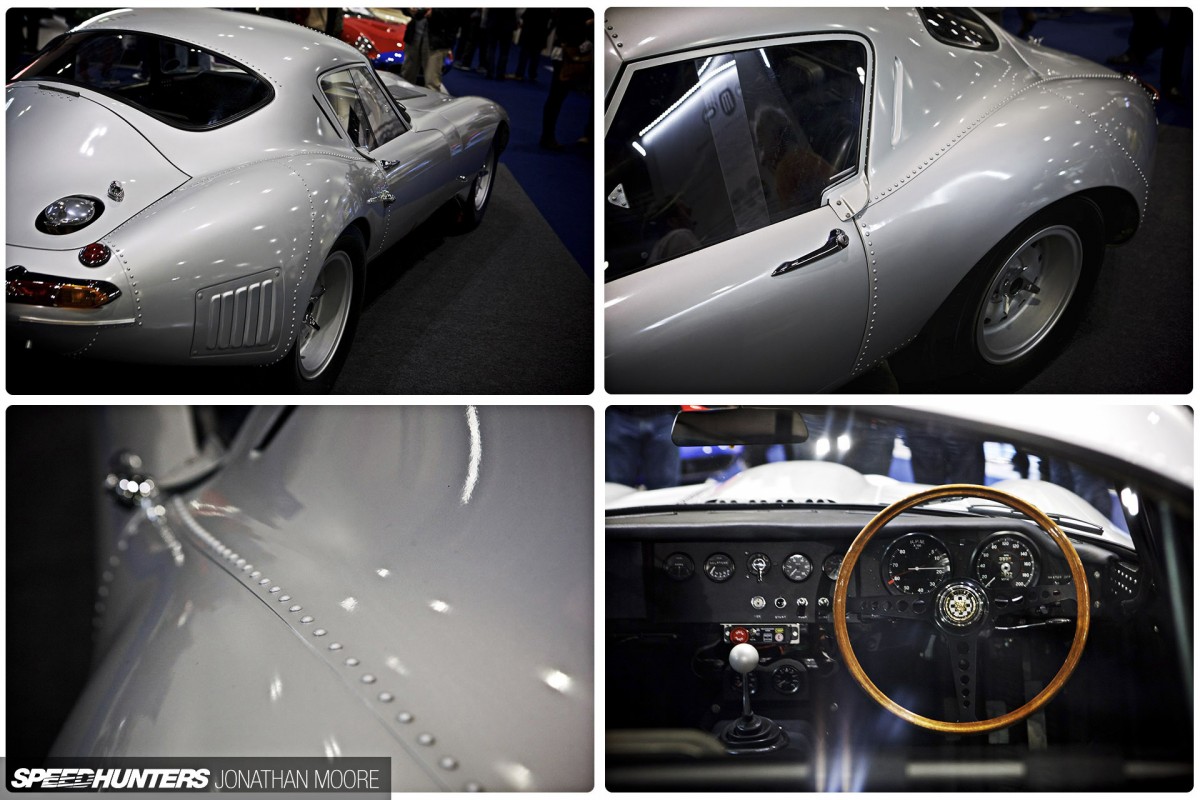 This was another example of a blueprint copy. CMC in the UK had already restored the original Lindner Nocker racer, and recently made this replica, accurate to the last gorgeous rivet.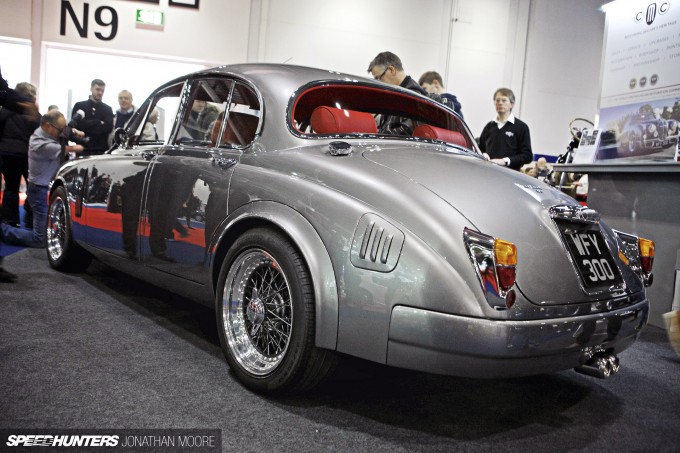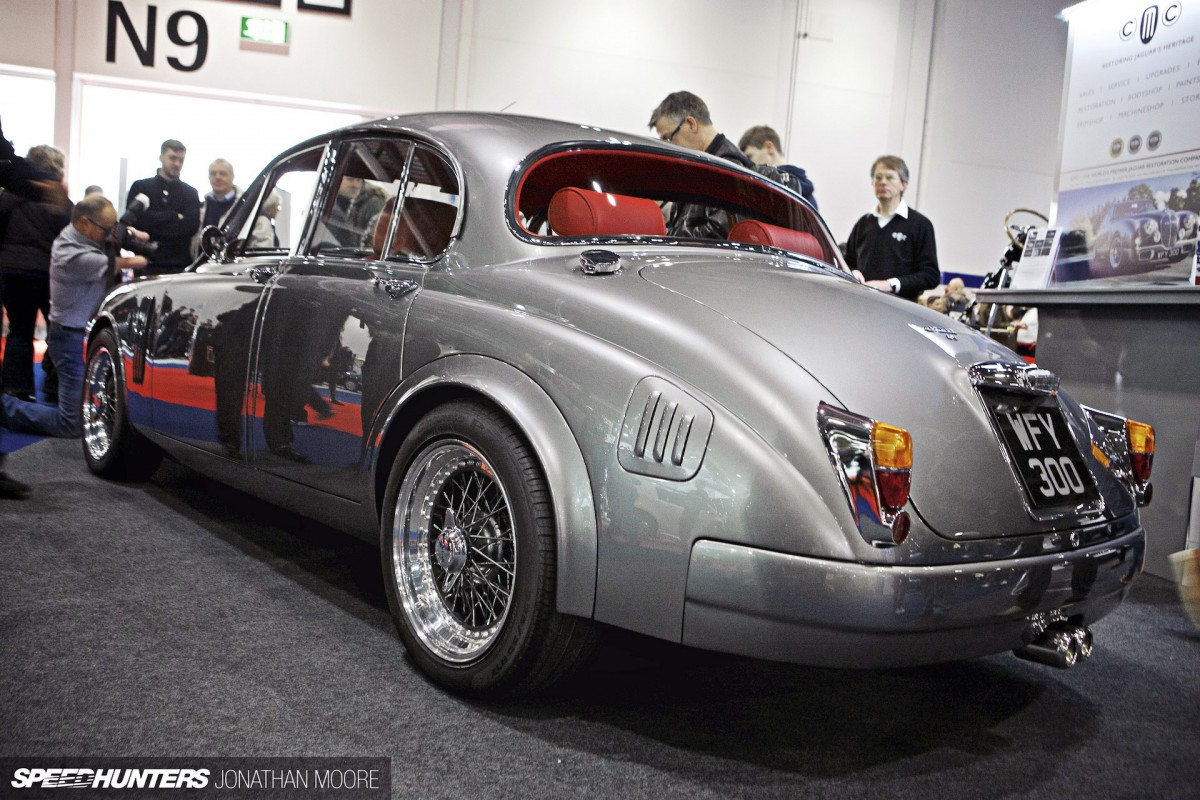 How do you feel about reinterpretations then? And what about reinterpretations of a famous car done by the current design chief of that very brand? It's enough to make your head spin!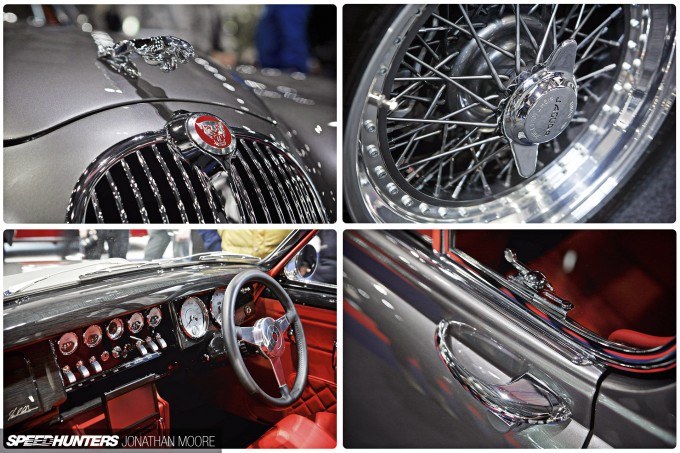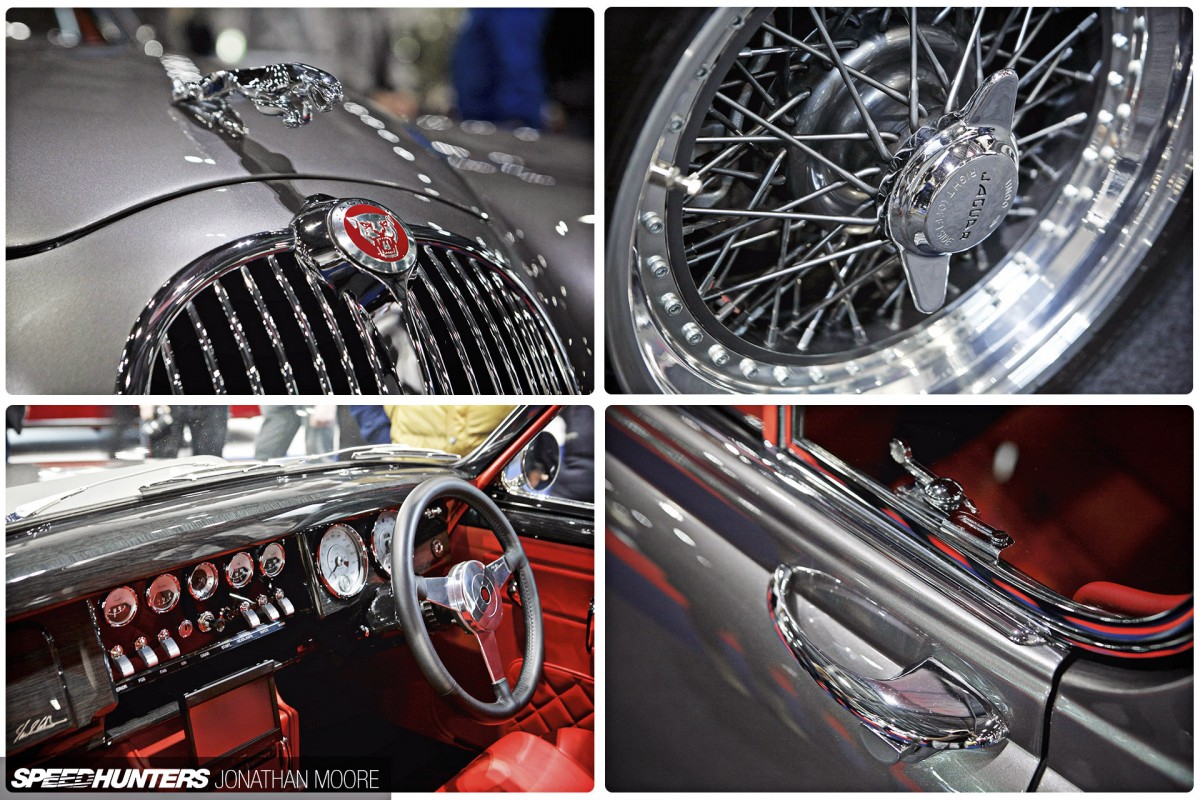 This beautiful re-imagining of a Jaguar MkII came from the pen of Jaguar's Director of Design Ian Callum. I love this project, what passion it demonstrates – and bravery! The car has been lowered and sits on pushed-out 17-inch split rims; the suspension is all fully modern, as are the steering and brakes. Originally just a personal project, CMC are now producing a limited run of the IC MkII.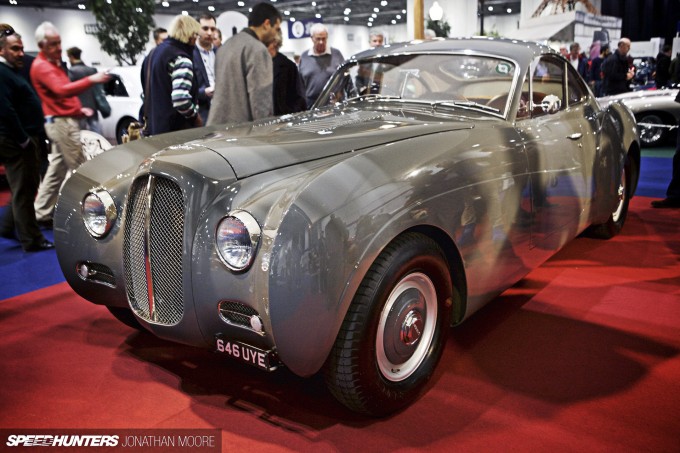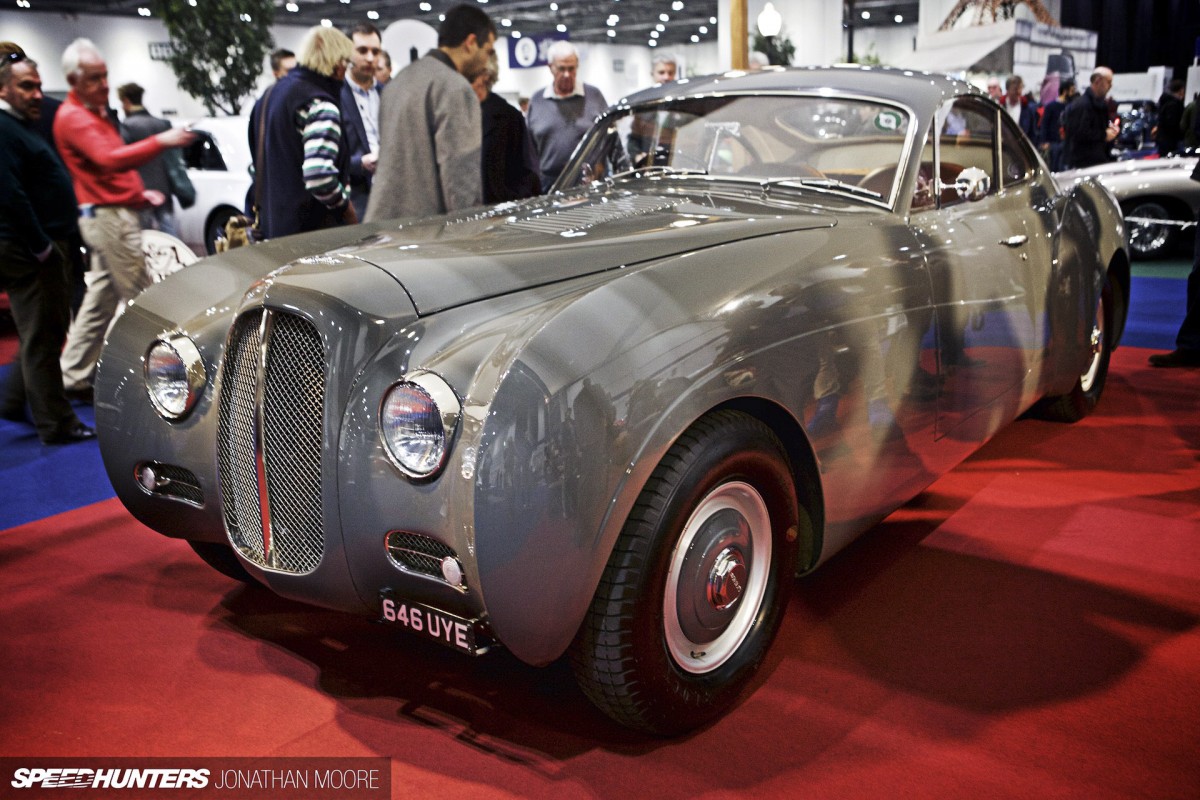 I spotted this Bentley on the other side of the hall, and just couldn't place it. A bit like the IC MkII, it was familiar but mixed new with old. The roofline was too low to be classic; the upright grille too precise; the dagger-blade rear fins beautifully sharp against the tapering tail.
It was a Bensport La Sartre, built off a 1950s Bentley chassis as a modern homage to the R-Type Continental Fastback. As with the IC MkII, it's a new twist on a classic and really something special.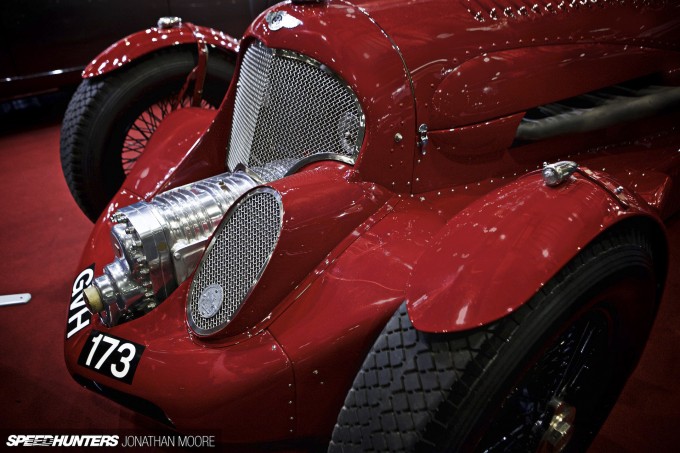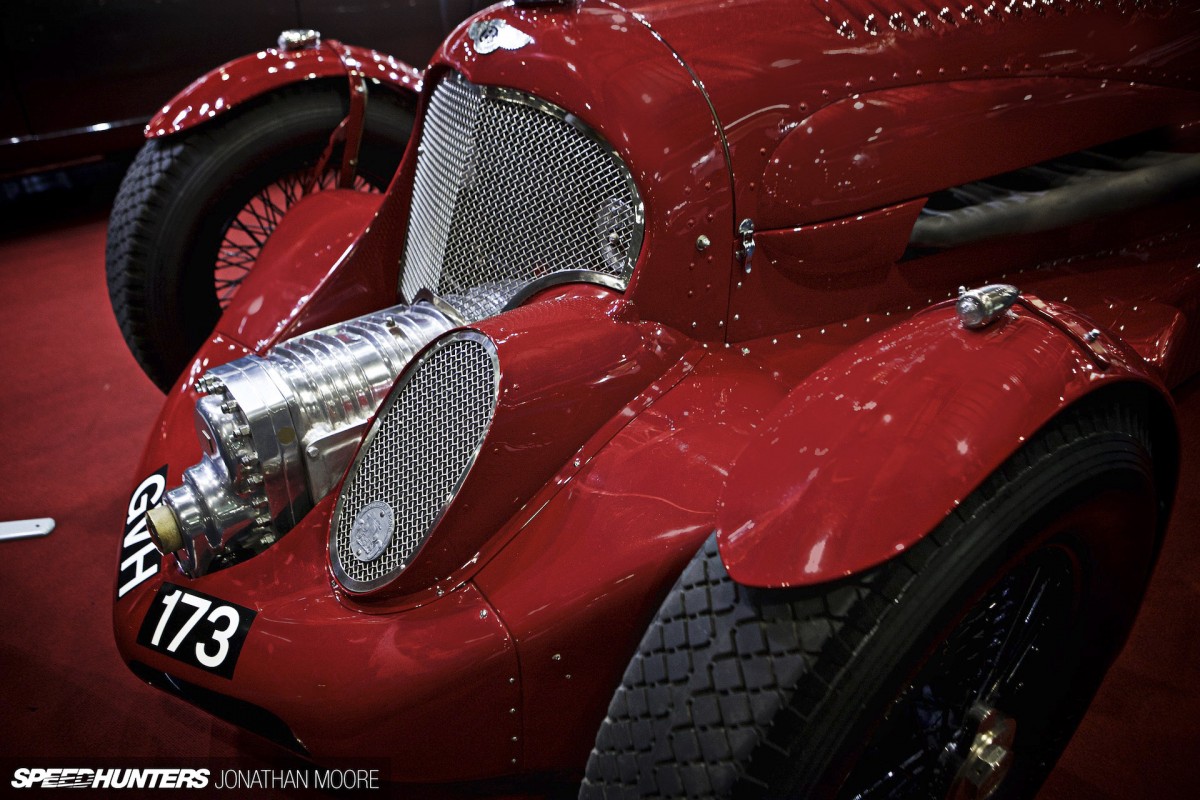 But then there was the mother lode of reinterpretations, also sporting a Bentley badge. Like the unholy offspring of a Brooklands Napier Railton, shark-nose Ferrari and a hotrod, this was the Supercharged Petersen Racer. Which was built when, do you think?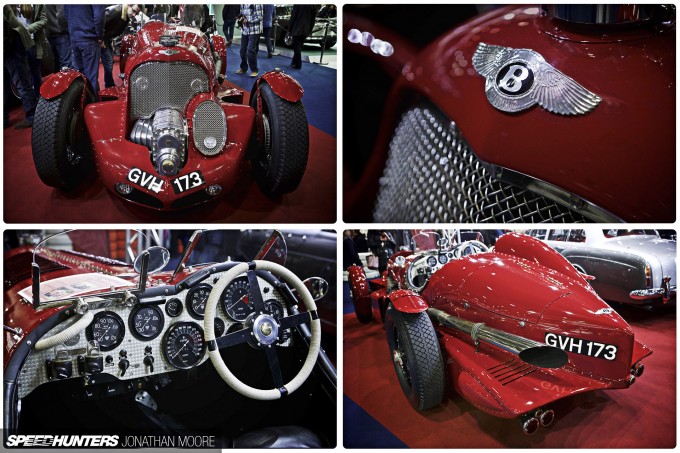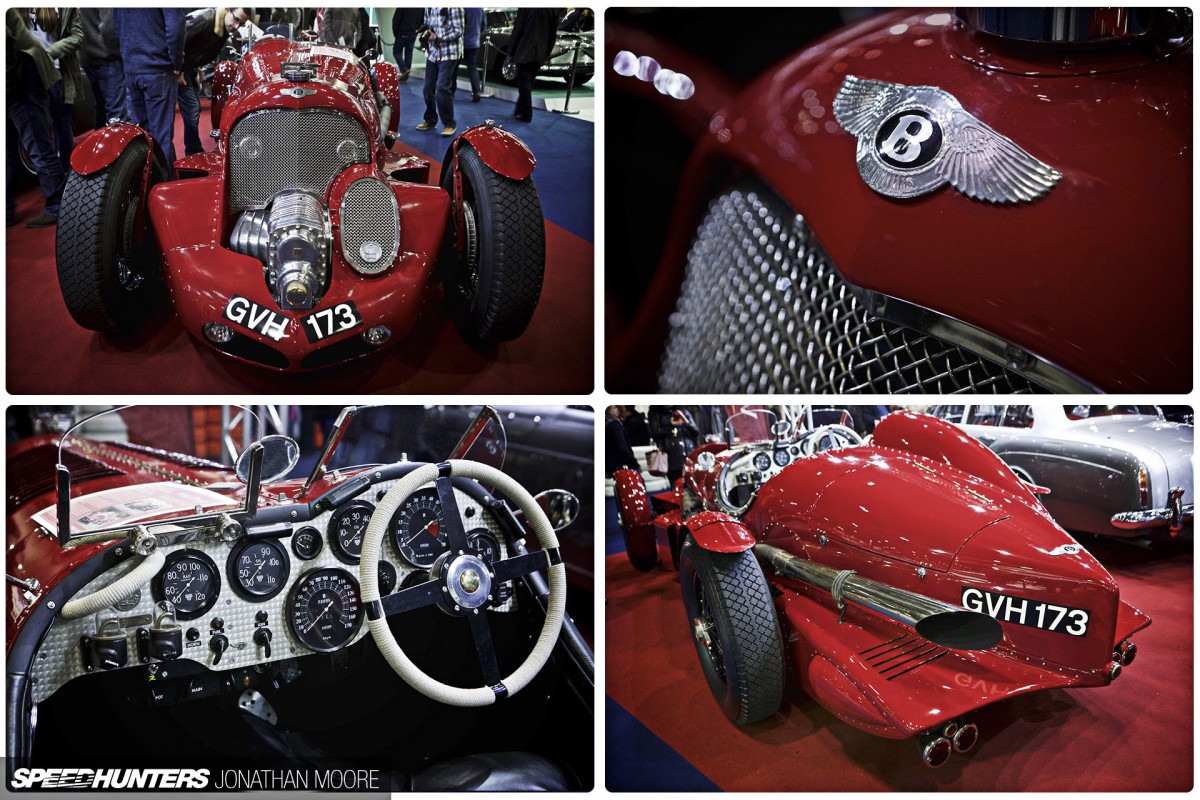 2003 is the answer. Devon-based Bentley specialist Bob Petersen also started with a R-Type chassis, but then added a huge, low-revving WW2-era commercial 6.5-litre straight eight and threw on a supercharger.
With a limited slip diff, hydraulic twin disc brakes and decent suspension under the hand-made, lightweight aluminium body, this is one frightening beast. But then I was also told that one customer got them to install a 27-litre Rolls-Royce Meteor engine. 27-litre…
Top Gear To Le Mans Via Adrian Newey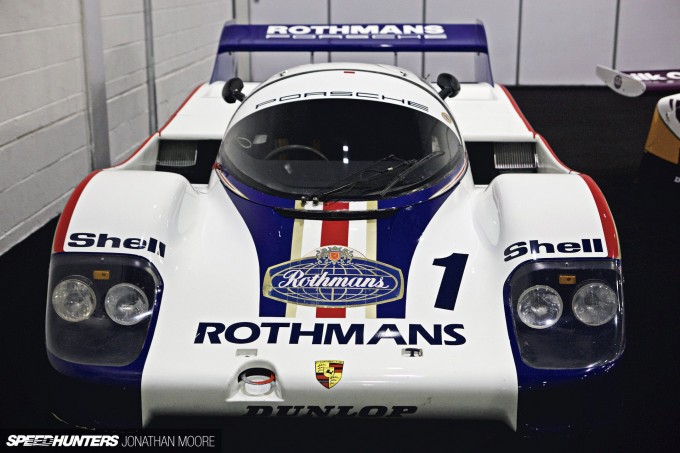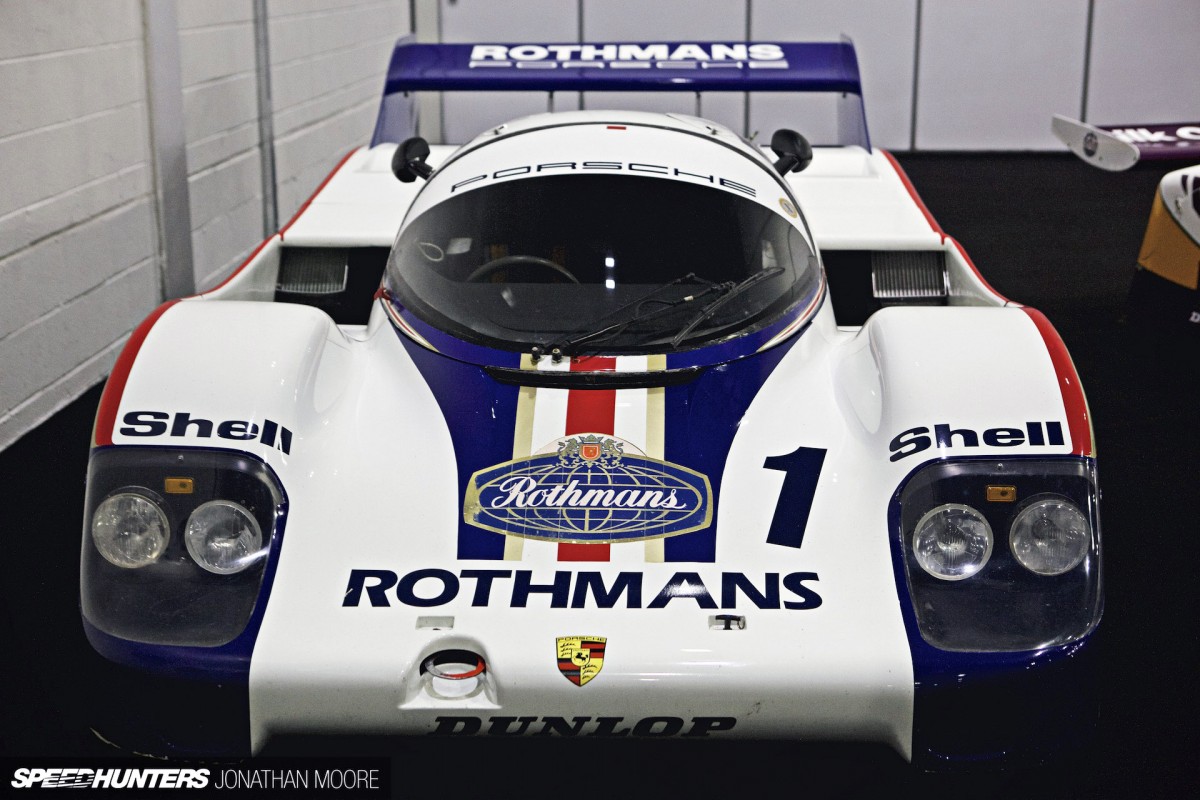 Three special exhibitions were in place at the show, one highlighting important cars in the story of the Le Mans 24 Hours endurance classic. The cars were unquestionably icons, though the fact they were tucked away in a corner was a shame. This Porsche 956 was chassis 001, the progenitor of a famous line, and the one that made the 956 series debut at Silverstone in 1982.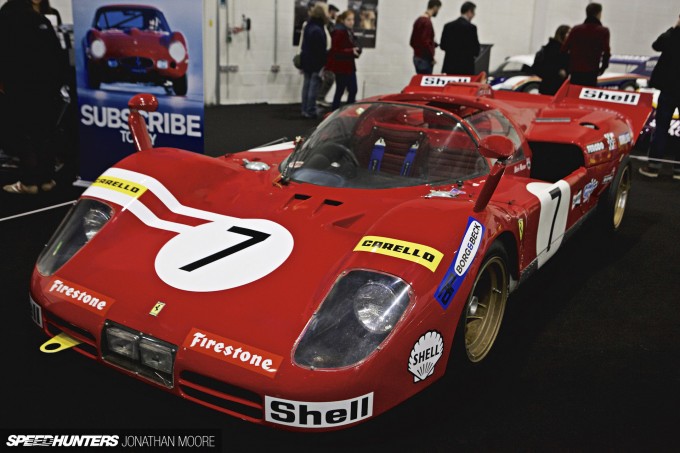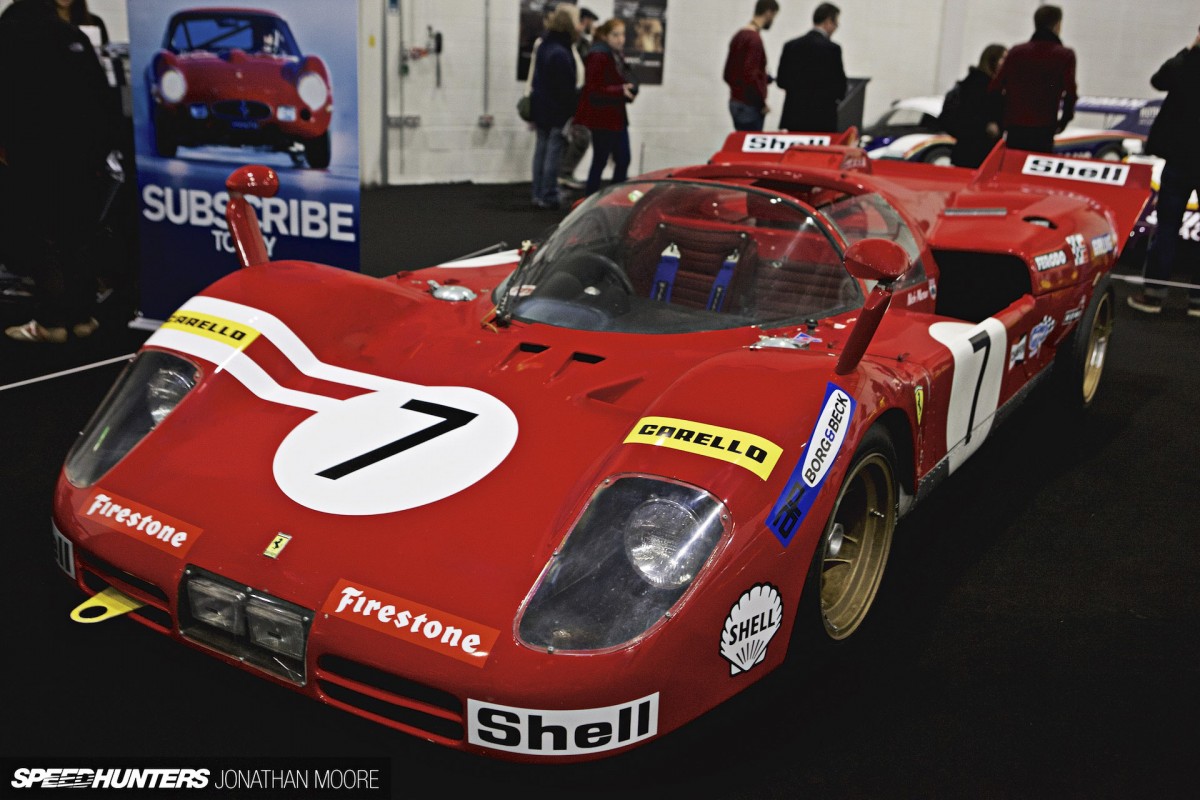 Porsche's 917 is rightly regarded as one of the most outstanding racing cars ever produced, but I've always loved its bitter rival, the Ferrari 512. This was an open top variant, the short-tail 512S. Like the 917, the Ferrari also went through a whole series of modifications and variants, and even followed Porsche to Can-Am.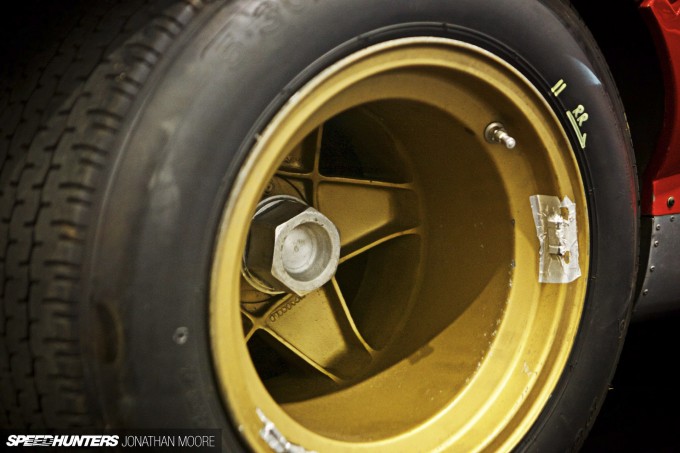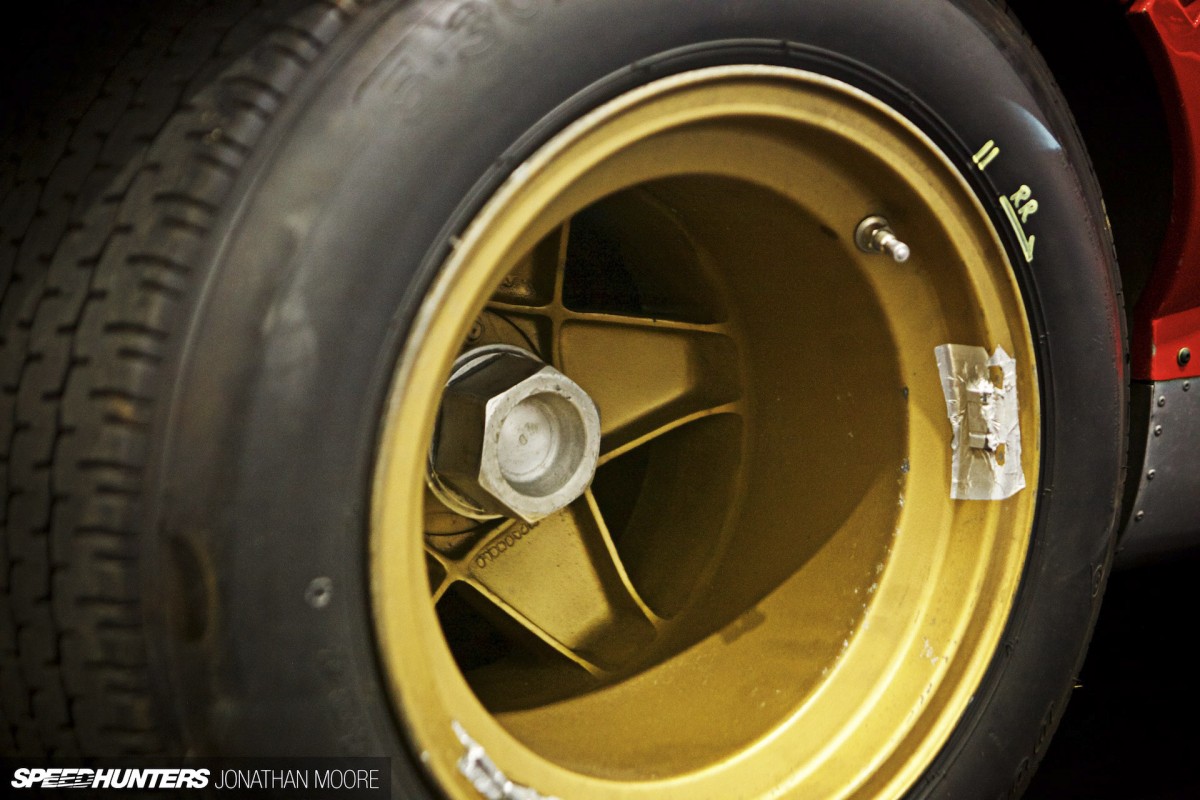 The Campagnolo rims at the rear were cavernously deep. Not only that, but they were actually wider than they were in profile, presenting enormous quantities of rubber to the road. A collection of classic F1 cars in another area presented similarly obscene quantities of rear tyre, which was most welcome…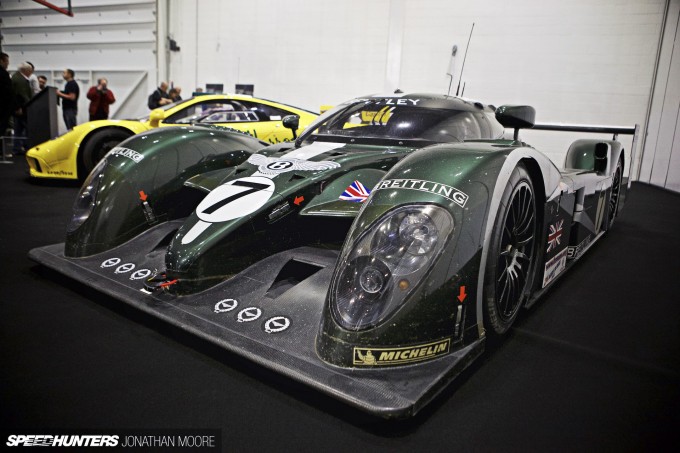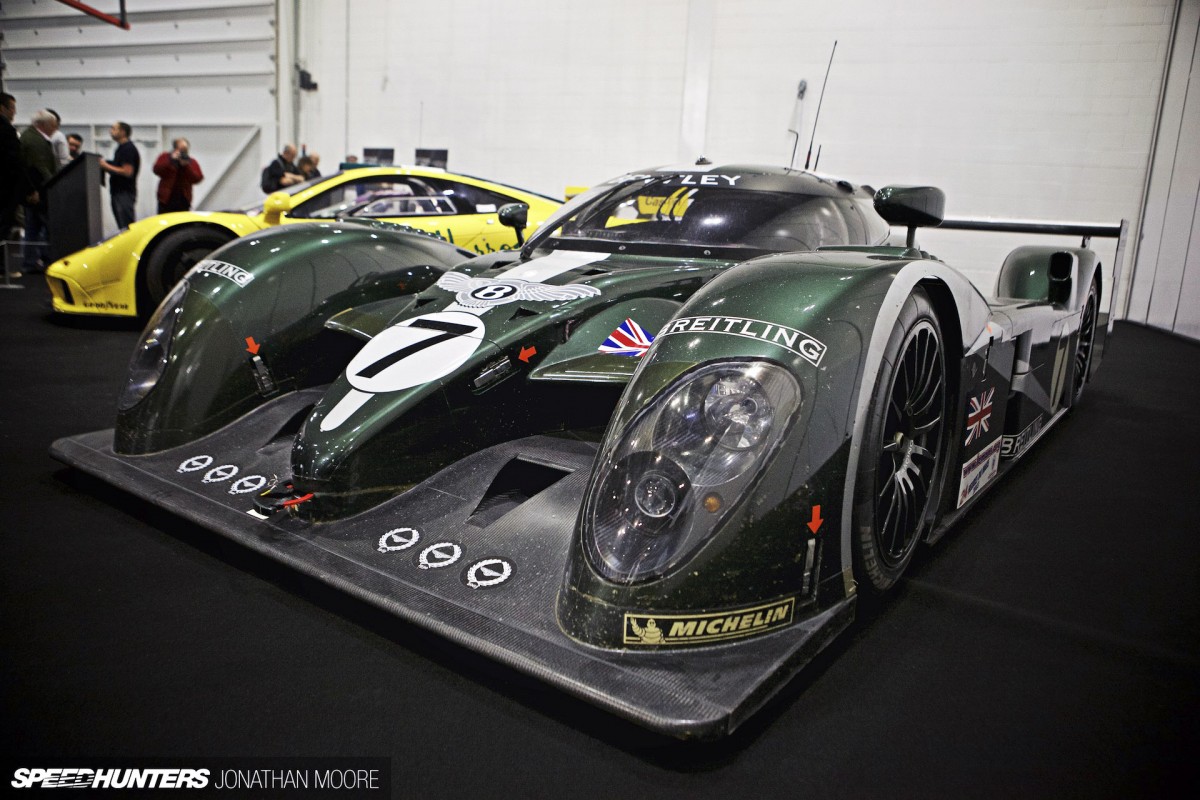 Bentley popped again in this corner, courtesy of the gorgeous Speed 8 prototype that took them to victory at Le Mans in 2003, putting them back in the winner's circle after a break of 73 years.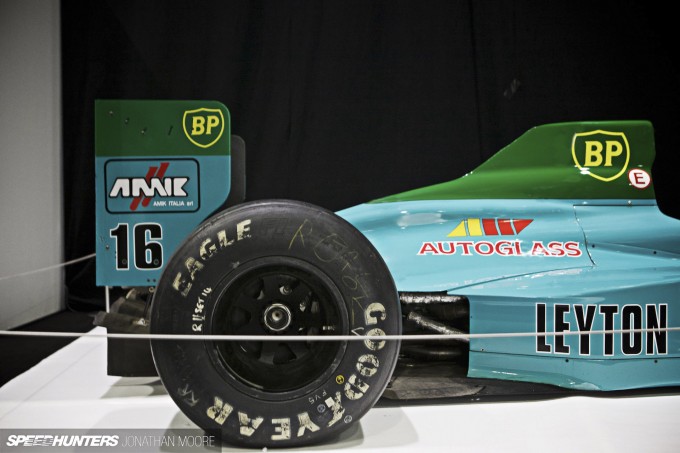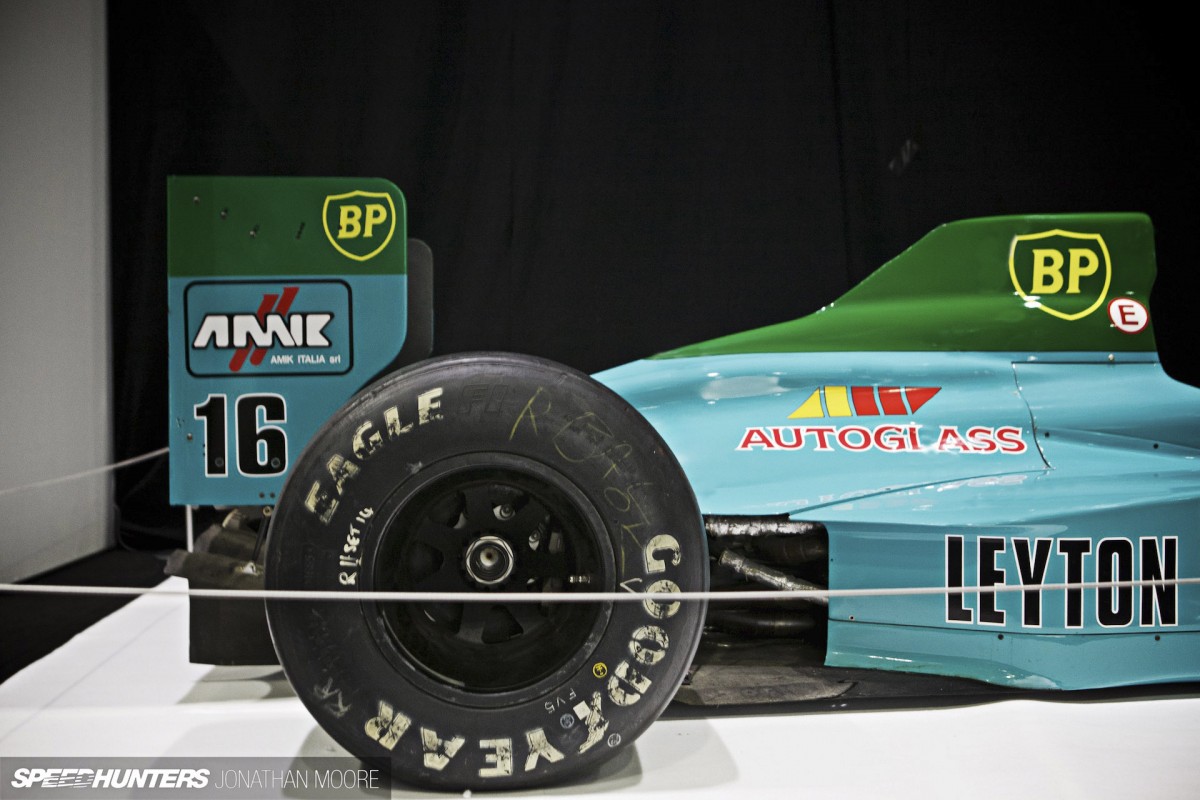 The second exhibition was dedicated to someone who is regarded as the most influential racing car designer ever and is certainly the most successful: Adrian Newey.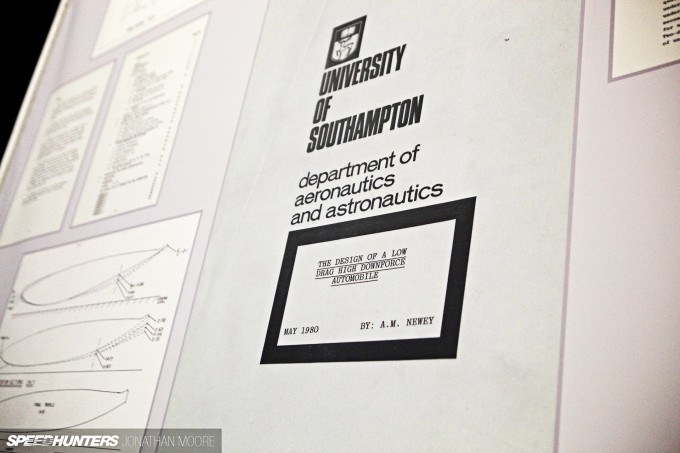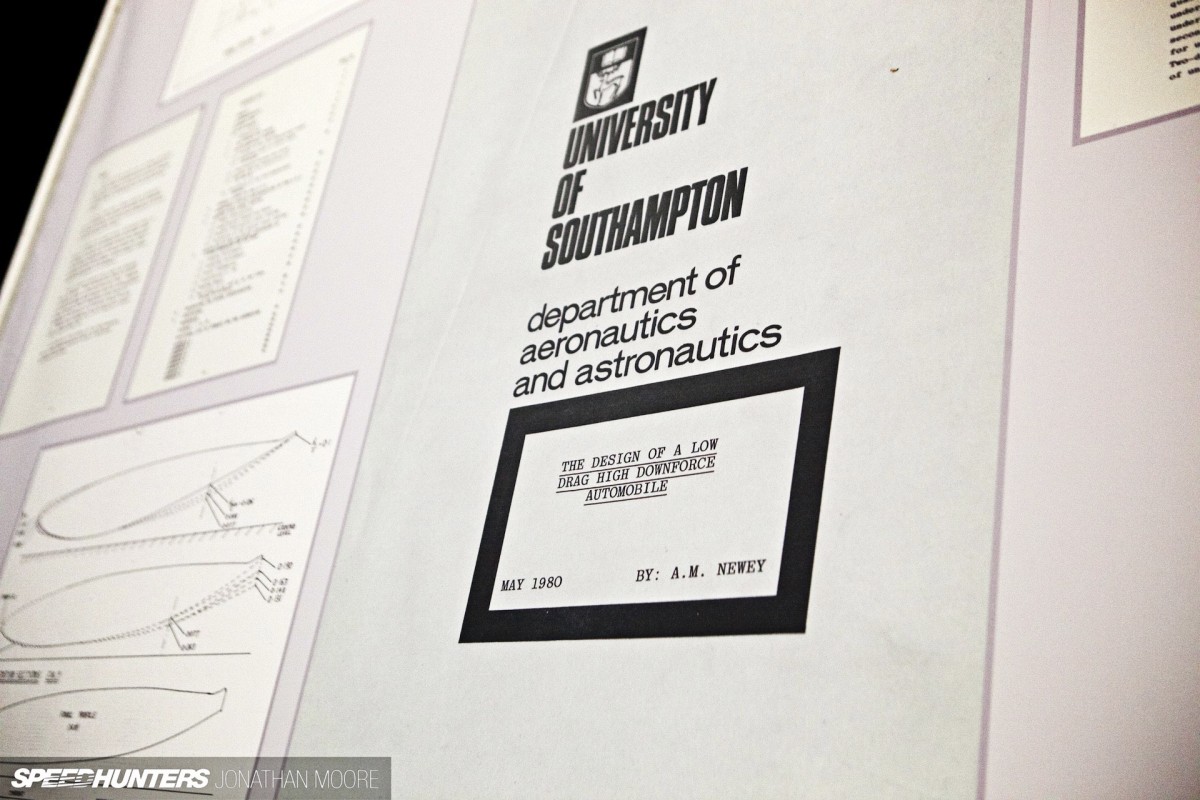 The exhibition was co-curated by Newey himself, making it that bit more special and personal. One board showed extracts from his degree dissertation, highlighting the turning point when an interest would turn into a profession.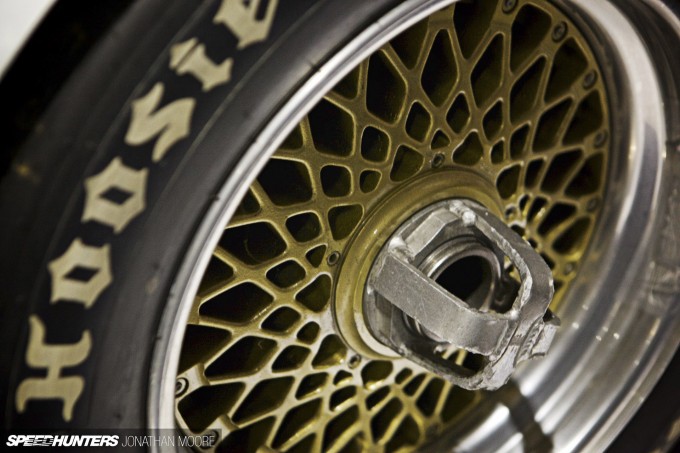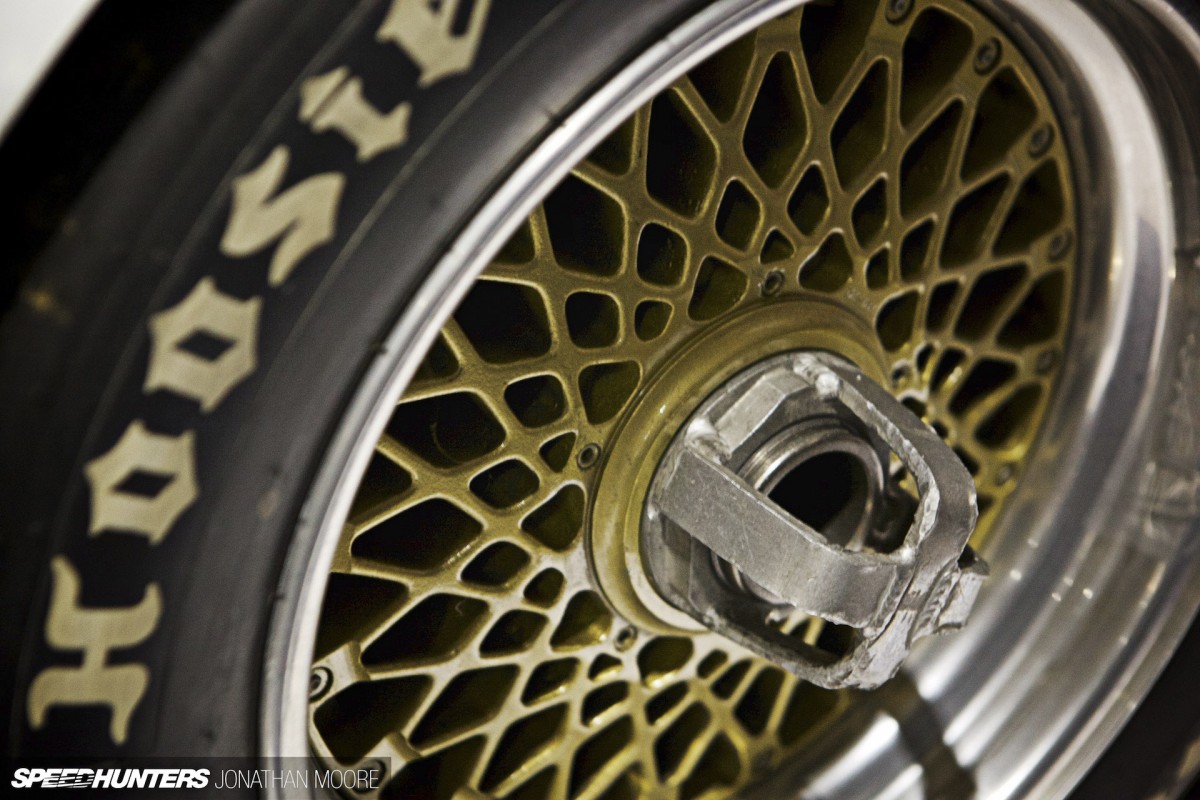 After a stint working for Fittipaldi in Formula 1, Newey moved to the March team, where he demonstrated his promise from the off.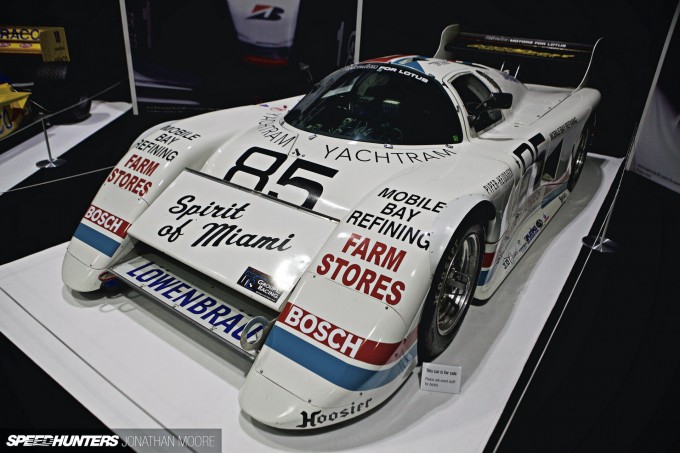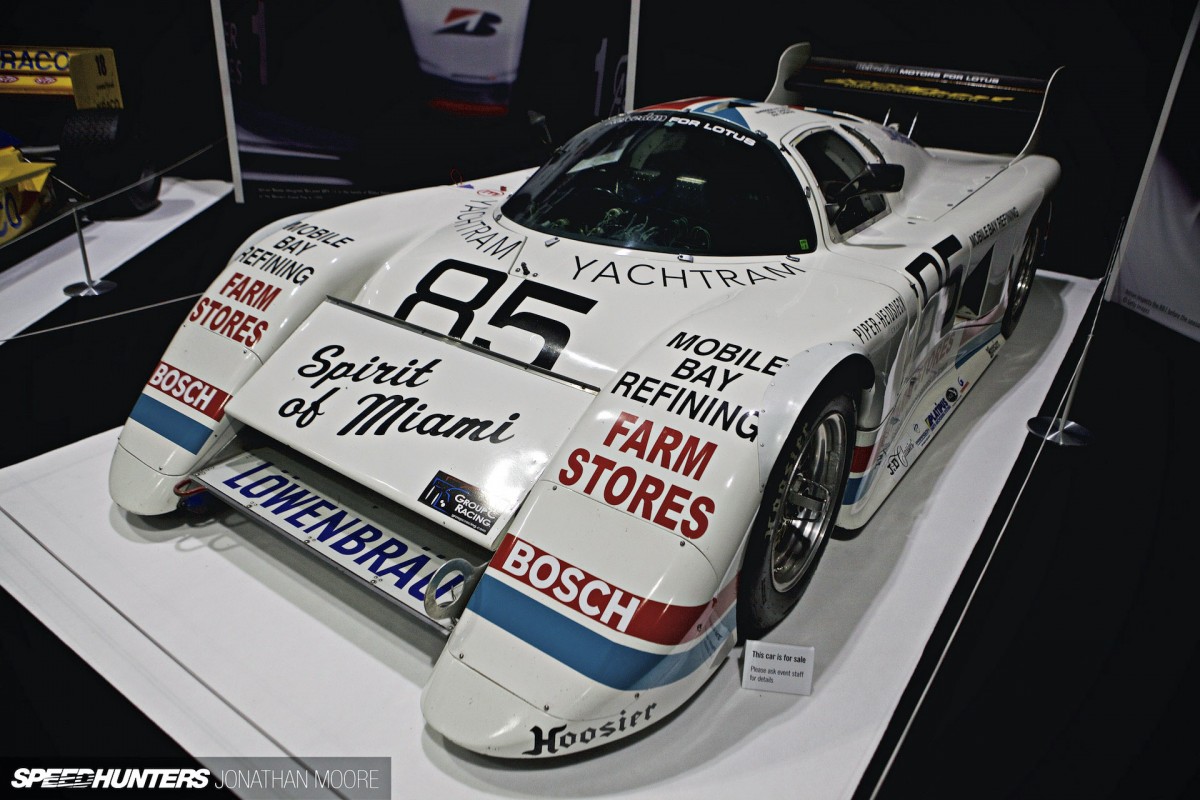 The 1984 March 84G GTP car was an evolution of the 83, which was based on a redesigned version of the aluminium honeycomb monocoque chassis used in the BMW M1C, and it utilised full ground effect aero. A Chevy-powered 84G swept the '84 IMSA series.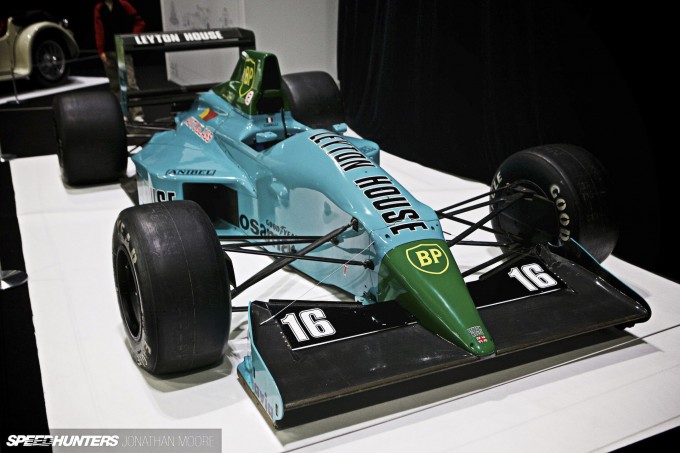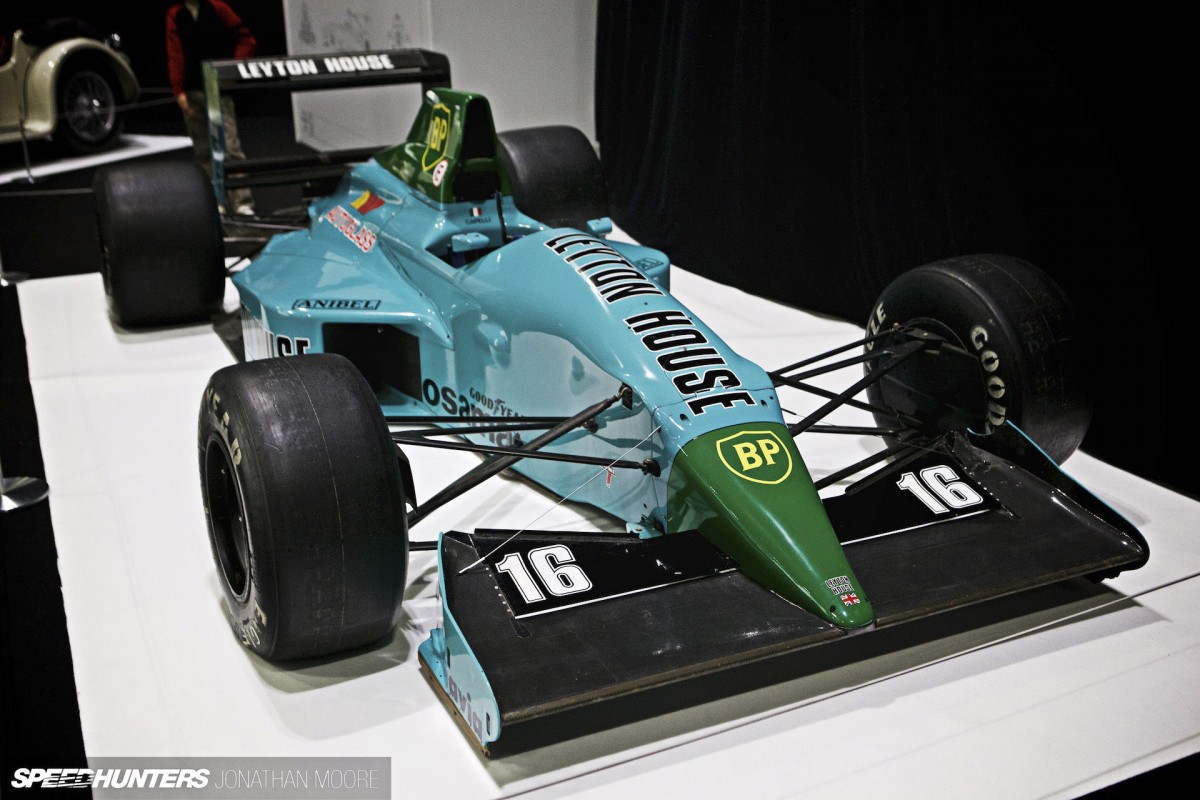 This is what I consider one of the prettiest ever Formula 1 cars: Newey's March 881 Leyton House. His creativity bridged the gap to the turbo cars the team were competing against, and the underdog team managed three podiums in 1988.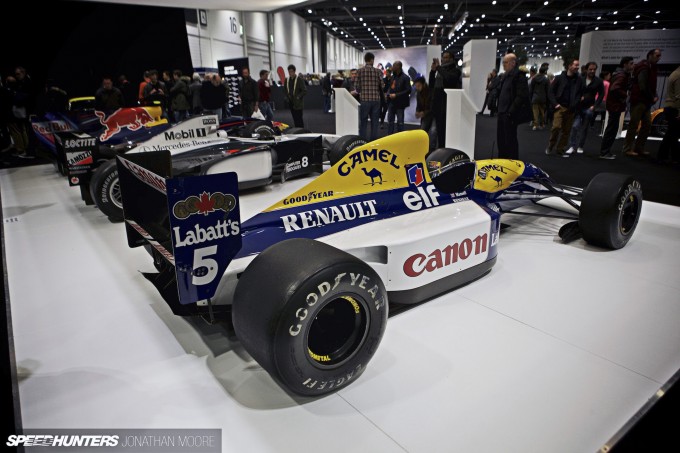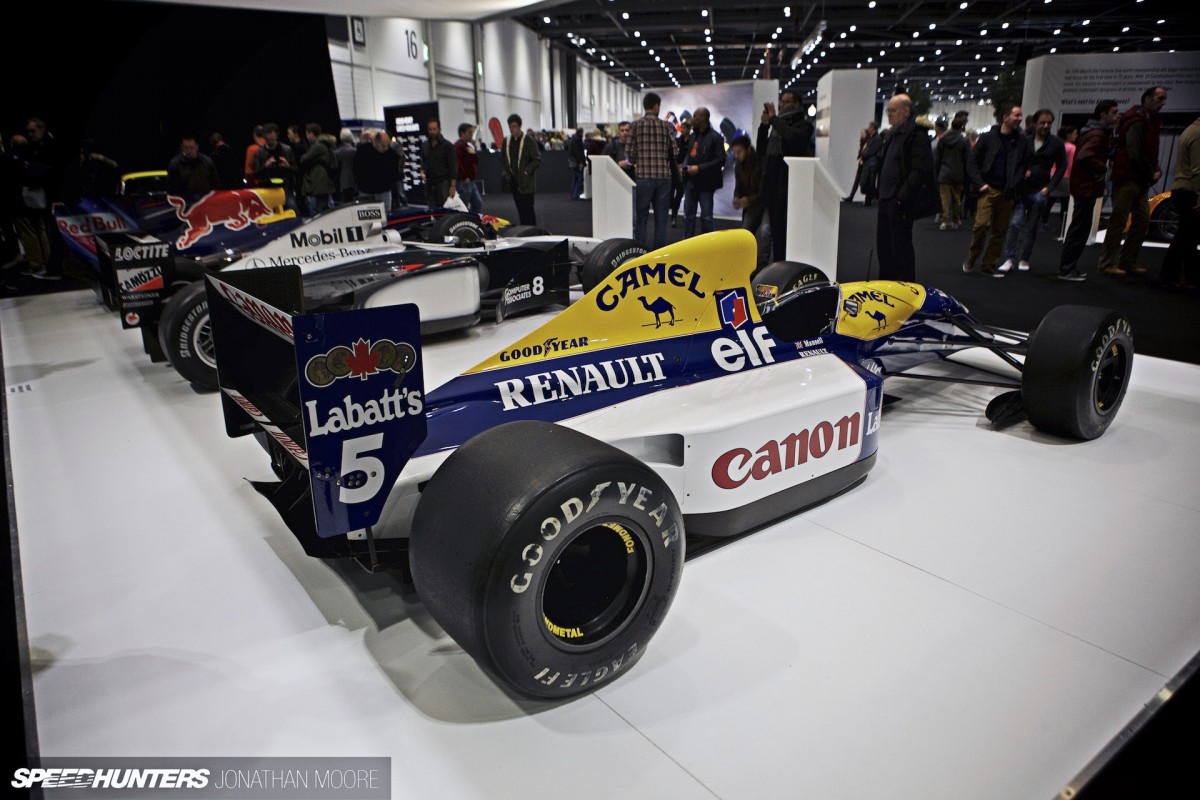 From then on there was no looking back – Newey's golden touch would rule F1. This trio demonstrates that point – the dominating Williams FW14B with its active everything from 1992, the McLaren MP4-13 that Mikka Hakkinen took to the F1 title in 1998, and then the Red Bull Racing RB5 which saw Newey help turn around a floundering team and set the scene for a quartet of driver titles with Sebastian Vettel.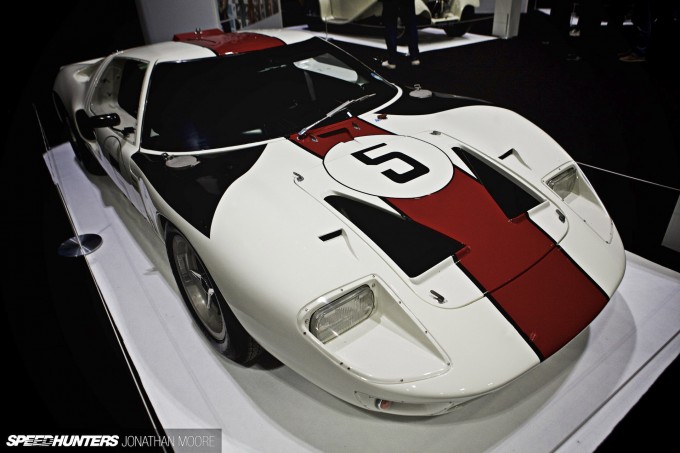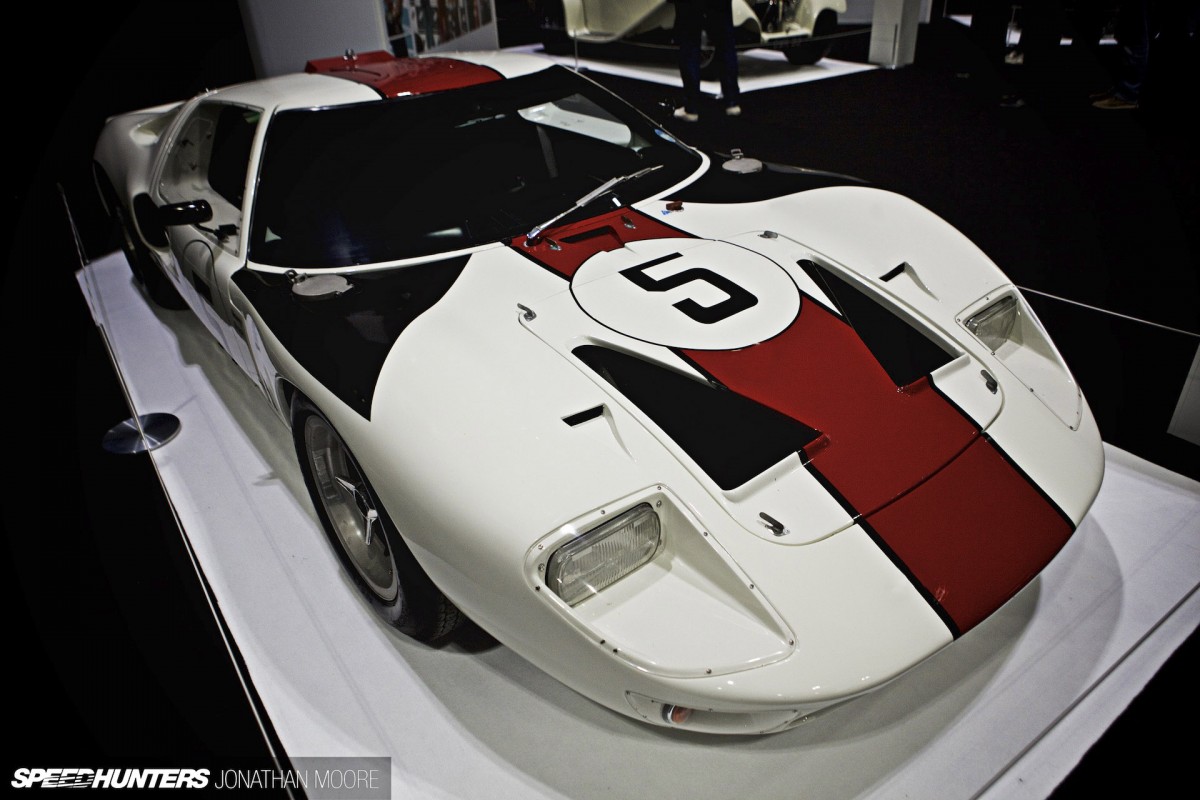 So, if it's all down to the man who draws the cars, what's he like when he's behind the wheel? Enthusiastic, it turns out. Adrian Newey practices at what he preaches, and frequently hits the track. He owns this GT40, which can be seen out in various historic races, and certainly puts in the effort – a wrecked GT40 from the Le Mans Legend race back in 2006 proves that!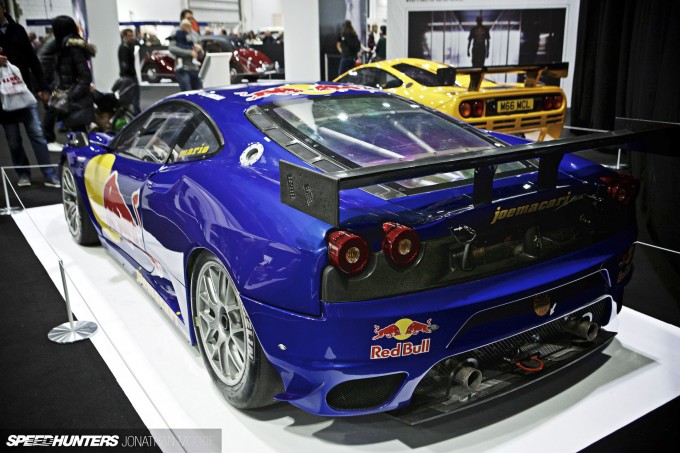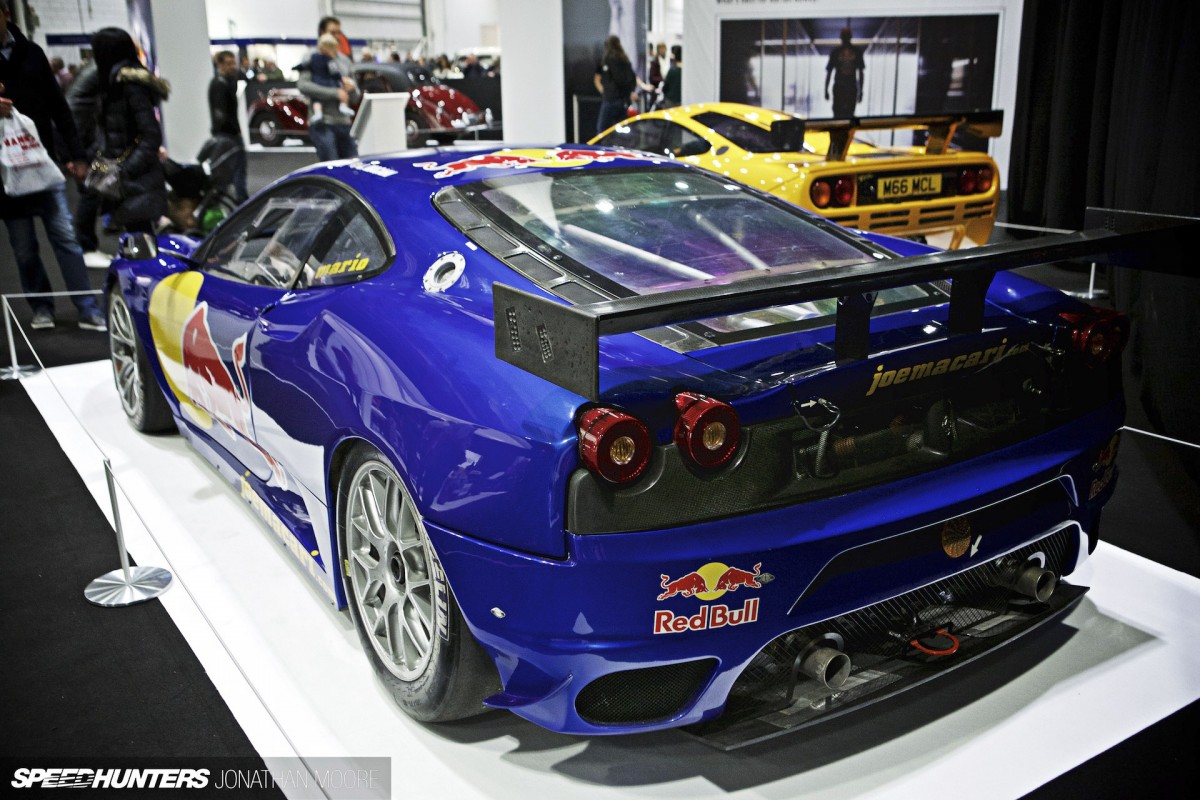 He also moved up to modern racing, competing in the Le Mans 24 Hours in 2007 in this Ferrari F430, finishing fourth in class. With his technical worth to racing, I'm sure that Red Bull's management hold their breath every time he puts on a helmet…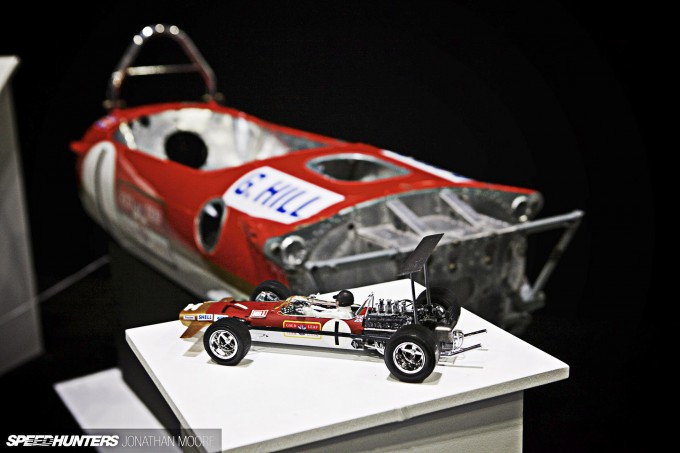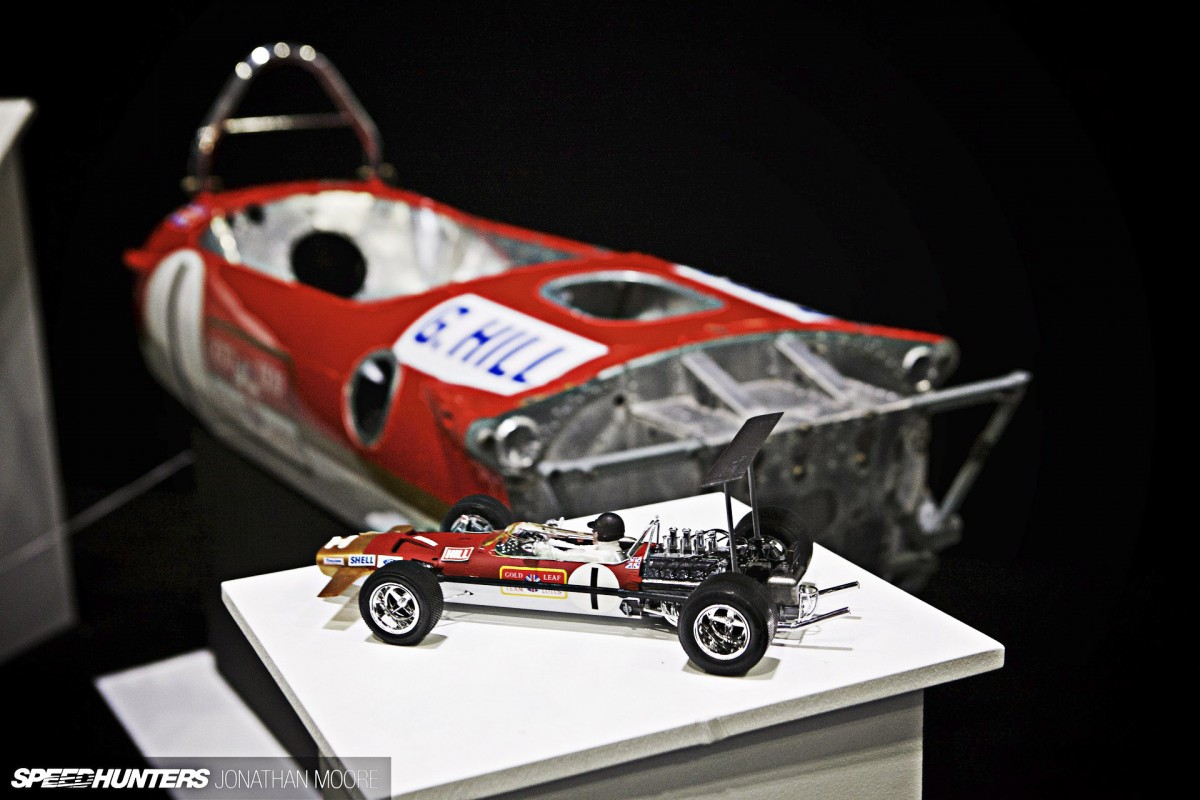 The story goes that his love of cars was kicked off when he lovingly built a Tamiya model of a Lotus 49B. This led to him sketching out his own racing cars, which he'd then build by cannibalising parts from other model kits. Fast forward 50 years, and he hasn't lost his love of model making. The Lotus 49B monocoque in the background? That's Adrian's latest project, which he's rebuilding from the ground up.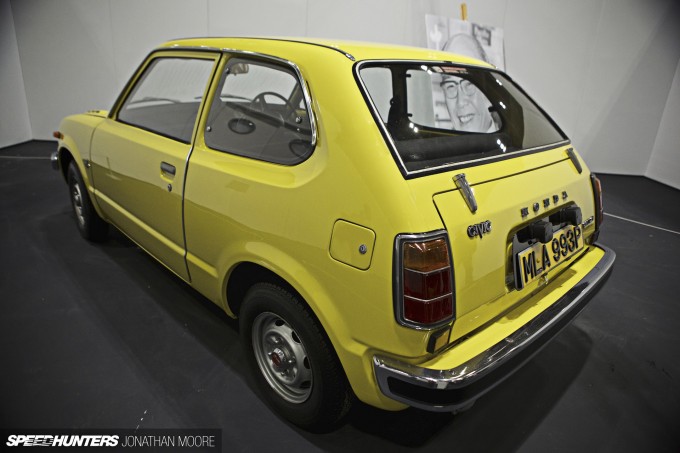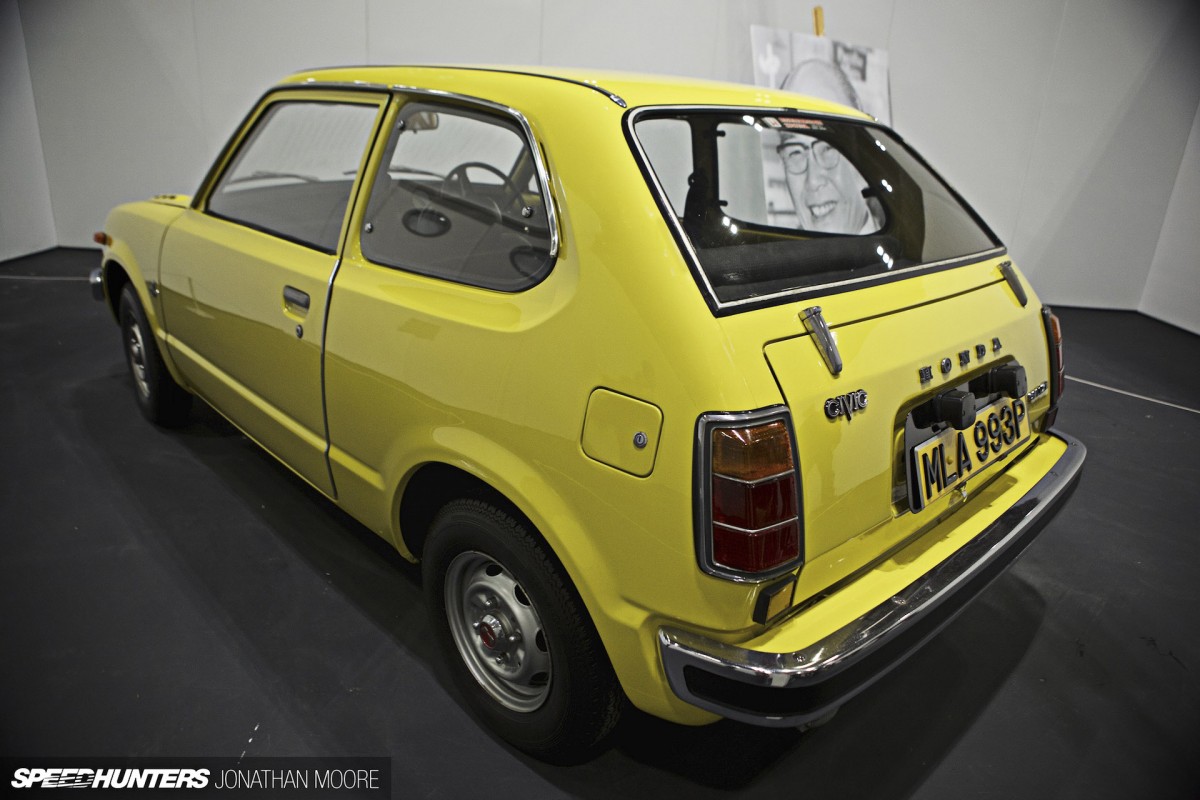 As a tenuous link, did you know that Adrian Newey went to the same school as Top Gear's ringmaster Jeremy Clarkson? The third space was filled by cars chosen by Top Gear's James May. In typical TG style, the May's exhibition was punctuated with mildly amusing captions, but did have a serious point to make with his dozen most influential cars.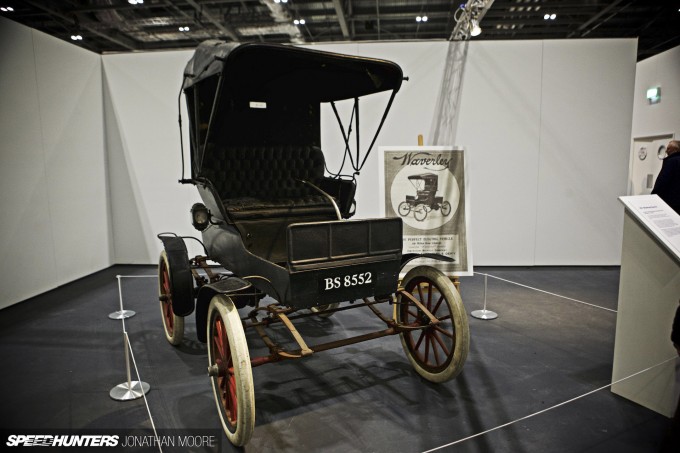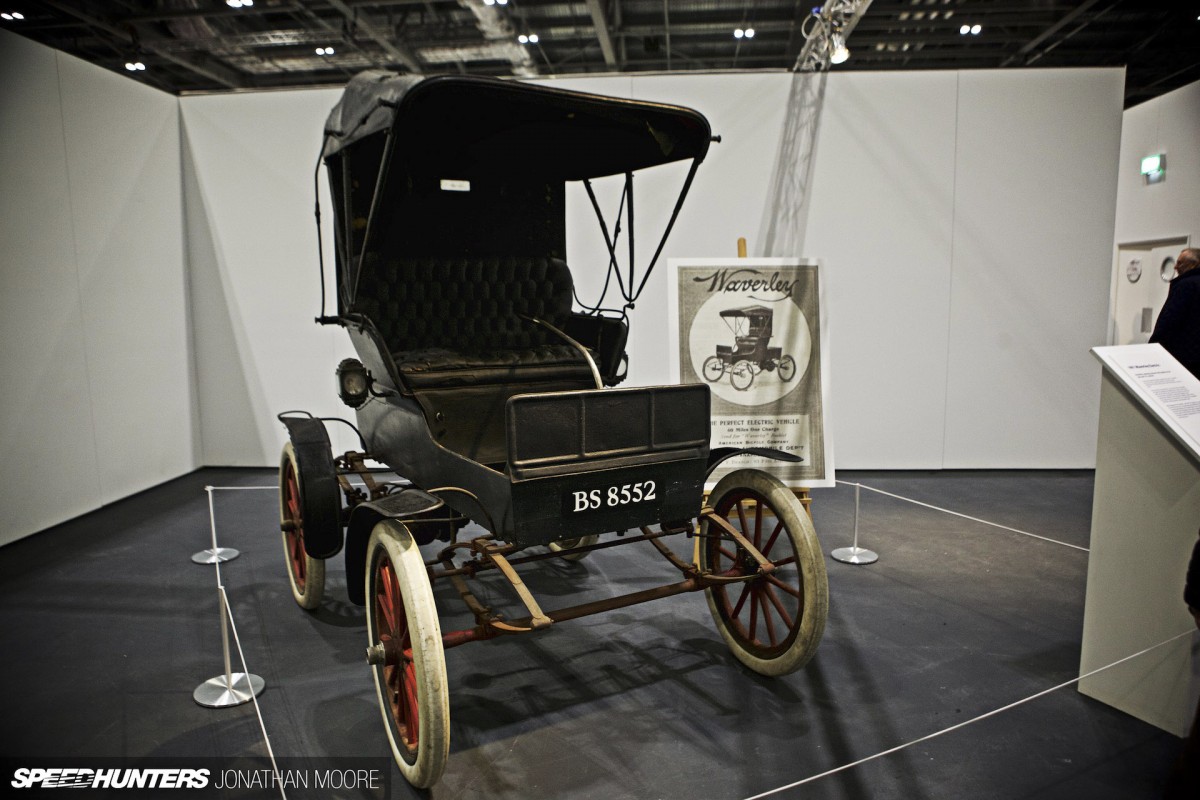 The collection was absolutely not what you might have expected, that is once you made your way through the Hall of Obviousness. Next door to a KDF Wagen and original Mustang was this, kicking off the Corridors of Bloody Mindedness. Where was the horse, you might ask? Or the engine at least. I was about to walk right past when I noticed the poster line: '60 Miles On One Charge'. This Waverly from 1901 was electric powered – and had a range that matches modern battery-powered cars.
I remember reading that New York in the 1910s had more electric-powered cabs than petrol; things are coming full circle perhaps?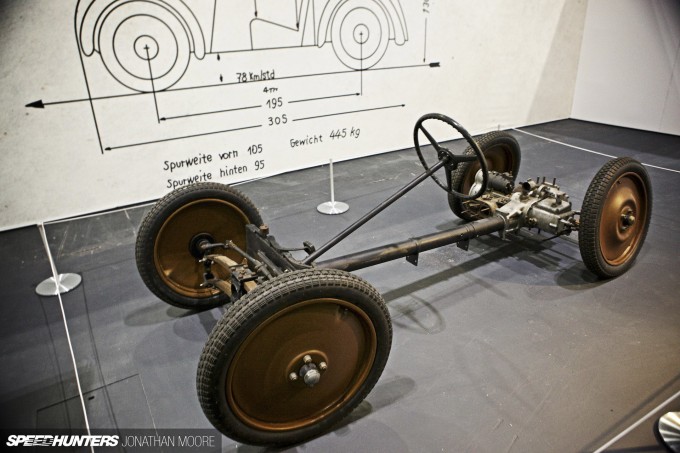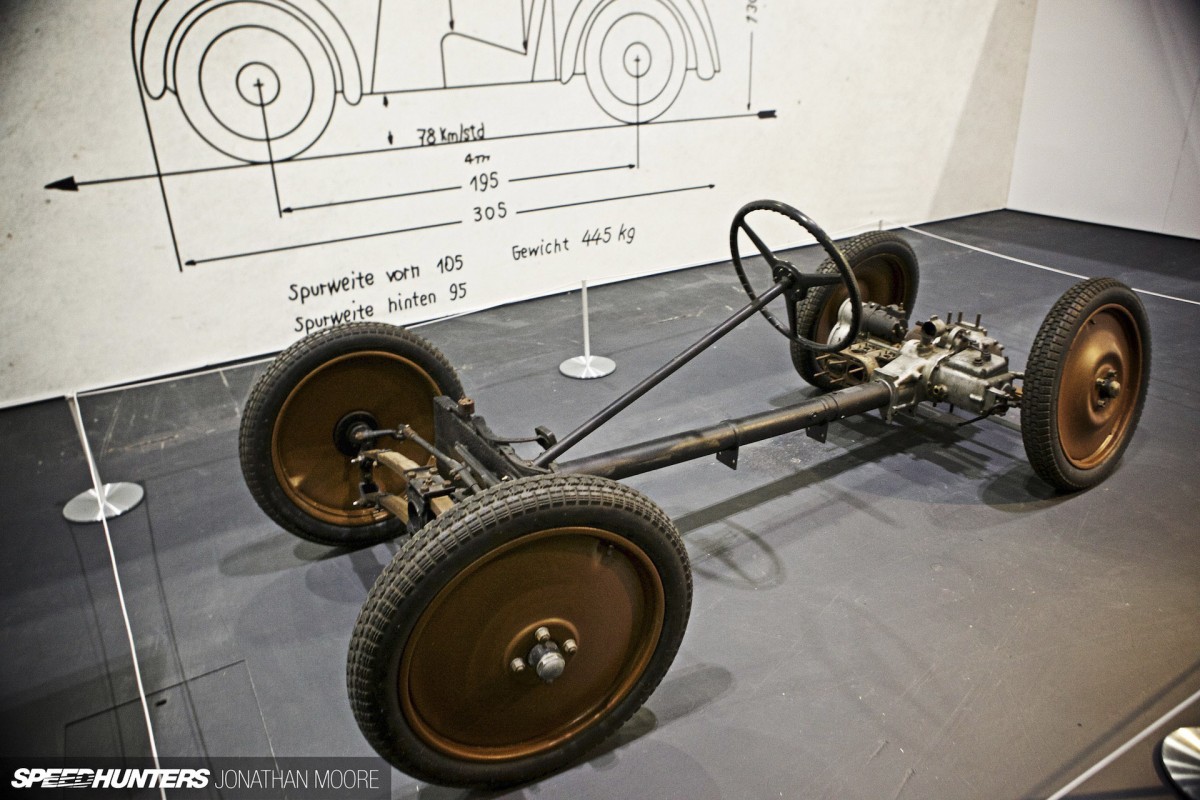 This simple setup represented the running gear of a 1934 Standard Superior: the car that laid the foundation for the KDF Wagen and then, of course, the Beetle – undeniably one of the most influential cars of all time.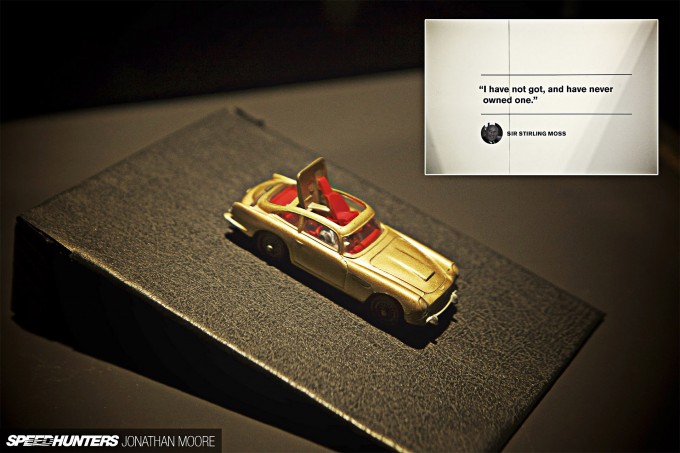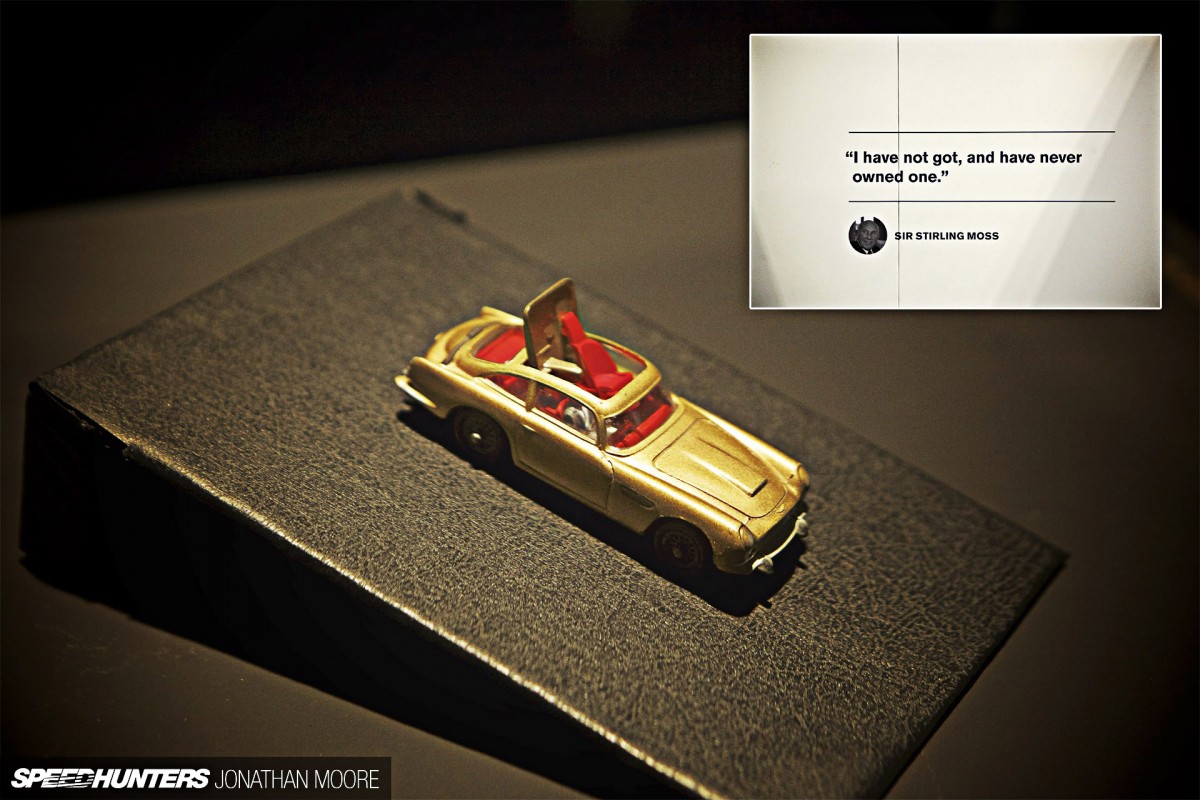 Quotes from famous drivers lined the walls of the corridors in the build-up that led to the final car: The Car That Changed The World. After much fanfare, we were treated to a typical ironic pay-off – a Corgi model of James Bond's Aston Martin DB5, complete with ejector seat. With that, he was definitely aiming at visitors of a certain age… However, this is still a very cool toy!
So, the London Classic Car Show delivered much more than expected: some drop-dead gorgeous cars like the Lightweight Es alongside some brute-force surprises like the Supercharged Petersen Racer. The smell of oil and sound of engines helped the atmosphere, and definitely gave the boat exhibitions surrounding us something to think about…
Jonathan Moore
Instagram: speedhunters_jonathan
jonathan@speedhunters.com