The Rise Of The Lowrider
At 66 years running, the Grand National Roadster Show is big on tradition. The chance to experience hot rod and custom car history first-hand is a big draw for the thousands that come through the gates of the Fairplex every year. But for as much as the GNRS is about the old days, it's also about new trends and the exchange of ideas between different builders and enthusiasts.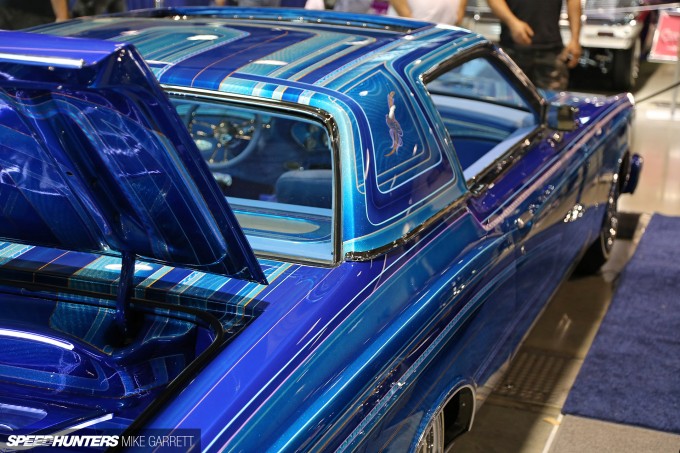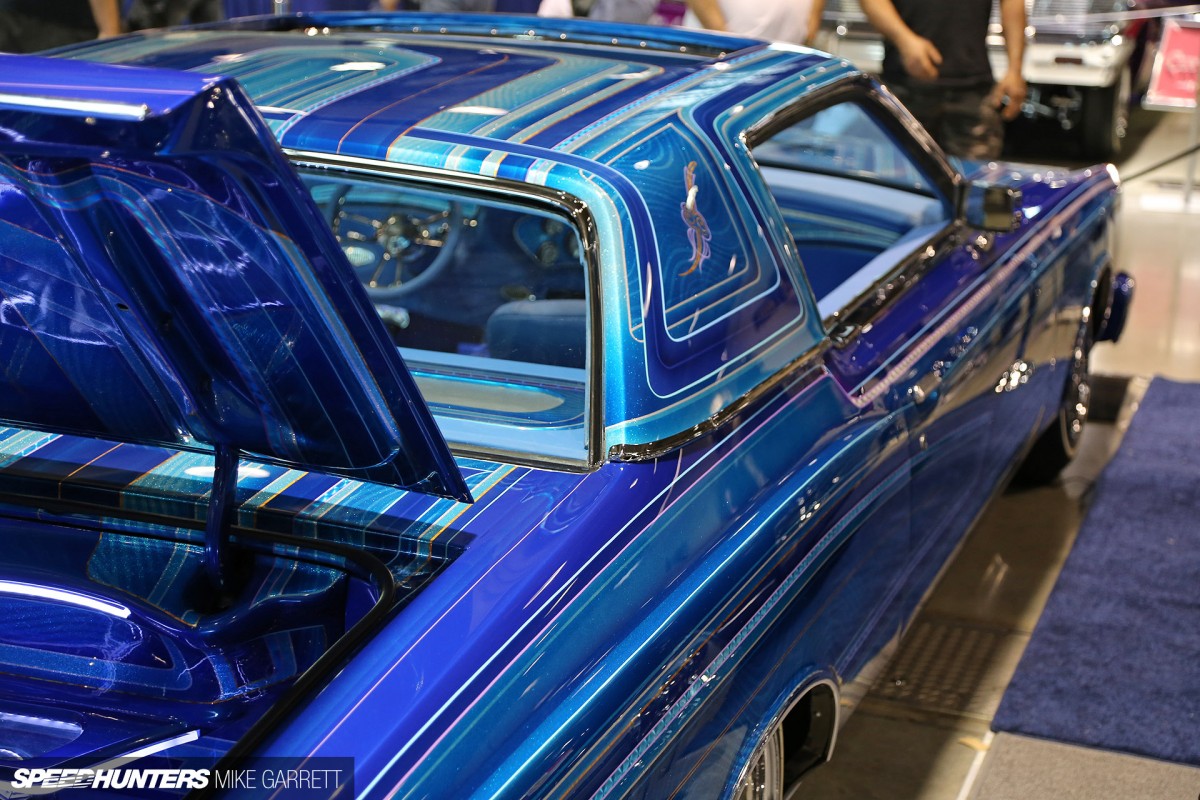 It's a place where you'll find mega-buck, billet-laden show rods sitting a few steps away from rust-covered jalopies. You'll also find freshly-debuted, modern builds parked beside historical customs appearing just as they did when originally built some 60 or 70 years ago. It's one of the things I love about the event.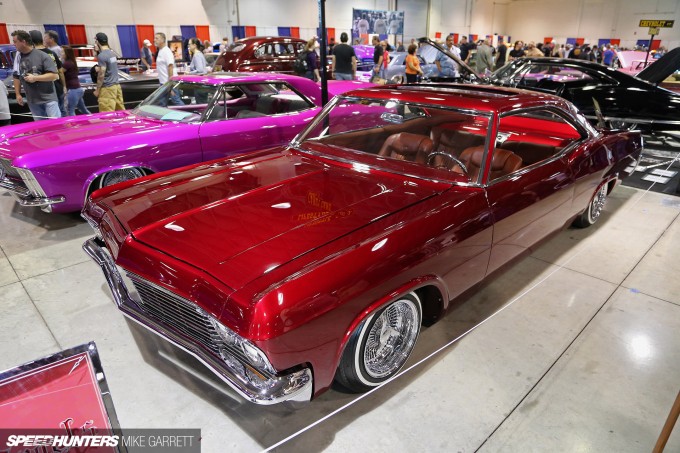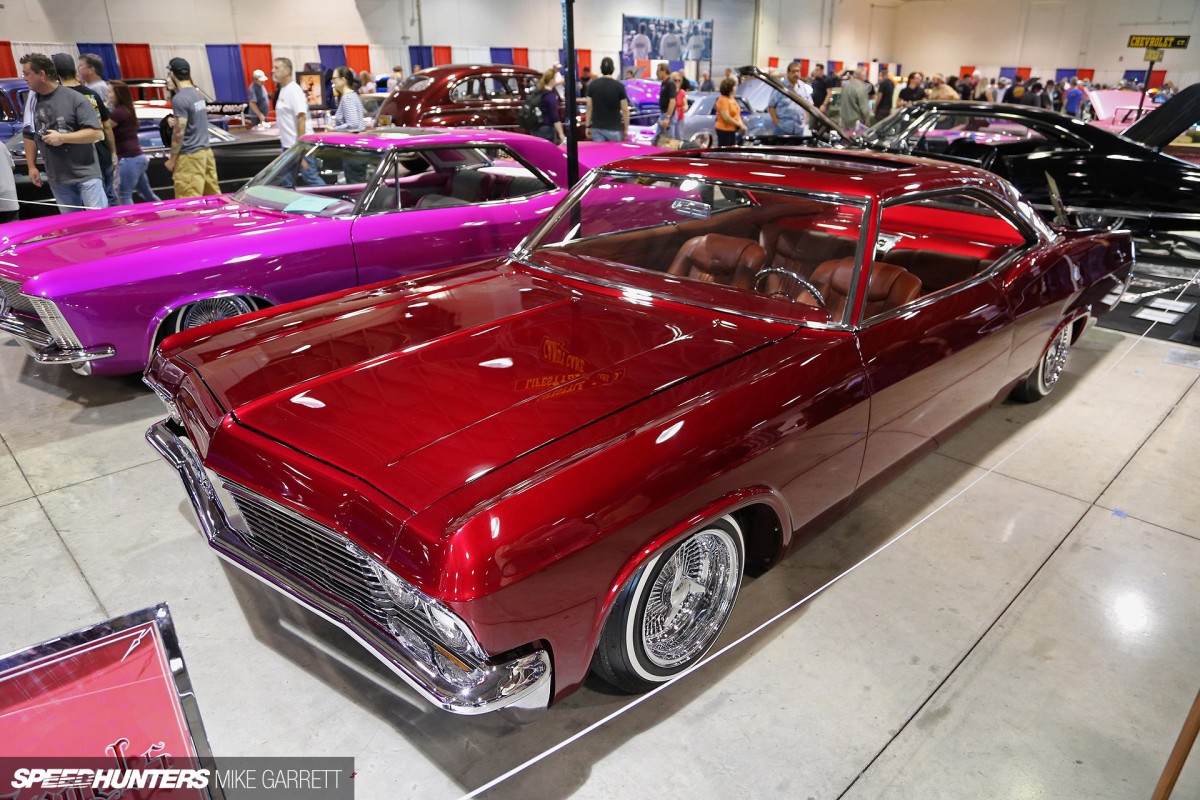 Over the past several years, there seems to have been an increasing convergence between the world of lowriders and that of traditional custom cars. Historically, the lowrider scene has always been its own thing, with unique demographics and separate traits – something I don't think will be changing anytime soon. But I can't help but notice that the lines seem to be blurring in certain areas. The divide isn't what it once was.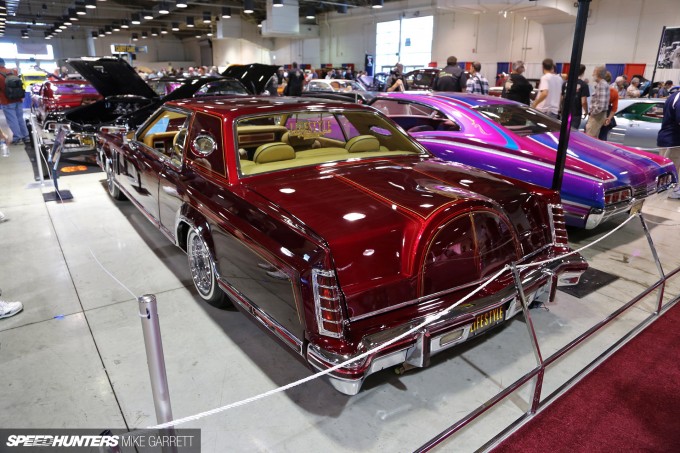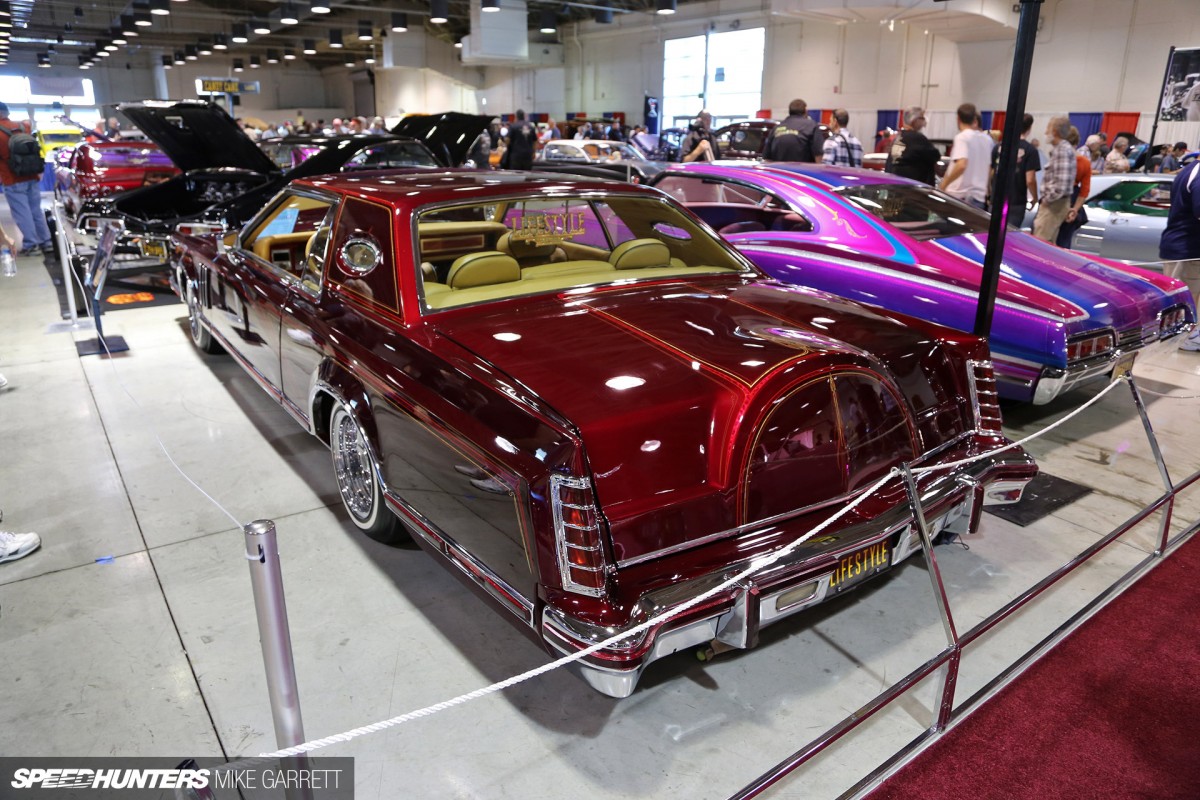 The Grand National Roadster Show regularly includes a display for lowriders from some of Southern California's biggest car clubs. It's one of the few places where you'll see these cars outside the realm of lowrider-only gatherings.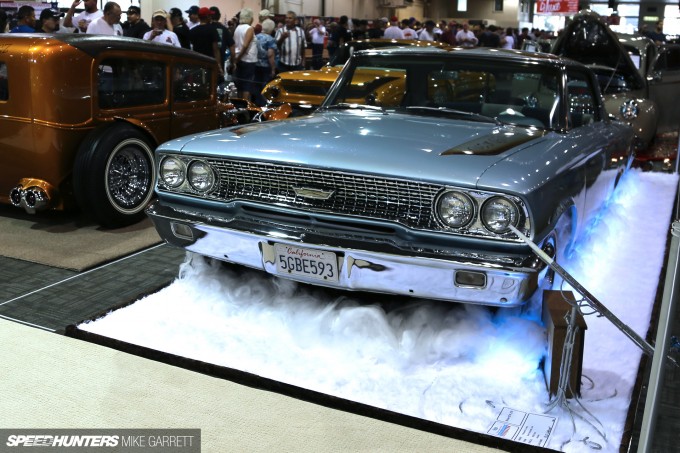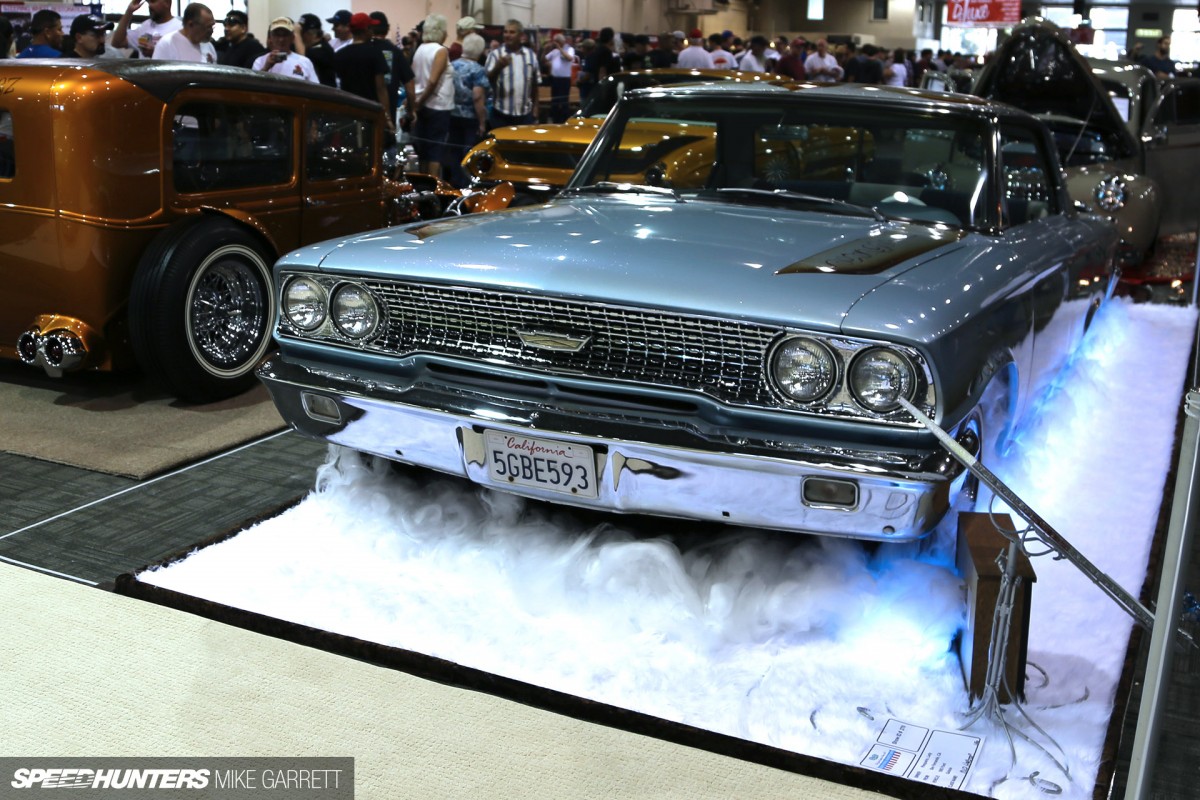 Aside from the presence of the full-on lowriders at the GNRS, there was also a nice sprinkling of cars that straddle the border between 1960s-style custom and straight lowrider.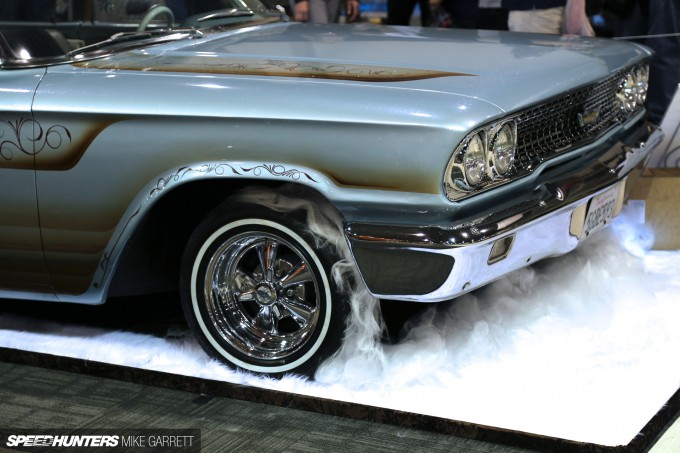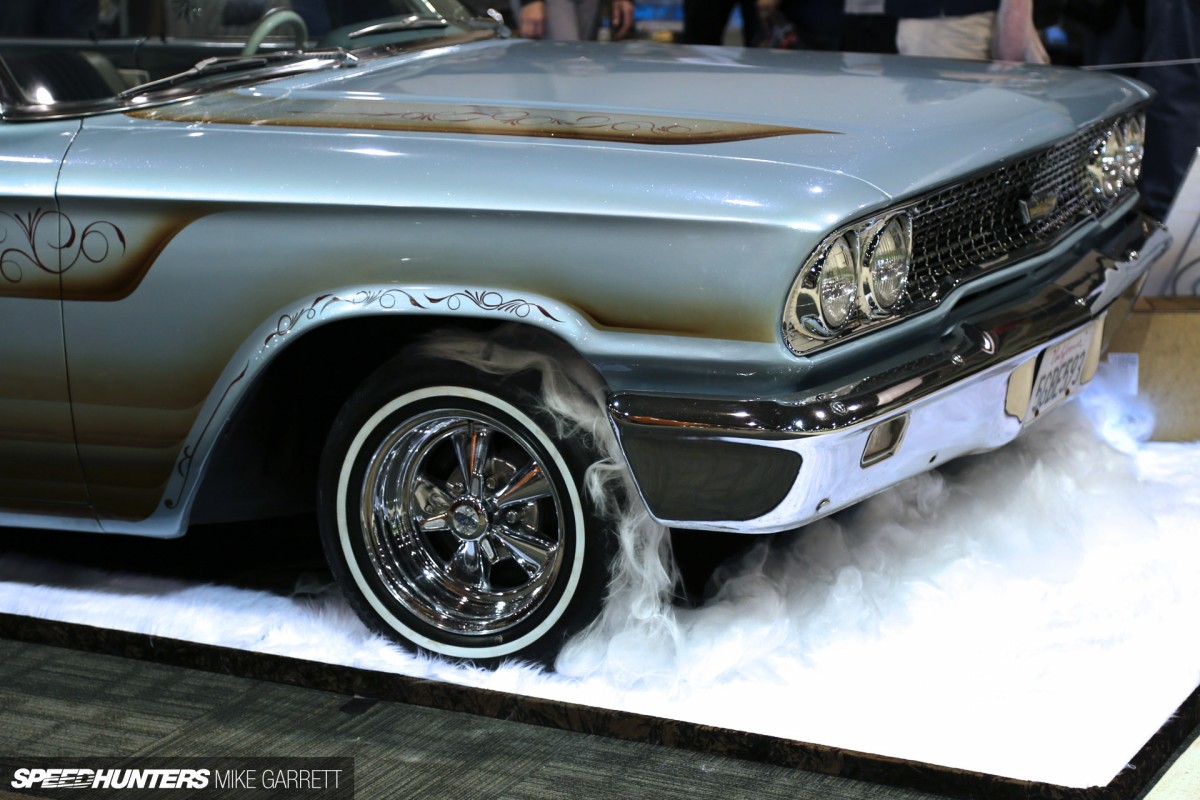 In later years the genres would go down separate paths, but for a period in the mid '60s, Southern California was home to a number of cars which combines elements of both. Today, it's sometimes referred to as 'Bellflower style', so named after the city where many of these cars could be found cruising. Whatever you want to call them, they represent an important era in both custom car and lowrider history.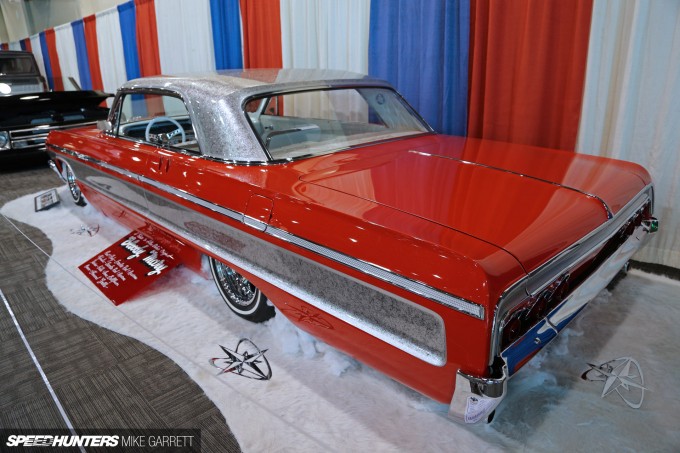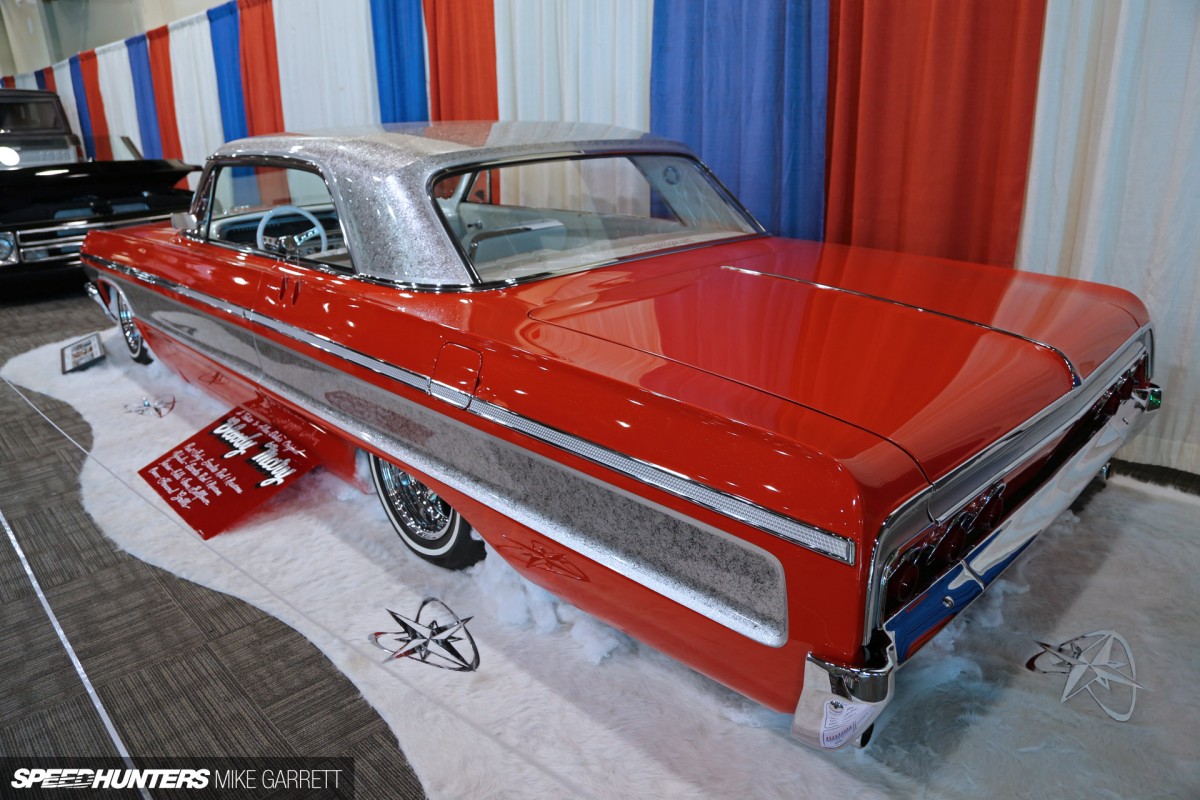 It's hard to find a better example of this style than Howard Gribble's '64 Impala SS. The car known as Bloody Mary was built by Starlite Rod & Custom, and is actually perfect replica of a machine built by Allen Dukes in the late '60s.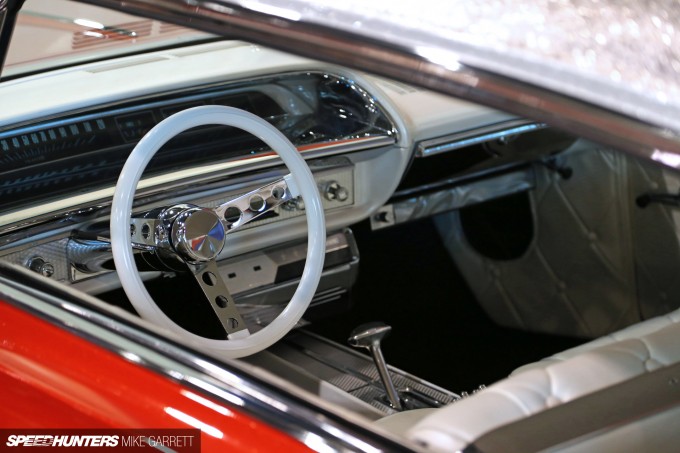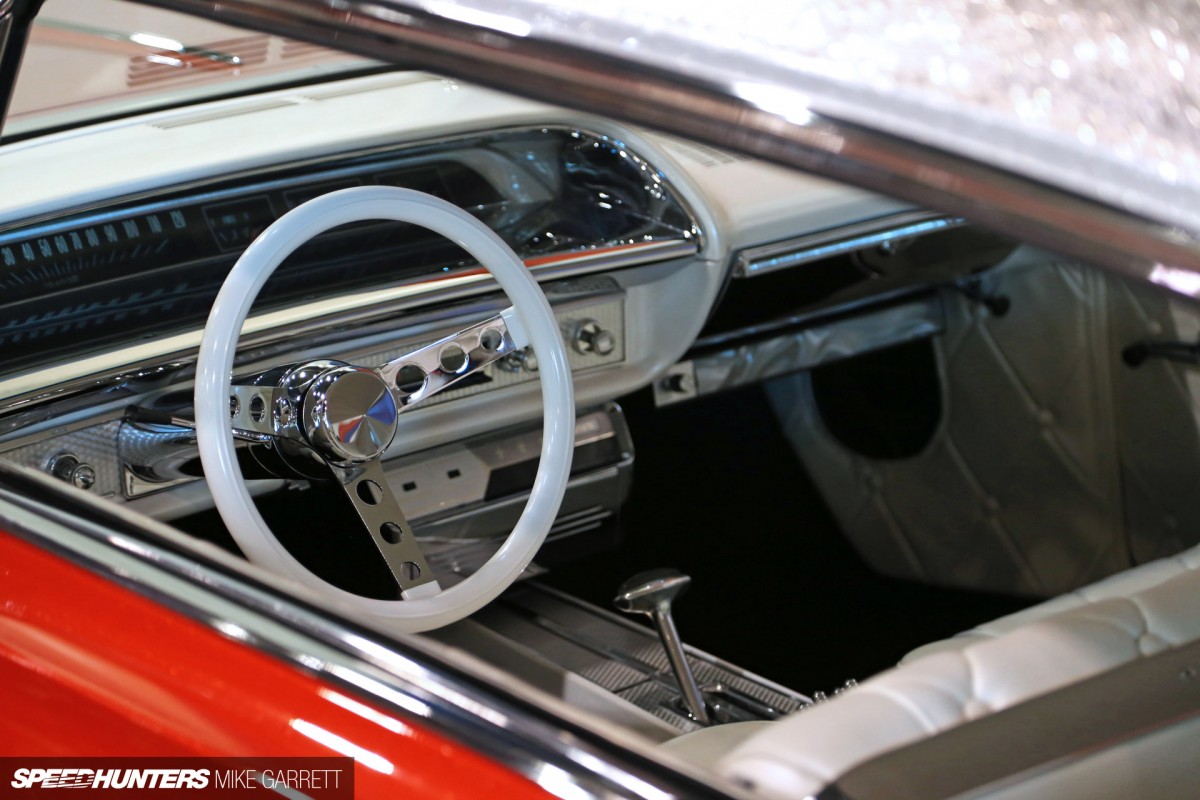 From the paint and wheels to the interior treatment, Howard's Impala is a stunning tribute to custom car history, and one that could easily fit in at both a traditional custom car show, or a lowrider event.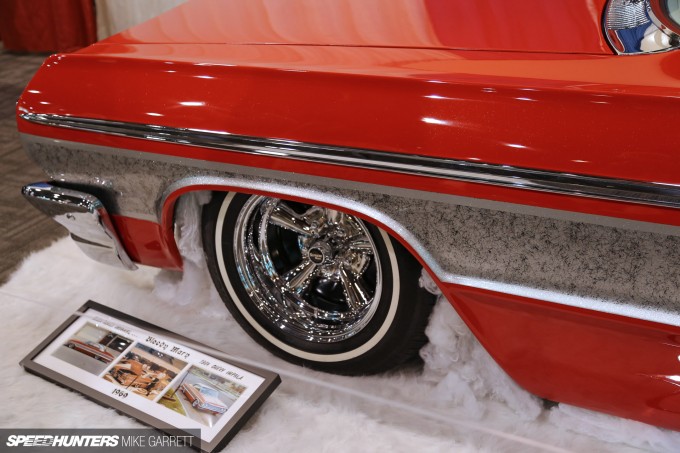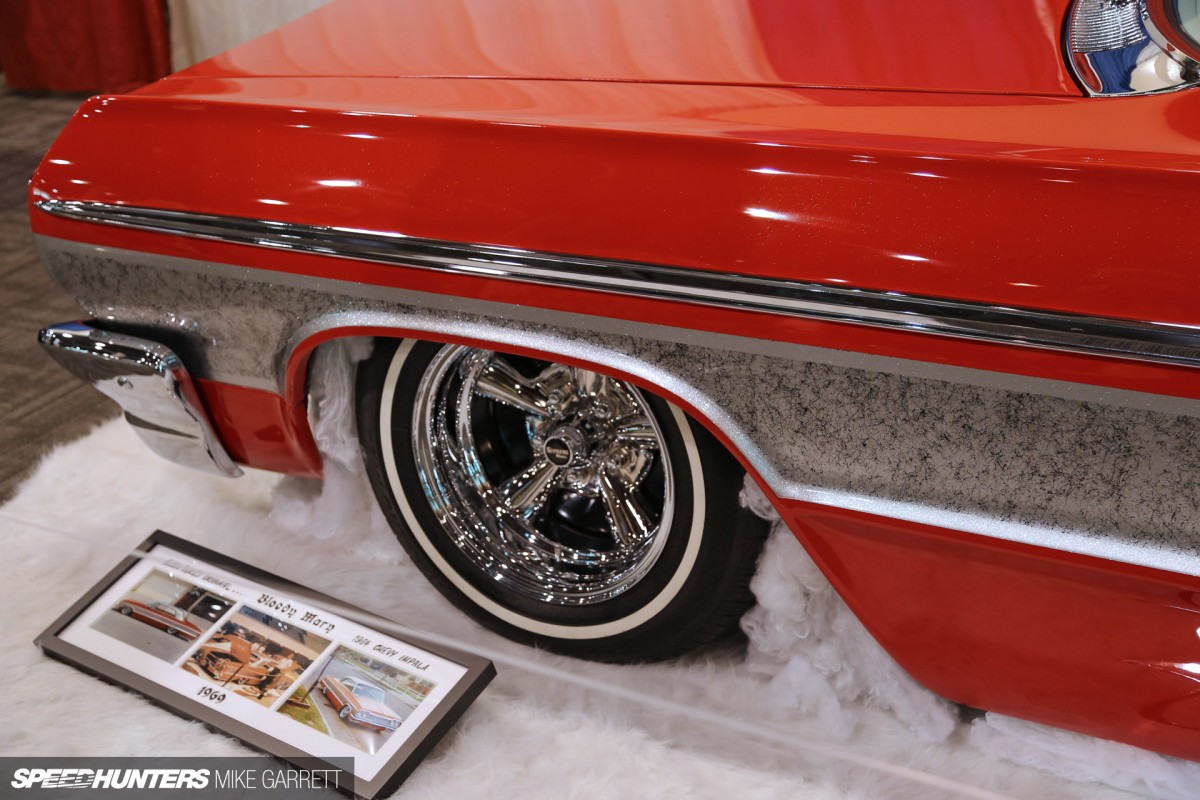 You can also see that he went with a period-look for his show display as well, with cotton stuffed in the wheel wells as you would often see at indoor exhibitions in the '60s and '70s.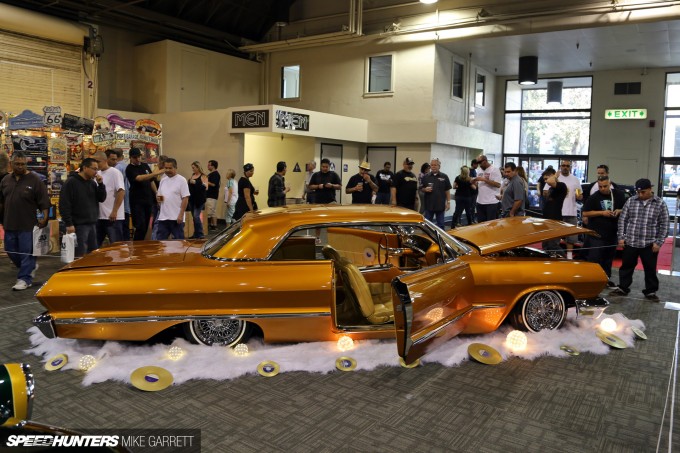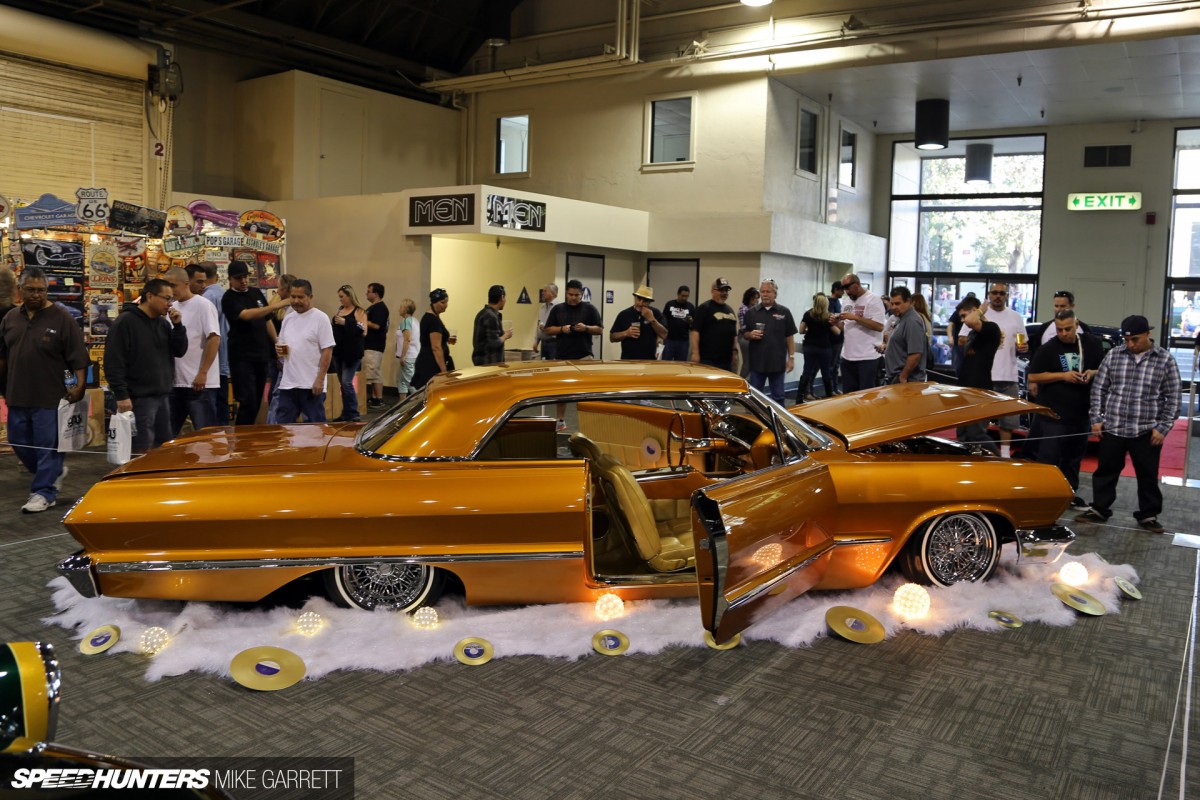 Richie Valles of Unique Twist Auto Body in Burbank is another builder who's known to skirt the boundaries between lowrider and custom. His MoTown '63 Impala is another build that combines elements of both schools of style.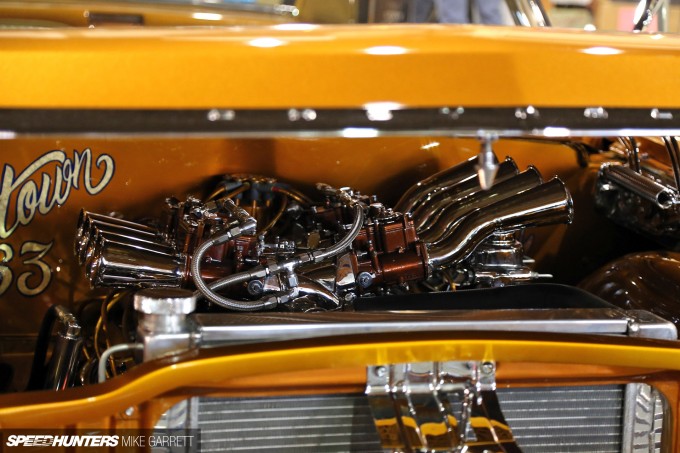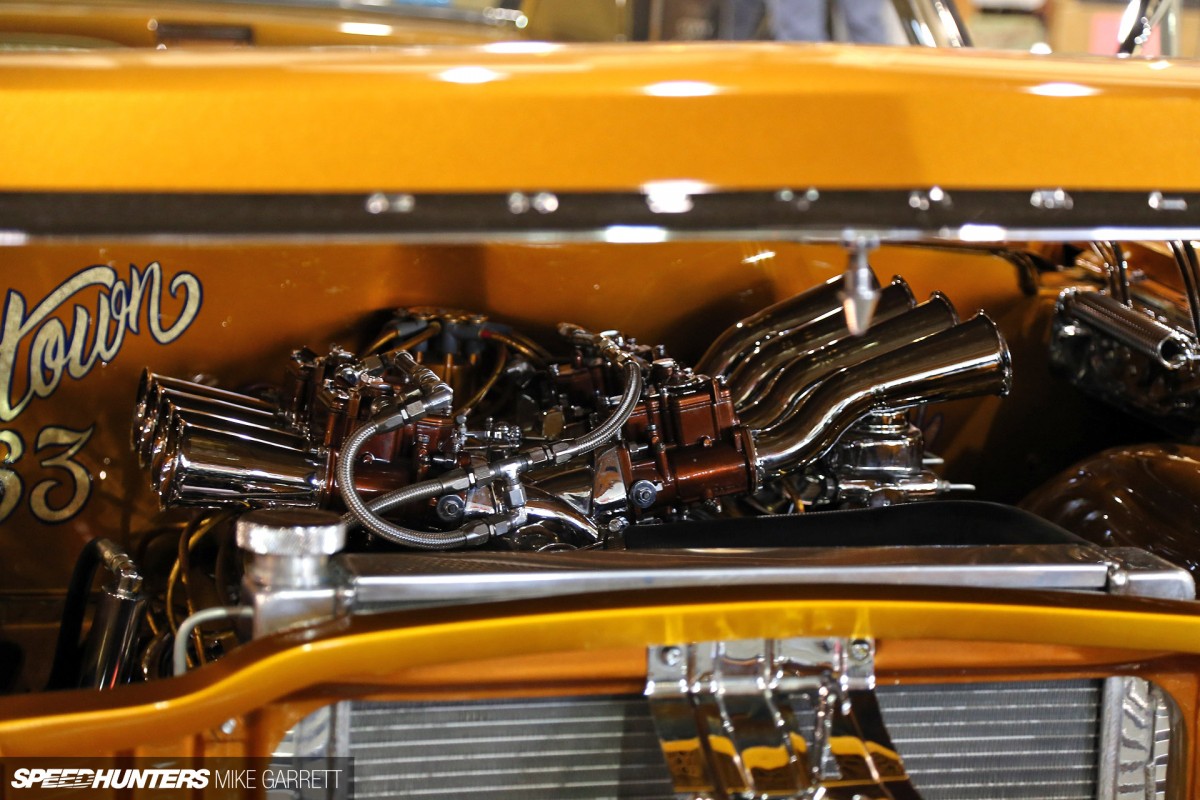 On one hand it's got typical lowrider touches like hydraulics and wire wheels, but it also has some unusual features like a custom cross ram induction system.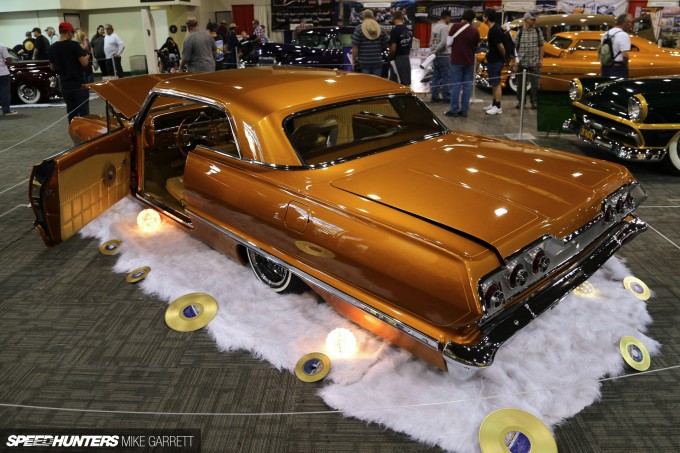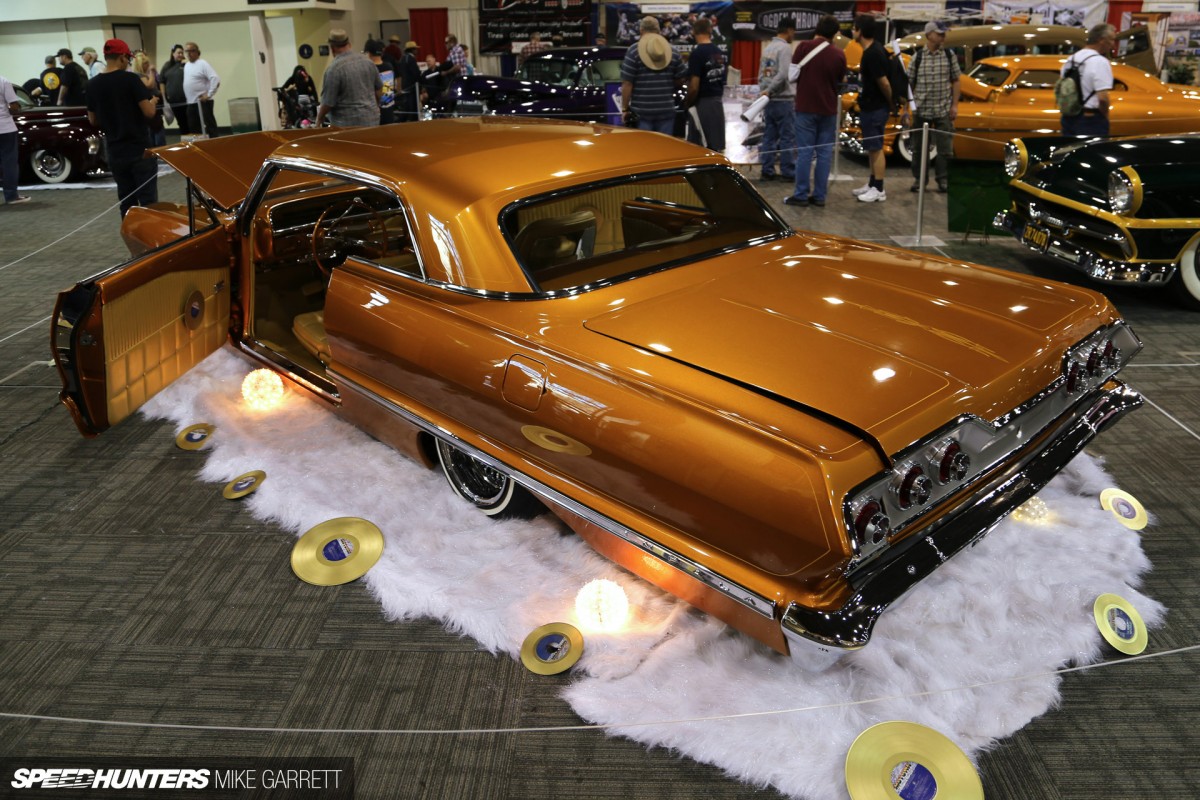 It has the attention to detail you find on high-level lowrider show cars, but everything's been approached in a more restrained way. The paint job is a bit more understated, as is the interior – and the build seemed to be getting a lot of attention at the GNRS.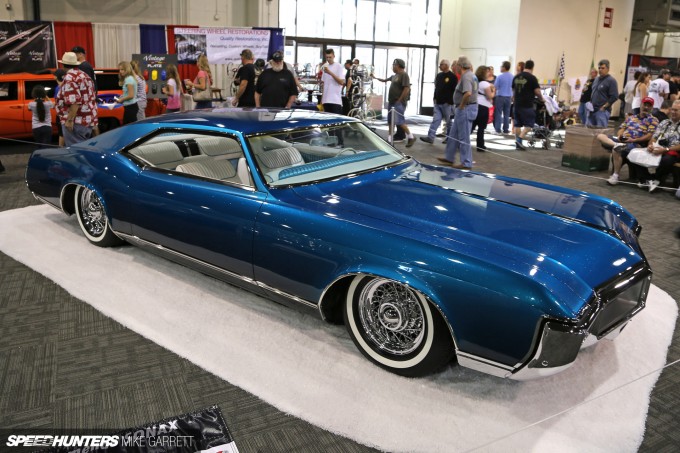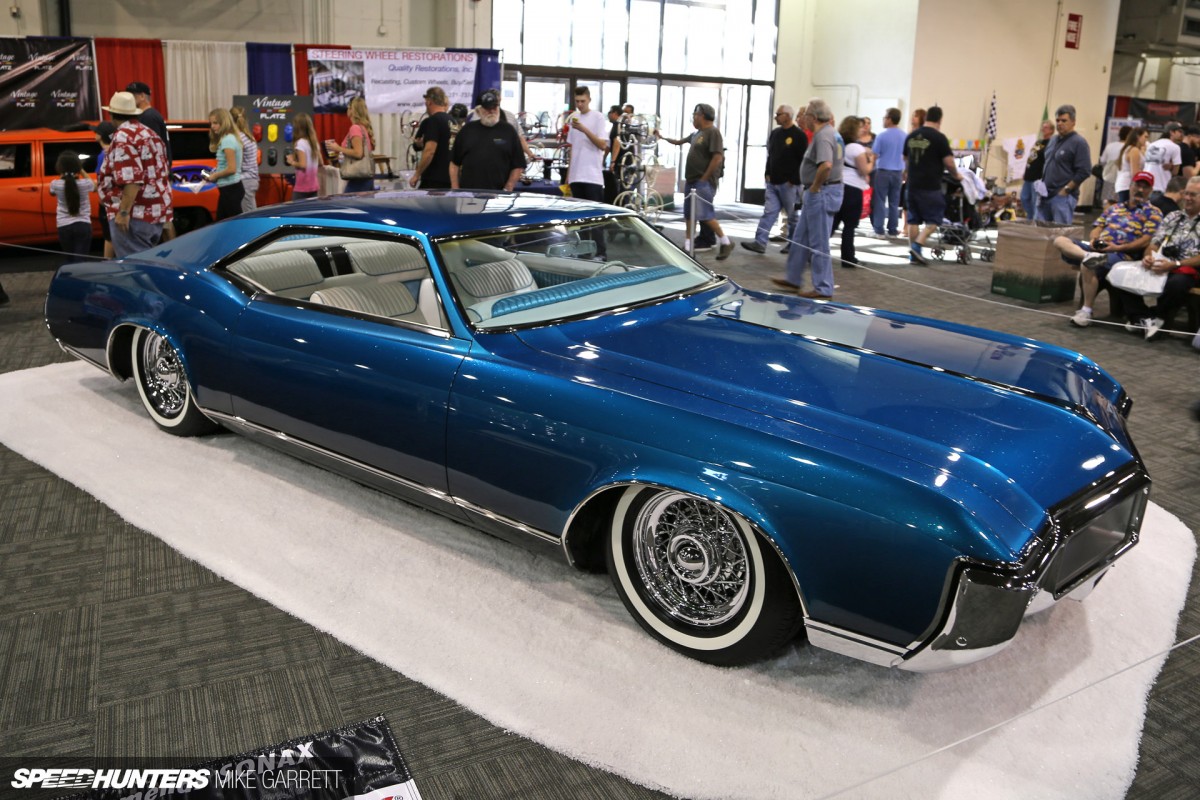 Northern California's John D'Agostino is a builder known for turning out stunning '40s and '50s customs, but he's gone in a slightly different direction with his latest project. The '68 Buick Riviera known as Pantheon is one more example of lowrider and traditional custom styles being mixed on a 1960s platform. The custom work on this long and low Buick is subtle, but oh so effective.
Low Lifestyle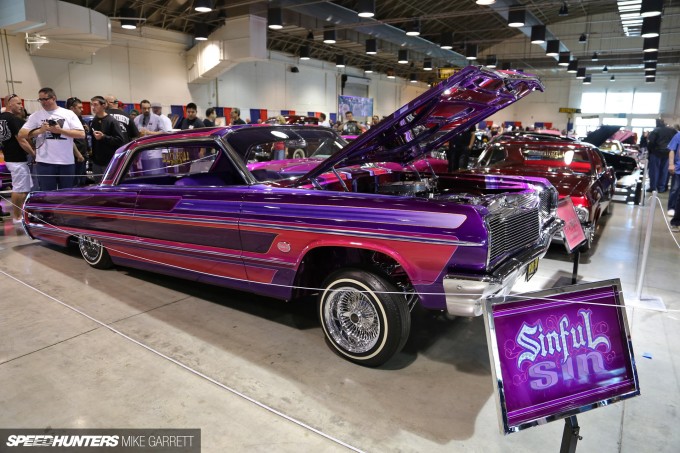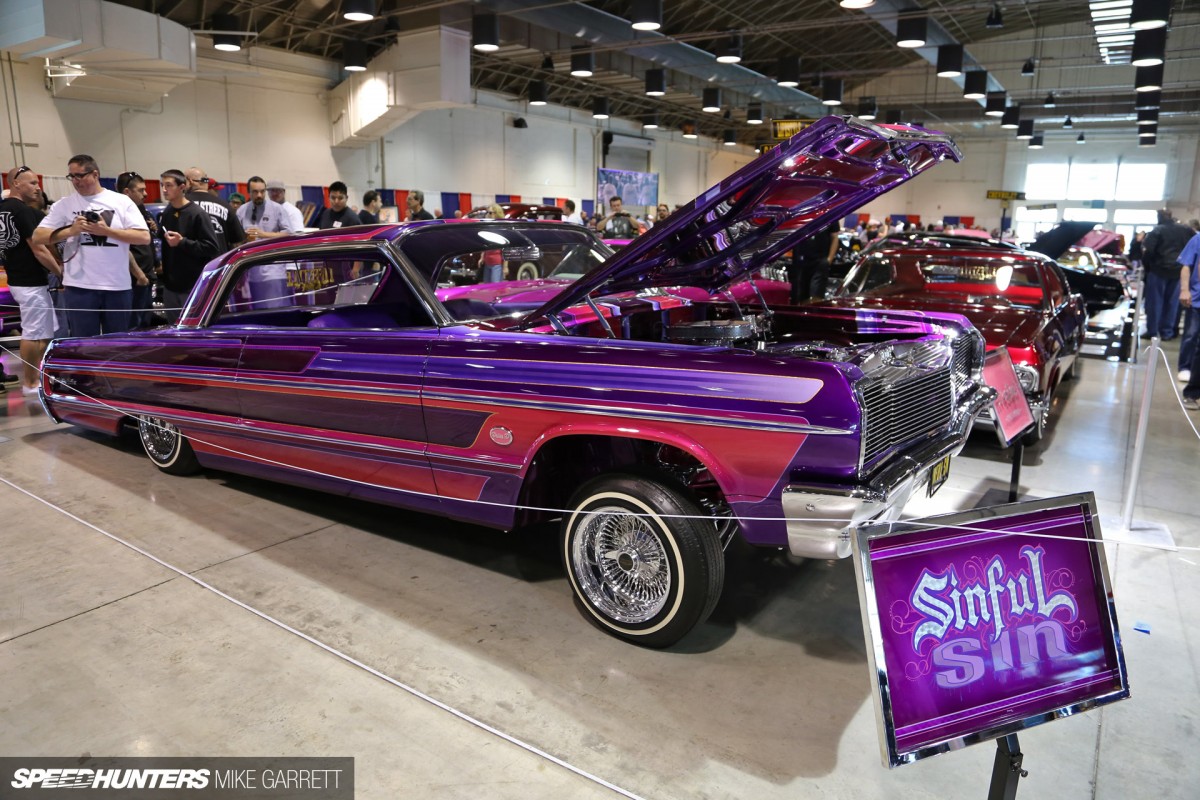 Now were at the Lifestyle Car Club display, located in the hall which celebrates Southern California's car clubs. Lifestyle is likely the world's most well known lowrider club, and you can read more about it in this guest blog from the late, great, Jae Bueno.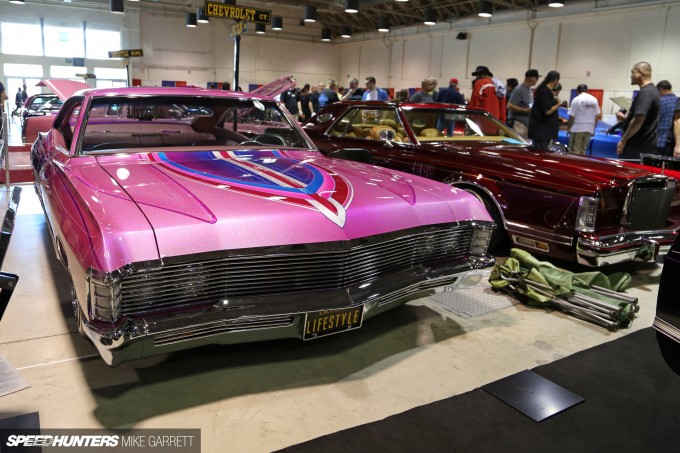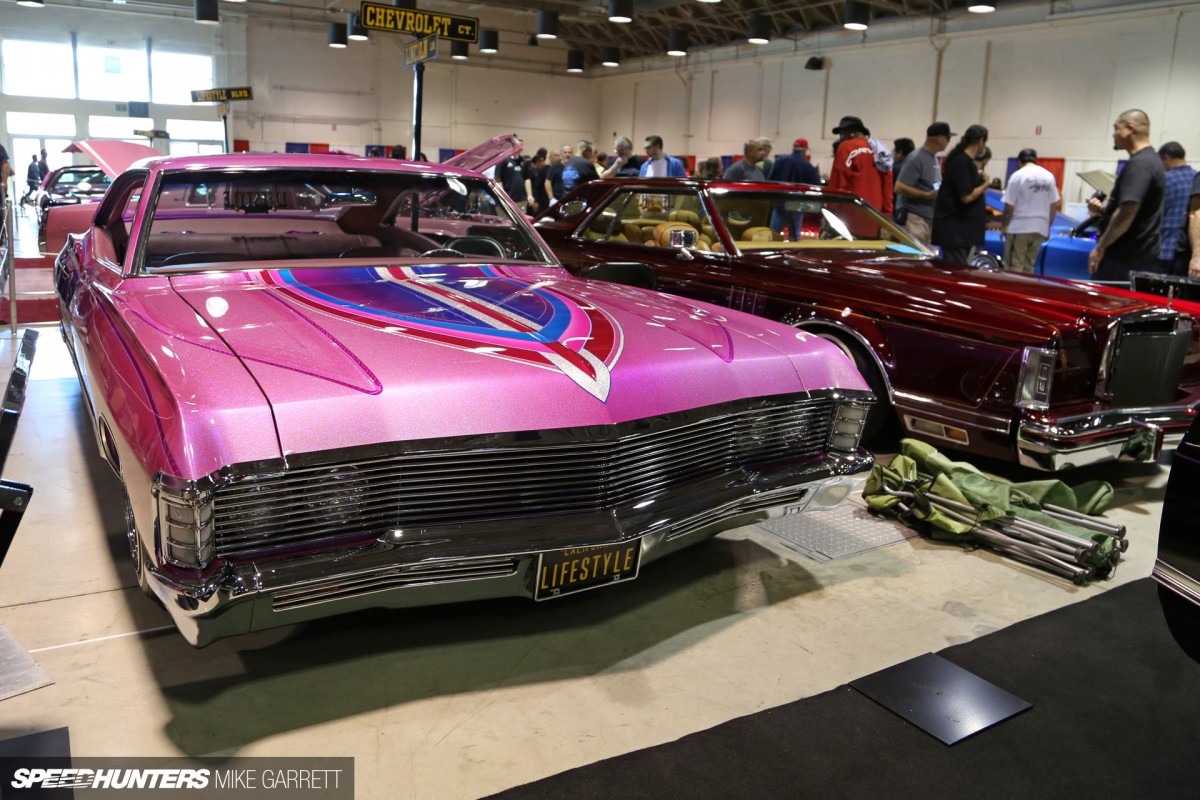 The cars that belong to Lifestyle aren't the usual lowriders you see rolling down the street. These things are nothing less than fully-fledged works of art – and they are absolutely stunning to look at.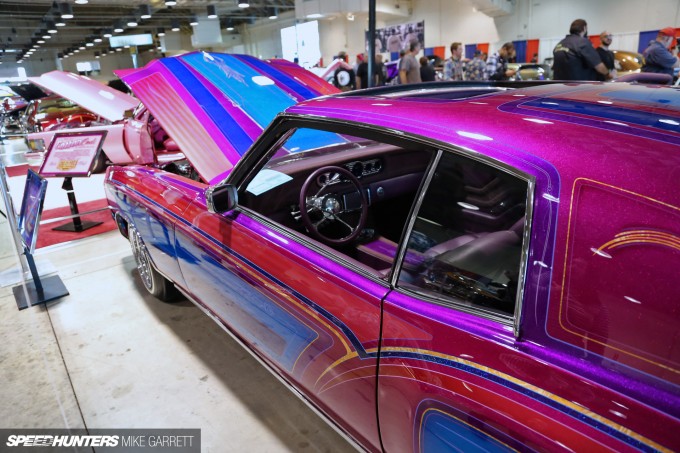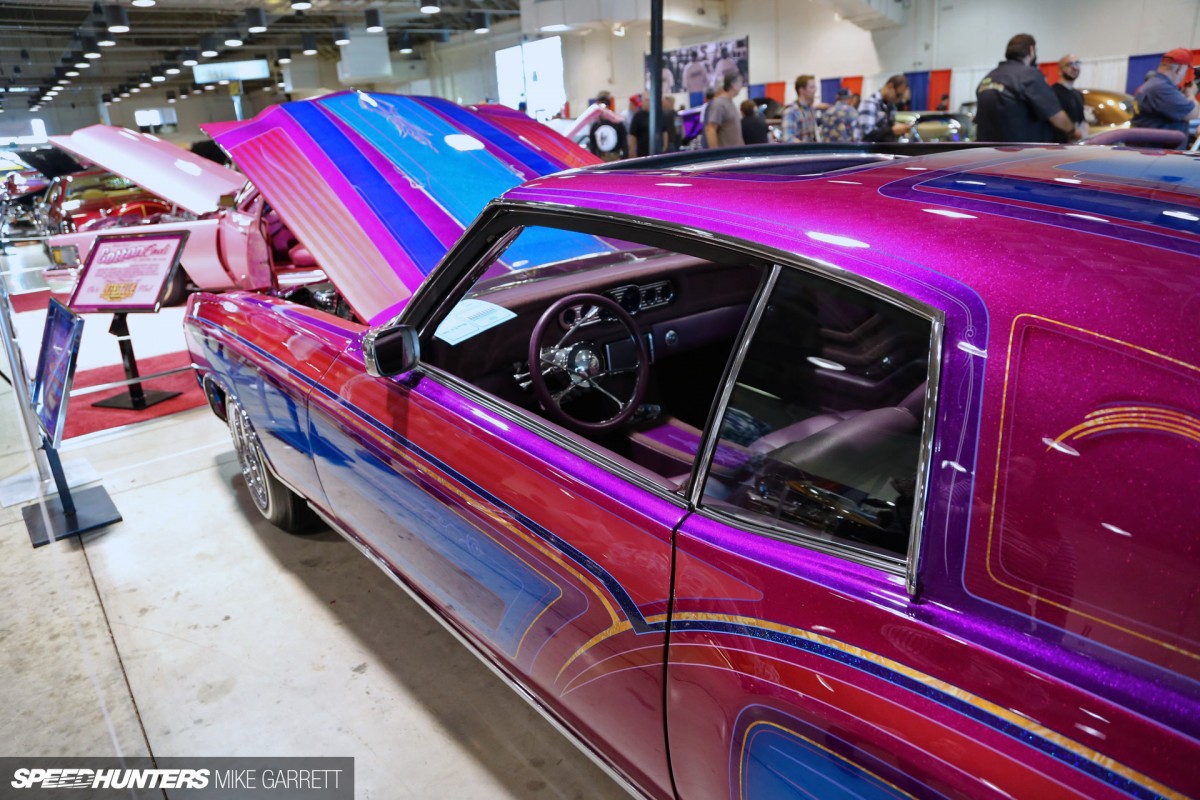 The paintjobs alone are something which cannot be described with words or even photographs. It boggles the mind to even think about the time that's been invested in coating this bodywork.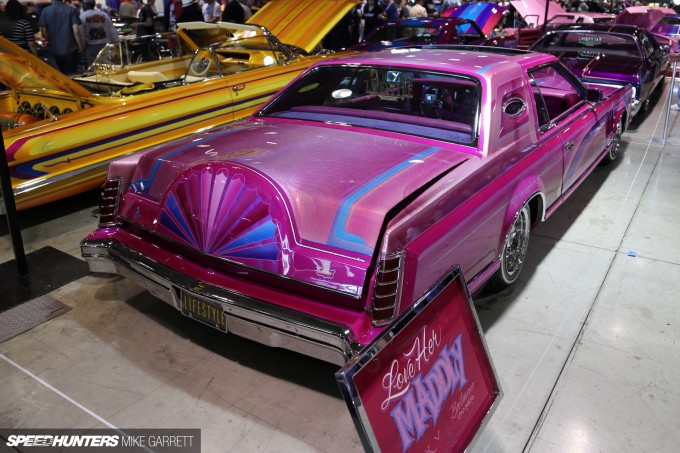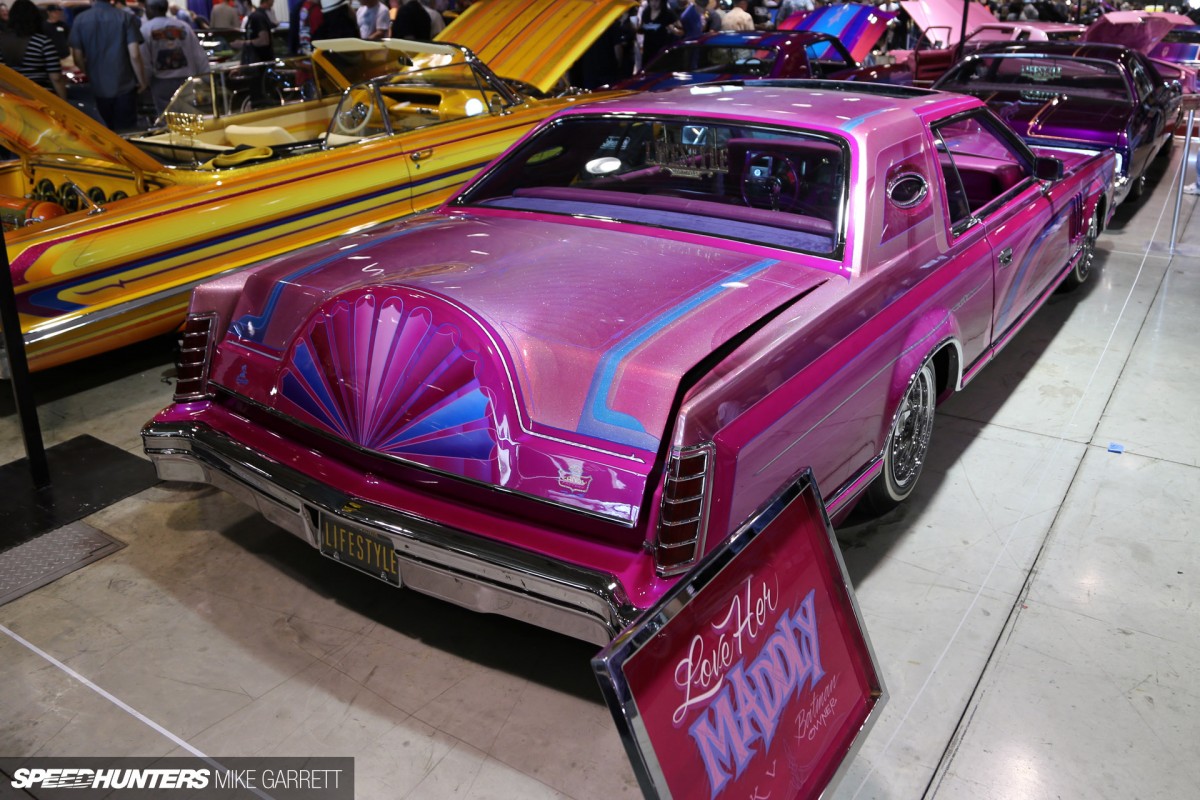 I also love the way lowrider builders embrace platforms you wouldn't typically see at hot rod and custom car shows. A '79 Lincoln Mark V is car that most collectors or hot rodders wouldn't look twice at, but when given the full lowrider treatment the huge two-door becomes a masterpiece.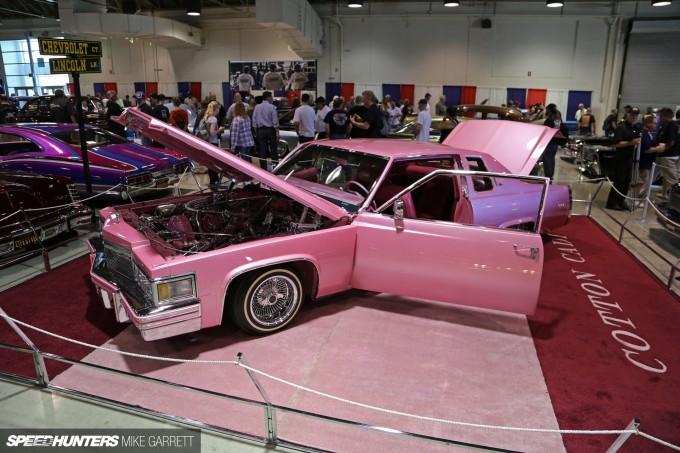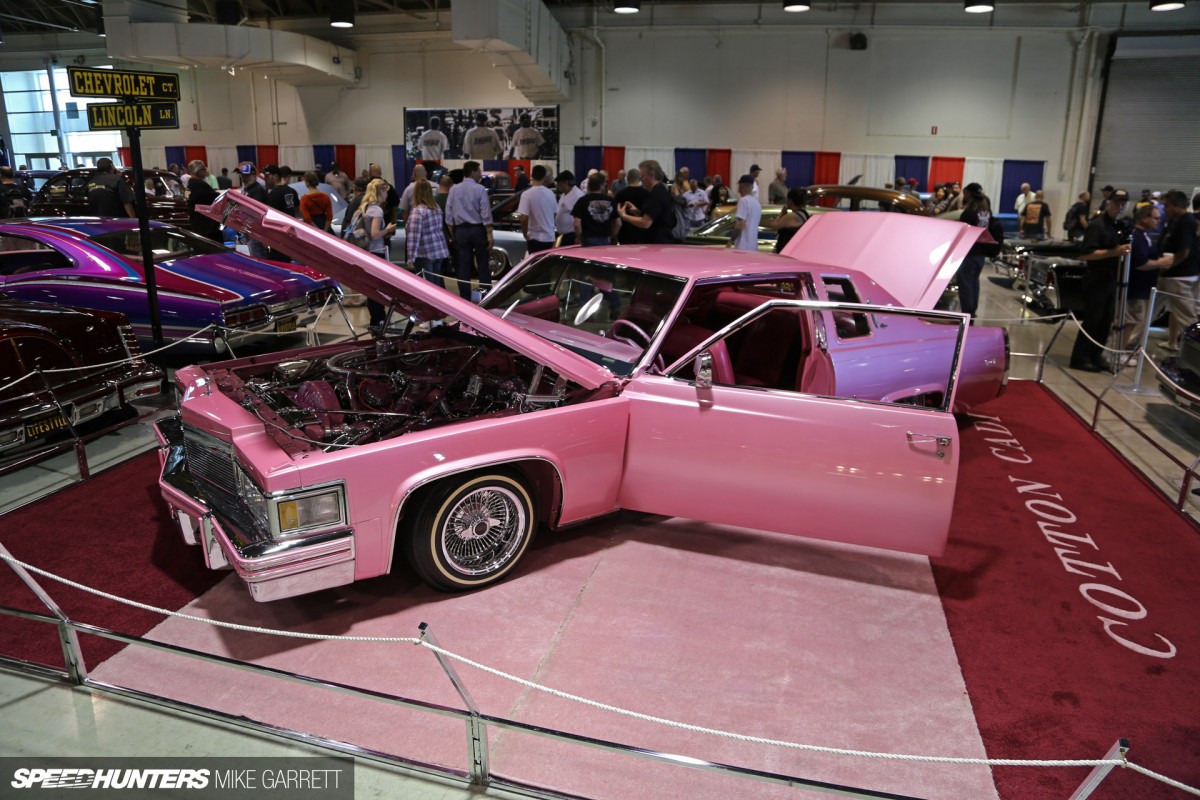 The same can be said for a model like the '79 Cadillac Coupe DeVille. Late '70s and early '80s Cadillacs haven't yet reached the point of being desirable collector cars, and I'm not quite sure they'll ever command the premium of their older counterparts.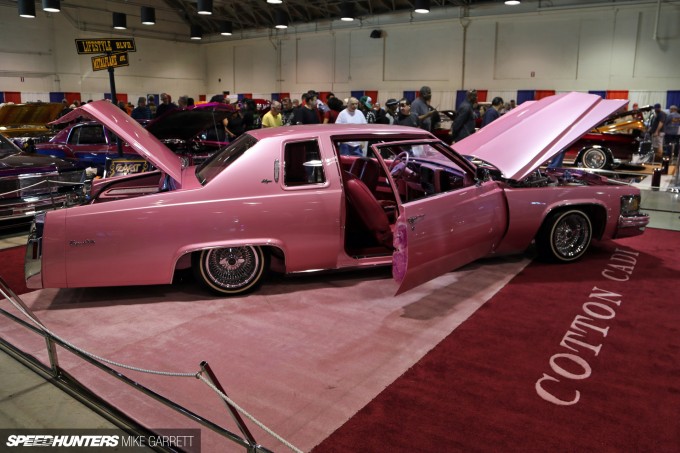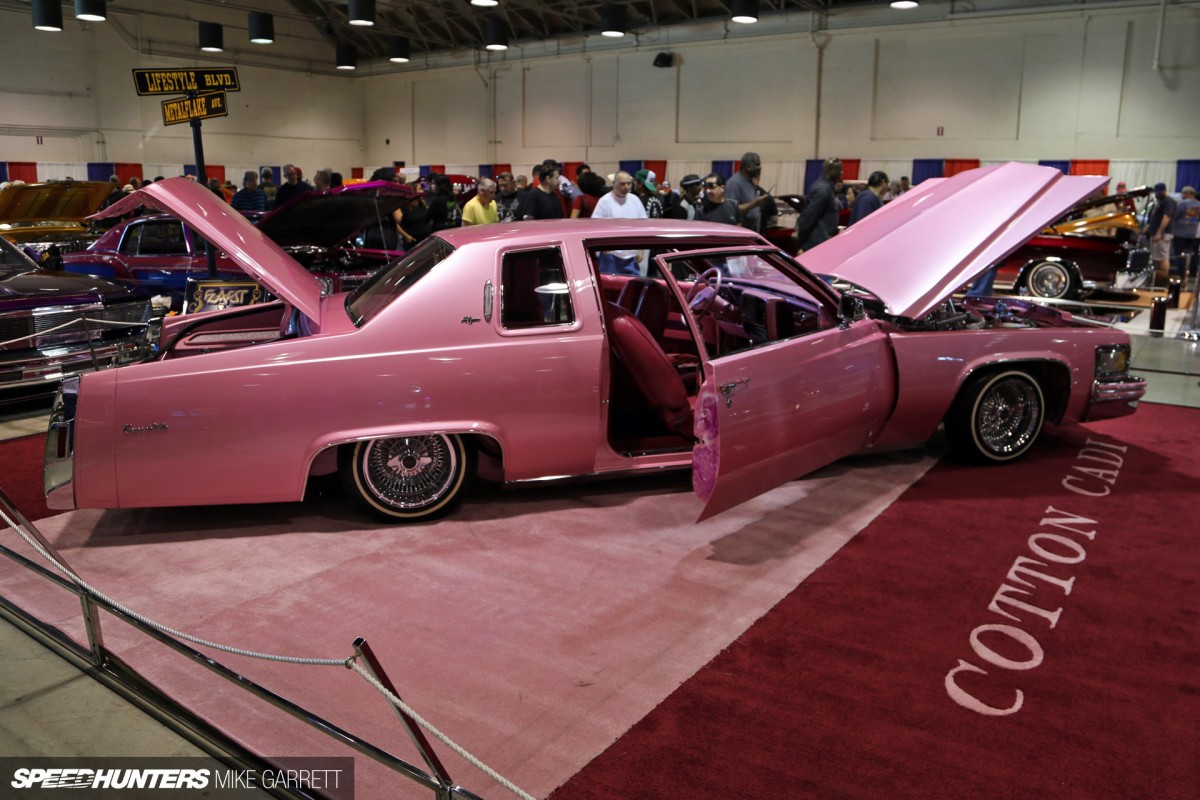 But when you see a car like Bobby Flores' Cotton Cadi, the Coupe DeVille takes on a personality all its own. 'Classic' is just one of many words you could choose to describe it.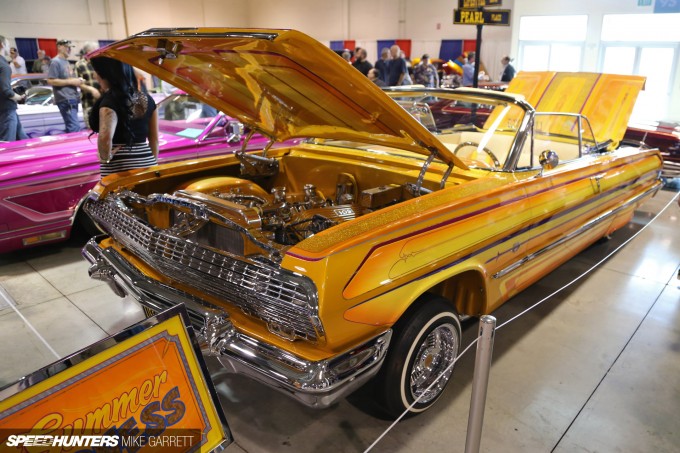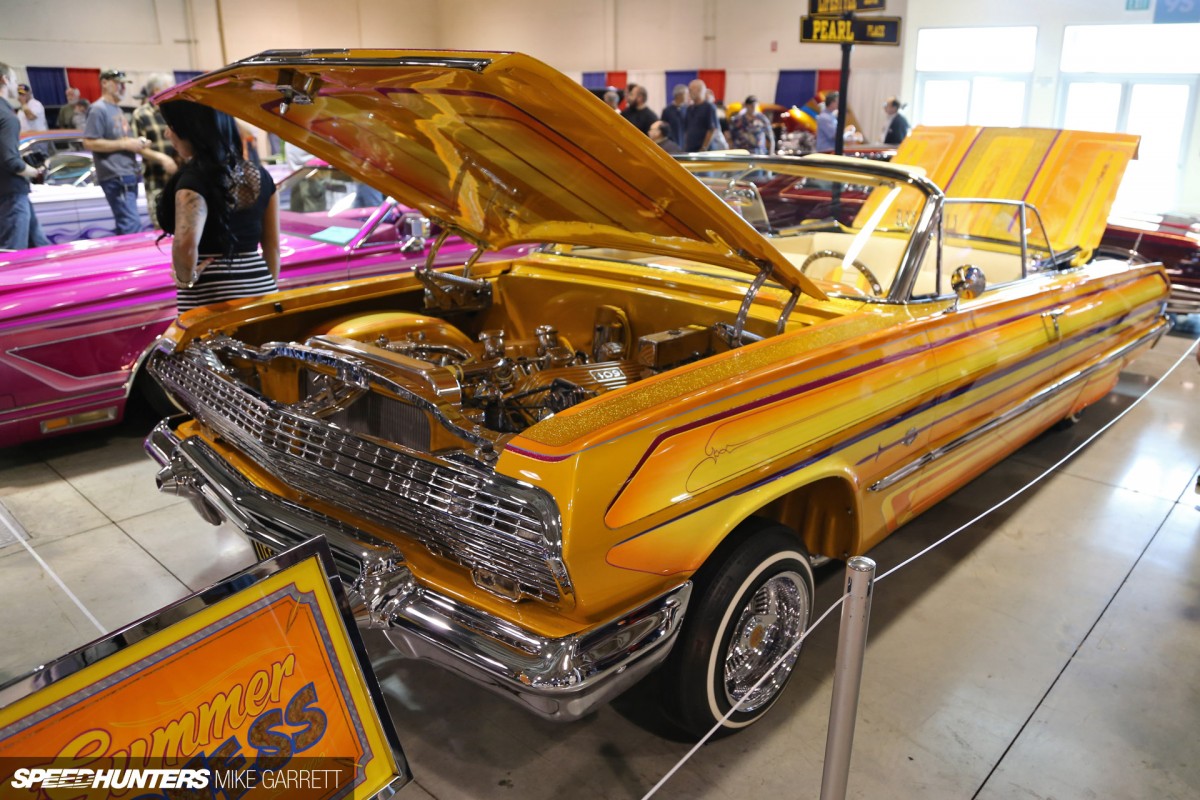 On the other hand a '63 Impala SS Convertible is a car that's highly sought after by collectors and enthusiasts of all types. Especially if it happens to be equipped with a 409 and a 4-speed stick.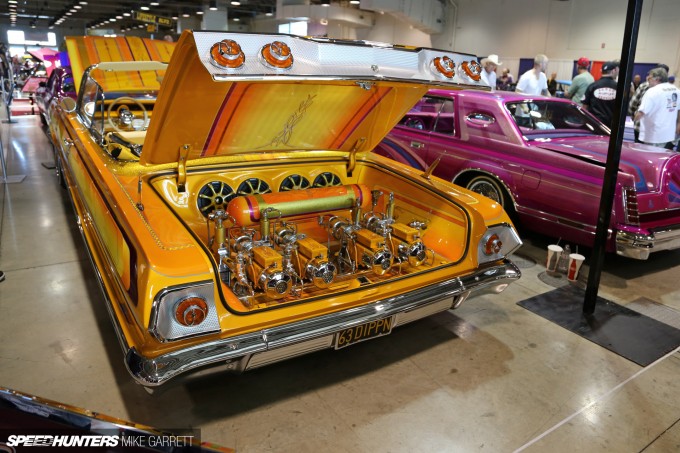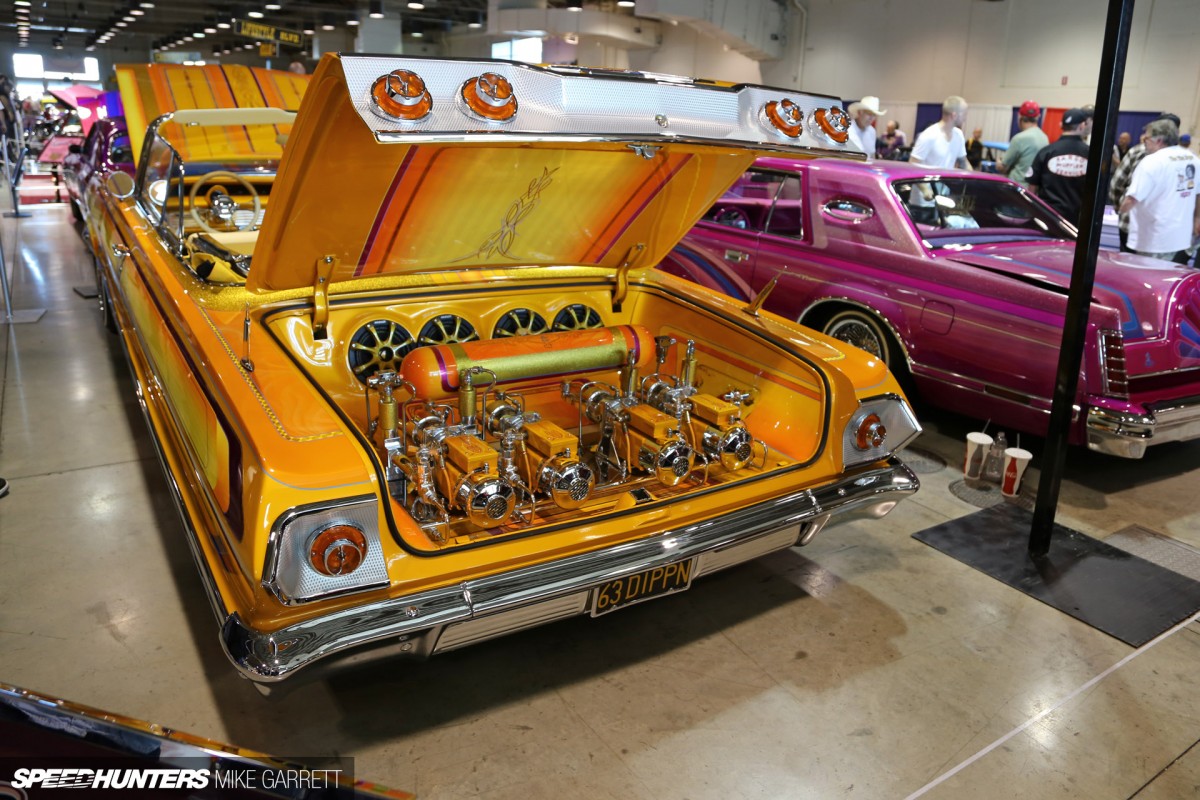 But the owner of this car, dubbed Summer Madness, didn't let the Chevy's rarity stop him from turning it into a stunning lowrider creation – and that actually makes the whole thing cooler.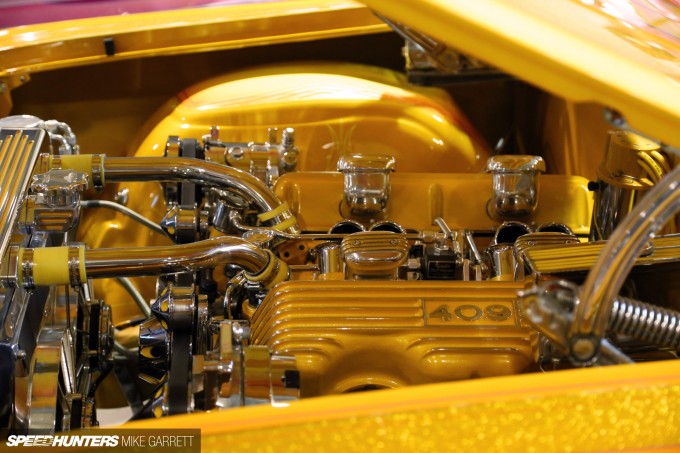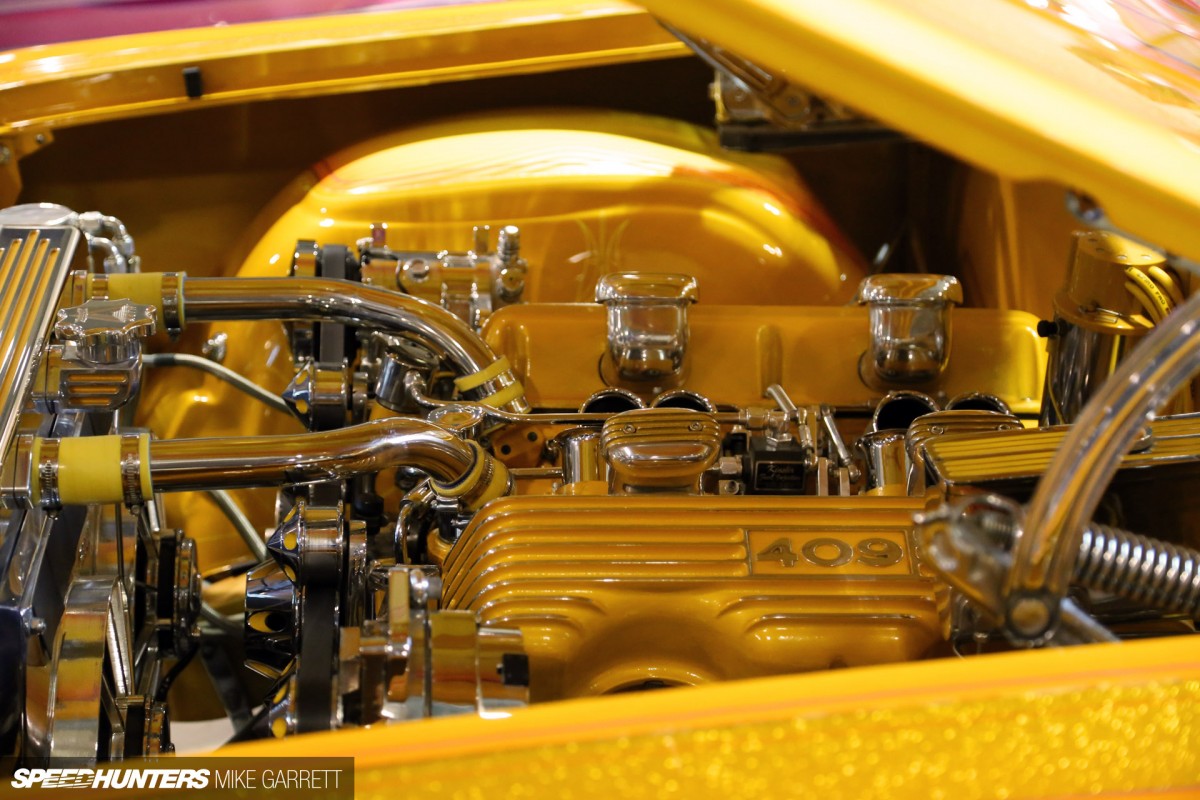 Especially when you peek under the hood and see that the 409ci motor has been fitted with an extremely rare Algon fuel injection system from the '60s.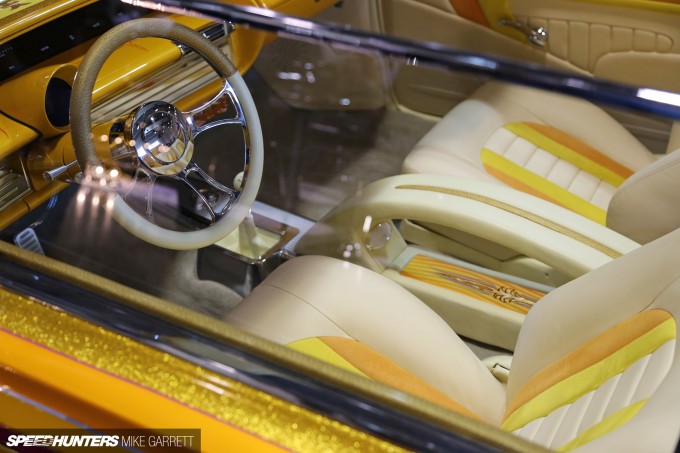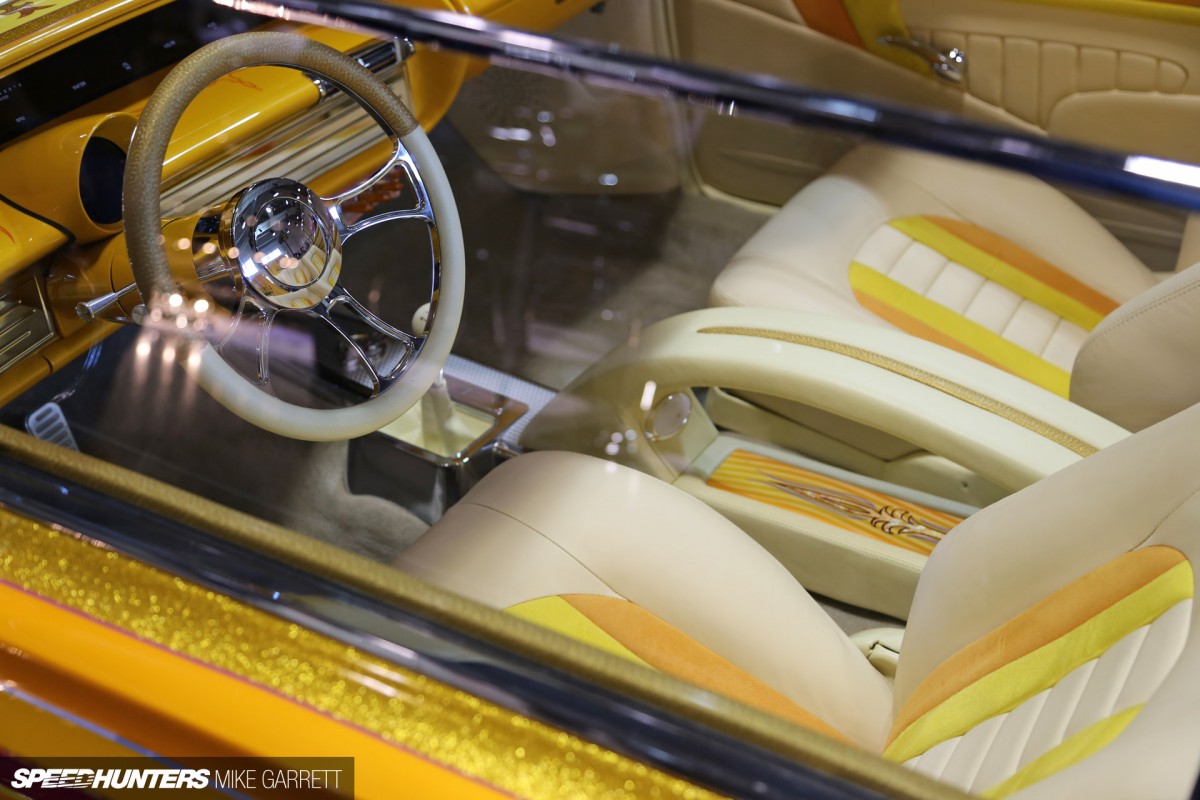 I'm not sure what Chevy purists will think, but to me this car perfectly taps into the anti-establishment aura that's always hung around the lowrider scene.
Mass Appeal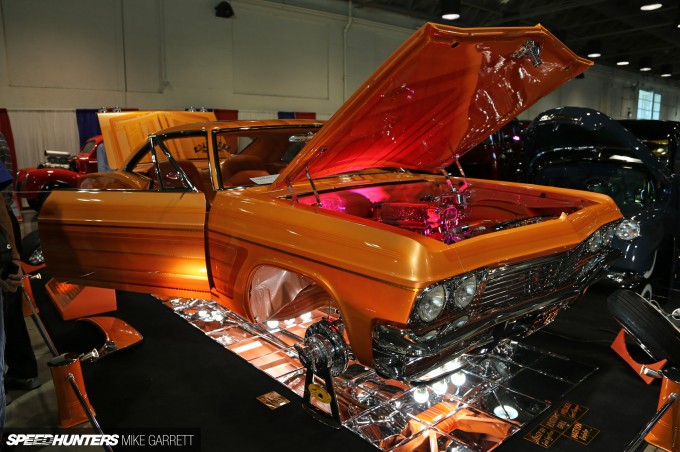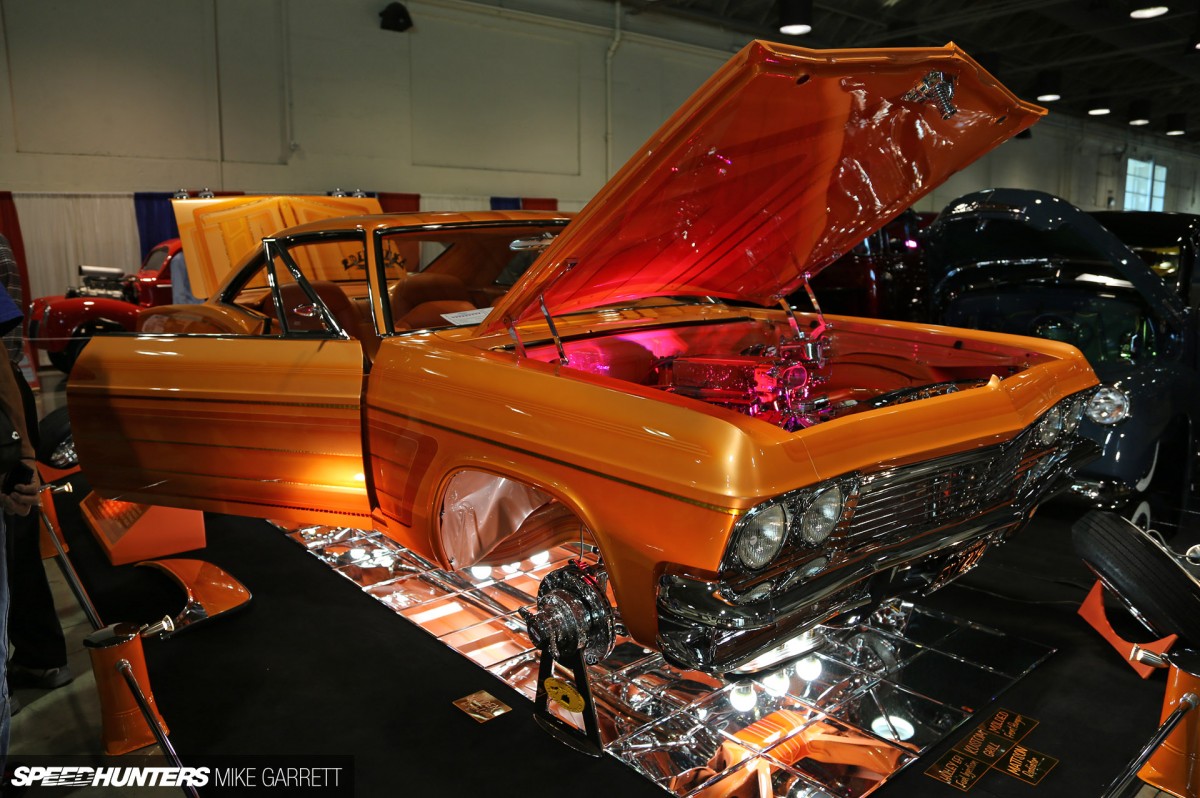 Now we move from a Summer Madness to Blind Madness – this '65 Impala SS owned by Jesse Saldana of Thee Stylistics Car Club.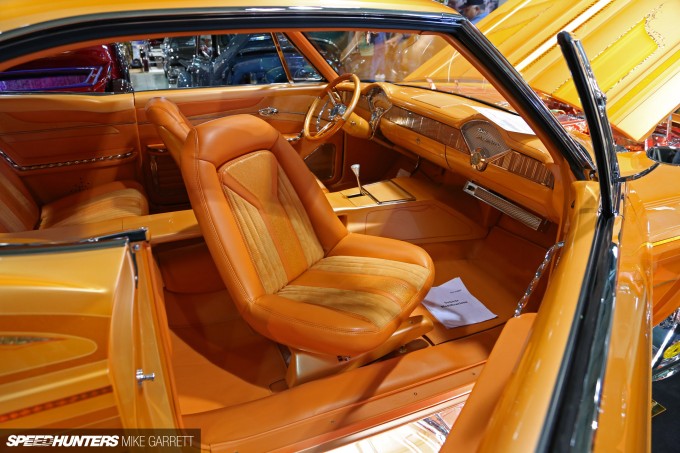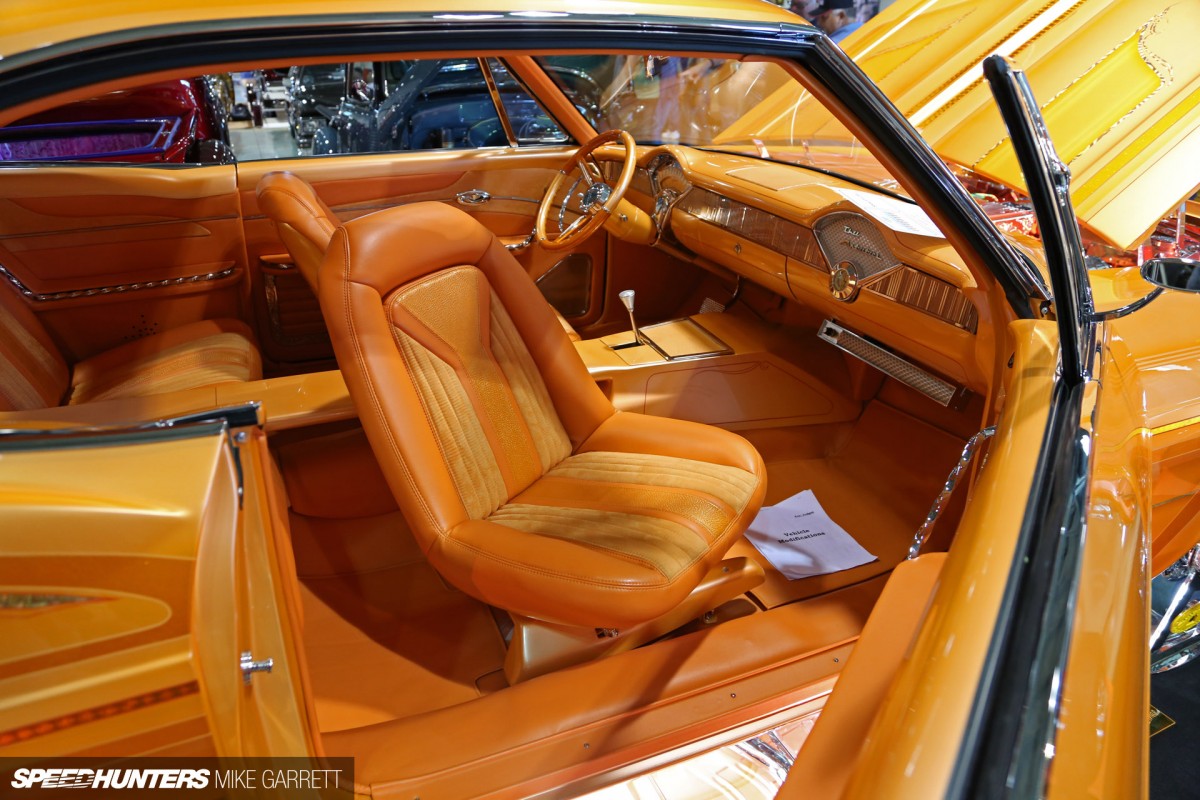 This is one of those builds so immaculately detailed that you just have to stop and stare. In fact, you could just sit there forever taking in all of the little touches.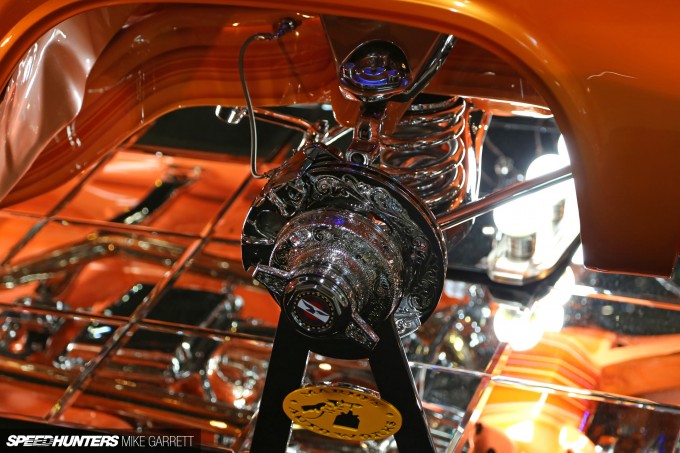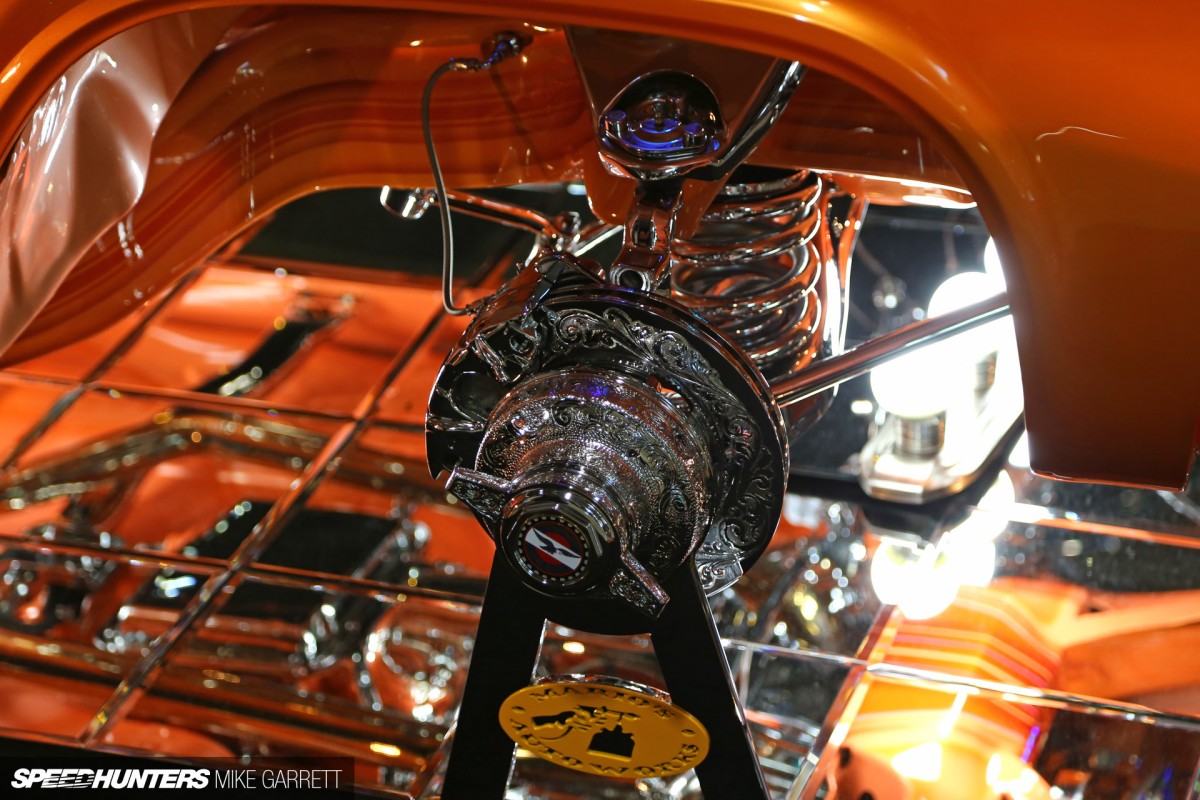 Like many high-end lowrider show cars, the Impala was displayed without wheels and had mirrors beneath so you could see the detailed under carriage and touches like the etched brake rotors.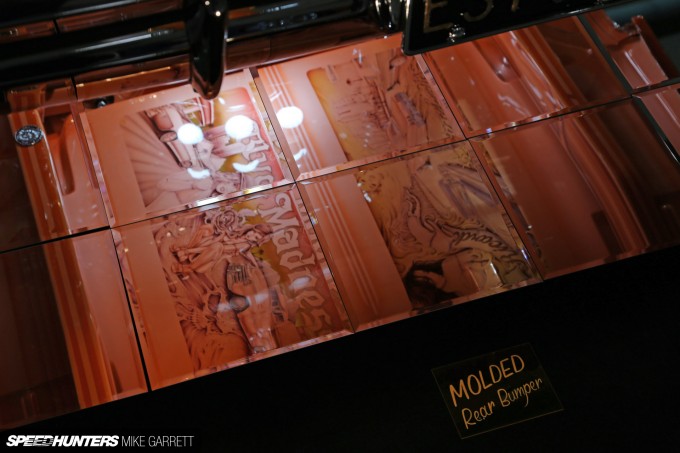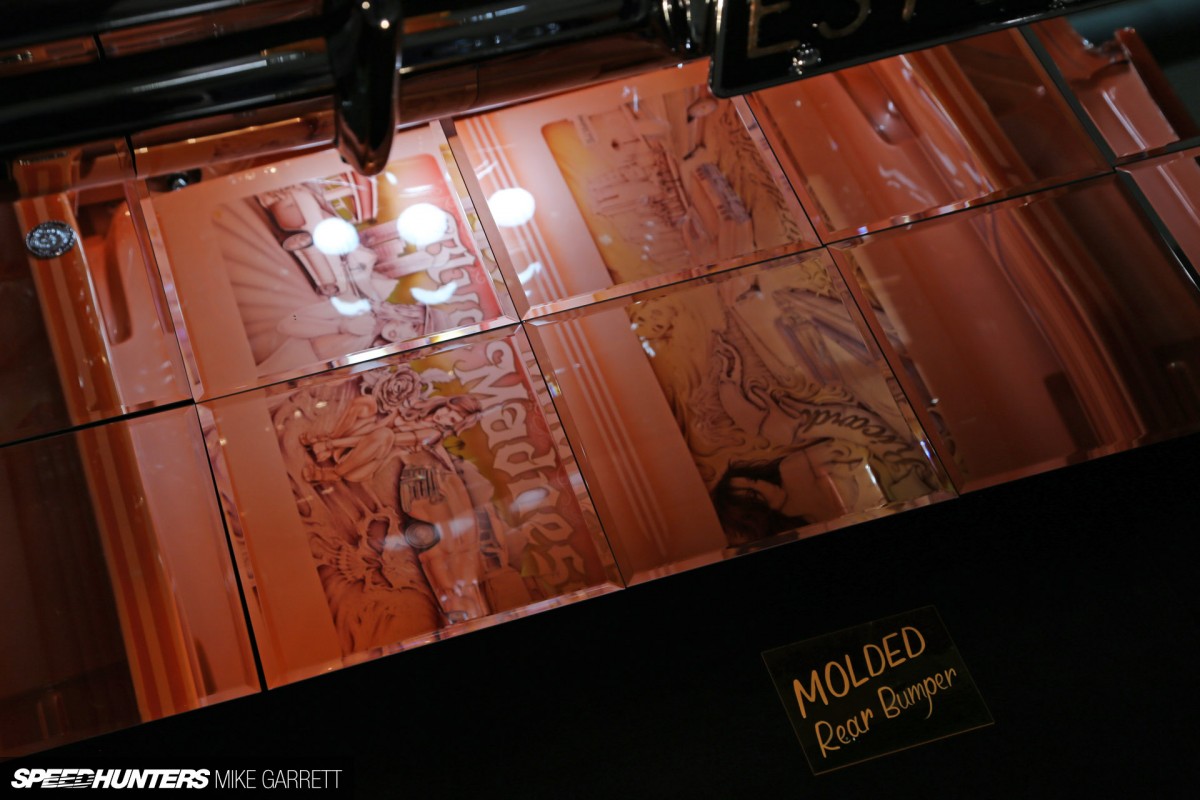 Even the underside of the gas tank was covered in murals that surely would have taken hours upon hours to complete. Even if you wouldn't consider doing this sort of thing to your own car, it's impossible not to be inspired by the sheer amount of raw car-building talent on display.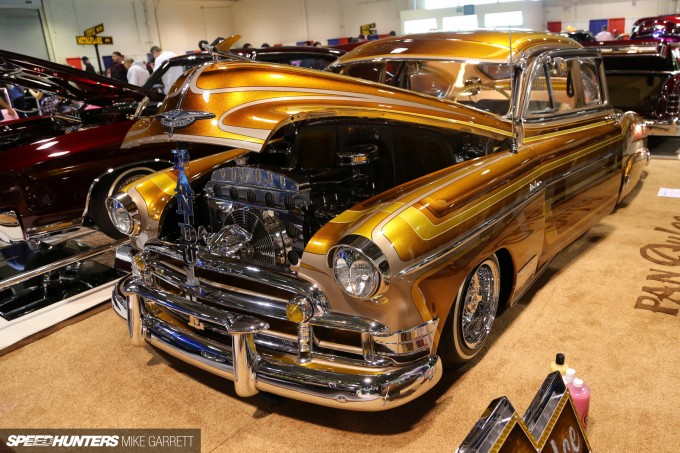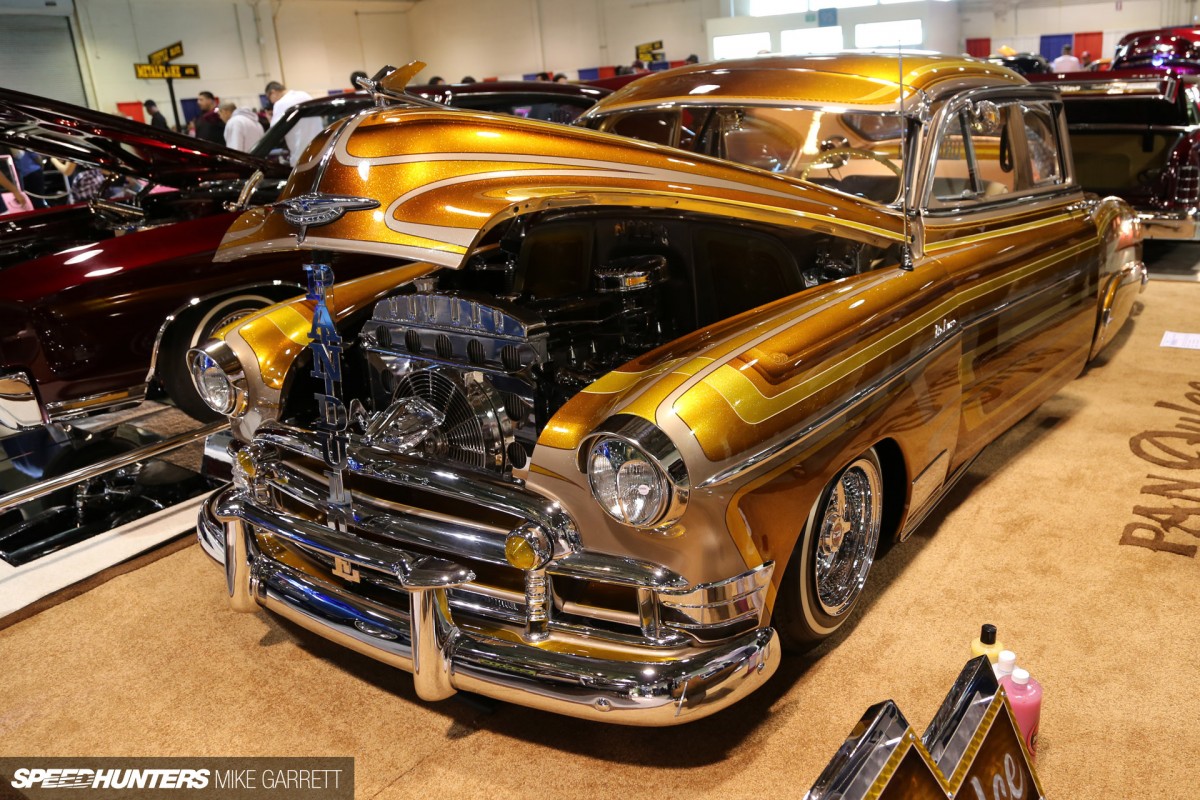 And as I made my way around the lowrider displays at the GNRS, I couldn't help but notice that many of the people admiring these cars certainly didn't fit the profile you might have of the typical lowrider fan.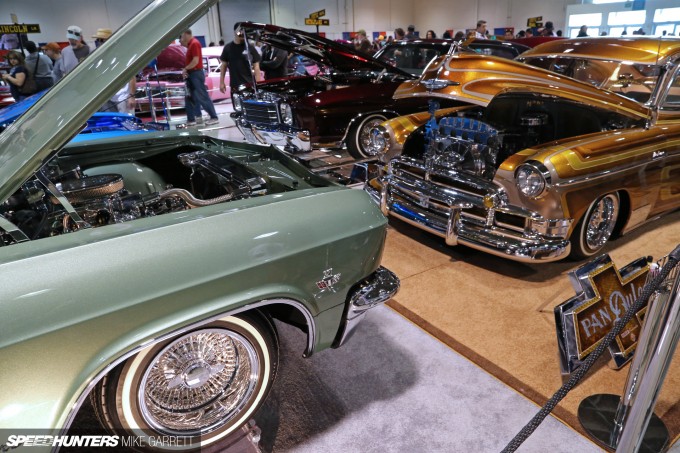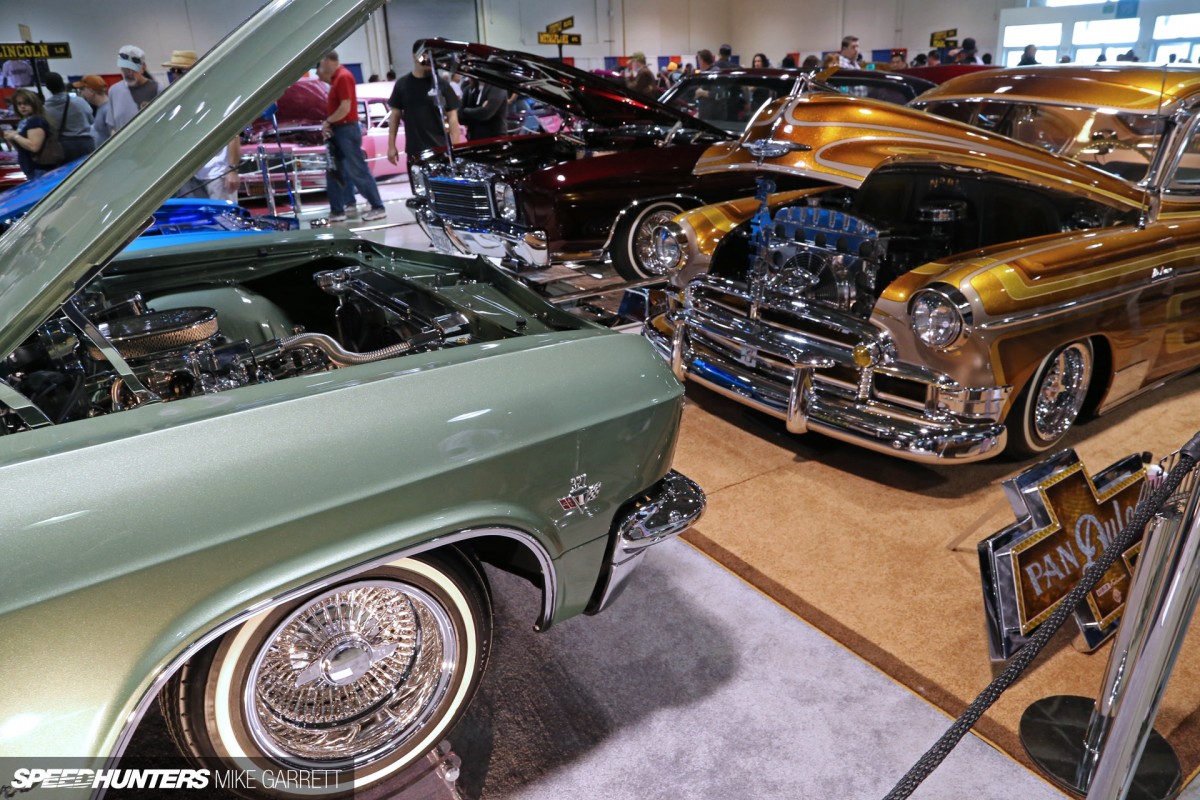 Sure, lowriding in the US has always been known as a primarily Hispanic movement, but I saw a lot of gray-haired white guys with hot rod t-shirts stopping to check out these cars and being very impressed with what they saw. I've also got no doubt that the lowrider owners enjoyed checking out the beautiful hot rods that were on hand.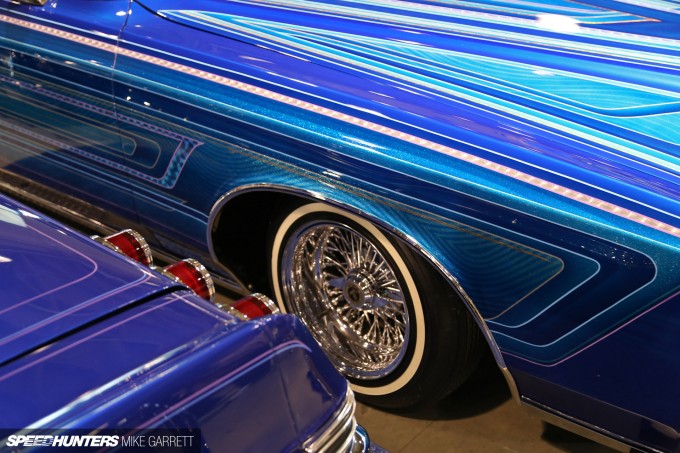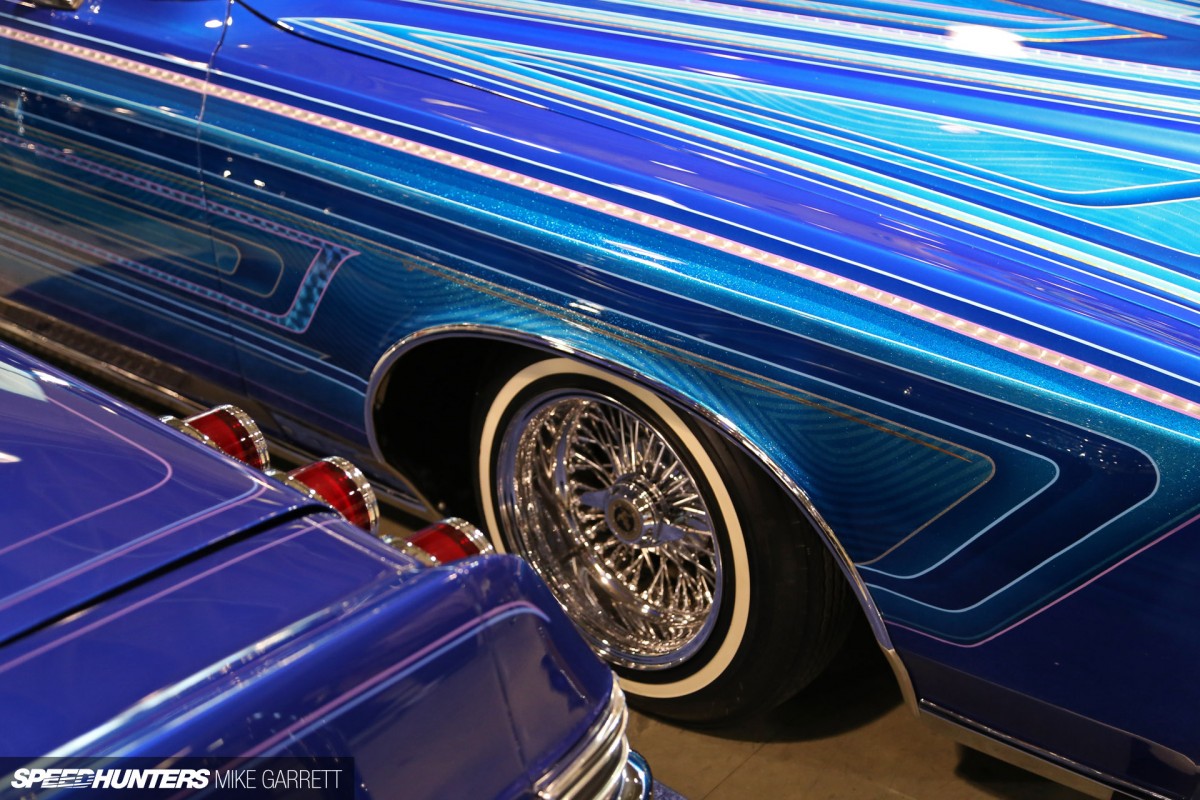 We at Speedhunters love the idea of breaking down boundaries and thinking outside the box – and that's why we think the lowriders are a very welcome addition to the Grand National Roadster Show. Regardless of background or individual taste, the ability to appreciate and enjoy craftsmanship, style and history is something that all car lovers should share.
Mike Garrett
Instagram: speedhunters_mike
mike@speedhunters.com
Cutting Room Floor