Going For Broke
You're probably quite comfortable right now. Sure, I may be assuming a few things, but an indicator of that is you're reading this, which is only available electronically. So chances are you have an expensive, internet-enabled device in your hand or you're sat looking at a computer screen. That already puts you in a minority on a global scale, so I'm happy to go with my assumption. I also know from looking at the wonderfully insightful statistics we have access to that you're more than likely to be in a first-world country. By no means does that apply to all of you, but again it's the majority. So what's the point of my analysis? Well, the chances are you wouldn't want to go where I went to take these pictures. Willets Point, Queens, New York City.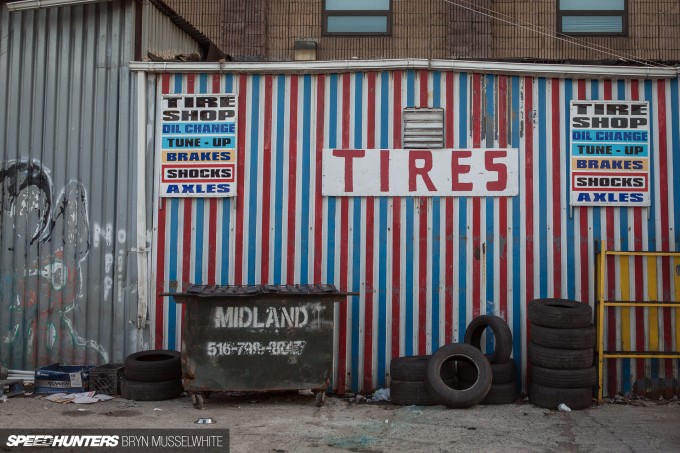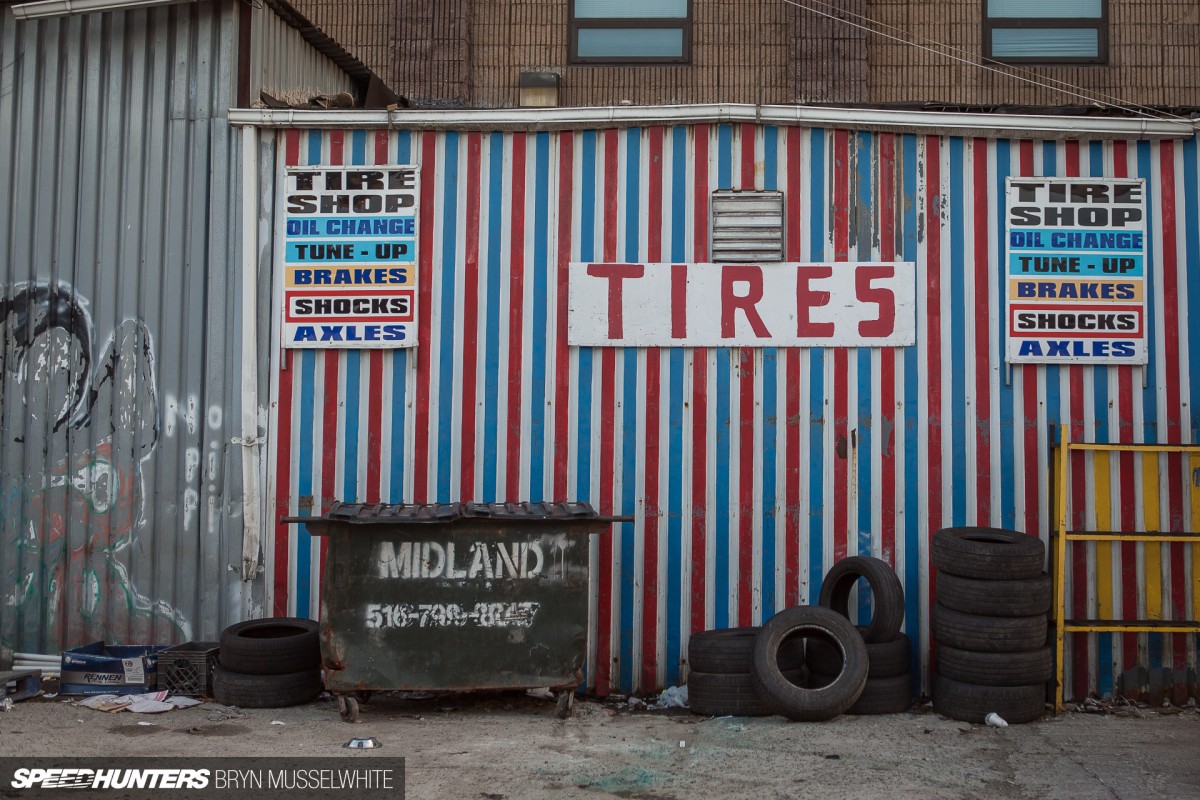 But don't worry, even if you wanted to, you soon won't be able to. The city has rumbled on for decades about wiping this particular corner of New York clean, erasing the ramshackle buildings and smoothing over the land with a big city planners cloth.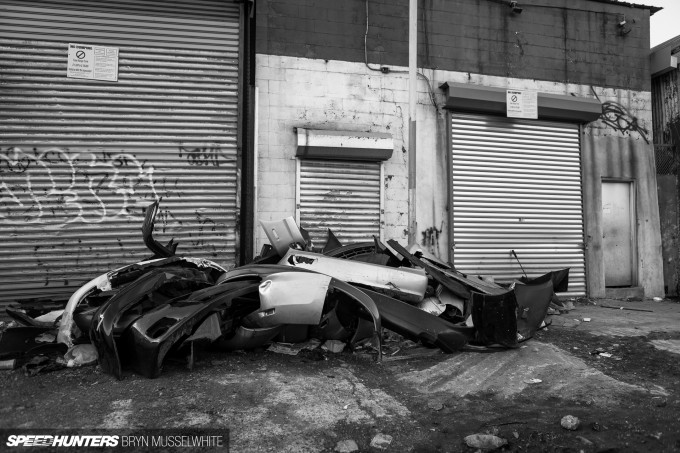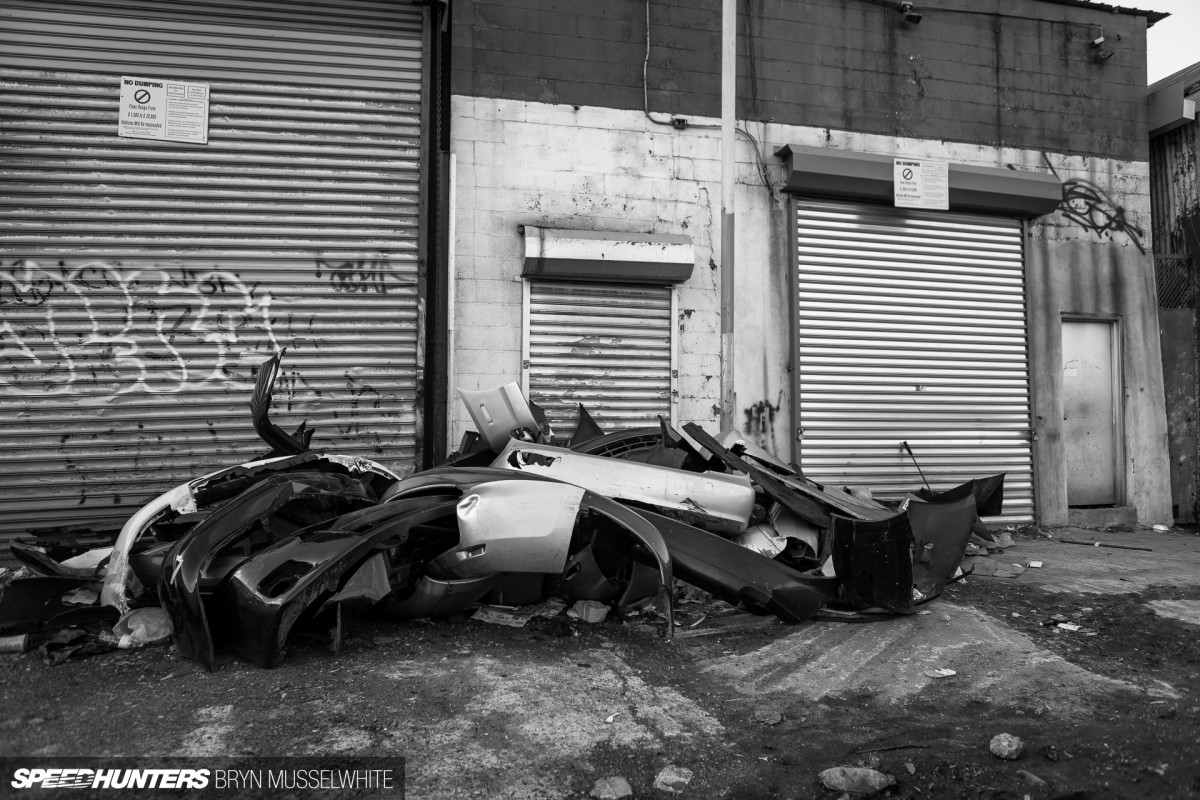 Somewhere nearby in a shiny office there will be a model of what Willets Point will look like in the future and it doesn't look anything like this.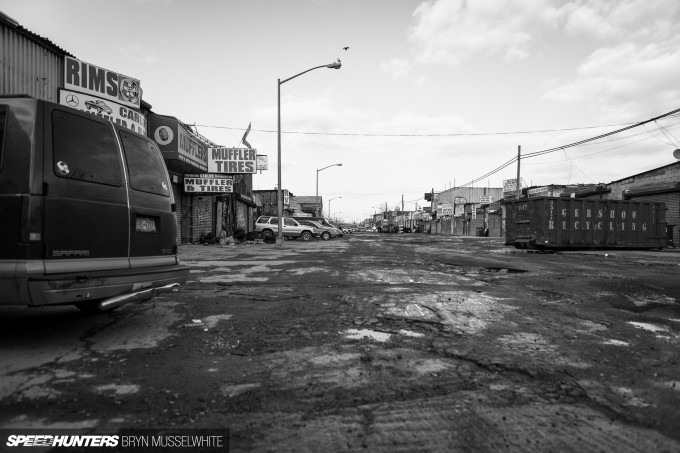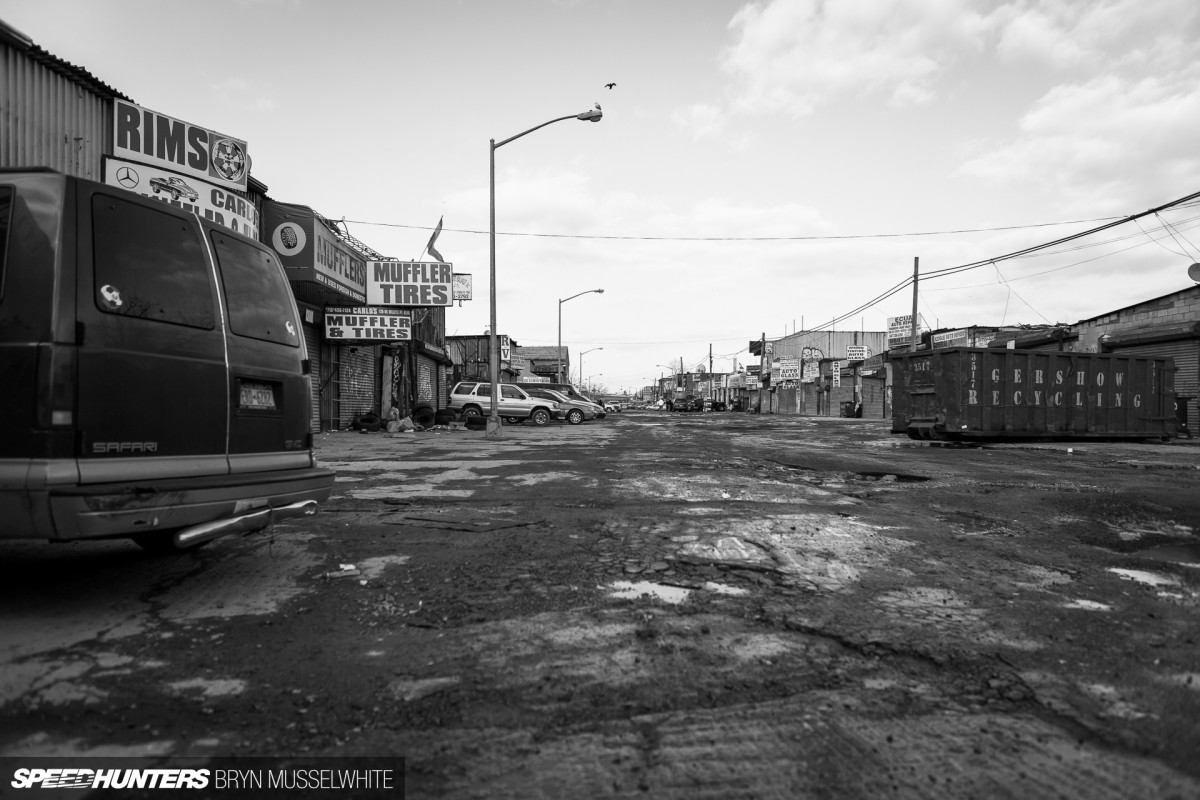 But is that such a bad thing? Am I getting carried away with an overinflated sense of romantism? What is it that I'm getting so theatrical about anyway? Maybe the people who work here on an hourly basis would like my life and I'm more than welcome to theirs.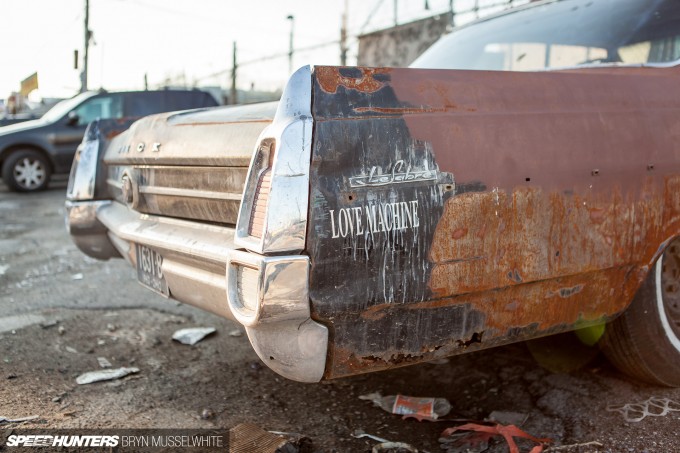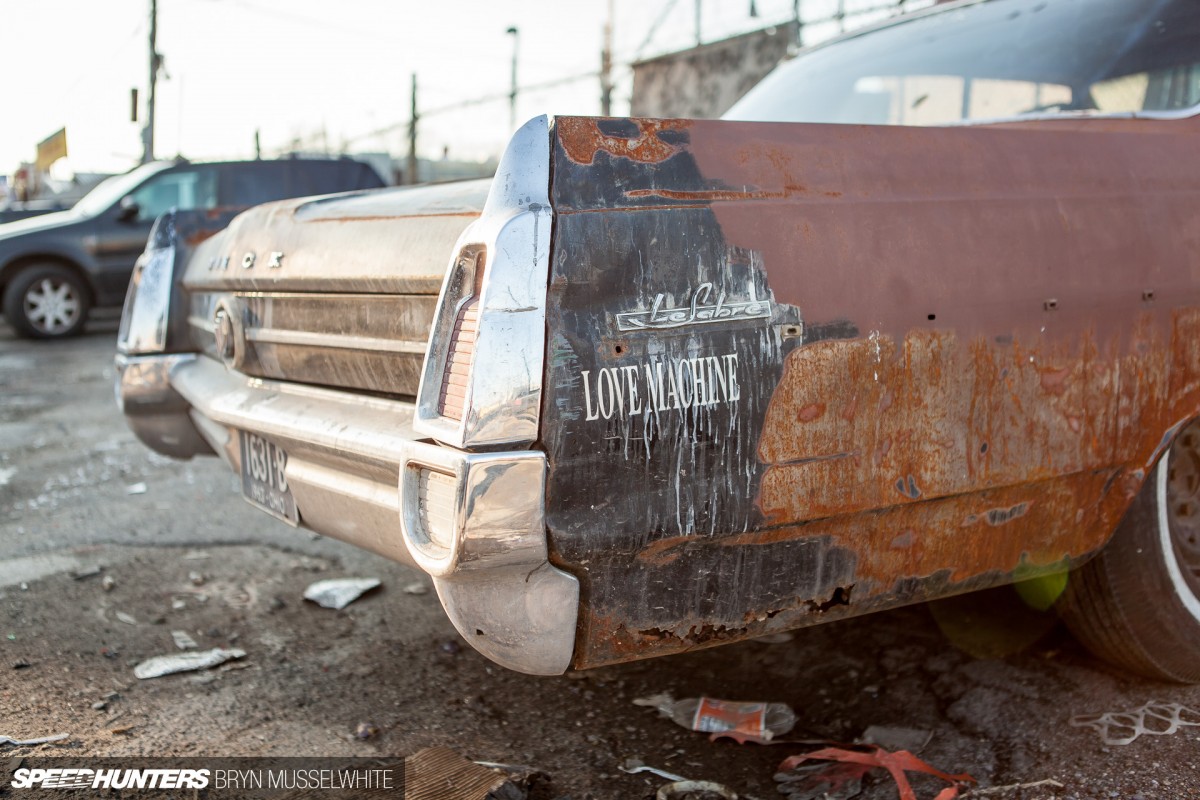 If I feel so strongly about this place, why not stay?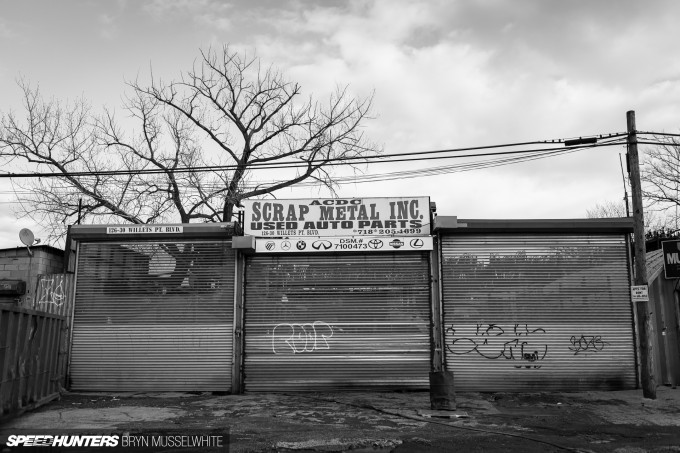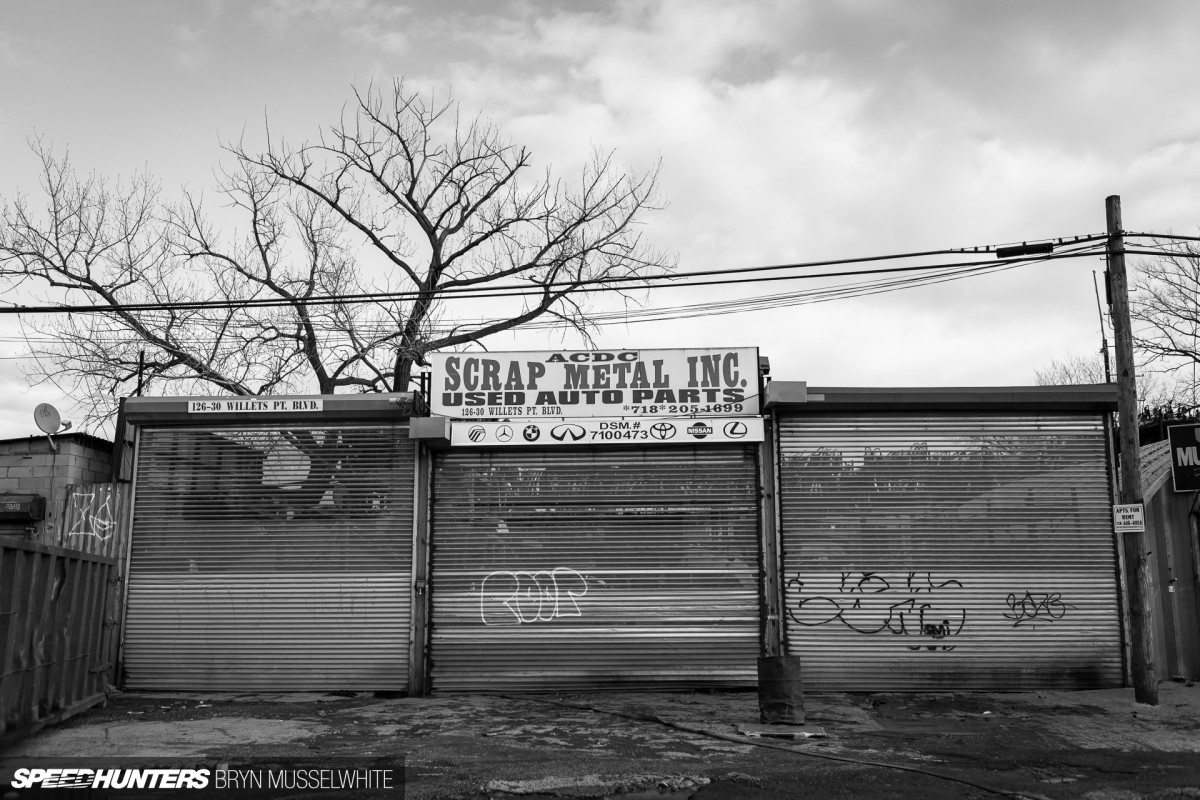 Willets Point, also known as the 'Iron Triangle', sits alongside the New York Mets baseball team's Citi Field home – a 610 million dollar younger step brother that you can see standing tall across the ramshackle rooflines. It sadly amuses me that this area is called 'Flushing Meadows', which itself is within the Corona district of Queens. Because it's been a long time since this was a meadow…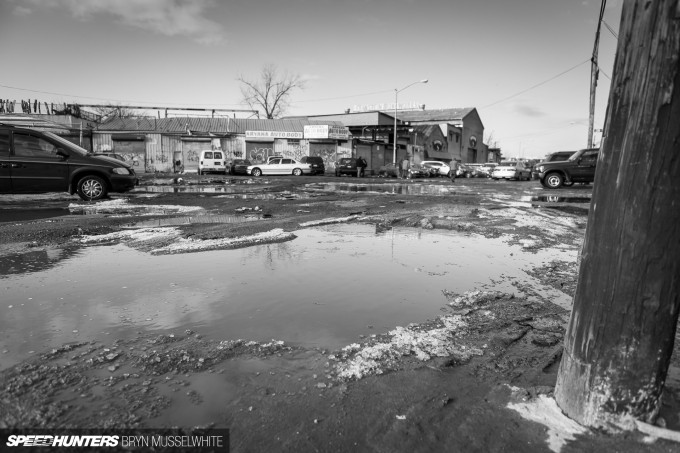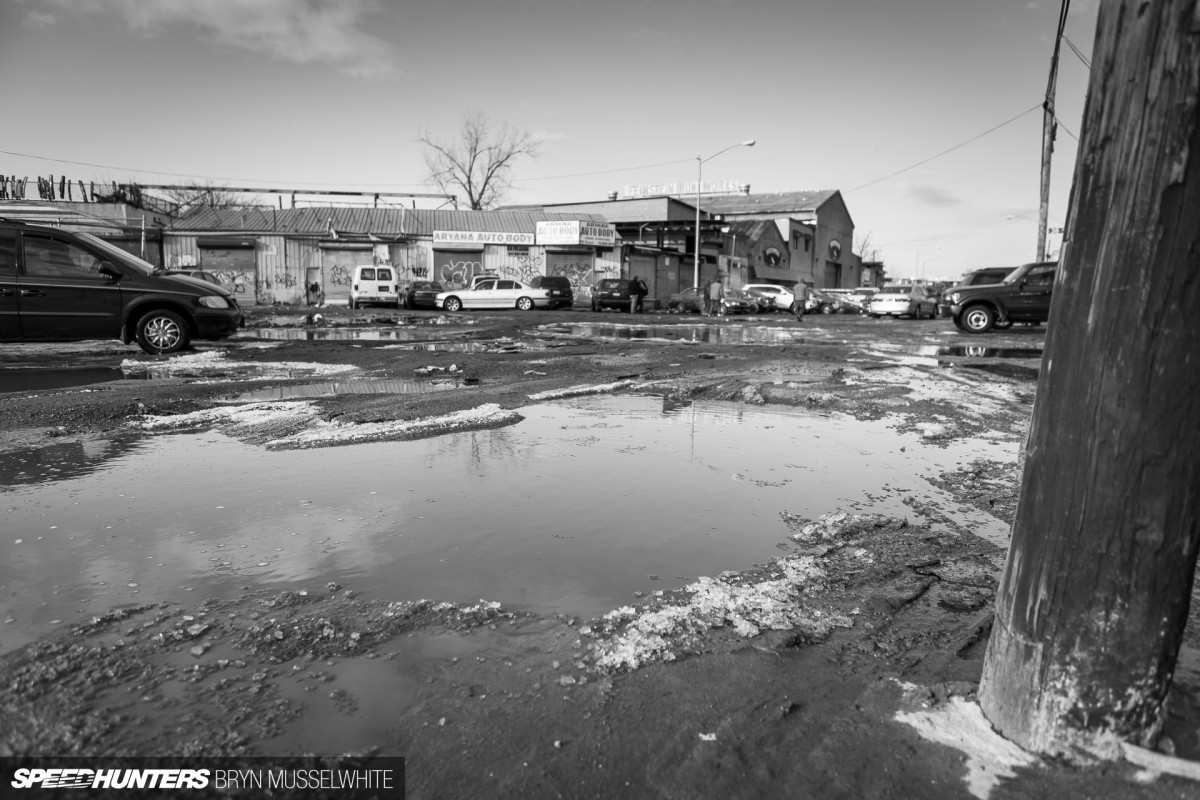 But that's all geography. What it is, is roughly 80 acres of bodyshops, car breakers, workshops and small businesses who operate on the very edge of being called a business.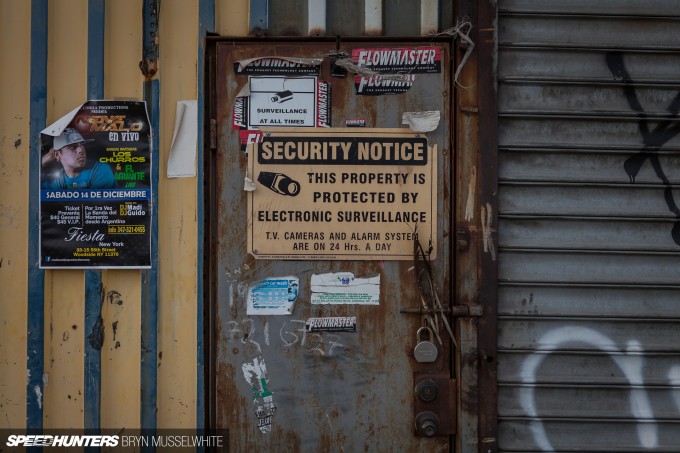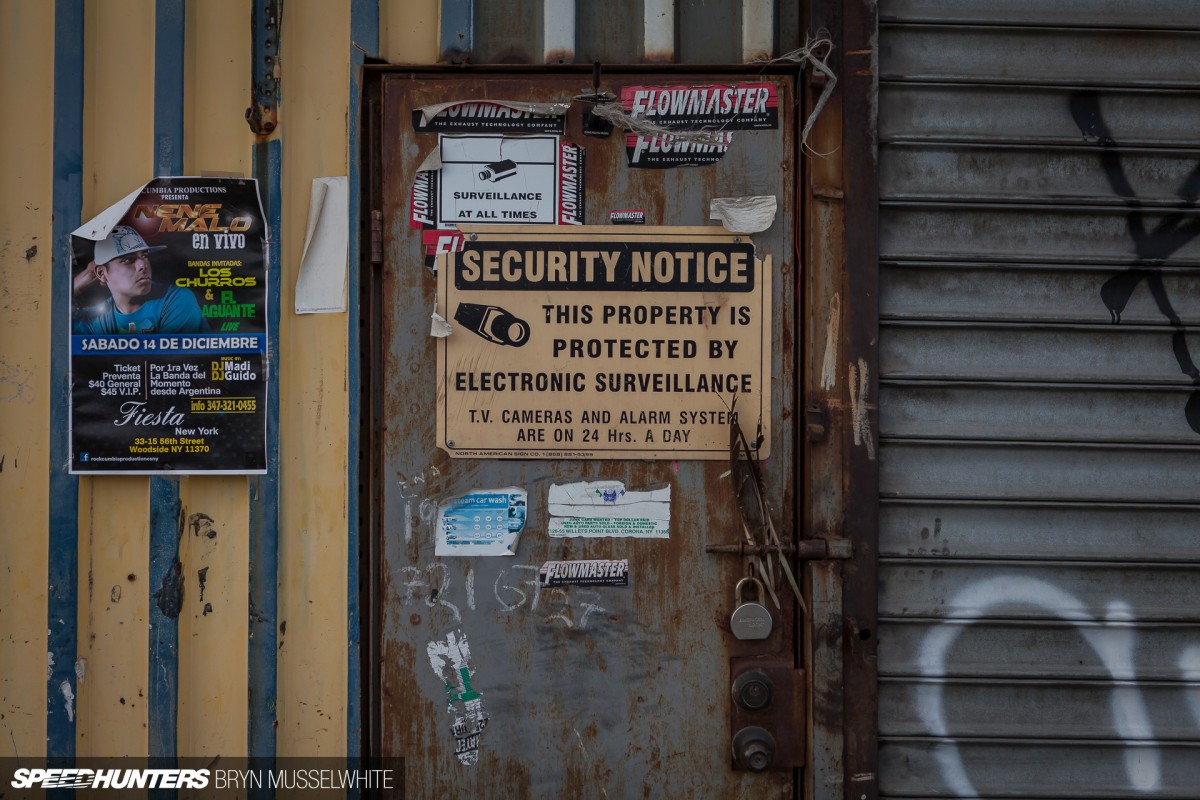 If you look at the Wikipedia page for Willets Point it says there's no sewerage here, or sidewalks. Now the first is a shame, but the second? Well that's somebody writing from a particular point of view that I don't adhere to. Ironically, the introduction of horse-drawn traffic (which gave way to cars) into society meant we needed sidewalks, or pavements as well call them in the UK.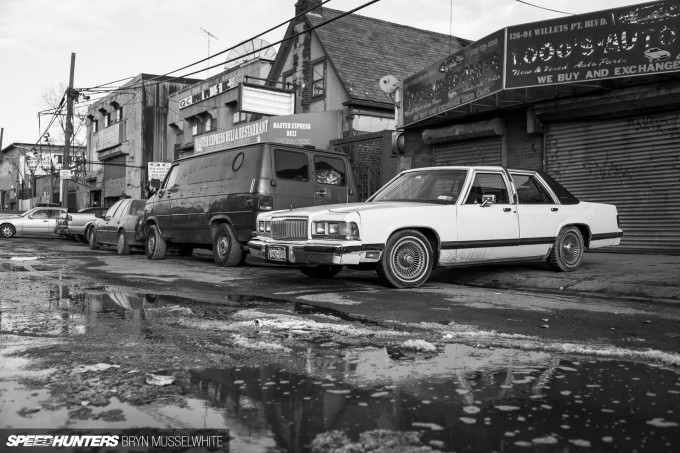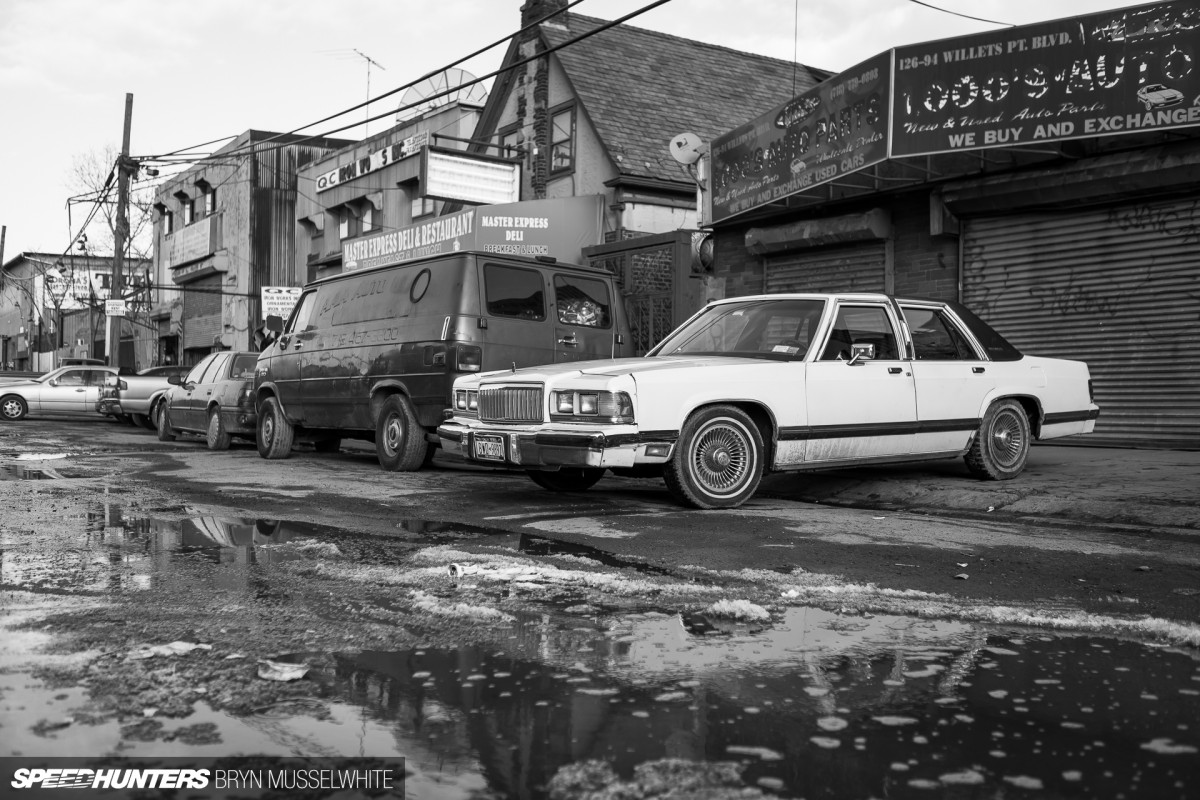 But in truth they're really there to keep people in line. In many developing countries, people, cars, bikes and even animals all move freely in the same space – they're just more aware and switched on. Which is how I felt while I walked around here, and I liked it.
Get Out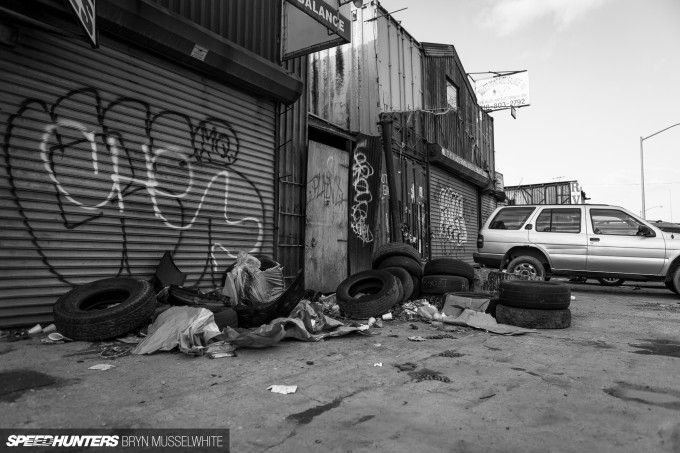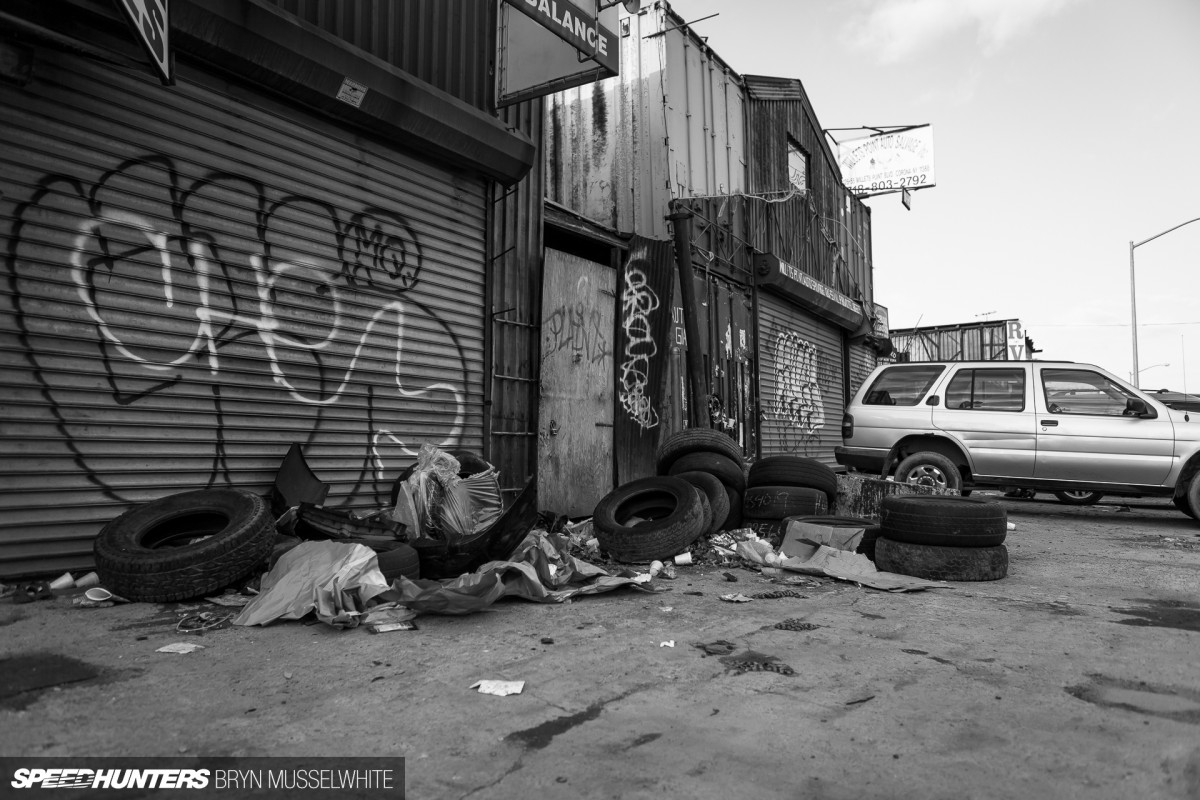 Willets Point is already being deserted by its inhabitants. Shops are shutting up and moving on in readiness for the approved development. The authorities have been trying since the early '60s to wipe the area clean, but this place has an energy about it that has endured. After 80 years of being here, it's going to take a while to pack it all up.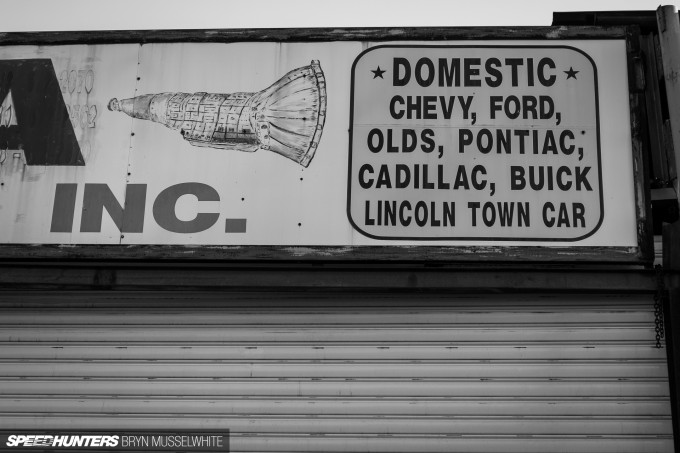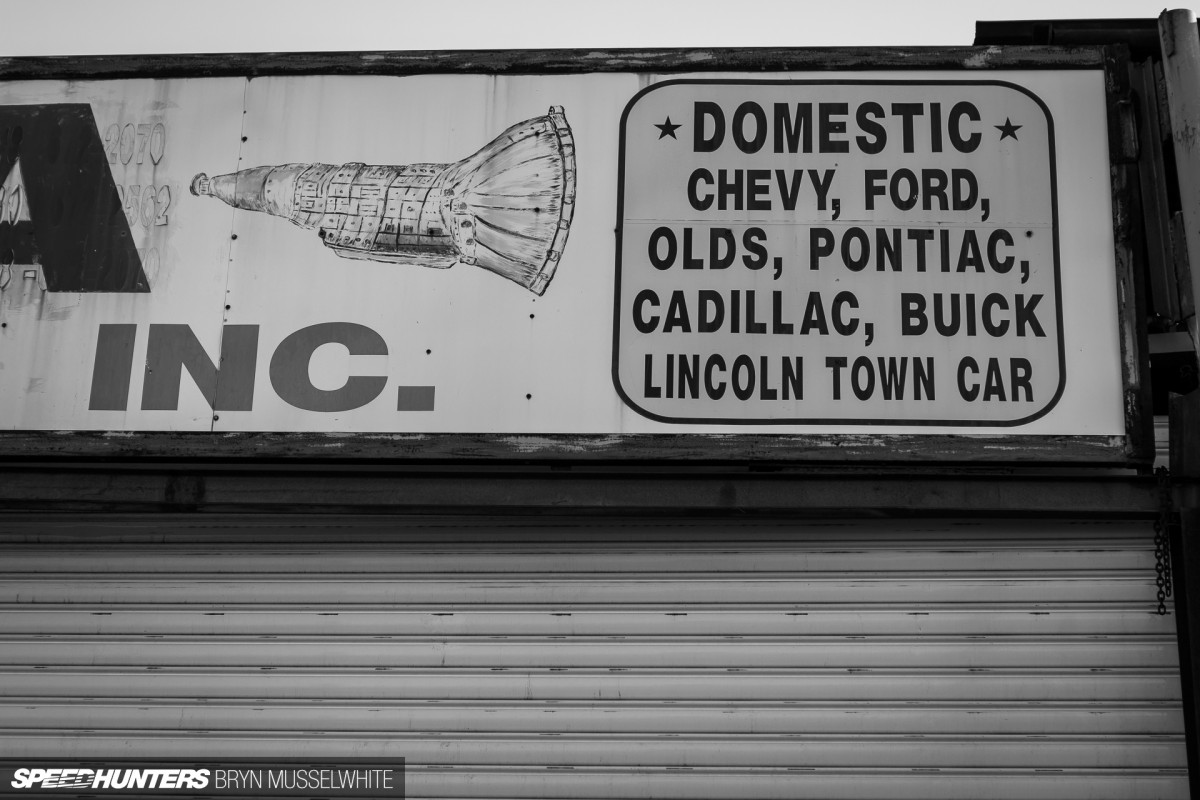 Roughly 250 businesses and an estimated 2500-plus people work here, so that's a whole lot of vested interest. A whole lot of history, both good and bad.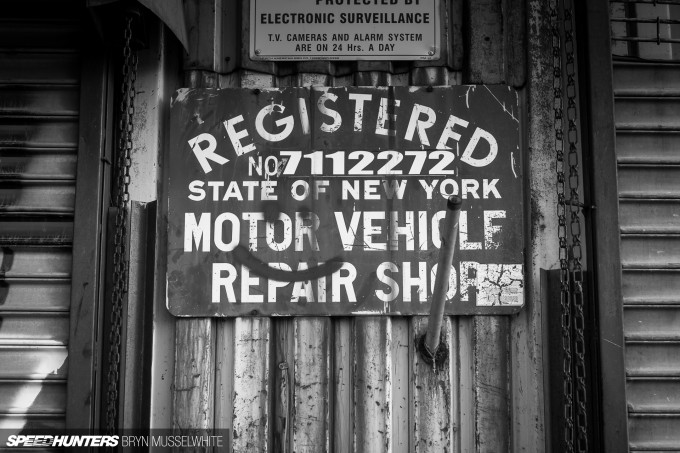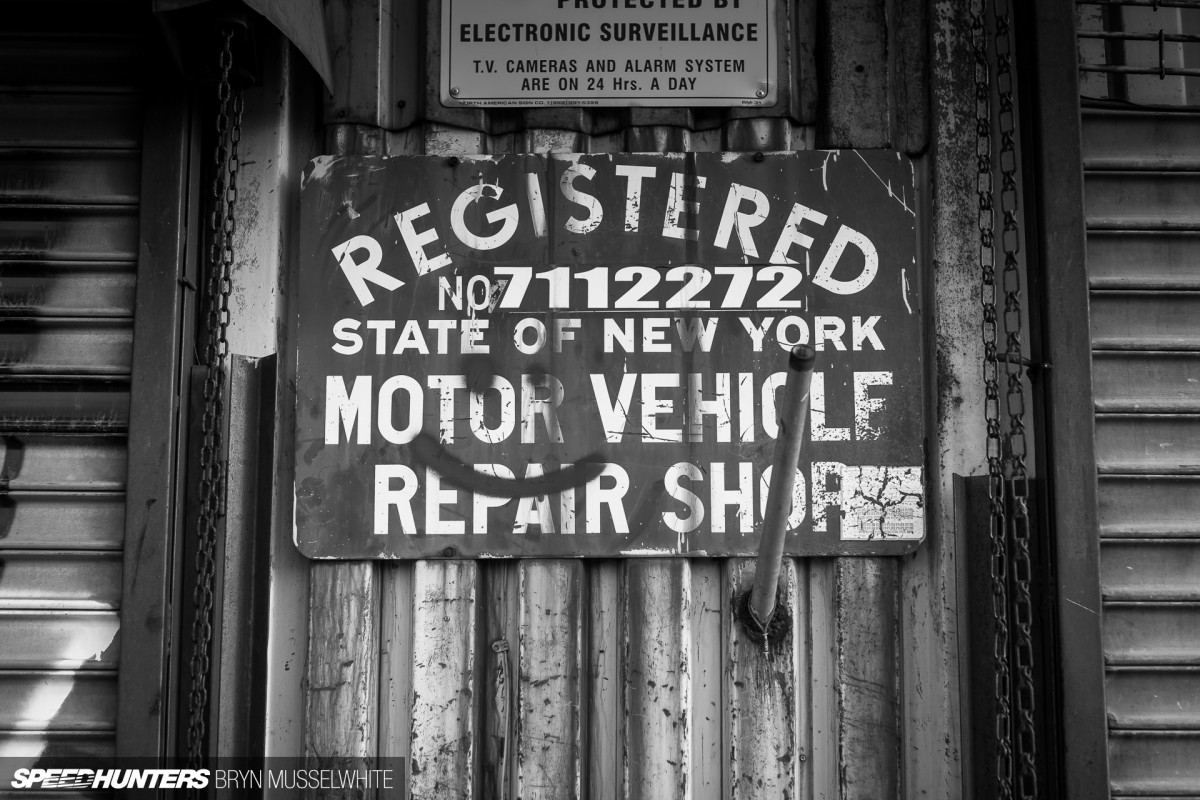 It strikes me they work hard too, as for a start it's a largely lawless culture that pervades. With many people working off the books, I'll not dance around the subject because it's pretty obvious how it works and many people confirm it when you talk to them. There are a lot of people here who aren't legally allowed to stay in America, and there are a lot of things that go on in Willets Point that the law might not like.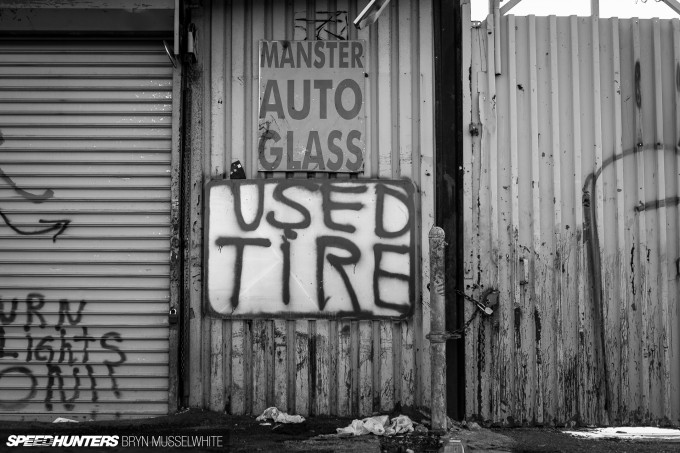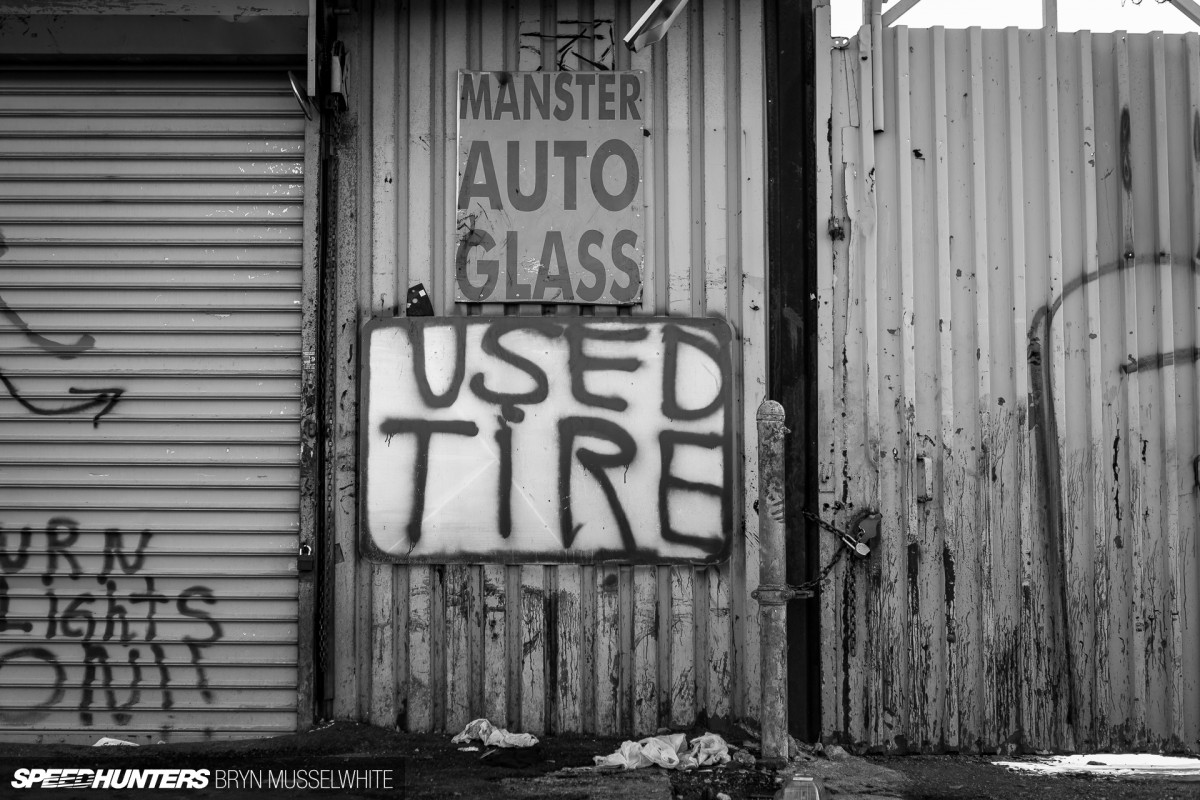 People talk about what will be left when everyone is gone and what will be found when the bulldozers come in.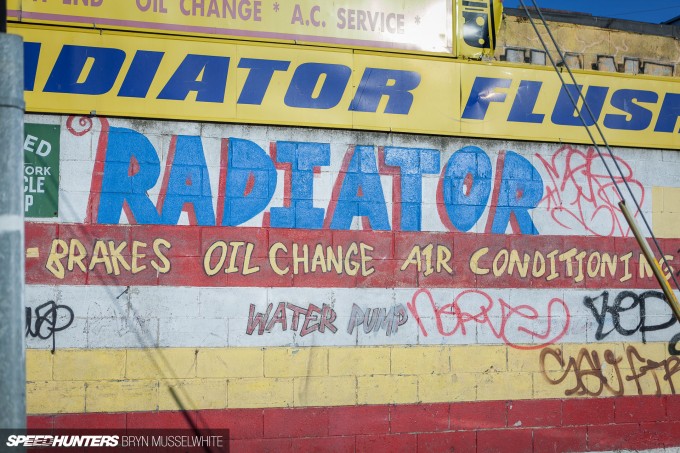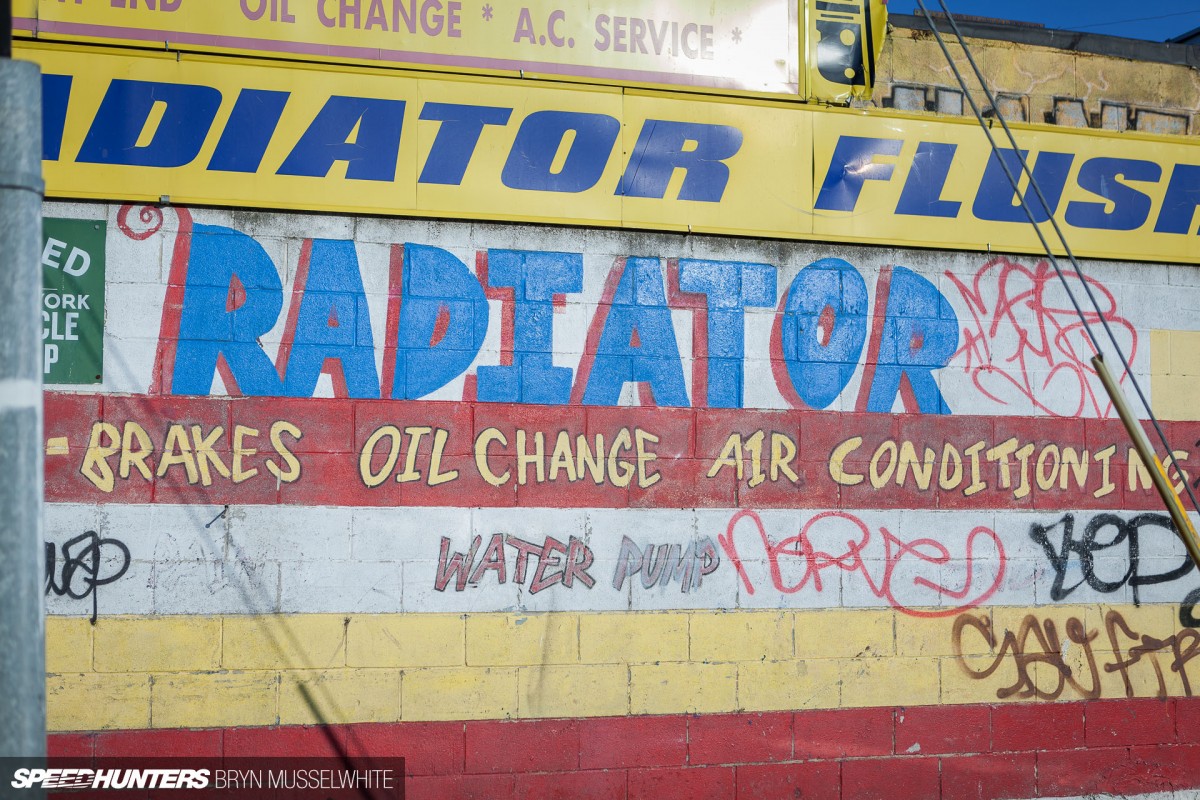 I guess only time will tell how true those rumours turn out to be, but to be honest, the drama and intrigue of it all is a bit wasted on me. I used to love exploring empty buildings, old air fields and factories or anywhere I could squeeze myself into, and I get the same sense of edgy anticipation walking around here. But I also know I can walk away, which makes me consider things in a more realistic manner.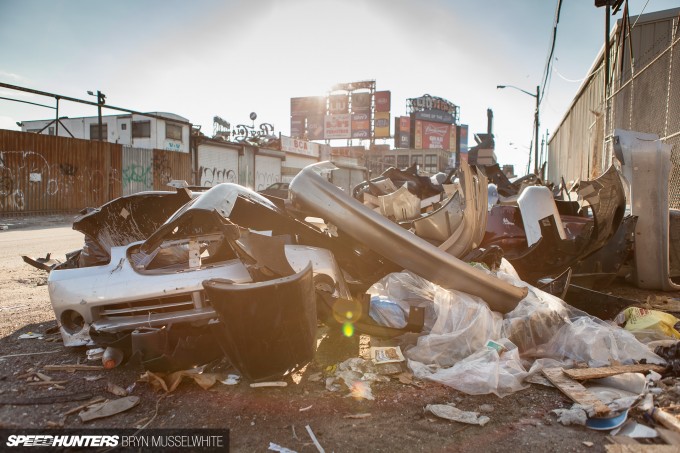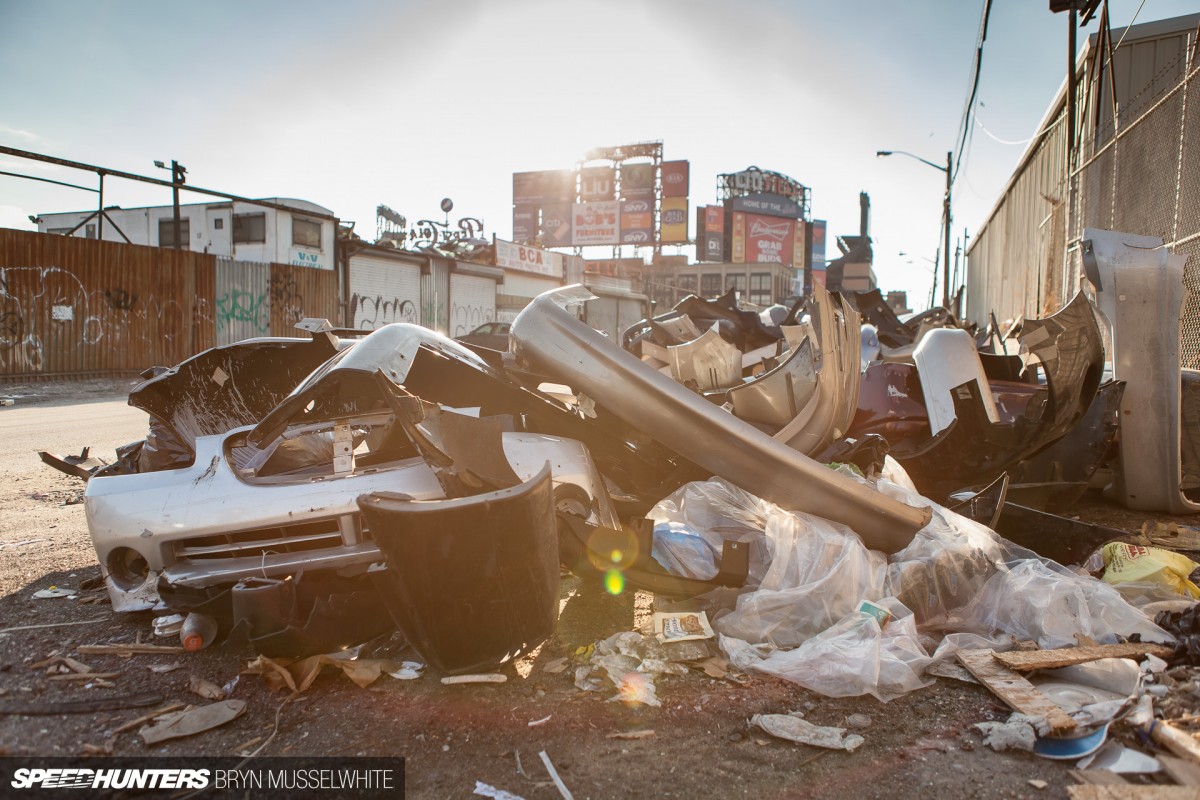 To a lot of people Willets Point is a lawless sh*thole, and no amount of artsy photography and first-world musing will change their opinion. I get that, and to be fair that's kind of what it is.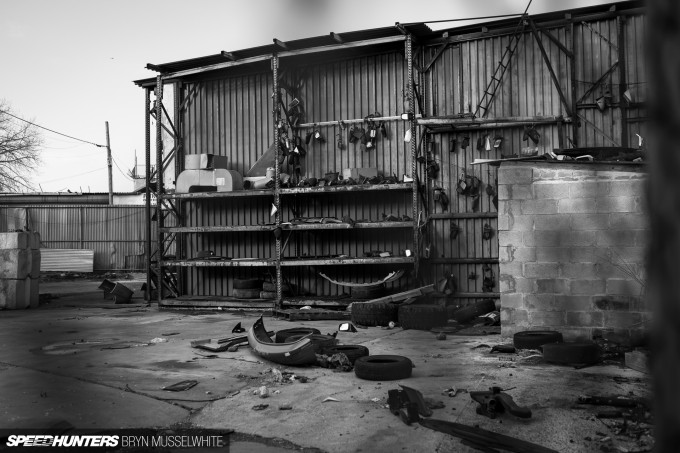 But to me it's something else – it's more than that and so are the people who have worked here in the past and those that are staying on until the end. If it's broken, you can get it fixed at Willets Point. Somebody will have a part, or get a part, or make a part that will fit and get you going again.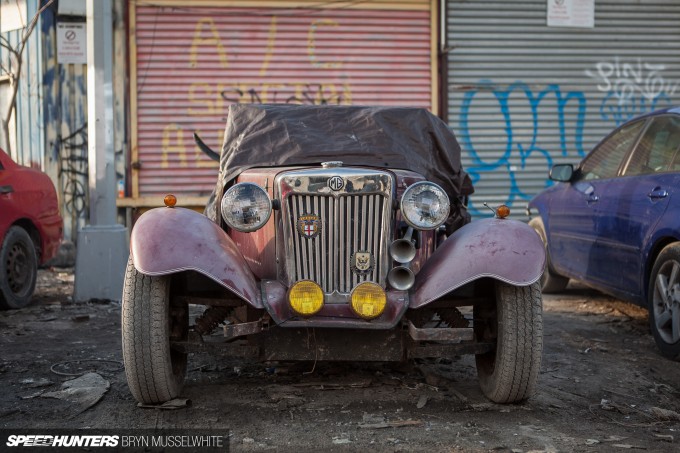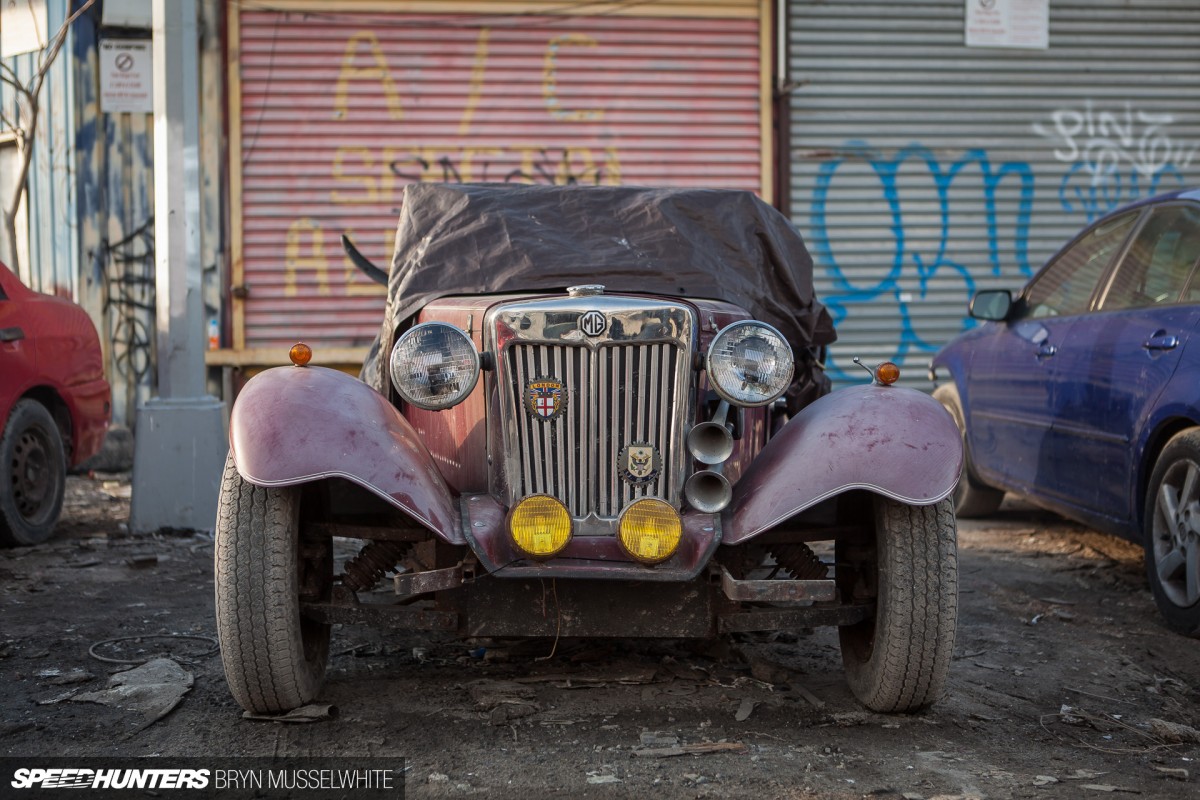 The car is a universally recognised sign of freedom and independence, and getting behind the wheel is becoming the master of your own destiny and when you taste that freedom it becomes addictive. So when somebody comes along and says you can't do this or that, then wants to get rid of your community and erase all traces of the way you live your life, it leaves me feeling slightly uneasy. The irony that this community (because good and bad that's what it is) was built around the car isn't lost on me.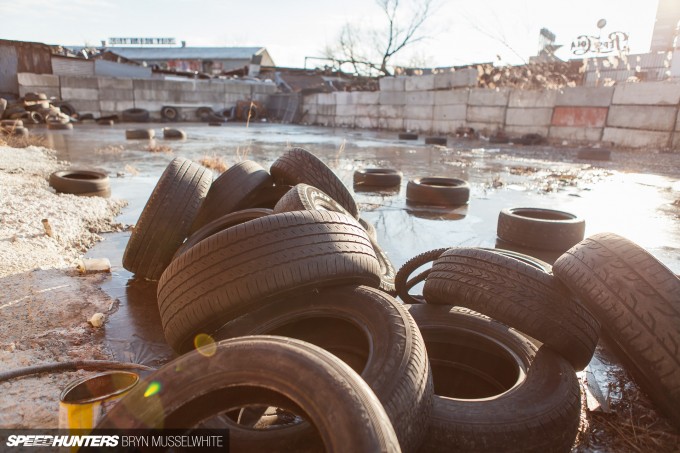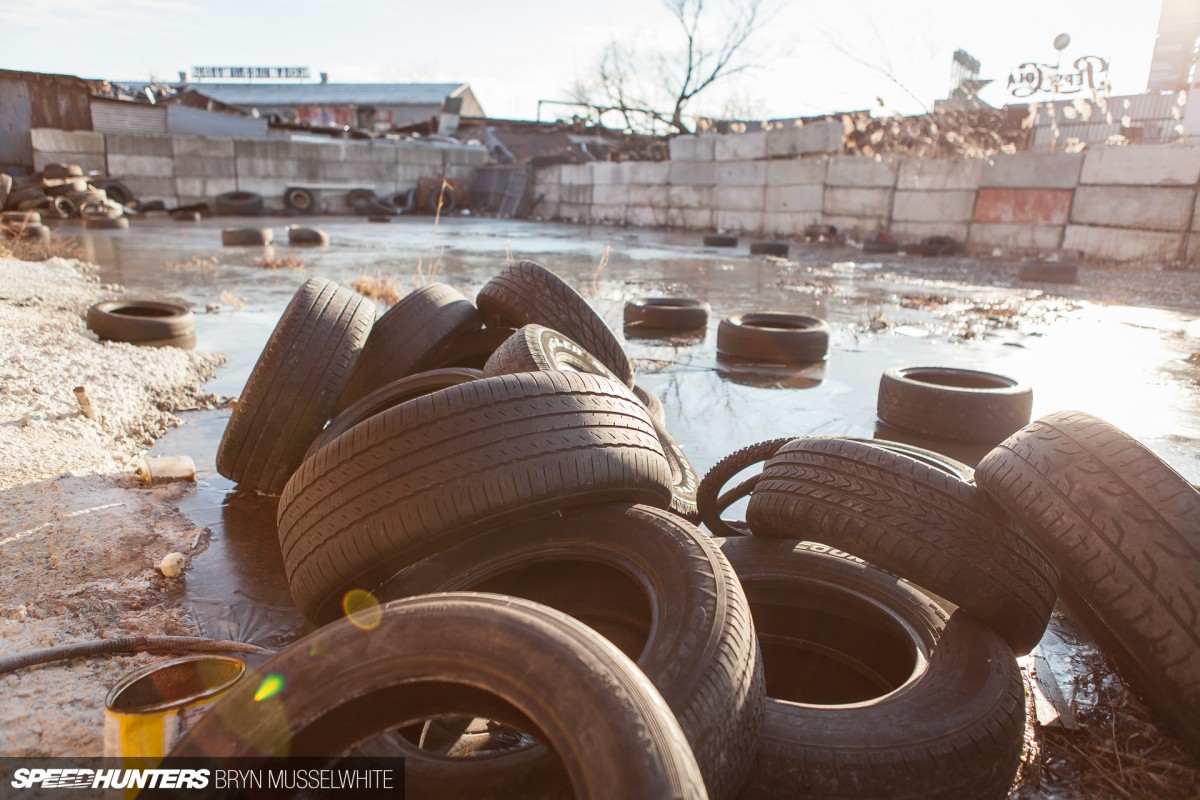 Again, I'm thinking too much about it, but in the absence of sanitation, health and safety or any other kind of regulation, this place thrived and people made a living here.
Flattened Out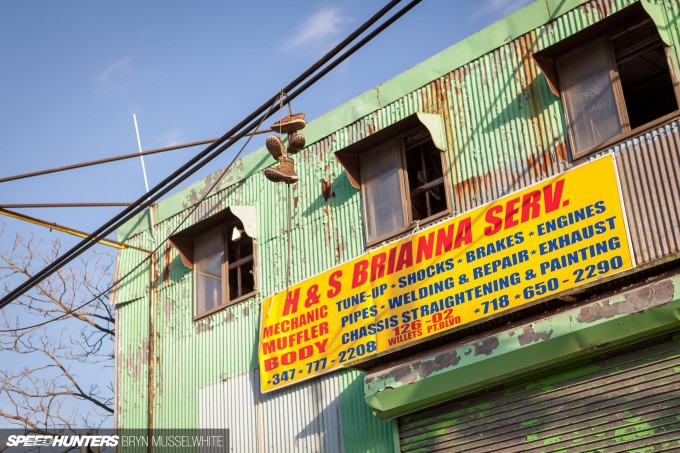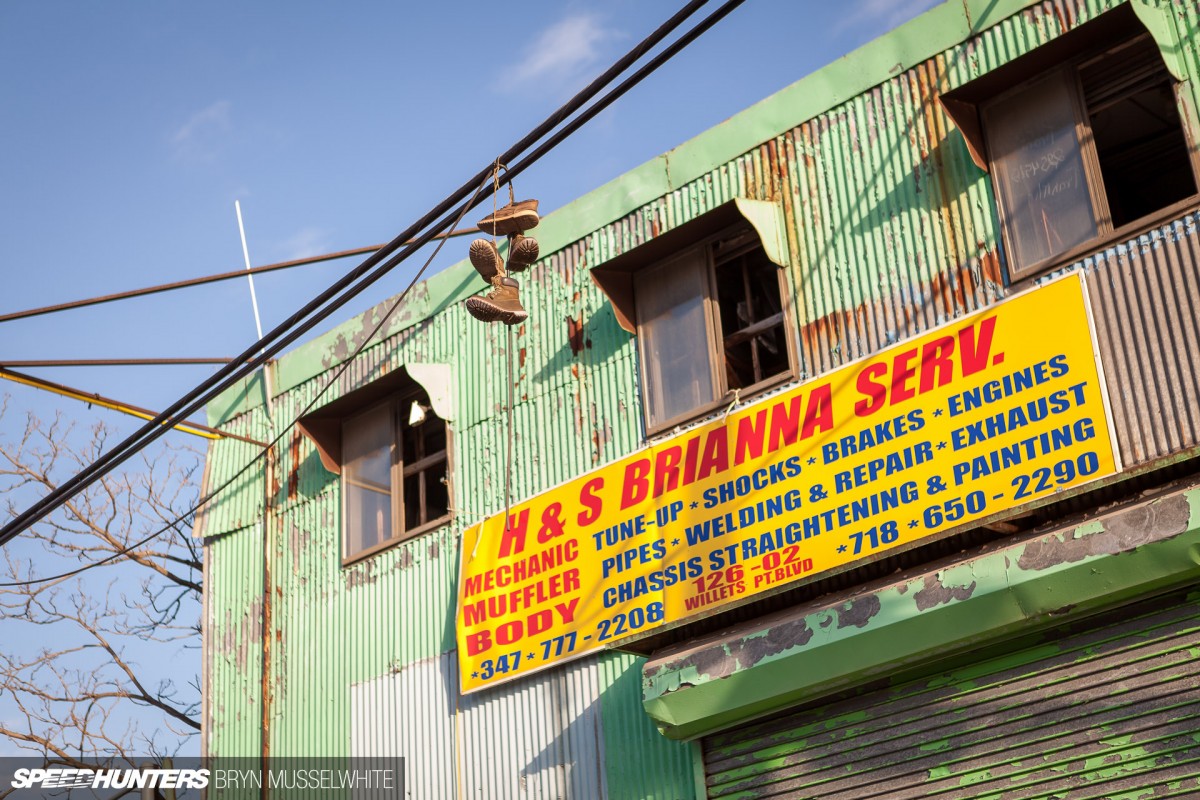 Take a look at the list of services H&S Brianna provide, there's not much missing there, right? The way it works around here is that you drive in to Willets Point, dodge the potholes, stray dogs and anything else that could slow your day down, and you get approached by 'arrangers'.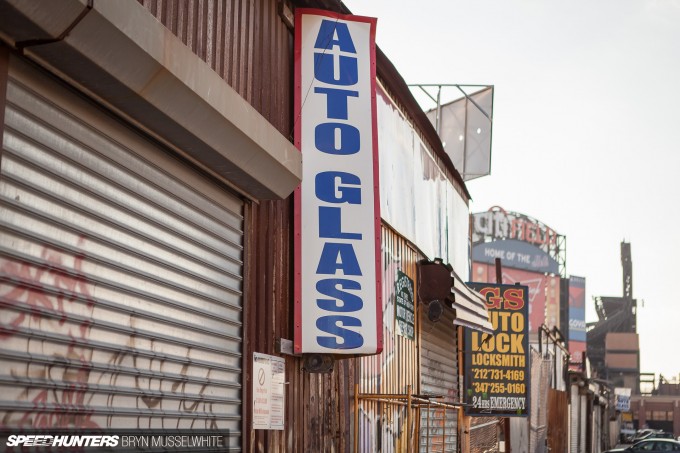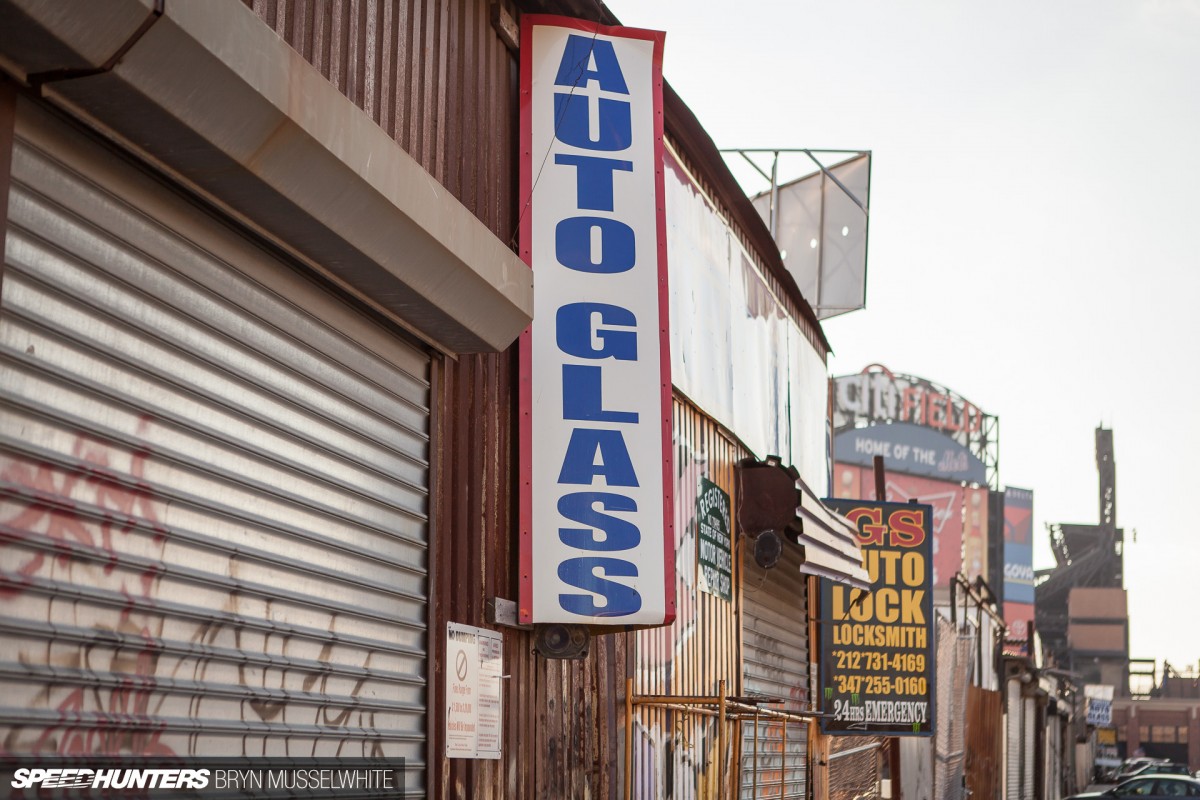 These guys will then direct you to their preferred garage and if the job gets done they get a cut of the profit. In anyone's book that's a hard way to make a living – you're competing with a whole line of other similarly motivated people all doing the same thing. No job security, no sick pay, and if the authorities drive by there's a strong chance you'll have to walk the other way pretty quickly.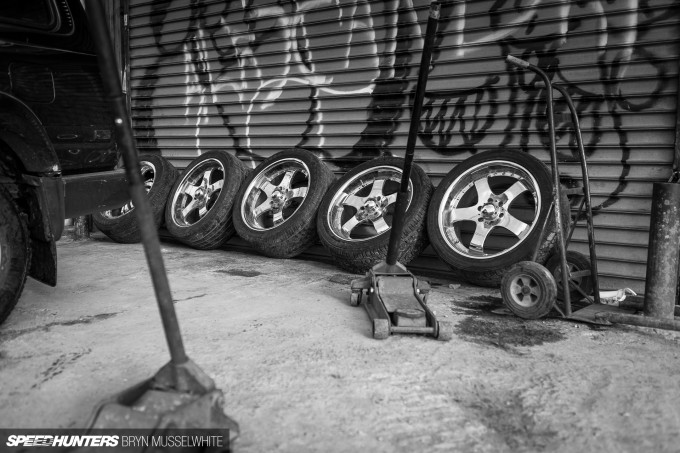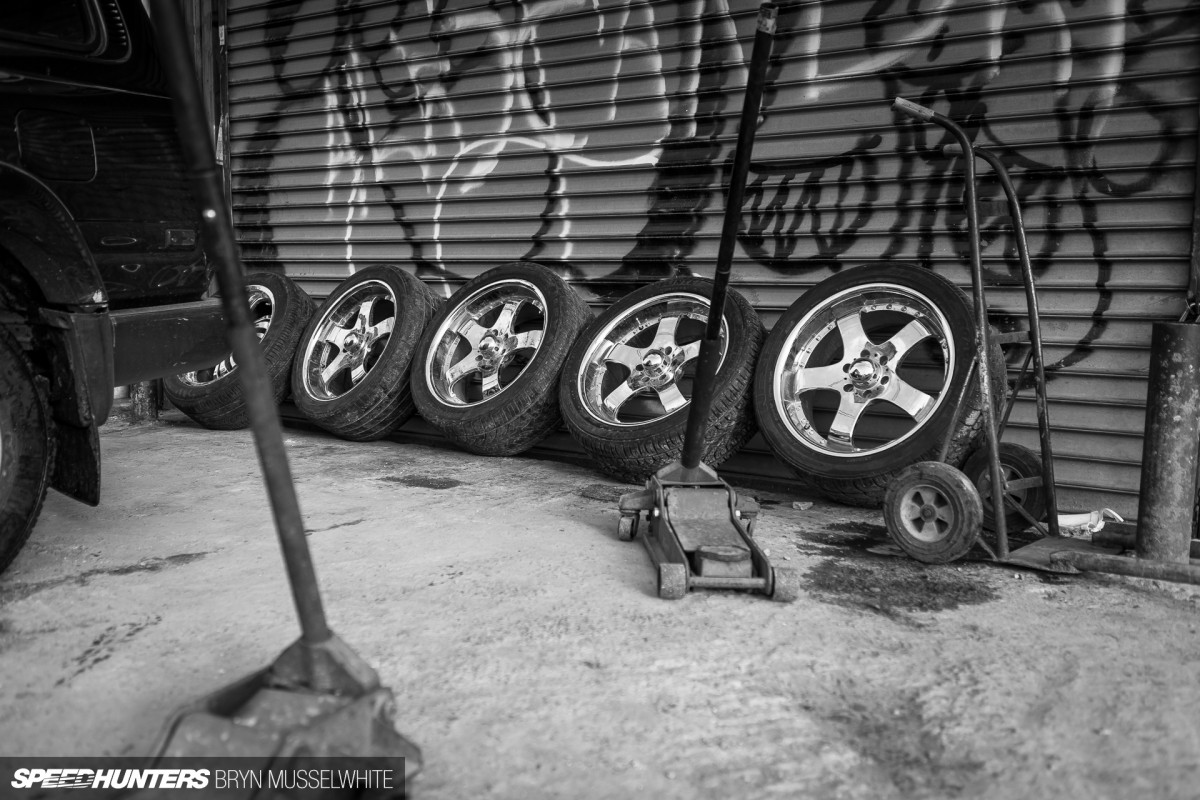 Let's not forget this is 2014 and this is America. These chop shops and garages all have something at common at their core: pride – another thing I have admiration for.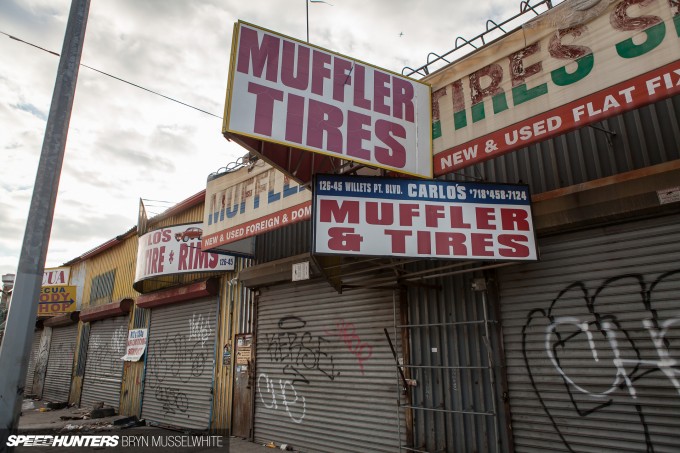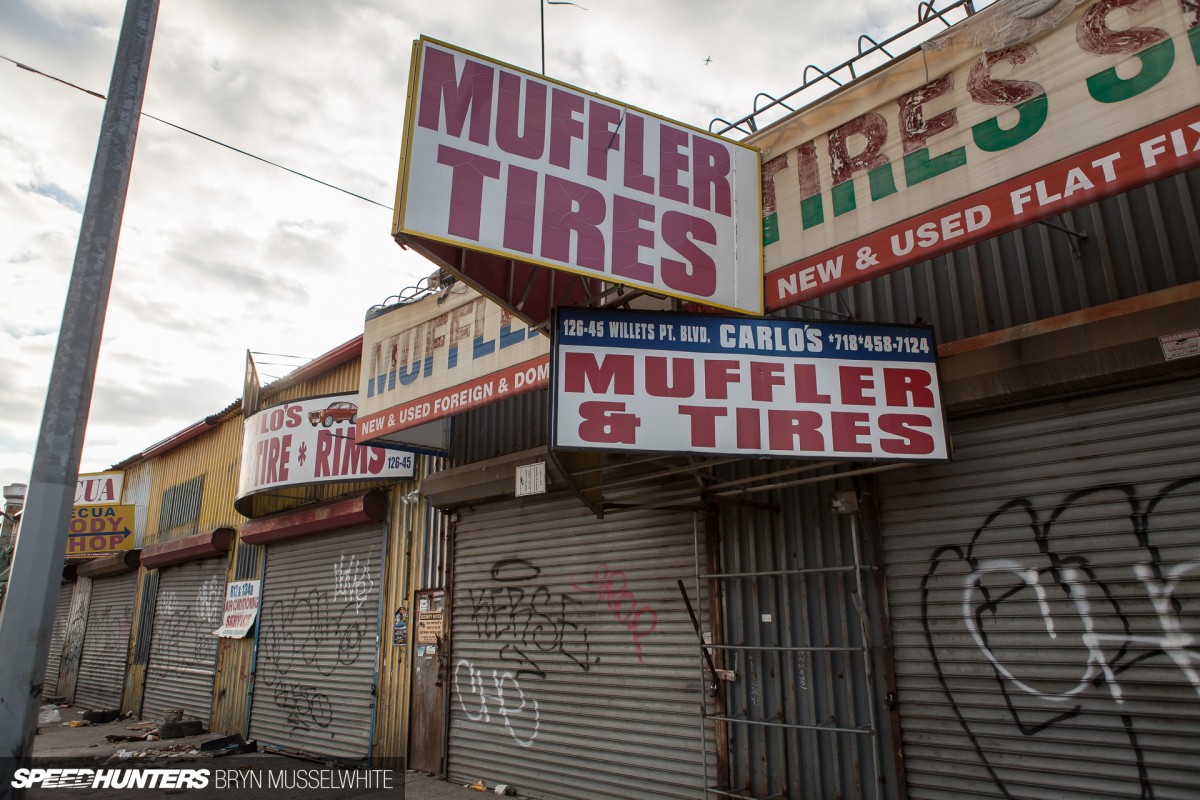 So as these units become vacant and the workers and owners move away, nobody is coming in to replace them and the world is losing another interesting, vibrant and yes, slightly dangerous part of its fabric.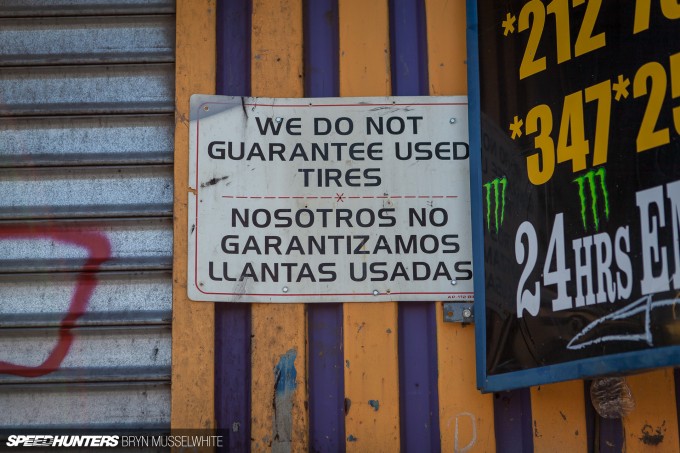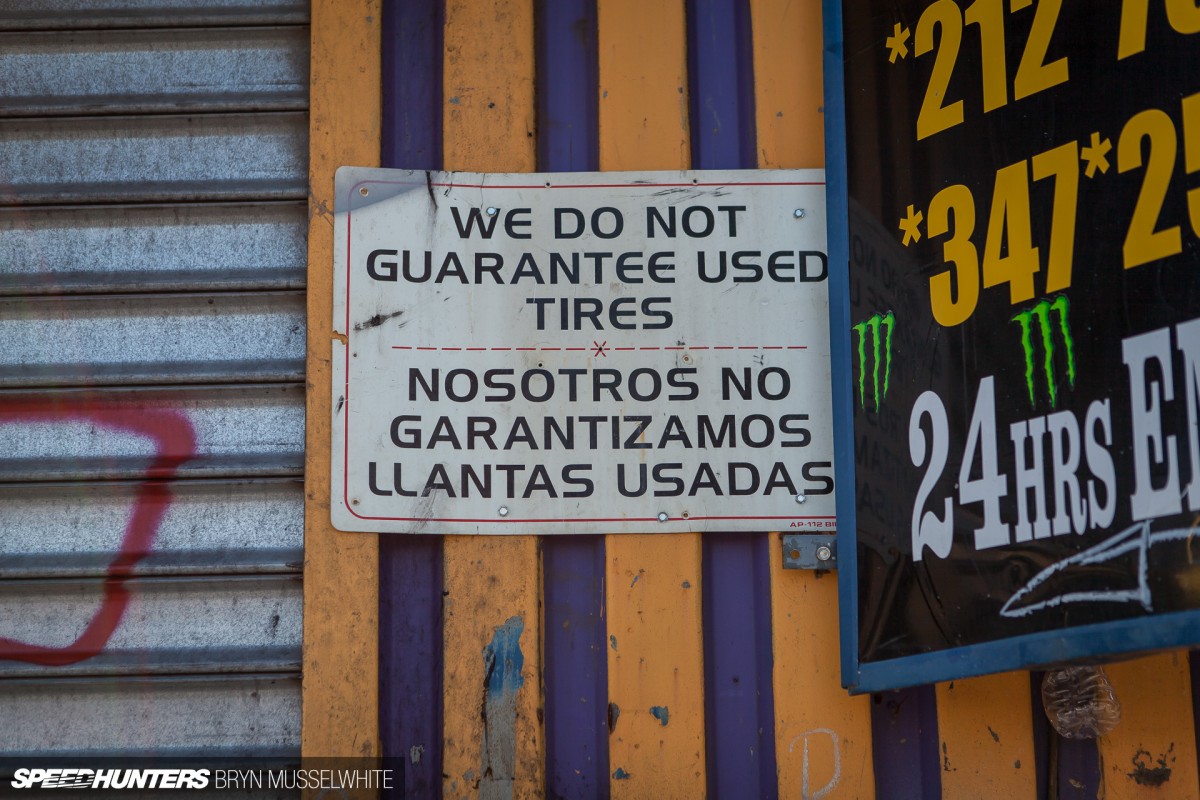 Now, I'm not arguing for a place like Willets Point to be left alone – it simply can't be left alone and should be pulled down. Many people would argue that the unlicensed side of what happens here needs stopping, and in many circles they'd be heartily agreed with and slapped on the back for their hard work.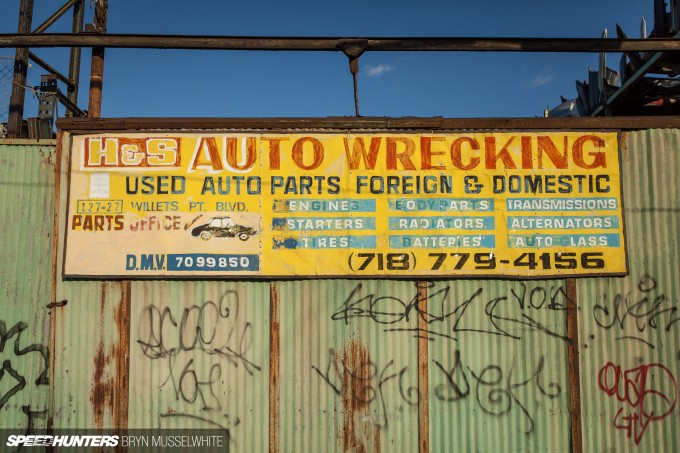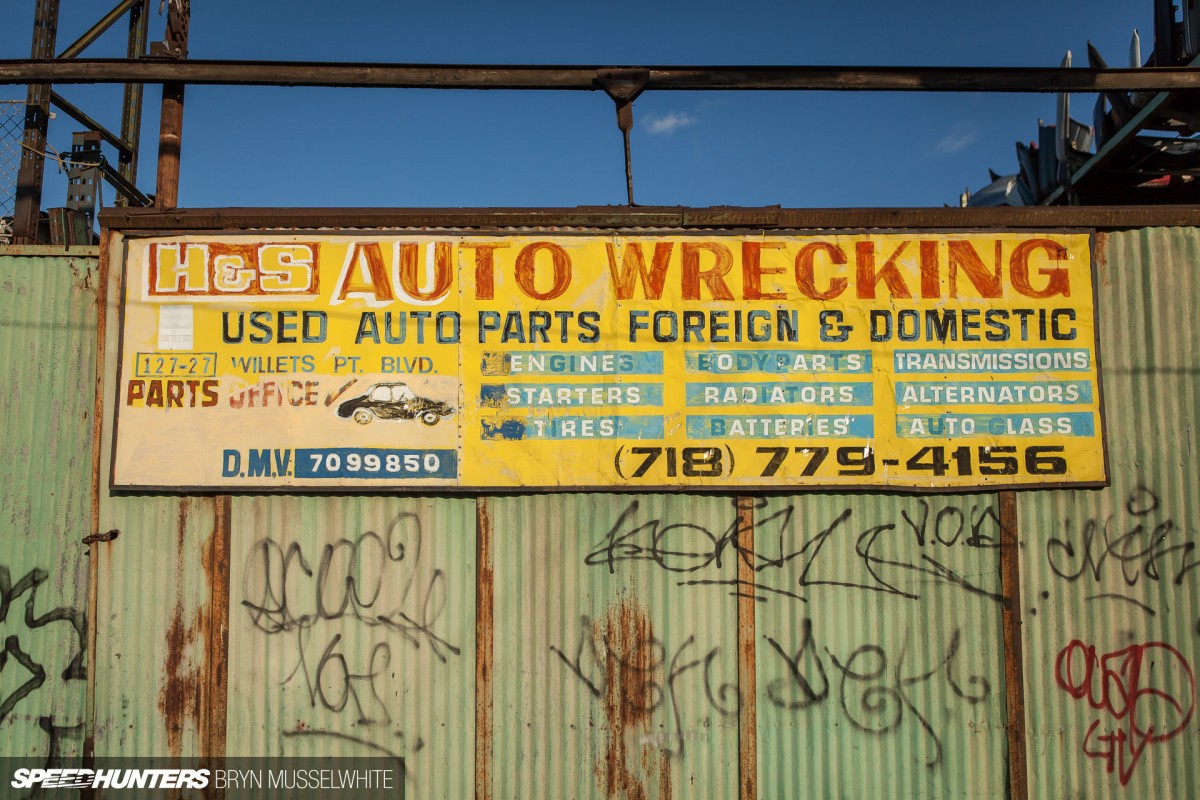 More legitimate garages in the area will no doubt say that you should go to them for your repairs, and get a proper job done – know where your parts are coming from, not get ripped off and have parts stolen from your car whilst it's being worked on.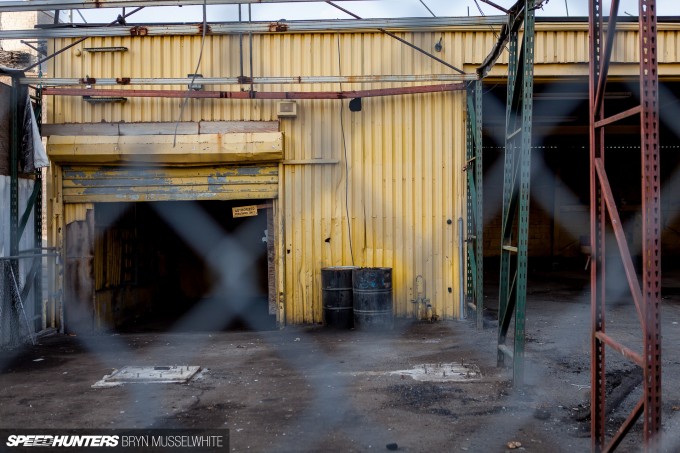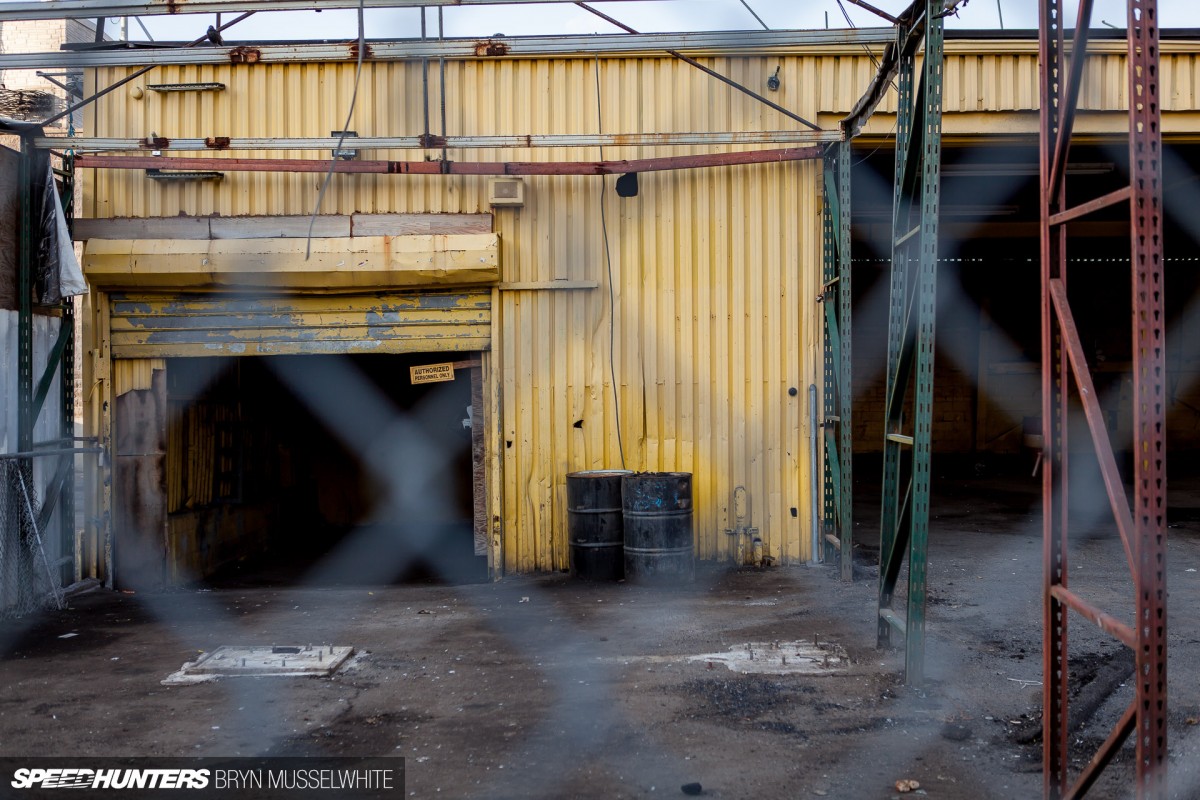 But that misses the point of this place. The pride, determination and dedication of the people who lived their lives here is what I think is the greatest loss.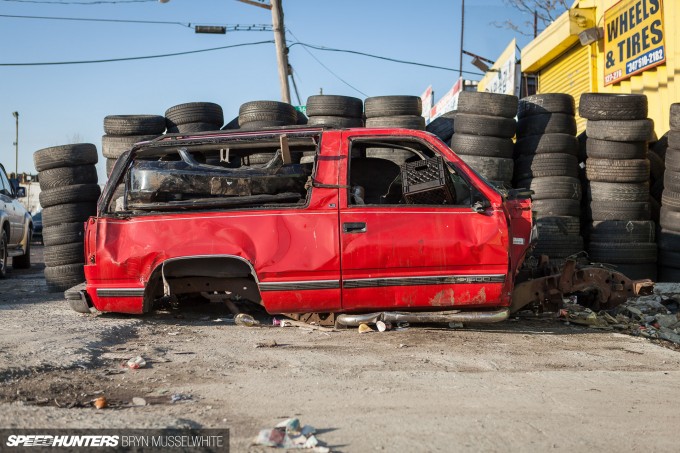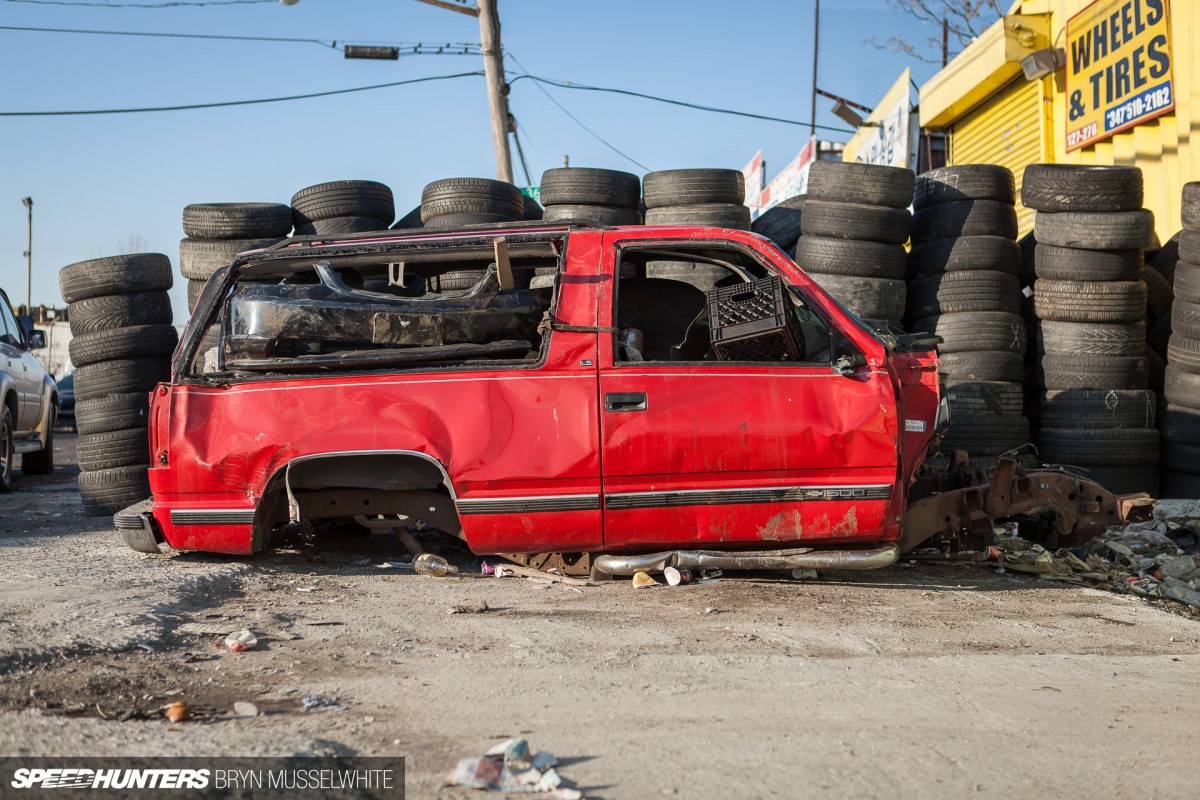 I don't think anybody ever wandered in to Willets Point by accident, or was under any pretension as to the sort of service you'd get here. Or that you'd better take your street-smart pills before you come in, or beware.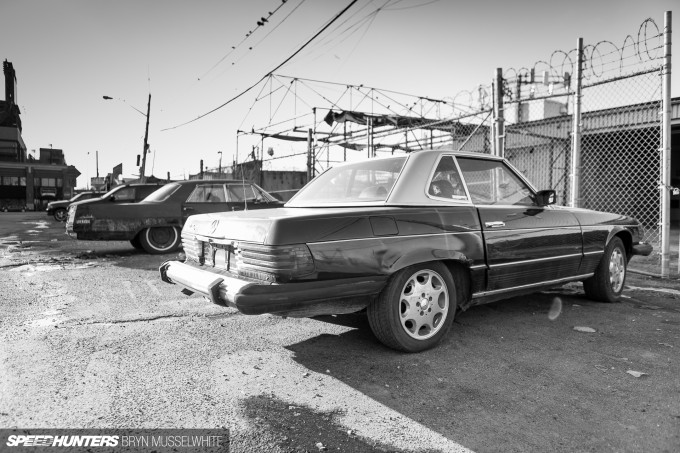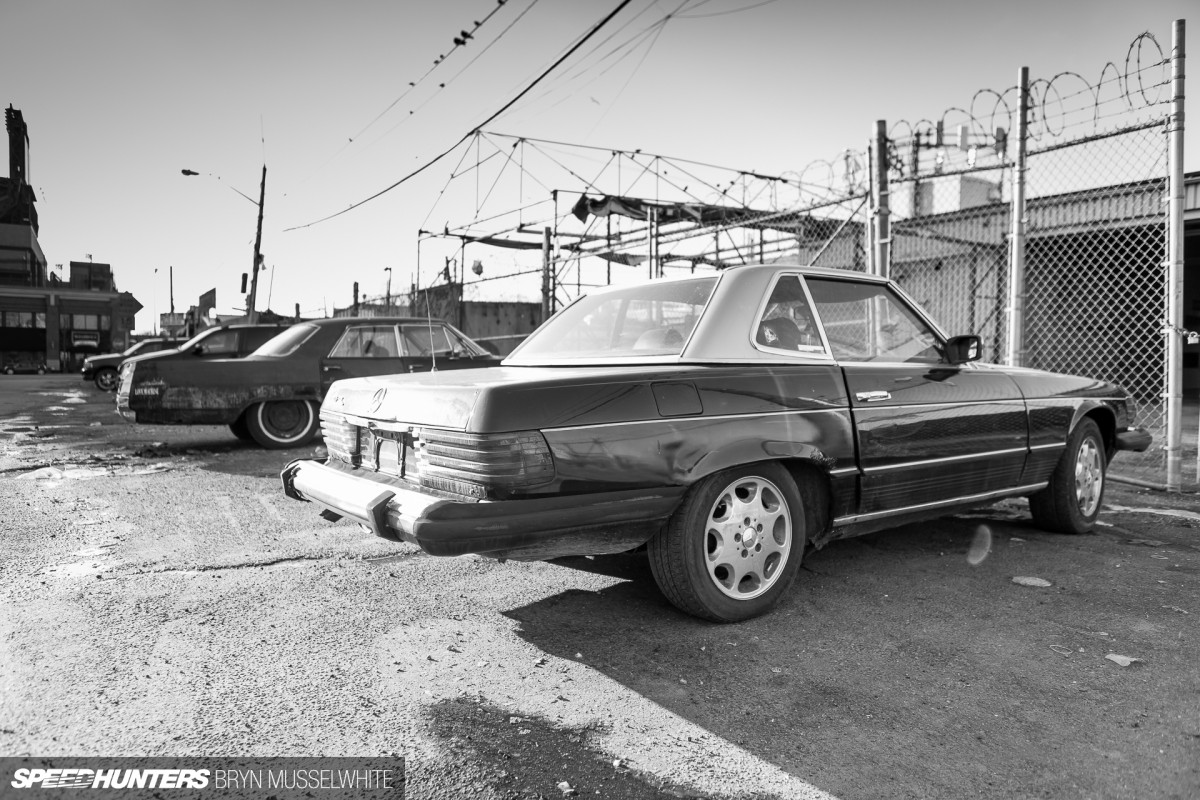 As places like this get wiped from the face of the earth, we get closer to being too comfortable, too cosy and too protected. That's what our car culture doesn't need. It shouldn't be something that sits quietly in a box whilst we do the cleaning – it should be raw, challenge us and make us have eyes in the back of our heads. It should scare you a little bit because you're in awe of it.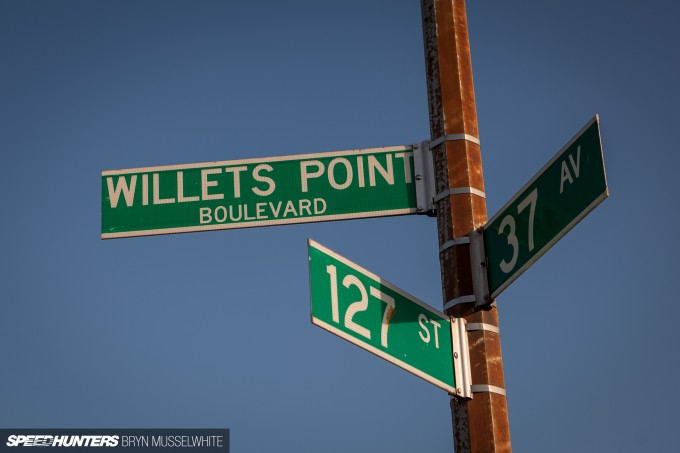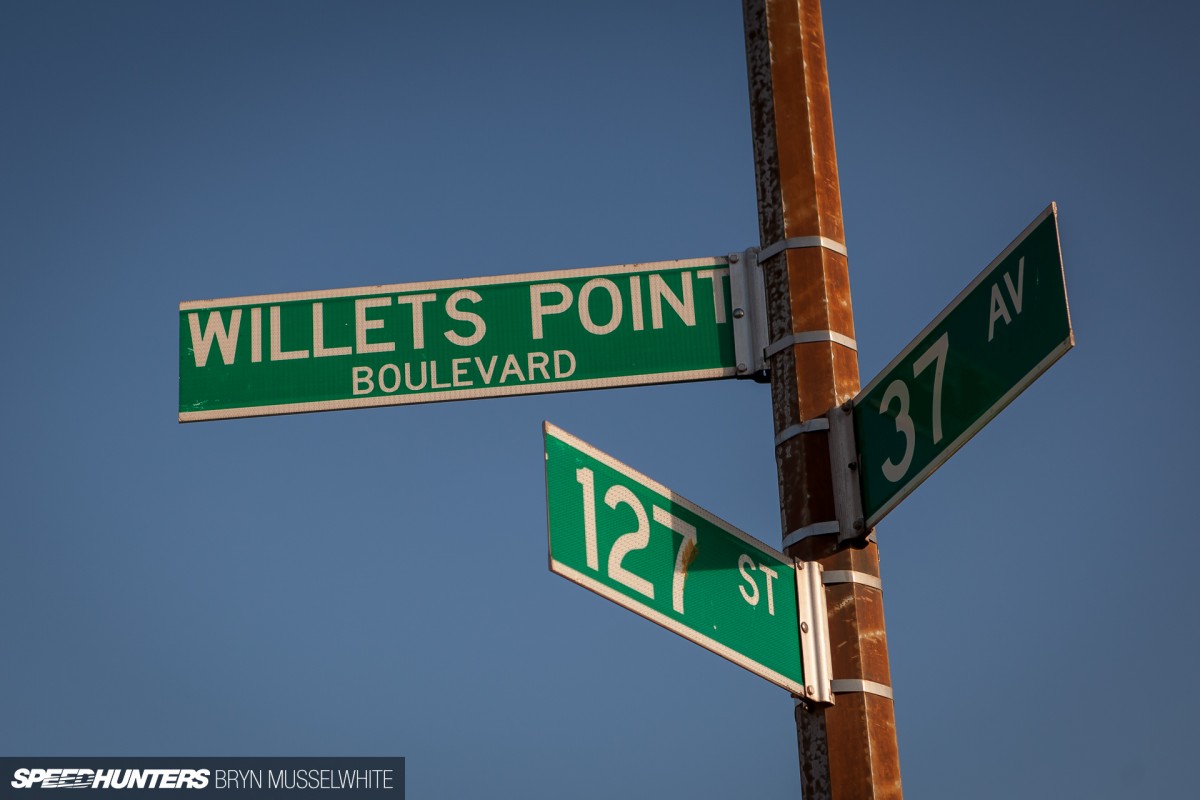 If Willets Point was a car it would probably be a big old Cadillac, all faded grandeur with a homebrew supercharger setup and a cobbled together nitrous system there to surprise unsuspecting road users. It would sit low, riding on mismatched shocks and black steel wheels with hand-carved red band tyres. The bodywork would be rough but loved, the interior dark and loaded with character and warning signs.
It would be thirsty, loud and anti-social… And I'd want to drive it. How about you?
Bryn Musselwhite
bryn@speedhunters.com
Instagram: Speedhunterbryn
Thank you to Rob for the original reason to go to Willets Point, and Ben Chandler for holding my camera
Cutting Room Floor