Welcome To The World Of Rolls-Royce
Wait a second… A Rolls-Royce on Speedhunters? What on earth is going on here? Have we lost it?
Okay, so what I'm about to show you is not the usual sort of car that you'd expect to see on this site, but you really must bear with me on this. Because believe it or not, there's some pretty good reasoning behind me wanting to experience a Rolls-Royce for the first time. Granted, for those of you geared towards the high performance side of the spectrum when it comes to cars, a Roller would be the furthest thing from it, but not this. Not the Wraith. Well, sort of anyway…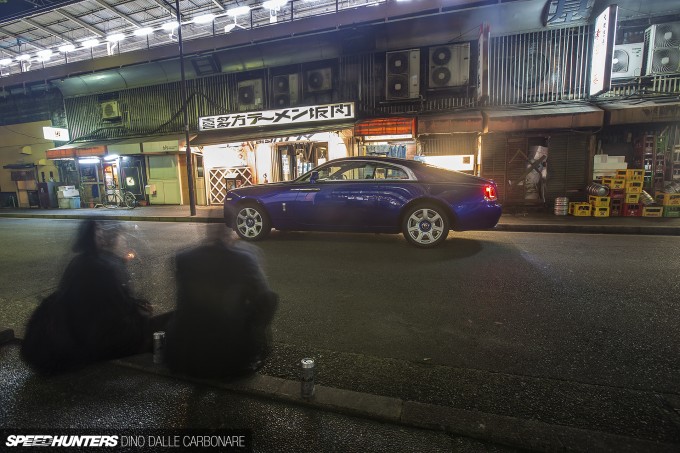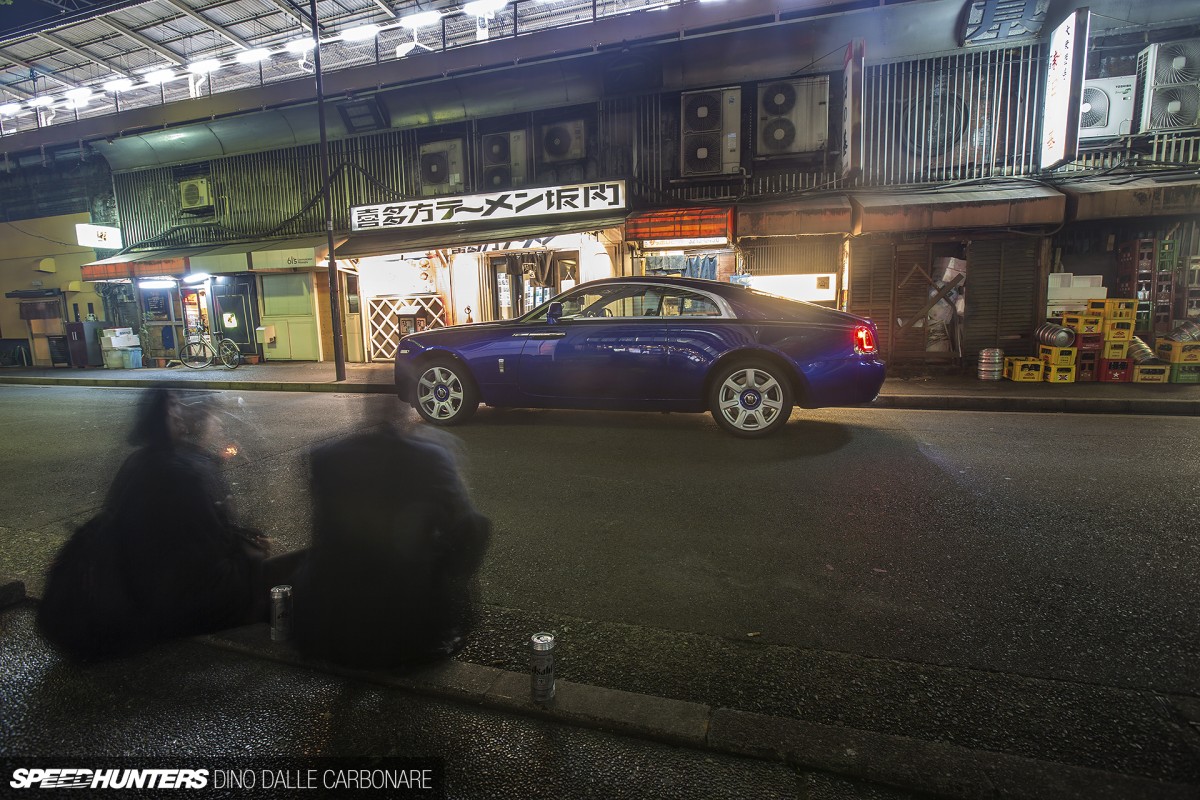 In some perverse, alternate, rich man's reality, the Wraith could be labeled a performance car. You see, underneath that long swooping hood sits the most powerful engine that has ever been fitted to a Rolls-Royce – a twin turbo, 6.6L V12.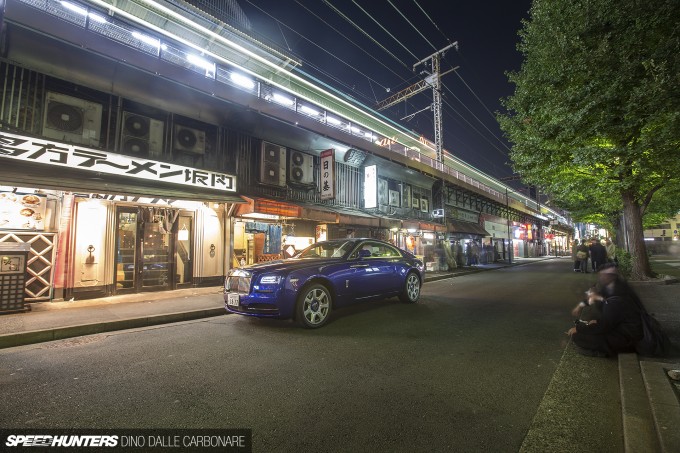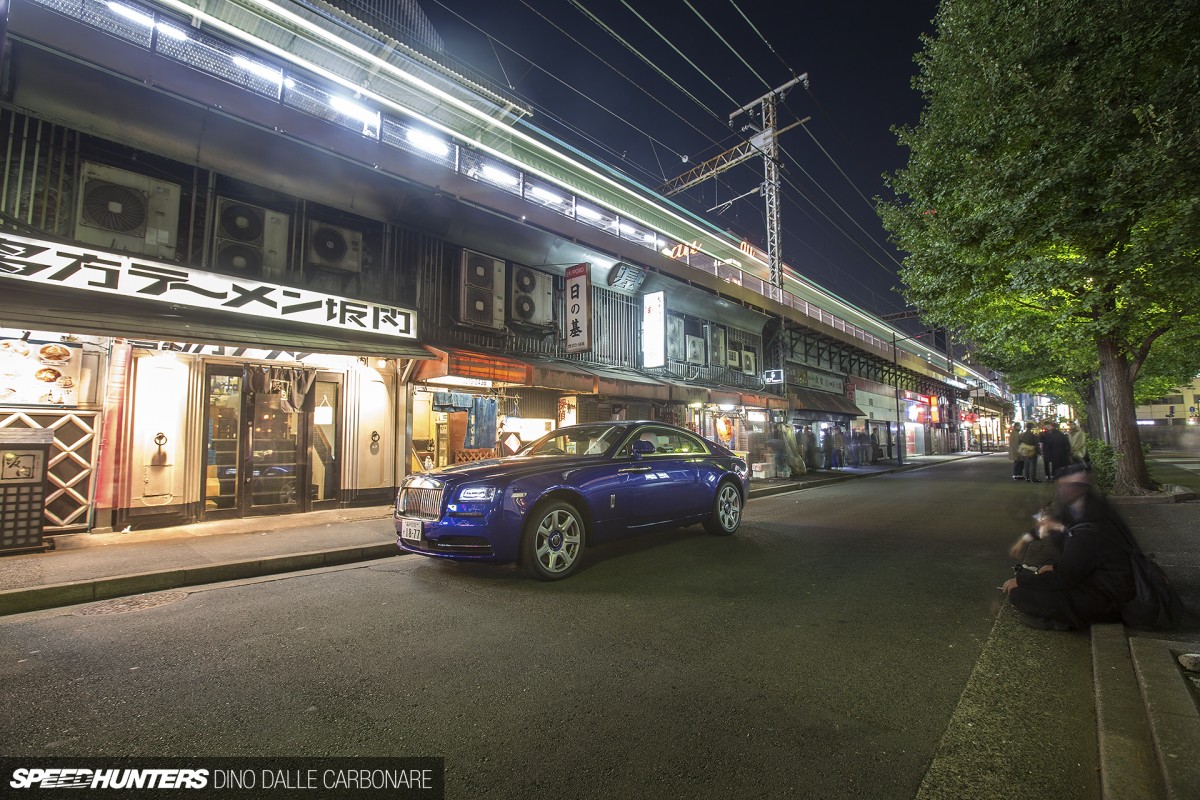 The motor gives the Wraith 624hp to play with, meaning that despite the fact that it weighs 2.4 tons, it can accelerate from 0-60mph in just 4.4 seconds. For comparison's sake, that's pretty much as fast as a stock BNR34 Skyline GT-R, and only a smidgen slower than the new BMW M3. I hope you see where I was coming from with this…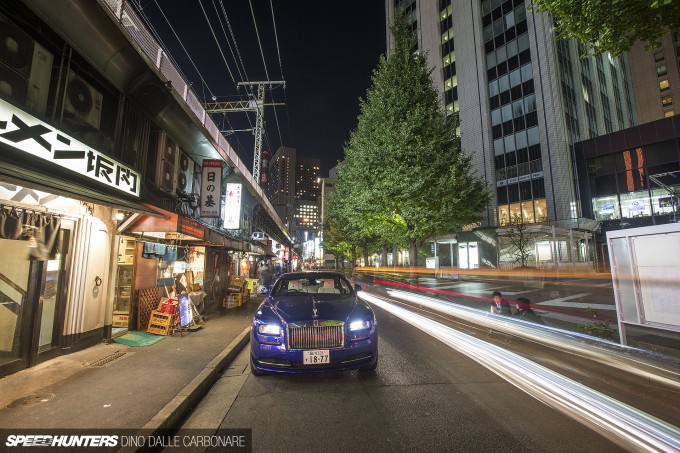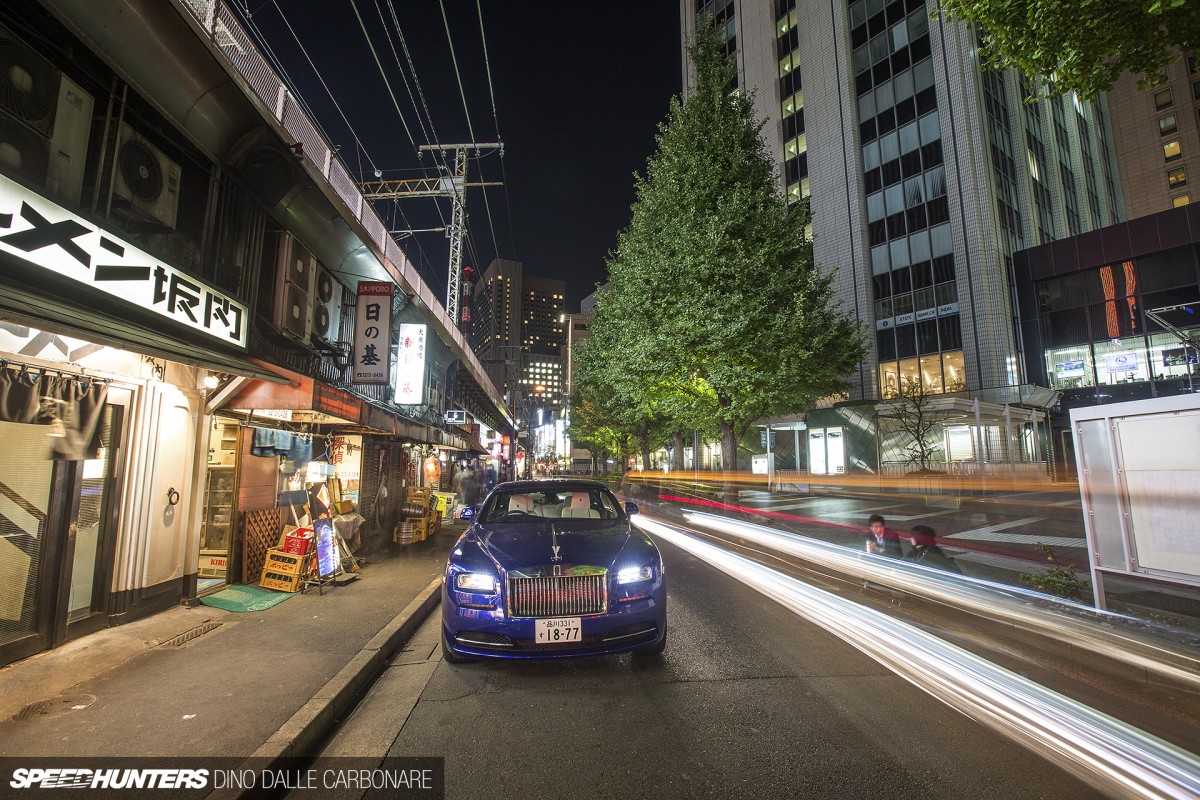 I'm glad I did get behind the wheel of the Wraith too, because it showed me a completely different perspective of what it is like to drive – actually, make that 'captain' – a car of this size. Up until the moment I jumped in the driver's seat I thought I had seen it all, but boy was I surprised. This may be a two-door coupé, but the new Rolls-Royce is nothing short of humongous – especially for the streets of Tokyo. Of course, it didn't take long to get used to its size, its demeanor and its knack for wafting off from the traffic lights in near complete silence, and at an unnaturally quick pace.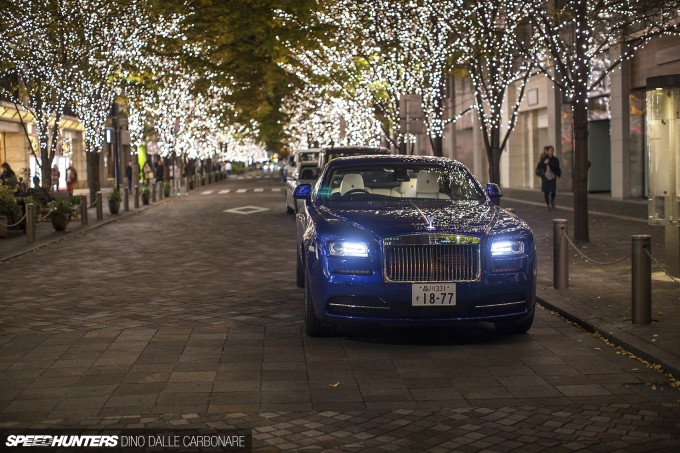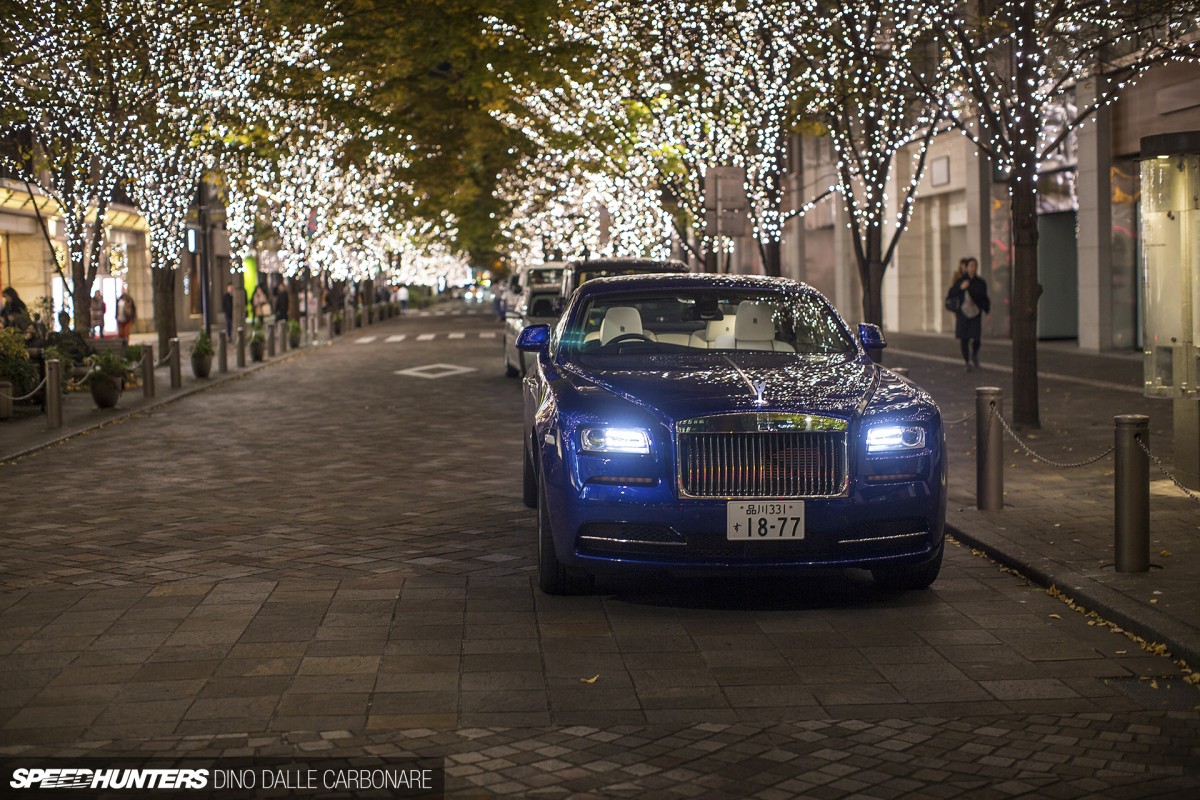 I took the Roller to Marunouchi – a rich and affluent business district behind Tokyo Station. Being late at night there weren't too many people around, except the odd drunk salaryman stumbling past, trying to figure out where he was and debating whether to just throw himself on the ground and sleep there for the night, or attempt to actually go home. Cars like the Wraith only really make sense in big, wealthy cities like Tokyo, and apparently Rolls-Royce Japan has seen a lot of customers ditching their Ferraris to get into one. I have never really understood what the point of driving a Ferrari in central Tokyo was – except for the obvious, of course – but this car makes sense.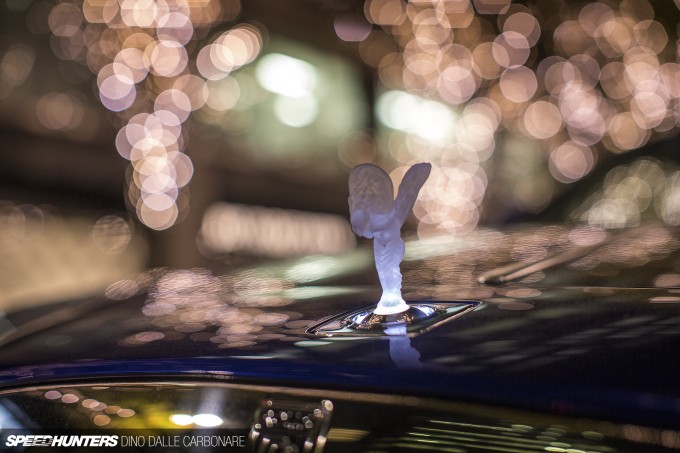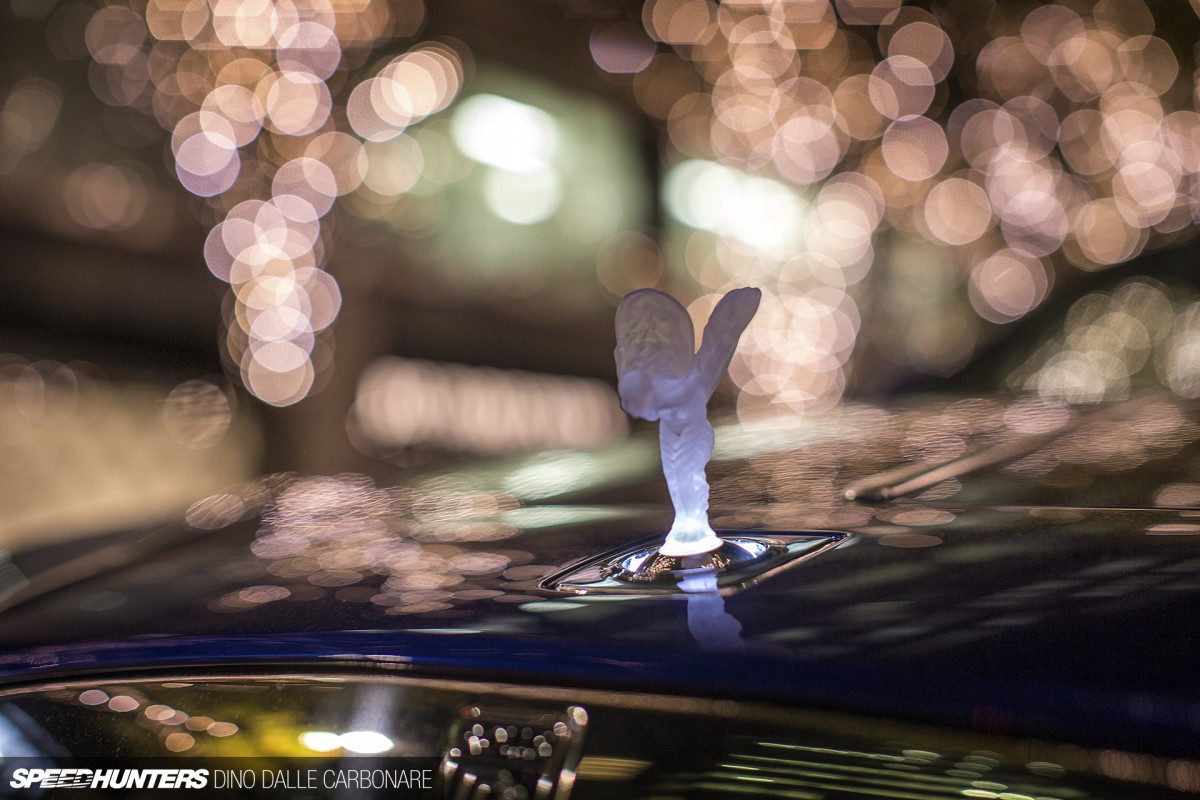 If you are budgeting around ¥33,000,000 for your next daily driven coupé, the Wraith is a smart proposition. It will cuddle you in refinement and luxury as you drive the five-minute commute from your penthouse to your office building, while entertaining you with its ability to accelerate briskly away from the lights and overtake oblivious taxi drivers whenever the need presents itself.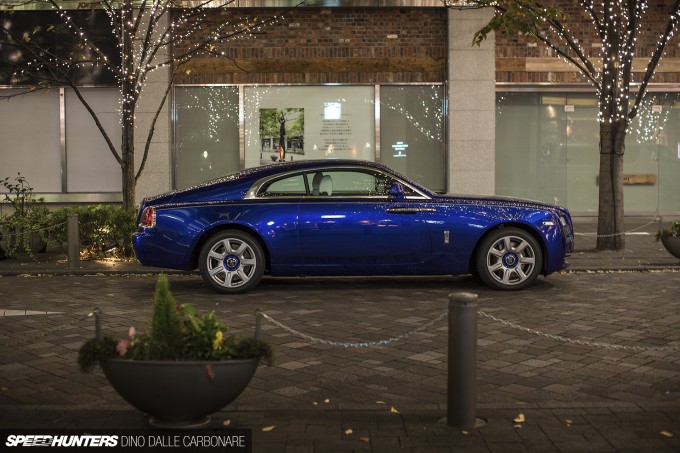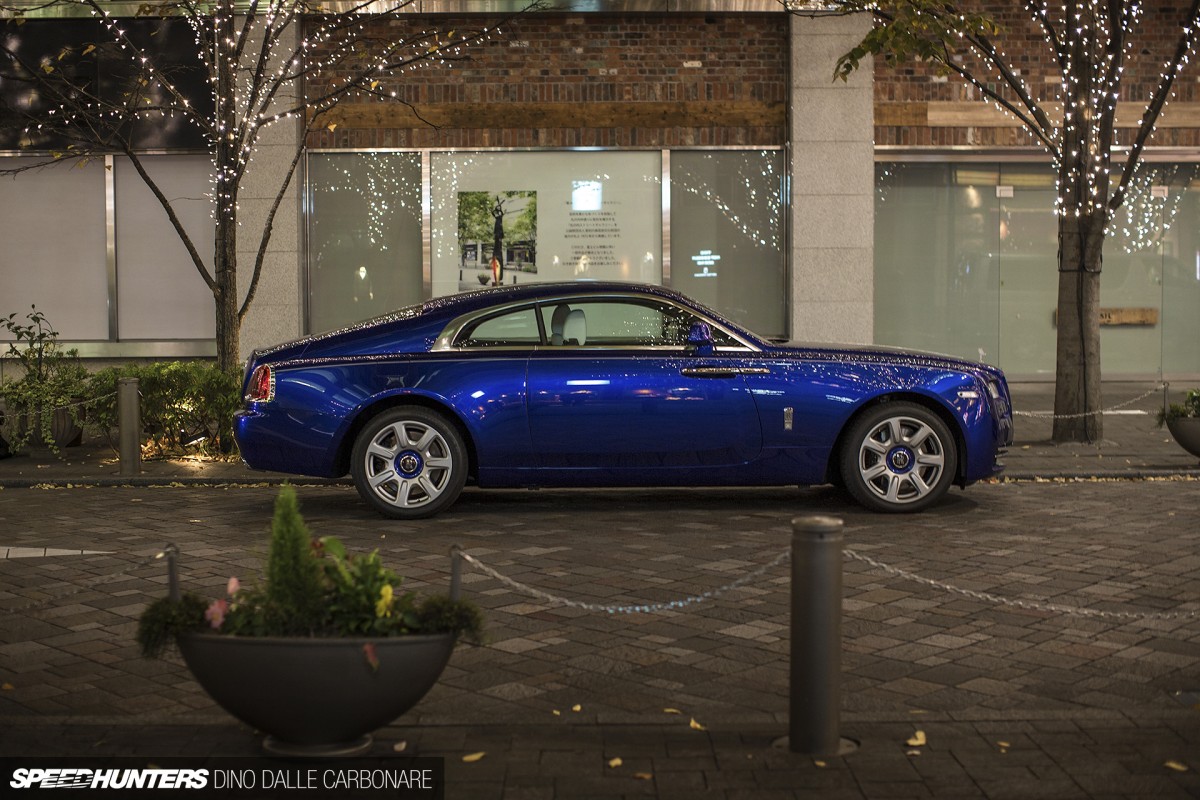 A two-door coupé – or grand tourer if you like – may seem very un-Rolls-Royce-like, but the demand for the Phantom Coupé and its convertible counterpart, the Drophead, have gained the British brand sales that they never probably expected to receive. So a need was there to create something a little more sporty, something with the same level of luxury and refinement, yet with a design and specification that would appeal to those that value power and performance too. In the Wraith's case it's all wrapped up in a slightly more compact package and offered at – dare I say it – a more 'affordable' price point.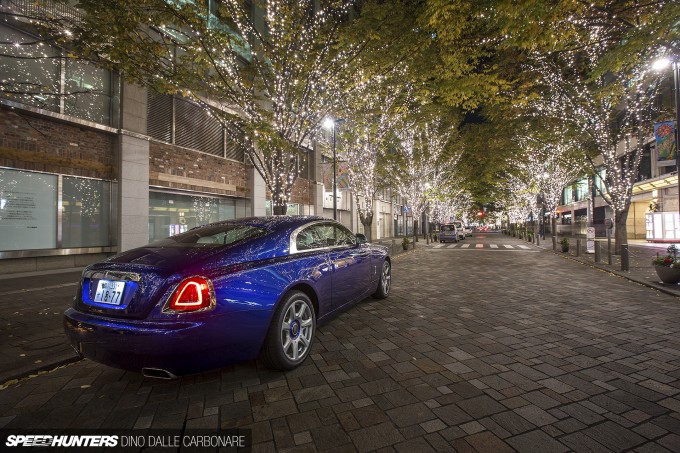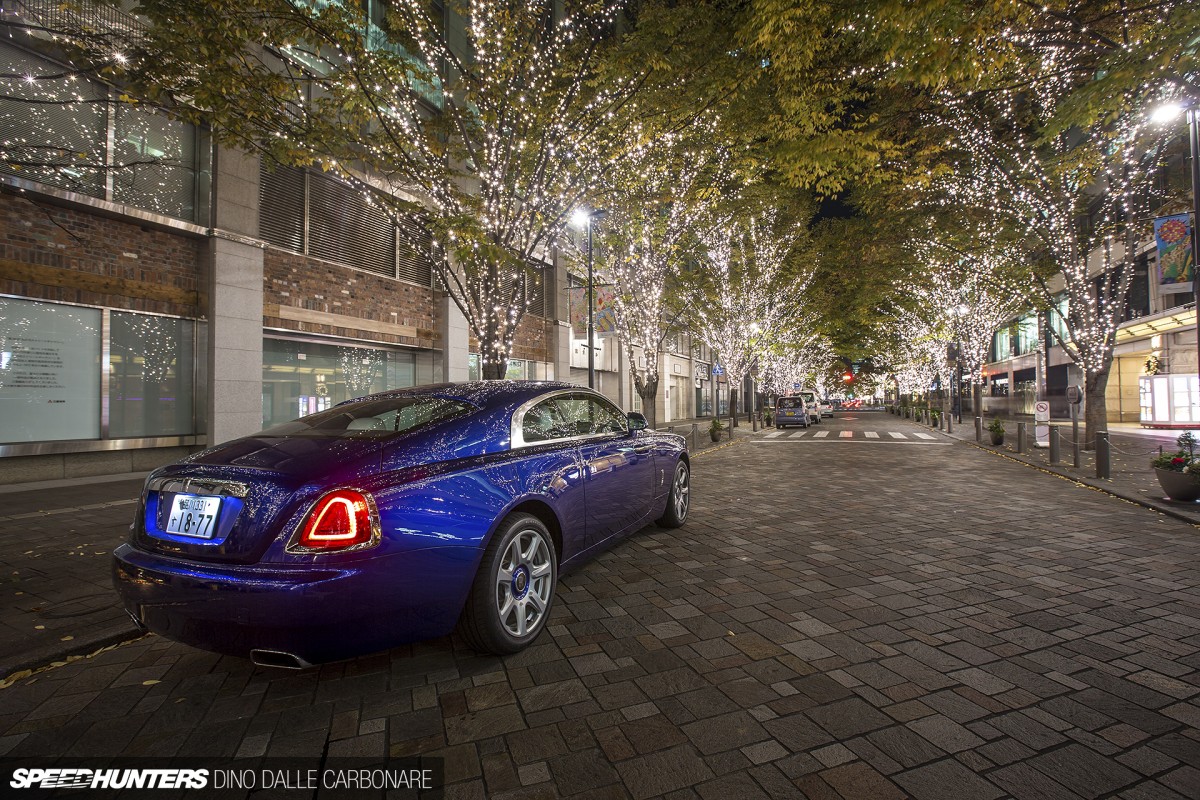 The Wraith is easily recognisable for that long swooping rear. It's an unusual shape to associate with a Rolls, but one that sets it aside from the two-door version of the pricey Phantom. The lines may flow smoother and the front end is a little less in-your-face with a more compact signature grille and smaller headlights, but there's no way of getting away from it – this car exudes opulence from every angle.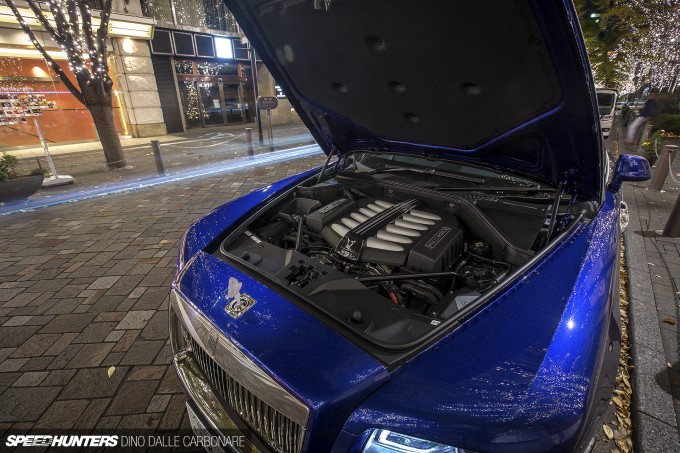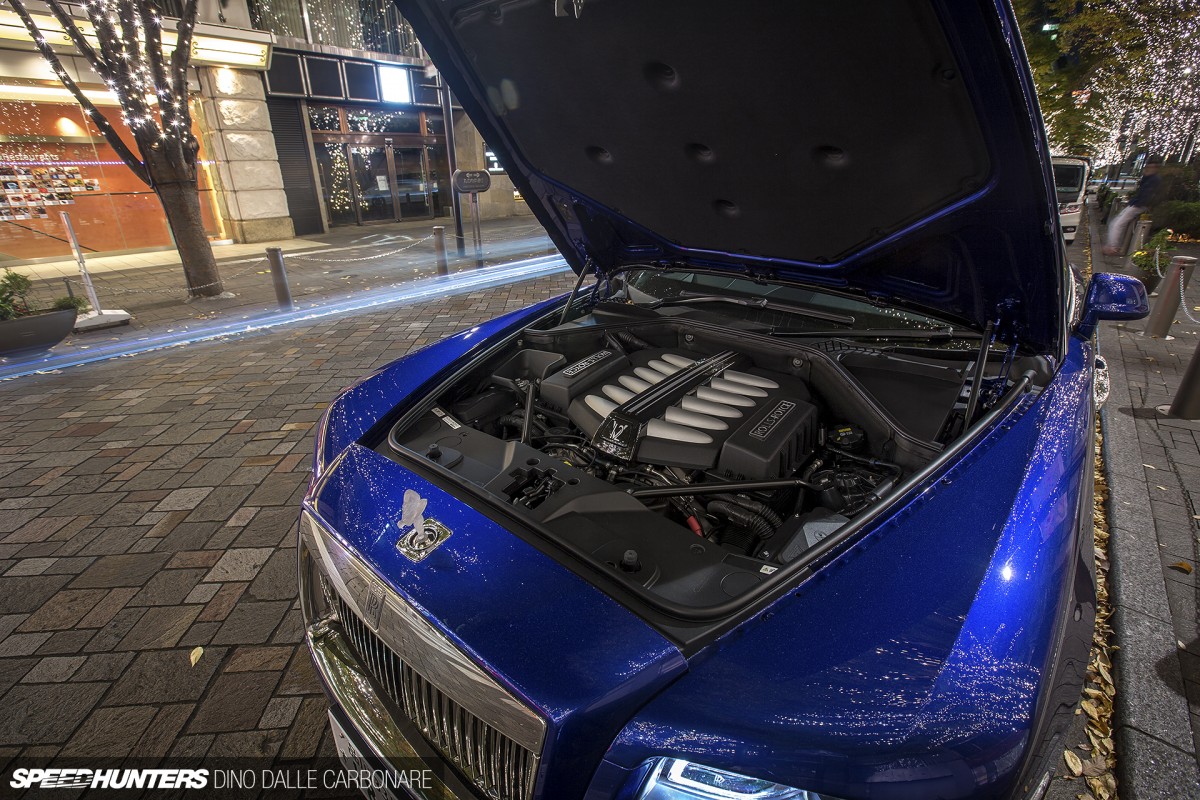 But let's get back to the engine, which is what makes the Wraith a Wraith. It may develop 600-plus horses, but it's the torque output that truly sets it aside – 800Nm worth, available from a tick above idle pretty much across the entire rev range. Get on the accelerator pedal and the high-profiled 20-inch rear tyres struggle for grip, momentarily releasing a little chirp. But then you just go. The experience is akin to being catapulted from a sling and you don't so much as accelerate with the car, but gain momentum along with it. That's the beauty of having so much torque channeled through one of the best automatic transmissions ever made, ZF's 8-speed.
Through The Corners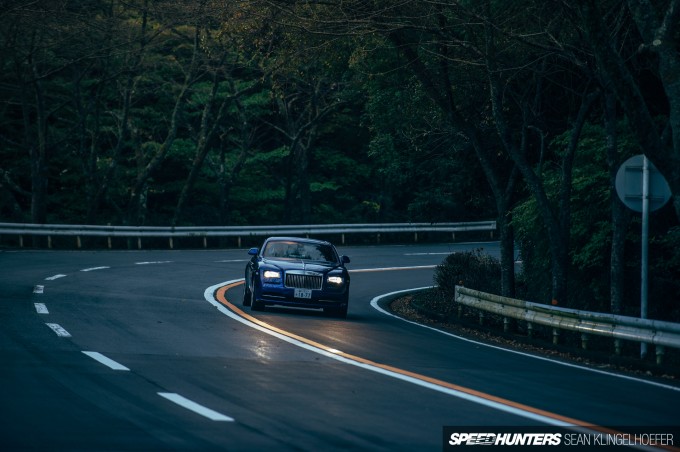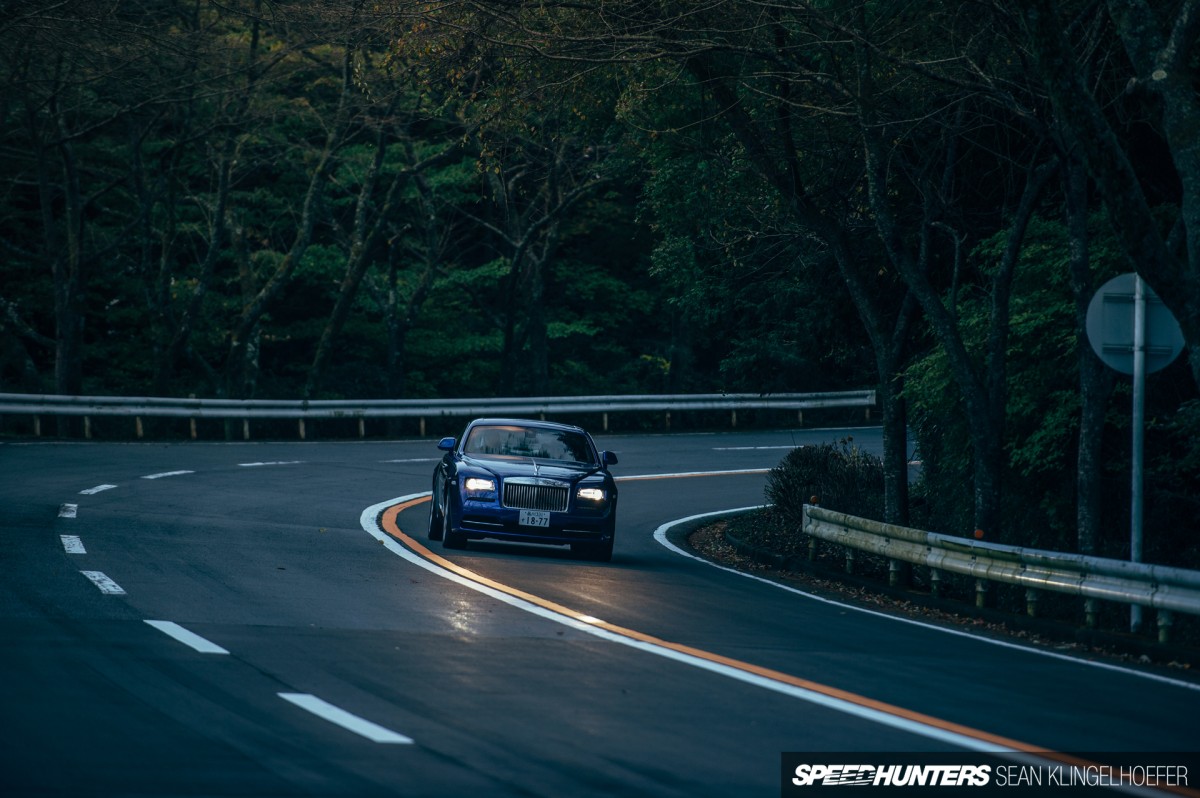 Earlier that day I took the Wraith on a quick excursion to the Hakone Turnpike with fellow Speedhunter Sean, who seemed pretty disgusted with the car I had shown up with. Secretly however, I'm sure he was enjoying the smoothness as we glided in near silence back to Tokyo to grab some yakitori.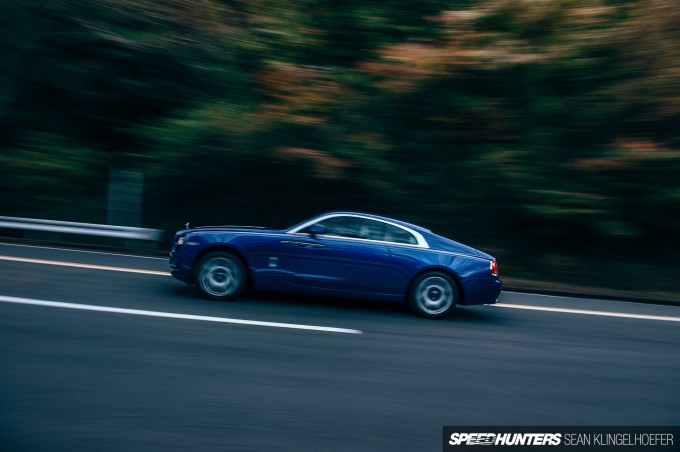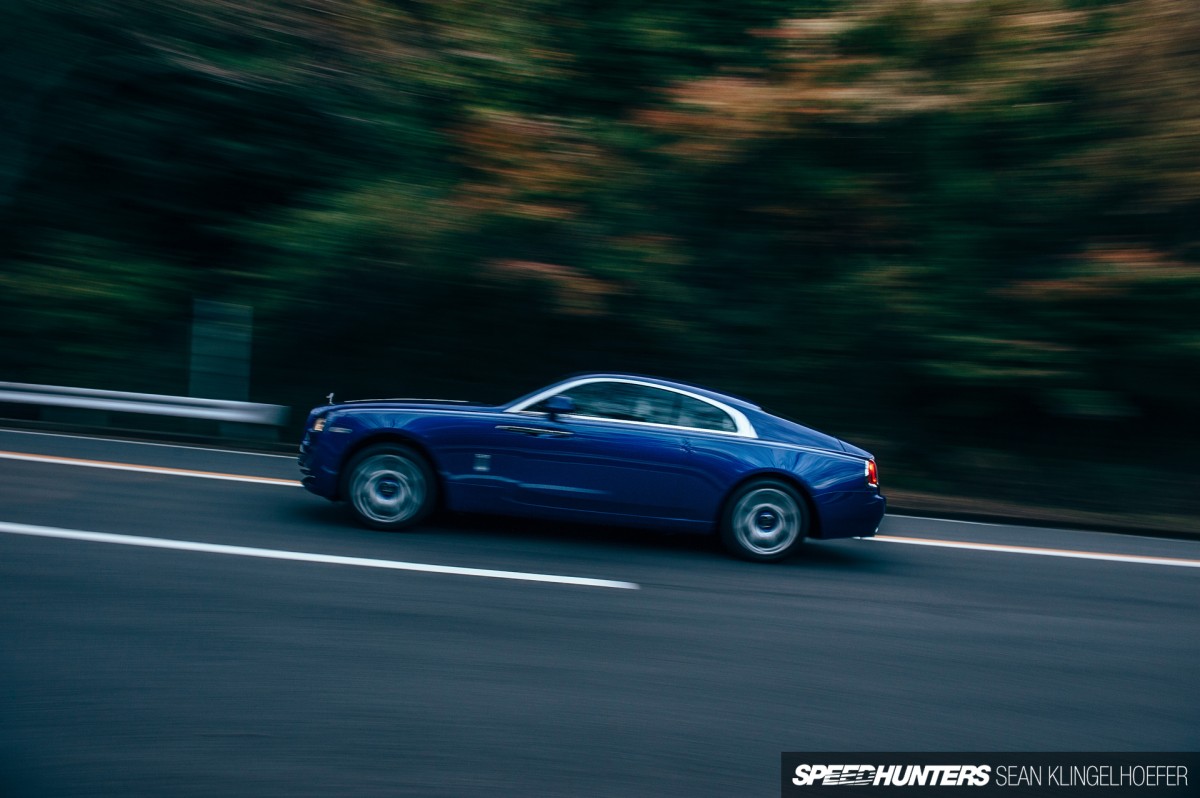 For something that weighs almost two and a half ton, the Wraith actually didn't do too badly around some of the faster corners, although it was pretty obvious that this isn't really the job it was designed to do.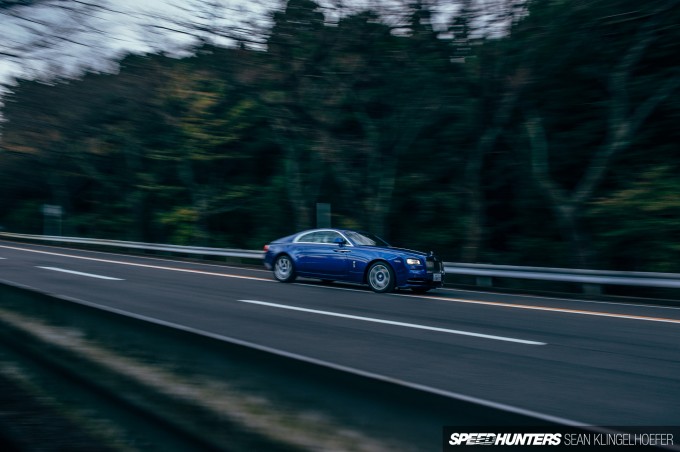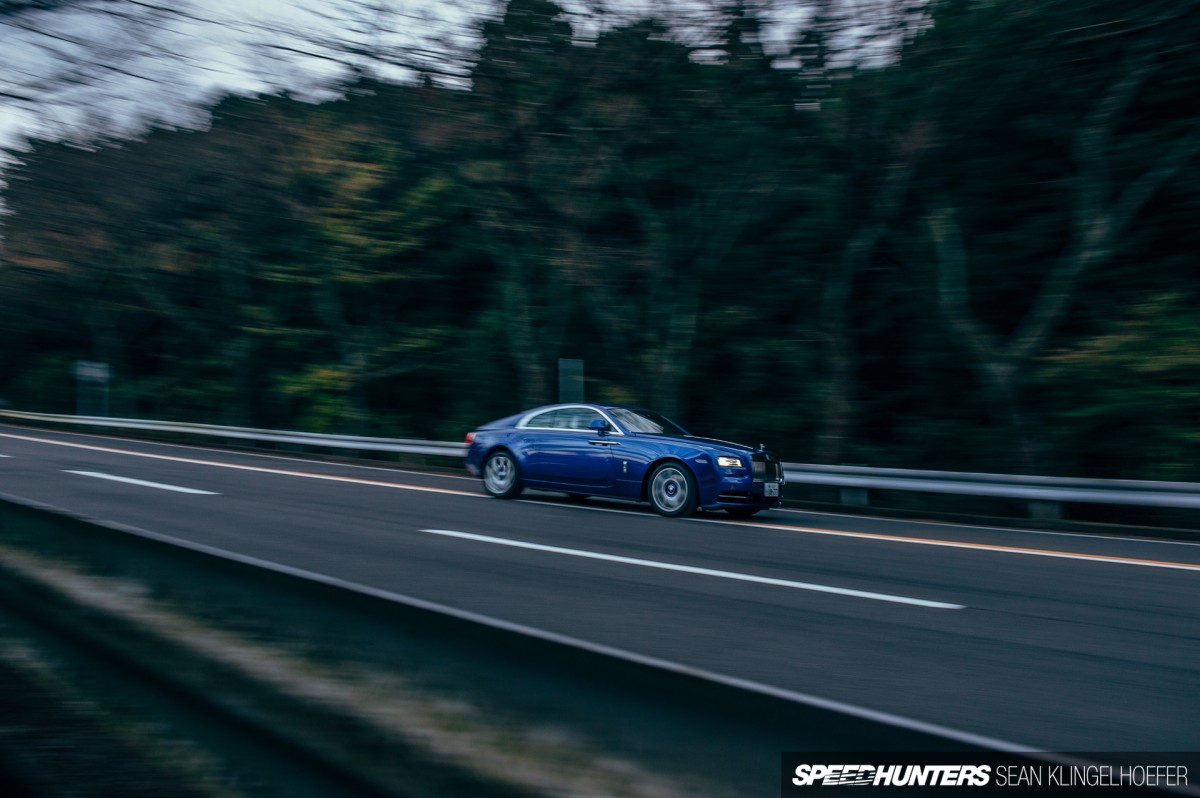 It may be able to tackle the turns and carry impressive speed through them, but this is a car that doesn't like to be manhandled in such crude ways. I felt like a silly peasant for trying to make elegance on wheels pretend like it was a stripped-out sportscar. I almost wanted to apologize to the car, so Sean and I quickly packed our bags and immediately drove back to a more fitting environment.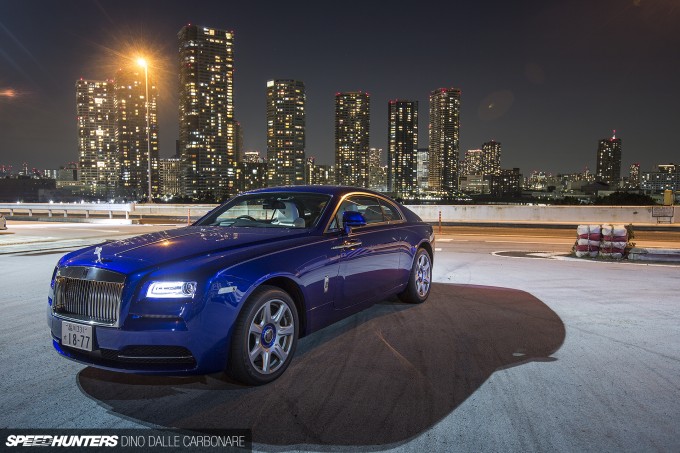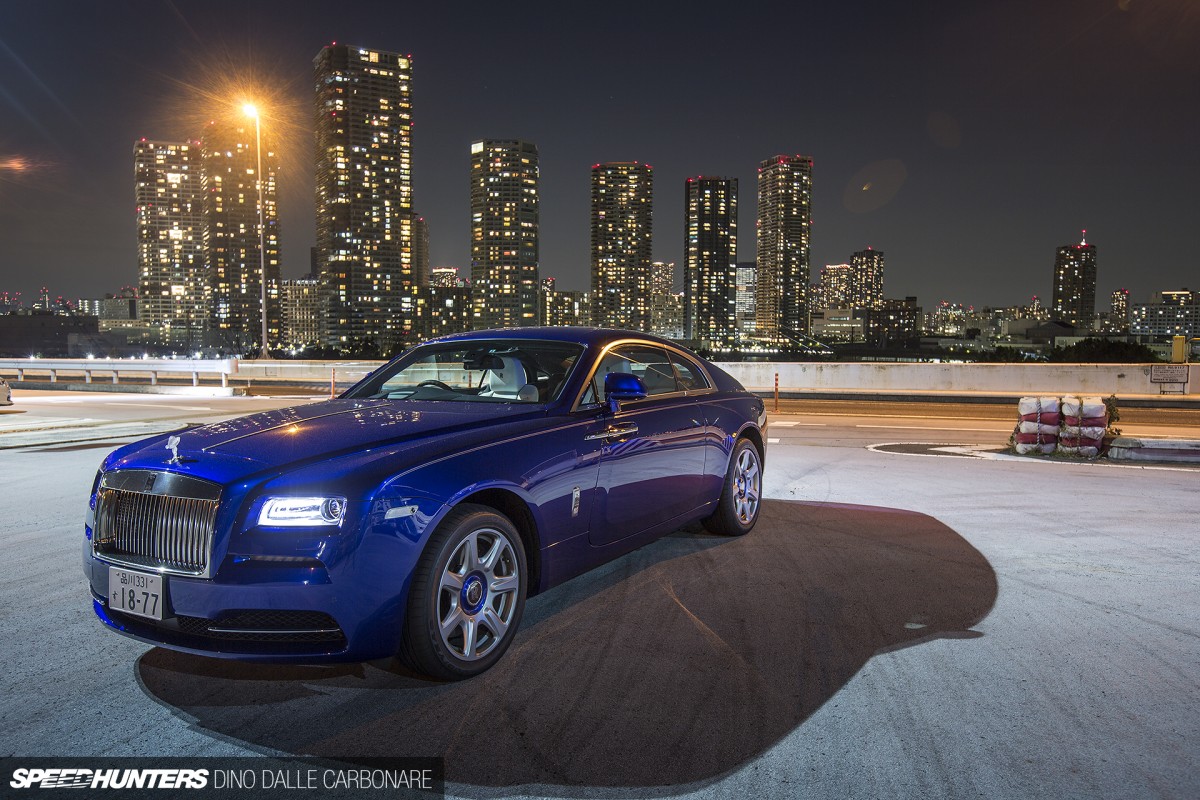 But I wasn't quite finished yet and still had yet another very unnatural location I wanted to stop by: Tatsumi PA on the Wangan.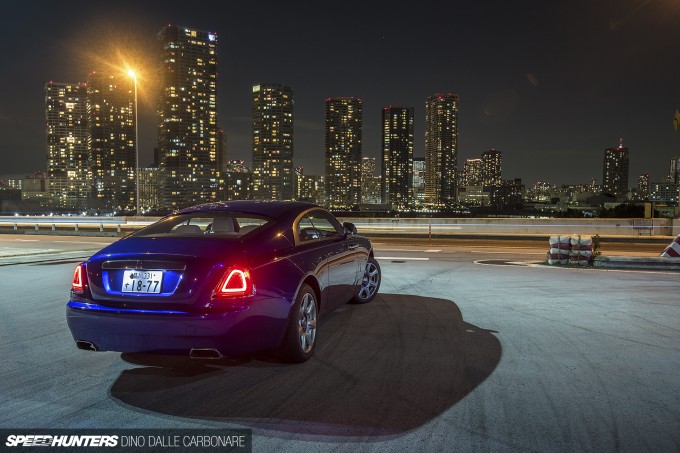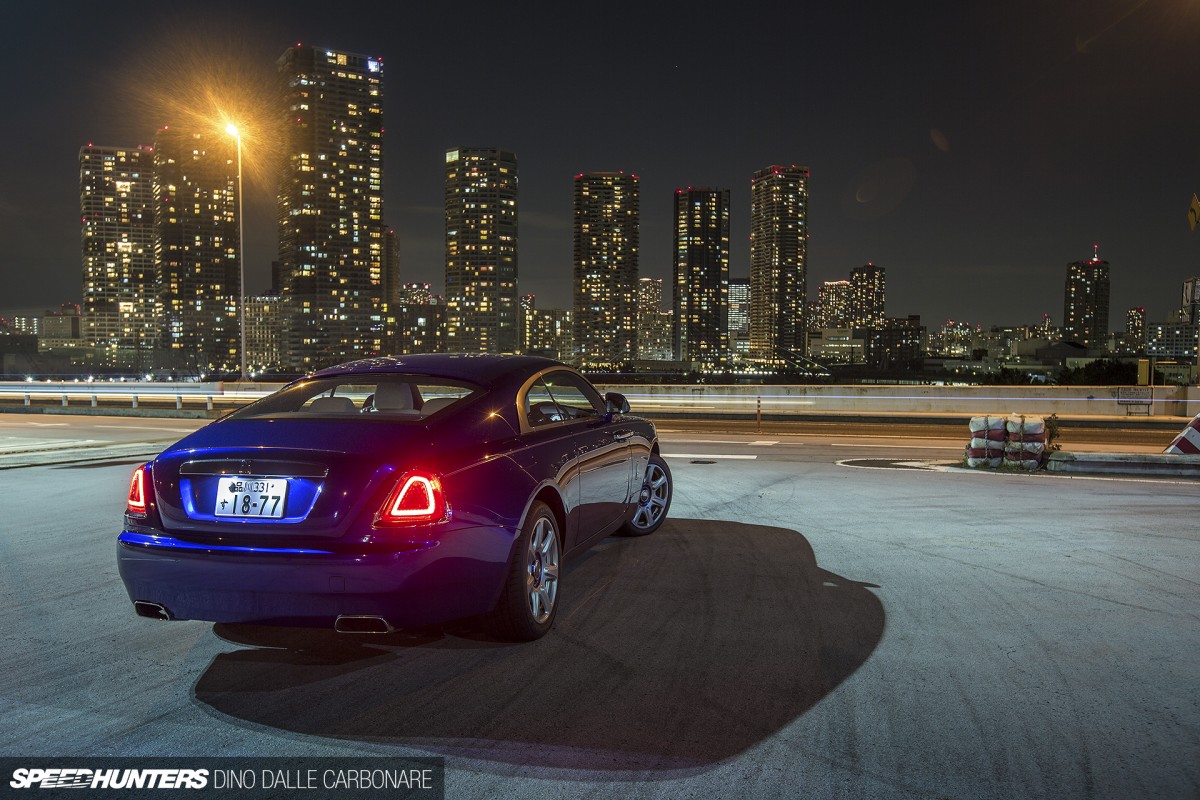 This, of course, is where car guys meet on a nightly basis. They're either out for the sheer pleasure of talking cars with like-minded people, or 'pitting in' from some spirited runs around the C1.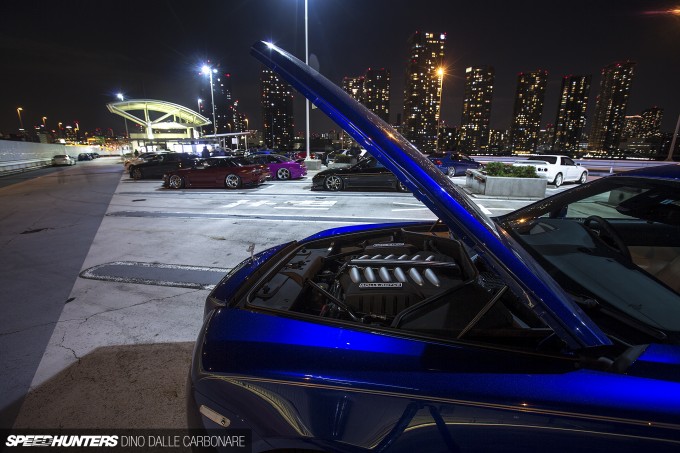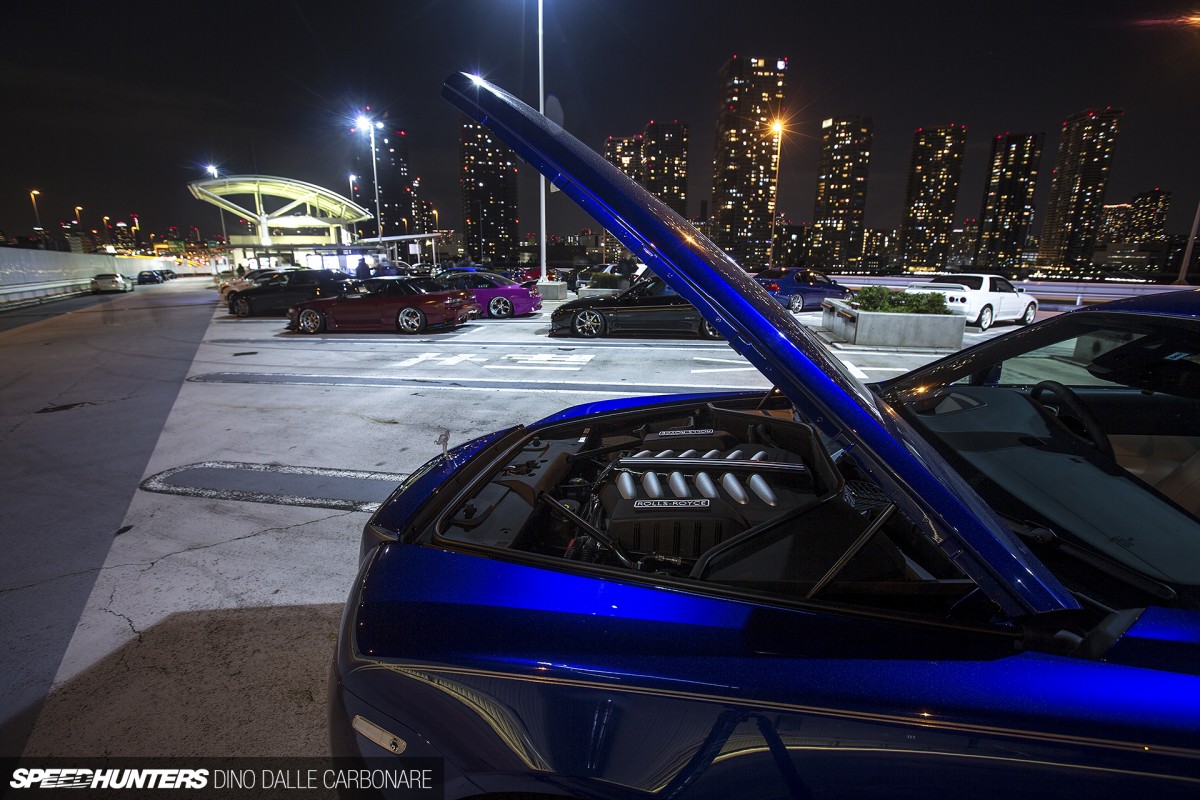 Everyone parked far away from the mighty Roller. Perhaps it was the imposing sight of the blown V12, or maybe they just didn't want to risk bumping into it…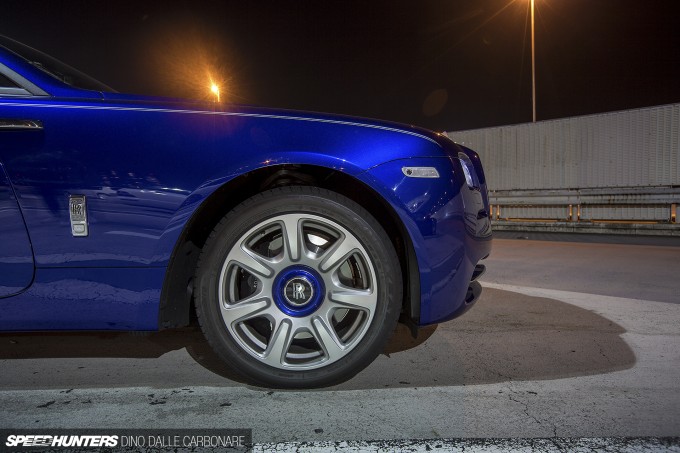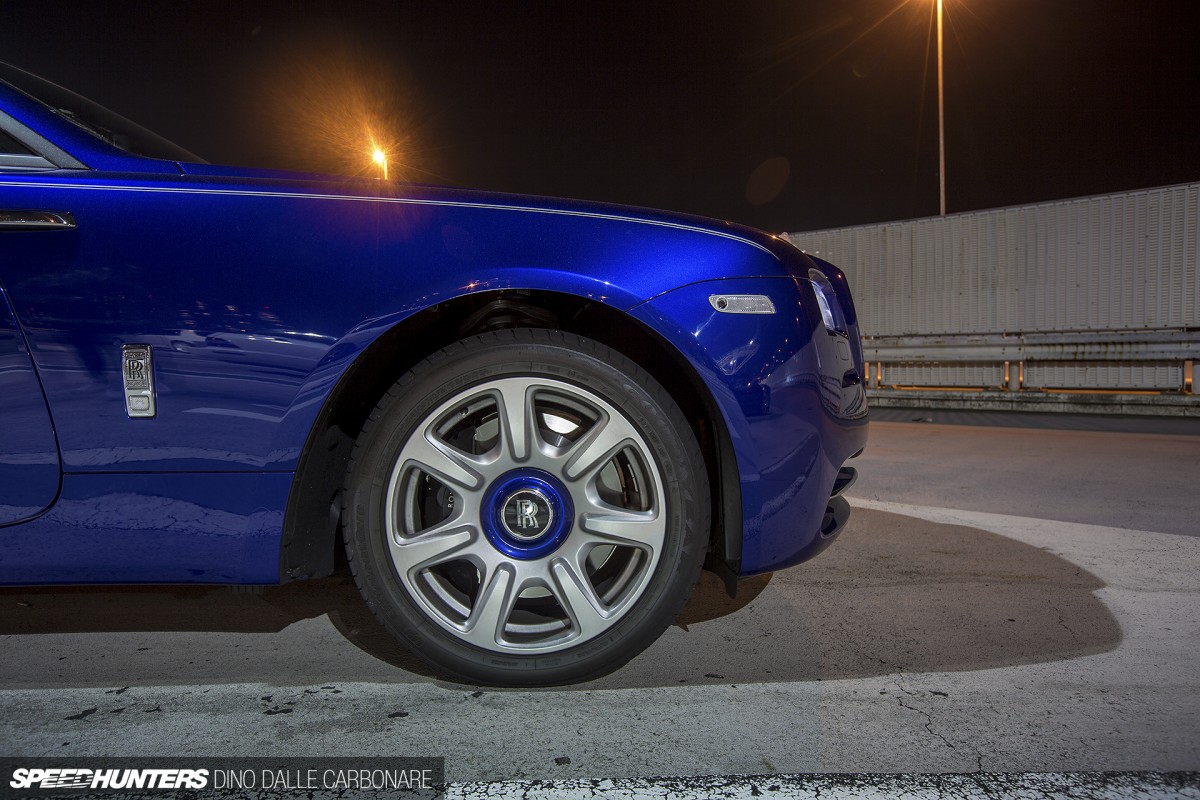 To obtain its silky-smooth ride, the Wraith sits on air suspension – its ride height controllable by a switch allowing you to either lift it up or drop it down. Strangely enough, despite setting it to its lowest setting multiple times, it would automatically rise up to the normal ride height after a while as if to say, 'there you go again you ignorant peasant, stop fiddling with my settings!' Again, I felt intimidated and immediately stopped trying to hamper perfection.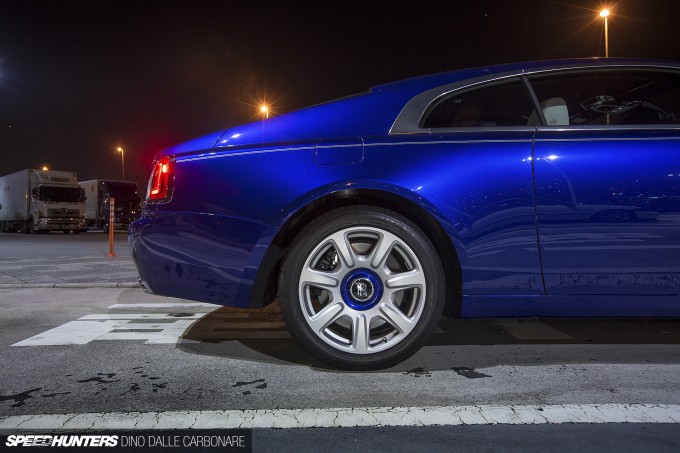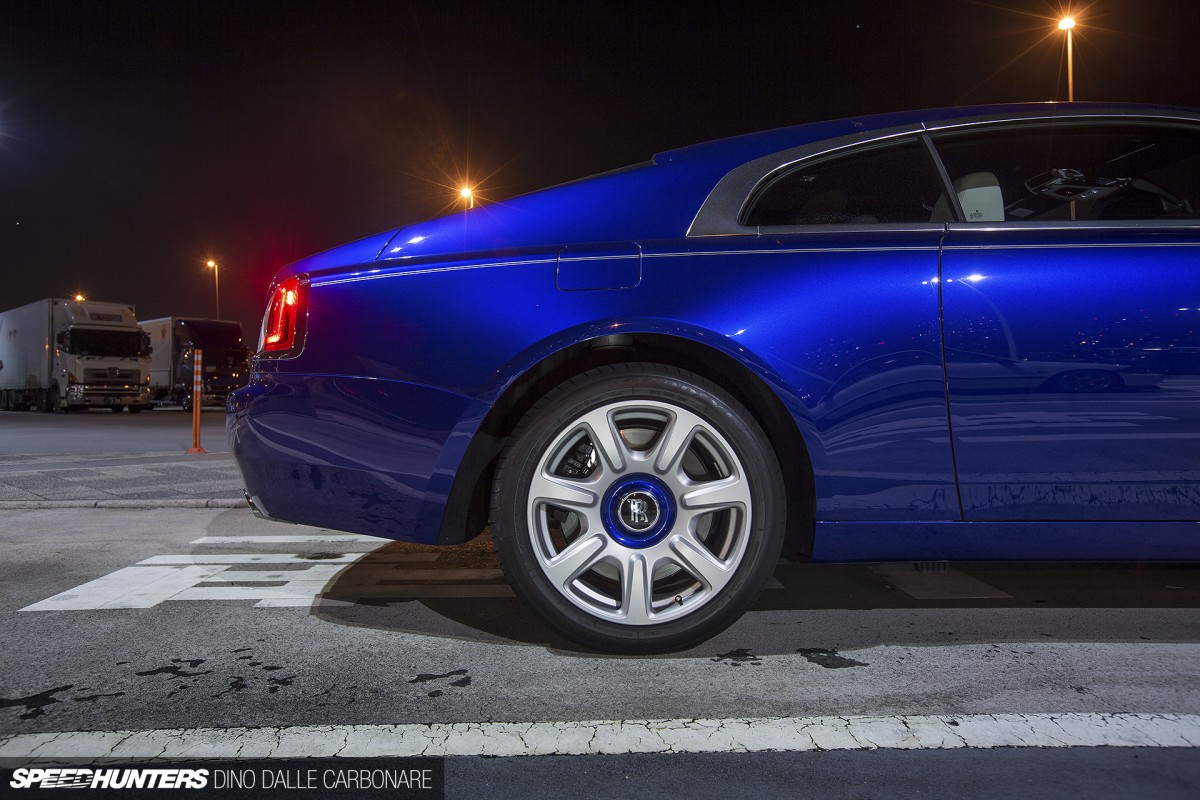 I'm sure everyone knows that the center caps on every Rolls-Royce are weighted down and mounted on bearings so the 'RR' logo never turns with the wheel and therefore always remains straight. That's every car photographer's little dream come true!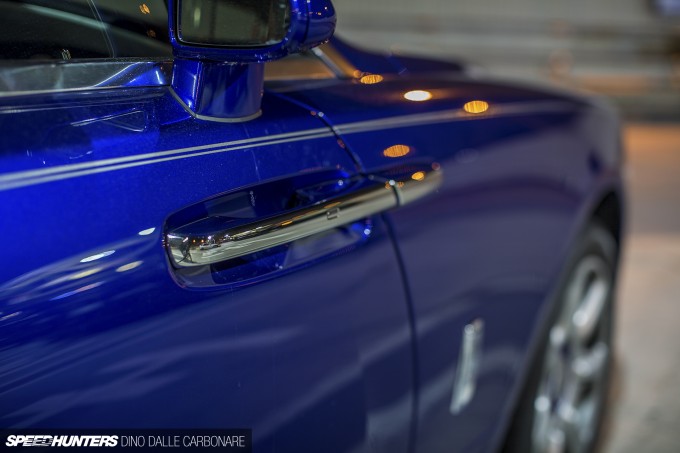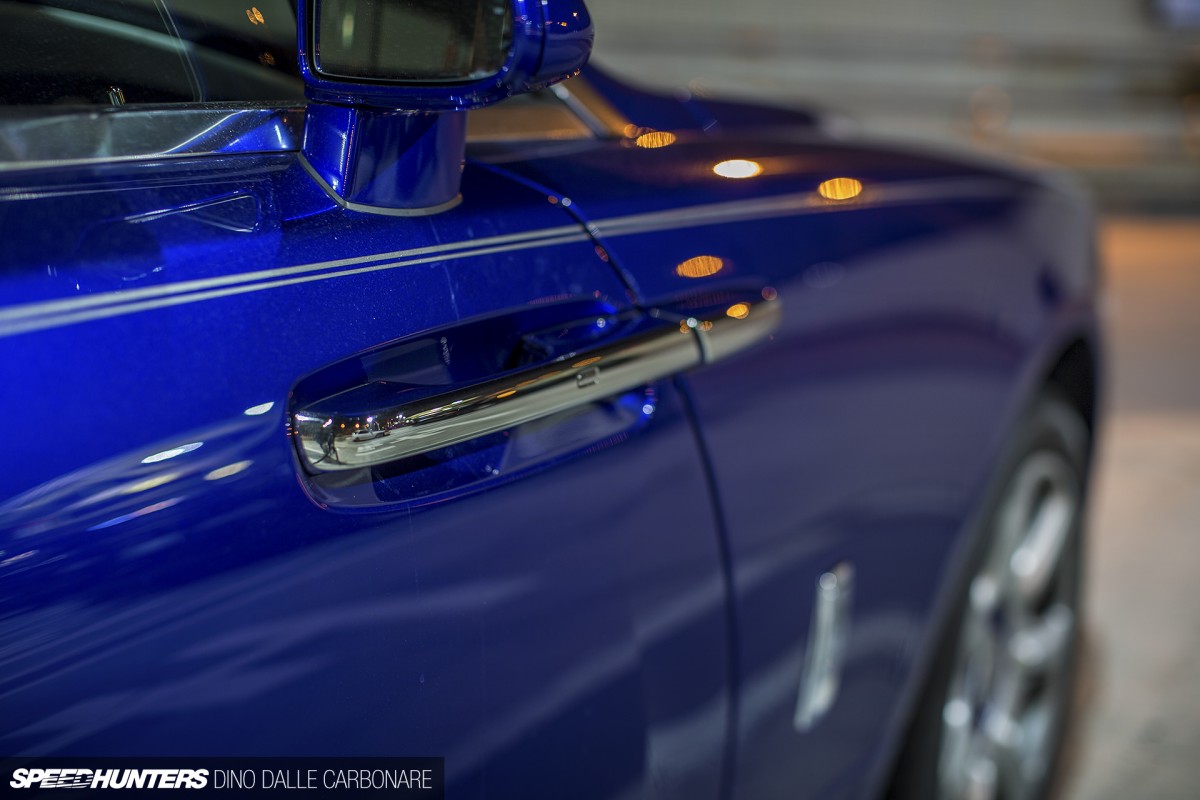 But the Wraith's true meaning of existence hides inside, but you must first pull on the massive chrome handle and swing the door backwards.
The Wraith's Party Trick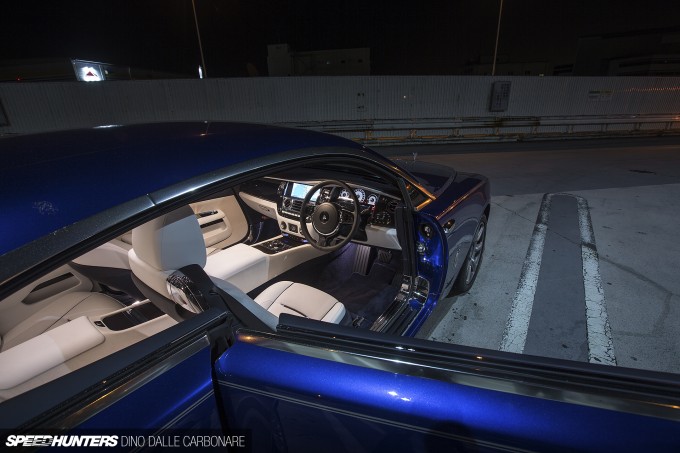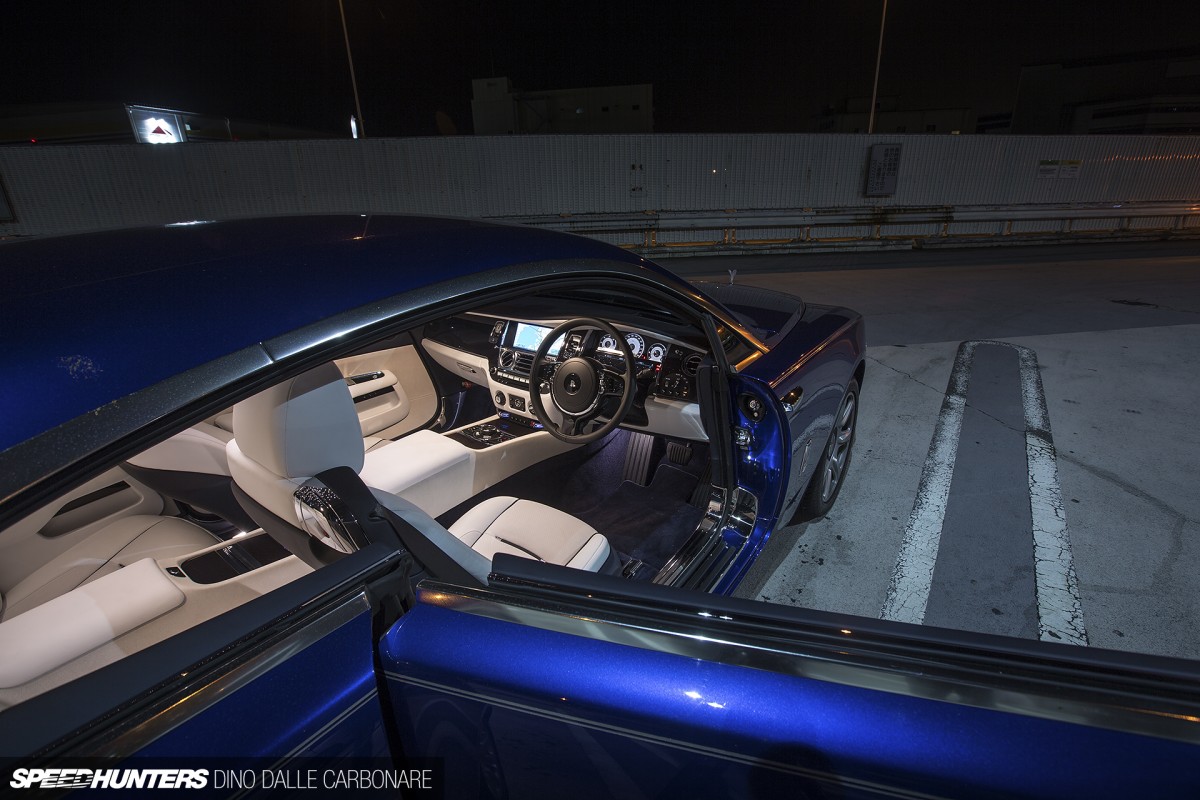 This reveals what can only be described as a living room on wheels.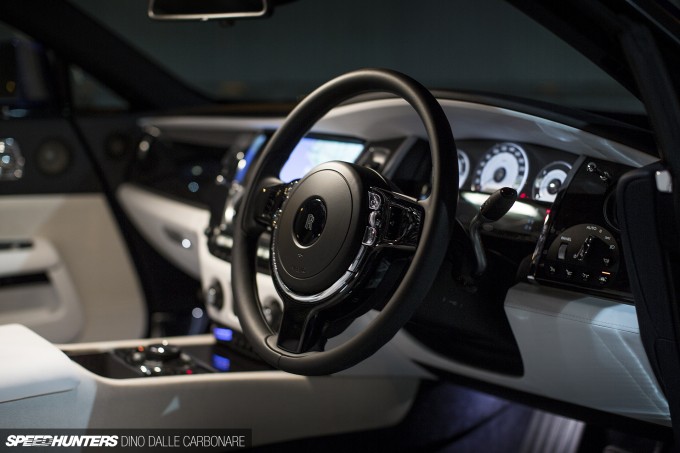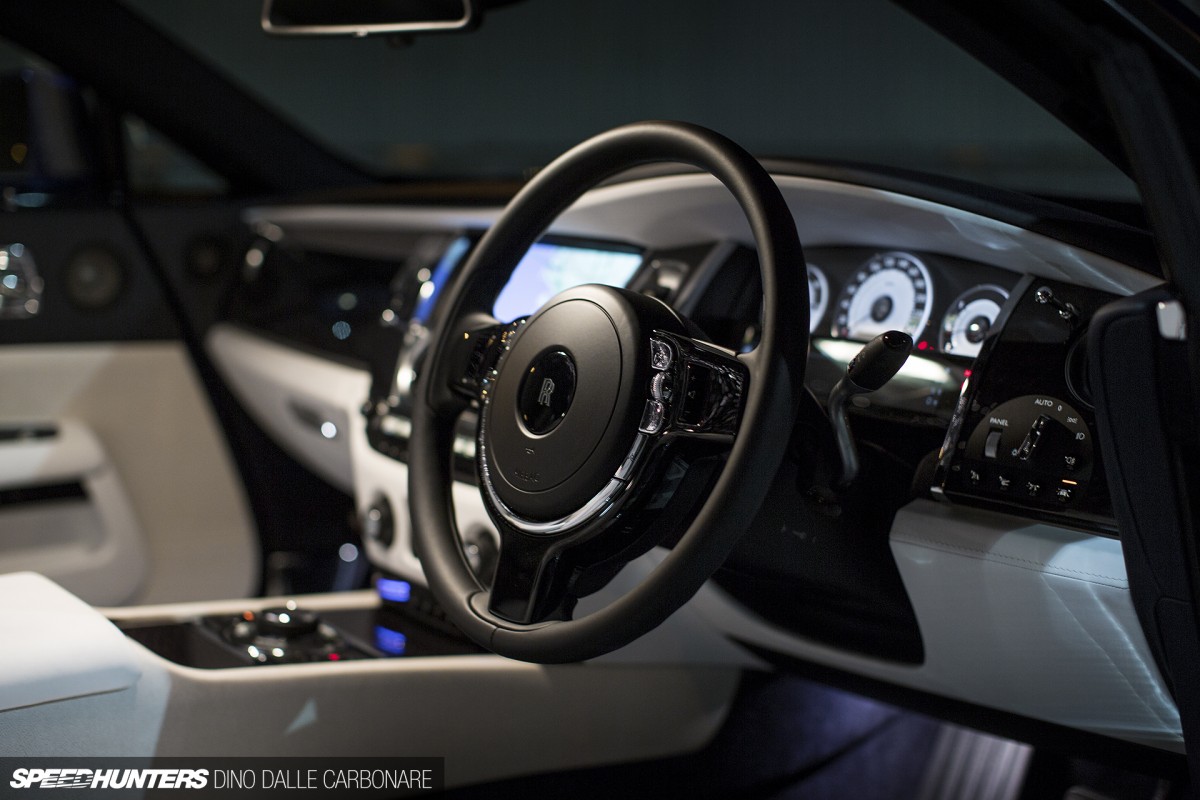 With Rolls-Royce being part of the BMW group since 1998, it's not hard to see the German influence in the cabin. If you drive a BMW daily like I do, it all feels eerily familiar, albeit at a much higher quality level.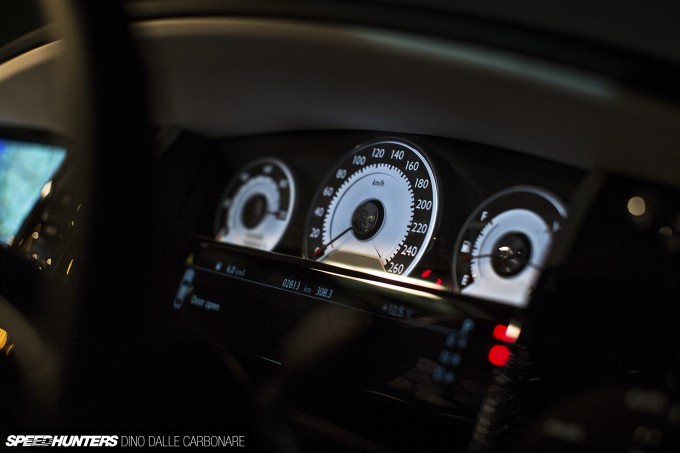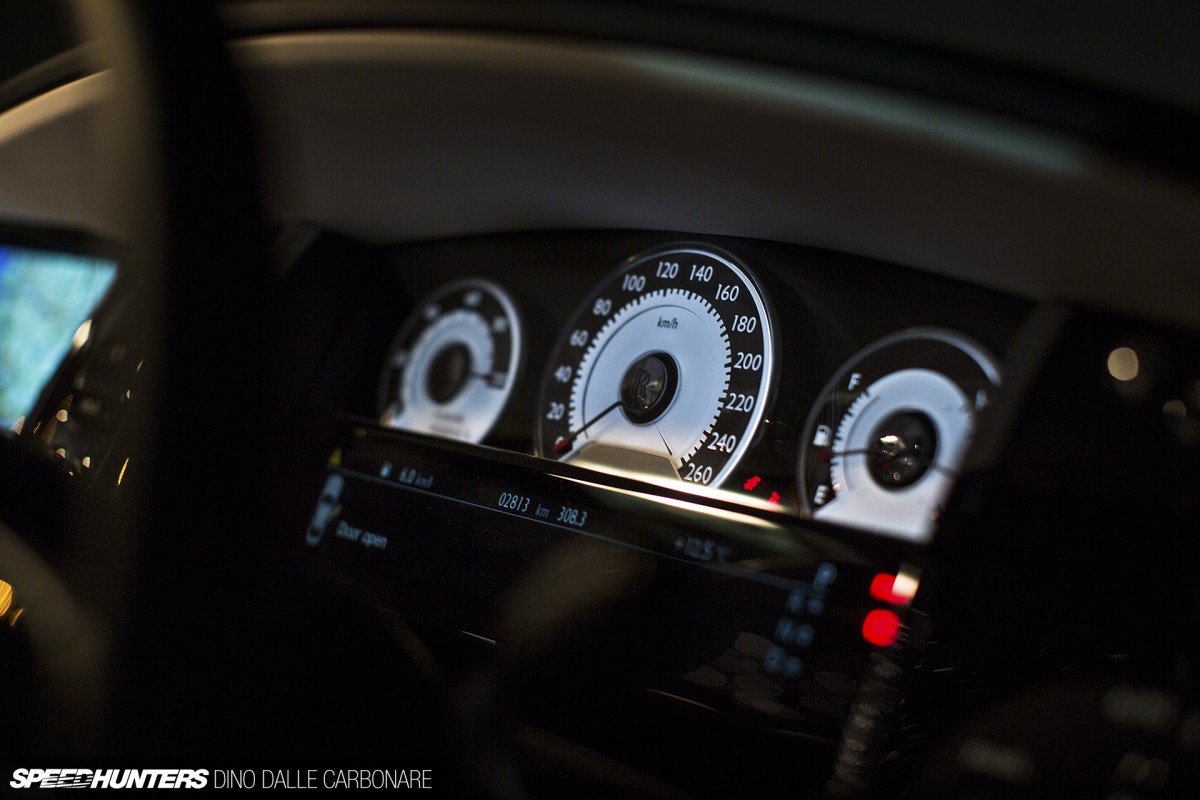 The instrument layout is elegant and simple, and there is no rev counter in sight. Sir wouldn't be concerned with how many revolutions his V12 would be spinning at, but rather the percentage of power available at any one time. A far more sophisticated representation of performance, if I do say so myself.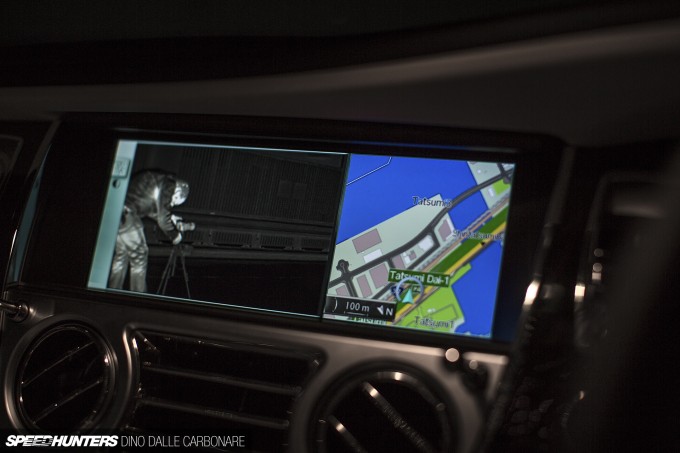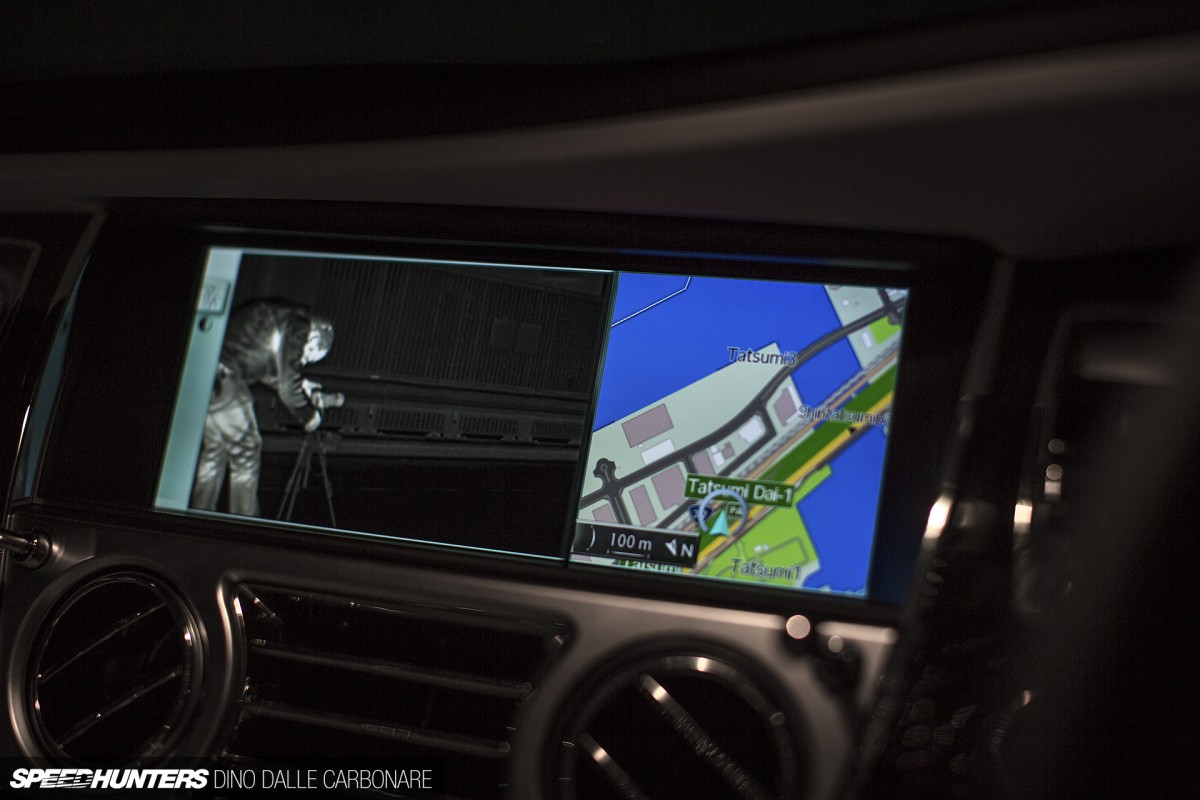 The navigation and infotainment is pure BMW, so nothing wrong there. It all works beautifully and there is even a night vision option that helps you spot heat signatures of people and animals if you happen to be travelling down a dark street. No chance of that happening in Tokyo, although there are always plenty of photographers at Tatsumi that one must be careful not to run over.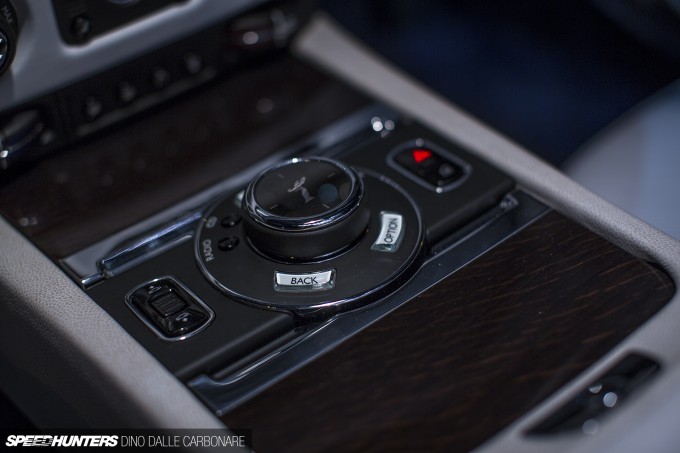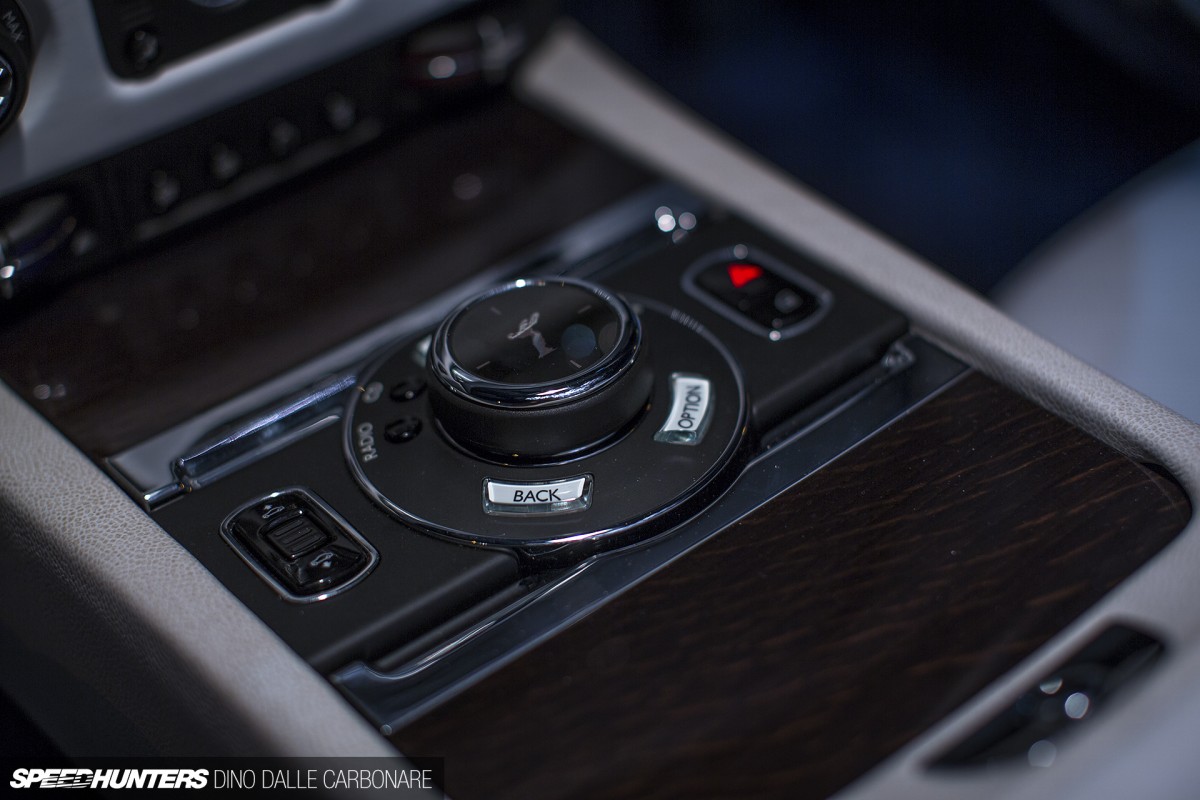 Sound, navigation and pretty much everything else is controlled by this iDrive-type controller on the centre of the transmission tunnel.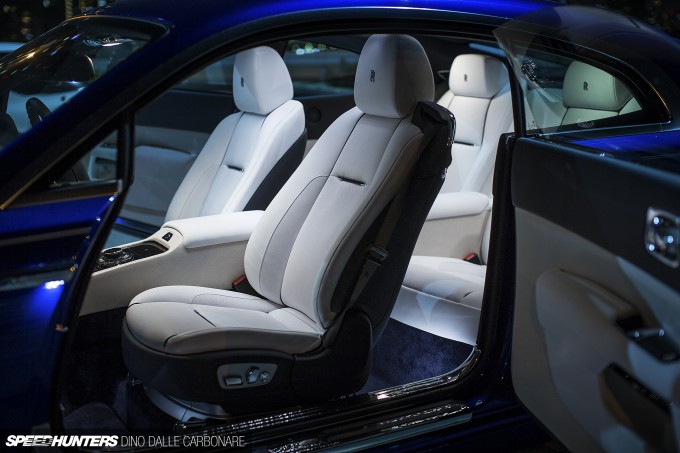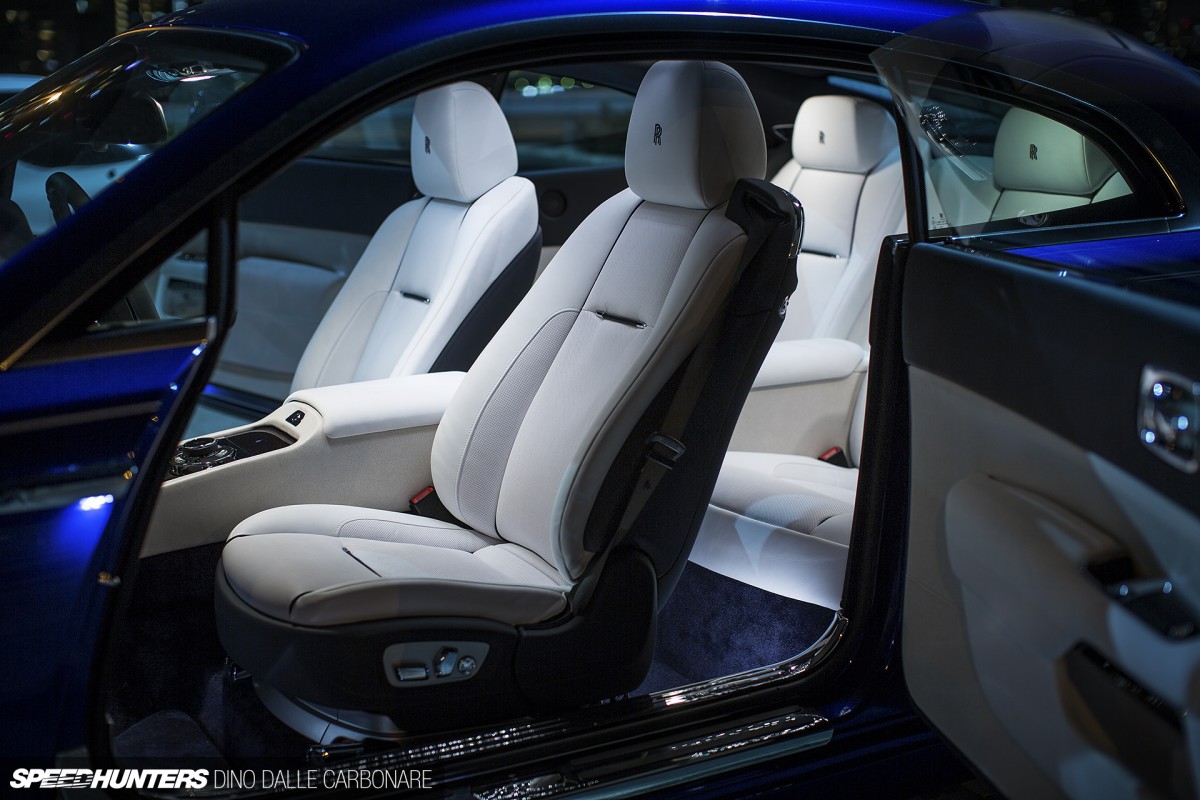 For a coupé, there is a ton of space, and if my memory serves me right, this is the very first car I've driven in which I actually had to raise the driver's seat in order to see over the bonnet. Crazy!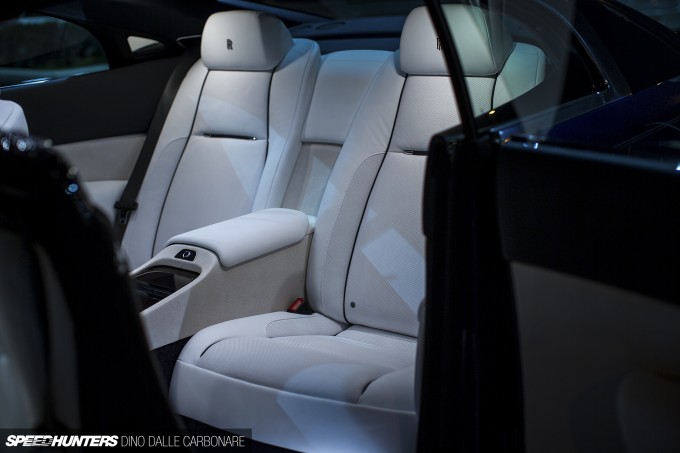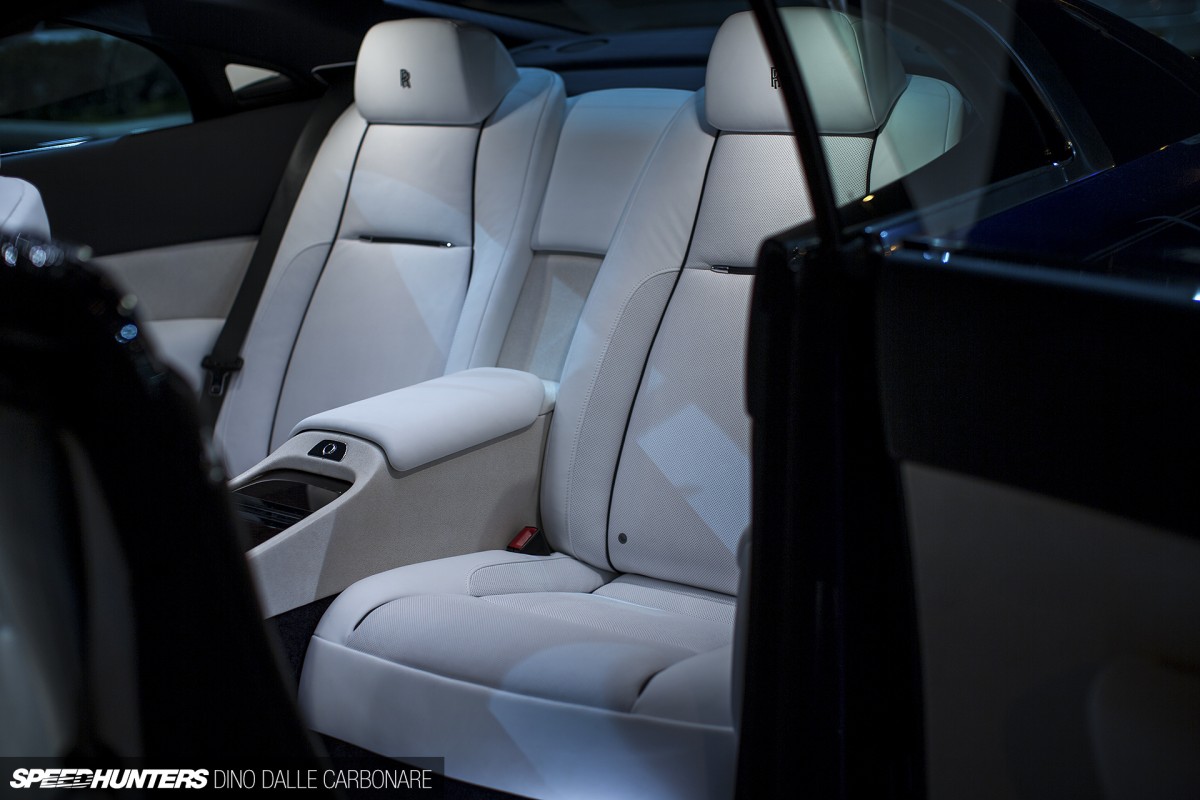 Rear seat passengers are provided with full-size seats, but don't expect to find the same levels of comfort as you would in the back of a Phantom- obviously.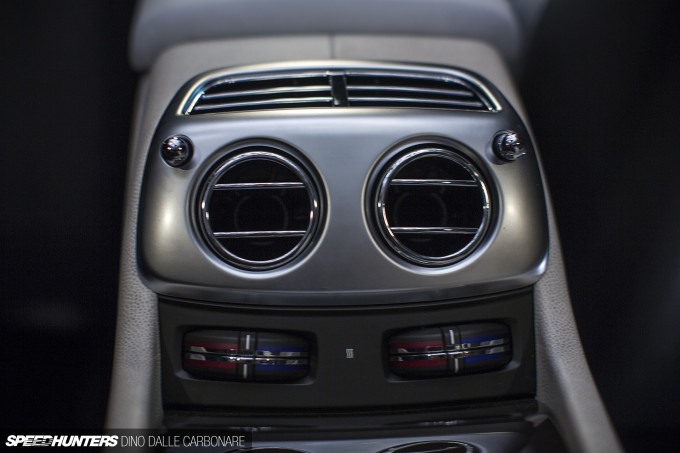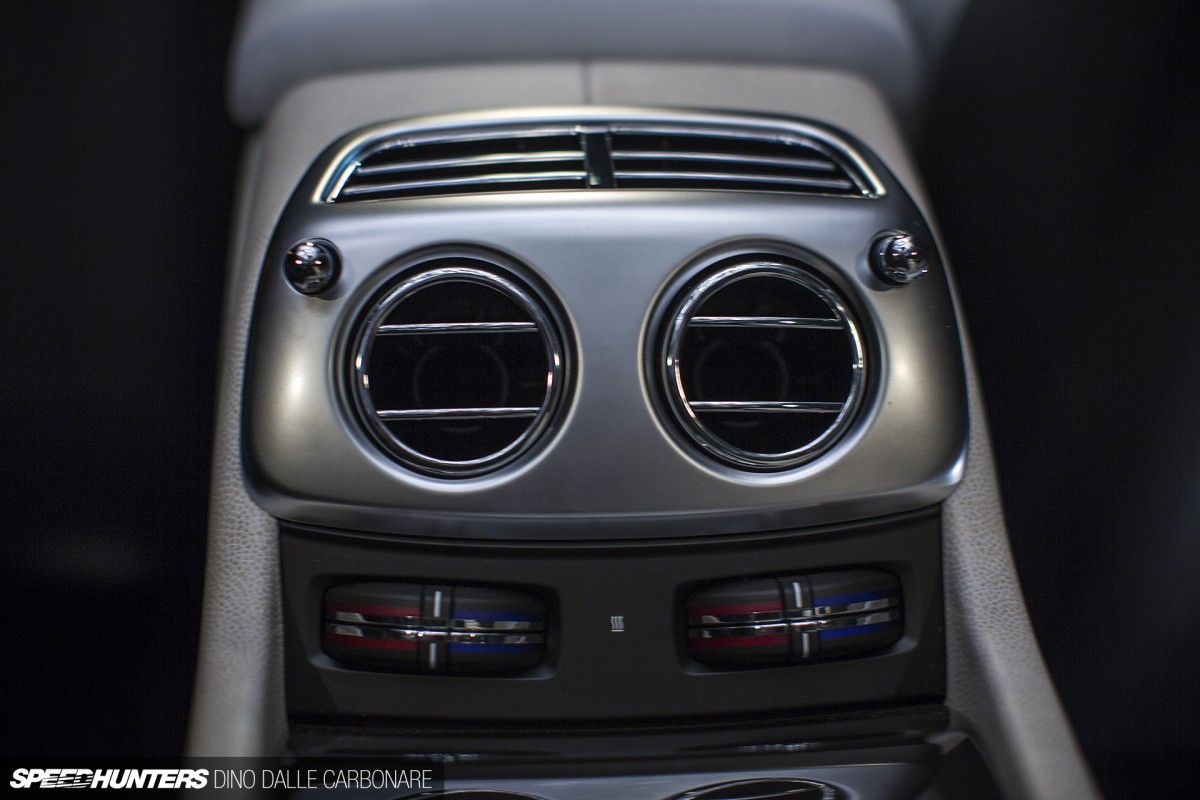 True comfort, however, is never achieved unless each occupant is able to set his or her own temperature – and different temperatures available between top and bottom ventilation too. Superb.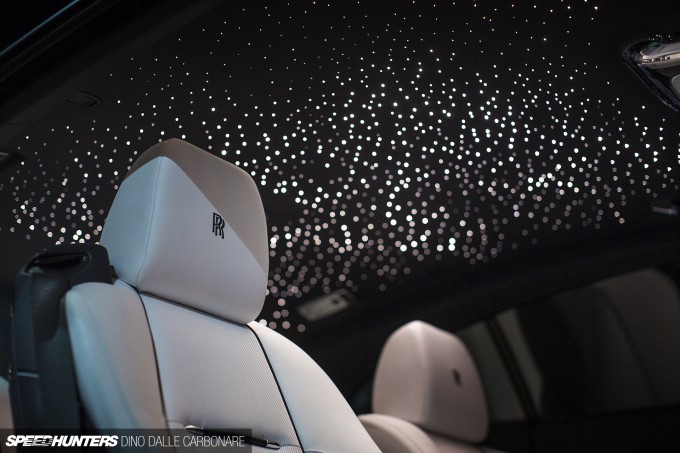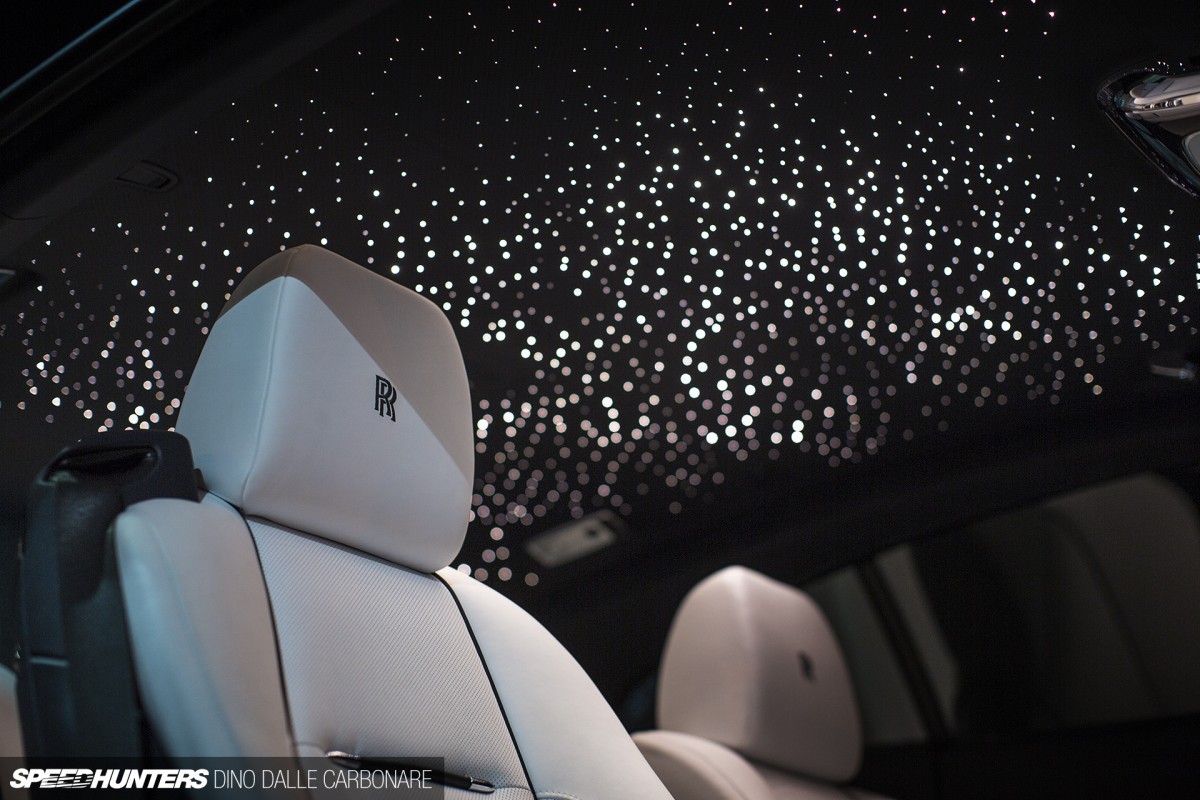 And then there's the Wraith's party trick – a dimmable, planetarium-like illumination on the headliner. Aside from providing enough brightness to match daylight, it's one of the most fitting gadgets a Roller could have.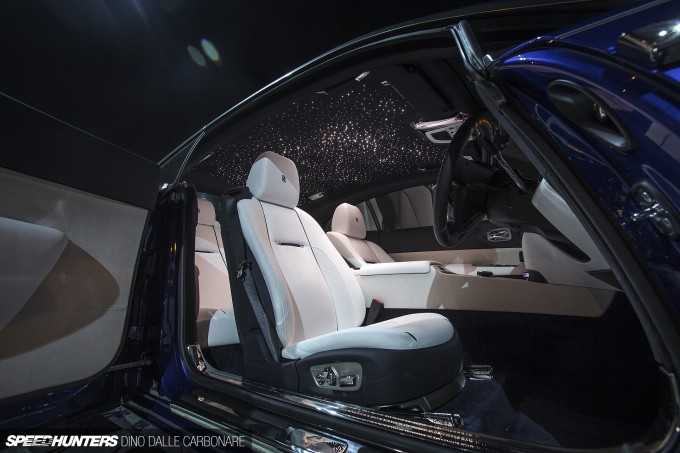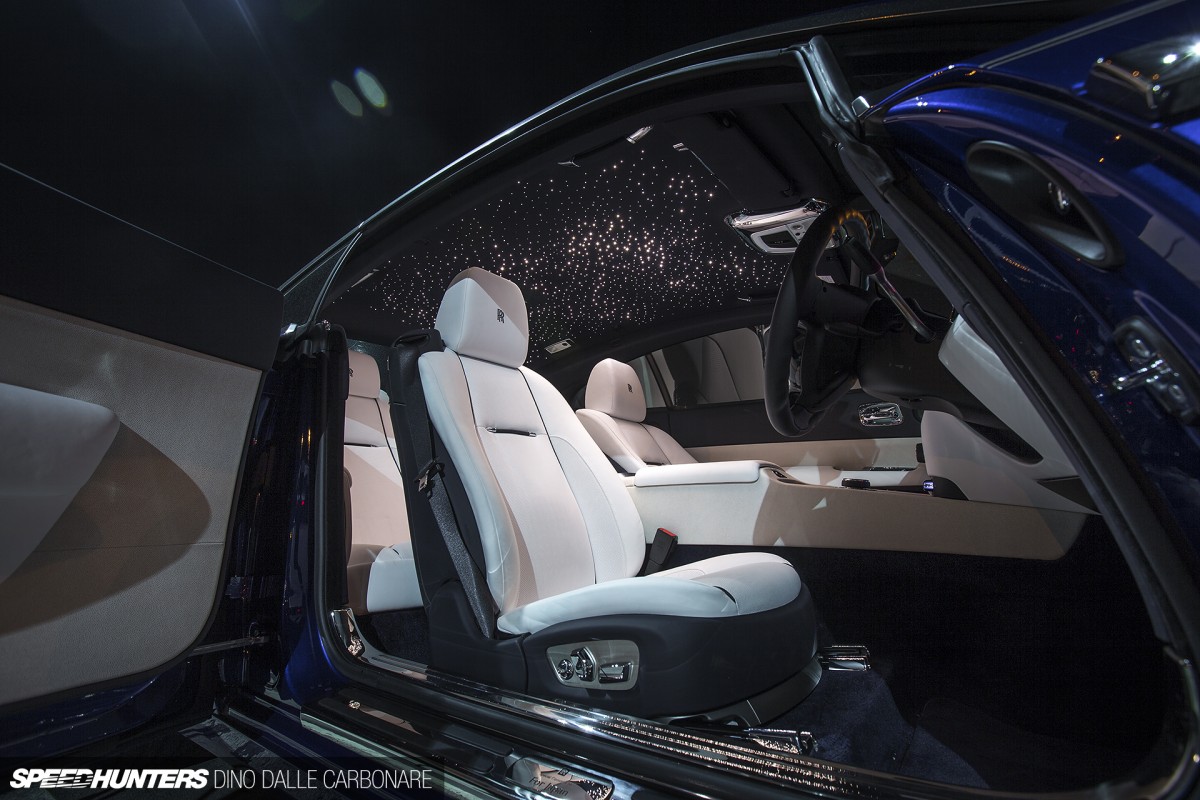 Yes, this is what the lucky one per cent amuse themselves with.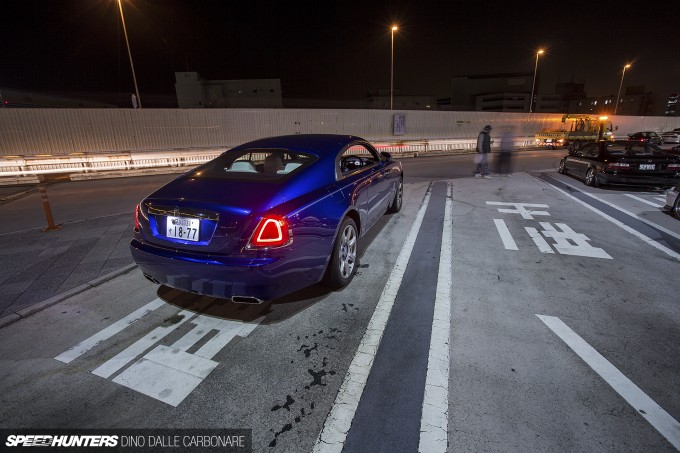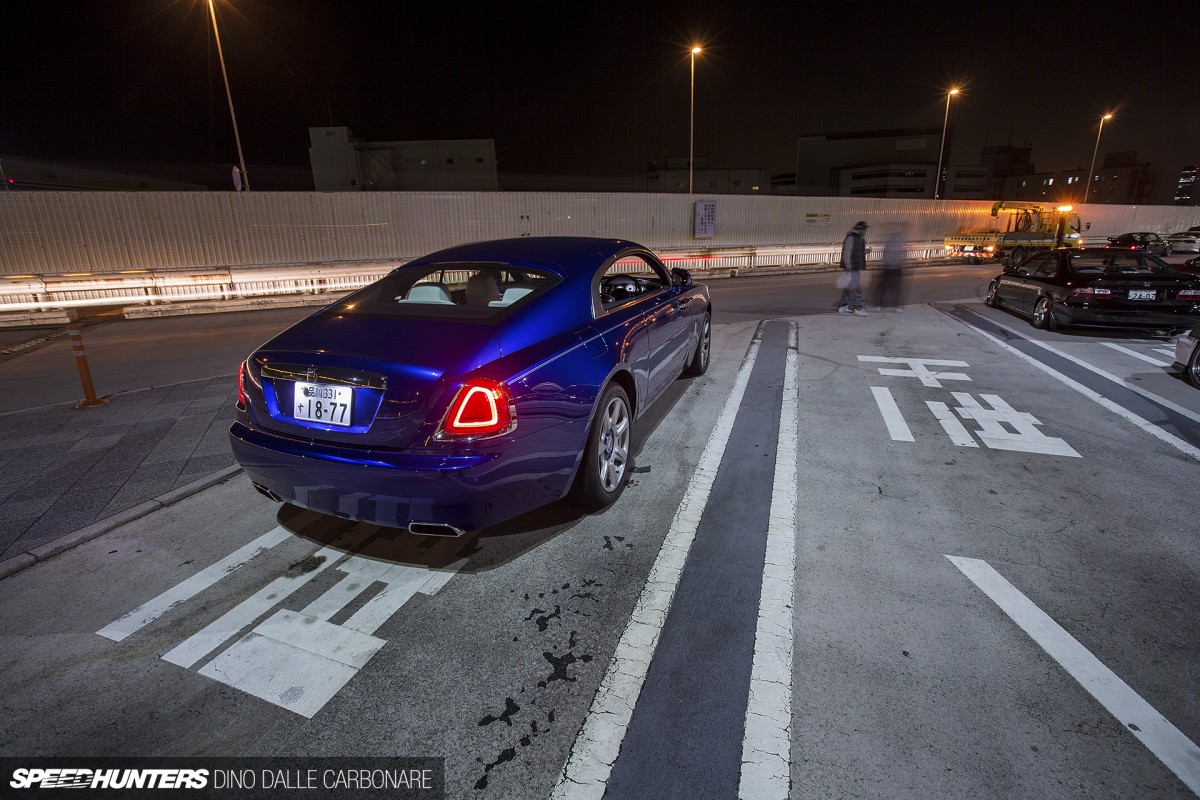 As Tatsumi emptied out I decided it was time to call it a night, so I jumped back into the driver's seat, and lit up the rear tyres as I shot out of the Parking Area and glided back home on my torquey magic carpet.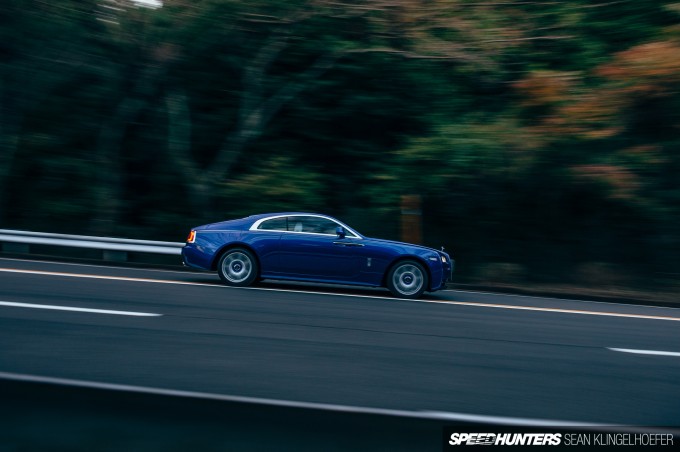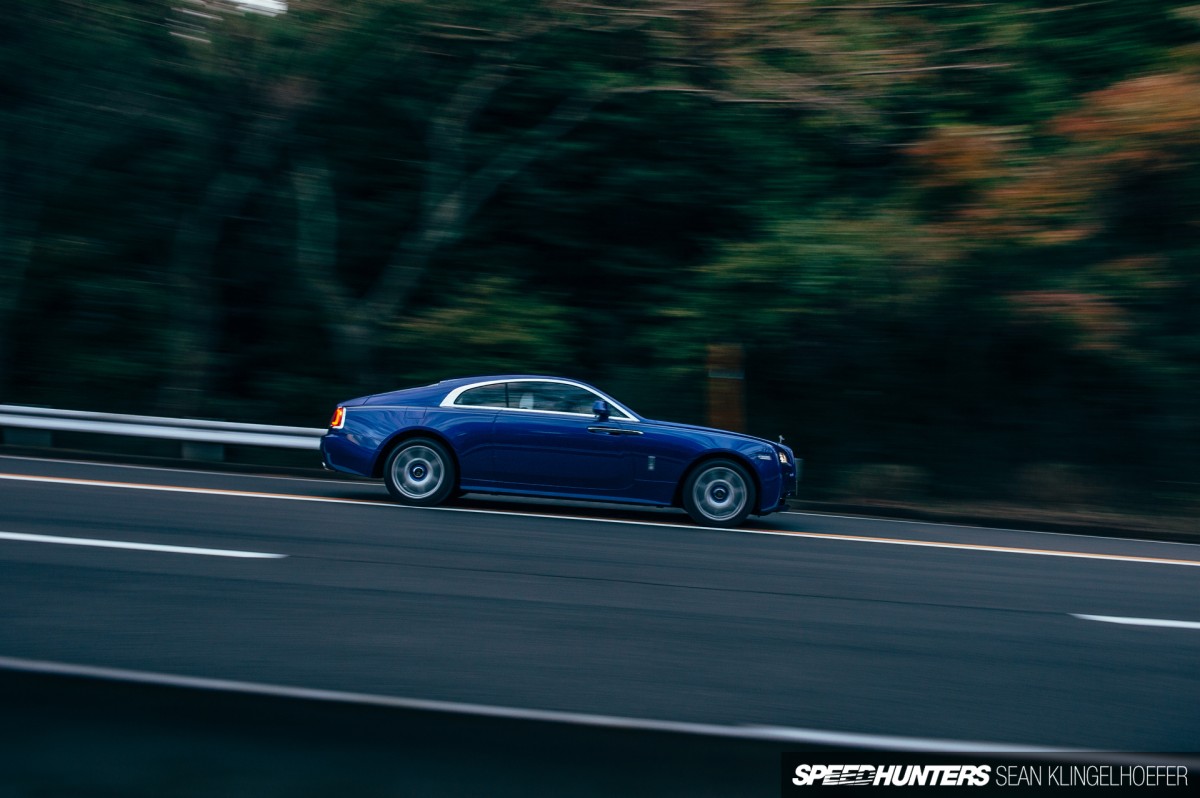 The fact that the Wraith is so far detached from what I consider automotive reality, is what left an impression on me. I'm glad I got to sample it, spend some time with it, appreciate what it does so well and at the same time enjoy its massively powerful V12. So there you go, that's why you are seeing a Rolls-Royce on Speedhunters. Consider it a distant extreme of car culture…
Dino Dalle Carbonare
Instagram: speedhunters_dino
dino@speedhunters.com
Additional Photos by Sean Klingelhoefer 
Instagram: seanklingelhoefer