Fastback From Japan
Old cars are like books, they all come with a story – some more interesting than others. But every once in a while you stumble across something that really makes you utter a simple, yet very honest, 'wow!' This Mustang Mach 1 was such a car, but it took me a while to actually get to the point of realising just how special it was.
I first came across the immaculately presented Ford while wondering through Supermachine's new shop in Yokohama. It was sitting in a corner all by itself looking like it had just rolled out of the Ford factory in 1971. Based on its beauty and spotless condition – not to mention its rarity on the streets of Japan – I had to ask Watanabe-san if we could take it out for a drive and line it up for a shoot.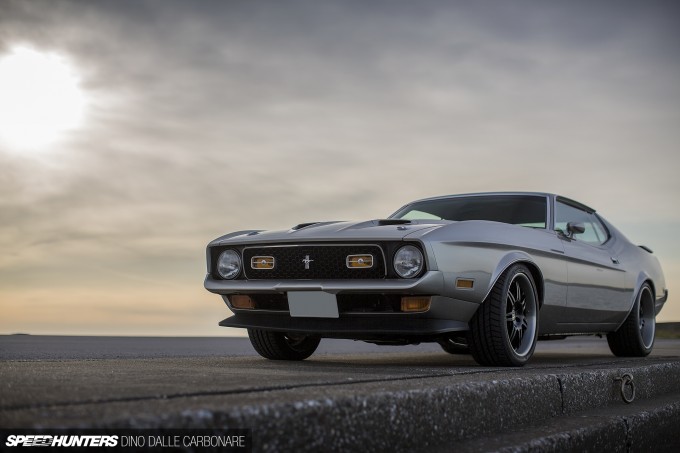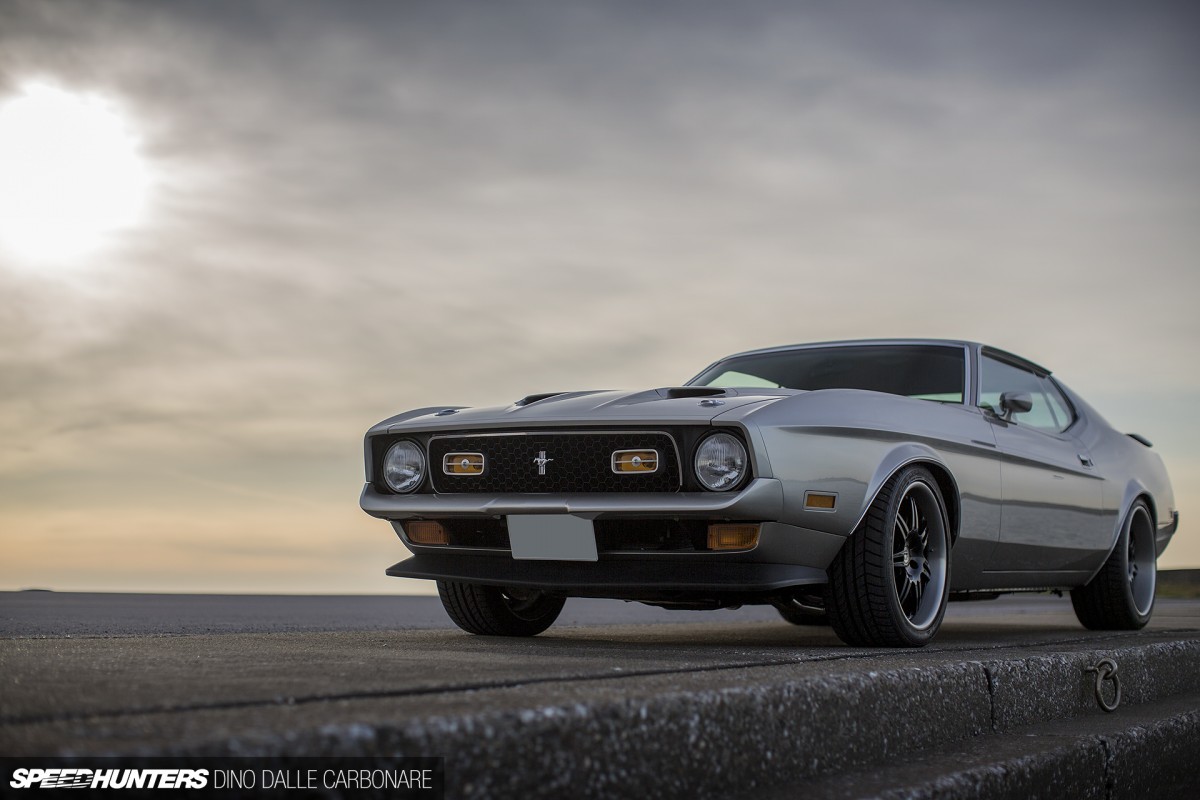 The car was pretty much ready to go, so we set a date, a time and a meeting place, and I began getting excited to shoot my first Mach 1.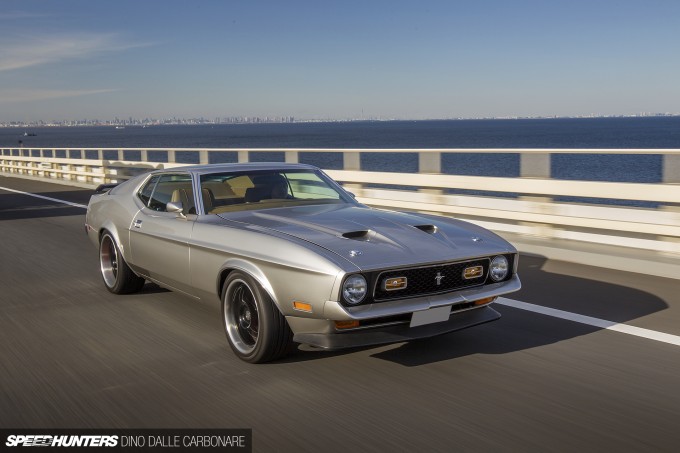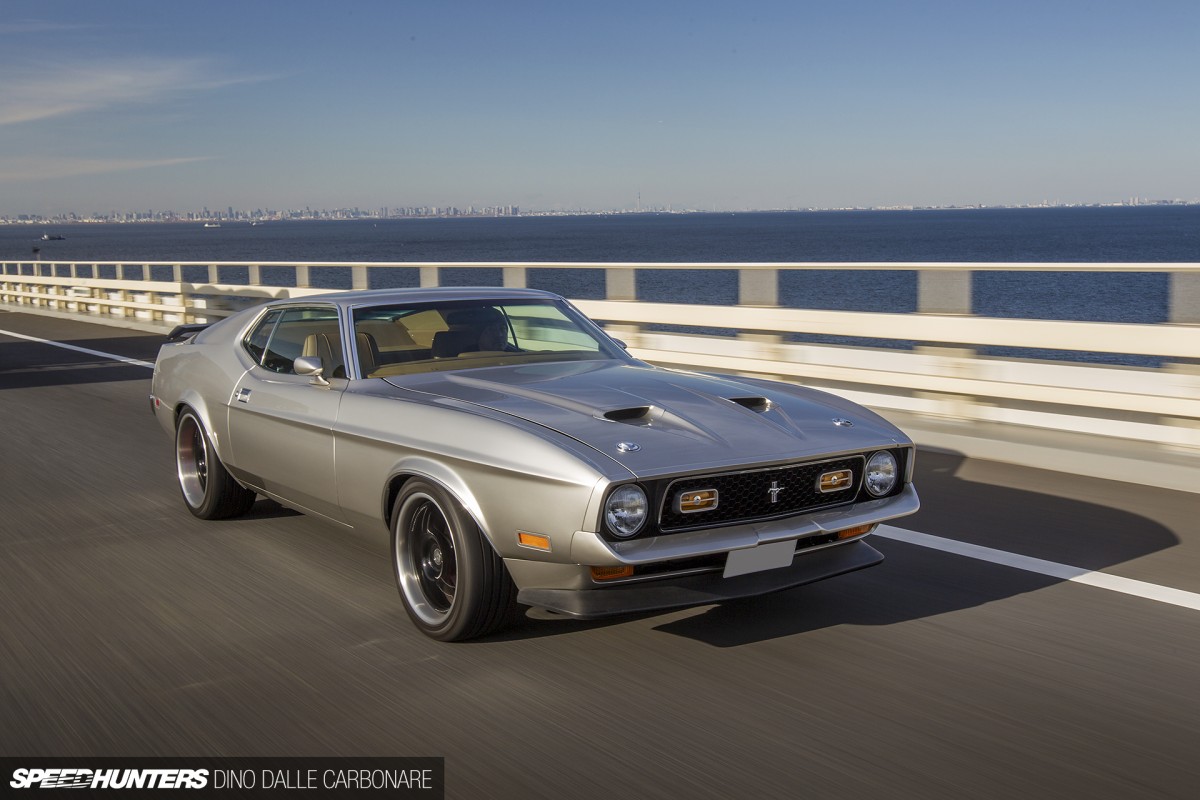 I can't really explain why I like this particular Mustang over those that came before and after it, but I think it might have something to do with watching reruns of Diamonds Are Forever over the Christmas holidays as a kid.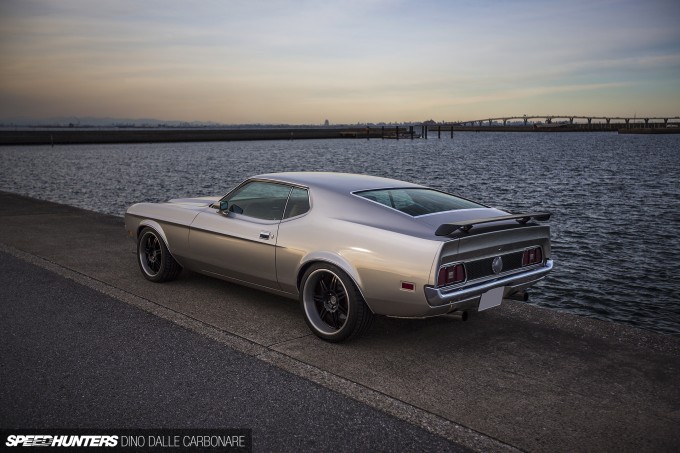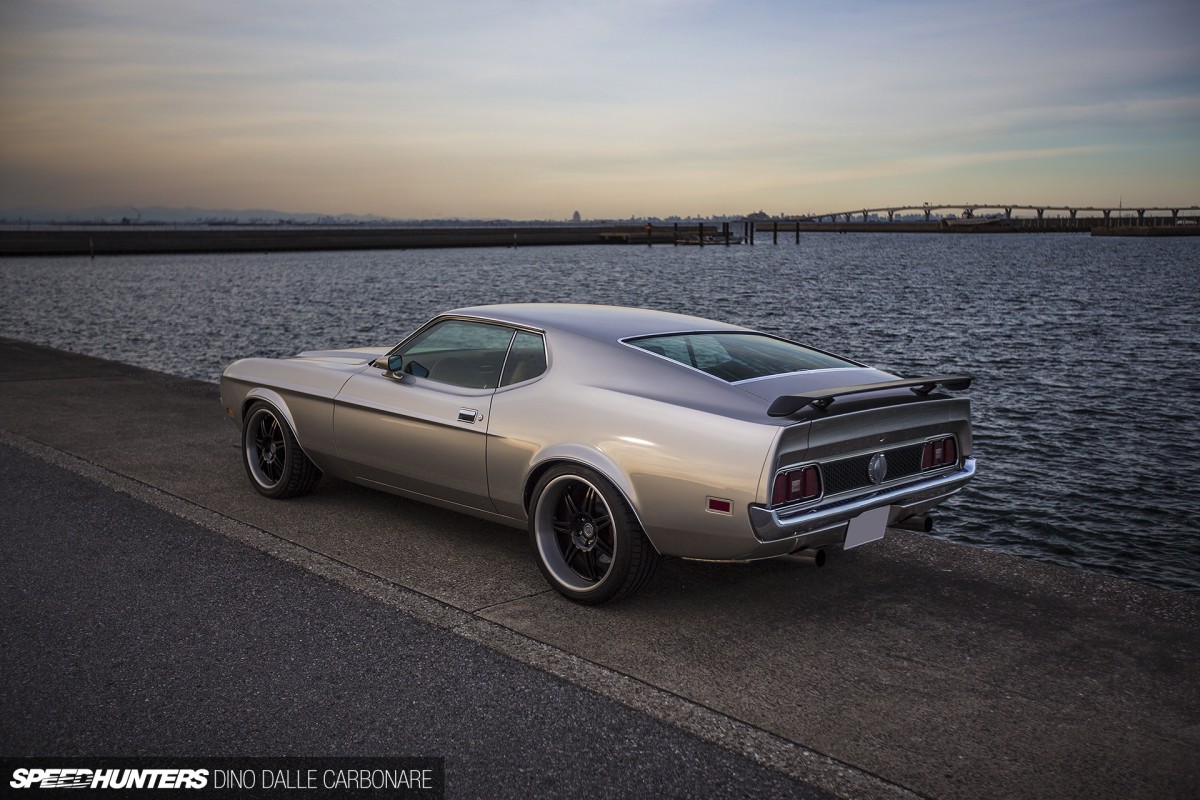 But it goes further than that. The sleek fastback design and the sheer size of the car is enough to make anyone stand in awe, admiring its proportions and unequivocal '70s American styling.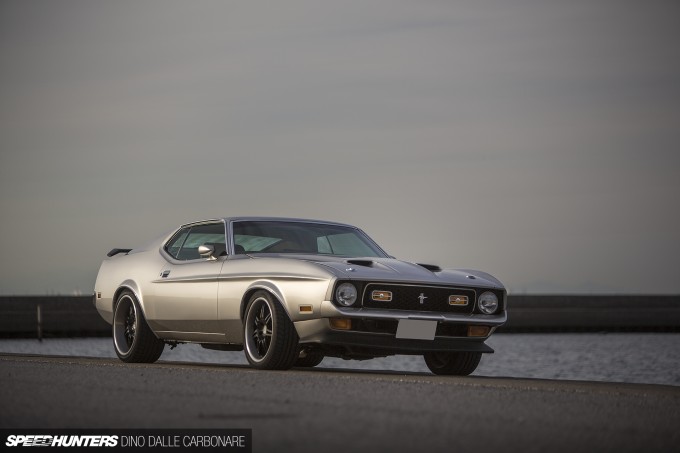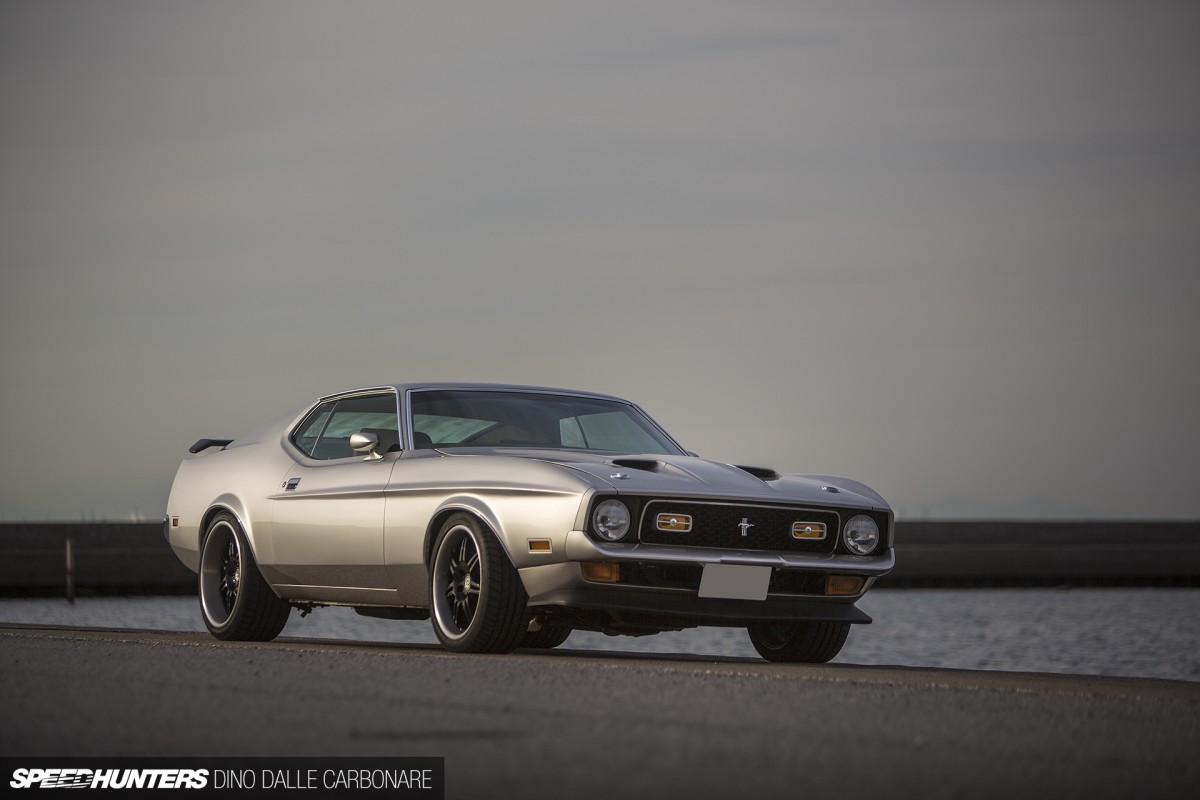 It wasn't until after I had come home from photographing the Mustang at one of my favourite shooting locations that I had a chance to fully comprehend the story behind the car. Watanabe told me to have a look at his blog entries, as the entire restoration had been chronicled – which I did. Seeing what the car originally looked like left my mouth agape, and then and there it became even more impressive than it already was.
At first glance, the red car that had rolled into Supermachine in 2008 didn't look too bad given its age, but once Watanabe started taking a closer look and poking around, things quickly turned bad. He found lots of rust – steel so badly eroded in places that he was able to push right through it. It was decided that the only way to fix the Mach 1 properly was to gut the car completely and start over.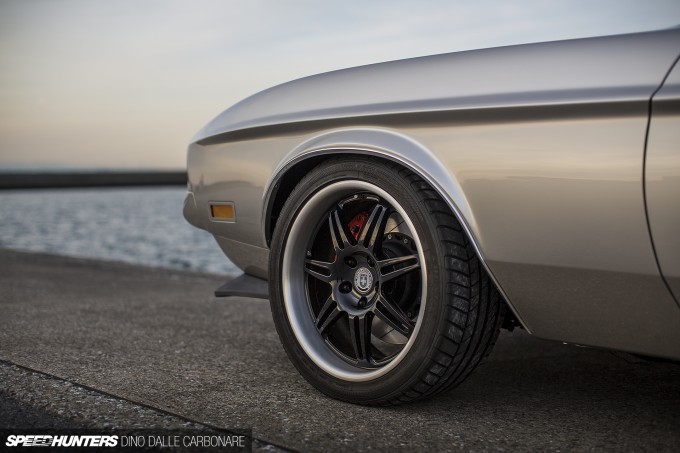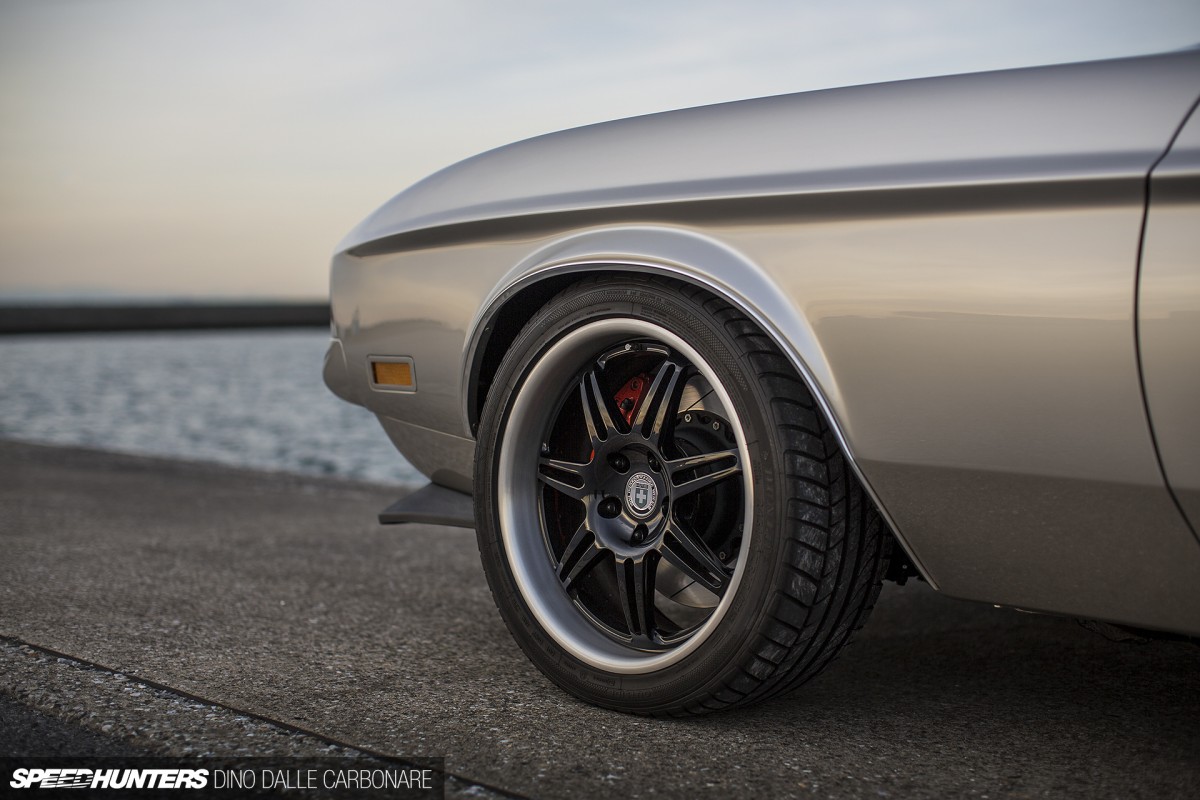 It's so easy to underestimate just how much time, effort and money is required to take a car from close to junkyard condition and bring it back to its previous glory – or beyond that, as is the case here. It took six years from beginning to end, but I think the result speaks for itself. The was tons of metal work and welding involved before the chassis was painted black and the body refinished in a fitting shade of metallic beige; the idea being to retain the car's original '70s look, but then add to it with some modern touches.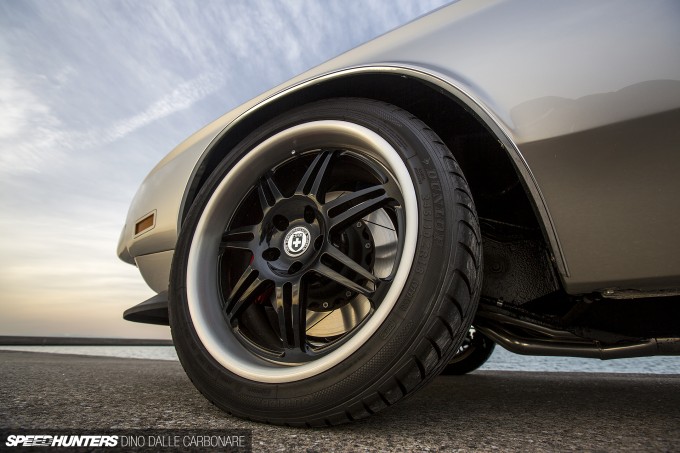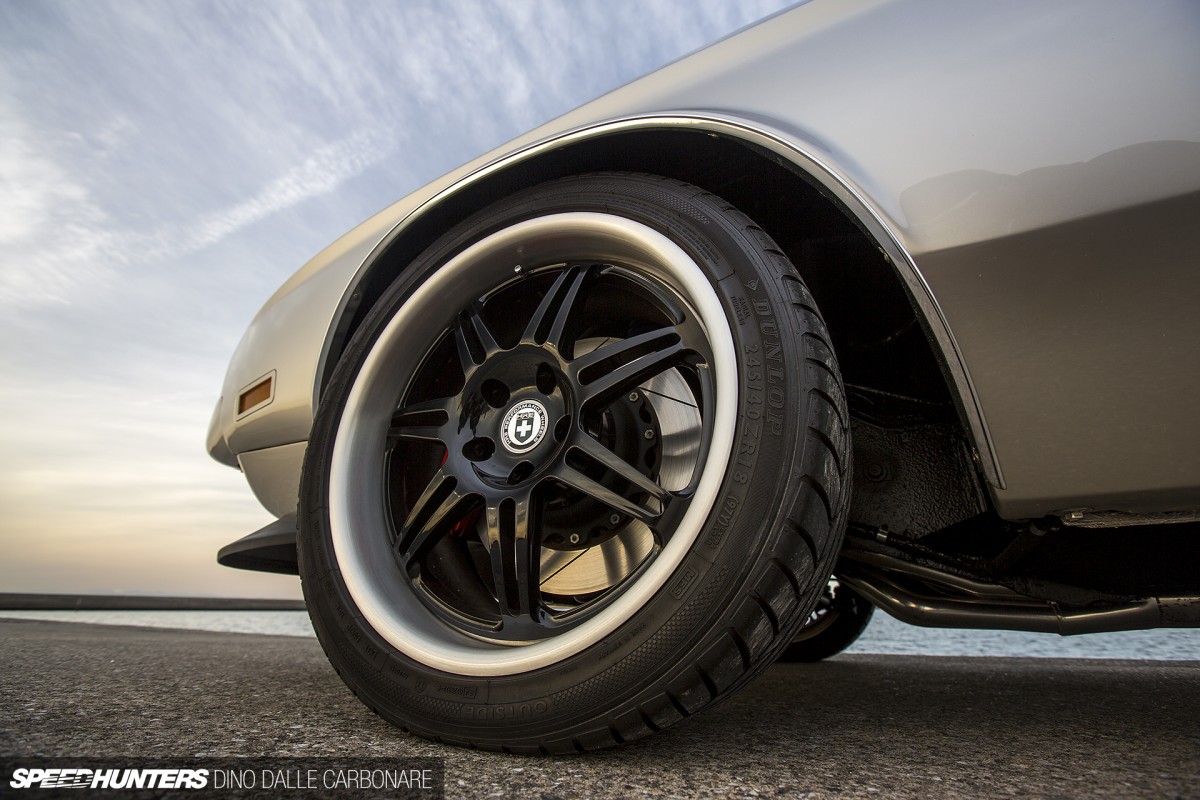 That's why the car sits on a set of custom painted HRE 891Rs. In proper muscle car style they're a staggered setup too – 18×8.5-inch in the front and a staunch 19×10-inch at the rear.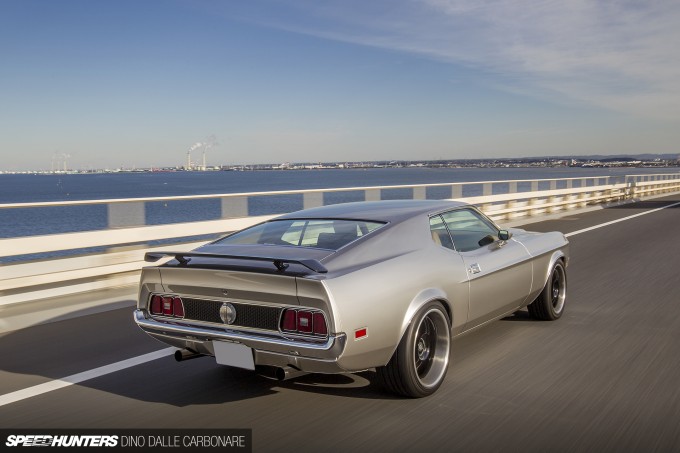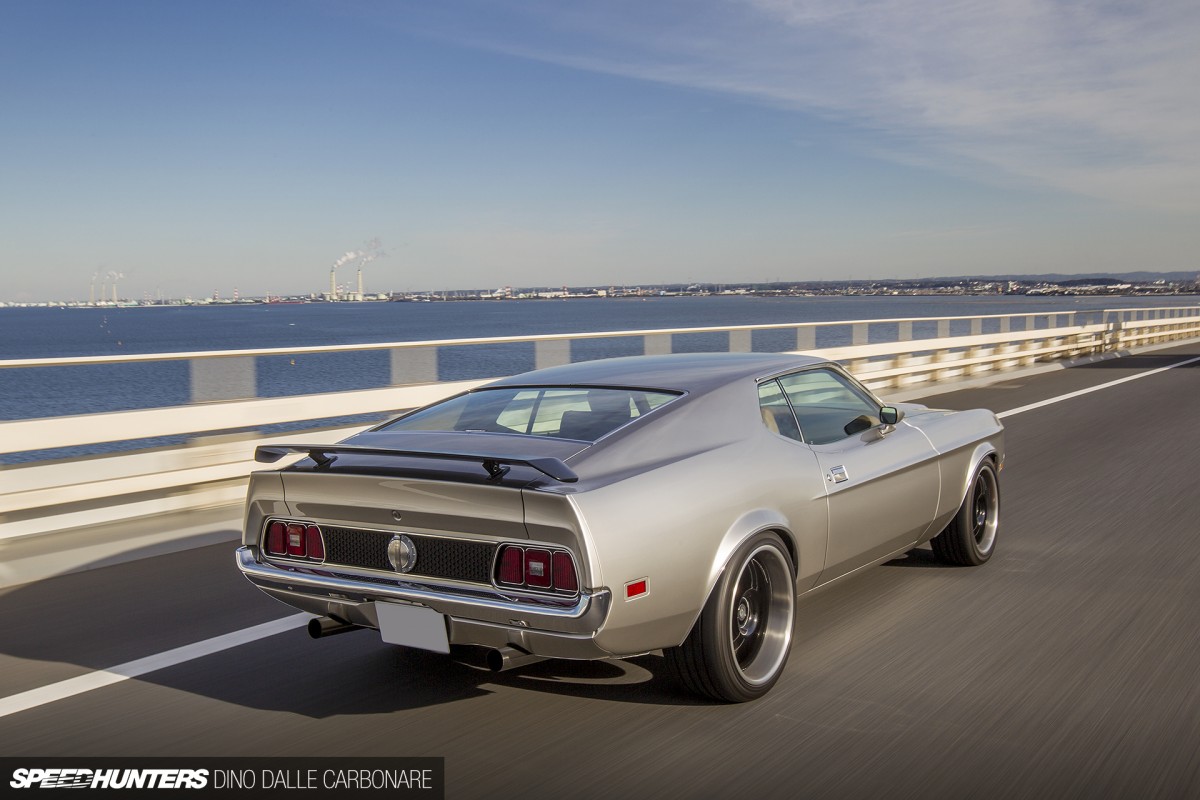 Sitting on upgraded suspension components the Mach 1 is quite a lot lower than it originally was. It rides better as well thanks to RRS adjustable coilovers, and Koni shocks and Global West leaf springs. Global West front control arms boost steering feel and overall front end bite, while the Del-A-Lum bushing and shackle kit keeps the solid rear axle in check, transforming the feel of the car through the corners.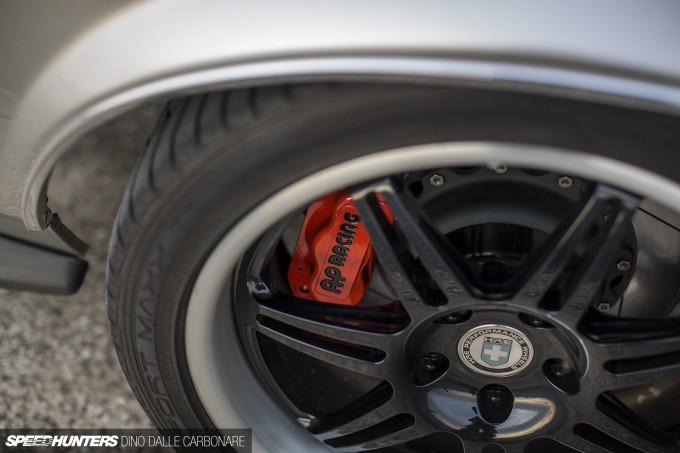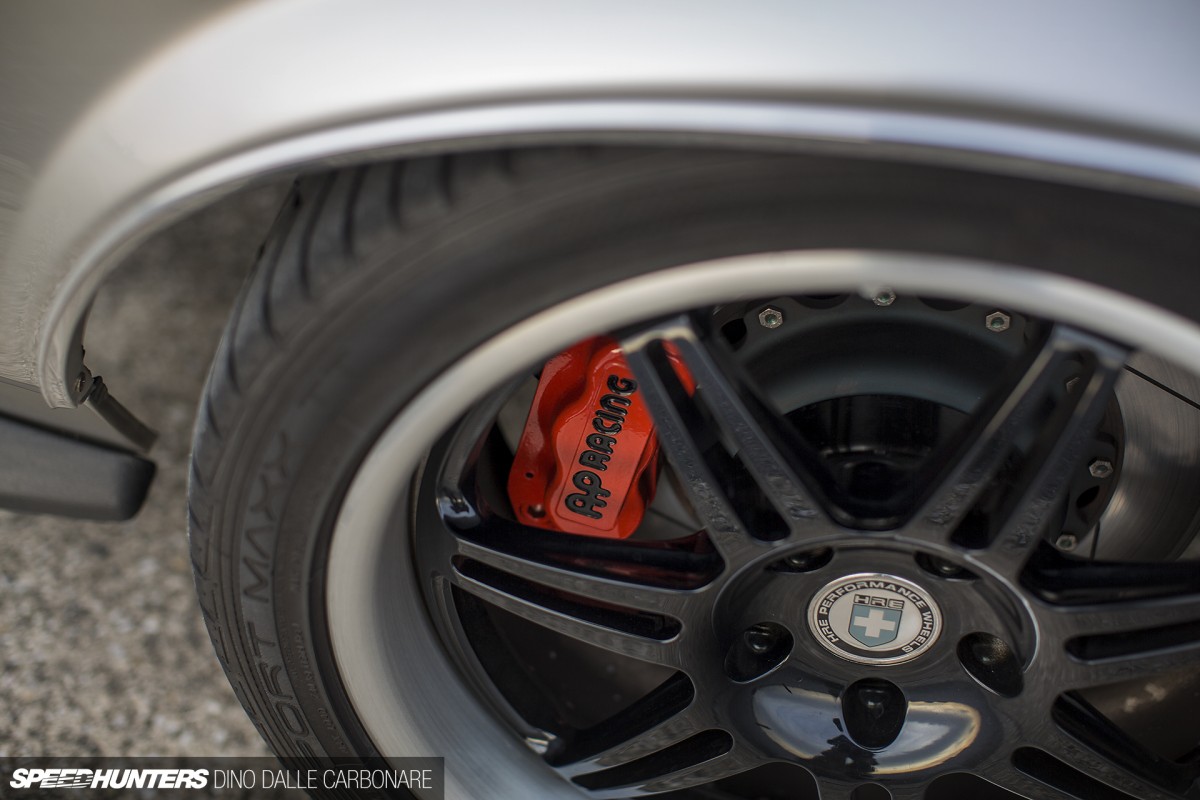 One of the biggest drawbacks of this particular generation of Mustang was its size and resulting weight, hence the owner asking Watanabe to upgrade the brakes. Easily visible through the HRE's spokes thanks to their contrasting red colouring, AP Racing calipers – 6 pots in the front and 4 pots in the rear – bite down on large 2-piece slotted rotors to provide vastly improved braking power and a resistance to fade.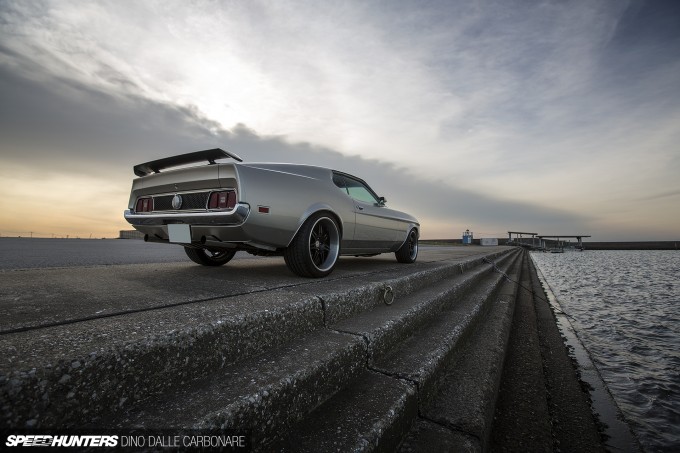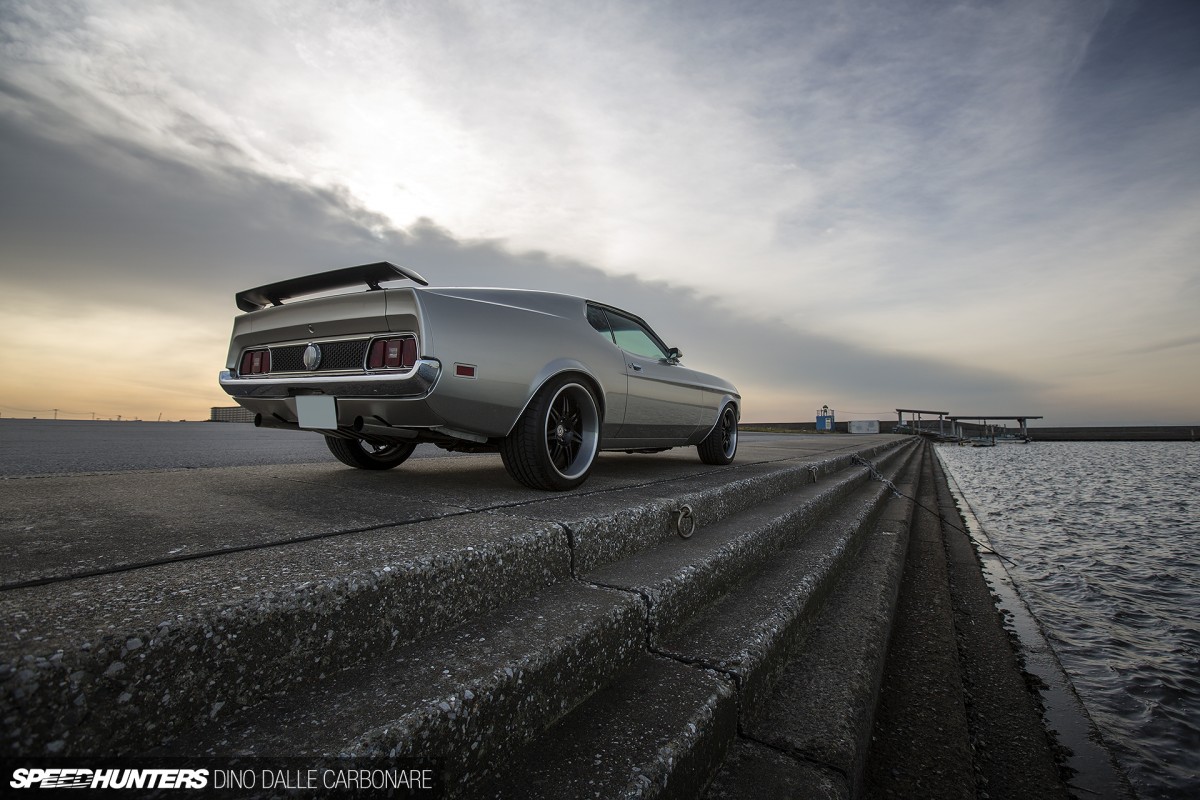 And so the car began to take shape.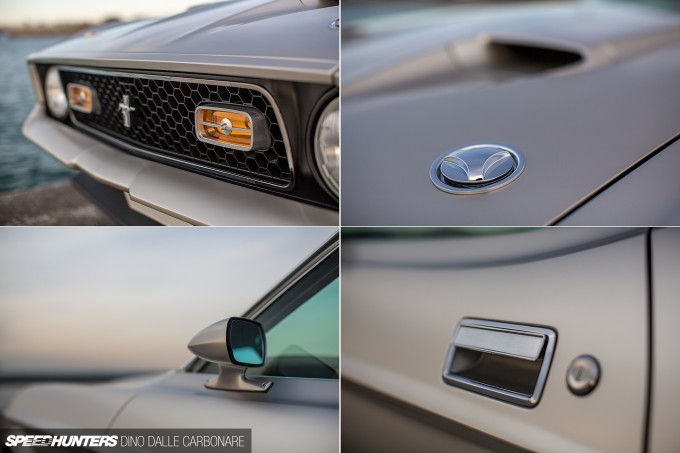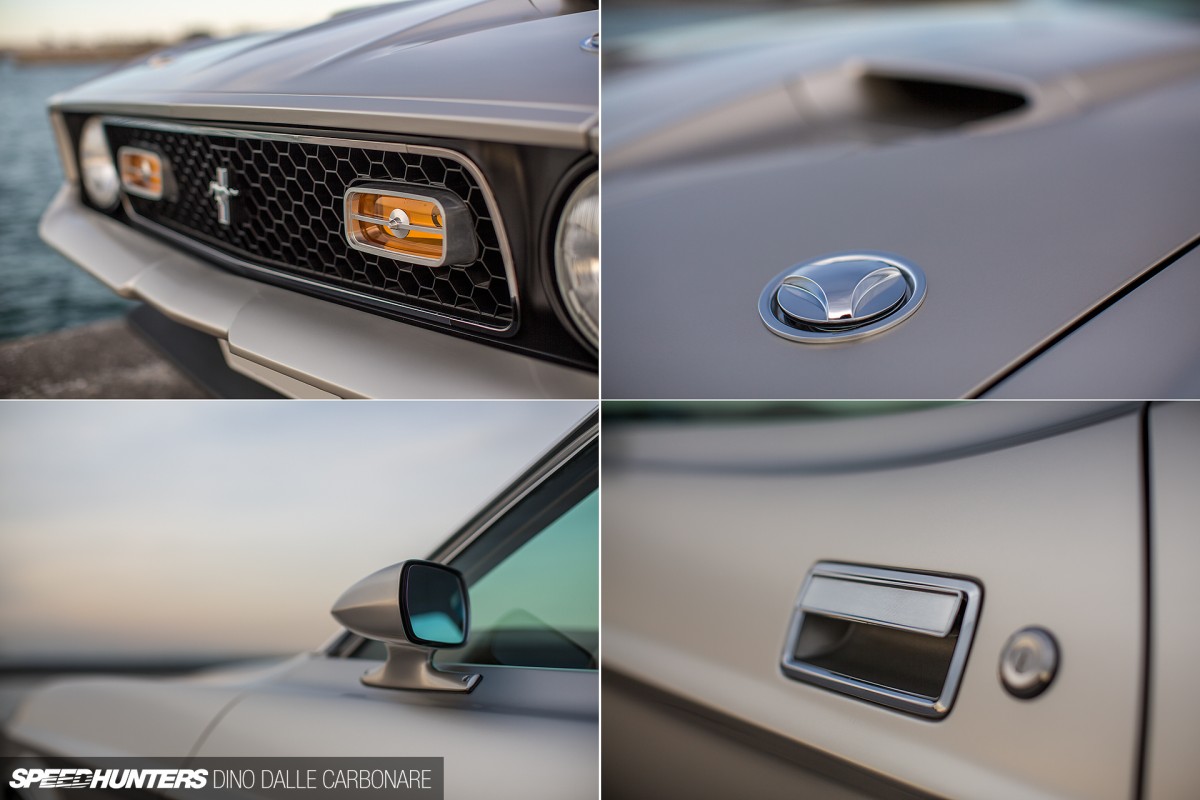 As is normally the case with machines of this vintage, the interesting things are the details. In an era before cars became overrun with plastic, things like the metal door handles, and in the case of the Mach 1 – twistable bonnet latches that add extra safety to the way the long hood is held in place, are so beautifully integrated and constructed. If you know this particular model of Mustang you might notice that there's something different going on with the grille-mounted yellow parking lights too…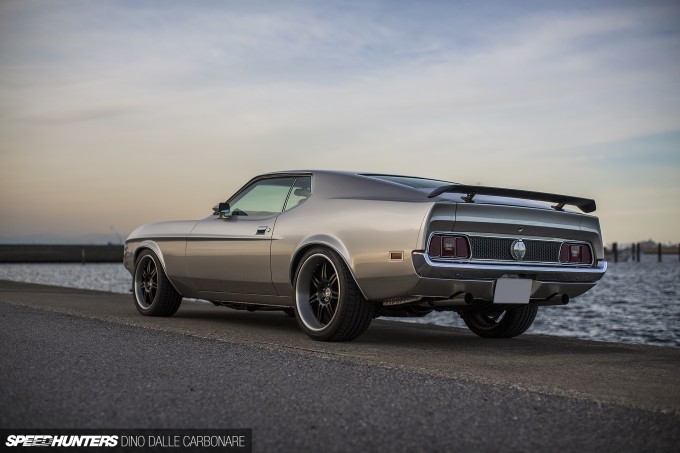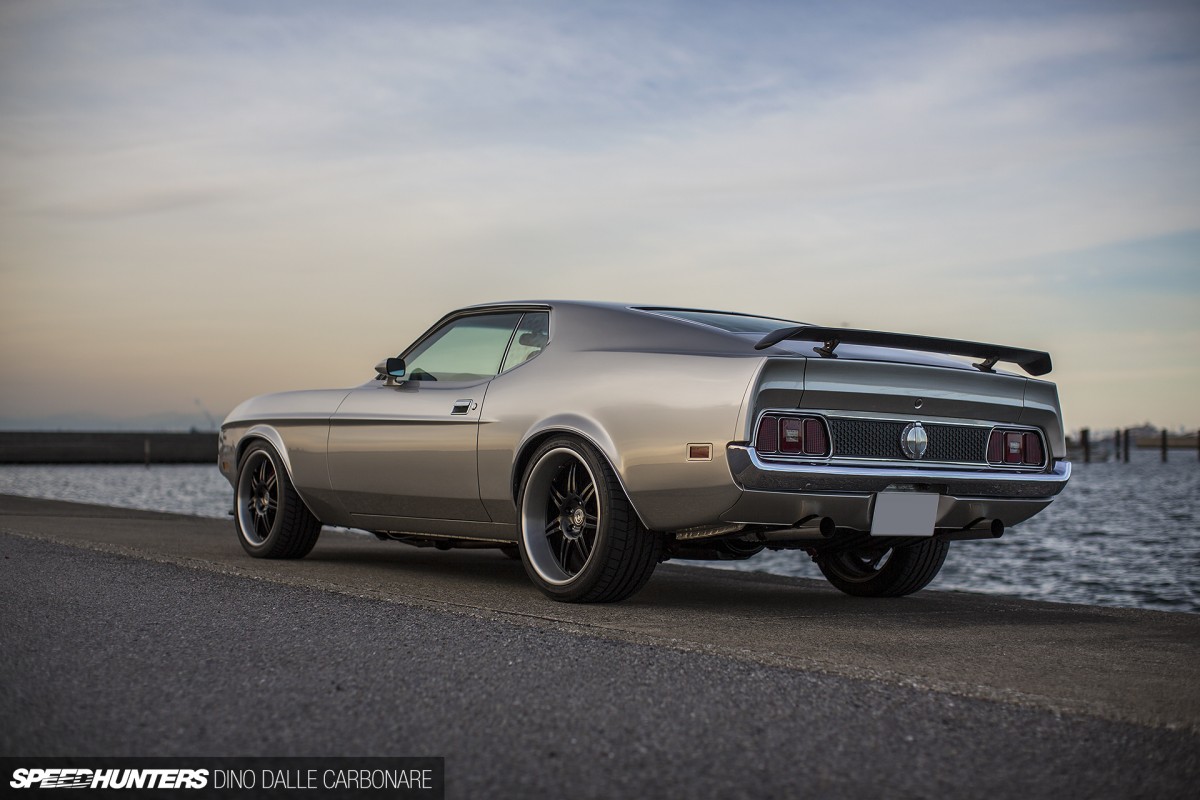 As we will soon see in a factory tour of Supermachine, Watanabe has a small shop where he is able to fabricate one-off parts for his builds. For the Mustang it was the custom parking lights' bezels which were crafted from a billet of aluminium before being machined to a beautiful semi-polished finish.
The Best Of The '70s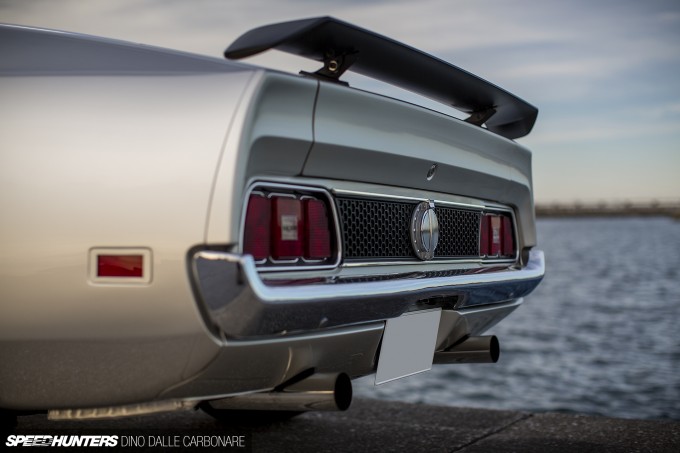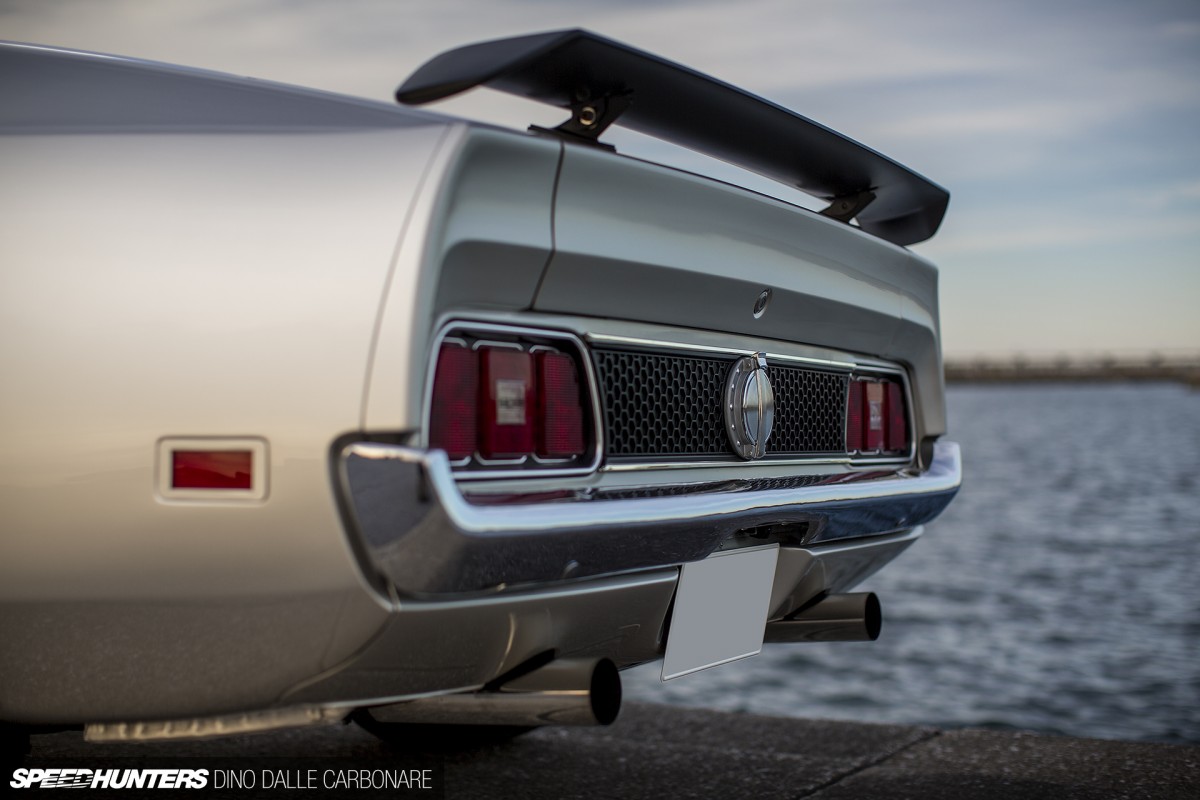 It was decided that the car's original black side racing stripes – if you could call them that – were uncalled for in this modern reinterpretation. Simple, as we know, is always best.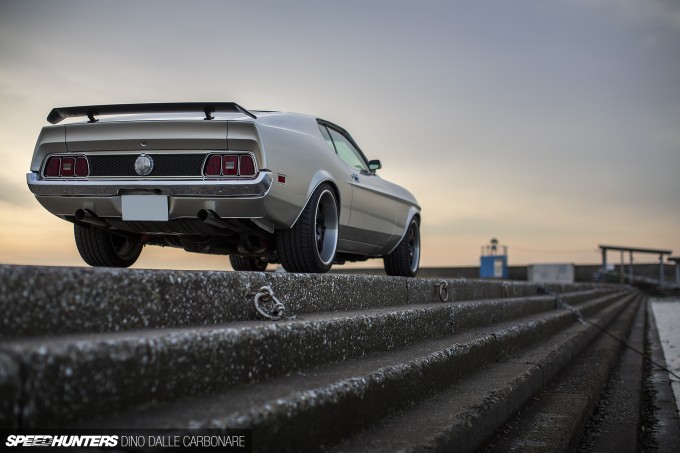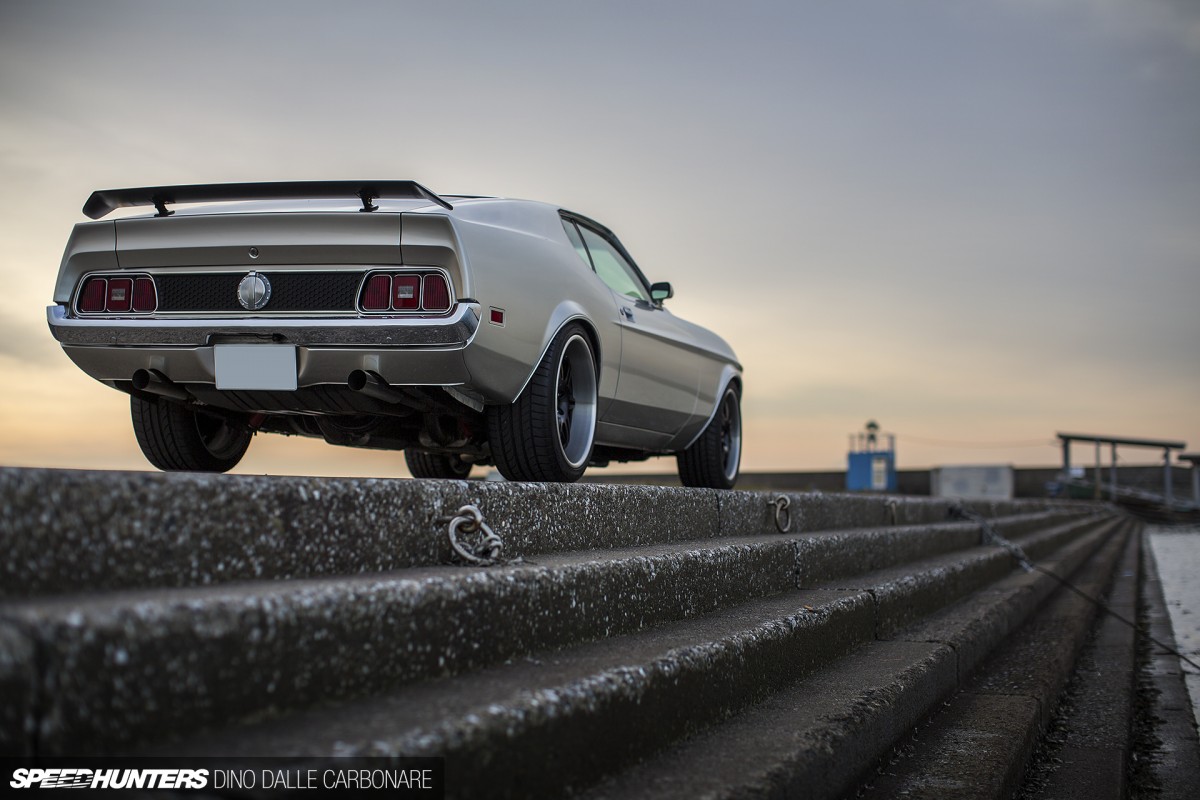 There's no doubt that the old school/new school theme really works for this build, and even if you don't particularly like '70s muscle car design, it's hard not to appreciate what's been achieved here.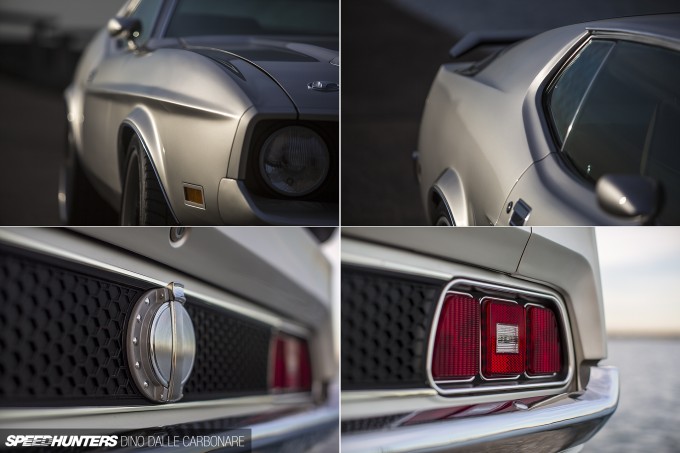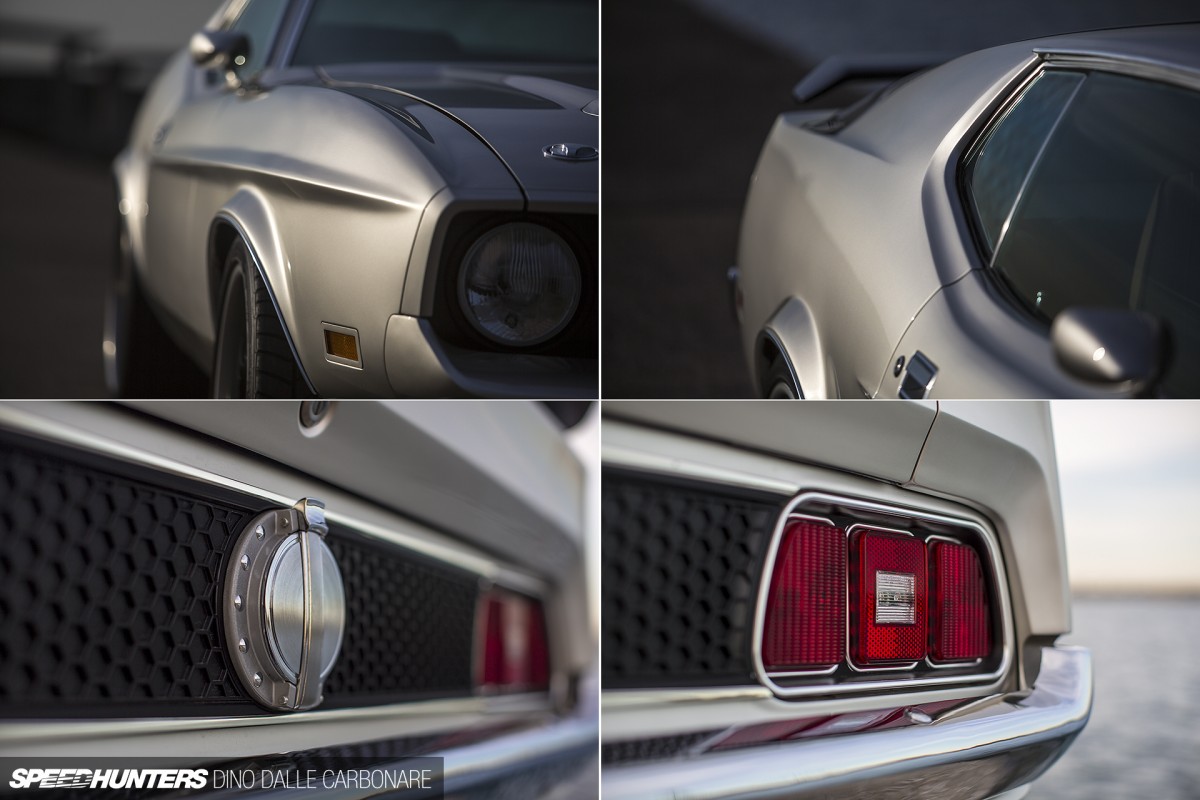 The warm light that hit the Mustang that late afternoon on the Tokyo Bay really emphasised all of the lines, creases and highlights that make this generation so unique. The quarter panel design and shape of its glass in particular reminds me of another favourite car of mine – the KPGC110 Kenmeri Skyline GT-R. It's not hard to see where Nissan got the inspiration for that car from…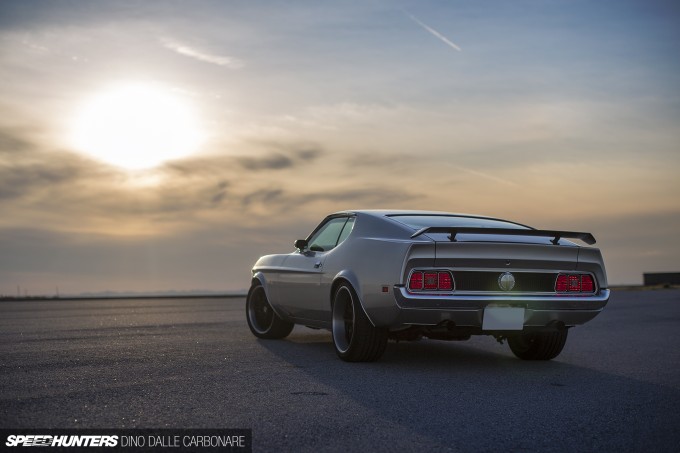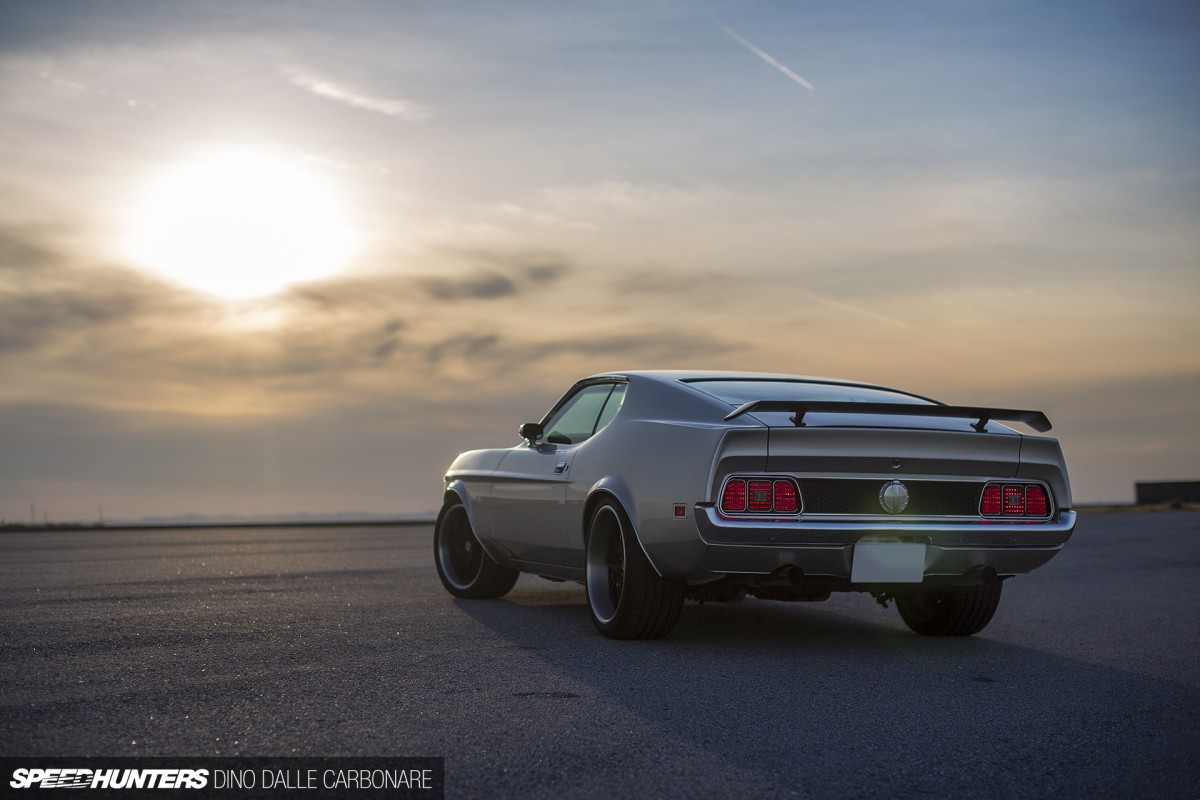 The taillights have been given a more contemporary feel through the use of hundreds of LEDs. The effect is neat, and they light output they provide is so much brighter than what the original filament bulbs could ever muster.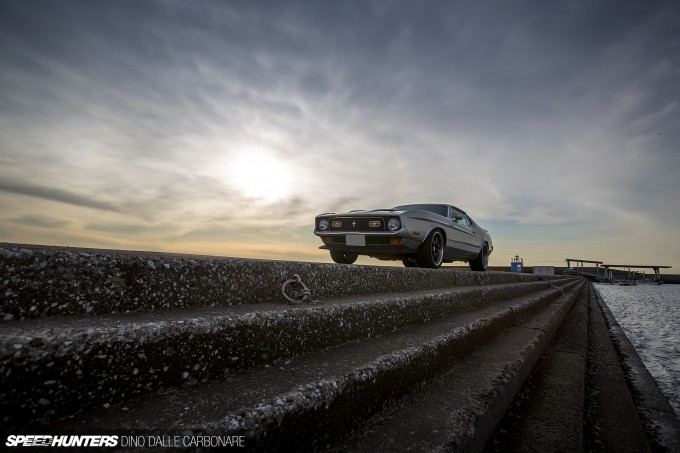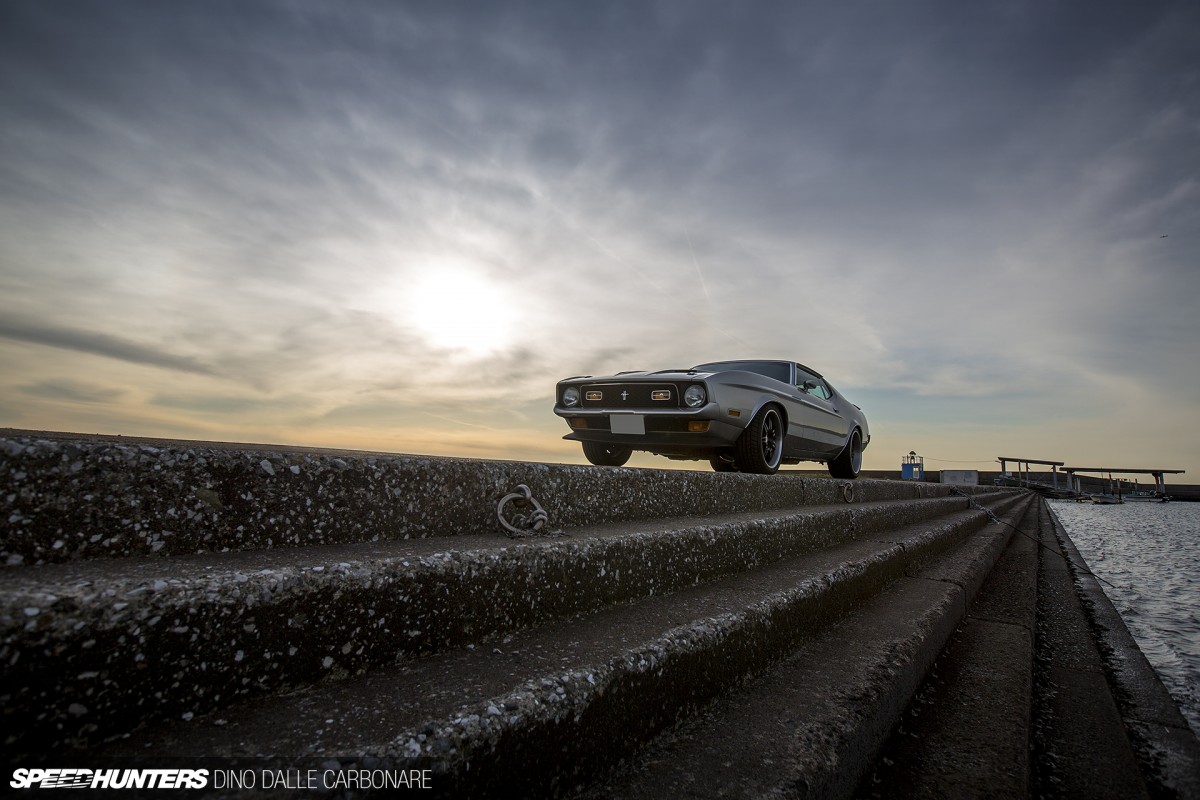 It's when you soak up a car like this in its entirety that you realise what the deal is with the guys restoring, building and collecting these old automotive icons.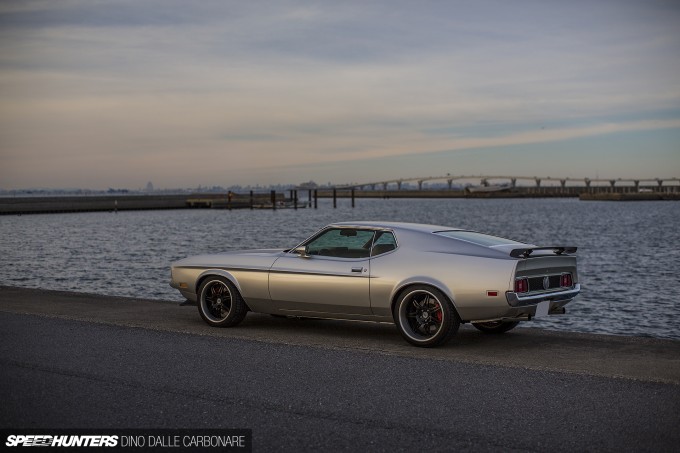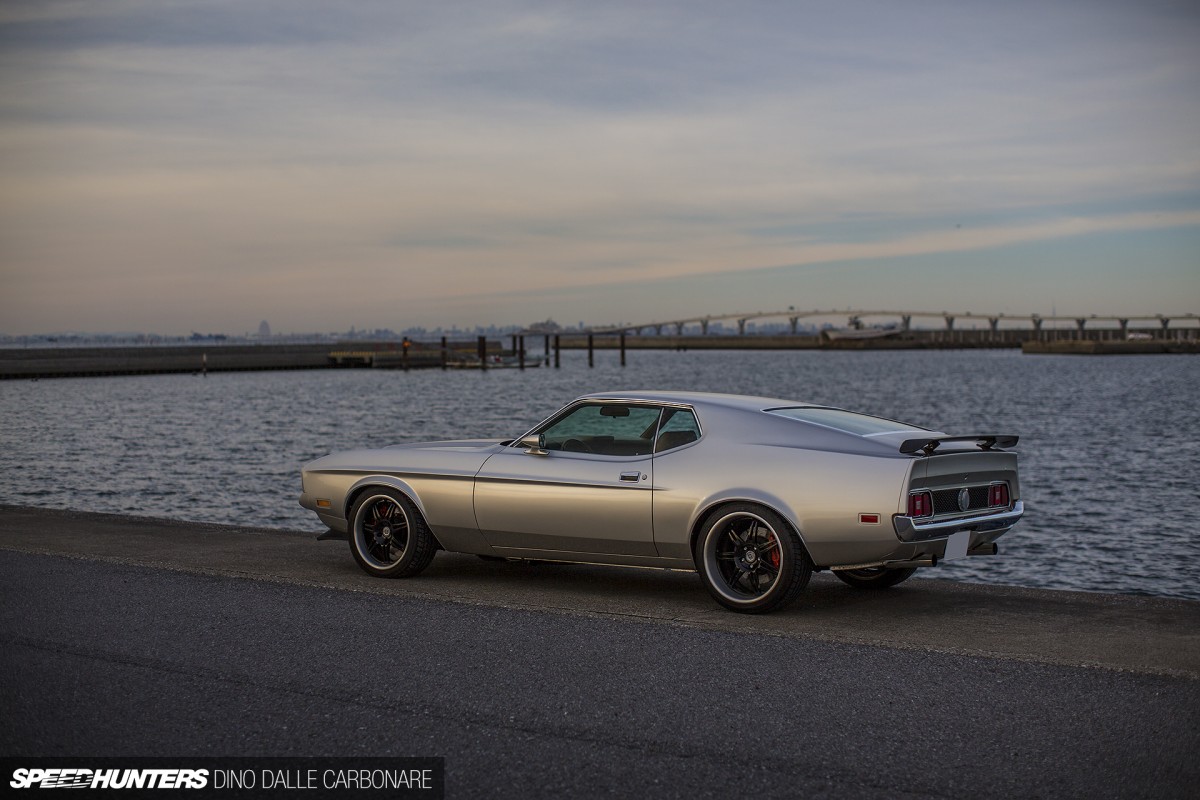 It's not so much the cars' performance or overall capabilities, but the statement they make and the experience they provide through their feel, sound and smell. Much like the wide body FastLane Camaro we recently took a look at, half a car's attraction is in its personality.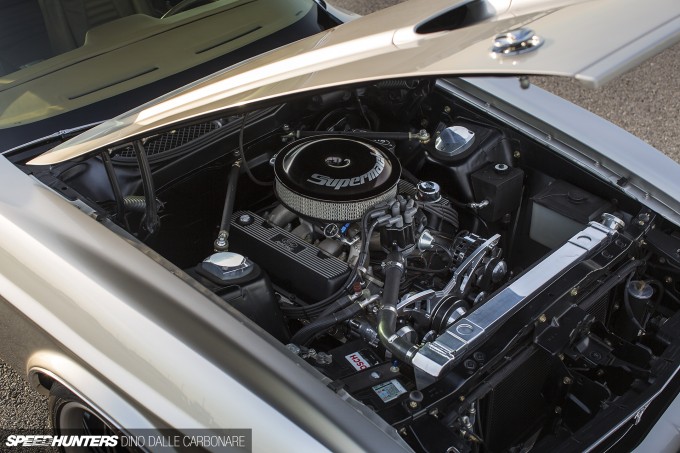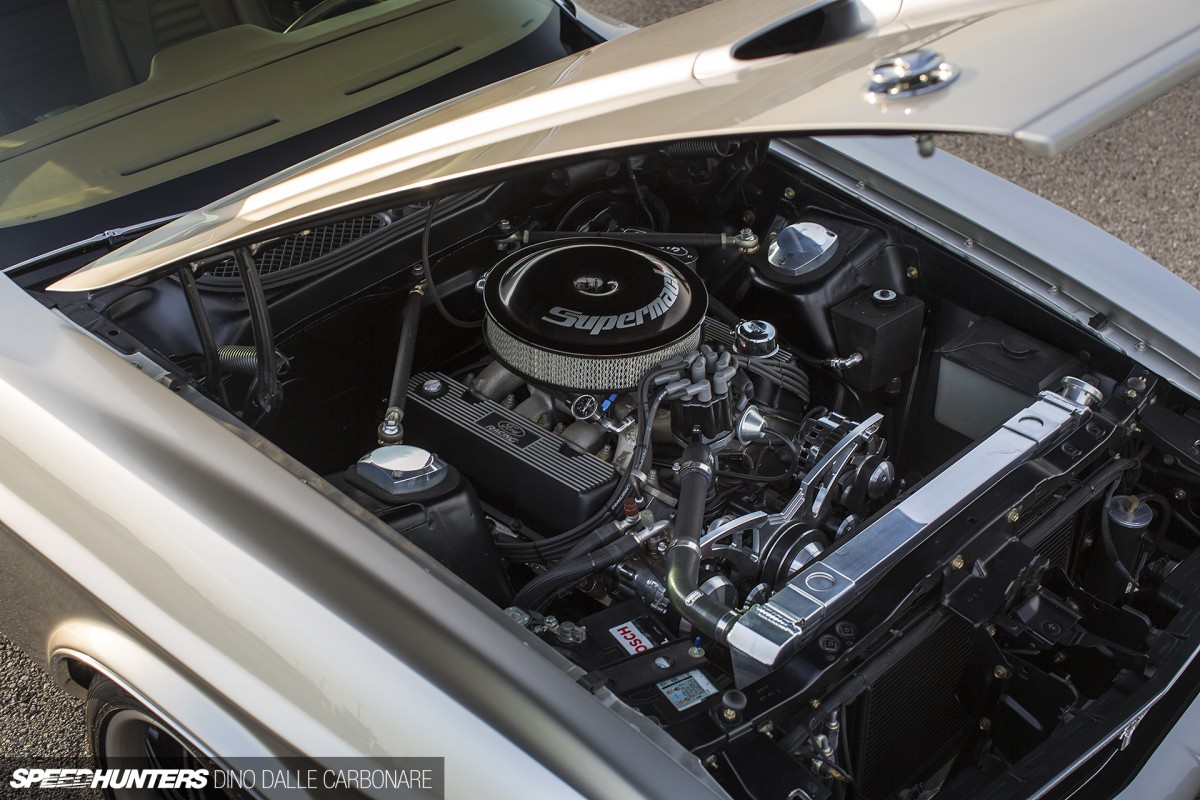 Then of course there is the mechanical side to it. This Mach 1 was specced up from the Ford factory with a 351 Cleveland fed by a 4-barrel Automate 4300A carb and Ram Air system. As you can see above however, not much remains of that original setup.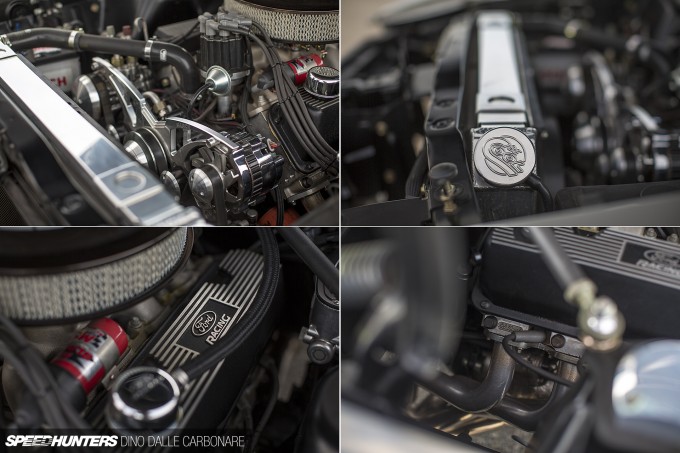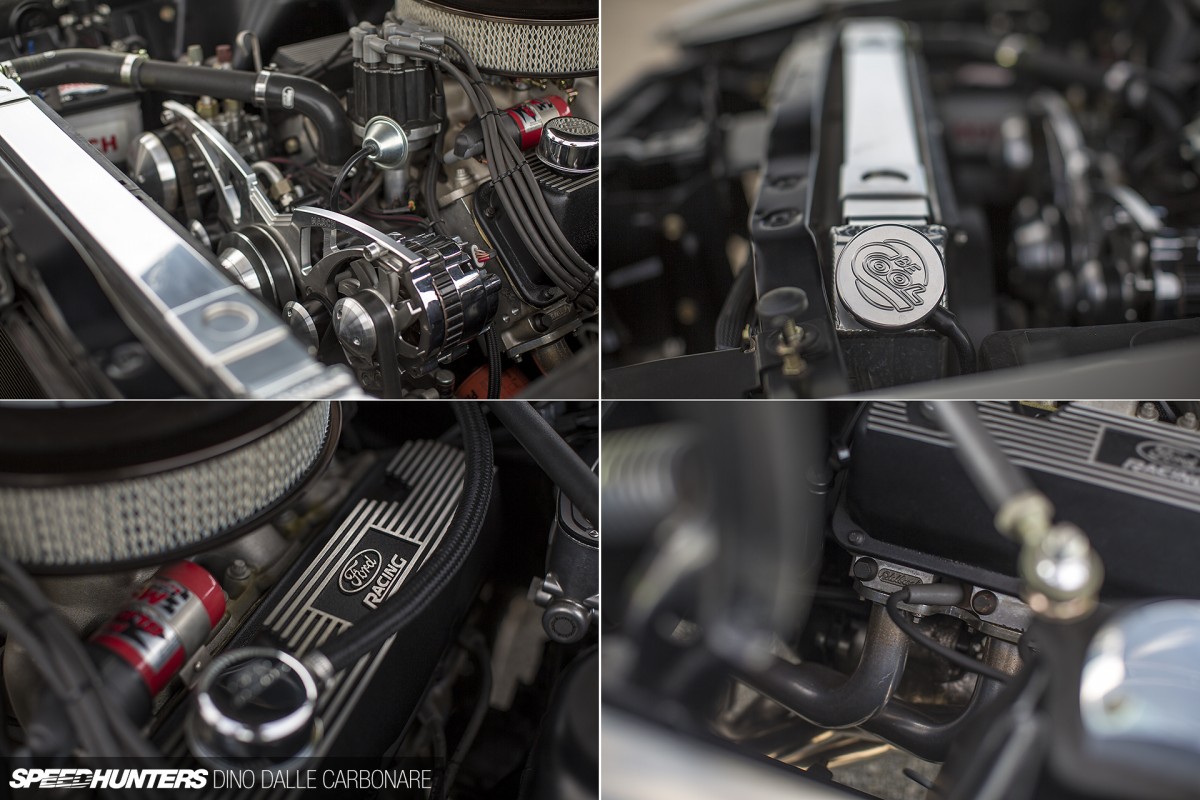 The 5.8L block is the exception, but it's been joined by a forged and stroked crankshaft, H-section rods and oversized high compression forged pistons to bump capacity to 383ci (6.2L). To get the most out of it a pair of Edelbrock Performer RPM heads have been thrown on, along with those nice Ford Racing covers and a Comp Cams camshaft. An Edelbrock air gap intake sits between the heads and a Holley Street Avenger 770cfm carburettor, while Edelbrock headers dump gasses into a one-off Supermachine exhaust system.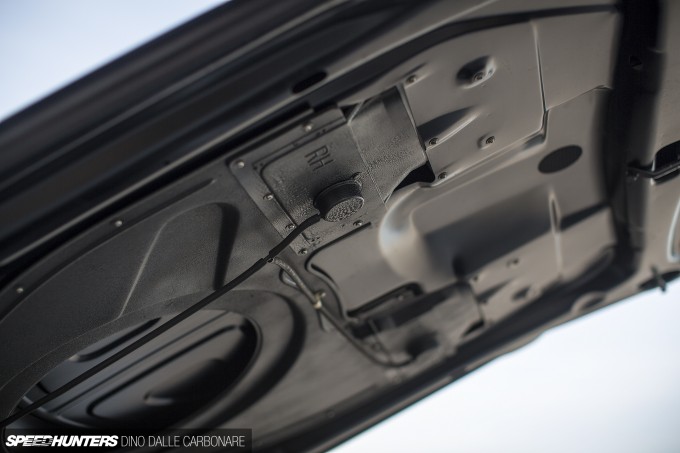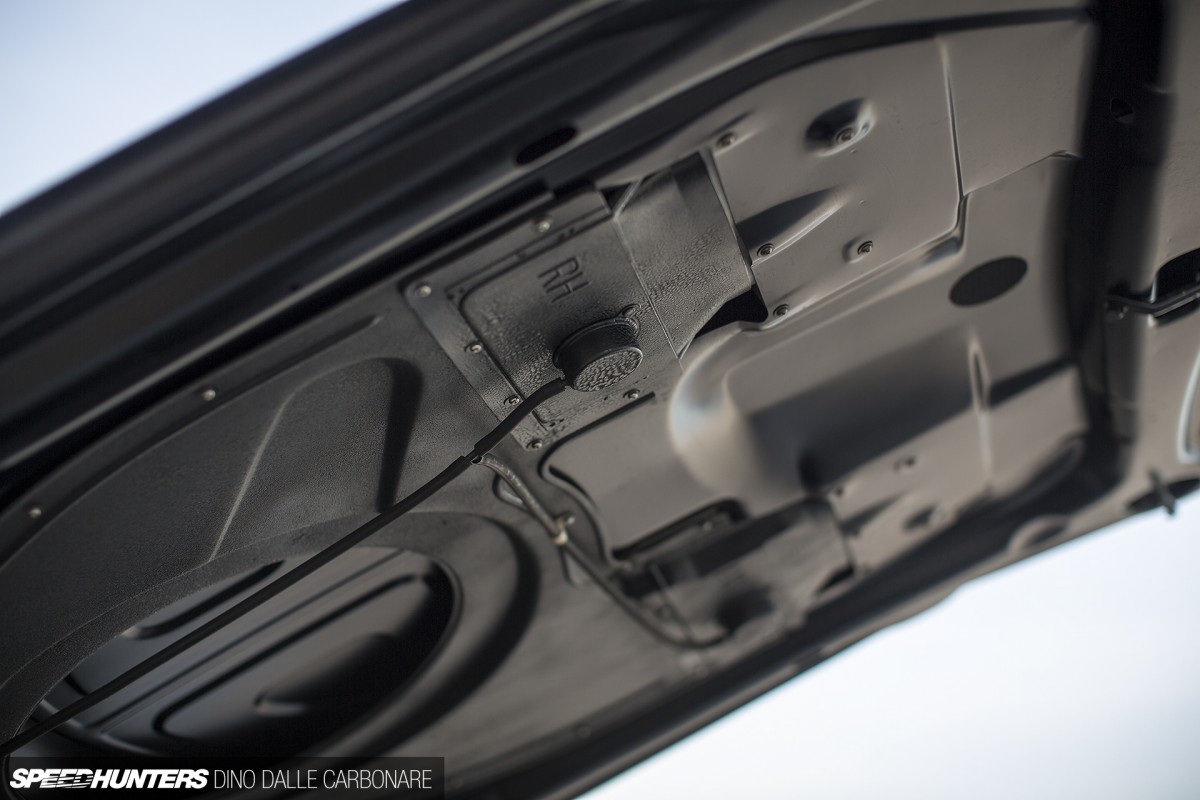 I thought the factory Ram Air setup was pretty cool, and aside from the bonnet bulges and 'nostril' intakes there are vacuum-operated flaps that open up to direct air towards the filter (via an air guide under the hood) when you floor the throttle.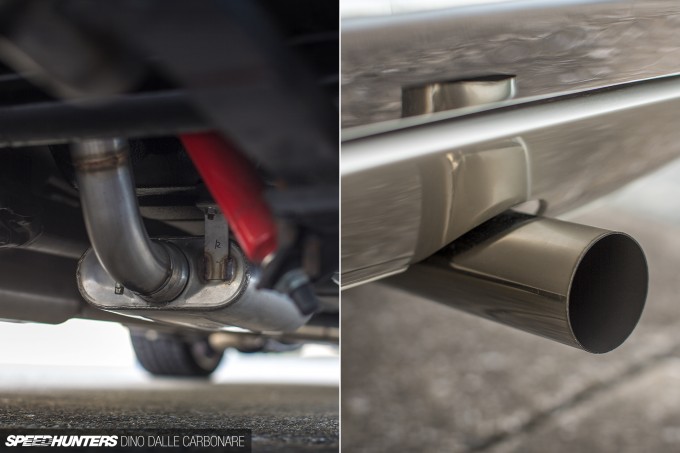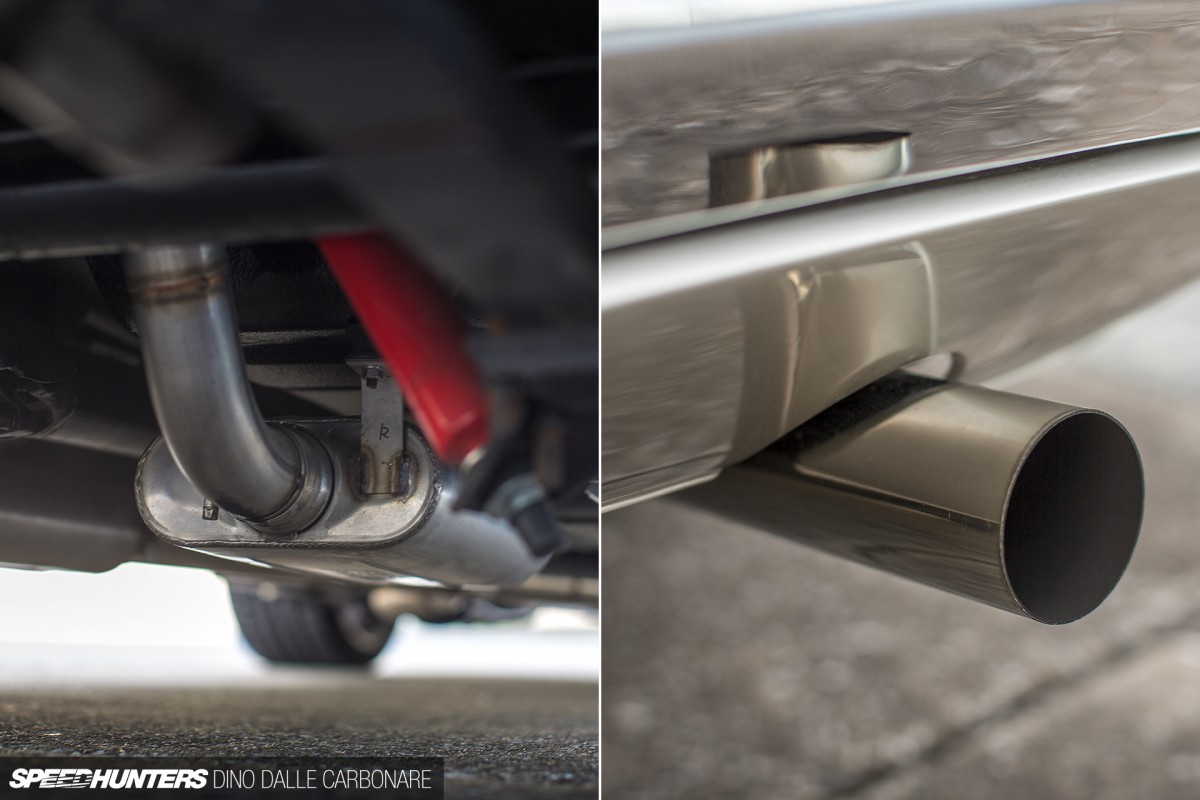 Here's a little look at the custom stainless steel system that Watanabe fabricated for the Mach 1. With all these parts in place the Mustang has over 400hp to play with, and the sound coming from those two pipes at the back is nothing short of intoxicating.
The Perfect Restoration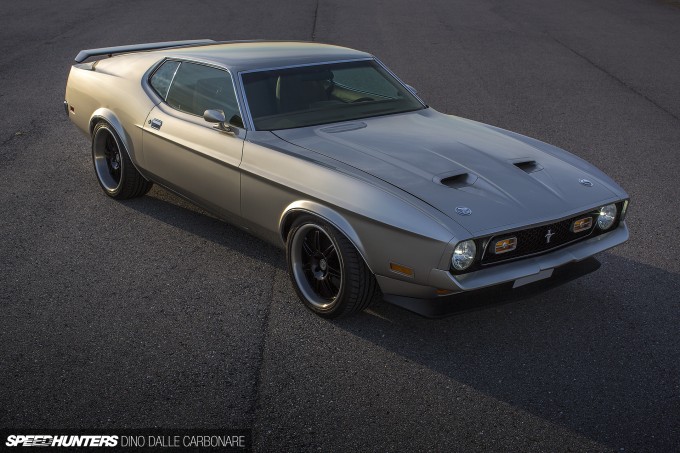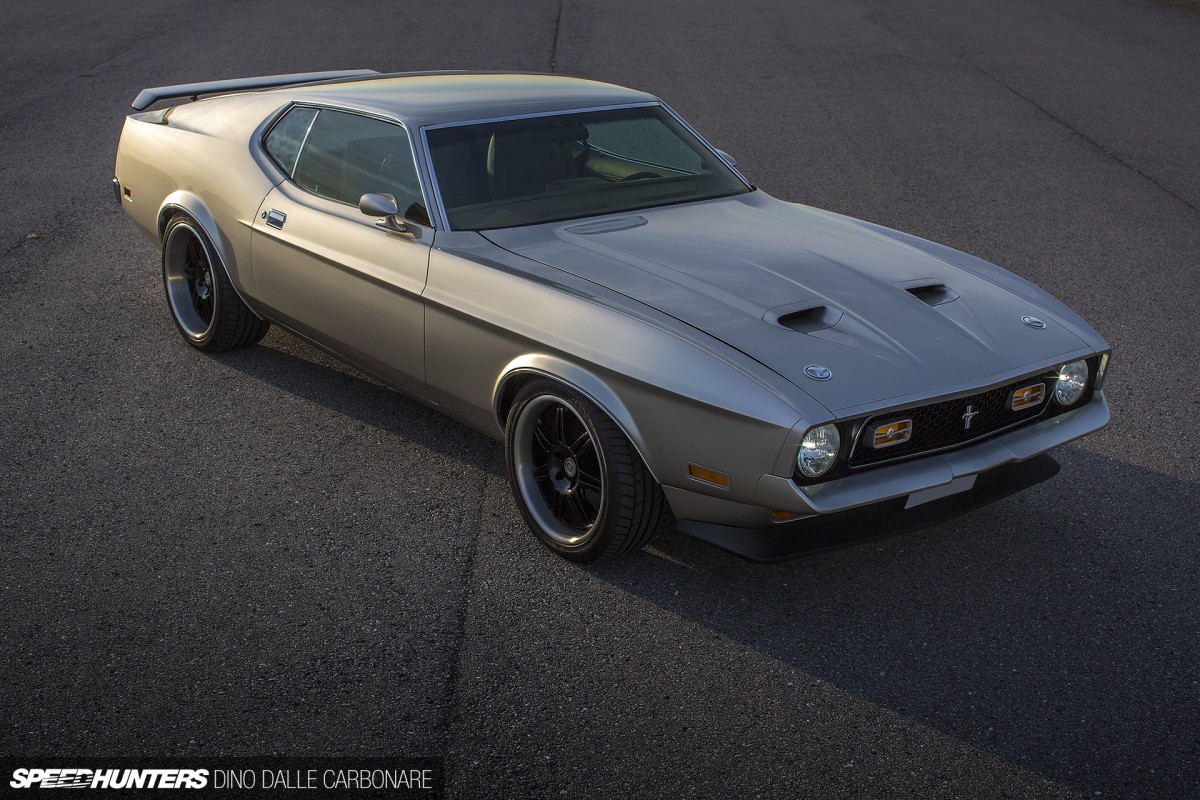 LED taillights and billet parking light bezels couldn't possibly be fitted without an upgrade to the most important lighting units of them all – the headlights. These now run I-Magic HID conversions, which bumps brightness tenfold compared to the candlelight-like beams of the stock bulbs.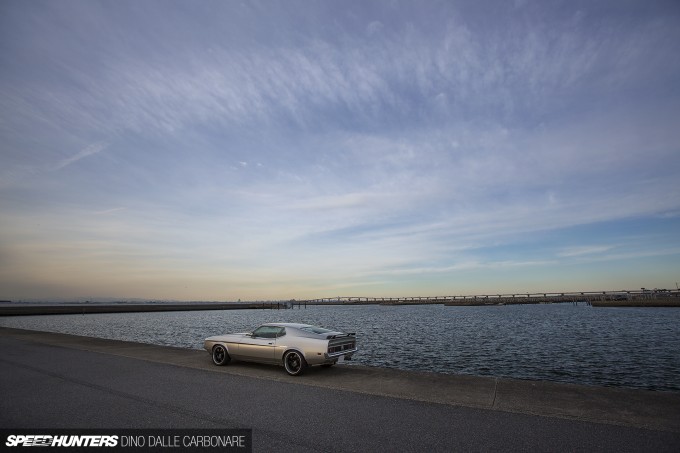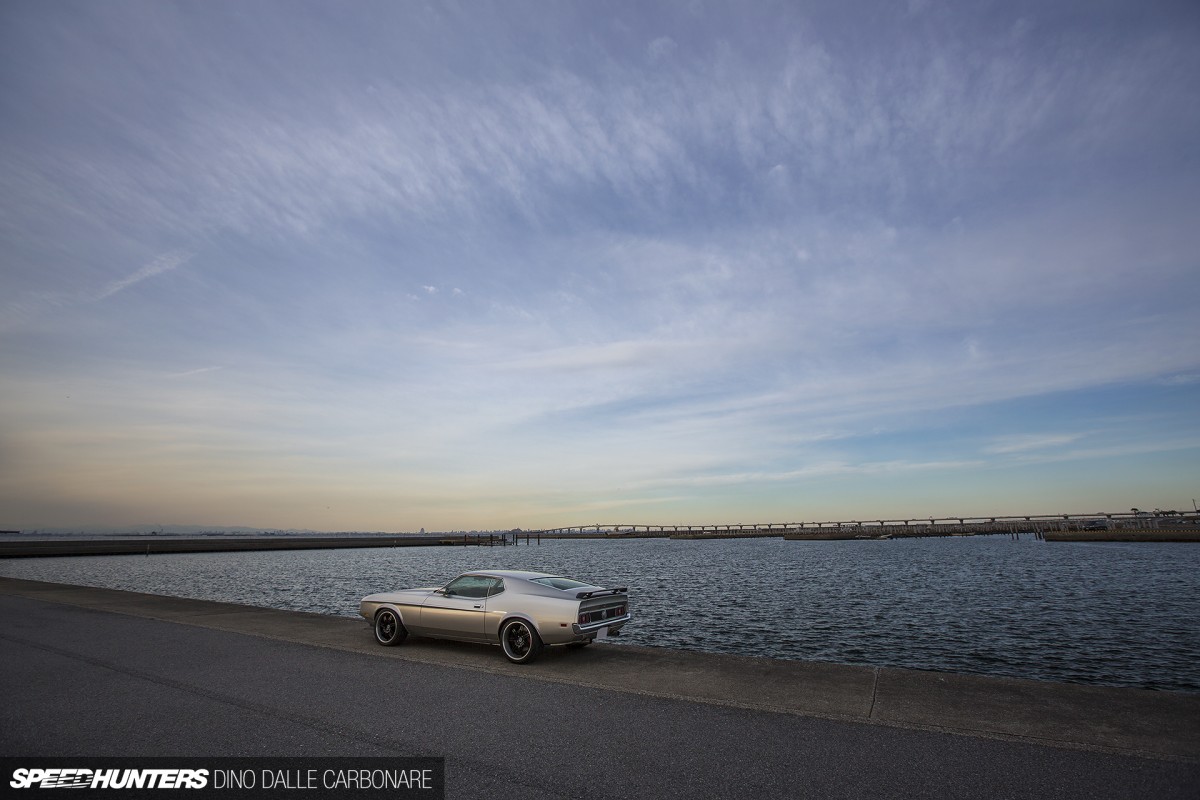 But the restoration didn't end there.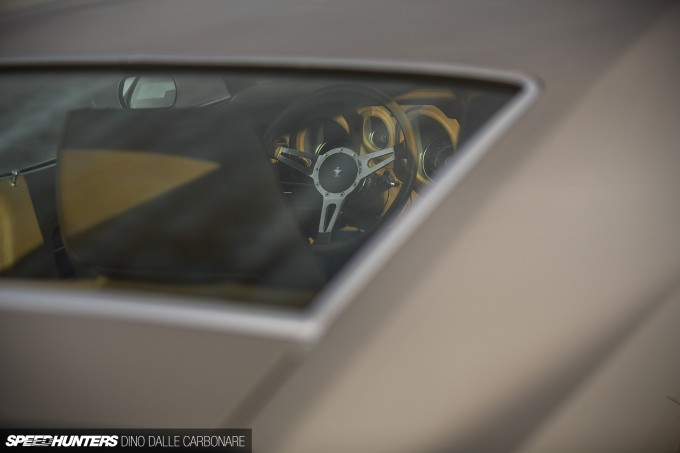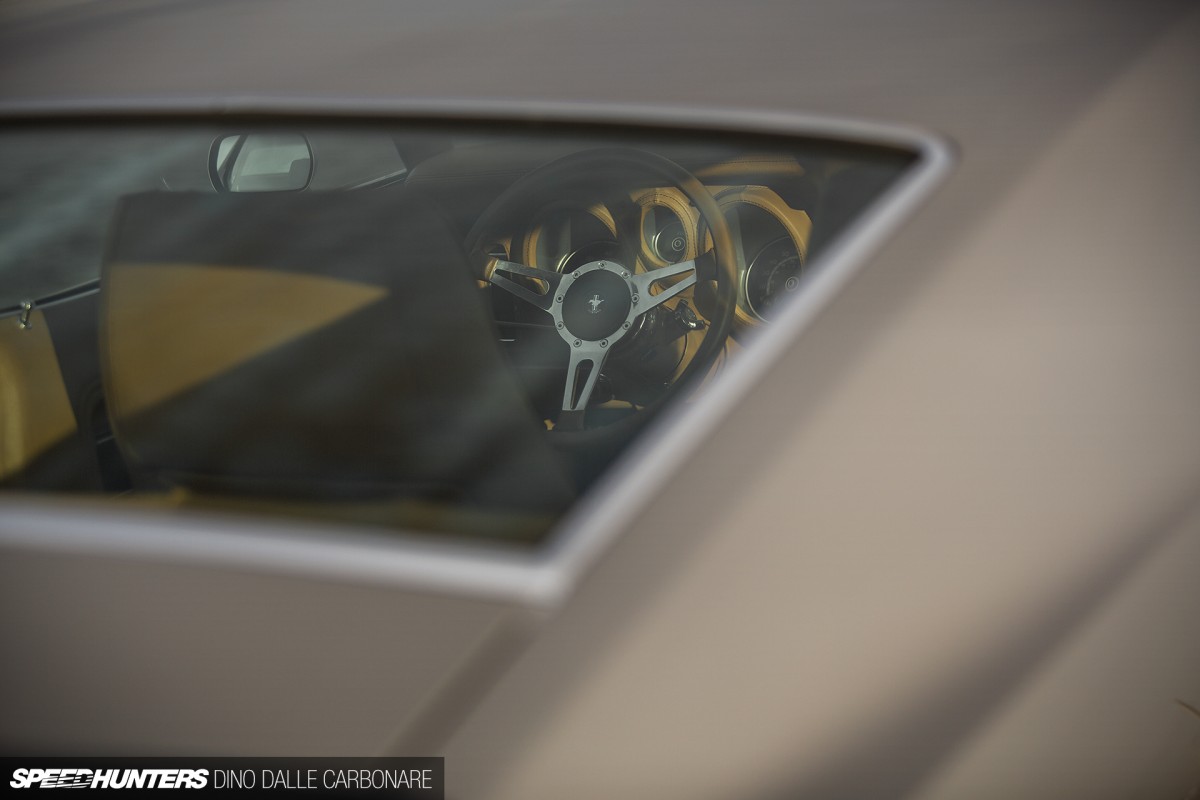 No car of this caliber would be complete without an interior made to match, and once again the Mach 1 doesn't disappoint.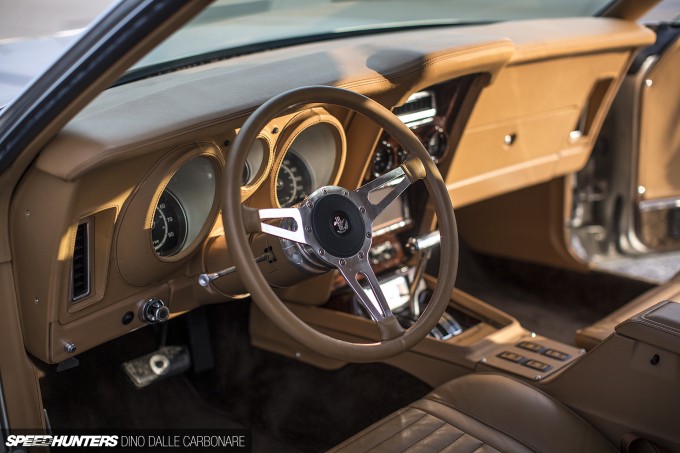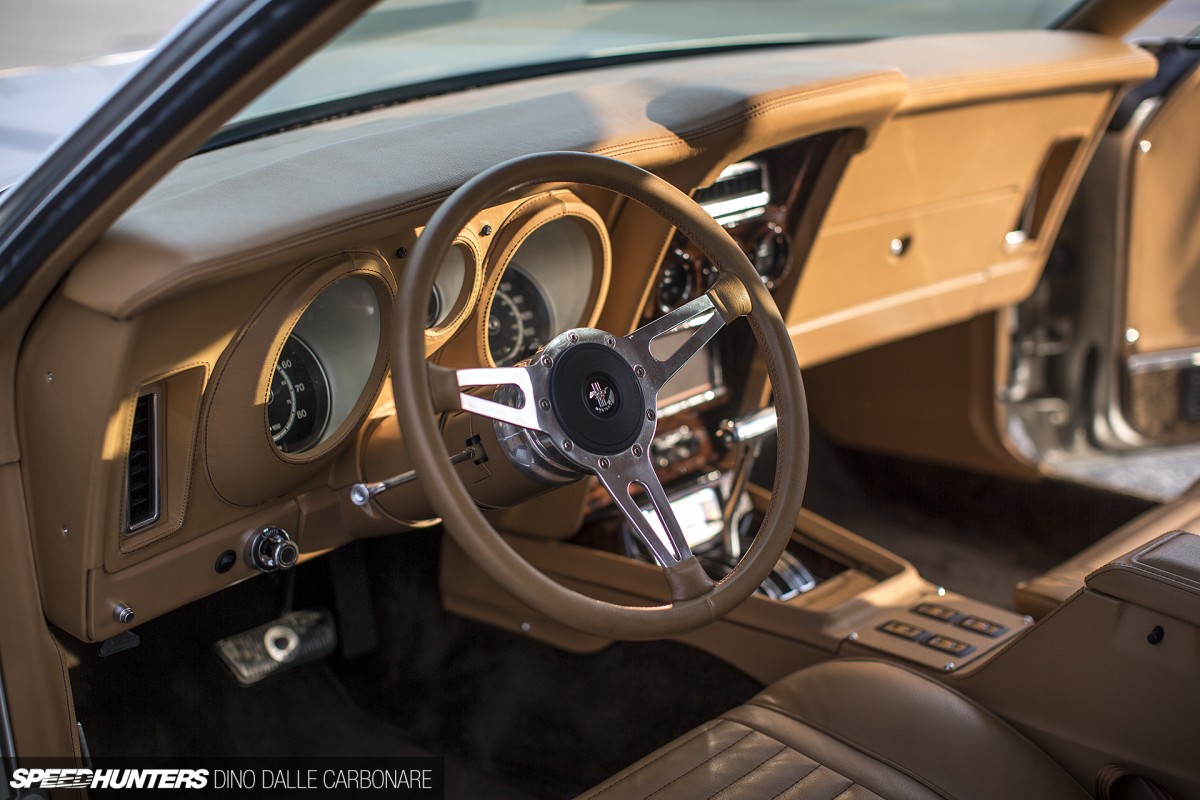 Seeing that everything was removed from the car during the chassis and body restoration, while that was going on the dash and interior trim was sent away to be rejuvenated. Pretty much every panel has been clad in tight-fitting stitched leather, matched by the same hide used on the front and rear seats.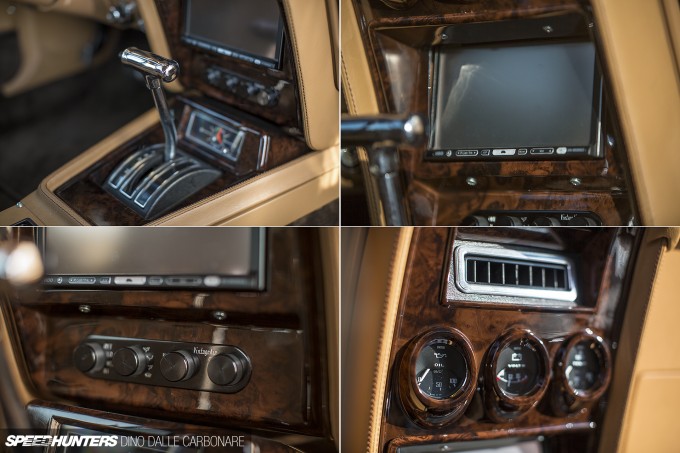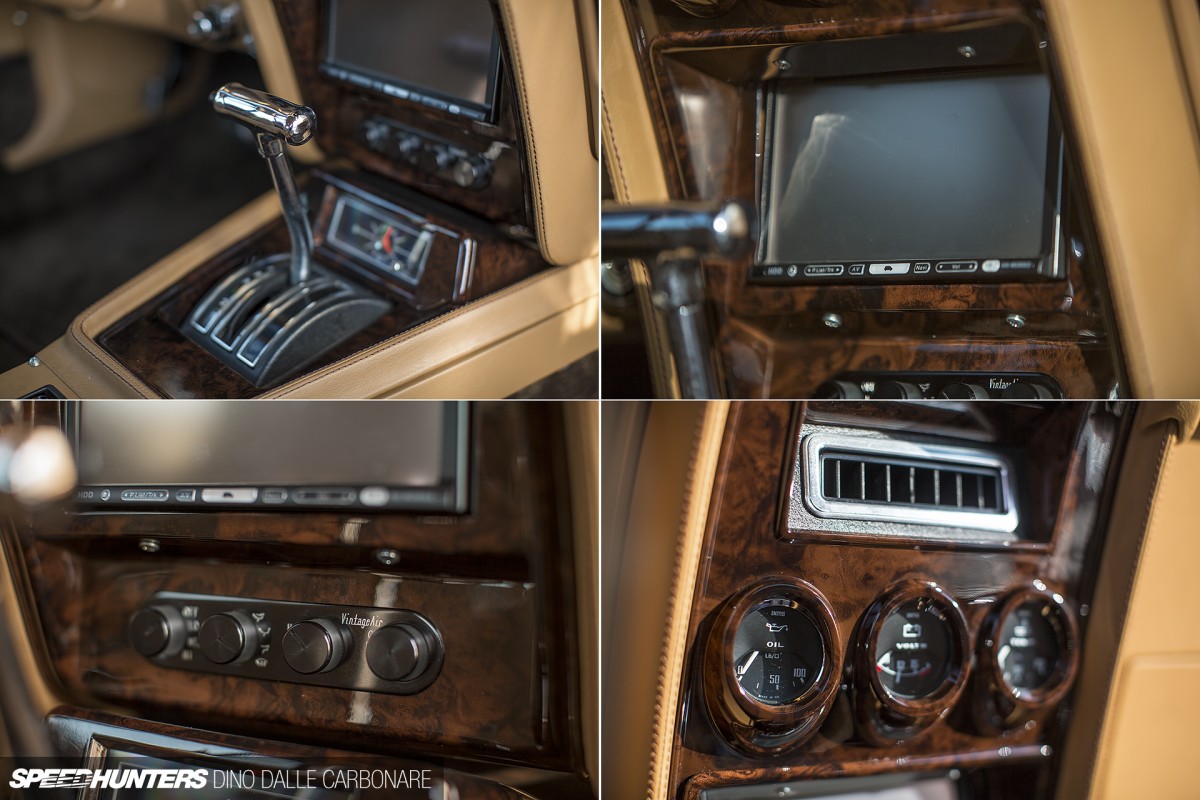 All of the upgrades are housed in the wood-trimmed center console, from the 2DIN LCD screen for the AV/navigation system under the factory dials, to the Vintage Air knobs for the added climate control system.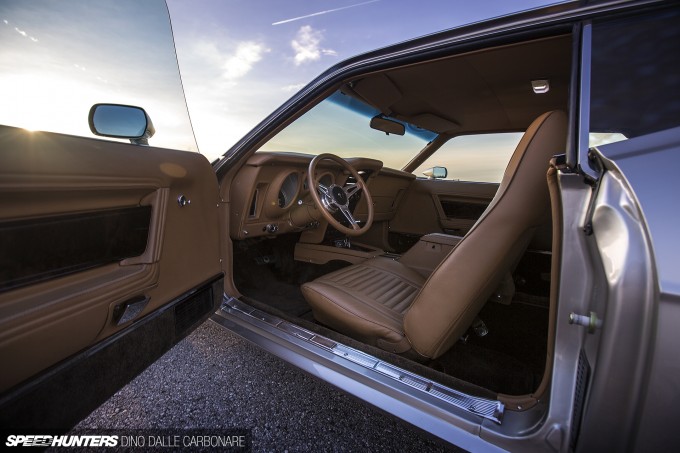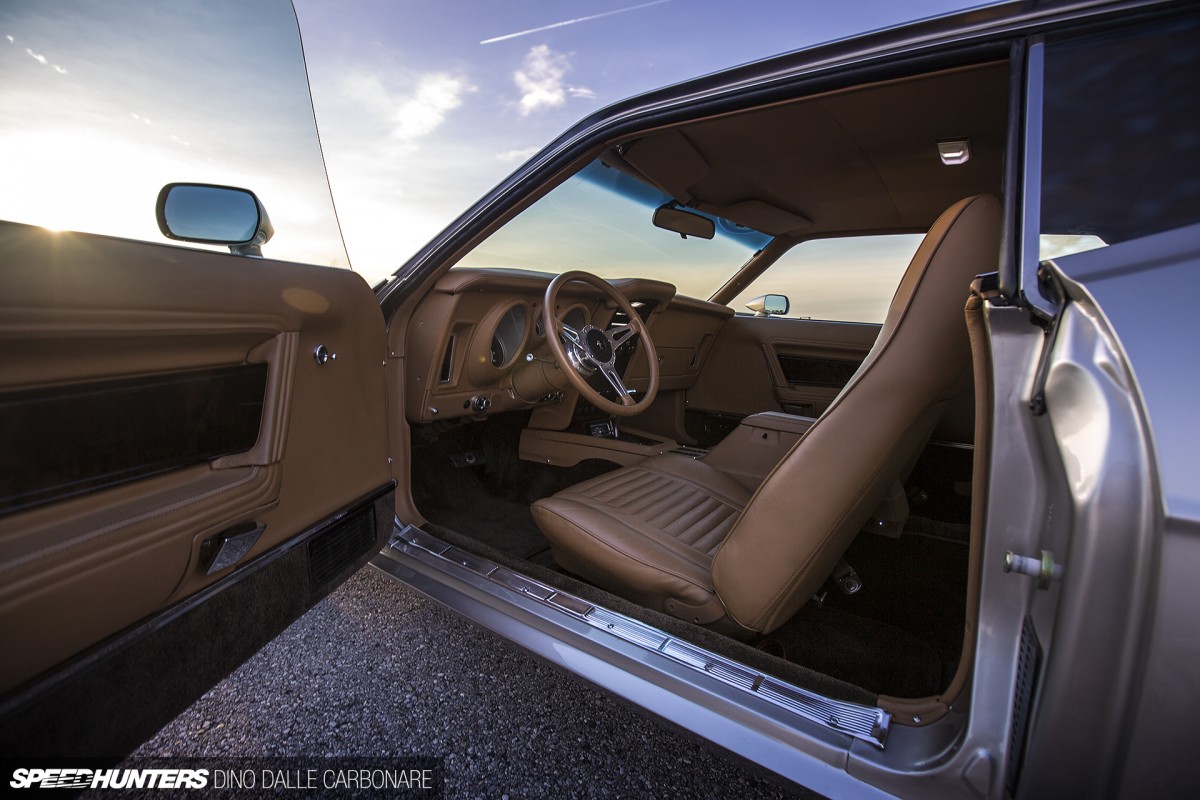 It's a nice and comfortable place to spend time in, and matches the car's grand tourer feel perfectly.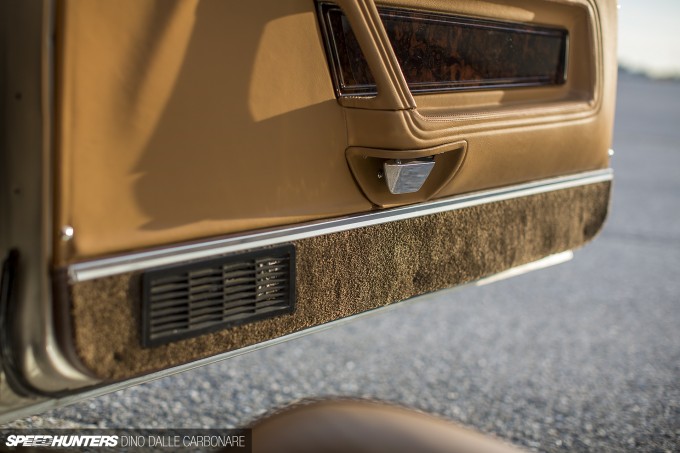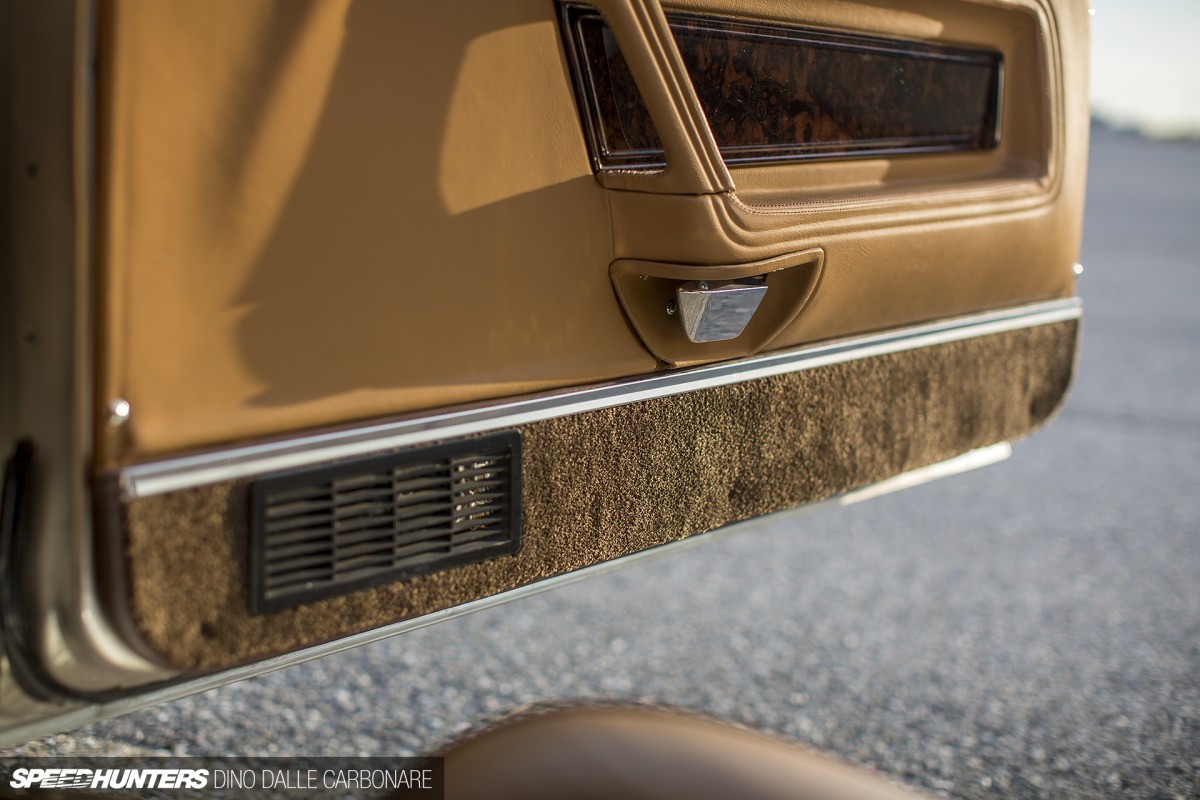 All interior carpeting – including that in the boot – was custom made from complementing dark brown pile, a few thin strips also used on the lower section of the door cards.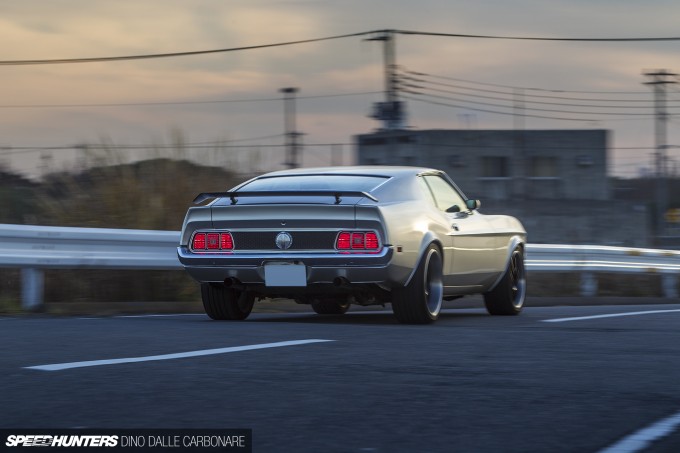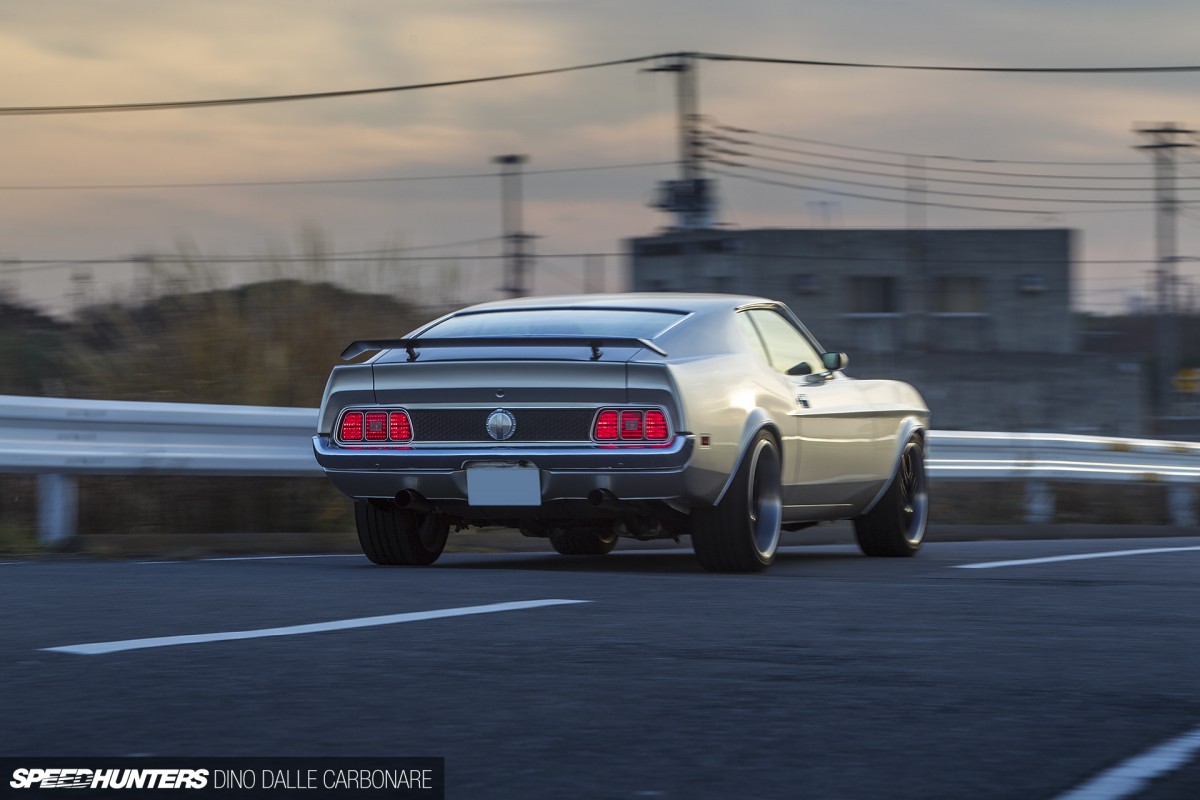 After seeing all of this you might understand why the whole restoration process took six years to complete. There was no rush in reinventing the Mach 1, so everyone involved took their time. Consequently, every single detail is just right.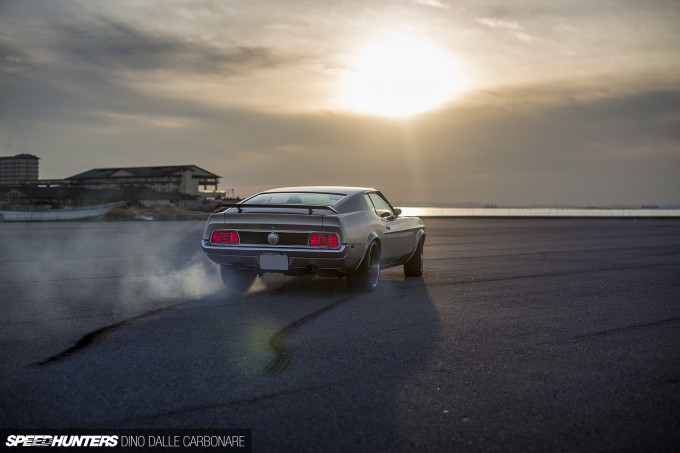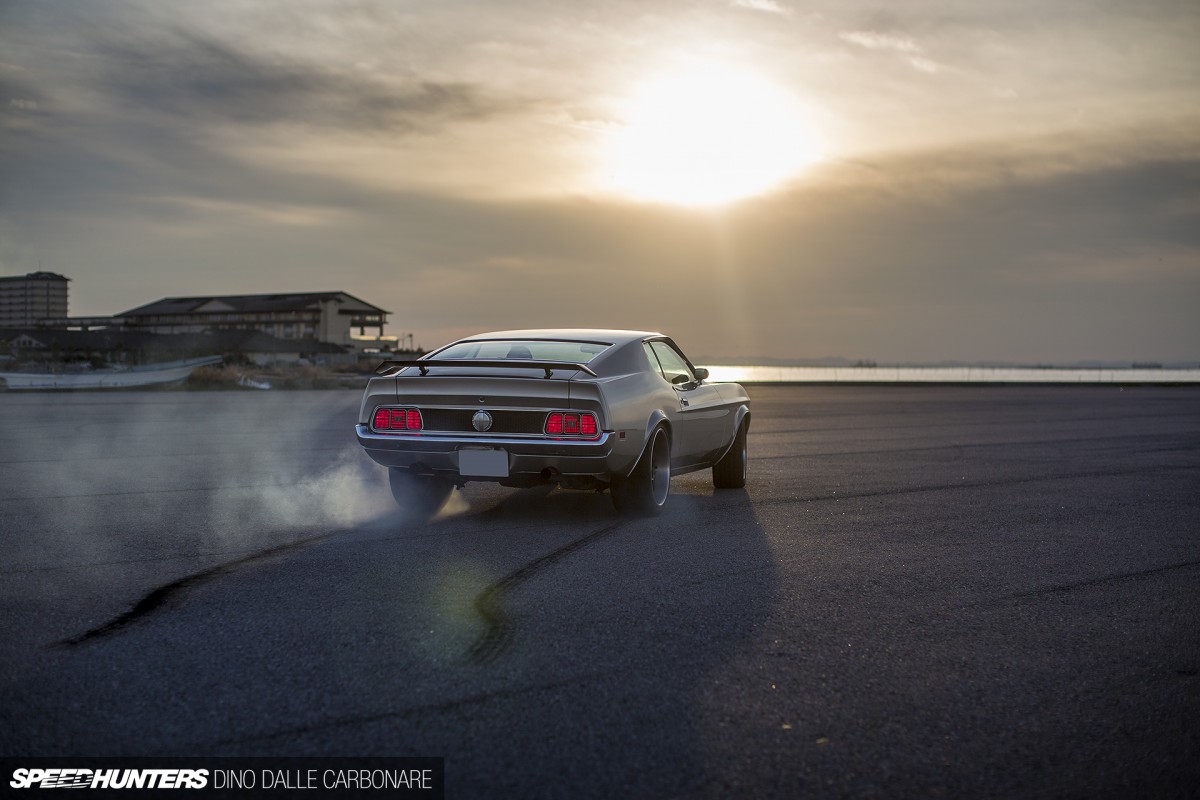 I'm continually impressed by just many awesome machines I'm able to find in Japan. You name the car, the style and the scene and there's a good chance the Japanese have it, or have done it – and damn well! It seems the deeper I dig the more I find, so you can expect to be seeing a lot more of these sort of projects coming from the land of the rising sun. Or the setting sun rather, if this final image is anything to go by. Burnout to the horizon!
Dino Dalle Carbonare
Instagram: speedhunters_dino
dino@speedhunters.com