Like Fast-Flowing Water
Imagine a piece of driftwood – and bear with me for a moment here – floating down a river. Now imagine that the river starts to pick up pace, the wood gains more and more pace until it eventually drops into a violent set of rapids thundering through a narrow canyon. It swings wildly from left to right, rushing forward until it's pulled away by a new current, swirling around boulders and dipping off to towards the bank to be caught up in spinning eddies in the various alcoves along the wall before eventually escaping and continuing onwards. If you grew up anywhere near fast-flowing water, you're probably pretty familiar with the image.
Having nearly drowned once or twice as a kid in environments like these, I'm all too familiar, and it's obviously still somewhere in the back of my brain, because that's all I could think about when standing trackside in the middle of Auckland City, New Zealand, watching some of the world's biggest drift stars manhandle their screaming machines through the tight, custom course designed by our very own Mad Mike Whiddett.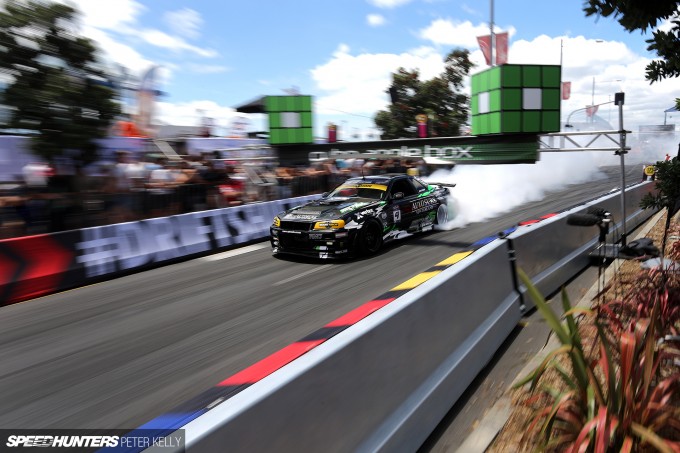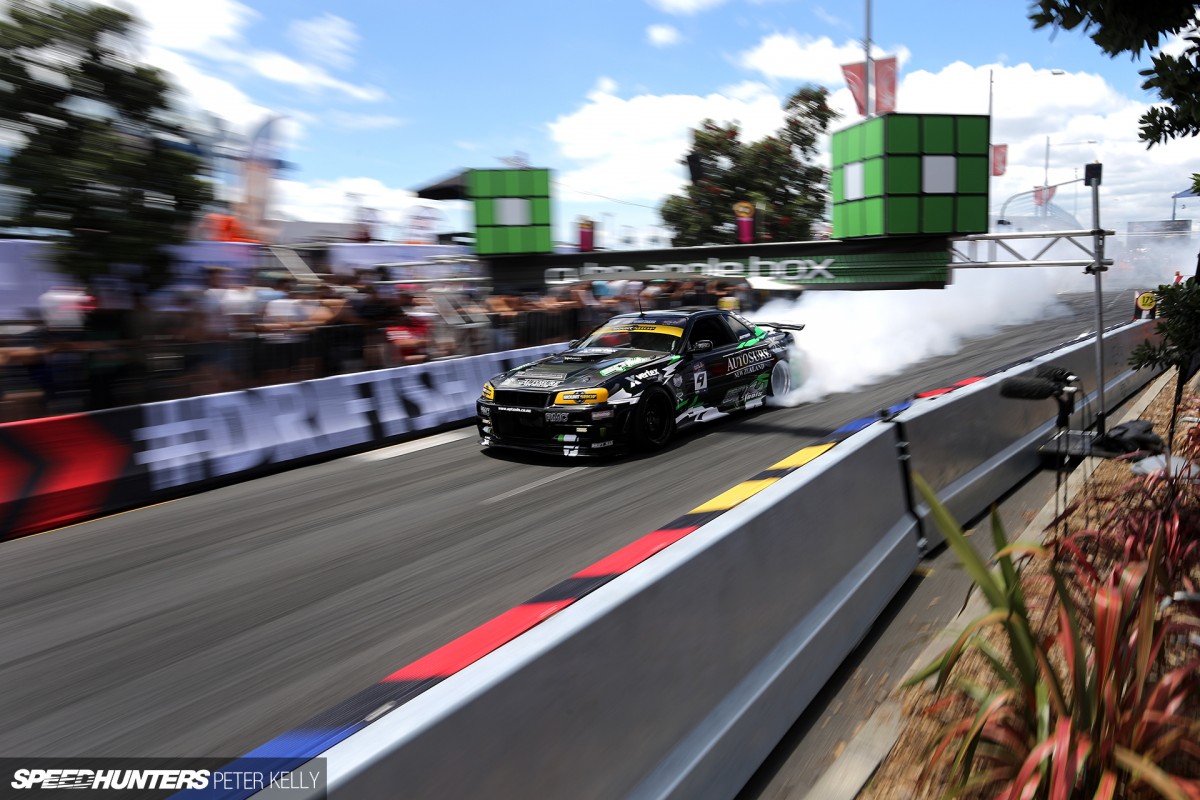 V8s howled, rotaries screamed and straight sixes barked in pure agony as names like Saito, Tuerck, Forsberg, Nomura and Powers battled it out with a contingent of New Zealand's best drivers. Their cars – a varied mix of machines – swung wildly from section to section, seemingly following an invisible current and flow as they attempted to put together the perfect run by racking up the highest number of points through various combinations and the multipliers they received as reward.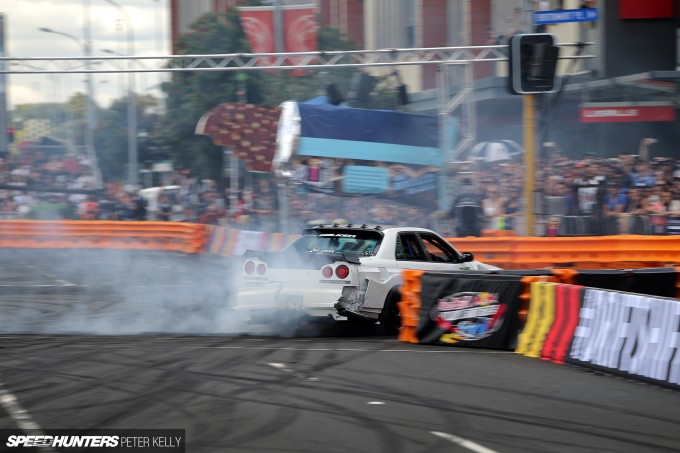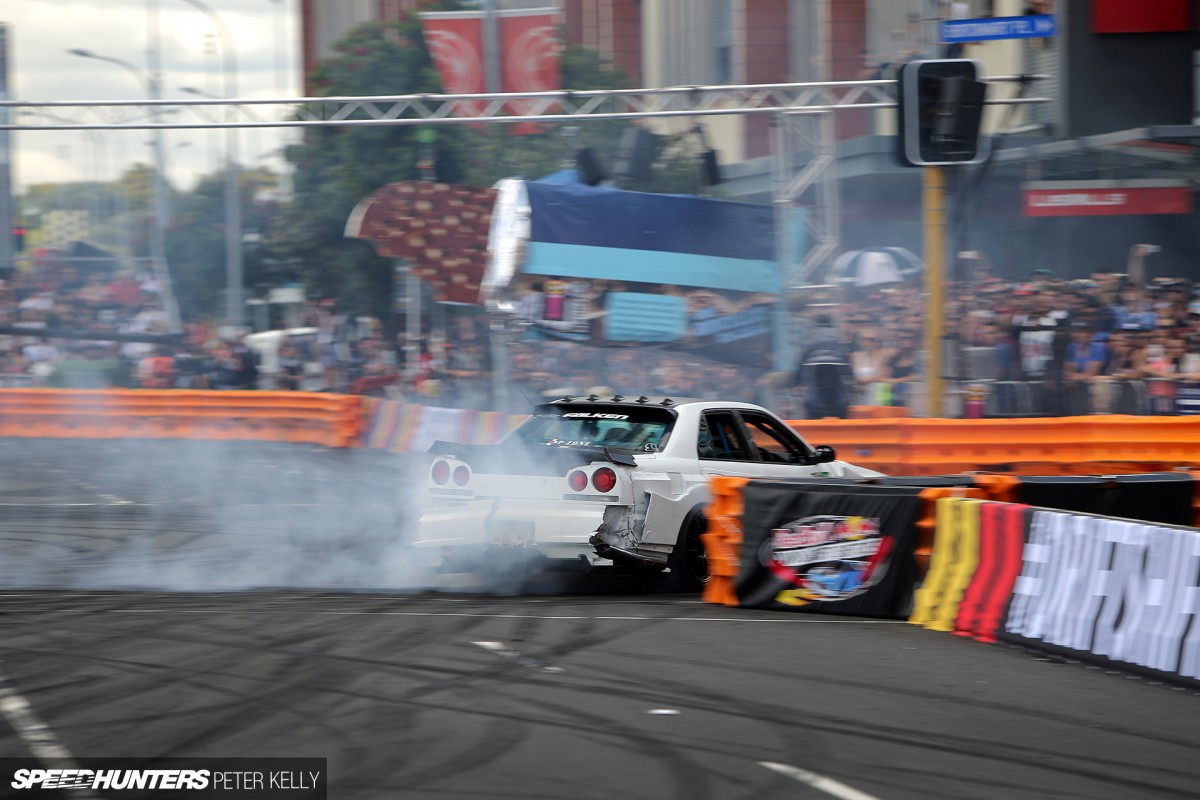 This is the 2014 Red Bull Drift Shifters – an event I'd been looking forward to for a very long time.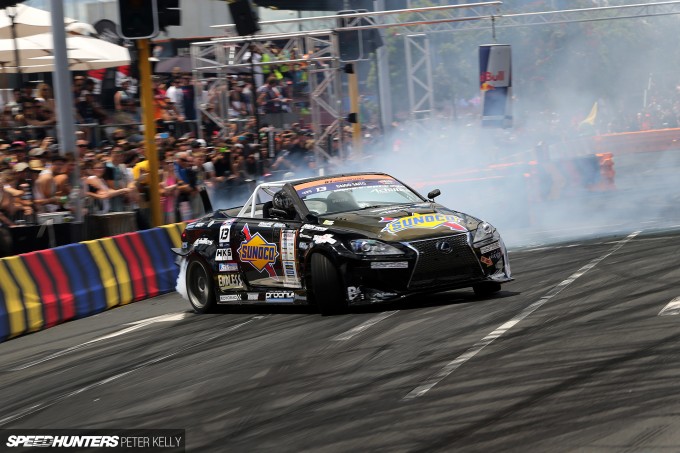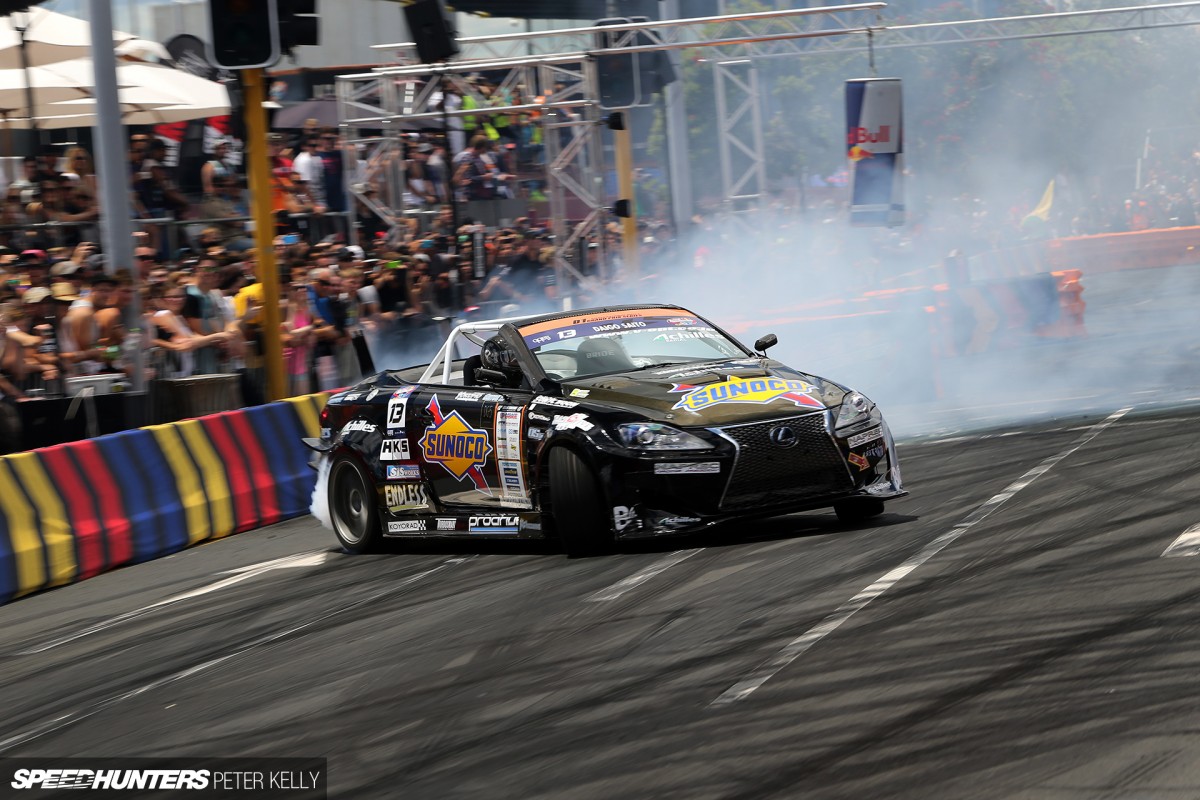 After the wild success of 2012's amazing event, also held in downtown Auckland, albeit in a different location, anticipation was high for what I personally rate as one of the best and most exciting drift events in the world. Ten of New Zealand's top drivers once again squared off against some of the globe's biggest names in drifting on a scratch-built track right in the heart of our busiest city.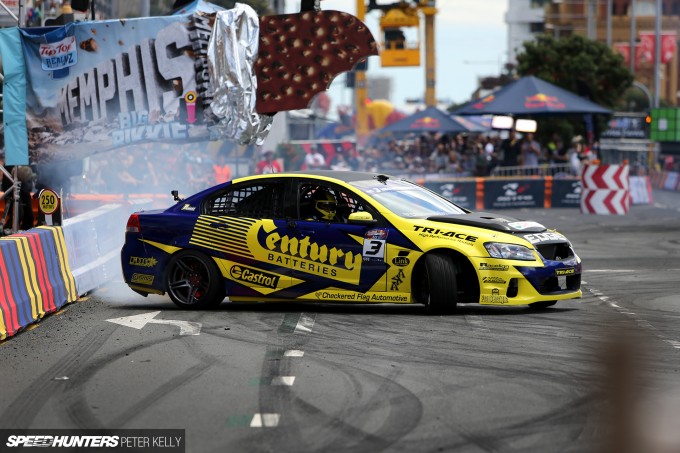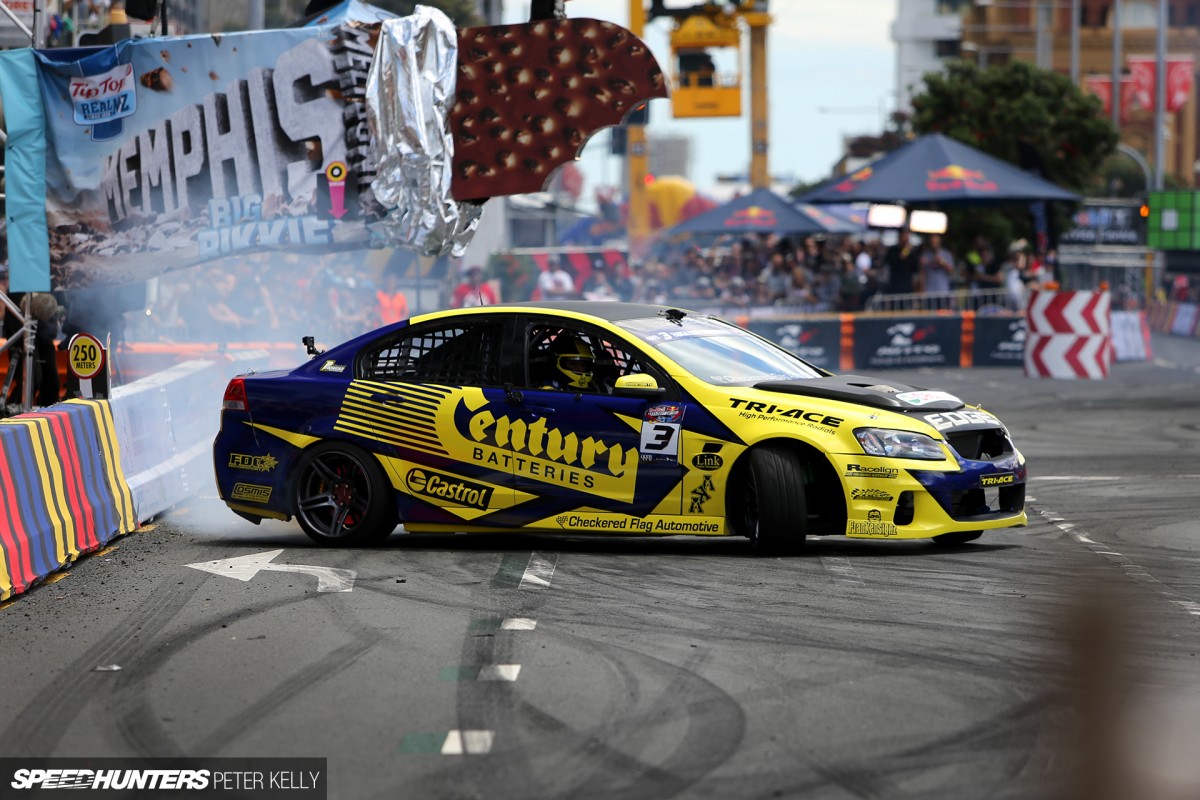 So what exactly is it that makes this event so special? It's not the location, nor is it even the quality of drivers and cars – it's the format. In truth, it's because Drift Shifters the first near-perfectly-executed departure from a traditional judge-based tandem battle scoring system… So how does it work?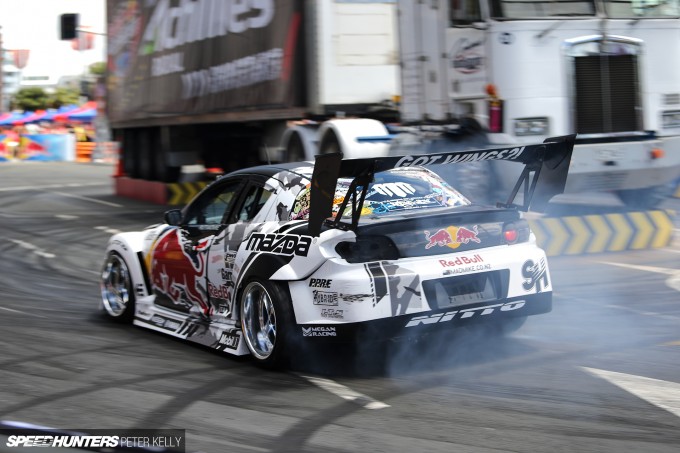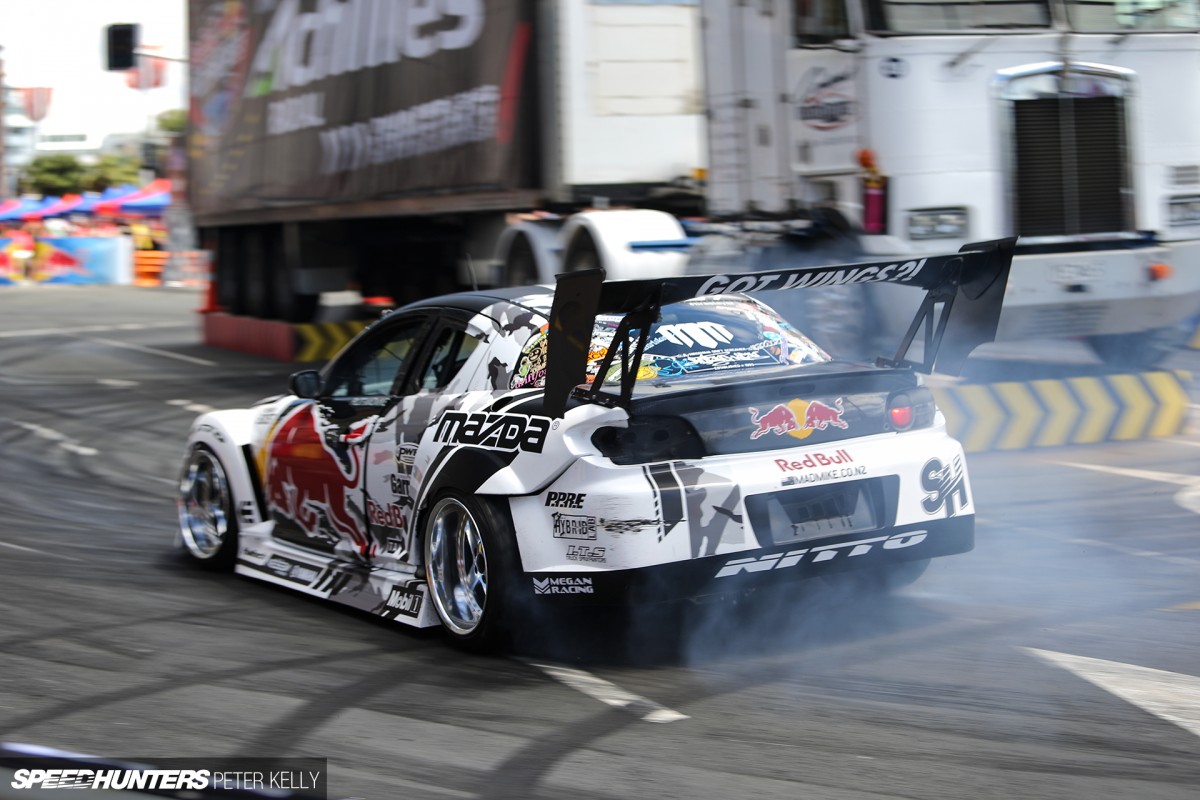 Conceived by Mad Mike himself, Drift Shifters simulates a huge pinball machine, and instead of battling against each other in set tandem runs the drivers have a total of 70 seconds in which to gain as many points as possible using a run that they have worked out themselves. In other words, there is no set line, you simply plan out a route – some might even call it a routine – and attack it 200 per cent. However, the course is laid out to favour those who utilize every section.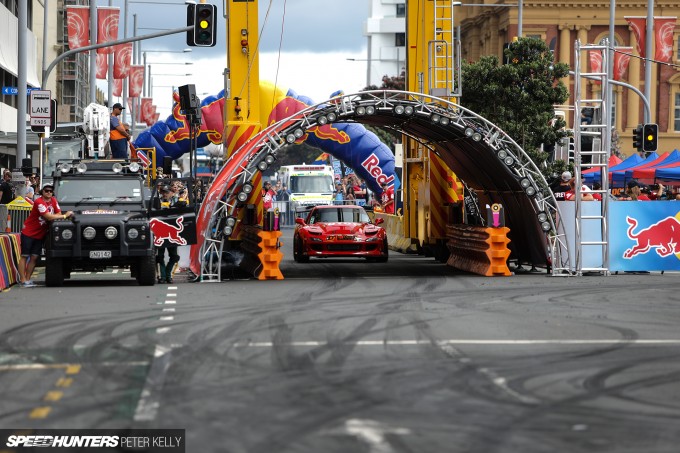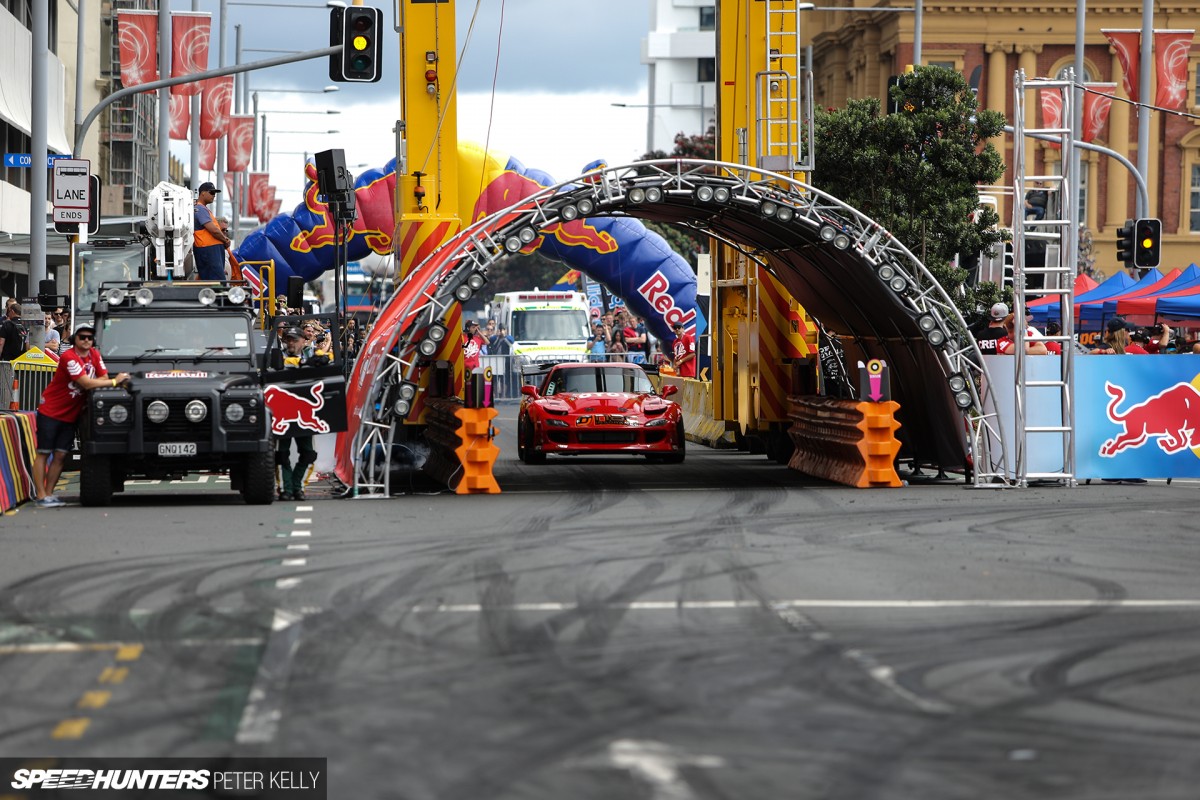 The scoring system is designed to simulate a pinball machine, in that it assigns certain points for certain features on the track, using various sensors to ascertain speed, angle and proximity as they're attacked. Right from the entry chute (pictured above), the car's speed is judged, and instantly the points begin spiralling upwards. The system also allows for combos if the driver perfectly nails different obstacles in succession, awarding good pre-planning and flow.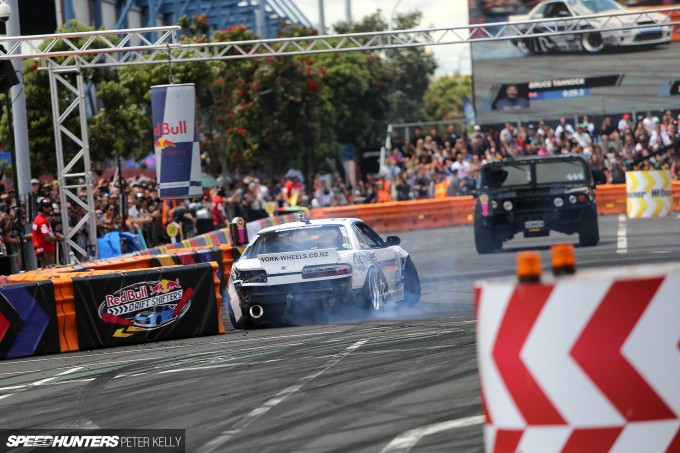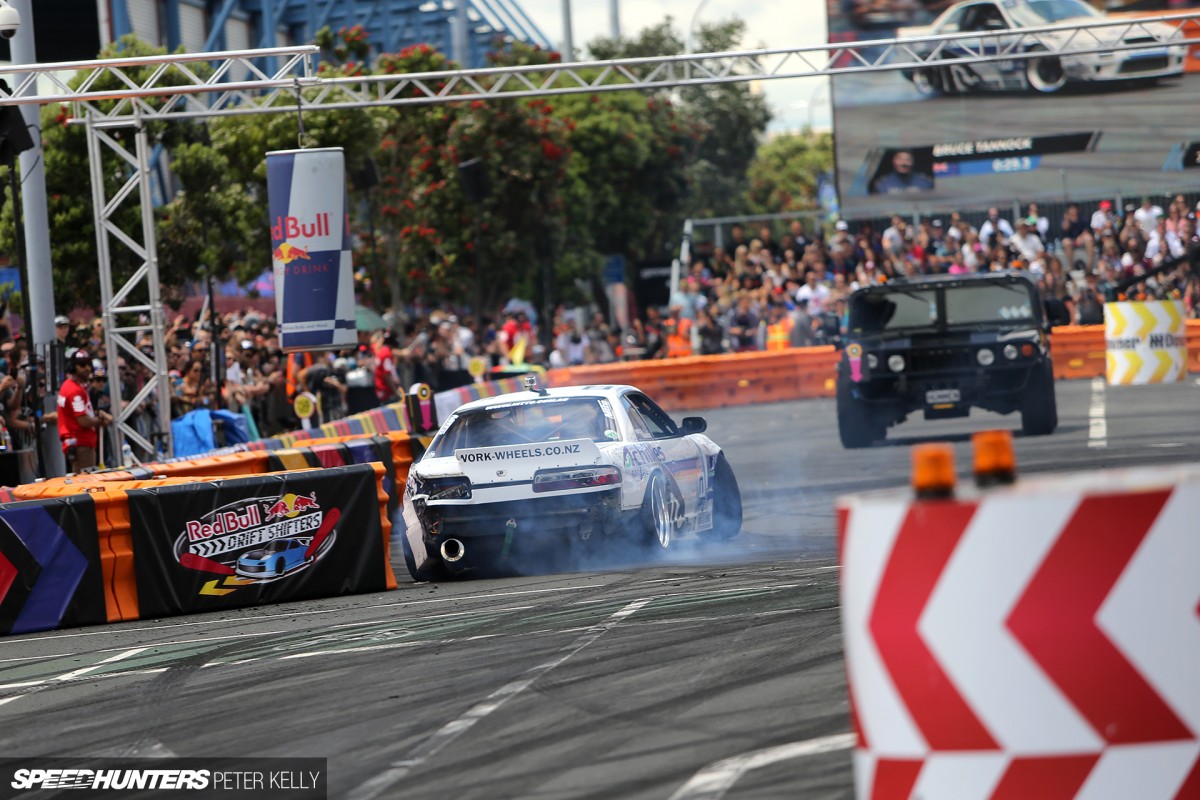 The score climbs extremely fast and in real time, displayed on the huge screen at the end of the course, so that the crowd can instantly see how the run is going as it happens. Throw in the uncertainty of multipliers, the fact that it was going to take the destruction of a car's rear end to see a good score and the idea that mere millimeters separates huge amounts of points or no points at all, and you've got one seriously exciting competition.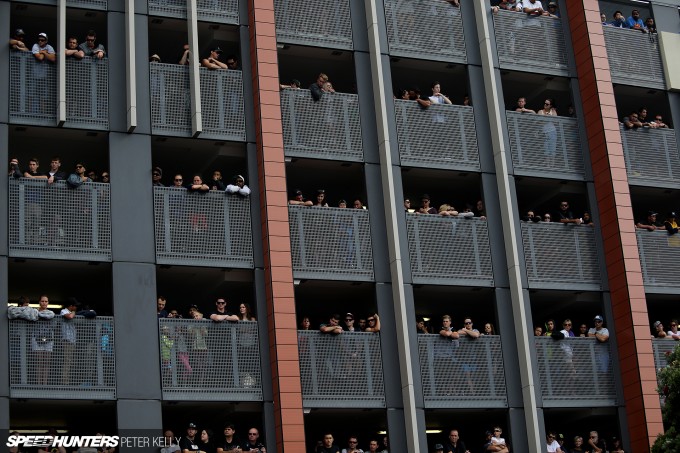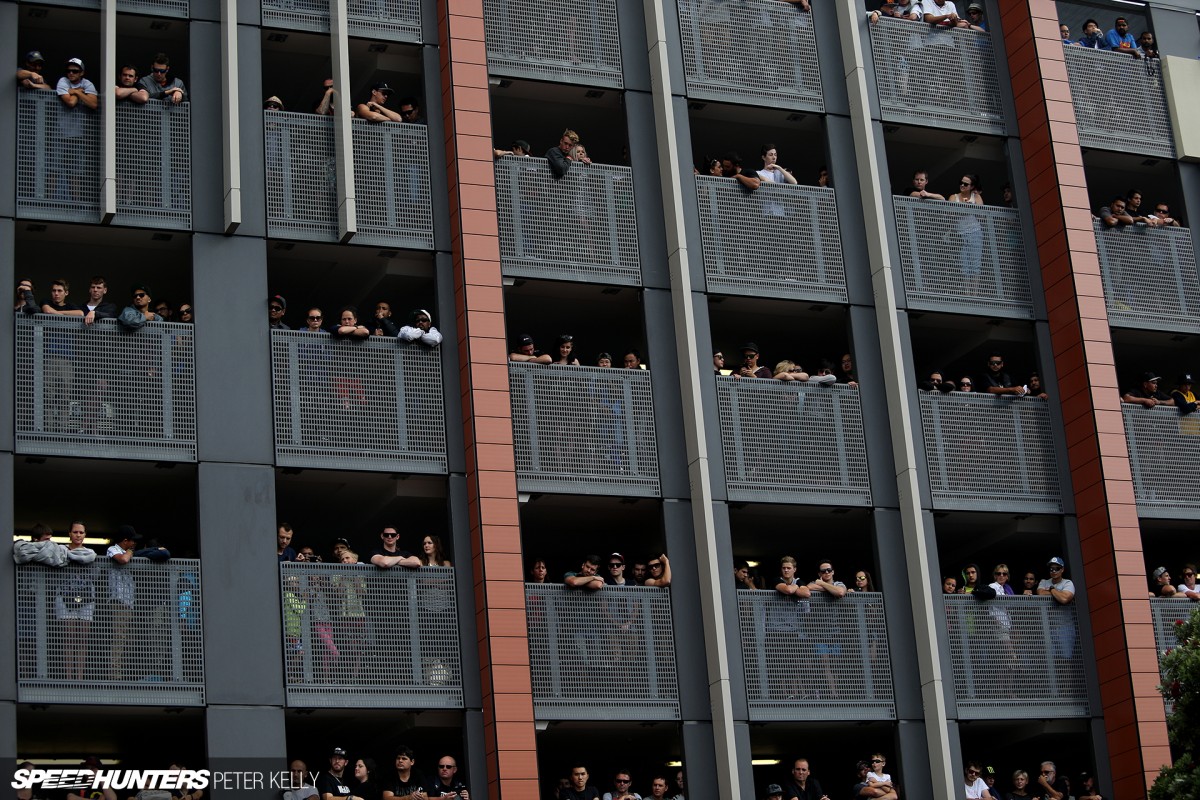 As evidenced by the roar of the huge crowds – around 20,000 people all-told – that filled every available space, both horizontially and vertically.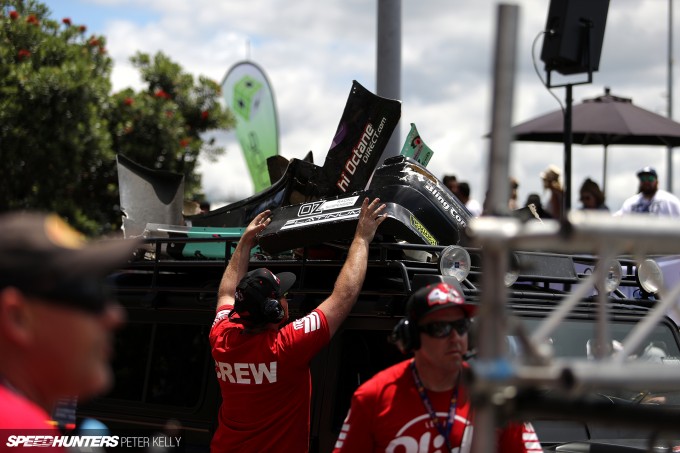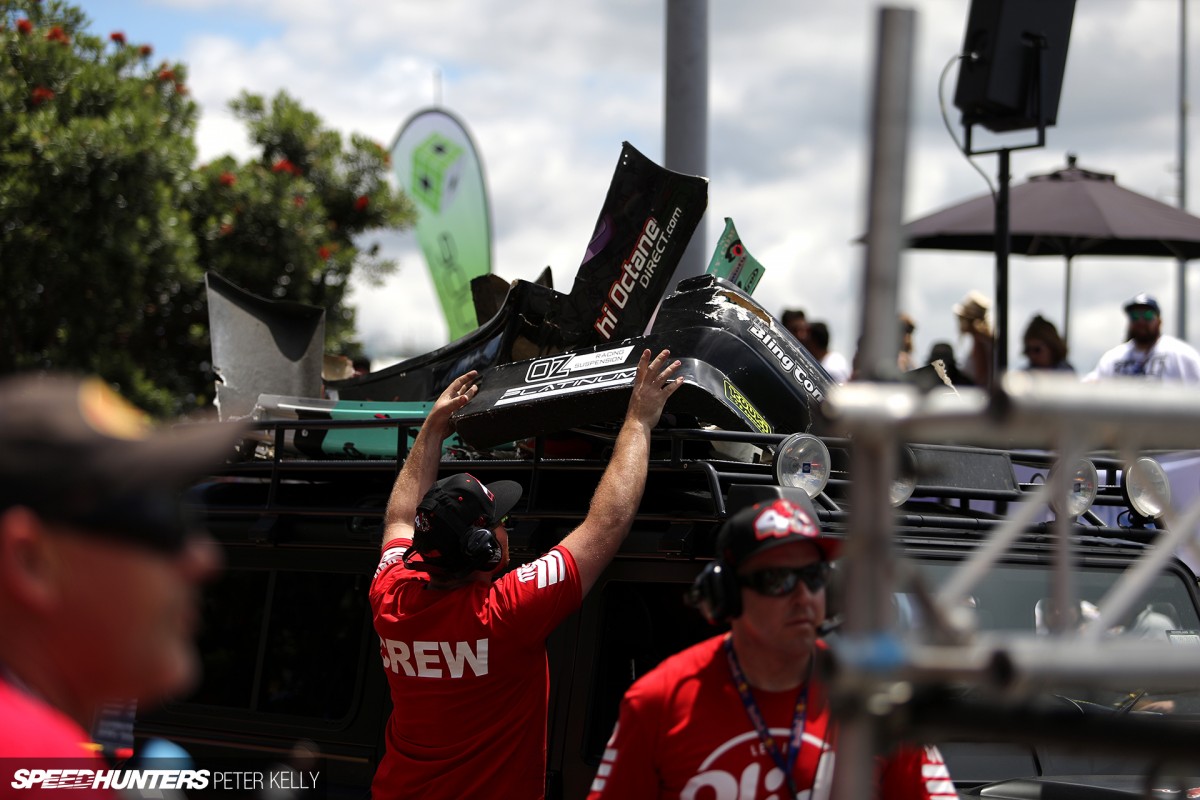 Drift Shifters certainly requires 100 per cent commitment from the drivers, and no one was afraid to give it anything but that. If you saw a car come past at the start of the course you could almost guarantee that when it came back around 60 seconds later, it was going to be a little shorter and a little lighter.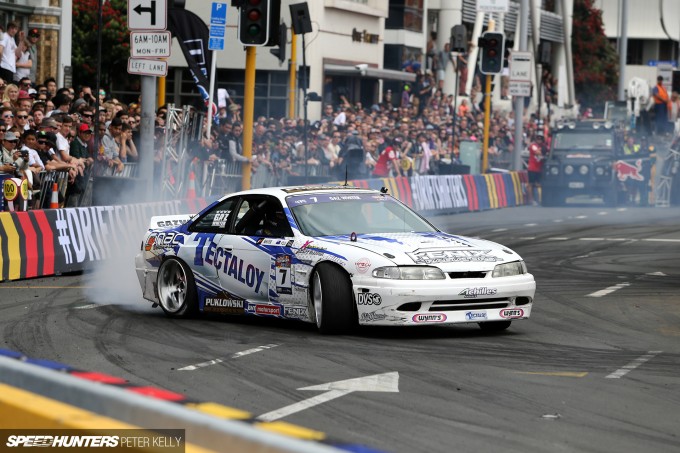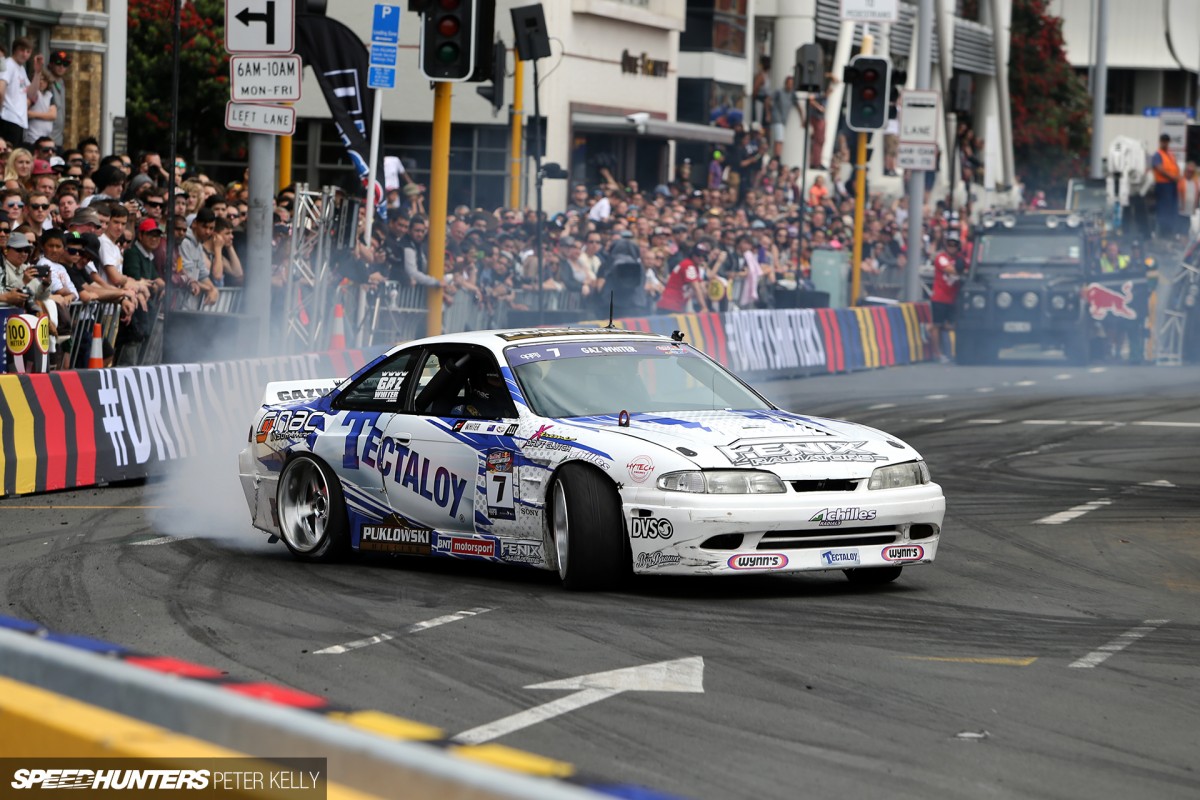 Now that you know how it works, let's take a look at how the competition went down.
Stiff Competition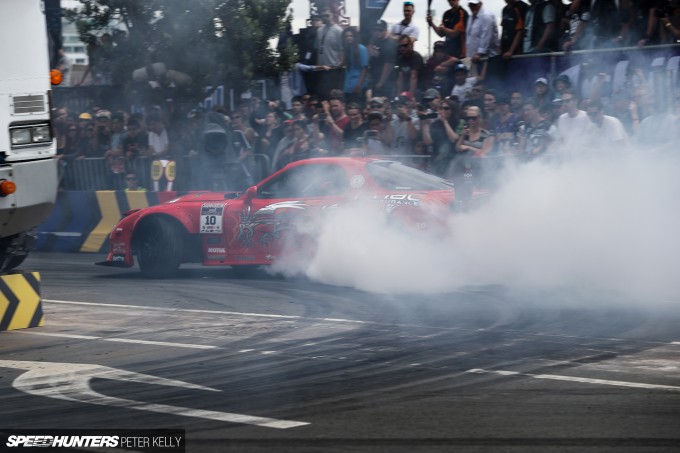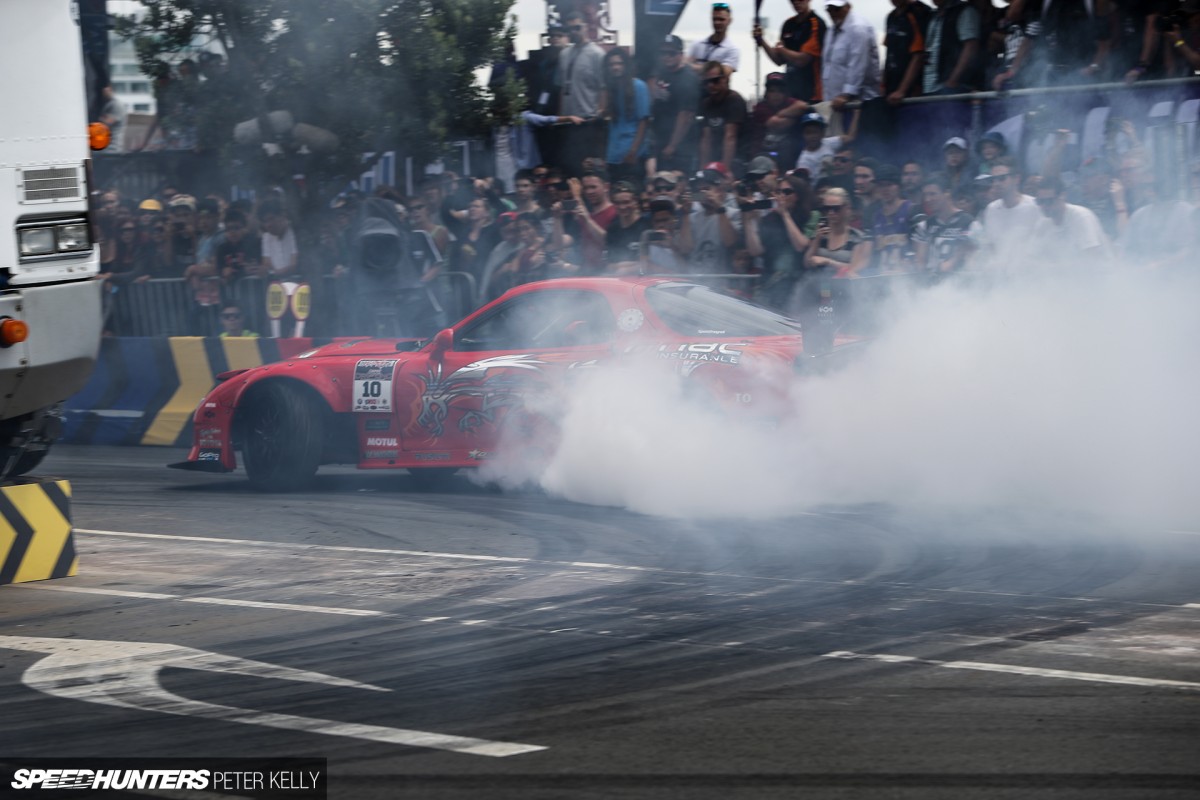 Considering what was being asked of the cars, it surprised me that most of the vehicles made it through to qualifying without any major mechanical issues, although there were a couple of causalities early on – most notably Mad Mike's own MADBUL quad rotor RX-7, which suffered steering failure after tangling with the wall, and fellow Kiwi Daynom Templeman, who's 2JZ-powered RX-7 broke a rear subframe. Coincidentally, these drivers were the only two in the field who had back-up vehicles; Mike was able to continue in his 20B turbo RX-8, while Daynom switched to his other monster 1000hp+ 2JZ FD3S.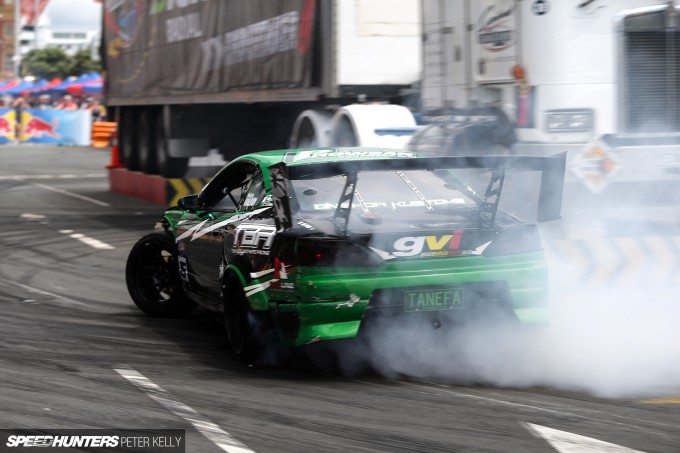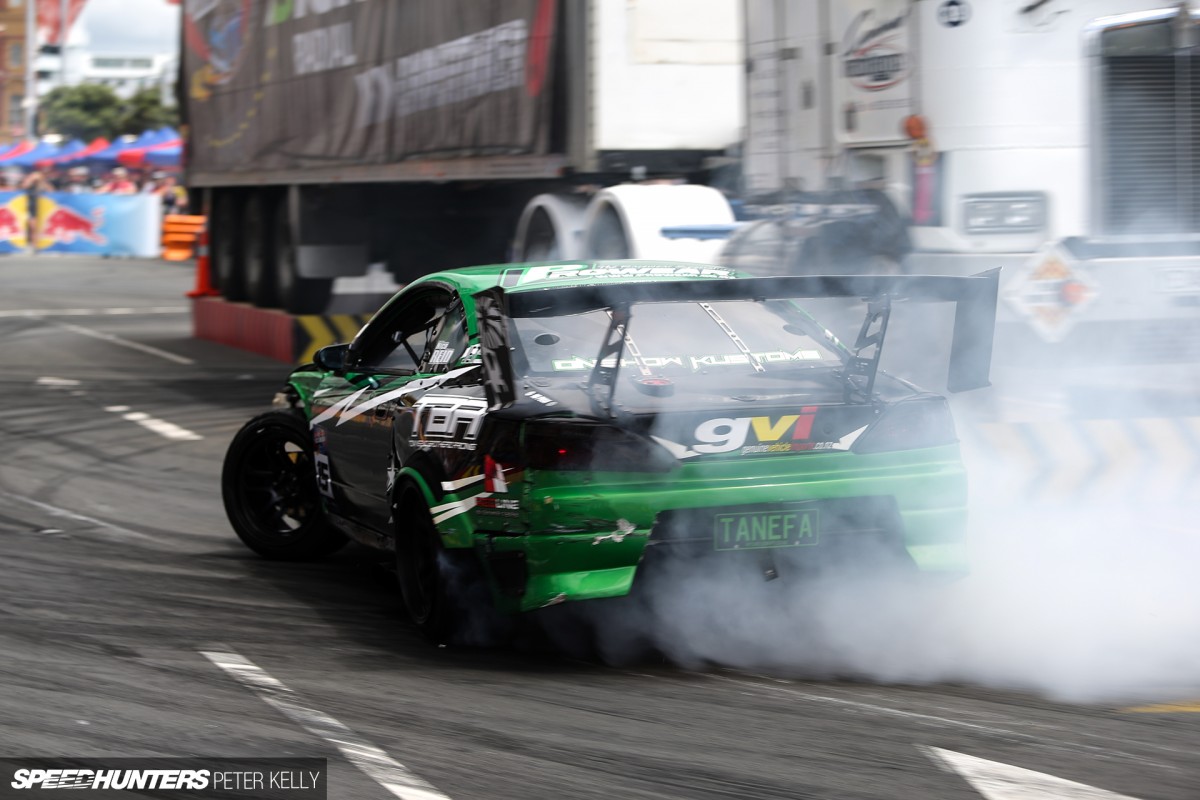 The only driver actually forced to drop out before qualifying was local S15 Silvia pilot Nico Reid, who had injector seal issues with his Nissan S15's RB25DET setup.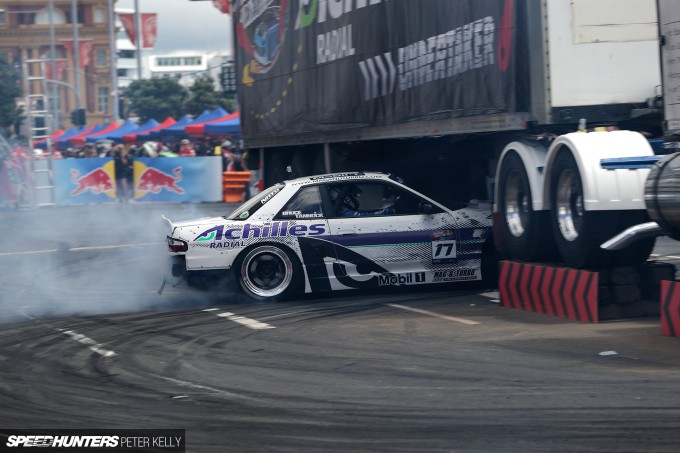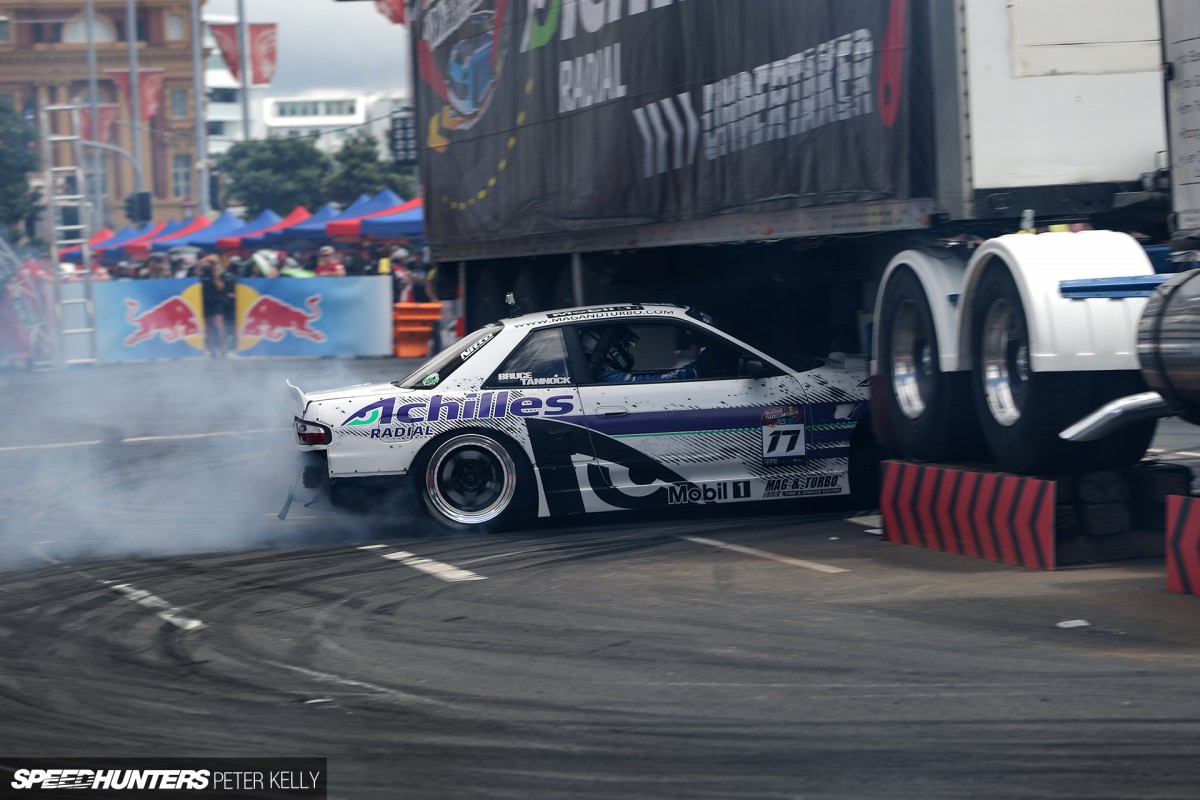 This was however good news for Kiwi Bruce Tannock, who, as the official back up entrant, was able to take the spot in his beautifully-presented (well, before the walls came knocking, that is) RB32DET-powered S13.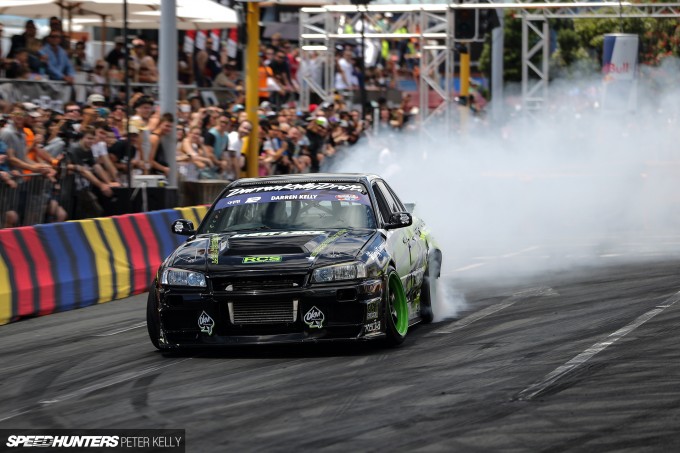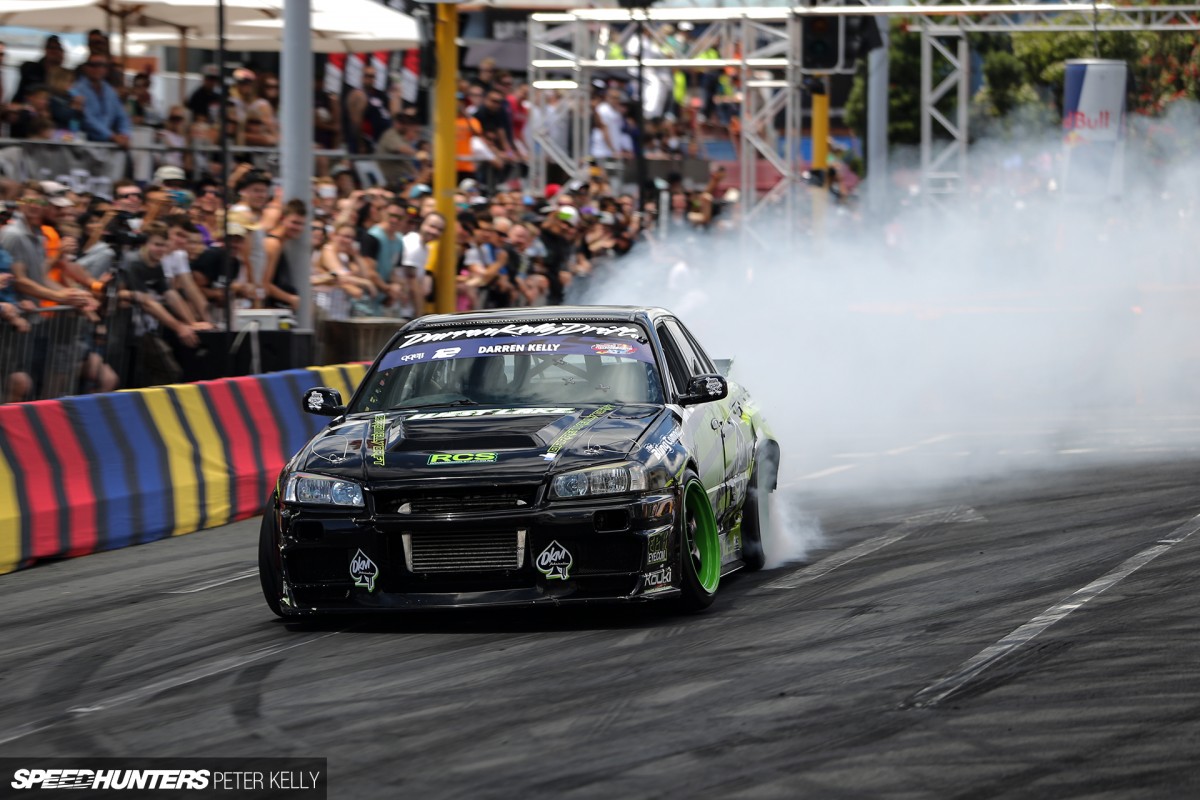 There was plenty of strong competition from the local field, but after the qualifying and LCW (last chance qualifying) rounds, only eight of the drivers were to go through, and half of those were tourists; Saito, Powers, Tuerck and Forsberg.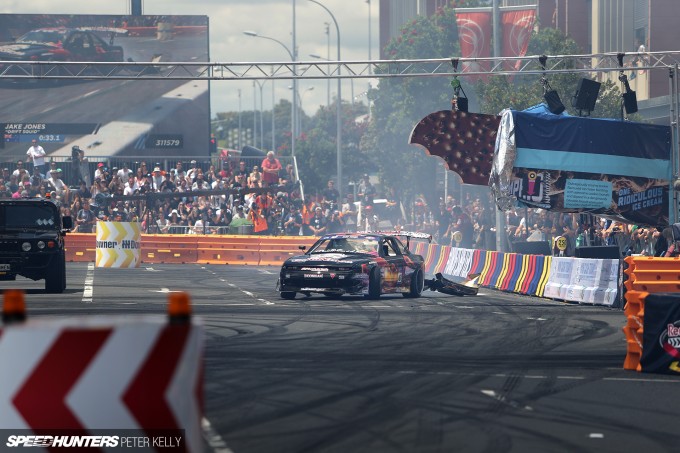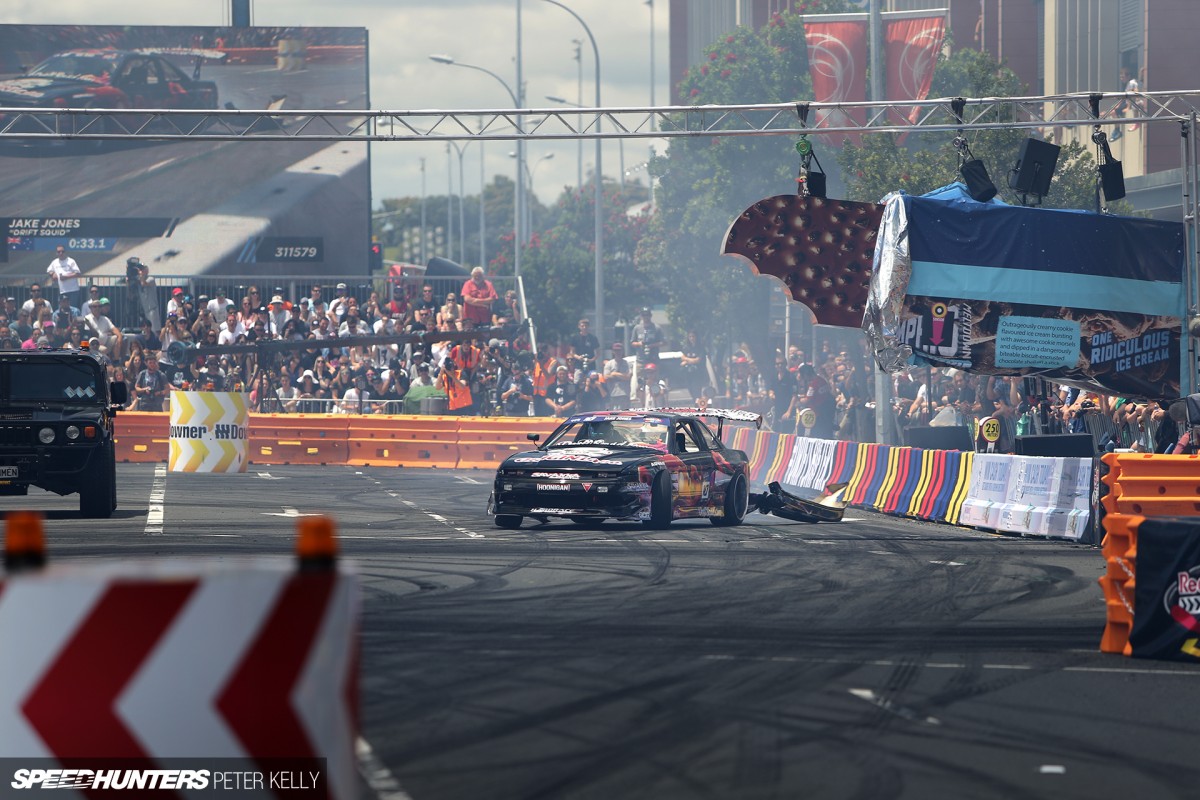 Unfortunately, that meant that some great drivers were done for the day, including Australian import Jake Jones.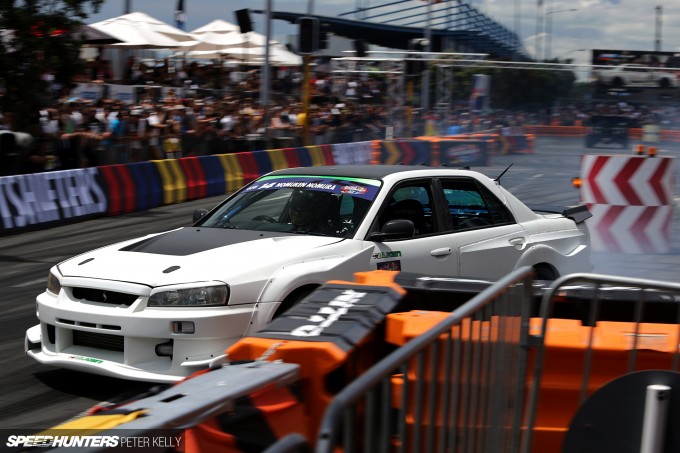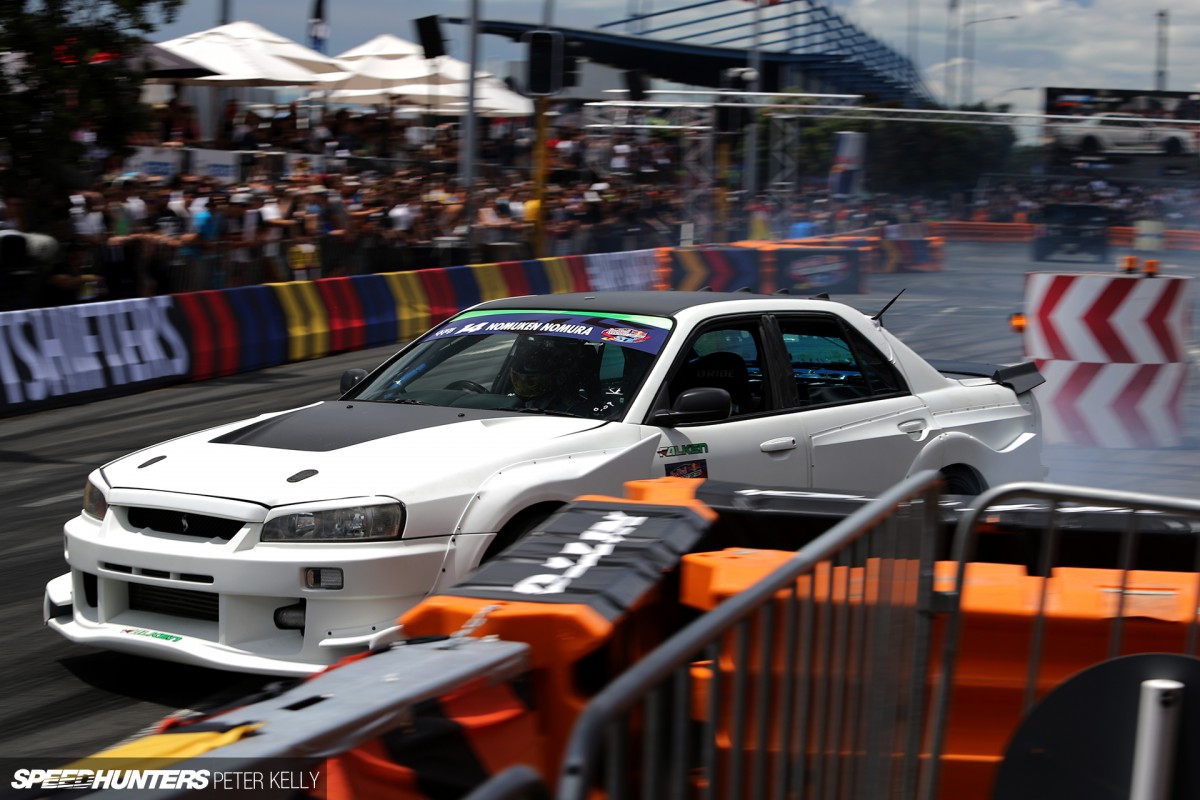 And all three R34 Skyline pilots; Nomuken…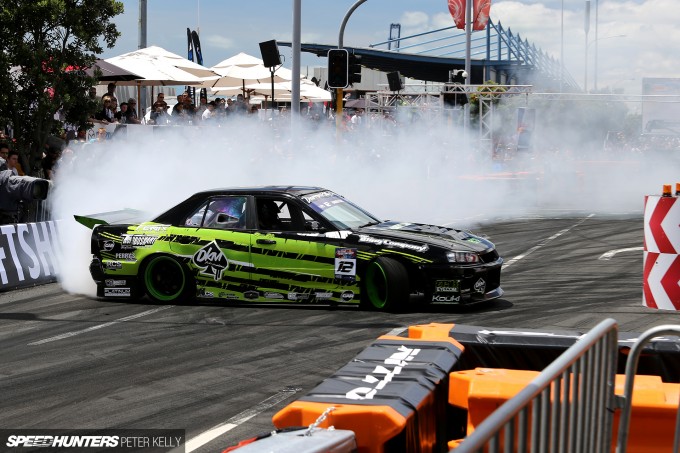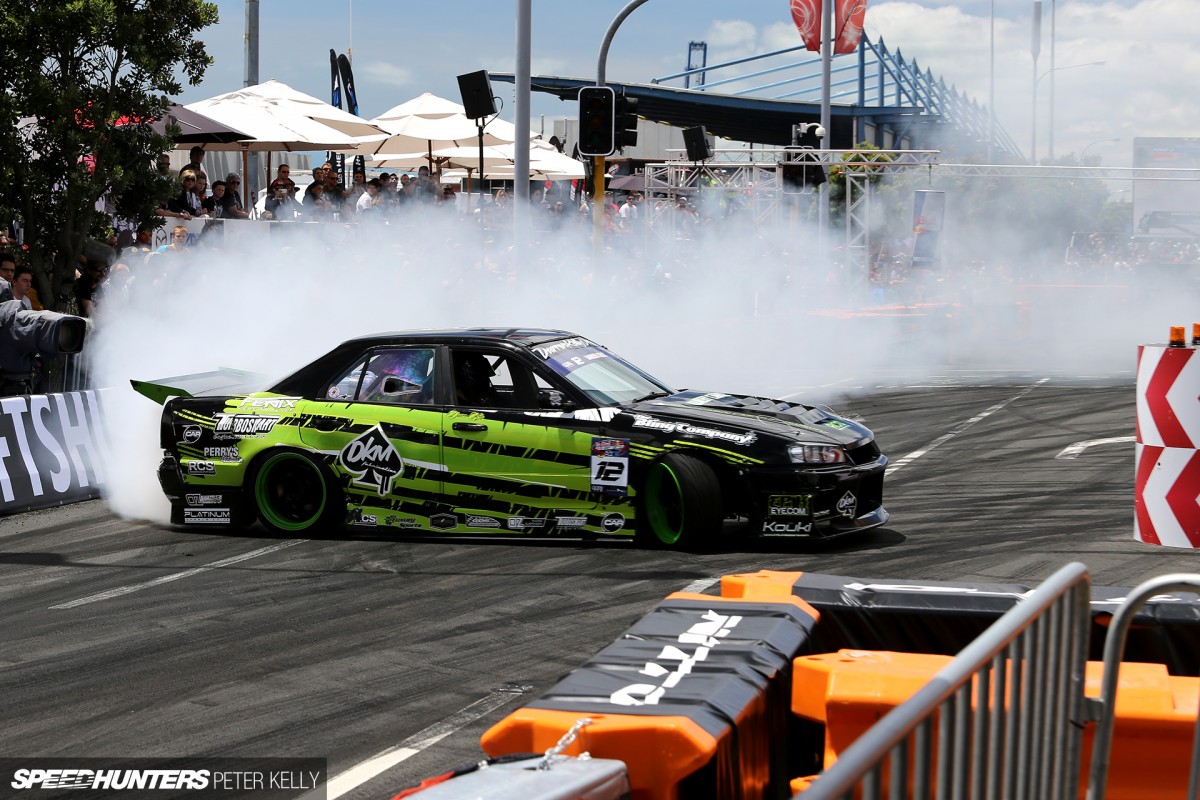 Current D1NZ points leader Darren Kelly and his 600hp RB30DET four-door…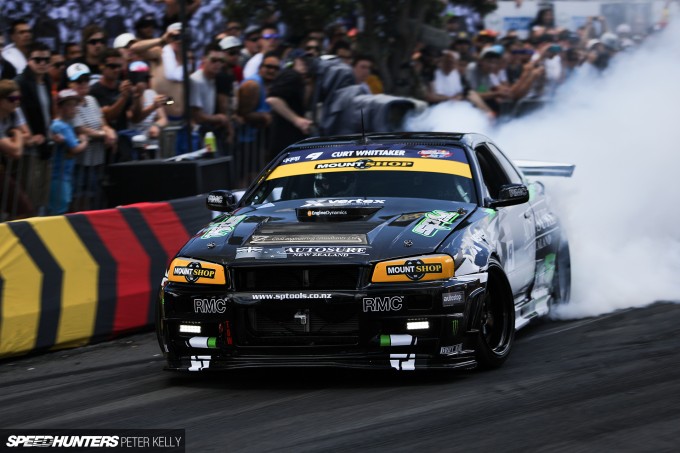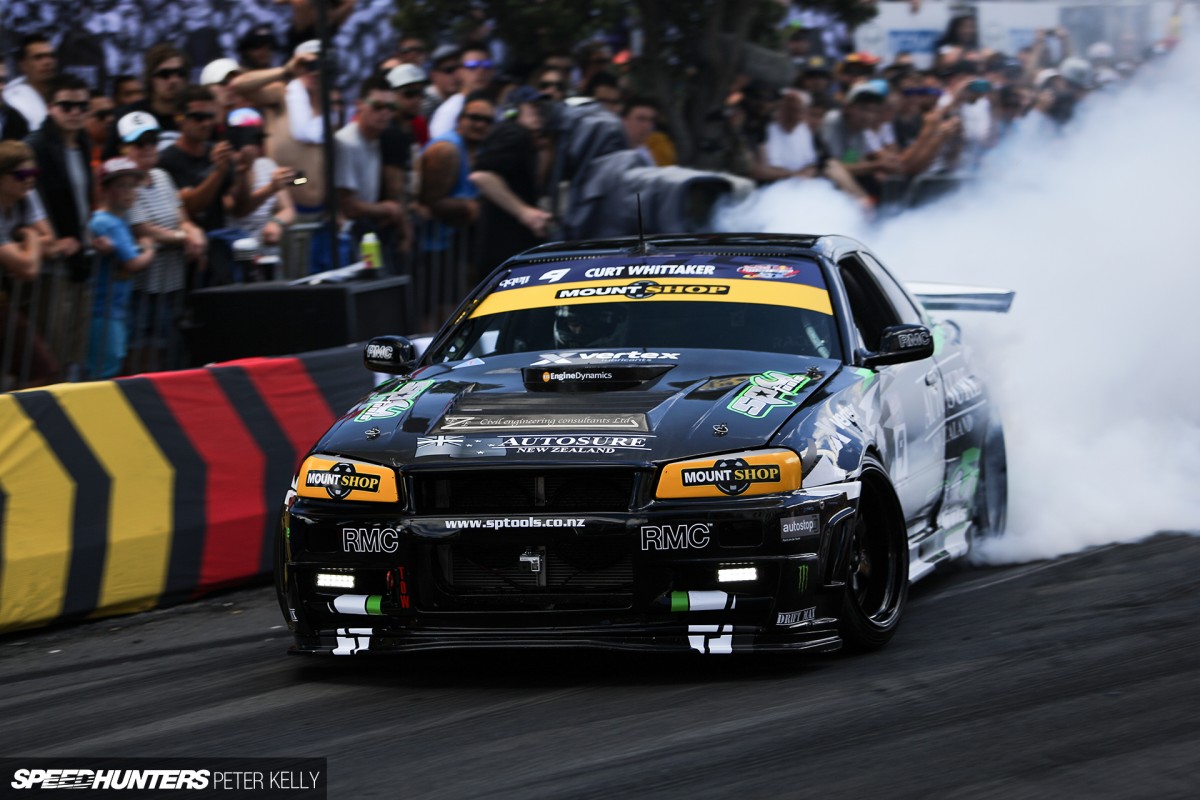 And past D1NZ champion Curt Whittaker, who recently swapped his 2JZ platform for a monster Ford V8 set up.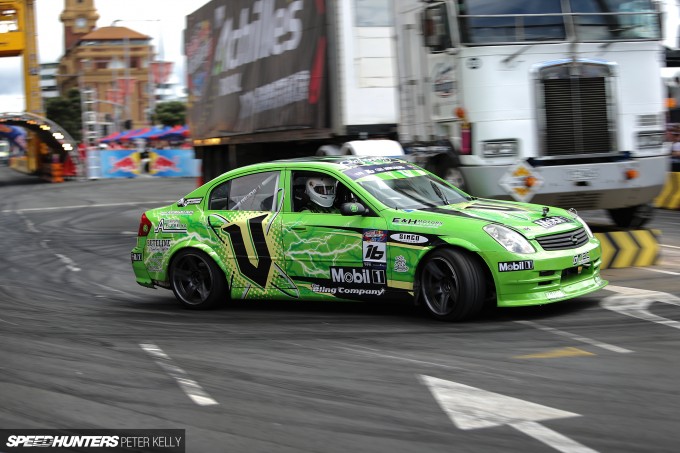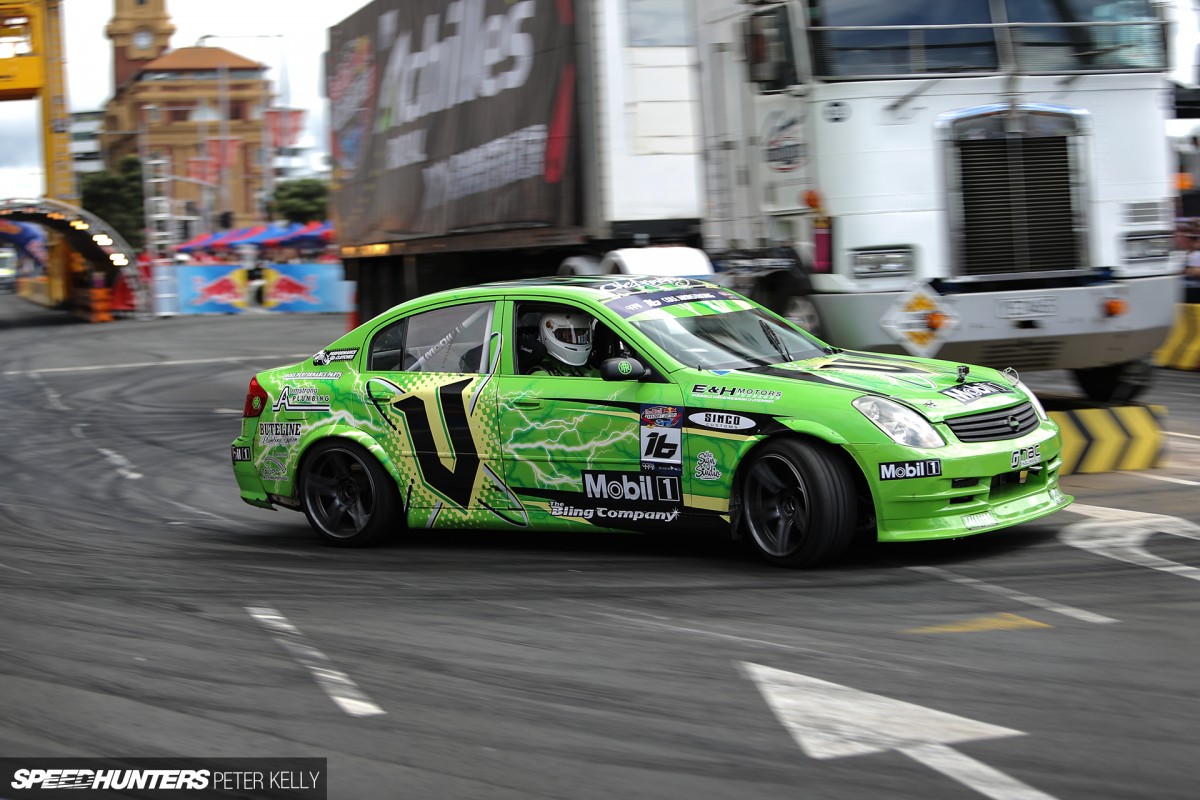 Another surprise omission from the quarter finals was local wild man Cole Armstrong and his Dodge V8 powered Skyline G35 sedan. Unfortunately, it looked as though the screaming NASCAR motor, which makes all its power up top, just wasn't suited to the extremely tight and low-speed course, which hurt Cole's qualifying chances as he seemed to be constantly bogging down as soon as the revs dropped.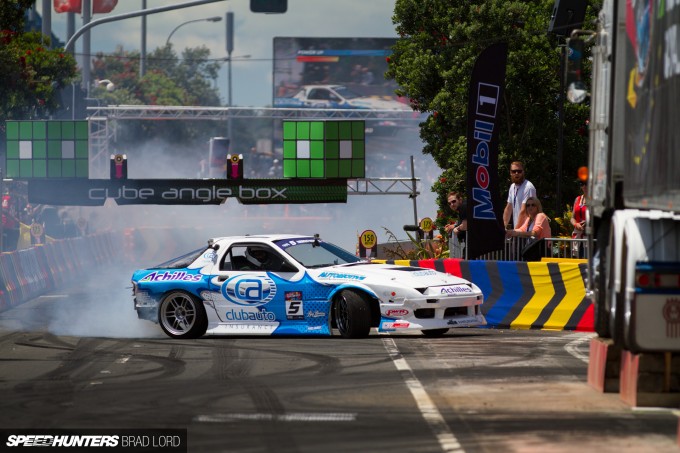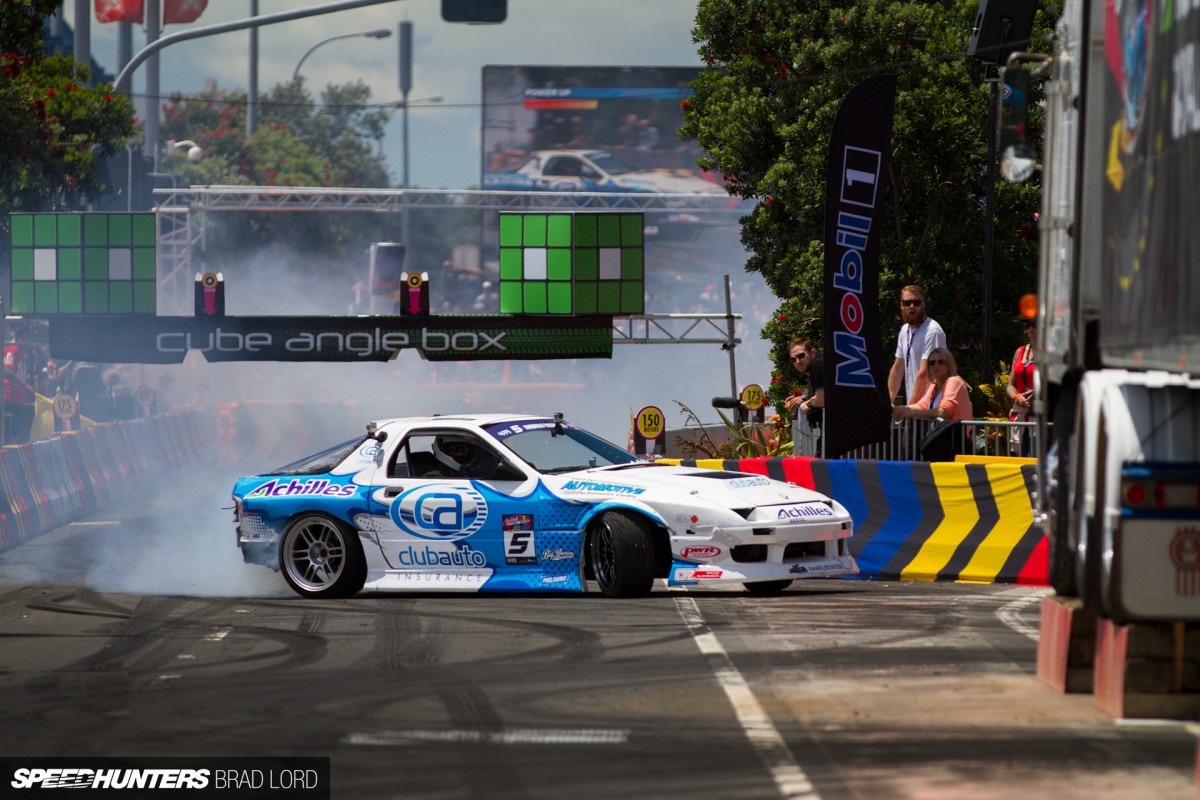 In the quarter finals, the eight drivers took their runs and once again Matt Powers had a massive top score – the best of the entire day. Local driver Andrew Redward was eyeing up the top spot and was well on his way before mounting the wall near the end of his run. Despite this, he still racked up the second highest score in the round, but couldn't continue as the car hobbled its way back to the pits.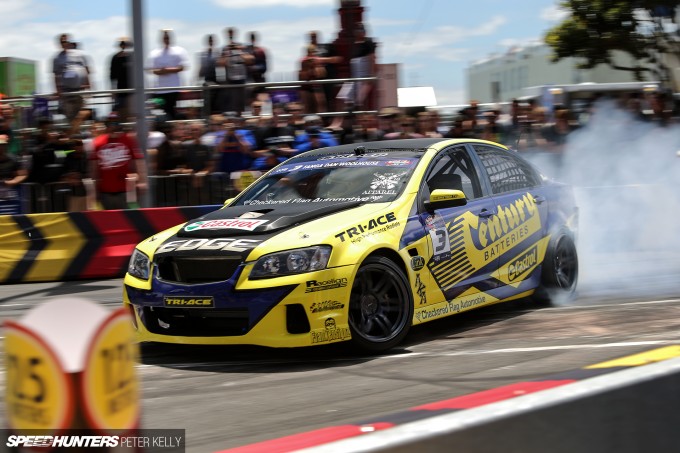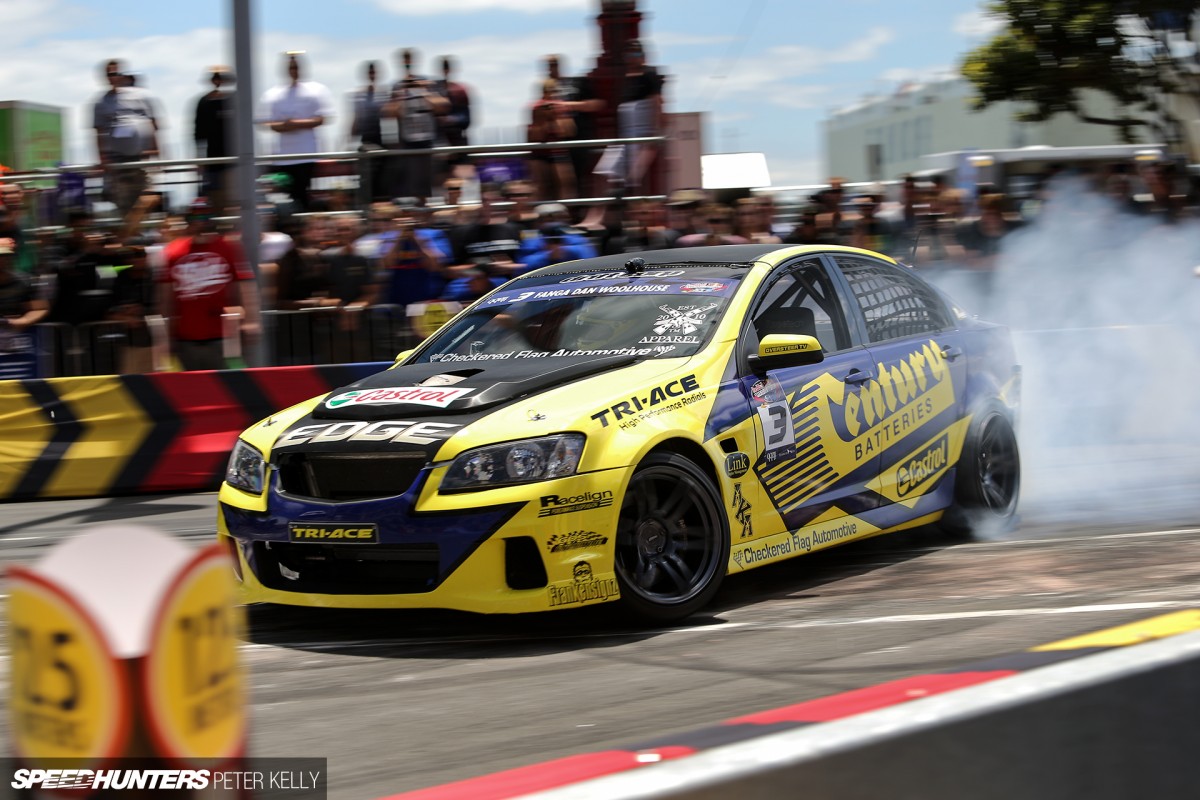 This allowed past D1NZ champion Fanga Dan Woolhouse and his muscular Holden Commodore into the semi-finals.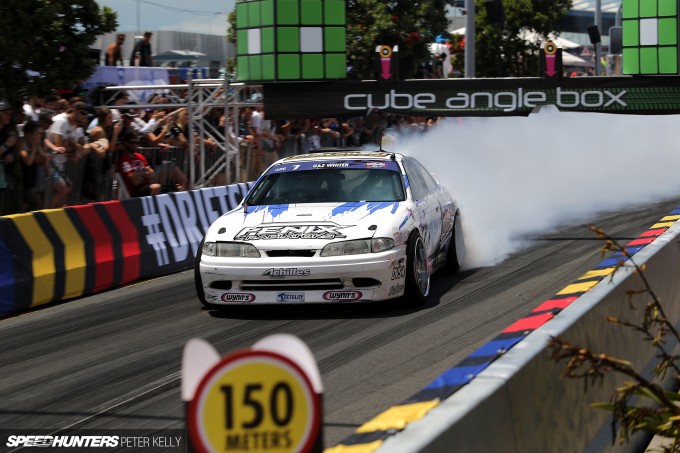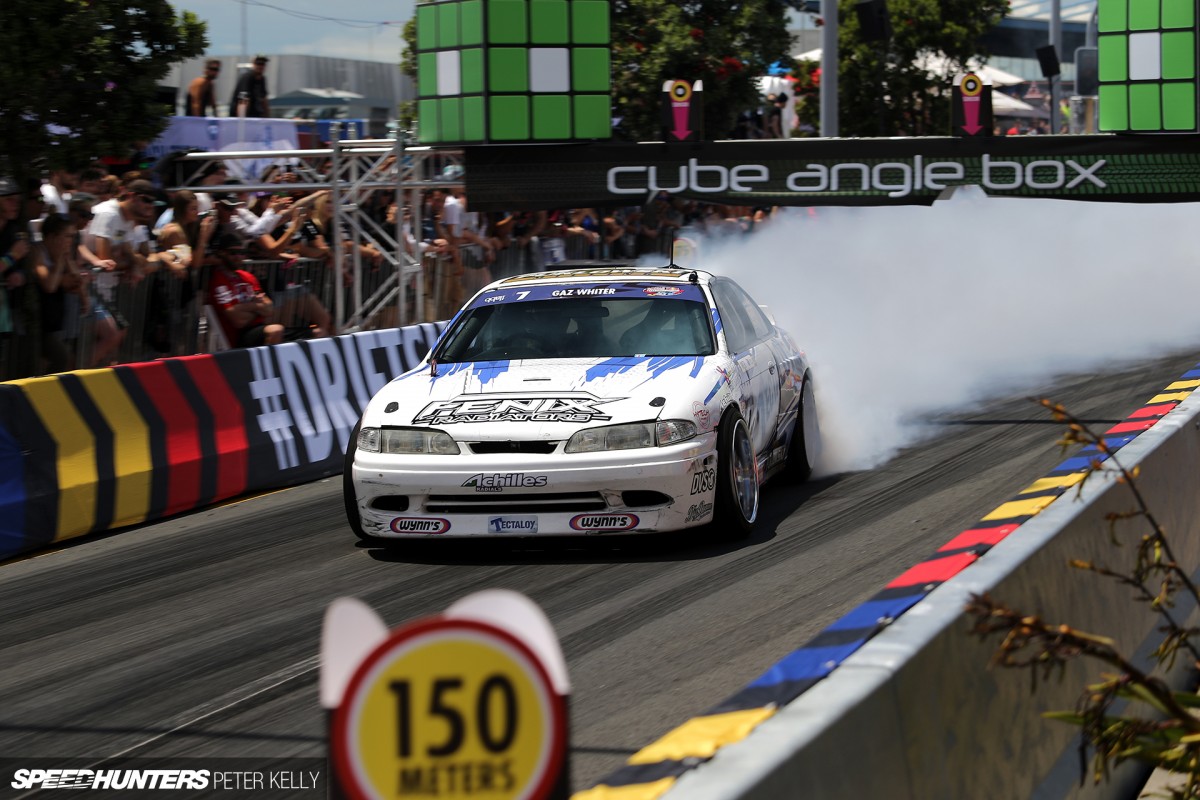 Unfortunately, that left out one of the fan favourites – four-time D1NZ champ Gaz Whiter in his subtly-styled LS7-powered zenki S14 Silvia.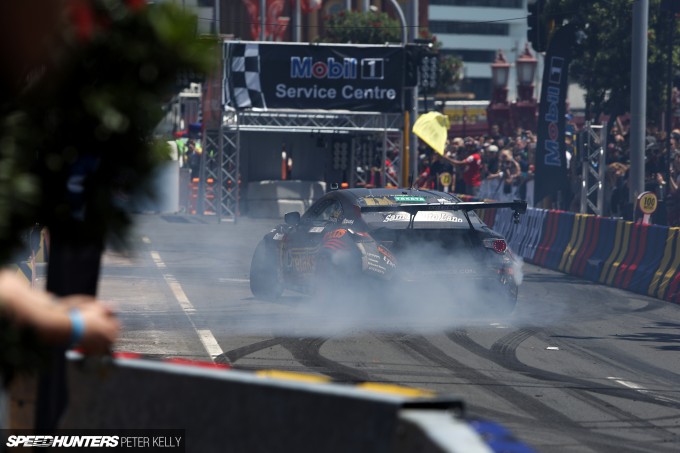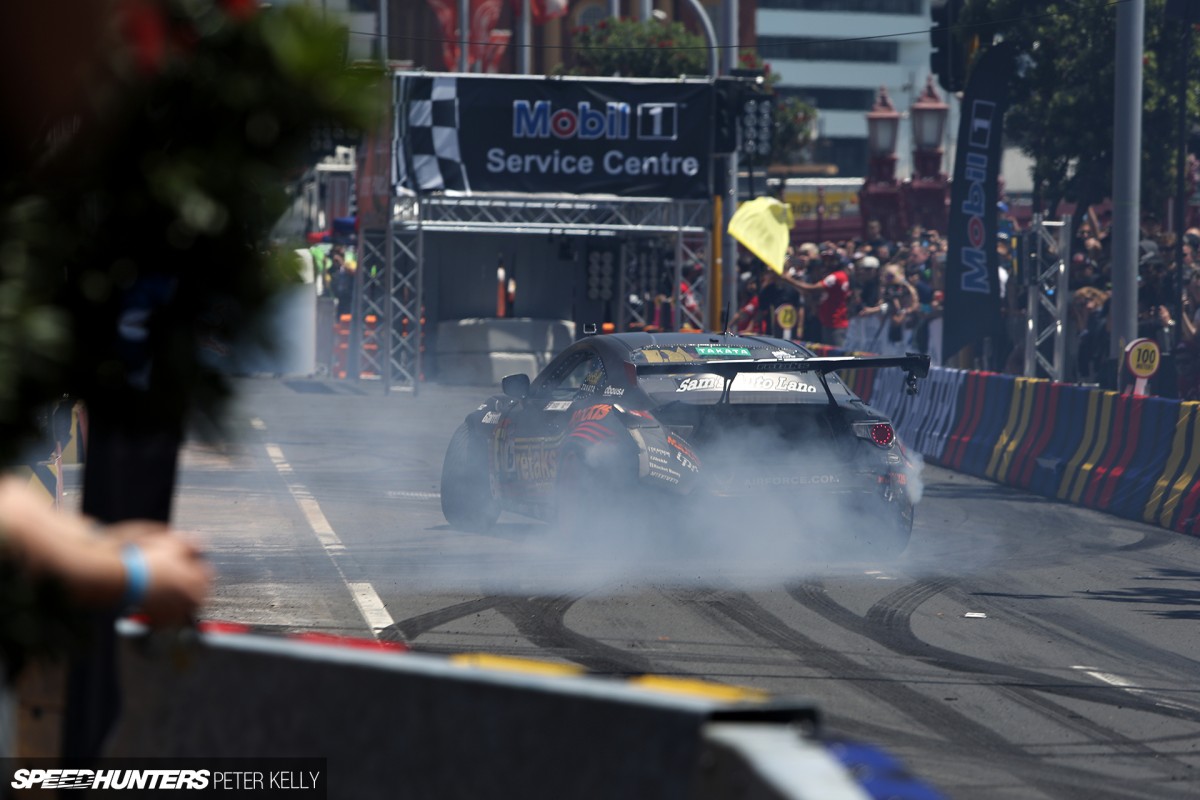 Ryan Tuerck, driving his Retaks 2JZ-powered Scion FR-S, qualified well, and was having a blinding quarter-final run before knocking himself out by destroying a lower rear suspension arm as he clipped a wall just before heading into the Undertaker section of the course.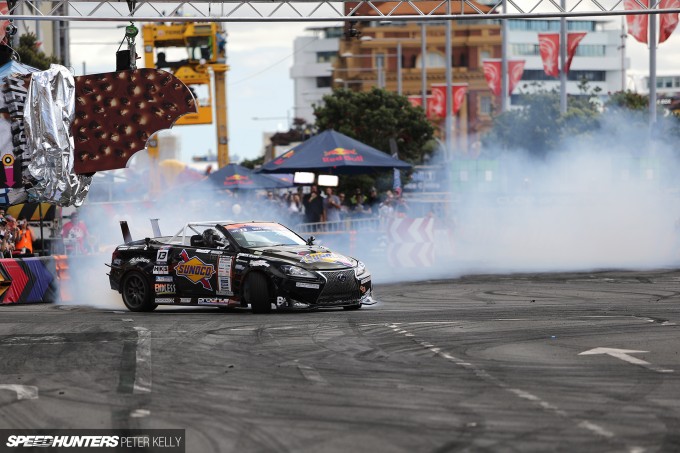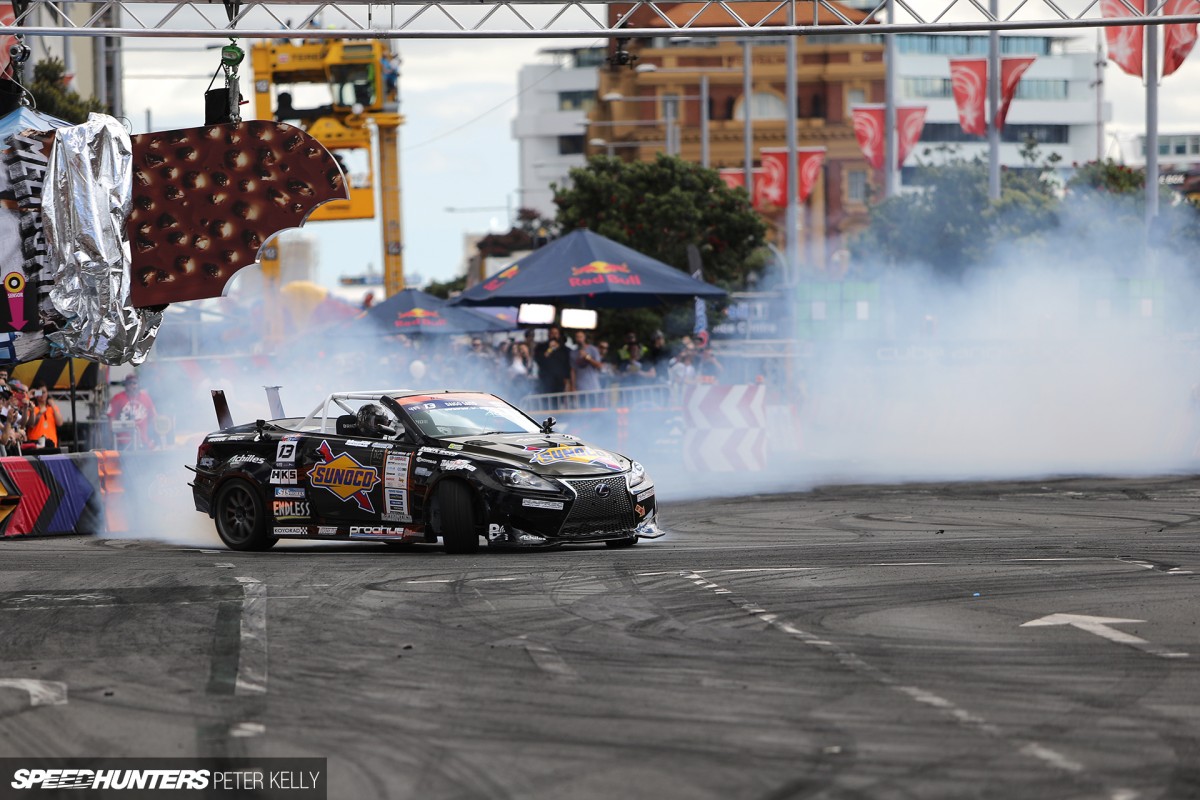 Daigo Saito, who seemed to have kept his 1,200hp 2JZ Lexus in the best condition of them all, had a good run, but it wasn't enough to see him through to the final four.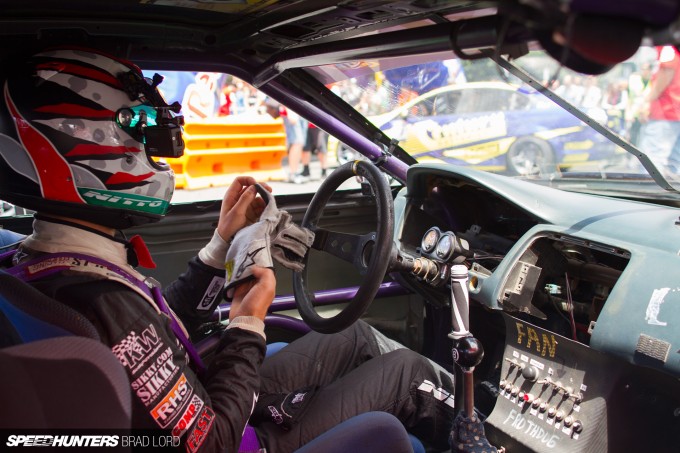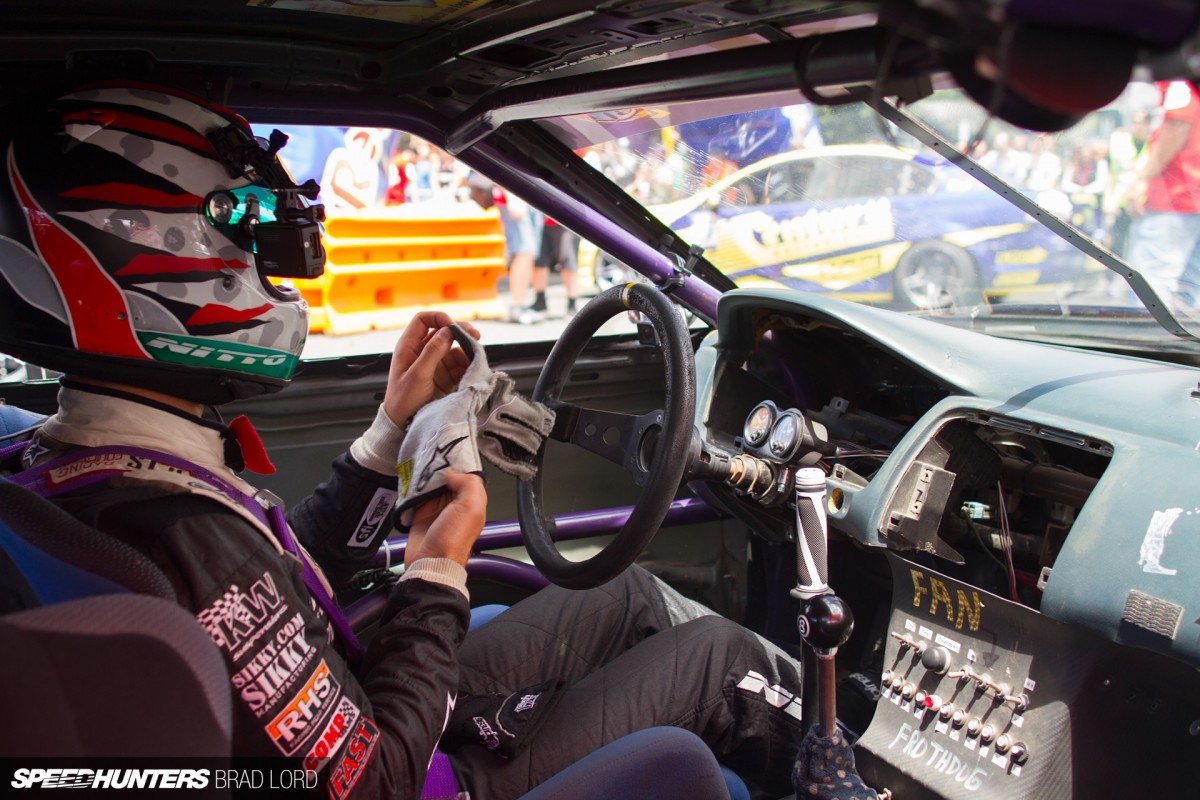 Back in 2012, it was the ever-dapper Matt Powers who took out the competition, and this year he was invited back to defend his title. Powers, who has taken the last year off competition drifting, certainly seemed to have the most clinical approach to the course. He always looked like he knew where and how to rake in the big multipliers, though I can't help but feel that adversely affected the visual impressiveness of his runs.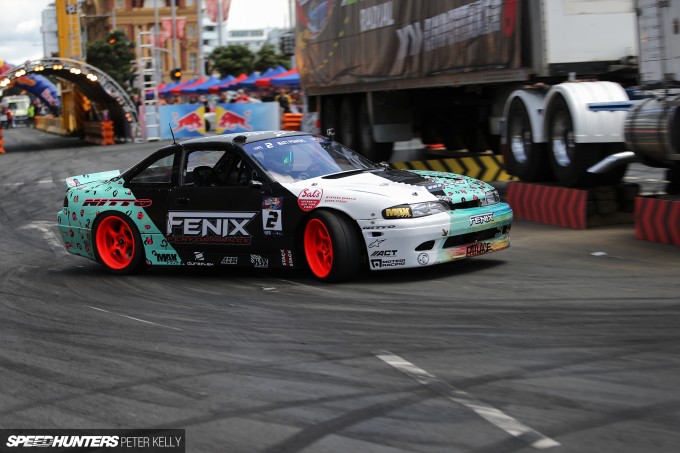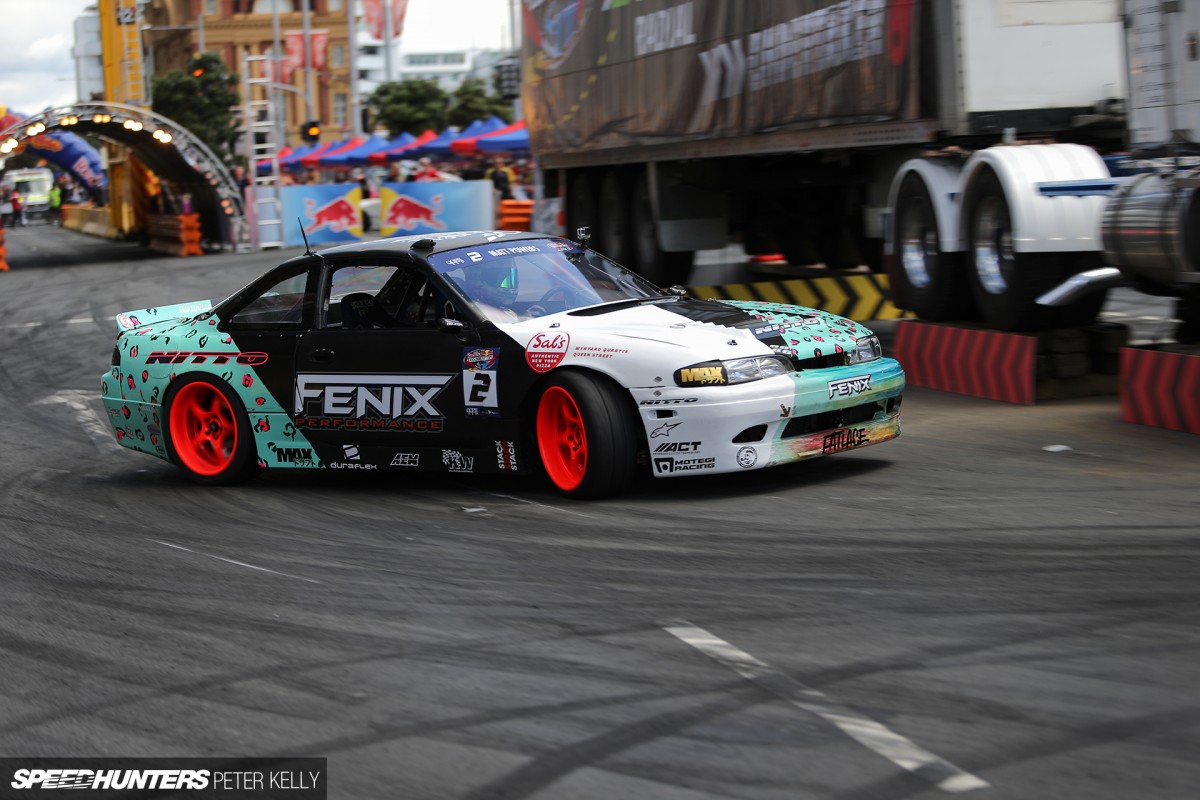 Matt went big early on, and was the top qualifier, but was knocked out in the semi-final top four, along with local Fanga Dan, who was able to push past Powers for the third spot on the podium. That left only two players in the final; Mad Mike and Chris Forsberg. It really couldn't have been scripted any better.
Is This The Future Of Drifting?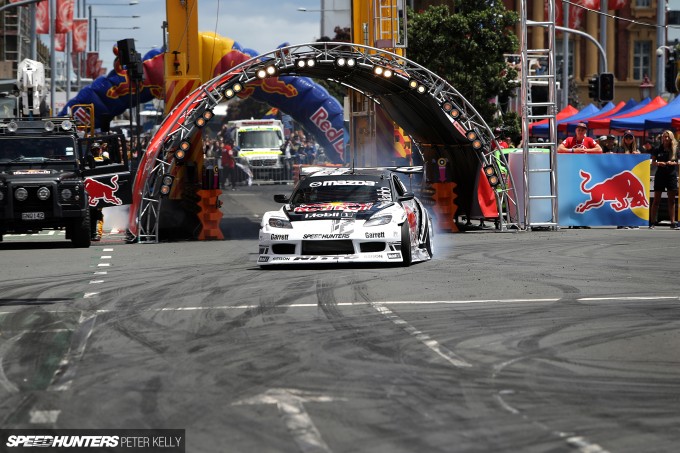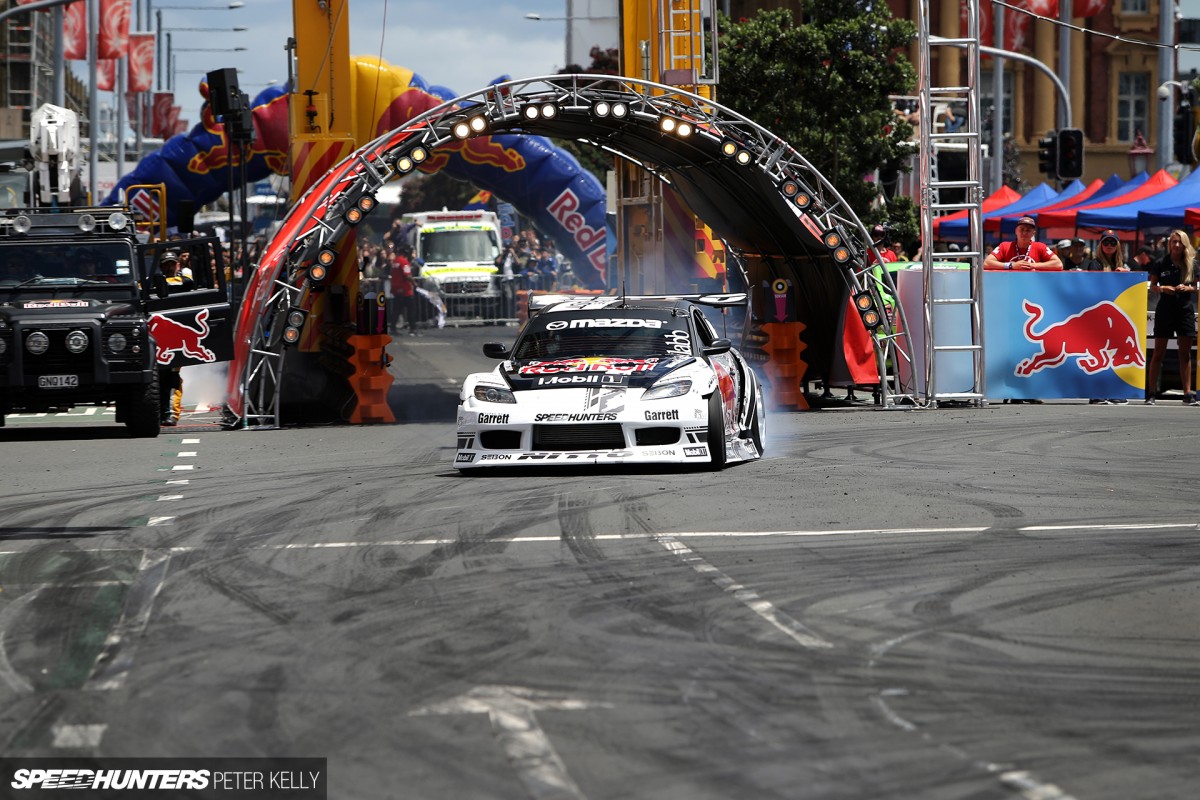 Mad Mike, the creator of the event, and the ever-impressive Chris Forsberg, fresh off his Formula Drift championship victory were the only two drivers remaining. Forsberg had topped the semi-final leaderboard with with 3.5 million points, while Mad Mike had just squeeked past compatriot Fanga Dan Woolhouse for the final spot with 3.2 million, so it was going to be extremely close.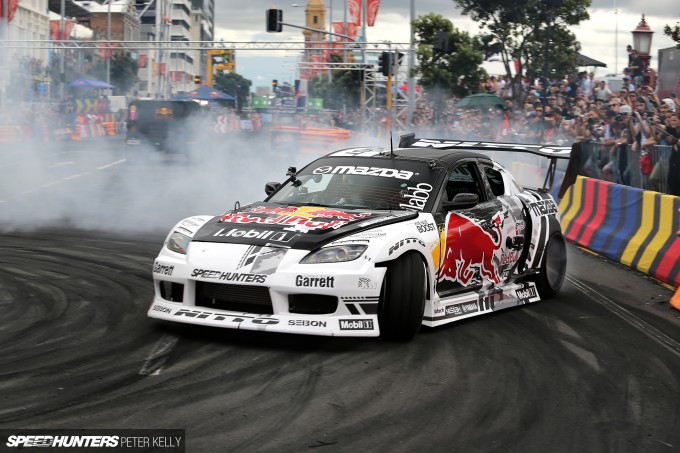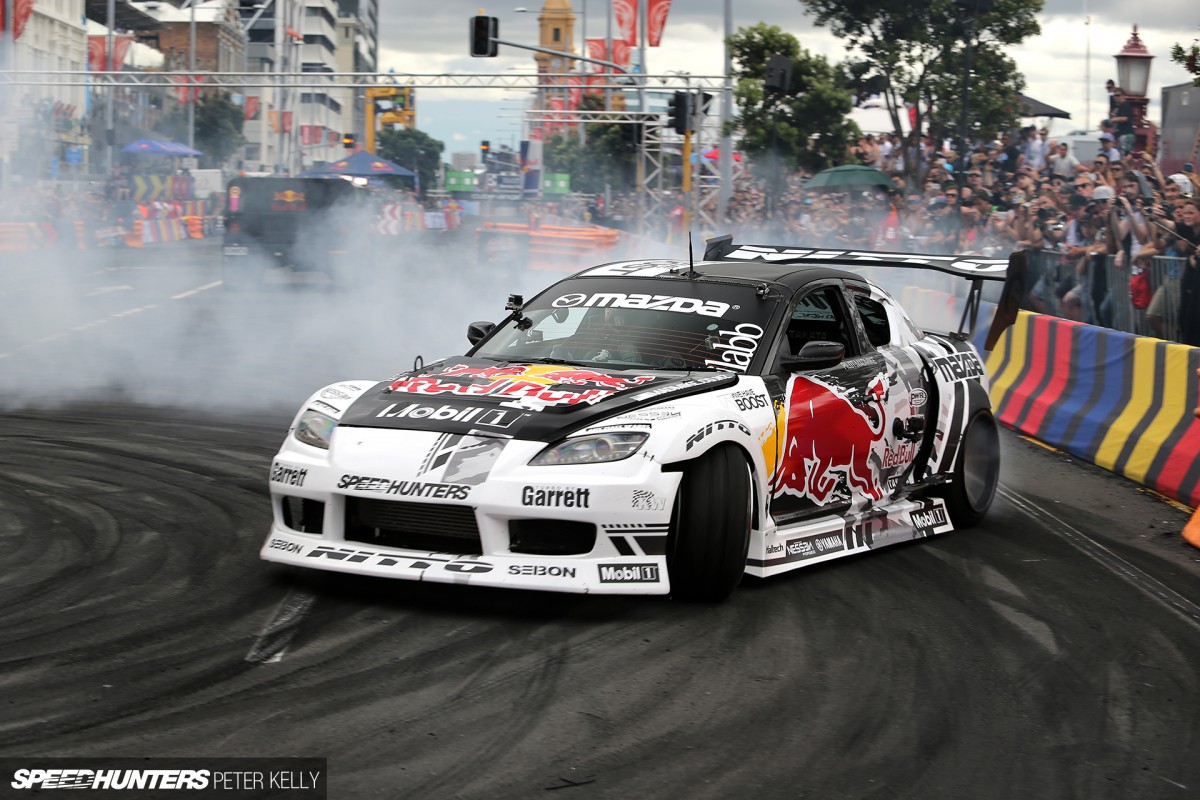 Mike took his run first, and it was epic. The crowd, normally fairly reserved in typical Kiwi fashion, erupted into a roar as he launched down the entry chute and into his final run. The energy, ebbing from 20,000 fans all willing the local hero towards victory, was intense.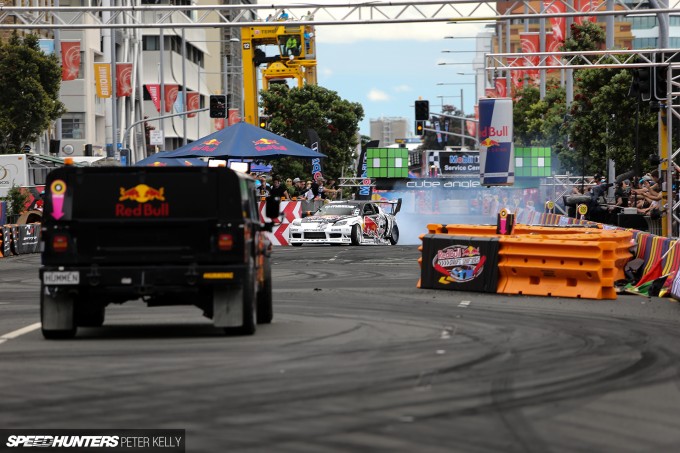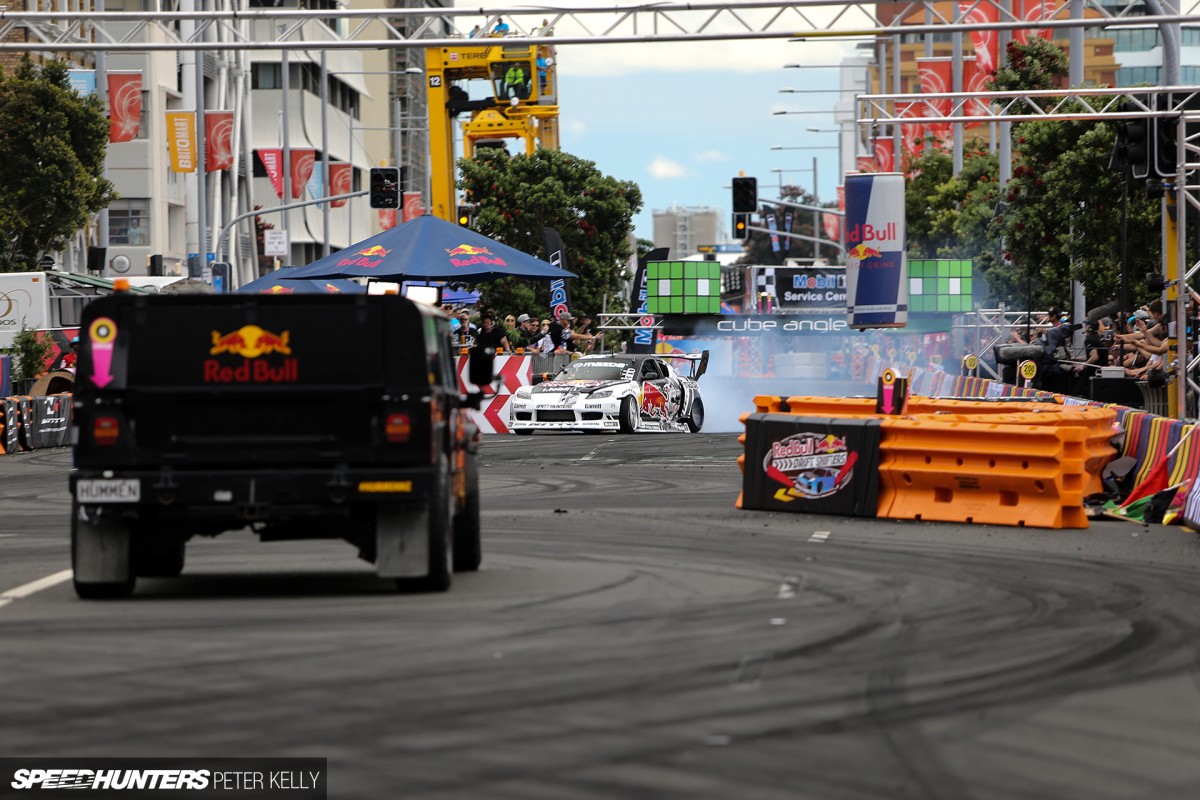 The triple-rotor screamed as the water-filled walls lining the track took a beating from its rear tube work. The score soared higher and higher, and then a big multiplier was hit and it jumped all the way up past four million – the second highest score of the day.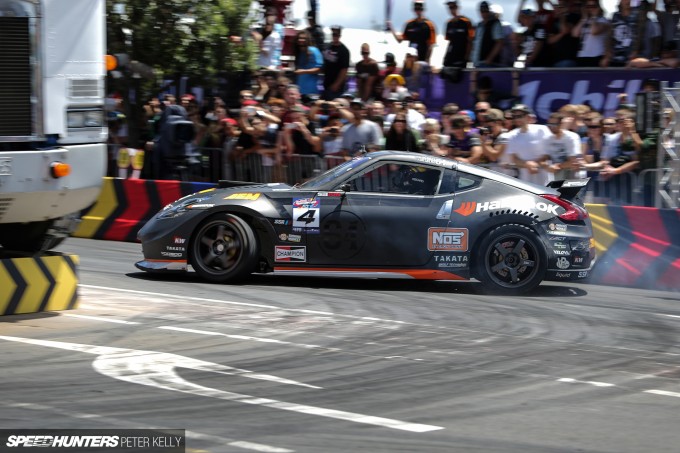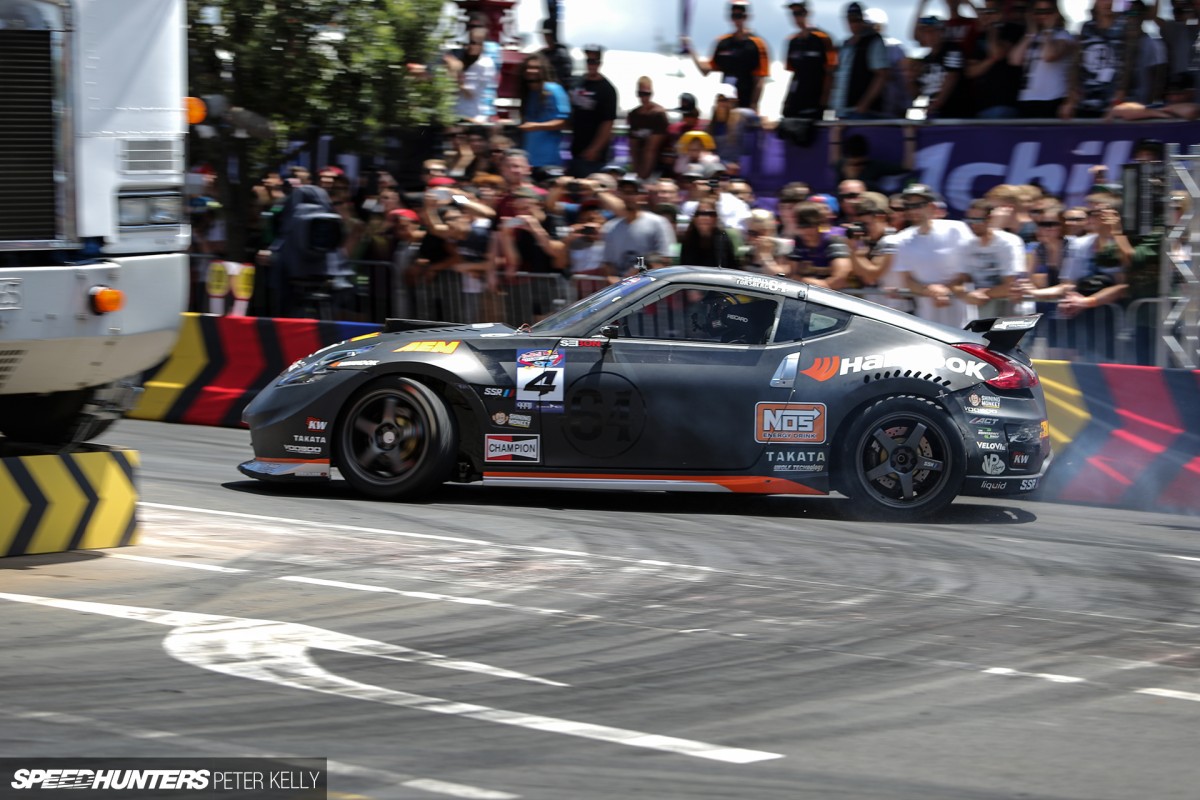 If there was anyone who was going to beat it, it would be Forsberg. As he ripped into the first section on his final run, it initially looked as though it was going to be extremely close – but by the 50-second mark it was looking increasingly unlikely. It was a great run, but it wasn't great enough, and by the 70-second mark, there was no beating Mike, who had just netted himself a win at his own event, and sending the crowd into an absolute frenzy.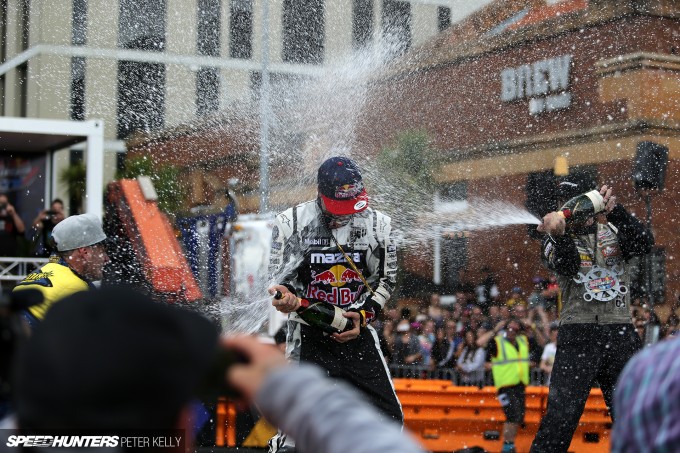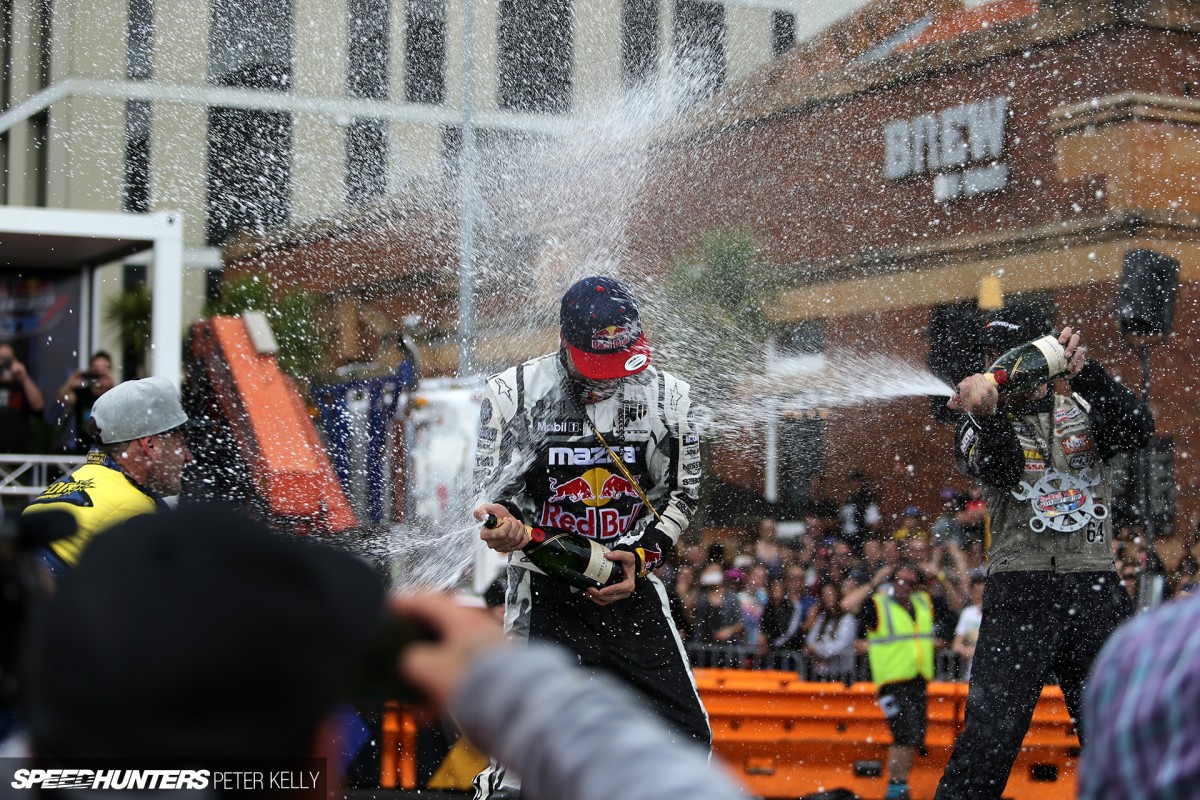 Things couldn't have gone better for Mike. The challenging, unique event had worked for a second time, everyone seemed stoked on the format and he'd managed to pull off a win to boot. The logistics that go into making this happen are pretty incredible, and aside from all the consents and red tape that goes with shutting down a major part of a city, just the fact that you need to set up, run the event with 20,000 people in attendance and then completely dismantle it all again within a 24-hour window is amazing.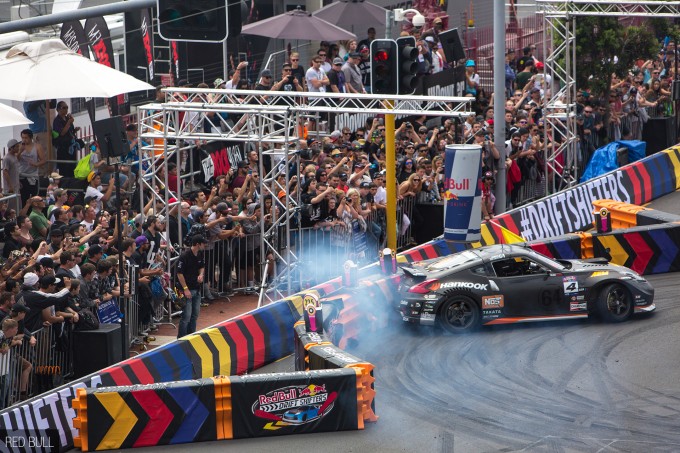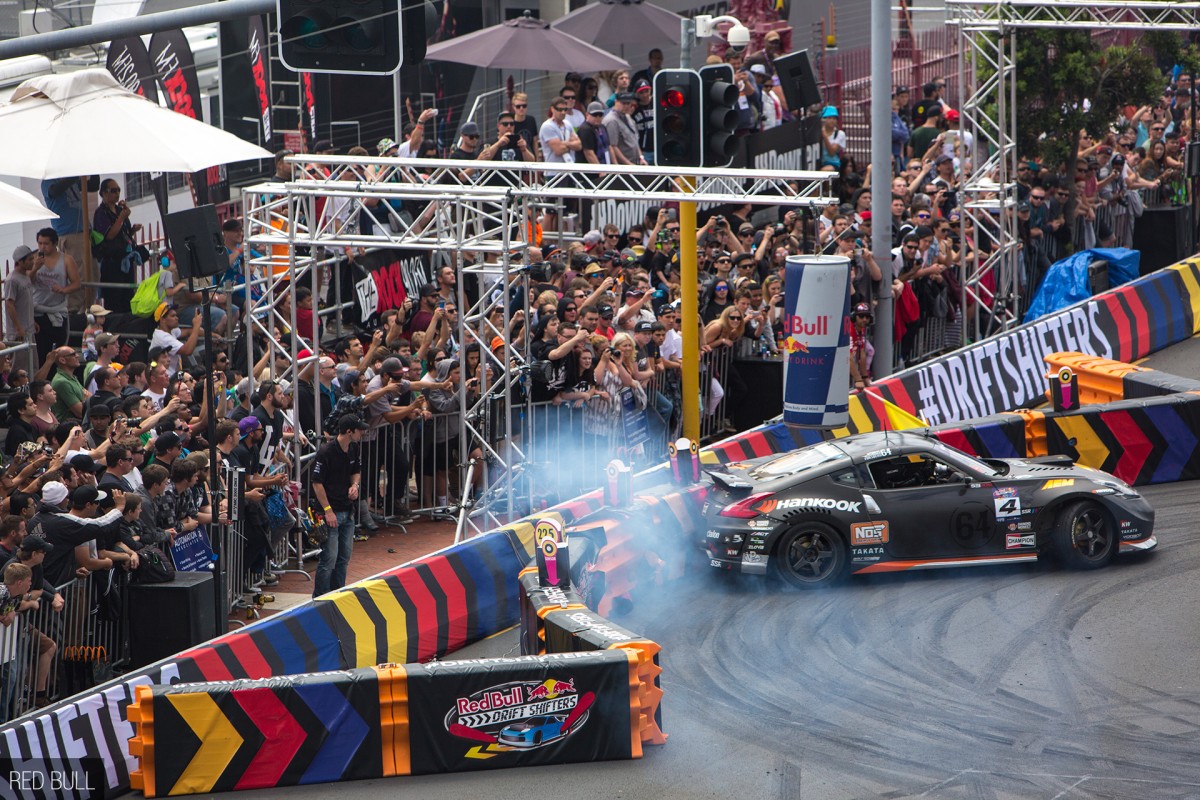 Although we can't expect this to become the norm for drift competitions, is there something important that this new format is teaching us?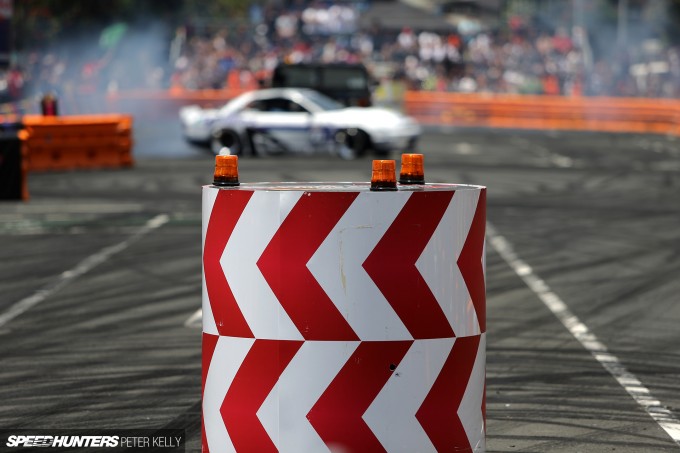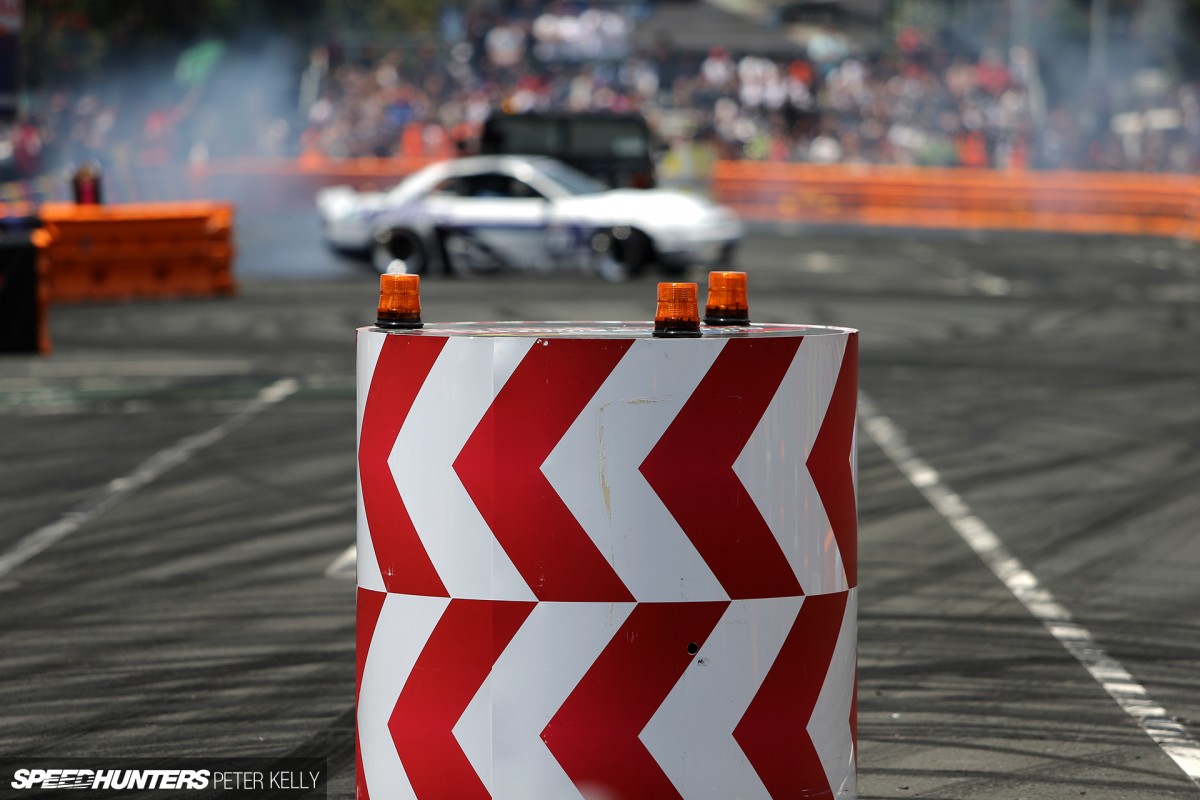 Two years on from the first event, and I still find myself asking; with all its high-tech proximity sensors, speed radars, angle boxes and algorithms, are we seeing the future of drifting in Red Bull Drift Shifters?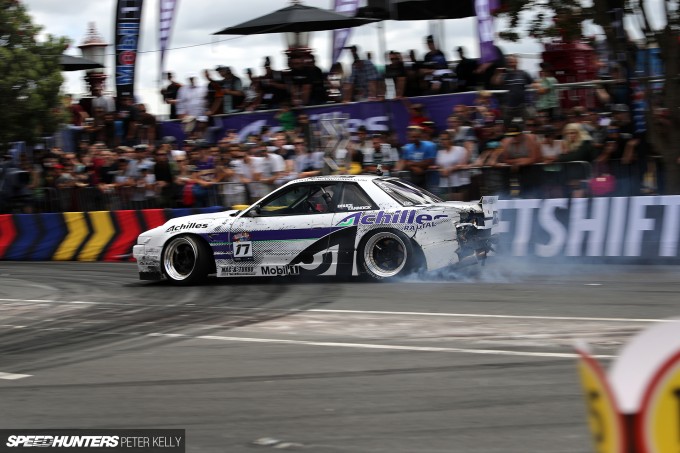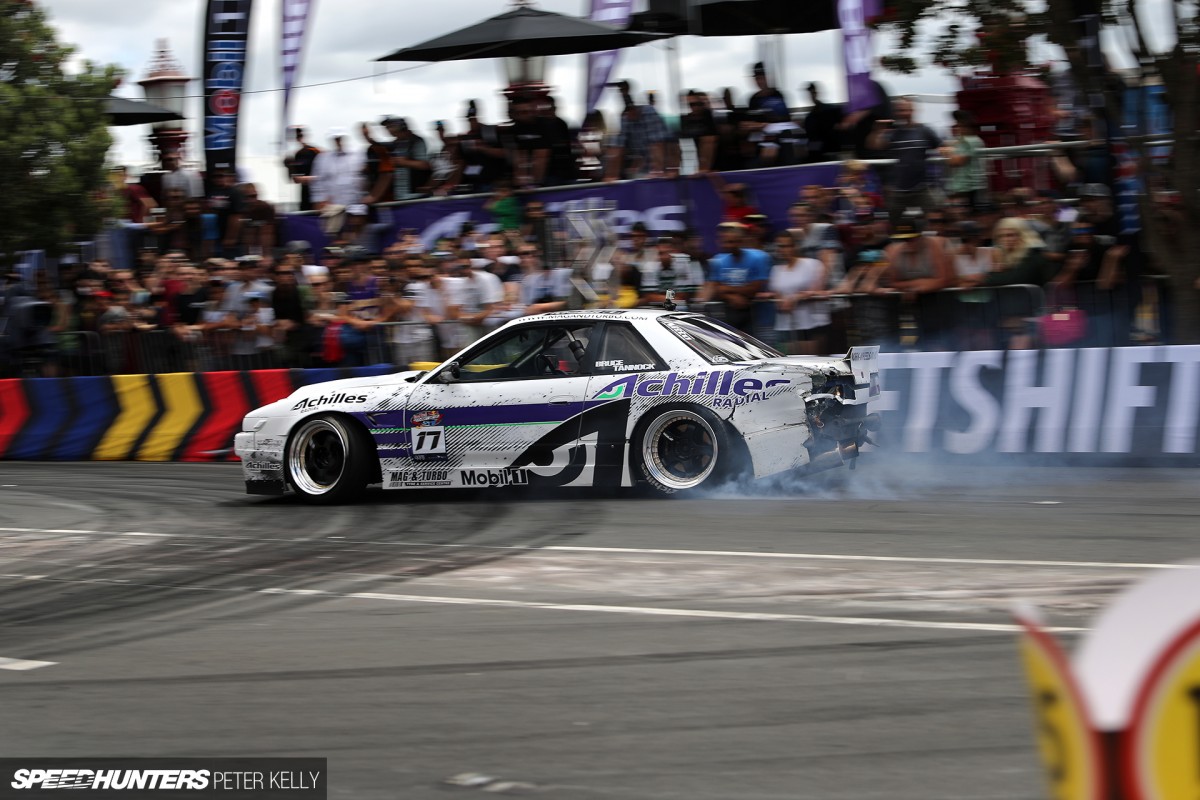 Could this technology replace the role of judges in traditional drifting?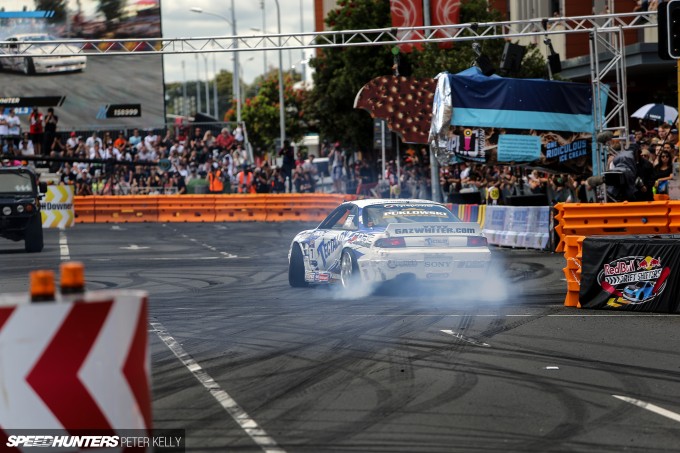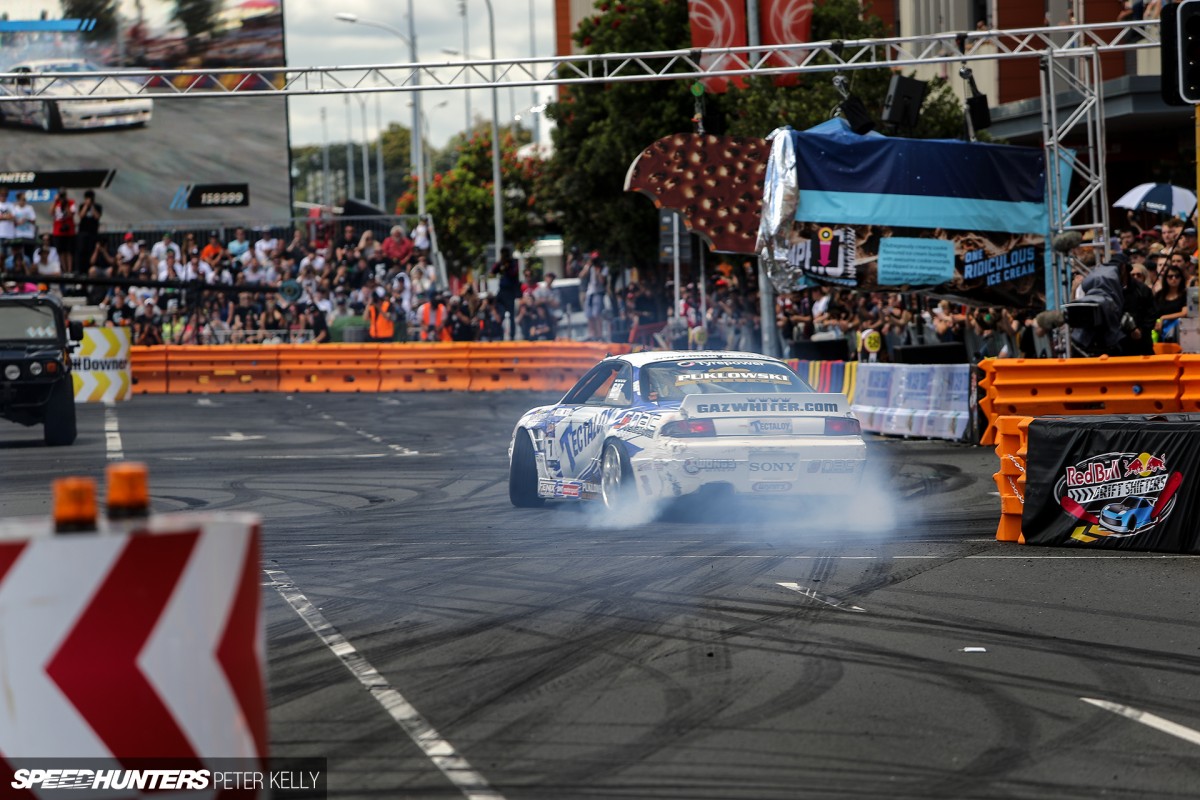 Perhaps chopping the human completely out of the equation is not the answer – there is, after all, a lot that the human eyes and brain can appreciate that no amount of sensors ever will. The 'holy sh*t look at that!' factor, or as I like to refer to it, the 'radness scale'.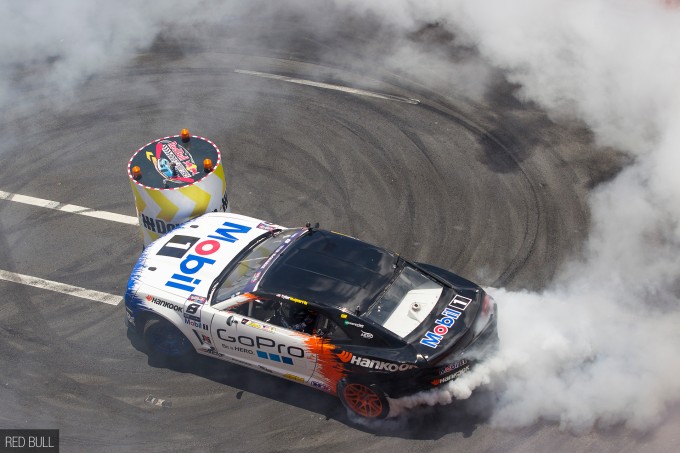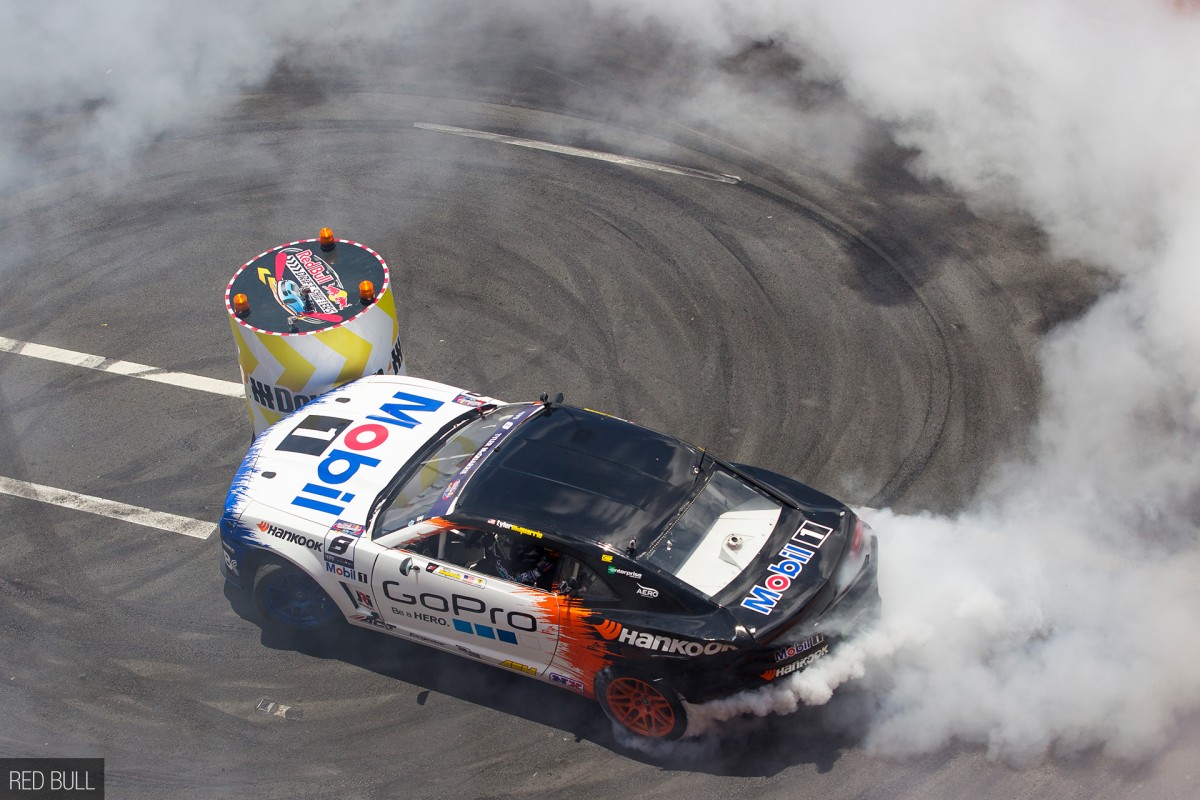 But maybe there is a way for these two critical eyes – one cold and calculating, and one entirely emotional – to come together. Imagine if the judges had real-time data being fed to them as the passes were going down? They would instantly be able to know each driver's speed, angle, proximity to not just the clips, but the other car too.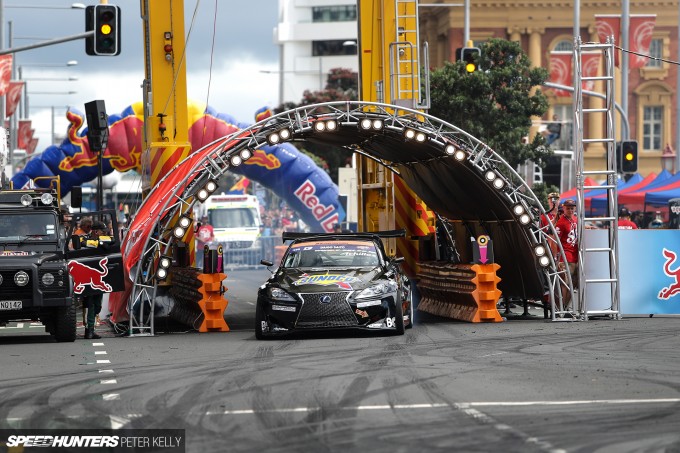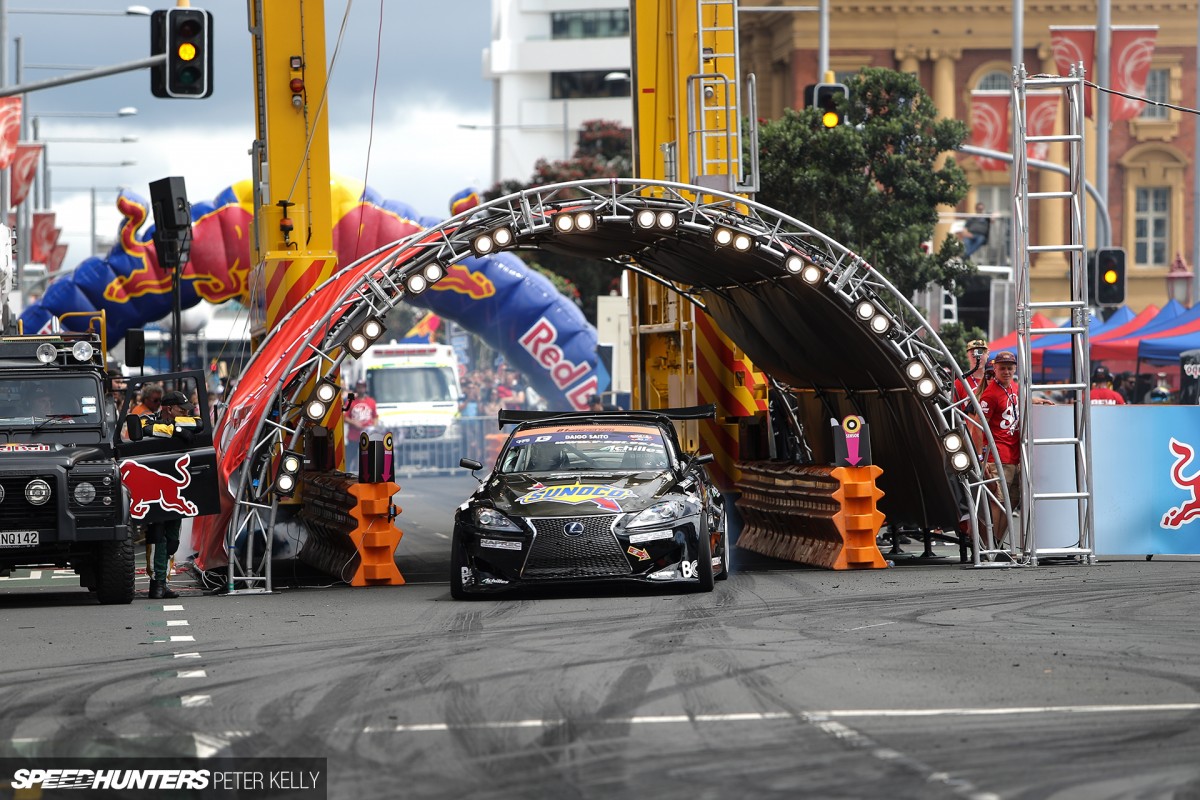 It would be a case of cold hard numbers backing the judges up, and giving them a better view of each and every battle, not replacing the human element entirely. Besides that, having that sort of telemetry displayed for the crowd (and the viewers at home) to see? Magic!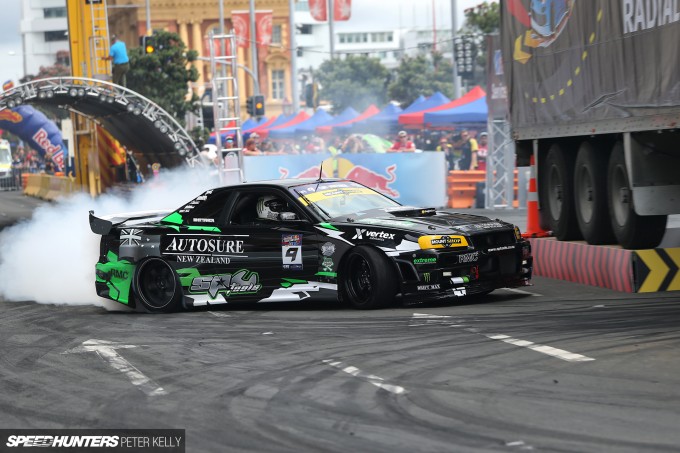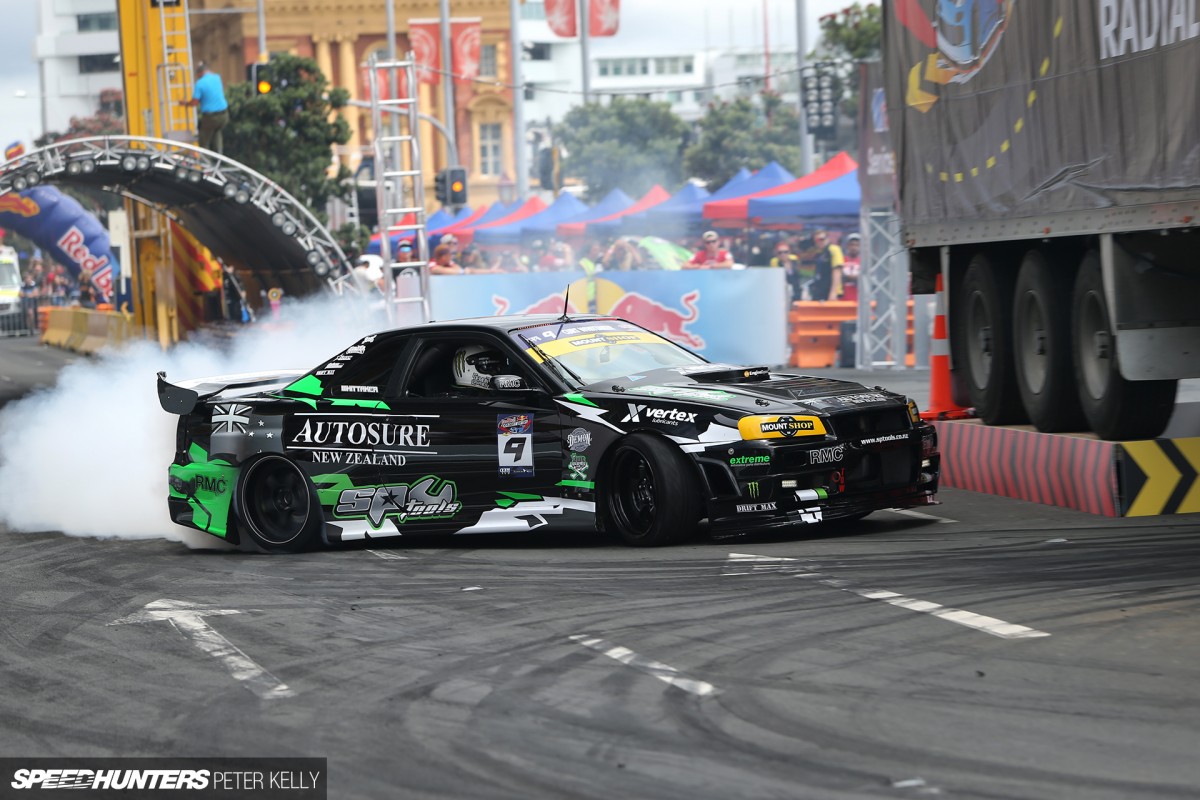 I'd love to hear your thoughts in the comments section below! And please stay tuned for more from Red Bull Drift Shifters coming soon.
Peter Kelly
Instagram: speedhunters_pedey
pedey@speedhunters.com
Cutting Room Floor