Cars Worth Saving
I often think about the way the automobile has evolved in the last 100-plus years, and the way that mass production has distilled its essence and turned it into nothing more than just another appliance. I'm generalising of course, because there are still a handful of manufacturers that strive to create almost bespoke works of art by using the highest forms of modern technology and materials. But aside from companies like Pagani and Koenigsegg – to name two of the better known ones – what we are stuck with is mass-produced transportation devices. Some are better made than others, and some are faster or more desirable – but they're still built on a production line like most off-the-shelf products these days. But I don't feel at all sad about this – it's unavoidable progress, and progress is good and very much welcome when you are talking about making stronger and safer cars.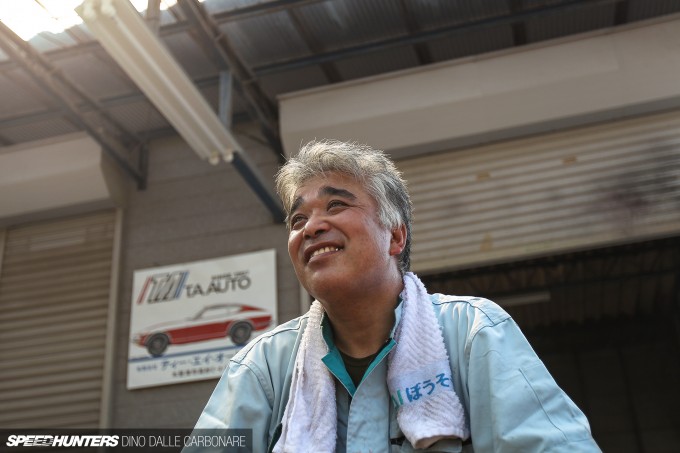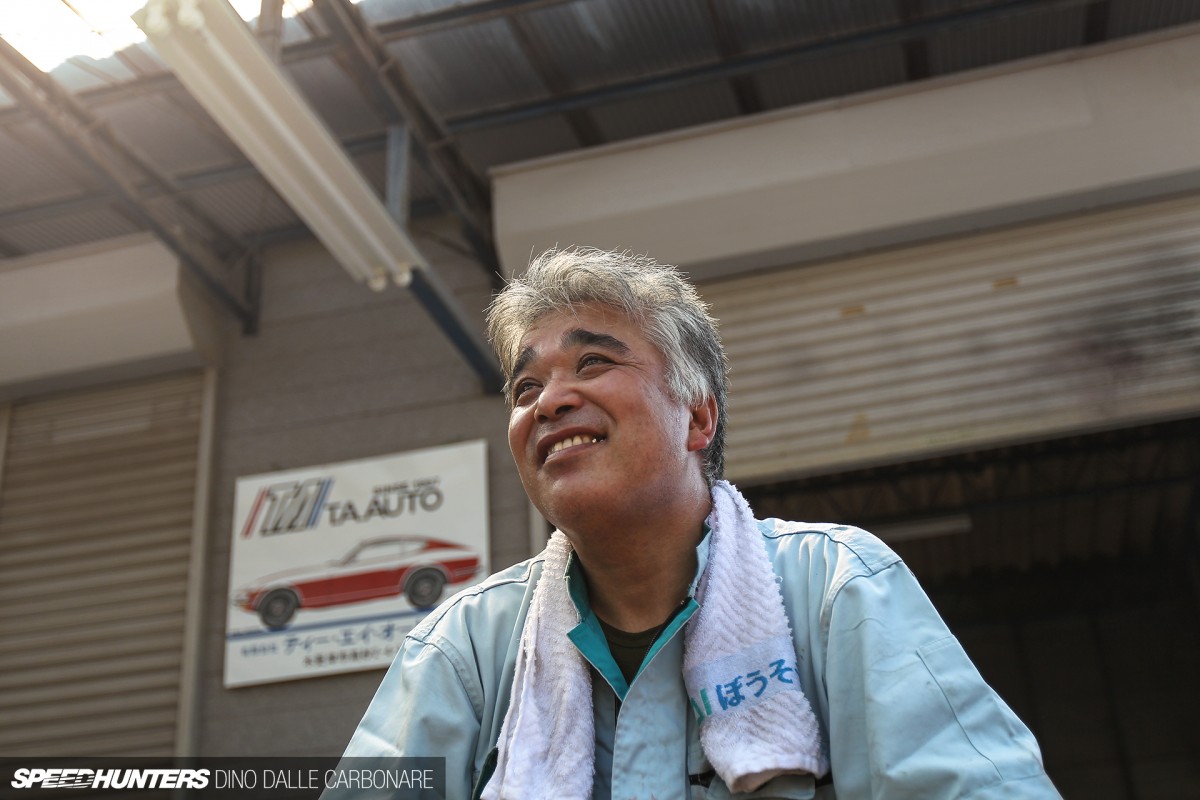 Thankfully there is always the older stuff – cars that struck a chord when we were growing up, or even older collectibles that we lust after due to their historical significance and/or beauty. These cars come from a golden era when the automobile was more of an emotional creation that was sculpted and refined by hand, rather than pre-programmed machines – cars that are now looked at as the forefathers to some of the most successful and sought after vehicles of the present day. And this is precisely where Ando-san of TA Auto comes in.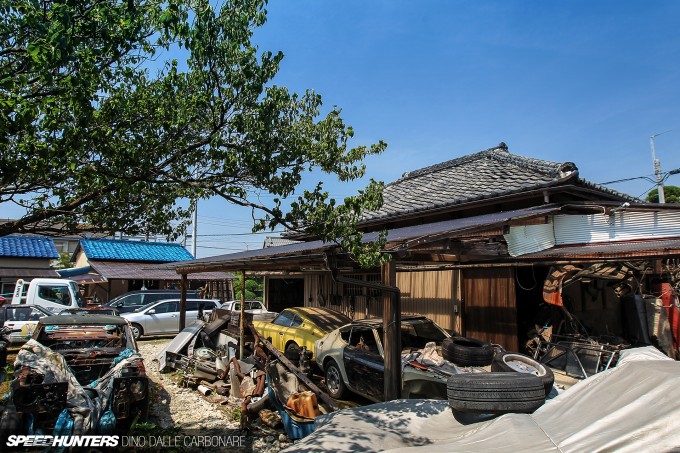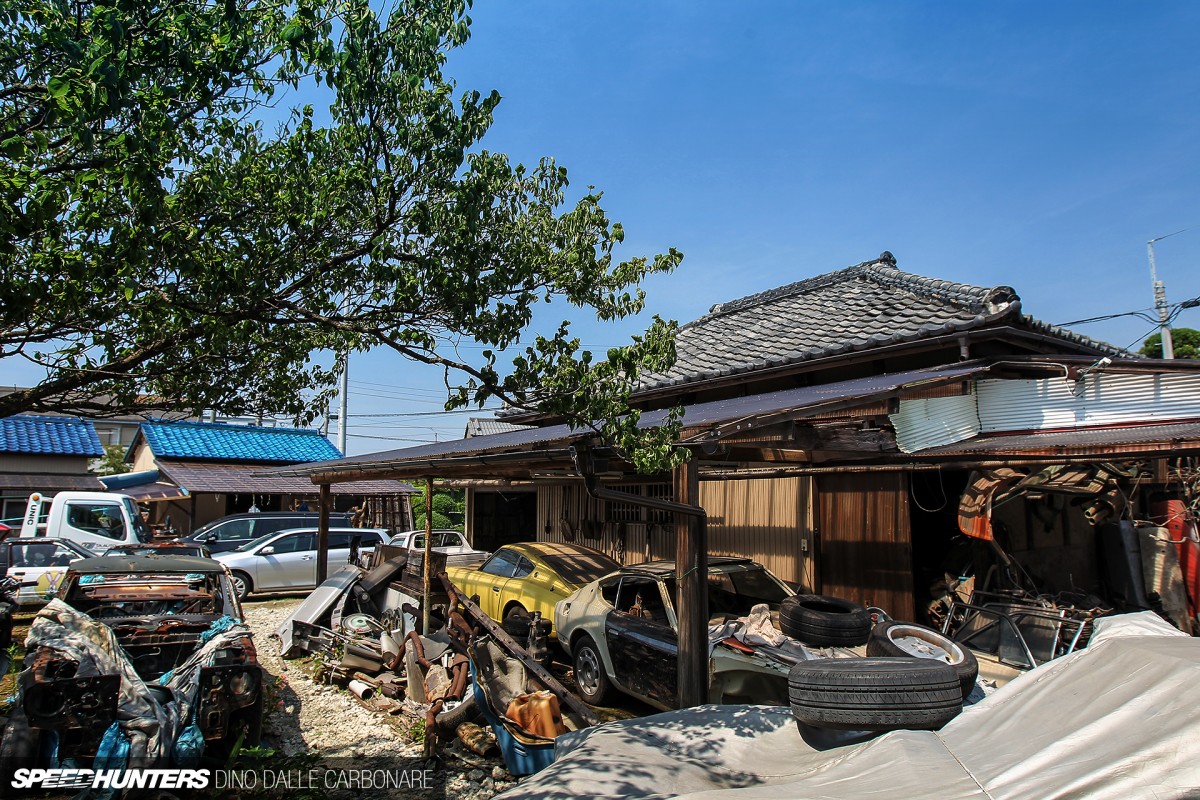 Ando-san runs a one-man restoration business from a workshop in his back garden – a place that over the years has evolved into a sort of junkyard and part storage facility.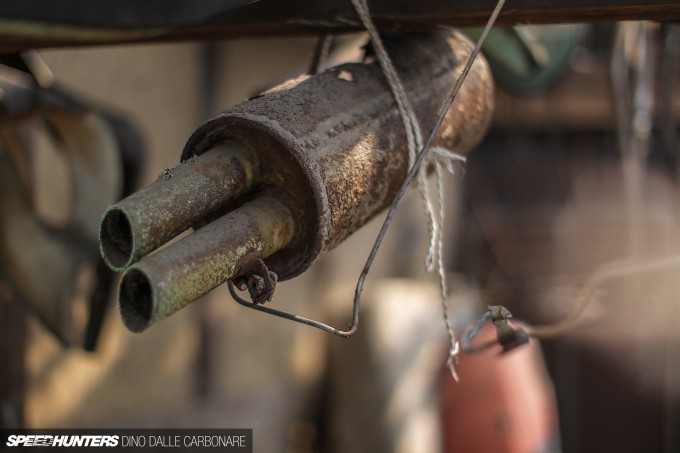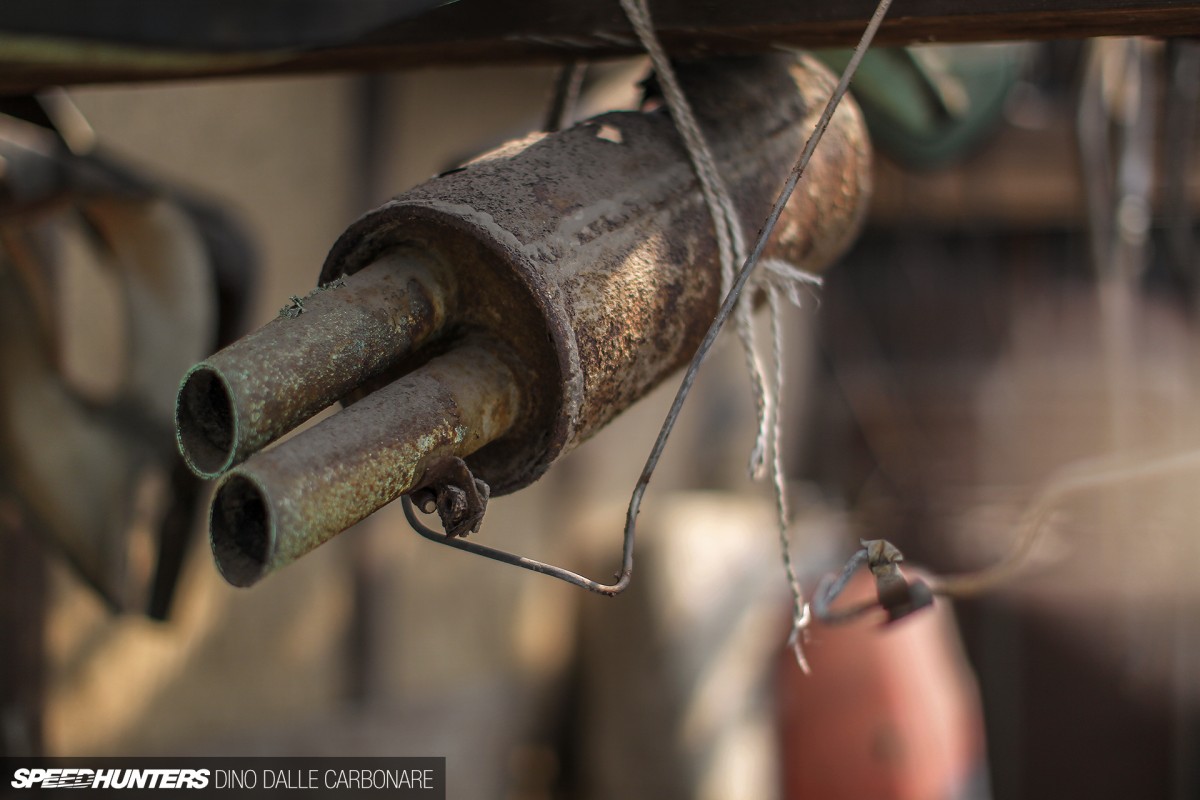 This isn't the first time we've been to this magical place. Some of you might remember that I paid a visit to TA Auto in 2010, where and when Ando introduced me to Tamura-san, the original head designer of the S30 Fairlady Z.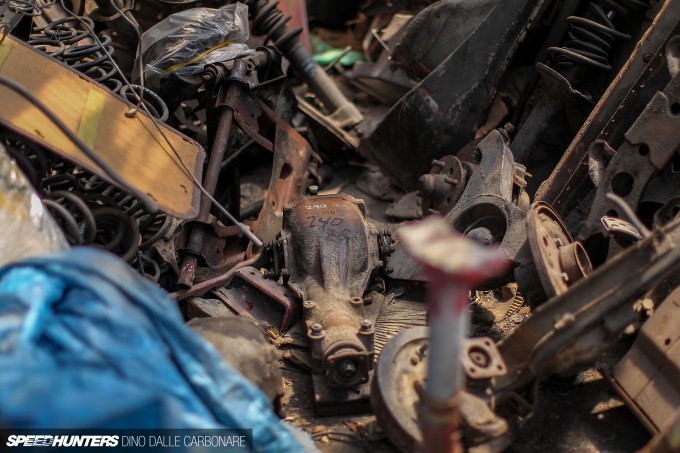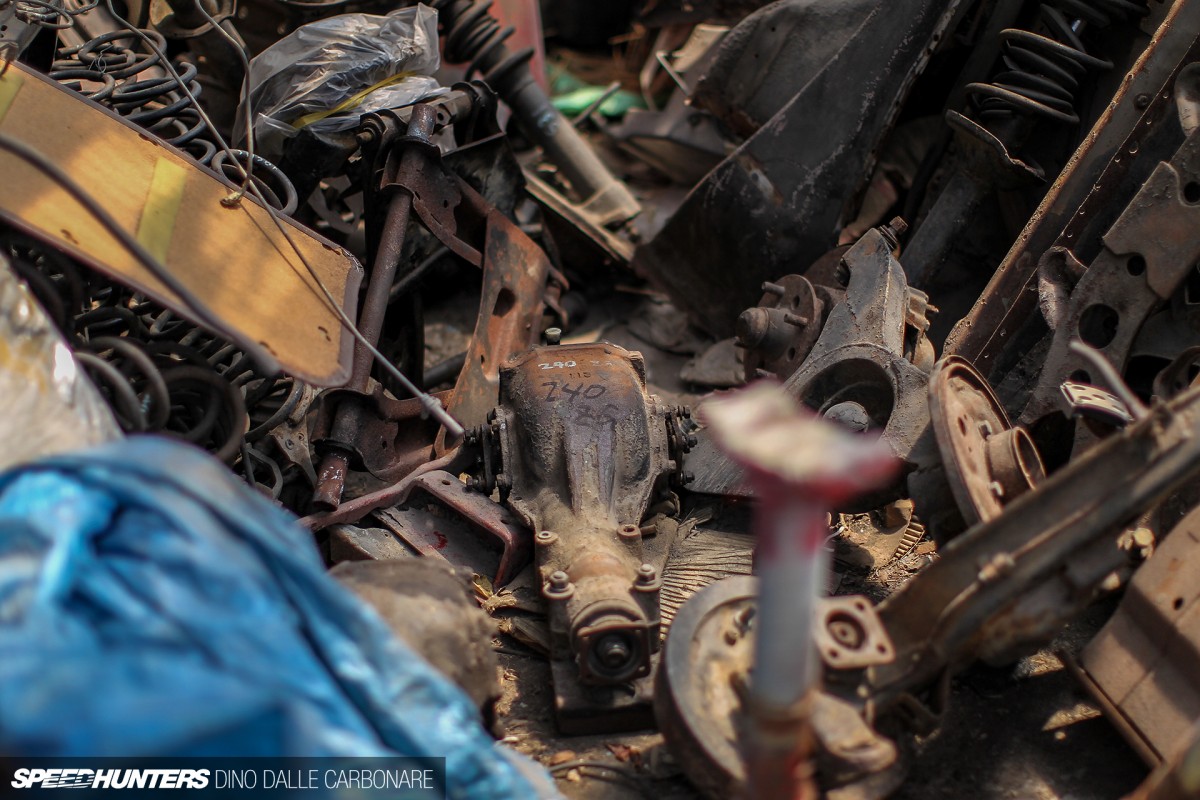 In four years not much has changed here. More parts have been scavenged of course, and they're mostly stored in a very Japanese way under a semi-enclosed shed area, waiting to eventually become useful for a restoration.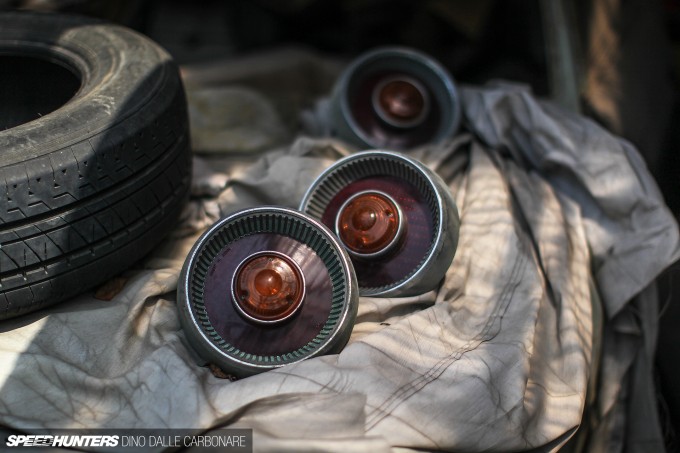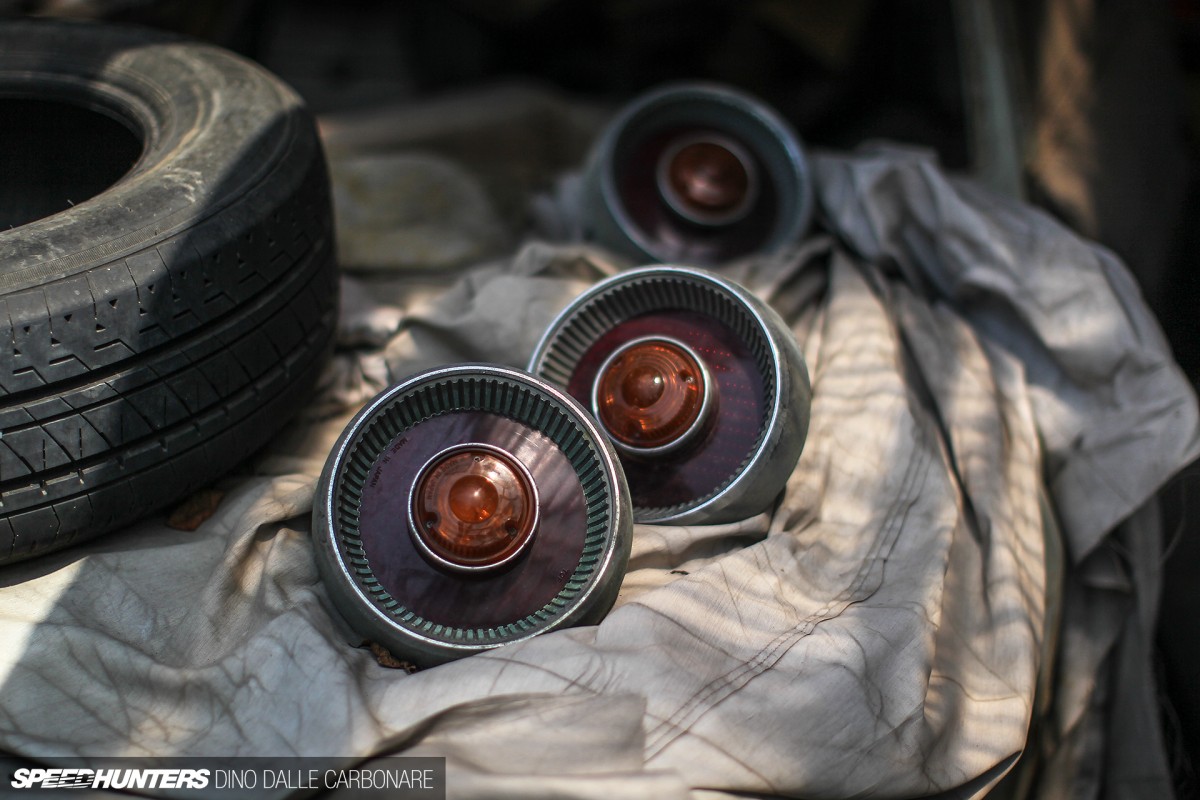 And that is precisely what Ando-san does here, he takes old Fairladys and Skylines – many of which at first glance look too far gone to be saved – and restores them to their original glory.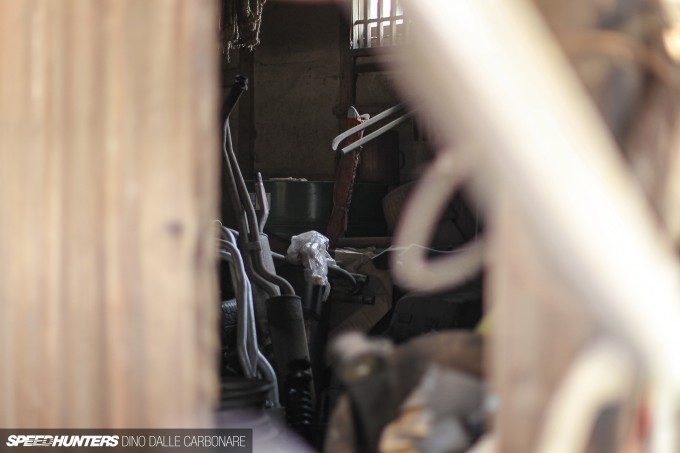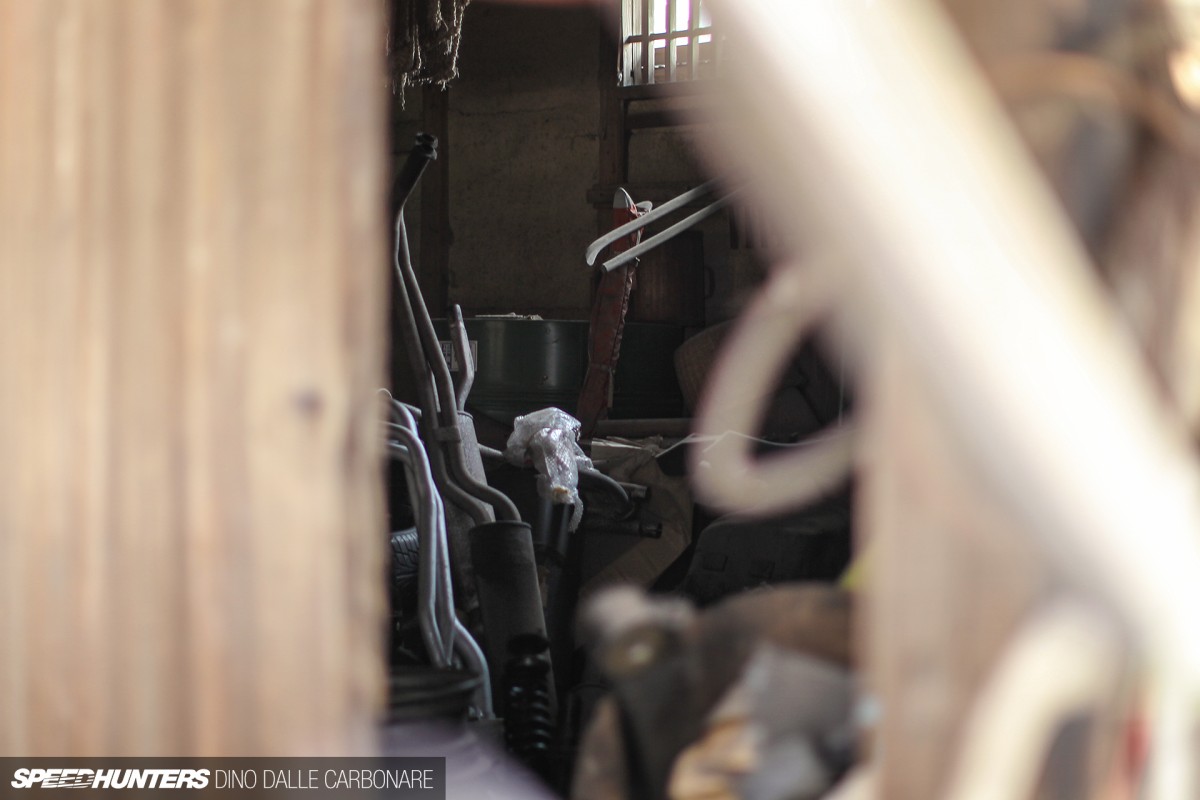 That's why every available space around his property has been converted into some sort of storage area. As Ando-san tells me, parts continue to become harder to find and prices are on a constant rise, so when he's not working on cars, he's out and about trying to source and stock up on parts that he knows he will need in the future.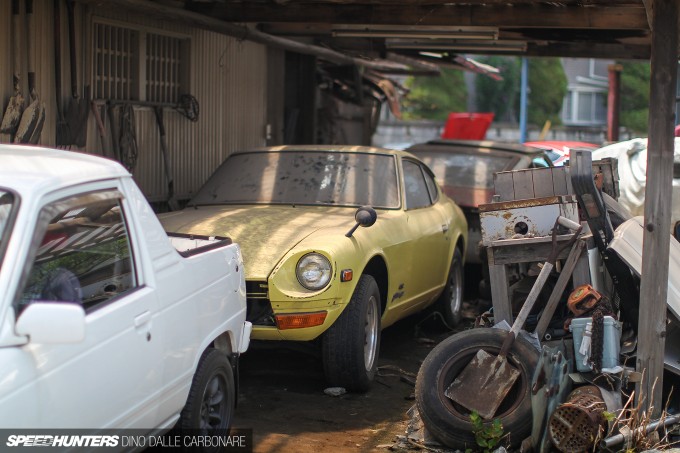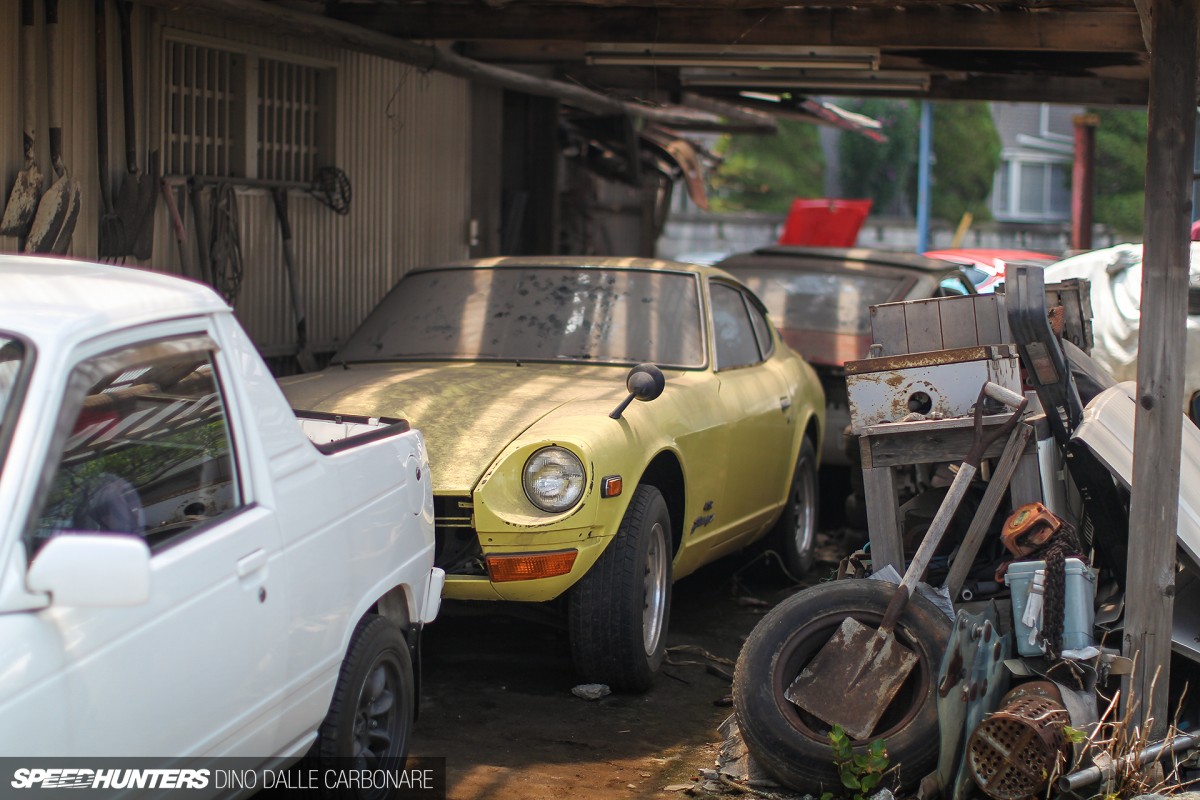 On a good day he may even come back home with an entire car, but only when they meet his criteria – which is pretty simple: the rarest of models. That's real KPGC10 Skyline GT-Rs, real S30 Fairlady 240ZGs, and real Z432s like the yellow one you see here.
It Takes Time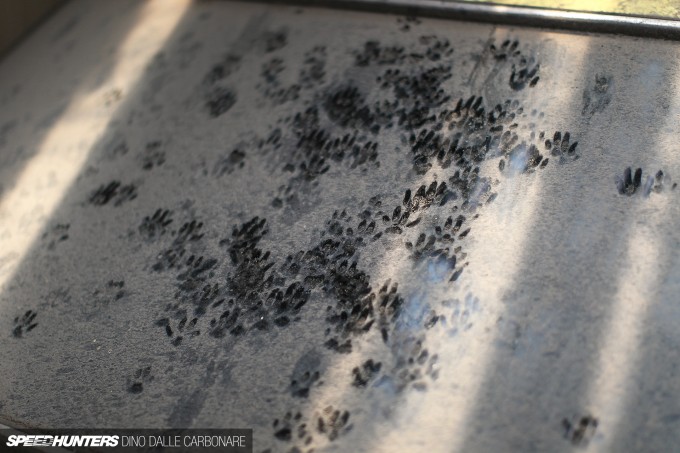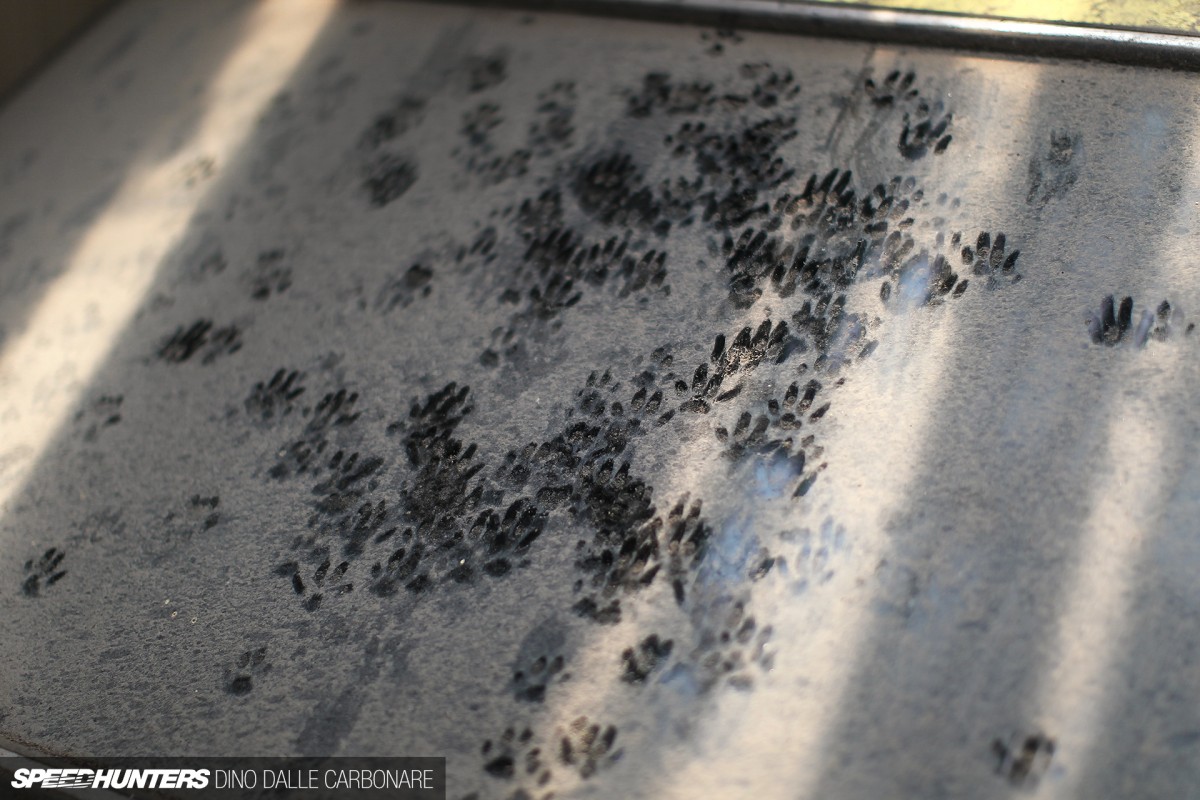 Ever since my first visit to TA Auto back in 2009, the yellow Z432 has remained in this exact same position. Ando-san is keeping it for himself, and says he will eventually get to it once he finds some time away from customer projects.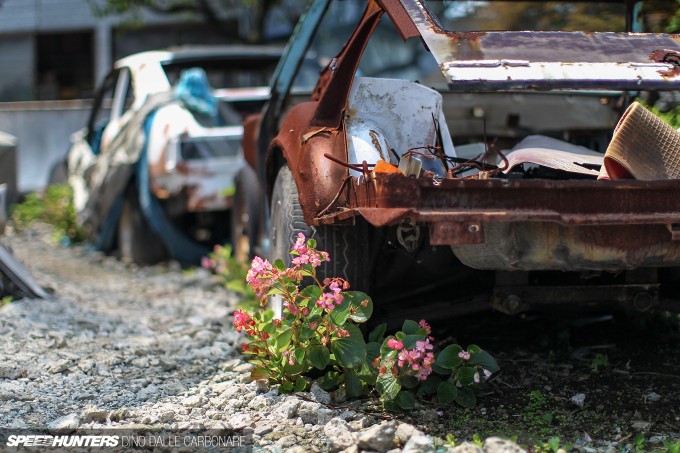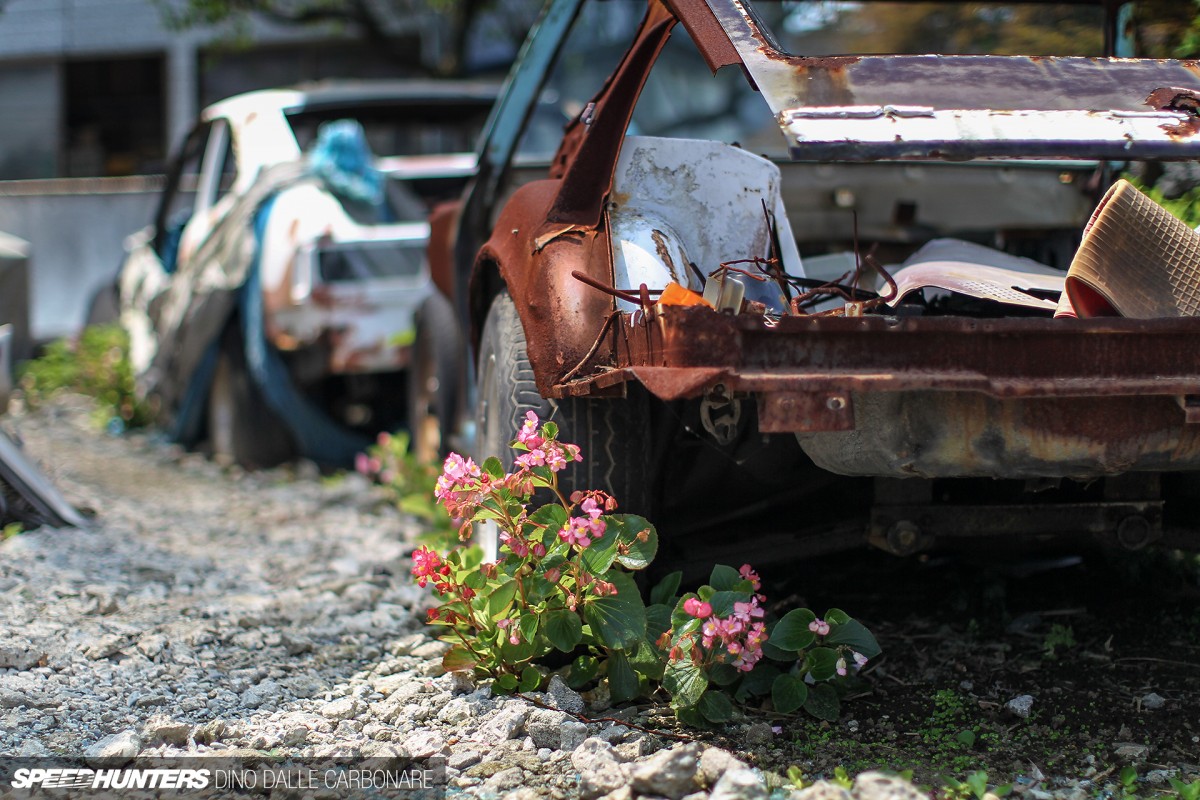 It may still be a very long time away though, because the projects just don't stop coming. If you're in Japan and are after the best possible car restoration service – Ando is the go-to man. But with him doing all of the metal work, the panel beating, fabrication, preparation and even painting, turnaround on a big job can stretch to years.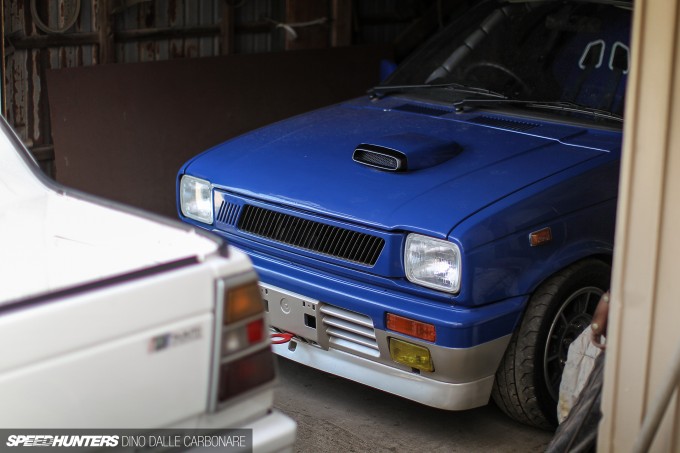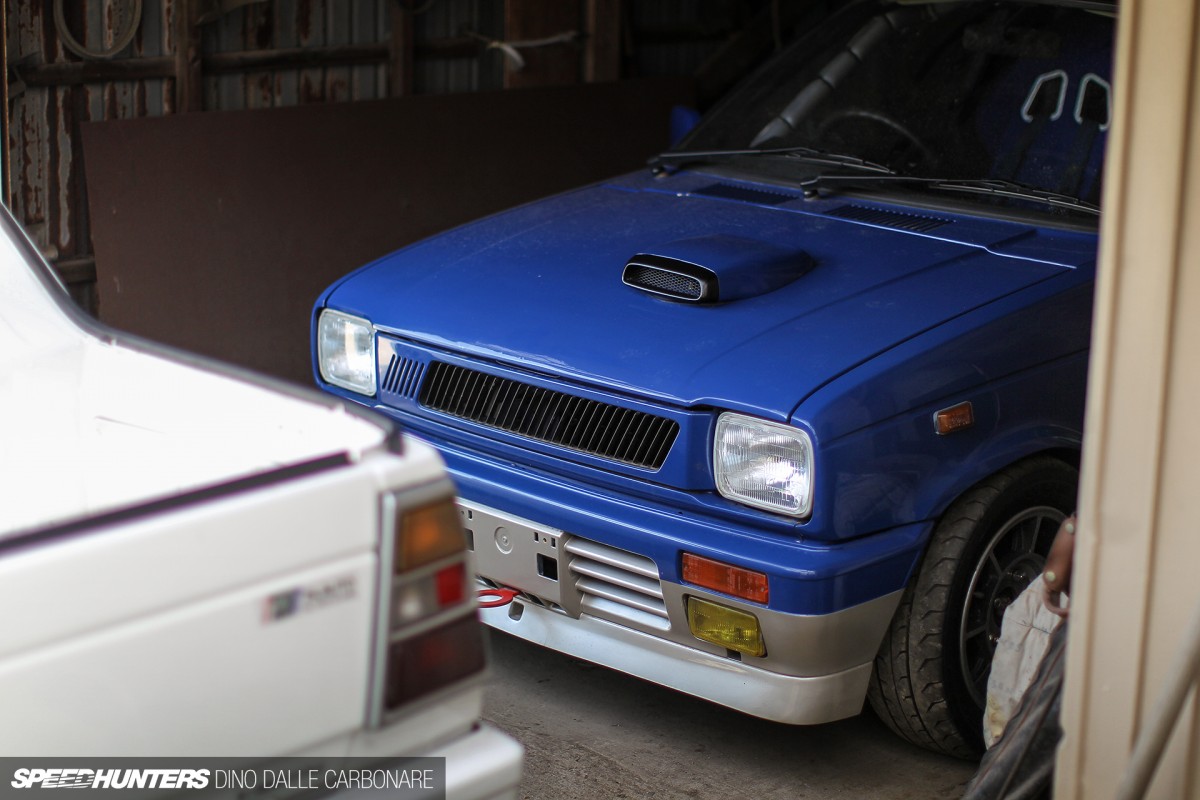 So in the meantime his fun comes with other types of cars – ones that are easier to play with.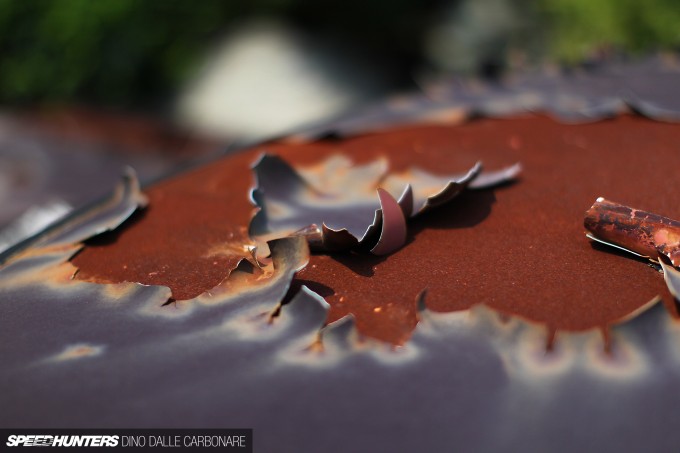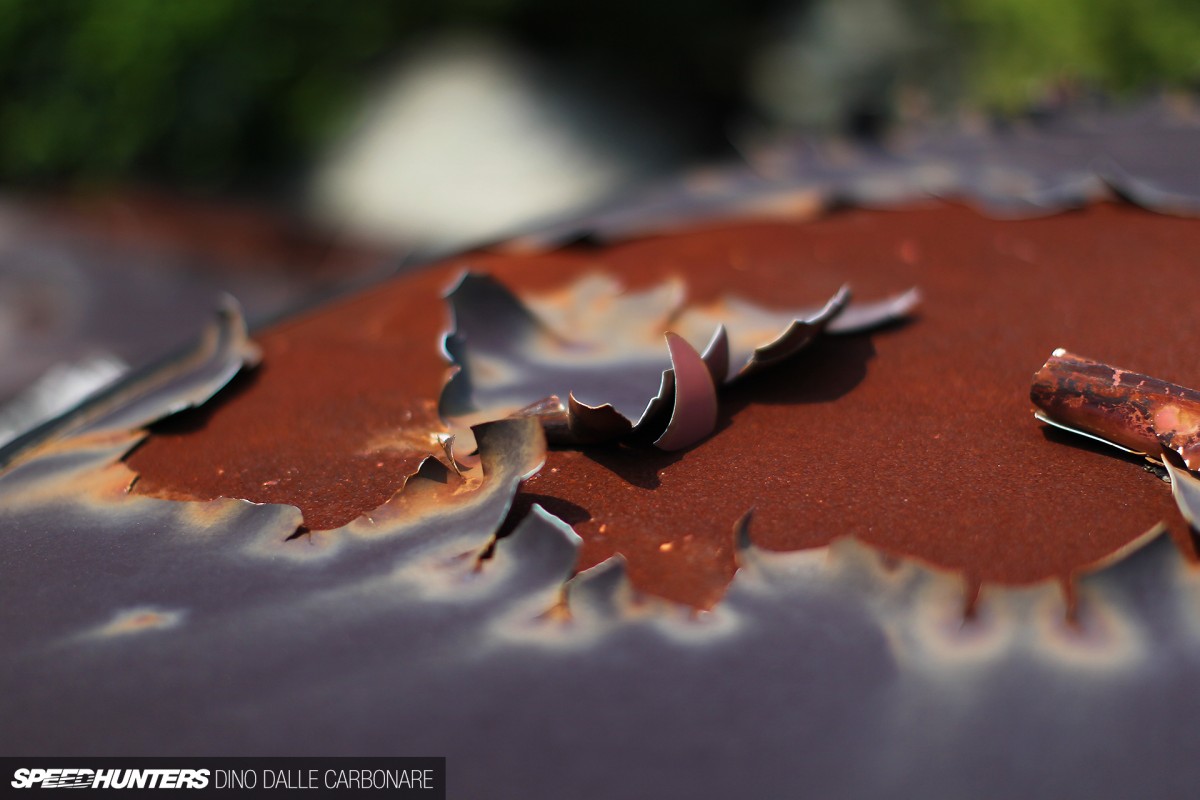 It all depends what he is working on at any given moment, and what sort of condition your car and chassis may be in. Ando says that nothing is beyond repair, and he will go out of his way to save rare Z432 and Hakosuka chassis because they are part of Nissan's heritage and are very desirable and valuable in today's market.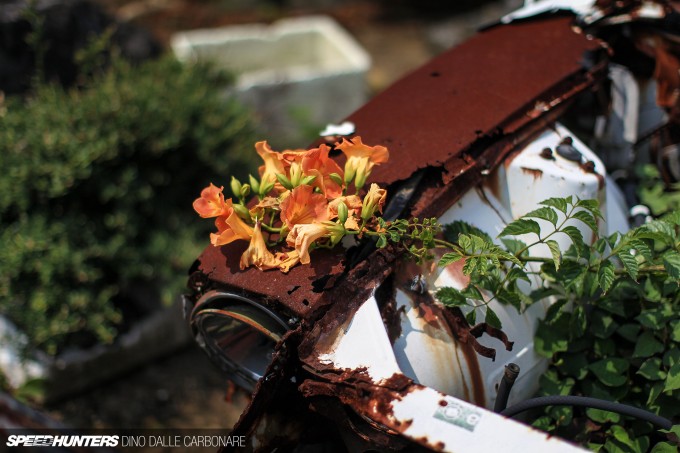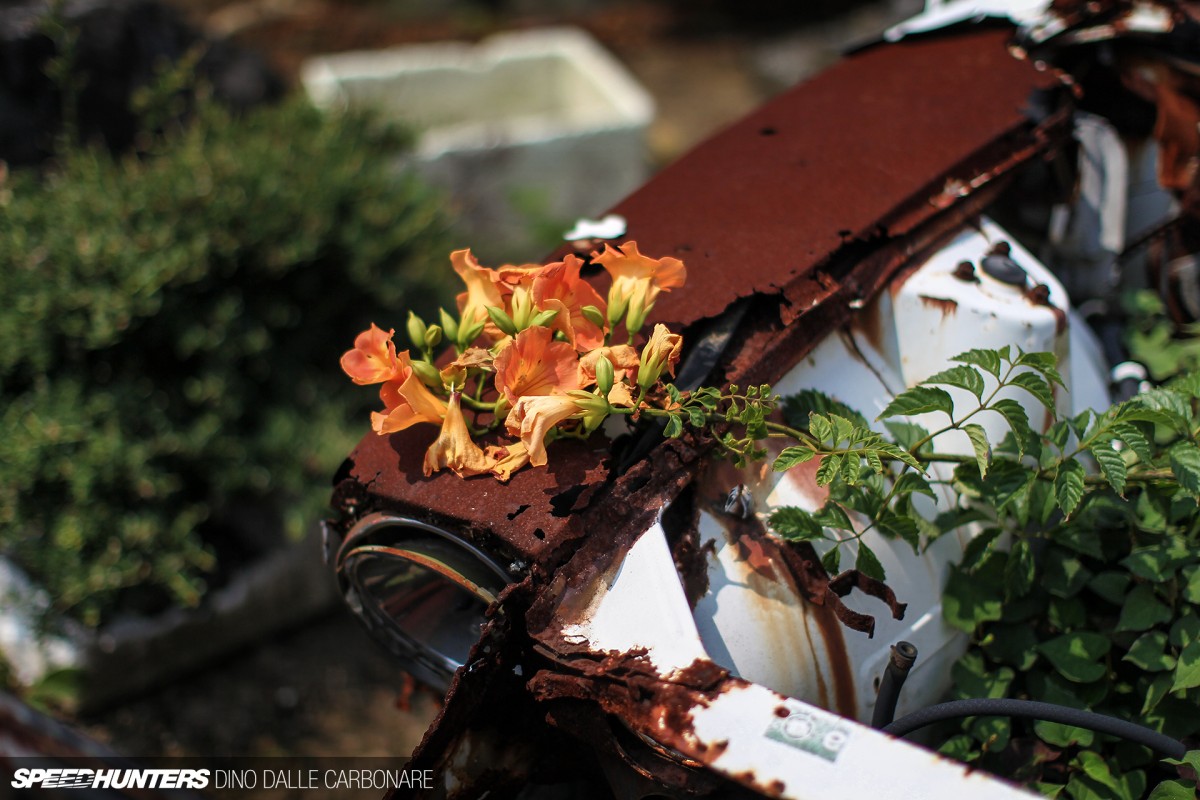 Some of the cars out in his garden may look like nothing more than carcasses slowly weathering away and being claimed by the surrounding vegetation.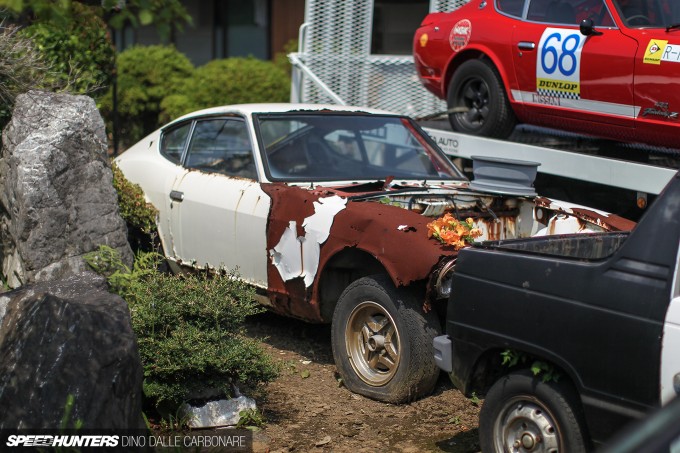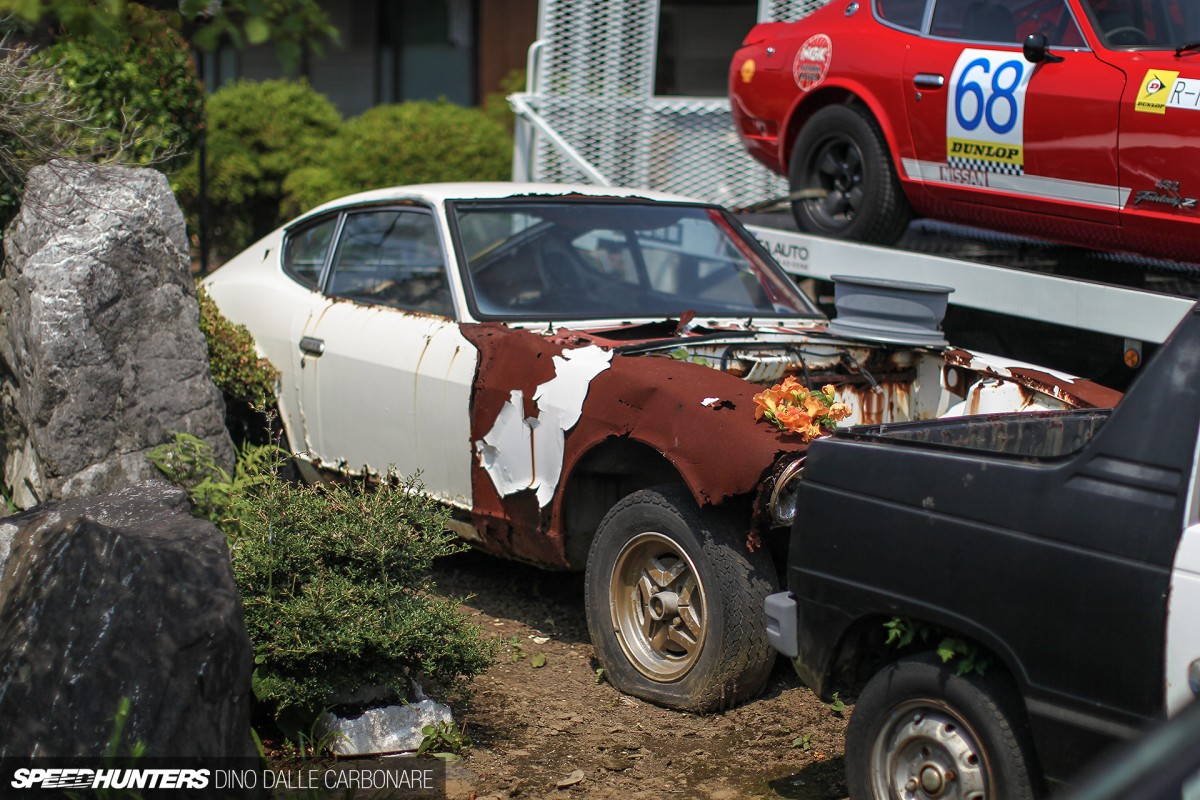 But even in cars like this there is much to save – parts that will retain the authenticity of a restoration he may be working on. And doing things by the book, just like it was done back in the day – and right down to the smallest of details – is what sets Ando apart. He wouldn't be caught dead bolting on fender flares where they don't belong, or modifying things that weren't originally modified from the factory. It's this level of accuracy and attention to the process that ranks him as the best in the business.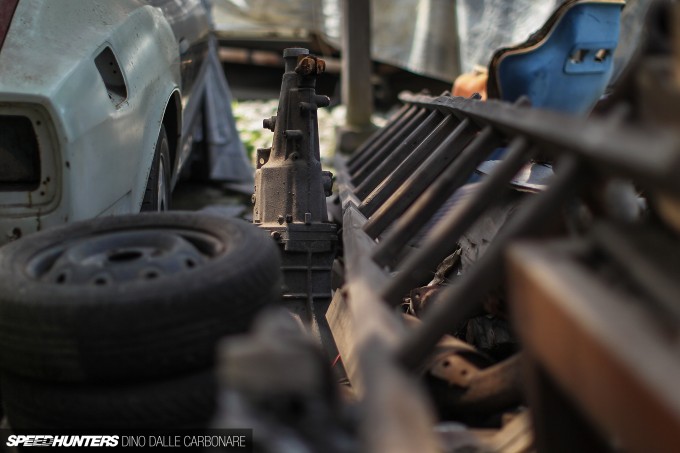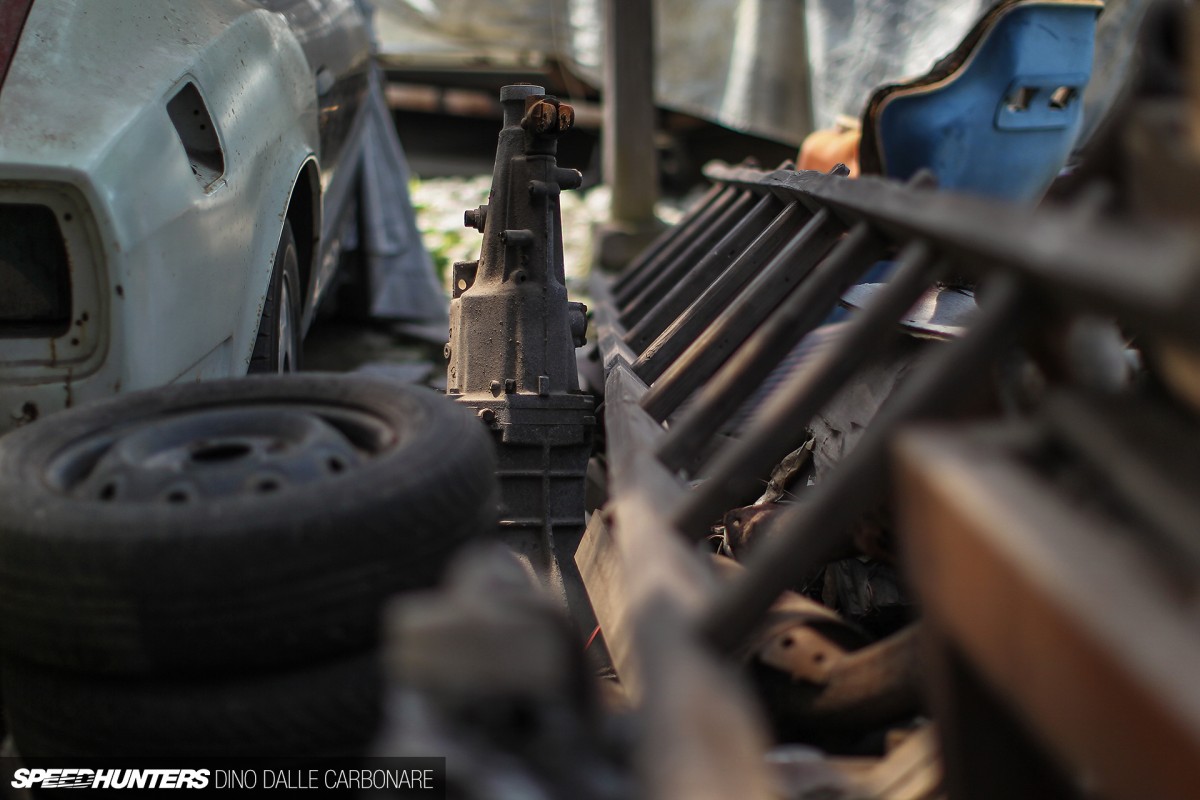 It's also why Nissan go to him with cars to restore for the DNA Garage collection.
A Lifetime Of Experience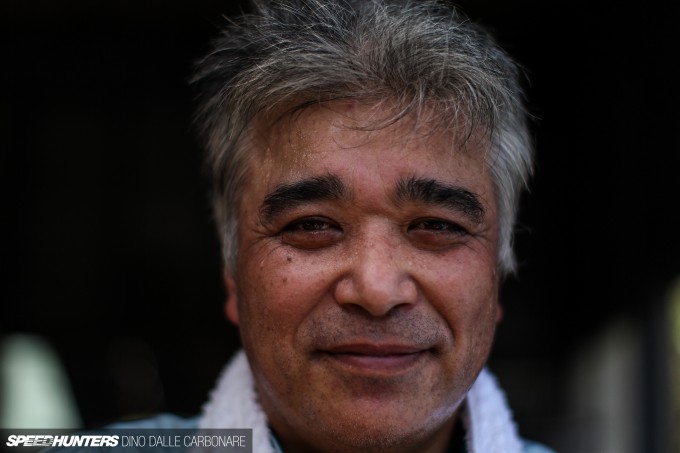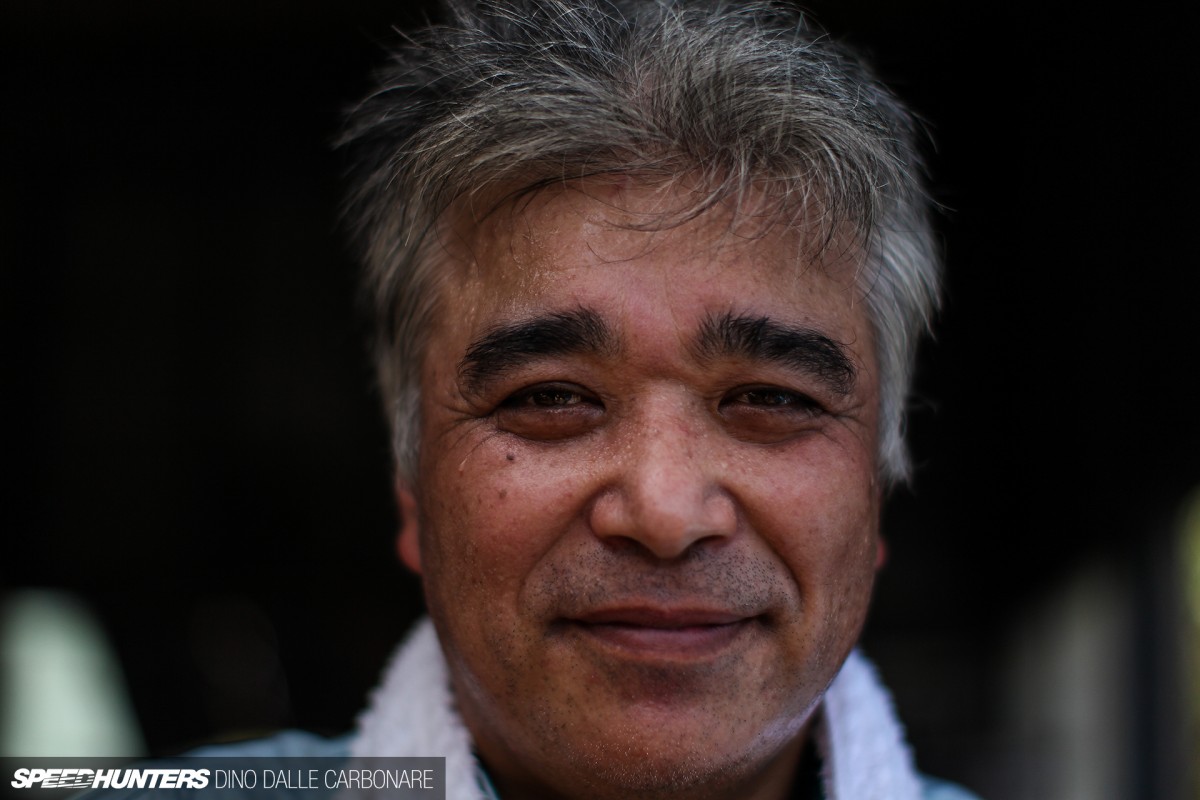 It's taken Ando a lifetime worth of hard work, but in perfecting his art he's become one of a handful of people able to take a rusted-out chassis with little salvageable bodywork…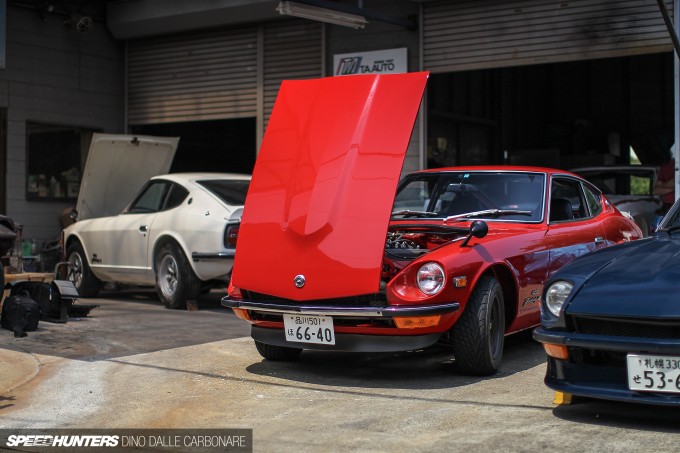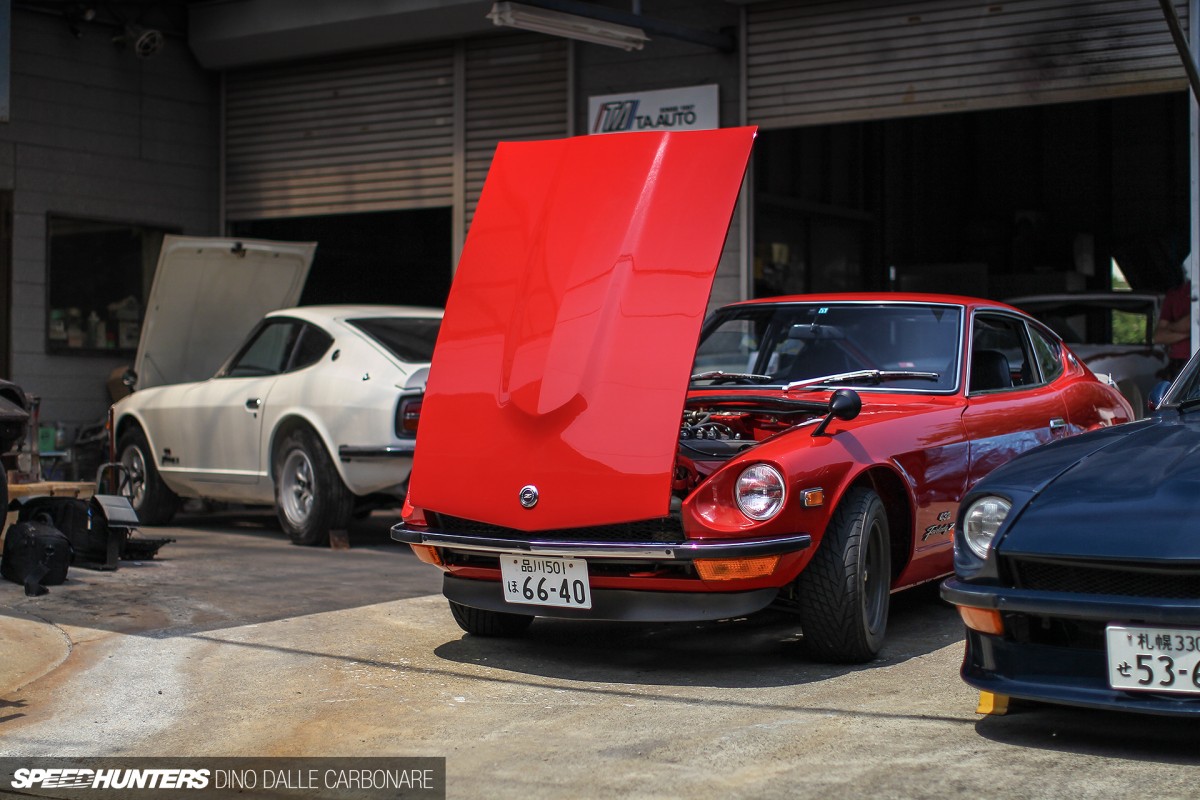 And turn it into this… This red Z432 S30 took almost three years to complete, but Ando-san brought it back life – and with a quality higher than when it rolled out of Nissan's factory in 1969.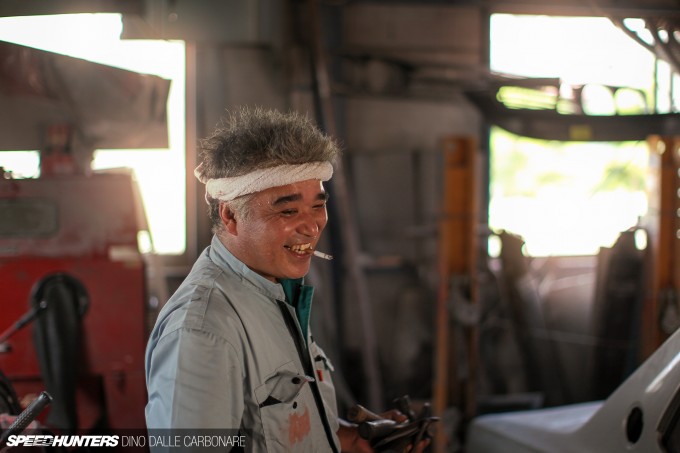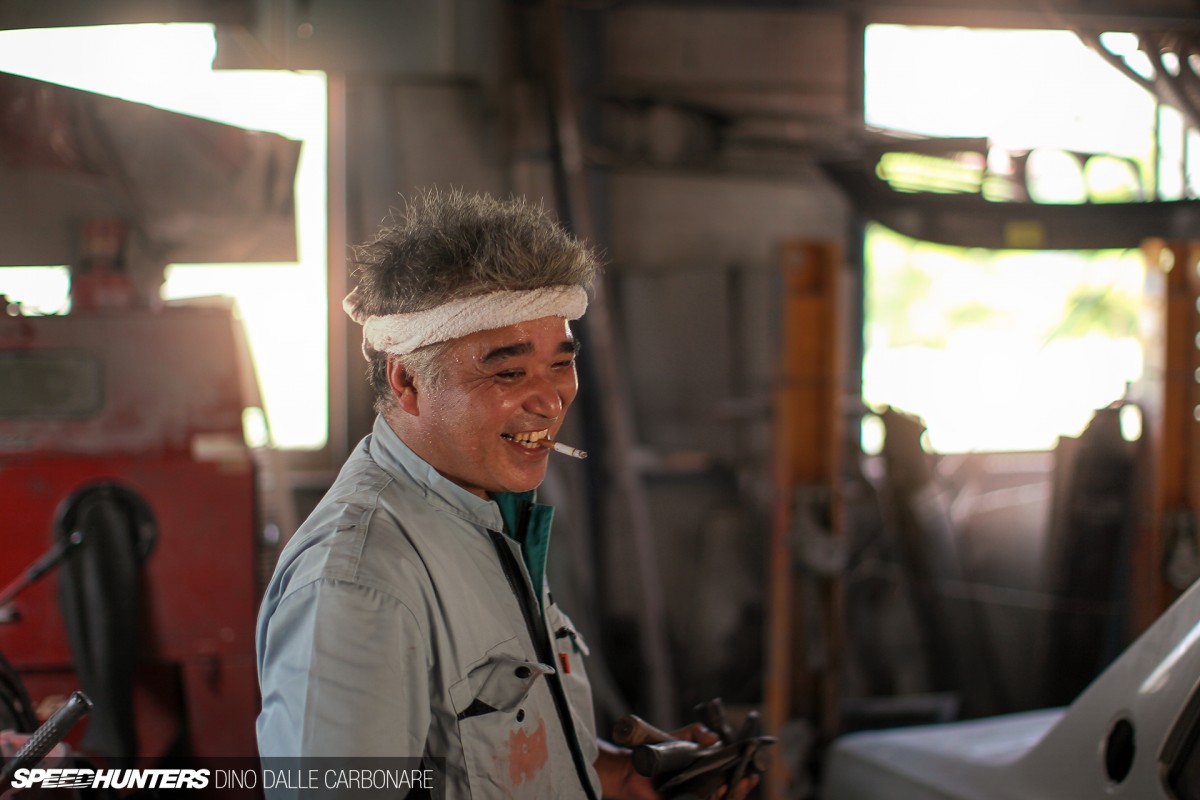 Ando-san knows Fairladys and Skylines inside out, right down to the materials used in any part you care to ask him about. He knows what is needed before even taking a closer look at the car, which as he told me, is one of the biggest problems out there right now. The majority of classic cars that are being sold and traded in Japan today are nothing short of crap. Most have been subjected to a quick patch-up job to hide away major issues, that will – in time – rear their ugly heads again and in the process give the owner a nasty surprise. Ando has seen it all, and nothing that these so-called 'specialists' will do to turn a quick buck, shocks him these days. He insisted that I tell you – the Speedhunters reader – to be careful of what is out there, because if you are in the market for a Japanese kyusha, there is a very high chance you will fall pray to this sort of deceit.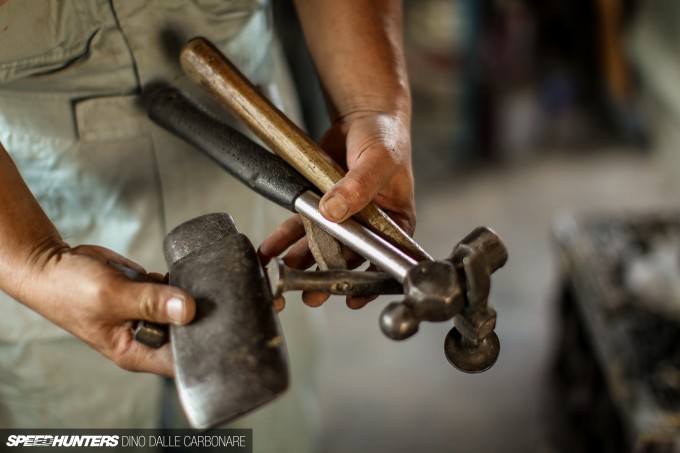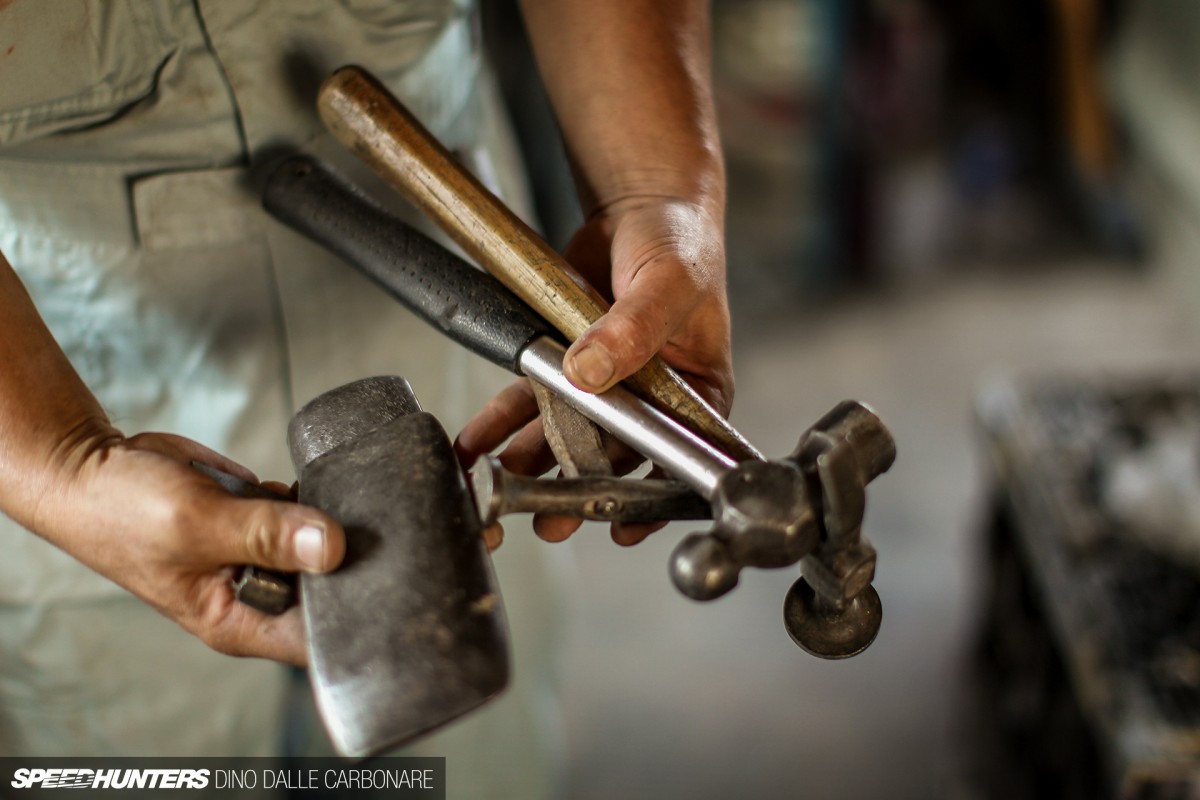 So no, Ando prefers to start right from scratch. Armed with a few hammers and a couple of appropriately-shaped dollys he can turn sheet metal into beautifully formed body parts.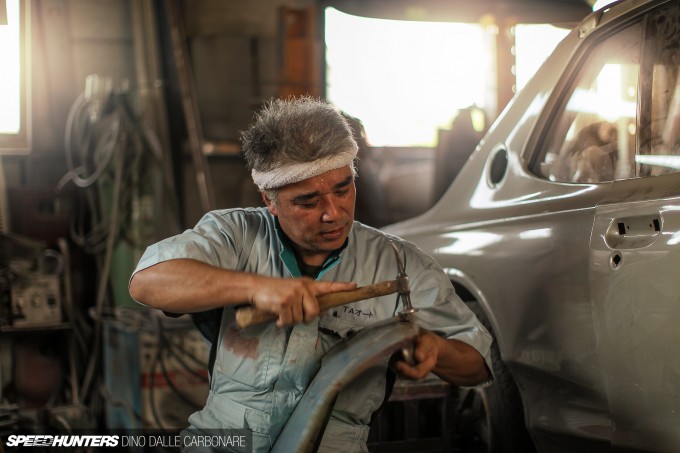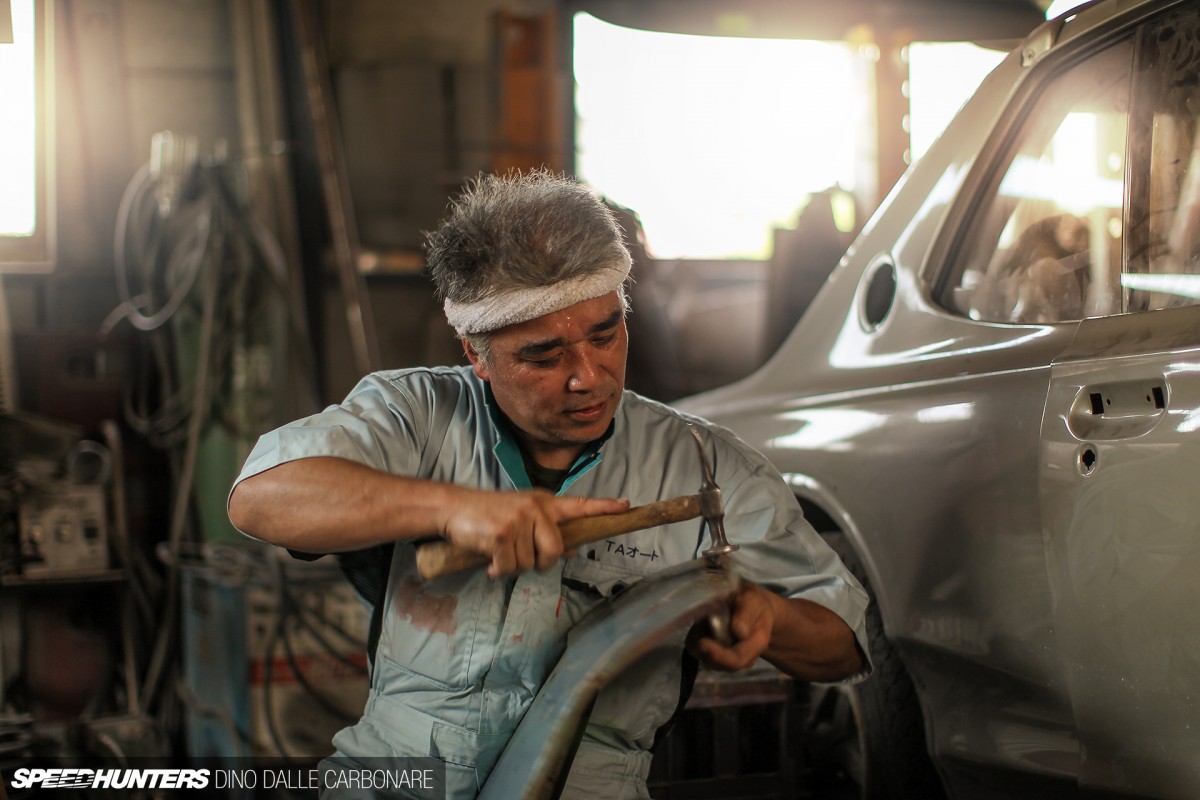 During my visit he gave me an idea of what he has to do to salvage an S30 front fender. Even before dealing with rust and holes, any thin sections need to be cut out and patched up with fresh steel.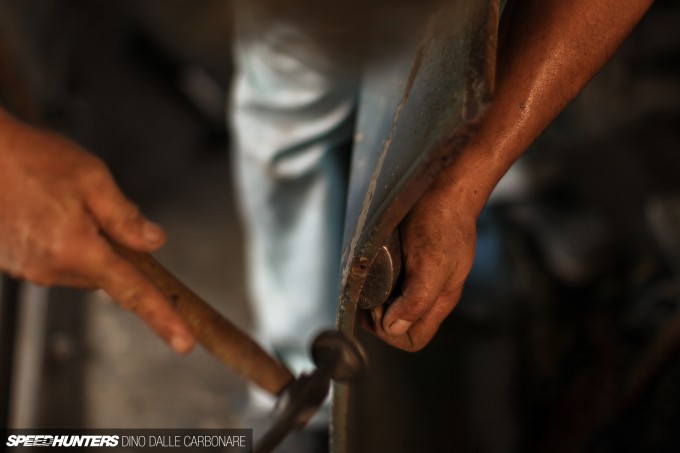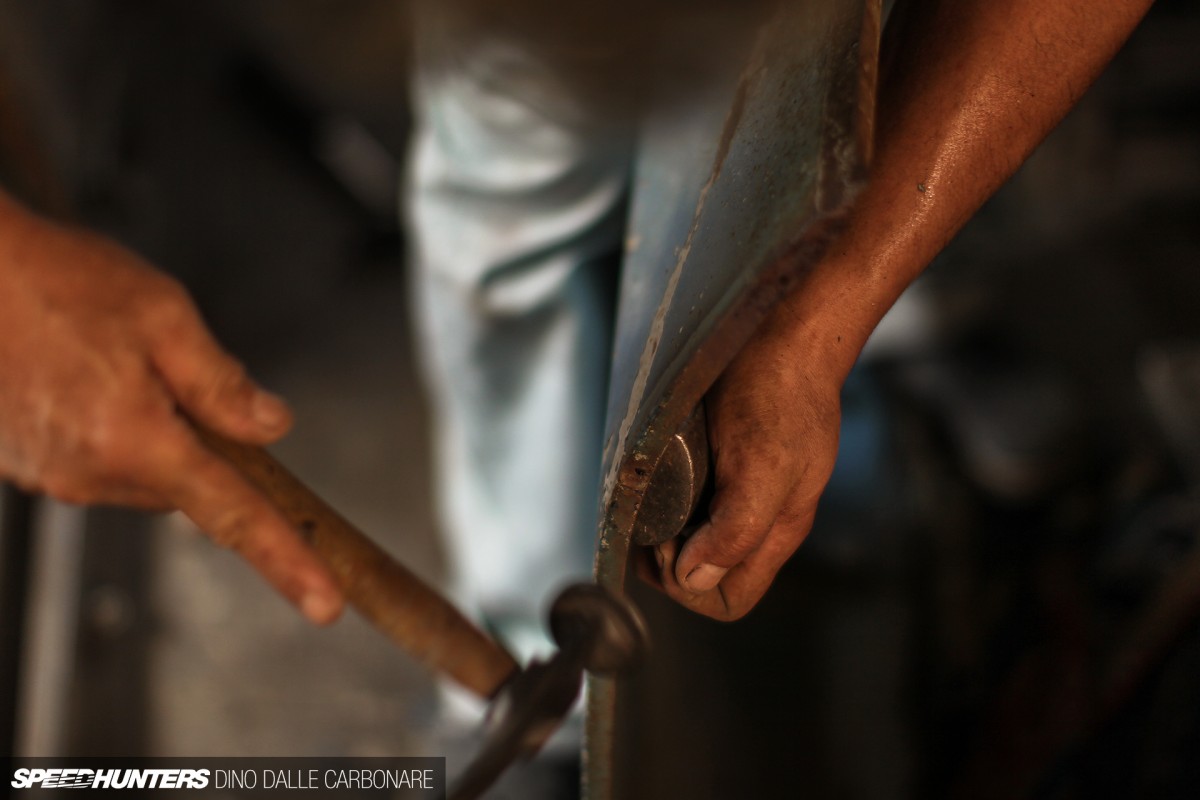 The first step always calls for straightening up each corner, curvature and dent that the part in question may have. Only when he's brought it back to its original form he will assess what needs to be done, and then move on with the fabrication part of the job.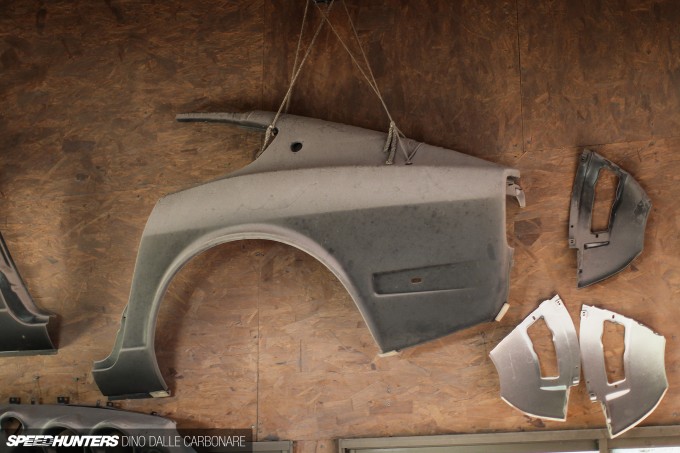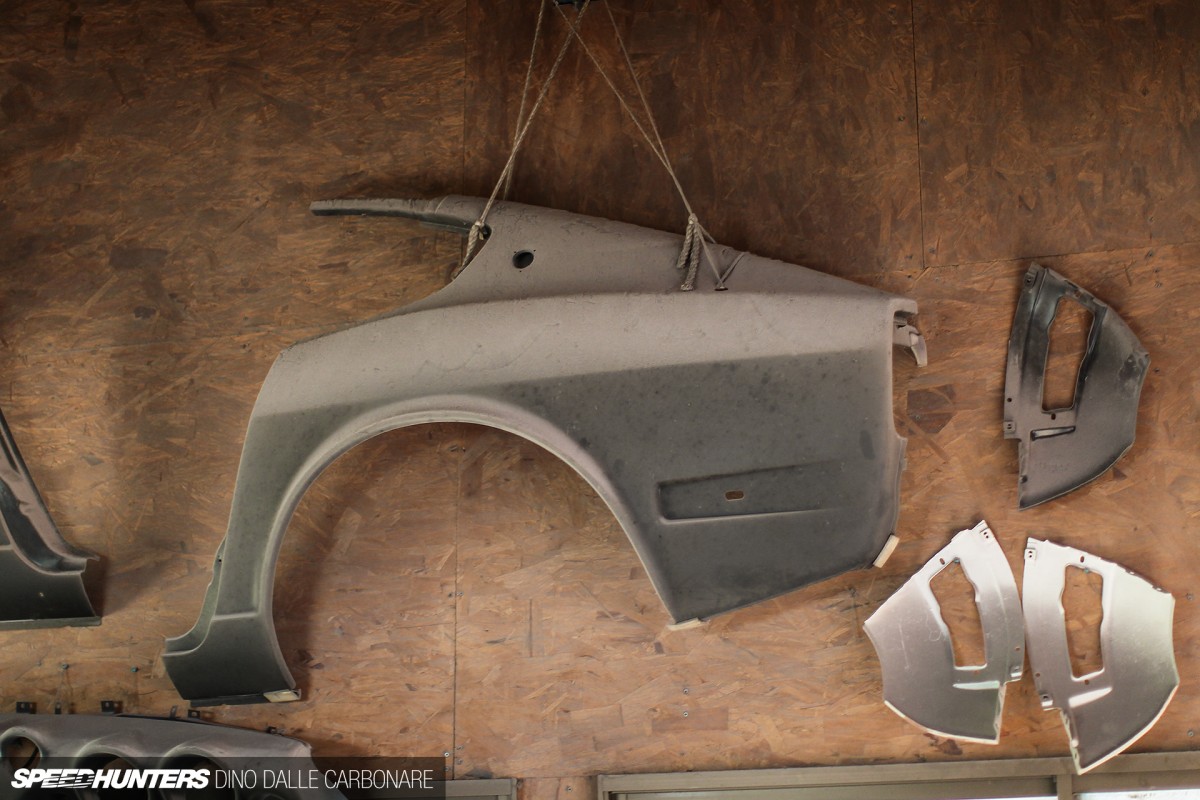 The idea is to end up with something like this.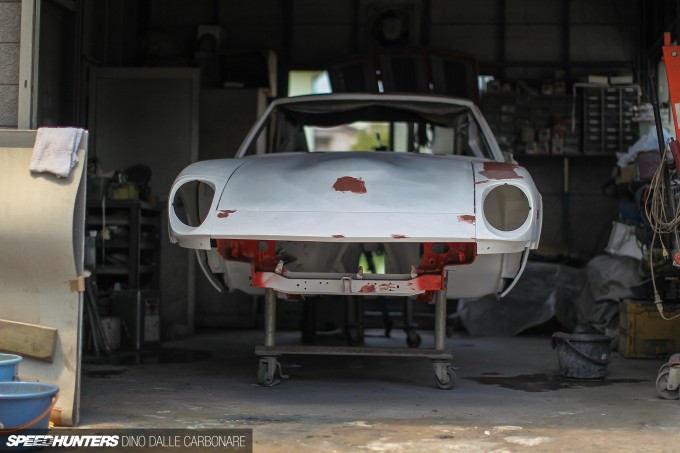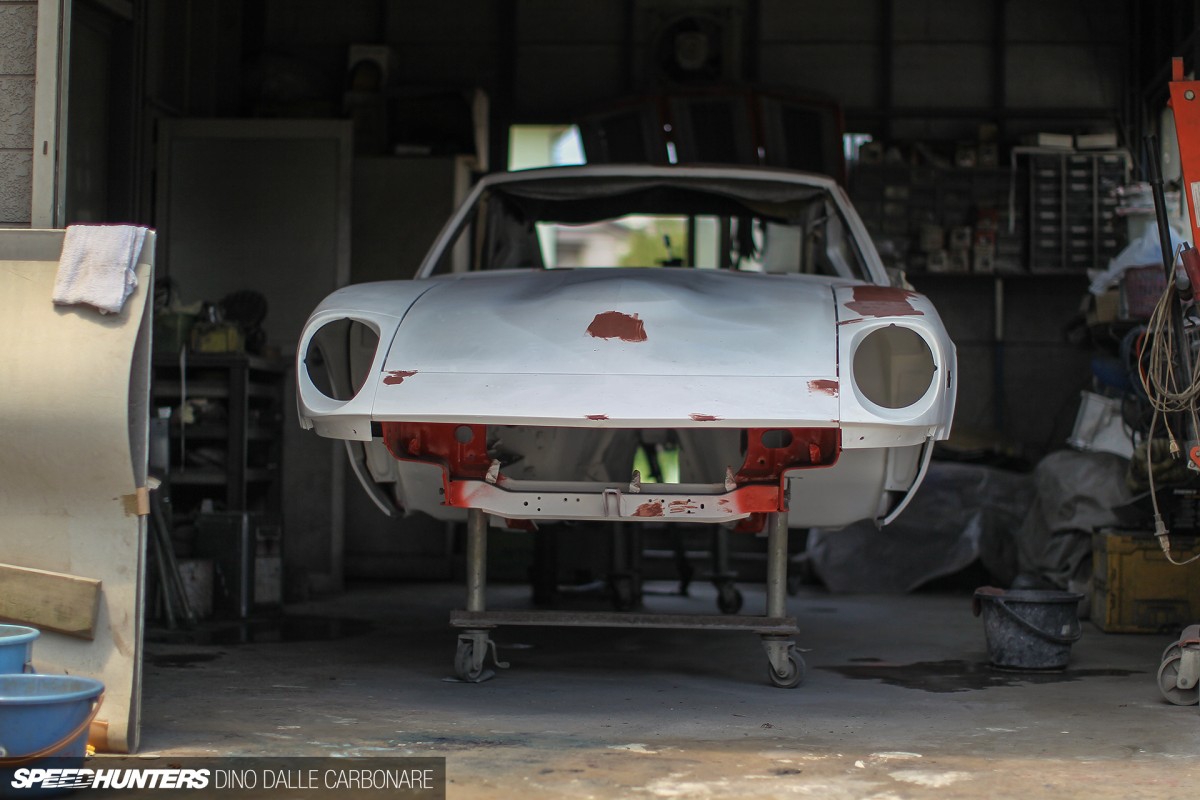 Once a chassis is complete, it's a question of doing things one body panel at a time. It's not uncommon for him to be spending days or even weeks on just a single area. Then, once they are all finished it's on to the test fit. Every gap is lined up before getting on with the job of prepping the surface for the few layers of primer. Then it's on with the putty to smooth out the smallest imperfections before sanding it down and applying the paint.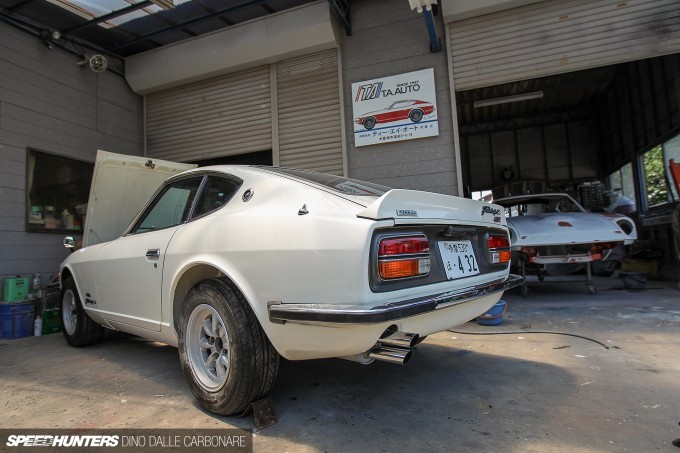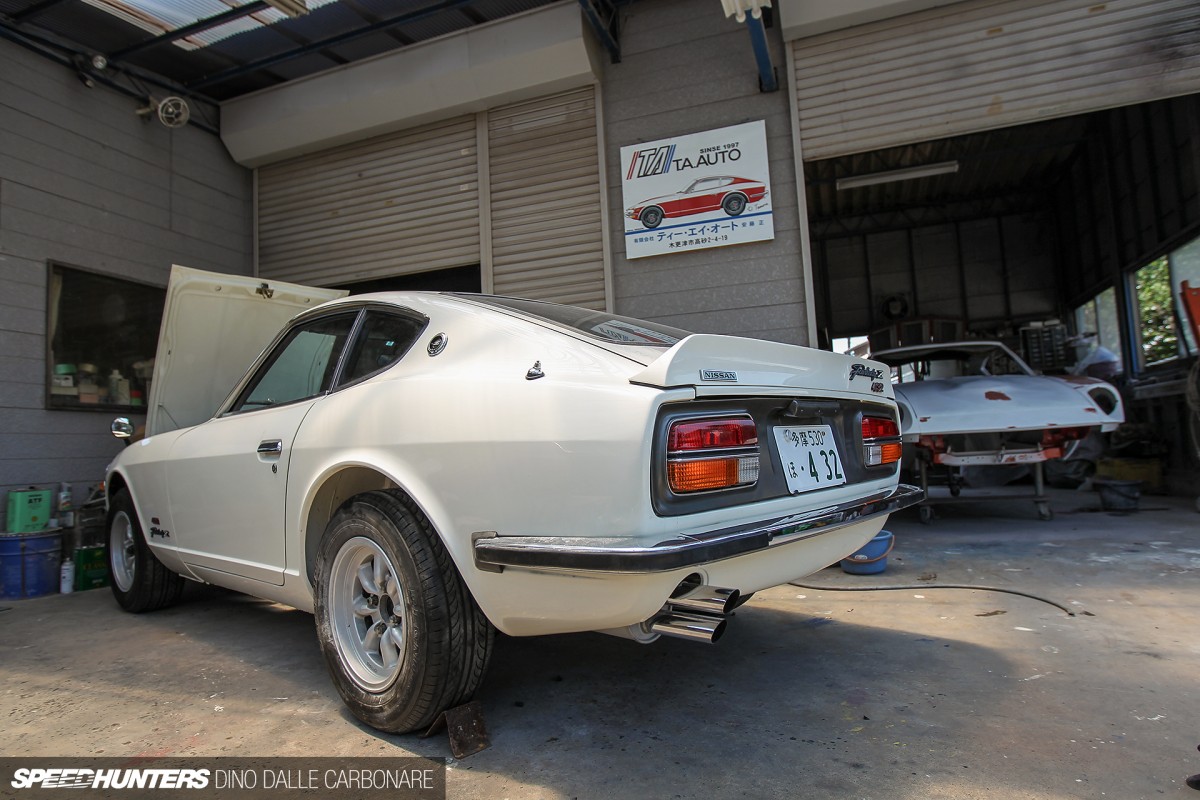 Once that is done the car is put back together piece by piece – another extremely time consuming step in the restoration process. Ando likes to replace and source as many new old stock (NOS) parts as possible – things like window glass, window and door seals, and all those rubber or plastic consumables that set a proper job apart from a compromised one. The result is nothing short of perfection. While it may be a big investment for the owner, Ando's cars are known to attract premium prices when the time eventually comes to put them on the market.
Workmanship of this level has no substitute.
Dino Dalle Carbonare
Instagram: speedhunters_dino
dino@speedhunters.com