An Accidental Career Path
Hi fellow Speedhunters! My name is Tyler Richardson, I'm 22 years old and I'm from a small town in New Zealand called Hamilton. I've been invited here to tell you about what I do for a living and how I do it.
It all started back when I was eight years old and got into kart racing. After a few years of travelling the country with my parents, racing and moving up through the different classes, I eventually managed to win a national title. I was lucky enough to be gifted a brand new white Arai SK5 helmet, and as you could imagine, I was over the moon! The helmet was plain white, and it wasn't going to cut it, so I took it down to my local signwriter and asked if they could do something cool with it. What they came back with was nice, but I really wanted to have a go myself. So I went back and raided their bin of vinyl offcuts and started playing around with different designs and colours. After my racing friends began to take note of me having a new helmet design every weekend, they asked me to have a go with their white helmets too.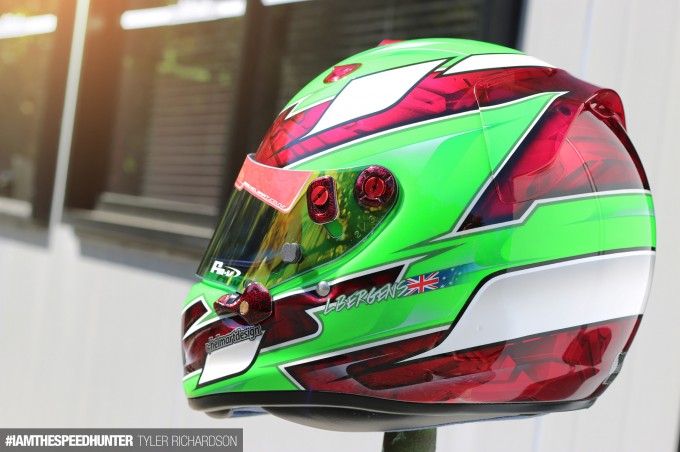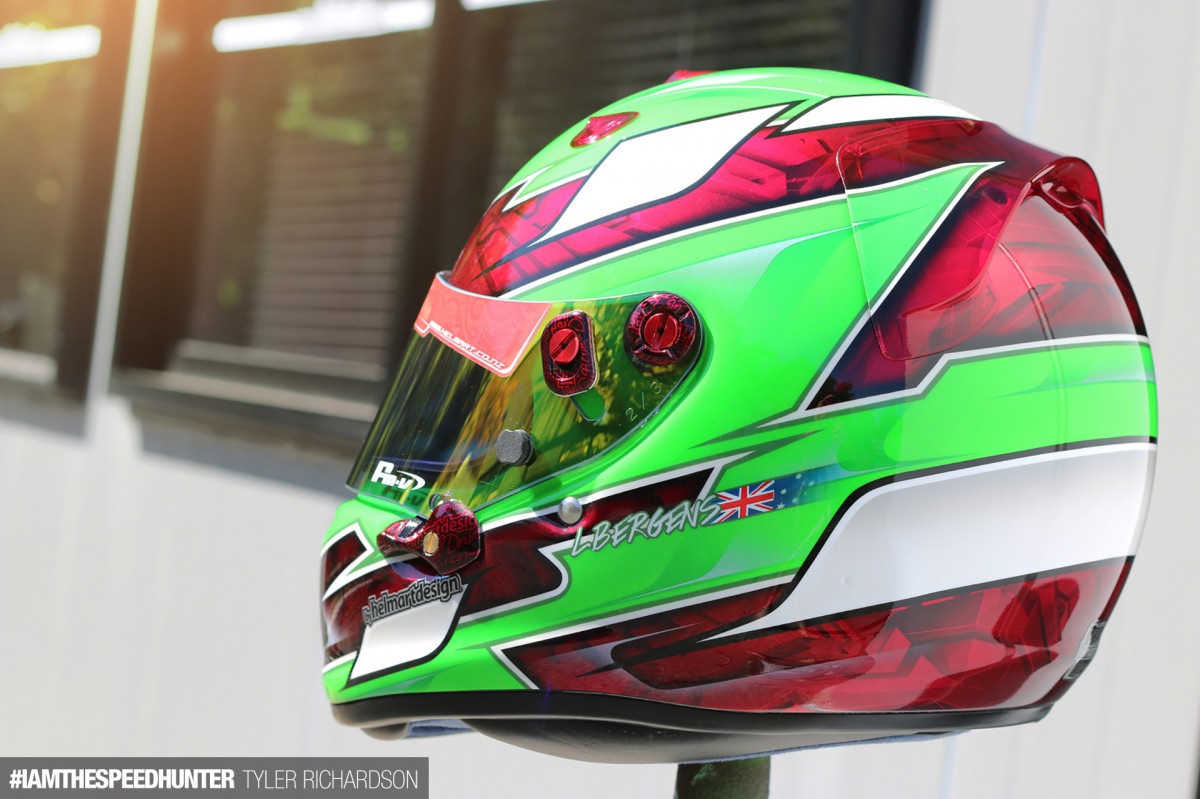 This was when it all really began for me; I came up with the name for my business – Helmart Helmet Design – and started to show my true style with signs at the race tracks and laminated business cards. I had a small business for myself at 13 years old. Early on I always tried to promote my business everywhere I went, sponsoring both drivers and classes at big events to get the word out locally before I tackled the world. After a few years of working with stickers and wrapping complete helmets, I purchased an airbrush and began to learn the ways of paint.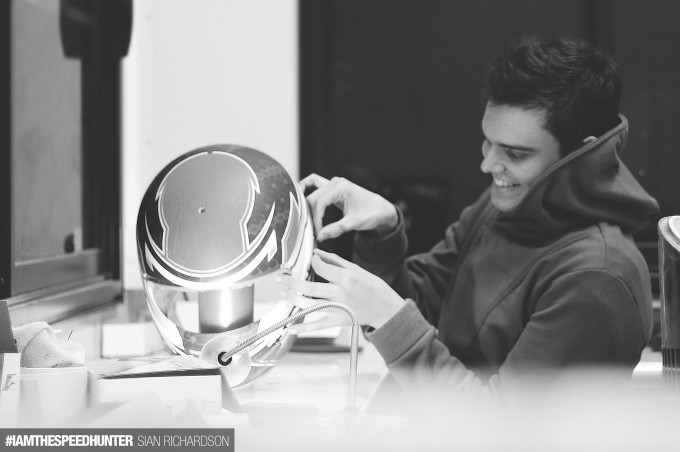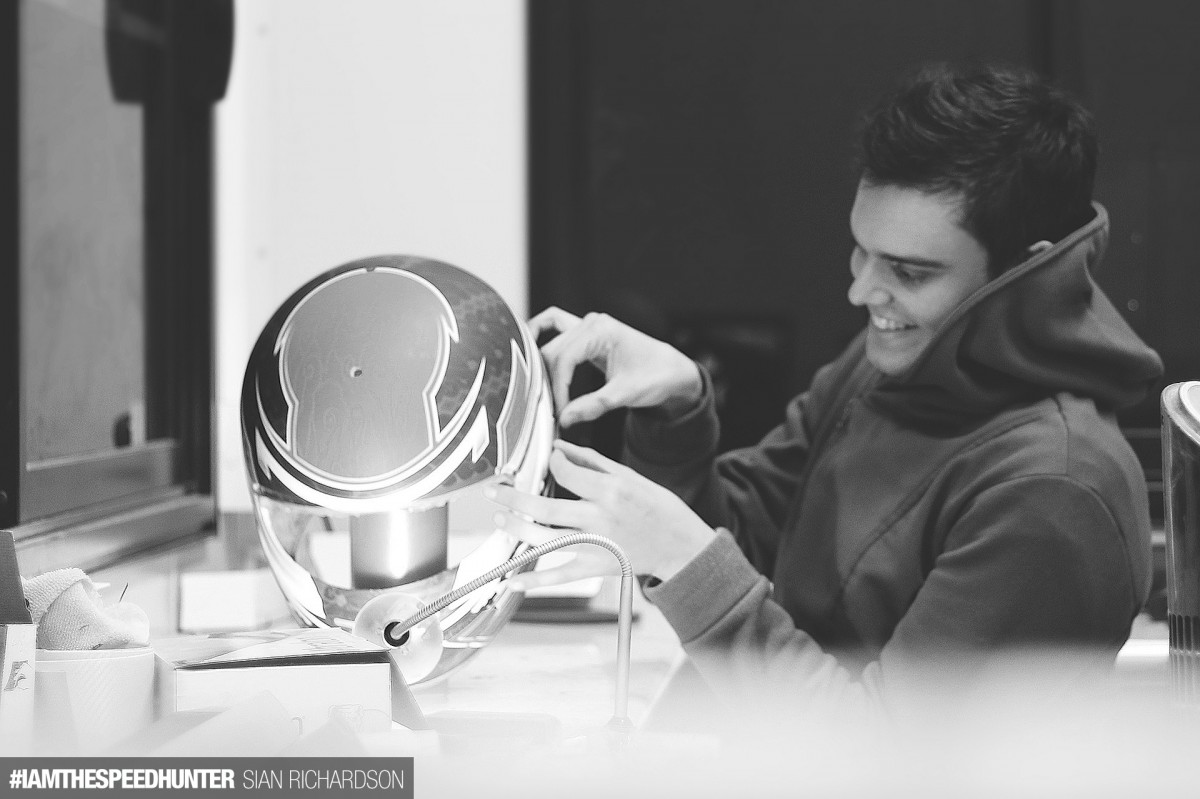 With no previous painting knowledge this was a completely new ball game to me, but at the same time in certain aspects it was similar to what I had learned with the vinyl side of things, as there is an unbelievable amount of masking that goes into the painting of a helmet.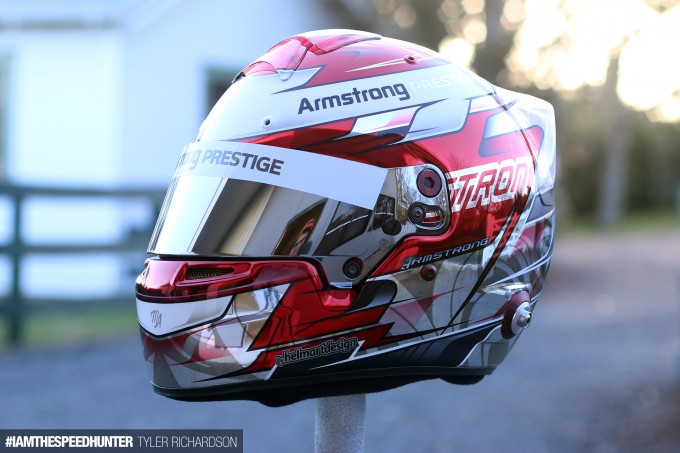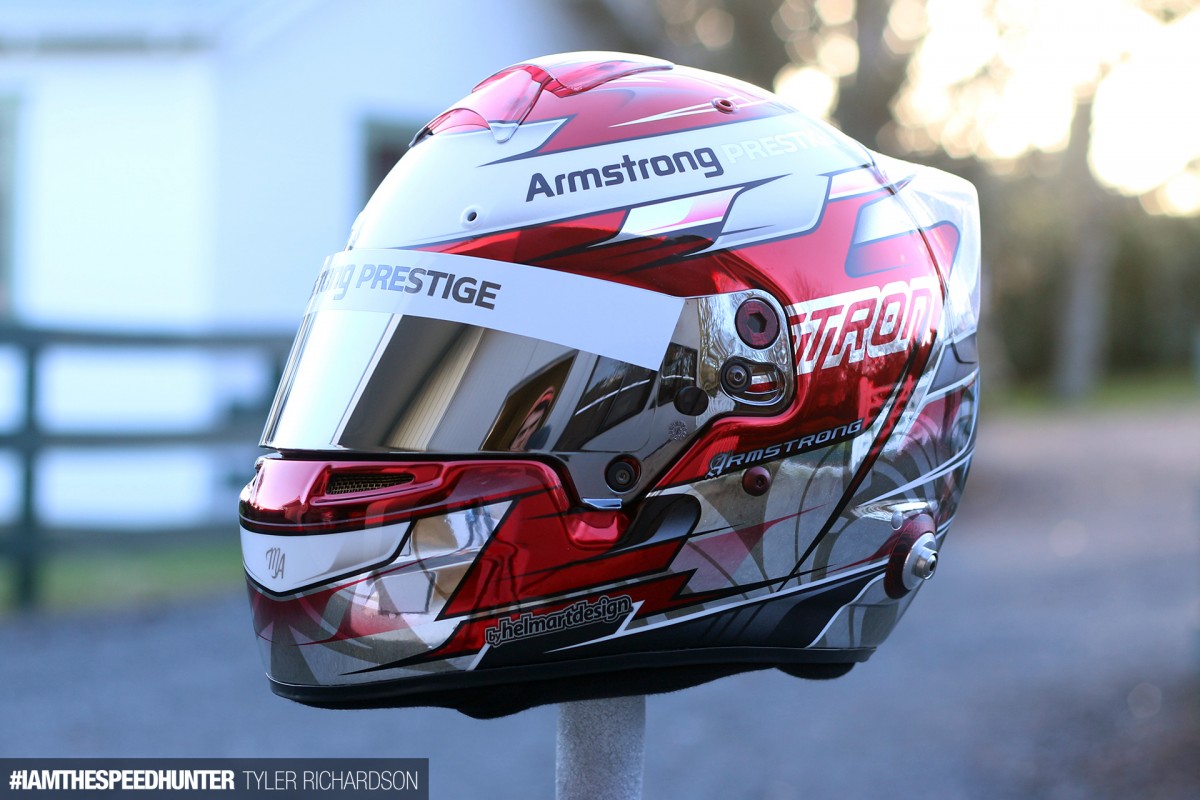 I skipped my two final years at school and left when I was 16, working full-time as a signwriter for almost a year, all while still doing the helmets at night when I got home. After that I took the plunge and started Helmart full-time, and I haven't looked back since. Helmart is now bigger than I could have ever imagined or dreamed of, and it's a name that's rapidly growing throughout the motorsport world.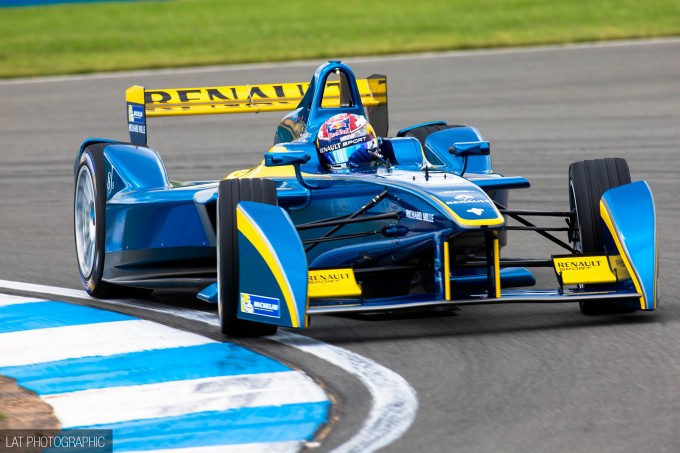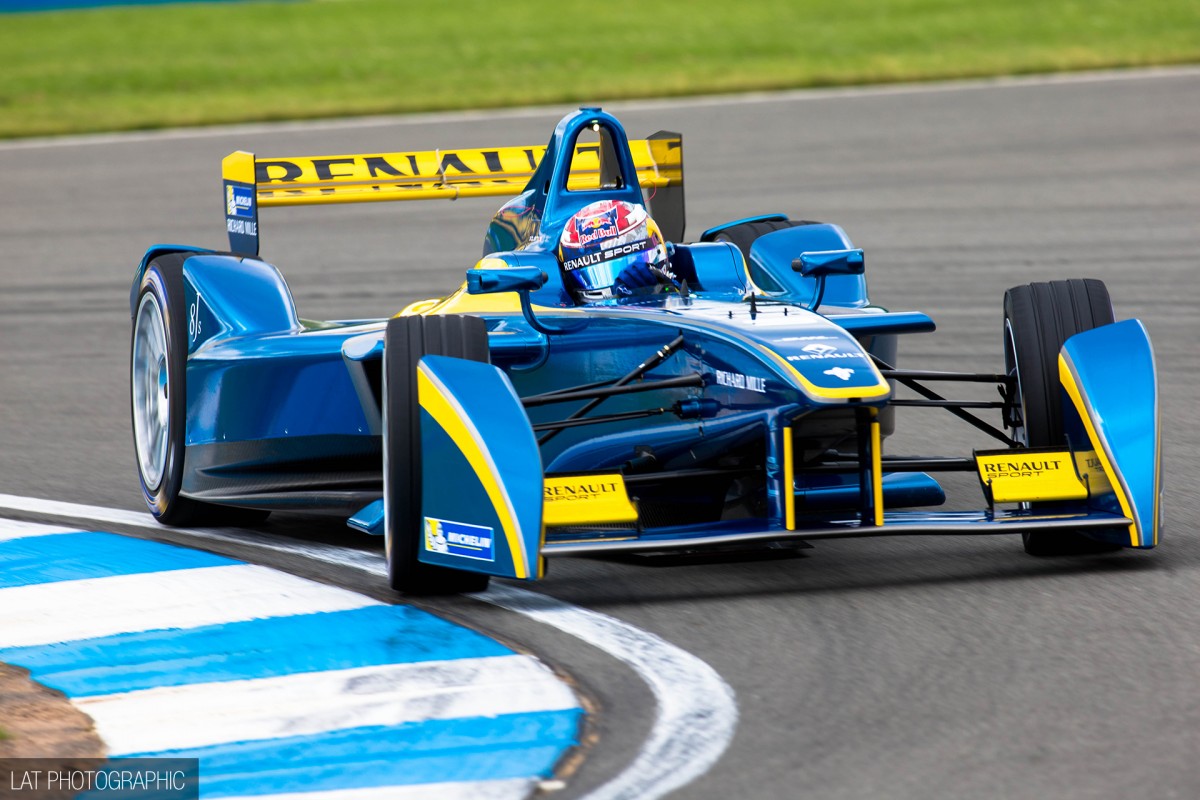 I now have some amazing international customers driving some incredible cars that have really pushed Helmart into the limelight. Sébastien Buemi is currently wearing my helmets driving for E-Dams in the newly formed FIA Formula-E Championship. He also just won the World Endurance Championship aboard an LMP1 Toyota.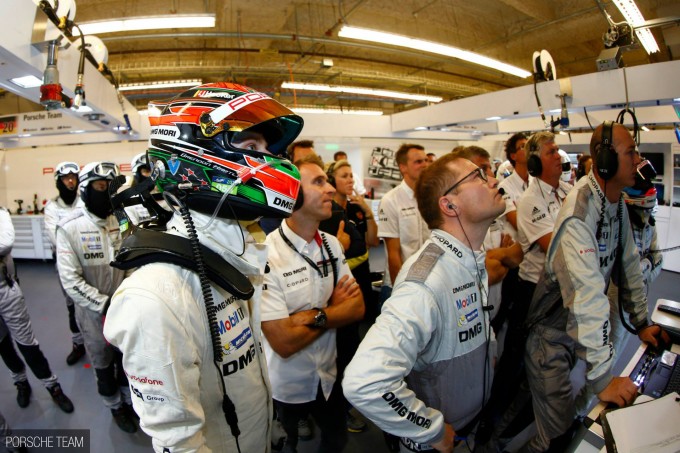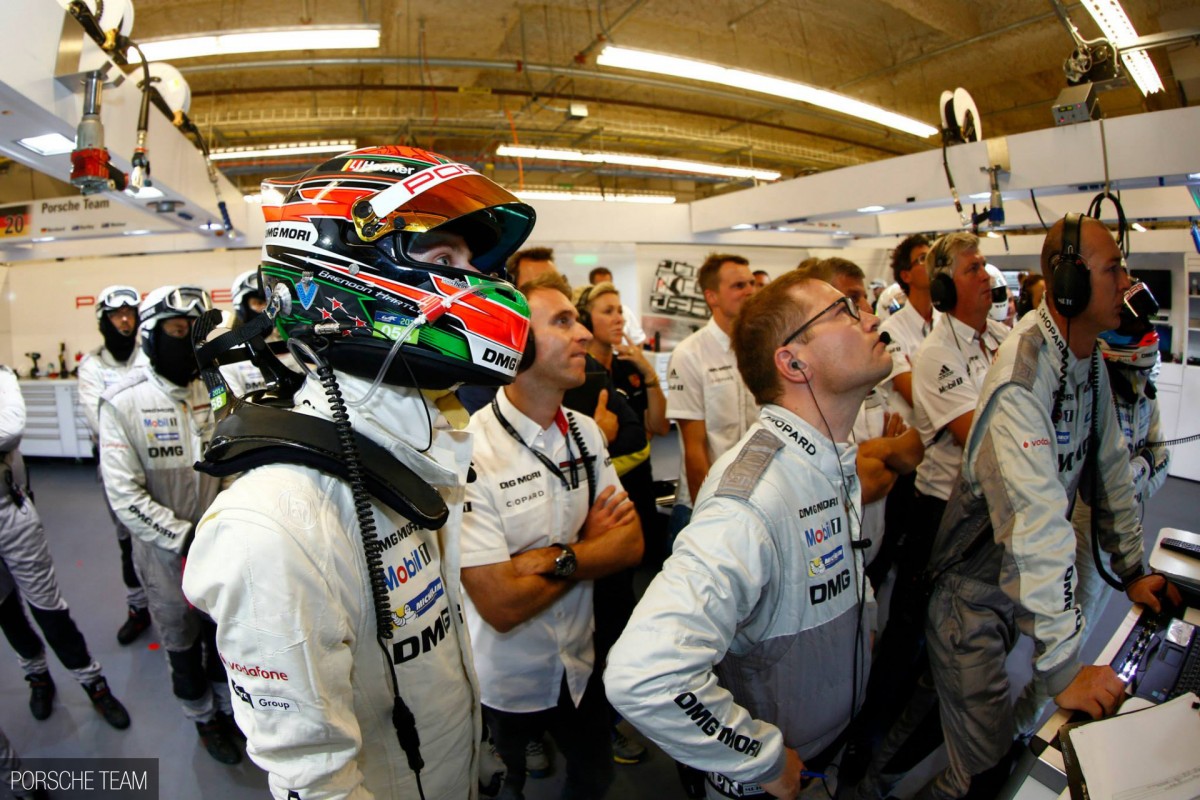 Also in LMP1 there's Brendon Hartley, who as you will probably know drives the #20 919 Porsche hybrid. Having these two drivers wearing my helmets in the top level of the Le Mans 24 Hour race this year was the real highlight of my career so far. Together with Brendon we designed a special helmet for this race – the top of the helmet featuring a glow-in-the-dark base, with an outline of New Zealand and Porsche attributes over the top.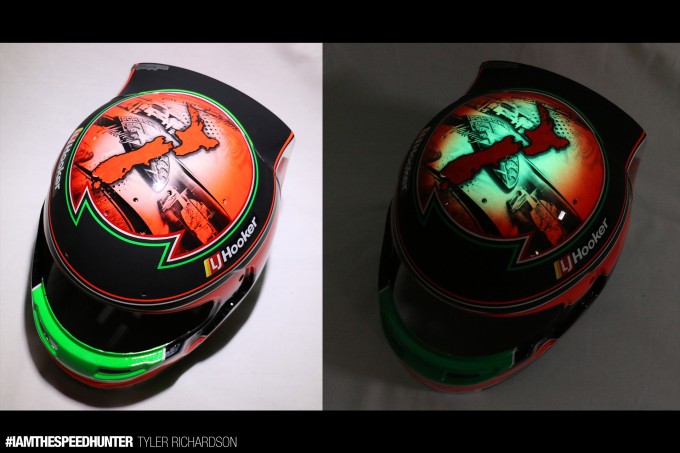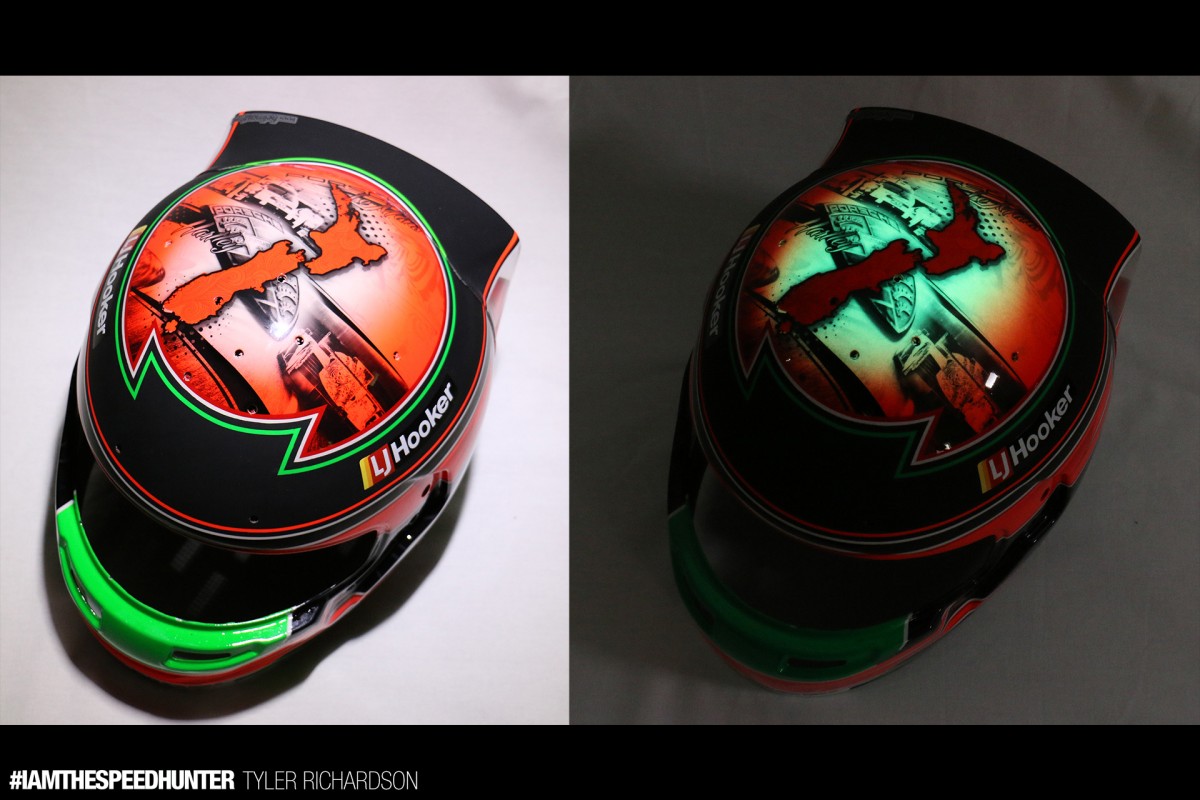 A crazy number of hours when into this (and I would hate to count them!), but it was really fun to work on this with Porsches's return to the top level of the race after a 16-year absence.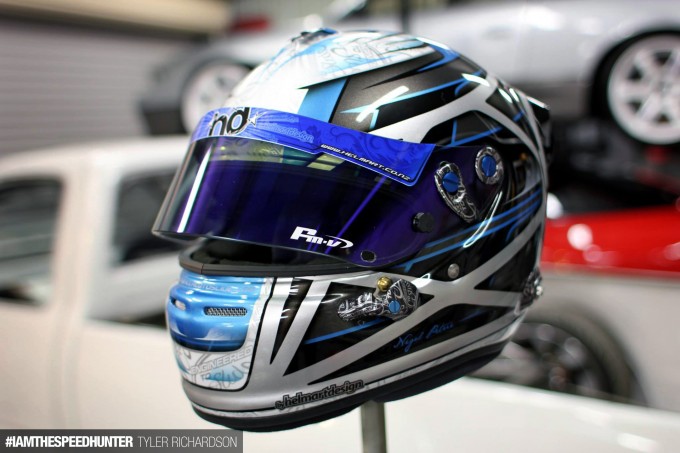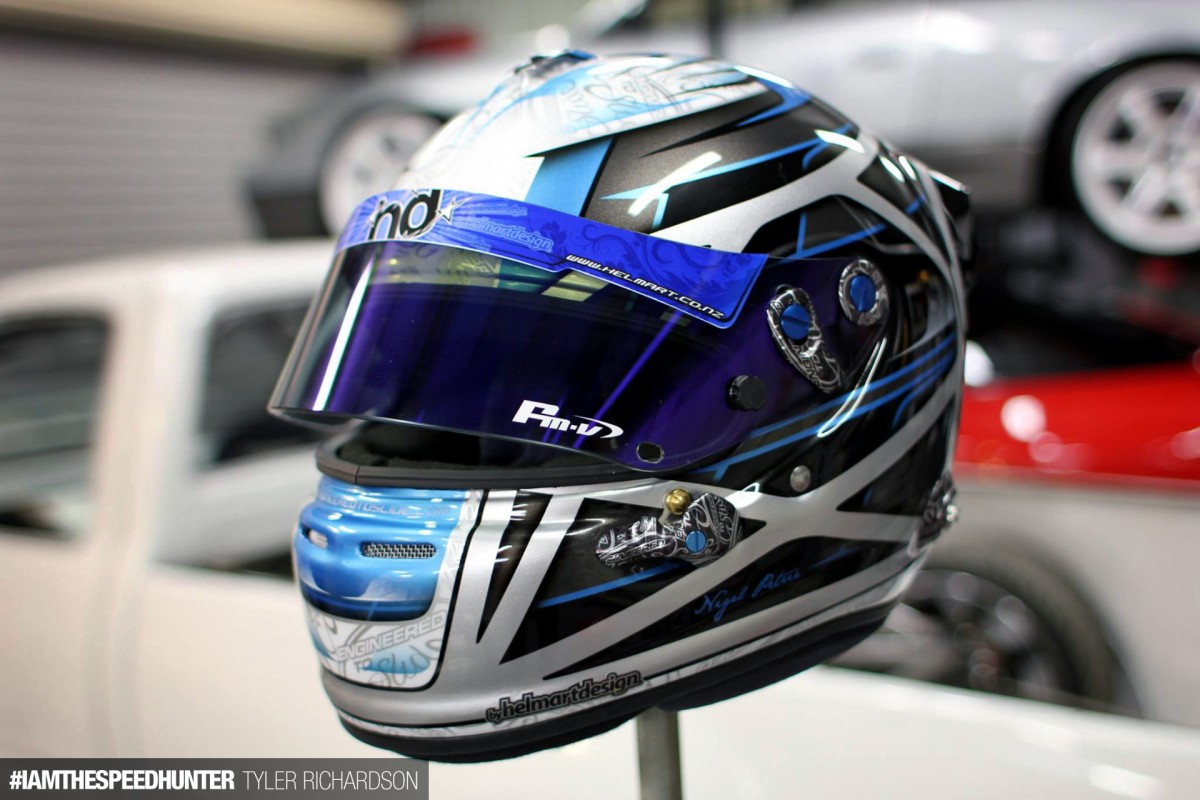 Then to the likes of working on a helmet for Engineered To Slide's Nigel Petrie – somebody who no doubt most of you will be quite familiar with here on Speedhunters. Nigel's helmet featured a design inspired by the tube chassis of his drift Hilux. Getting all of the bar work symmetrical and straight from all angles took a day or two of initial base masking, but to date it's a personal favourite of mine. These are just a few of the bigger names I've been fortunate enough to work with and create these special helmets for. It's such a huge privilege for me and I wouldn't trade my job for the world!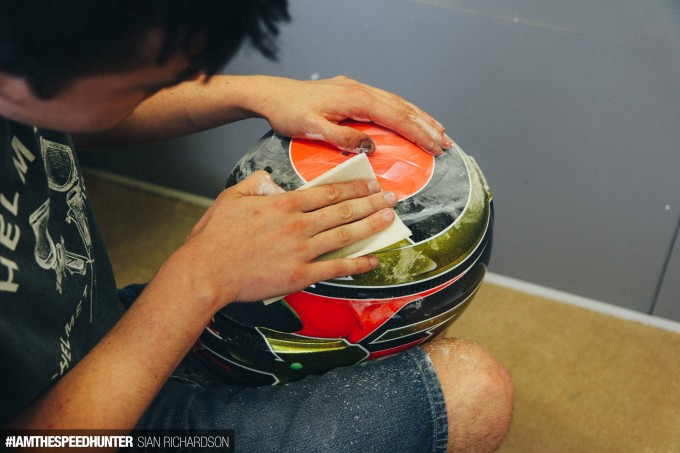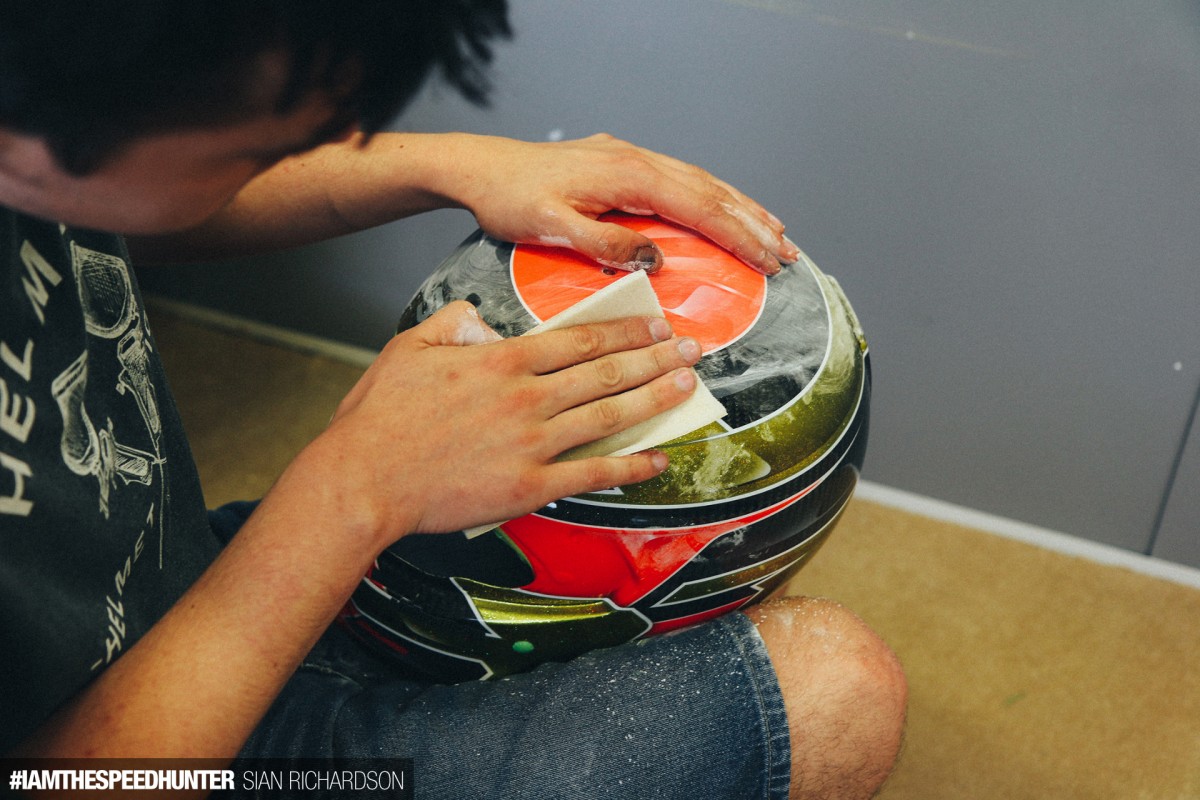 The process involved in painting these helmets for my customers is one that requires an immense amount of patience, ensuring that we work together to combine my style with what the customer is wanting. That's what I believe makes my customers awesome – they appreciate the long hours I spend on each individual design and helmet to ensure it's not only recognisable as a Helmart, but personally recognisable for them too when they are out on the track.
Seeing as this post is part of Speedhunters' The Creators theme, I thought it could be cool to show you the creative process behind what I actually do, in detail…
The Creative Process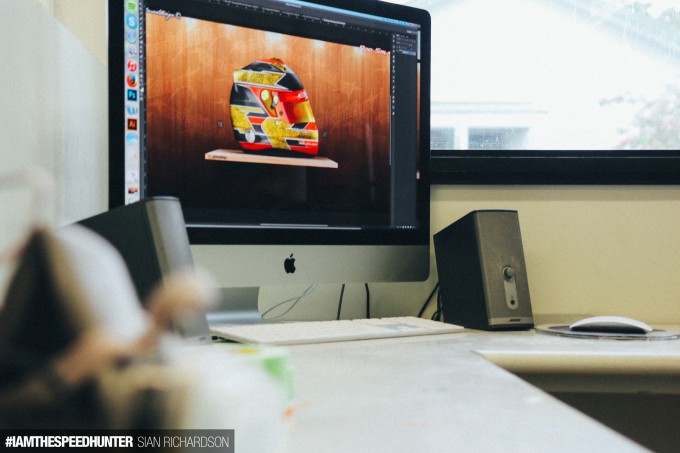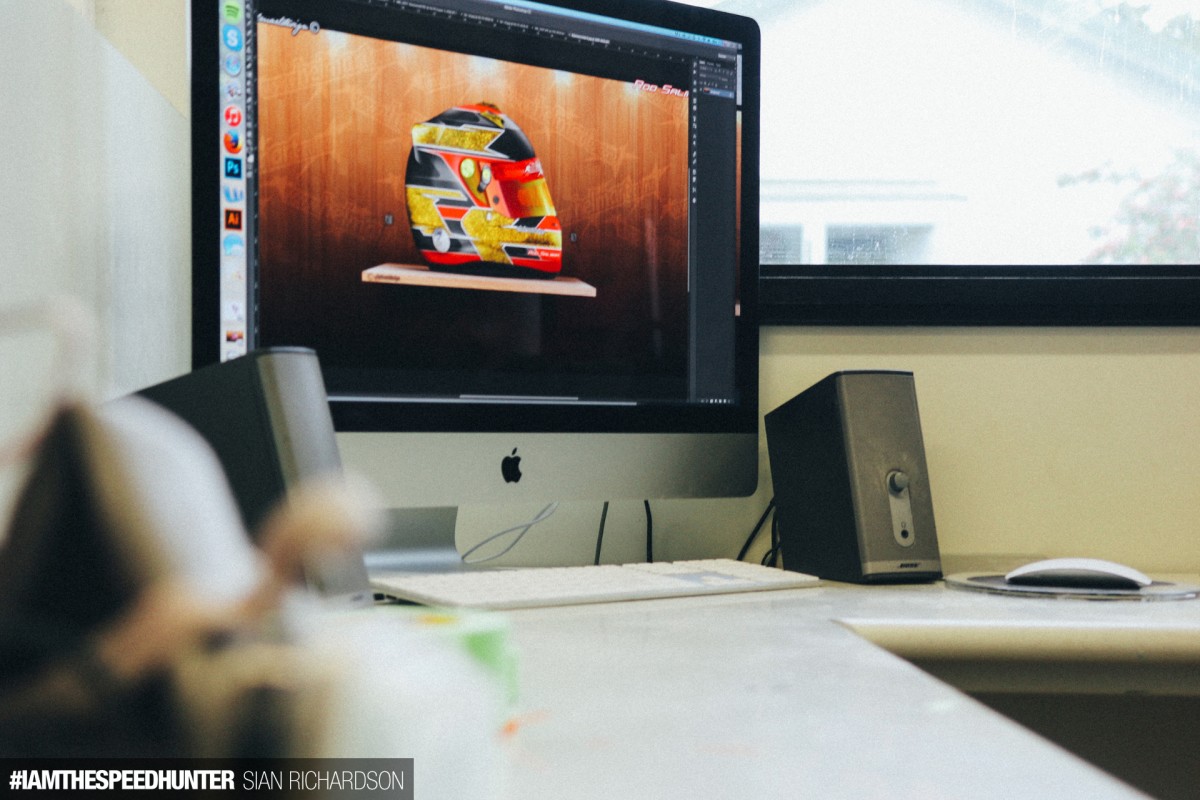 I start out with any ideas the customer might have in relation to colours or previous work I have done that they liked, and find out what logos and sponsor branding needs to have certain placement. Then I'll spend a few hours doing a custom design in Adobe Photoshop and present that to the customer. From there, some might give the go-ahead straight away, or some will want slight tweaks. This phase can involve a ton of emails back and forth (and usually late at night!) but we always end up with something great at the end.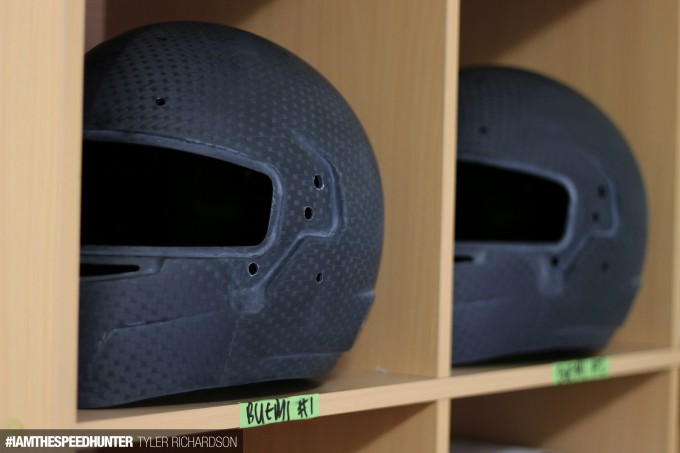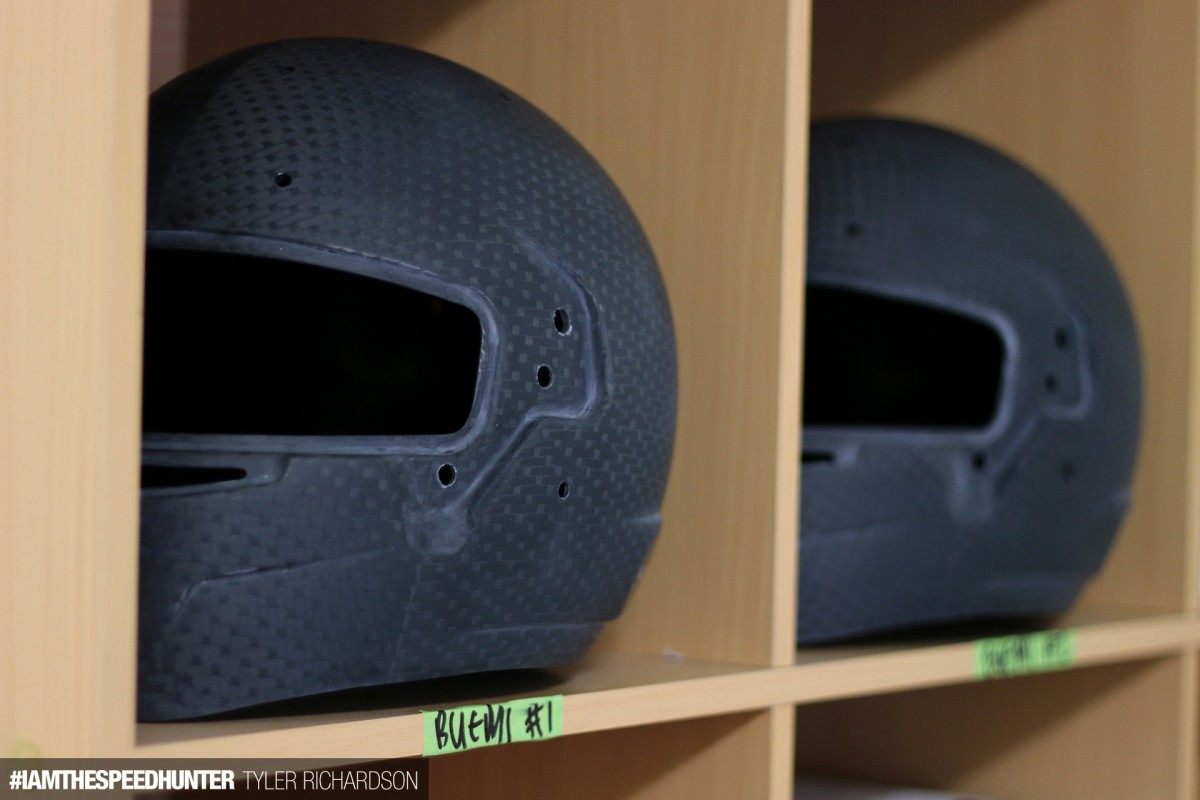 From there they'll get added to my waiting list for paint, which at this time of year is around three months. When the wait is up I'll usually start with a white, carbon fibre or even chrome-based helmet, which is either shipped to me from the customer or purchased by myself. The helmet is then prepped for the base colours and the initial masking of the design. Each line is masked with precision by hand, ensuring that everything is symmetrical and straight. Once the base masking fine lines are on, I go in with each individual layer of colour in an order I map out at the beginning of the painting process.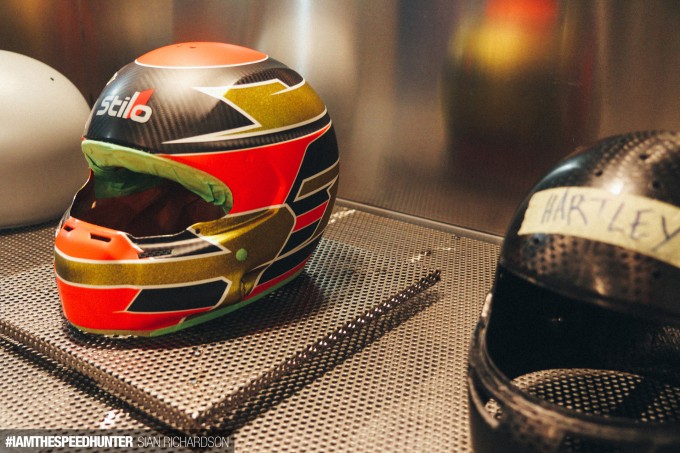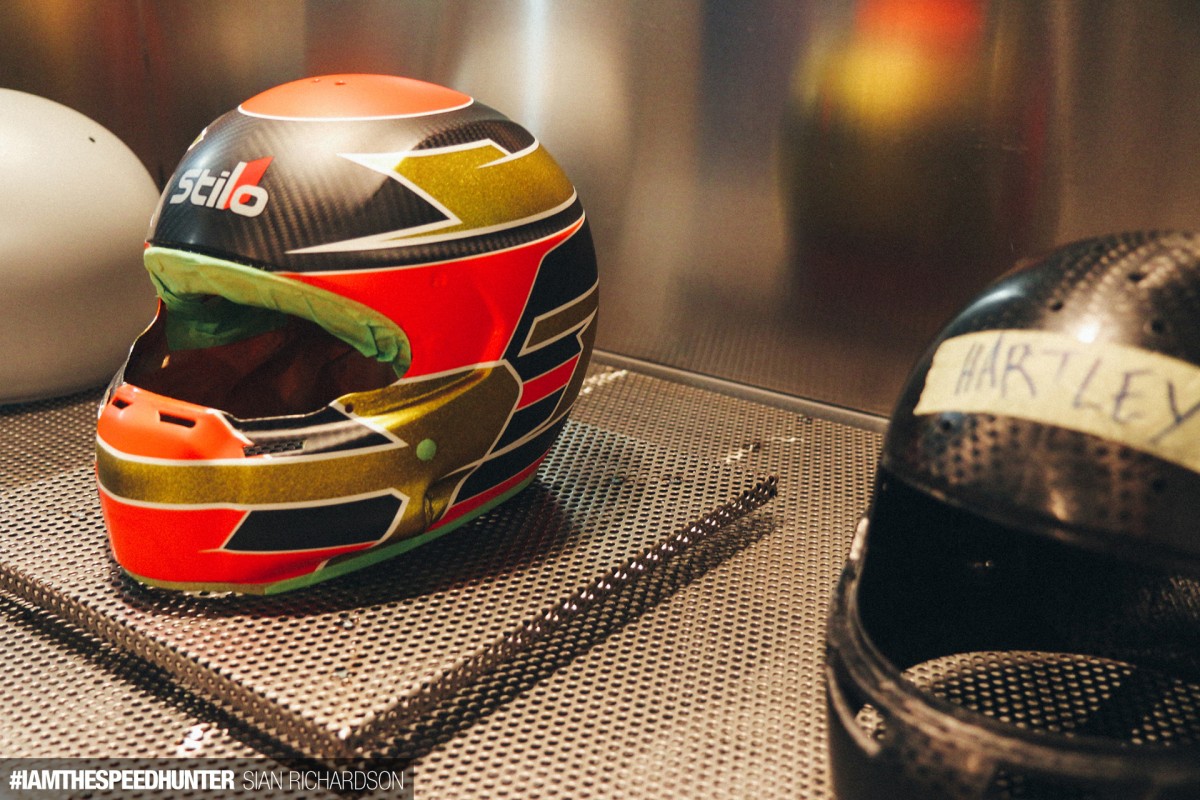 Once all of the base colours have been applied, the real fun begins. A lot of the time I won't include the subtle shaded effects in my computer designs, as I like to just let them happen in the moment when I have the airbrush in one hand and masking tape in the other.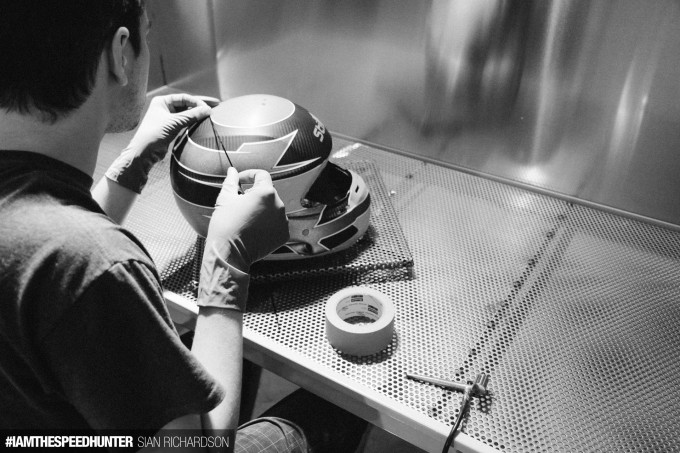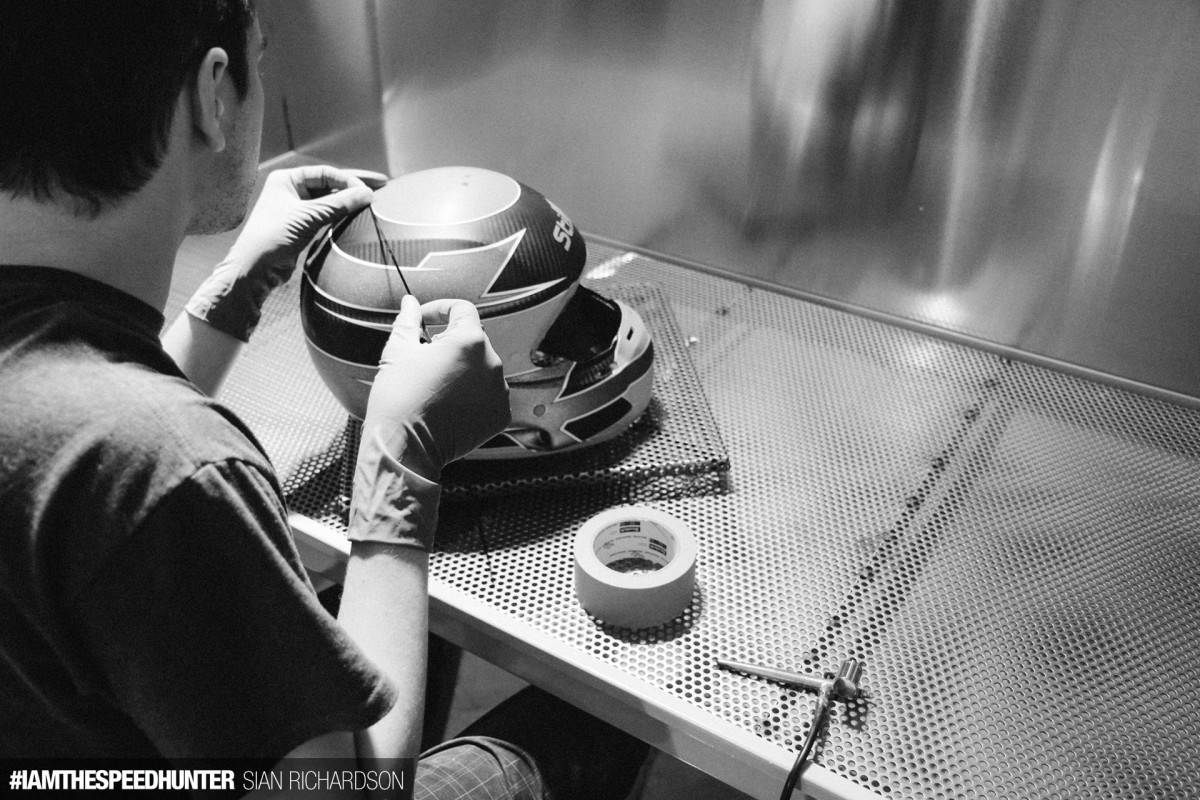 When all of the details and shaded effects are painted on then comes the clear-coating process – something that I think can make or break a custom helmet paint job in an instant. For me the finish has to be completely like glass. You shouldn't be able to feel any of the lines at all when running a finger across the surface – even when combining the gloss finish with a matte combo.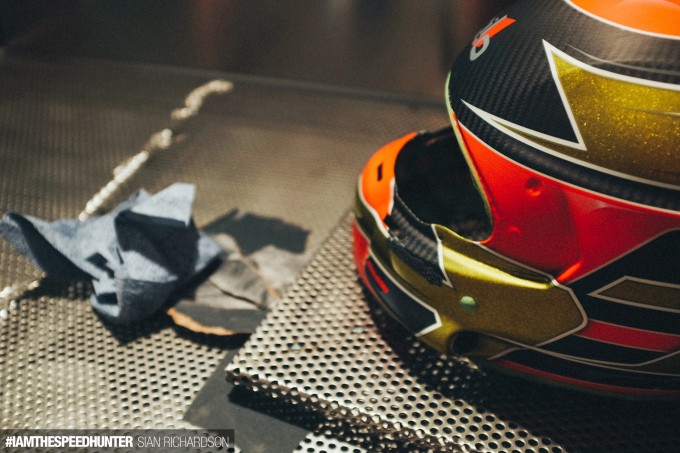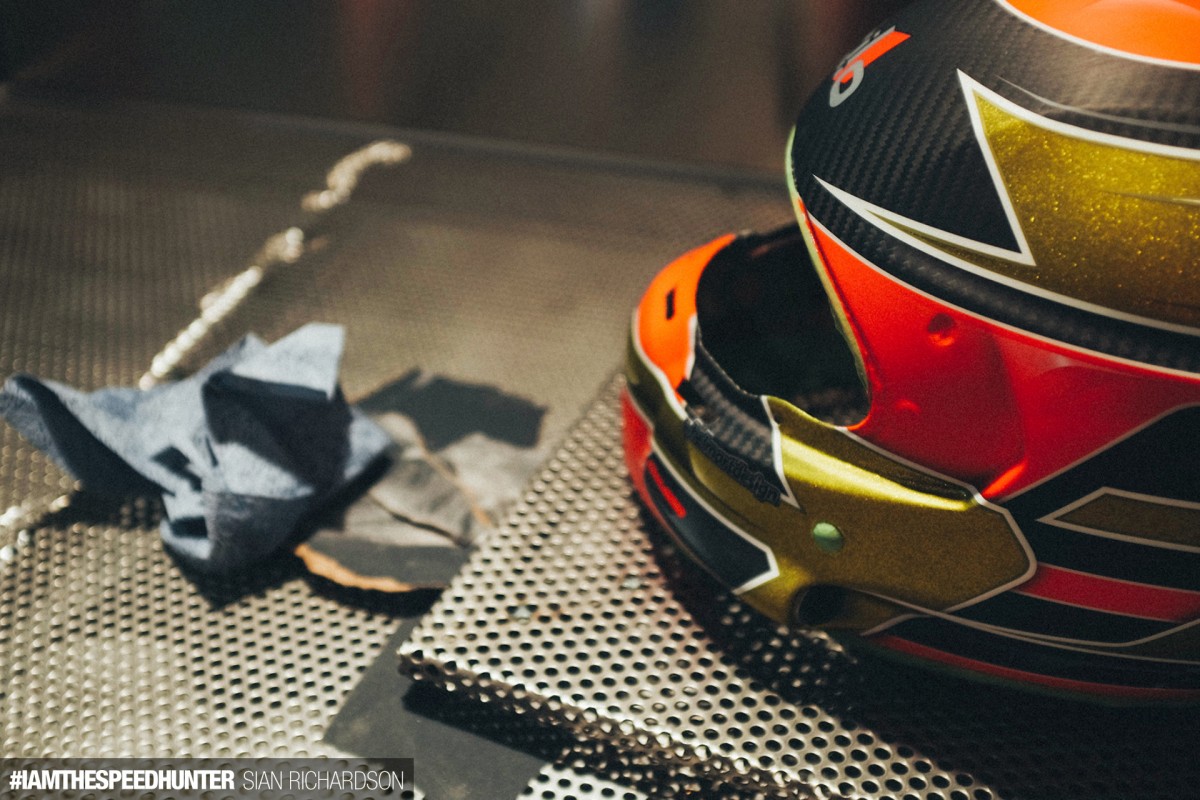 Because it's all paint right down to the fine lines, sponsors and driver's name, the helmet requires clear-coating and then sanding back to smooth without going through what you've just painted. Sounds easy, right? Think again… The overall weight of the paint being applied to the helmet must also be monitored whilst doing all of this.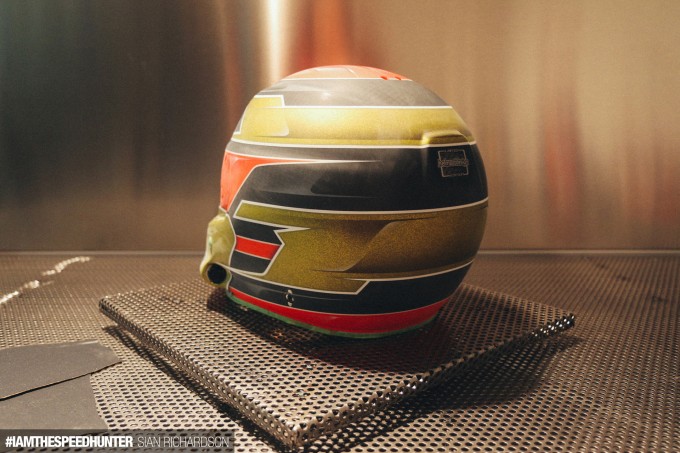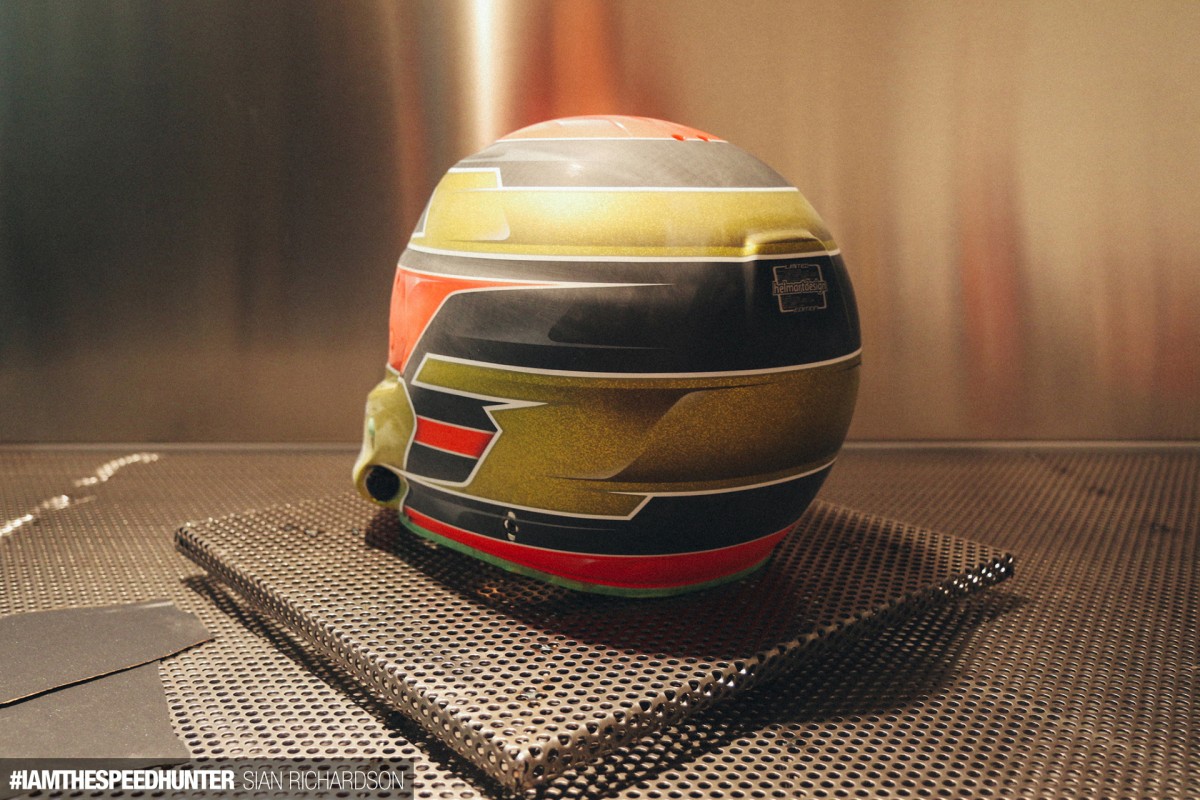 Once the helmet is nice and smooth, the final clear-coat can be applied. Upon letting the helmet fully harden after the final clear, some then need to be masked up yet again and have a matte finish applied to certain areas. The matte can completely change the look of the whole helmet and add yet another level of depth to the design. In this case it was applied over the raw carbon fibre!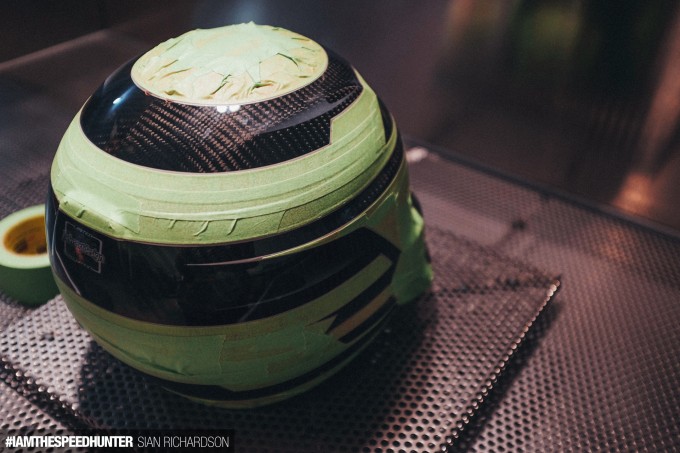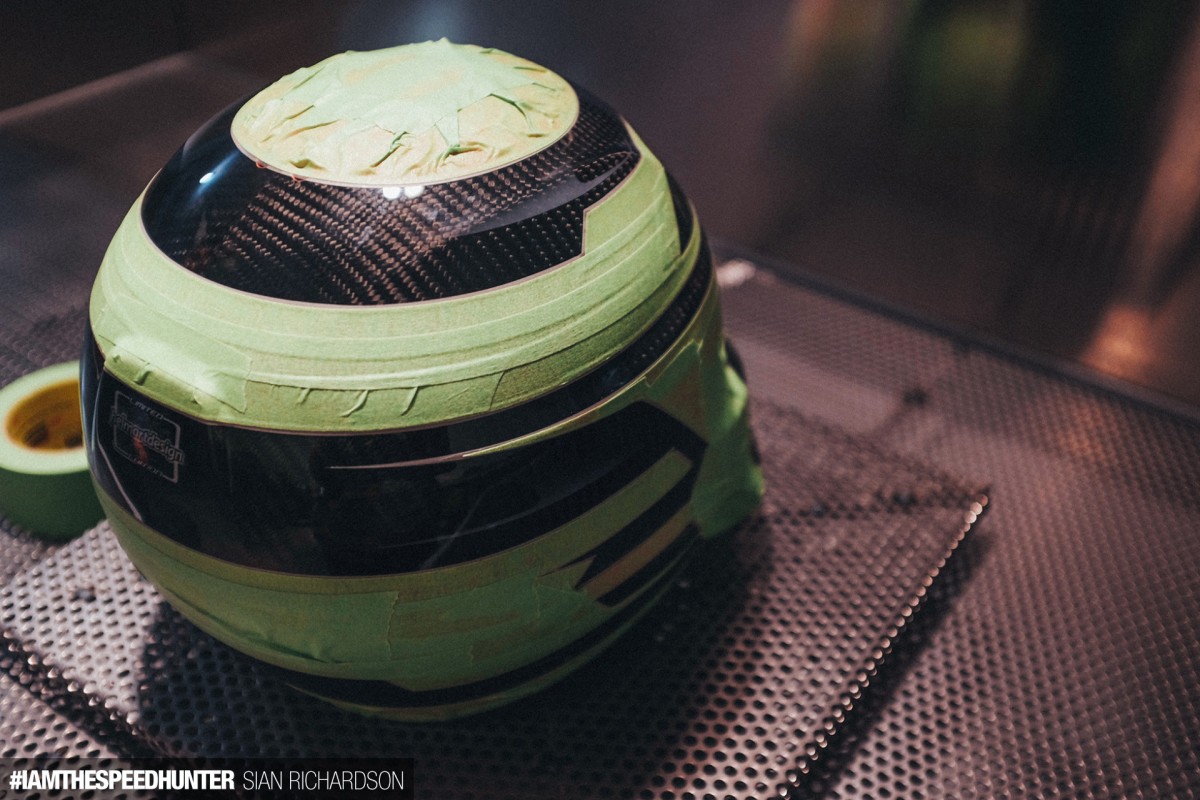 When the helmet is unmasked from the matting it's in the final stages. This is the exciting part: putting it all back together. This particular helmet will be used in endurance racing so the Stilo top-mounted forced air duct was painted to match the helmet. As the raw carbon was included in the design, I had to paint a carbon effect over the duct to match the pattern of the helmet. The visor hardware and HANS posts are then finished in matching colours to the helmet, along with limited edition Helmart washers – also matched to the scheme and adding yet another level of detail.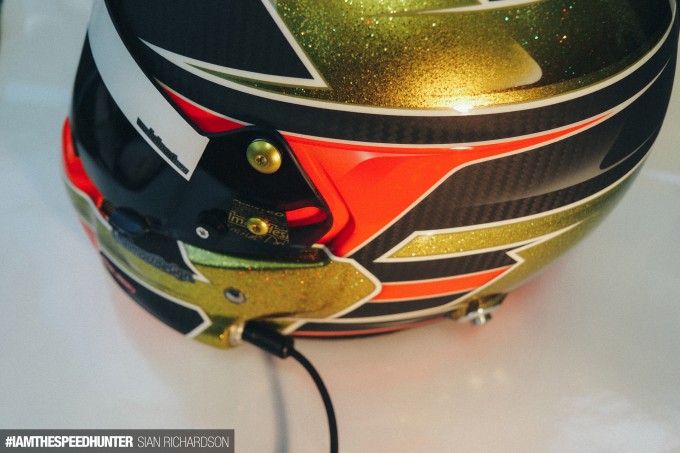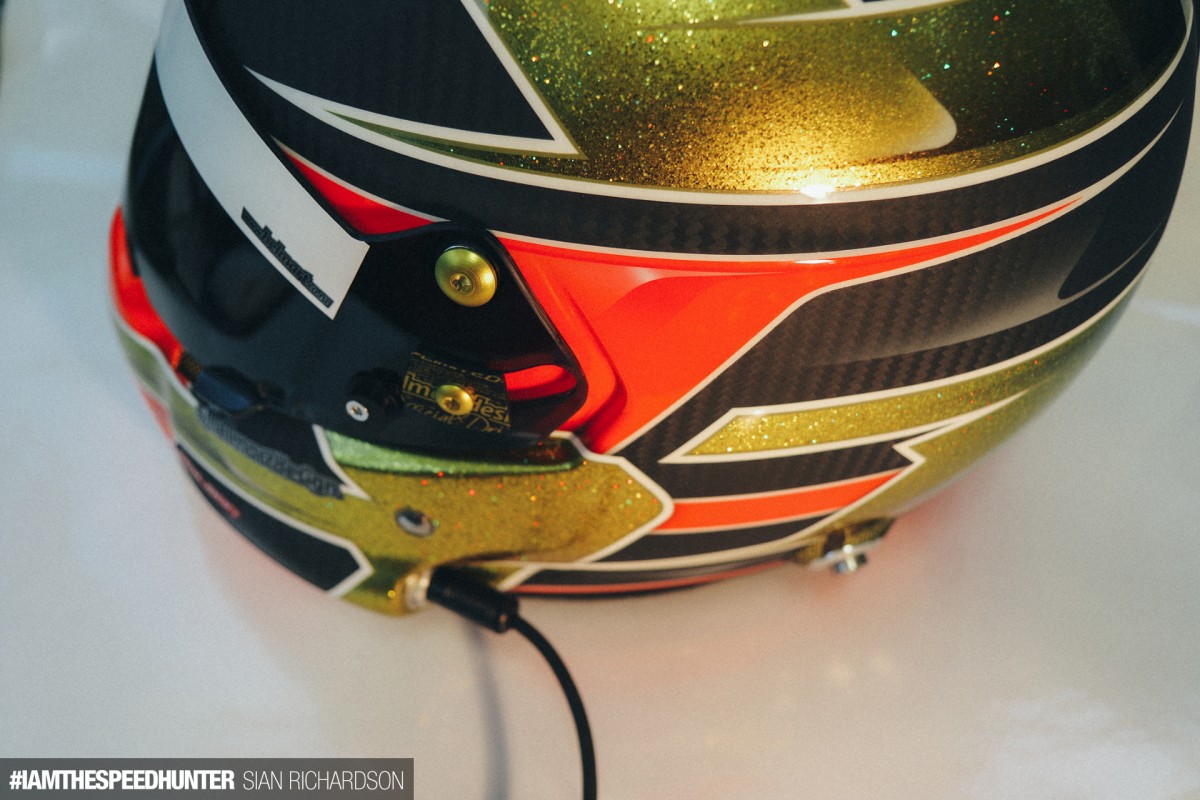 At the end we have a piece of Helmart artwork fully completed and rebuilt with the visor and everything fitted sitting on my desk – a process that from start to finish takes in excess of 80 hours. This one is set to be a surprise for a lucky guy, so I had to blur the drivers name… for now!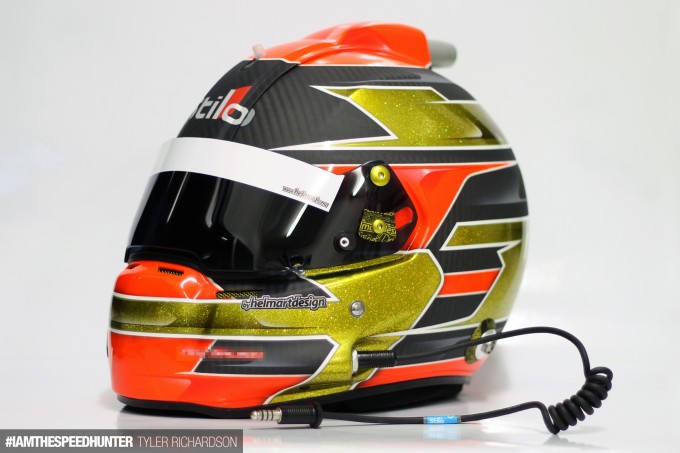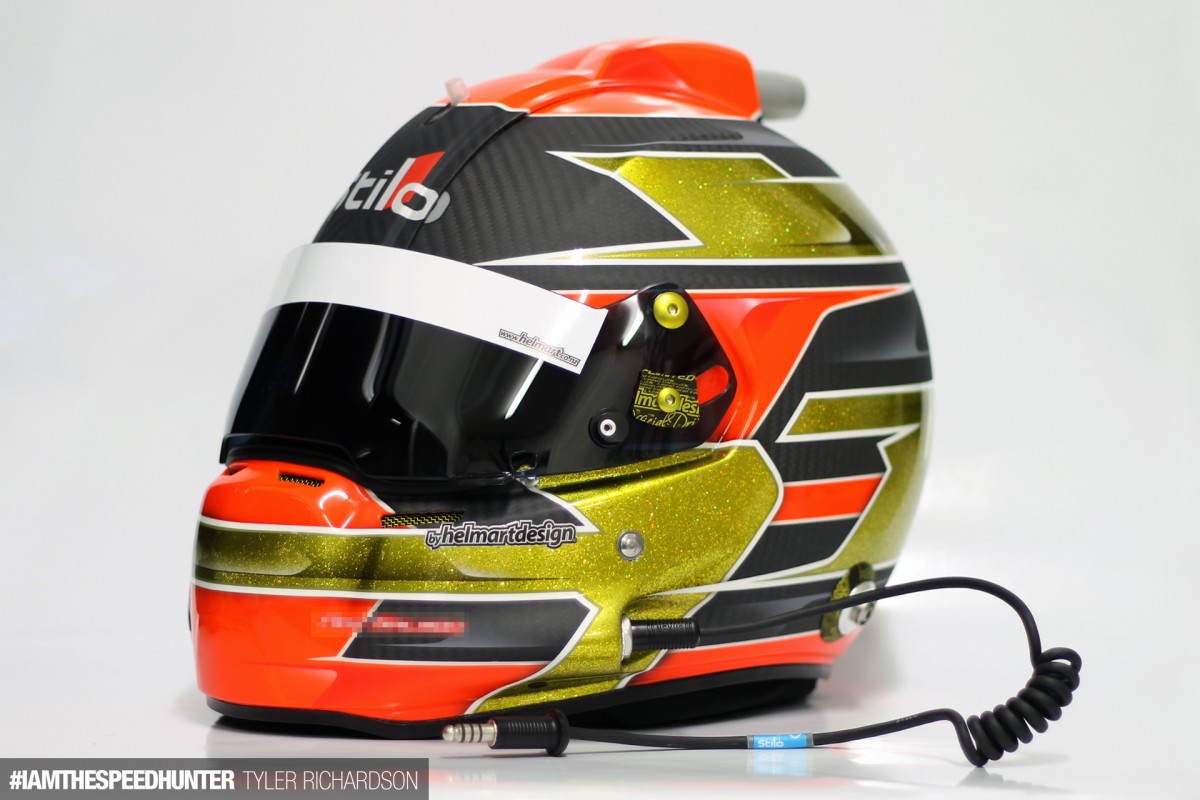 At the end of the rebuilding process I fully photograph and put together a short video of the helmet both for the customer and my social pages. Video shows the way the colours work against each other in a way that photos can't, and you also get to see how the glass-like shine reflects across the whole surface and then come to a sharp stop where the matte effect begins. The helmet is then boxed up with a load of bubble-wrap and sent across the globe!
Chasing The Dream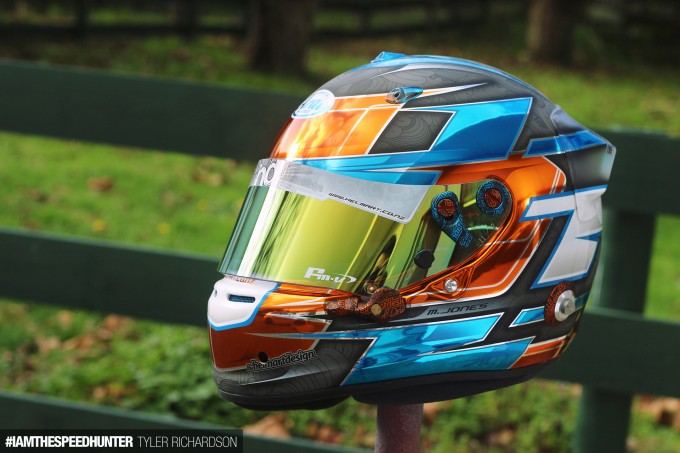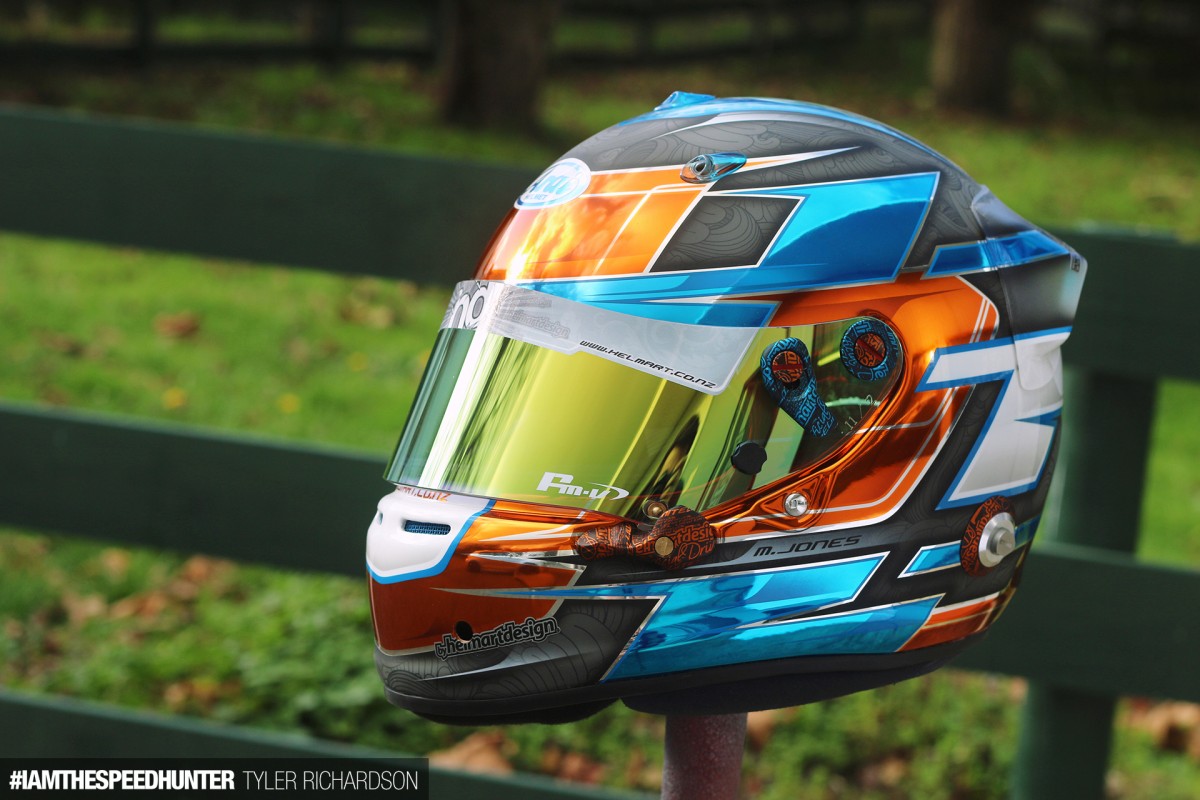 It's beyond awesome watching this process go from an idea, to the computer screen, then slowly watch it come together in real life from a plain helmet, through to just a few colours, then the detail and depth start to build. Here's another recent favourite design I created earlier this year for Macauley Jones. This is more at the crazy end of the scale, with a chrome base, kandy chrome paints, matte graffiti and airbrushed shading over the top.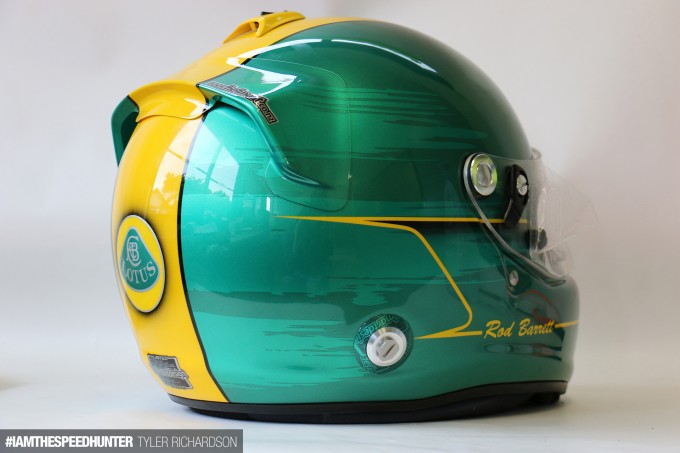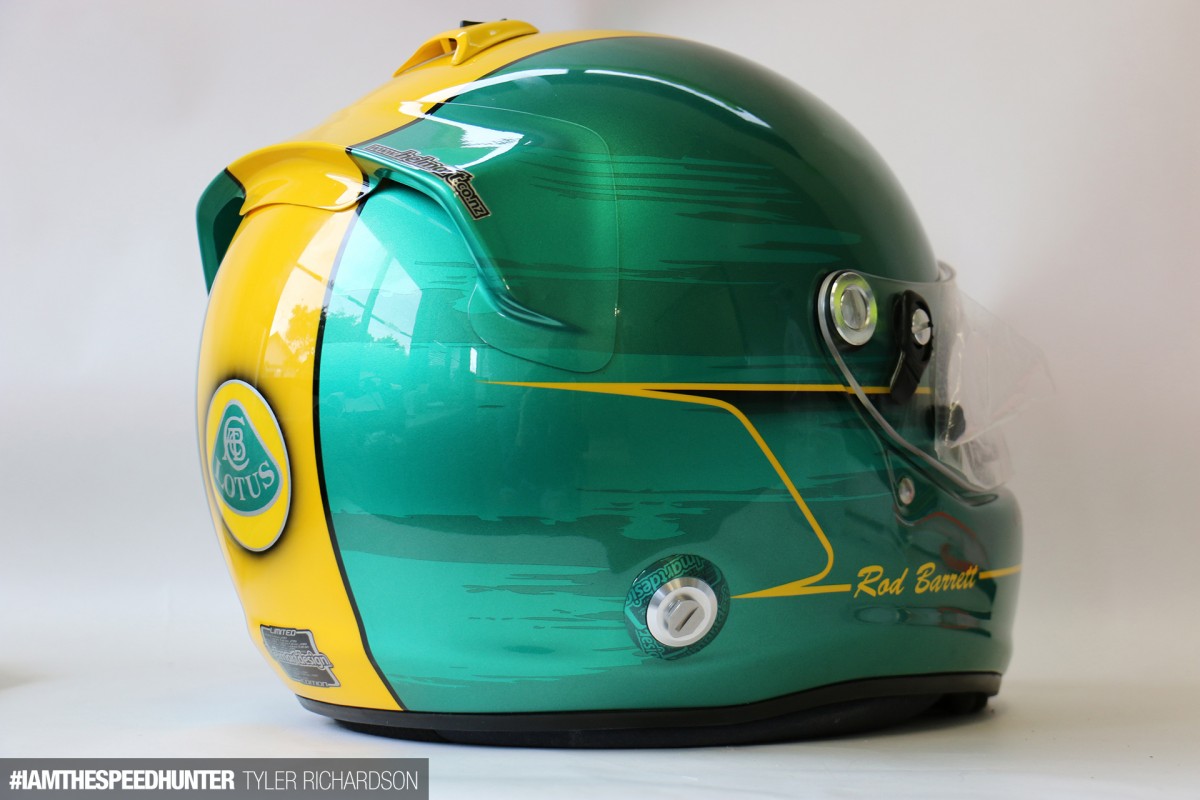 This was something a bit more retro with a nice clean and sharp colour scheme, with small shaded effects hidden behind the colours – a helmet for a Lotus Cortina driver. My absolute favourite part of all this? When a week later I find myself watching my artwork on TV and livestreams racing at circuits that I have adored since I was young.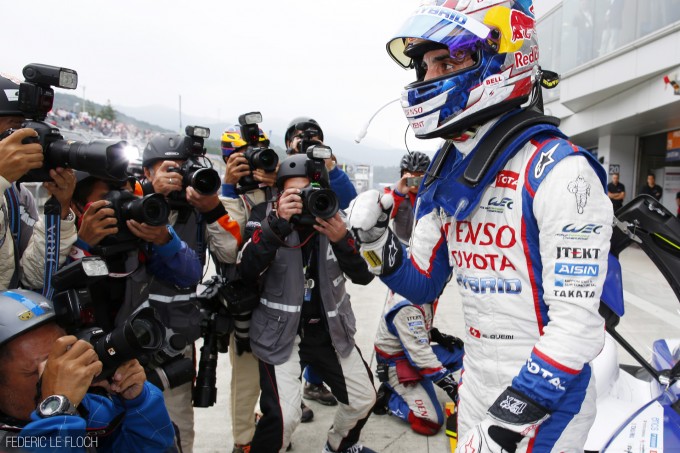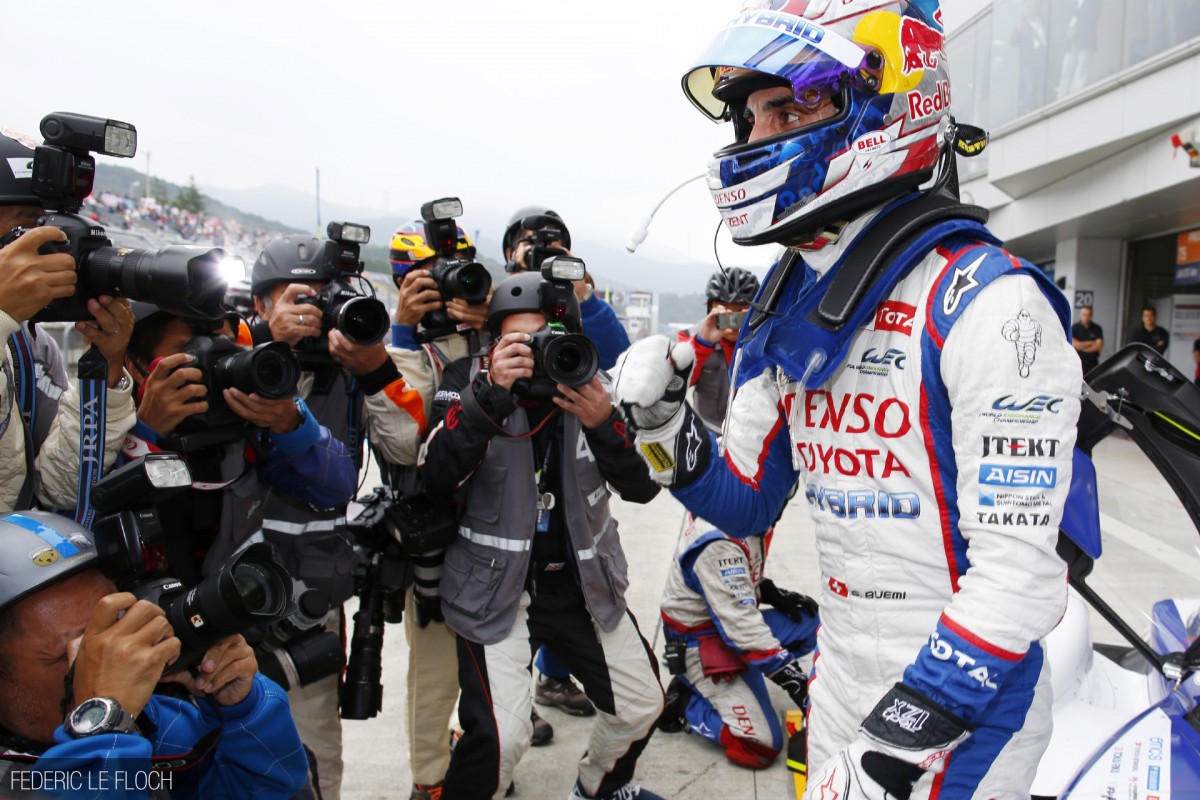 Looking to the future of Helmart, the one thing that I have always wanted is to have a Helmart helmet in the Formula 1 World Championship. I've been lucky enough to have one in a few test sessions back in 2012 at Magny Cours with Brendon Hartley testing for Mercedes GP Petronas F1, which was amazing for both of us!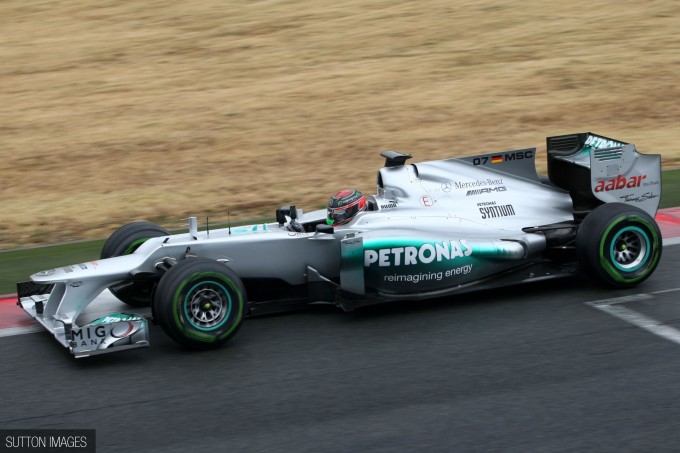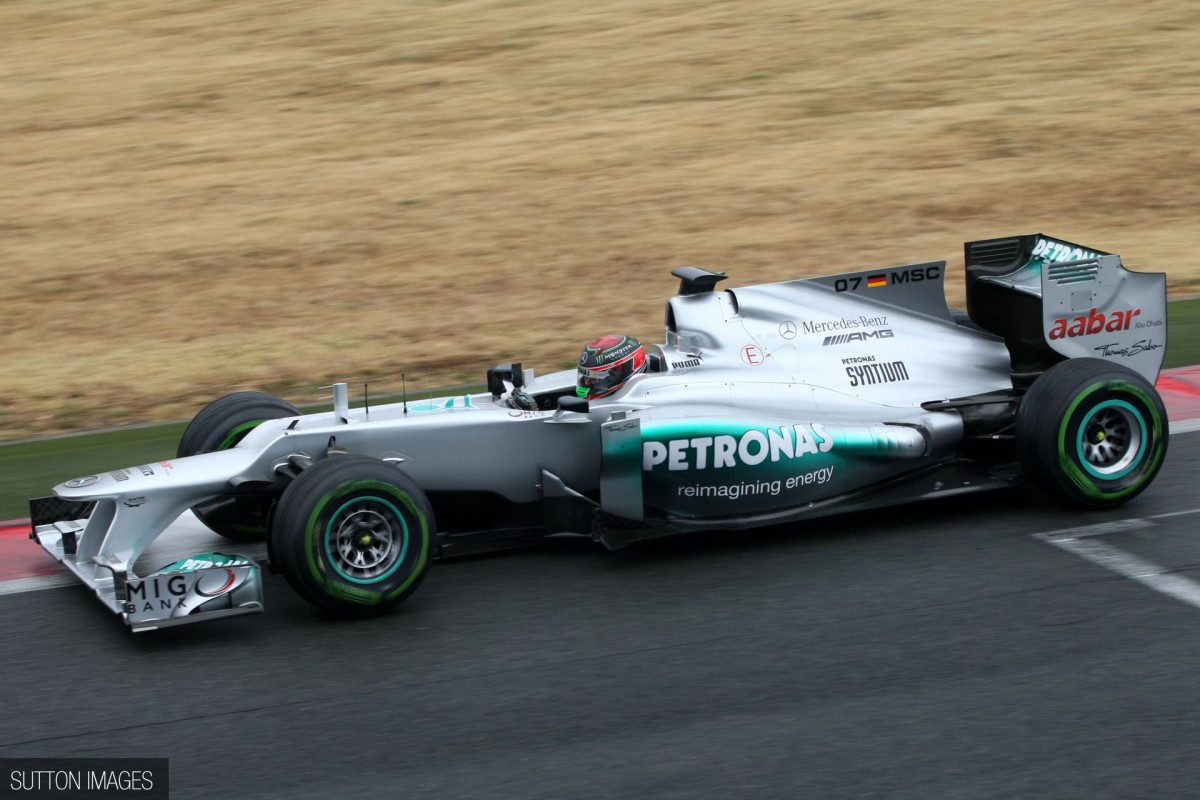 I remember sitting in front of my computer screen in the early hours of the morning waiting for photos of Brendon driving Michael Schumacher's car to surface online, shortly followed by a huge fist pump!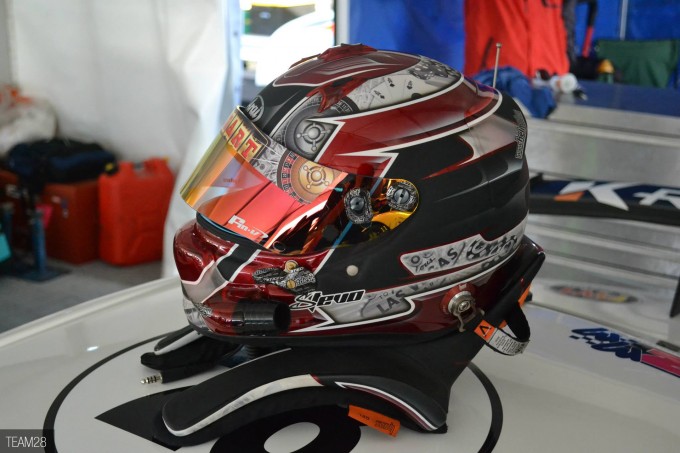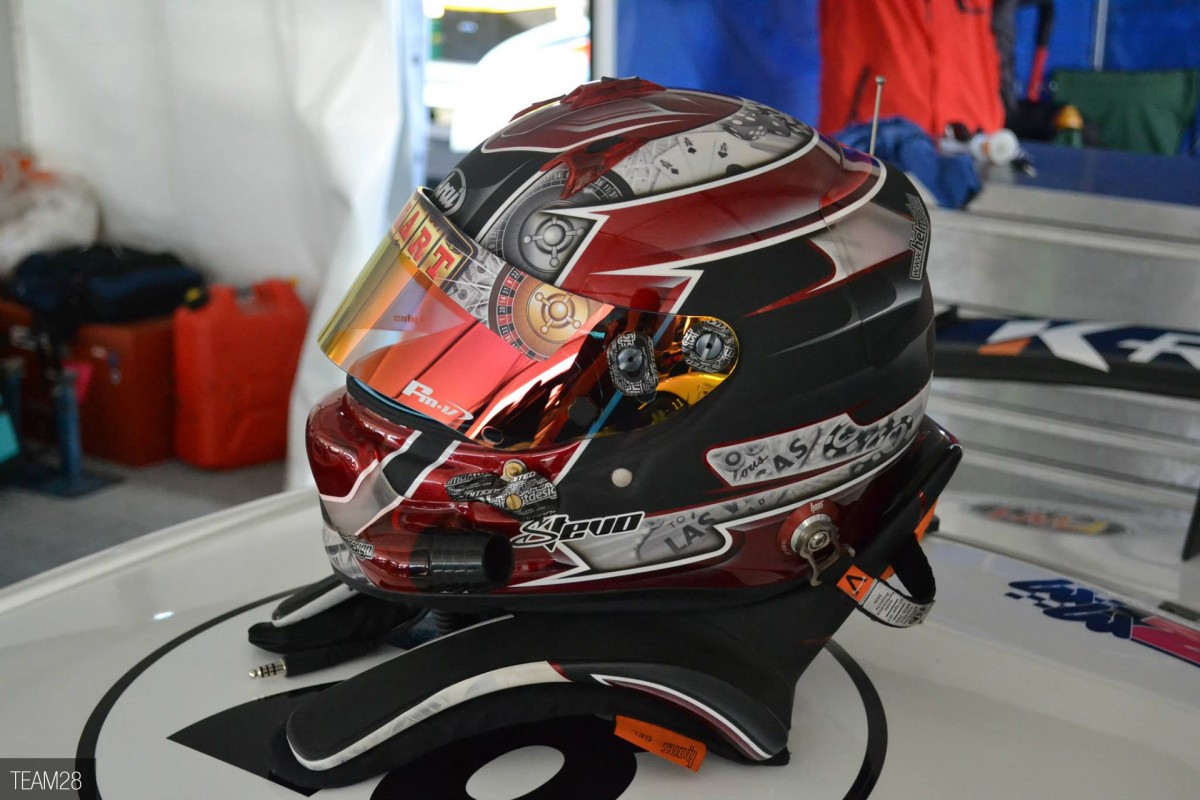 I'm feeling really good about my F1 dream getting closer to becoming a reality, and I think that high quality and well executed work truly speaks its own language. But for now I'm just going to keep doing what I'm doing, meeting awesome people from around the world and being given the freedom to push the detail envelope and create these special helmets for them!
I'd really like to thank Speedhunters for this awesome opportunity share my story, and also thanks to everyone who supports my work both now and in the future – whether it be all of my customers and drivers, to everyone who likes my photos and social media.
Tyler Richardson
Helmart Helmet Design
Helmart on Facebook
Additional Photos by Sian Richardson, LAT Photographic, Porsche Team, Federic Le Floch, Sutton Images and Team28 – thank-you.
About #IAMTHESPEEDHUNTER
We created #IAMTHESPEEDHUNTER to allow you the opportunity to share your skills and car culture experiences from around the globe with the rest of the Speedhunters audience.
How do you get involved? It's simple…
Instagram – Follow us on Instagram at @TheSpeedhunters and tag your own car culture images with #IAMTHESPEEDHUNTER
Twitter – Follow us on Twitter at @SPEEDHUNTERS and share your tweets with the #IAMTHESPEEDHUNTER hashtag.
Flickr – Join our #IAMTHESPEEDHUNTER Flickr Group and share your favourite photos with us and others.
E-Mail – If you've been to a cool event and captured some amazing images, be sure to e-mail them to us on iamthespeedhunter@speedhunters.com and tell us a little bit about the event.