Cult Classic
Has there ever been a model of car that you once thought was boring or lame but then you grew to love it later on in life? For me, that car is the humble Toyota Cressida.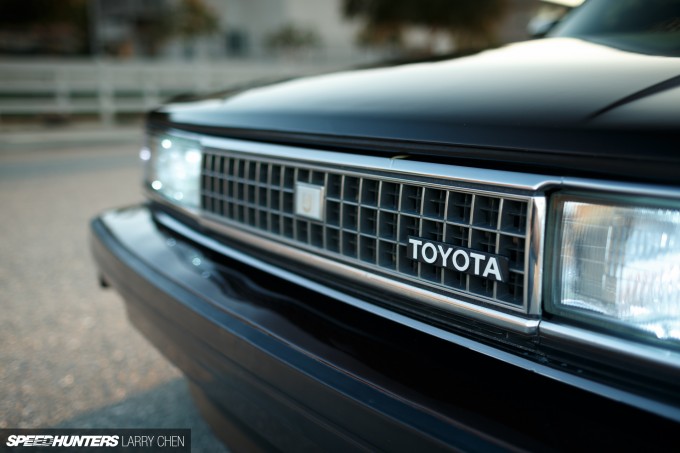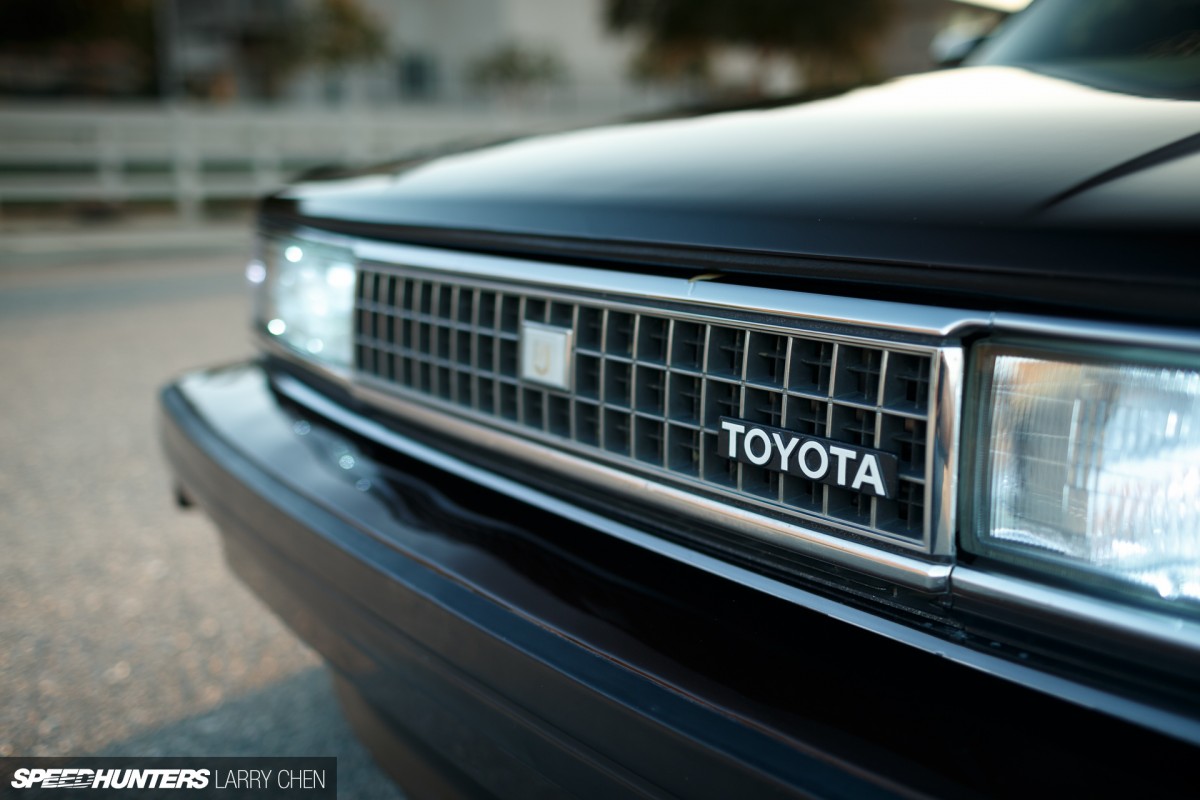 In my case it wasn't that I hated or even particularly disliked the Cressida – which was sold in the US from the late '70s through the early '90s – it just wasn't a car that I, or anyone I knew, ever talked about.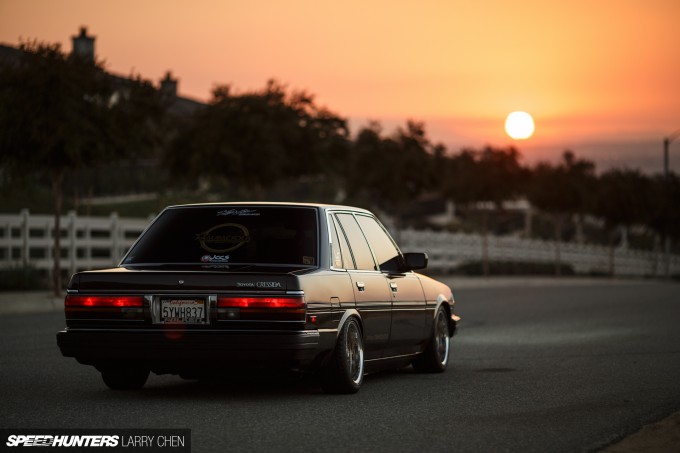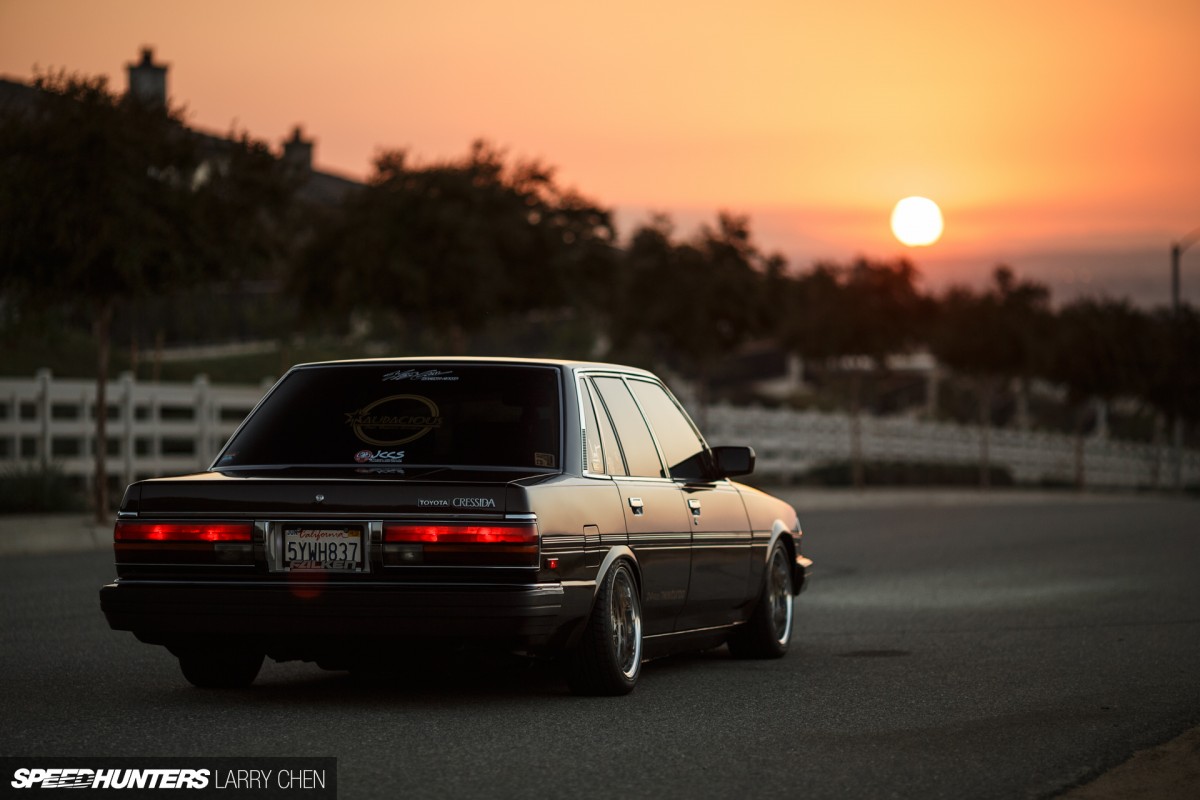 It was the sort of vehicle that parents might hand down to their kids who had just reached driving age. Old, safe and reliable. Not particularly fast either. I distinctly remember a couple of guys at my high school driving beat-up Cressidas and not being terribly excited about them. This was back during the late '90s and very early 2000s, and if the Cressida did have an enthusiast following I certainly didn't know about it.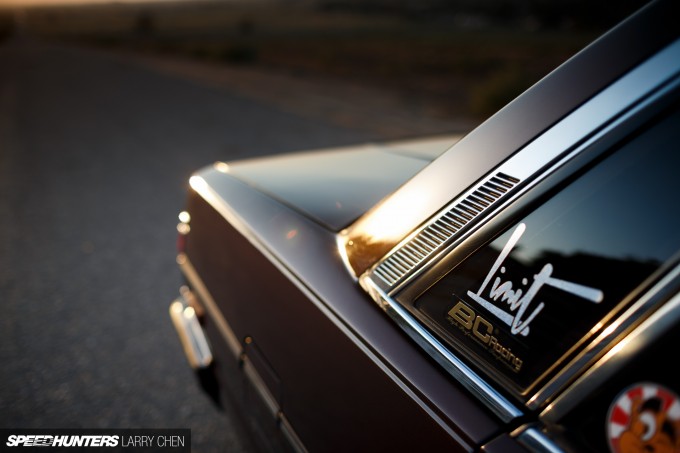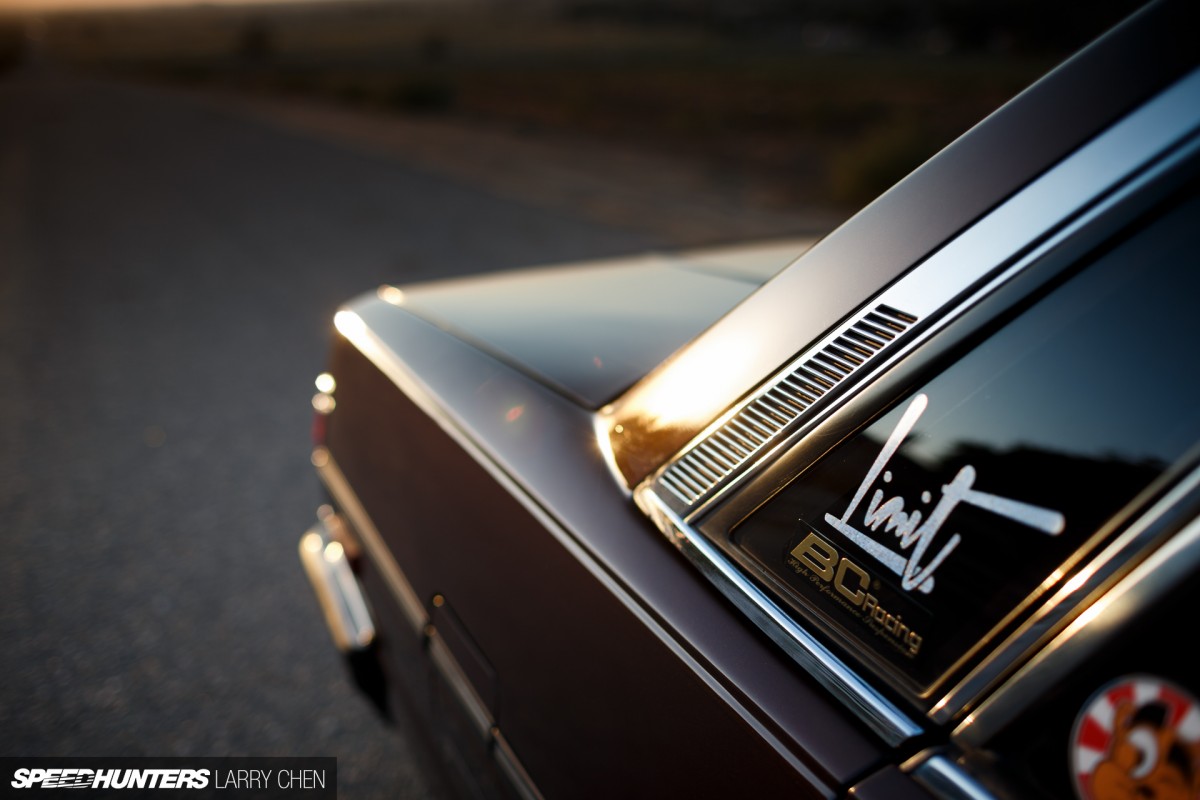 But a few years later when I found myself becoming more and more interested in Japanese cars, I began to discover that those old sedans were actually pretty neat, and that the Cressida happened to share many parts with the Toyota Supra.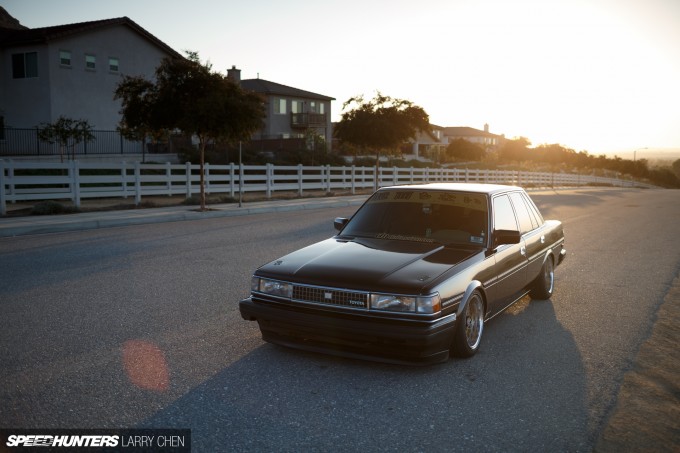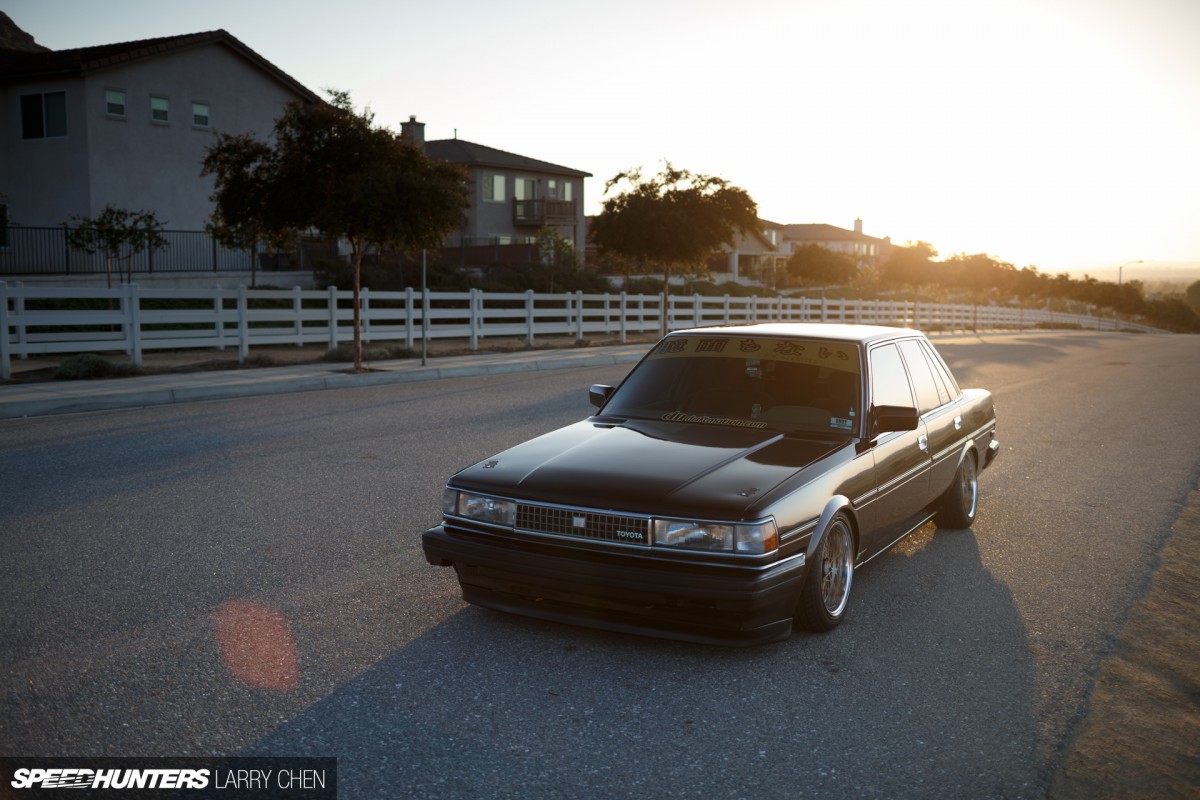 Now, the Cressida would never be as popular as the 240SX or AE86 which had exploded with the growth of drifting in the US, but it made for a cheap and unique alternative to those common Japanese models. Along with that, the car's resemblance to those cool Toyota sedans sold in Japan gave it plenty of JDM cred.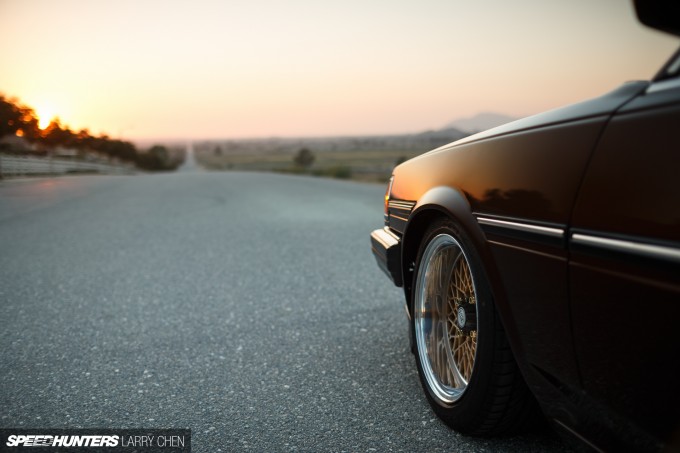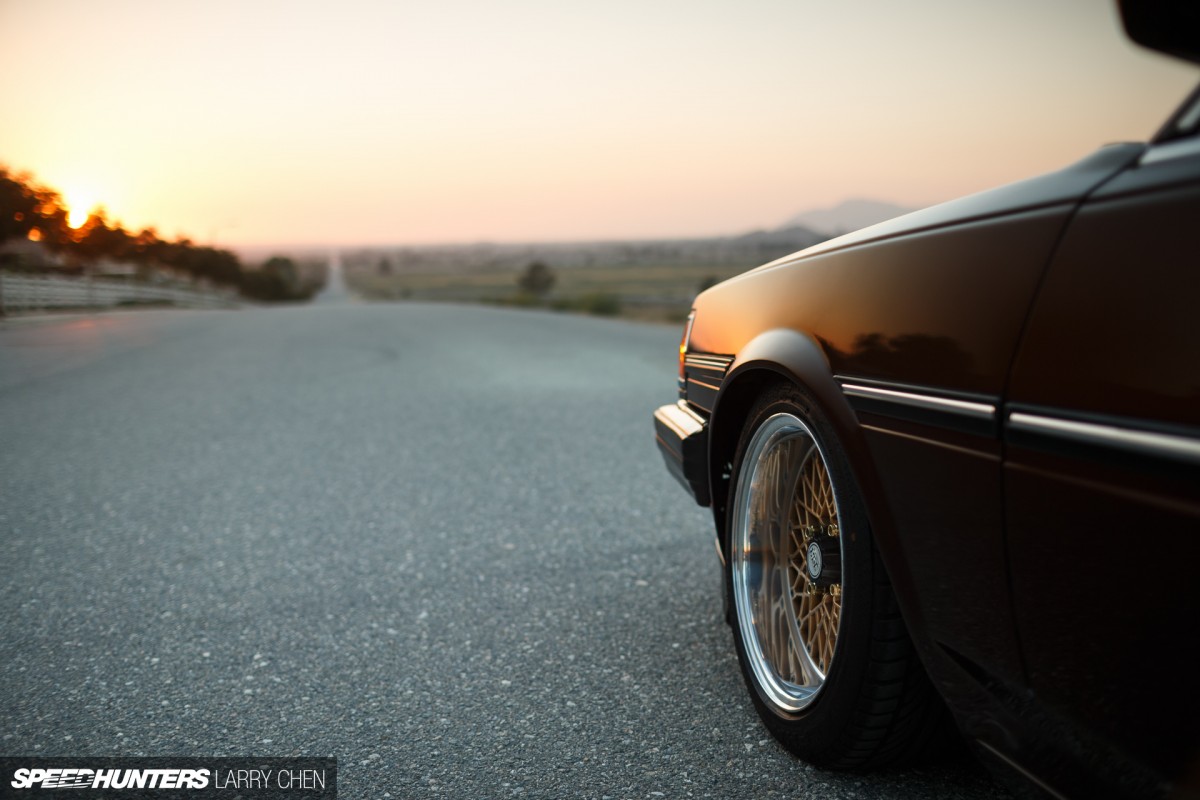 Whether you wanted to swap in a turbocharged motor and go drifting, or build yourself a Kaido Racer style street car, Cressidas soon began to appear at car meets and events across America.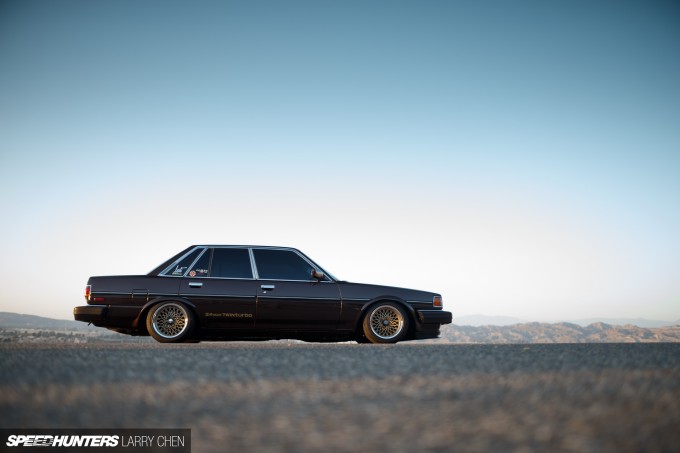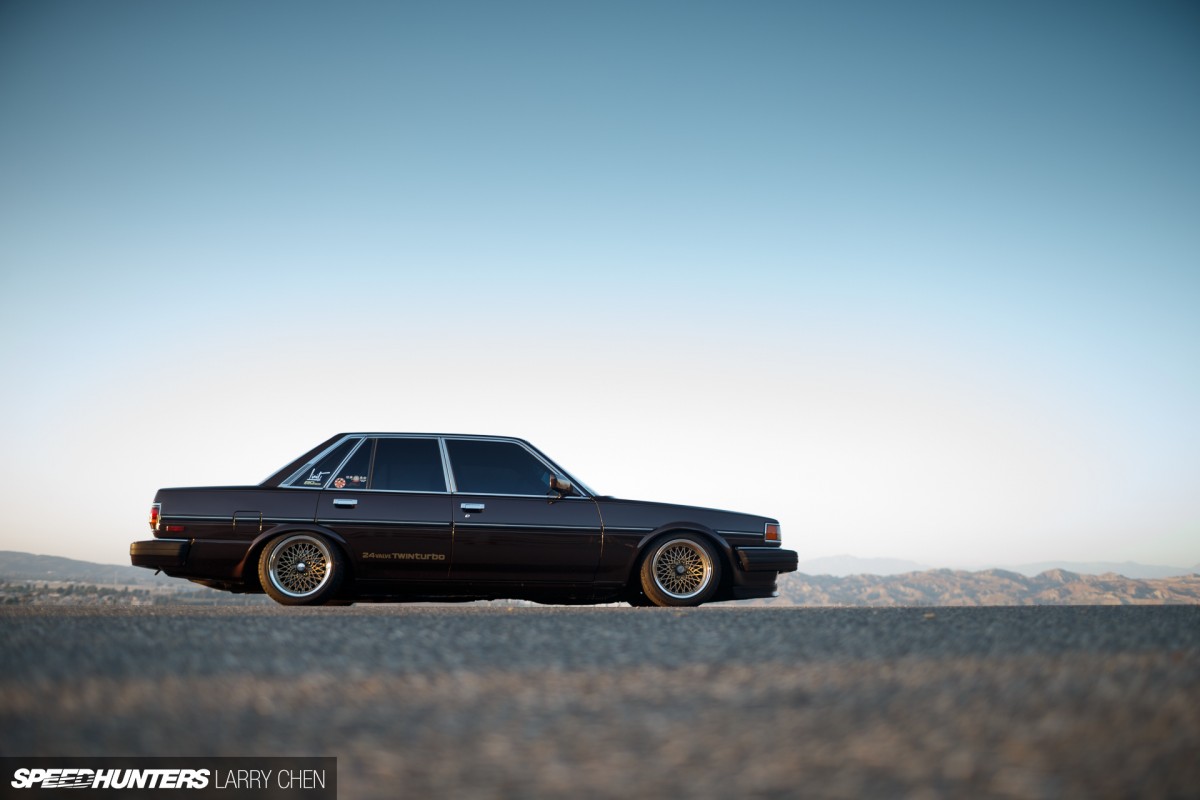 The one negative was that because used Cressidas were so cheap to buy, it was a lot more common to see ratty, beat-up examples than nice ones. For a long time high quality Cressida builds were few and far between.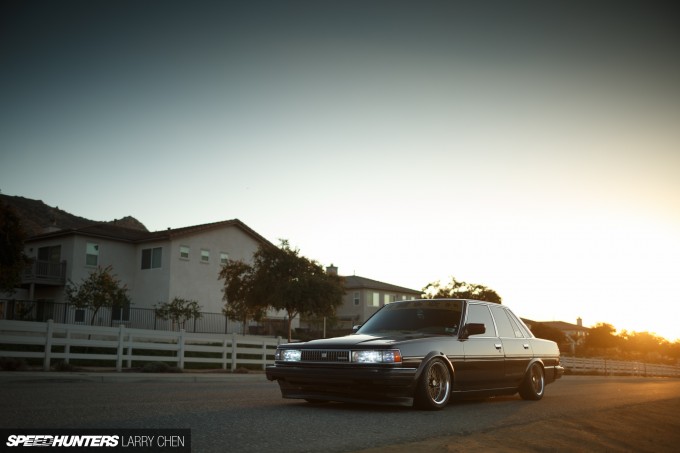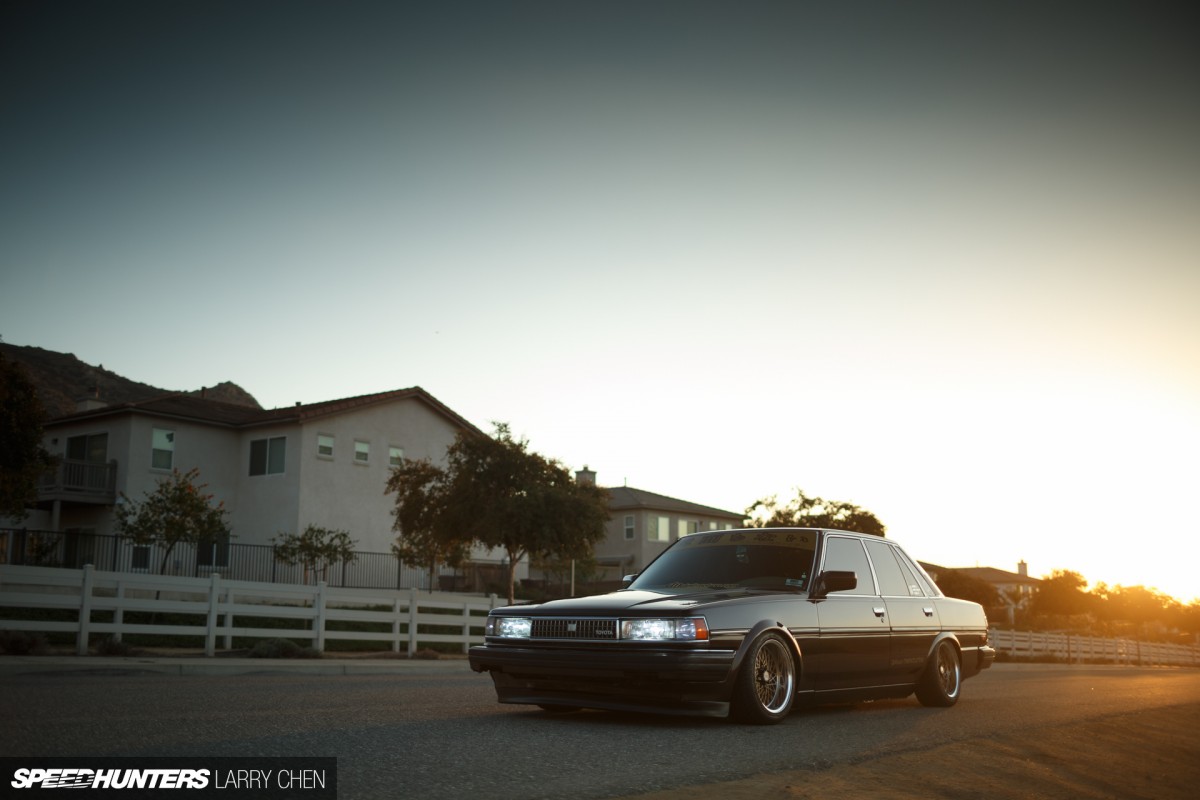 But as the car gets older, it feels like more people are beginning to treat the Cressida less like a beater and more like the Japanese classic that it's quickly becoming.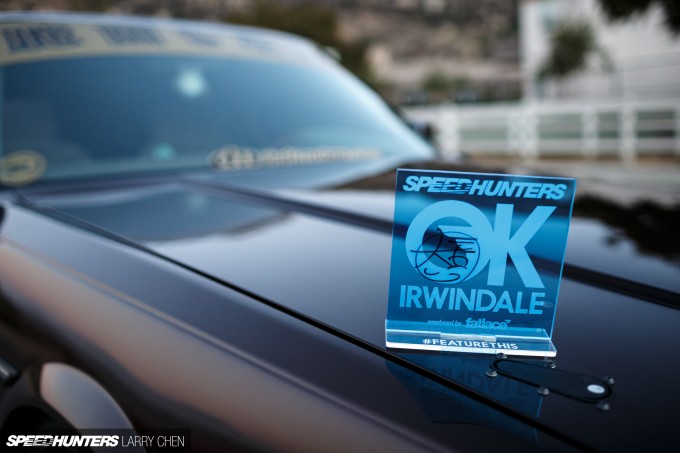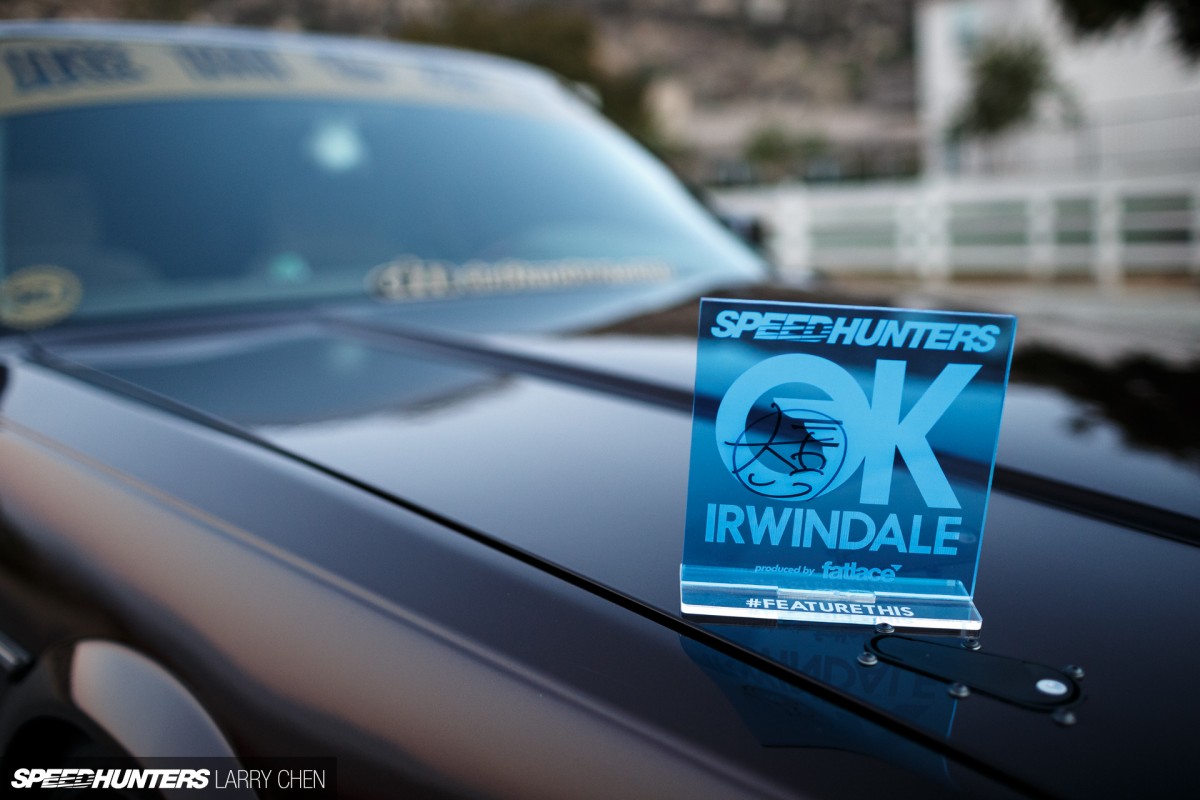 Over the last couple of years I've seen a lot more high quality Cressida builds in the US, and the MX73 you see here might just be the pick of the bunch. The car belongs to Evan Ruiz from Riverside, California, and when we saw it at the recent Offset Kings Irwindale show we knew it would be a worthy recipient of the Speedhunters #FeatureThis Award.
Building It Right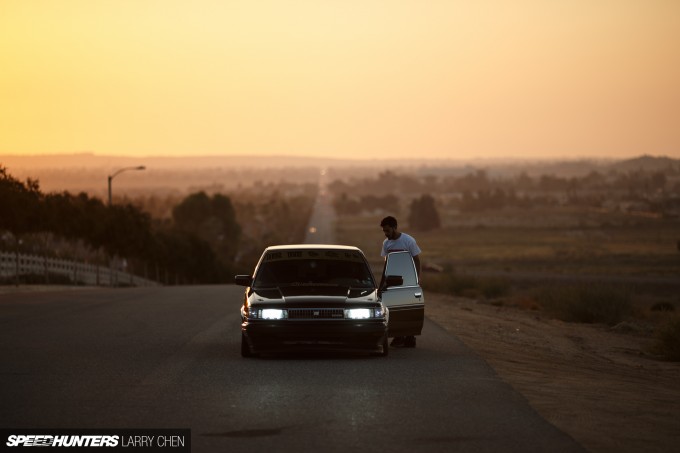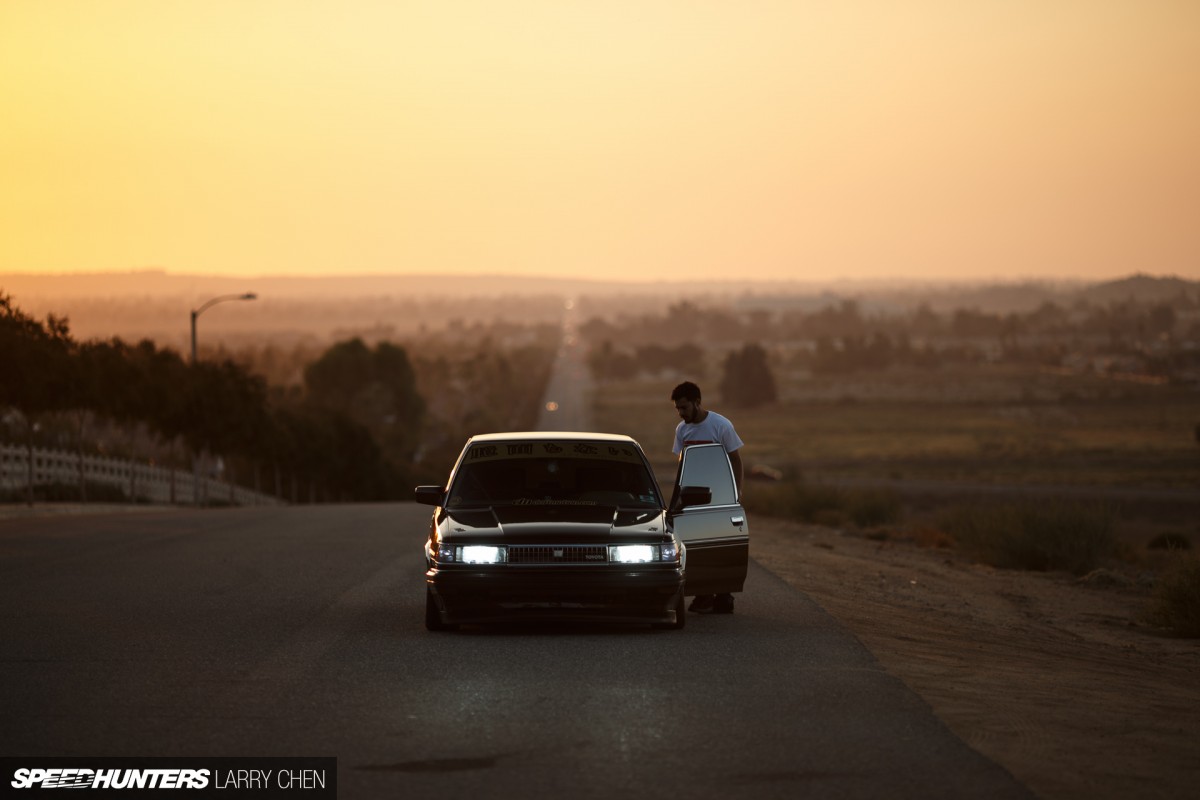 In 2010 Evan decided he wanted to buy a cheap rear-wheel drive project car. When he found the Cressida for sale, he knew it was the perfect fit. At the time he also owned a 1991 MR2, and the plan was to have the Cressida as a secondary vehicle to drive.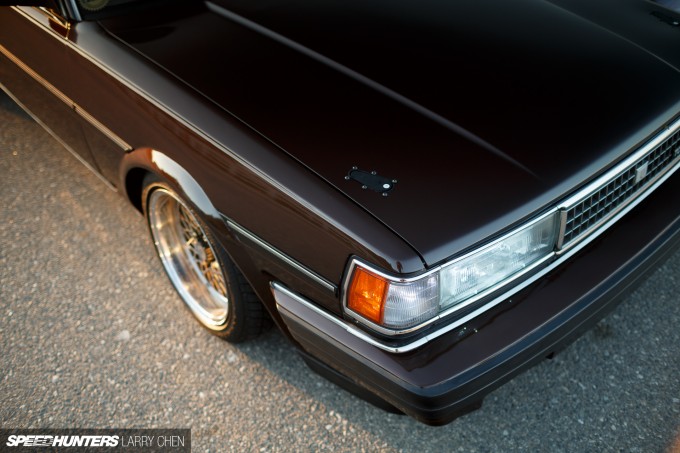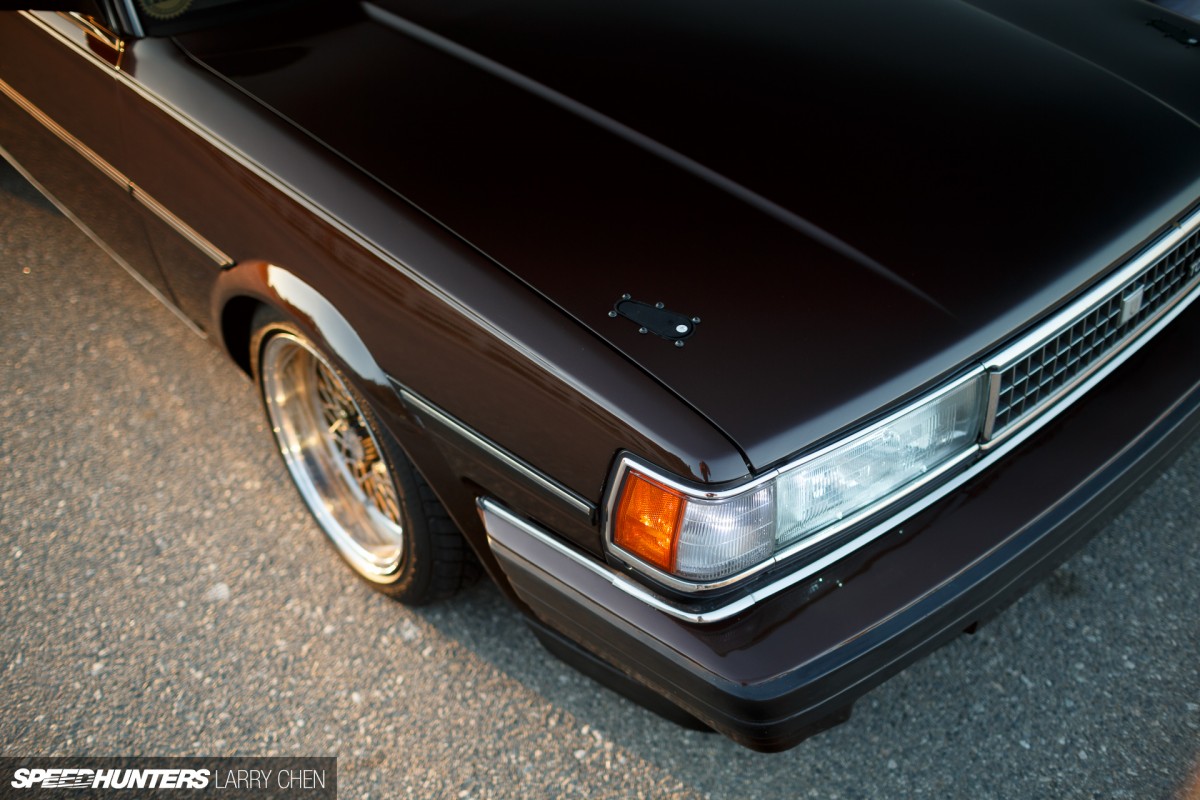 Originally, he didn't plan on modifying the old sedan a whole lot, but he soon found himself being wowed by the Cressida's charms. Eventually he made the tough decision to sell the MR2 so he could devote all of his time and budget to the Cressida.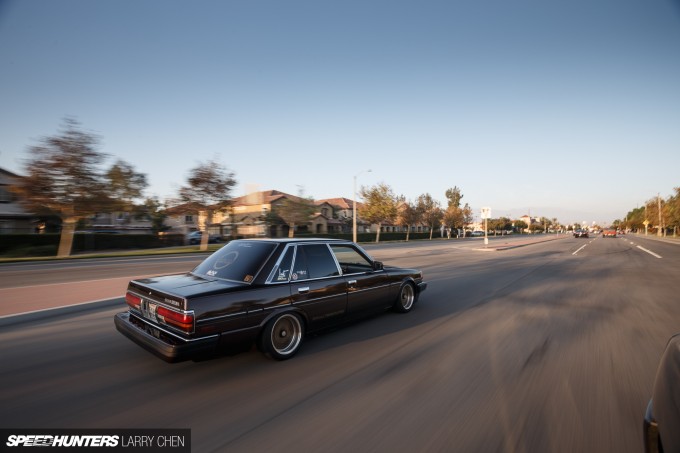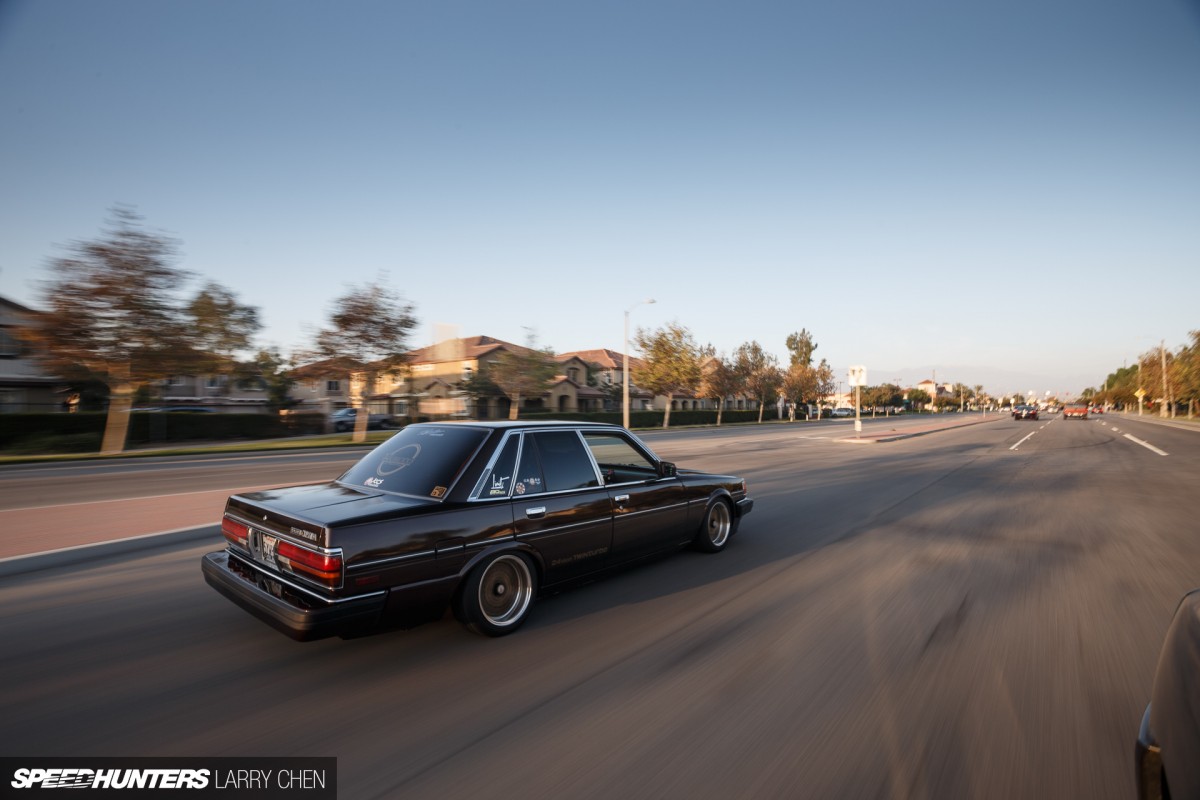 Using the money he got from the MR2 sale, Evan began stockpiling parts for the Cressida build. By this point he had a pretty good idea of what he wanted the car to be – a fast, capable and stylish street car, but one that stayed true to the original 1980s styling.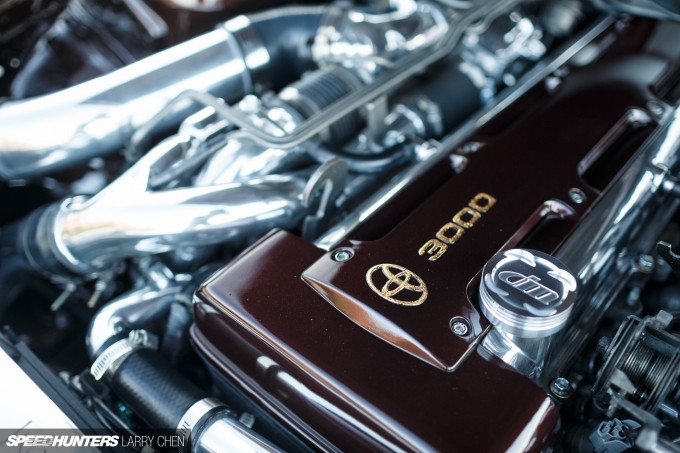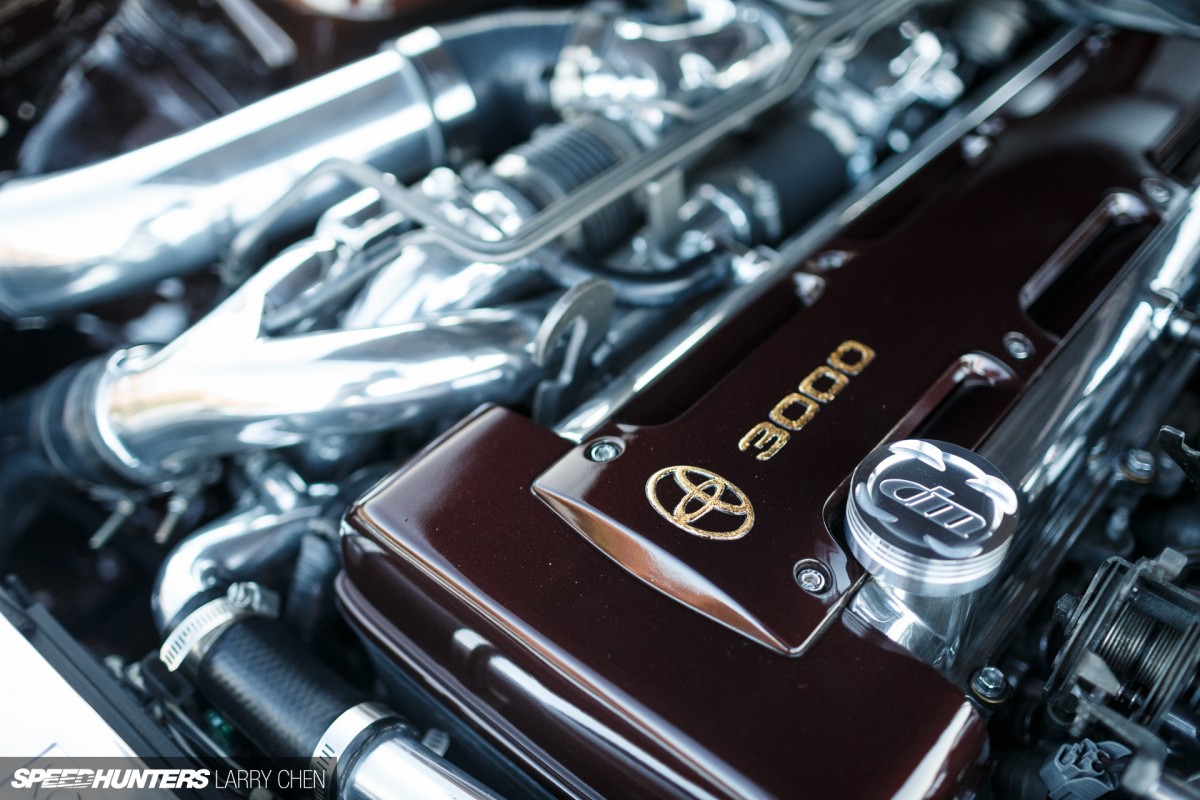 That, of course, meant that the stock powertrain would need some serious upgrading, and one of the first things Evan purchased was a complete 2JZ-GTE engine setup from a Japanese market JZS161 Aristo. Once he had the motor figured out, Evan knew that he could base the rest of the build around the 2JZ swap.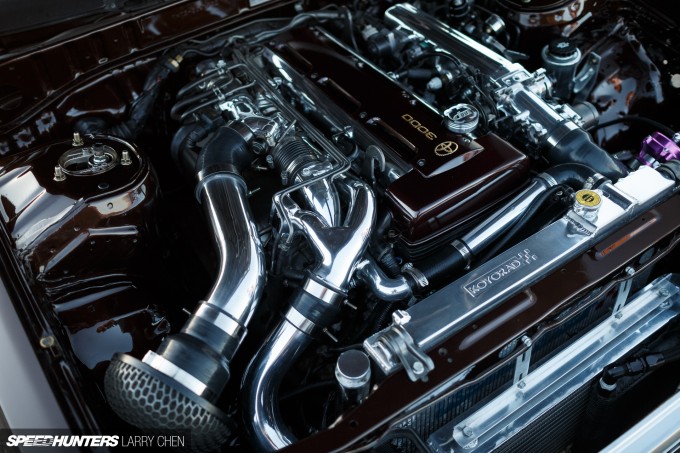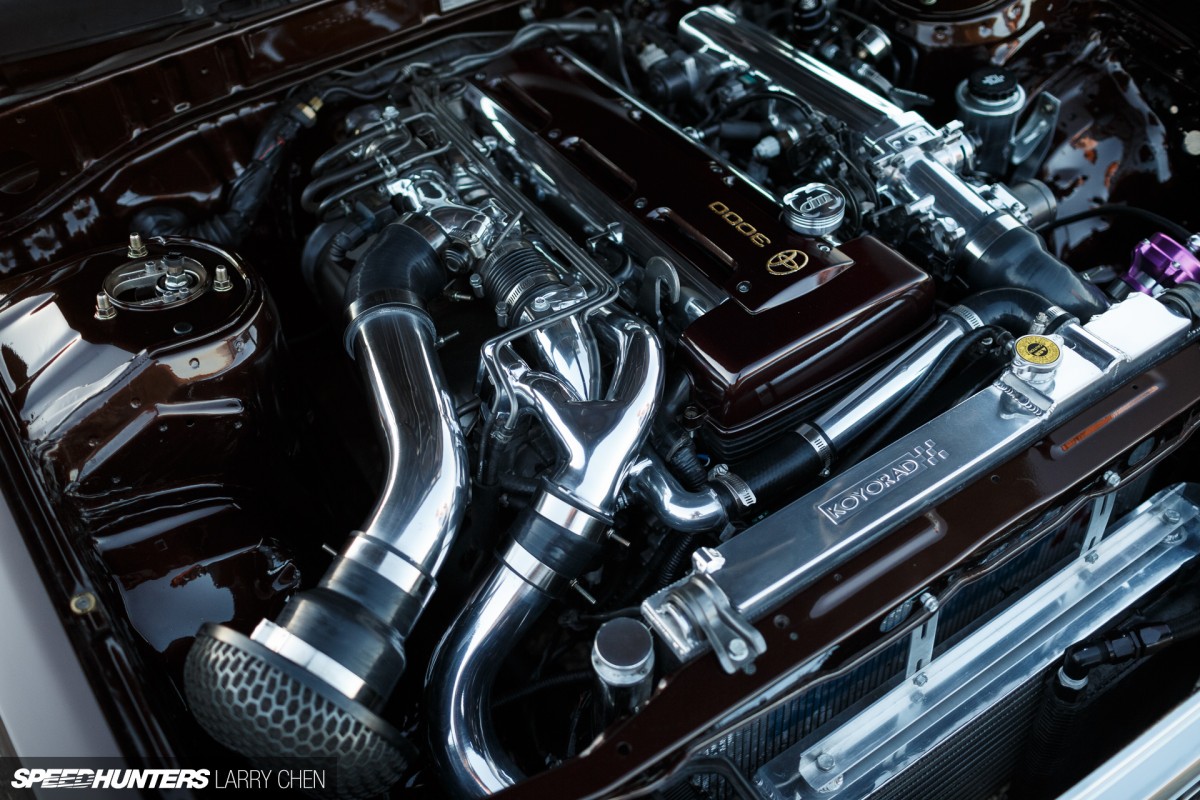 The twin turbo inline six has been fitted using motor mounts and engine brackets from Xcessive Manufacturing – an Oregon company which makes specialty parts for a number of RWD Japanese vehicles.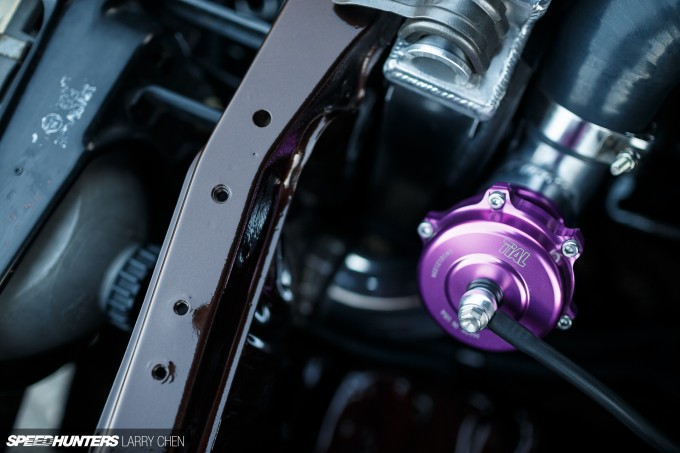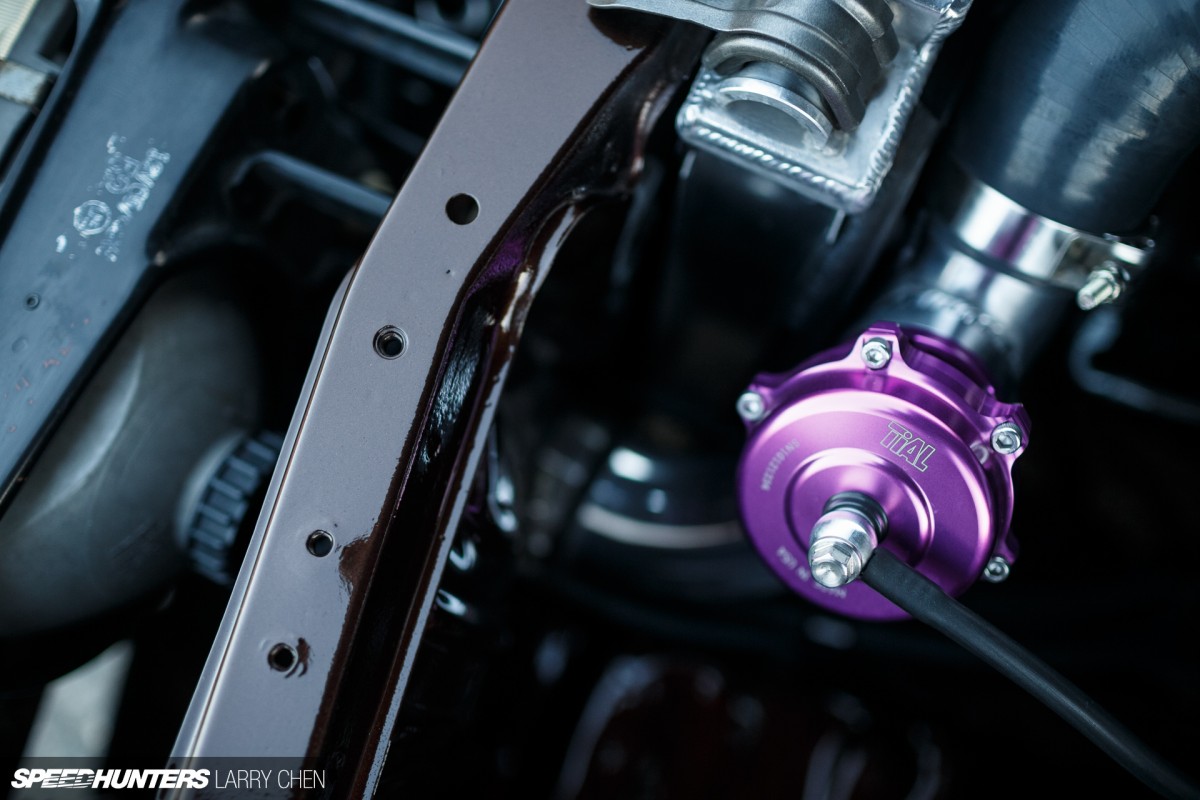 From there it was simply a matter of how much power Evan wanted to make. Even a bone-stock 2JZ-GTE makes around double the horsepower that the Cressida's original engine did, so it's not surprising that power upgrades have been kept modest and street-friendly for now. Key modifications include an upgraded fuel system, Web Cams camshafts, a Driftmotion intake with an HKS filter, custom Driftmotion exhaust and intercooler setups and a TiAL blow-off valve.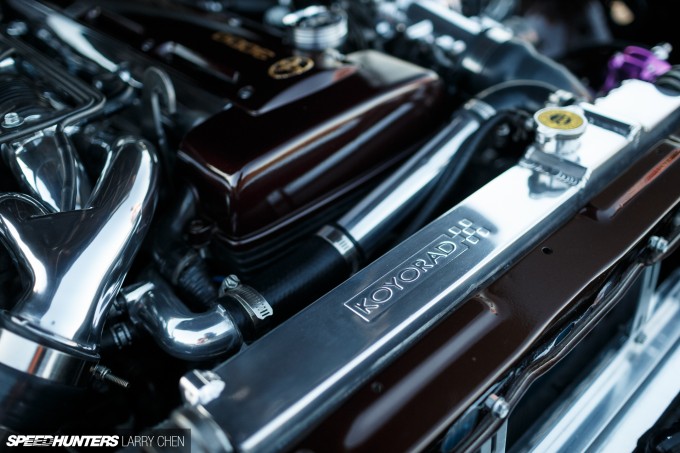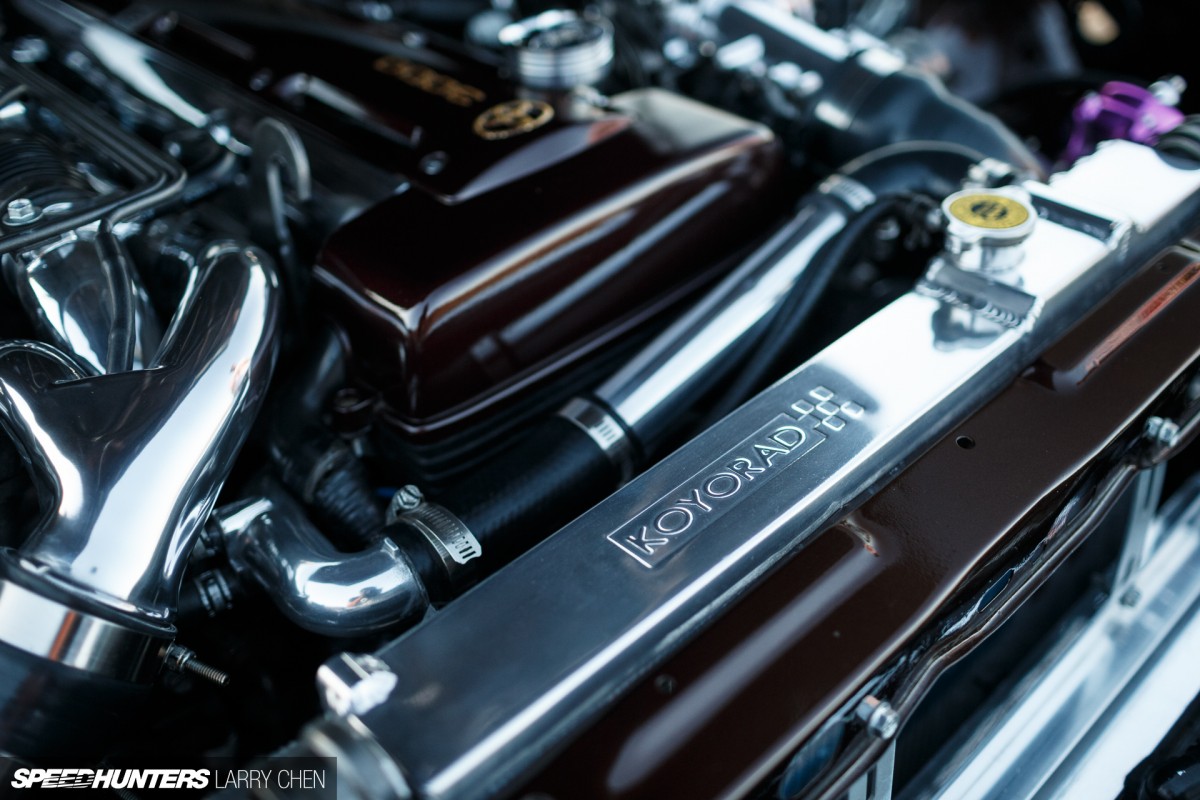 There's also a number of supporting upgrades to improve the 2JZ's already impressive reliability. They include an aluminum Koyo radiator, Flex-A-Lite radiator fans, a Driftmotion oil cooler, Optima battery and more.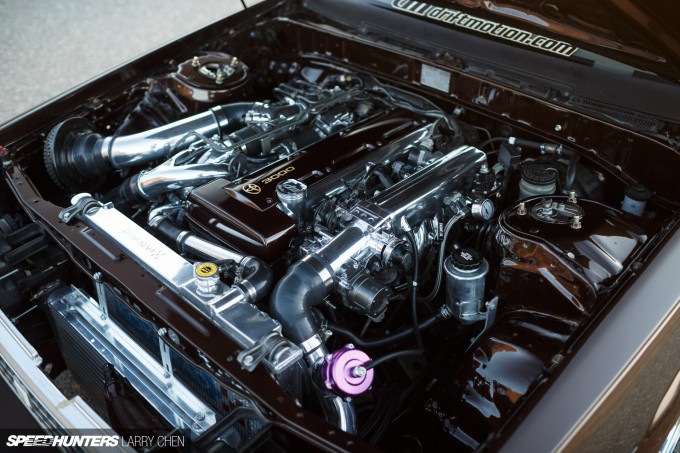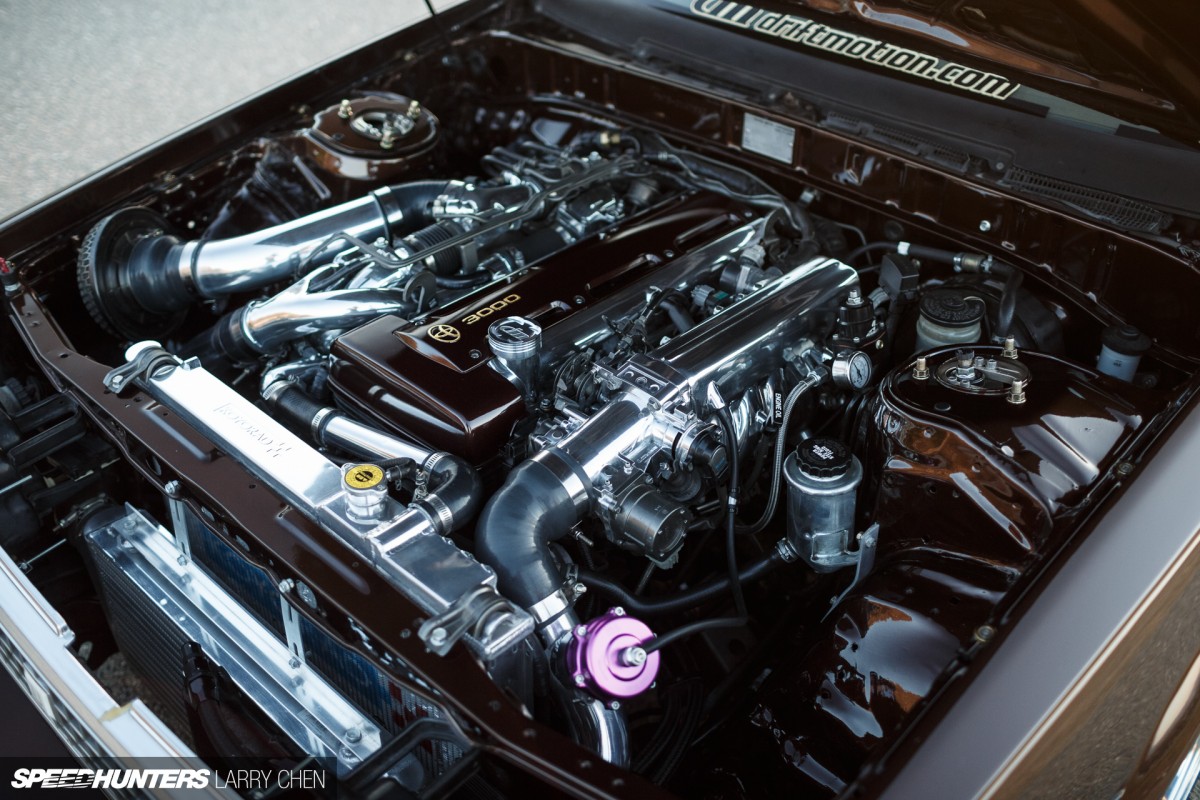 But the most impressive thing might be the extremely clean way in which the engine bay is presented. The valve cover has been color-matched to the body, the chassis harness has been tucked, the battery tray has been removed and many of the engine parts have been polished for a look reminiscent of Southern California's famous Honda builds.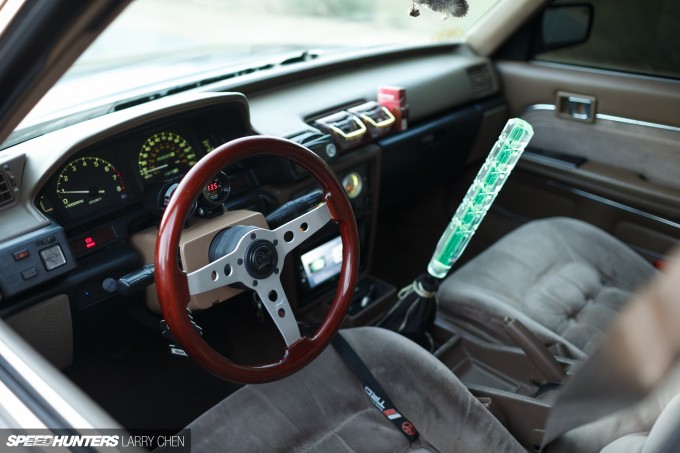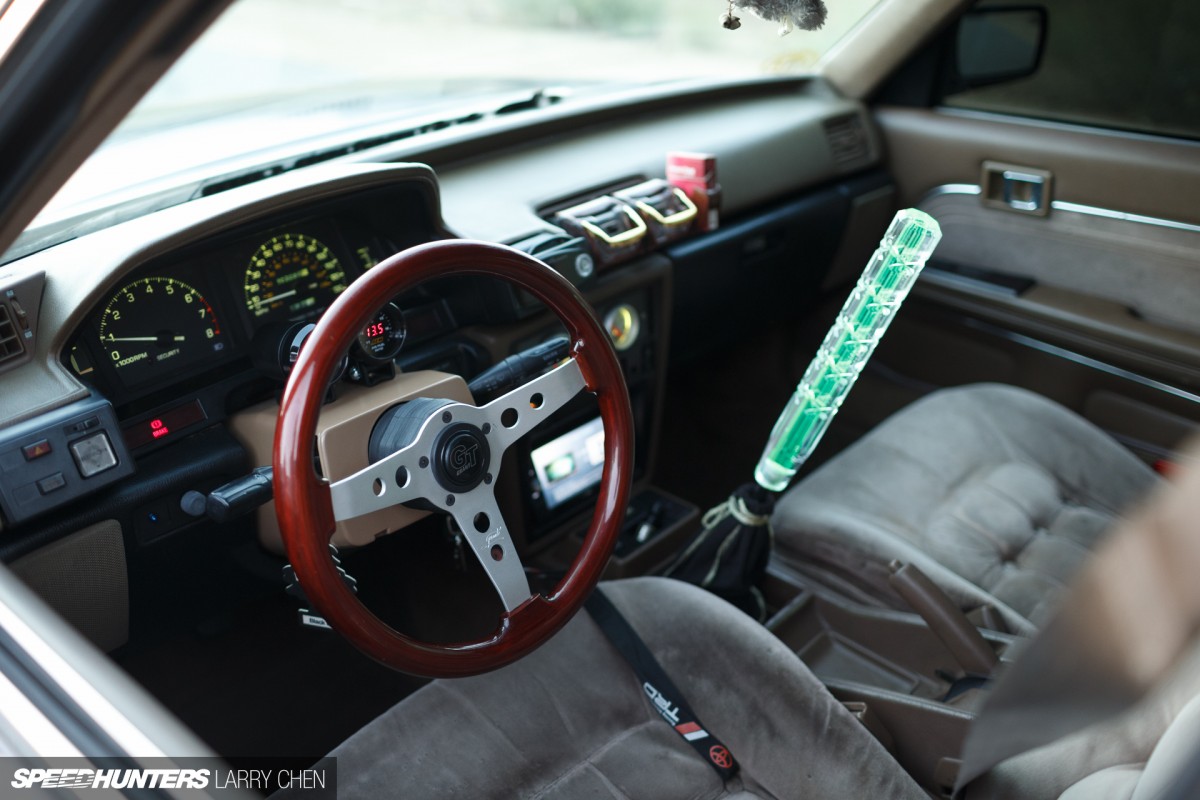 The 2JZ is backed up by a Toyota R154 5-speed manual gearbox with an Action Stage 3 clutch. Driftmotion also supplied the custom aluminum flywheel and driveshaft.
Footwork & Bodywork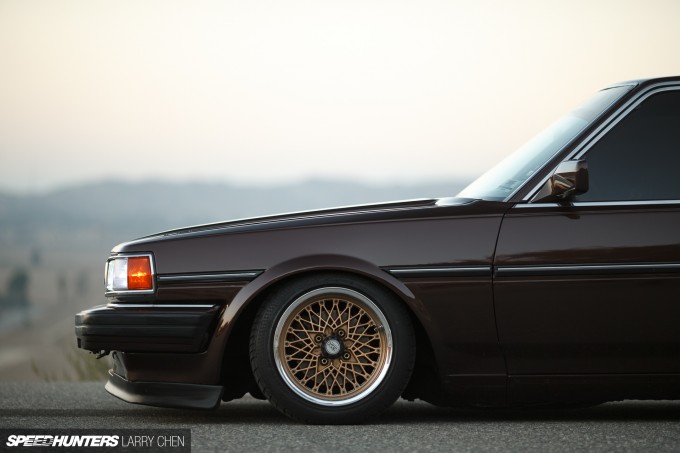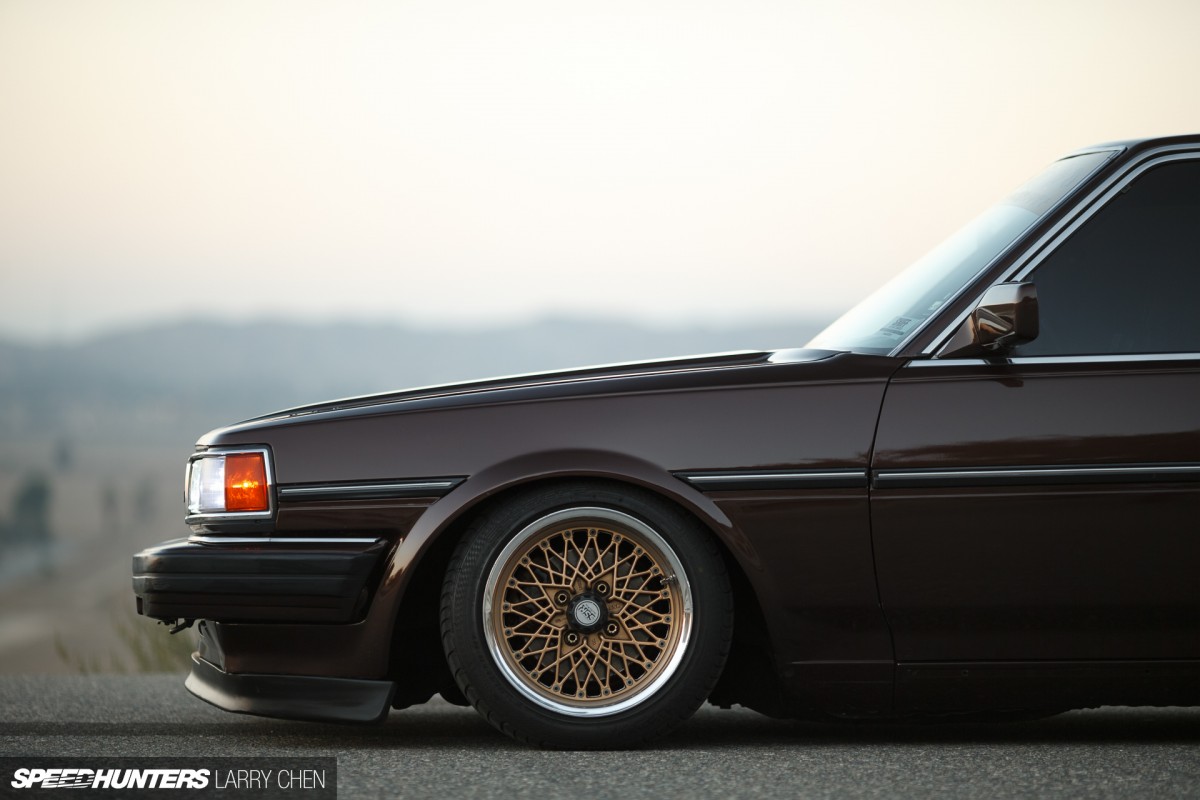 While the Cressida aftermarket pales in comparison to that of a car like an S13, there's still a reasonable amount of parts available if you do your research.  Suspension-wise, Evan has fitted the car with BC Racing BR Type adjustable coilovers along with Xcessive Manufacturing roll center adjusters and polyurethane steering rack bushings.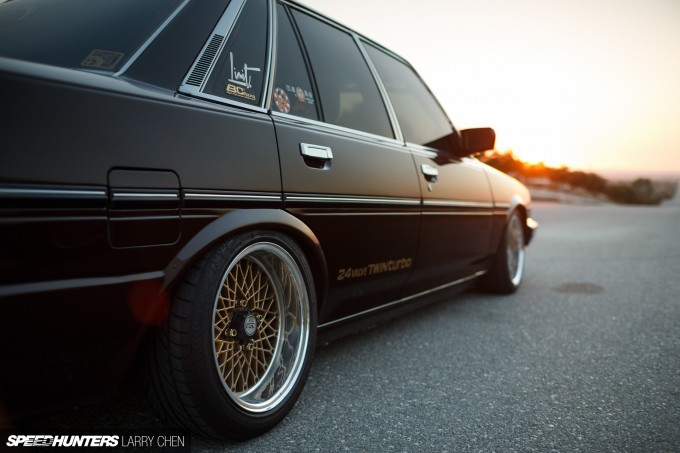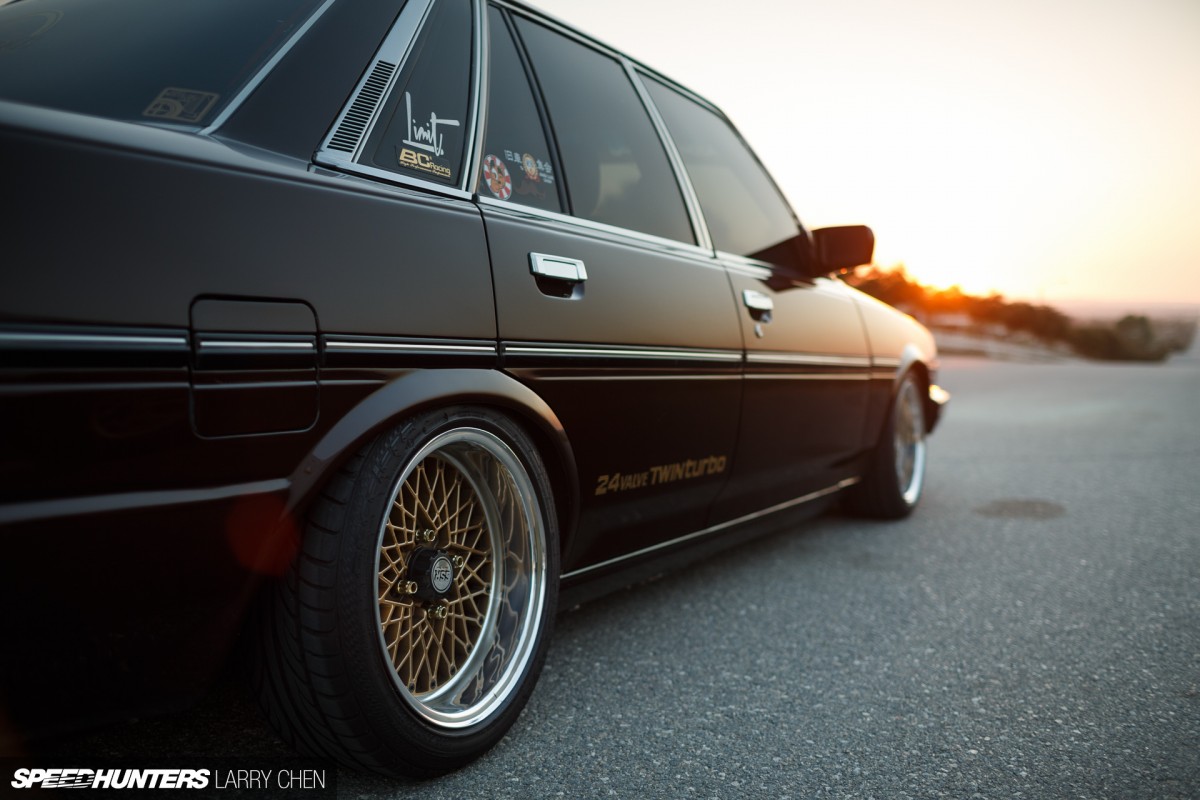 While many Cressida owners like to emulate the Japanese Kaido Racer look with big overfenders, super-wide wheels, external oil coolers and takeyari pipes, Evan has decided to go with much more subtle and understated look for his car.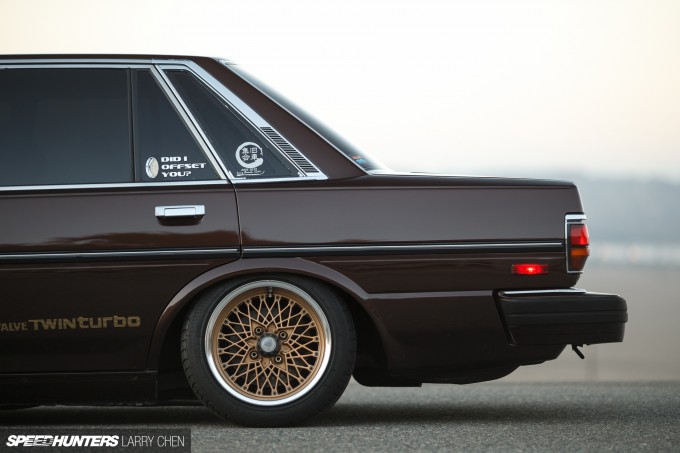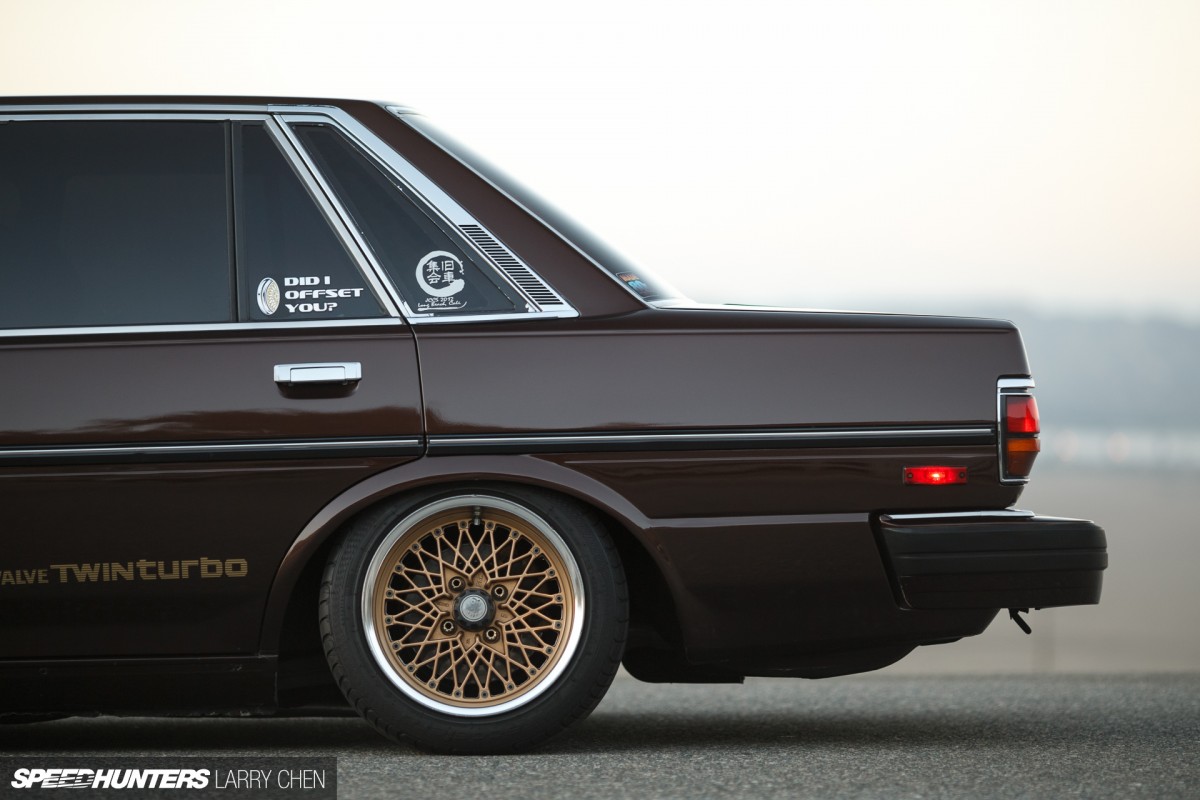 Rather than running wheels with deep barrels and aggressively-stretched tires, the 15×7.5-inch SSR Formula Mesh wheels and 195/50R15 tires are perfectly contained by the Cressida's stock rolled fenders.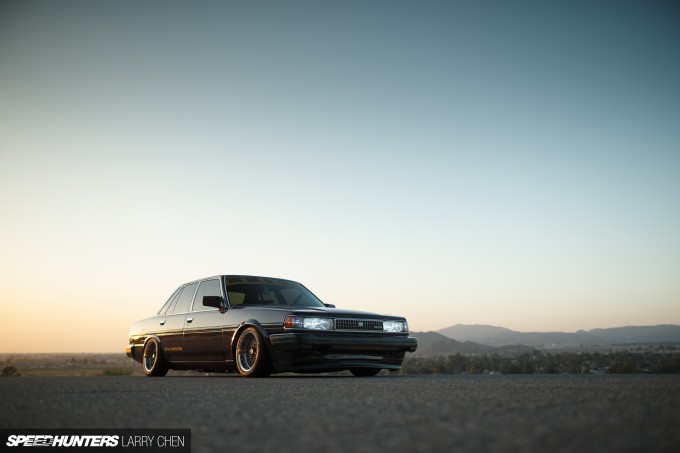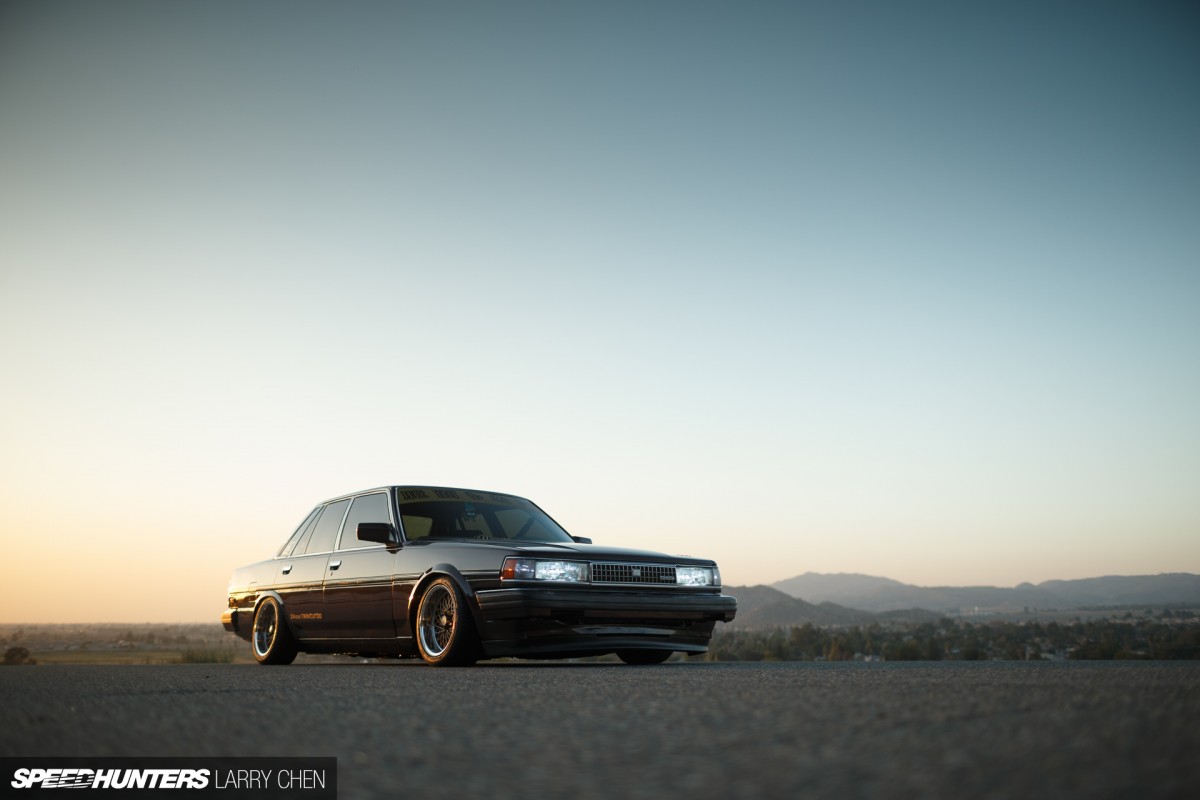 Body modifications have been kept simple with shaved windshield sprayers, a Volvo front lip and a fresh coat of Root Beer Metallic paint which stays perfectly true to the vintage vibe.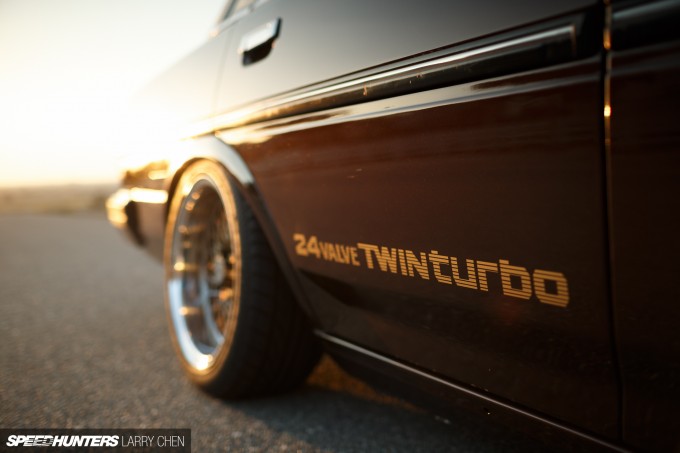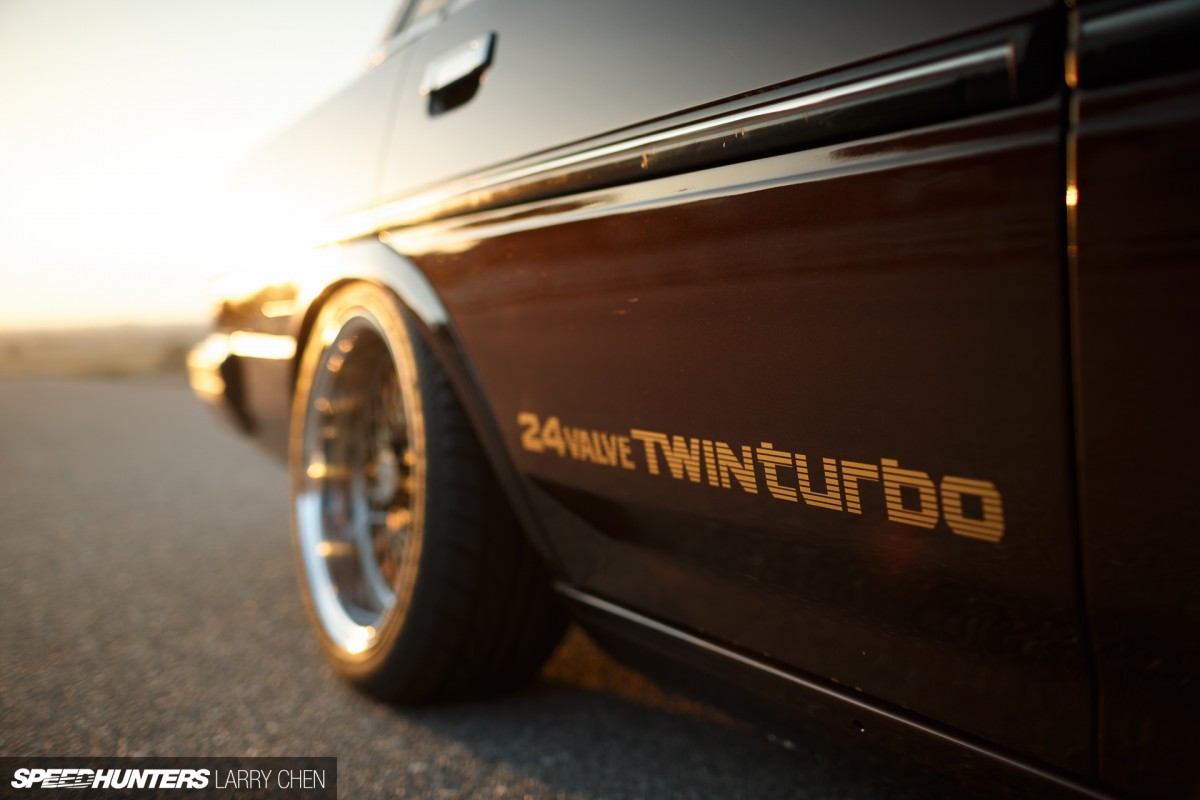 I especially like the addition of Toyota factory-style '24 Valve Twin Turbo' decals on the rear doors. It's just one more little touch that makes this car stand out.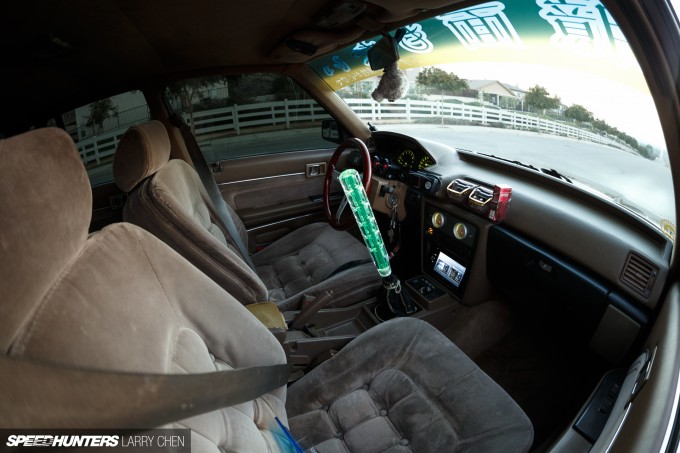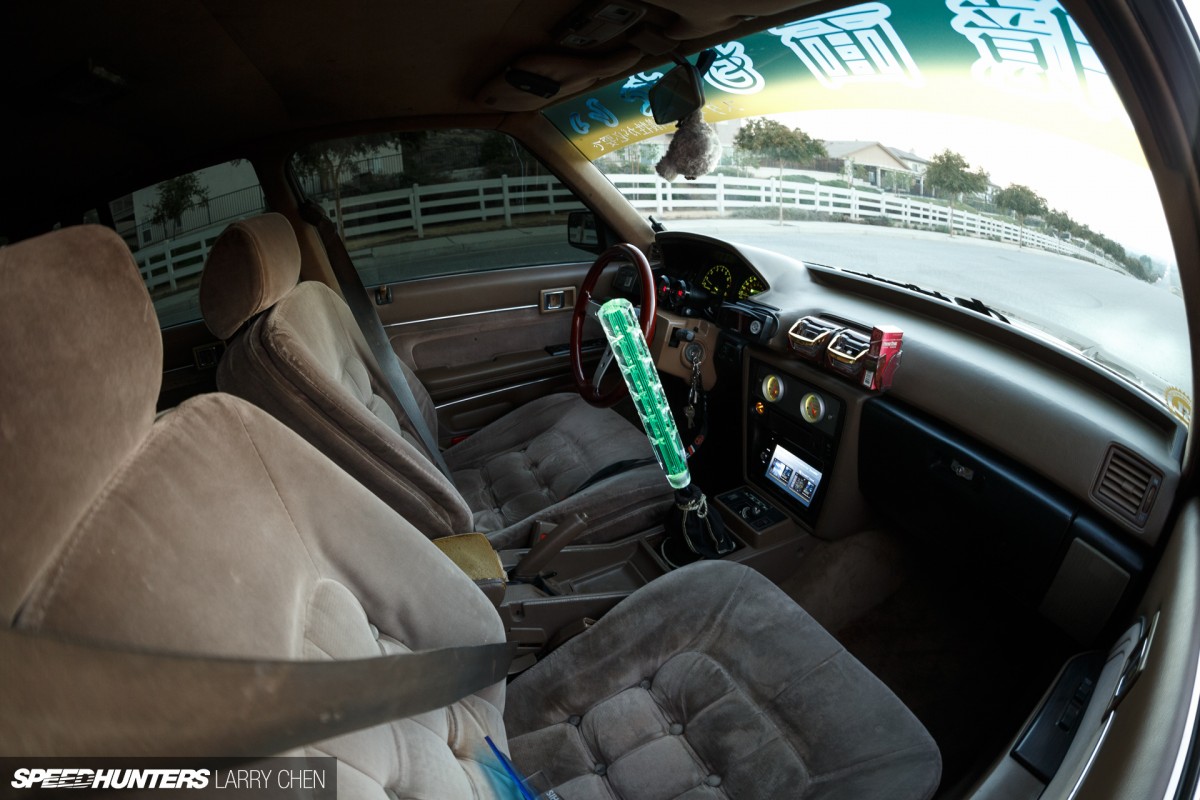 The interior has been upgraded with the same sense of restraint. The most outstanding modification is the 330mm-long bubble shift knob, and there's also a Grant steering wheel along with a double DIN Sony head unit and Pioneer speakers in the front and rear.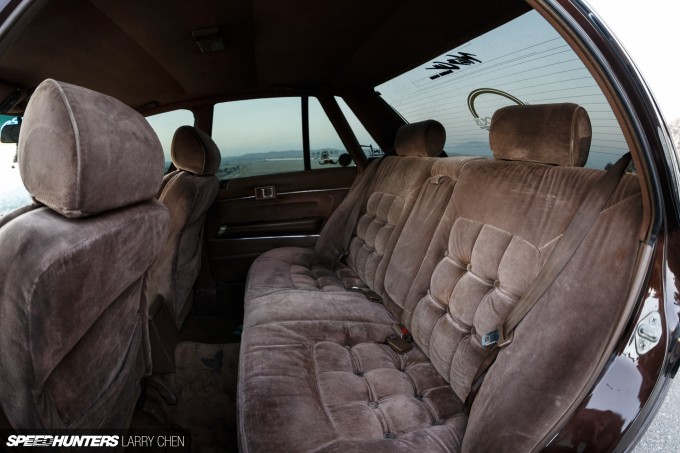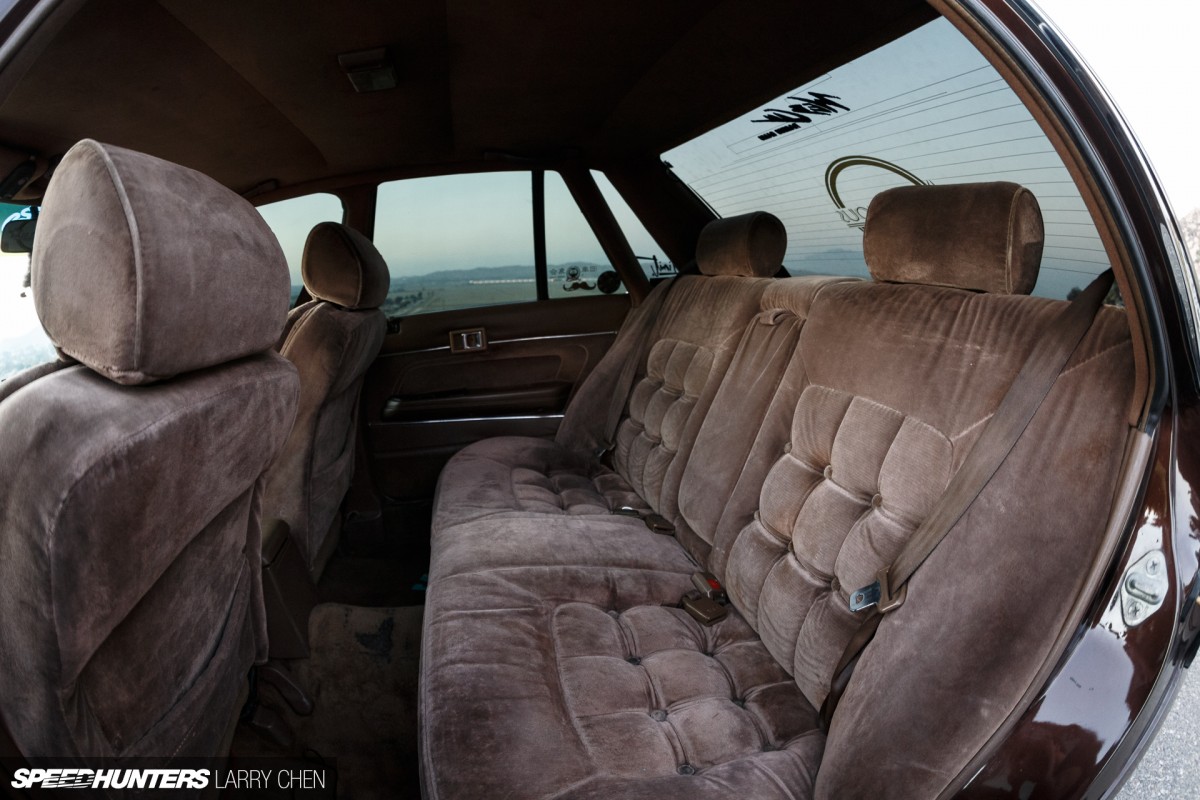 'Plush' does not even begin to describe the comfort level of the Cressida's seating surfaces. Never before have I wanted to crawl inside a car and take a nap so bad.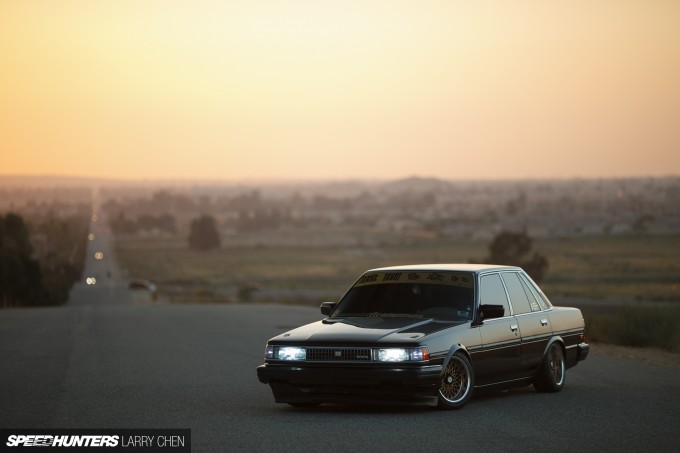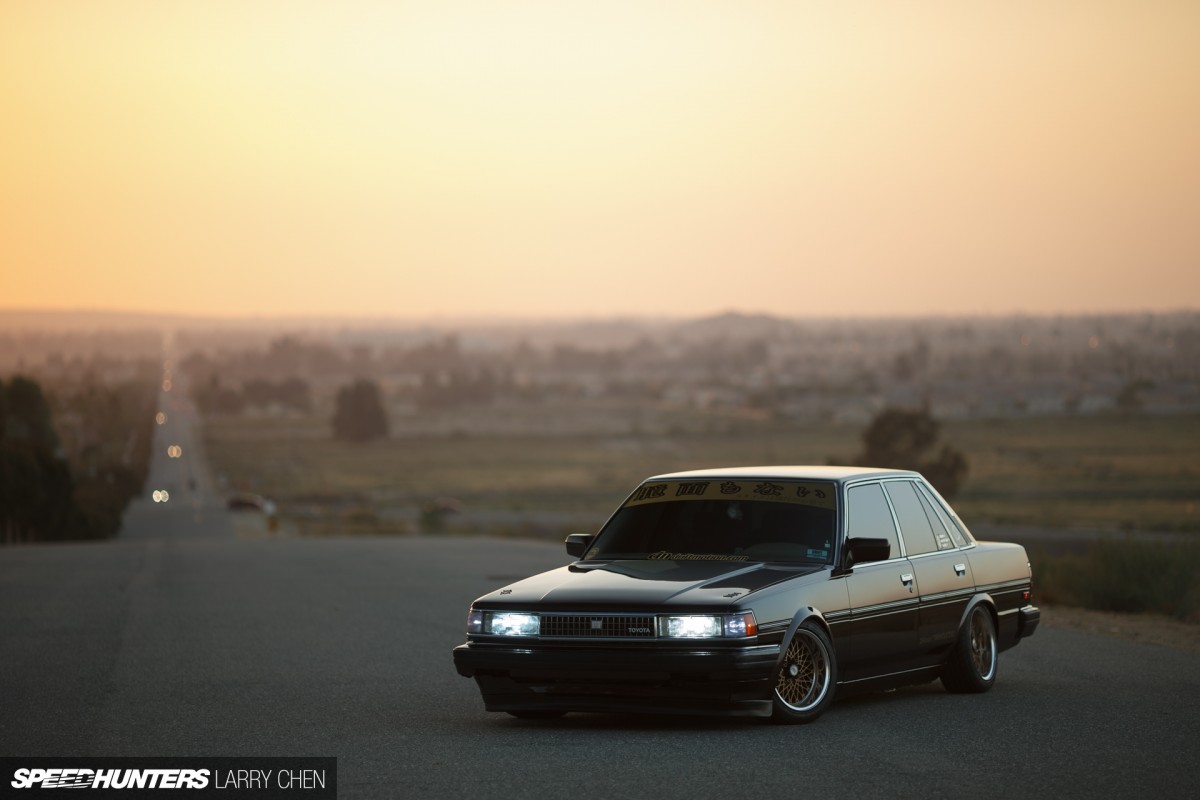 Evan's future plans for the car include fully restoring the interior, redoing the wheels and eventually rebuilding the motor with a single turbo conversion. Until then though, he'll continue to cruise the streets of SoCal in one of America's cleanest and most well put together Cressidas.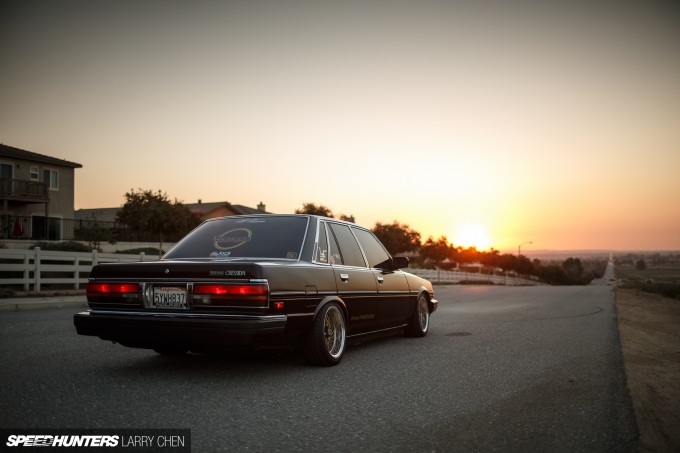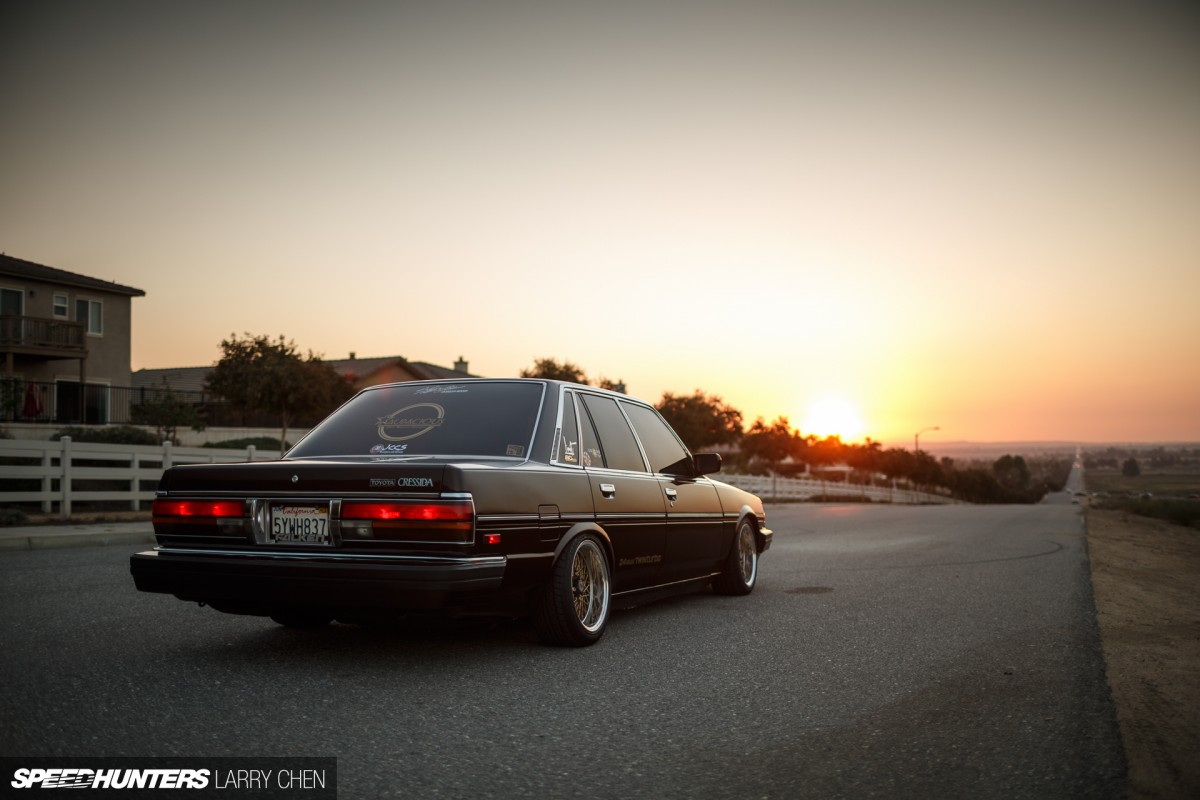 I have no idea if Cressidas will ever be the recipients of rotisserie restorations or become stars of the auction block, and I'm not even sure we want a future like that. But as long as there are people like Evan giving these cars the attention they deserve, all is right in the world.
Mike Garrett
Instagram: speedhunters_mike
mike@speedhunters.com
Photos by Larry Chen
Instagram: larry_chen_foto
larry@speedhunters.com