Stand By Yourself
Working on your own can often be tiring, painful and underpaid. Nobody is there to make sure the workshop is warm in the morning, or that the lights get turned off at night. If you get ill, you don't get paid. Job security falls entirely on your own shoulders and you have to deal with customers who expect everything done for nothing, by yesterday. What's that? Ahh, boo-hoo? Yeah I know, it can also be the most rewarding thing you'll ever do.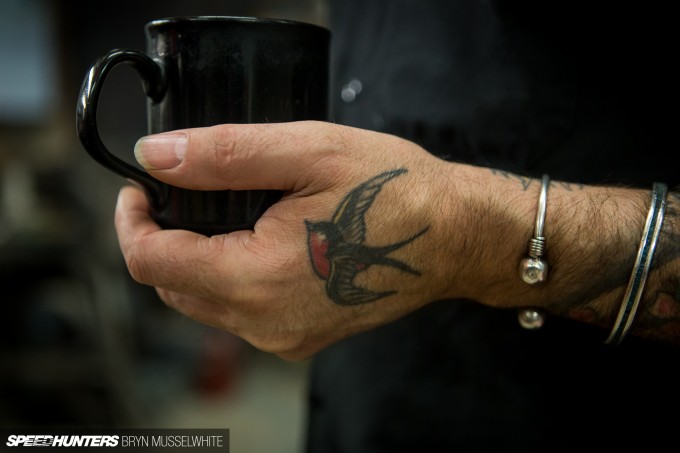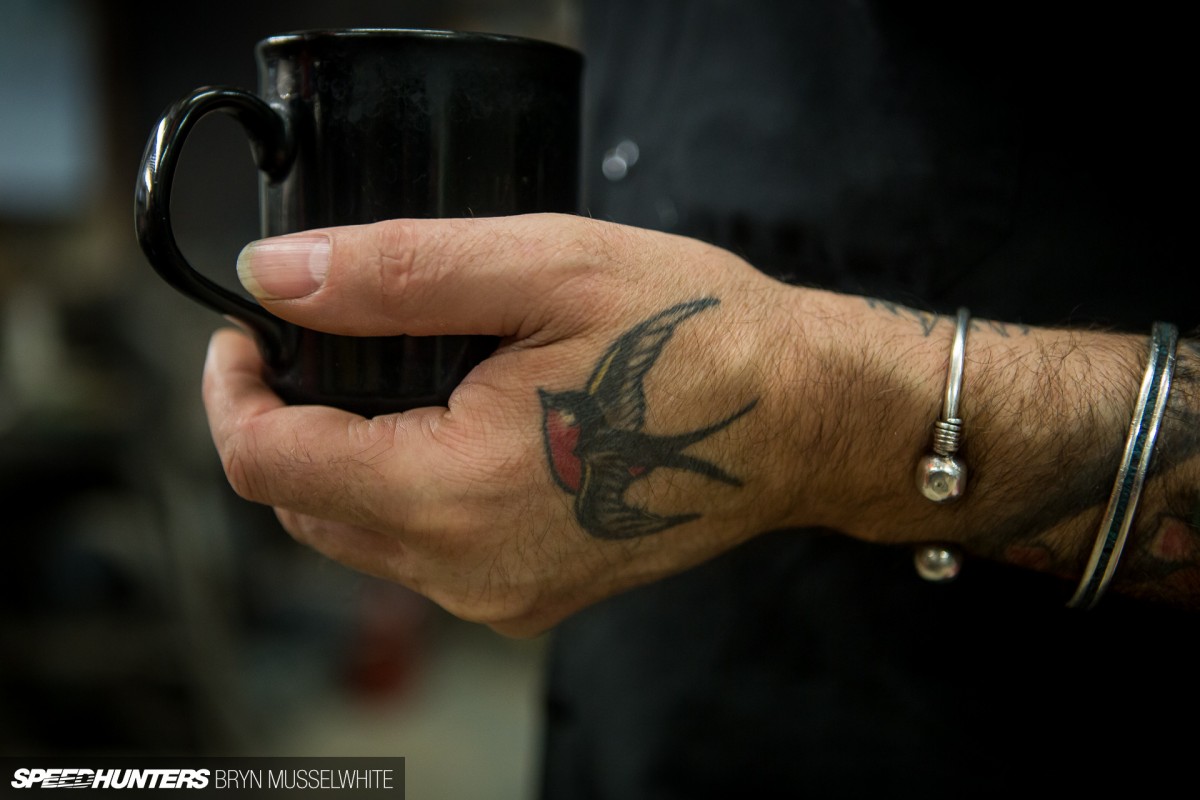 That's why when the suggestion was made of the Creators Theme I knew who I wanted to go and see. So I drove a very familiar nine miles to the workshop of Wayne Allman, who works as a one man band under the banner of The Intergalactic Custom Shop. Being self-employed myself, I always feel a little bit guilty calling in, as the tools usually get put down and the kettle always goes on. It's not productive, but then again the boss says it's okay, and that's good enough for me.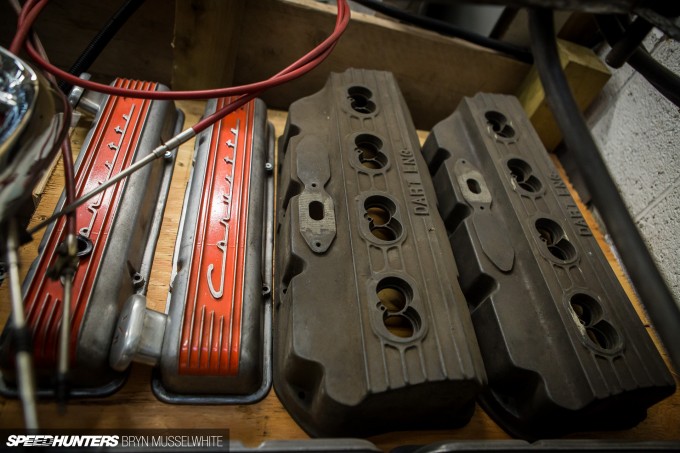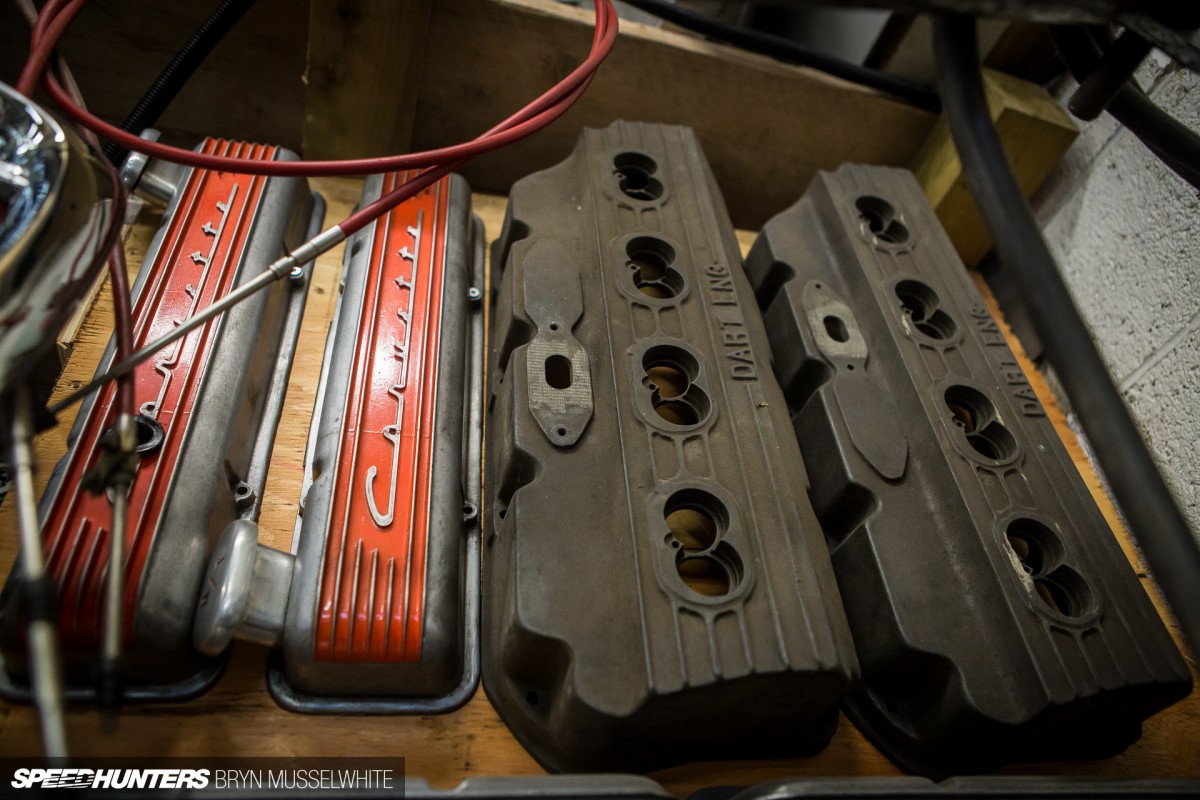 Walking in to the workshop always reveals something new, because just like every good builder the way it looks and the way it works both evolve over time. New (old) valve covers get hung on the wall as they get swapped for work, or bought for a project still to escape from Wayne's head, or just collected because you never know when you might see another set for that price.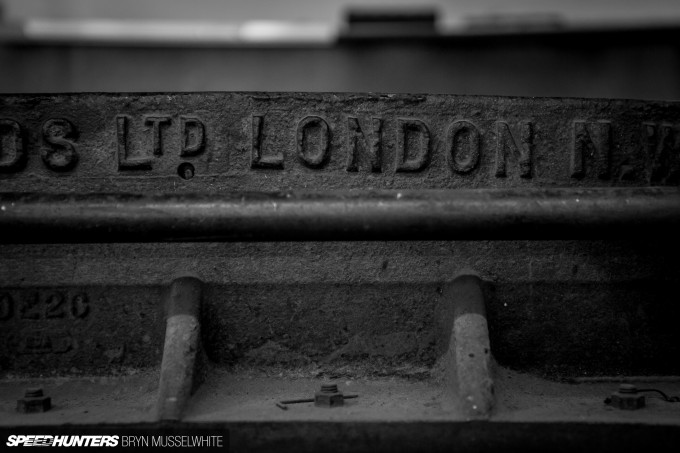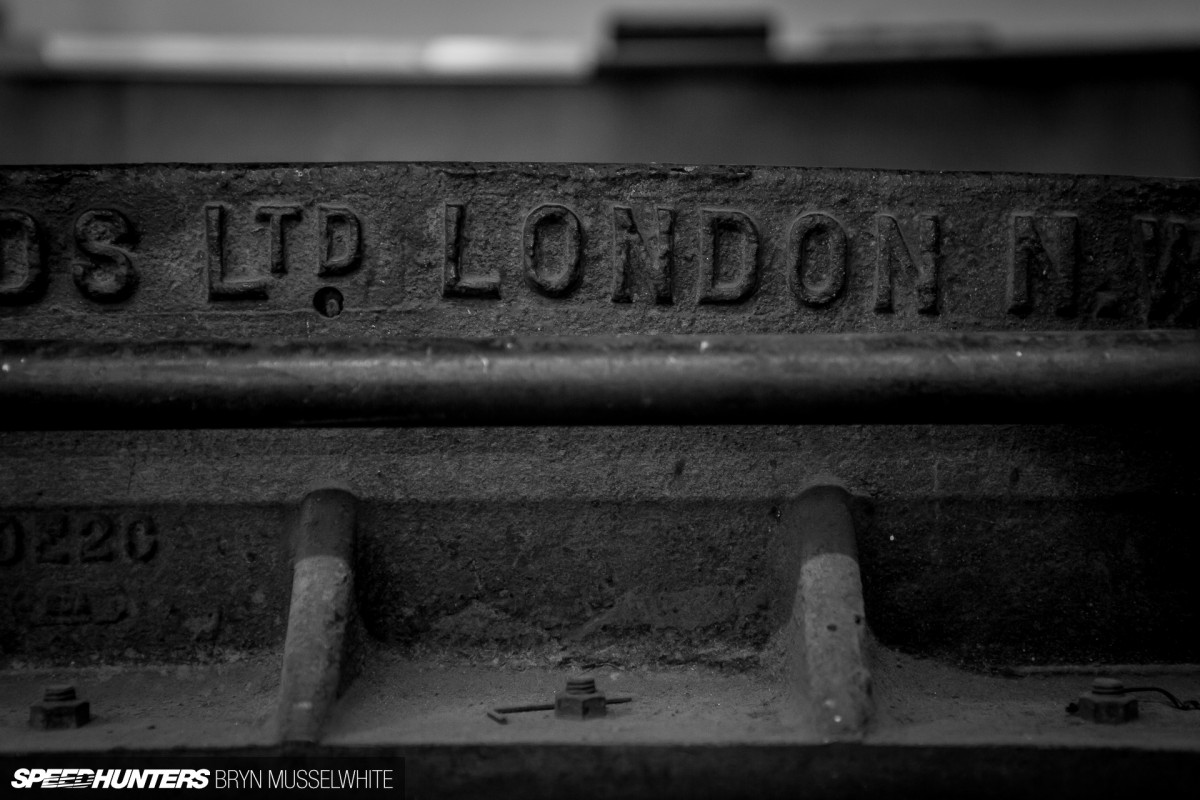 Often, the many fabrication benches, presses and tools will move around as the space itself is modified to fit customer projects or long lengths of tube in – Wayne has to get creative with the room he's got. When you work on your own it's best to be flexible, or you'll quickly come unstuck.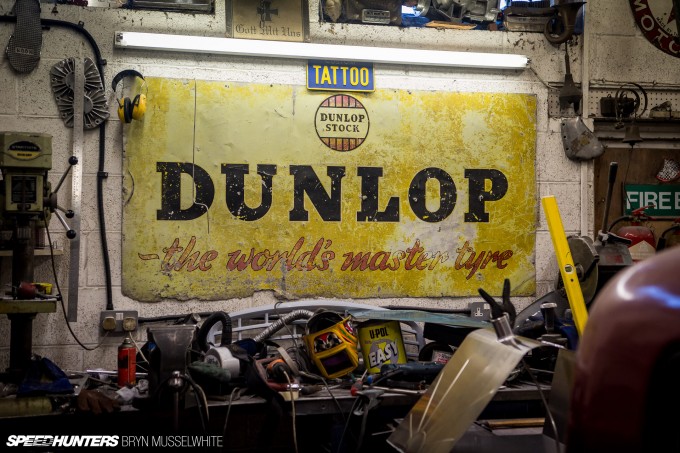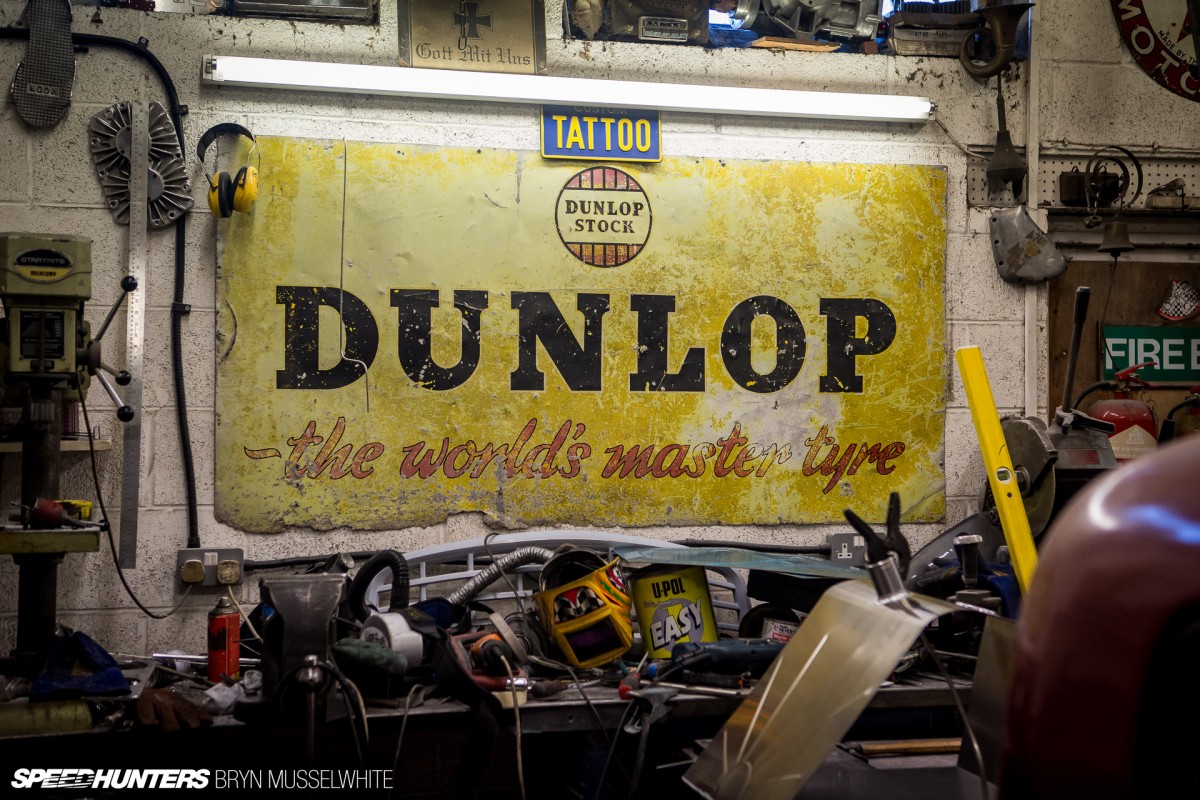 Some stay in place longer than others, but everything has a reason to be here. This isn't a contrived workspace with props bought and hung around the walls to make it feel cool, this is the real deal. And it's constantly shifted appearance since Wayne first moved in around 15 years ago.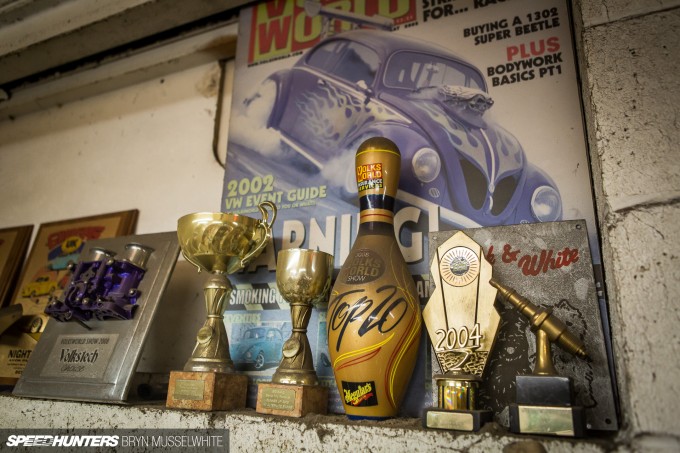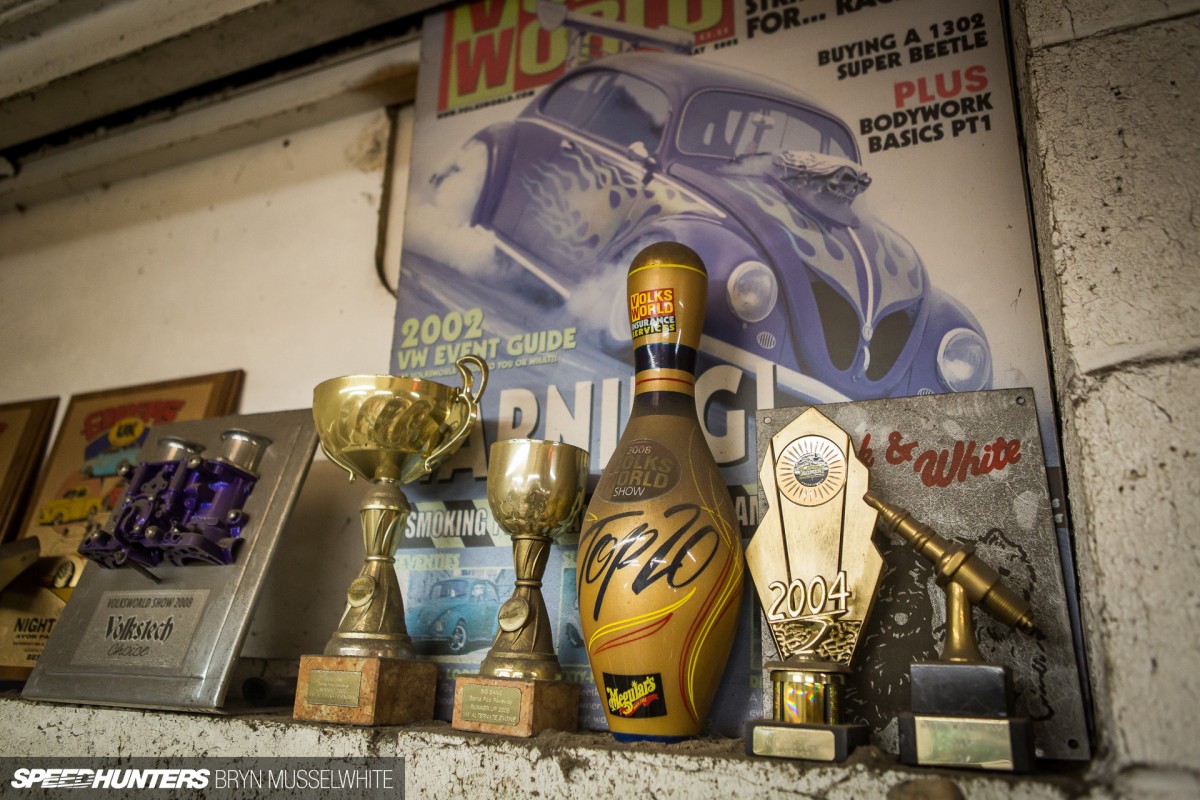 High up on one wall there's a filled-in window frame that houses some dusty trophies from a decade ago, and an even older magazine front cover display board. That Beetle is called 'Phunky Phantom' and it's one of the first cars I got to know of Wayne through. Before it had a V8 in the front there was an air-cooled motor sat in between a 10-inch narrowed and tubbed VW rear end, and being pillarless with beveled, flush-fit glass, it really stood out in a sea of pastel-coloured, faux Cal Lookers at the time.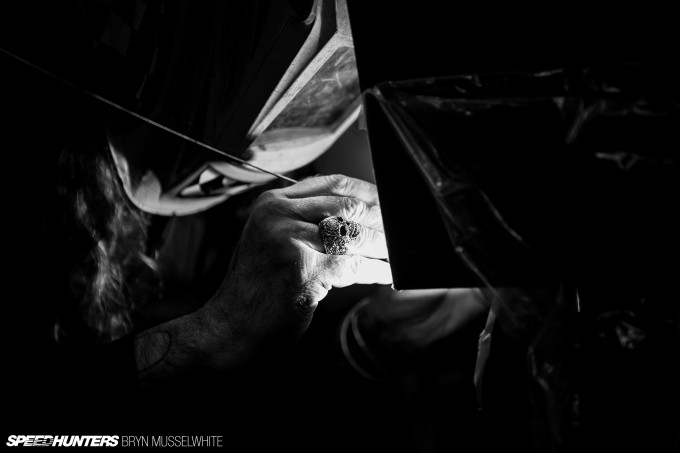 Never far from it you'd generally find Wayne, all hair and a cheeky wide-eyed grin.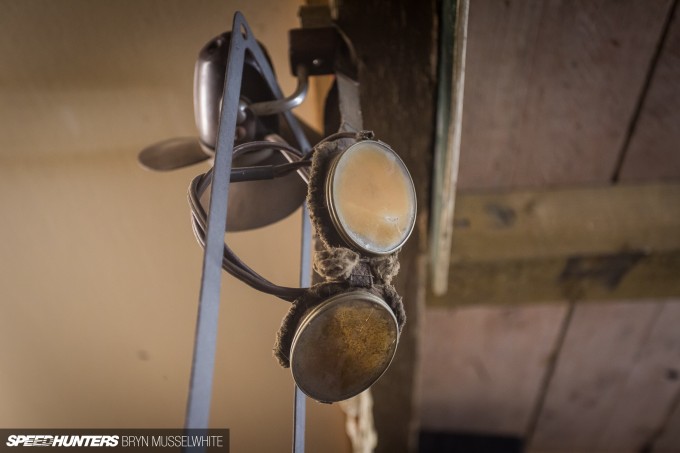 But being able to build your own kick-ass cars comes at a price, and you are the one doing the paying. Every penny has to be earned and all the time you're building that dream, you're not putting any money in the bank. As with a lot of things in life, you need to find and maintain a healthy balance.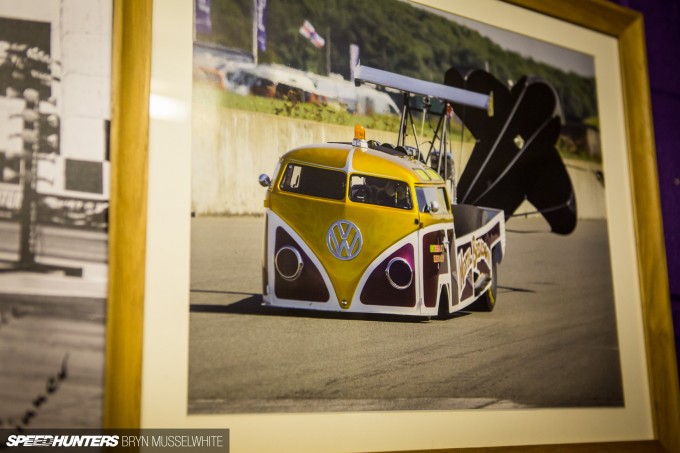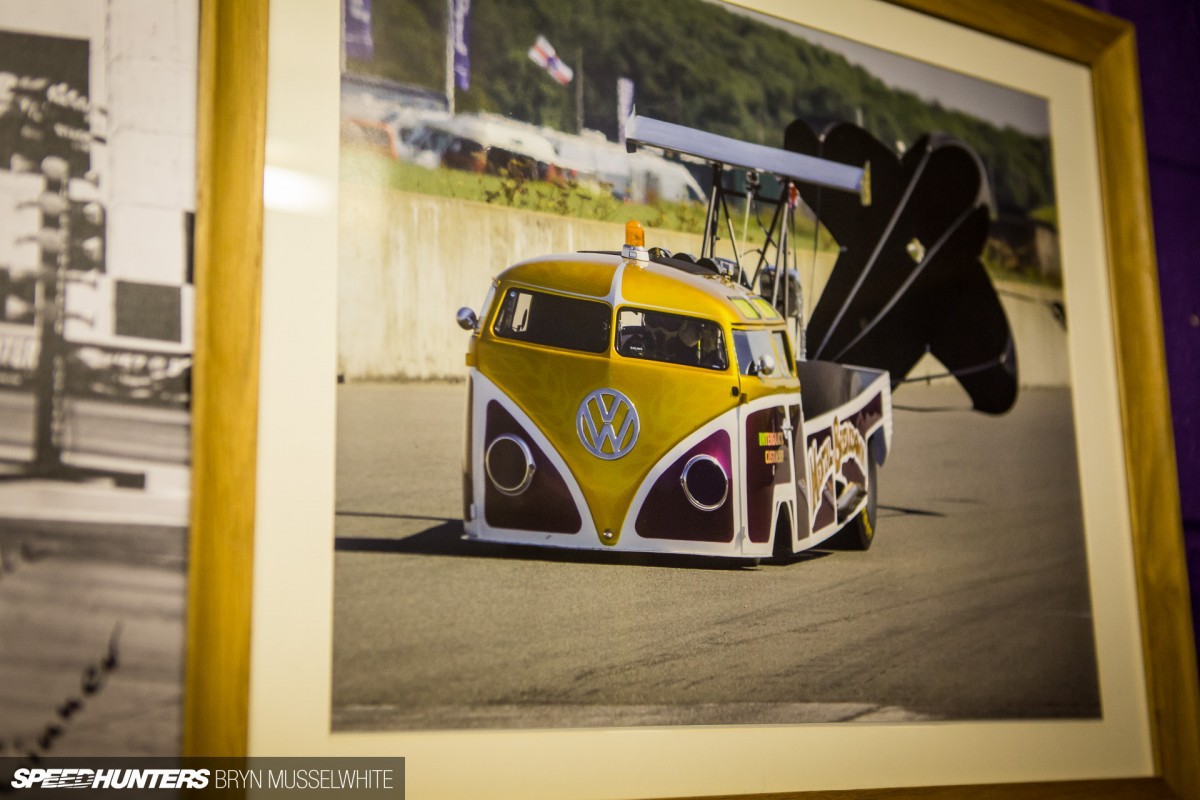 Some people will escape from work and bury themselves in the workshop or garage, loft space or back bedroom indulging their hobby. But what if your escapism is your work? It's that balance that's always intrigued me as I've never quite got it right. For example, within 15-feet of where I'm sat right now there are two projects patiently waiting for my attention, but it's 9pm and I'll be here for a while yet. Wayne is a lot better at it than me, which is how he's managed to create so many incredible personal projects. I'll show you more of this particular one a little later on…
Do Or Be Done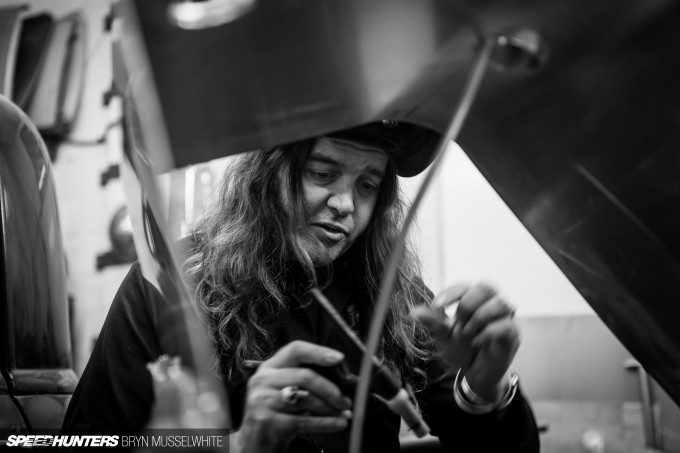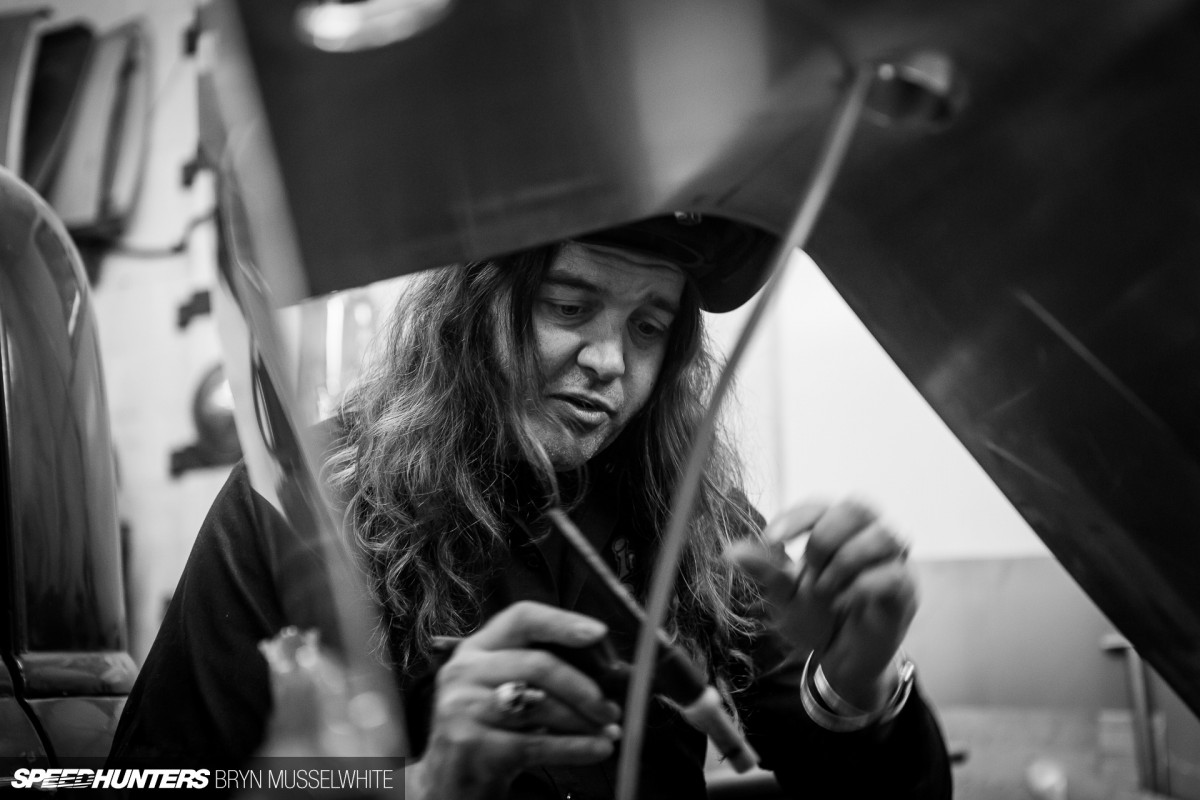 I think the real lesson to be learned here is that Wayne is a doer. It might sound obvious, but everything he knows is based on his personal experience. His family weren't car orientated at all though, and he grew up in a house dominated by horses and the countryside. But once in a while there would be a banger race meeting in a field over the road. Having also grown up in a rural environment, I can imagine the wide-eyed wonder when the loud, brash and rough around the edge racecars turned up.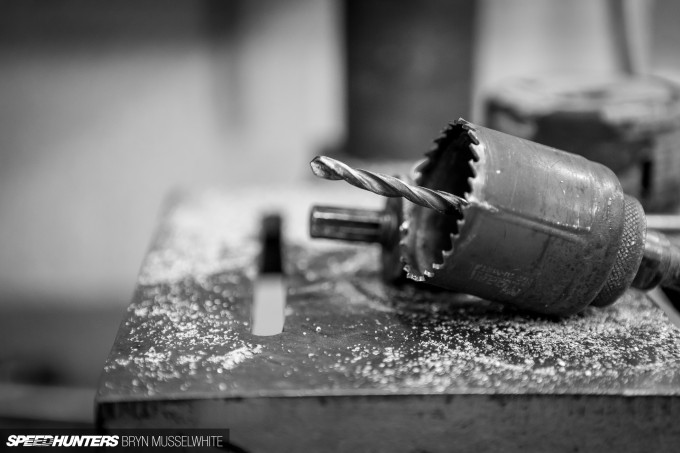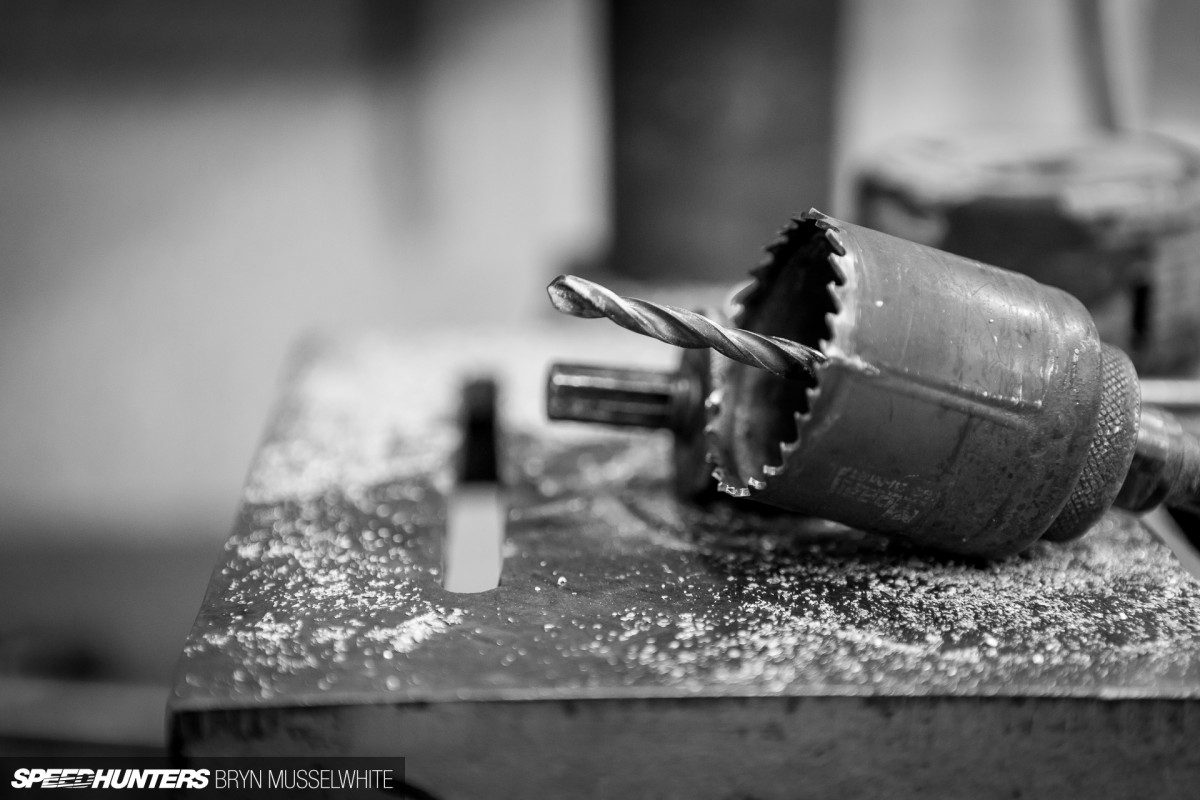 Getting back to that doing thing, instead of looking at a 'scene' and wanting to be part of it, Wayne just got on and did it – which naturally brought him into the trade. You can tell by talking to him that this wasn't a conscious decision, it was just what he was good at.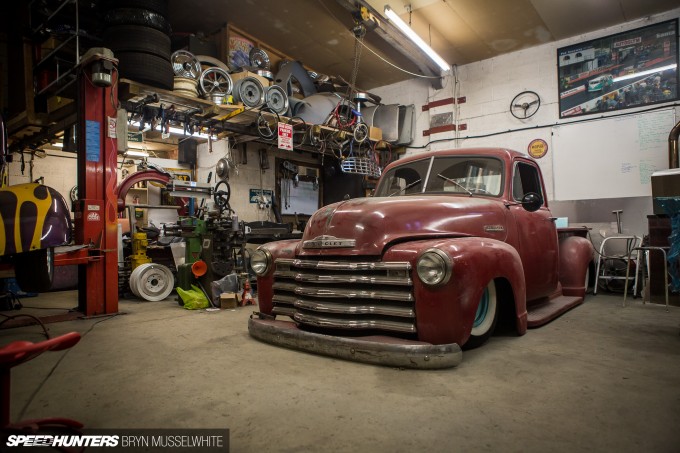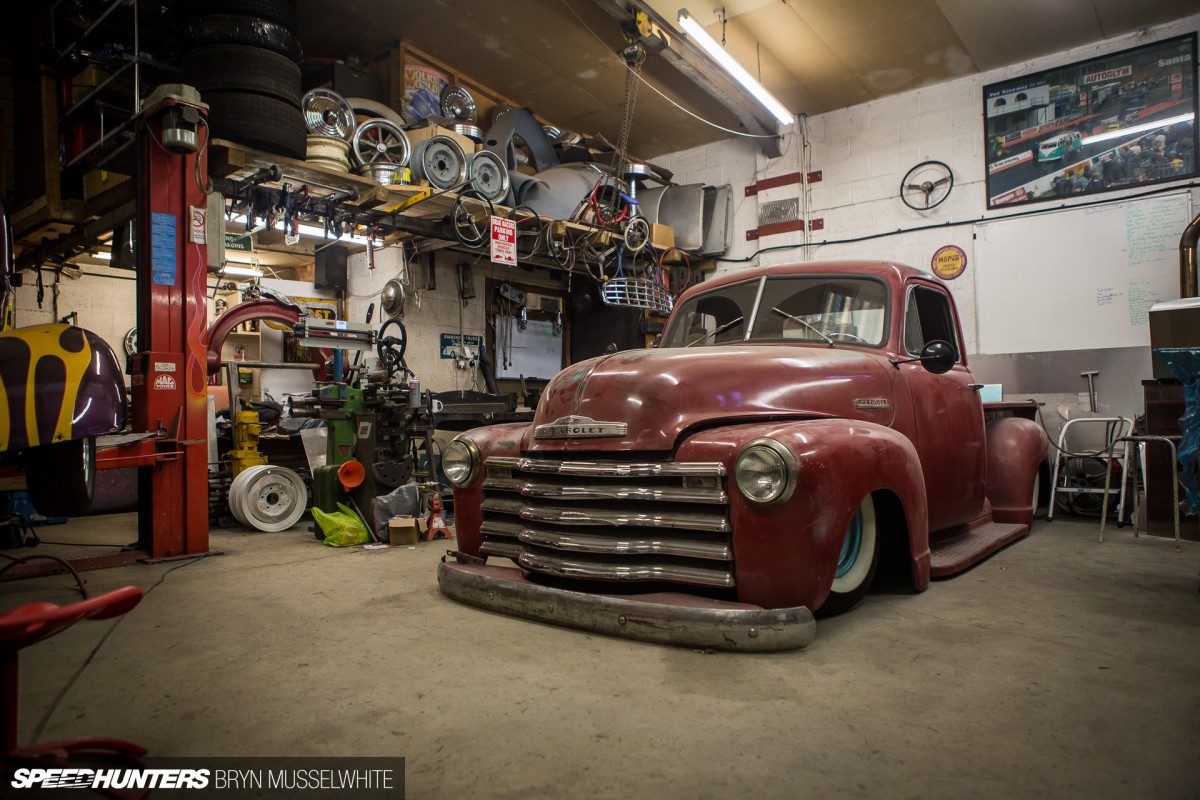 The Intergalatic Custom Shop has existed since the late 90s, and Wayne landed here after working his way through a variety of automotive engineering jobs and a VW repair and custom shop. More recently, this mid '50s Chevy truck came in for a few simple jobs that as usual escalated out of control when Wayne got involved. When you employ the services of a man who built a 2000hp, 7-second dragster bus, you can't go far enough with a project. Nothing is an issue.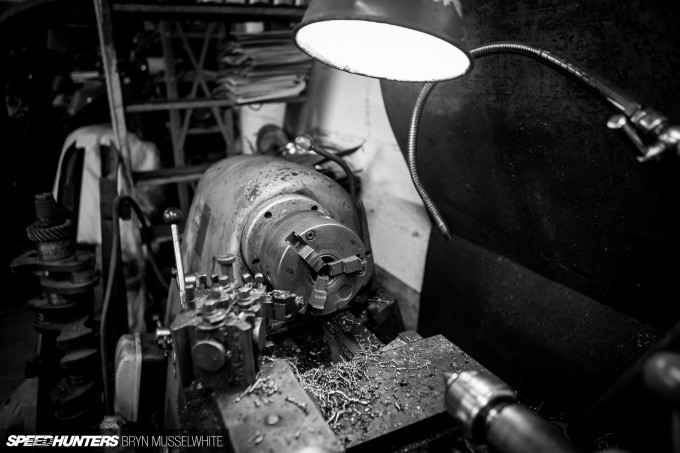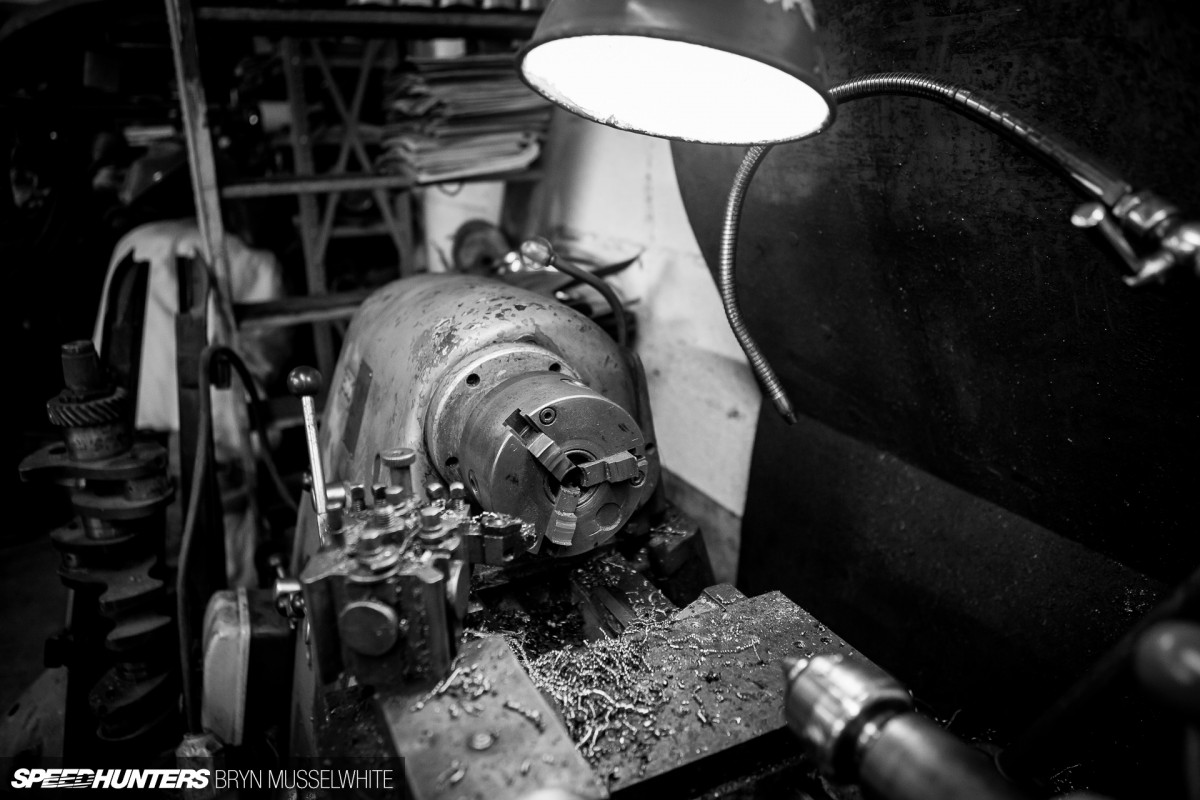 I'm envious of the equipment Wayne has, but again it's not set dressing, it's all here for a reason.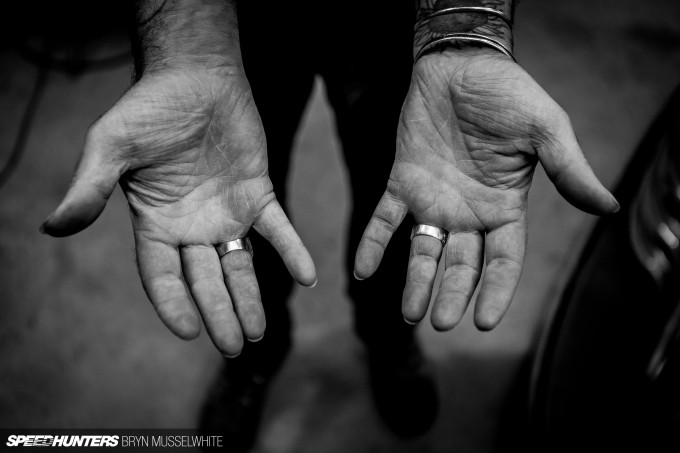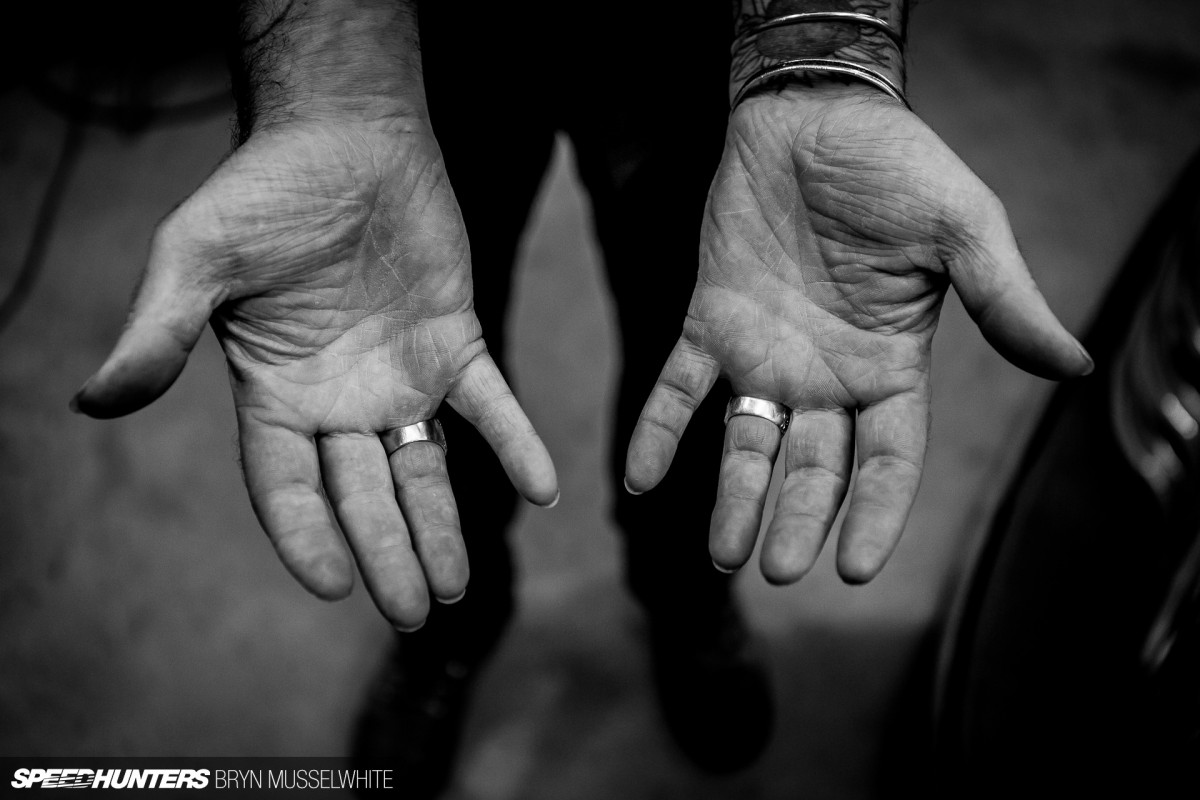 Ultimately though, the most useful tools are these two hands. I wonder how many miles of tube they've bent, or wheels they've mounted, or pistons that have found a home because of them?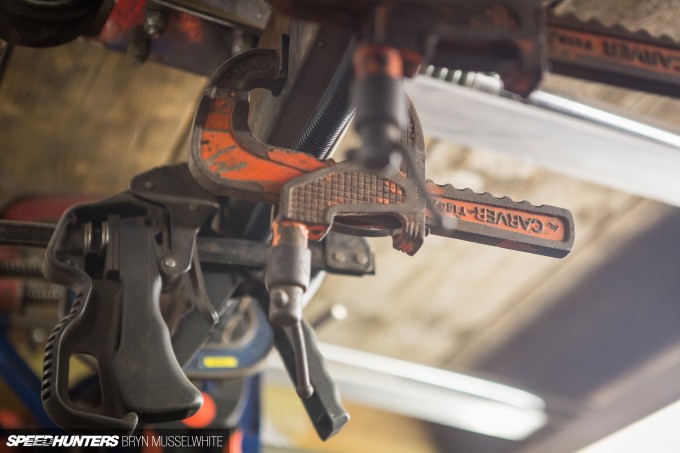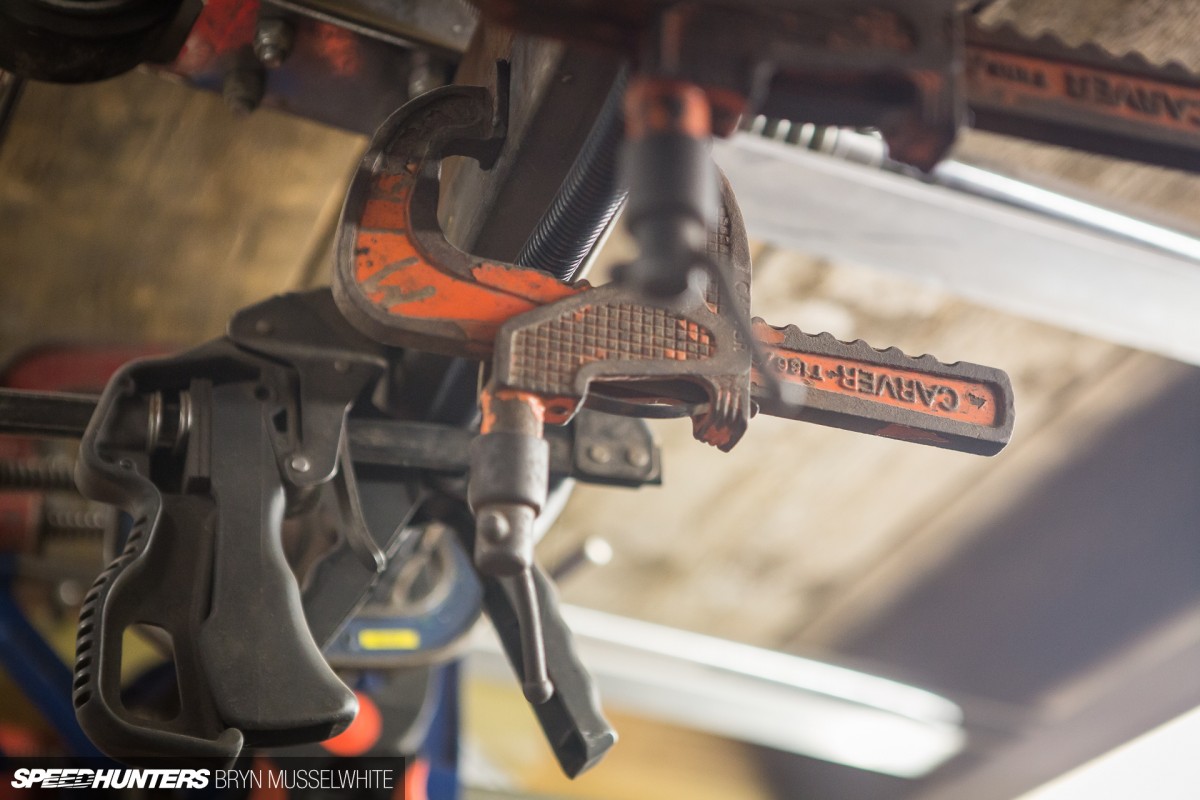 Wayne said with a laugh as I took this picture, "When you work on your own, you have a lot of clamps!"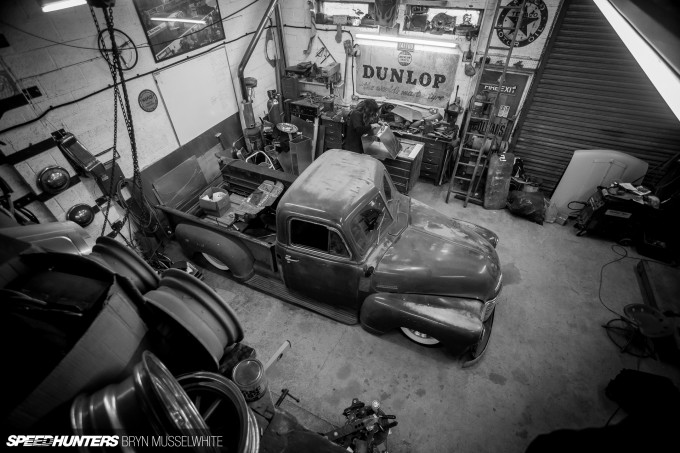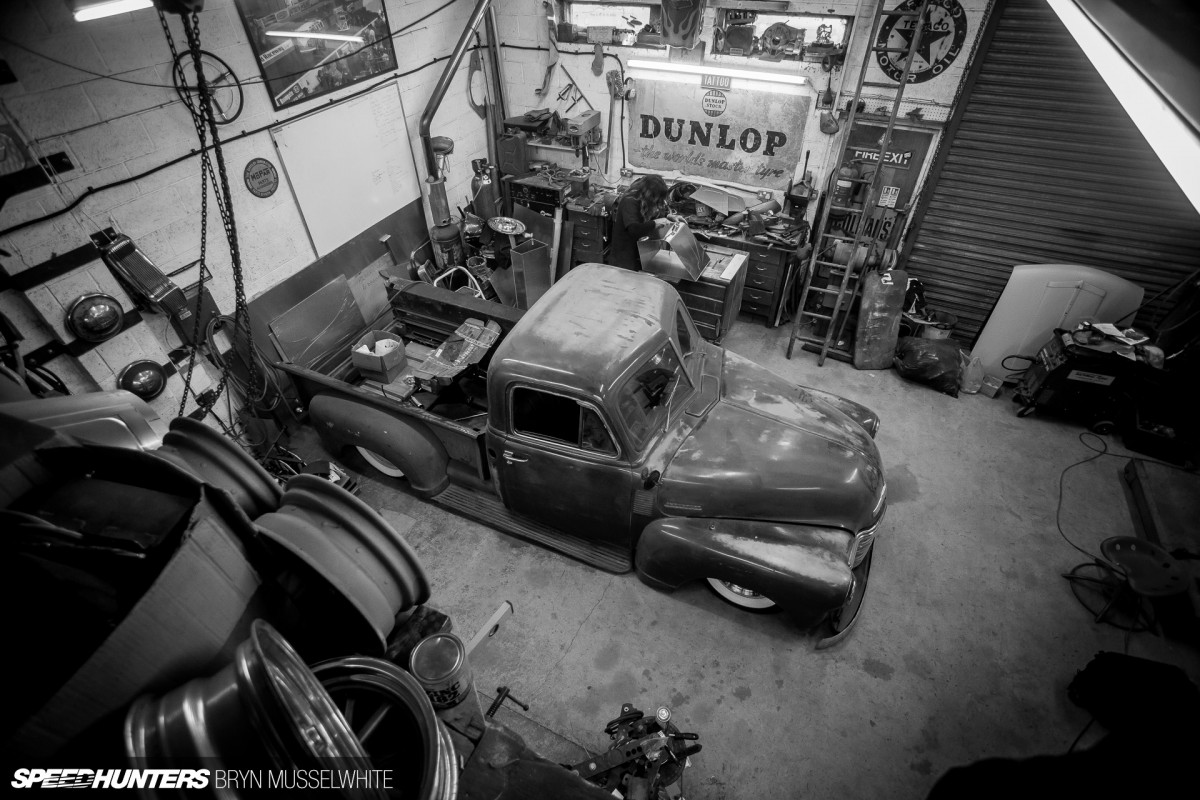 So why not get some help then? This intrigues me as surely it would mean productivity levels would go up? Wayne tells me a few stories about people he's had through the place – all good people, but they never quite worked out.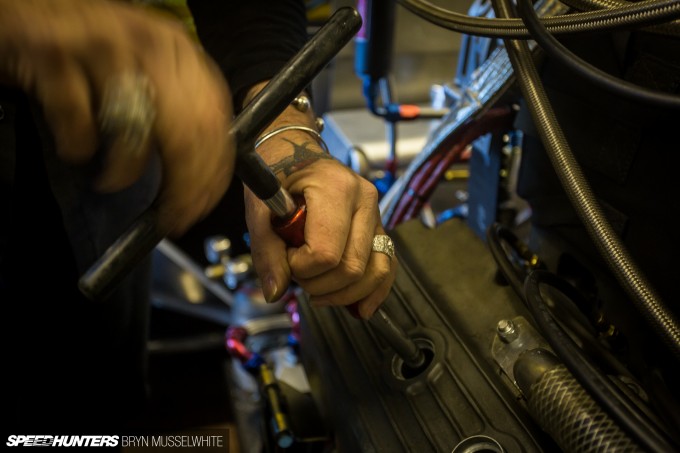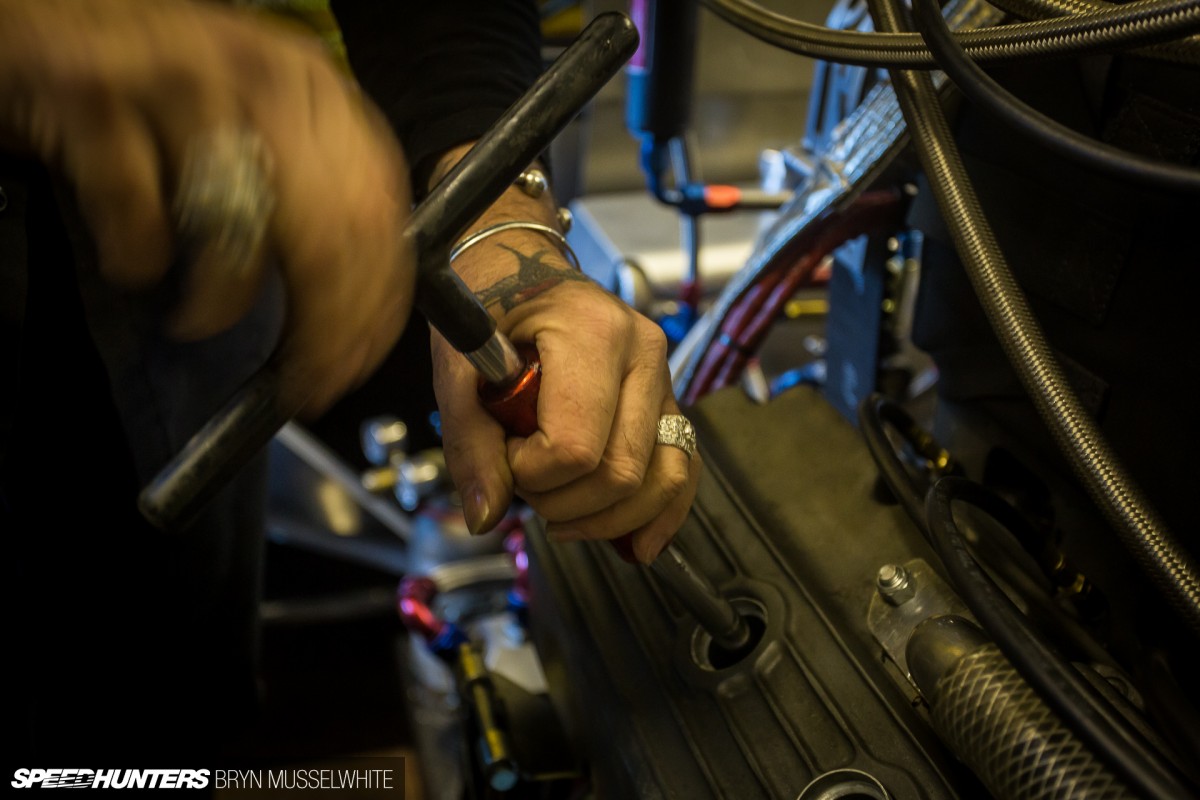 Of course, there are other people who can do the fundamentals of what Wayne does: bend and weld metal, construct bodywork, build engines and paint panels. But just like other craftsmen, what sets Wayne apart is his personal experience. The fact that his product is him, is why it makes it so hard to employ anybody else.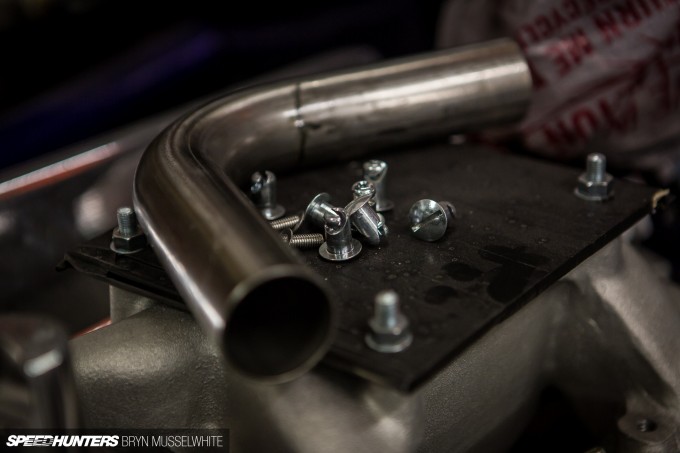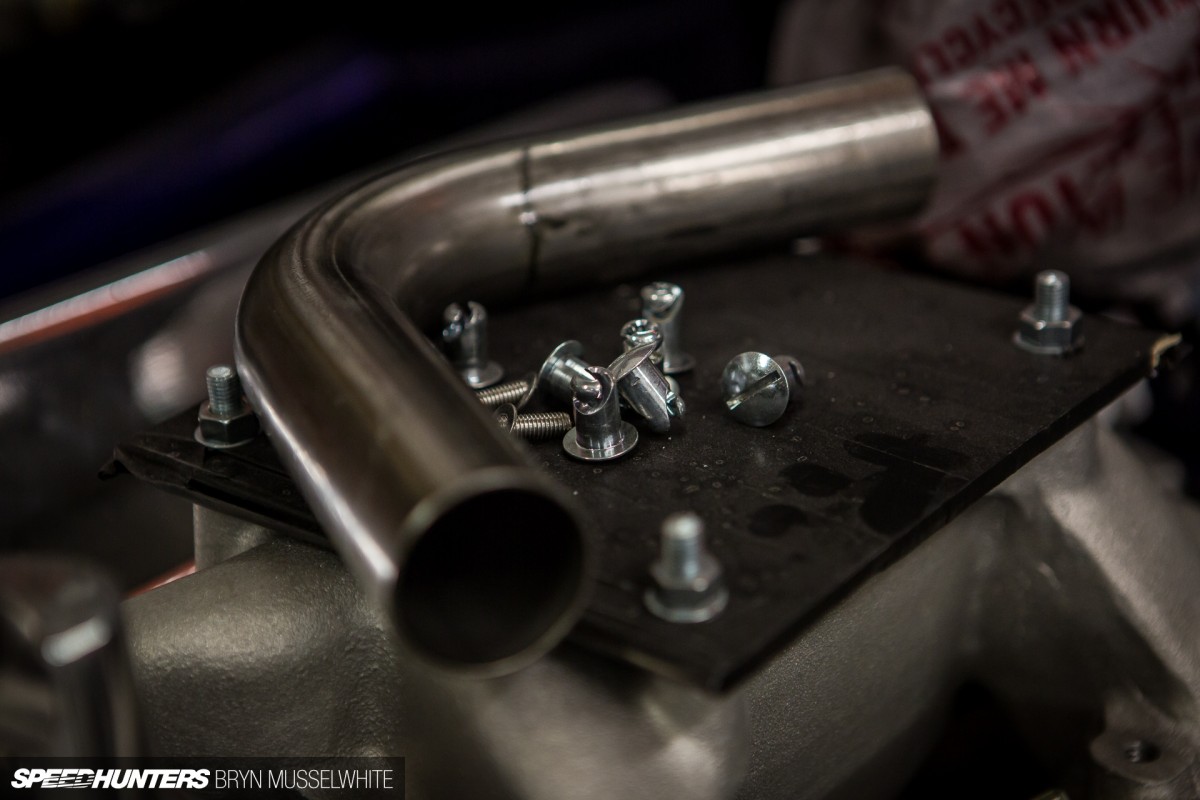 Everybody has a skill in life and finding it is surprisingly rare. Being able to do something with it is even rarer. But that's what is going on here and what sets people like Wayne apart – the ability to channel it. You're not buying some welding when you come here, you're buying that added Intergalactic 'something'. Which is usually big block engined, covered in flake and made to a set of rules that very few people know…
Mad, Bad & Not Dangerous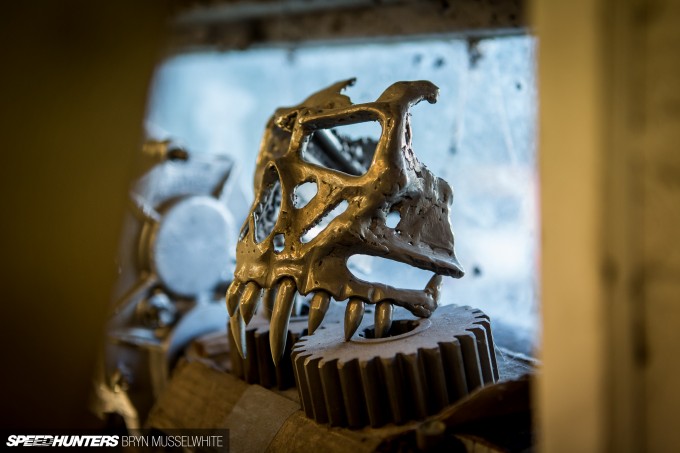 Maybe you'll walk away with something like this skull, which used to sit over the top of one of the twin carbs that the Phunky Phantom had in the back when it was air-cooled.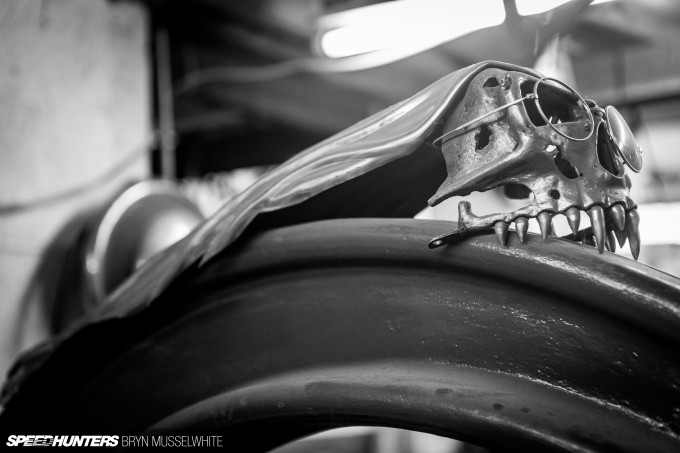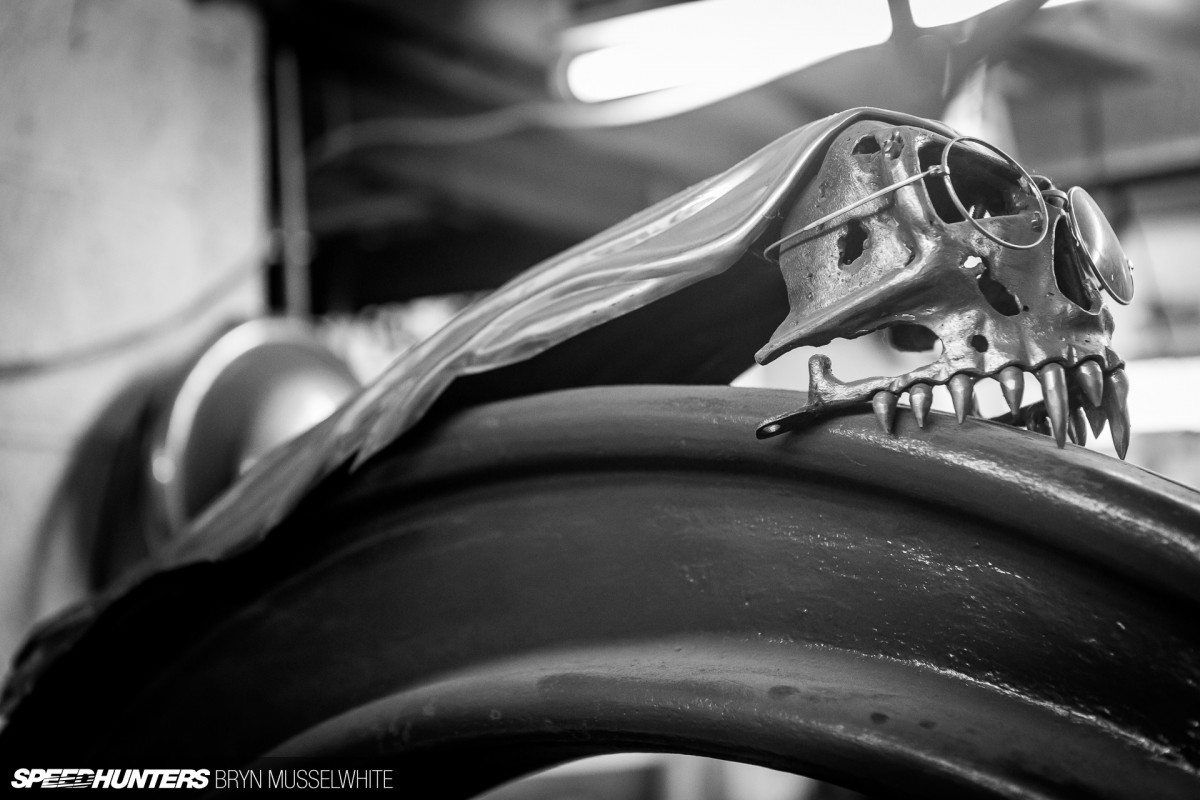 And this is the other one that then became the top of the intake when it went front-engined and V8-powered. Both still languish in the workshop since a change of look after it was sold to a new owner. They're not cherished and kept in a glass cabinet somewhere though, instead they gather the dirt and dust that they originally came from. This one has sat proudly on top of the giant English wheel for as long as I can remember.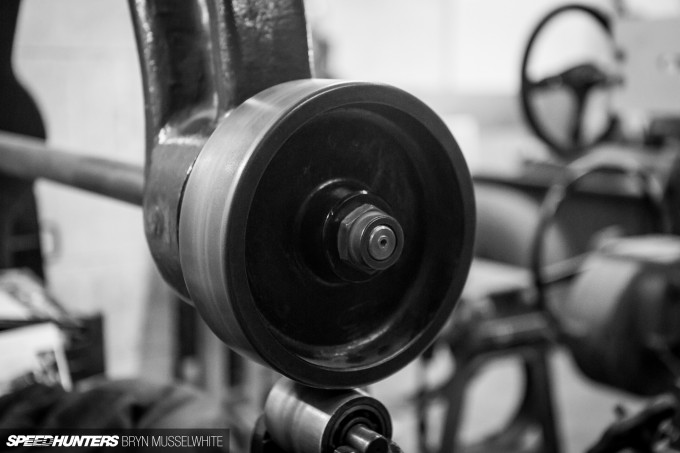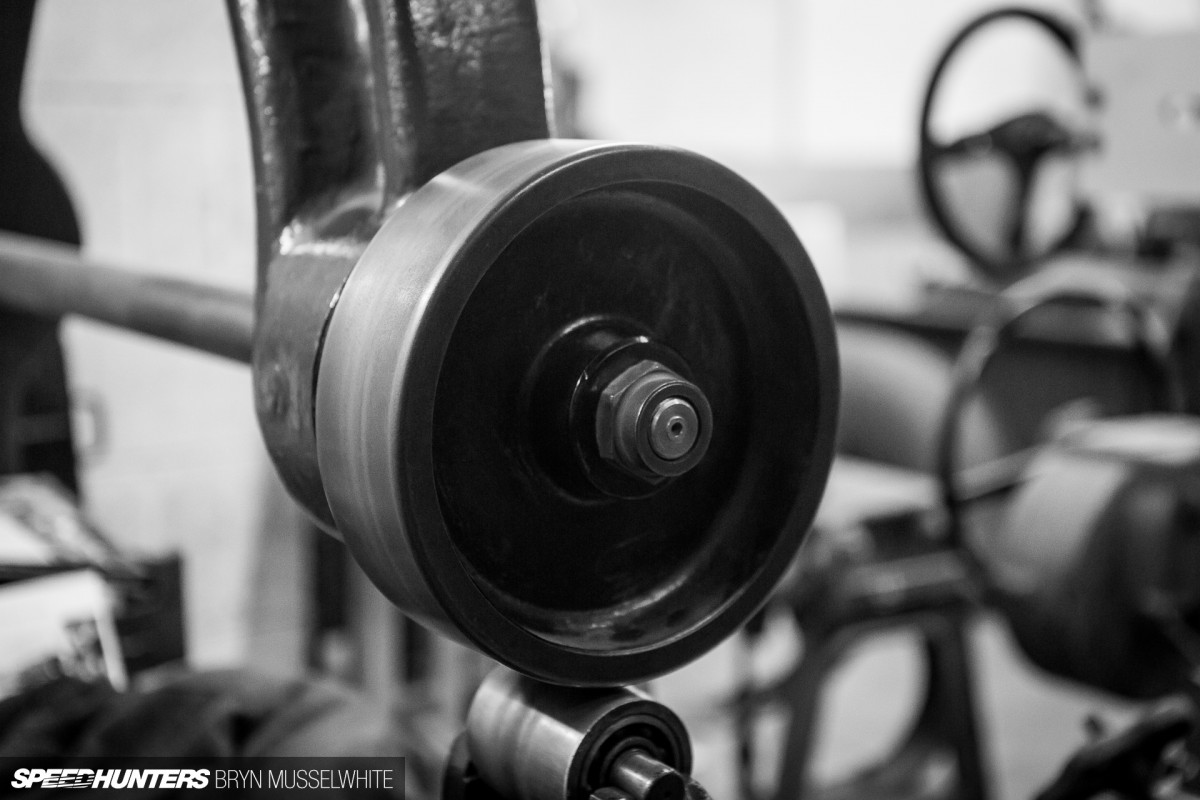 Which is one of those tools I'd love to know how to use. Unfortunately, the time and dedication it takes to master such a skill are two things I can honestly say I don't possess. If you could plug me in and I could download the knowledge, that would work. But with age has come the realisation that I'd rather watch somebody like Wayne work the metal back and forth, gently forming curves, measured by eye and constant offering up to the area it will end up covering or filling.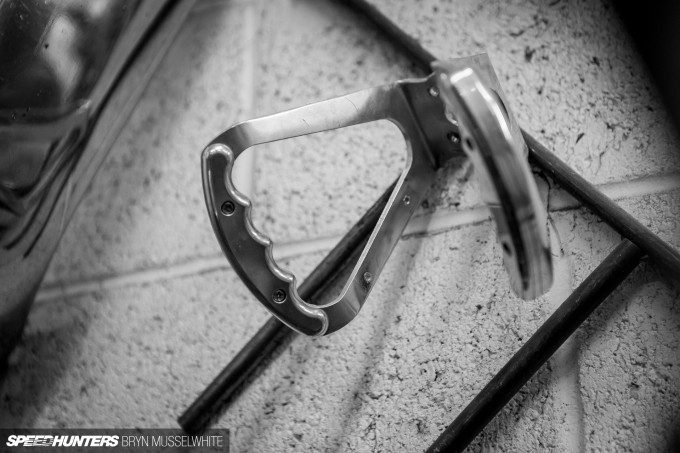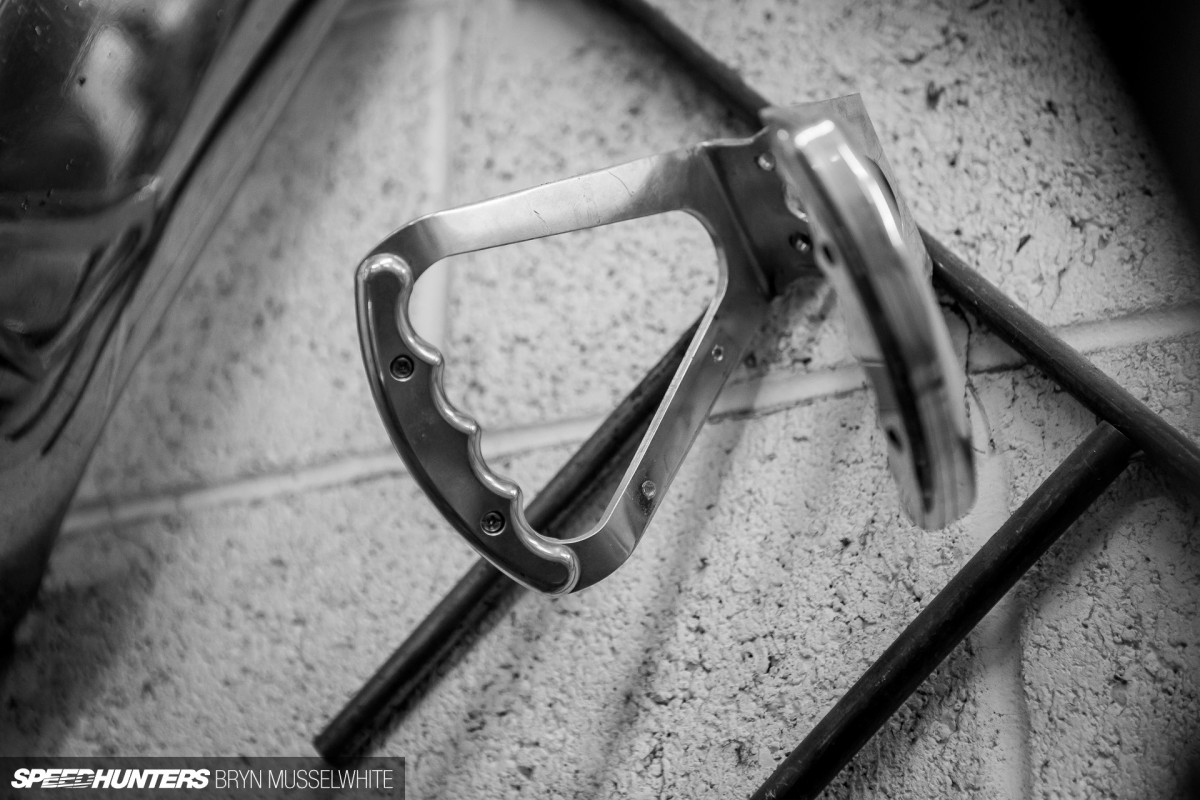 But for all the stuff hanging on the walls and the tools that make things, it's about time I showed you some more of one of the coolest vehicles I've ever seen. This is its old steering wheel…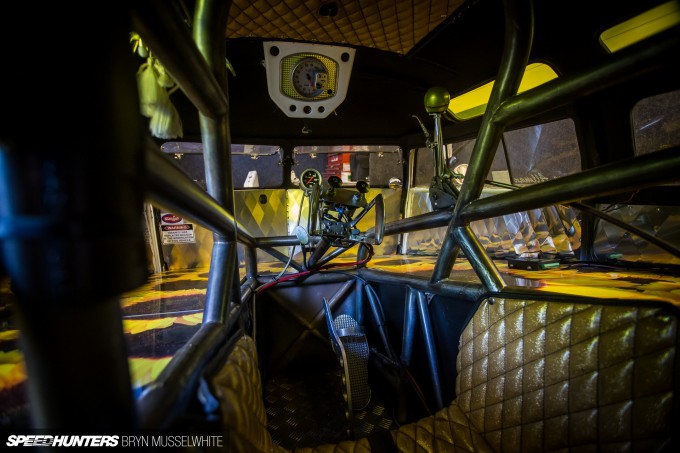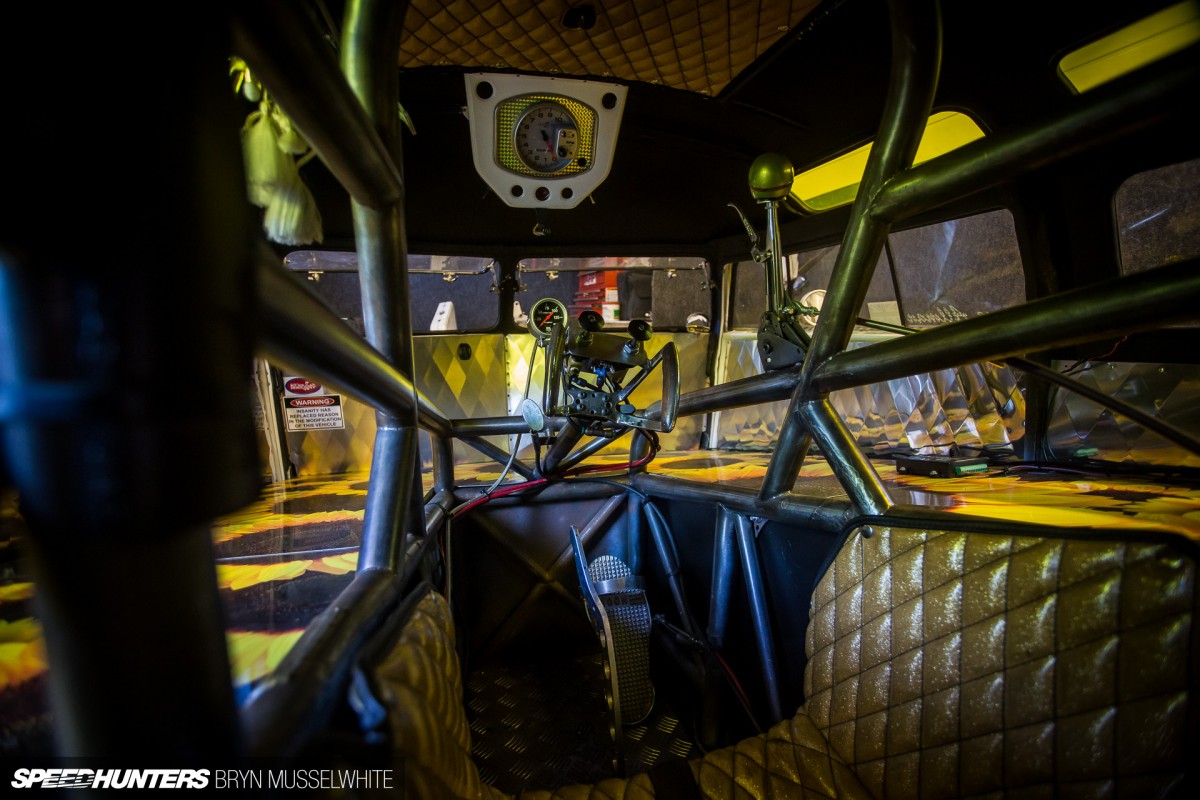 Remember the picture of what looked like a split-screen VW bus at the end of the first chapter? The one with the parachute billowing out the back? Well, this is what Wayne sees when he's sat in it, and this is probably the best way to try and get inside his head – because this actually makes sense in there!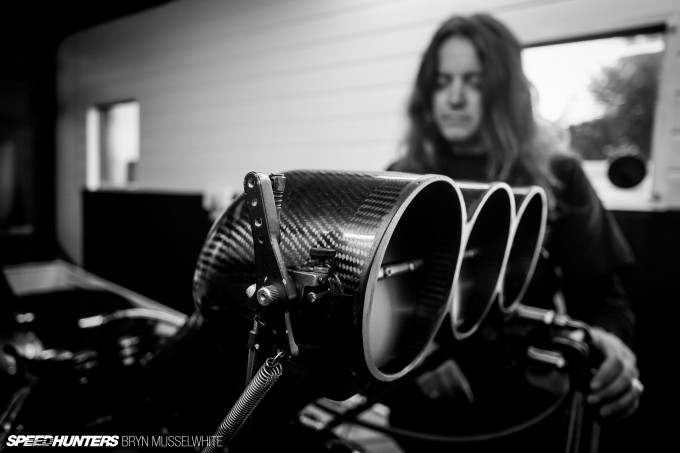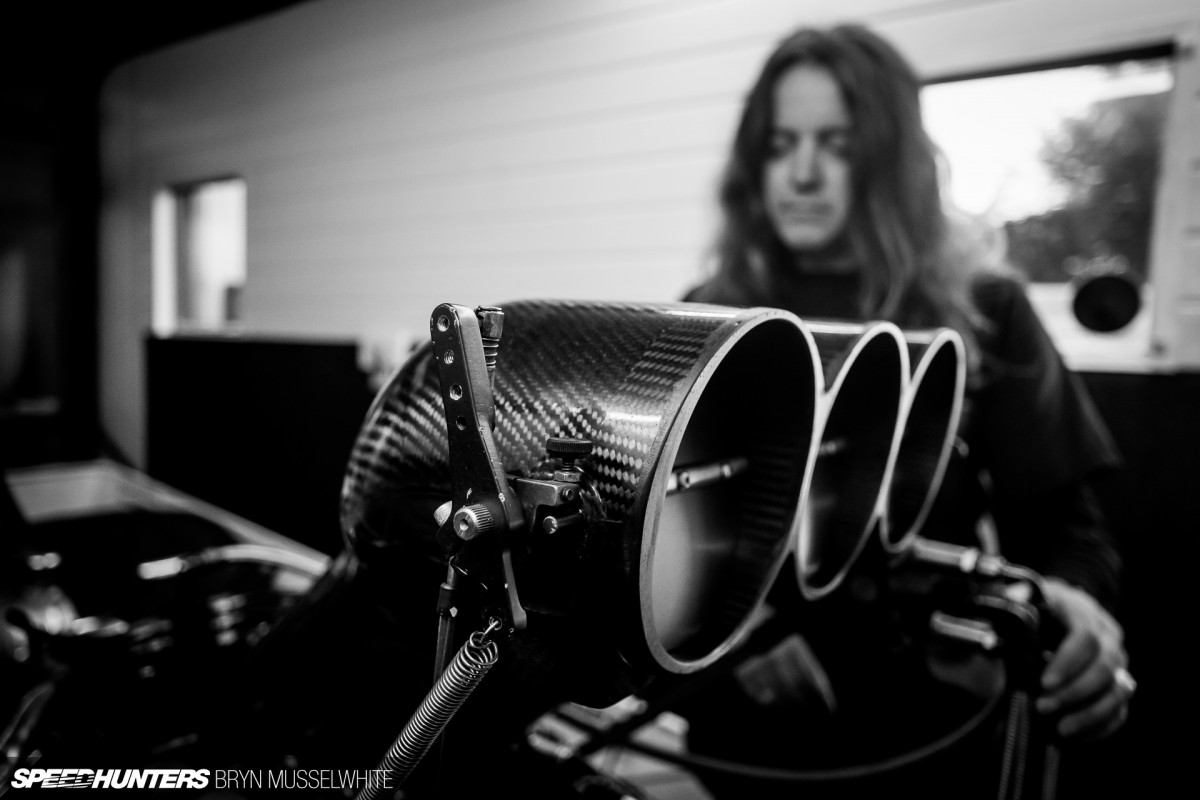 Wayne put the 'Mental Breakdown' together in the workshop I've been showing you, and it's a true one of a kind. When it came to certifying the chassis for drag racing, nobody had approved the kind of design Wayne had built with the driver sat so far forward. In the end they did though, and since then it's run in the 7s.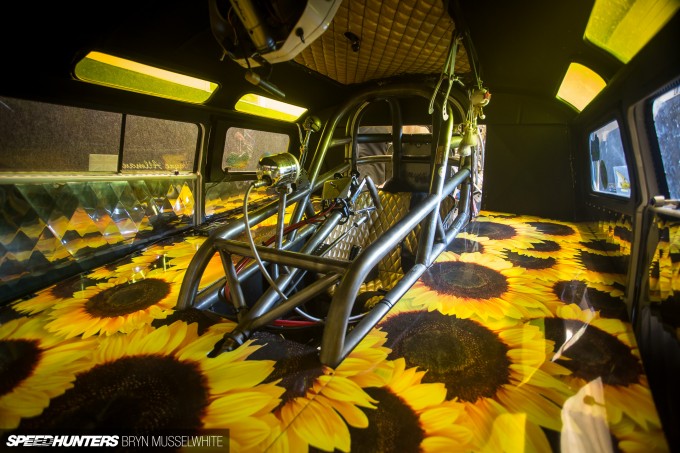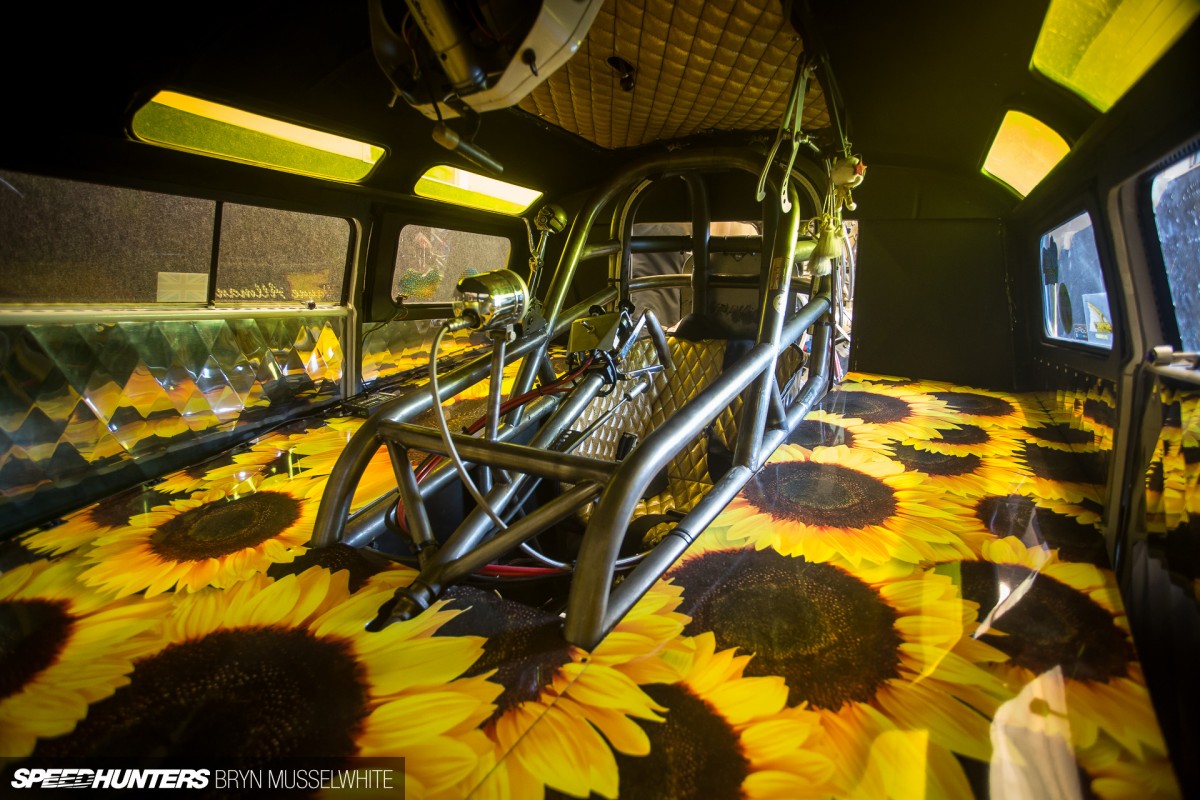 The dragster is truly unique, and since debuting in 2010 it's been blowing peoples minds across Europe. Look closely and you can see the diamond-stitch trimmed entry and exit hatch above the safety cell. The level of finish is immaculate, but as for the flowers? Well, this is Wayne's happy place, right? Now imagine sitting in here when the blown V8 – which will be putting out between 1700-2000hp depending on the tune and weather – is running a couple of feet behind your head. Then there's the view (if you can call it that) forwards through those slim and split-in-the-middle windows to deal with. Skip to six minutes in this film and experience a run down the quarter mile!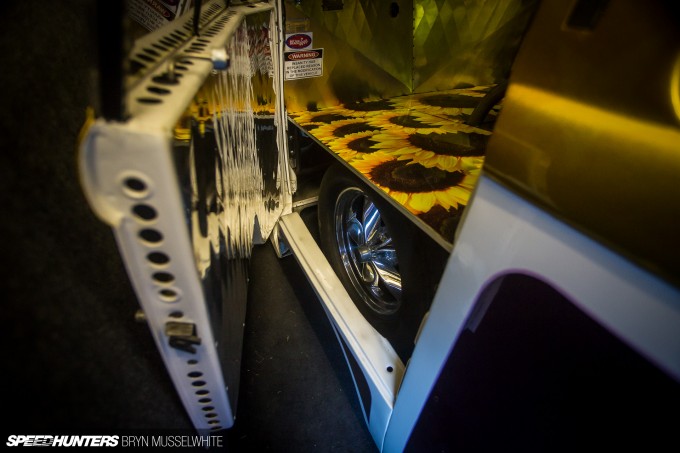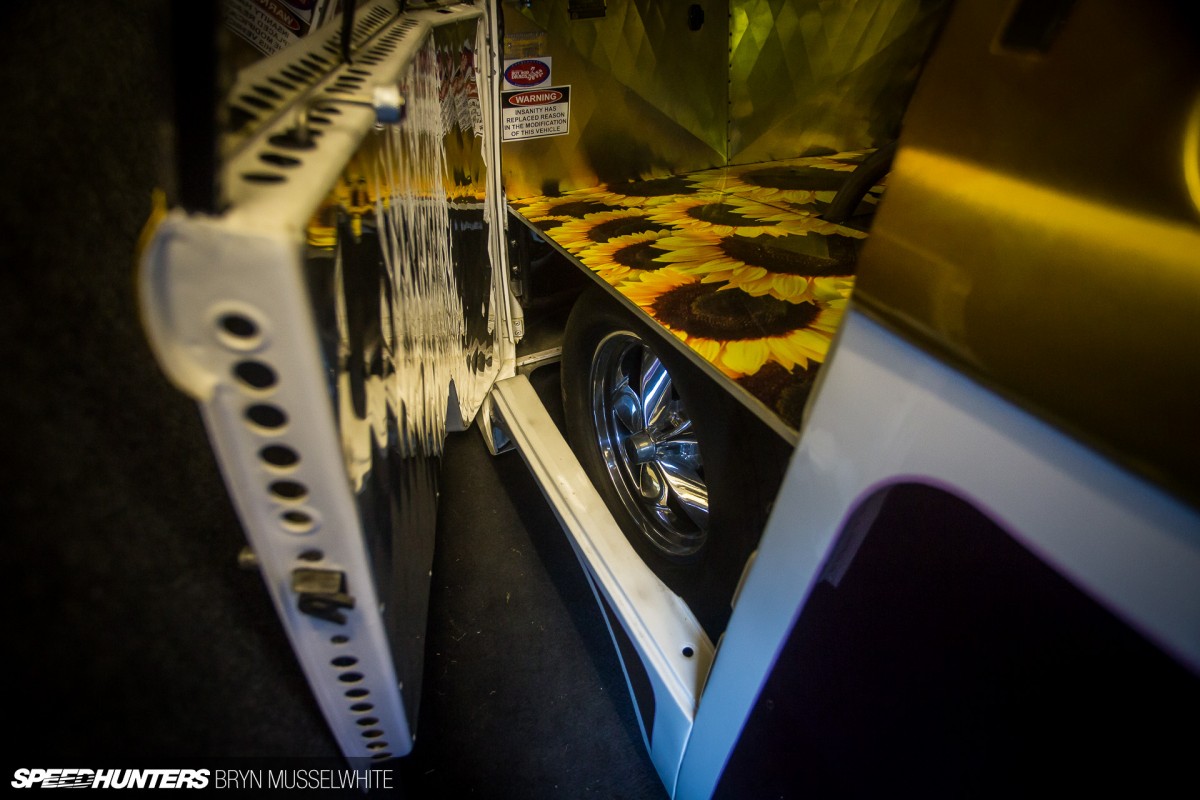 Like I say, this is the reality of being a creator. You do your own thing because nobody else can do it for you. It's a double-edged sword though, because unless you become a famous artist, or manage to source an incredible team who all believe in the same things as yourself, you're destined to work alone.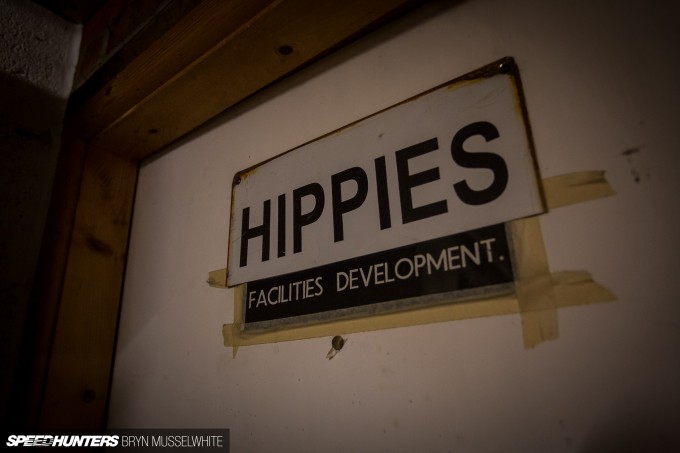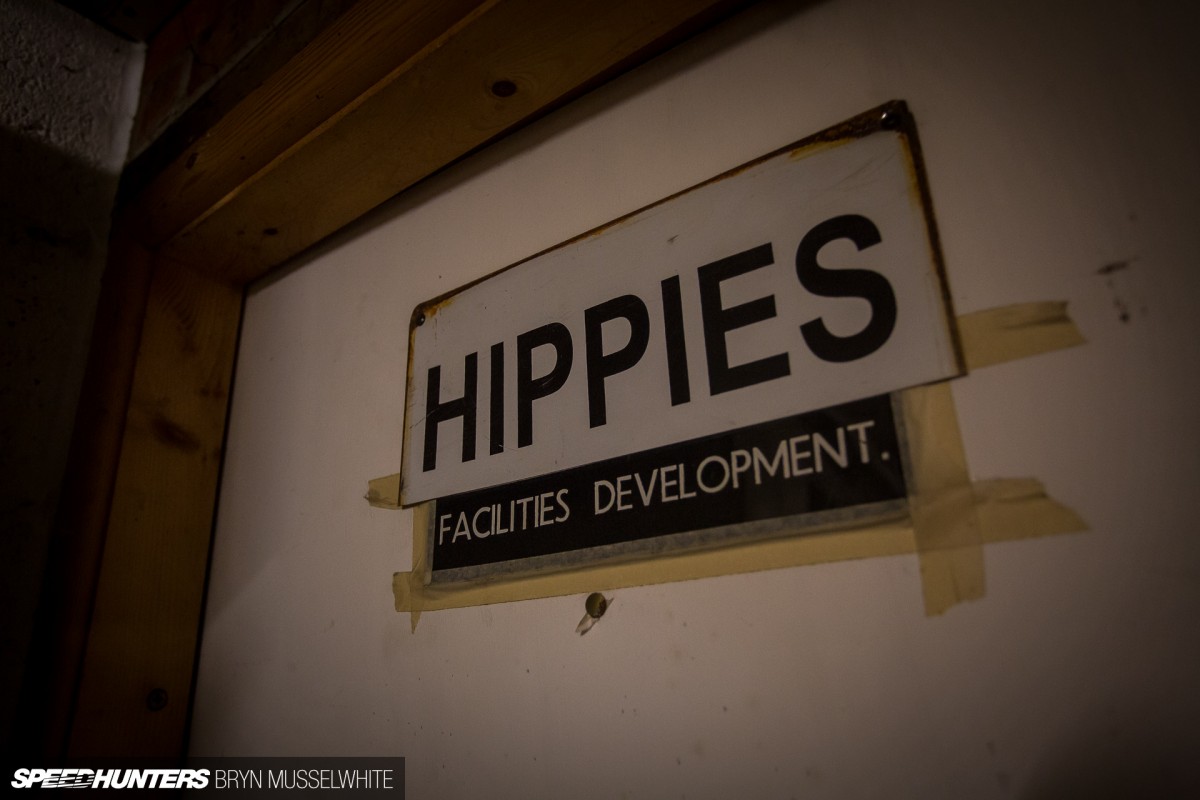 I like the fact I can go and see Wayne and marvel at everything I see in the Intergalactic Custom Shop, as I know I will never have those skills. That's no bad thing either, because with that realisation comes the ability to fully appreciate the skills he has.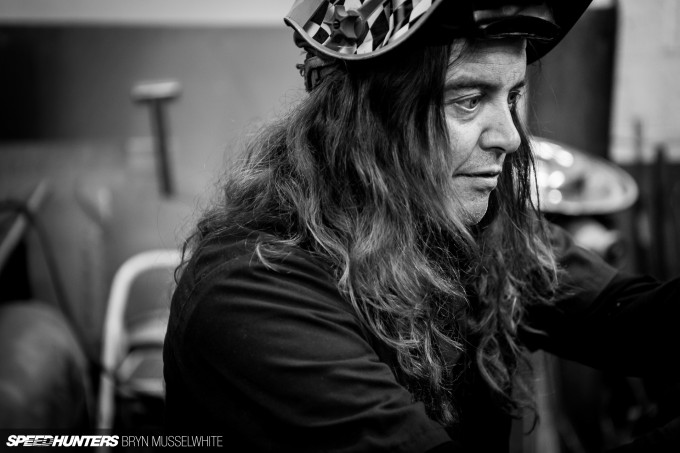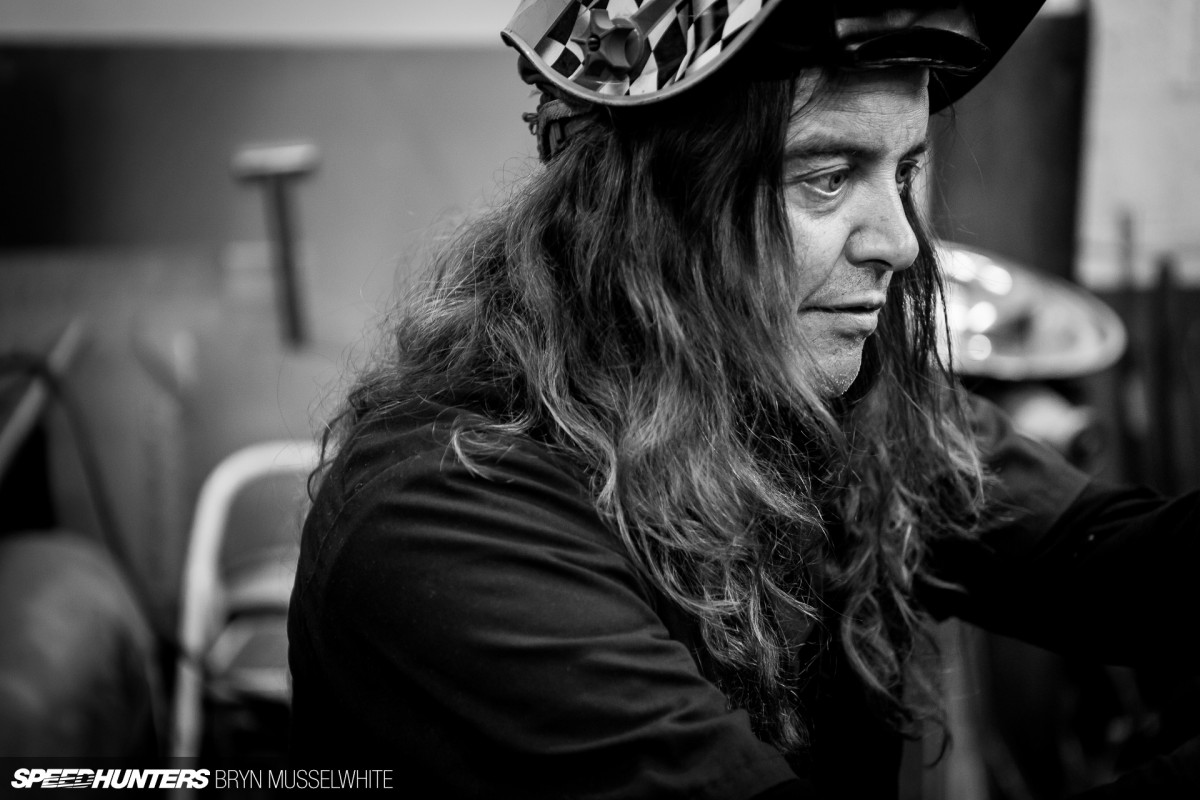 So if you have a shop near you, or you know somebody who tirelessly works away at their craft, then show them some support. If you can use their services, do it. Just don't go in there thinking you know better or underestimating what's involved in living and working like this.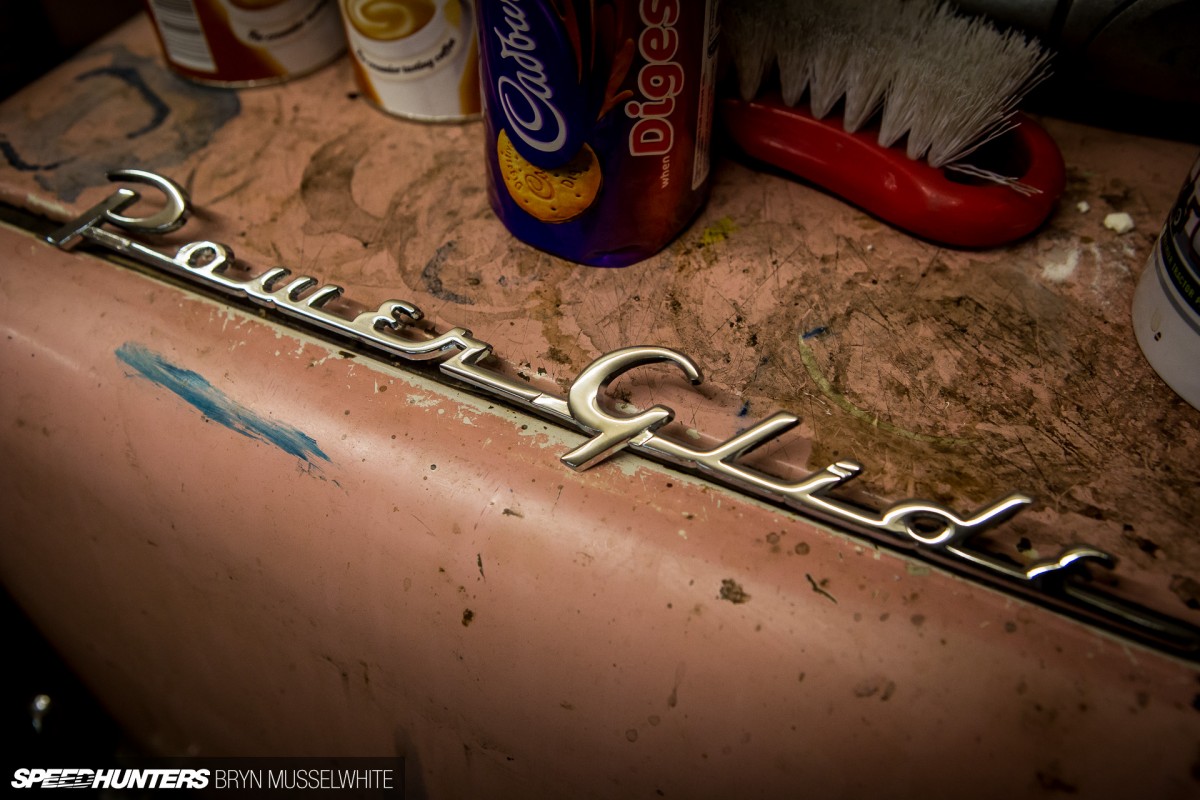 The world needs all the people like Wayne it can get, I've only had a chance to scratch the surface when it comes to what he's been involved with and the personal projects he has on the go right now, but rest assured that I'll be back for more…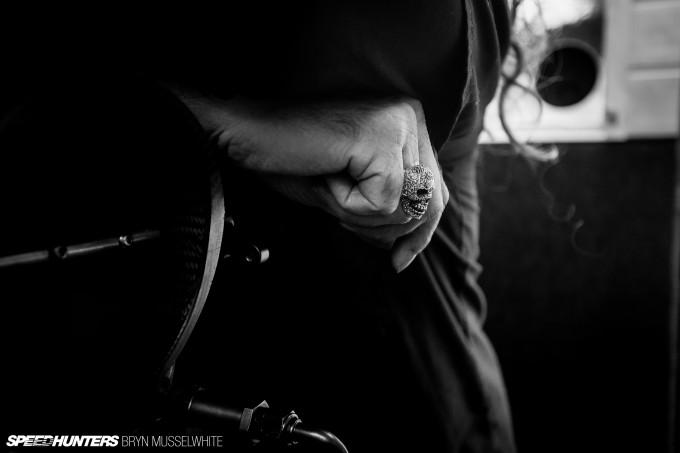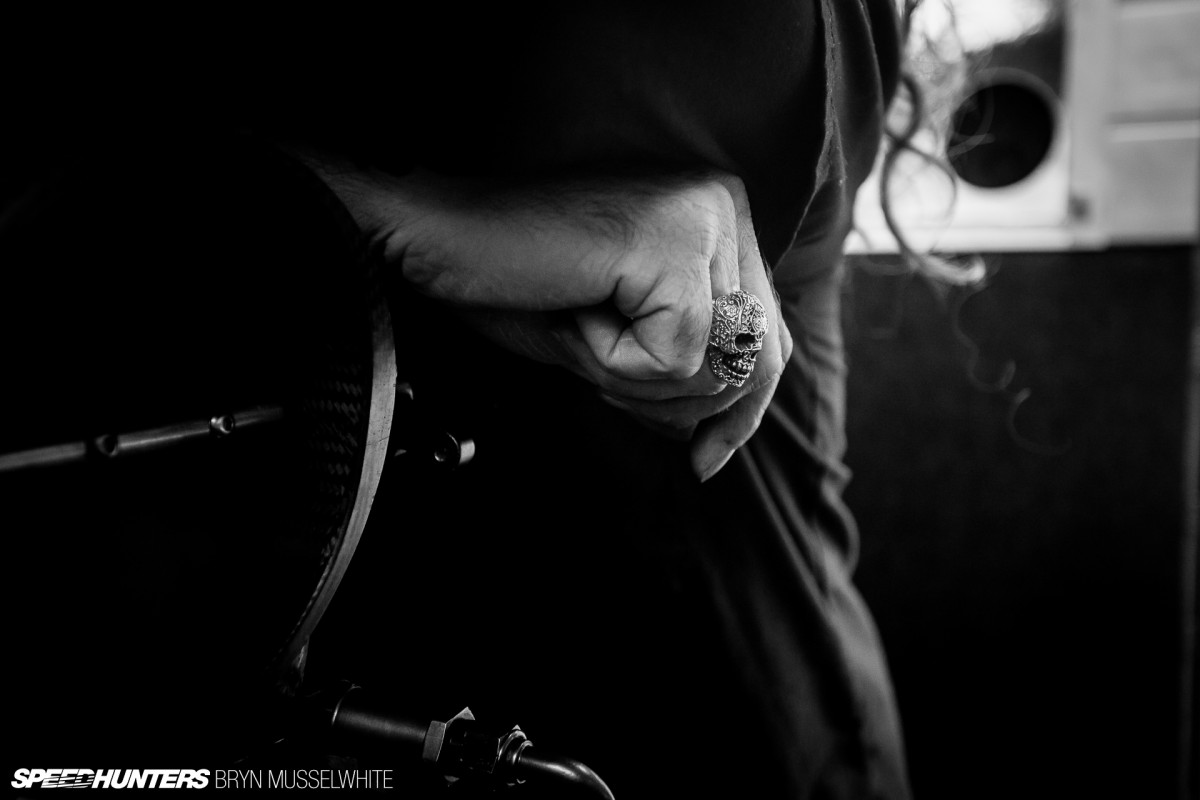 And what if you're like Wayne? If you truly create something in your own way, then I salute you. Chances are you'll have suffered for your art, lost and gained a few supporters along the way, and probably have blood and skin on your knuckles too – and there's nothing wrong with that. In fact, all power to you.
Bryn Musselwhite
bryn@speedhunters.com
Instagram: Speedhunterbryn
Cutting Room Floor