Where The Wild Ones Roam
The world's wildest Ford Anglia. That's quite a statement – and one that, after reading this feature, I'm pretty confident you'll agree with.
Why? How about I tell you this Anglia has been a dedicated racecar since 1973? Not enough? Well check out what lies beneath, this is where things get really interesting. Here you'll discover Formula 1, Porsche, TOCA materials and components throughout, the engine? Well that's a mutant, supercharged Volvo motor built by a genuine Grp A touring car engineer. You'll have to read on for the rest…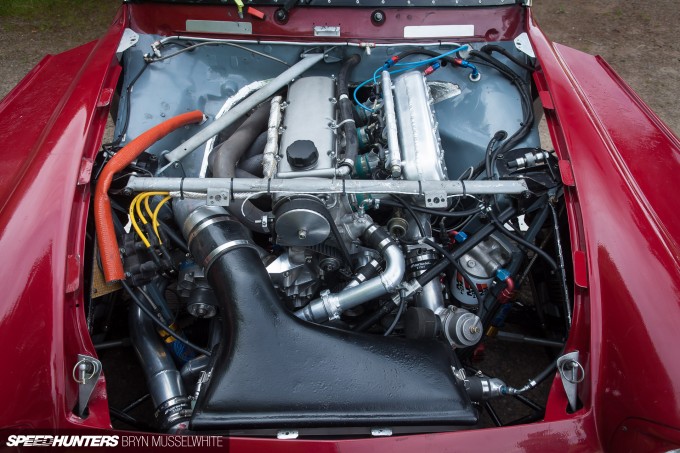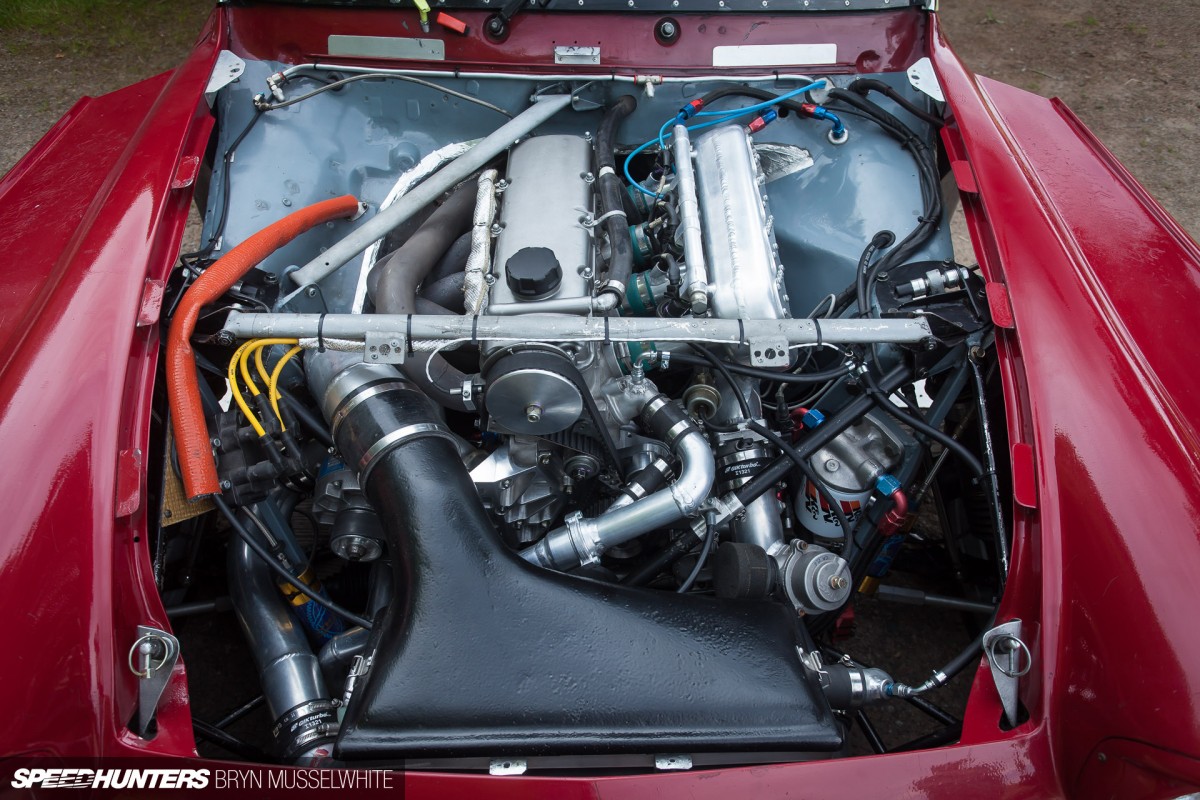 I've contributed to Classic Ford magazine since 2001 and owned a modified Ford Anglia even before that. So I've seen my fair share of the '60s Fords – from space-framed, engine swapped and turbocharged to carbon-clad clones. But the search for Anglia nirvana is found here in this original sinner and survivor, all twisted into one inspirational piece of motorsport hardware.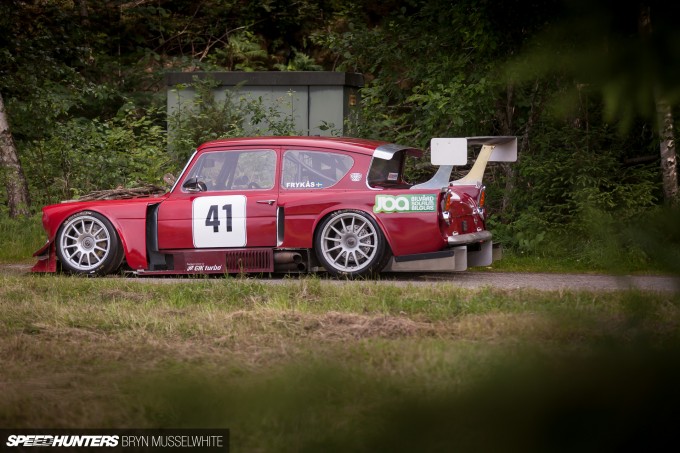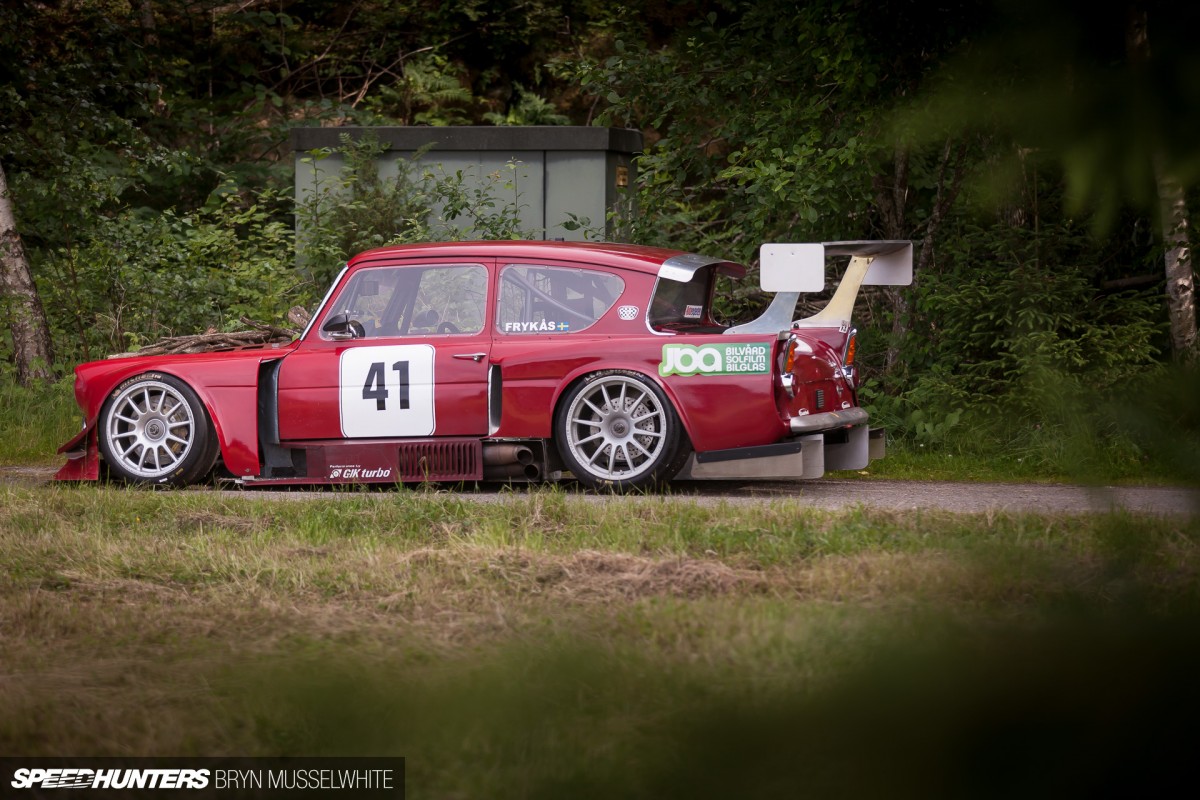 The 105E Anglia is defined by its profile – the distinctive sloping rear window, the small-finned rear end and its idiosyncratic shape. You can see the design origins in this picture even though the only original Anglia parts on this wild ride are its roof and pillars. Everything else was custom made in the shed in the background of the opening shot.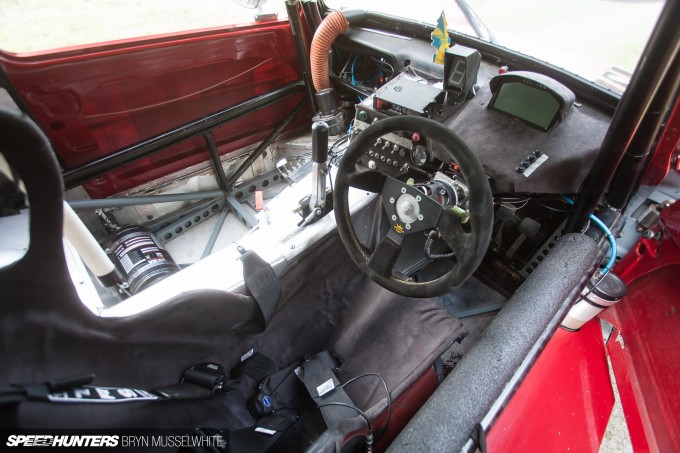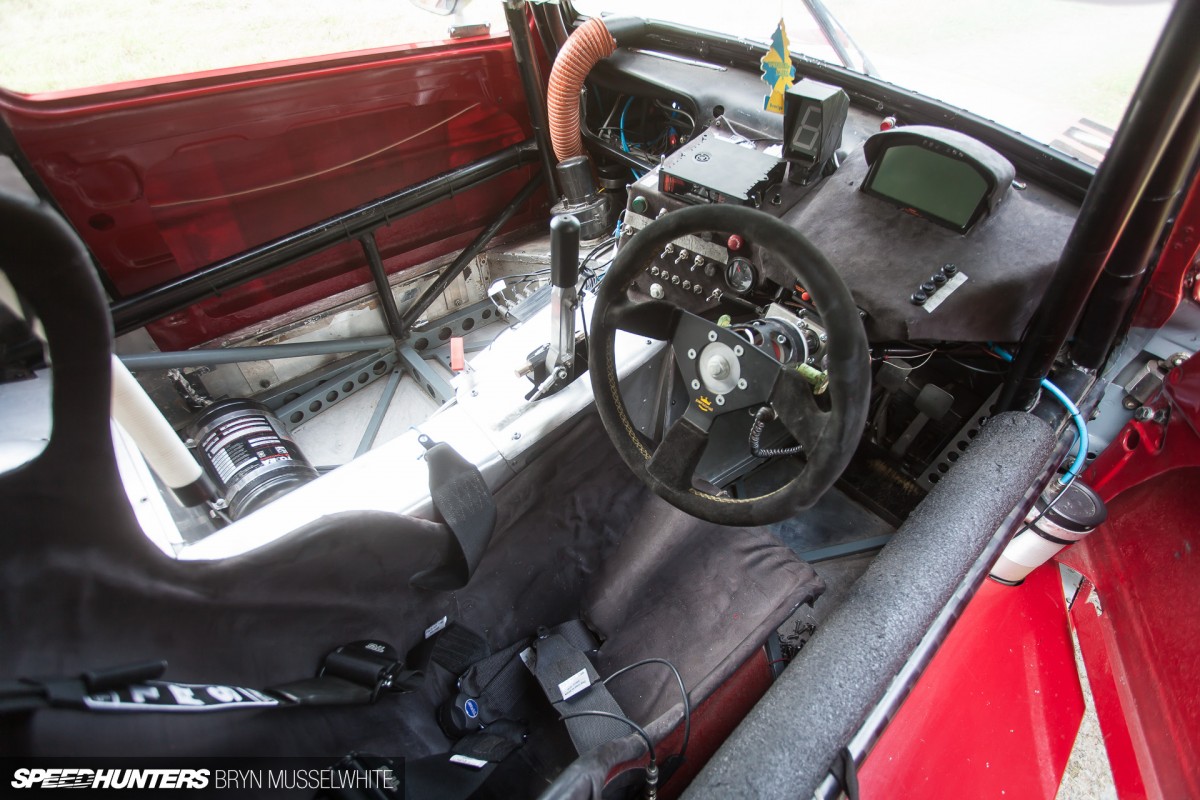 The story of how this racecar came to be starts in the mid '60s when the parents of Leif Frykas, an engineer from just north of Gothenburg in Sweden, bought one.  Things really got interesting when Leif's parents passed the Anglia on to him when he started driving in 1964. When Leif decided to go motor racing with some friends in 1973, the small, light and rear-wheel drive Anglia was an obvious starting point.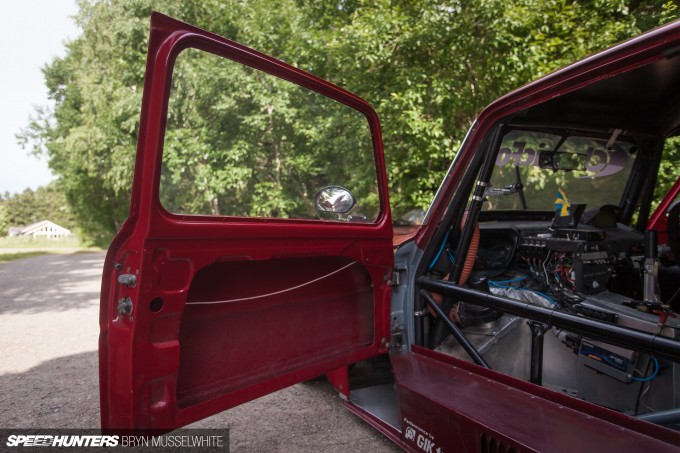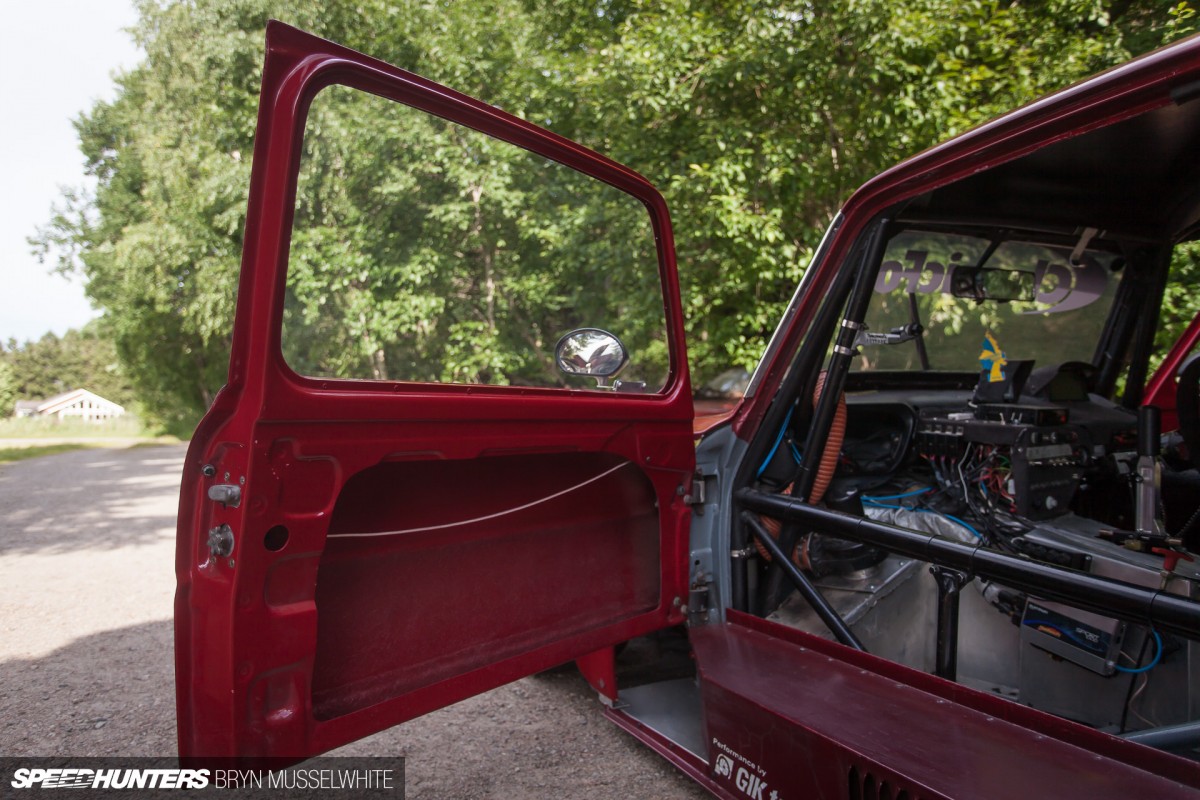 Two years of blood, sweat and hard labour, and the racecar that emerged was Version 1.0 of this very same vehicle here. Yes, it's a bit like a street sweeper's broom that's had 10 new heads and handles, but there are still a few parts that remain from that original build.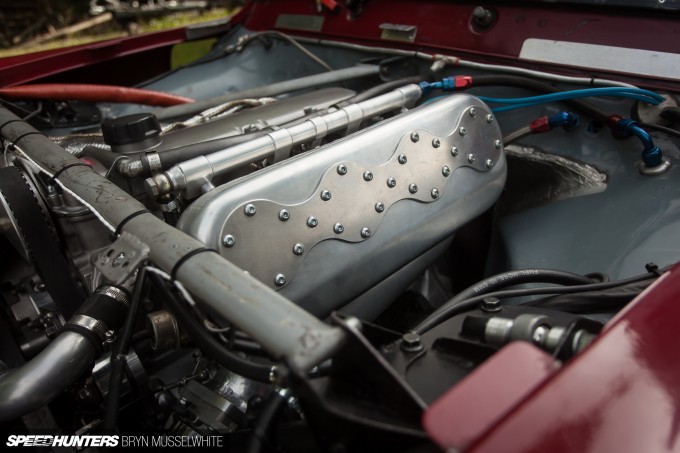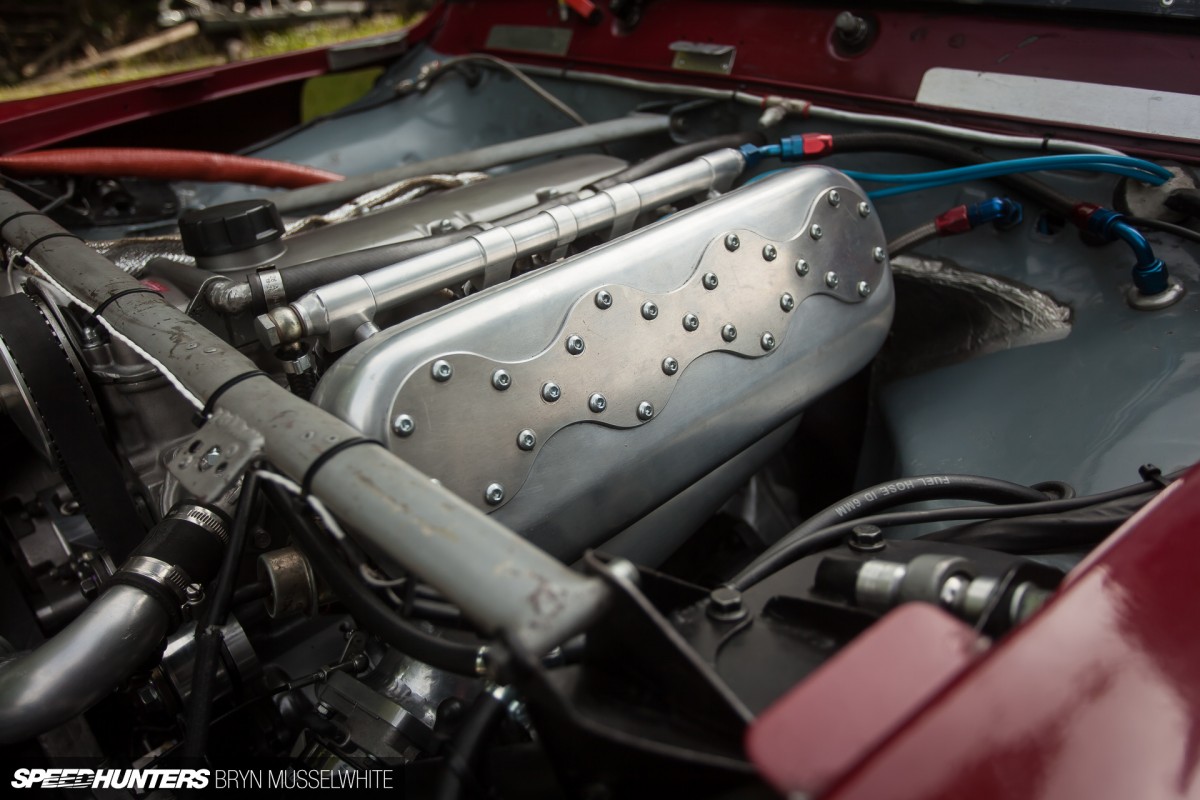 Like any good racecar, the Anglia continued to develop throughout the '70s and '80s. Having started out with Ford power, the Volvo engine swap arrived a few years after Leif had started working for the Volvo experimental department. The first motor was a B20 2.0-litre and then a B21 followed it in 1981 – both naturally aspirated.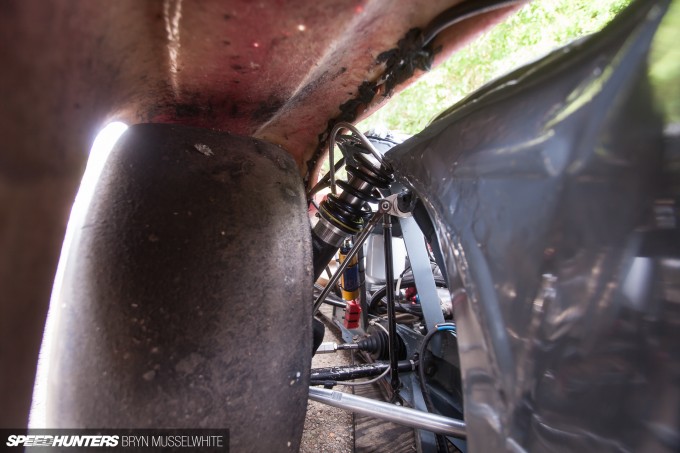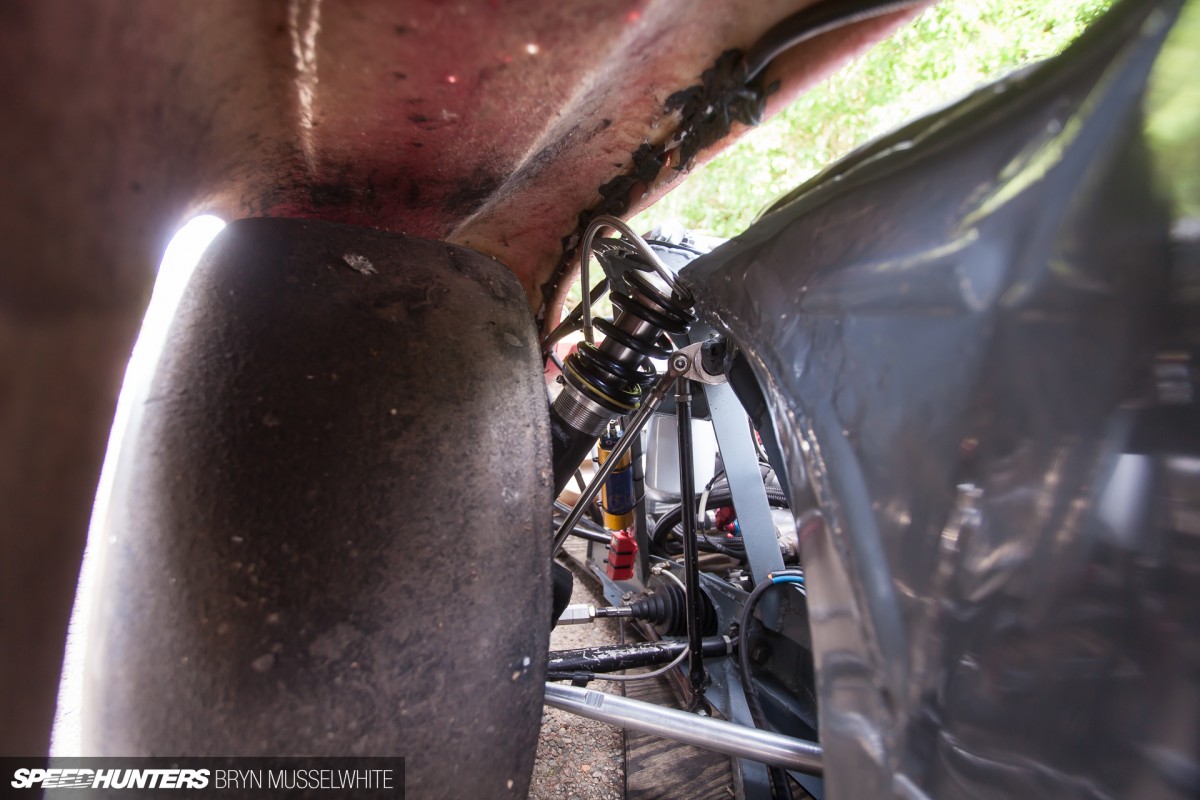 Looking through the rear of the vented front wing at what remains of the original inner and the TOCA spec front suspension, it's hard to believe that this has been an entirely privately funded, home-built exercise. But the reality is, when you've been racing and improving one racecar for over 40 years, the results can be incredible. Here you can just make out the ZF Alfa Romeo steering rack, which is connected to a Porsche 997 Carrera Cup electric power steering motor.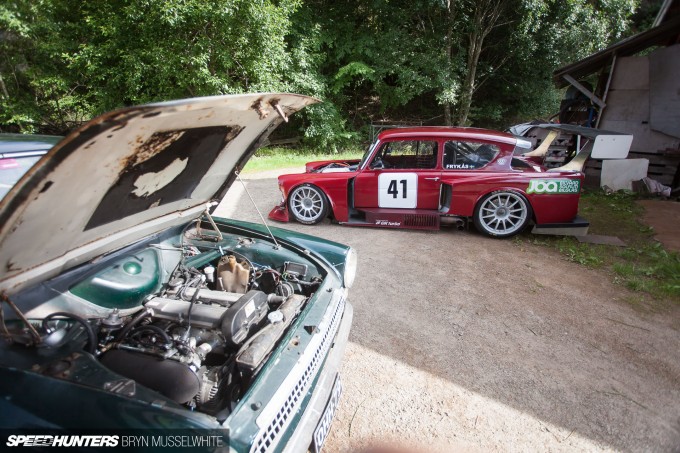 The next major change came in 1986, when Leif decided to dissemble the Anglia and completely rebuild it around a space frame, which still lives on underneath the composite skin today. When it emerged in 1989, can you imagine how radical it looked? The wheels were smaller and the wings not so wide as they are now, but essentially what you're looking at was born way back then.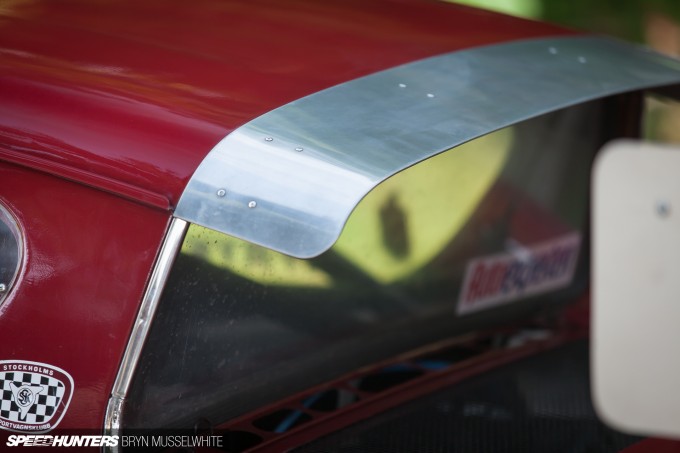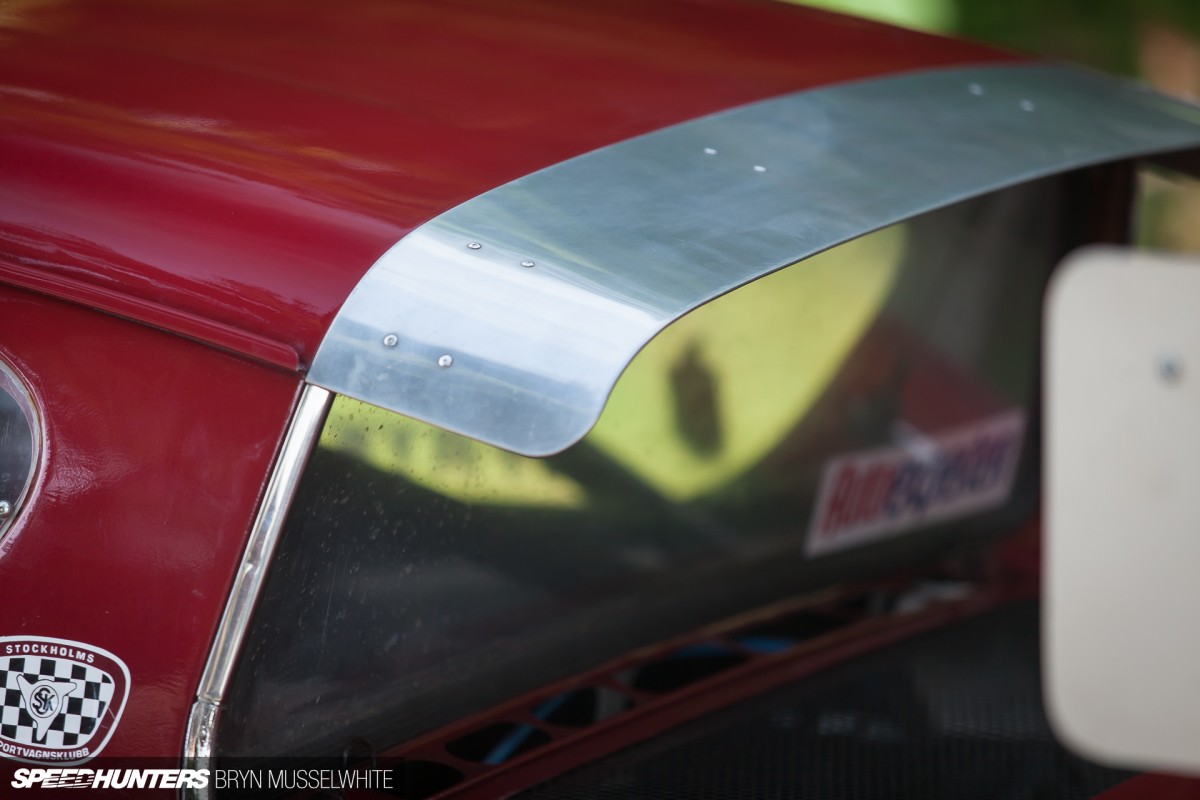 Being a race car, it's not surprising to hear that an engine blew up along the way. To be precise, Leif tells me that some conrod bolts let go at 8,000rpm and one of the pistons ended up on the floor. Hang on – 8,000rpm? Sorry, did I not mention that by then Leif was working for Volvo Penta in marine development, and also helped build the incredible Volvo 240 Group A touring cars of the mid-'80s?
So How Did We Get Here?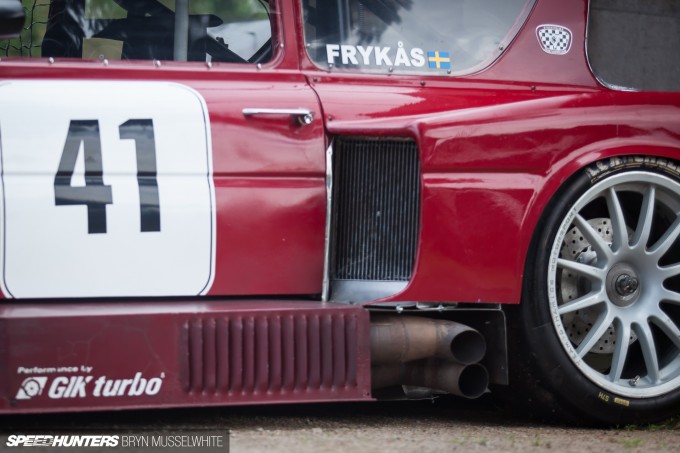 The life of this wild Anglia then progressed another generation when in 2009, Leif's son Kjell became involved. Having been brought up on a diet of motorsport and engineering it's no surprise Kjell has become a talented engineer himself. With Kjell's assistance, the rebuilt Anglia remerged the same year – this time transformed into something even more incredible.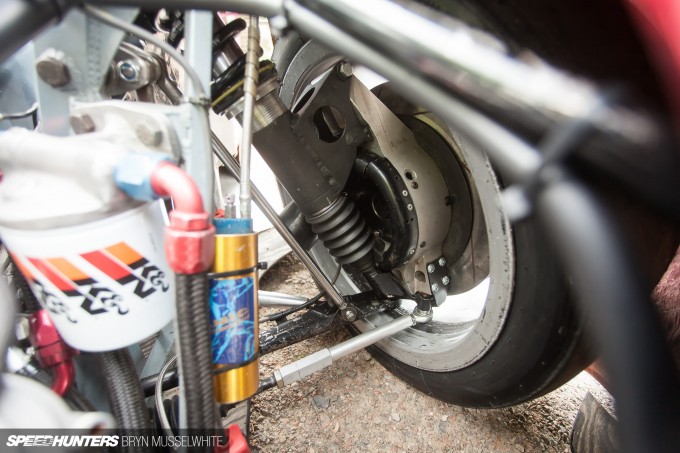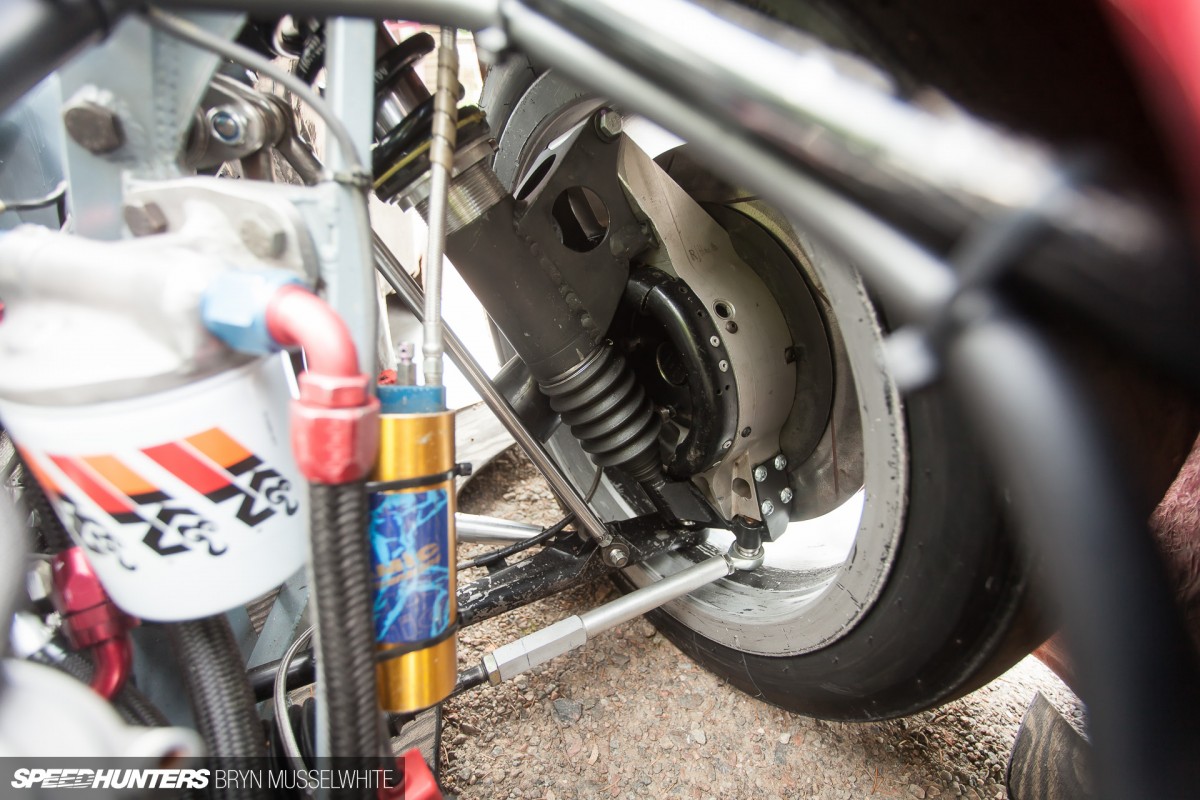 Kjell has worked with many forms of motorsport, so he's been exposed to some interesting components that were duly integrated in to the Anglia project. We mentioned the rather radical steering setup in the last chapter, but here we're looking in from the front end at the genuine TWR TOCA uprights they work with. The lower arms are homemade and hidden from sight, with some helicopter-spec roller bearings in the mix too.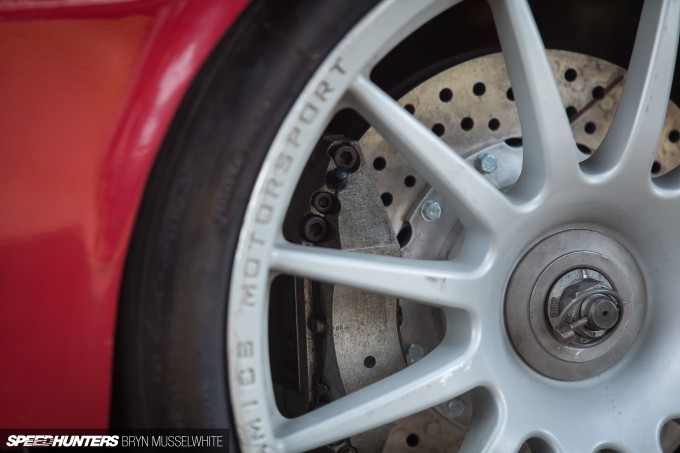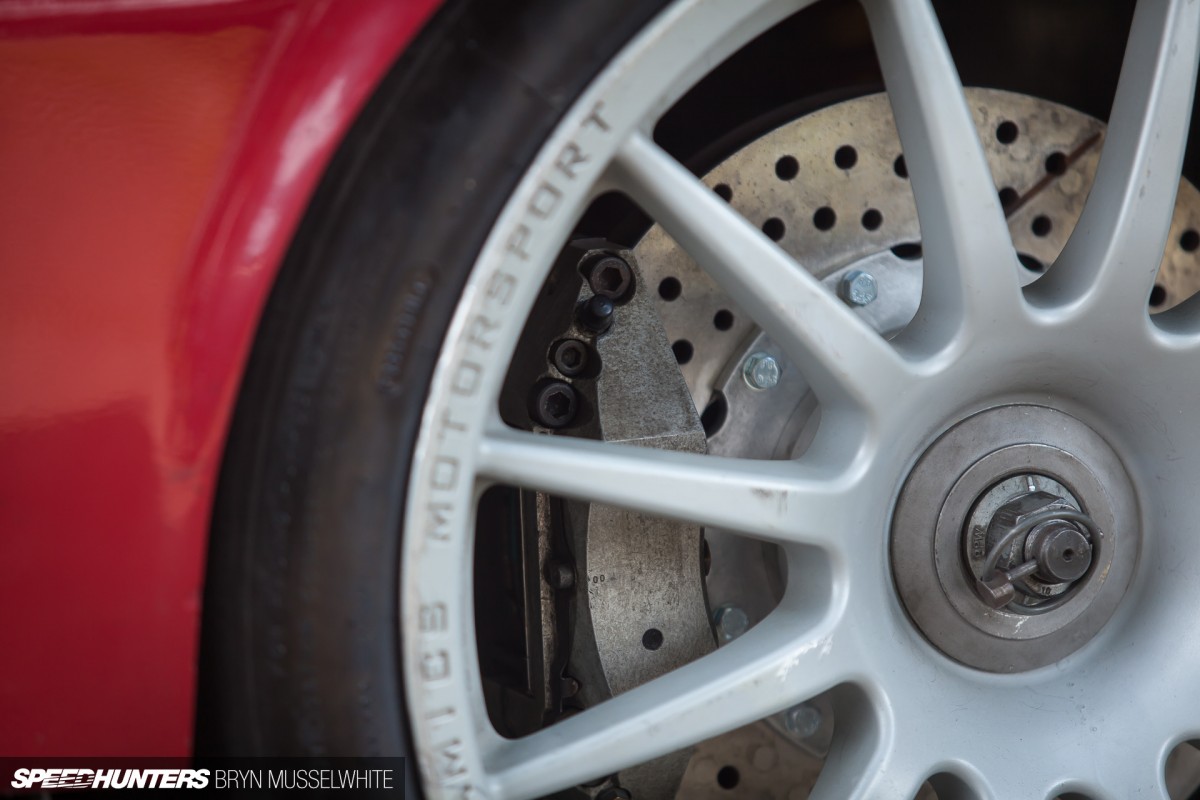 The brakes are another custom mash-up of whatever worked best for their unique application. At the back, for instance, there are some modified 310x28mm Audi discs. Behind the wheels are Kjell-built Volvo S80 roller bearing hubs up with shock absorbers sourced from a JTCC (Japanese Touring Car Championship) BMW E36 318i.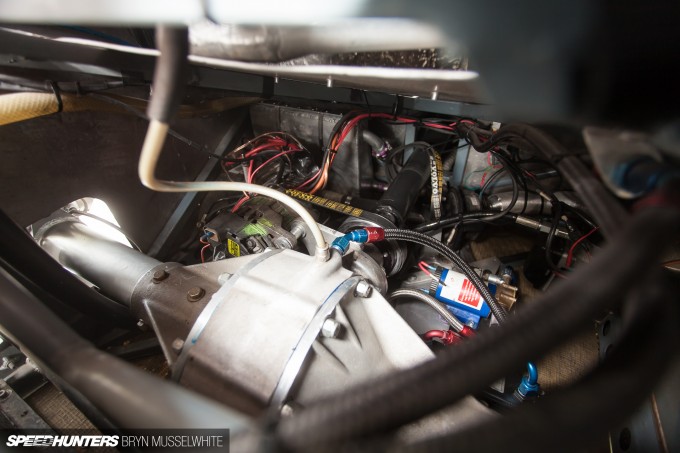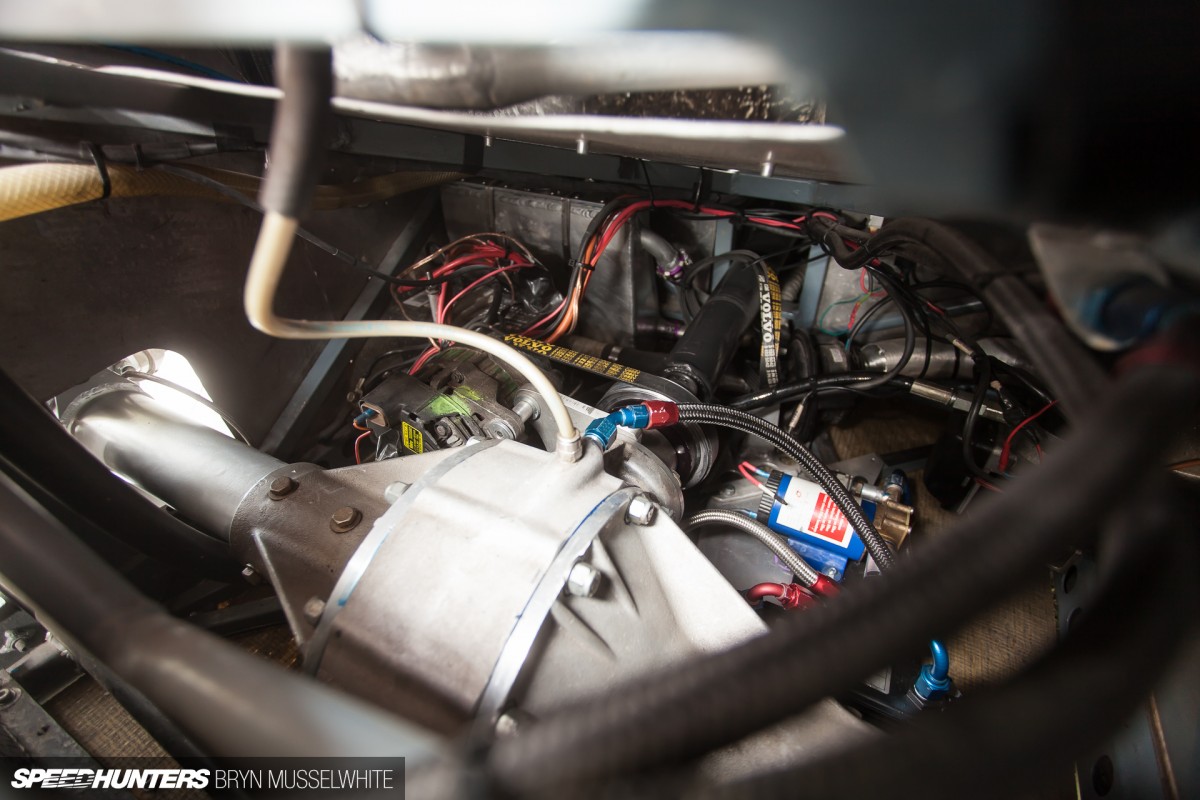 The build becomes even more amazing when looking closely at the five-link back axle. It's a Winters Performance item with their iconic quick-change diff setup, running a Detroit locker. This is the sort of thing you'd normally find in the back of a '32 Ford! If you look carefully you will also see the propshaft-driven alternator too – an old trick to free-up belts and friction from the engine.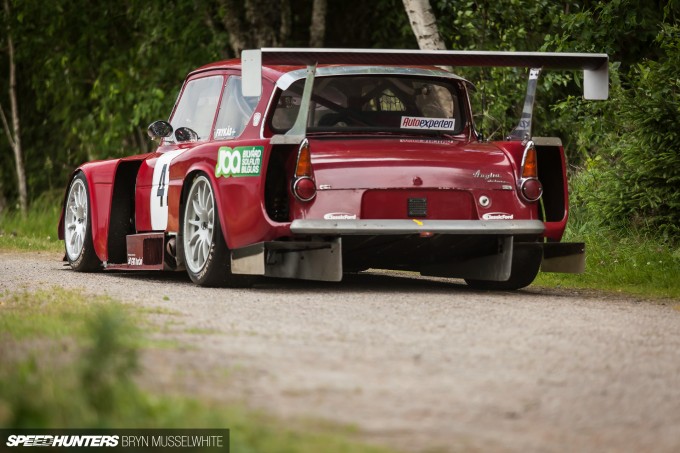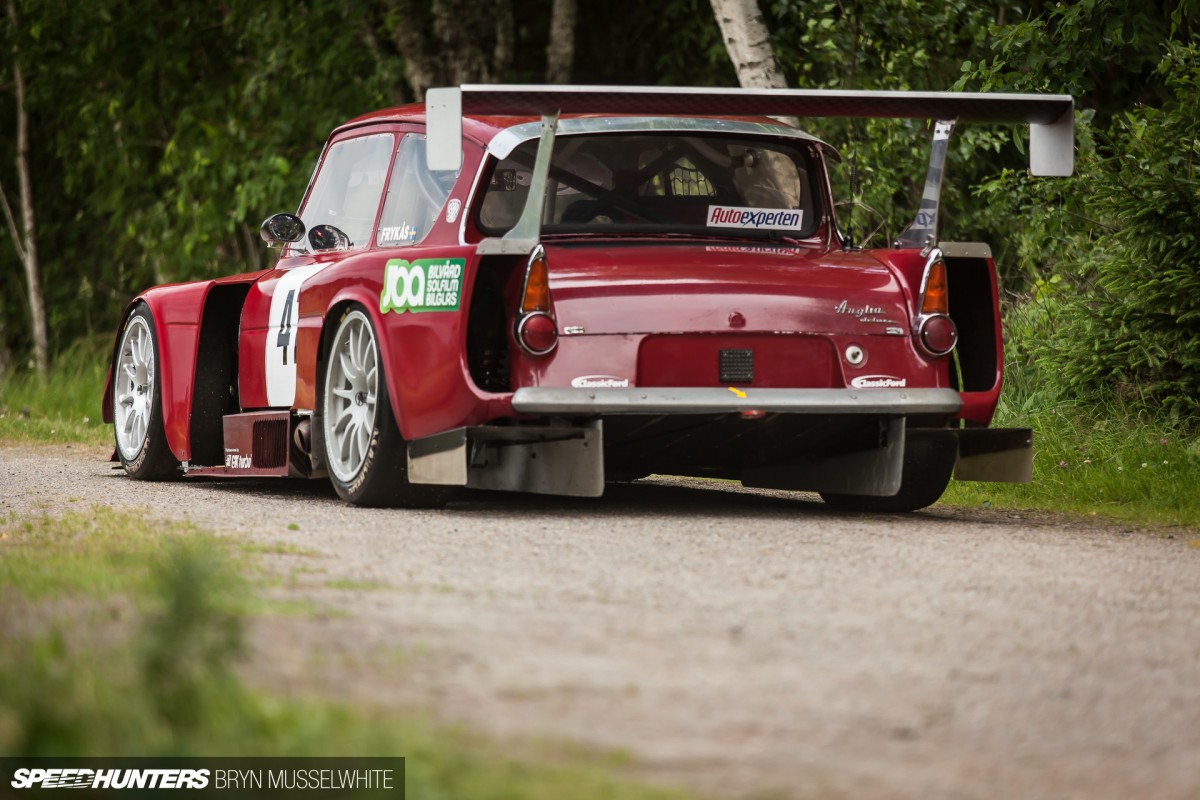 The Anglia's skin itself is just as radical as what's underneath. The dominant rear wing is constructed from TeXtreme, a material used by eight of the 11 teams in Formula 1 during the 2013 season. I don't fully understand the 'spread tow carbon fibre tape' principle that it employs, but if it's good enough for F1, it's good enough for me!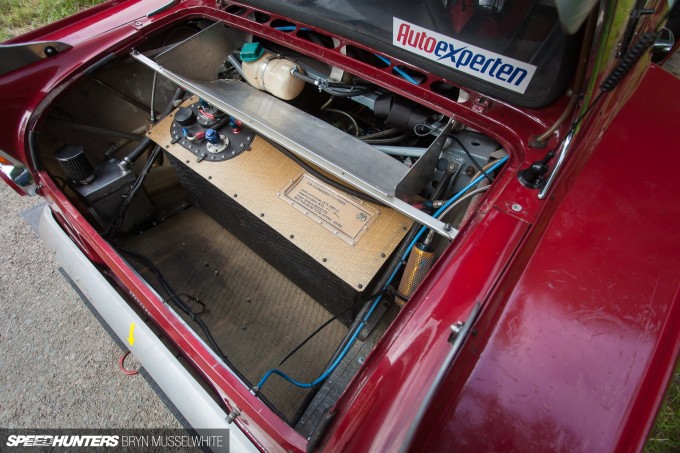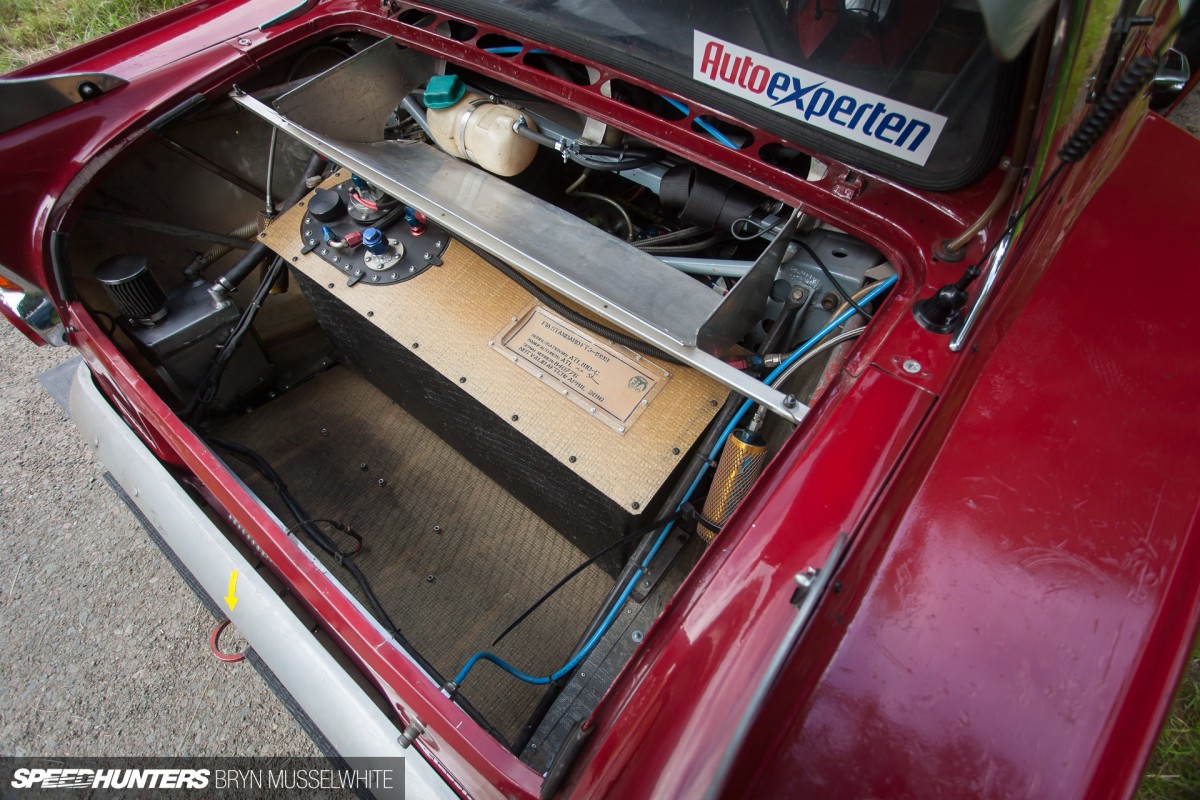 Wherever you look there's a wealth of experience and development waiting to be discovered. Leif and Kjell are the first to admit the paint finish isn't the best and there's always something they want to change. But for me that's just a reminder that the Anglia is born out of a barn in Sweden!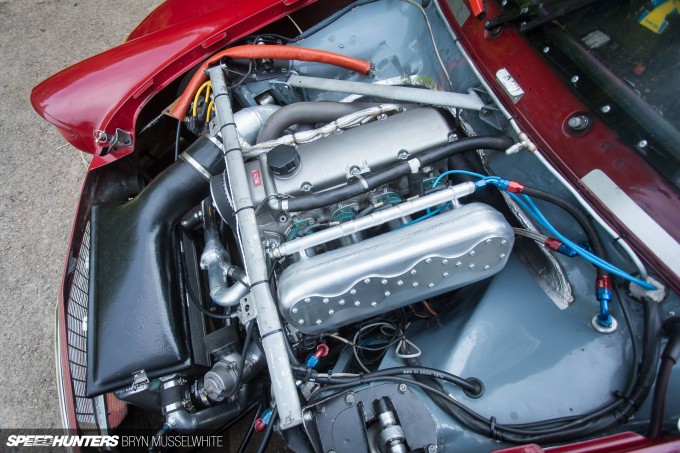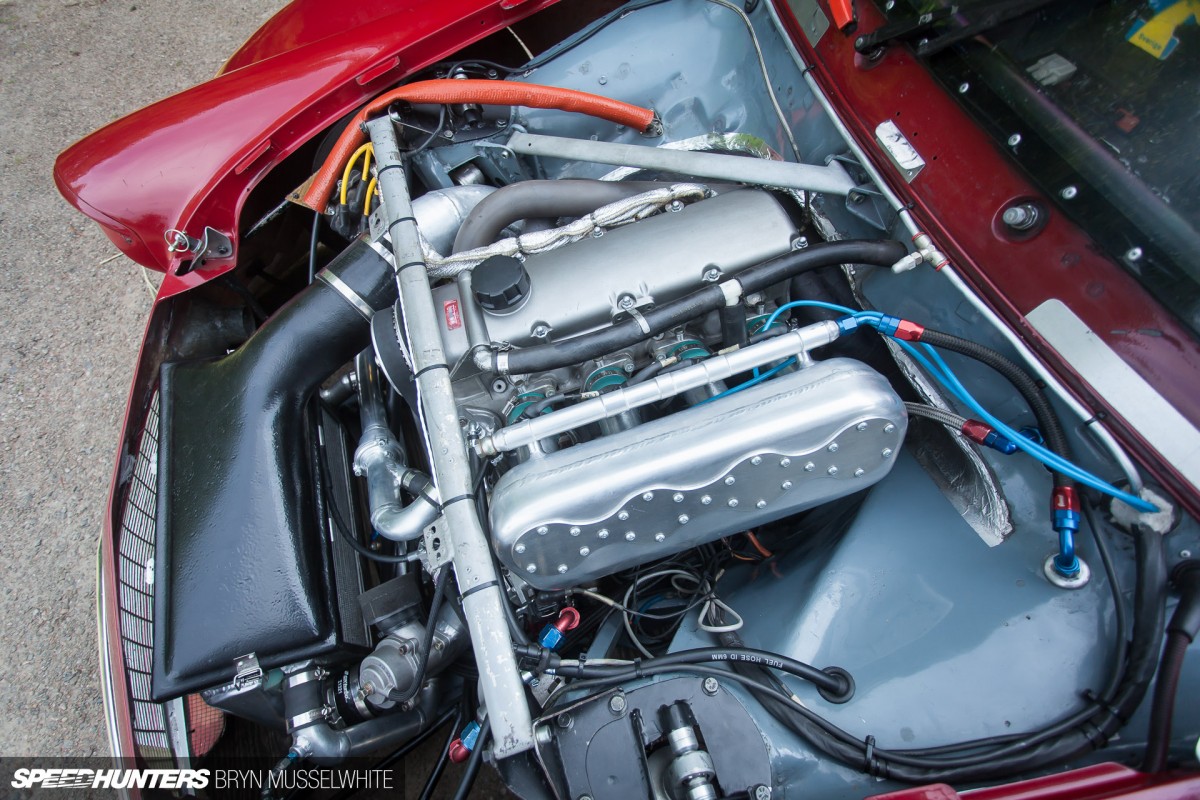 So, what powers the Anglia now? It's a four cylinder B230 Volvo block enlarged to 2,500cc and fitted with Volvo Penta marine pistons. The block is the same as I've got in my own Volvo 240 project, but all similarities end there. The biggest change here is that instead of a turbocharger, which is more commonly associated with Volvo, the pair have gone for a Vortech V5 supercharger. The most incredible part for me is the cylinder head, which has been made by slicing two heads horizontally down their entire length, then welding them back together to give a longer inlet track. And that's before you get in to the larger valves and other flow work that has taken place.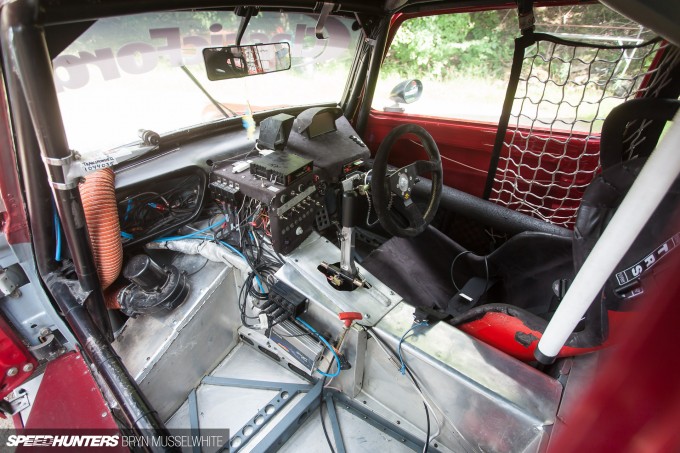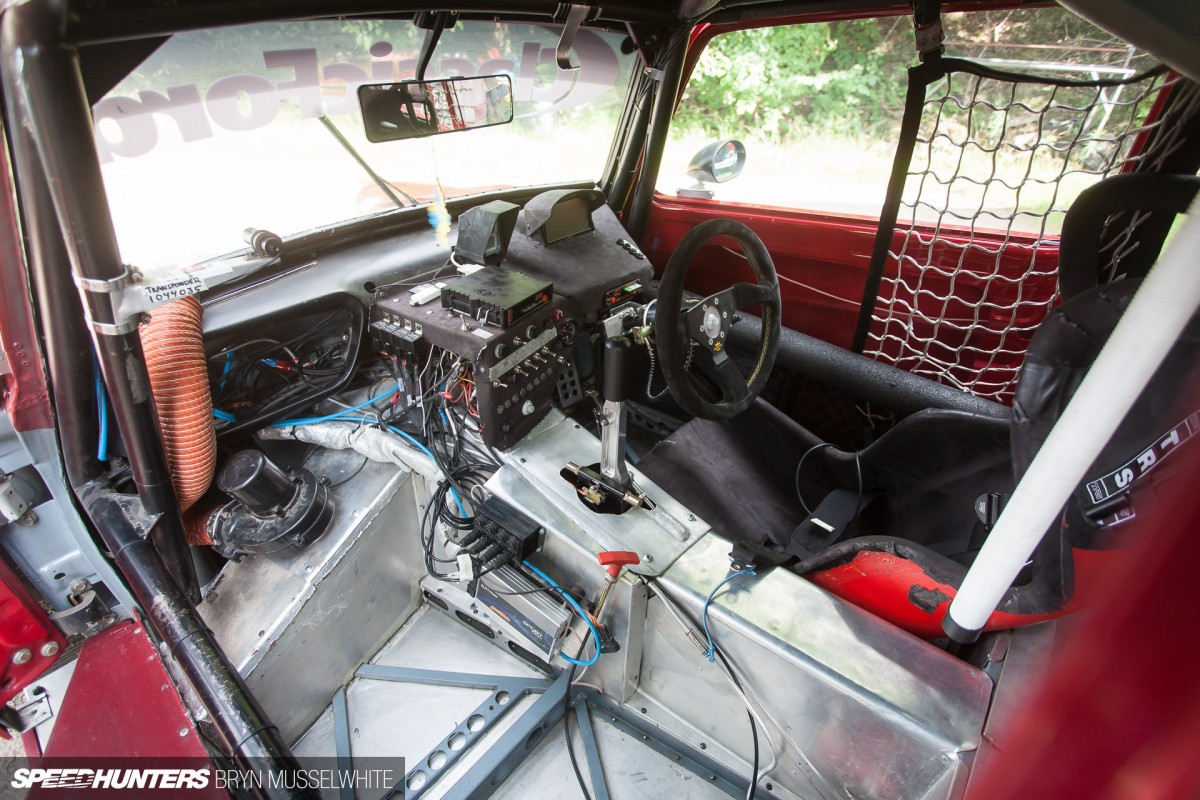 Again, that head was built in the barn, so it should come as no surprise that the only things in this picture that were bought off-the-shelf are the steering wheel, Stack dash unit and TRS harness. Obviously, we're including some buttons, knobs and general hardware, but Leif and Kjell have fabricated the rest. The semi-reclined driving position with the shifter for the Tractive six-speed sequential gearbox close to hand looks more like it should be found in a Group C race car, but then the almost upright angle of the screen gives the game away. It's still an Anglia.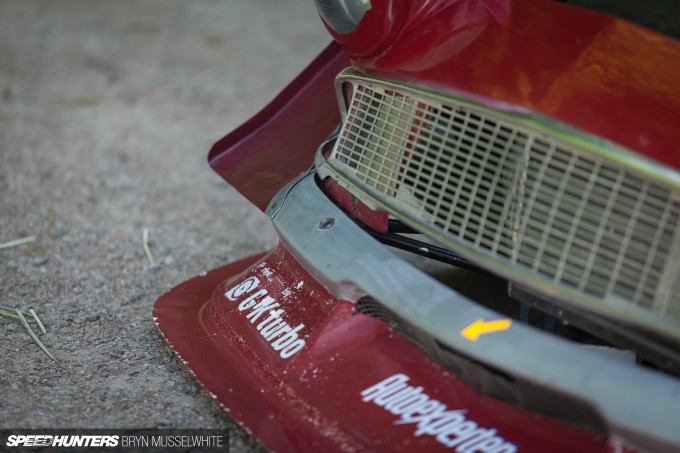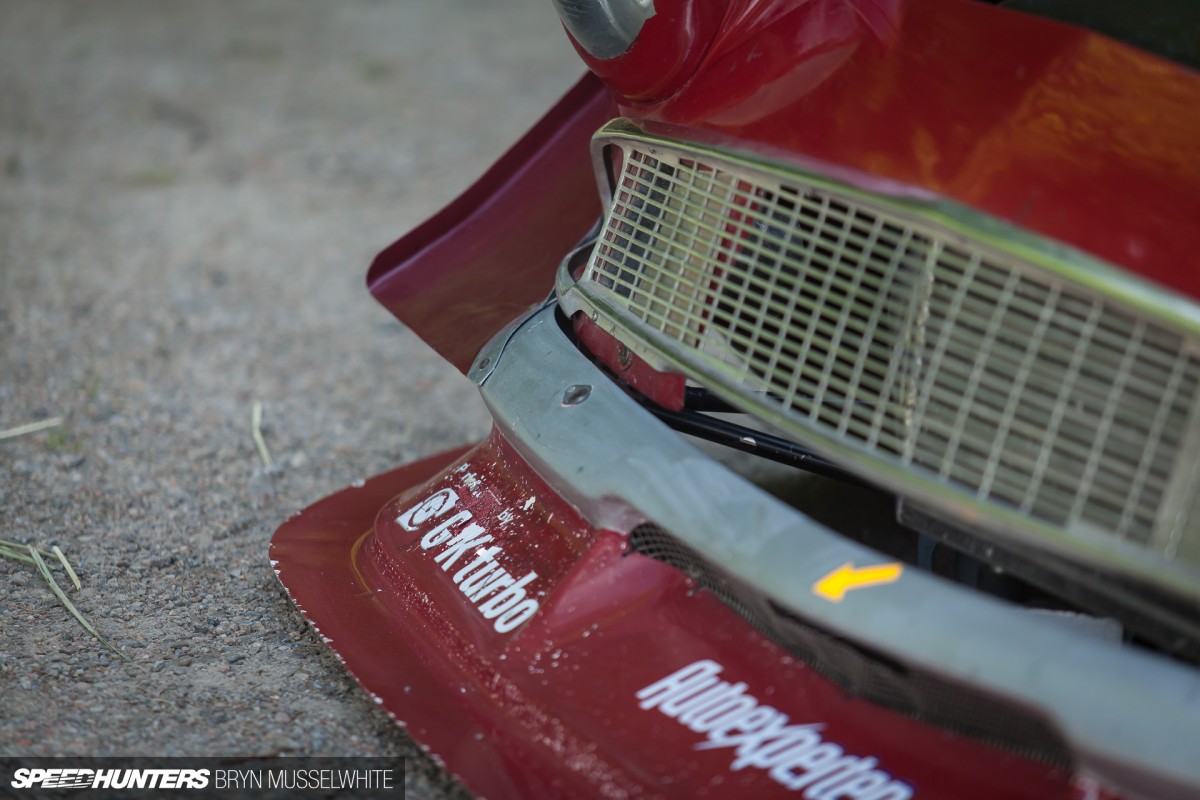 And that's probably one of the best reasons to love this wild build – it still feels like an Anglia. The enlarged and aerodynamically-tuned bodywork and engine add to the bionic flavour, but somehow, even with only a few select elements of originality left, they keep the Anglia spirit alive.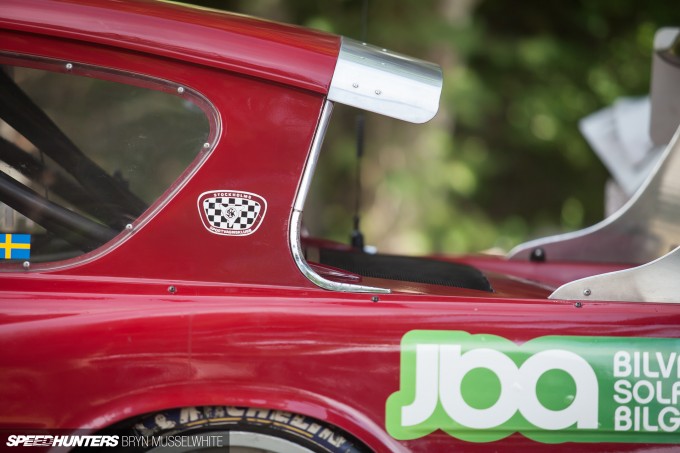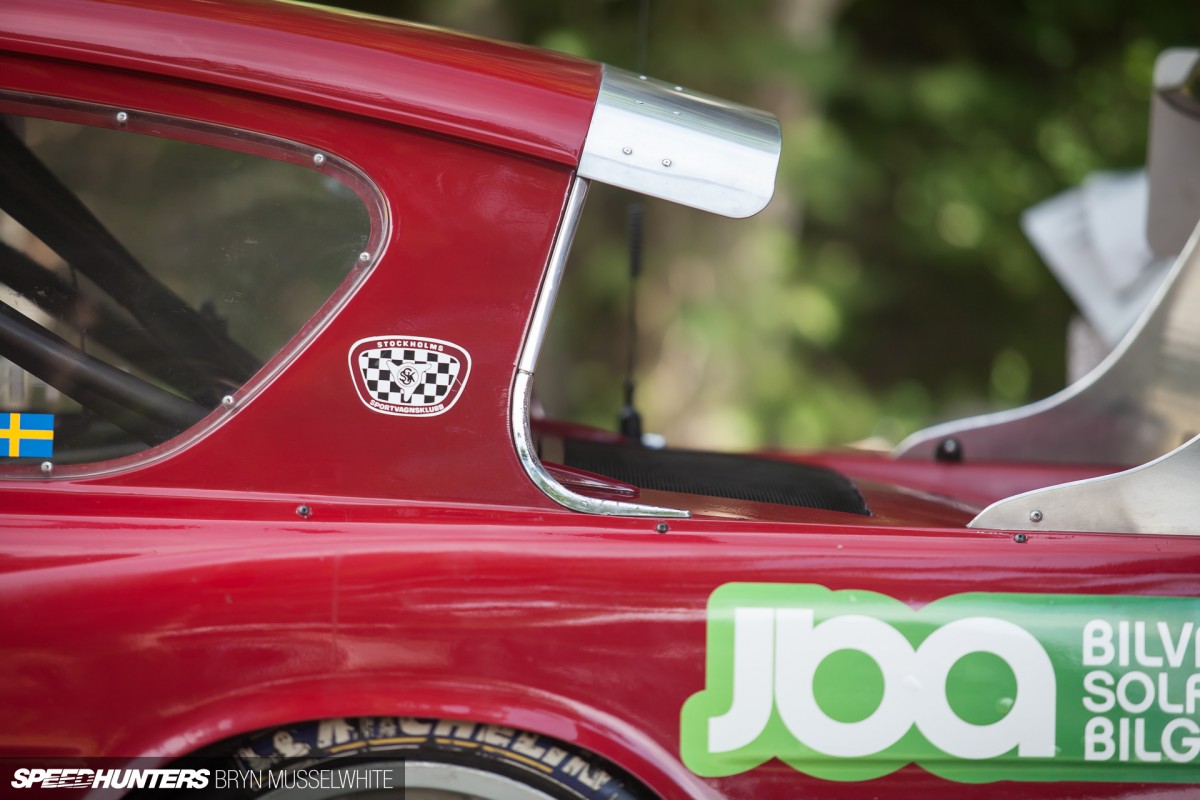 That's what happens when you race and continuously improve a car over four decades. You don't erase the starting point completely – you build on and around it as over the years it evolves organically.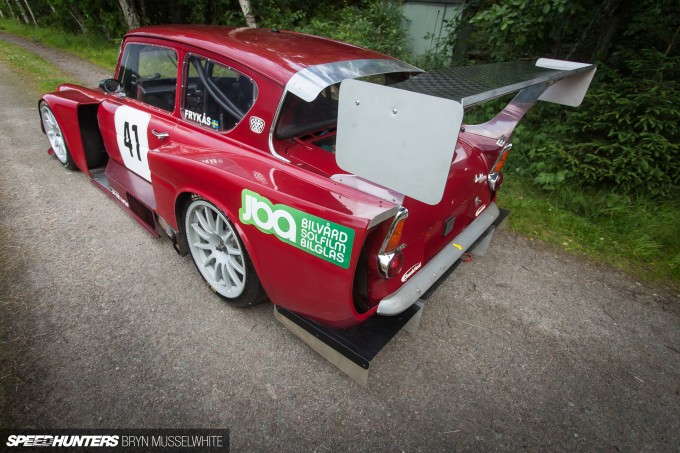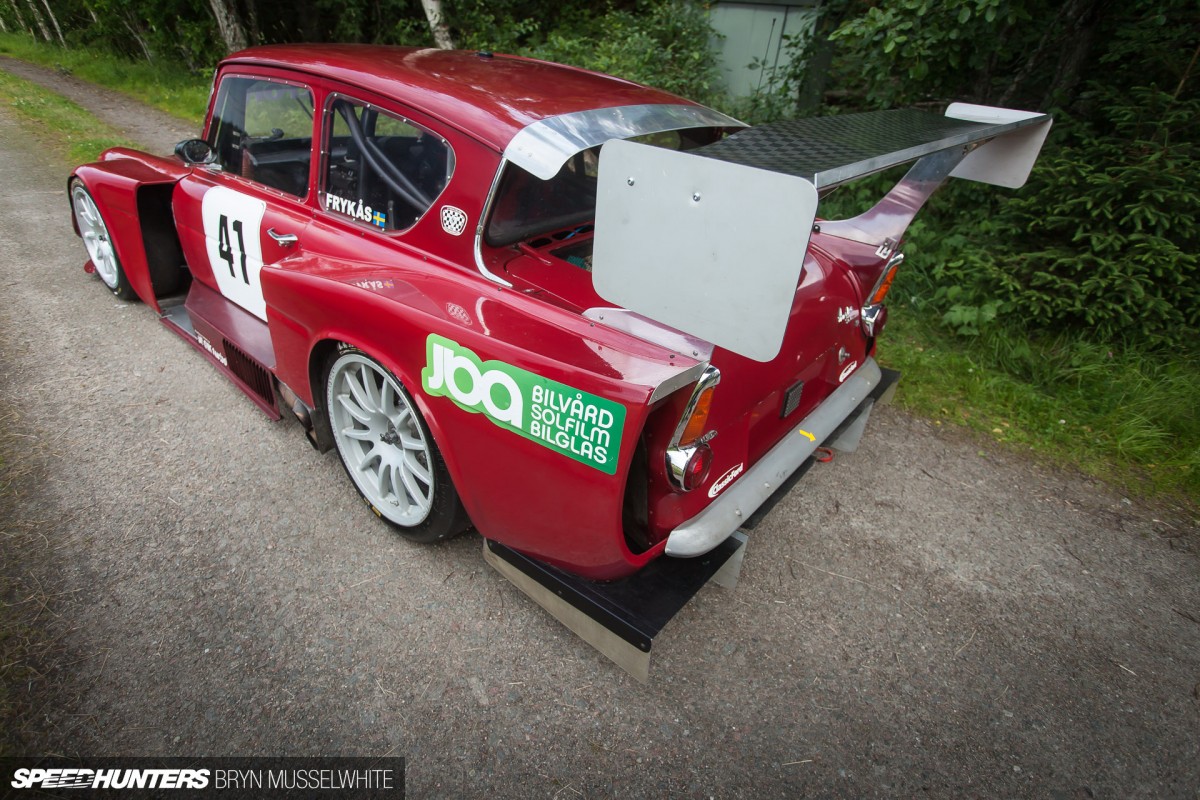 And that makes me wonder – how it will look in another 40 years time? With its unrepeatable history, incredibly eclectic spec list and massively impressive engineering, will it still be the wildest Anglia in the world?  You decide, but it gets my vote.
Bryn Musselwhite
Instagram: speedhunters_Bryn
bryn@speedhunters.com
1964 Ford Anglia 105E Delux
Engine
B230 Volvo four cylinder, 2.5L, Vortech V5 supercharger, custom dry sump system with Denzel pump, forged Volvo Penta Marine crank, custom-made Steven Verde rods, ARP bolts, standard Penta 151 (B250) pistons, Frykas custom-made cylinder head, homemade 50mm slide throttle body injection, Bosch high-capacity injectors, NGK 10mm motorbike spark plugs, Haltech distributorless coil pack, Bosch fuel pump, home-made exhaust

Driveline
Tractive 6-speed sequential gearbox, modified B230 flywheel, ARP bolts, Sachs twin-plate sintered clutch, custom-made propshaft, Winter Performance back axle, Detroit locking diff

Suspension/Brakes
ZF Alfa Romeo steering rack, Porsche 997 Carrera Cup electric power steering pump, TWR TOCA uprights, MacPherson strut with helicopter roller bearings, anti-roll bar, home-made lower arms, Racing Dynamic shocks with remote canister reservoir, 900lb springs (front), 600lb springs, five-link with Watts linkage mounted very low, Racing Dynamics shock absorbers from JTCC BMW 318, Volvo S80 front roller bearing hubs (rear), AP TOCA spec six piston calliper, 348mm vented discs and alloy bells (front), 310x28mm modified Audi discs (rear) braided lines, Girling master cylinder
Wheels/Tyres
TOCA Team Dynamics spindle-mount wheels – 17×9-inch (front), 18×10-inch (rear), Yokohama slicks, Dunlop wets
Exterior
Deluxe grille, standard rear lights, original Anglia roof/pillars, everything else is moulded from GRP, Opel three-speed windscreen wipers, 12V ceiling light headlamps, air jacks
Interior
Personal steering wheel, Sparco harness, Stack dash unit, home-made seat, home-made dashboard
Thanks: Jan Andersson, Stefan Lindblom @ GIK Turbo Teknik for his help, Yvonne Frykas
Cutting Room Floor