The Best Laid Plans
Hot Rodding is dead.
Depending on your age and proximity to the traditional hot rod community you've either said or heard that phrase. And again, depending on perspective, you either believe it to be either true or completely ludicrous. One thing that can't be denied is that much like everything else automotive, hot rodding has changed. Long live hot rodding!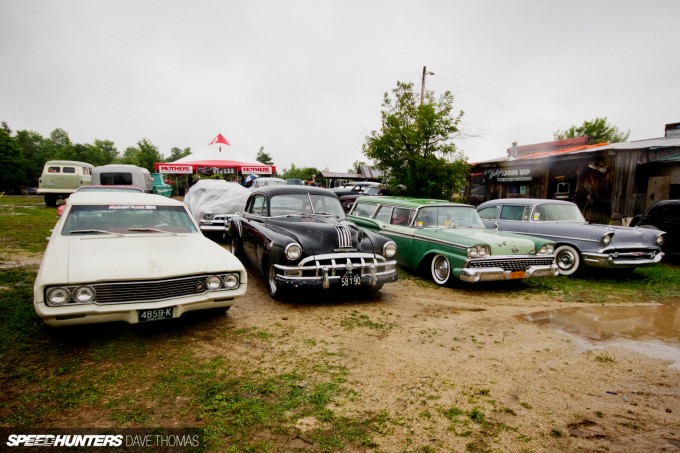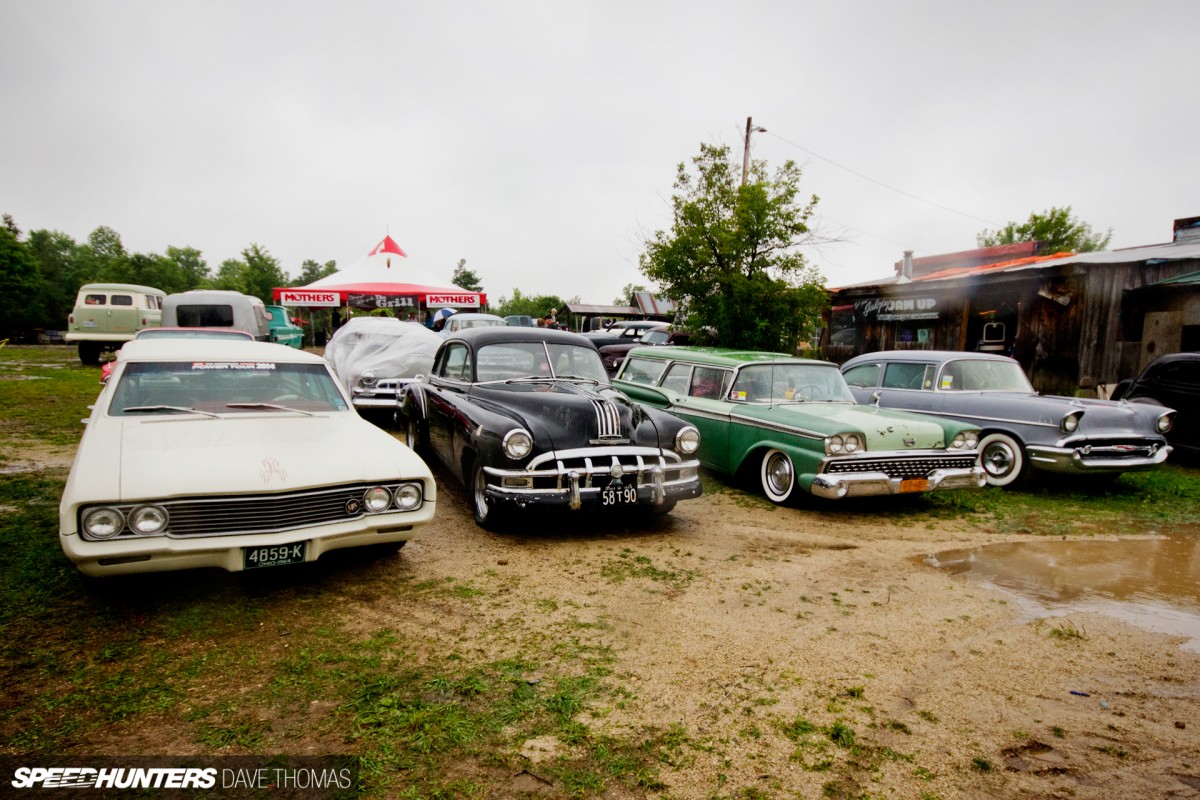 But what if it were possible to go back to a time before billet wheels, elaborate budgets and trailer-transported show ponies? One might argue that without a DeLorean and an eccentric inventor nick-named Doc, such a thing wouldn't be possible. But a group of Ontarians had an idea that would bring the 'good old days' back – even if just for a day.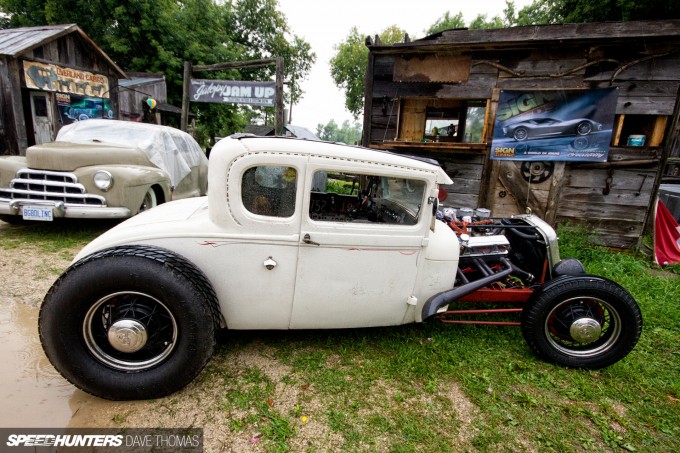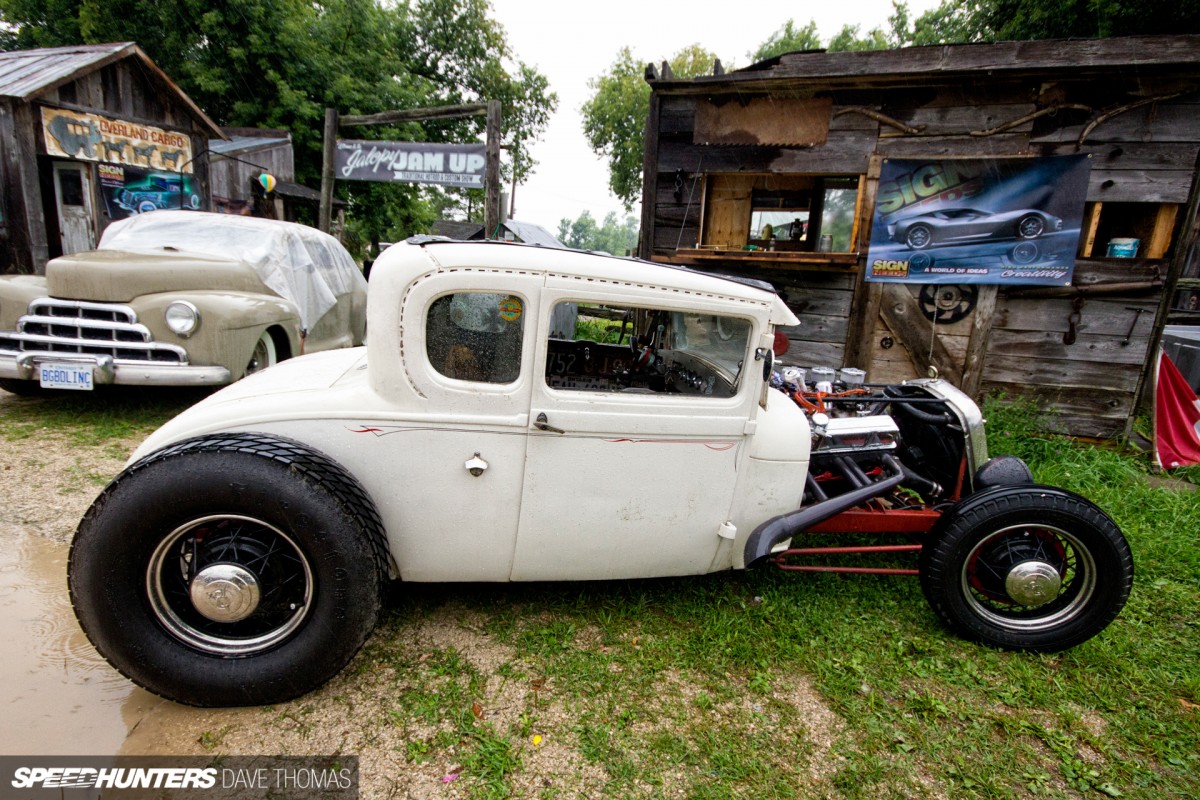 The Jalopy Jam Up idea spread quickly, and in the weeks leading up to the event, cars of pre-1964 vintage were chopped, painted, tuned, gassed-up and pointed towards the town of Durham's Frontier Ghost town. This time-forgotten venue was the perfect location for a gathering of hot rods and kustoms that represent a bygone era.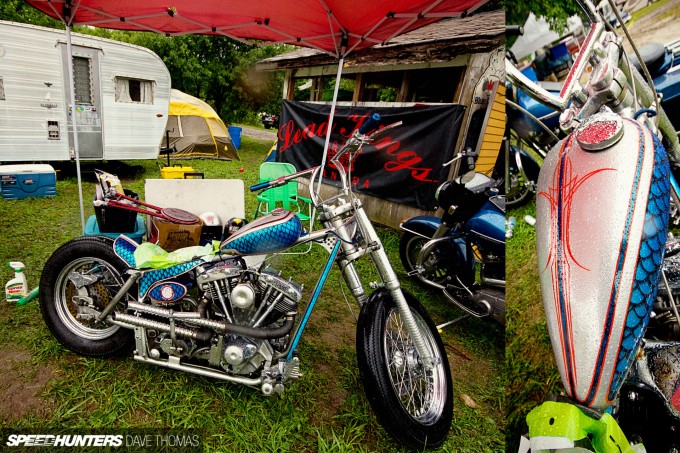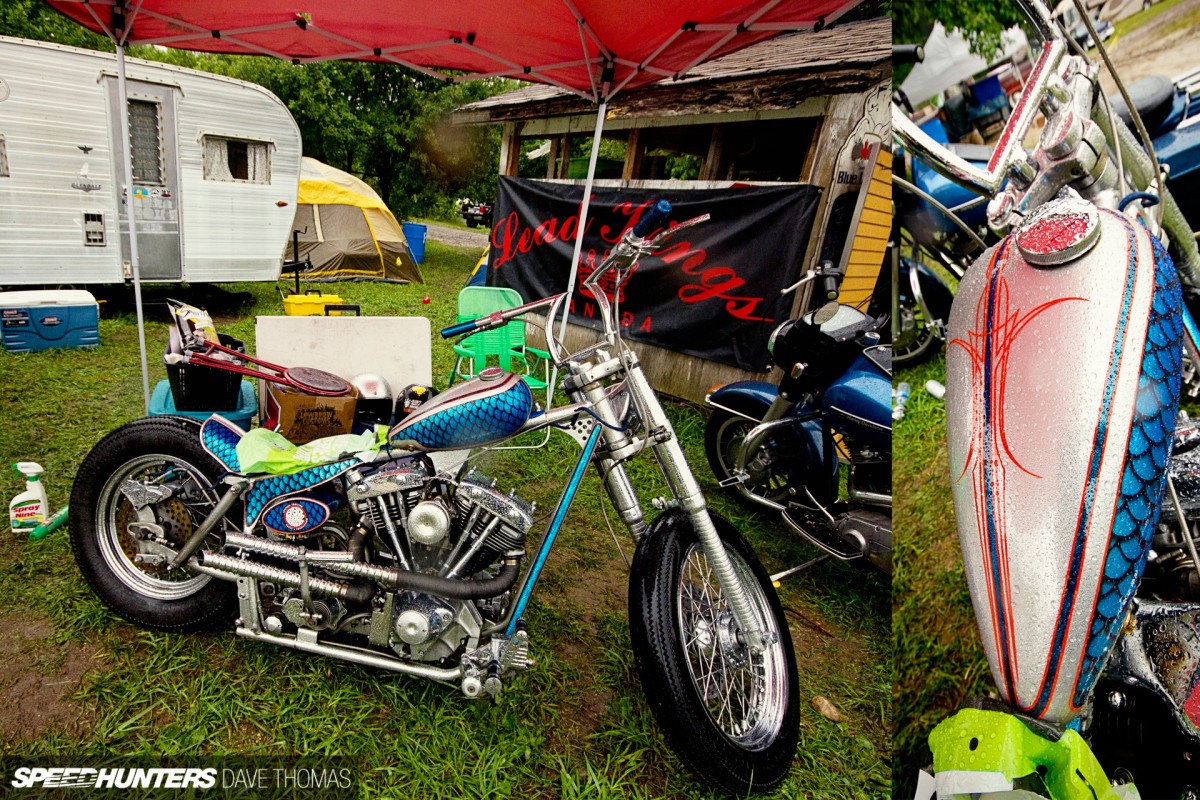 Mother Nature may have had her knickers in a twist most of the day, but in true hot rod fashion people still came from far and wide.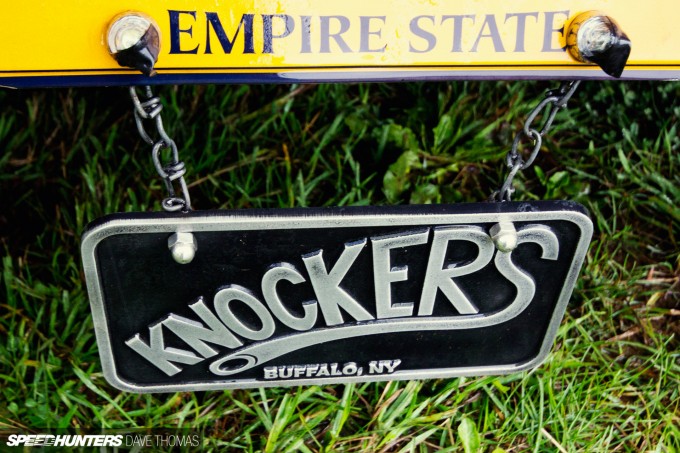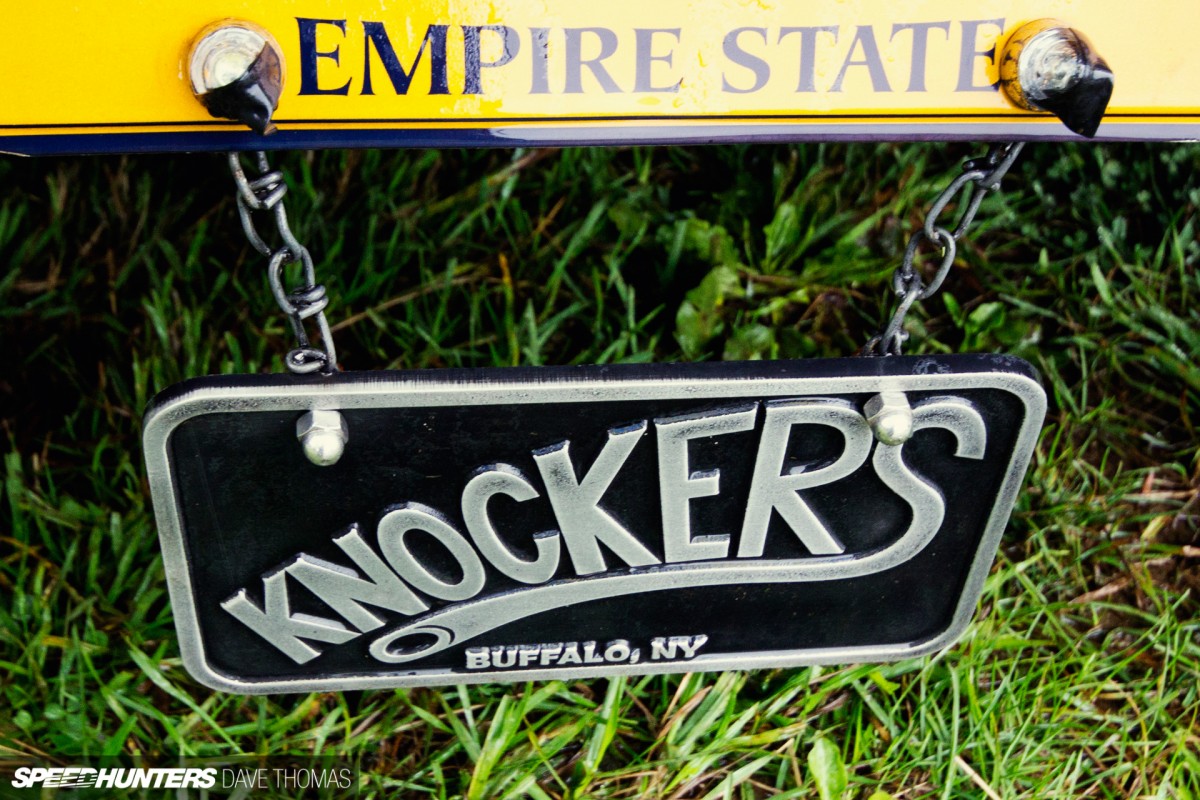 After all, these cars, trucks and bikes were built to be drivers and a little rain wasn't going to deny people a chance to remember exactly what hot rodding was like in its heyday.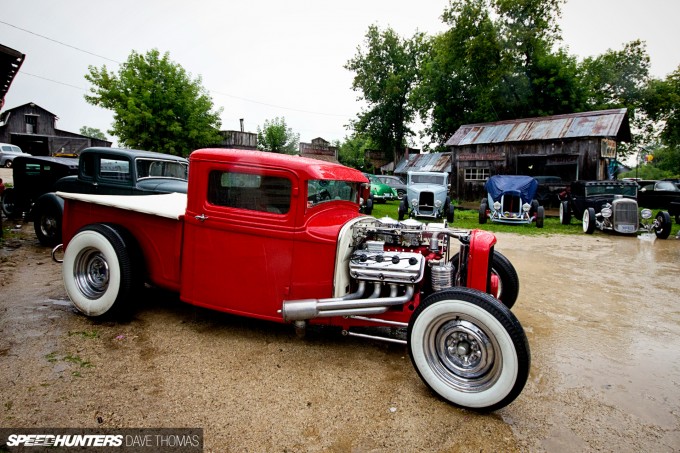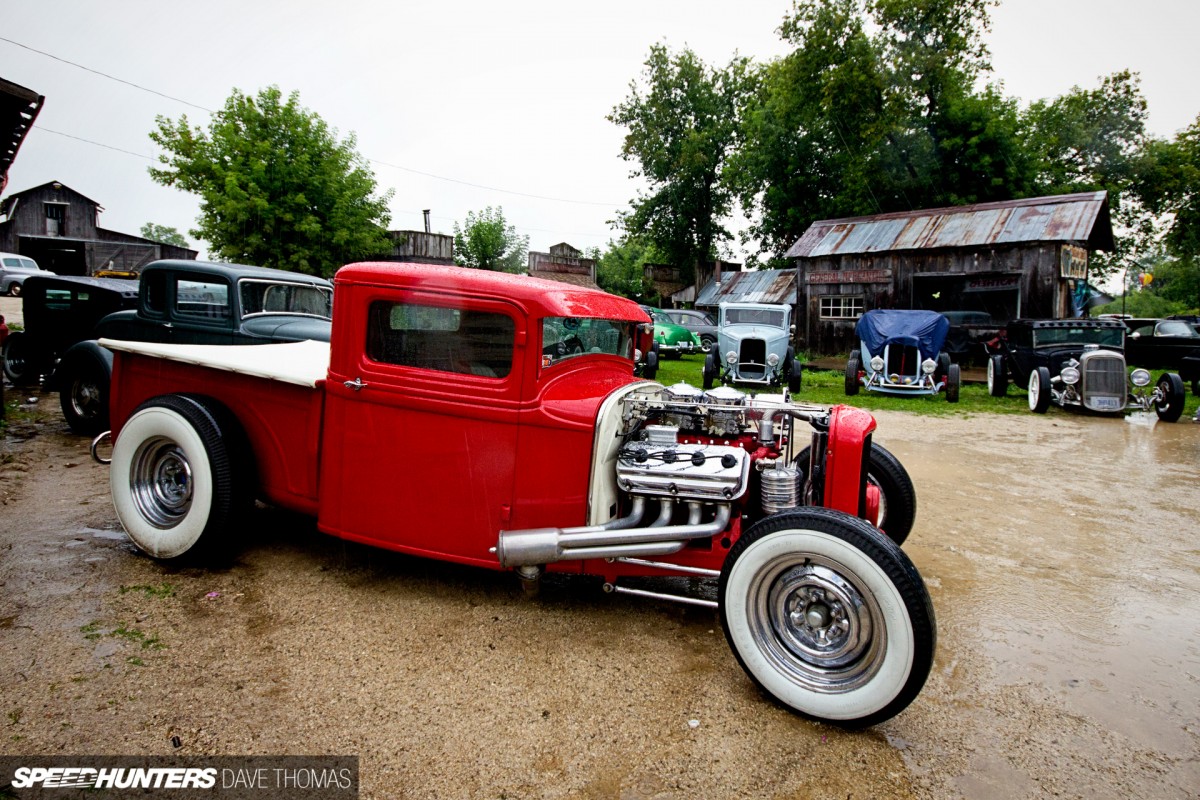 While Jeff Norwell – one of the driving forces behind Jalopy Jam Up – weathered the storm directing traffic into the event, his 600 horsepower '32 Ford did the same in front of the saloon where bands were rocking hard to keep the good times rolling.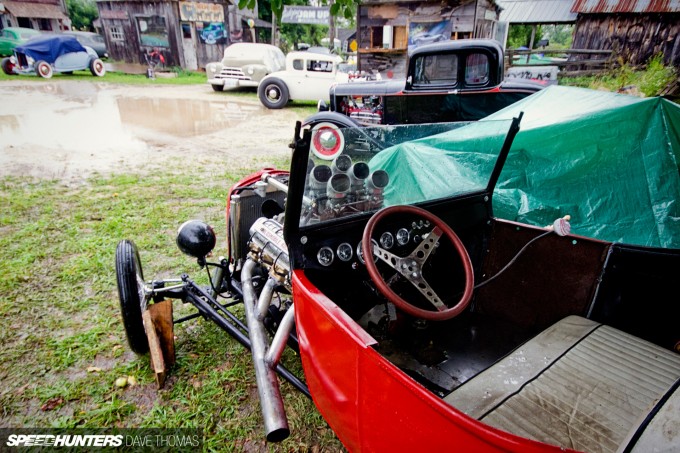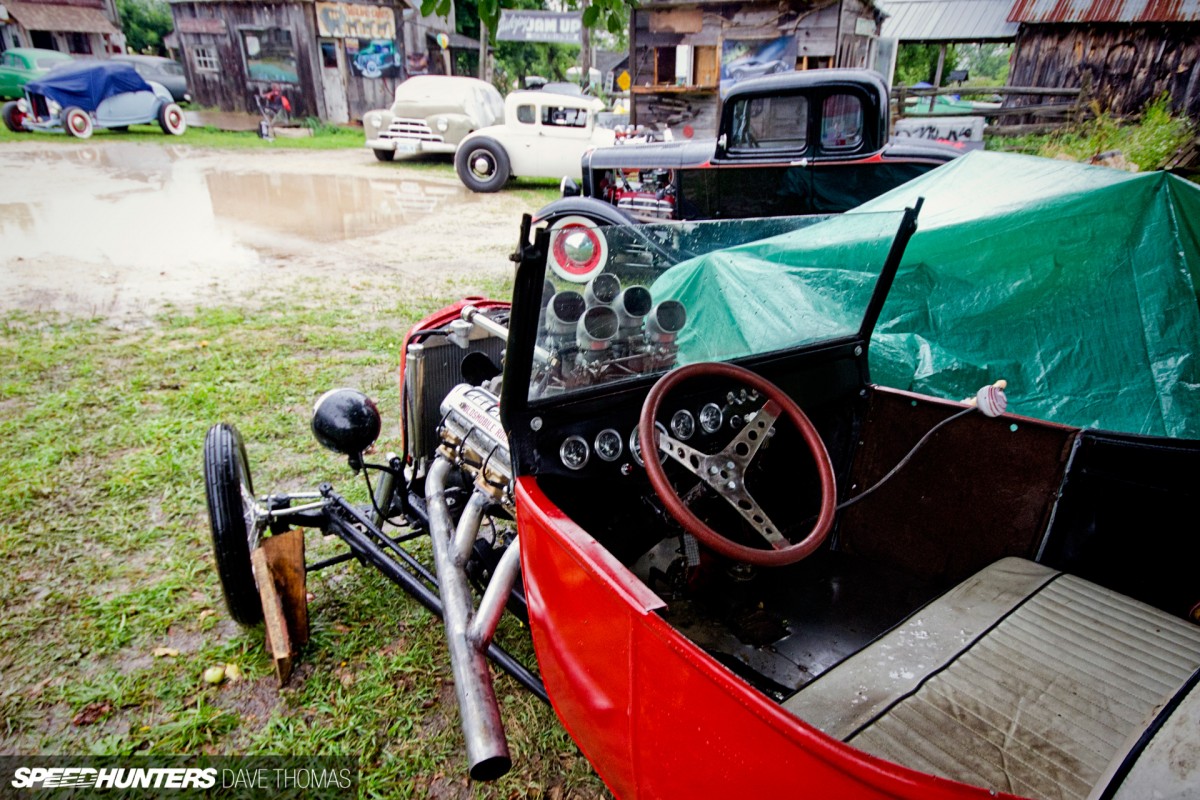 For this Rocket-powered '25 T-bucket, the Jalopy Jam Up was the car's shakedown run – the smell of Tremclad was fresh in the air when its builder pulled back to the tarp to show me how the clutch linkage had broken on the way to the venue. After a quick demonstration from an older rodder on the ins and outs of driving without the seemingly necessary third pedal, he was back on his way to the show.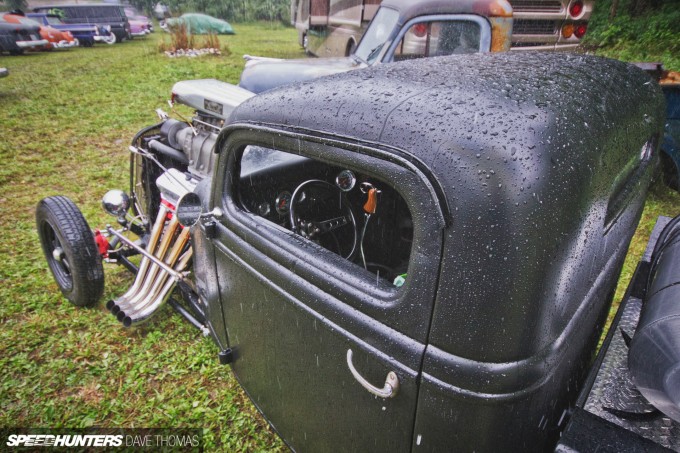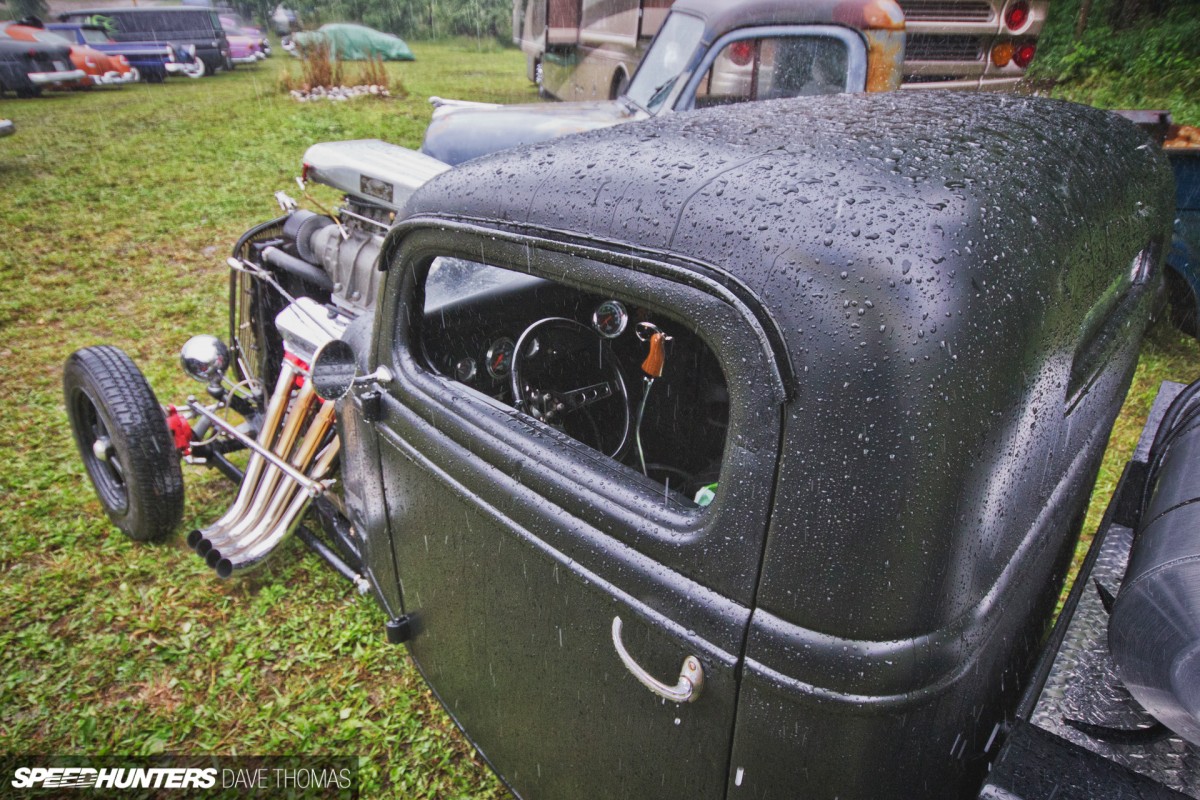 In the parking lot designated for not so traditional but still awesome rides, was this blown Ford that sat windows-down amidst the downpour.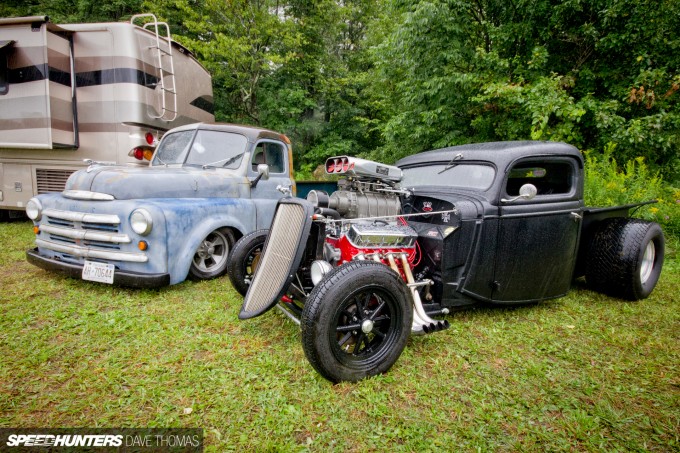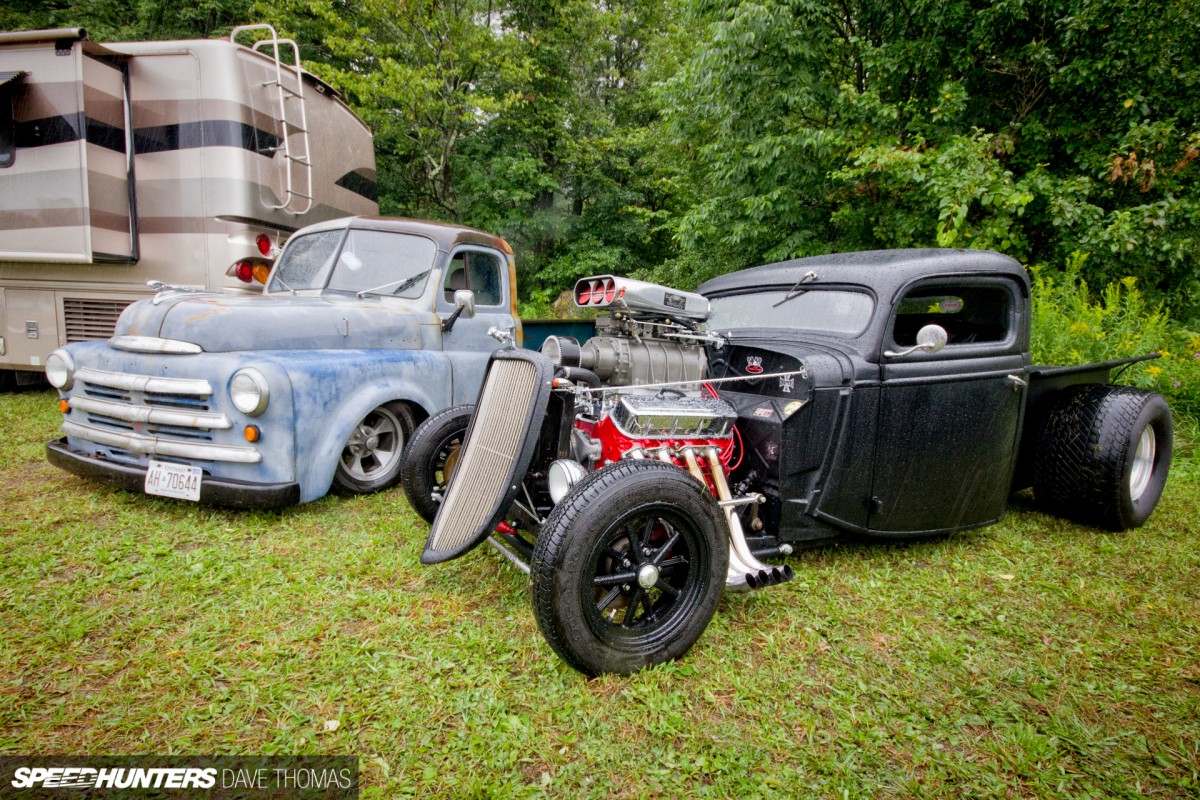 Having spent most of my time around more modern, pampered show cars I expected someone to come running from the saloon to close the windows as the rain picked up.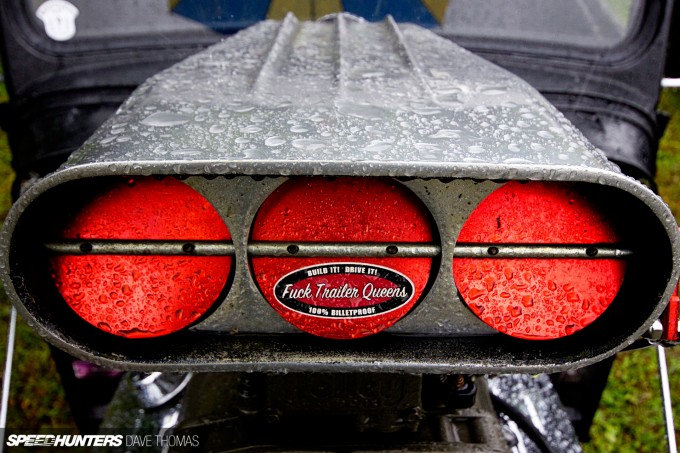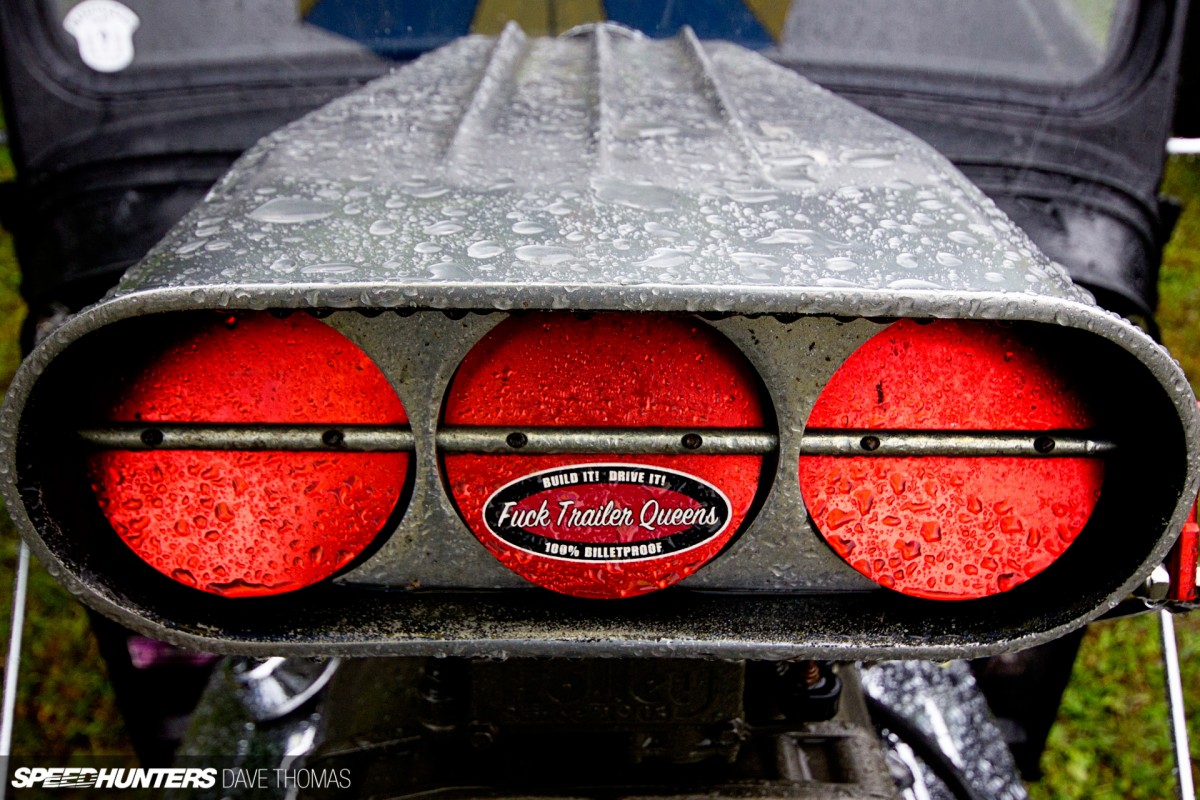 But when I moved around front to get a closer look at the motor I noticed a sticker on the blower that let me know the owner wasn't afraid of what a little rain may or may not do to his car.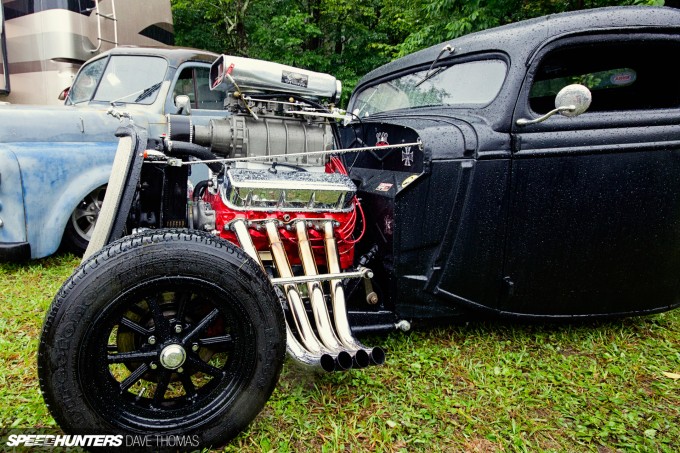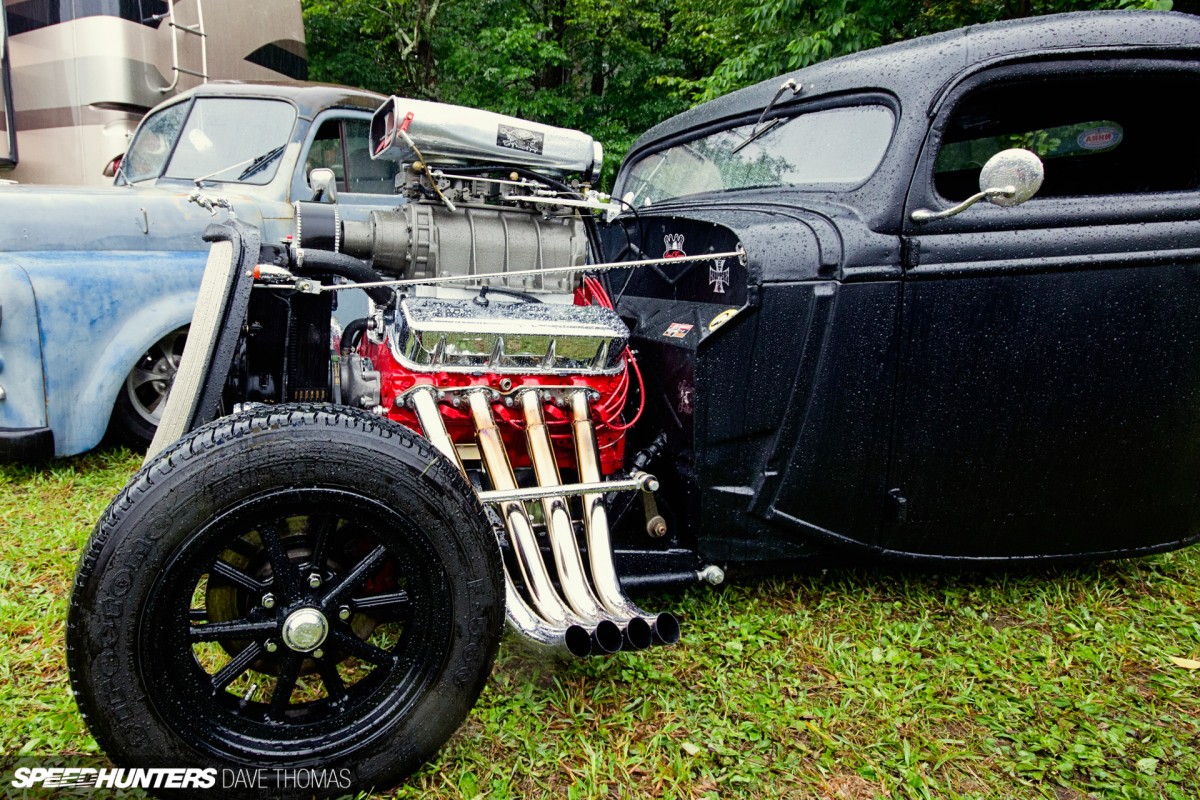 If something got rusty, waterlogged, or otherwise damaged in the down pour it would be replaced – no harm no foul.
Kustom Spelled With A 'K'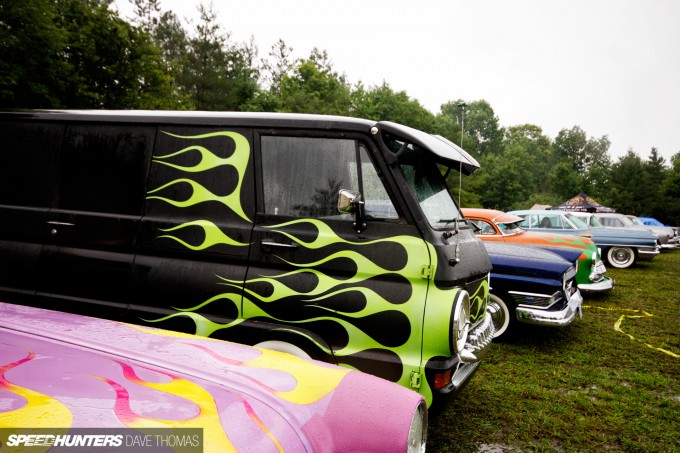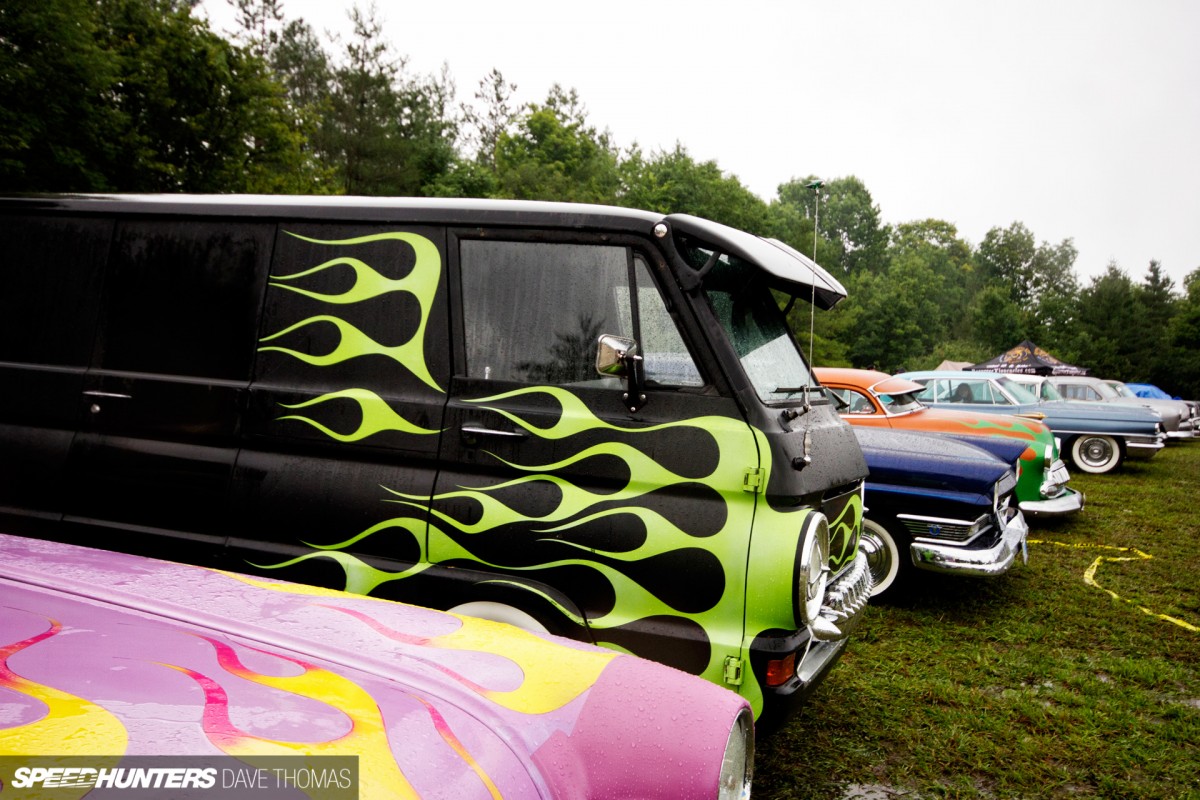 Looking down literally any row of cars at the Jalopy Jam Up and seeing no two alike was truly refreshing. When kustoms were king and bolt-on modifications were few and far between, builders truly took a different and more personalized approach to their projects.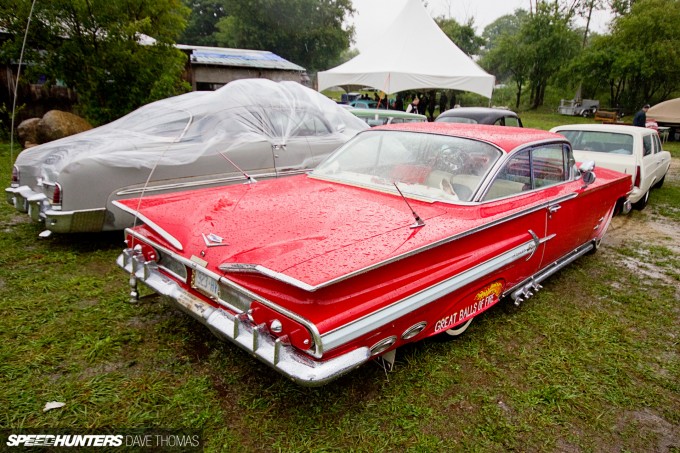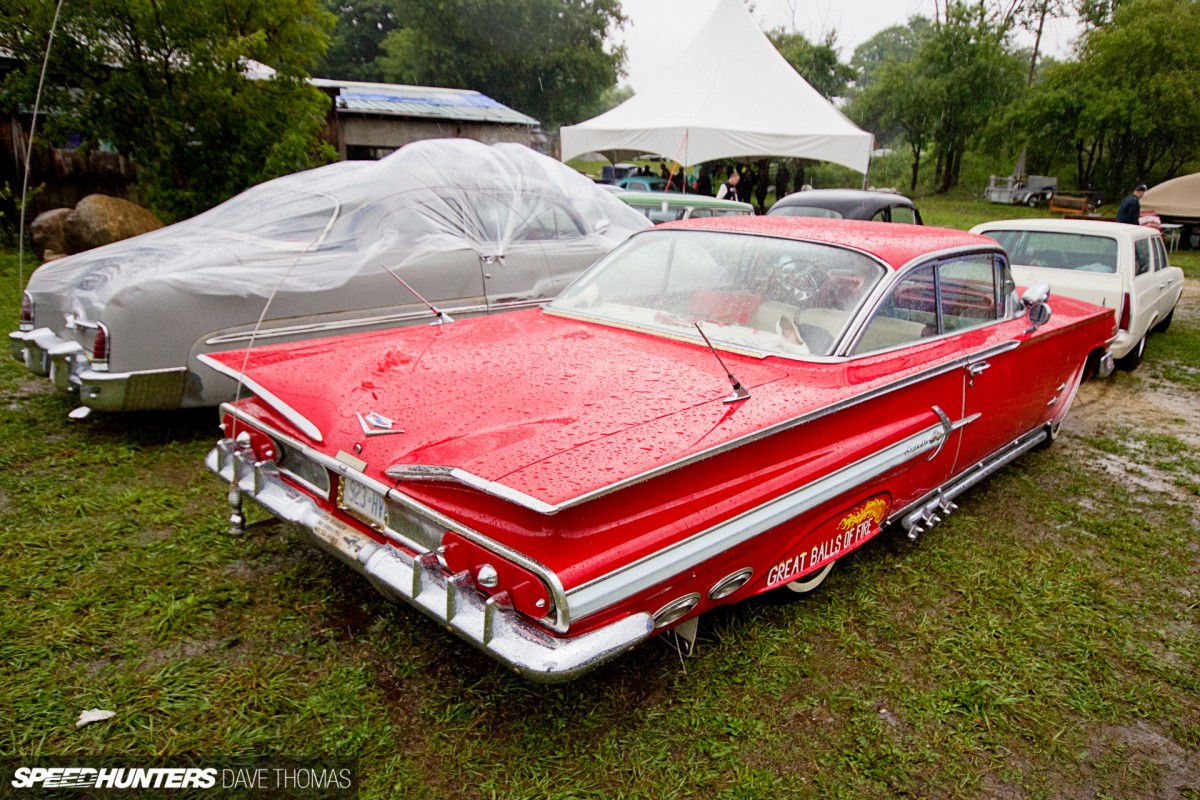 While they might be from similar eras and parked at the same venue, these two land yachts couldn't be further apart stylistically. One has multiple antennae, curb feelers and even a woman's shoe serving as an accessory in the back window.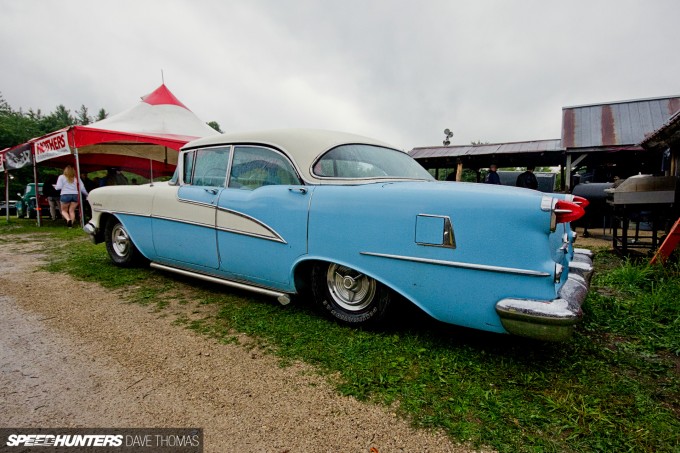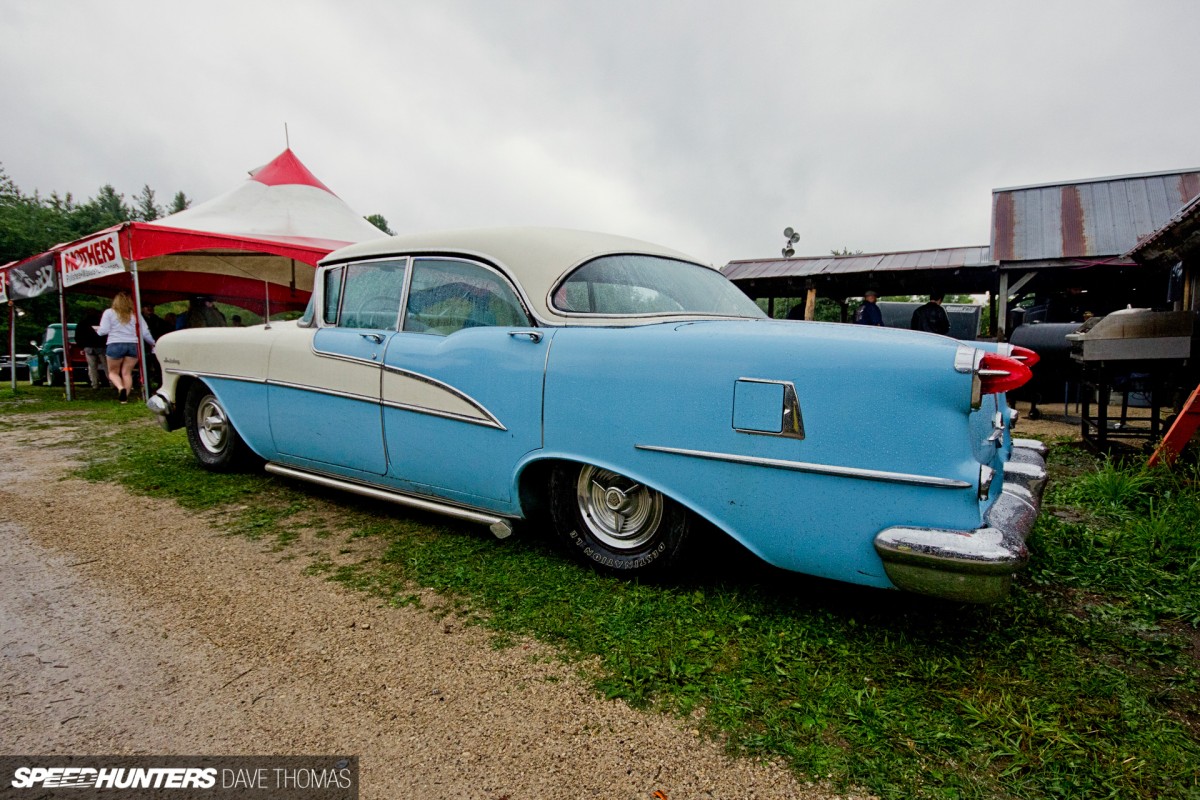 The other keeps things simple with the addition of side pipes and a significant ride height alteration.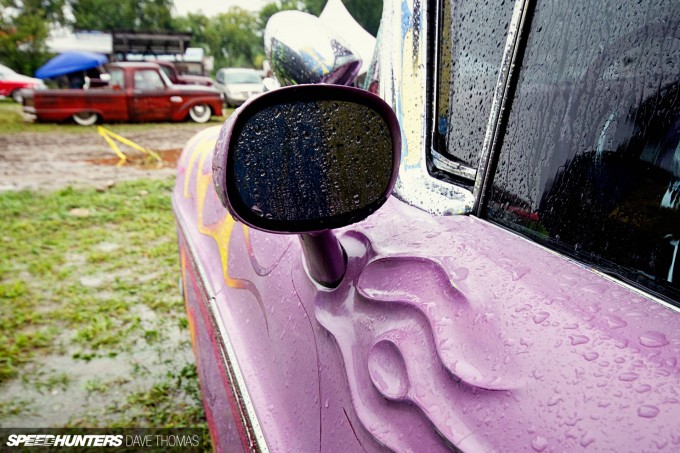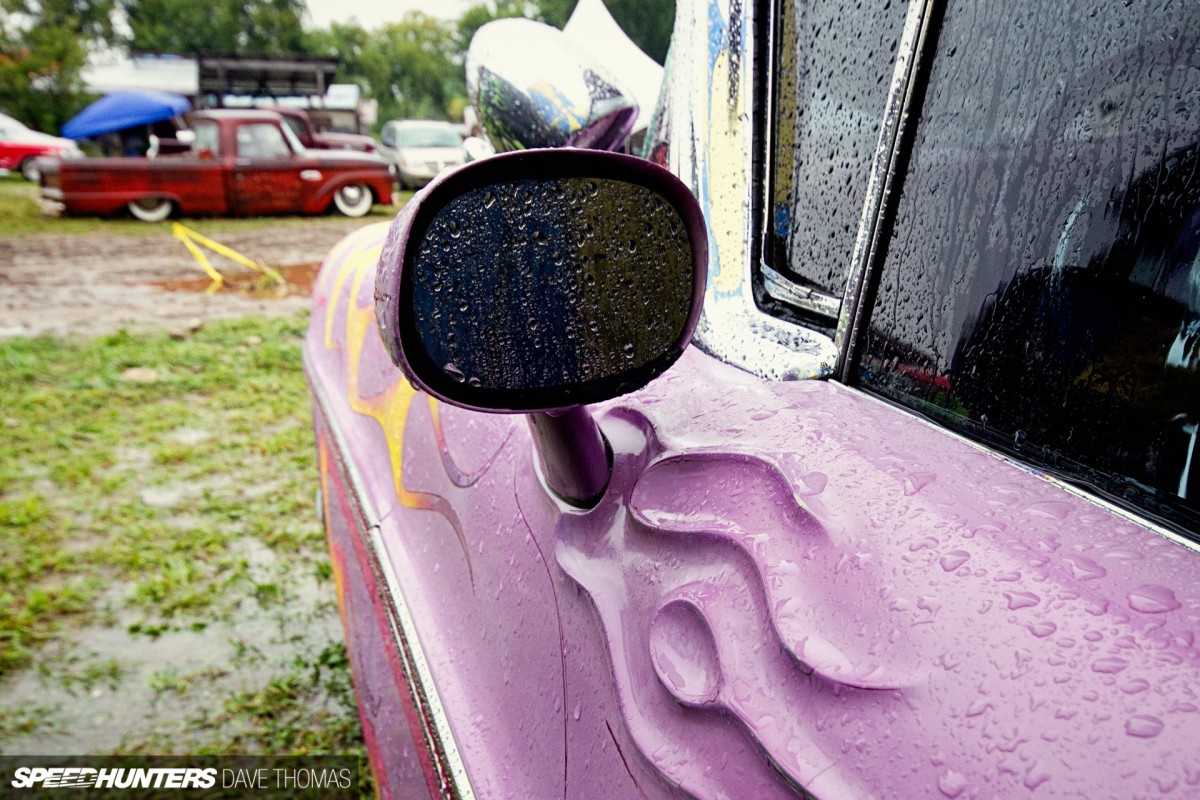 This shot nearly cost me my shoe to the mud but I simply couldn't leave without a photo of the three dimensional flames molded into the door of this outrageous pink '50s Buick.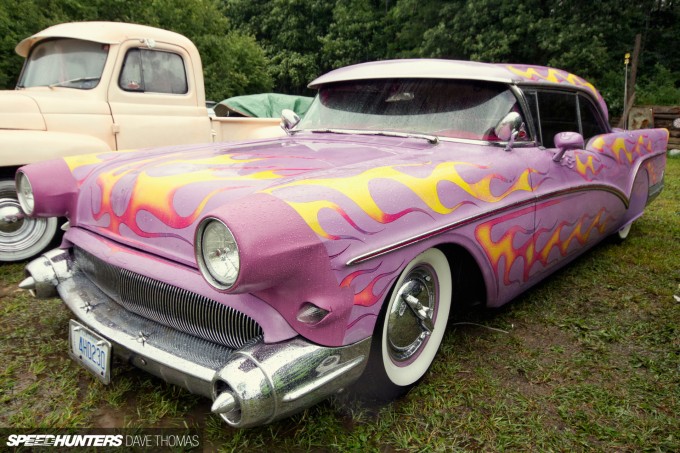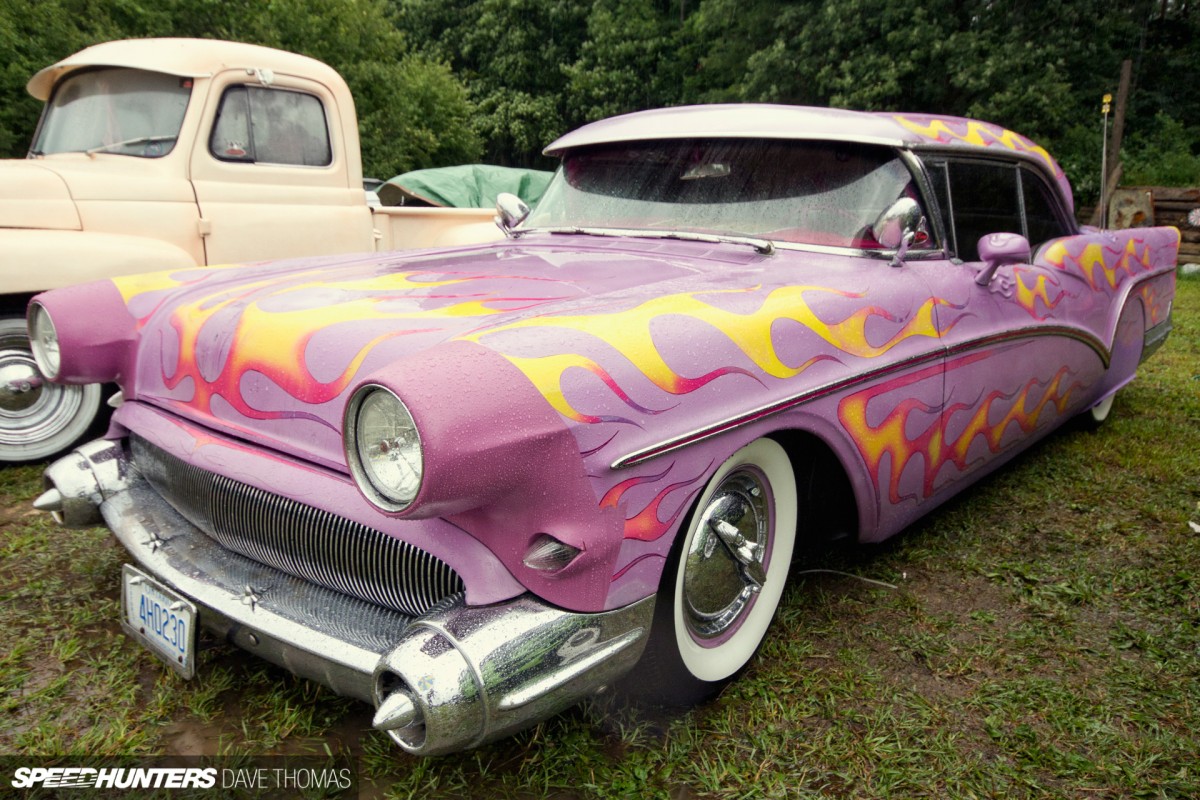 Clearly a driven car, the paint flaking away from the flames revealed bare metal, suggesting that these accents were not created with mountains of filler but rather via the more painstaking method of shaping and molding hot metal.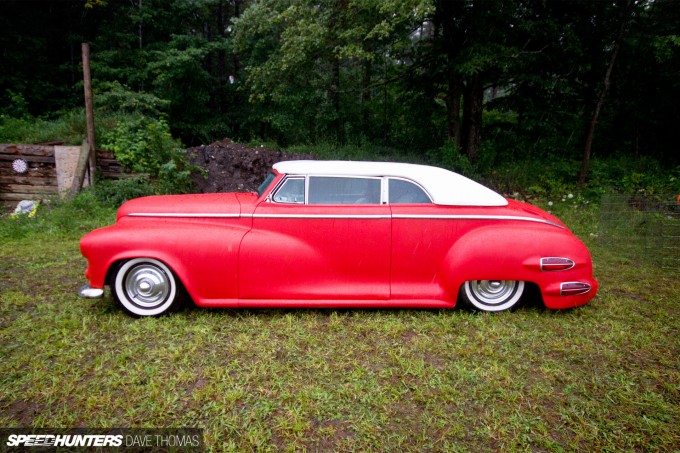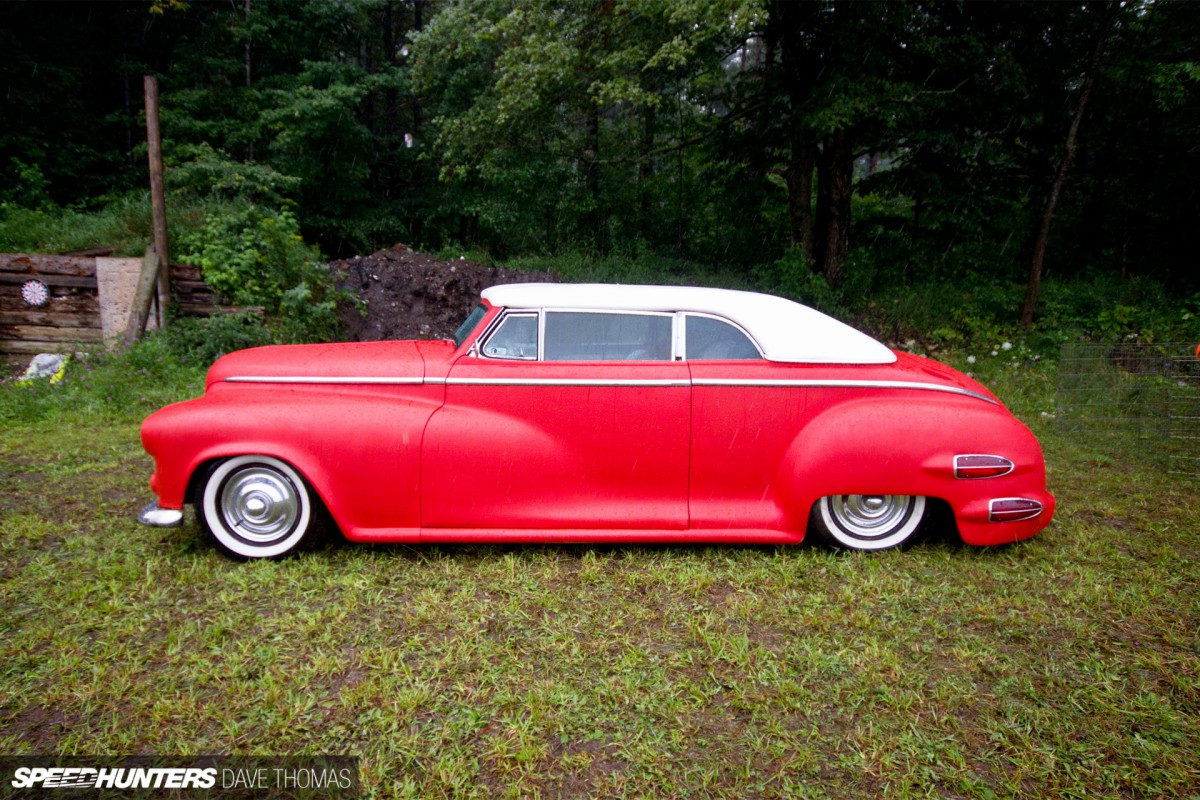 Rivaling the detail put into the pink Buick was an almost unrecognisable mid-'40s Dodge.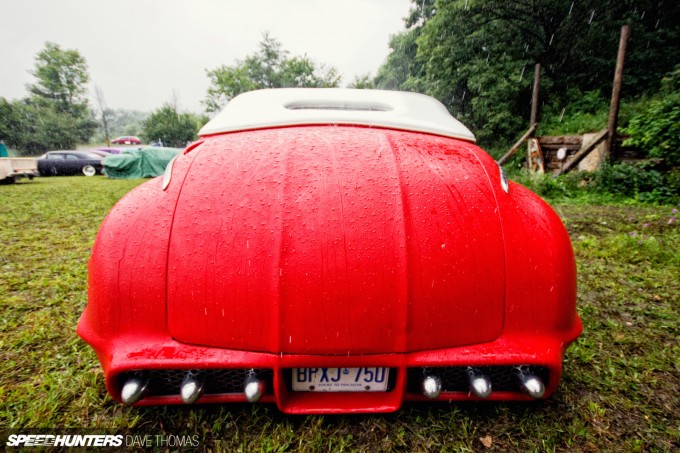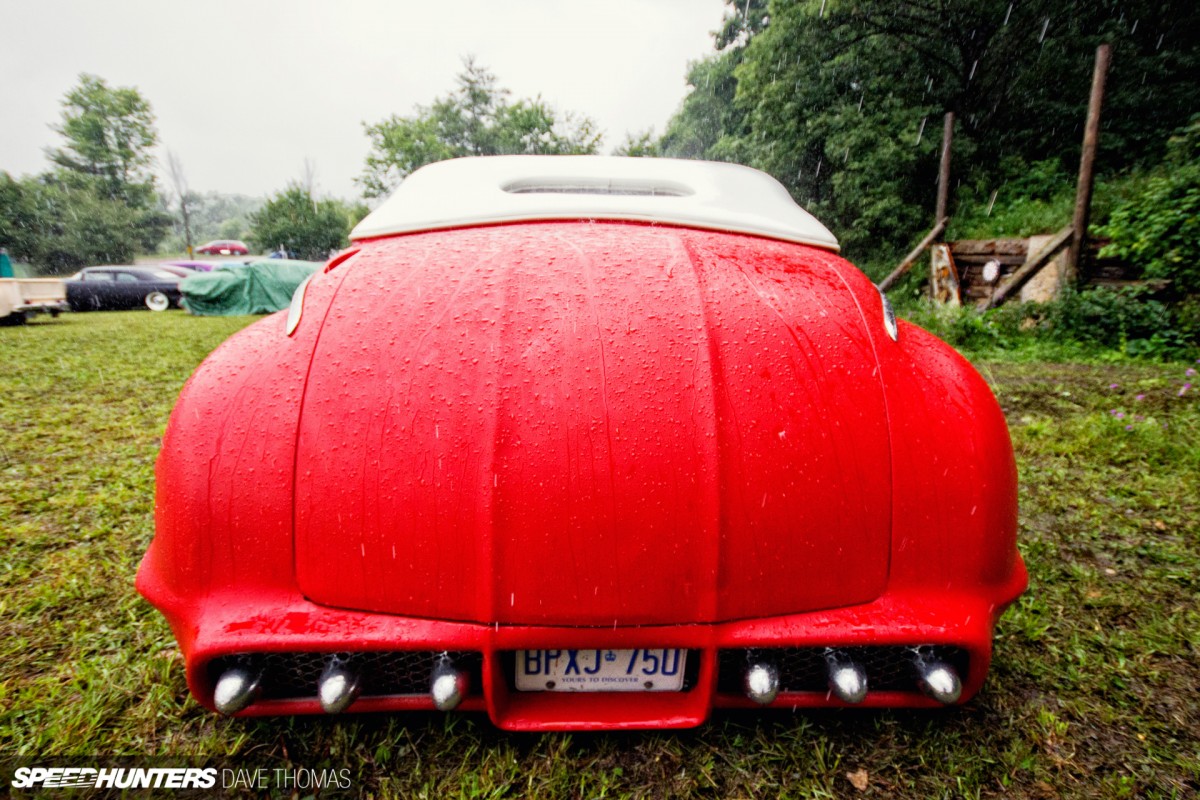 The original front end had been binned in favor of that from an Edsel, while the rear borrowed components from a few vehicles I couldn't easily identify.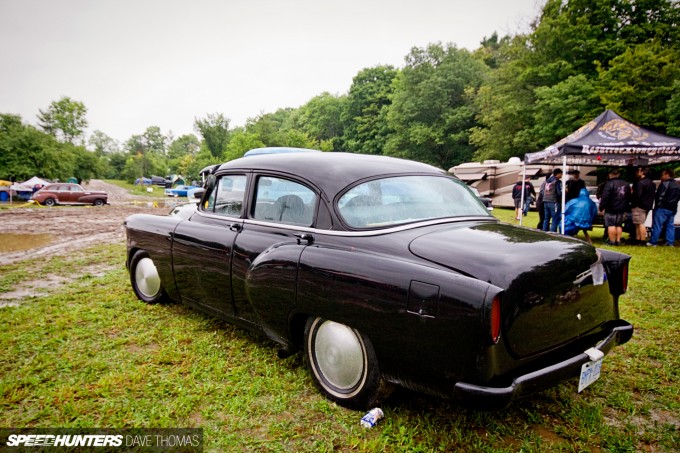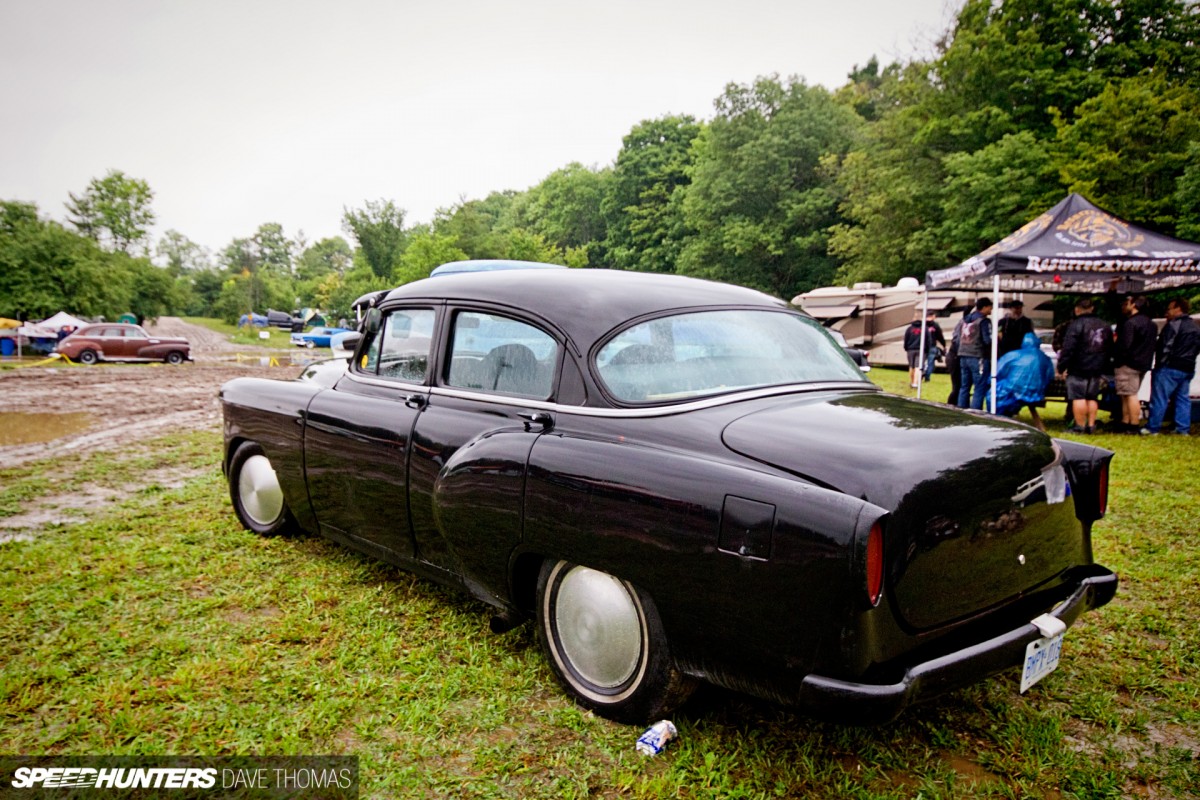 Should more subtle kustoms be your cup of tea these three black beauties should fit the bill.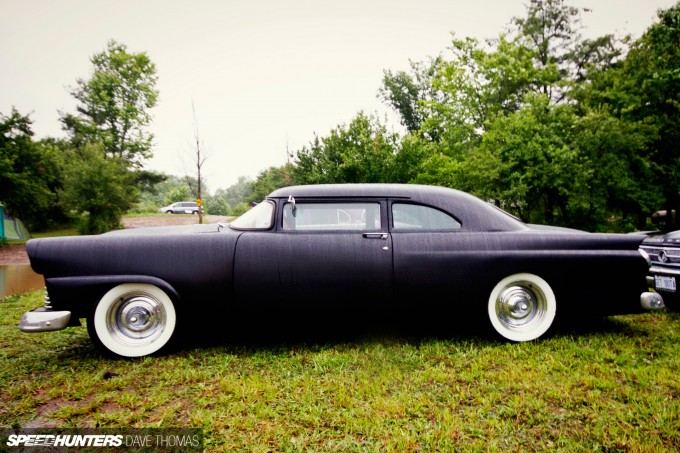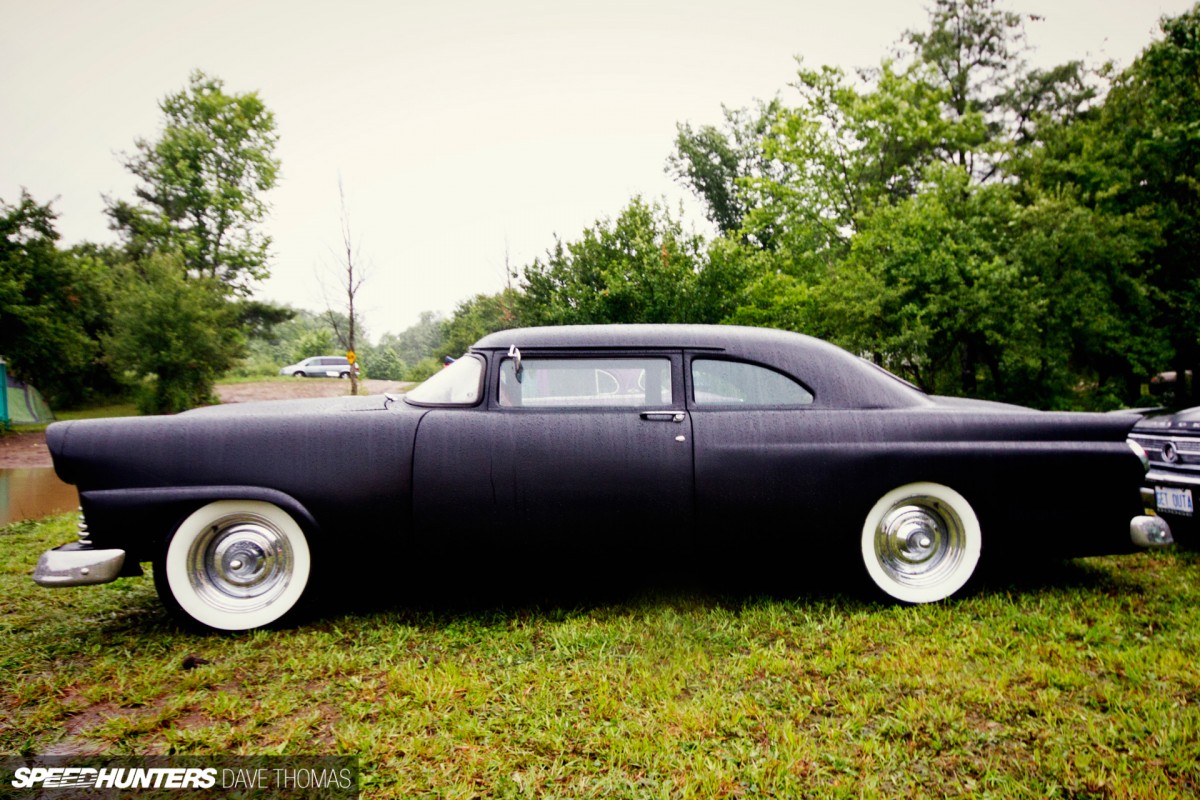 They are all unique in their own right yet each has two very important aspects of the kustom culture tying them all together – whitewall tires and that oh-so-important tail-dragging stance.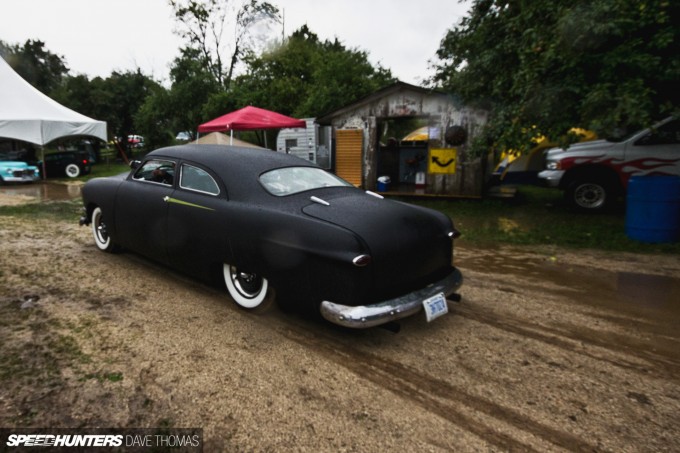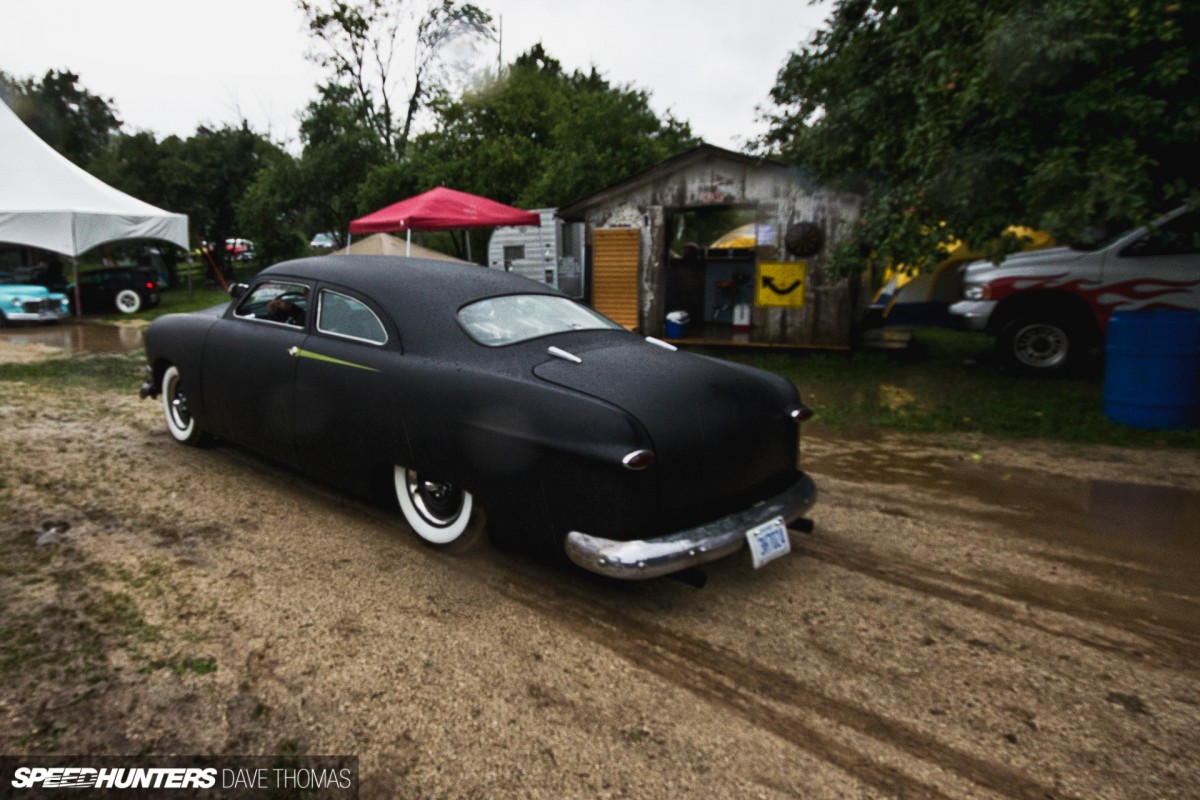 See what I mean?
Down & Dirty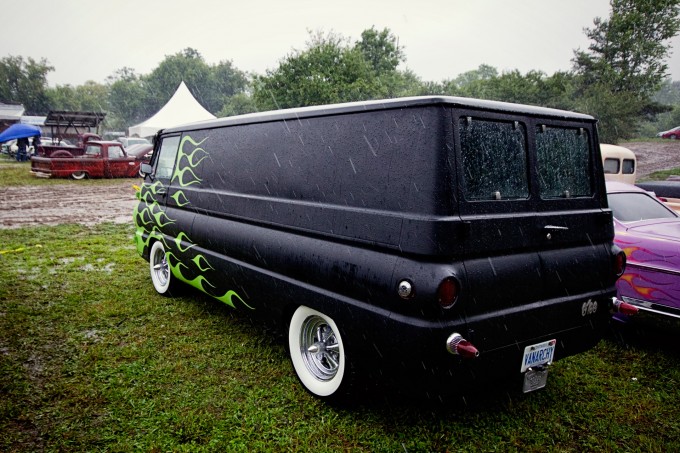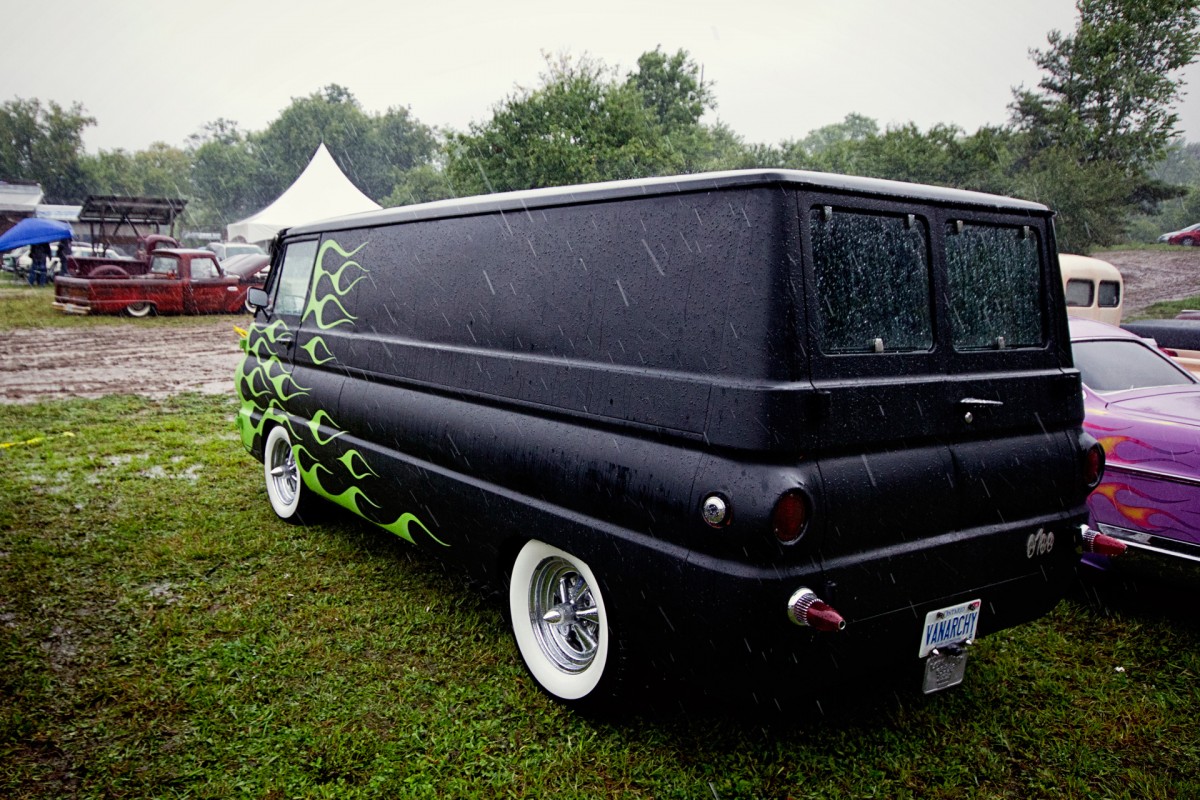 For as long as I can remember I've always been a sucker for anything low, so I couldn't help but circle back through the alternate parking lot for a second look at some of the trucks and wagons that were sitting nice and close to the ground.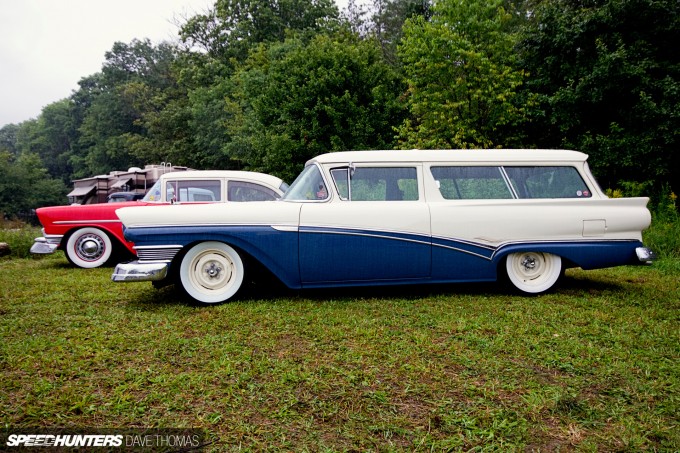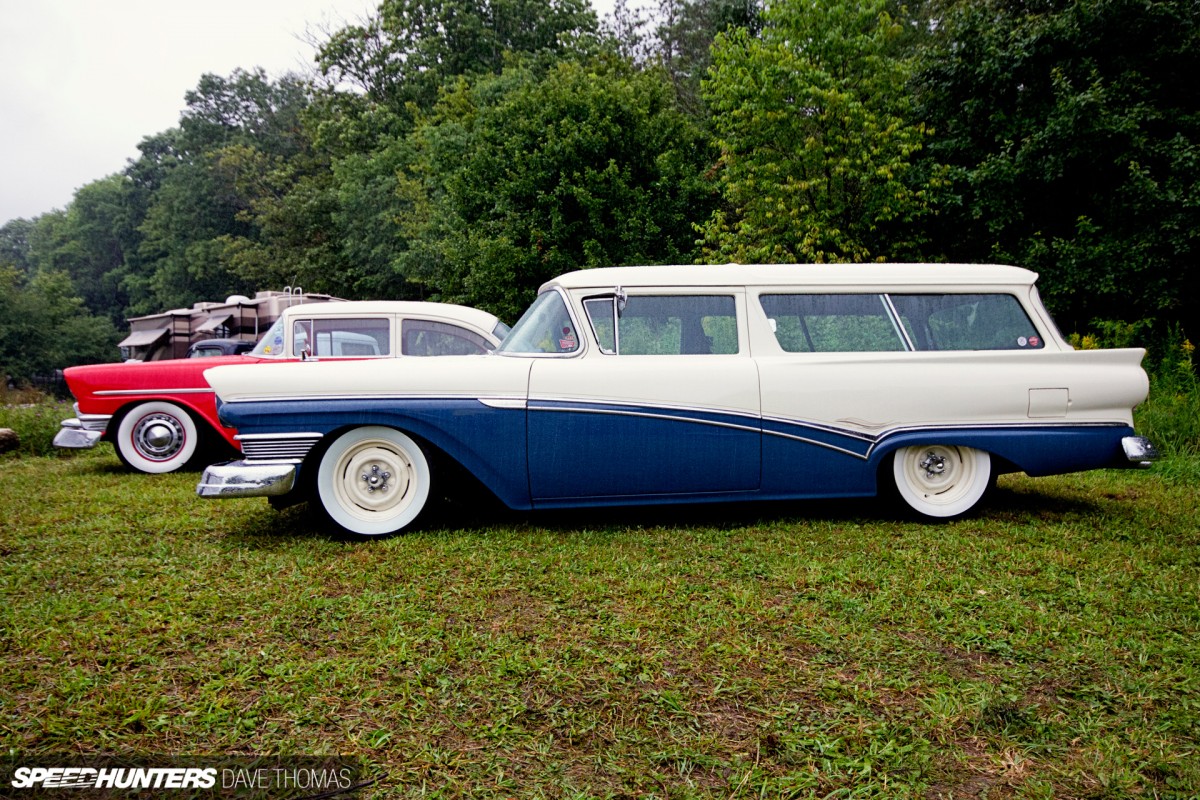 It may not have been laid out, but the slight forward rake on this big Ford wagon gave it an awesome profile. The subtle pinstriping that worked its way around the car was almost too perfect for words too.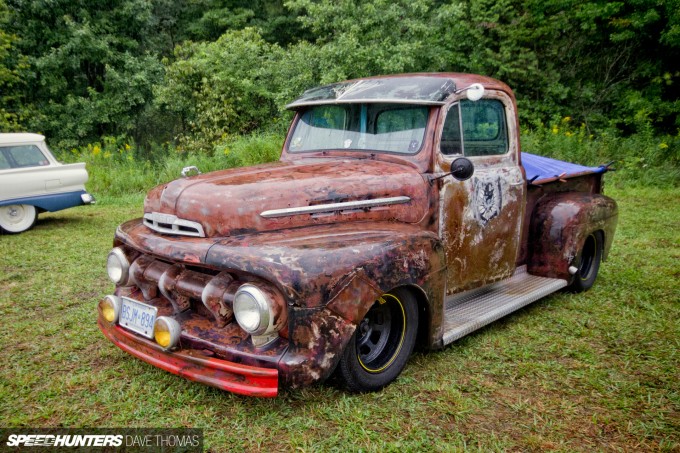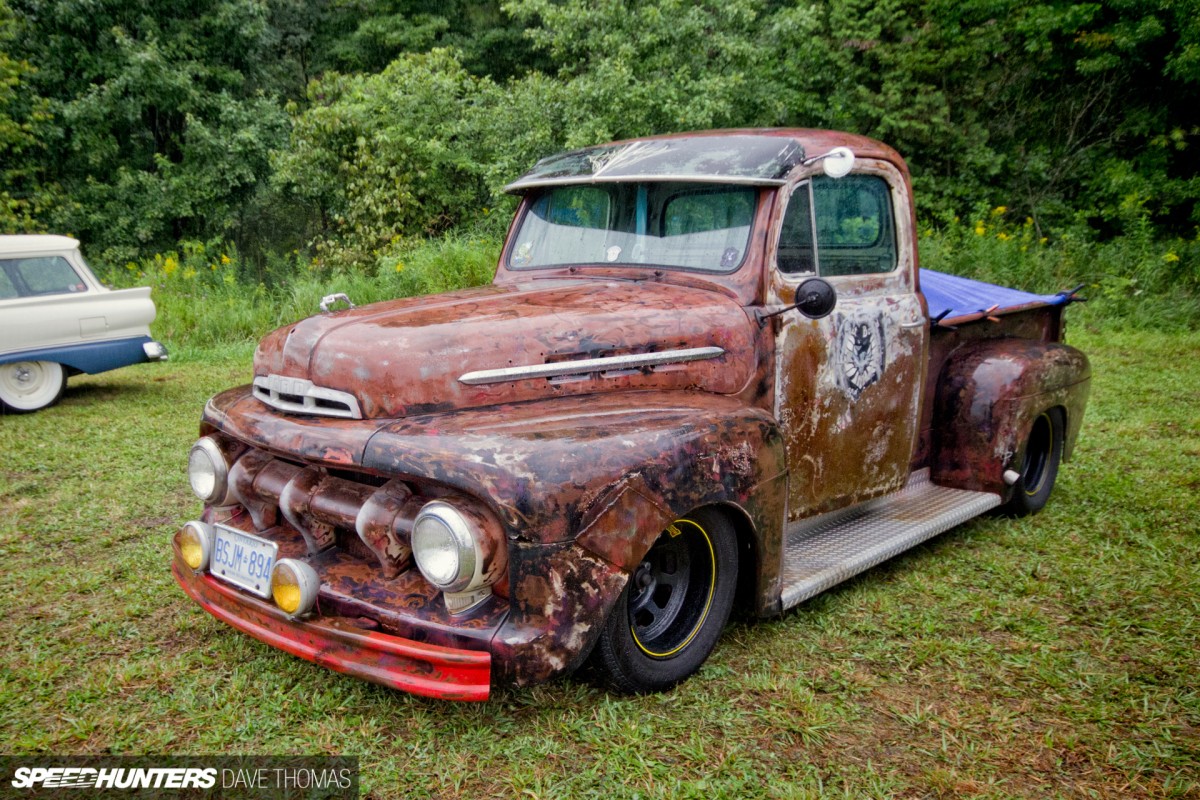 When it comes to trucks I'll admit that I'm more of a Chevy guy, but I found it impossible to deny the appeal of these two Fords. The Aero Race wheels on the '50s model might not be traditional, but the combination of those dirt track rims and side-exit exhaust makes me wonder if perhaps this truck might have some pro-touring chops hidden under the metal?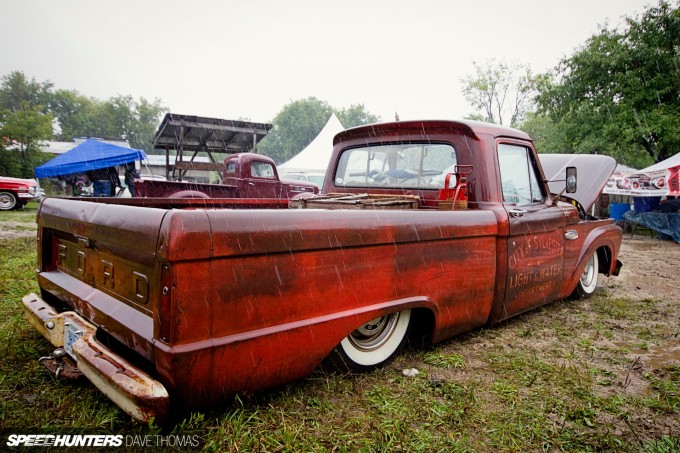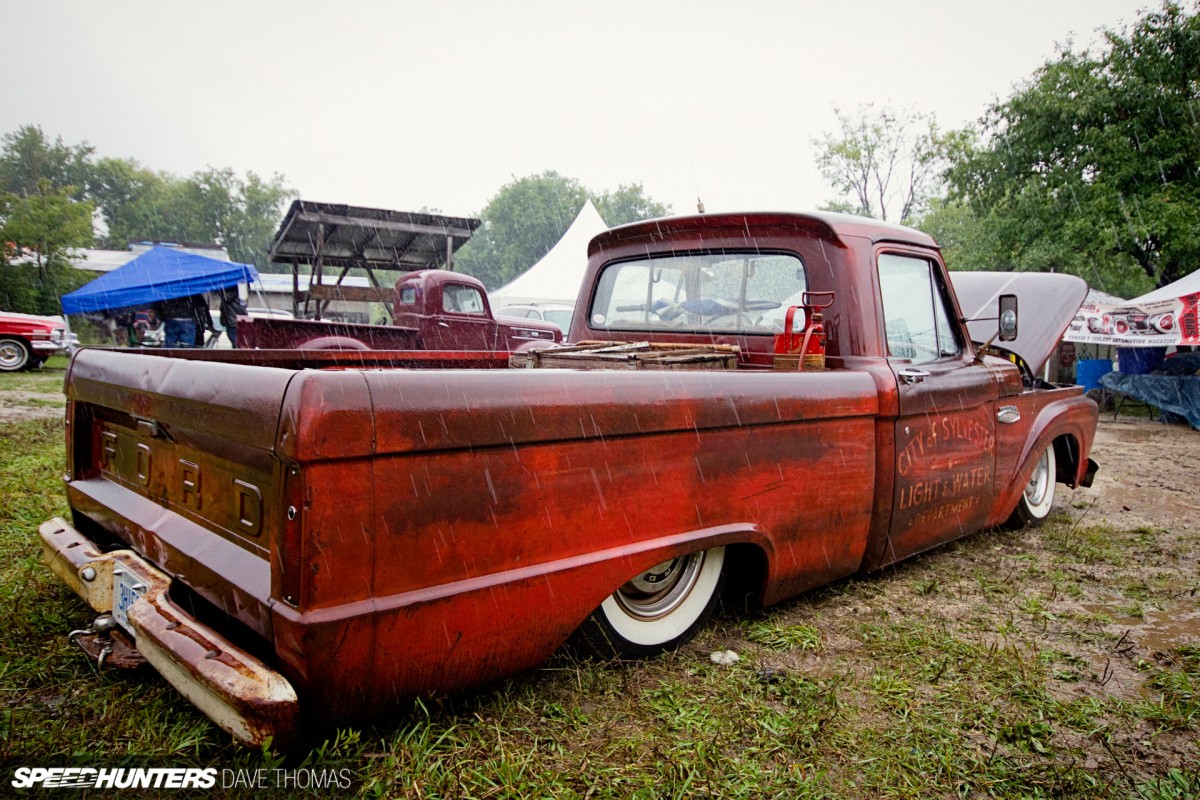 This '60s Ford pickup doesn't allude to any of its hidden performance as it was built to get down over whitewalls – and, by my count, it's done a might fine job indeed.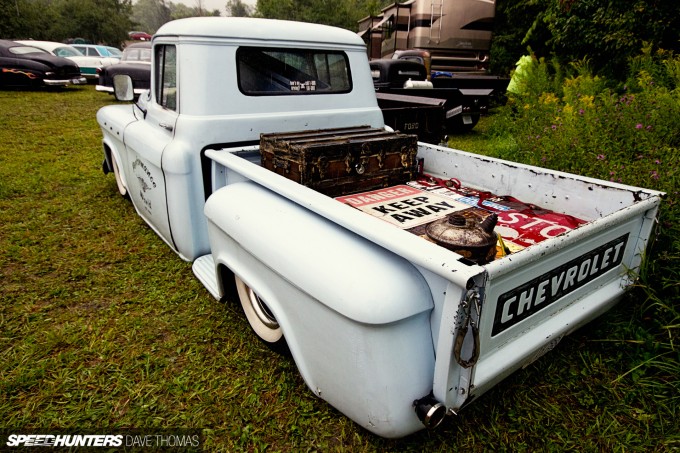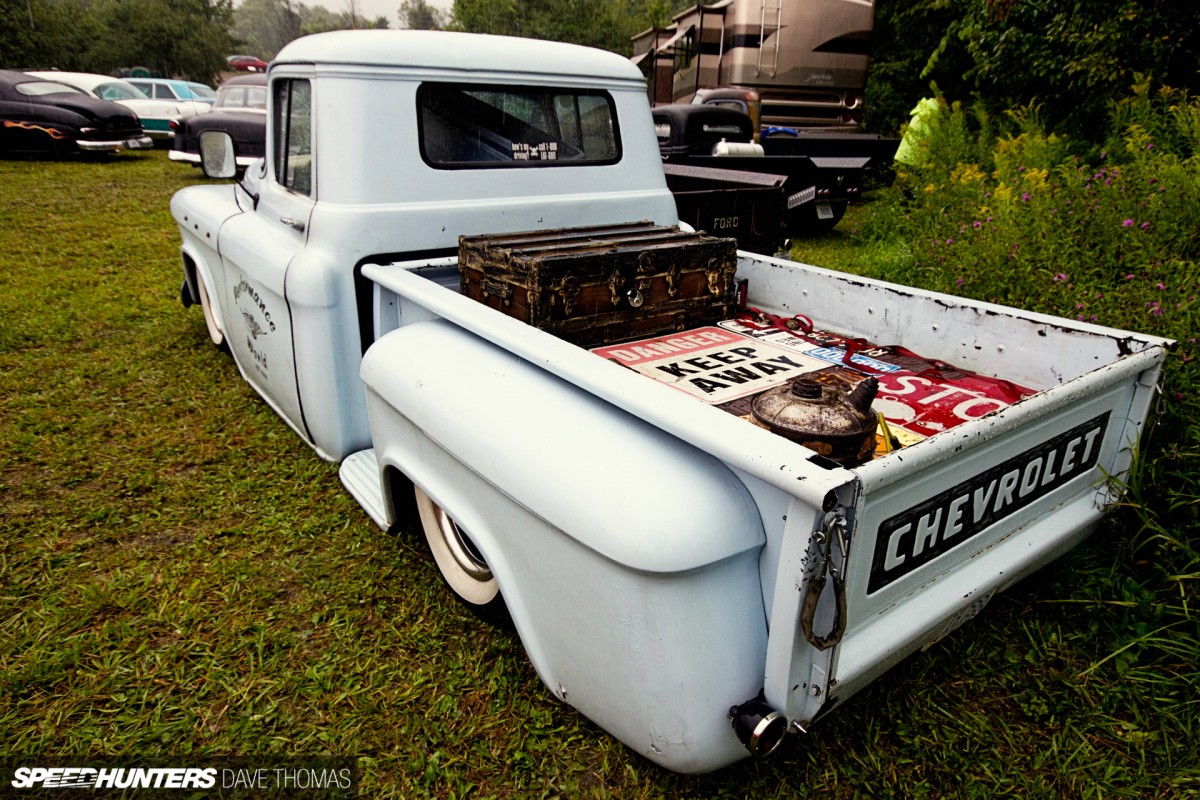 A truck after my own heart was this '58 Chevy. The light blue paint which had enough polish in some places, but enough patina in others, worked great over the hubs and whites. While leaving the air suspension open to the elements is a route many take when laying out these older Chevrolets, the owner of this truck decided to craft a bed floor out of road signs and old license plates. This repurposing of forgotten material was a great throwback to the 'use whatever was on hand' ideology that a lot of the other cars in the venue employed.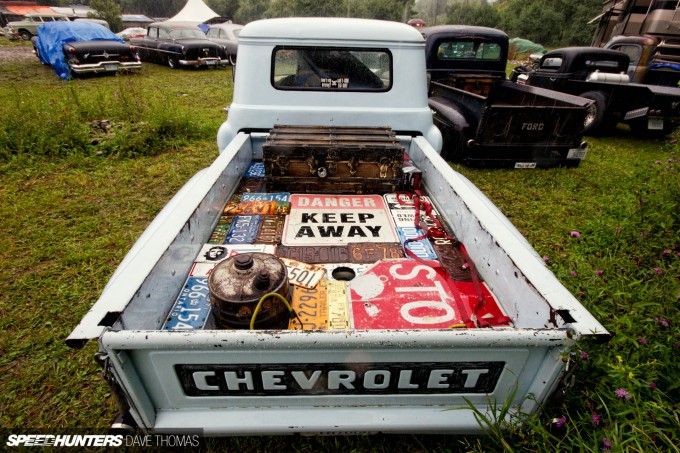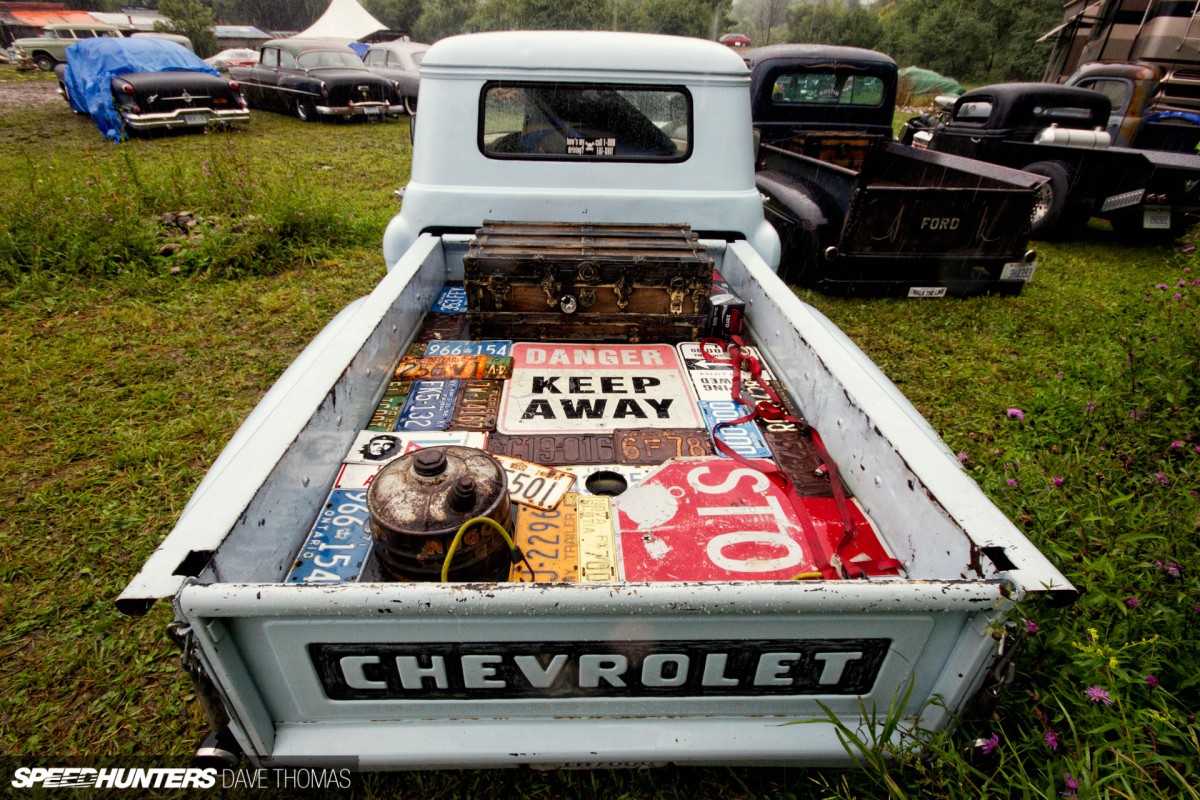 Even with the rain, mud and unseasonably cool weather, The Jalopy Jam Up was a resounding success and a welcome addition to the busy Ontario show schedule. Mother Nature may have had the last laugh this year but hopefully 364 days from now gearheads will get their day in the sun.
Dave Thomas
www.StanceIsEverything.com