Bucking The Trend, Learning The Lines
Power, screaming engines, cars disappearing into clouds of tyre smoke, noise, exuberance. Scandinavia's Gatebil festivals are a celebration of the extreme, so picking up the subtle note of an air-cooled engine amongst the madness is like hearing a bird singing in the middle of a pack of wolves.
Amongst the excess, it was refreshing to find something like this beautifully restored 1962 Karmann Ghia. Pure automotive enjoyment that needs your eyes, rather than your ears, to appreciate it.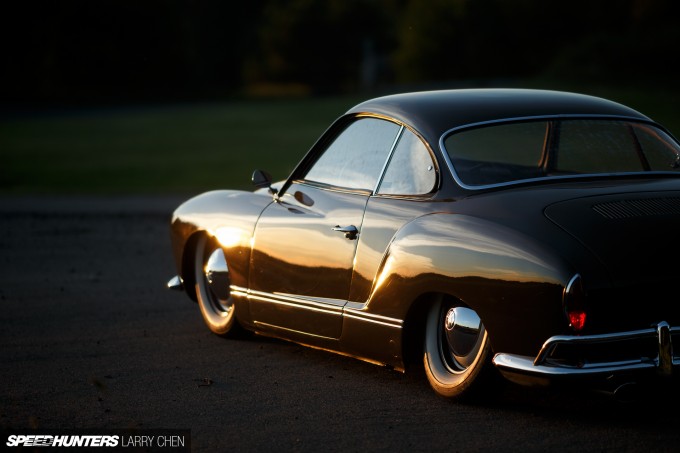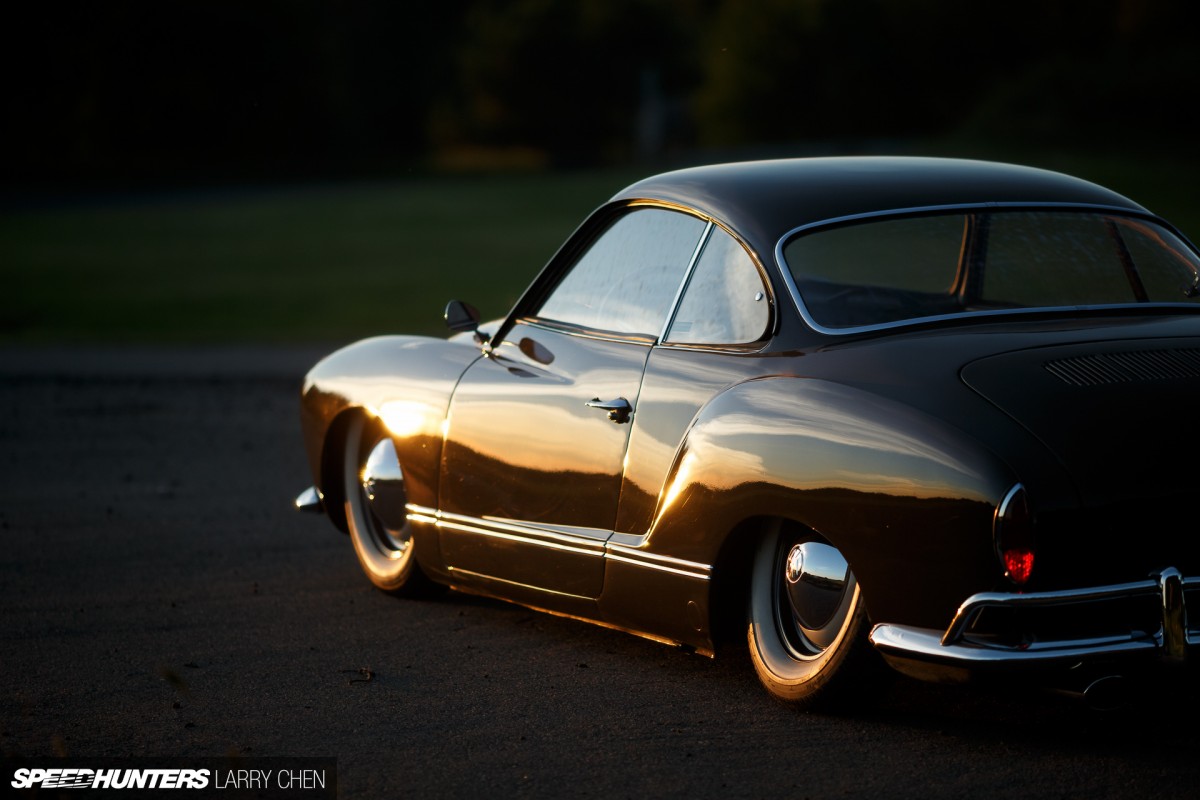 I always get stopped in my tracks when I see a Karmann Ghia, no matter the condition. There's something in their lines; a stylish look that, as we can see here, can be made to look timeless by some simple but well thought out additions.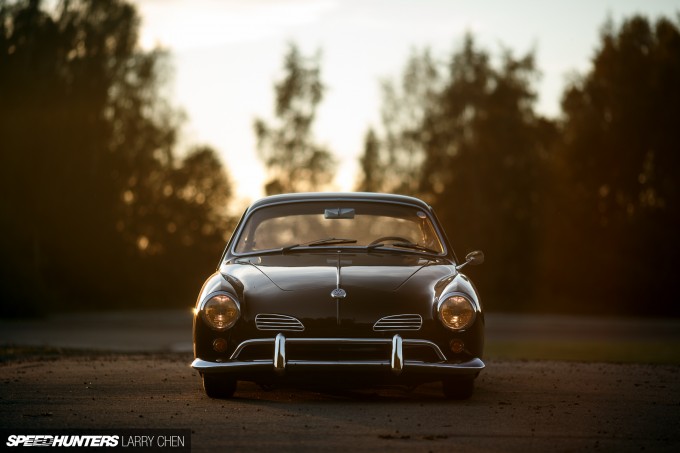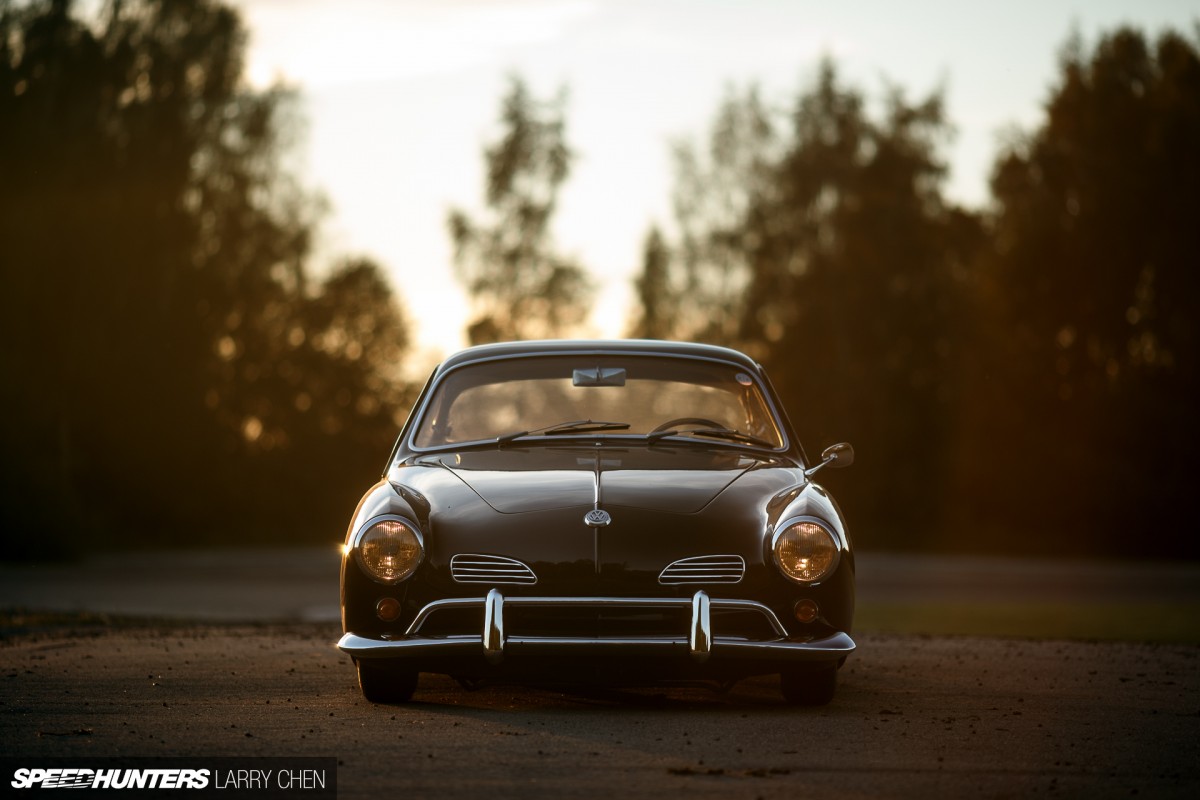 It's strange really – you don't tend to notice that many on the road. It's not like a Karmann Ghia is a rare car, because almost half a million were built. Small beans compared to the eight bazillion Beetles, sure, so maybe that's the reason why they seem a relatively rare sight out in the wild, in vintage VW terms at least.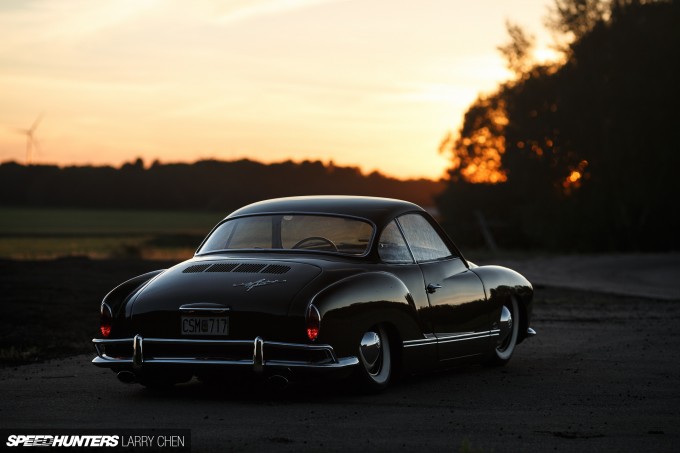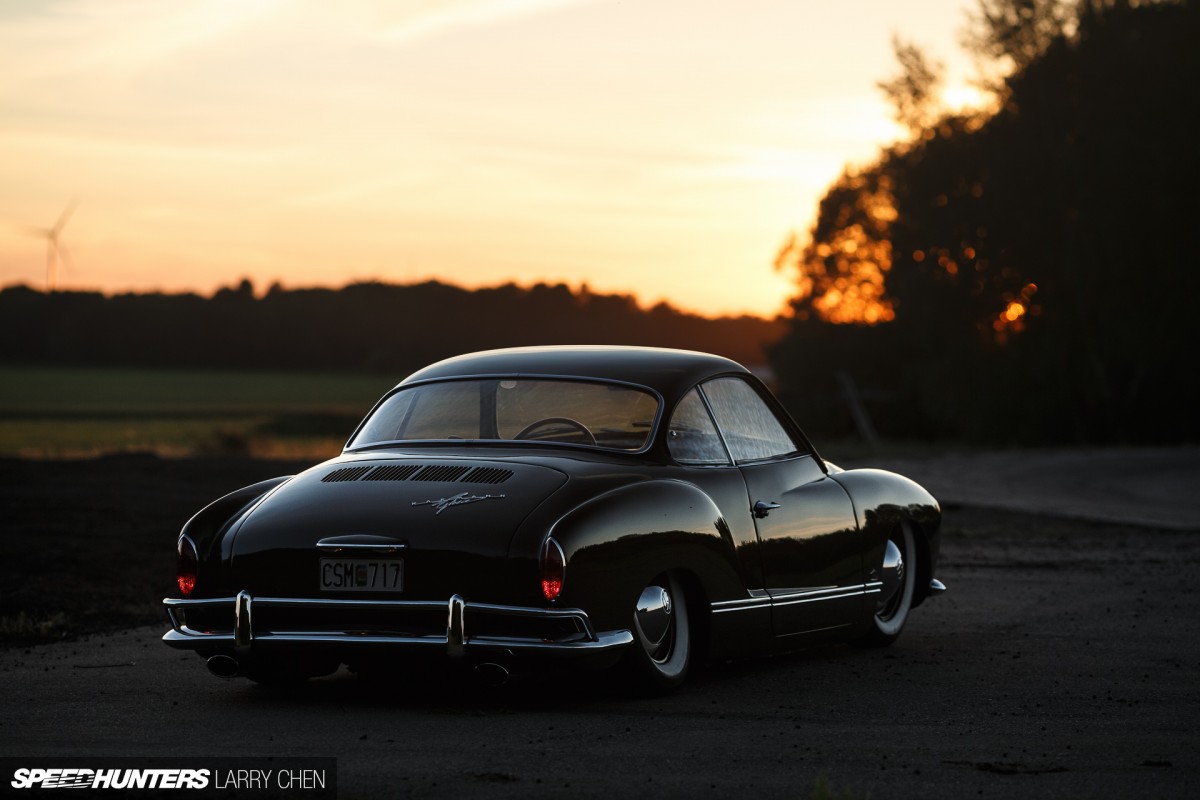 This is a car that was the perfect combination of German coachbuilding prowess (the Karmann part) and Italian penmanship from Ghia in, naturally, Turin.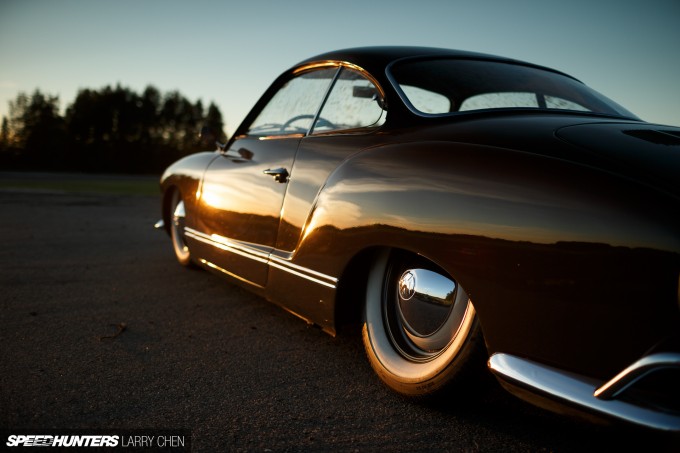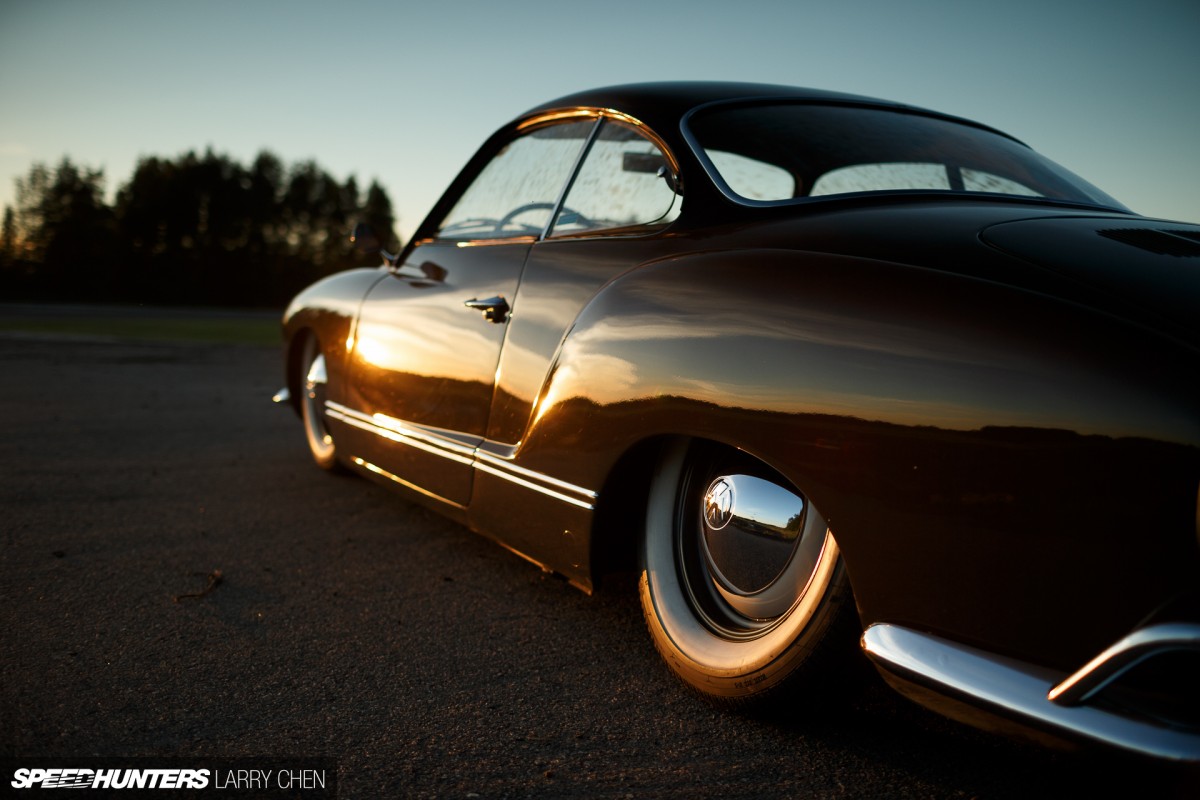 Karmann Ghias retain elements of 1930s luxury – almost Art Deco from some angles – but present a surprisingly small and raked, more modern frontal area. I think it's because of the graceful body that people tend not to go too crazy, instead working with that shape as a starting point. In my mind the closest comparison is a 911. You don't mess with a classic unless you're going all the way.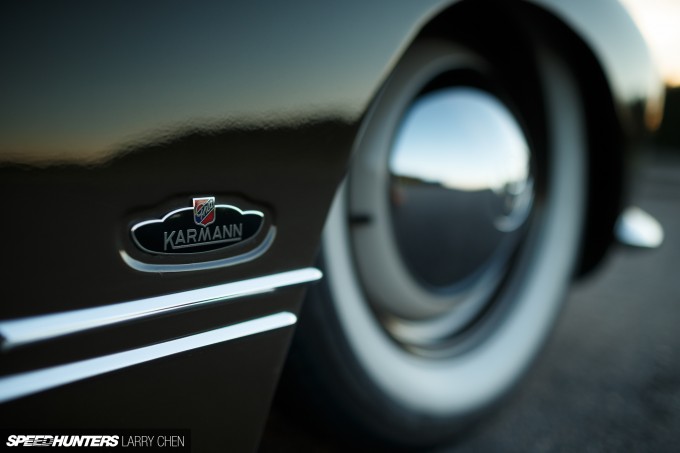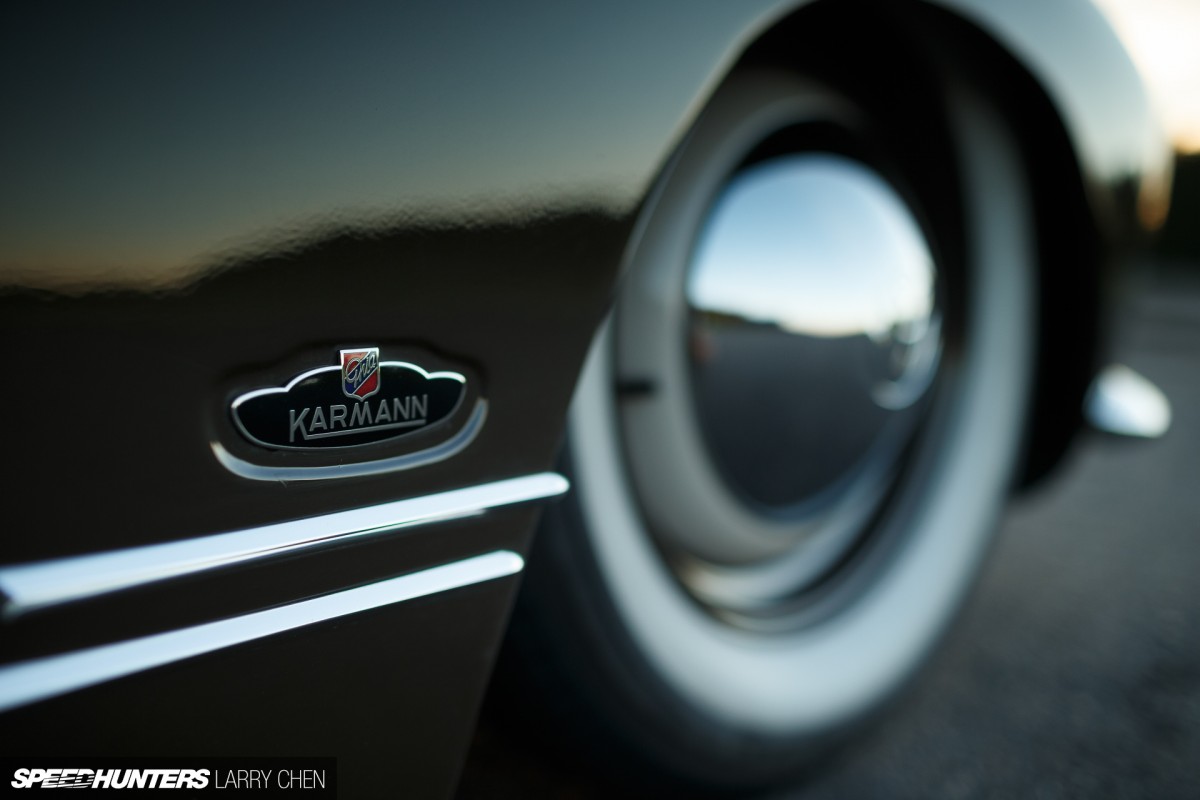 Karmann Ghias just seem, well, iconic in their own right – like the 911.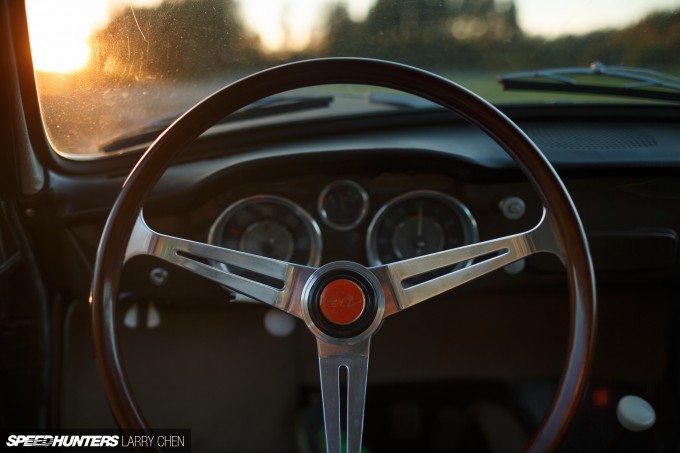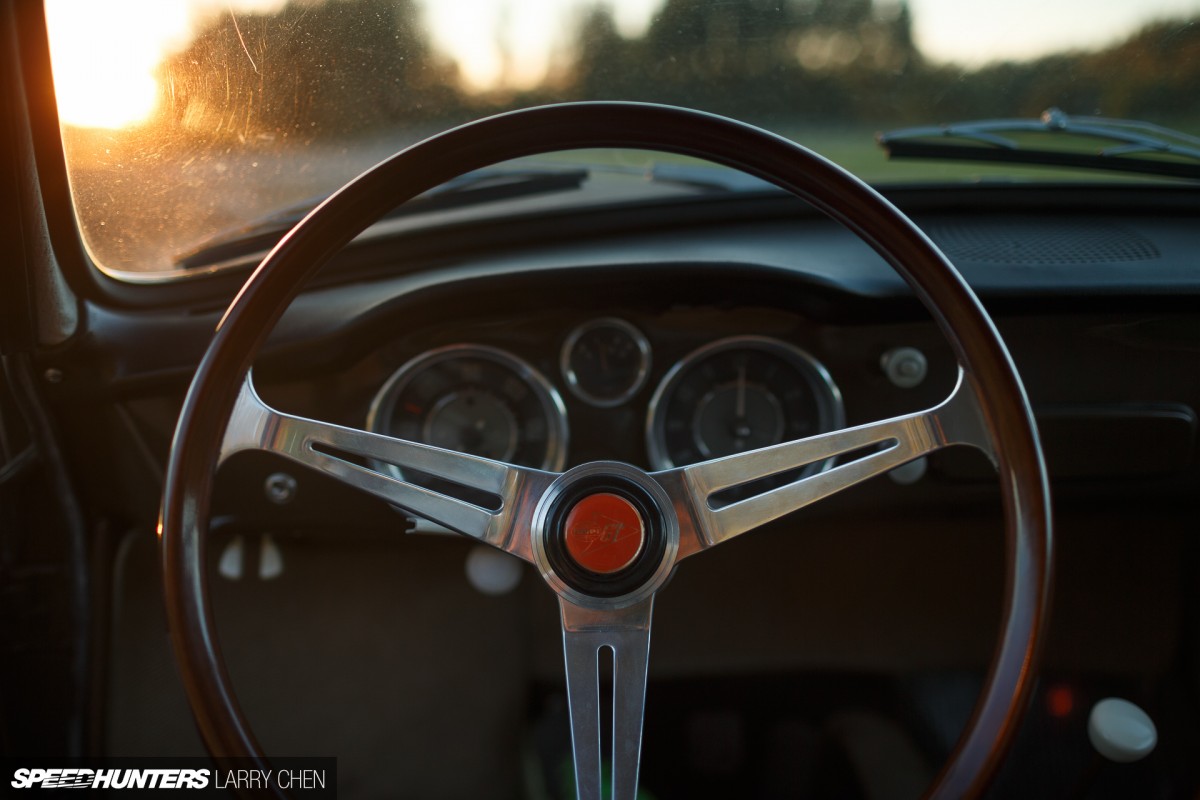 I say this as a former owner of a Beetle who also spent many Junes trundling along the autoroutes to Le Mans in a split-screen Camper – both vehicles I have a deep affection for and respect unreservedly. I love what you can do with them, how far people can and will go; but I also respect the reserve typically shown to the Karmann Ghia.
Respecting The Reserve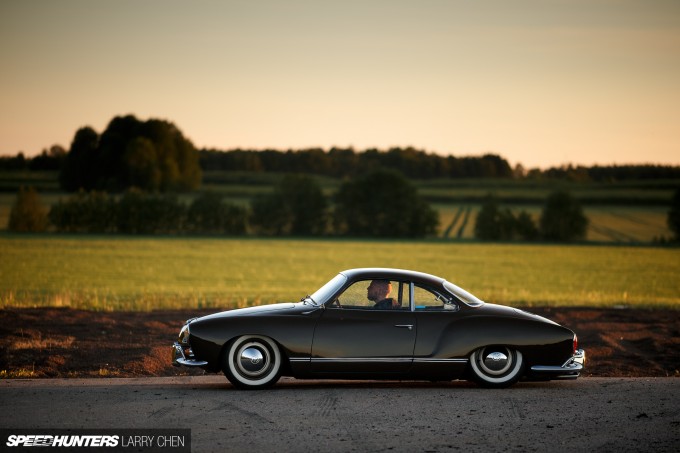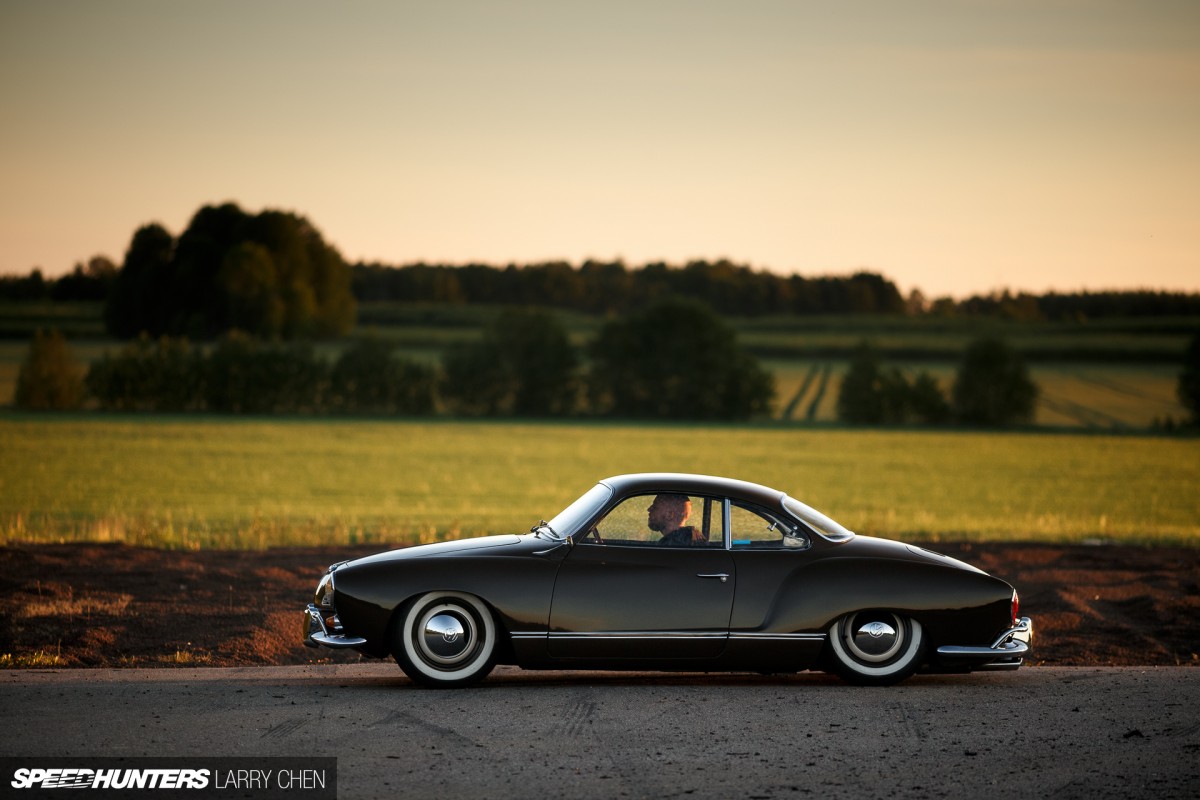 It's in a Beetle's nature to be chopped and hacked into wild and wacky shapes, but its slightly younger sister has more of a refined air about her. With Beetles and Karmann Ghias it's typically the older sister who's the crazy punk with the spiky hair and the younger one who's more prim. The most successful ones might have a little nip and tuck, shave or drop, but retain the overall proportion.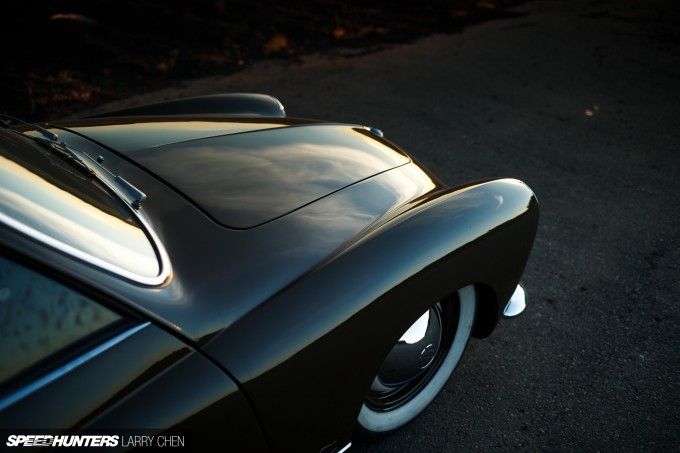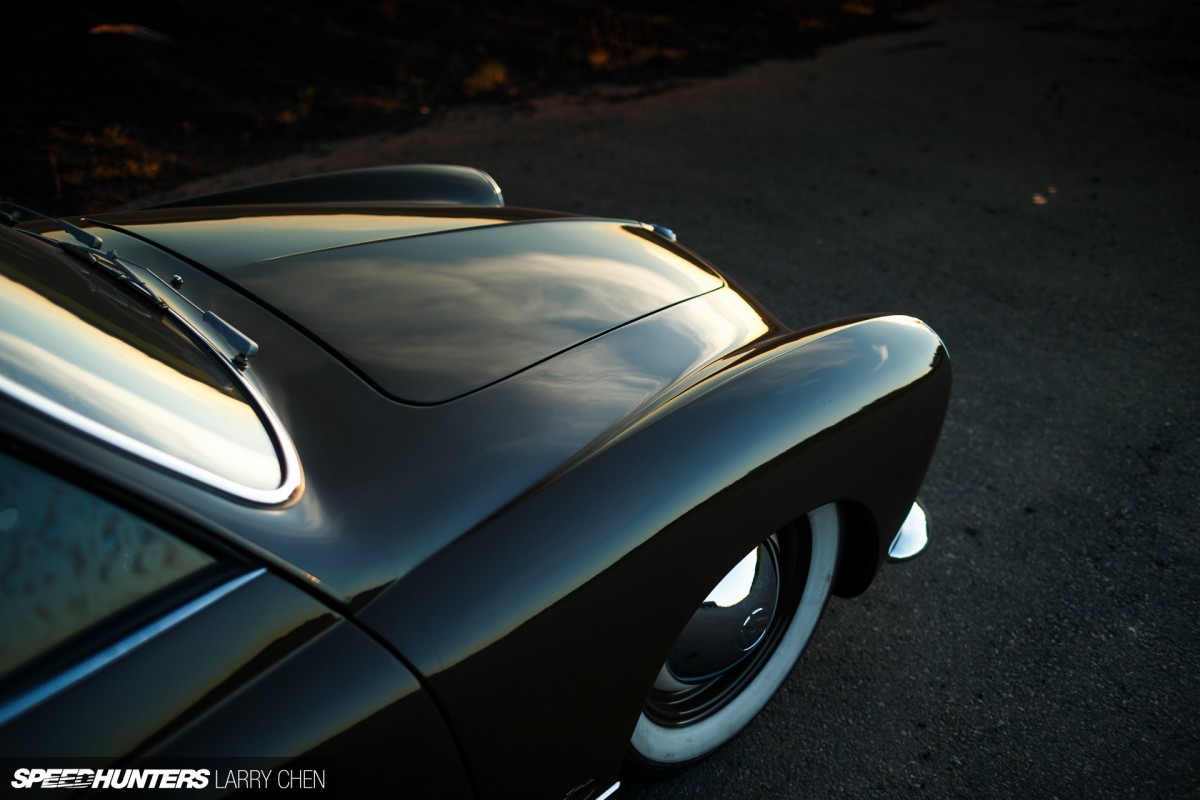 I'm not suggesting that Karmann Ghias should be left unmodified. There is just something curiously different about them. That if you turned up for an important interview and got out of one of these, it says something different than if you got out of a slammed Beetle. Not good or bad, just different.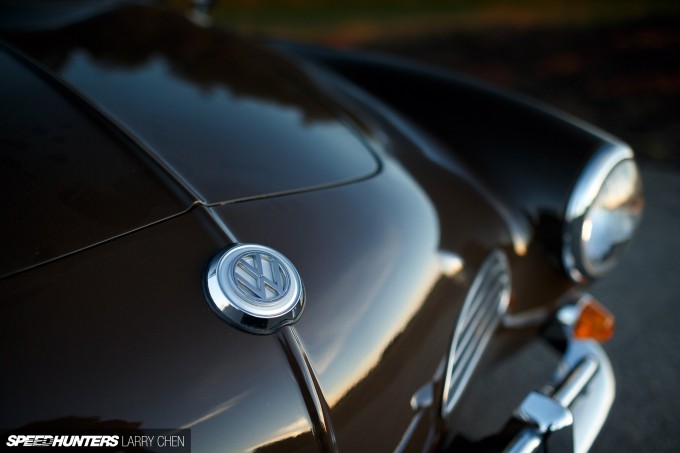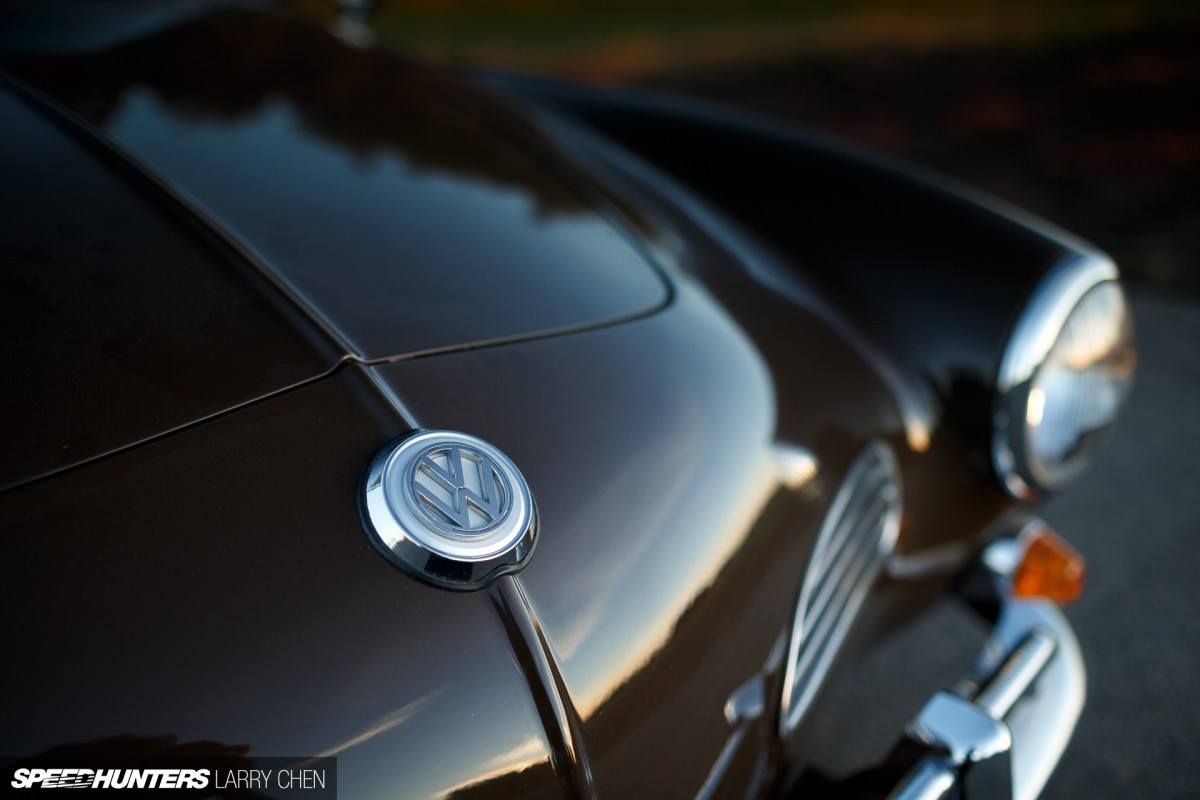 Volkswagen love affairs tend to start early and can often be inherited, as was the case with this beautiful Karmann Ghia that belongs to Alexander Pouzar. In fact, both he and his twin brother benefitted from the passion of their father, who bought a pair of Karmann Ghias for them as first cars.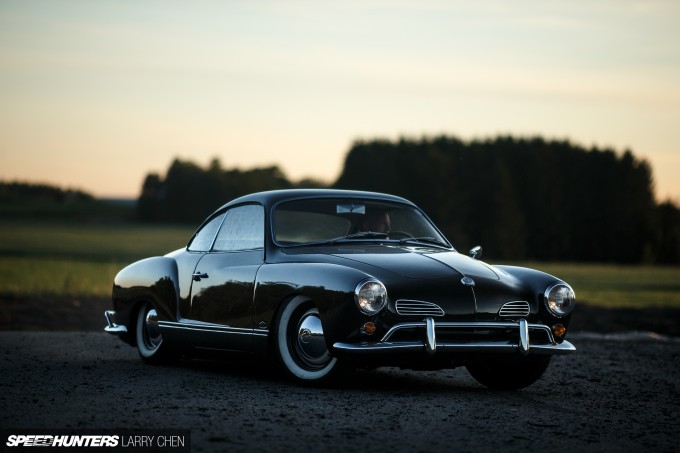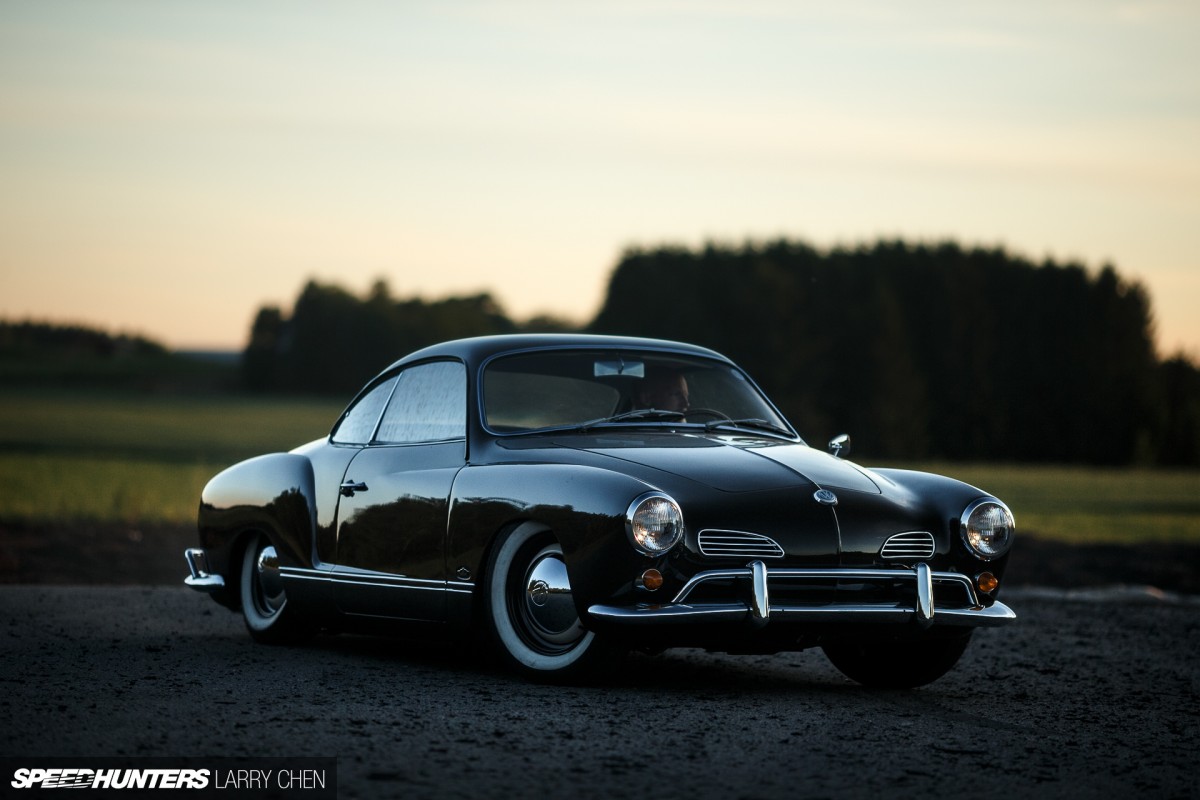 Mr Pouzar Sr. was a long-time air-cooled fanatic – once bitten, never shy – so agreed to restore Alexander's 1962 car in time for his 18th birthday.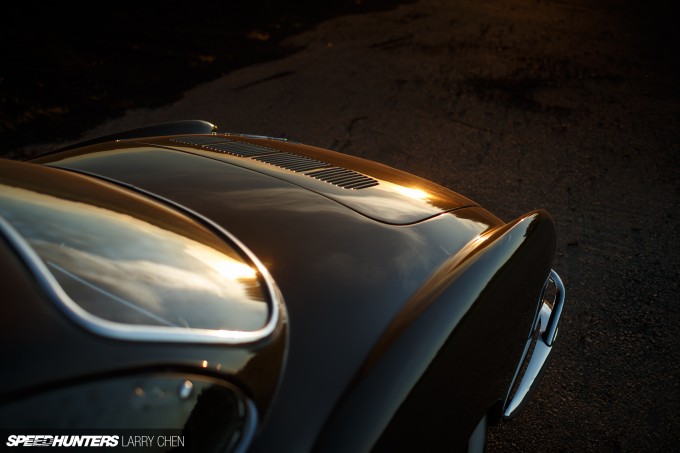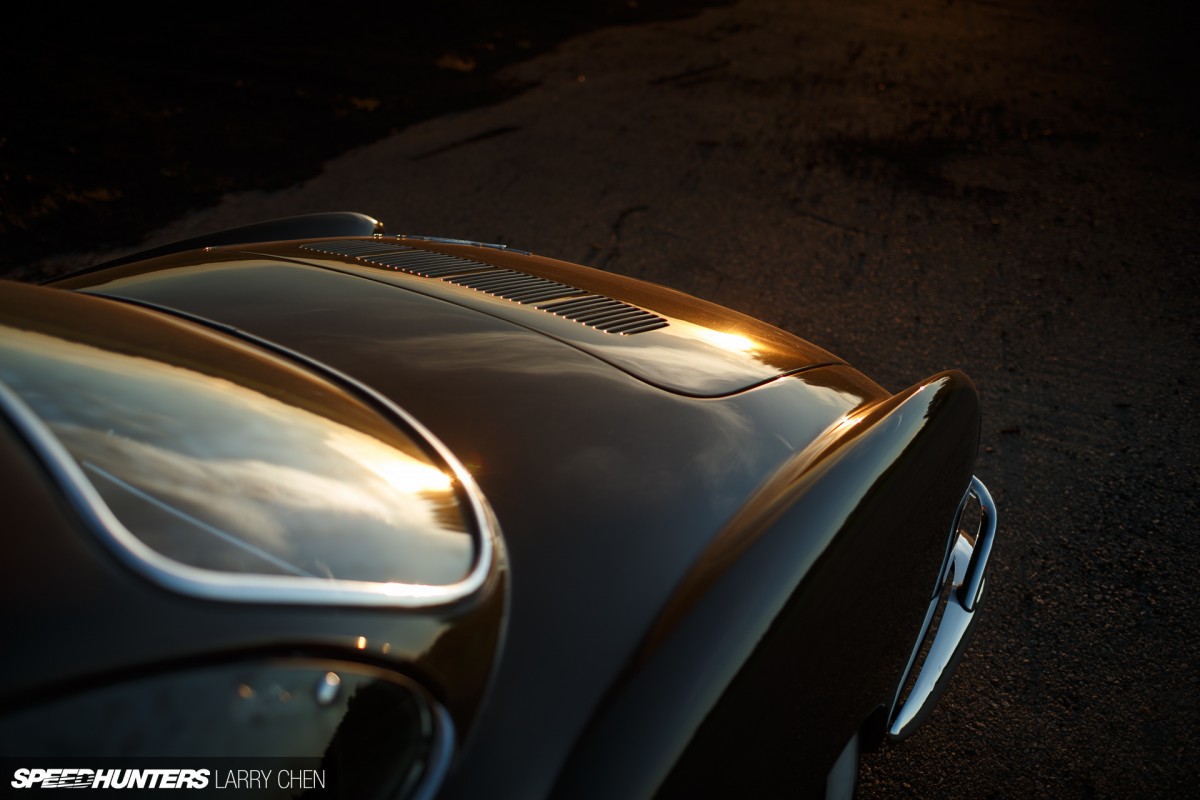 The starting point was what you'd expect with a 52-year-old, whether car or human. Optimistic about life, but realistically dealing with creaky joints, problems with fluids and a body that was falling apart. Sometimes I suspect it's actually better to have that kind of base to work from as you know from the off that it's all or nothing.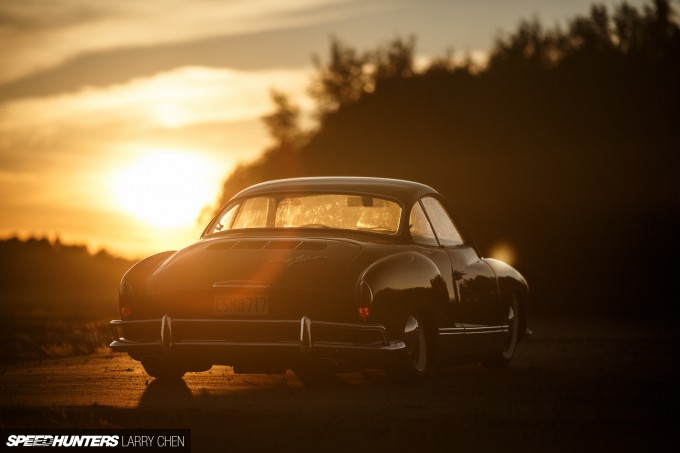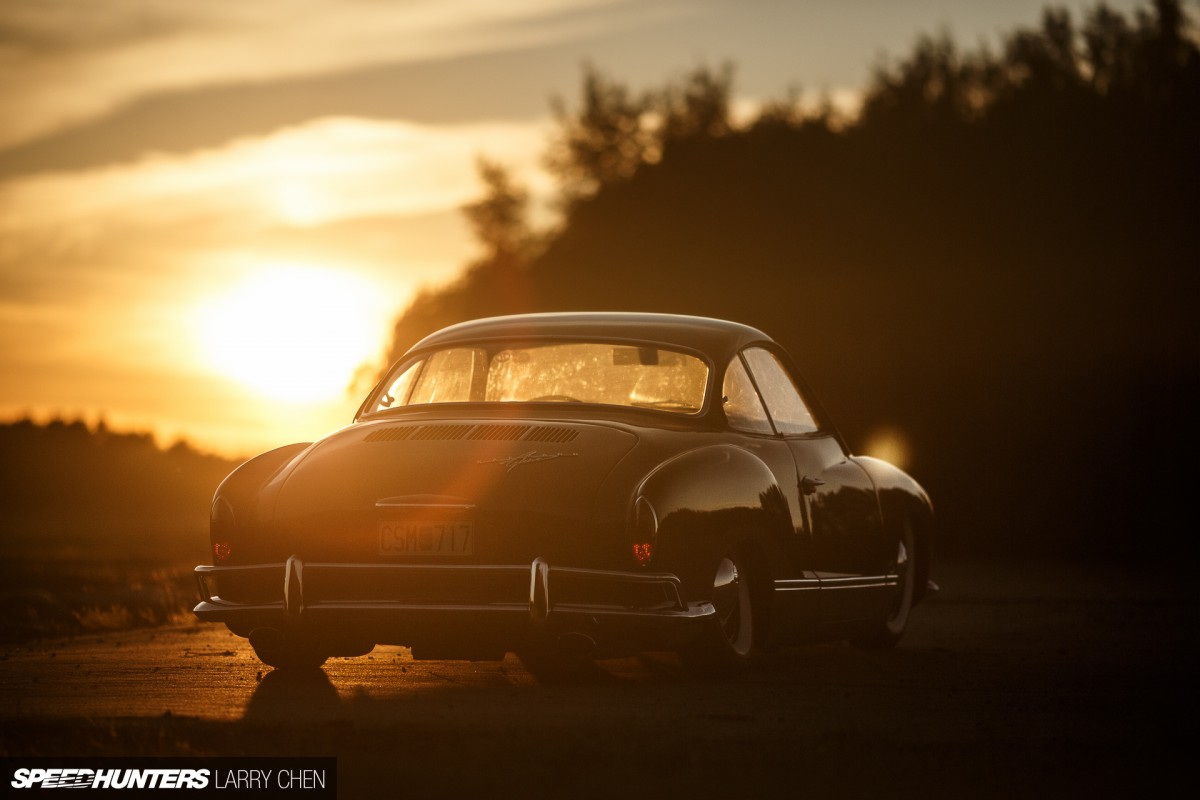 They stripped the body right back, separated it from the chassis and started work, dealing with the various bits of rust and panel damage. Particularly bad was the right-rear wing.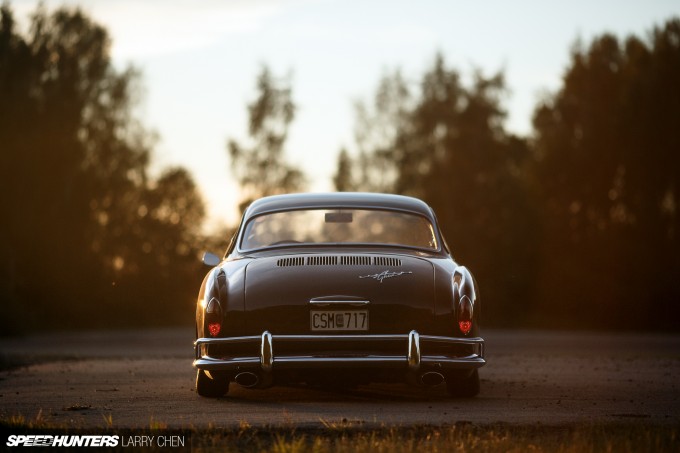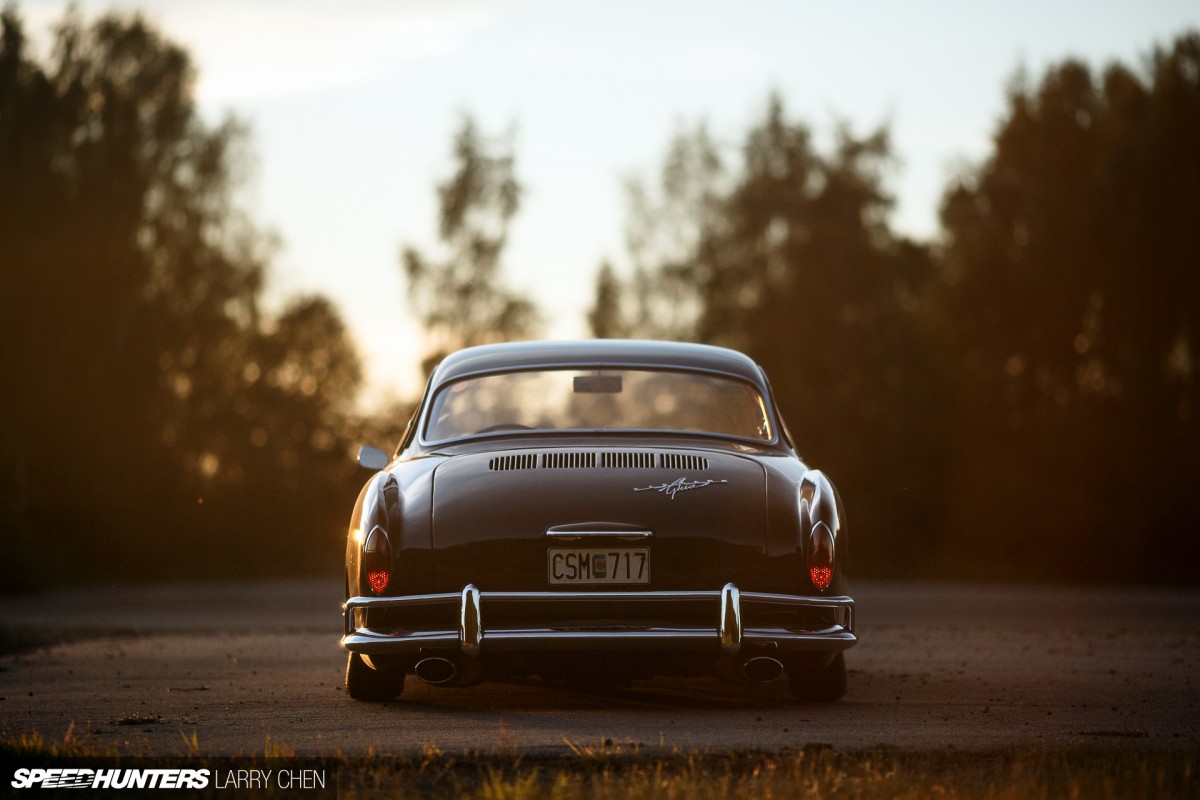 Mr. Pouzar completed the work in just seven months, and looking through the build pictures shows the amount of work involved – but also proves that this restoration is going to be around for some considerable period of time.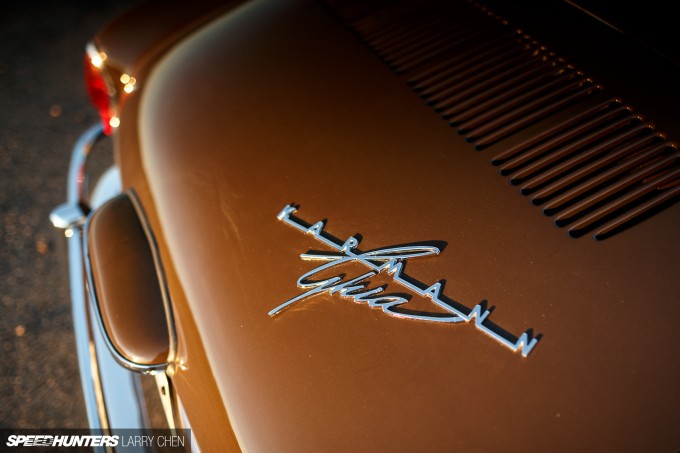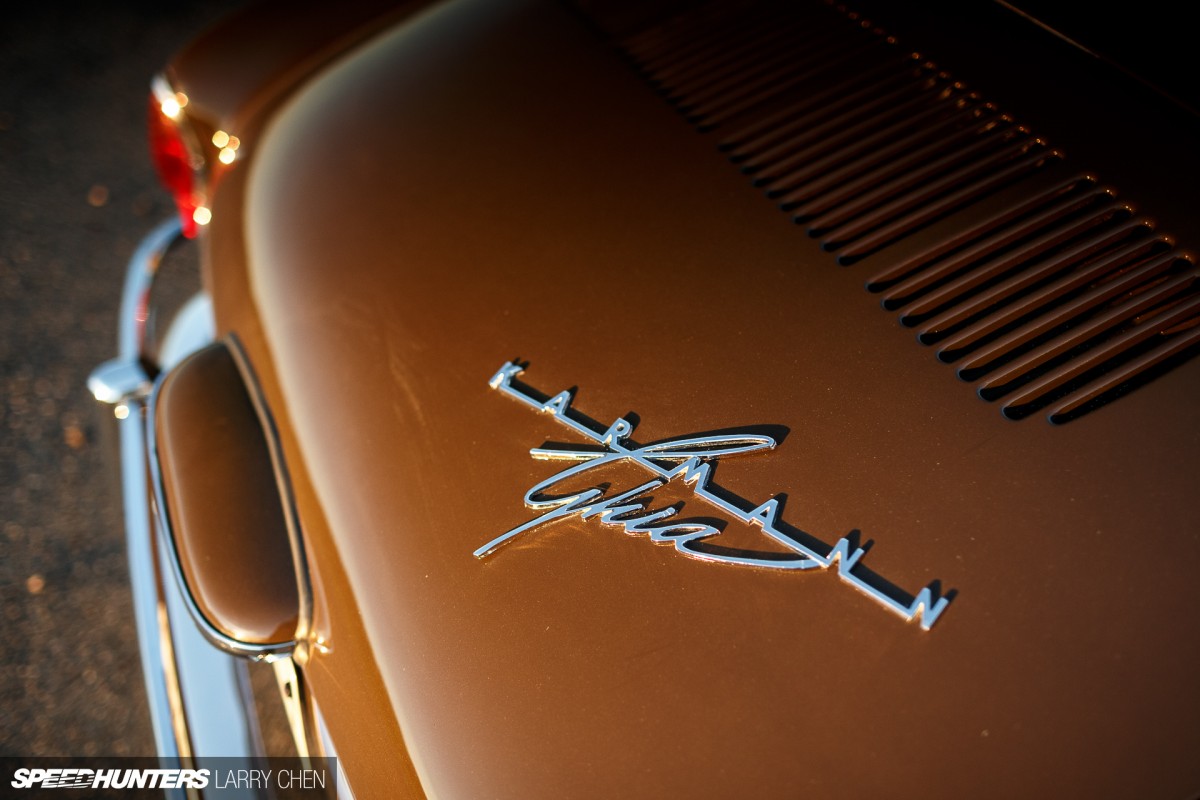 The bodywork absolutely gleams and features all the original chrome work. Then there's that colour, Texas Brown – in Alexander's own words 'poop brown'. It's bold, archetypal '70s and it's perfect.
Quality Inside & Out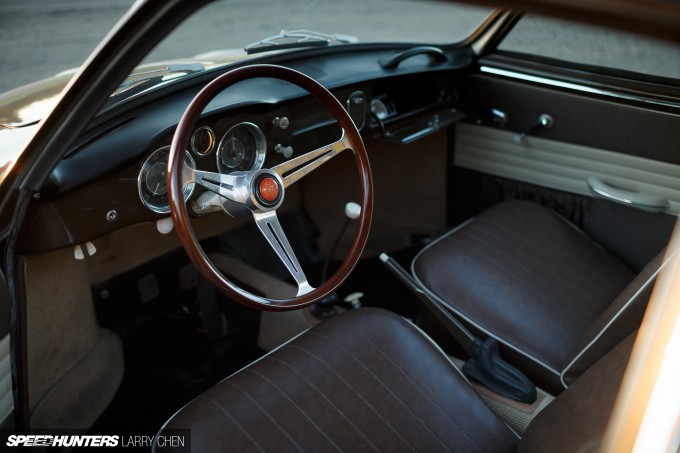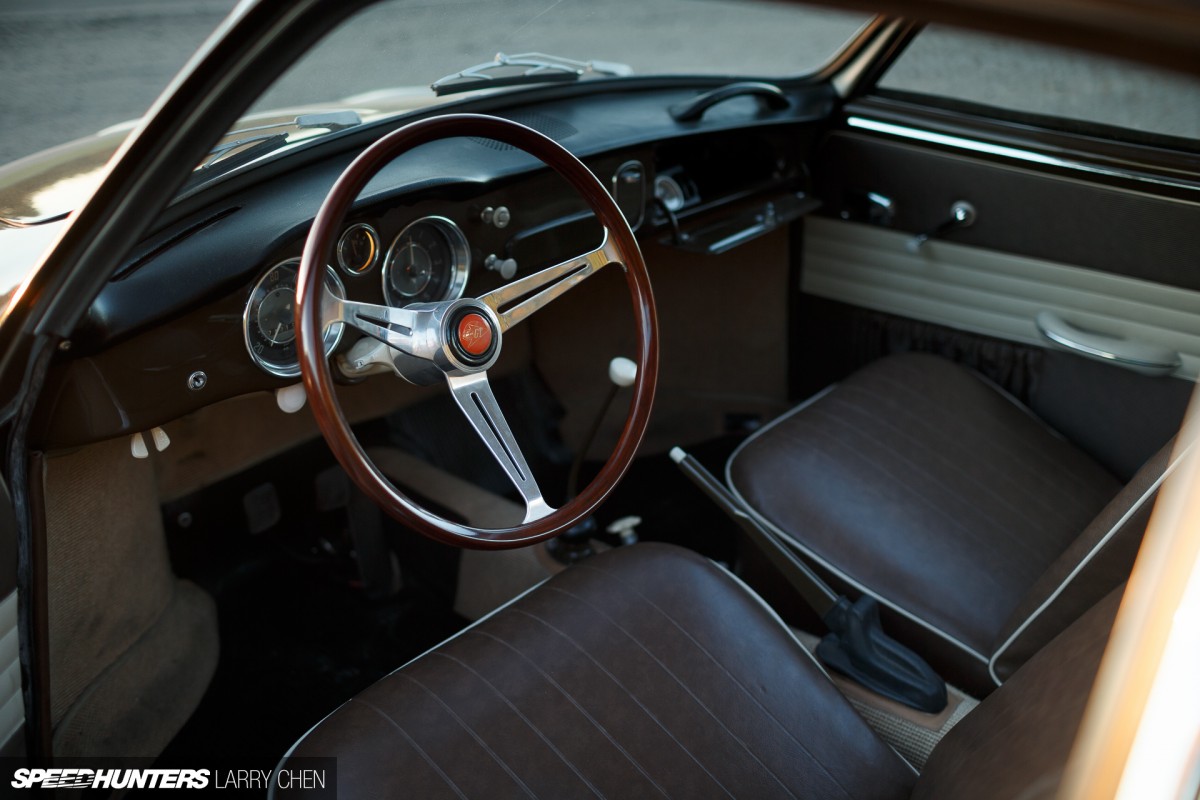 The interior is a beautiful place to be, again, following authenticity as a guide but with a lick of fresh materials and paint and the application of buffed-up original pieces.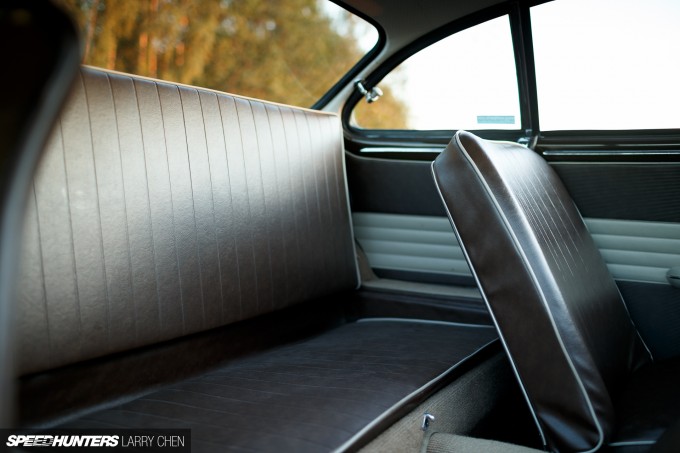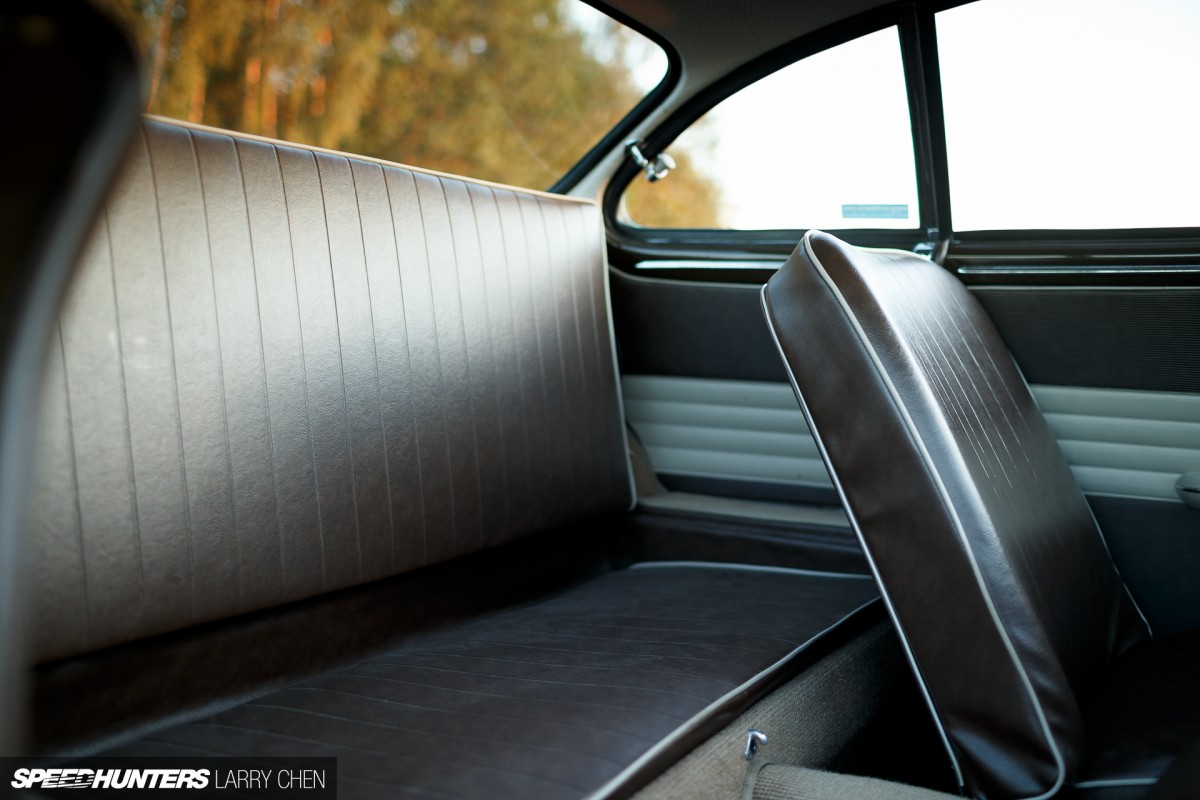 The light piping on the seats and contrast stripe around the interior look great against the classic brown vinyl that goes hand-in-hand with the exterior: surprisingly tasteful, yet nice and retro. The refurbished seats also look far more solid than I would expect!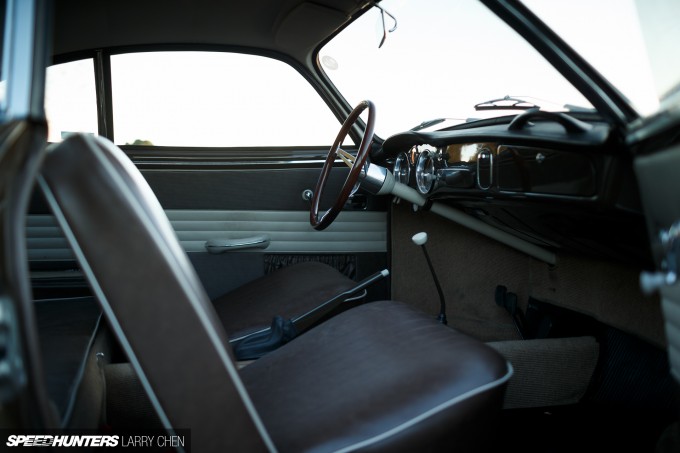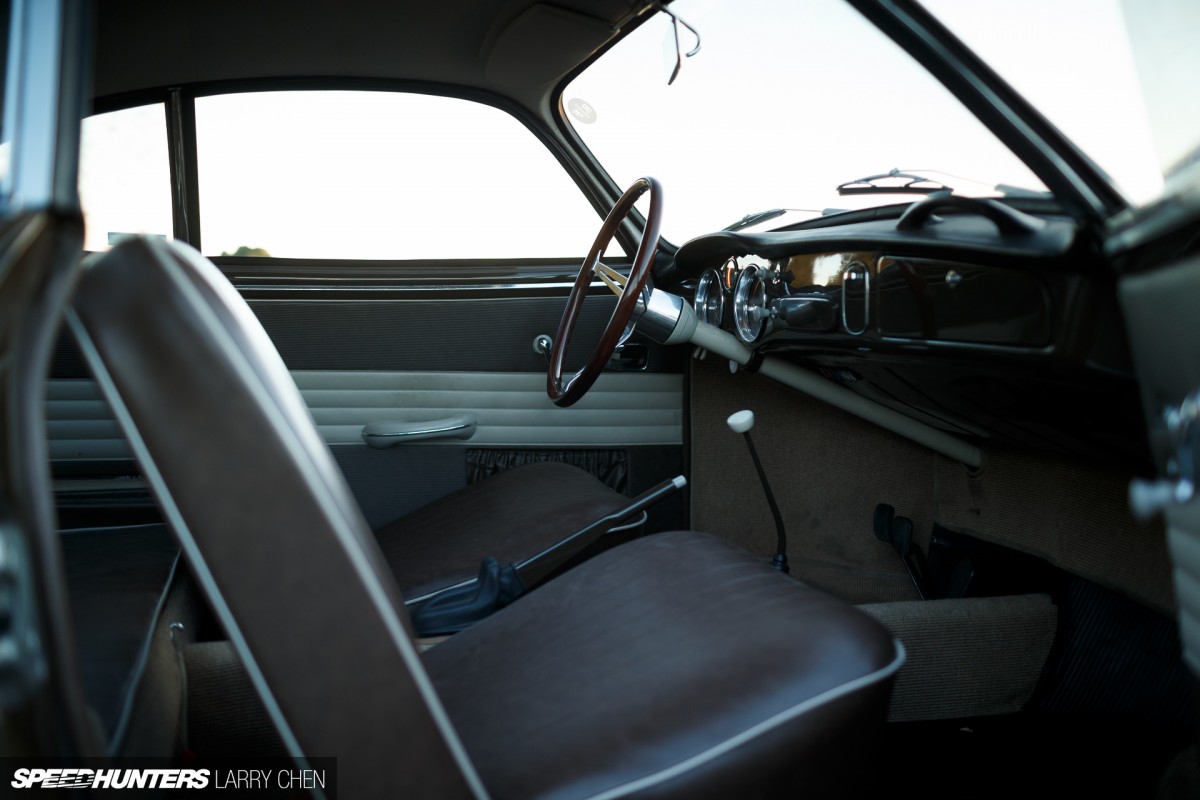 The carpet is from vintage VW specialists Himmelservice over in Germany, the beige bouclé finish the perfect offset to the upholstery.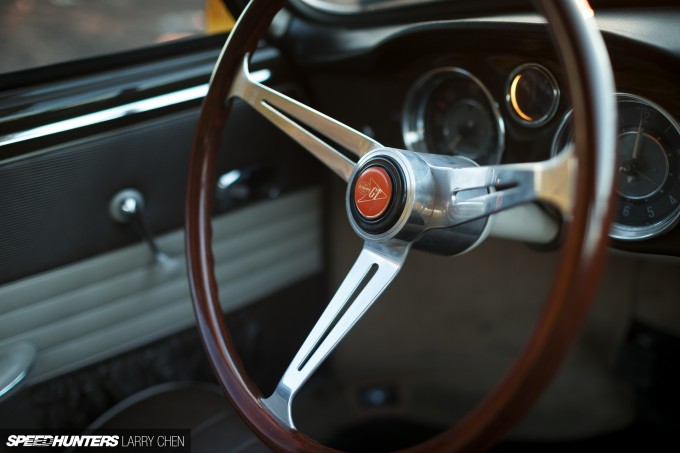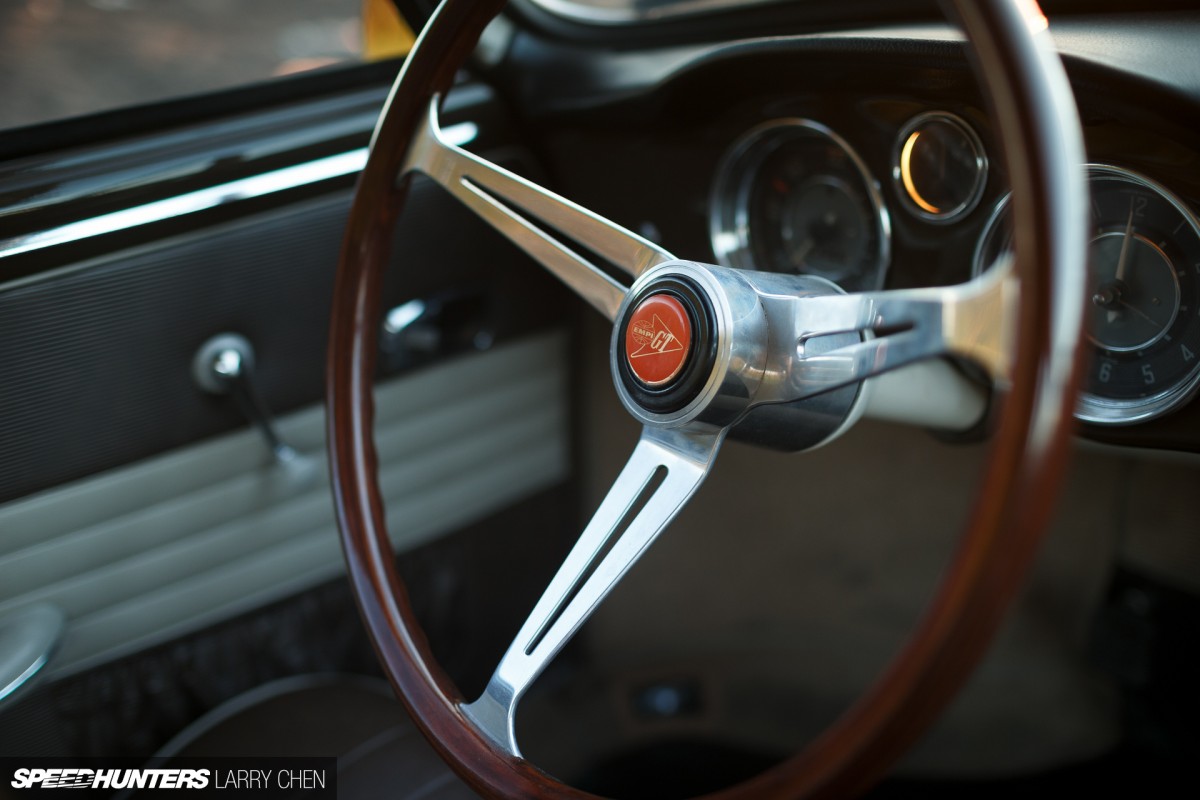 Similarly the Empi GTV wheel is a touch of classic chromed class.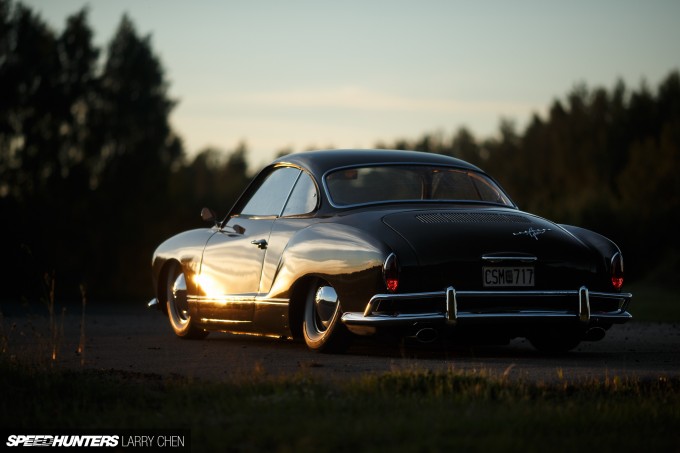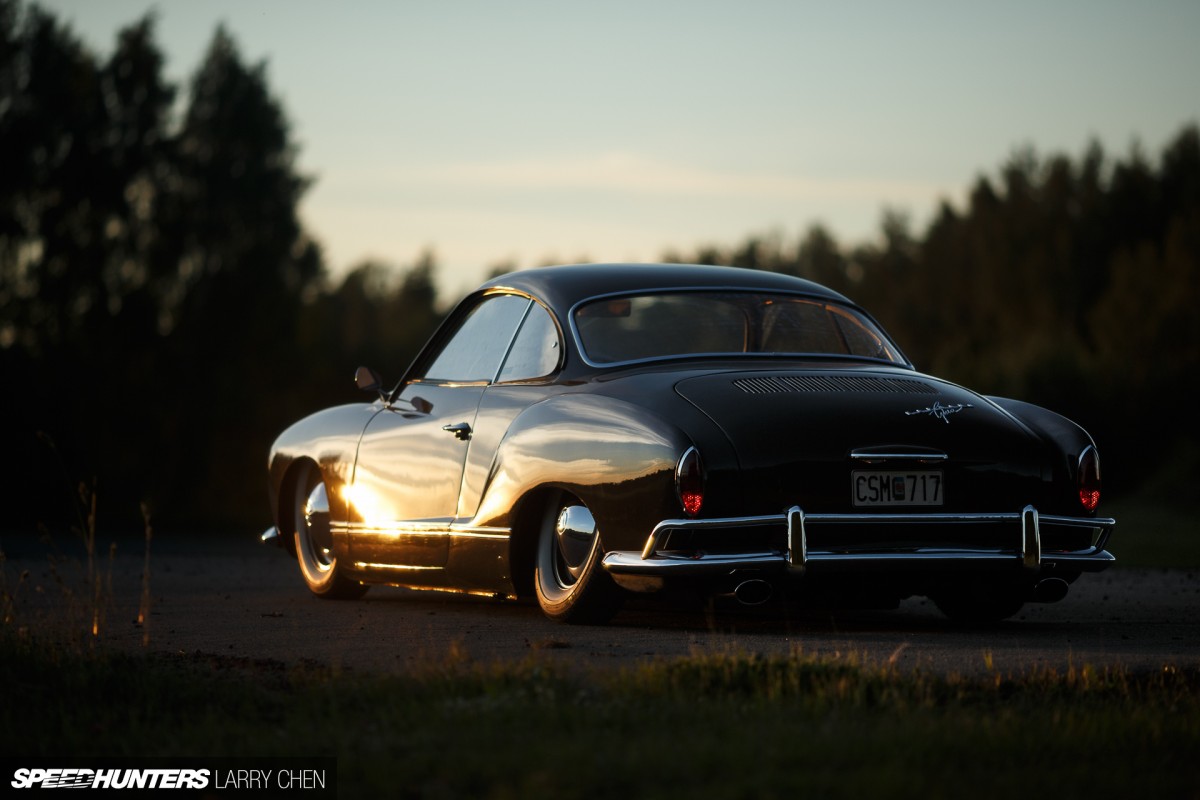 Of course, where the real interest lies is in how the car sits.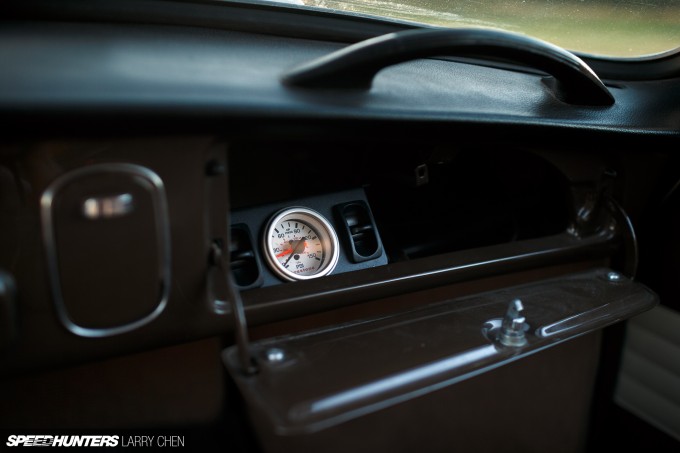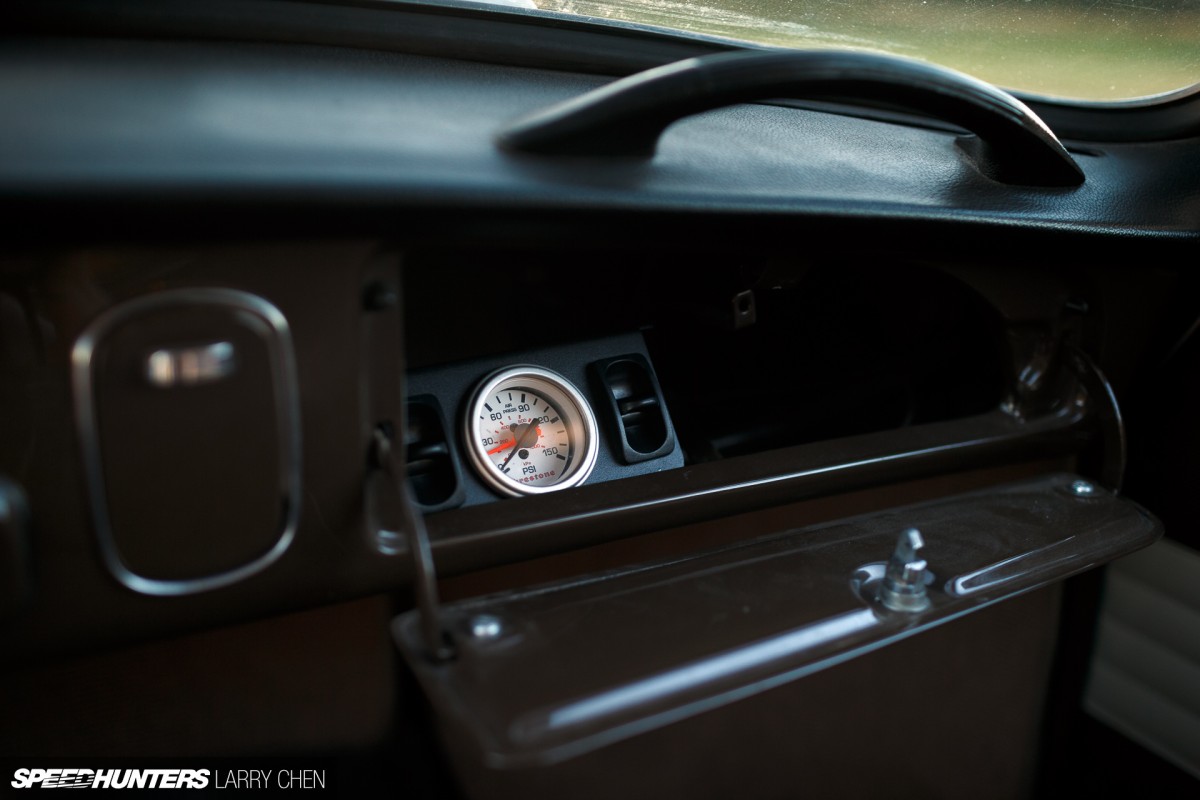 Tucked away in the glove box is the control unit of the air-ride system from Airkewld, which is manual and nice and simple. It just does what you need it to, and gives this Ghia that perfect low ride.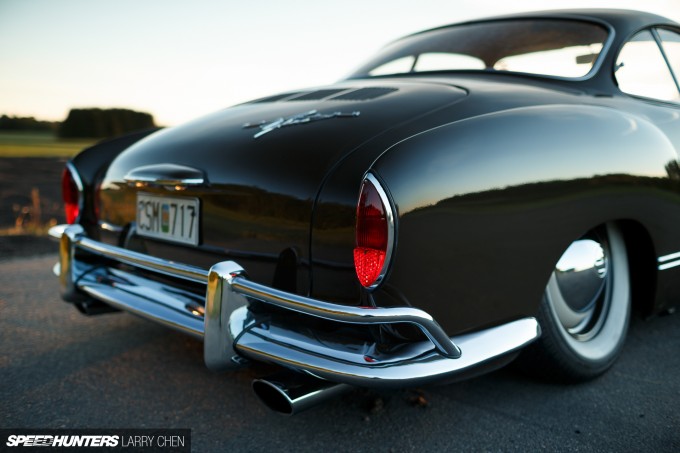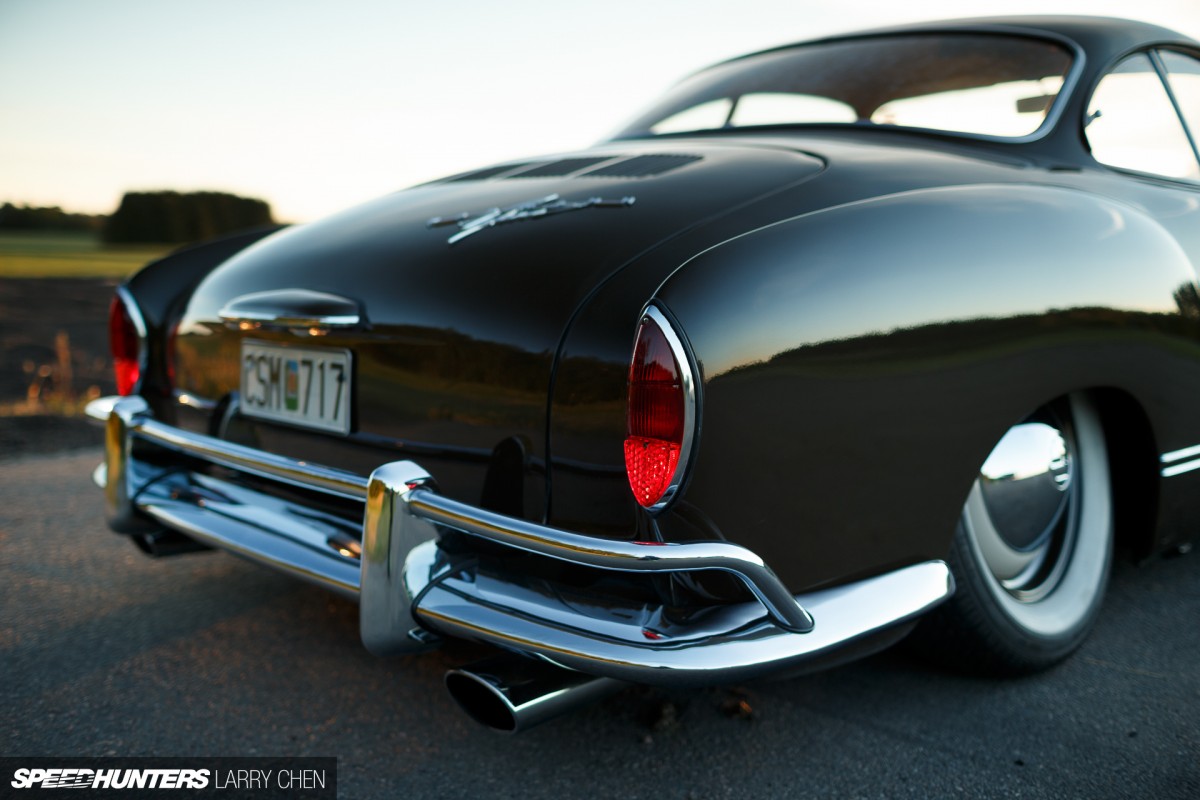 Well, I say perfect: as usual the car is basically a nightmare with no air in the bags; at the visually pleasing height it has basically no steering range… but who cares! The rear fenders seem made to contain tucked-in wheels in this configuration, just adding to that 1930s gangster look.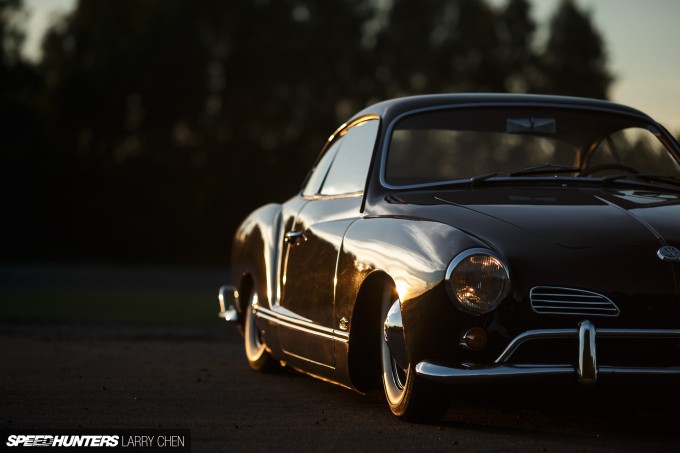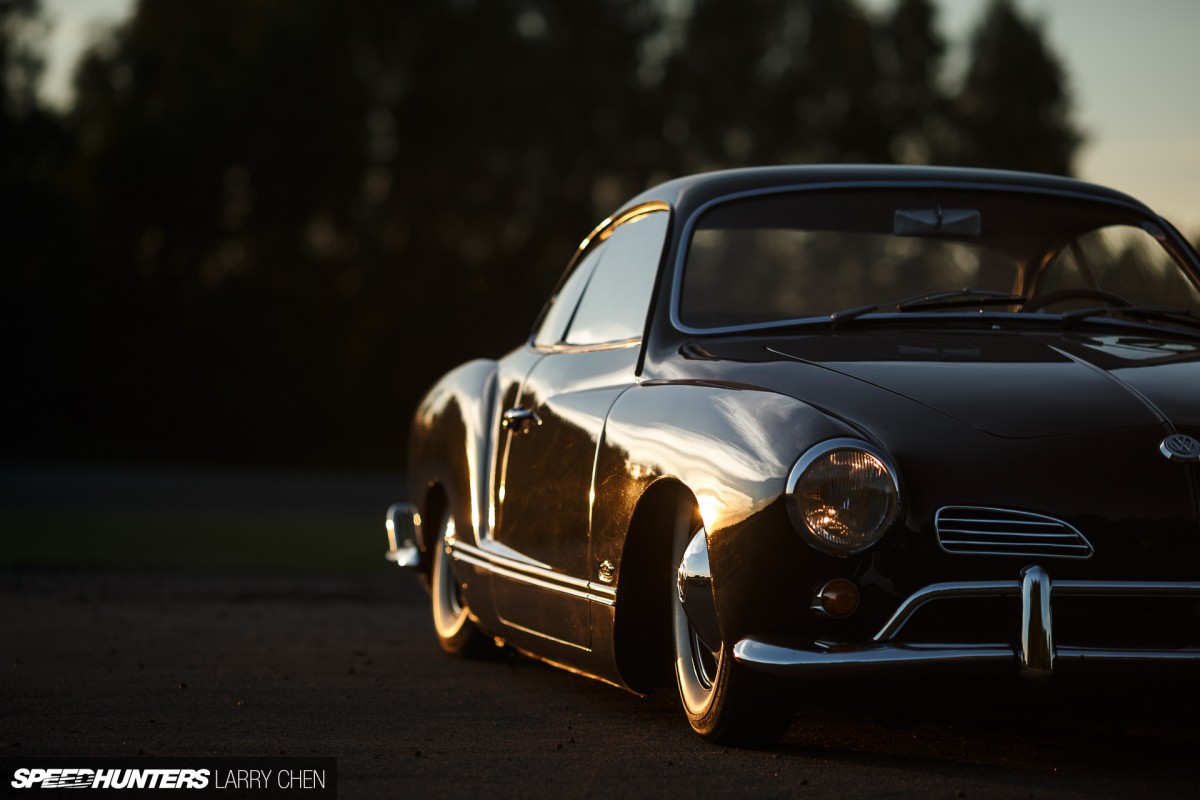 That's the joy of air in this form – the ability to drop the car to the ground at will just to look good.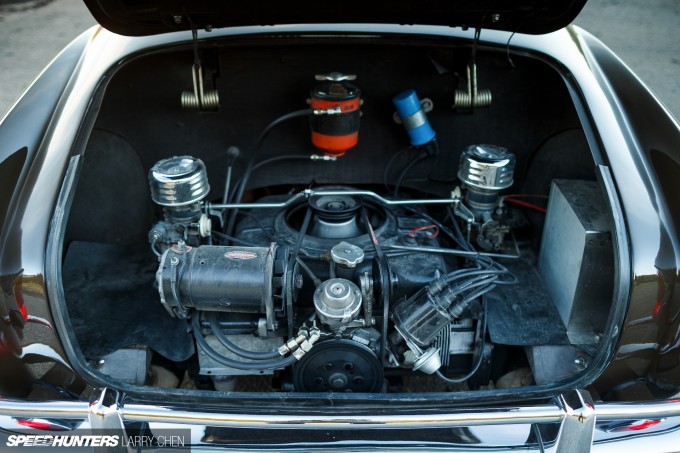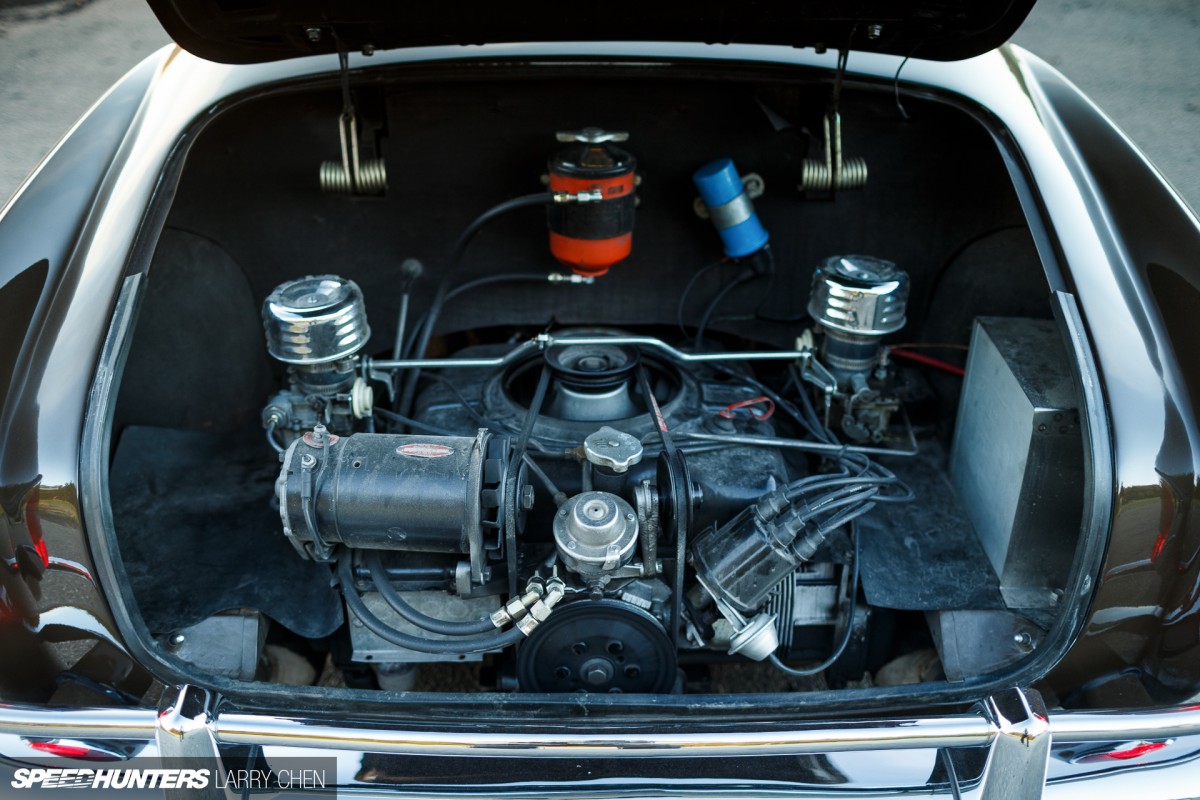 Out back is a typical drop-in, a 2.4-litre Chevrolet Corvair boxer engine with a stock gearbox. That means that its less-than-fearsome 80hp is hardly likely to worry the others at Mantorp Park. But again, that's not the point – it's not what Alexander wanted from his air-cooled cruiser.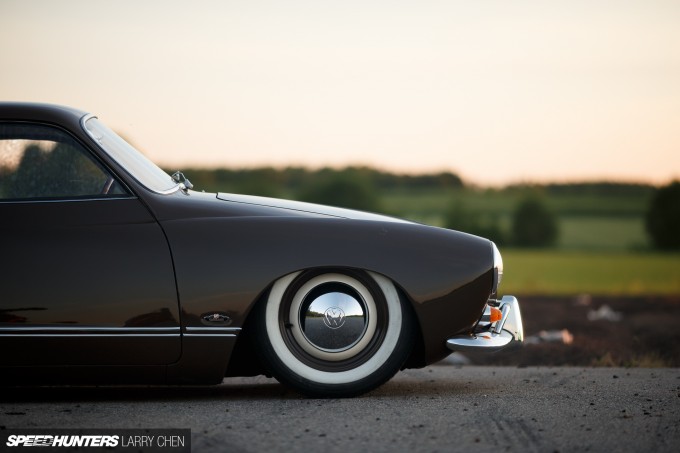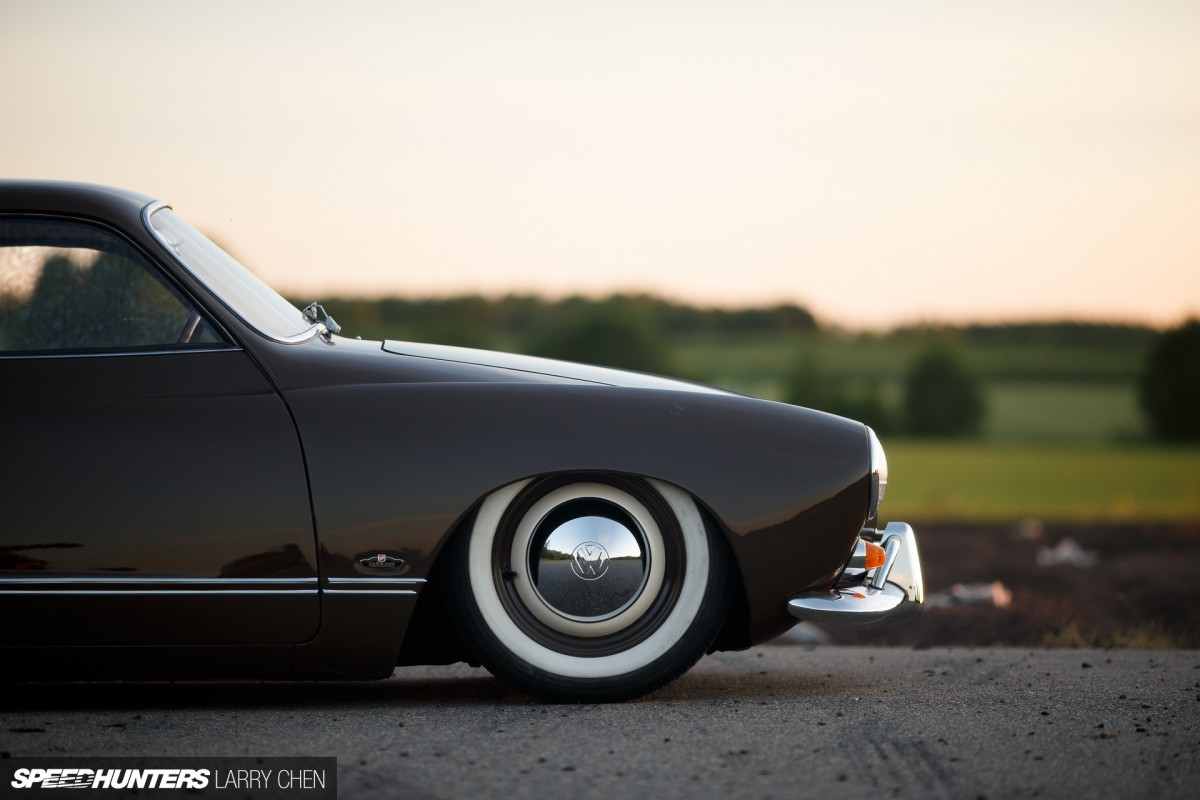 Originally Alexander chose rather flashy chrome rims, but soon realised the error of his ways and went to these white-wall steels to match the rubber.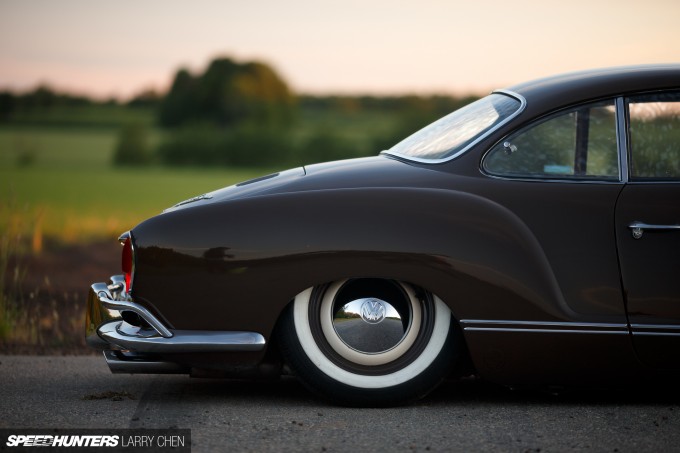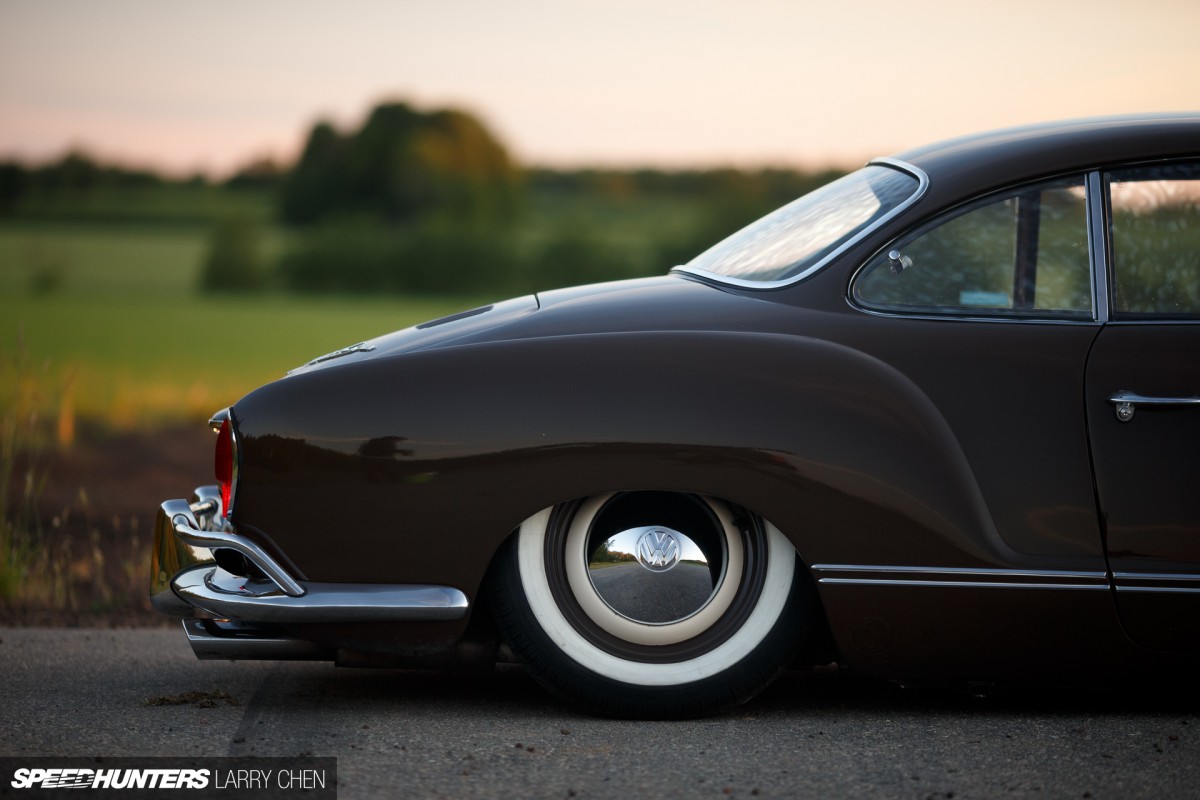 Often there's just nothing wrong with old designs except for the age of the part. Even the brakes are standard spec, just brought up to scratch with all new components.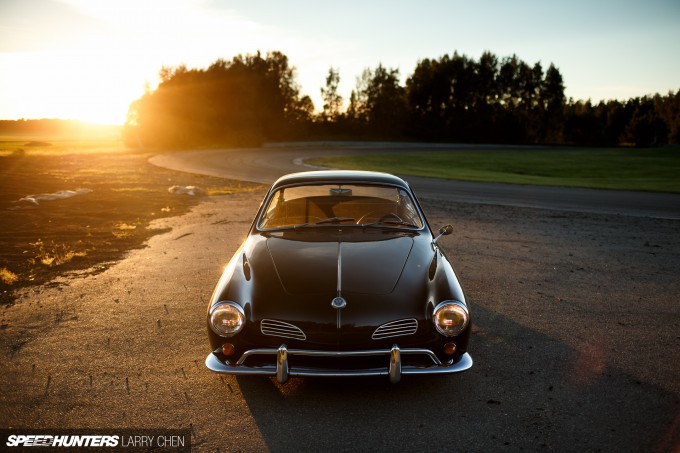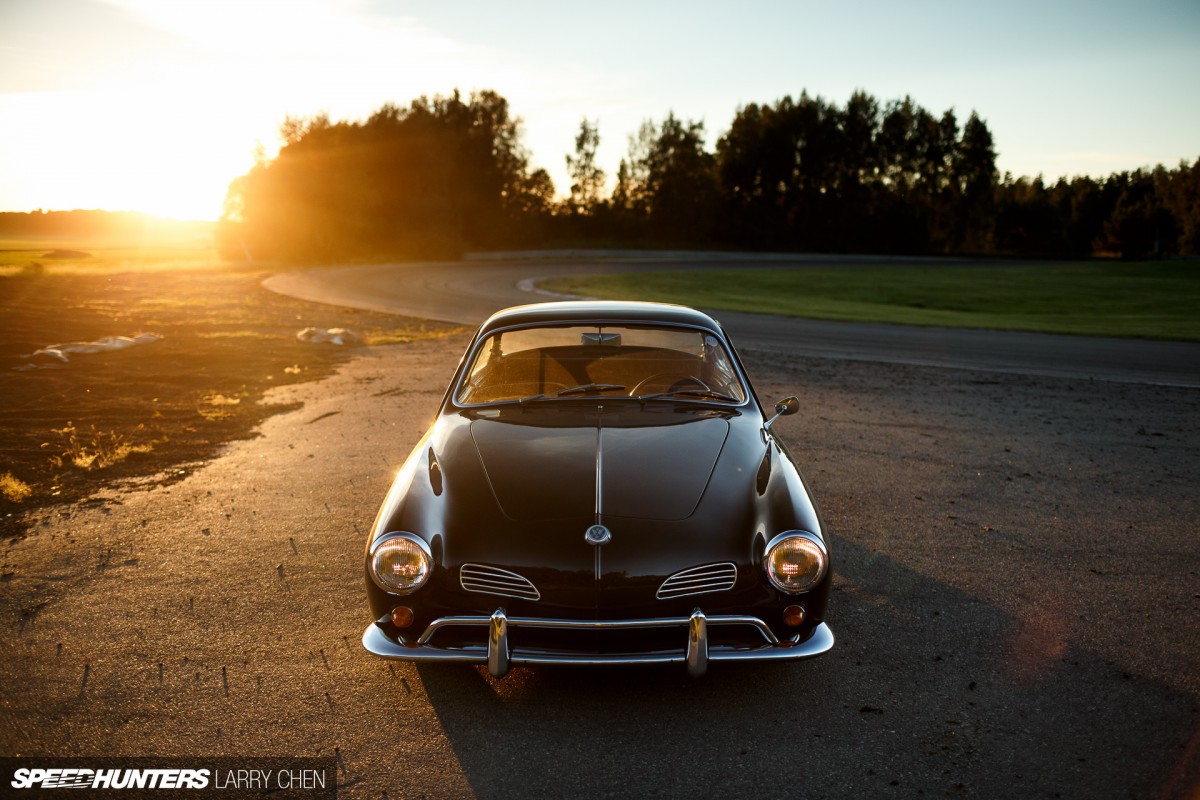 One thing I remember is how weak VW batteries often are, but a new gel unit helps things along – and Alexander pointed out it also powers something else I thought was missing in the cockpit. A radio is tucked away in the back and speakers concealed behind the rear seats, keeping the cockpit even more pure. Though after all, Alexander says he's more than happy to just hear that air-cooled burble, and who can blame him?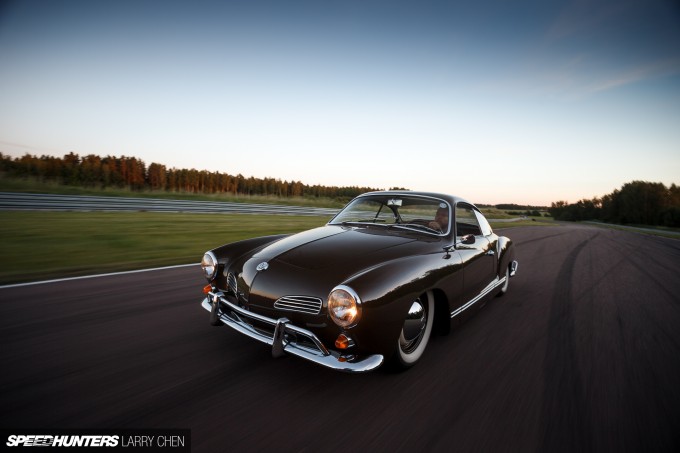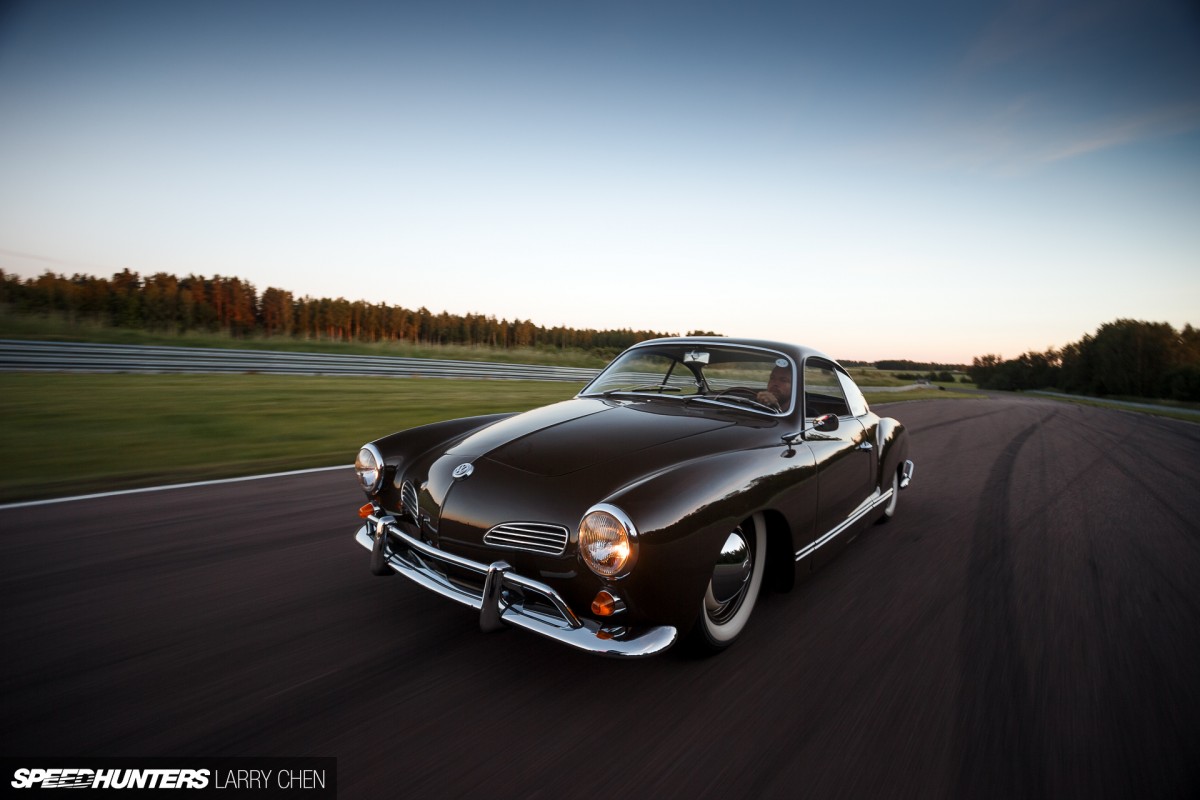 It's not fast, it's not flashy, but it's a bagged thing of beauty – a perfect example of one of the Holy Trinity of Beetle, Bus and Karmann Ghia that everyone should own at one time or another. According to Alexander he's driving what is probably the most overtaken sportscar in the world. I think there are a lot of us who would like to join him, and a lot of people with neck strain from looking longingly in their rear-view mirrors.
Jonathan Moore
Instagram: speedhunters_jonathan
jonathan@speedhunters.com