Early Riser
Generally speaking, car shows are boring to me. I don't like the fact that all these nice cars just sit there for you to look at, and most of the time car shows happen either in the middle of the day or at a poorly-lit warehouse. And don't even get me started with the crowds. If it's super-busy you'll be lucky to get only a few clean shots of the cars without someone's buttocks in the way…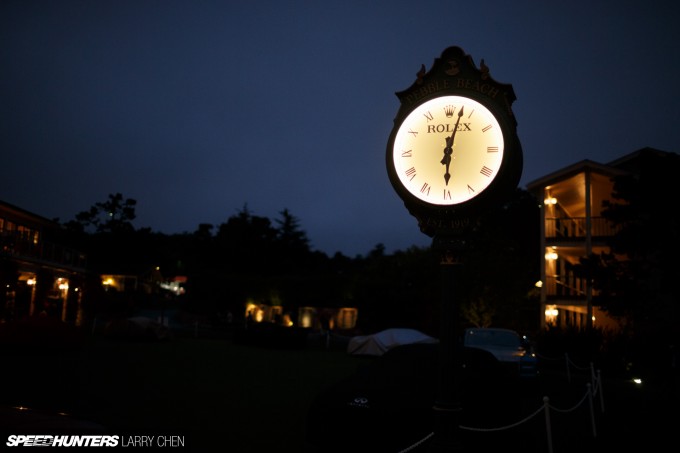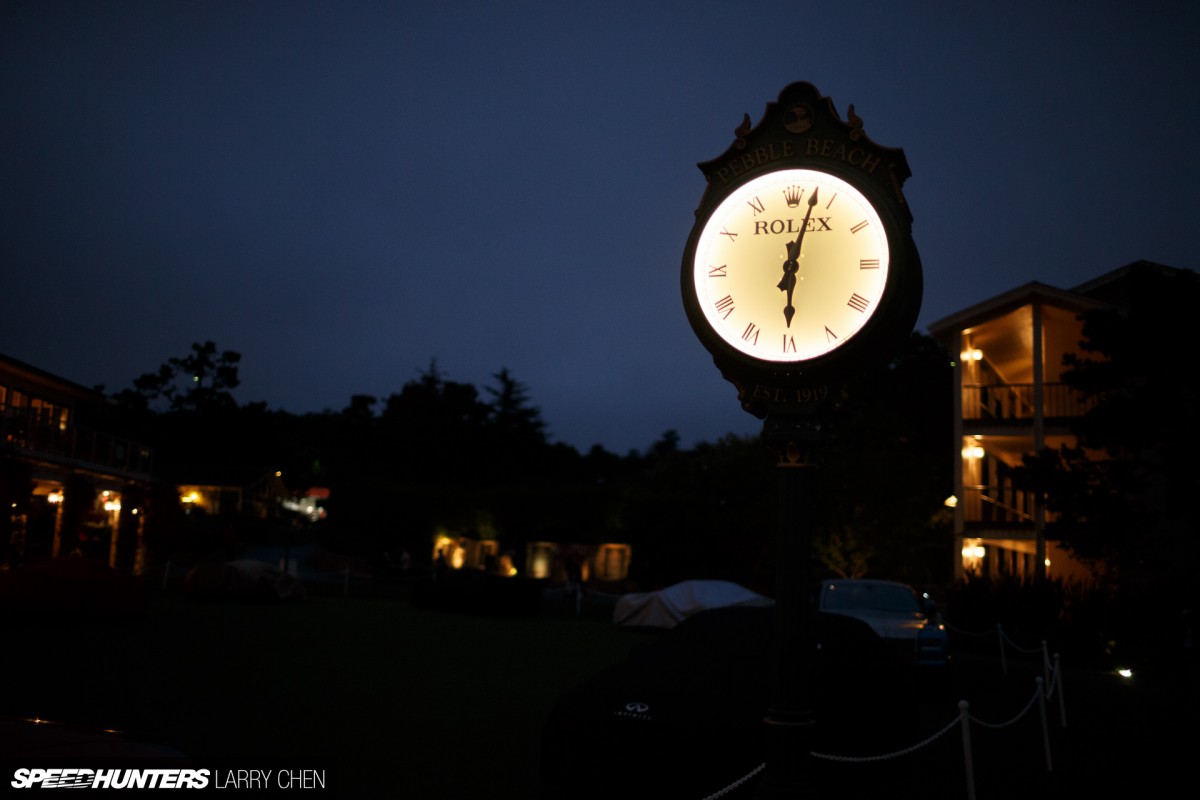 The Pebble Beach Concours d'Elegance is different. Most of the public come to check out the show in the afternoon, while the real enthusiasts wake up super-early to watch the cars roll in – which for a photographer means early morning light. I woke up at 4:30am and it took me over an hour to find parking.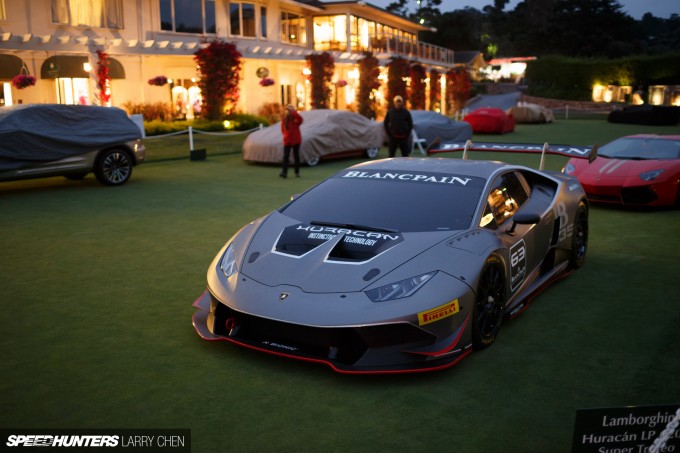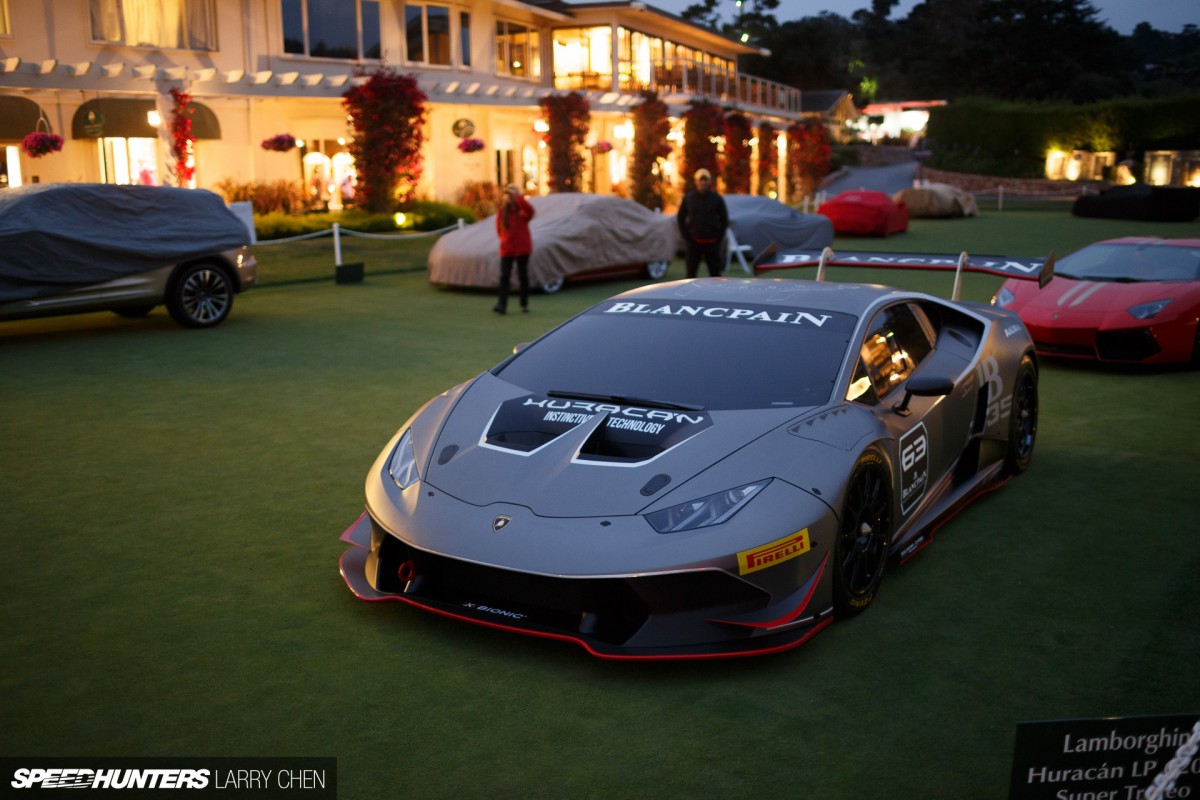 The best part? No crowds surrounding all the cars. But as you can see, on the 'Concept Lawn' many of the cars were still covered up.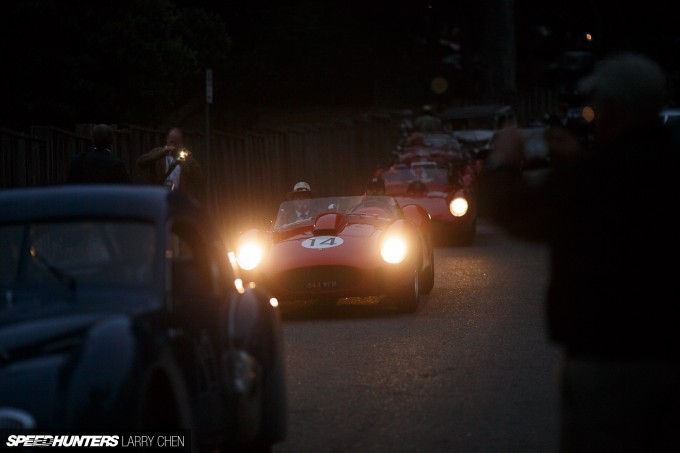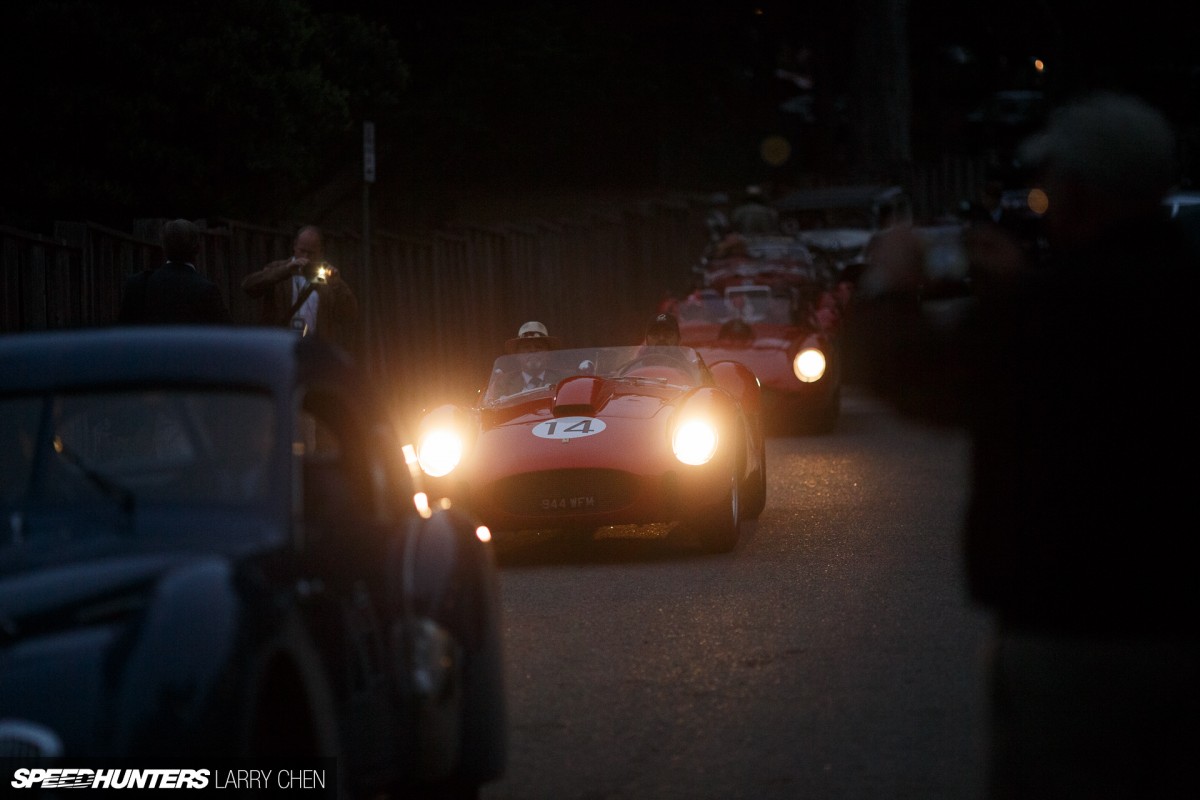 I walked behind the main building and found a long line of cars just inching forward and trying to get through onto the prestigious lawn of Pebble Beach's 18th hole.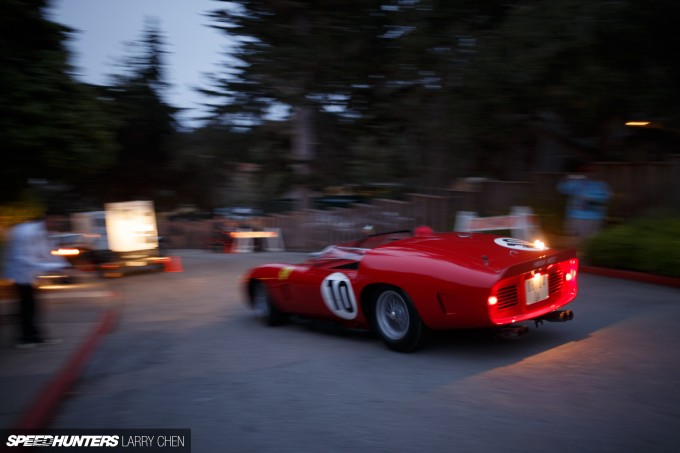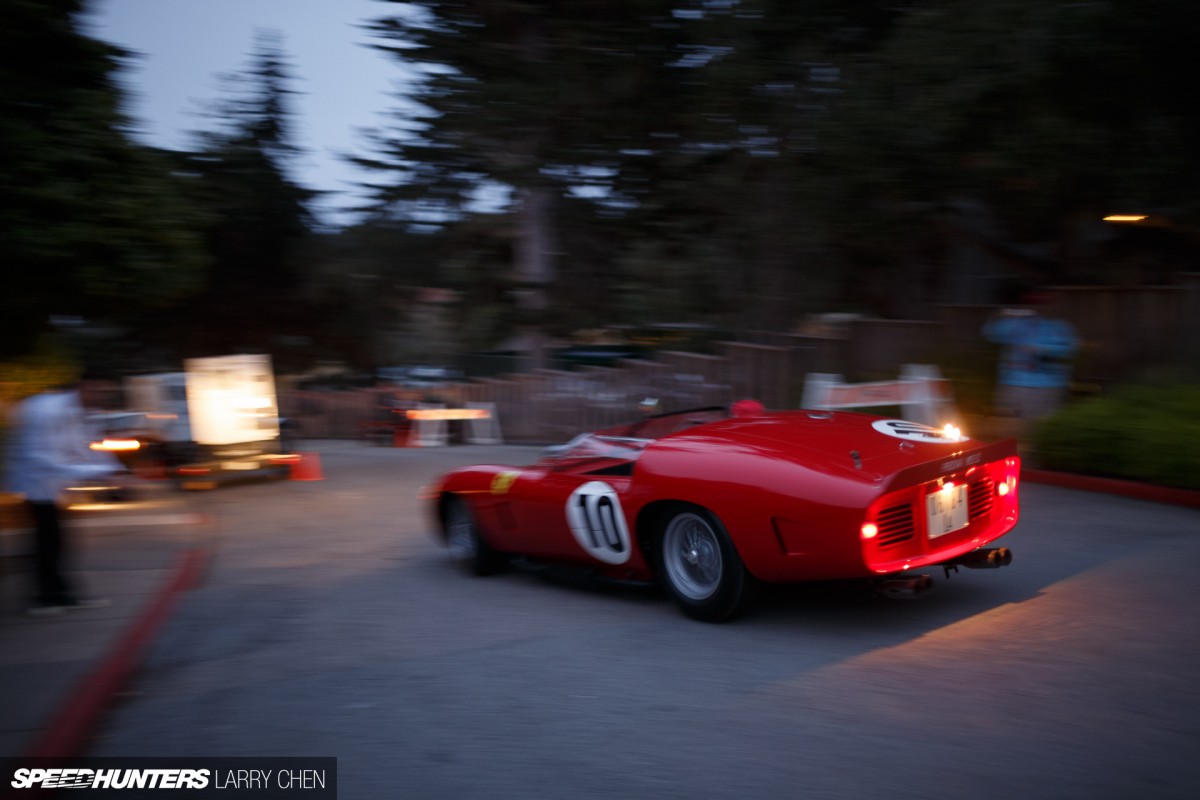 This was my favorite part of the whole show. I got to see the rarest cars in the world actually being driven.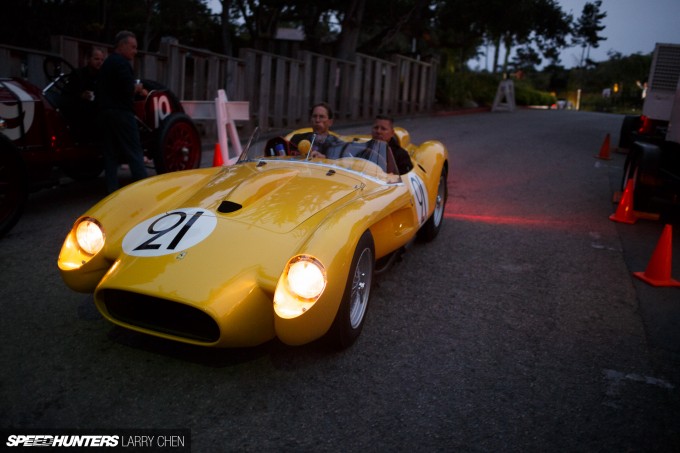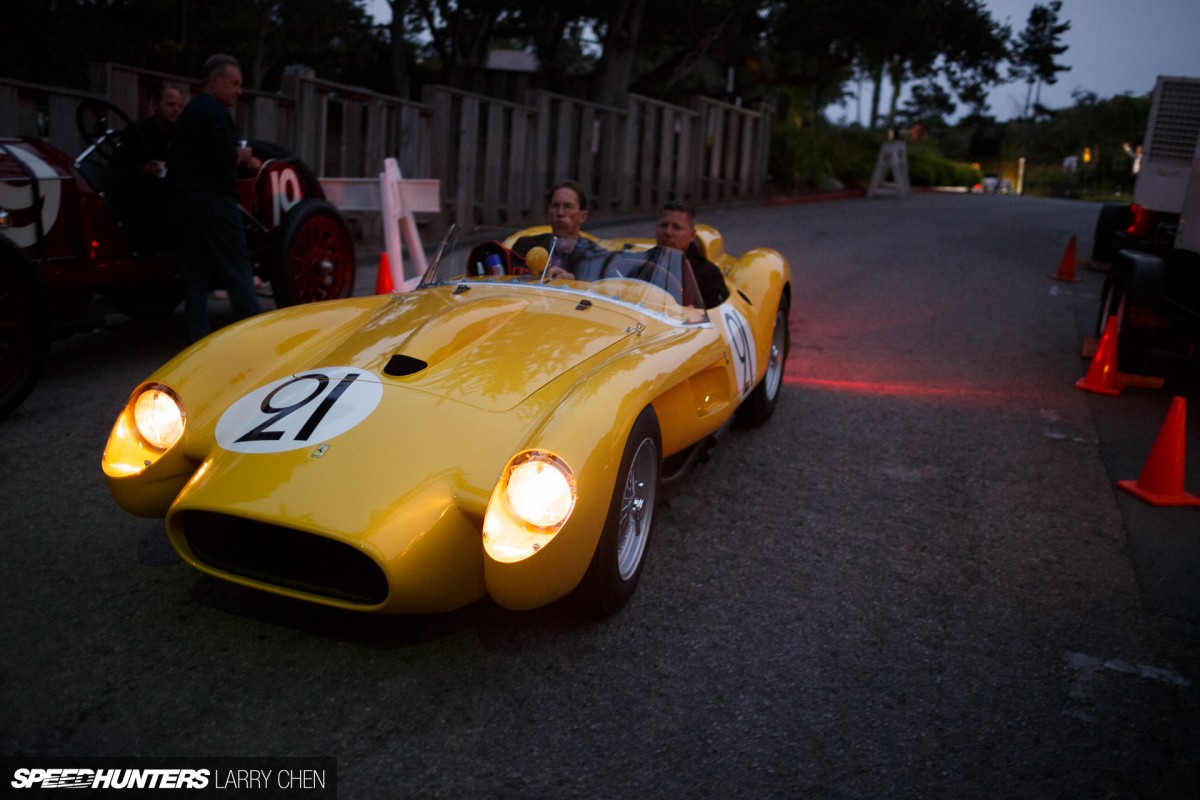 I got to smell them and hear them run. It's amazing to me that 50 years ago someone like me was hearing and smelling the exact same thing. How cool is that?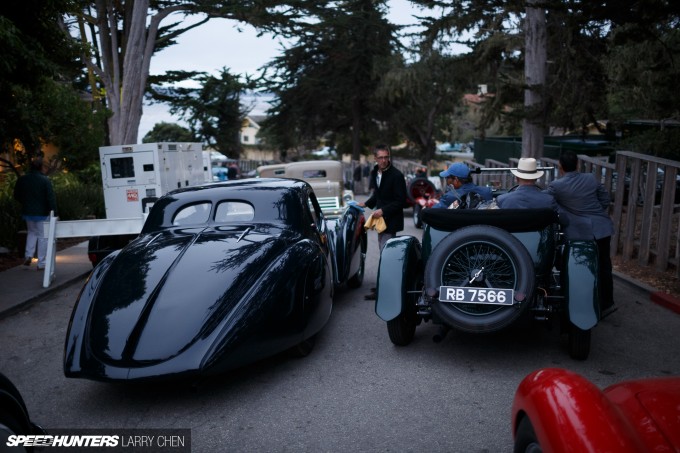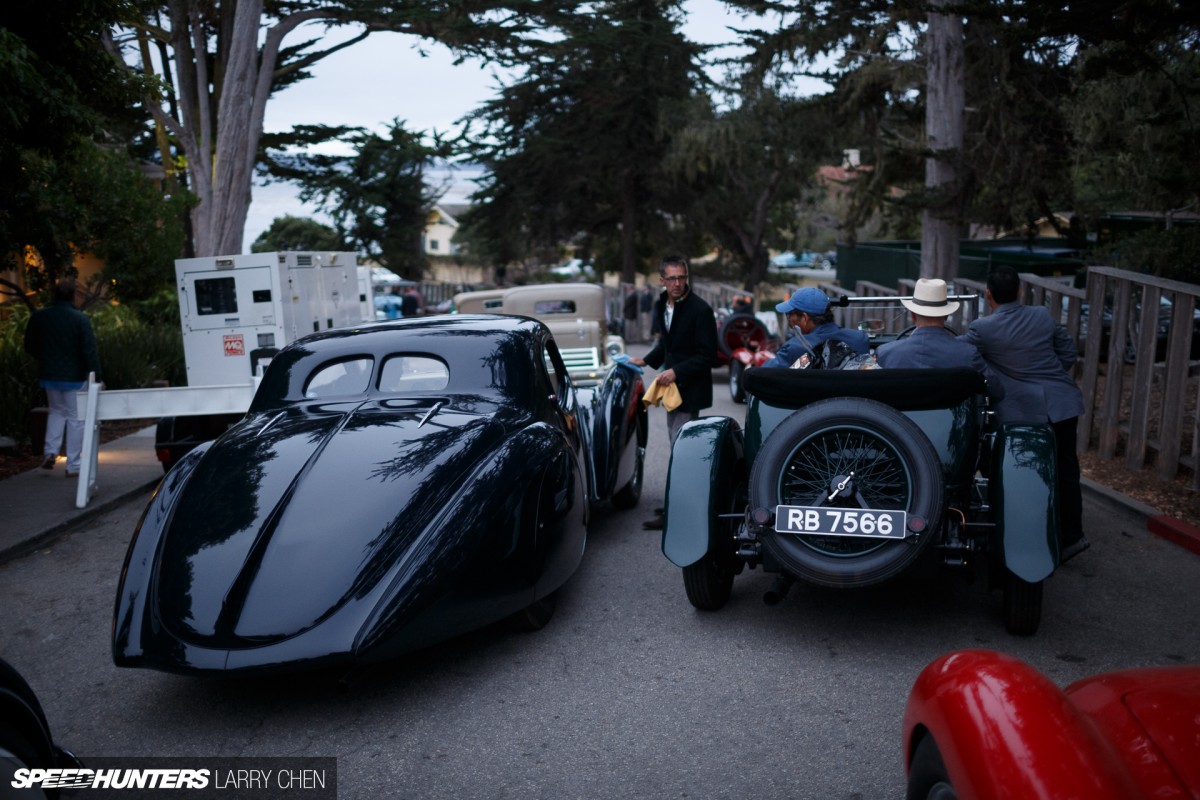 It's got to be nerve wracking to maneuver around some of these priceless automobiles. Do you even have insurance, bro?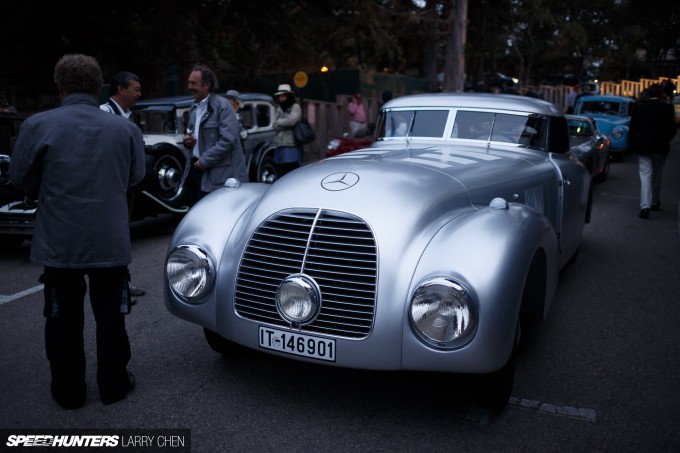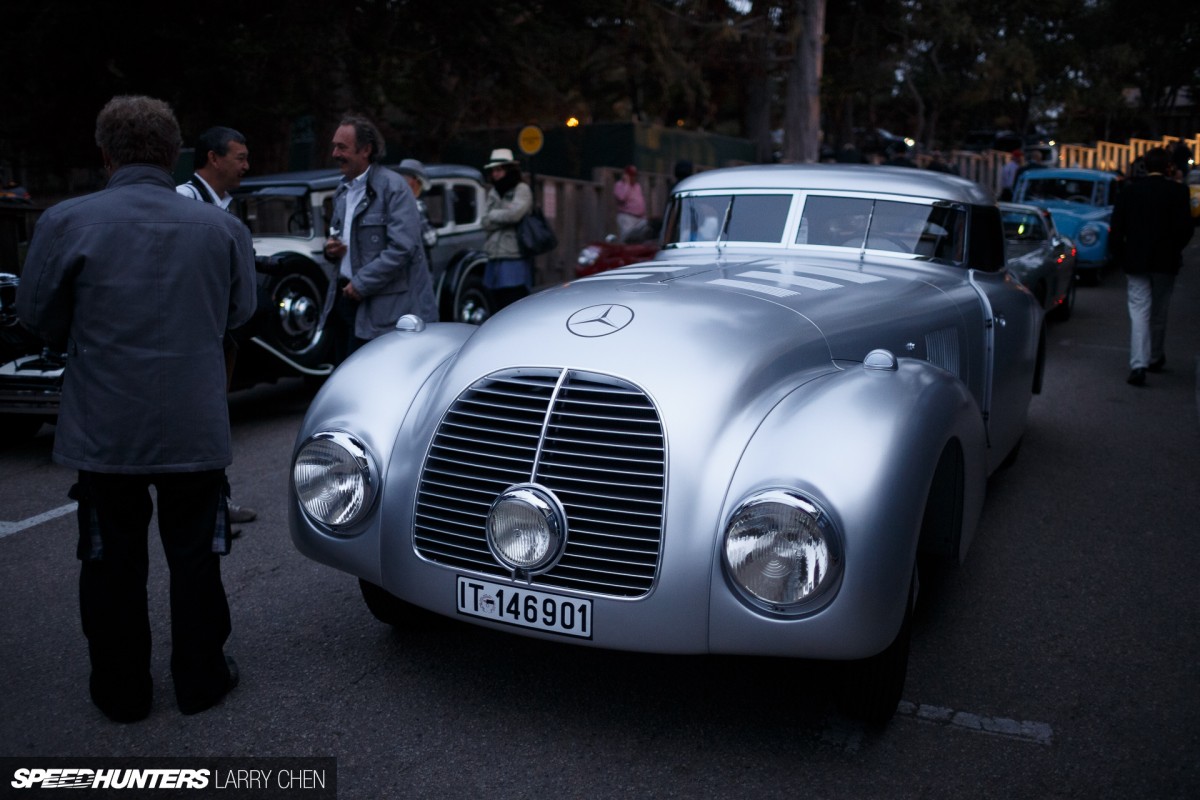 It's often hard to know exactly what model you're looking at – especially when it's a true one-of-a-kind machine like the 1938 Mercedes-Benz 540K Streamliner. But I can definitely appreciate what goes into restoring and maintaining these beauties.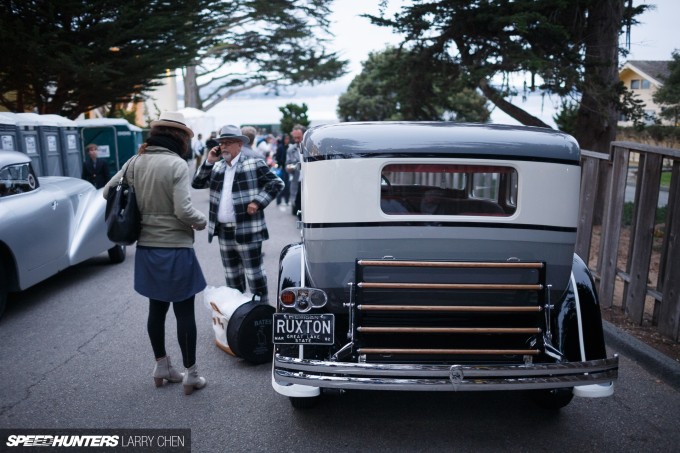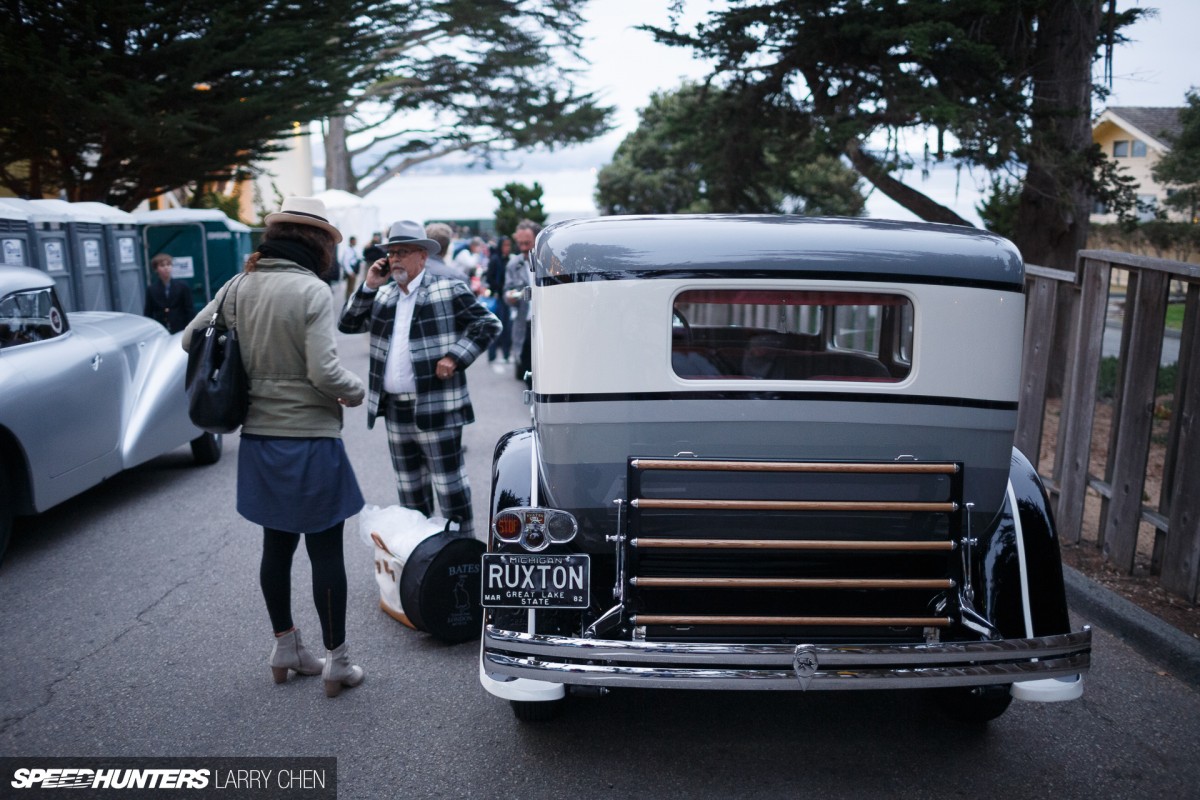 Check out this guy who is matching his car with period-correct clothing. Or at least that's what it seems like…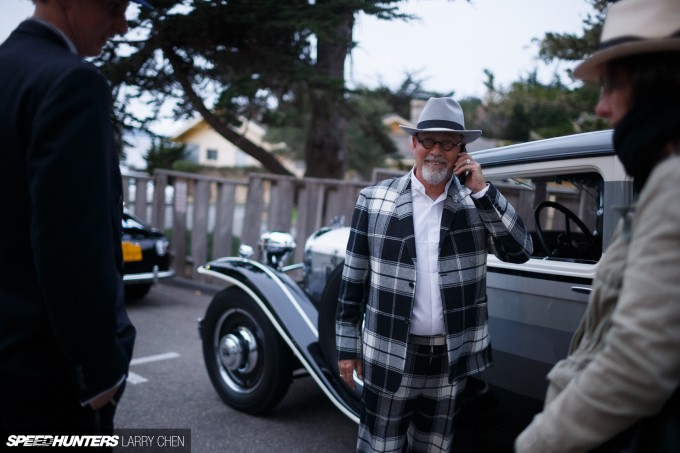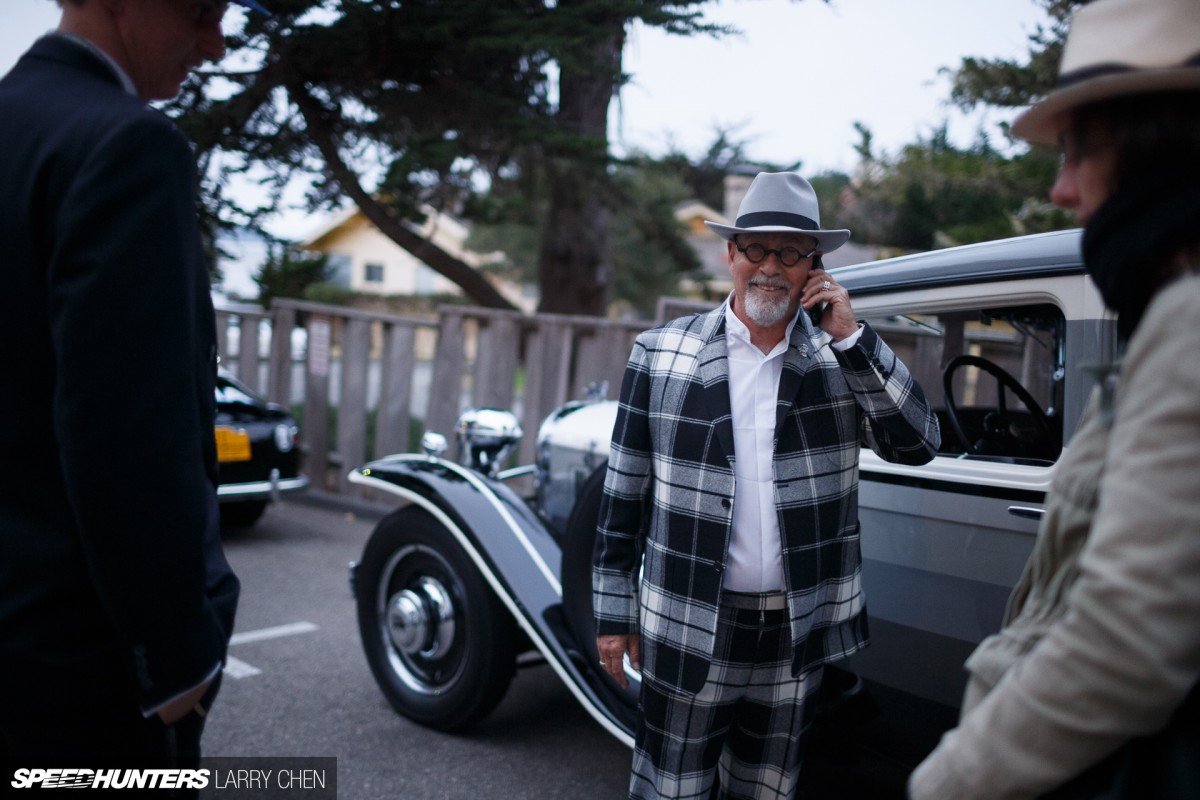 Is that a period-correct smartphone too? I just love how much some of these guys get into this show. I just can't stand it when you go to a show and see owners lazily sitting around on foldable lawn chairs watching people take pictures of the cars. Why not get into character like this guy?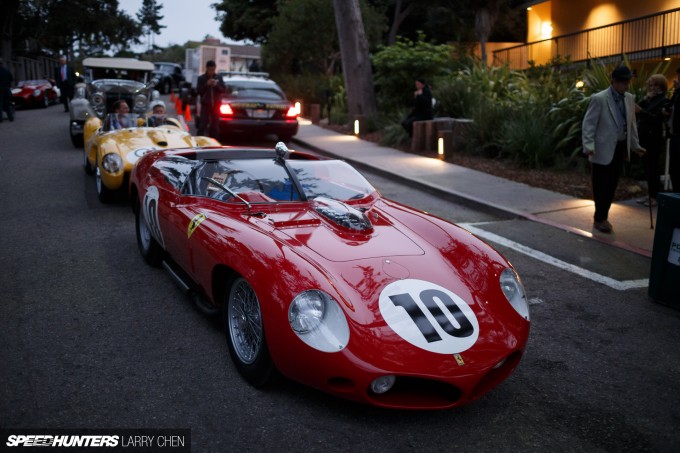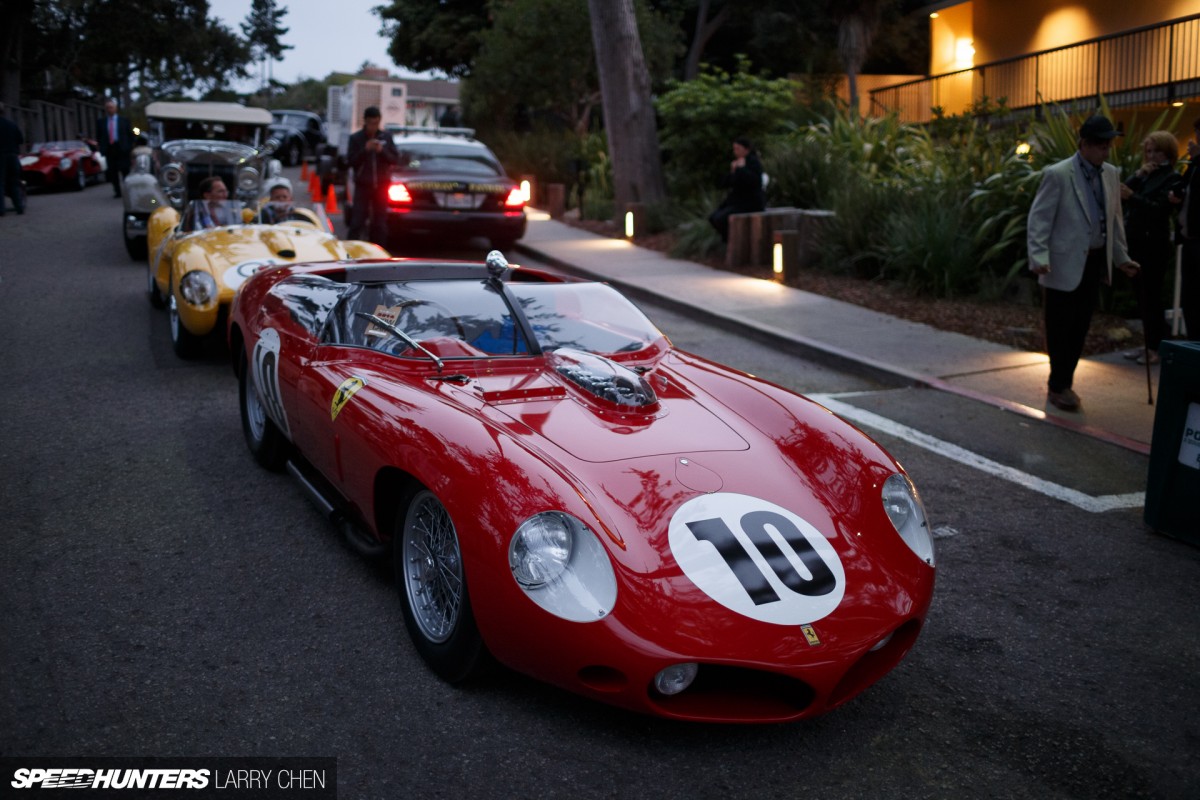 While some of the cars at Pebble Beach are unrestored with the original paint and patina that goes along with it, the majority of them are spotless.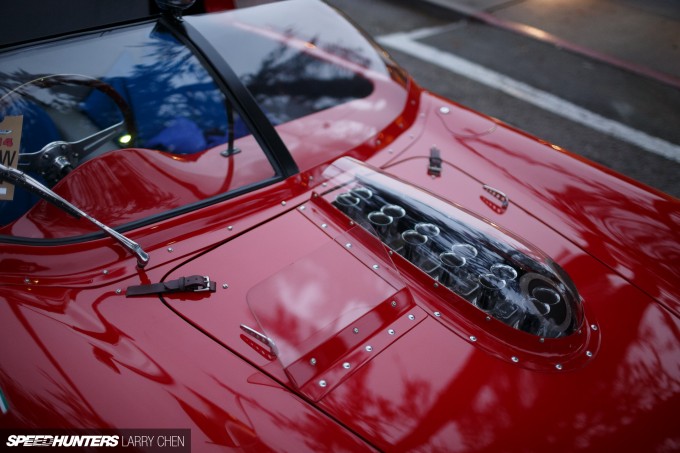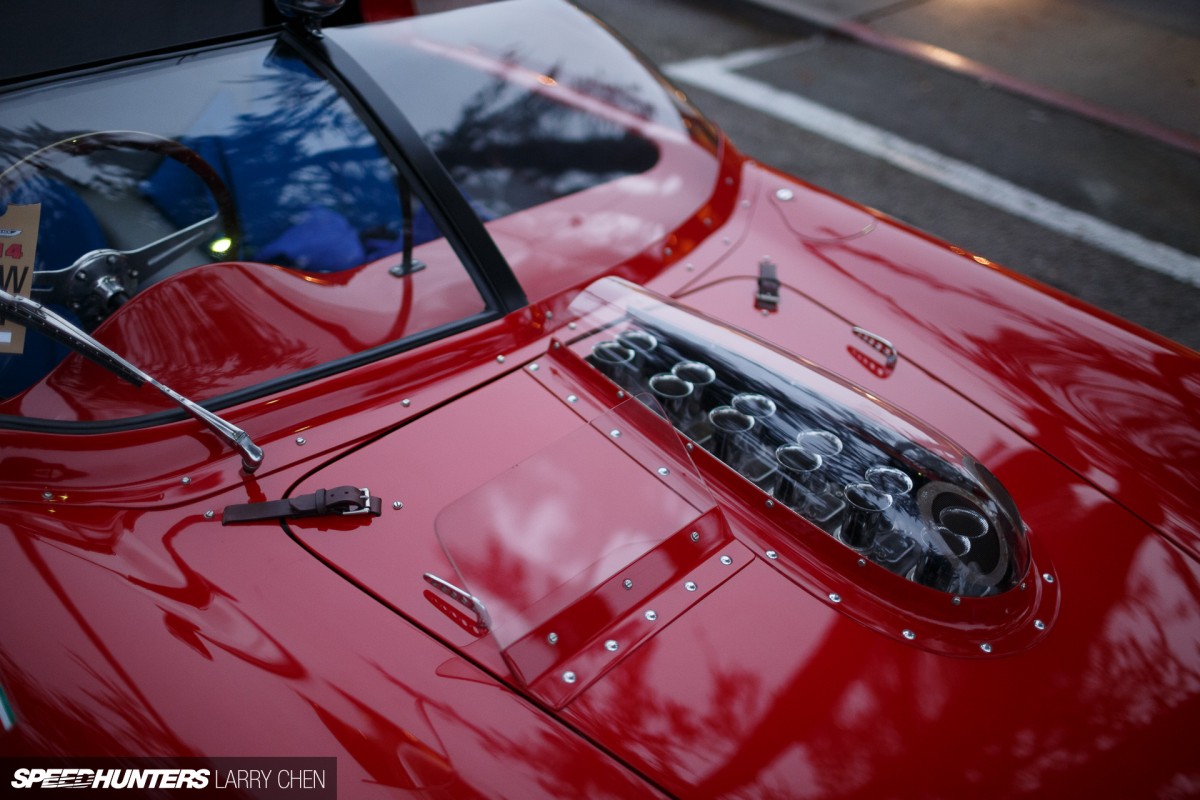 The attention to detail is astounding, and exteriors are so clean you could eat off them.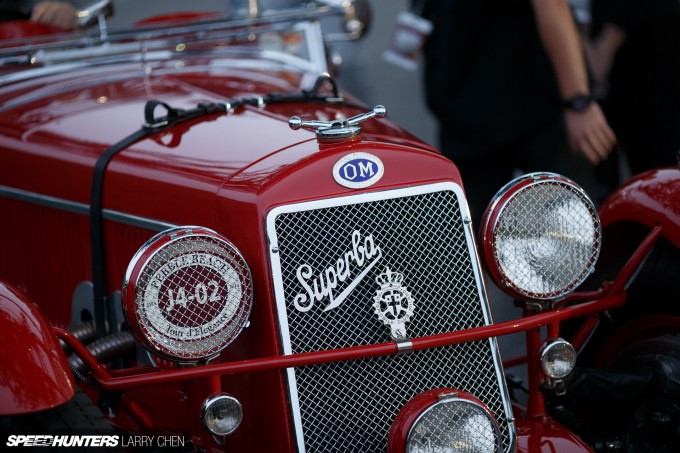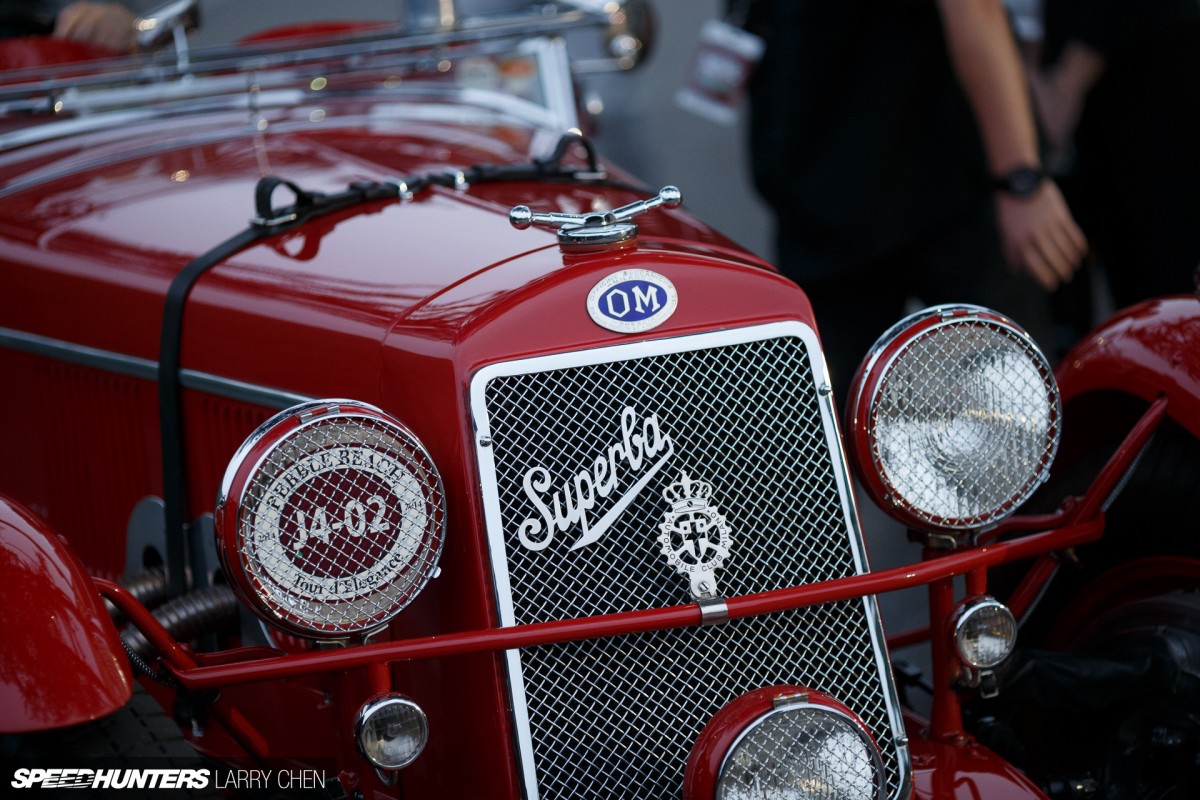 I love that this guy put his Pebble Beach Tour d'Elegance entrant plate behind his headlight protector. I guess there's really nowhere else to put it!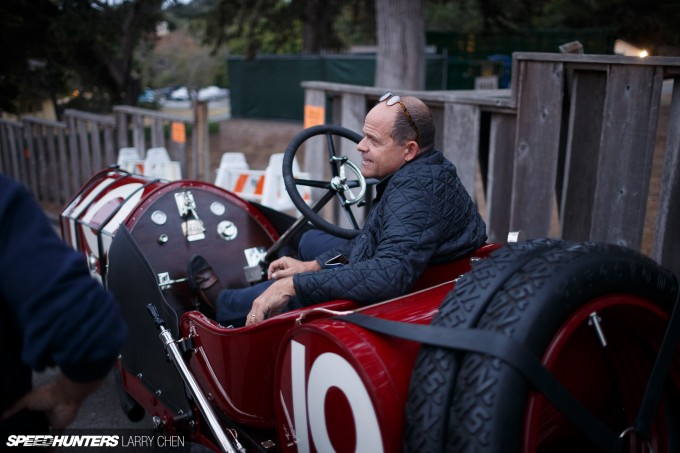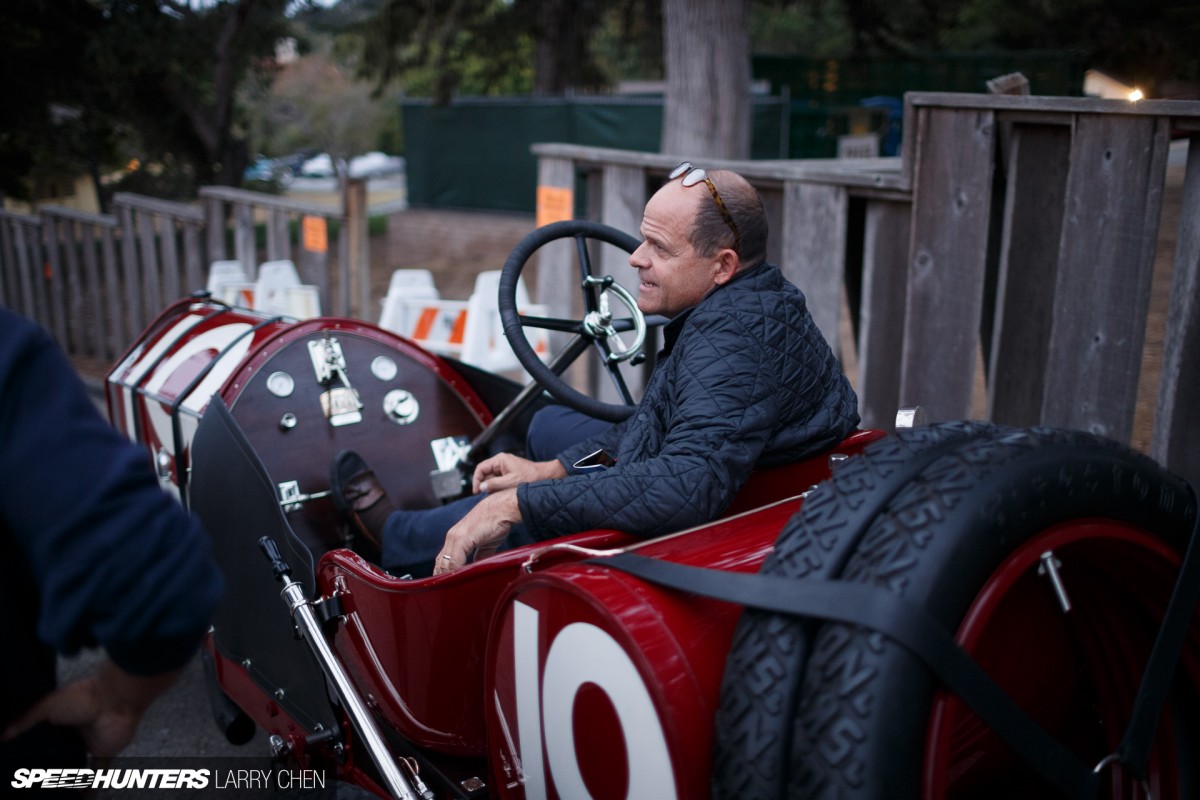 Most of the owners or drivers just sat around chit-chatting about cars as they waited to pull onto the lawn.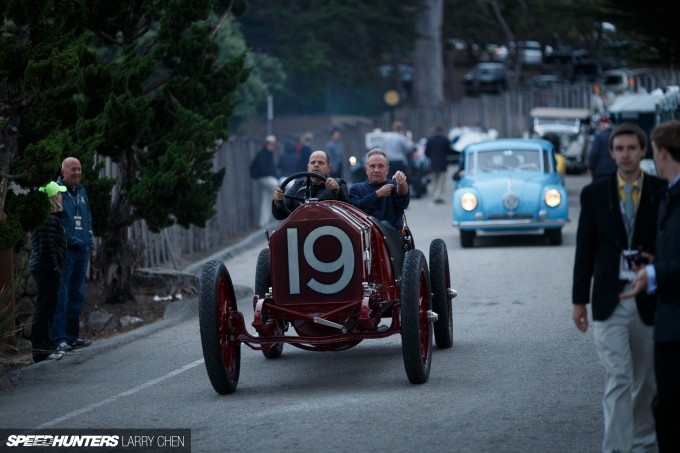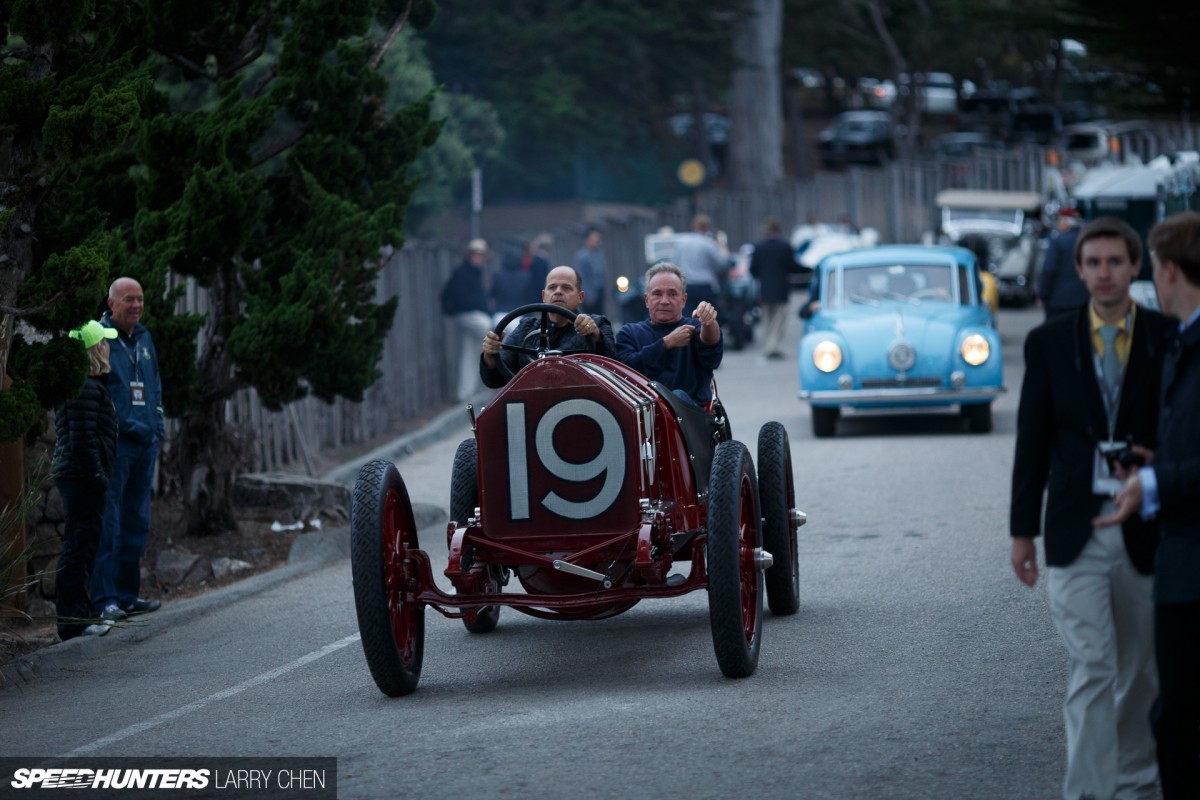 When it was time to roll out there was definite excitement in the air. There were sounds of motors starting up – some cranking over for longer than others – but all of them aurally amazing.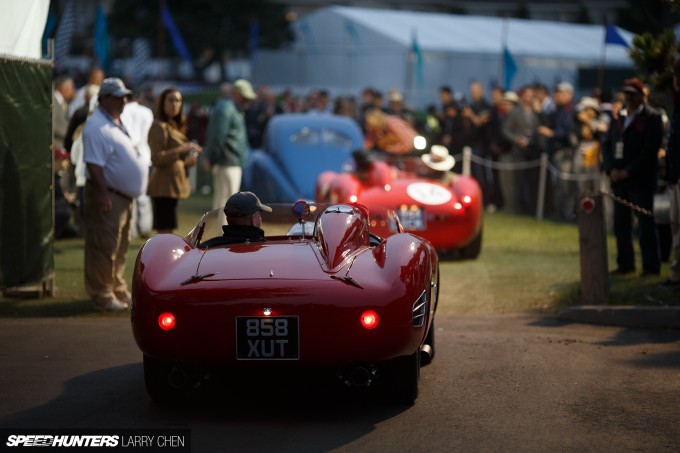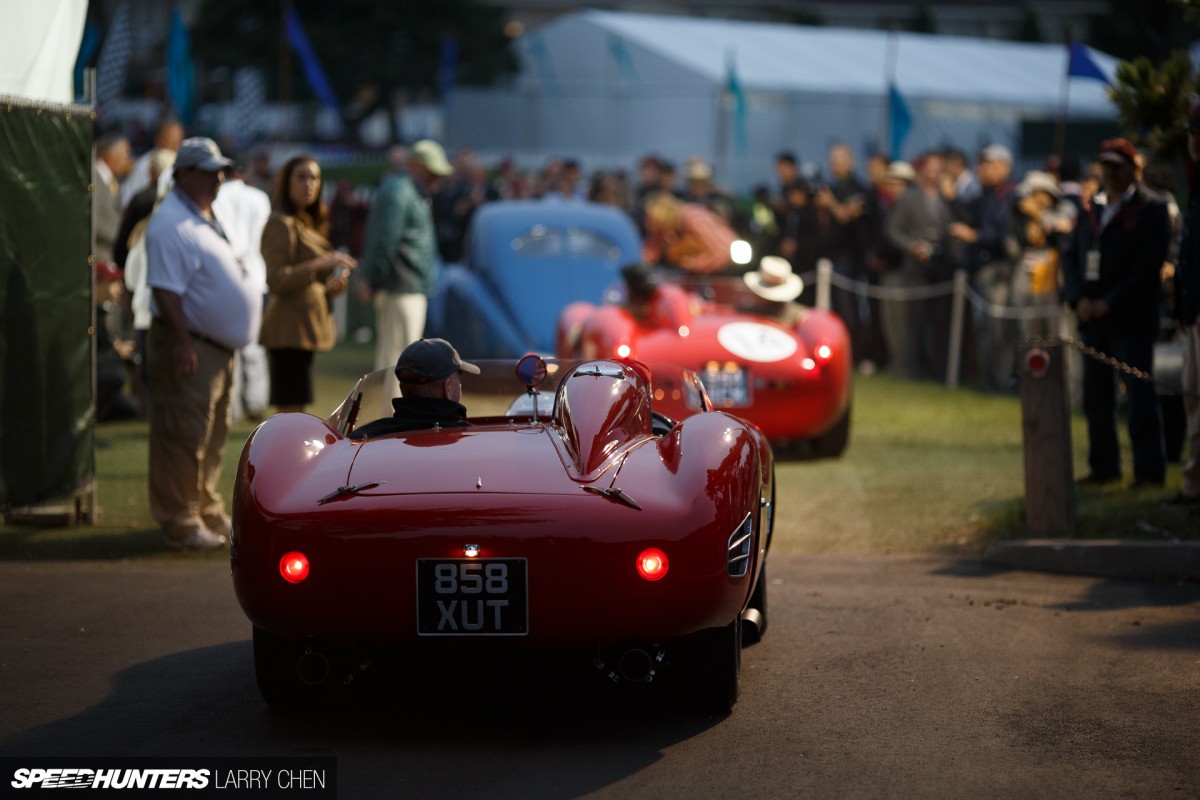 Slowly but surely every car drove their way onto the 18th hole of the famous Pebble Beach Golf Links.
Roll In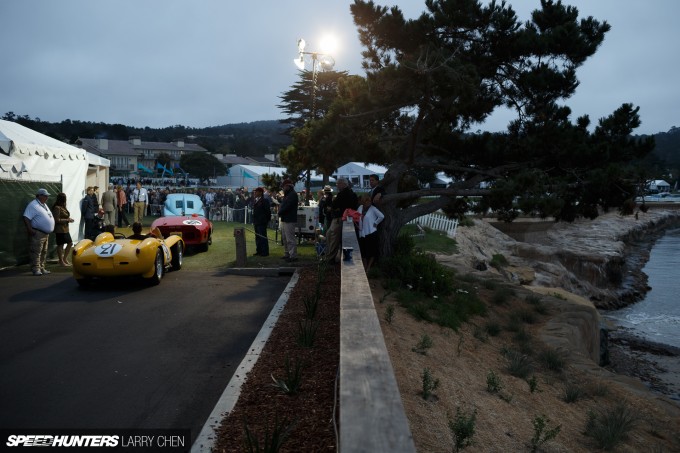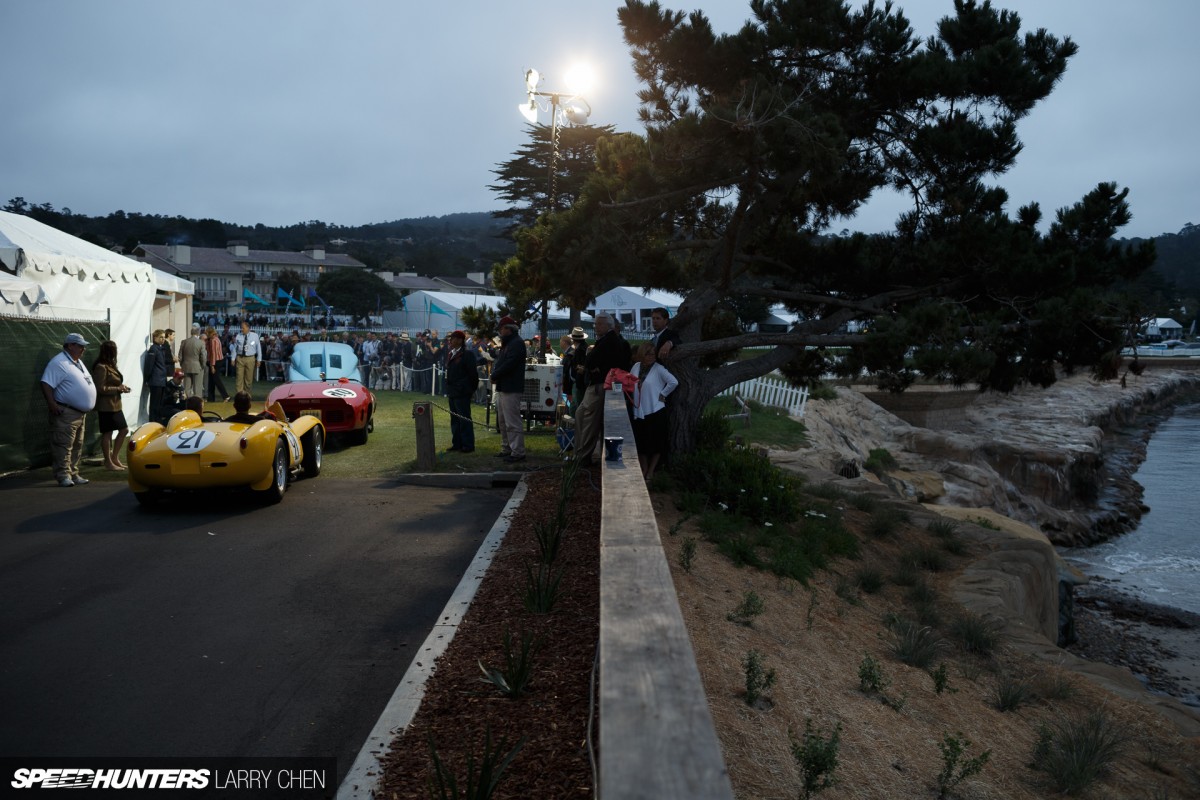 This was my second year covering Pebble Beach, and what amazes me still is how close we were to the ocean. It's just a tiny cliff that separates the golf course to the depths of the sea.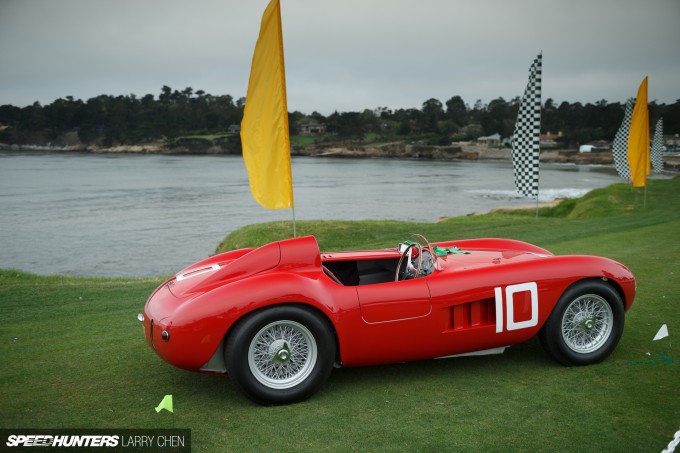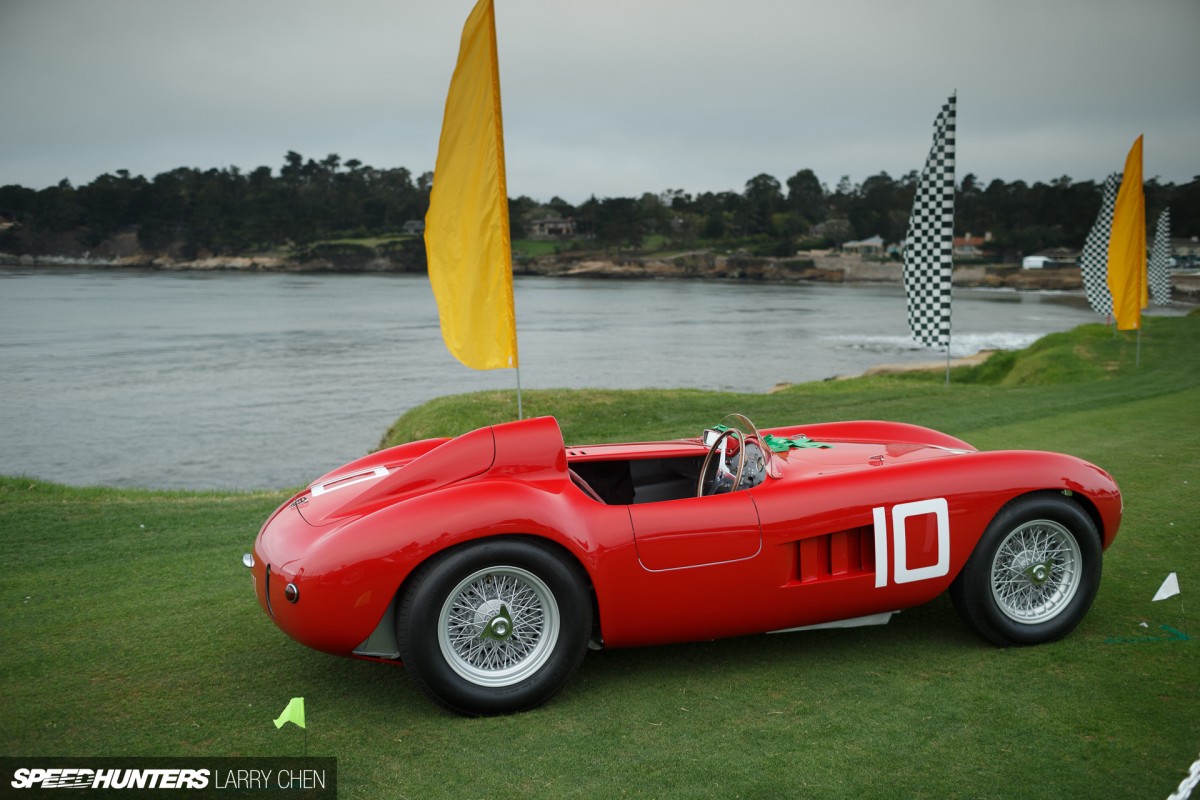 To minimise the chances of corrosion from sea spray, I noticed that some owners wrapped the exposed metal parts of their cars in plastic for protection.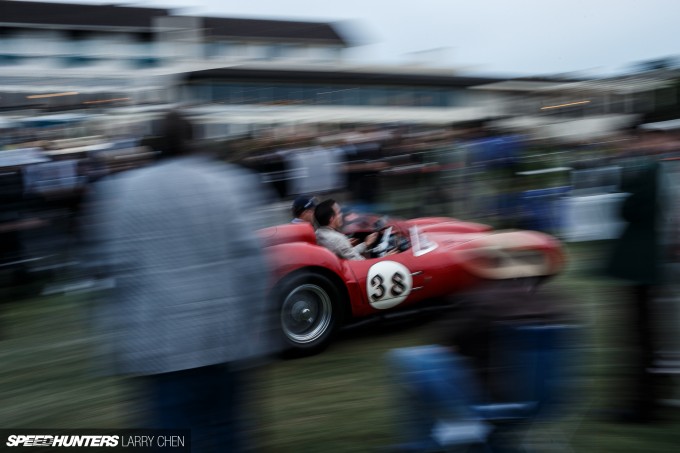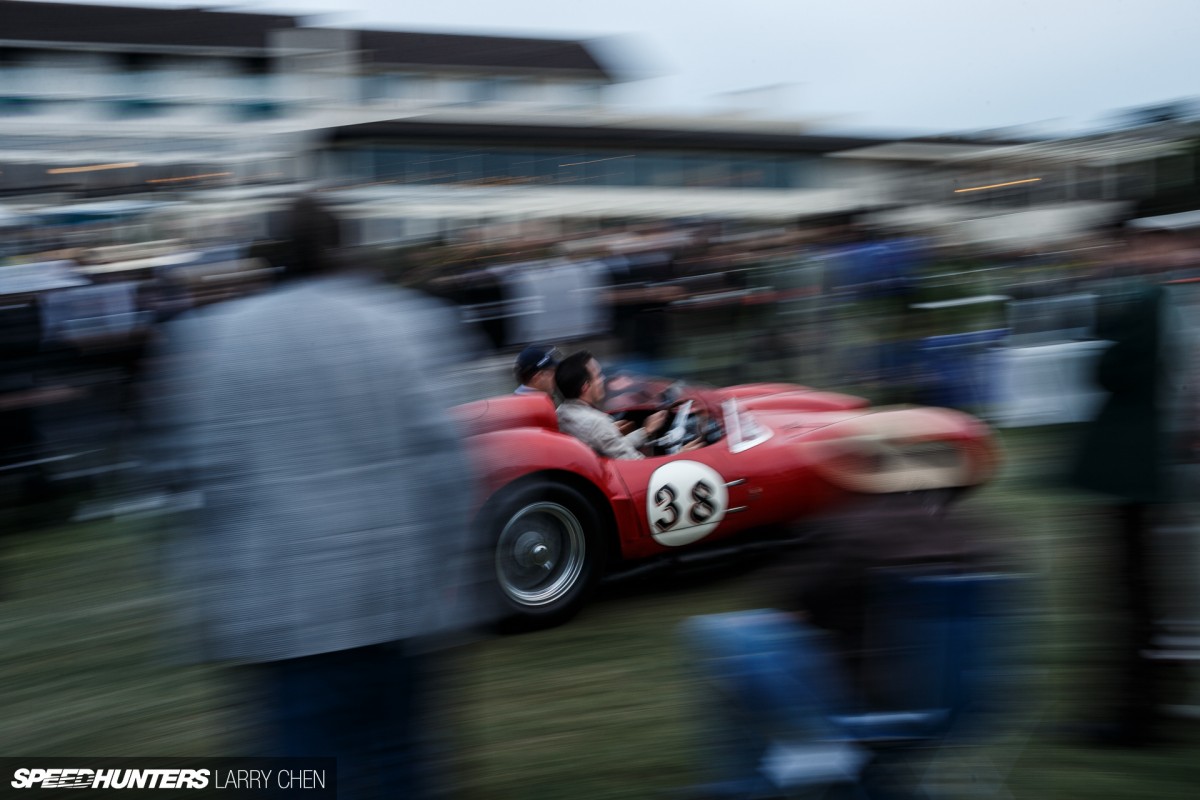 There was a massive crowd of early risers and photographers that lined the road where the cars were pulling in.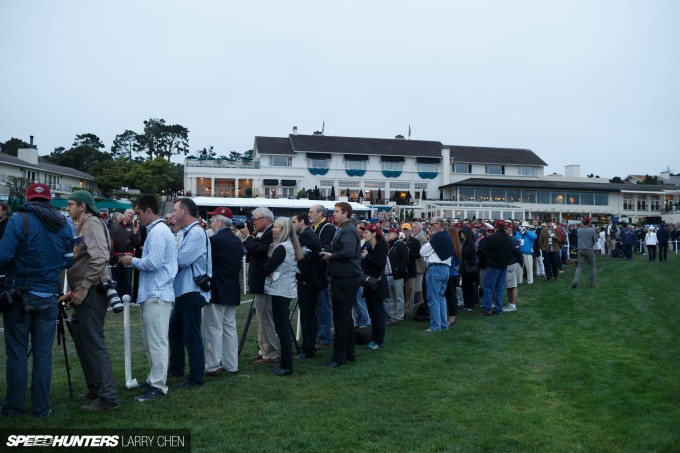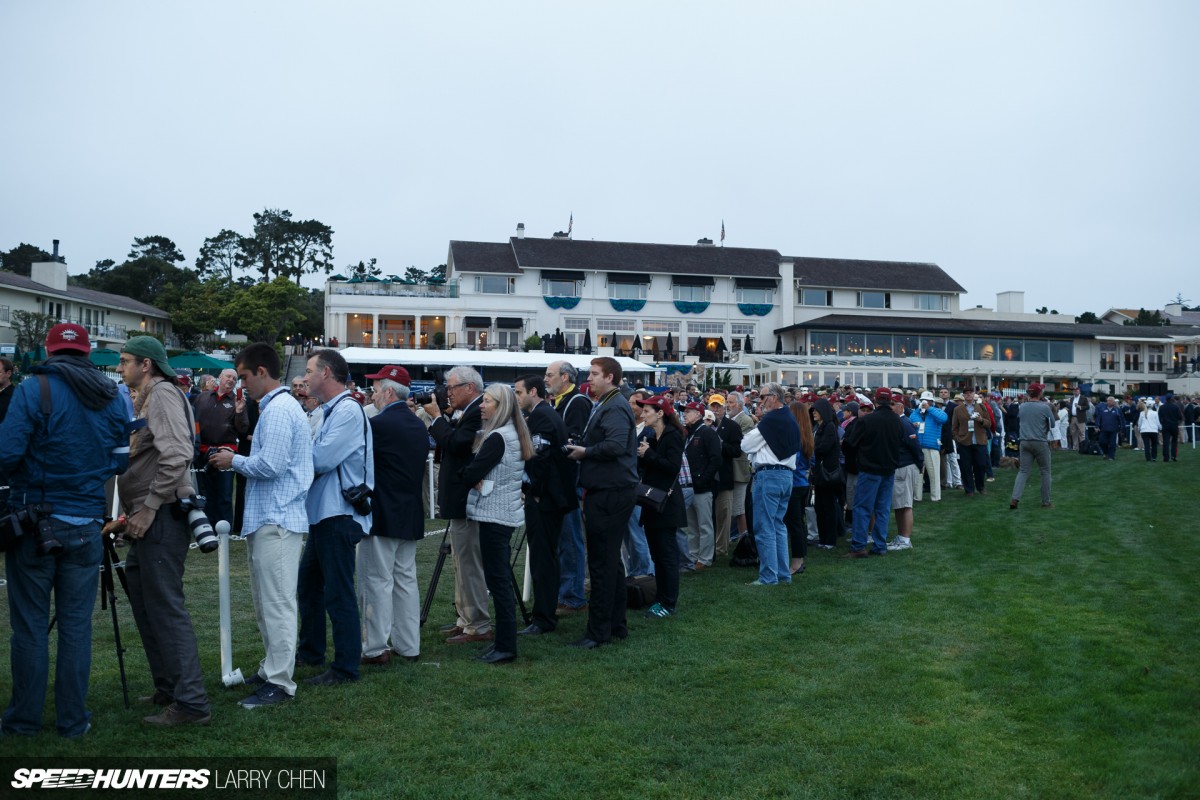 Many of them were friends of the press, but the majority of them belonged to a group called the 'Dawn Patrol'.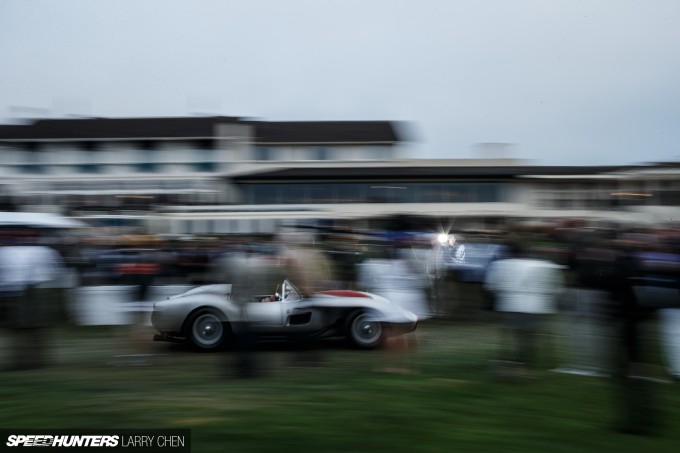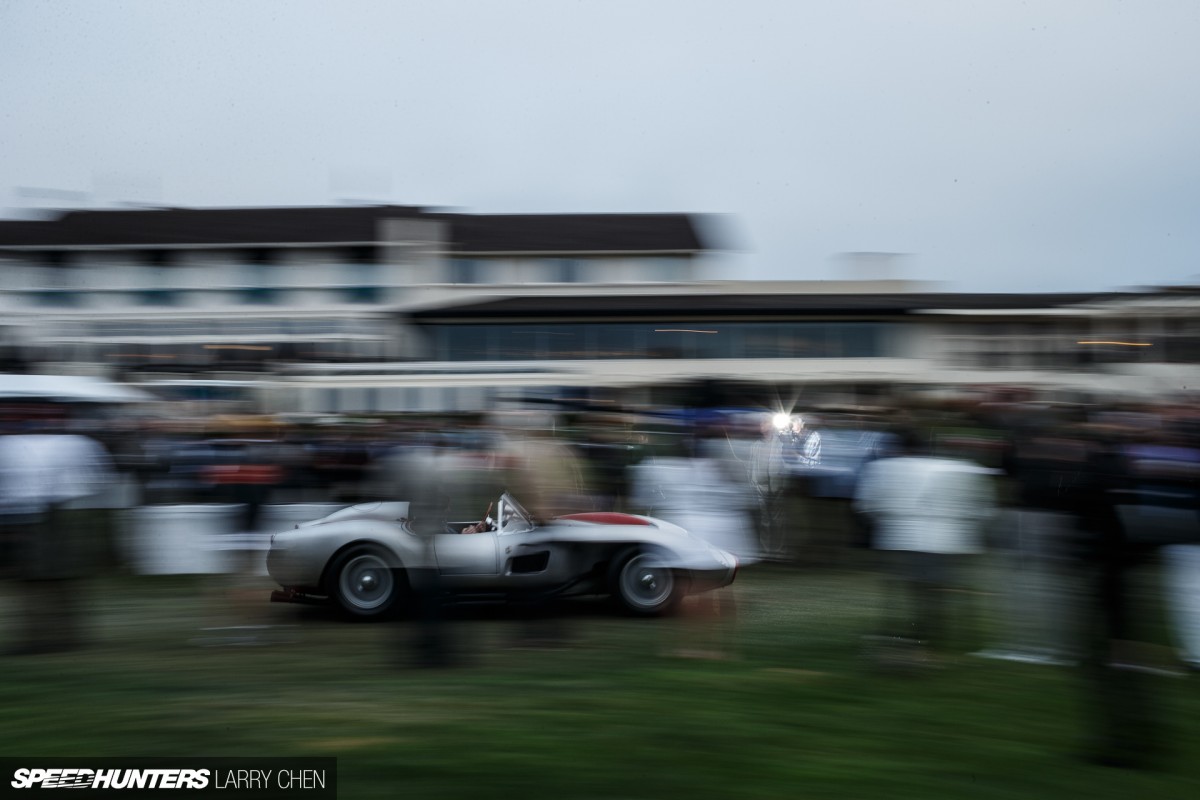 These guys and gals had the same idea that I had. The got up very early just to watch the cars drive in.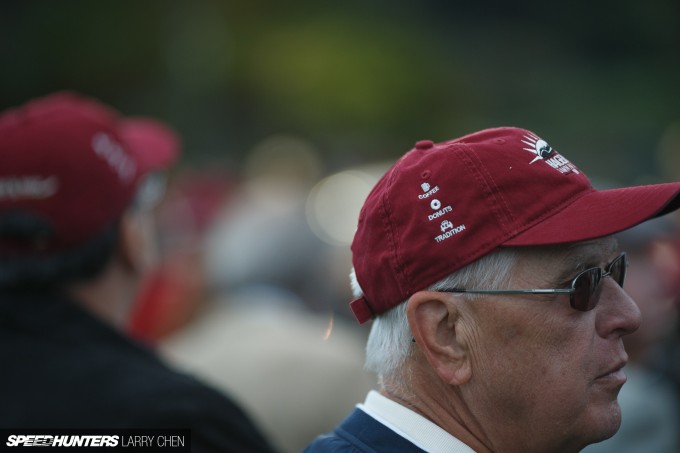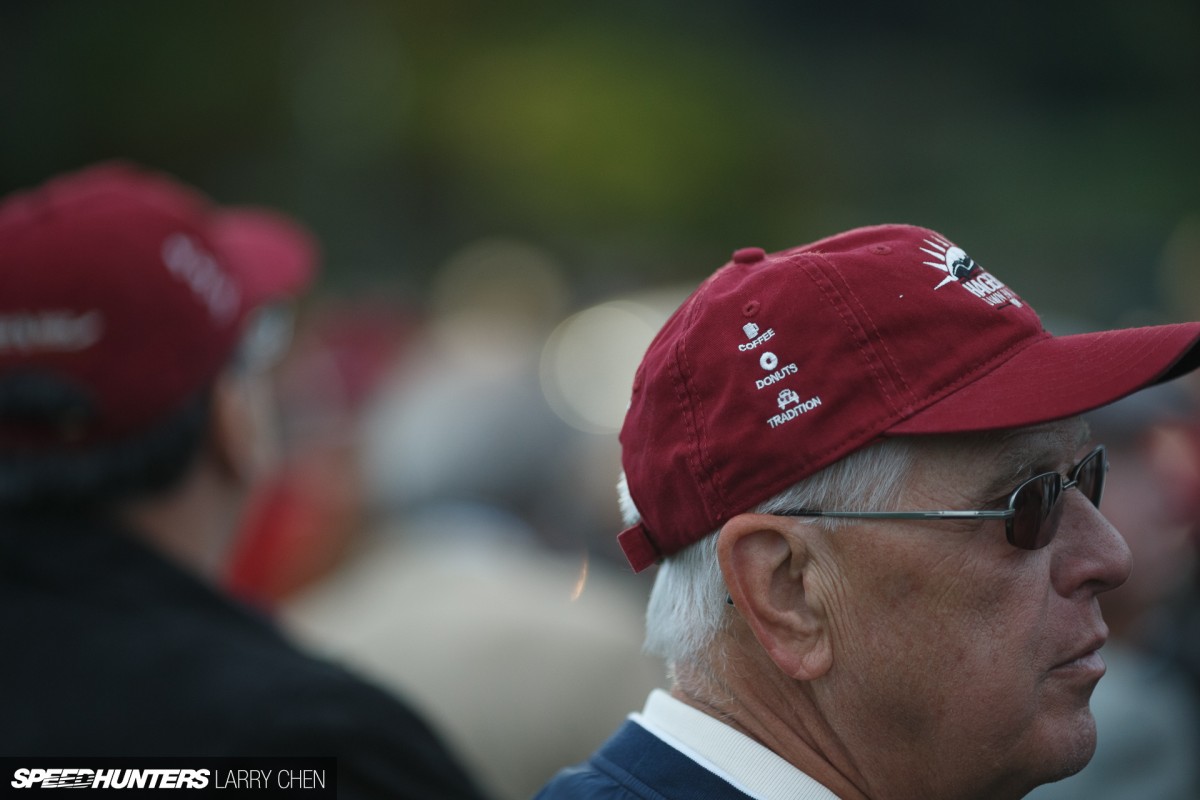 How do you know they were part of the Dawn Patrol? They get special hats provided by Hagerty Insurance, which has been sponsoring the early morning get-together with donuts and coffee (and headwear) since before we can remember.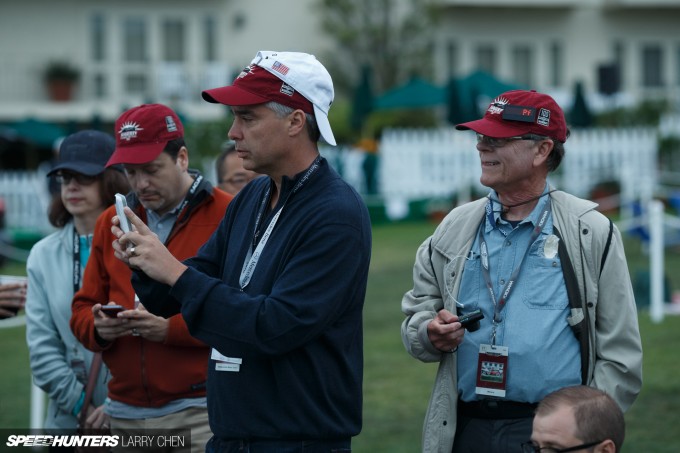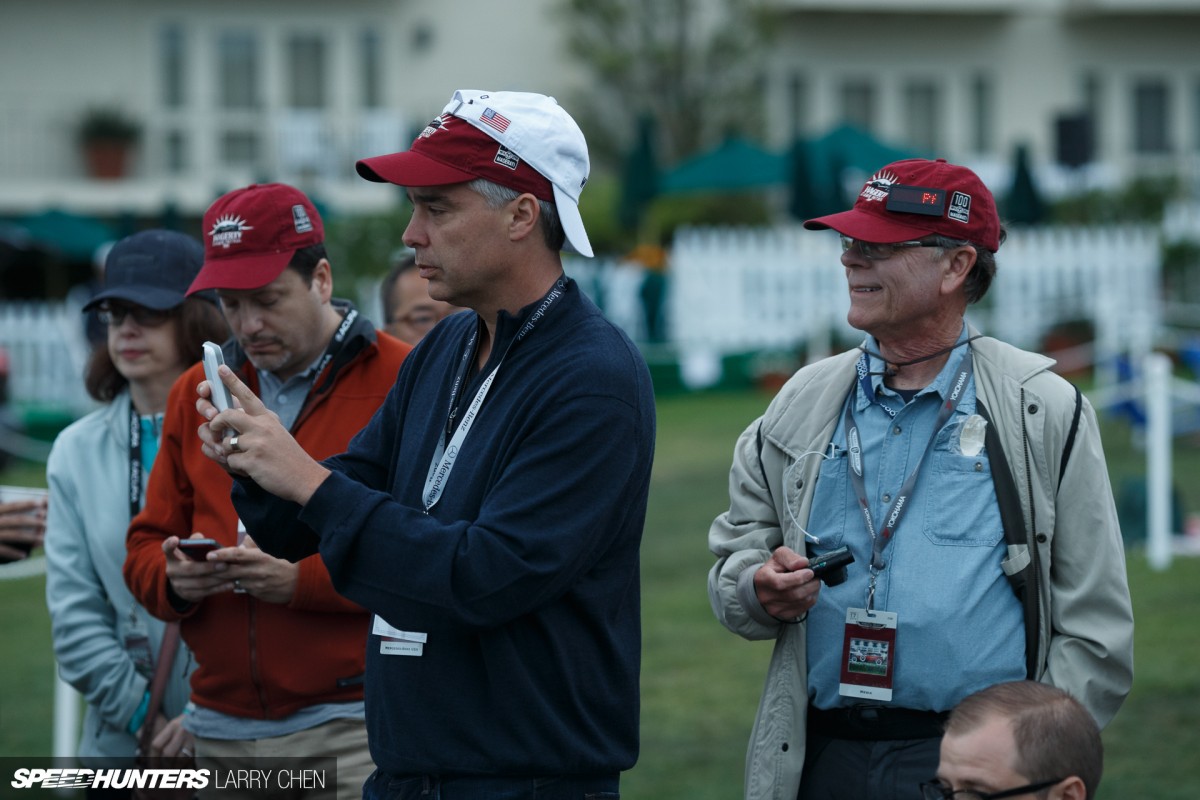 There was literally a sea of maroon-colored hats. Some people were wearing hats on top of hats. It was hat-ception.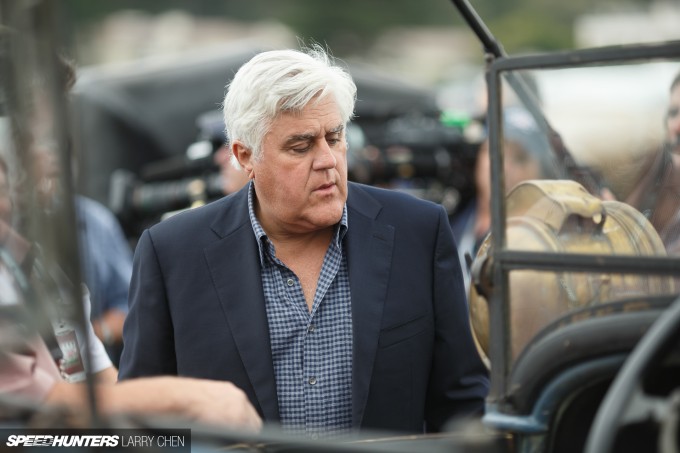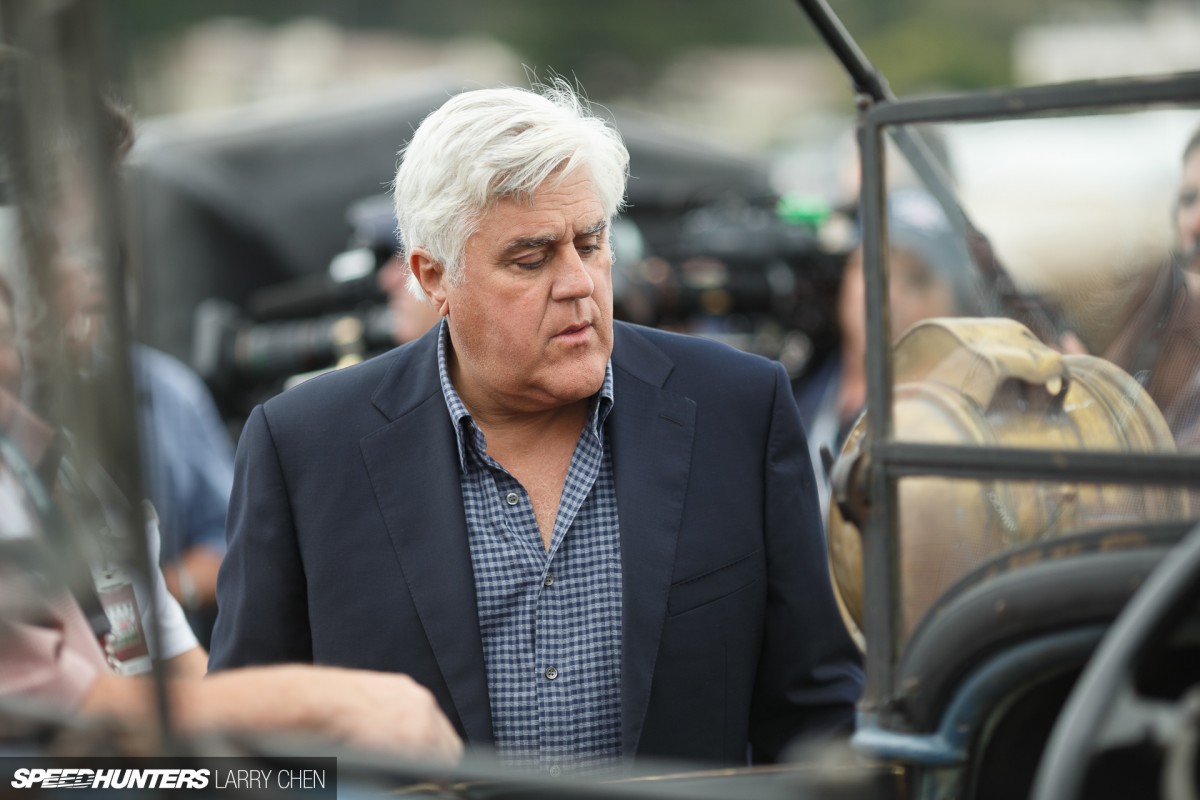 Car collector nut Jay Leno was on hand, greeting all of the people rolling in, car by car. I've always liked Jay's view on cars, plus he is an automotive journalist who can actually afford whatever cars he wants. So his opinion really matters. Think about that…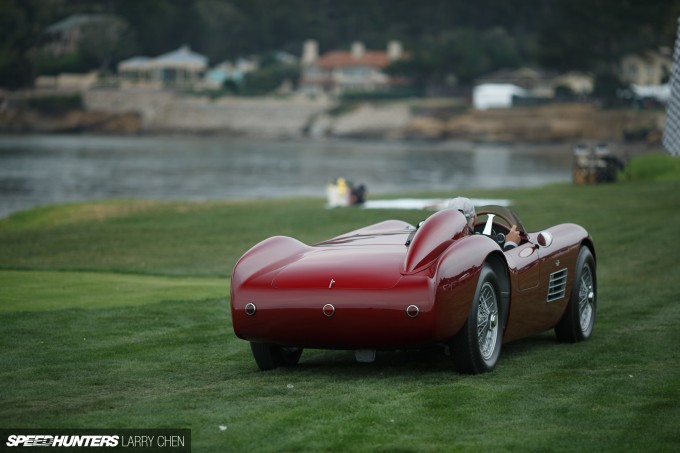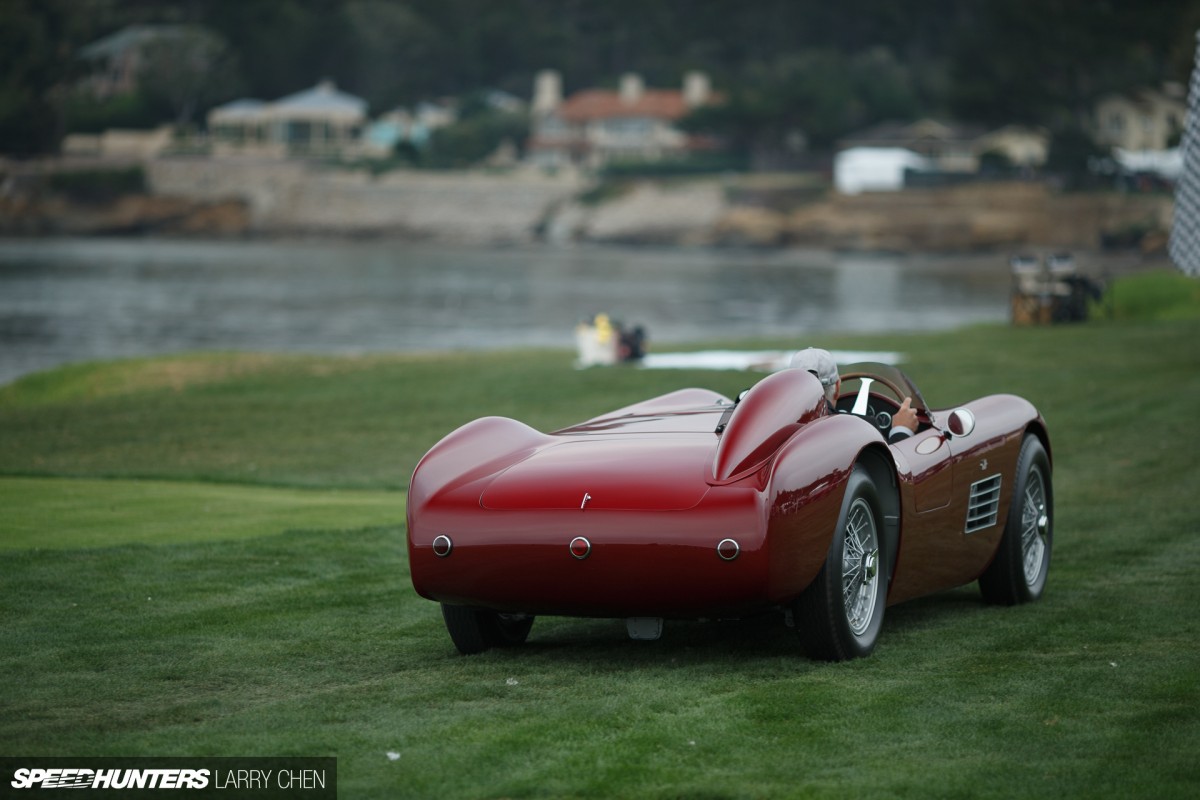 While most cars have a designated parking space, it was sometimes hard for drivers to find where that space actually was.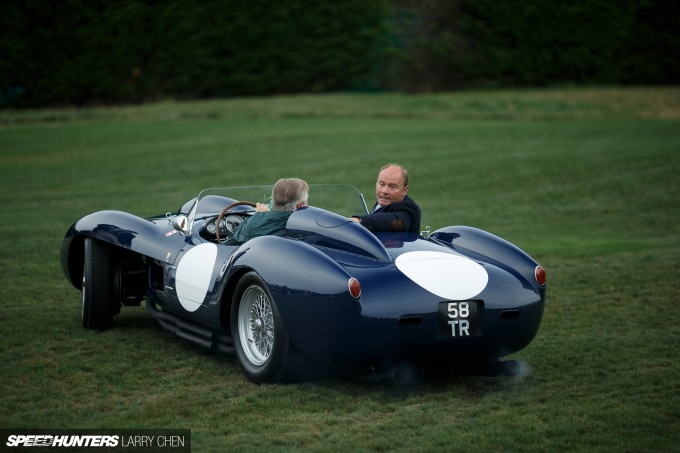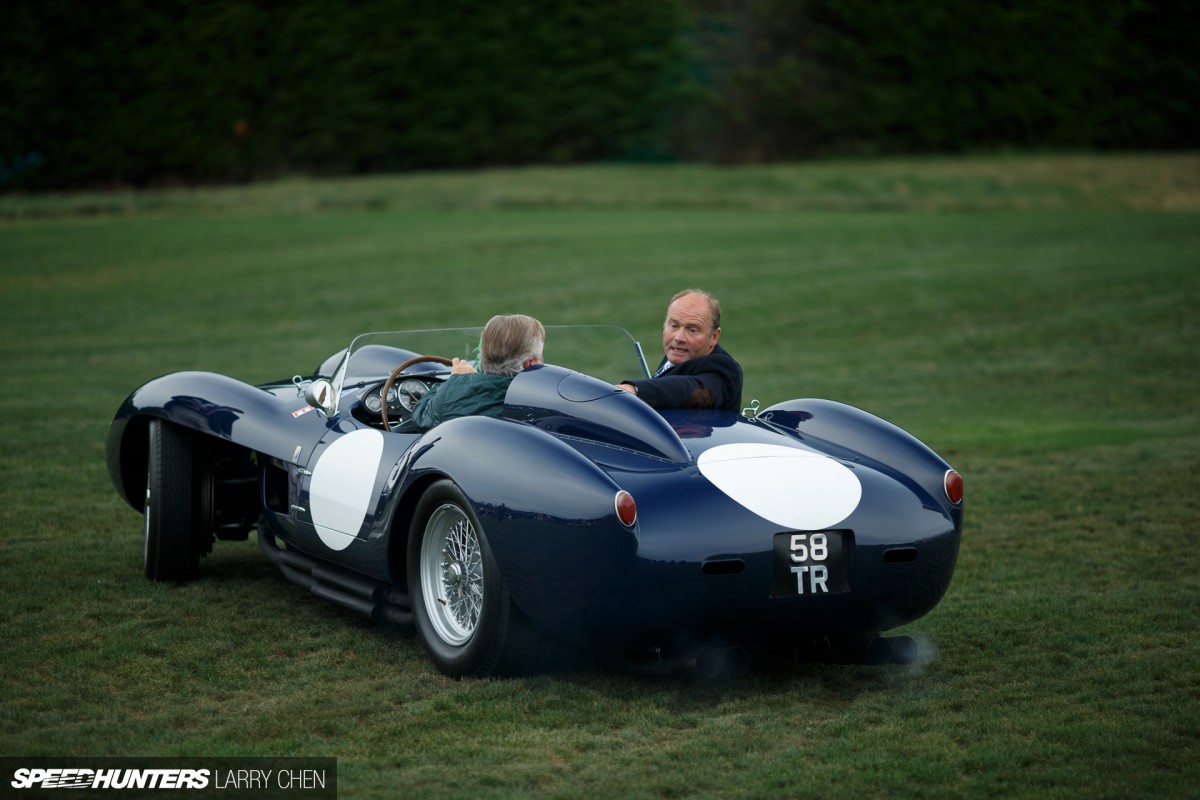 It was nice watching all the Ferrari owners try to find their parking spaces, because it provided me with a nice, clean background.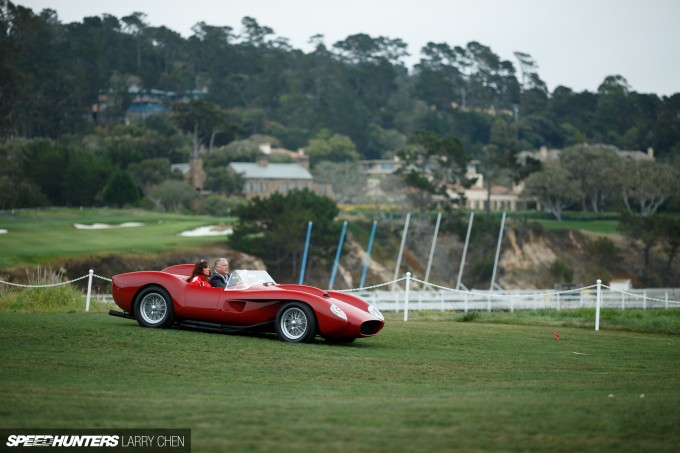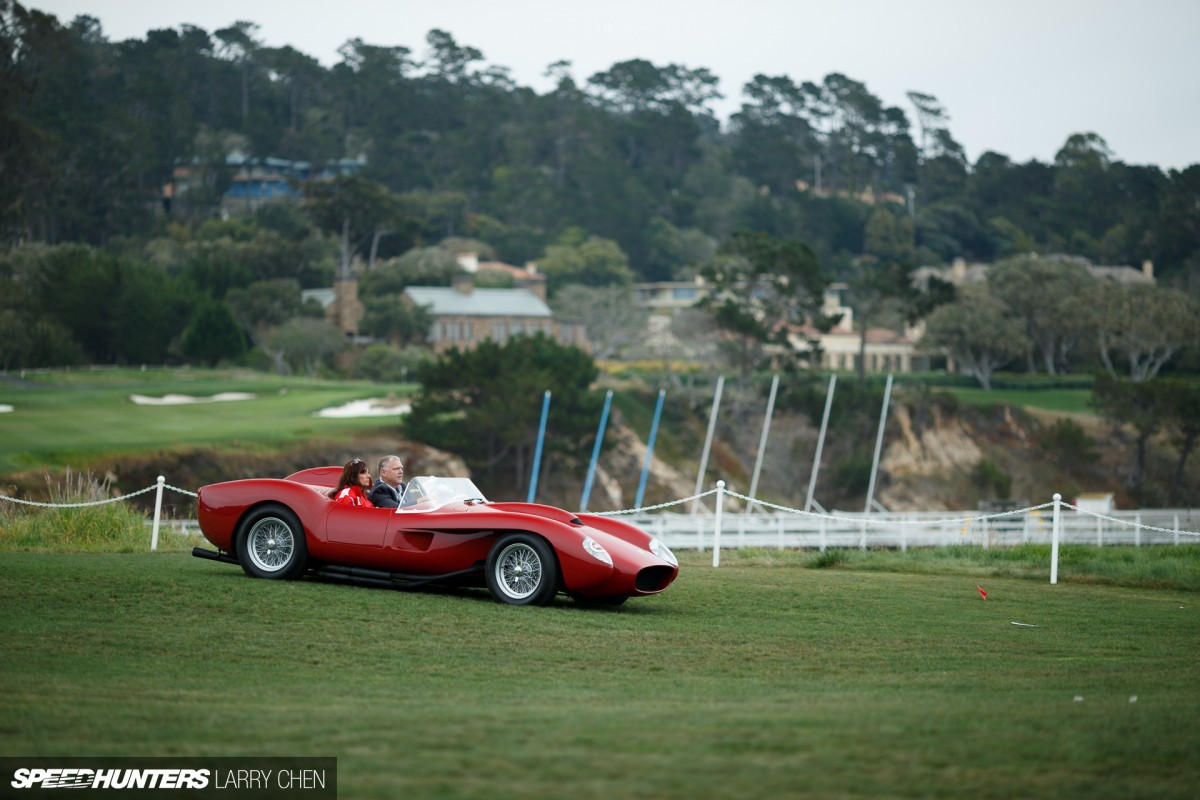 No burnouts, J-turns or drifting at this car show. Isn't that what most people look forward to? I've seen it all too often, people lining the streets watching cars leave and egging on owners to punch it.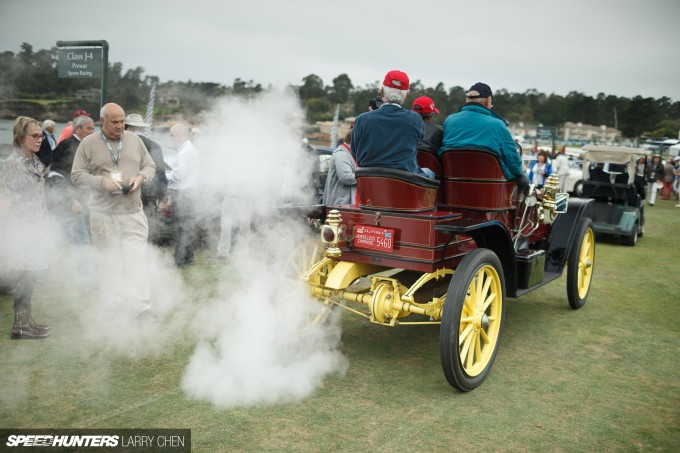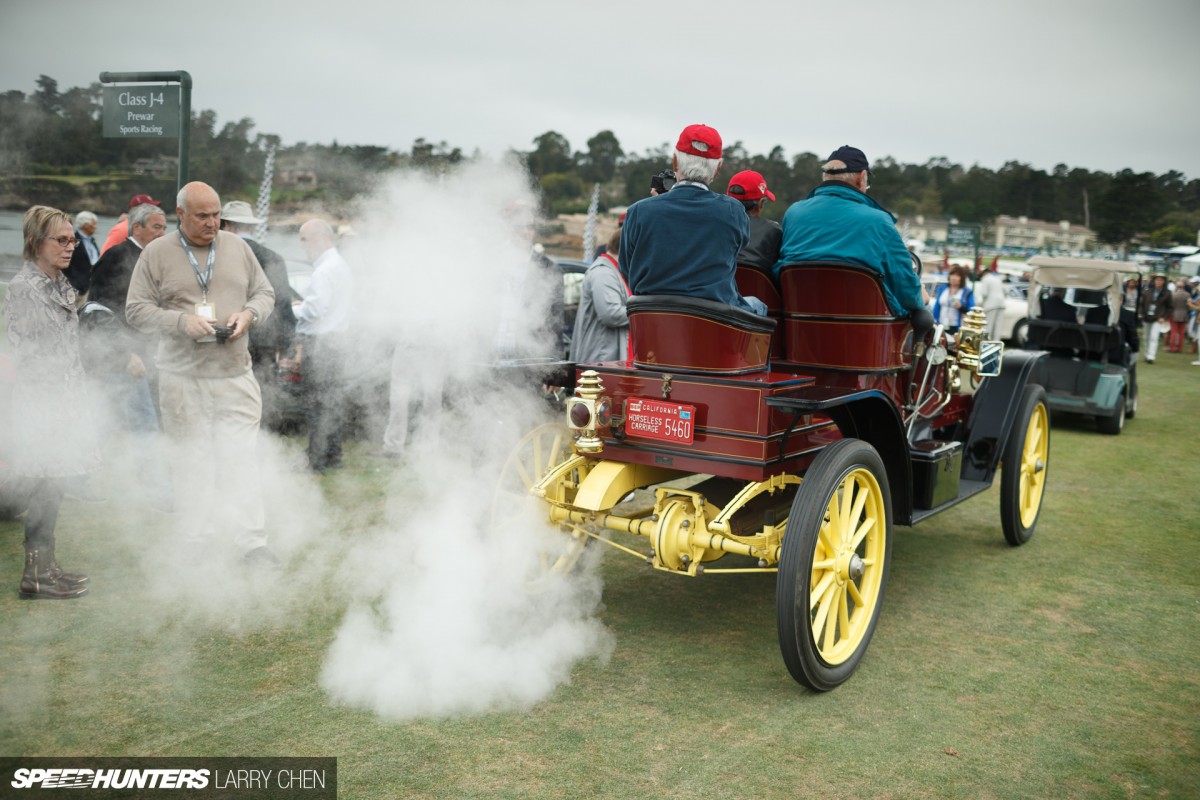 There was no tire smoke, but there was steam. I just love that it says 'Horseless Carriage' on the license plate. This makes me wonder – what did people think back then when cars were becoming more common and horses were getting phased out as the main source of transportation?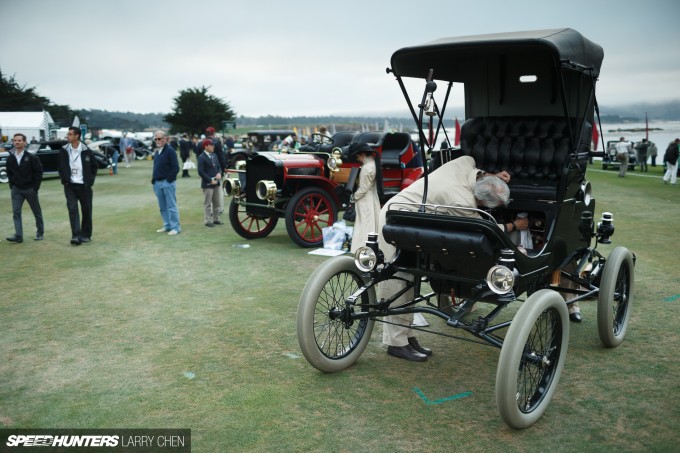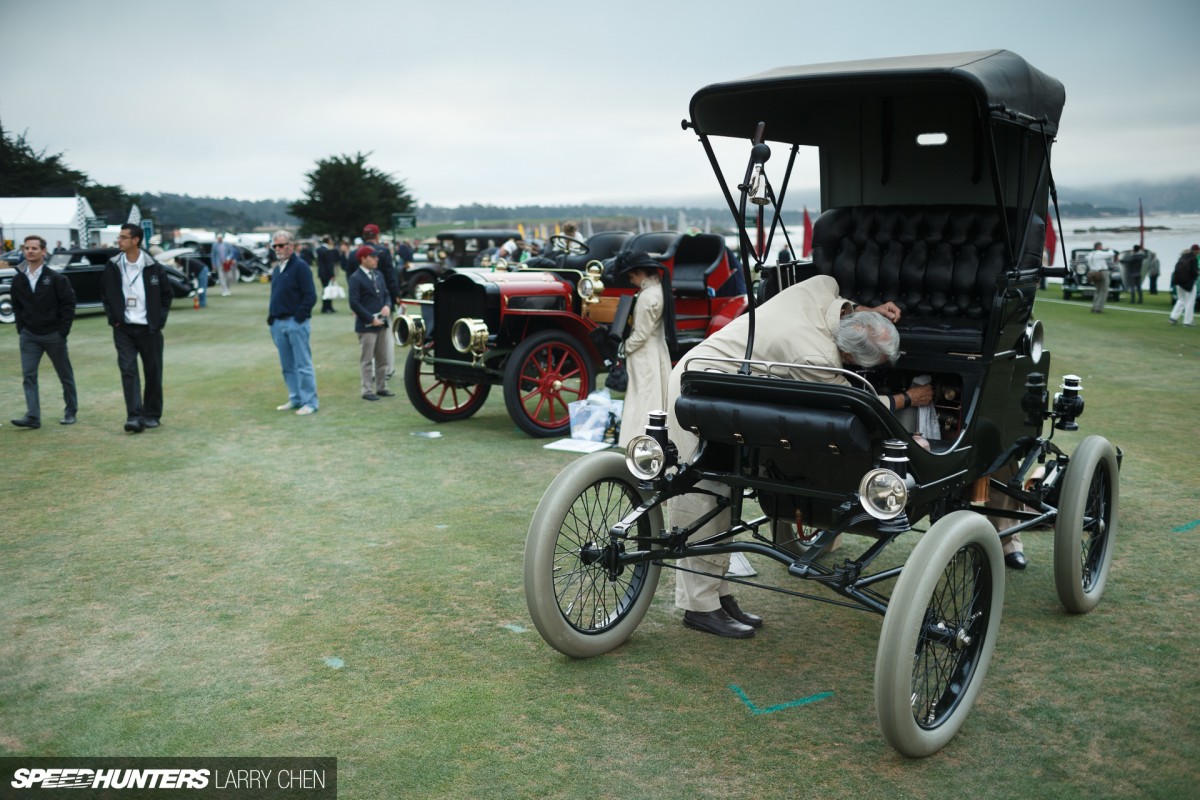 Did they think that it's a pity because in a few generations time no one will have the joy of riding in a horse-drawn carriage? What if it's the same sort of thing with the electric car?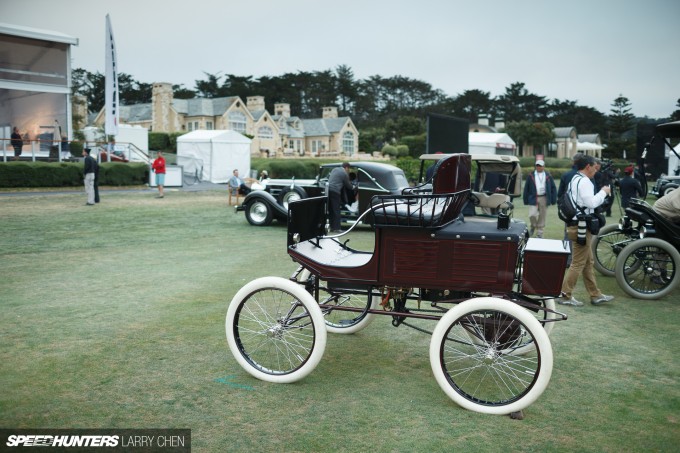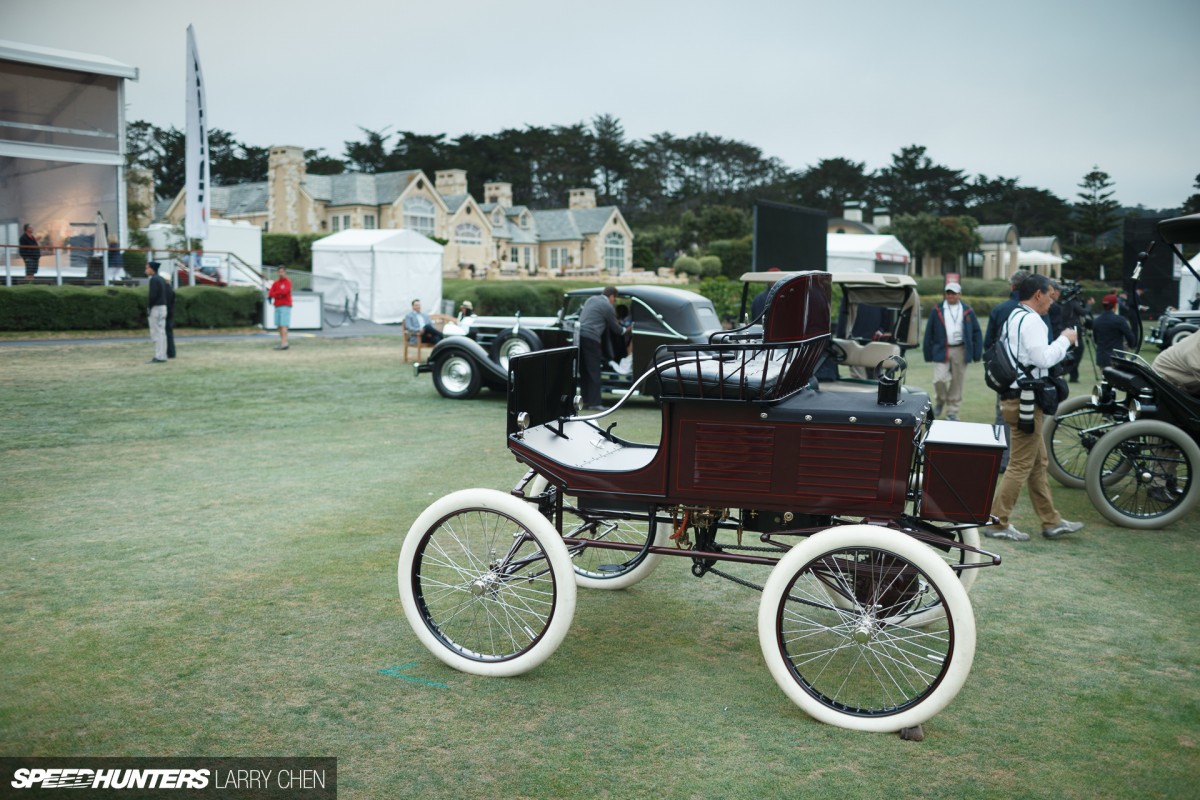 I certainly think that it's a pity that someday my grandkids probably won't be able to experience driving a gasoline-powered car. Will they know any better? I mean, chances are all they'll know is the electric car, or a fuel cell powered contraption that will be the norm in the future.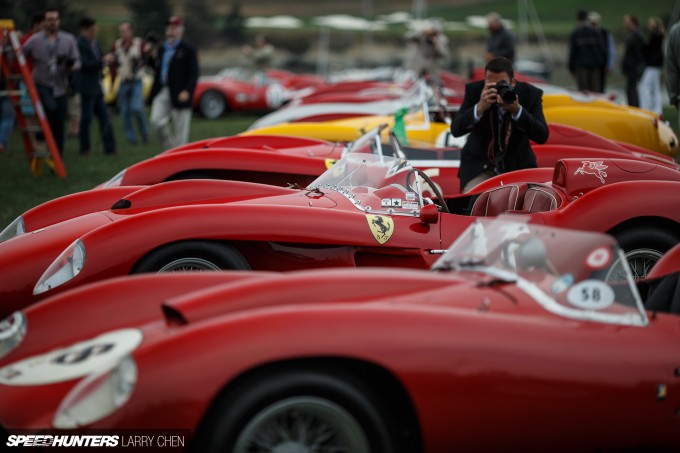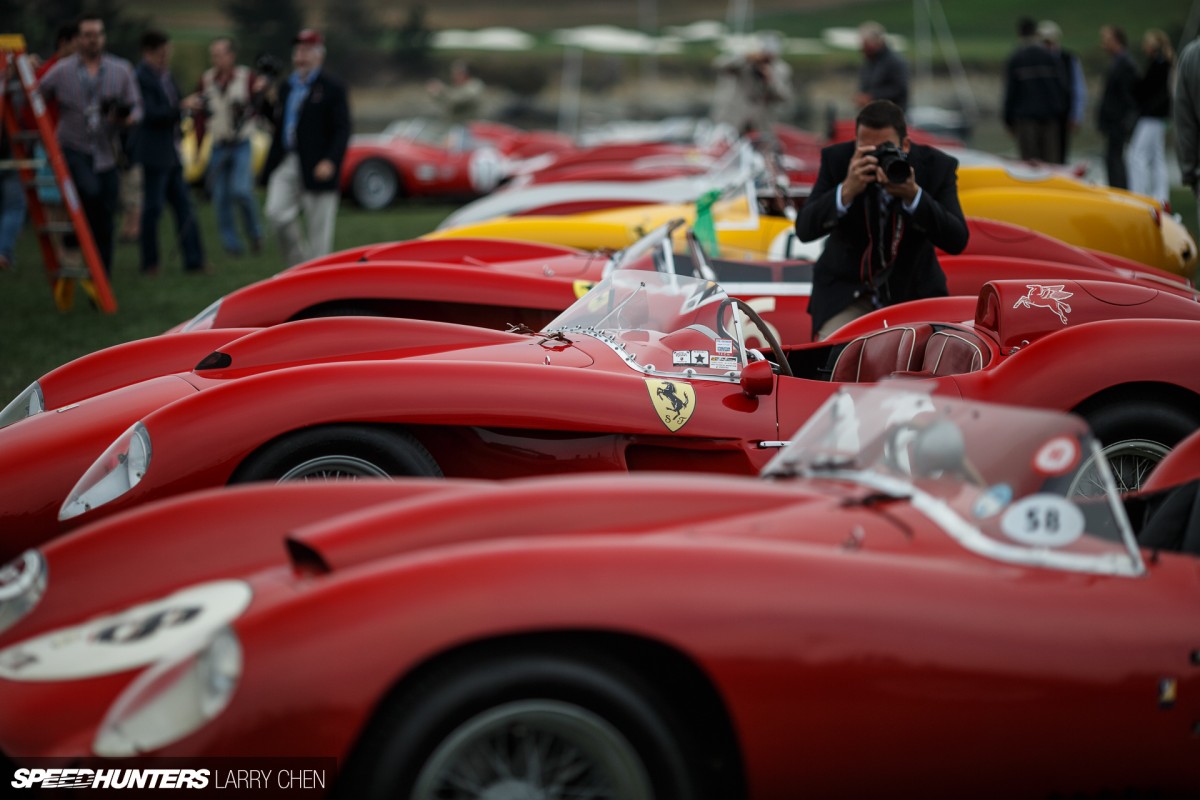 I guess I shouldn't get too ahead of myself, because after a century of automobiles they have not changed that much. With a few exceptions they still have four wheels, and while they have improved so much they are largely the same concept. It's human transportation, and until we can teleport from one place to another we will always have cars. How they are powered is not such a big deal.
Larry Chen
Instagram: larry_chen_foto
larry@speedhunters.com
Cutting Room Floor