A Different Kind Of Chevy
When you look back at American cars from the 1960s there was an incredible diversity to them. Almost every model was offered in several different body styles, from luxurious convertibles to family-friendly station wagons. On any given car, engine options could range from a bargain-basement six-cylinder, to a range-topping, high-displacement V8 with multiple carburetors. Even GM's subdivisions like Pontiac and Buick had their own engine lines that were completely different from their corporate cousins. It was an exciting time.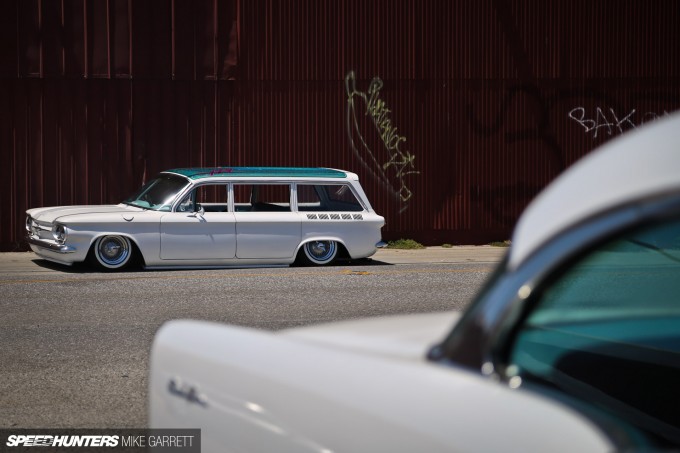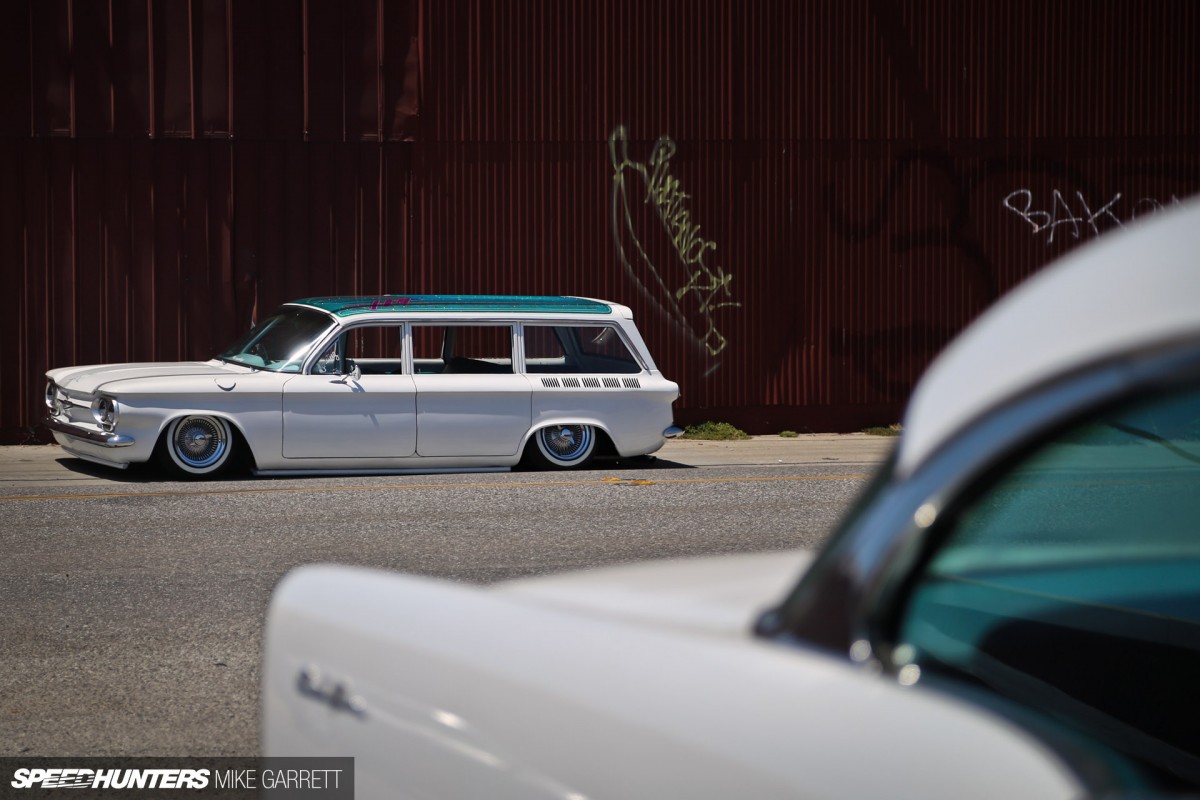 Yet even for all the different choices back then, American cars still largely followed the same formula. A six or eight-cylinder engine up front connected to solid axle in the rear. Even the new compact cars like Ford's Falcon or Plymouth's Valiant used the same design, just scaled down into a smaller package.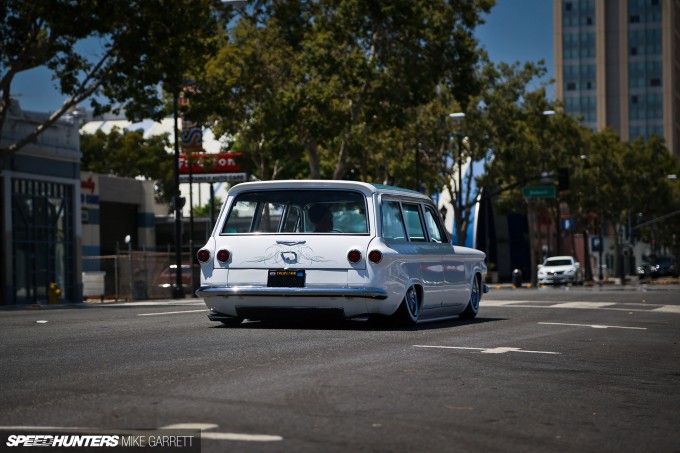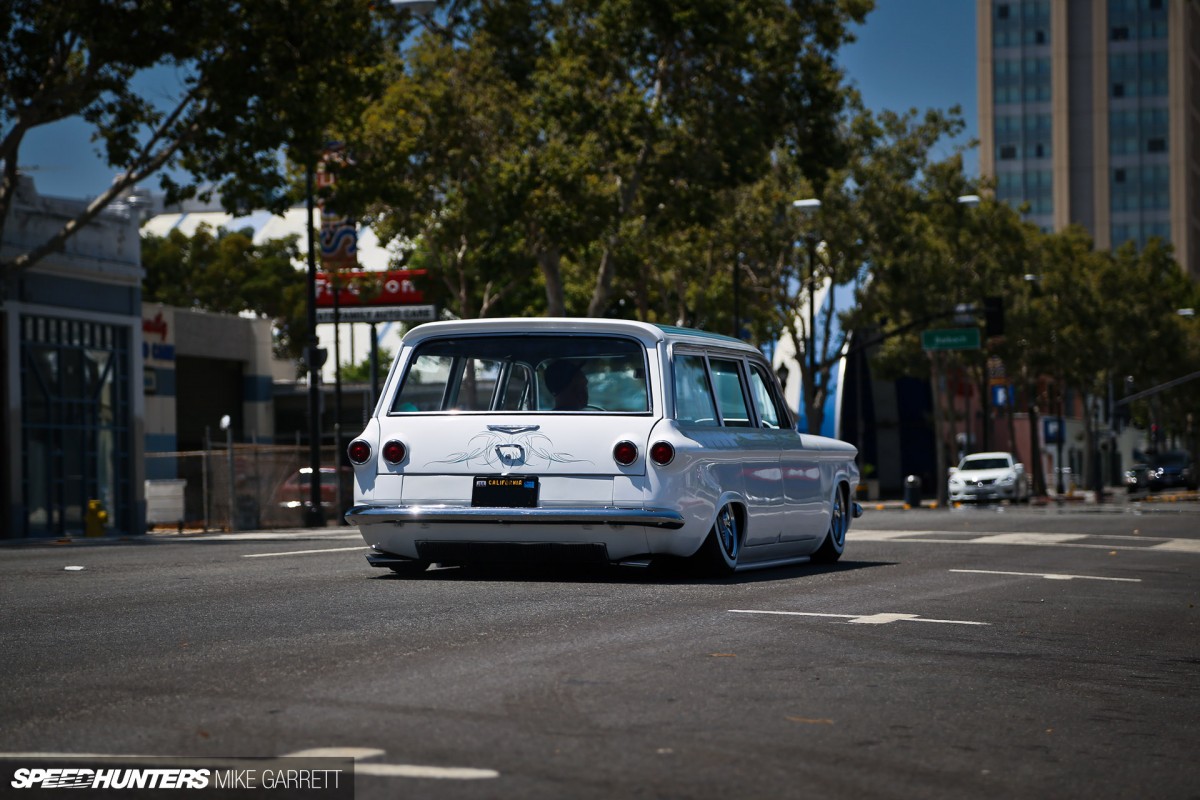 That's why it was such big news when Chevrolet introduced the all-new Corvair back in 1960. The goal with the Corvair was not just to compete with rival American compact cars, but with increasingly popular import cars like the Volkswagen Beetle.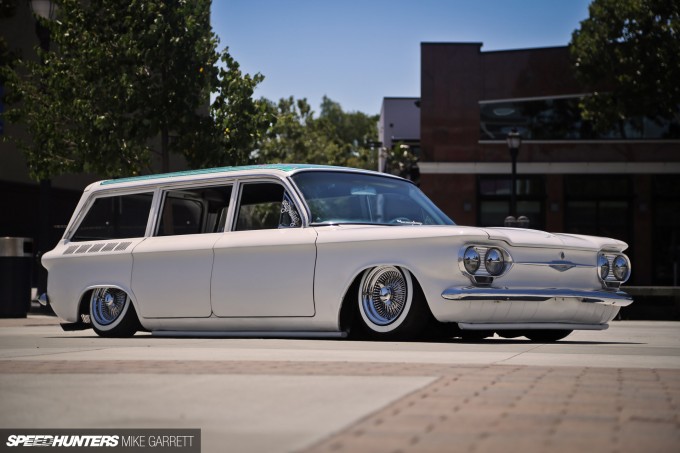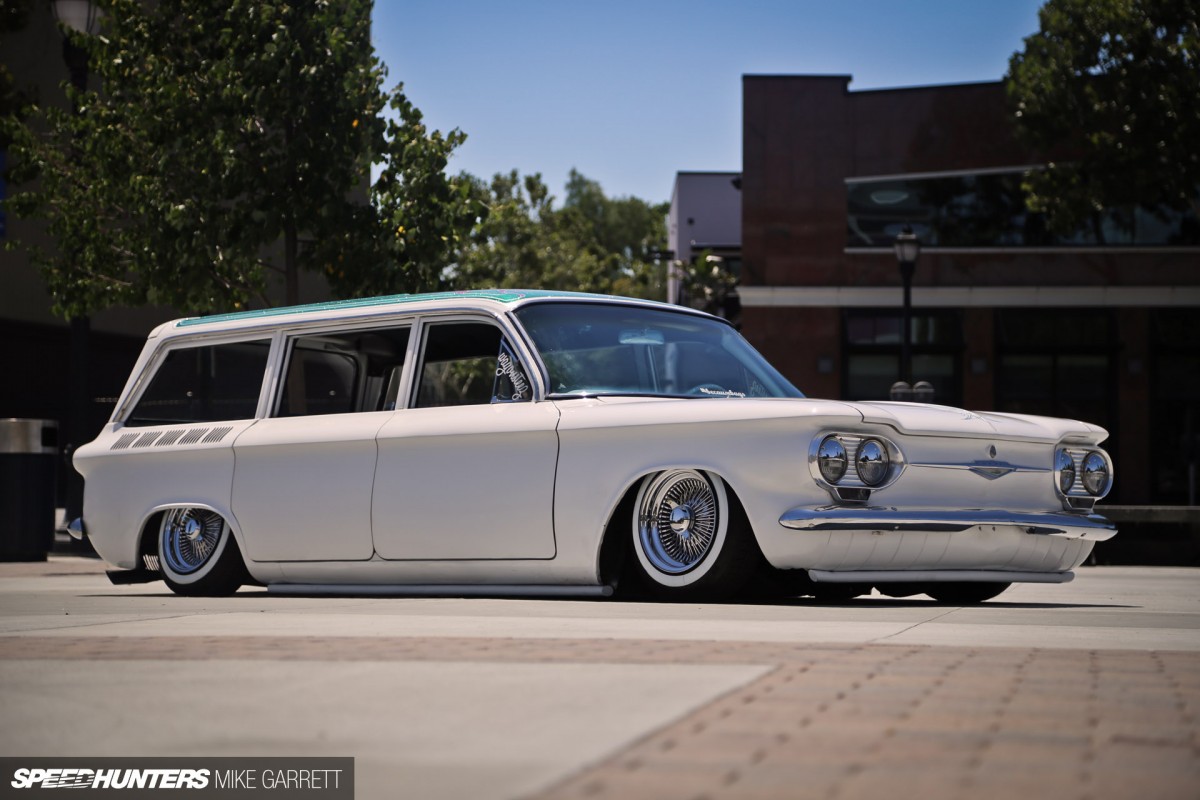 To do this, the Corvair employed many features that had never before been seen on an American car, and a few that haven't been seen since. For starters, it's flat-six engine was air-cooled and it sat in the rear of the car. It would also employ unibody construction with independent suspension all around.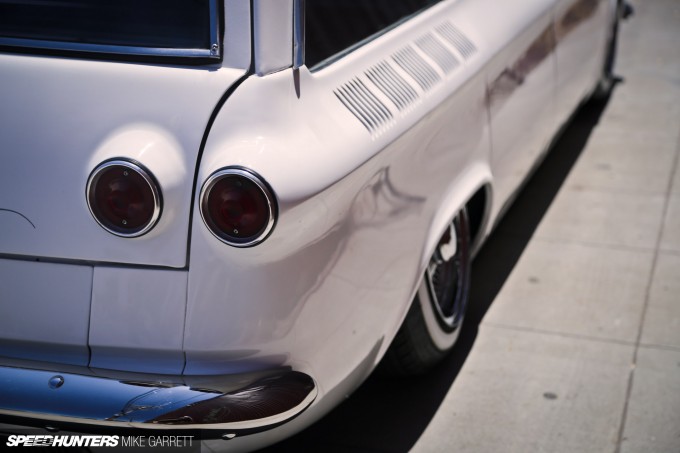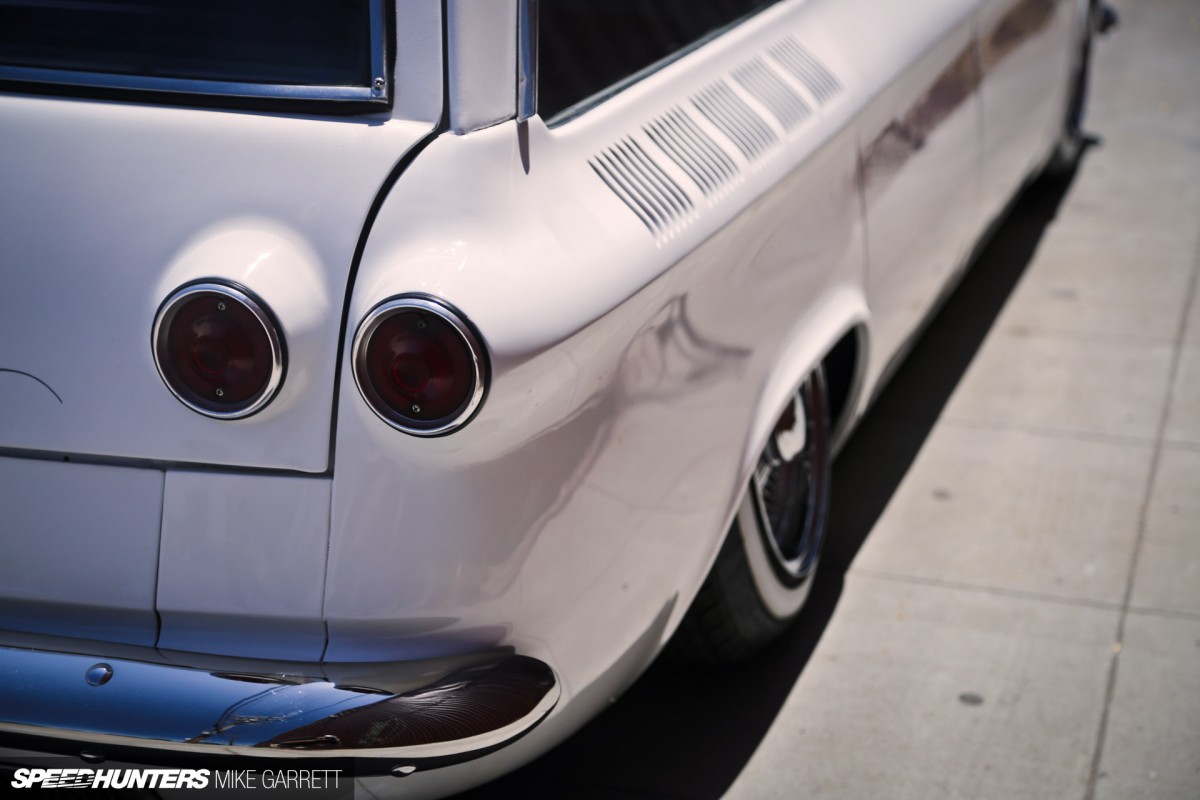 It was an extremely ambitious project on GM's part, and buyers were initially quite enamored by the Corvair's mix of fuel economy, interior packaging and ride quality. Motor Trend magazine awarded the Corvair the 'Car of the Year' title for 1960.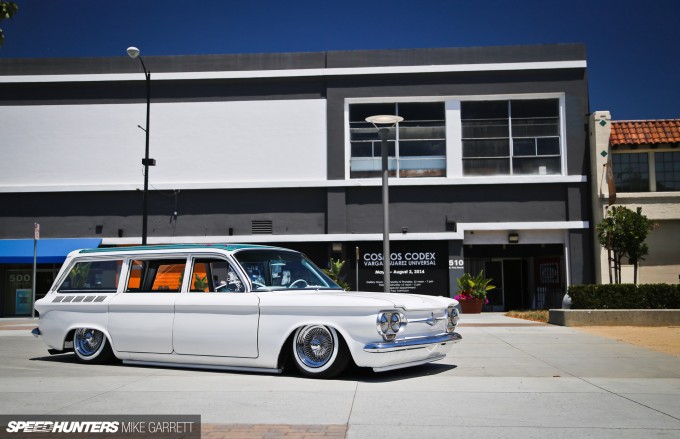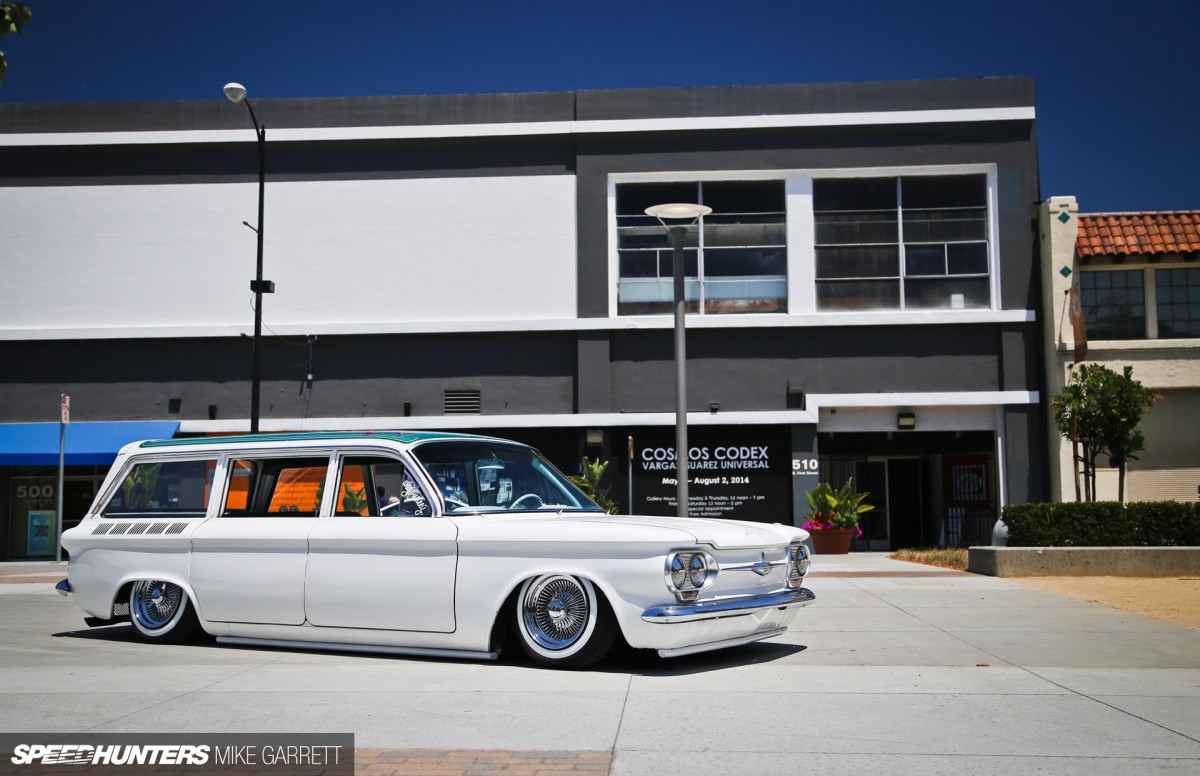 But for all of the momentum the Corvair had at lunch, it would not live to see the end of the 1960s. After the debut of the second generation car for 1965, sales had begun to dwindle. A number of factors lead to this, including reliability issues and competition from other brands – as well as Chevy's own products. Most famously, the Corvair"s safety was also called out in Ralph Nader's book Unsafe At Any Speed. Despite arguments over the validity of Nader's claims, Corvair sales plummeted and the model was gone after 1969.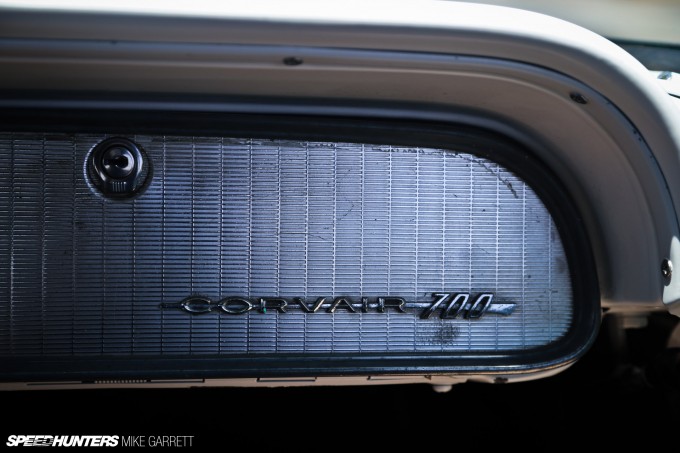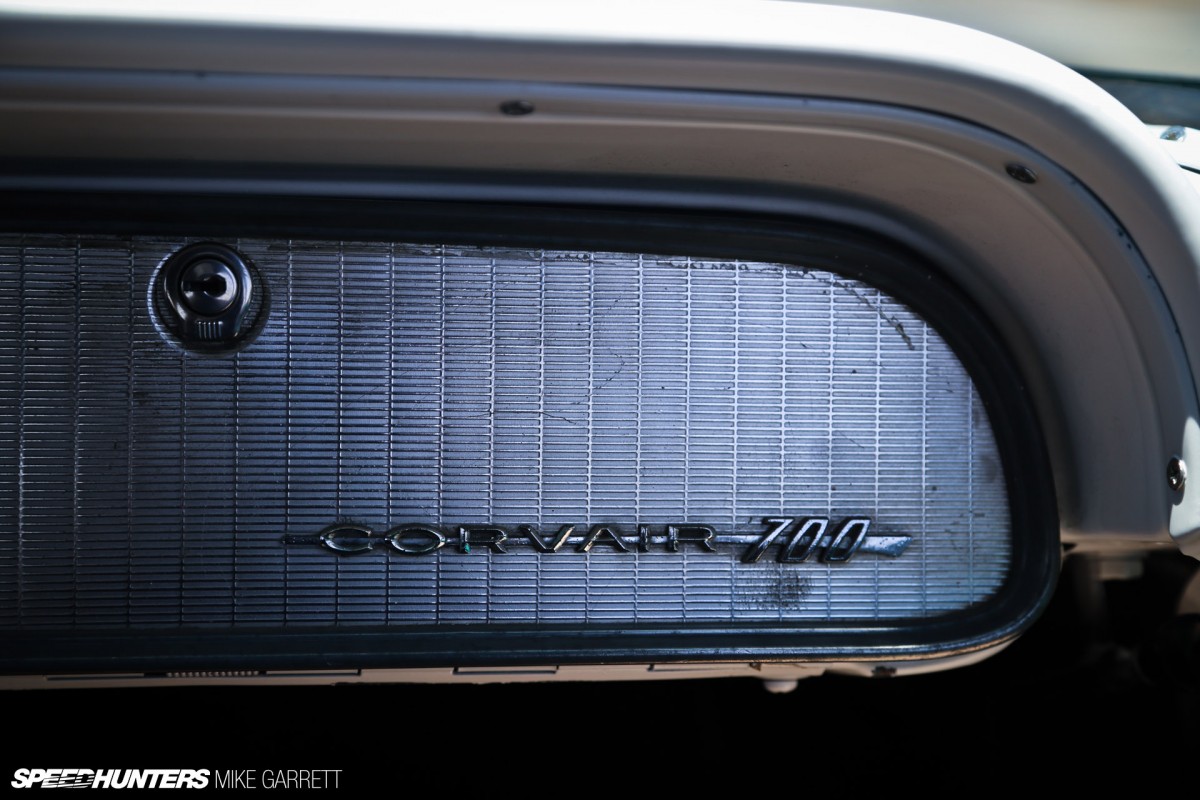 Despite the fact that nearly two million Corvairs were sold during the 1960s, it's not a car that you see often on the street today. Unlike American icons like the Impala or Mustang, a Corvair will likely get a 'Hey, whatever happened to those things?' reaction on the street. And that's only if the person even knows what kind of car they are looking at.
What The Hell Is That?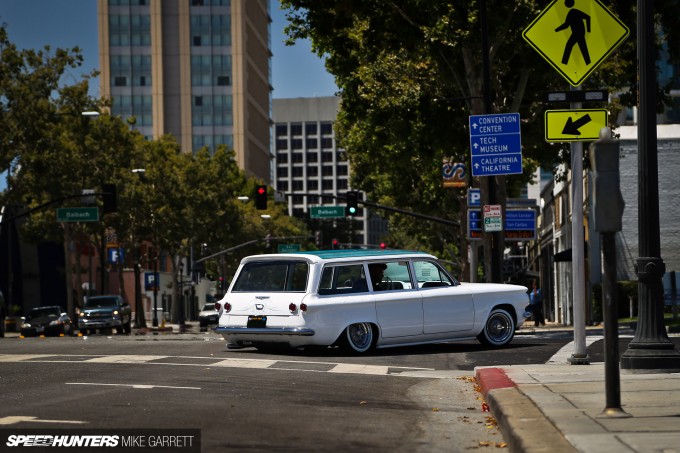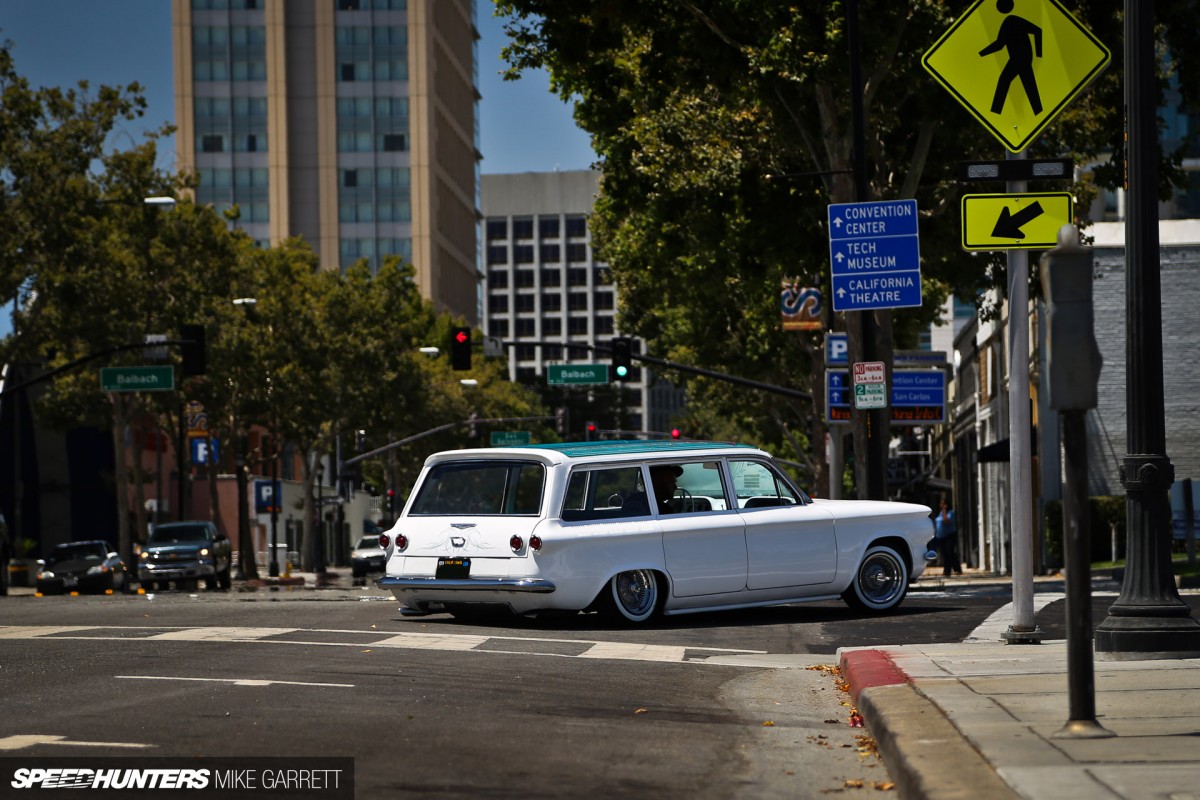 When California's Michael Plushnik takes his 1961 Corvair Lakewood wagon to a car show or just out for a cruise around town, he gets all sorts of weird reactions. Some of the most common include, 'Whoa that's a cool Volkswagen' or simply 'What the hell is that thing?'.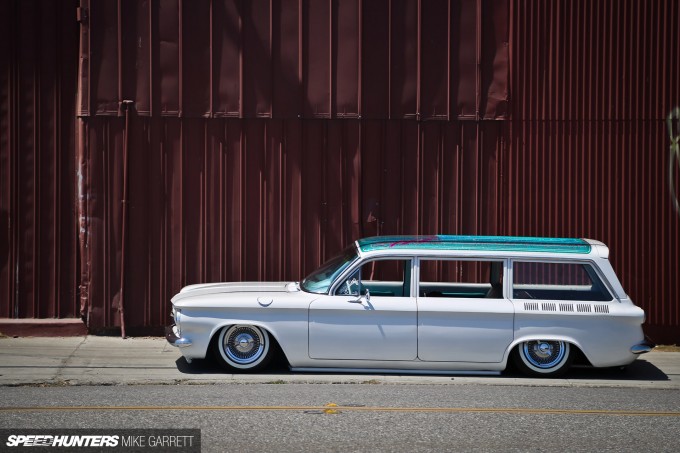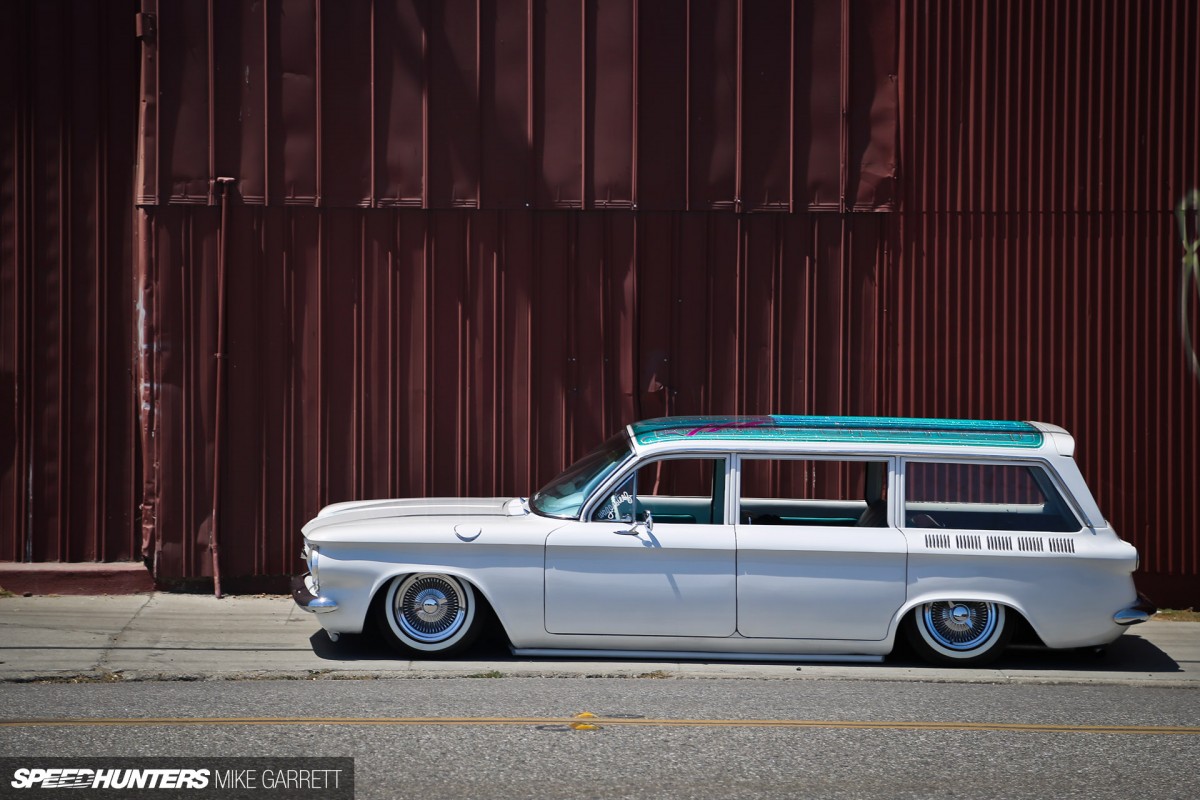 Of course, Michael's car isn't your typical Corvair. First off, it's the rare station wagon body style which was only offered for the 1961 and 1962 model years. Secondly, the little wagon has been completely reimagined as a frame-dragging custom cruiser.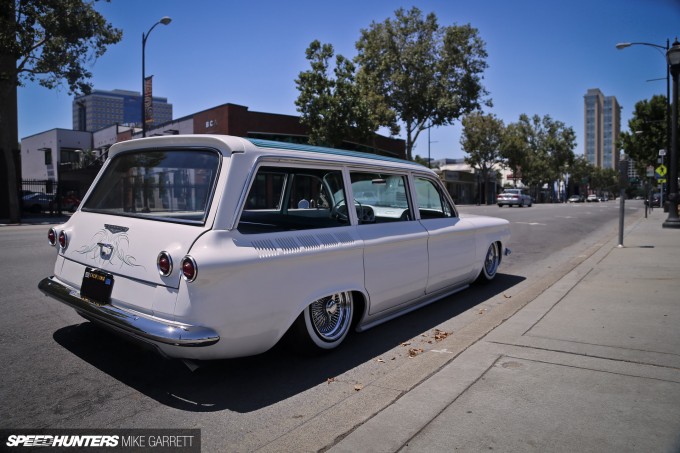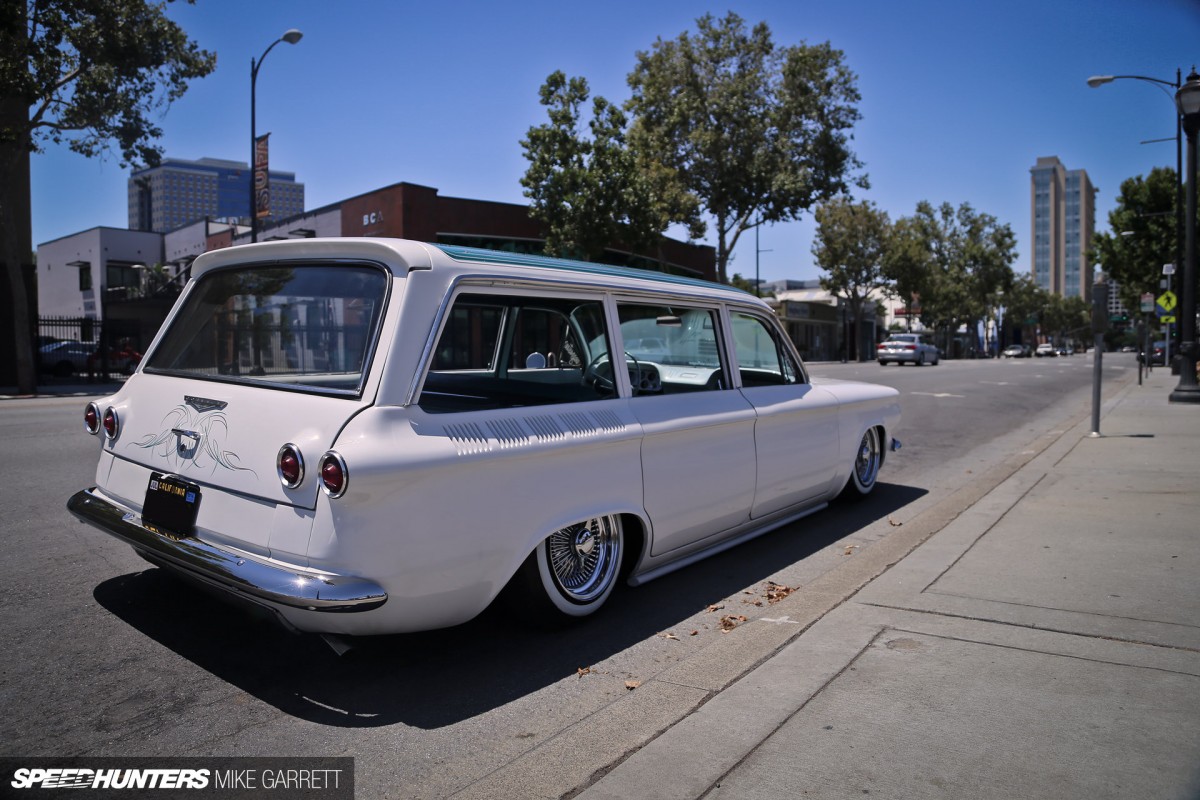 When he found the car in the East Bay, it – like most surviving Corvairs – was in need of some serious loving. But as soon he saw it, Michael had a vision in his head. A vision of a lowrider-custom hybrid unlike any other. With the flat-six engine barely running, he limped the car down the highway back to his garage in San Jose and got to work at making his vision a reality.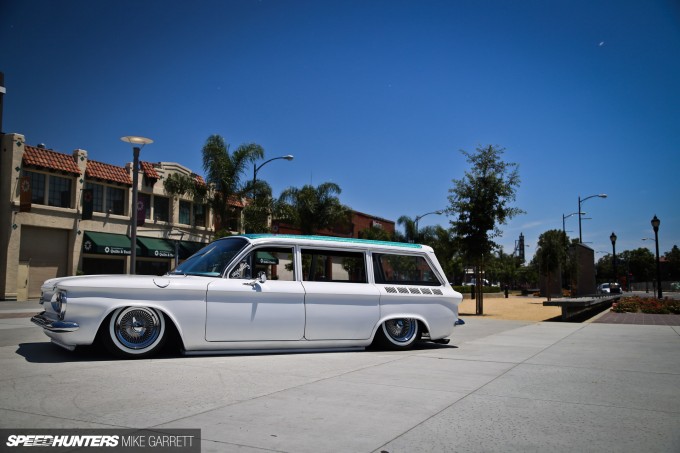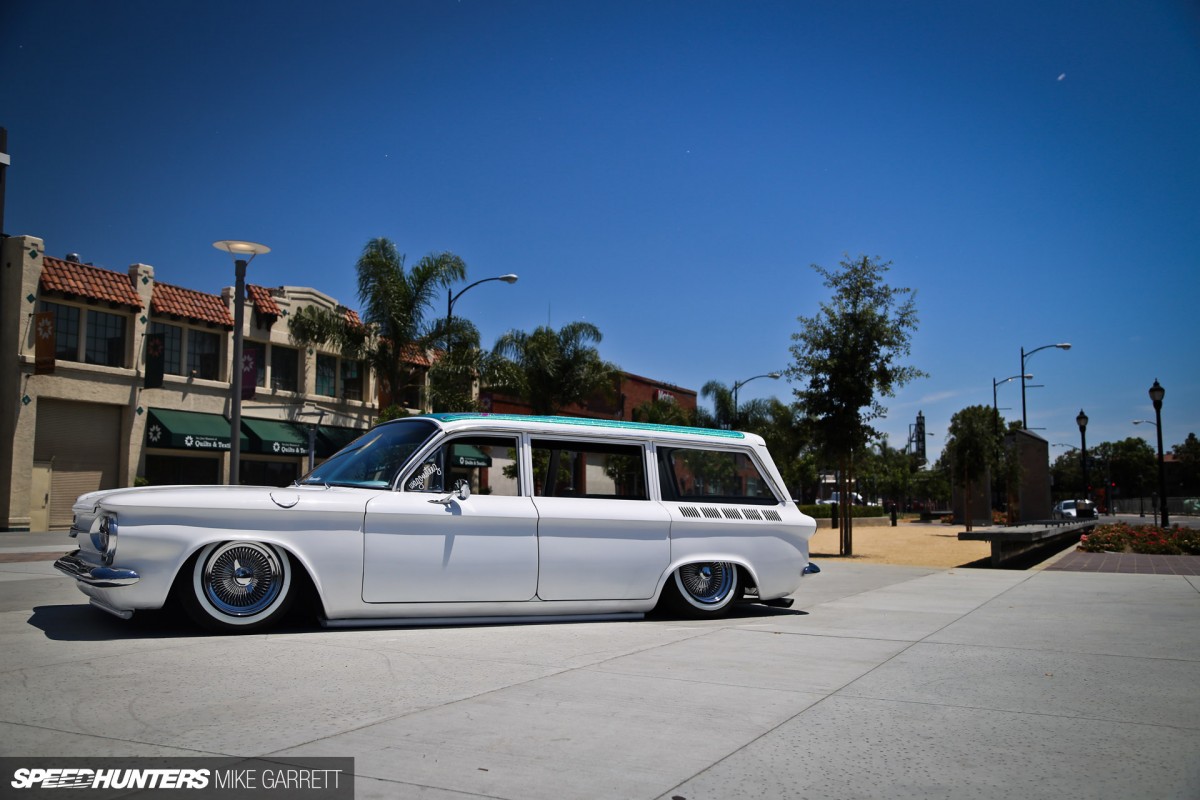 At the heart of Michael's idea was creating one of the lowest Corvairs in the world, and he did this with a full custom air ride setup from the Bay Area's own #becausebags, a suspension specialist in the nearby city of Campbell.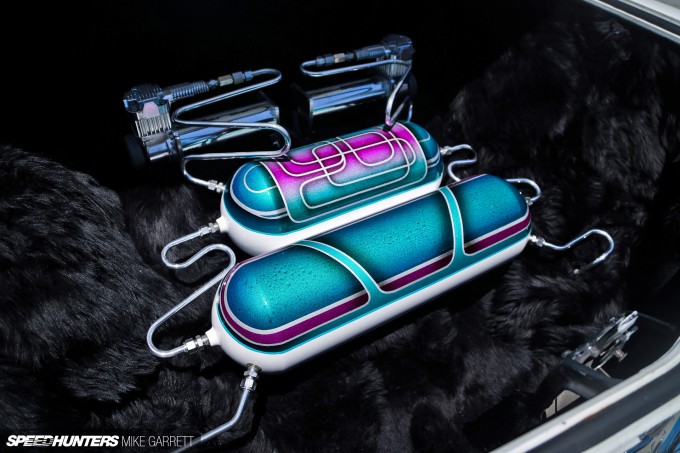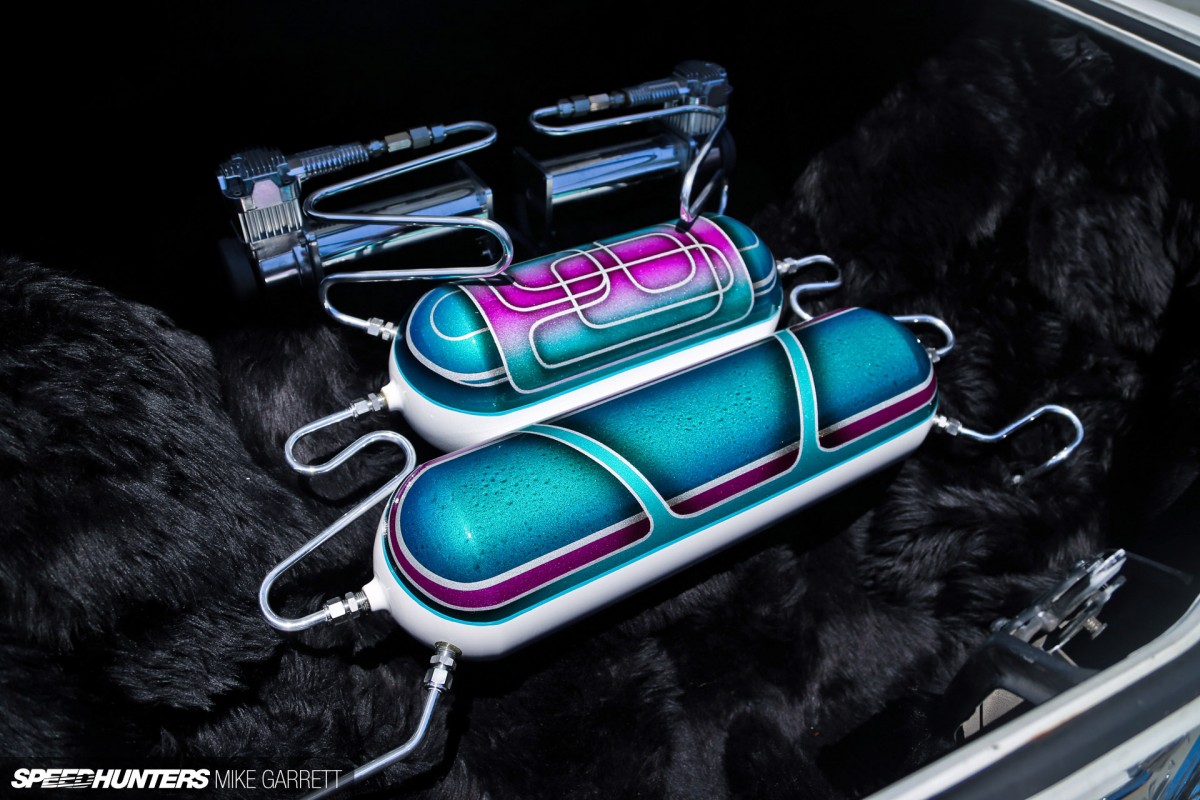 The suspension setup runs three seamless air tanks. Two sit up in the front cargo compartment, surrounded by a super-plush cover that you just can't help but touch every time you see it.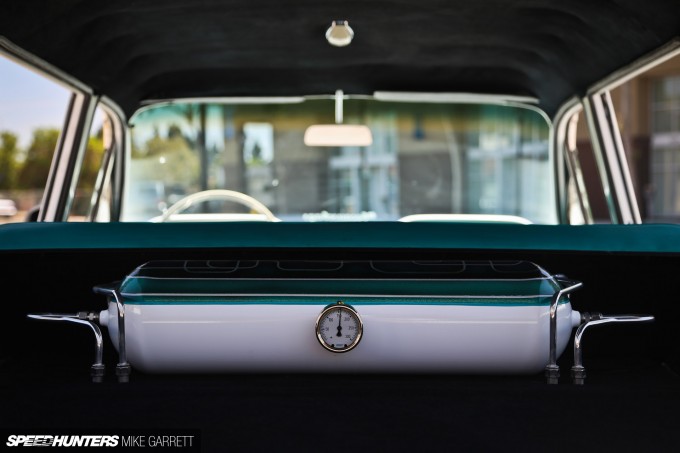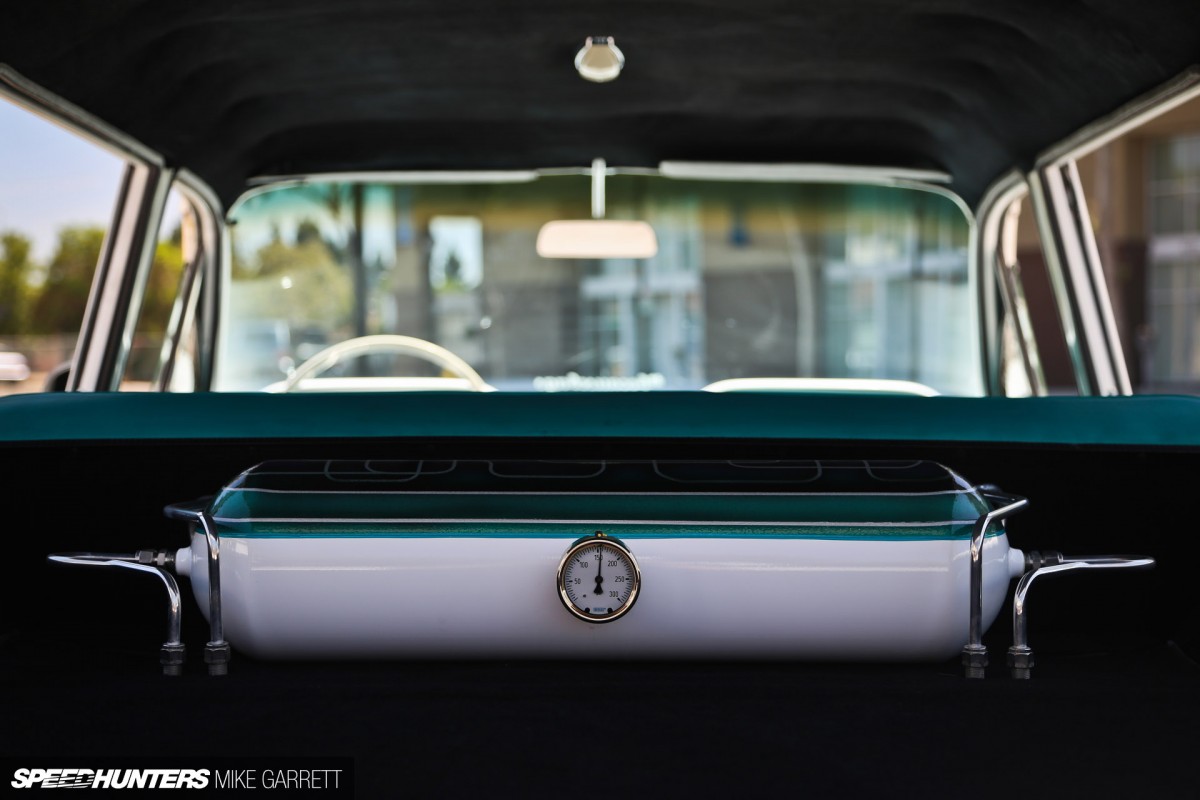 The other tank sits out back in the rear cargo area, and all three are affixed with custom-made aluminum polished hard lines.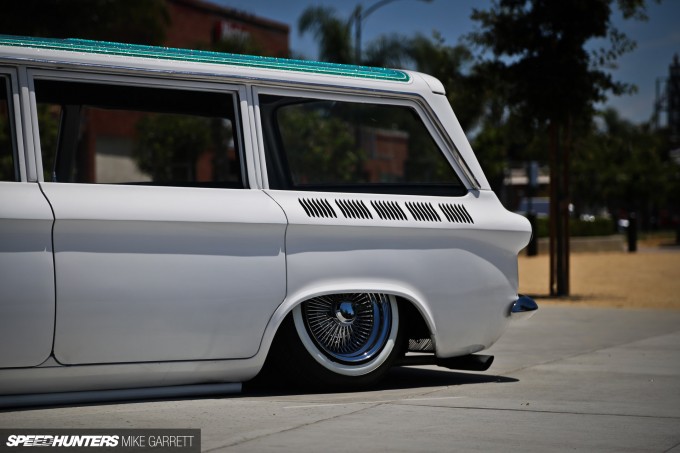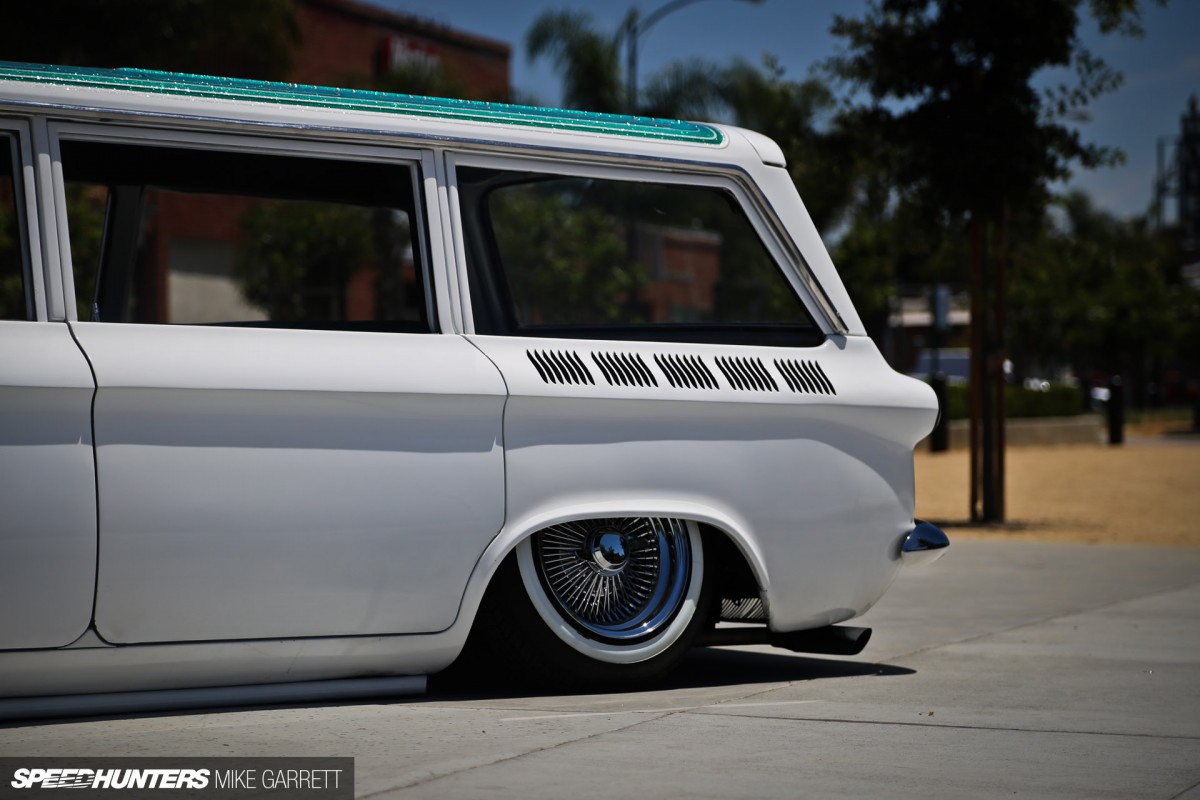 Along with the one-off air ride setup, the car is also running custom control arms. And because of the Corvair's independent suspension, the rear wheels camber in nicely when the body comes down. It's definitely not a look you're accustomed to seeing on an American car. The dramatic negative camber contributes to many of those questions asking what sort of Japanese or European car this is.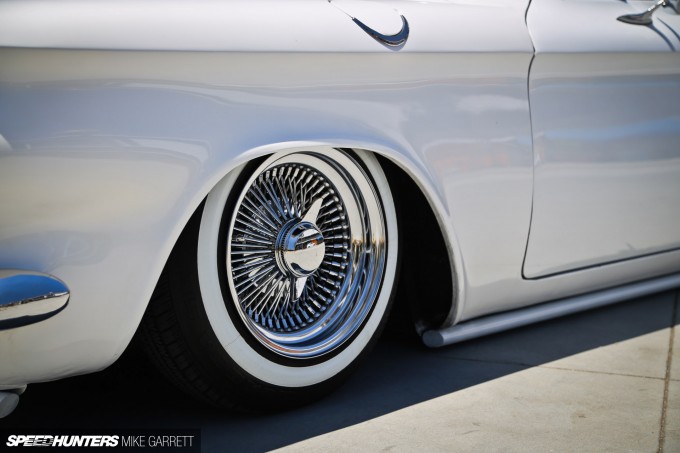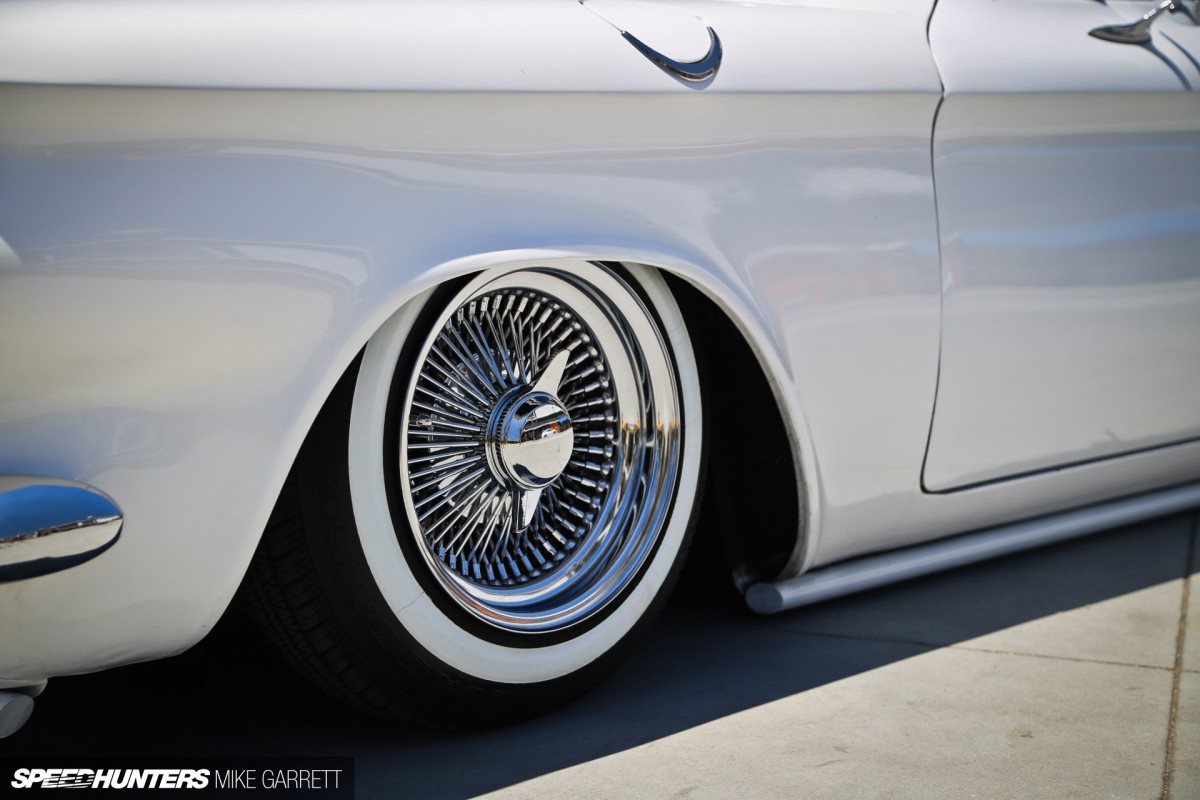 Rounding out the setup is a set of 13-inch wire wheels with stretched white-wall tires. Michael says he often gets asked why he doesn't run larger wheels, but I honestly can't think of another wheel that would fit better with this setup.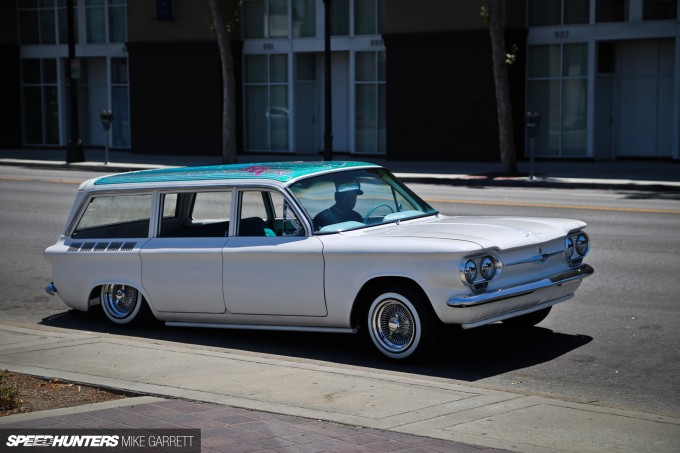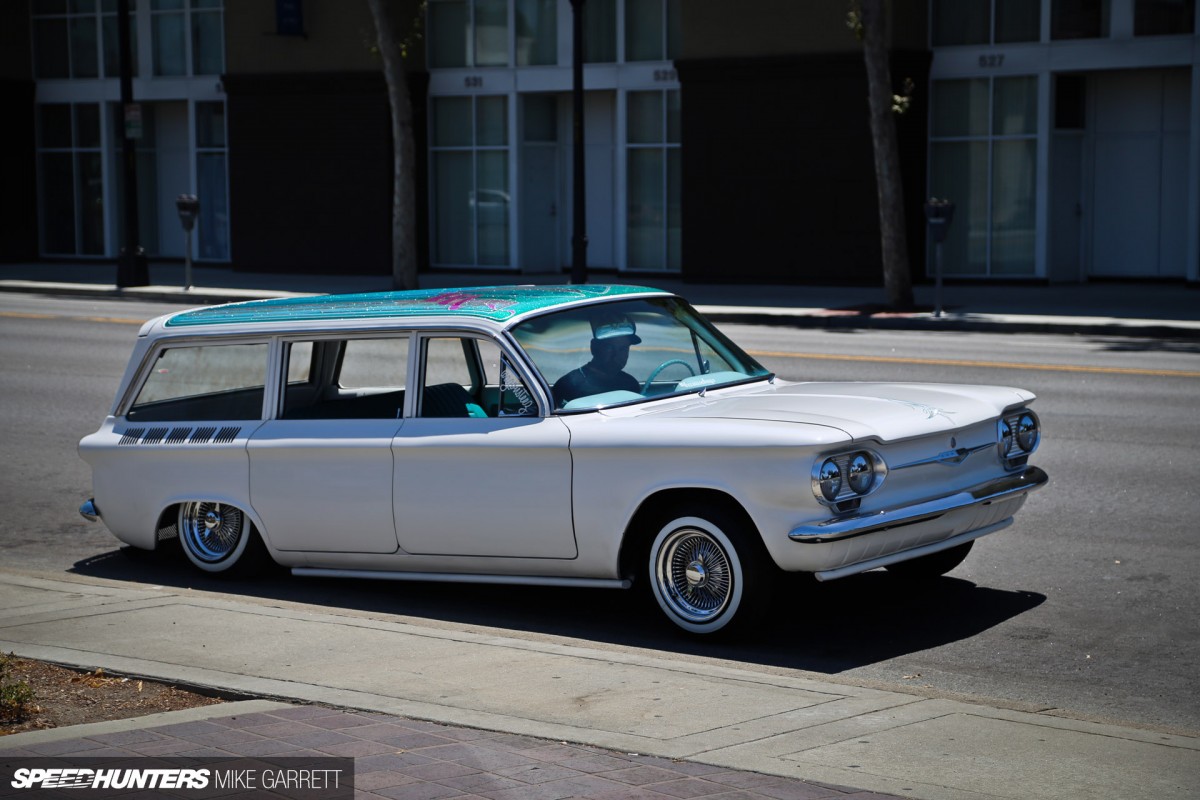 And while the bags allow the car to be raised whenever needed, Michael isn't one of those guys that airs down when parked but drives at a much higher and 'safe' ride height.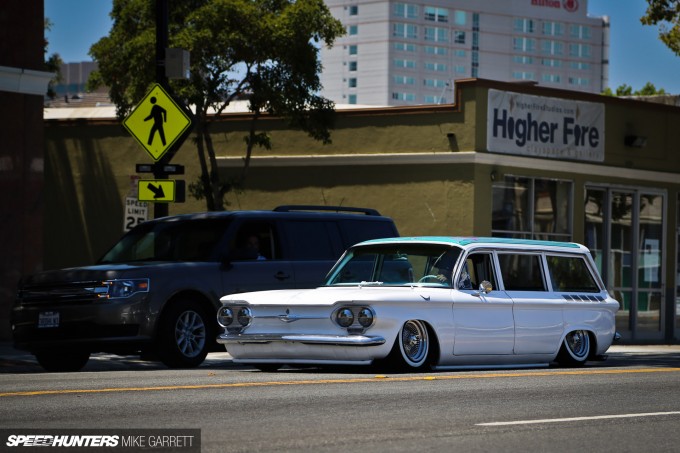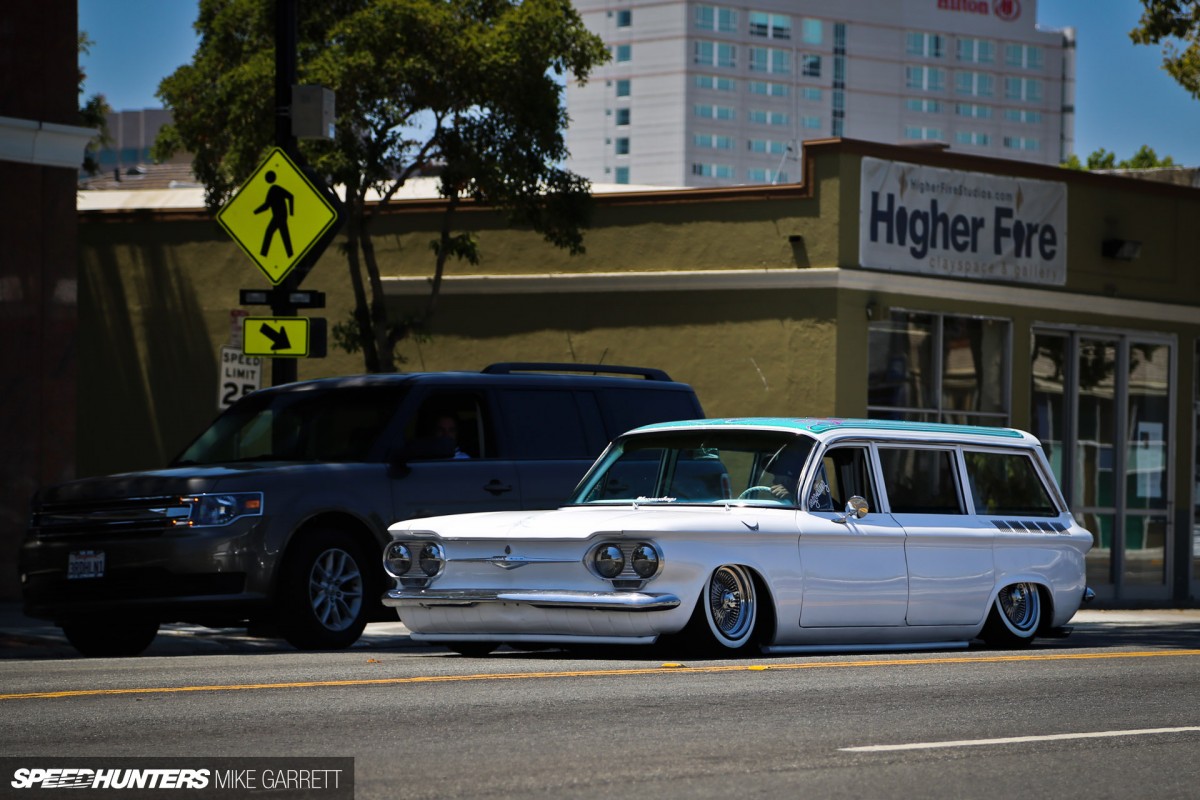 Nope, he takes great enjoyment from scraping the Corvair right down the road. And he has several busted up oil pans to prove it.
Cool Air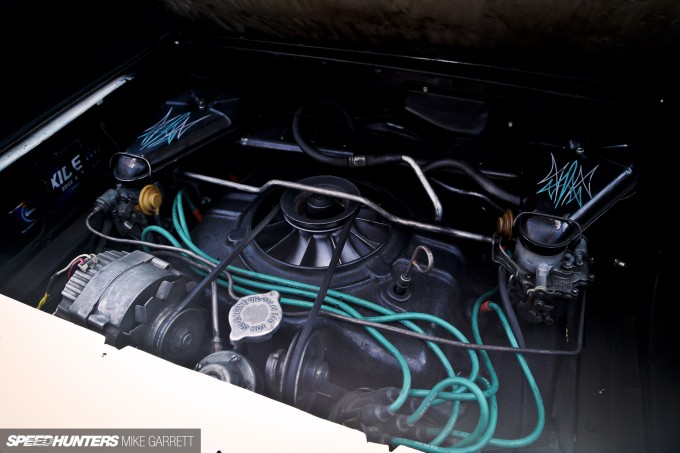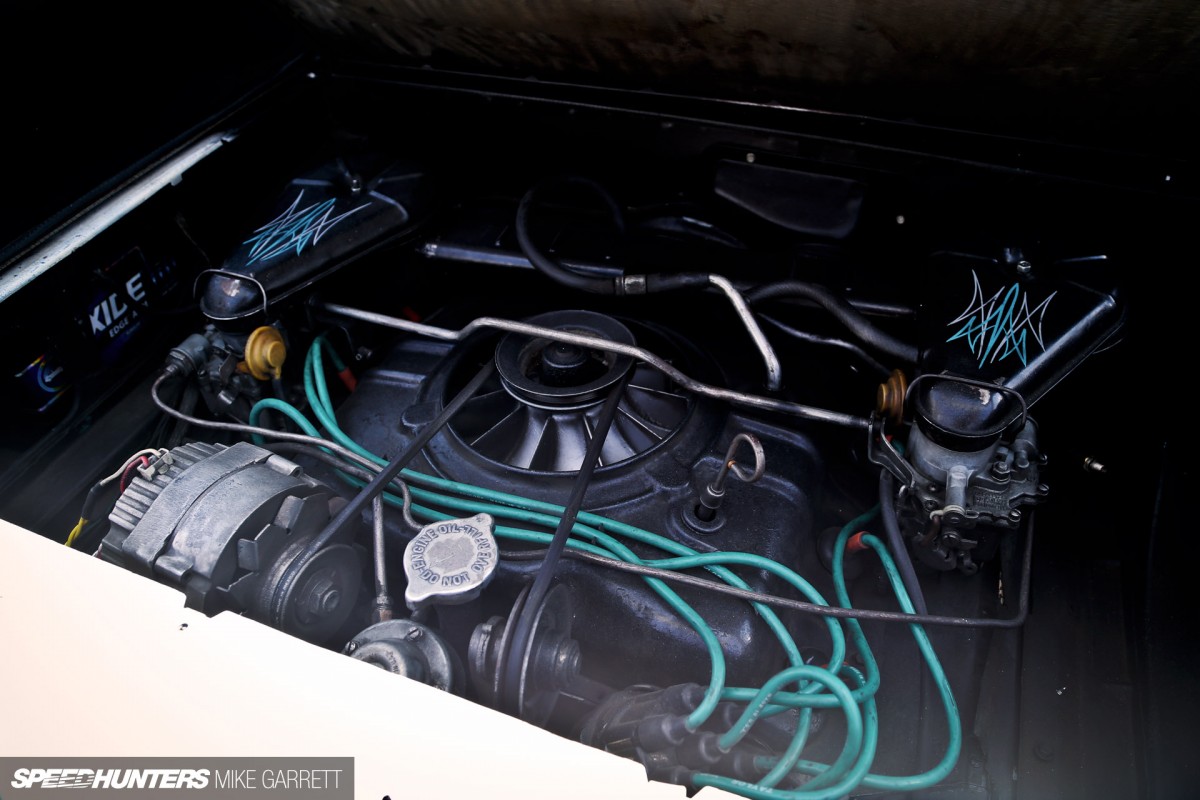 As you've probably gathered, this car certainly wasn't built for going fast. Being a mechanic by trade though, Michael removed the original 80 horsepower flat-six for a larger one with dual Rochester carbs. He also swapped out the stock Powerglide automatic for a four-speed stick. No, it won't quite pin you back in the seat, but it gets the Corvair down the highway with ease. It also sounds pretty cool with its custom dual exhaust setup.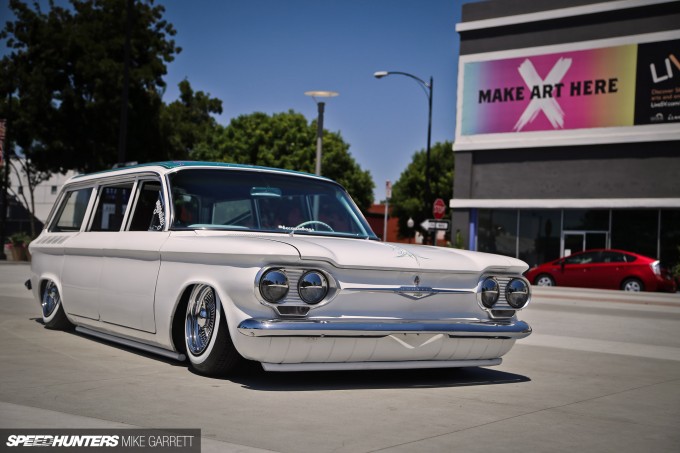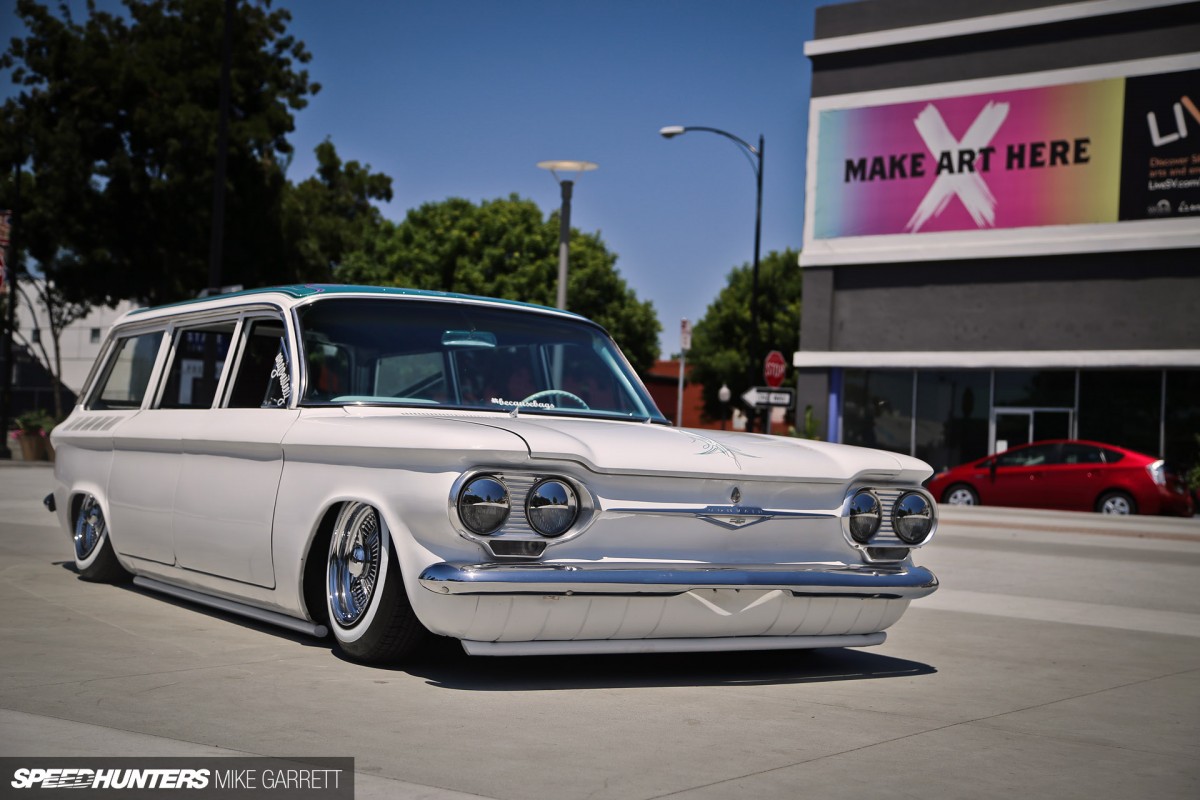 When it came to the body, Michael shaved off the Lakewood's door handles, rear license plate light and radio antenna. He then had the whole car repainted in a shade of white borrowed from the Hummer catalog.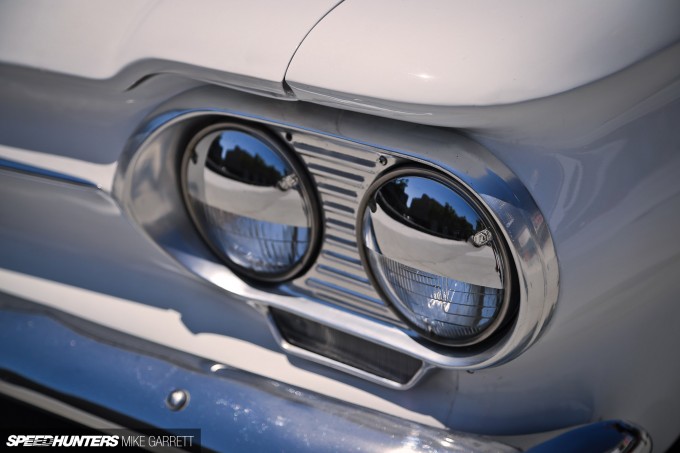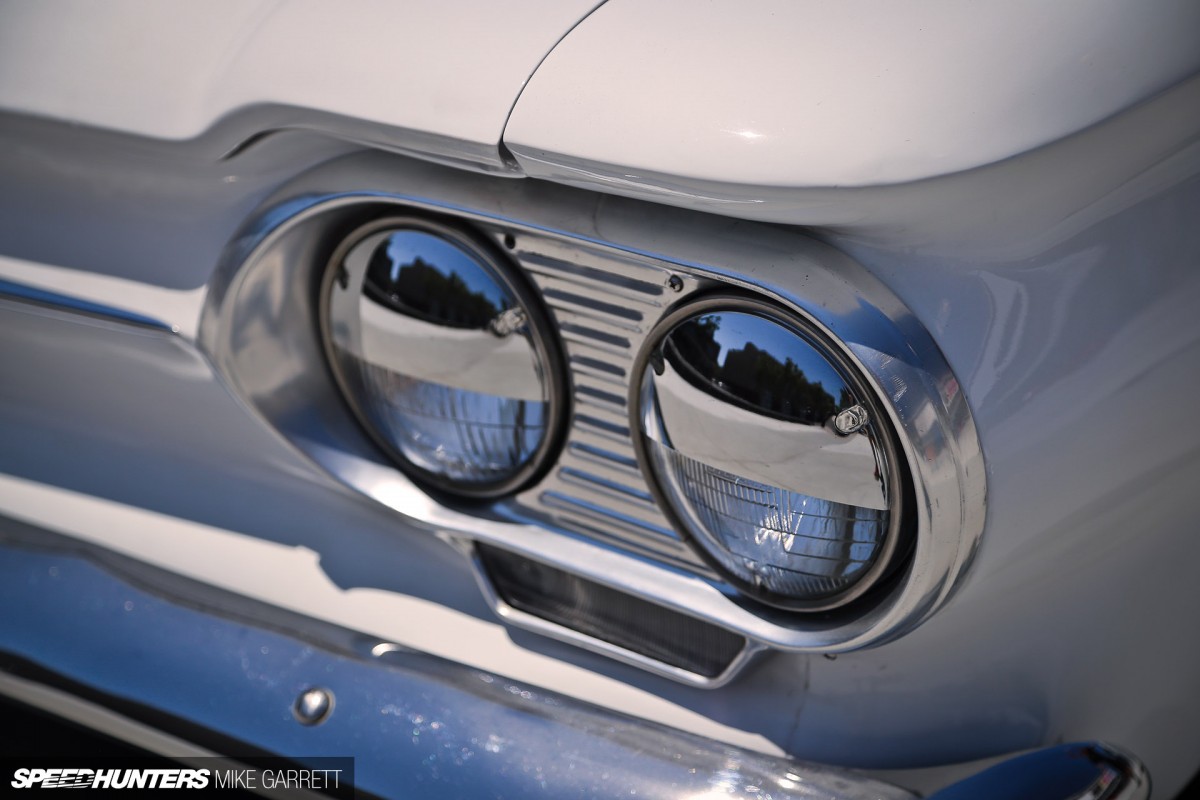 Another little touch that I like is chrome half-covers on the headlights. It's a subtle change, but it adds just the right amount of custom flavor.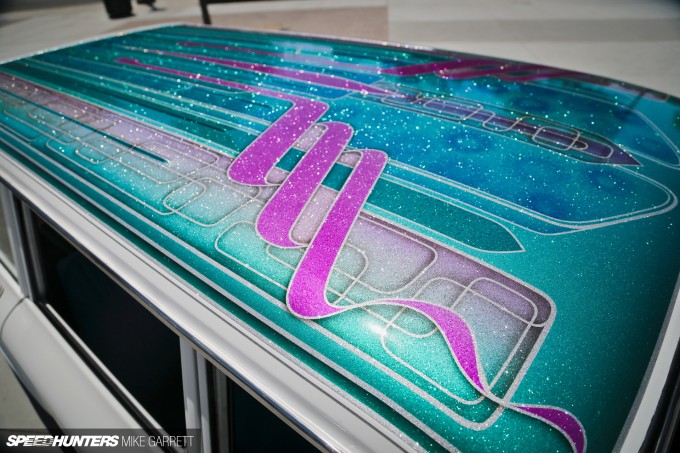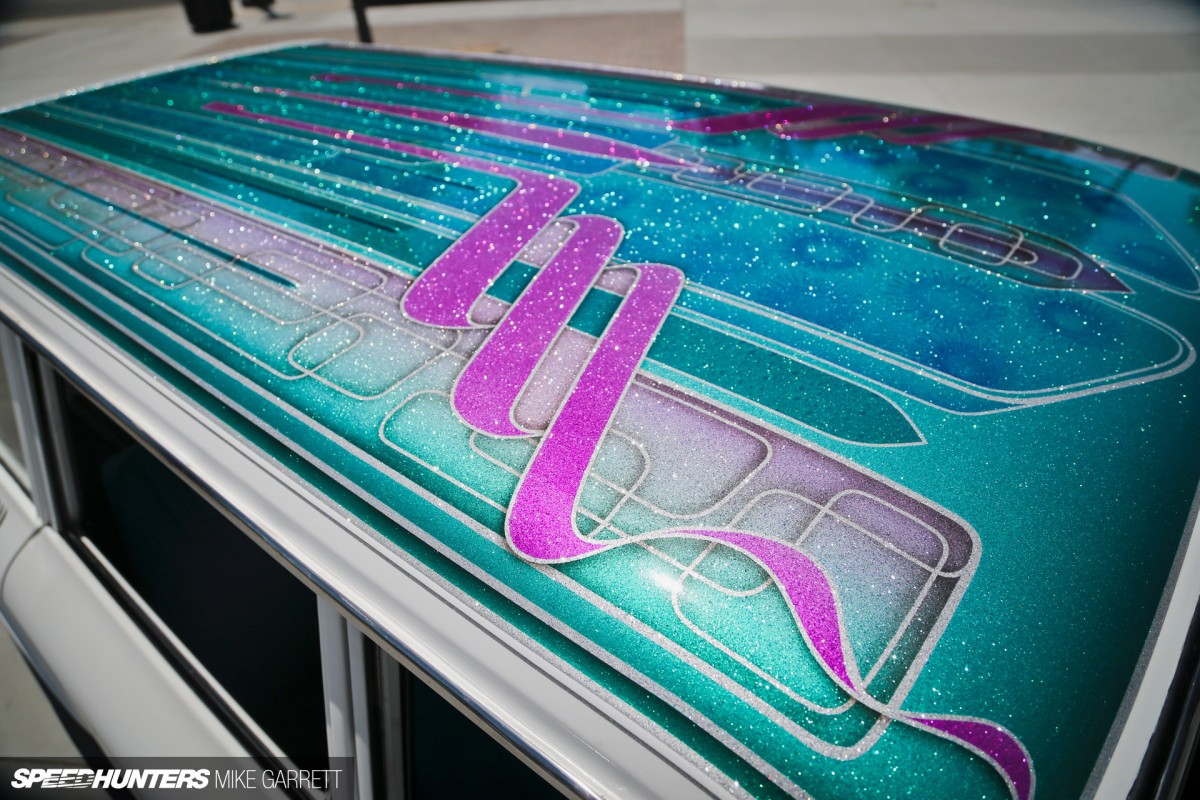 And speaking of custom touches, one of the more recent additions to the car has been some custom paintwork from Vintage Lines by Mario.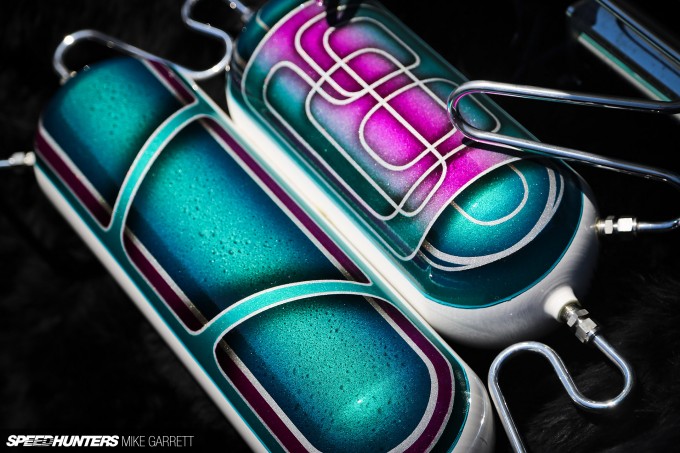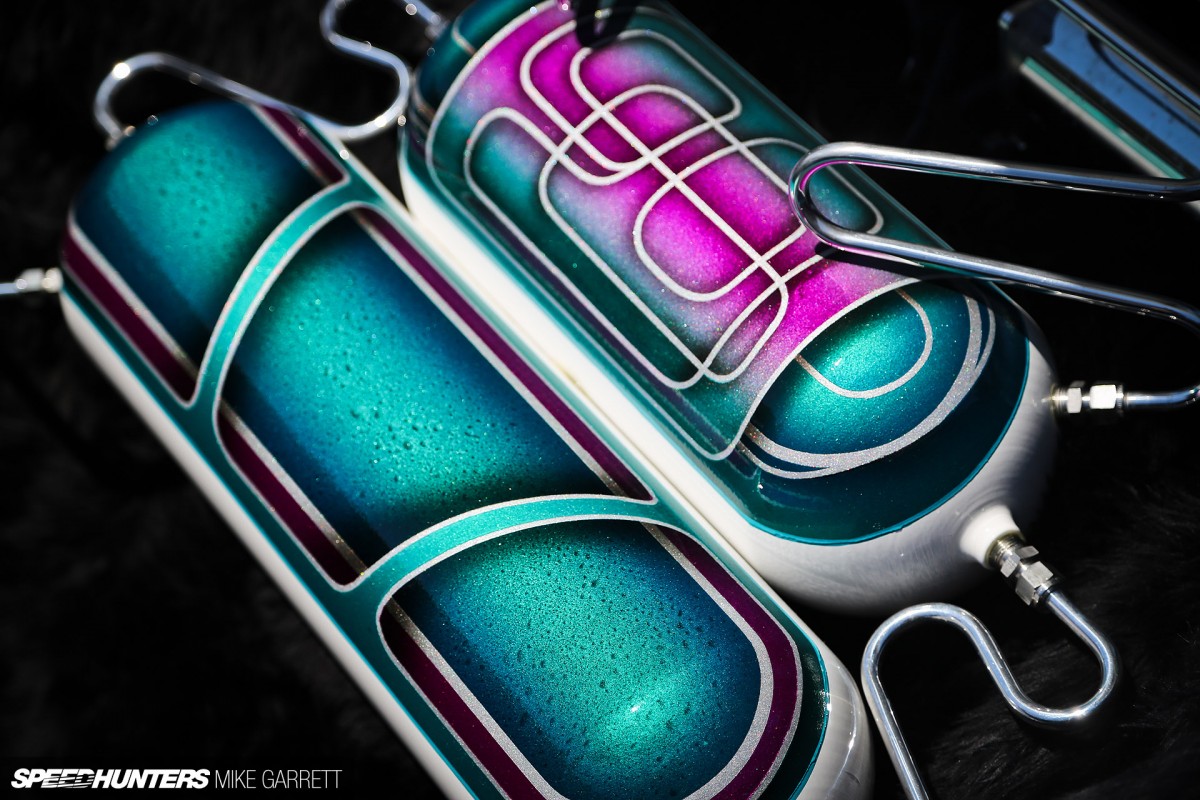 Along with the flaked graphics on the roof, Mario also lent his touch to the air tanks in the front and rear.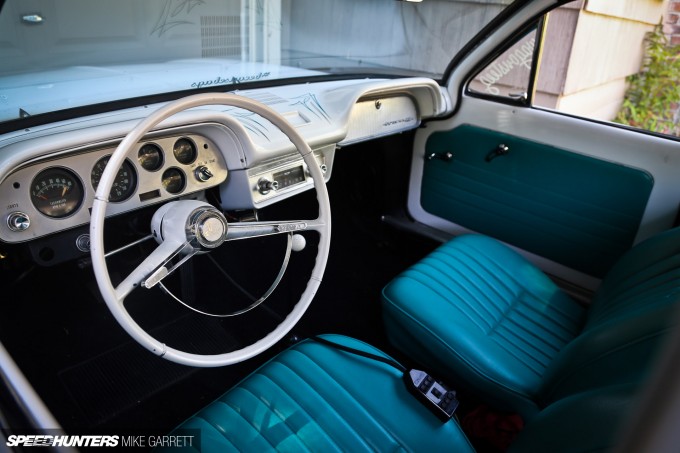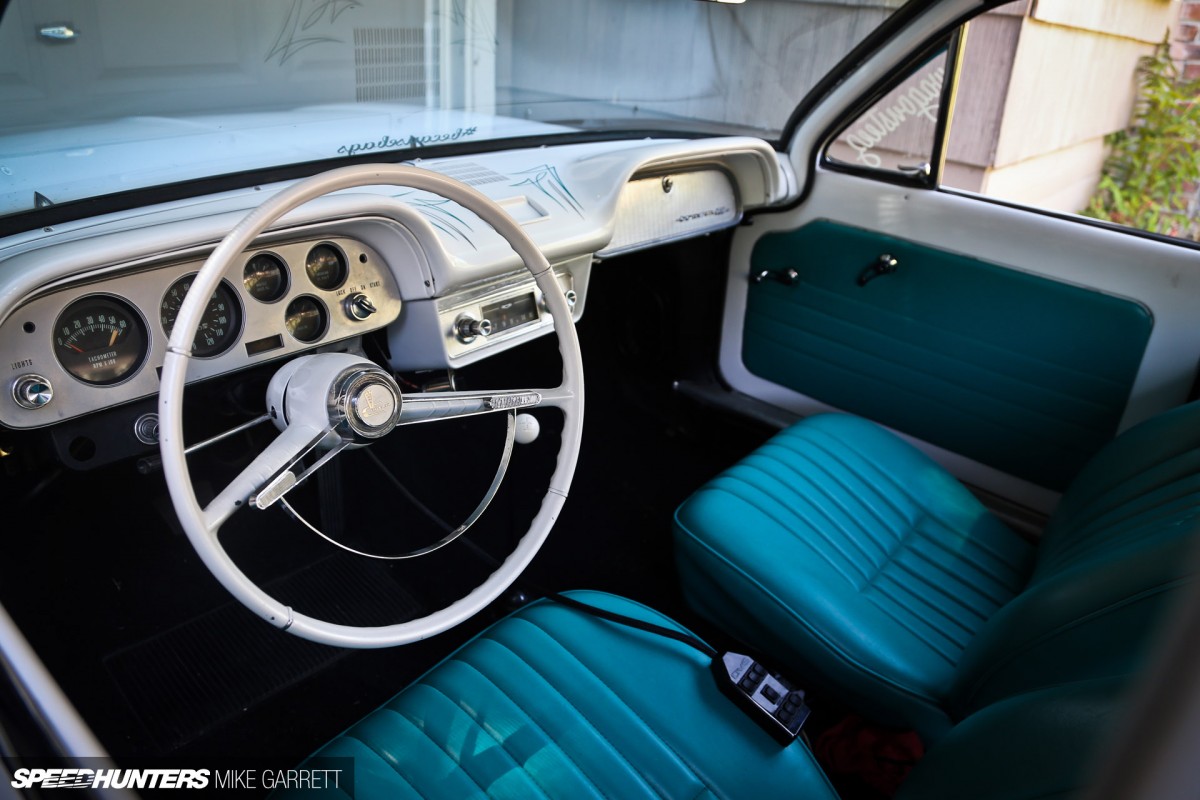 Interior modifications have been kept relatively simple. The seats have been reupholstered in turquoise by Soft Tops in San Jose and the car's also been fitted with custom billet aluminum door handles.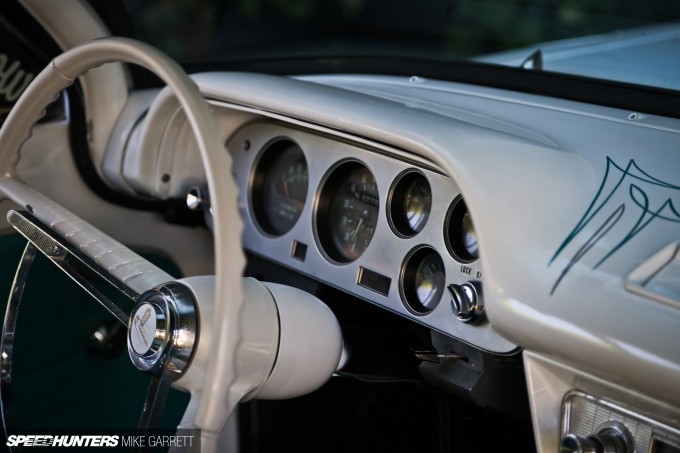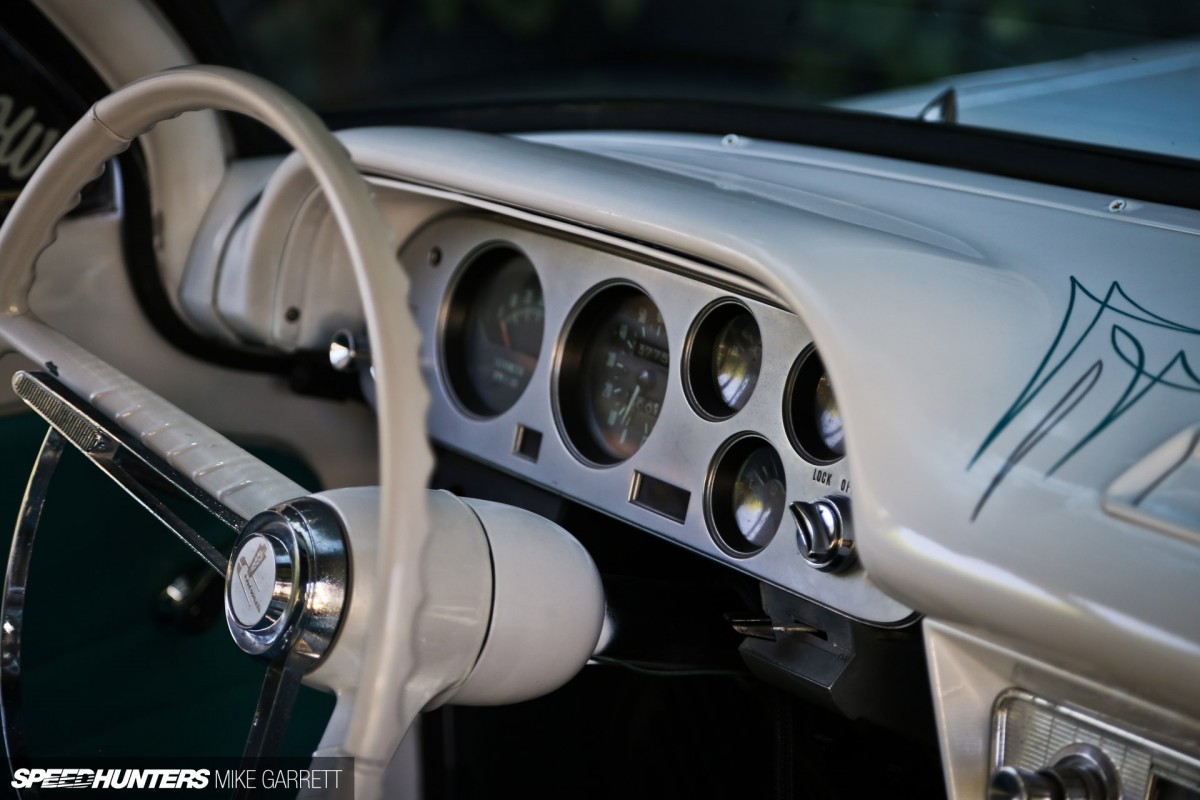 The original gauge cluster has also been swapped out for an upgraded unit from a Corvair Turbo (yes they made those too).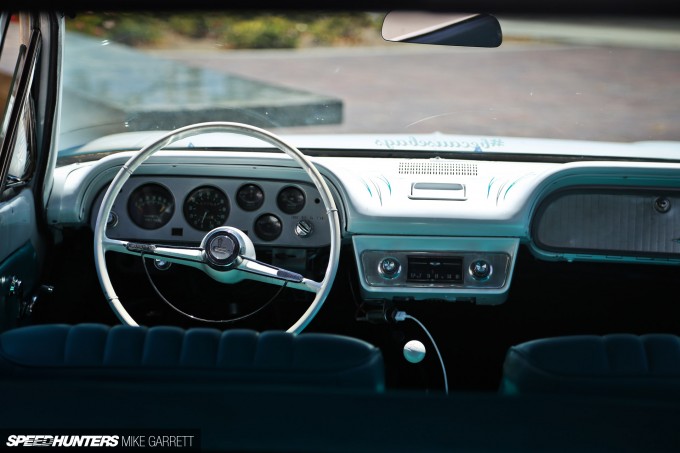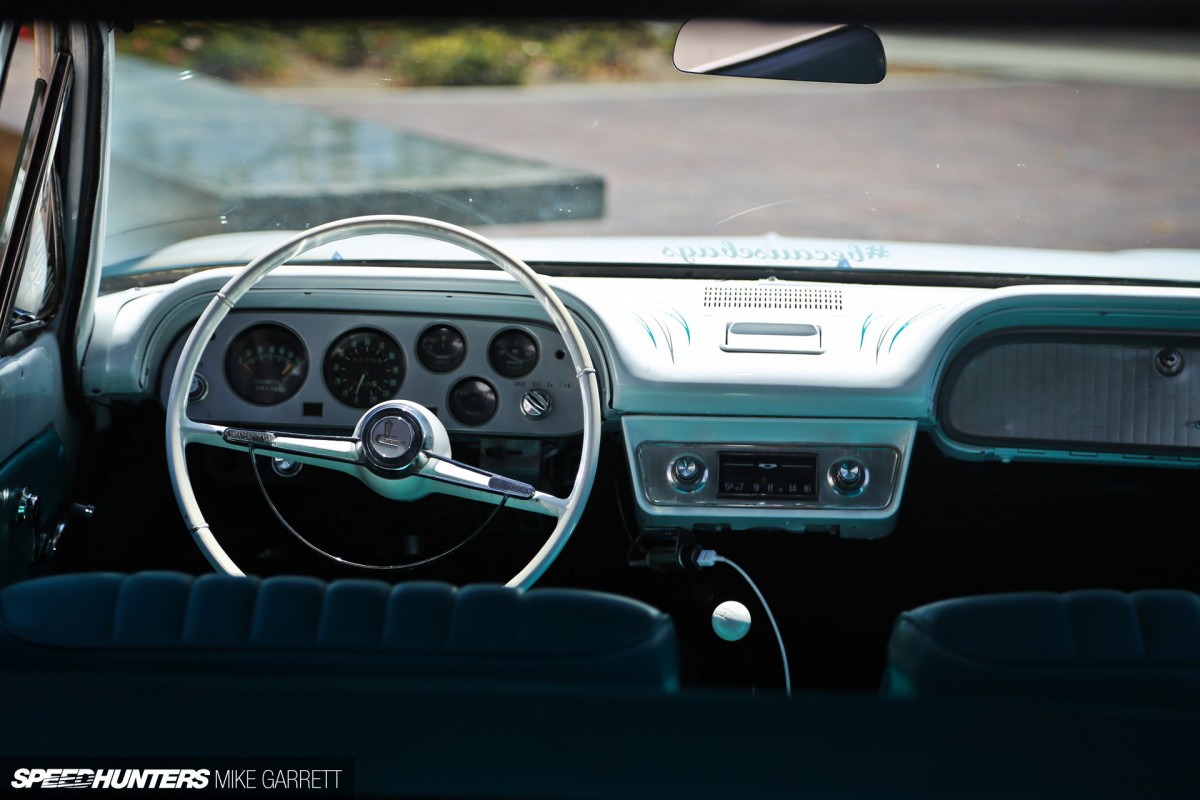 Because Michael drives the car so often, he wanted to upgrade the audio but didn't want to disturb the look of the dash. Hidden away out of sight is a modern CD head unit with iPod and Bluetooth connectivity.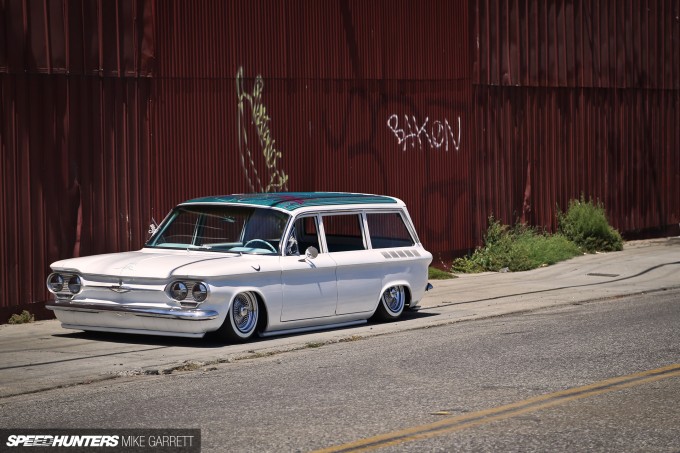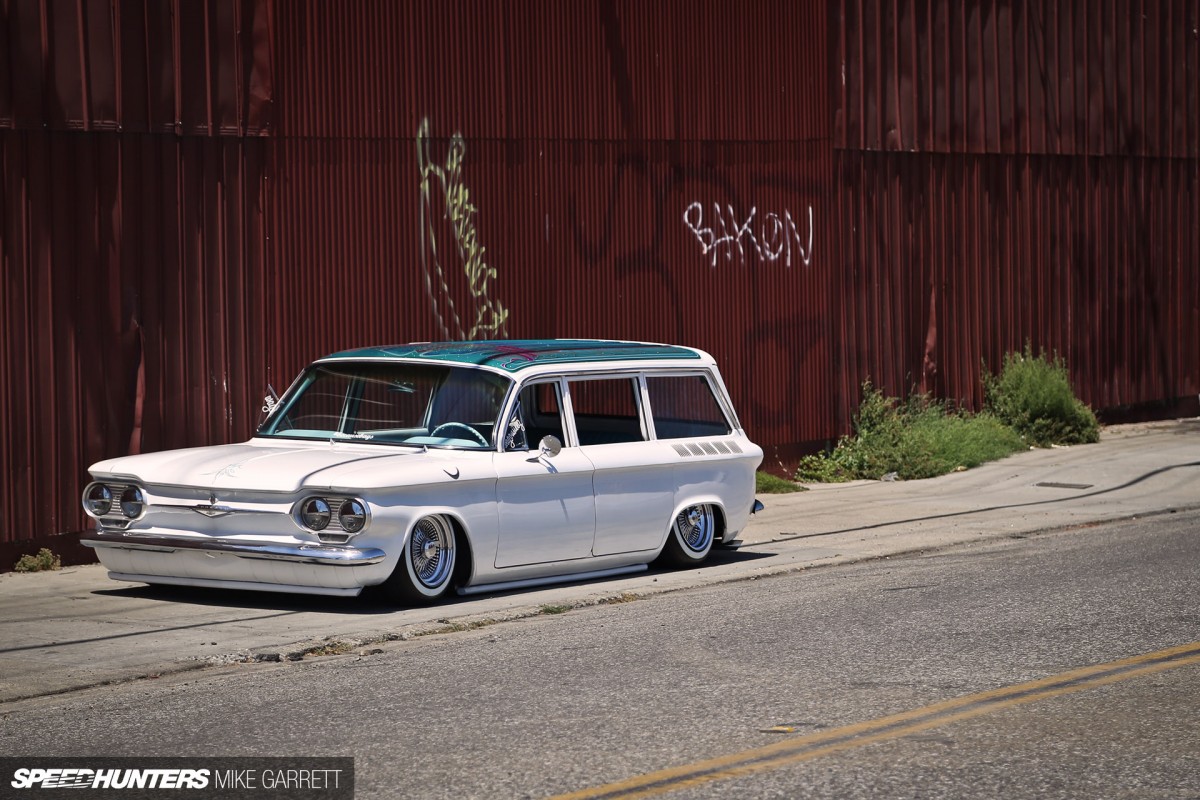 I've been able to cruise around in some very cool cars over the years, but there was nothing quite like the reactions we got while riding around San Jose in this thing. On one hand people definitely liked what they saw, but those thumbs-ups and smiles were also matched with looks of confusion as people struggled to figure out exactly what they were looking at.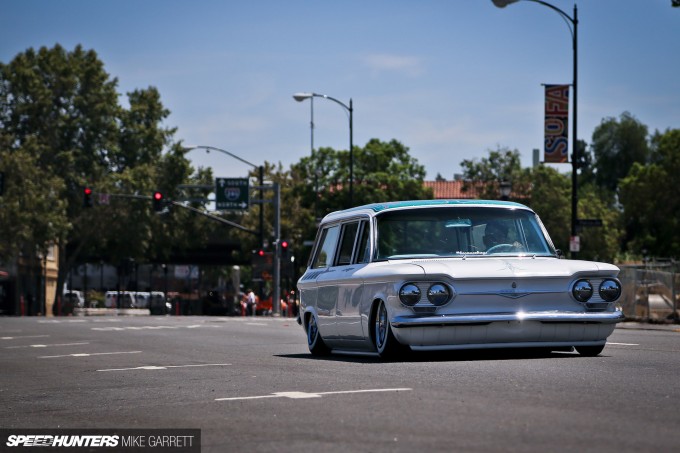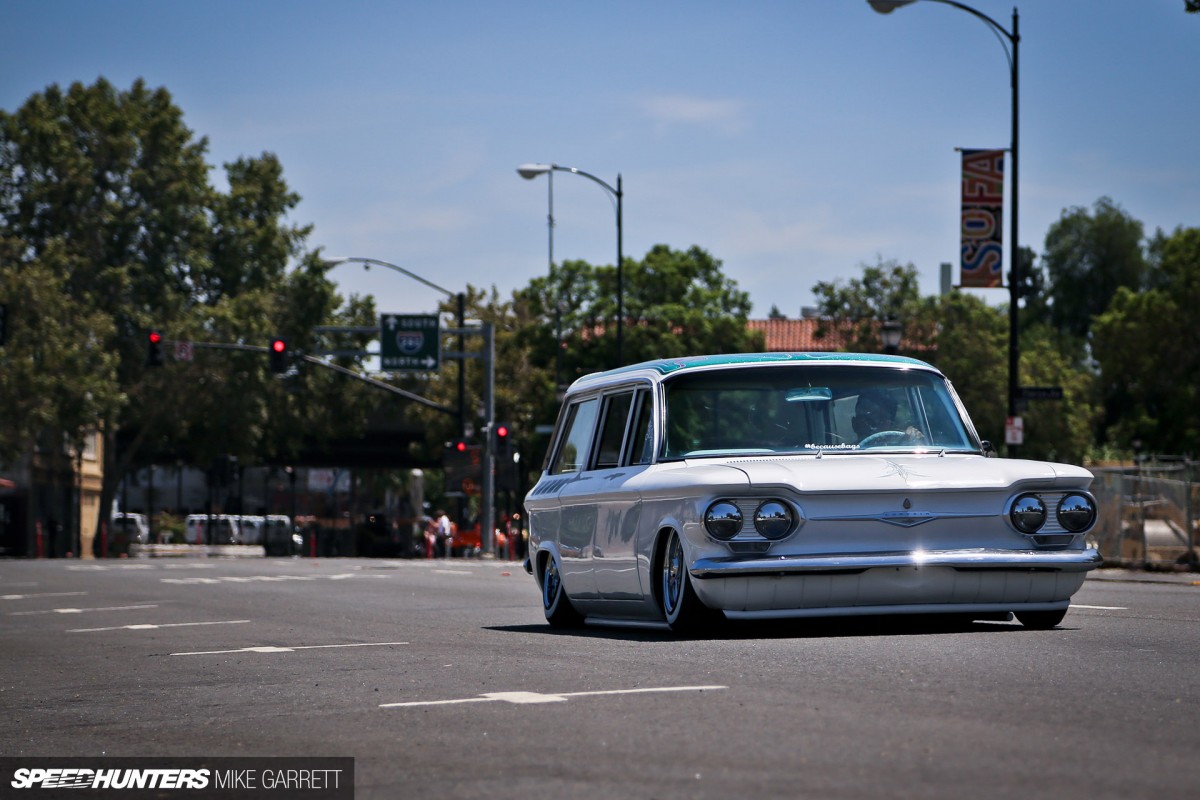 It's the exact sort of response that Michael was aiming for when set out to build this car. Regardless of what you think about lowriders or the Corvair itself, it's impossible not to appreciate what he's done here. He's taken an innovative, but oft forgotten piece of American auto history and reinvented it with a cool new twist.
Just don't tell Mr. Nader.
Mike Garrett
Instagram: speedhunters_mike
mike@speedhunters.com