Daydreaming
What do you dream about? I can imagine in most cases, for the die-hard enthusiasts out there, it may be anything from finally acquiring that rare, ever-so-sought-after chassis you've been endlessly scouring the internet and saving for, to actually finishing that project car that's been sunbathing in your driveway for months. In other cases – less fueled by octane – your dreams might be as simple, yet relevant, as graduating college, starting your own company, or even finally getting that 'breakthrough' in whatever career you may be pursuing. Realistically, I think my imagination could run on for days as to the possibilities of what our dreams consist of, but to cut to the chase, for me – as an automotive photographer – when I'm not unconsciously zoning out and fantasizing about ripping through East Atlanta's Zone 6 in an El Camino the color of mayonnaise, I'm dreaming about the perfect shoot – where everything falls into place.
So what did I do on my recent Speedhunting trip up the Northeastern coast? I tried to make my dreams a reality. I scheduled not one, but three GT-Rs in what I feel to be one of the greatest, most chaotic and unpredictable locations in the world – downtown New York City.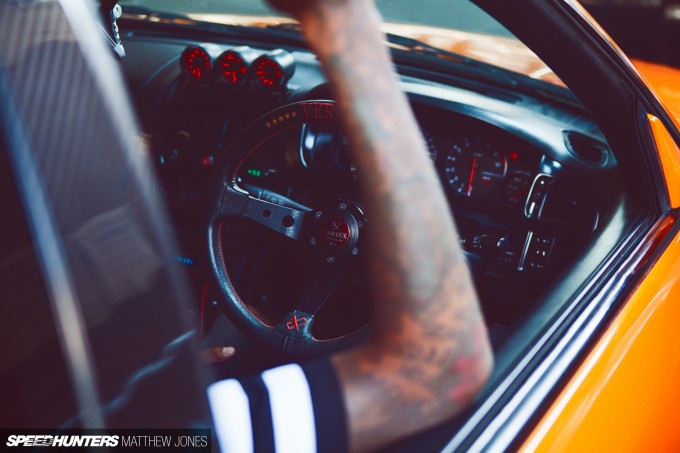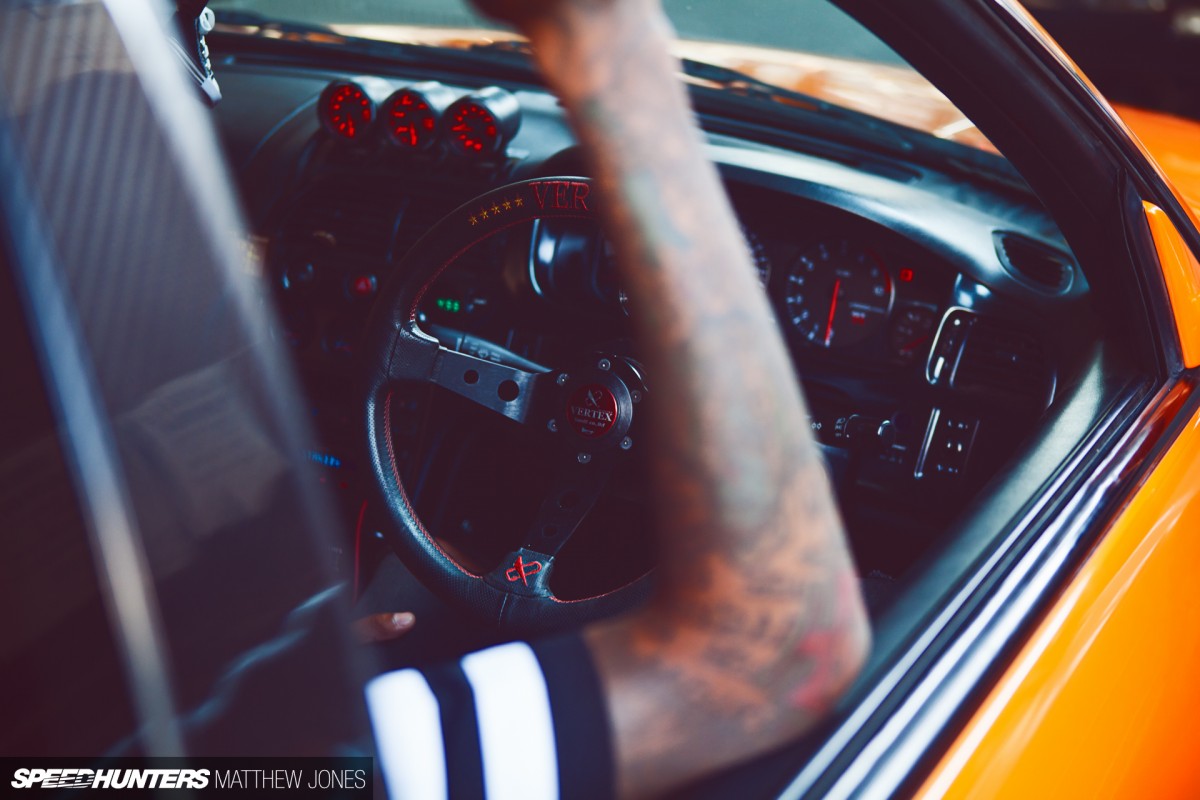 In the spirit of, 'honesty is the best policy' I'd like to happily inform you that in the days leading up to this trip, I really had no idea what my angle for this story was. I knew I had three GT-Rs and the opportunity shoot in the magnificent Big Apple, but what was the connection? They all had a story of making their way stateside, of course. And they were all owned by a group of friends, who not only spend their weekends together wrenching and modding these foreign beasts, but who roll out together as a a force to be reckoned with. But was that enough?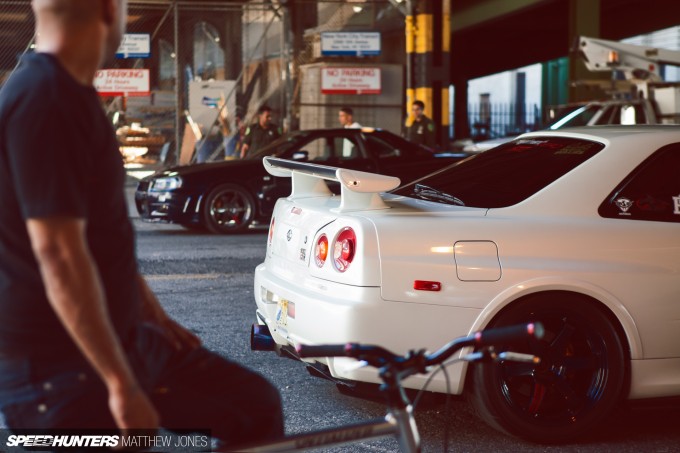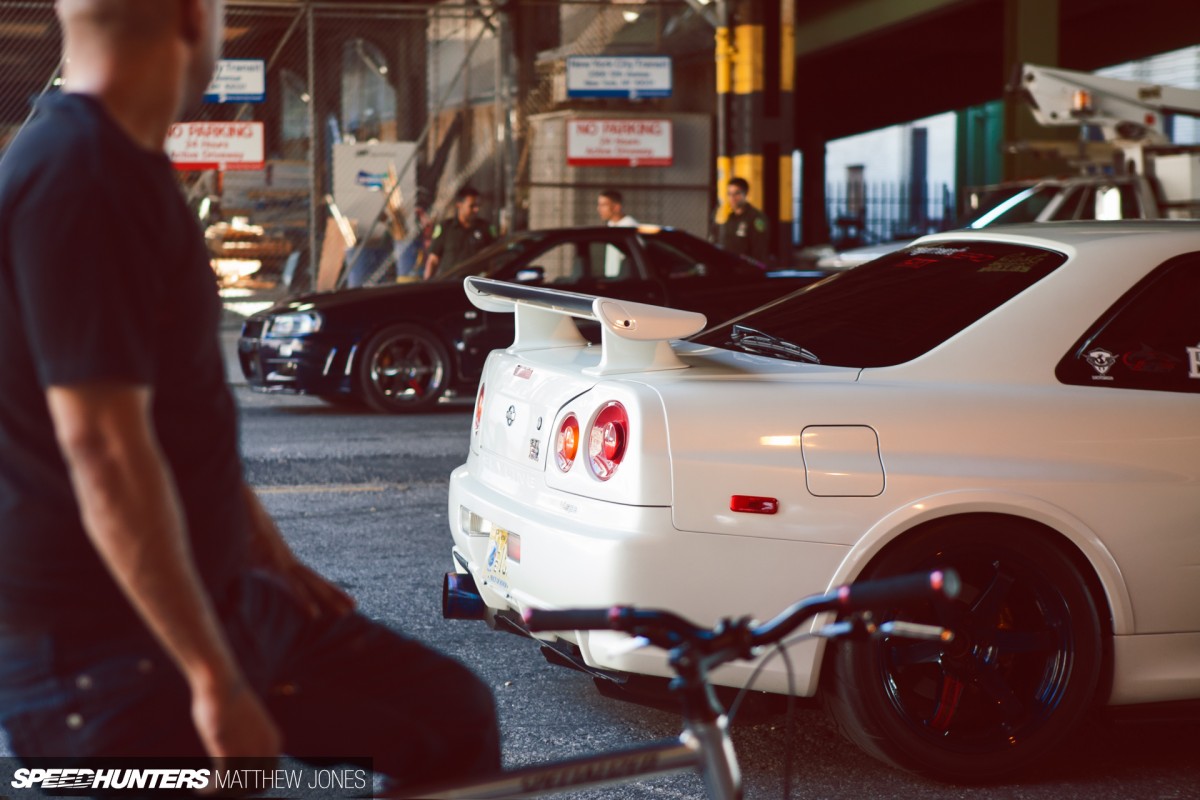 So during my 15-hour cruise up to New York from Atlanta, it finally hit me – there was nothing about this shoot that connected. The dots just weren't there. I had no reason for orchestrating a shoot of this nature, and I had no reason for inconveniencing these owners with the dreadful task of running their beloved Skylines through the battlefield of potholes and grid-lock traffic that is New York City, aside from the fact that I simply just wanted to.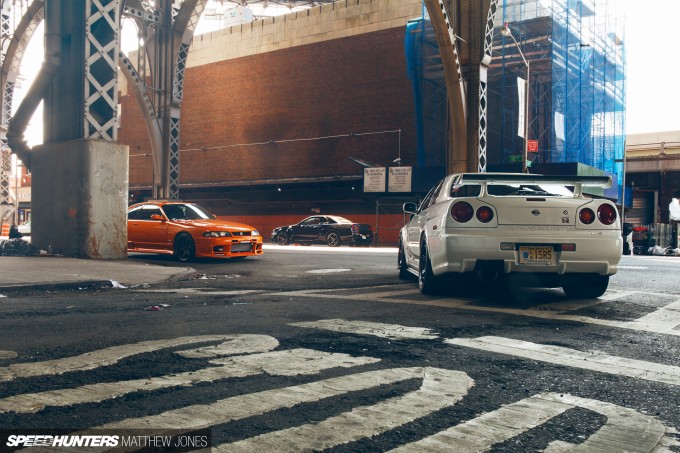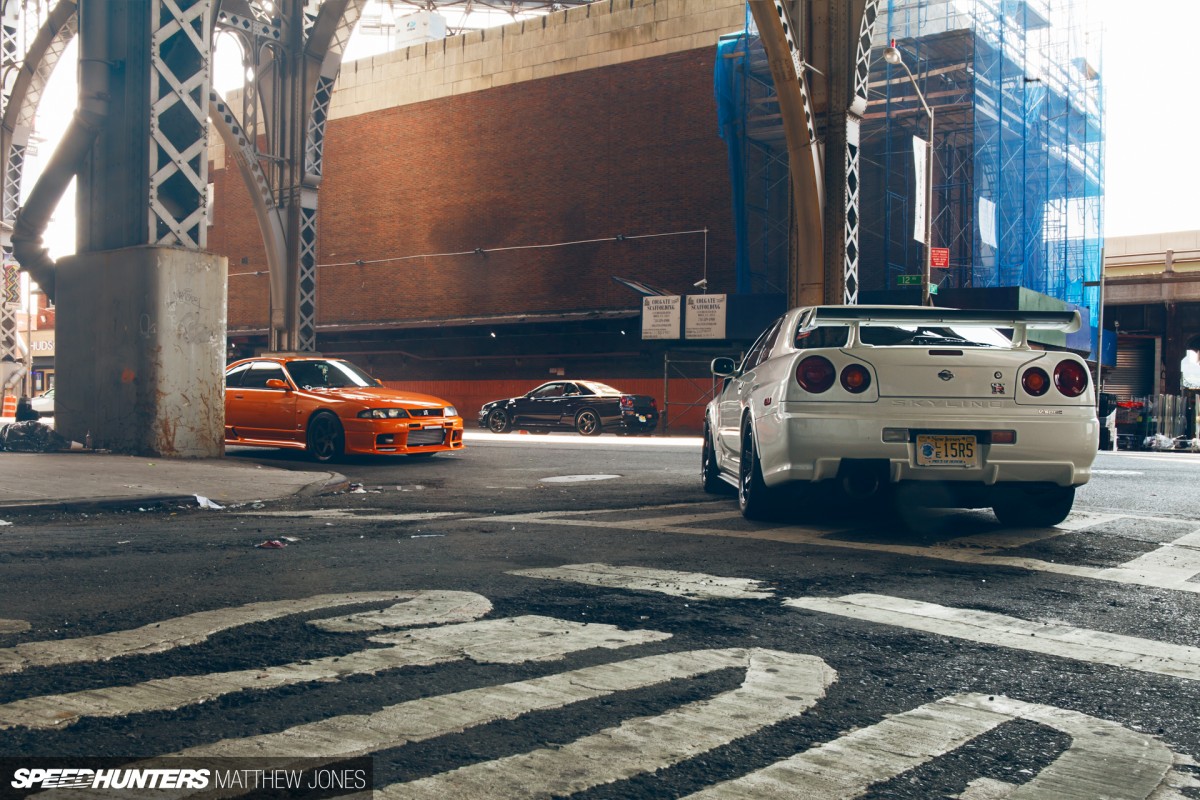 And boom, there it was. The deeper I dug, the more I realised that the reasoning behind all of this was due to my subconscious itching for the opportunity of what has been a complete fantasy since I started shooting. Once I declared it out loud, it really became one of those, 'Nuff said' situations. Three GT-Rs in downtown NYC. What glory.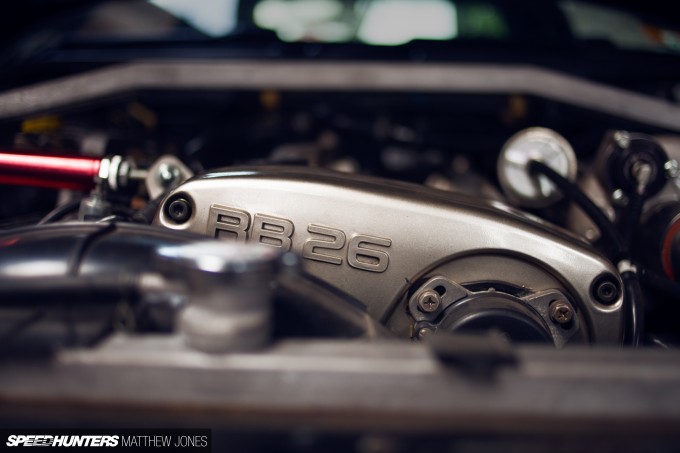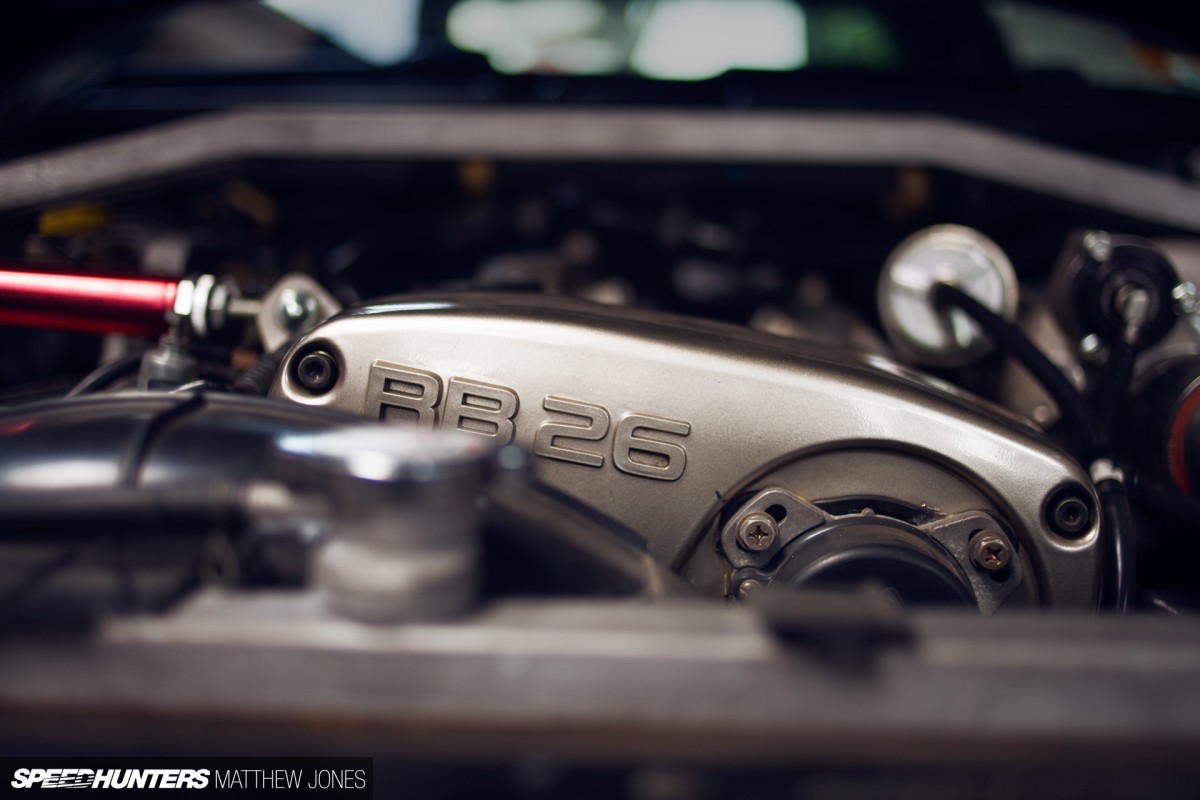 To backtrack a little, growing up and just stepping foot into the automotive scene, I'll always remember how an authentic Godzilla was such a rare sighting. And as an uneducated youngin', there were few things that would make my heart skip a beat while out on the road: a Lamborghini (of any sorts), a first generation, battle-ready Hummer (not the soccer mom ones you see today) and a Nissan Skyline GT-R. And I know it's not just me, as still to this day, at least one random bystander completely unaffiliated with the automotive world will still suffer from a broken neck when one of these monstrous machines rips on by. It's what these icons of the Japanese performance car world do.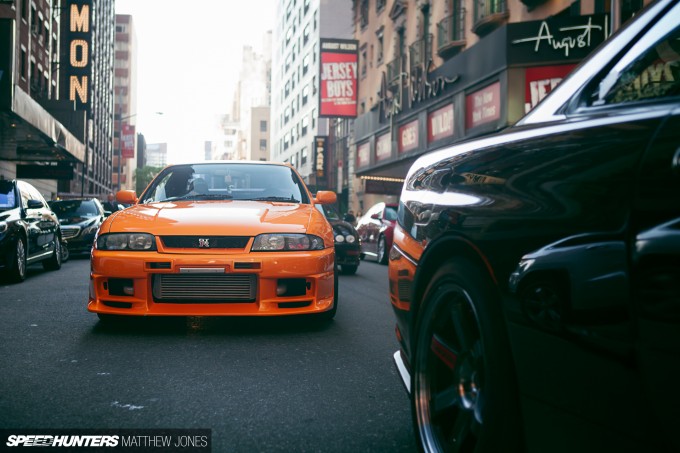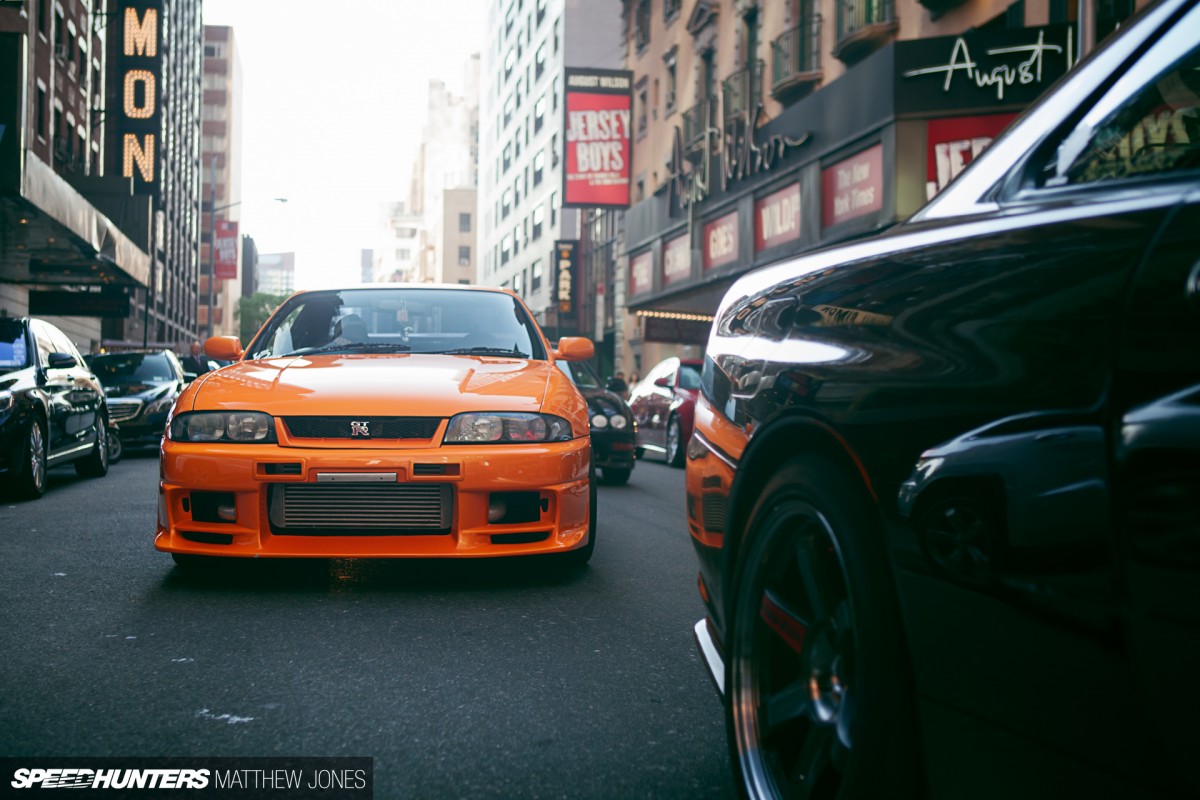 On the immediate end of the spectrum, you have NYC – known as one of the world's greatest, most populated melting pots of a city. On the American side of things, it's really where everything happens – where young actors and artists risk it all, flee from their homes and leave everything they have ever known to move to the congested wonderland simply to take a shot at stardom.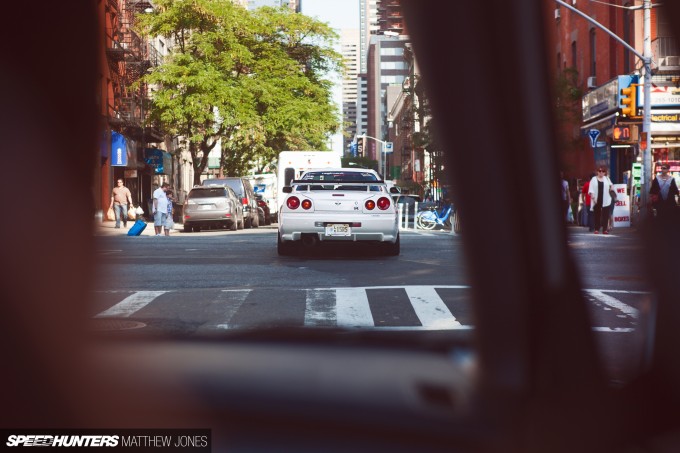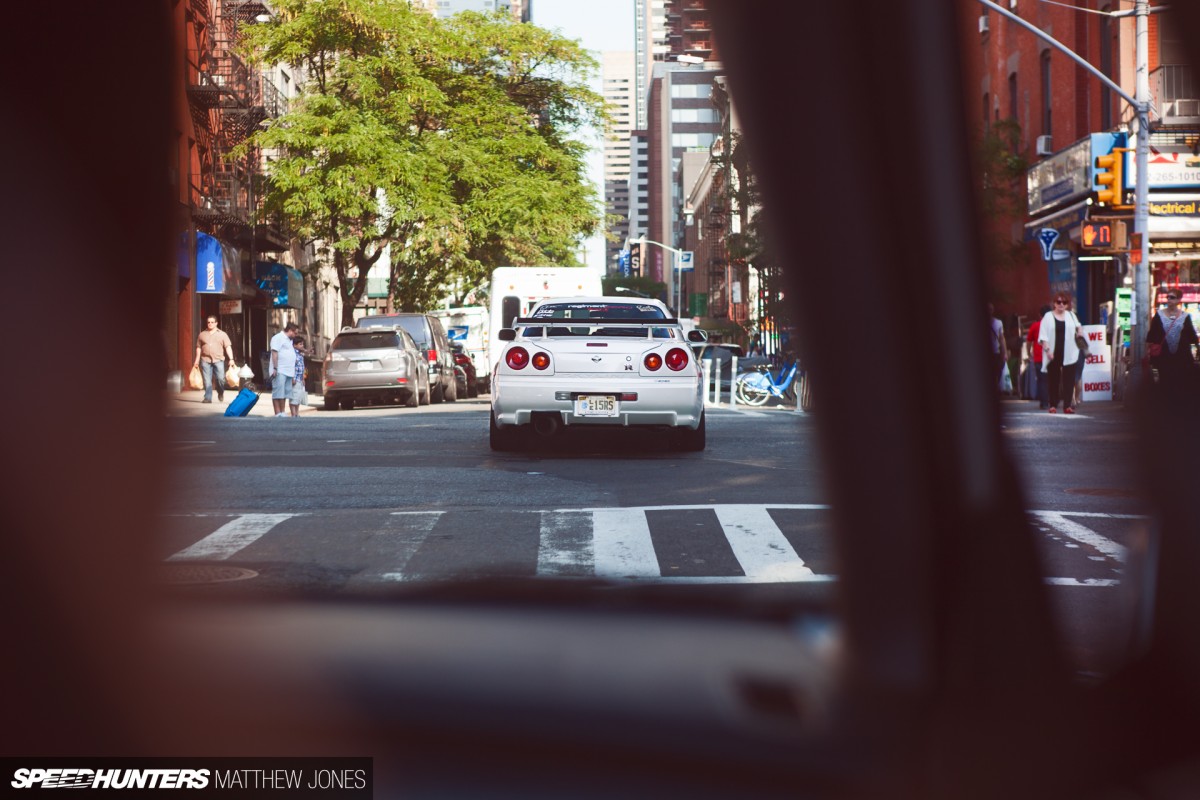 Though I skipped the New York City experience and chose Los Angeles for a period of time post-graduation, NYC has always had a certain impact on me – especially as a photographer. And every time I visit I'm floored by how alive the city is, by how perfect the light is no matter what time of day, and by how each block unfolds an entirely new, diverse location within itself.
Opportunity Knocks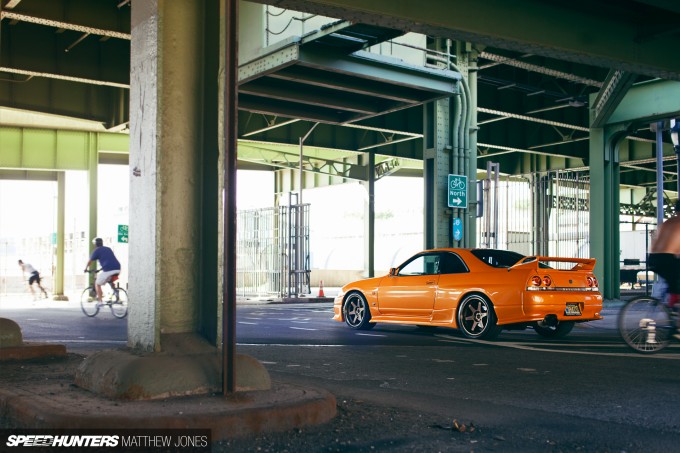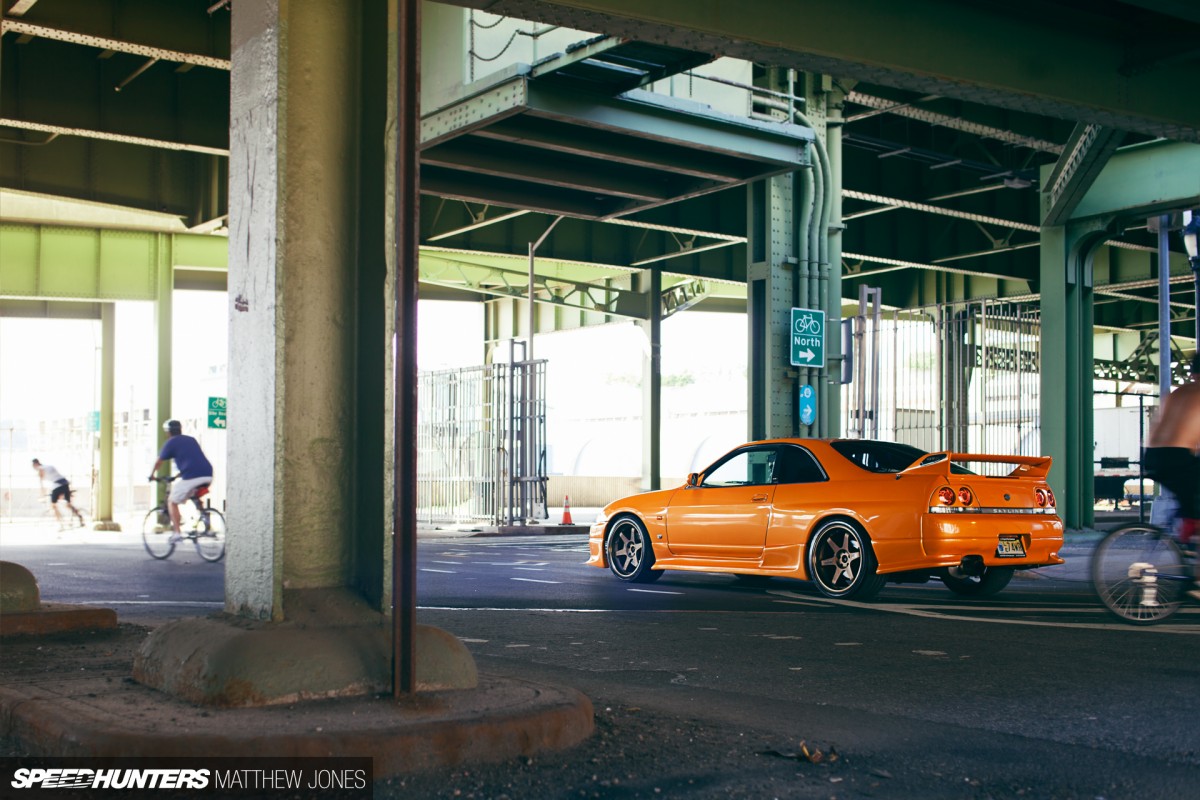 The reality of the issue is that no matter how sentimental this post is to me, and no matter how much effort I put in to consciously expressing and justifying my reasoning behind this shoot, some of you will never read this. You'll just quickly skim through the images, giving the ones that truly pop out to you an extra nano-second of your time, and maybe even a 'share' if I'm lucky. And that's perfectly okay, as truly, that's all I really want you to do.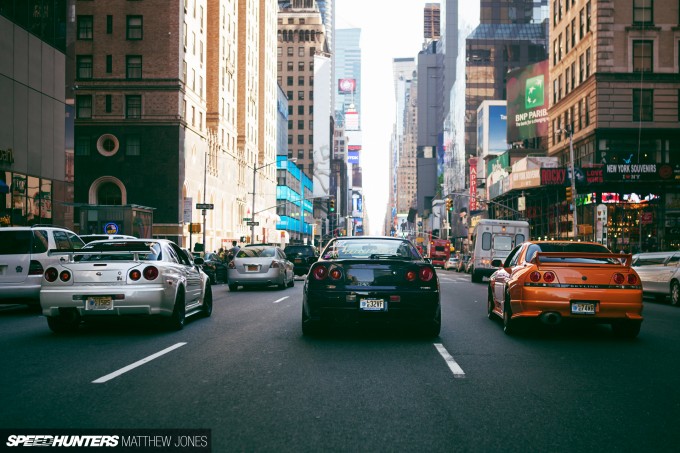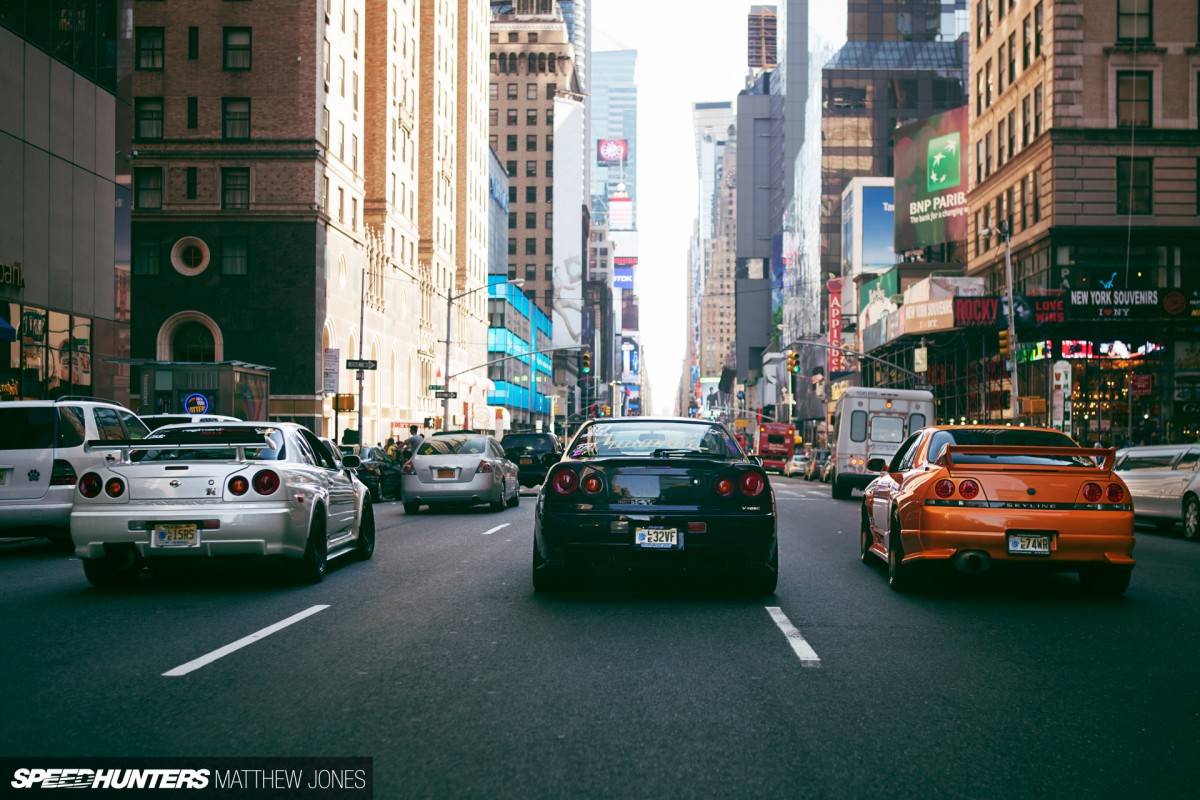 Because without even reading a single word of this post, I feel strongly enough that the essence of capturing three GT-Rs in such a clustered wonderland of a location is enough to make one's jaw drop. Maybe it's due to that fact that realistically, many of you will never have the opportunity to witness a cruise of this nature entirely in the flesh. This, my friends, is why I am writing this piece.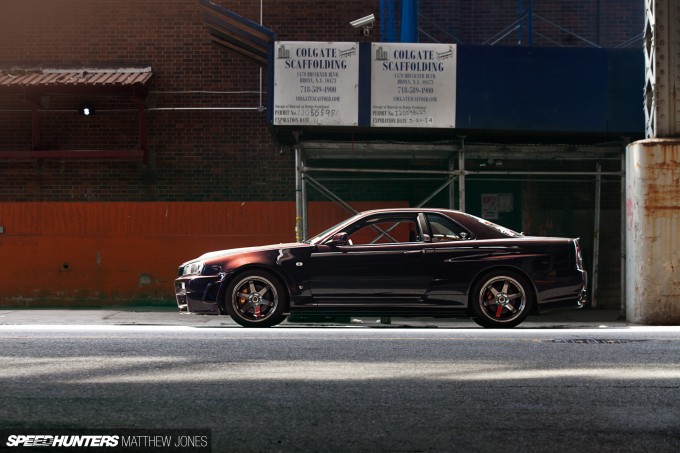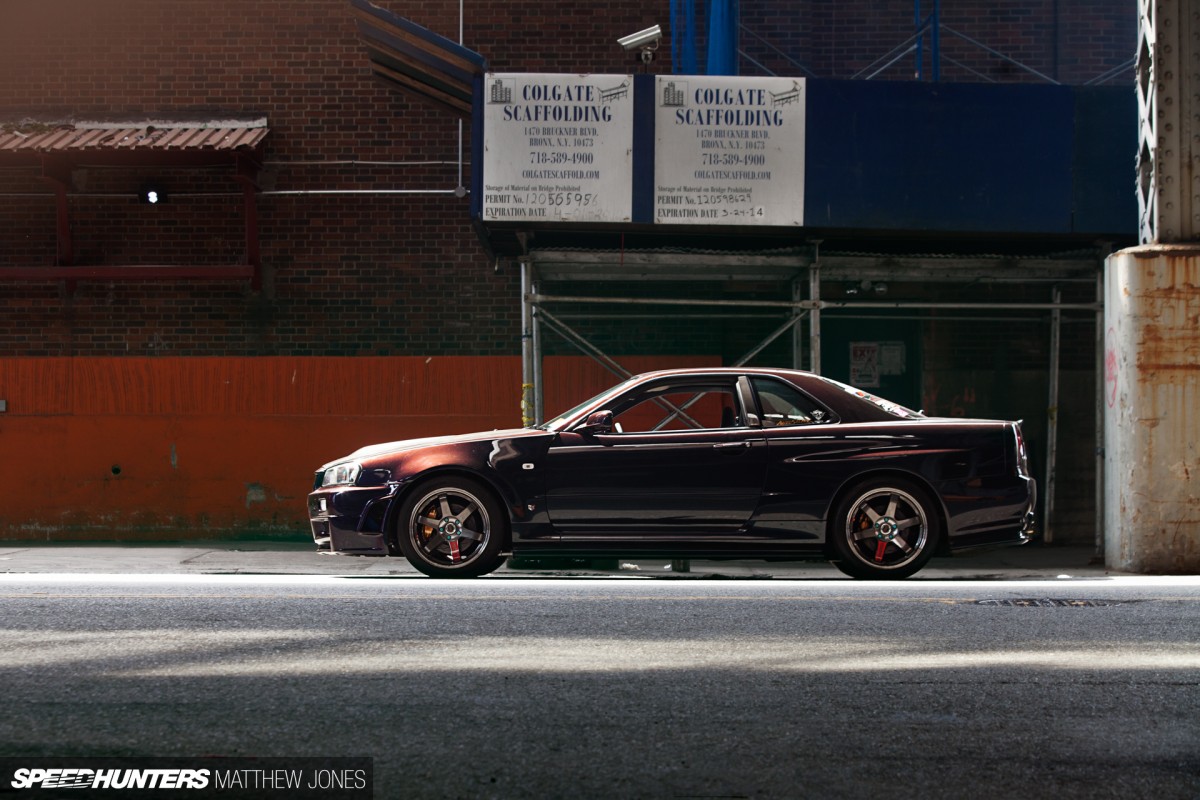 I'm going to stray from the technical aspects of these builds and focus on the photographic side of things. Like how each car reacts to their environment in its own unique way. For starters, the translucent, limited edition Midnight Purple II on this R34. In reality, this color was a nightmare to photograph considering I went about the shoot in an uncontrolled, handheld sort of way. Yet the more I worked with it, the more it worked with me. At certain moments, the sun would glare down and reveal its most hidden tones…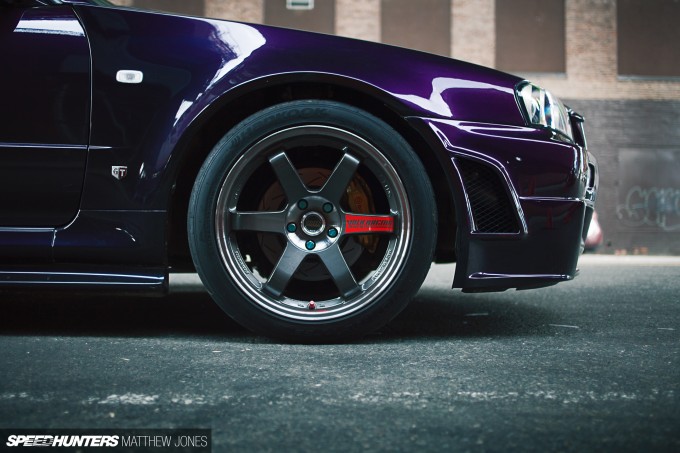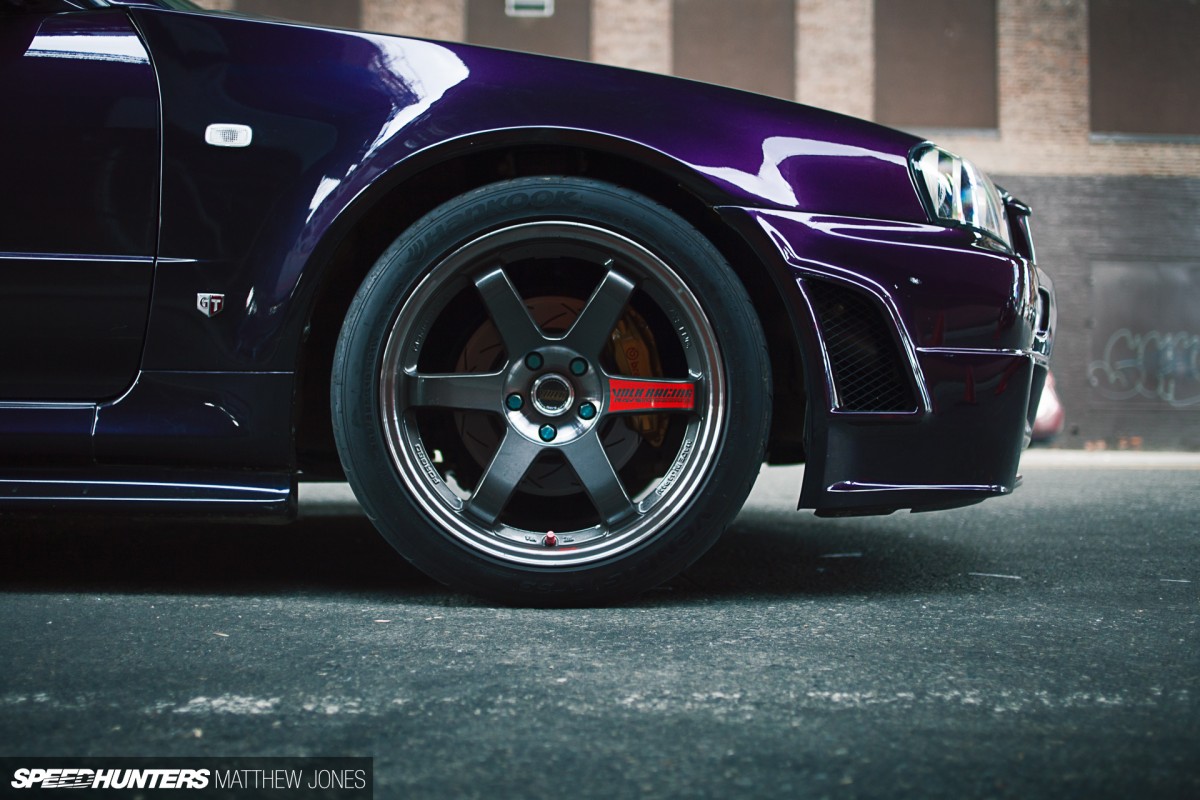 And in others it would absolutely pop – showing nothing but the true shine of a plum soaked in a bucket of gloss. I can imagine if one were to shoot this in a light painting sort of fashion that's exactly what it would express throughout.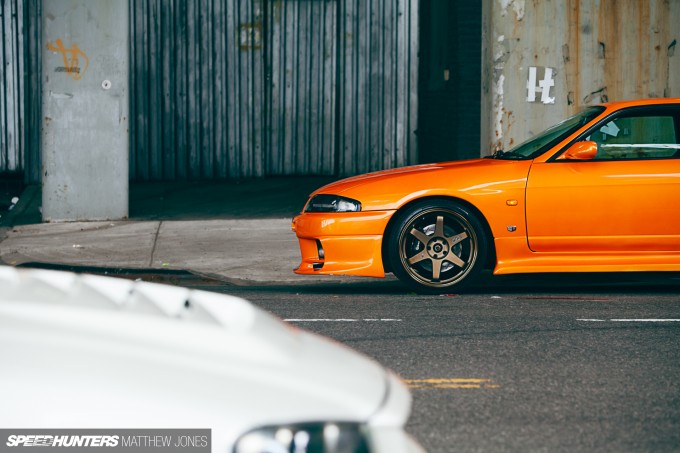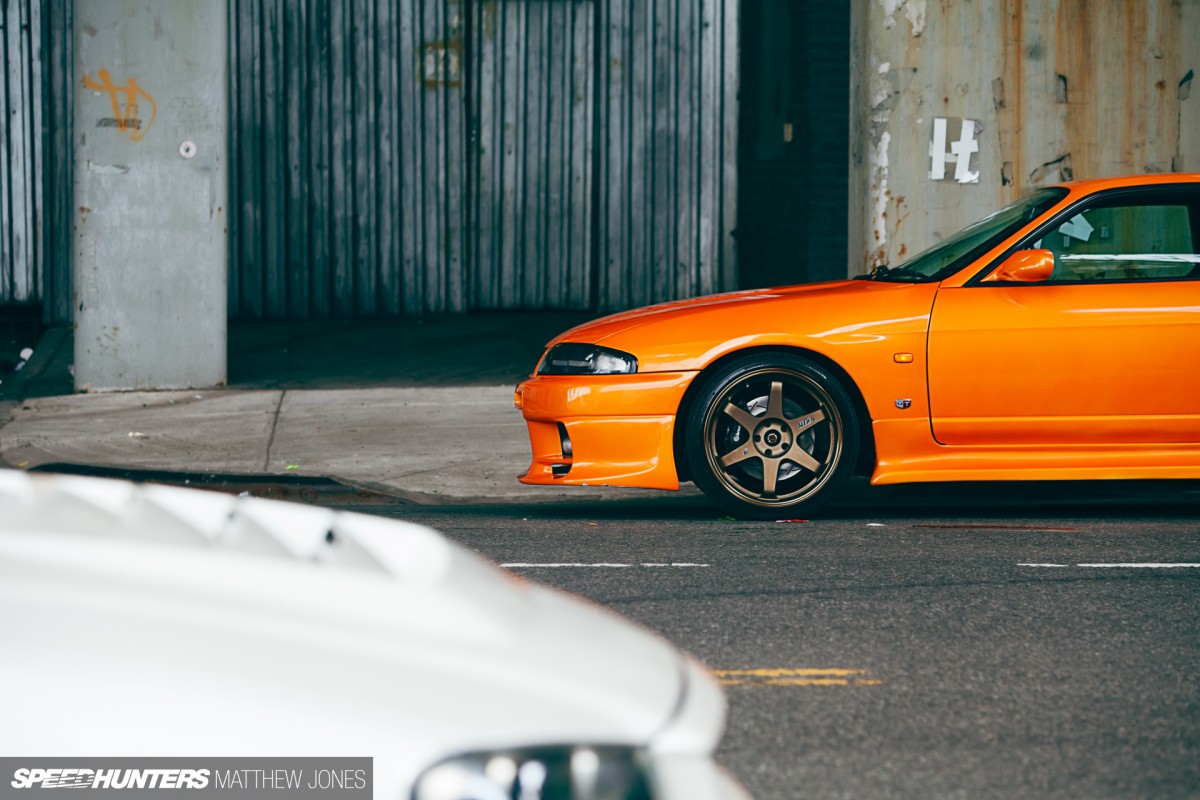 On the other hand, you have the Lamborghini Orange Pearl Mica of this R33, which pretty much looks perfect just about wherever it's placed. It's really one of those colors that just works – whether it be in harsh midday light, or hiding down a Brooklyn corridor.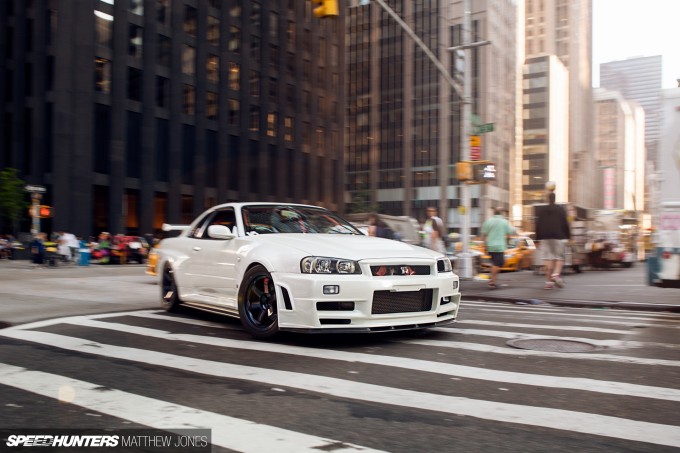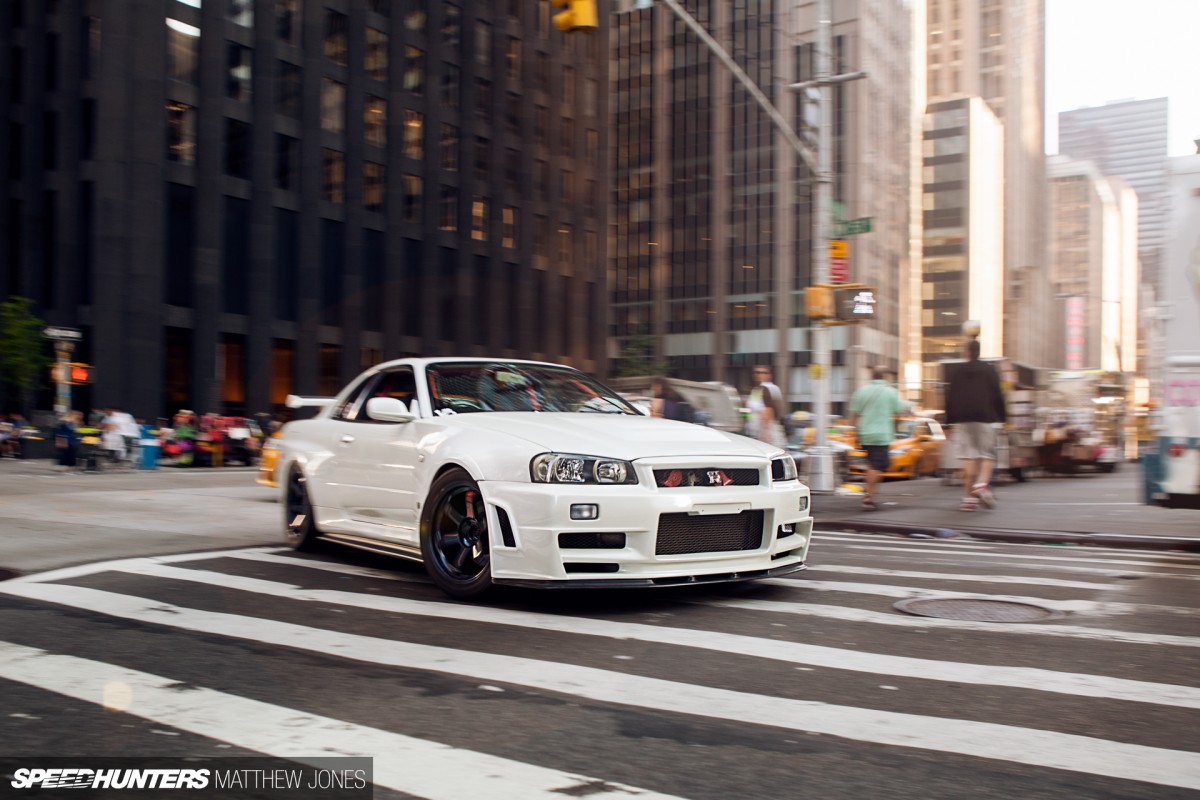 And lastly, there's the White Pearl V-spec R34, which if you have ever had a hand in shooting cars, you'll know that as long as you're keeping an eye on your highlights, white will always pretty much come out perfect.
Please Step In Frame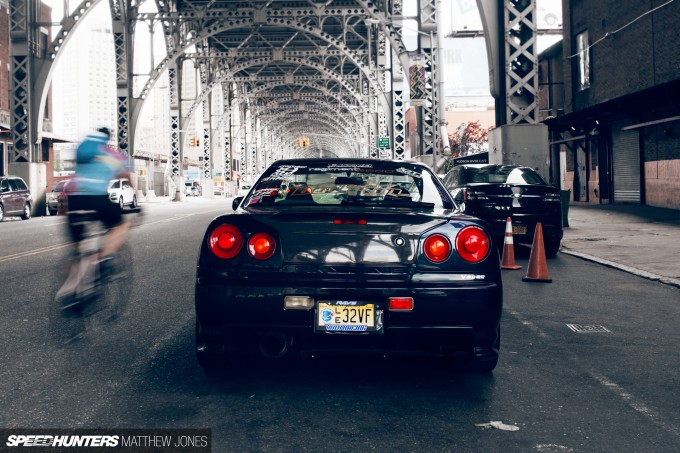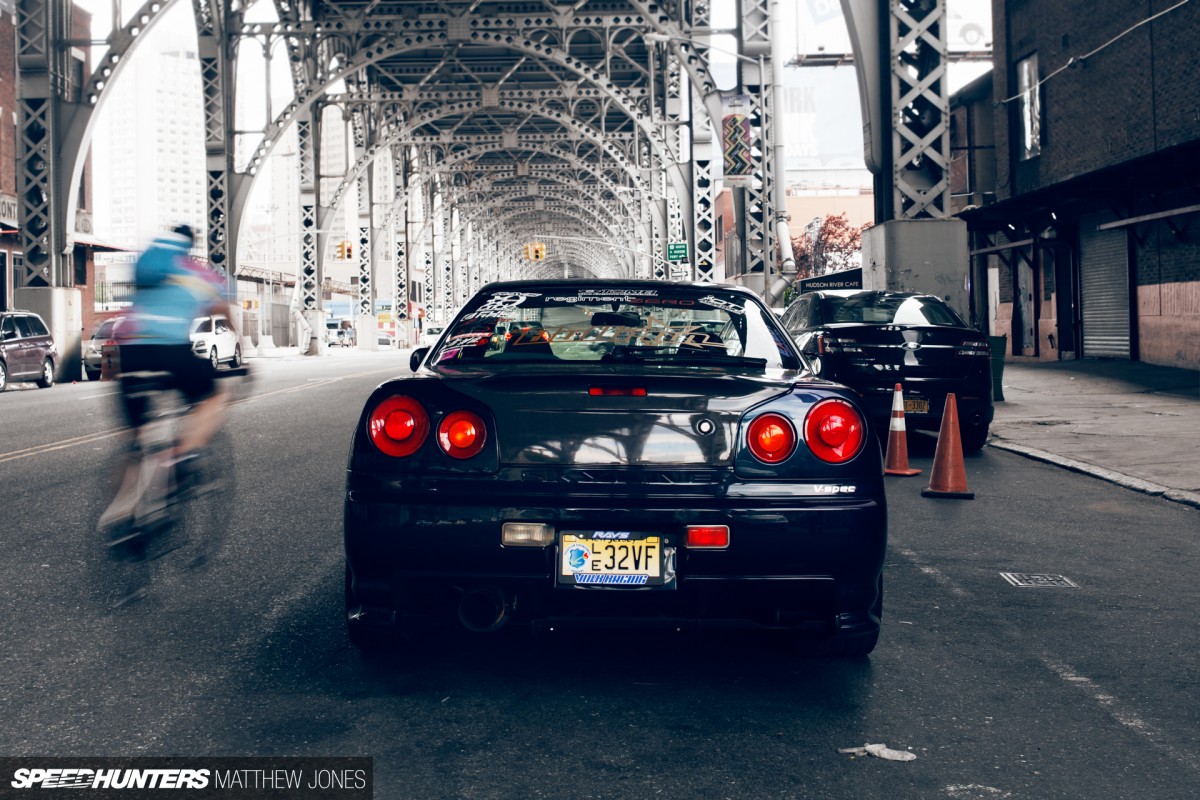 Aside from the given color pallets, shooting in New York City is a complete satisfaction in its own. It is here where the city truly comes to life as a photography location. In general, I find that it's rare to find a spot where the environment will completely work with you – whether it's throwing a curve ball or blowing it on providing the decisive moment. But NYC is an entirely different story.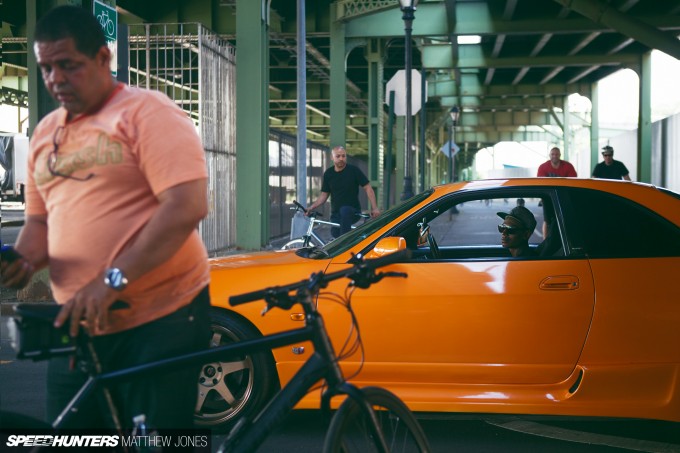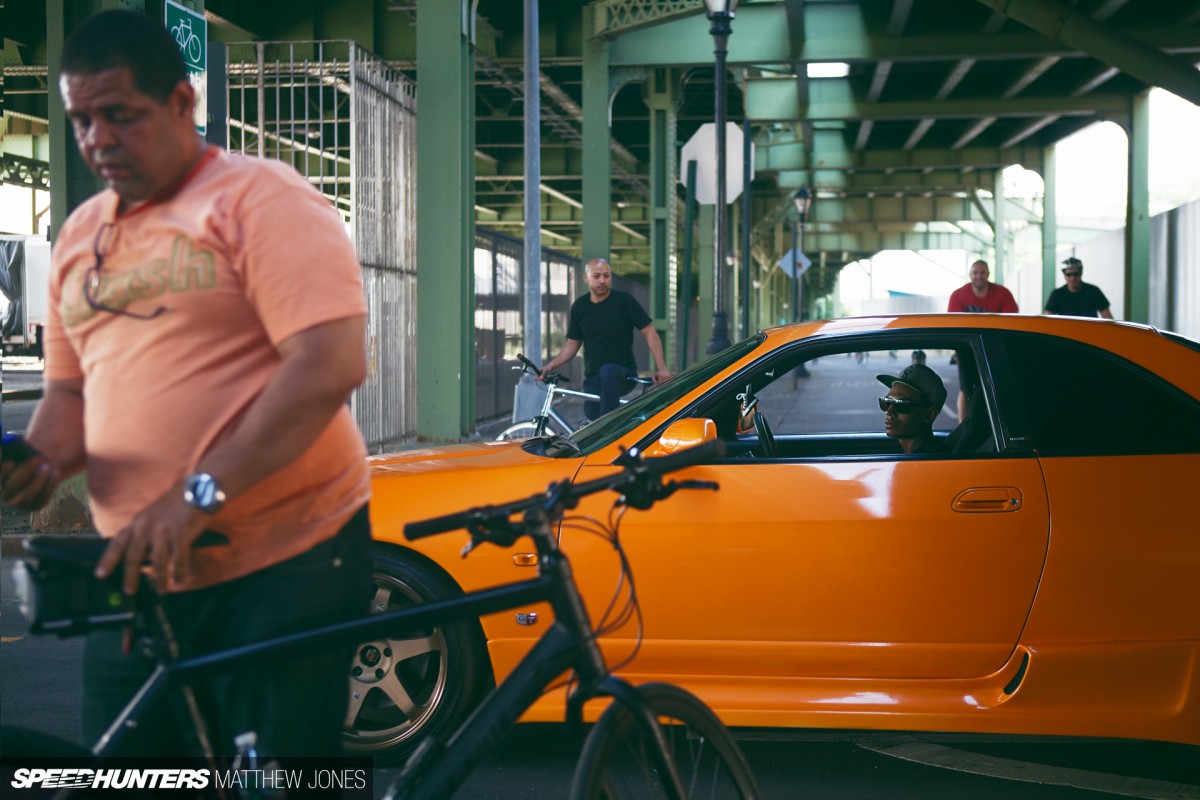 For starters, you have your pedestrians, who will automatically interact with your subject without direction – especially when that subject is a Nissan with the steering wheel on the wrong side. From biking commuters to strolling tourists, I can't even begin to count the number of smartphones that were whipped from pockets in an effort to snap photos that they could later show their friends what they saw in the city that day.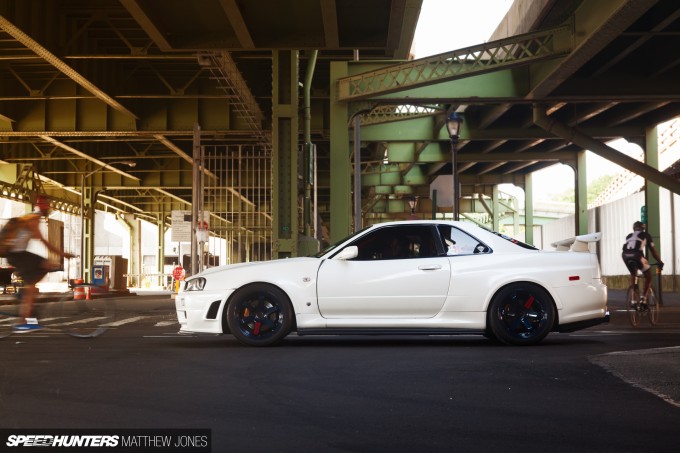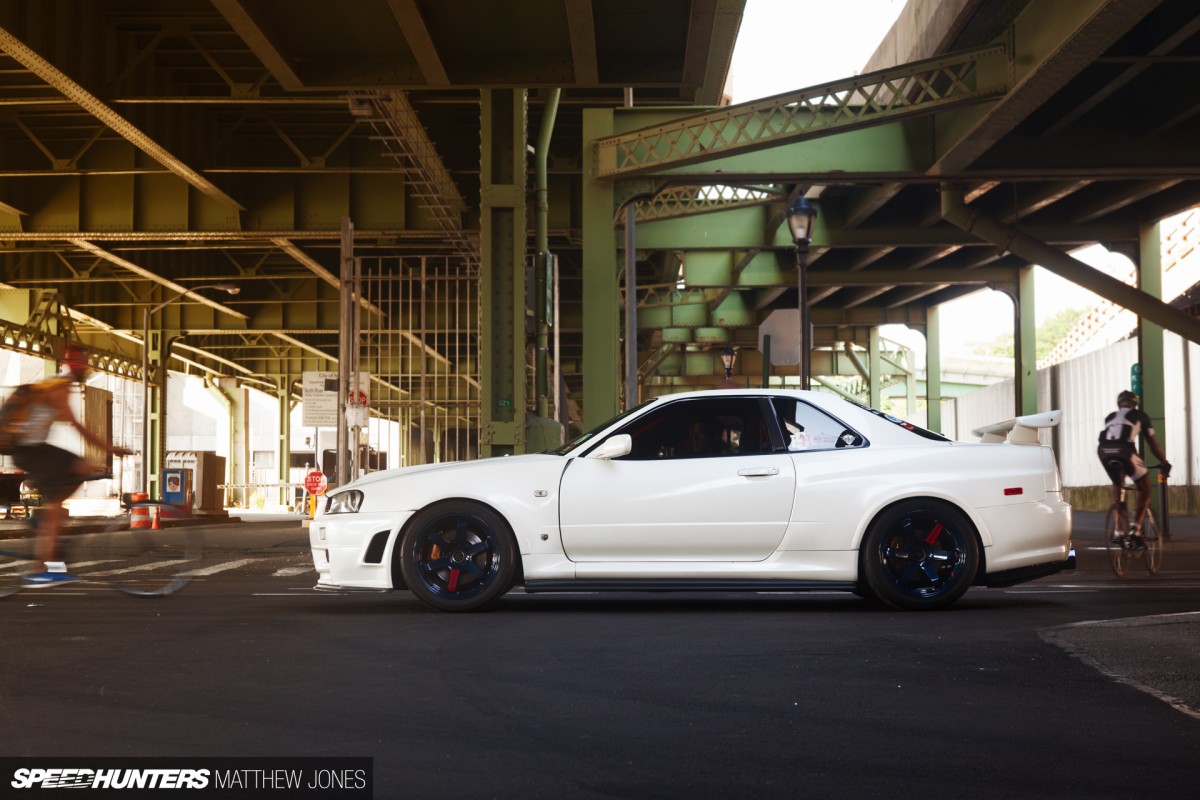 Additionally, you have the architecture of the city, which just about 99 per cent of the time will provide a perfect shooting situation. To further elaborate, if for some reason you're downtown trying to shoot at 2:00pm and the light is completely blown and harsh (which it will be), just stroll over to the next block where there will most likely be a skyscraper providing a thorough amount of shade and interesting shadow lines to play with. Still not enough shade? Simply find cover under one of the many overpasses where you'll be greeted with the softest of light possible. Not to mention the gorgeous rays seeping through the exterior.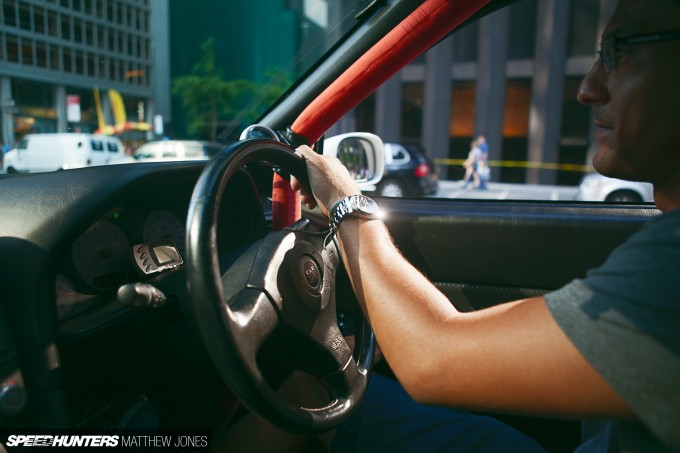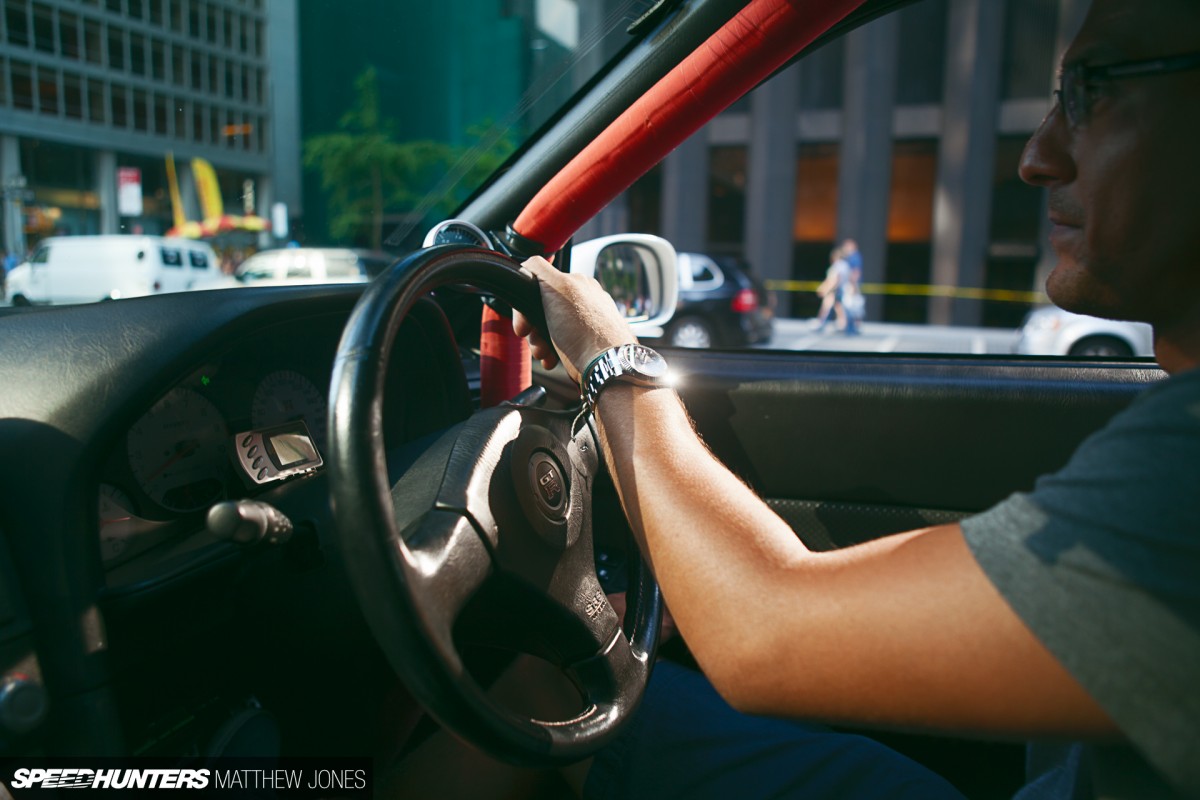 It truly is magical. Throughout the many years I've been shooting, I don't think I've ever experienced an environment with such luscious available light. Whether it's reflecting off a glistening building, or creeping through the vanishing point, the opportunities are literally endless here.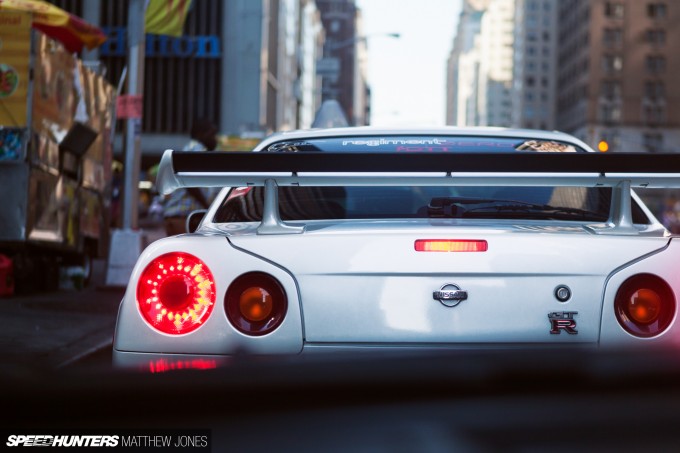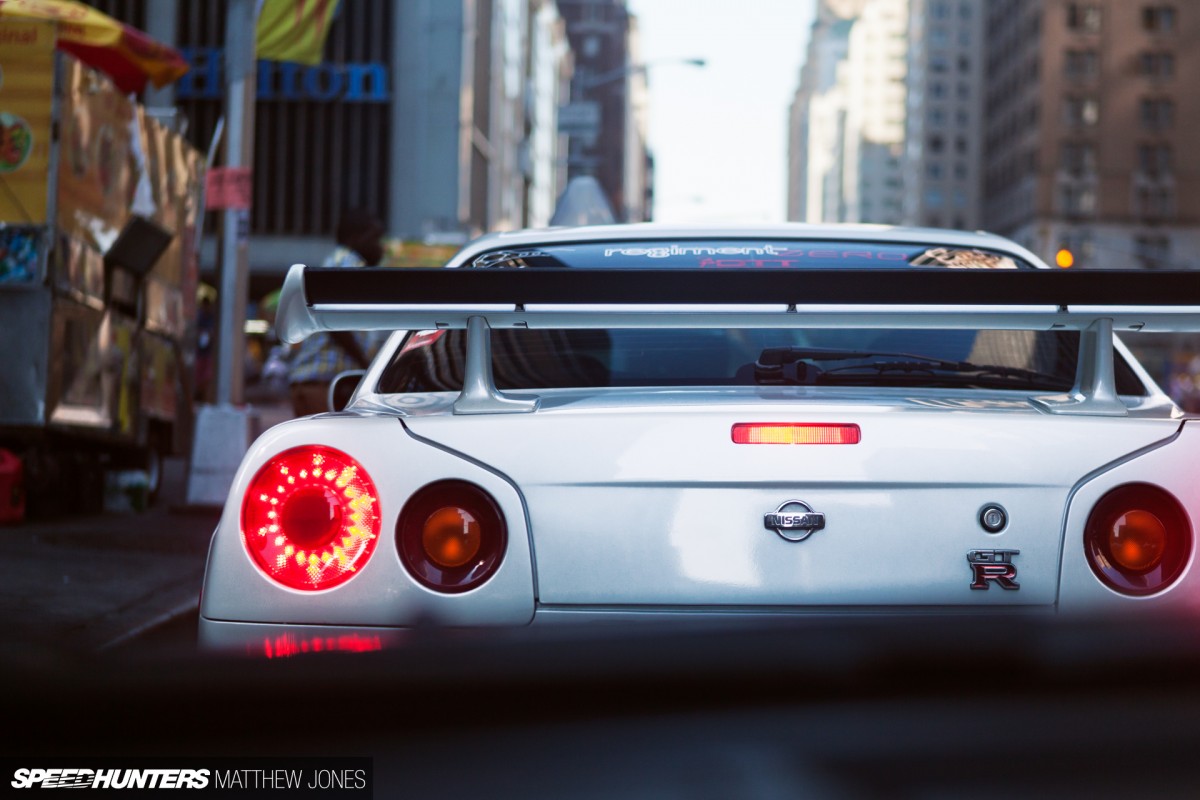 Yet, with every positive there's always a negative in sight. There's a reason every car junkie with a DSLR isn't shooting in downtown NYC, and that's because it's not easy. As I mentioned earlier, the roads are filled with potholes like that of a land mine. And though the luscious surroundings generally tend to work in your favor, there are certainly instances where they don't – like when the congestion and parking is so bad that it's impossible to keep all three of your subjects within reach.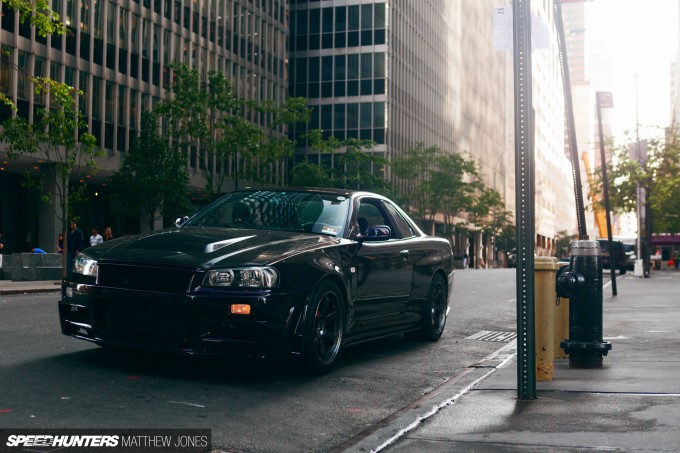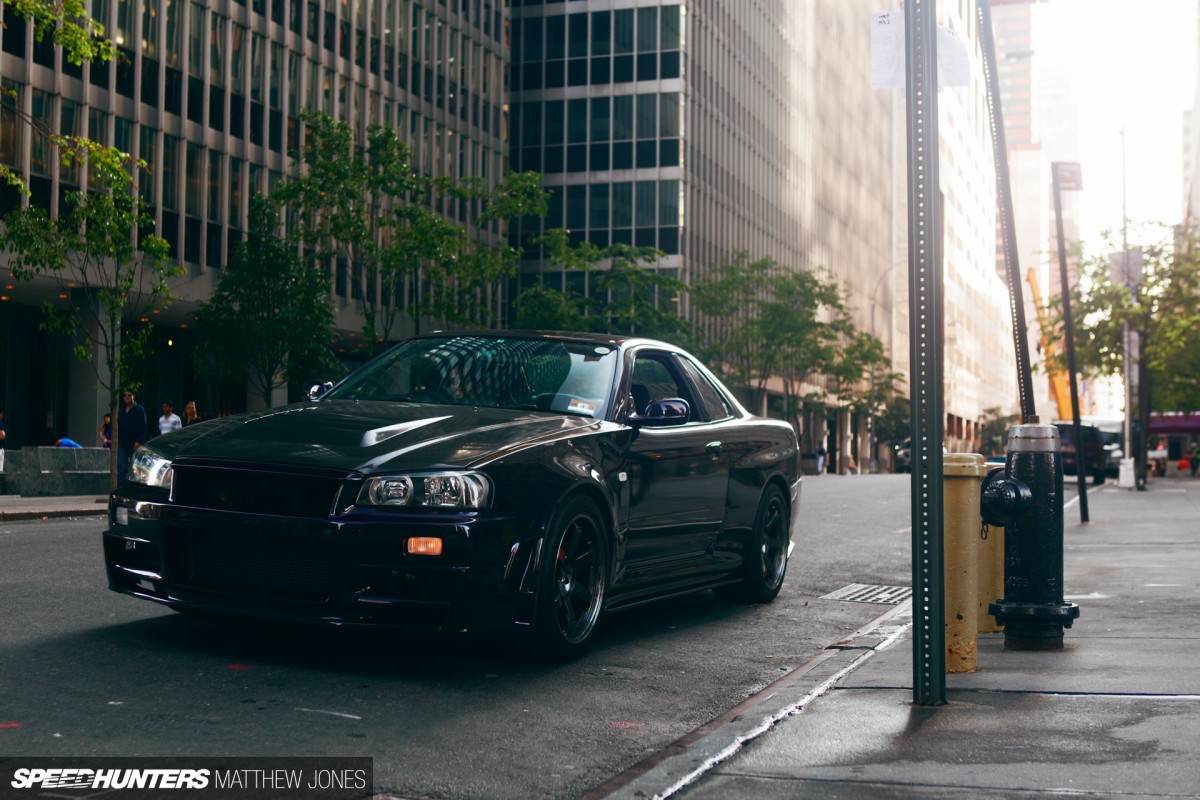 Or even down to the details, like that fact that the outer lanes of the roads are so skewed on every street that just about every one of your images is going to have some serious subject-to-background alignment issues. Though I suppose that's what makes it all so special. It's a challenge, and to walk away with even one decent image is time well spent.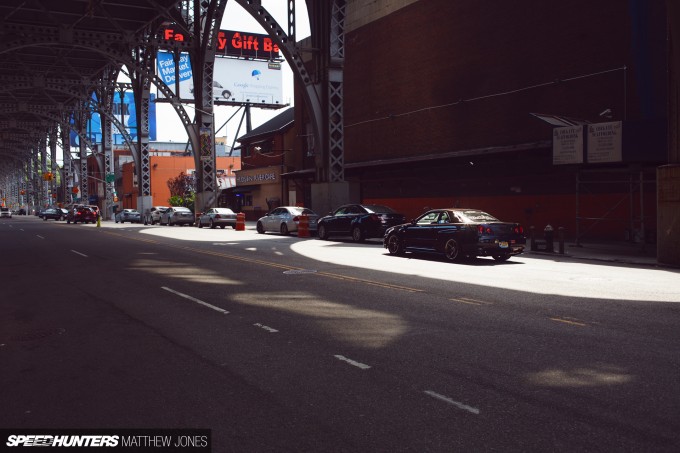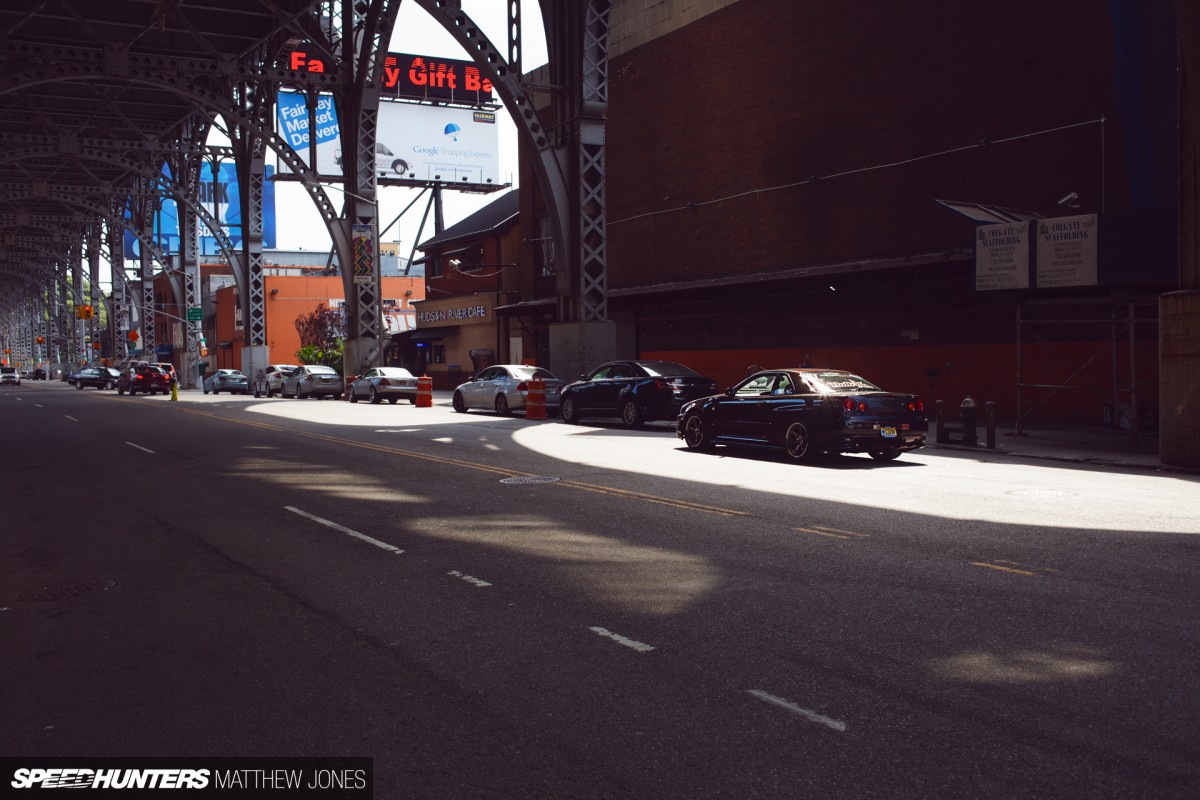 If you've actually read any of this, you're probably wondering where the colour grading is from. Well, this was a 'dream shoot', right? Precisely. And with dreams comes the freedom for me as an artist to fully express myself, to experiment and to play. So that's exactly what I did. I chaotically chased three cars around the city in effort to capture the environment, the sights and the sounds which I feel would open the doors for an experimental color pallet. The consistency is the inconsistency. Make no mistake, these images weren't unknowingly molested, they were carefully adjusted to a style I am currently pursuing.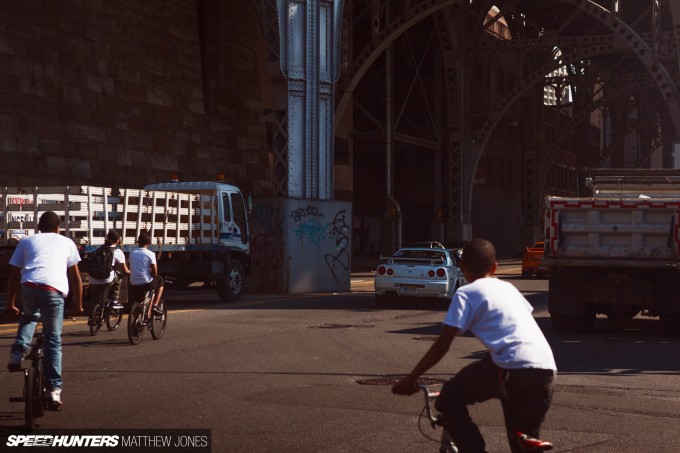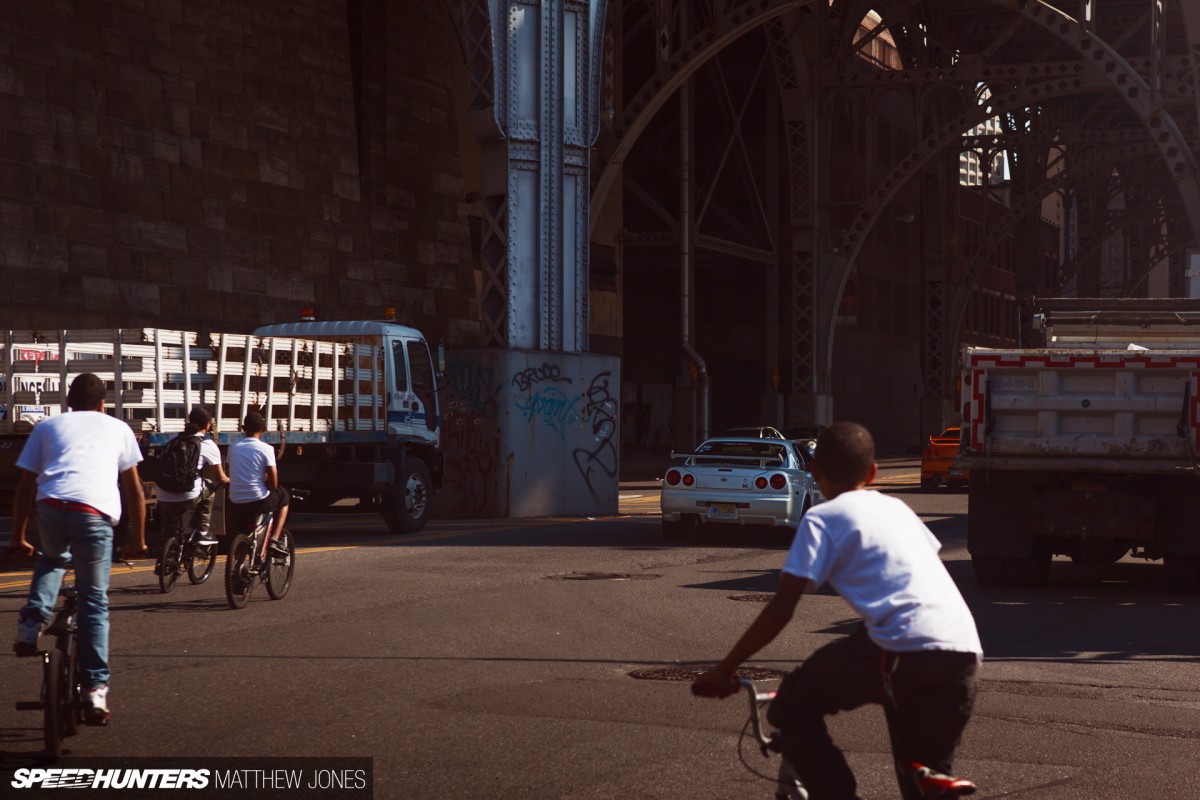 I think it's all too often that we as photographic artists go about conducting our shoots in a manner that is 'acceptable'. That is, sticking to our shot lists and specific criteria, soaking in the thoughts of naysayers and fearing the outcomes of risk taking. But where's the joy in that? Where is the separation? If you have a vision, if you have a goal and you want to make a statement, go out and do something about it.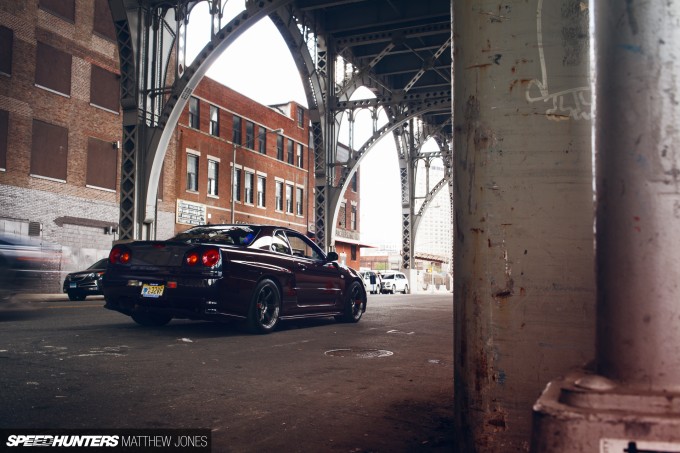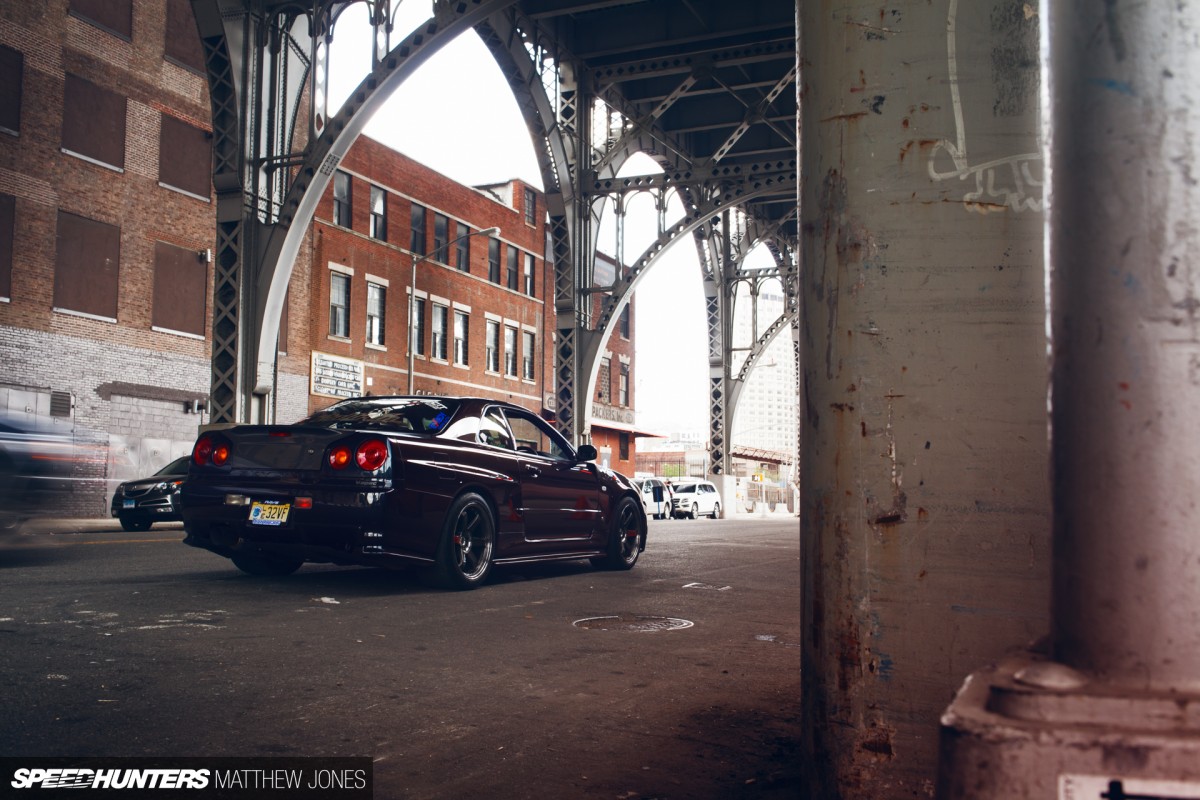 So yes, I shot two R34s and an R33 in downtown New York, without a proper plan, without any lighting, assistants or grip – and I did so without using much else but a used $150 Canon 35mm f/1.8 lens and a barely breathing Mark II. And it was an absolute blast. Can you blame me? With all said and done, Id like to challenge you to go out and shoot solely for the love, for the experimentation and for the sake of doing something different. Go out and shoot on the street – throw yourself into the mix, spray and pray. I think you'll be surprised at what comes back on that little glowing LCD screen.
Matthew Jones
Instagram: matthewjonesphoto