The GT-R Bewitches
'If you had to choose one car to own, what would it be?' I get asked this question a lot, and despite having had the opportunity to drive some pretty amazing sports cars over the years, I can't help but always reply in the same way: 'I have my dream car already'. And believe it or not, despite having owned my BNR34 GT-R for 15 years now, I'm still very much content with it. That's until I see one like Christian Hopland's example…
Why? Well this isn't your ordinary GT-R – it's one of the 750 V-spec II Nürs that were built at the very end of the Skyline's production in 2002. This, to put it in broad terms, is the san-yon GT-R to have. No question about it.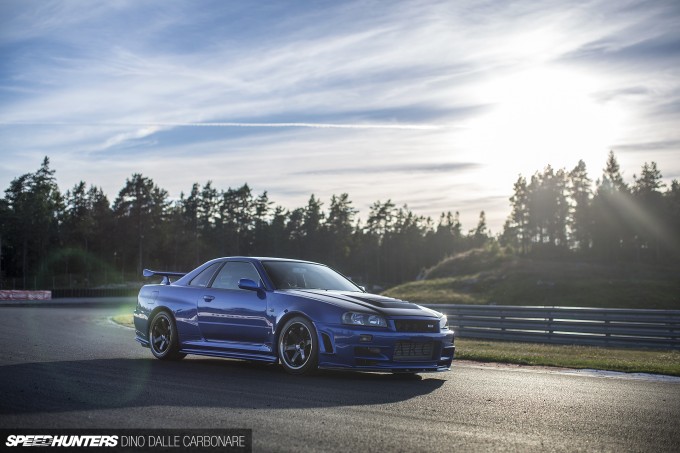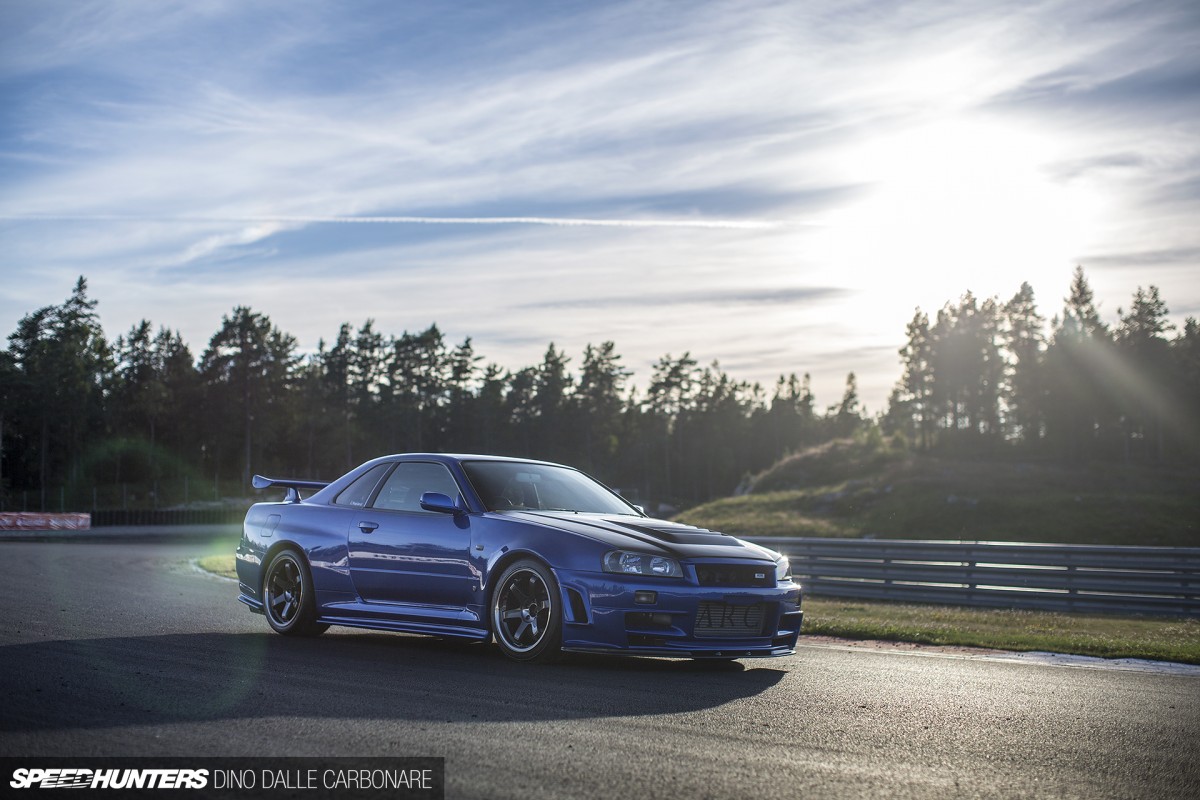 The V-spec II Nür is already a bit of a rarity in Japan, and when pristine examples come up for sale they usually attract a lot more money than what they cost when Nissan sold them new 12 years ago. So you can understand my surprise when I saw this particular car lining up at the Gatebil registration on the Thursday afternoon before the event. Seeing this shiny and very desirable machine in between the usual used and abused sort of cars that enter these events, well, let's just say it stuck out like a sore thumb.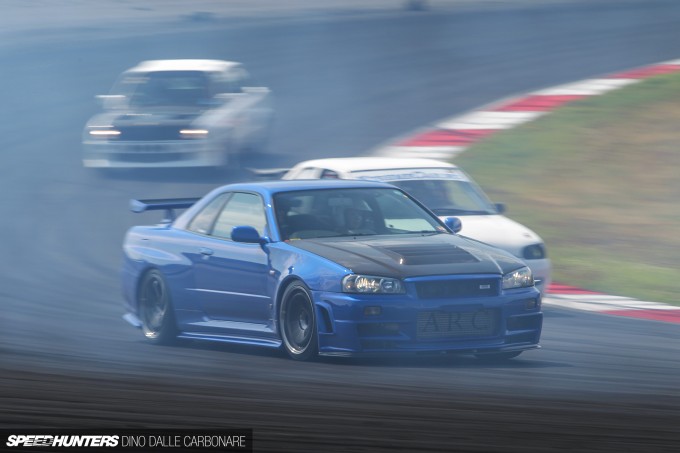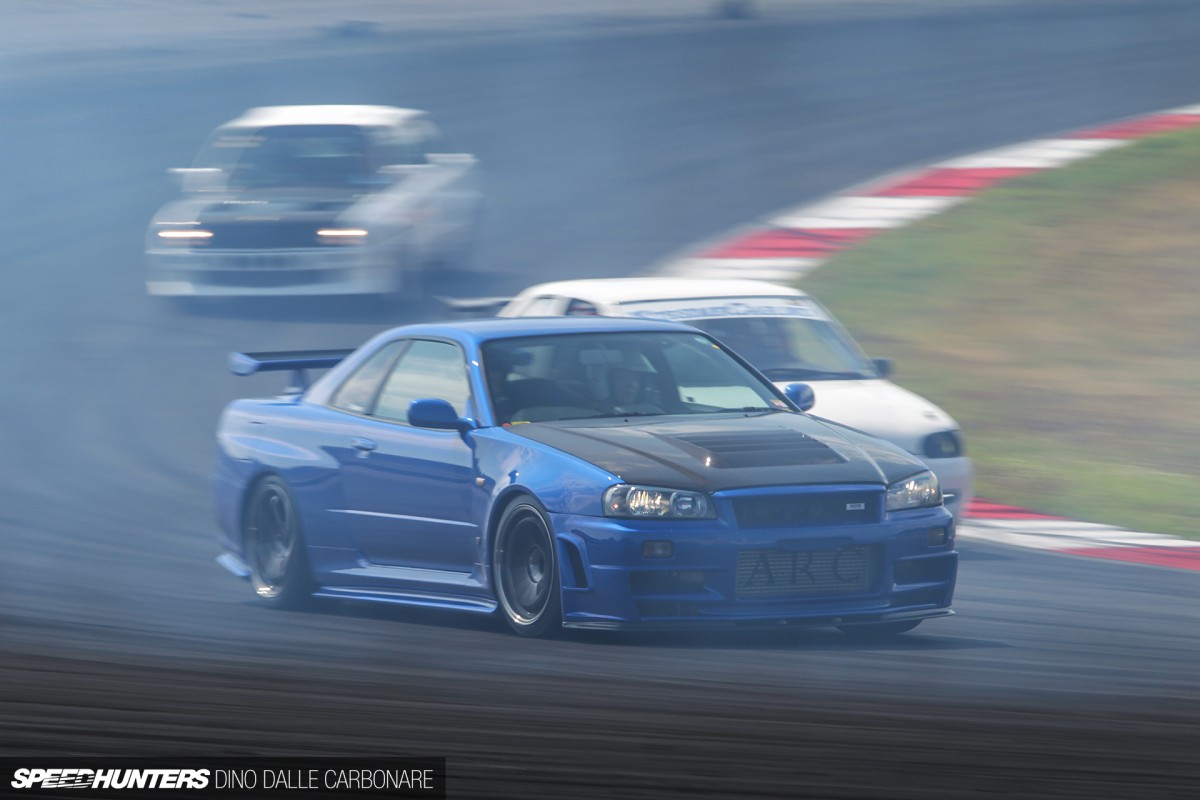 A lot of BNR34 owners like to give their cars the 'Nür look', so it's often hard to pick the real thing from a pretender, but after a quick once-over and a chat to Christian, the stunning example revealed itself as the real deal. And if the rarity factor wasn't enough alone, this car also sports a long list of very well selected upgrades. So I'm sure you understand why I quickly added it to the must-shoot list!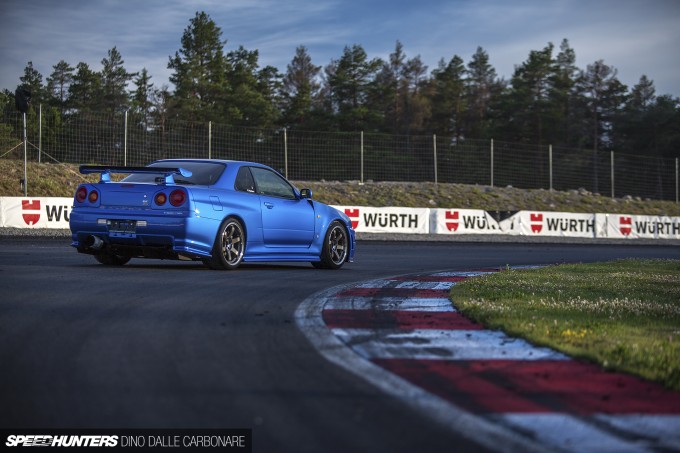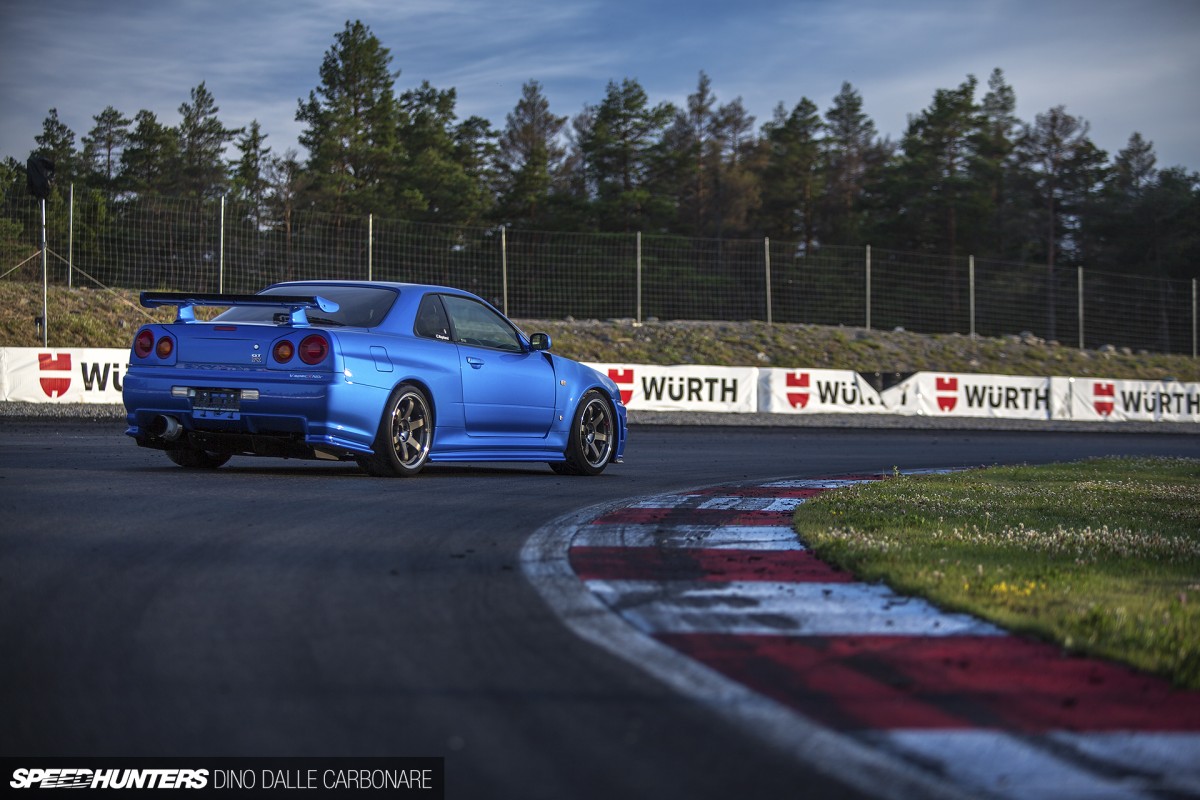 It was no surprise to learn that Christian, who is a trained Toyota mechanic, owned a JZA80 Supra before the BNR34. And if you go further back in his car history, you'll also find an orange BMW E30 M3 with Jägermeister livery. The GT-R fits in rather well – a great progression if you will – and one that Christian was having a ton of fun enjoying out on track. As it sits, the Skyline only sees track use as registering a car from outside the EU in Norway is a hard and expensive process that he really can't be bothered to undergo right now. He has preferred to concentrate on getting the car to feel just right – something which started the moment he got his hands on it.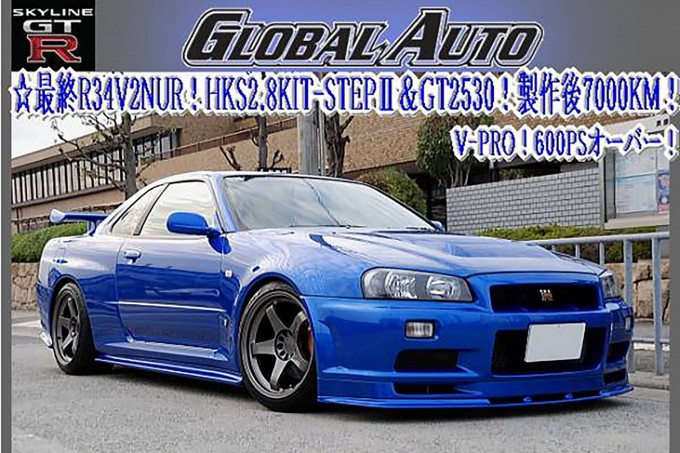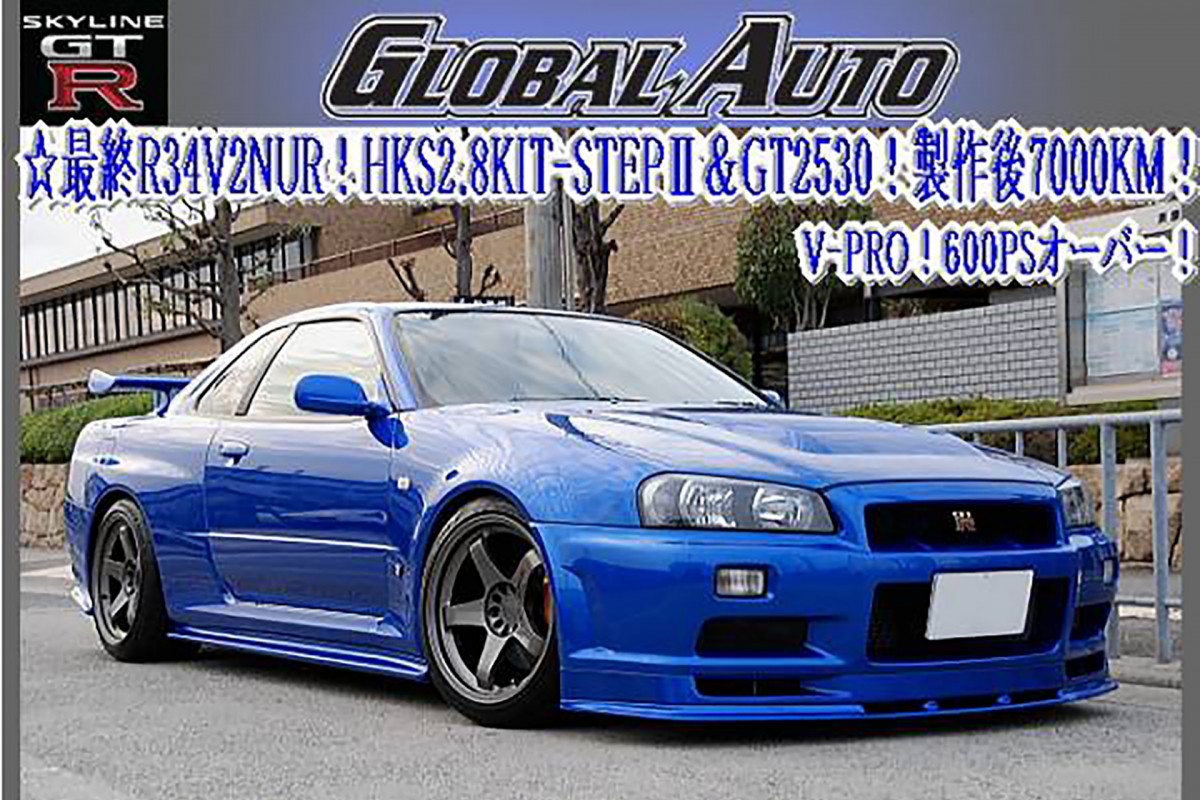 The BNR34 was sourced via Global Auto in Japan – a place that I'm sure you are all too familiar with by now as we've visited it a couple of times in the past. It was delivered as you see it above, and although it looked pretty aggressive with Nismo side and rear skirts and lowered suspension fitted, Christian had a greater vision.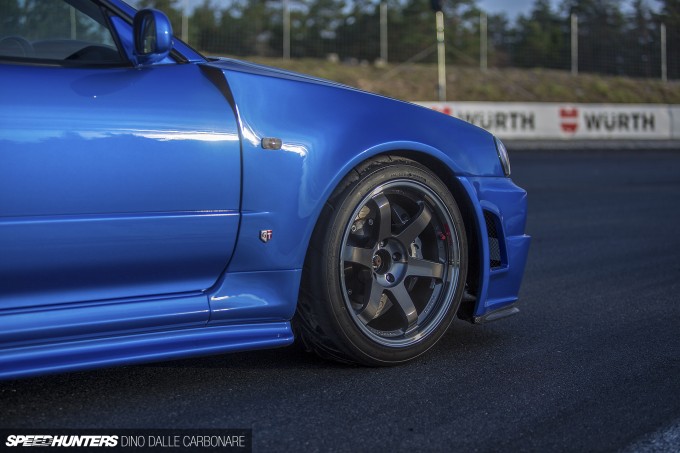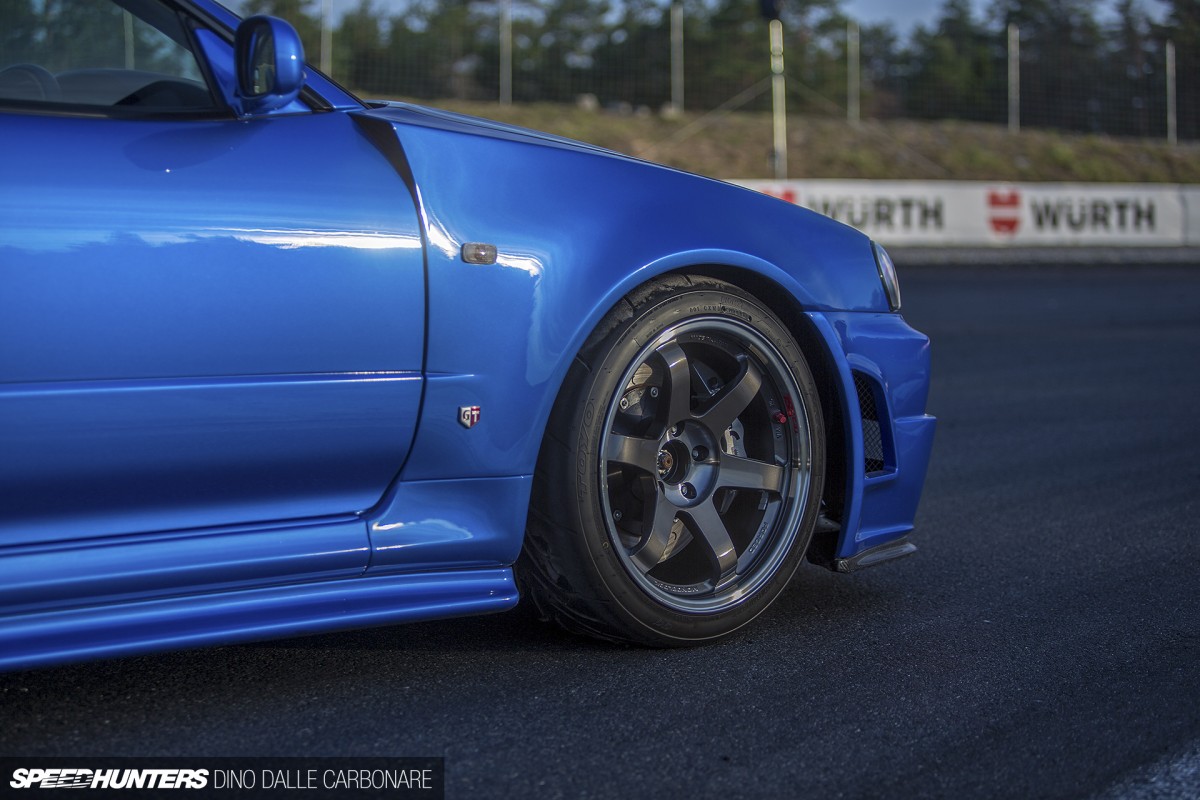 He decided to build upon the Nismo theme by fitting a Z-tune front bumper and the Z-tune vented front fenders. Being slightly wider than the original items, the additions also opened up extra room to fit a wider set of wheels.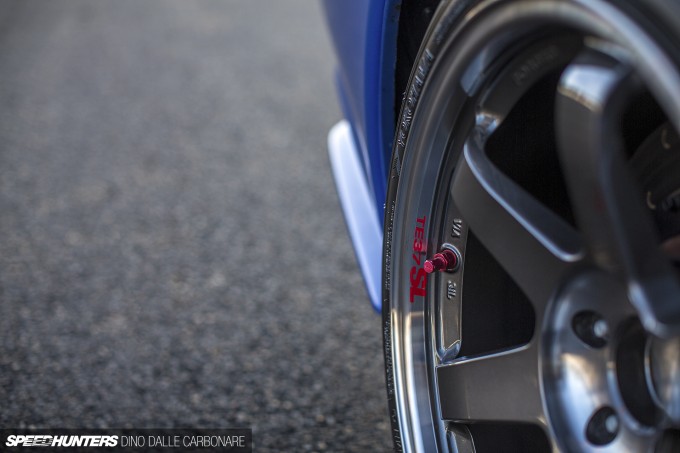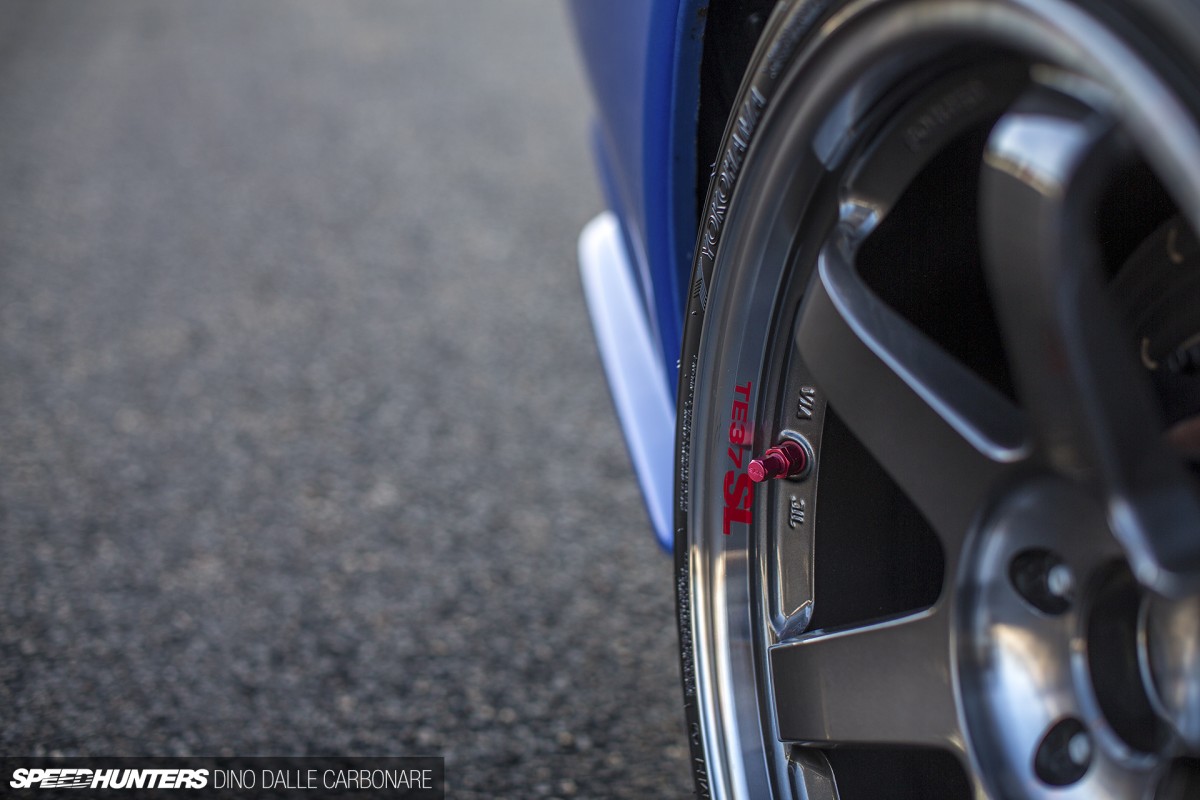 In Japan especially, 18×11-inch wheels shod with 295/30R18 rubber is the 'GT-R size' of choice for many owners, replacing the old 18×9.5-inch and 265/35R18 combo everyone used to go for back in the day. The RAYS-made Nismo LM GT4 wheels that the car came with have been taken off to be kept as spares and replaced with a set of liquid silver RAYS Volk Racing TE37 Super Laps. Christian runs 295-wide Yokohama ADVAN A048s at the rear, but by preference uses narrower 265/35 Toyo R888s at the front.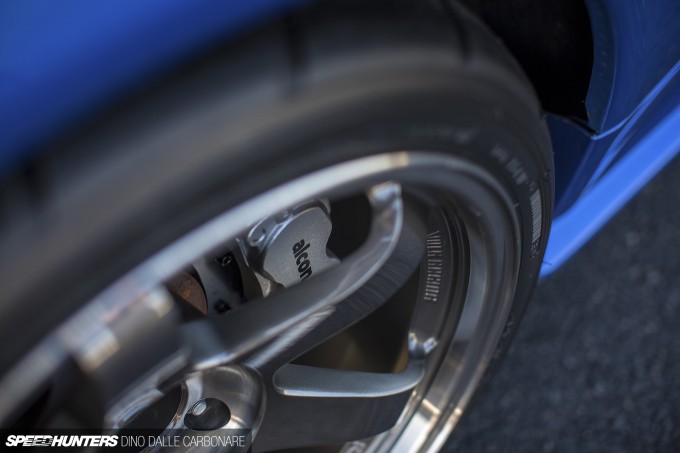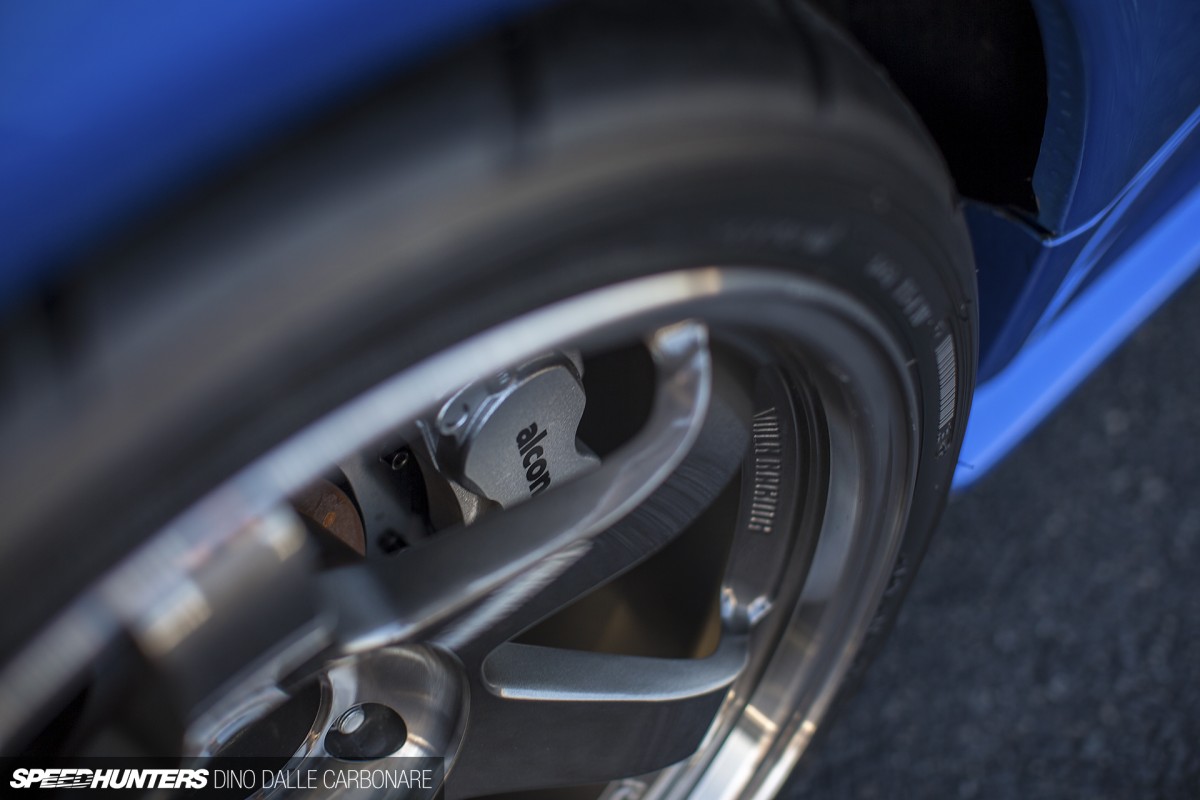 Back in 1999-2002 Nissan wasn't exactly in the best of financial positions – Carlos Ghosn coming in to restructure the company and slash positions in an effort to cut costs. That's why Hiroshi Tamura – product planner for the R34 project – never got the go ahead from the bean counters to equip the car with a more modern braking system than what the R33 and R32 got. That's why the stock Brembo set-up – albeit decent enough for road use – quickly shows signs of fatigue when pushing hard or going on track. This is one area that Christian quickly took care of by fitting Alcon callipers all around – six-pots at the front and four-pots in the rear biting down on grooved discs. The upgrade works wonders and gives the san-yon the sort of braking performance it always deserved.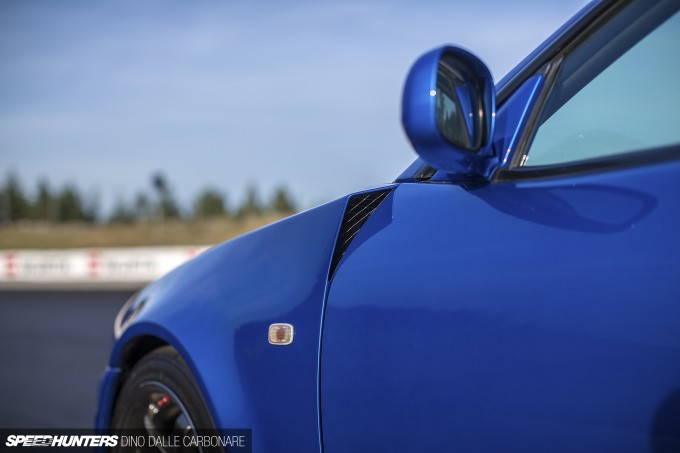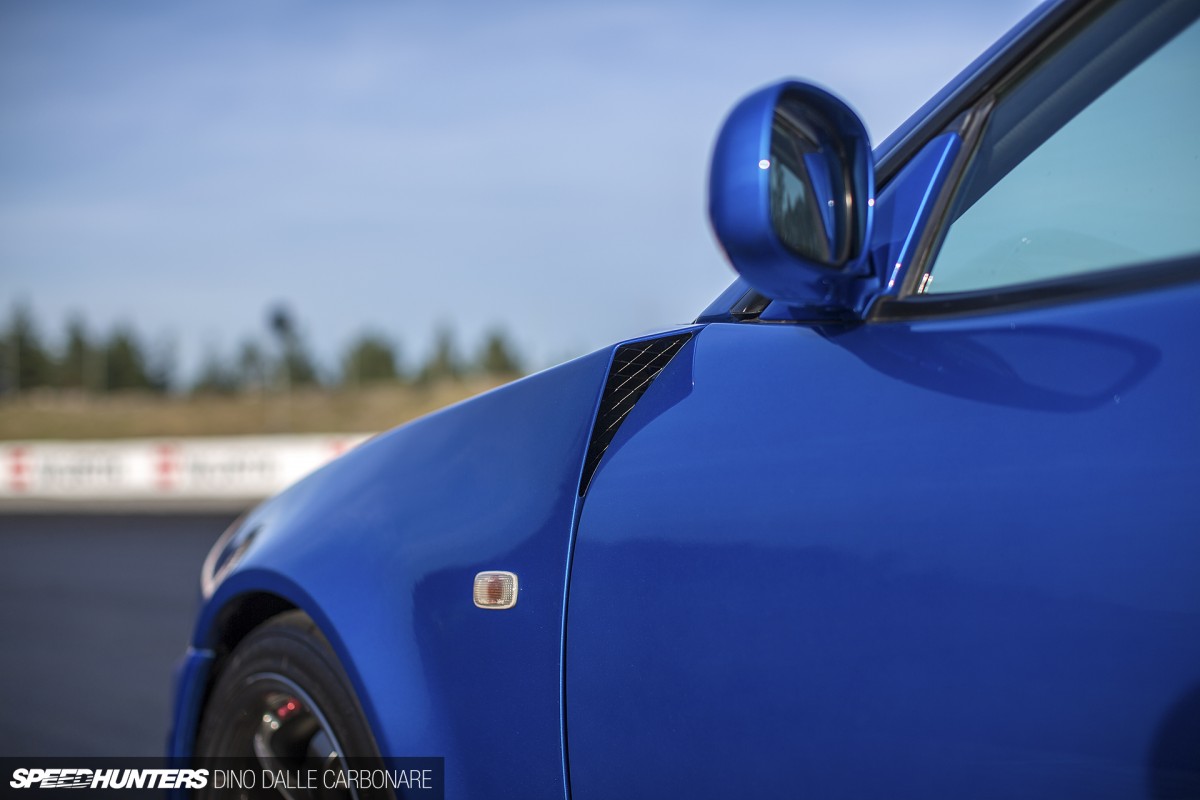 One other detail of the Z-tune front fenders is that they feature GT500-inspired venting at the point where they meet the doors. This is a functional way of channeling hot air away from the engine room, scooping it up through a series of openings along the inner part of the fender/bonnet line, and dumping it out through the above vents. Of course, they also look extremely cool!
It's All In The Details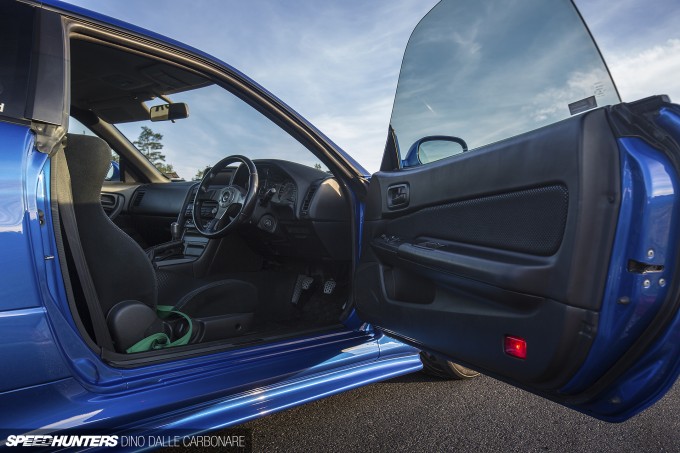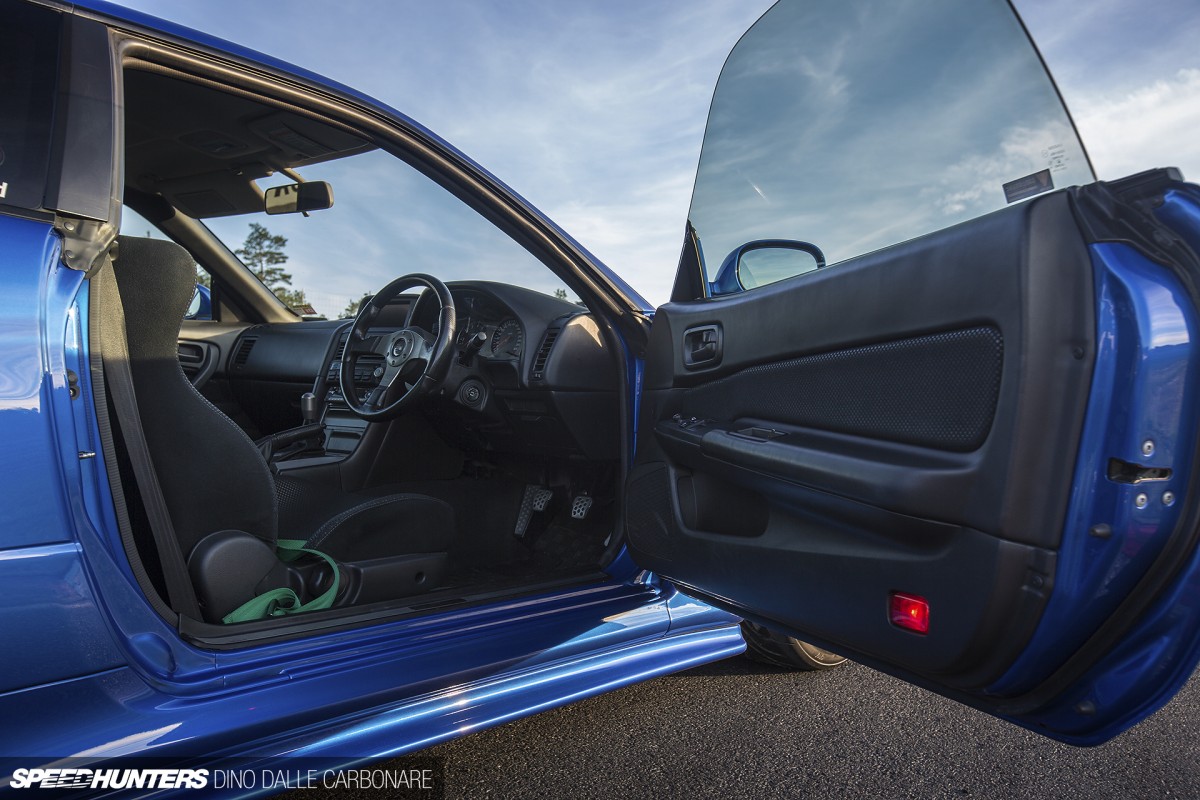 The goal of the project was to enhance what was already there without meddling too much with the overall comfort and usability of the stock car. That's why when you open the driver's door you don't find a stripped-out cockpit with a multitude of roll cage bars, but rather a few select additions.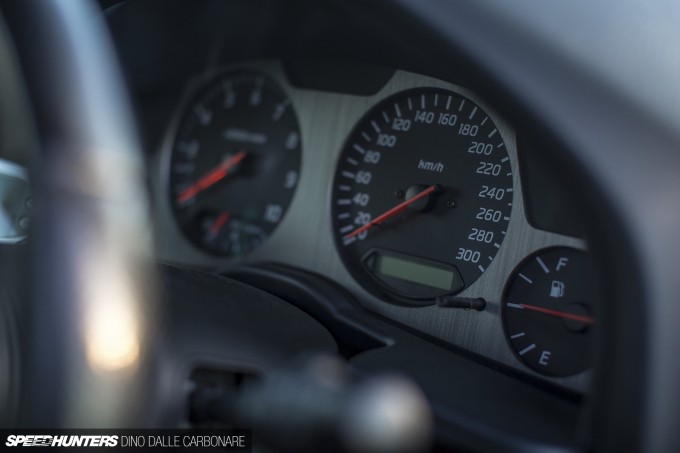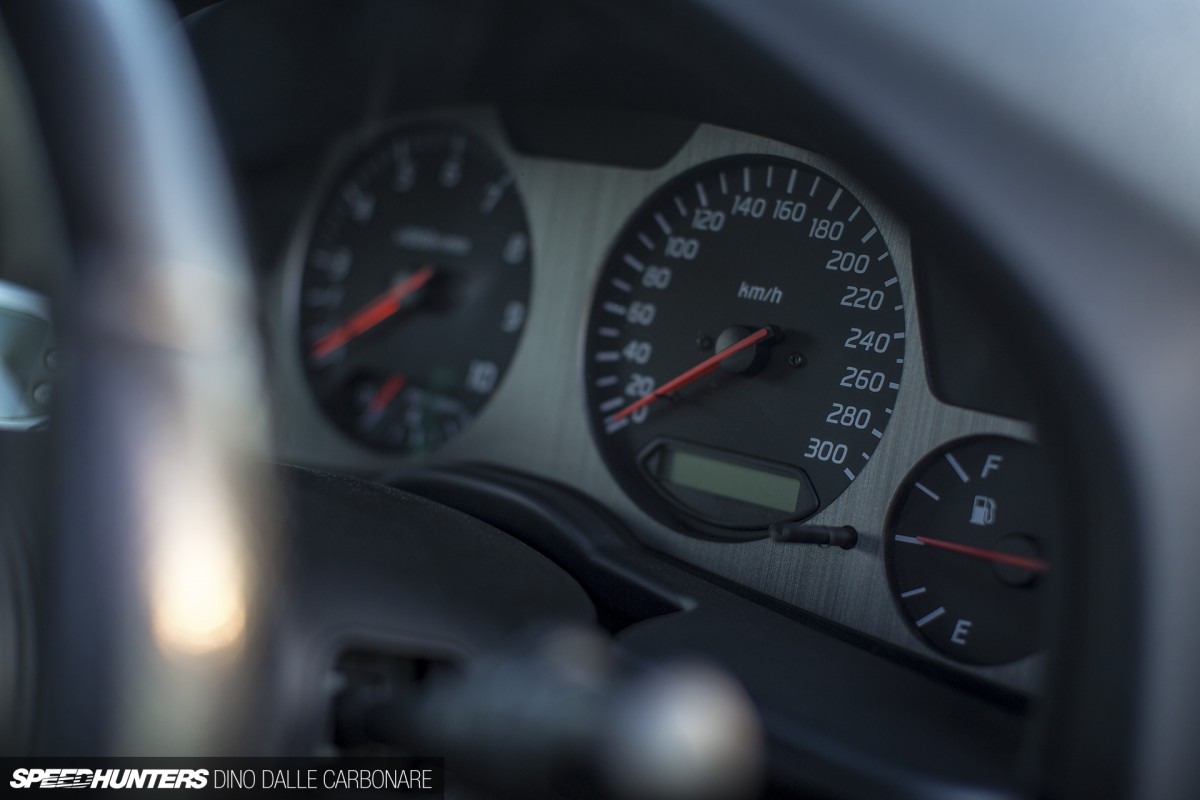 One of the first things I changed on my GT-R was the meter panel, getting rid of the almost-comical 180km/h speedometer the car came with and fitting a white-faced Nismo upgrade in its place. Christian's Nür doesn't even need that as these cars were equipped with a 300km/h speedo out of the box.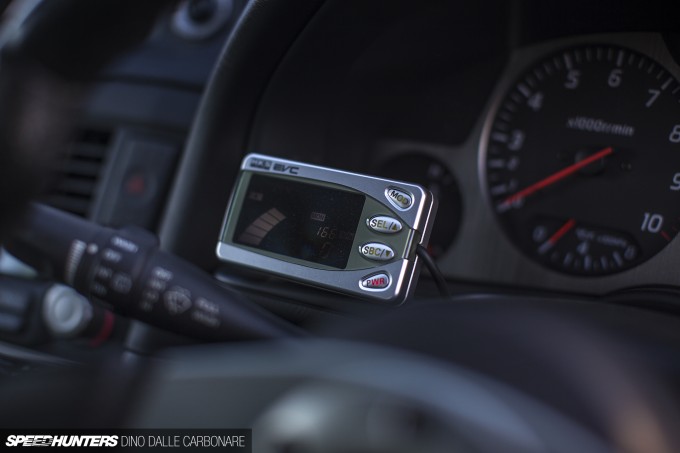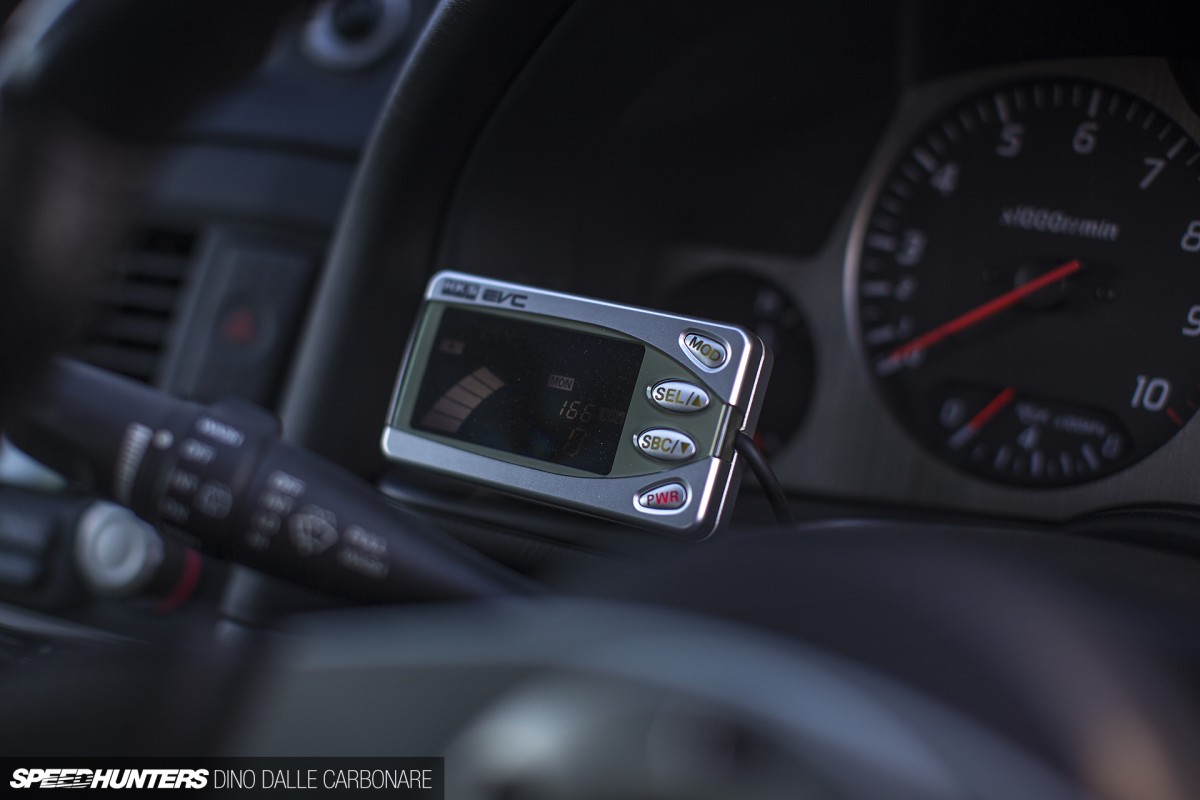 For easy consultation the HKS EVC4 electronic boost controller has been placed in front of the main instrumentation, giving a more accurate reading than the stock digital readout on the Multi Function Display, and also allowing Christian to quickly change the pre-set boost settings.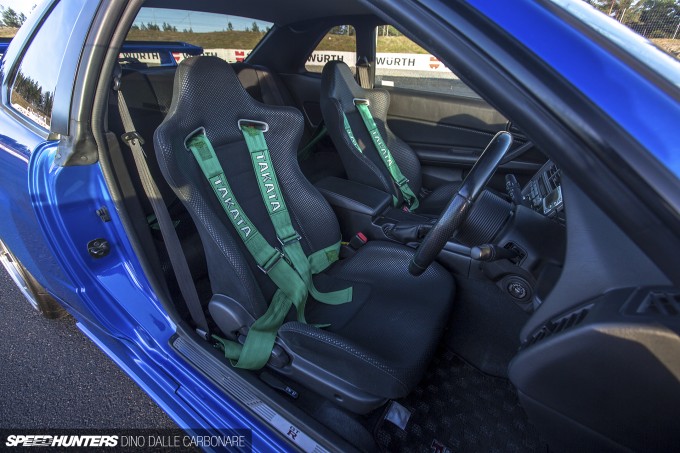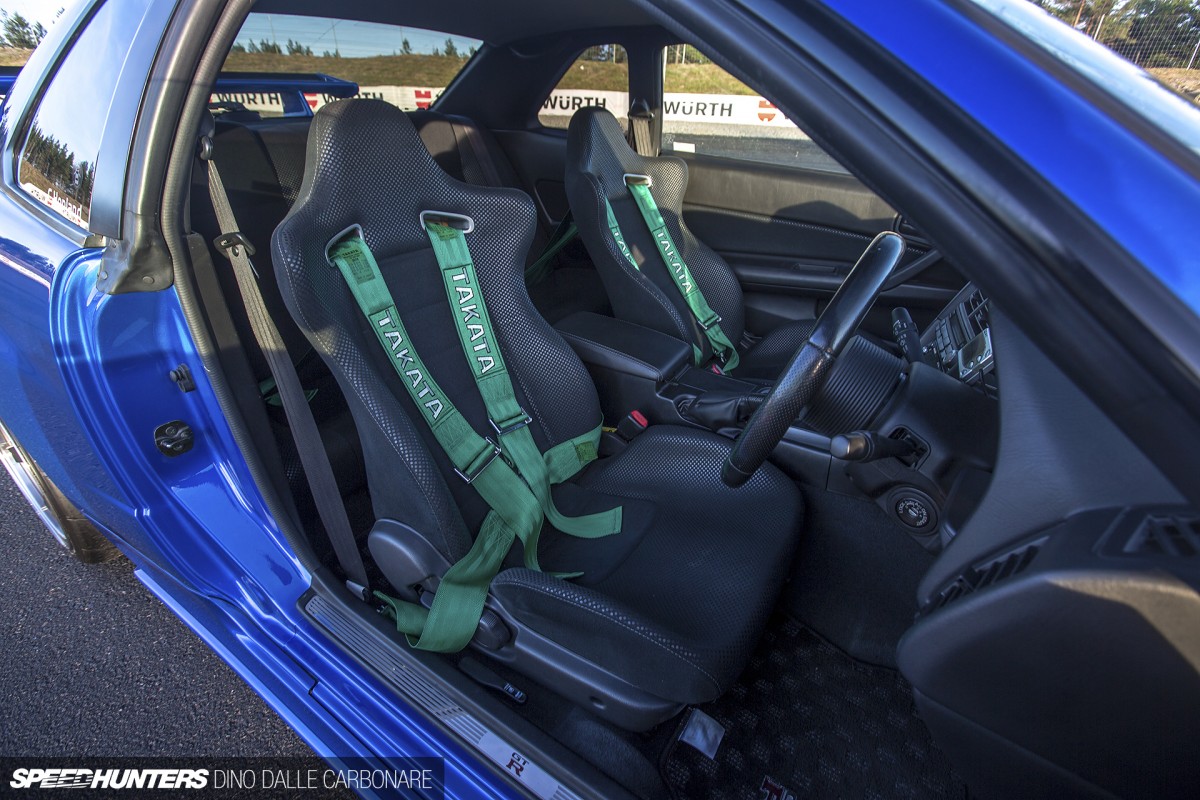 From 2001 onwards – when the V-spec II model was released, the BNR34 was given a few factory upgrades – just trivial things that only nerds would know. Things like the A/C display backlight being green rather than white, and different door mirror adjusters. Most of the changes were made to cut costs, like the black fabric for the interior trim which actually looked far better than the gray one the zenki model came with. Onto the stock seats Christian has fitted must-have Takata harnesses – a worthwhile purchase too, as from what I felt from the passenger seat when he took me out for a few fast laps, this car generates a ton of lateral G-forces.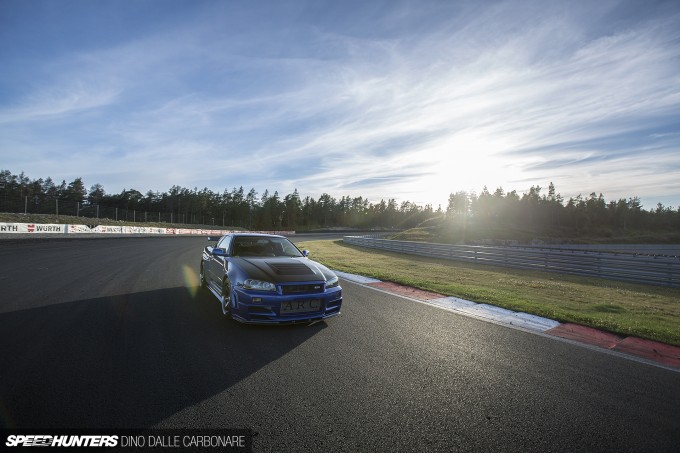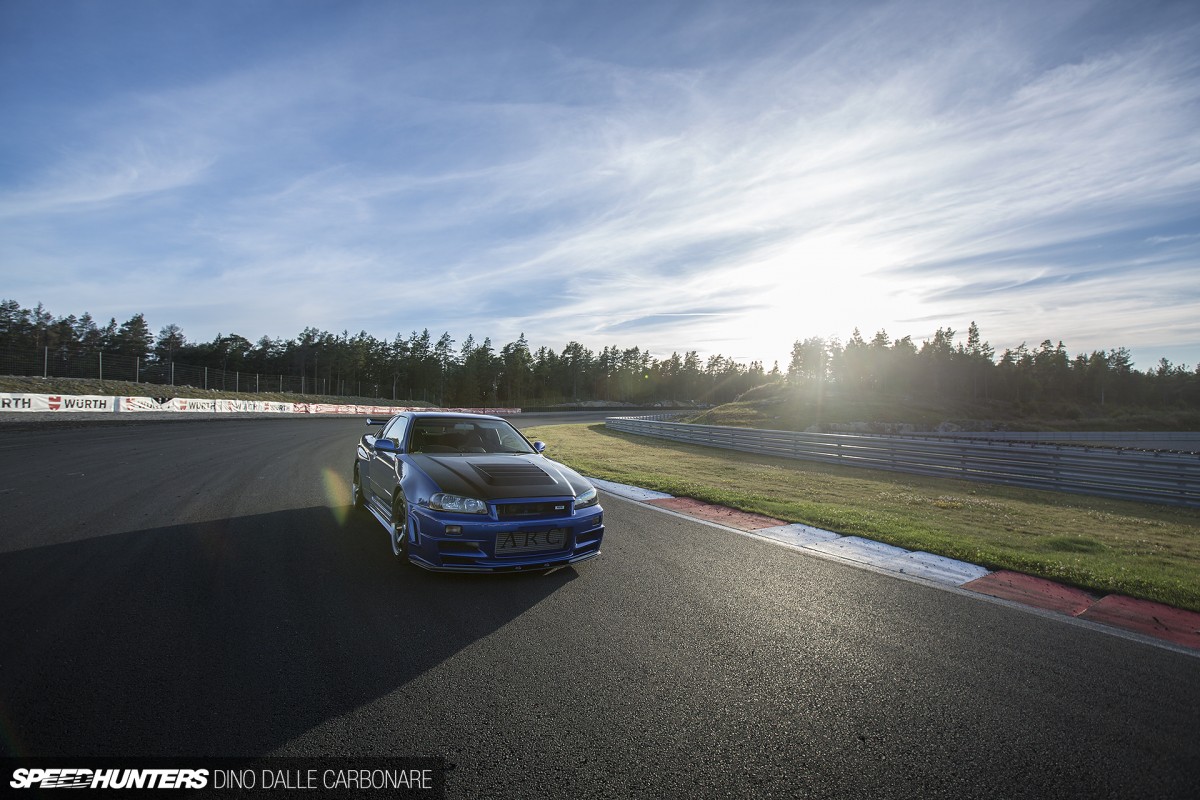 However, most of the upgrades to turn the car into a powerful and capable street and track car are hidden away under the Bayside Blue body – or Wangan Blue as Tamura-san wanted to call it before the Nissan lawyers had their say!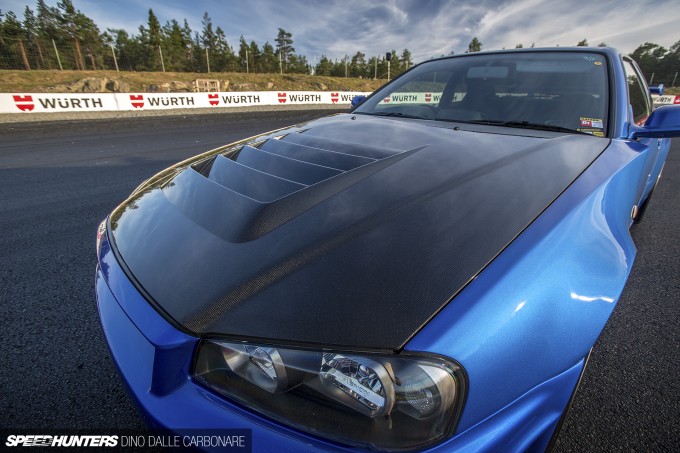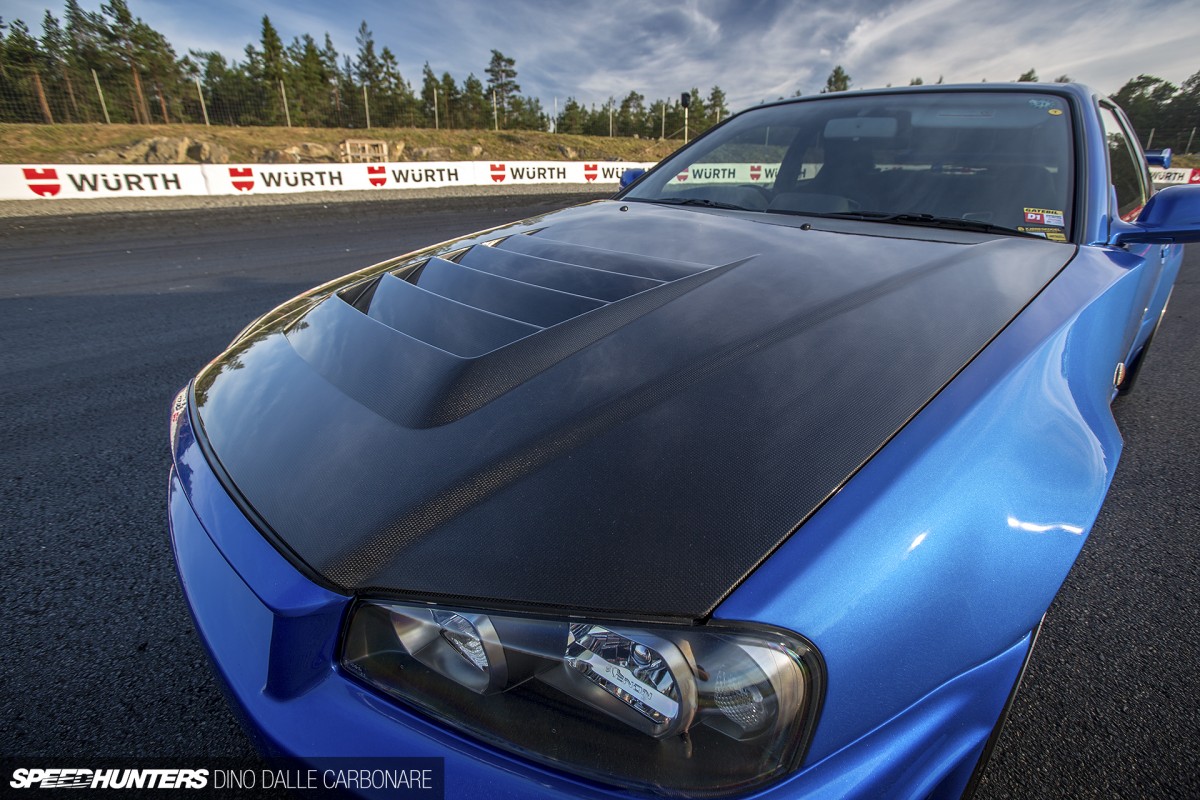 To find out more one must lift up the lightweight Nismo R-tune bonnet – a prohibitively expensive part, but one that is beautifully constructed and fits like a stock panel.
N1 Says It All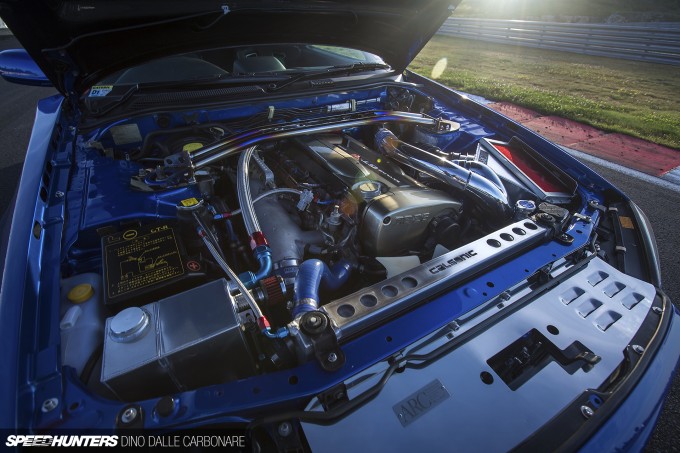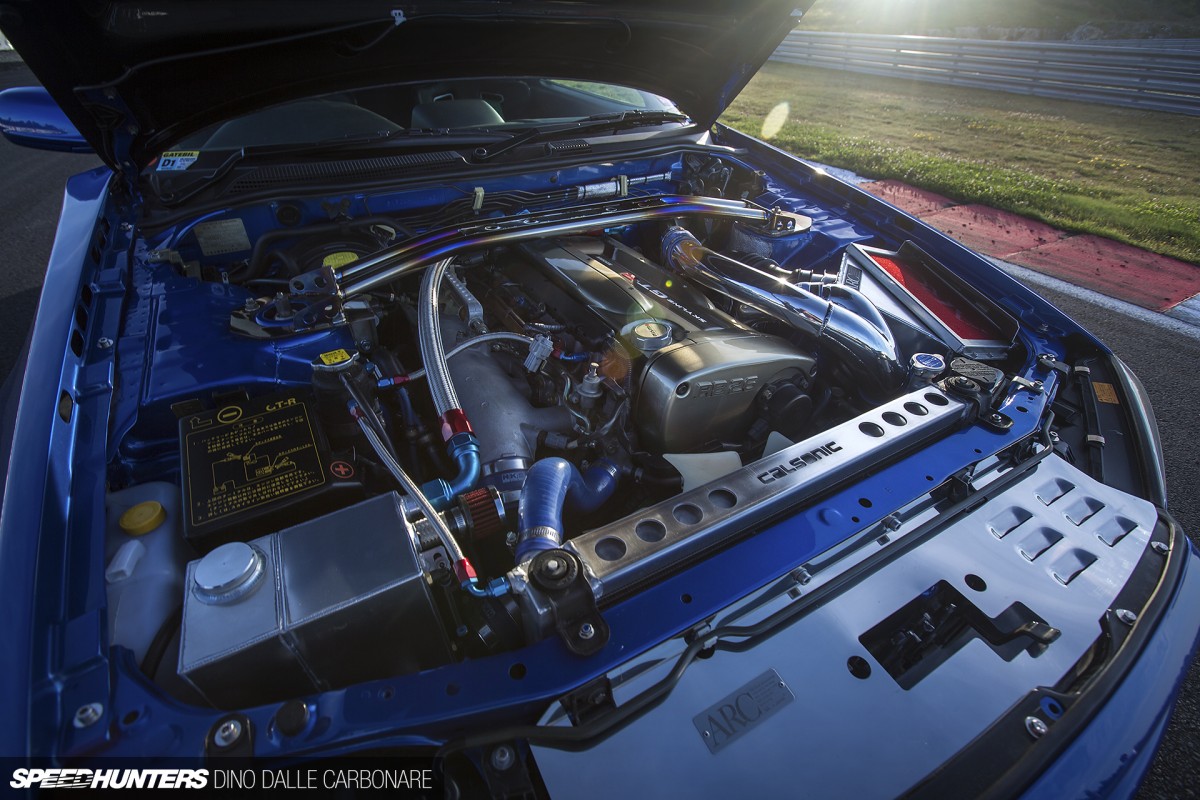 The central vents on the bonnet aren't only there for looks, they are there to rid the bay of yet more hot air generated by the modified motor. Of course, apart from a few minor additions, it's actually that gold-topped engine itself that made the Nür models so special. In an effort to clear stock, Nissan decided to equip all 750 V-spec II Nürs and 250 M-spec Nürs with N1 RB26DETT engines. That meant a thicker-walled N1 cast iron block, N1 pistons, rods and crankshaft (finely balanced for the Nür cars), N1 turbochargers as well as N1 water and oil pumps. In other words, the sort of base you can build a serious high-power set-up on.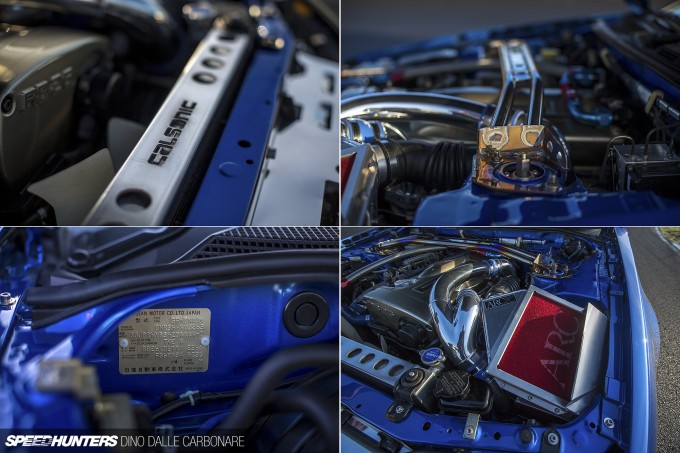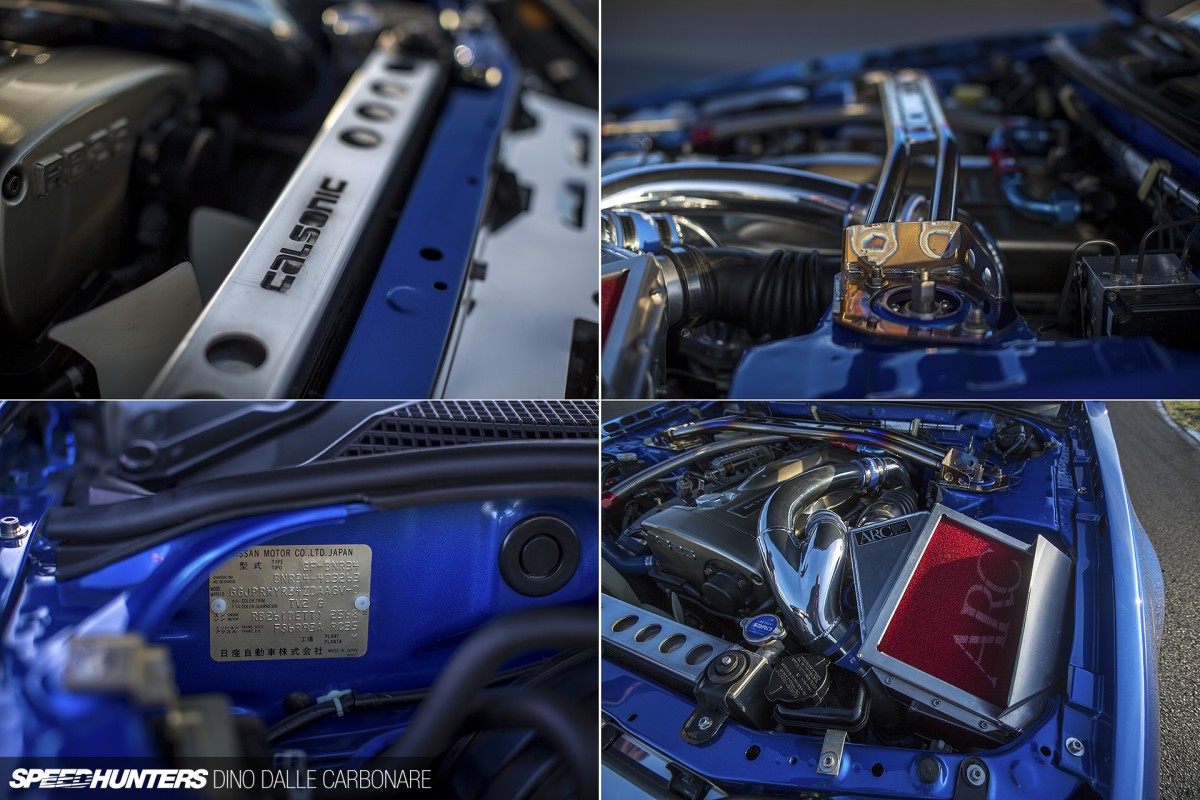 When Global Auto came into possession of the car it had already been further upgraded with a full HKS 2.8L stroker kit, getting rid of the N1 internals for a lighter and more high quality bottom end. Oh yeah, and a 200cc bump in capacity too. This was then joined by some hotter Tomei cams and a pair of HKS GT2530 turbos – the most popular of the tried and tested blowers for the RB26 and capable of pushing enough boost on a 2.8L engine to generate over 600hp. Building upon this Christian has added a few more parts – a Nismo turbo inlet pipe, ARC intercooler and an ARC aluminium airbox. On the exhaust side he went with Nismo outlets and Midori front pipes, before finishing things off with an Amuse titanium system. Since the car is only used for track jaunts at the moment he also fabricated his own cat-replacement pipe, just to make sure the car spits nice big flames!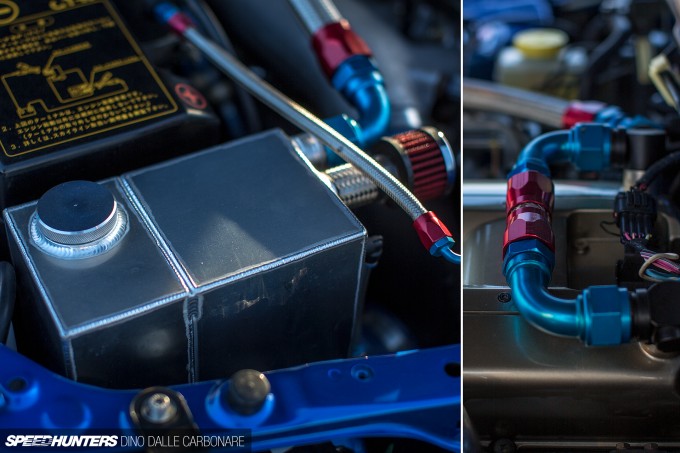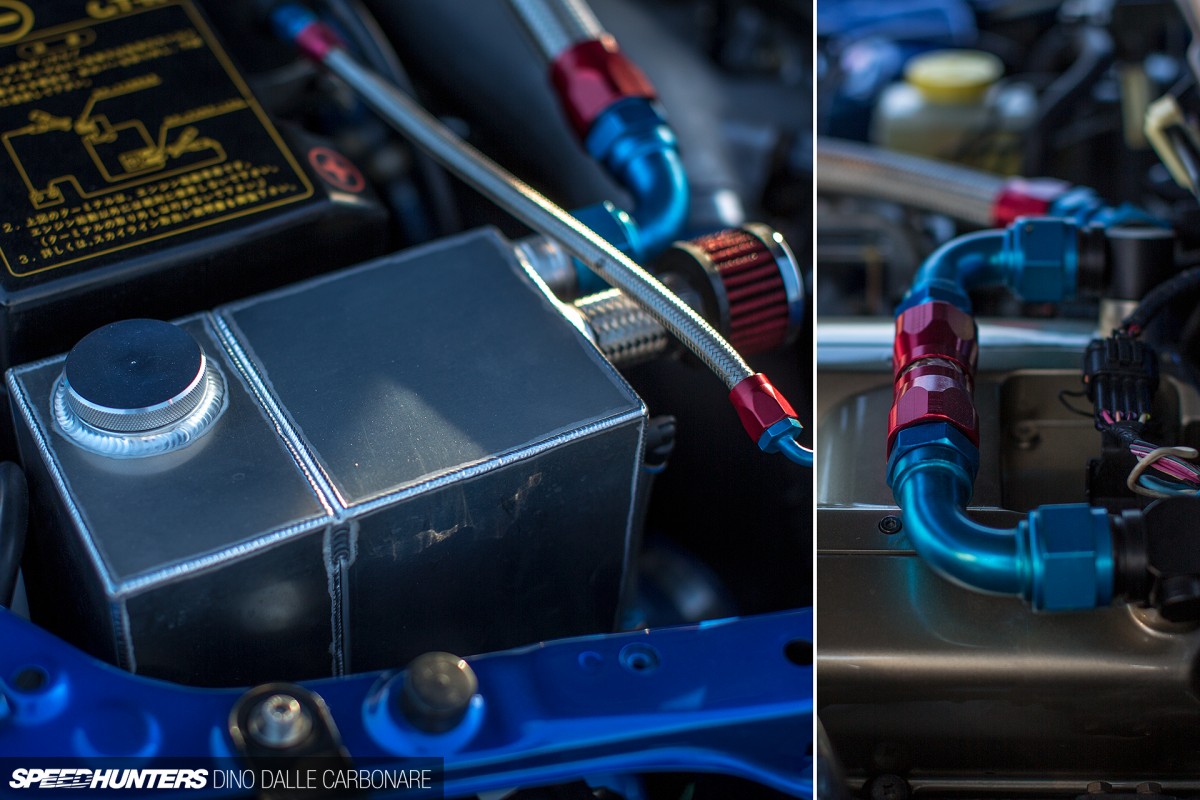 I quite like the oil catch tank set up – especially the way it's piped onto both cam cover breathers with Earl's fittings. It's a nice touch.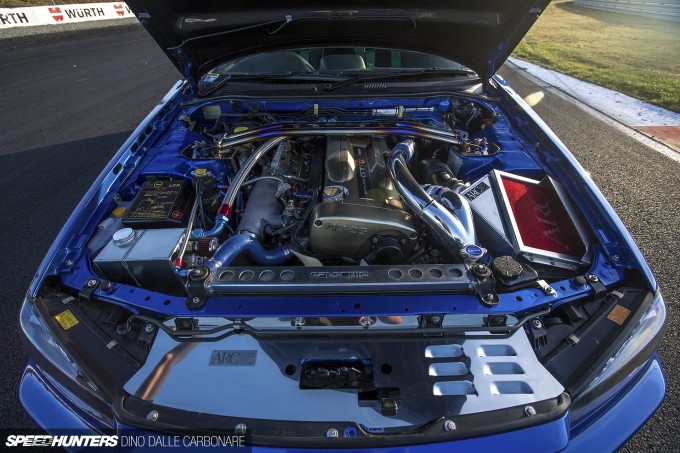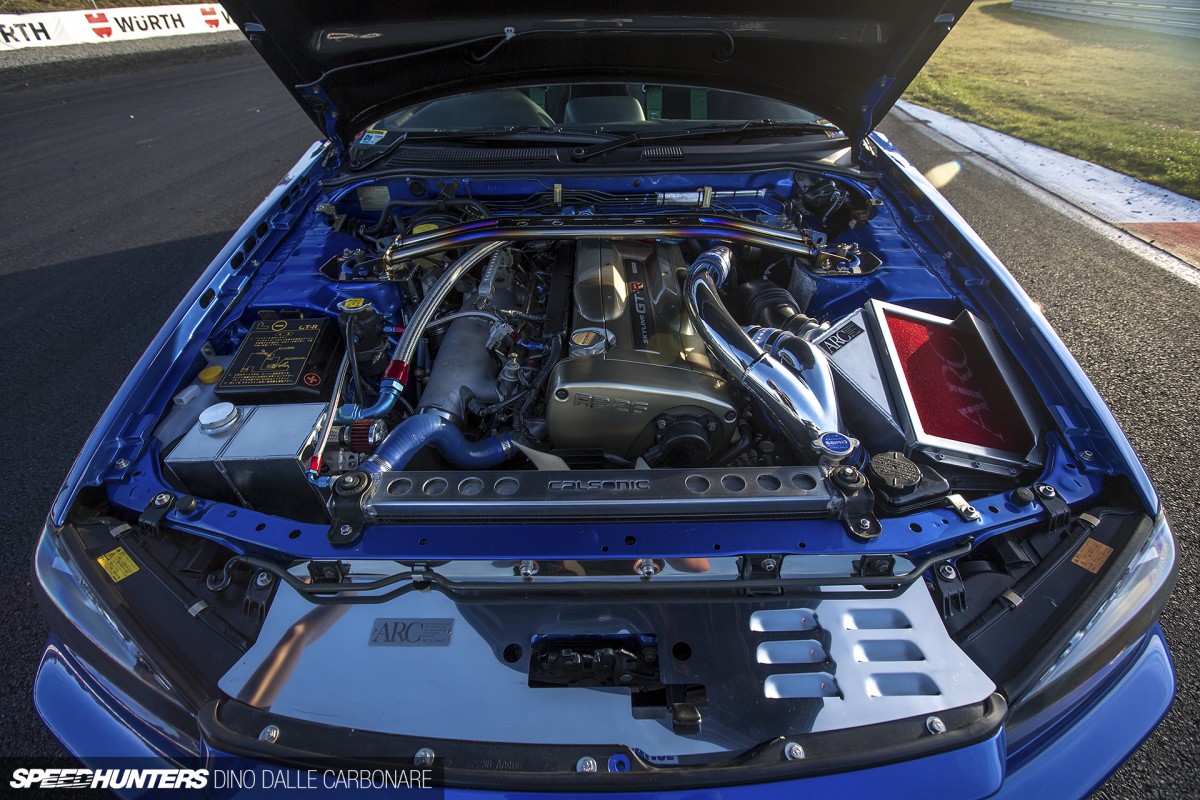 The modification list is long, but everything is in place to guarantee not only a superbly responsive and powerful set up with slightly over 600 horses on tap, but also plenty of reliability. That's also why the sump has been upgraded with a Trust extender pan to ensure there is always sufficient oil to be picked up. The Sard side-flow radiator and air separator tank is a great upgrade too, because after a few hard laps on the track, the RB26 loves to boil coolant. An OS Giken triple-plate clutch is the last aftermarket touch in what is a rather potent driveline.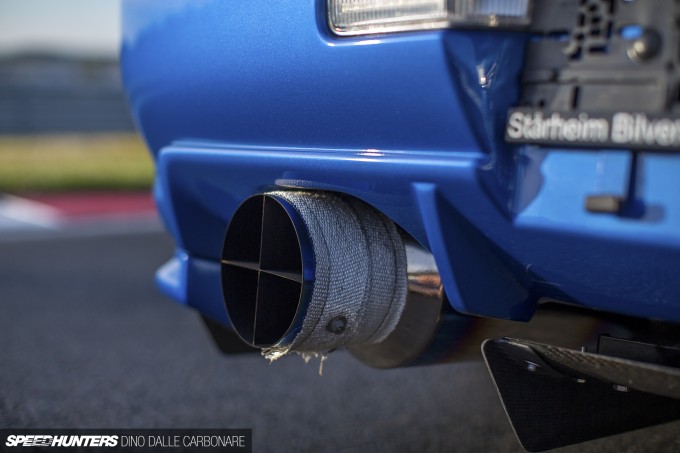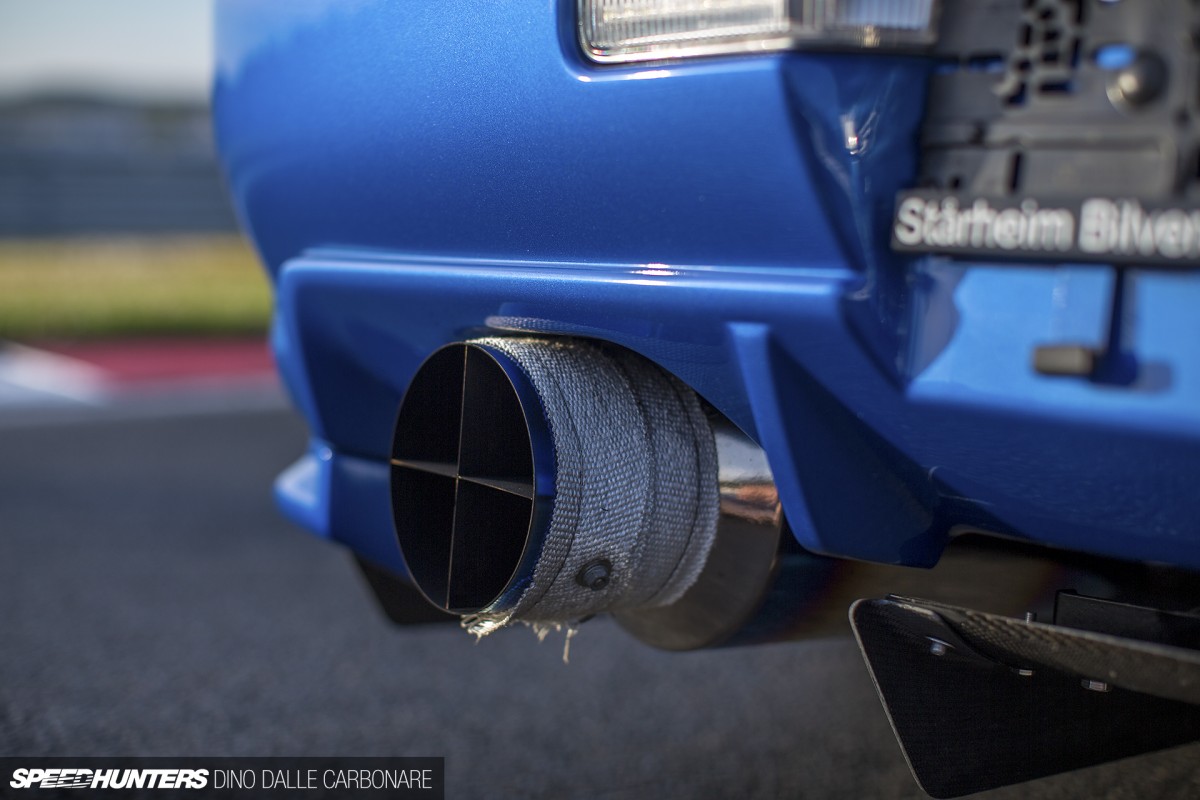 Here's a look at the big bore tail pipe of the Amuse exhaust, fitted with a cross insert that Christian made to help lower the noise output. With this in place it just managed to pass the 100dB limit at Rudskogen.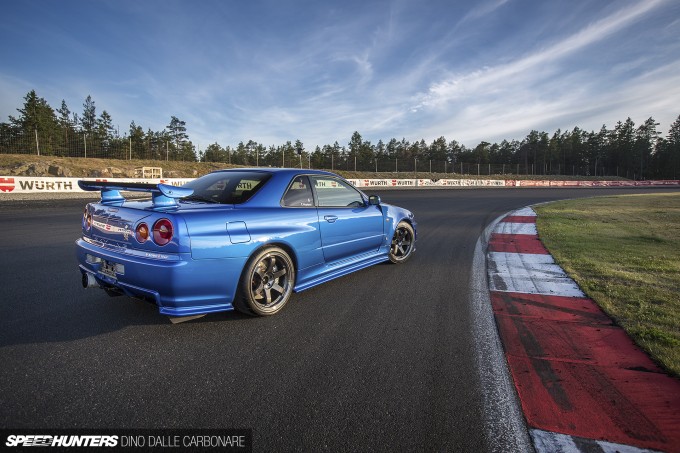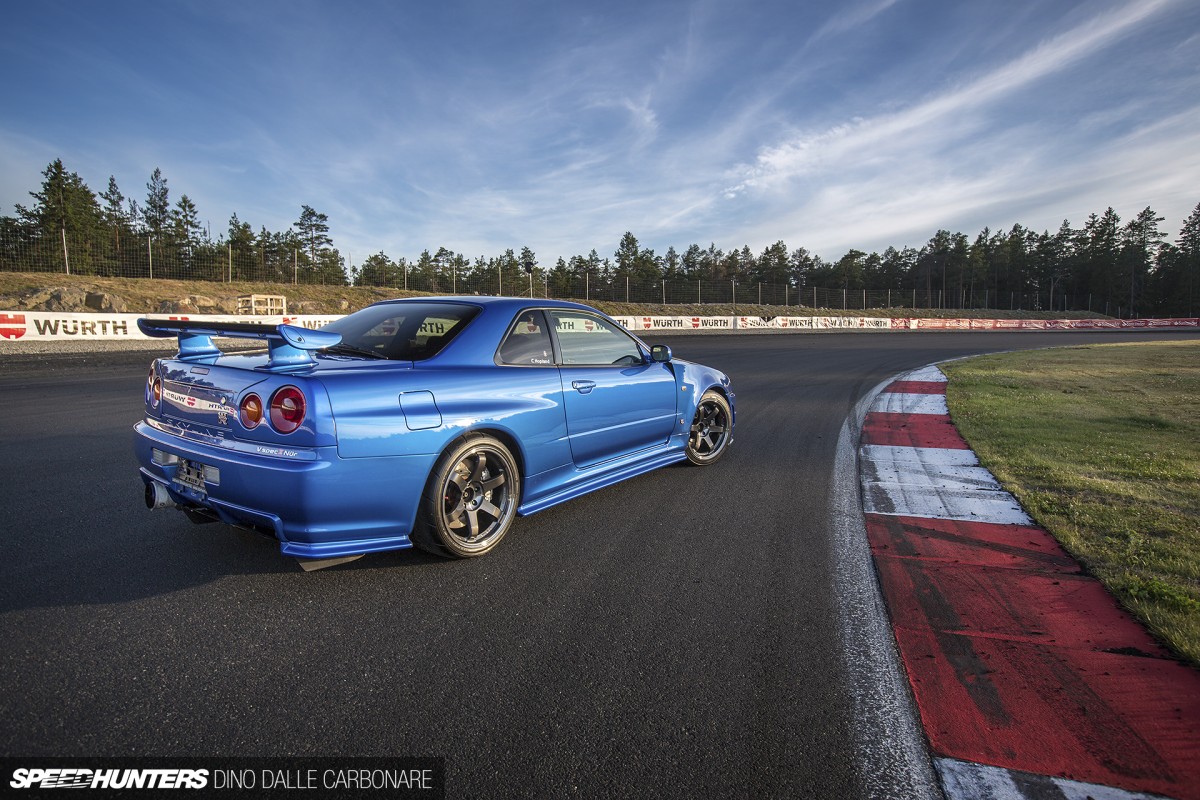 If you are a keen-eyed GT-R otaku, you will also spot that the rear V-spec/V-spec II carbon diffuser has been mated to Nismo extended carbon fins. Whether they actually do anything when it comes to aerodynamics is debatable, but they sure look damn good back there!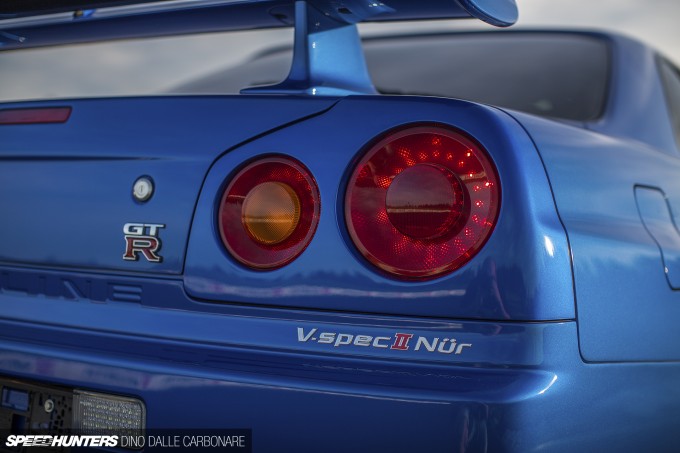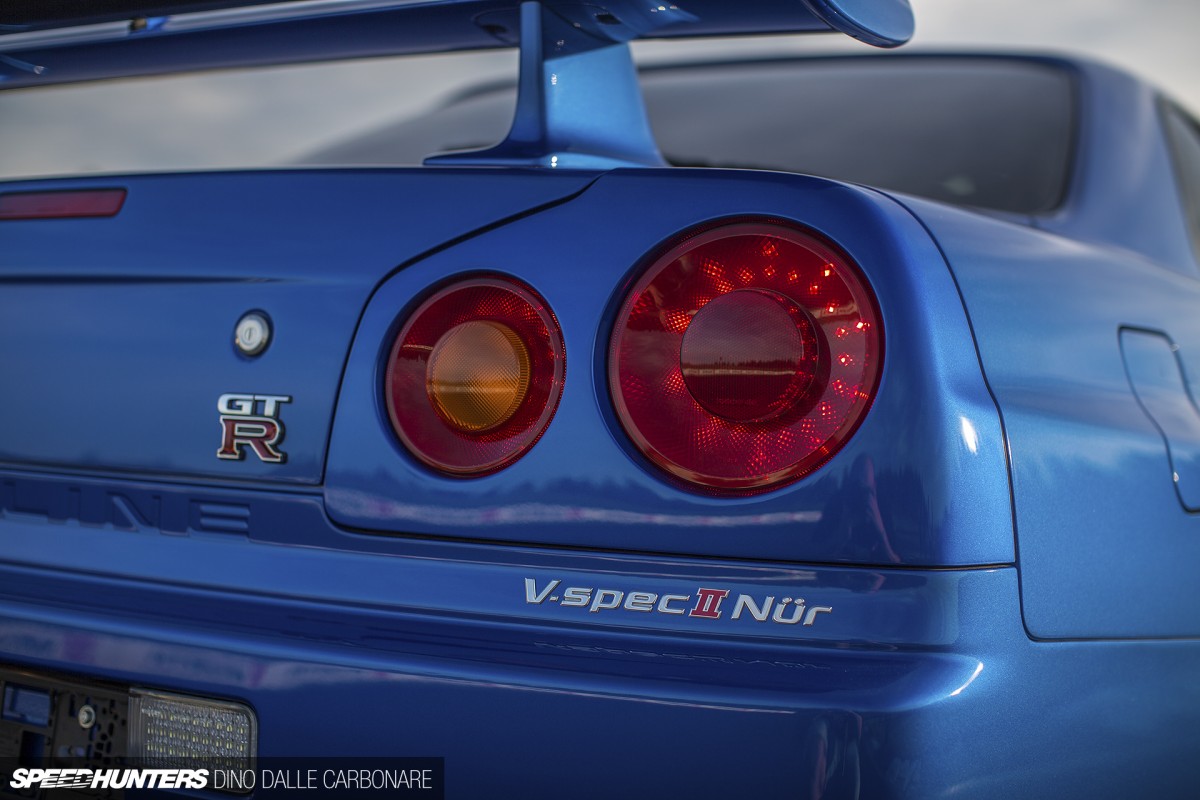 Underneath the Nismo GT LED lights, that V-spec II Nür badge says it all really – one of 1000 san-yon Nür editions (that's the V-spec II Nürs and M-spec Nürs combined) – making them the most sought after cars from the BNR34's total ~12,000 production run.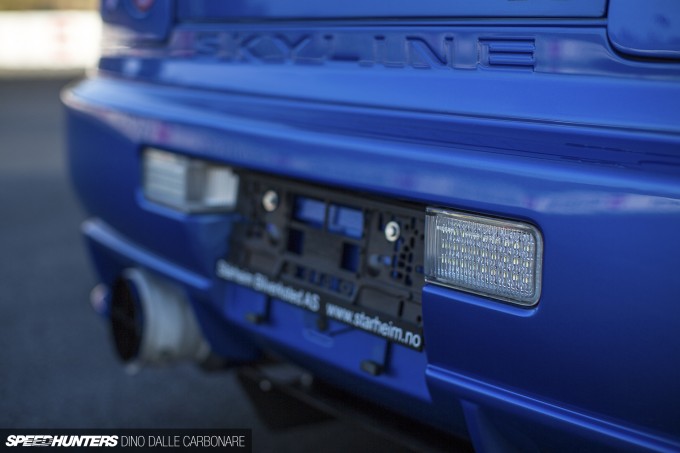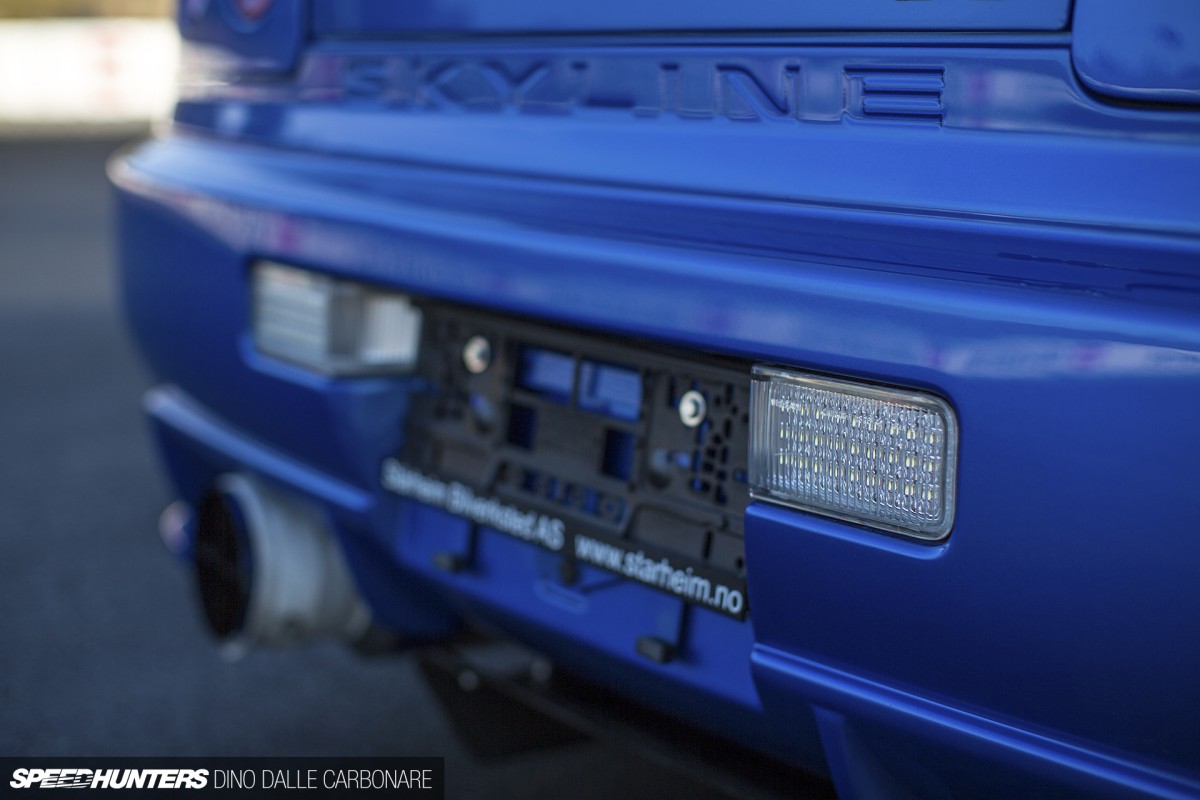 I also spotted that the rear asymmetrical red foglight was replaced with an ER34 clear lens and running a white/red LED set-up. A nice upgrade that adds a touch of modernity to the old '34.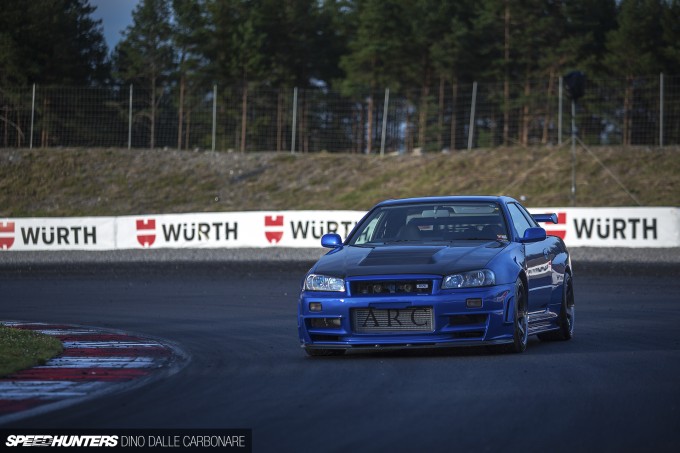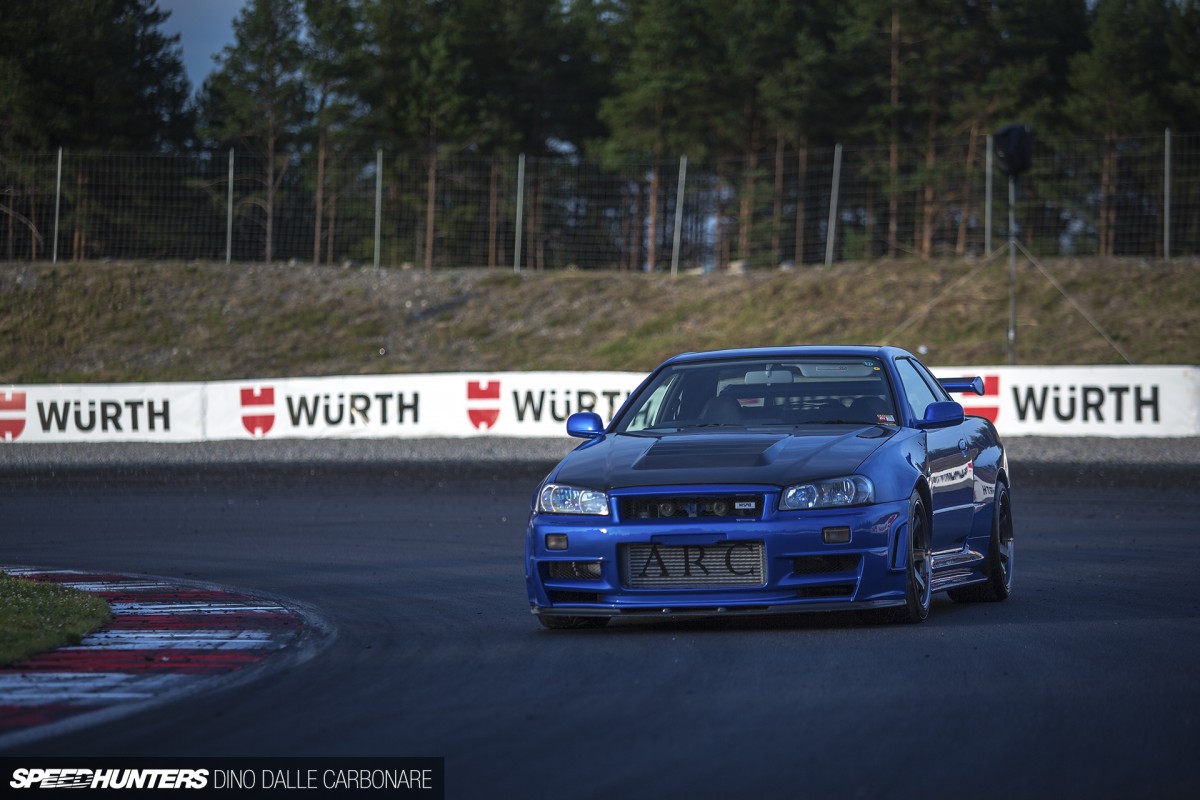 Christian has put a lot of effort in getting the most out of the handling of his GT-R. You may have spotted the Fujimura Auto front strut tower bar, but that's just the cherry on the cake of what is a pretty impressive series of upgrades. Elsewhere you'll find HKS Hipermax coilovers, Ikeya Formula uniball lower front and rear arms, Cusco tension rods and a Nismo rear upper arm link set. He also got rid of the HICAS rear steering via an Essential cancel rod kit.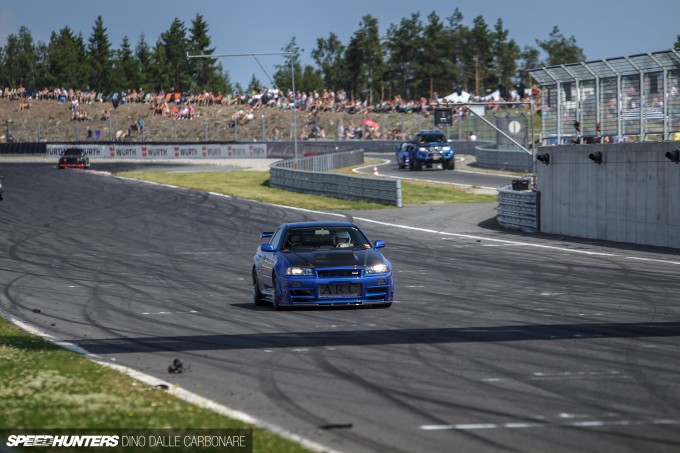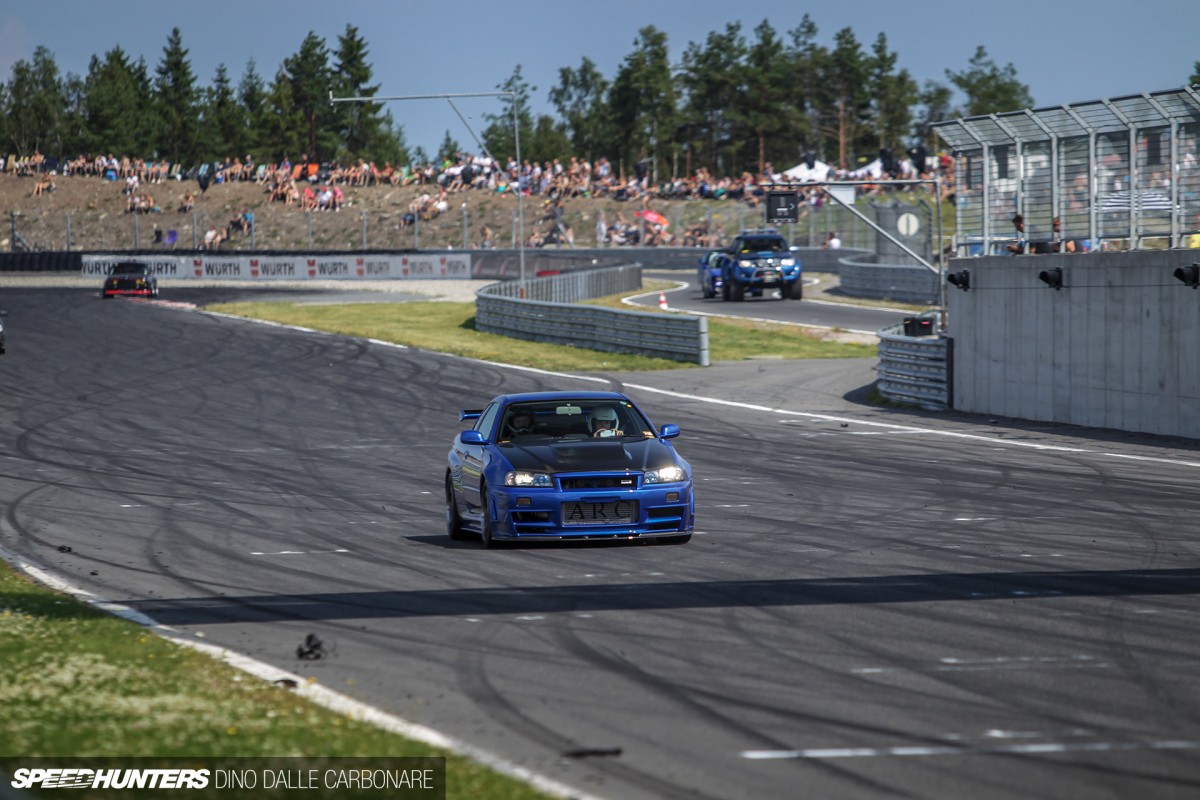 Christian is over the moon at how well his car performed out on track – all that power keeping him entertained and that feeling of owning one of the rarest BNR34s giving him as much satisfaction as one car guy would ever want! So I guess I must end this with a question: if you had to choose one car to own, what would it be?
Dino Dalle Carbonare
Instagram: speedhunters_dino
dino@speedhunters.com