Legendary
If the massive number of comments I've been hearing over the past week are anything to go by, last weekend's 4th round of 2014 Formula Drift Championship was one of the greatest drift events to ever take place.
That being said, Wall Township Speedway has always been one of my favorite drift tracks.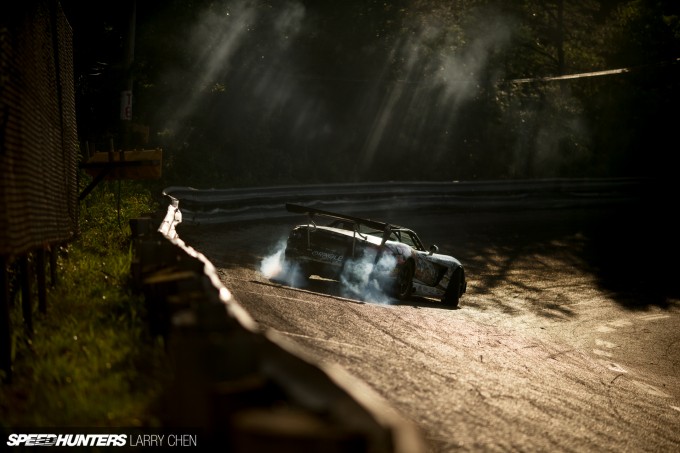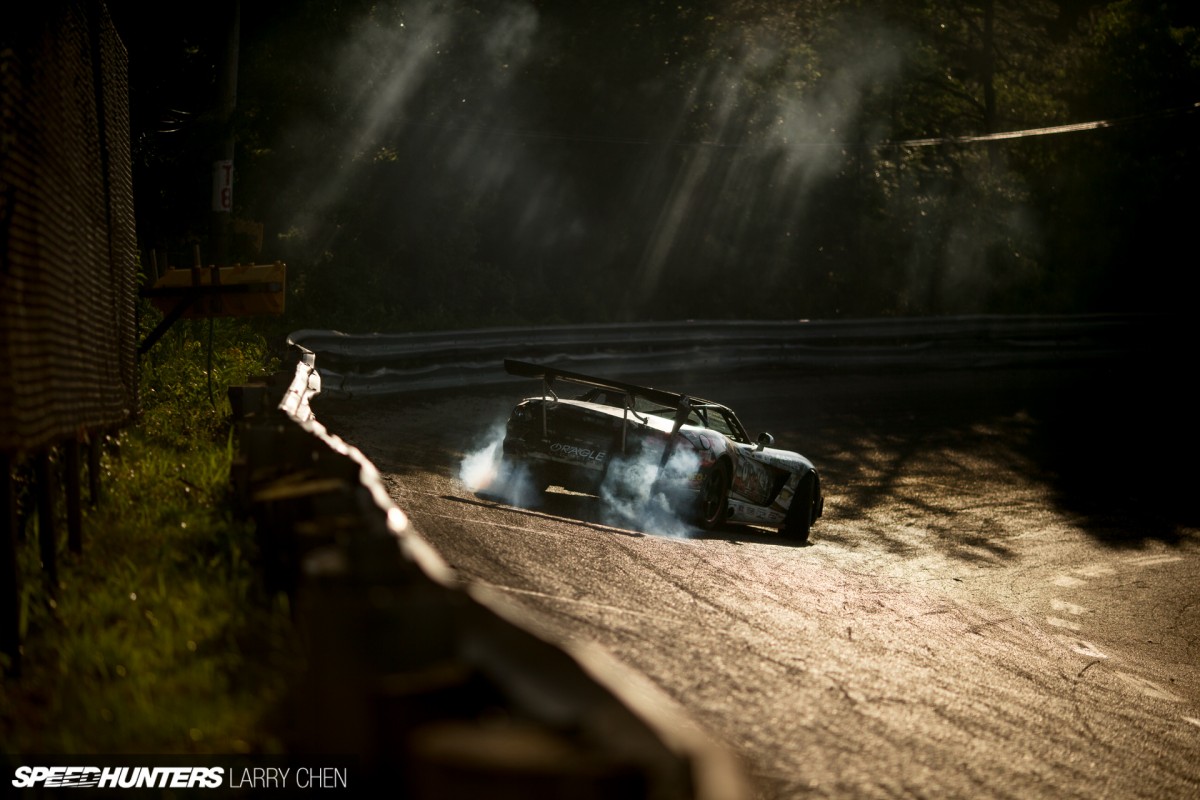 I personally love the tiny oval a few hours outside of New York City, and for one simple reason. The light is almost always perfect.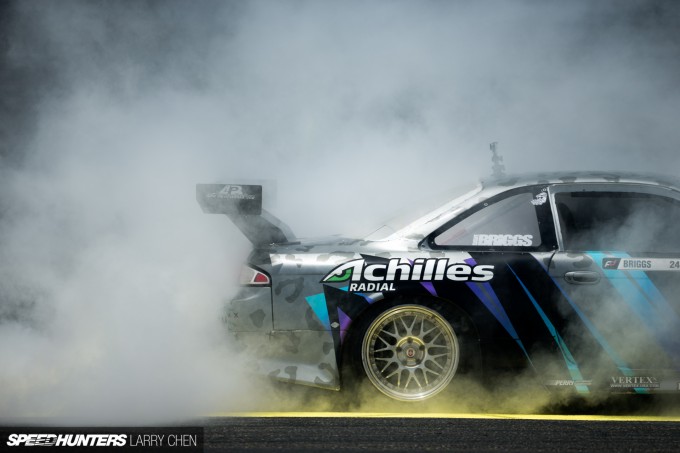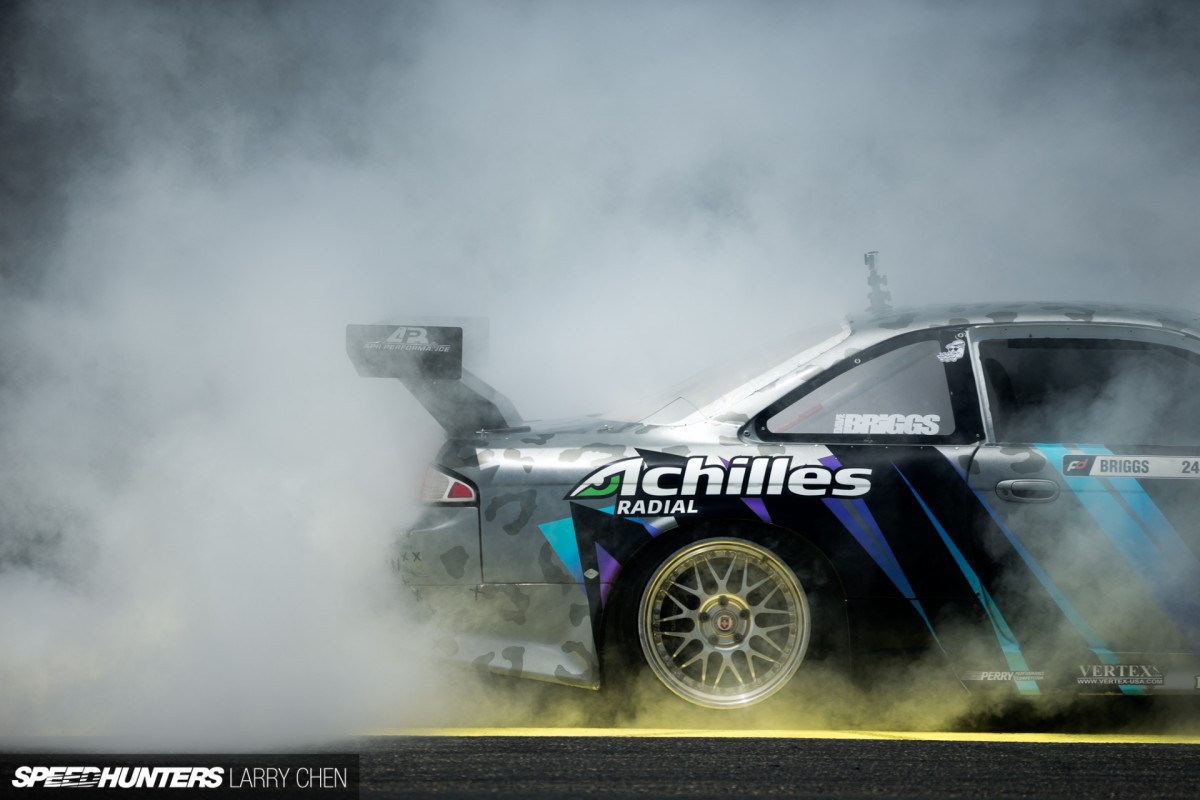 Maybe it's the positioning of the track. Or maybe it's the time of day the FD grid gets to practice and qualify.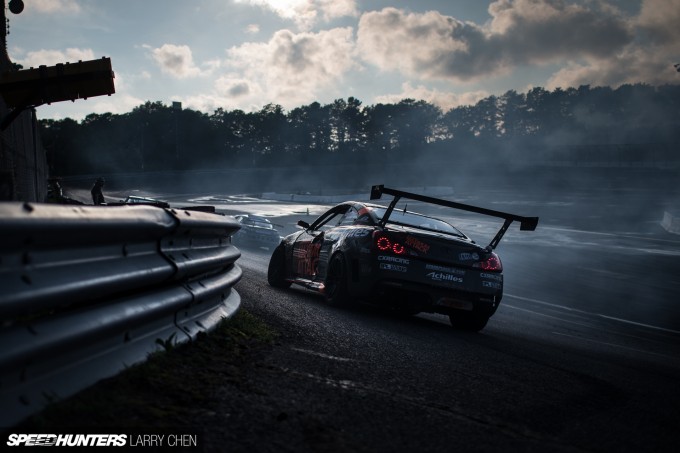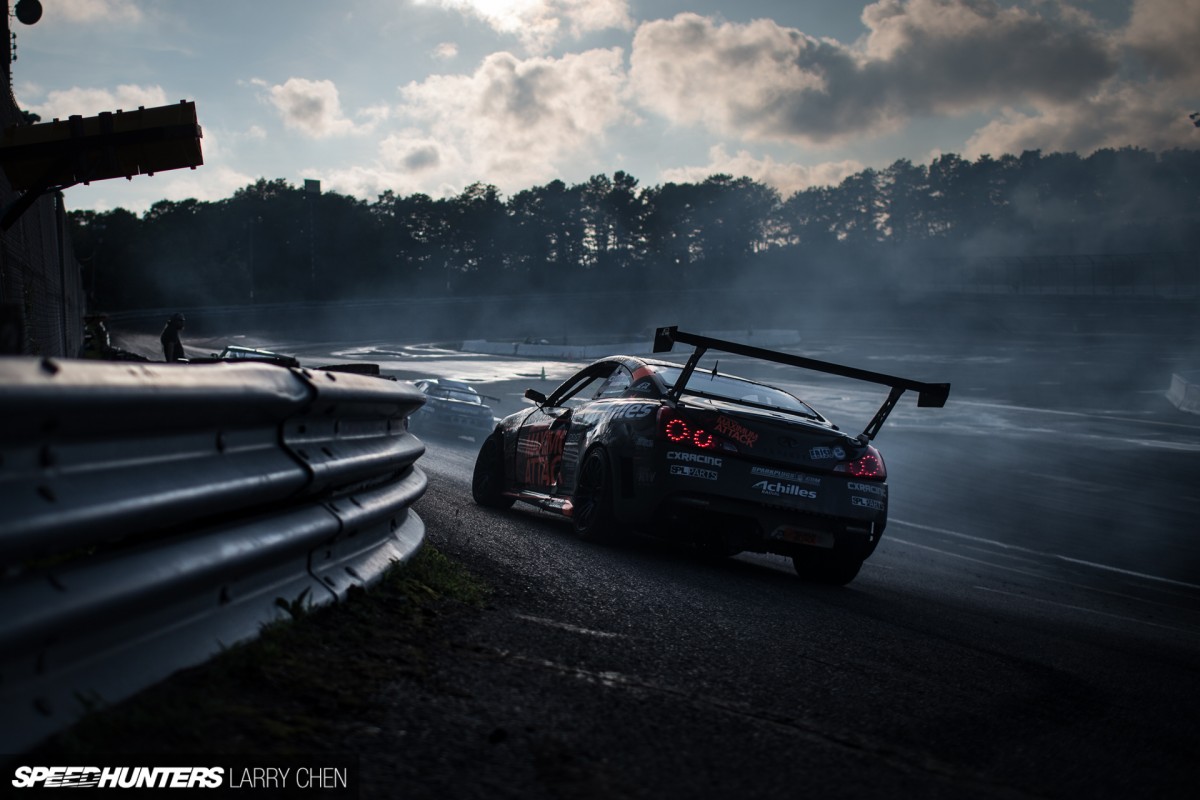 Without a doubt, the clouds have something to do with it – both on and off the track. But what about the fans? Why did they take a fancy to this particular round?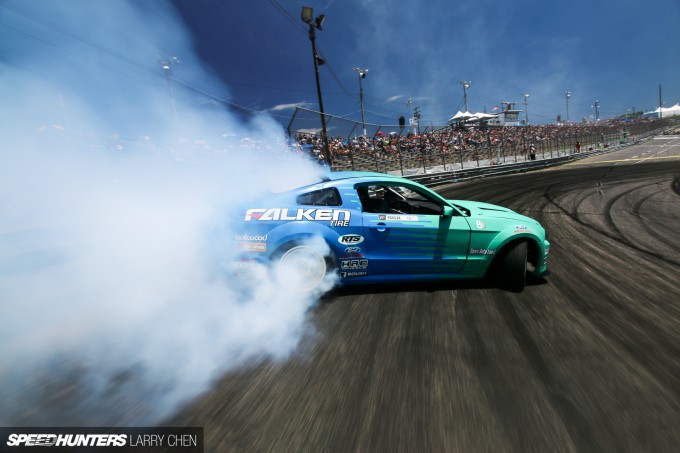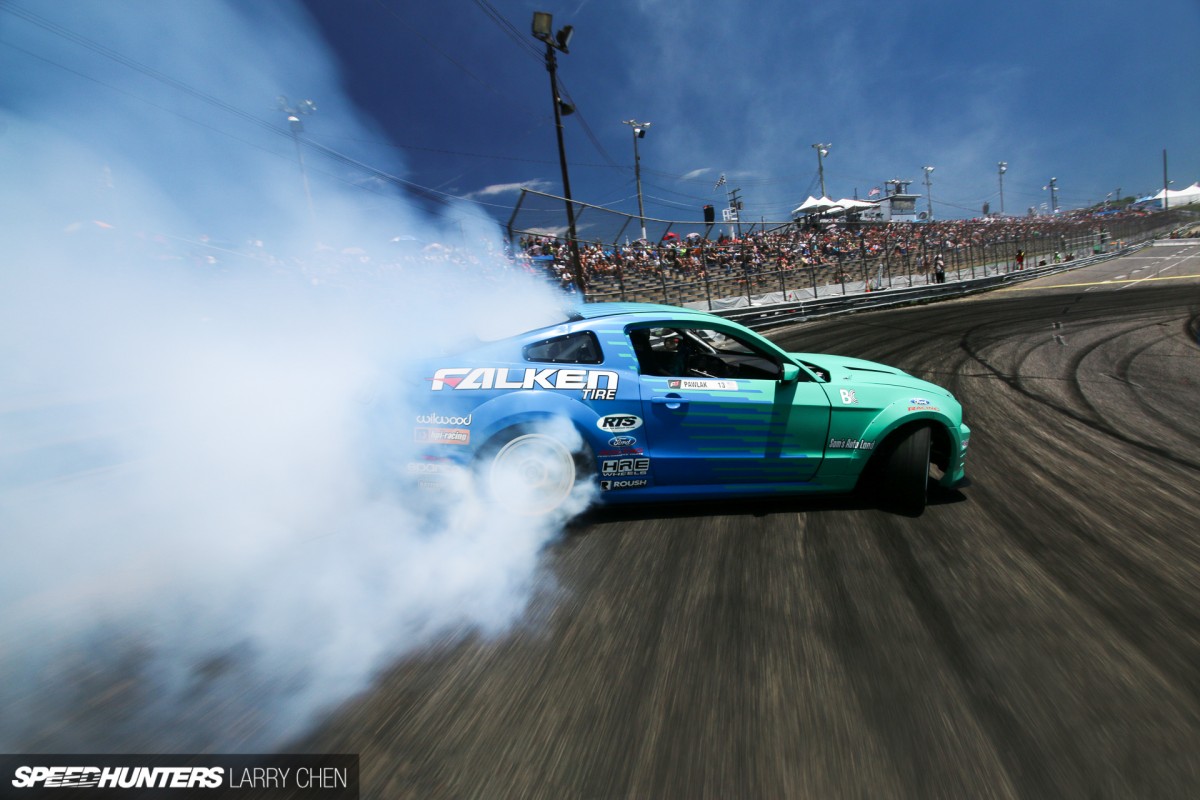 One major reason has to be the 33-degree bank. It might not seem like a lot, but when you're walking on the bank it's difficult to stand up straight.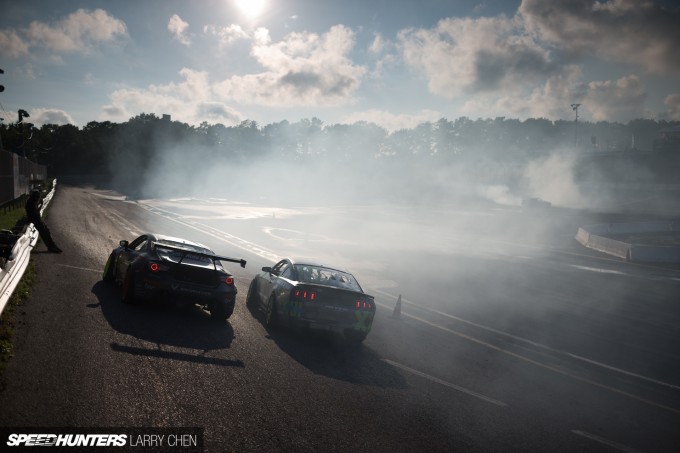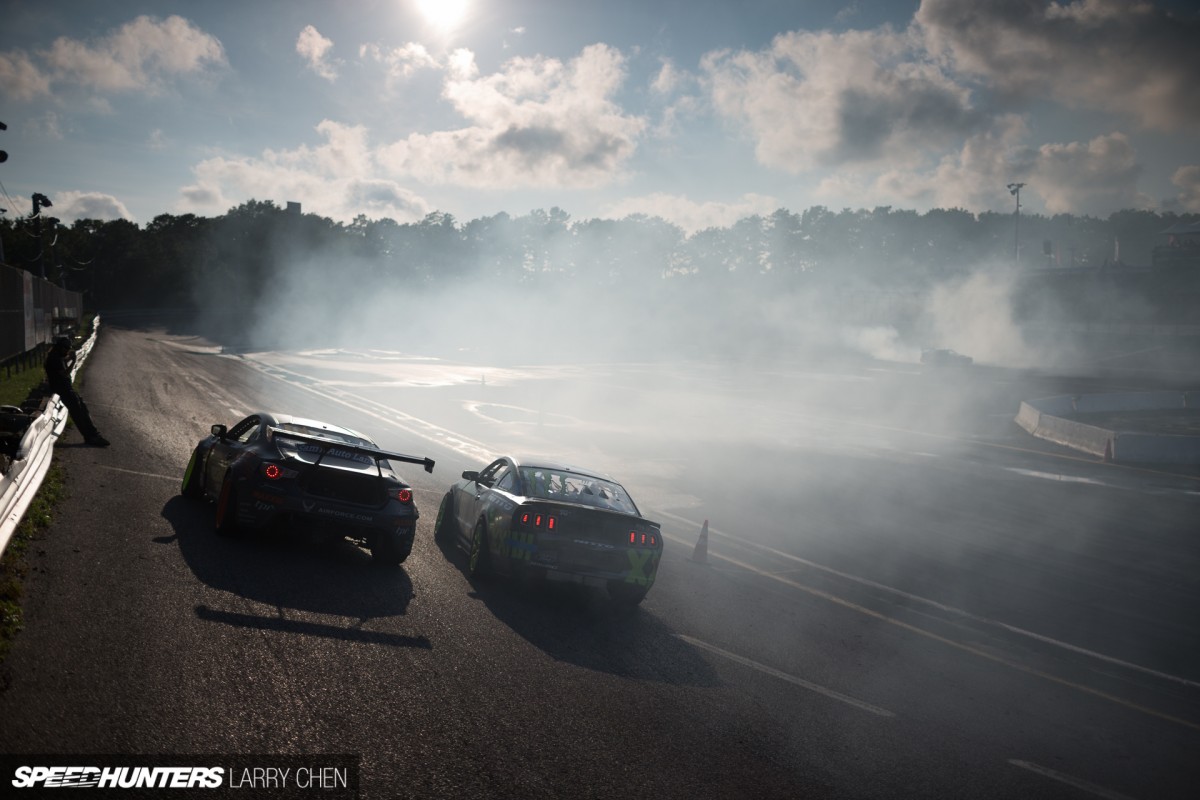 You see? Because of the extreme angle that the cars sit at on the straightaway it doesn't even allow for the drag-style starts that are now typical of most Formula Drift events.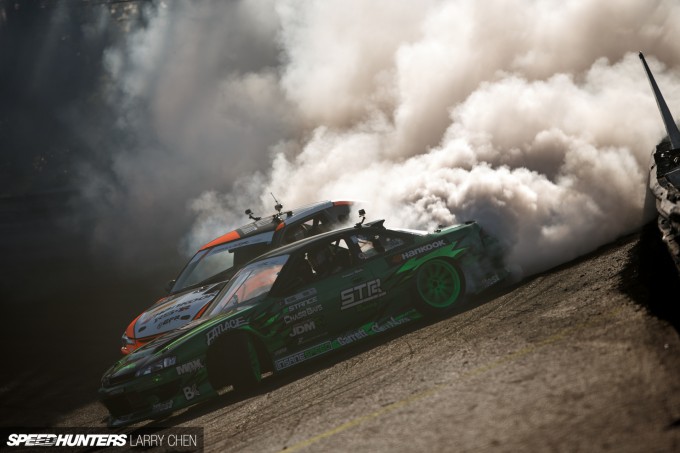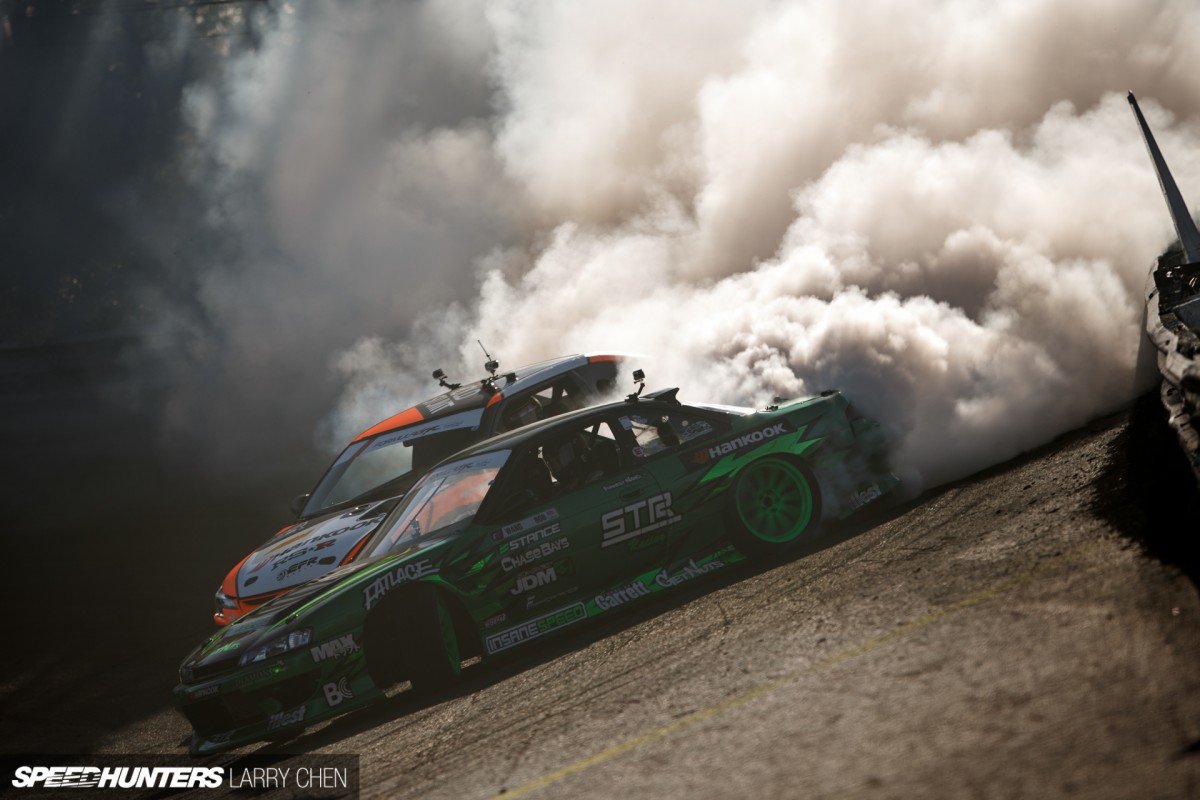 And it doesn't matter if you have double the horsepower of everyone else, because it's physically impossible to accelerate as fast as possible – you will just slide down the track.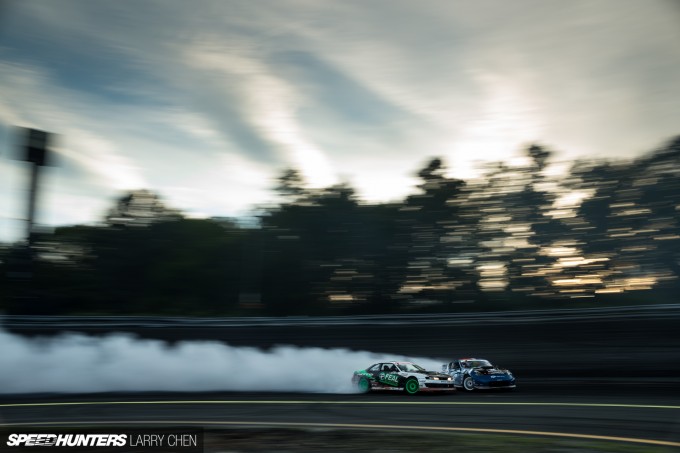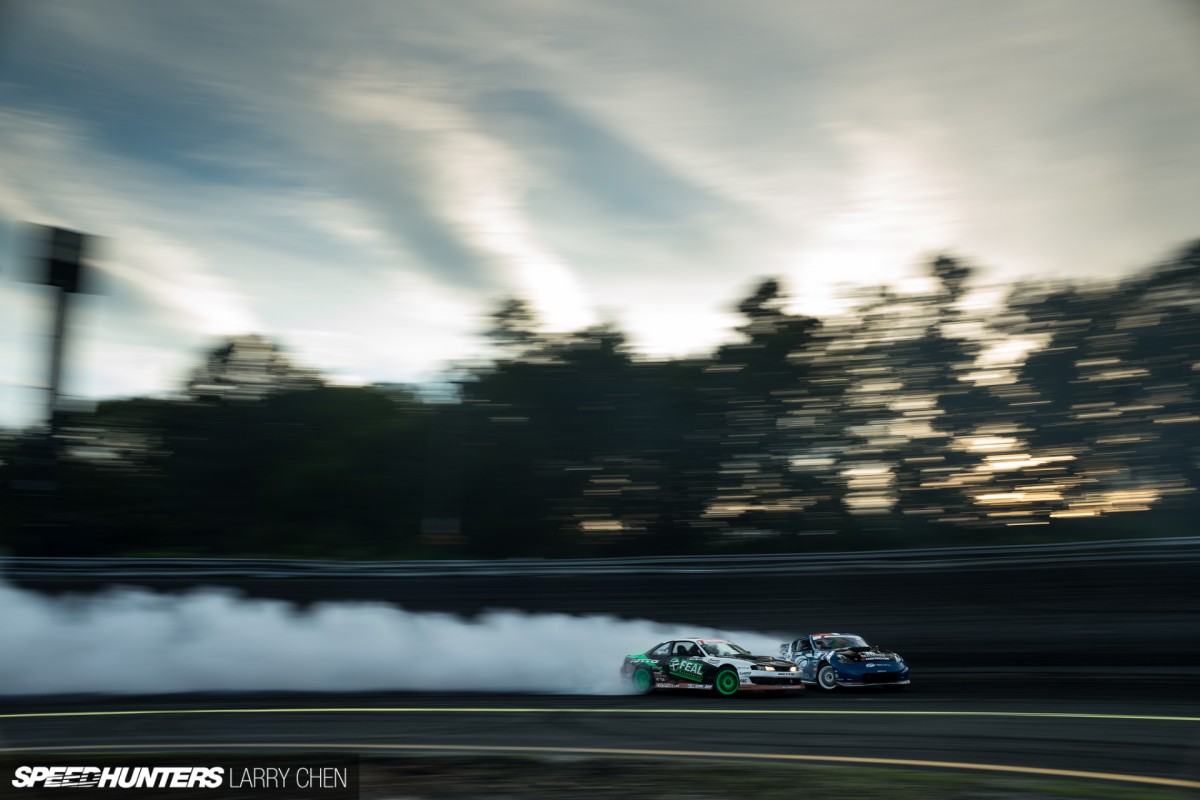 What the bank does do though, is set the stage for some of the closest door-to-door tandem runs you'll witness over the entire FD season.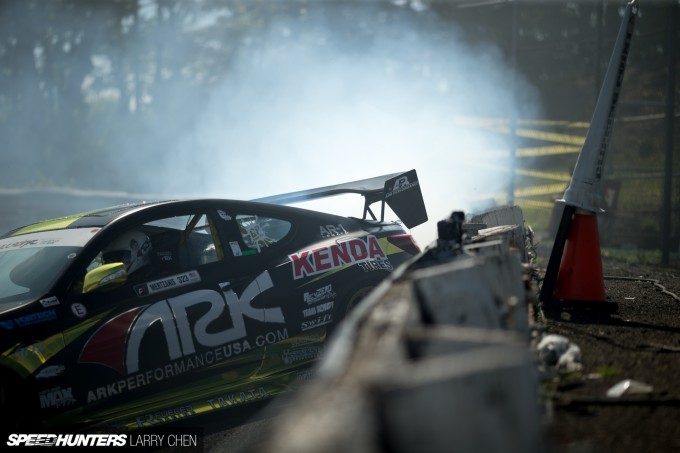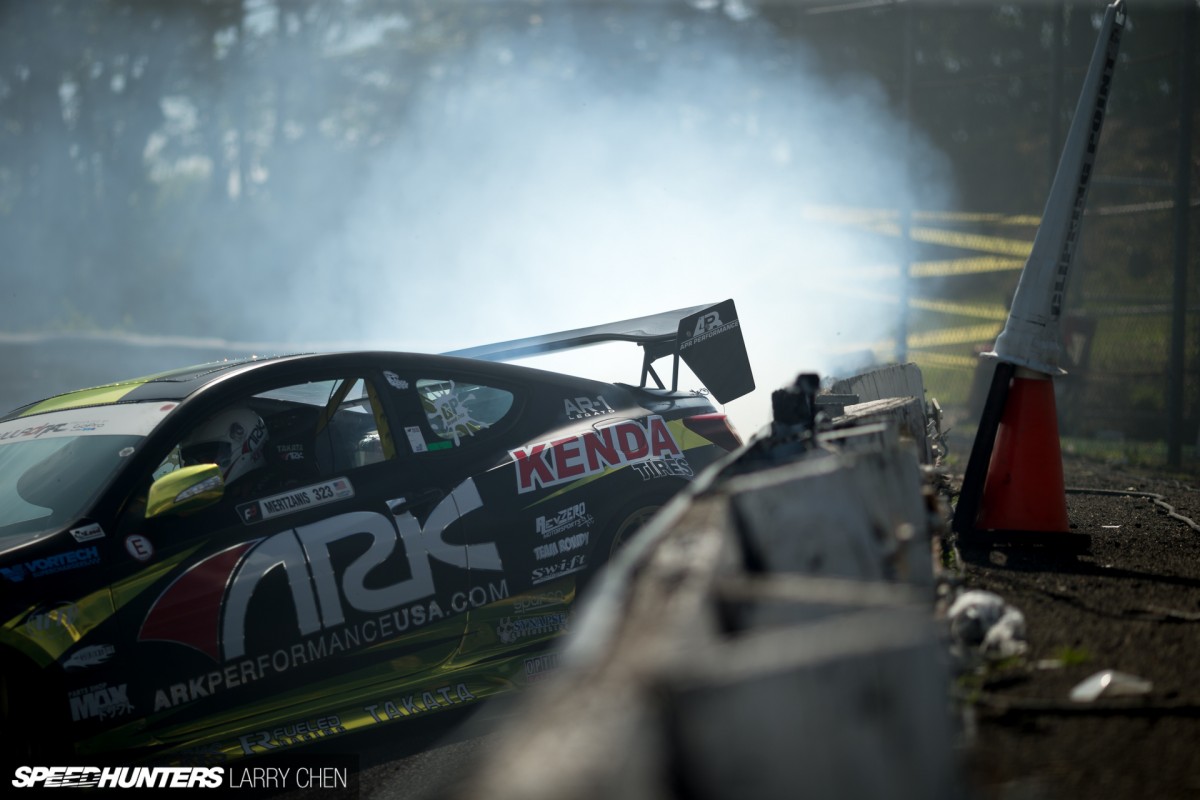 Then there's the metal guard rail. If you hit it, you better pray to the drift gods, because as own Fredric Aasbø says, 'It will open up your car like a tin can'.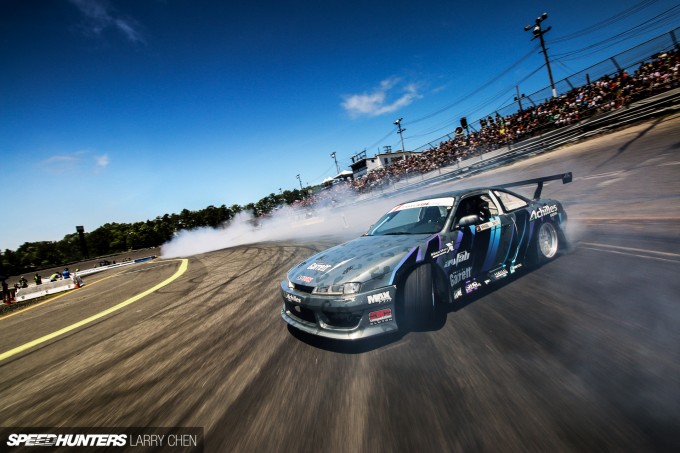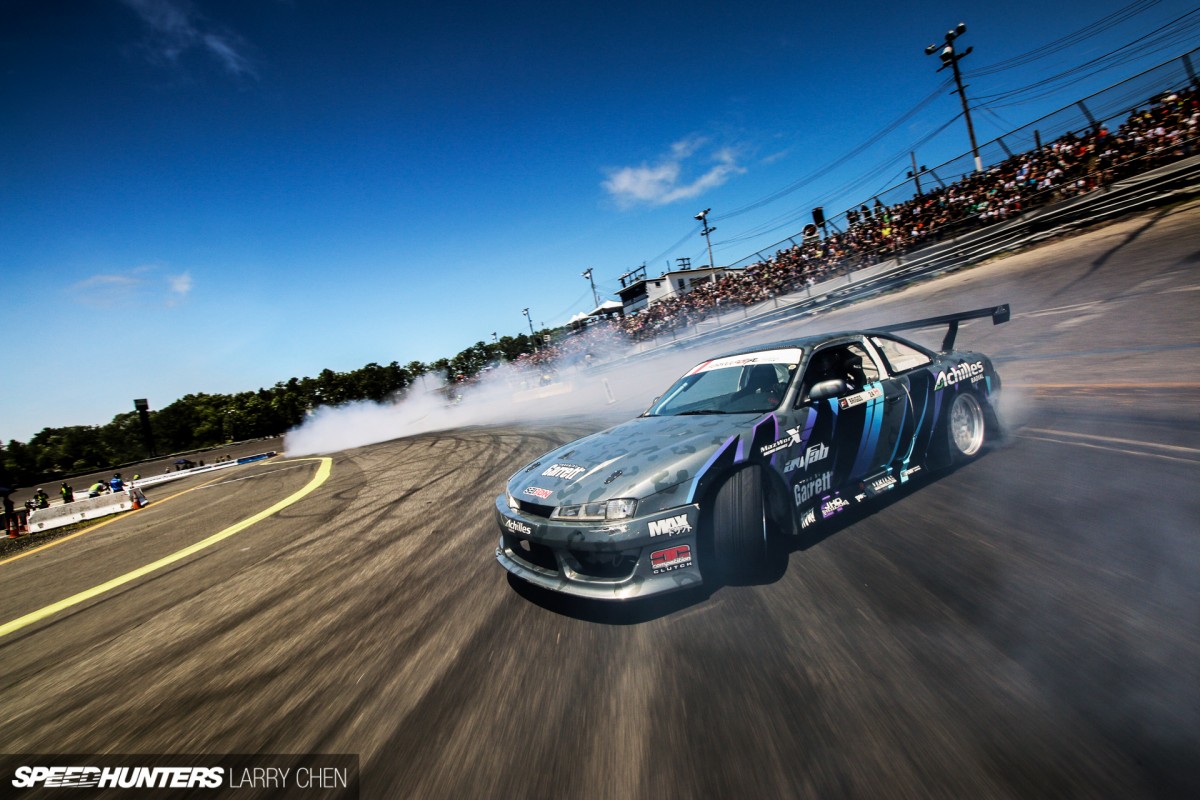 Another reason the fans love Formula Drift at Wall Speedway is the fact that there is no bad seat in the house. The venue is so small that every seat is a good one to watch the action from.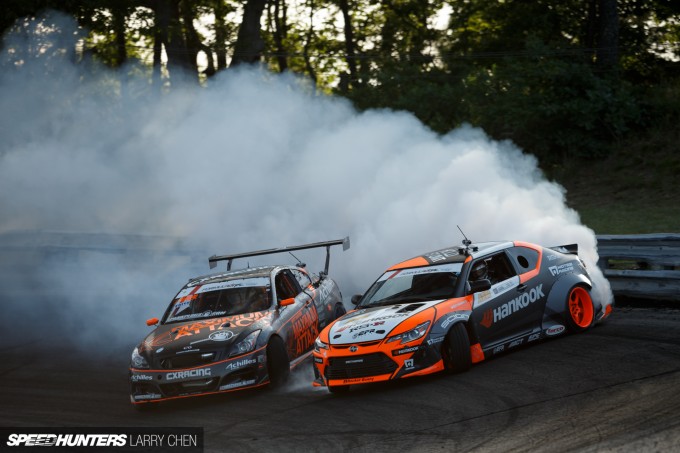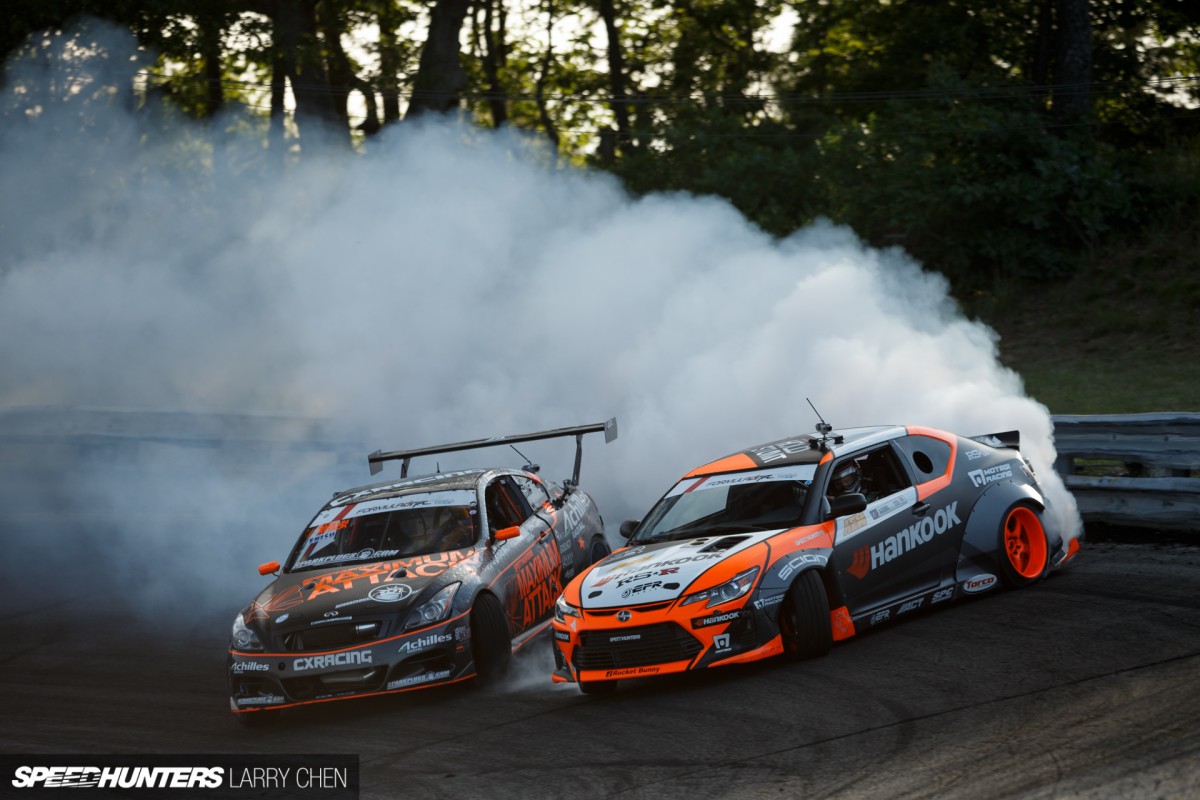 Of course, that's all before you factor in the excitement of the competition. Underdogs like Fredric's fellow Speedhunters driver, Charles Ng, really shined in New Jersey, and he finished a career-best 4th place. I've been following the Hong Kong native from round-to-round this year, so we'll touch on this accomplishment and other highlights from Charles' comeback season a bit later on.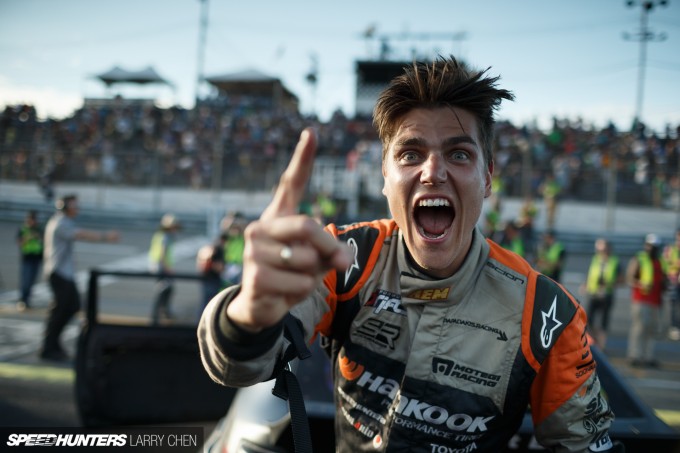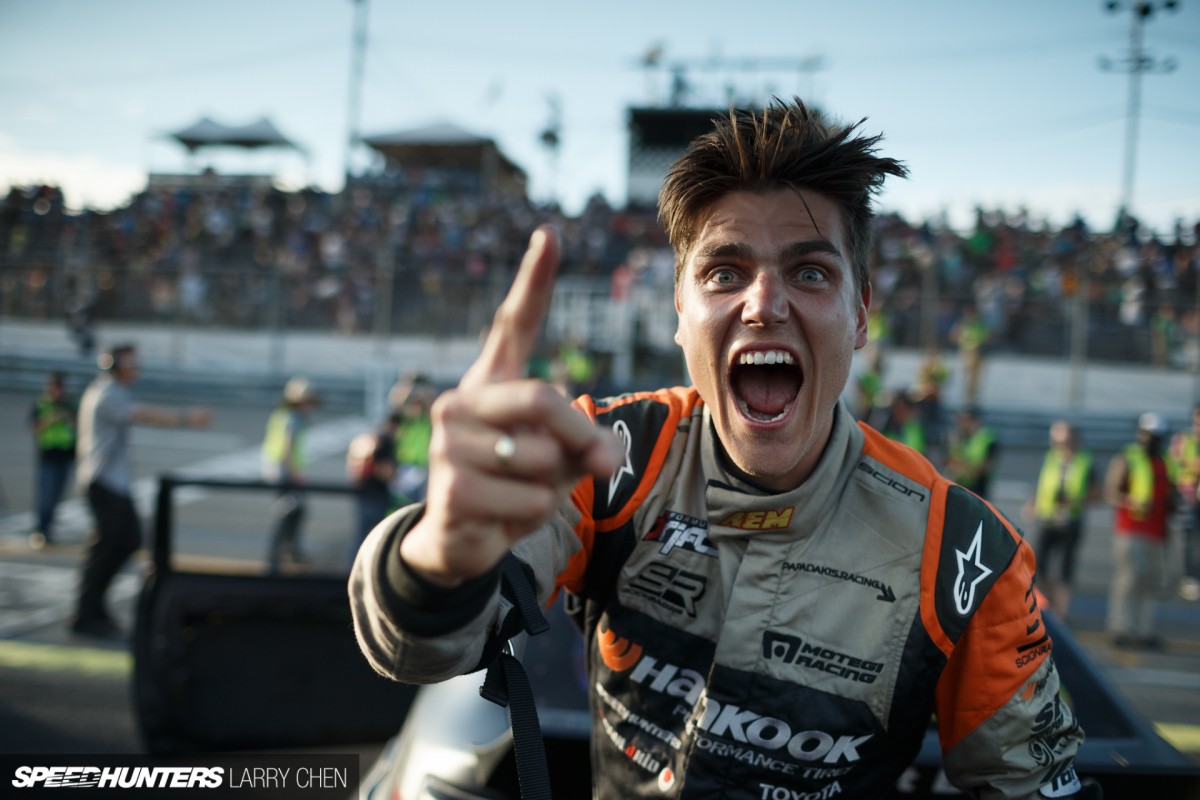 I think the last and most important reason why drift fans all over the world liked FD Jersey was because of this guy taking the win for the very first time.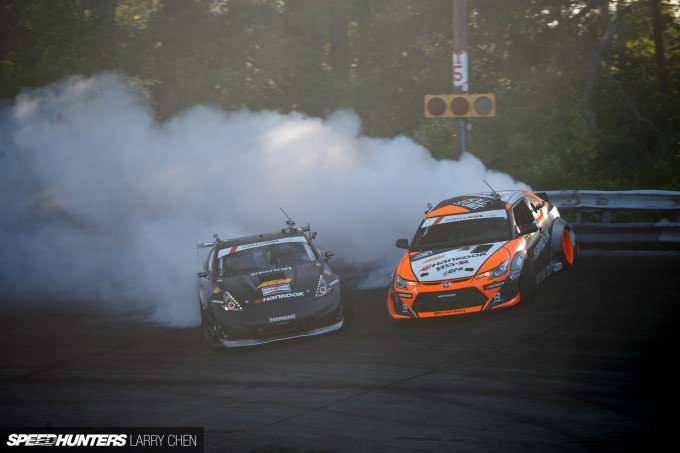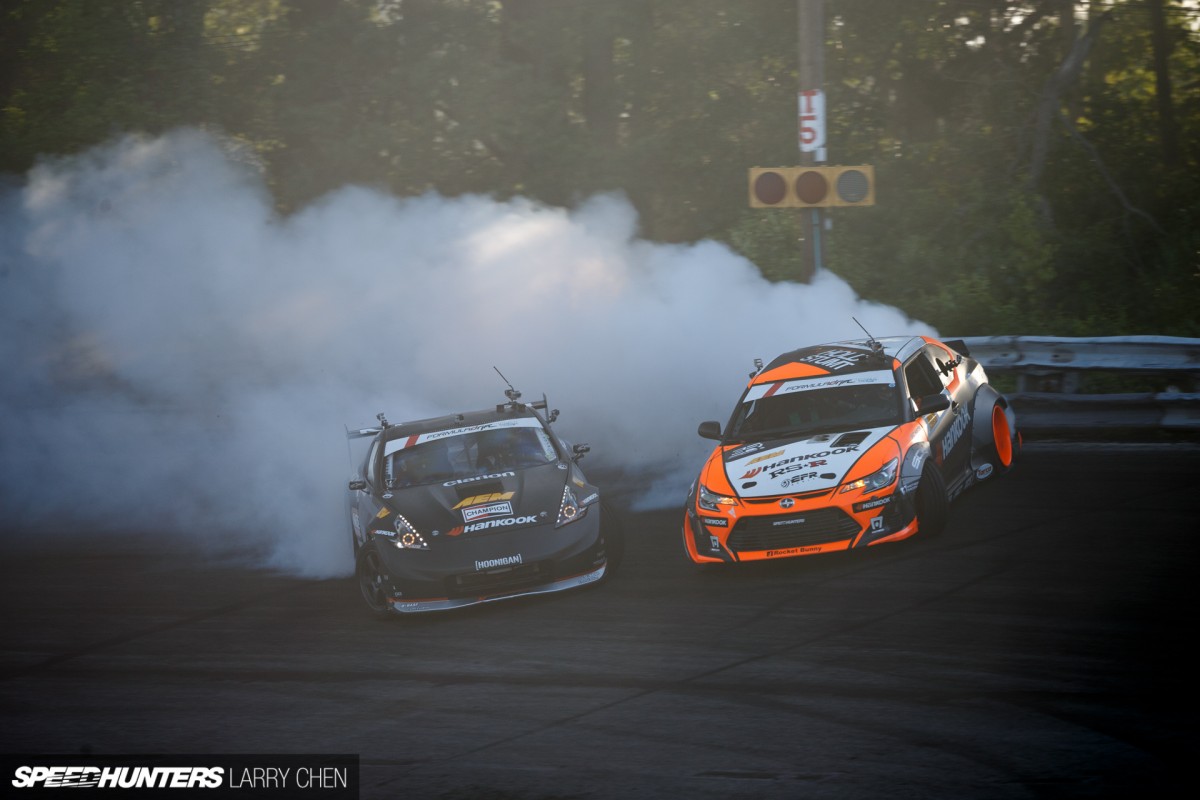 Given his talent, everyone in the paddock knew that it was only a matter of time before Fredric got there. It wasn't easy though, and to make the last jump to the top step of the podium he had to battle current championship points leader Chris Forsberg in the final.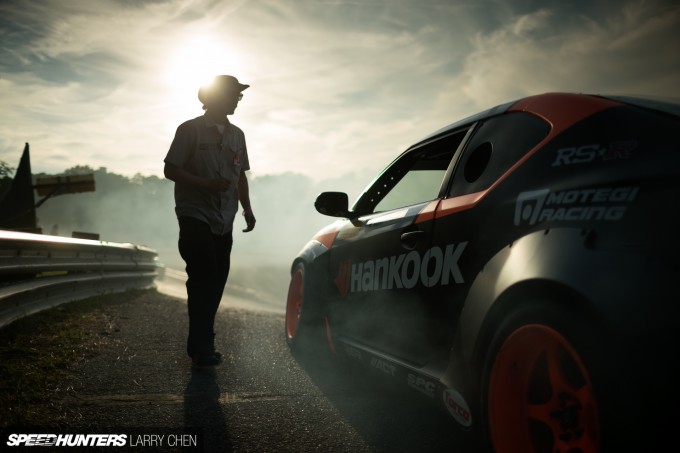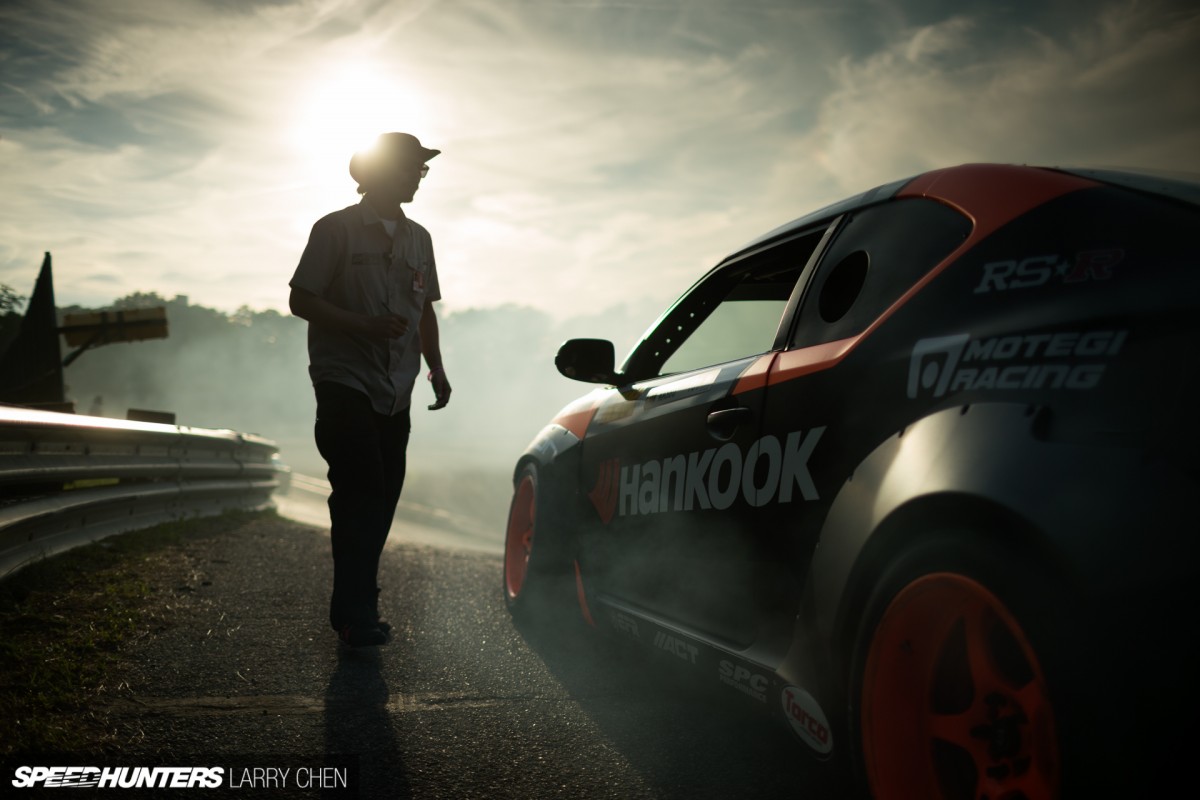 Fredric has worked very hard to be where he is today, and I congratulate him for a job well done. The win has pushed him up to 2nd spot in the run for the championship.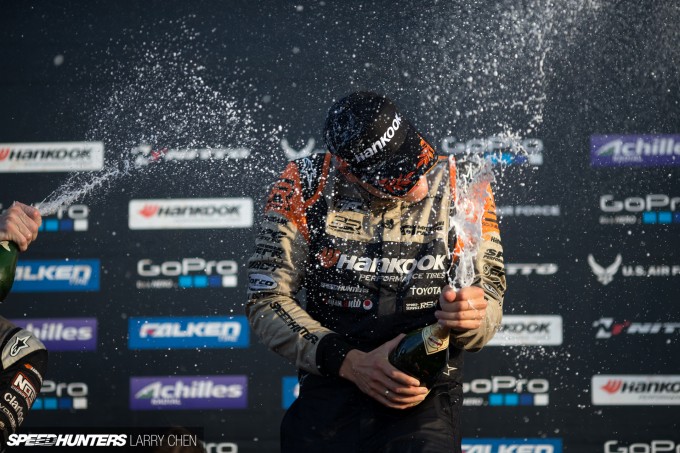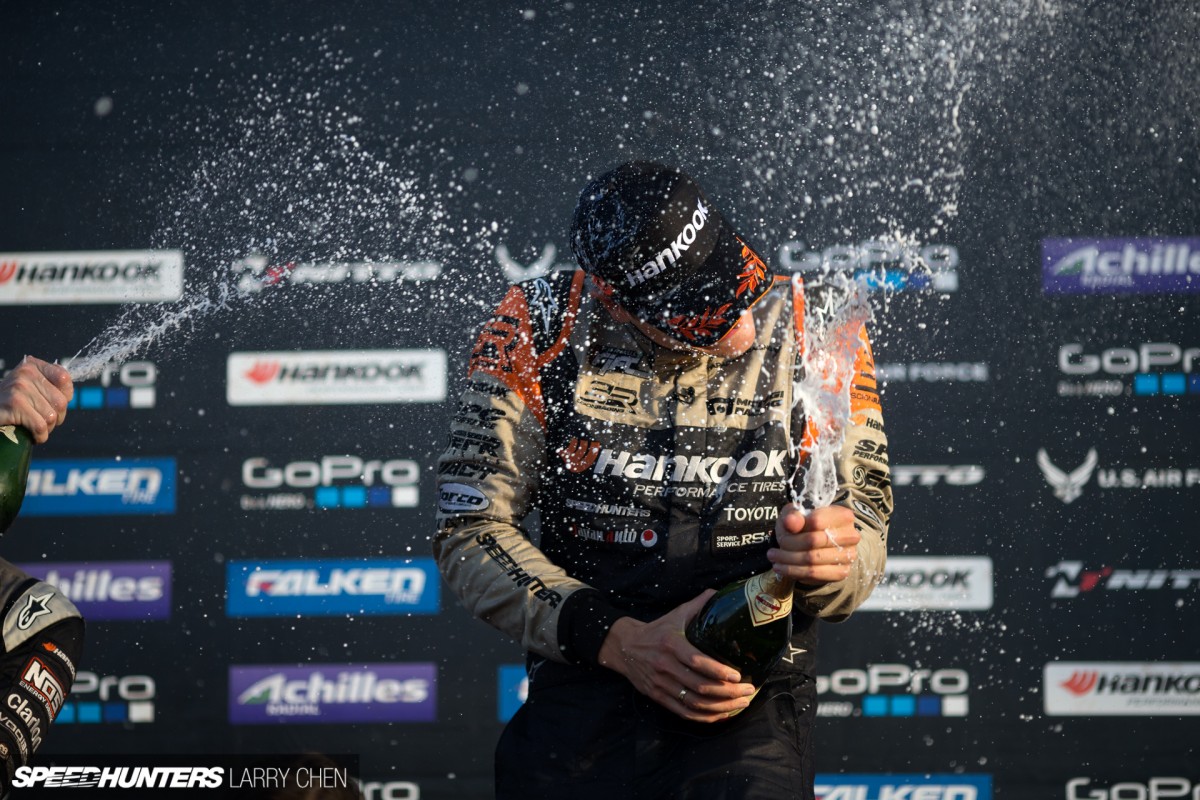 Now it's up to him and his very dedicated Papadakis Racing team to push hard for his first Formula Drift Championship title.
Soaked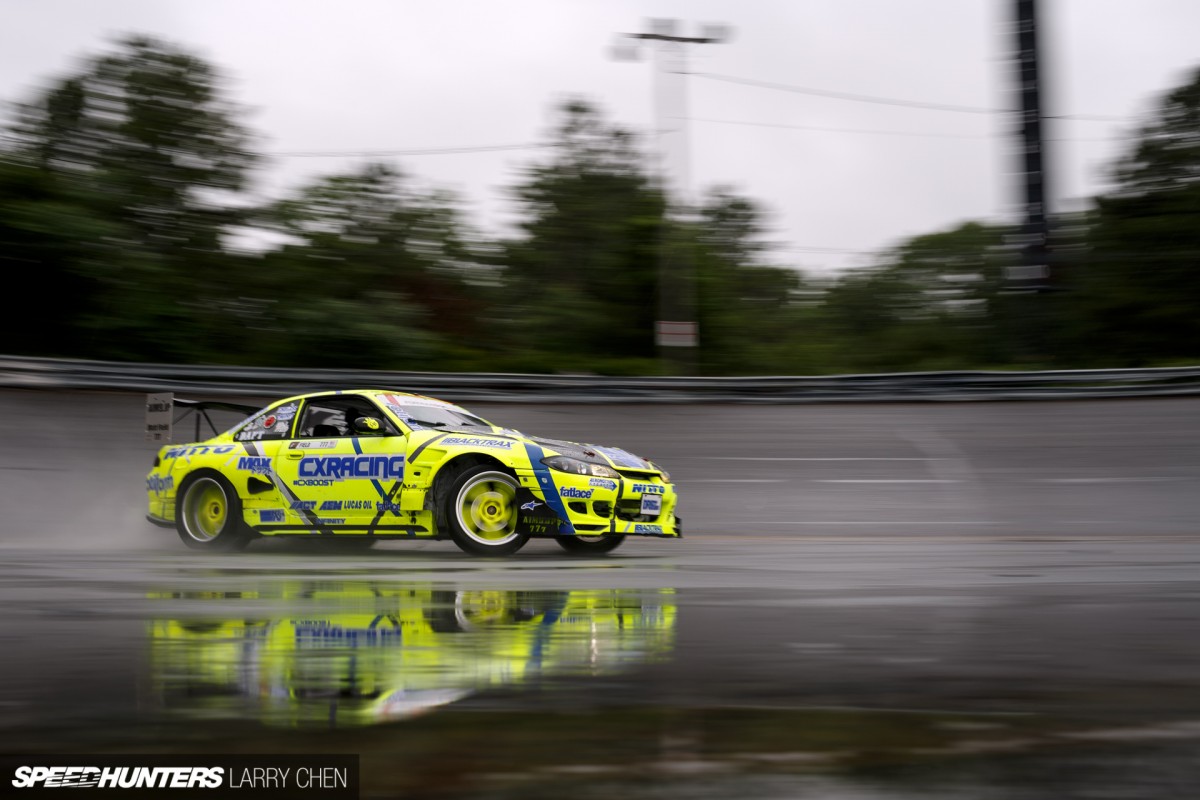 The fun thing about New Jersey – or the North East in general – is the unpredictable weather.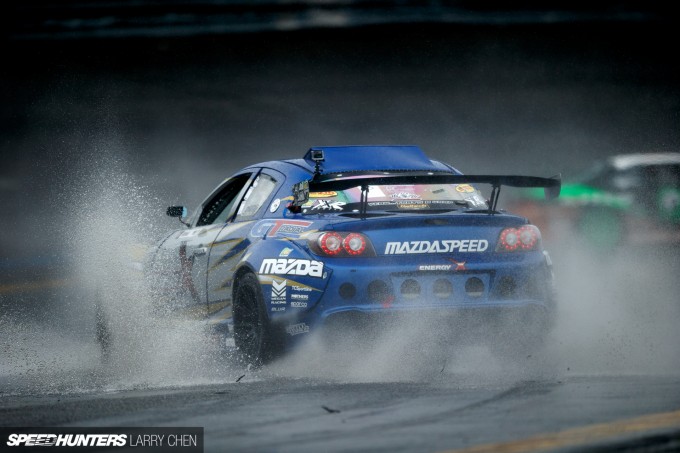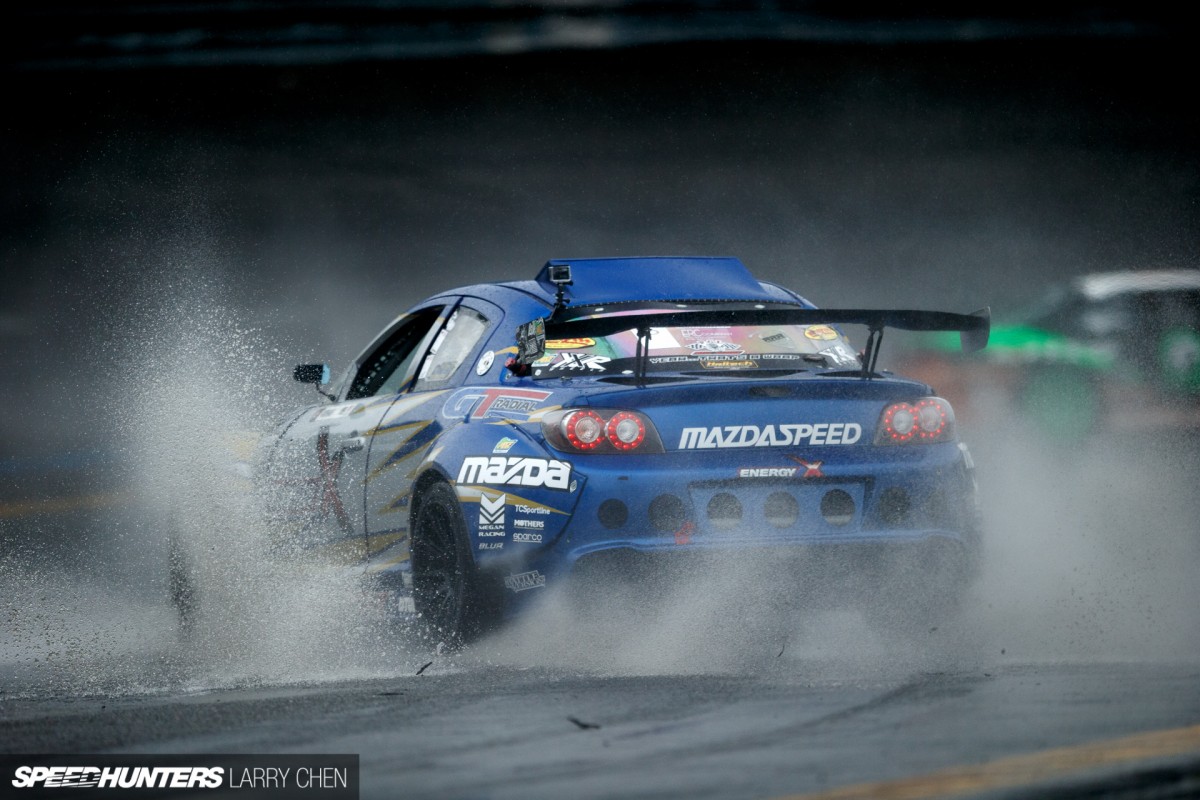 Some of my favorite drifting photos from over the years were taken in wet practice sessions at Wall Township Speedway.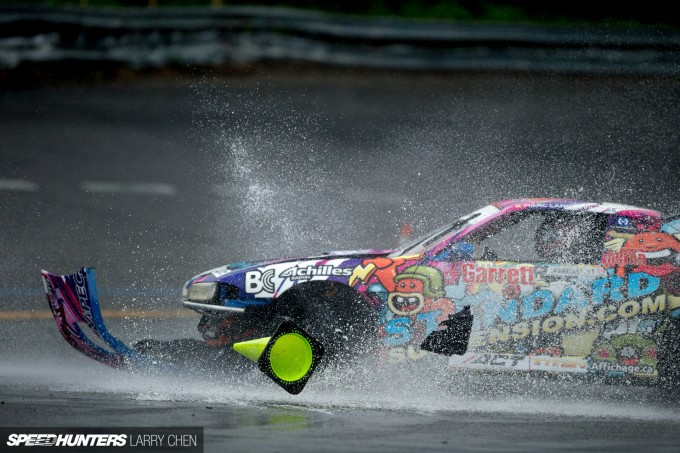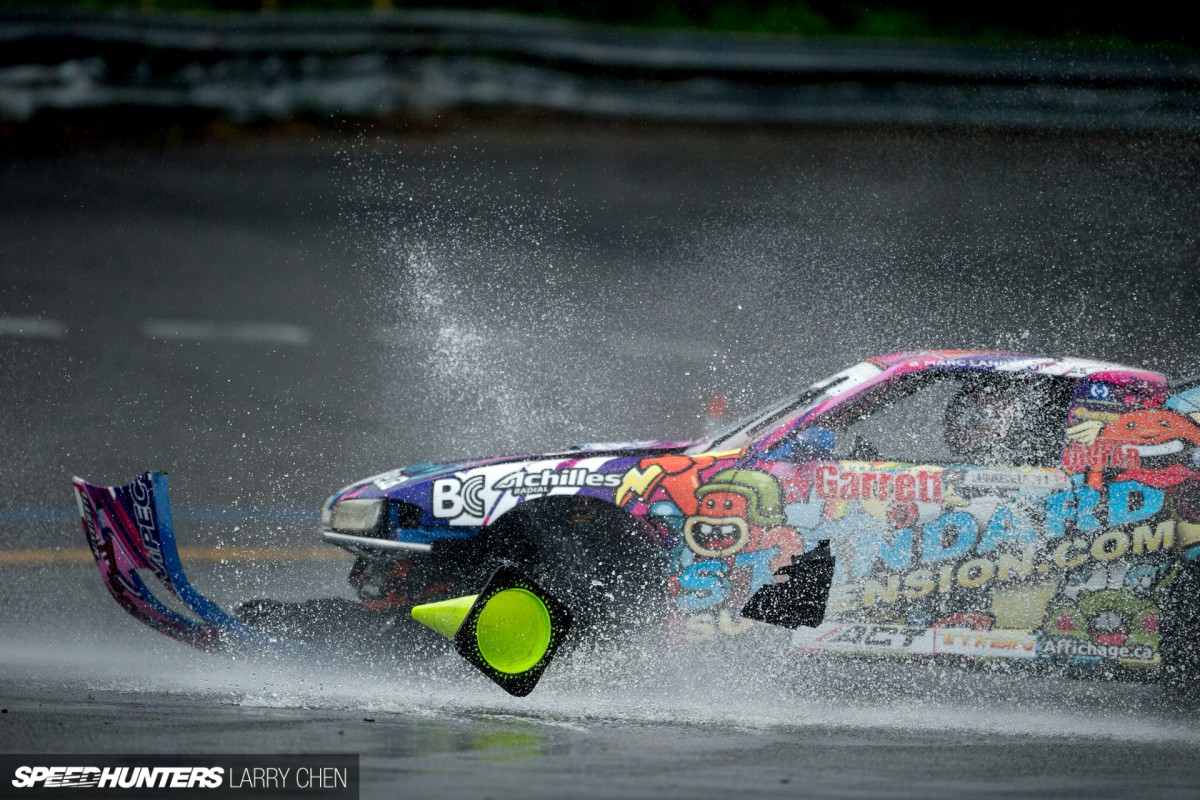 A brief thunderstorm made for some spectacular wet driving conditions; forcing the drivers to drift on their tippy toes.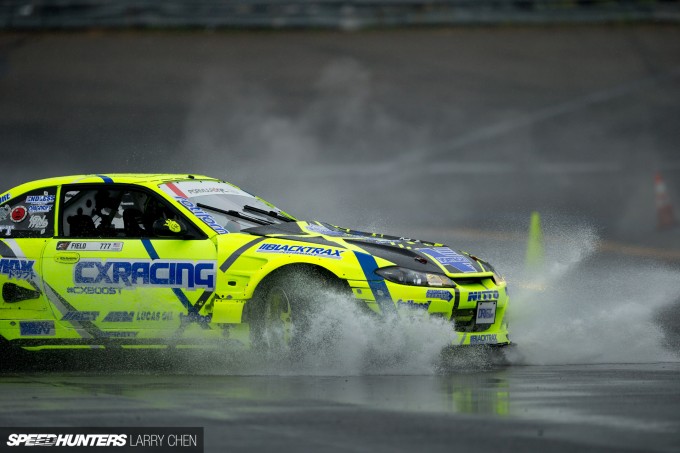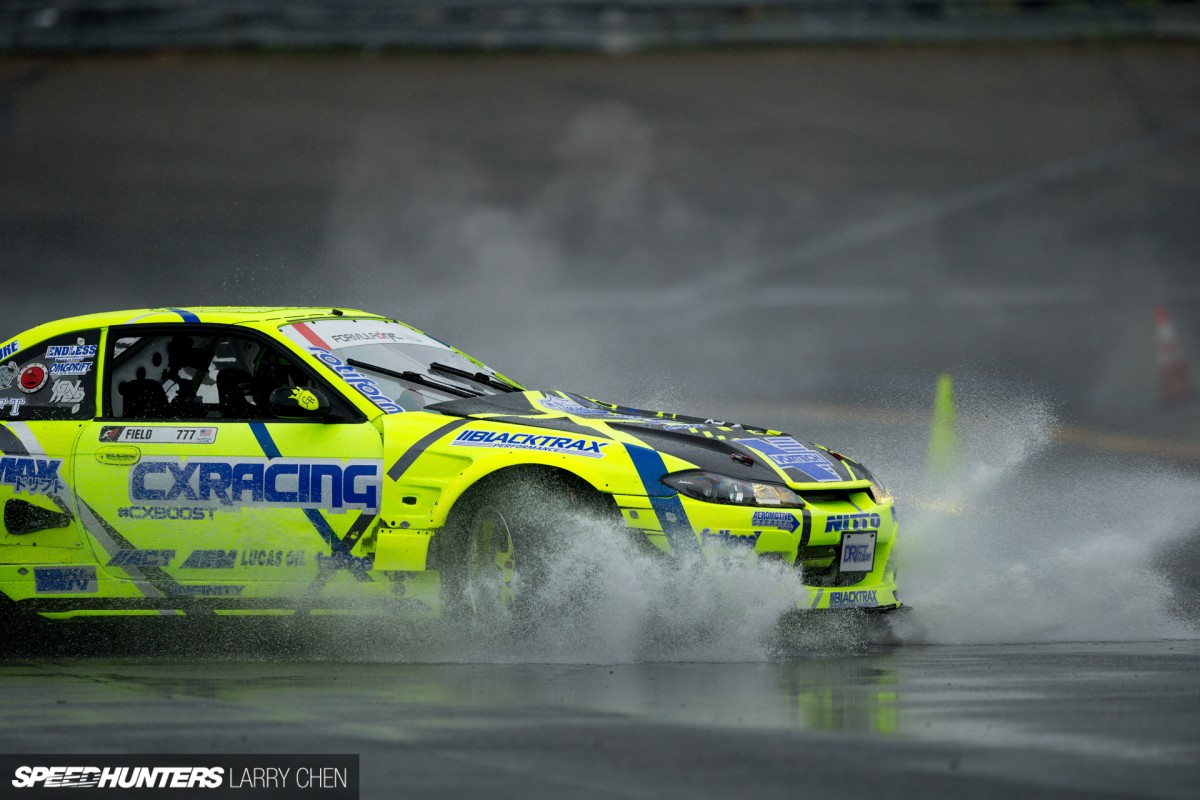 Most of the top-ranked teams sat-out rain practice. I'm assuming they didn't want to take any risks considering the forecast for Saturday's main event was dry as a bone.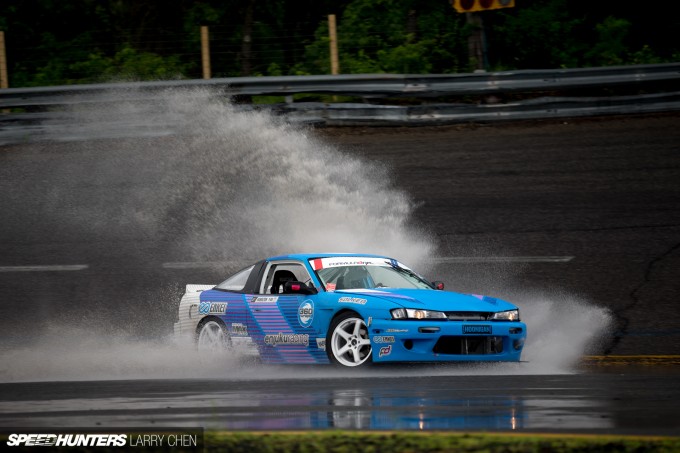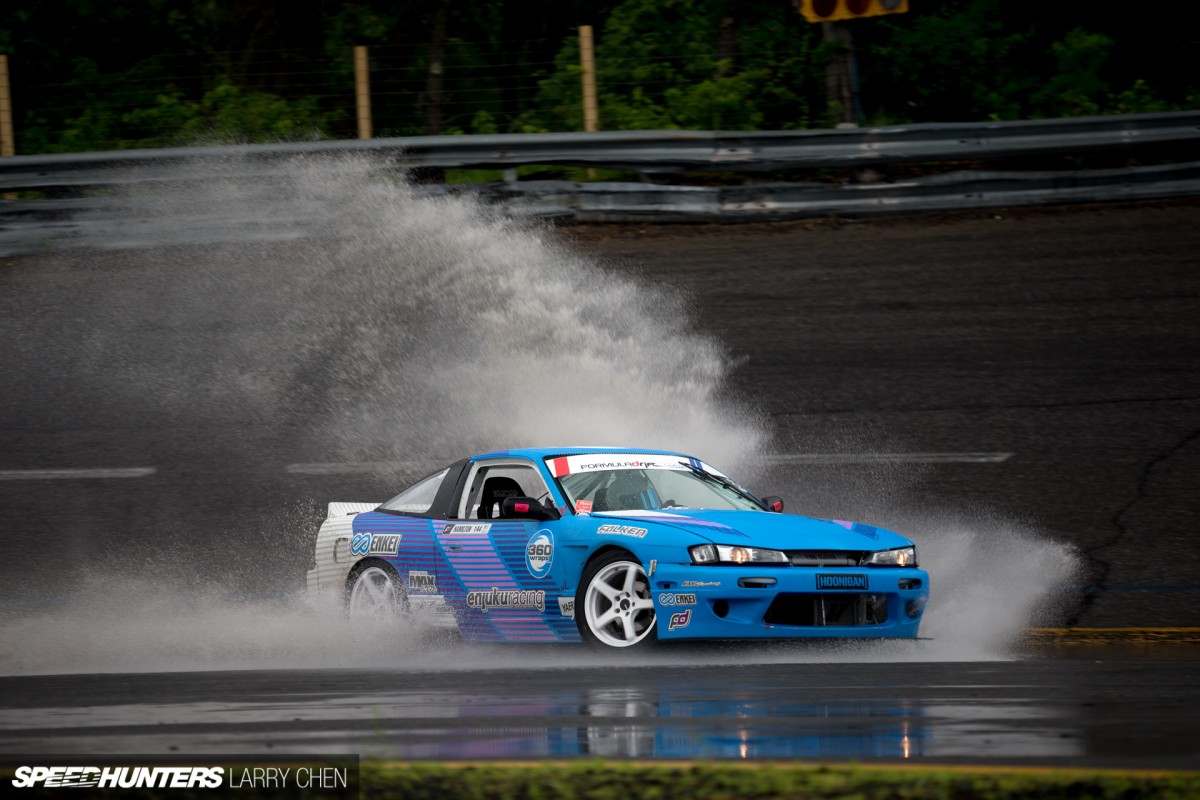 In a way it was nice, because with less numbers out there it gave the rest of the field some much-needed seat time.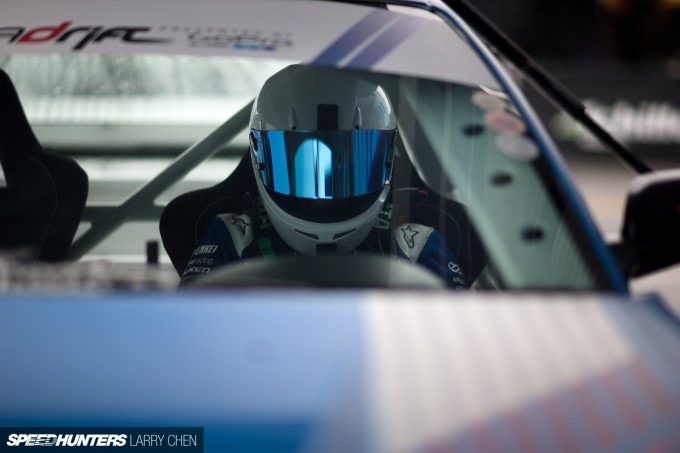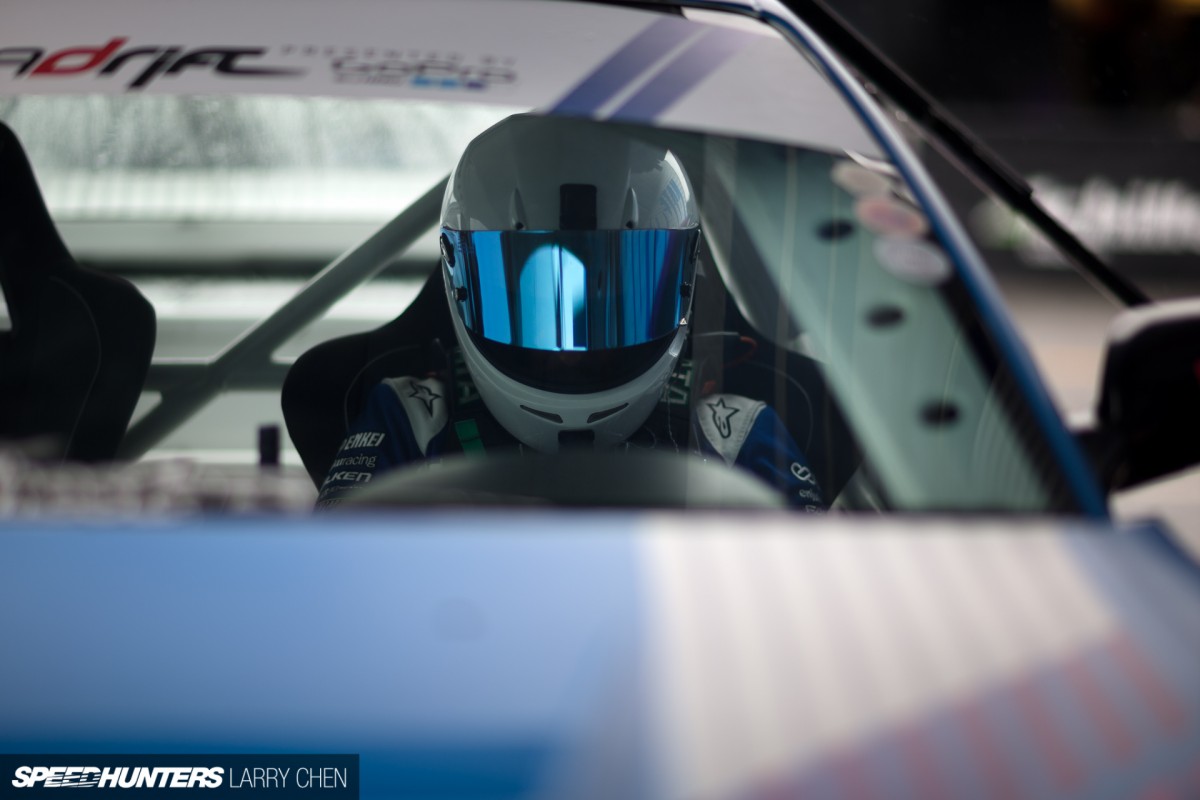 Taking full advantage of that was Nate Hamilton, who is currently in 2nd place in the Formula Drift Pro2 Championship. There are three rounds left, which should make for some interesting competitions. I really enjoying watching the series within a series, because it allows for privateers to take a stab at glory.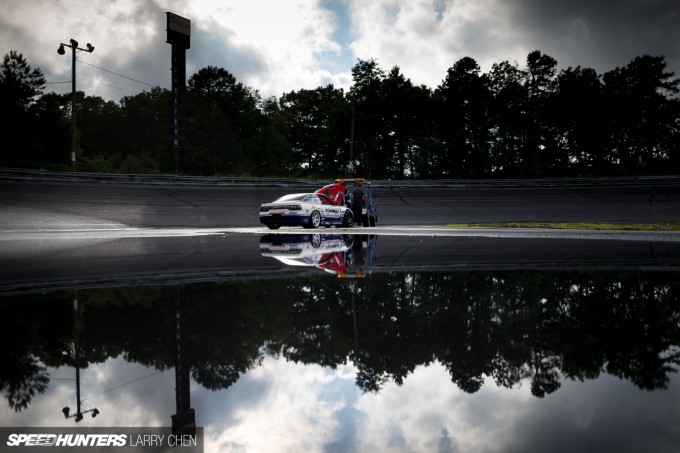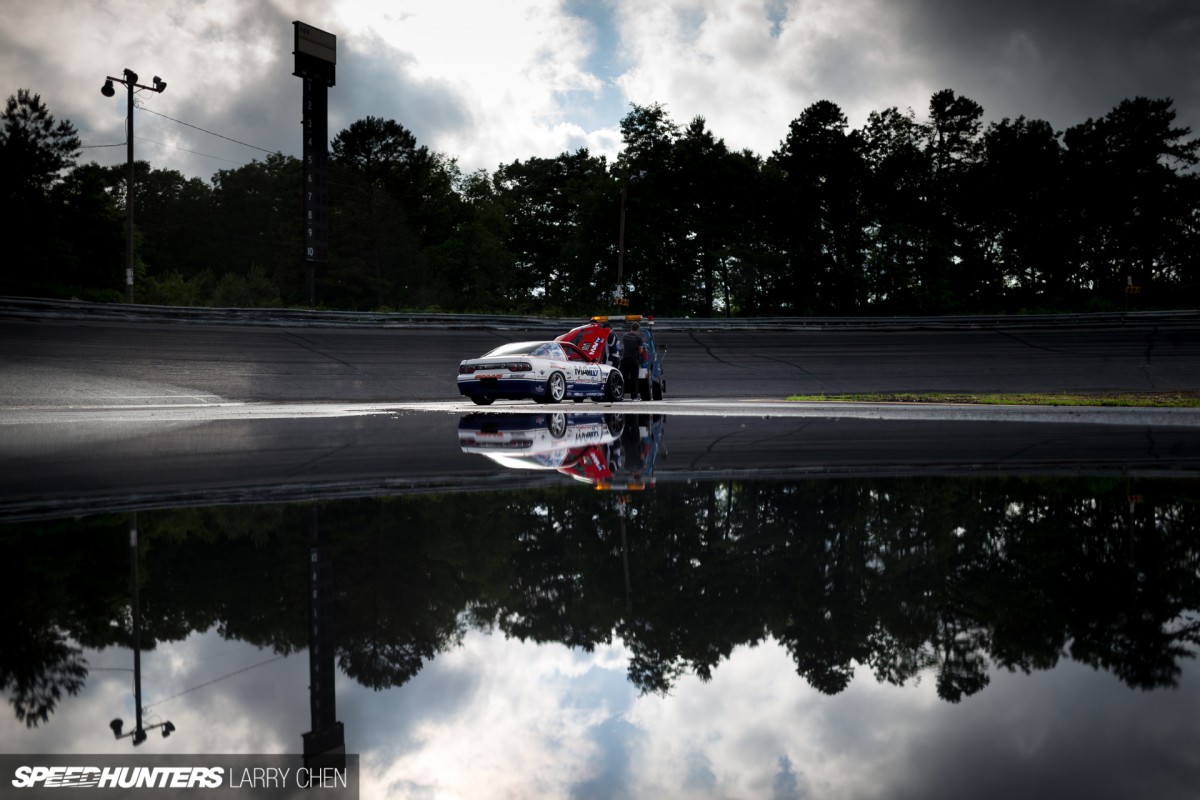 Eventually the rain stopped, and the sun came out. However the track was still very wet and slippery.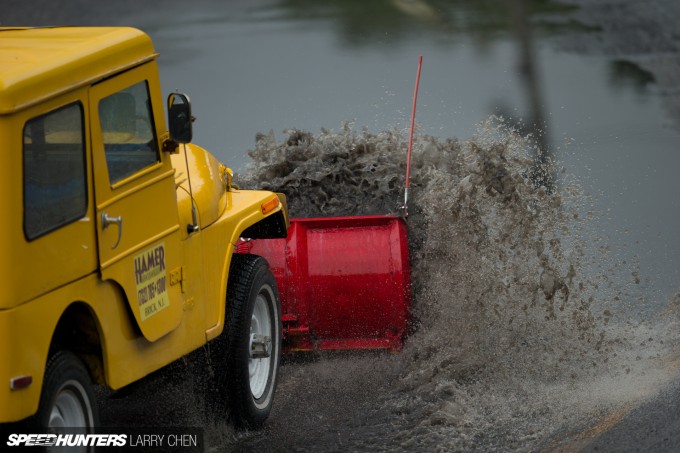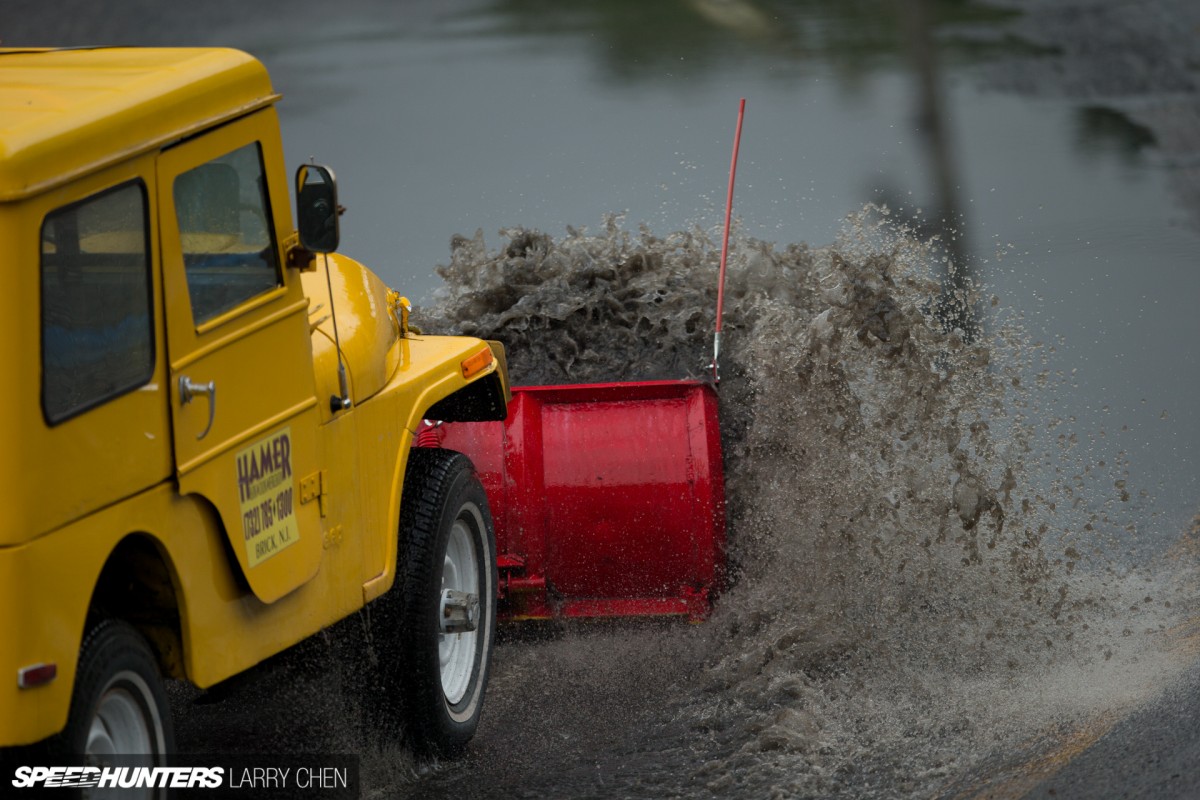 But after some hard work from the track staff the circuit eventually dried out again.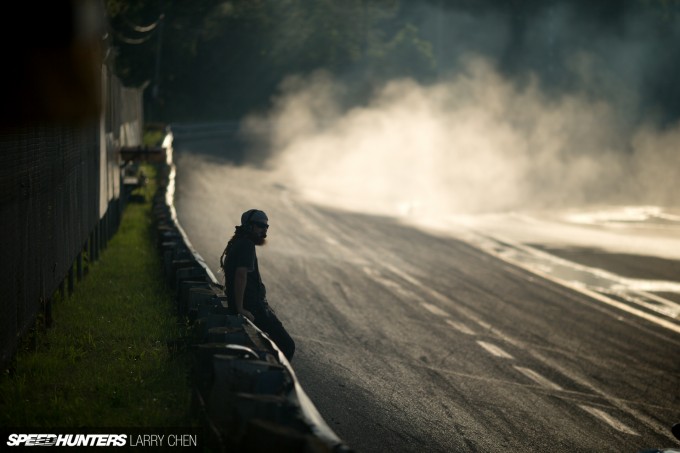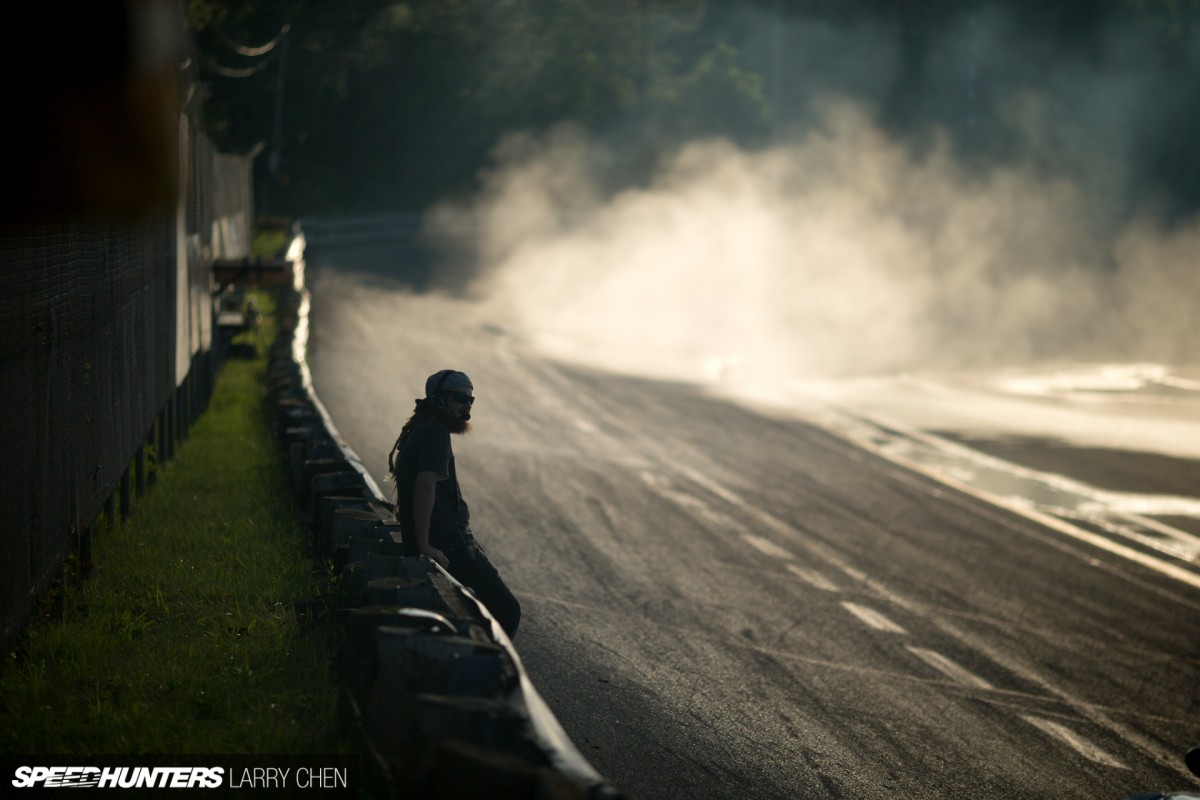 It really is one of those magical places that I look forward to shooting. No matter what the conditions, the images that I produce from this event are easily some of my favorites from the year.
Past Champions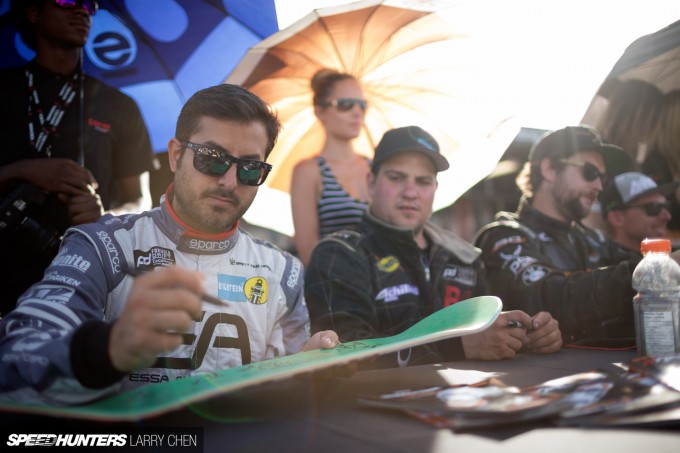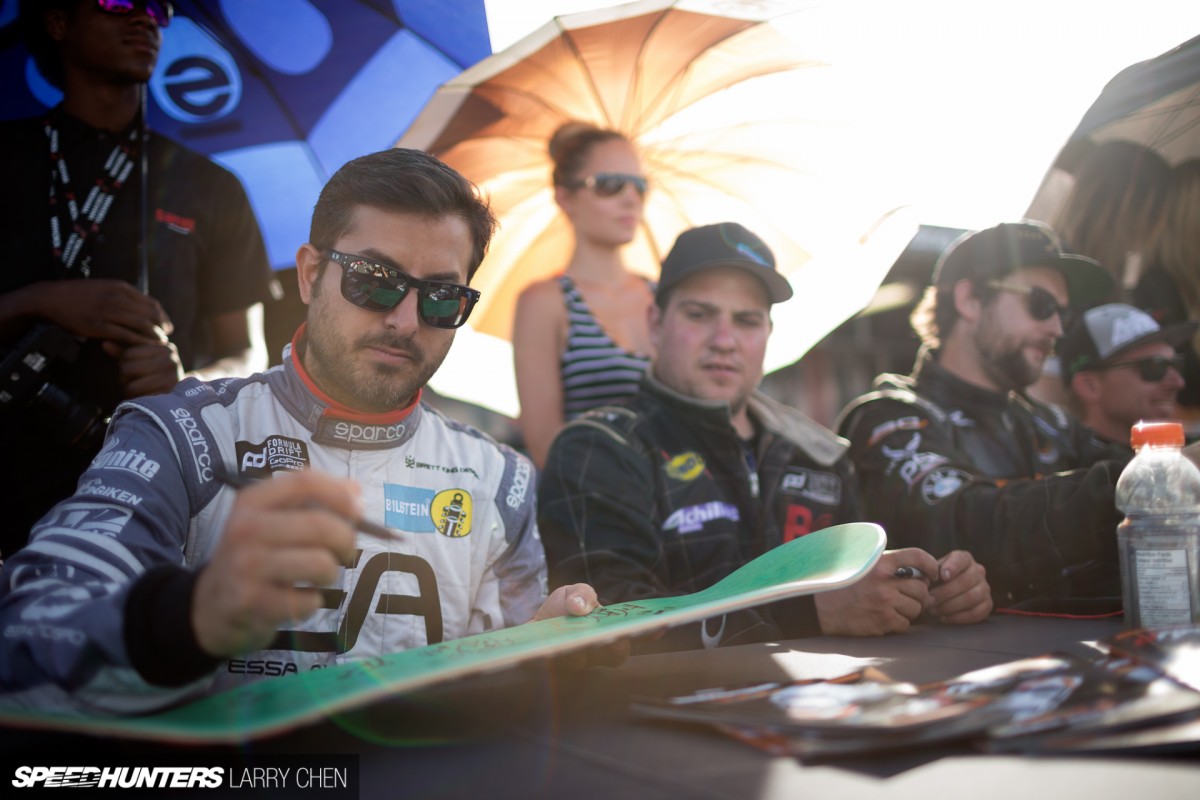 The entire grid has really stepped up their game this year, so current champion Michael Essa really has his work cut out for him.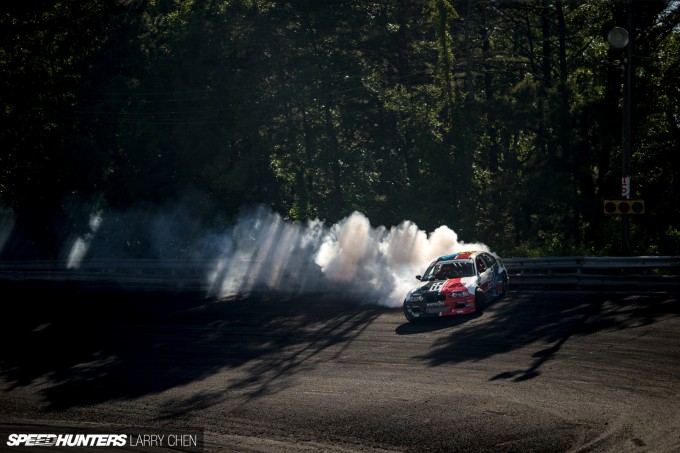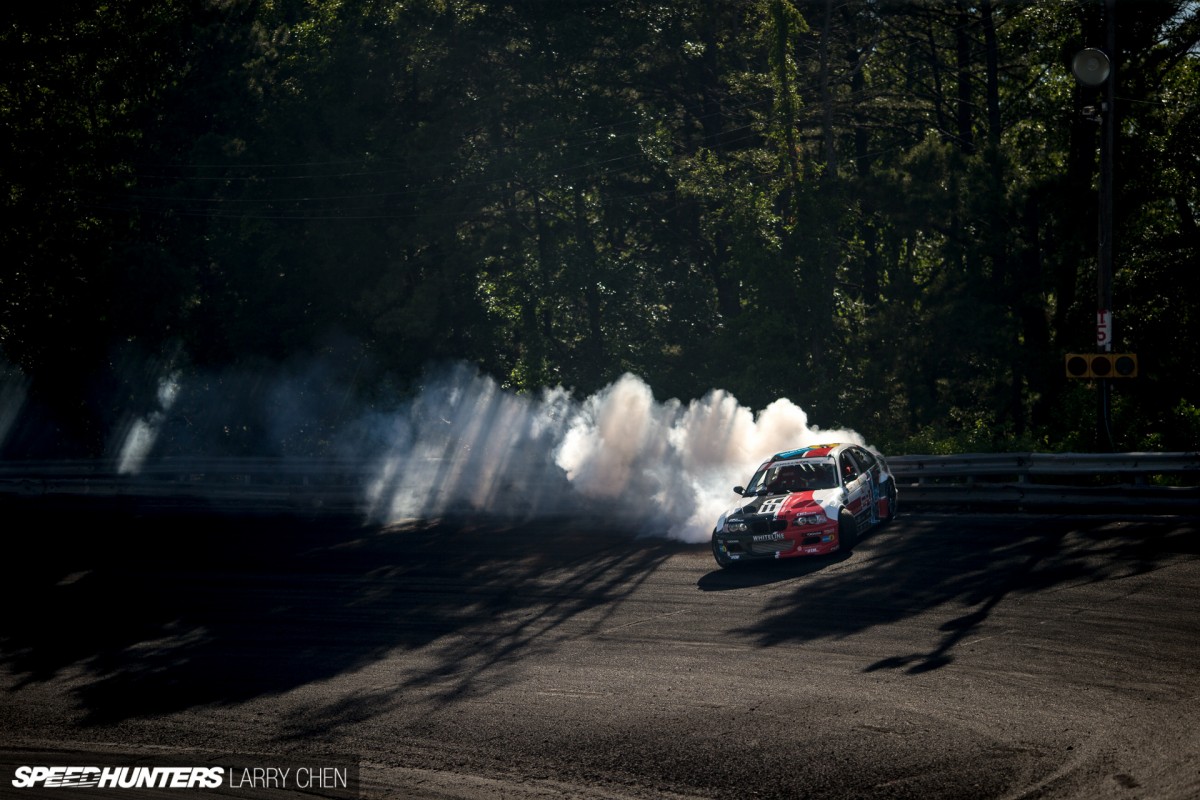 In terms of winning back-to-back championships, the odds are heavily stacked against him, but who knows – maybe he has an ace up his sleeve.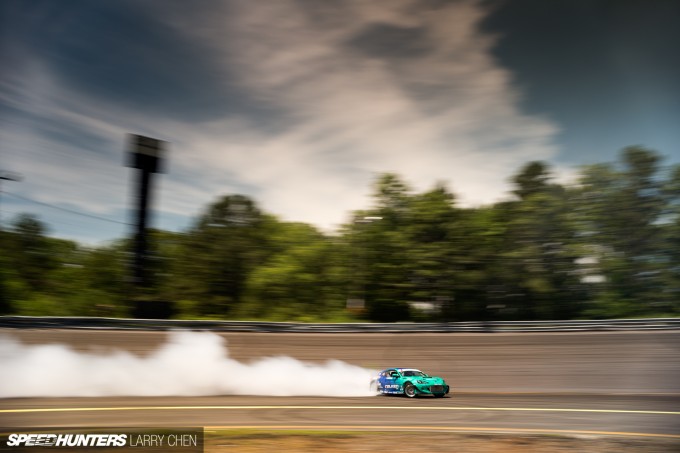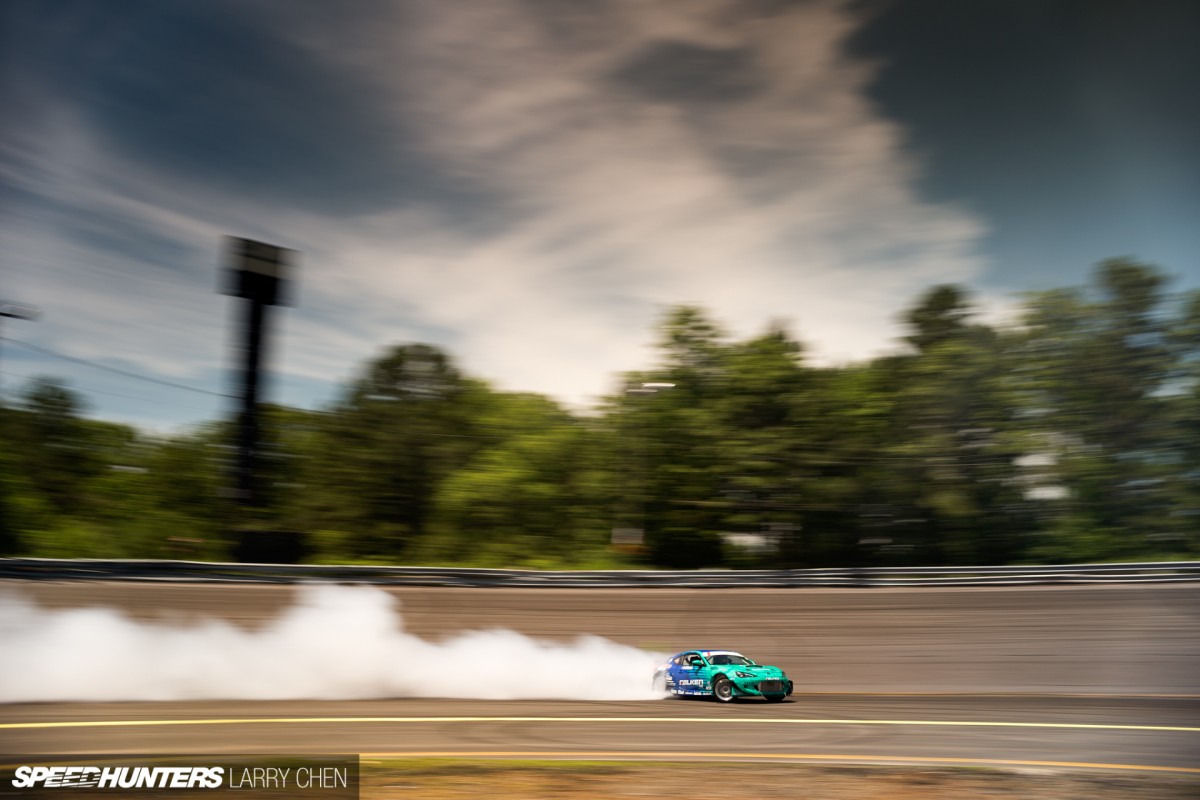 Daijiro Yoshihara is back on the grid, if barely. The team swapped in a new motor just a few days before competition and I was very impressed at how Dai performed. But as always with a new car, there are still many bugs to iron out.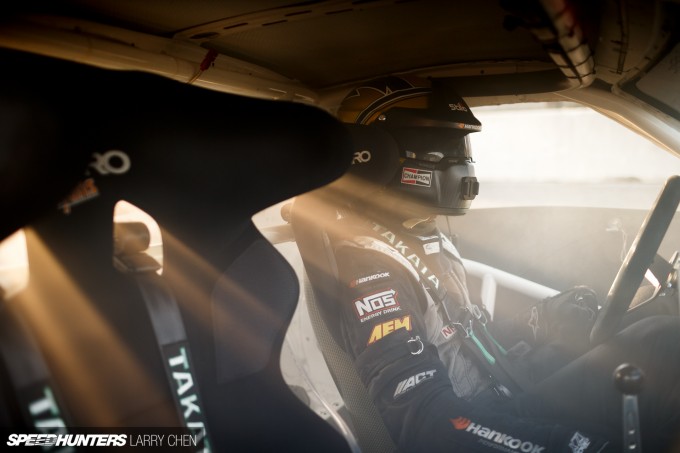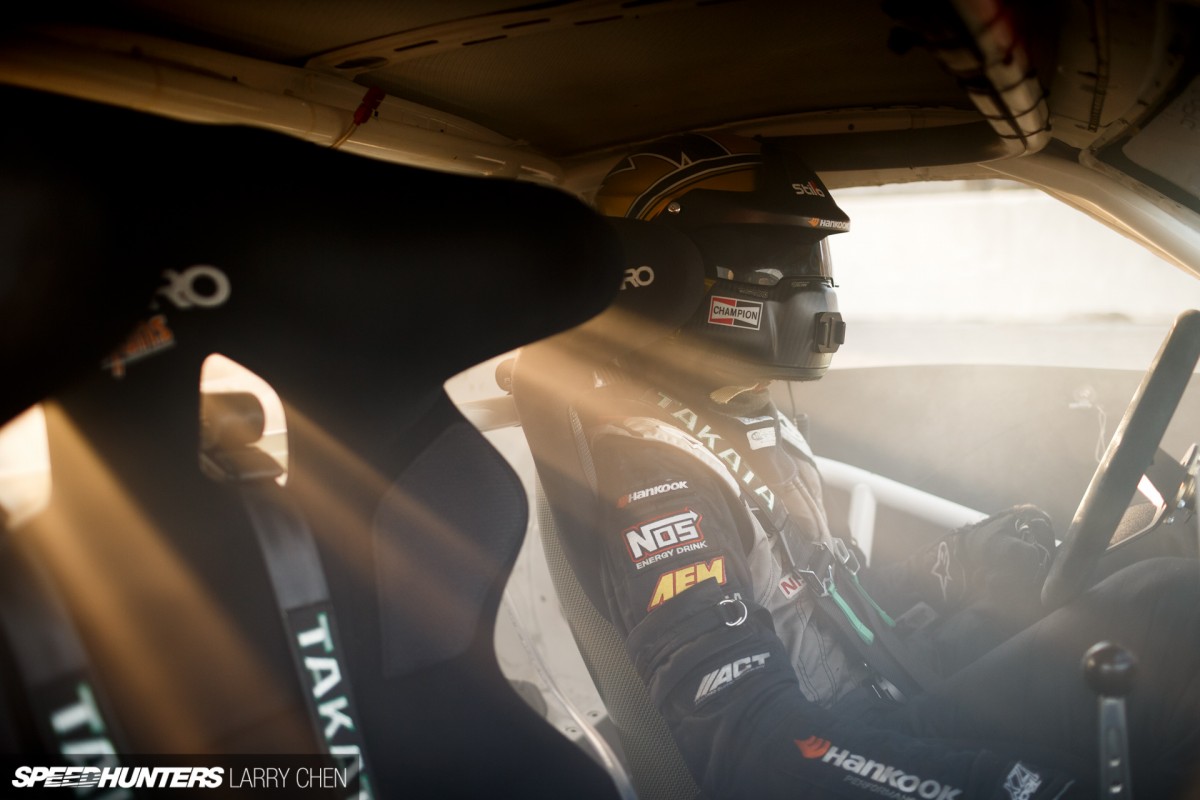 Currently, there are no former champions on the grid with two titles under their belt. However, Chris Forsberg is out to change that this year.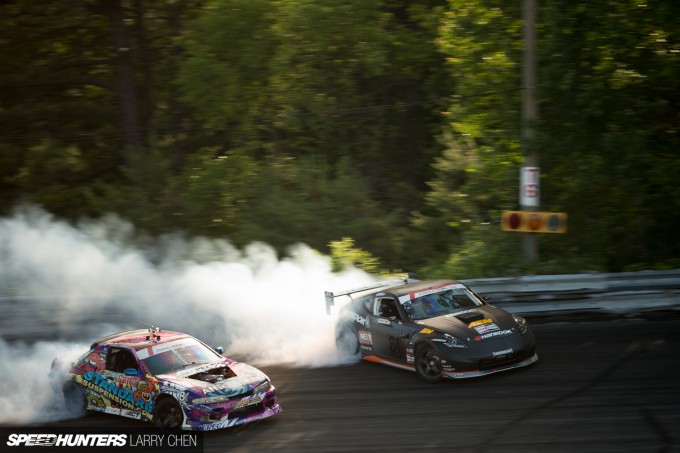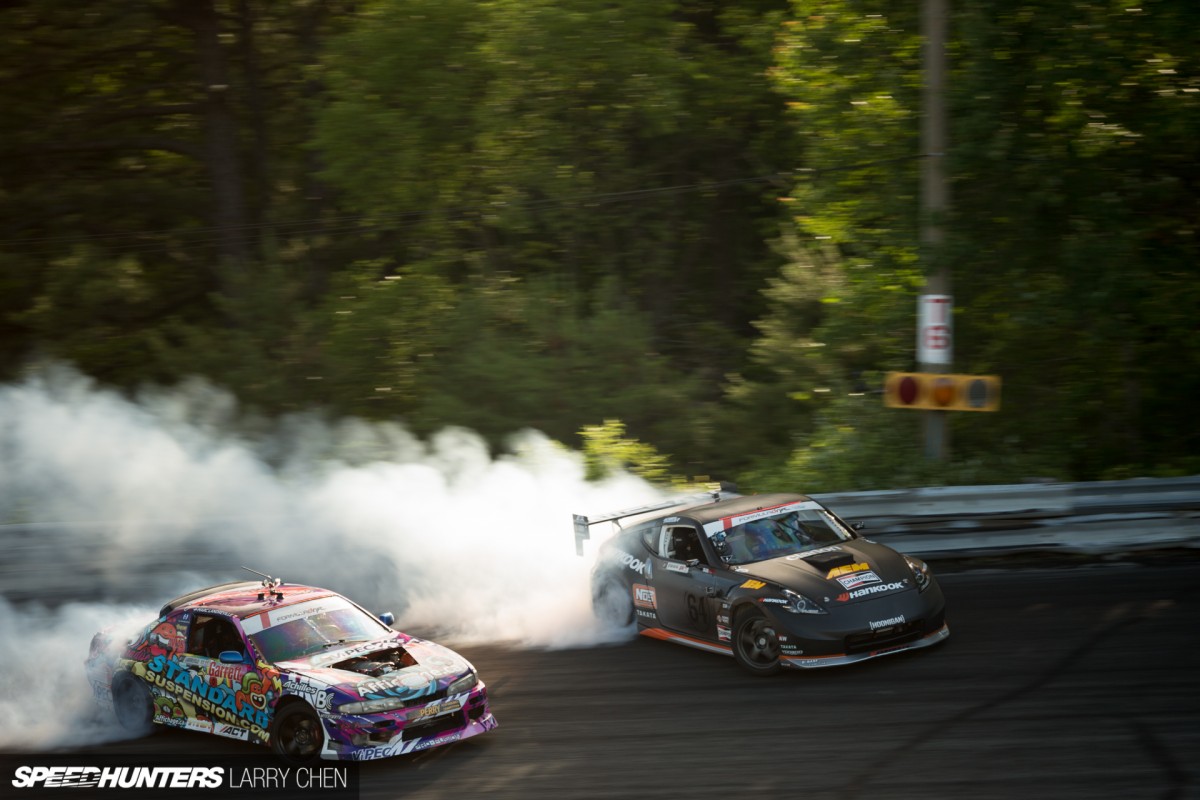 Chris has made it to the podium every single round this year, and with three rounds left he has a sixty point buffer over Fredric.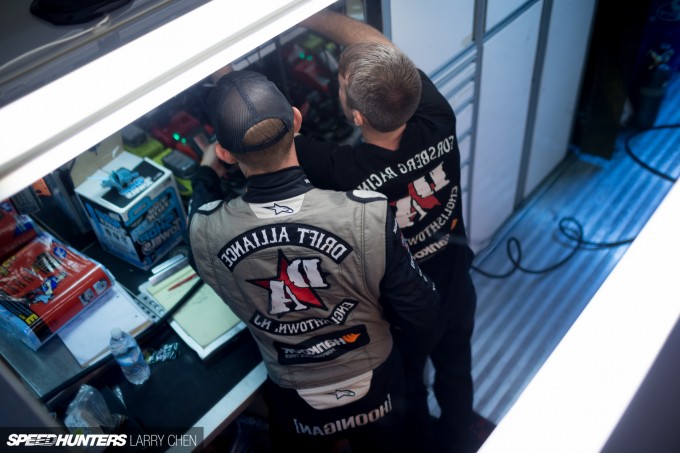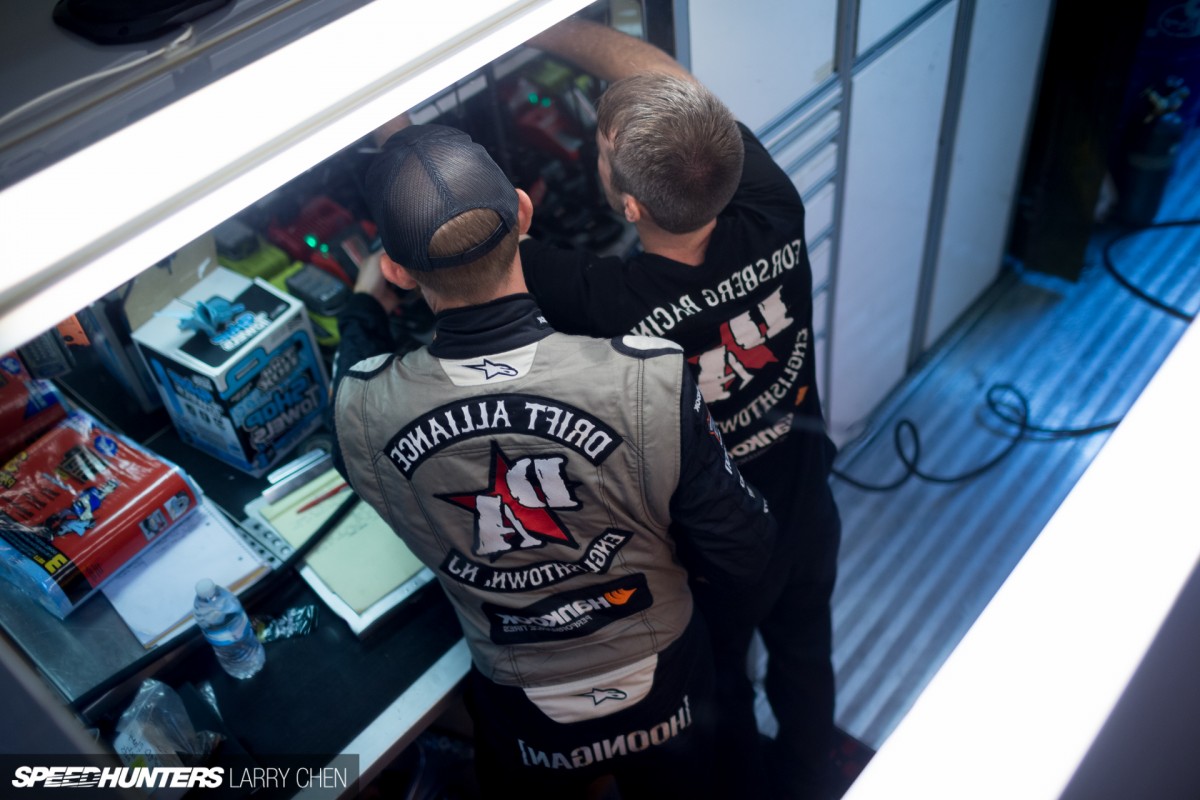 If he continues to drive the way he has been the last four rounds then there is no doubt in my mind that he will become the 2014 FD Champion.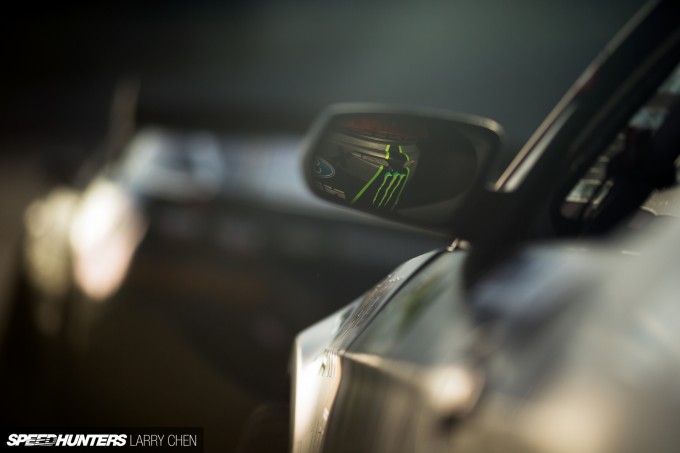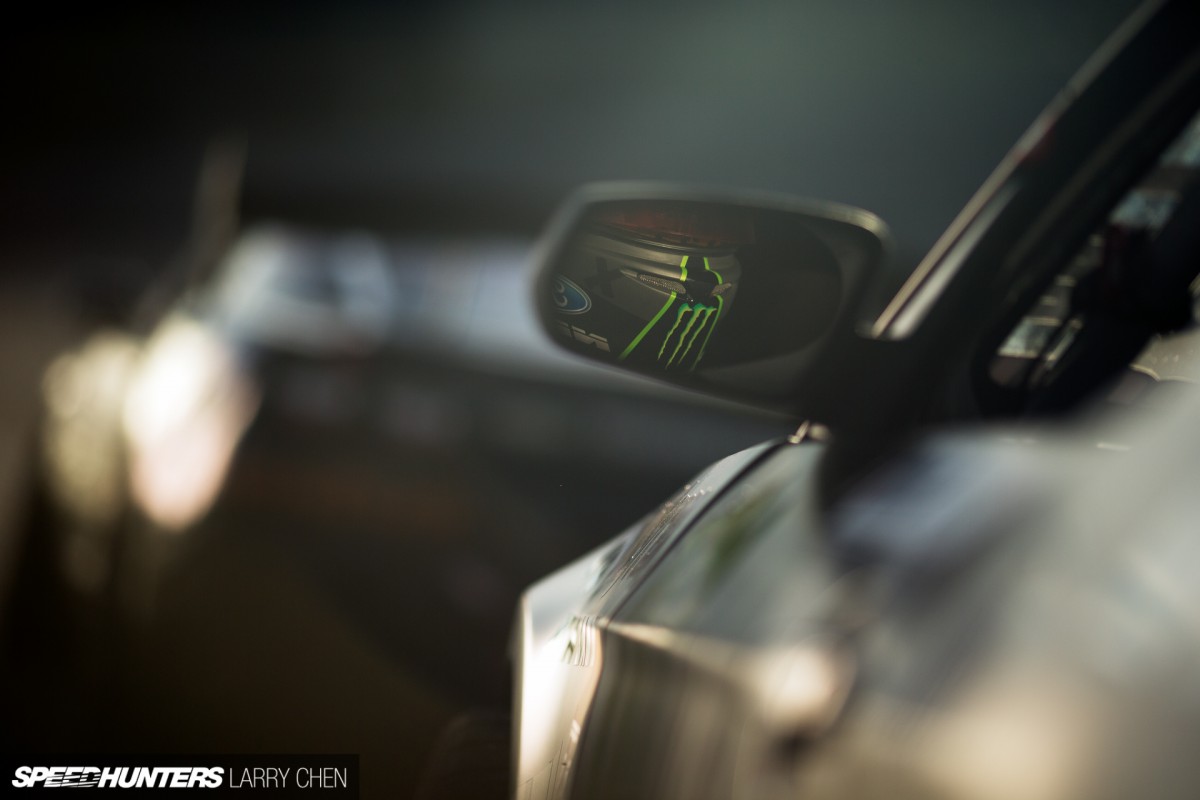 With two back-to-back wins, Forsberg's Drift Alliance brother and Speedhunters driver, Vaughn Gittin Jr., has really brought his game this season.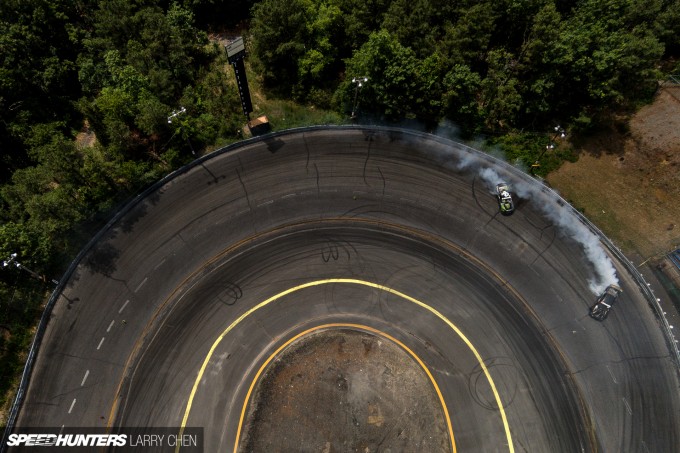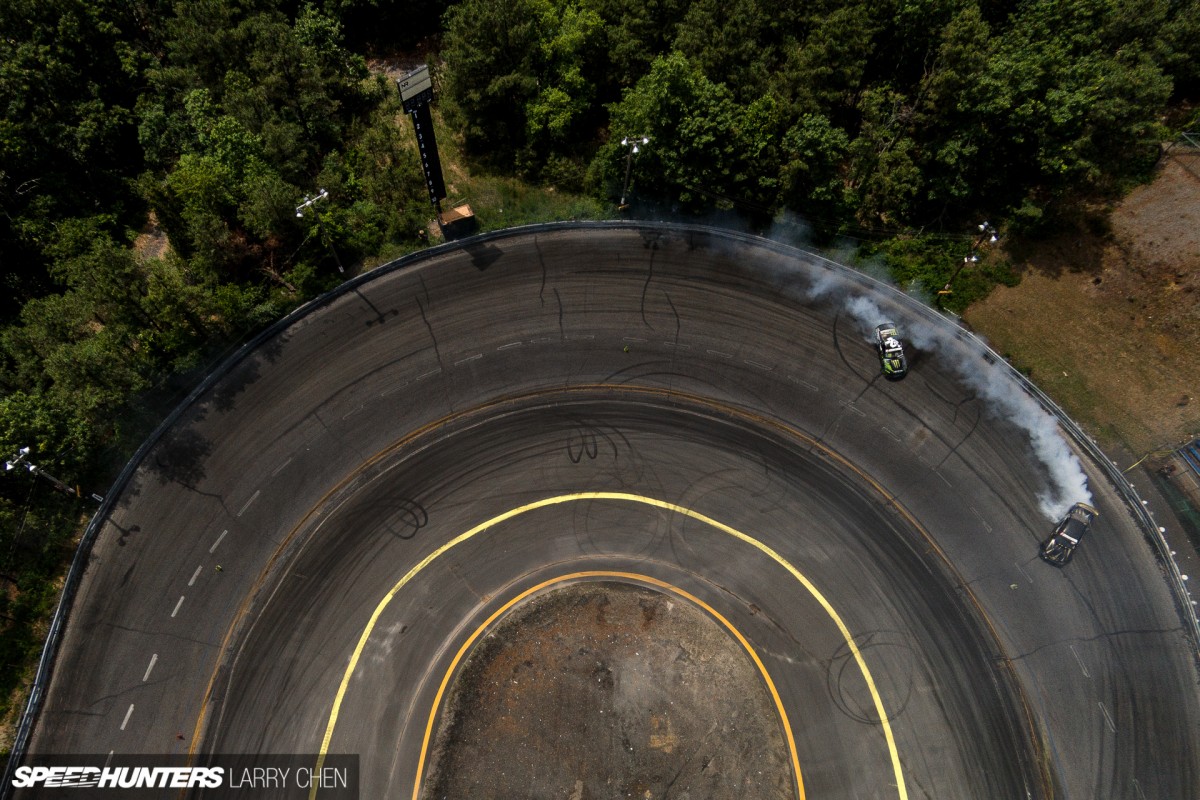 As he only lives a few hours away, Wall Speedway is considered Vaughn's home track. So the general consensus was that he would put up a good fight in order to achieve the elusive hat-trick.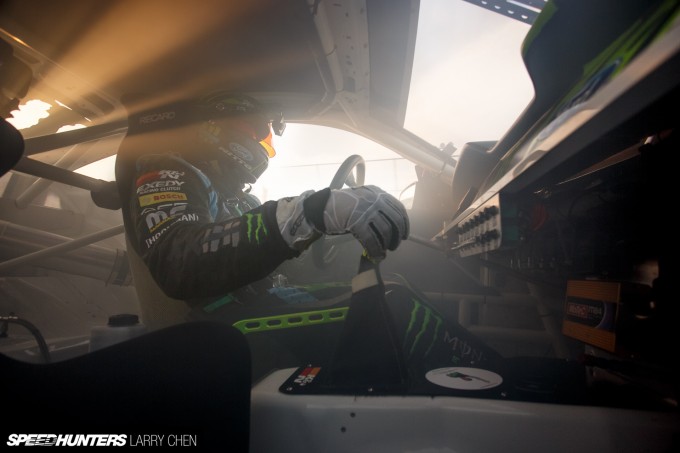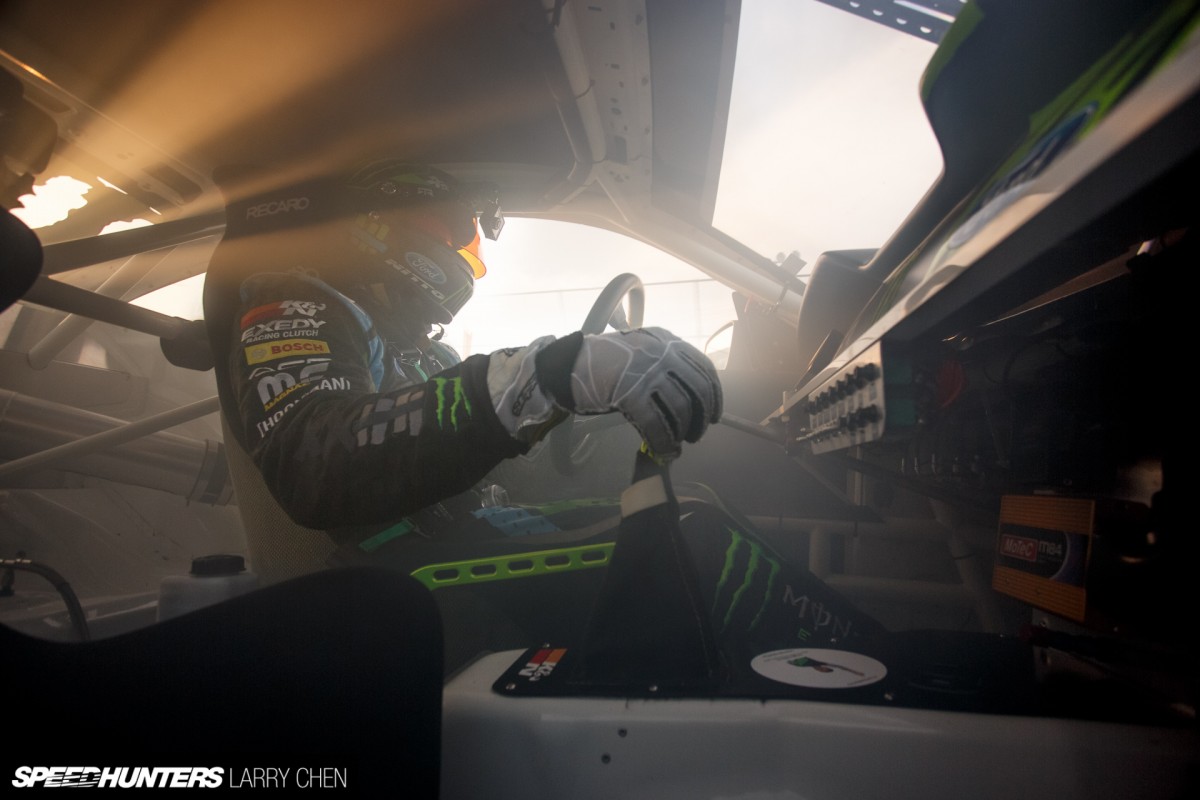 But things just didn't seem to go his way in New Jersey and he qualified uncharacteristically-low in 14th position.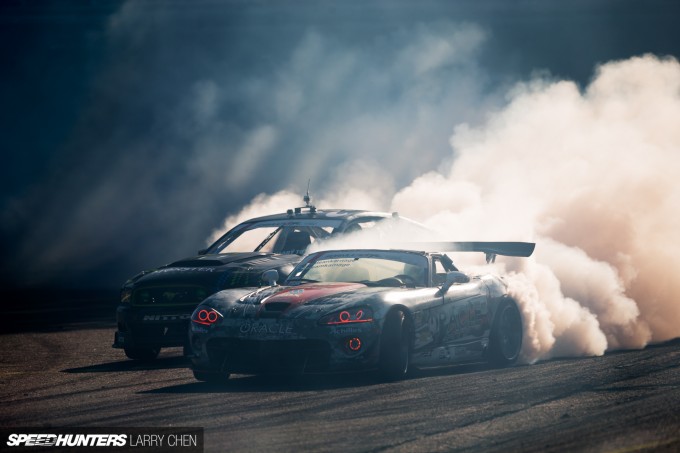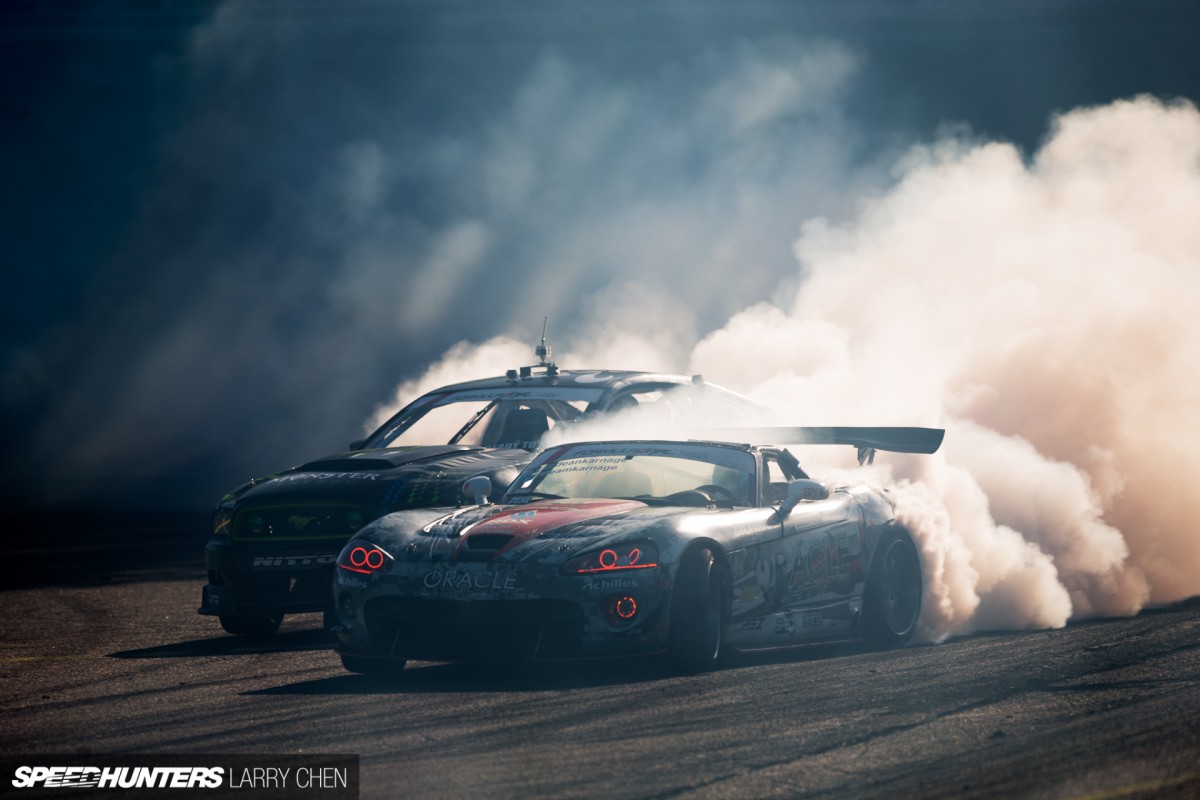 Then he ended up knocking himself out of the Top 16 when he rubbed the wall after initiation – the contact puncturing his tires.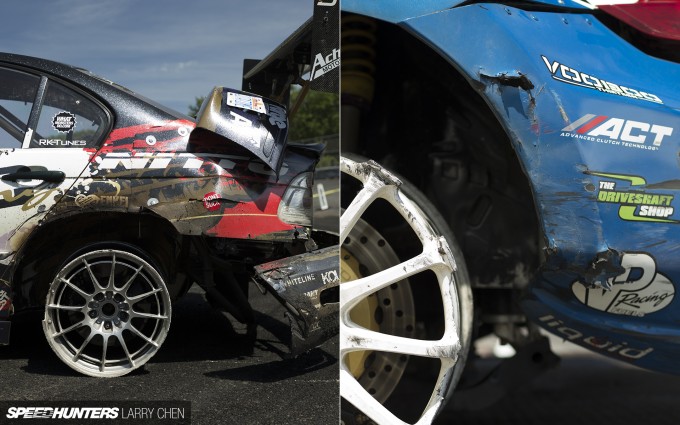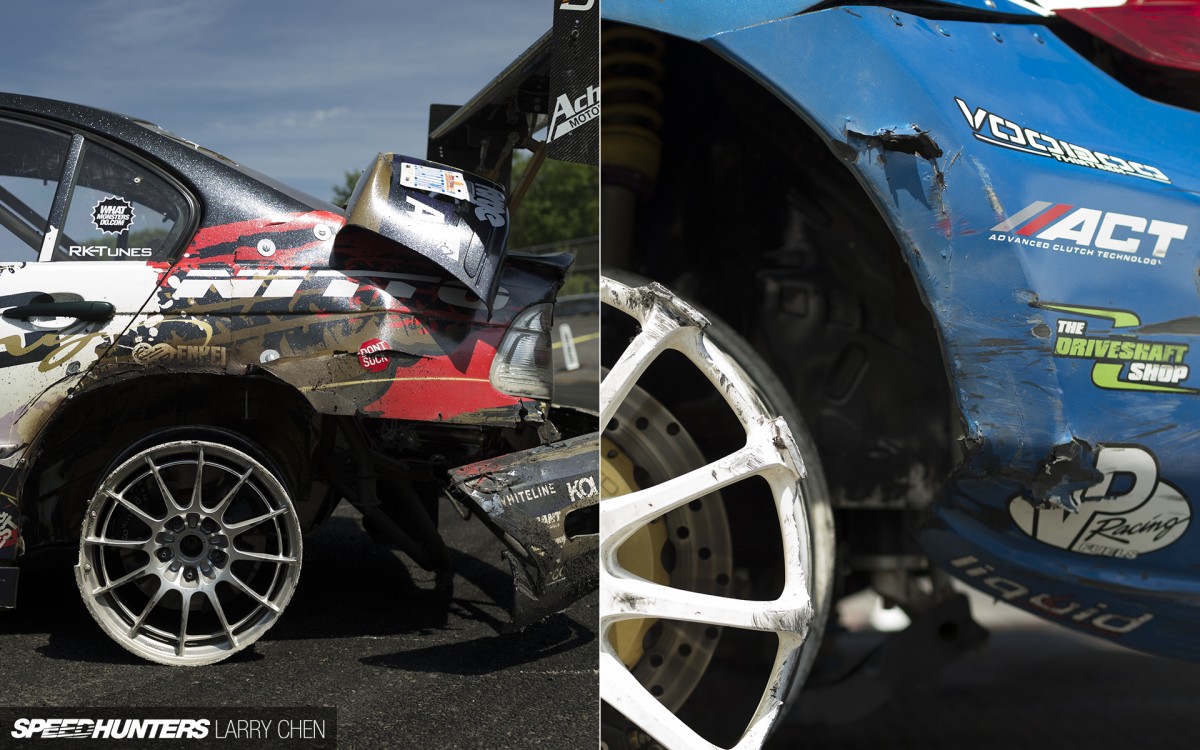 Vaughn wasn't the only one who was having troubles with tires, though.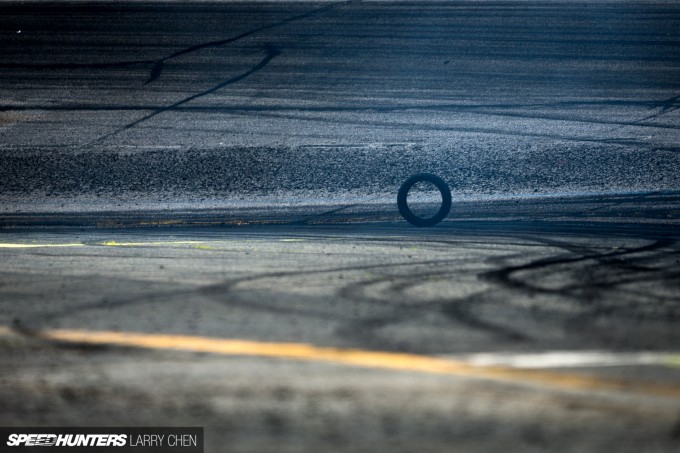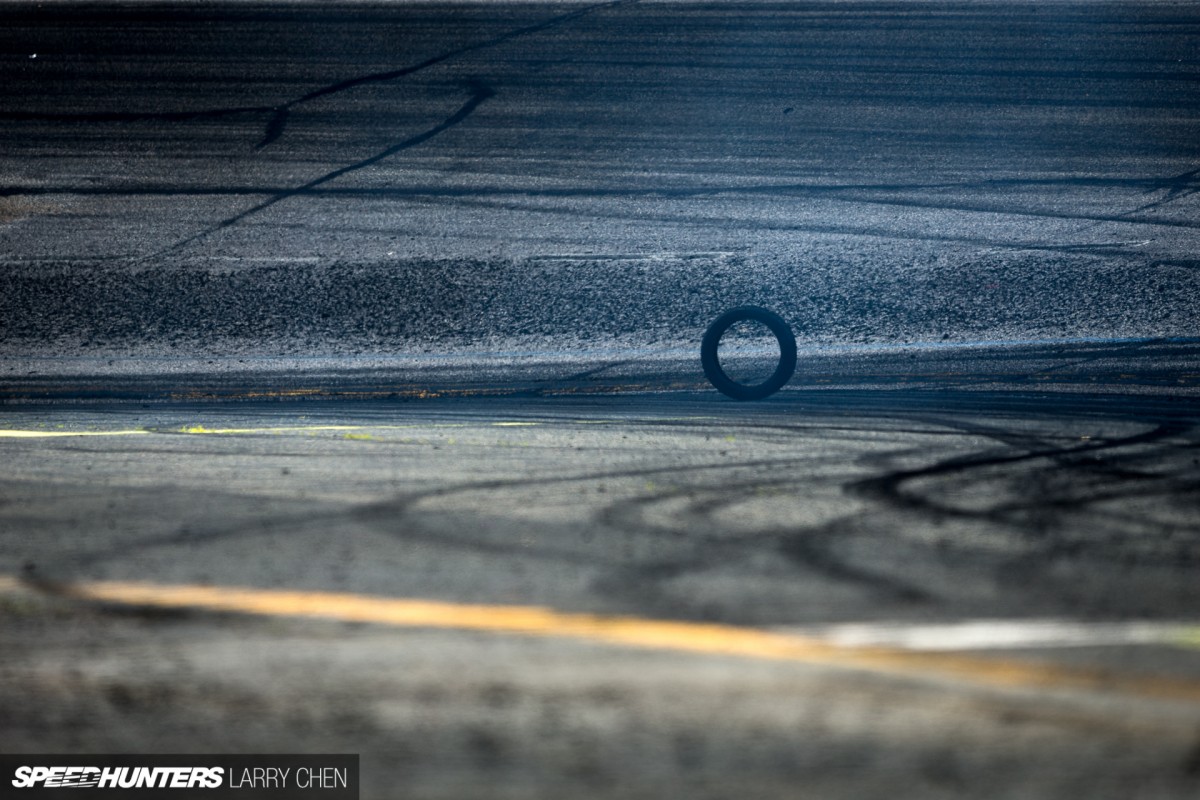 It seems like it's becoming more and more of an issue as drivers run very little air in their tires. Maybe it's time to allow bead locks? Either way, the guard rails of Wall Speedway do not forgive.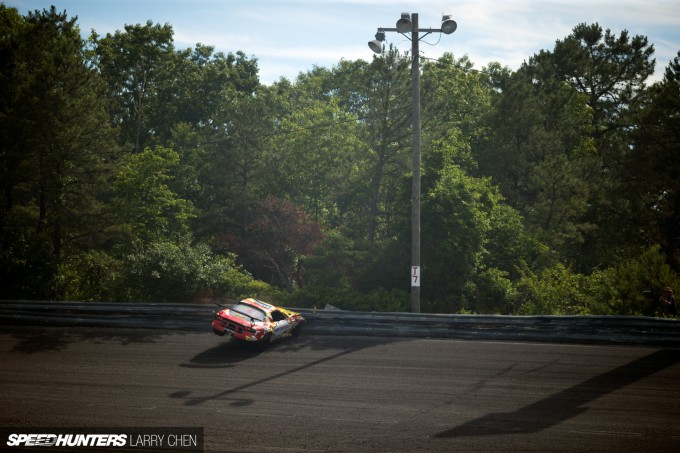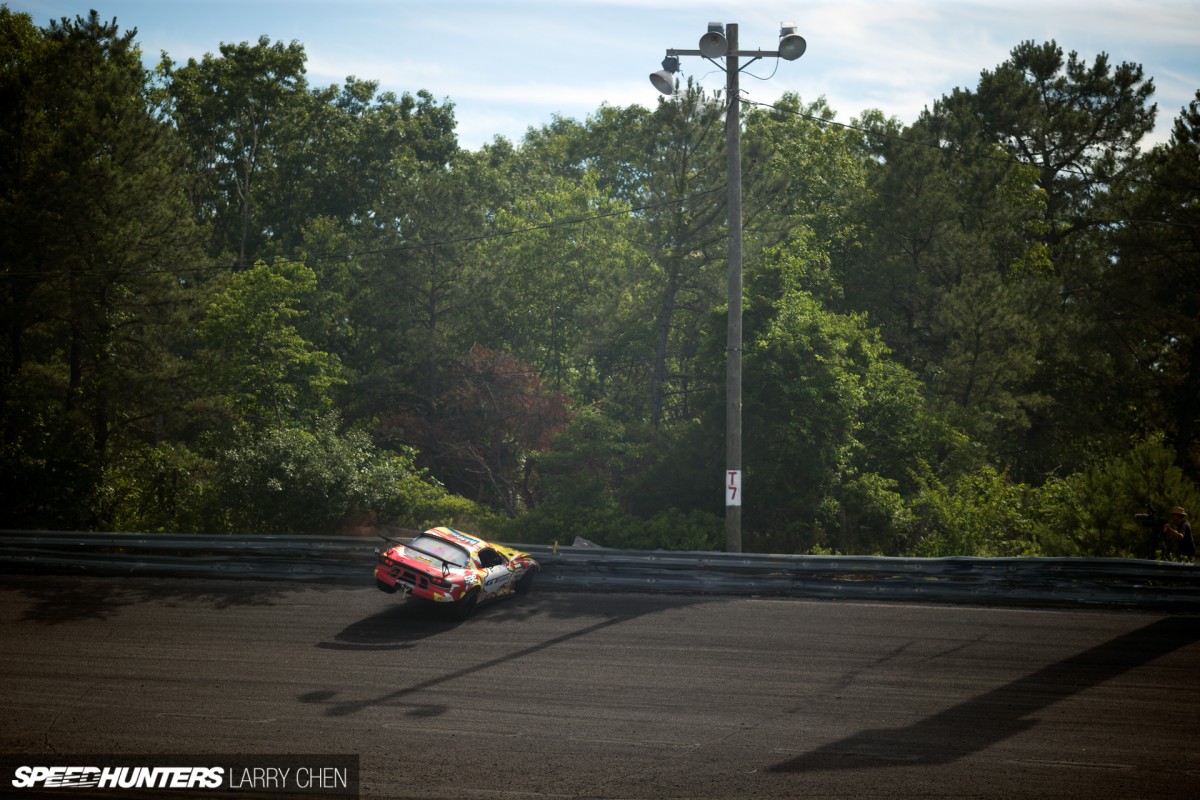 Rookie driver Tyler Wolfson experienced this firsthand with his incident during qualifying. It was probably one of the worst wrecks I have seen in Formula Drift since Irwindale last year.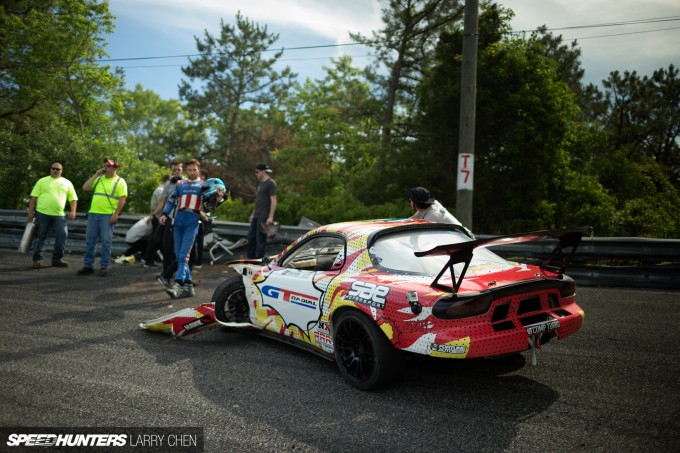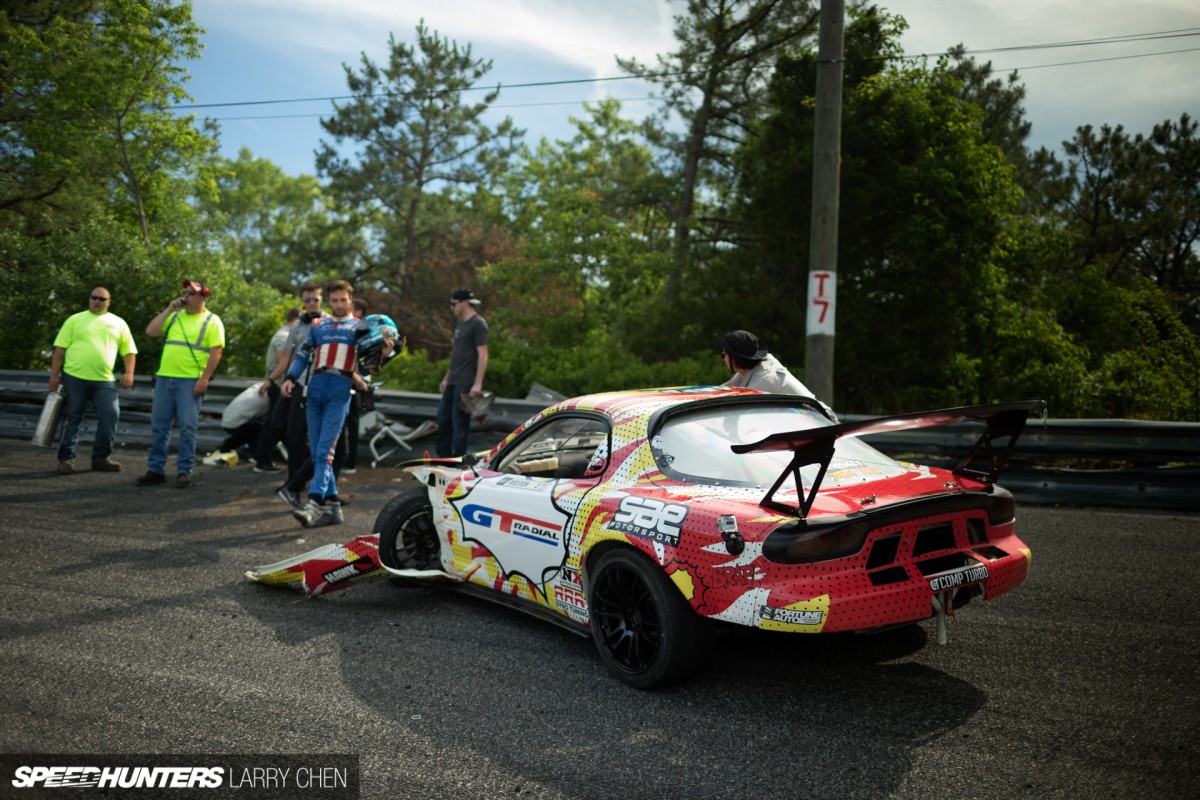 Thankfully, Tyler was able to walk away without so much as a scratch. His RX-7, on the other hand, didn't come off so lightly and will need to undergo some significant repair.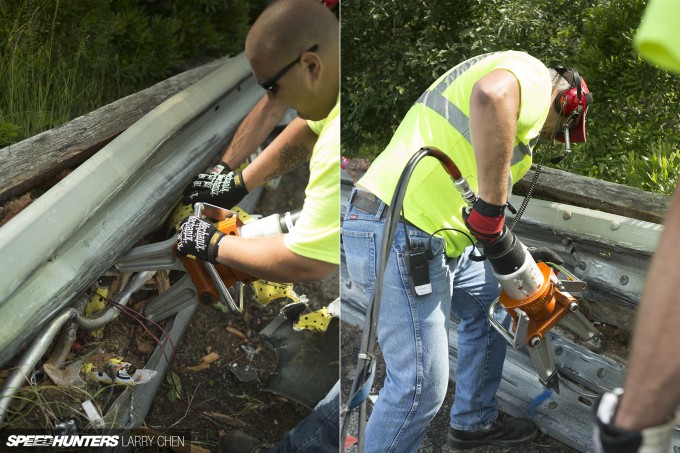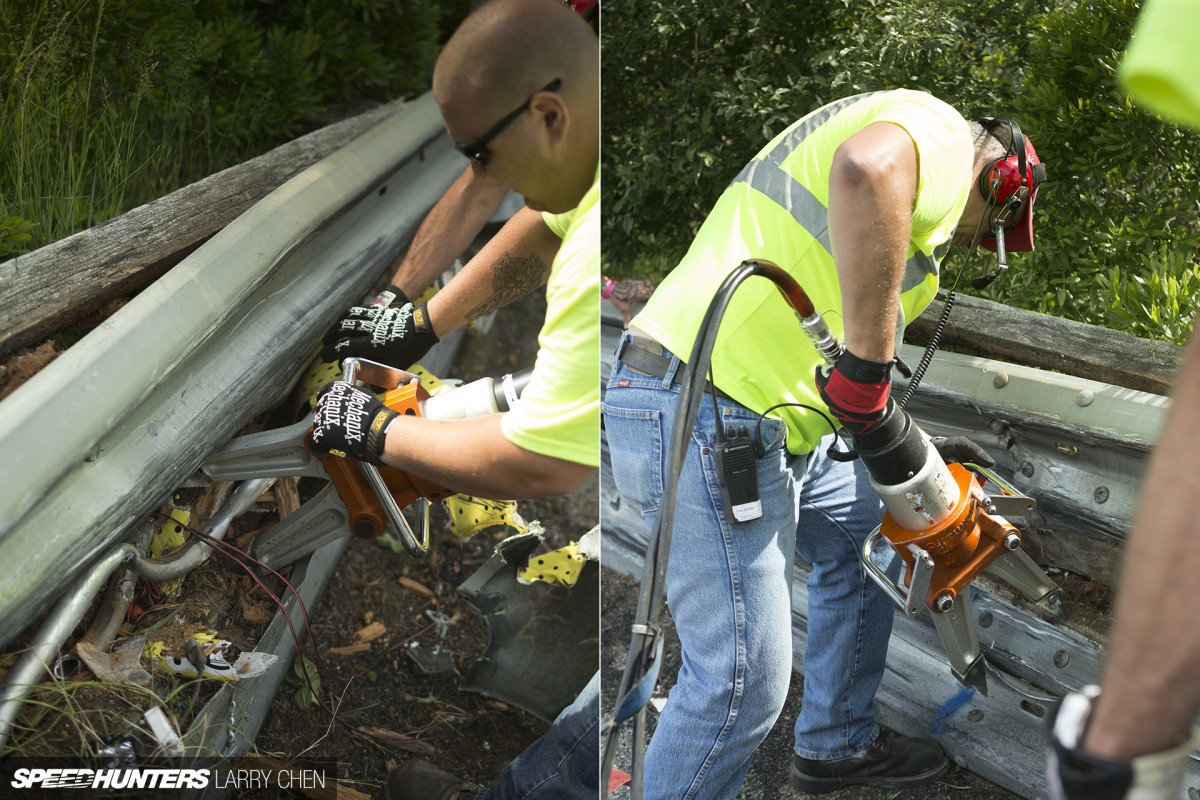 The impact was so hard that some of the Mazda's front body parts and bash bar embedded themselves inside the guard rail. The only way to get them out and then straighten the rail was to use the Jaws of Life.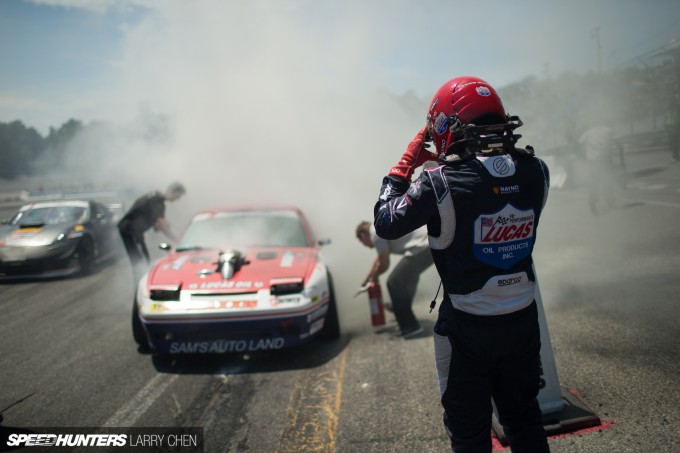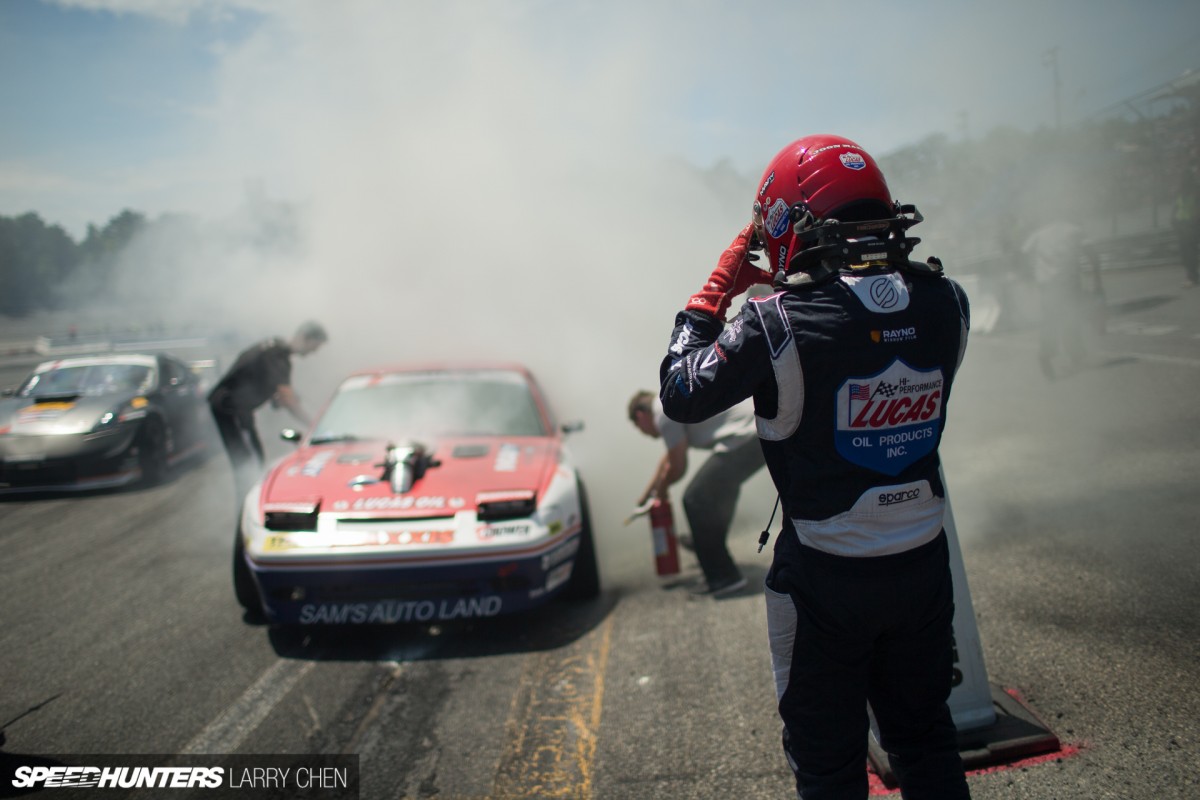 Incidents like the one Tyler suffered, or this minor engine fire that Joon Maeng had, are just part of the game. If it was easy everyone would do it, right?
New Jersey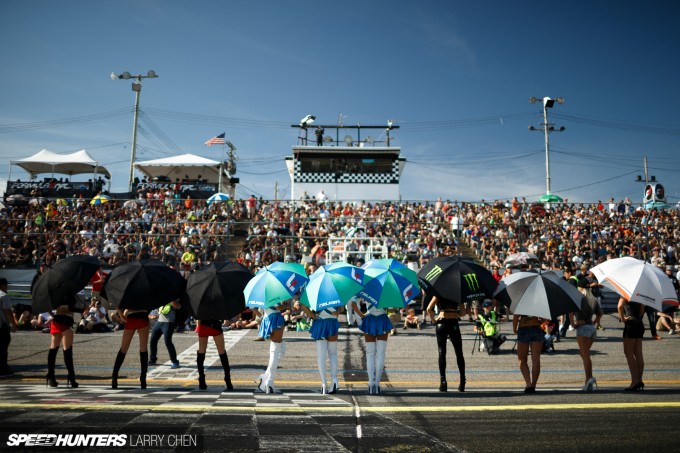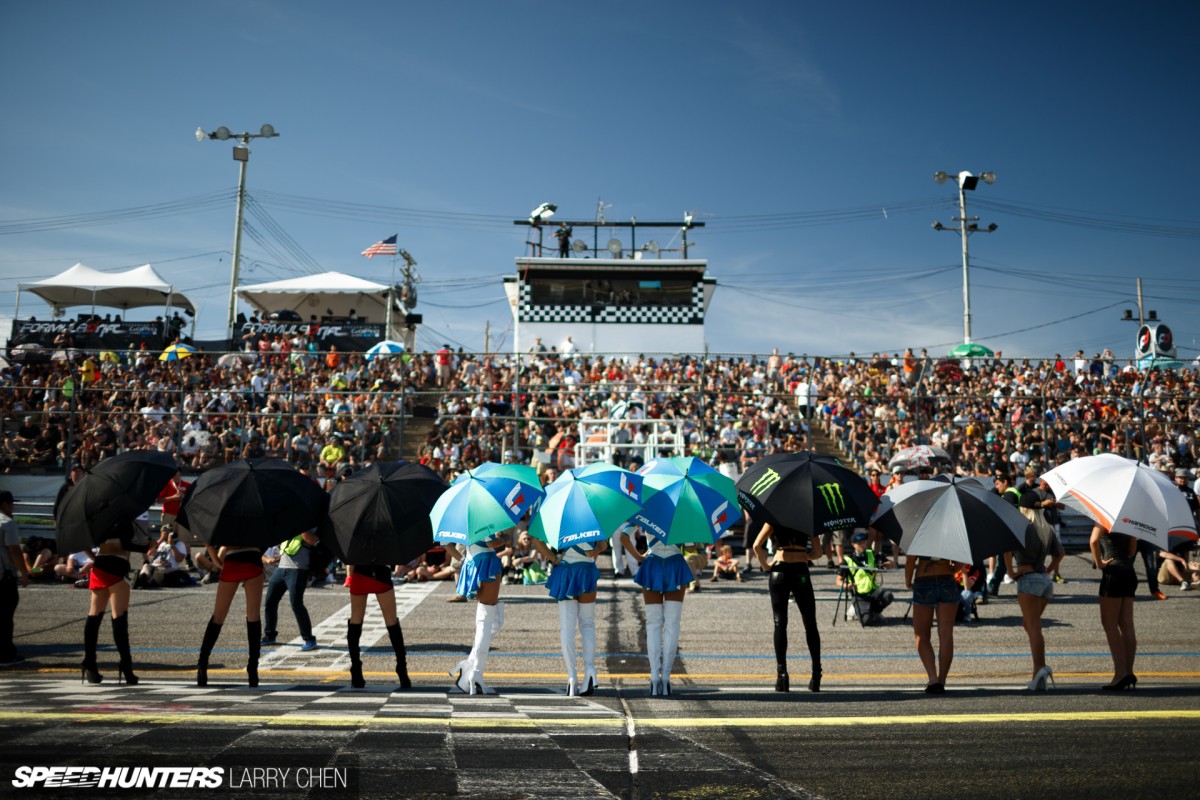 I've been covering the New Jersey round of the FD Championship since 2009 and I have never seen it as packed as it was last weekend.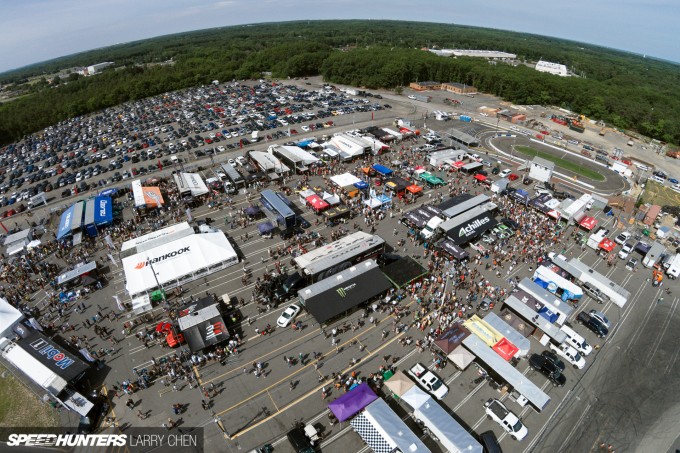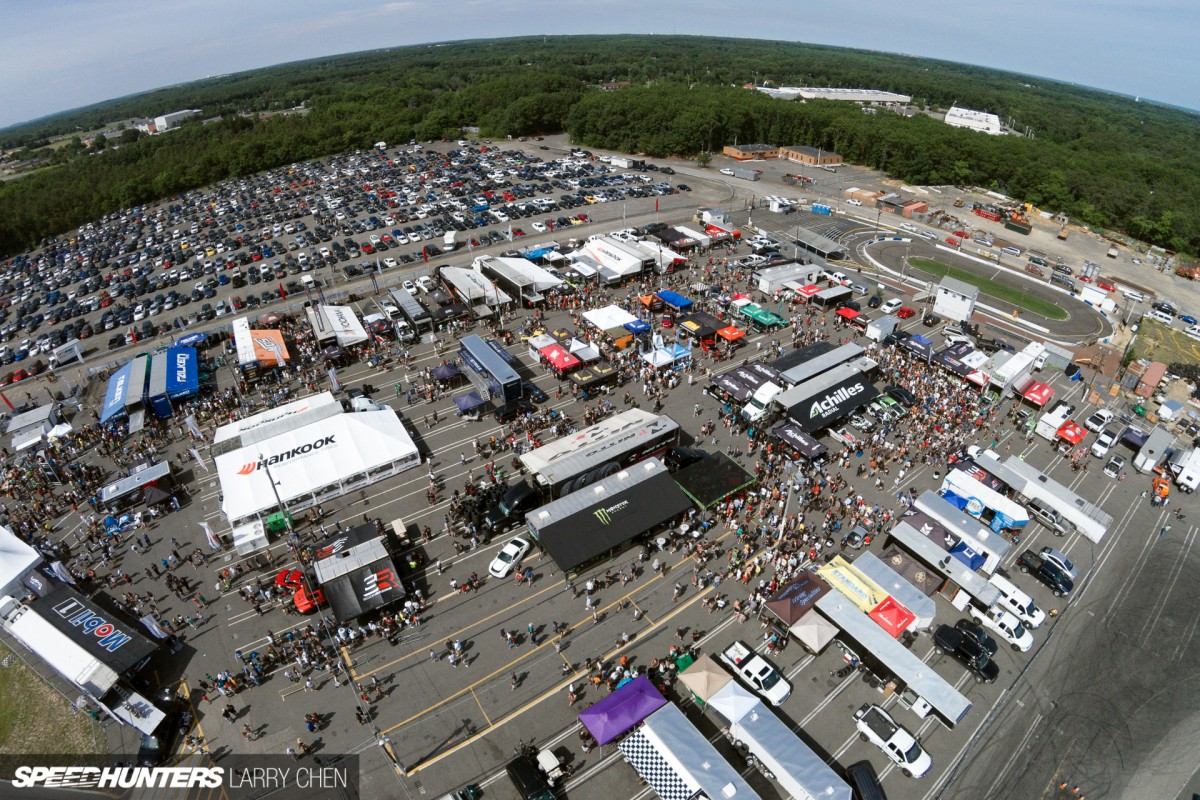 So big in fact that Formula Drift had to rent out a separate parking lot to shuttle fans back and forth because the main lot was filled to capacity.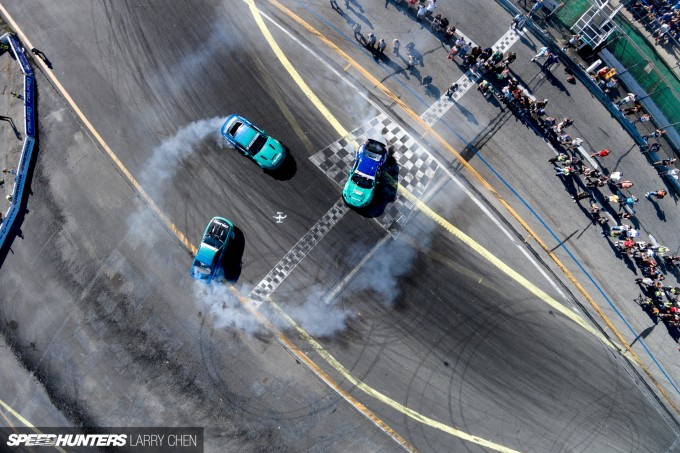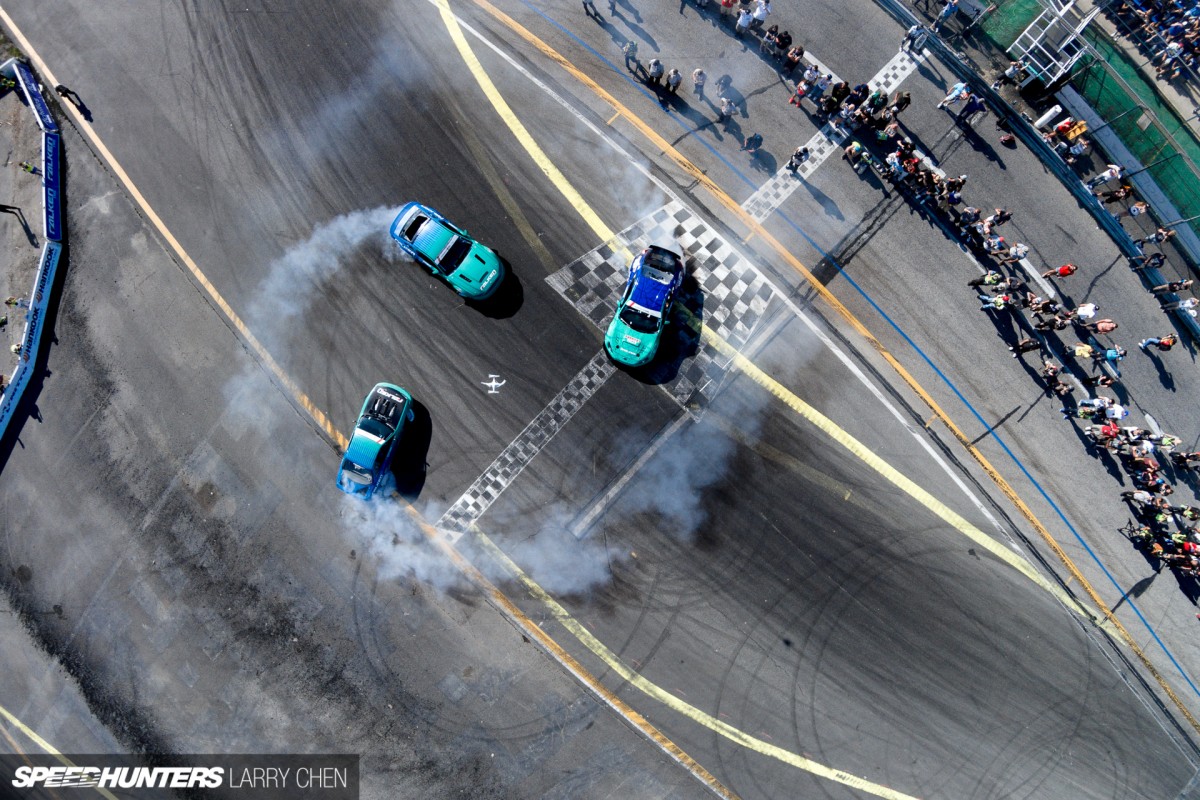 Fredric posed a great question when he recently asked you Speedhunters out there if you thought drifting was considered racing. In my opinion it is racing – but the main difference between traditional racing and drifting is the show.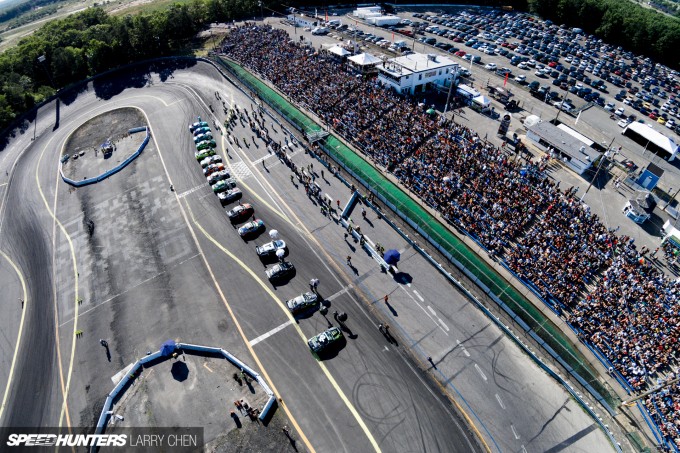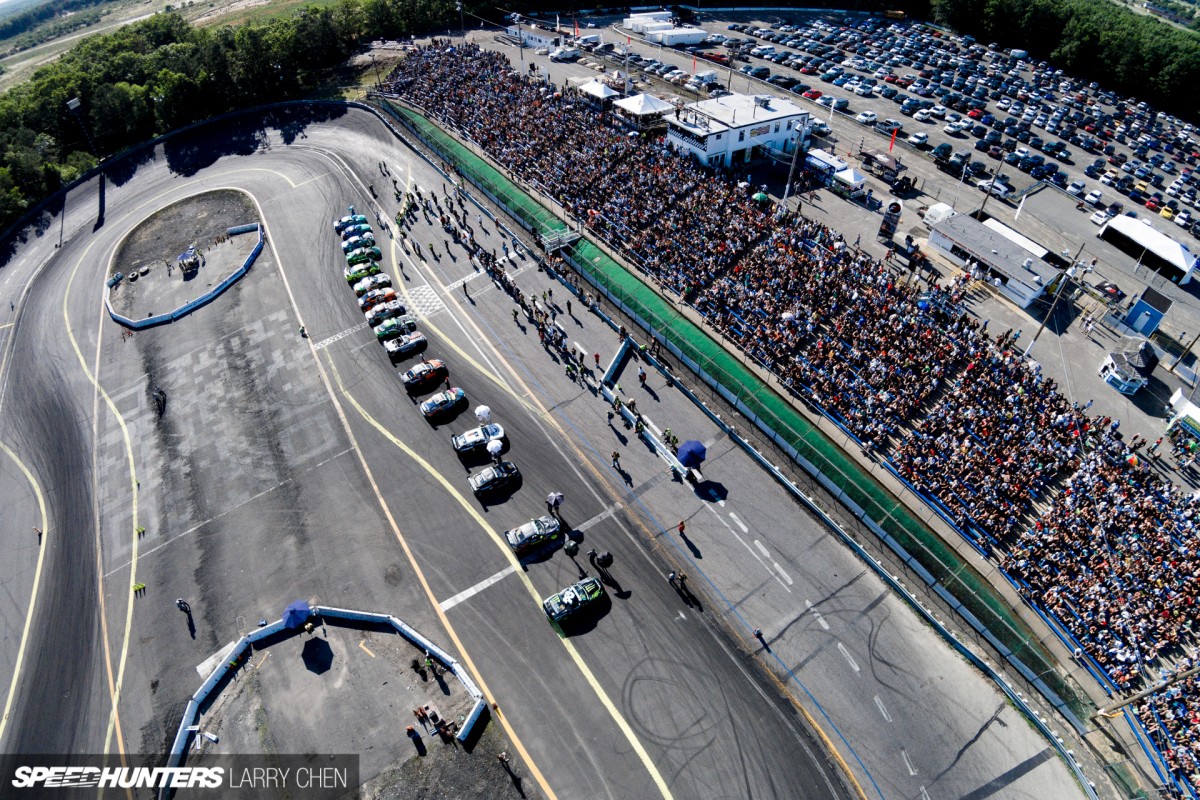 It's all about the fans and the interactions that they get with the drivers. It's about the whole experience, which is why so many FD faithful will make a weekend out of it.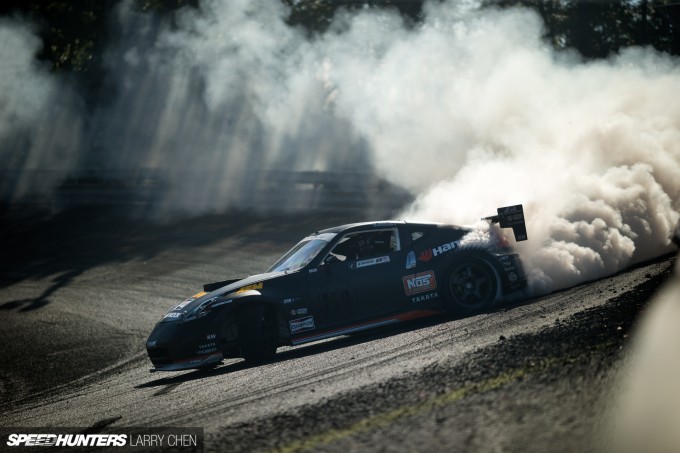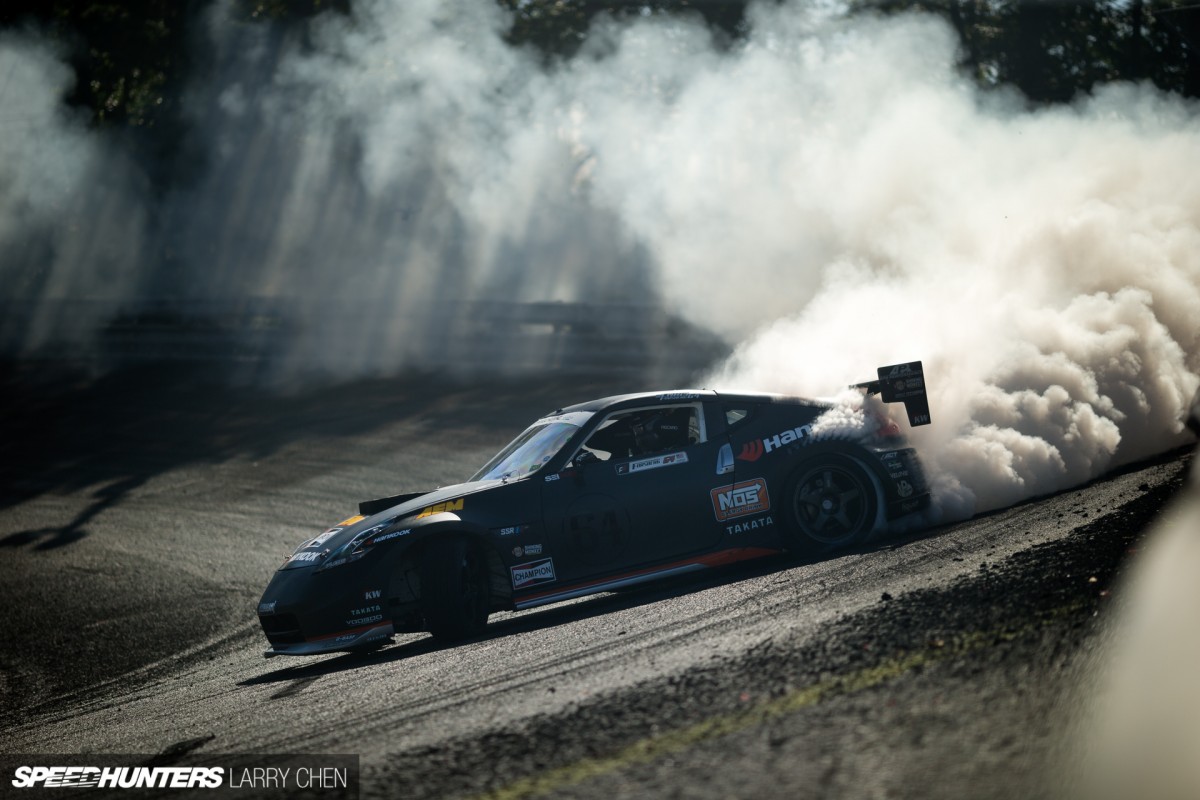 So was it a great event? Yes, of course it was! When was the last time you saw a turbo four-cylinder on top of the podium? Although, I have a feeling that this year's championship race will be a close one.
Who knows, maybe the final at Irwindale Speedway in October will dethrone my favorite event of all time – the Irwindale final back in 2011, when a five-way battle for the championship went down to the absolute wire. What do you guys think?
Larry Chen
Instagram: larry_chen_foto
larry@speedhunters.com
Cutting Room Floor