Big Dreams, Big Ask
Now more than ever it's impossibly hard for rookie drivers to be competitive in Formula Drift. Every single one of them gunning for FD's 'Rookie of the Year' title had a tough time in New Jersey over the weekend, and for the first time this year not a single rookie qualified for the Top 32.
Seeing as this was the fourth of seven rounds of competition, I figured the rookies who took at shot at the banks of Wall Speedway are in it for the long run. So I caught up with each one to see how their seasons are progressing…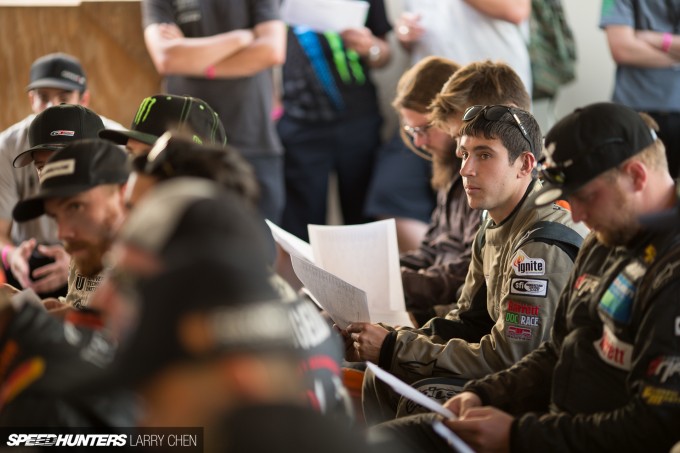 Alec Hohnadell
Larry: At 18 you're the youngest competitor in FD. What's that like?
Alec: I try not to think about it – I try to think that I'm just like anybody else out there. A lot of people think young kids don't have as much talent, or skill, or experience. But I like it because a lot of people are young in this sport and a lot of people are kind of afraid to step up and go into competitions because of that fact. I just like to show them that it can be done.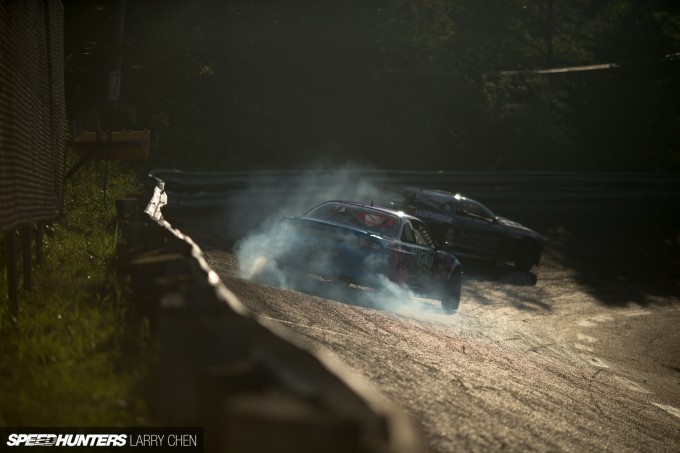 Larry: How long have you been driving for?
Alec: About two years. I started with a stock KA engine, then went turbo and then LS, and have gone from there.
So you just graduated high school?
Alec: Yeah, I just graduated this year. I've been racing since I was four, but I couldn't take off school that long so since the 10th grade I've been home-schooled.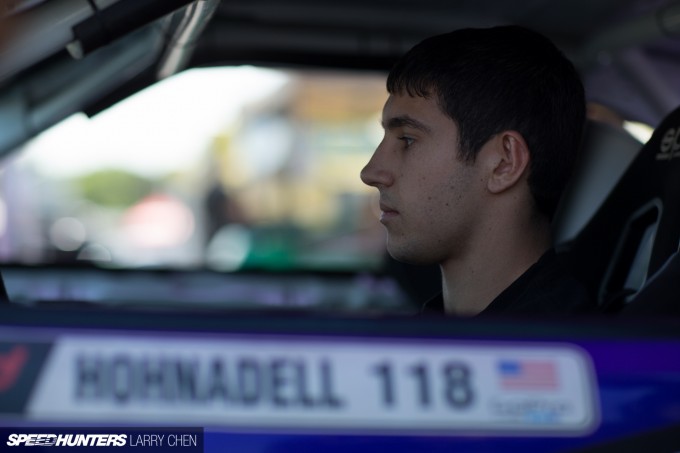 Larry: What were you racing previously?
Alec: I started in motocross and did that for about 10 years. I did jet skiing for three years and I won a few world championships, then got into jet ski racing.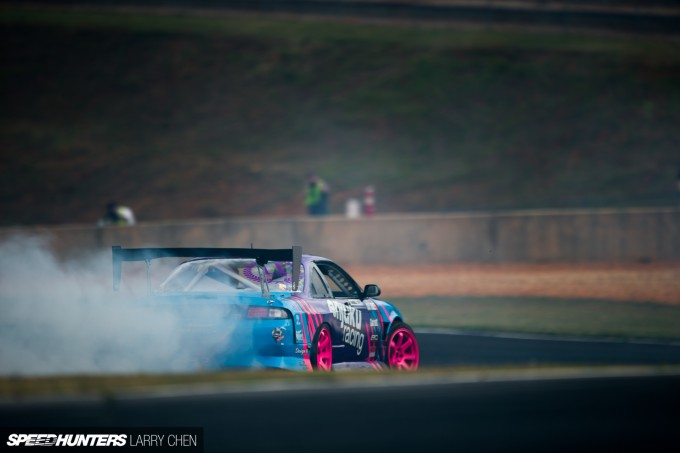 Larry: How is the Rookie of the Year race looking for you?
Alec: I've have some hard competitions against Geoff Stoneback. He's definitely our main competitor, but there are also a few other rookies that have a lot of talent. Everyone's a fierce competitor out there so it's going to be tough getting it.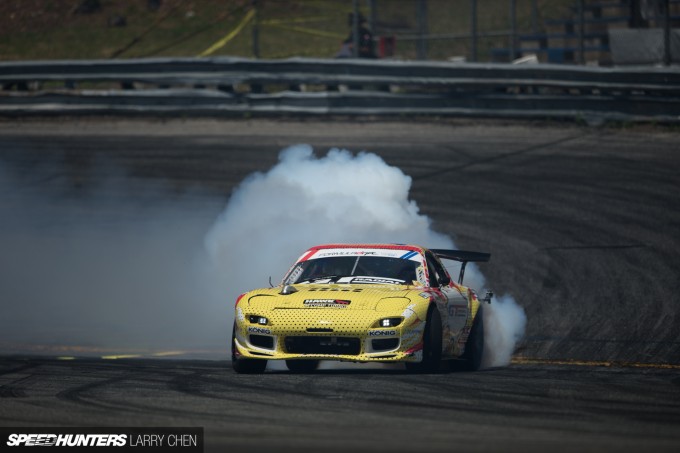 Tyler Wolfson
Larry: This is going to be your fourth event at Formula D as a rookie. How is it stacking up so far for you?
Tyler: It's been a learning experience…
Larry: Do tell.
Tyler: We've changed too much on our car. I mean, we came into this thinking we were going to have a very similar car as last season and we're only just now getting to the point where it's starting to feel like what I've driven before. It's been…
Larry: …tough for you then.
Tyler: Yeah! I mean, it's not how we wanted to do things, but that's sort of how racing works, right?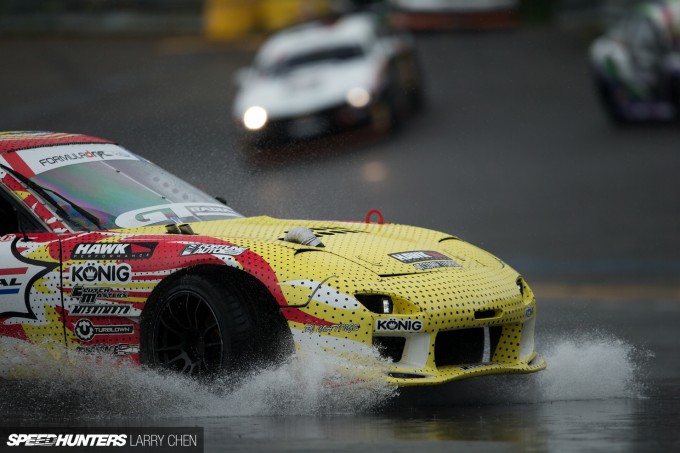 Larry: What are you going to do for the rest of the season?
Tyler: Continue removing parts that were put on the car. We're going back as much as we possibly can to where the car was last season. All the stuff that were supposed to be better, sucked.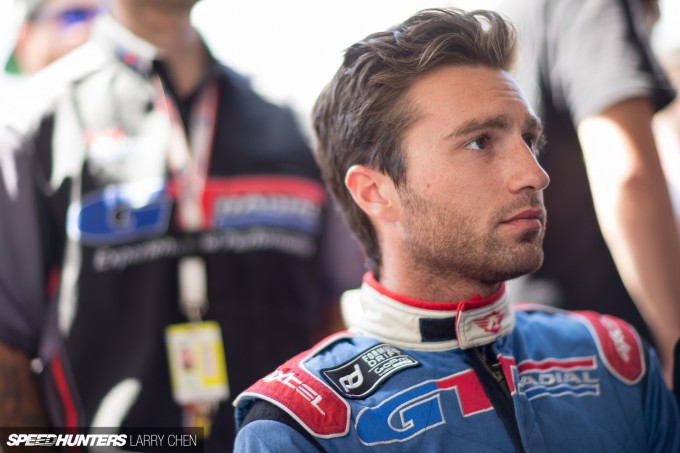 Larry: I remember you telling me before that you probably have the lowest horsepower car out in the entire field. Do you think that's still true?
Tyler: It's Dan Brock and I. Dan beats me for that one when he shows up because he had a bad motor in his car for Miami. It's pretty close between the two of us, but I don't think anyone else is this low.
Larry: What numbers are we looking at?
Tyler: Five hundred horsepower.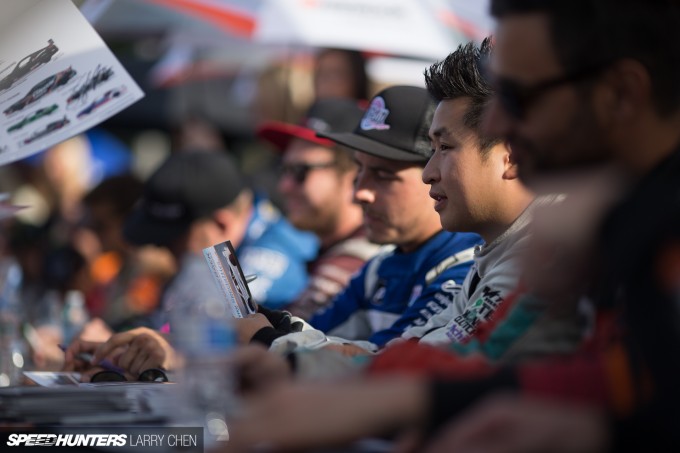 Geoff Stoneback
Larry: You are seriously killing it.
Geoff: I don't know, I'm just trying to take it one event at a time, you know? Just like focusing and make ourselves better at each round. So far it's going good and we'll just keep doing what we're doing.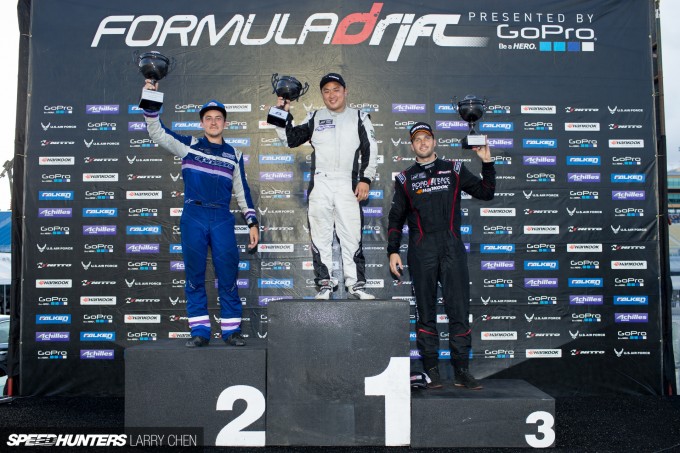 Larry: Did you think that you would be able to pull a Top 8 finish like you did in Miami?
Geoff: No. Honestly, I would just think qualifying for half the rounds would be awesome for me. So far – and I don't want to jinx myself – we've qualified every round and got better each time, so making it to the Great 8, that was like, wow! That was a great accomplishment.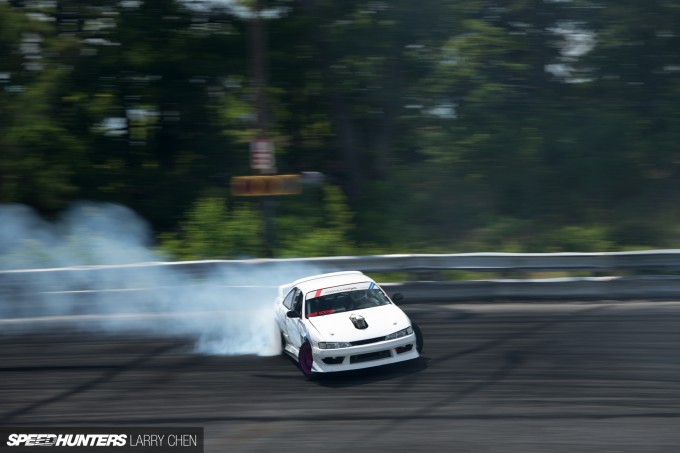 Larry: So you're receiving compliments from past championships like Vaughn Gittin Jr. who you ran against. How does it feel to be regarded in the same playing field as these Formula Drift veterans?
Geoff: Honestly, it's amazing. I watched these dudes in videos and I was like, 'I wish I could do that one day', so to be on the same course at the same time with these guys is amazing. If anyone had asked me couple of years ago if I'd make it to Formula Drift, I'd be like, 'no'. So to now get guidance from guys like Vaughn Gittin Jr. and Chris Forsberg is amazing. Those dudes help me out so much. I think that's a big part of why I'm doing so well – besides my team obviously.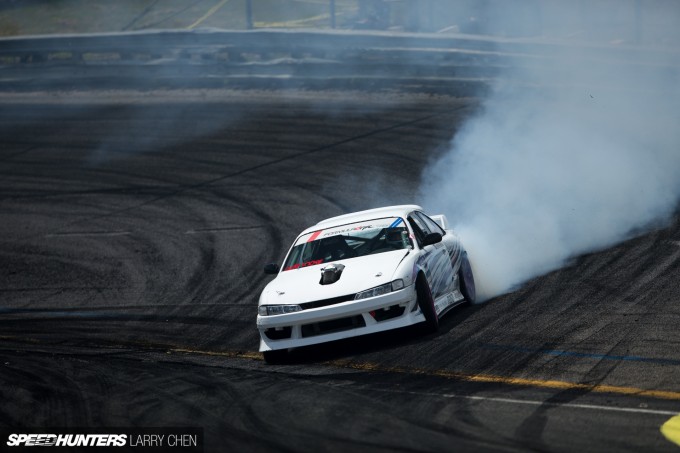 Larry: How many years have you been drifting?
Geoff: I would say eight years, but I've been going to Club Loose for about five of those. I wouldn't count those first couple of years though, because I would do one turn and understeer and be like, 'Oh yeah I'm drifting!'. Totally wasn't.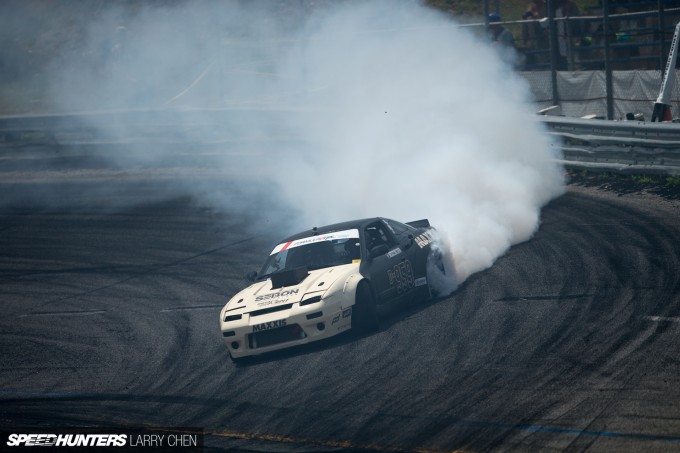 Matt Coffman
Larry: How is your rookie year in Formula Drift going so far?
Matt: The majority of it I expected, but there's a lot of things about it from the outside view that are deceiving. I experience things you may experience. But then again, I find myself to be different. I noticed at Long Beach that as soon as they announced the autograph session all of the drivers' spirits were intense and all they wanted was attention. What I thought was a whole series filled with pure passion was actually a series filled with a little bit of passion, but for a lot of people, almost just status, I suppose. I was deceived in some ways, but in other ways I'm getting more and more comfortable as I go.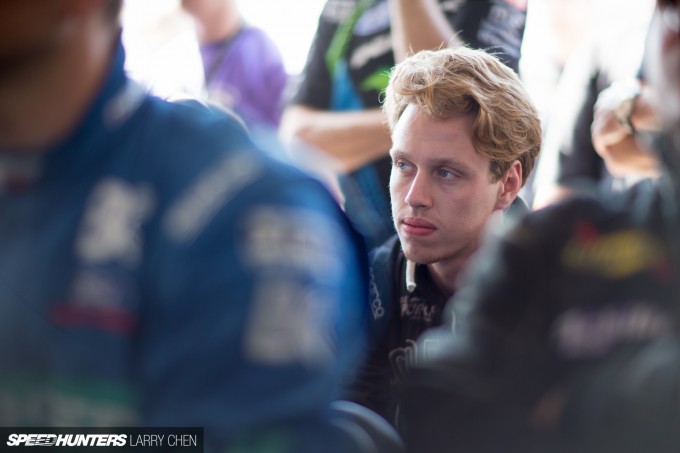 Matt: In the beginning I was really intimidated, but we came into it kind of unorganized. Way more unorganized than I would like to be. But at this moment I feel 10 times more comfortable. I mean, the team's working really well. And yeah, I'm happy.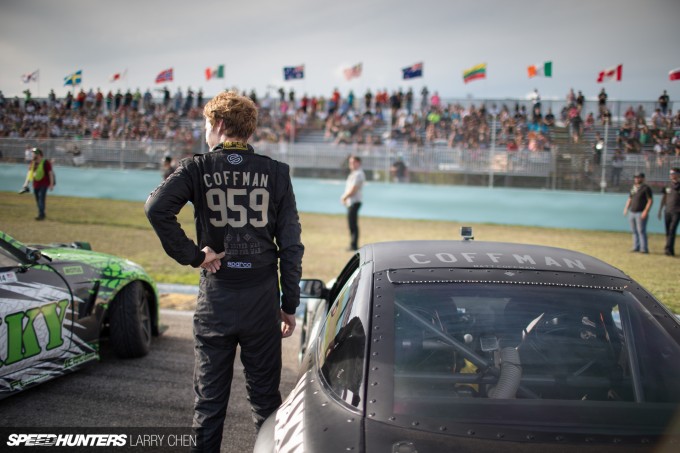 Larry: Are you going to push super-hard and maybe try to get a shot at the Rookie of the Year title?
Matt: I would love to achieve Rookie of the Year. I mean, there are other rookies that have obviously made more of a name for themselves than I have at the moment. They came in really organized. So of course I would love to shoot for that, but right now I'm just trying to hold on to my license for next year.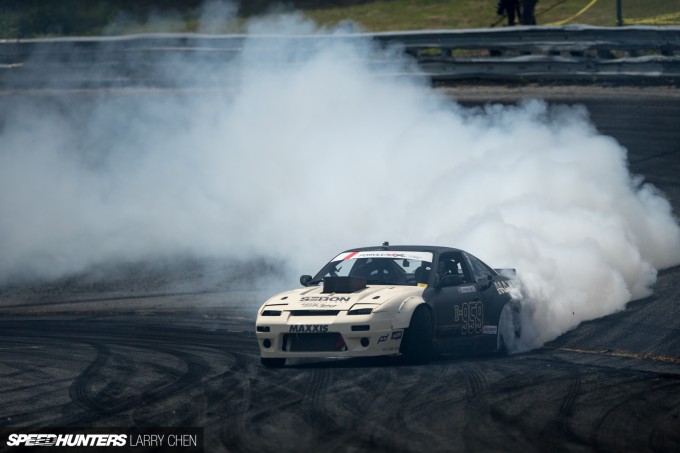 Matt: I'm just doing everything I can to learn as much as possible. I'm just taking it in – not trying to get any sort of an ego going. Just trying to remain as humble as possible the entire time and just relax. I just really want to make the Top 32 by the end of the year; keep my license and just then make headway from there.
Hard Road To Travel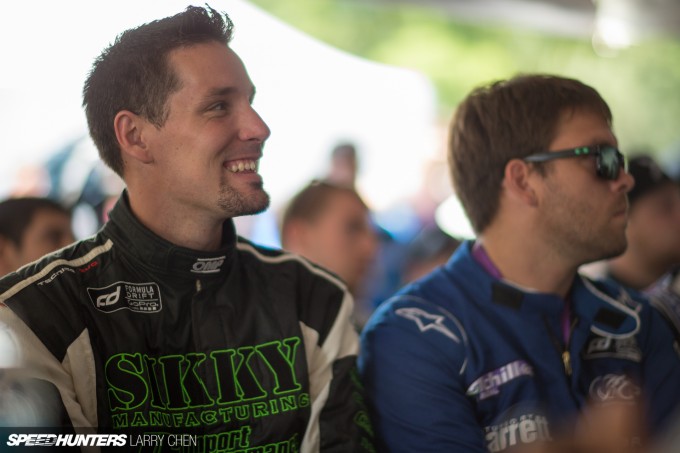 'Rapper' Dan Savage
Larry: Why do people call you Rapper?
Rapper: The reason why people call me Rapper is because it's a nickname that fit me for the music style that I like.
Larry: Well, that's pretty good because it's your rookie year and you got a nickname really quick.
Rapper: Yeah, I got a catch. People like that.
Larry: So when Jarod announces you, it's like people know who you are.
Rapper: Yeah, it's got a good ring to it. People that have known me for the four years that I did Pro-Am knew me by the name and it just kind of stuck. Kids called me 'Rocket Dan' last round in Miami. I don't understand that, I mean, I was carrying a little good speed so that was fun.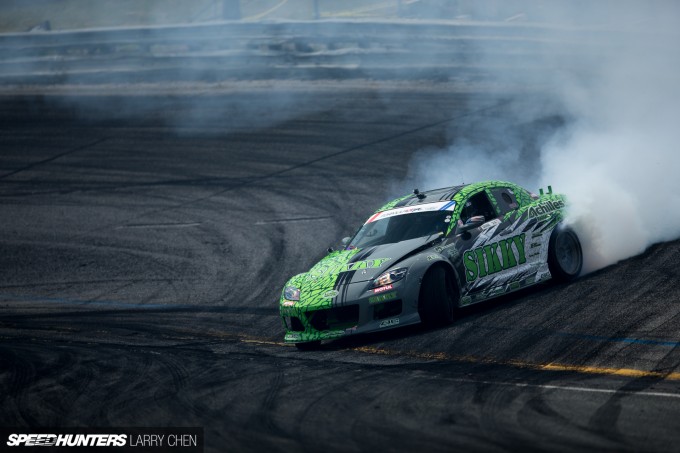 Larry: So are you going to come up with a rap maybe?
Rapper: For you I will. Just one line that I can just recite for you. Not today.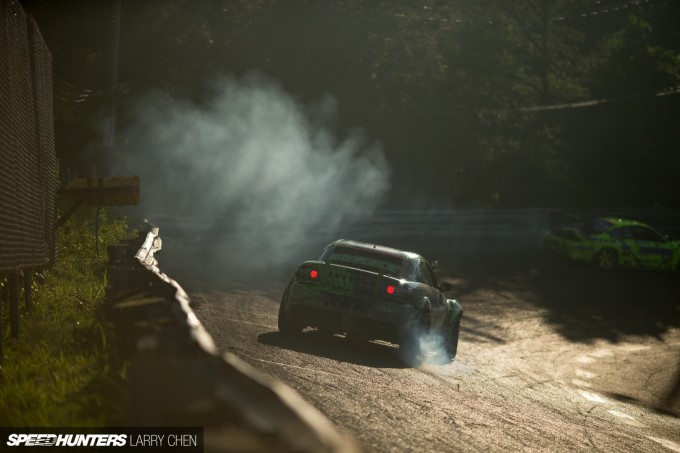 Larry: Oh, not today?
Rapper: Maybe next round.
Larry: Maybe if you get on the podium?
Rapper: Oh yeah, if I get up there I'll just say the dumbest sh*t. Totally.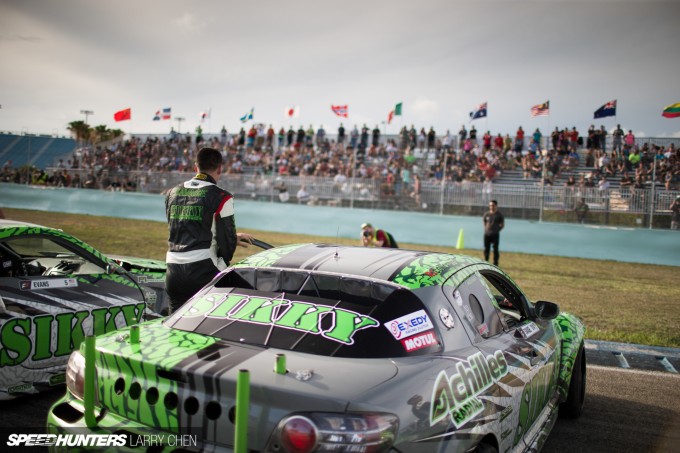 Larry: How is your rookie year going in FD?
Rapper: Every event we're growing and just learning the car and understanding what each little adjustment does. We really do have a rocket. It feels great everywhere we go and every time I drive it I feel better about it. Seat time is what makes a driver better and every time I get in it's just better.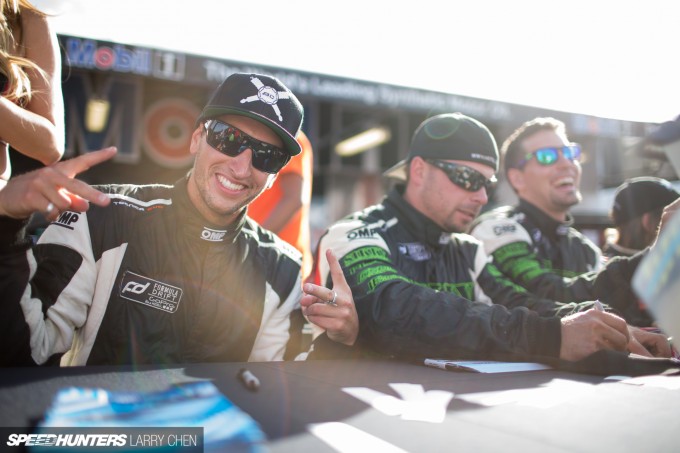 Brad Heyl
Larry: Last round was your first time doing tandem competition in Formula D. How did it go for you?
Brad: Yeah, my first round of Formula Drift was a real eye opening experience. I was just going in from Pro-Am to a professional level. There are just so many other things you have to take into account even to be able to keep up with the guys that have only been in it for a few years.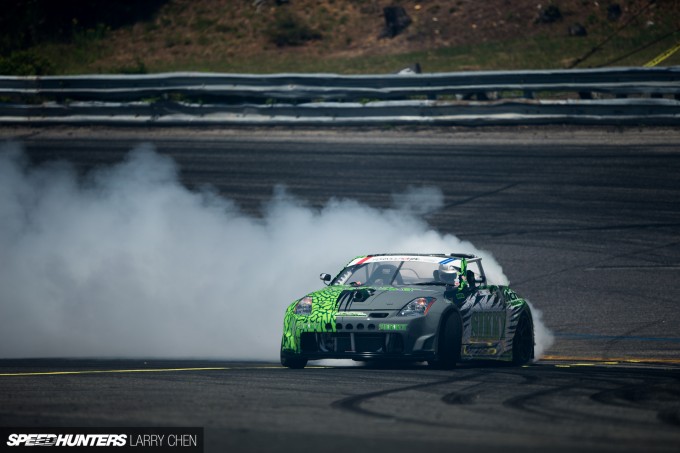 Brad: So the learning curve is just so big. But we handled it well. We knew the changes we had to make coming into this round in New Jersey and made them, so now we're just going harder every time we're at the track.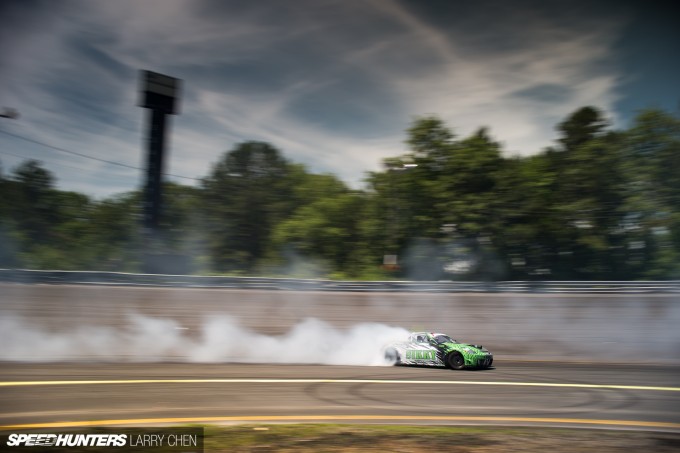 Larry: What is your goal? Unfortunately you came in a little late this year compared to some of the other rookies that are doing the whole season.
Brad: It was unfortunate we came in late. We just had a few things that set us back, but our goal coming to this season – even though we made it a couple of rounds late – was just to have our eyes and ears open the whole time we're here.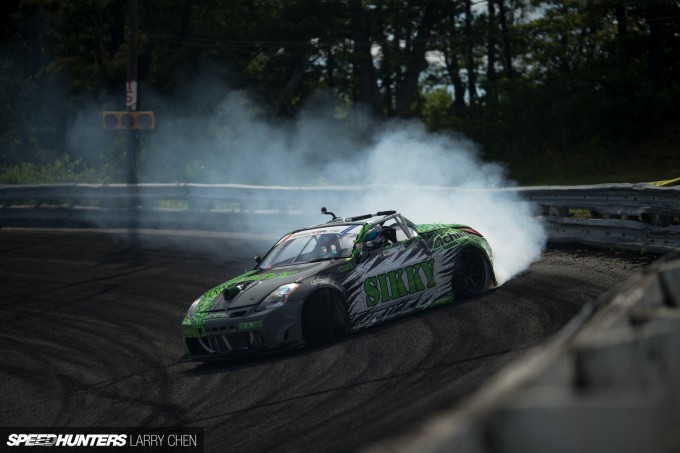 Brad: We're really trying to learn as much as we can. Not only about how they run the program here at Formula Drift, but also where we need to be at what times and how fast paced things are. Our goal is just to really understand the whole program and get the car to the level so that we feel like we can compete with everybody else here.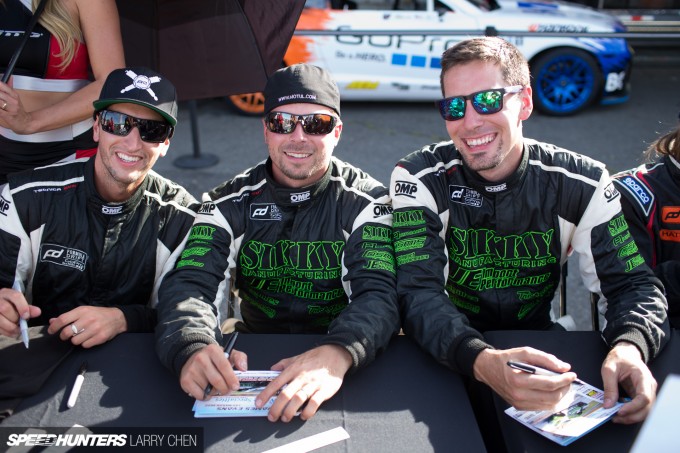 James Evans
Larry: So it's a little hard to tell you guys apart. Same livery especially from far away. What makes you unique from the two other Sikky drivers?
James: That's a very good question actually. I have no idea honestly. Haha, I mean, obviously our styles are a little bit different. I would say, when I'm feeling good behind the wheel throttle commitment is typically my style. But realistically we all try to shoot for that. And make as much smoke on our Achilles.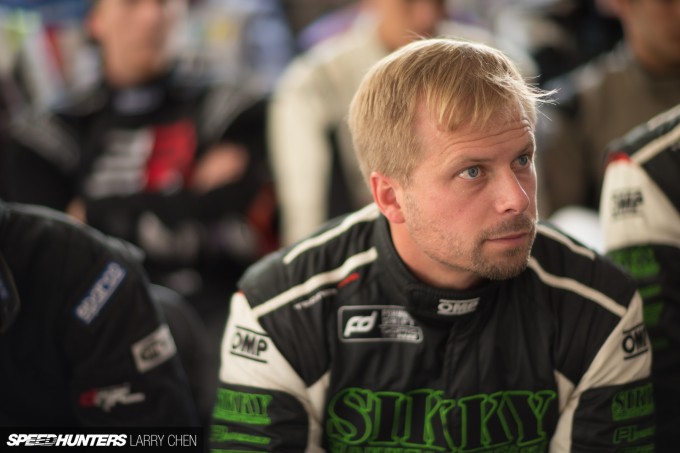 Larry: Did you guys start driving together? Is that why you guys are on a team?
James: Yeah, we'd been competing in the US Drift series. We used to run against each other a lot and being friends and driving together – and even just tandeming together all the time – we got comfortable with each others style and comfortable driving together. So when the idea came we were going to make our venture to Formula Drift we figured it would be best to team up to help spread the load on fuel and stuff and getting to and from the track. It just kind of seemed like a good way to share intel and setup info and just try to work with each other to get further up the ladder.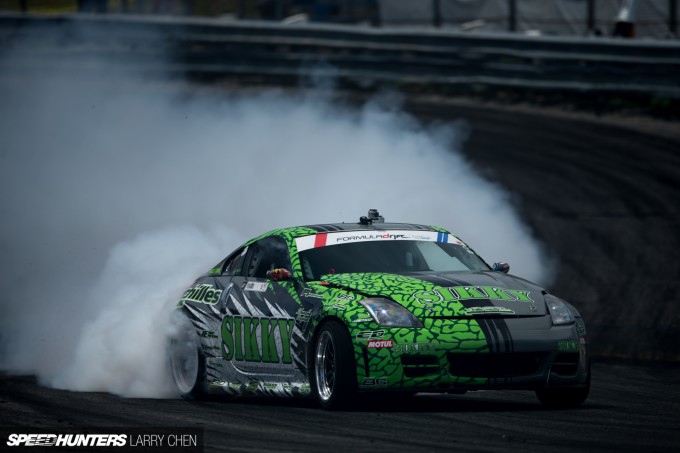 Larry: You guys are really rolling deep. I mean, I feel like it's a really big rookie effort to have a three-car team.
James: Yeah, it was the goal. There was no question we bit off a big chunk. Dan's car and my car were brand new builds for the season.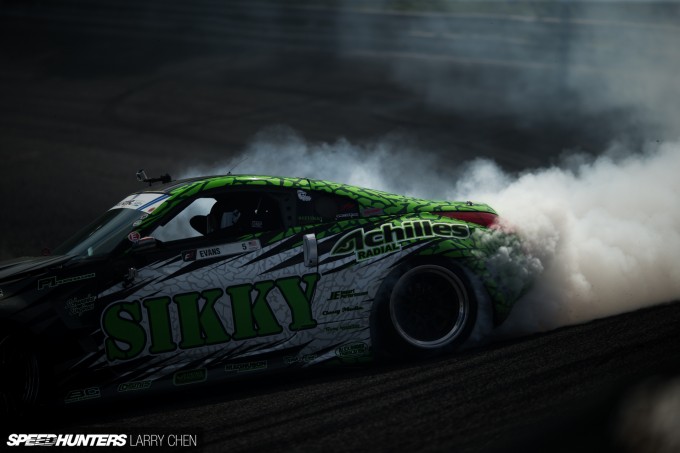 James: The reason we weren't in Long Beach is just because we weren't ready yet. The cars took a little longer to do, and we did a lot of improvements just to try and bring them up to more of a Formula D level. So the learning curve on this set up was probably the reason why we had a slow start. We didn't change enough stuff.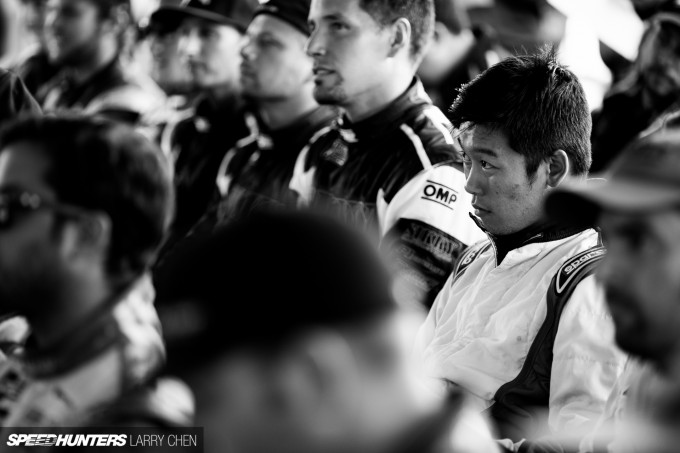 Jeff Wolfson
Larry: This is your third Formula Drift round since you missed Long Beach. What do you think so far? Was this everything you expected?
Jeff: A little bit. I work with Matt Field and it's more work than I expected. It's crazy. Yeah, but it's getting there.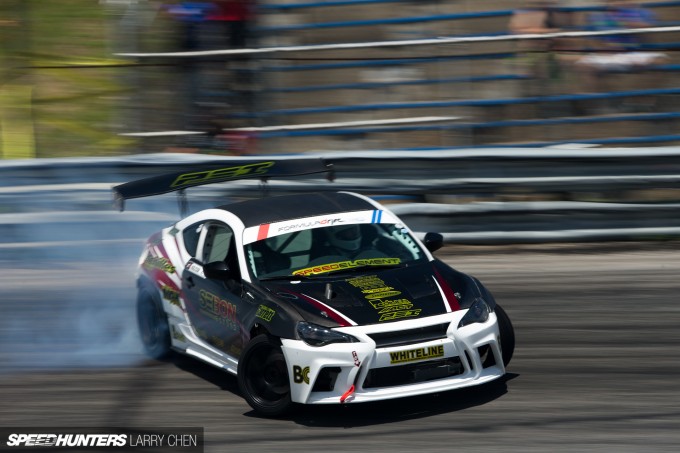 Larry: What do you mean by 'more work'?
Jeff: Basically coming from Pro-Am, you forget you pay for travel expenses, hotel, going through a lot more tires because you have more power. It's a little tough to make budget and make sure you don't overspend.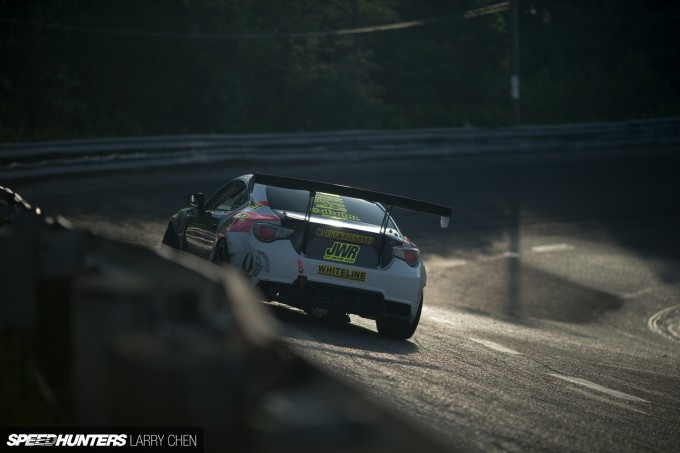 Larry: But you pretty much planned to compete for the year, right? 
Jeff: Yeah we did. We tried going for the Rookie of the Year Title but unfortunately we had some problems with the car. It's a brand new car and there's not much development for it yet.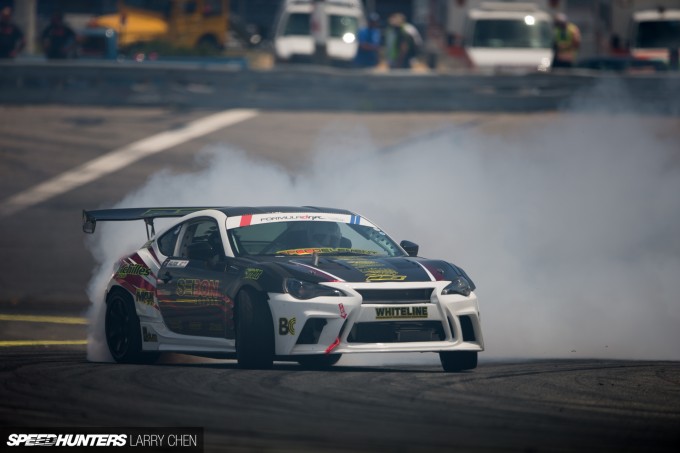 Jeff: We're still learning the car out and hopefully we get it. This event is our third time out and we're finally getting it. Every event we are progressing, so that's good.
Rising Through The Ranks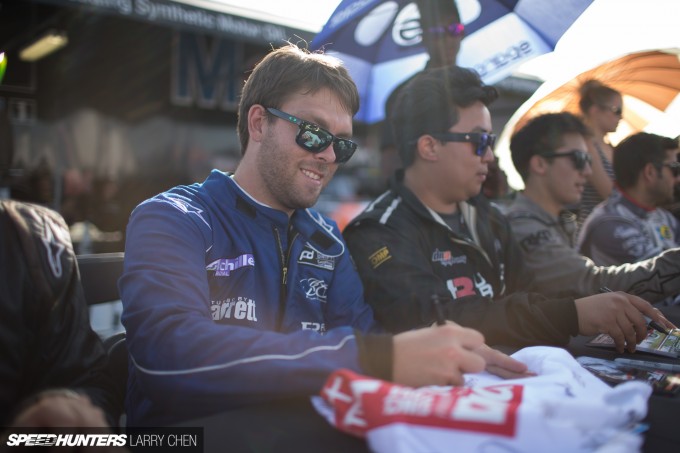 Eric Hill
Larry: How have things been going in your rookie year of Formula Drift?
Eric: The level of competition is extremely high, so I may have brought a knife to a gun fight. But we're still pushing as hard as we can with the setup we have and having a good time. But we definitely need to get in the vehicle a little more so we can compete.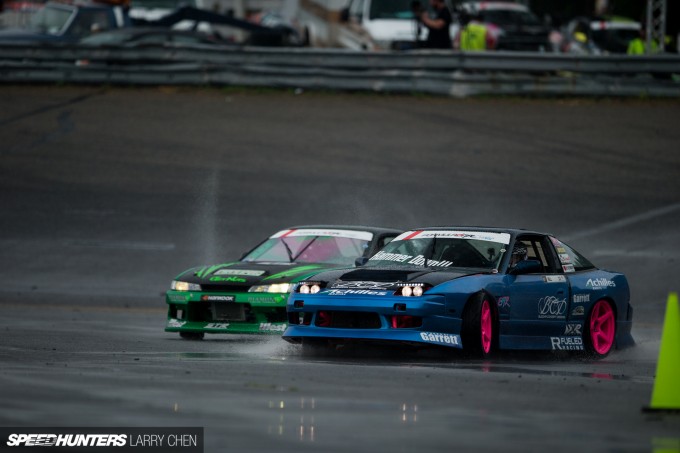 Larry: What are you going to try to do? Add more power, or what?
Eric: I think we need a little more angle to start with at least. Since everyone out here seems to have Wisefab [steering lock kits] and are pushing with angle.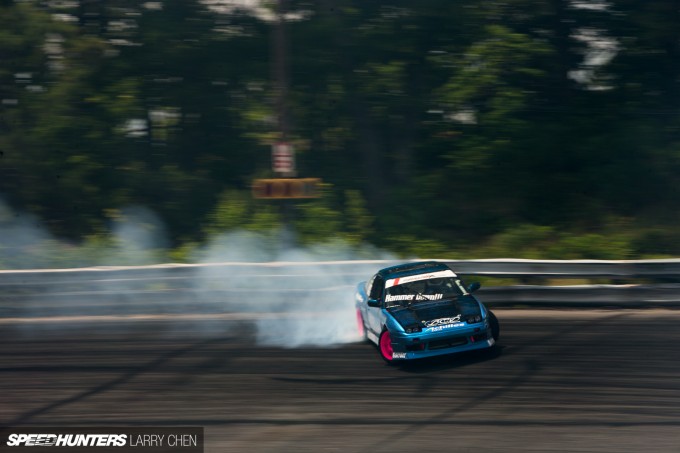 Eric: That's what the judges compare us to so we have to step it up when everyone else is stepping it up. So something with a ridiculous amount of angle and definitely a little more power. But too much power and we're going to run into reliability issues, as most of the other big teams seem to be now.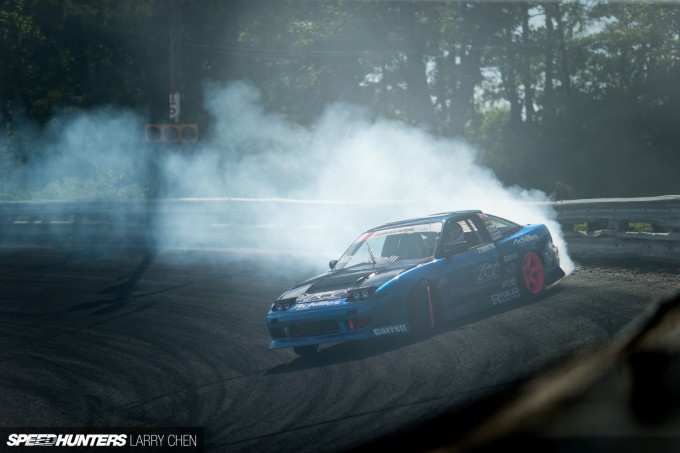 Eric: With the small budget we've got we're doing what we can right now and still pushing.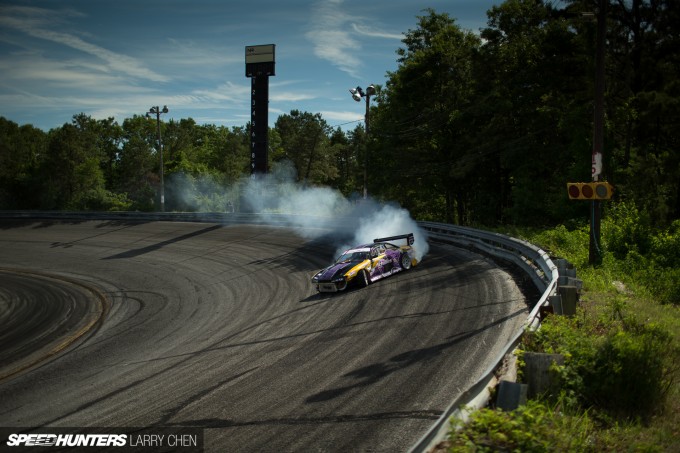 Juha Rintanen
Larry: This is your first time ever competing in FD. What is your first impression?
Juha: Things are a bit bigger here than in Europe and there are many well prepared teams. In Europe there are also big-name teams but nothing compared to the US. The level is pretty high here.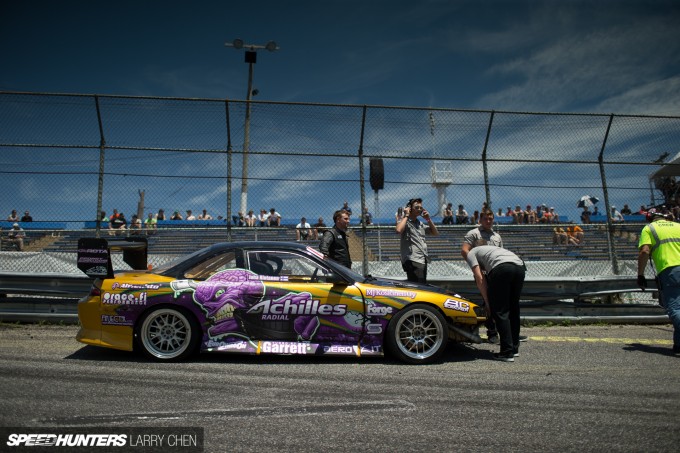 Juha: It's too bad I didn't have any practice runs. For my first run I actually didn't make it to the line because of an incident during practice. My second lap driving the course happened to be my one and only qualifying lap. It wasn't enough. I think it'll be okay when I get some more practice in the car.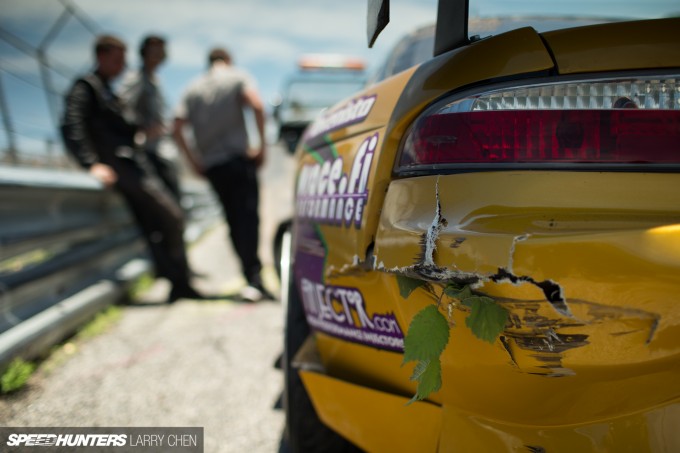 Larry: So are you going to drive another round this year?
Juha: Yeah, we'll try to do all the remaining rounds.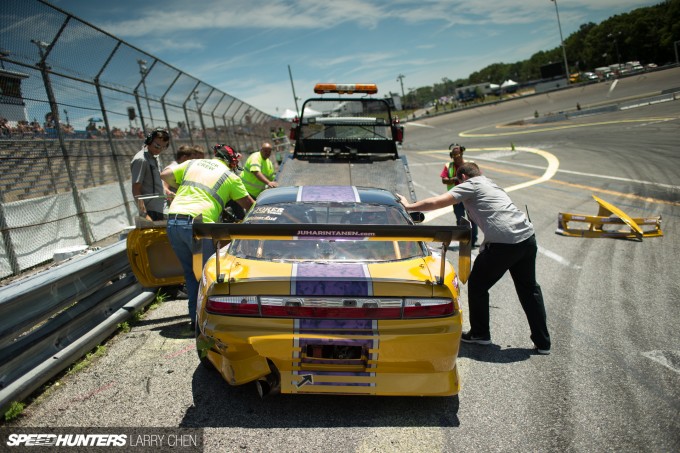 Larry: Do you think now that your car passed tech you'll be able to get more practice?
Juha: Yeah sure, of course. We missed the paid practice on Thursday just because of the tech issues. I will be okay when I get more seat time; more training with the car. We'll be okay. I compared some of the speeds with the other competitors to when I hit the wall and I don't think we're too far behind.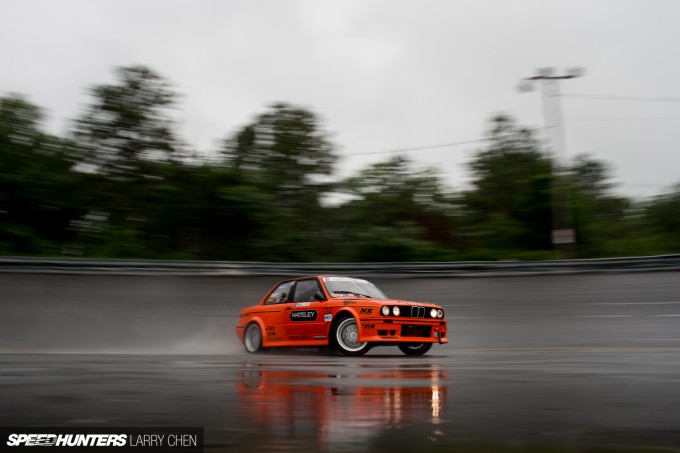 Andy Hateley
Larry: Technically you're not a rookie, but you have not driven in Formula Drift for nine years. I figured it would be appropriate to include you in my rookie article.
Andy: Umm…hmm
Larry: I've known you for almost 10 years and I've been to World Drift Series in China with you as well. I've probably seen you in your underwear too.
Andy: Really? Well I run around in my underwear a lot, so I'm not surprised honestly. I've been caught in my trailer running around screaming, 'I got no pants on! I got no pants on!'.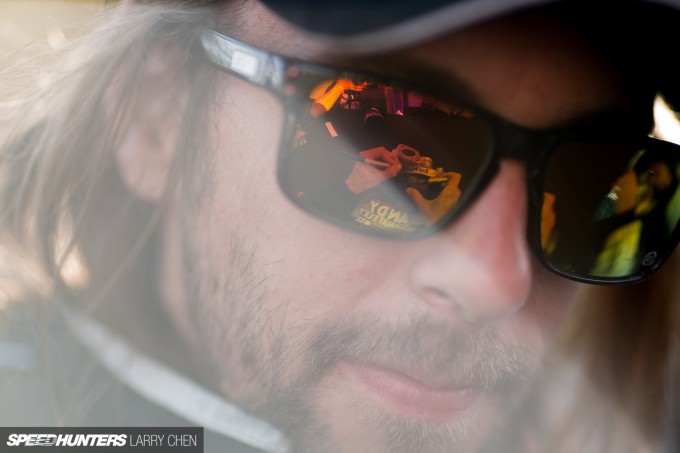 Larry: This round was tough on you, yeah?
Andy: Yeah, the clutch went out on us and it happened a little too close to qualifying. We got to the point where we really needed an engine crane and we didn't have access to one, so that was the end of it.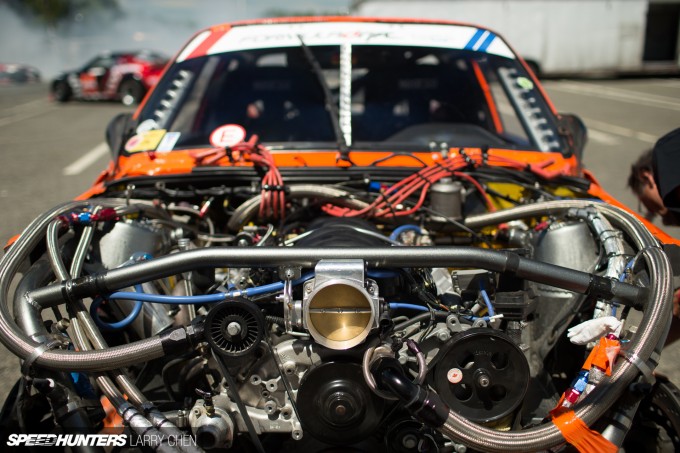 Andy: It was better not to dig ourselves deeper into the hole. Once we got the motor out we would have had a lot of stuff to do to get it back in, so it was just a decision I had to make.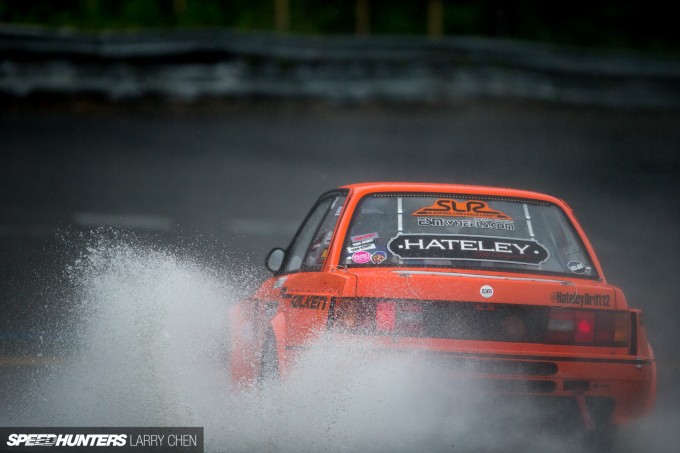 Larry: Are you going to do anything different or are you just gonna keep on pushing like always?
Andy: Keep on pushing and get the car dialed in more. We've still got a lot of work to get it where it needs to be. It's getting better and better every event; we're making the right adjustments so we'll keep moving in the right direction with it. Hopefully we can get it to podium some day…
Larry Chen
Instagram: larry_chen_foto
larry@speedhunters.com