Big Motor, Big Fun
It's back to idlers at Tsukuba with a quick Spotlight-O-Rama of the cars that I couldn't pass up on showing you in a little more detail.
To further emphasise the eclectic mix of machinery that always makes up this amateur racing series, I've kept away from the expected and really mixed up my selection this time. So let's start off with a bit of muscle, or more precisely, a 1972 Camaro.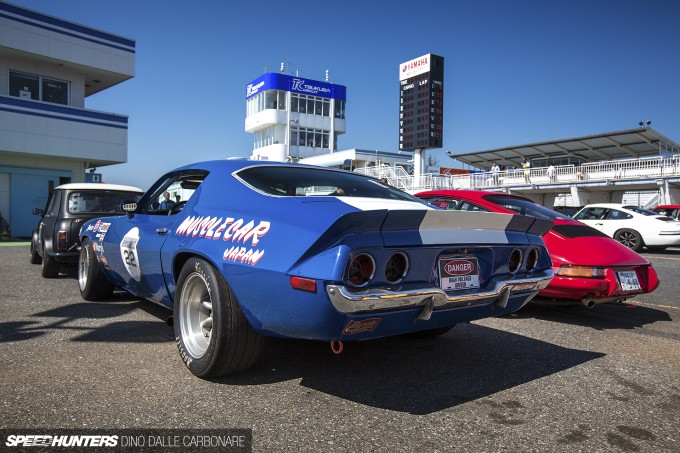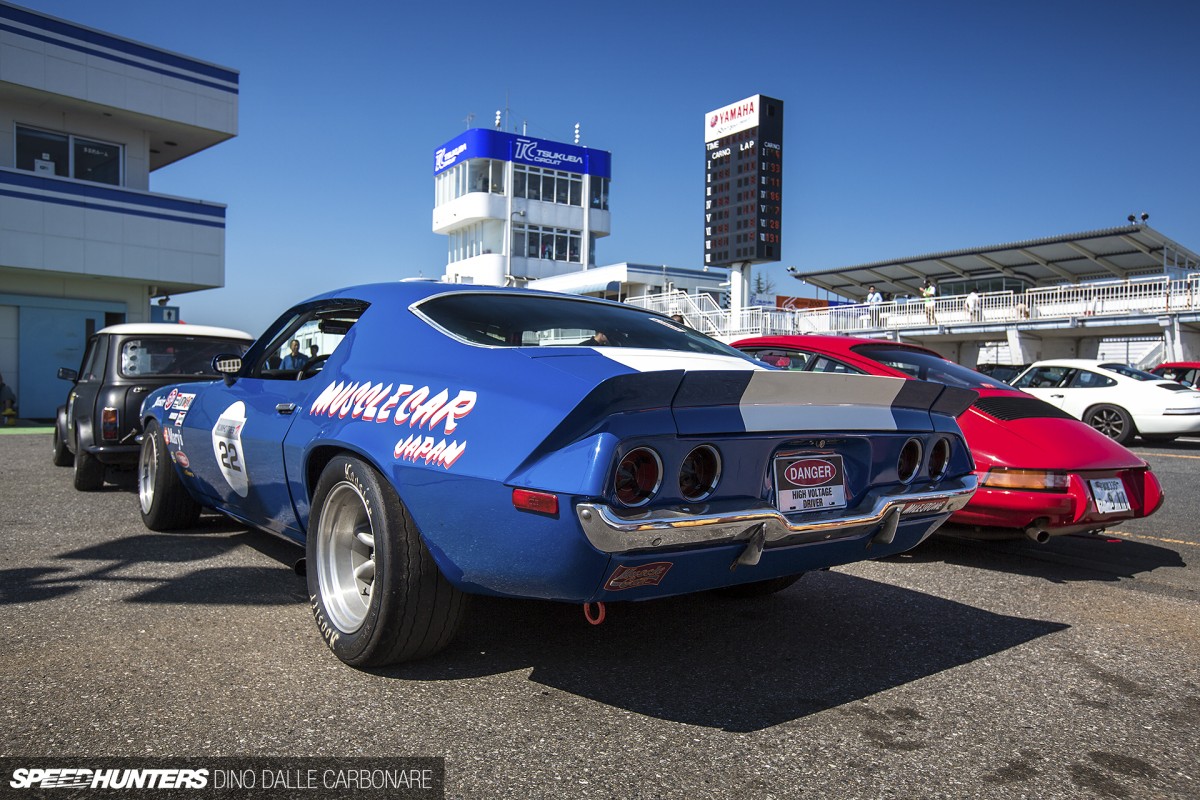 Now if I had been at a Mooneyes event I wouldn't have bat an eyelid, because although rare in Japan, you do see the second-generation Camaros in custom car circles. However, to find one stripped out and specifically built for some serious track work, well, that certainly warranted my attention.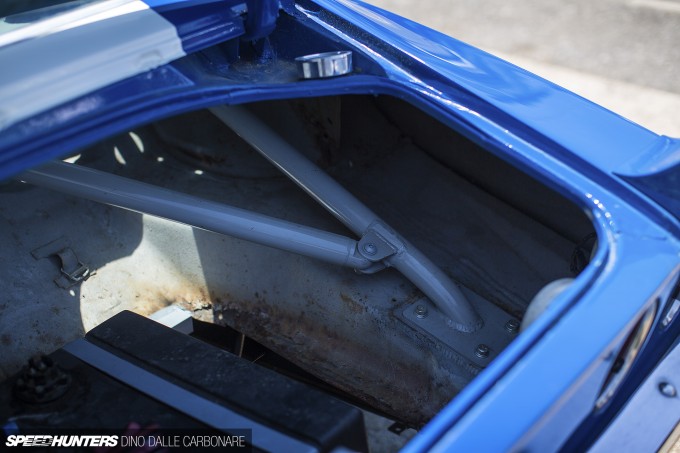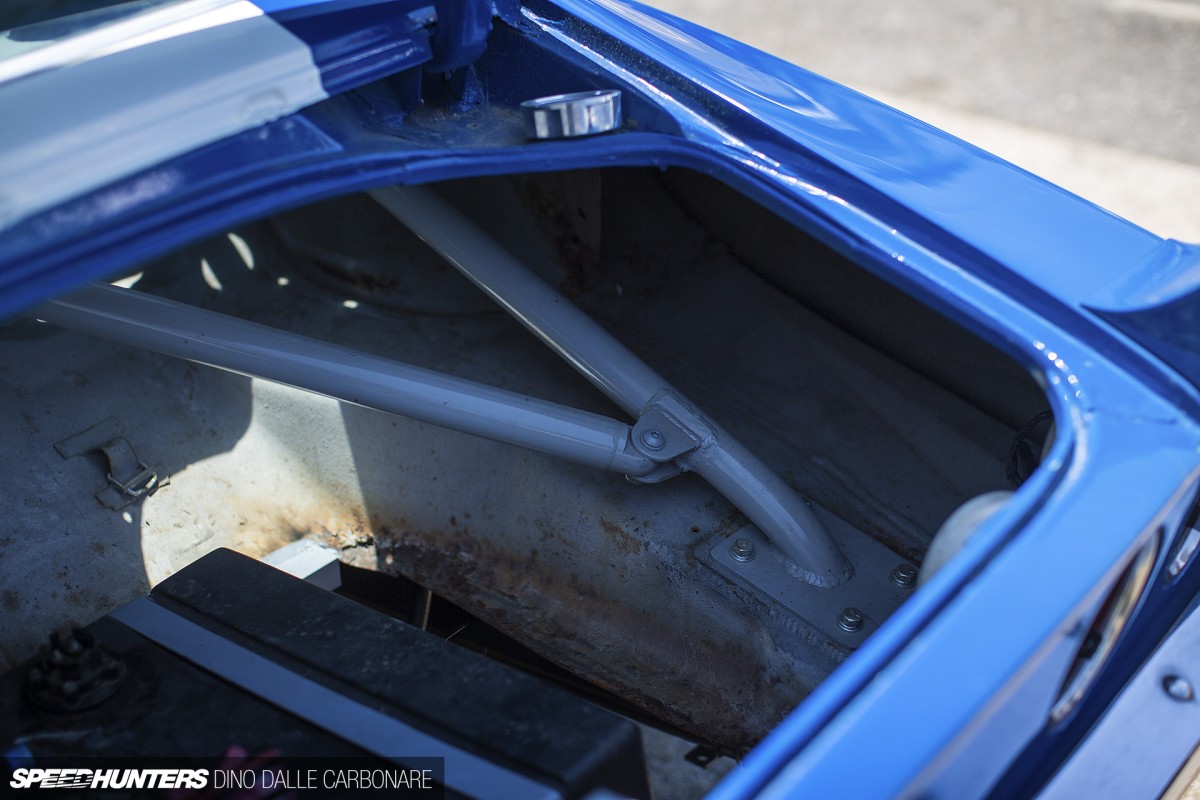 And when I say stripped out I'm not joking. The Chevy appeared to have had everything deemed non-essential removed and a pretty extensive bolt-in roll cage that extended all the way to the rear corners of the chassis in the trunk fitted. The latter is definitely a good thing to be doing to an older car like this, because safety aside, it boosts rigidity and would help the car feel more planted and reactive through the corners.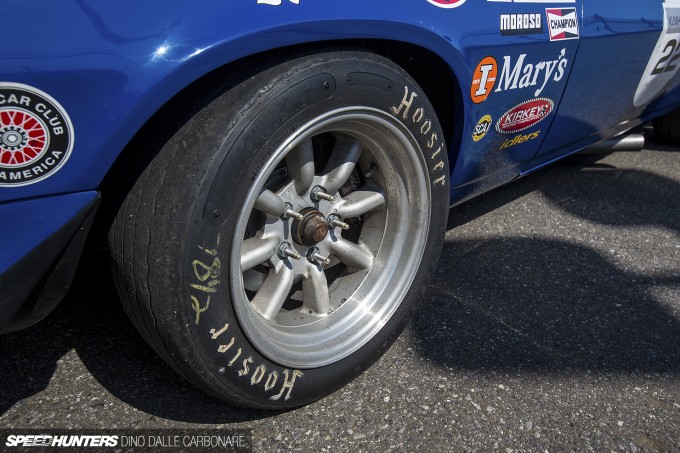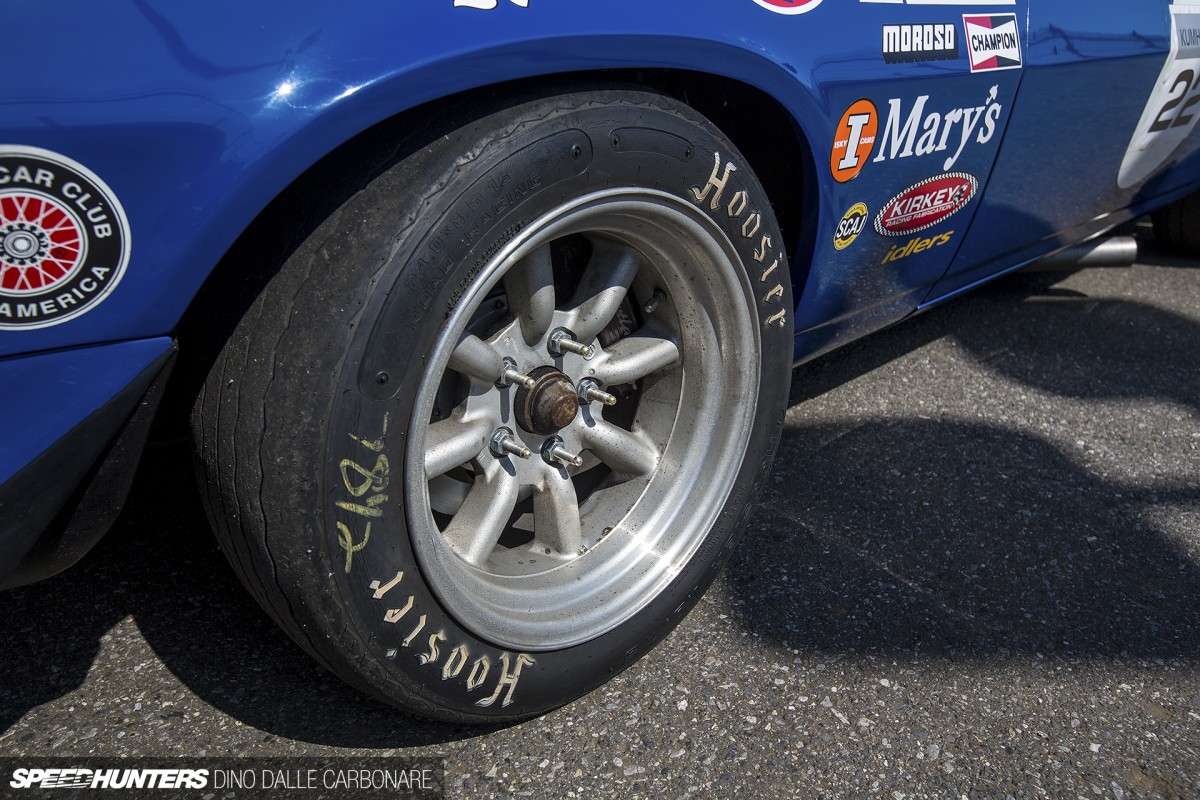 Grip comes from a set of rather well used Hoosier semi-slicks, mounted on 16-inch Watanabes – a neat East meets West detail.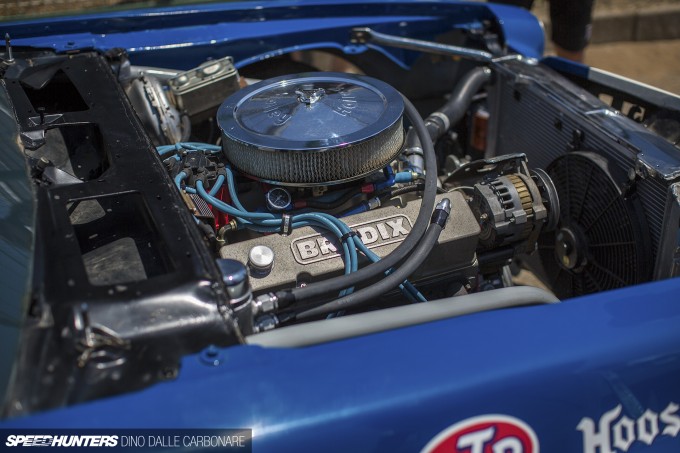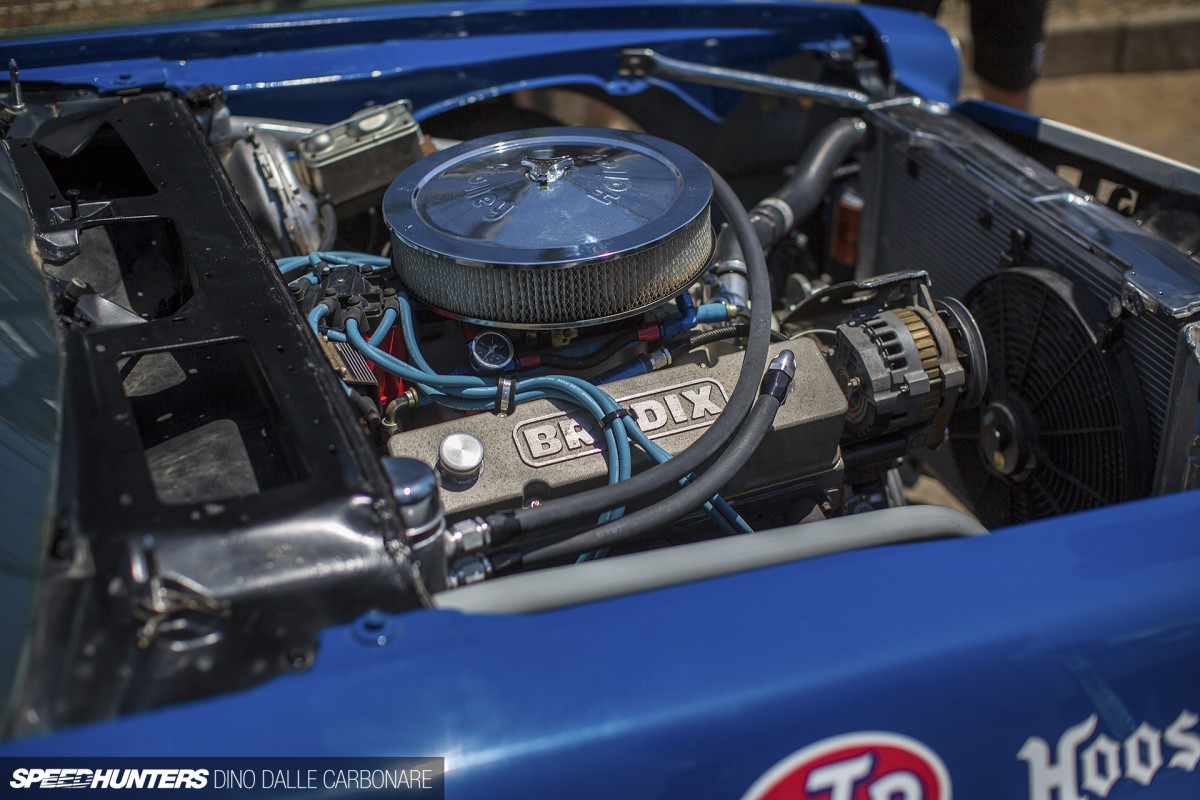 Under the bonnet there's obviously been a whole lot of work done to the big V8 powering it, including a pair of Brodix heads, an upgraded ignition and a large core radiator to keep it reliable out on track.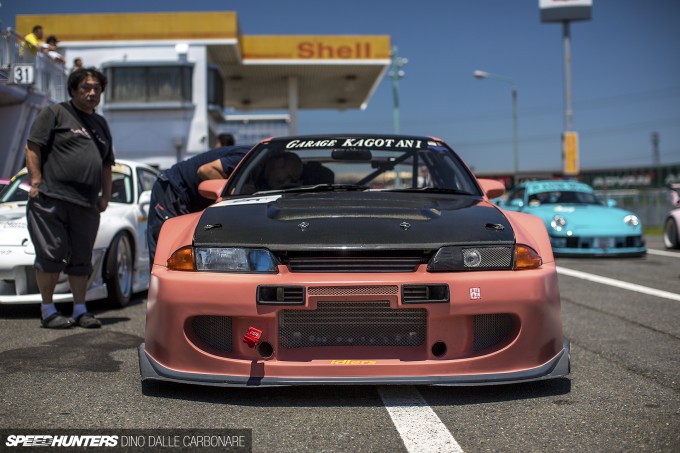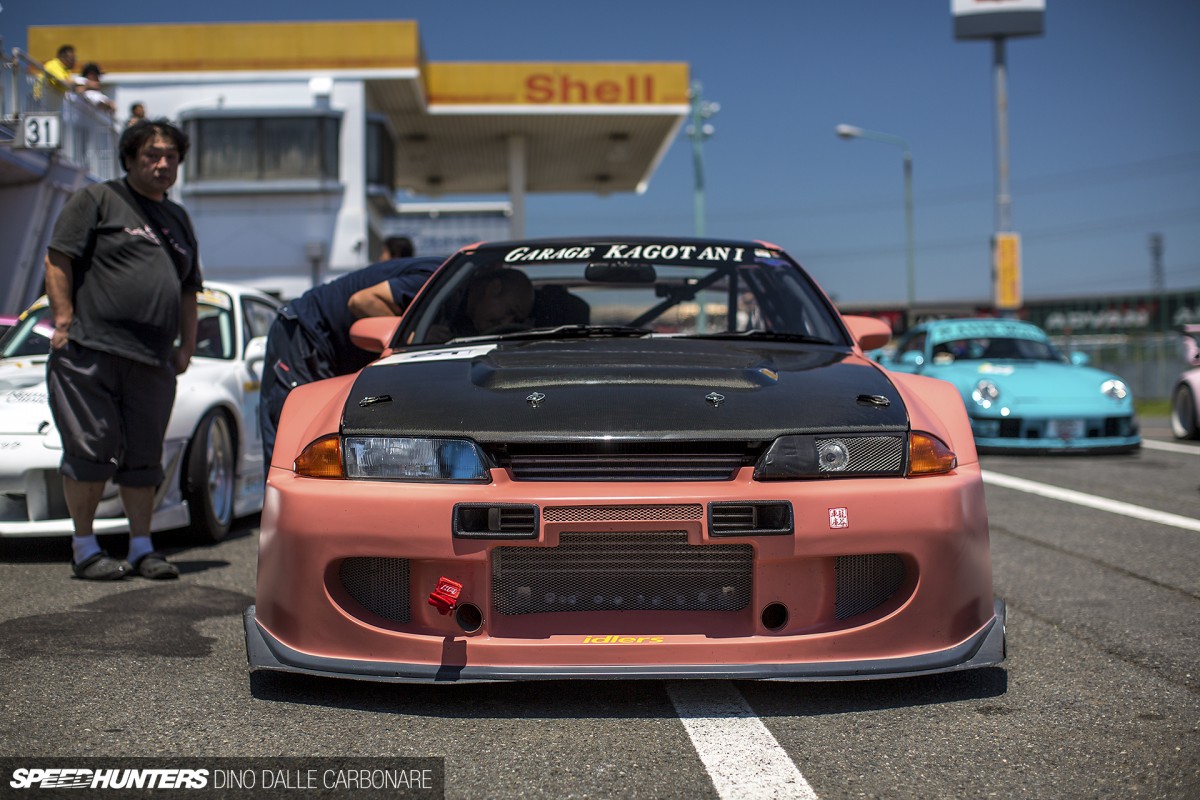 Kagotani-san was out at Tsukuba with a couple of his customers. I showed you a very capable wide body Impreza from Garage Kagotani in yesterday's post, but it's this JGTC-inspired BNR32 that I want to concentrate on. This is, or was, the green GT-R we've seen over the years at Battle Evome events, now sporting an upgraded chassis, suspension system and engine. Oh yes, and a fresh new coat of salmon-colored semi-gloss paint.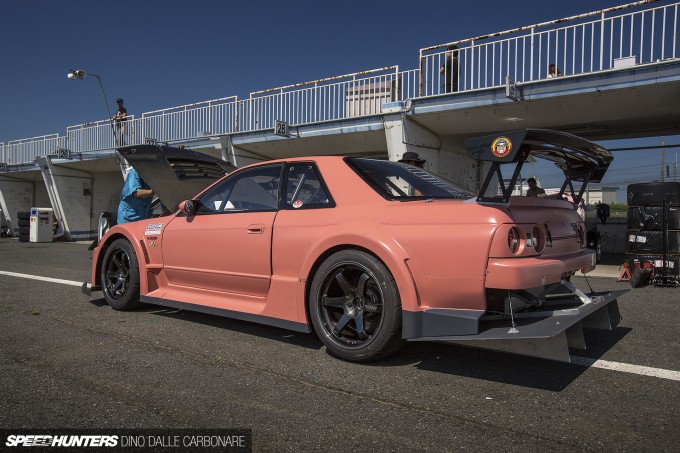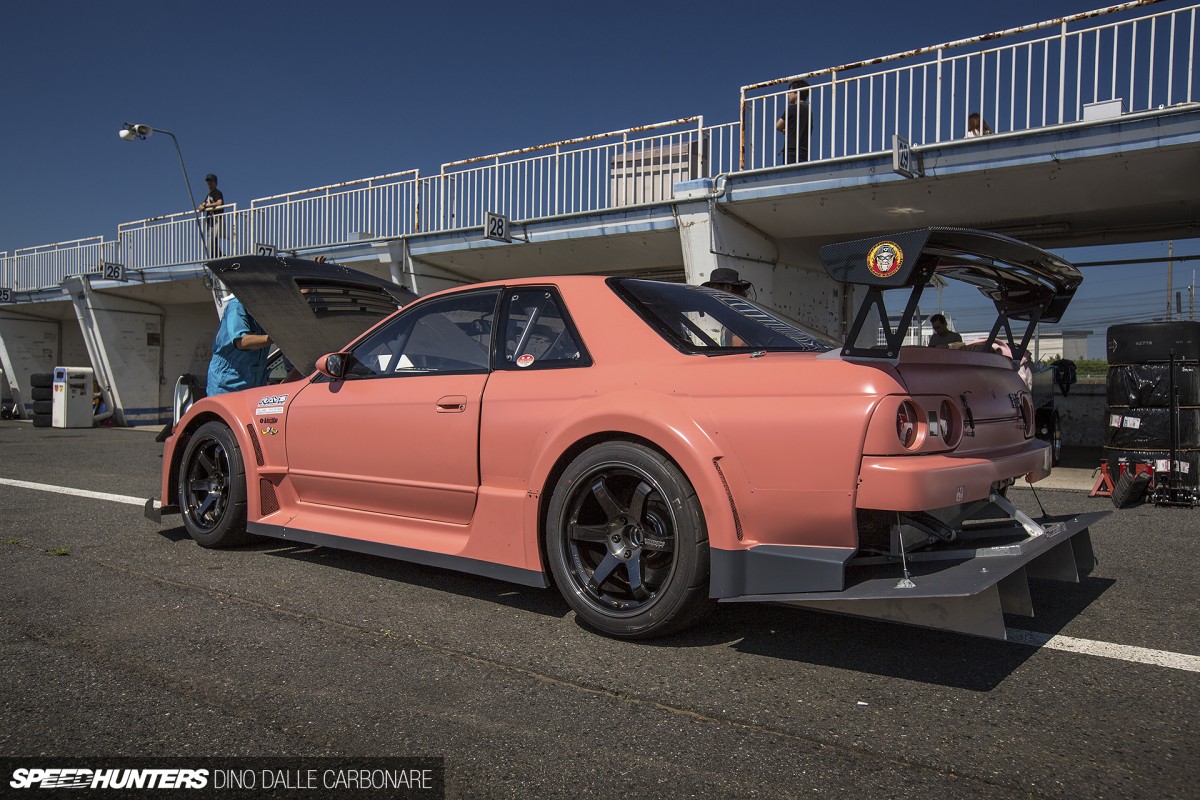 Along with the GT-look wide aero treatment – which honestly you just don't often see done to an BNR32 – the Skyline is well on its way to getting some serious aero work. The front splitter and carbon rear wing are just the beginning.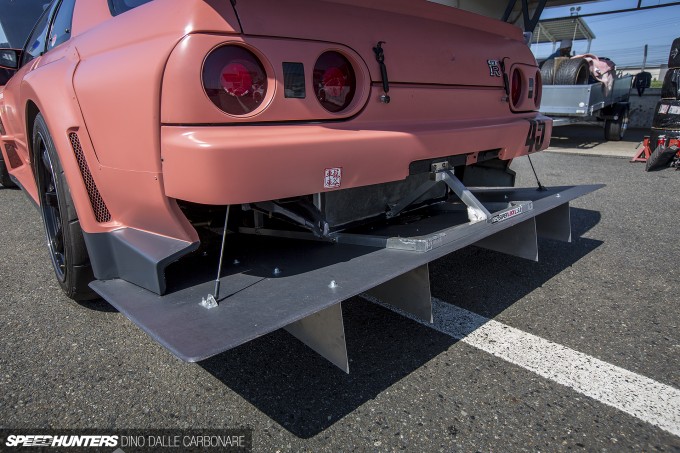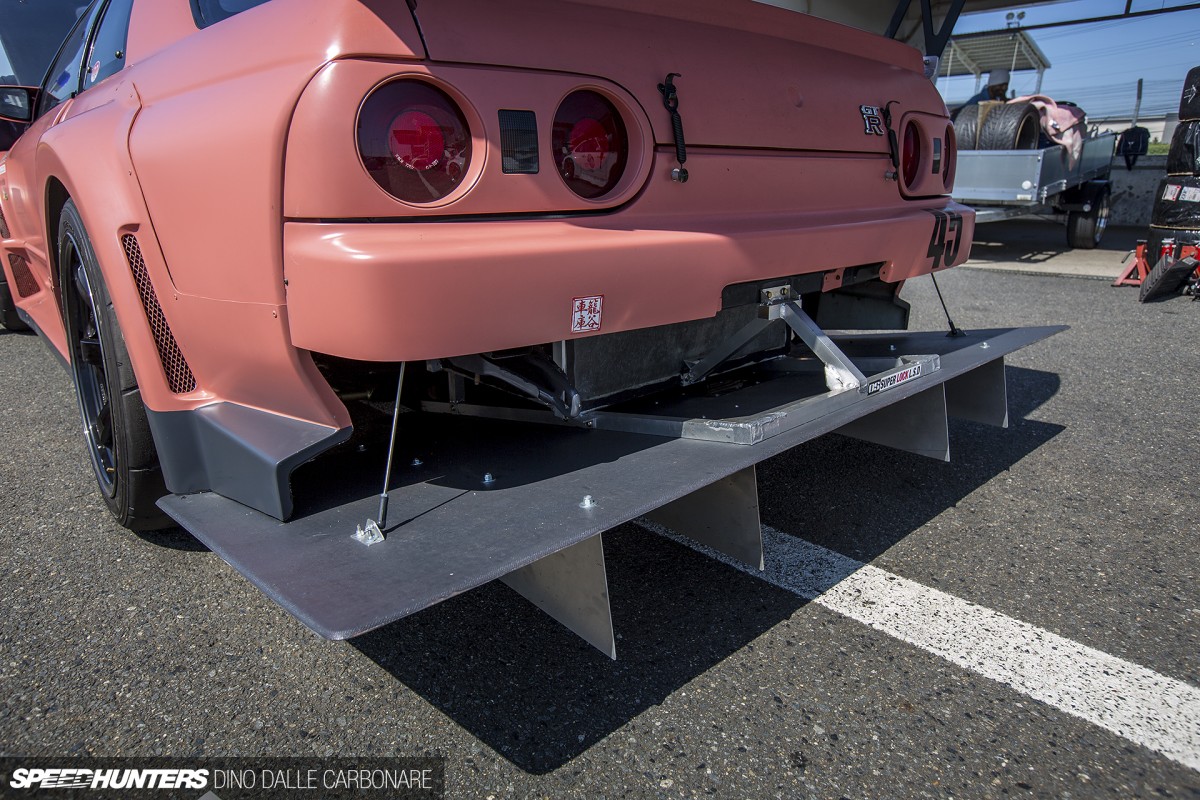 To go along with them, Garage Kagotani has created a pretty wild rear-diffuser and extractor section which will eventually be extended all of the way underneath the car to maximise its downforce around Tsukuba Circuit. Time attack continues to be taken very seriously by a lot of people out here!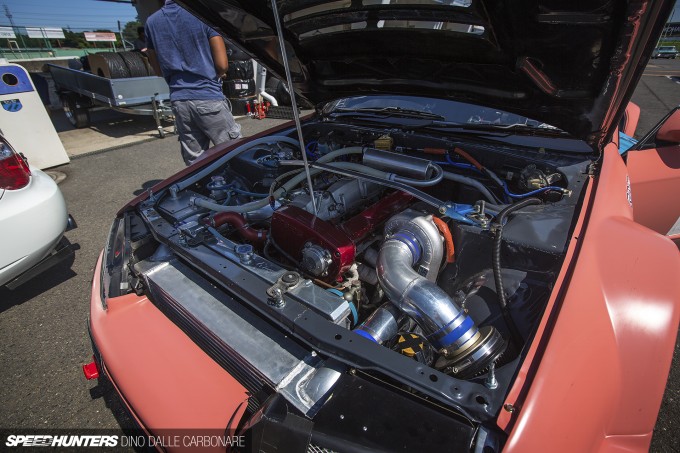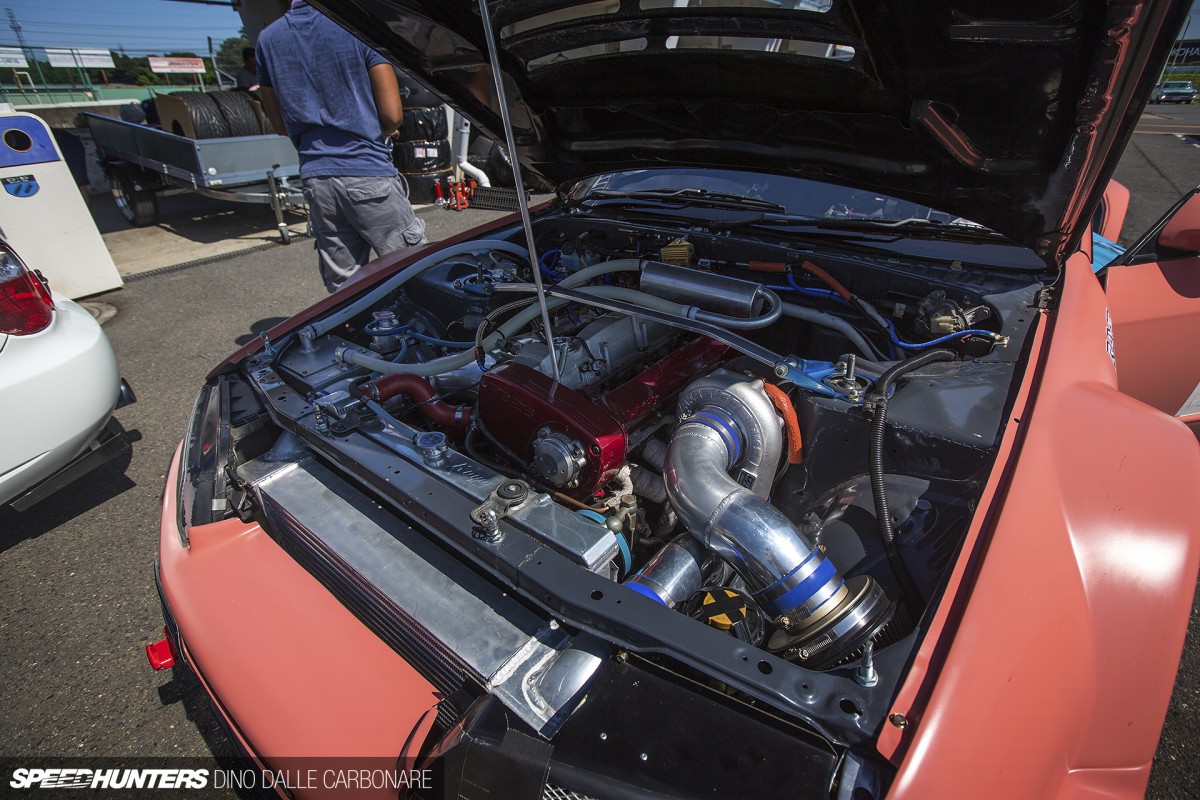 Aerodynamic load and sheer mechanical grip is only part of the package though. At this sort of level there's an obvious need for power and here it comes courtesy of a fully tuned 2.7L RB26 boasting upgrades like an HKS V-Cam and a T51R Kai turbo. All of this is good for around 800hp, which is sent to all four wheels via an OS Giken sequential transmission.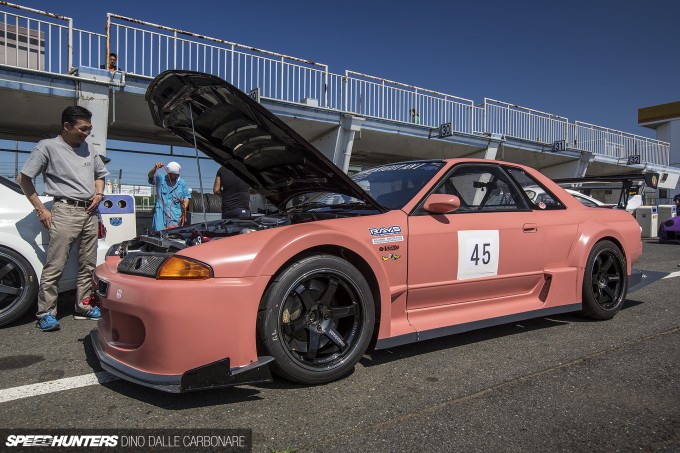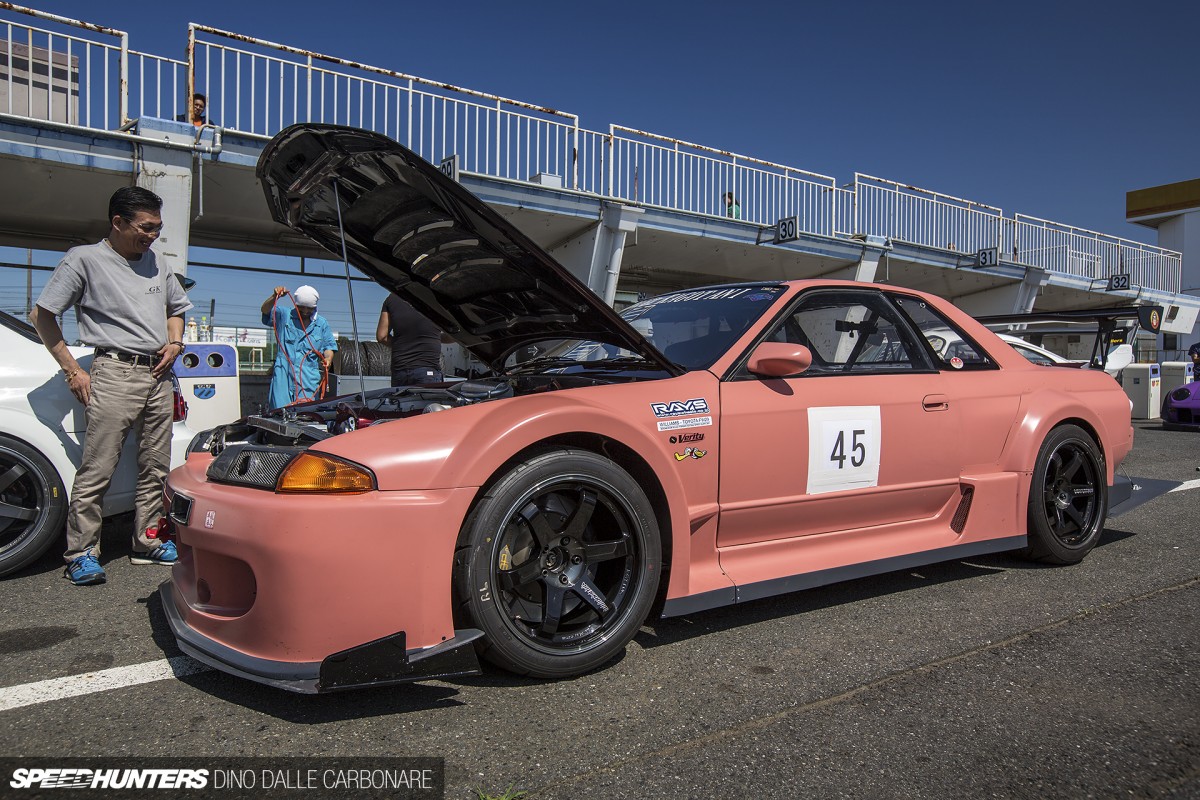 It will be very cool to see what this beast of a GT-R will be capable of at Tsukuba once it's properly dialed in.
Long Nose Wins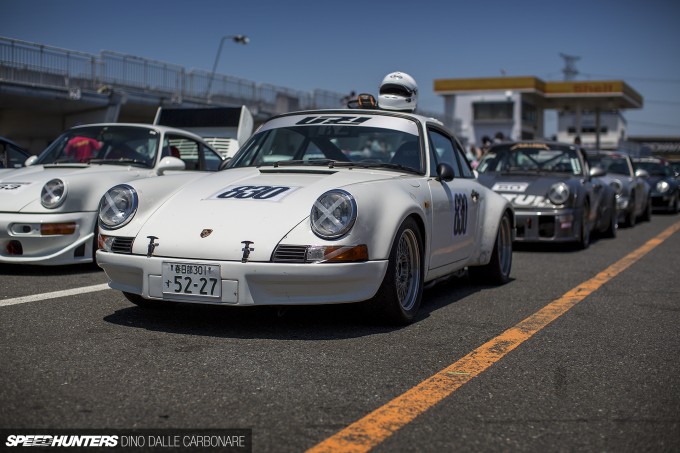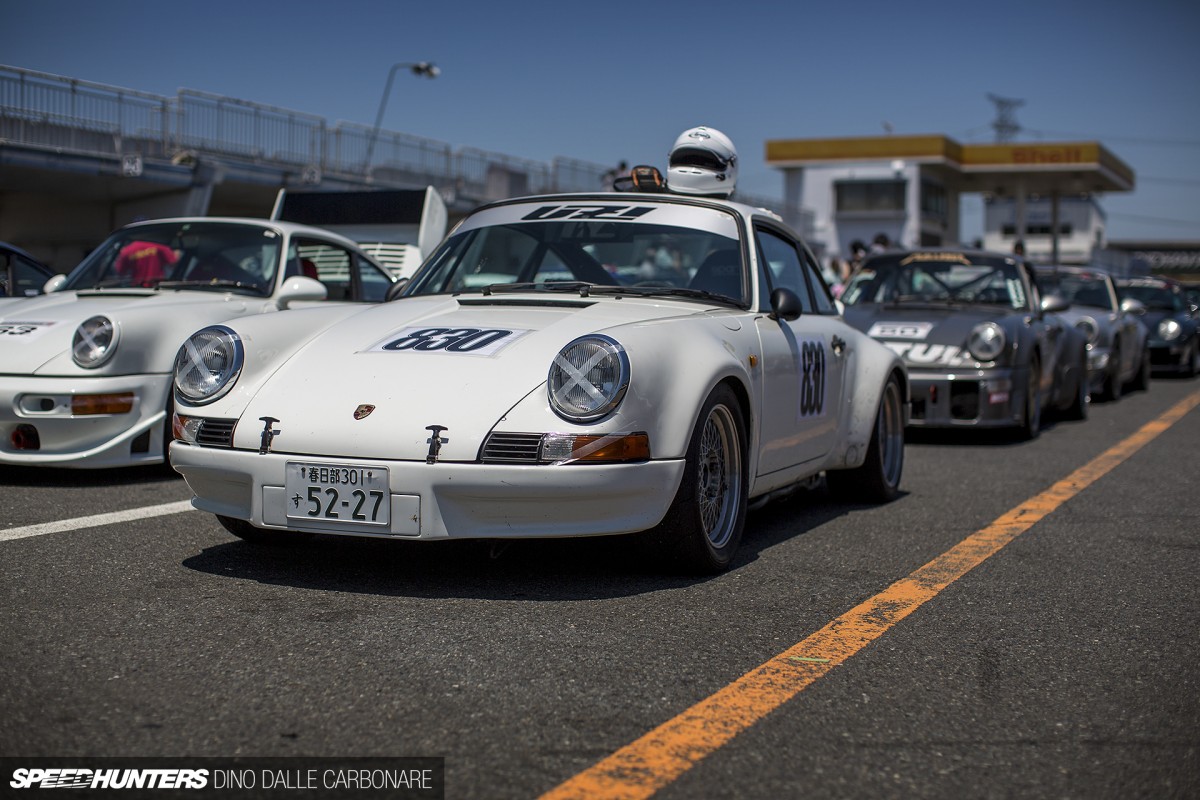 We've done the US and Japan, so the next logical progression in this Spotlight-O-Rama is to head over to the Teutonic aspect of idlers. Since I have a full feature of one of Nakai's latest RWB projects coming this week, I thought that focusing on a totally different sort of 911 at the event would be a good idea. Plus, my love for older long-bonnet cars continues to grow every time I see one.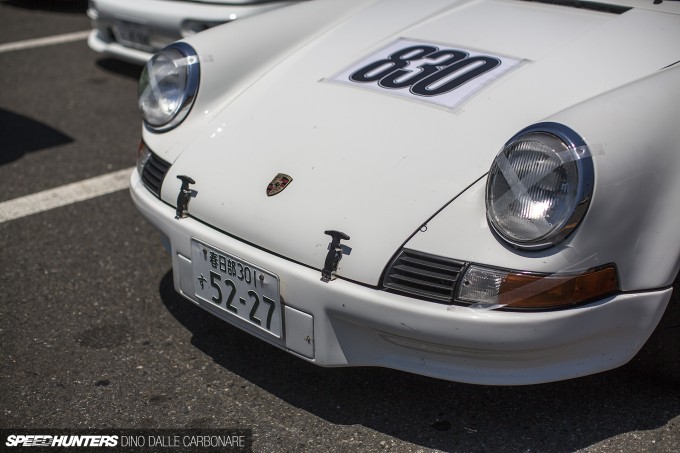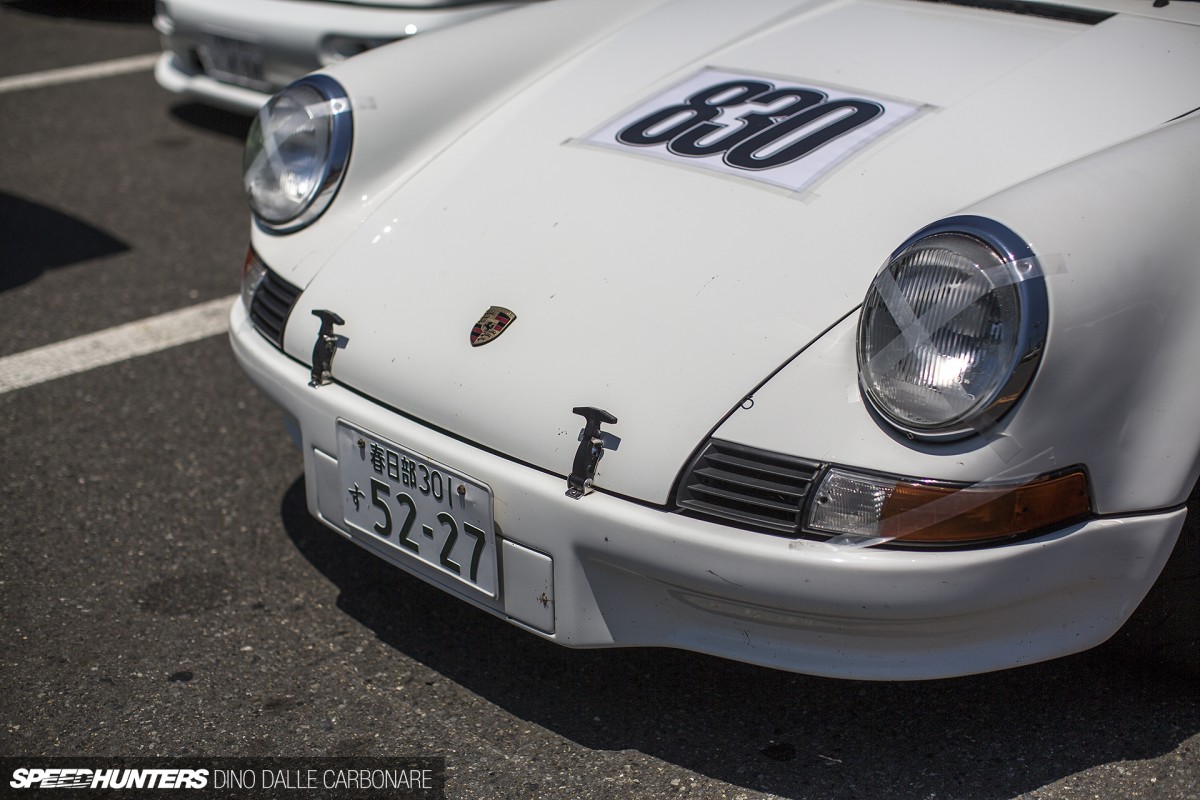 Which is why I picked this beauty. I can't get over how right the rounder lines of the earlier cars look. Maybe it's because I've been so saturated 930s and 964s at these events, that these older cars really stand out for me. Throw in an RS-type front bumper and the attraction grows even stronger.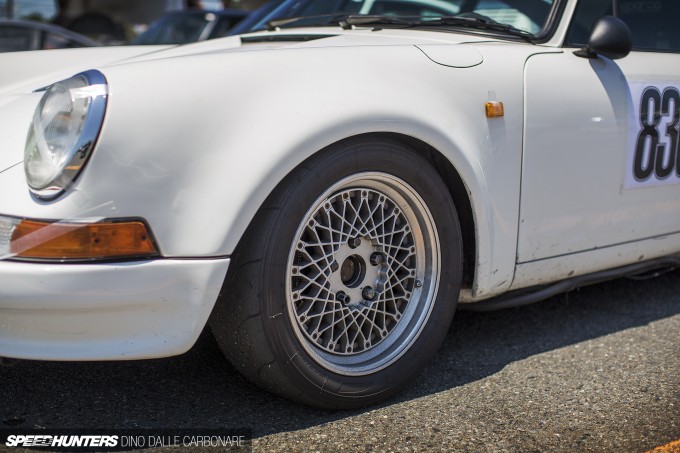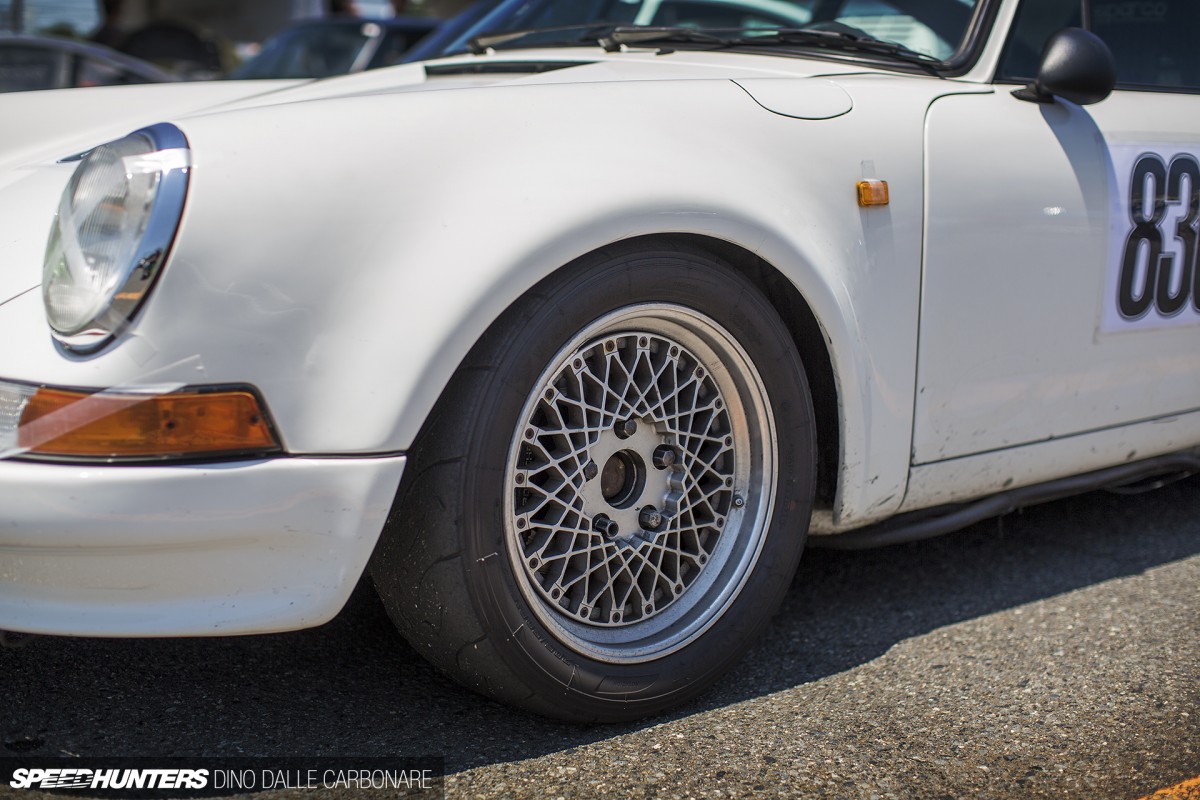 A vast variety of wheels work on these chassis, from classic designs all the way up to more modern rims. But you can never go wrong with a mesh design, right?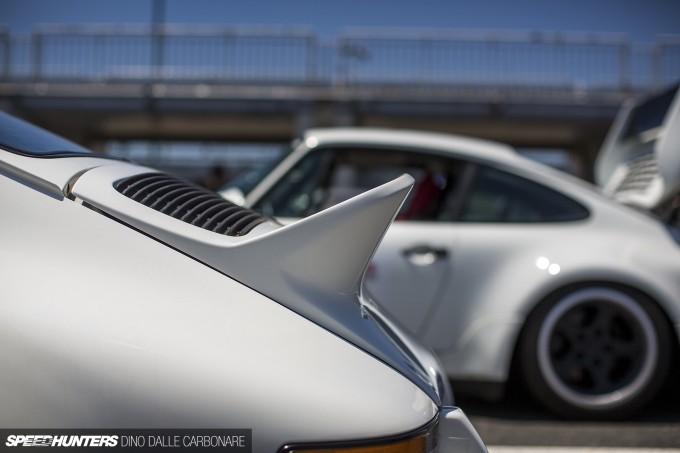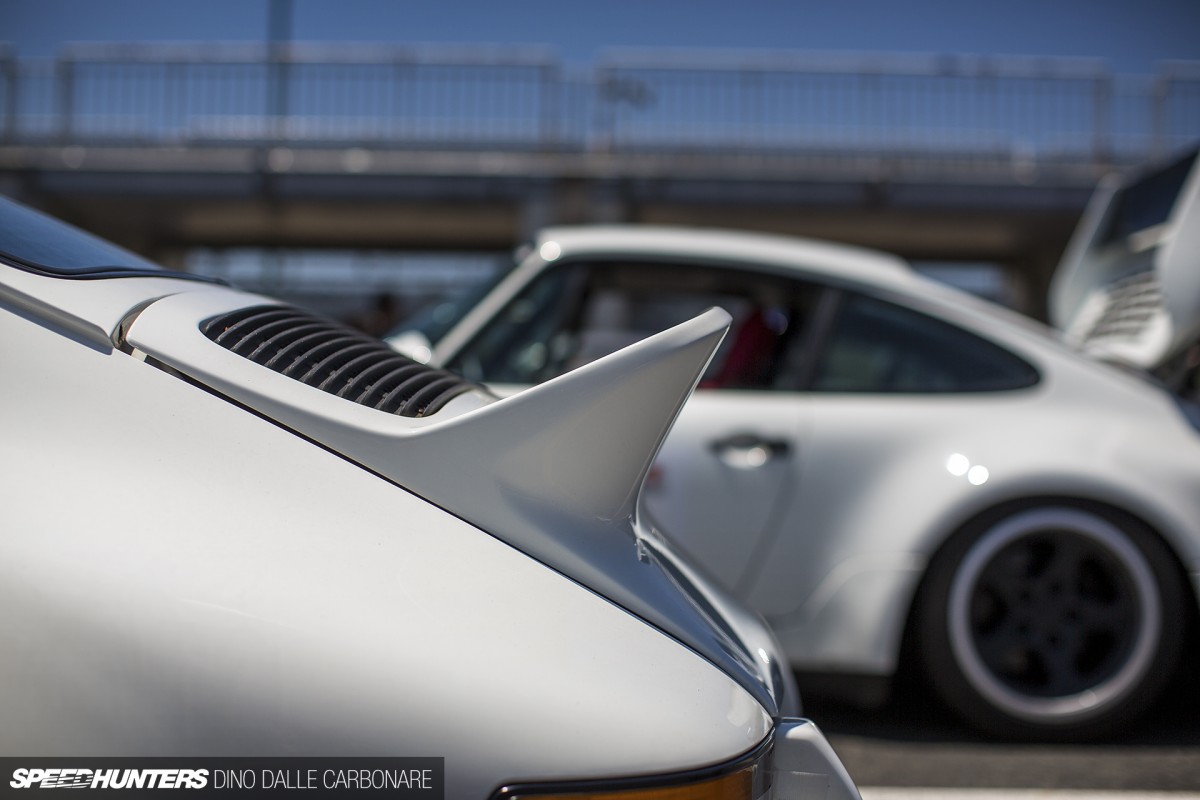 The RS ducktail rear spoiler is an absolute must! Funnily enough, I saw a brand new 991 wearing a similar spoiler in Tokyo last night and I thought it looked silly. In my mind it's definitely one thing to save for the older cars.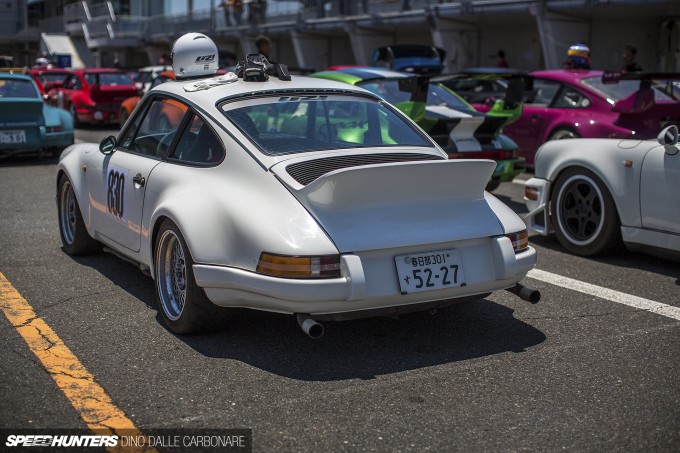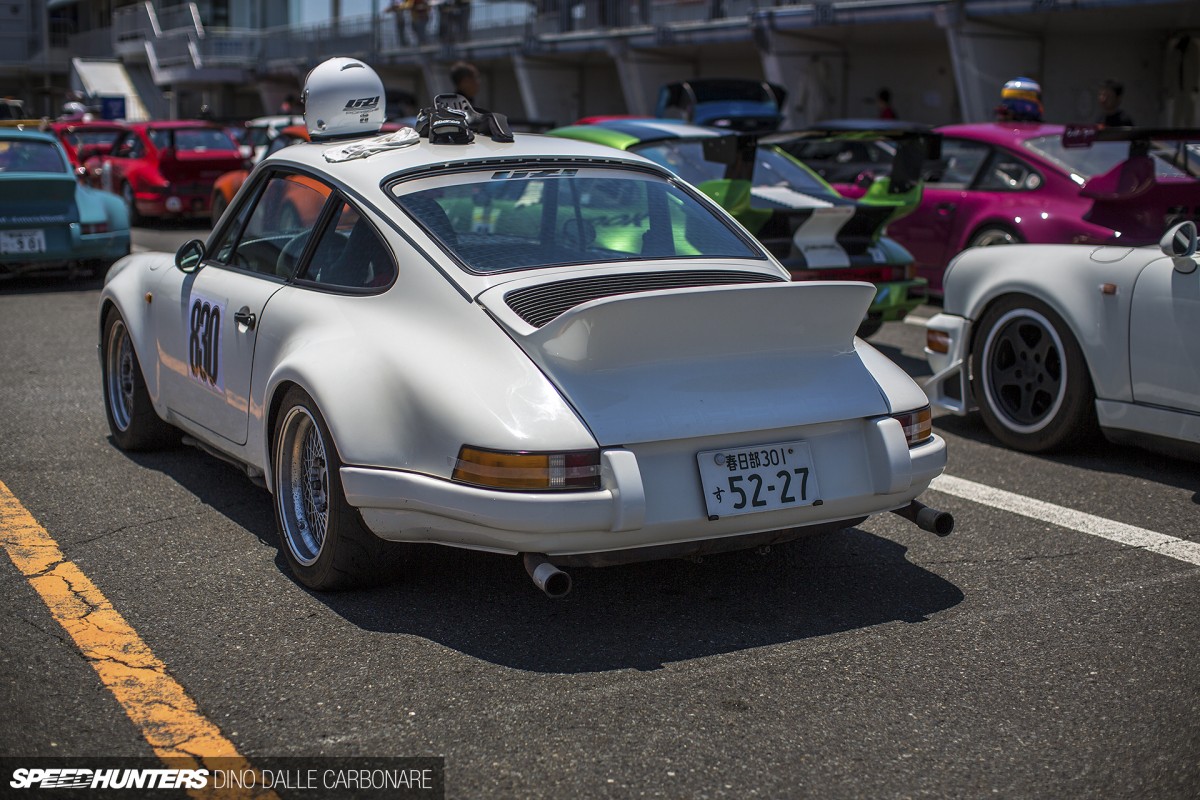 That's pretty close to 911 perfection, if you ask me.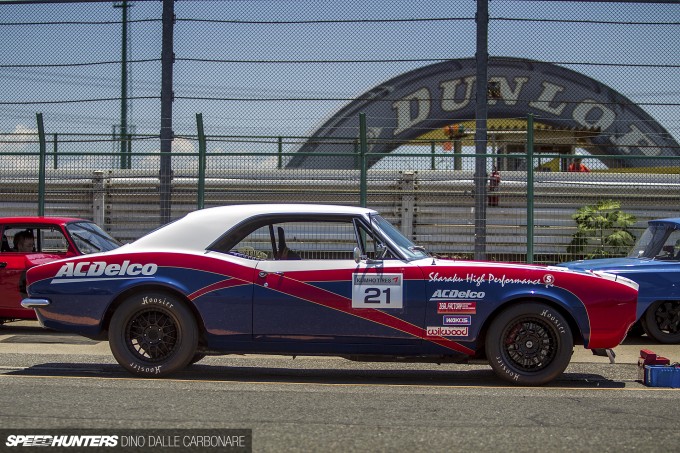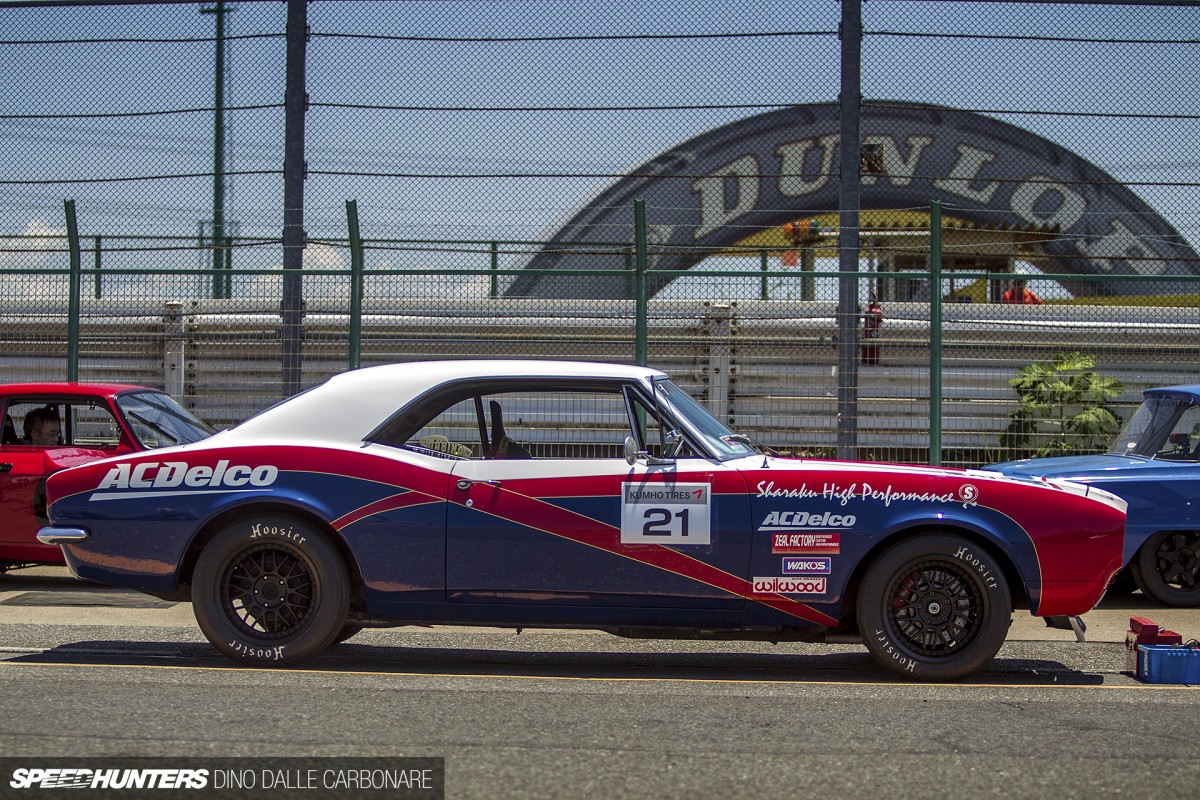 Muscle Japan also entered a second Camaro, and one that looked like an even more focused racer than the car I opened this post with.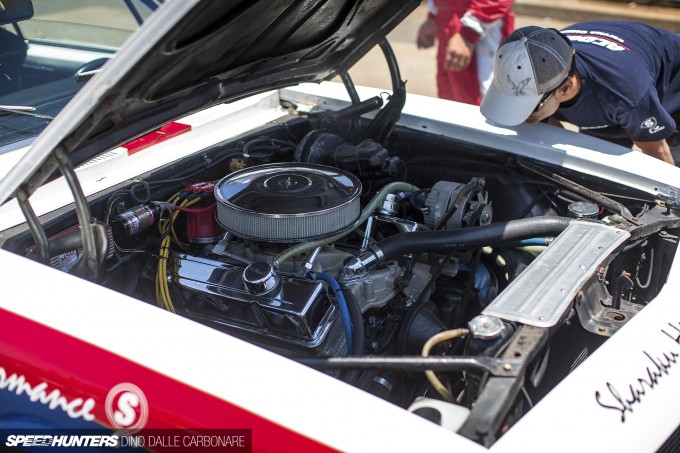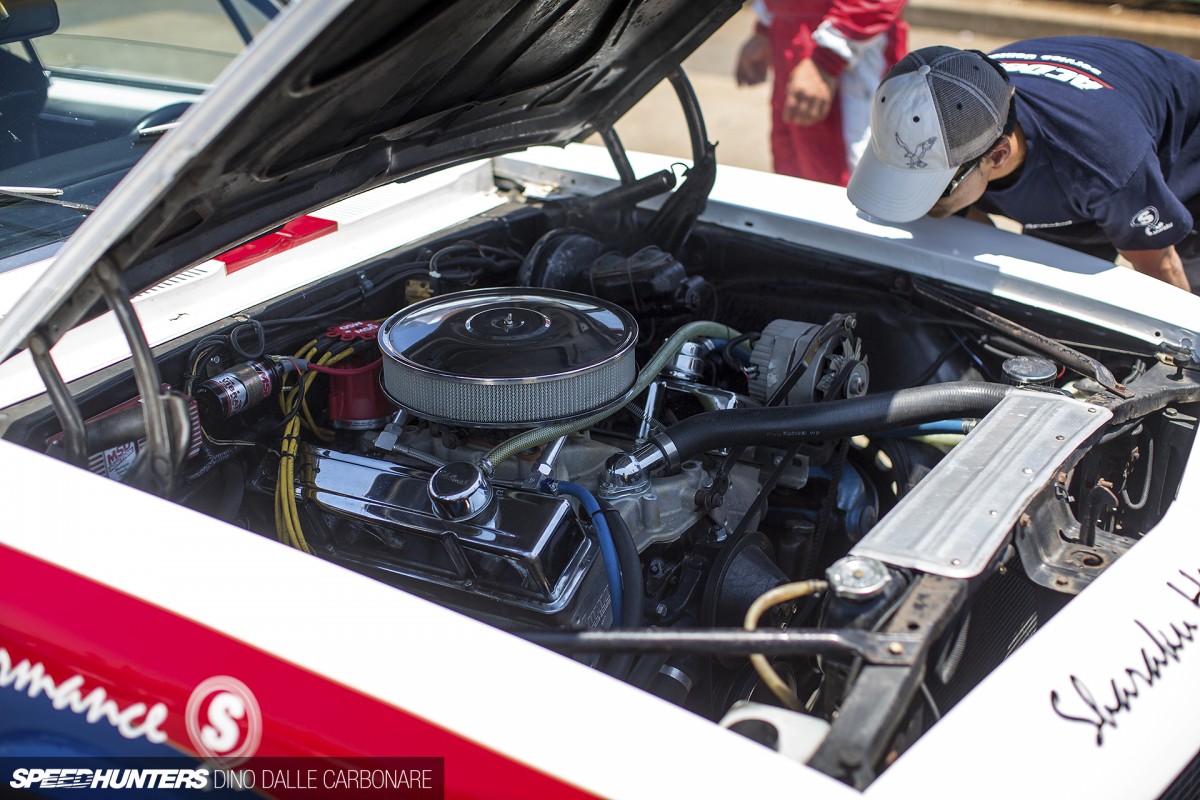 It sounded pretty glorious out through the tight corners of Tsukuba, but it didn't last long. During its second outing the car had to pit unexpectedly as smoke started pouring out from around the side of the engine.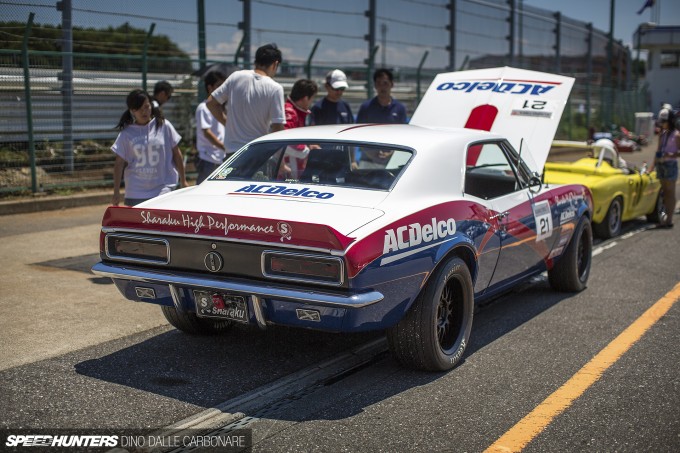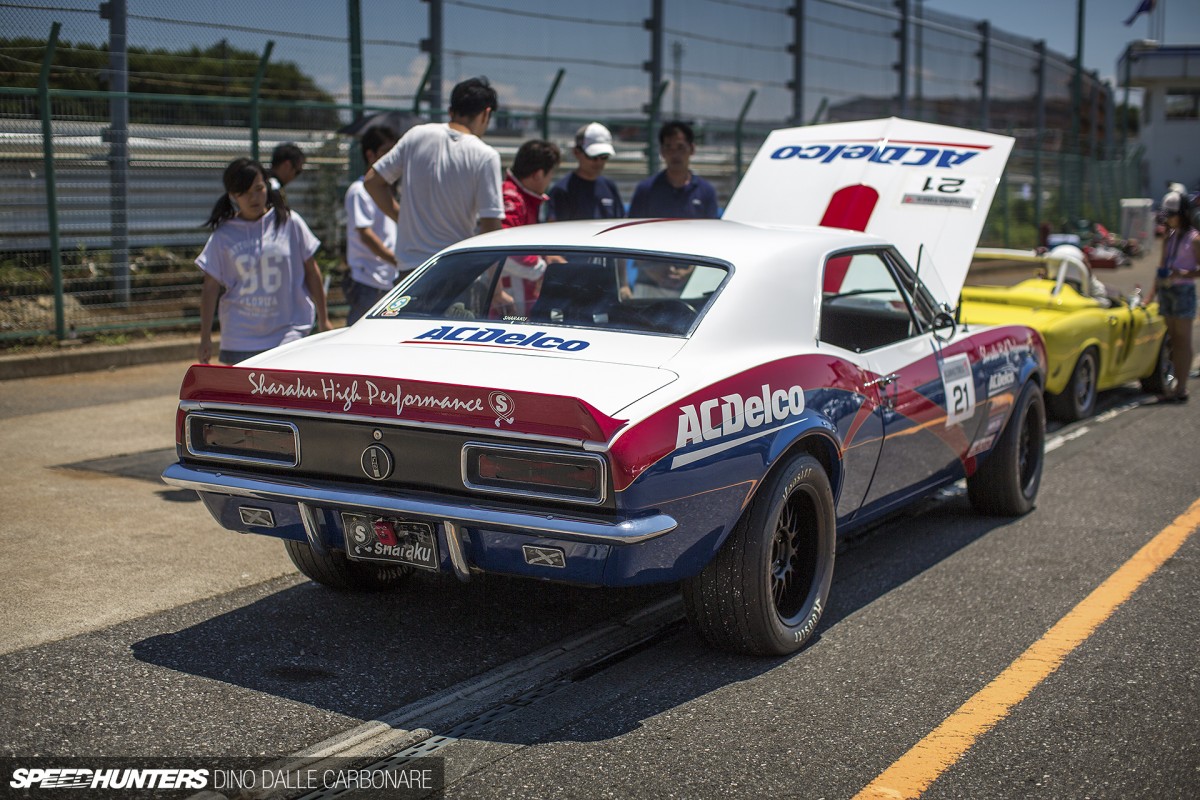 It was immediately pushed back into the paddock where I had the chance to check it out in more detail.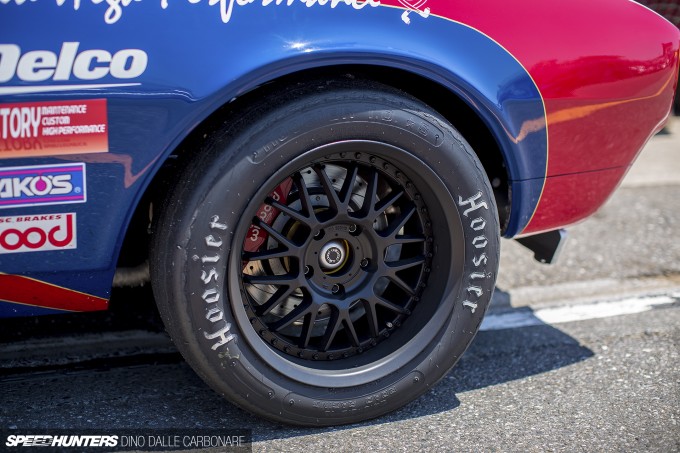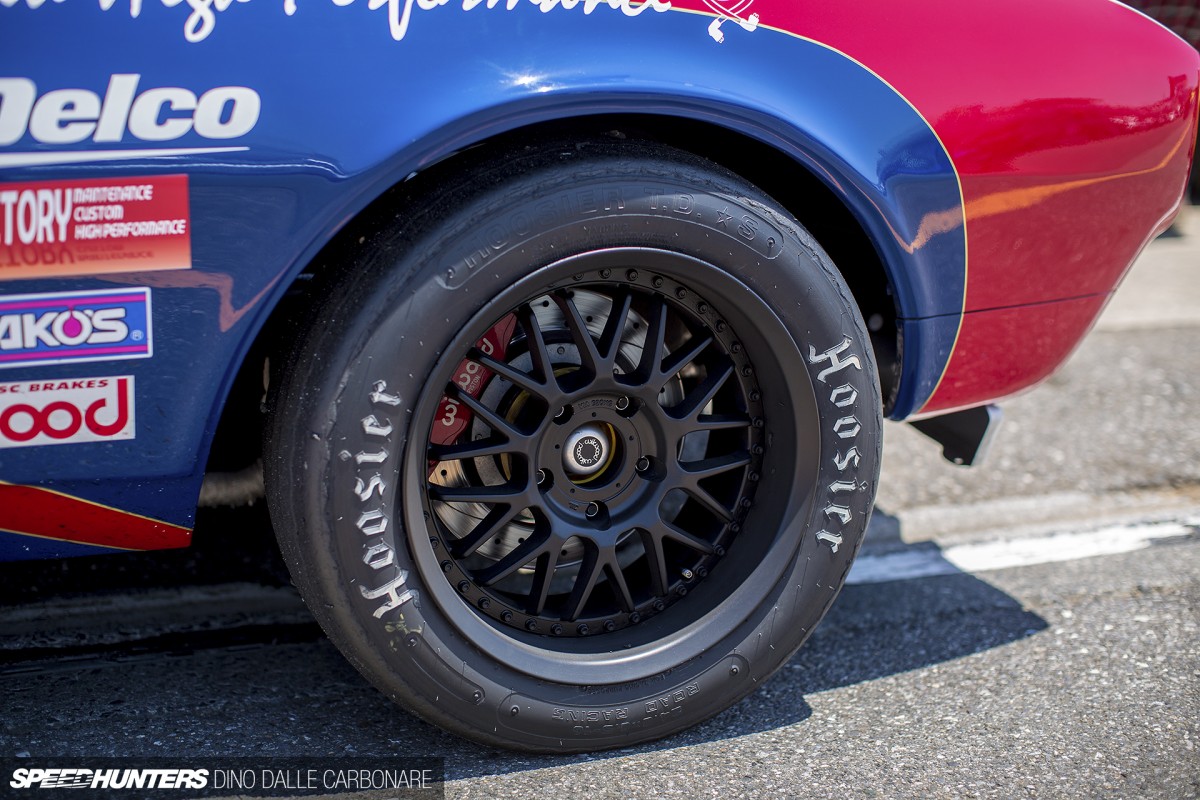 These cars were never lightweight, so even if it has been stripped out there's still a lot of mass to haul through the corners. I guess that's why it was running pretty serious Wilwood brakes both front and back.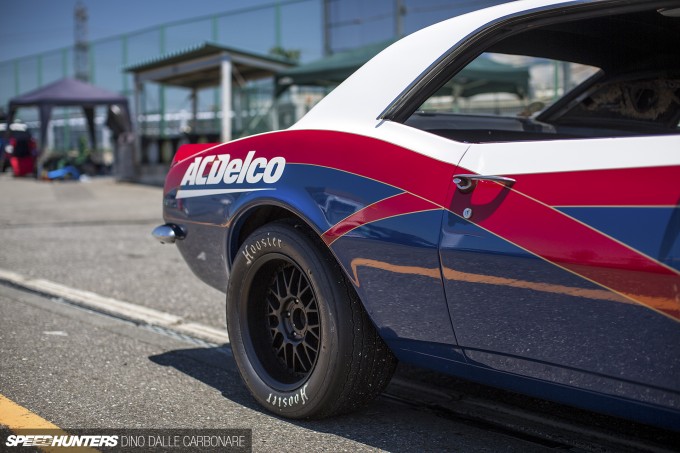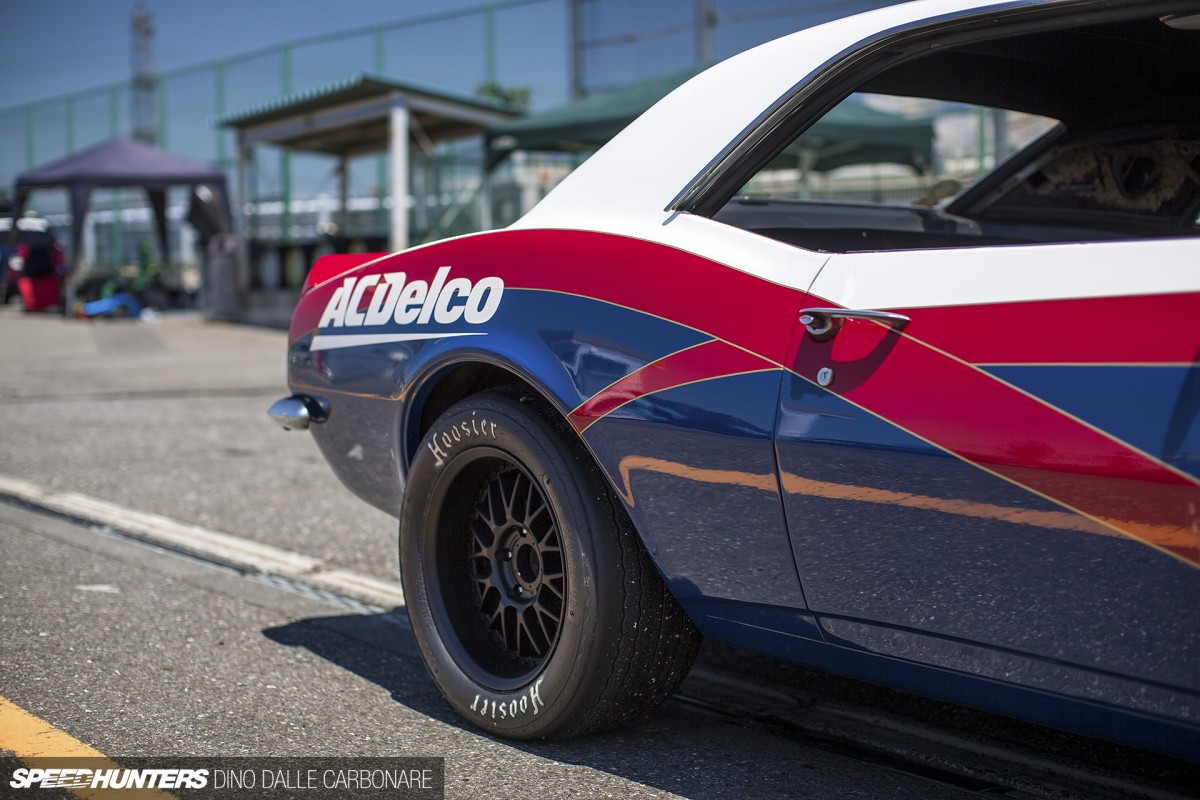 Sticky 16-inch Hoosiers take care of the grip. And just look at those curves!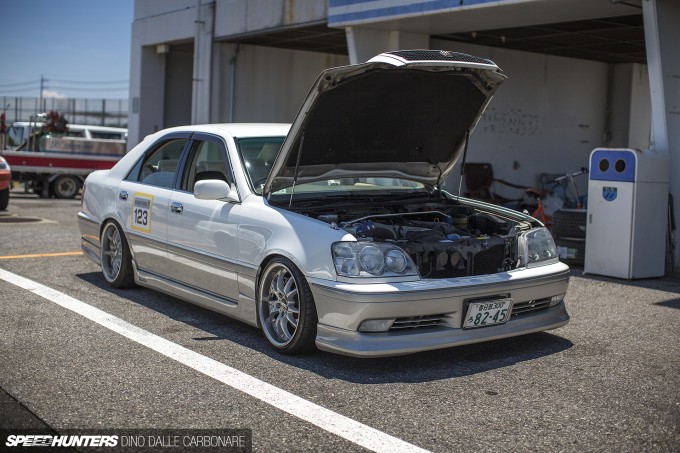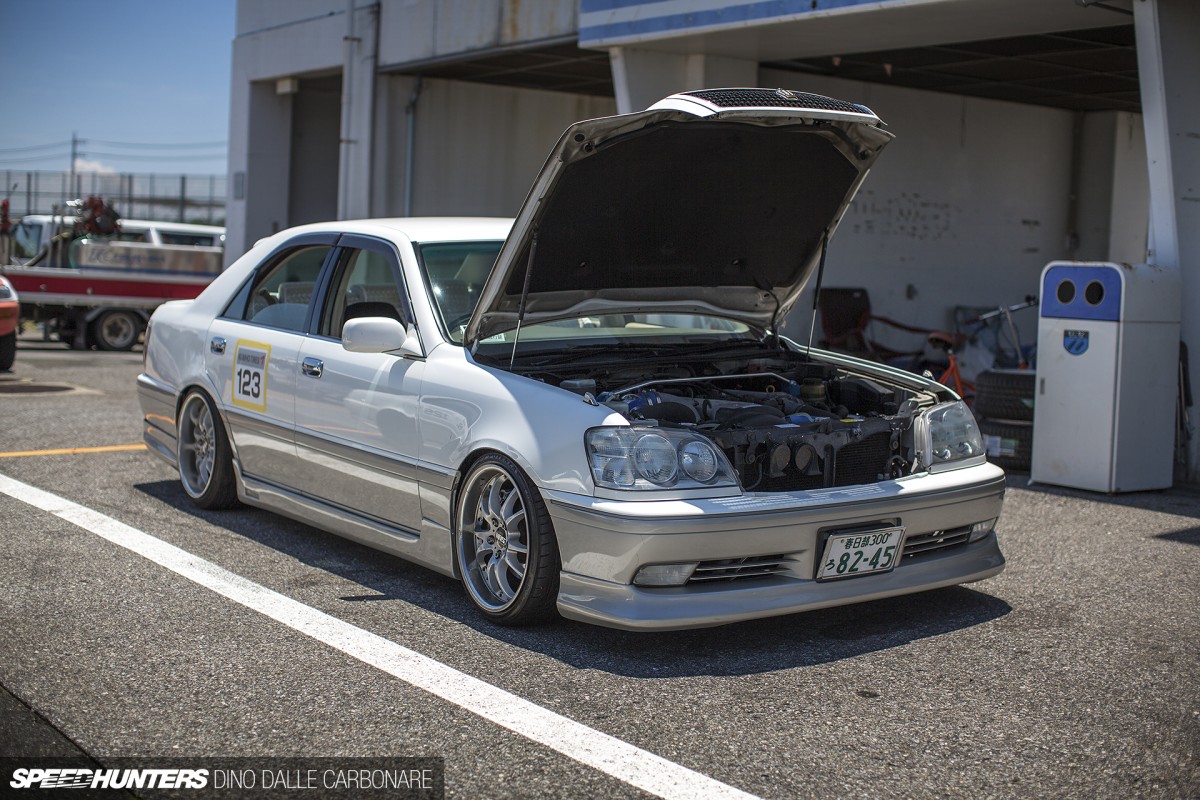 Seeing that idlers now also features a drift session – a very welcomed addition that put a smile on everyone's face I might add – I spent a lot of time checking out the drift cars that were entered. I could have picked any of the cool N-Style cars that were present, but I ended up really liking this Crown.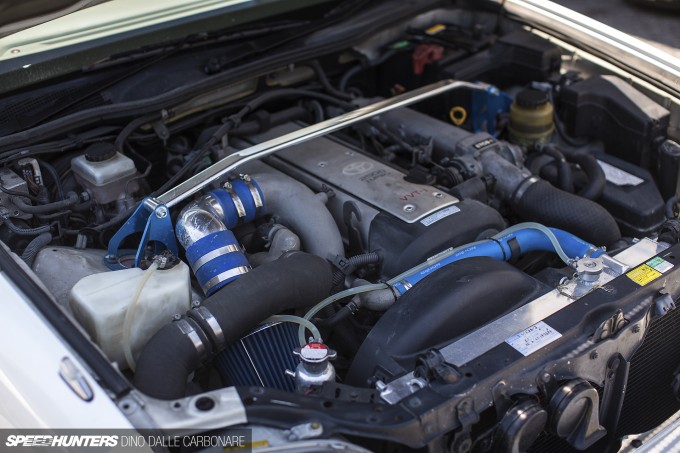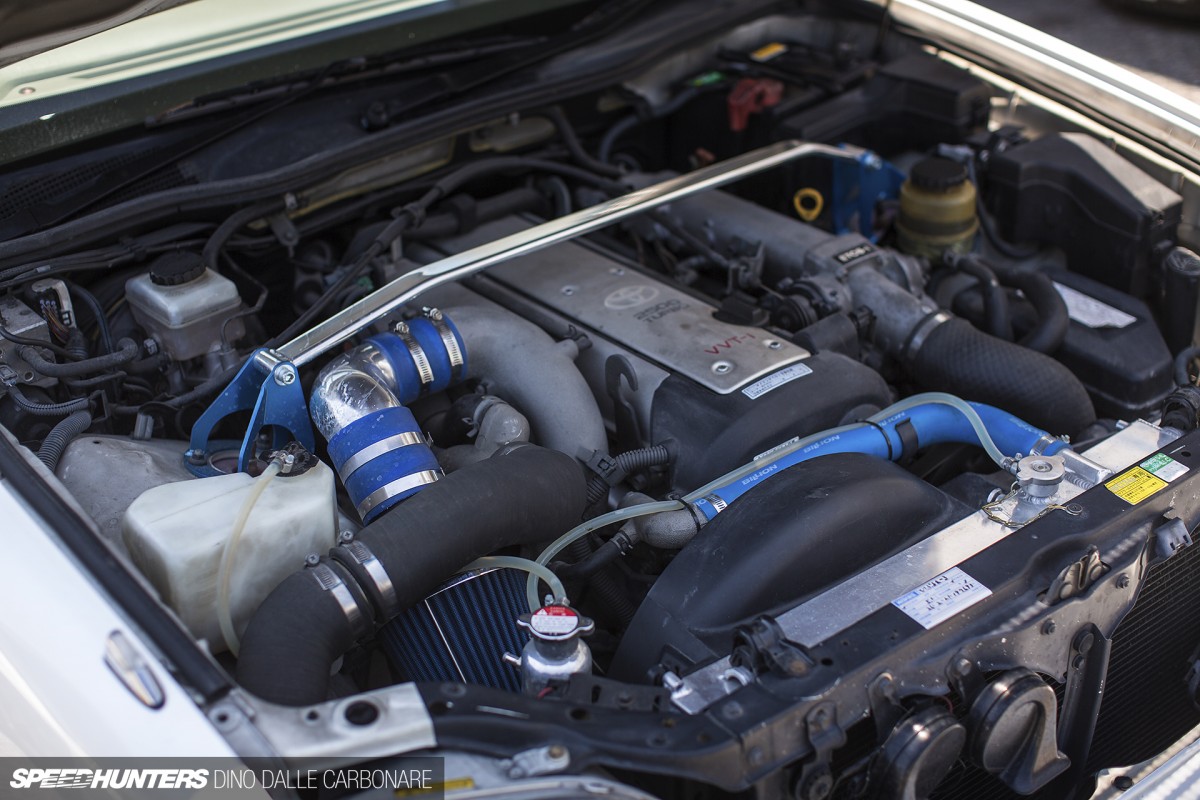 It was almost stock inside and out and a perfect example of how you can set up a drift car without going overboard. Under the bonnet the stock 1JZ had been fitted with an induction kit and a more free flowing exhaust system.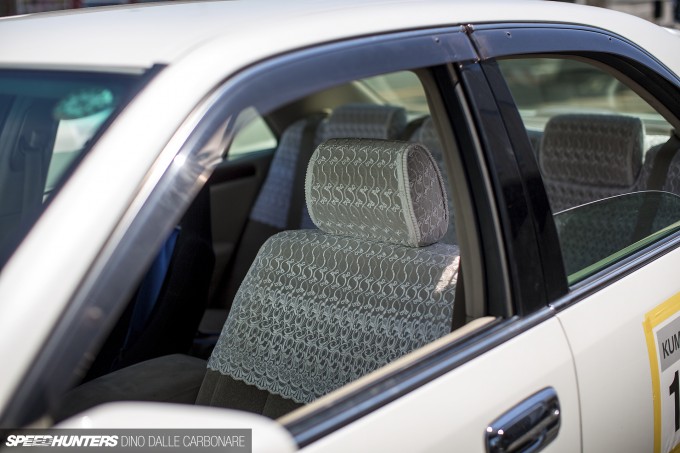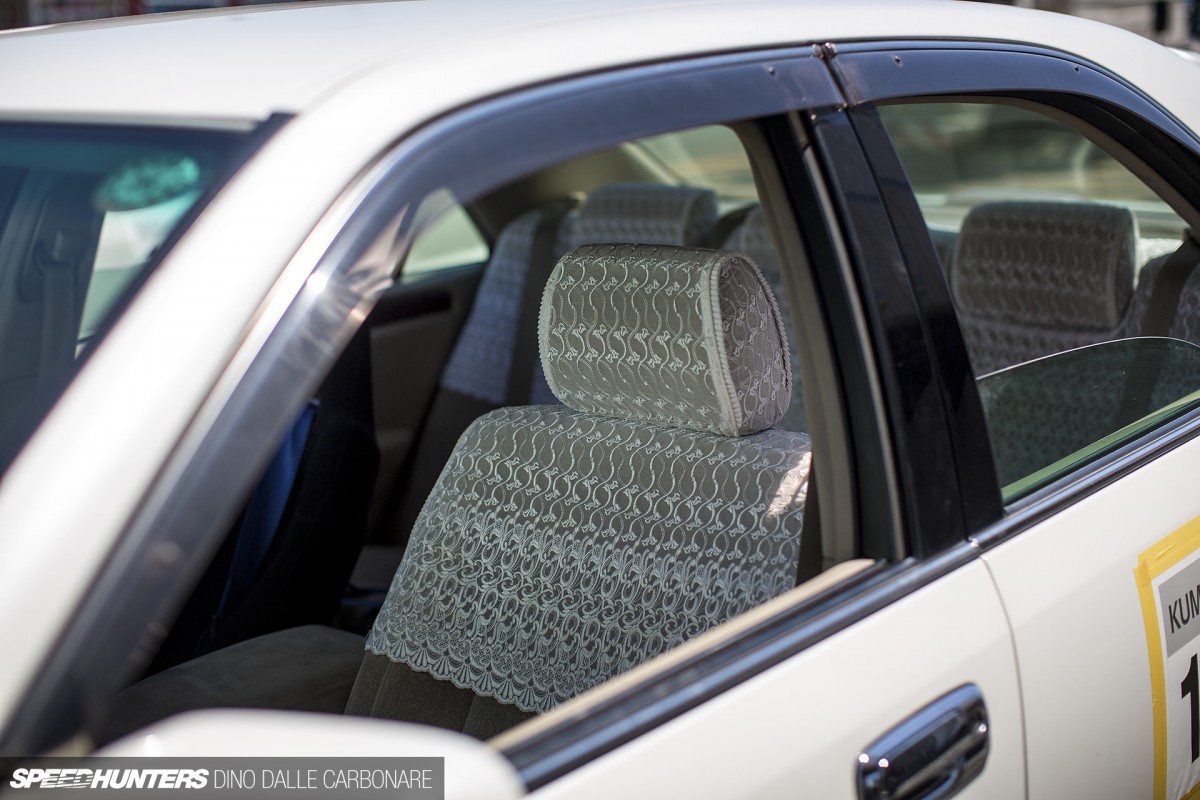 You gotta love how the owner left the lace seat trim in place too – a hint at how these cars were originally aimed towards a much older clientele than those many of them are in the hands of now. For obvious reasons the driver's seat had been replaced with a proper bucket.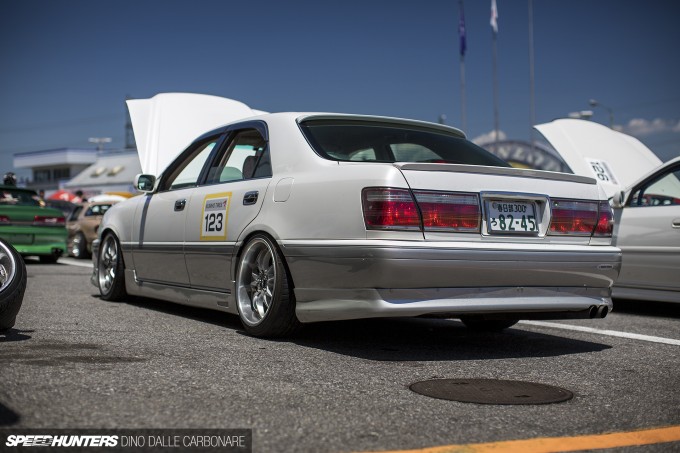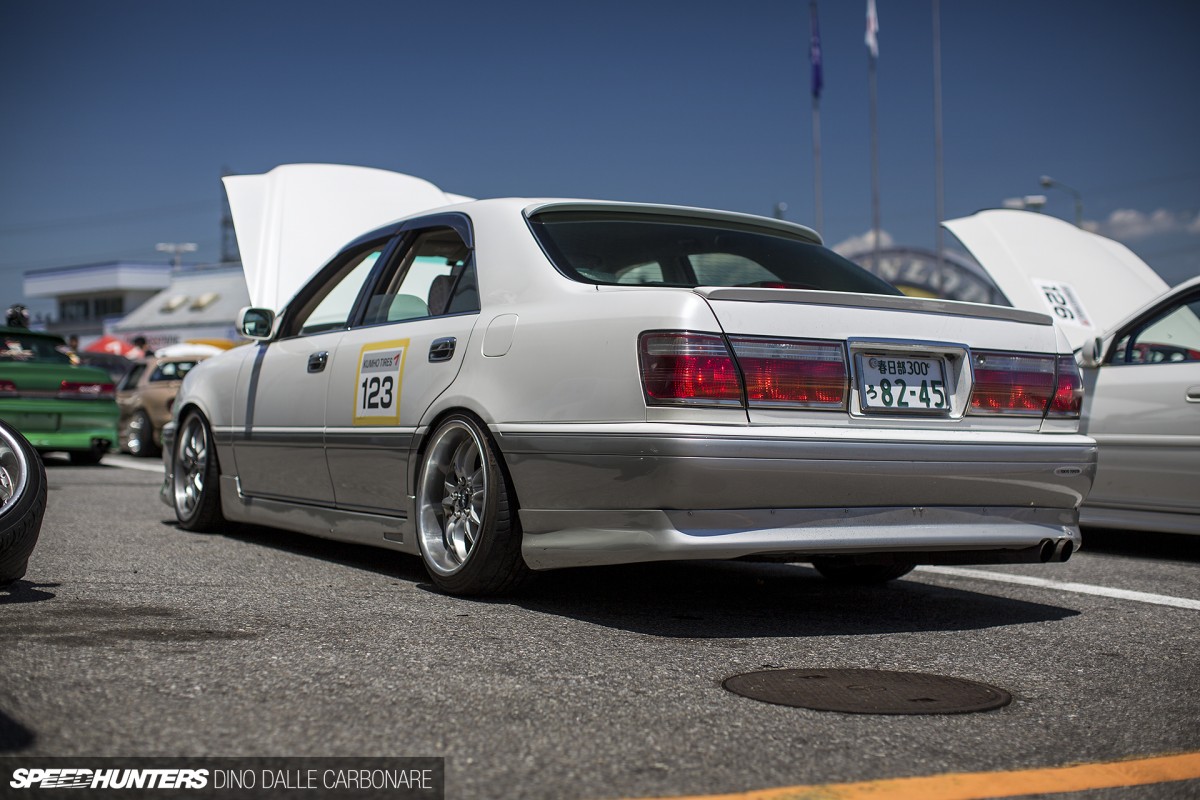 Side skirts and lower bumper trims, plus Manaray Sports Vertec VRS wheels finish up the exterior.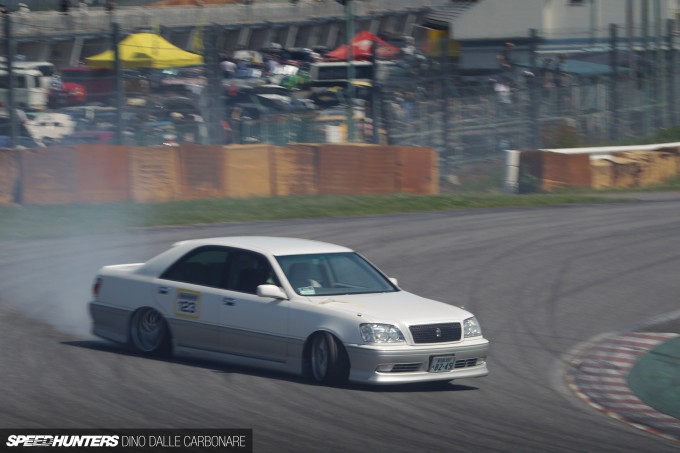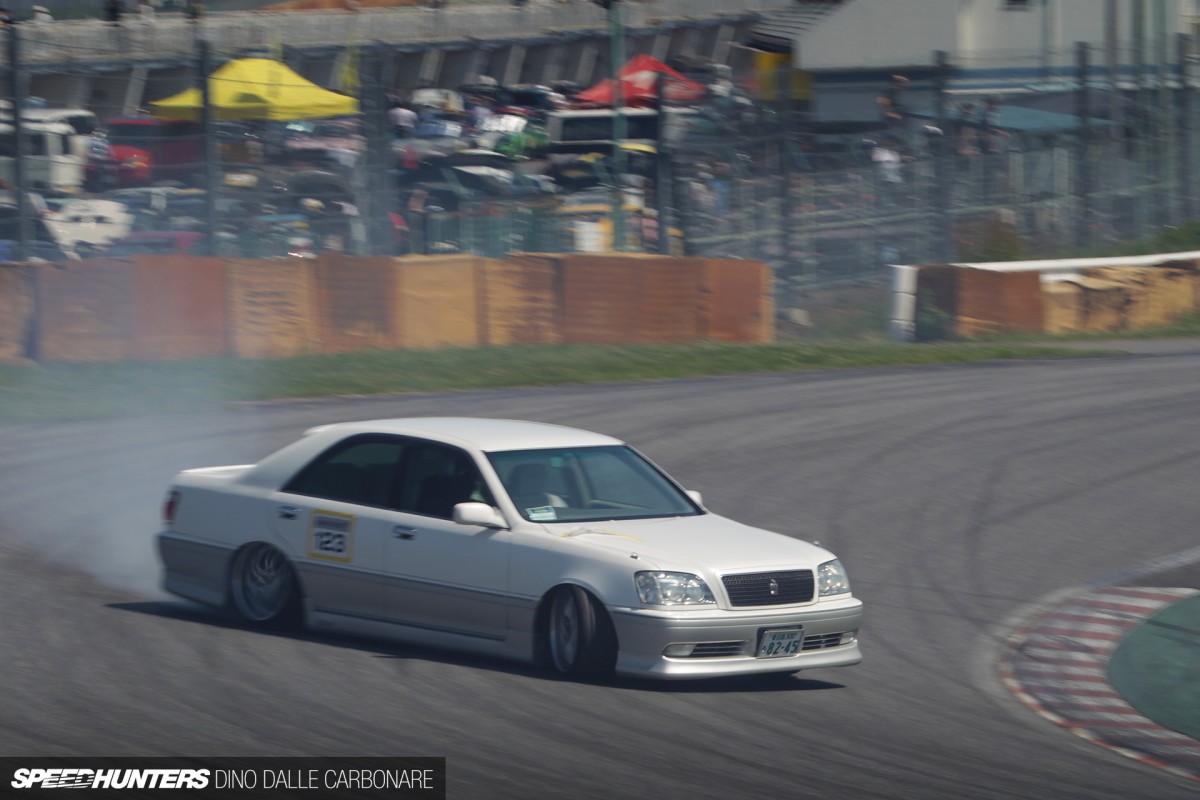 I'll finish up with a shot of this Royal Saloon tackling Tsukuba's in-field hairpin with plenty of angle. The idlers Games may be an event that I cover year-in and year-out, but I don't think I'll ever tire of it. In fact, I really can't wait till the next one!
Dino Dalle Carbonare
Instagram: speedhunters_dino
dino@speedhunters.com