Welcome to Hotlanta
Once a year, way off in the outskirts of Georgia, there comes a time where the state's finest are on center stage, the weather is miserable with a chance of tragedy and the skid racin' and tire shreddin' is turned up to full. Of course, I'm talking about the one and only Formula Drift: Atlanta – the rowdiest and quite possibly most-anticipated round of the season. And along with such, every year comes the Fatlace-produced car show, which this year has become known as Offset Kings.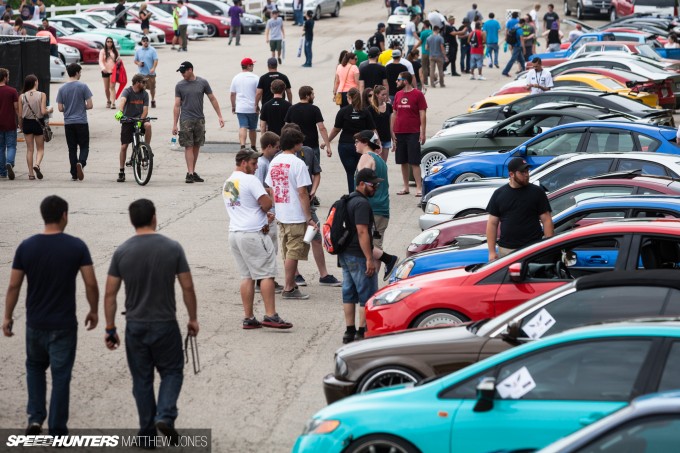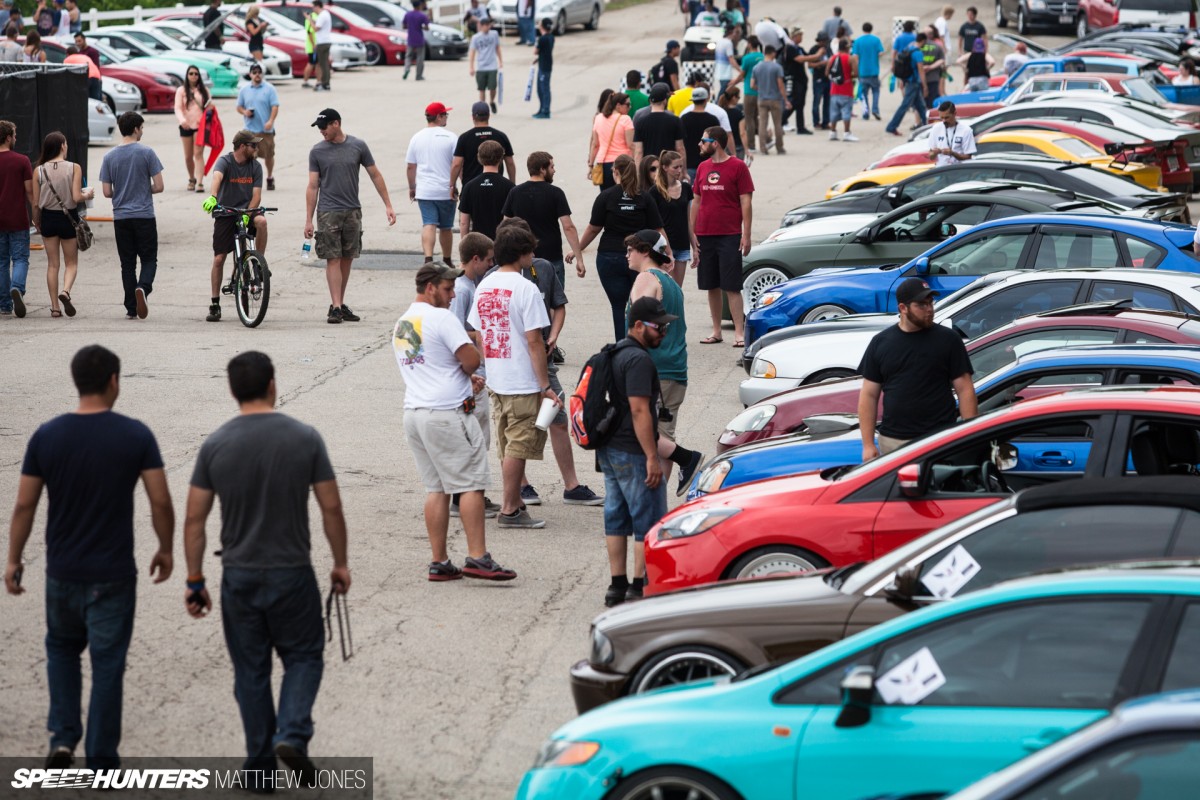 Chop it up to the weather – as this event has been rained out for the past five consecutive years – or maybe even the well-fueled audience, but for some reason the car show aspect has never enjoyed a massive turnout at the Atlanta round. And that said, you'll normally end up finding the most impressive builds tucked away in the masses of parking lots, rather than the designed show space itself.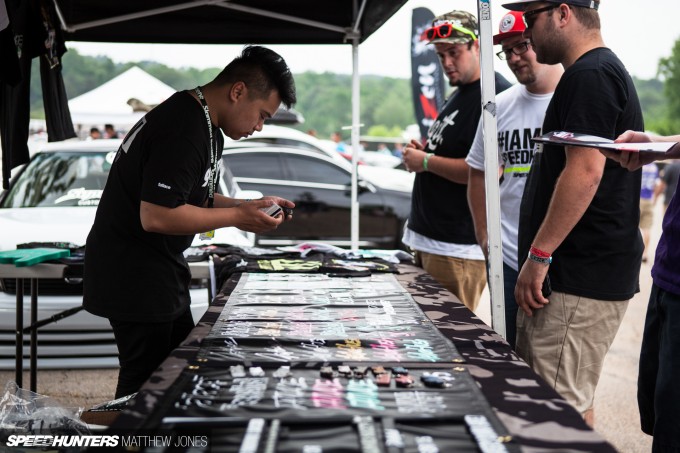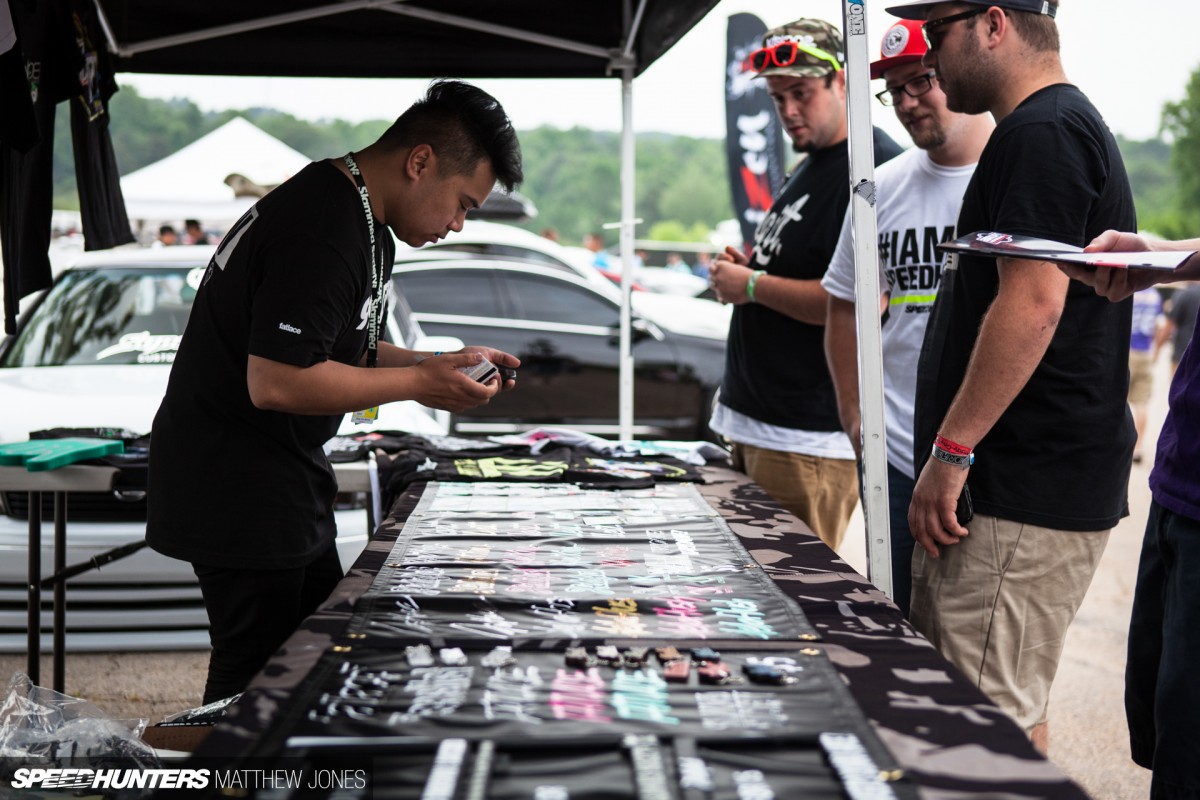 Who knows why. It could very well be something as simple as space constraints, as Road Atlanta only provides a small strip of tarmac for the show. Or maybe it's a sign that the stance movement has never really taken priority over functionality on the Eastern seaboard?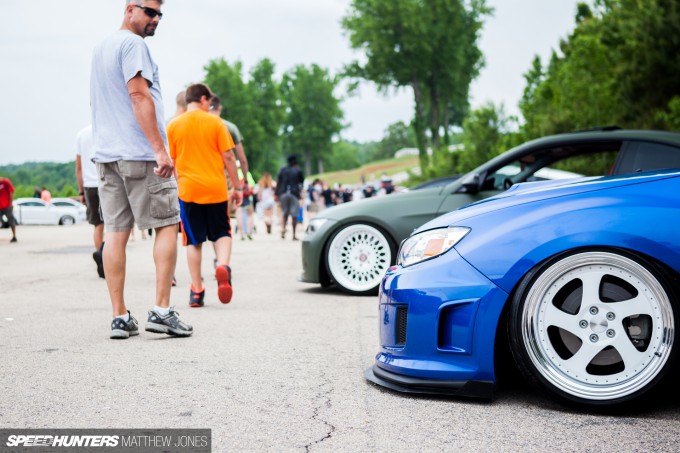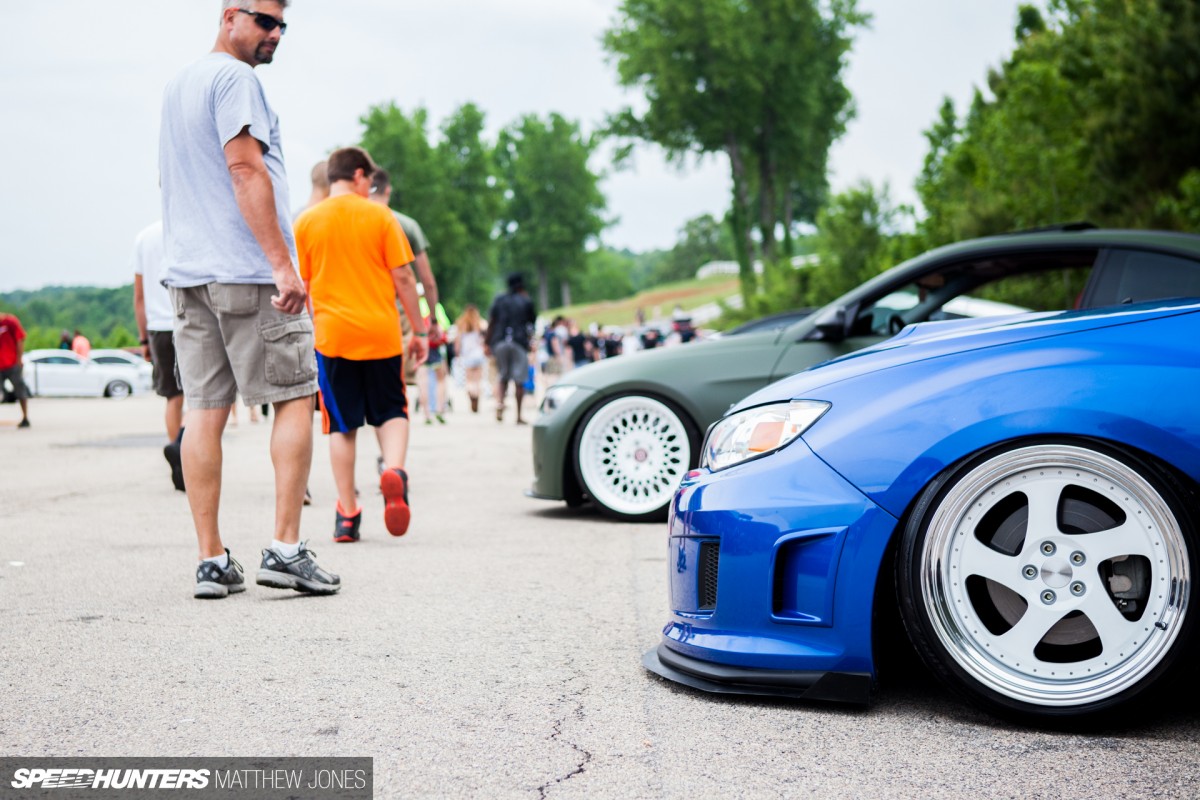 For whatever reason, the designated lot still receives a great amount of foot traffic, and I'm pretty sure the local chiropractic office would have definitely had their hands full with call in appointments due to broken necks, despite the fact that that only about 19 and a half cars were officially entered in the Offset Kings event.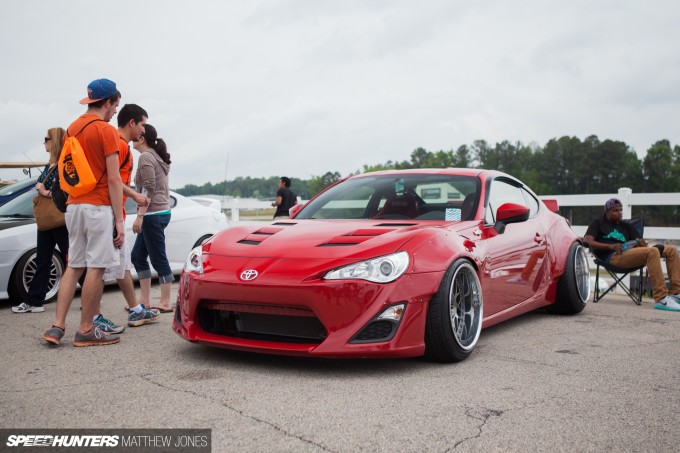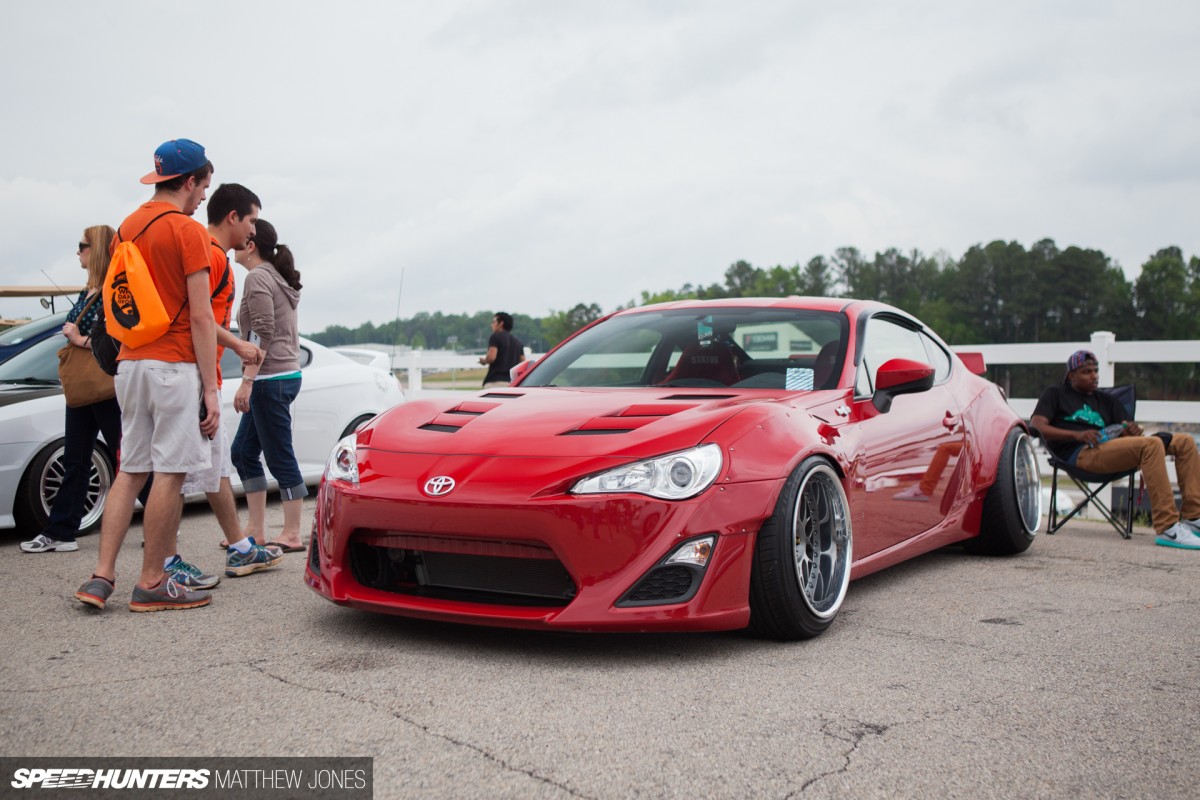 But just because there was only a small selection of cars, by no means does that mean there wasn't anything of interest in sight. Take this Rocket Bunny kitted ZN6 for example – it's fulfilling the Offset Kings name nicely on an aggressively-fitted set of Work VS-XXs.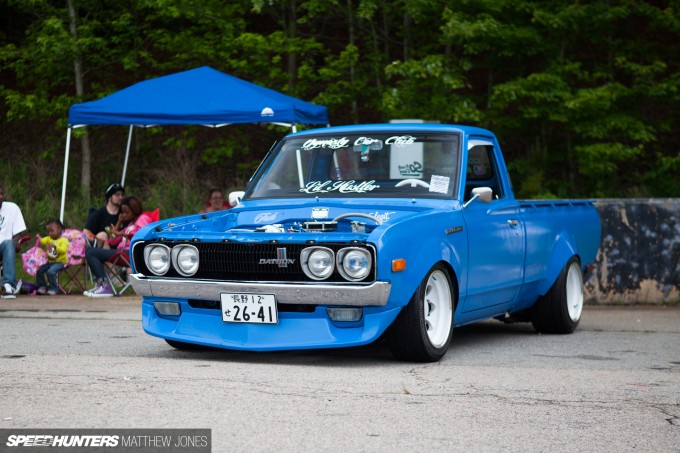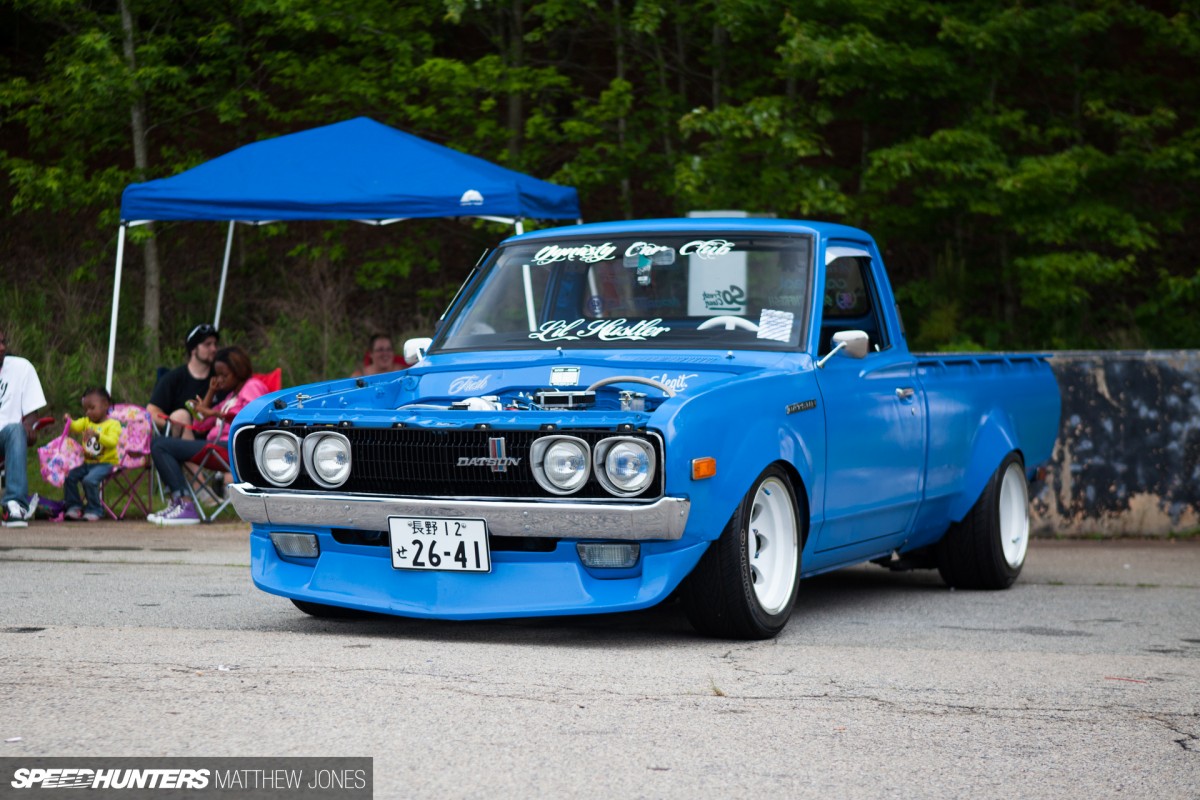 Or this homegrown 74′ Datsun 620 pick-up. I wasn't totally sold on the rear fender treatment, but it's a creative step towards innovation that I feel we should all be able to appreciate.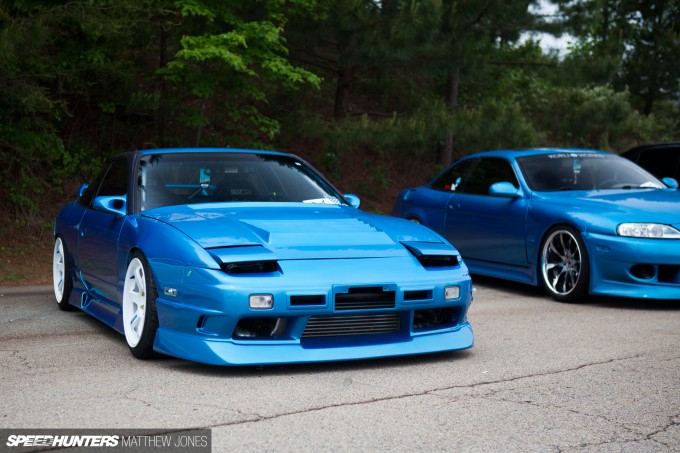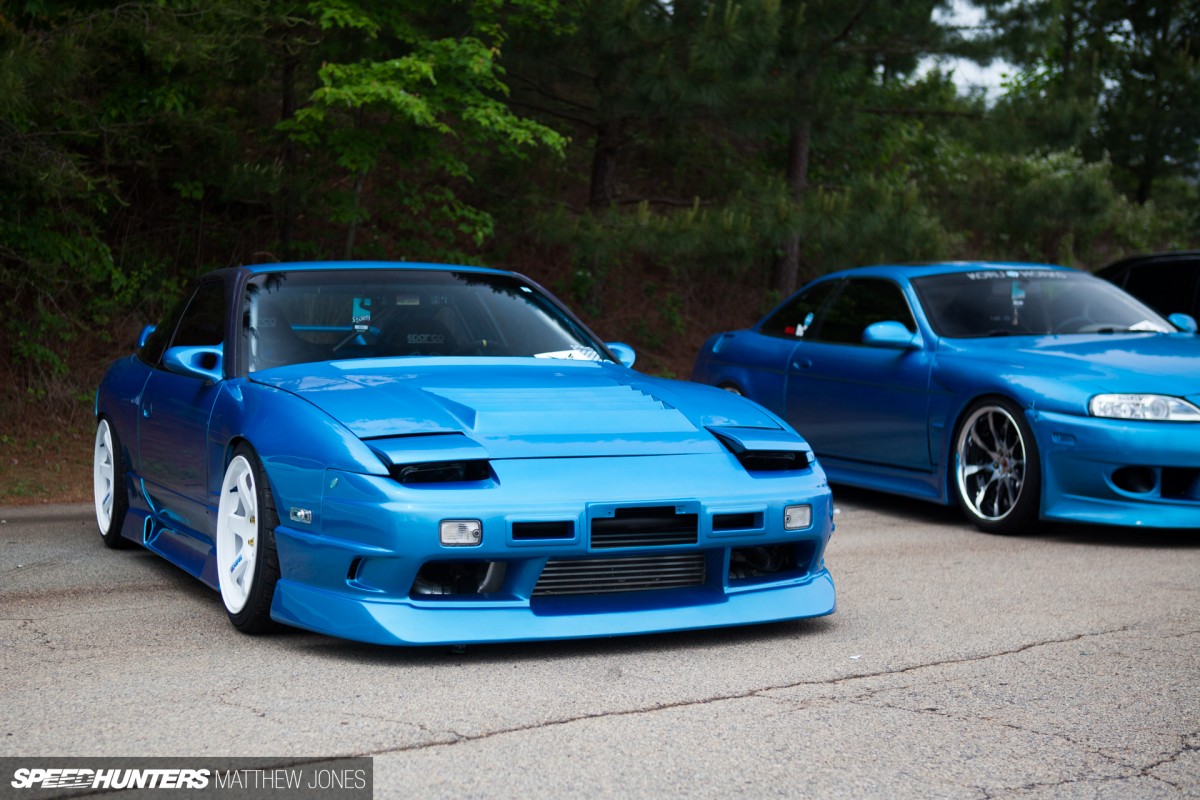 And if you're into S-chassis, the show certainly had no shortage. Just check out this S13 rocking a flawless, Koguchi Power GT-1 aero kit and a clean set of RAYS Volk Racing TE37s.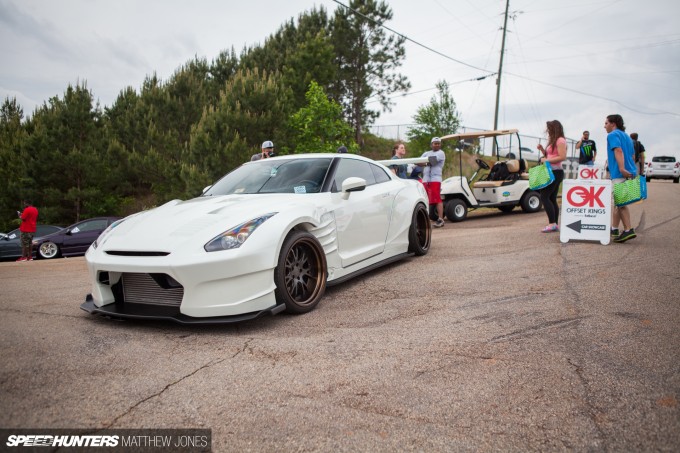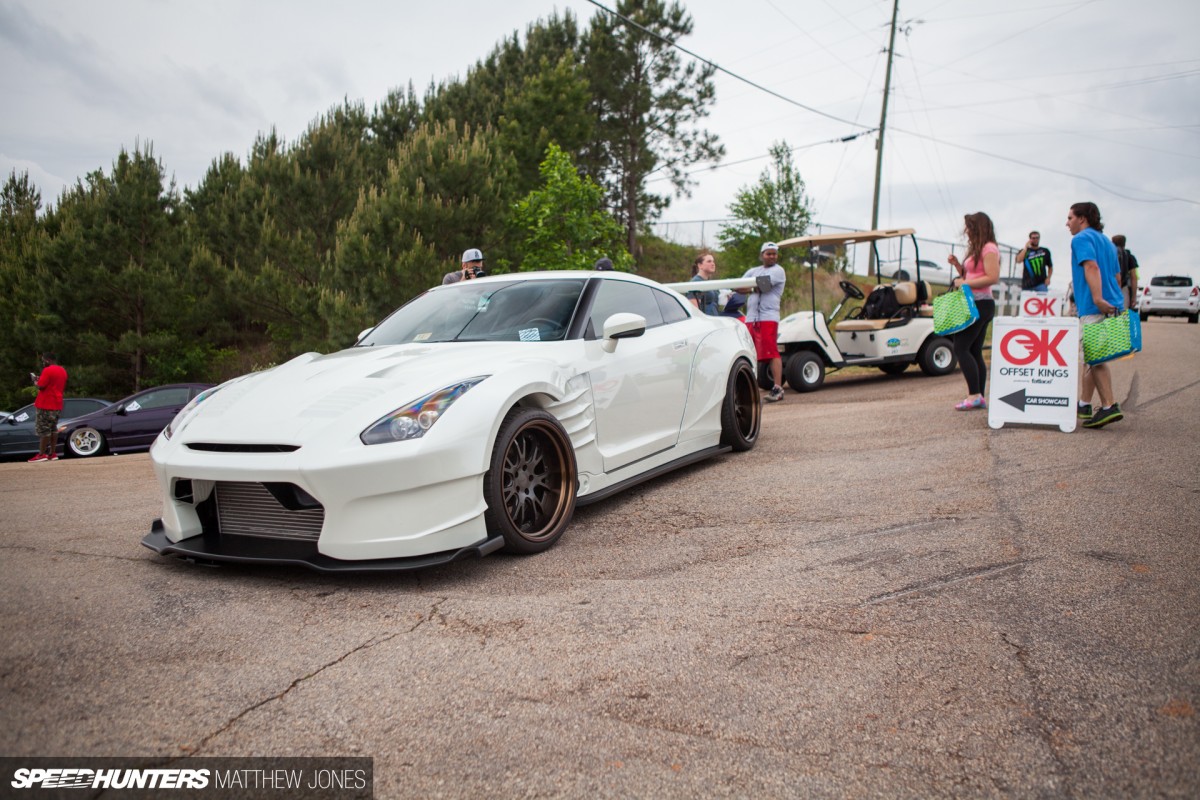 Just as the rain started to come down on cue, 'Godzzra' himself came stomping through all the way from Virginia with a fresh set of Ben Sopra extensions.
Spaceships on Bankhead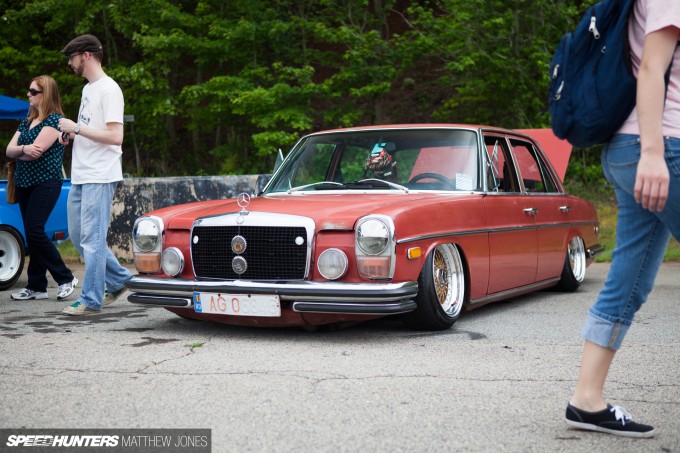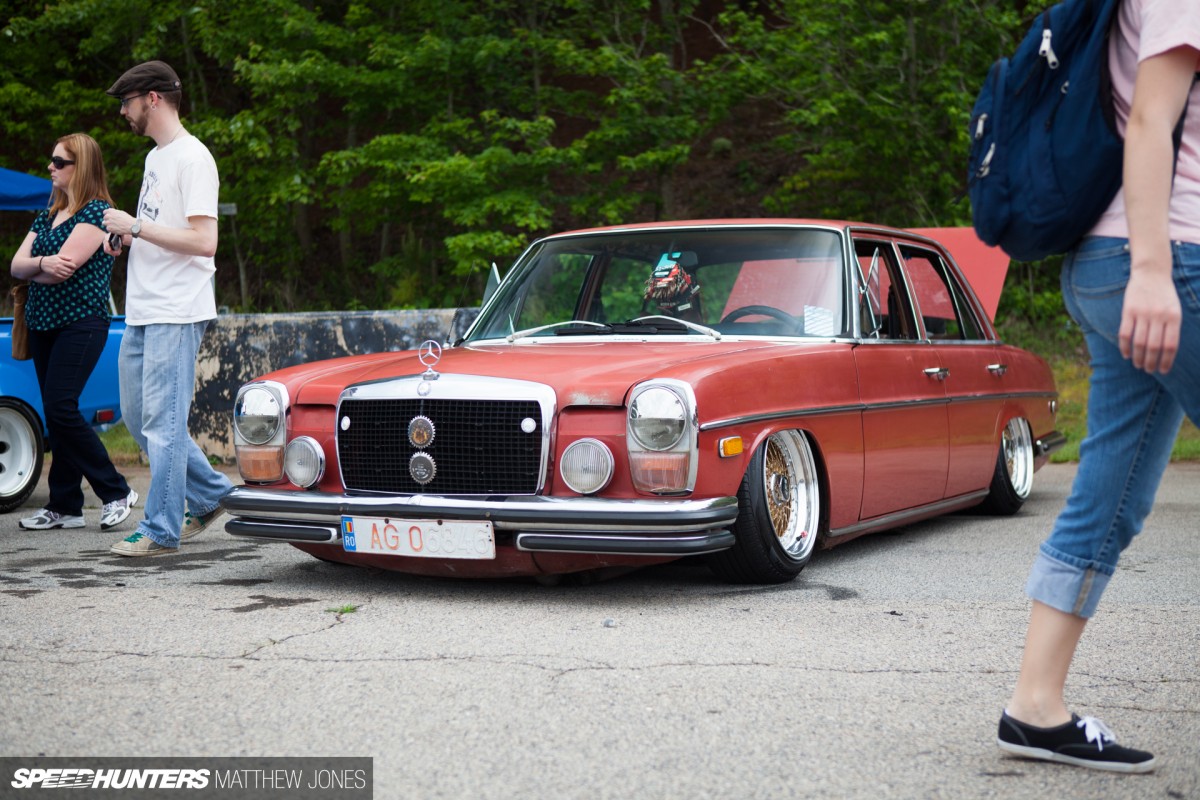 But just as with any show, no matter the size, venue or genre, there's always a few cars that are bound to increase your heart rate. Like this 74′ Mercedes-Benz 240D. With an air lift system in the trunk, 300,000km on the odometer and an all-but-perfect paint job, this 240D has coolness in spades.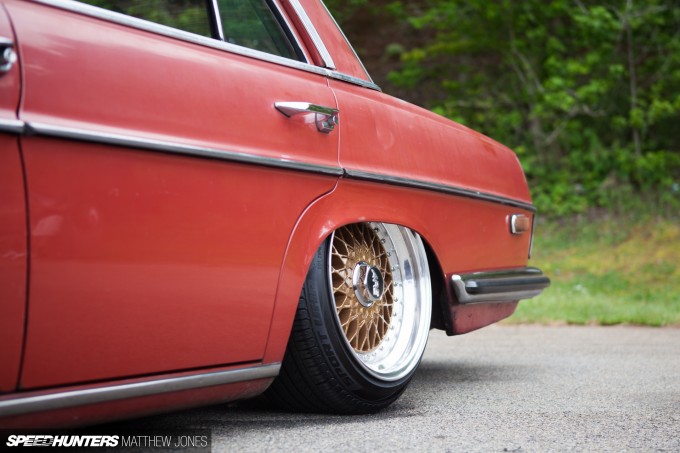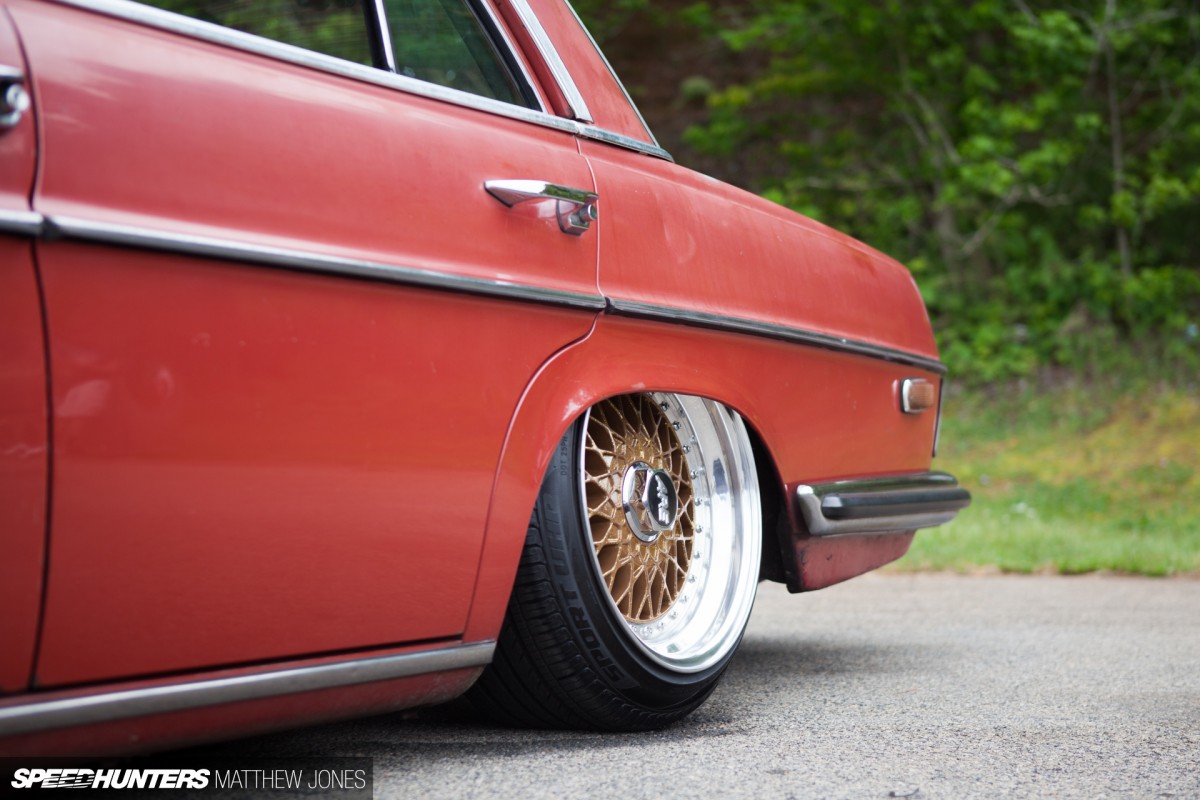 In fact, it was so cool that Larry and I both knew right off the bat that this was our chosen Offset Kings #FeatureThis winner.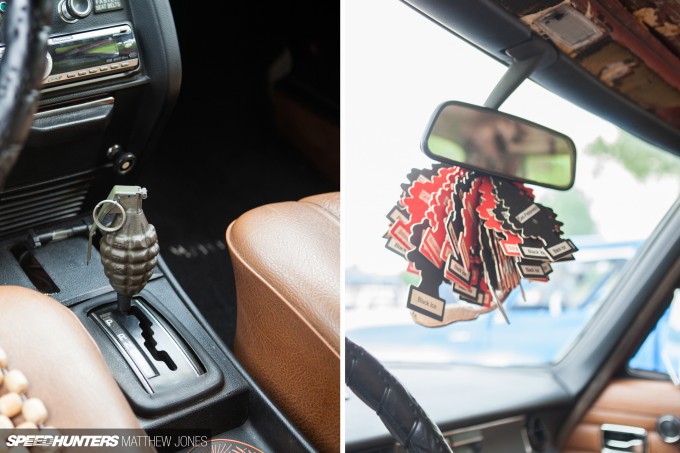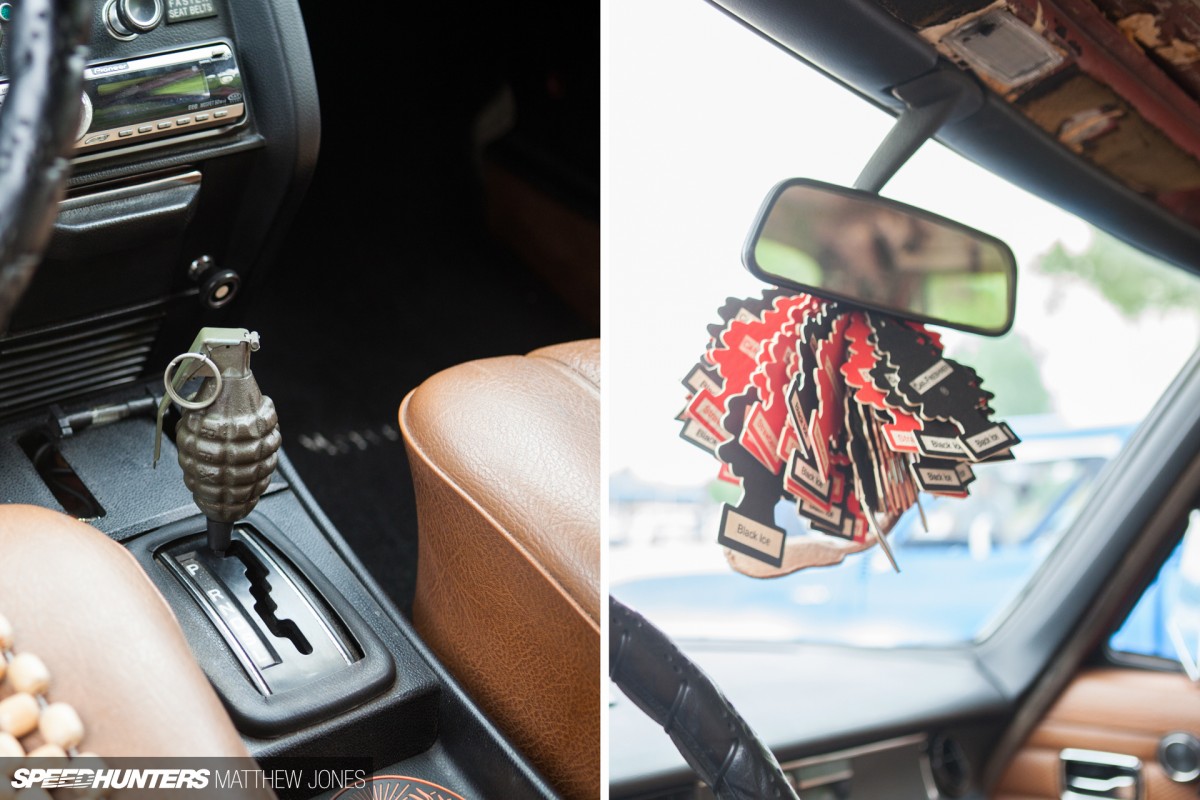 Yet as much I want to continue jotting down all the radical character this build has, I'll have to bite my tounge and ask you to wait until the full feature drops next week.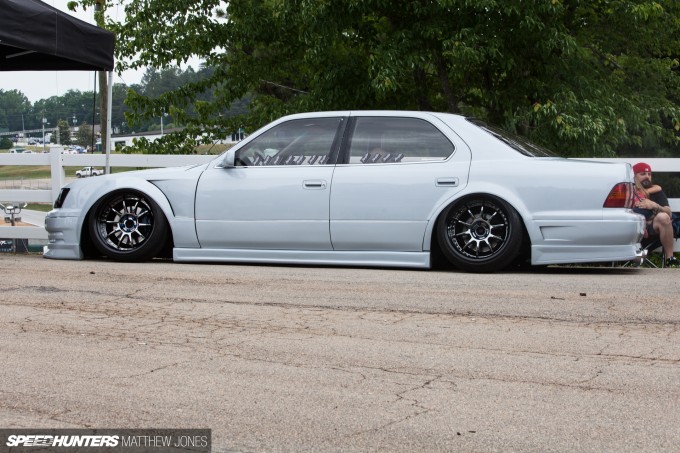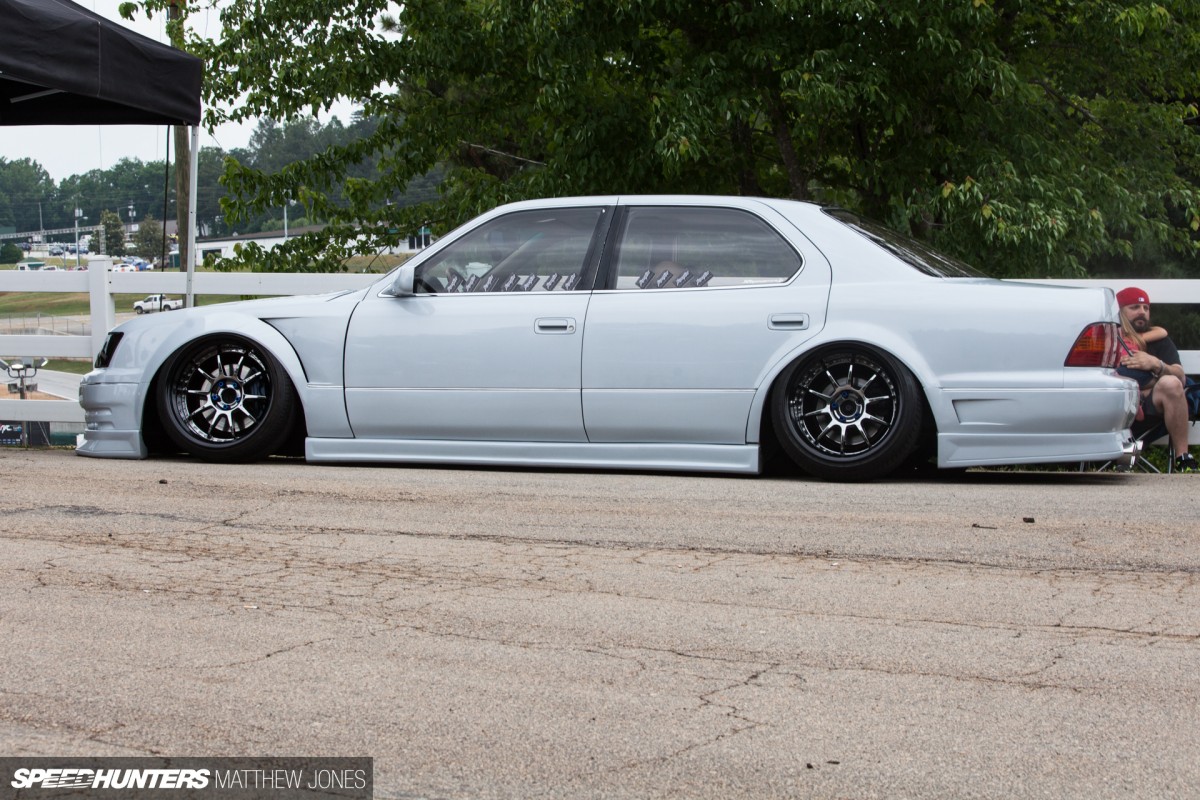 Speaking of things on air, this (Audi) Suzuka Grey Lexus LS400 from Super Star Customs was also easily one of the main attractions of the show.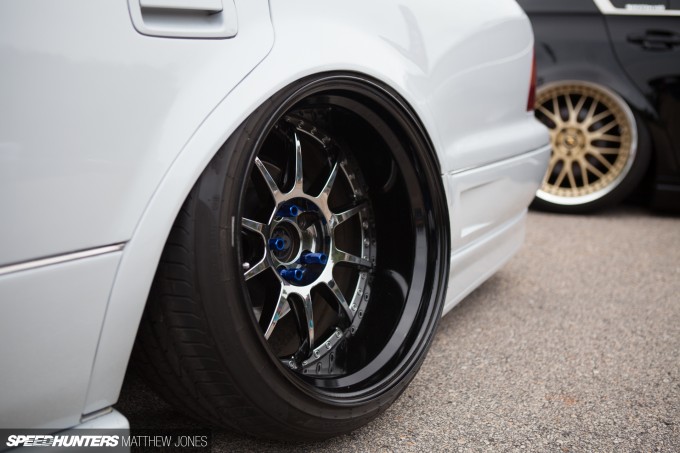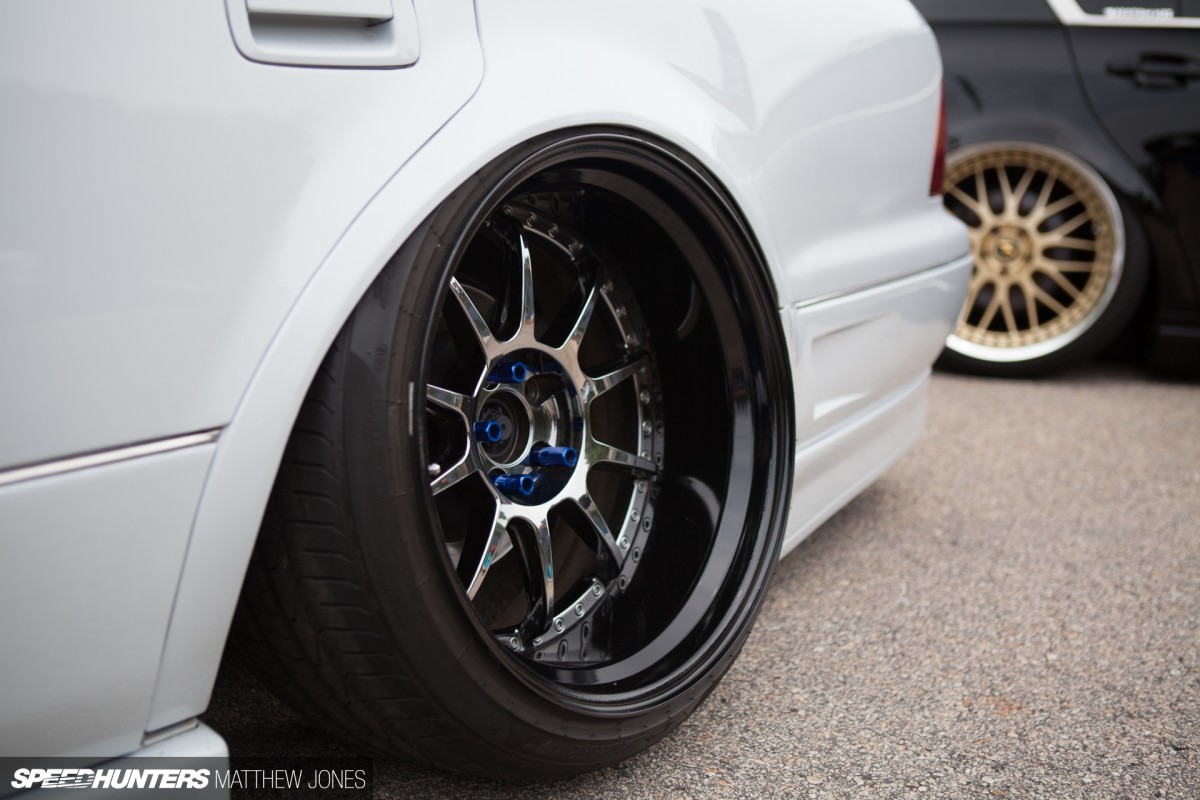 Using a Universal Air Suspension system, the frame was brought down to earth on a set of custom-barreled SSR Professor SP3 wheels – 19×10.5-inch -40 offset and 19×11.5-inch -45 offset front and rear respectively.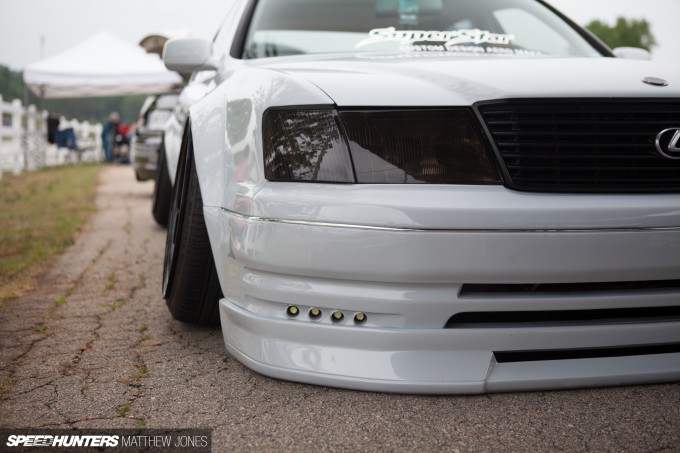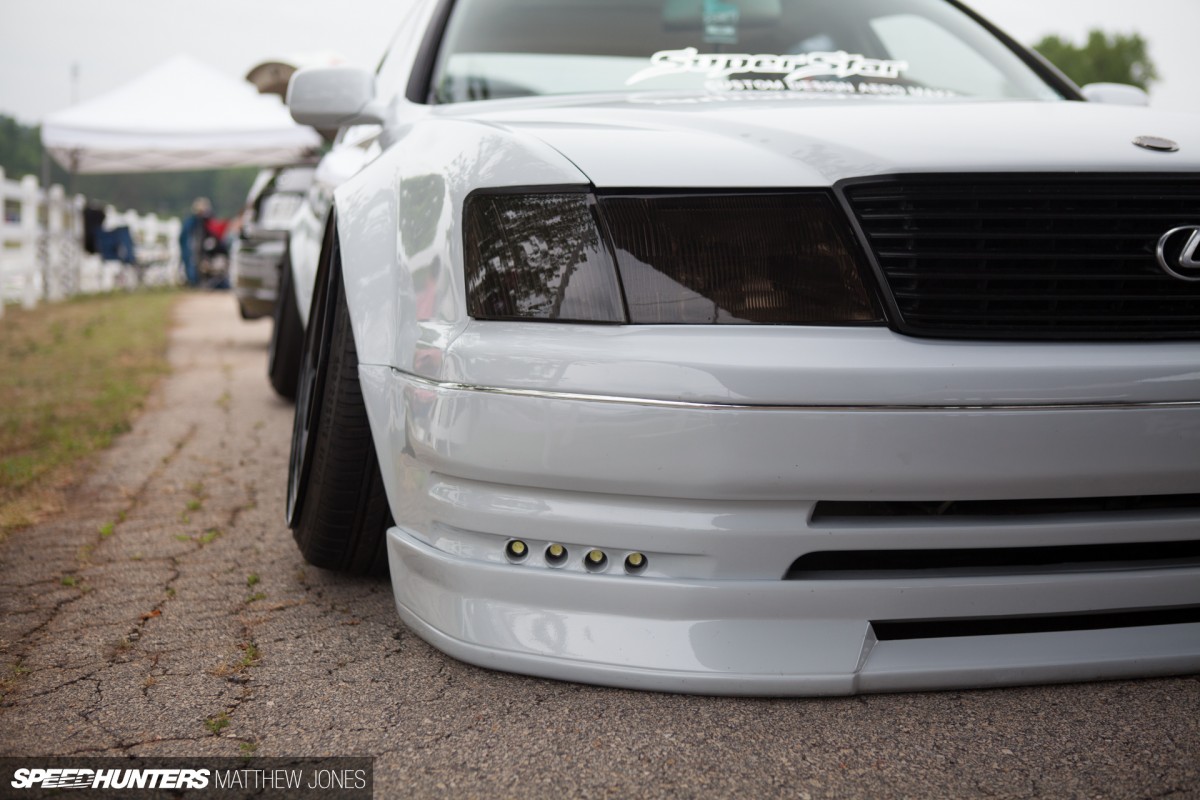 Furthermore, the body was shaved and outfitted with a customised Sports Line lip kit from Wald, to authenticate the bippu theme as much as possible.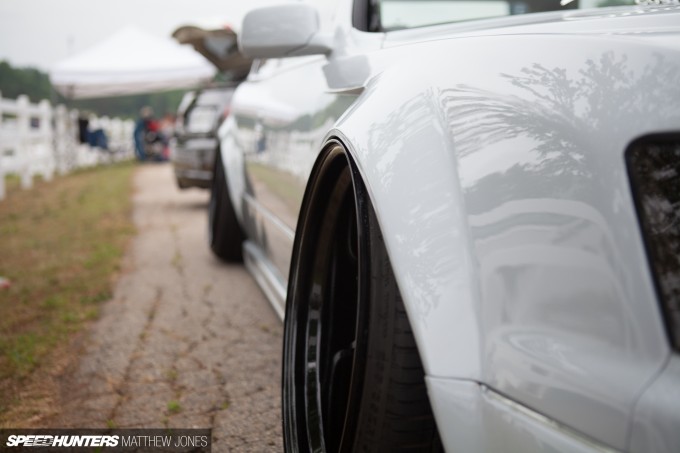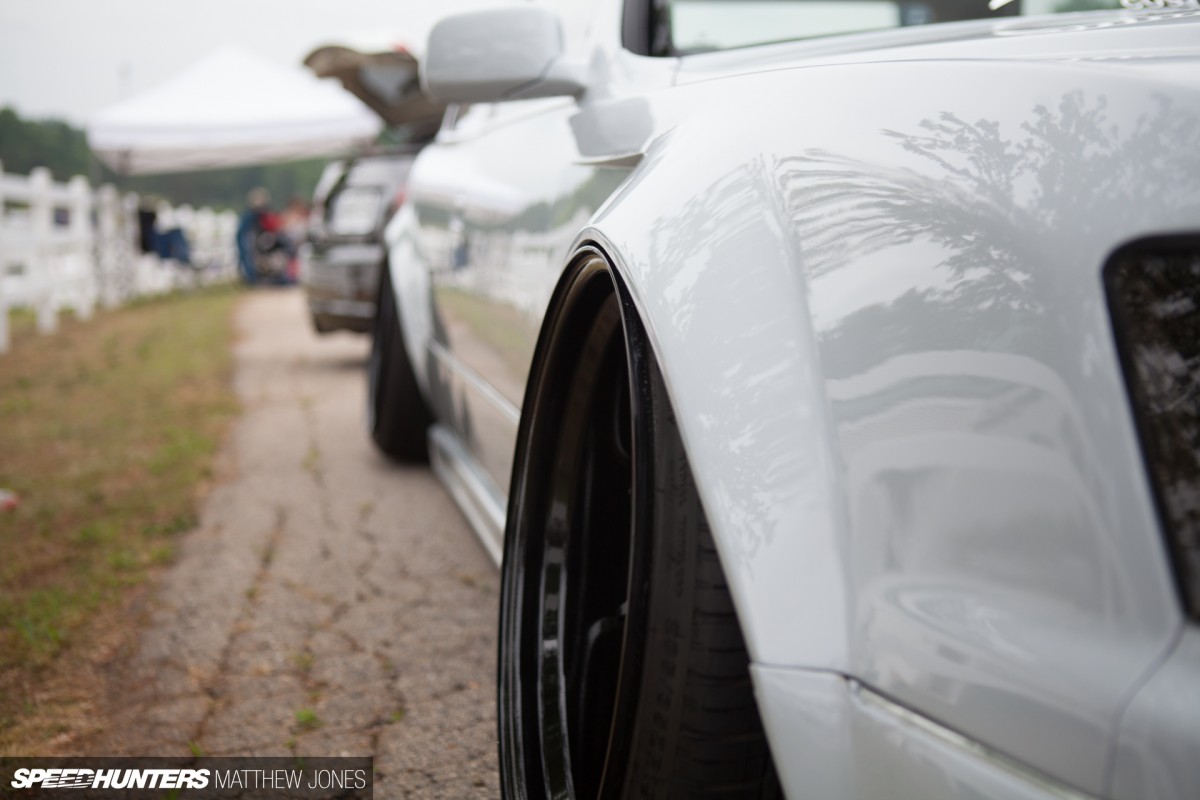 Believe it or not, quality VIP builds of this nature tend to be few and far between on this side of the US, and if it wasn't for that aforementioned old school Benz, this heavy hitter undoubtedly would've been our chosen winner of the show. Just check out that fitment!
All Natural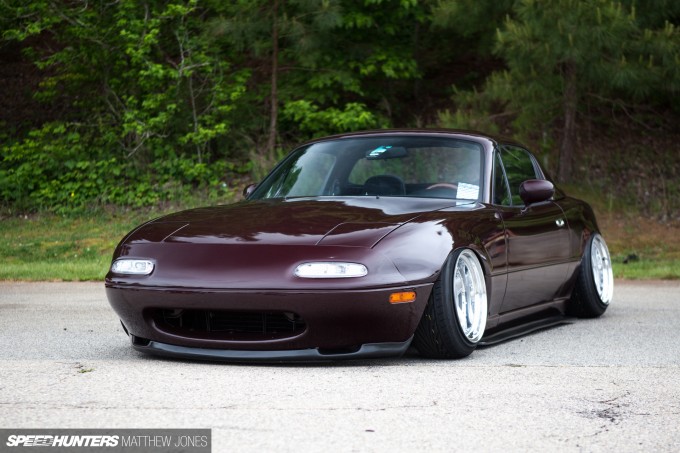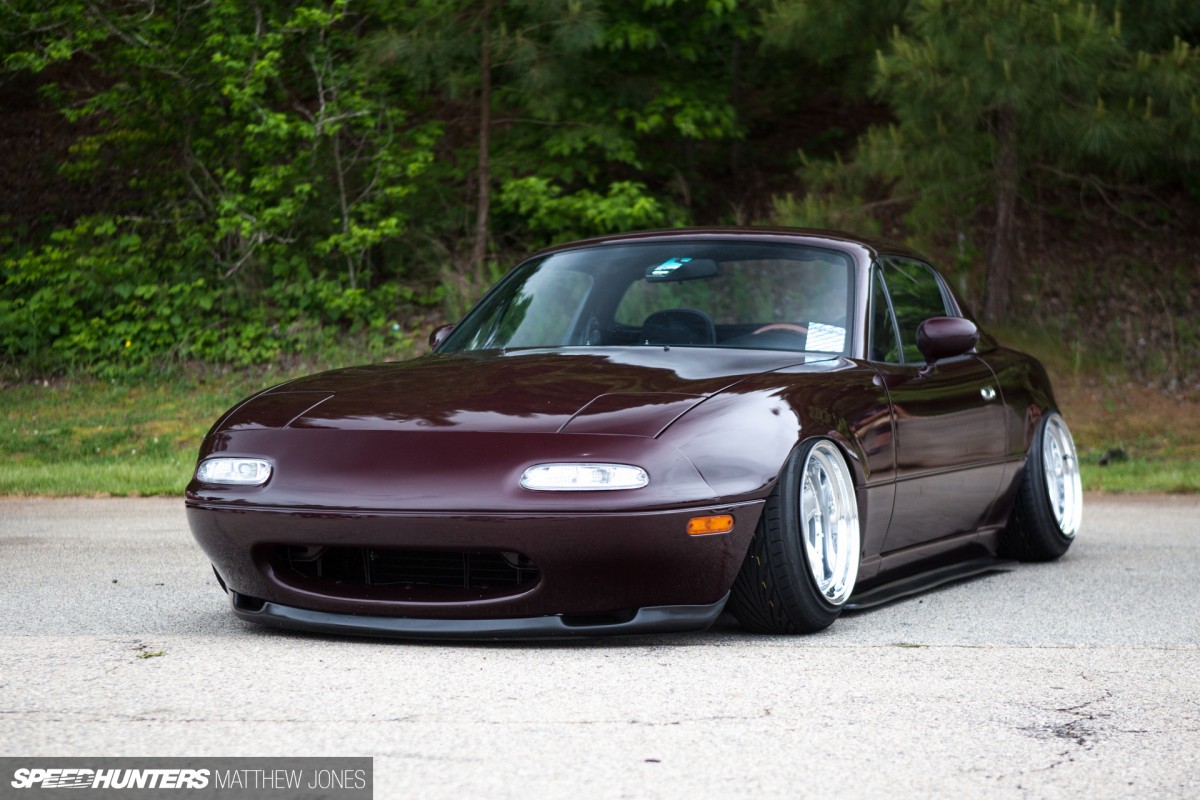 While air setups are continuing to become more and more popular in our industry as a whole, it's still hard to deny the folks diving into the lowered lifestyle the natural way – like this static Miata finished in Nissan's Brickyard Red.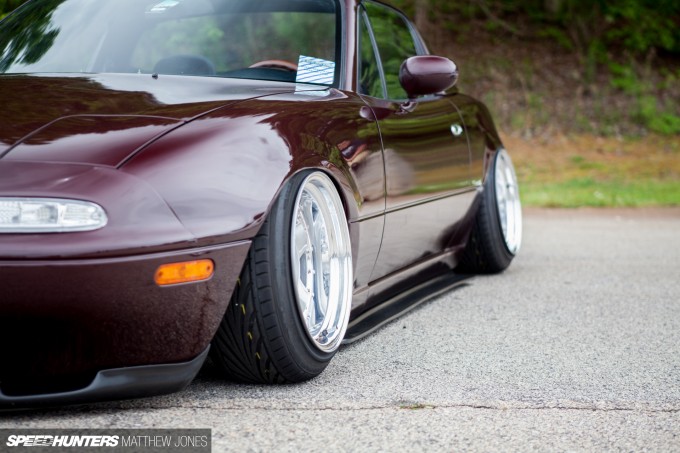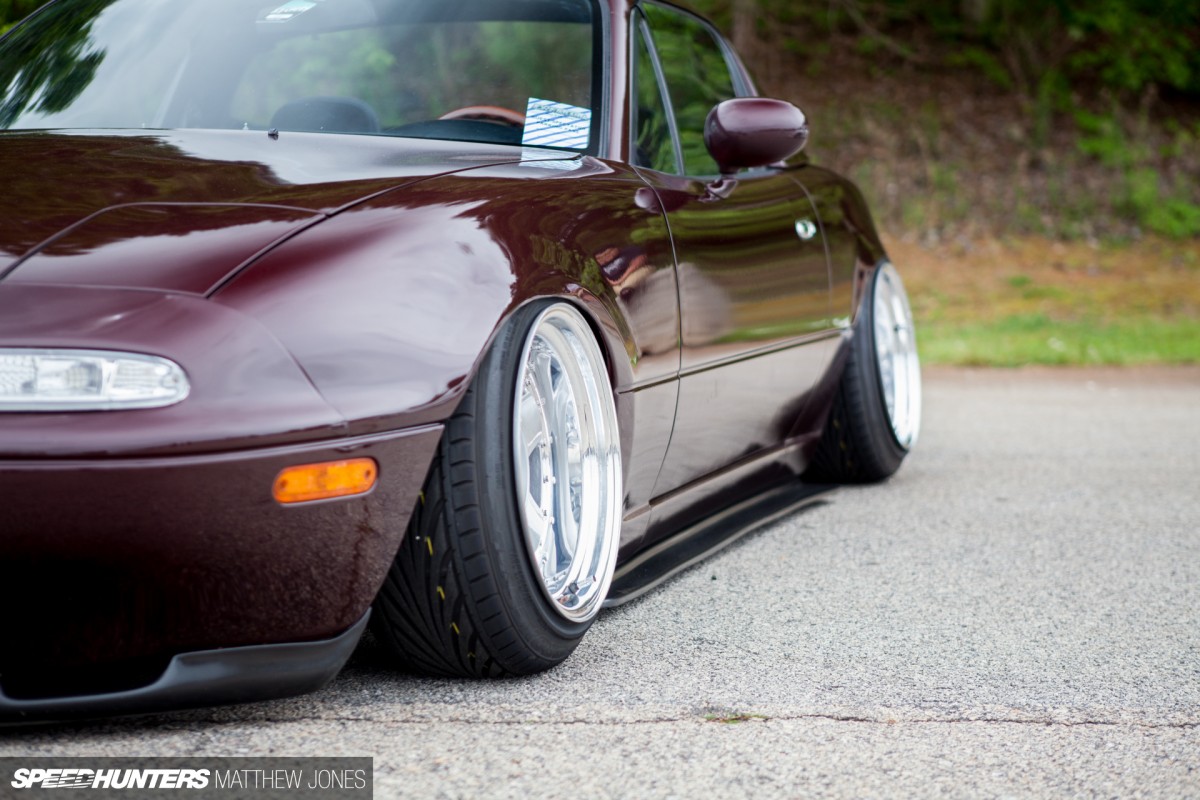 Maybe it's due to state laws and height requirements, or even the quality of the roads, but I feel it's rare that you'd ever see a daily driver hovering this low above the ground on the West Coast. Though I'm sure it's something that will be debated in the comments section…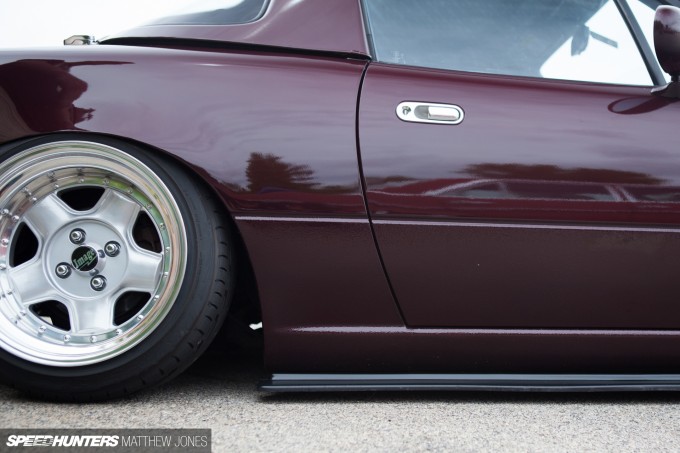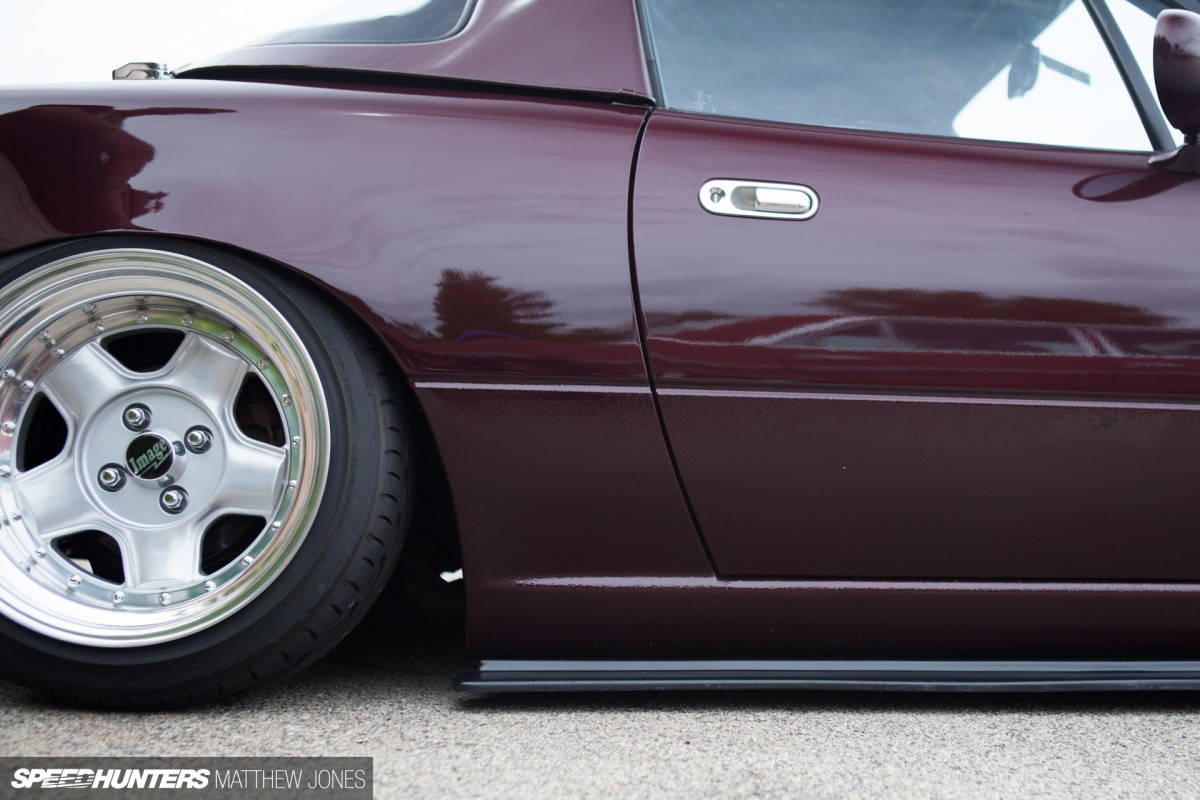 But that's what makes Miatas so cool in my book. Heights like these are not only easily attainable with the chassis, but you can drive with them as well. And when you fill the wheel wells with three-piece 15-inch Image IFX wheels like our owner did here, it becomes a true recipe for success.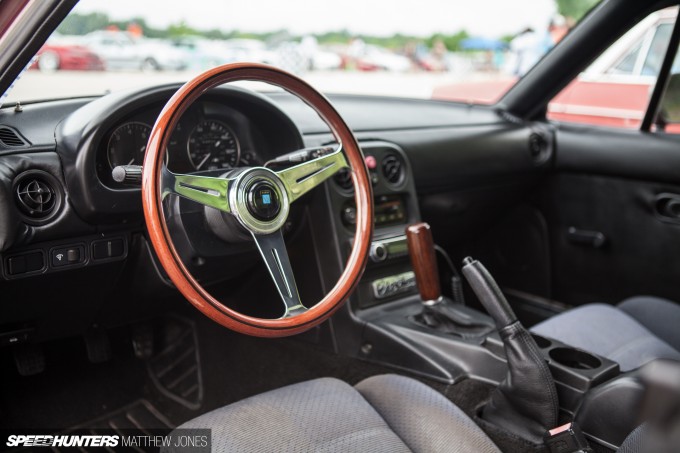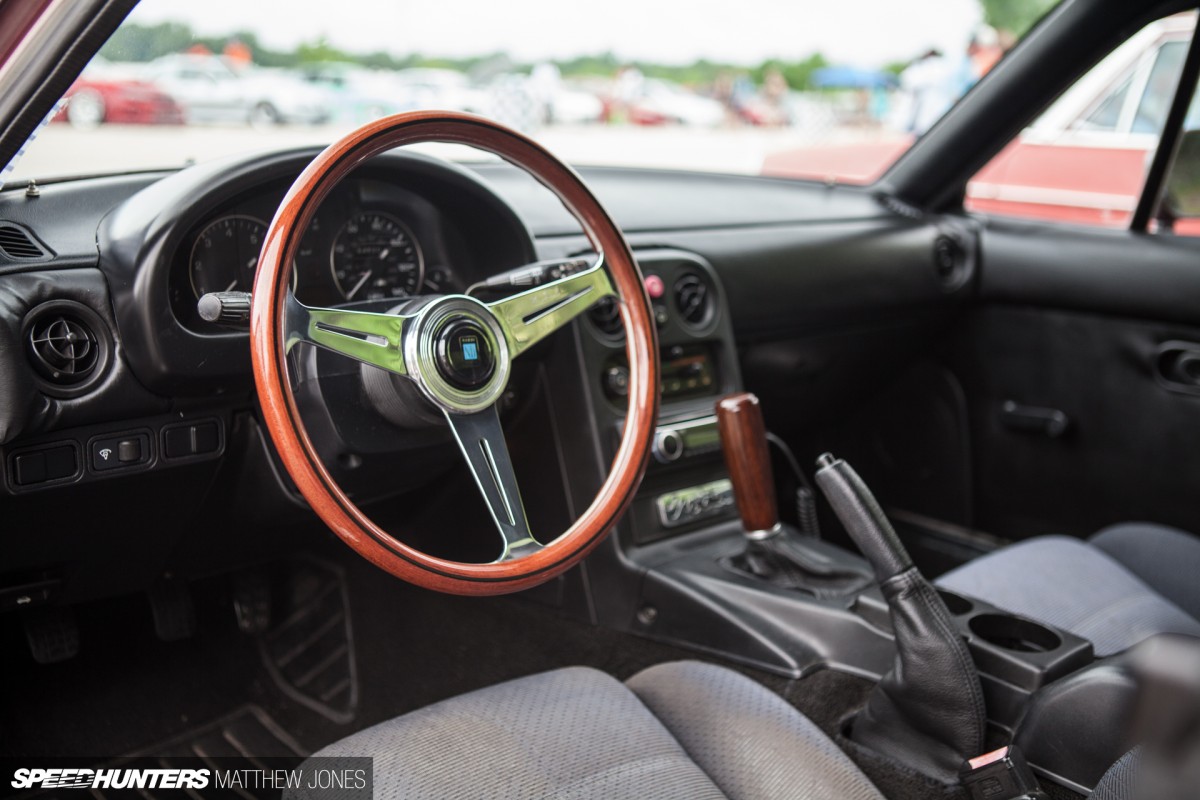 And how about the classic woodgrain Nardi wheel and matching shift knob to tie it all together? Simplicity at its finest…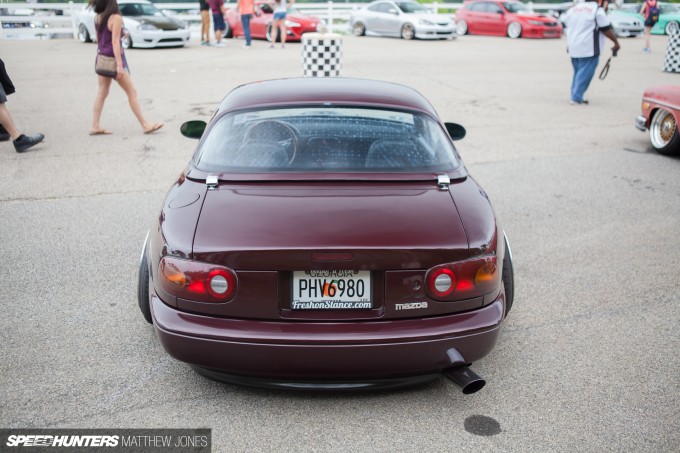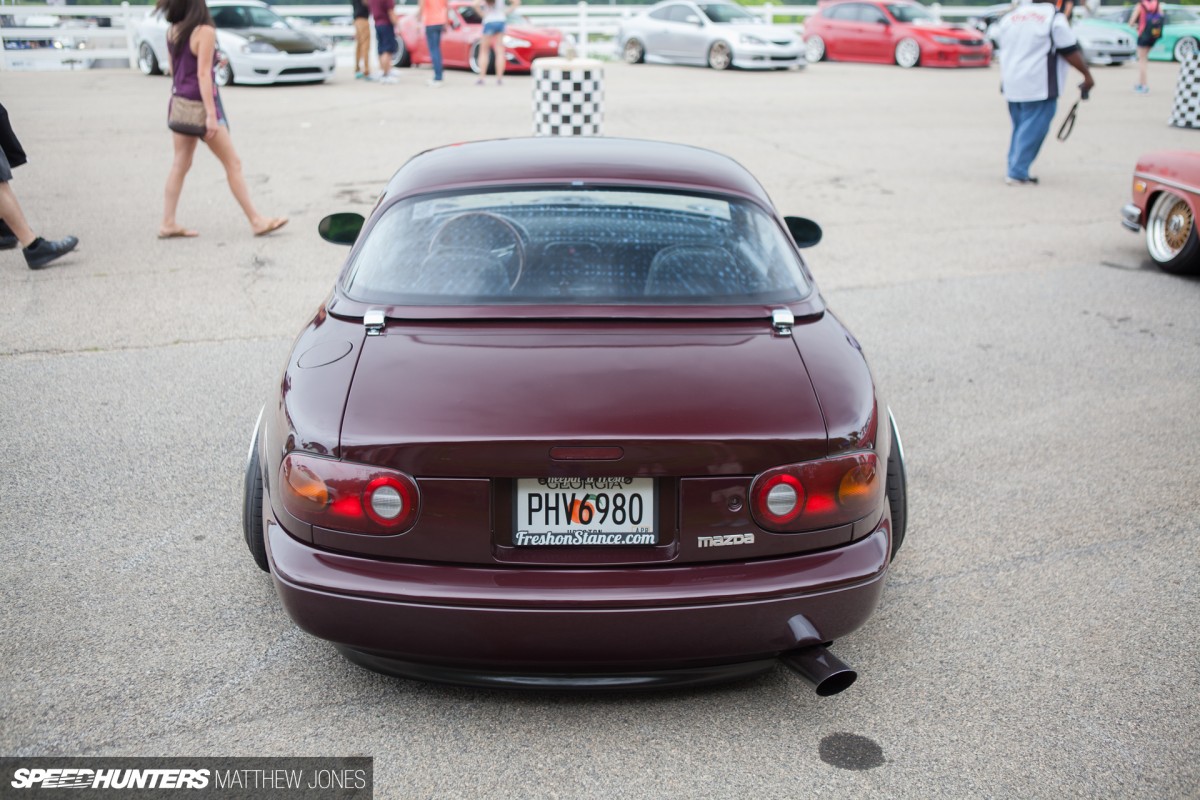 Now, I've definitely seen more than a few slammed Miatas in my day, but I'll be honest and admit that I was actually so dumbfounded that this was the owners true daily, that I had to be a fan boy and pop the question, 'How do you do it?' Holding back a smirk, he simply replied with, "Sparks fly" – and left it at that. What a champ!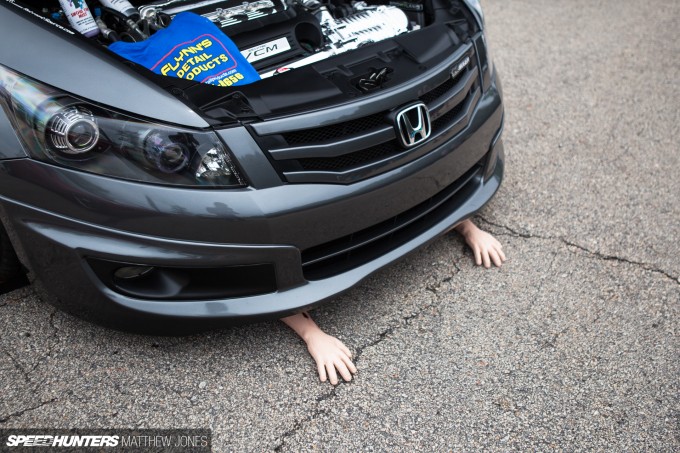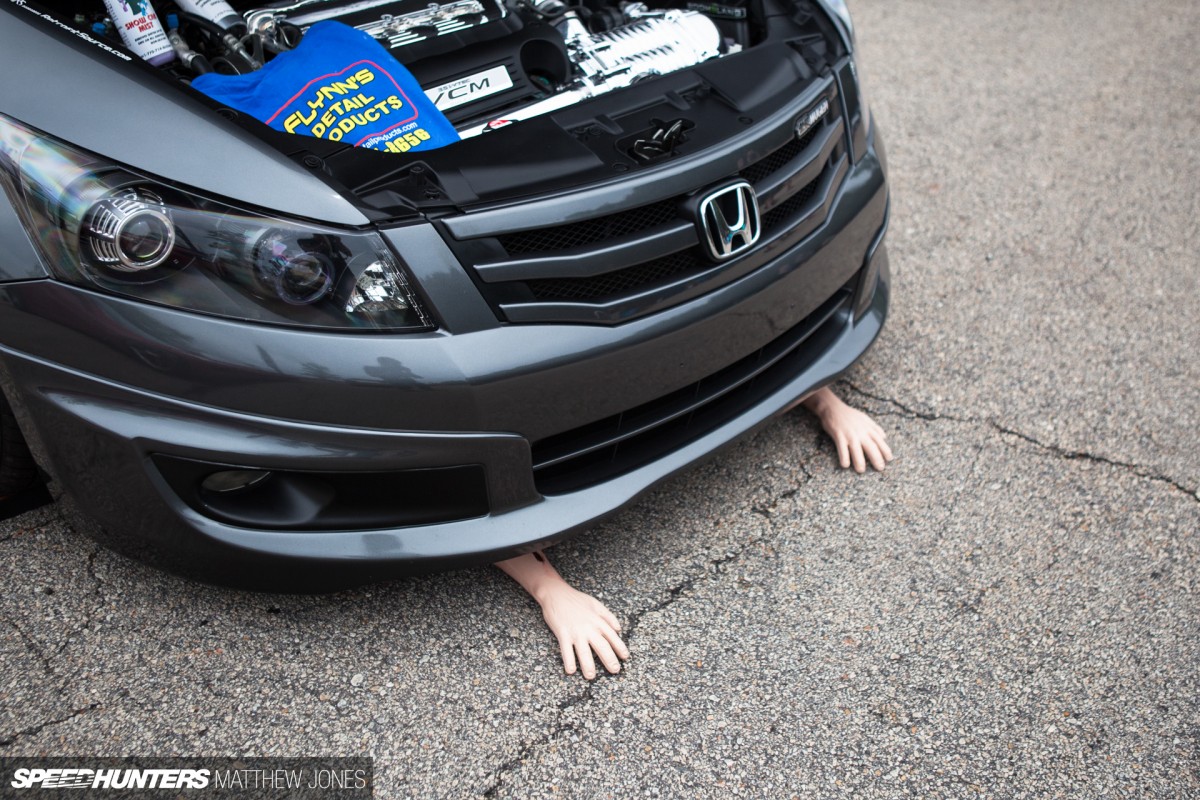 Though the show wasn't graced with the glorious SoCal weather that Mike experienced during Long Beach's Offset Kings show, there was still enough variety, randomness and attention to detail to keep even the most seasoned viewers occupied throughout the Formula Drift half time break.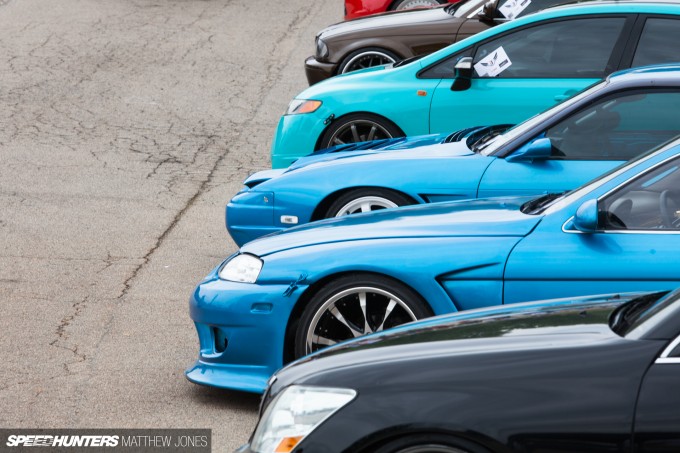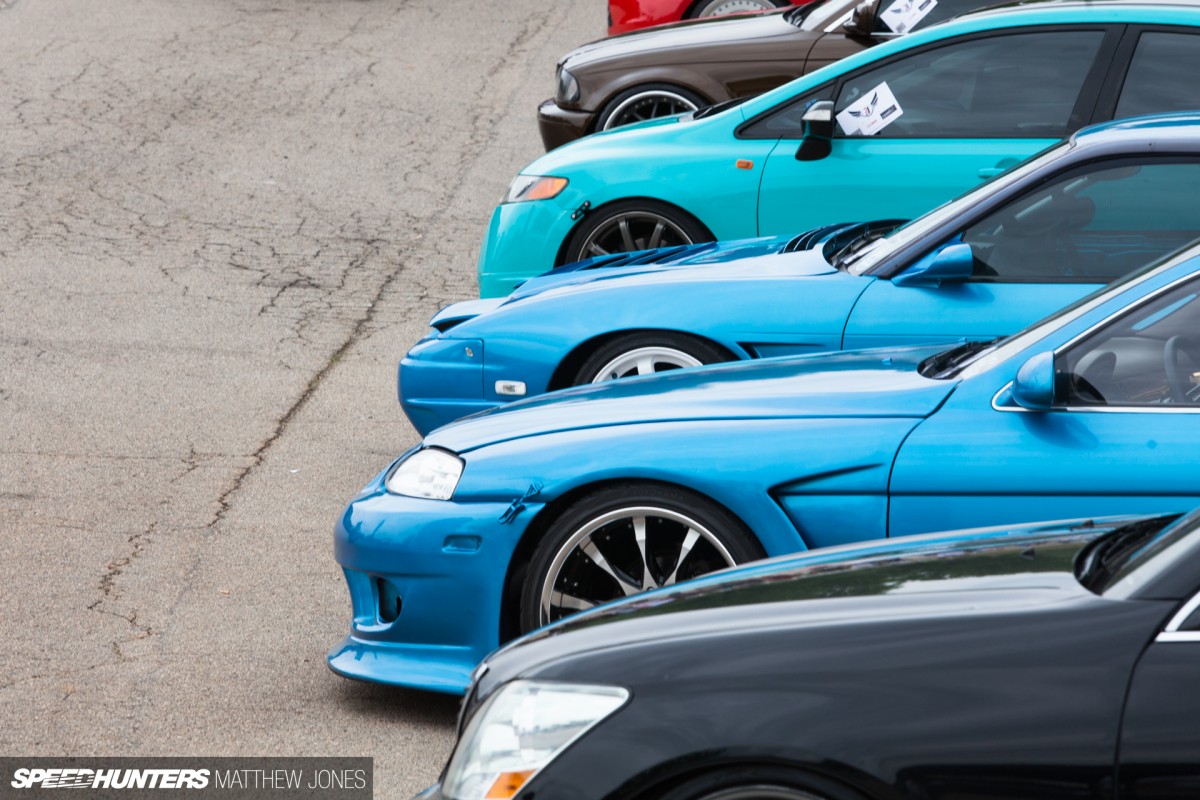 I'll be looking forward to what Miami has to offer as I'll be traveling down south for Formula Drift's third round towards the end of the month. But in the meantime keep an eye out for the #FeatureThis Benz story – you won't be disappointed…
Matthew Jones
Instagram: matthewjonesphoto
matt@speedhunters.com