Just Drift
I was recently at a dinner with many automotive journalists. We were all exhausted from a long press drive and eagerly awaiting some authentic Spanish tapas to arrive at the tables. Sitting across from me was a gentleman with pure white hair who has been doing my job for longer than I have even existed on this earth. As we injested unhealthy amounts of ham, we started to talk about cars. I mean, what else do automotive journalists talk about, right? I showed him pictures of my 1970 240Z and he was floored. He had no idea that youngins like me still modified cars.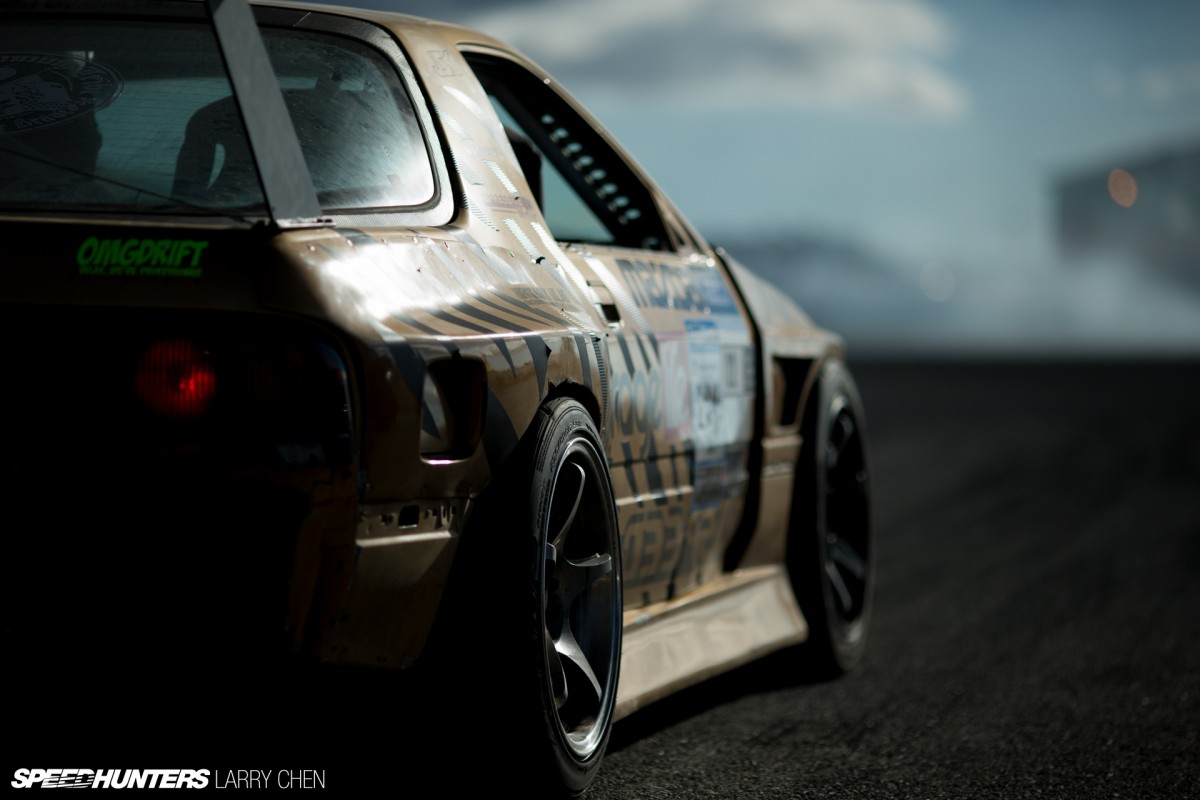 Maybe he thought that his generation of car enthusiasts were the last of their kind, and they are only getting older.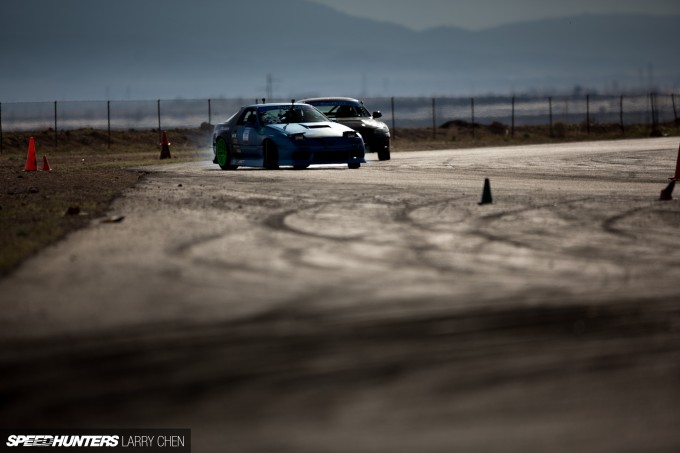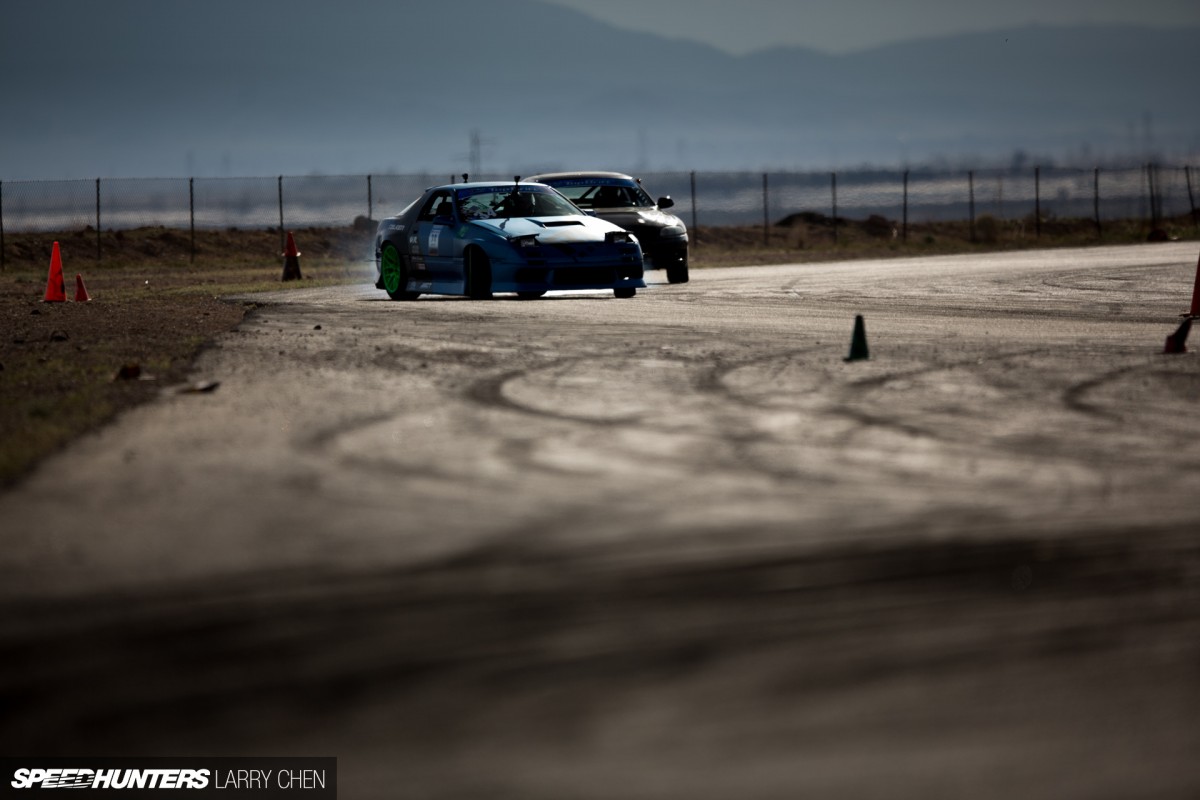 Maybe he thought that kids these days just like putting fancy wheels on their cars, but they don't actually like to thrash them and take them to redline over and over again.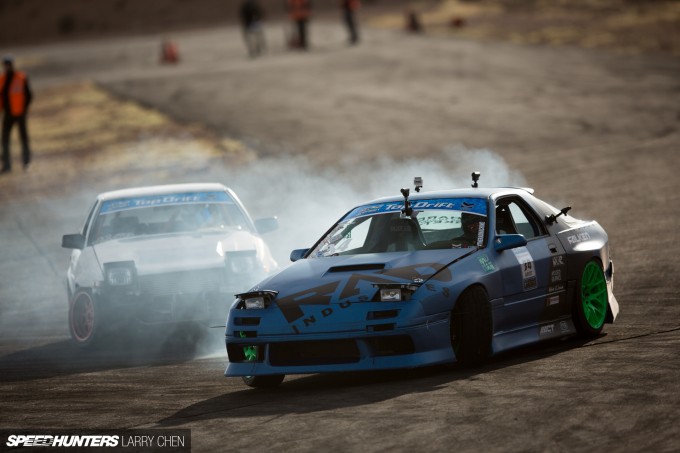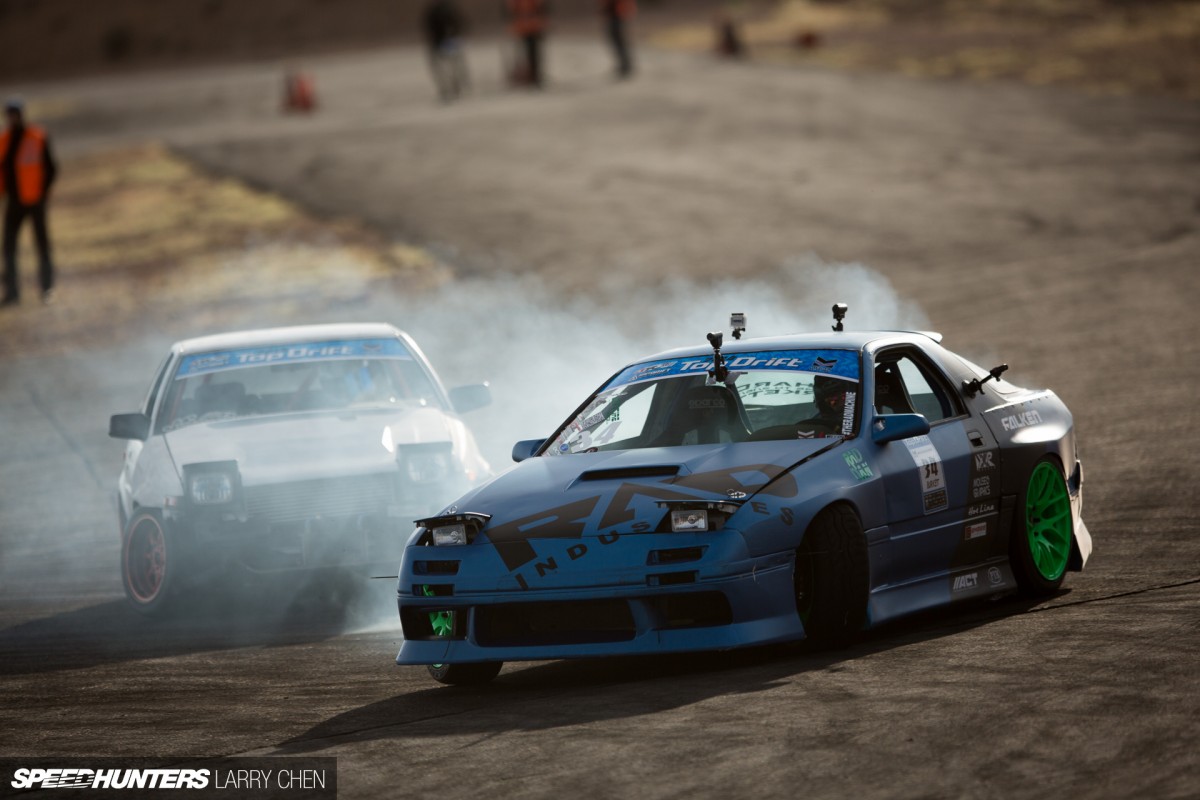 Little did he know, car culture is alive and well with the younger crowd – something most evident in North America's grassroots drift scene.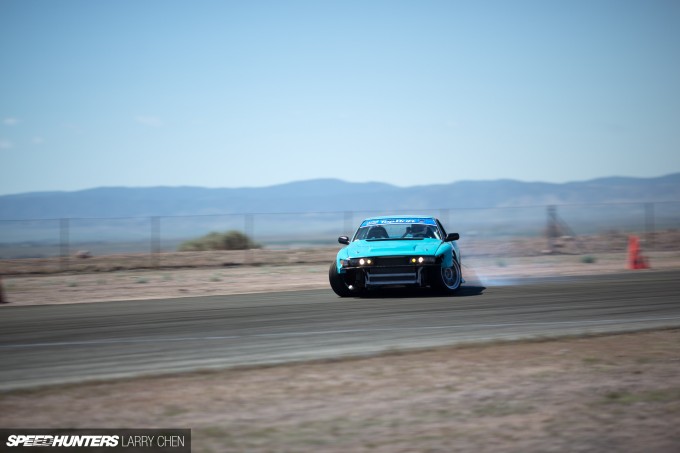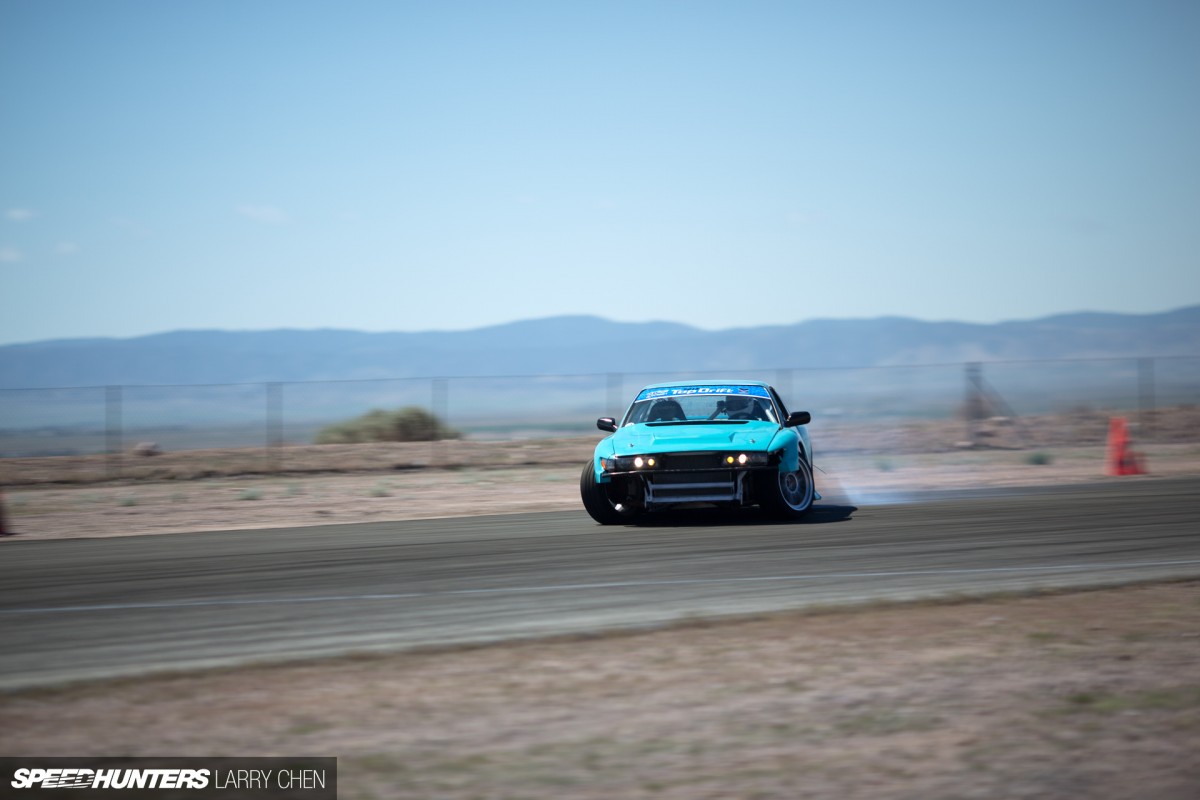 I've been shooting the Just Drift pro-am feeder series (also known as Top Drift) since 2006.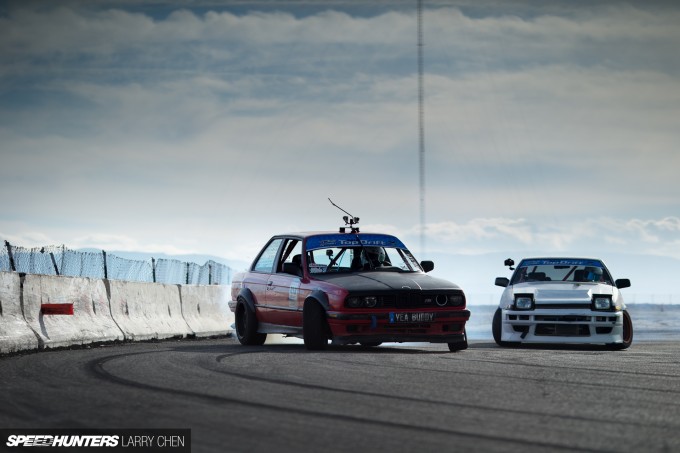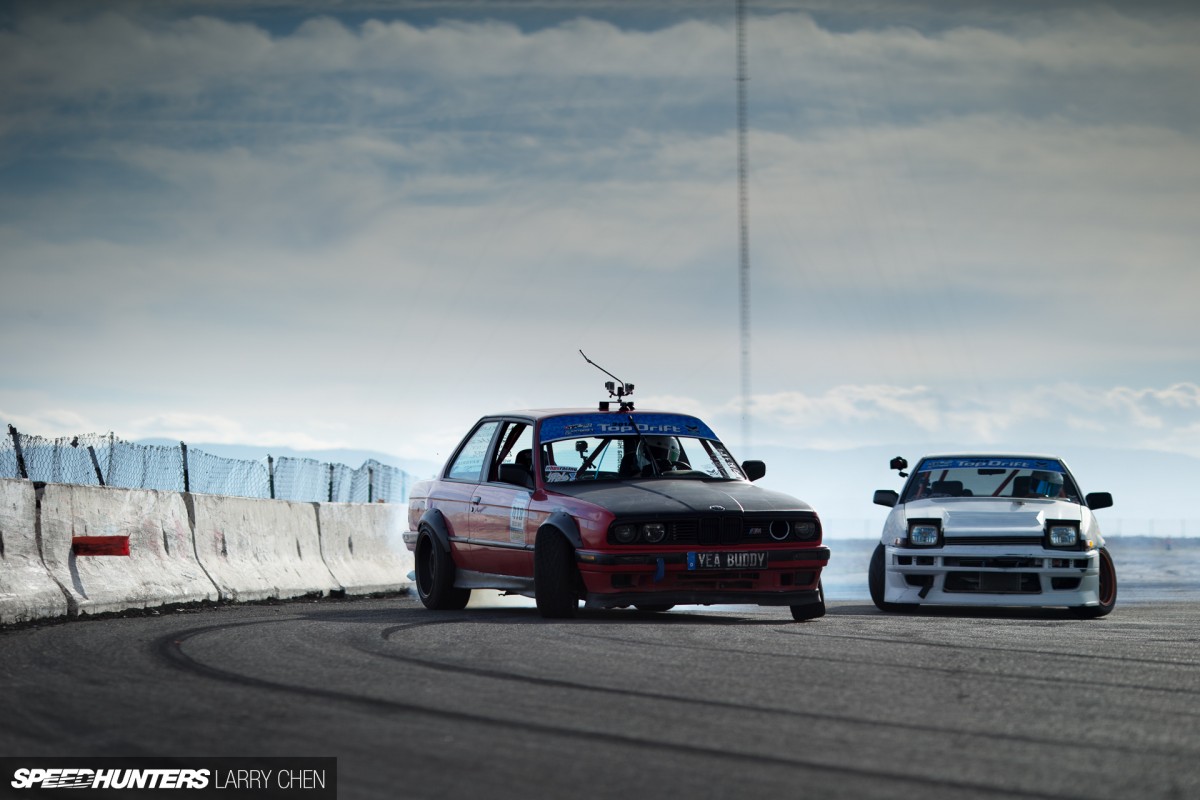 So in keeping with tradition, a couple of weeks ago I decided to check out the season opener at Willow Springs International Raceway.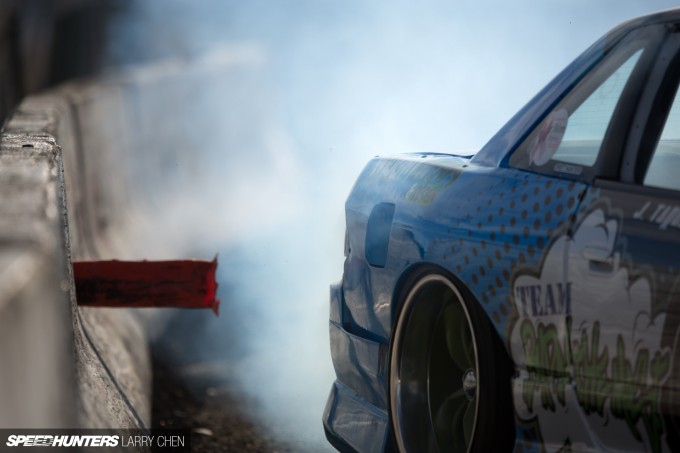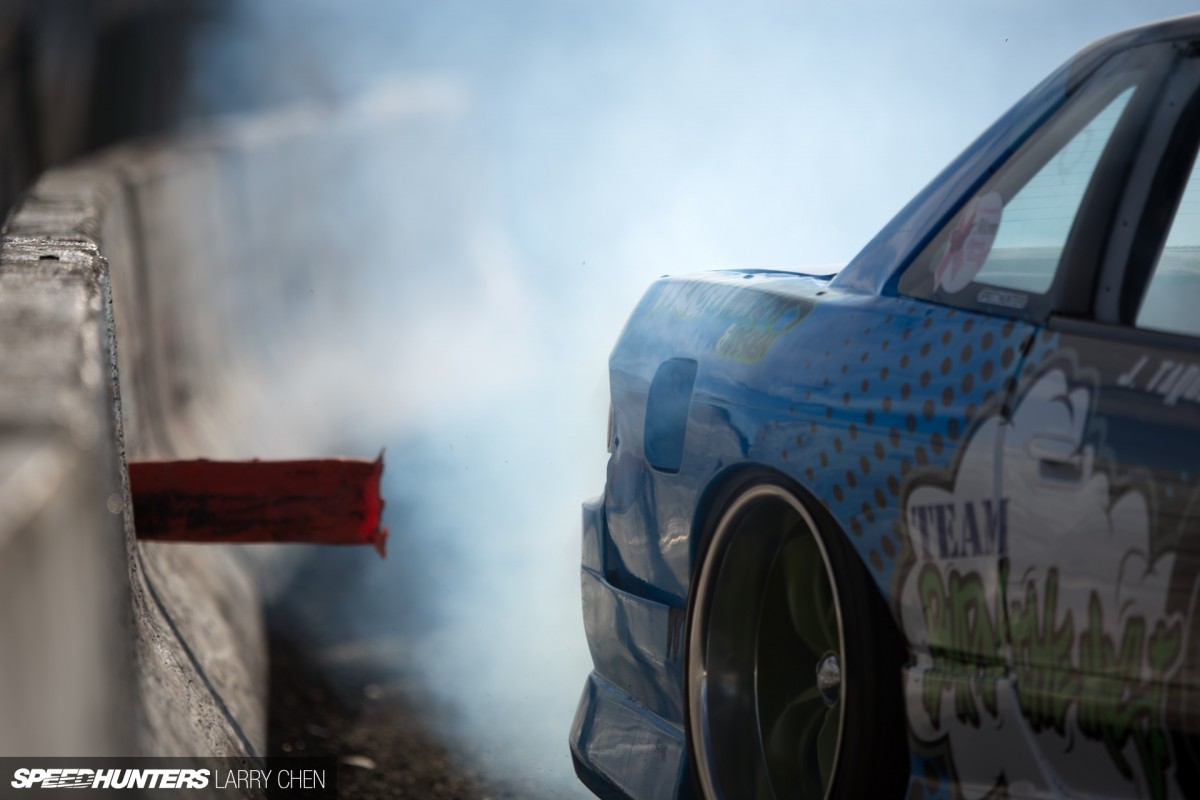 It's the largest amateur drift series in North America – maybe the world.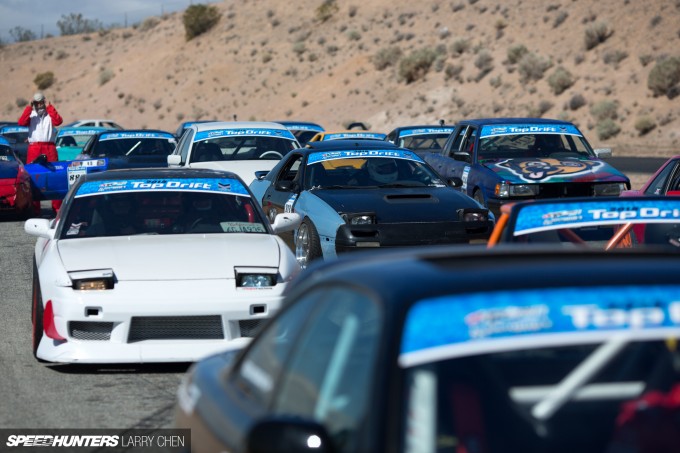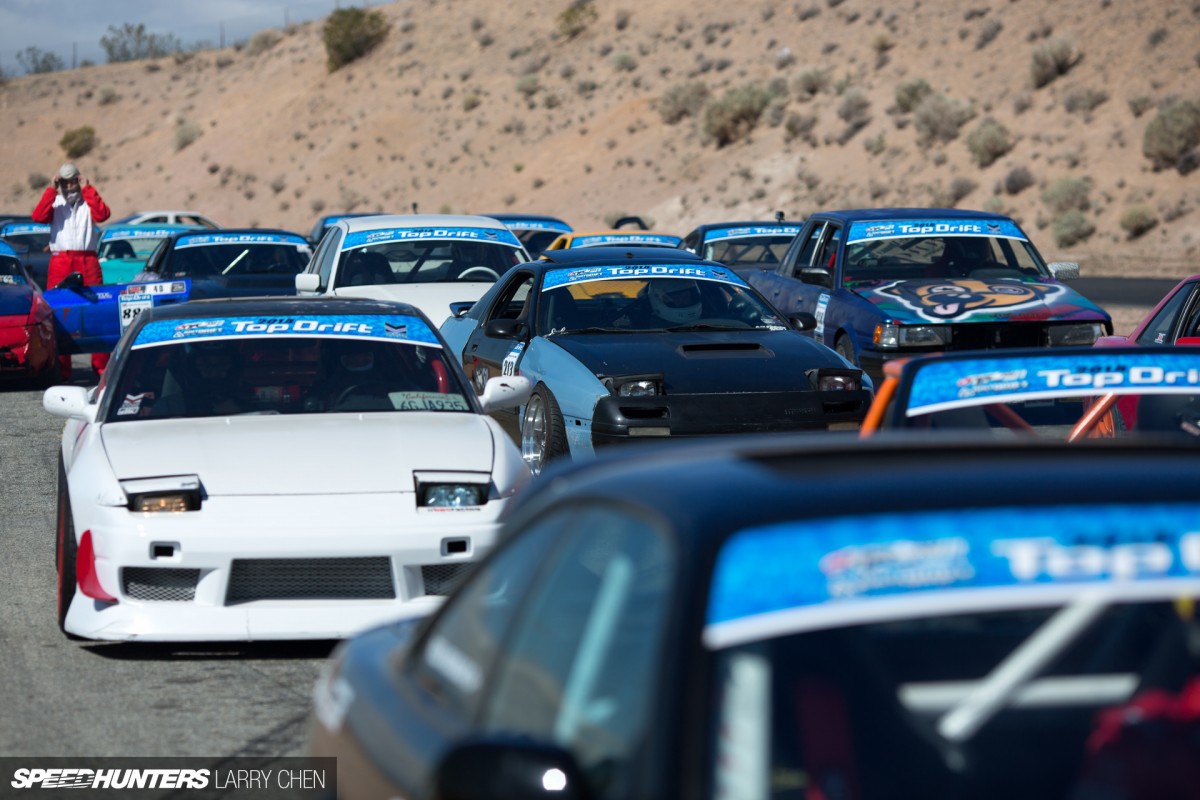 In attendance was a packed field of more than 70 drivers who came from all over the country.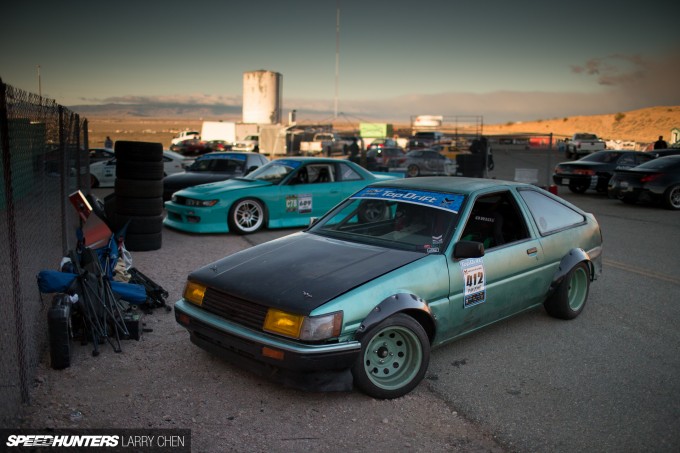 There is nothing like going to amateur drift events. I love the grittiness of it; the cars are beat up and they barely run. To me, that's half the beauty of it.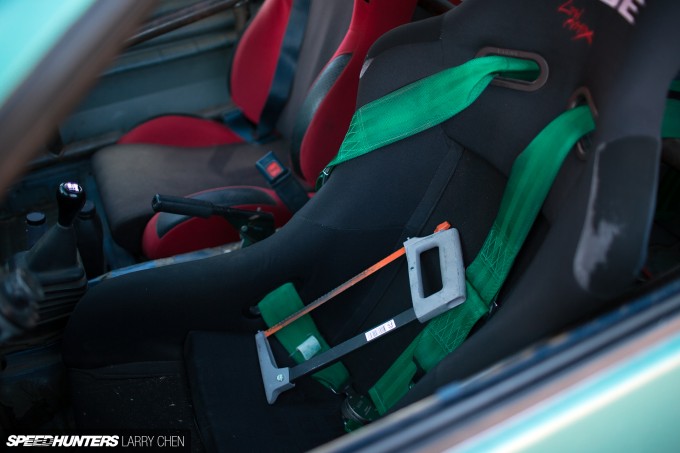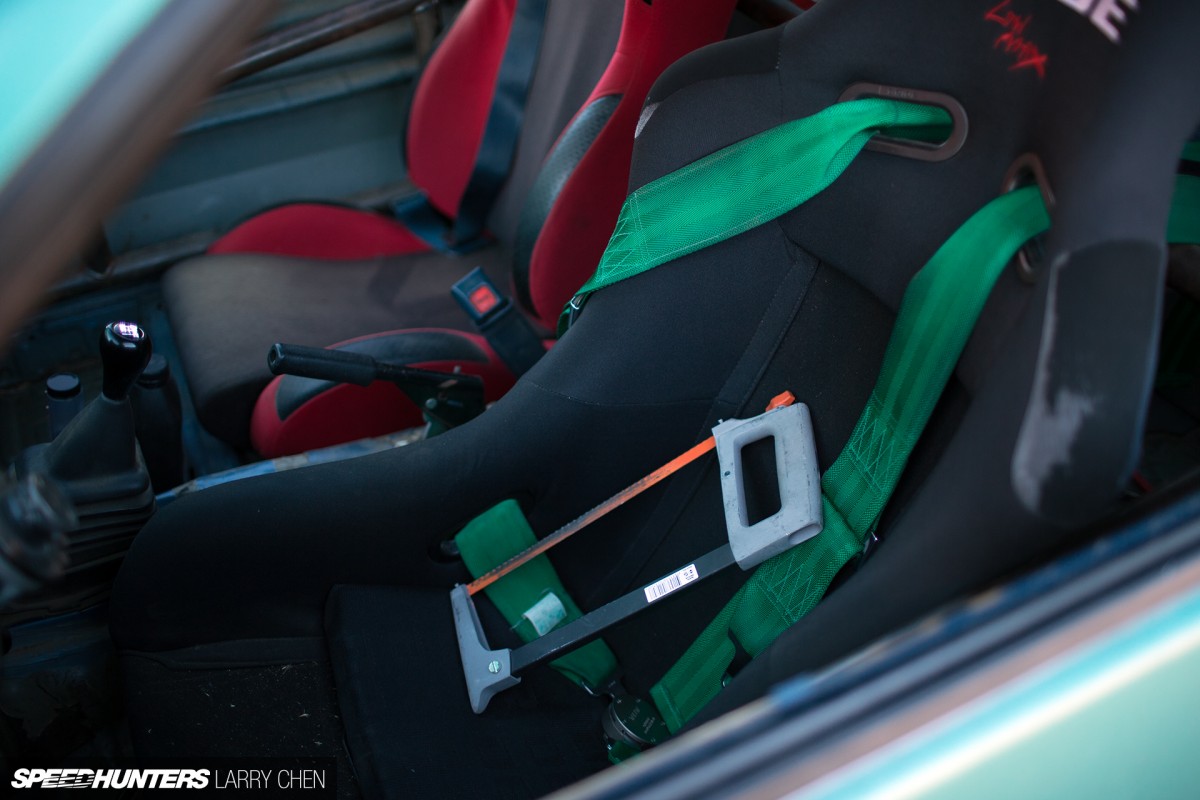 You know you are doing something right when you need a hacksaw sitting within arms reach at all times.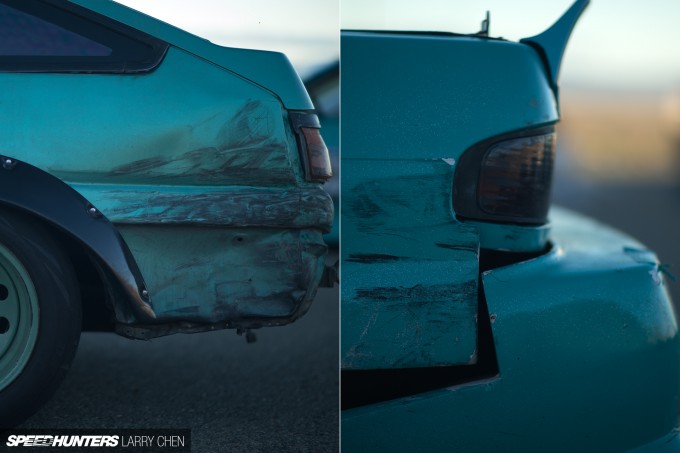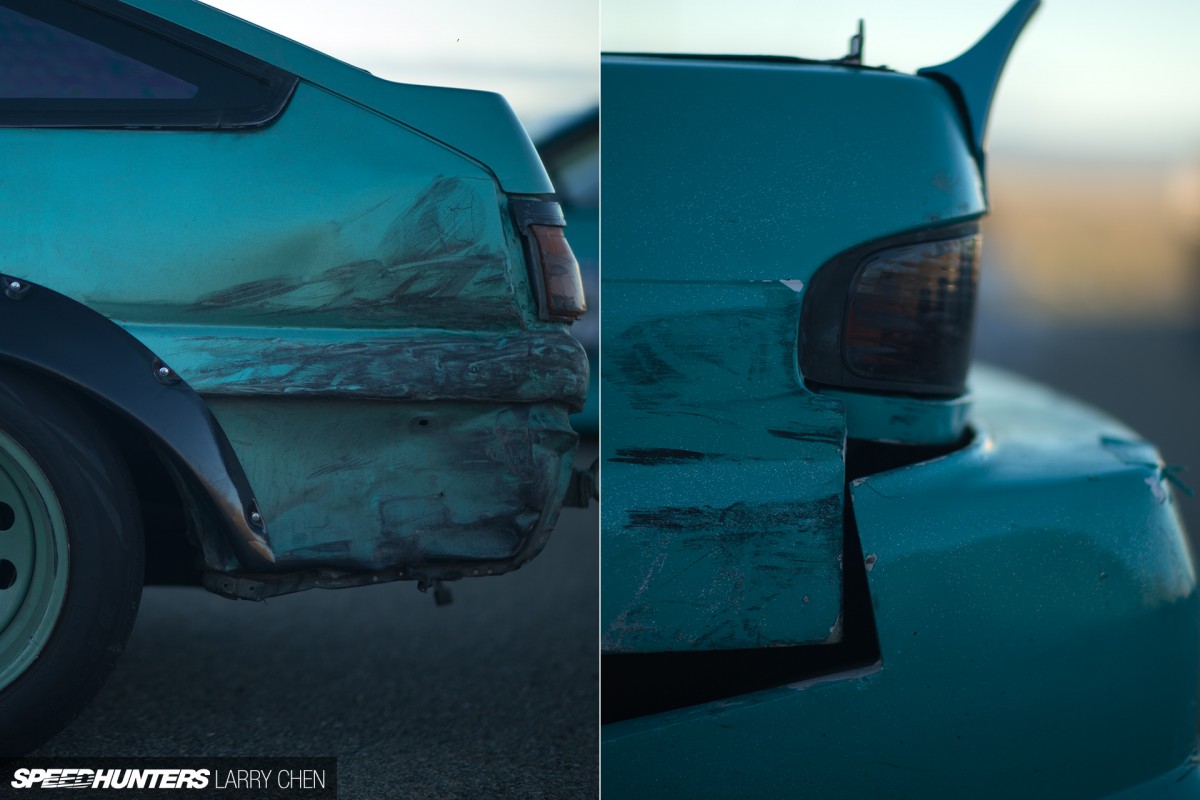 And it's not about how your car looks. Yeah, it's fine and dandy to have a nice body kit, but what is the point if you can't drive?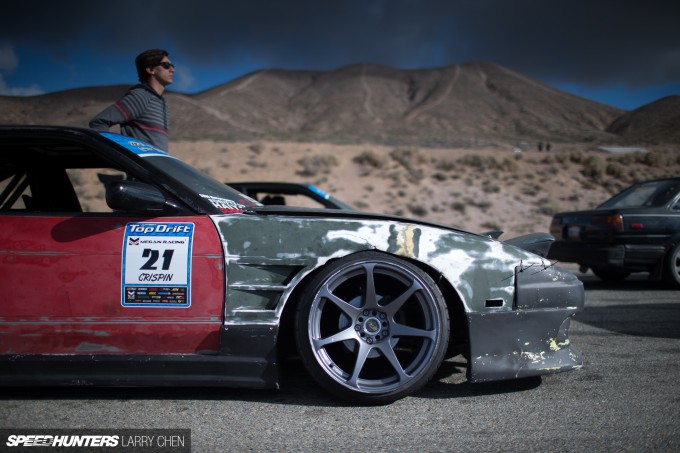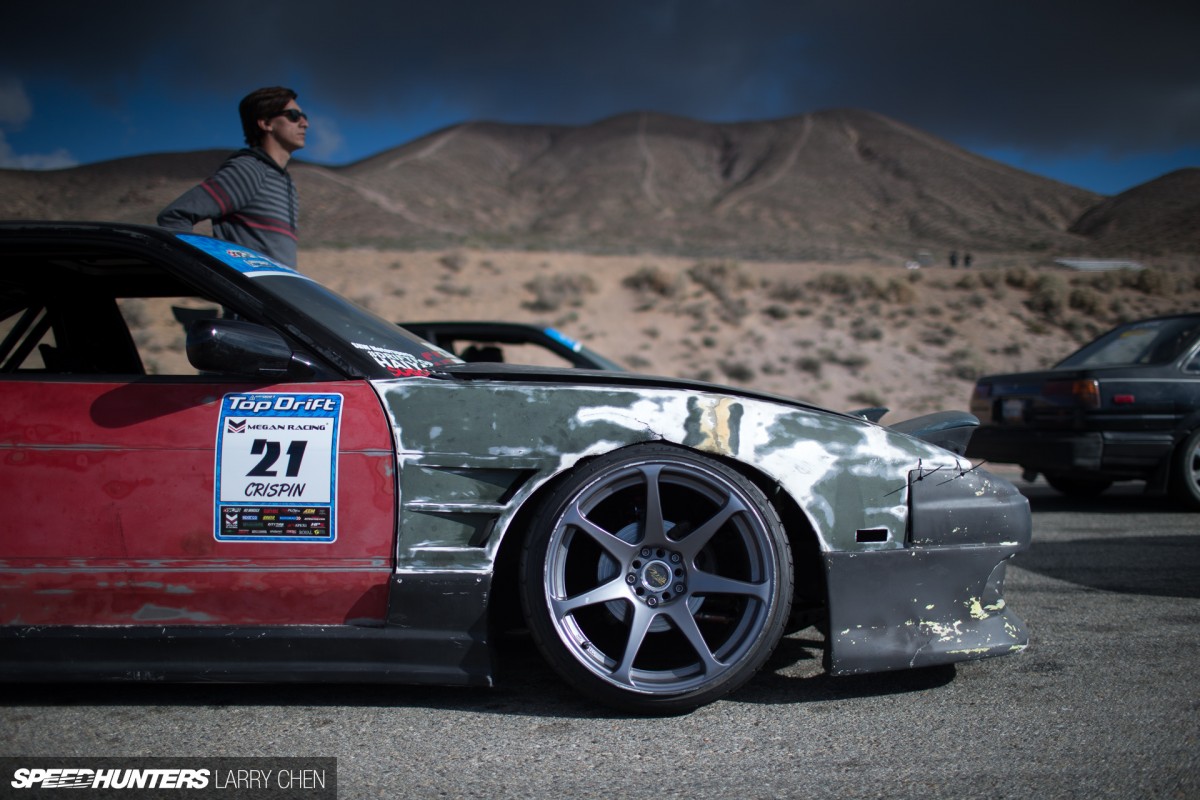 With open practice events running all year long and plenty of instructors on-hand to give you tips, Just Drift is the perfect place to practice your drifting.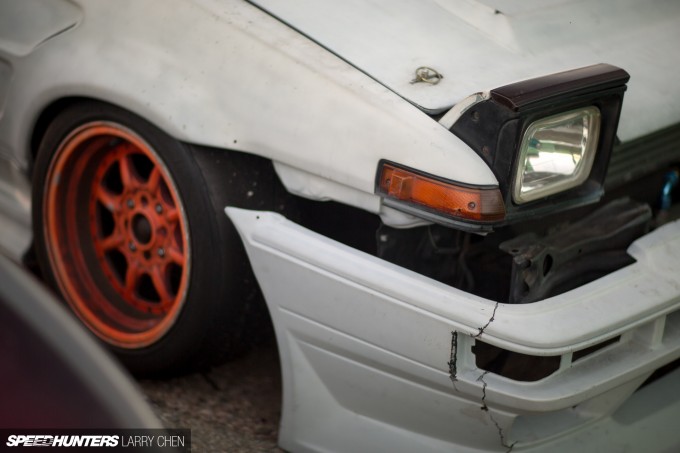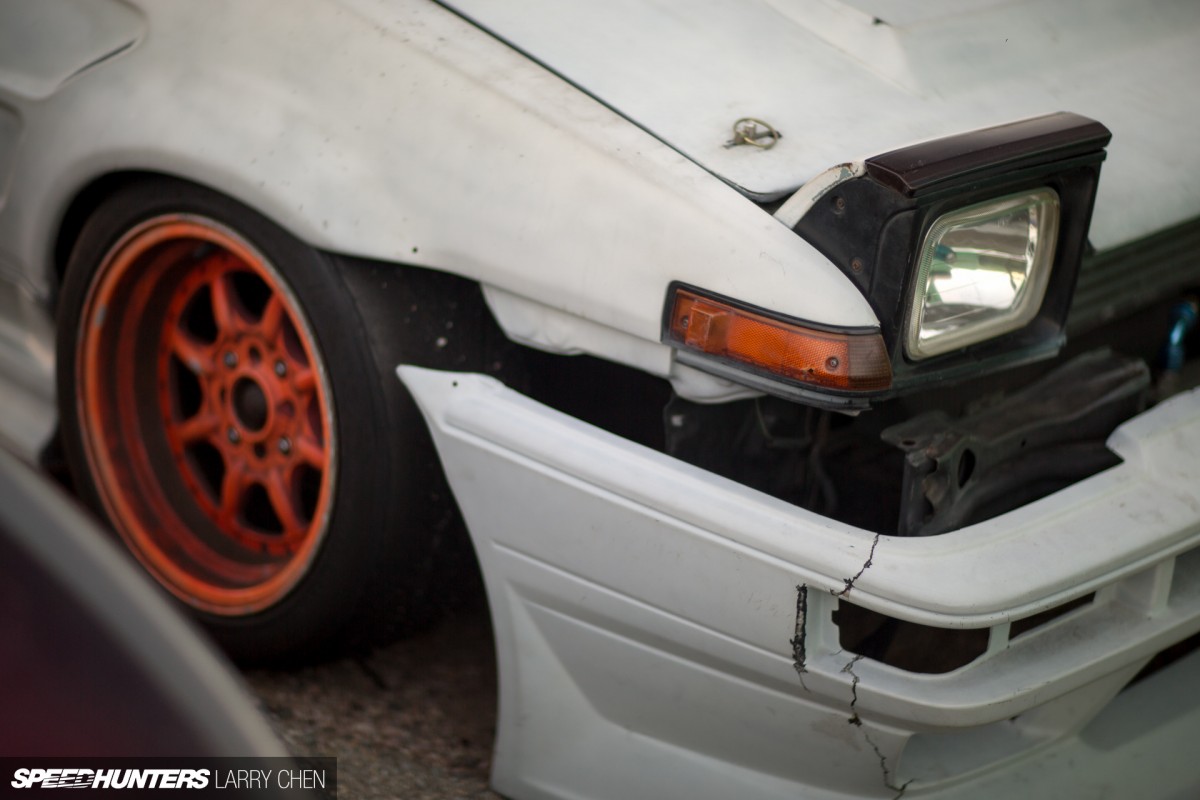 And it really doesn't matter how your car looks, as long as you can pitch it sideways.
Going pro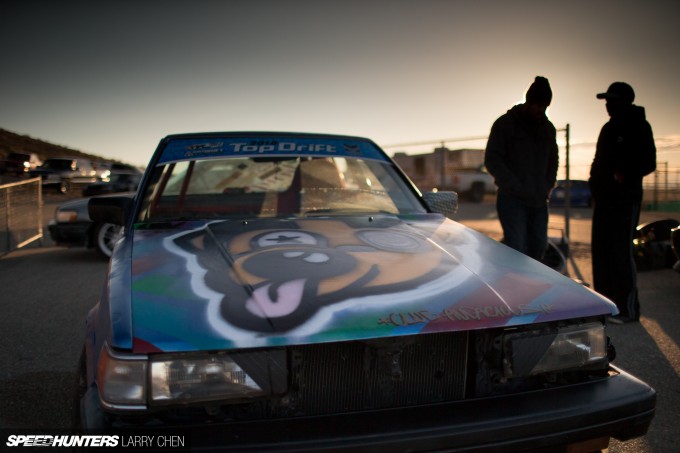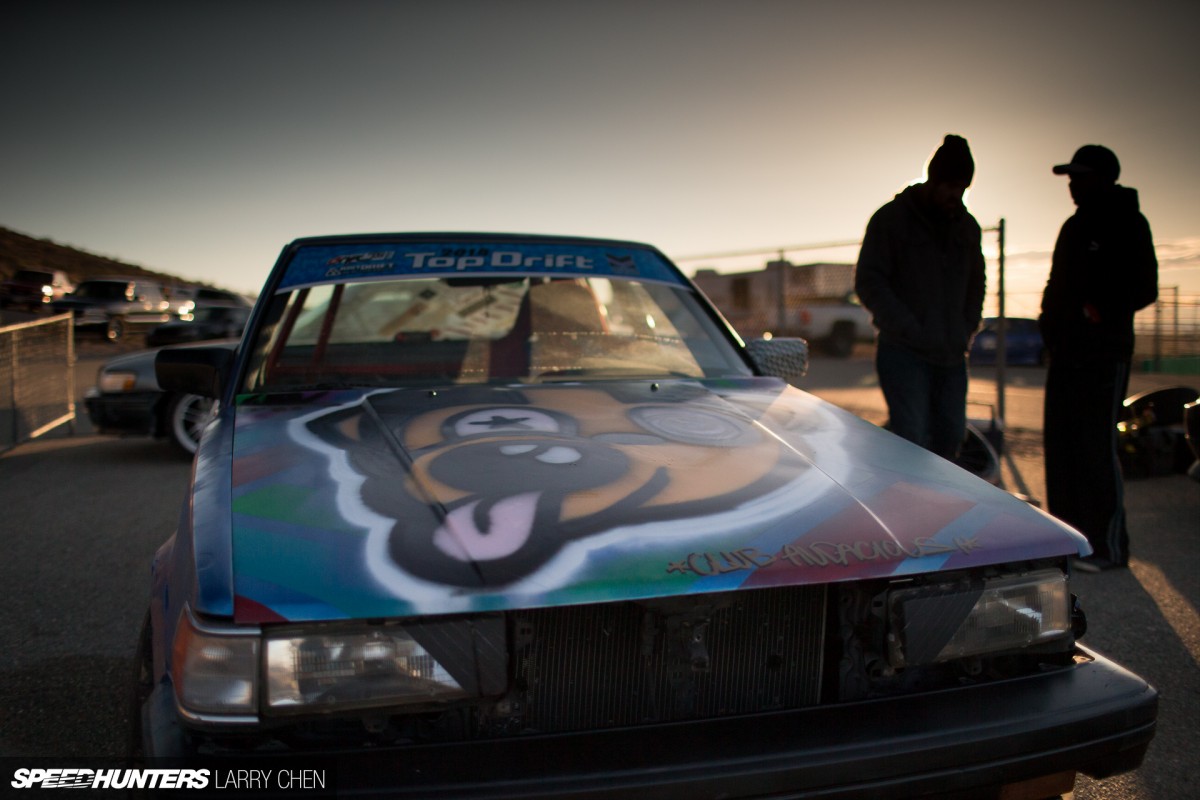 The amateur drift scene has evolved quite a bit over the years.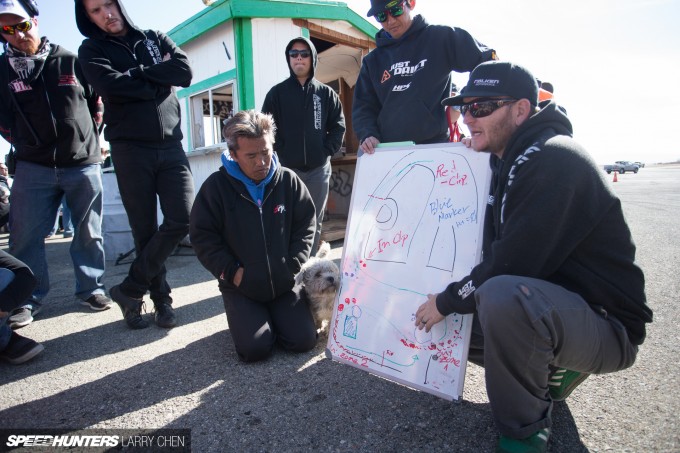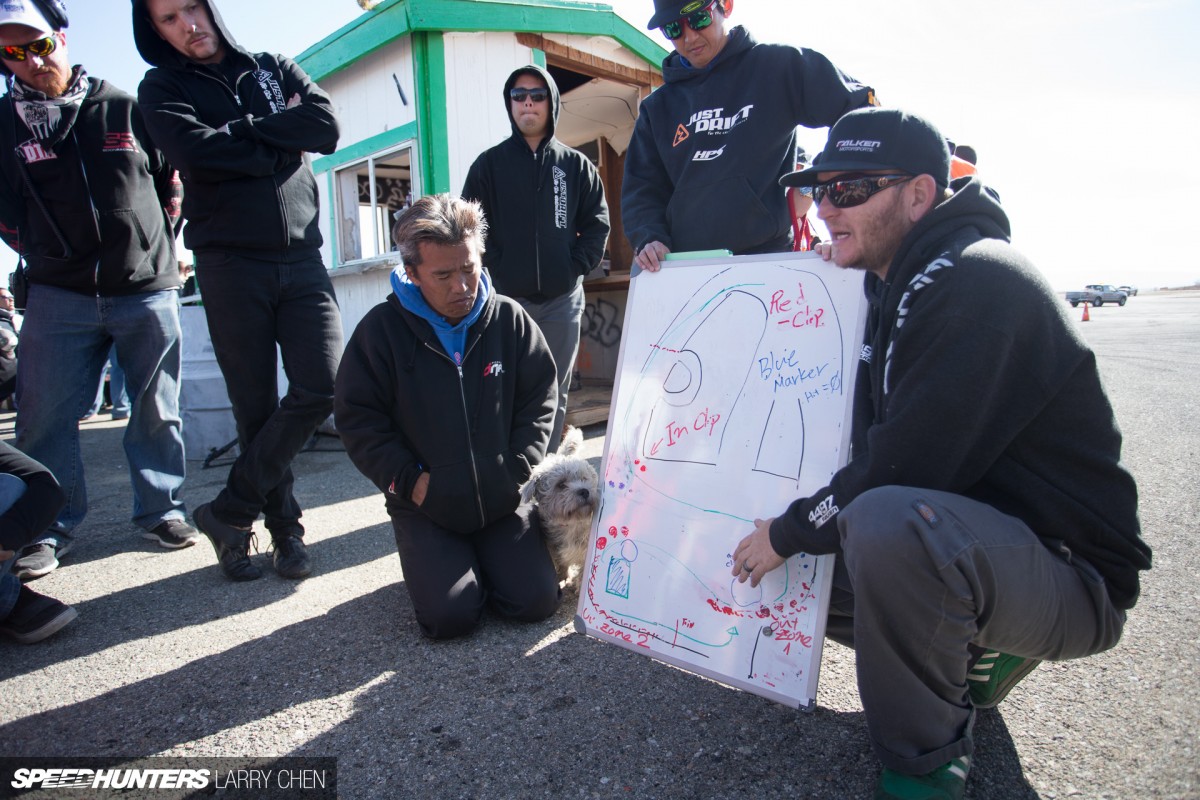 When I started following it, drivers like Hiro Sumida and Justin Pawlak were competing in Top Drift. One of the first questions I ever asked Justin was if he had any sponsors.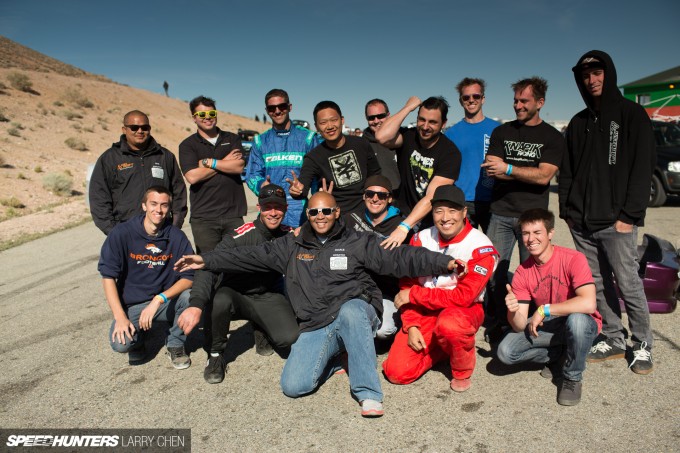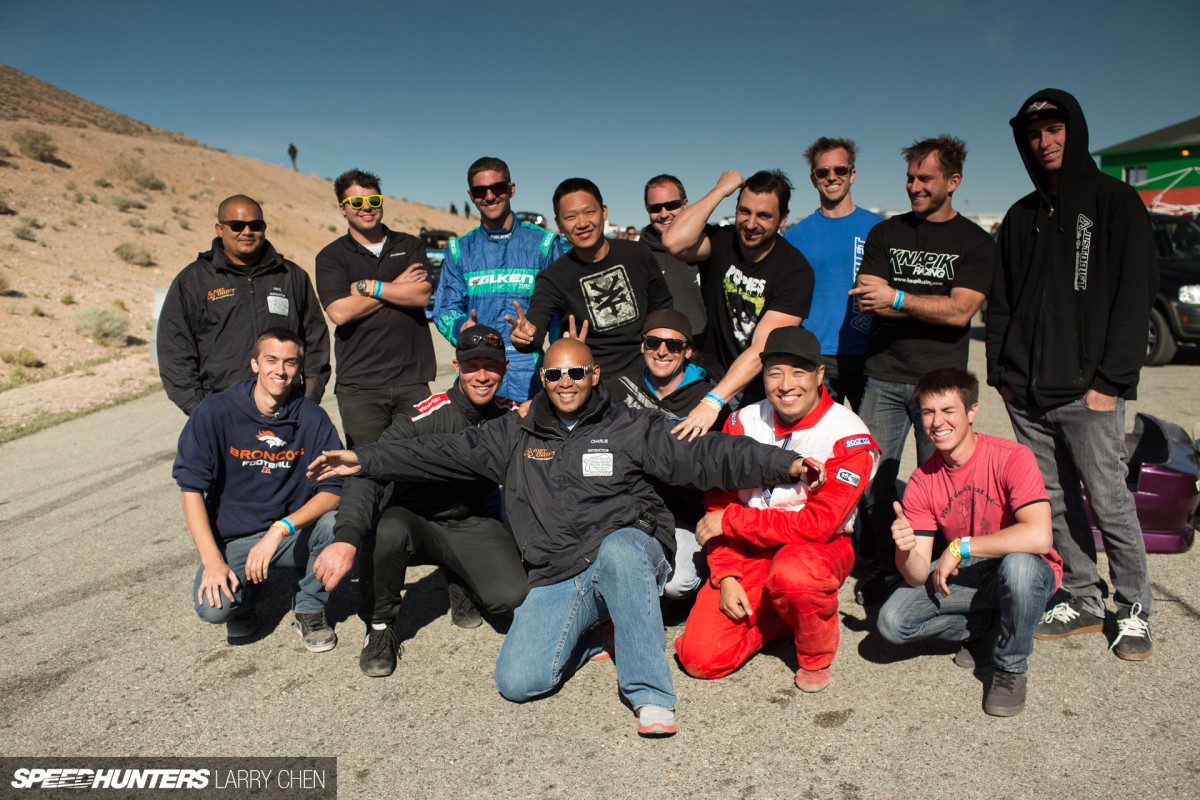 He responded with, "No, but I'm looking!" Now he's a Formula Drift veteran and he drives sideways for a living. How cool is that?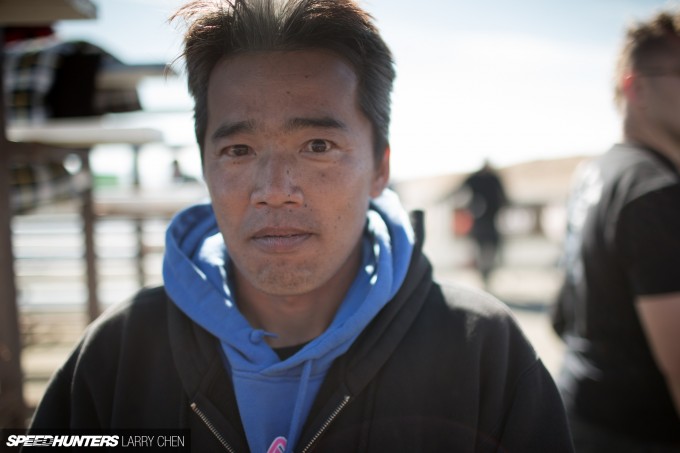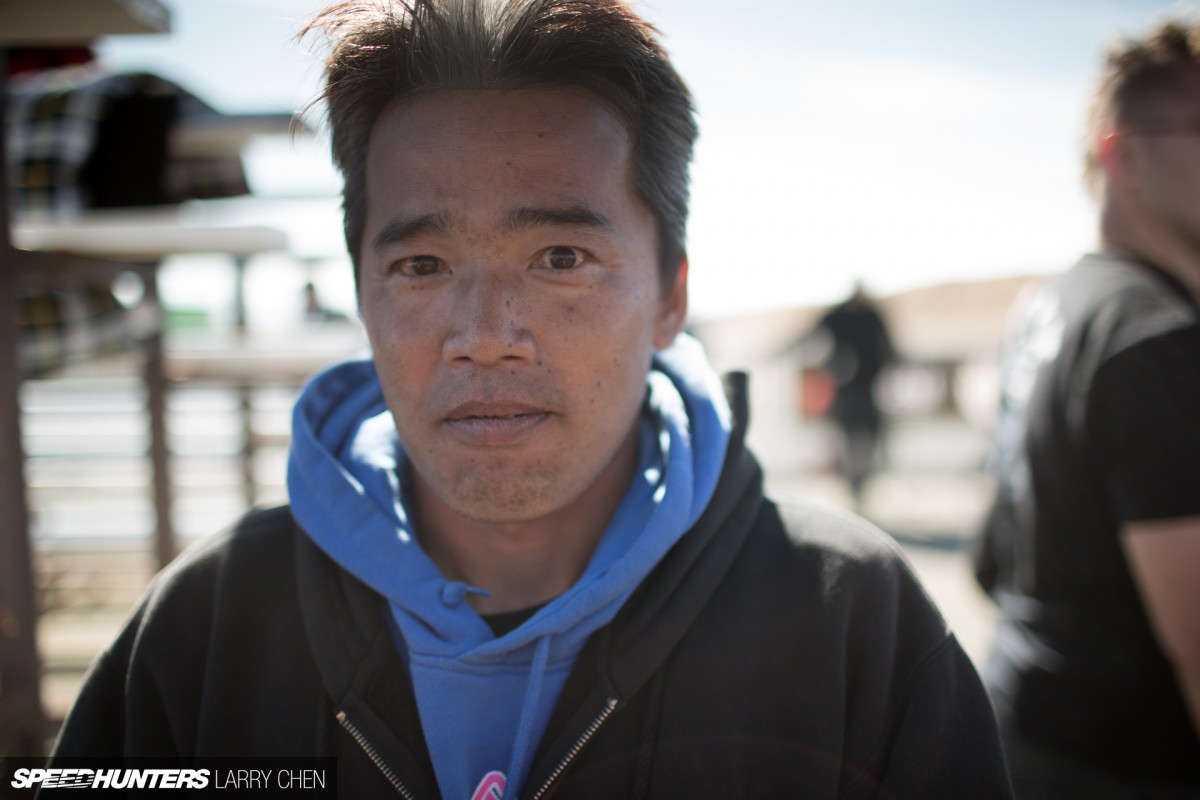 Just Drift has always had the support of the community including legends like Taka Aono. Right from the very beginning, if you didn't find Taka instructing, you'd find him judging.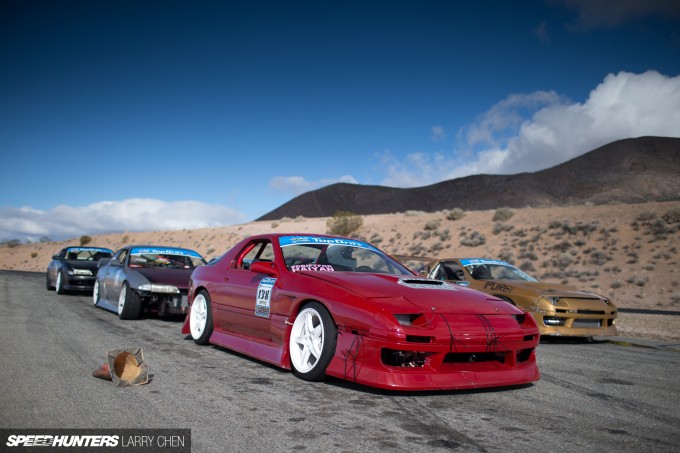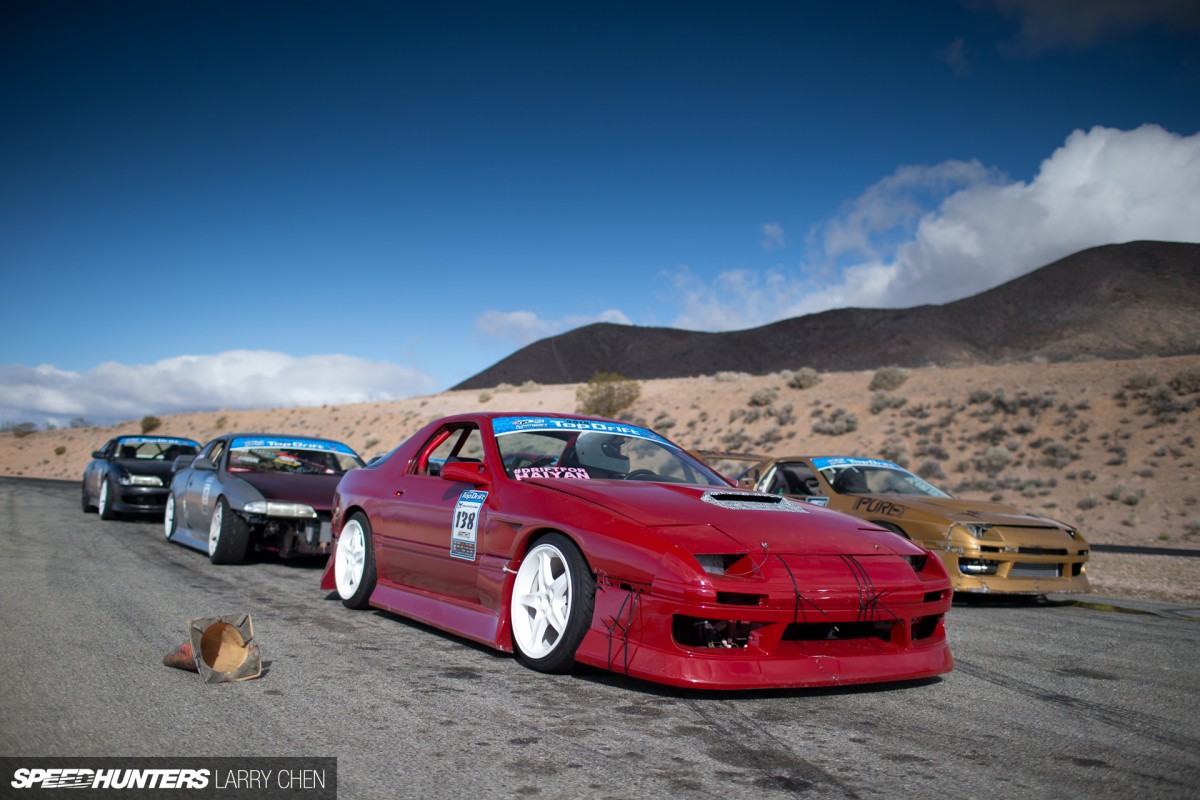 So, with the generation that I followed all grown up – some of them going pro and some of them disappearing from the scene altogether – who is driving now?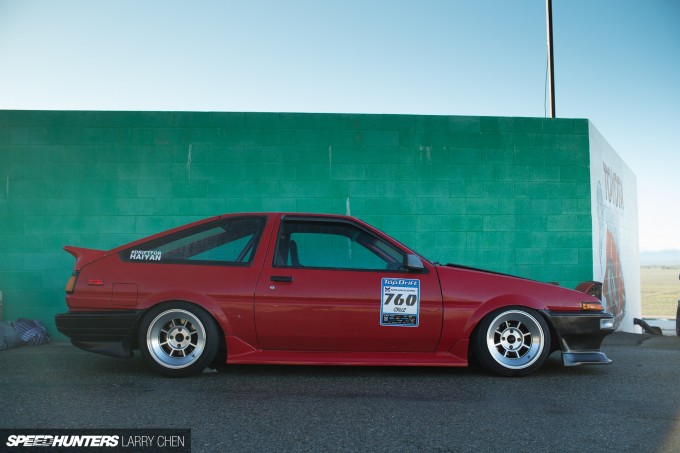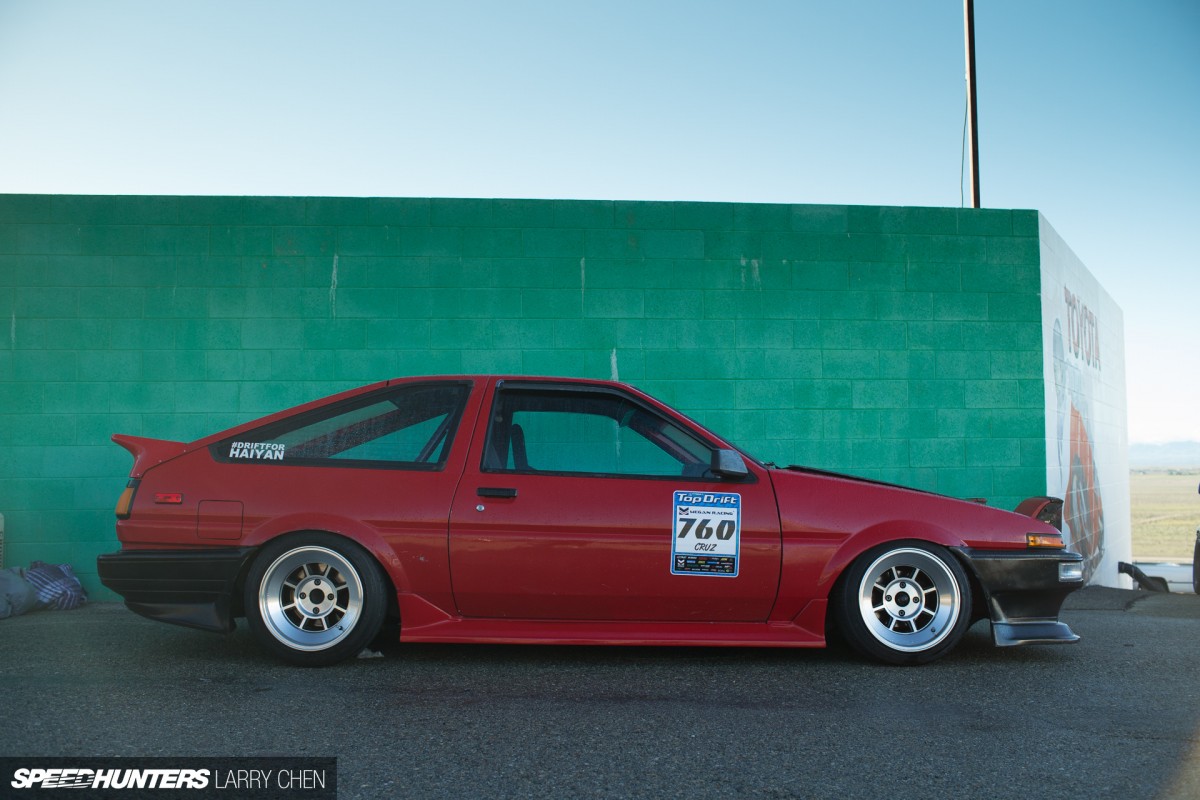 When I started covering the scene, some of these drivers were just eight years old and watching from the sidelines. Now they are competing and building cars of their own.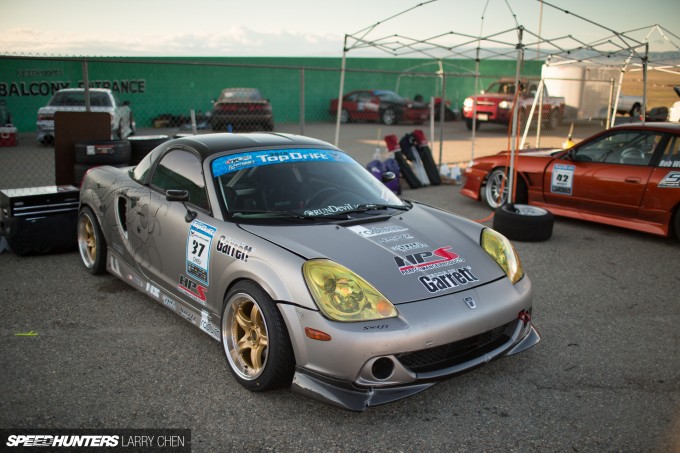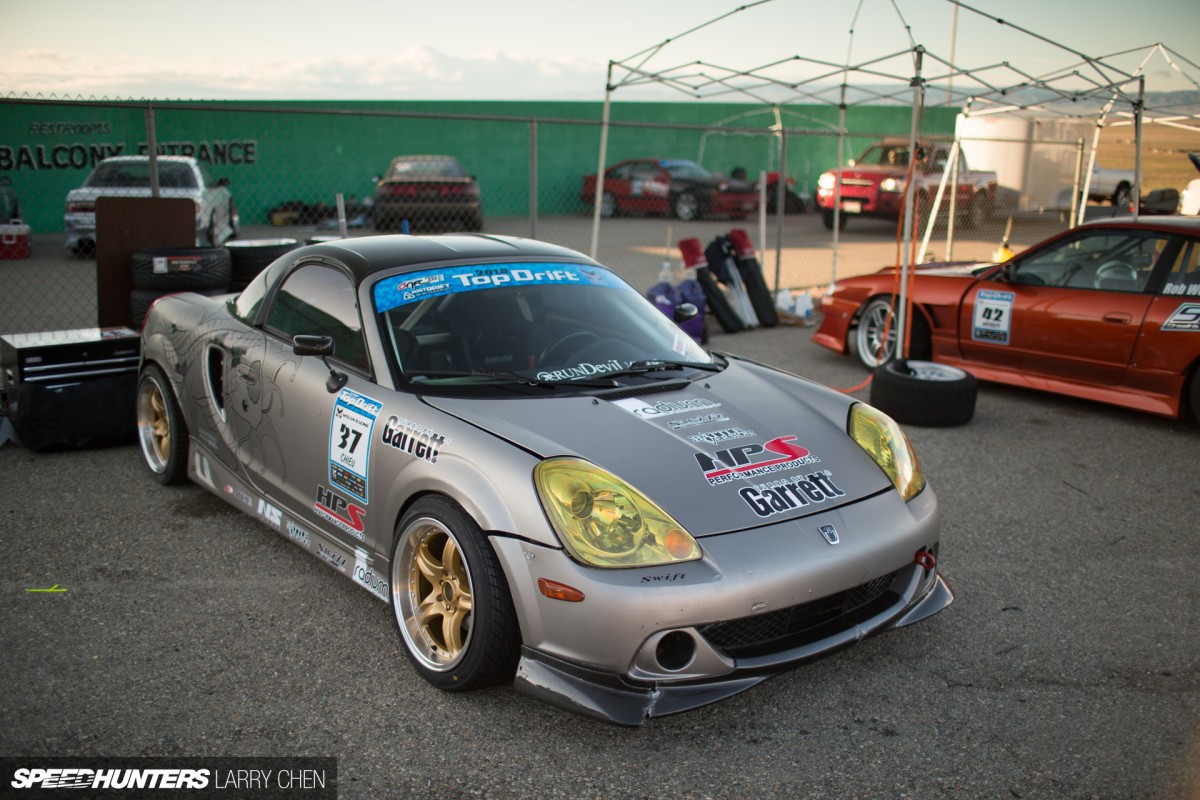 There are those who do it for fun and try to drift the impossible – like Kenny Chieu in his Toyota MR-S.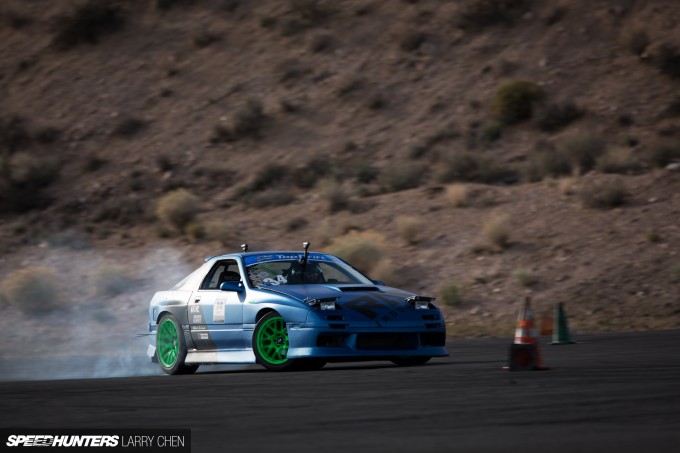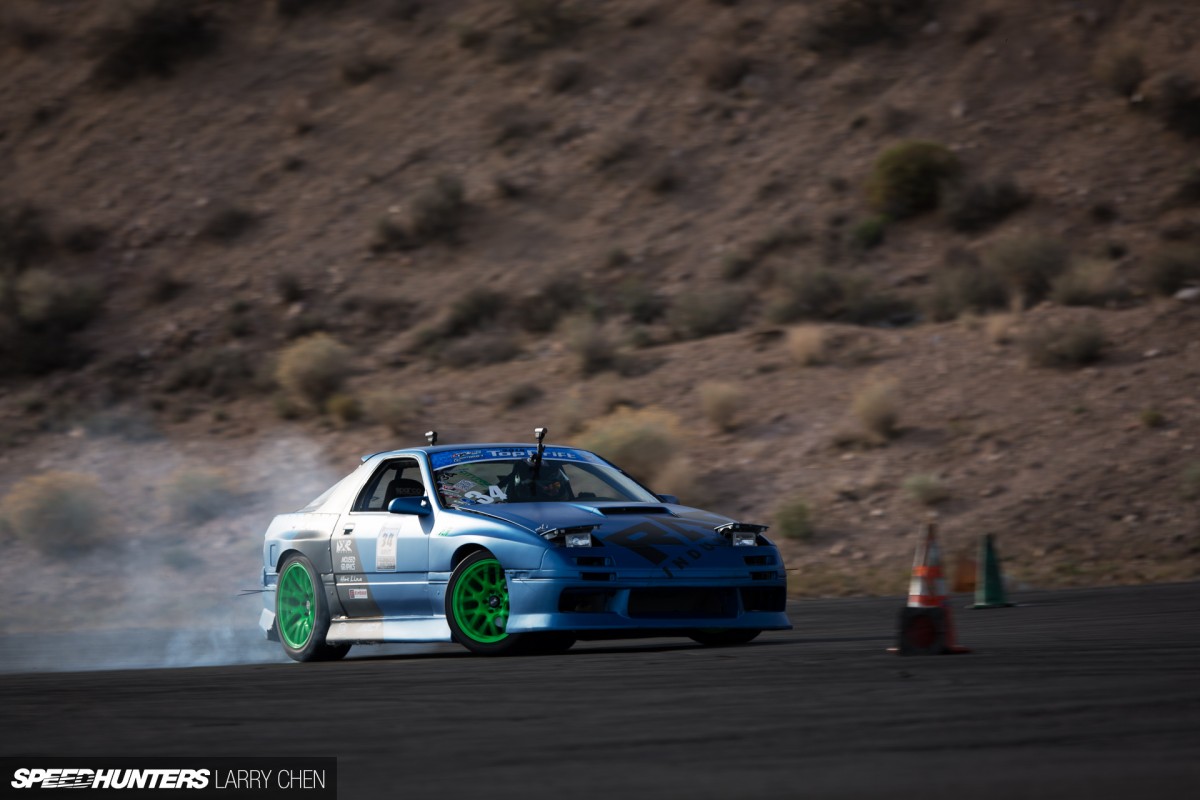 And there are those who plan on following in Justin Pawlak's footsteps, like Dan Burkett in this very tastefully modified FC RX-7.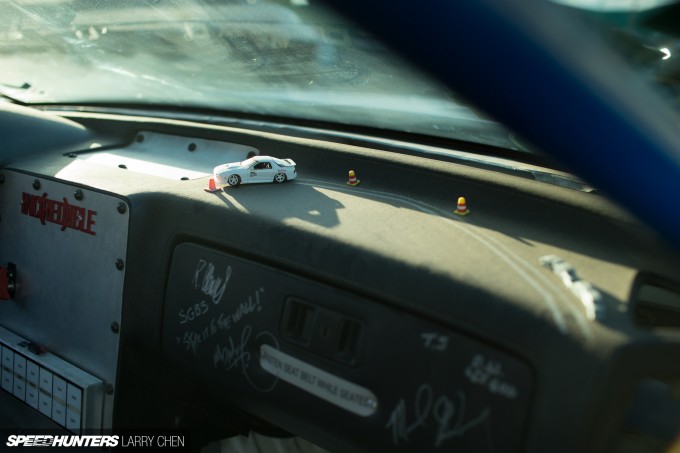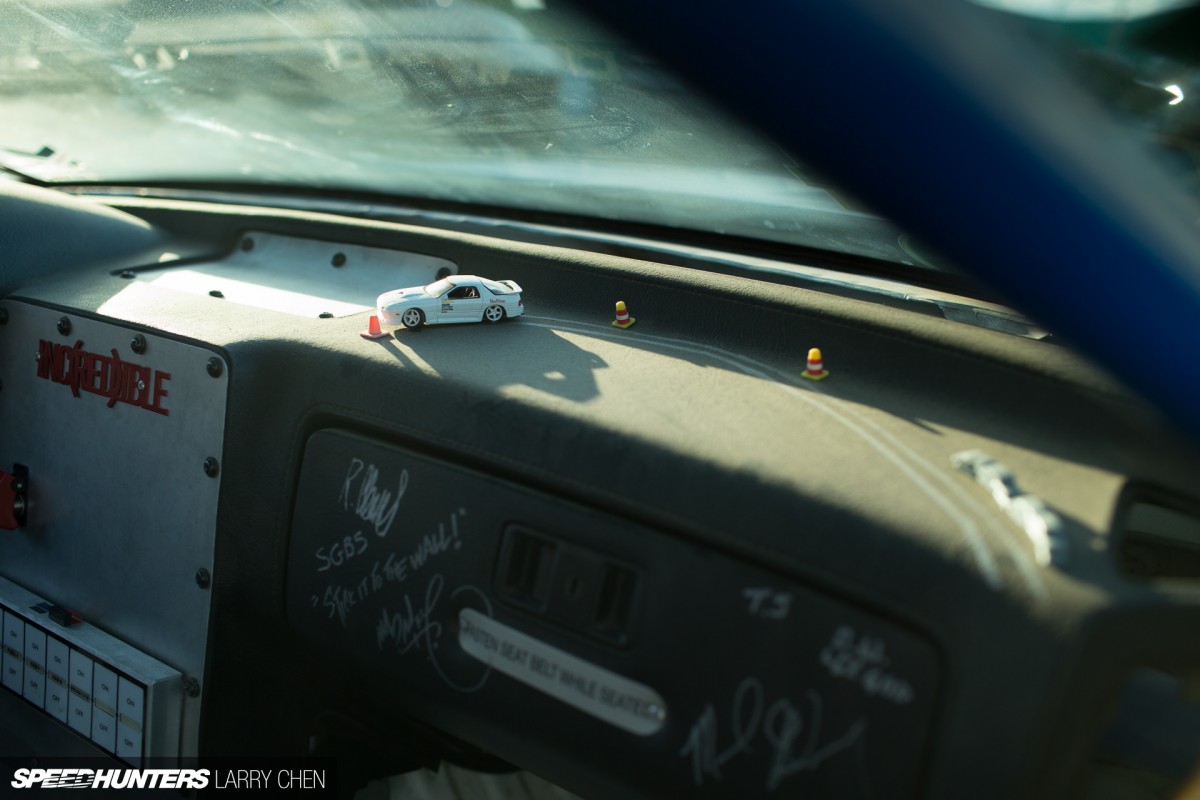 Yo, I heard you like drifting, so I put a 1/64th scale drift track on your dash, so you can drift while you drift. It even comes with little cones and sandbags. So awesome.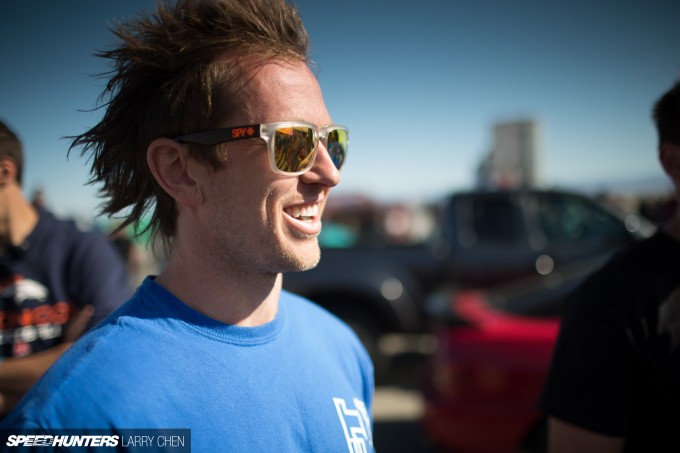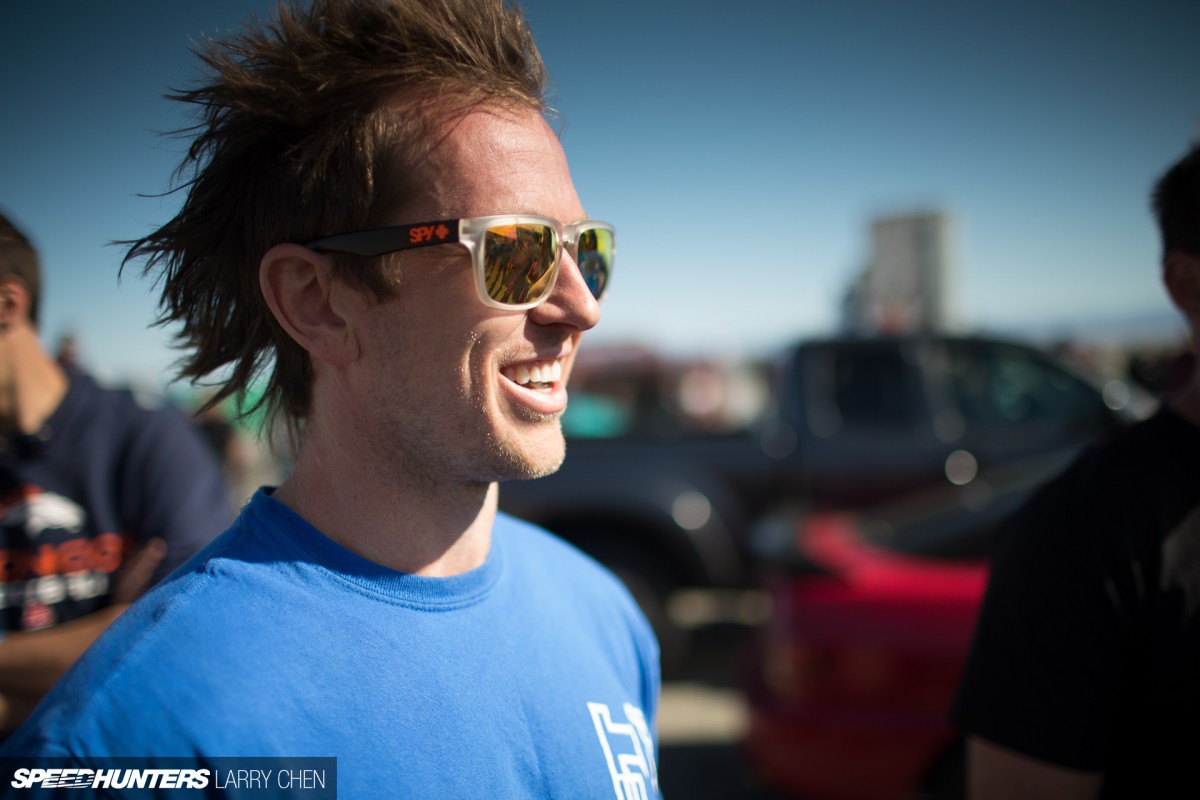 Dan wants to turn pro, and he is hoping to earn his Formula Drift Pro 2 license this year. At Top Drift he was definitely one of the most fun to watch.
Fun for all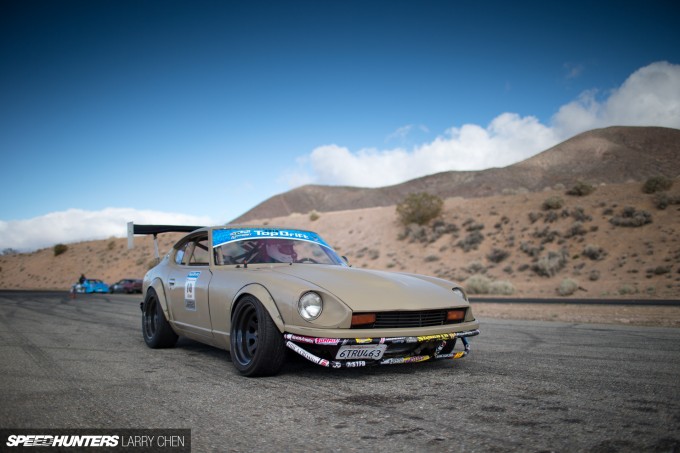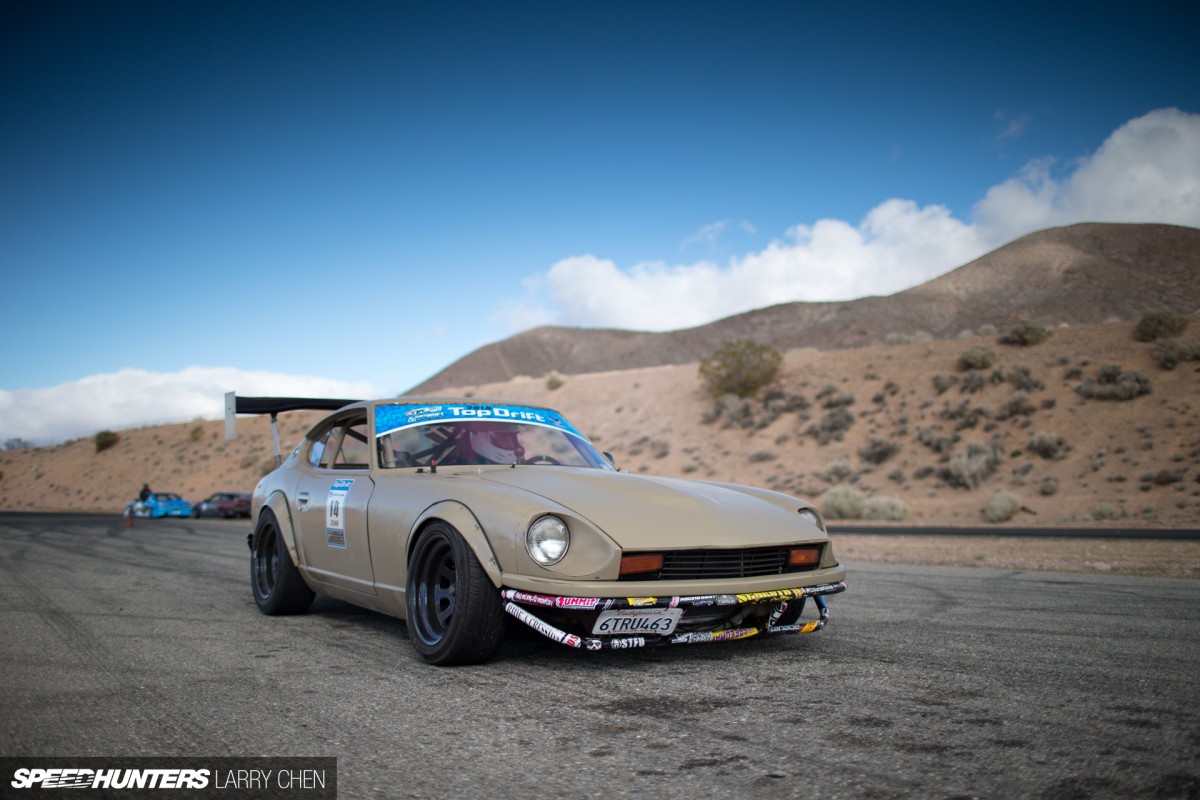 Aside from those who are dreaming of Formula Drift glory, most of the drivers just want to have a little fun.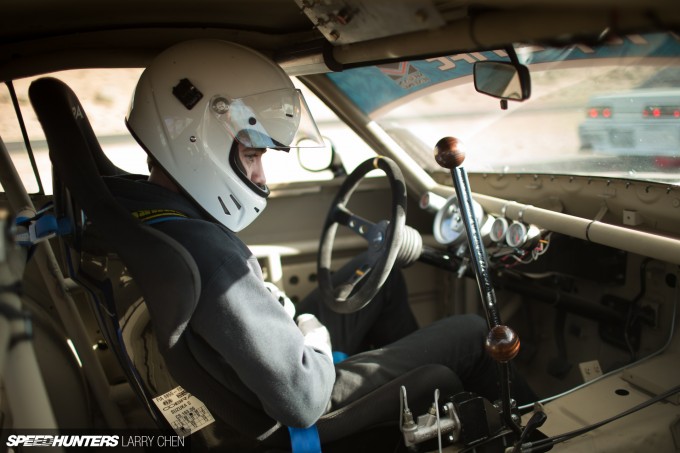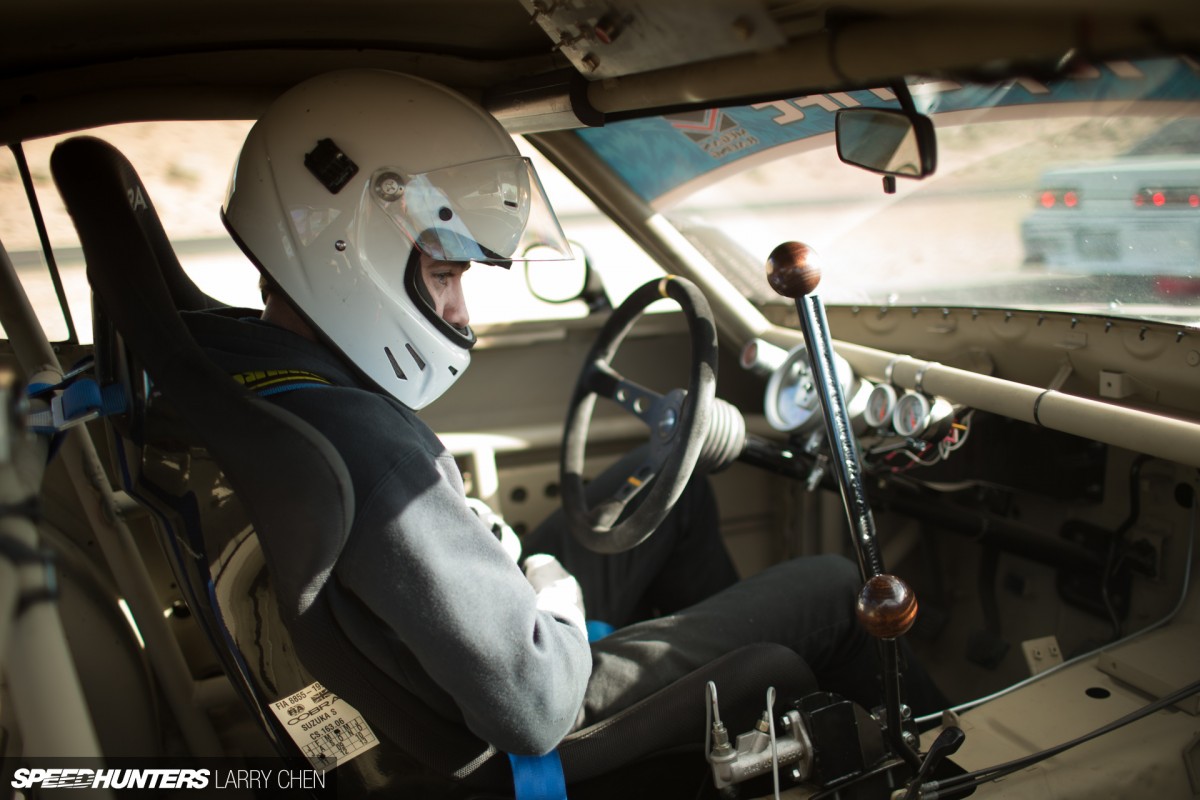 This purpose-built Datsun 260Z threw me for a spin. You rarely see old school Z-cars used for drifting.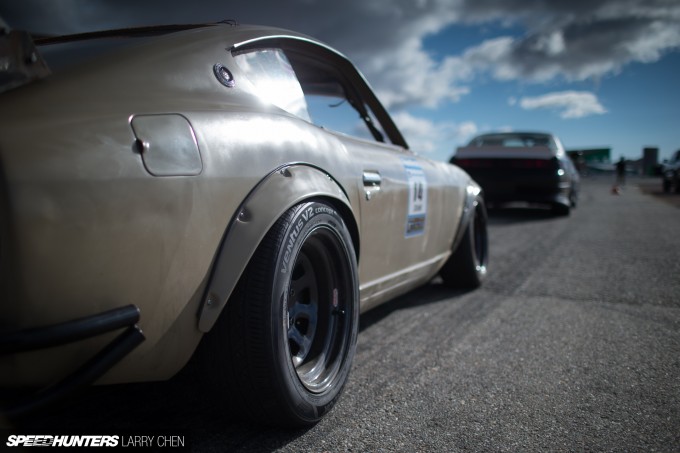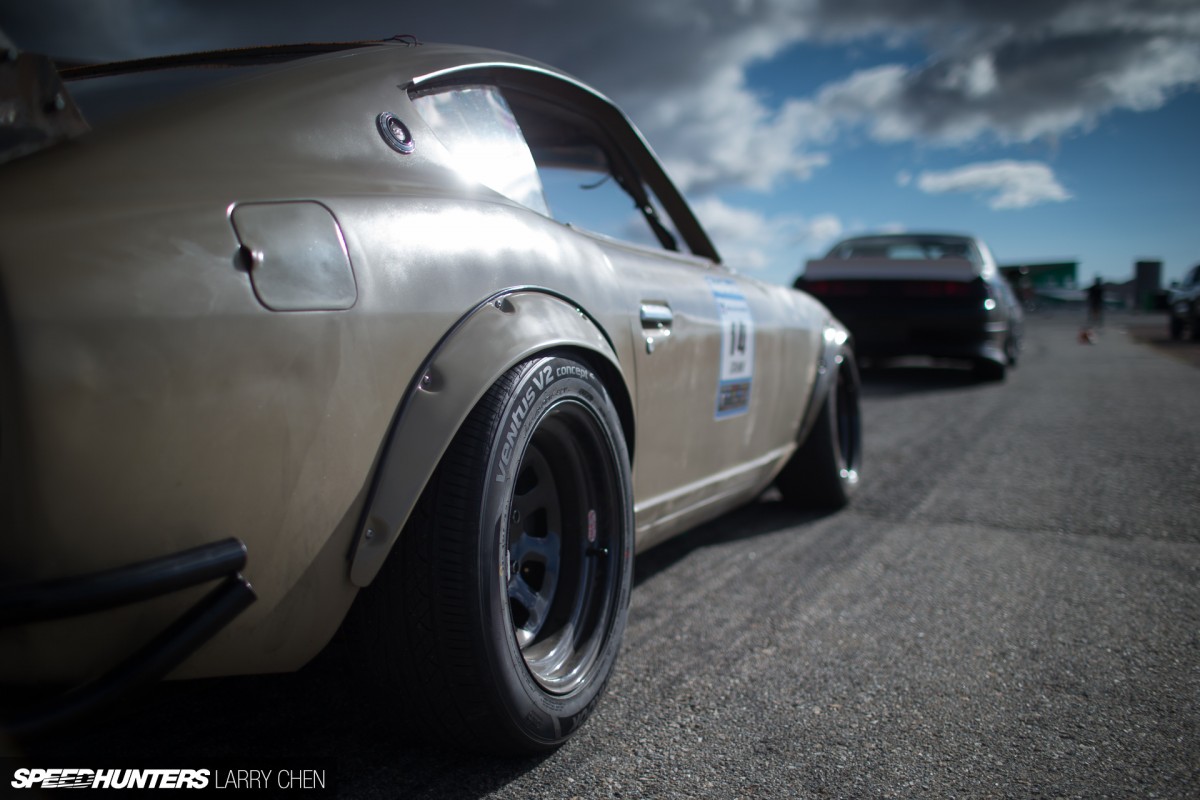 Sure, it was a bit of a budget build, but the owner had put all his money into what was important.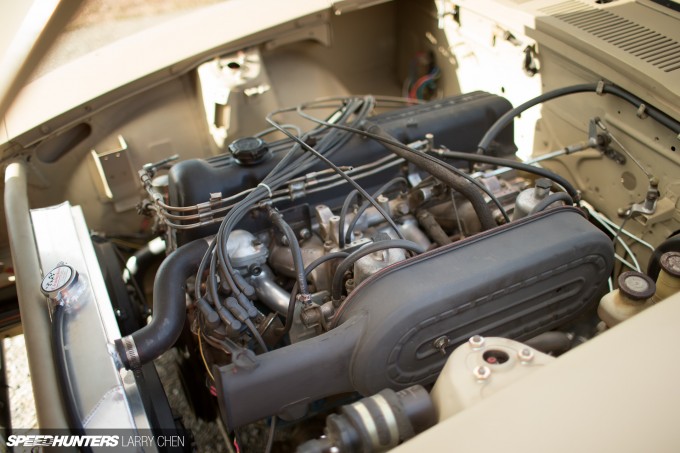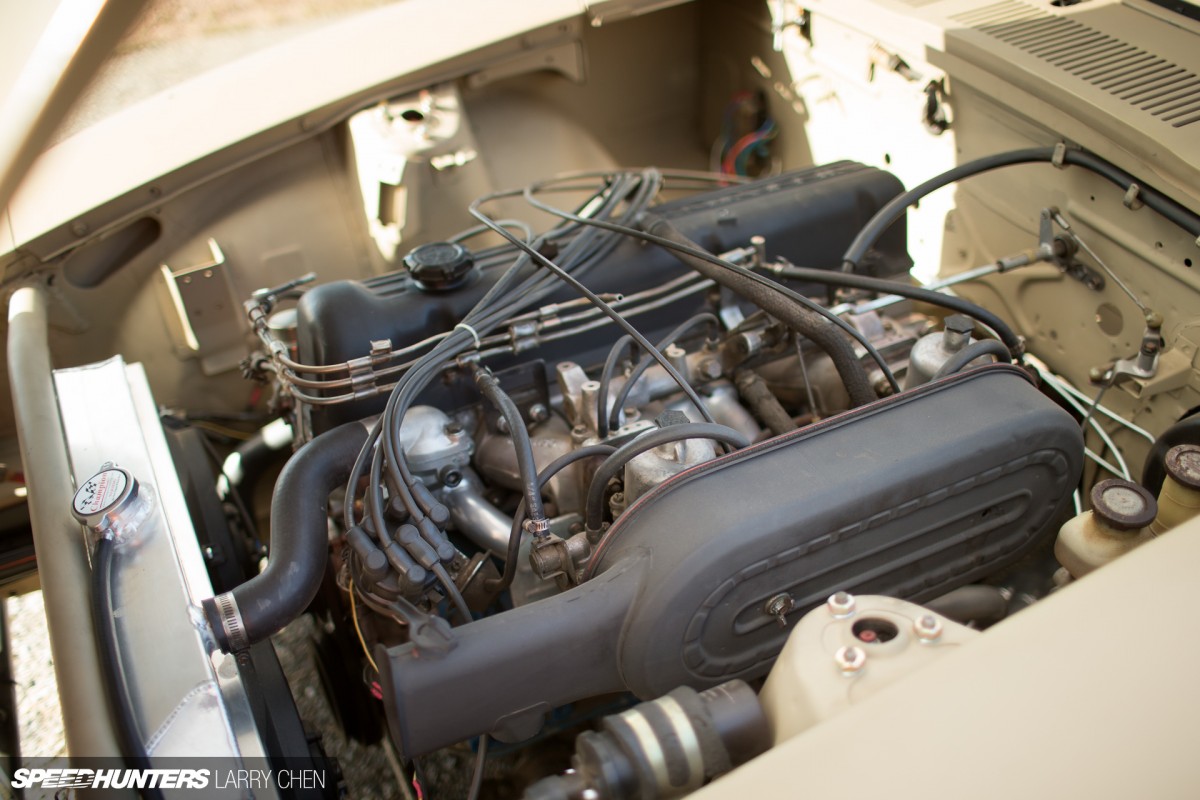 The L26 motor was largely left alone. There's nothing like the sound of an uncorked inline six, especially when the exhaust is practically straight through.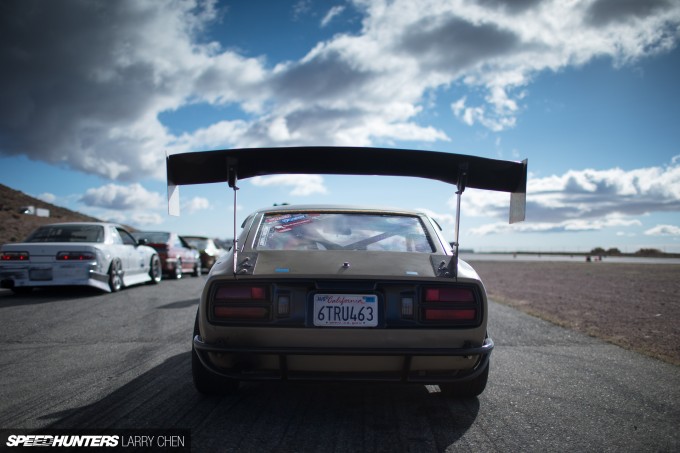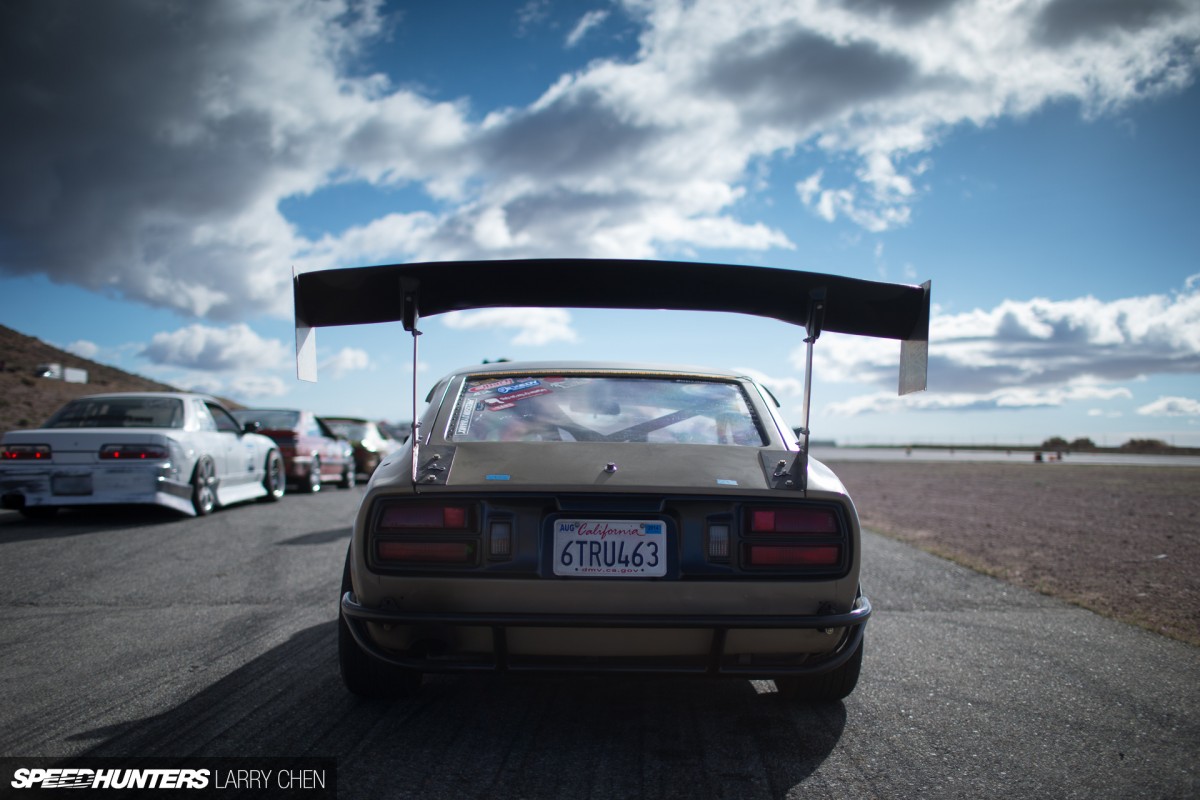 I'd much rather see these cars out on the drift track than in the junkyard, so I really have to hand it to the owner for being so gutsy. I can tell you guys that I tried drifting my 240Z, and it was not easy at all. There is barely enough steering angle and the lack of power steering sucks.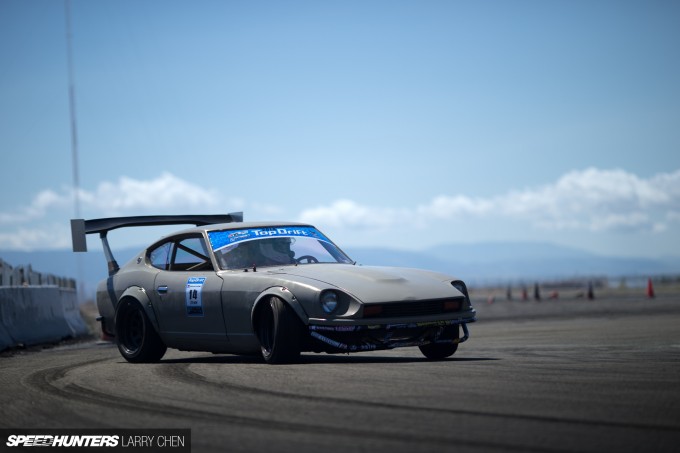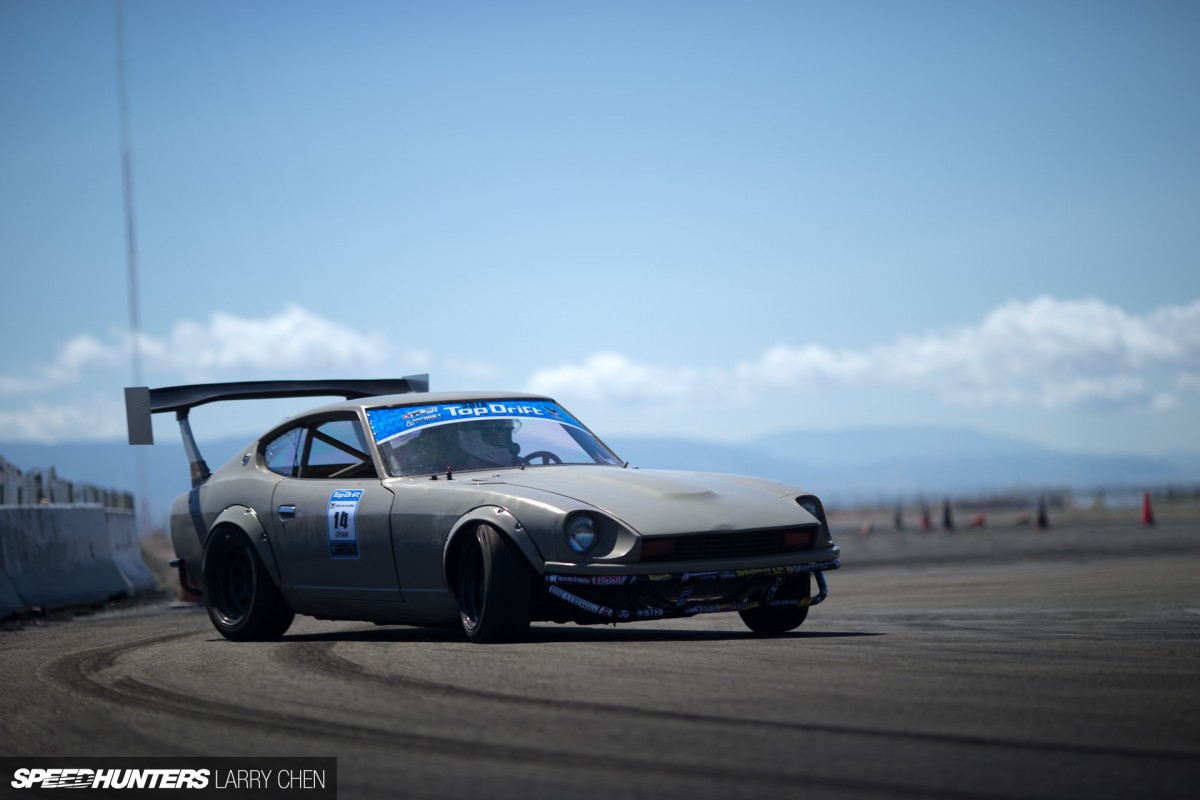 While the owner was working pretty hard to hold a drift, he did manage to pitch it sideways for a few runs. Not bad for a 40-year old car.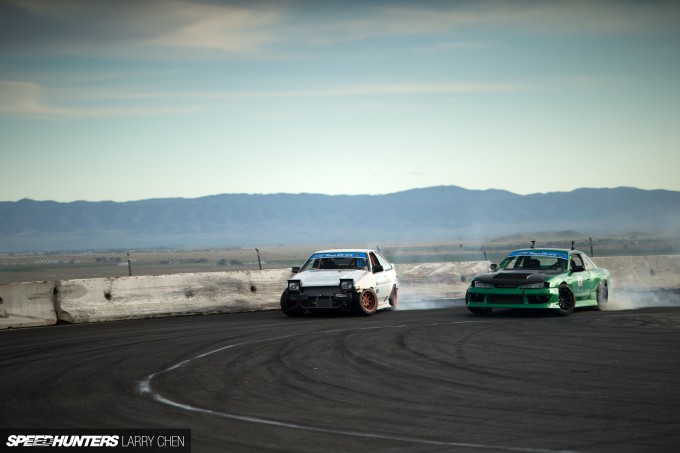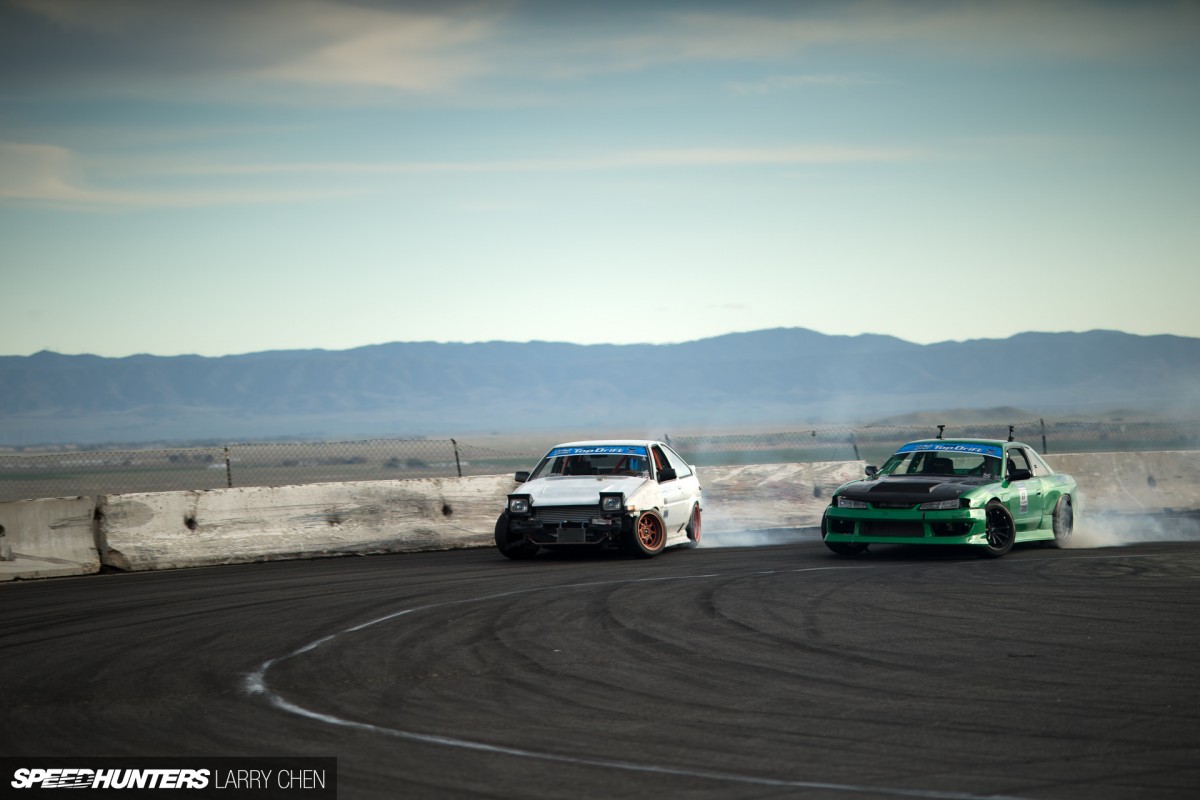 So what about the cars that were used way back when? What happened to the FC RX-7 that Justin Pawlak was driving? Well that car got stolen. However, around the same time Forest Wang was trying to earn his Formula Drift license.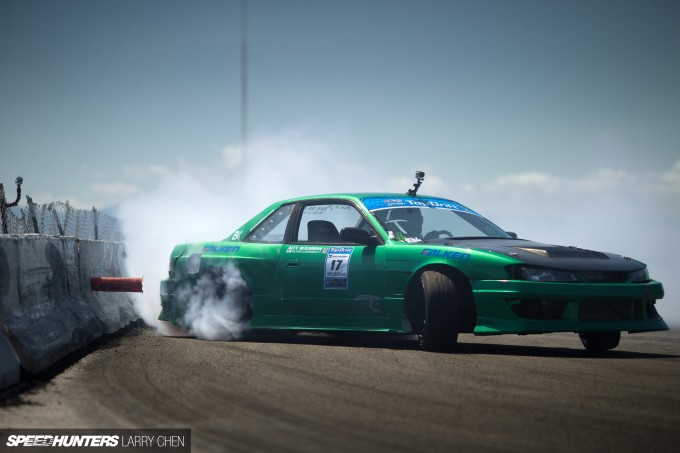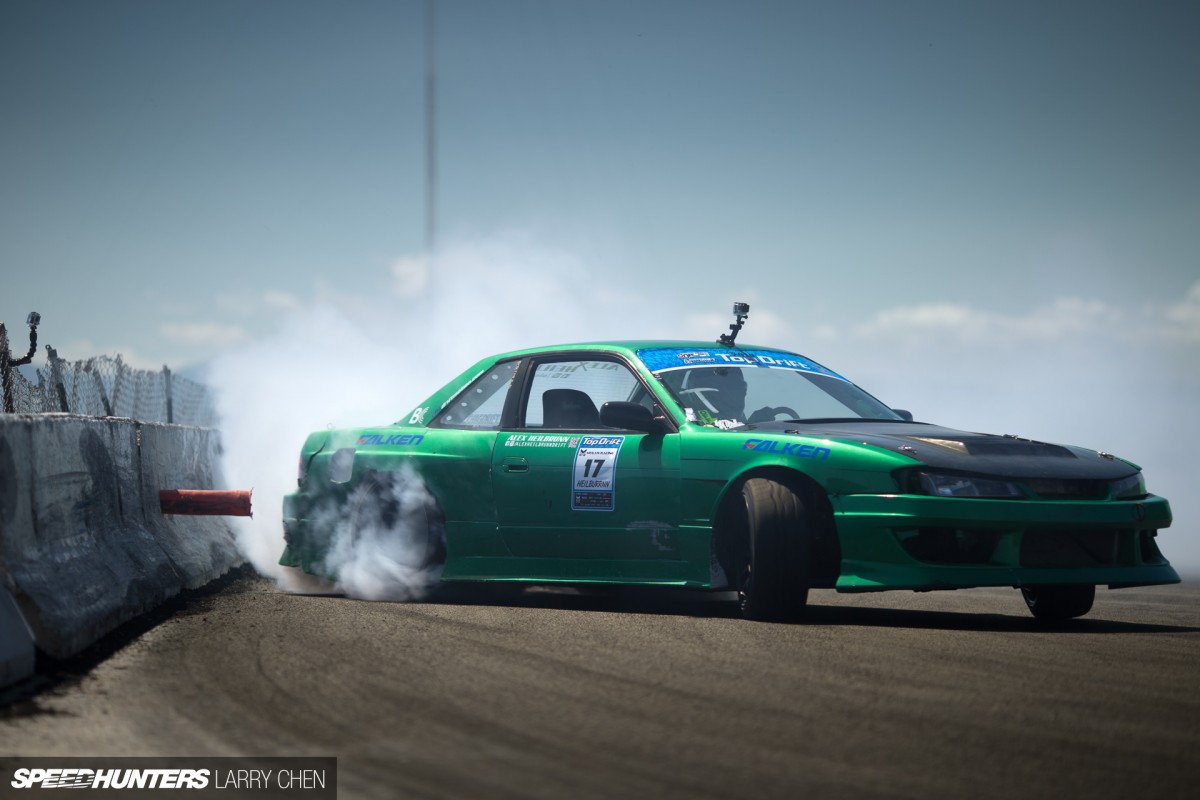 It's hard to believe, but after almost ten years, the very same S13.4 is still ripping up the very same track, albeit now driven by Alex Heilbrunn.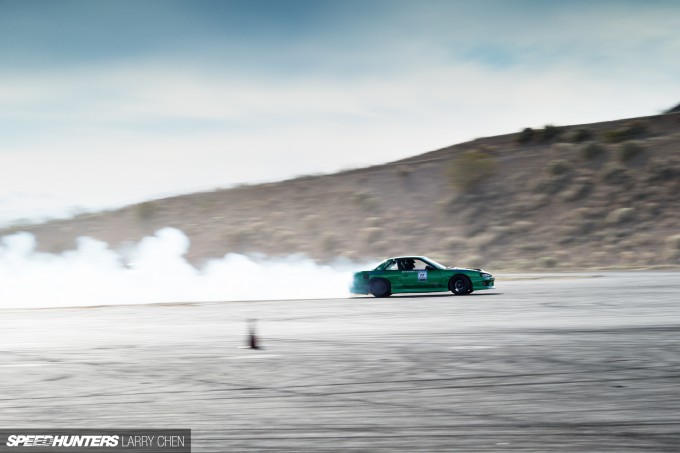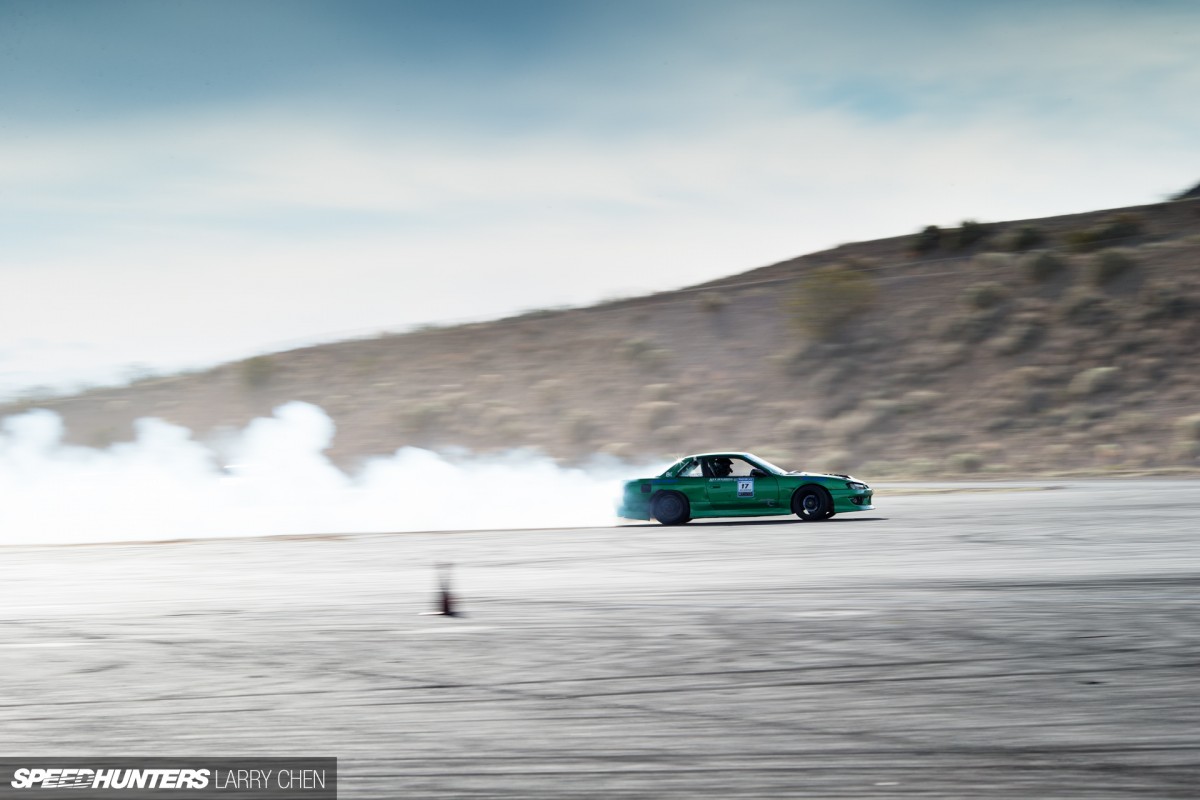 Alex ended up winning the event, and I don't think anyone doubted his driving skill. Even though it was his first time competing in Just Drift, he is a Falken Tire-sponsored driver back in his native homeland of Peru.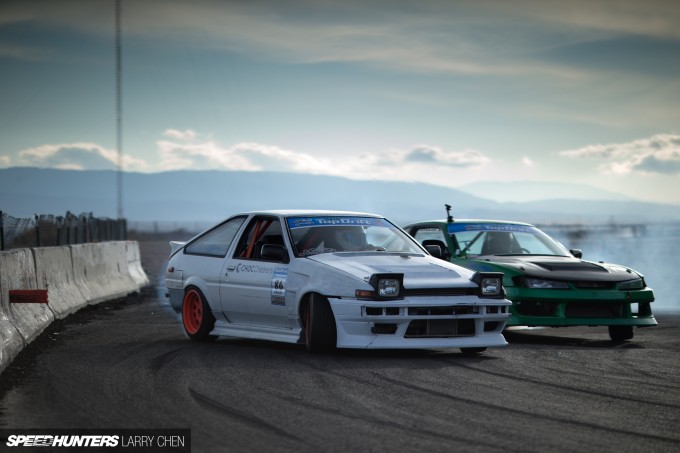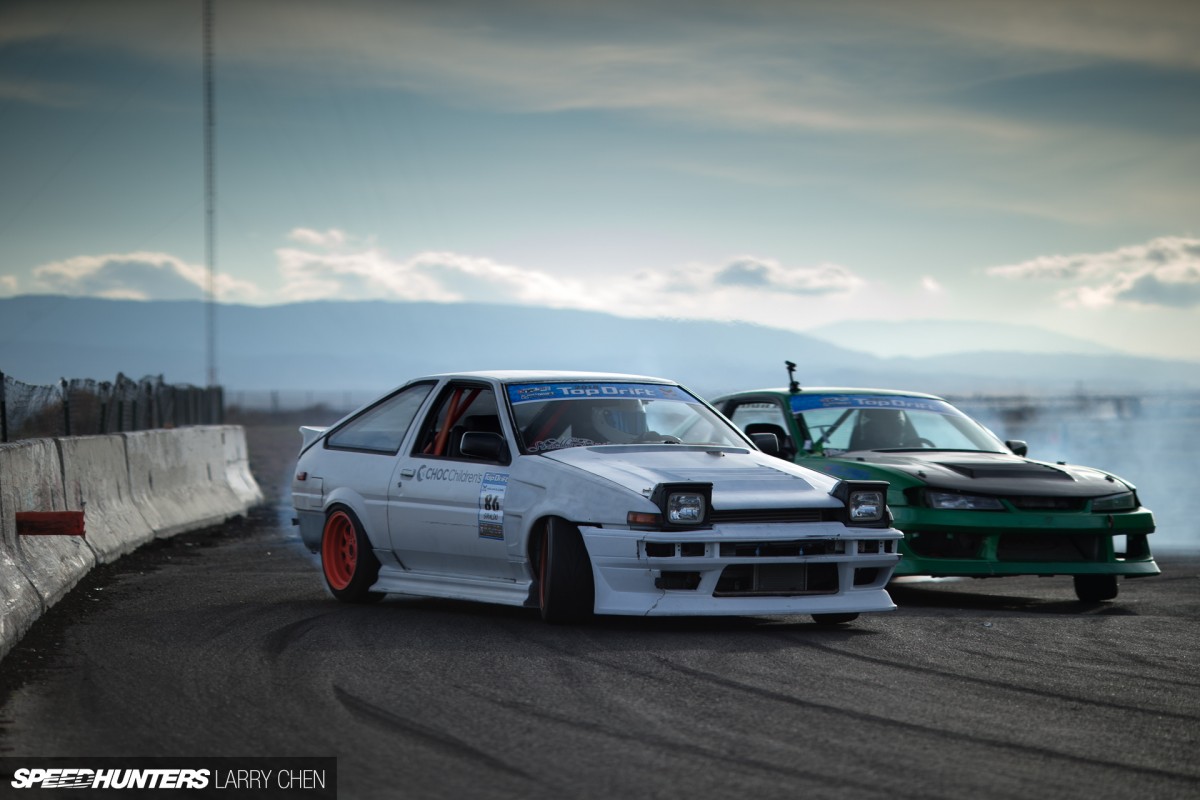 It wasn't an easy win though, he had to get through local driver Daniel Giraldo in his turbocharged 4A-G Corolla who put up a good fight.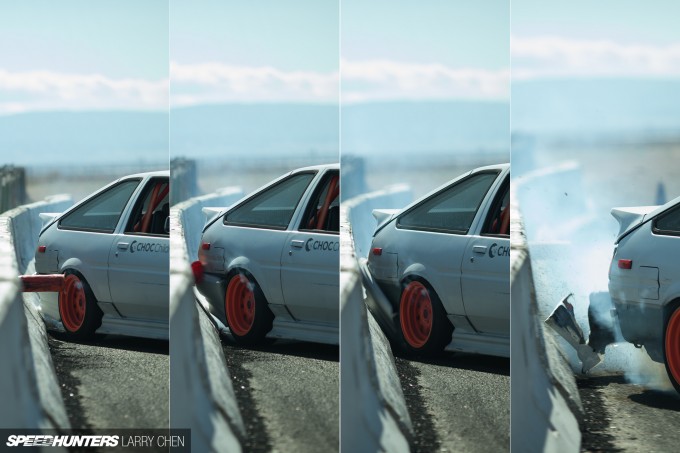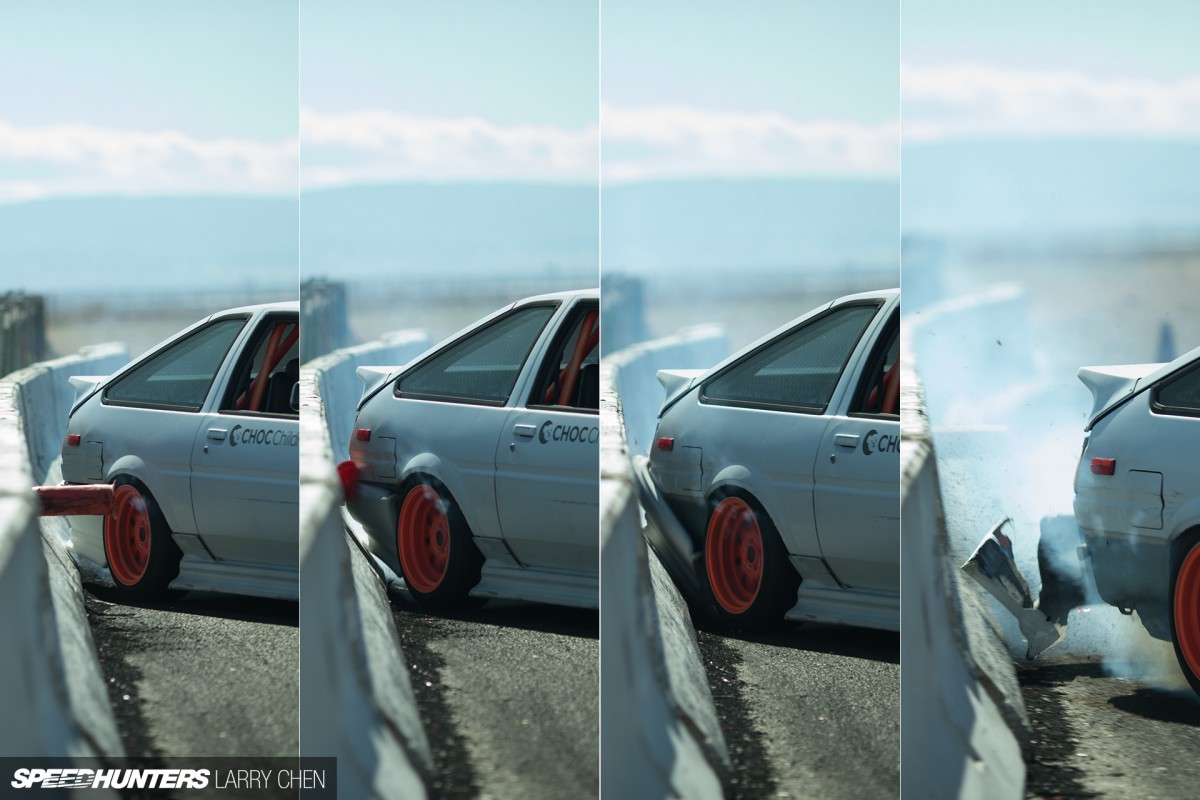 It's amazing, but with only 200hp the little Toyota still holds its own up against the bigger displacement turbo guys as well as the V8 swapped cars.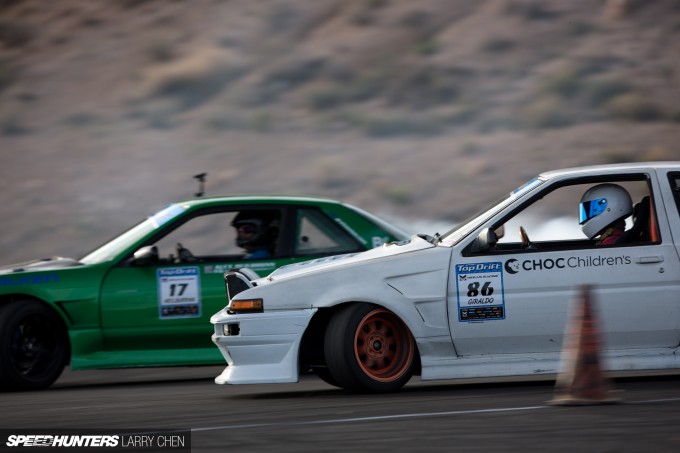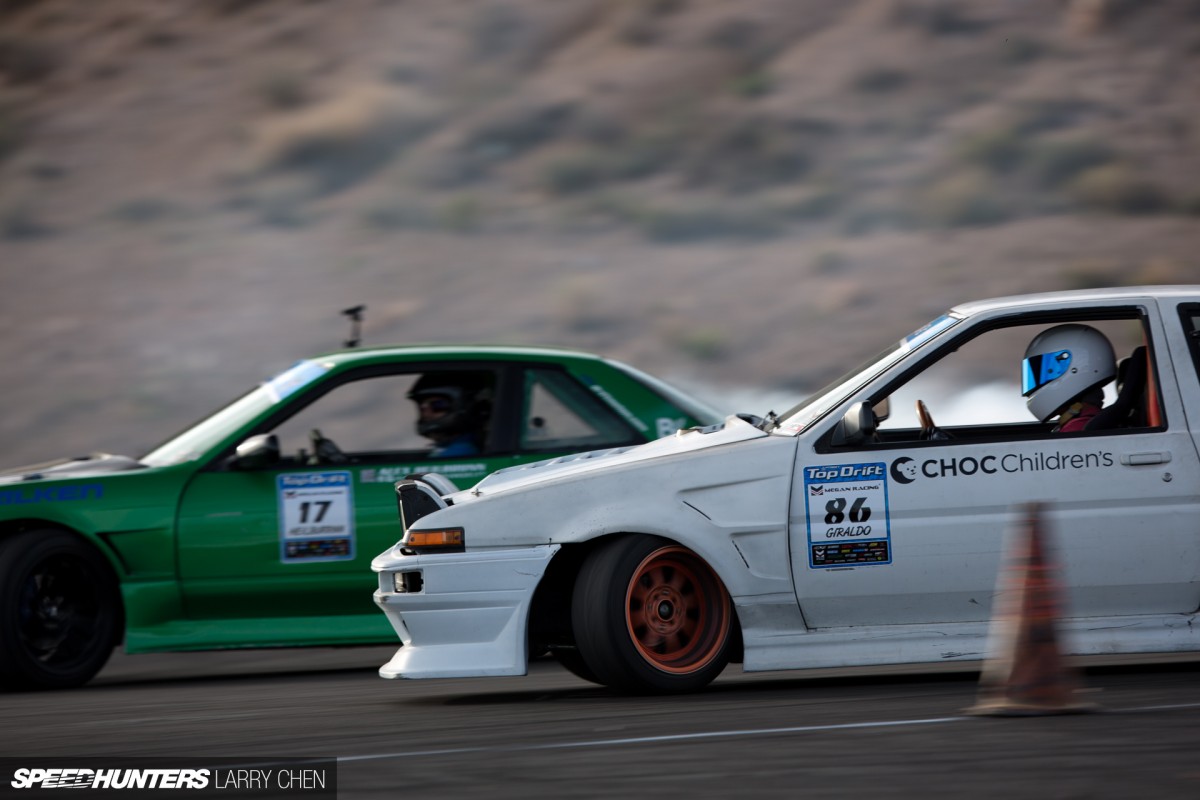 After three 'One more time' calls from the judges, Alex came out on top, but Daniel secured the final podium spot.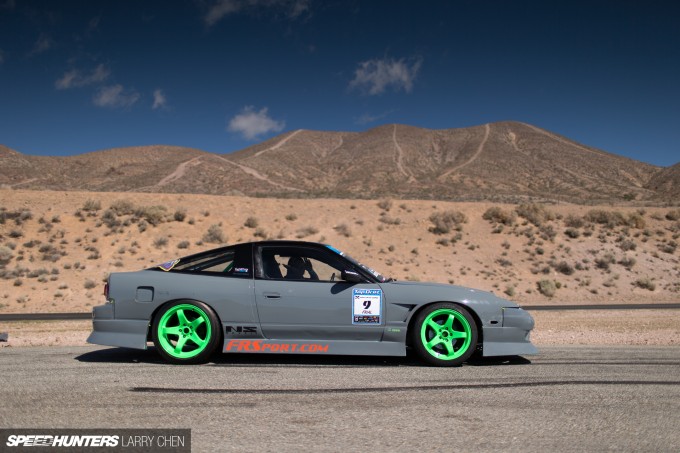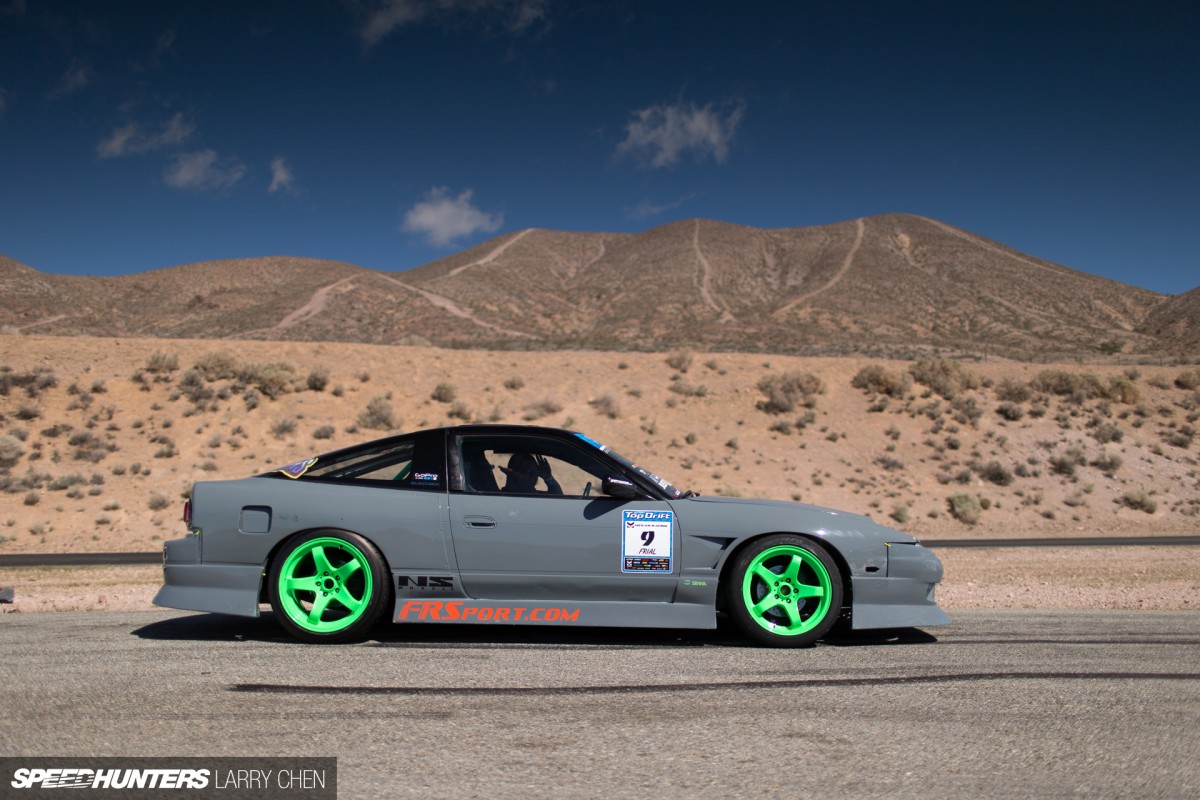 There are just a select few drivers who have been around Just Drift since the very beginning, one of which is Mickie Frial.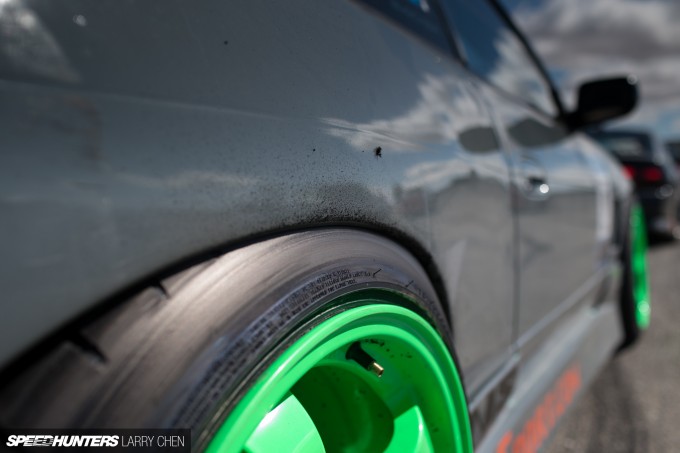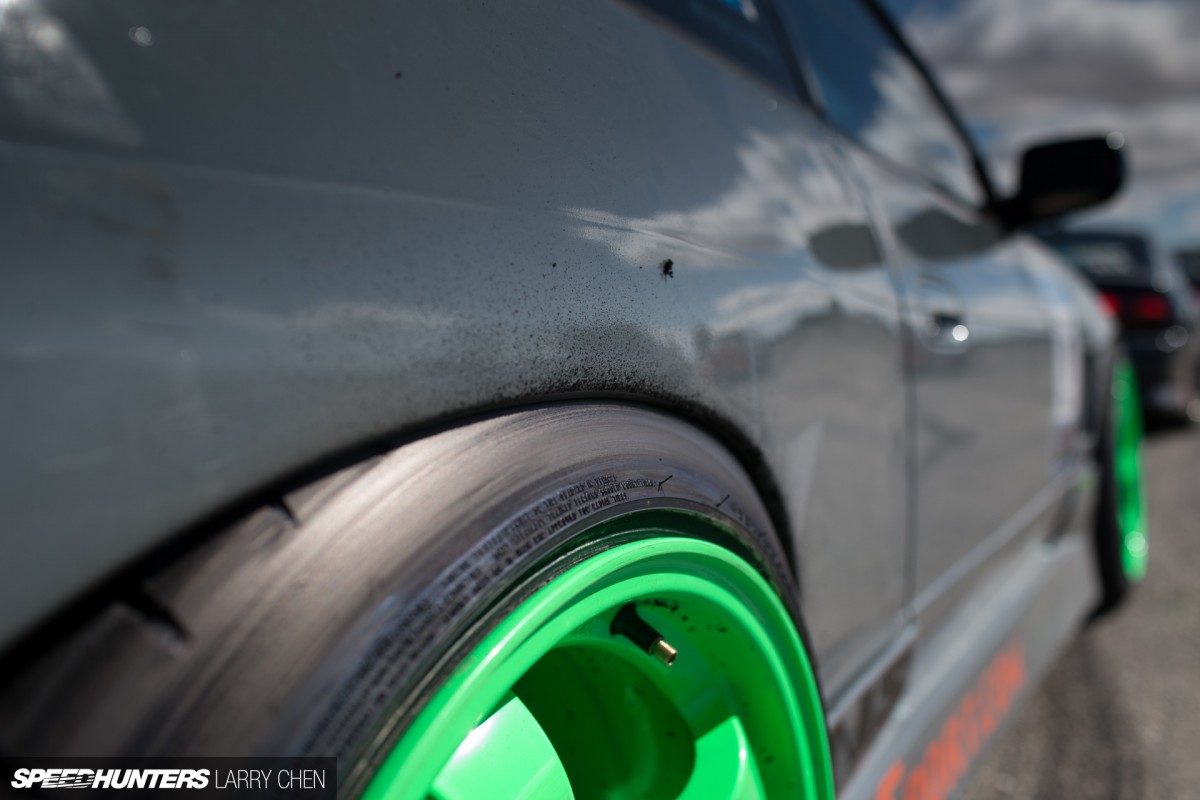 I remember watching him drift with style back when I first encountered the sport, and it seems nothing has changed. His car is looks perfect every time I see it.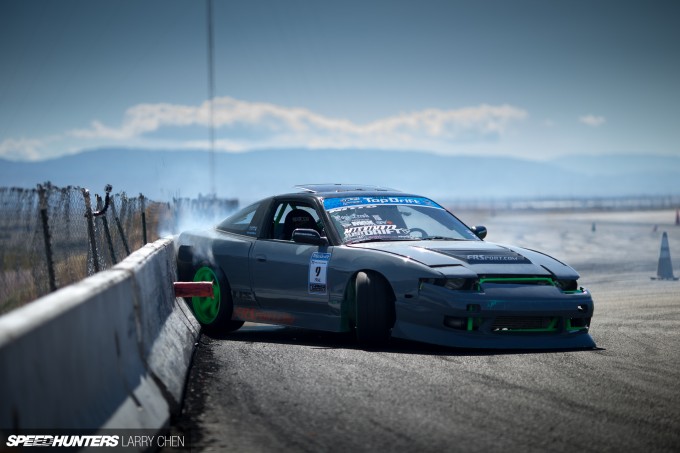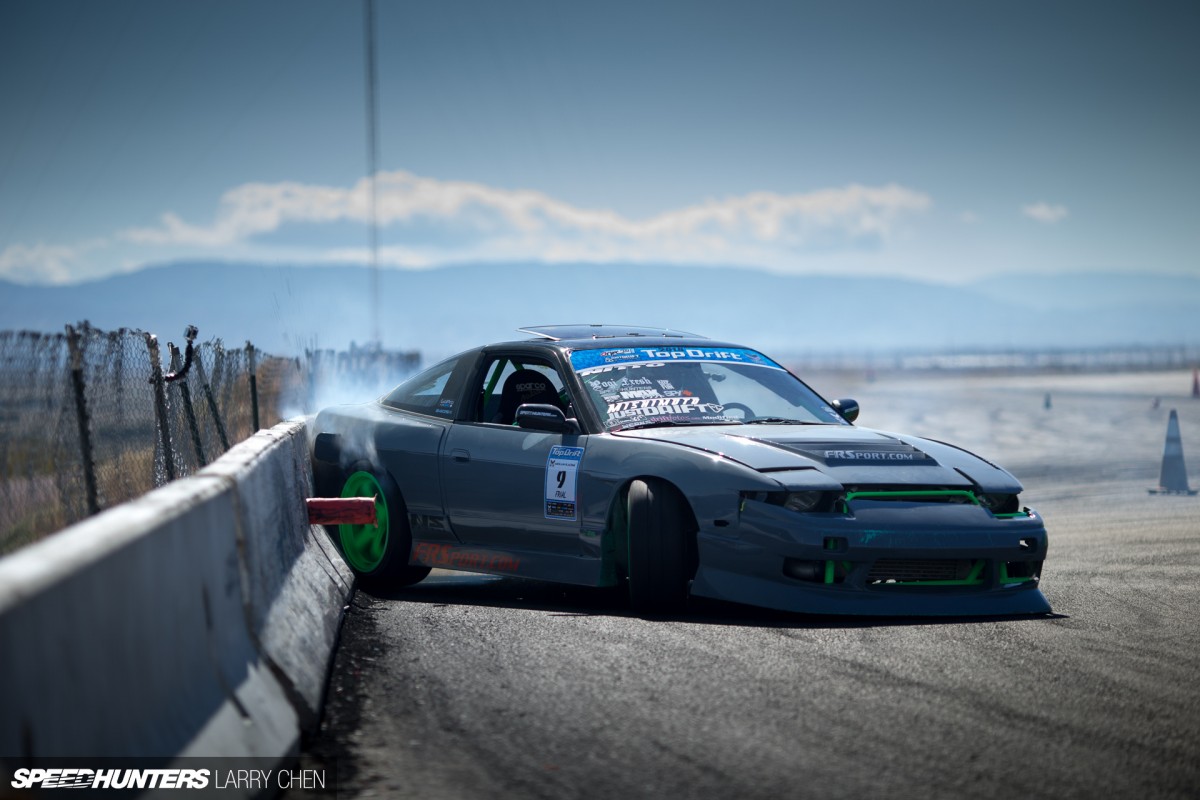 Don't think for a second that Mickie does not push it when it comes time for competition either. He put it hard into the wall, but I know it will be rebuilt and looking spick and span again in time for Top Drift Round 2.
Cheap thrills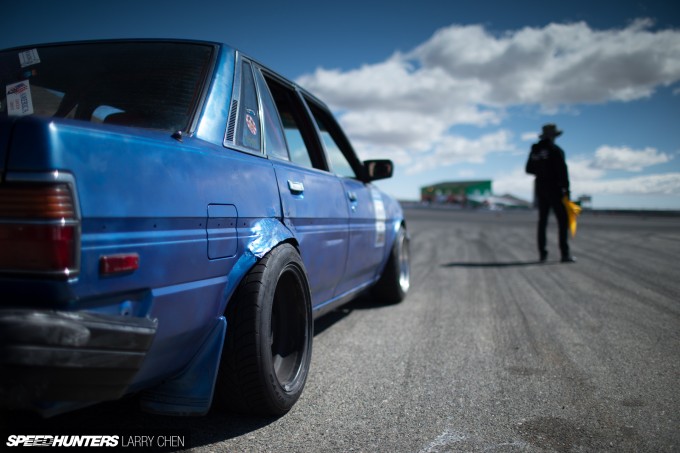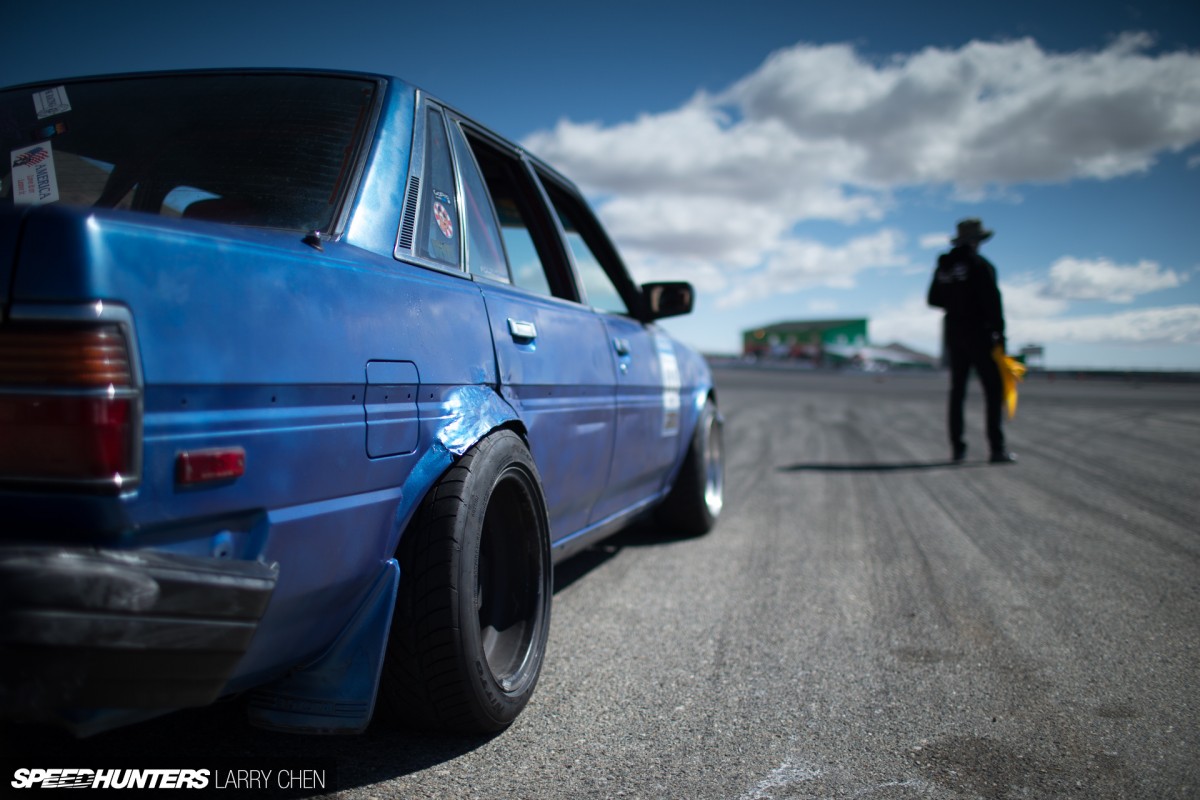 Drifting is really a very cheap way to get into motorsports. It just takes time and dedication.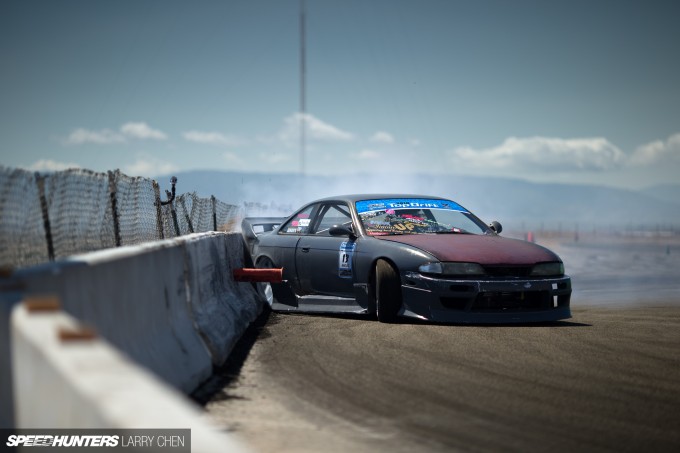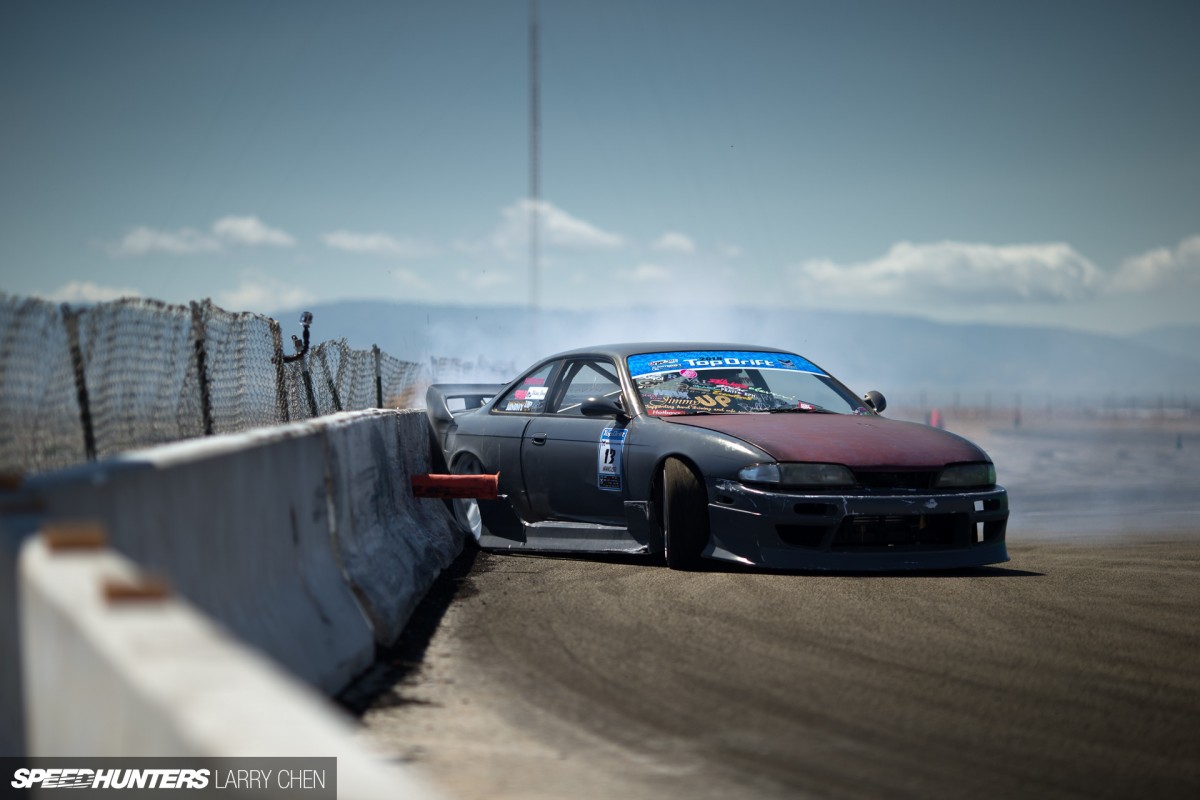 You don't really need a fancy car; a beater with a few mods here and there will do.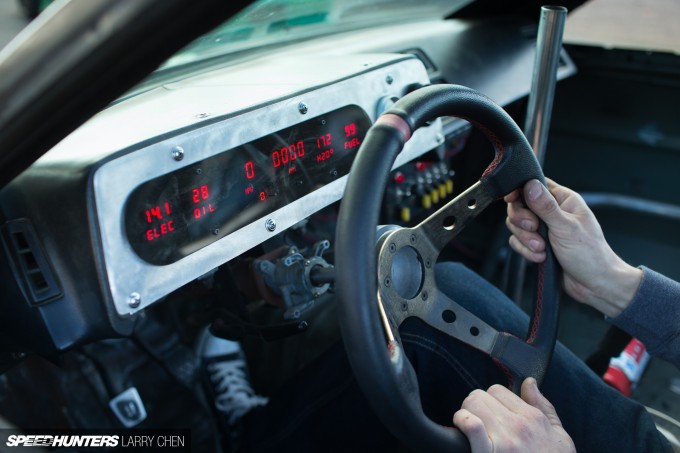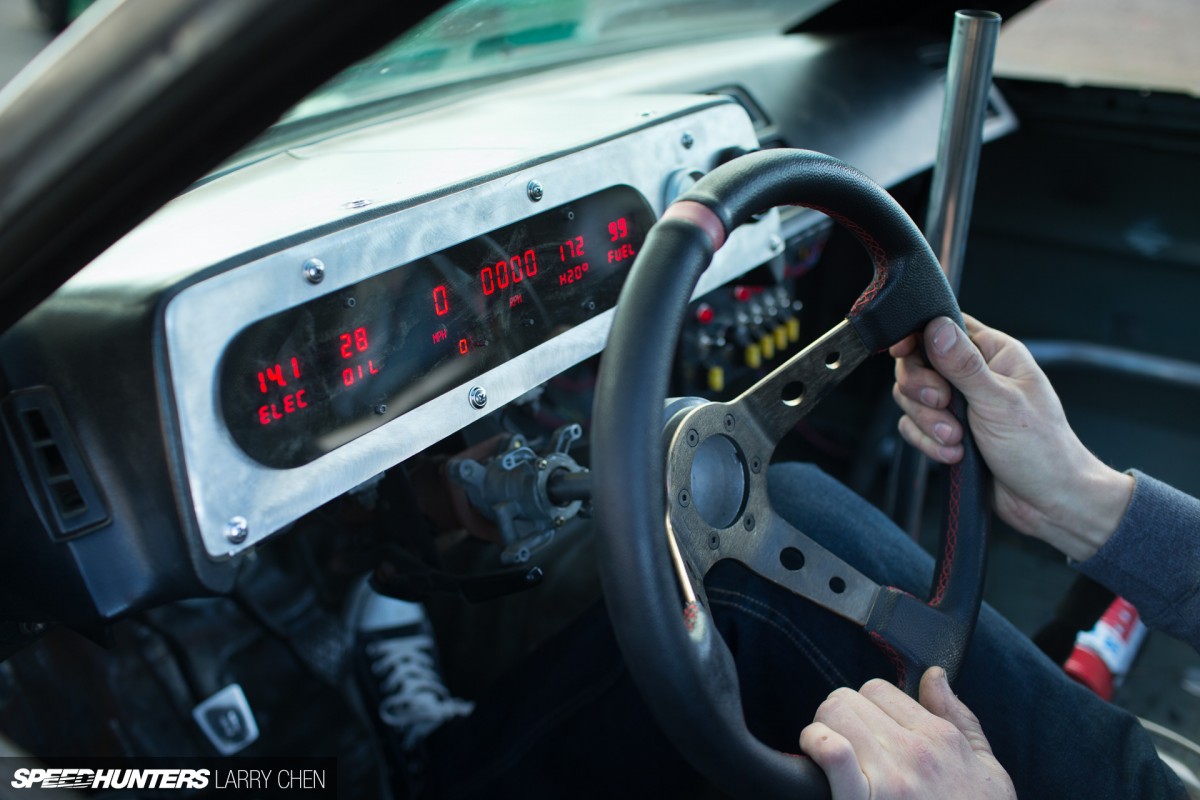 The drivers' personal style really shows through the way they build and maintain their cars. When this baby hits 88 miles per hour it will drift back in time.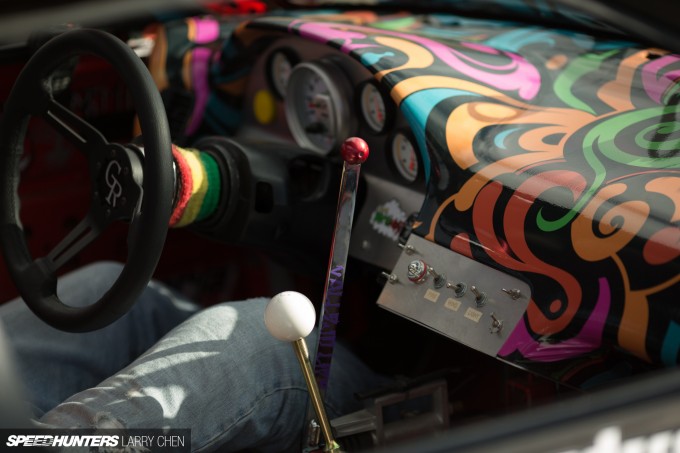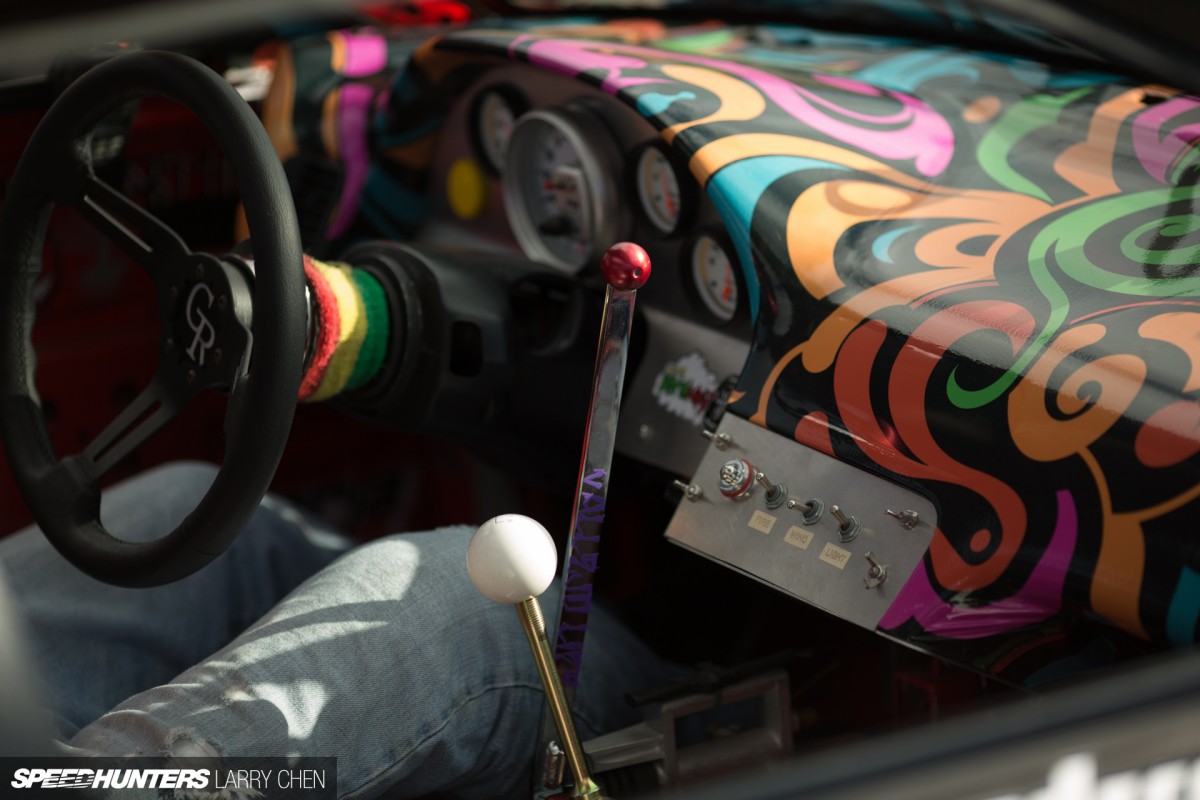 S-chassis dashboards are notorious for cracking, but I love what builder Joe Tardiff did to cover all that up.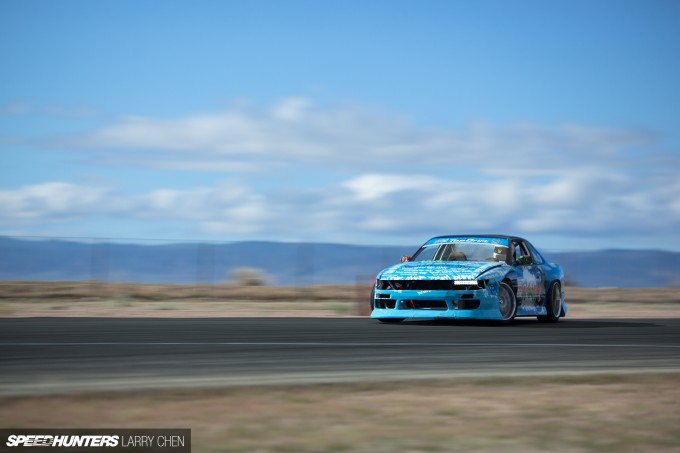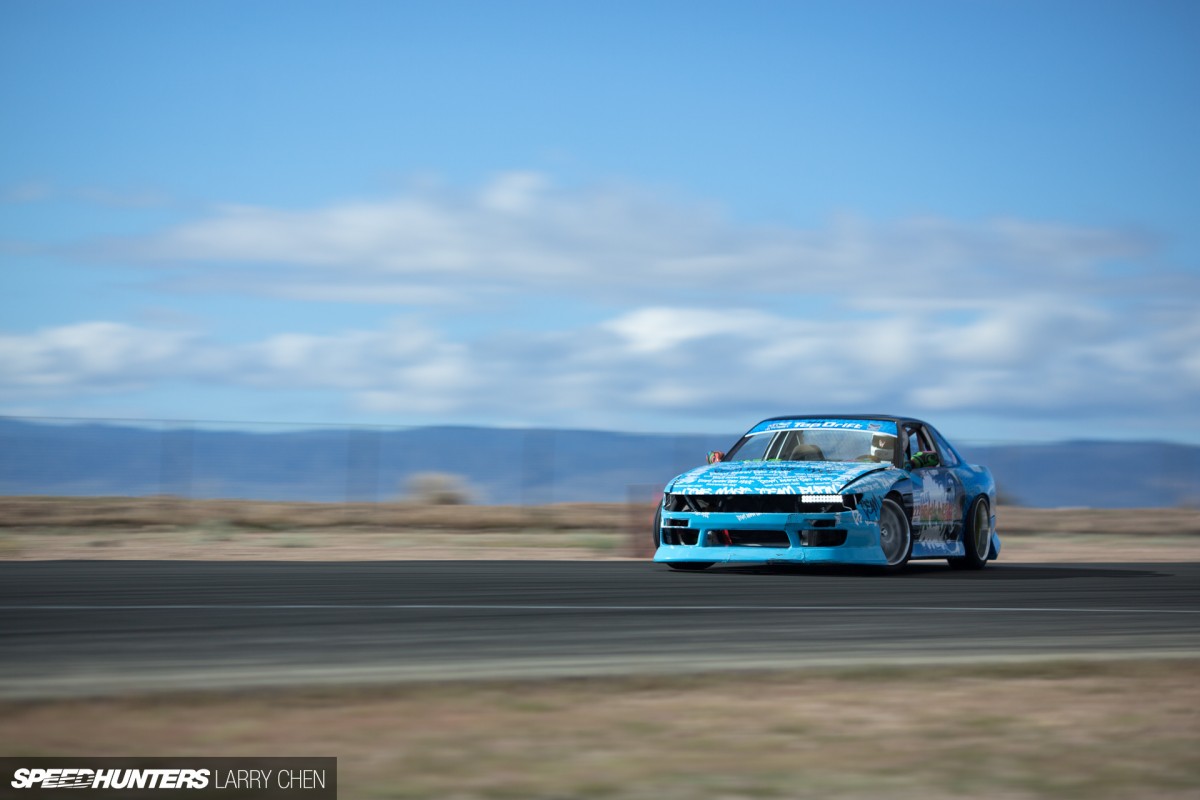 The outside of the car is interesting as well. Joe is part of a drift group named Team Burn the Most, which I assume is a reference to the destruction of tires.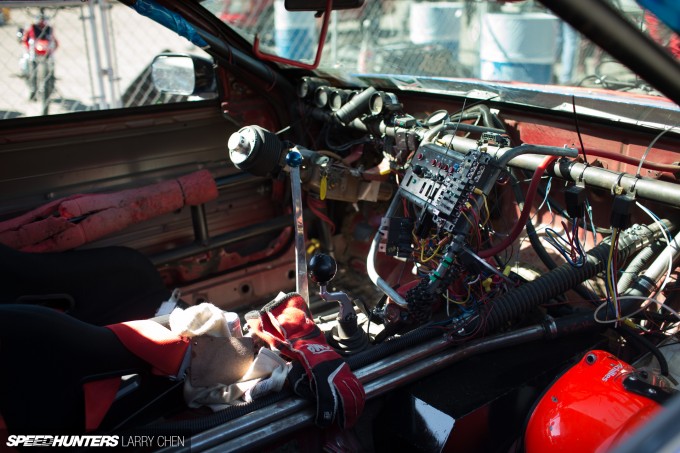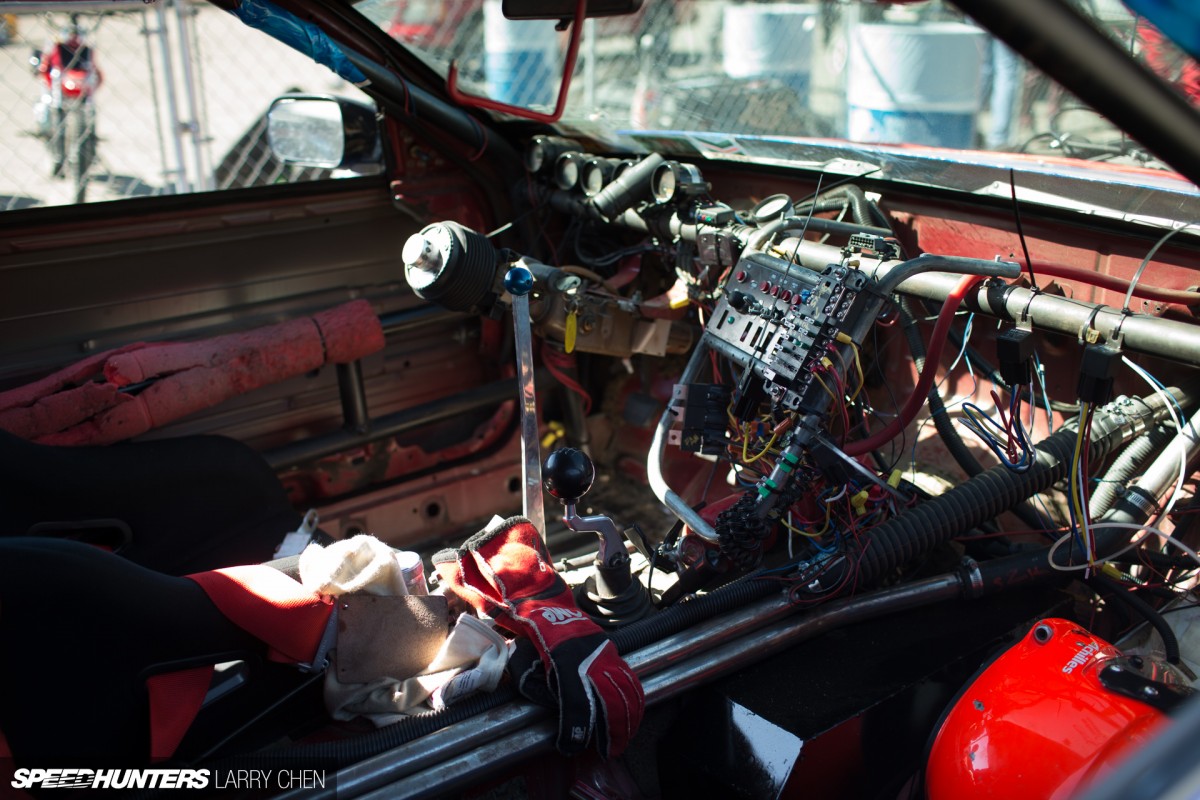 Some builds remind me of what I've seen at Gatebil in the past few years. Big motor in a chassis that's falling apart and no interior in sight.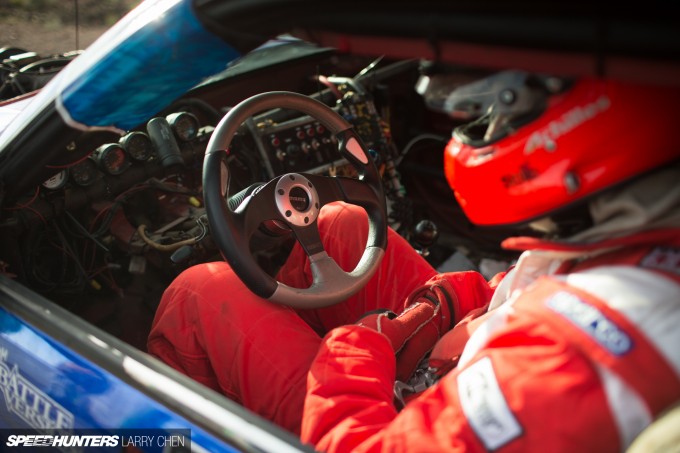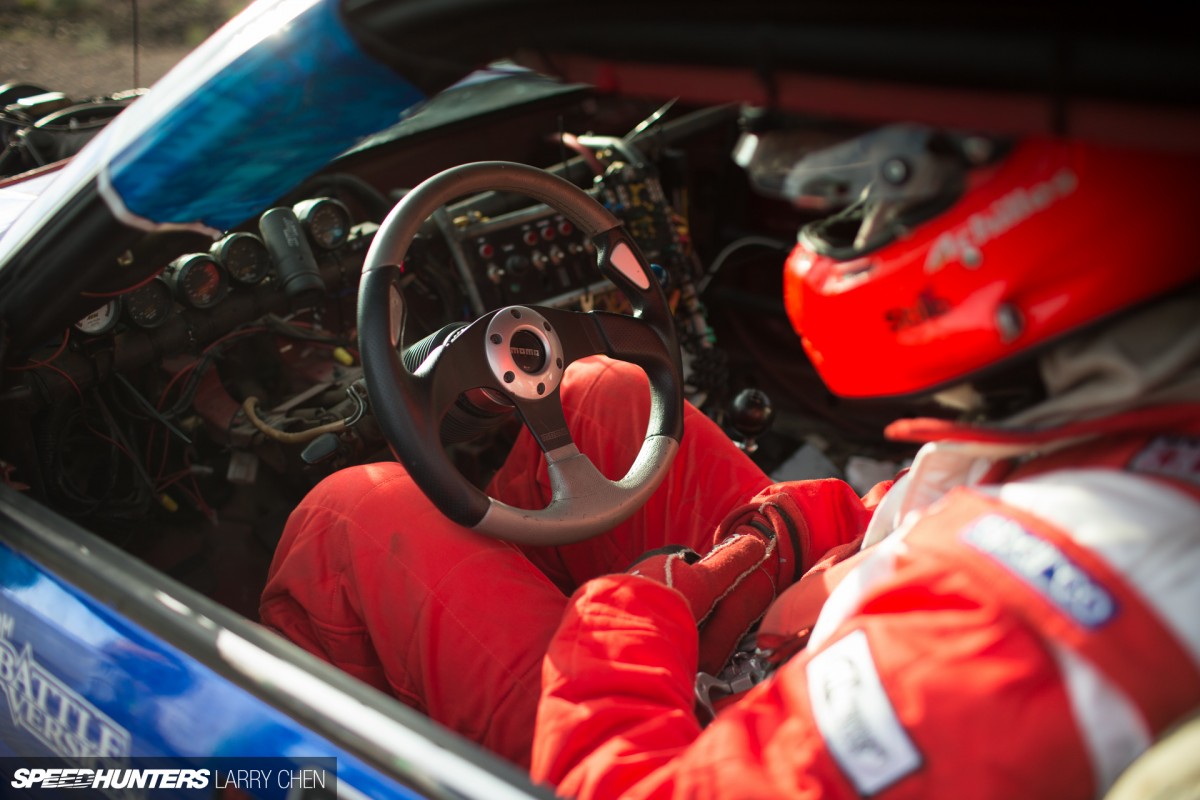 And just like at Gatebil, these cars are thrashed to their absolute limits – wall taps on every lap if that's what it takes.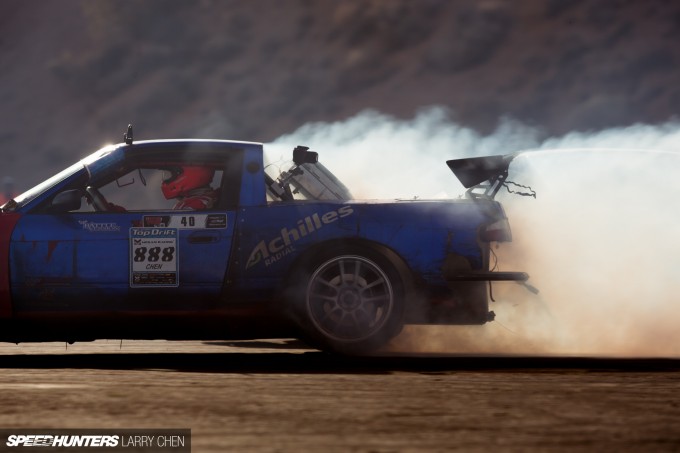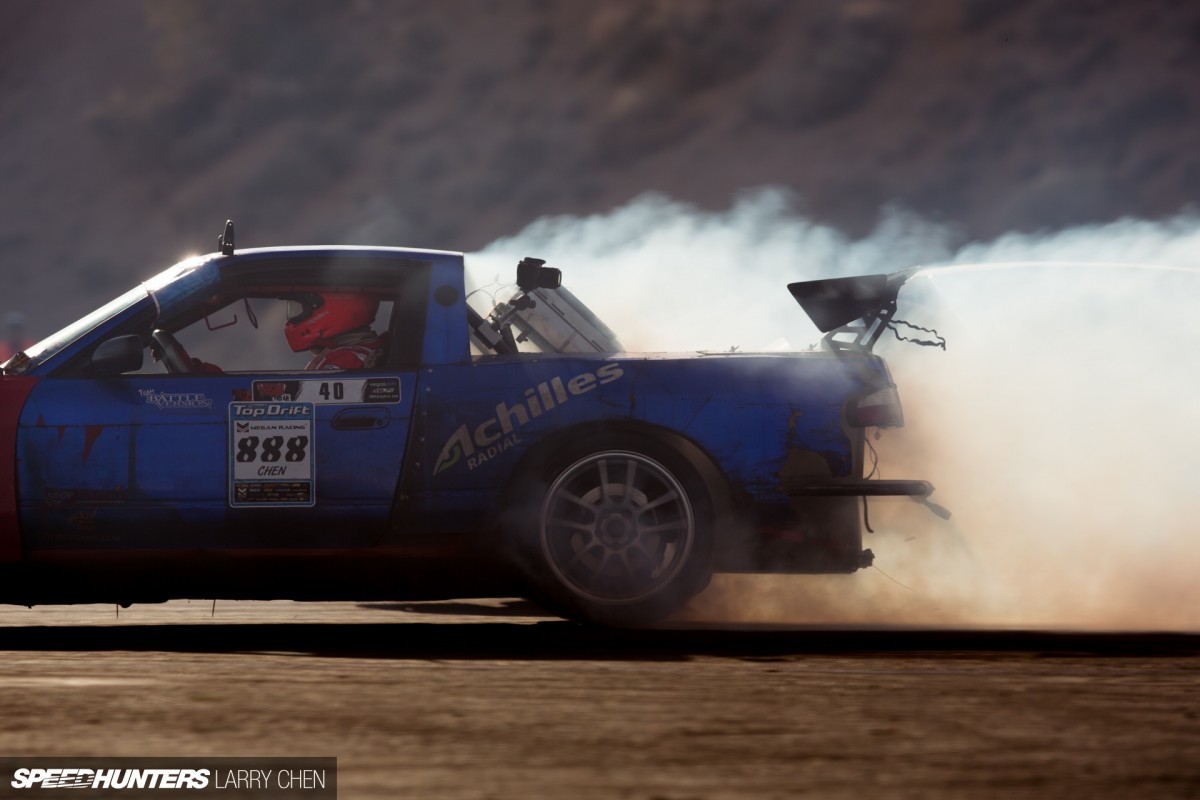 Just check out this LS-powered drift truck of sorts built by Spike Chen. It may not be much of a looker, but it makes enough smoke to set off fire alarms for miles.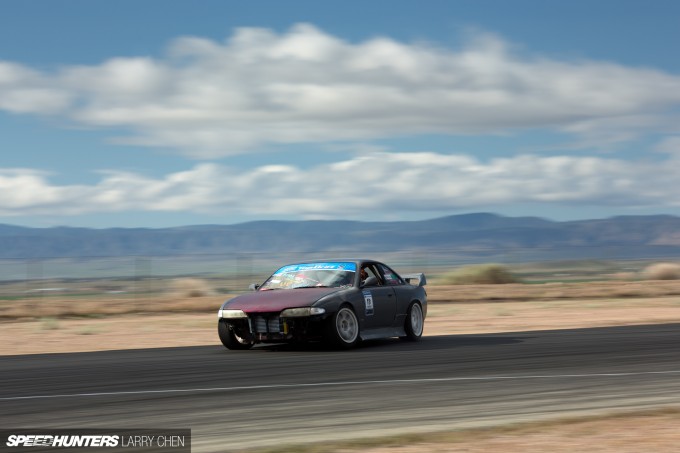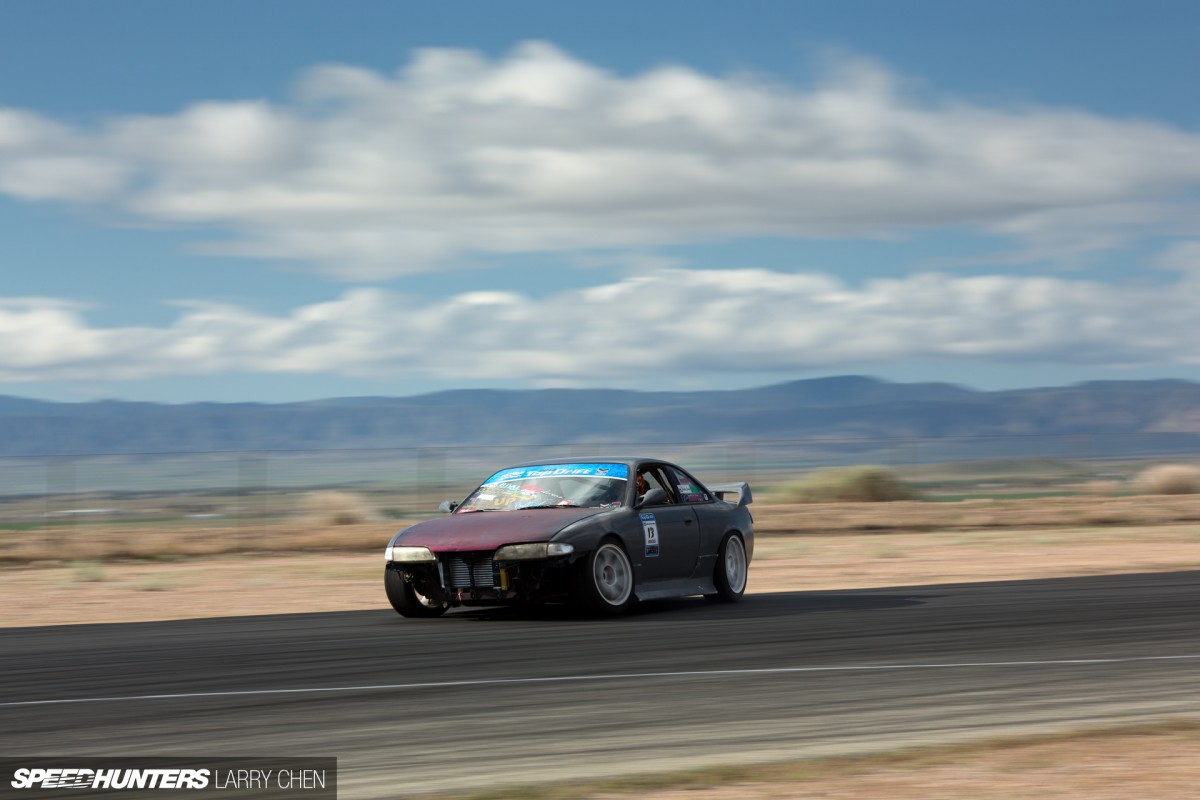 Qualifying can be pretty hectic. Narrowing a field of 70 drivers down to just 16 is no easy task. So, just making it into Top 16 was a win in itself.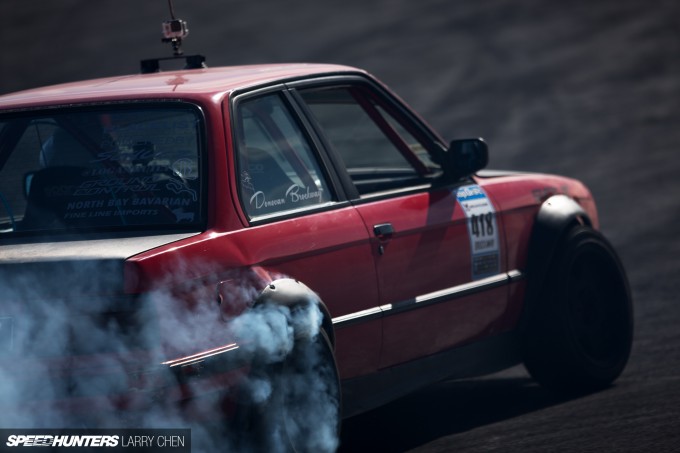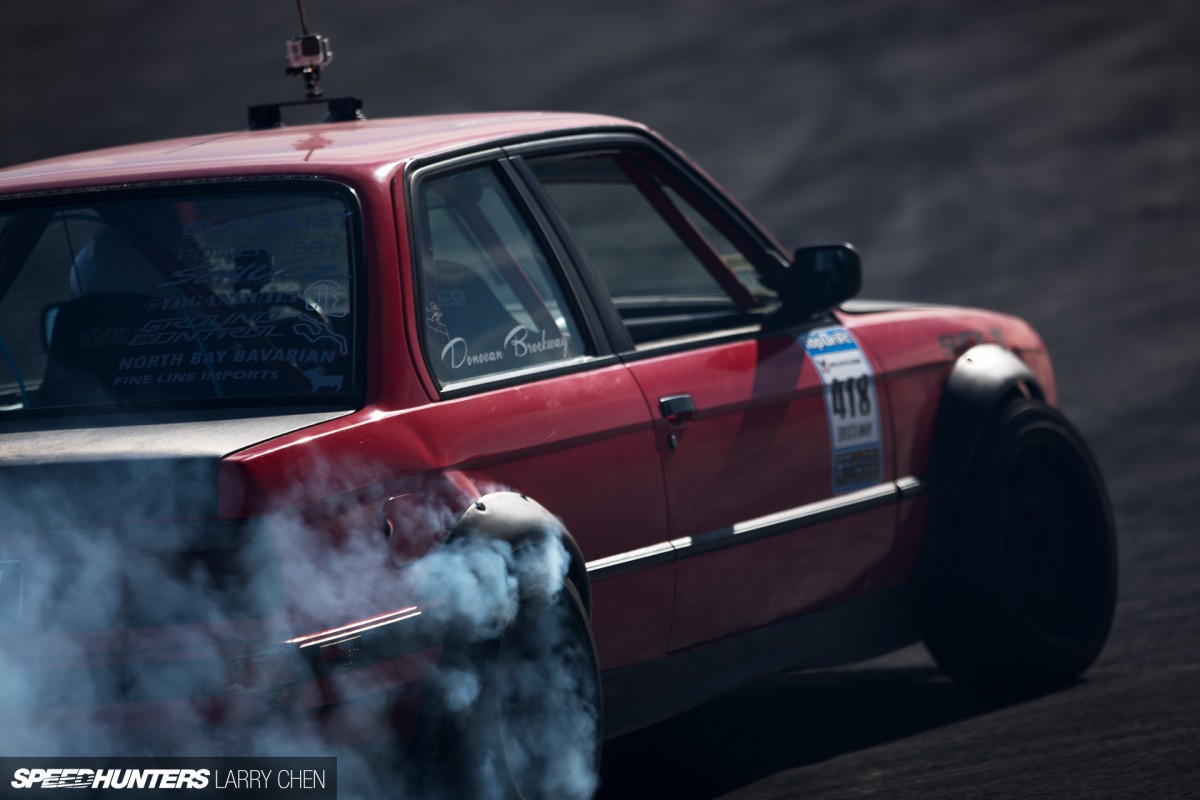 In fact, I remember back in the early years they used to only have a Top 8 competition since there were not enough drivers for a Top 16.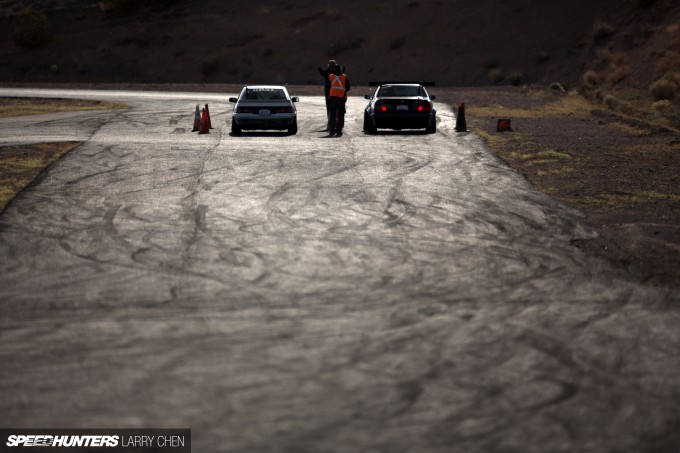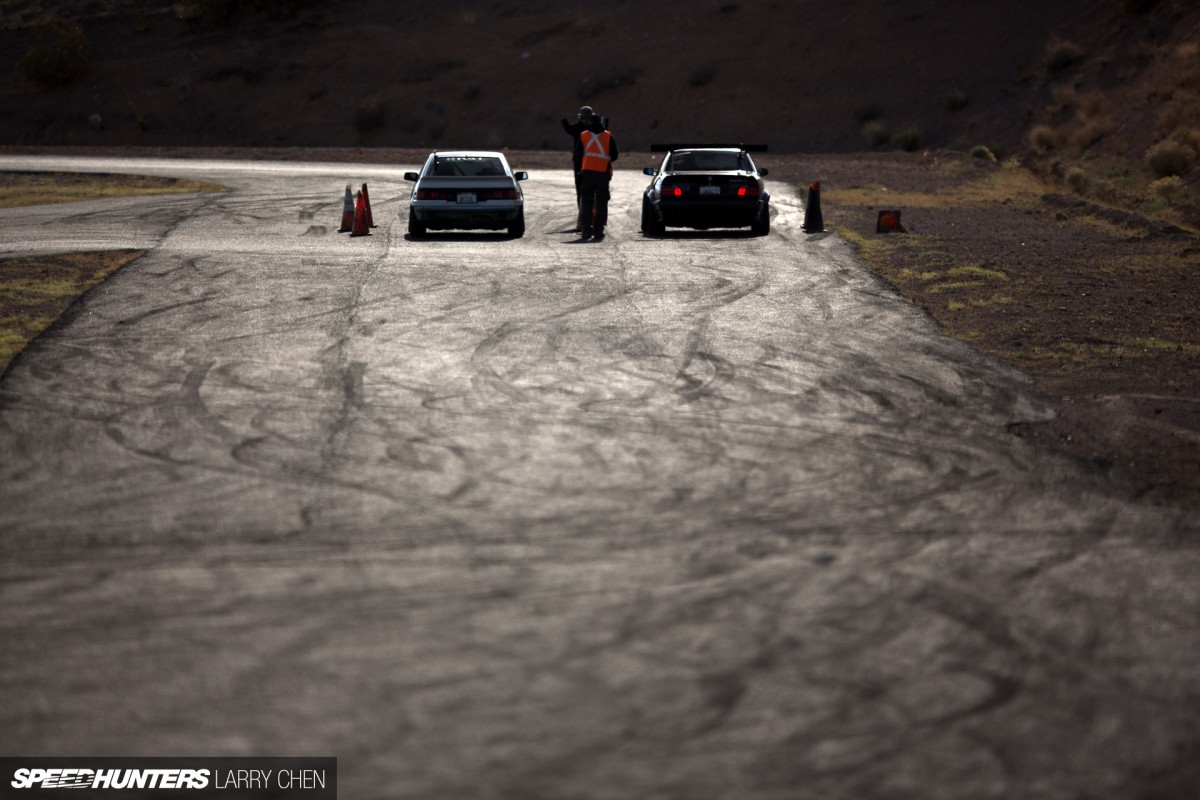 Now you actually have to have some real driving skill to see the light of tandem.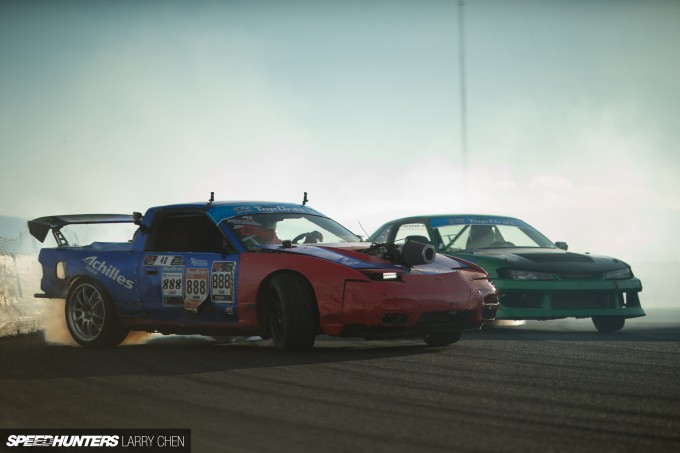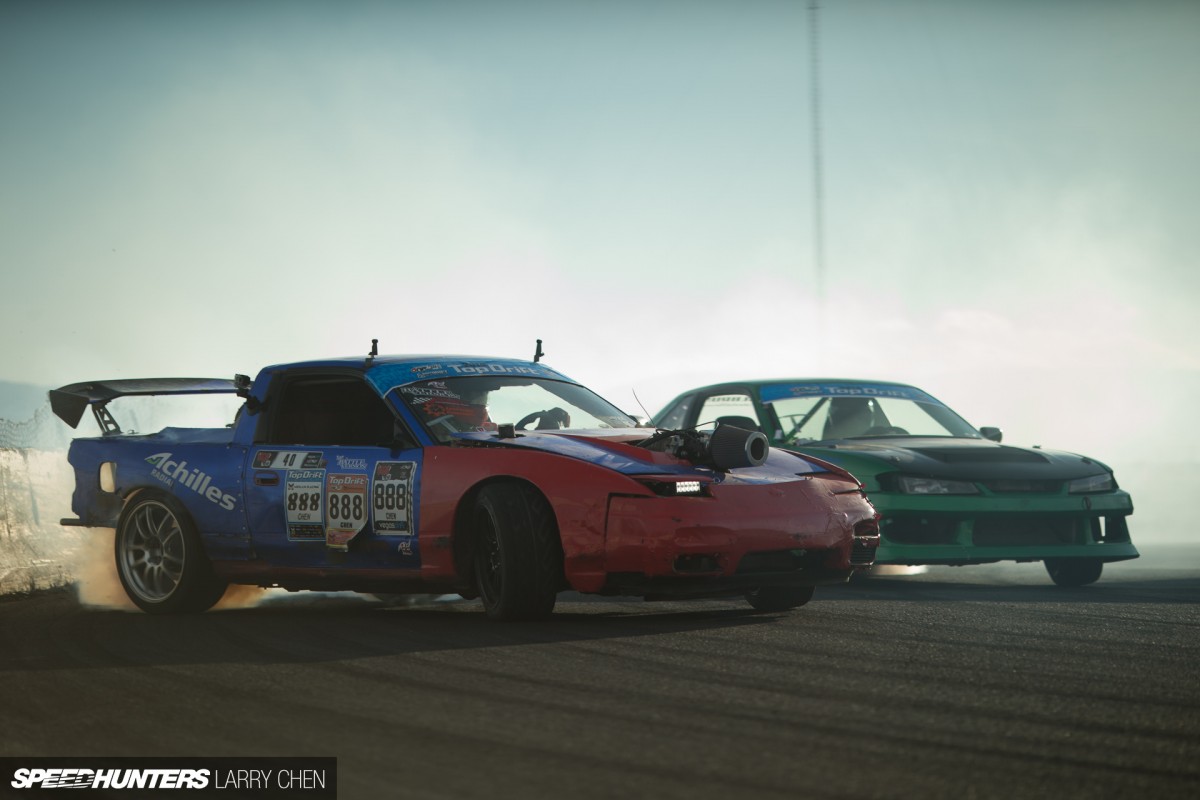 The final battle took place as the sun was going down. It was the franken-drift car, versus the old school S-chassis.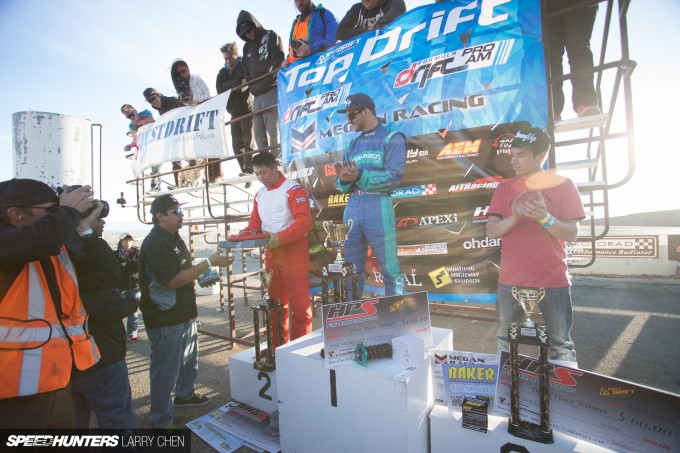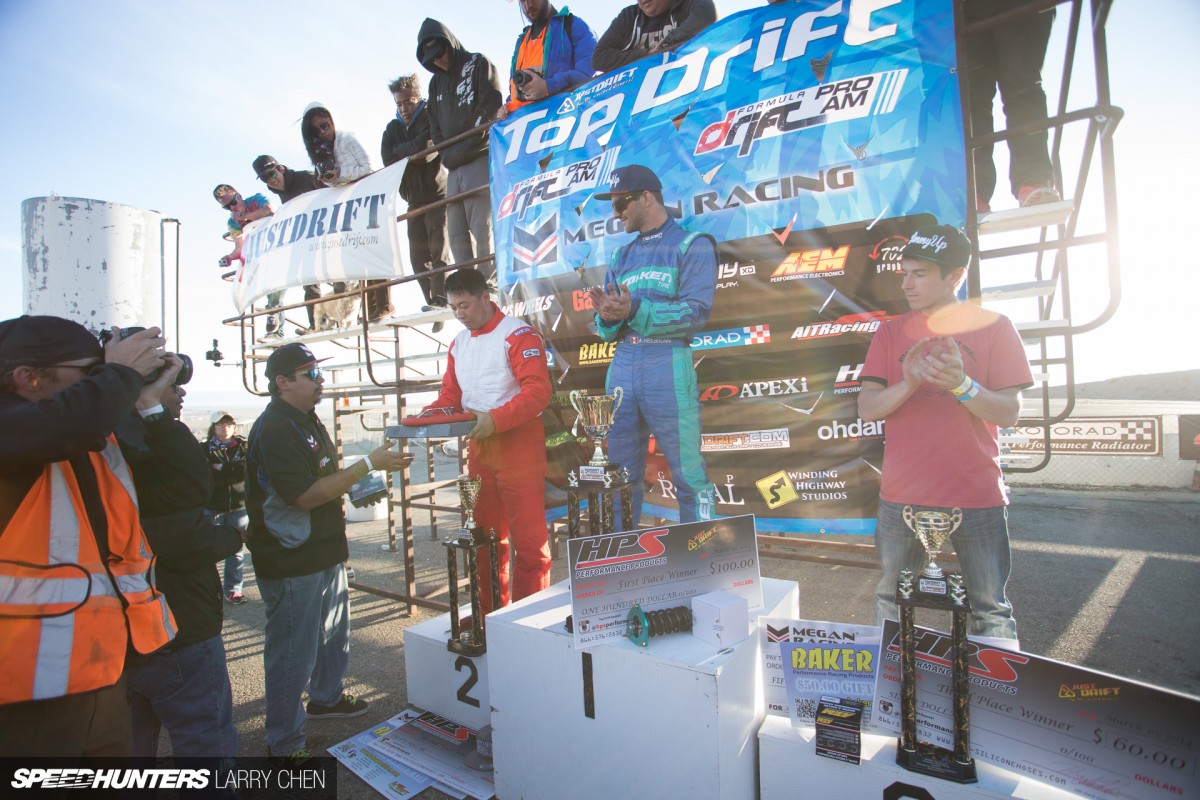 Your top three finishers for Top Drift Round: Alex Heilbrunn, Spike Chen, and Daniel Giraldo.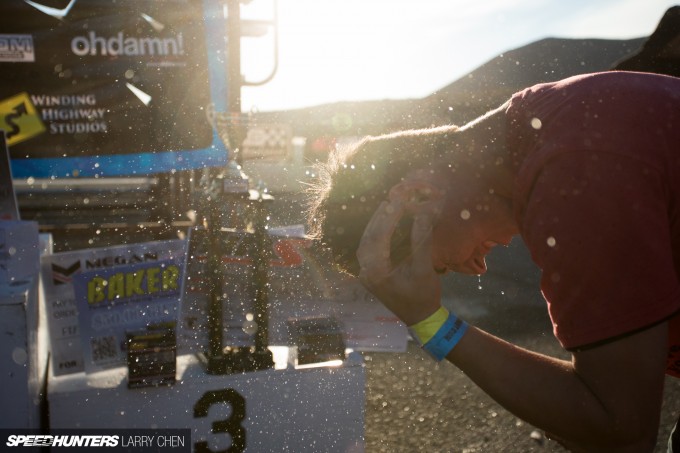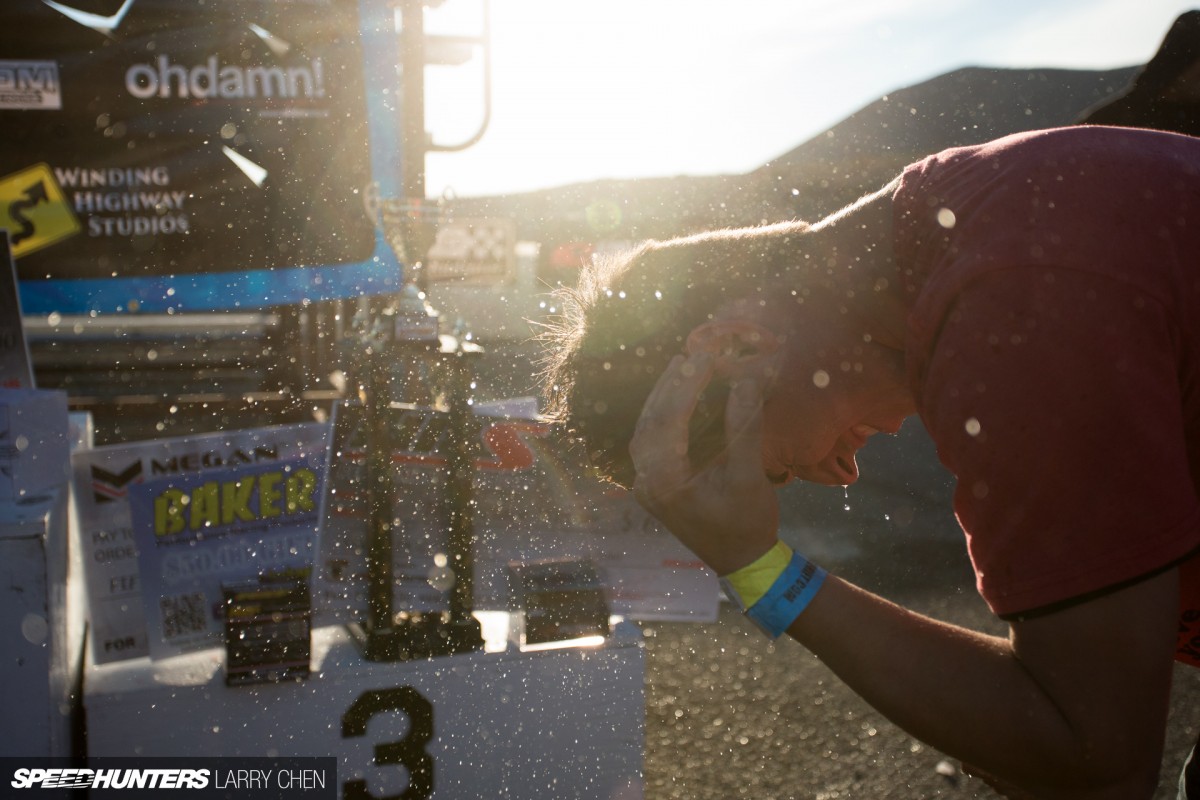 A podium just stings so good! I've always wondered if the winners are on edge driving back home, just in case they get pulled over. "Sir, have you been drinking?" 'Errrrr…. no?'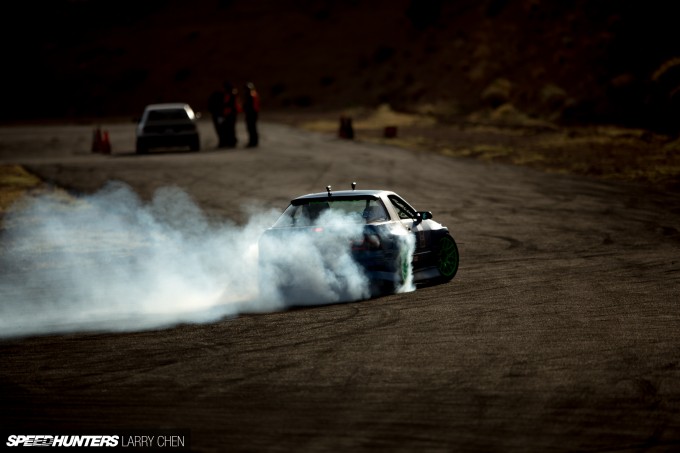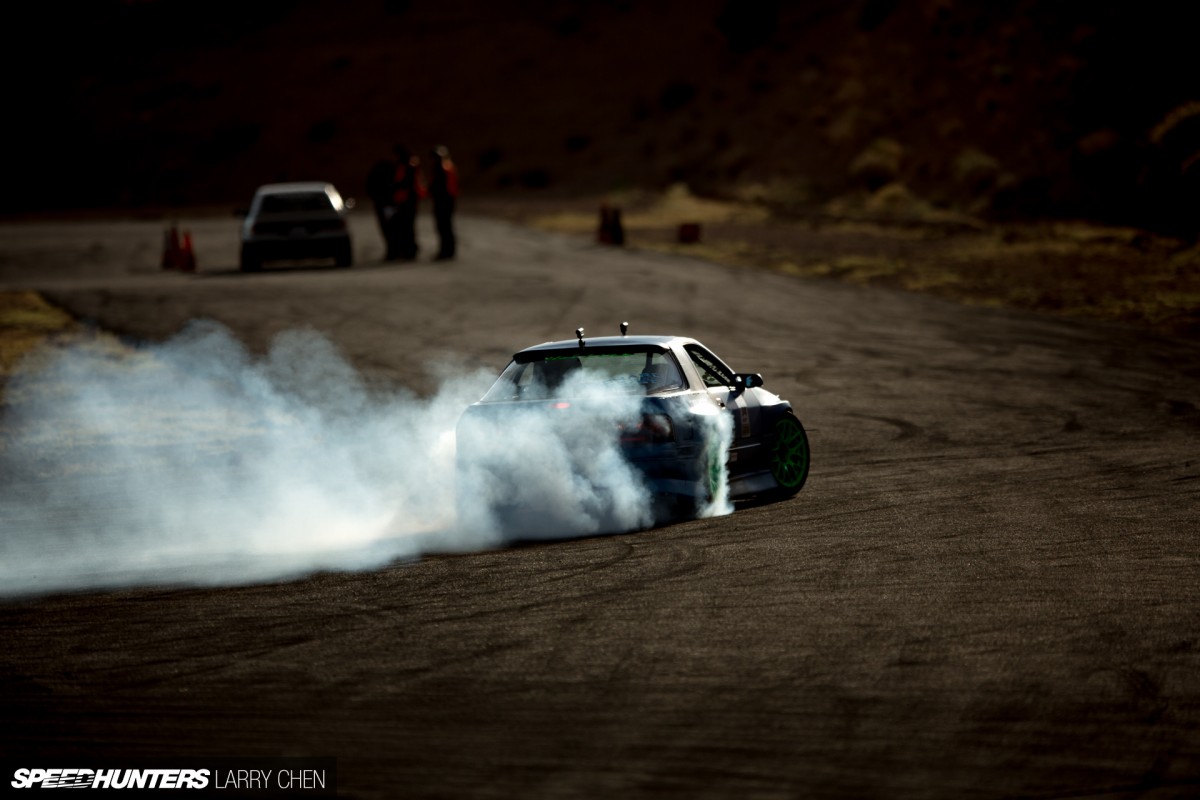 Speedhunters, go out and support your local drift scene – you will be surprised at just how much fun you can have. The next time I am sitting across the table from a bunch of seasoned automotive journalists I am going to make sure I have pictures of some of the greatest amateur drifters in the world to show them. I will tell them that this is the next generation of gearheads. And that yes, they do modify their own cars…
Larry Chen
Instagram: larry_chen_foto
larry@speedhunters.com