Nothing beats the Hop
As the other half of the world are busy ditching their snow chains and preparing for the warmer months ahead, here in New Zealand we're having to say a reluctant goodbye to summer for another year. If you're a nostalgic car enthusiast like myself though, this isn't entirely bad news. Because it's at this time each year that a small township on the east coast of the North Island celebrates the final days of the warmer seasons with an automotive festival unlike any other in the world.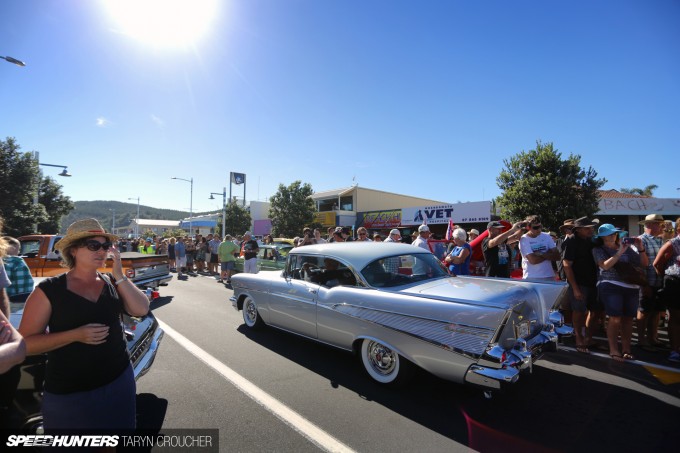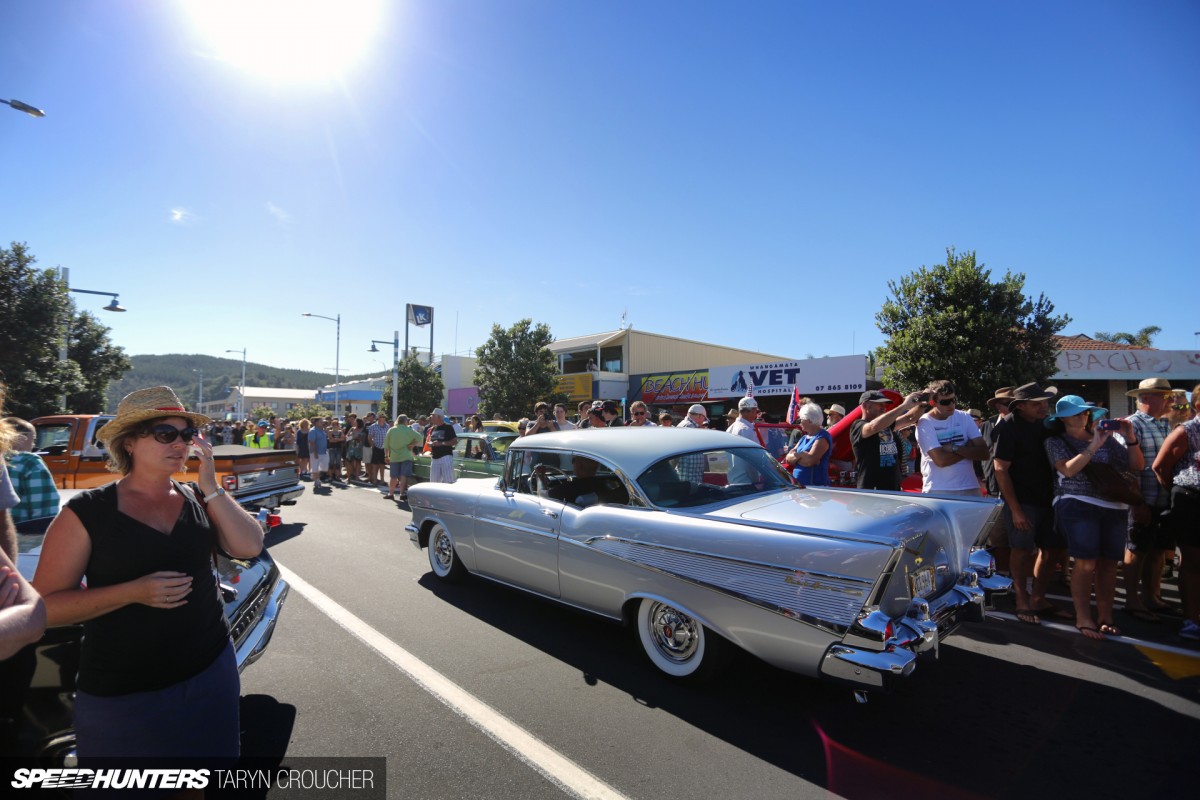 Last week I managed to sneak away from my office desk early for a long weekend, embarking on the scenic two-hour drive south of Auckland to take part in the annual Beach Hop Rock 'n' Roll & Nostalgic Car Festival. I've attended 'The Hop' a few times before, but as I wasn't able to make it along last year there was simply no way I was going to miss out in 2014.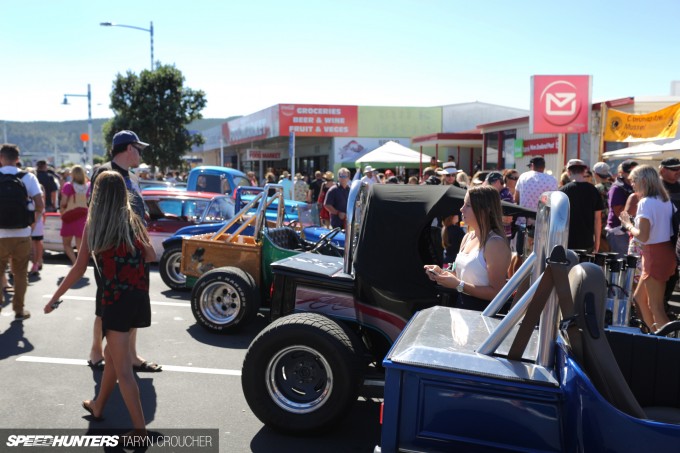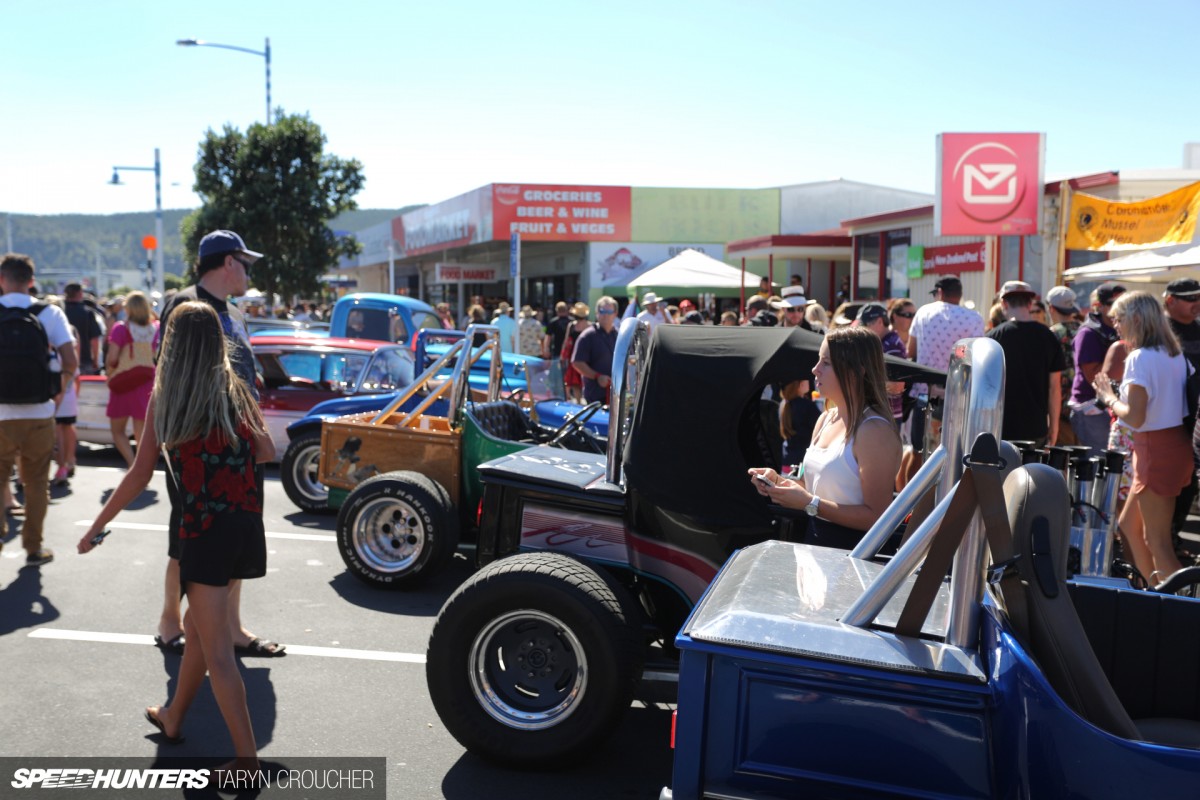 As a patriotic Kiwi I can't help but feel as if it's my honourable Speedhunting duty to show the world just how awesome this event is – especially seeing as this year's festival was by far the best I've ever experienced. So I decided to take my camera gear along for the ride and to put together a casual event guide, including some helpful tips along the way. You know… just in case if you think you might want to experience Beach Hop for yourself one day. And trust me, you do!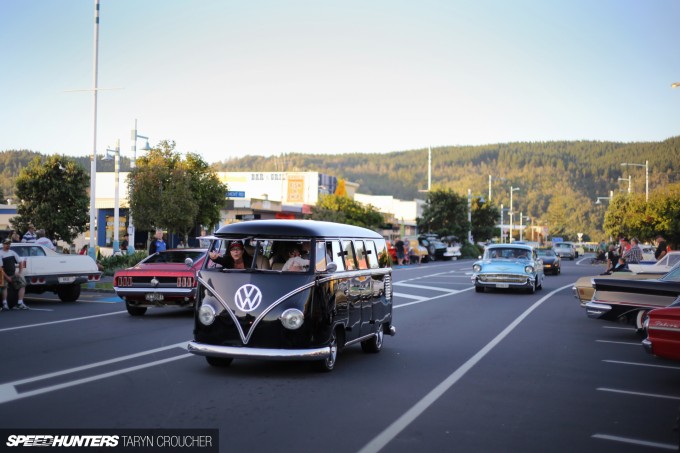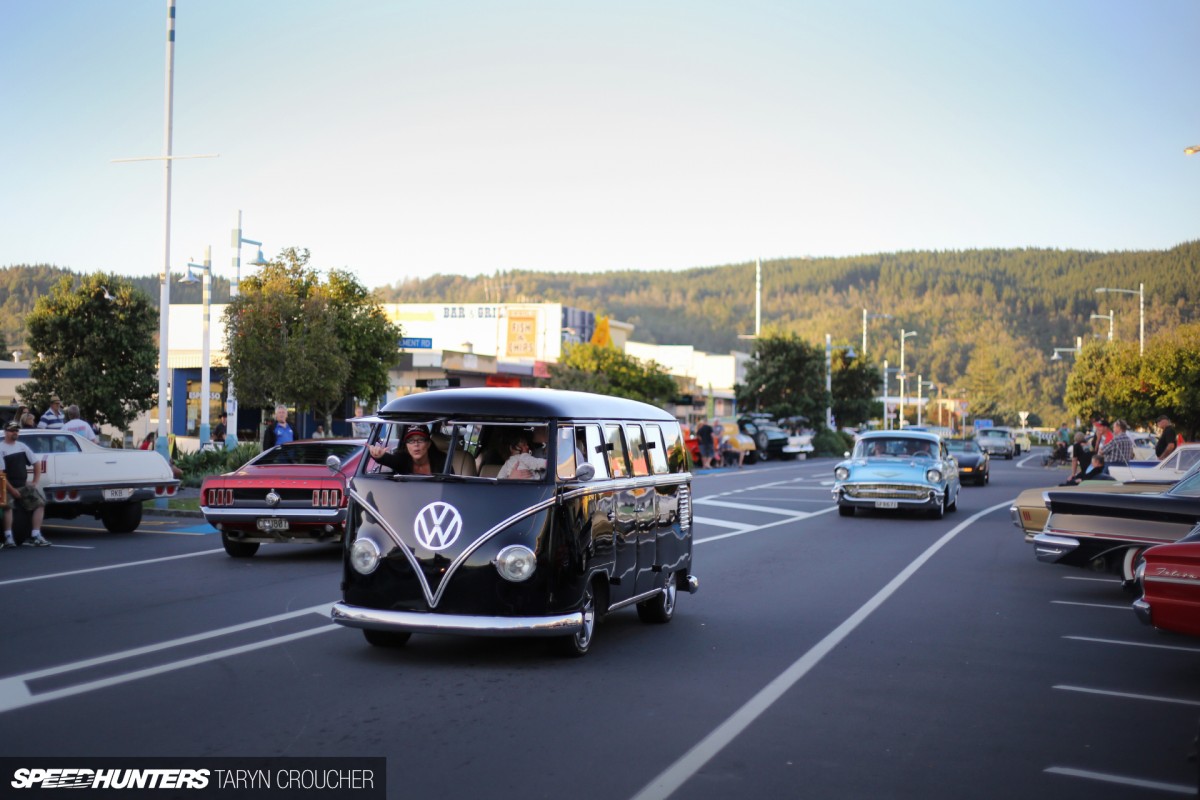 For almost a whole week, the small town of Whangamata (pronounced Fung-ah-ma-tah), is invaded by classic Cadillacs, character-filled pick-up trucks, high-powered muscle cars, pinstriped lowriders, every kind of Ford Mustang, rusted-out rat rods, surfboard-wielding VW bugs and much more. This is an event where there really is something for everyone to enjoy.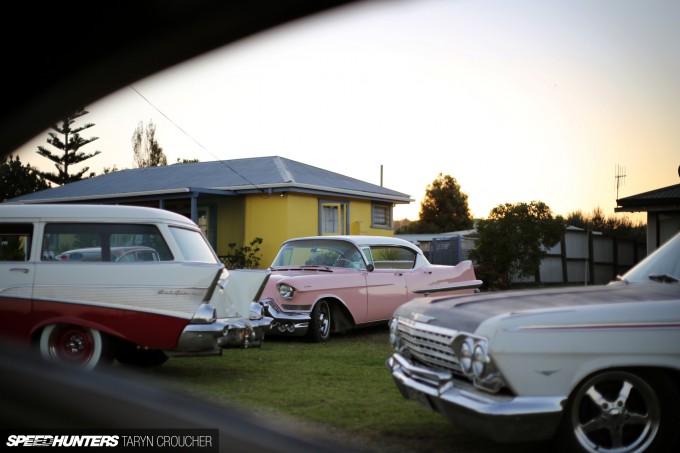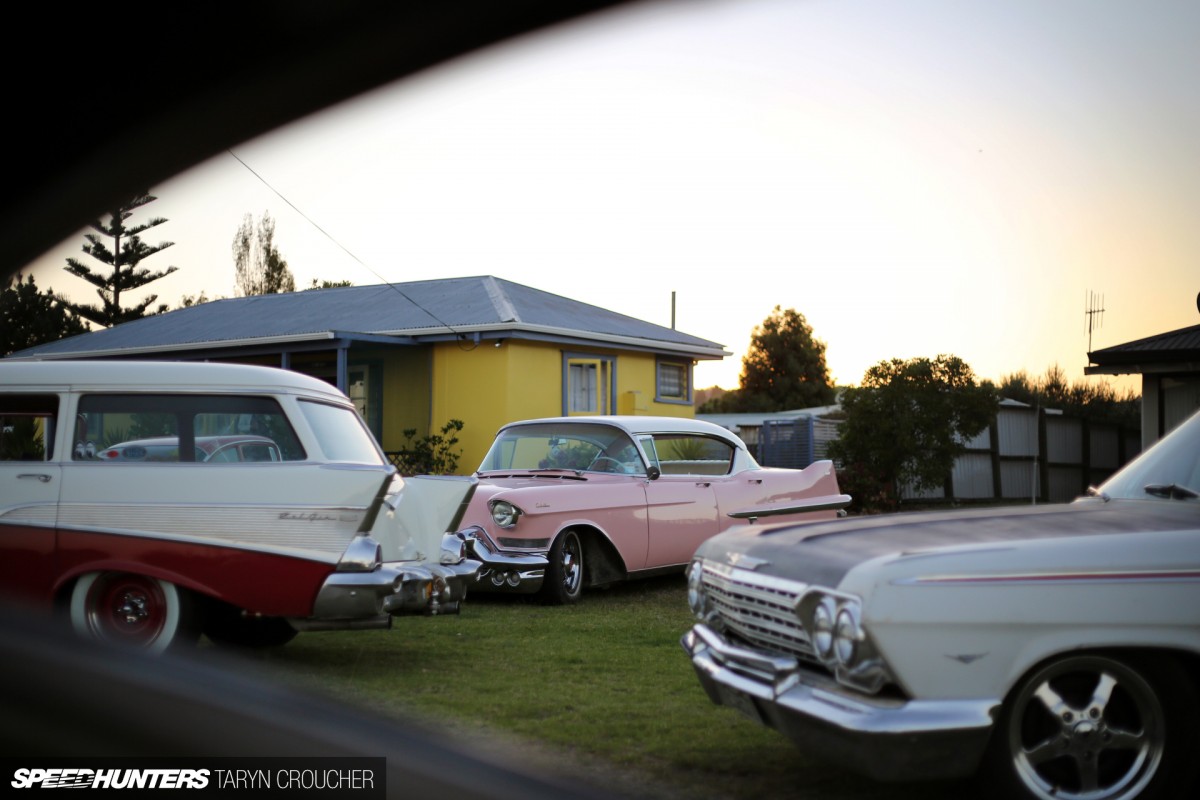 Tens of thousands of people flood to the picturesque beach town each year, and almost every house ends up with at least one old car parked out front. Most local property owners take advantage of the demand and rent their houses out to keen Hop-goers, but some people actually live in Whangamata because they love Beach Hop that much. It shouldn't come as a surprise that accommodation prices are extremely high at this time of year, so my friends and I usually rent out a traditional kiwi bach between us. It's a fairly simple option, but a step up from camping at least.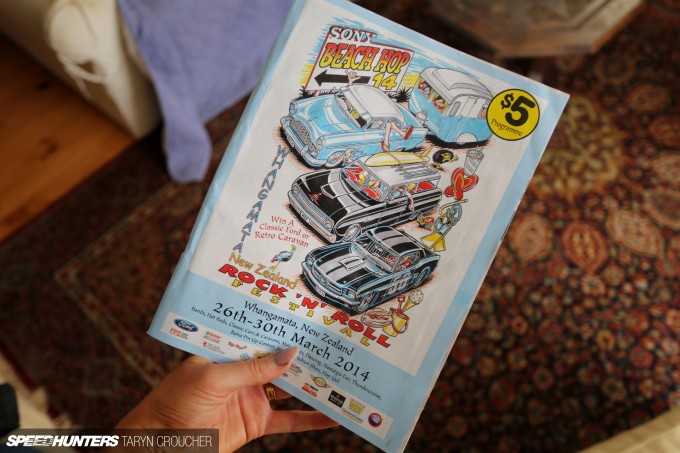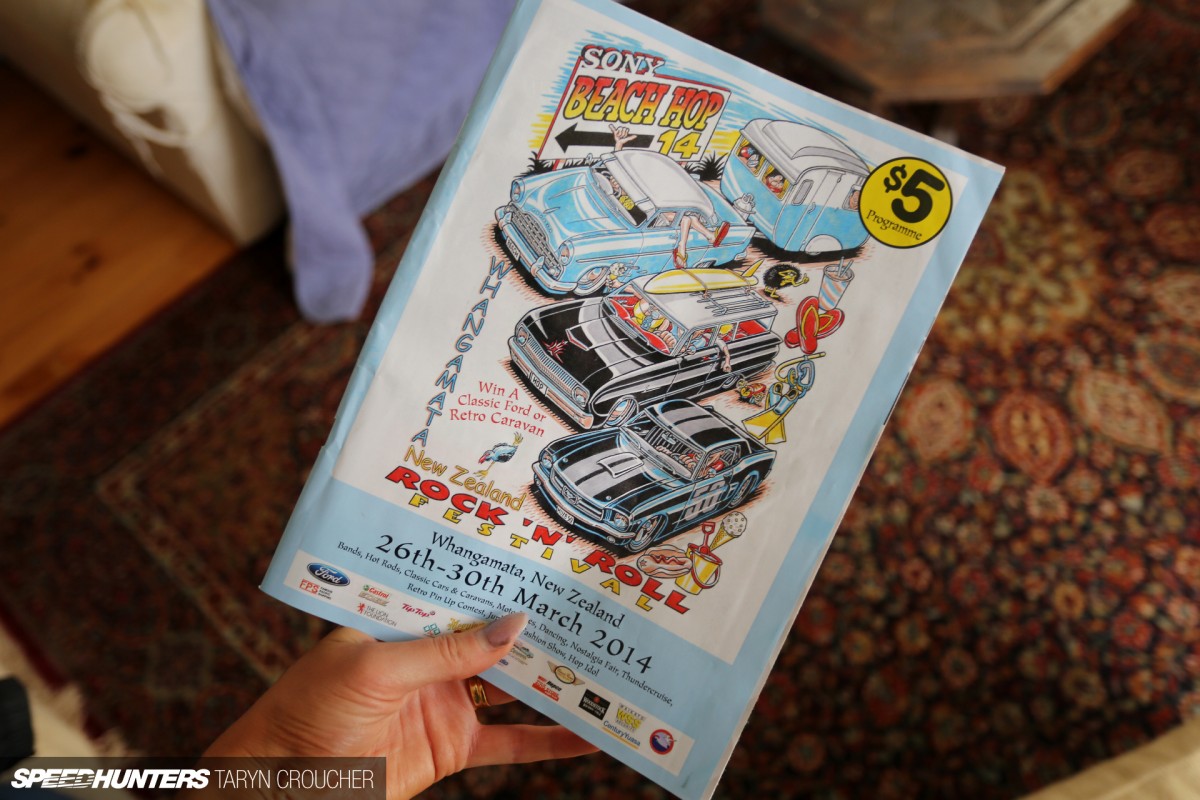 One of these handy event programmes is a must-have, and you can pick one up from almost any local shop. It includes a timetable of upcoming events, and you can also read features on some of the cars on show, trade stall offerings and their locations, along with the best places to eat and find your morning coffee fix.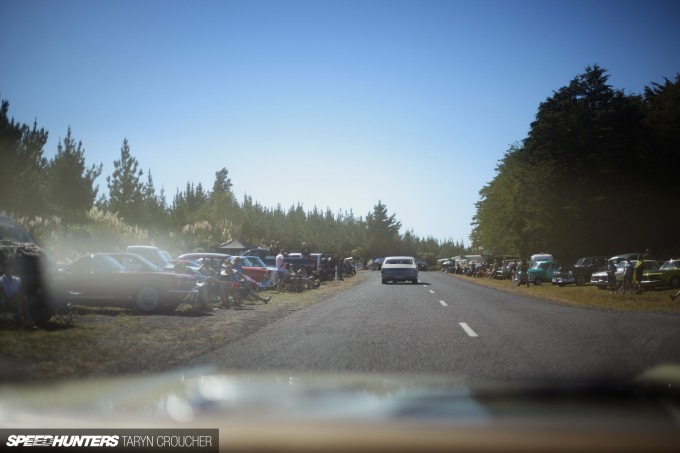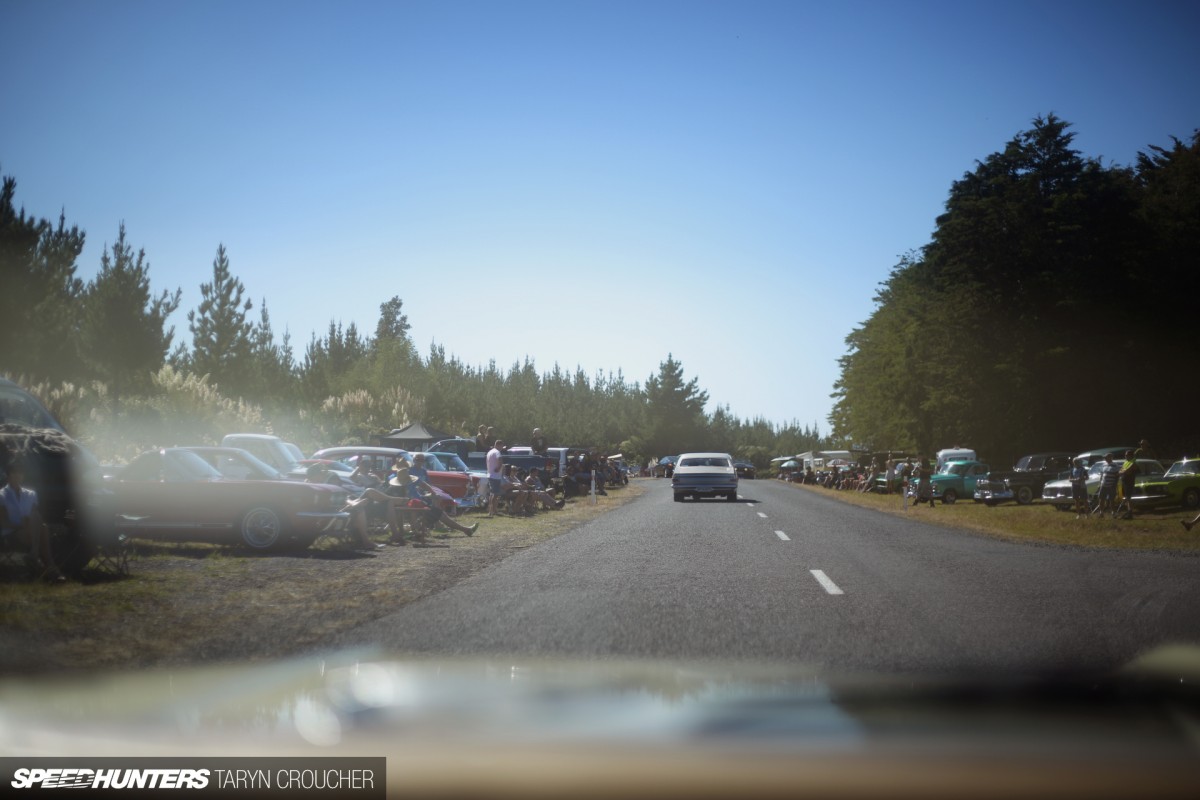 By Friday most of the participants have arrived in town, and just in time for one of the first highlights on the activity schedule: the Thundercruise to Onemana Beach. With show car entry limited to 1,000 vehicles, but easily another 1,000 turning up anyway, not every car officially takes part in the Beach Hop show. Basically, all the cars that aren't official entries park up on the side of the road, while the entered show cars embark on a 15-minute convoy to the nearby beach reserve.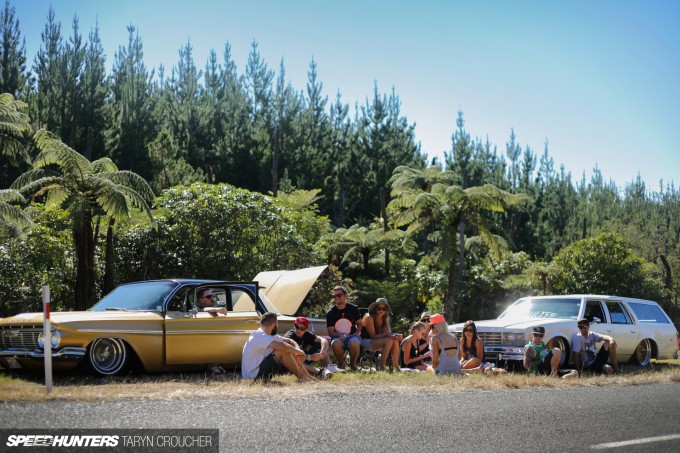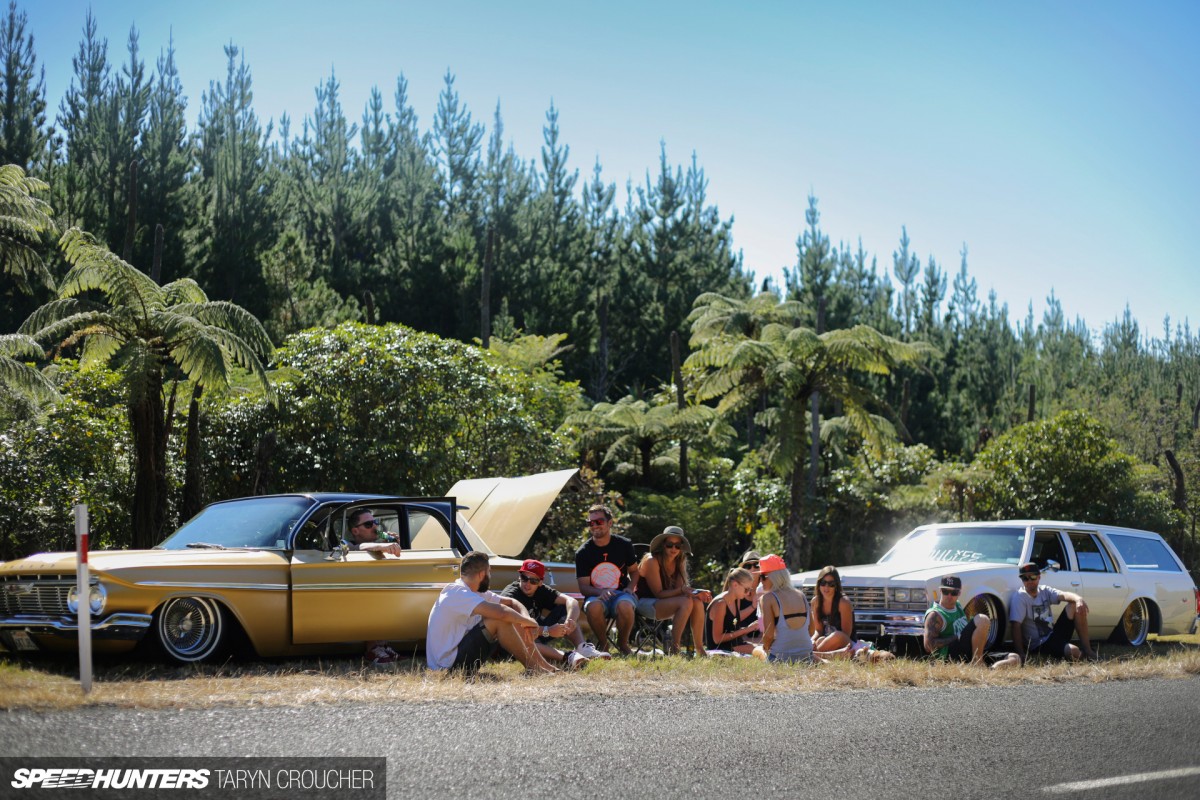 Hundreds of cars and spectators line the grass verges on the way to the beach, waiting to catch a glimpse of their favourite cars driving past. For this reason, you don't want to forget your sunscreen, a picnic blanket and fold-out chairs.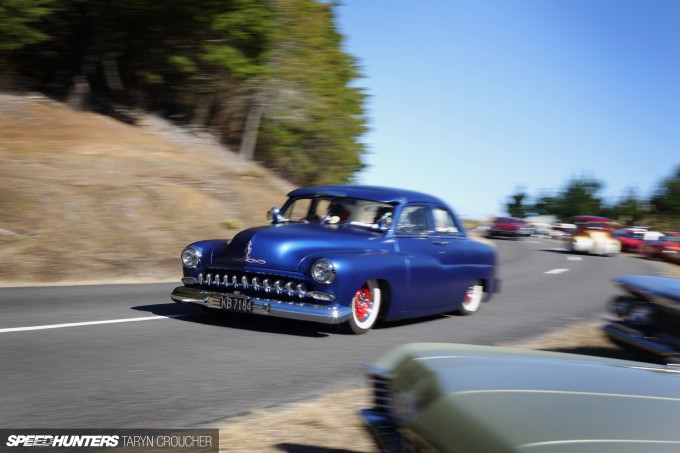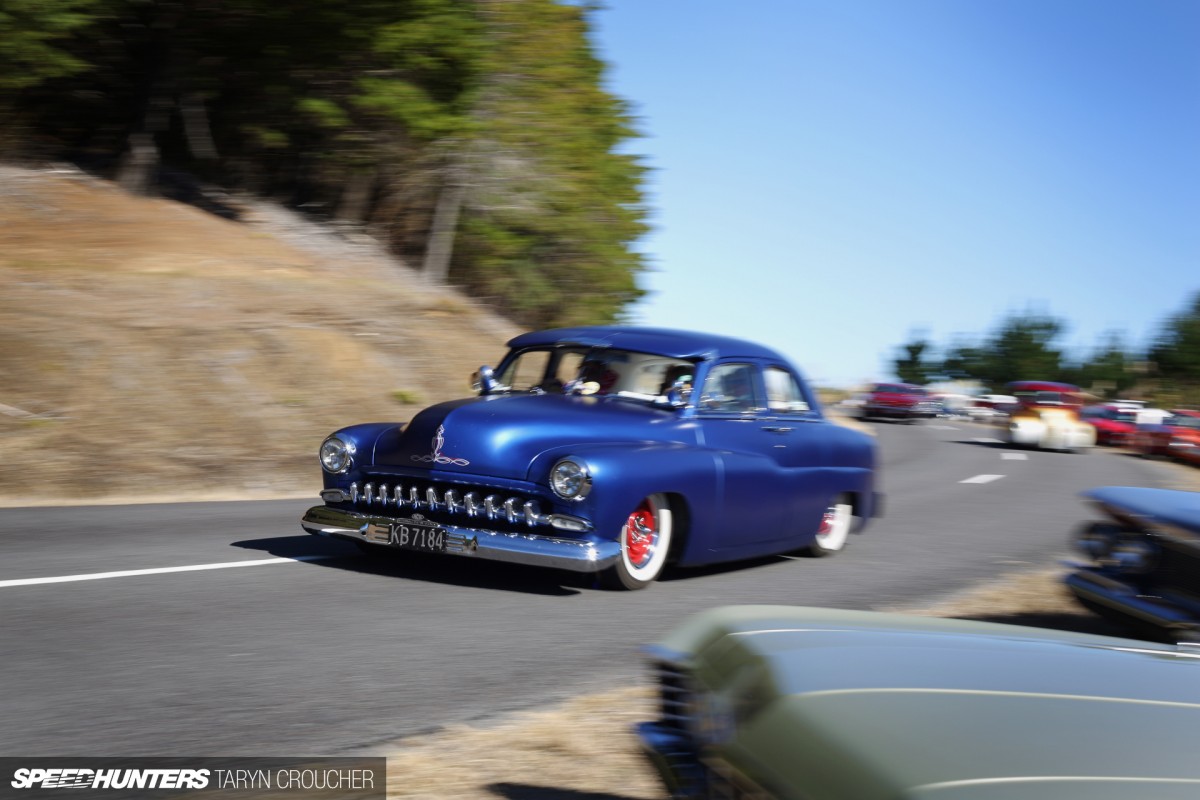 Just like any automotive big meet, there will be cars you'll catch a look at once and then never see again throughout the event. Part of the appeal of parking up early and watching the cruise is that it's probably your best chance at seeing every car without having to wade through heavy crowds at the stop-offs. Thankfully I did manage to spot this super-low and super-cool '52 Mercury again later on in the day though.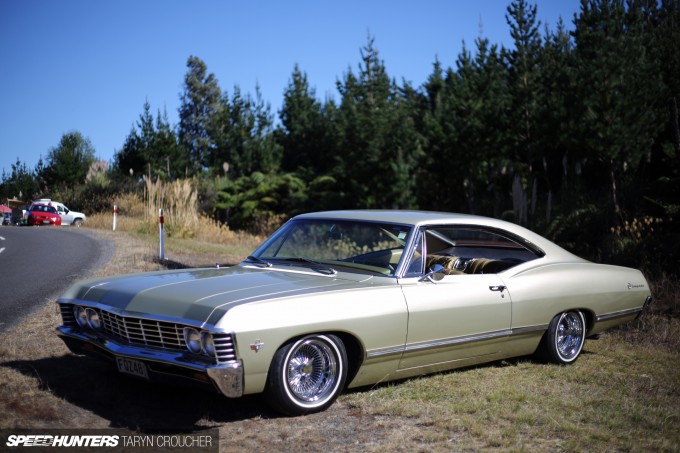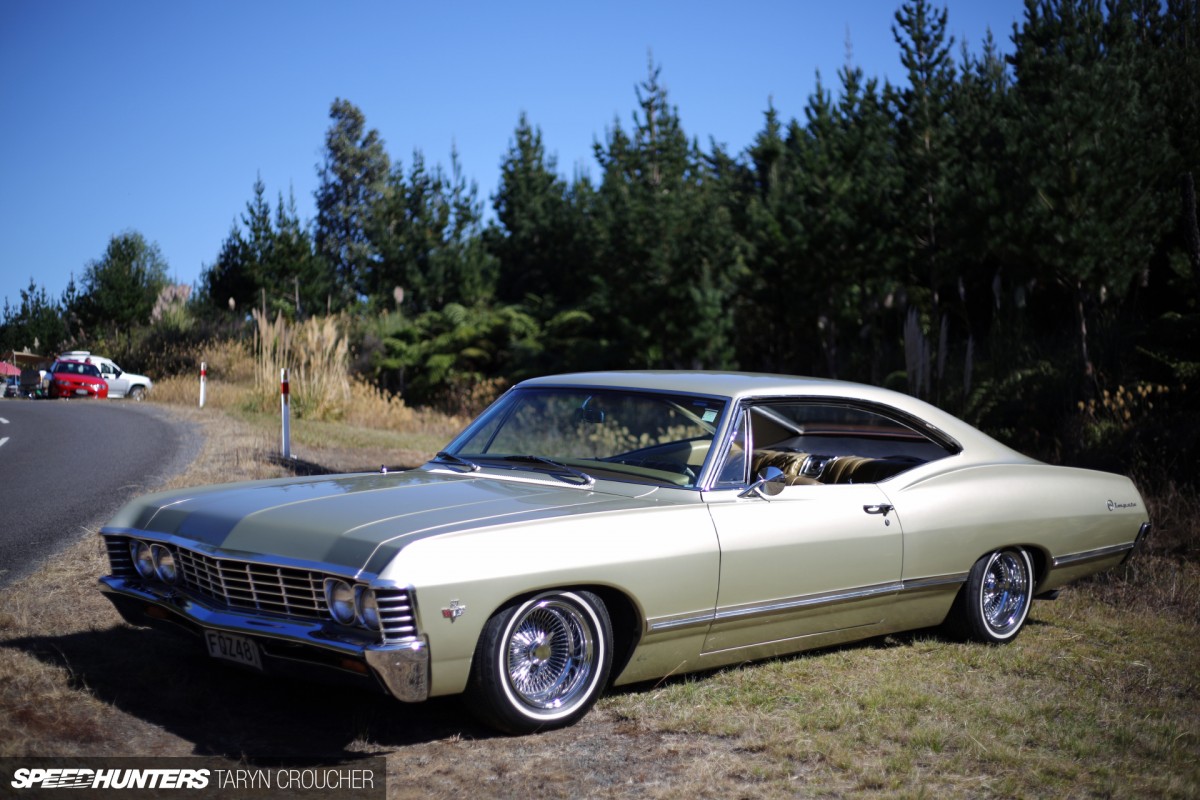 You don't have to own a classic yourself to tag along, but having an old car to cruise around in does make the Beach Hop experience that much more fun. My husband and I bought along our trusty '67 Chevrolet Impala, which we've owned for almost four years now. I say this every time, but I don't think I could ever grow tired of the gold fastback's smooth, flowing roofline and ultra-wide hips. I fall in love with it over and over again each time it emerges from the garage, which is pretty much every other weekend during summer.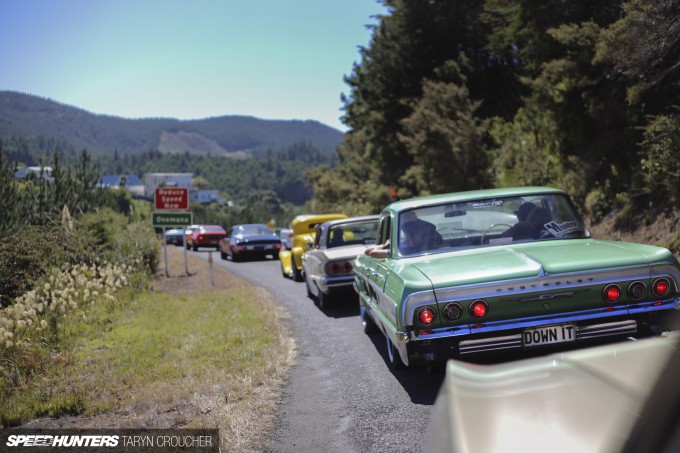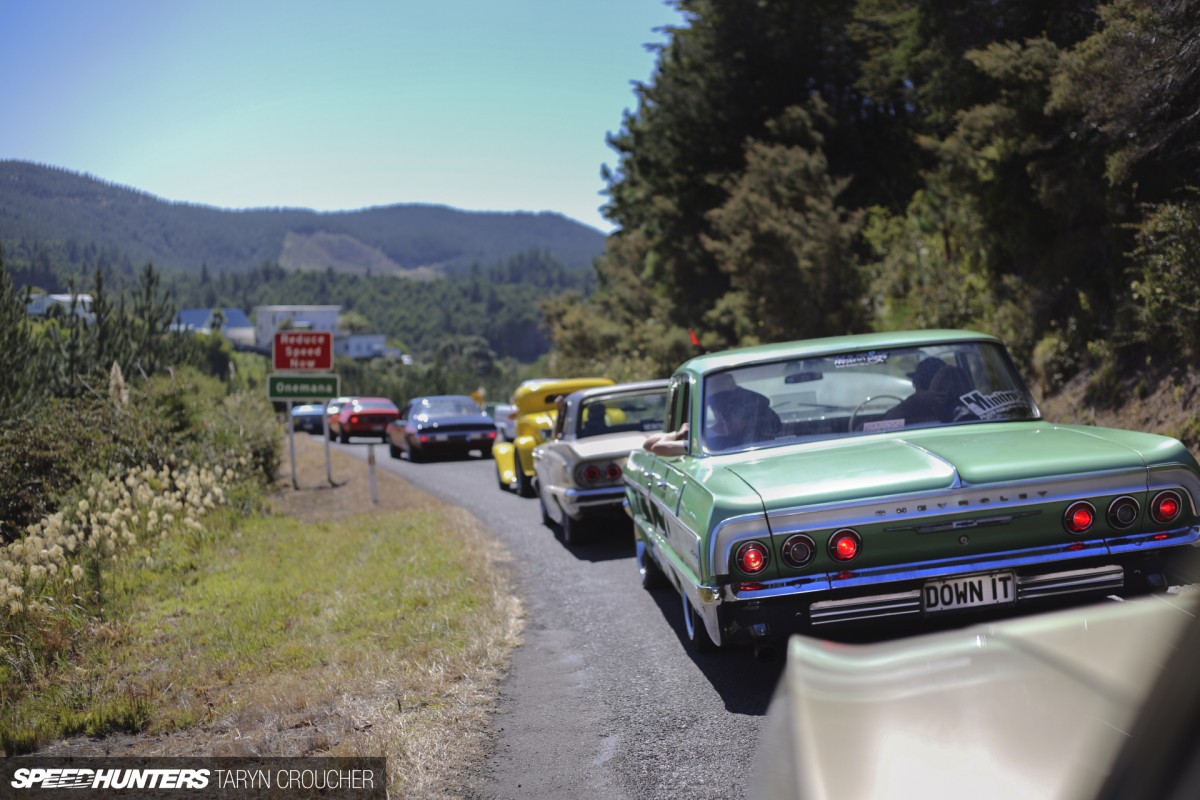 We tagged along at the end of the cruise and followed the remainder of the cars down to Onemana. I'd never actually driven down to this Beach Hop stop before so I wasn't 100% sure what to expect. Little did I know, the most beautiful sight awaited us…
V8 heaven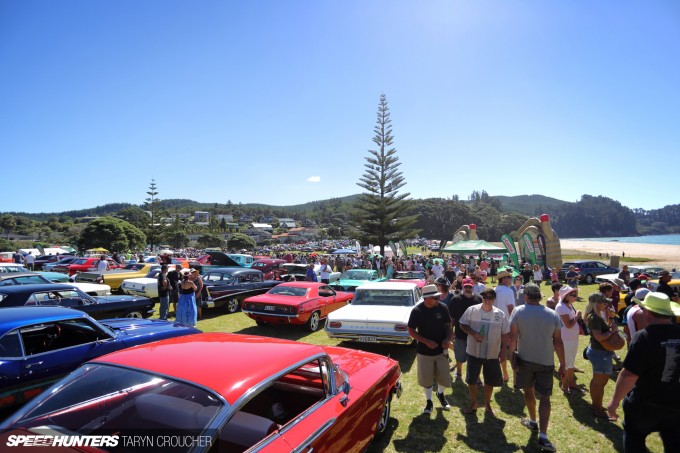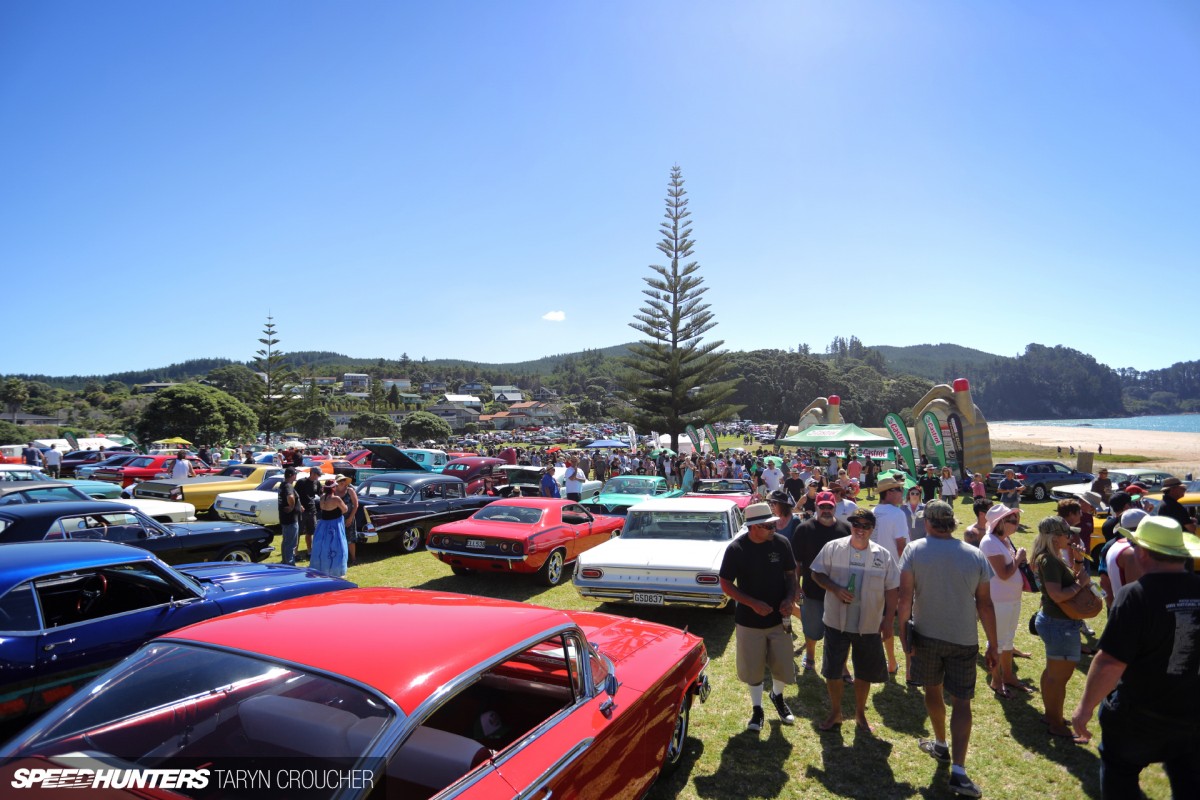 Down at the beachfront, backdropped by a postcard-perfect curving crescent of golden sand, several conjoined grass areas were absolutely packed to brim with mouthwatering builds. I was so distracted by the sheer number of cars that I didn't even venture over to the sand to dip my toes in the water. I can't really think of a better way to spend a Friday afternoon to be quite honest. Actually, perhaps it could've been improved with a V8-powered sofa to cruise around on.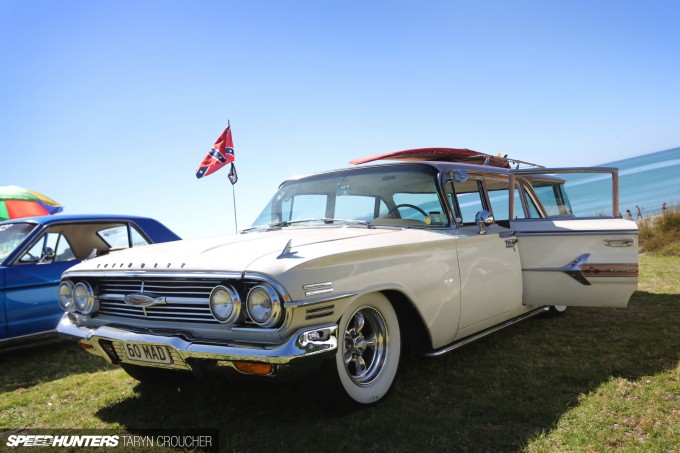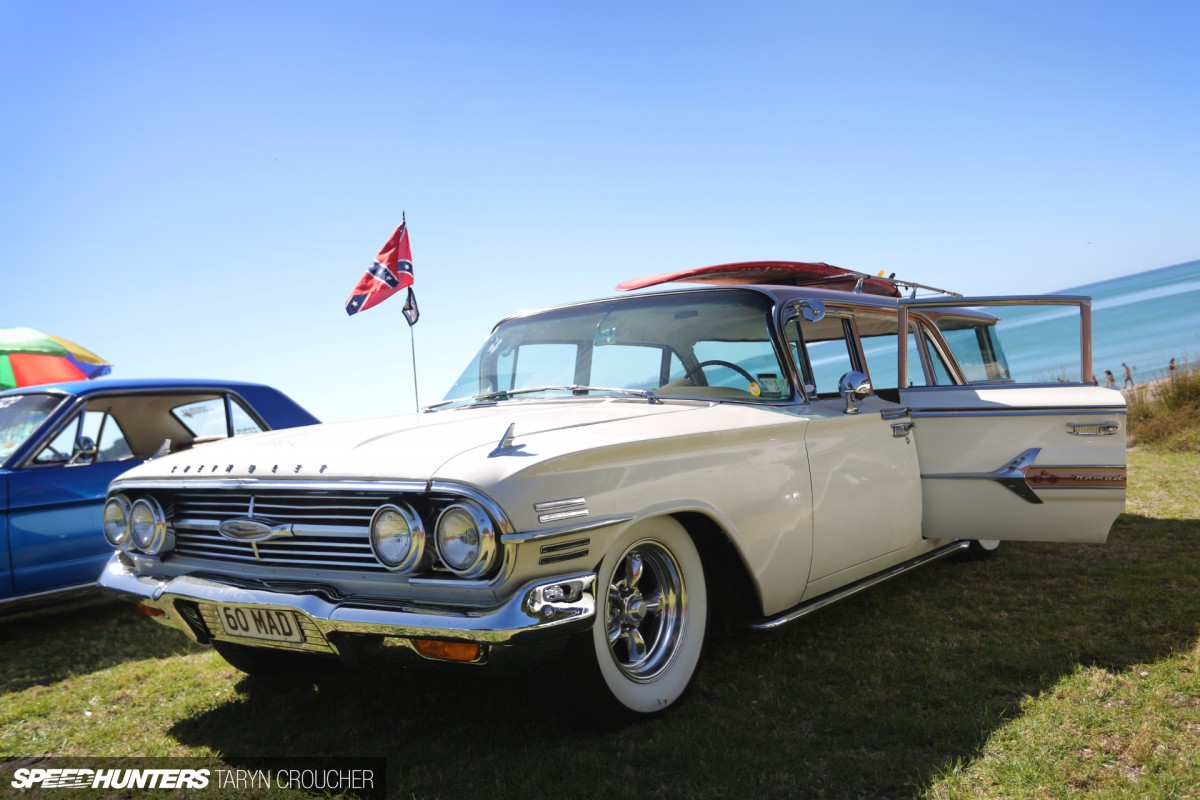 This old Chevrolet wagon looked right at home parked up just metres away from the sand. With its fat white walls, classic roof racks and plenty of seats inside for friends, this really is an ideal old school beach cruiser.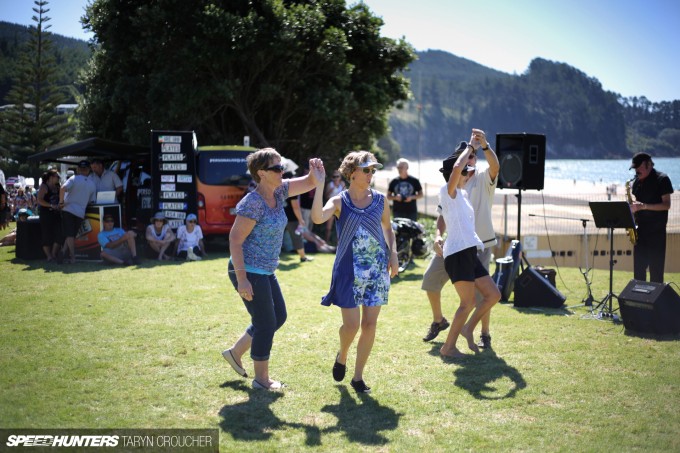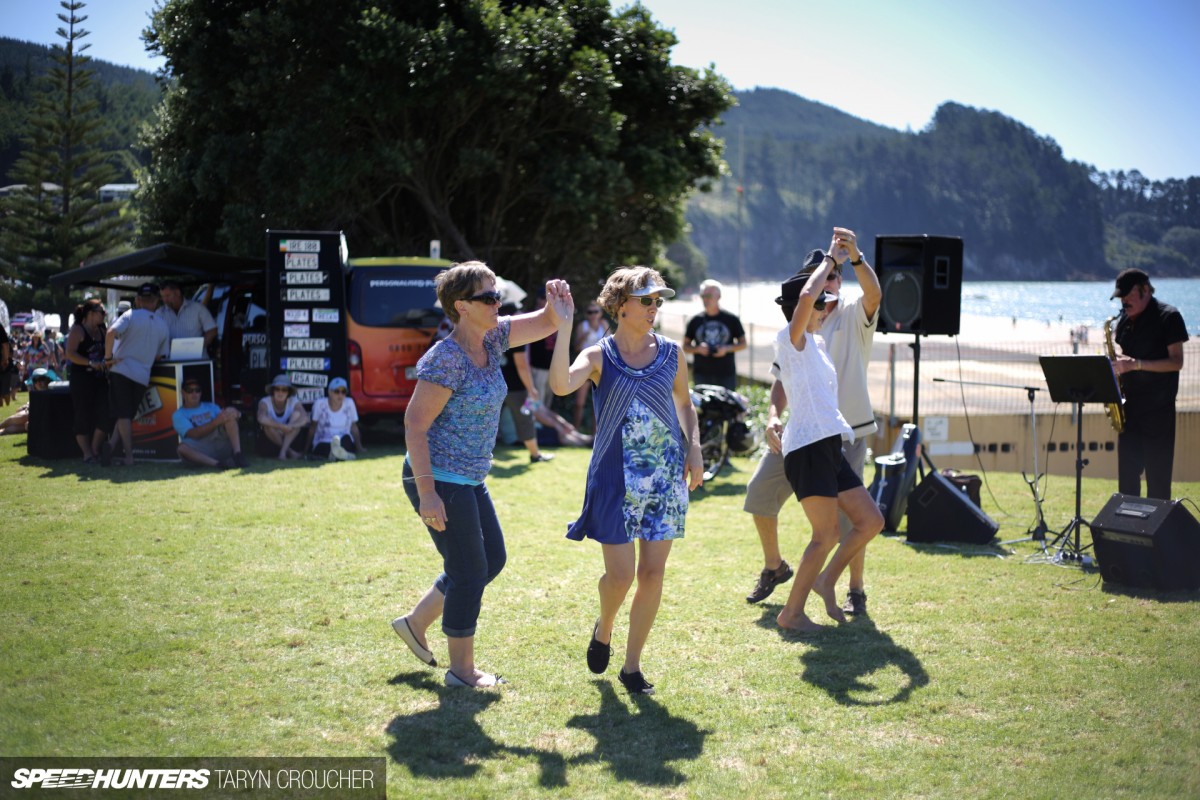 Another thing I love about Beach Hop? It's perfectly acceptable to break out your rock 'n' roll dance moves anywhere you like. Whether it's to one of the live bands or in the middle of the street, people dance everywhere.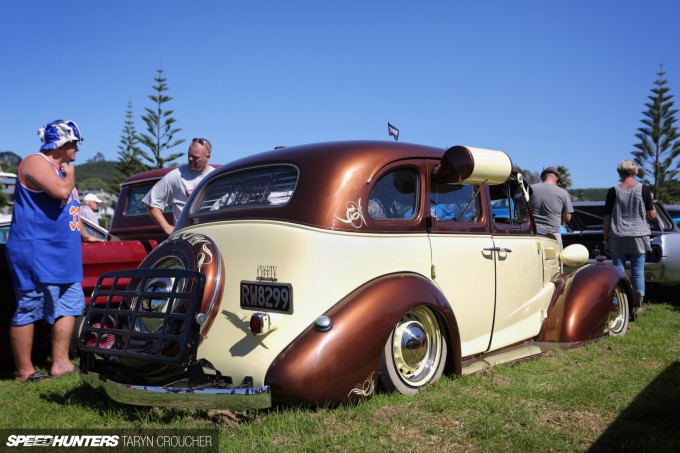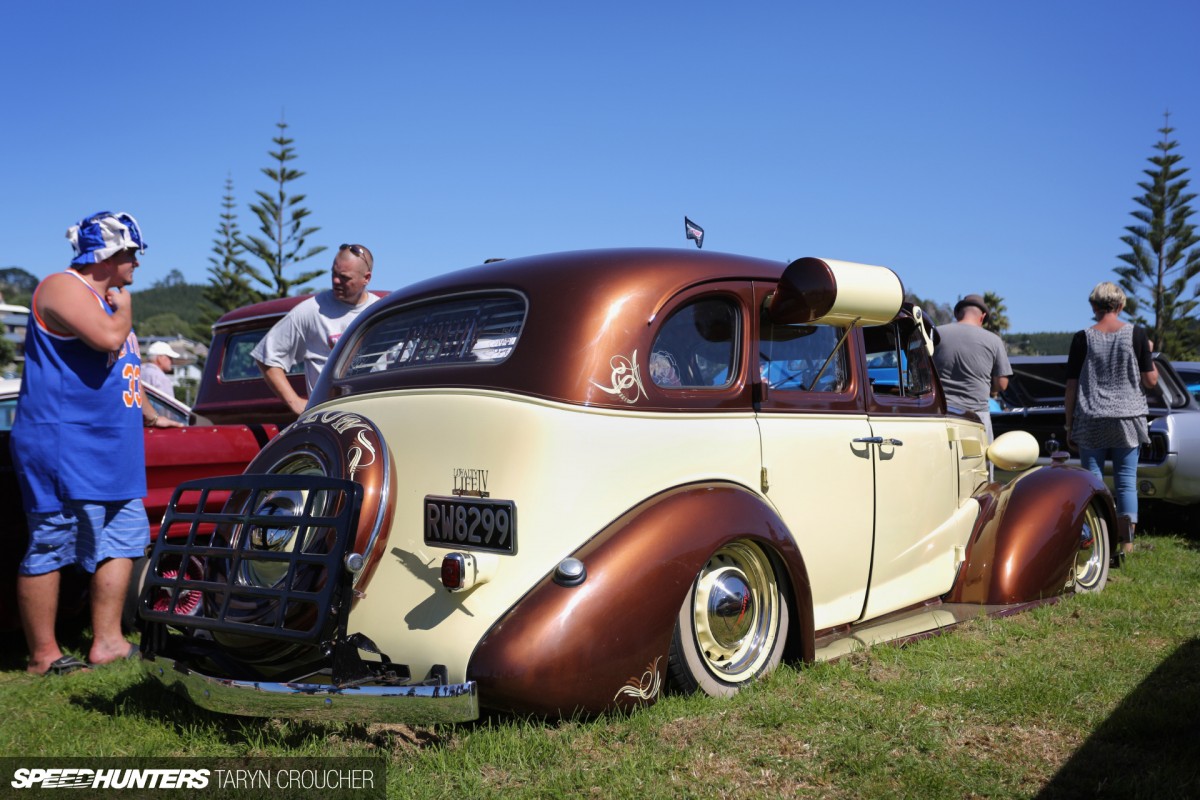 One of my absolute favourite cars this year, this So Cal-inspired, bomb-styled '37 Chevy was turning heads throughout the weekend for all the right reasons. Underneath the two-tone paint lies a fully custom airbag setup, independent front-end conversion, c-notched rear end and a new fabricated floor. The old Chev still has all the original interior from the '30s, as it was found in an old barn after New Zealand's devastating earthquakes in Christchurch a few years ago. The intricate pinstriping and original accessories like the swamp cooler and Fulton visor are all perfect touches.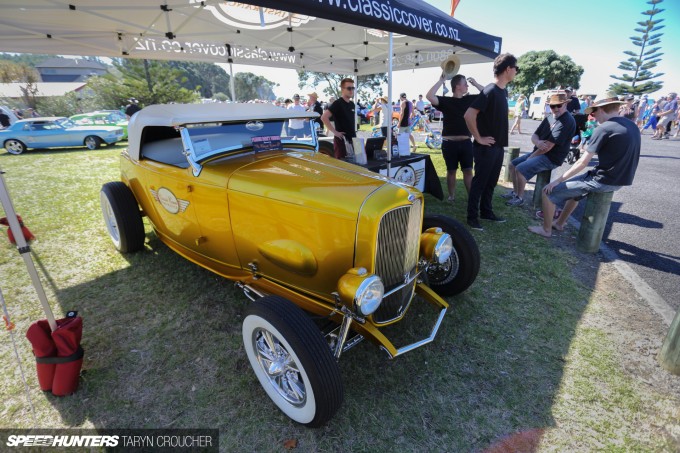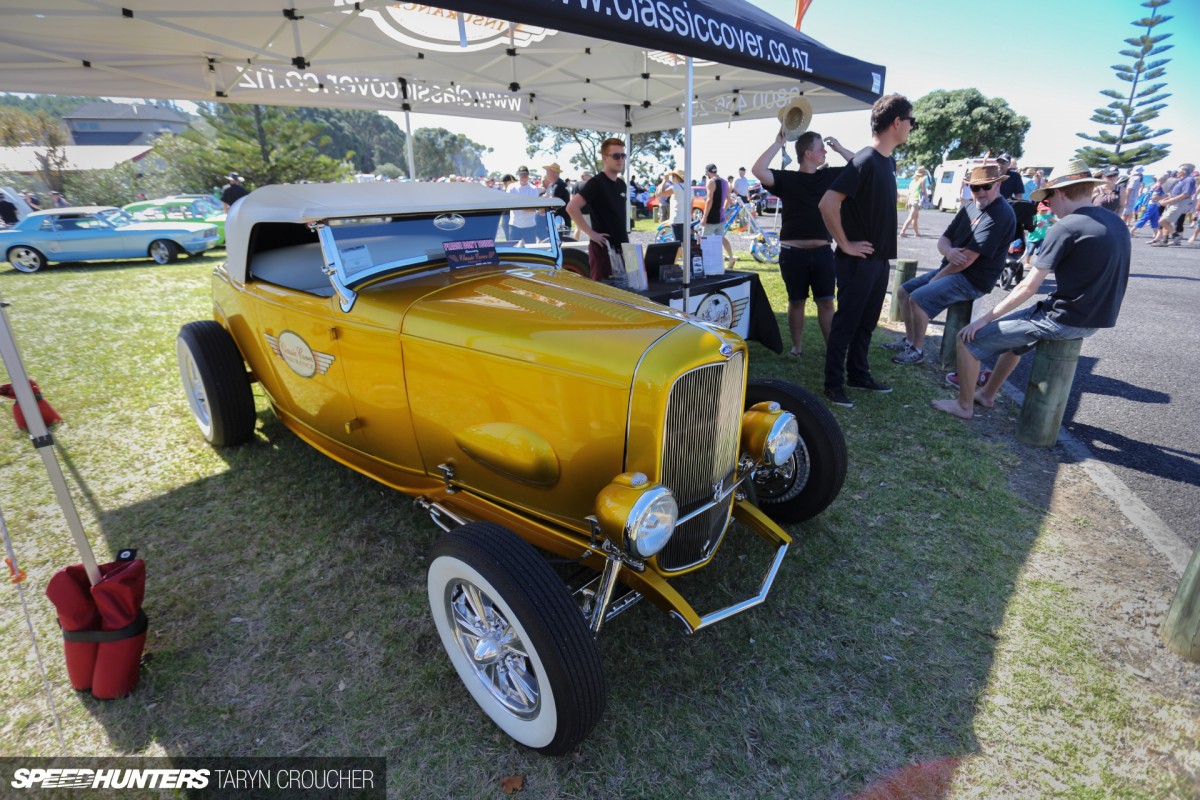 More traditional rod builds like this Hemi-powered Roadster are a fairly common sight at Beach Hop. This immaculate '32 example was showing off mesmerising candy paint that I couldn't stop staring into. The people at the Classic Cover tent were starting to give me some strange looks, so this was my cue to get going. The Onemana park-up is definitely a great way to check out some of the cars up close without getting your toes trodden on, or in my case, having people walking into my long camera lens every five seconds.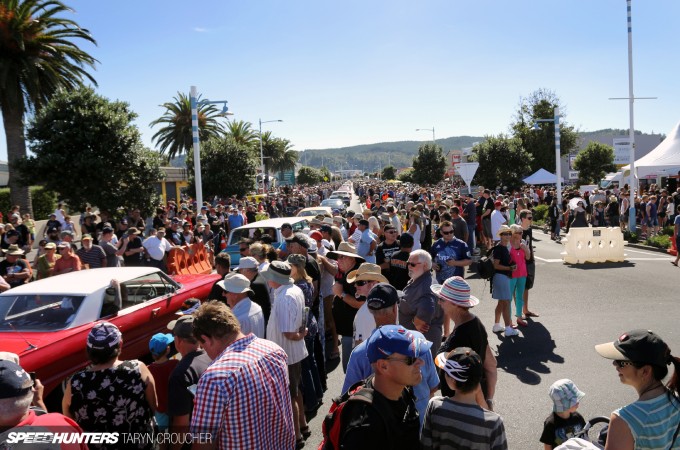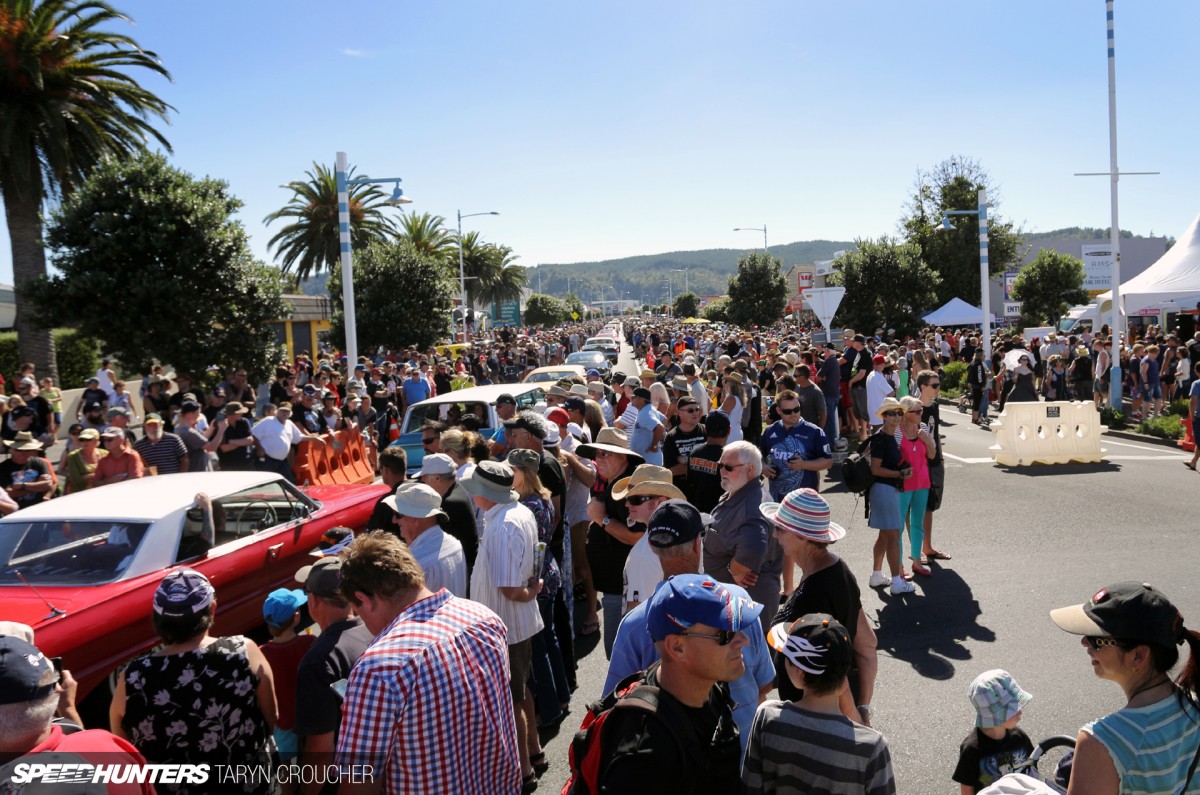 Lack of personal space is definitely an issue when it comes to the main event of the weekend though. The 'Grand Parade' which takes place right through the centre of town on Saturday, was by far the biggest and busiest I've ever witnessed.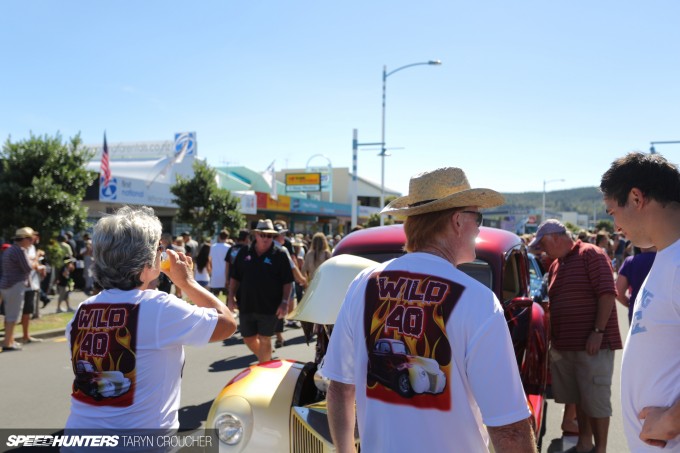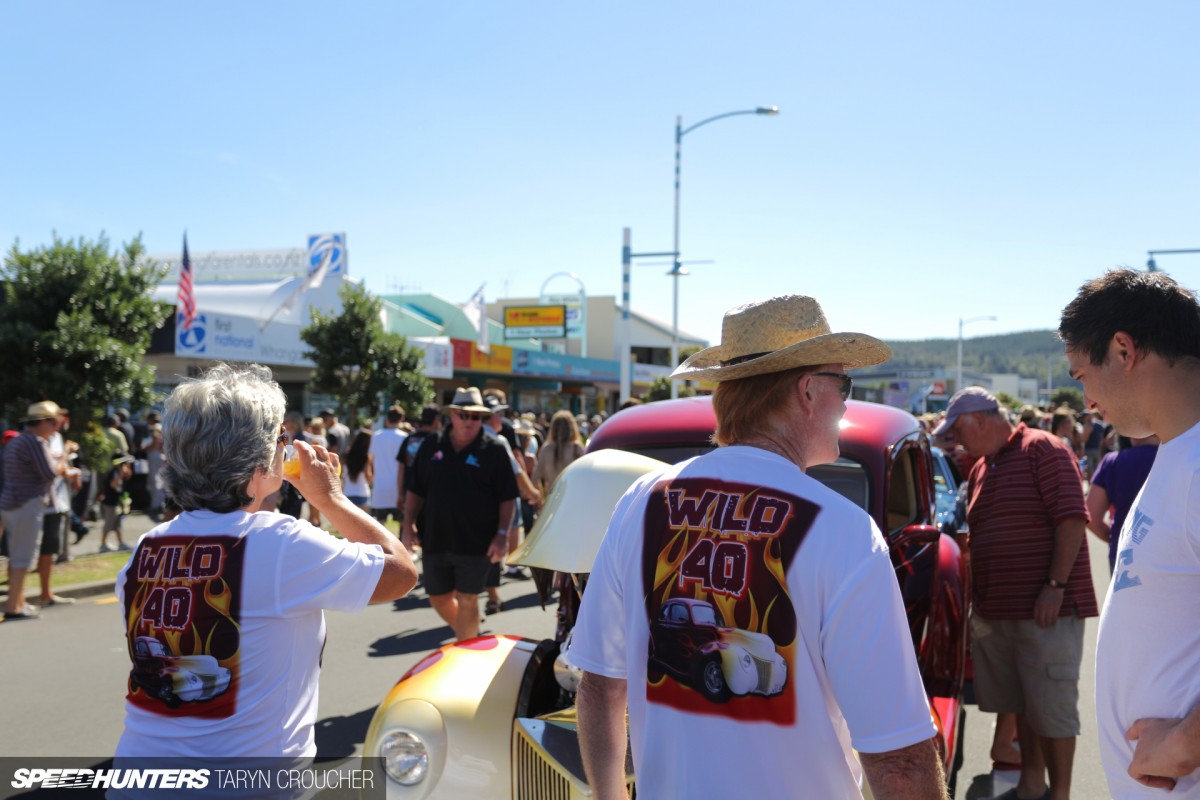 People of all ages and different walks of life get involved amongst the parade celebrations. The main street of Whangamata was packed with families, friends and couples, crazy colourful wig-wearing ladies, bikers wearing full leathers and rockibilly-styled pin-up girls in floral dresses. And lots of people wearing matching shirts with a picture of their car on it.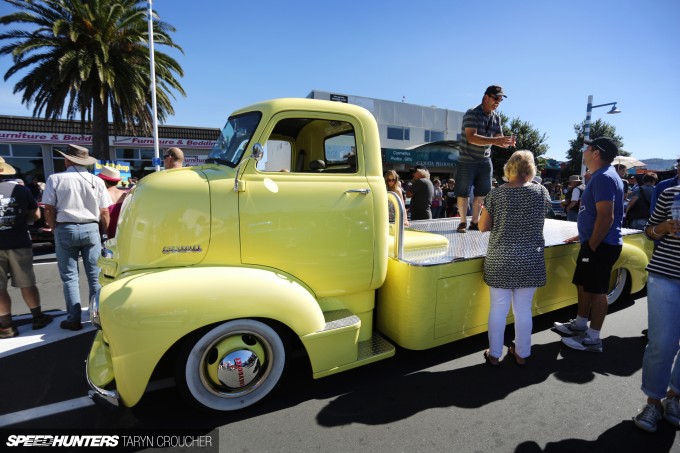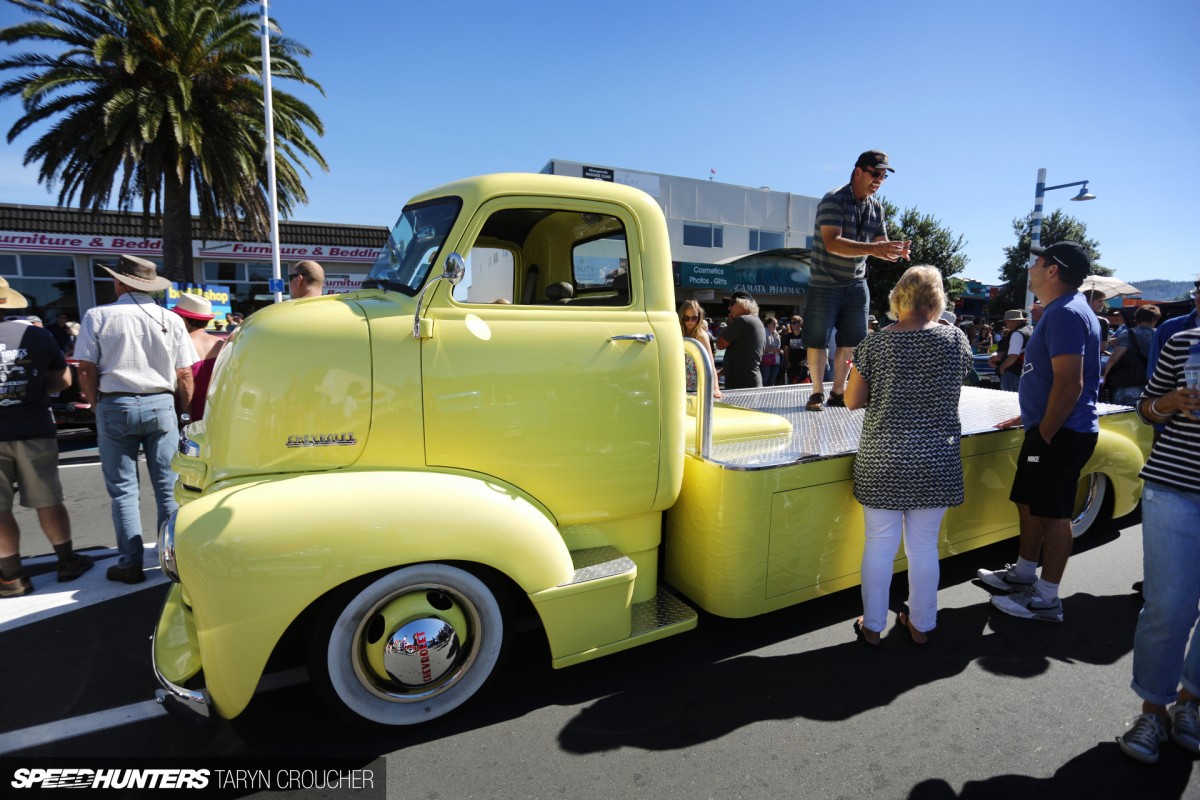 There was also an abundance of extremely cool trucks this year, and this newly-built big block-powered COE (cab over engine) Chevrolet transporter was easily one of the stand-outs. Images really can't convey how big it is in person!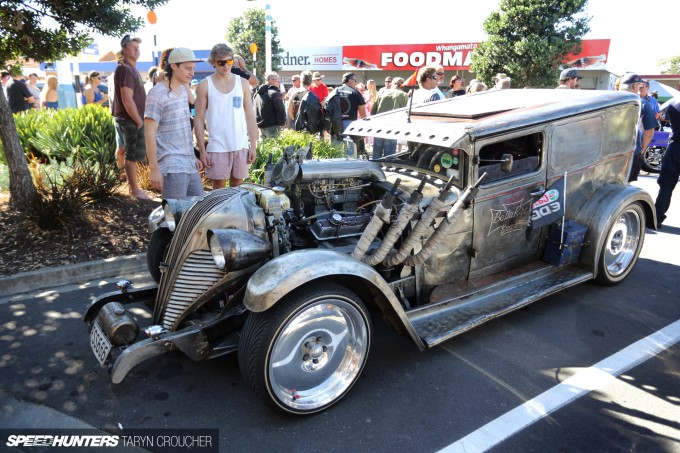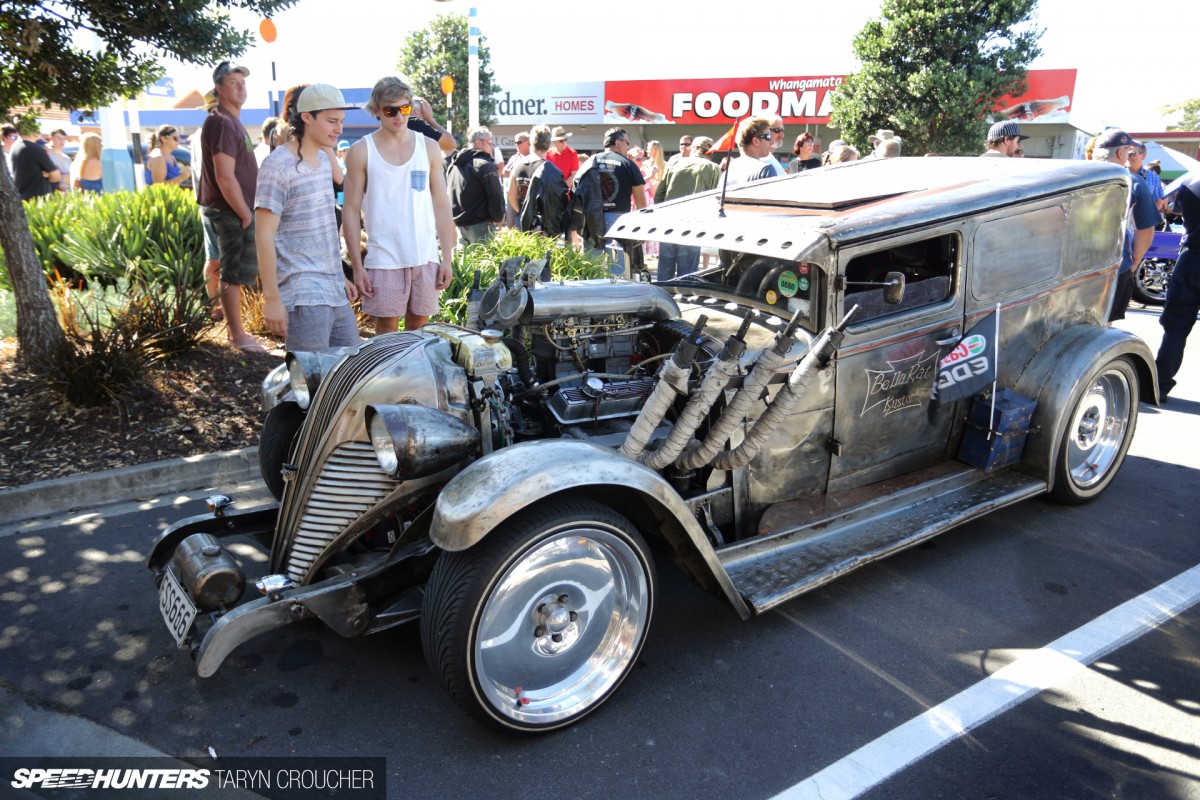 Speaking of standing out, this eccentric bare metal '28 Dodge Tudor caught my eye a few times over the weekend, and left me feeling curious about its unusual steampunk aesthetic. This rough and raw creation might not be to everyone's tastes, but there was no denying its presence.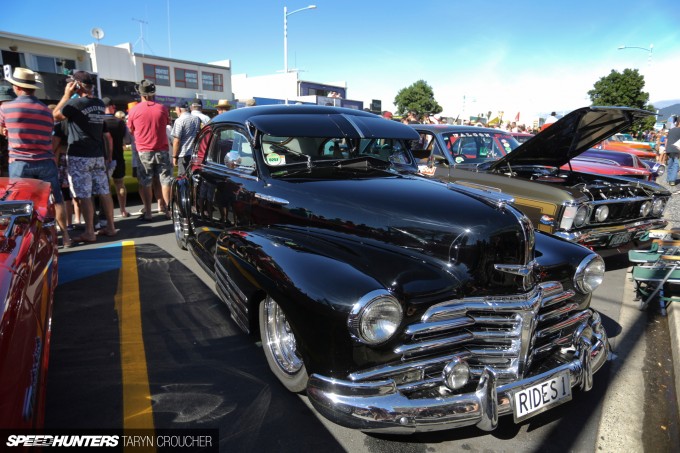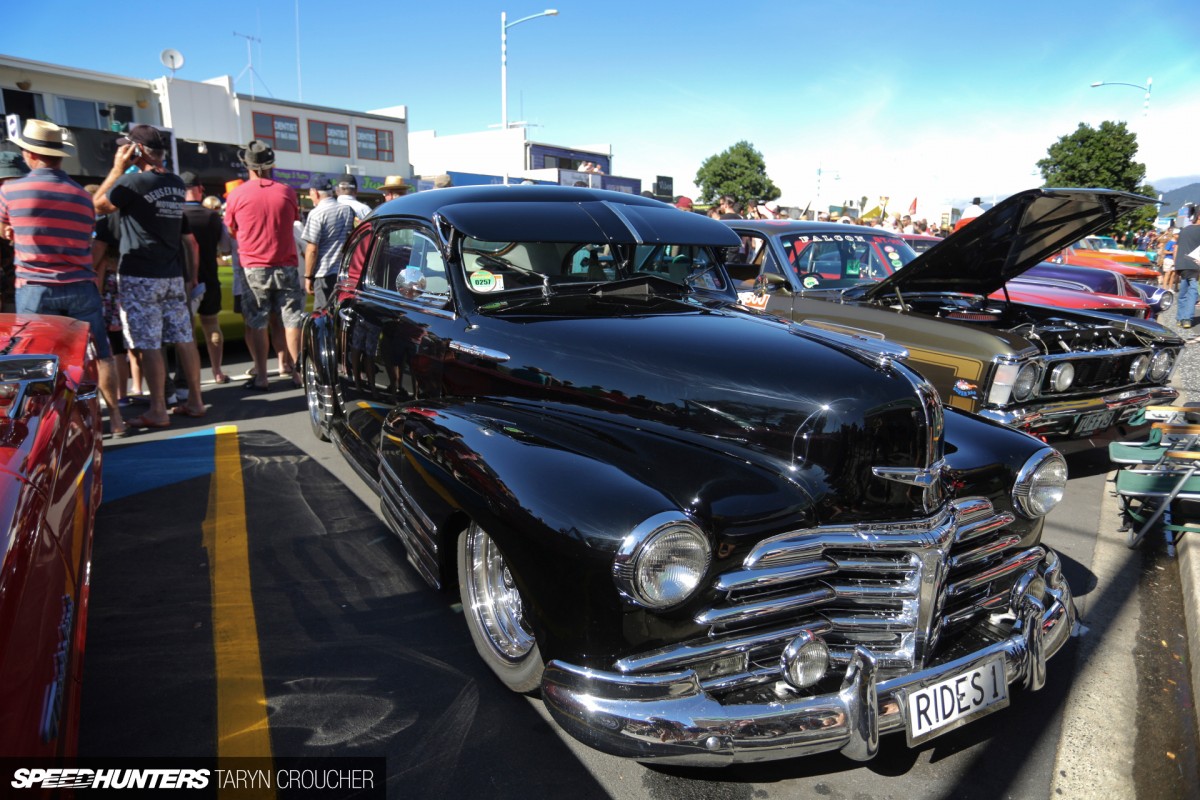 Another pre-1950s Chevrolet, this '47 Fleetline was in beautiful condition with deep gloss black coat and acres of polished chrome.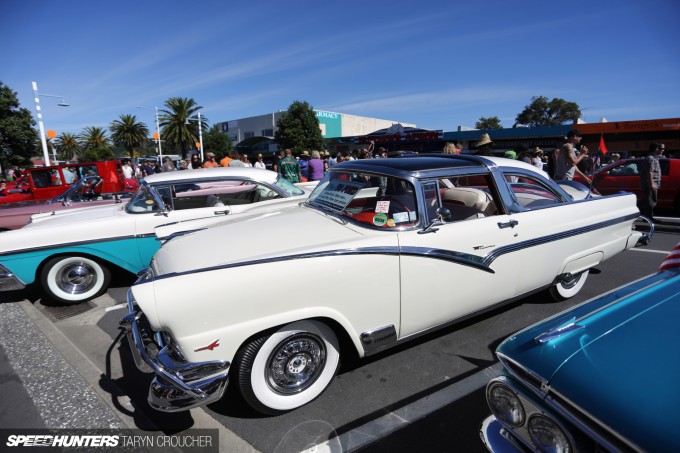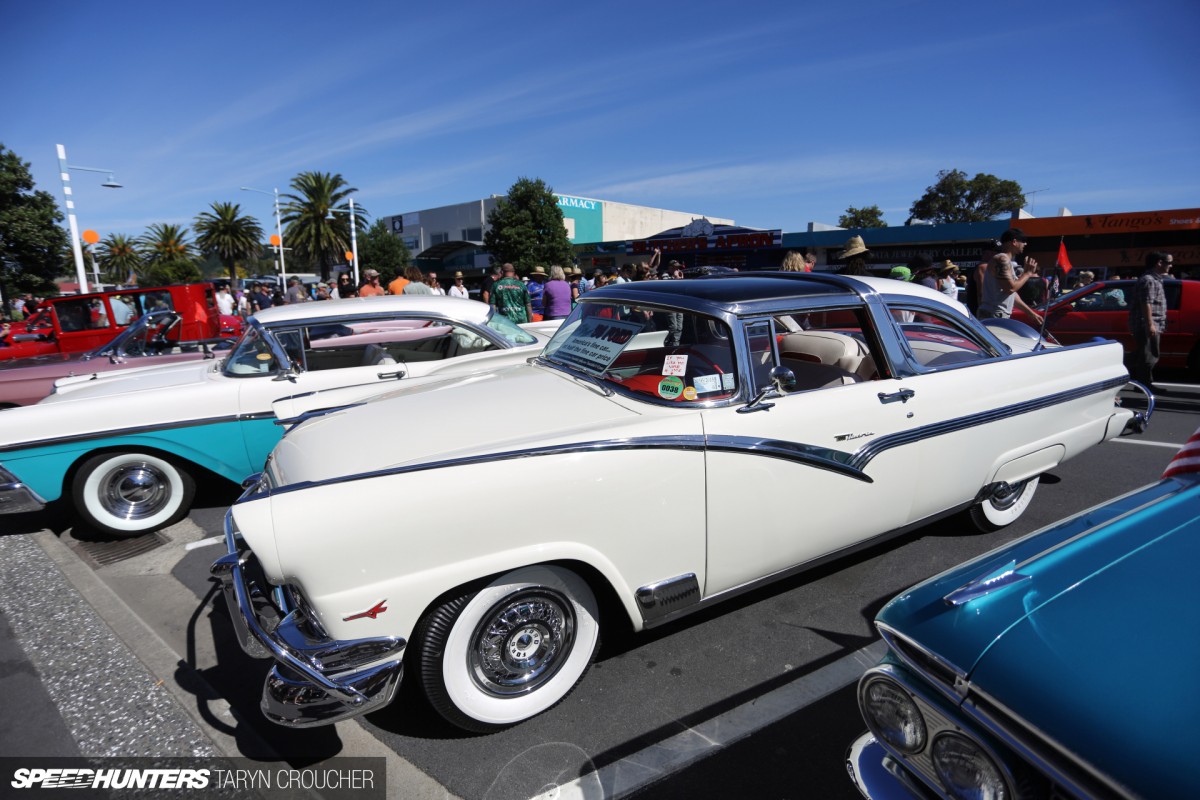 There's always a few cars I get stumped on; leading me to eventually give in and go and have a nosy at the window sticker to see what they are. With its its futuristic glass roof, this '56 Ford Fairlane was one of them. I've never seen a Crown Victoria model here in New Zealand before. It was wearing registration plates from Nebraska, but I'm not sure if these were just for show or whether it was a fresh US import.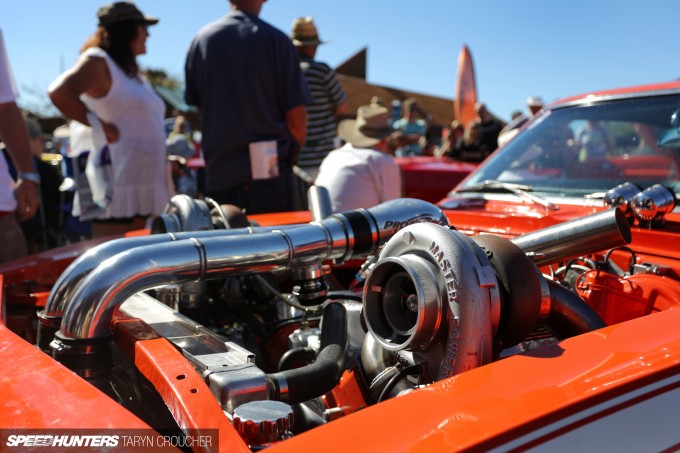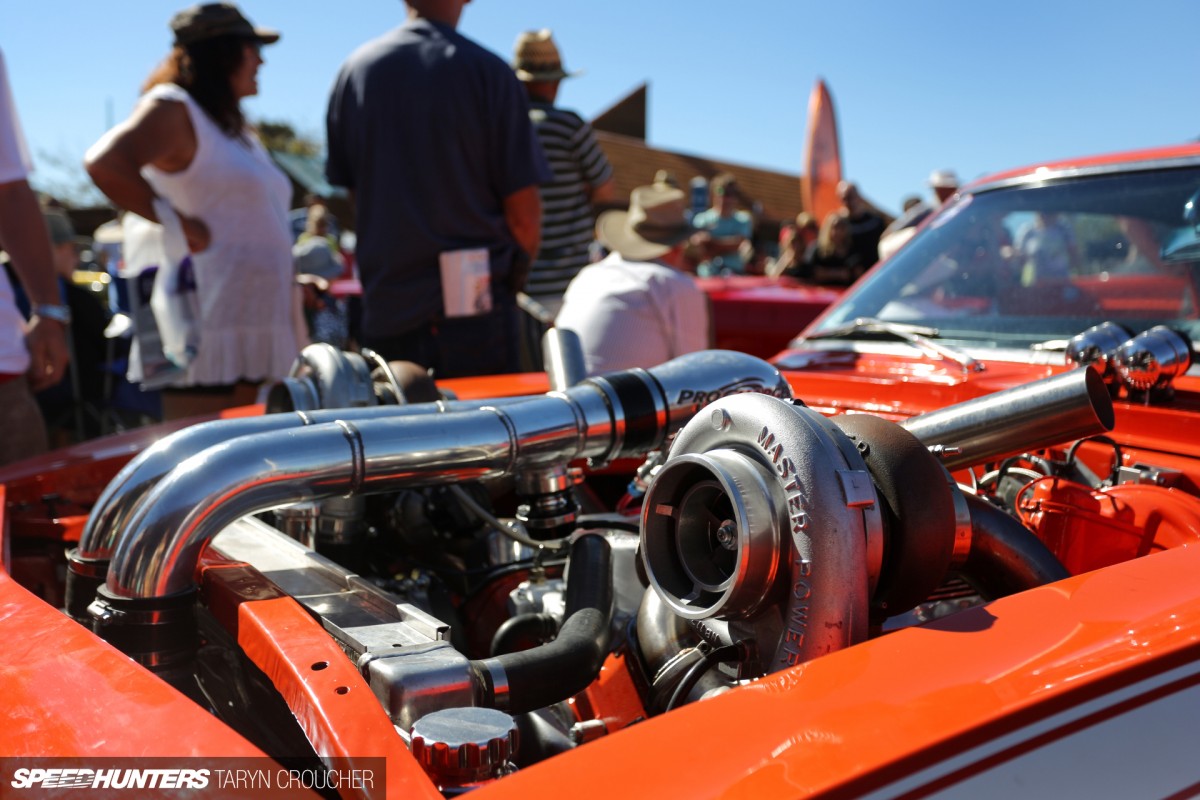 If you're not into classics and American muscle is more your thing, don't worry – Beach Hop has you covered there too. Twin turbo builds like this SS Camaro are slowing gaining popularity in New Zealand, although they're still a definite minority amongst the sea of blowers. Check out those massive snails!
I could post hundreds upon hundred of photos from the parade, but as incredible as it is to be a part of, to be honest it's not the part of Beach Hop that I enjoy the very most…
Cruise or lose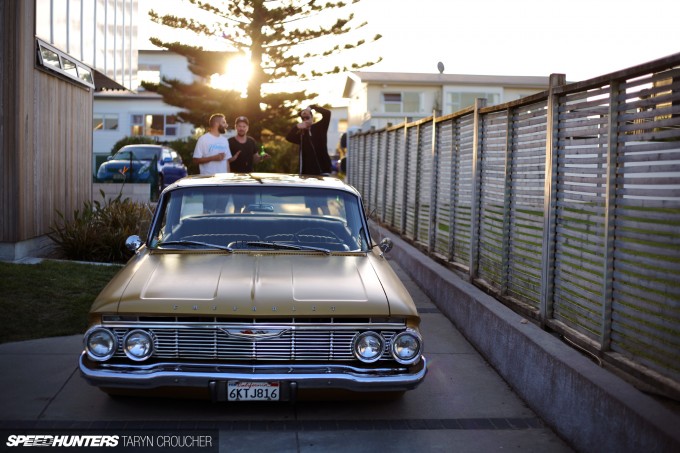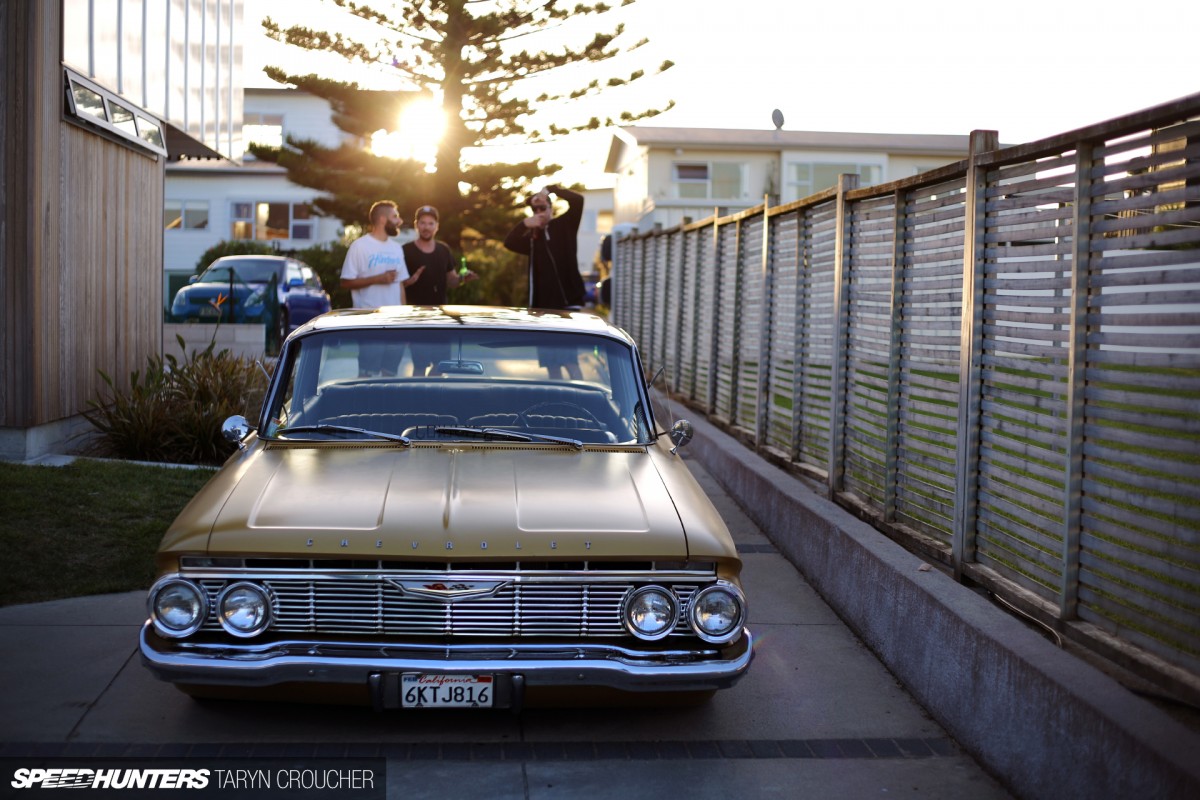 To me, it's all about the joy of cruising around in a car you have a special bond with; spontaneously driving from one mate's bach to the next, enjoying casual BBQs and get togethers in the sun; meeting up with friends for a couple of hours in town to watch different cars drive past before grabbing some fish 'n' chips and enjoying a cold beer or two. This is the quintessential Kiwi summer.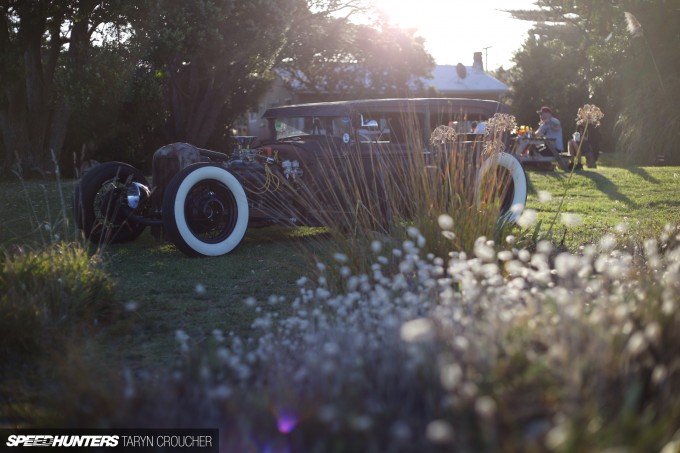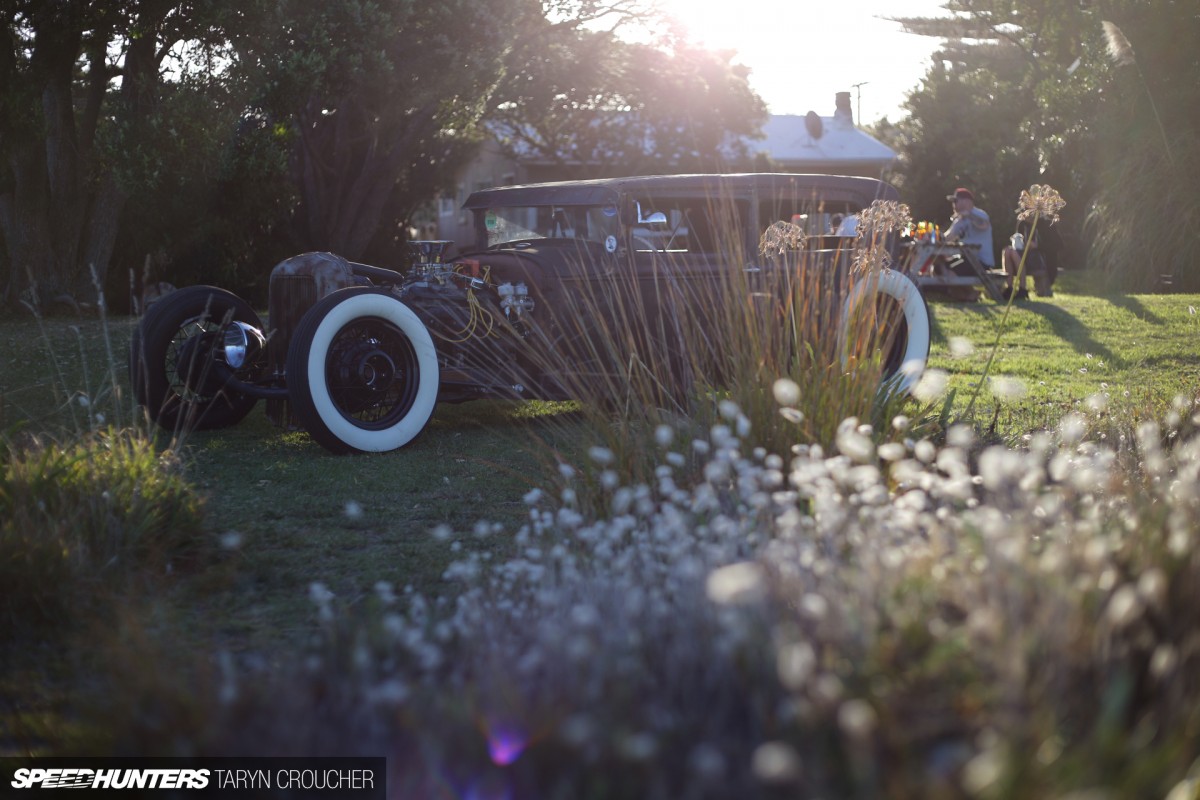 Like any other car event, there's alway plenty of new like-minded friends to be meet at Beach Hop. On one occasion, I walked across the beachfront to a BBQ I'd been invited to, and what did I see sitting on the front lawn? A rat rod that Mike featured at Bonneville a couple of years ago.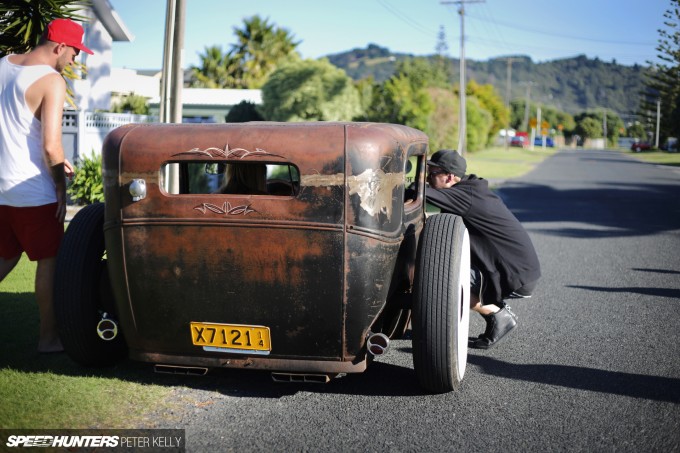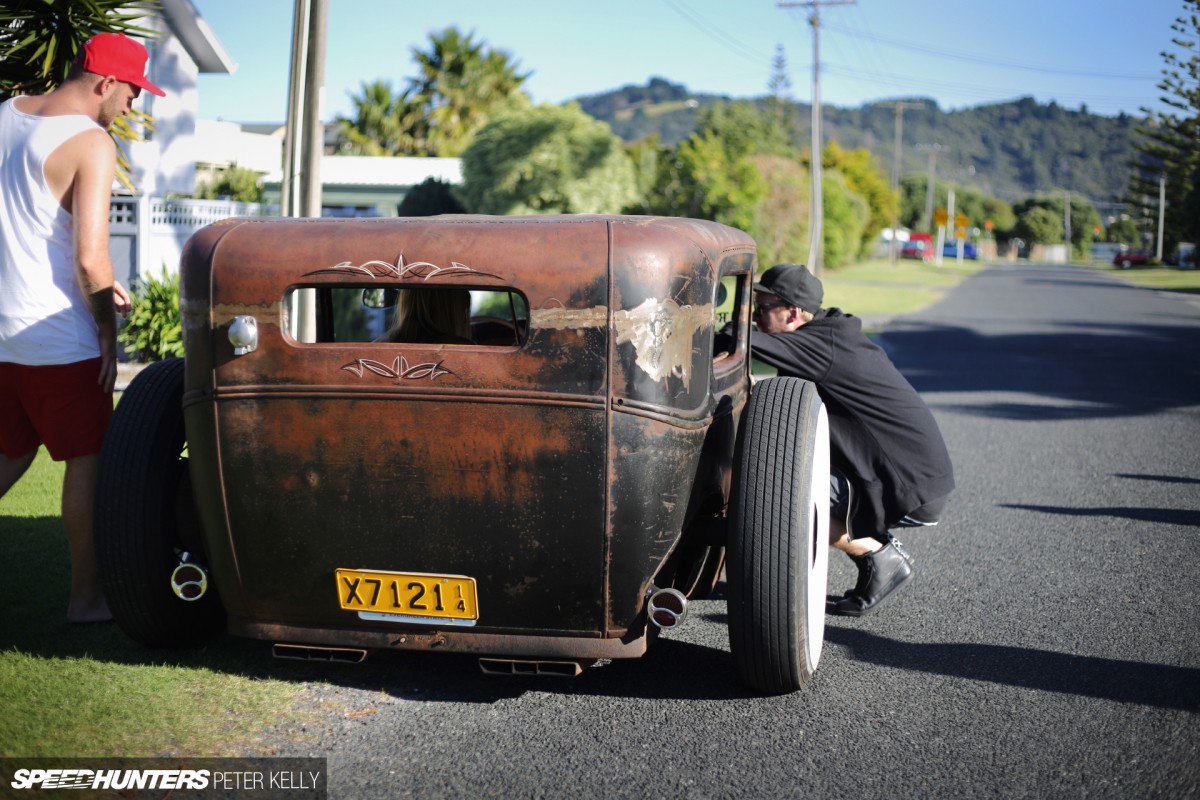 I recognised the rusty Model A straight away and introduced myself to the owner Cam. As we got talking about the article he handed me the keys and told me to take it for a drive around the block. Before I knew it I was squeezing myself into the minuscule cabin, bringing the roaring small block Chevy V8 to life and putting the oversized shift lever into gear. I then prayed to the car gods for a few moments before planting my bare foot down on the tiny wobbling pedal and holding onto the giant steering wheel for dear life.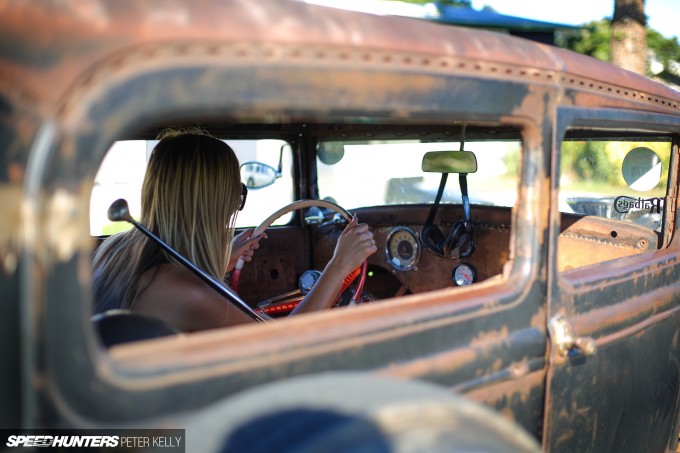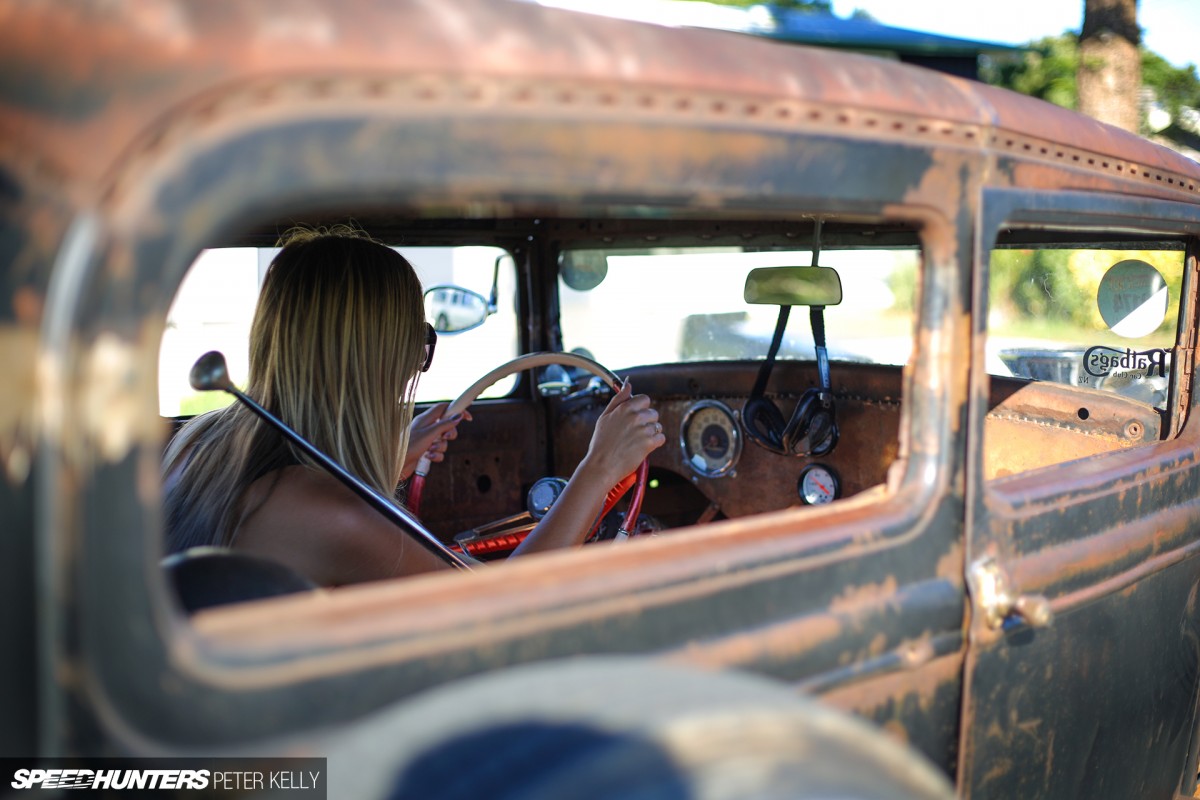 The four-inch roof chop certainly limits visibility, but I was a bit too busy to notice as I had to put all of my attention into forcing the skinny tyres in the right direction. Of course, they seemed to directly disobey my commands altogether and go the opposite way instead. I might look like I'm driving like a grandma in this photo, but I swear it was total madness!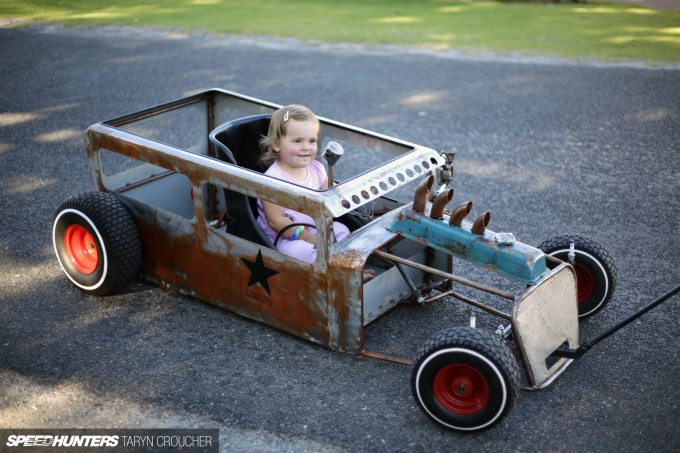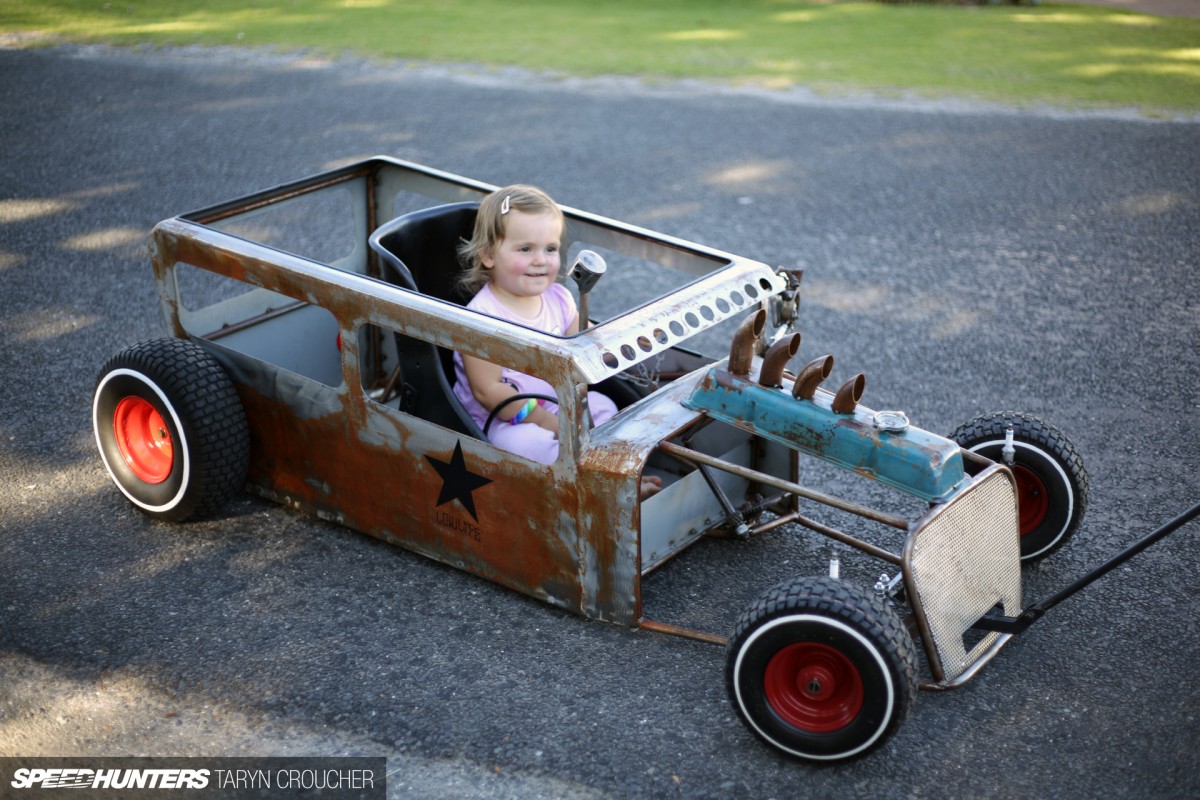 As I drove around the block receiving interesting looks and toots from passersby, I happened upon this. Seriously, what are the chances of bumping into another blonde female driving a rusty, pavement-scraping rat rod around town by themselves? Only at Beach Hop!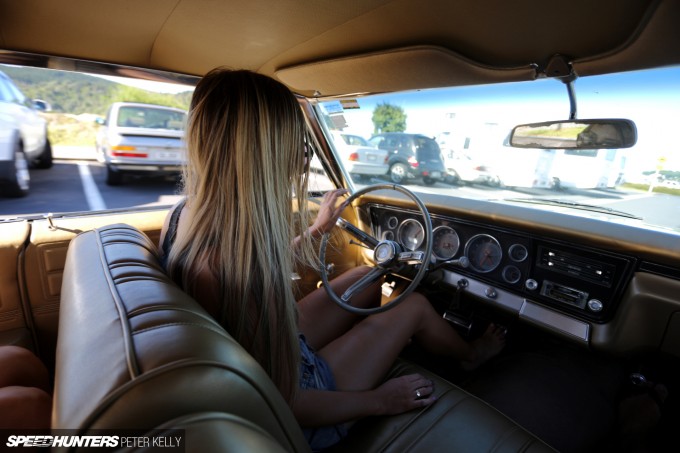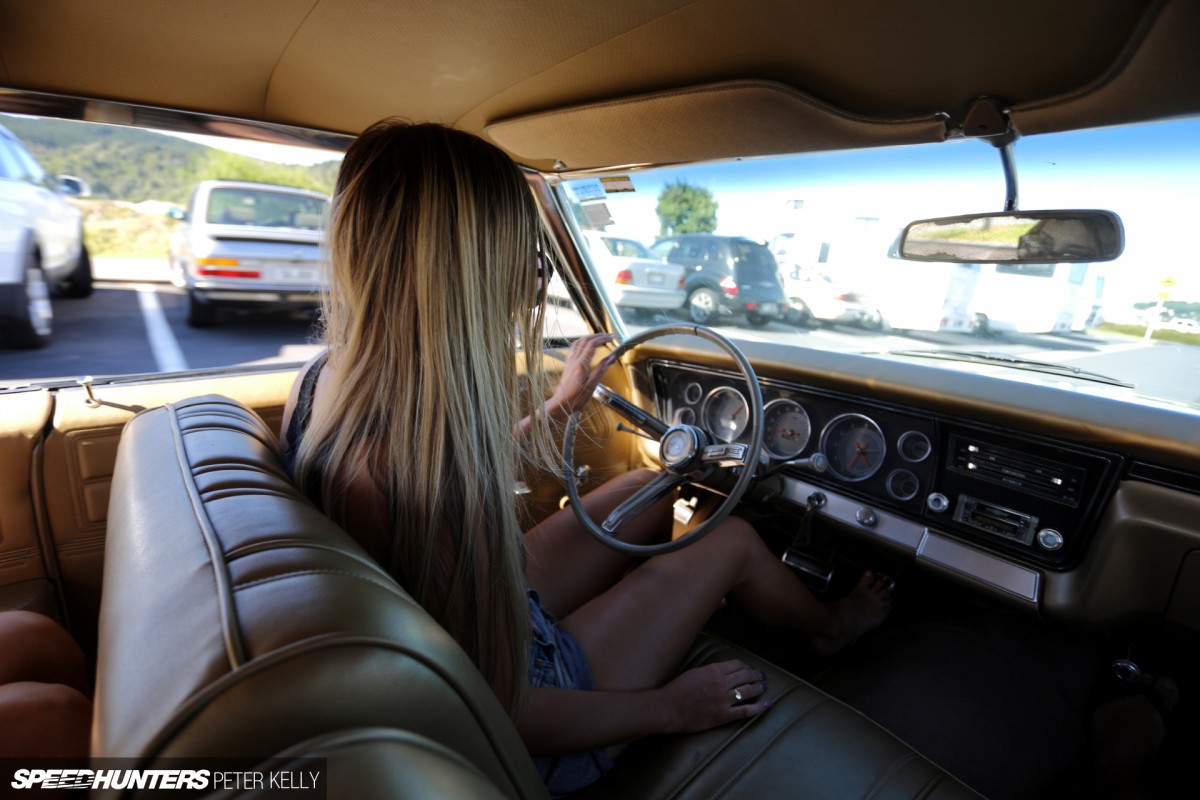 As thrilling as it was, I was happy to get back to the comfortable and spacious bench seat in the Impala to continue on with cruising for the remainder of the weekend. I've only ever been to Beach Hop in a cool old American car, and I can't help but wonder whether some of the magic is lost if you're just standing on the side of the road and not behind the wheel.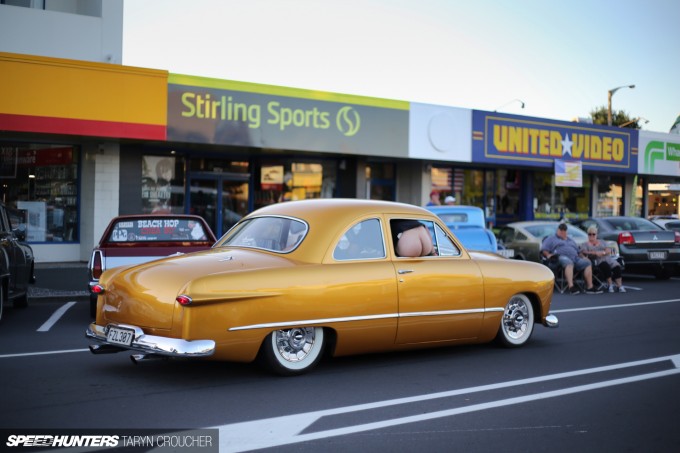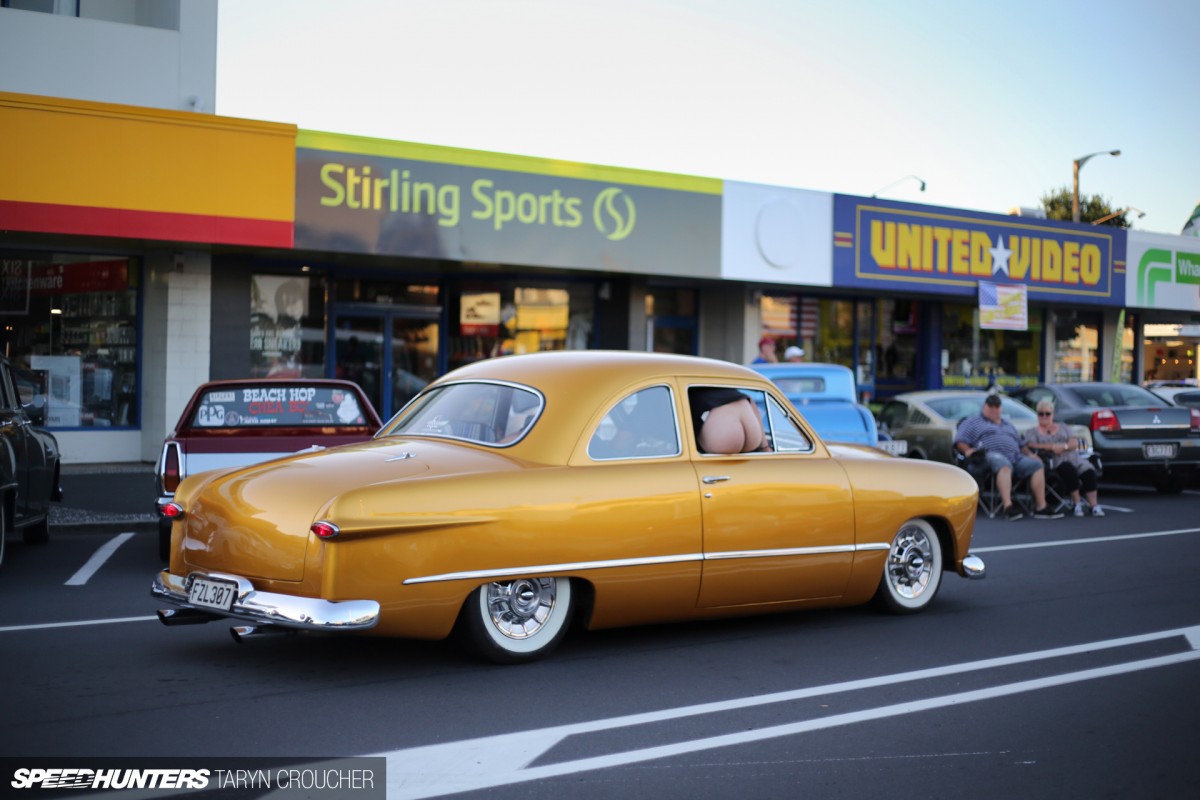 In my opinion cruising is the best part of Beach Hop, and as you can see here it looks like I'm not the only person that gets into the festive spirit. I wonder if this unsuspecting fellow had any clue that the photographer he was posing for would end up posting his not-so-hairless derrière up in front of an international audience? Hmm… maybe it's best not to view this image in presentation mode.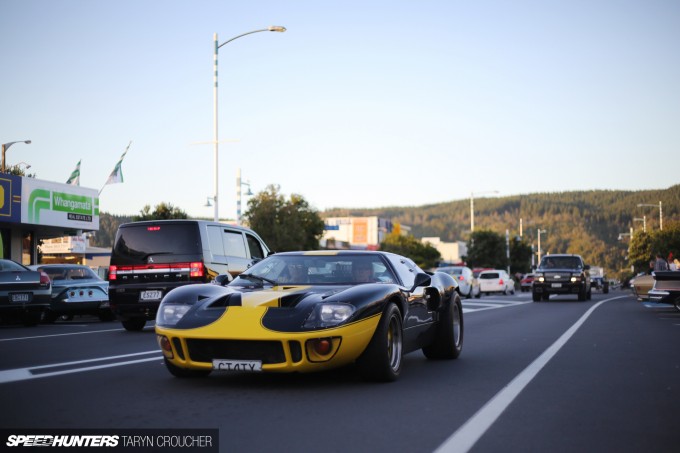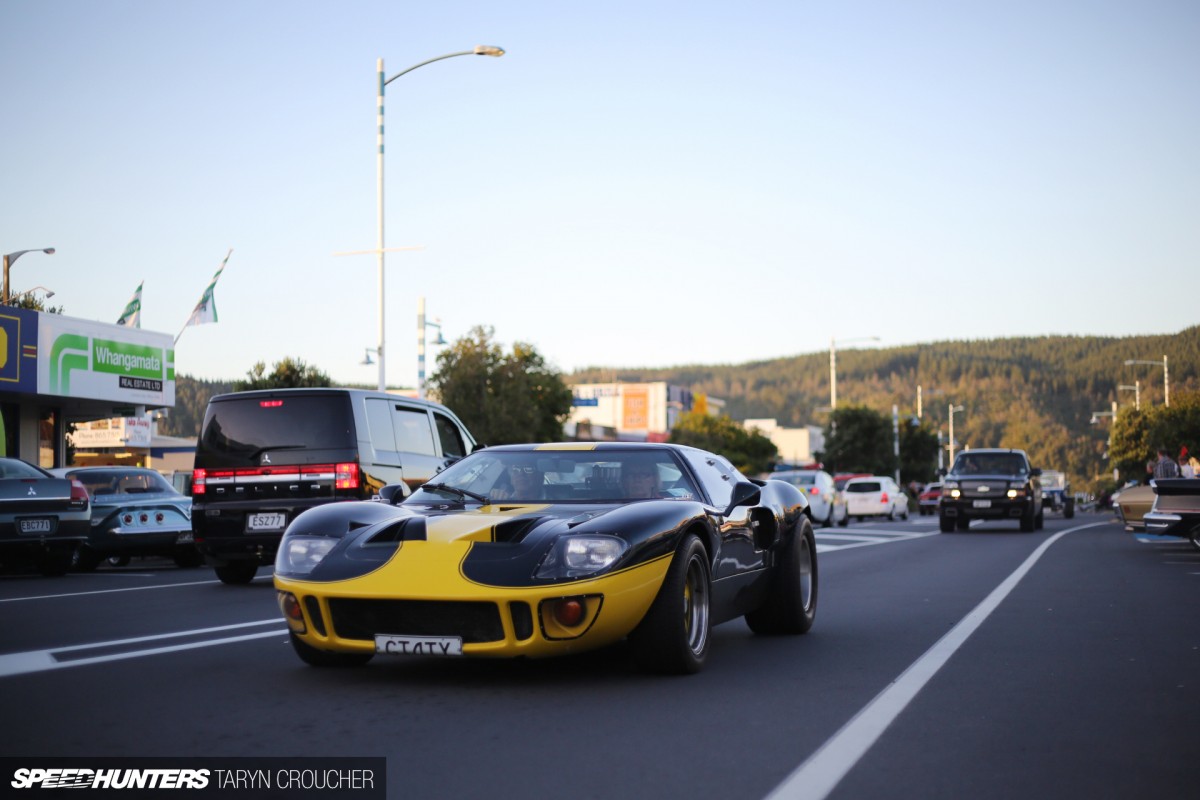 This couple looked like they were just out for a quiet evening drive, but the Ford GT40 replica they were cruising around in had other ideas –  it was extremely loud!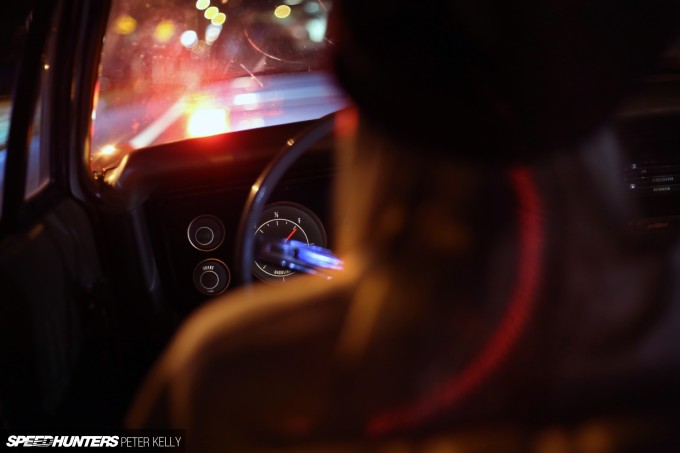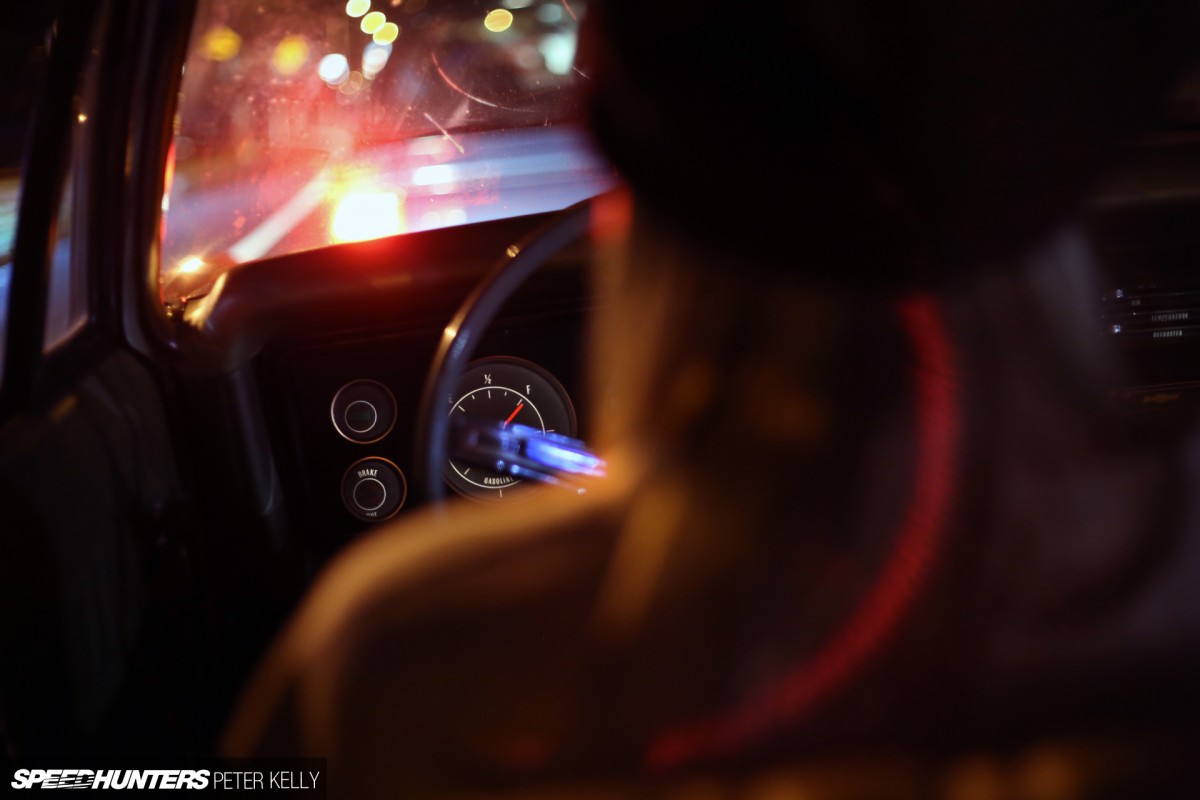 Cruising during the day is always fun, but it's always after sundown that the real party starts. Traffic controllers actually close off side streets and roundabouts so you can cruise directly through the main street in a big loop. Around 9.00-10.00pm is usually the busiest every night, and during this time you usually just sit and idle in traffic rather than move at a fast pace.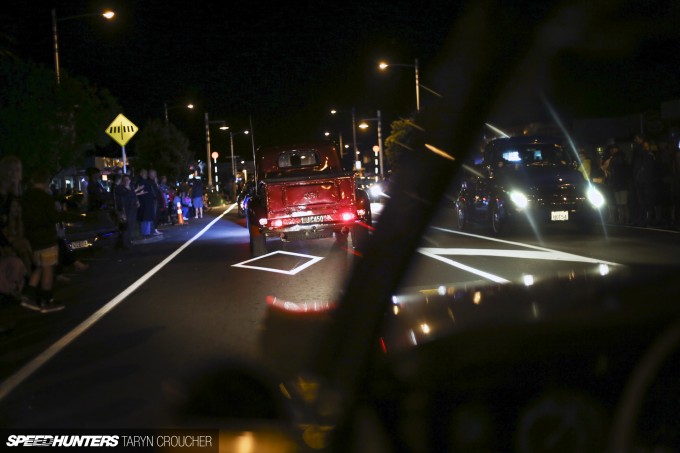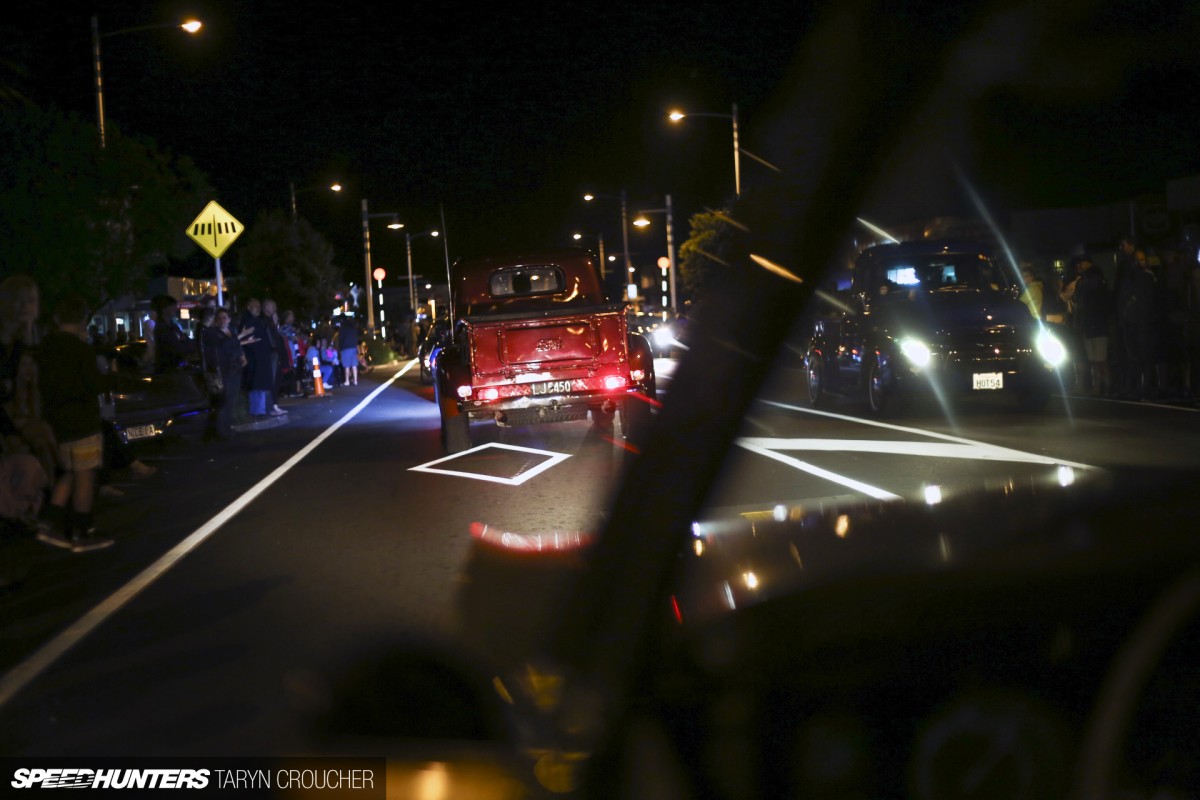 Being stuck in clogged traffic might sound silly, but with four or five different rock 'n' roll bands playing on various stages, both sides of the main street packed with people sitting in the back of trucks, in their trunks or on fold-out chairs; it's by far the best way to soak in the atmosphere. Owners will go out for a couple of laps and then swap cars, and have different friends hop in and out throughout the night. All of a sudden there's someone in your car that you've never met before, and by the time you've done a lap around town though, you've made a new friend!
After four days of cruising, the heat and lack of sleep had got to me and I was ready to head home…
Coffee and car spotting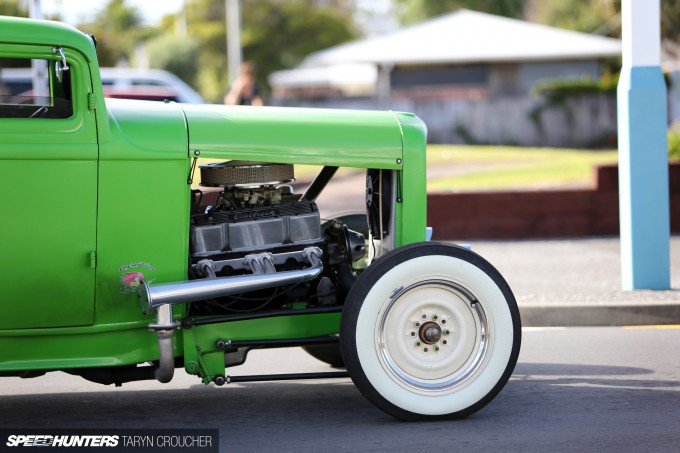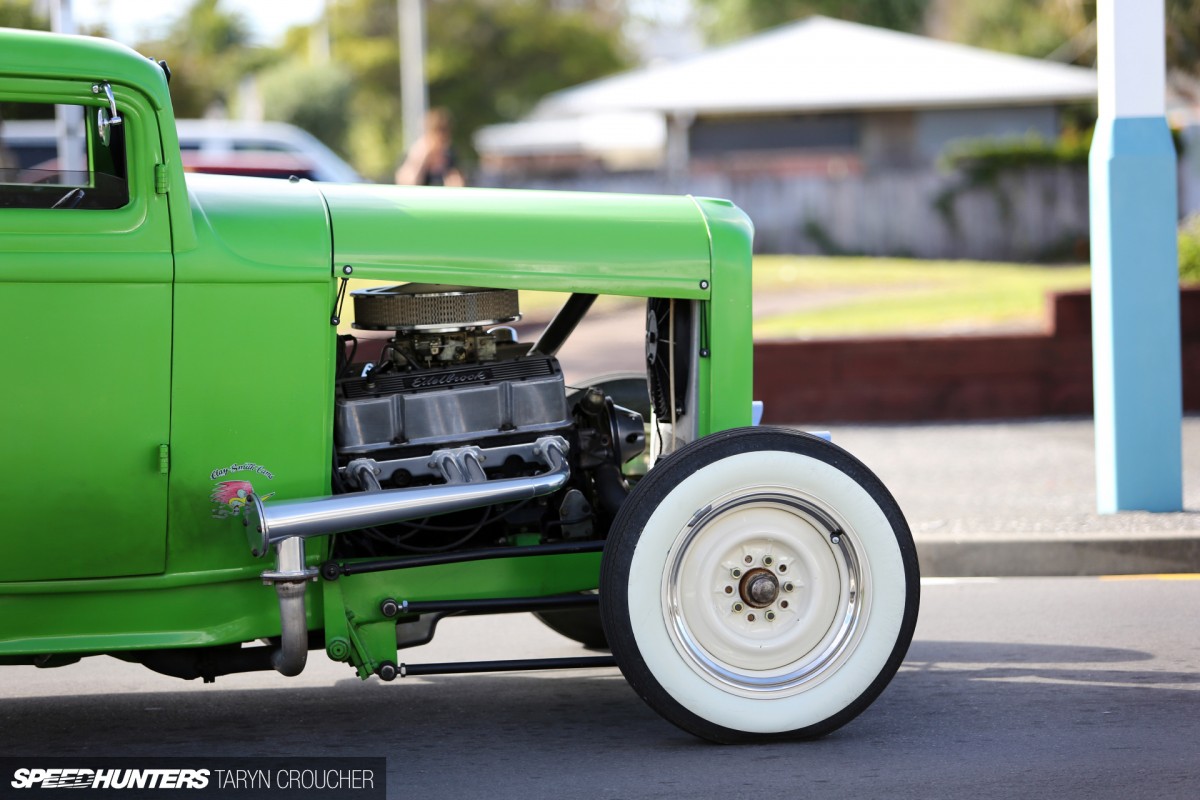 But not before one last drive down the main street, just in case I might spot one of my favourite cars again.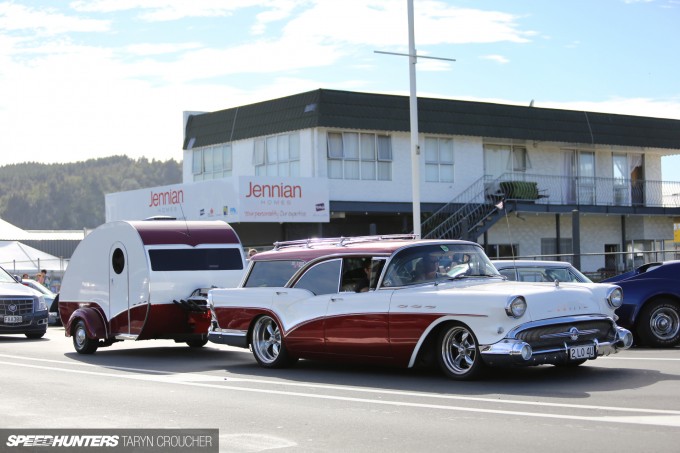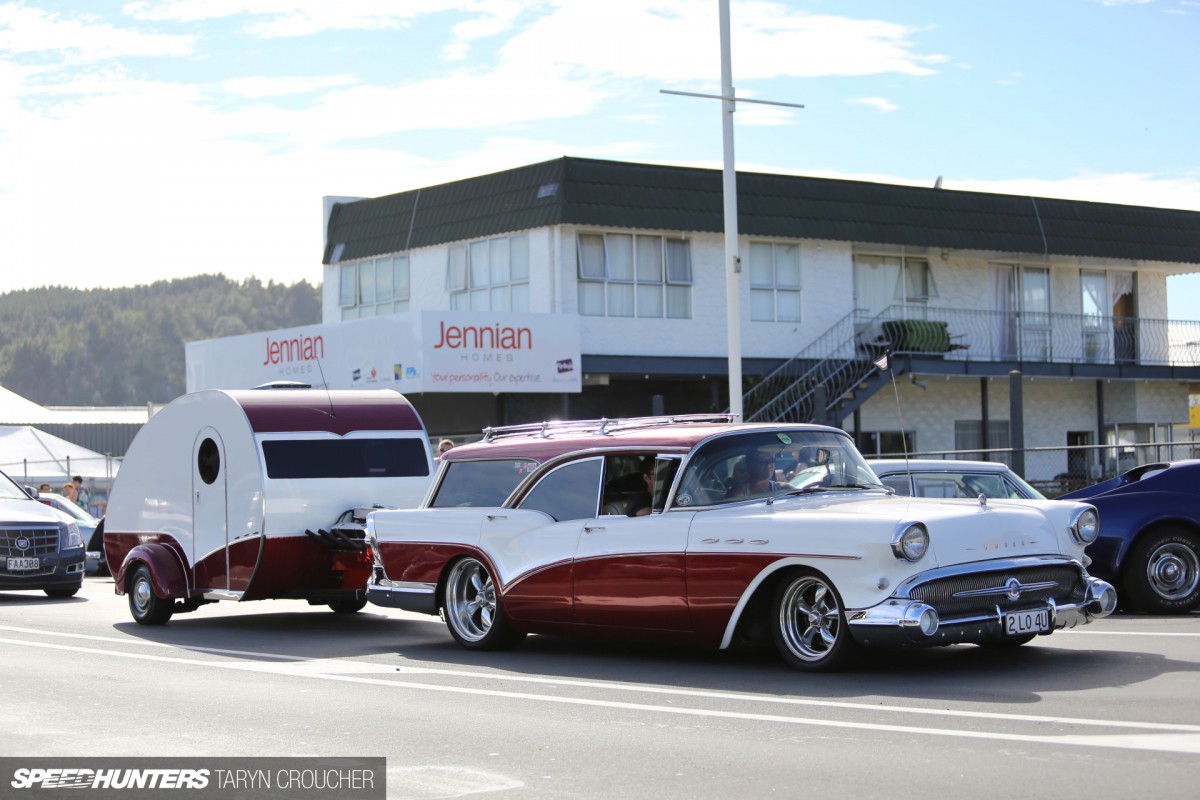 It's a fun Sunday tradition to park up in town, grab a takeaway coffee and watch a few more cars cruise past for the last time. These people had the dream set-up with their Buick Special Estate wagon; their matching retro caravan had a big BBQ built into the back of it. And that's just on the back – who knows what's actually on the inside of the trailer – a fridge perhaps? I wouldn't doubt it.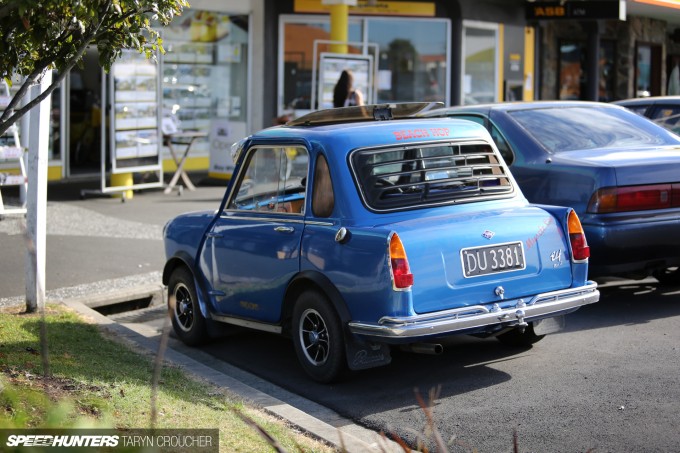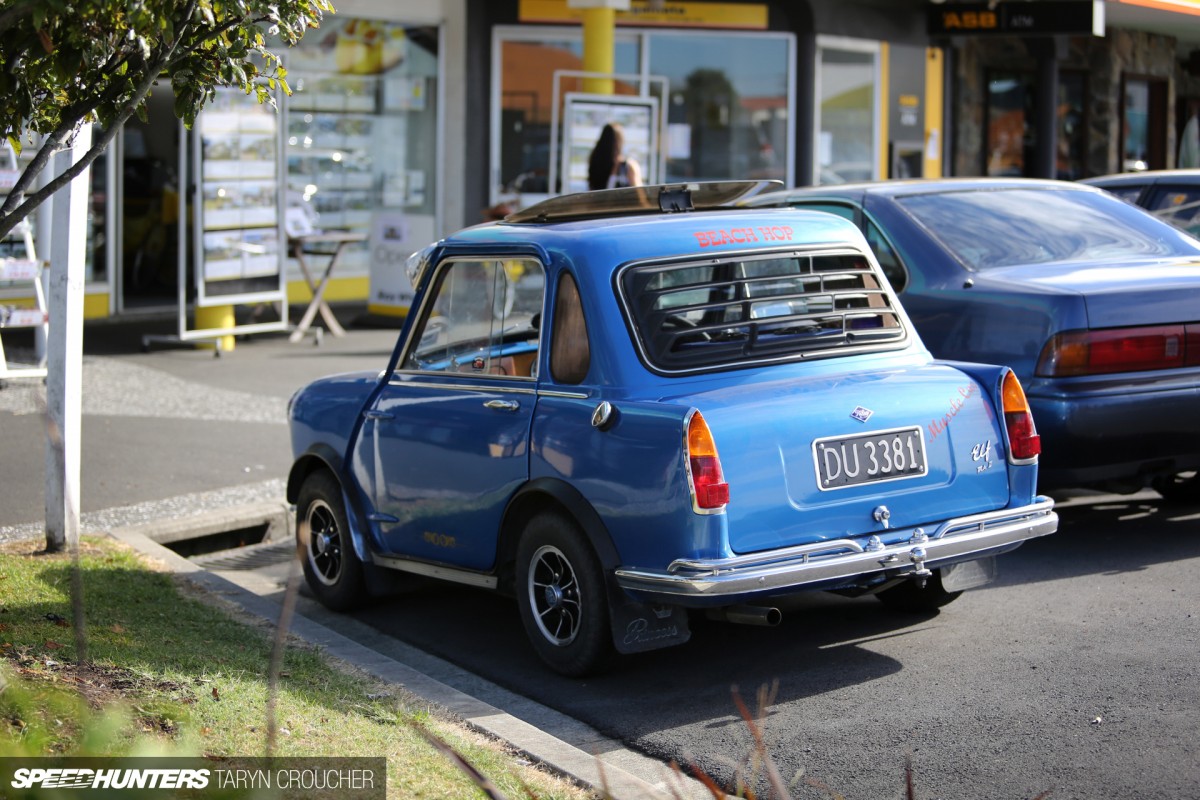 From big cars to the smallest car at Beach Hop, this '67 Riley Elf looked almost painfully tiny to fit into – and check out those baby 10-inch wheels. As the car pulled up next to where I was sitting and an unexpectedly tall man climbed out, I couldn't help but laugh … 'Do you find something comical about my appearance when I am driving my automobile? Everyone needs to drive a vehicle, even the very tall. This was the largest automobile I could afford.'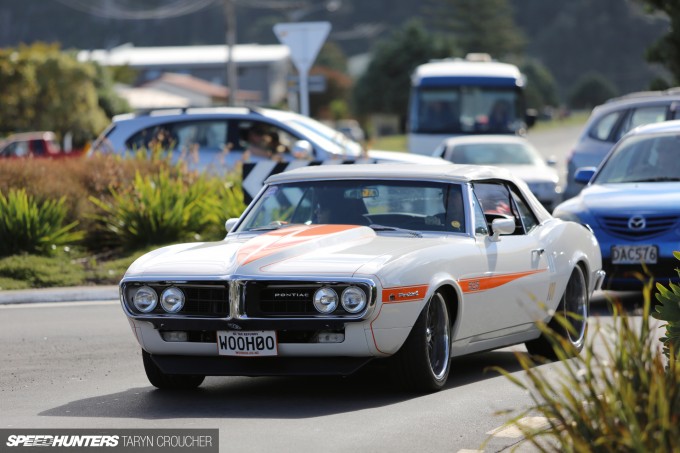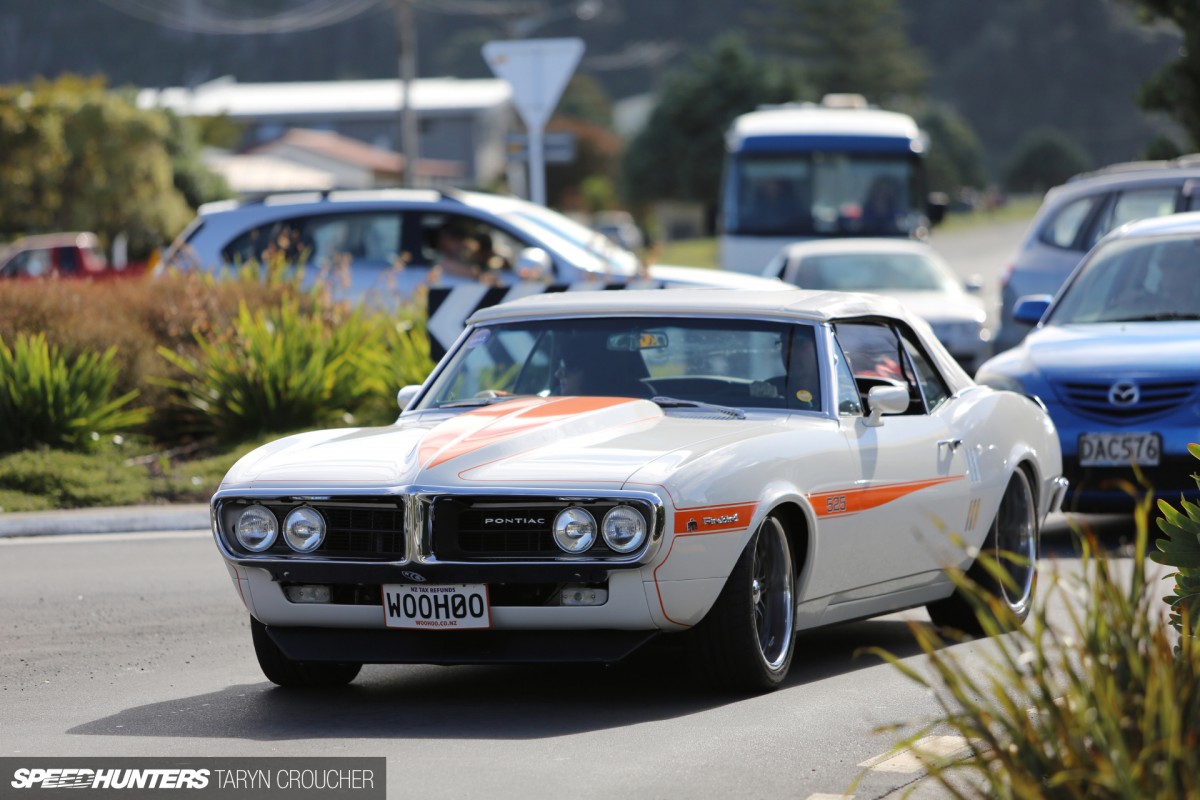 I was gutted that I never managed to get a proper look at this Pontiac Firebird after hearing people raving about it throughout the weekend, but my chance finally came on Sunday as I spotted it rolling down the main strip. Although the flawless convertible has retained a relatively factory-looking appearance from the outside, it's actually been built on an Art Morrison chassis and boasts a big-power LS3 crate motor.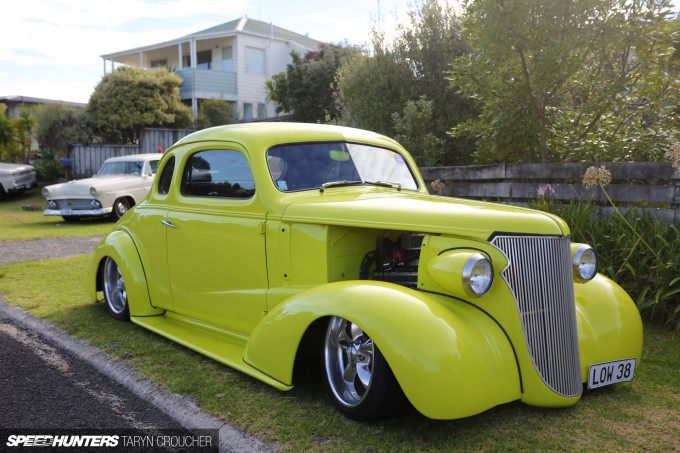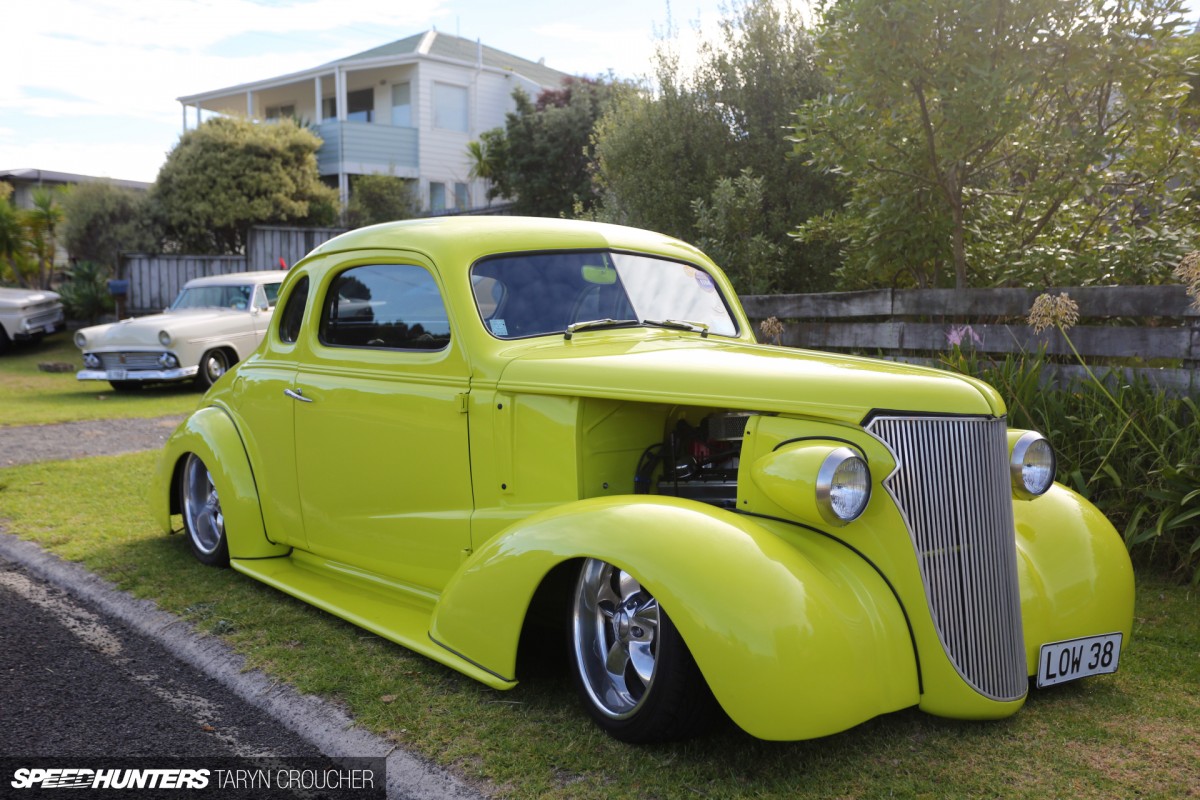 This is another normal sight; an immaculate show car just left parked out on the side of the road in the morning. Driving down any road in town on any day during Beach Hop you'll see cars like this. If you knew how small Whangamata is, maybe you'd understand why this is so awesome!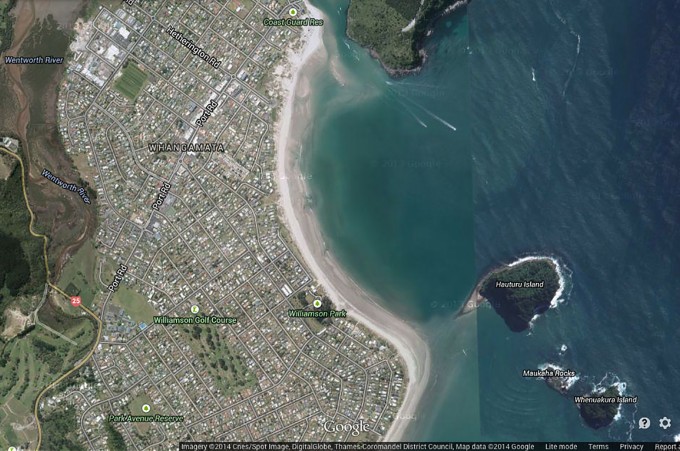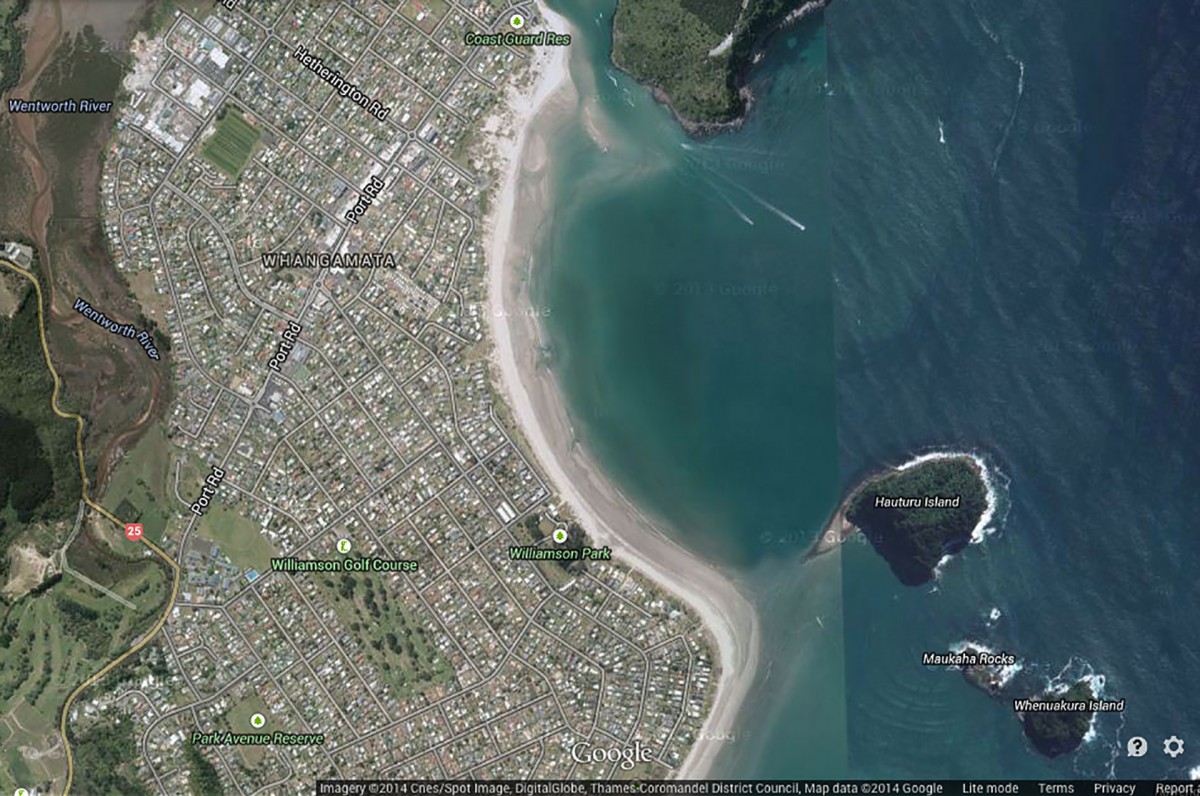 This satellite view might give you some idea. It's like going back in time, especially when you drive down a street lined with all older houses from the same era as the old cars parked outside them.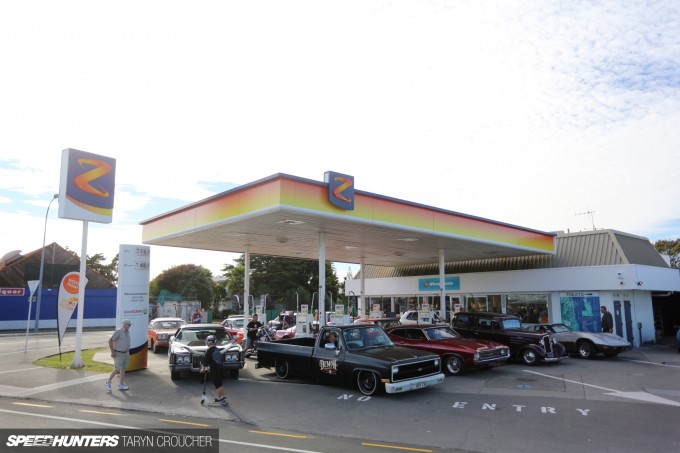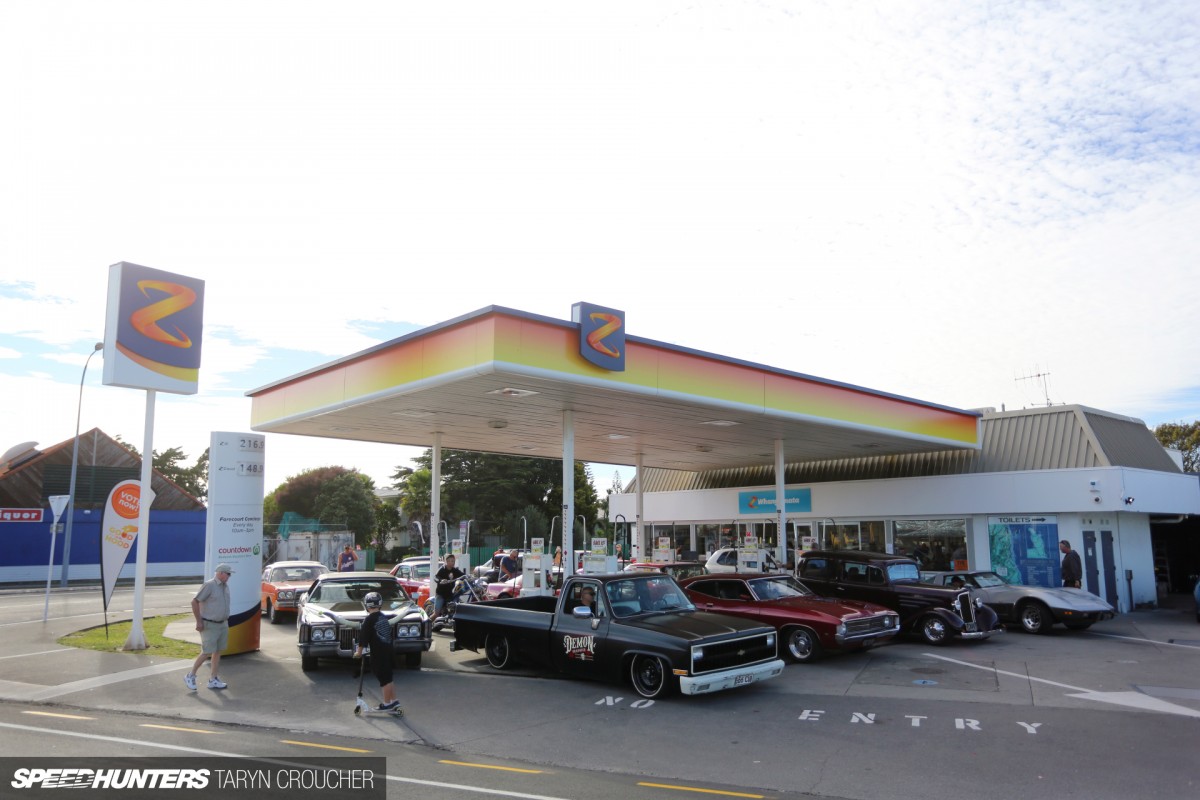 One helpful note I should probably mention is that there's only one gas station in Whangamata, so filling up before everyone goes home on Sunday is a really good idea. That is, unless you want to go and line up in the queue that starts way down the other end of the street.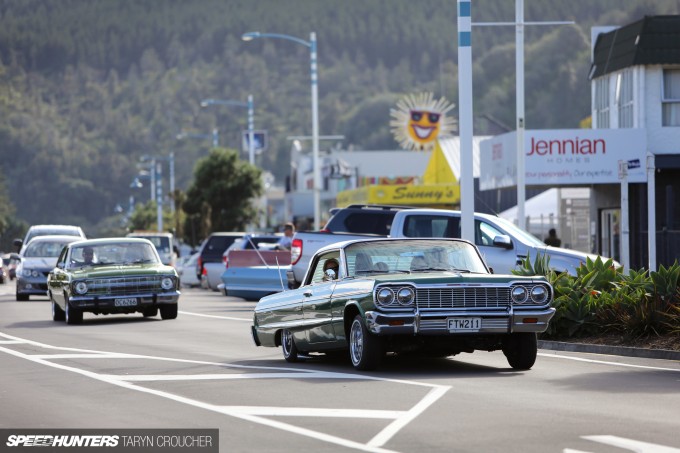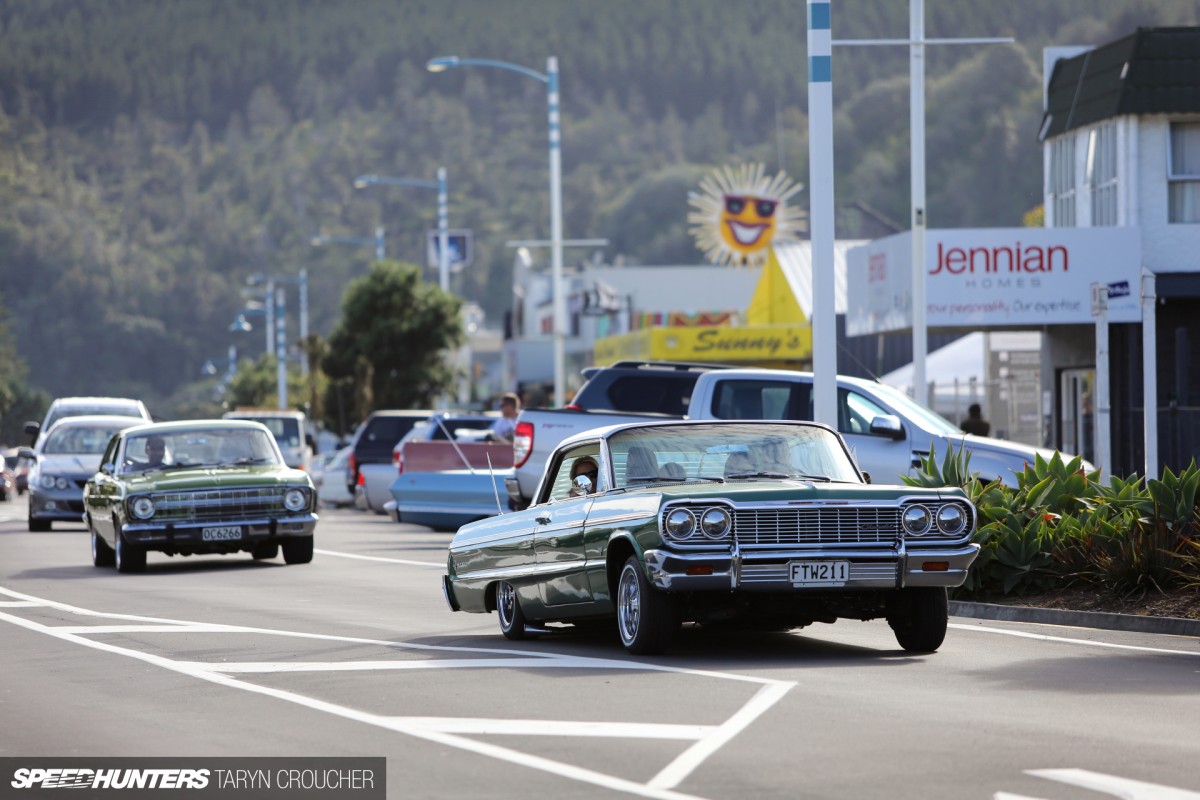 I hate to use the phrase, 'You had to be there', but you really do have to check out Beach Hop for yourself to comprehend how much fun it is. It's funny because at some point during the weekend I remember thinking about how this event always makes me feel so conflicted about which specific car scene my allegiances belong to. But as I look back through this story I realise that is exactly what I love about being a car enthusiast. There's a little slice of every different automotive culture to be discovered and enjoyed here. It's diverse, ingenuitive and joy-inducing in every way possible.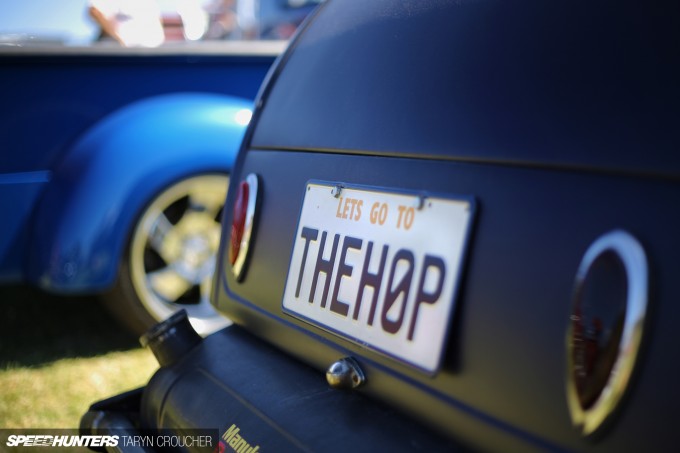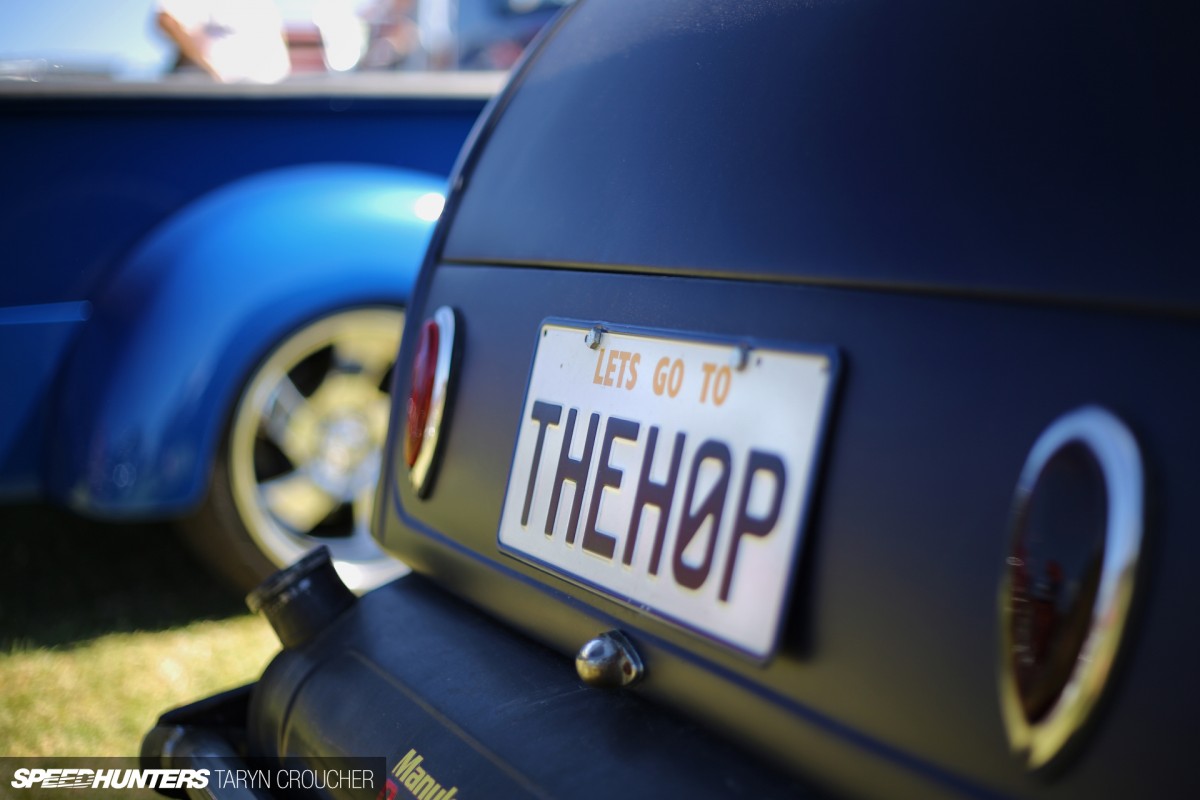 Too many dream cars to count, tropical temperatures and soft white sandy beaches made this year's Beach Hop festival a trip I'll never forget. So thanks for coming along with me for the ride – or should I say cruise – to New Zealand's own nostalgic car enthusiast's haven. Until next year!
Taryn Croucher
Instagram: @taryncroucher
Twitter: @taryncroucher