The best part of Japanese shows?
I've come to regard the car park at the Mooneyes Street Car Nationals as an event in itself. For years we've been taking strolls through the line ups of cars that people drive to this event in, and we aren't the only ones. I see more and more people taking the long route to their cars after the event, checking what is around as a last bit of car indulgence before heading home.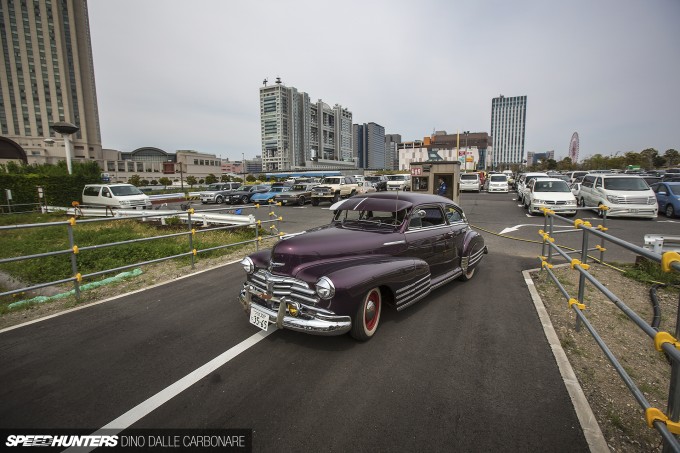 With around 400 spots being cut from this year's event, I got the impression that those that didn't get in quick enough to grab an official entry, still showed up to display their cars in the adjacent car park.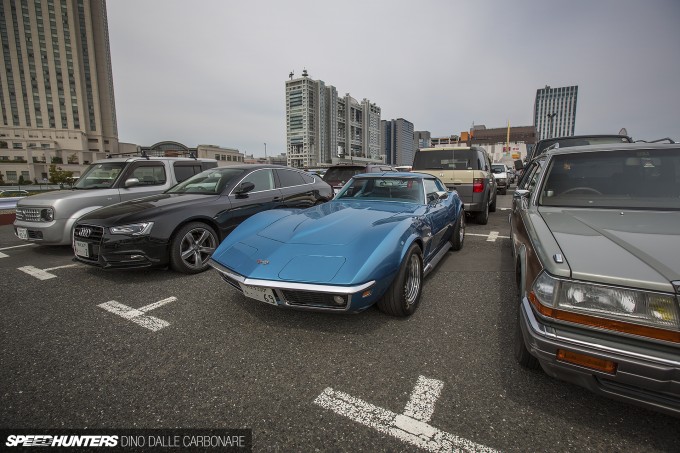 And that's a very good thing as it meant that there was some seriously awesome machinery parked up and ready to be hunted, beginning with this '69 Stingray.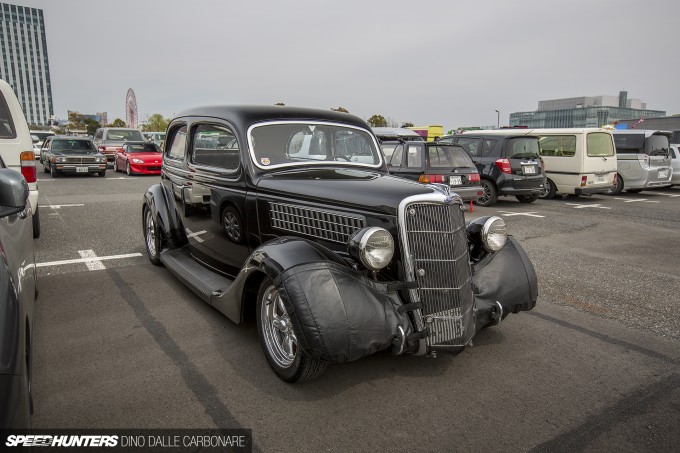 What grabbed my attention when I came across this 1935 Ford was the fact that is was wearing a custom-made protective bra. You often see these on American cars in Japan, and you could almost consider it a fashion item for a USDM Eclipse – but I've never seen one fitted to car of this vintage.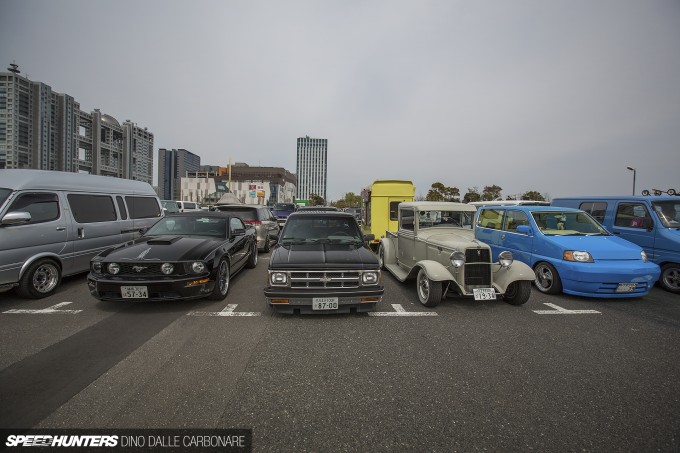 This picture is a clear example why Japan really stands out in automotive culture. Okay, so this line up of cars wouldn't be happening if there wasn't a Mooneyes event going on, but I'm sure you understand what I'm getting at.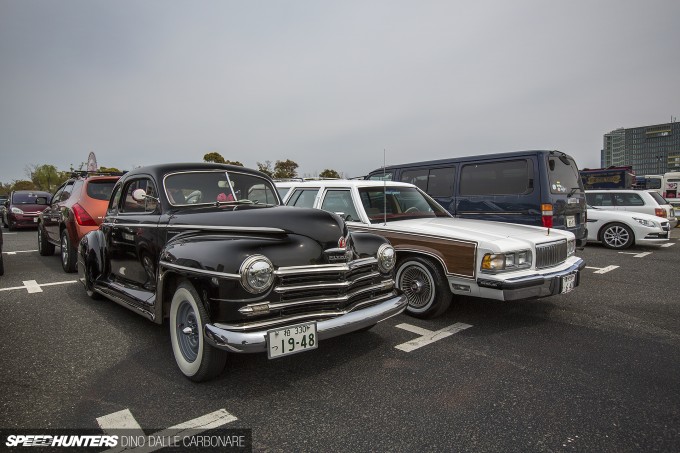 This is a country home to some true gems of cars, and it's during the weekends they all come out and play. A Plymouth Business Coupe sitting next to a wood-trimmed Mercury wagon – I thought I was in the US for a second!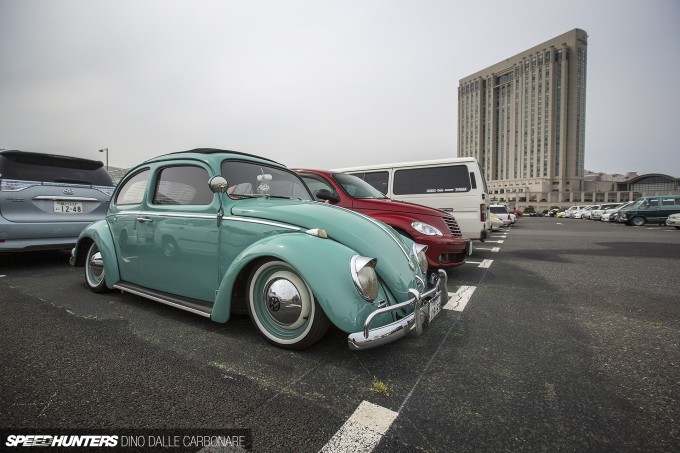 If the tons of Beetles at the show weren't enough, there were more than a few other cool ones – like this suitably-slammed example – worth checking out in the car park.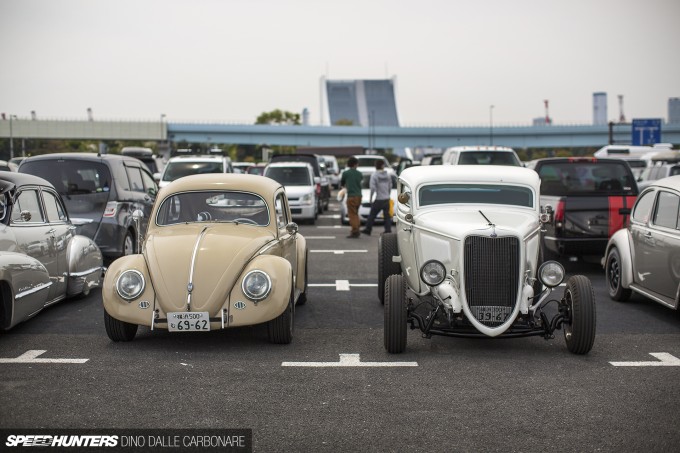 While the Bug in the image above is more of a show car, this Beetle seemed to still be used as a daily driver. Maybe even a street racer if the large Auto Meter tacho visible even through the windscreen is anything to go by… That was a nice hot rod next to it too!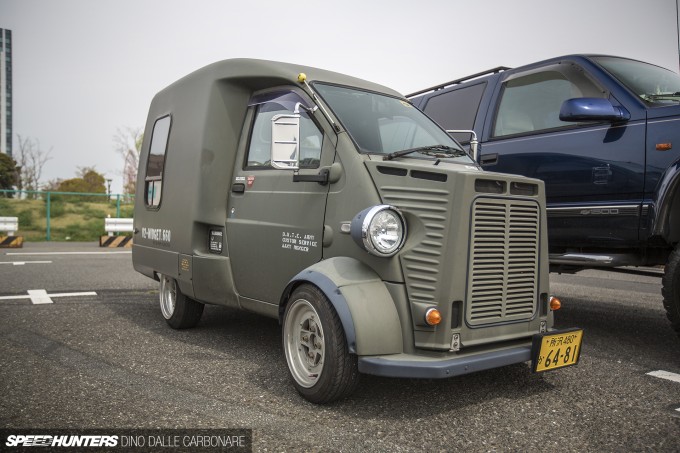 Okay, this really impressed me – really it did. You might recall the spotlight I recently ran on Liberty Walk's Citroën H Van, so to see a Daihatsu Midget paying homage to the French hauler, well… I was blown away. Not only did it bring a smile to my face, but on top of the whole idea being quite funny, there's no denying that they put a whole lot of work into making it look so damn cool.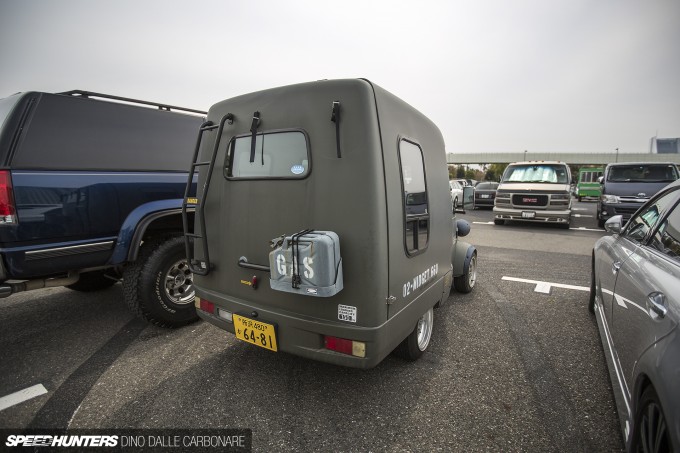 The rear has been mated to an FRP kei motorhome shell (yes, kei motorhomes do exist in Japan!) and it's all finished off in a shade of military green with SSR Mk2 wheels to boot. Just awesome!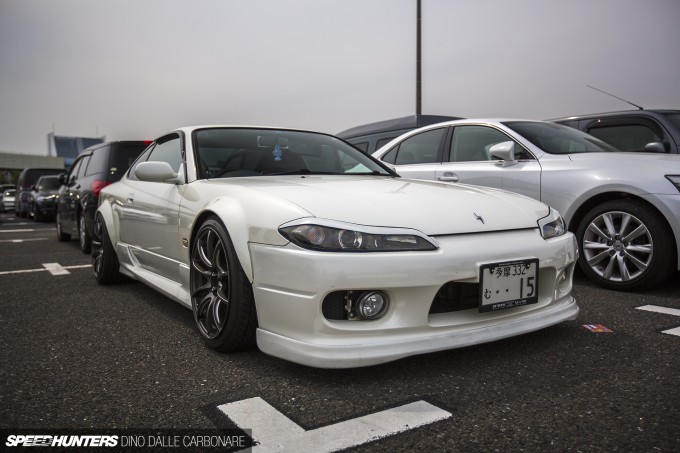 Offset really is everything in making a car sit just right, and often getting one to look its best will require minor reworking of fenders. This S15 seems to have pushed that concept further than I've ever seen on a Silvia. There are no over fenders here – the widening is all metal and very well executed.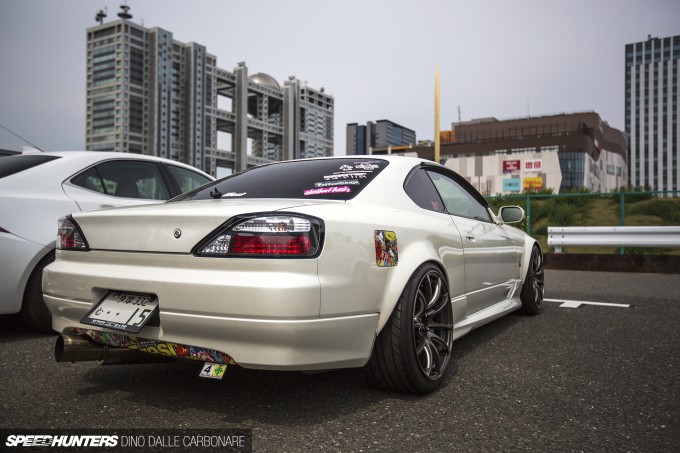 It certainly gets the message across. The use of stock bumpers only goes to further emphasise the widening too.
JDM rarities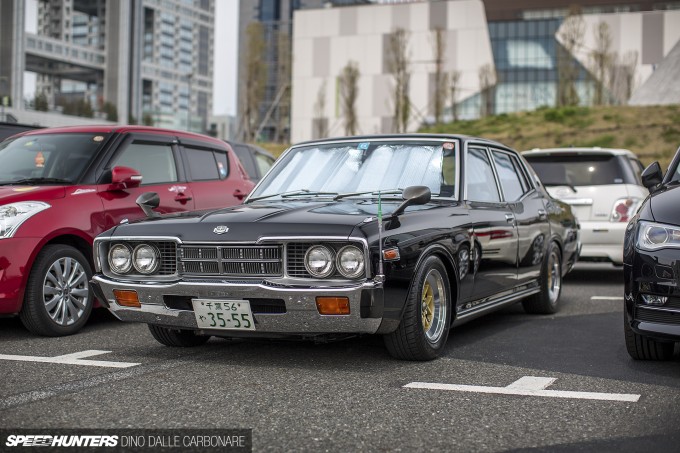 There's something very special about big old Japanese sedans. I put it down to that American feel car makers attempted to install in their designs back in the day, and the result is a style that's very unique. The Gloria 330 is a great example and all these cars need to look their best is lowering and some well-chosen wheels. Does anyone else agree with me on this?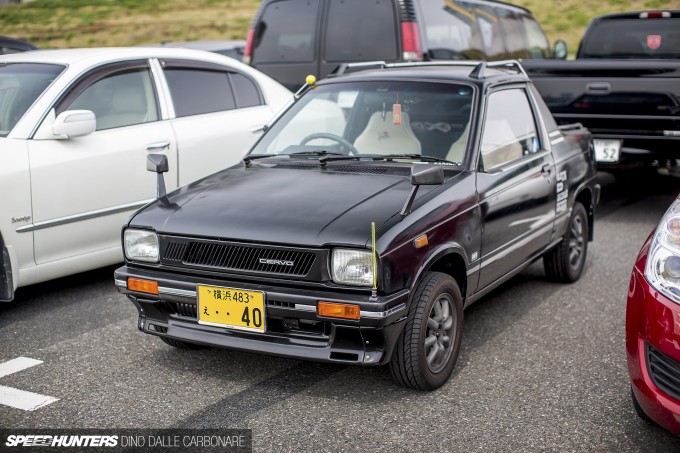 The name alone is nothing short of pure awesomeness – Suzuki Cervo Mighty Boy. Cervo in Italian means 'dear', so this is one of those great Japanese car names that has always confused me. The Mighty Boy part refers to the fact that this is actually a pick up, the only one of its kind in the world of yellow-plated kei cars. Throw in a set of tiny Watanabes and you have a very rare and very cool JDM masterpiece of the '90s.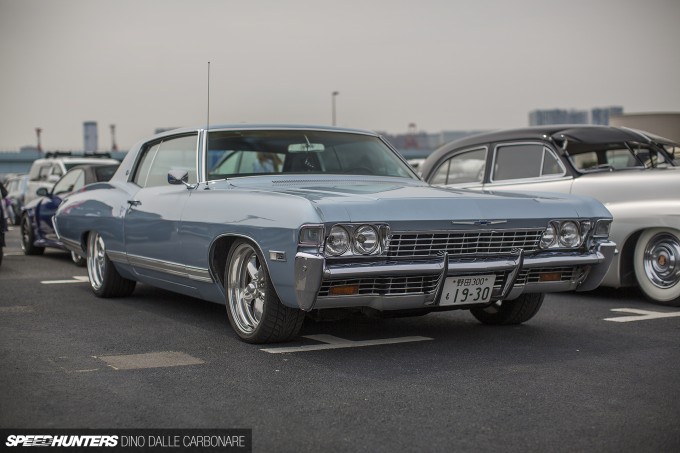 How about this for the complete opposite of a kei car.
I'm a big fan of old Caddys; there's that whole link to the mafia with cars of this vintage that make them impossibly menacing.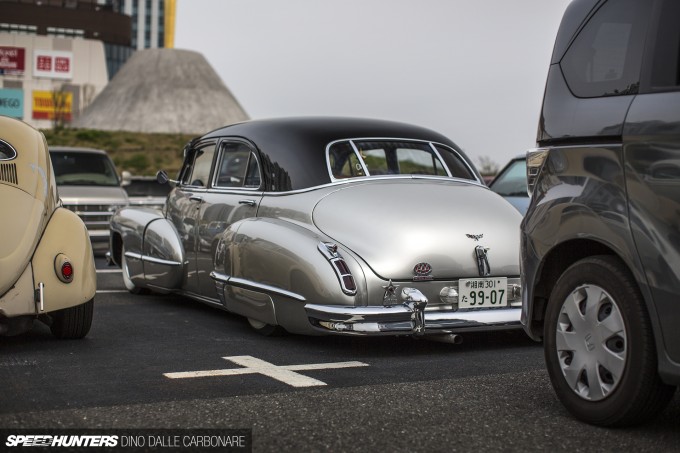 And even more so when they have been lowered like this particular one.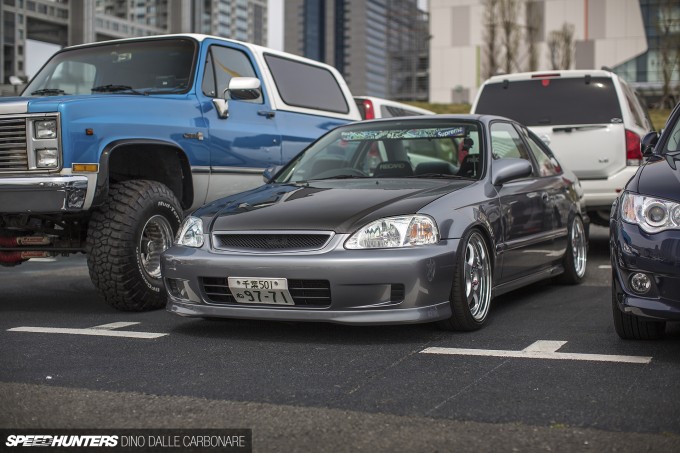 And talking of low, there was no shortage stanced cars dotted around the parking lot. This is one styling aspect that has shown no signs of slowing down in Japan, and it's cool to see the sharing of ideas between the USDM and JDM scenes.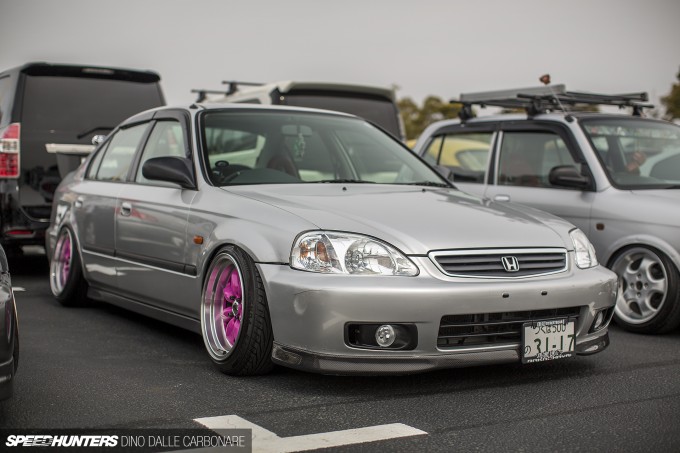 The Japanese have always been masters of making cars sit and look their best. There are so many ways of achieving this – from your more reaction-fishing interpretations, to the more subtle ones.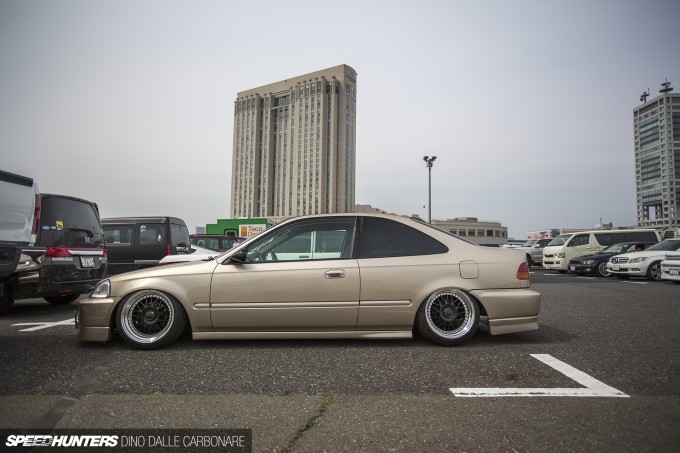 Civics certainly seemed to dominate the car park behind the Mooneyes event and this EK Coupe defined the whole shakotan thing rather well.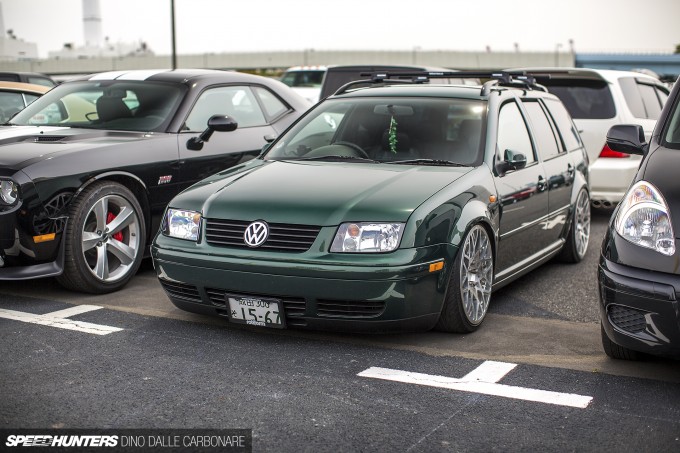 VWs are also big favourites with the stance movement and not too far away from the Civics above I spotted this Jetta wagon on a set of Rotiform wheels.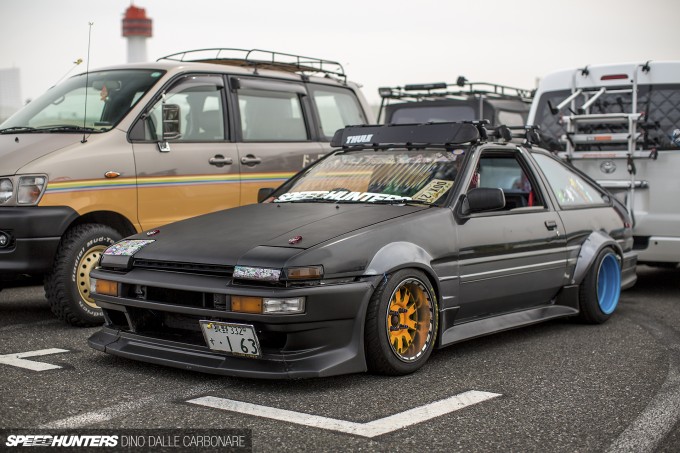 The owner of this AE86 Trueno drove all the way from Nagano and was actually hanging around his car when I spotted it. Seeing as he was rocking a Speedhunters windscreen banner, I just had to hand him a few of our latest chrome stickers. It's always cool to meet people that are regular visitors to the site.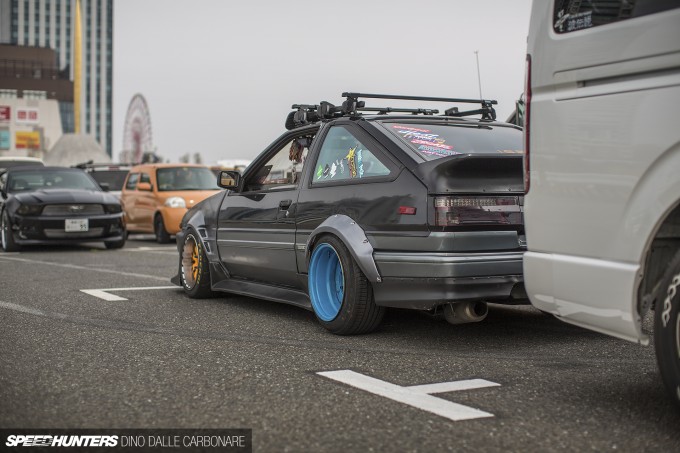 The obligatory rear shot. This thing looked like it was ready to do battle!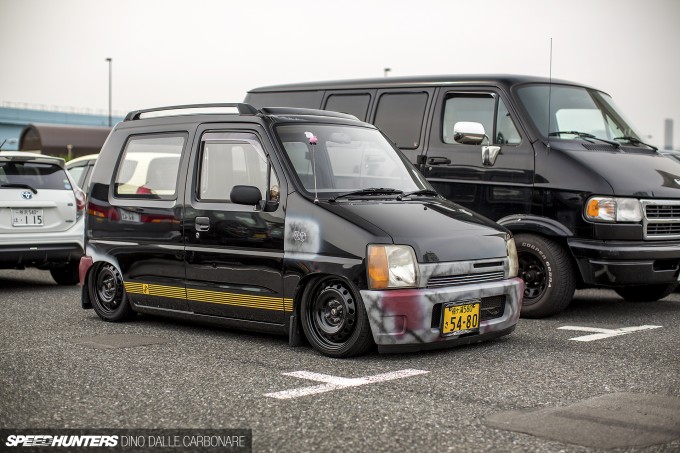 I thought this Suzuki Wagon R Loft edition was quite cool, and a good example of how to achieve a unique look without breaking the bank. Steelies FTW!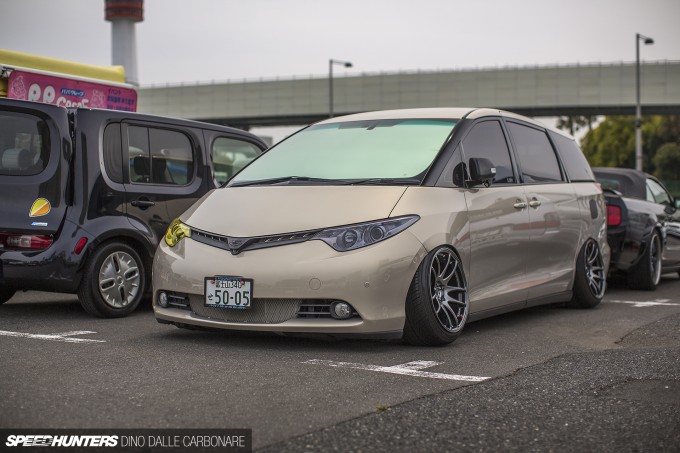 Obviously, a car park post from Japan wouldn't be complete without a van – and by that I don't mean big Dodge ones like we saw at the show itself. Estimas are some of the hottest-selling vehicles in van-crazy Japan, so it's not surprising to see that they are quite popular in the custom scene too. This one was slammed on some Work Emotion CR Kiwamis with plenty of negative camber to set it all off.
It's all in the mix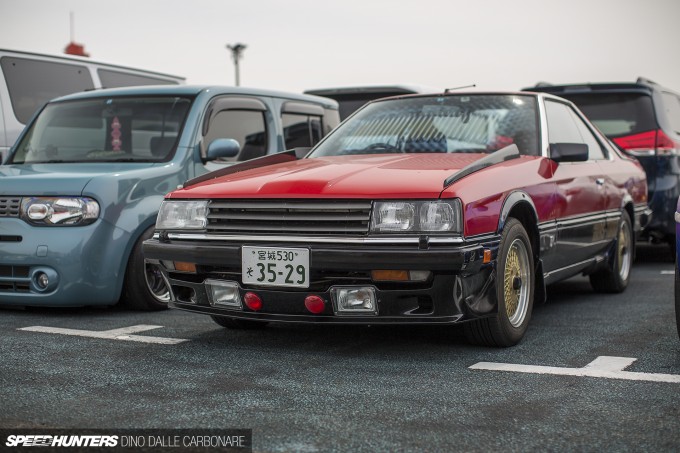 This DR30 Skyline was very much going for the Seibu Keisatsu police drama look with that lower bumper treatment and just needs the roof lights to finish it off completely! The longitudinal bonnet fins are a little detail borrowed from the Silhouette race cars, but I'm not quite sure how functional they really are on the aero side of things.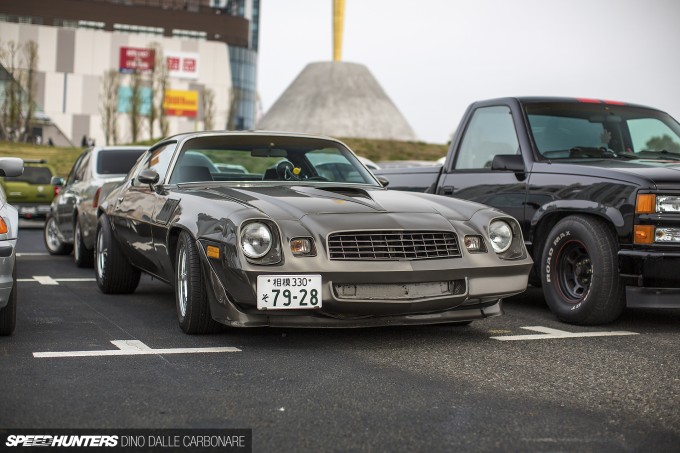 I'm not sure why, but I noticed that the further I moved towards the far corners of the car park the more American cars I seemed to be spotting. It was like a muscle car meet was going on!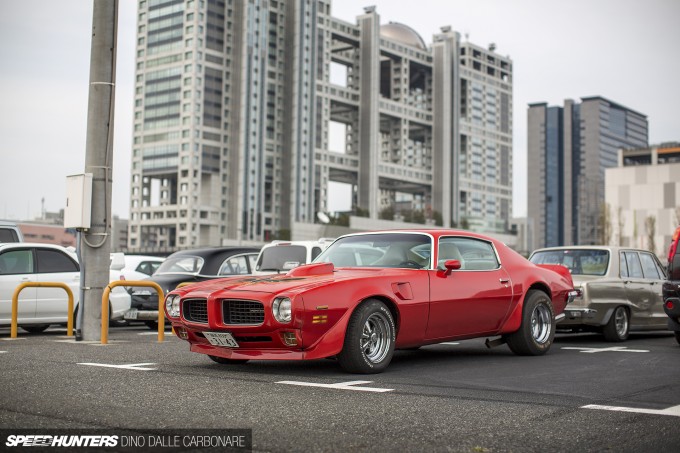 This Firebird 455 was looking like it was ready to pull a fat number 11 and shoot down the street! It also seemed enormous compared to the four-door hakosuka in the background.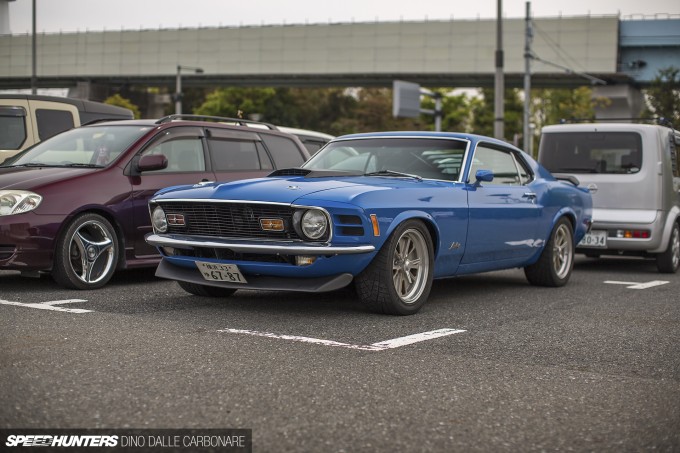 The Japanese sure love their Pony cars! It's probably one of those classic American cars I see the most on the streets and I've always thought they look almost compact next to some of the bigger machines from the same era.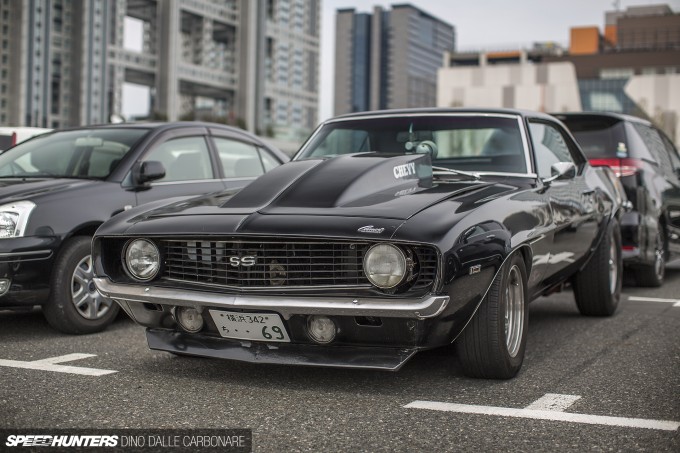 Cars like this '69 Camaro SS which was surely hiding some monstrosity of an engine under that cowled hood.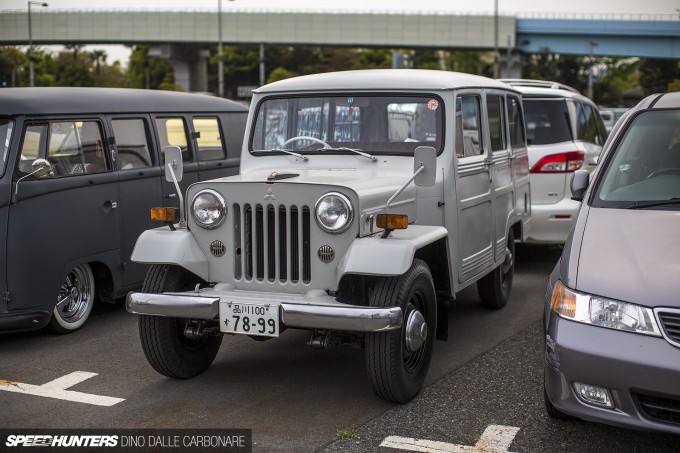 I sometimes see military-spec Mitsubishi Jeeps on the highway in Japan, but spotting the civilian version – especially a CJ3 wagon as seen here – is quite the rarity. It was definitely one of my more interesting car park finds.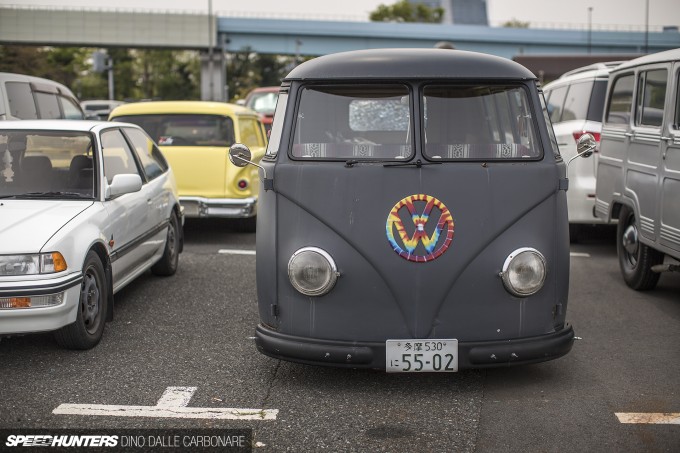 And right next to it was this VW bus – the must-have for those embracing an alternative sort of lifestyle. Peace!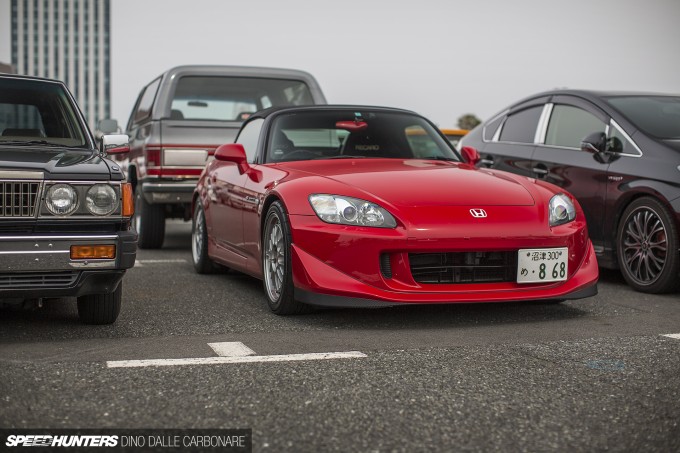 You should all know by now that I am someone that appreciates simplicity. When done well it can have the same impact as something with a lot more complexity, and along with the Datsun Fairlady 2000 from yesterday's spotlight, this S2000 was another great example.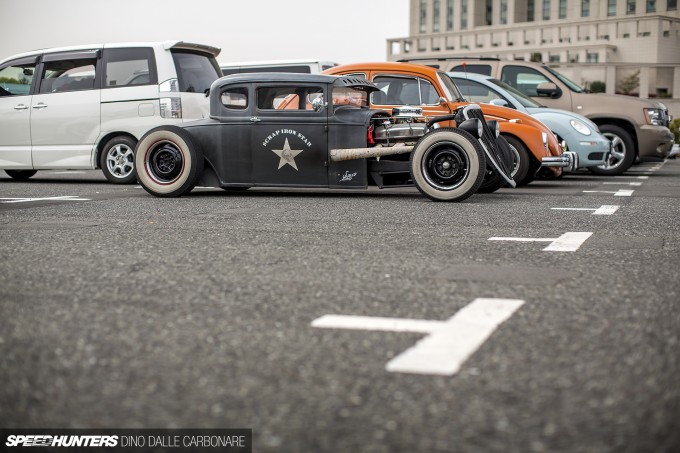 Having covered Mooneyes events for more than a few years now, I've developed quite the attraction to the whole hot rod scene. I love the wide interpretations these cars can have, and for me the rawer the better – all mixed up with a little functionality. The 'Scrap Iron Star' seemed to be just that.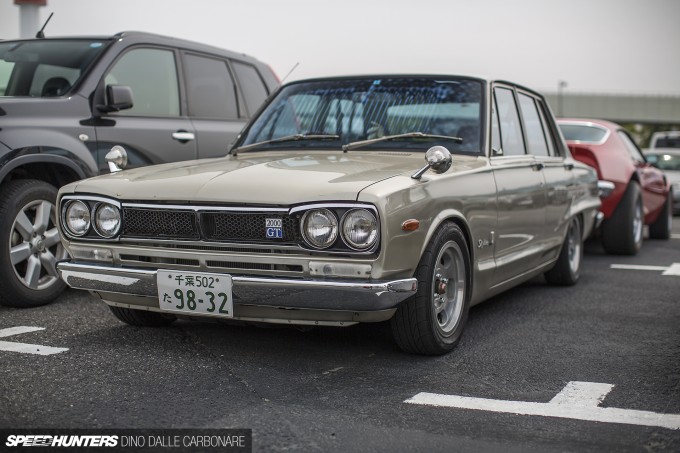 You didn't think I was going to skip showing you the hakosuka that was sitting behind the Firebird did you? The sedan is perhaps not the most sought after C10 model, but when dropped from its '70s 4×4-like ride height and mixed up with the right sort of fitment, it really is quite the looker.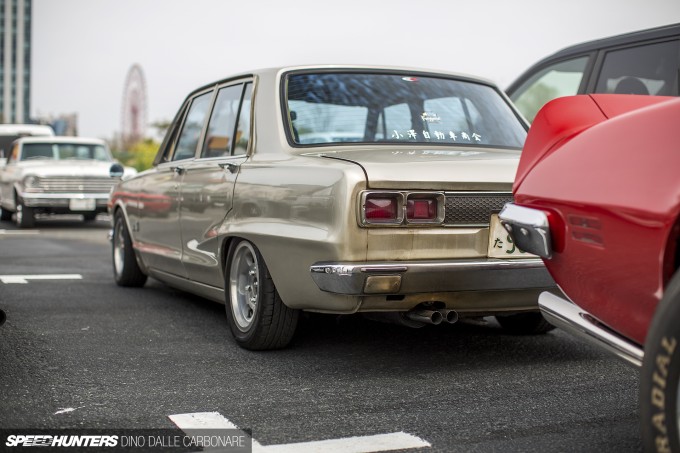 Running a bit rich perhaps?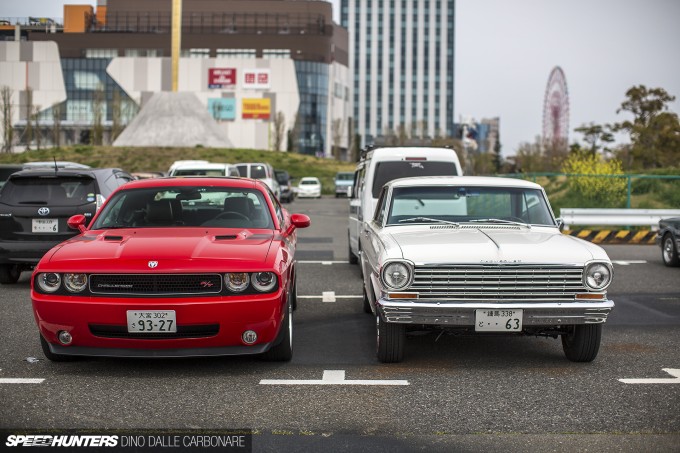 I hope you've enjoyed checking out the 2014 Mooneyes Street Car Coverage – yet another year of custom car awesomeness from the guys that really know how do it so well. You'll be happy to hear that I'll be at Nikko this coming Sunday to check out some grassroots drifting with the N-Style guys and bring you more of the never-ending variety that Japan is so well known for.
Dino Dalle Carbonare
Instagram: speedhunters_dino
dino@speedhunters.com