If someone came up to me ten years ago and told me that I would eventually take pictures of car culture for a living I would have told them they were crazy. It would have been even more insane if someone told me that I would shoot drifting for a living – my head would have exploded. 'It's not possible' I would yell, then BOOM! Head gone, like a firecracker in a watermelon…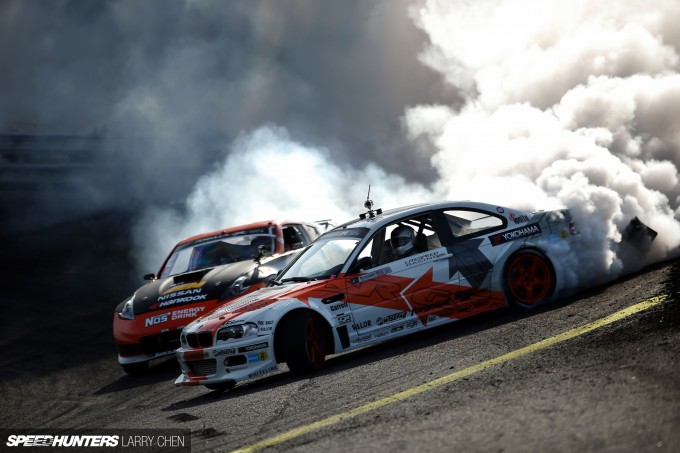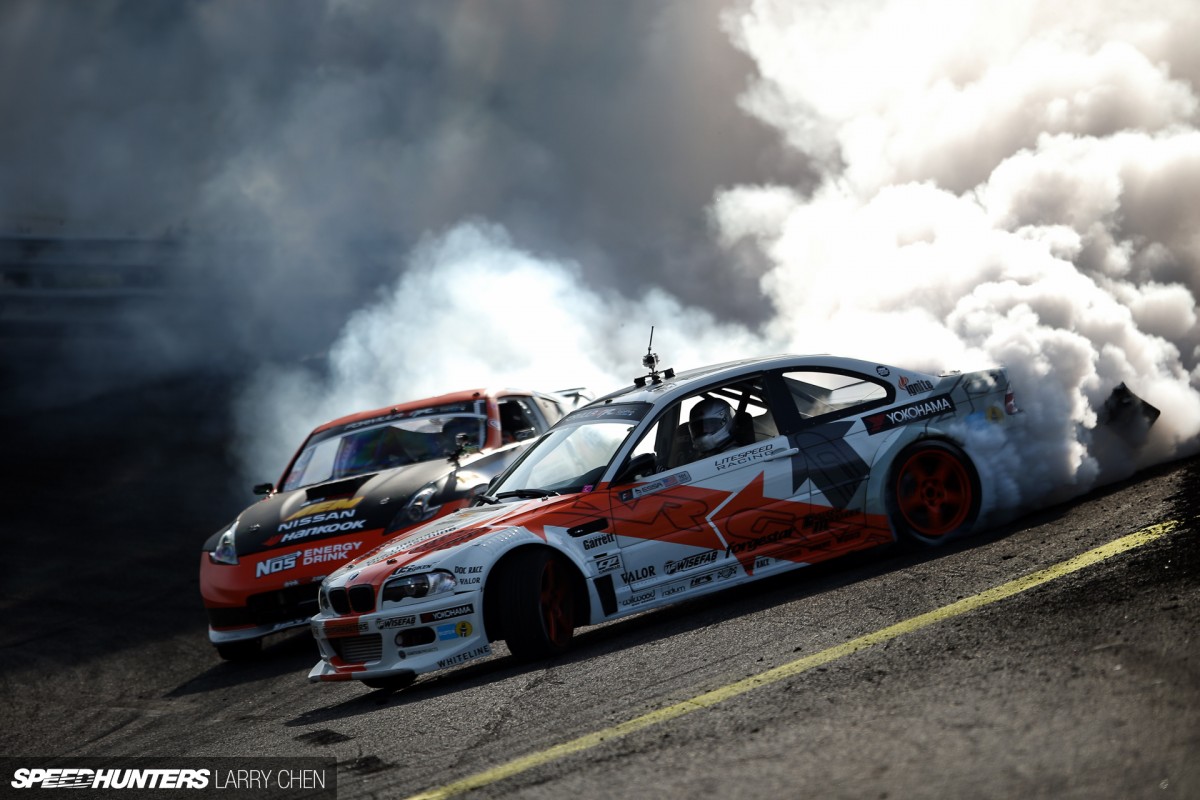 Along with my regular Speedhunting duties, I am the official Formula Drift photographer, and have been since the 2012 season. Back in 2004 when I started taking pictures of drifting, I would have not thought in my wildest dreams that I would end up travelling all over the world following dudes getting sideways in their cars.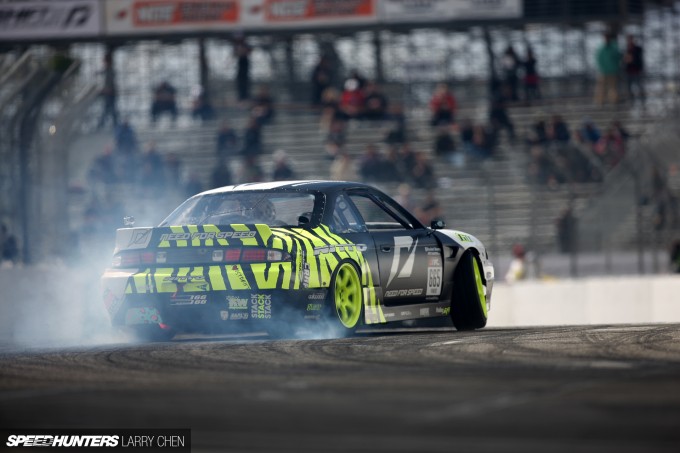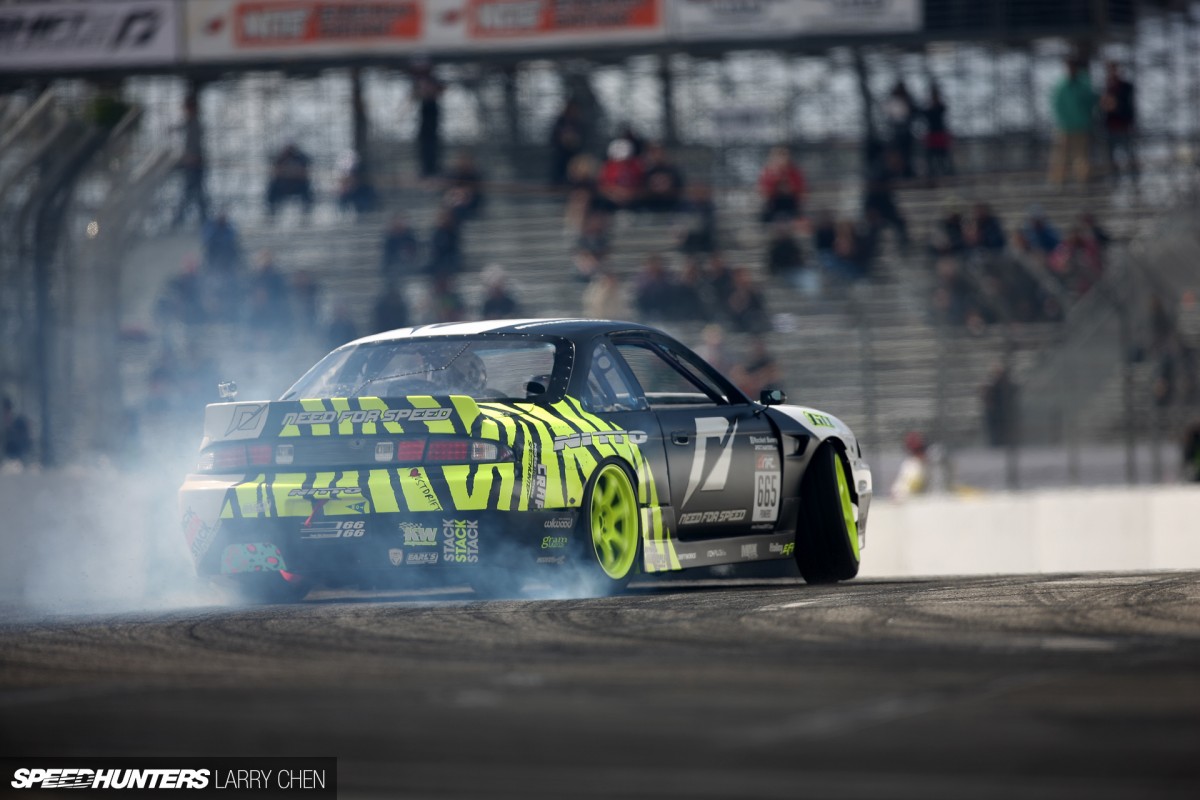 Over the years I have met many key individuals in the community that I now call my friends, including Matt Powers, who of course has stepped back from sport for the time being. People come and go, but I can guarantee that I will be there until the bitter end.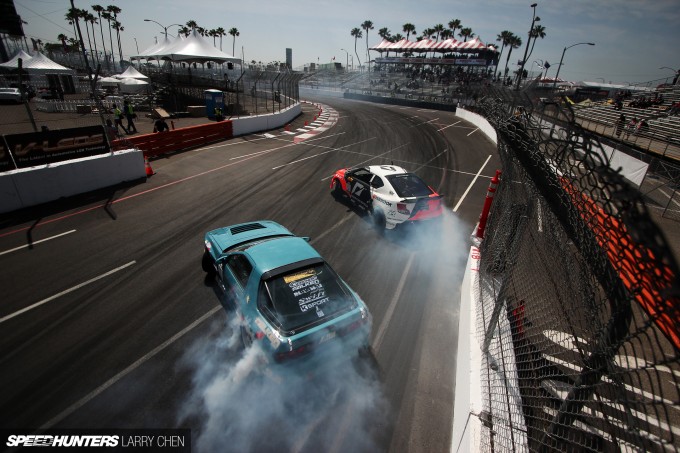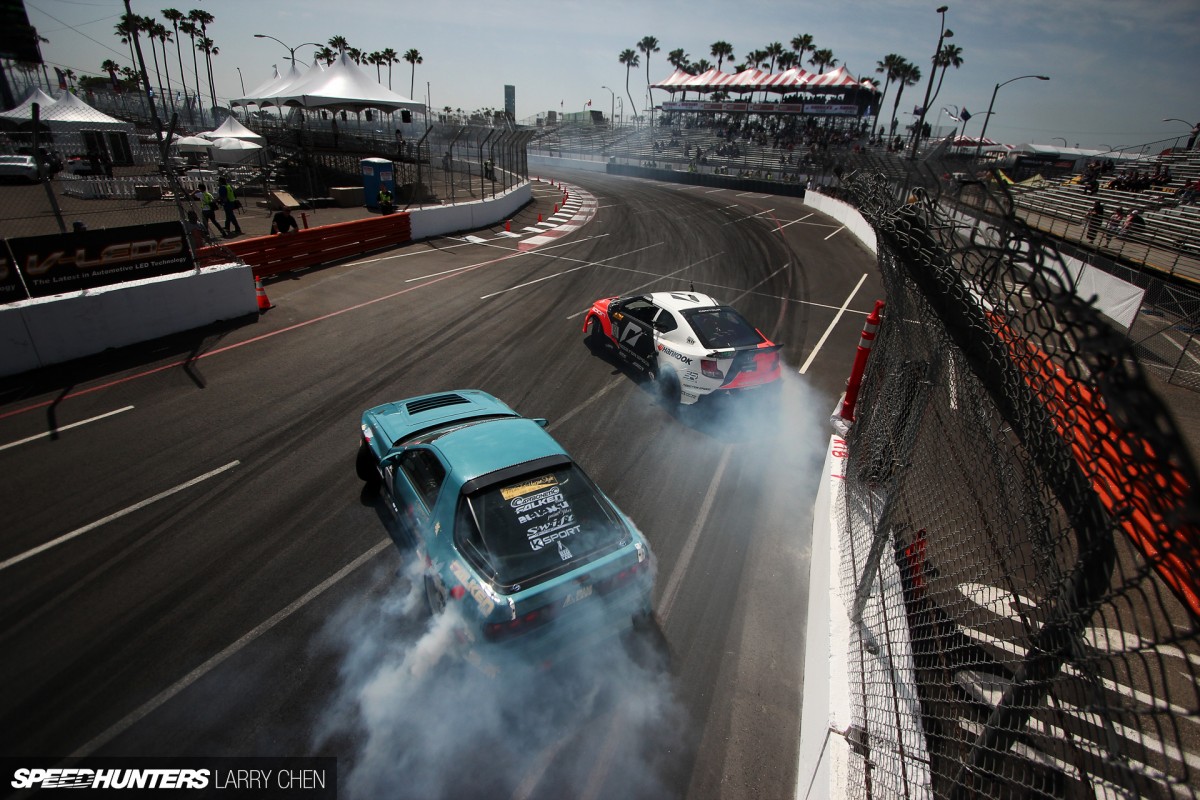 To kick off the 11th season of Formula Drift, I decided it would be a good idea to release a few shots for print that I have taken over the years. And that said, every single one of the images you see in this post is now available to purchase in large format A1 (594mm x 841mm / 24 x 33 inches), or A3 (297mm x 420mm / 12 x 17 inches) size via the Speedhunters Store.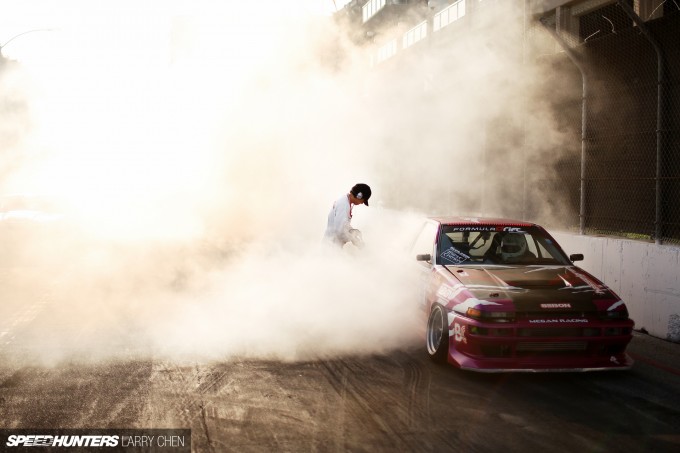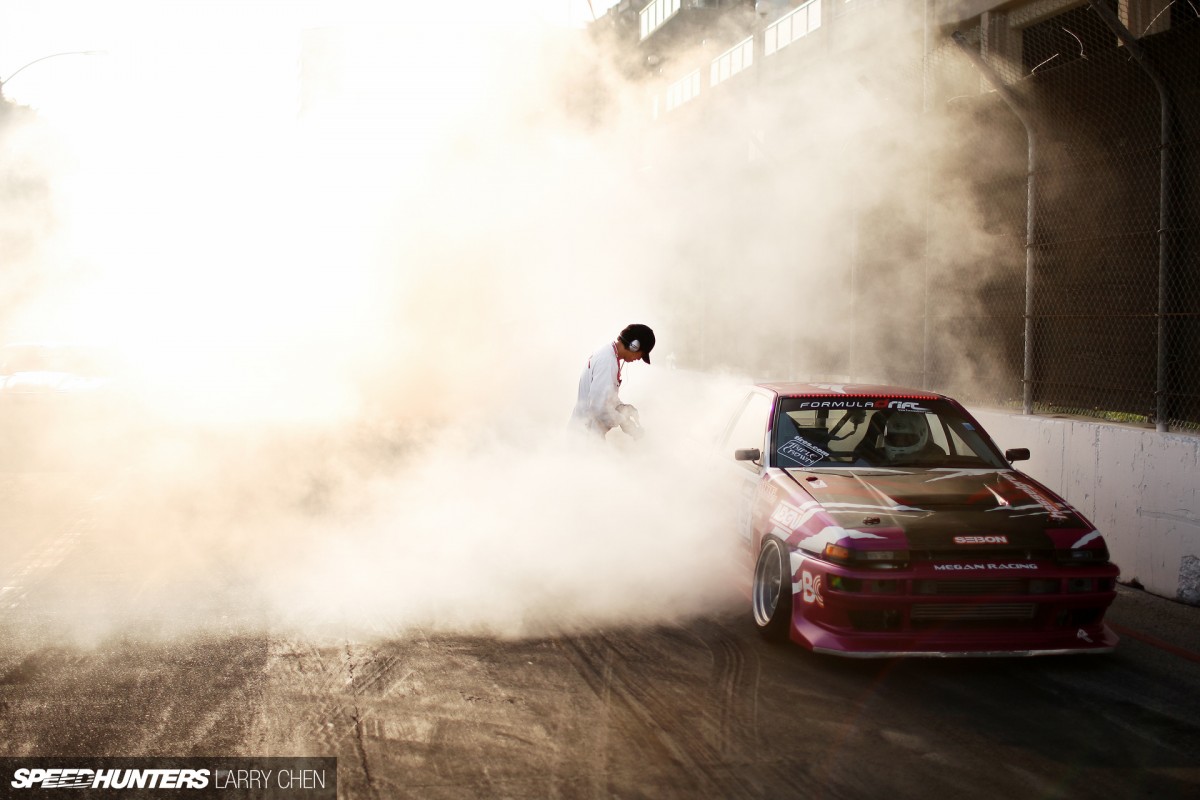 It is the ballet or figure skating of motorsports after all. It's beautiful.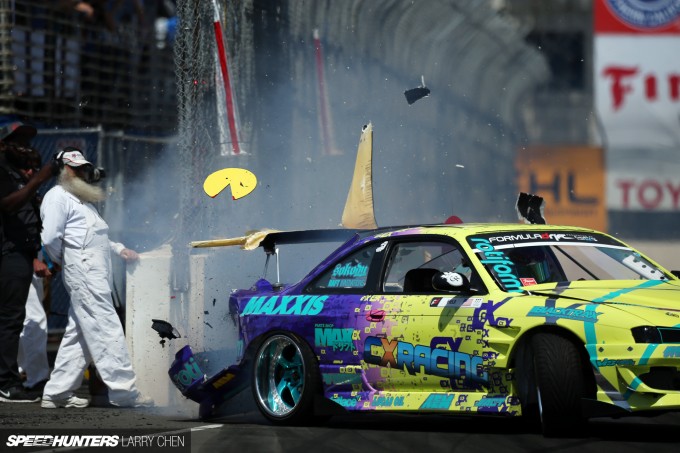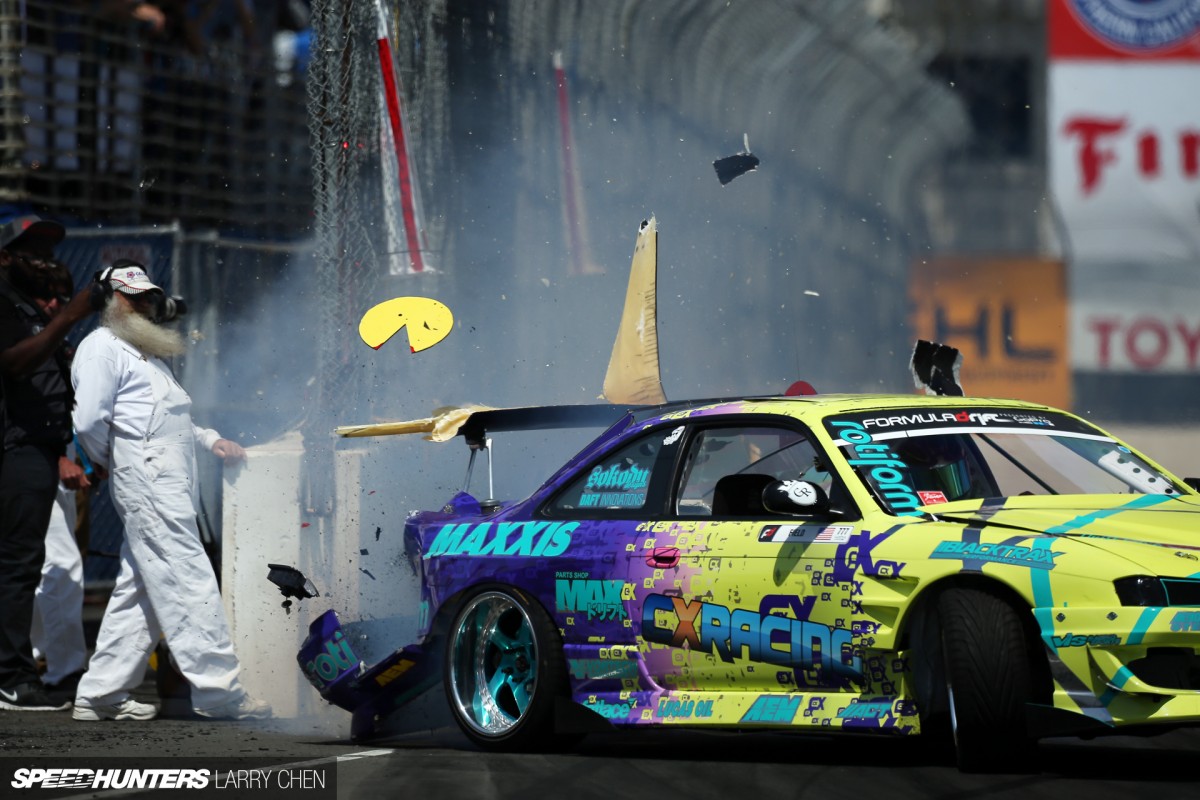 It's also destructive. There goes Ms. Pac-Man. What has she ever done to you Matt Field? Why are you so cruel?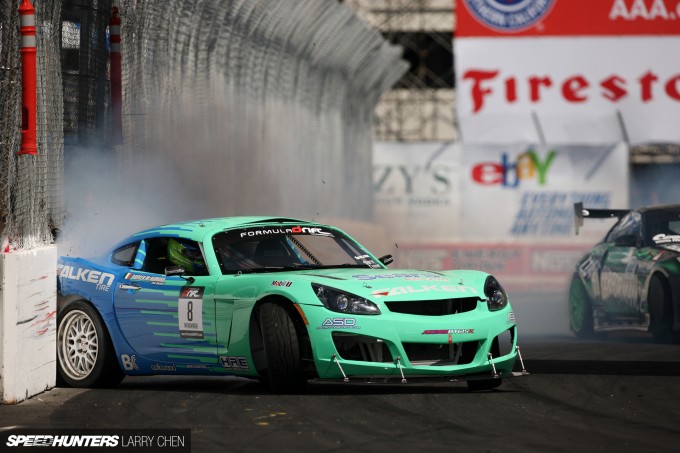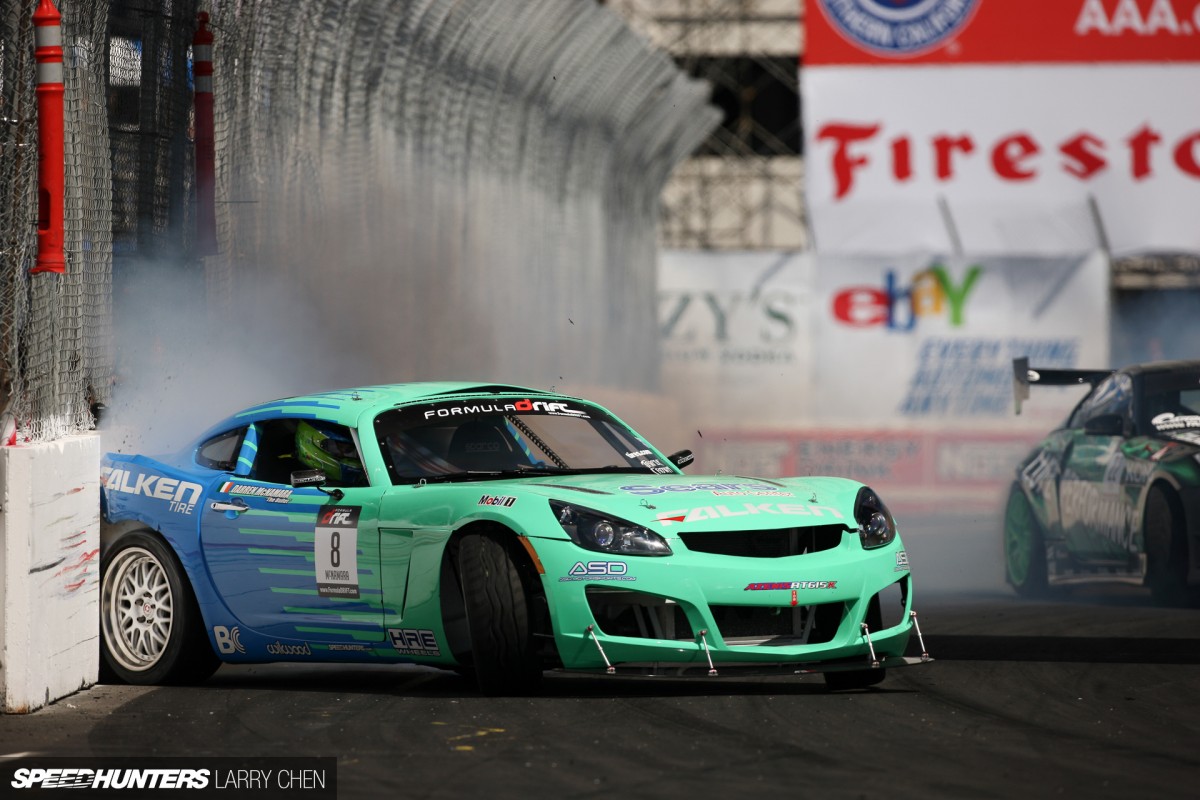 Yes, very destructive indeed. I think the Saturn Sky drift cars driven by Darren McNamara were some of the best looking cars to ever grace this sport.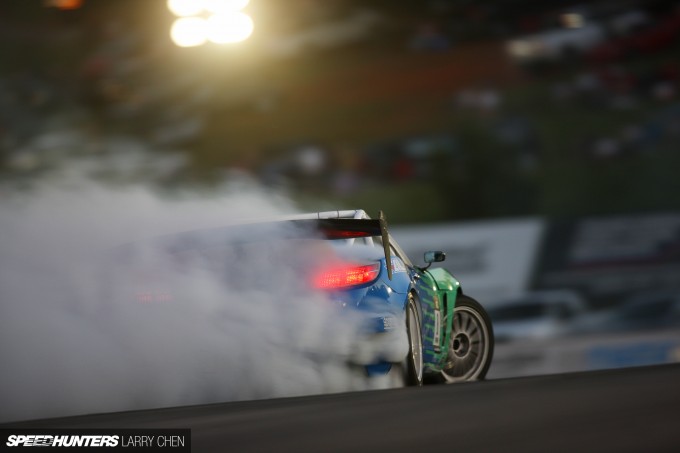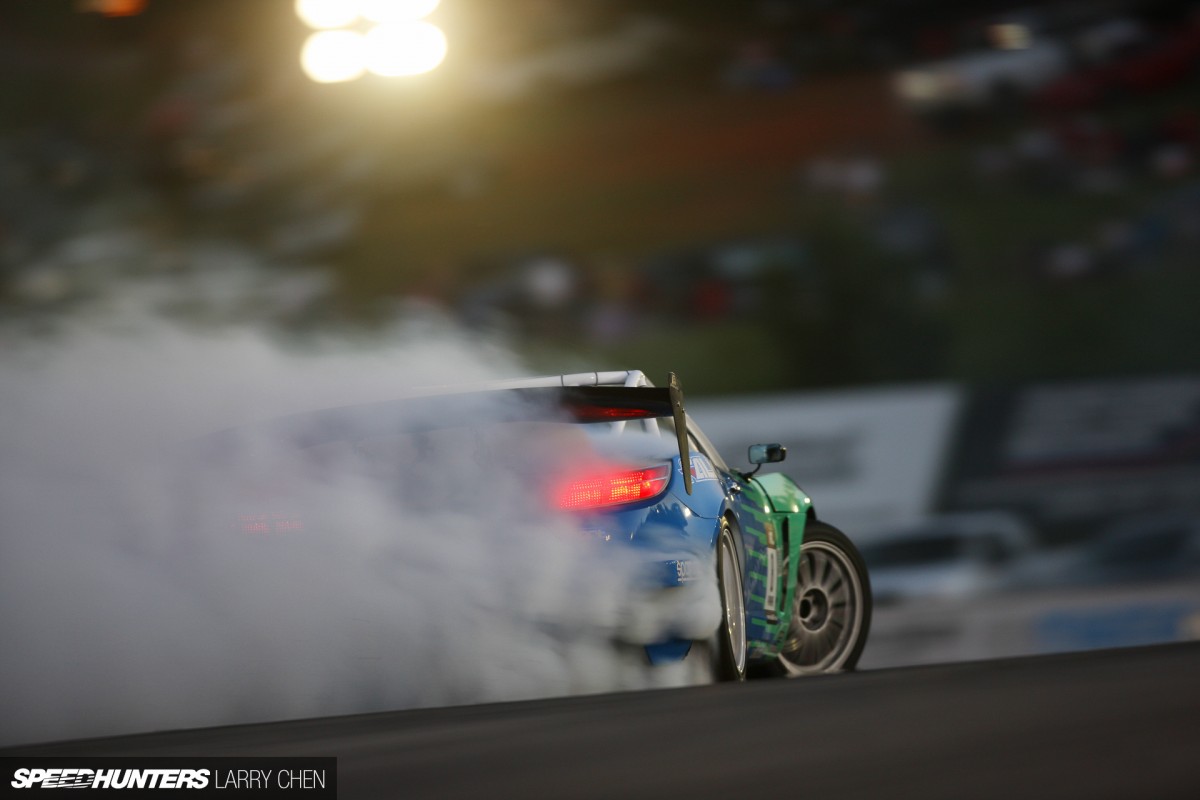 They were driven proper hard, which resulted in some of my all-time favorite photos from Formula Drift.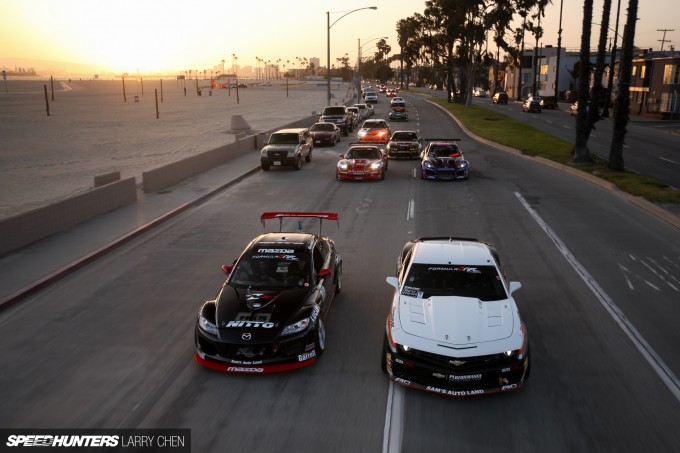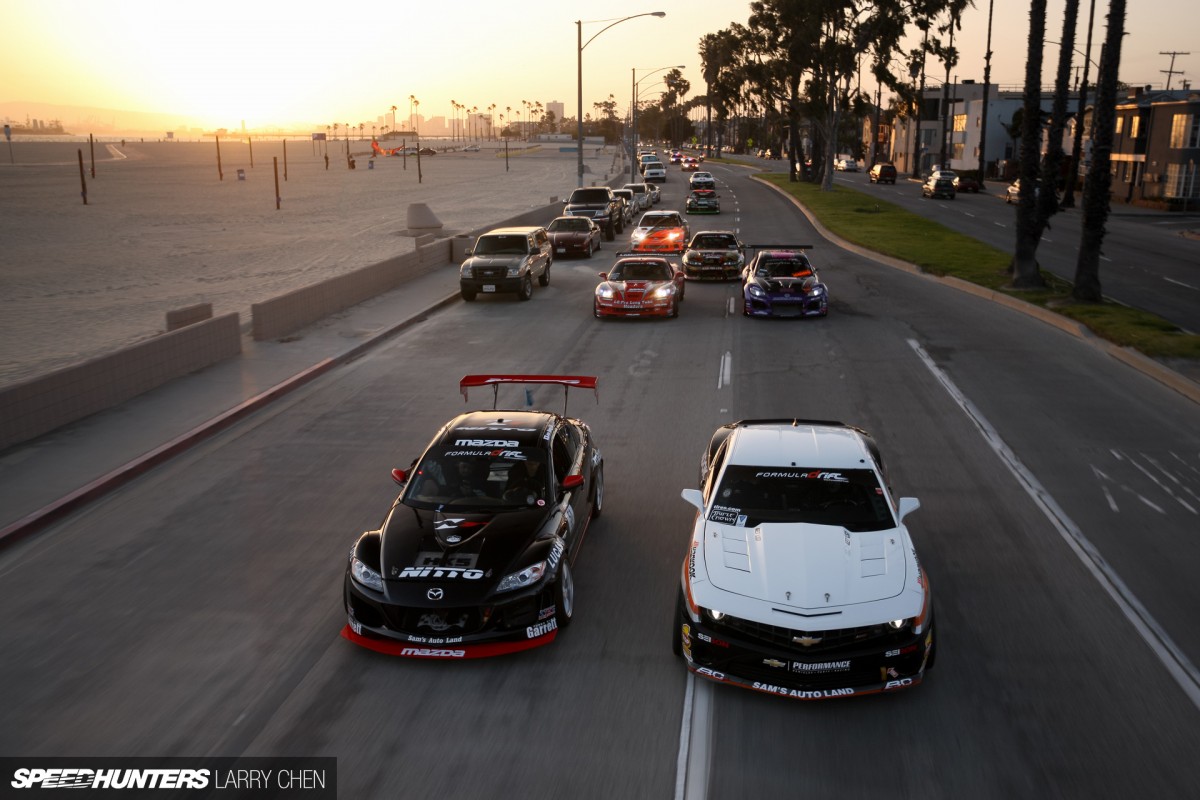 I love this sort of thing and I wish Formula Drift would do it more often. There's something about seeing pro drift cars on the street that is so right.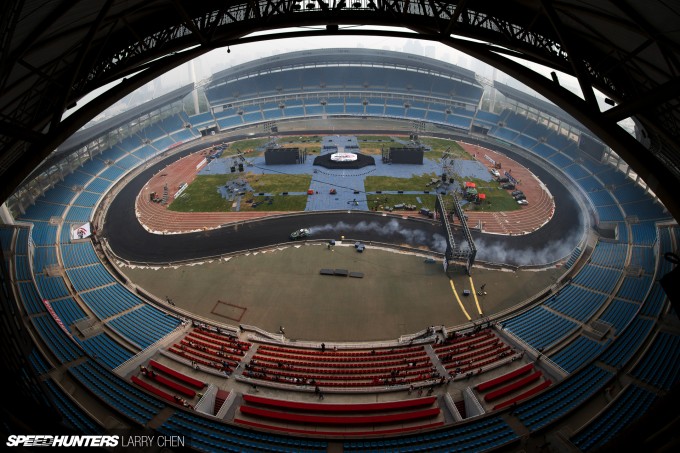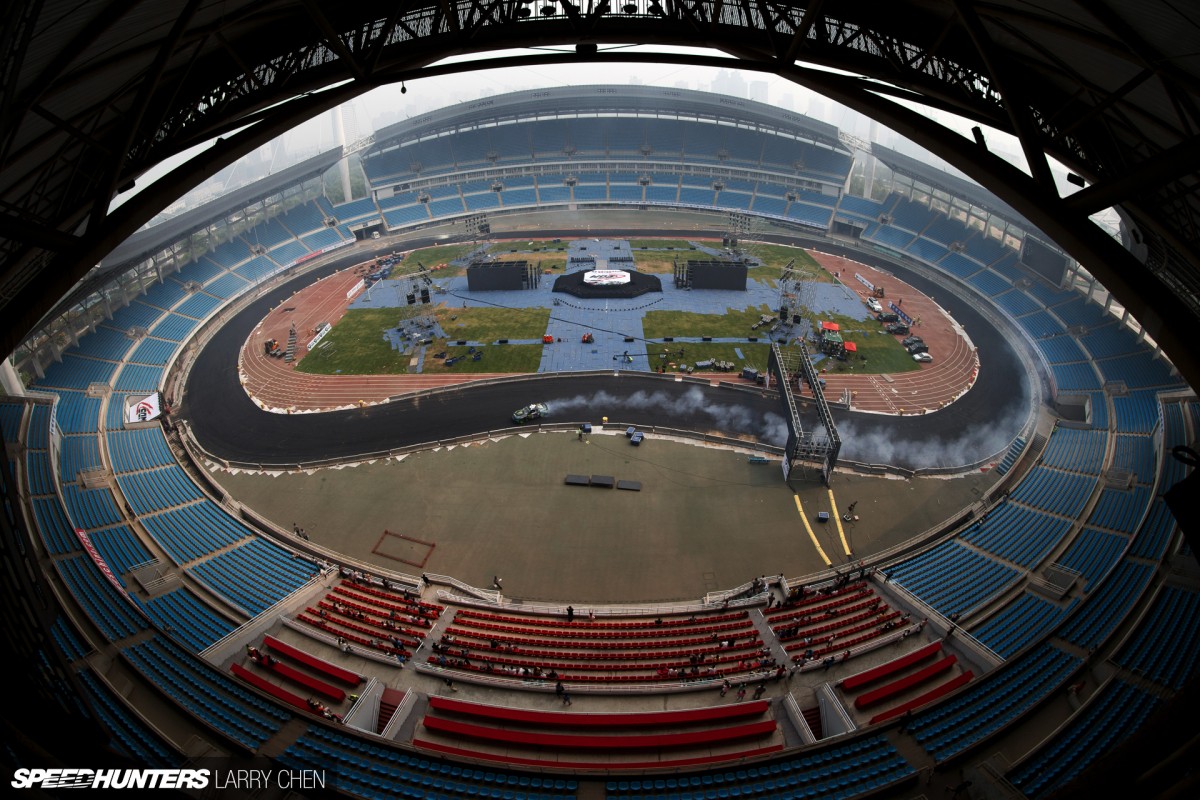 Along with FD in North America, I've shot drifting in many other countries. Off the top of my head, that's included China, Thailand, South Africa, Ireland, England, Malaysia, Japan, Germany, Australia, Norway and the UAE.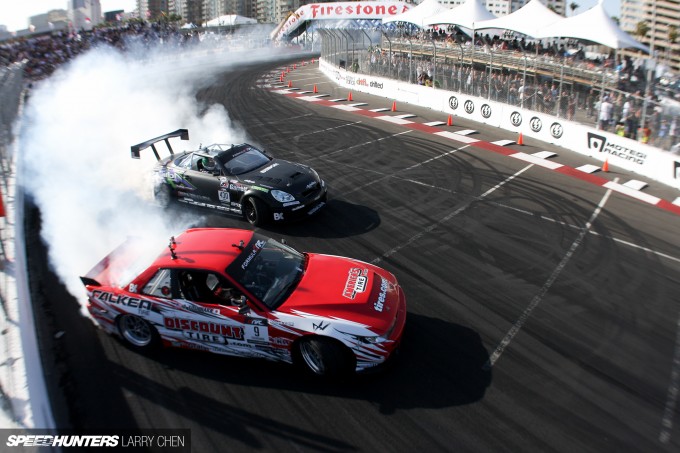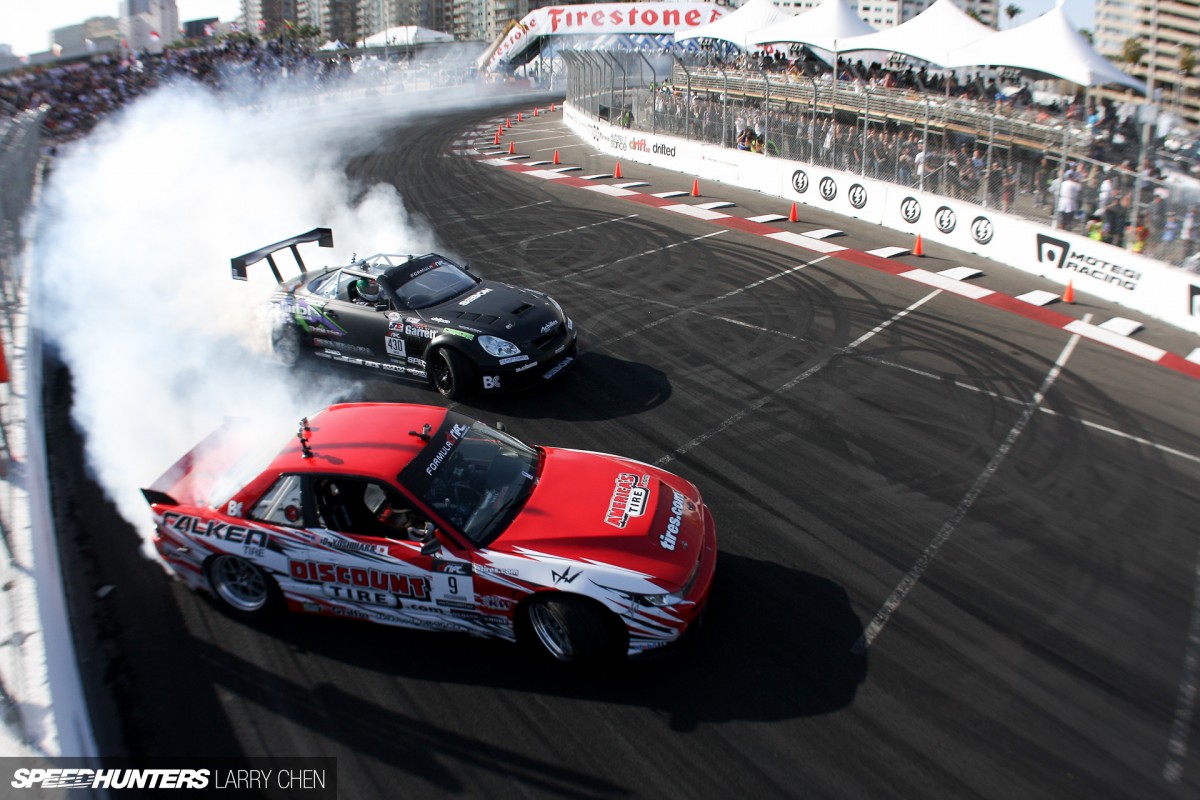 Still, I don't think anything compares to the level of competition in Formula Drift.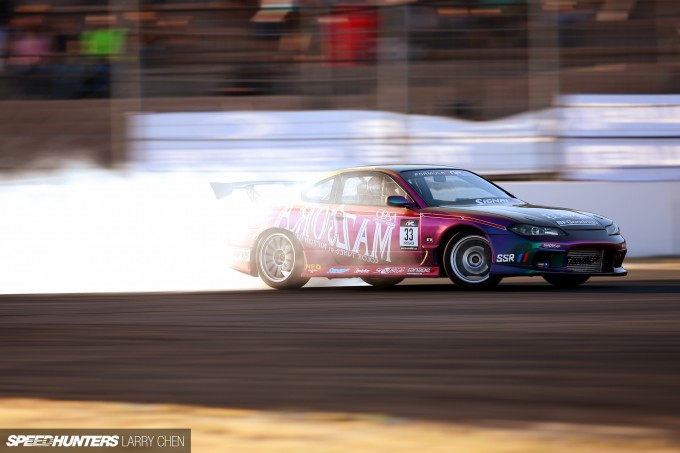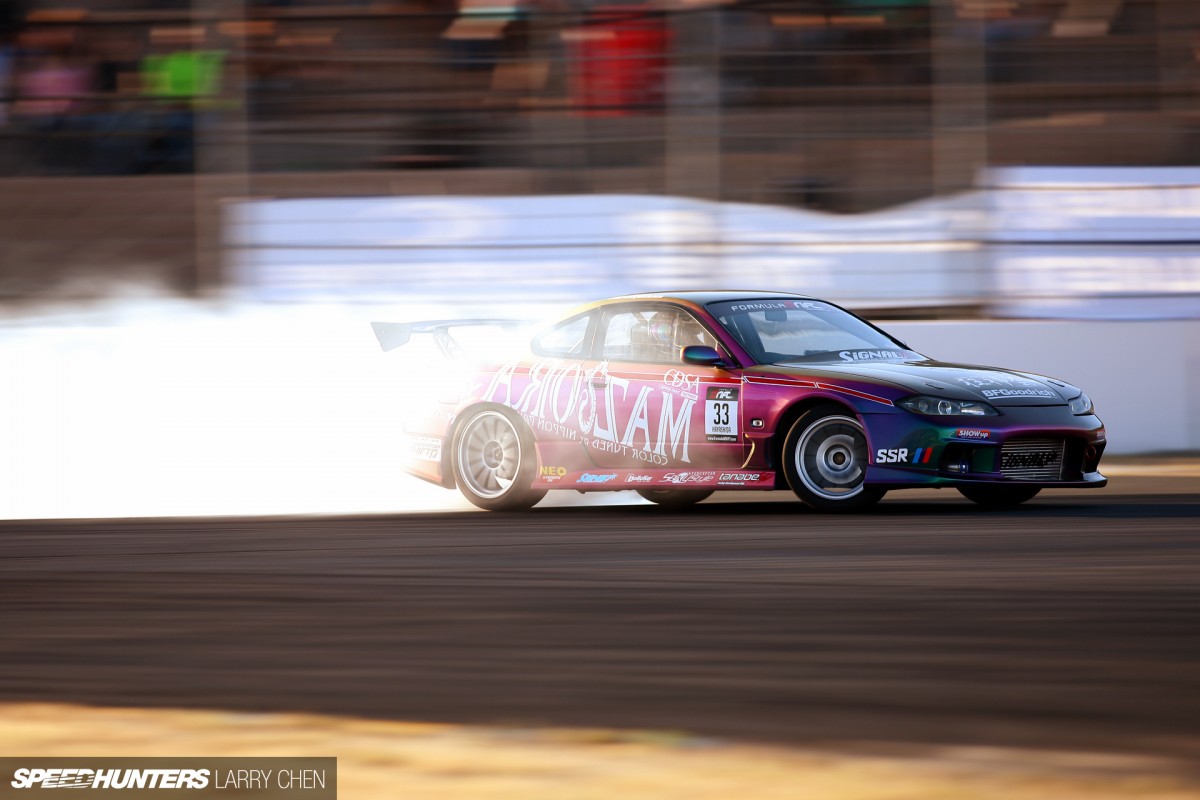 The best drivers from all over the world want to come over and compete with talented FD drivers.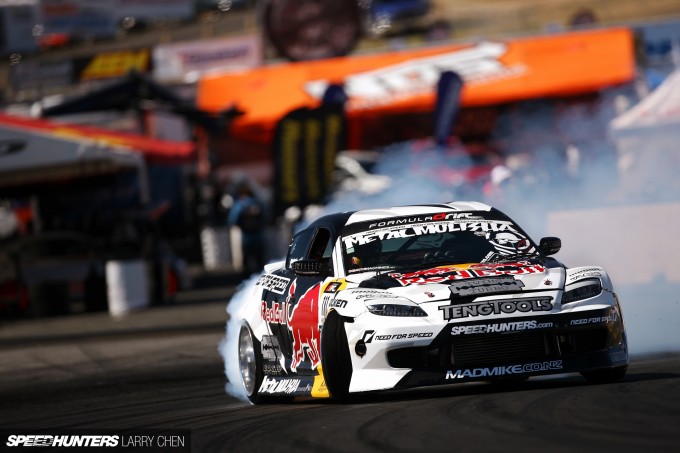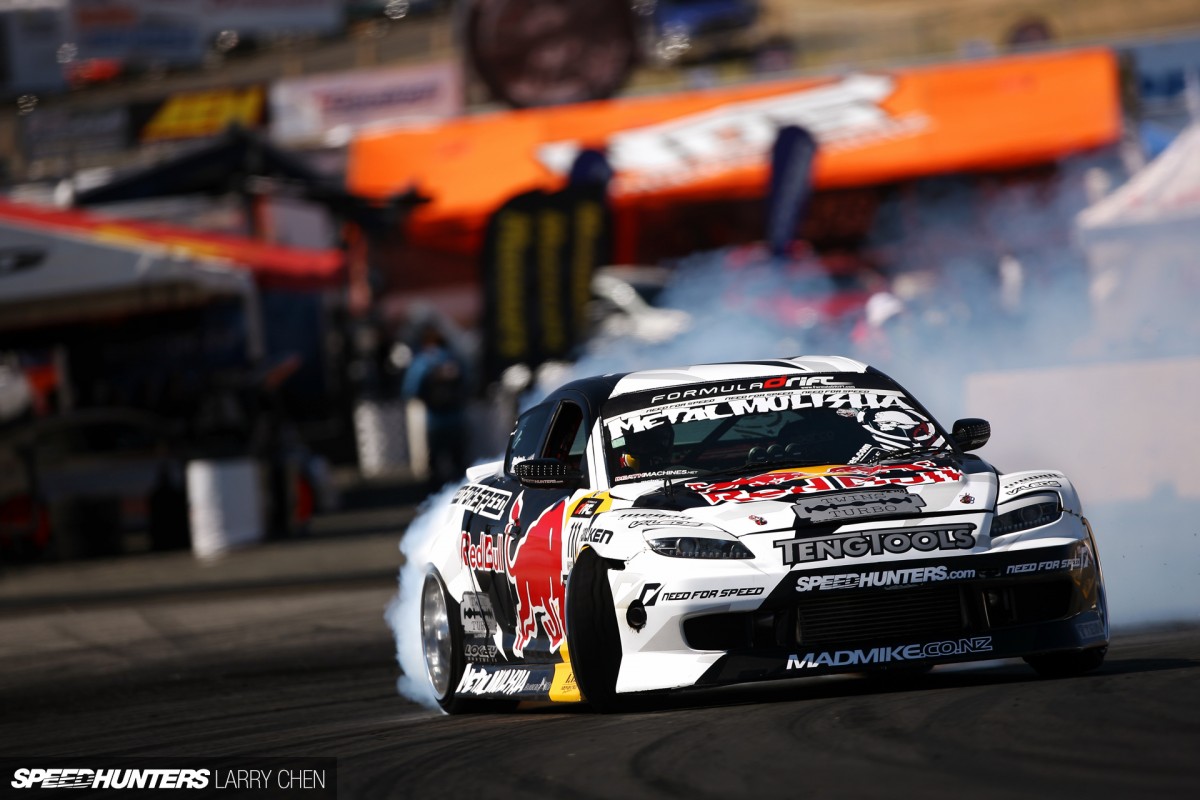 I shot this back in 2010 at Infineon Raceway. The drivers hated that track for drifting and the paddock was too small, but I loved it.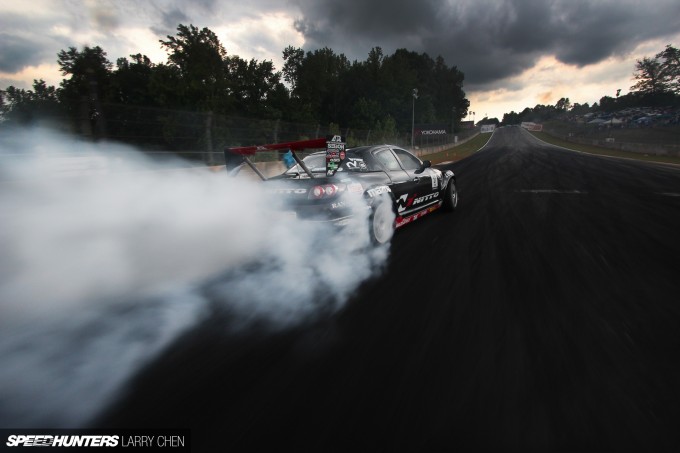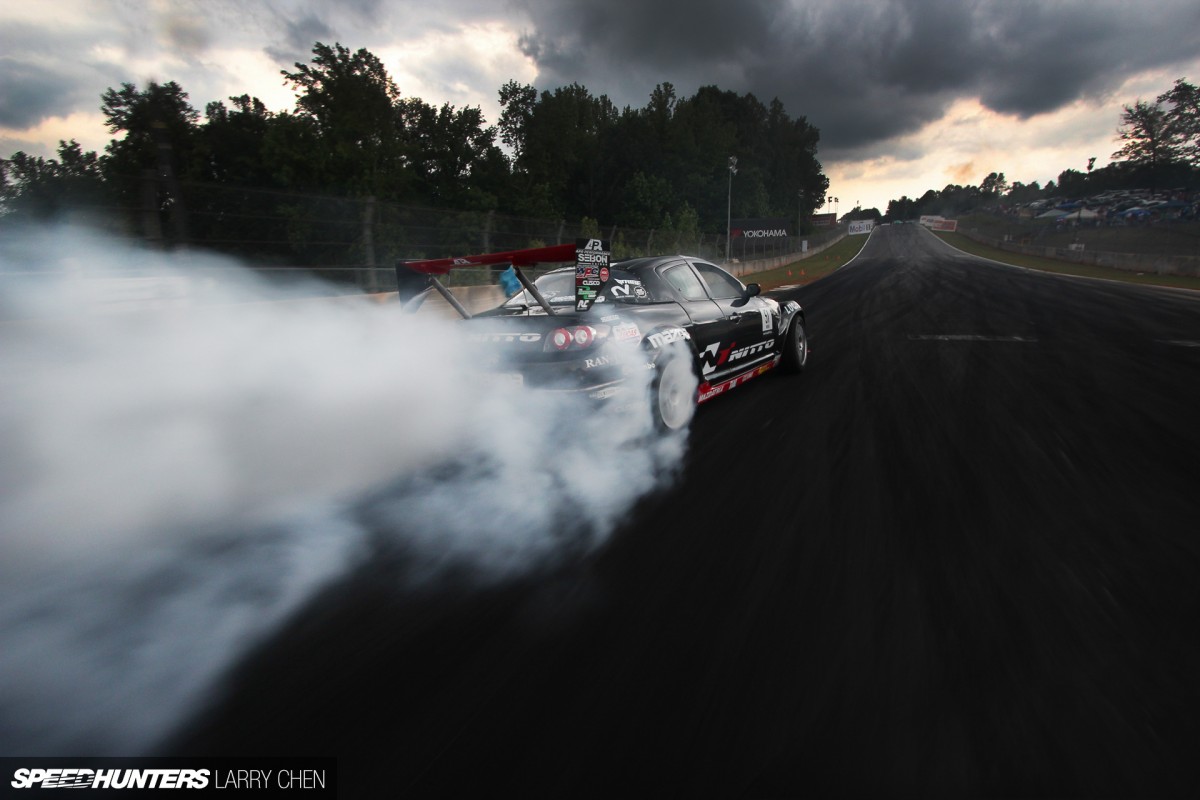 Teams come and go, but with photographers like myself there to capture it, the legacy that they've left behind is forever.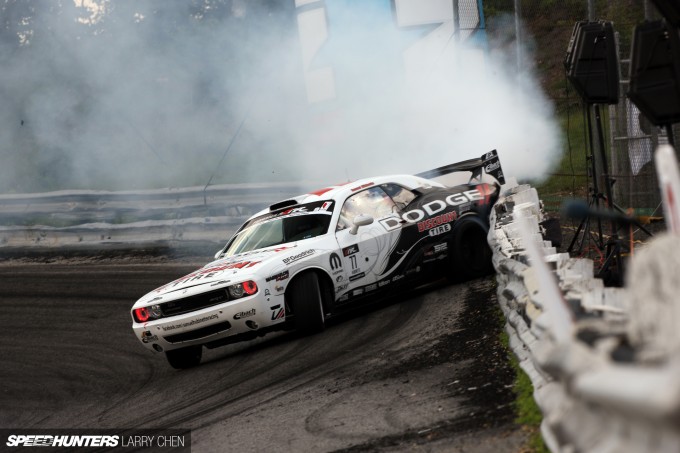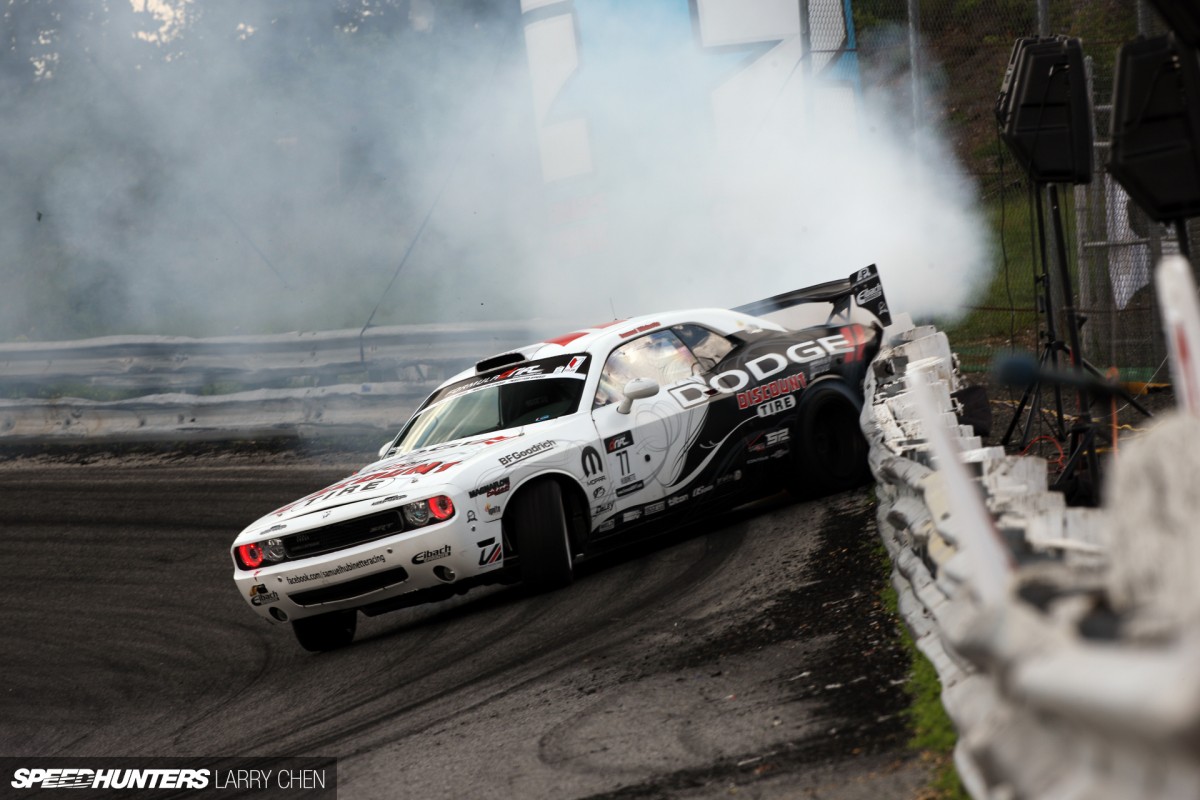 After driving for so many years, Kenny Moen finally got his first podium this past weekend. The skill has always been there and I guess the stars just had to align for him to nab that 2nd place step.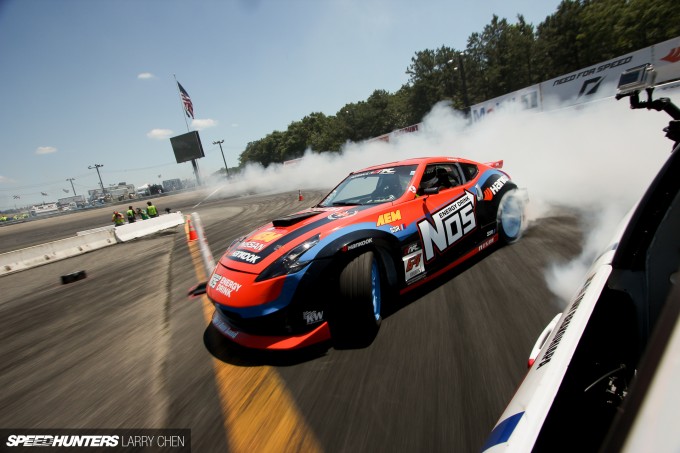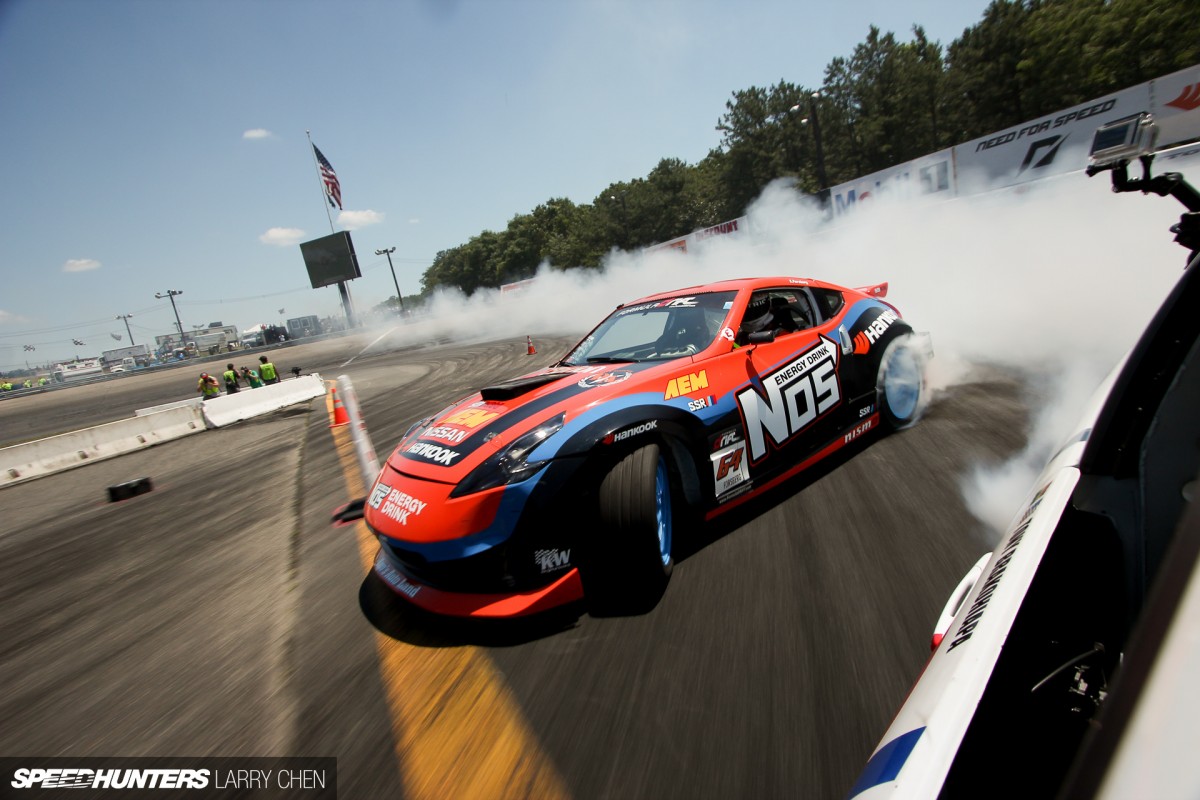 It's crazy to think that there are still a handful of drivers who have been with the series since the very first event. Drivers like Chris Forsberg have made it to every one of them, which is 65 Pro championship rounds spread over the course of 11 years.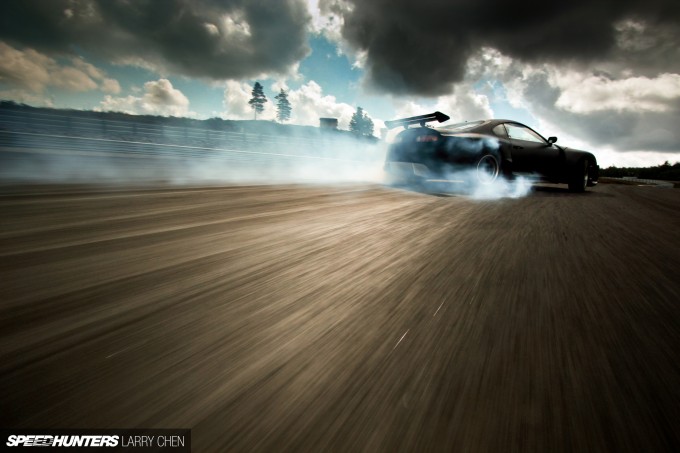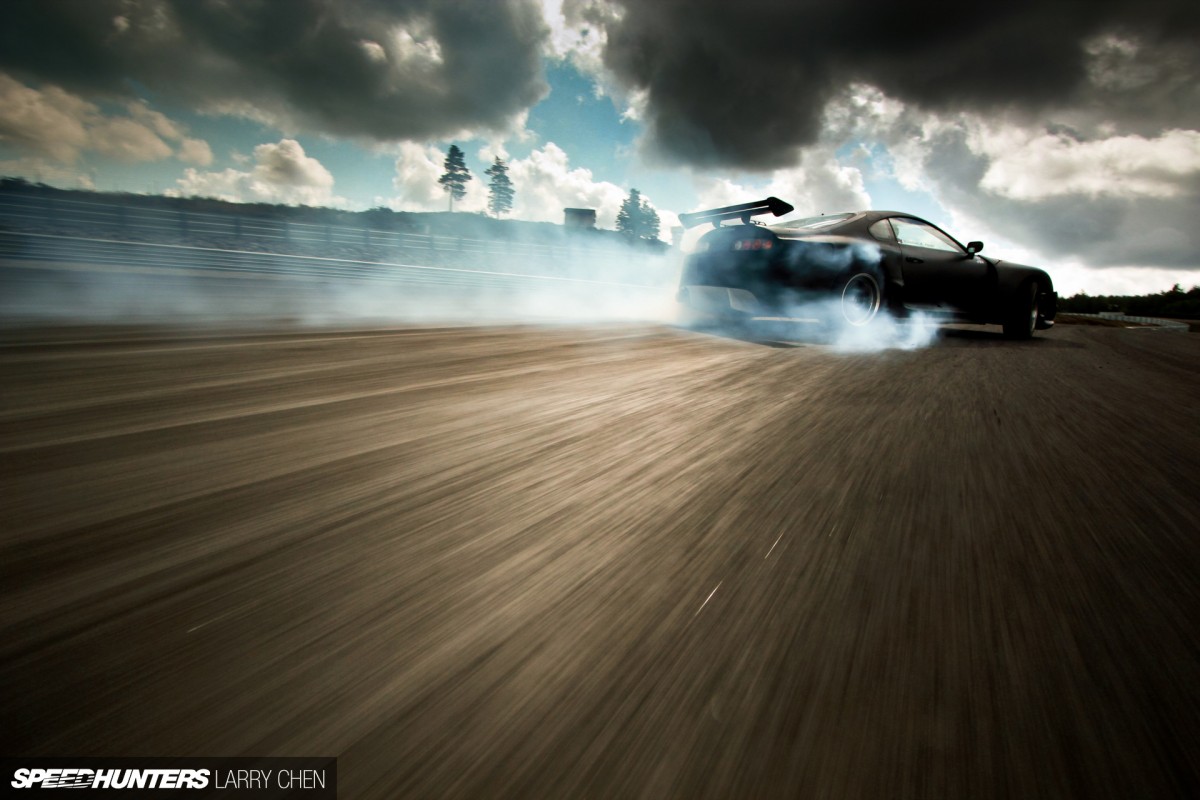 So much has happened since I snapped this photo in 2011 at Gatebil Rudskogen.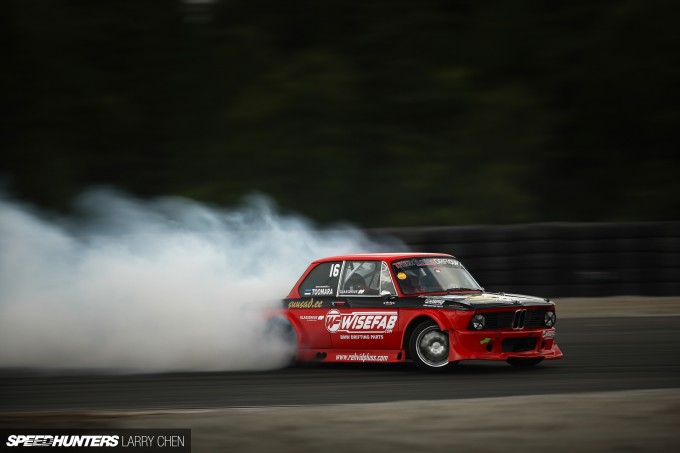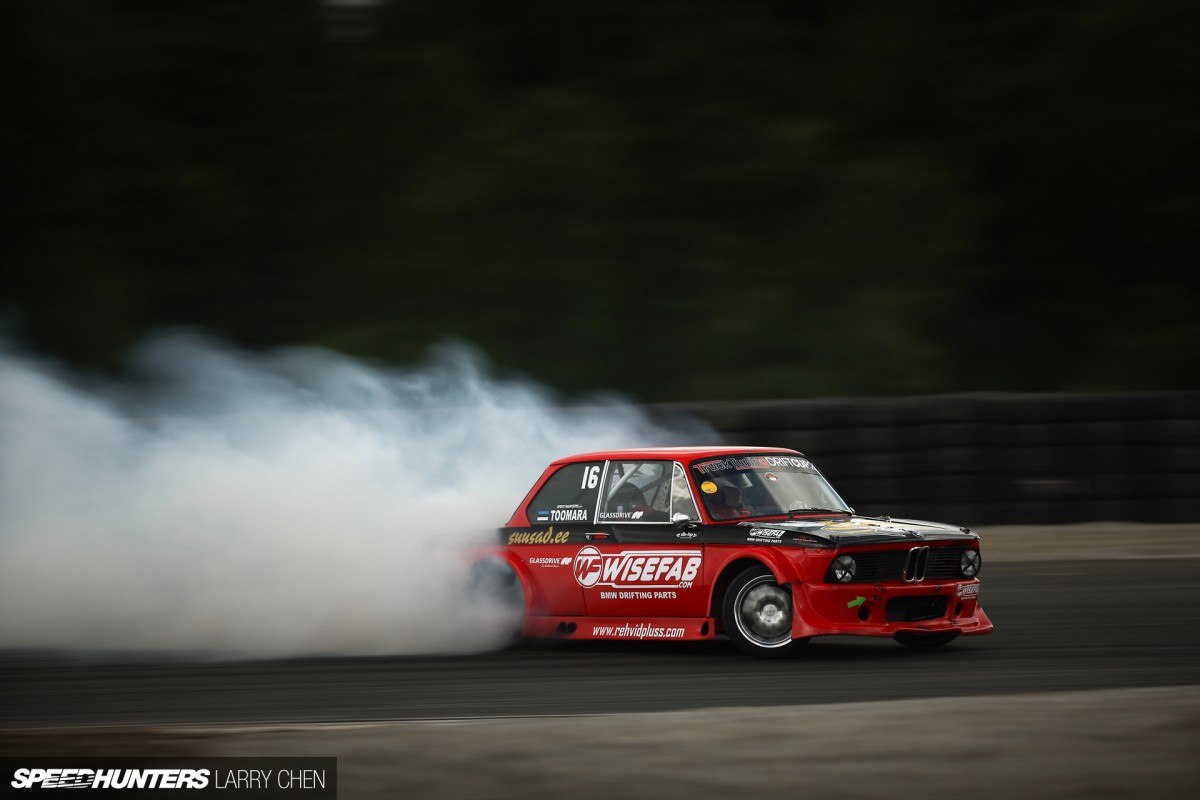 Not only has the festival has grown exponentially, it's garnered quite a bit of international recognition.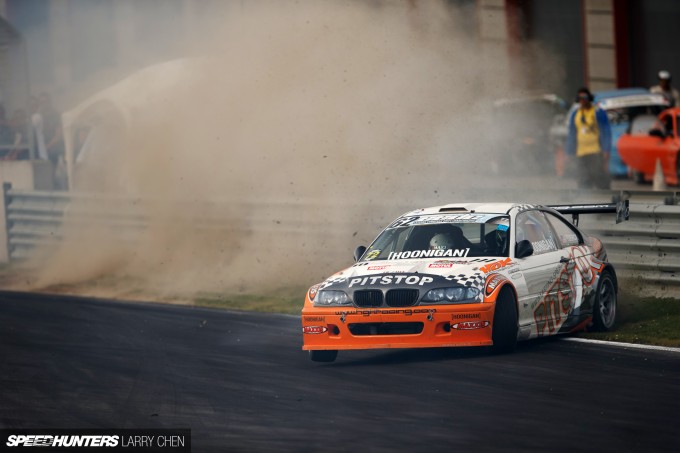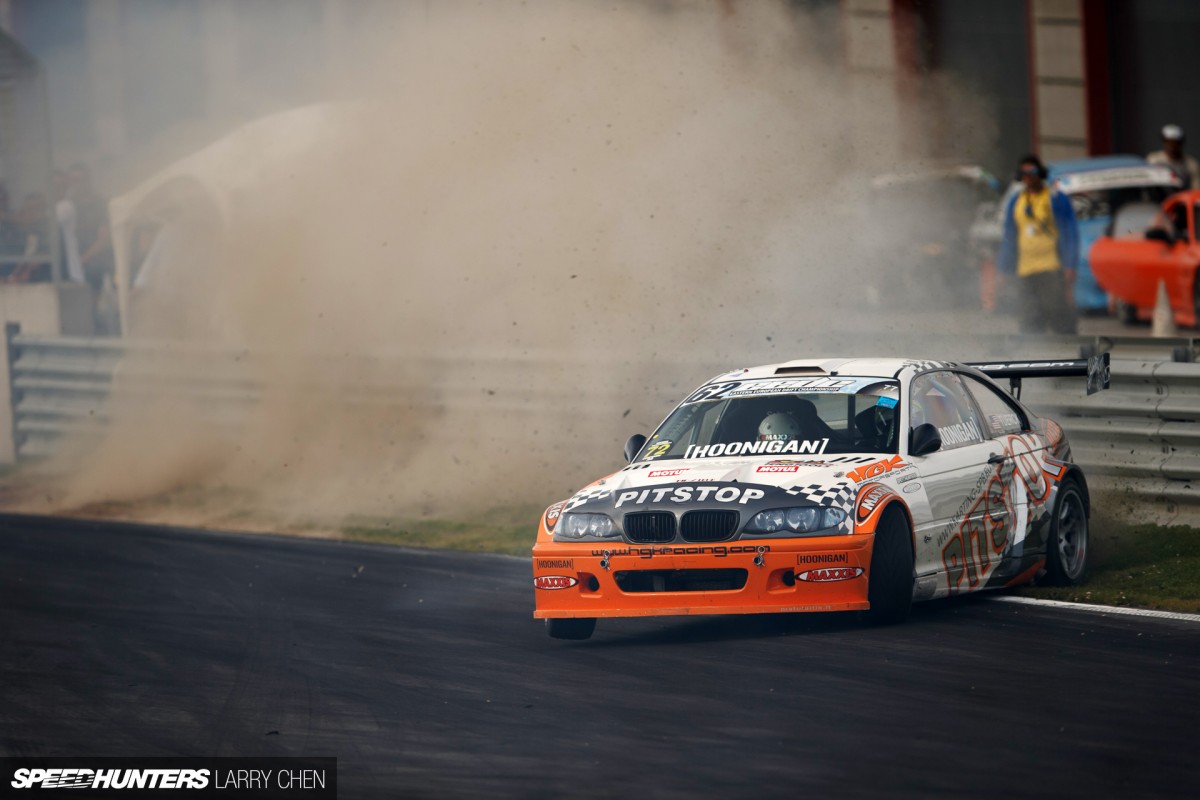 Every year it seems more and more star FD drivers are making their way over to the epic event.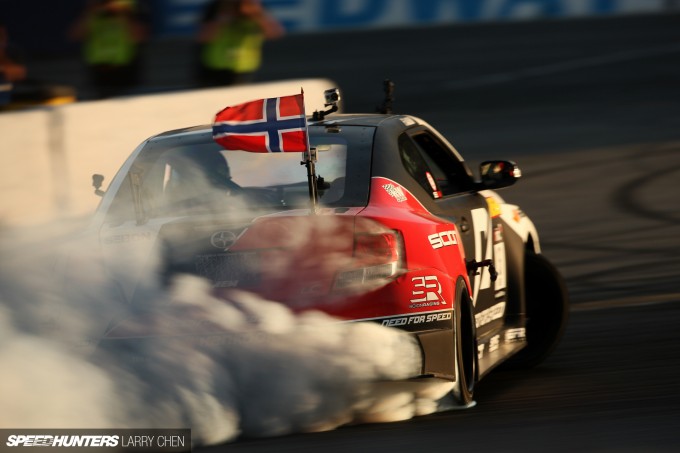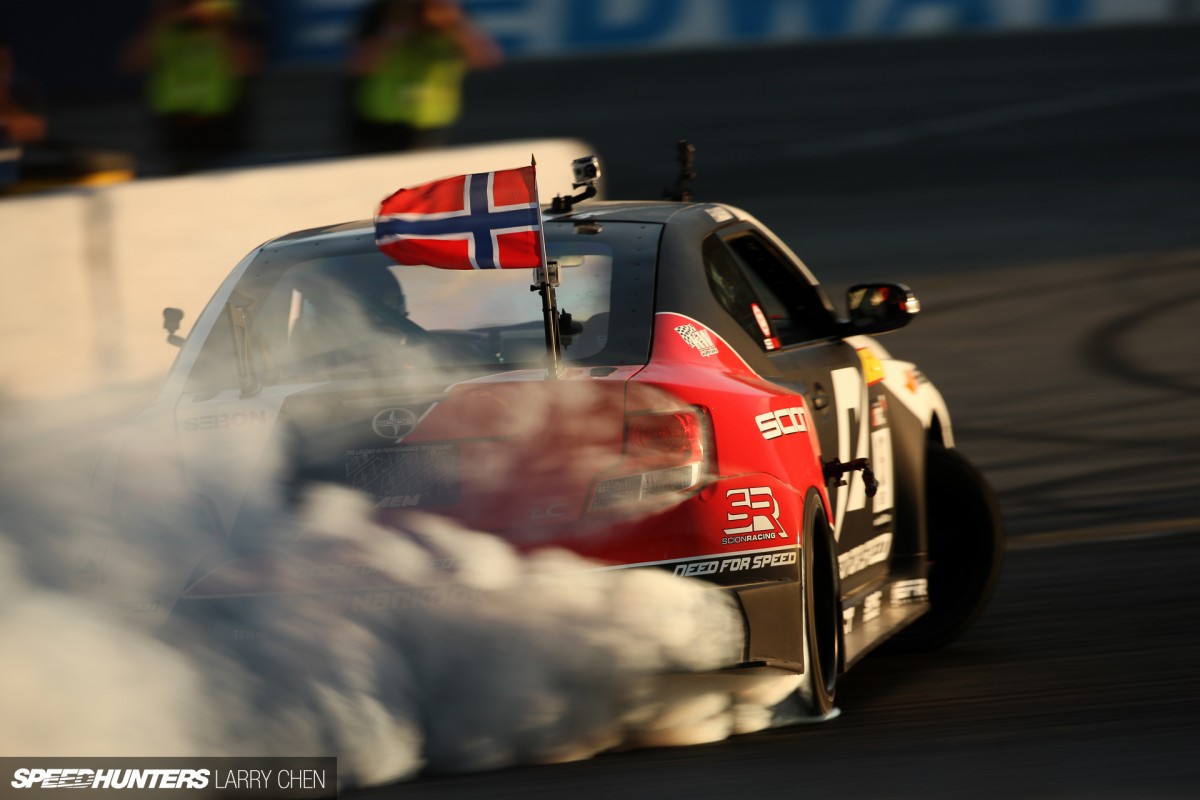 Of course, it helps that Gatebil has the ultimate unofficial ambassador in Fredric 'The Norwegian Hammer' Aasbø.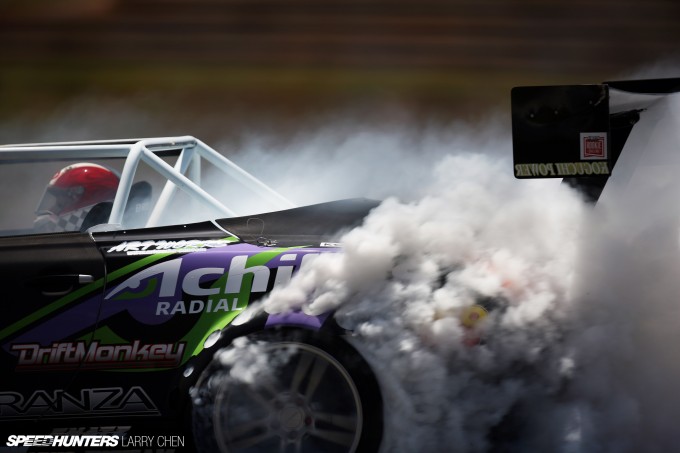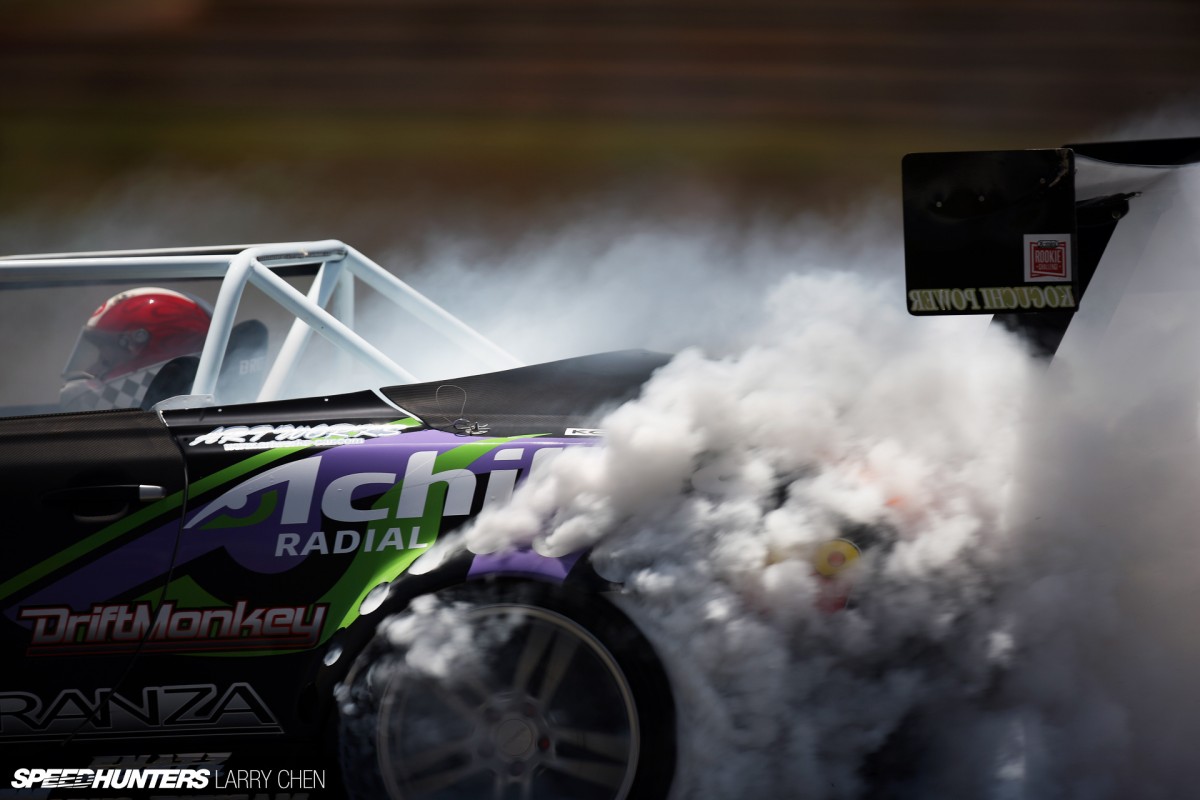 In recent years drifting has grown so much thanks to this ultimate tire shredder too. I just love the way the chunks of smoke escape from all the orifices of Daigo Saito's Lexus SC430.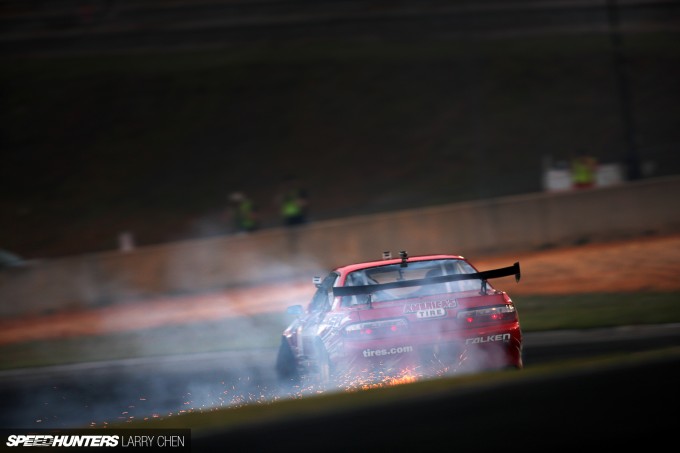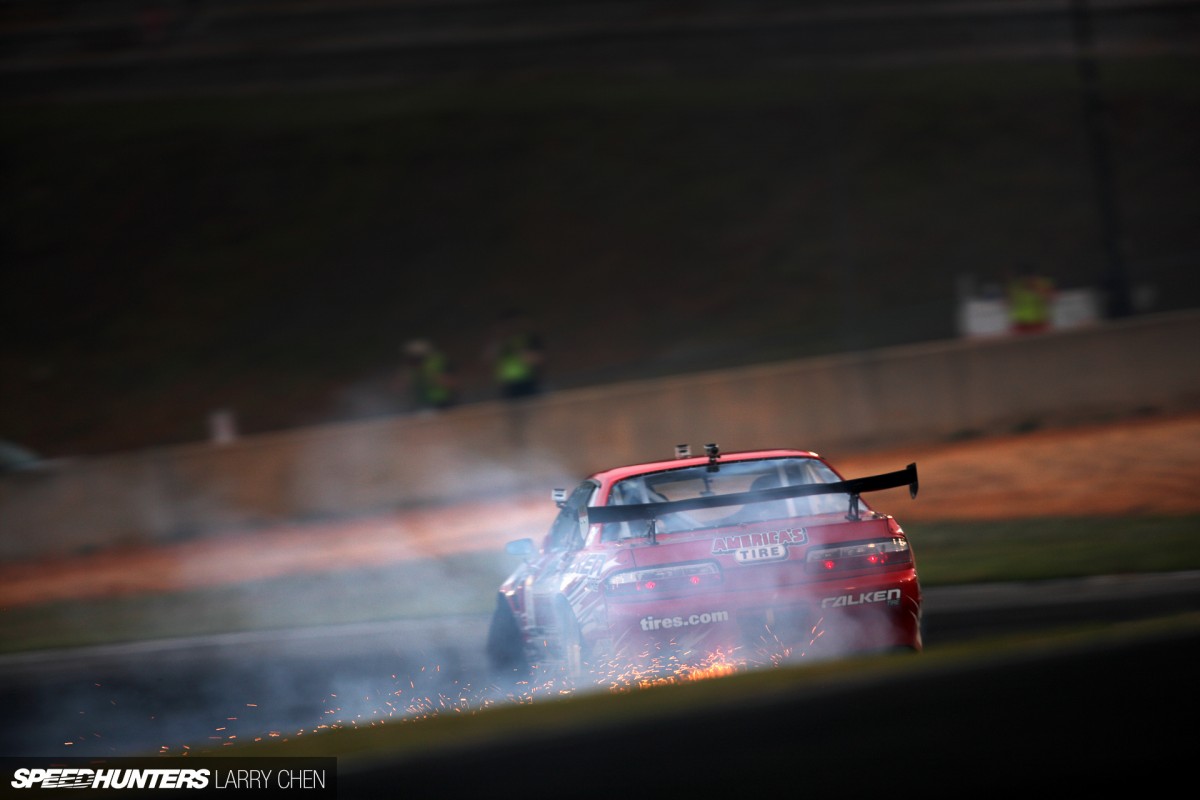 Just like in most forms of motorsports, if your car is damaged or not functioning properly, you continue to drive to your best abilities. This was a perfect example of Daijiro Yoshiara's car in limp mode, but he was still pushing super-hard to finish the course.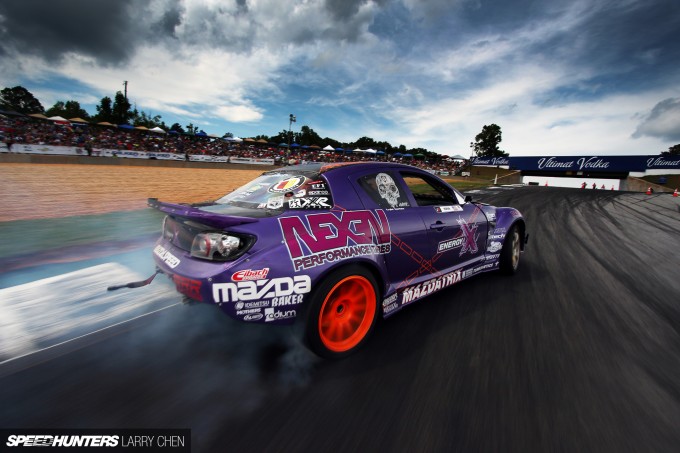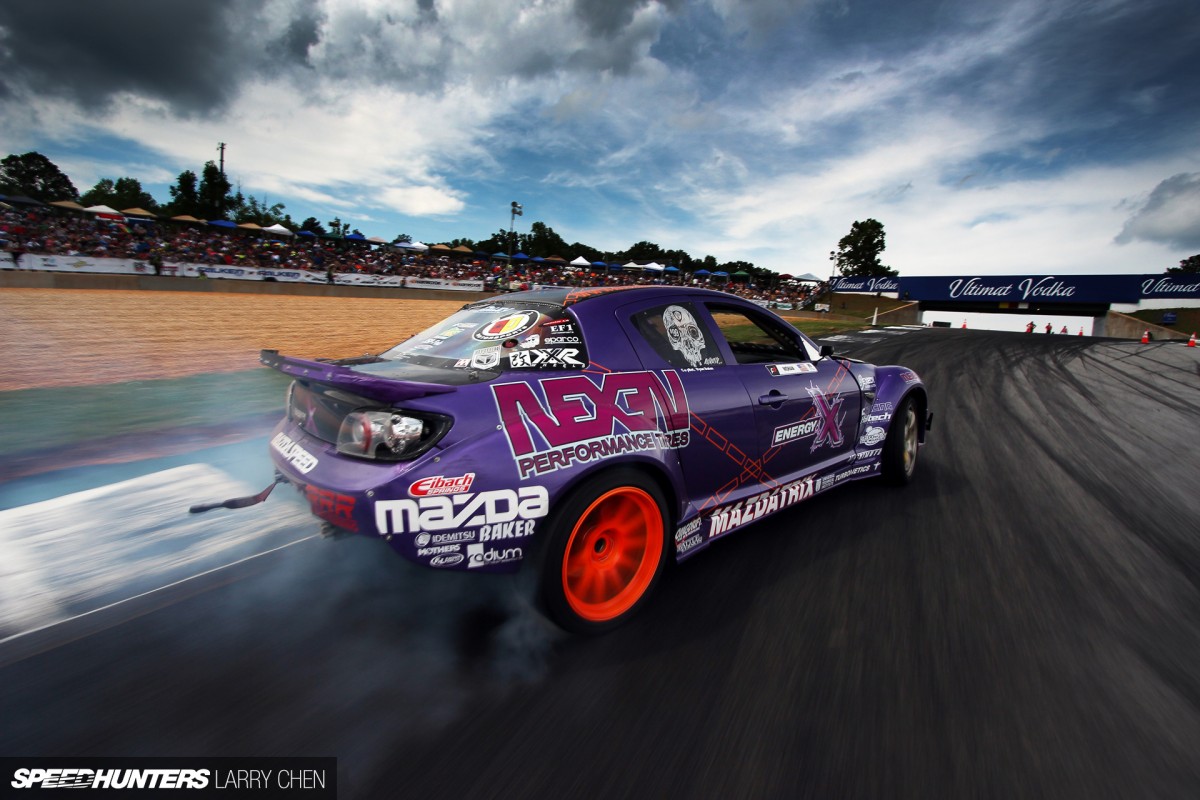 By now you guys will know that remote shots are my guilty pleasure. I just love the way it captures a car in drift from the chase car's perspective.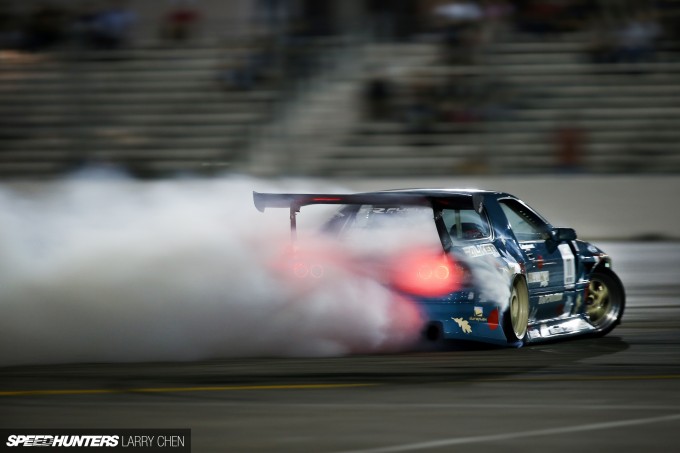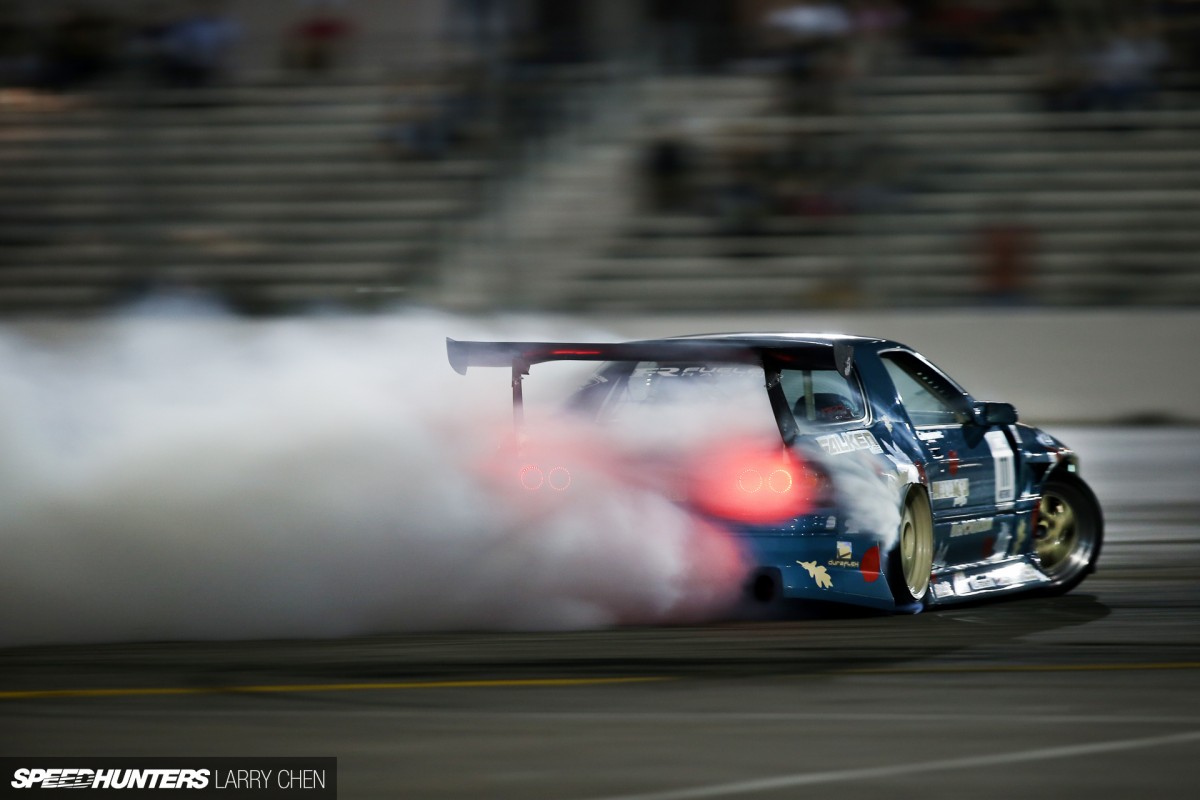 One of the coolest aspects of the sport is the fact that it is still relatively accessible. Sometimes privateers are the most interesting guys to follow, and have some of the coolest looking cars.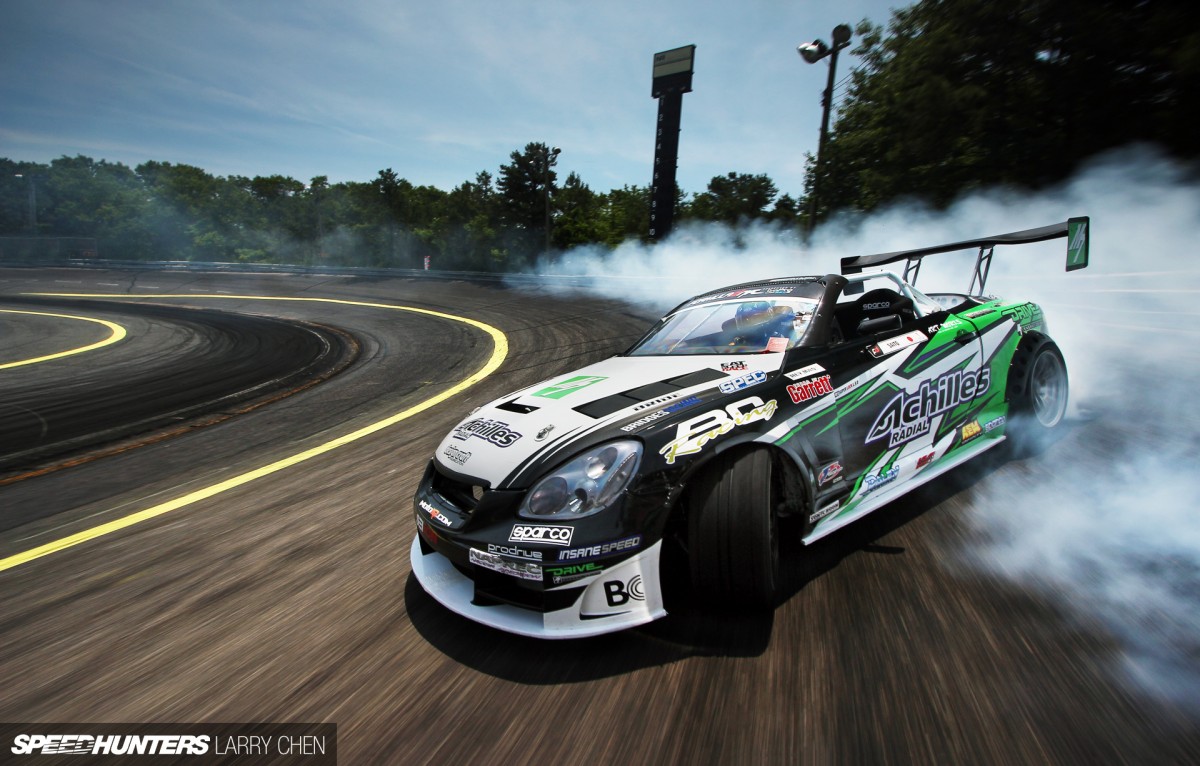 Even though I may not always agree with some of the more extravagant liveries in drifting, I have to hand it to teams who find the right balance.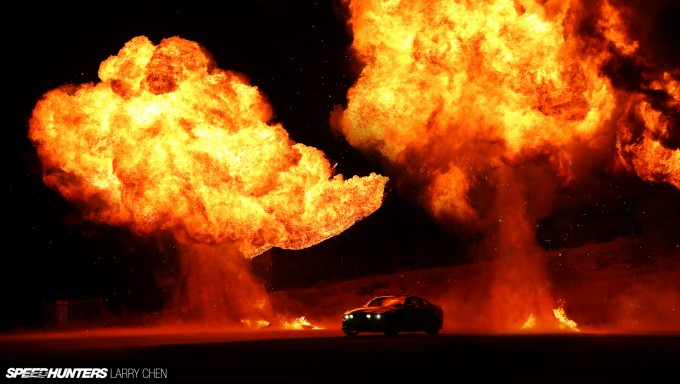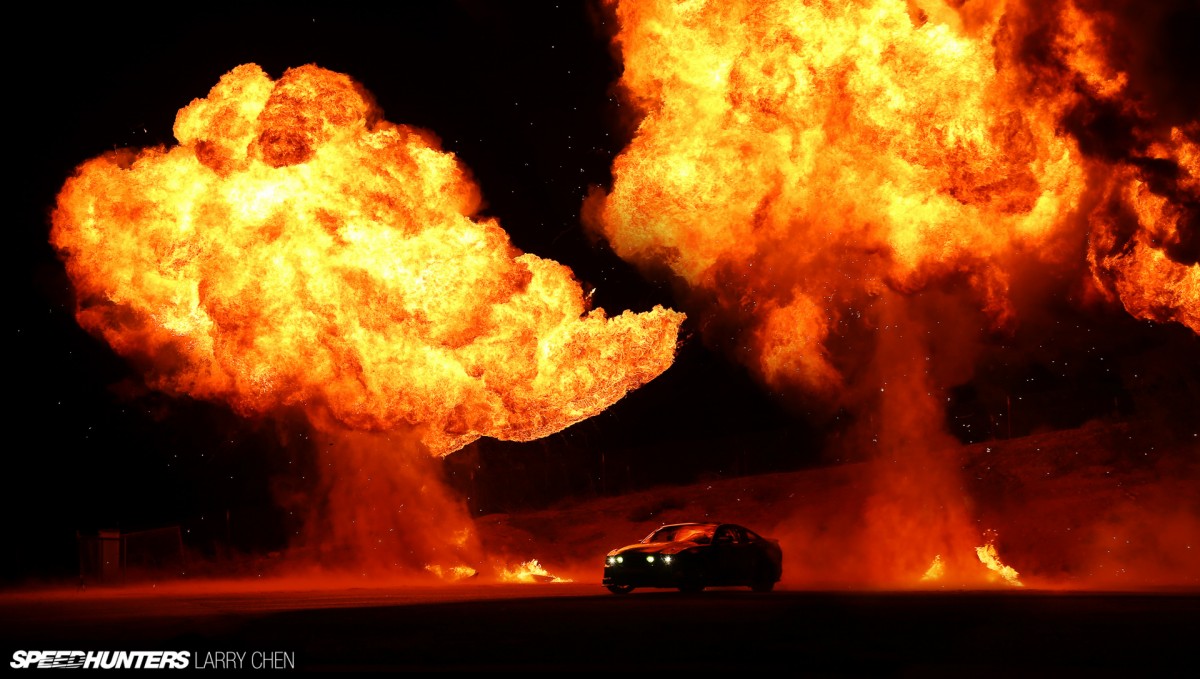 I've been lucky to work with the biggest names in the sport. And in American professional drifting none is bigger than Vaughn Gittin Jr.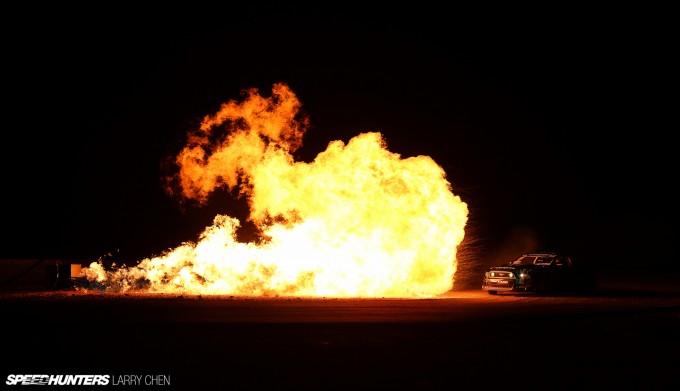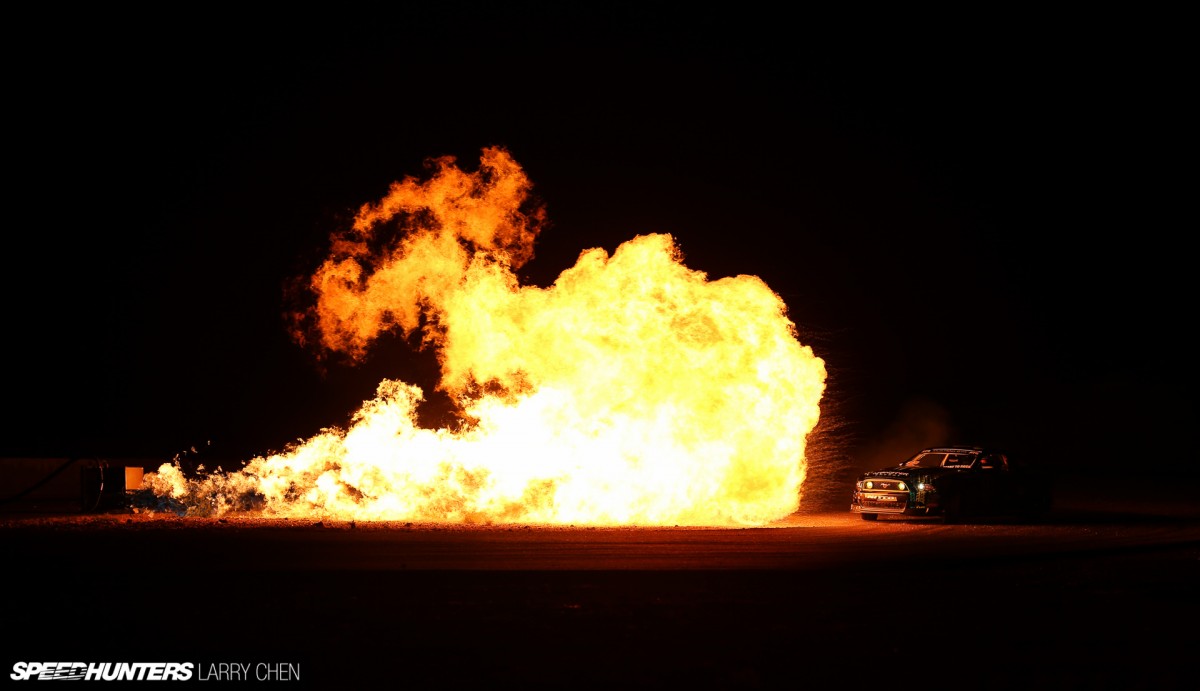 I had the idea in my head about mixing fire with drifting a long time ago, but I never could figure out a way to execute it. Trust Vaughn to come up with such a crazy plan though – it certainly made for some epic shots.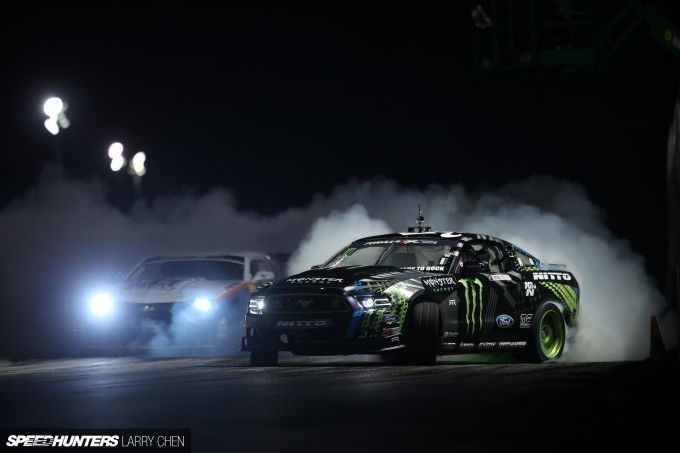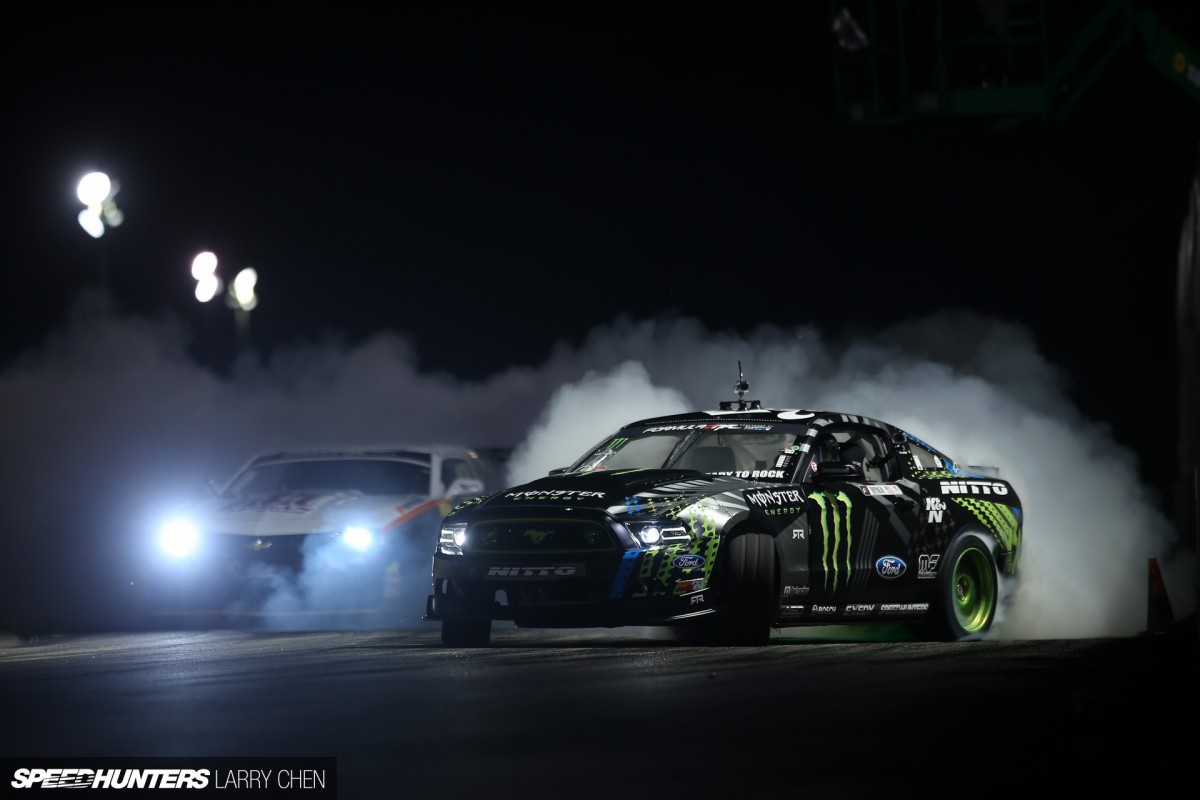 I love shooting drifting at night. There are so many cool elements in play when headlight beams shine through the tire smoke.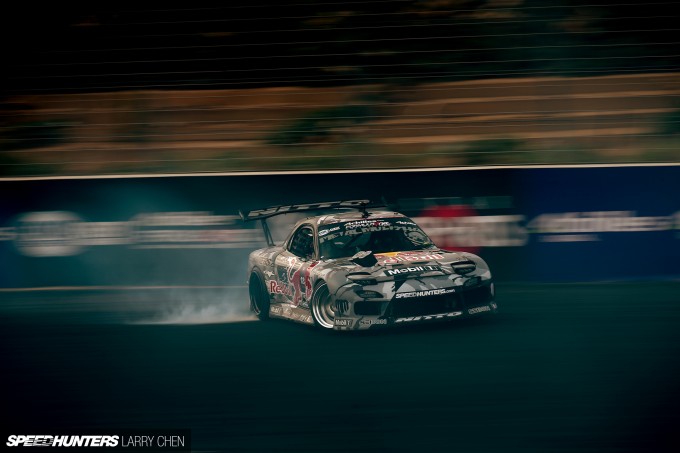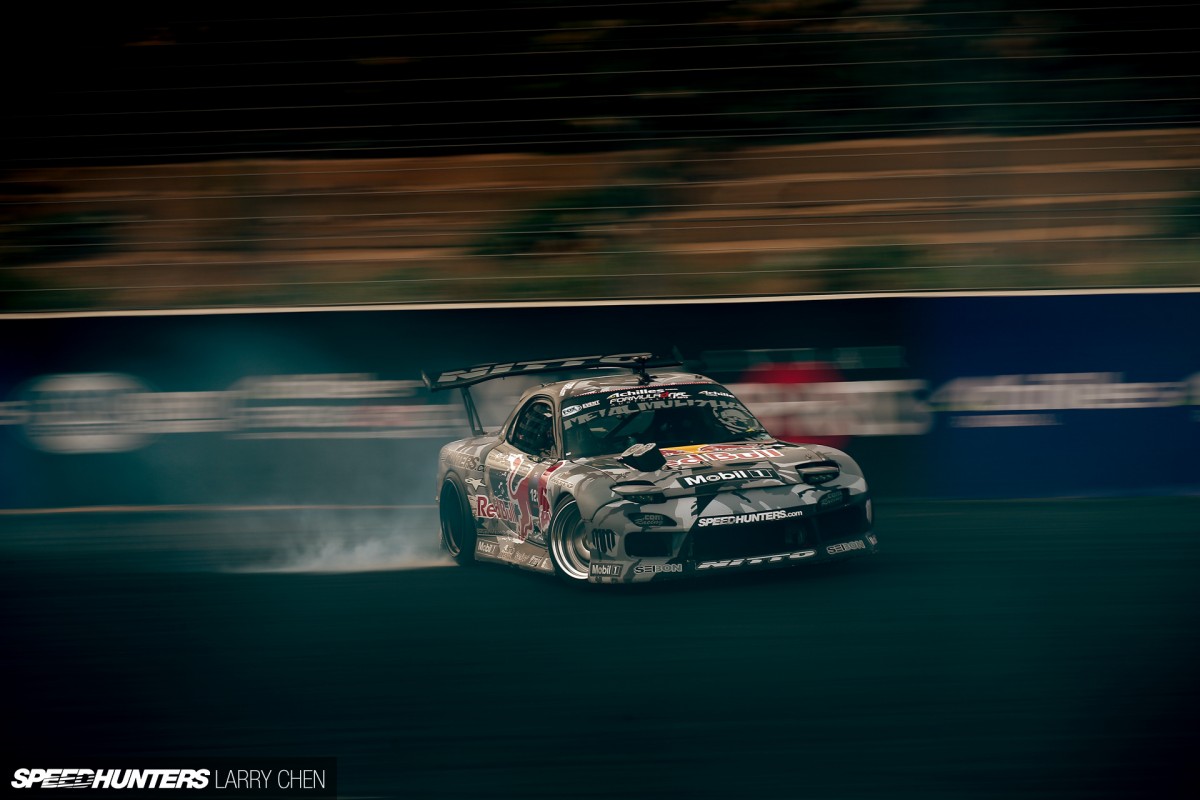 I think Mad Mike Whiddett builds some of the best-looking drift cars in the world. His 4-rotor FD3S RX-7 is no exception.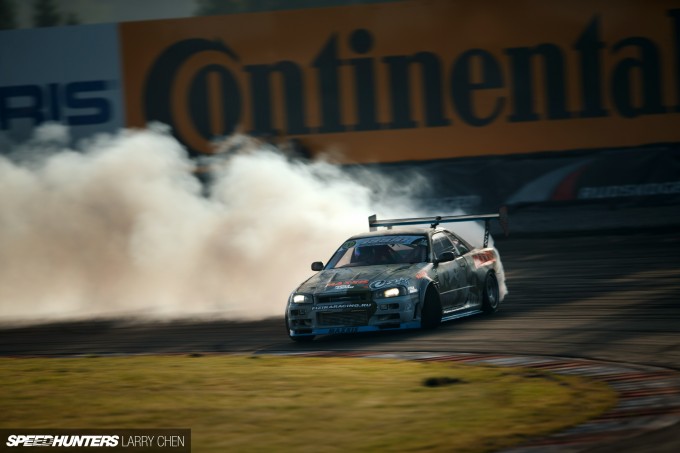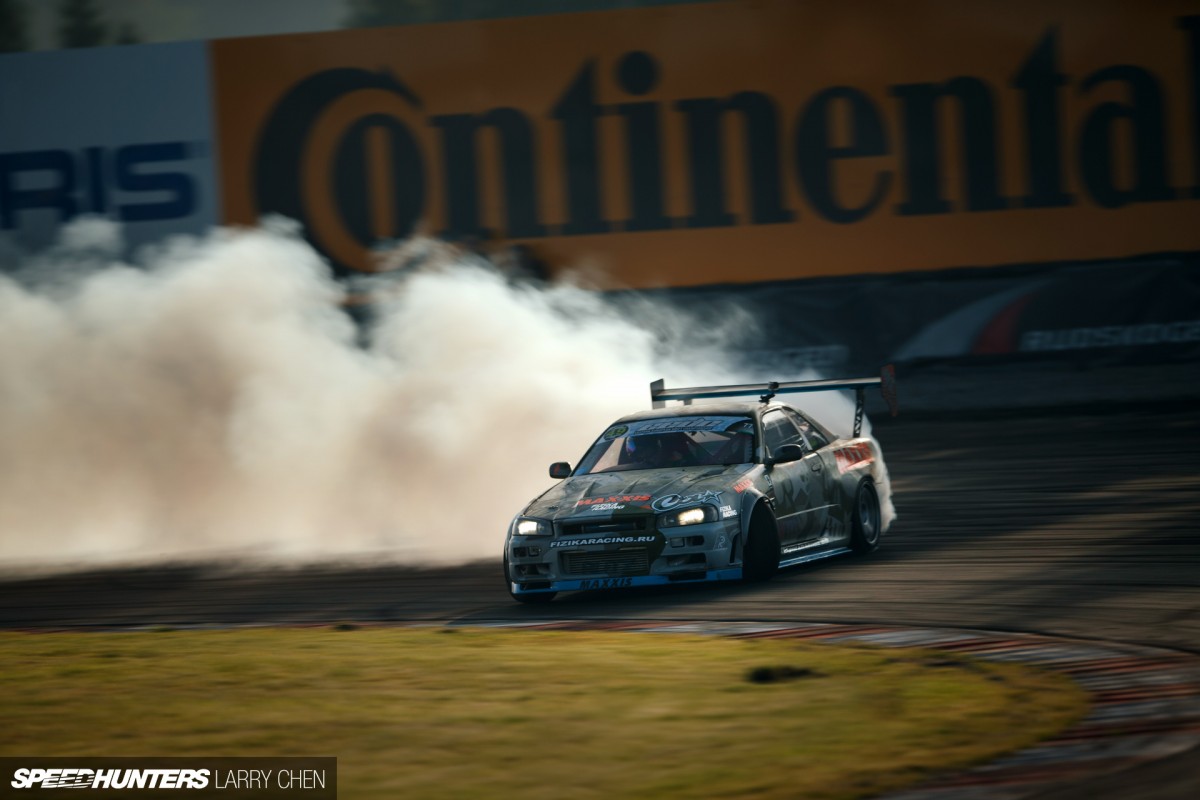 I always mention this, but one of the main reasons why I love drifting is because the wide variety of cars that are built to go sideways. I just love the way this R34 Skyline looks, and the fact that it has smoke billowing out from behind it just makes it that much cooler.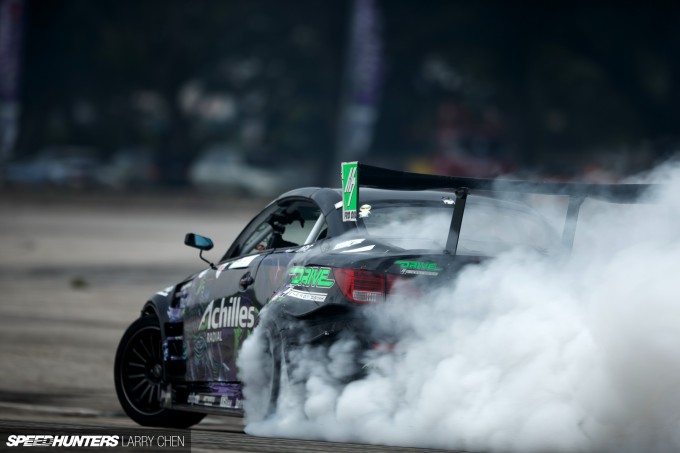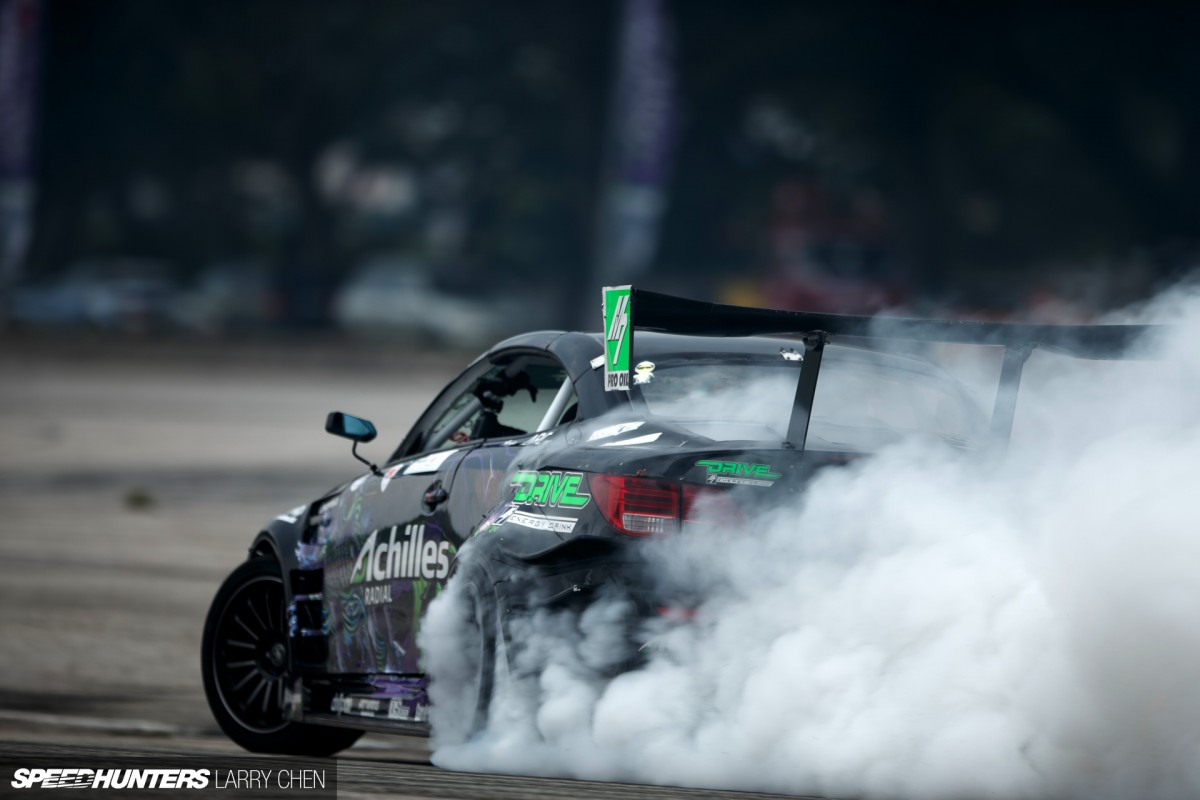 Why can't Daigo Saito build a replica of his Formula Drift Asia car for North American competition? I think this is one of the best-looking cars in competition today.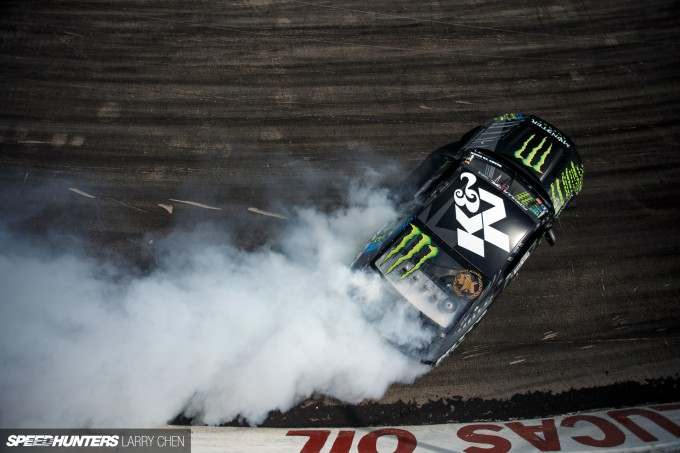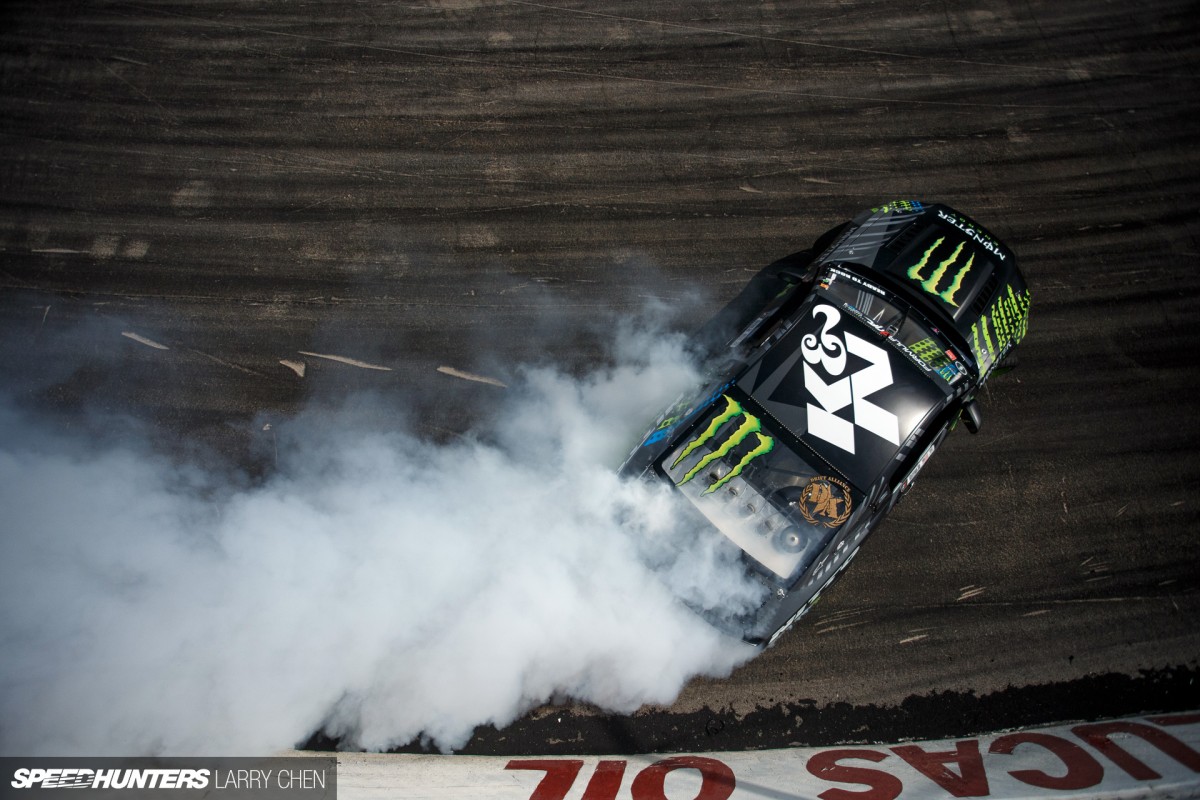 When it comes to professional drifting, there is no place in the world that is more iconic than Irwindale Speedway.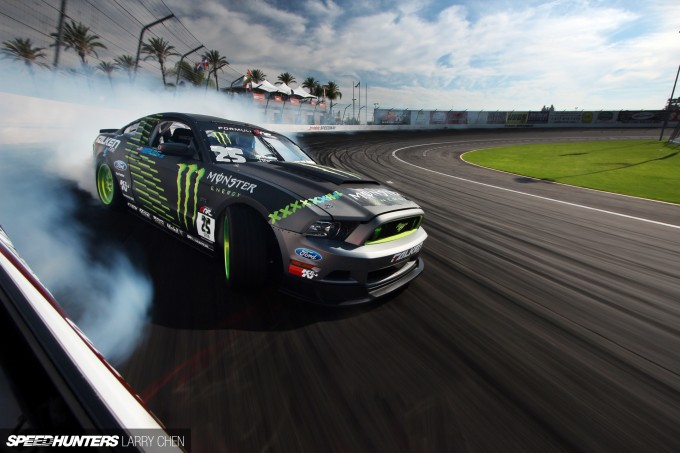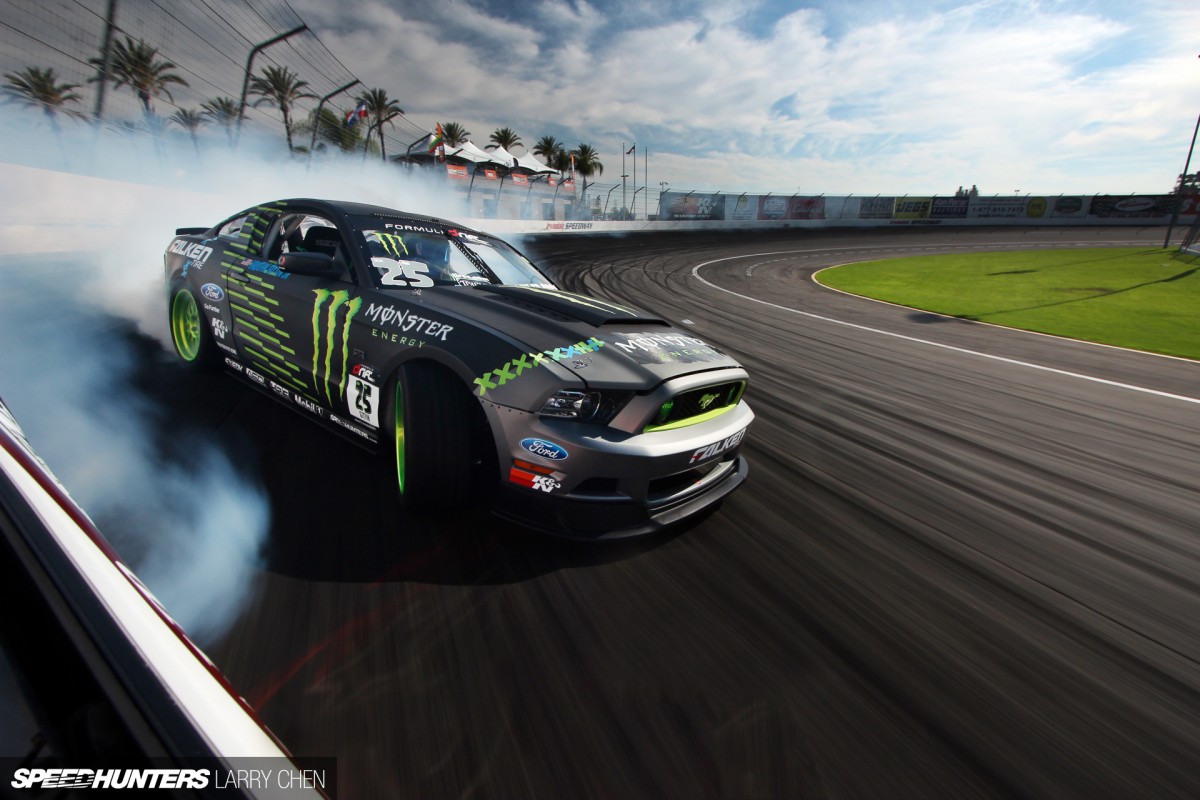 The House of Drift has so much history, and it's also where D1GP first set foot on American soil. I just love it.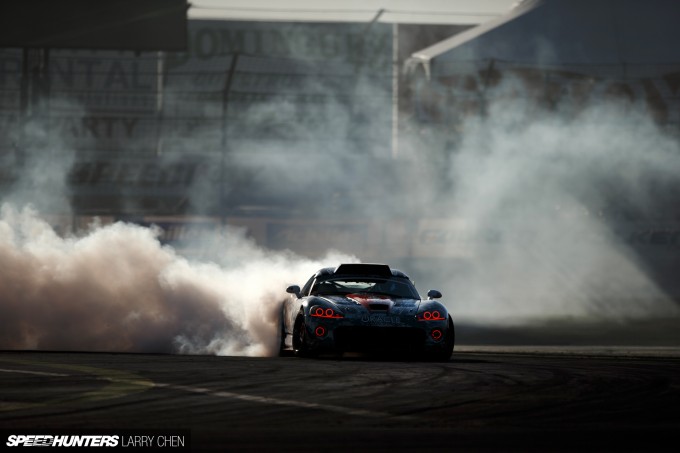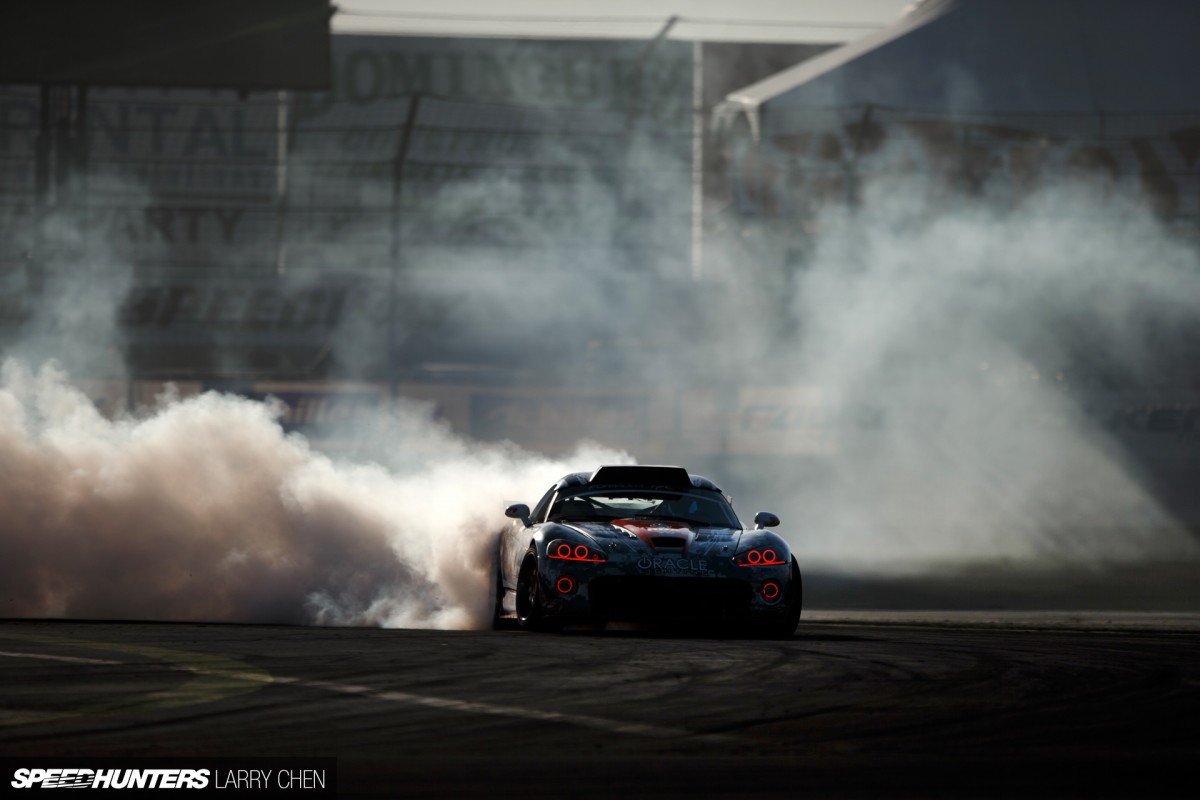 It's almost as if it was a purpose-built drift track, right outside of Los Angeles. It's too bad the community is constantly wondering if we will continue to have this venue for years to come.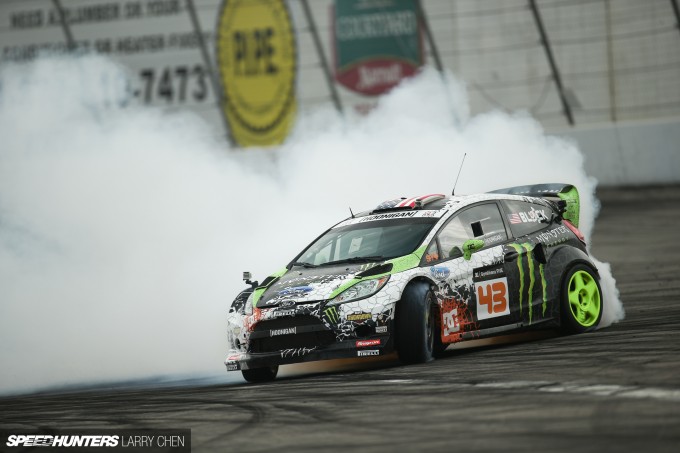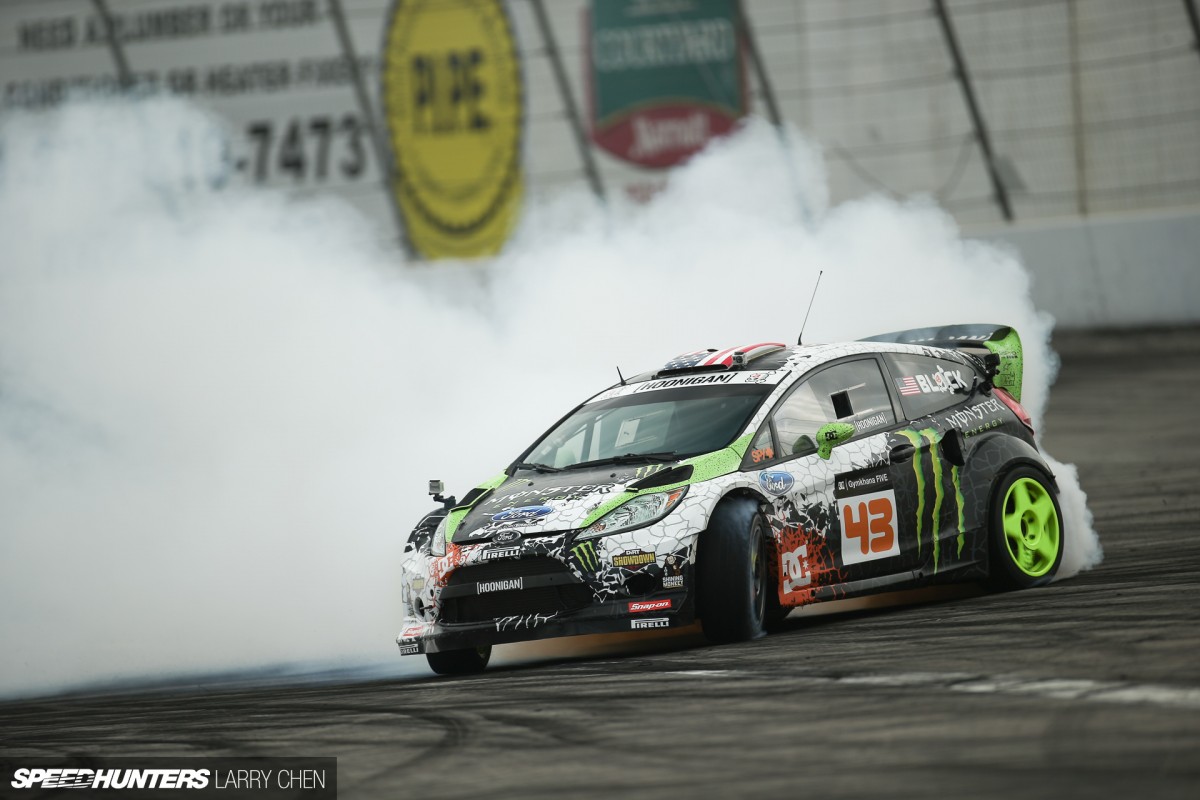 Even Ken Block drifted its famous banked corners. He actually linked the course once – in an all-wheel drive rally car no less. Just amazing!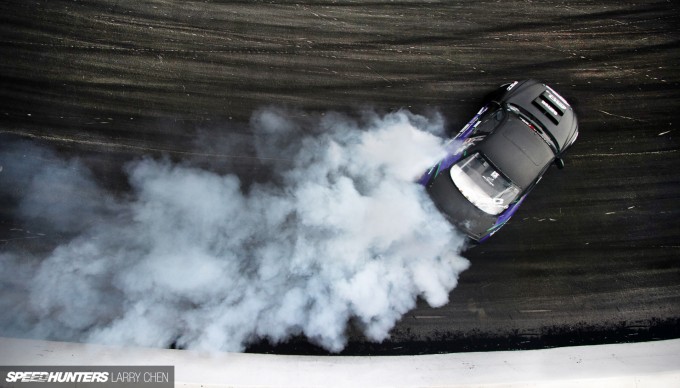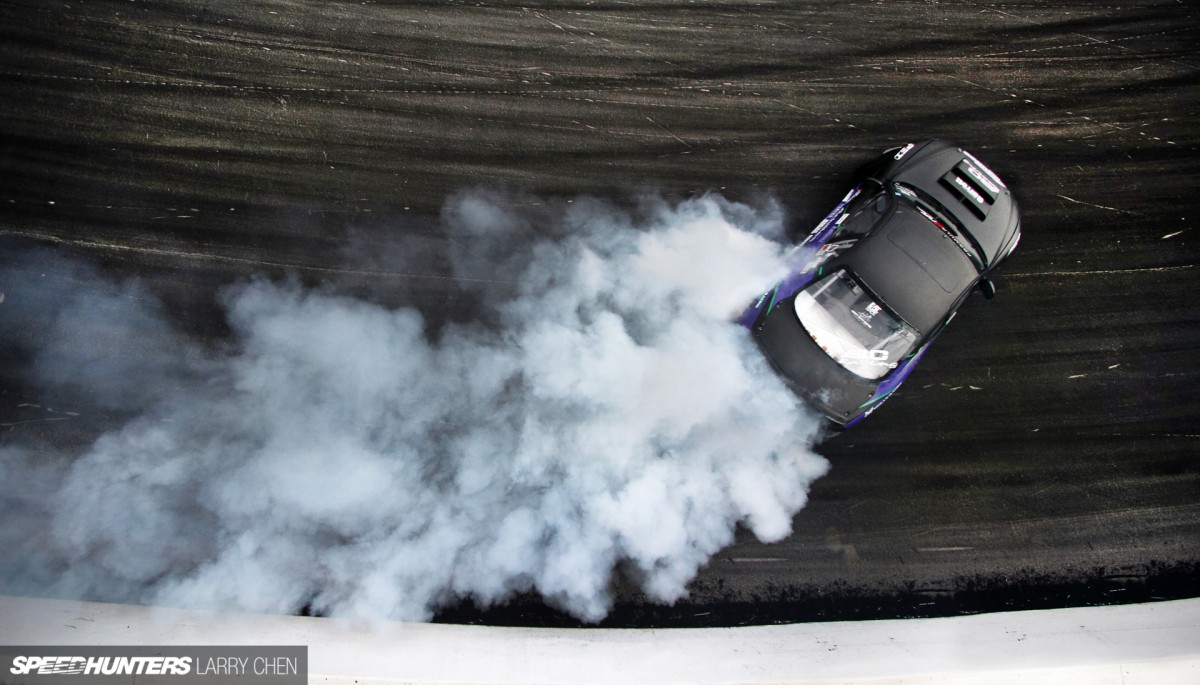 As I get more into aerial drift photography it really intrigues me to see how the smoke patterns look depending on what car is drifting.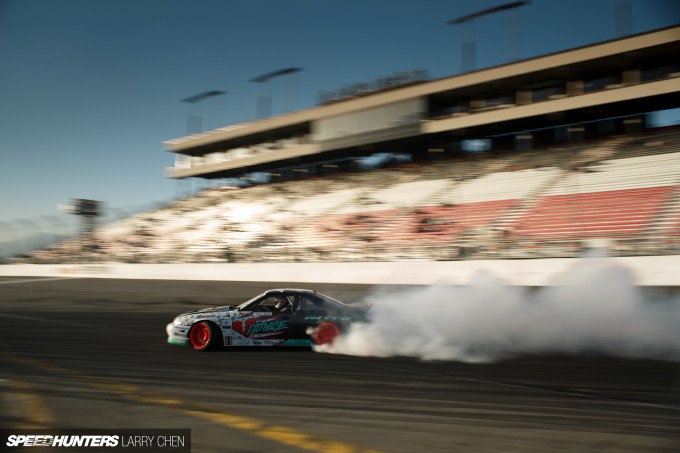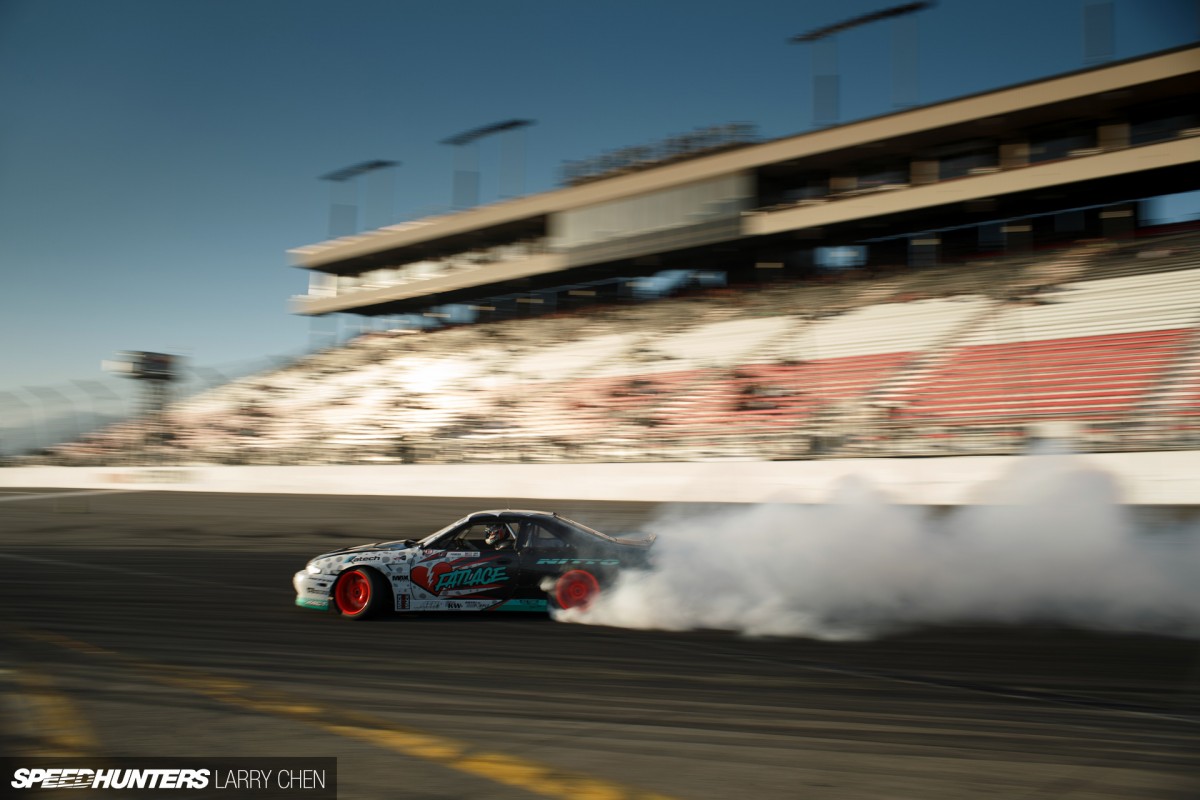 It pretty much all looks the same from eye-level. It's just a big puffy cloud.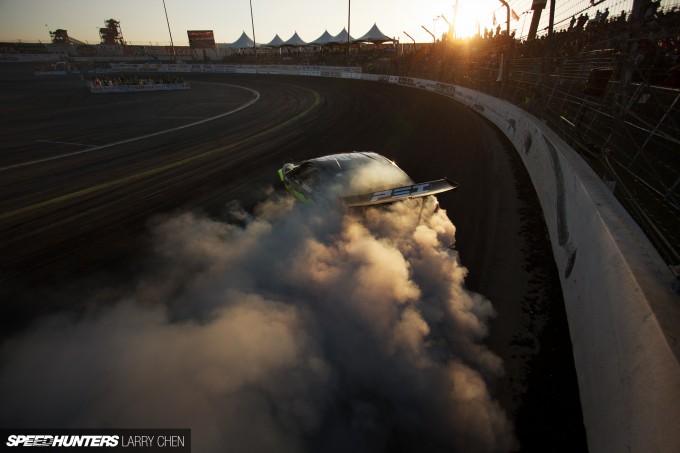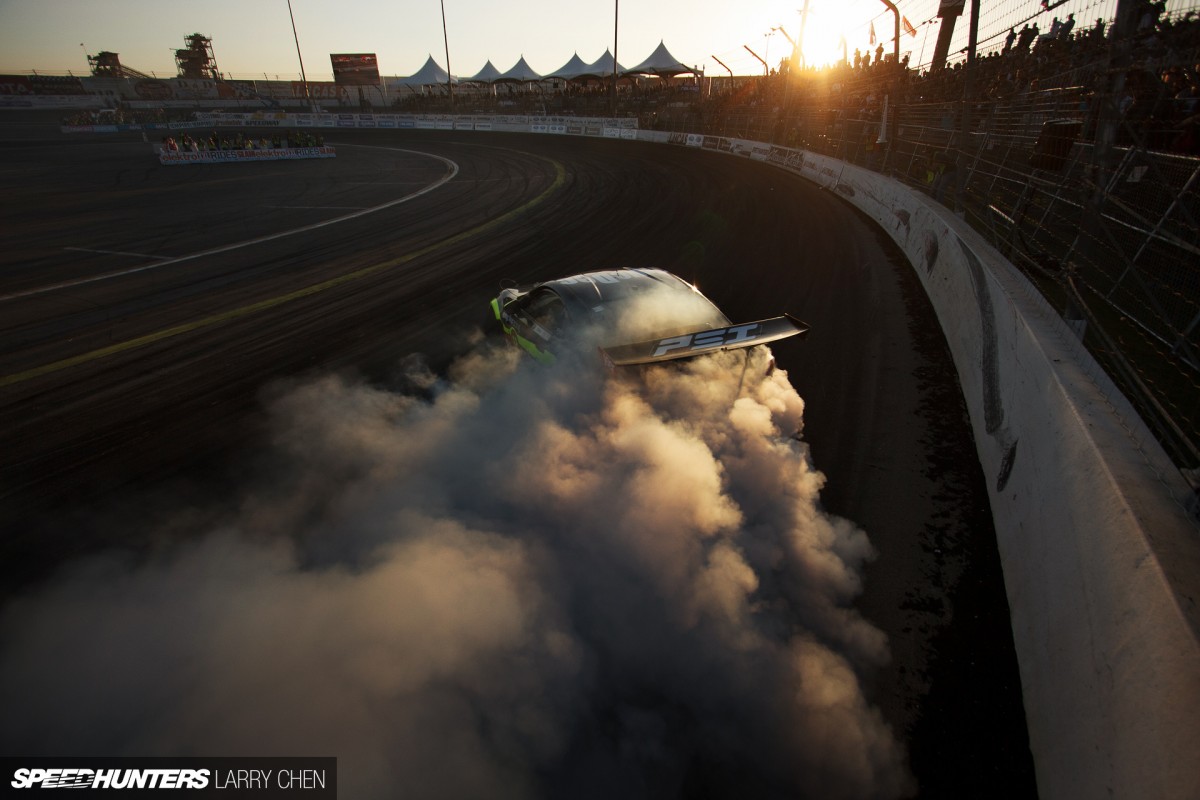 Once elevated and hit with perfect light, the smoke pops. If you have not noticed already, I think the smoke trail makes or breaks the photo.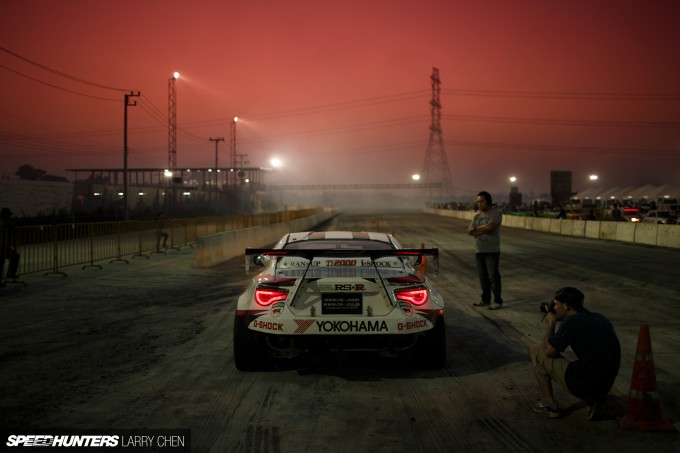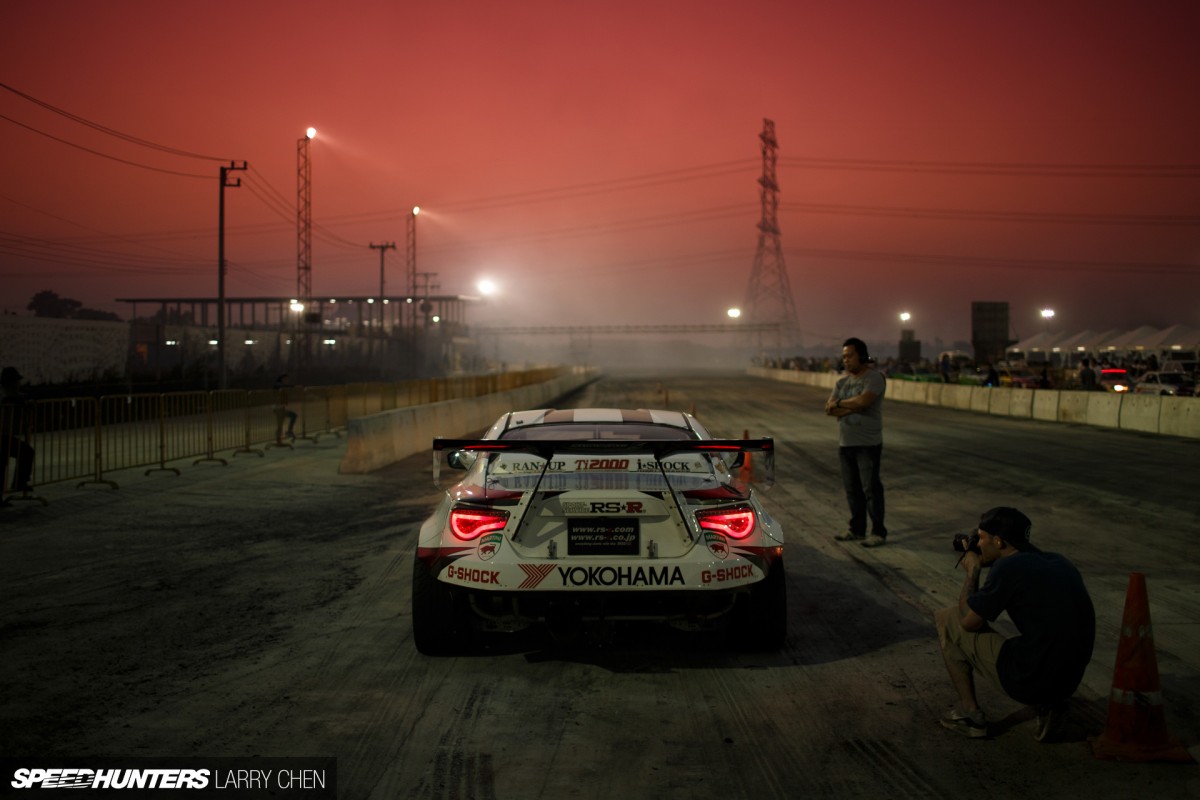 I had to sneak in one photo of another one of my favorite cars that is currently competing. Fredric Aasbø's Formula Drift Asia ZN6 powered by a NASCAR motor. Such a wild build for such a wild driver.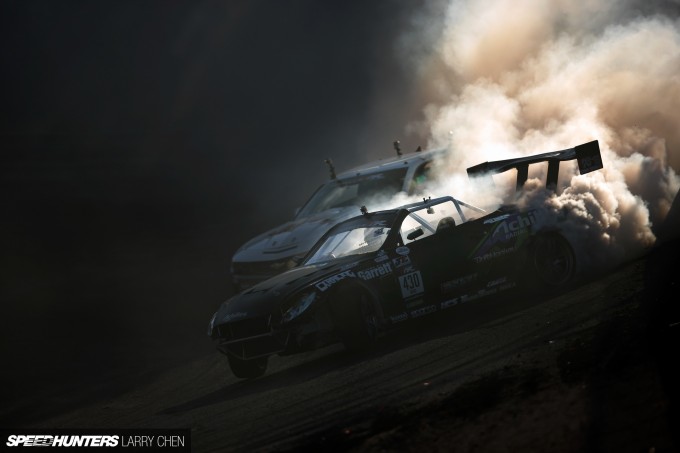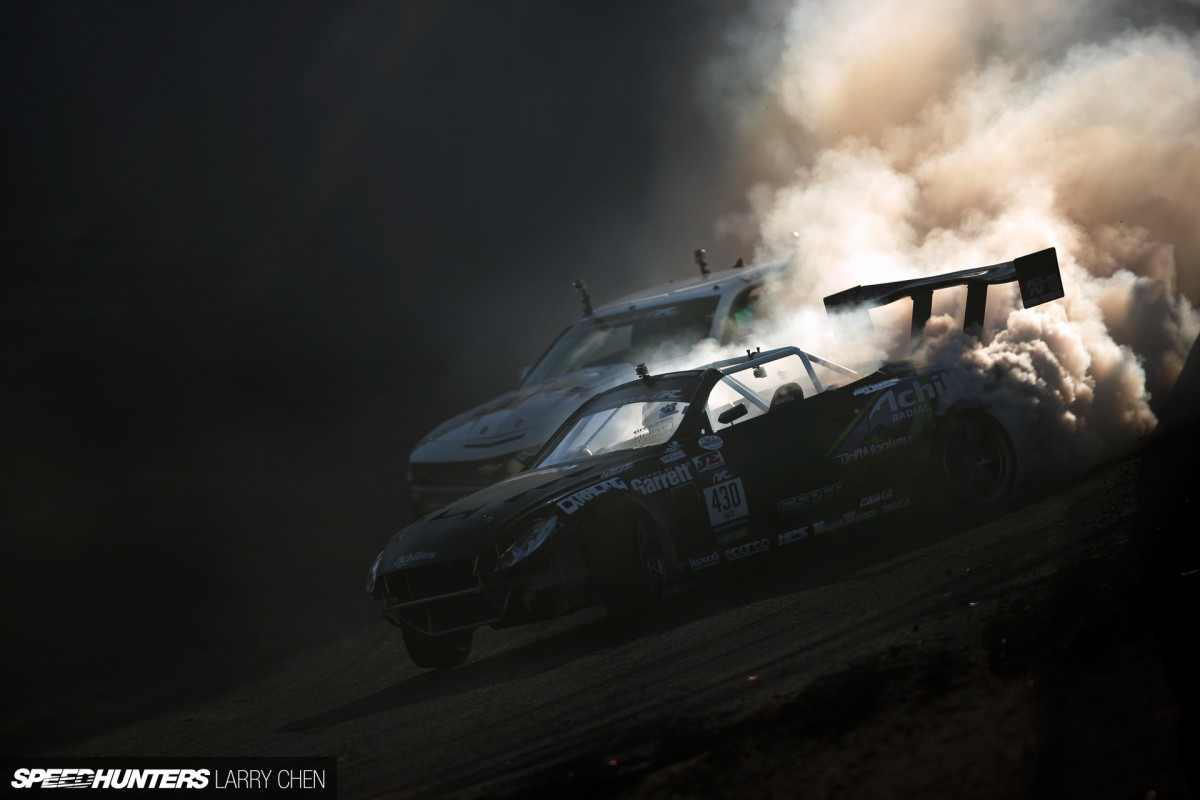 I am going to leave you with this shot of Daigo Saito followed closely by Conrad Grunewald. I think this shot sums up everything that is awesome about drifting. The damage to Daigo's car, the commitment of Conrad following so closely and of course the rivalry that these two drivers have. Not to mention that tire smoke, which of course is its own entity. I feel like I have to photograph it as if it is an extension of the drift car itself.
BOOM! Head exploded…
If you think any of these shots would look good on your wall, head over to the store and check out Larry Chen Drift Photos Collection now.