Baptism by fire
In the interest of full disclosure, I'd like to start out with an admission: I've never driven a 500hp car. That's not to say I'm a fast car virgin; I've been messing around with quick Subarus and rotary Mazdas for nearly as long as I've had a driver's license. 500hp though, is an entirely different ballpark.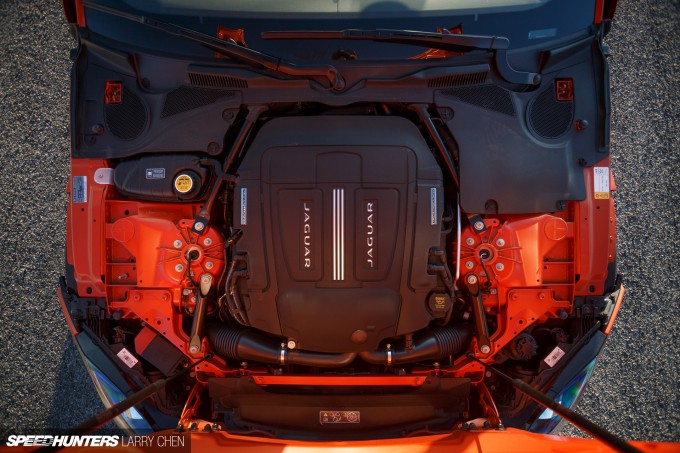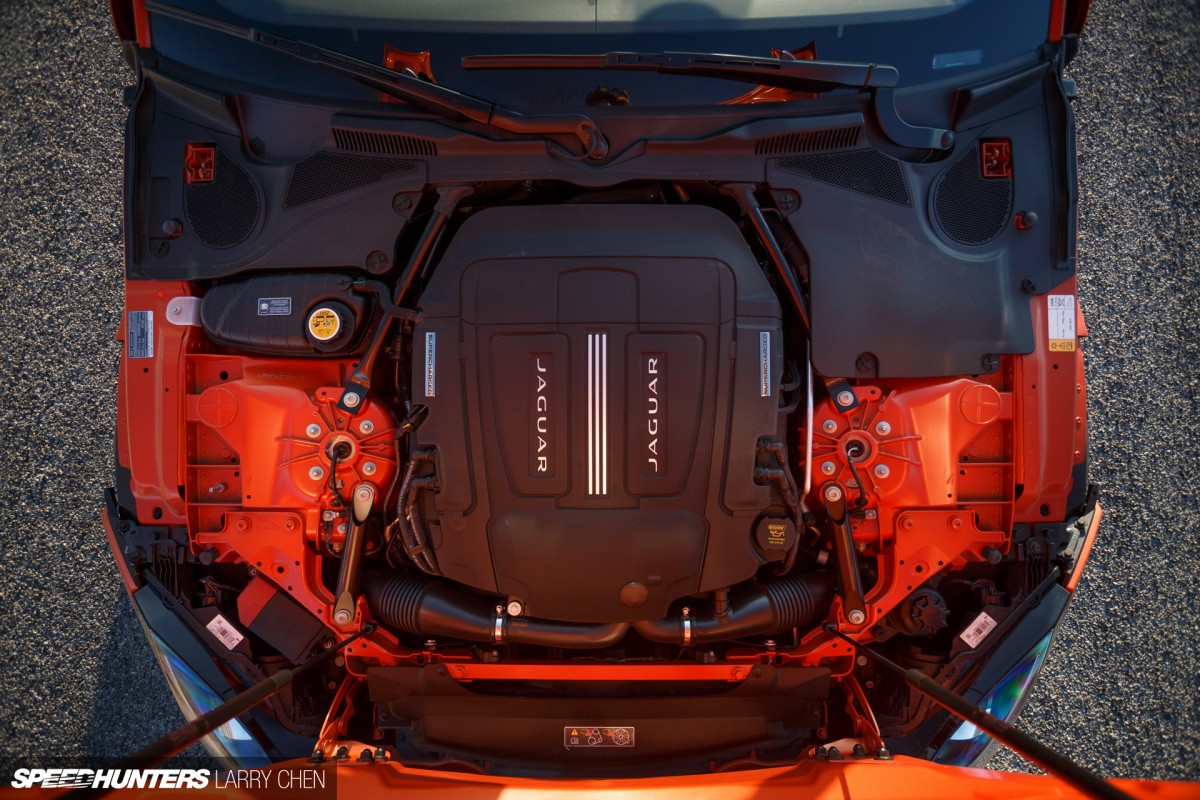 It's a mental landmark signifying entry into the big league, the big time, the big boy club, and other big things.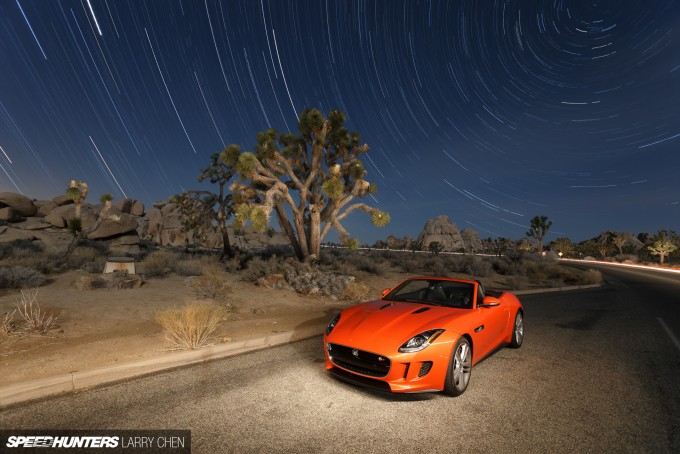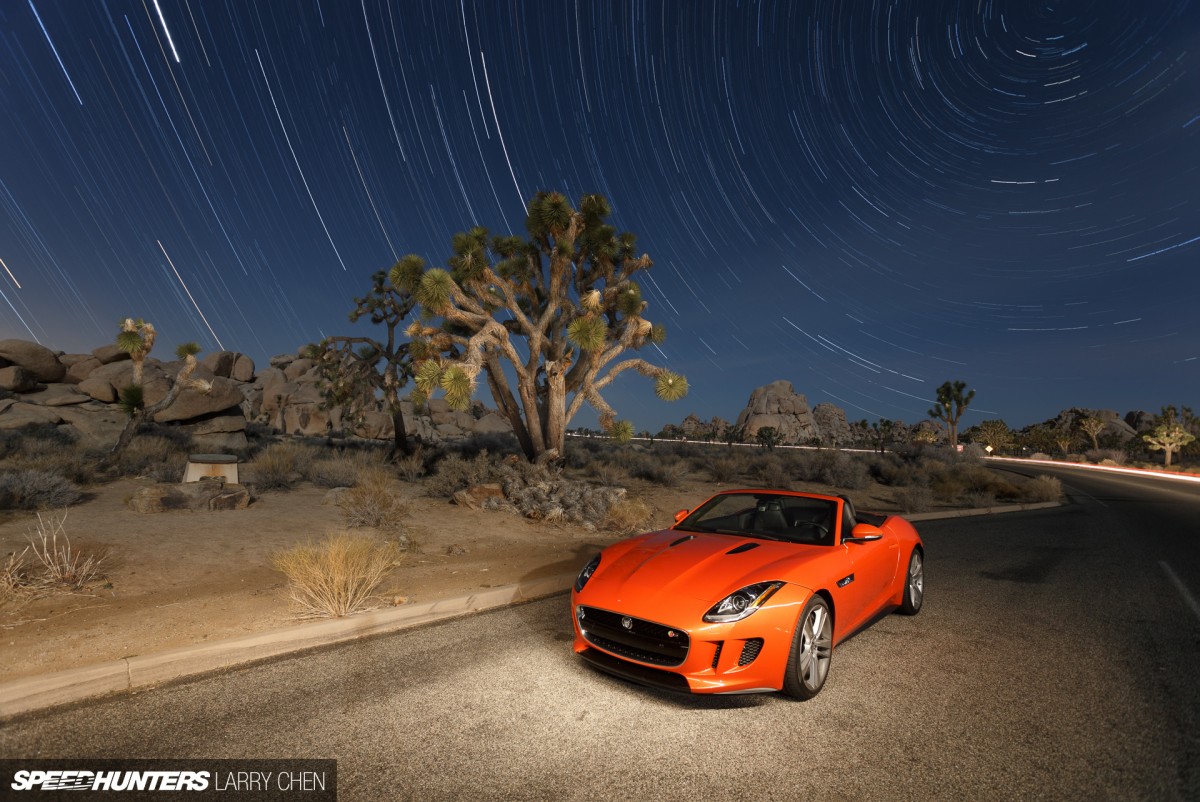 I was nauseous with excitement to be driving Jaguar's latest, baddest sports car, but to be completely honest, anxiety played a part in my discomfort as well.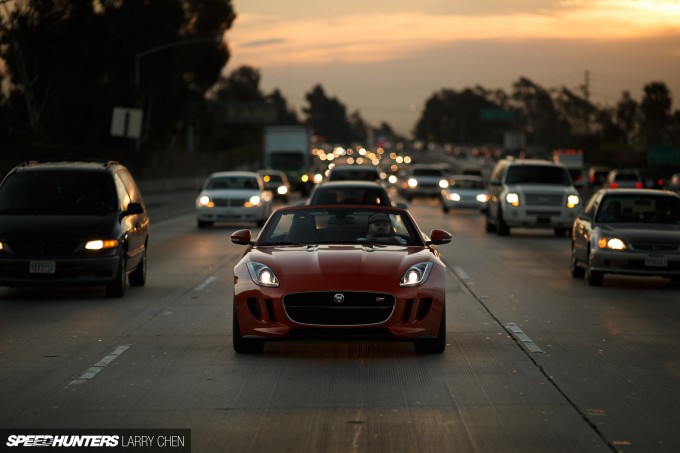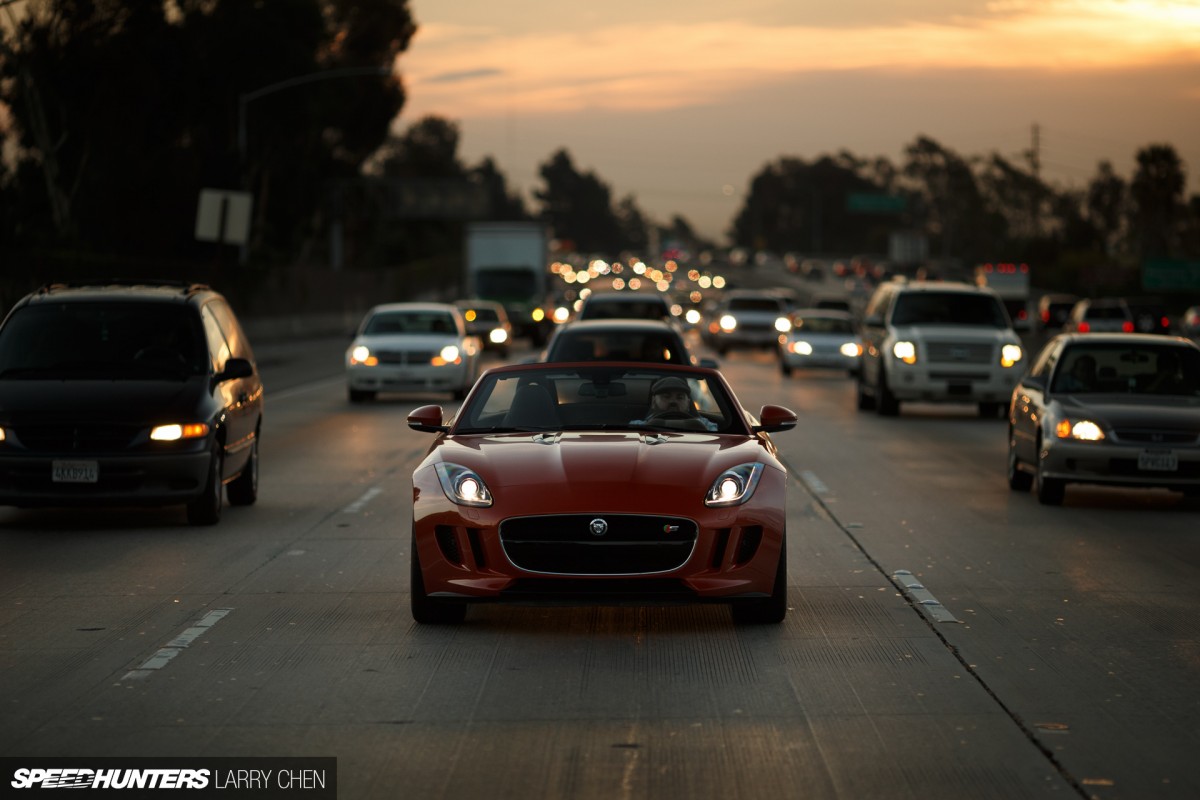 My big power baptism would stretch across several hundred miles, thousands of feet of elevation change, and from the sea, to the snow, and finally to desert sand.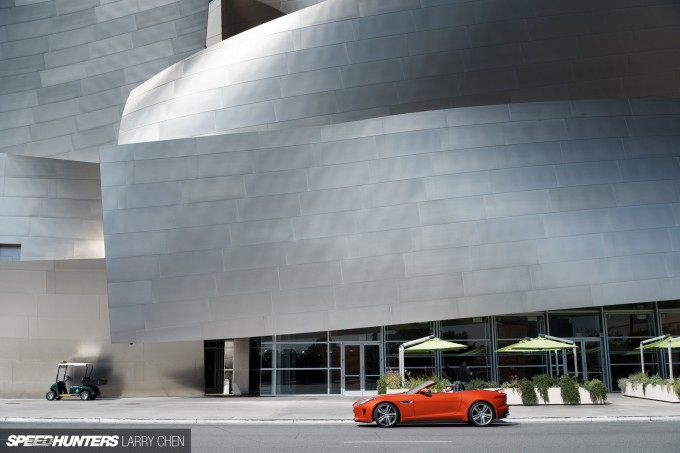 The diversity of Southern California—both cultural and geographic—is what I truly love about the place. As much as I enjoy a good Korean barbecue burrito, it's the ever-changing landscapes that still wow me more than a decade into my residency here.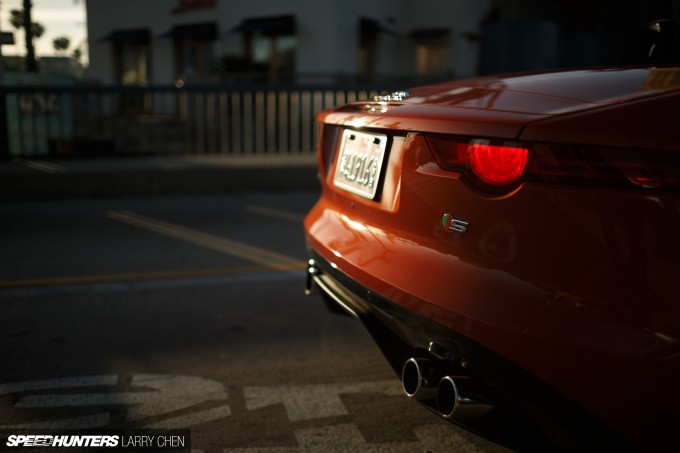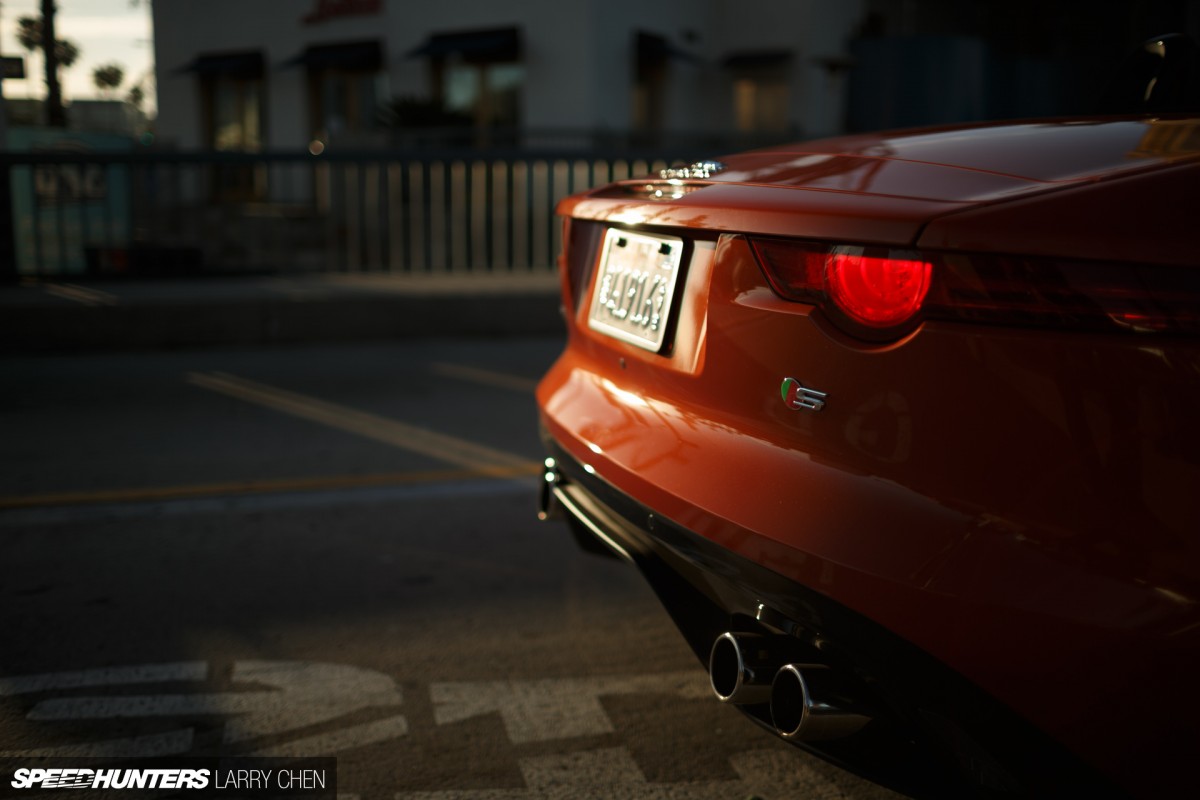 Taking all of these sights in from the vantage point of a roofless F-Type V8S was true dream drive material, and even after weeks of planning, I still couldn't quite believe my luck.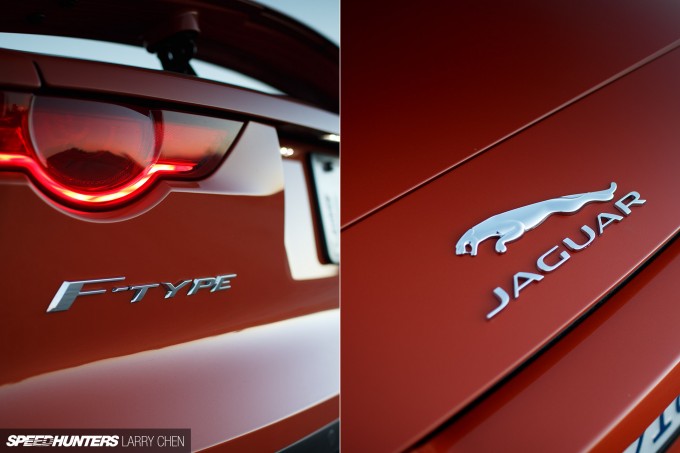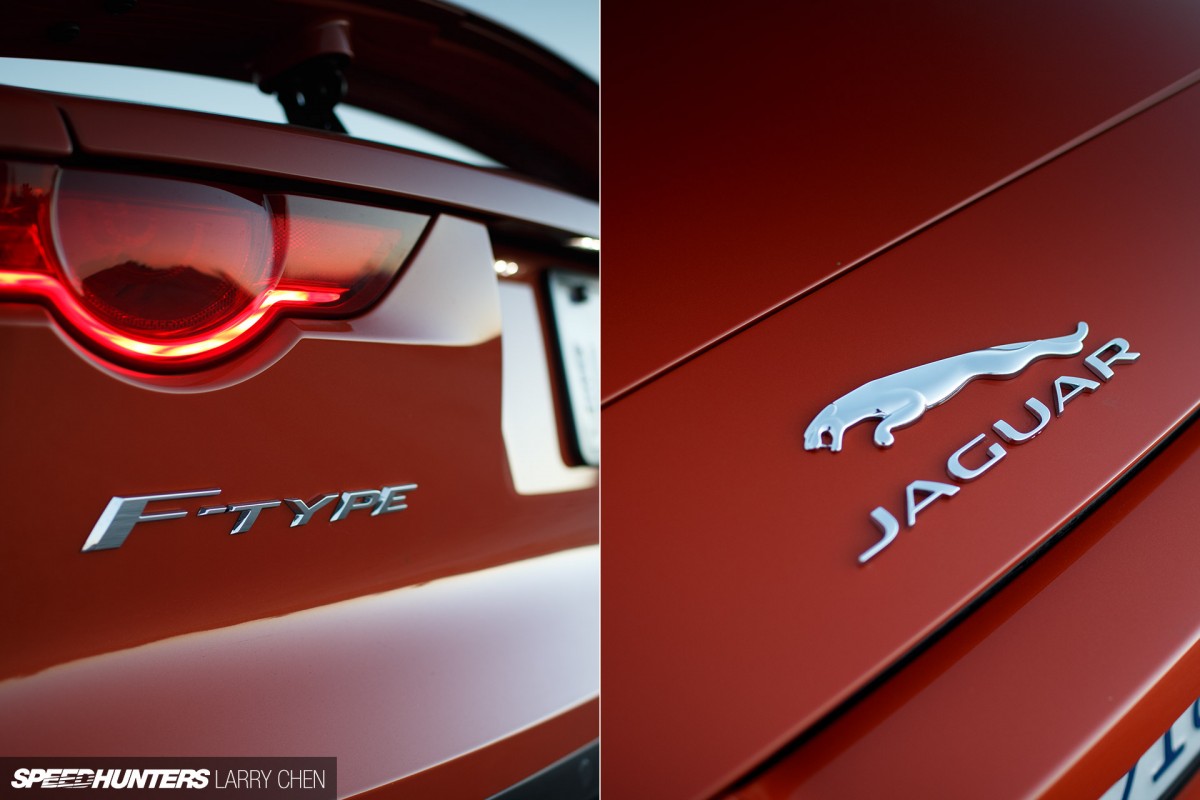 My first glimpse of the car came as the very first hints of pre-dawn light began to cut their way through the dense, cool, early morning air, lending its sinuous, muscular lines a preternatural glow—an effect enhanced by the signature Ignis Orange worn by this example. I took a few moments to soak in the idyllic silence before sliding inside to briefly acclimatize myself with the cabin.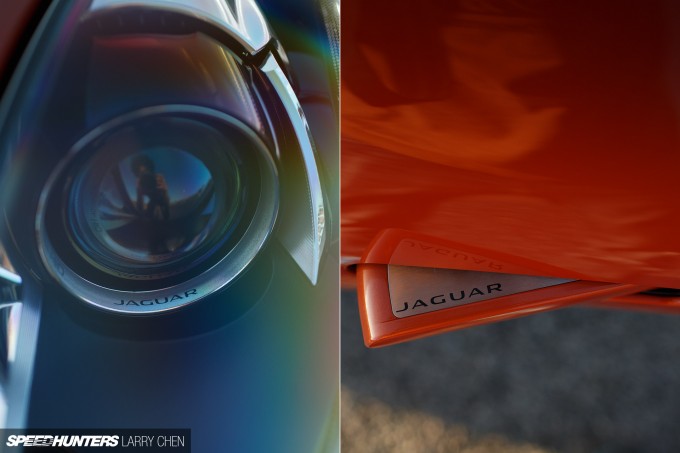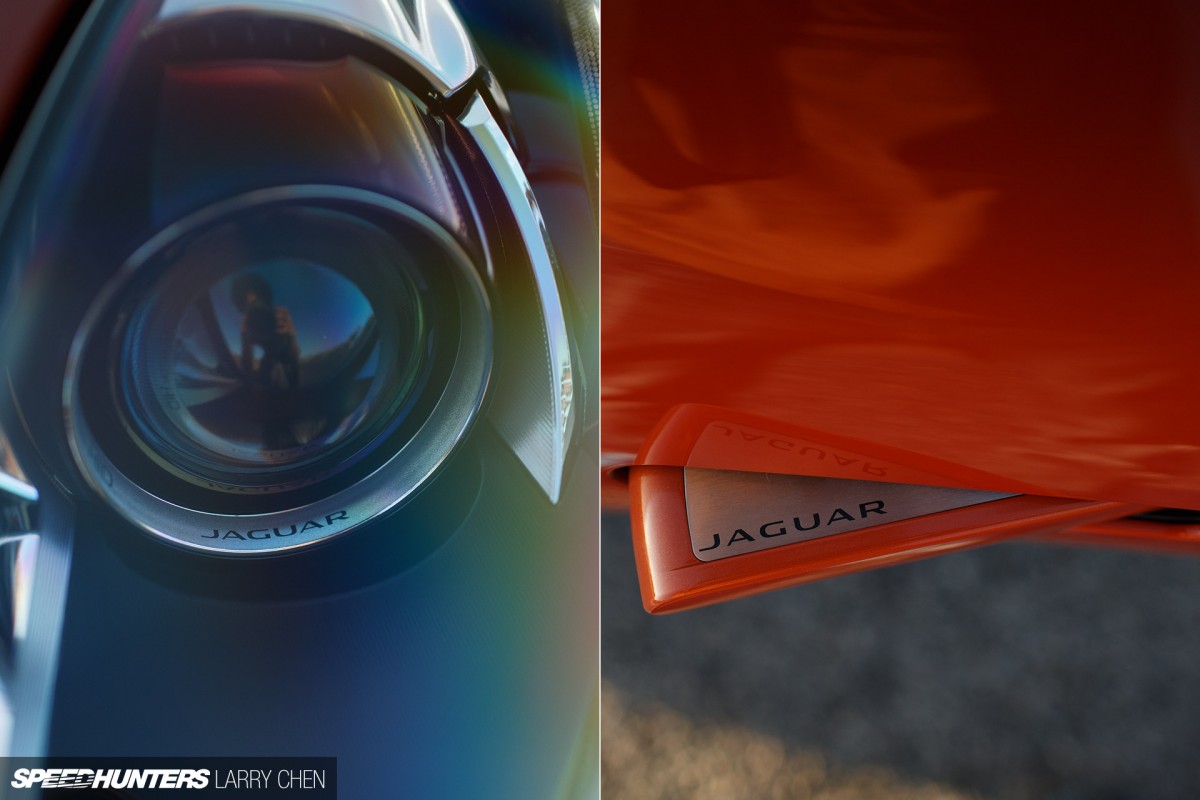 The big, supercharged V8 blasted into life with a short prod of the starter button, shattering the stillness with a raw-edged, vicious bark, waking everyone in an eight block radius well before even the birds had woken to sing.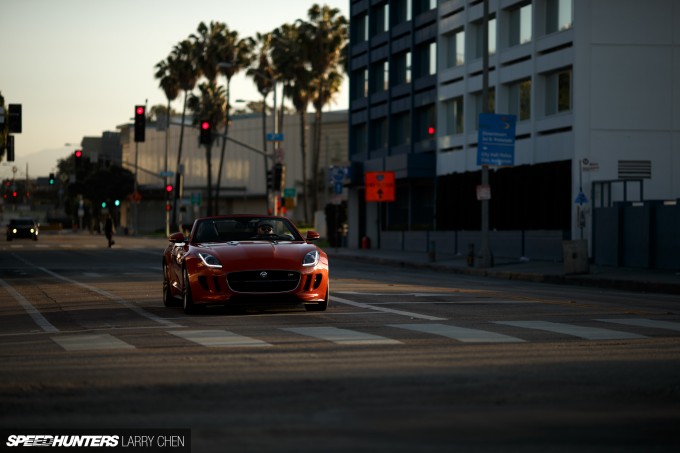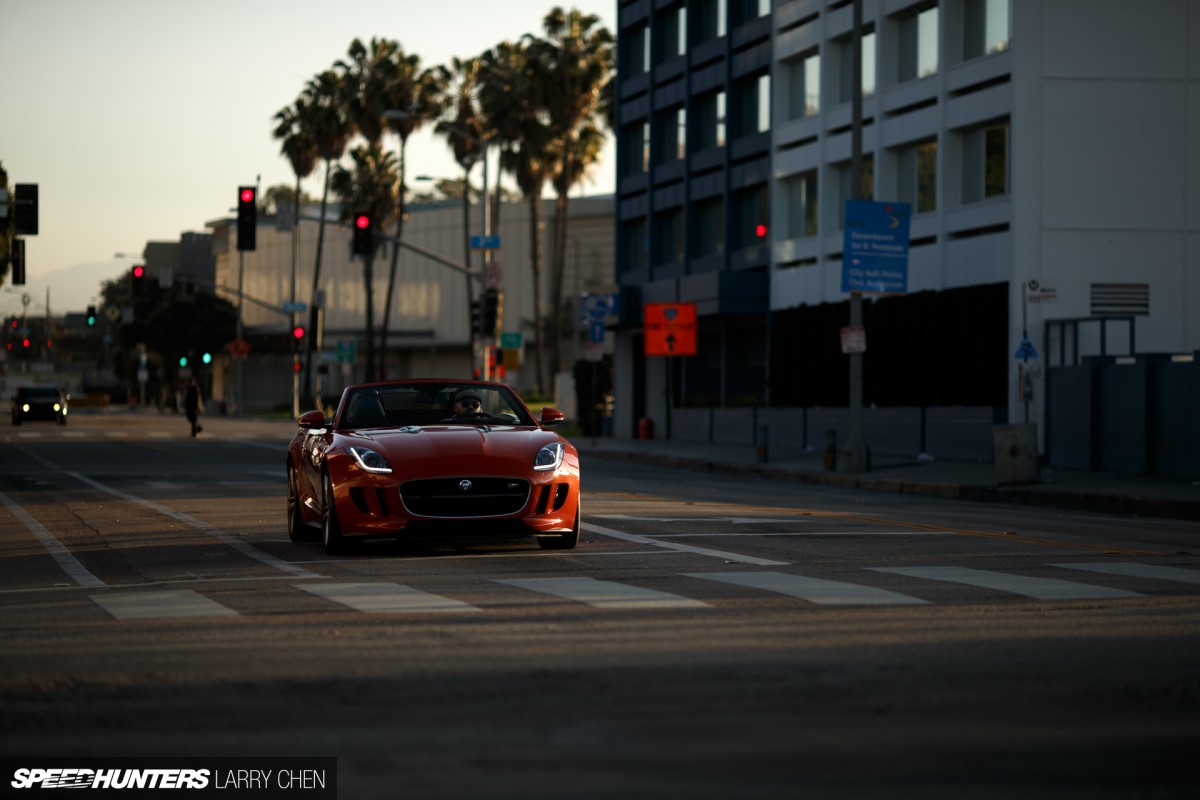 The window-rattling start-up procedure did little to calm my jitters. Embracing the madness, I decided to face my fears head-on, put the car into performance mode, loaded the transmission with a brake-torque and fired away from the very first clear stop light to be found. Yeah, that was on another level. No lag, no waiting for a turbo to spool, no low-end rotary torque hole, but simply instant, massive surge, each shift delivered quickly and smack dab back into the middle of a linear, seemingly endless sea of grunt.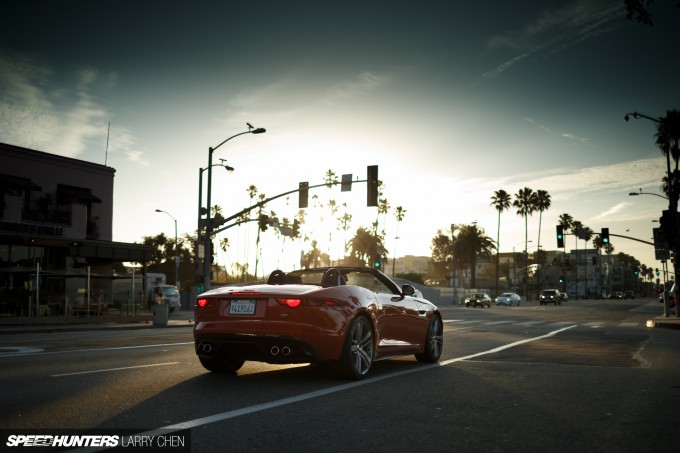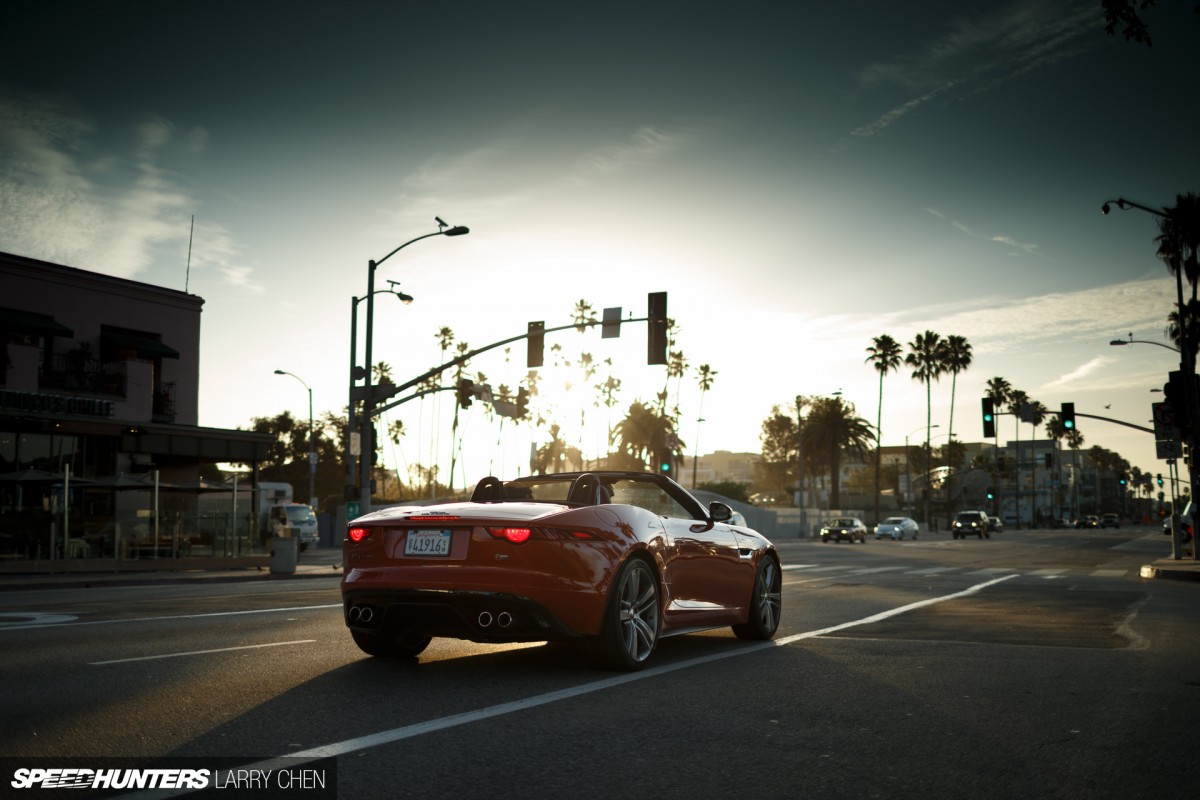 My intimidation was gone, left several hundred feet back, along with my stomach and two long, thick, sticky, black rubber marks. Damn, this was going to be an epic drive.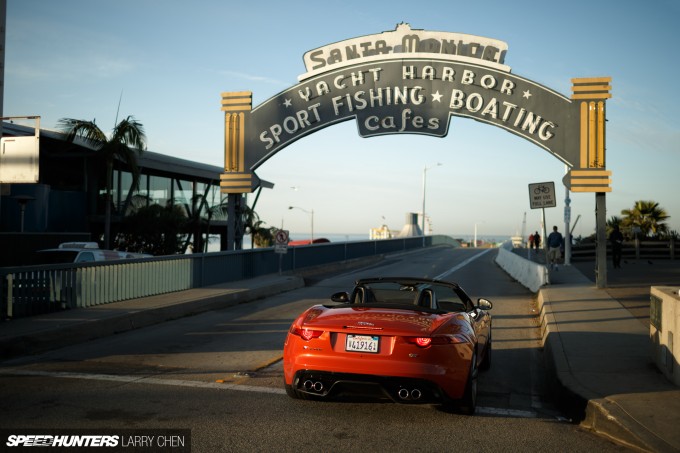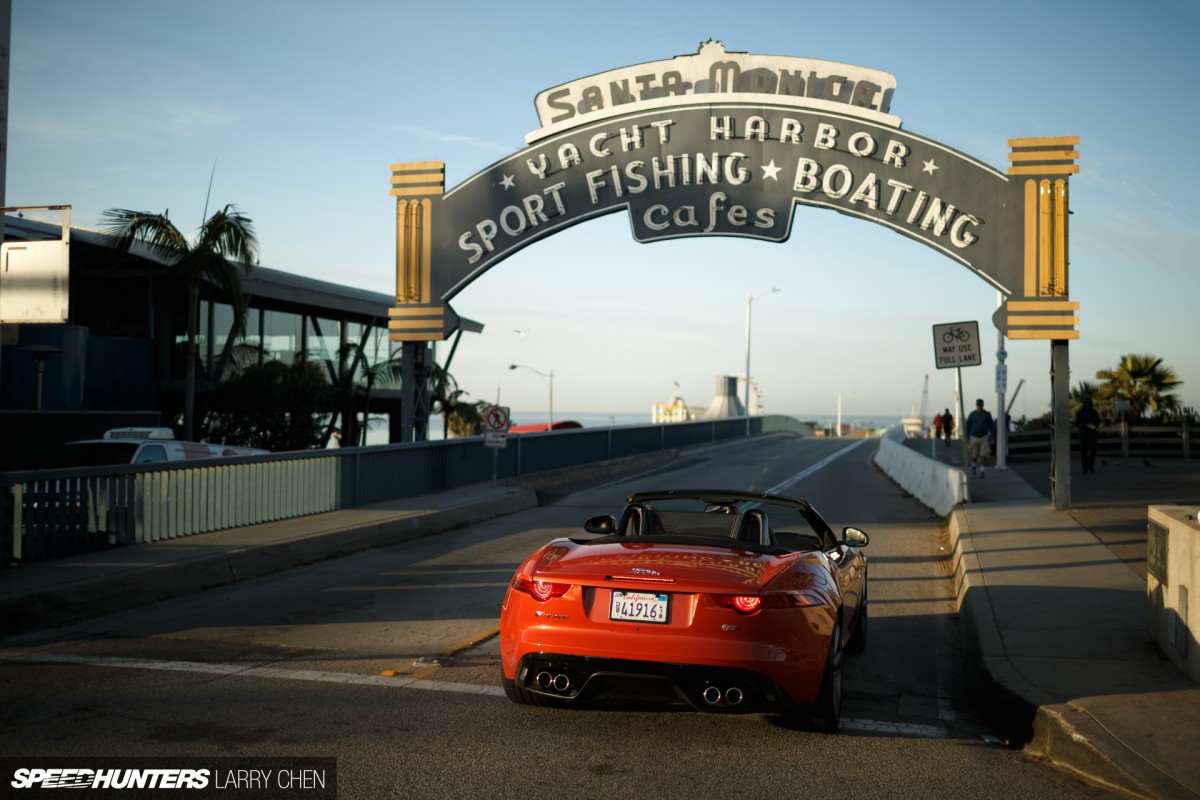 Our first destination was Santa Monica Pier, LA's famous, 100 year-old amusement park and boardwalk, roughly 35 miles to the east from our suburban starting point. En route and grinding through typically awful early morning commuter gridlock is when I first began to appreciate the Jag's eight-speed automatic, but would my lingering skepticism over the lack of three pedals or a dual-clutch gearbox remain?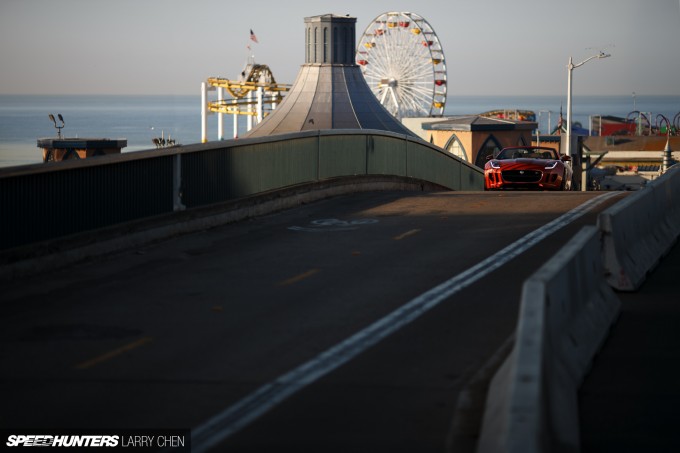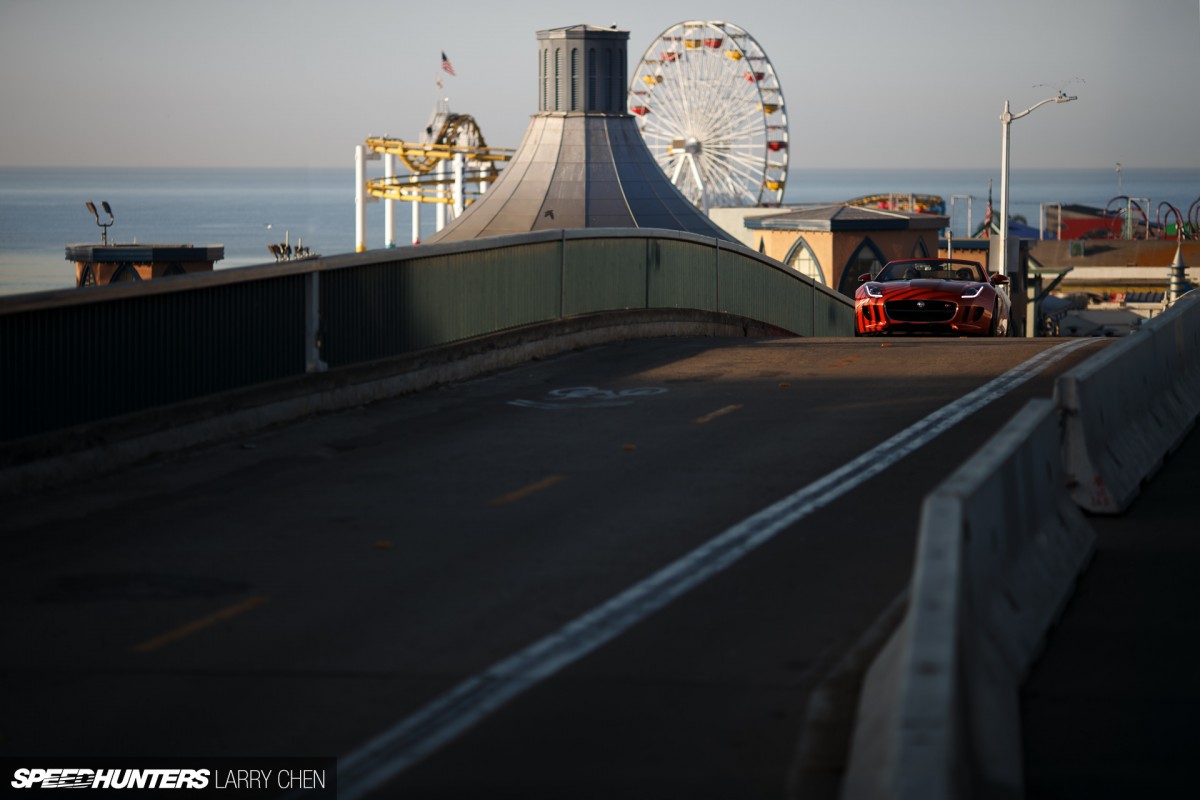 Roughly 90 minutes later, the pier's signature Ferris wheel and roller coaster entered into view, the iridescent blue sea surrounding it relatively undisturbed by small morning waves. Approaching the entrance, we travelled slowly along several blocks perpendicular to the beach, their sidewalks filled with runners, cyclists and surfers who bombarded the car with compliments at every stoplight. "Nice car, man!", or "Is that the new Jaguar? Beautiful!"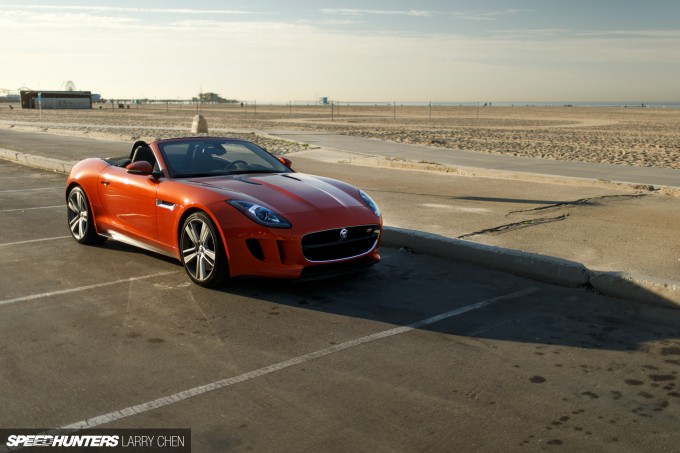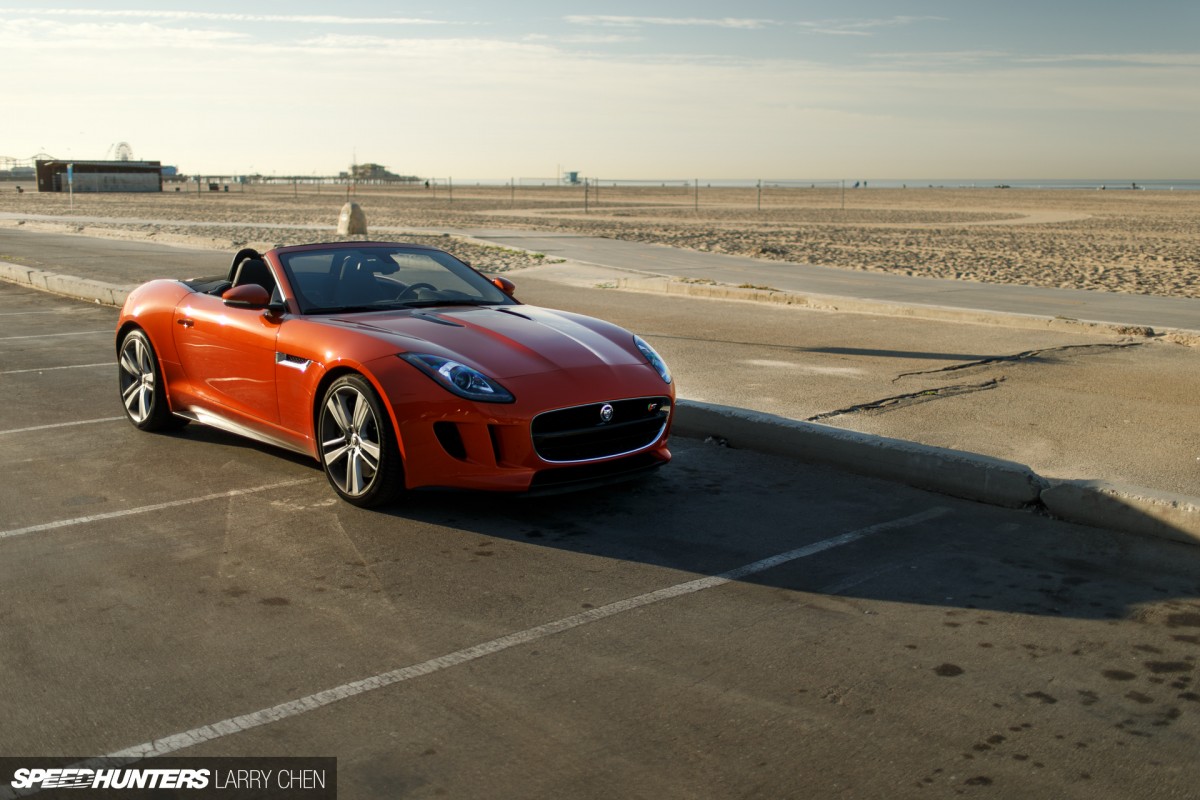 It's unquestionably a gorgeous machine, perhaps the best looking Jag sports car since its ancestral father the E-Type debuted more than half a century ago. Regardless, I'm still surprised by all the attention.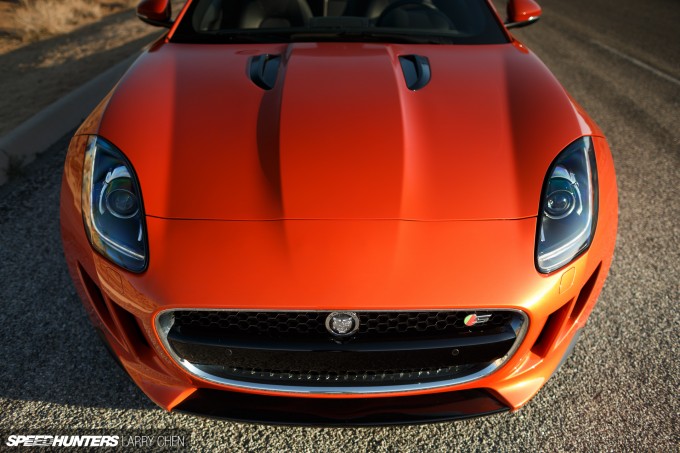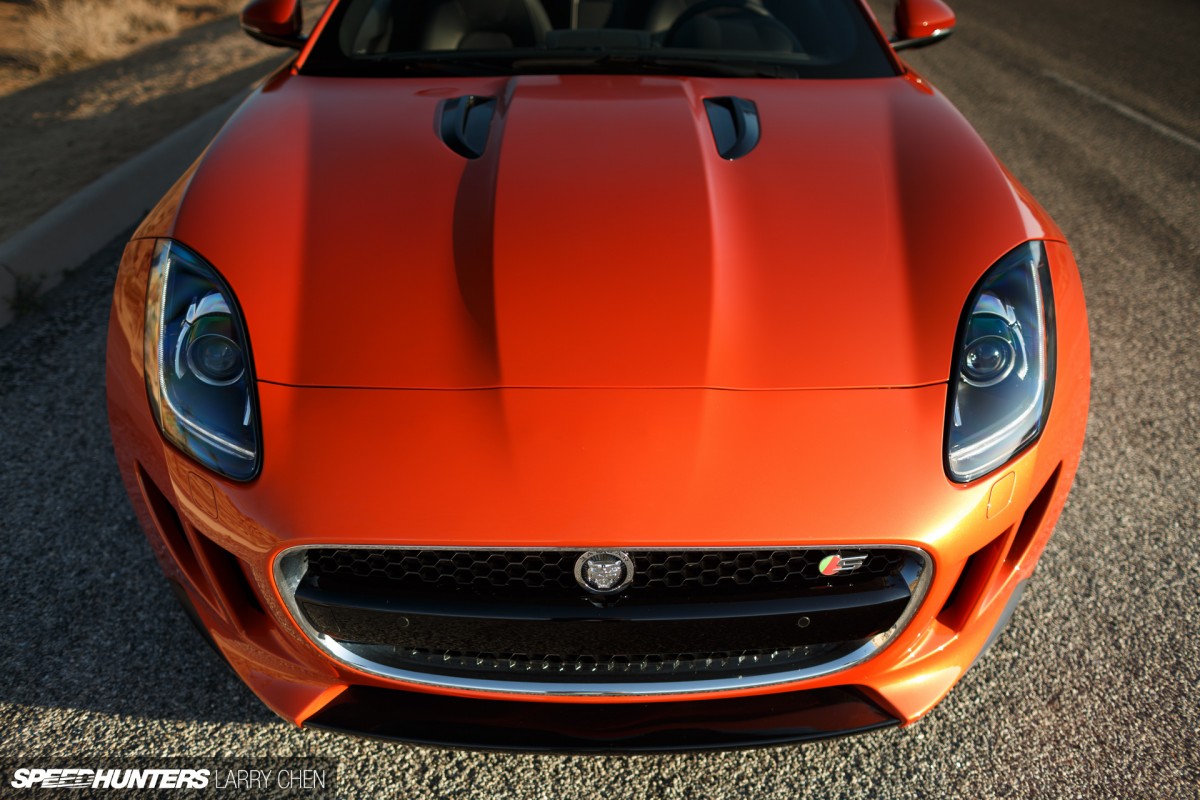 With more exotics per capita than nearly any other city in the world—barring maybe Dubai or Monaco—Angelinos are a jaded bunch. Their overwhelmingly positive response was a clear indication that Ian Callum's talented design team are onto something.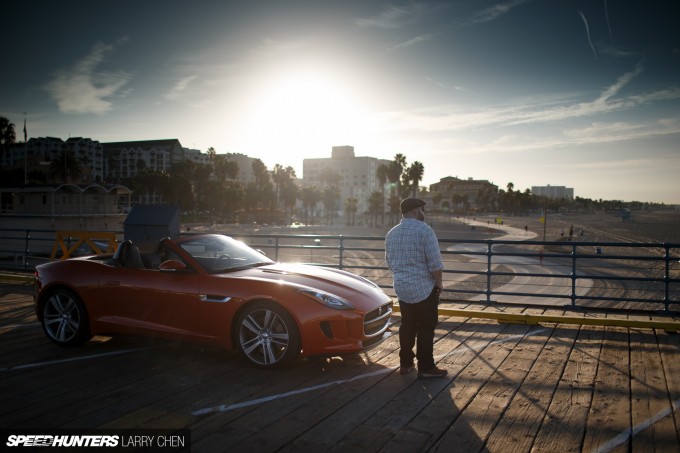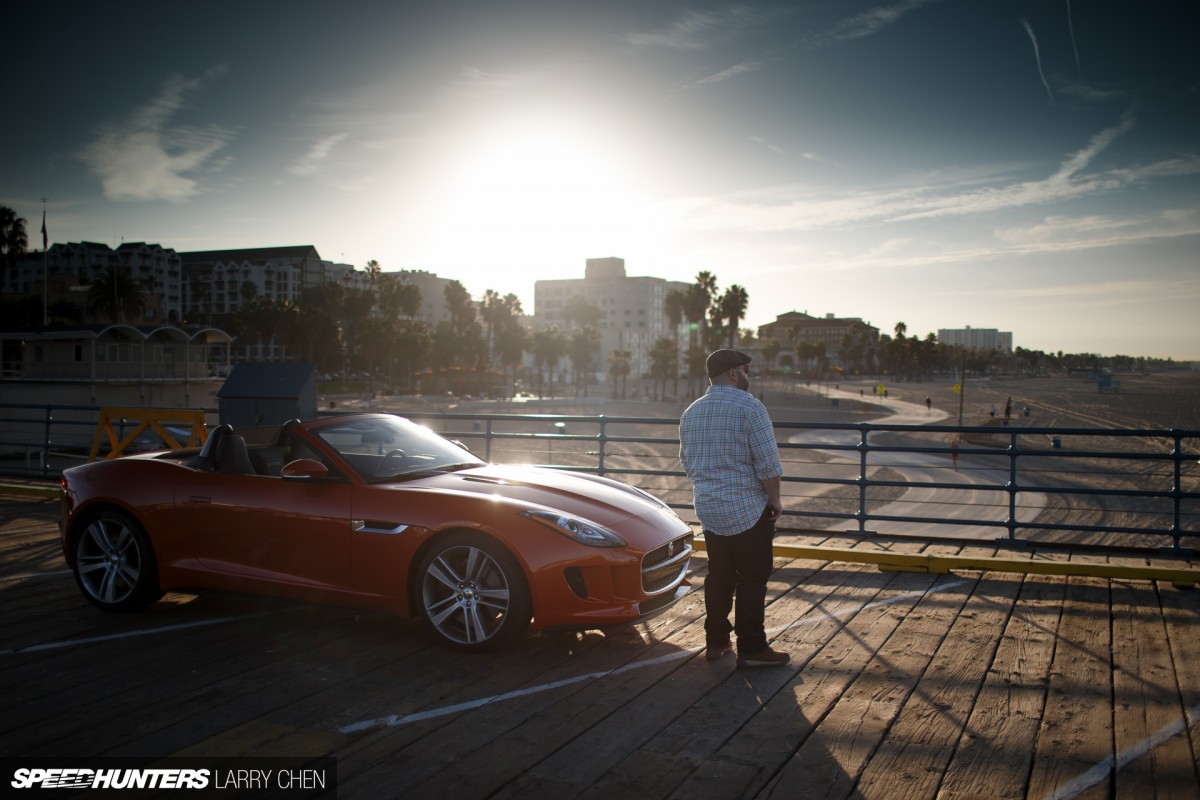 It was too early for carnival rides, but we took an opportunity to snap a few shots of the Jag near the water. Each individual plank of the lumpy wooden pier sent a distinct thump through its fat, 20-inch ZR-rated Pirellis and after a bit of positioning, Larry directed me to park. I stood to the side while he went to work, taking a few minutes to drink in the scene and reflect on the adventure unfolding before me.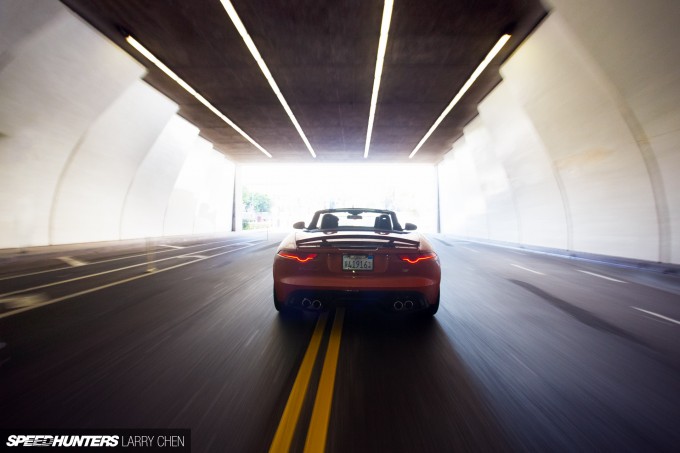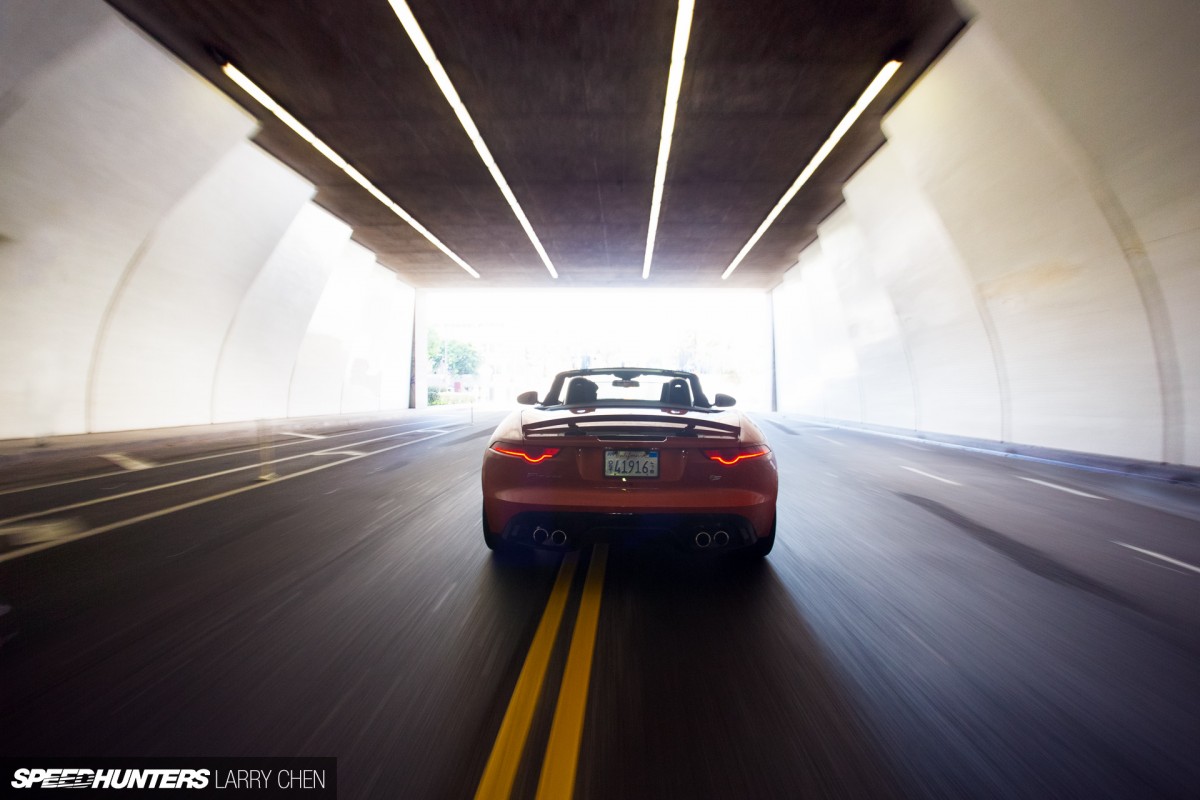 Next we headed to LA's iconic Second Street Tunnel, the site of countless Hollywood chase scenes and even more car advertisements – a massive 73 between 2006 and 2008 alone.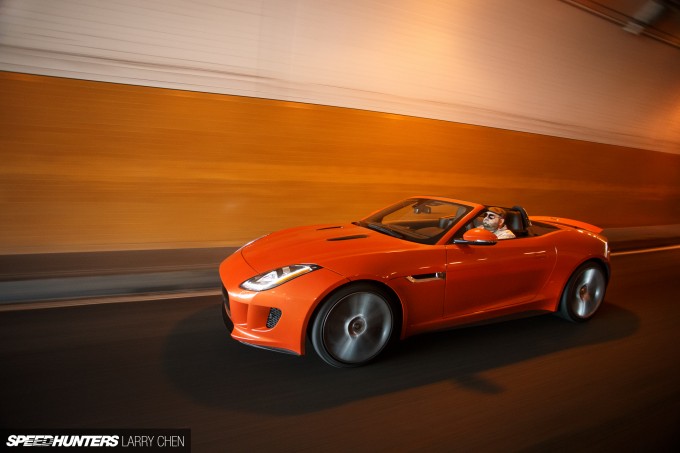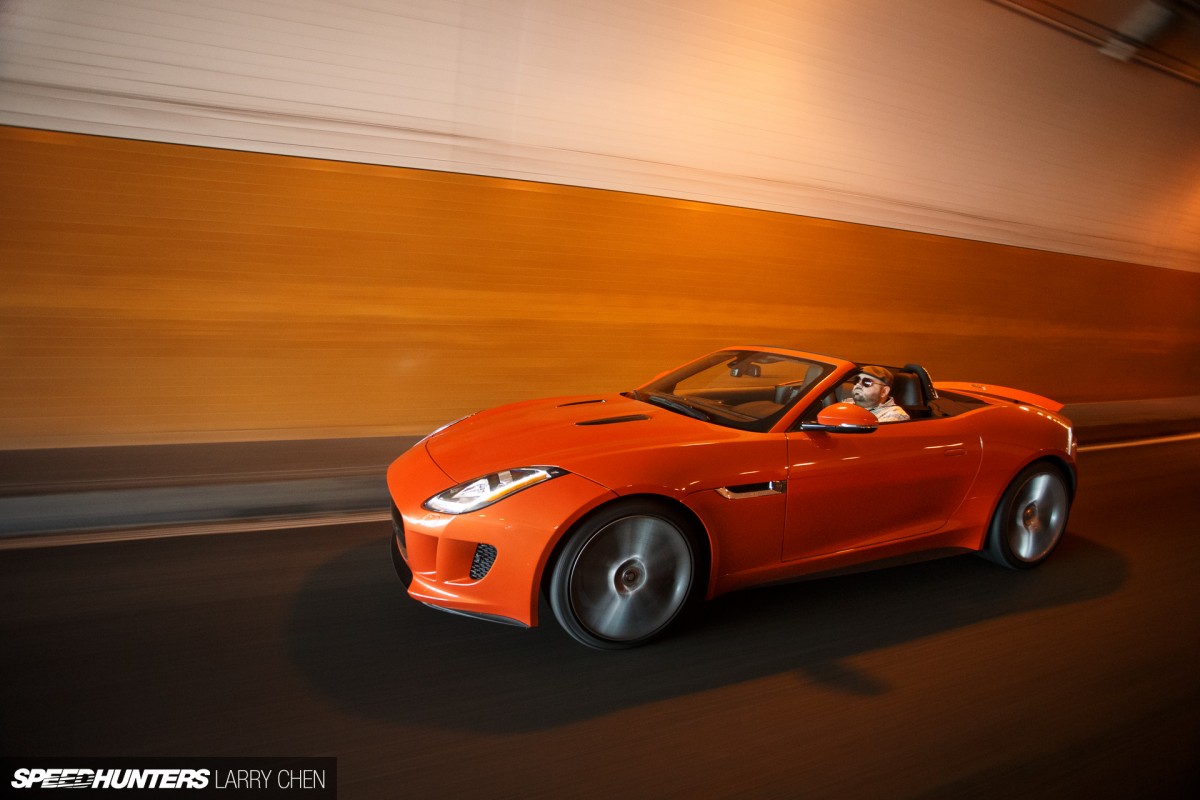 Traffic thwarted our efforts to get a good shot, but on the seventh or eighth pass, we finally caught a break, both lanes opening up for long enough to capture the chrome orange missile on a slow cruise down the center lane divider.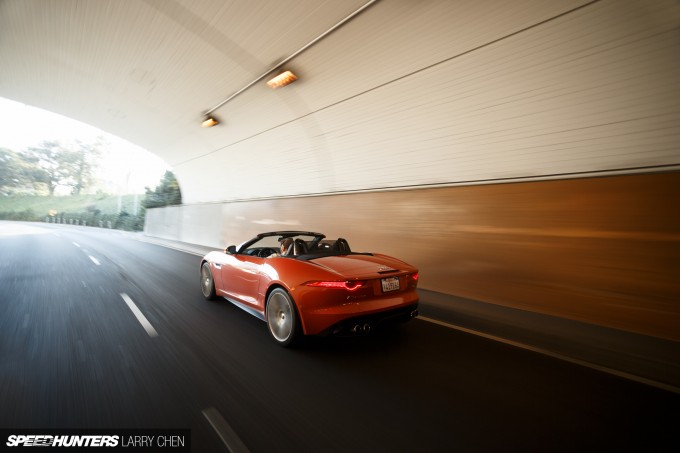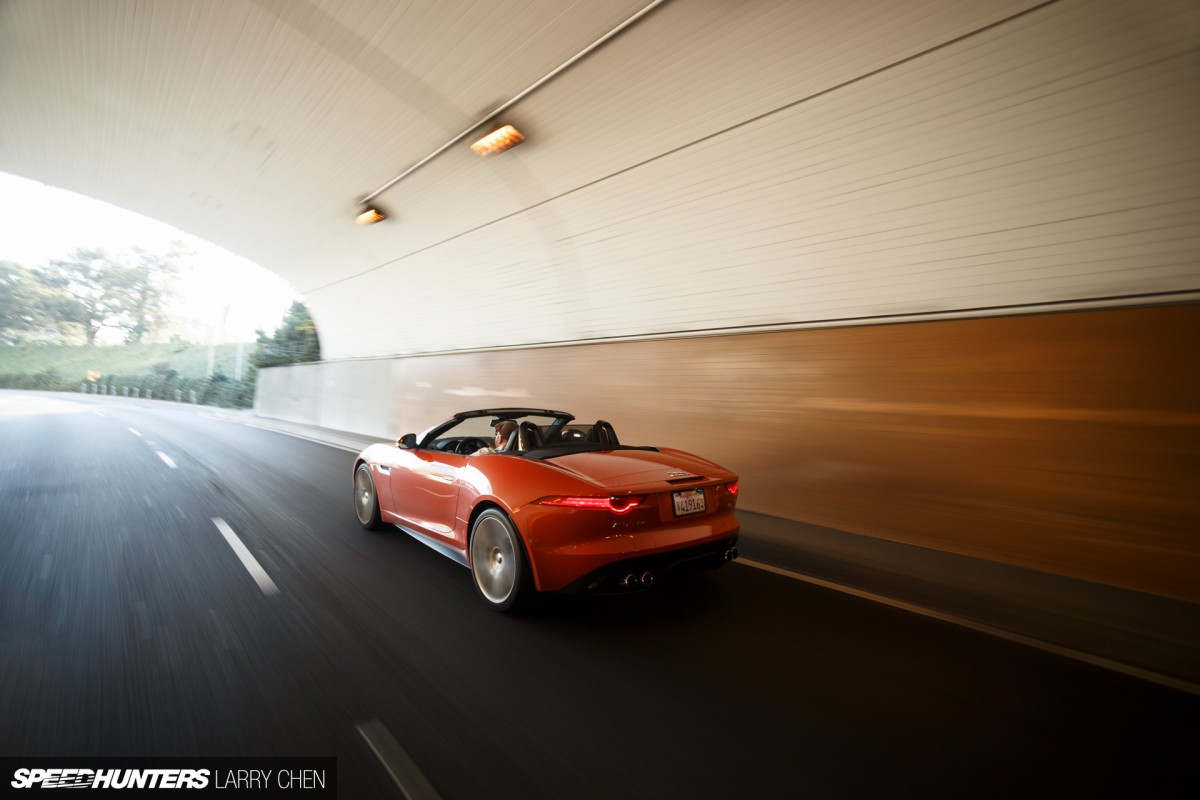 In celebration I made an impression of the throttle pedal's backside on the floor mat and temporarily deafened a few pedestrians in the process.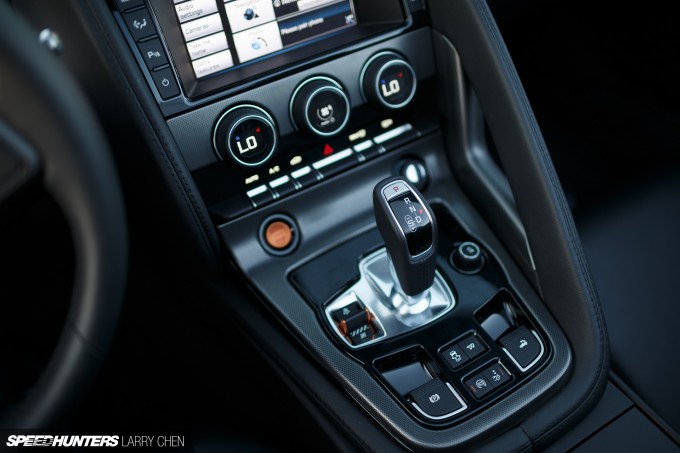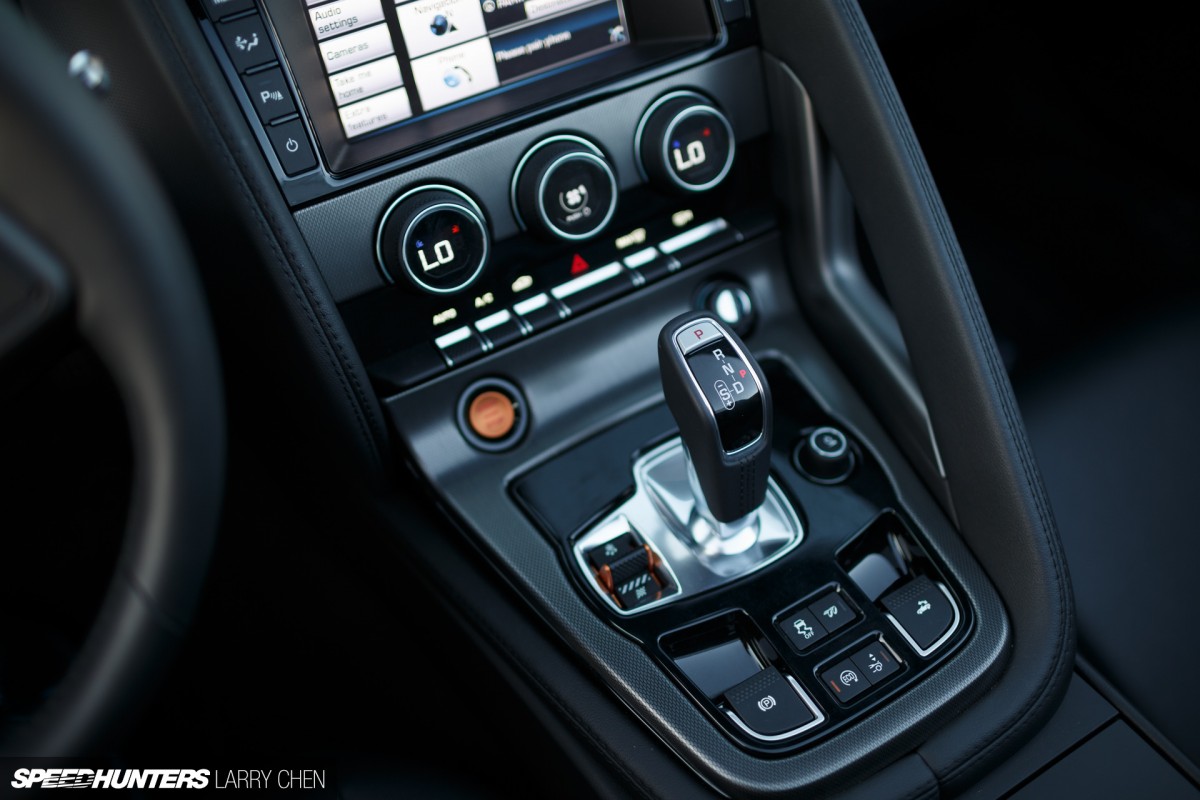 That reminds me. See that button directly in front of the gear selector? The one that looks like a big pair of sunglasses? That's my favorite button of all time. It de-restricts the exhaust, taking it from merely rude to astonishingly 'I can't believe that's legal' loud. The sound is distinctly V8 in origin, but bigger, meaner, and dirtier than any American muscle car on sale today. On fast upshifts or a trailing throttle, unburnt fuel explodes inside the hot exhaust pipes like heavy tank munitions, sending a whip-sharp crack echoing for what sounds like miles. Incredible.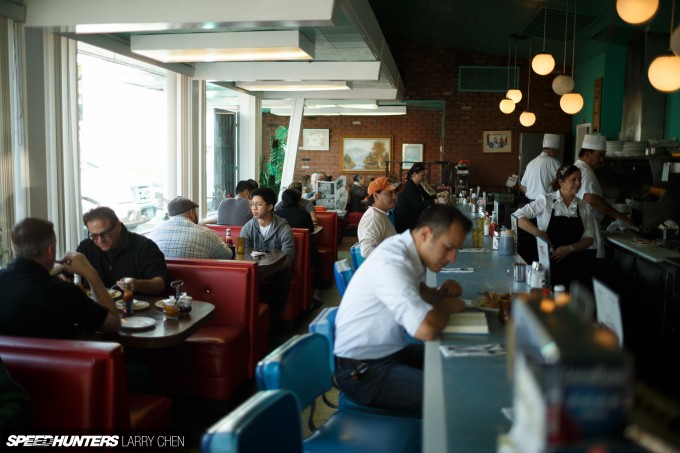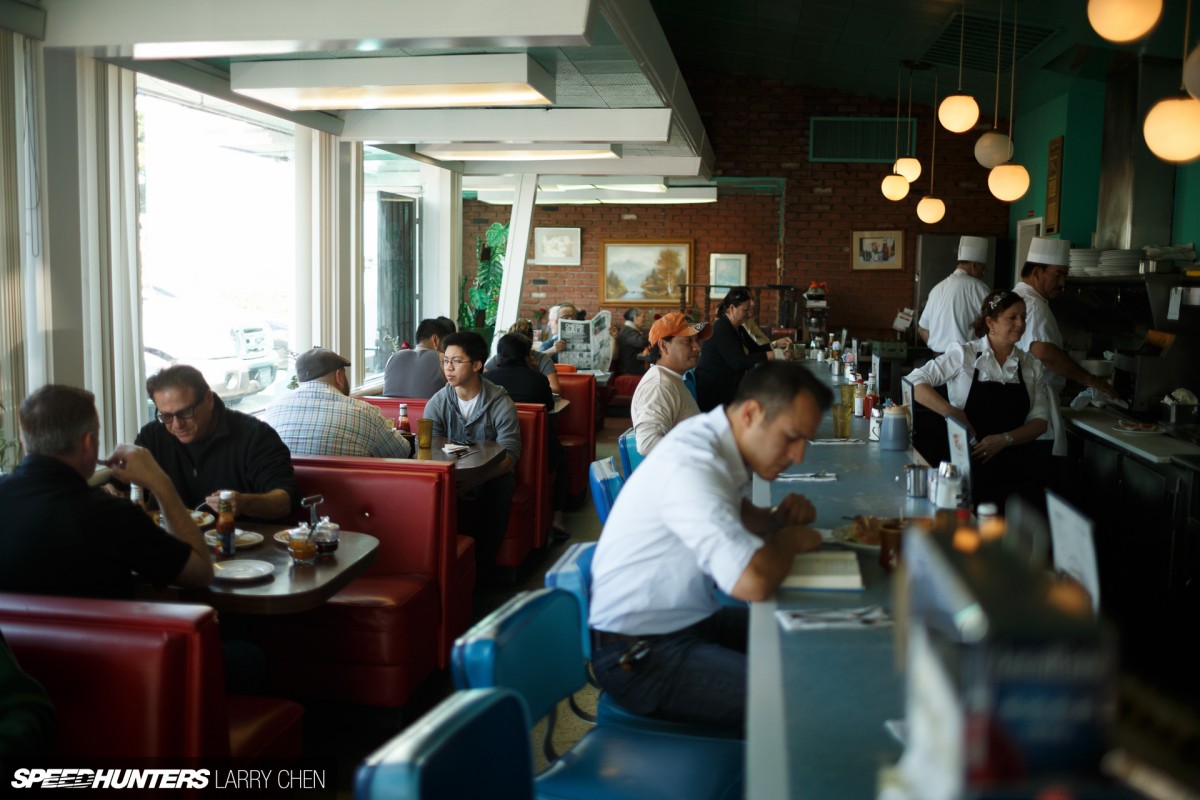 With Los Angeles in the bag, it was time to regroup for breakfast and make plans for Big Bear over coffee and eggs. We got lucky twice, firstly by snagging a great parking spot in the busy diner's parking lot, and secondly by swooping in on a freshly vacated booth directly in front of the resting cat.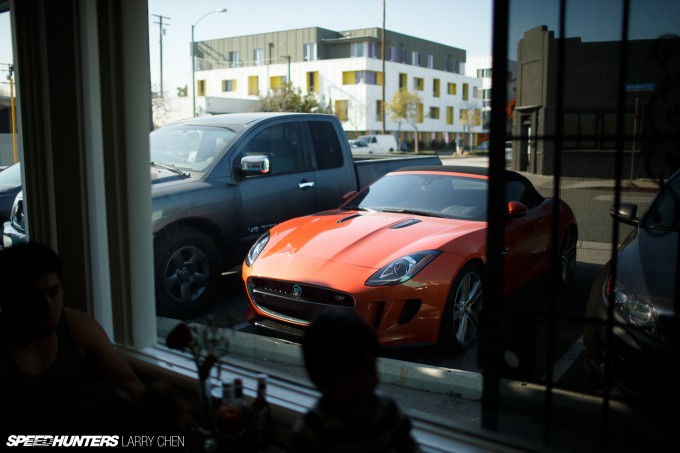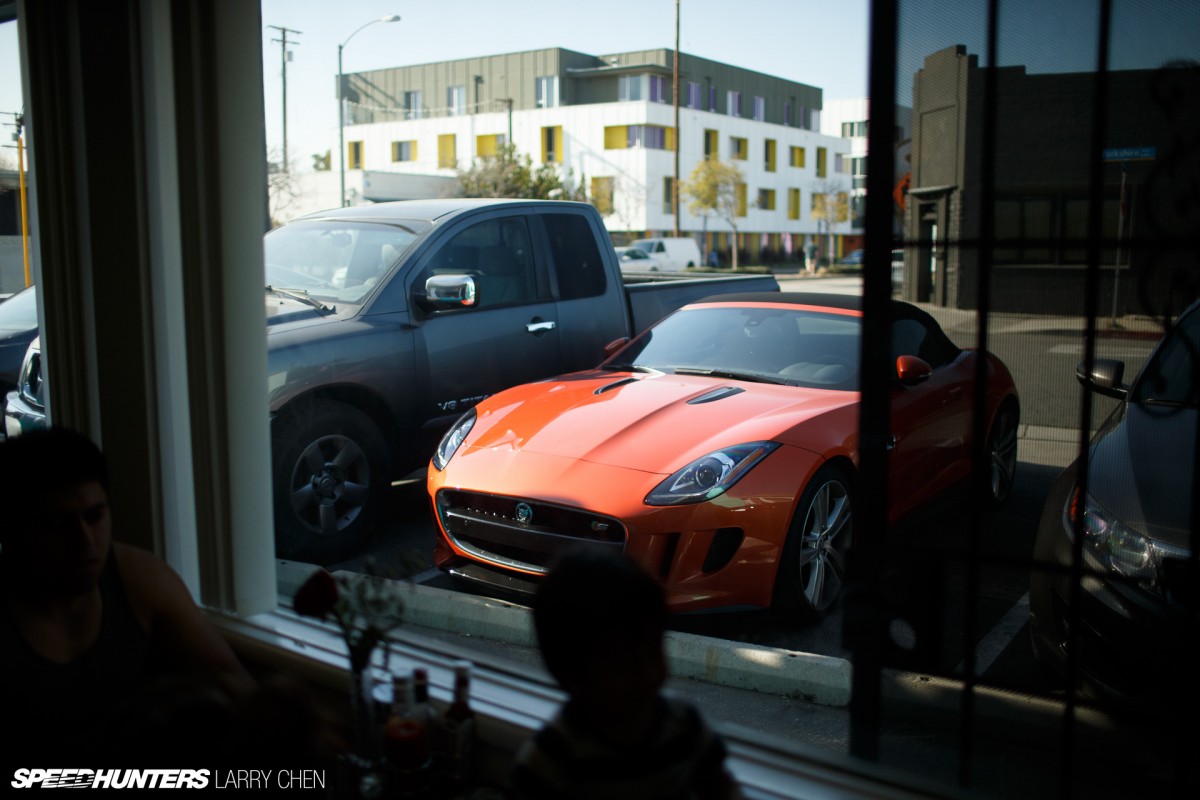 I tried not to look distracted, but it was hard to resist stealing a quick glance out of the large window to my left every minute or so. As we left I noticed my hand trembling slightly as I reached for the car's flush retracting door handle, but I wasn't sure if it was excitement or caffeine.
In search of snow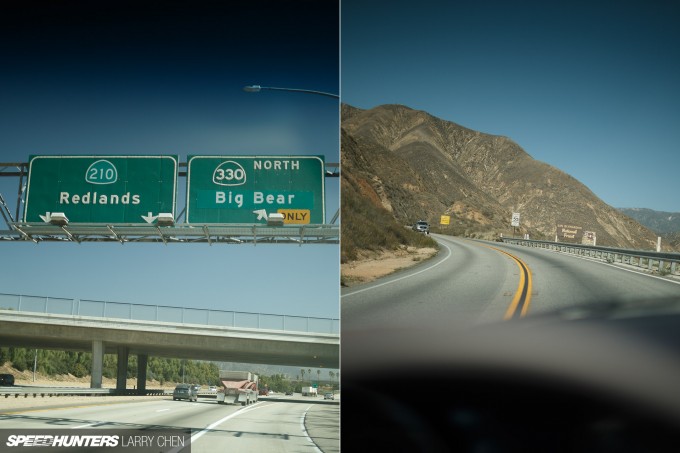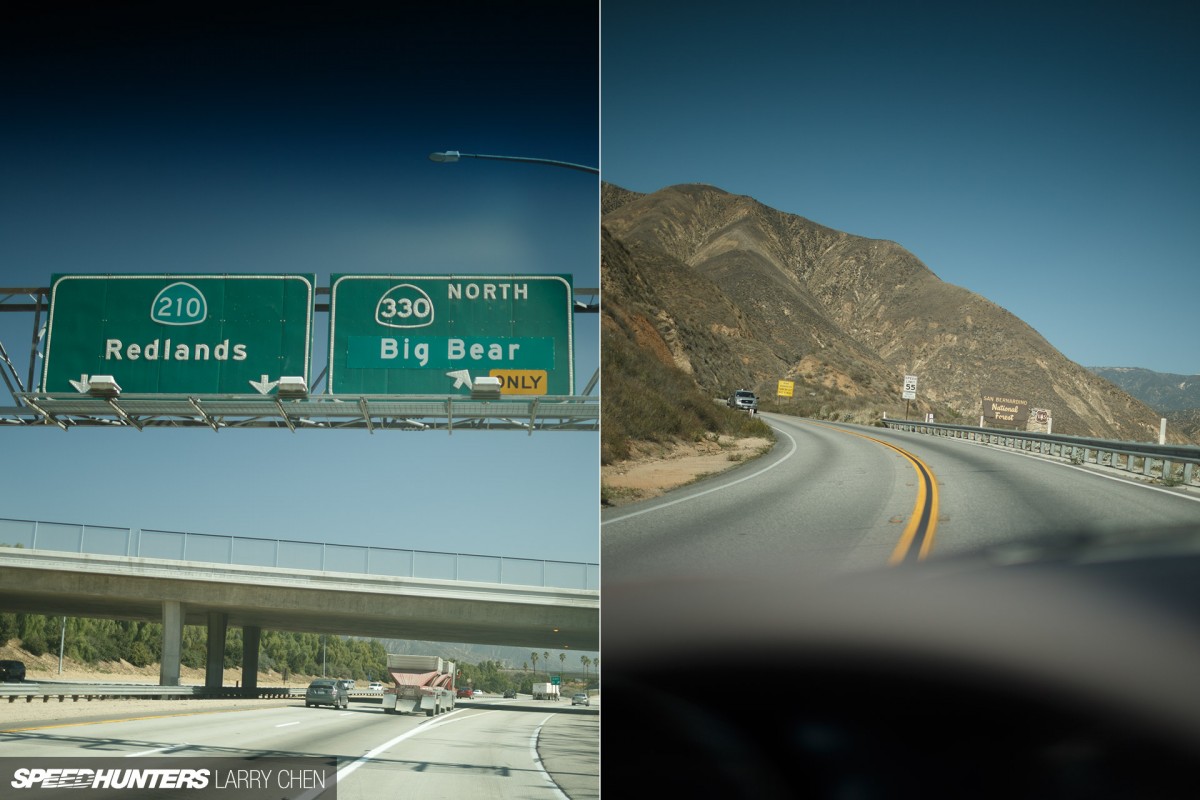 We hit the 10 East freeway and head, well, east. It was 11am or so and the commute had long cleared, leaving the straight, smooth tarmac before us nearly vacant save for the random straggling camper, courier van, or delivery truck.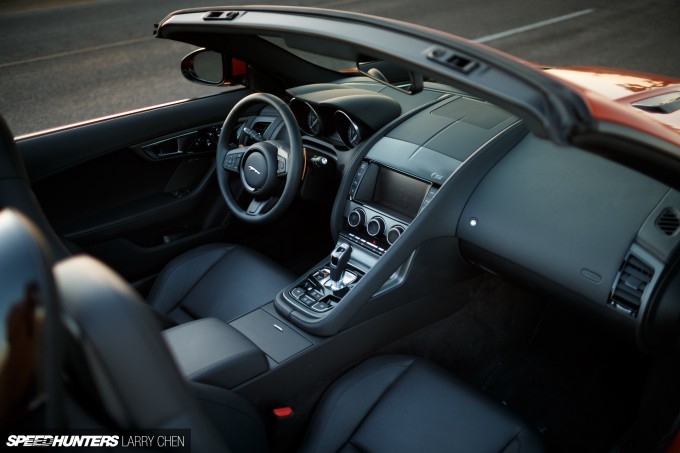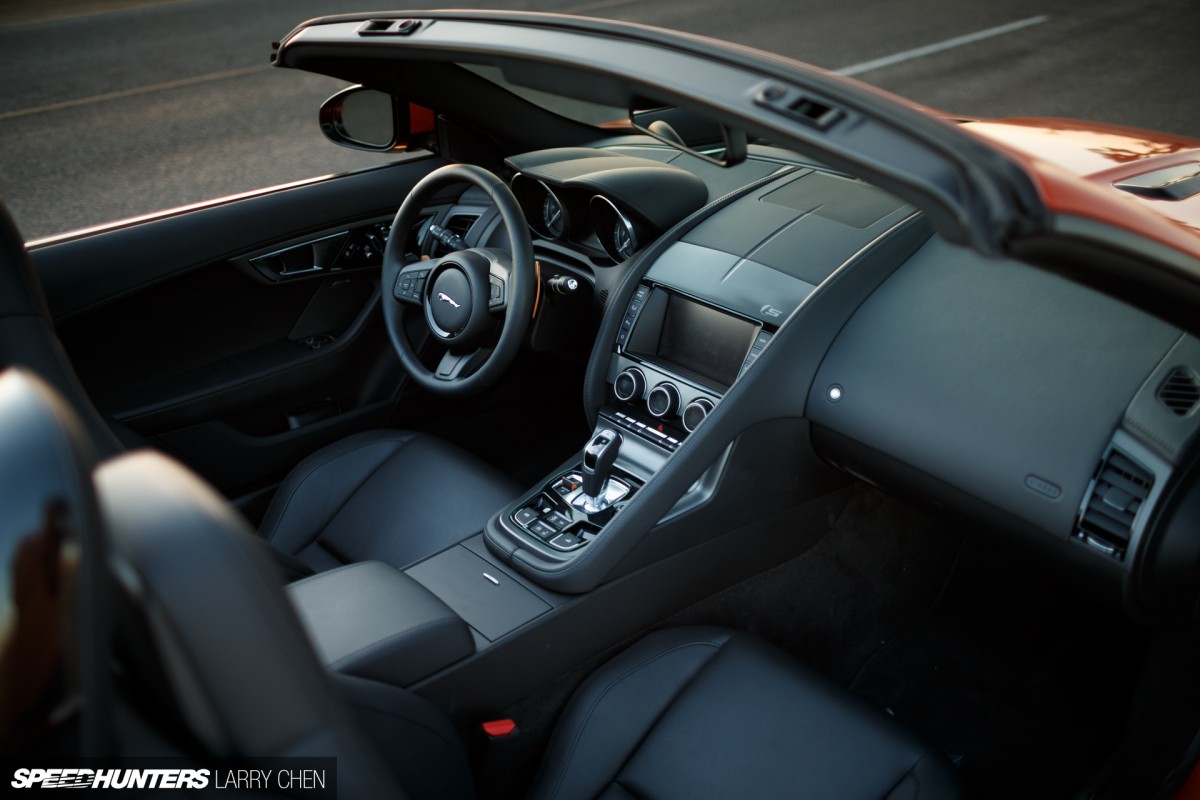 The Jag's big screen navigation menu read 110 miles to go, T-minus 2 hours, 15 minutes – is that a challenge, car? Let's just say that a freshly topped-off tank, an unreasonable amount of horsepower and cooperative conditions weren't put to waste.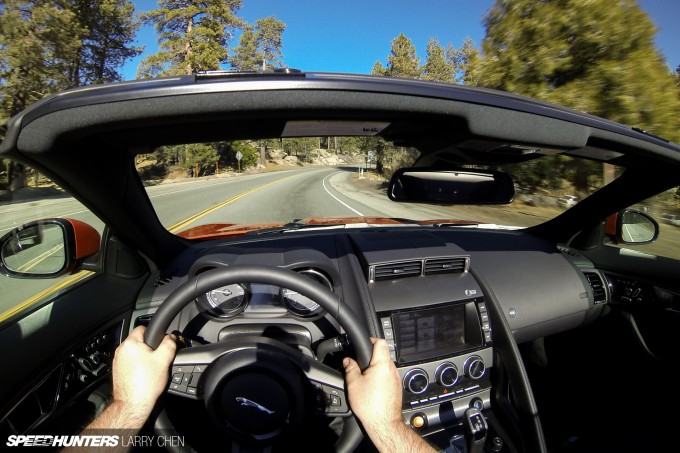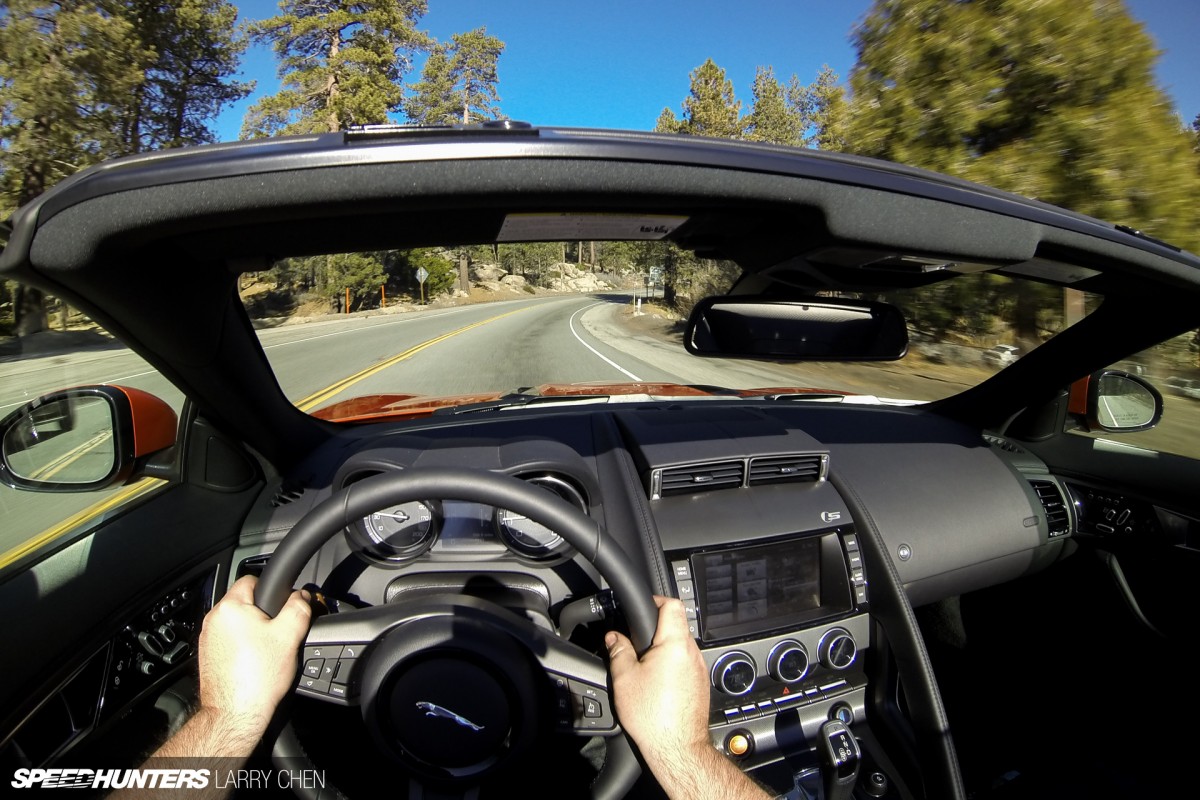 Rising steadily from a few feet above sea level towards Big Bear's 7,000 feet peak, we quickly left LA's infamous permasmog, trading that thick, yellowish, grimy gray haze for frigid, clean mountain air, clear skies, and hopefully, some late season snow. As the rocky peaks drew closer, the road narrowed and steepened appreciably, but the big-lunged cat never strained or dropped below top gear despite the thinning atmosphere. Forced induction is a wonderful thing.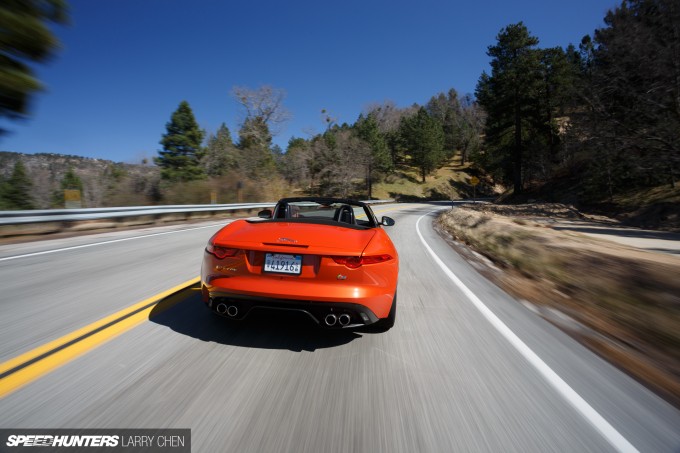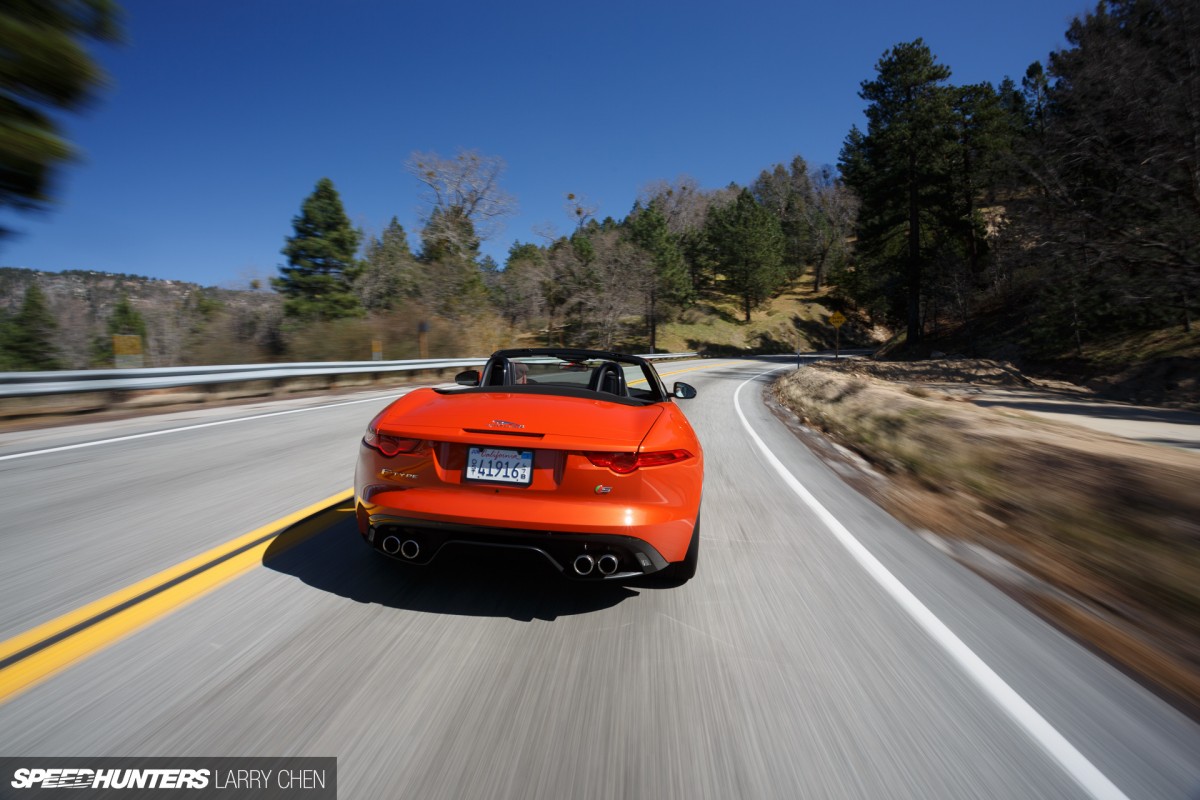 Aside from providing a front row seat for solar events and a never-ending black metal tailpipe concert, the F-Type's folding roof really let in the ambience of your surroundings in a way that simply can't be experienced in a fixed top car.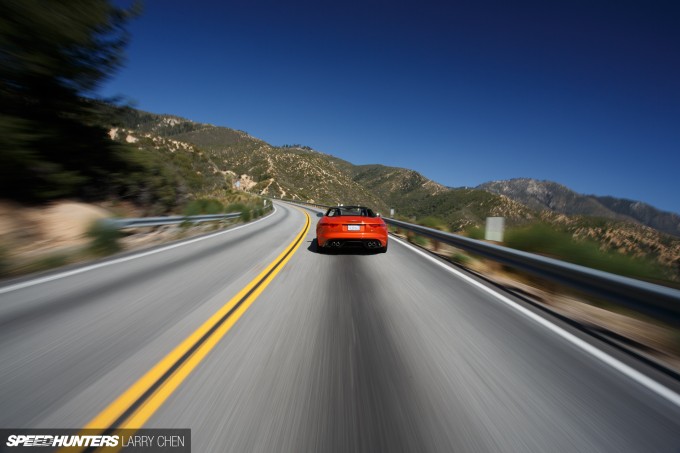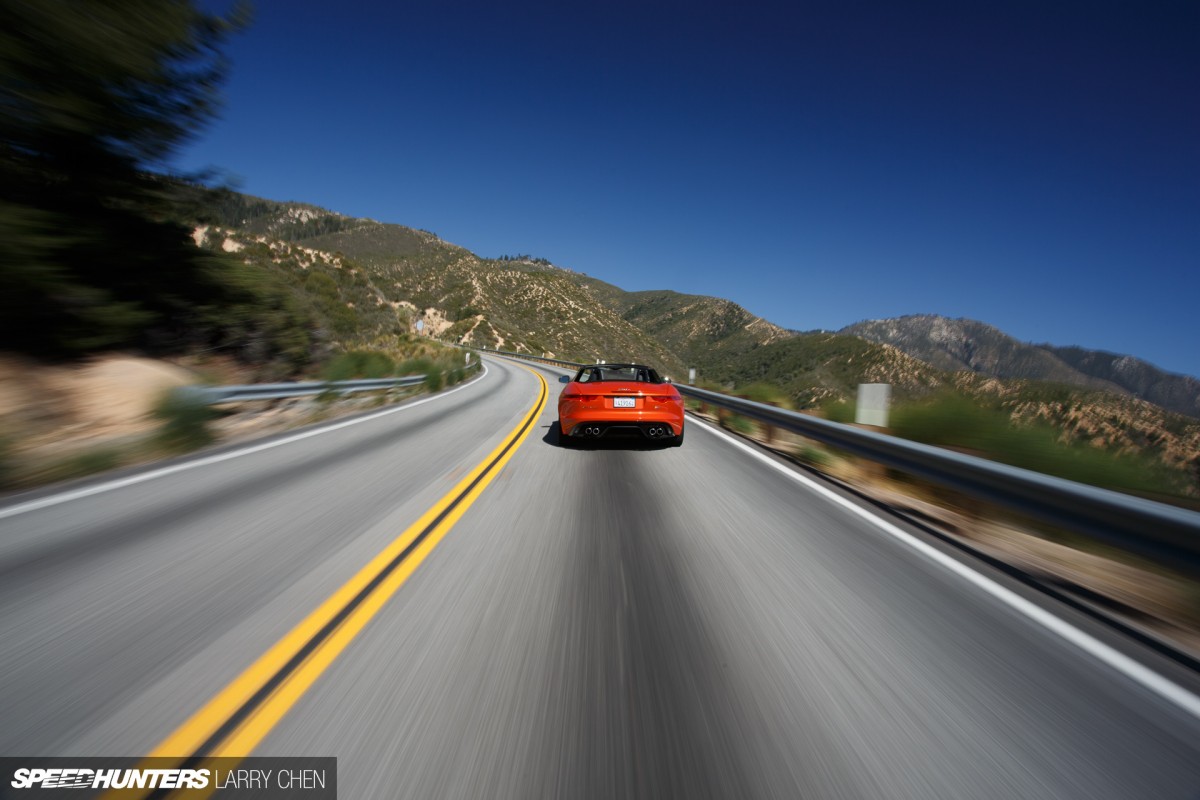 The added dimension of enhanced sound and even smell was magical, and during the rare quiet moment at stop lights or lay-bys, it was a real treat to hear the wind blowing through the bare winter branches of trees, or to catch a whiff of crisp, pine-scented air. A sunroof, even a large one, doesn't come close.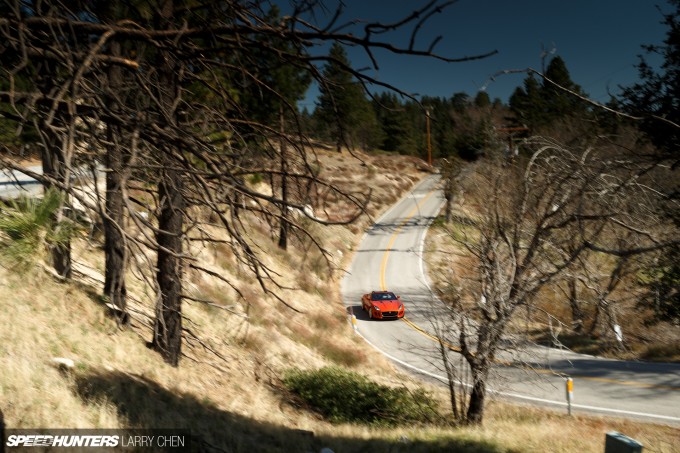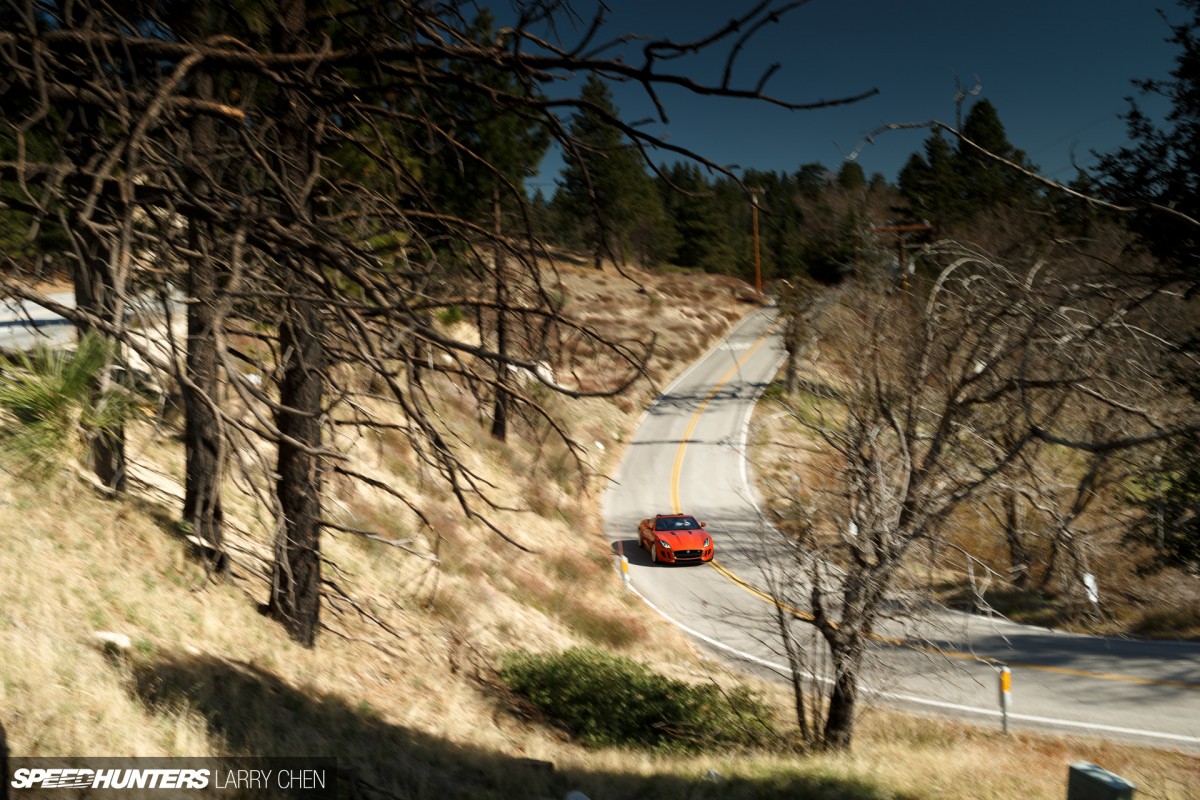 Leveling out near the summit, concrete gave way to faded blacktop, and straights conceded to twisties, finally affording an opportunity to feed the hungry, exotic feline some proper driving. Its handling is nearly on a par with its power, and though always comfortable and relaxed in true grand touring style, it's a remarkably sharp tool given its bias towards luxury.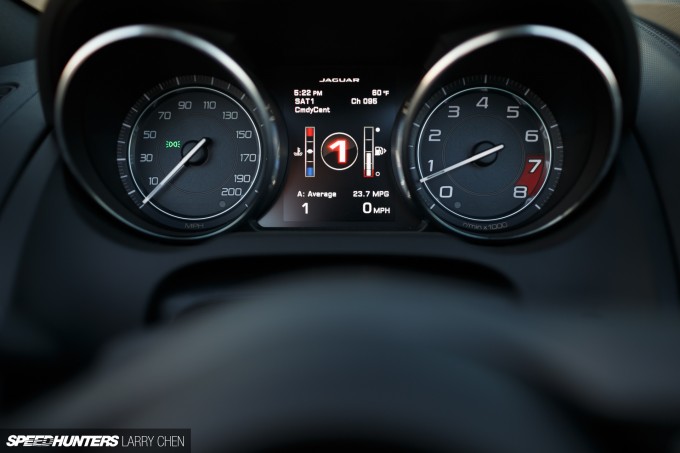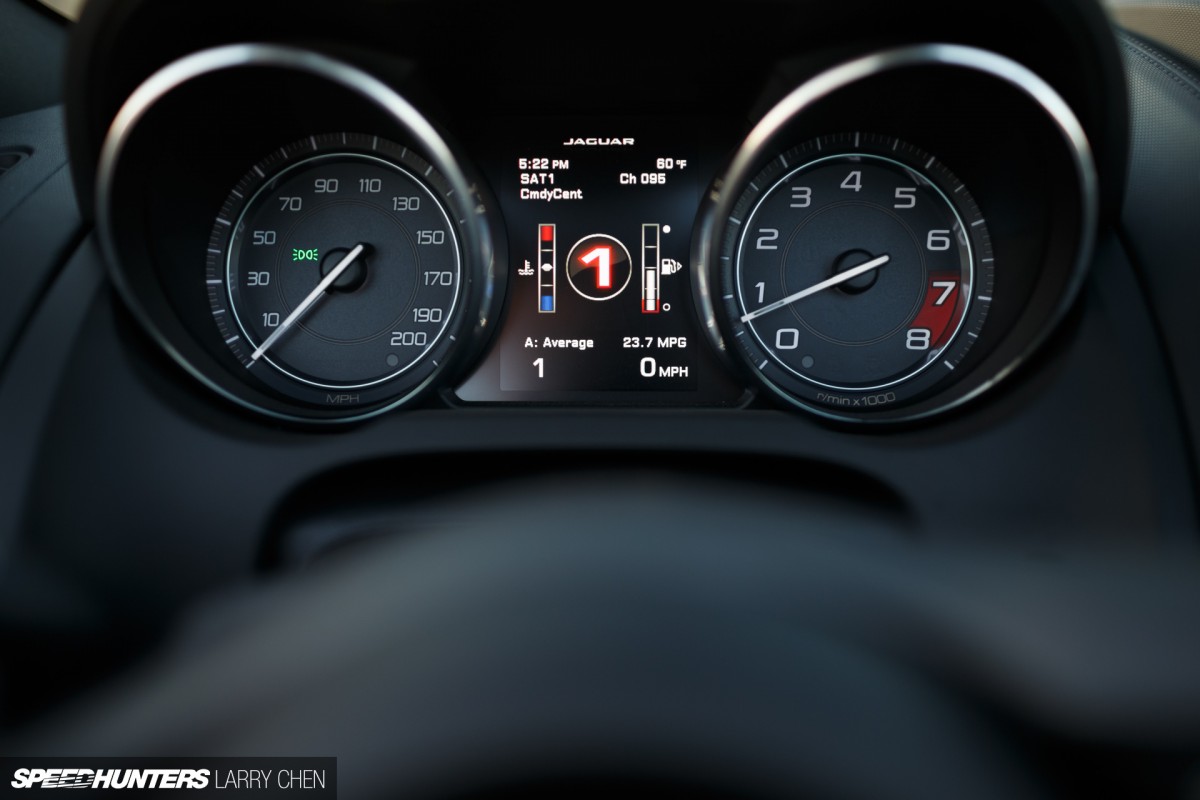 In addition to a nicely sorted chassis and Satan's own eight cylinder, by this point in the drive I was ready to admit that the V8S is also equipped with the best automatic transmission I've ever had the pleasure of operating. Well-placed metal paddles reward with near-instant shifts, a satisfyingly mechanical feel and a violent thunder crack from the four big pipes.
In my entire life, I've only nailed a handful of heel-and-toe downshifts with the precision that the Jag rev matches every single time, and if I'm man enough to admit this, then I can admit I was wrong about two pedal set-ups in fast cars. I'll never relinquish my manually shifted relics, but our semi-autonomous future is not entirely bleak.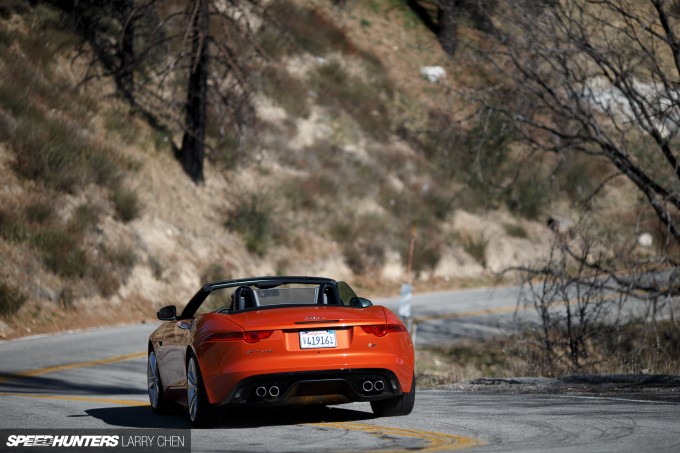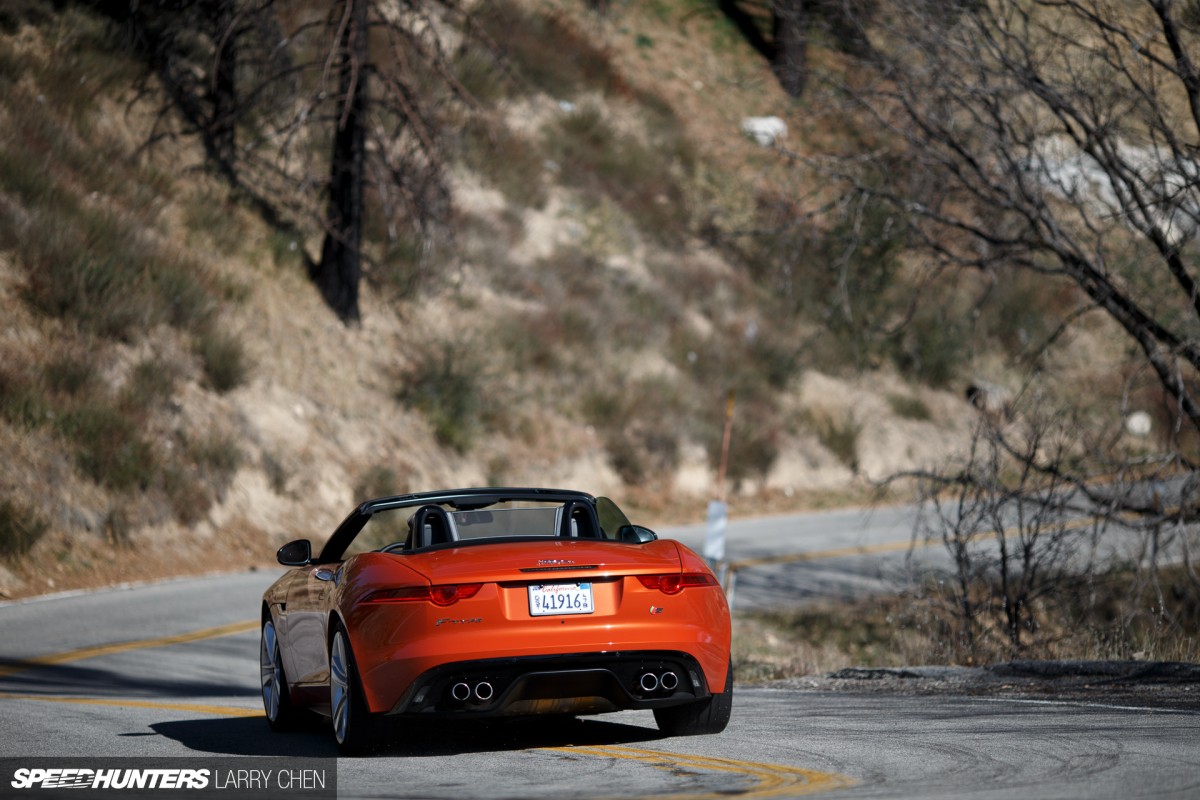 The slopes drew nearer and nearer, and as the temperature dropped, I began to seriously consider putting the top up for the first time. The roads were simply too good to slow to a crawl though, and in the end I decided to crank the heat instead, beckoning the retractable center vent from its dash-top resting place. Despite the cold, it was becoming clearer with each passing mile that snow wouldn't be on the menu this afternoon.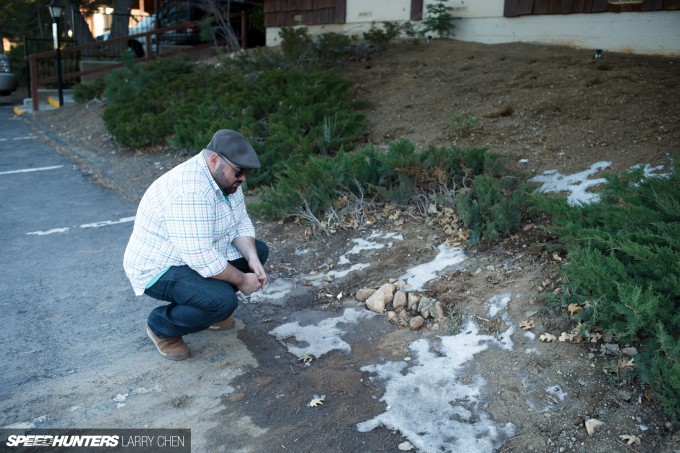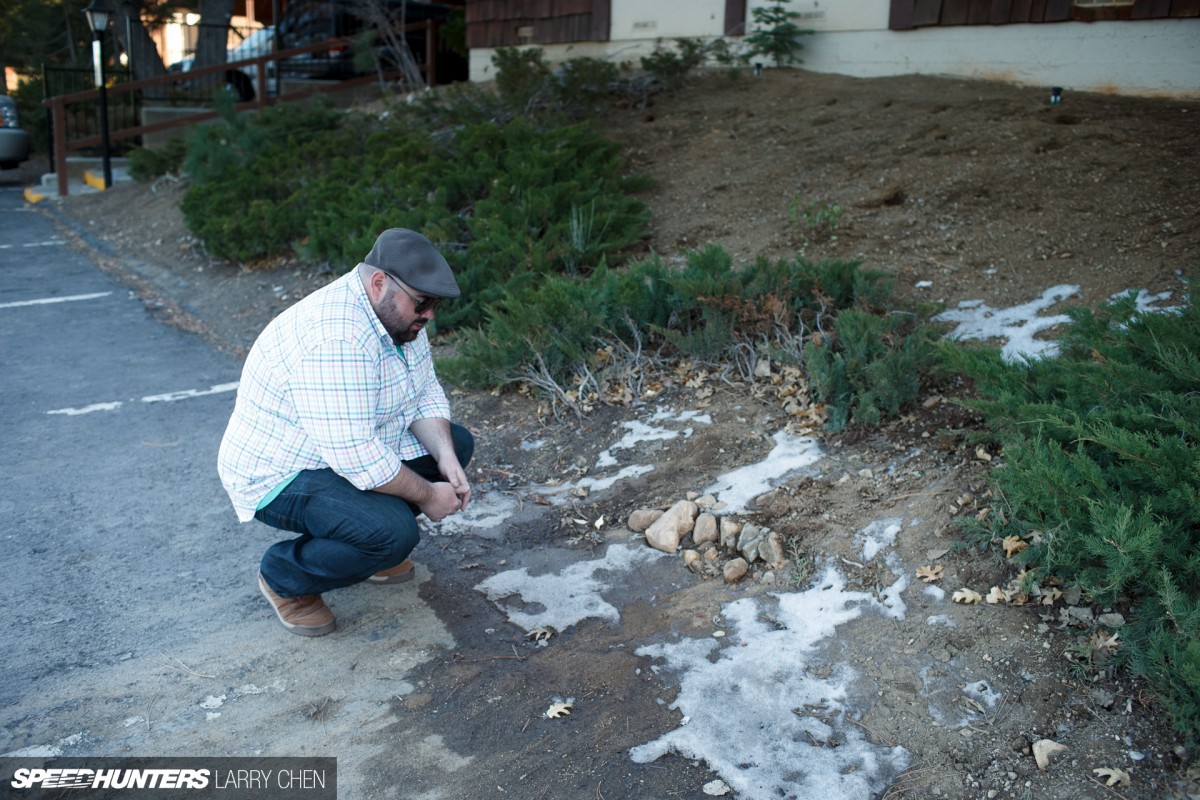 But wait… snow! A ski resort for ants! For a minute or two I was a bit disappointed, until I remembered the recent photo message from my brother showing six feet of the stuff piled up on his front lawn back home in Chicago. Never mind, I'm cool.
Joshua tree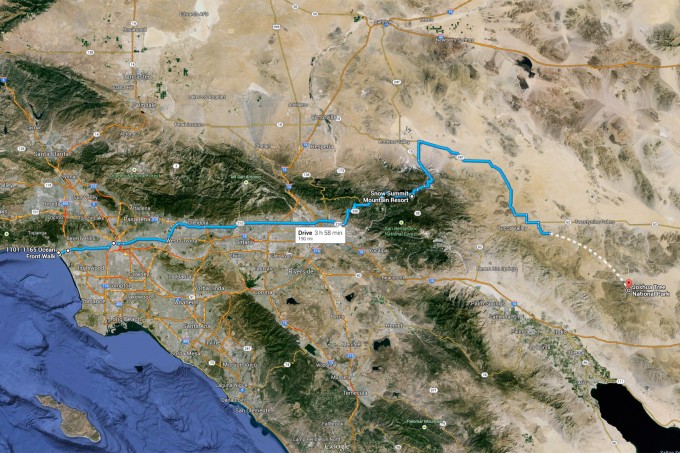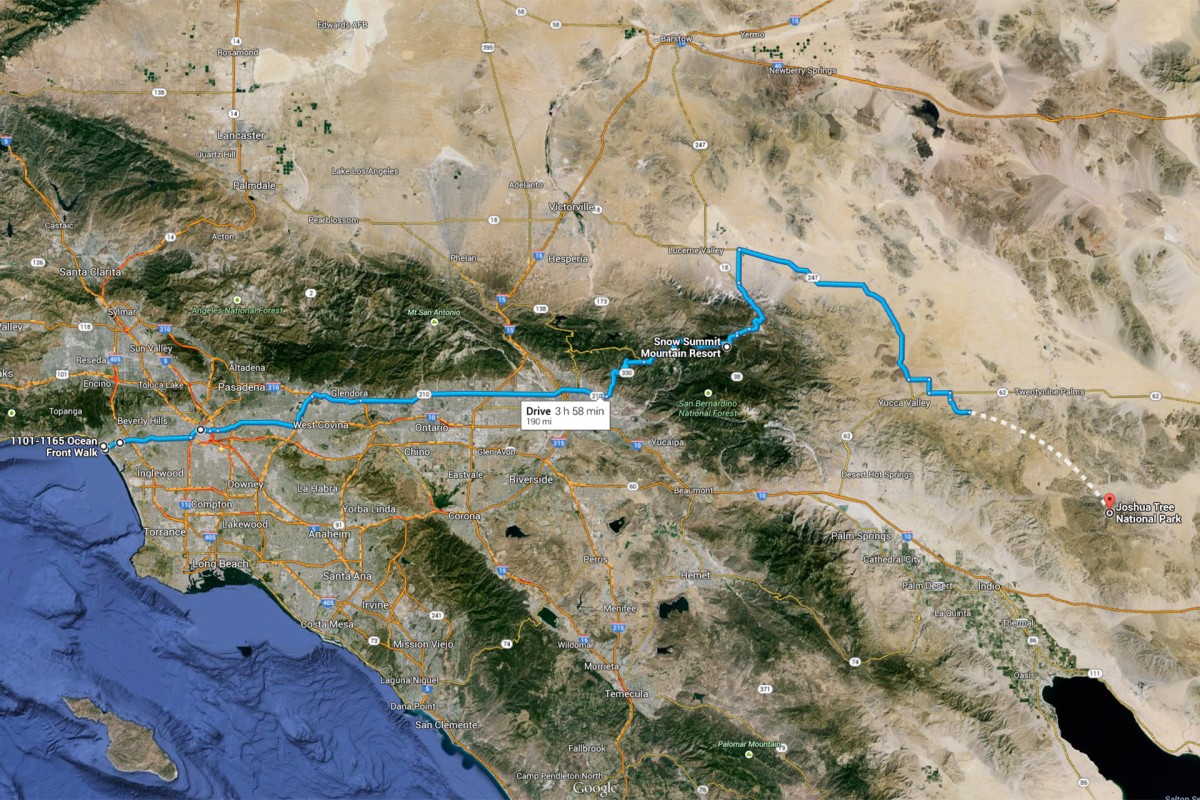 So far that day, the Jag and I had been to sandy beaches, dusty valleys, (slightly) snowy mountain peaks, and now we were headed for the high desert.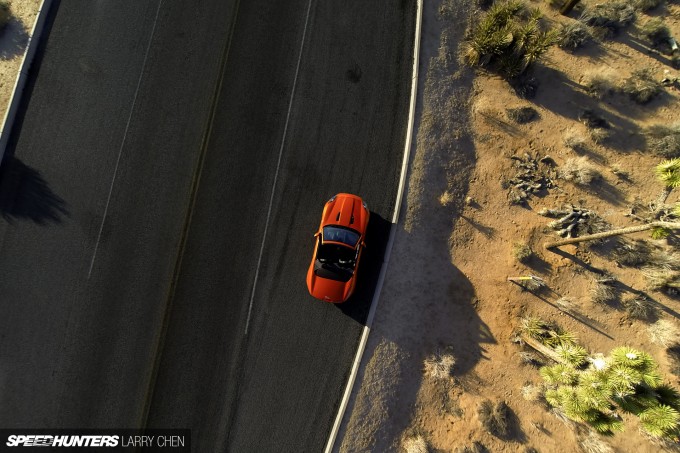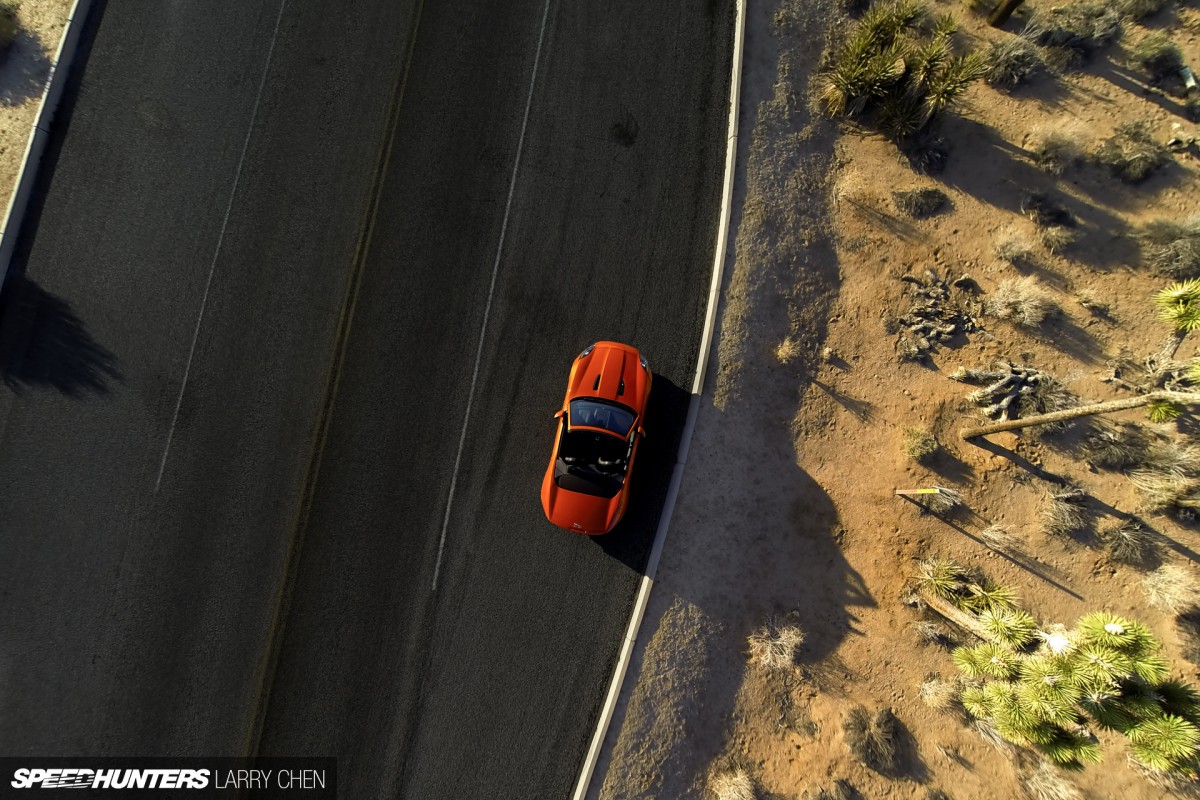 We descended the eastern half of Big Bear seemingly twice as fast as it took us to climb its western front, racing the setting sun towards the orange and purple horizon.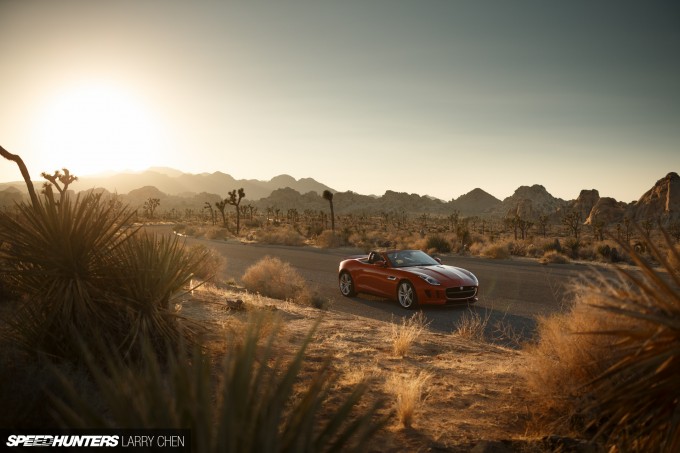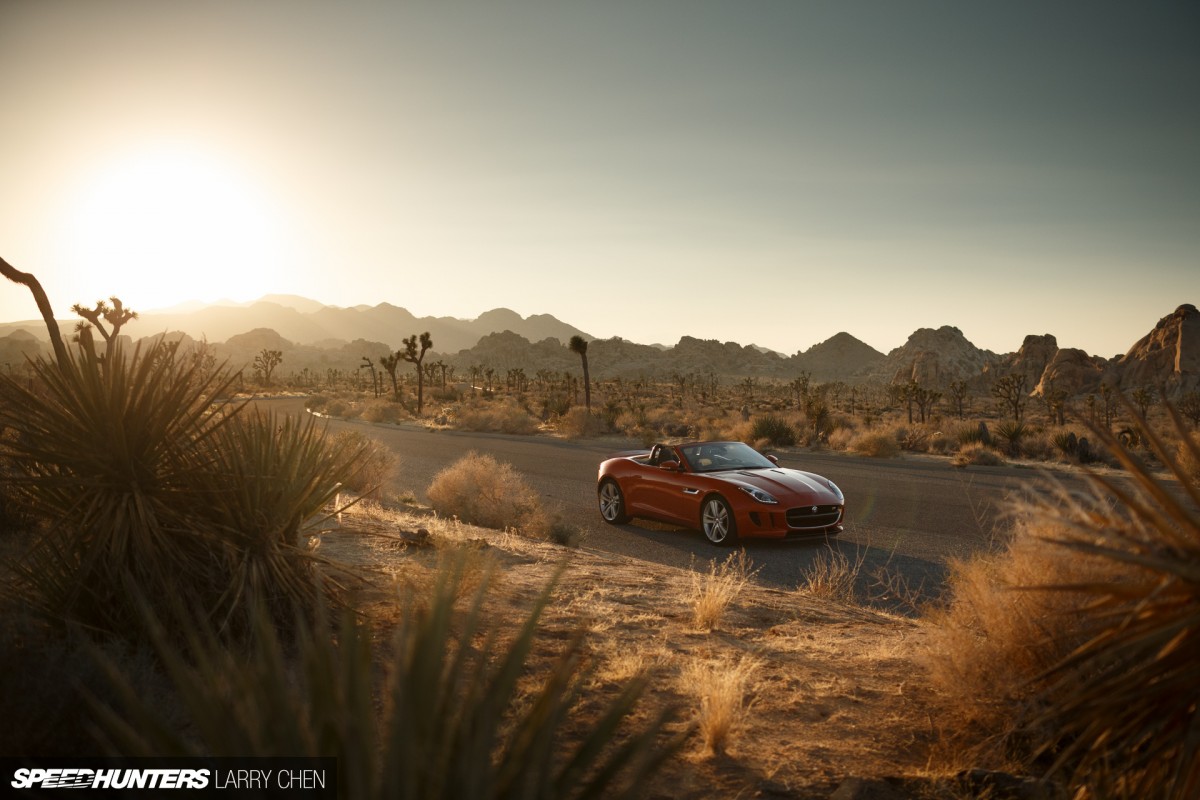 The transition from high, rocky pass to flat, arid plain happened so fast it was difficult to pinpoint where the big hills ended and desert began and before I knew it, we were lining up for an entry ticket to Joshua Tree National Park.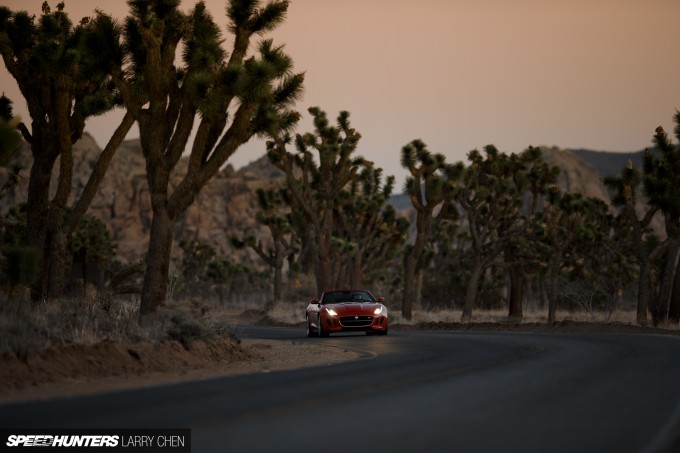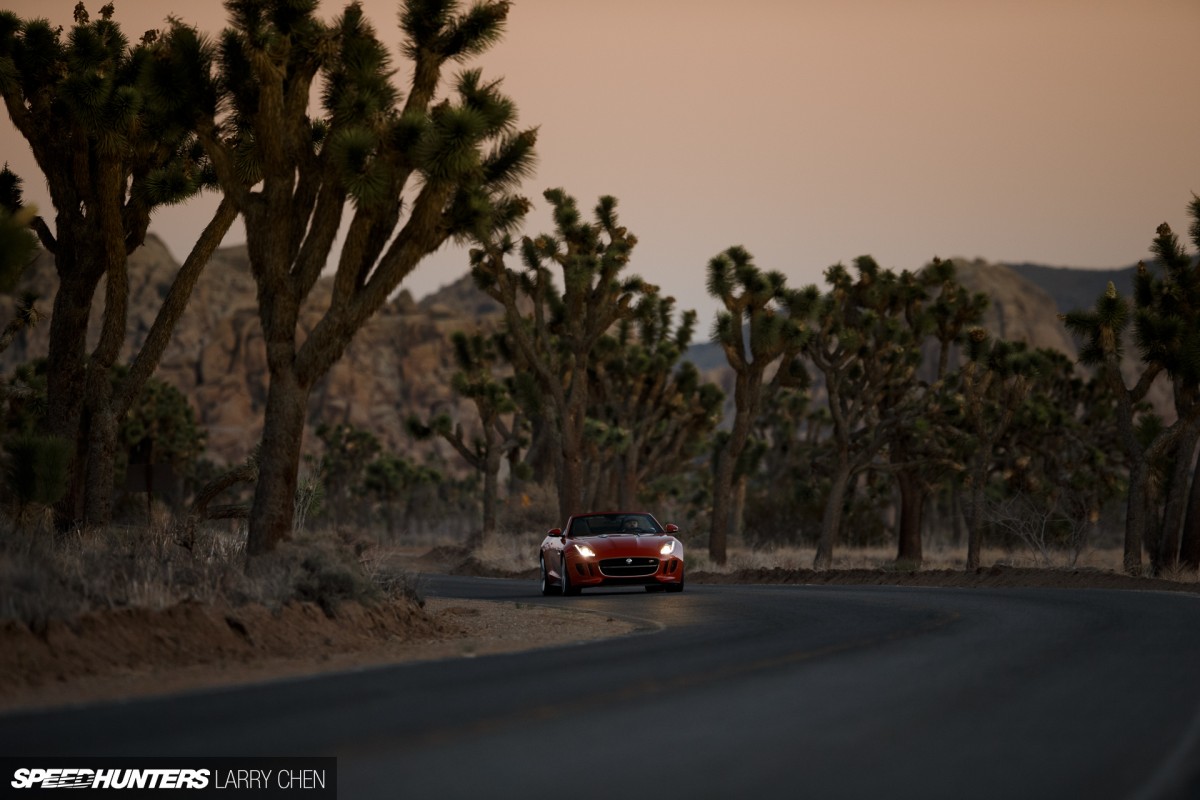 The silence of this place was breathtaking and surreal, in which the sound of the angry bent eight took on a completely new quality, like an organ concerto before an audience of empty pews in a large, high-ceilinged church.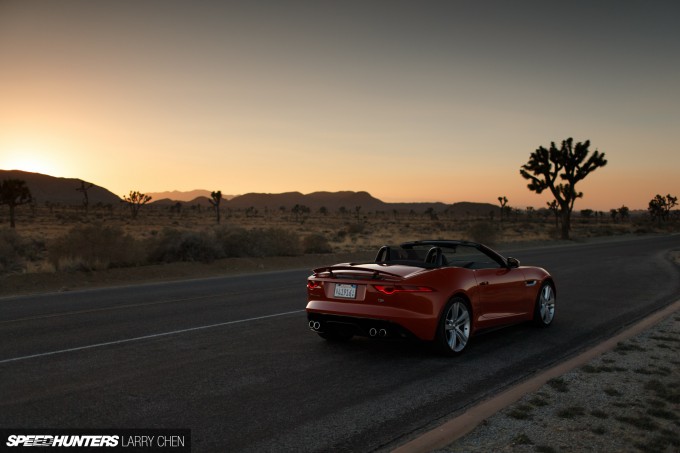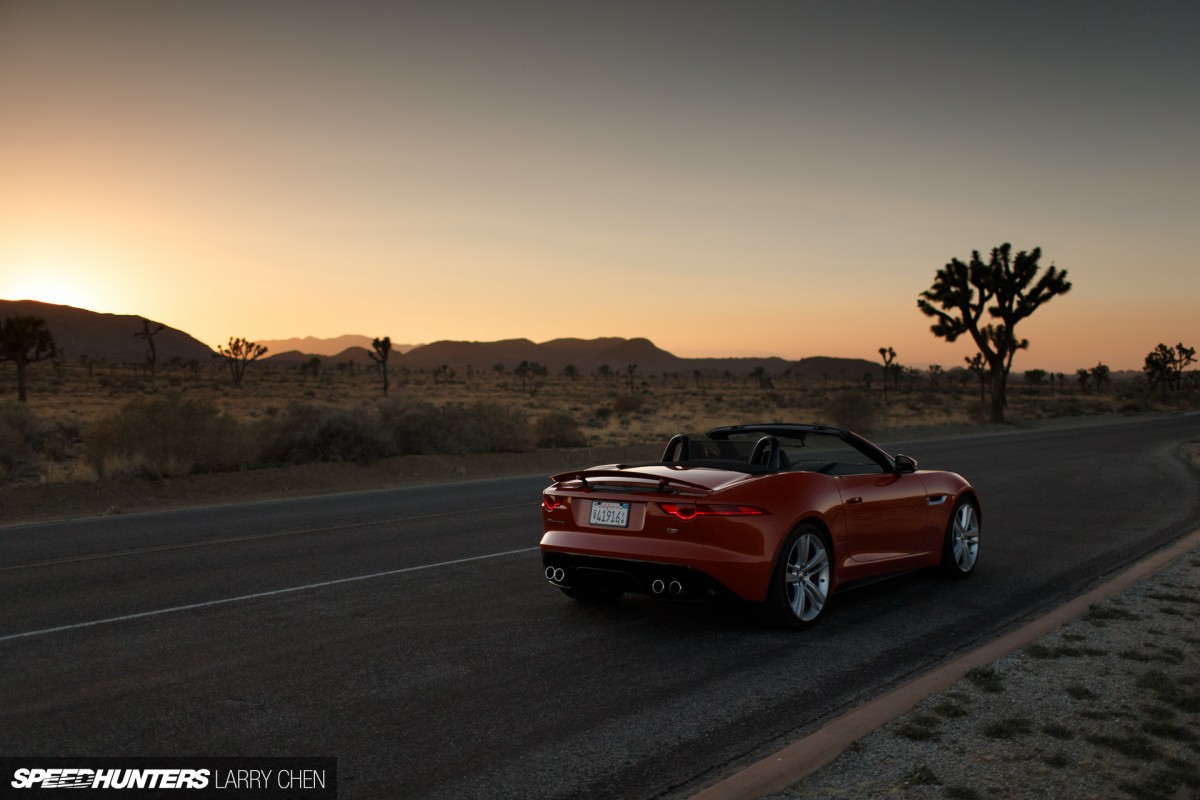 Larry had me pull over for some stationary shots in front of the gnarled and ancient-looking branches of one of the trees this park is named for. The second the car was switched off, I was once again overwhelmed with quiet; the sonics of this place matched perhaps only by the otherworldly light, particularly now during the razor-thin twilight precipice between night and day.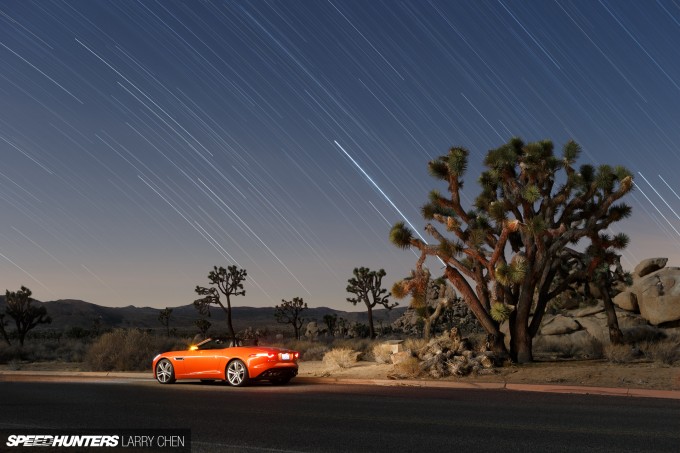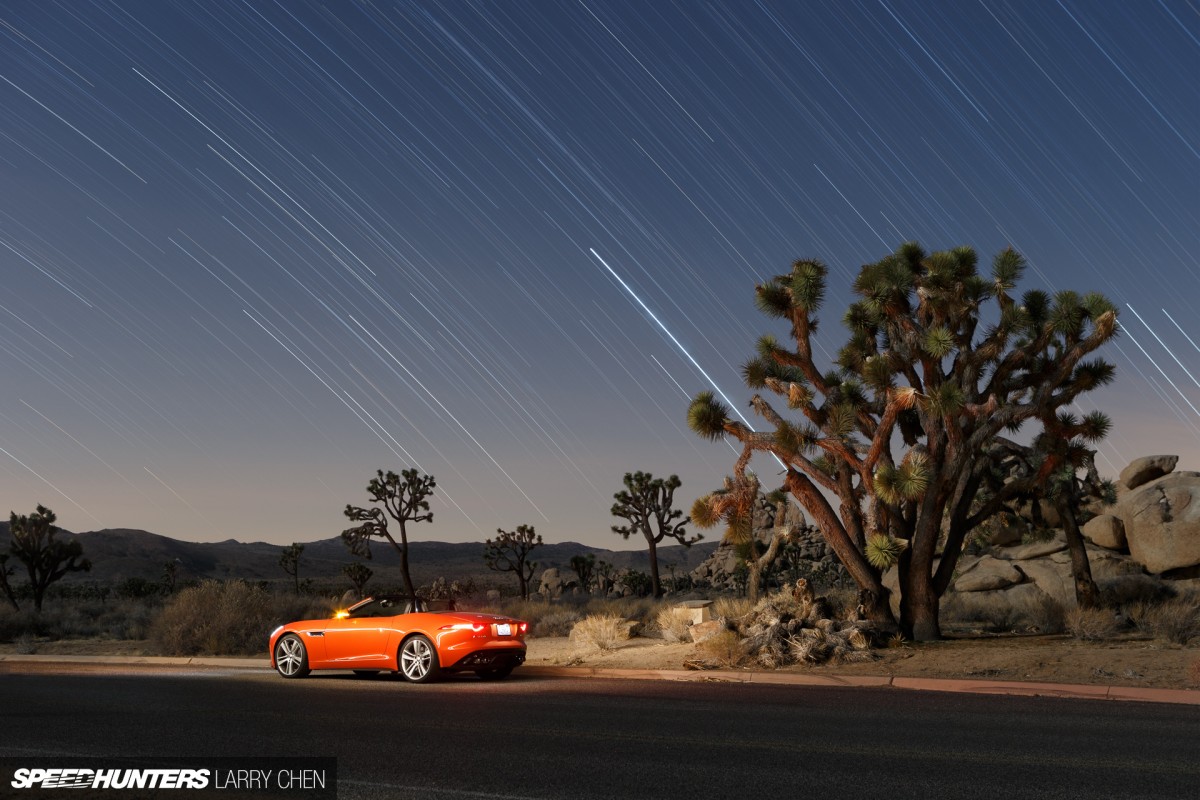 The car's hot exhaust contracted loudly in the cool air, peppering the silence with a steady, staccato ticking, similar to a mantel clock in a darkened study. Time slowed and I took a moment or two to reflect on what had turned out to be one of the best drives of my life.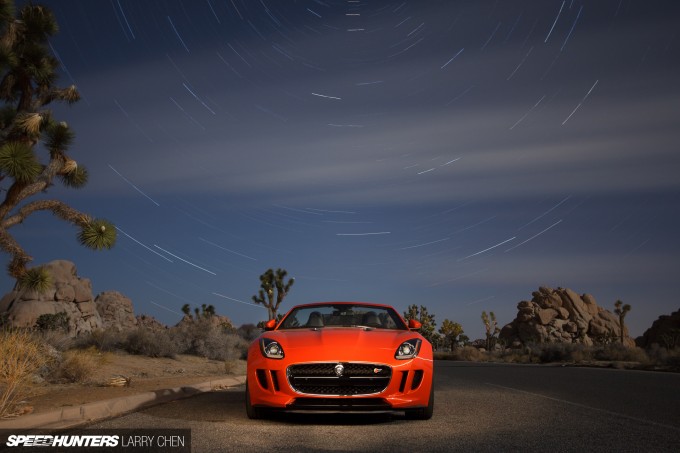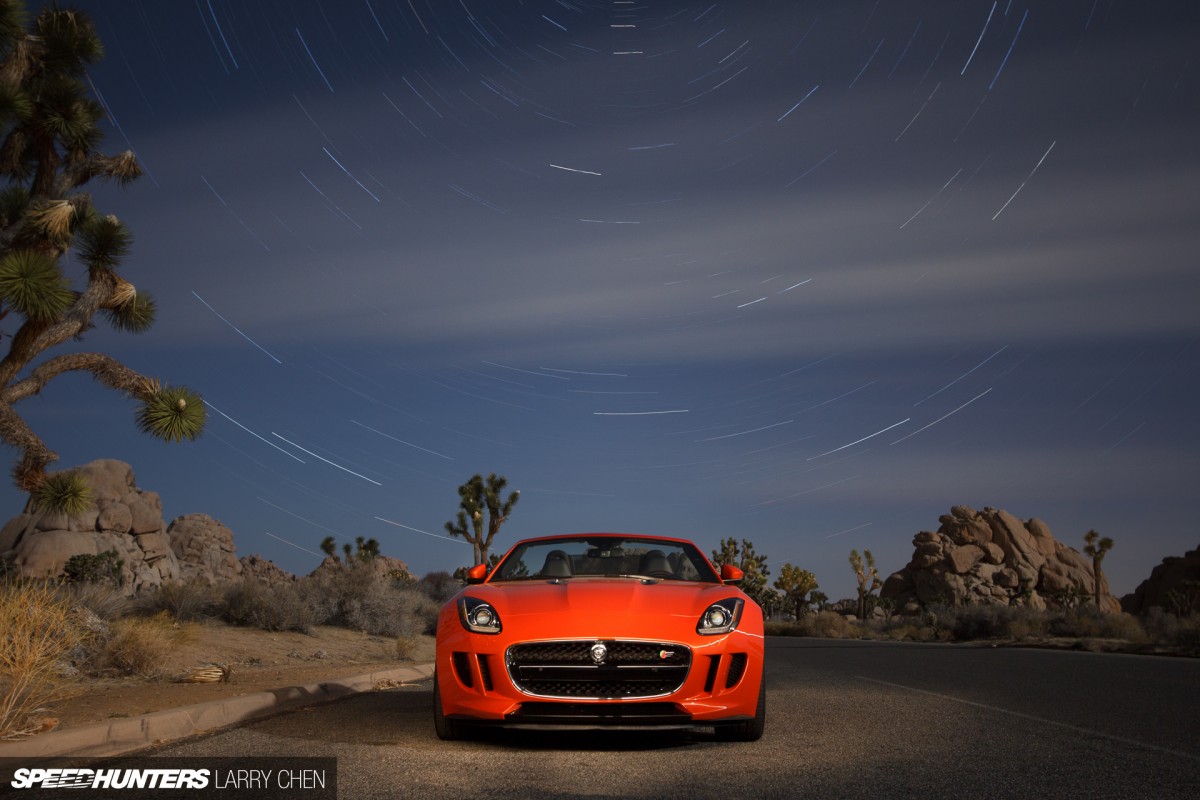 I didn't want it to end. I wanted to keep driving until I ran out of fuel. I wanted to watch the sun rise over the windshield again. Standing next to this incredible machine and surrounded by extraordinary natural beauty, I was overcome by the most bittersweet feeling.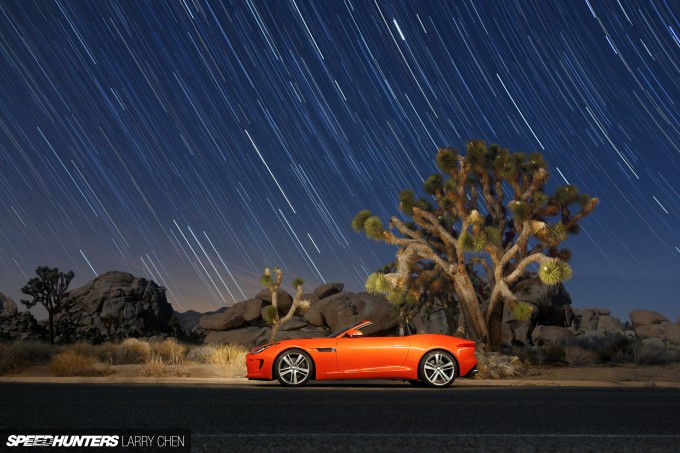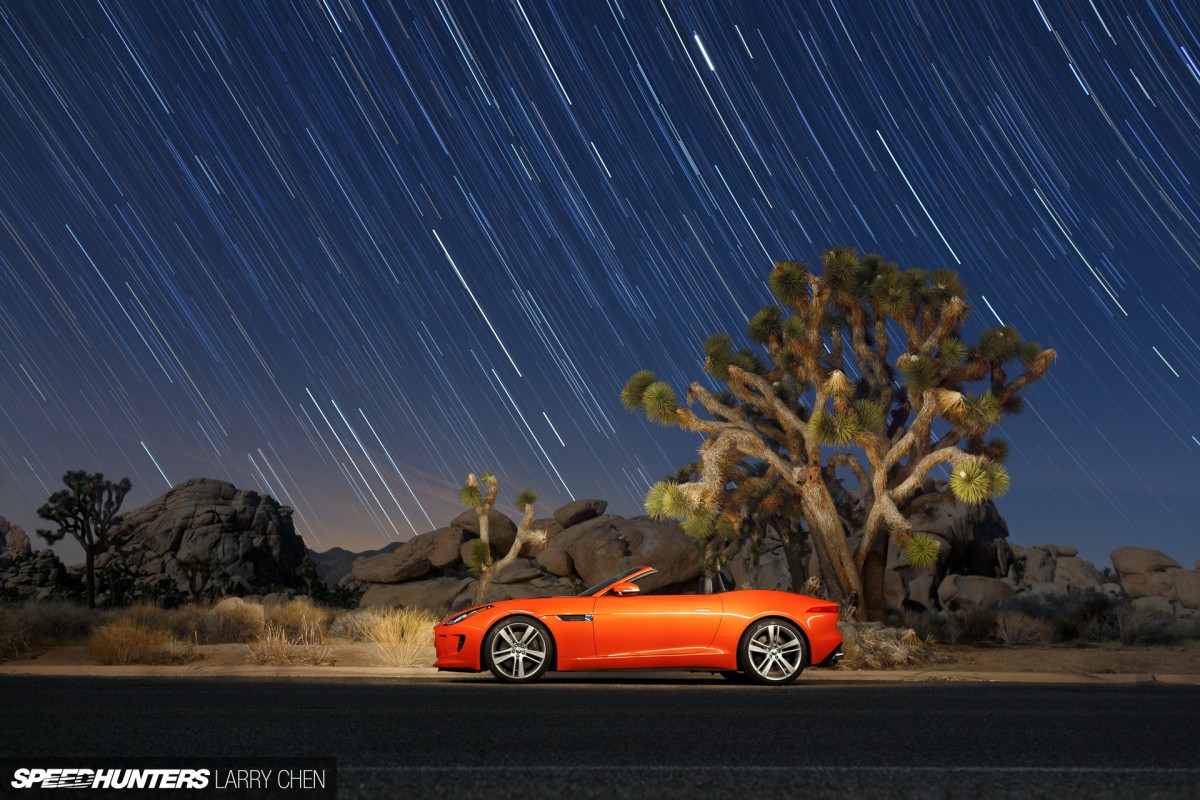 Picking up on the somber vibe, Larry asked, "Incredible car, right?" I told him how my haggard collection of beaters would never feel the same, but he was more philosophical. "I don't know, it's like a one night stand. We get to drive these unbelievable cars for a day or two, and it's all honeymoon – we never have that chance to get used to them, to get bored with them the way an owner eventually would." Yeah, good point man.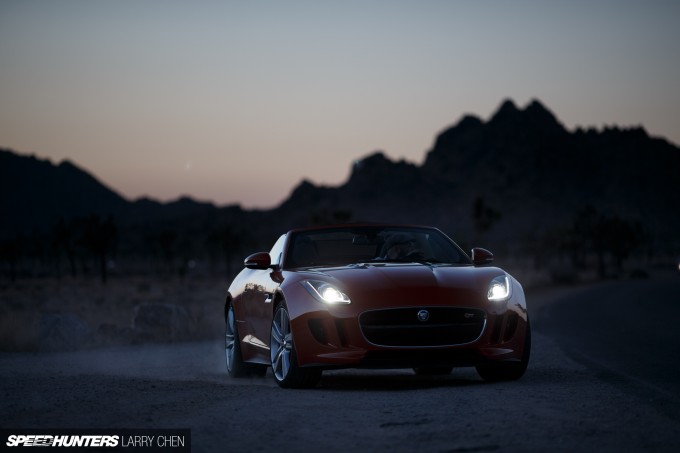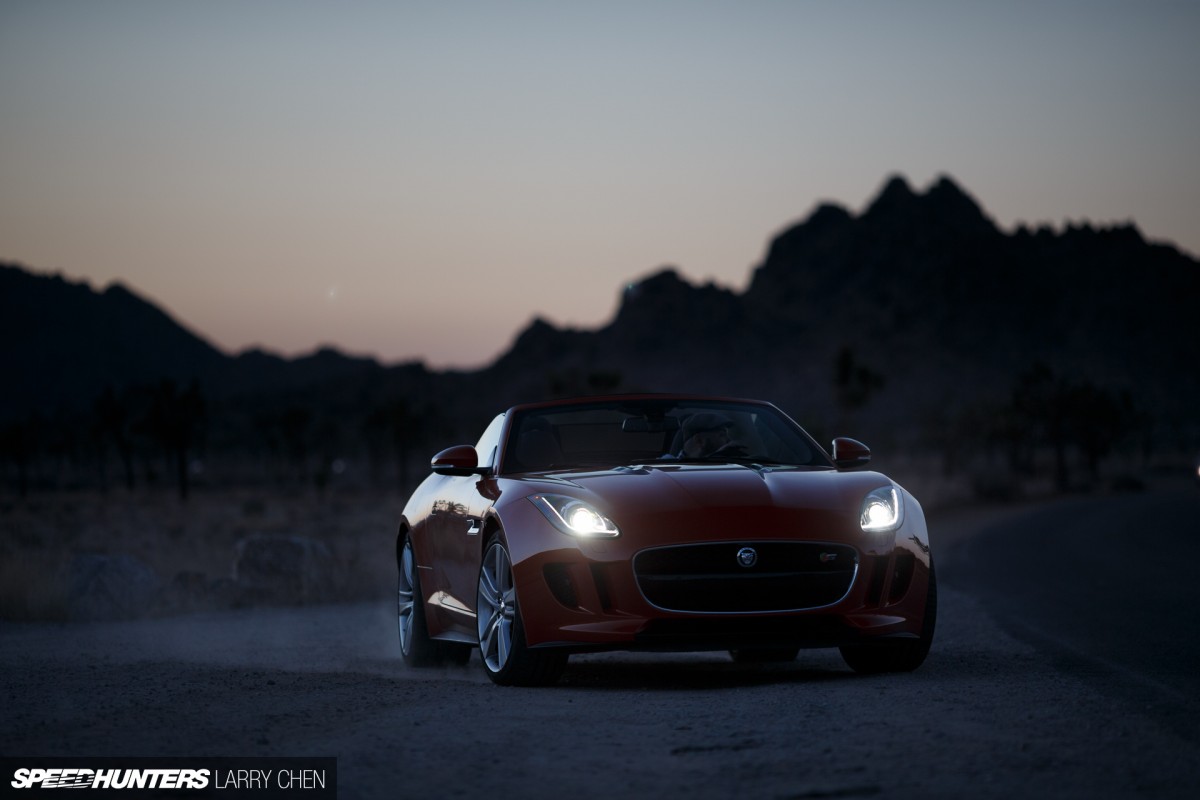 With Larry's sage words ringing in my ears, it was time to head back into civilization. It was downright chilly by this point, the largely vacant desert retaining none of the sun's warmth once it had dipped behind the distant peaks, but I left the top down for one last chance to burn the Jag's thunderous baritone into the deepest recesses of my memory banks. I can still hear it clearly.
Alan Franklin
Photos by Larry Chen
Instagram: larry_chen_foto
larry@speedhunters.com