Stacked
There I was, packed and ready to take off to Japan for the Tokyo Auto Salon, and as I've not been since 2006, I was really looking forward to it. But sometimes things just don't work out the way you want it to when you're hunting speed. I got the flu and it was a really bad case of it too; I could barely get out of bed. So there I was lying prone and I shed a single tear as I pictured the jumbo jet taking off without me. Of course there was a back-up plan in place and I moved my flight back a few days to allow me to recover, and instead of going to Auto Salon, I would try to visit as many shops and shoot as many cool cars as I could in a two day period. With the help of my friends Aki and Satoshi from the Hashimoto Corporation, I think I achieved my goal. This is the story of what I saw…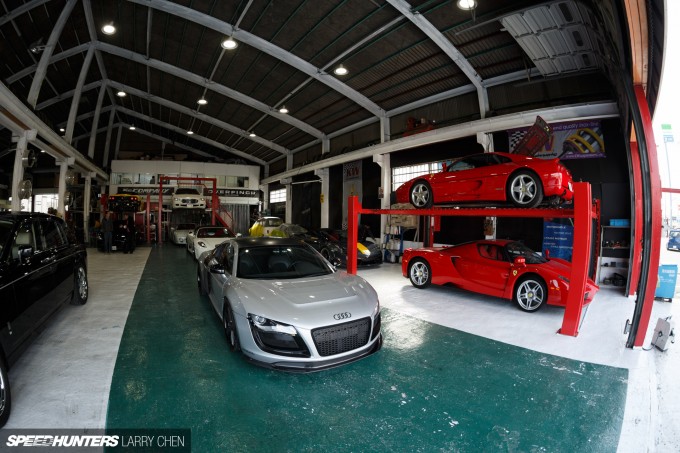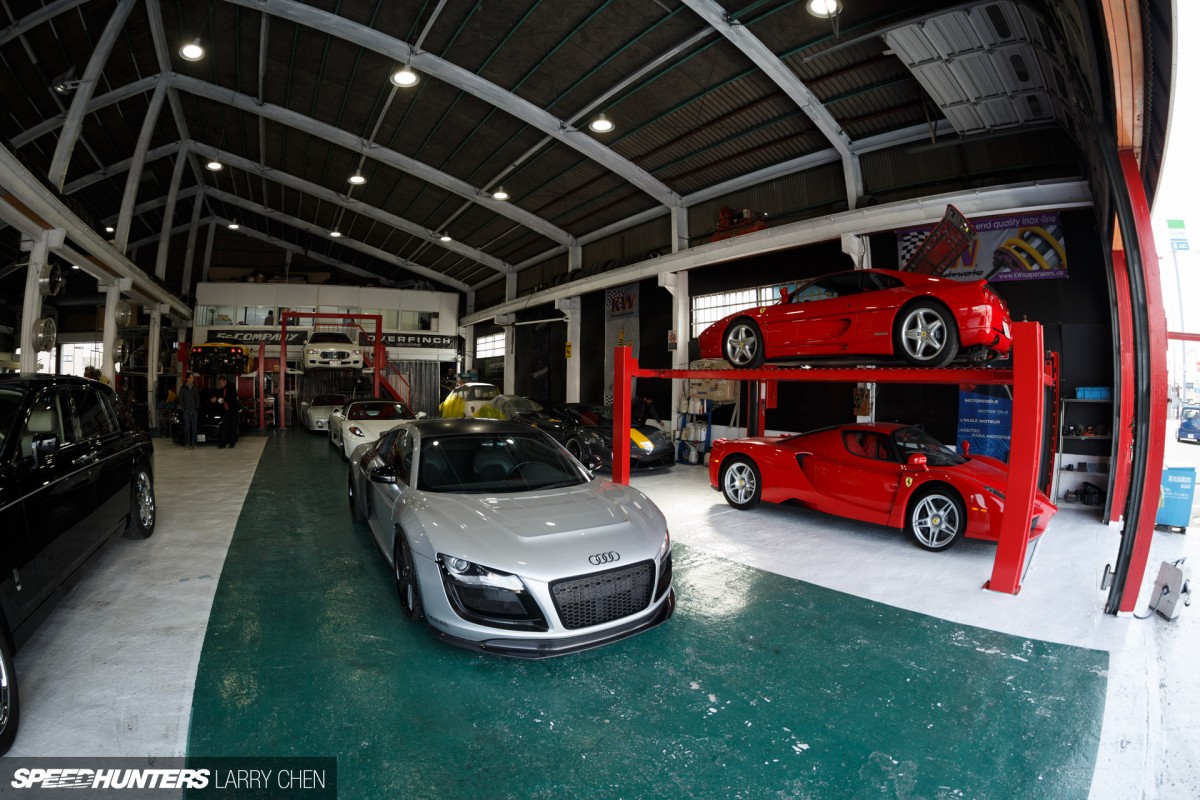 Hashimoto imports many performance parts from all over the world for the Japanese tuning market. For example they're the premier importers for KW suspension in Japan, so they've got a very healthy set of contacts that I was keen to check out.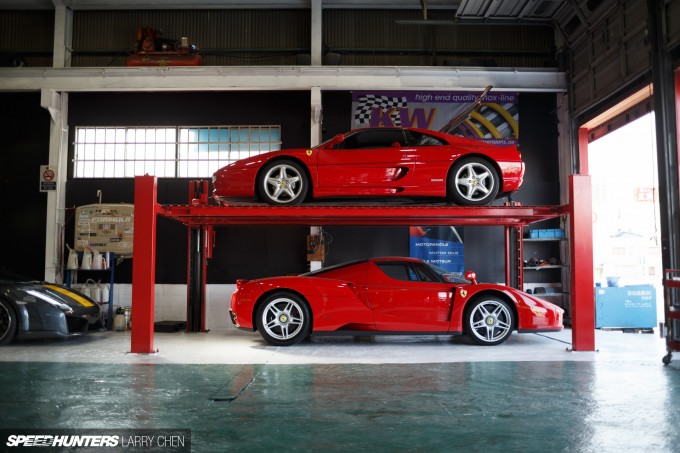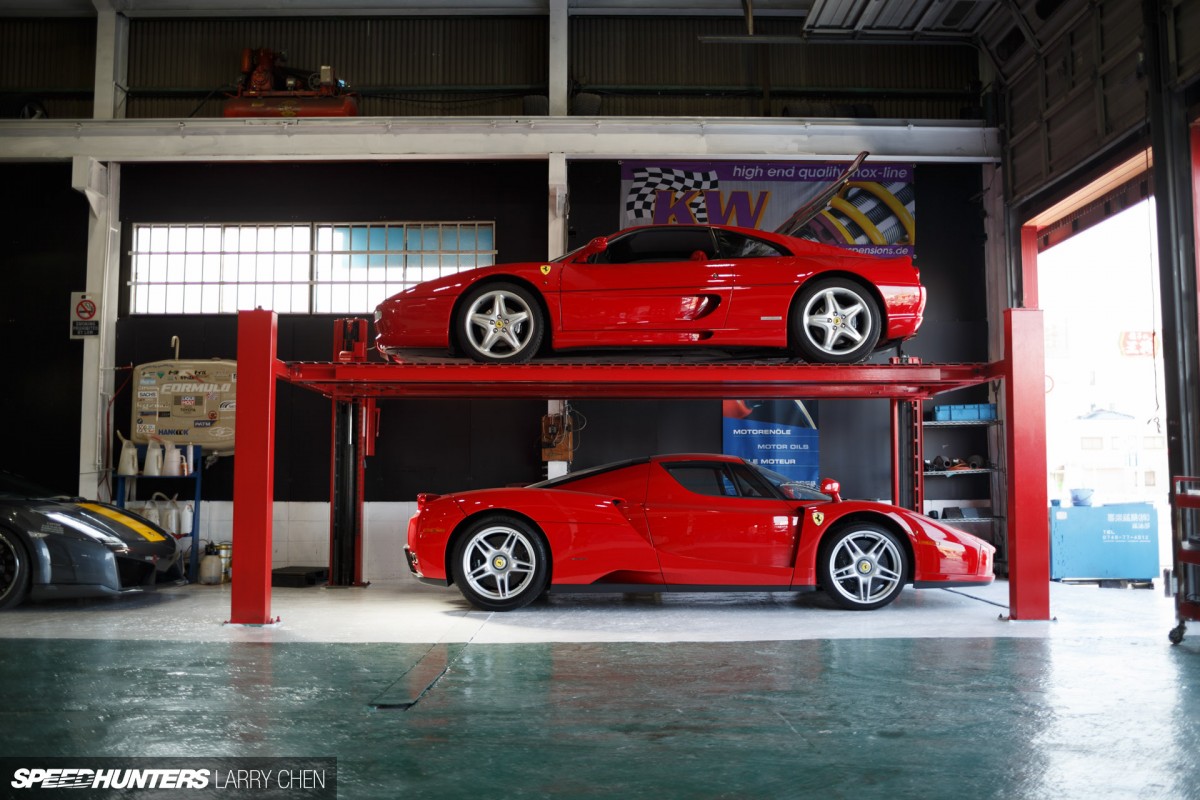 Our first stop was at S&Company, a very high-end European specialist and exotic car shop, who works on everything. When was the last time you saw an Enzo in for some work?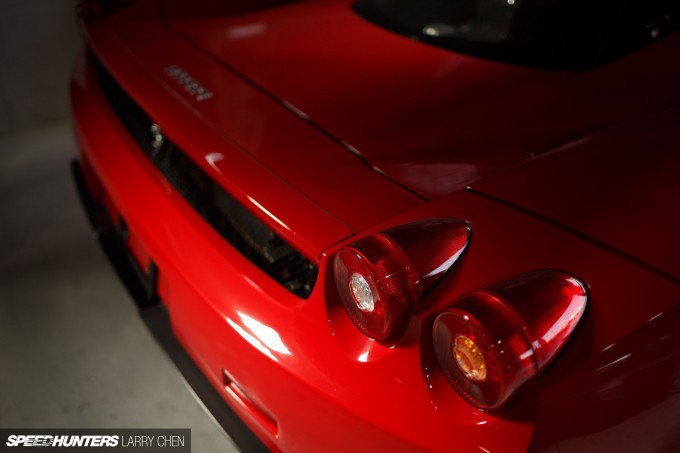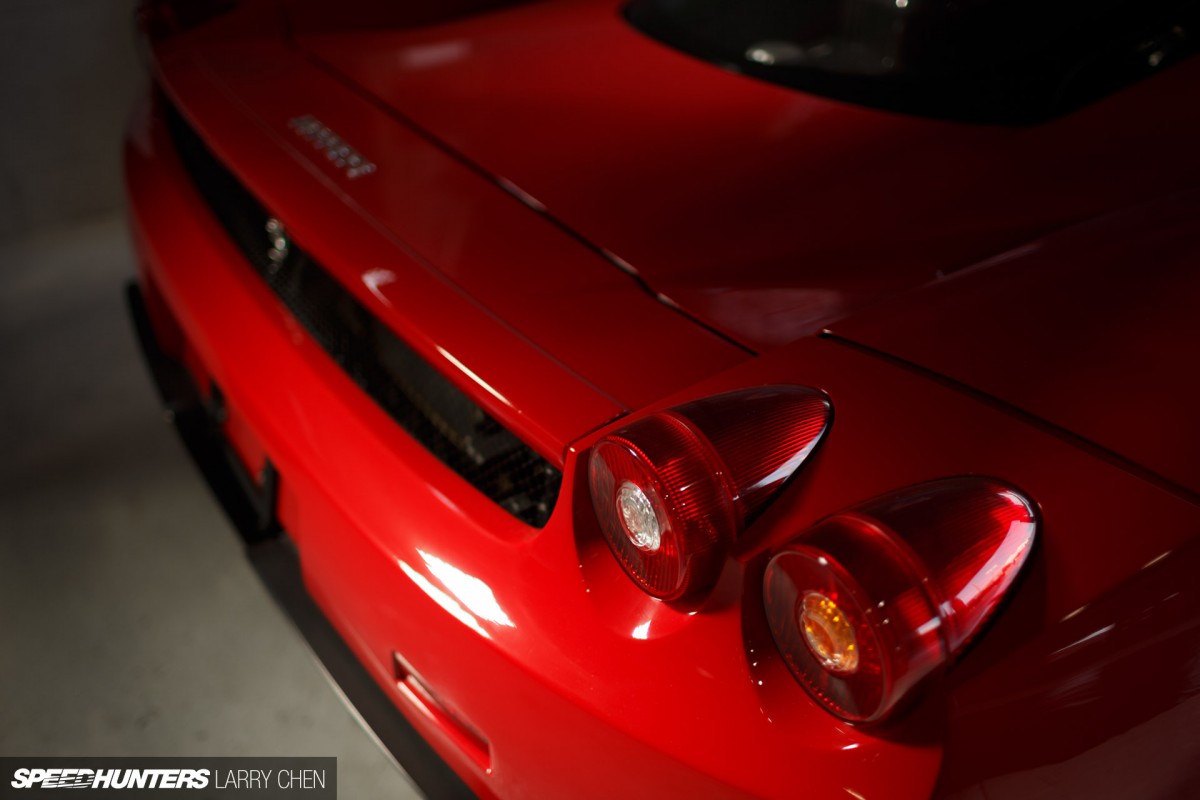 The Kansai area is crazy about Italian cars. While driving around town, you see all sorts of exotic goodies, in all the colors of the rainbow.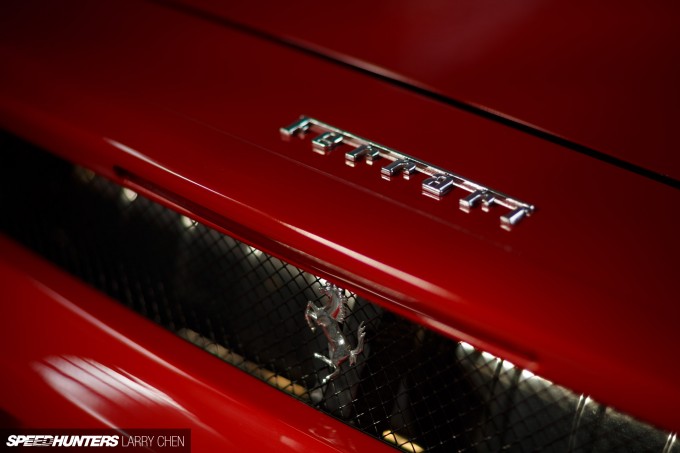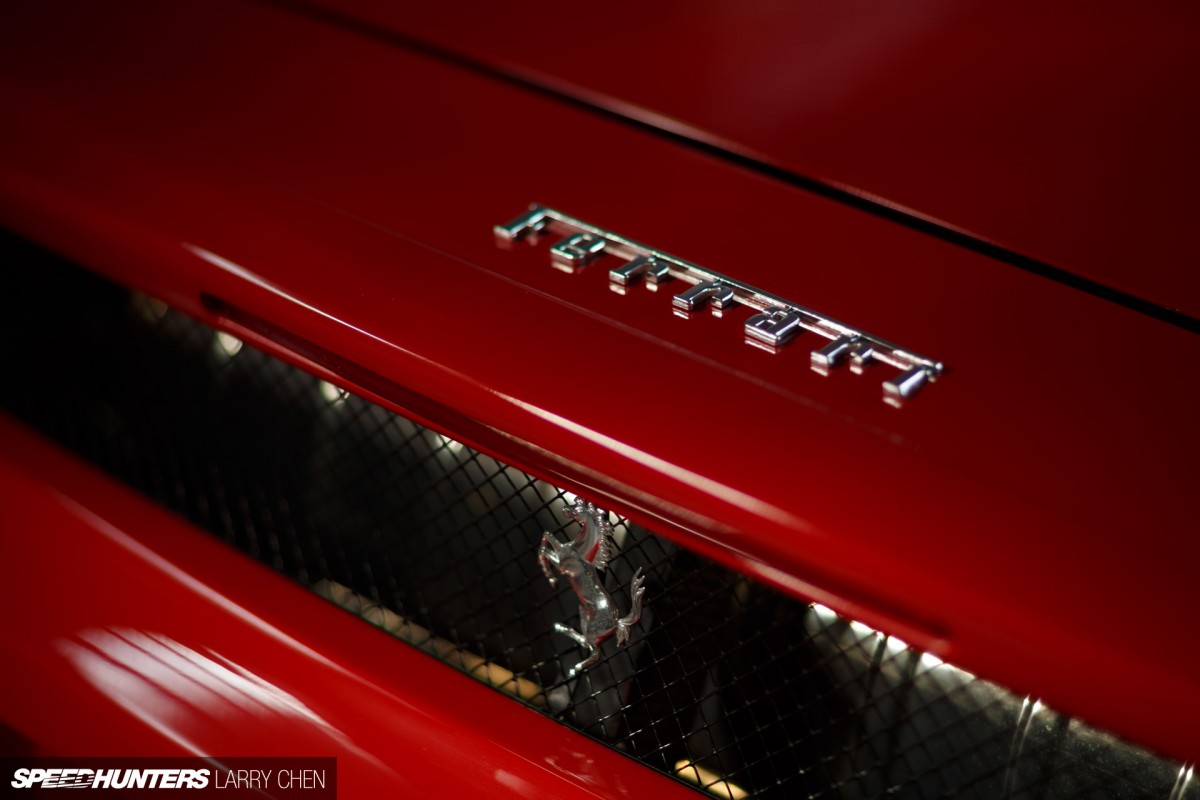 No matter what kind of car you drive in Japan, it seems like it's always spotless. Maybe it's the clean air that allows the cars to stay cleaner for longer, or maybe it's the readily available hand wash services at petrol stations, but Japanese cars on the street are generally clean enough to eat off. It makes a real change from LA. Sure, people look after their cars at home but anybody who lives there will agree, you see some really poorly-maintained or cared-for cars on the streets of SoCal.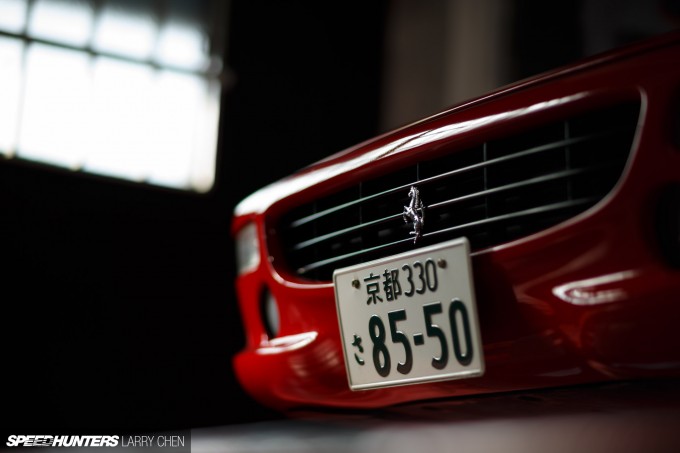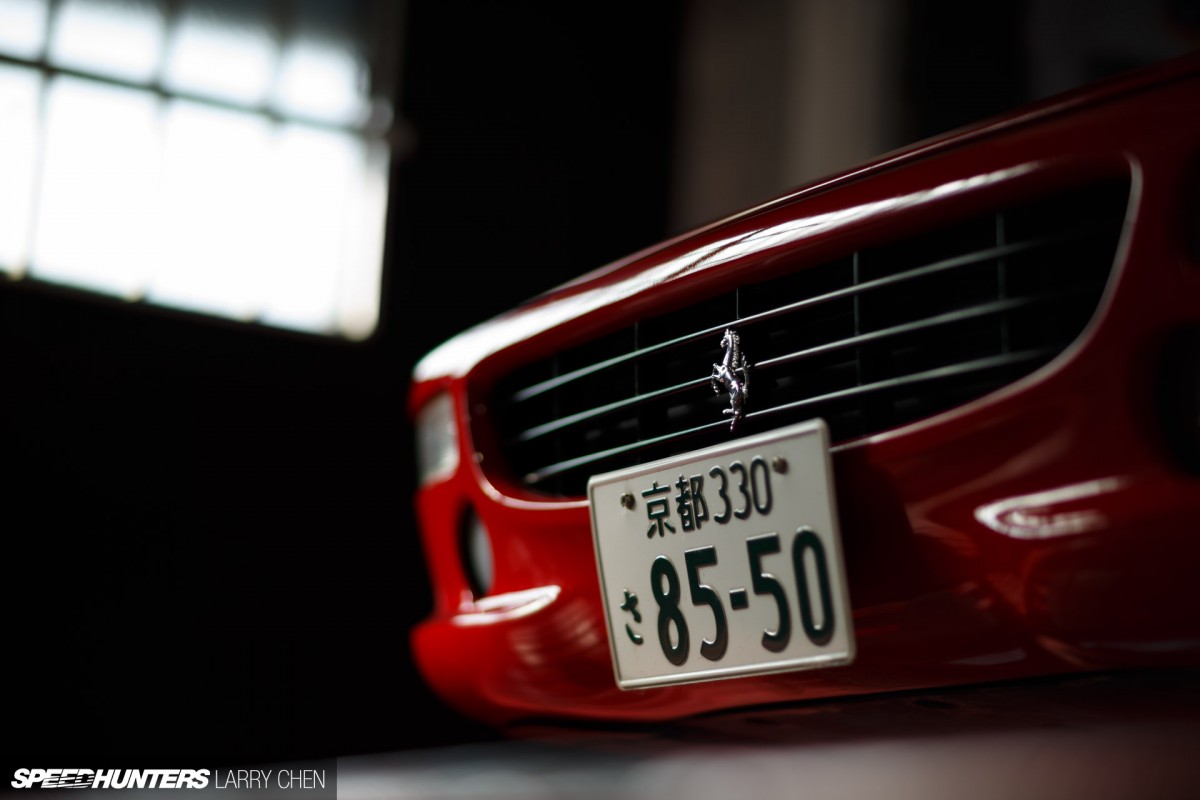 So it's refreshing for me to see so much care taken in ownership. #JoyOfMachine as we call it.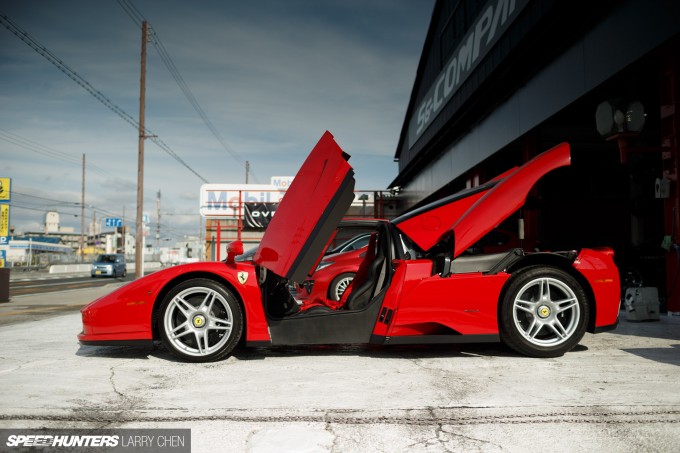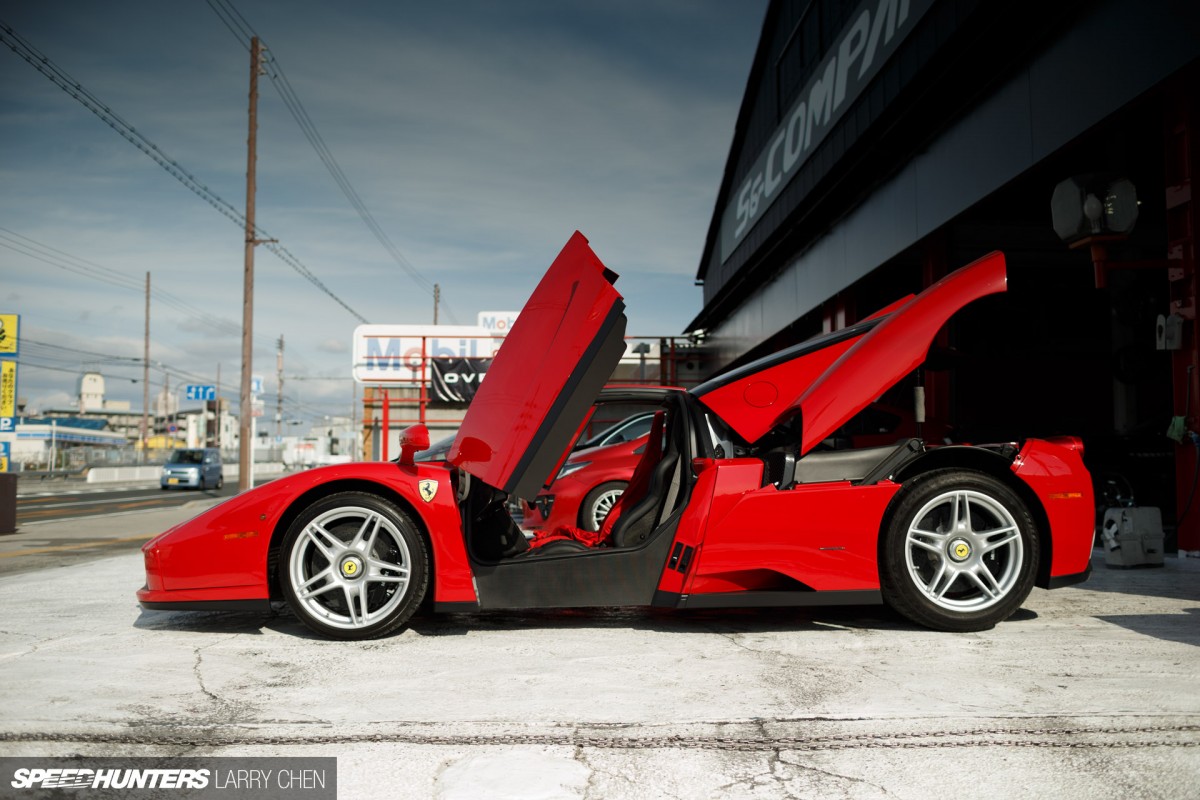 I may have told a small lie back there as the Enzo is actually a shop-owned car. They were looking to purchase one for a while and when this one came up for sale with just 851km on the odometer, they couldn't pass it up.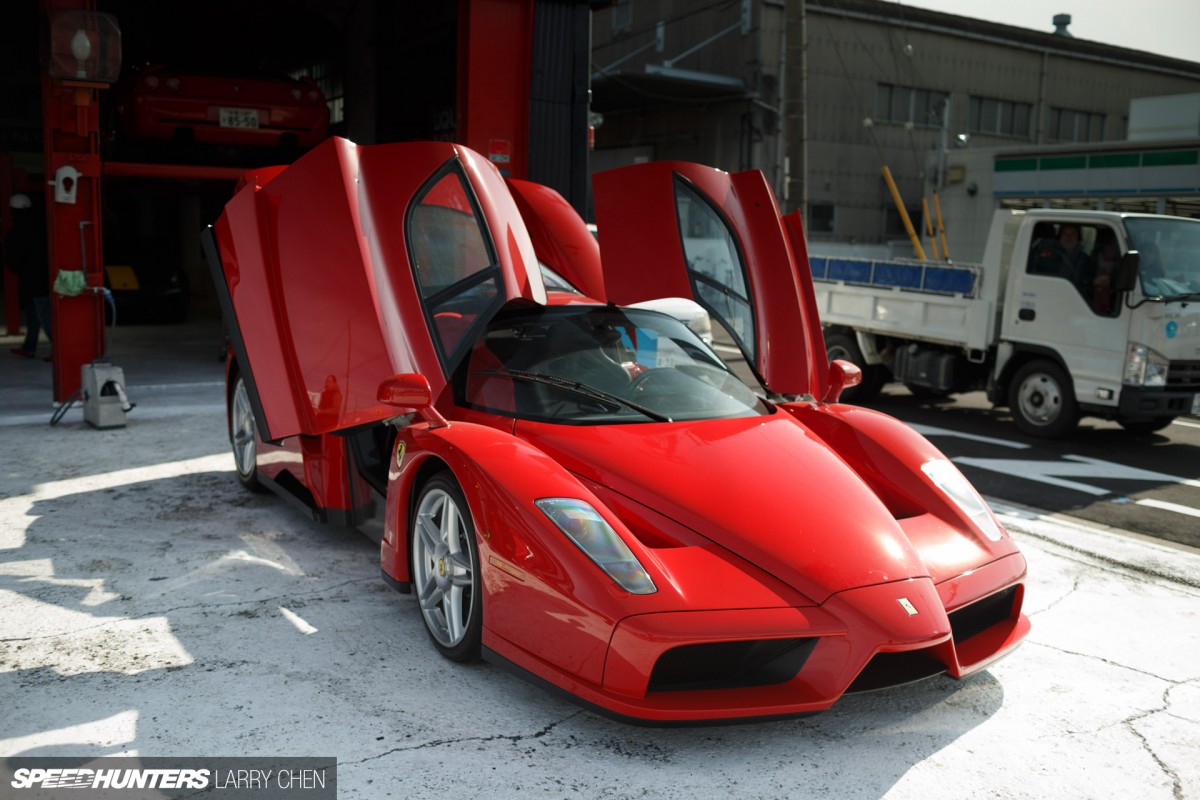 They were also proud of the fact that they knocked $200,000 off the asking price. How? They simply asked. Wow I wish it worked like that for me! I'll have to try it next time.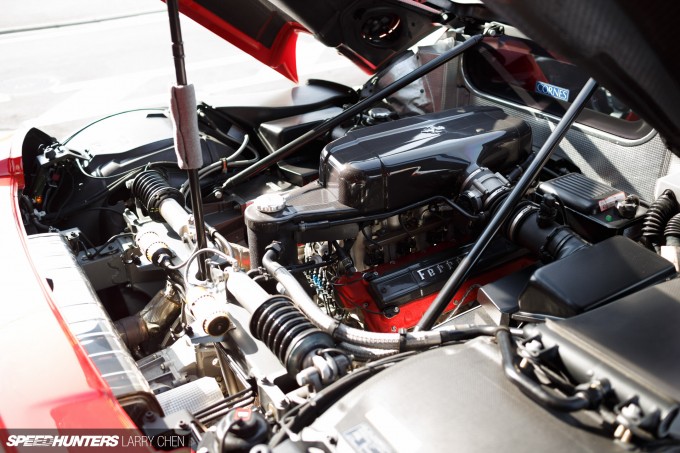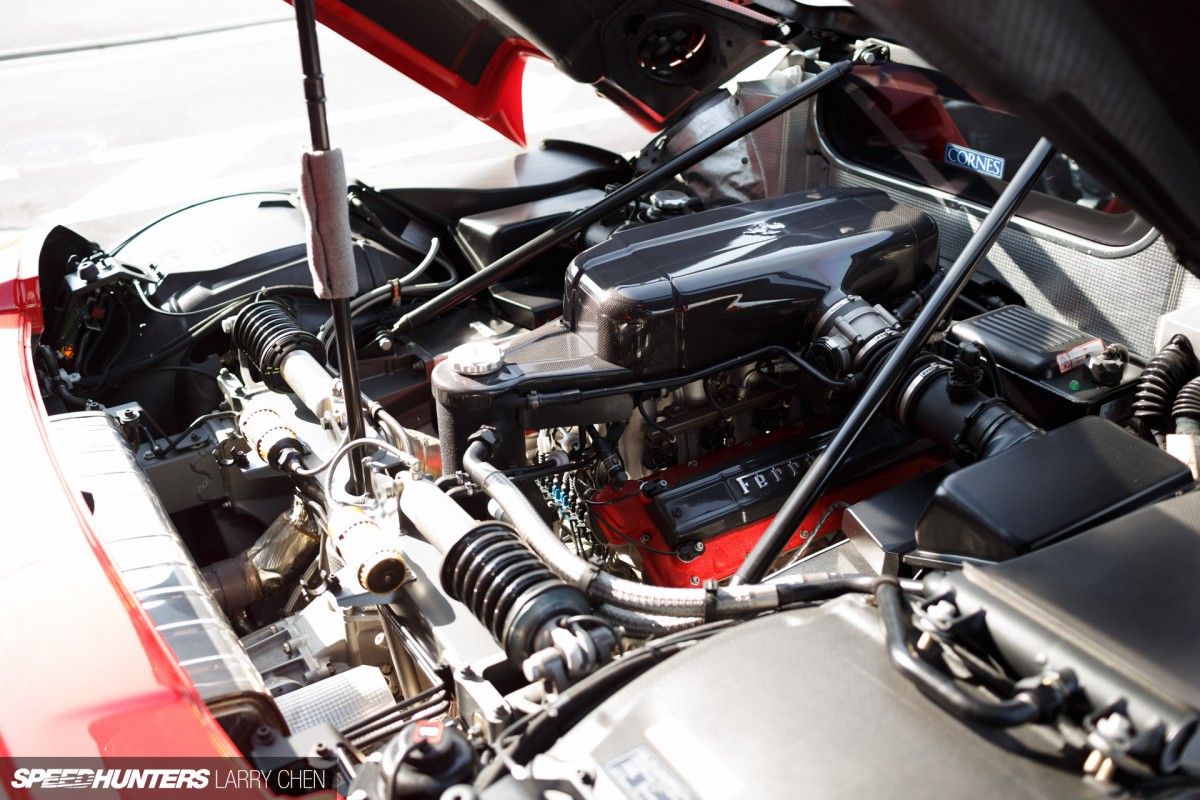 The engine bay was of course spotless. As business cards go for a European vehicle specialist, does it get any better? What a perfect example of such a rare beast.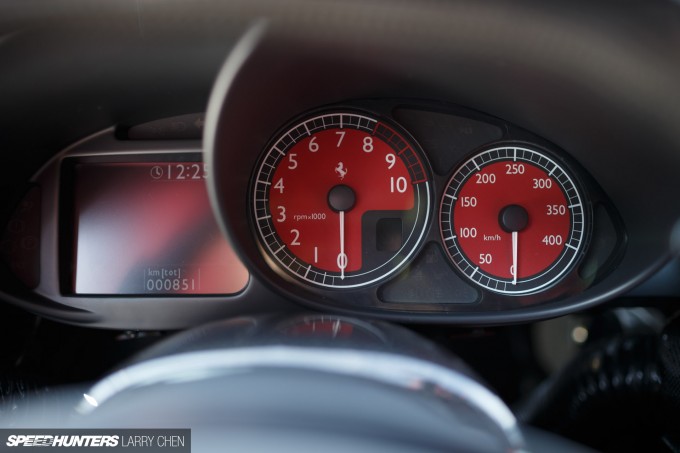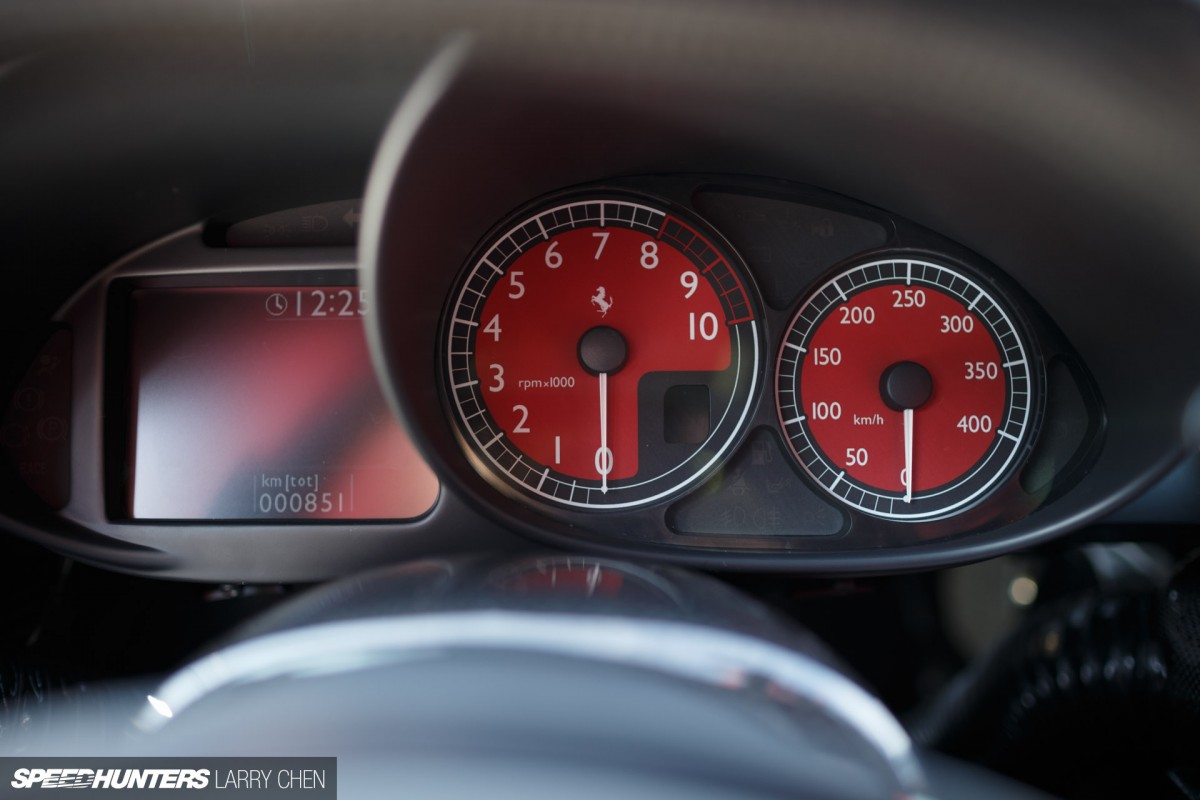 Since they bought it, they've not driven it due to the cost of road tax. Which makes this a crazy expensive digital clock.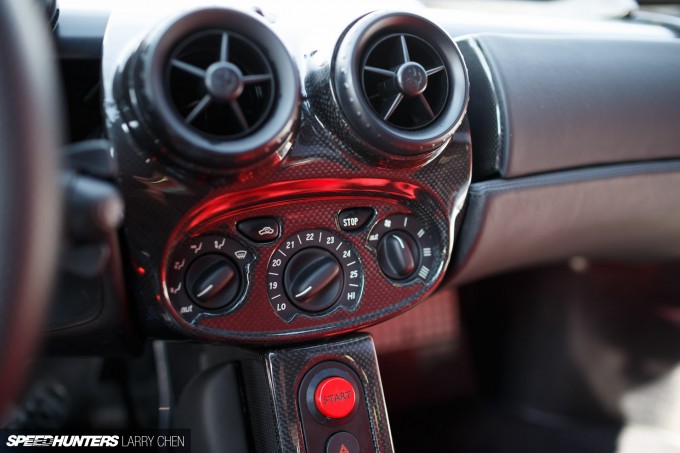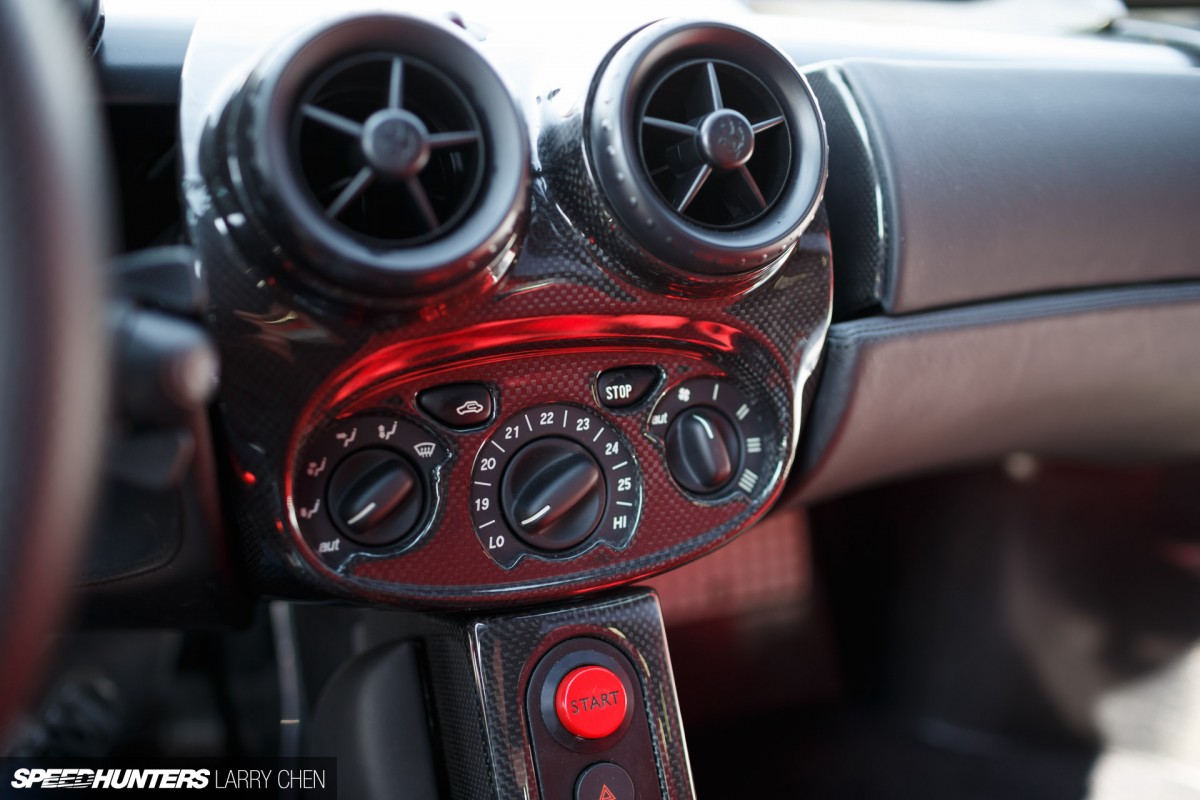 I've never had the chance to sit in one before, and seeing the carbon fiber interior in person was glorious. This is a very special place and exactly the reason why I love hunting around different garages and workshops – you just never know what you might find or experience.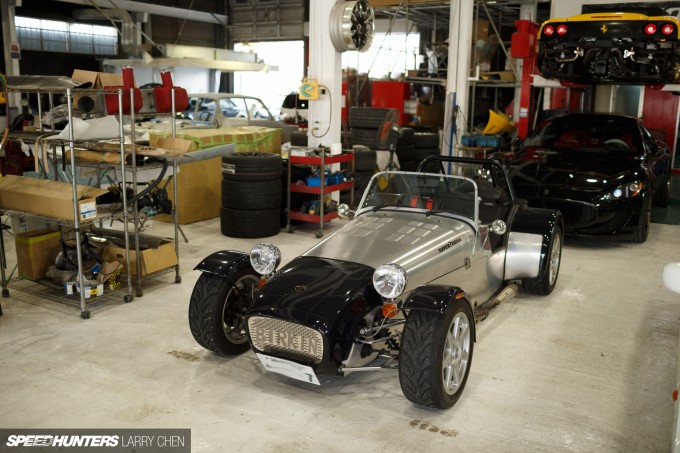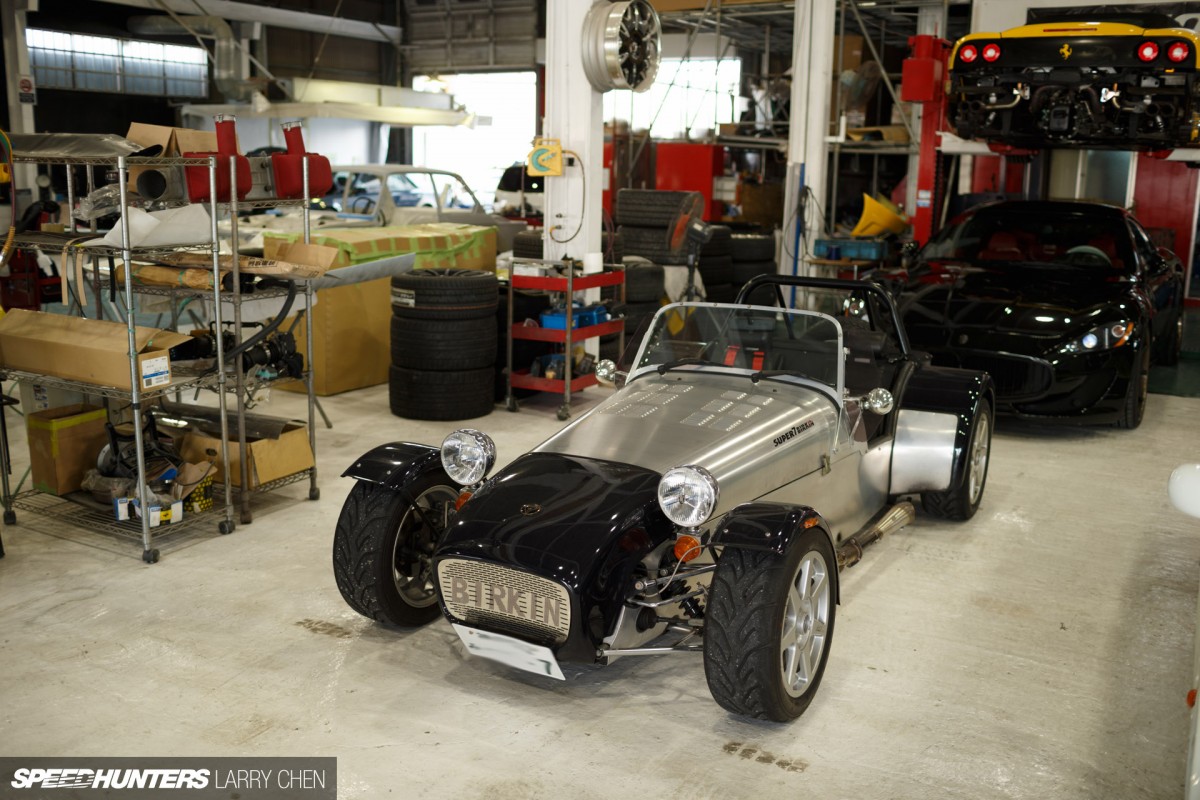 Among the impressive display of cars was this Birkin Seven – a really rare car in Europe, let alone Japan. It's similar to the Caterham, being based on the original Lotus design. Me? I just love the raw sheet metal look.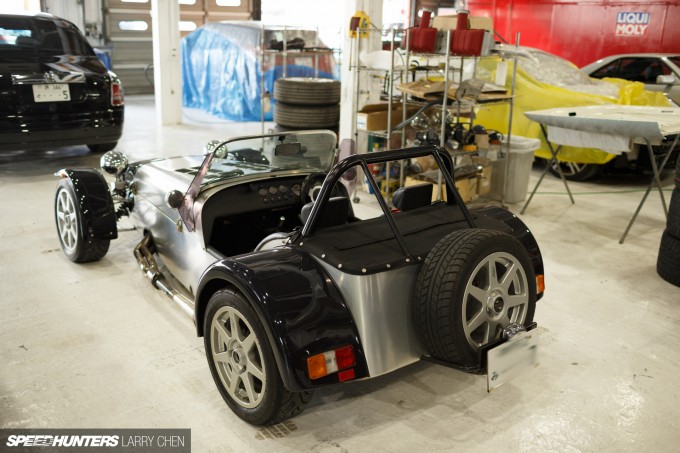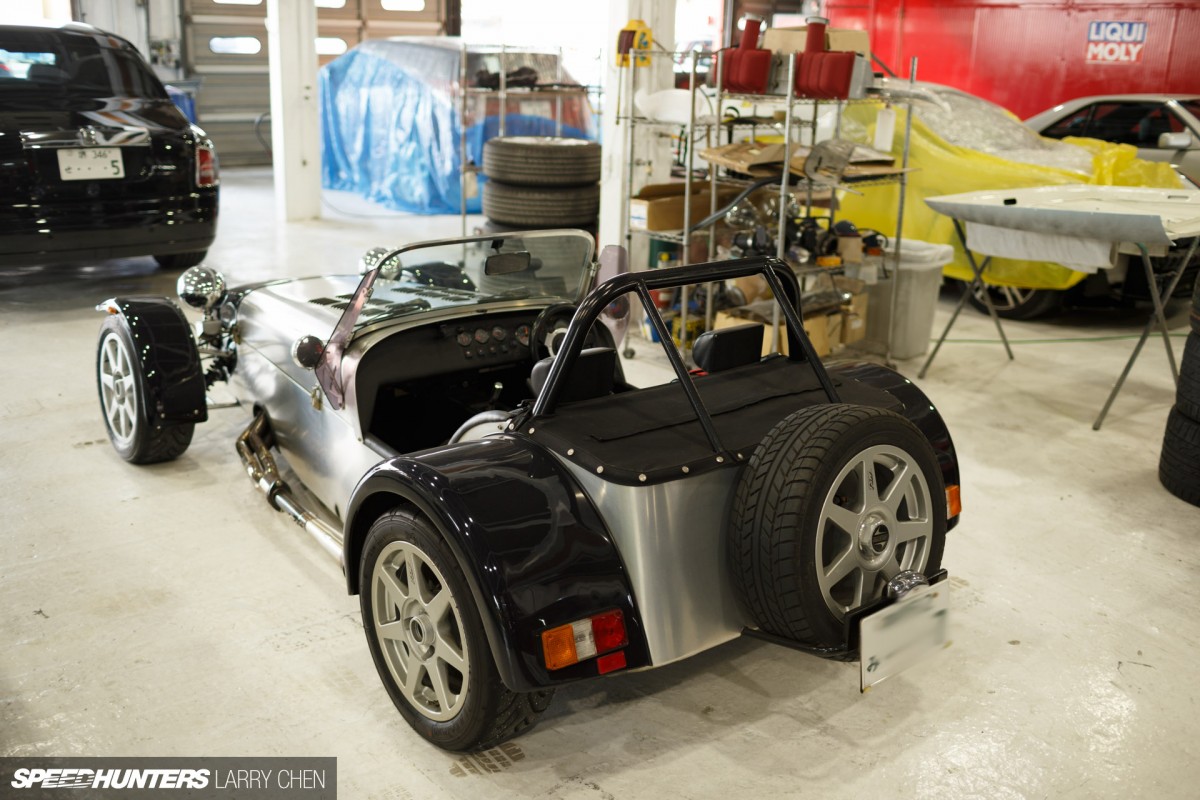 I have yet to drive one of these, but I bet they're a blast to dart around town in. Bryn took the latest Caterham 620R for a drive, but I reckon I could have a lot more fun in SoCal with one. It would be perfect for the canyons.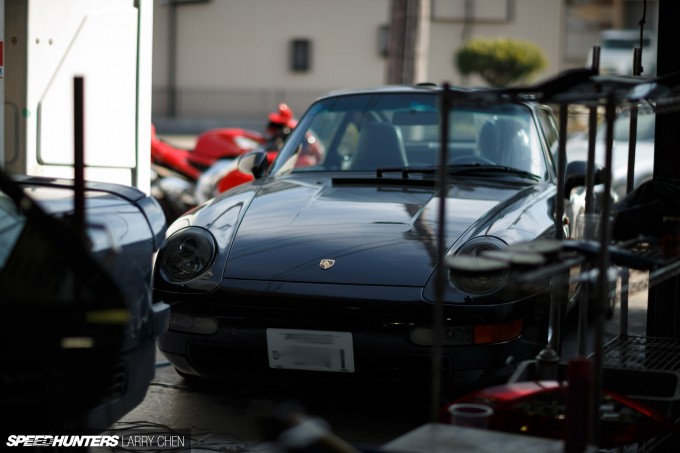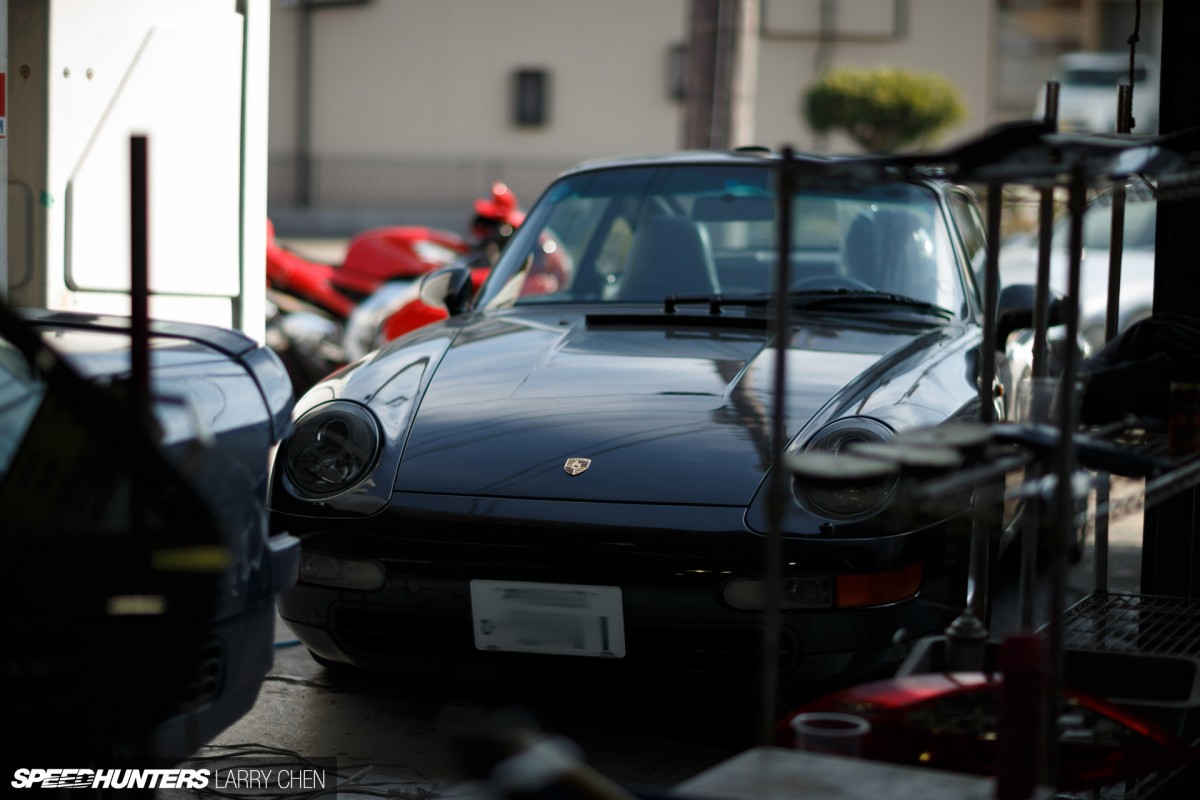 I also noticed quite a few hard top Porsches in the area, which is quite the opposite in Los Angeles. Pretty much every 994 or 964 for sale in California is a cabriolet or targa top. Obviously the Japanese prefer a tin top. Their weather can be more varied, so it makes sense.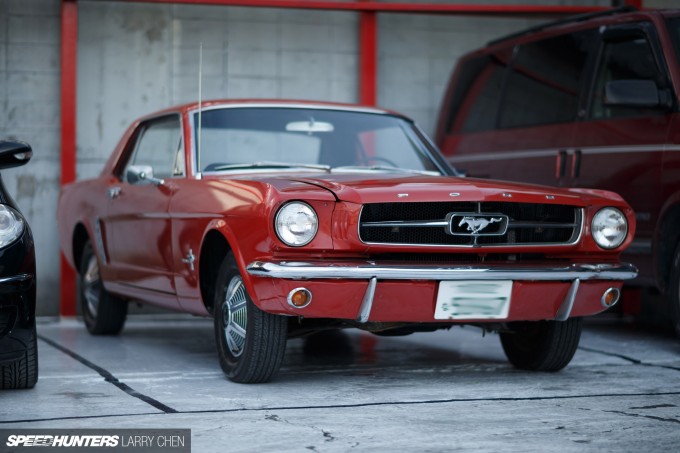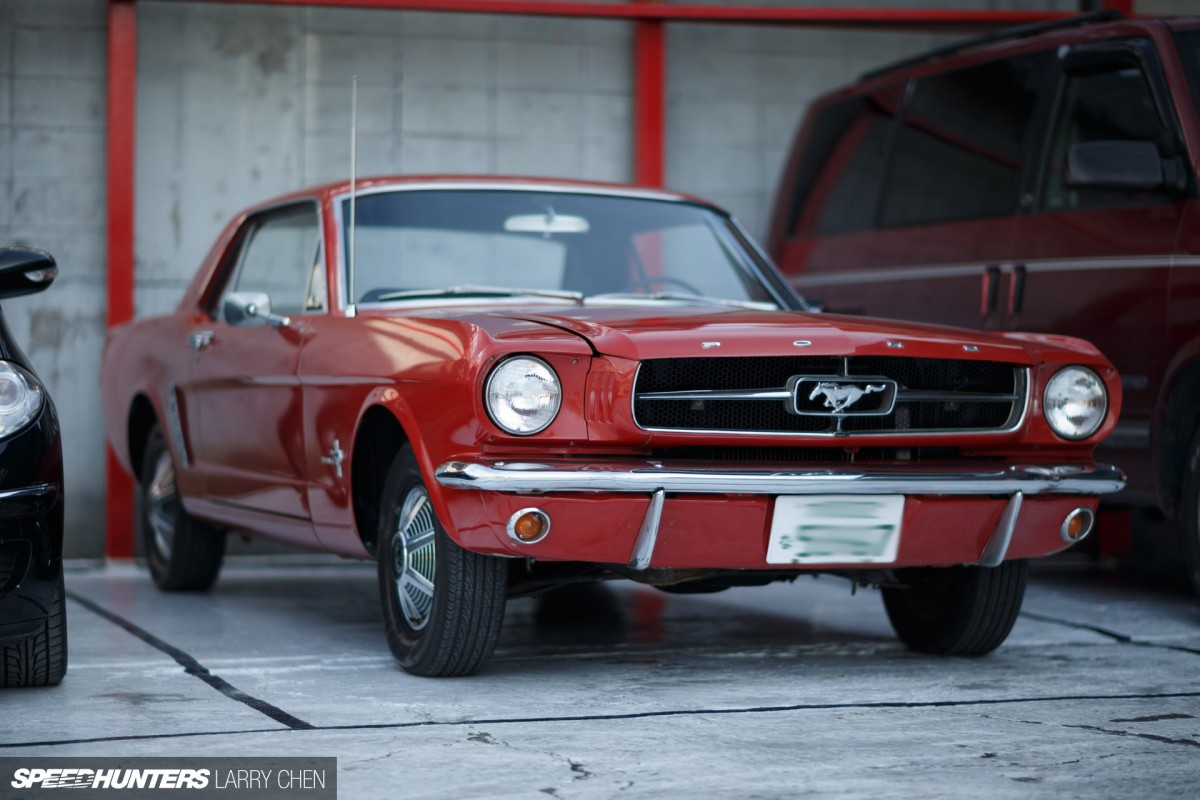 Out front was a rare sight anywhere in Japan, and even more so here considering the core of the business. But like the rest of the cars at S&Company, this '65 Mustang was in perfect condition. It's so nice seeing a standard older car sometimes – you can imagine seeing it in the dealer for the first time.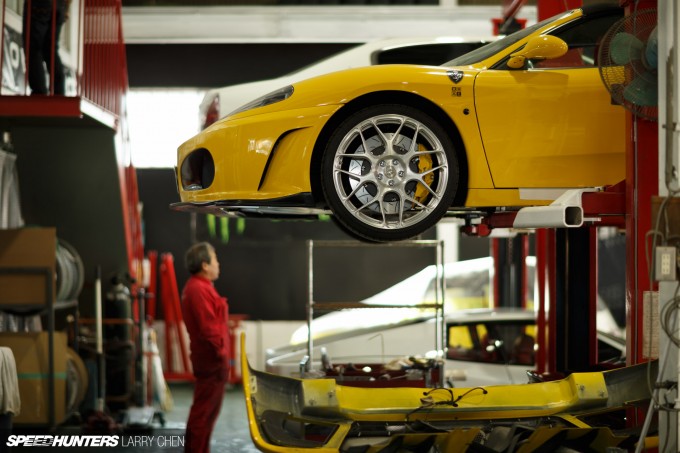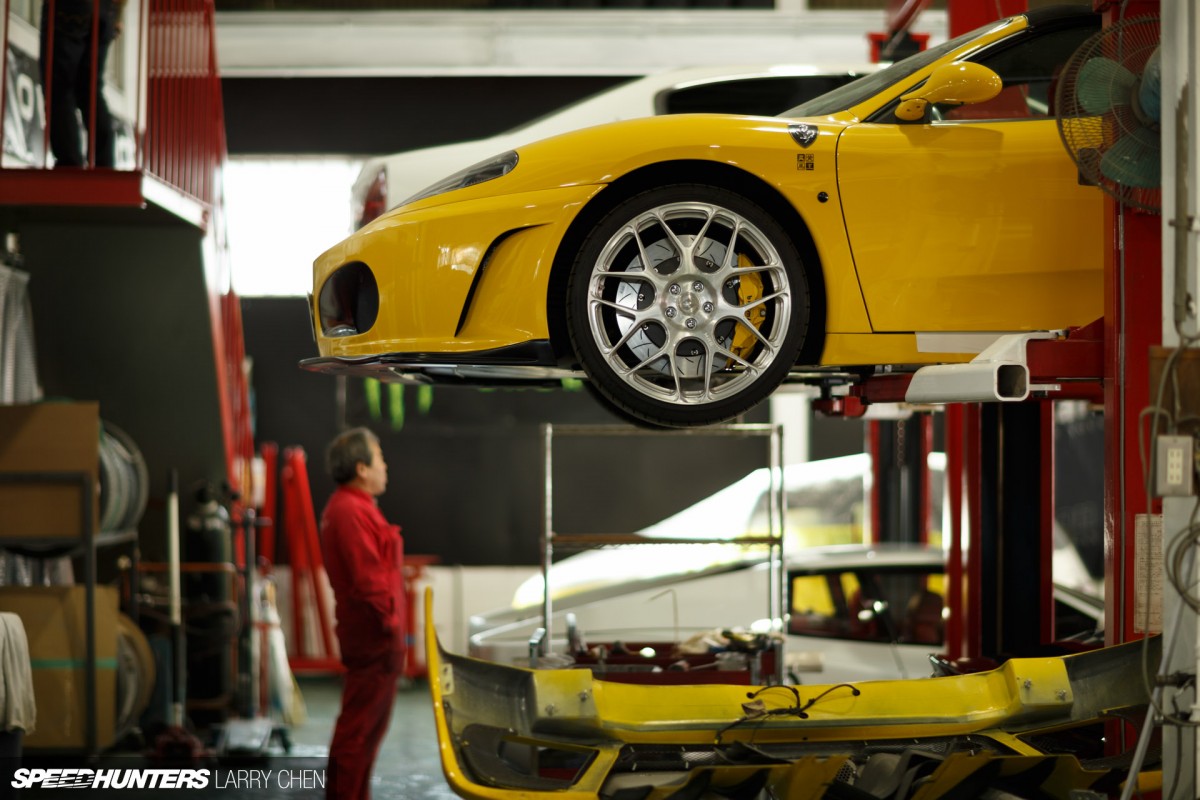 Normally I'm not a big fan of the F360, but this wheel combo makes it hard not to like.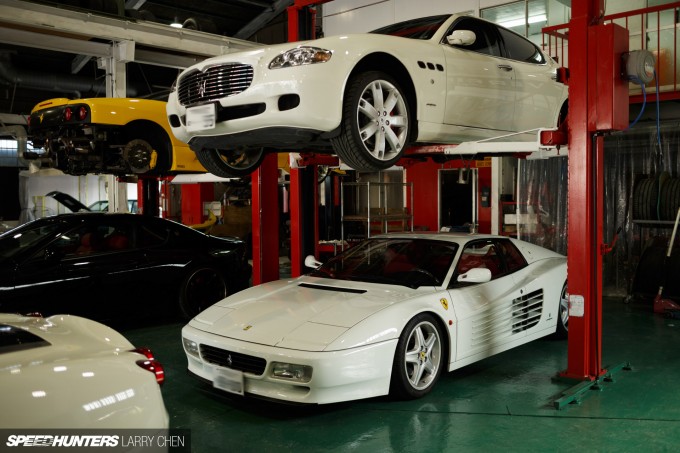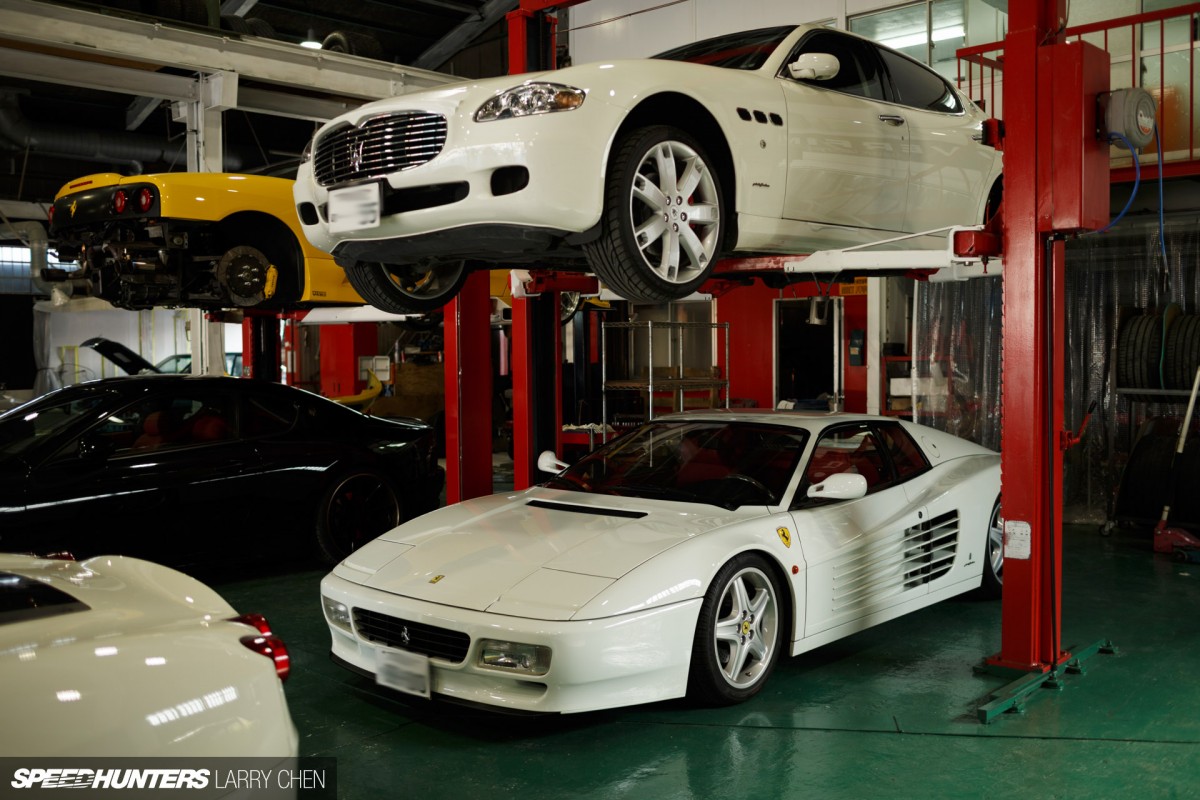 But don't worry, if red's not your color, then there were plenty of white stallions to suit your taste.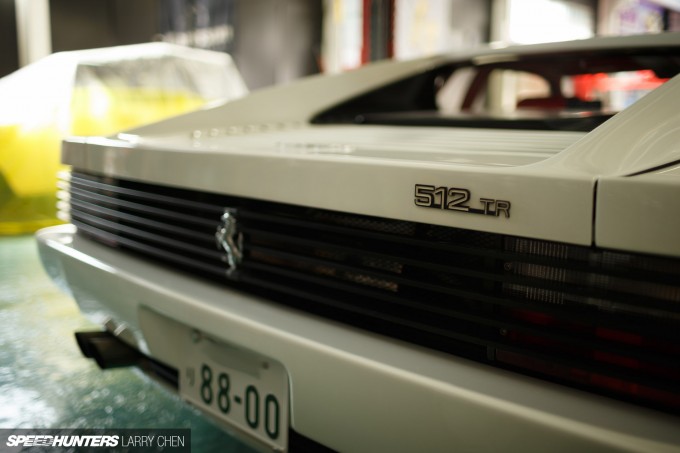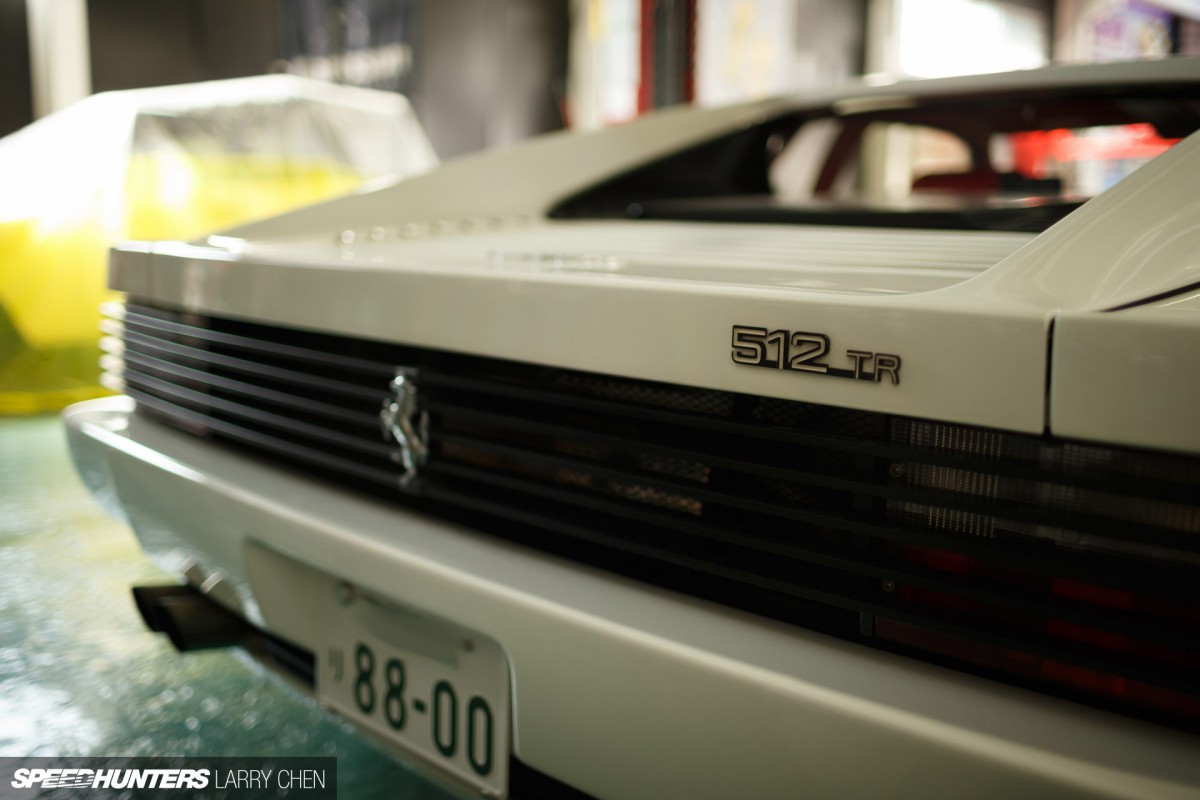 I remember there was a point in time when there were hordes of Ferrari Testarossas roaming the streets of Beverly Hills, but now I rarely get to see them any more. It was a treat to see one up close and in such mint condition. I wonder where they all went? Probably tucked up in private collections somewhere. It's crazy to think this was a car from the '80s. Anybody else remember Miami Vice?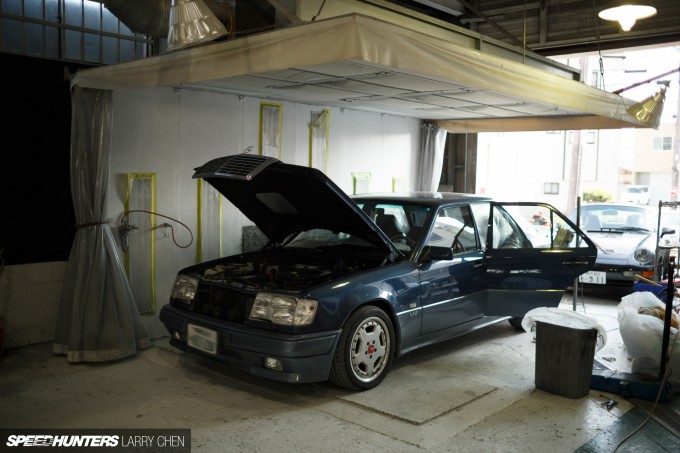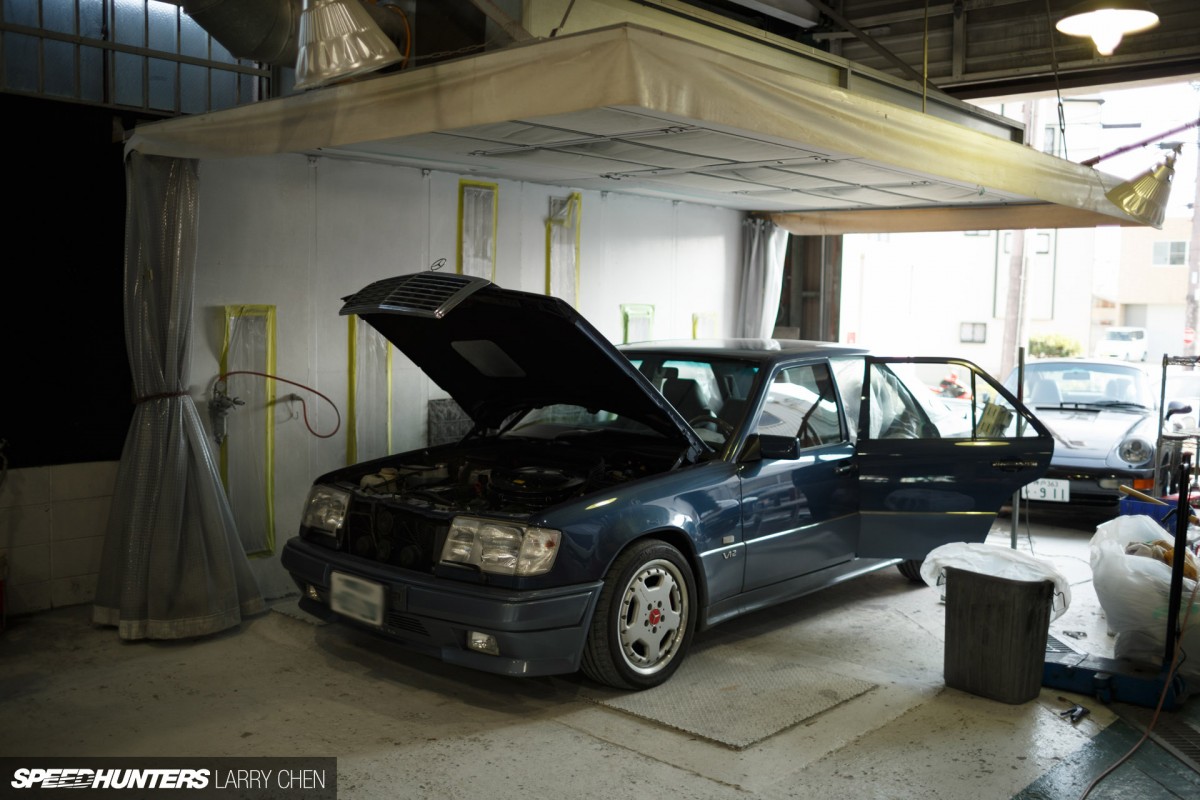 Aside from maintaining exotic cars, S&Company also restores rare road-going cars. At first I thought this was a normal W124 Mercedes saloon, but then I noticed the fender flares and knew something was different. Yes it's a rare AMG 'Hammer' with the V12 engine, meaning it's also one of the later cars. Q-Car status/engage!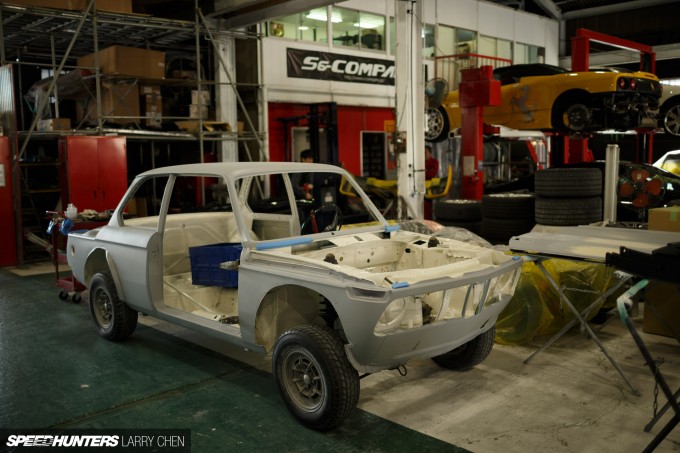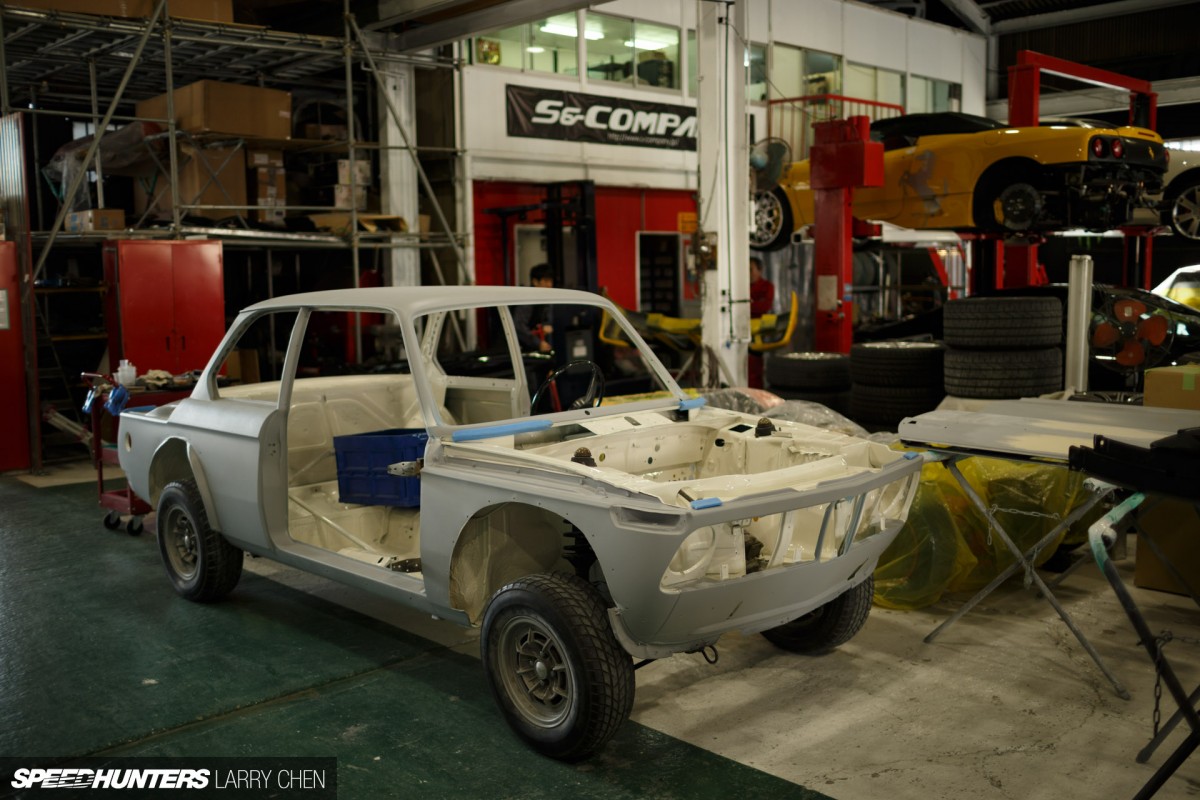 While we were there, they were doing a full bare shell restoration of this BMW 2002. Again I did a double take when I noticed the wheel arch cut-outs. I reckon this must be destined for some race action maybe? But then there's no cage installed and it seems to have been sprayed. I love seeing cars at this stage in the build – they have so much promise.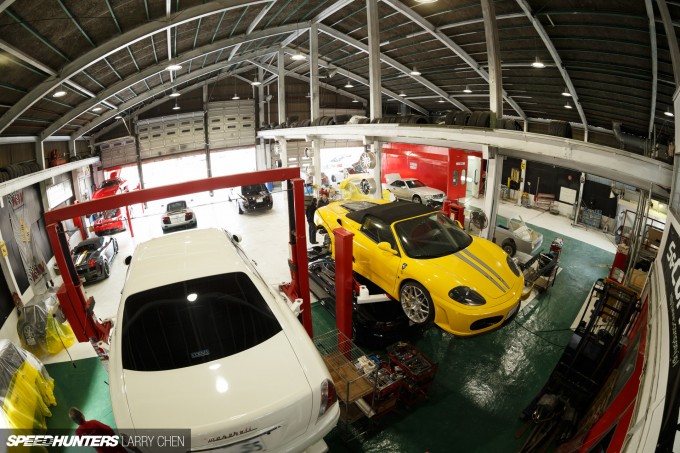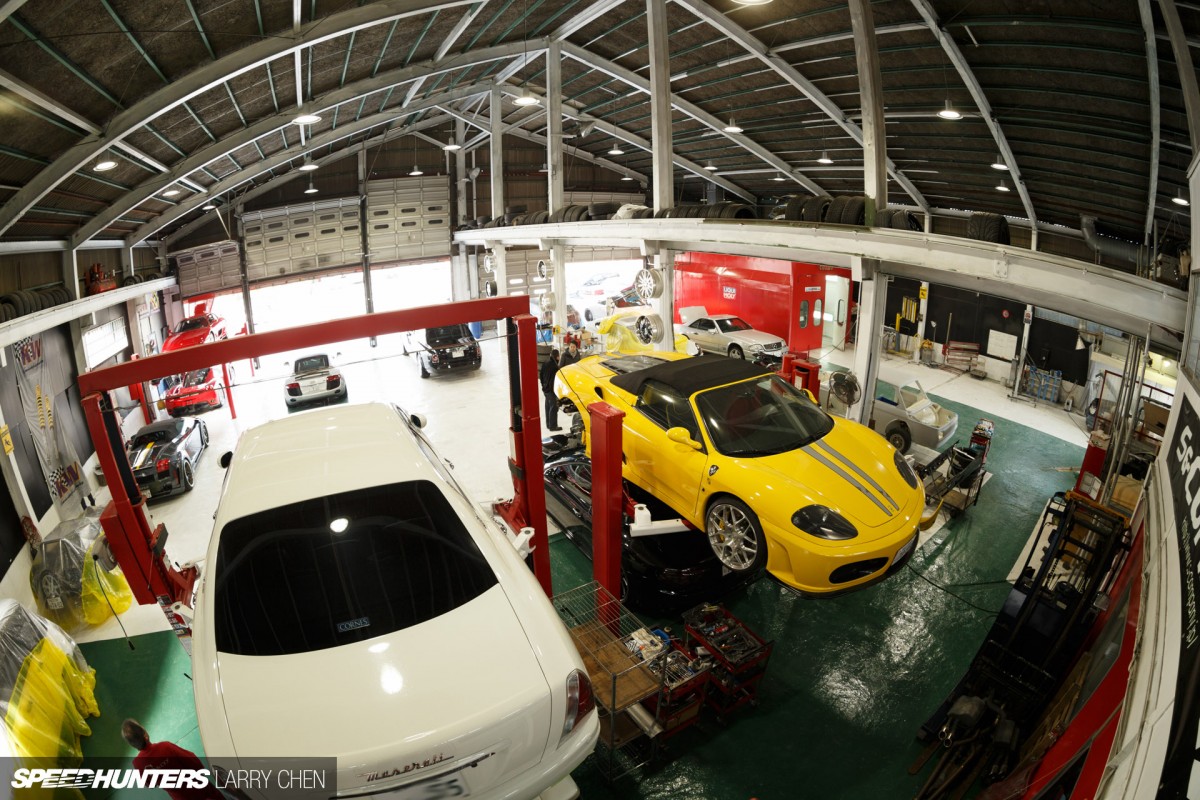 It's interesting to me because all the shops that I've visited before in the Tokyo area seem so small compared to this massive warehouse with many lifts. I guess that's indicative of the kind of cars they work on here.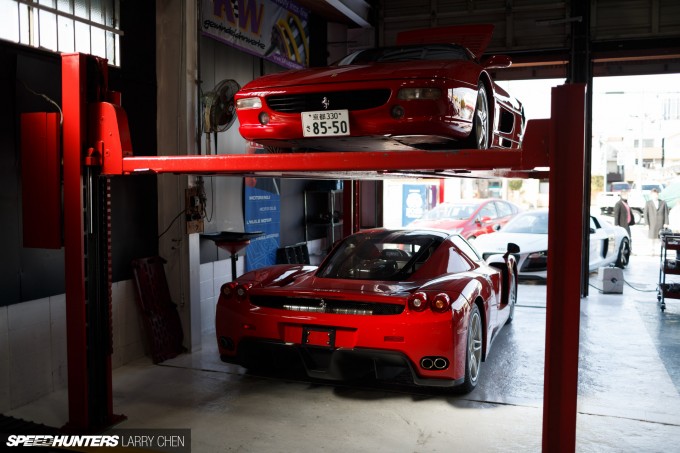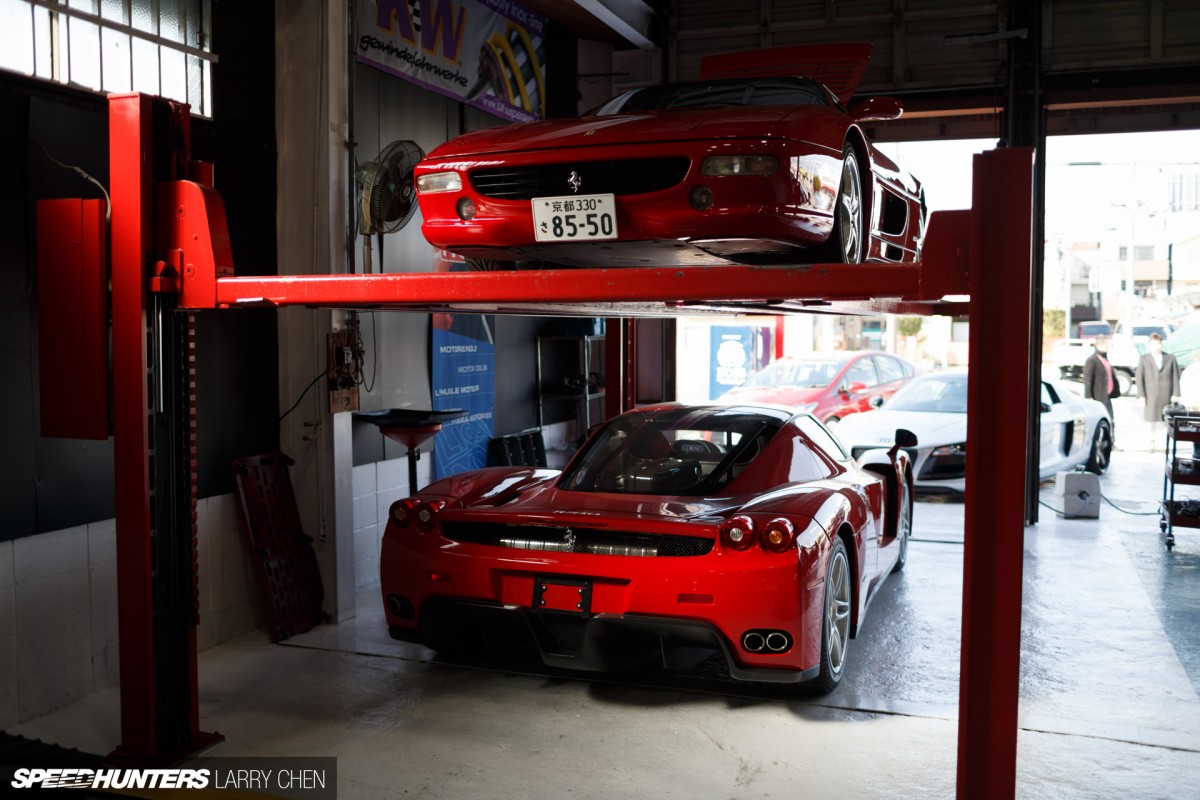 What a way to start off my shop-light-o-rama tour. So what's next?
Heaven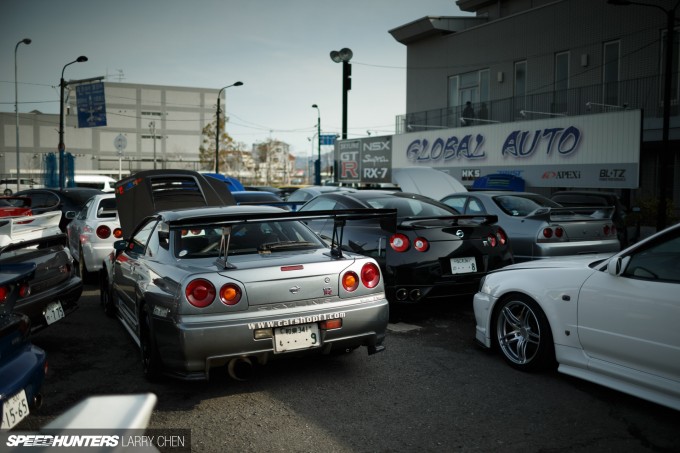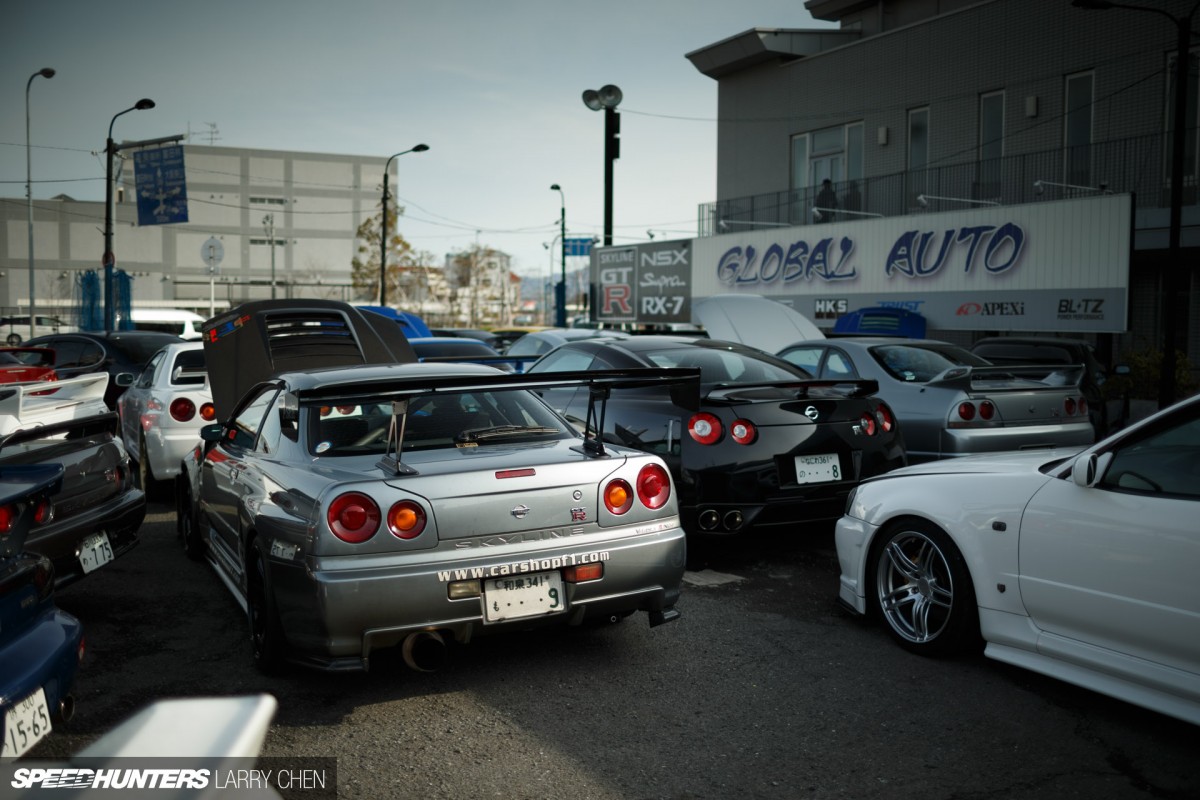 Global Auto was next. The shop and used car lot may have a generic-sounding name, but the cars that they sold were anything but. If you can't tell already from this photo, they specialize in Nissan GT-Rs.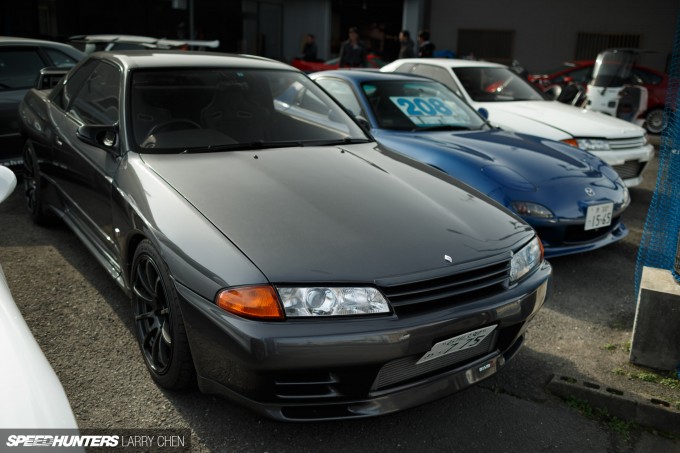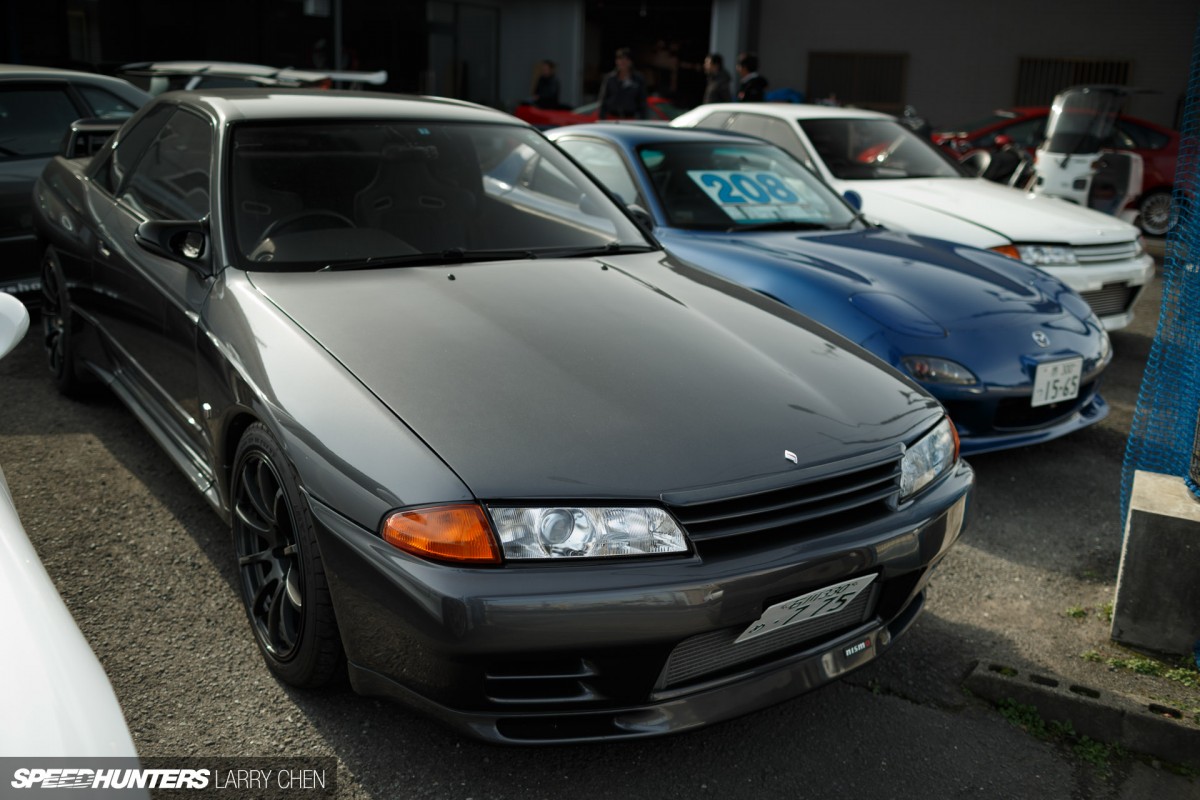 Dino has been here a few times, so I won't bore you guys with too many photos of these sexy GT-Rs.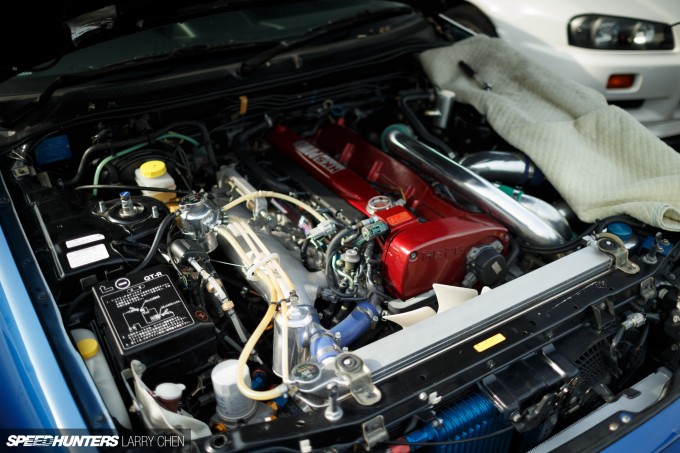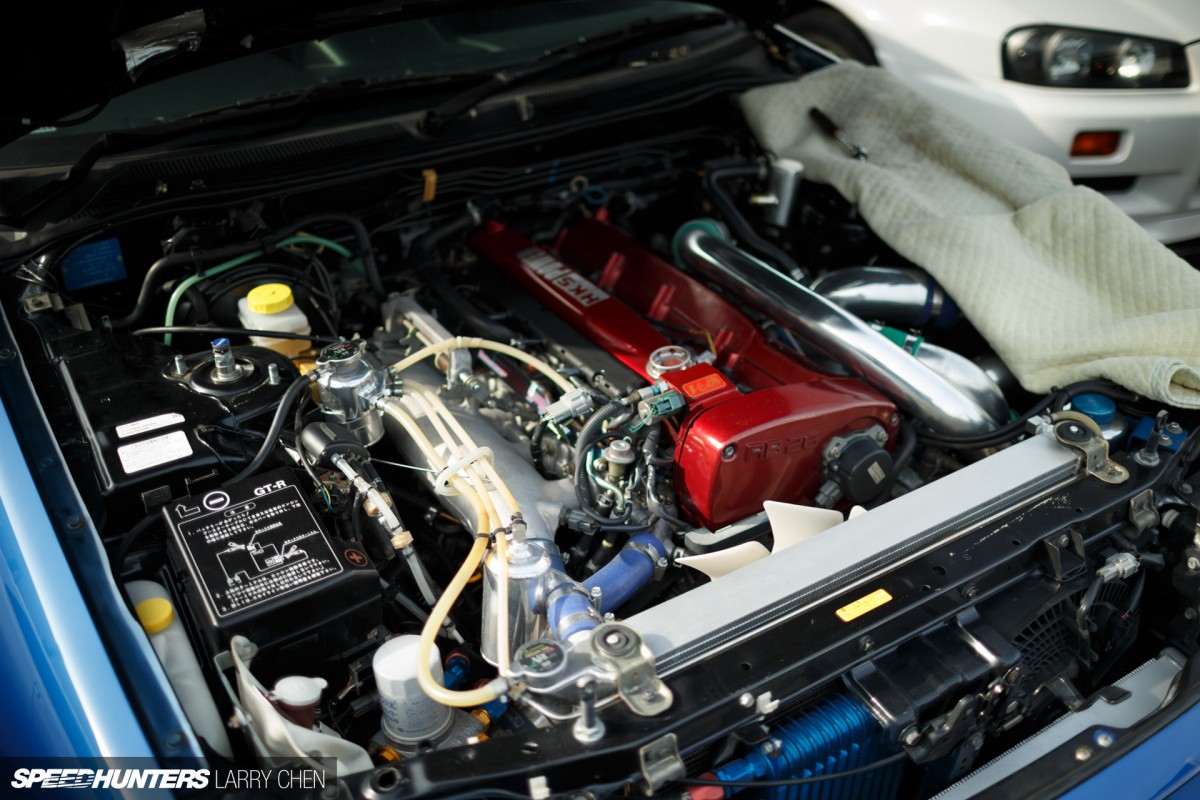 There were all the flavors of the rainbow, in terms of level of performance, from lightly-tuned examples like this…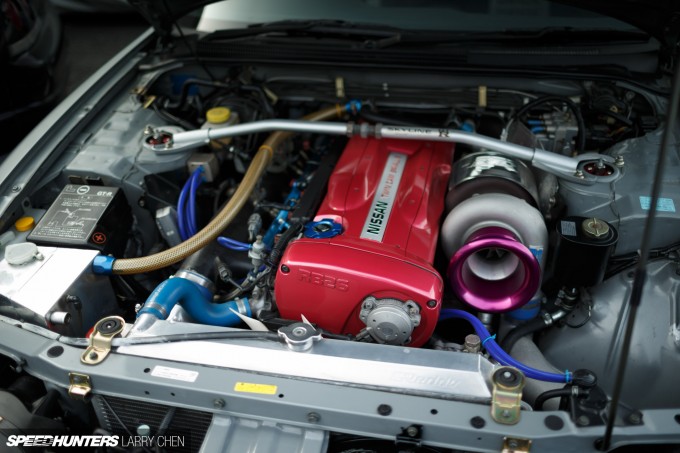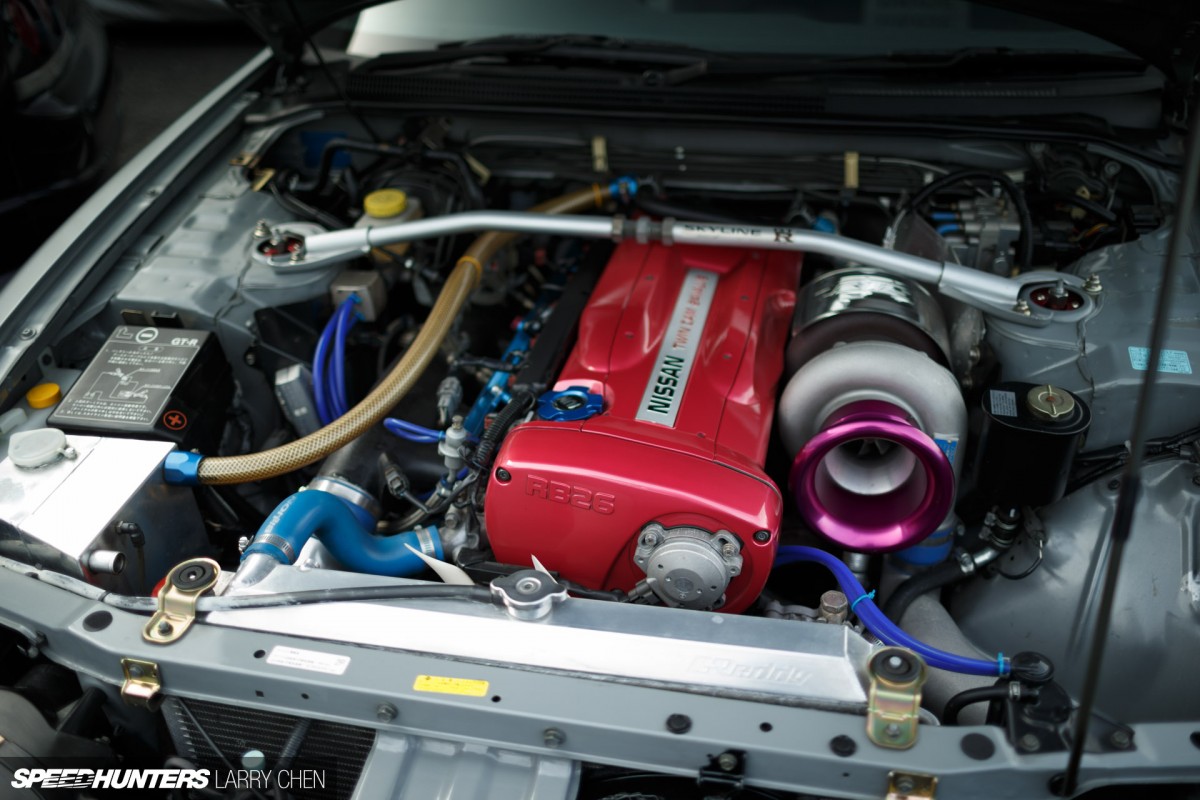 There were also the GT-Rs tuned for maximum power, with no regard for filtered air. It was RB motor heaven.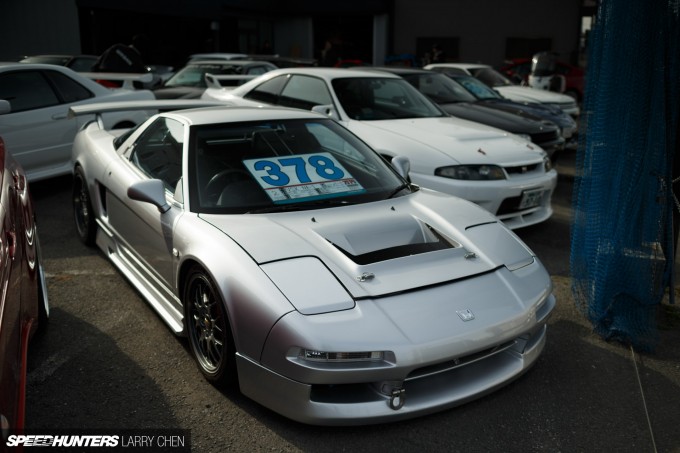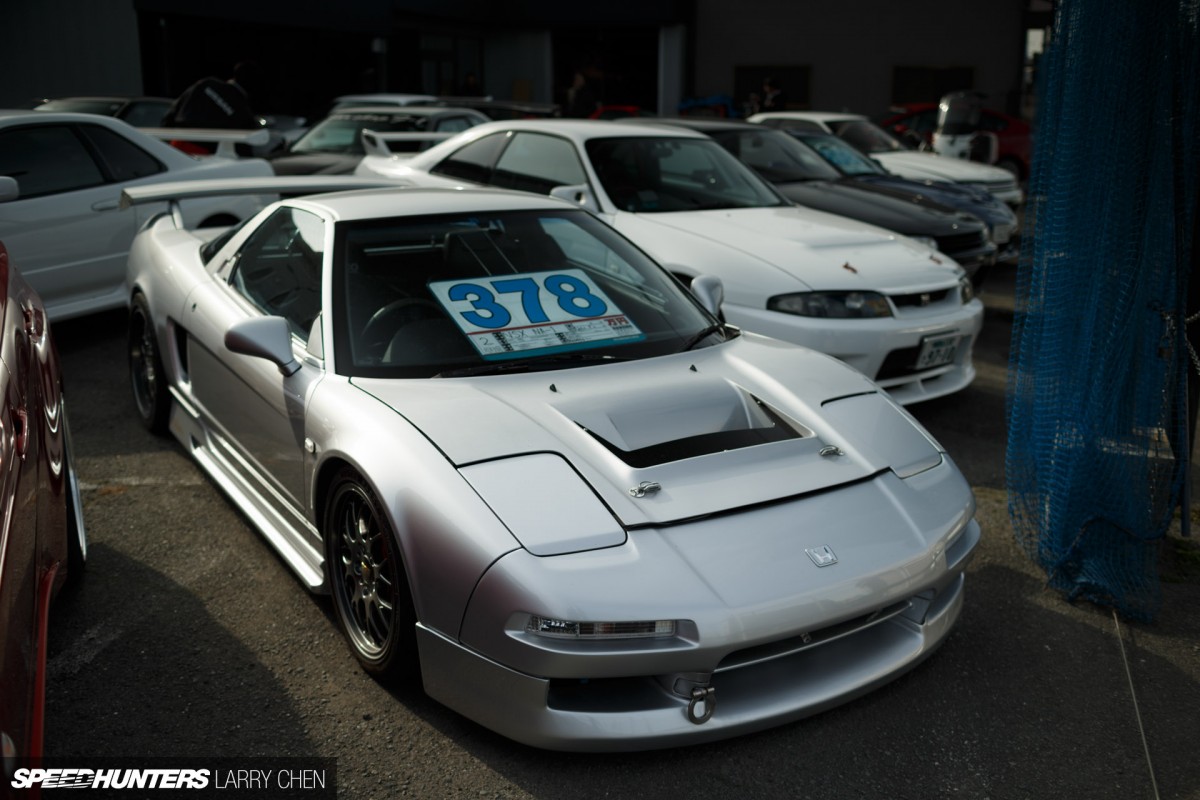 Along with the Nissan flagship sports cars, they had a few offerings from other manufactures, like this pristine Honda NSX. Why don't you stumble across dealers like this back home!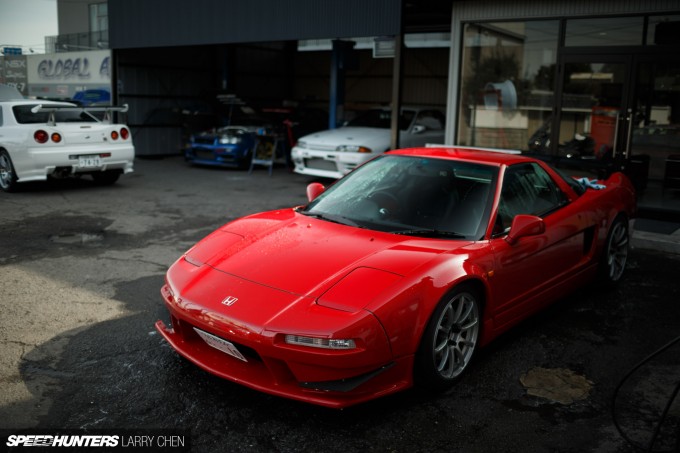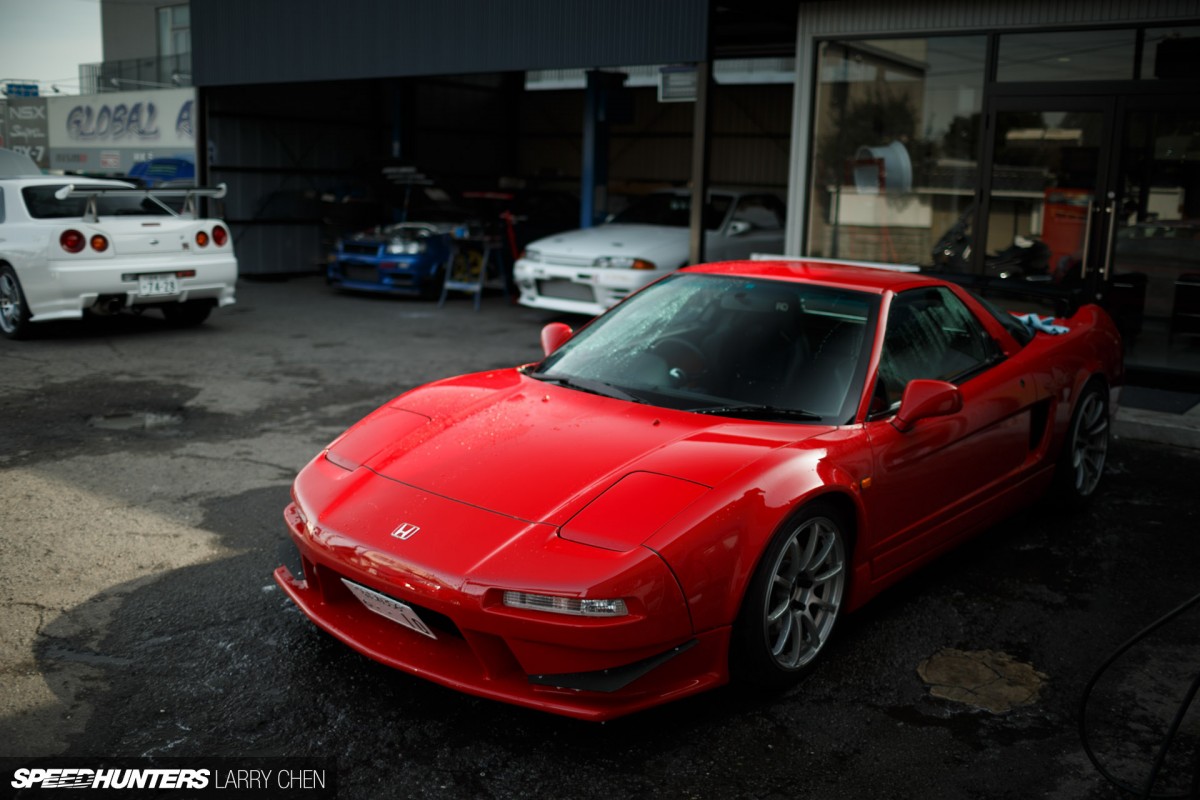 I loved the tasteful bodykits that were on these cars. In North America, the NSX is rare enough that many people tend to leave them stock.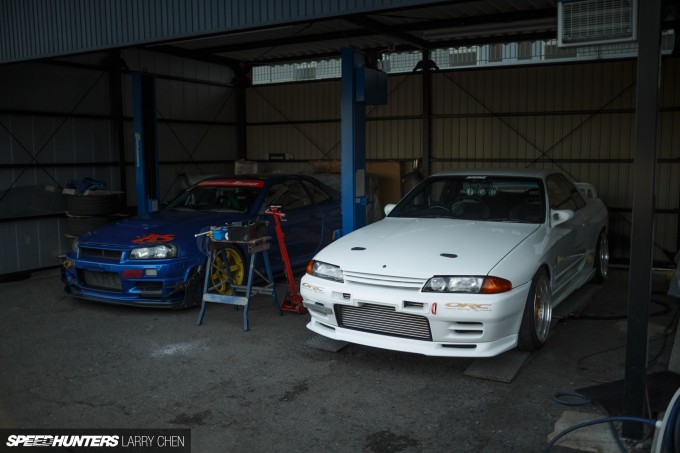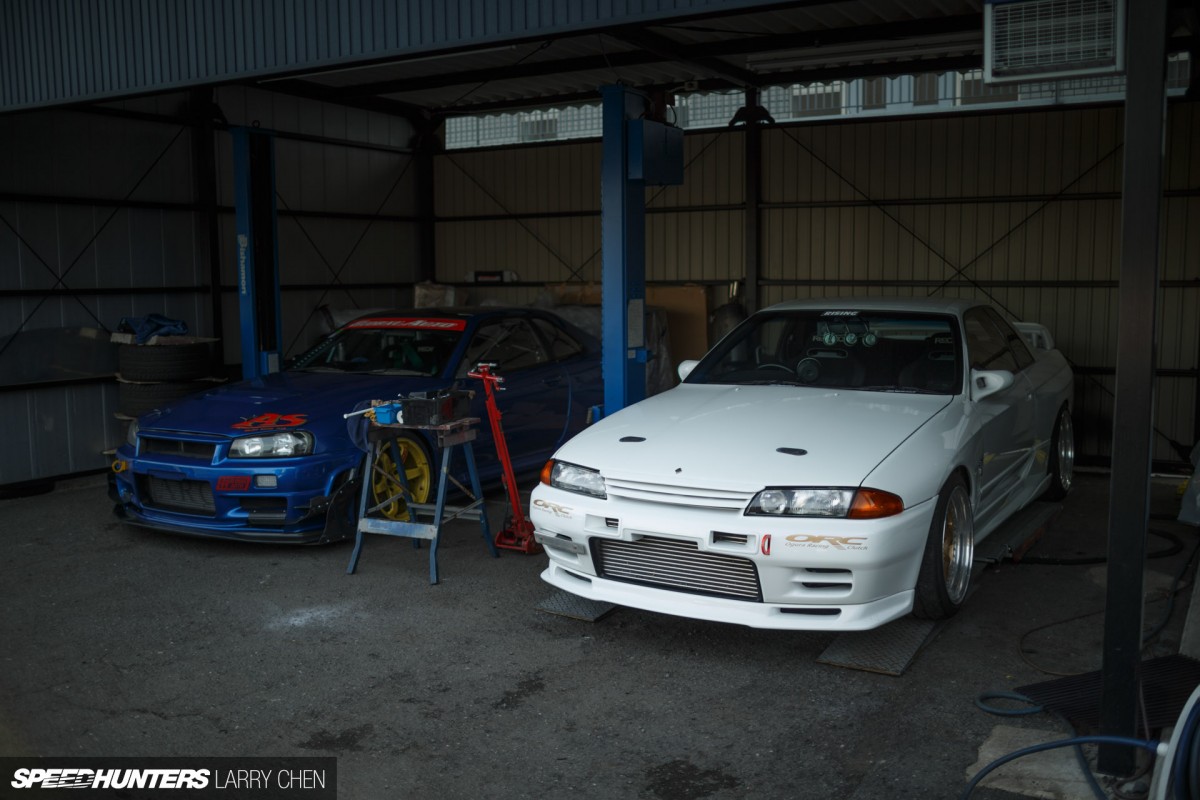 With the R32 now being 25 years old, they're finally starting to pour into North America. Some from our Canadian brothers up north, and some from the source. America has a big hunger right now that needs feeding! We've waited too long.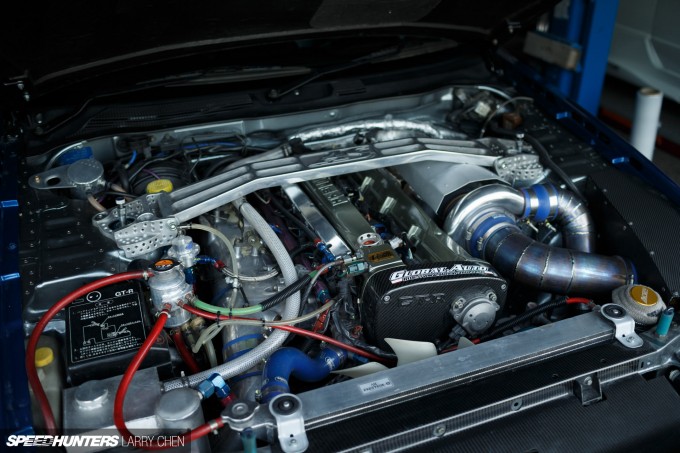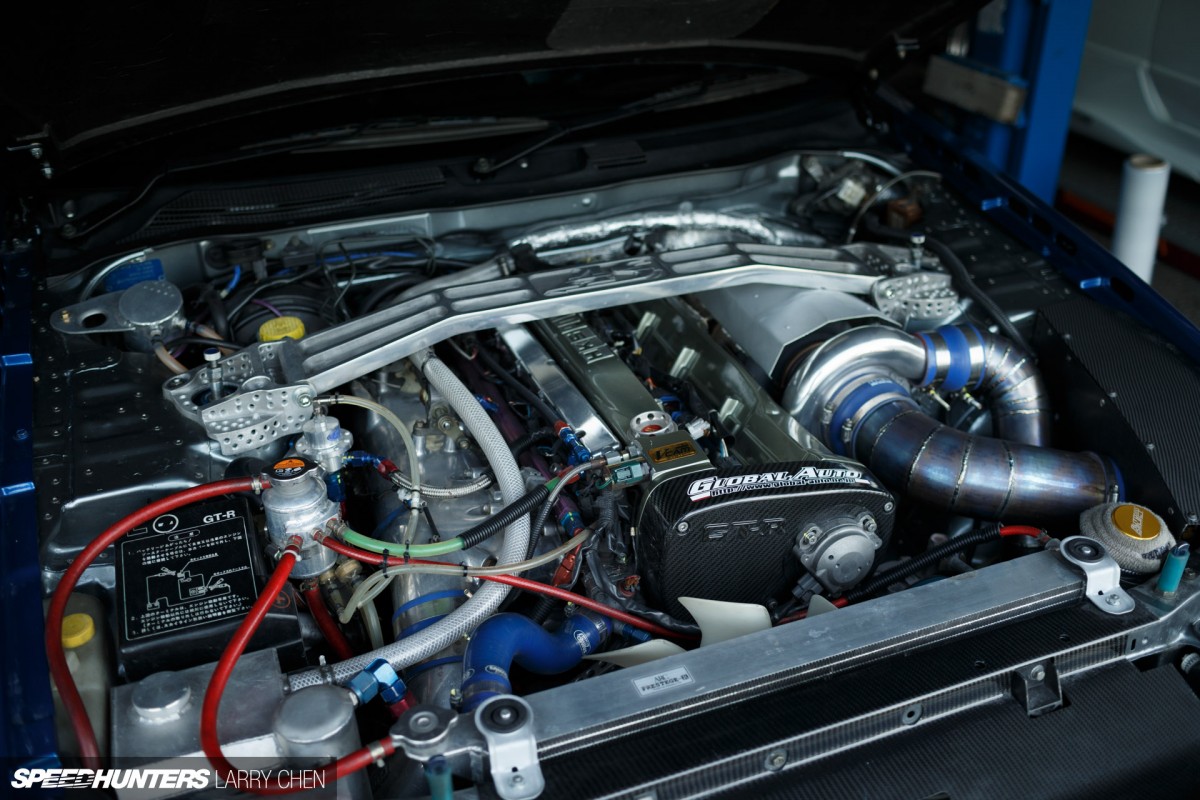 I have a feeling that it will soon send R32 Skyline prices soaring. Especially the ones in perfect condition like we saw at Global Auto.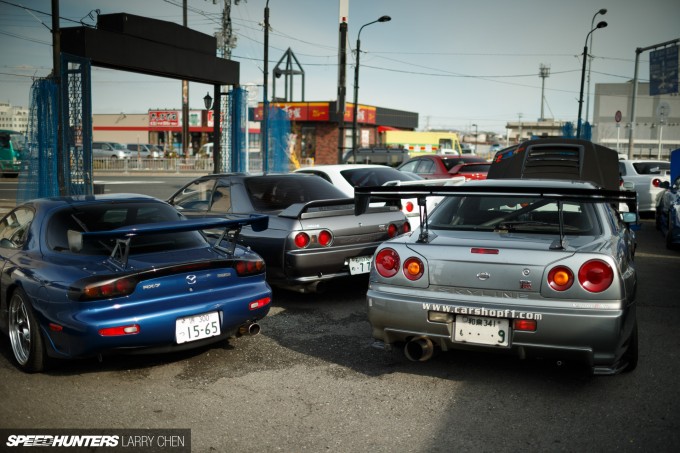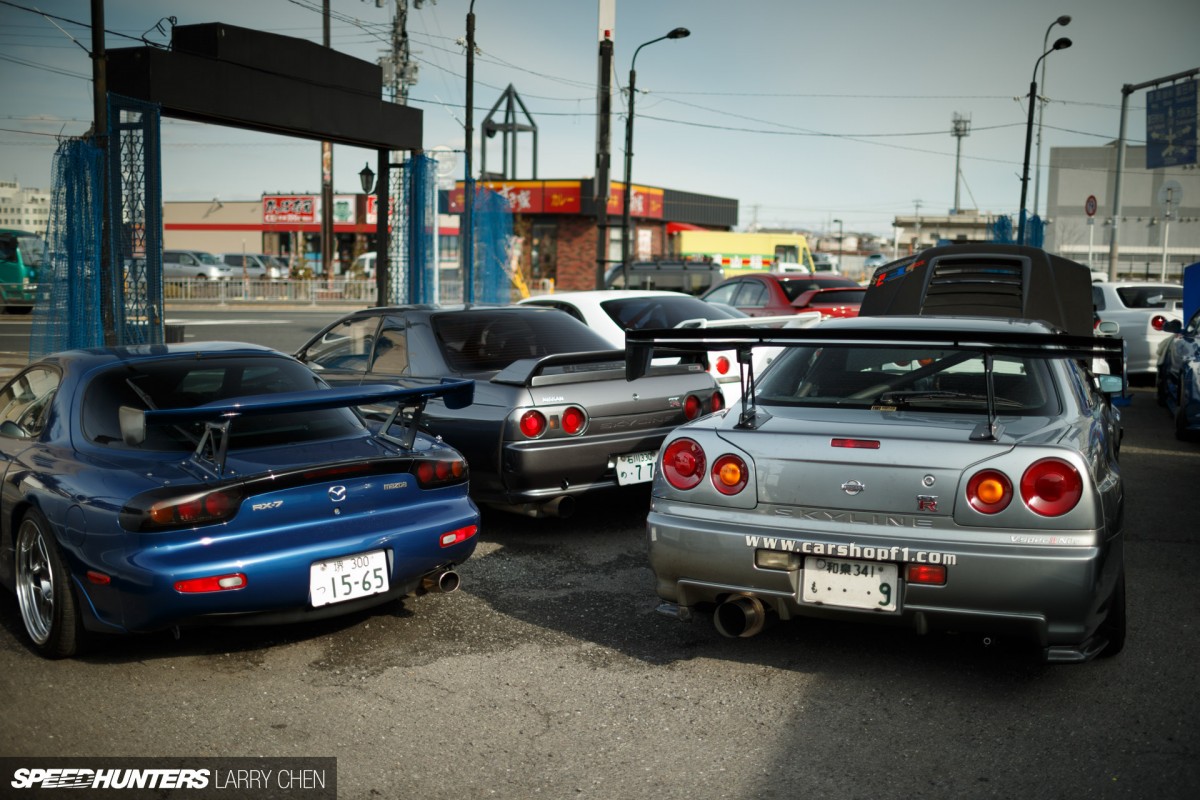 To my surprise there was not one Toyota Supra in the lot. It seems they've all been exported to Norway; having a MkIV Supra as a drift car in Scandinavia is common fare. I blame Fredric.
Four of them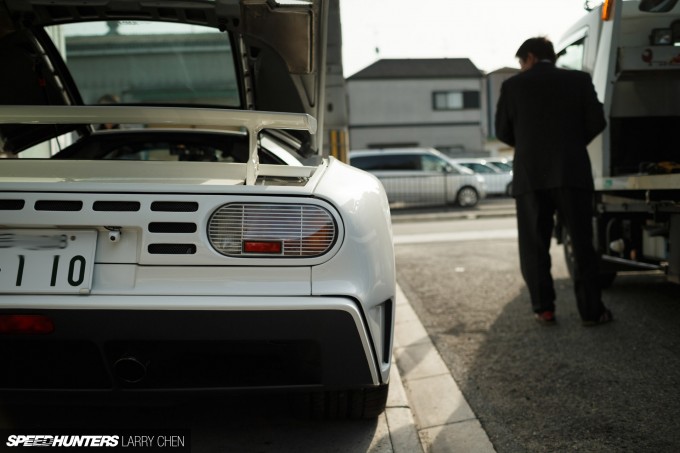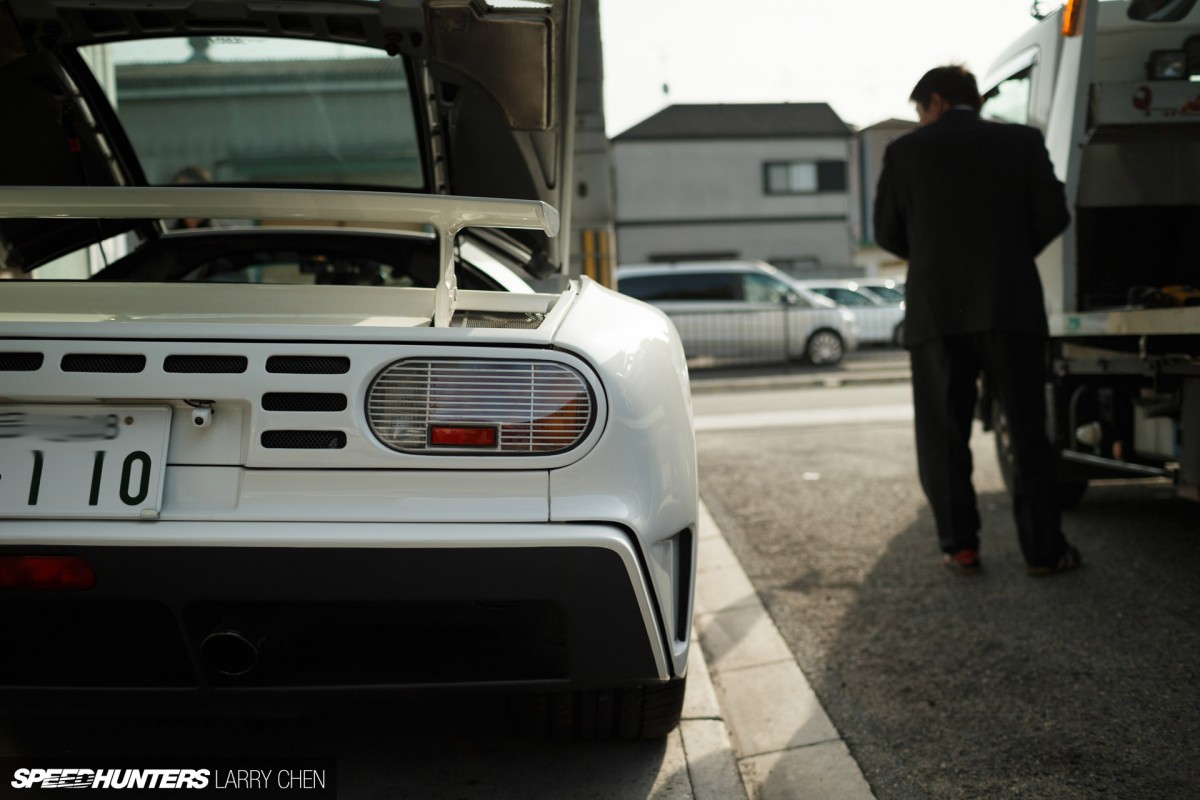 The next shop that the Hashimoto brothers took me to was a place that I'll never forget. Parked outside on the sidewalk was the super rare Bugatti EB110. Yes, just sat there on the sidewalk!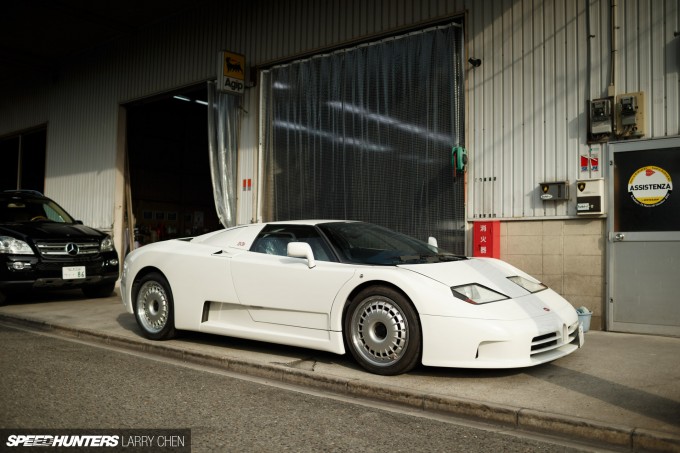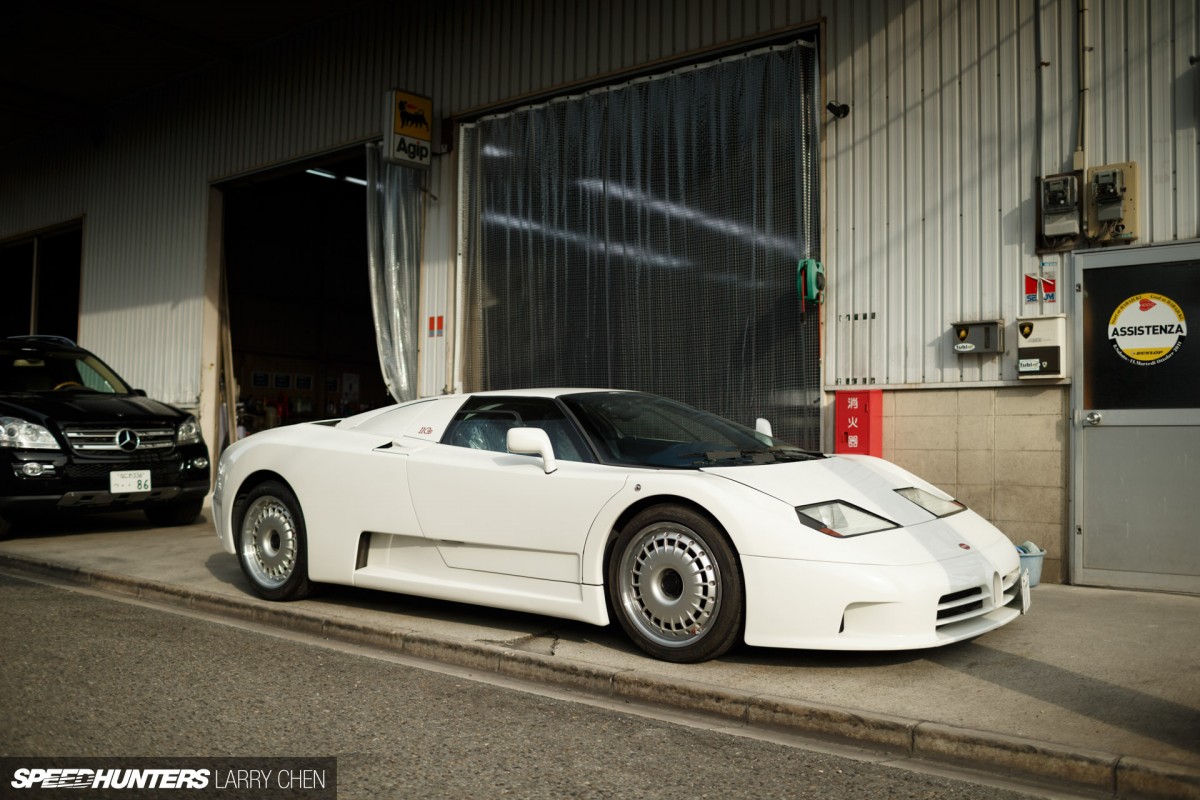 The shop was simply known as FORME. The owner was very secretive, and rightfully so, as there were some very expensive cars in this shop.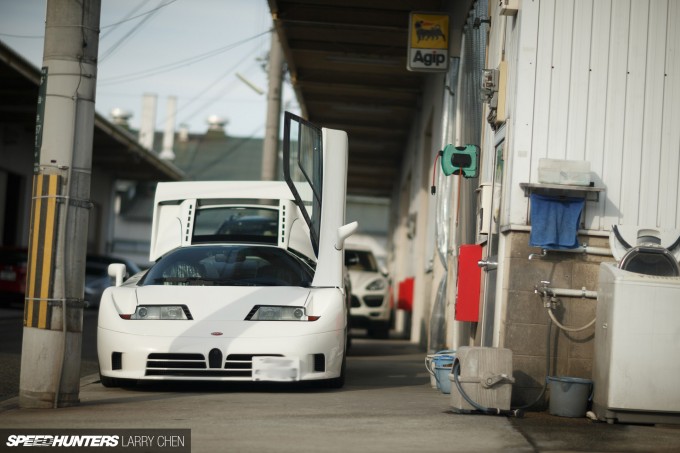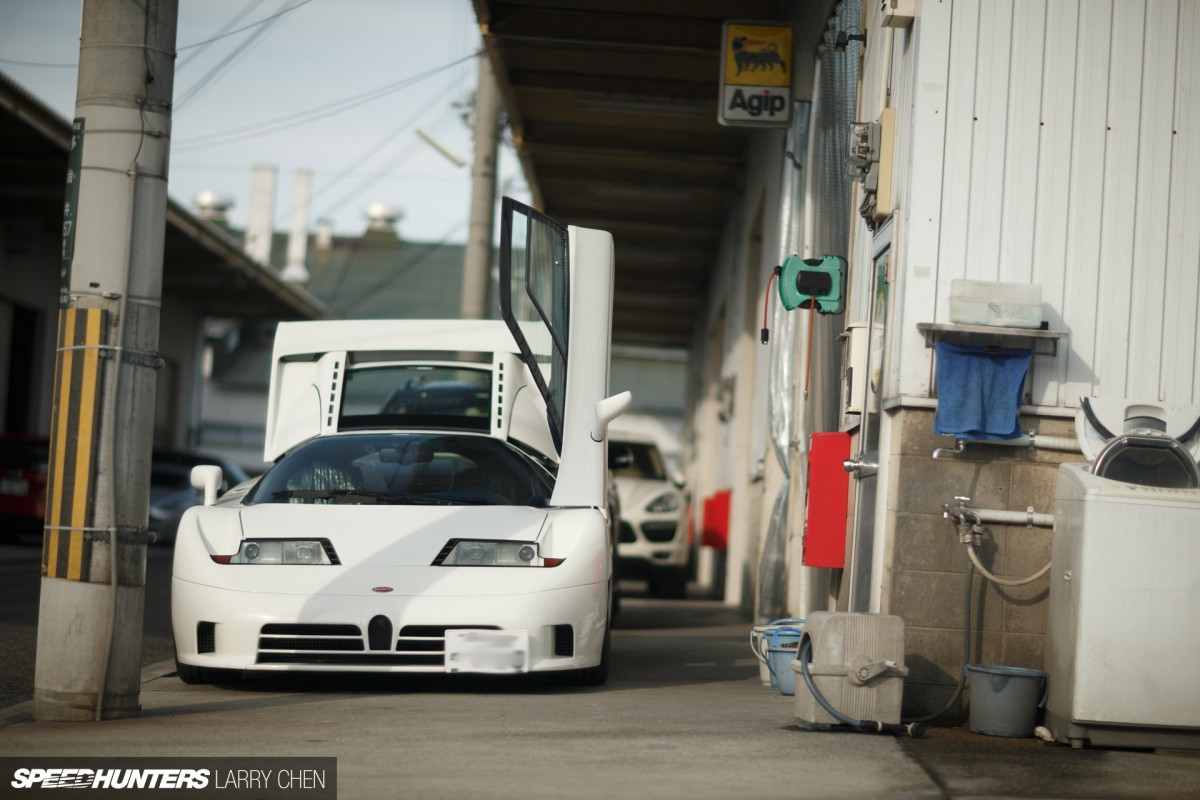 It looked like an eager child with her hand raised, saying, 'Pick me, pick me!'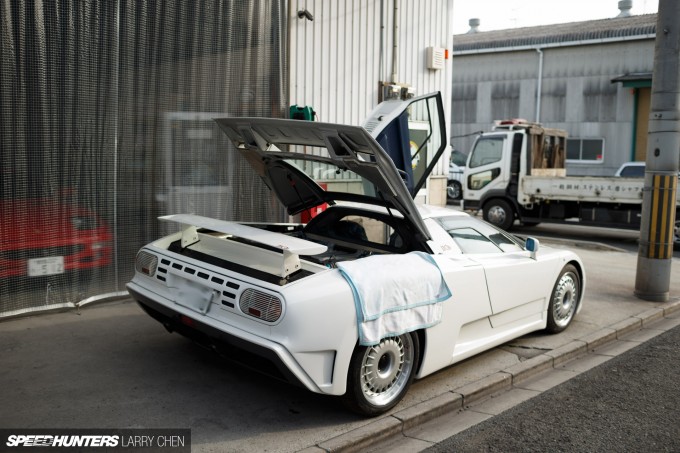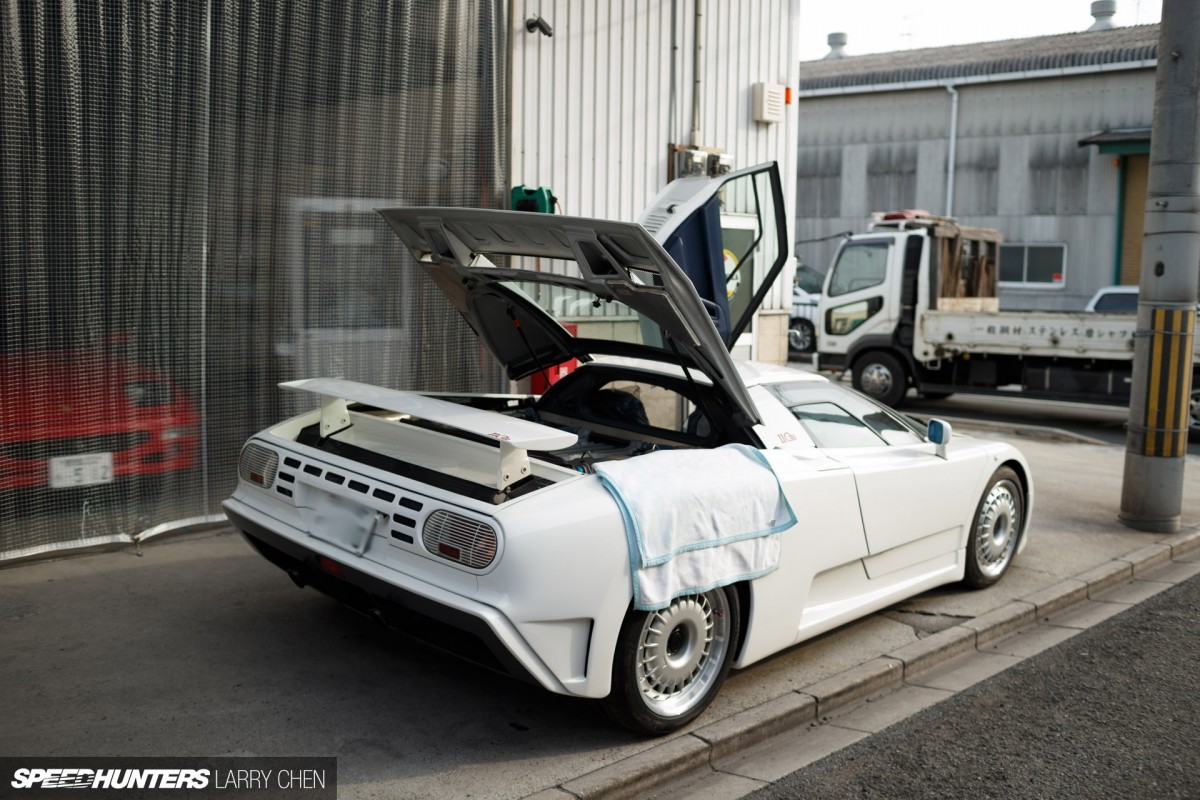 I've only seen one other EB110 in my life, but it was not in working order. This one just sat there as it idled.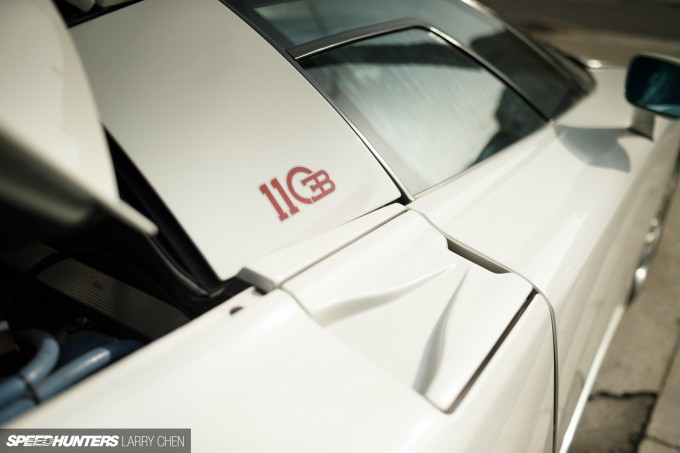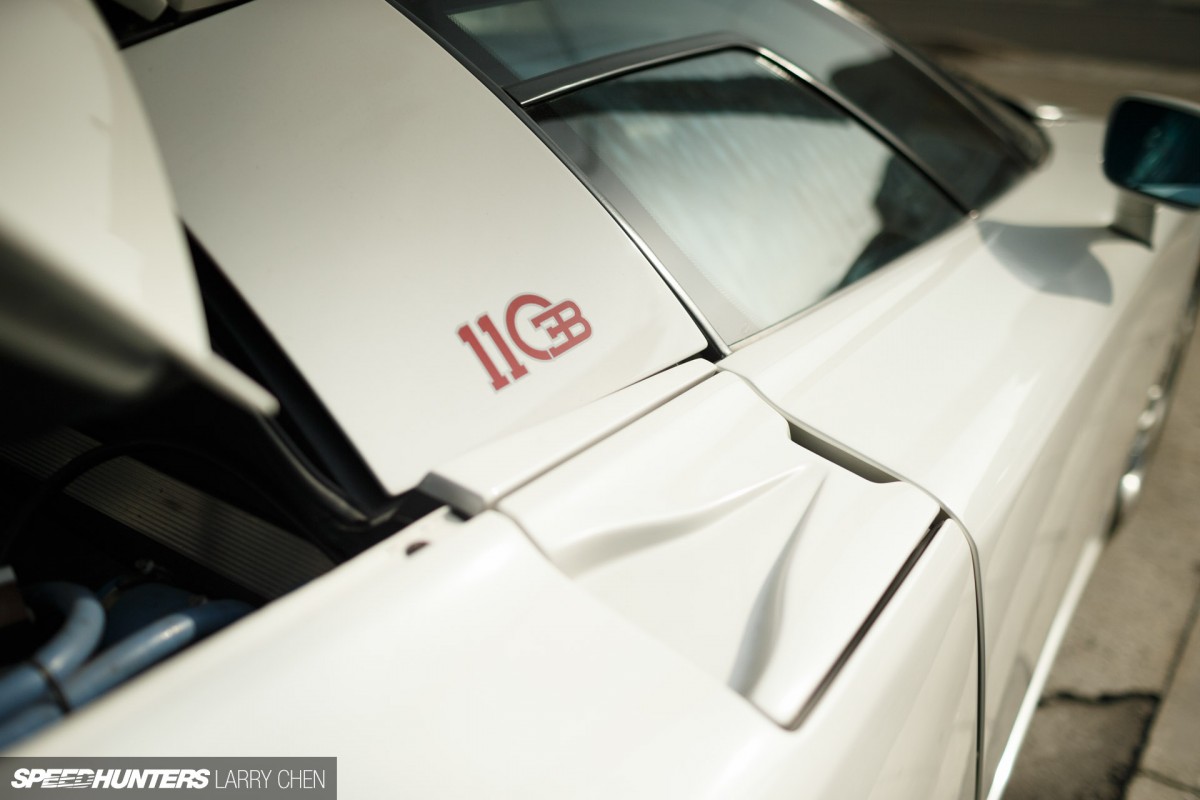 The owner had it in for a regular service. Which begs the question: how do these people know how to work on this car? I mean in Japan of all places, I can't imagine there being many EB110s to practise on.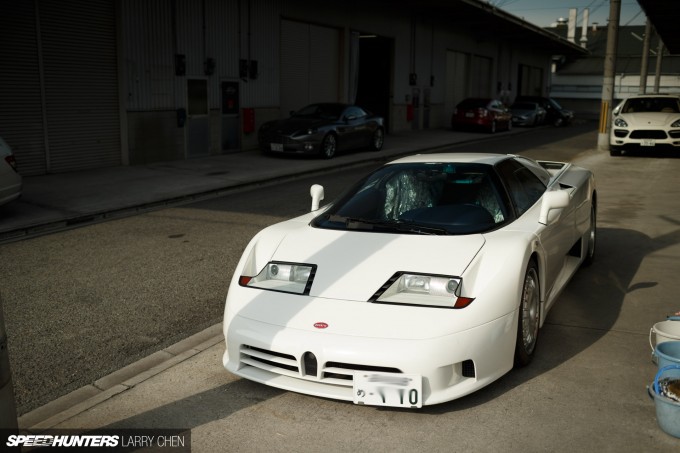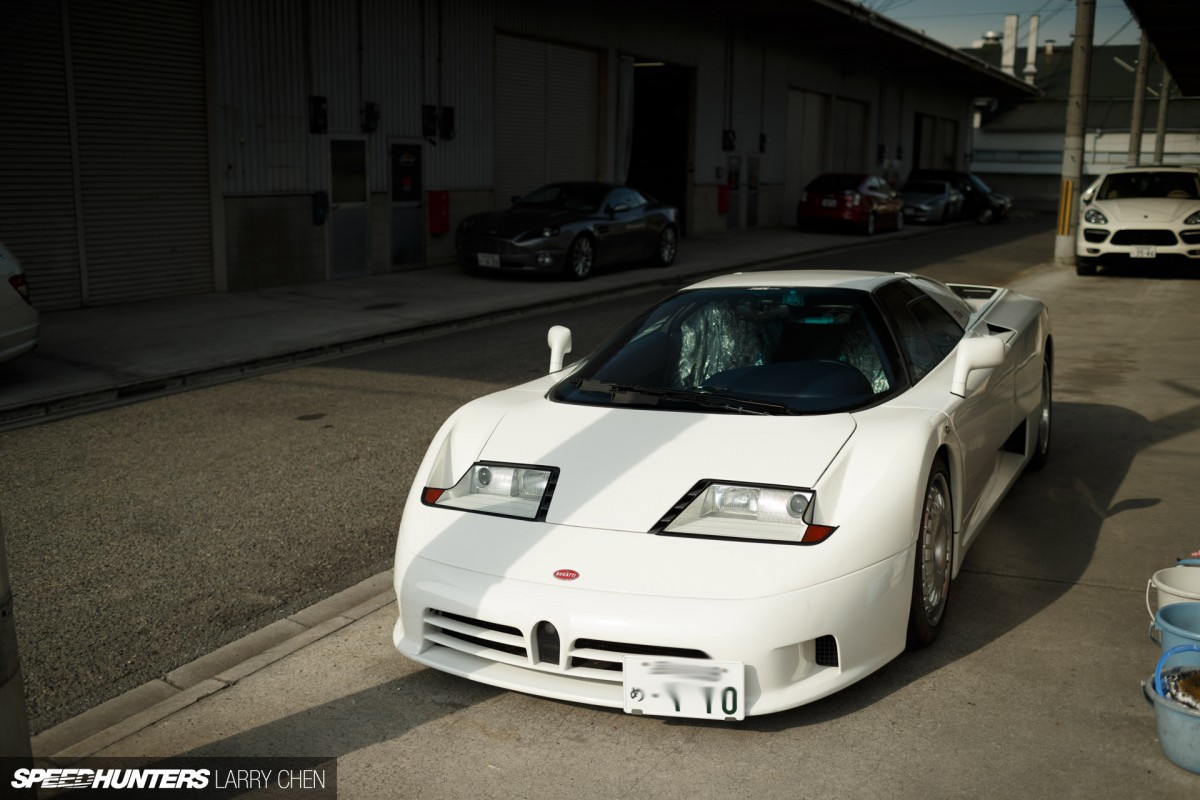 Check out that mini horseshoe front end. It's crazy to see how big that little design element has become over the years – just think of the Veyron.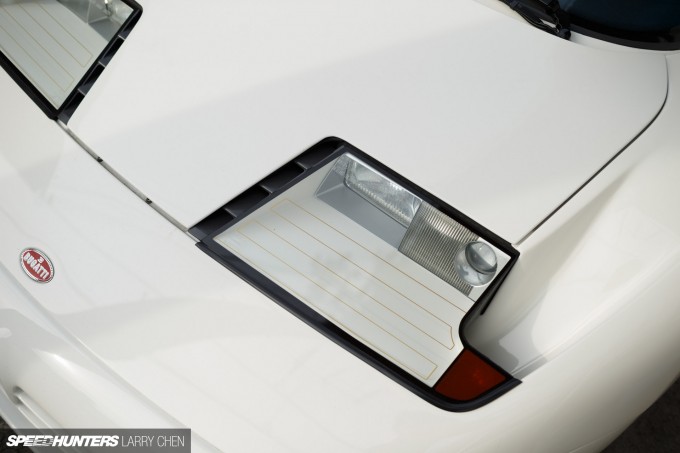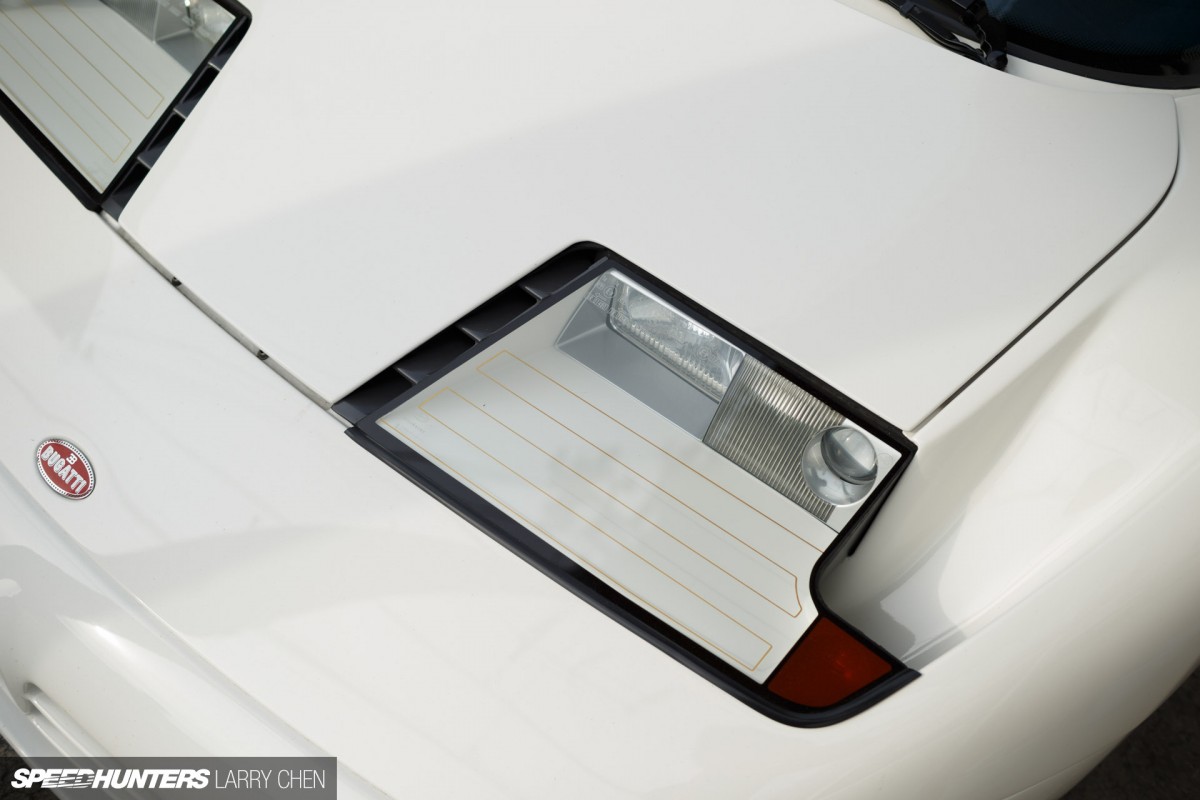 No paint chips, no scratches, just perfect. I remember my first introduction to this car was when I saw it on Top Gear.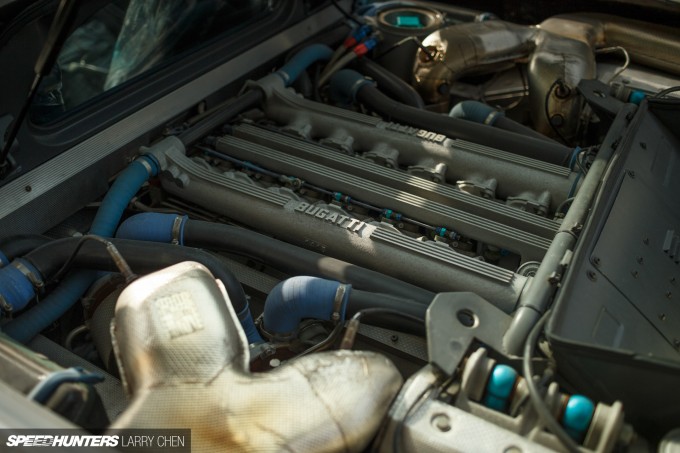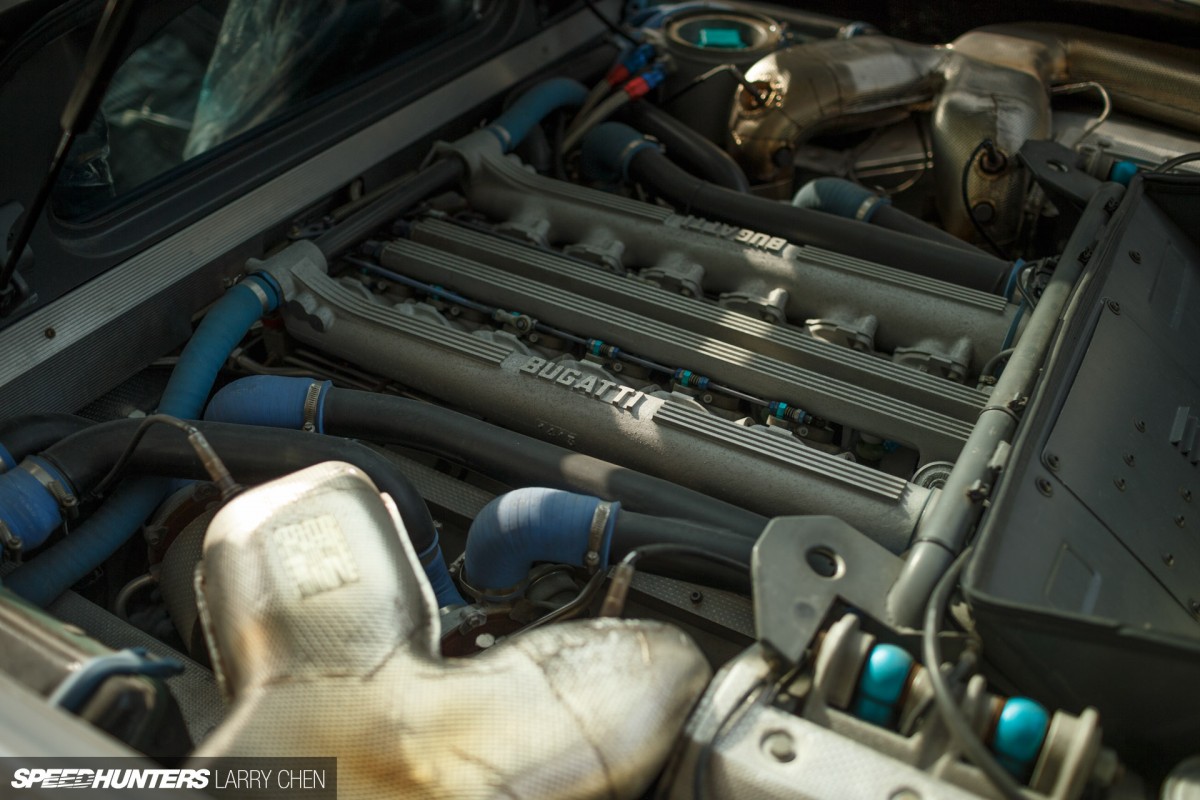 It kept ringing in my head when I saw it: "This has four turbos". Over and over again. Thank you Mr. Clarkson.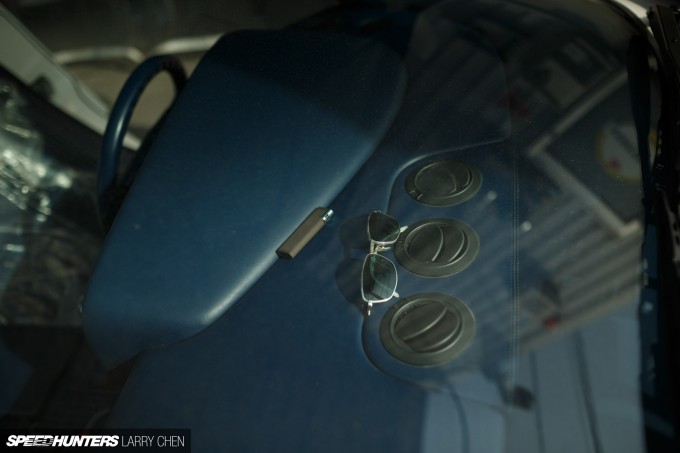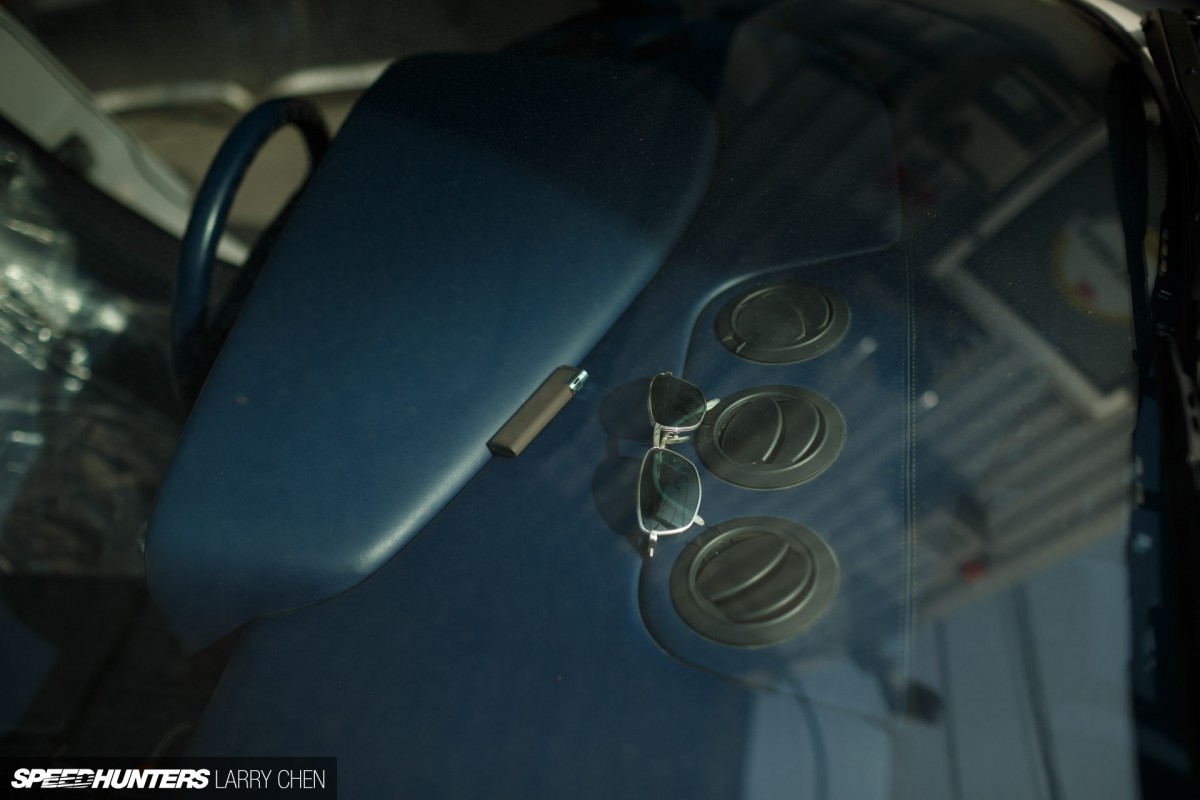 It just oozed '90s style from all over the place. I'd be so afraid to drive something like this.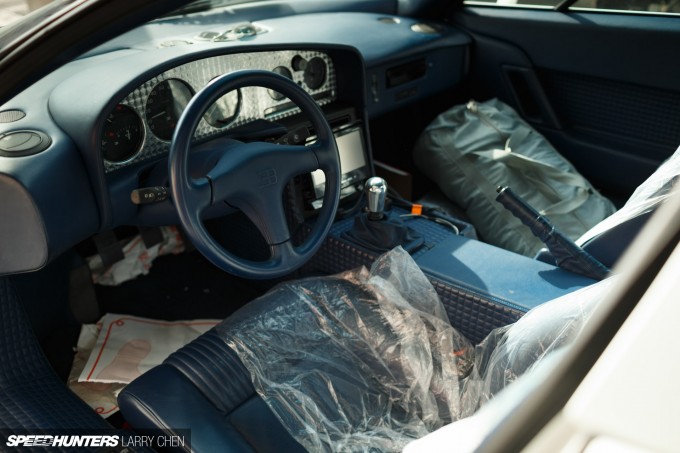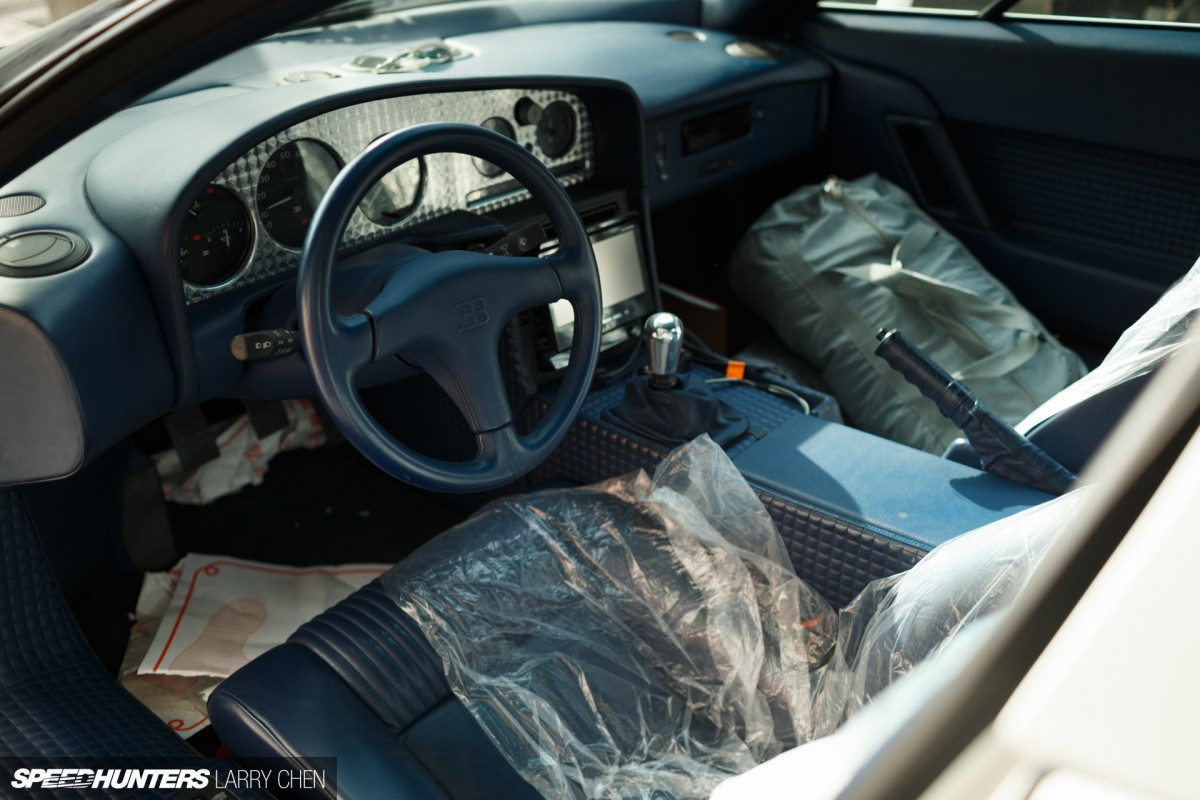 The mechanics that worked at FORME were super careful with every car they worked on, making sure they didn't get any grease smudges on such a valuable car. Can you imagine trying to get new seats? It's not like you can go to the local parts shop to get some more…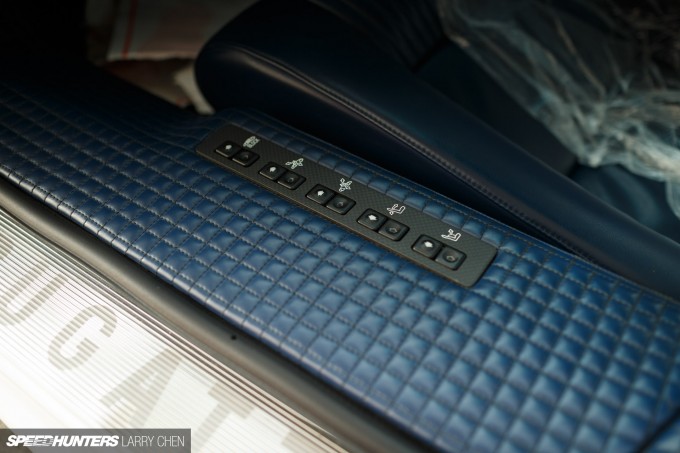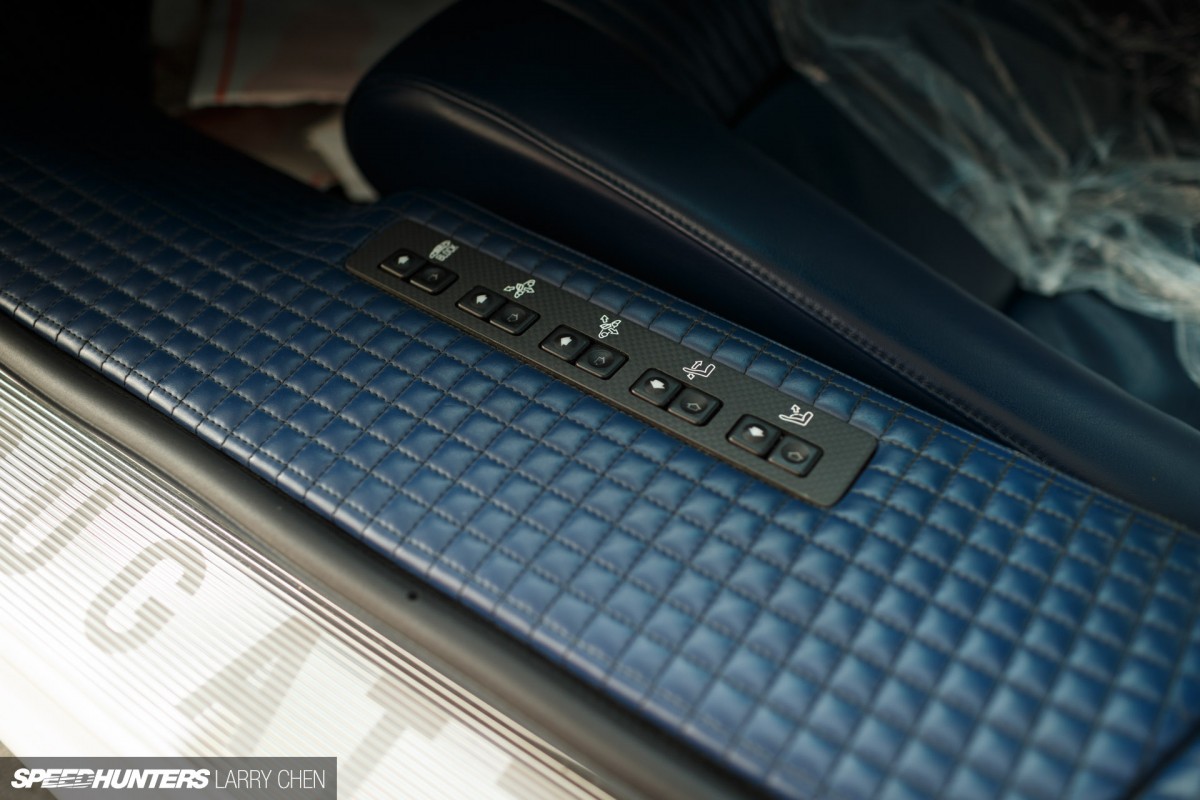 Check out the door sill. How massively awesome is that? And those seat adjustment switches: so '90s and so right.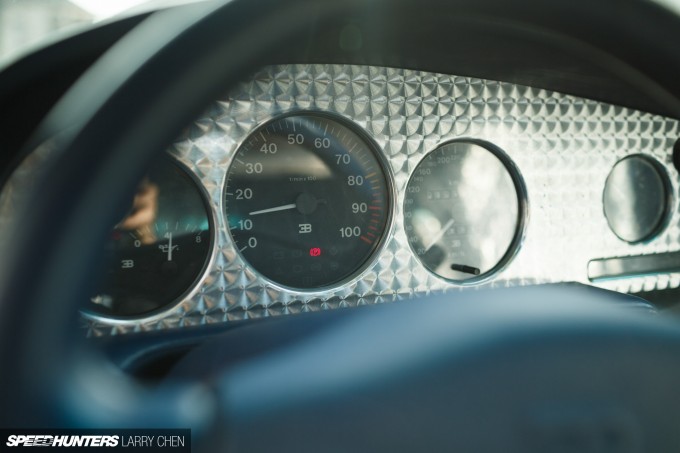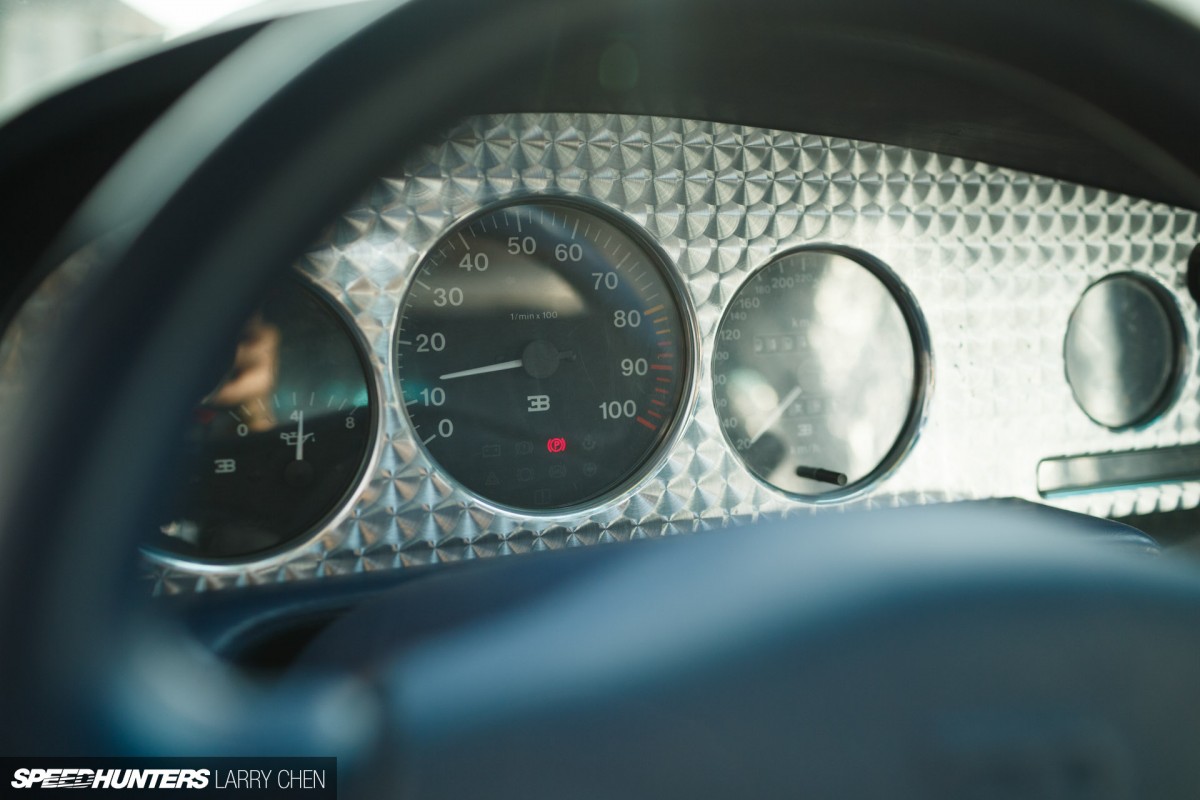 I was surprised to see how high the redline was. It was a proper supercar with a proper gearbox.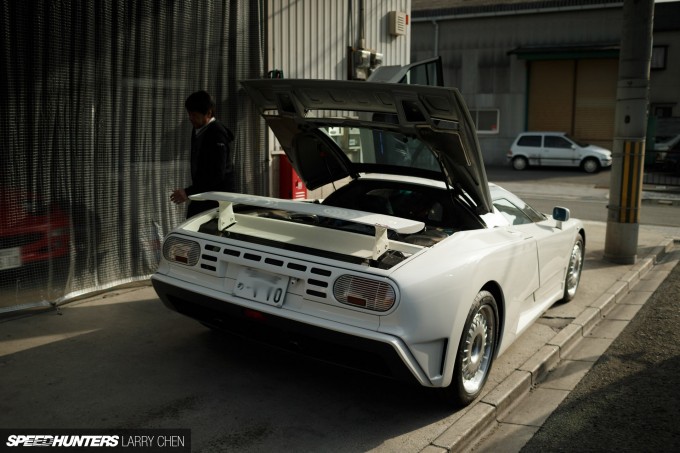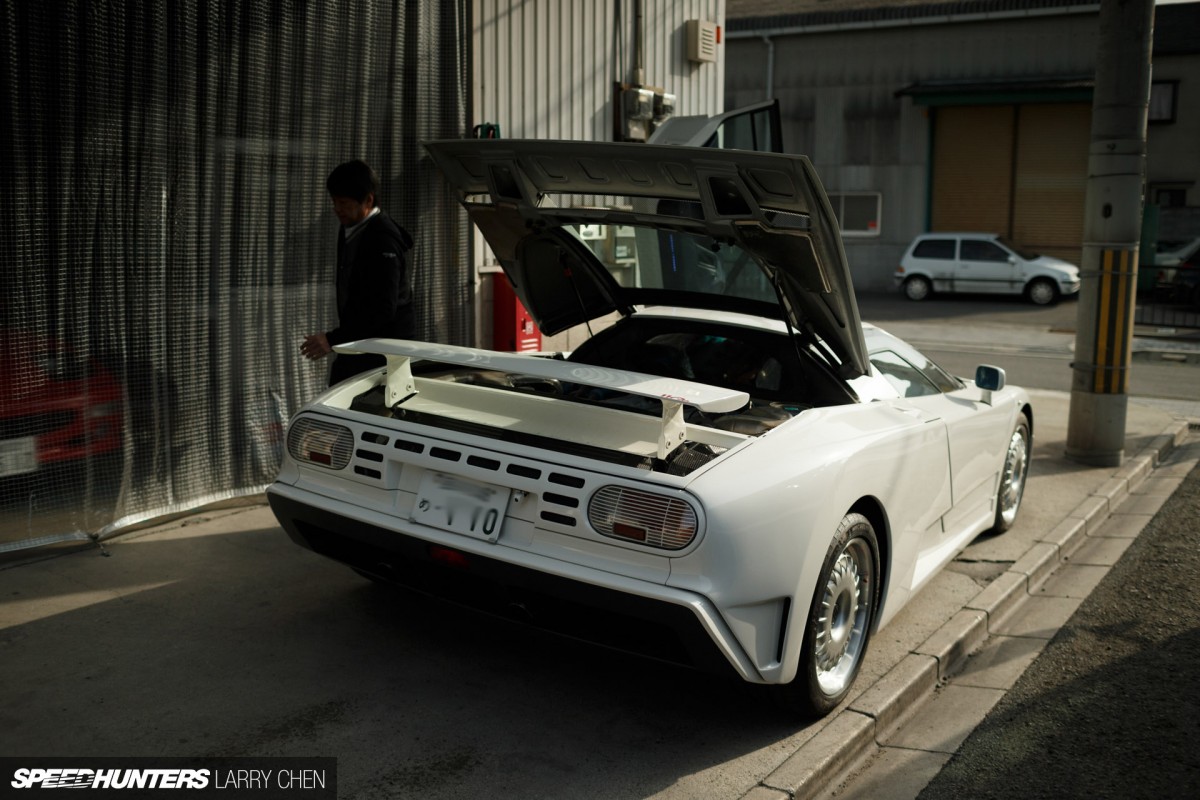 Just check out those awesome tail lights and that wing! Swoon! Speedhunters heaven would have these parked on every corner.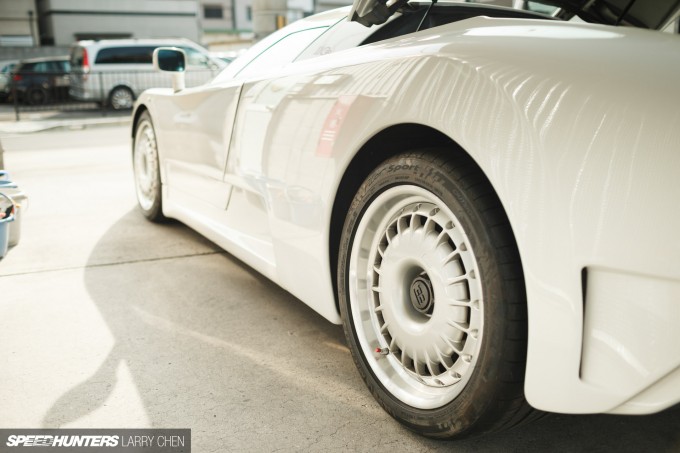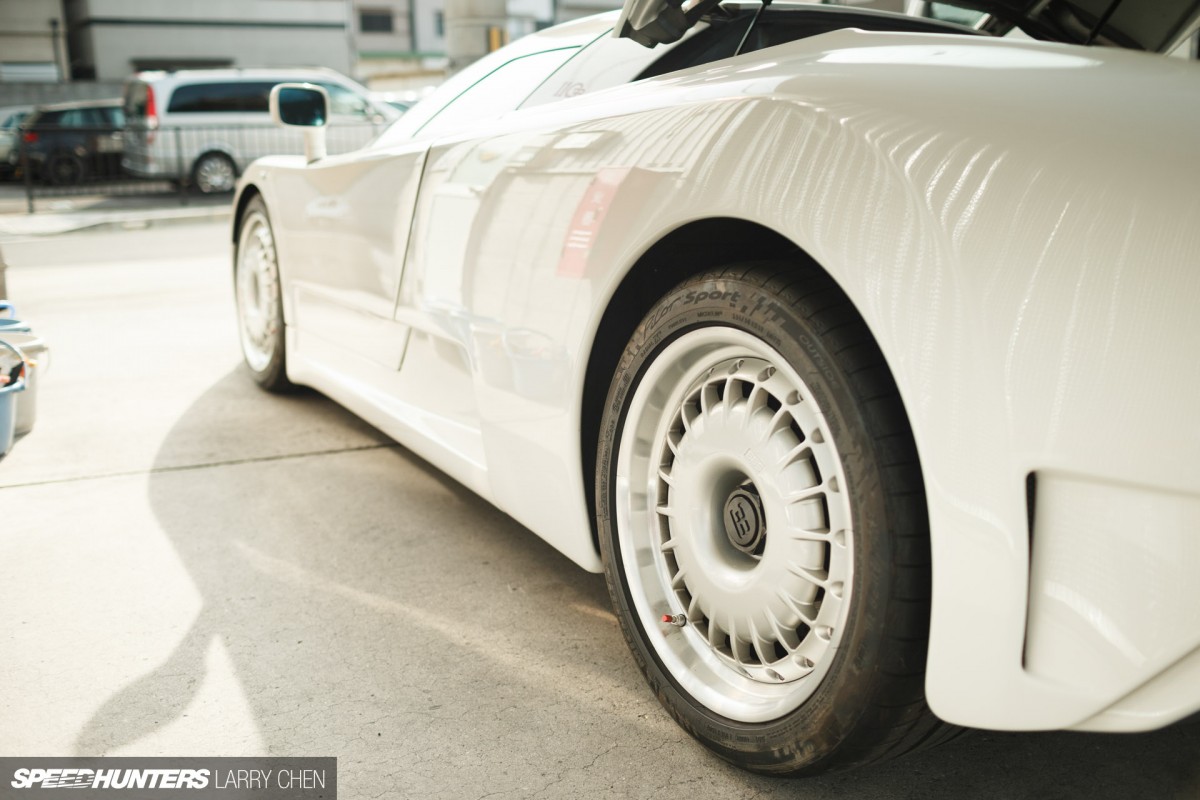 I really like the fact that the owner didn't modify this car at all, leaving the wheels stock. Just upgrading the rubber to something more modern and sticky is good enough. But then again, looking at what you're starting with, why would you?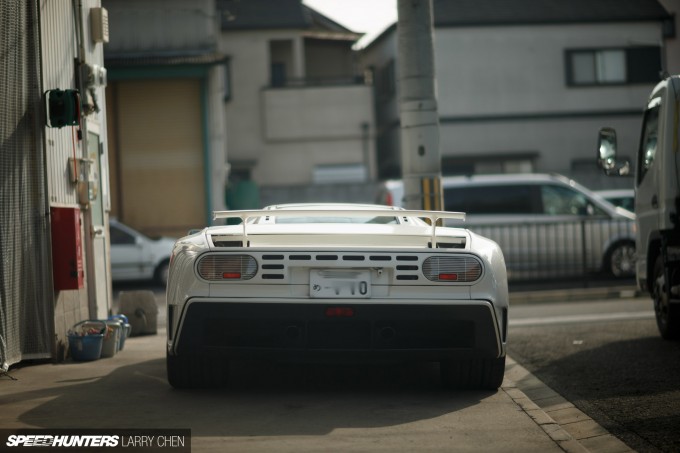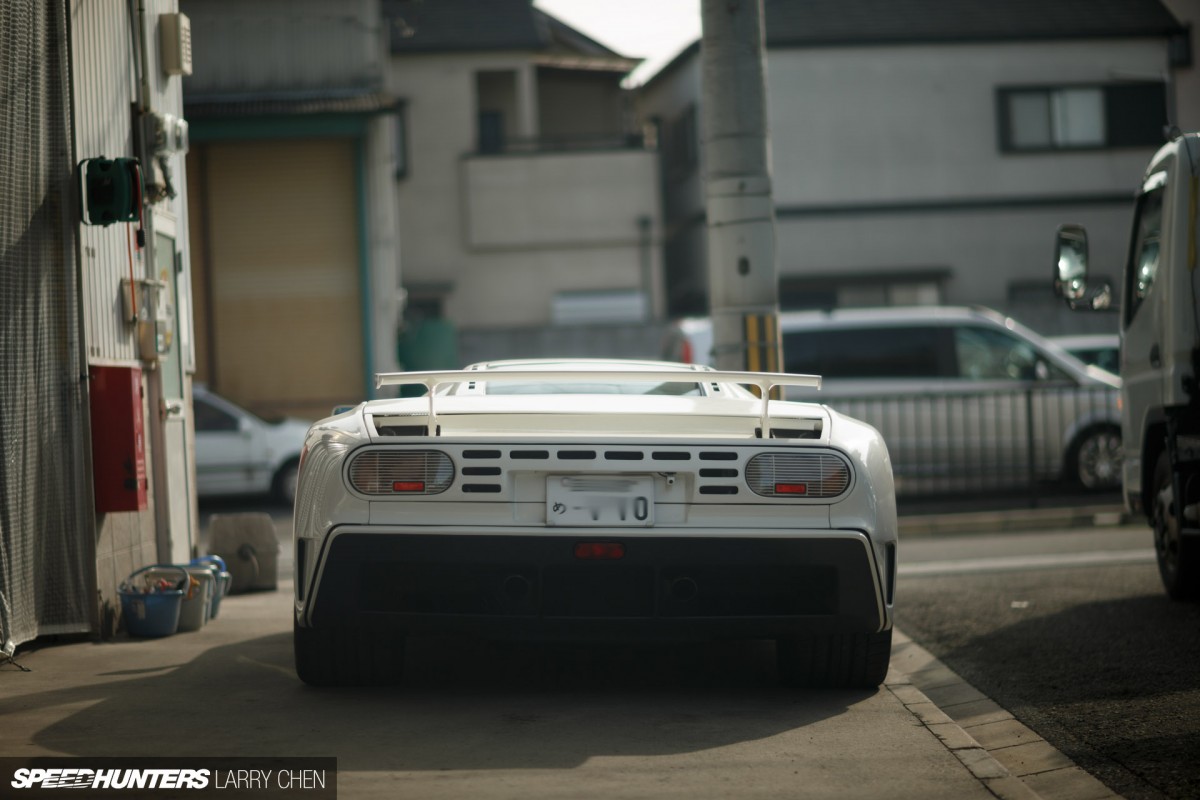 I just can't go on enough about how much I loved that car, because ever since I saw it on television, I wanted to see one in person. I wanted to hear it sing.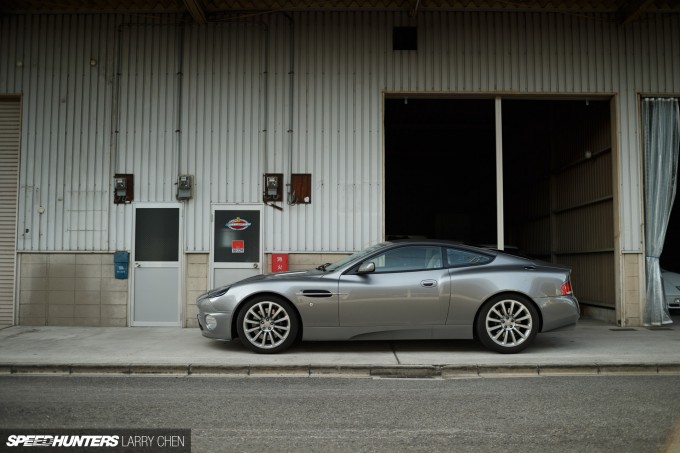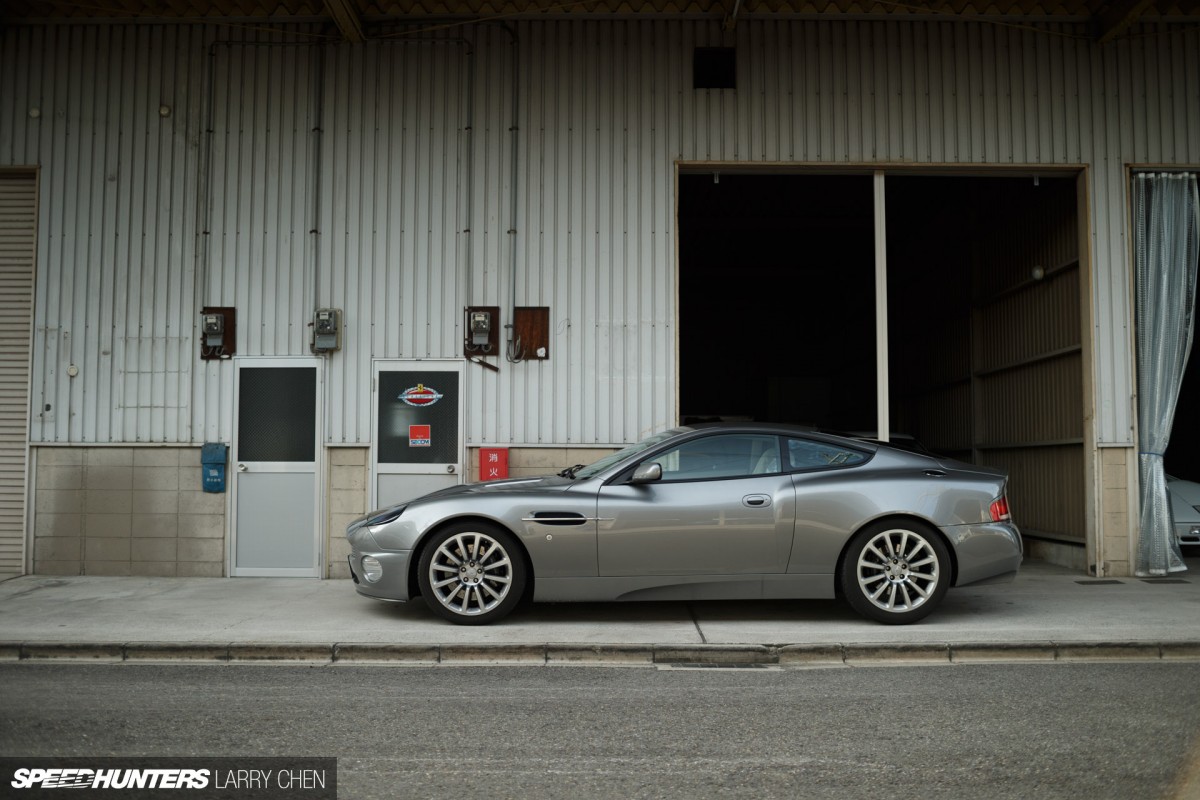 This place had already left a lasting impression on me, but I didn't think it could impress me any more. I was wrong of course.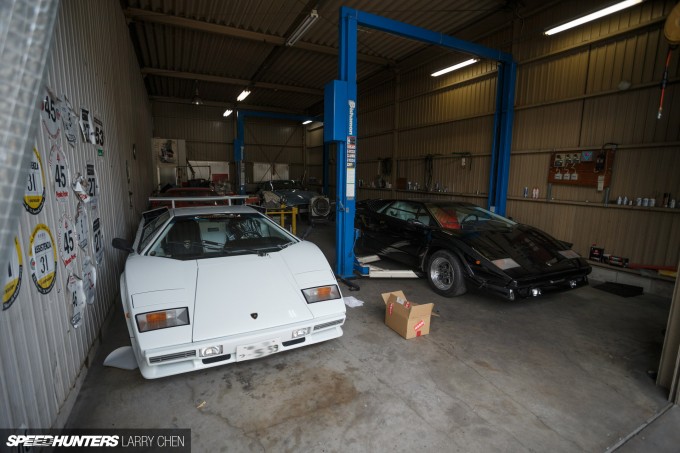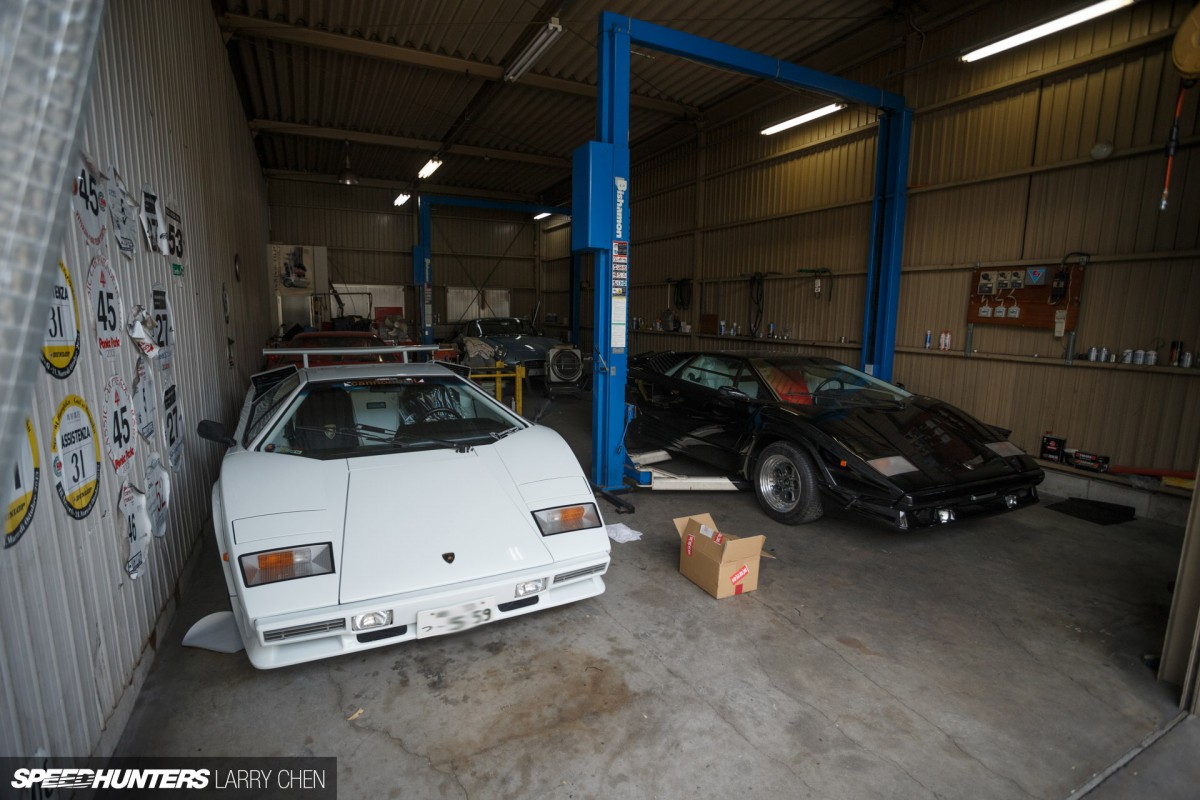 There were many pristine examples of supercars littered throughout this shop. Two Countachs? One for day and one for night.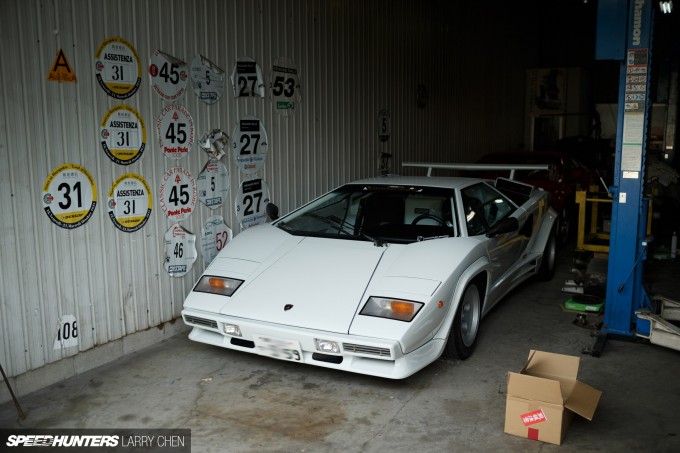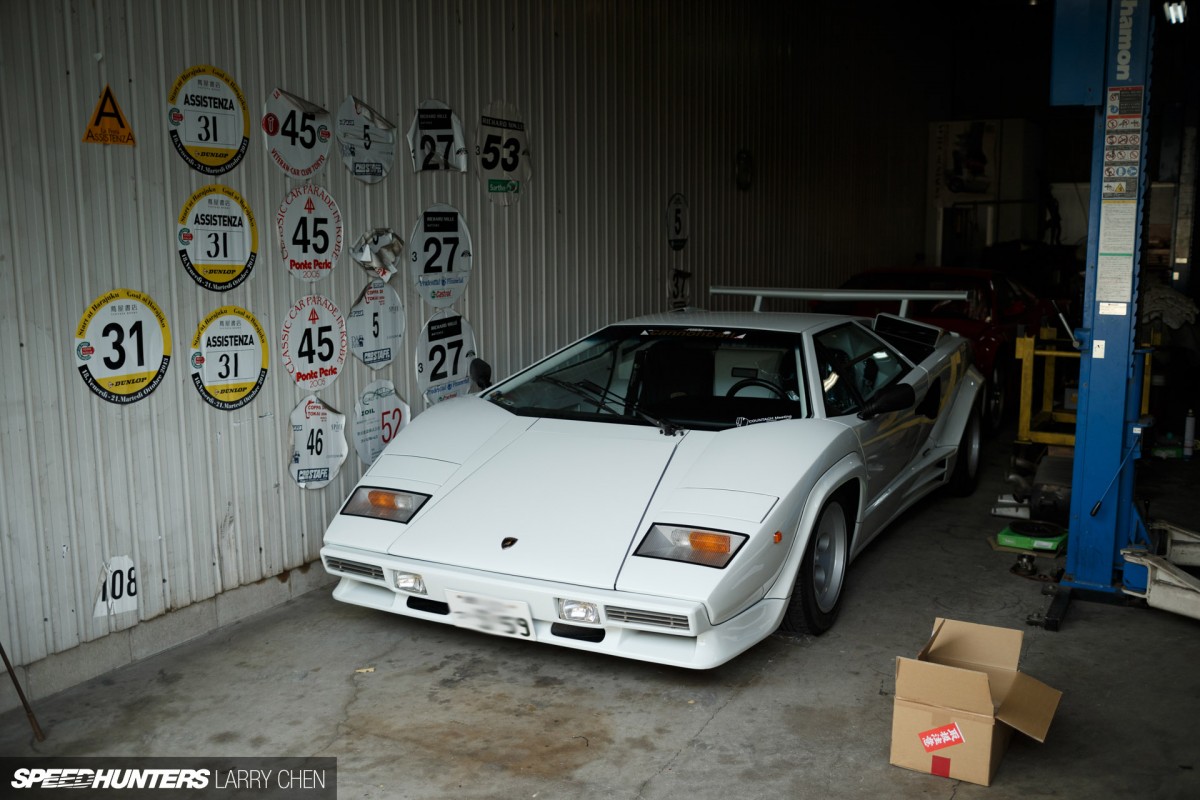 Even though it doesn't look like it, these Lamborghini Countachs get driven.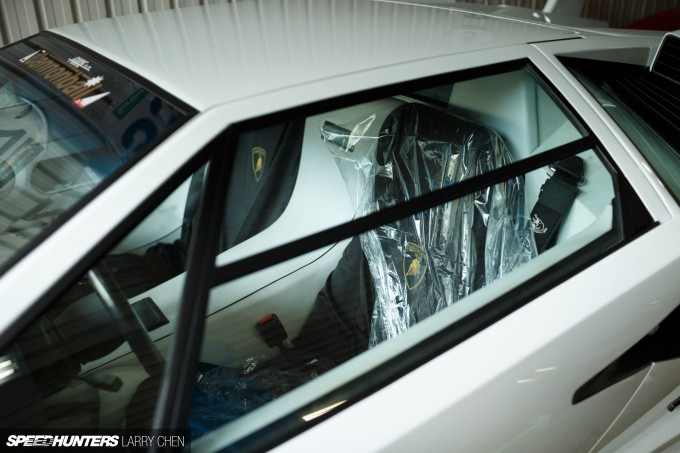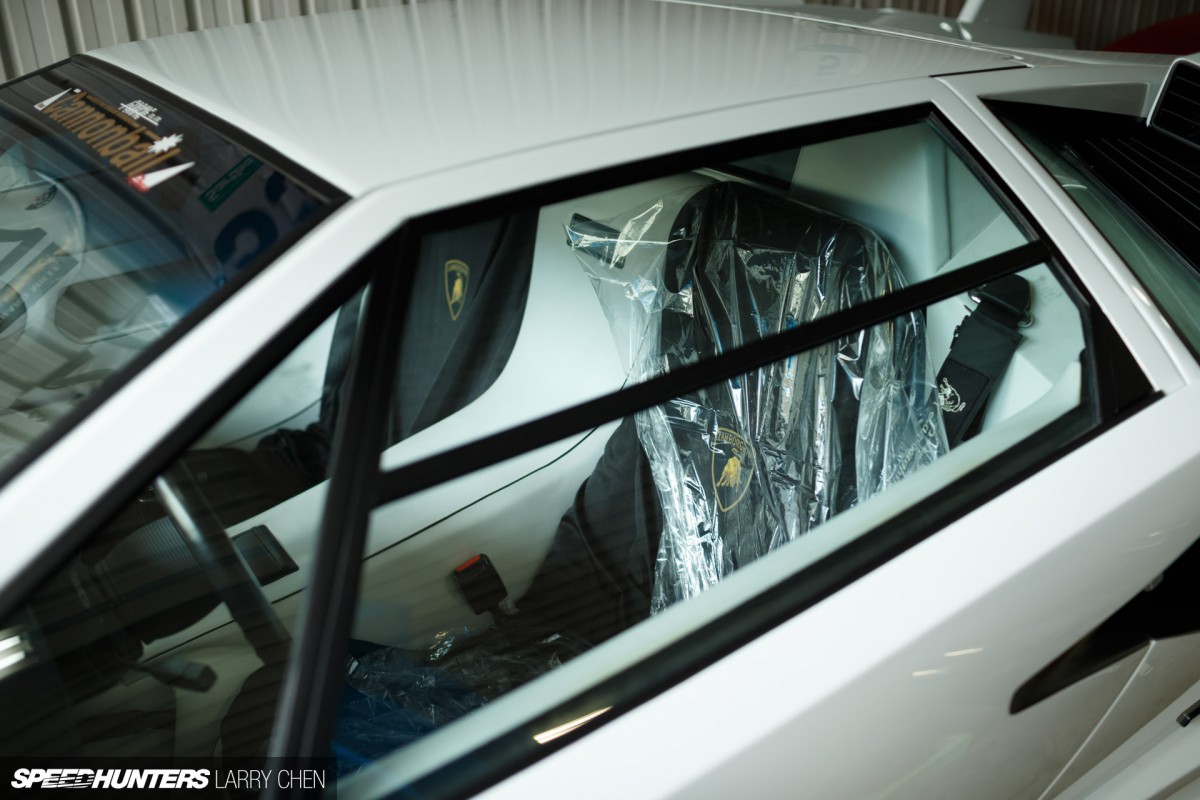 Although they're very well taken care of. The owner had taken the precaution of adding seat covers. I'm guessing that might be white leather under there. I can imagine the first owner specifying it at a dealer: 'White, I want white everywhere.' More Miami Vice love here.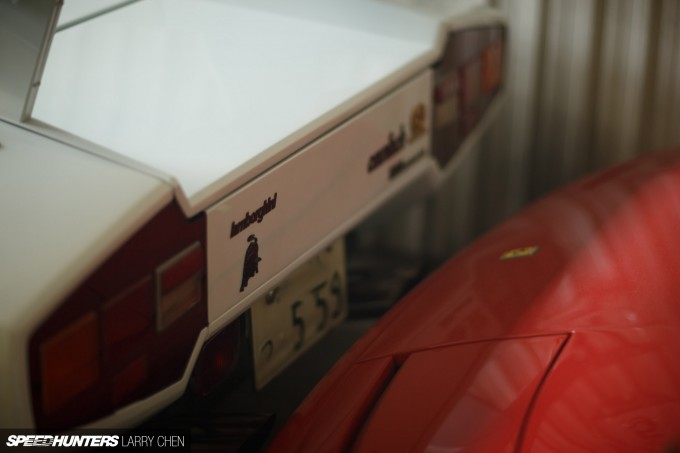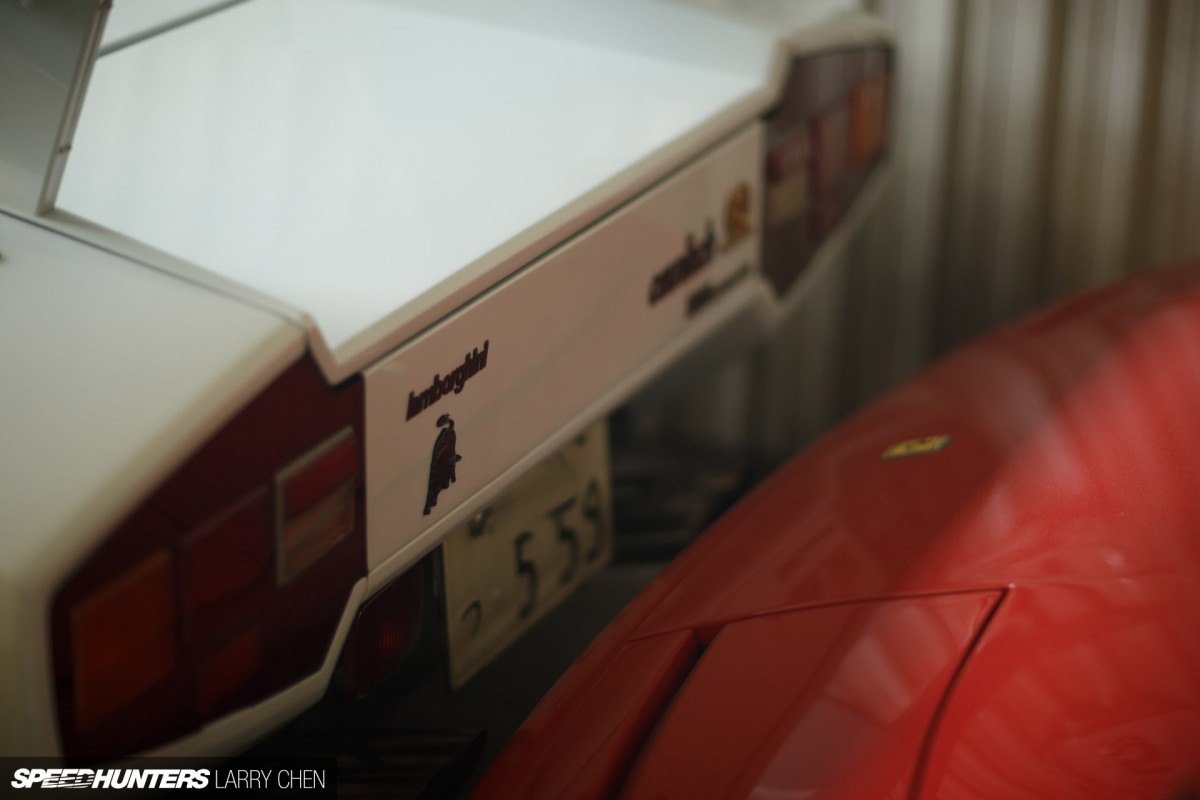 It wouldn't be a Japanese tuning shop if cars were not mere centimeters apart from each other.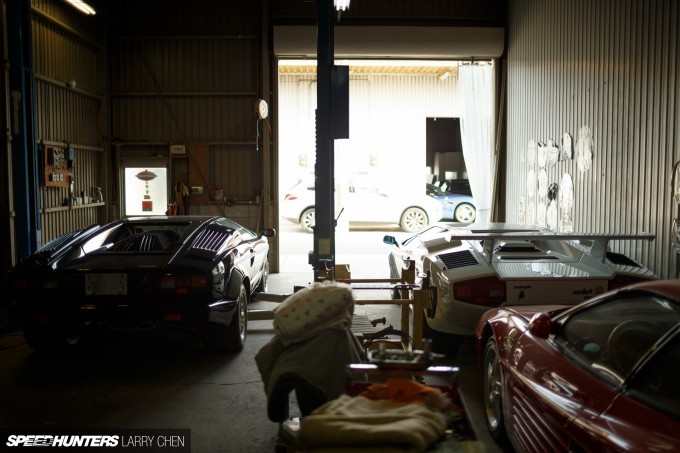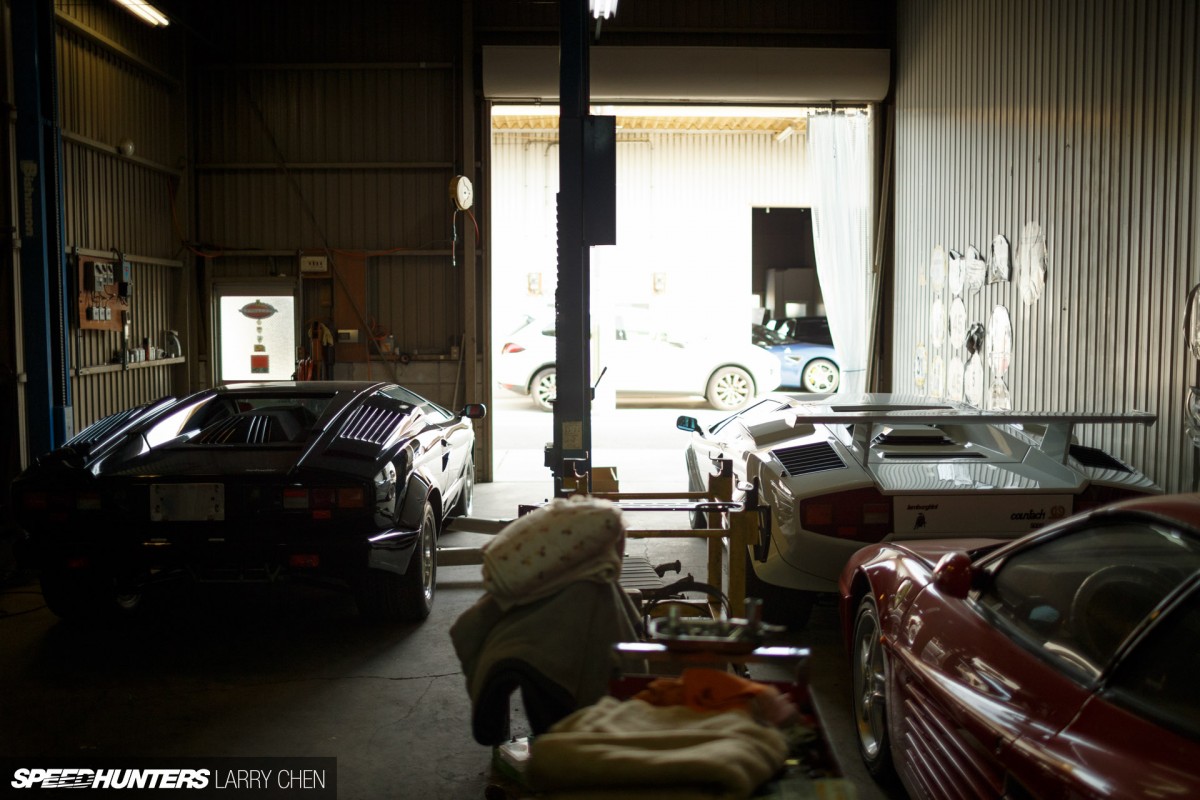 One for weddings and one for funerals. What more could you need in your stable?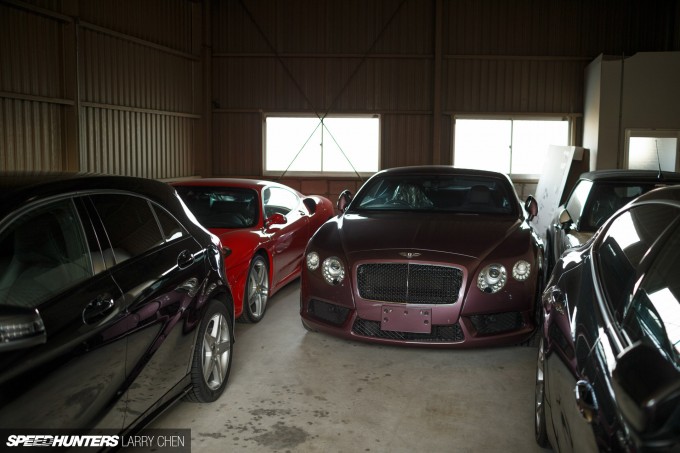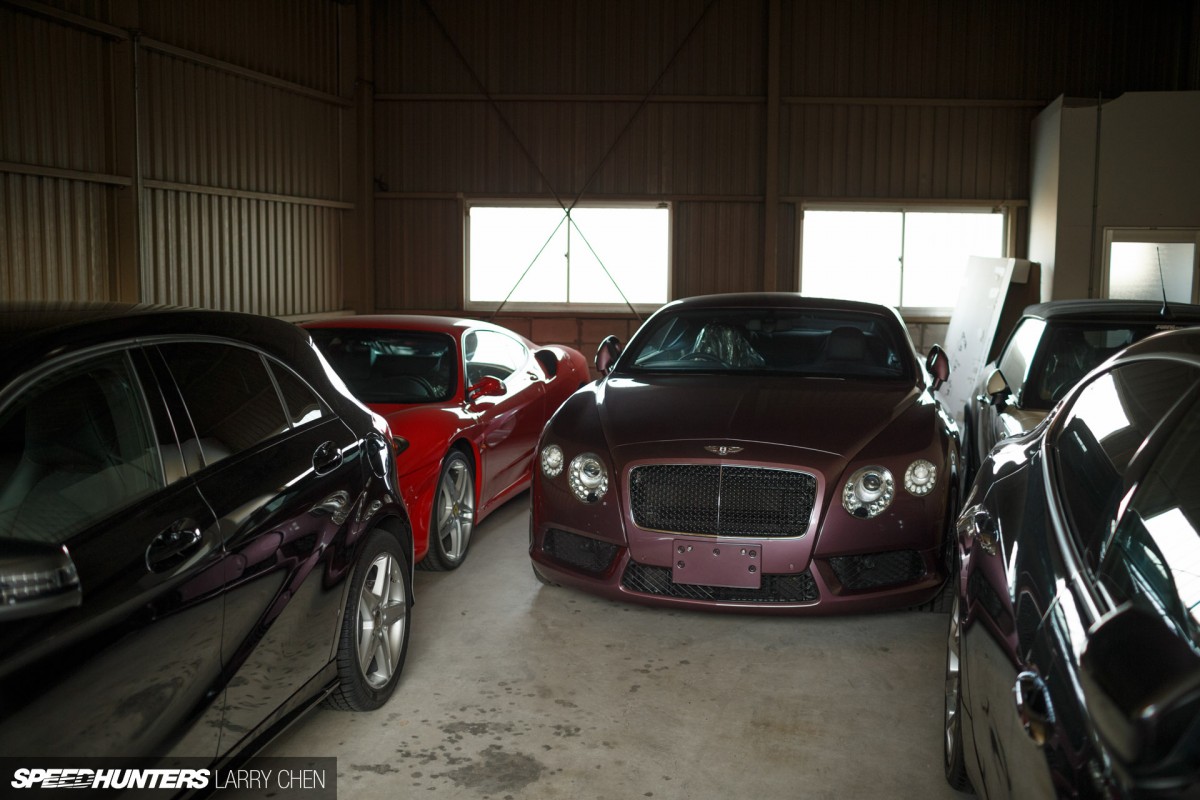 I quickly found out that almost all the warehouses on the block were rented out.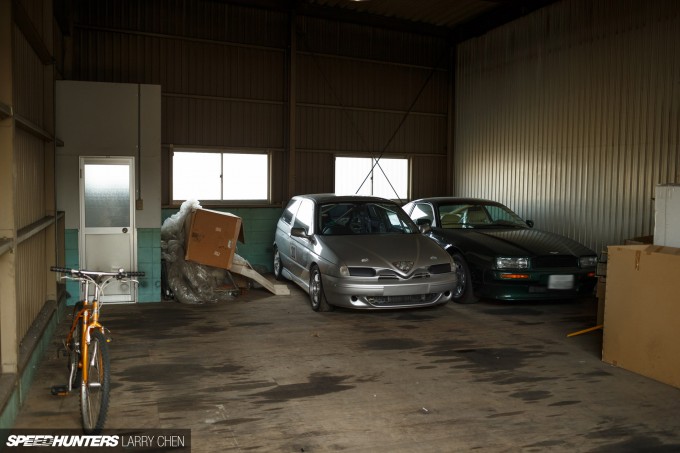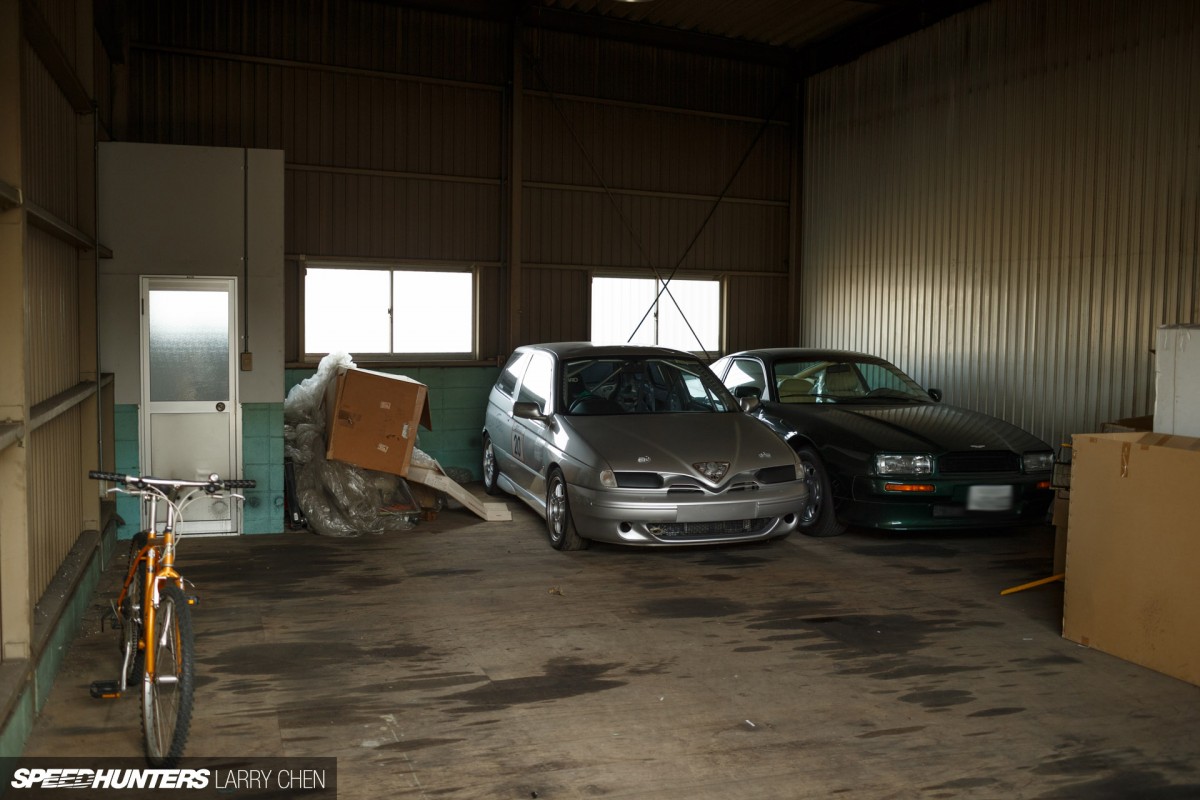 Most of them were used for storage as the cars were waiting to be sold. A caged up Alfa 145 sat next to an Aston Martin? Of course.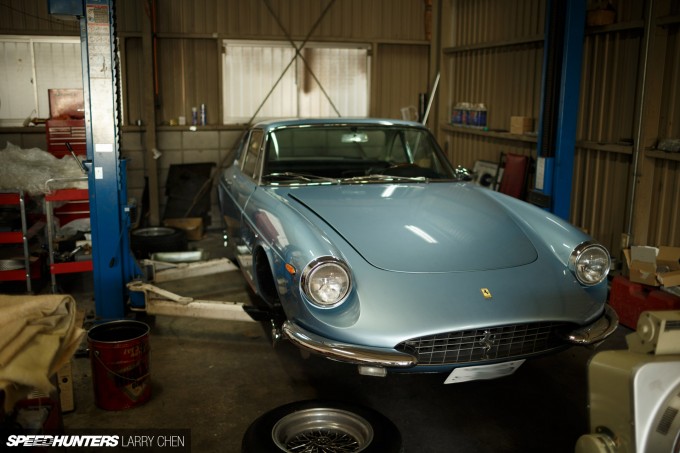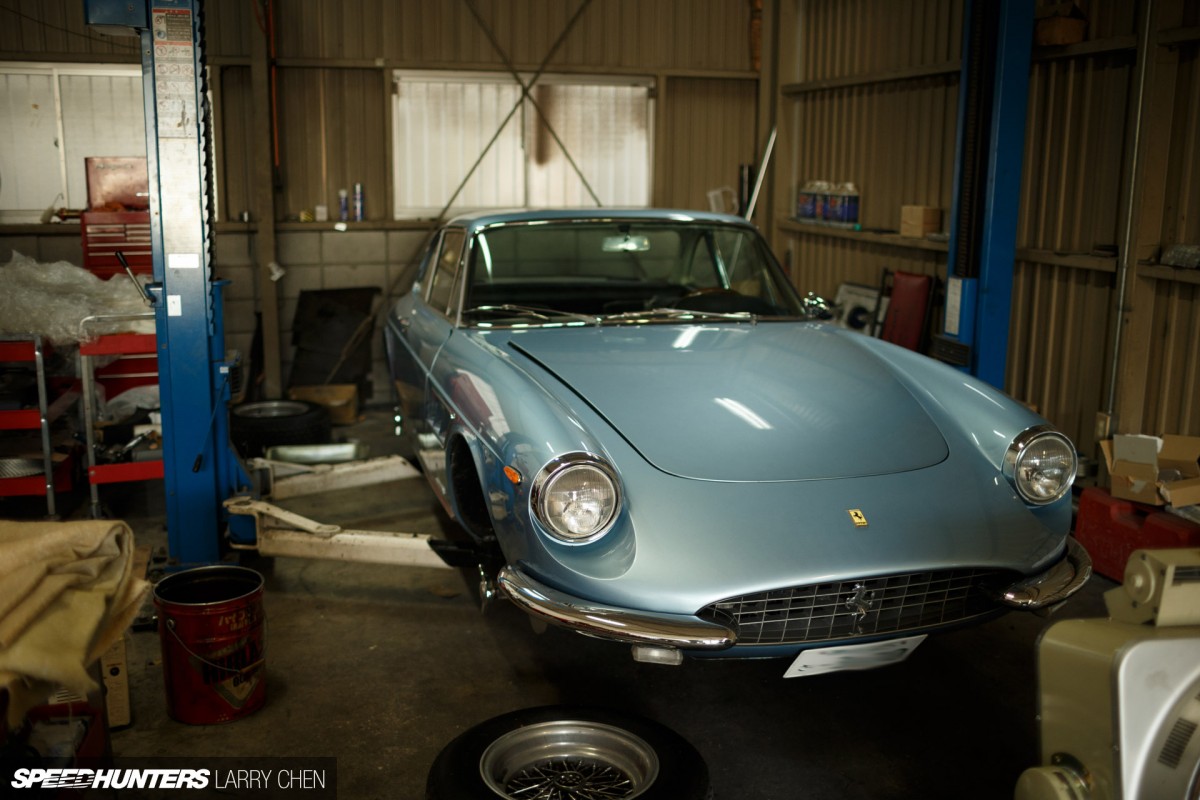 A few of them were workshops too. I love how this could be an everyday Camry in another world. But here, on this ramp, is an immaculate Ferrari for me to drool over.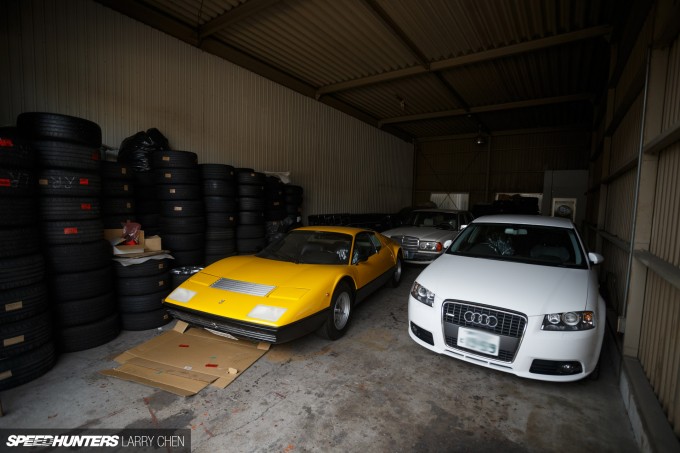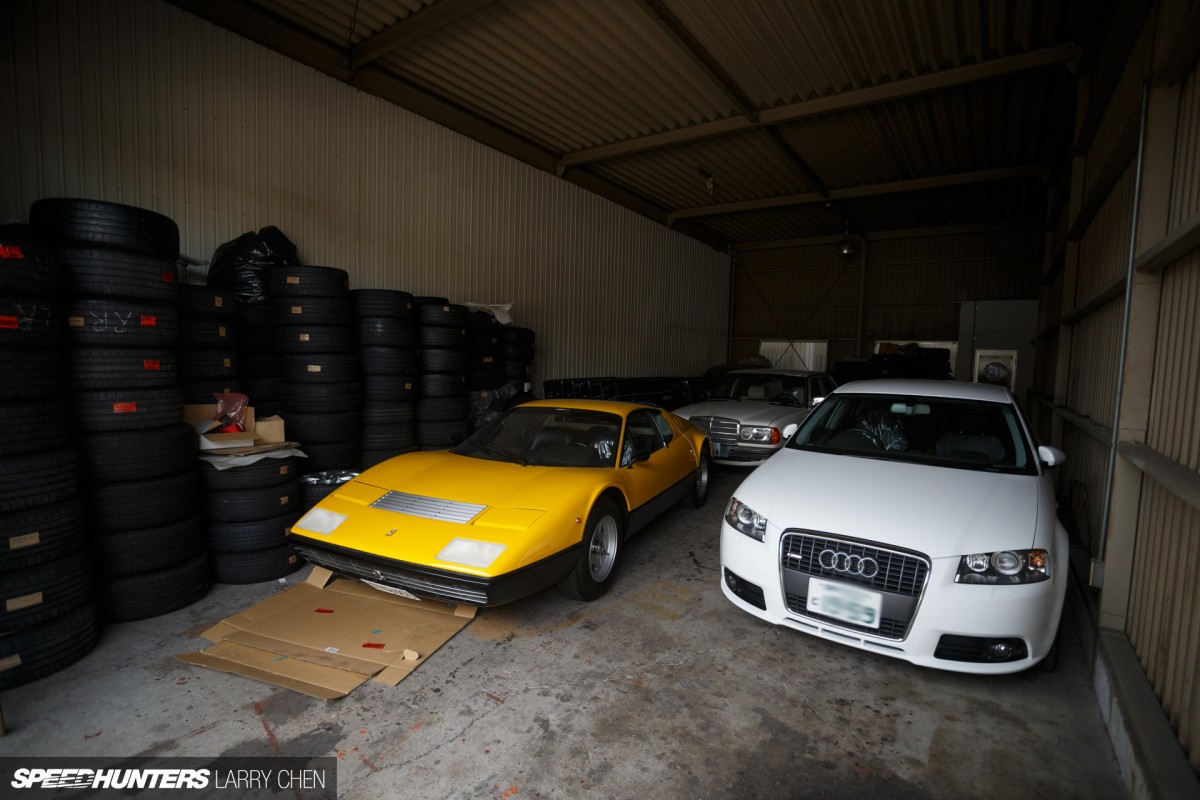 There was something for everyone. Don't like Ferraris? No problem  there was plenty of German muscle as well.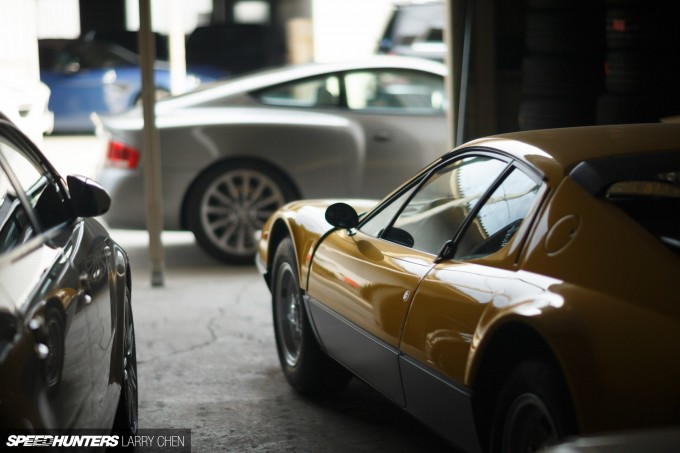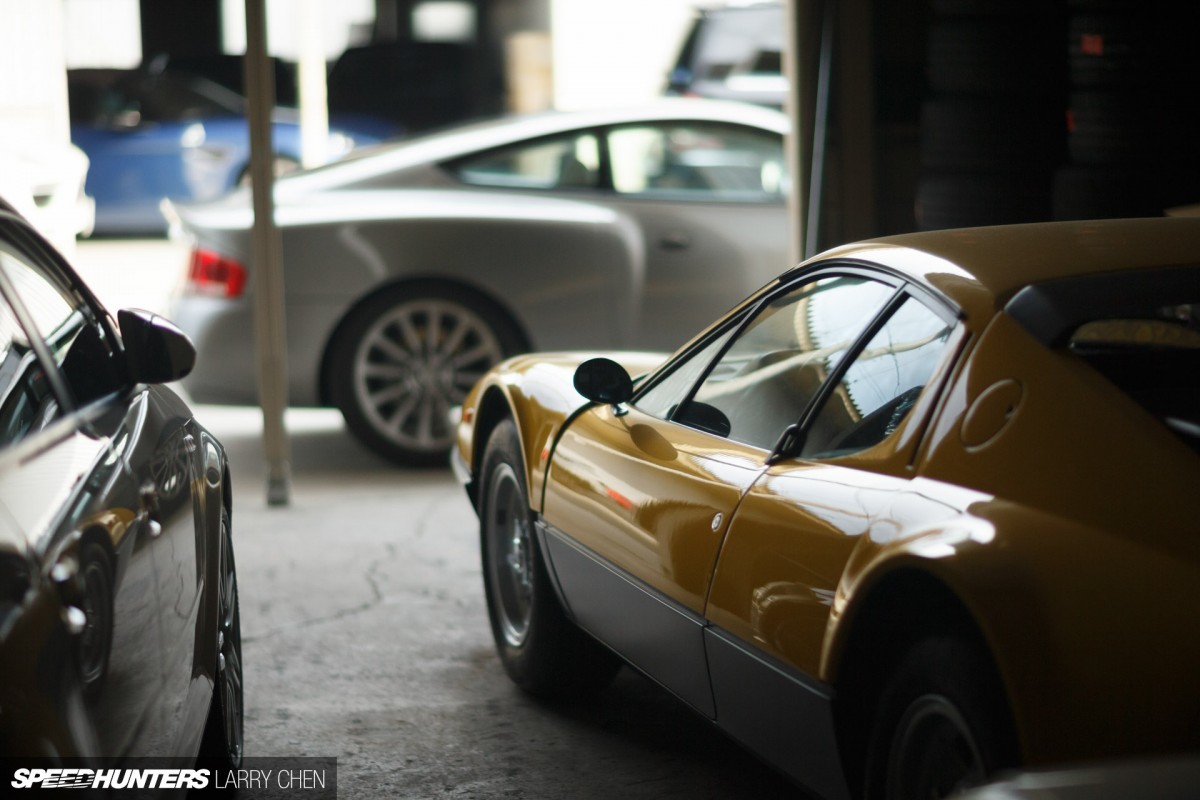 I realized that there was a method to this madness. This collection is owned by someone who had the foresight about which cars will increase in value over the years.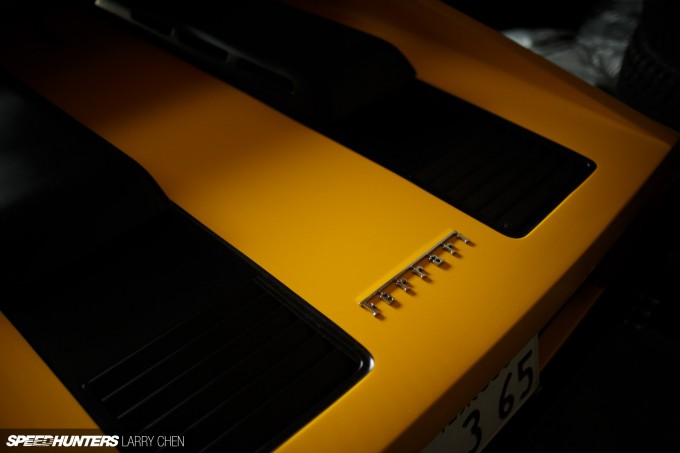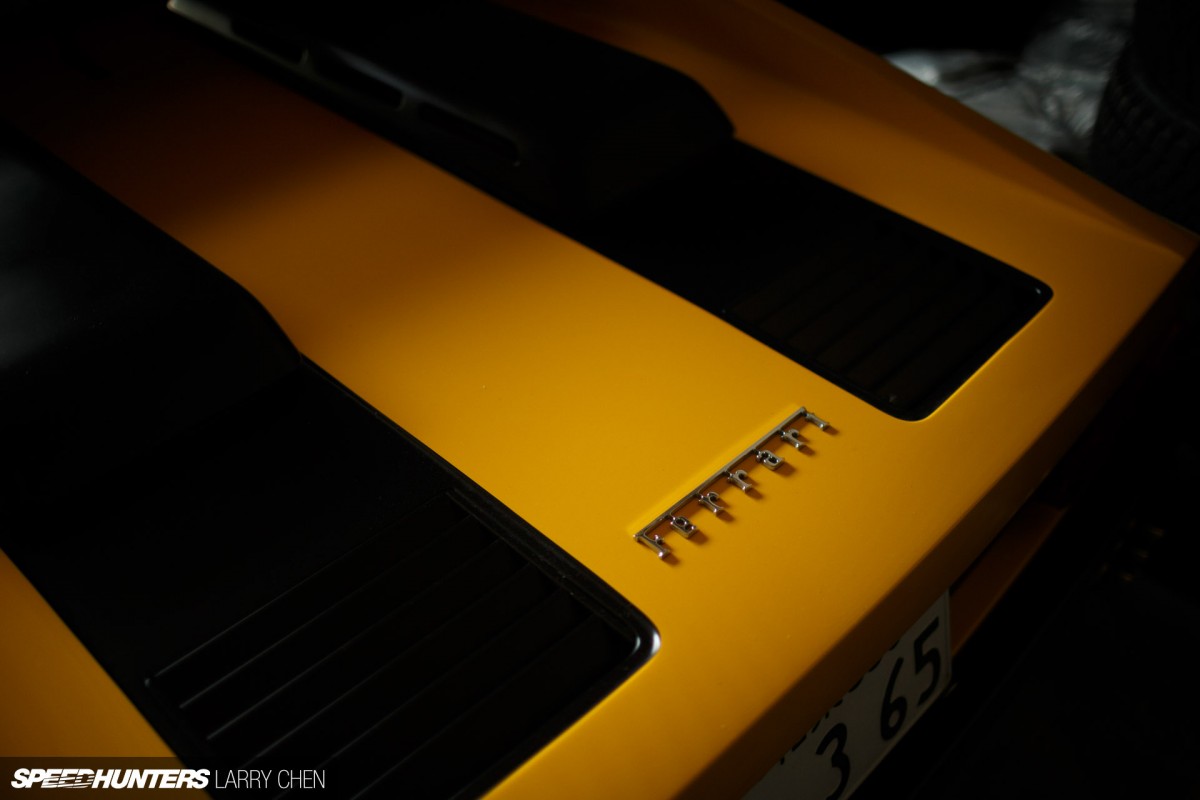 Normally, cars aren't an investment, they're bottomless pits. No matter how much money you throw into them, they always seem to suck the life out of your wallet.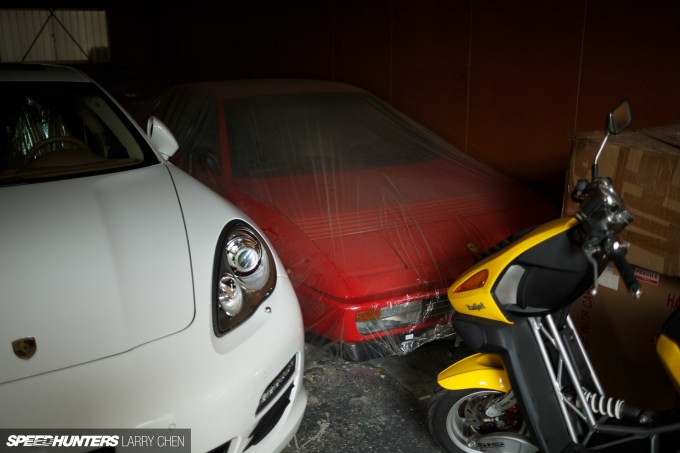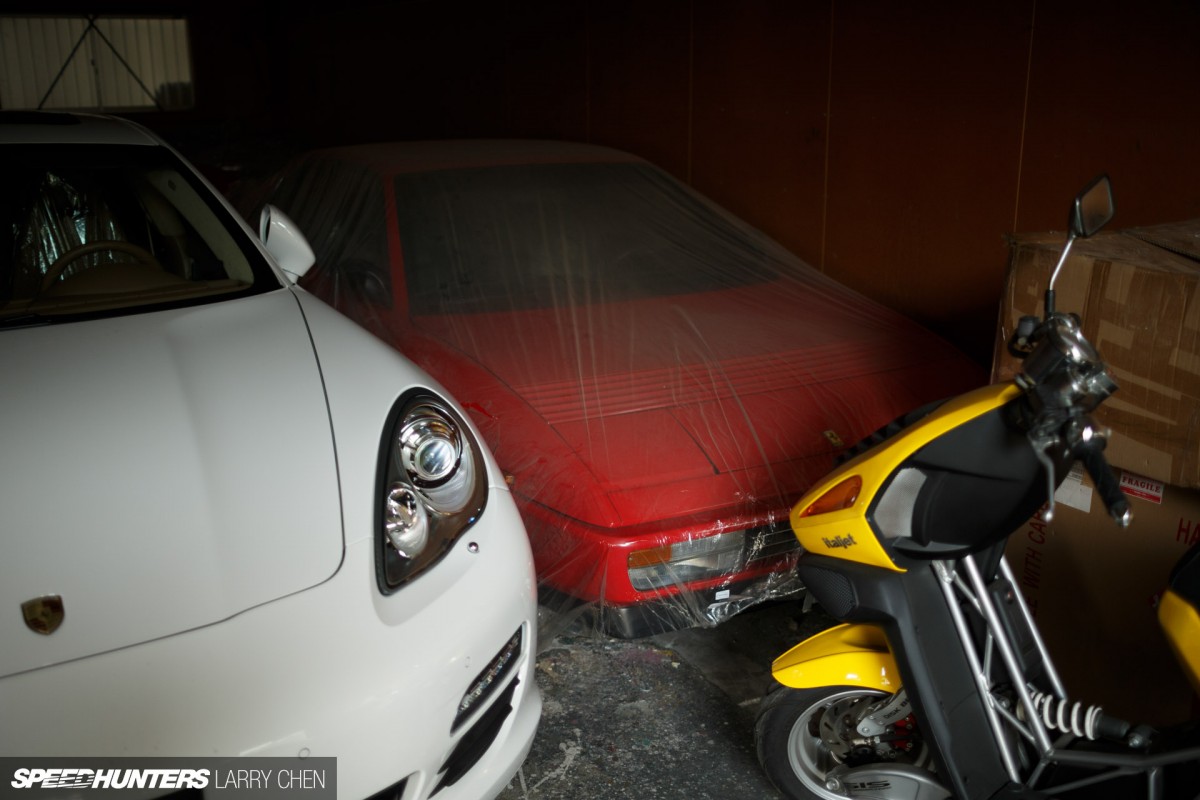 However, if you have the funds and the know-how, you can make a profit by flipping cars as they increase in value. I know it sounds like I just realised that, but really cars are a passion for me and not a way to make money.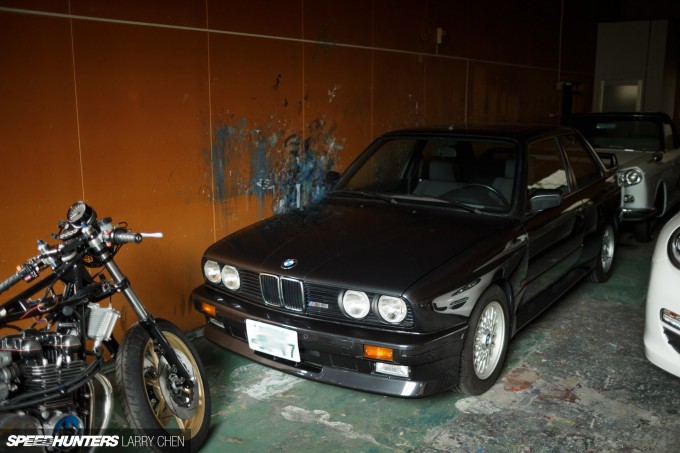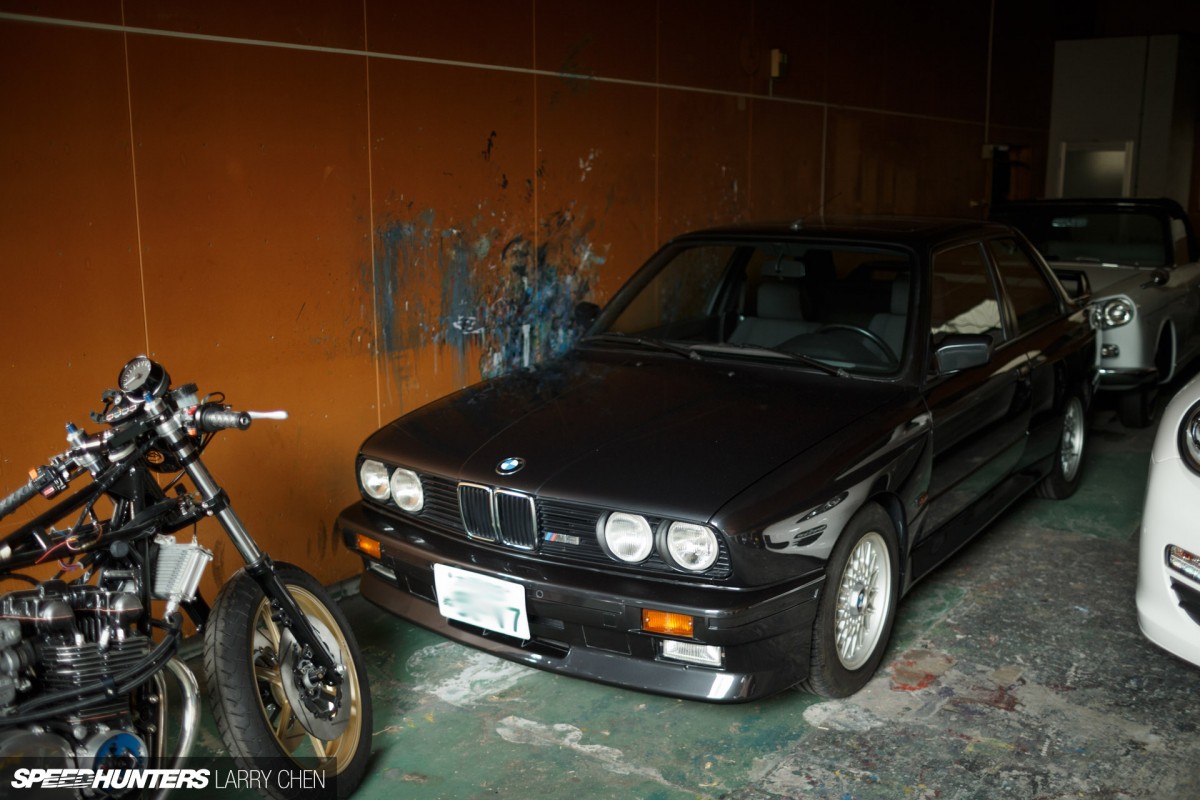 The E30 M3 has increased in value massively over the last five years and good examples are out there, but you'll have to pay proper money for them now.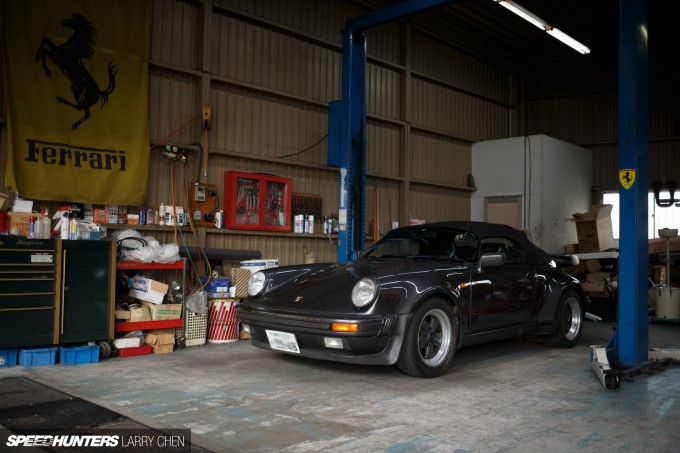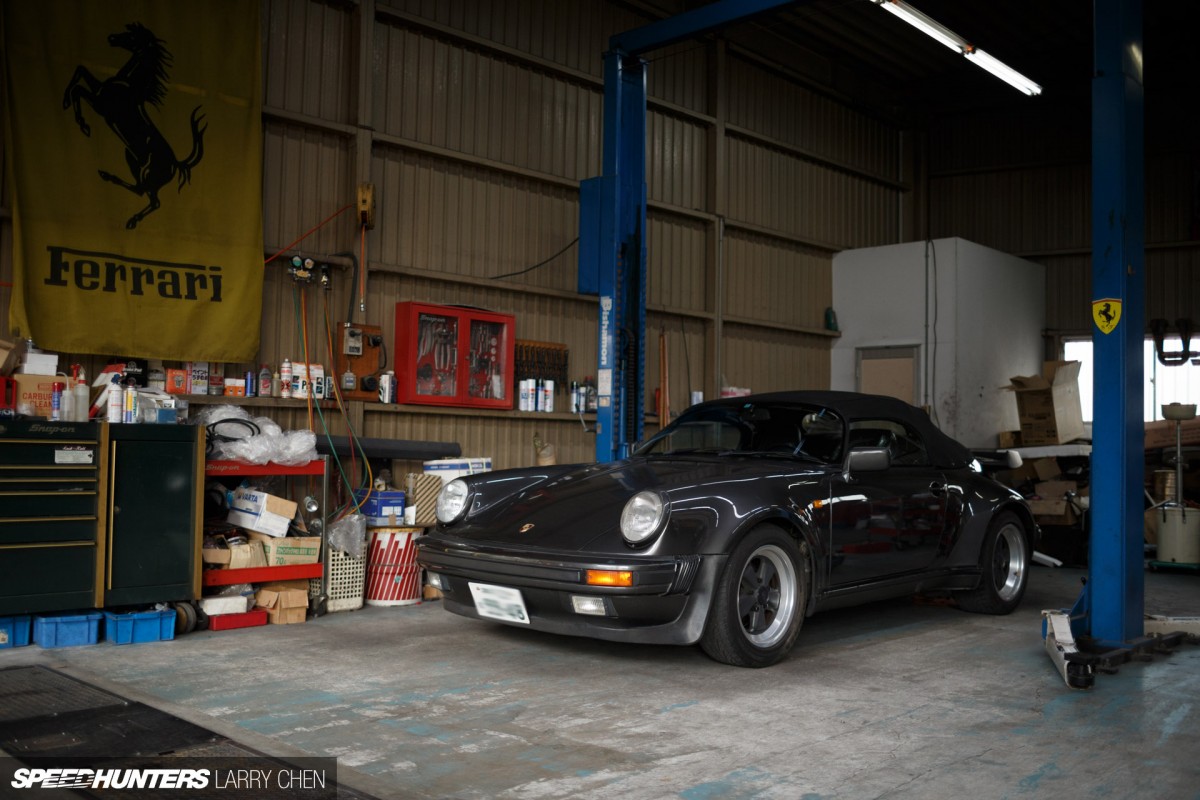 Tucked away in one of the garages was this perfectly kept 911 Speedster (option M503). This factory hot rod is way cool.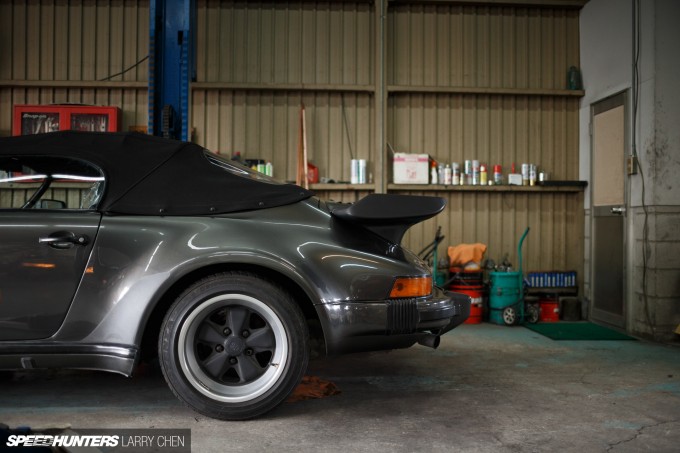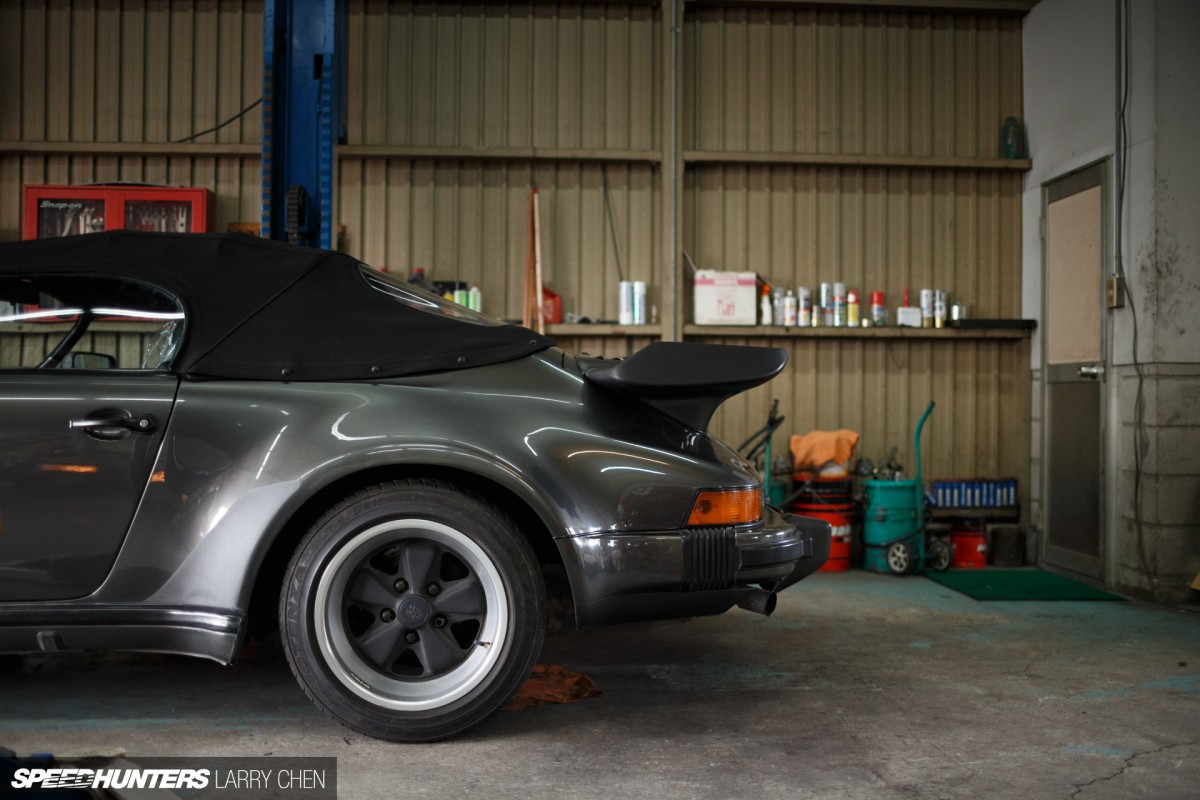 They only made 1943 of these 'turbo look' versions worldwide.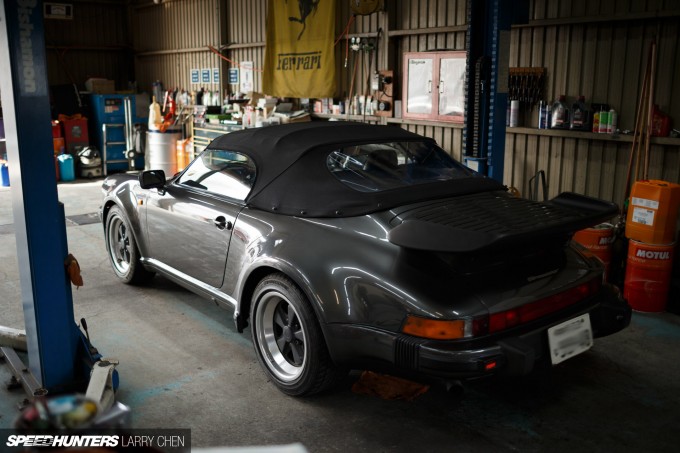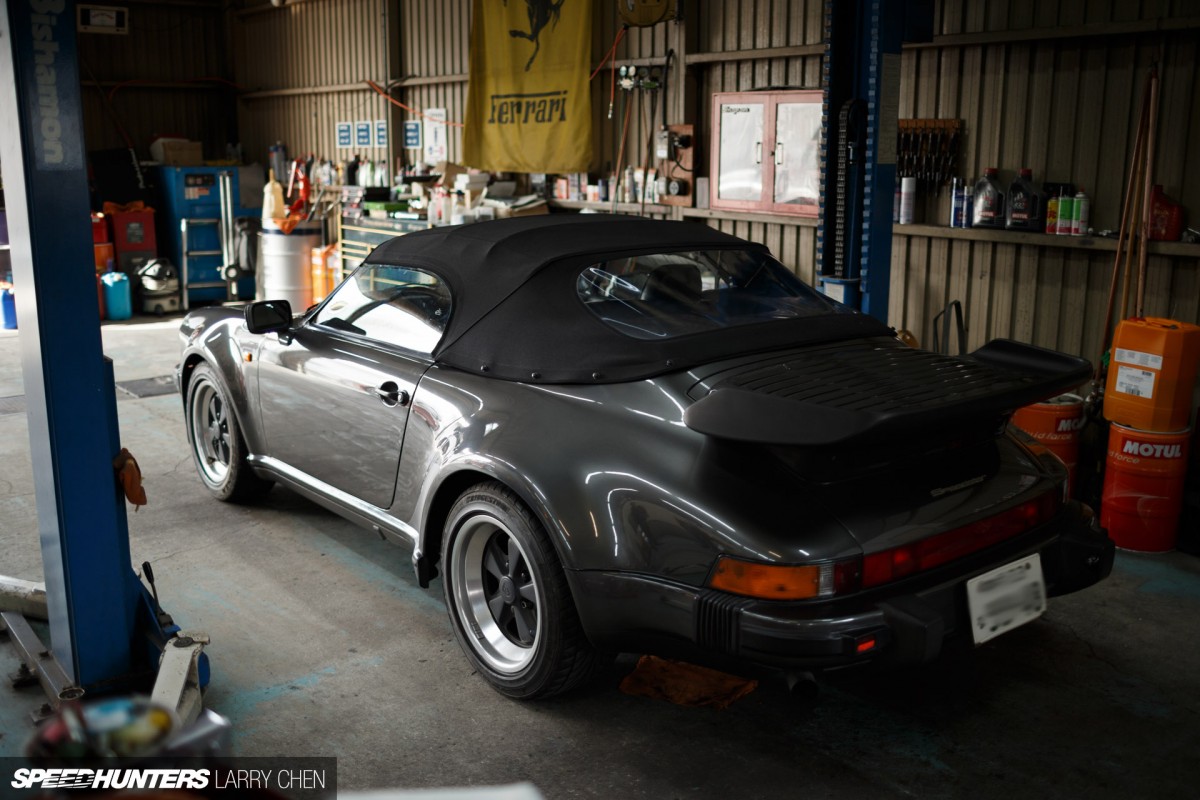 It had a swept-back windshield as it was a throwback to the Porsche 356 Speedster of the 1950s.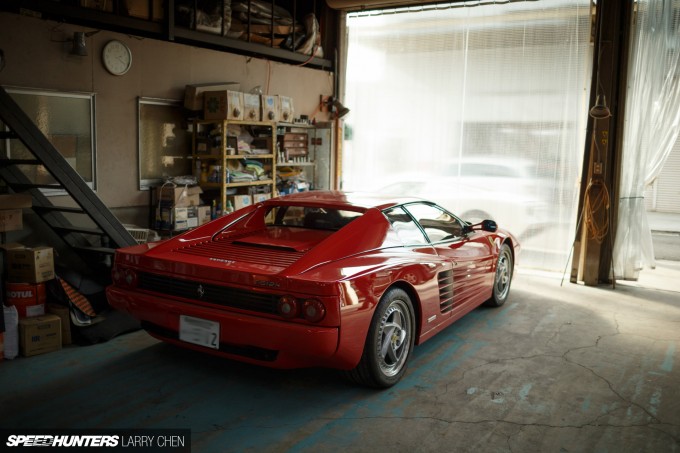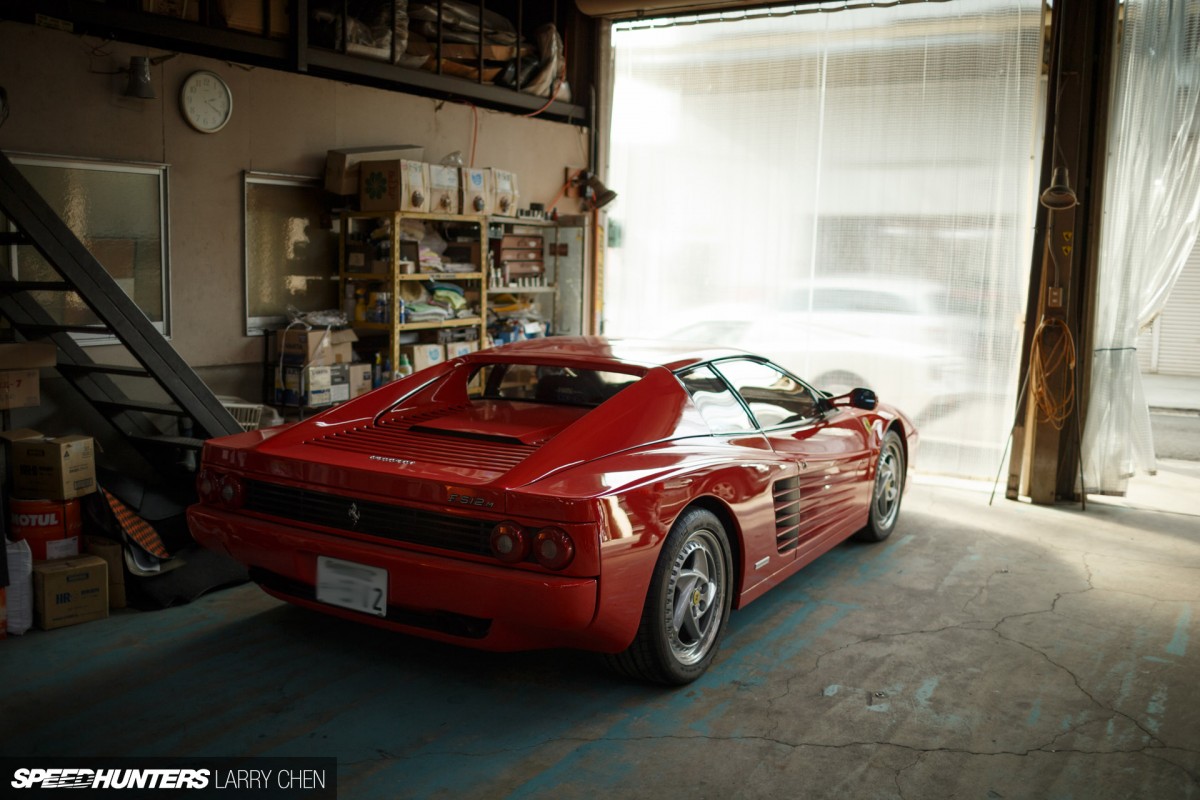 With all the beautiful and rare cars left out in the open, my head was spinning, but there was more. Much more. Another Testarossa? Okay. Surely they must all be here for me today.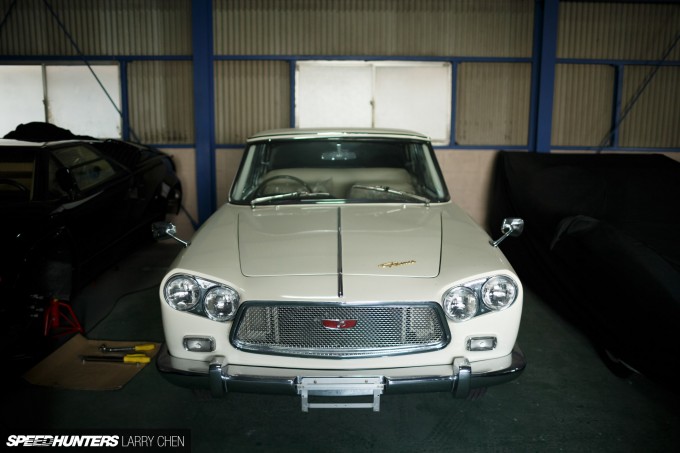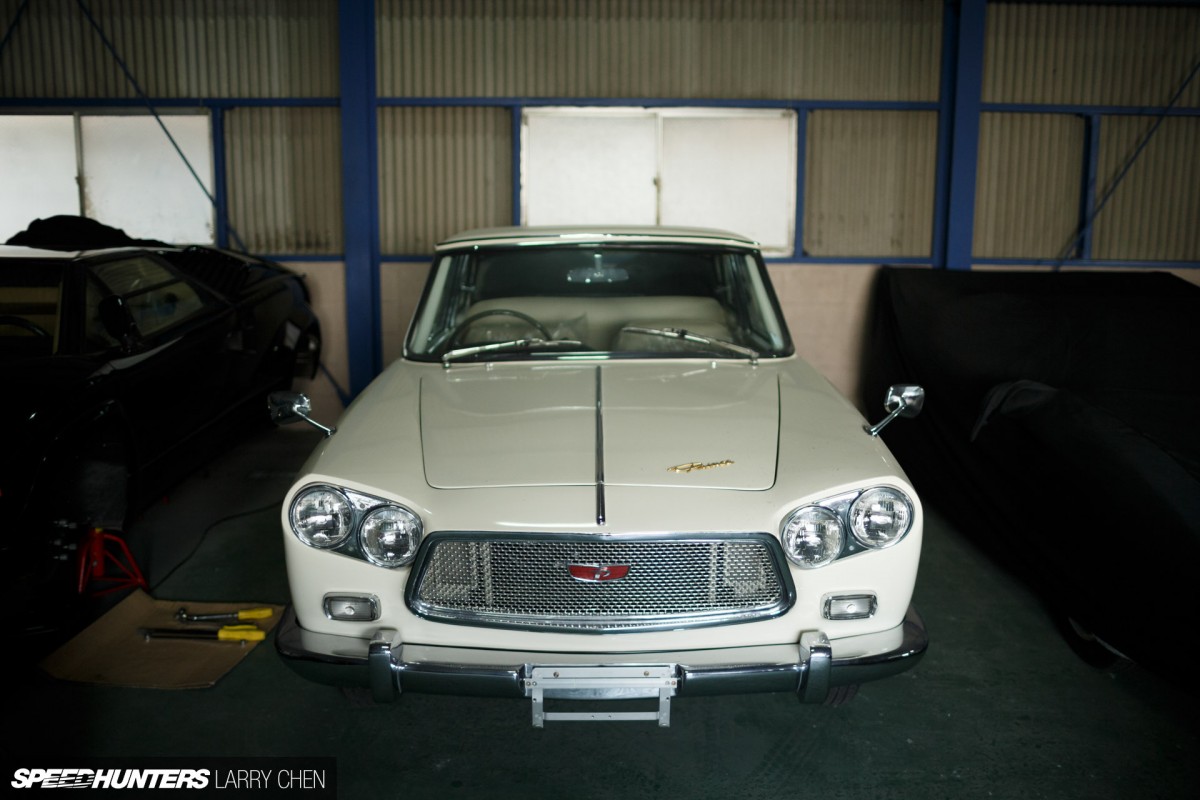 We went across the street into a cold dark warehouse. Many of the cars were covered up, but a few were left out in the open. And there I saw a perfect 1962 Prince Skyline Sport.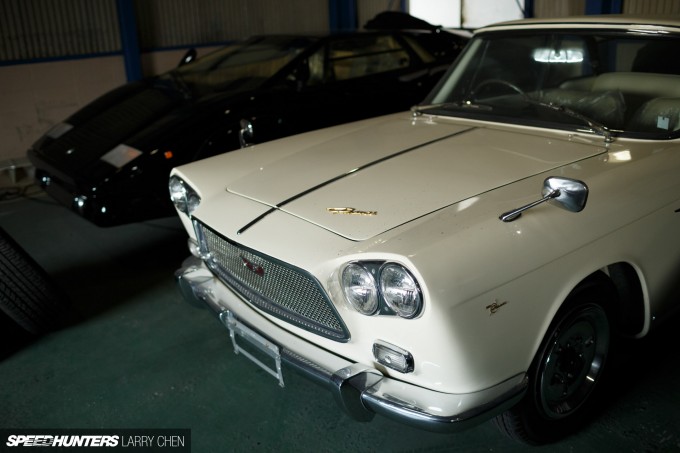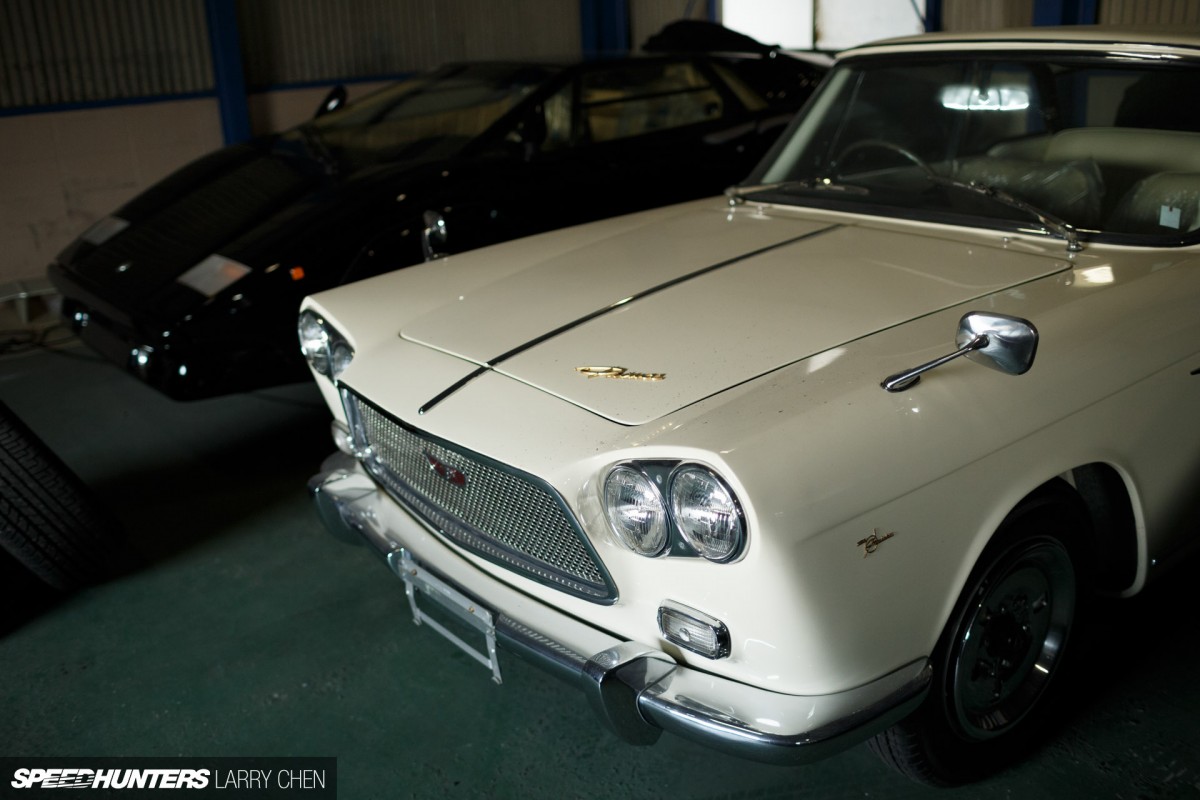 This was even before Prince Motors merged with Nissan. The Skyline name lived on to become quintessentially Nissan. Yup, this is where your GT-R descended from.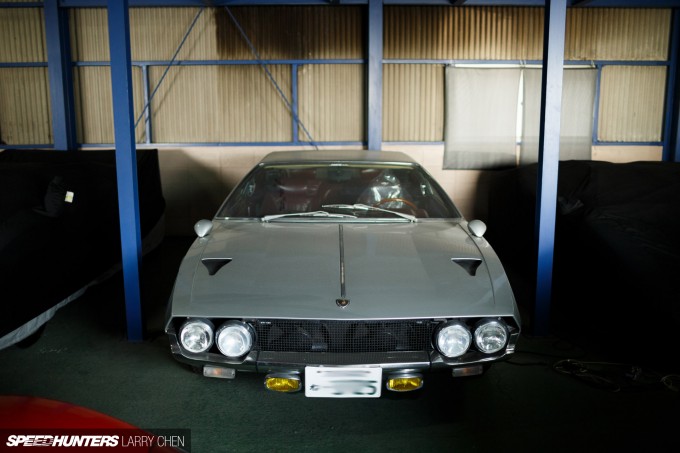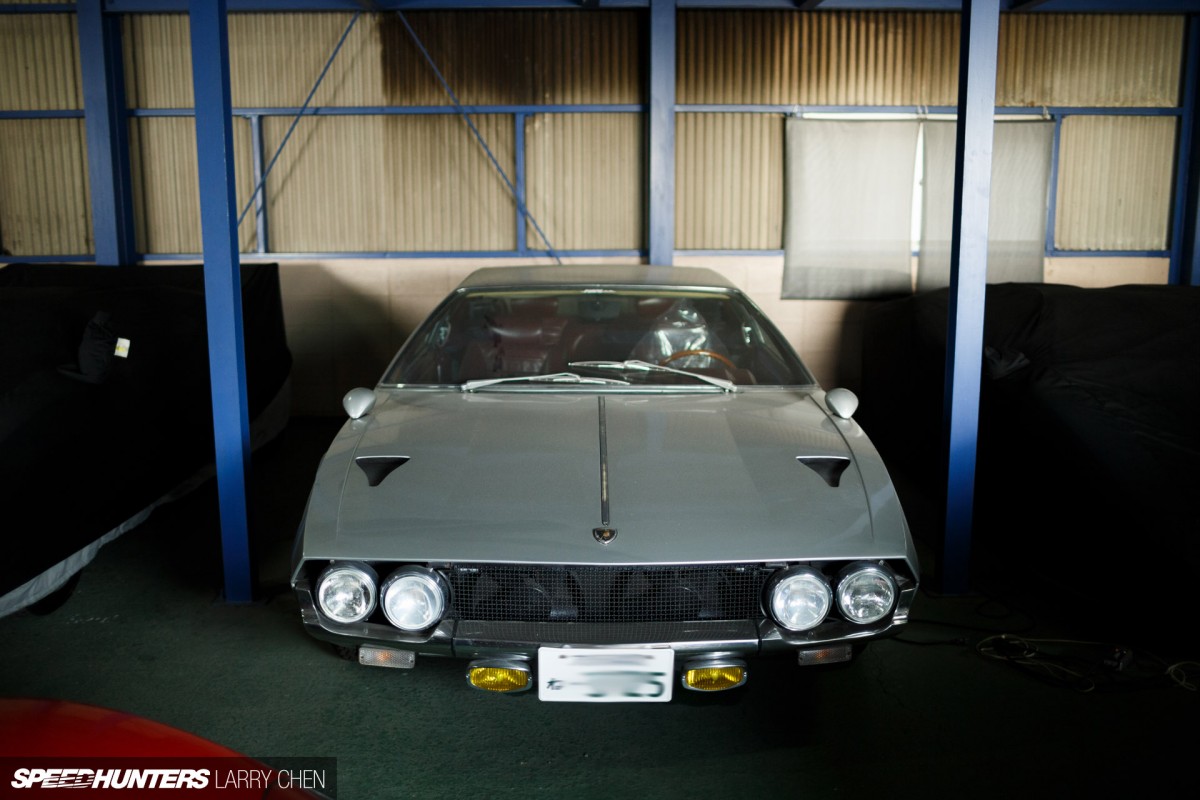 In the same room was this pristine Lamborghini Espada. With more than 1200 sold, it was Lamborghini's first truly popular model. Although that number sounds low, you have to remember the company was still fairly young in the '70s when these were around.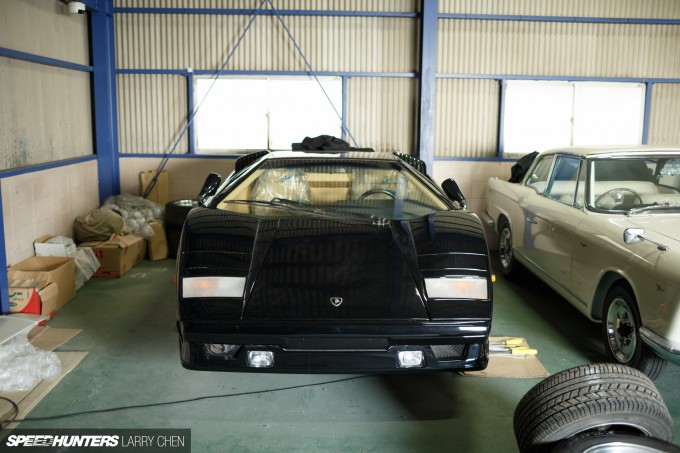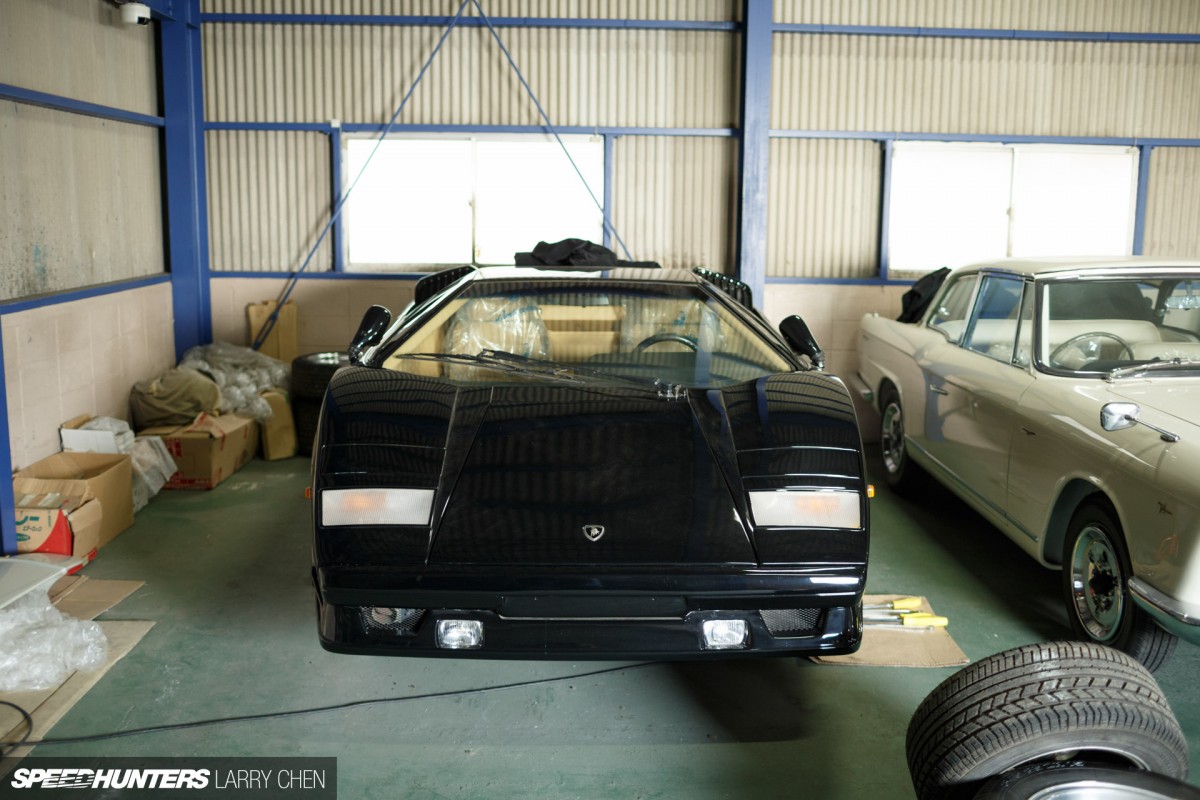 There seemed to be a trend among these cars at FORME: they're all perfect. Although I was not prepared for this zero miles Lamborghini Countach.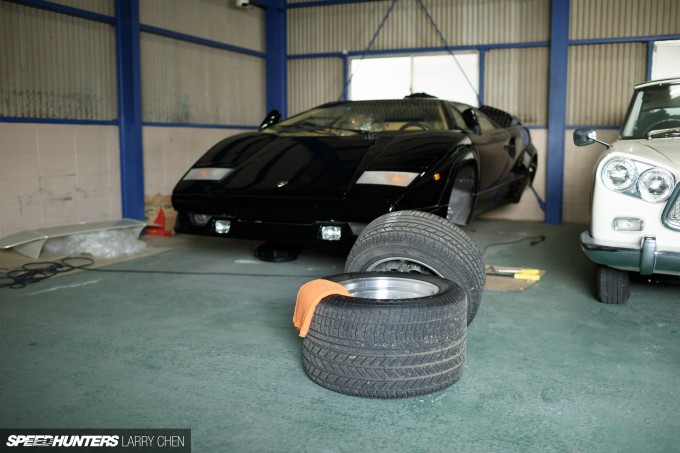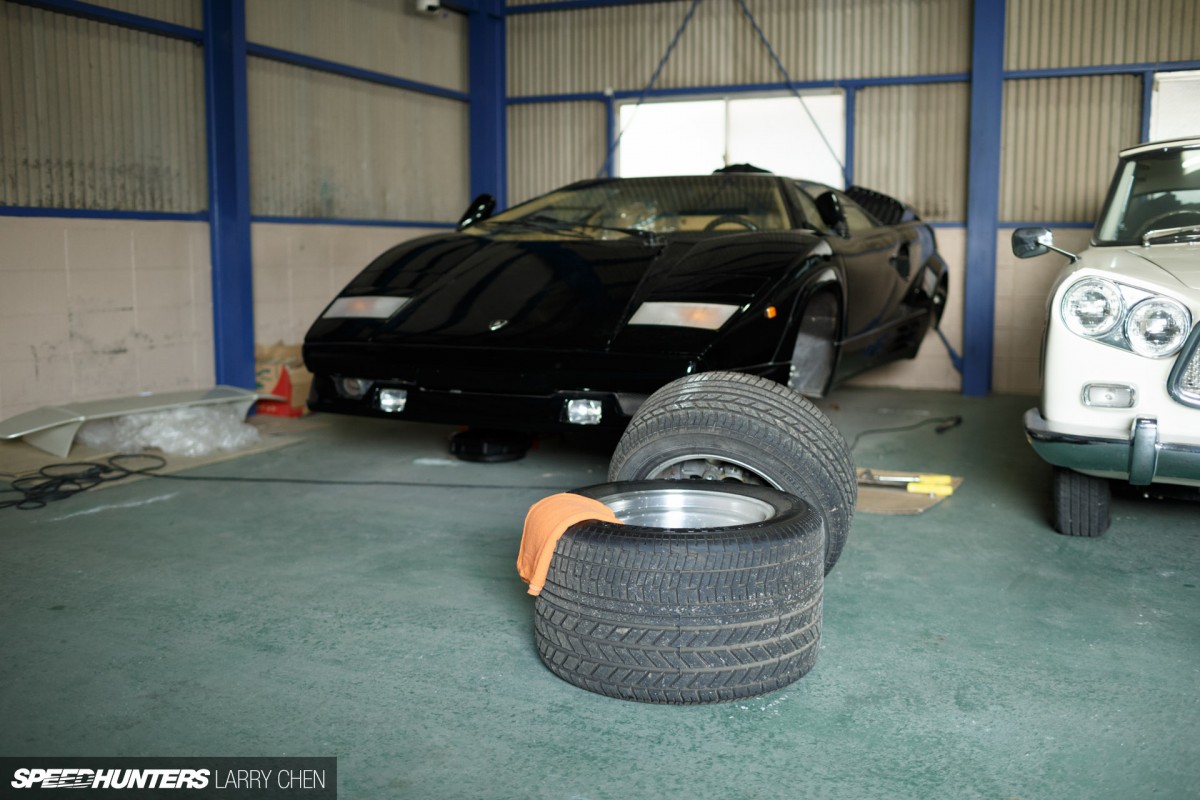 That's right. The owner of FORME bought this car when it was brand new, took off its wheels and put it on jack stands since day one. Of course it gets turned over every now and then, so it doesn't get all gummed up.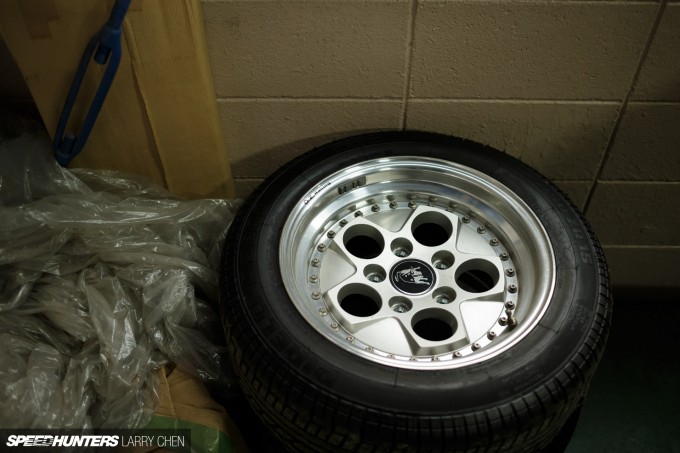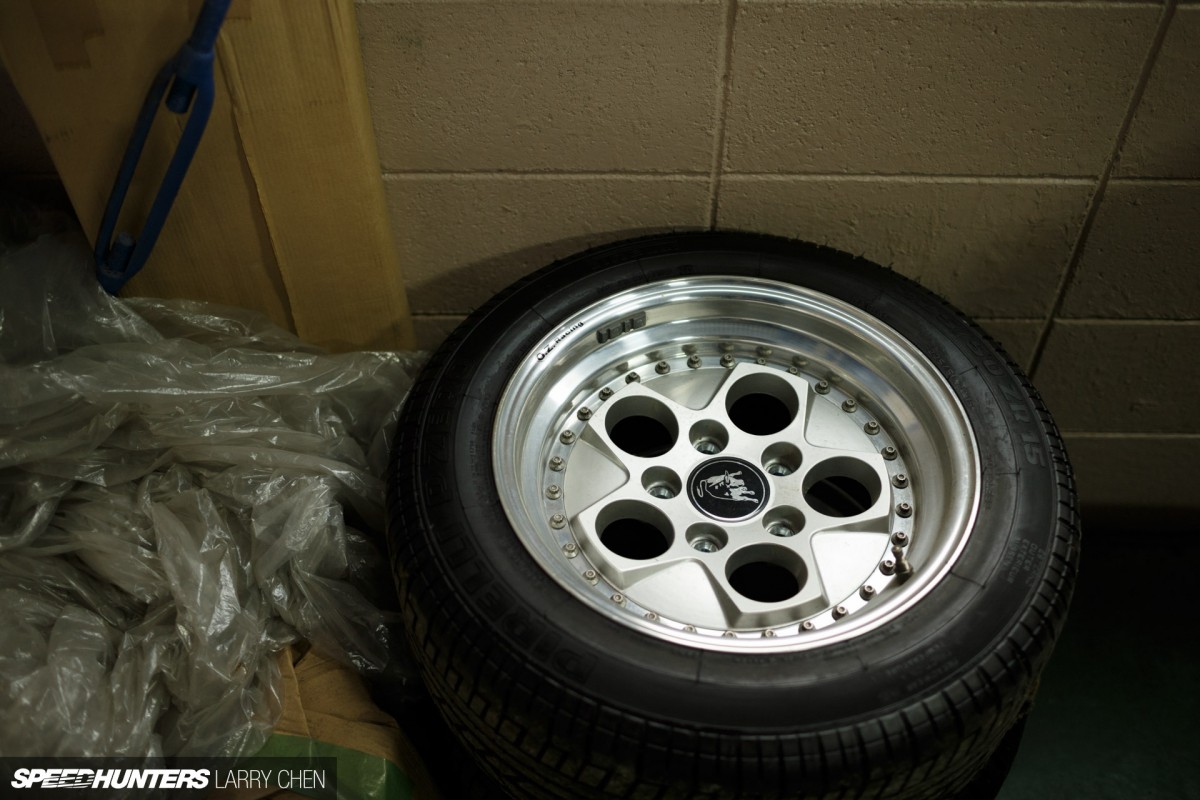 Everything was so new. The tires even still had the knobbles on them.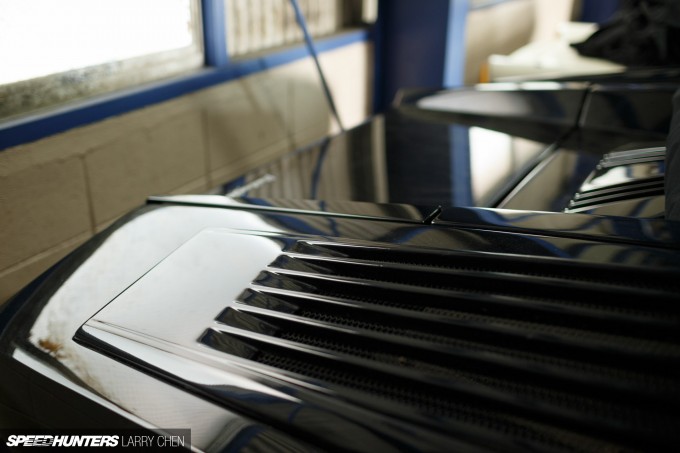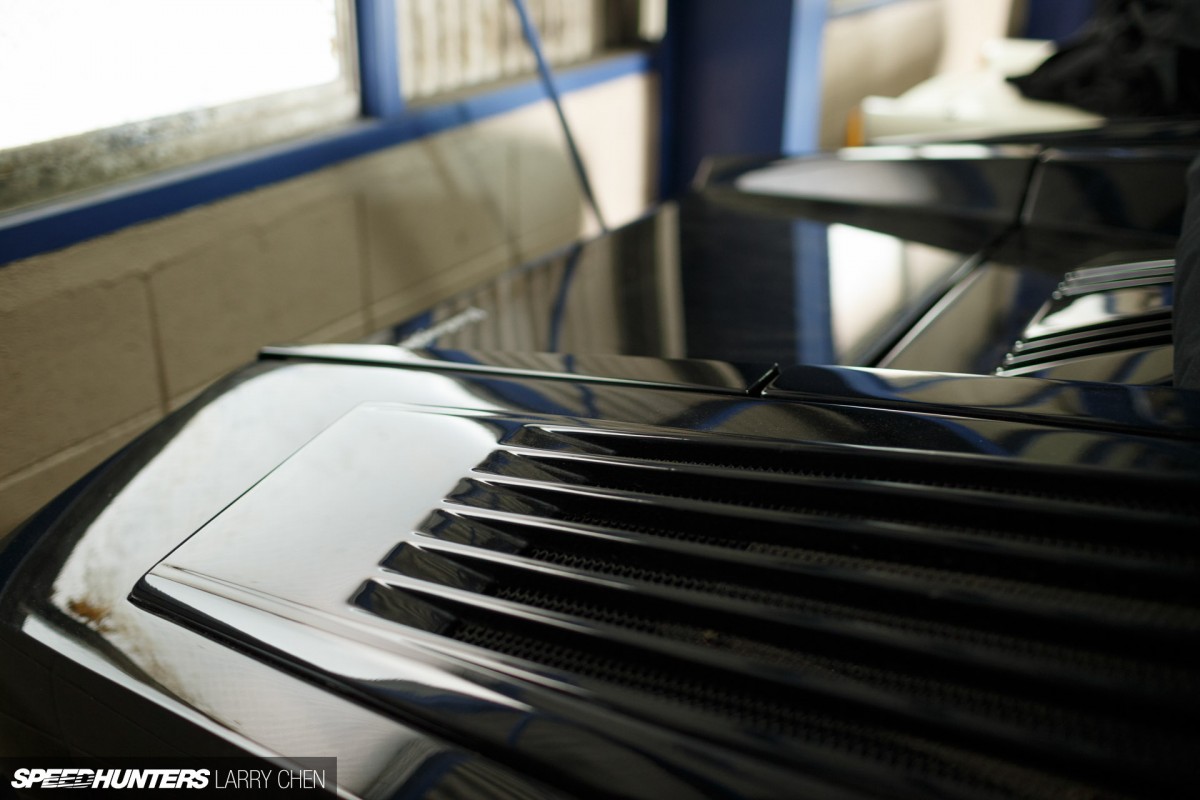 The black paint has never even seen sunlight since it left the dealership. It was like glass.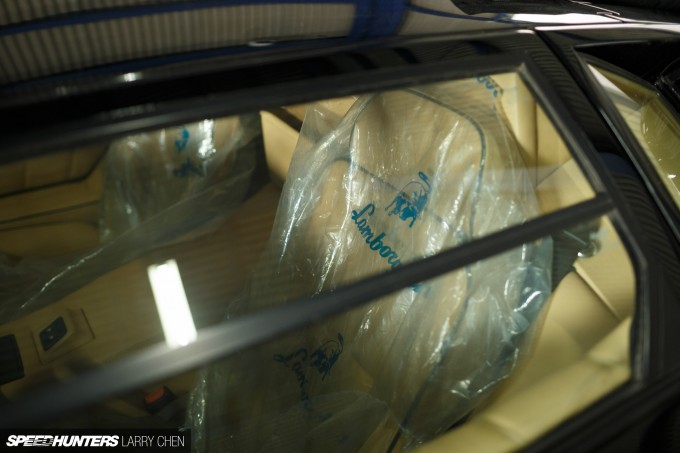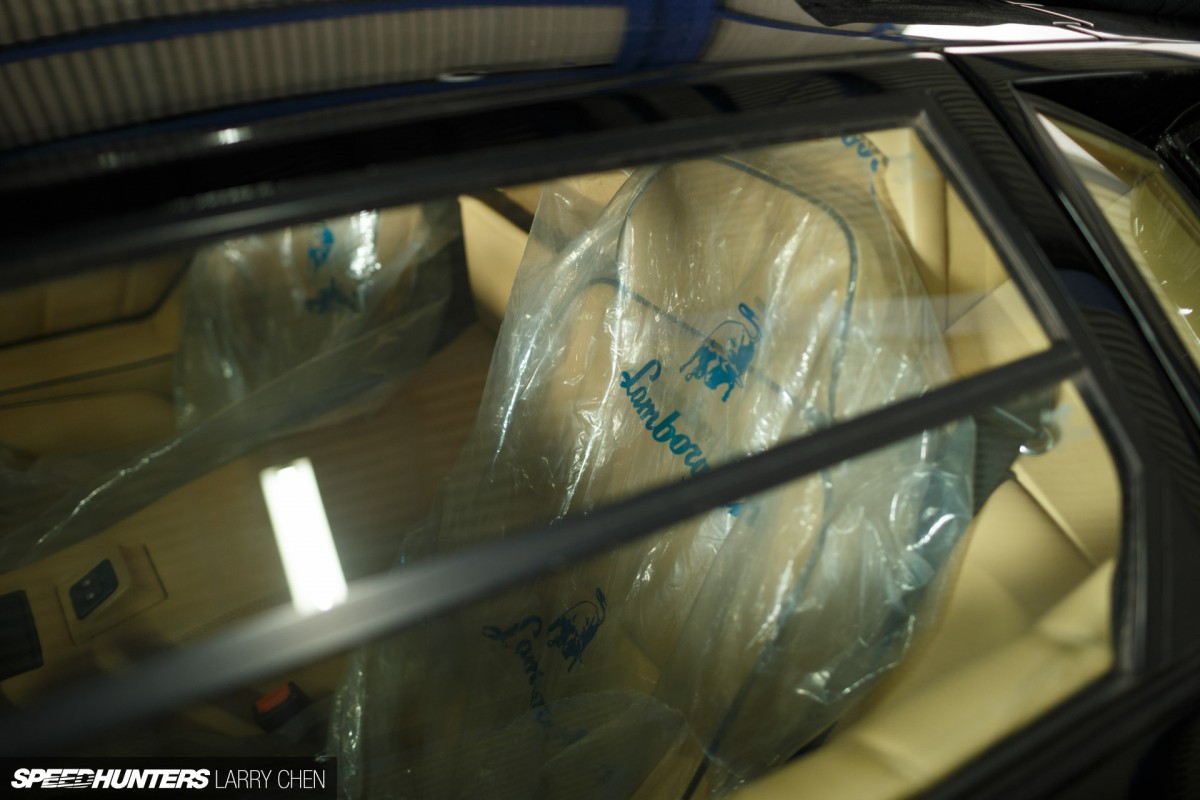 The seat covers have never left the seats. Now I know what youre thinking: what a waste. Right? Well how about the fact that this was one of four brand new Countachs. That's right – he had four brand new ones sitting on jack stands, but he sold three of them just recently. Just wow.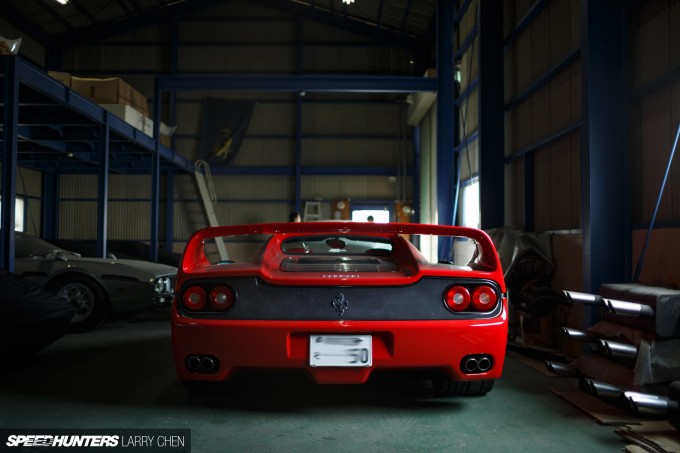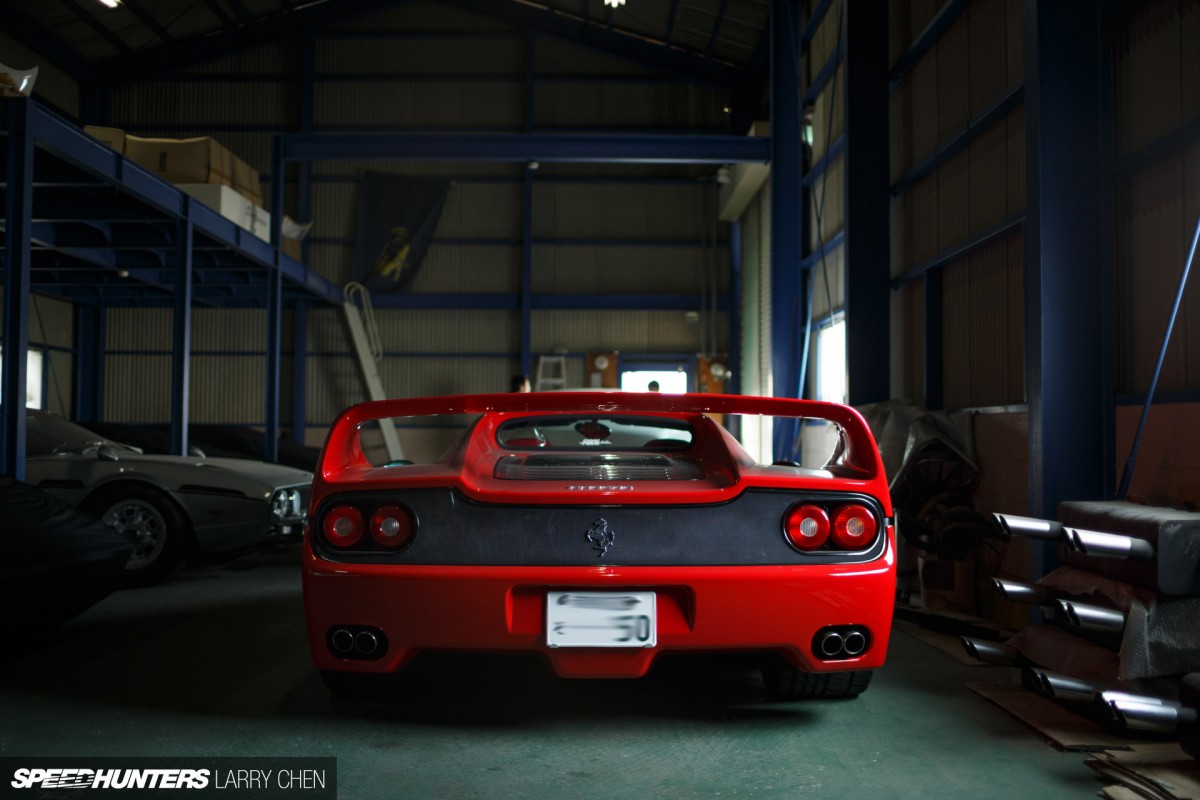 To top it all off, there was a Ferrari F50 just sitting in the middle, taking up as much space as possible.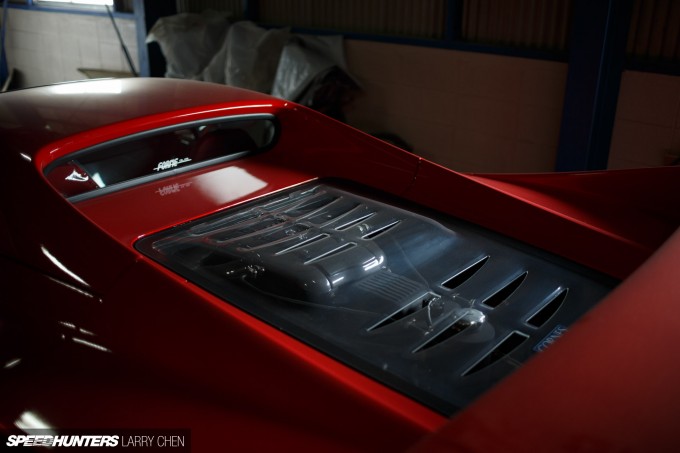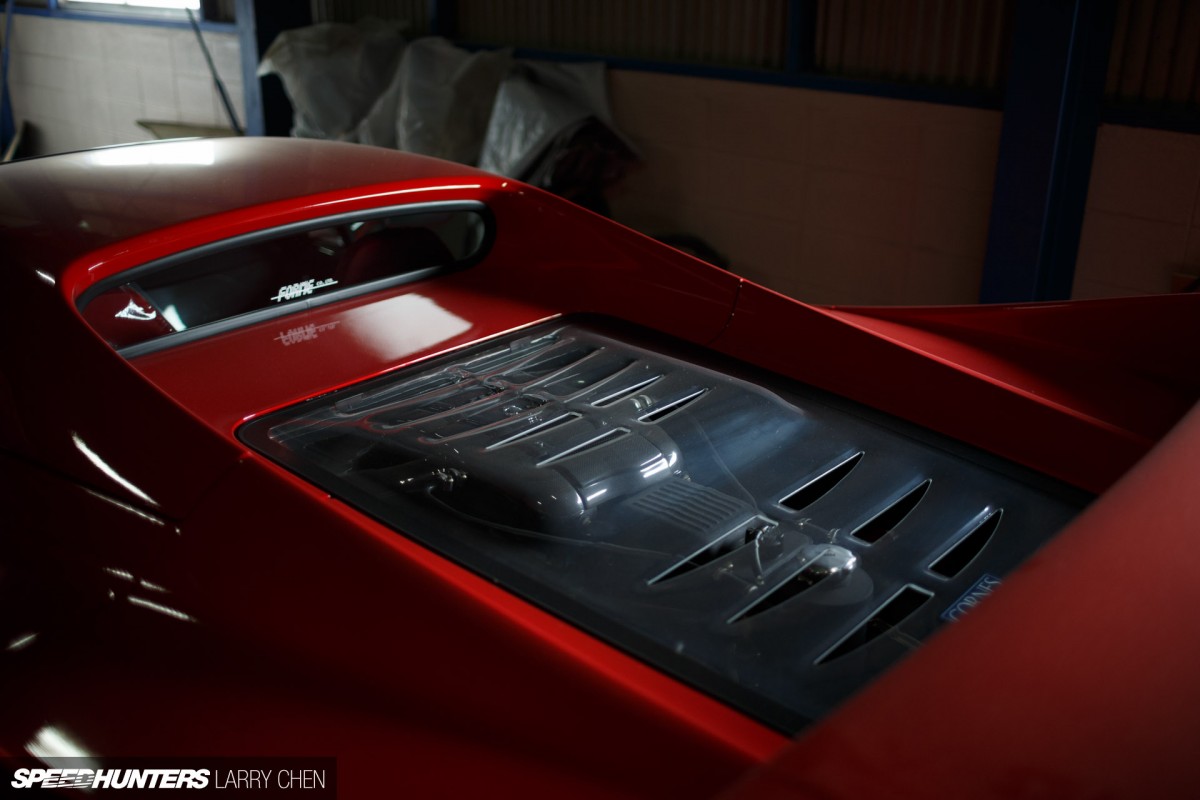 Low miles and all – of course. This truly was a dream garage. Aki and Satoshi were both looking at me weird, as I didn't want to leave.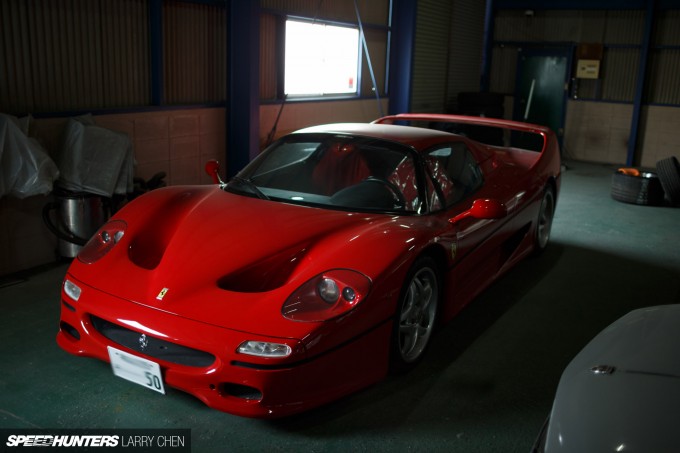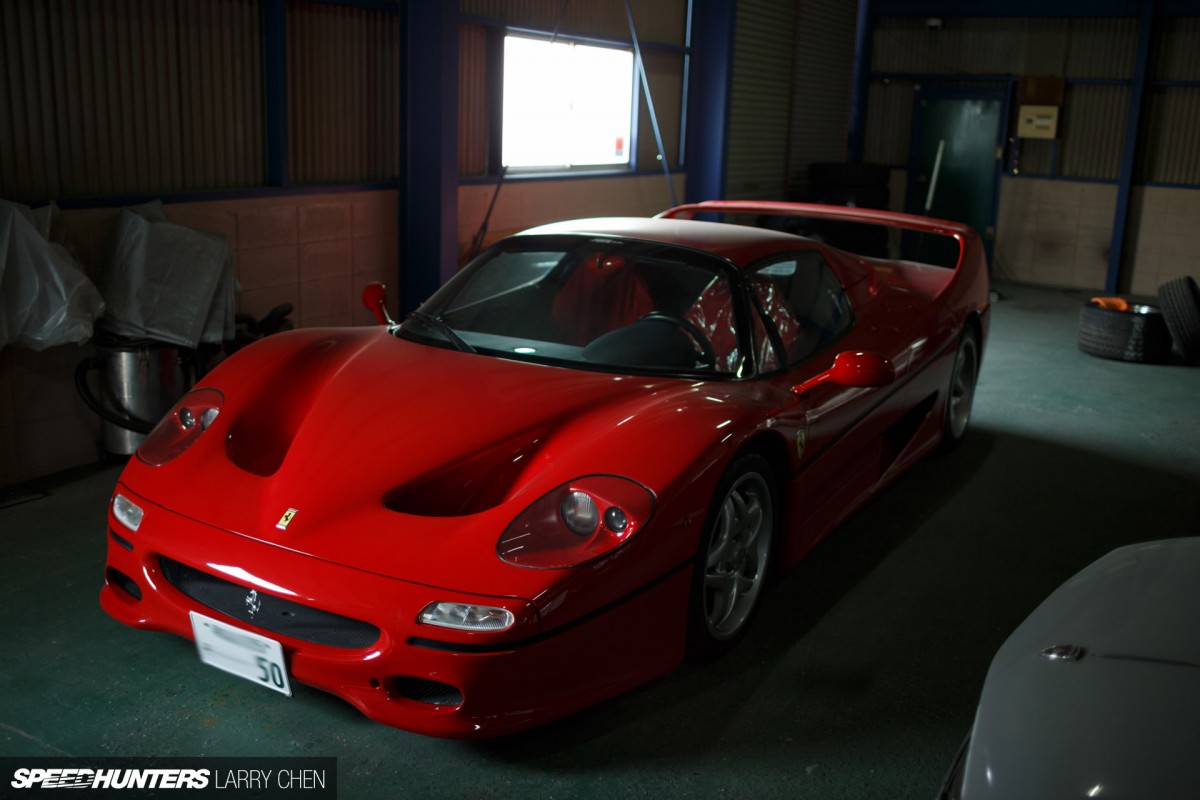 I just wanted to stay and enjoy the view of these rare machines that I may never see again. Maybe just put a chair in the corner and sit back for a while, try and take it all in.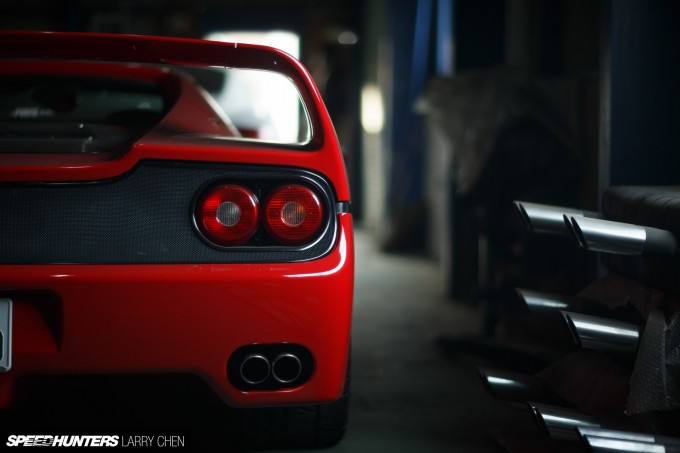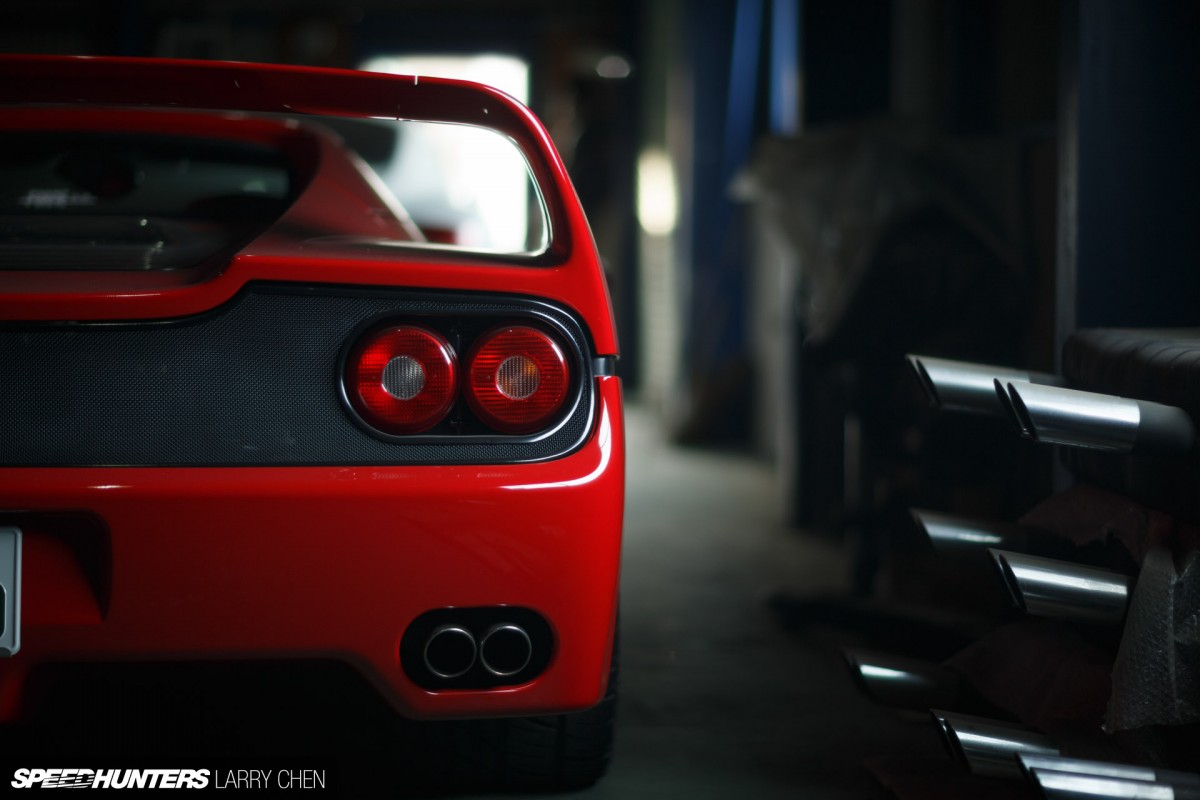 I know what you guys are thinking: why am I visiting all these shops with European cars in Japan? Or maybe you're not, because I know you'll be getting off on this as much as me, but in my next article I get to check out many more shops that specialize in Japanese cars.
X-Factor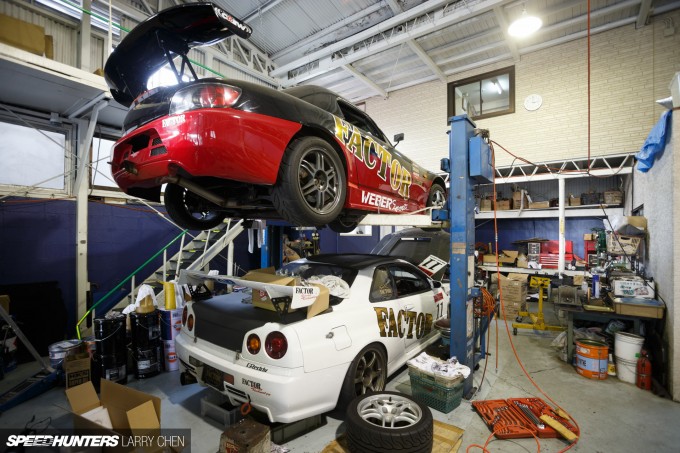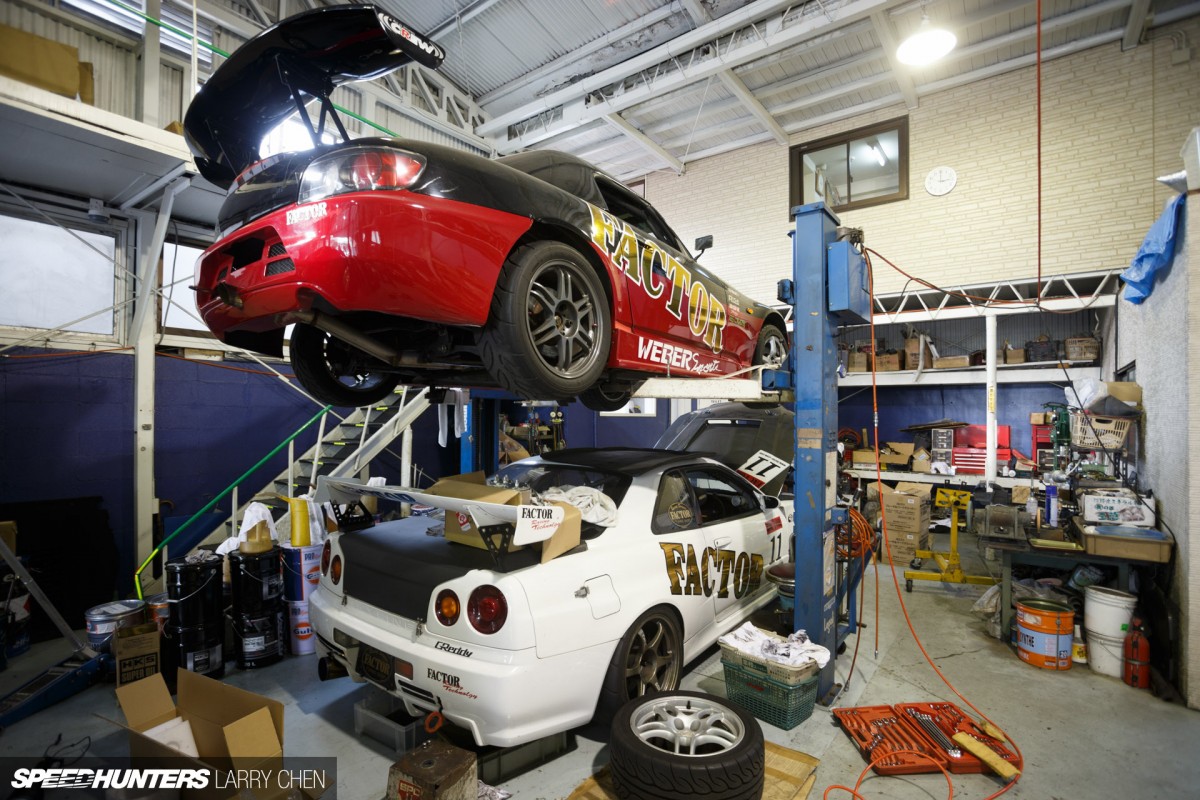 Before the day was over, Aki thought it would be neat to show me two smaller tuning shops. One of them was FACTOR Racing Service.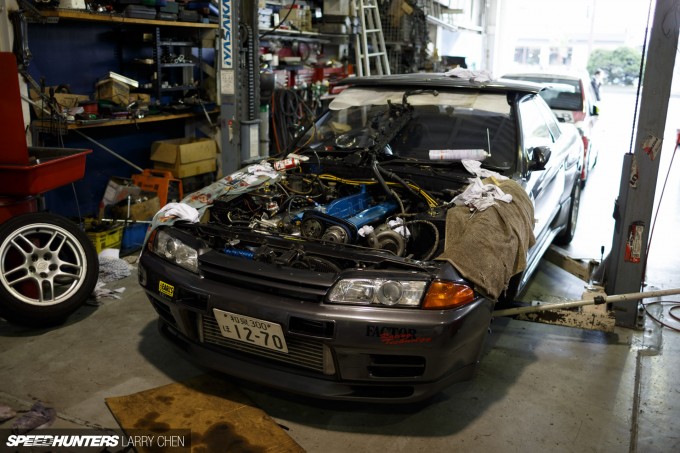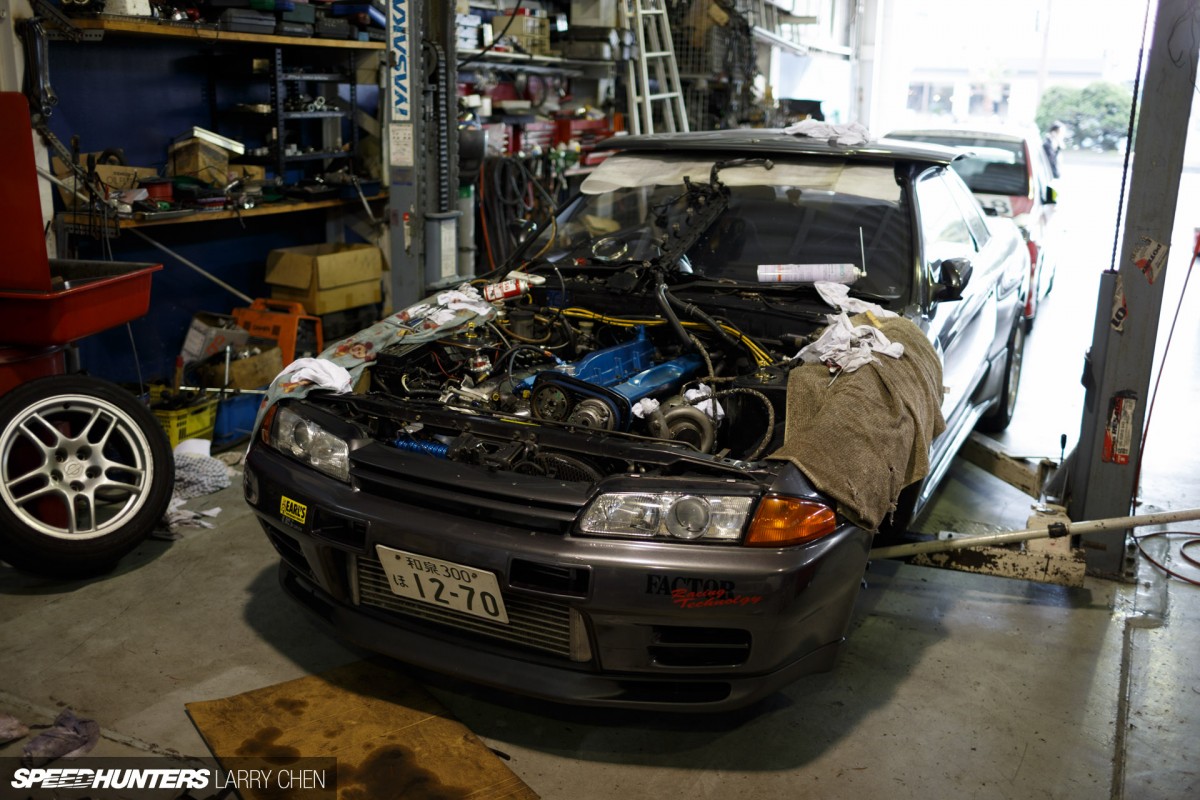 They're much smaller than the three places I visited earlier, but then again their focus is solely on tuning for the local road racers and time attack drivers.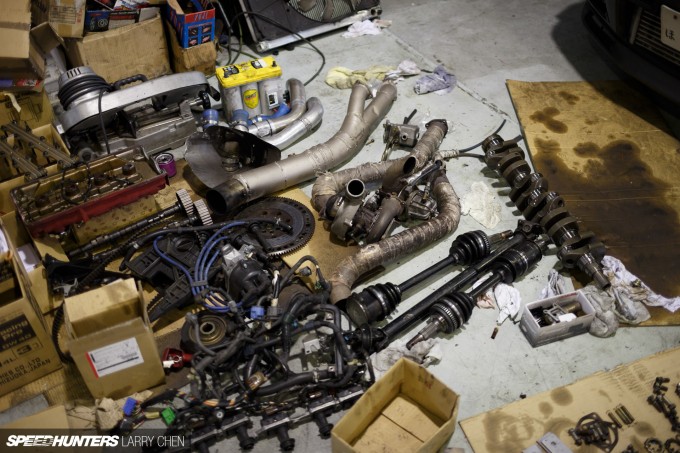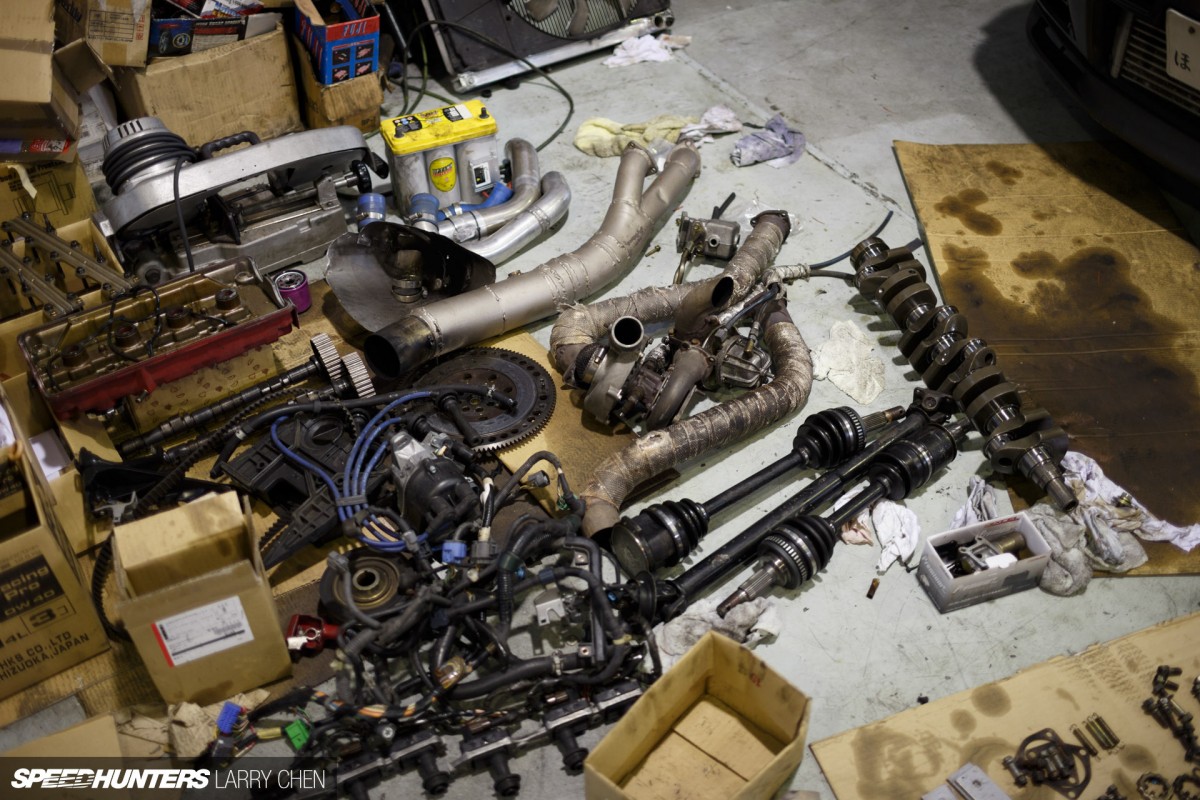 Some shops have such clean floors that you can walk around with just your socks on, but others have personality. Sometimes I wonder how tuners keep track of all the parts they take off a car.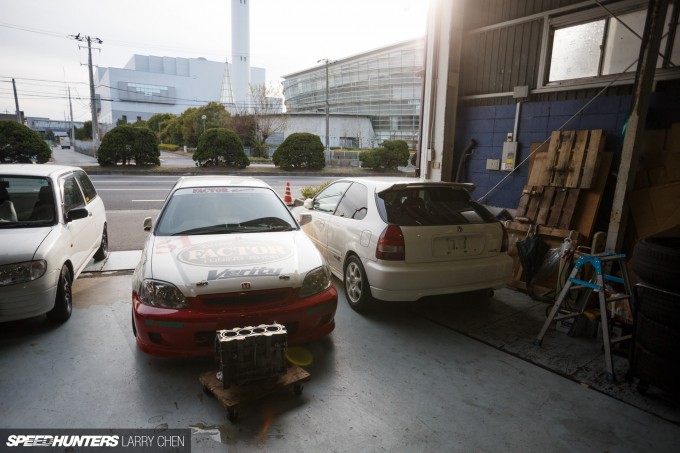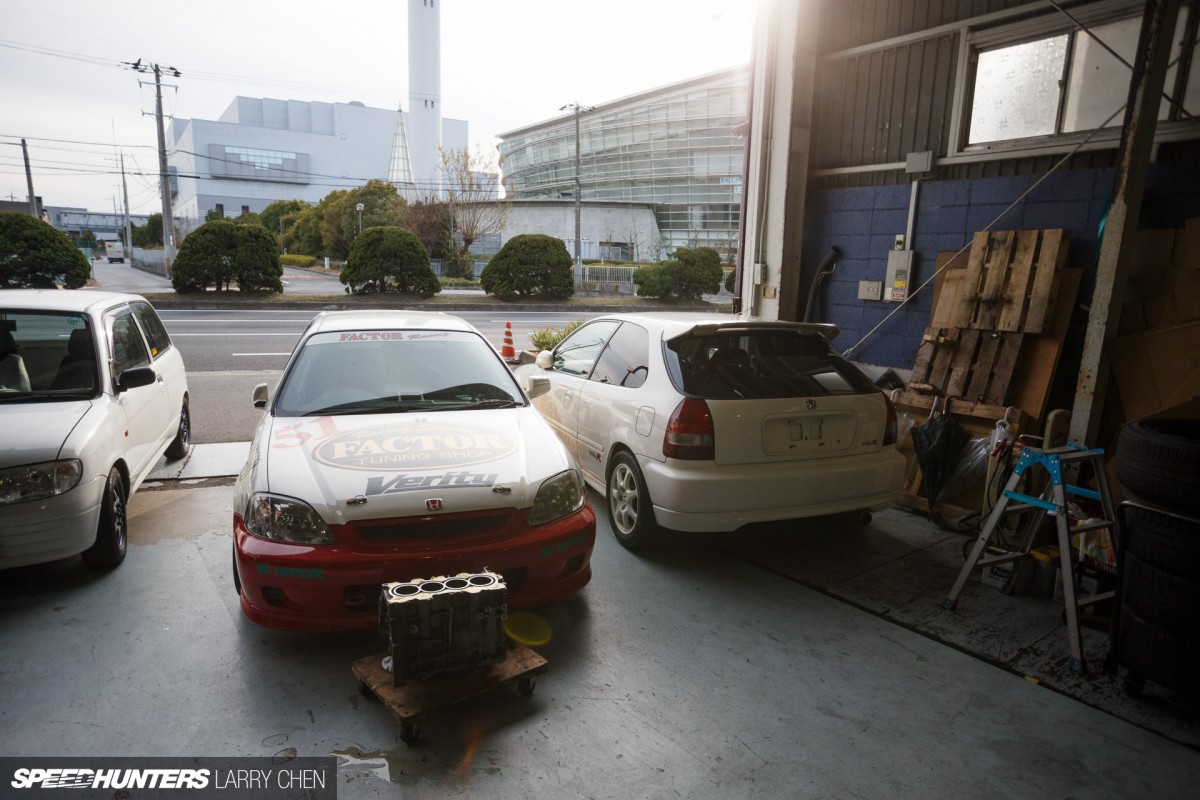 FACTOR Racing Service specialises in Honda cup racers. As usual, many of the mechanics are racers themselves, but if you're an enthusiast on a budget and you are in the Kyoto area, this is the place to go for your racing maintenance needs.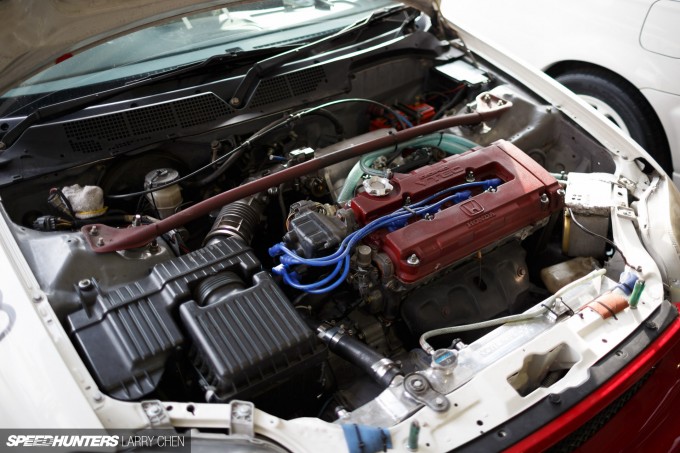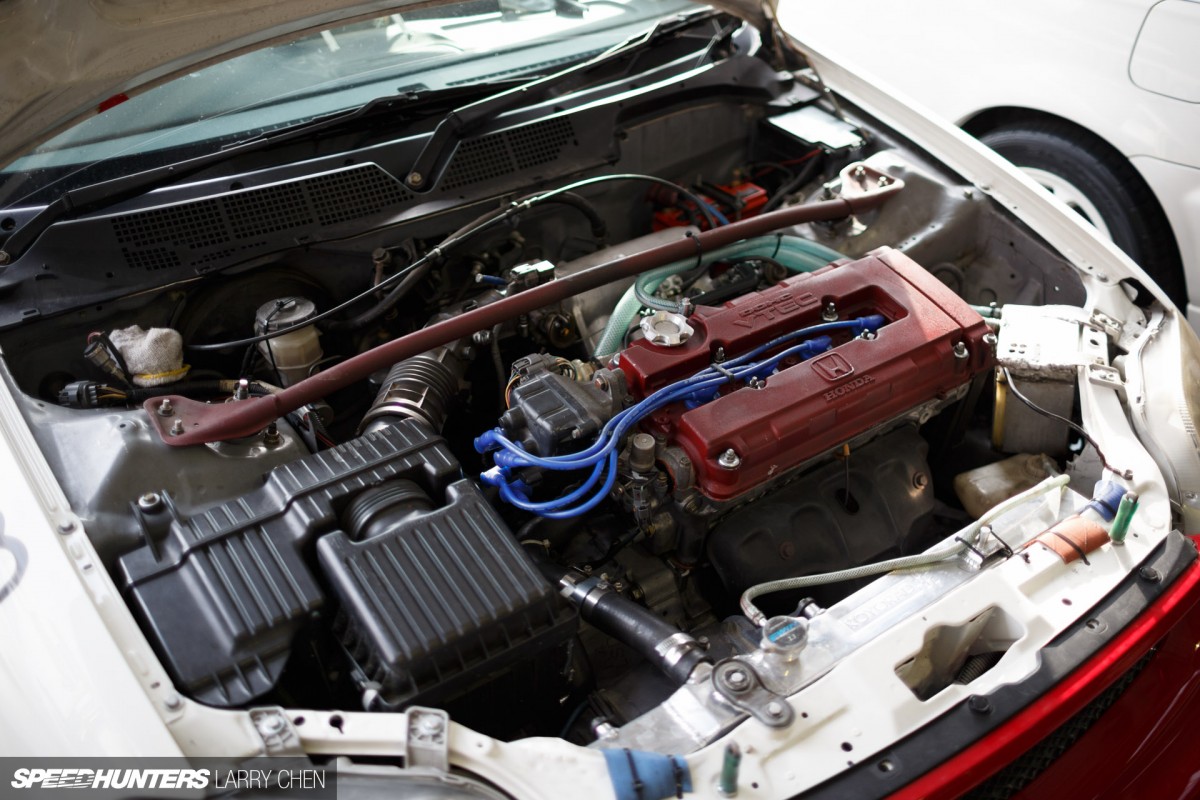 I know our resident Honda nut, AKA Sean Klingelhoefer, would go gaga over these cars. That EK9 Civic Type-R was only selling for eight hundred thousand yen. Sounds like a good deal to me!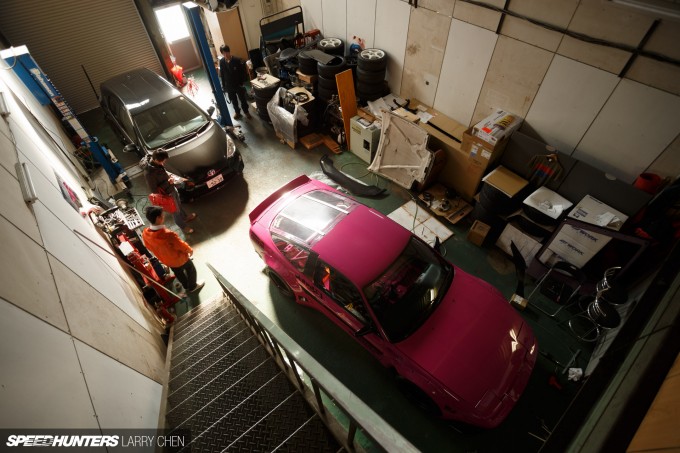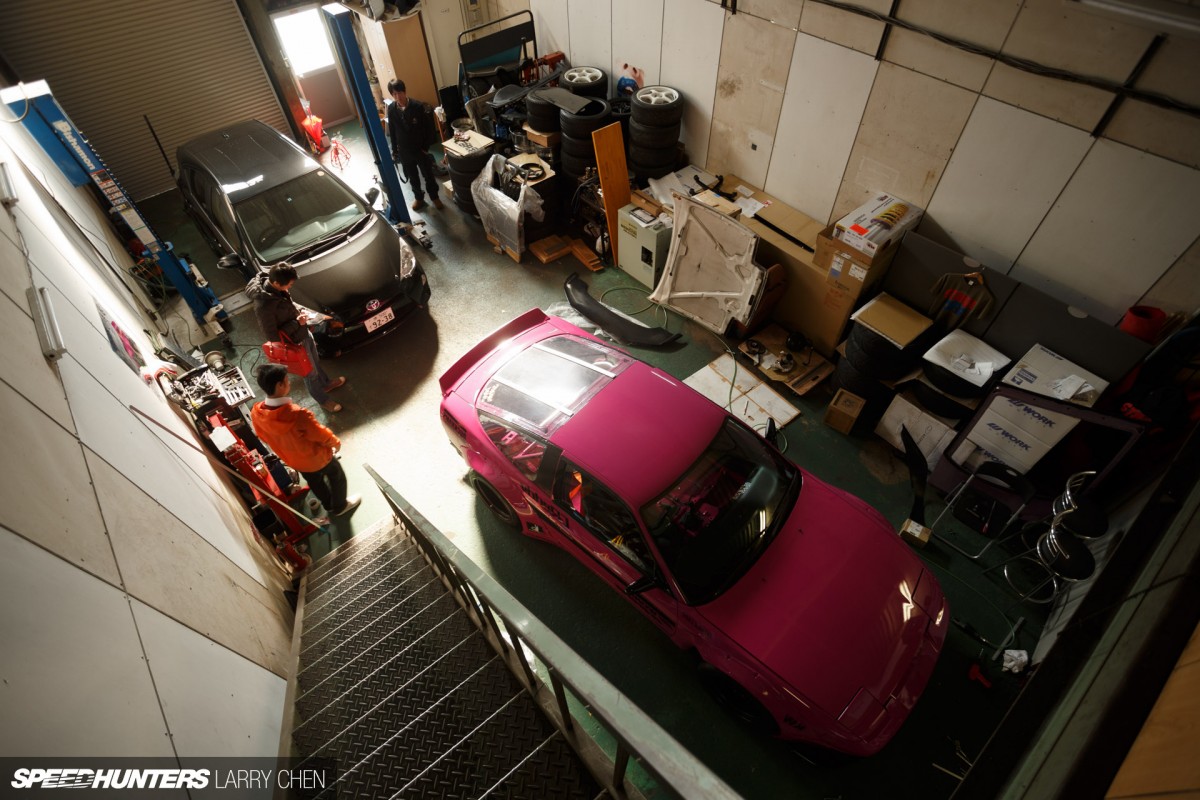 After checking out FACTOR Racing Service, we went to an even smaller shop. This was more of a personal garage called Stable Cars.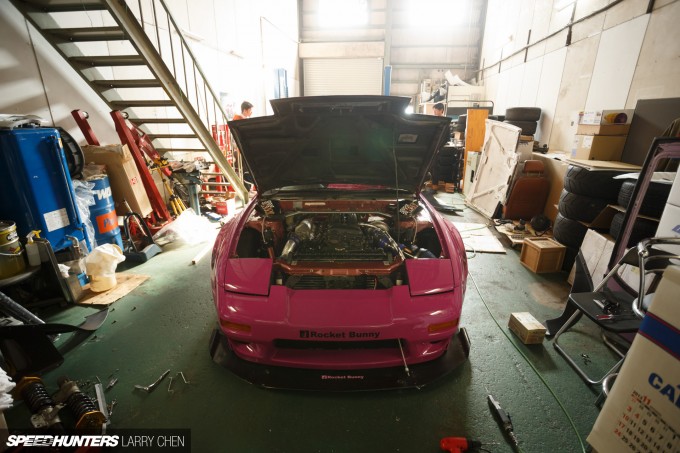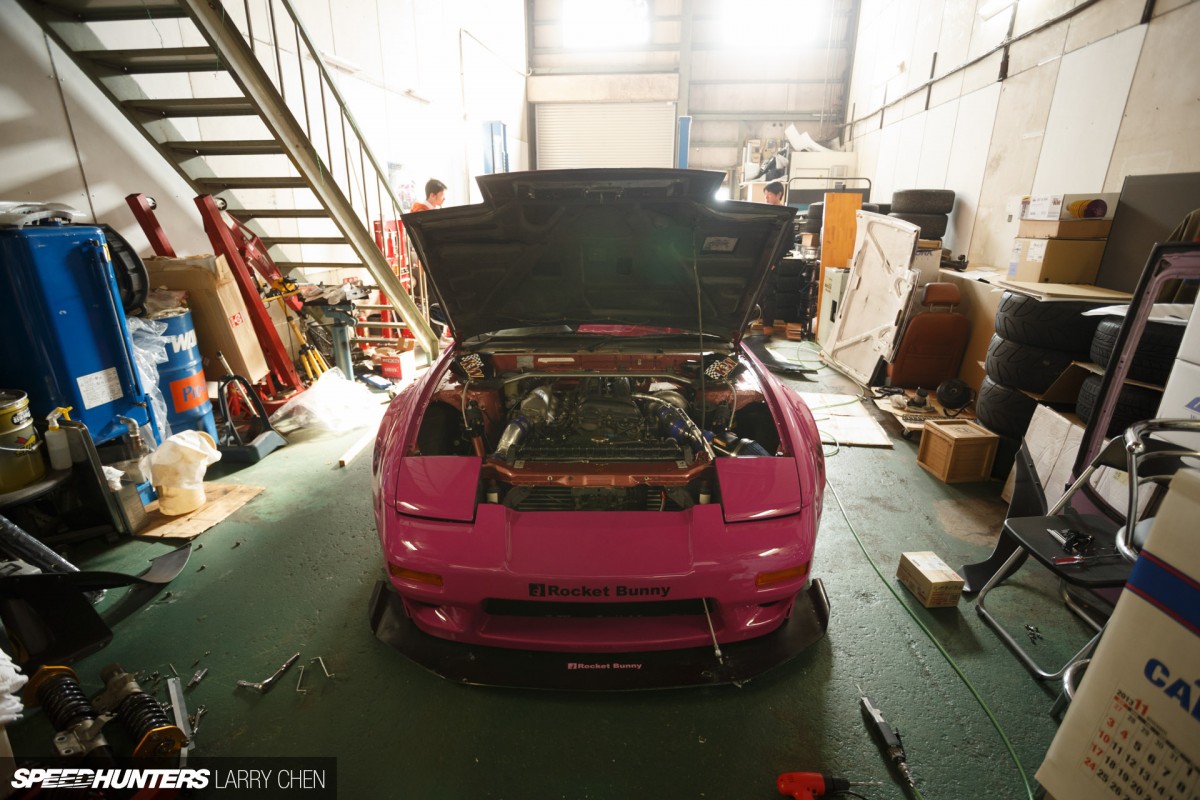 They're actually friends of Kei Miura of TRA Kyoto and Rocket Bunny fame. Miura-san suggested we stop by to check out their S13 time attack car.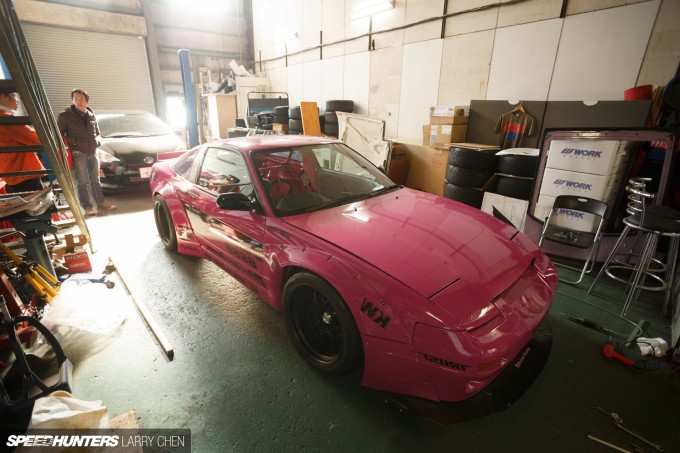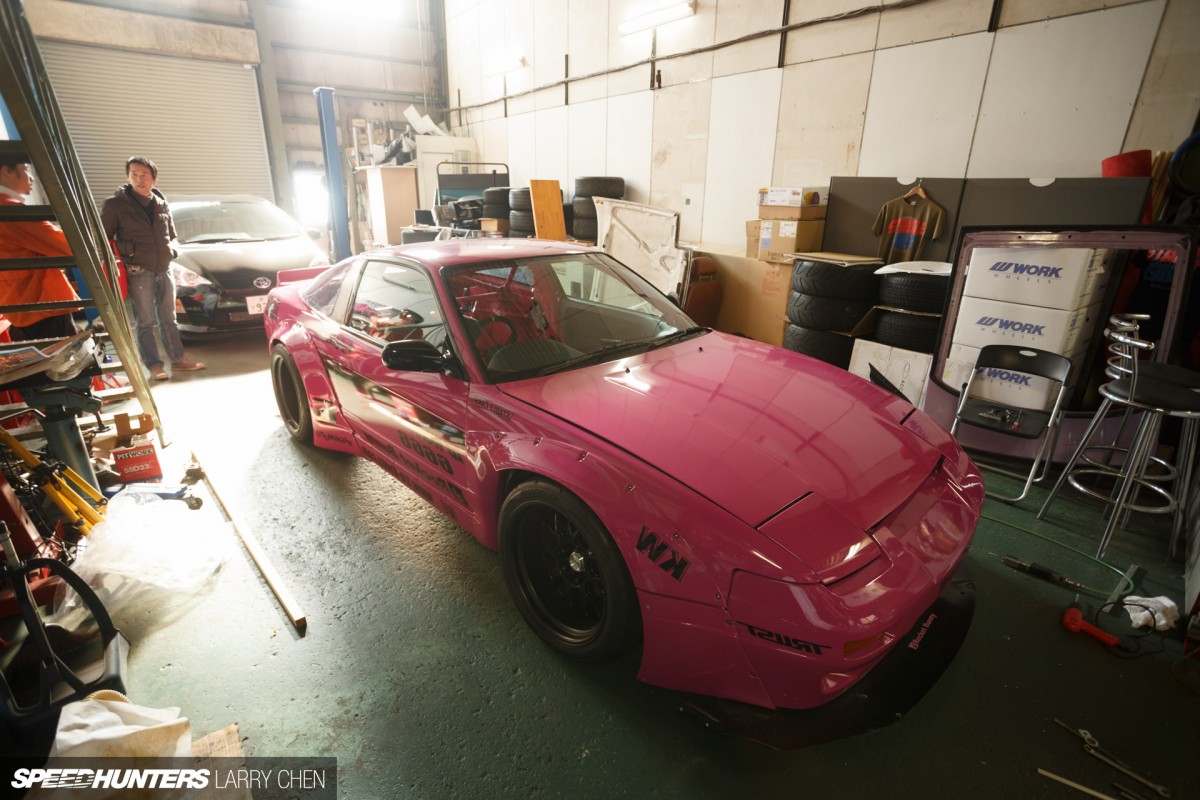 The mastermind behind the overfender movement actually helped the guys at Stable Cars develop this kit for maximum downforce.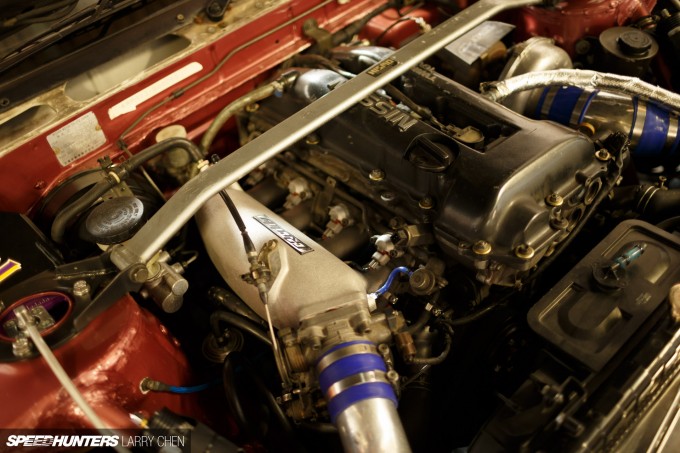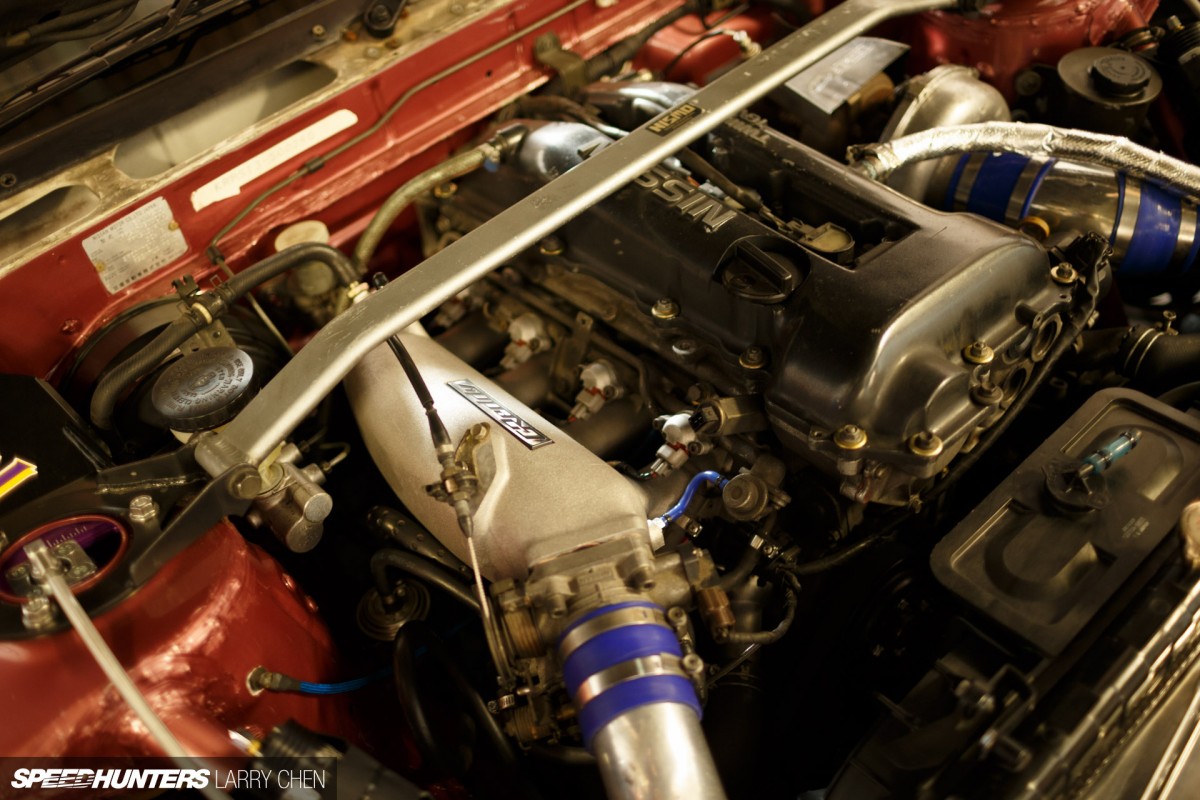 Underneath was a fully-built S14 SR20DET putting out over 500whp. I see so many S13s, but it's always nice to see one that's clean and tastefully modified.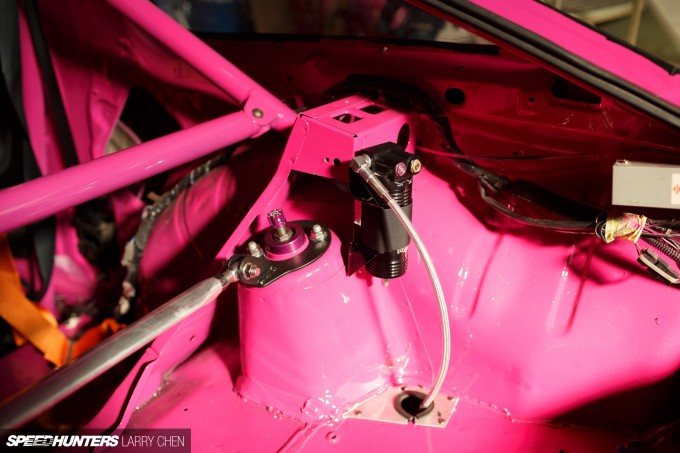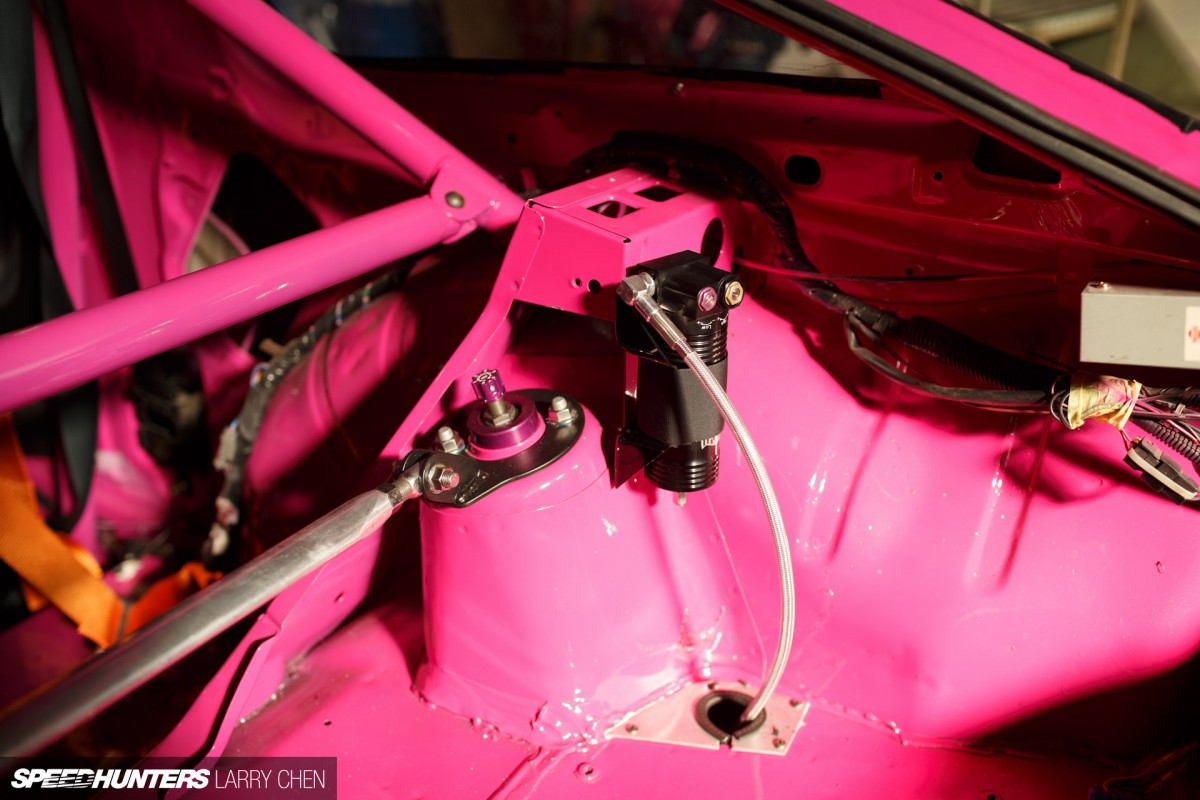 The Hashimoto Corporation sponsored a set of KW coilovers for the car.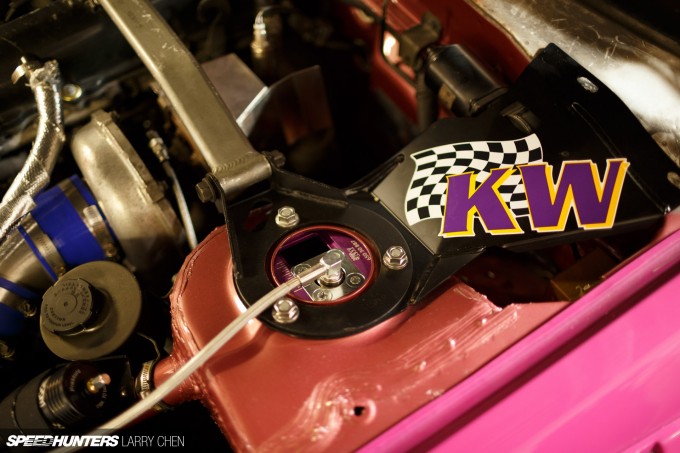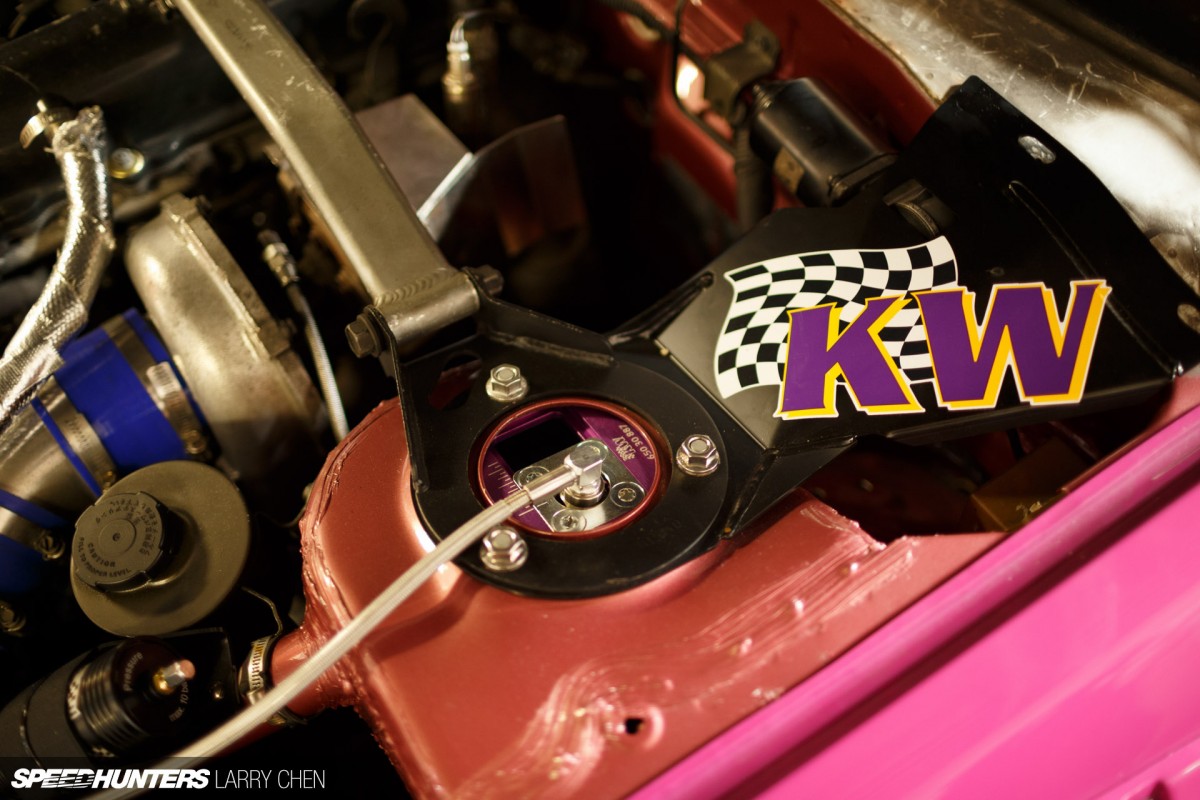 The car was not fully together yet as it was off to its very first time attack that very weekend at Fuji Speedway. Hopefully we can find out how it got on.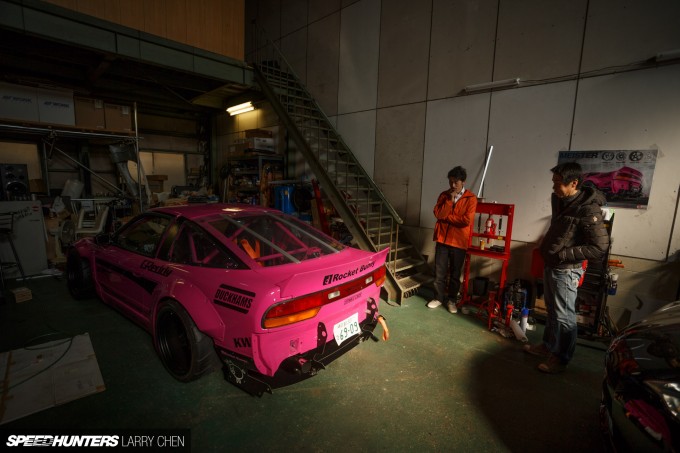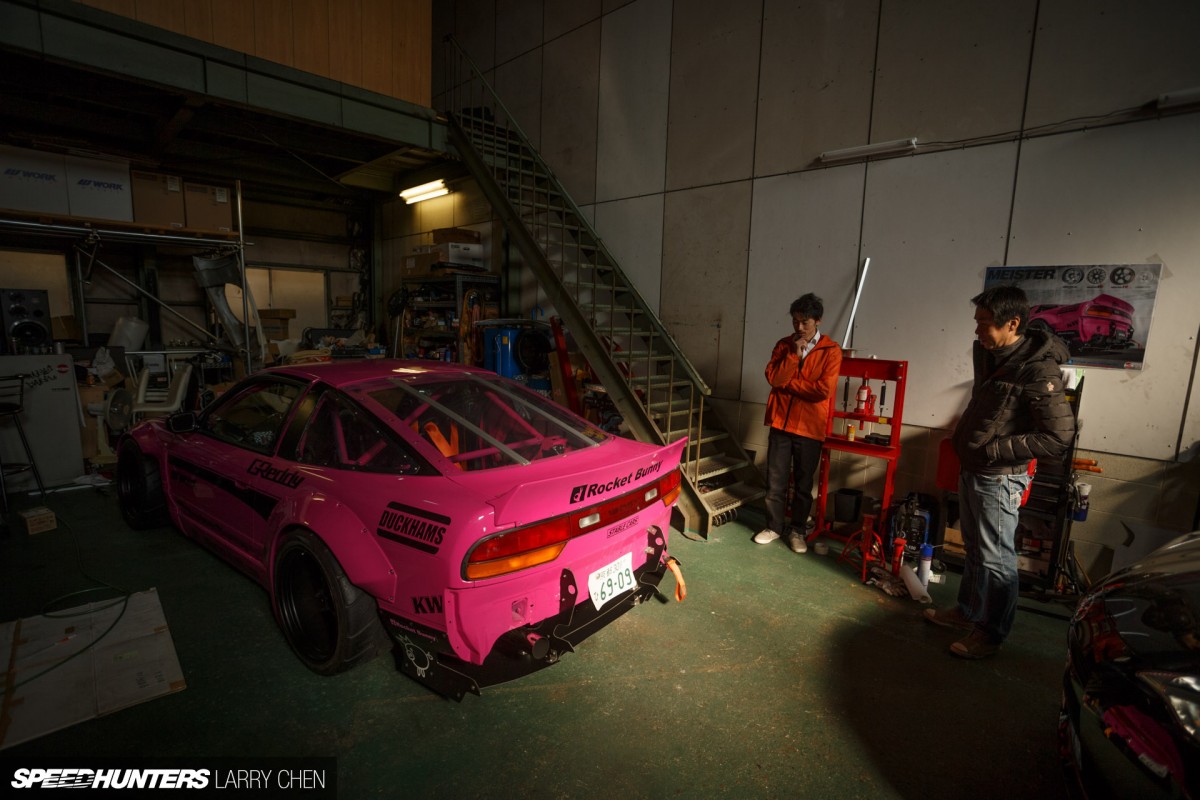 What's amazing to me is that this car was registered for the street. Really? Can you imagine driving such a loud-looking car down the streets of Kyoto? I guess it's no big deal as long as you don't do anything stupid. I for one would not be able to keep my foot off the gas.
Make sure you guys stay tuned for more shop-light-o-ramas.
Larry Chen
Instagram: larry_chen_foto
larry@speedhunters.com