In the beginning
You might have worked hard at your CV. You might have spent hours refining the details, busting out the thesaurus and condensing your past experience into a couple of pages of buzz words, core skills and essential education. But in the car world, Geoff Page's CV contains two key words that are all you need to know: Formula One and Group B.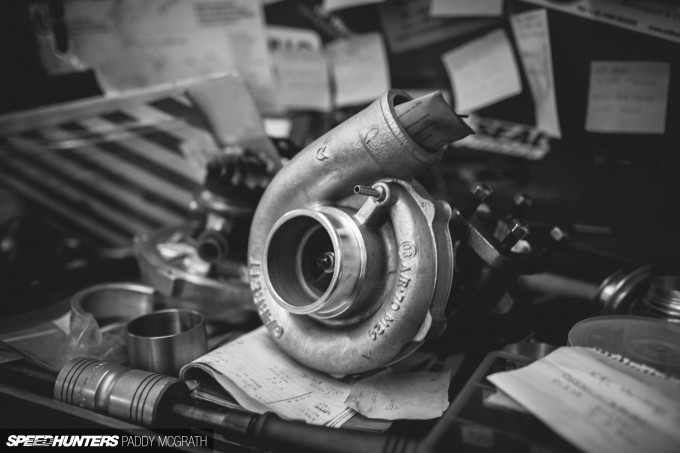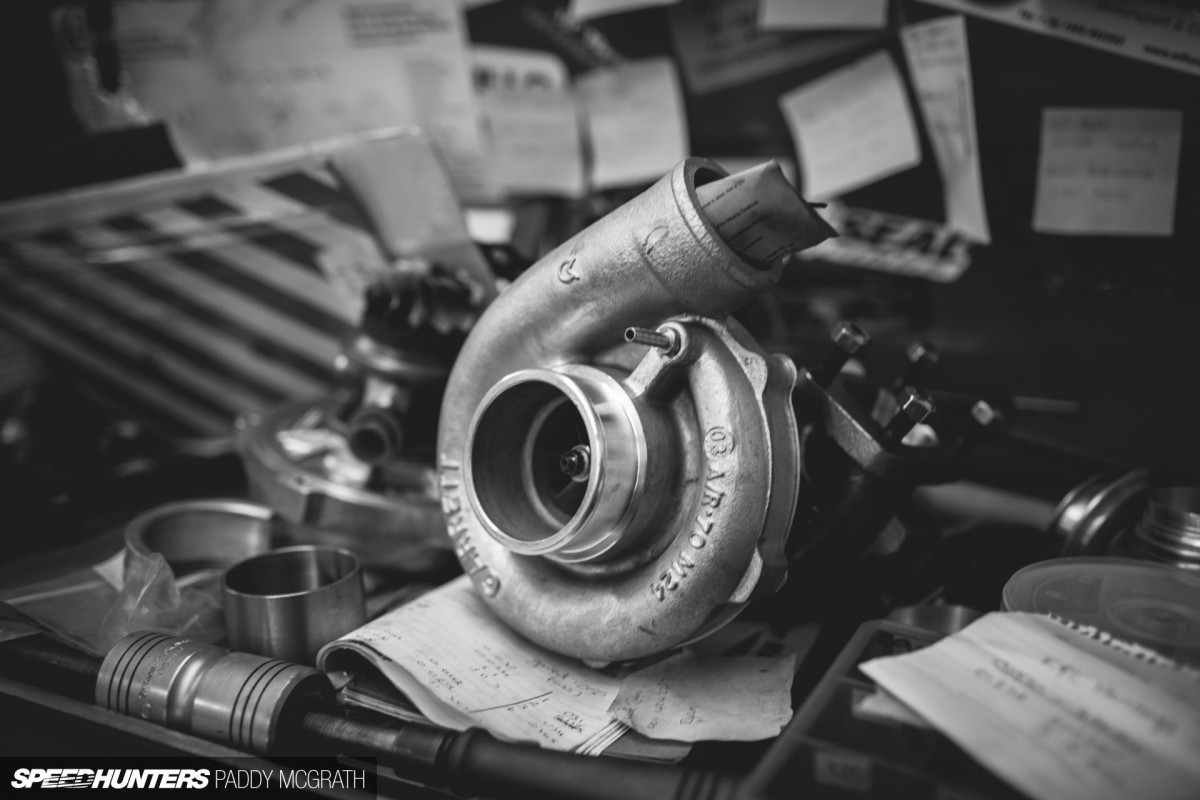 Even in our automotive world where we deal with modified cars daily and attend events around the world every weekend, those two words still stand alone. They symbolise the pinnacle of motorsport and if you can find me a car fan who's a fan of neither, well, then it's time for them to be educated.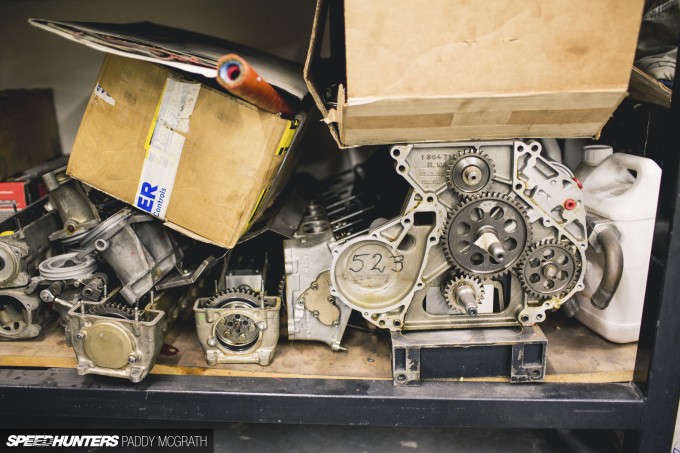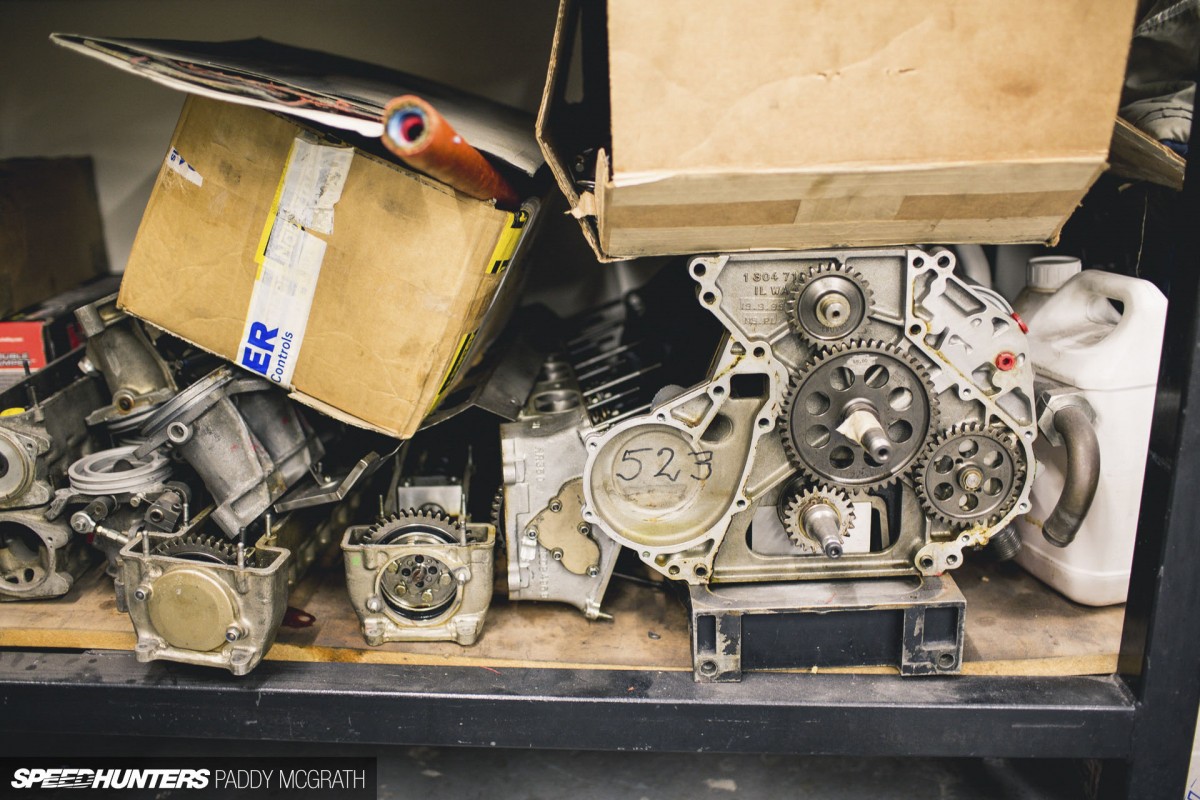 Situated in an unassuming workshop in the heart of Essex, in the UK, Geoff Page Racing is a general one-stop-shop for race car preparation, but their specialisation is in building engines. But not just any engines…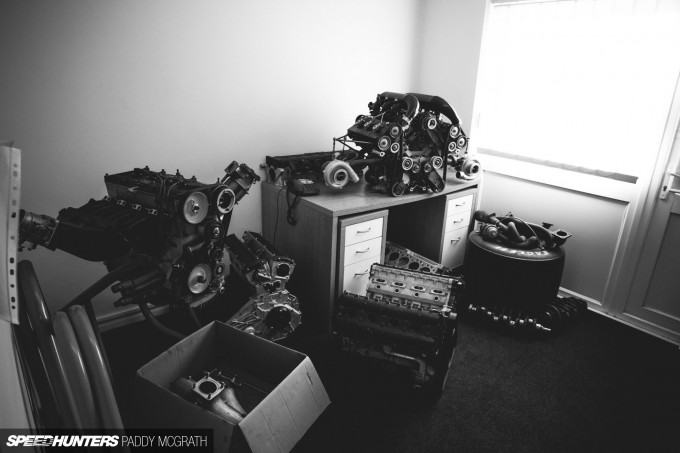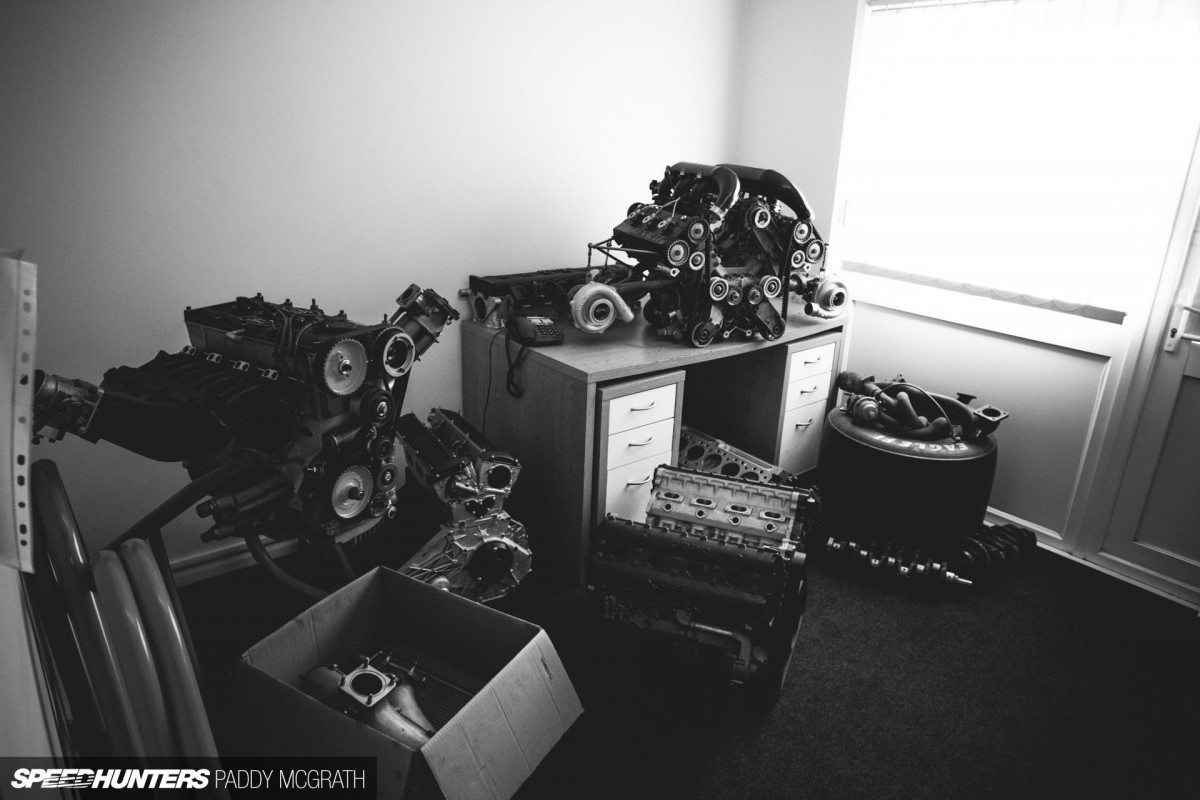 I mean, this is a place where a Renault Gordini EF4 engine mans the front desk in reception. "Hello, Geoff Page Racing. This is insanity speaking."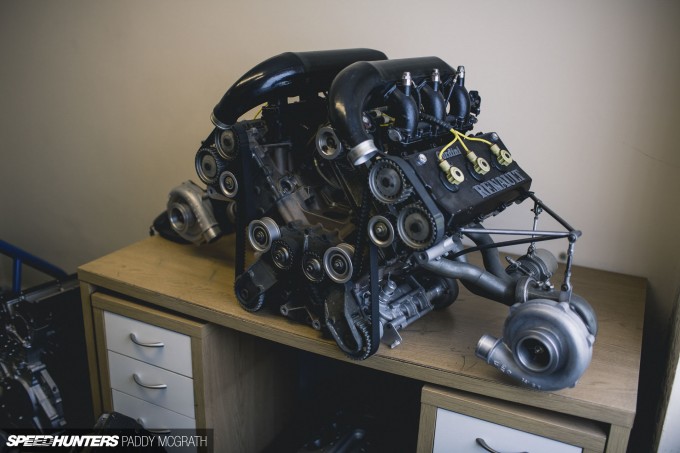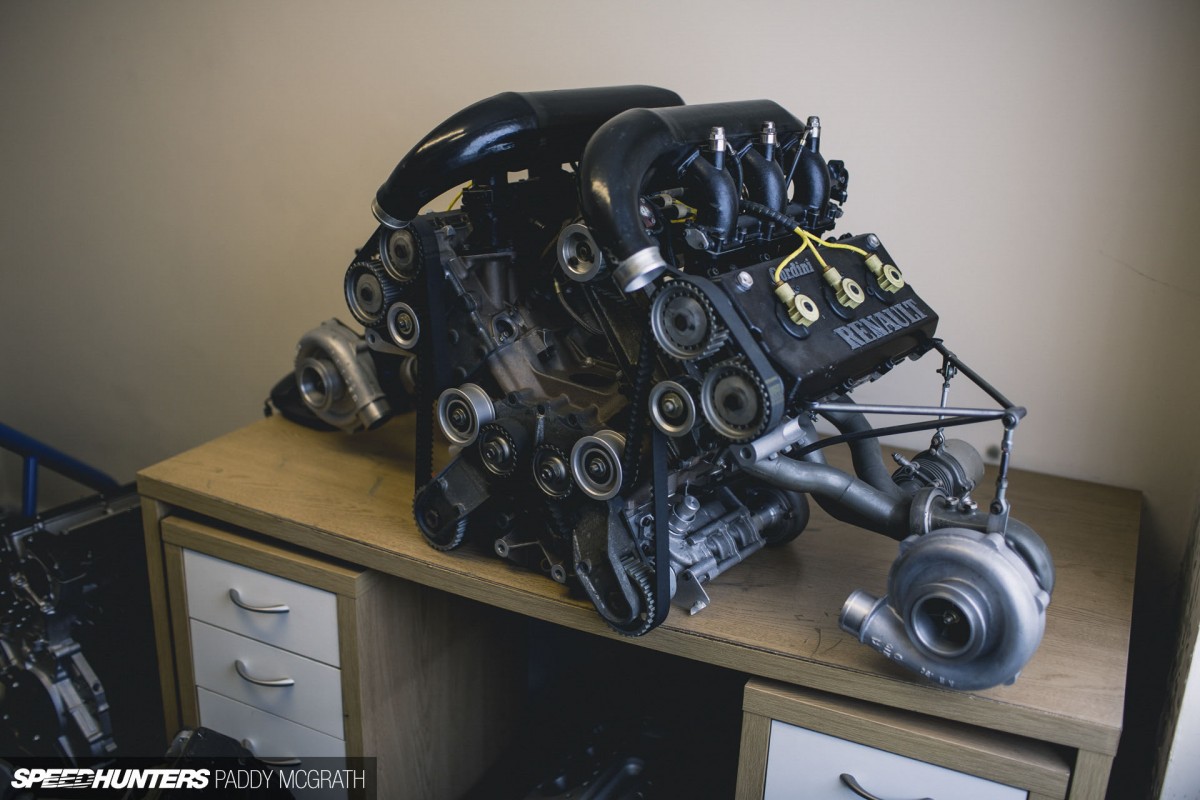 Not up on your F1 engines? This awesome little number is a neat look back to the last time Formula One was flying the forced induction flag, but if you think this year's engines aren't that thrilling, don't make the mistake of confusing the two. This engine, which last saw action in a Tyrrell 014 might only be a 1.5L, but the twin-turbo V6 lump is rumoured to put out somewhere between 850hp in race spec and a monstrous 1200hp when turned up for qualifying. Can you think of a better receptionist?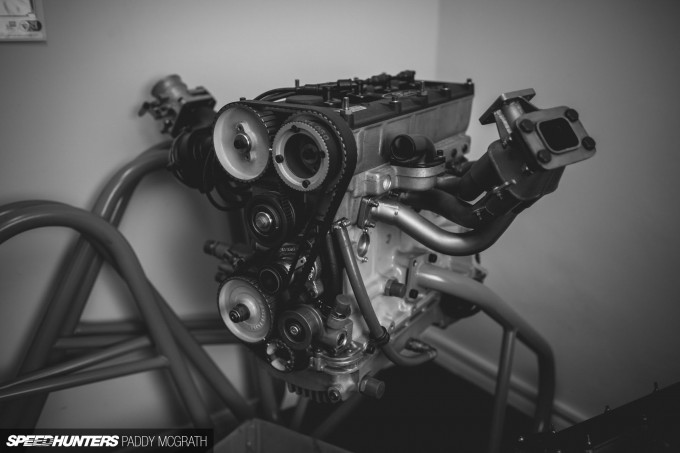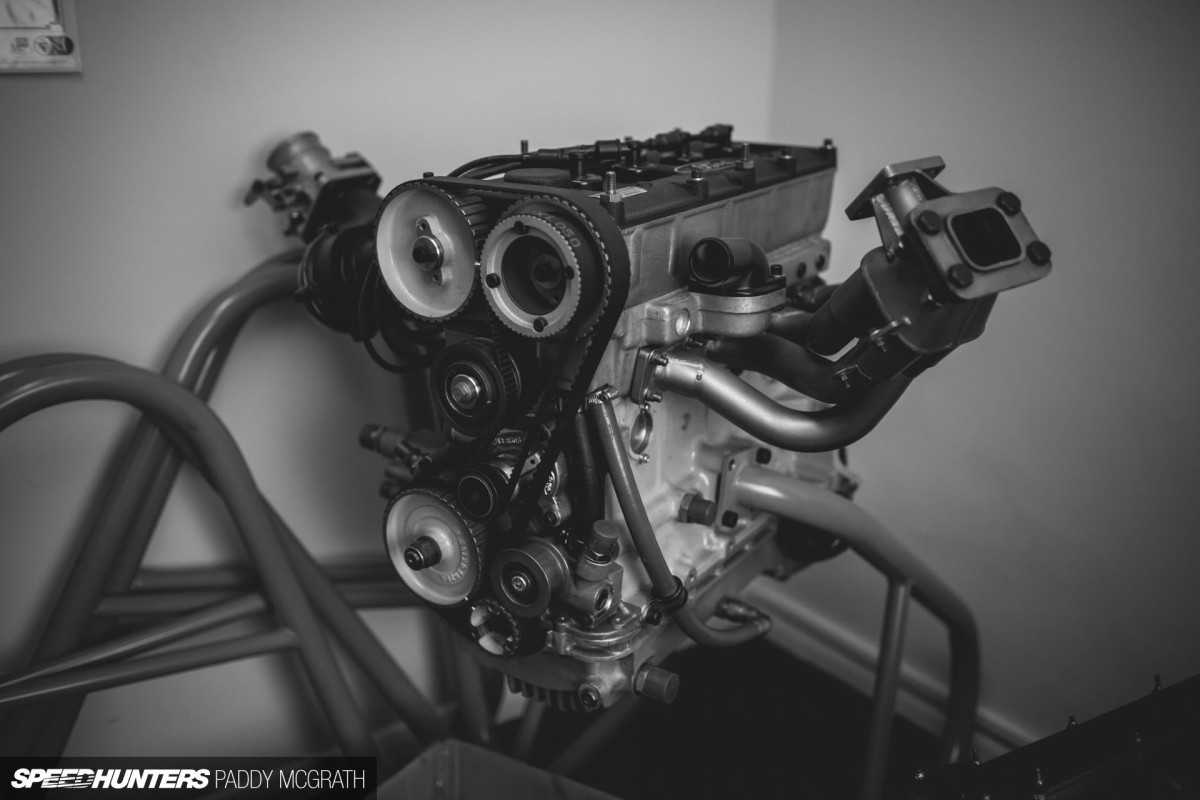 Keeping it company was the first of many BDT engines we would spy throughout our visit. The turbocharged Cosworth lump is best known for powering the Ford RS200, with this particular 1950cc example putting out somewhere around a 'mere' 550hp.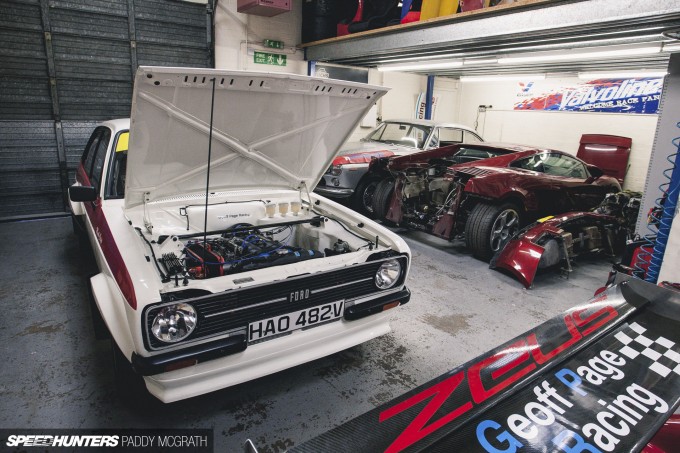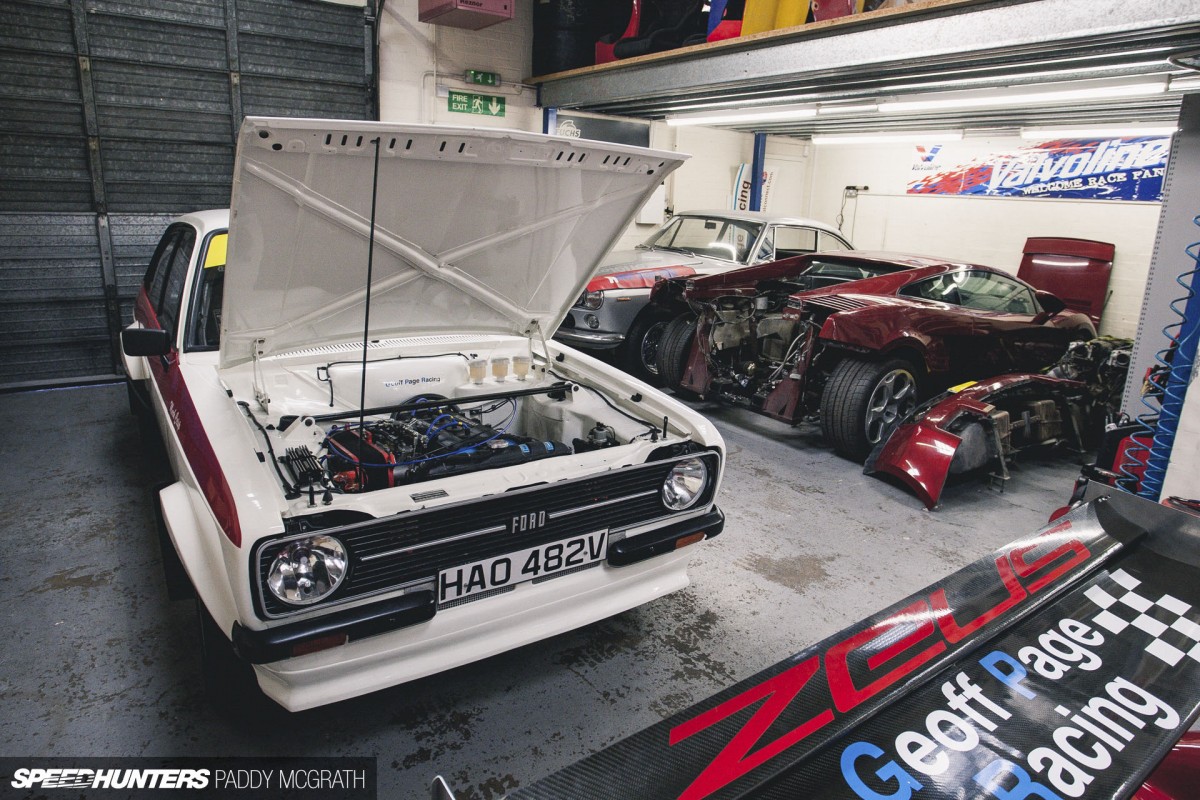 Eventually we picked up our jaws, made it past the several thousand horsepower receptionists and entered the main part of the workshop.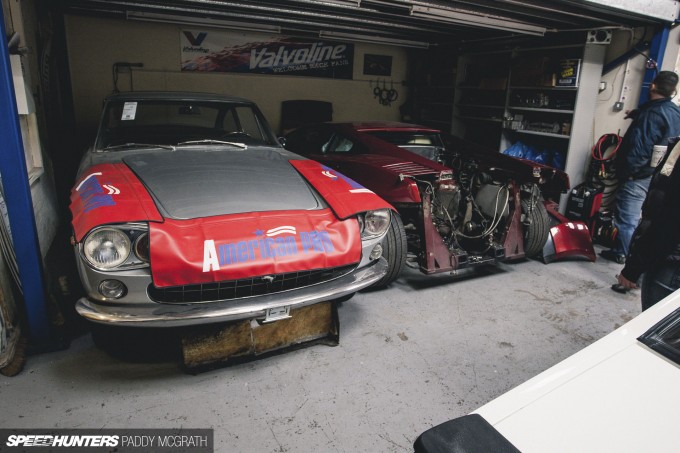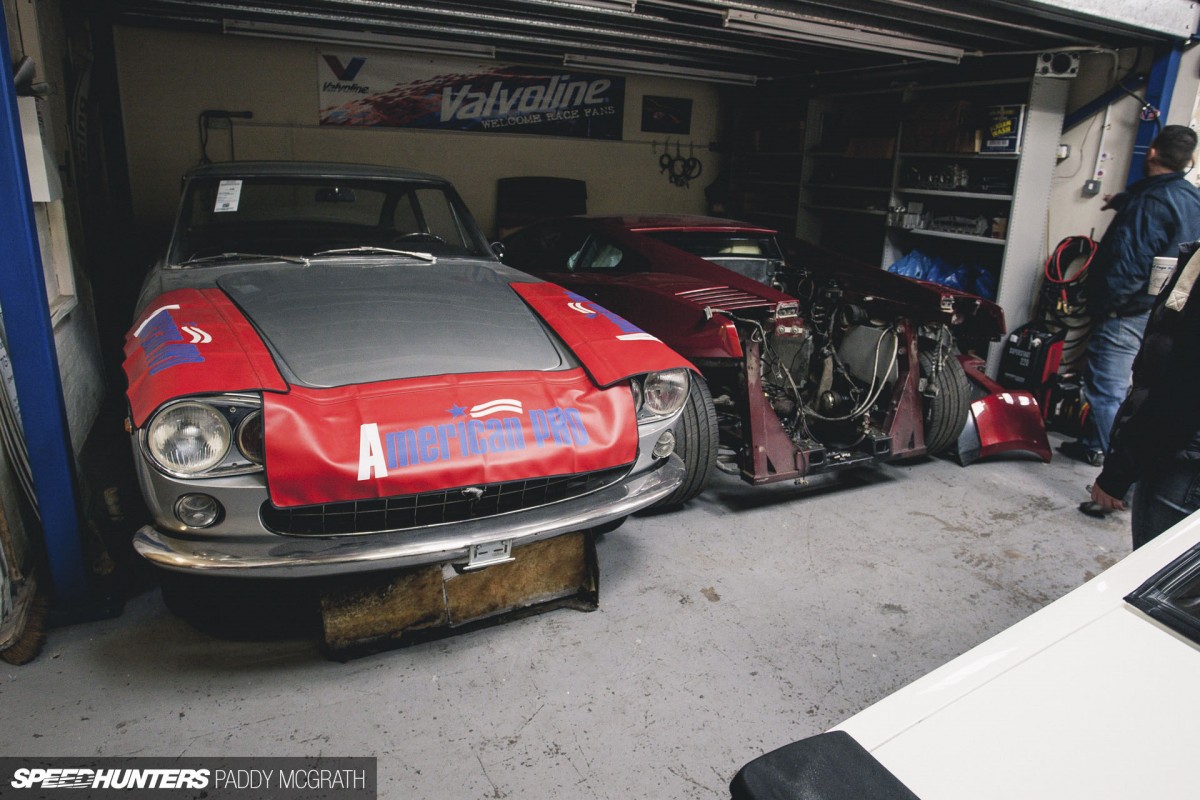 Only to be accosted by a Ferrari 330 GT2+2 and the gutted remains of a Lamborghini Gallardo. The latter's engine apparently let go at 160mph. As you can imagine, there wasn't much left of it.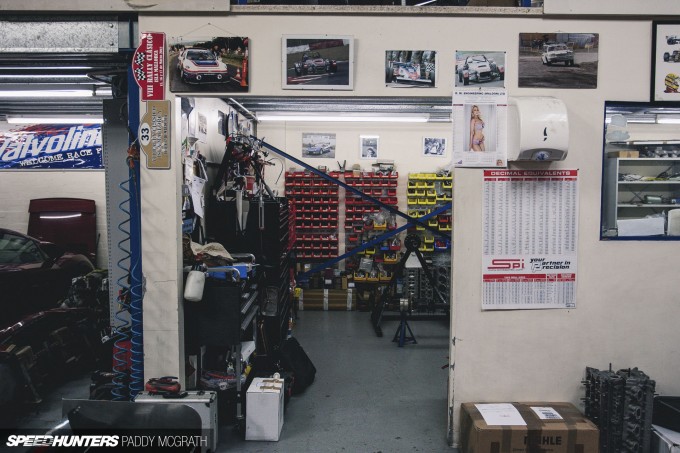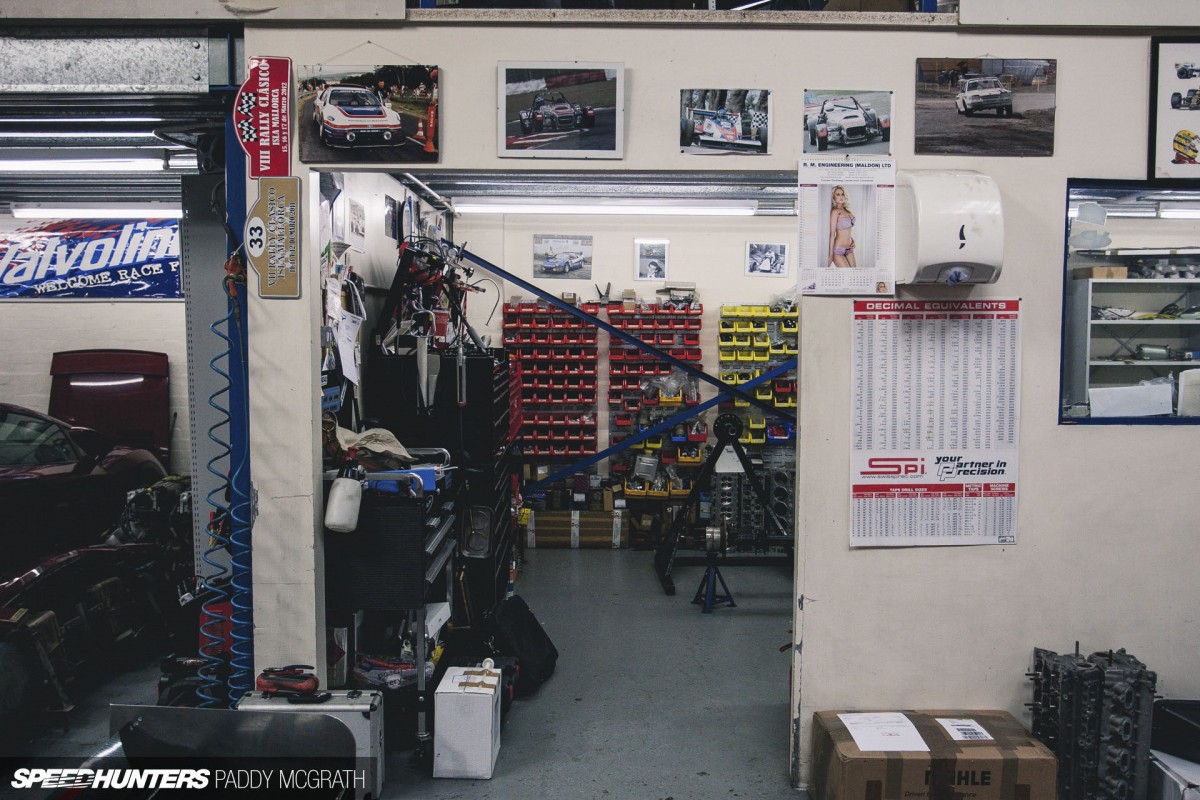 The walls are peppered with pictures of Formula One cars, Group B monsters and other assorted machinery to lust after. But whereas these would just be decoration in another workshop, here they're trophies; records of cars that have passed through this very workshop.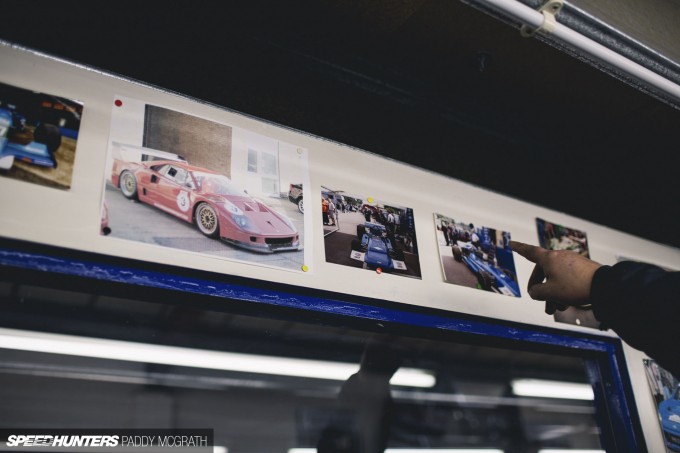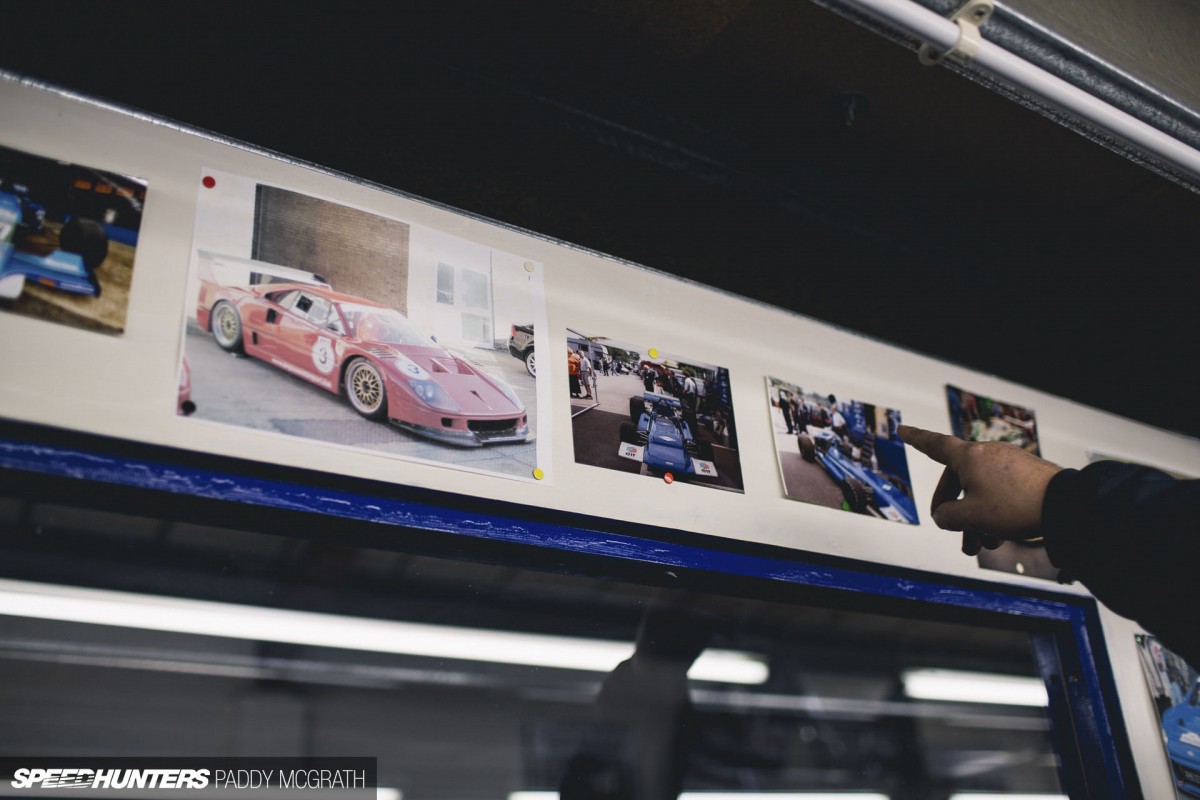 Point to any car and you can hear that associated story that goes with it, from F1 cars (that's a Tyrrell March that's part of the Ford Heritage fleet – one of Jackie Stewart's old cars) to Ferrari F40 LMs (a customer car where the engine was supplied in bits. The end result saw around 730hp running air restrictors).
A Page in history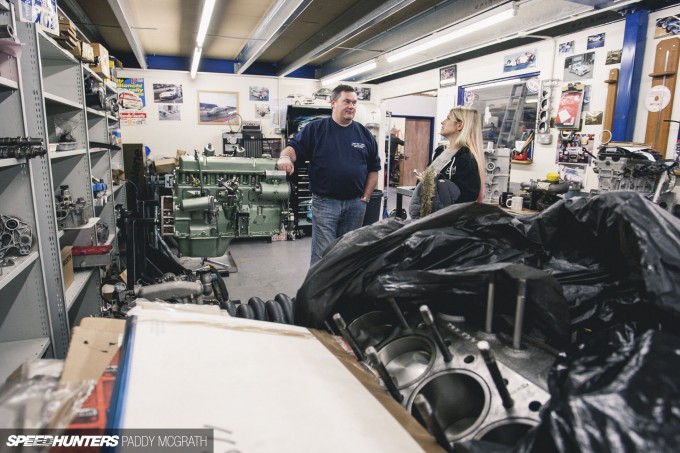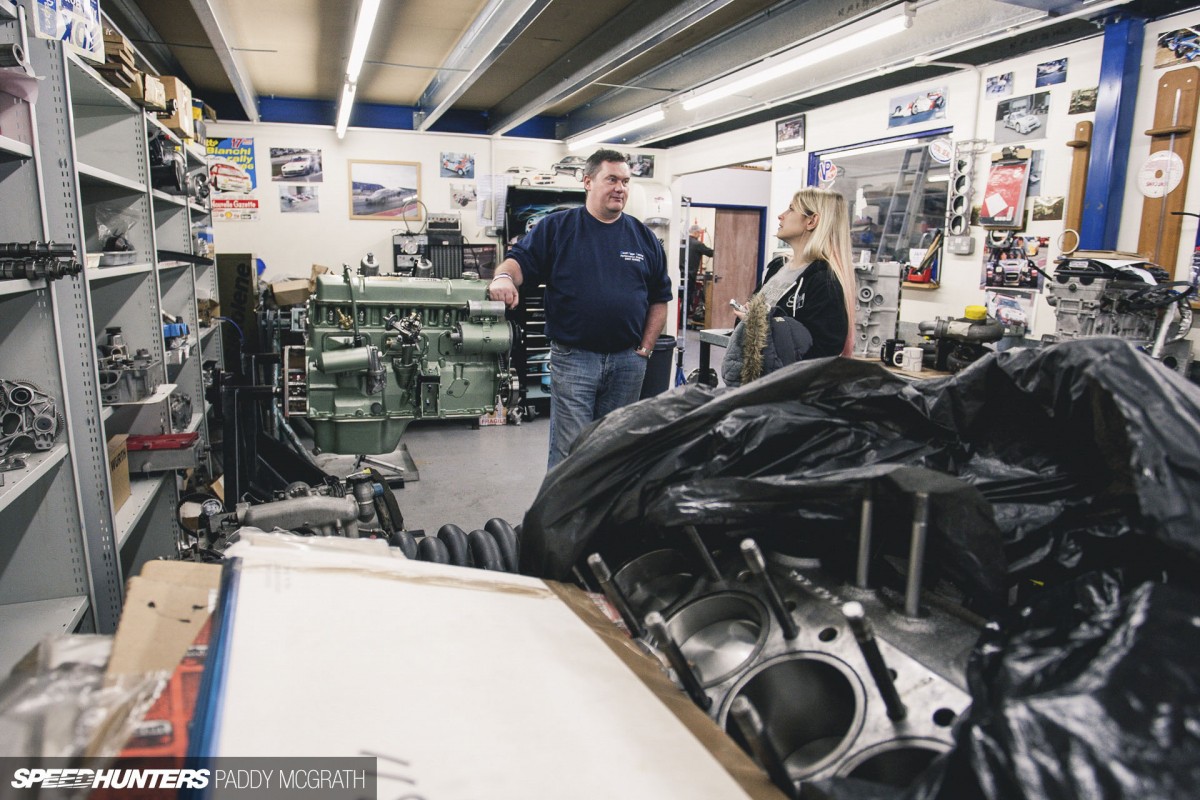 As Paddy headed off to nose around, I got to speak to Geoff himself about just how he's ended up here. In common with a lot of racers, Geoff started off back in karts at the age of 13. After purchasing his first kart after saving up for a year, he was pretty handy at it too by all accounts. In his first race, he won best novice and he's still the youngest driver ever to have competed in the Short Circuit 125cc World Cup at Morecambe.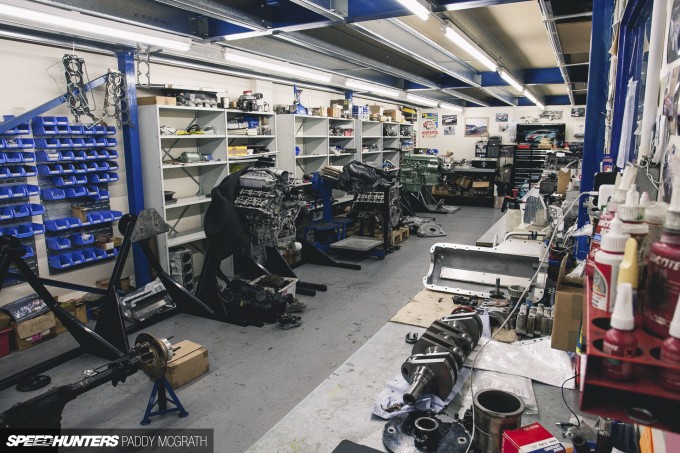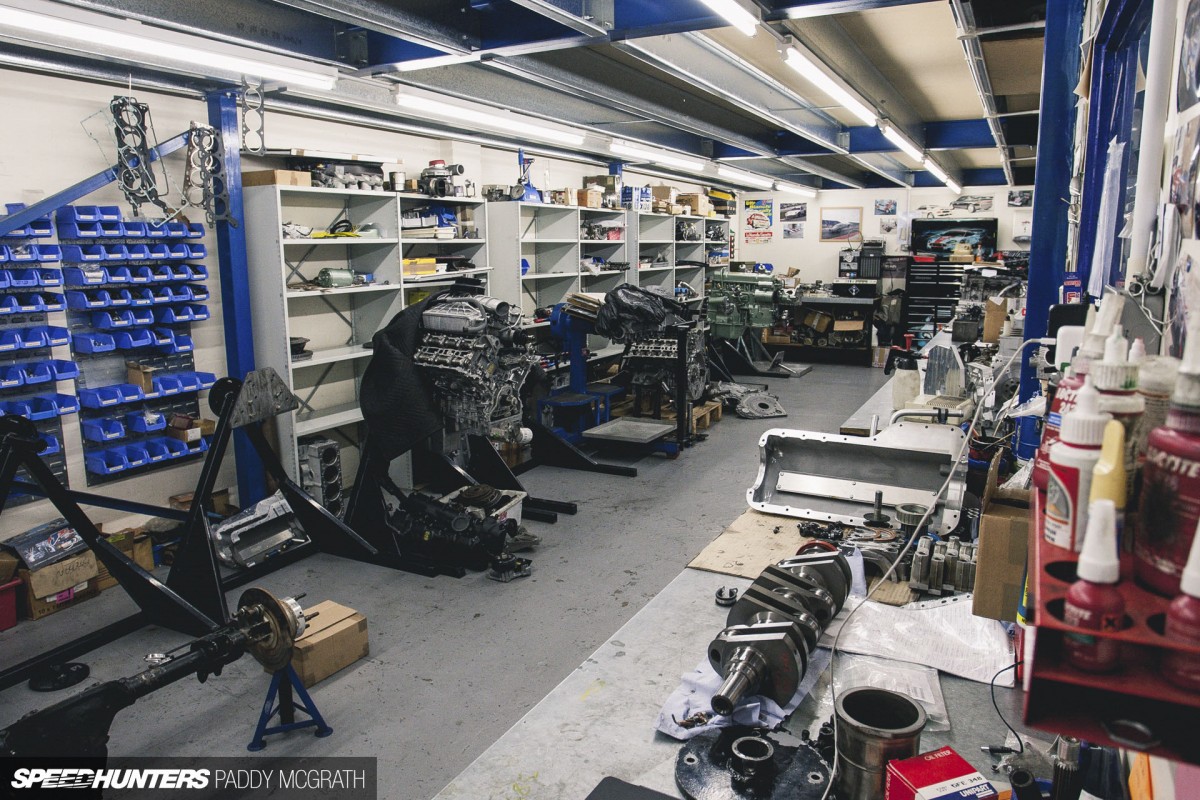 The association with karts got him into the engine building game when someone in his karting club offered him a job at his garage. Sometime afterwards, he started working for Terry Hoyle, who was the engine builder of choice for a lot of rally teams. In the early days, Terry was doing a lot of BDG engines (a Cosworth DOHC 2 litre inline-four, designed for use in touring and rally cars) and Ferraris. As only the seventh Cosworth employee, Terry's training there was to provide the foundation for Geoff's build ethos to this day: 'No compromise'.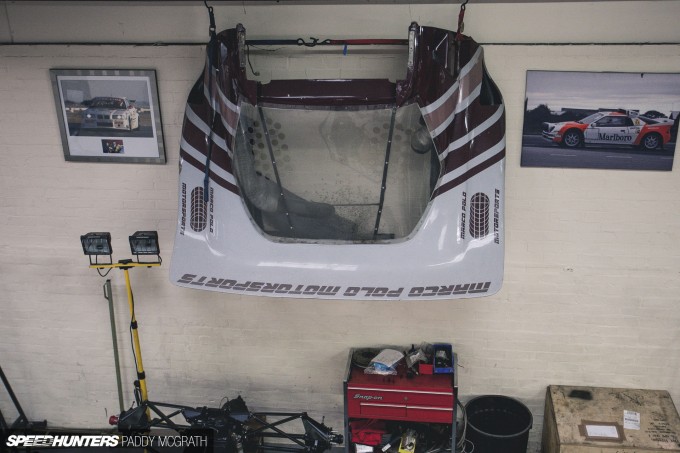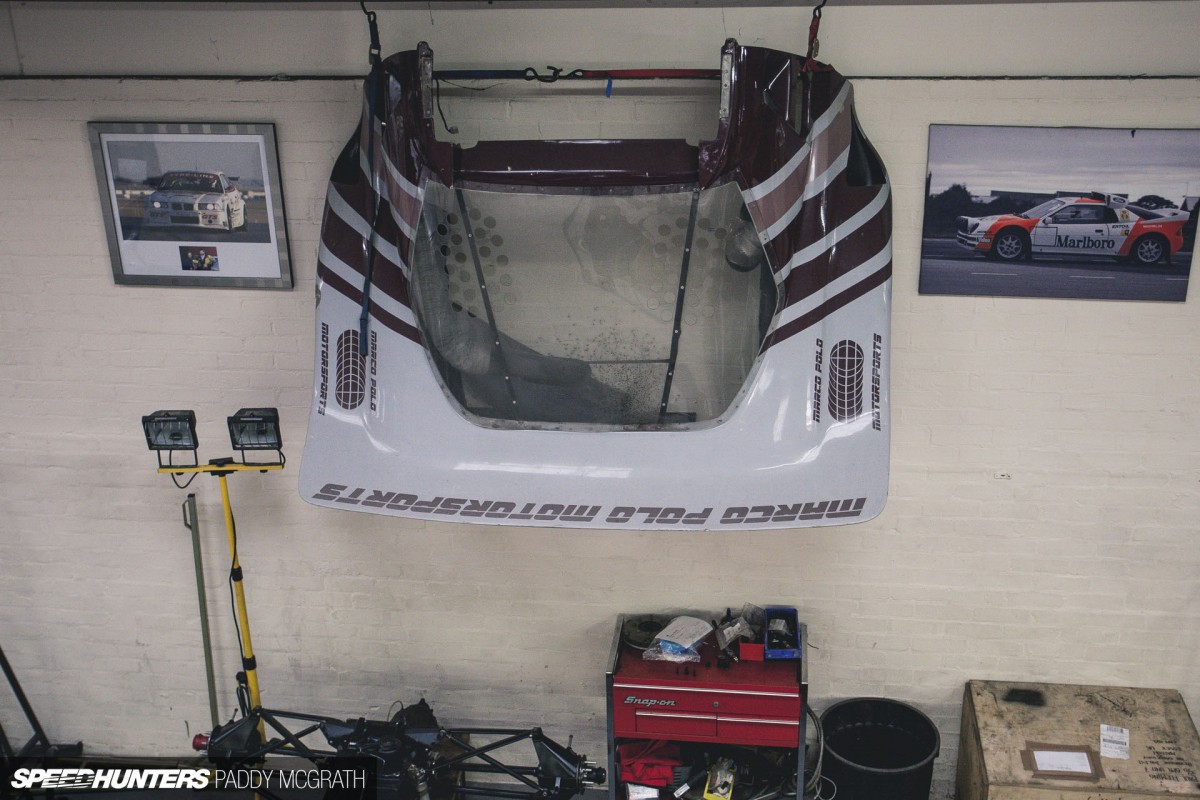 It was while working for Terry on prototyping the Escort RS 1700T for use in Group B that Audi launched their quattro. The game had been changed and everyone scrambled to catch up.  The 1700T project was scrapped and the focus moved to four-wheel drive, which for Geoff meant primarily the RS200. He was given the RS200 project to handle himself and when he wasn't building engines for them, he was working on A1 or A2 engines for Audi Sport UK team, or 6R4 engines for Austin Rover.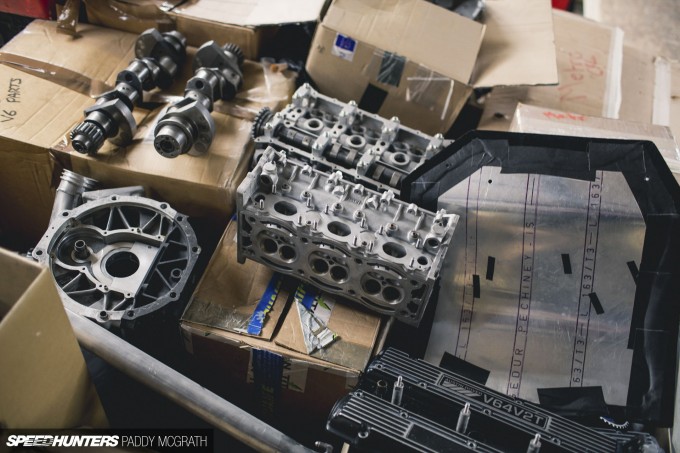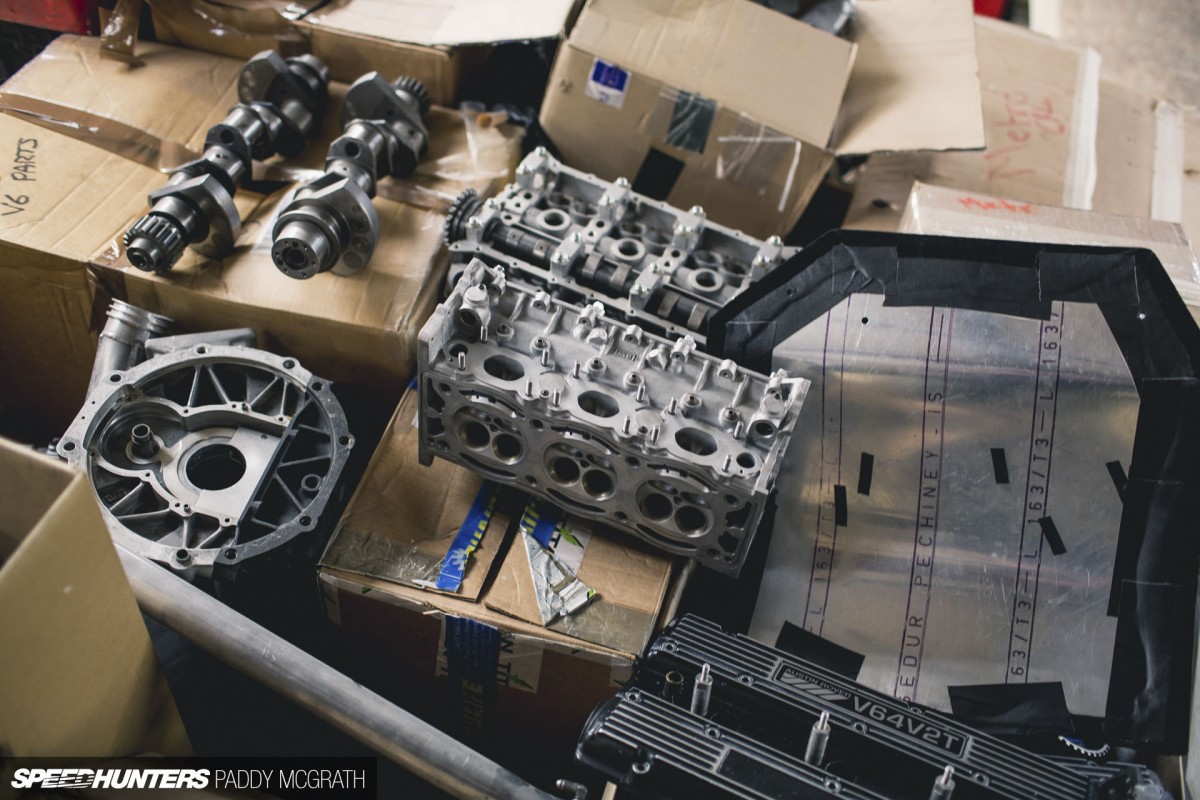 In 1985, it was time for Geoff to take another step up, beating 164 applicants for one of three junior mechanic positions on the Tyrrell Formula One team. There he was one of five mechanics responsible for building the first turbocharged Tyrrell – the 014 (the engine of which was playing receptionist earlier), which was driven by Martin Brundle and Stefan Bellof, before Bellof's tragic accident. It was the time of turbos taking over, but although the sport was heading into spiralling performance figures, some homely touches remained at the family-based team – Geoff recalls every Monday after a GP weekend, sitting down with Ken Tyrrell and the team to discuss the results over cake.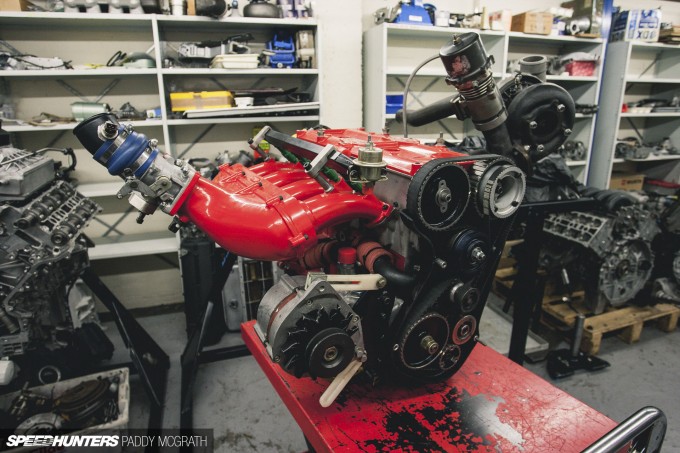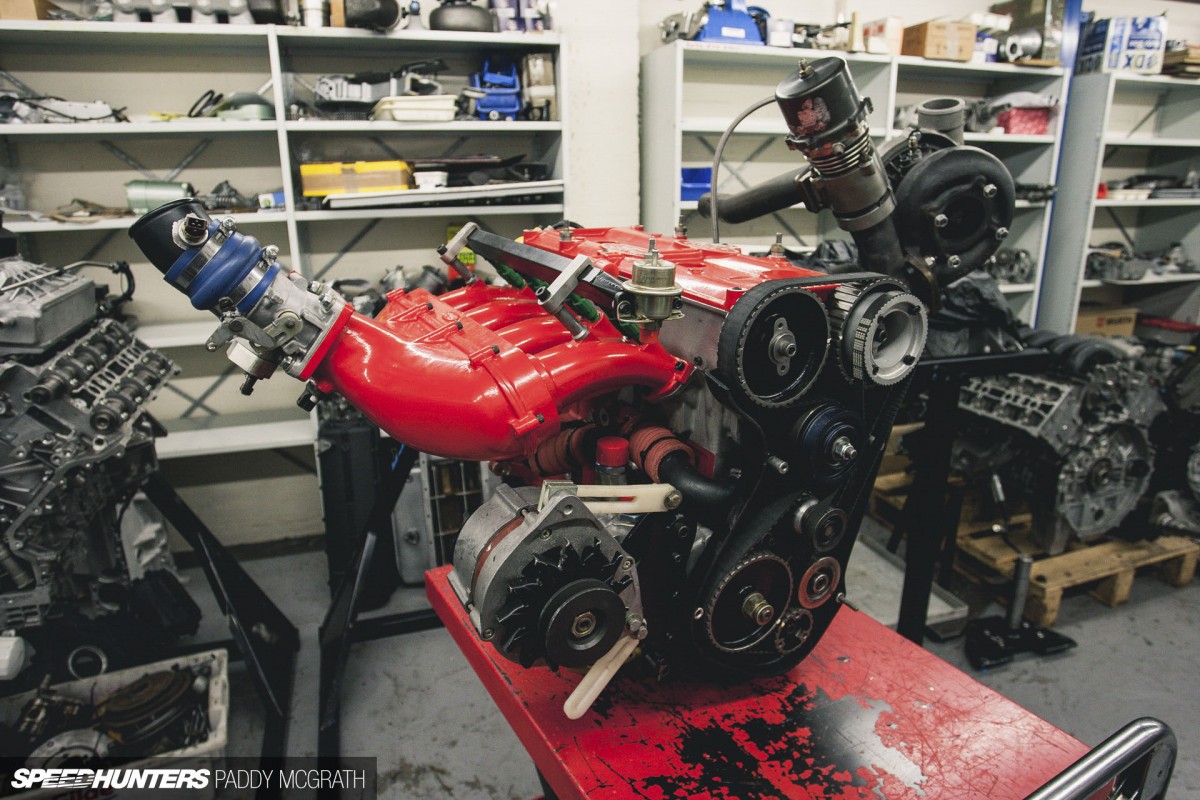 After the season had finished, Geoff went back to working with Terry again in 1986, right at the peak of the Group B period, and when the class was eventually cancelled, many moved to rallycross instead. Geoff was put in charge of developing the Evolution engine for the RS200 and when in 1988, 15 RS200s lined the grid for rallycross at Brands Hatch, Geoff had built the engines for every single one of them.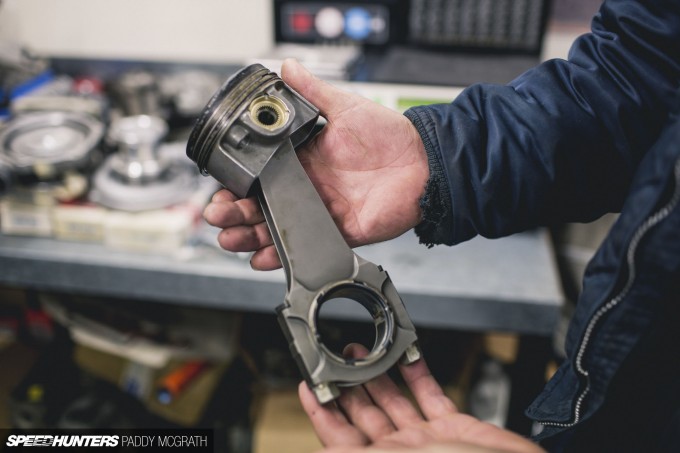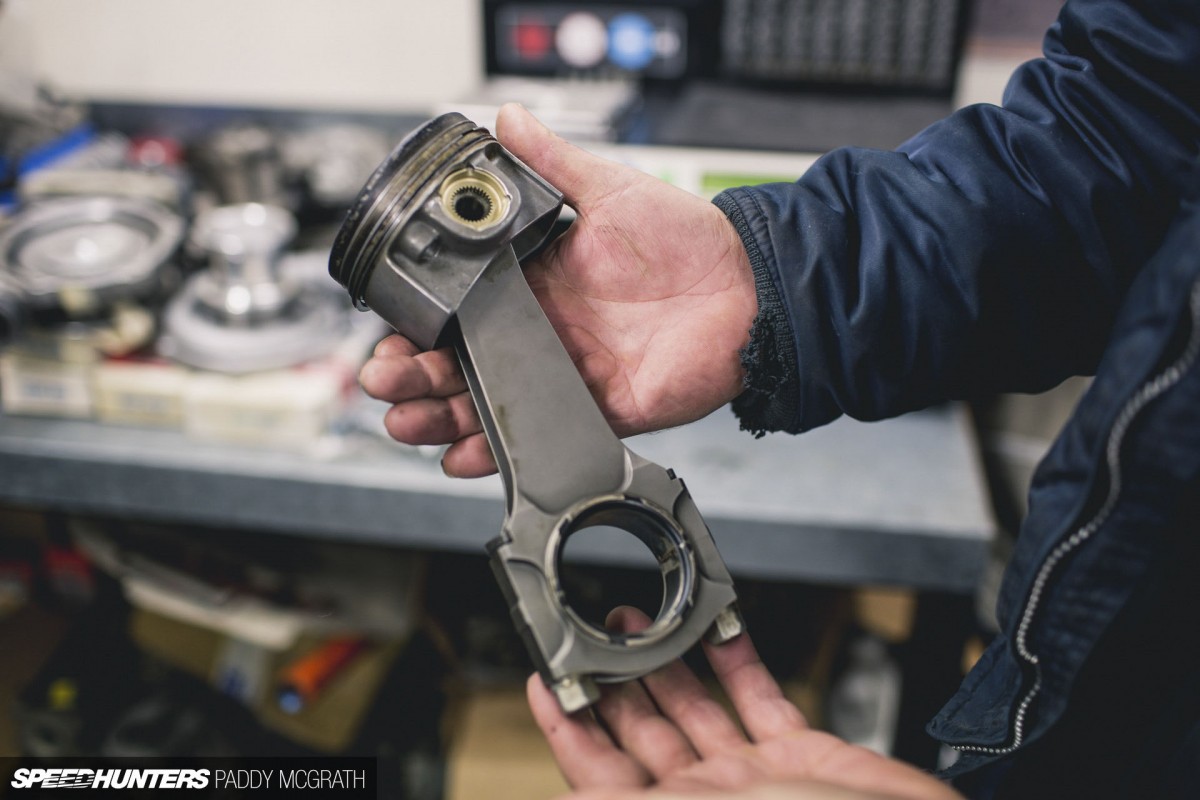 He then went on to work alongside David Mountain (whose company Mountune continue to supply race and rally cars), where he developed the RS500 engine. Next he formed East Coast Racing where he looked after the RS200 IMSA car and continued to focus on rallycross. Then he had a spell of working at Janspeed building Nissan Primera touring cars, before moving to F1 team Pacific in 1995 and then working for Brian Hart on the Arrows F1 cars in 1996. After that he went back to working with Mountune and in 2007, he finally set up Geoff Page Racing.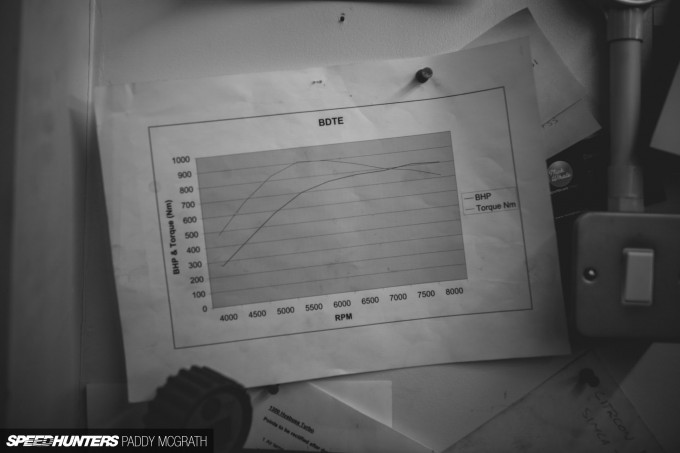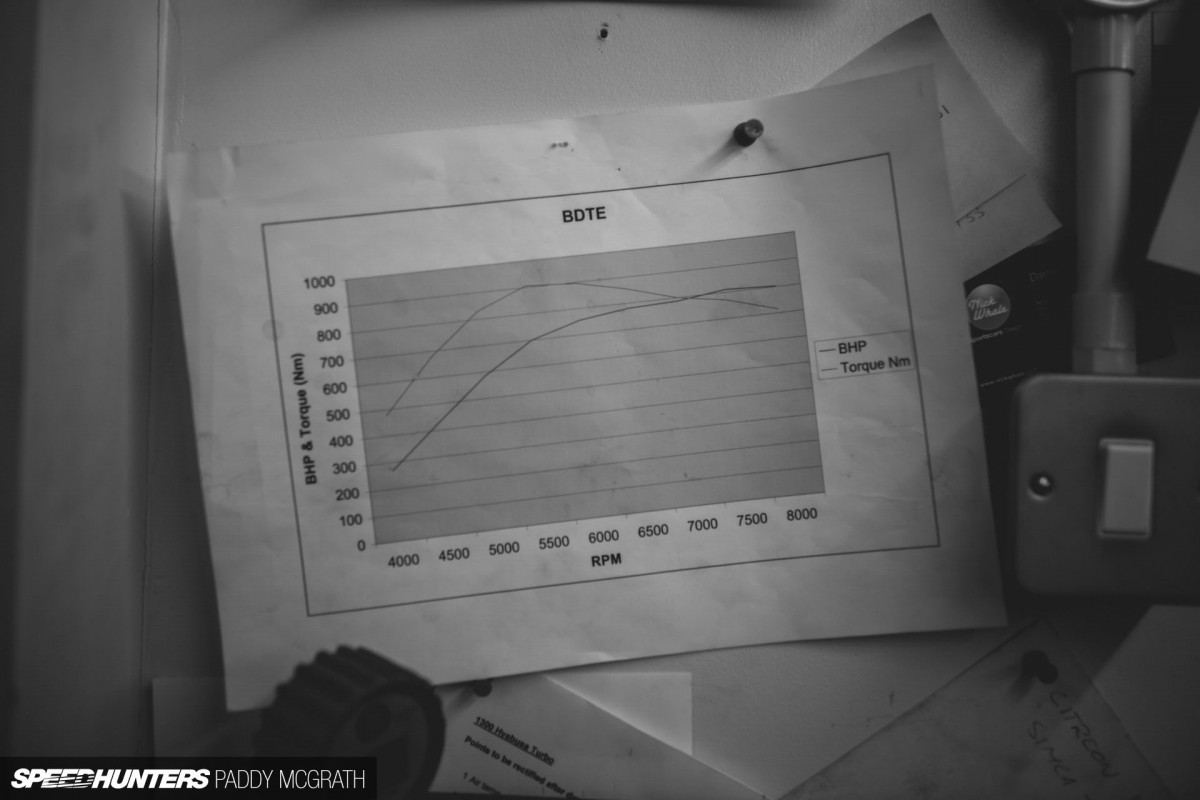 Impressed? You should be. But despite this wealth of experience, Geoff is a relaxed and open character, his passion for his work shining through whenever he talks about anything car or engine-related. Nowadays, his engines are shipped all around the world, with historical F1 racing being particularly big business in the US now.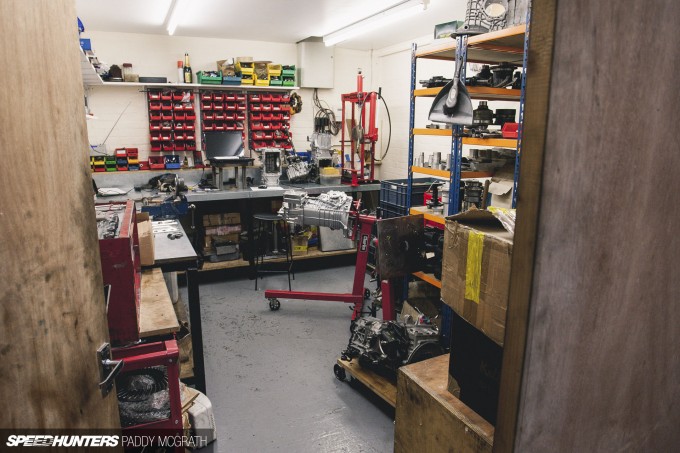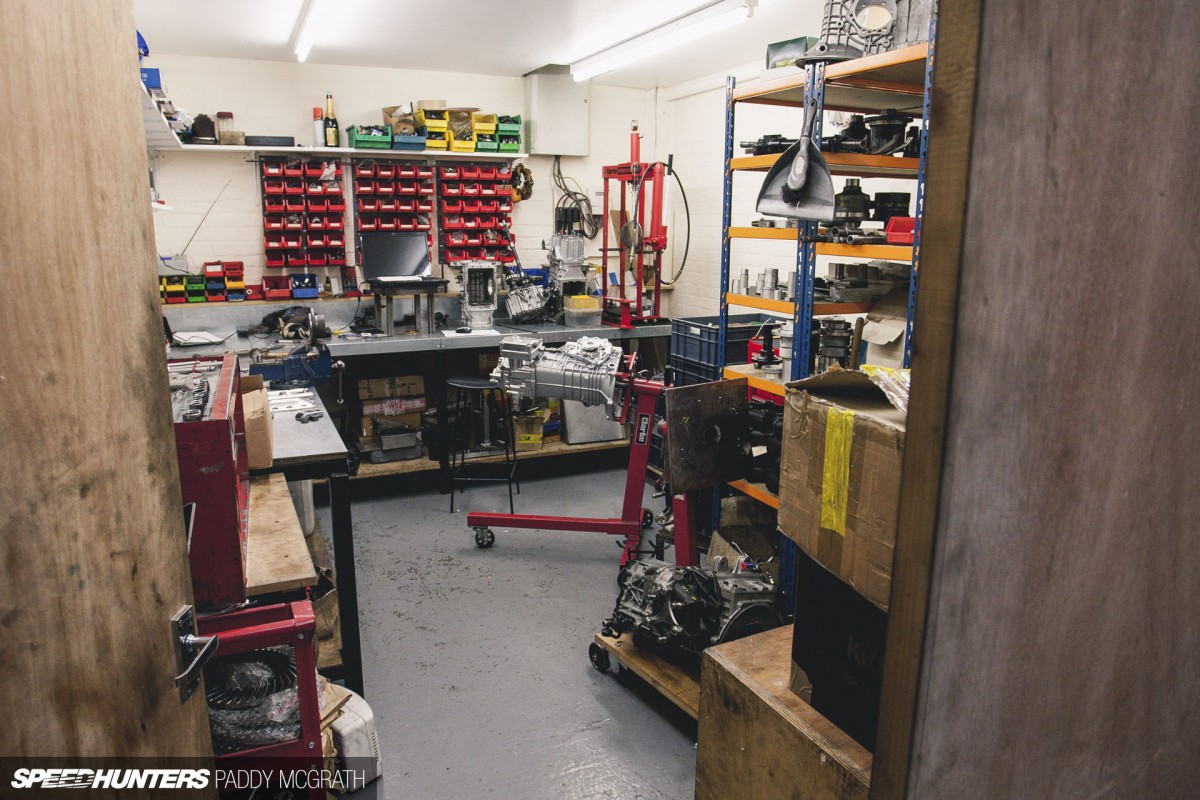 At any time, popping into Geoff's premises might reveal historic Formula One cars, Group B legends, other rally cars and more. If you're lucky, you might even spy Ari Vatanen's Peugeot 405 T16 – the Climb Dancer – which is cared for here as well.
Hunting for treasure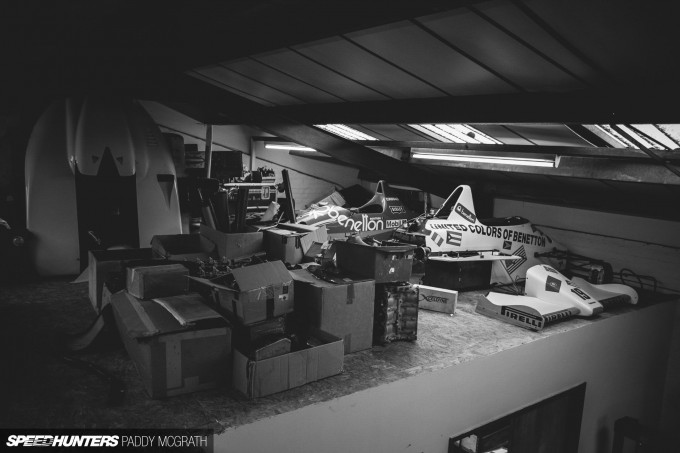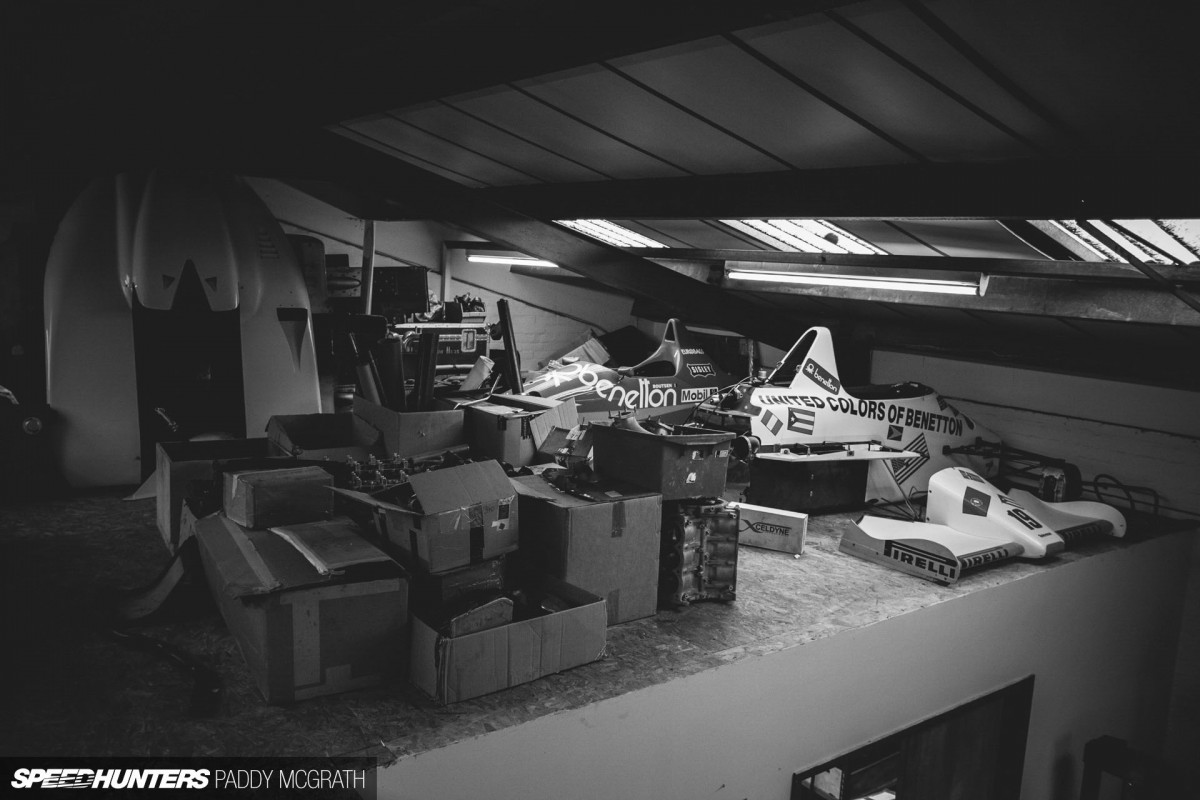 The whole workshop is a treasure trove of amazing content. Heading upstairs revealed F1 chassis just sitting around; here an '87 Benetton and an '85 Toleman languished until their time would come to be worked on.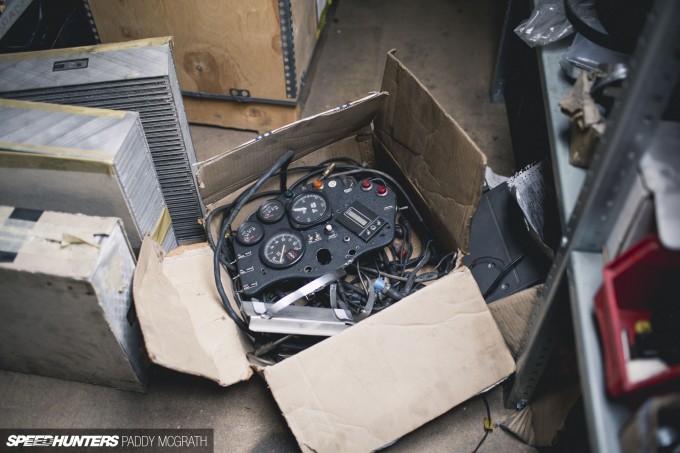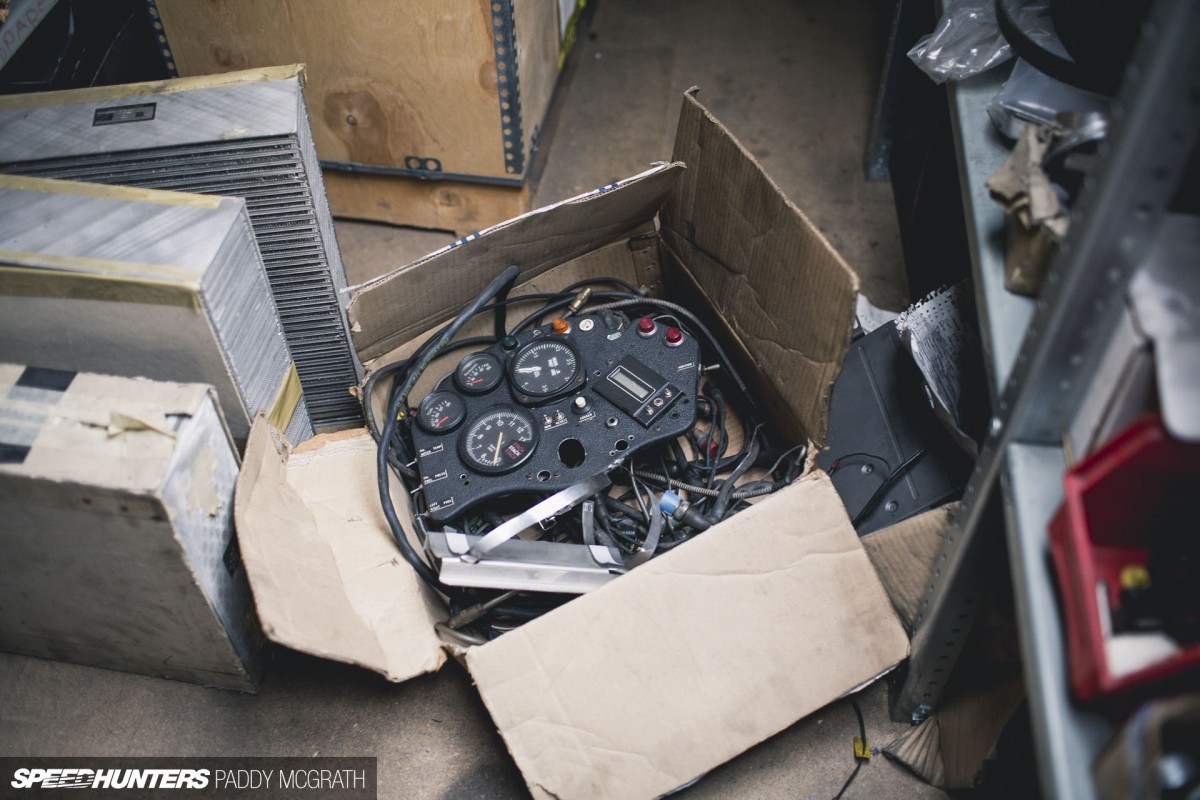 Round one corner, we found a dash from an '80s F1 car. You have to wonder what it would be like to be at the wheel of anything where the first 6,000 revs are counted off in one mere unit, the reach extending up to 13k rpm.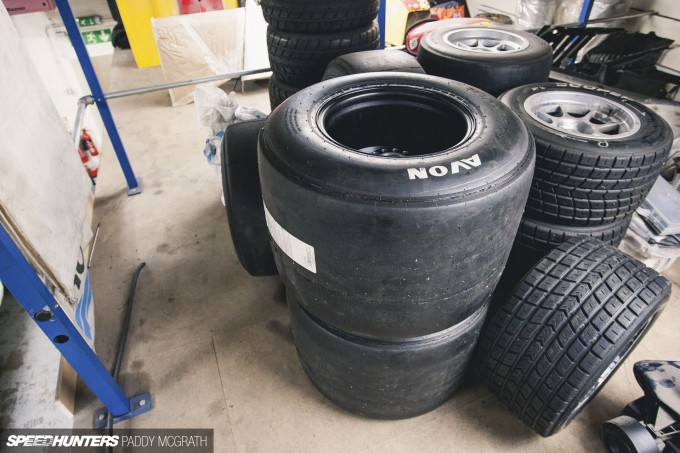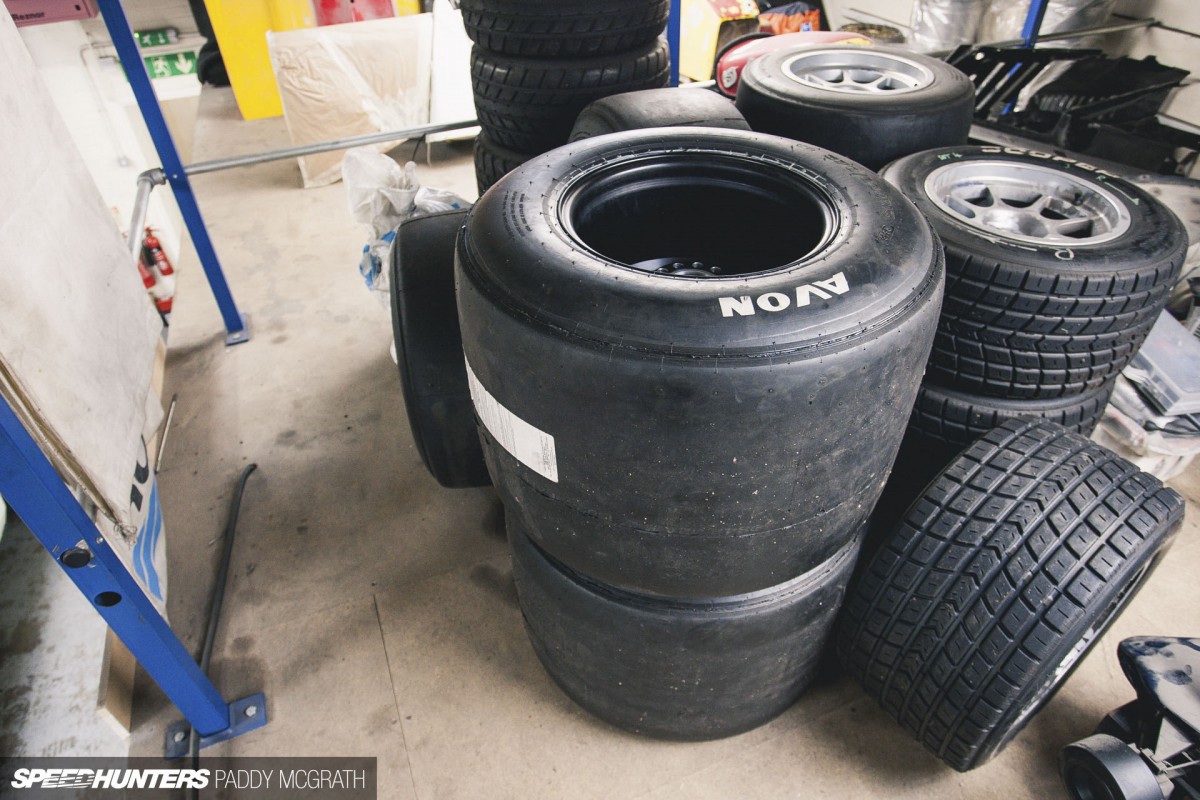 And then we were confronted with these: the widest slicks ever to be fitted to an F1 car. It's hard to comprehend the sheer girth of these in pictues – the treaded wets at the side were still wider than any tyre I'd ever seen. But these Avon slicks were a whopping 18 inches. Wide. Insane.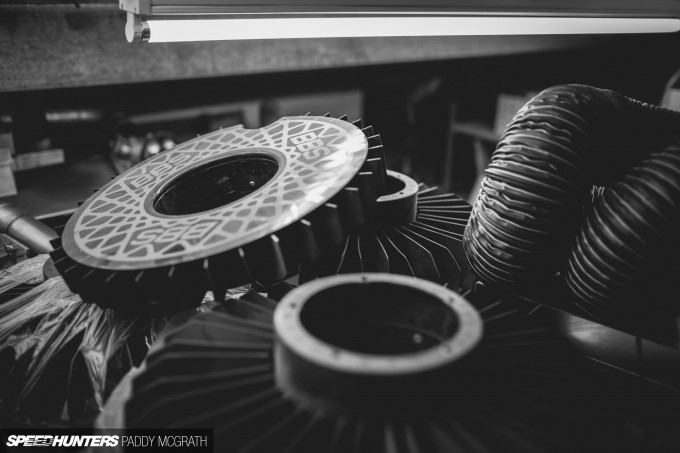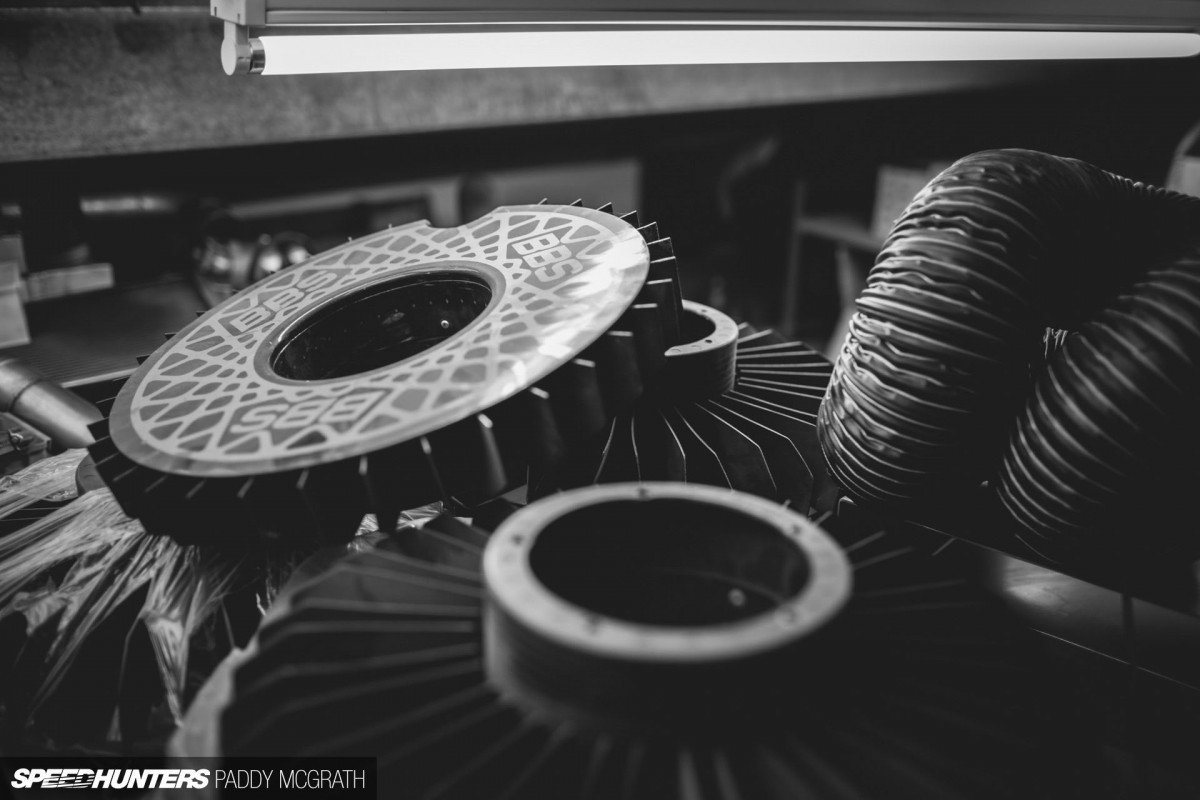 BBS turbo fans from the RS200 IMSA car lay casually discarded on shelves. I bet there are some Dub scene boys planning a raid right now…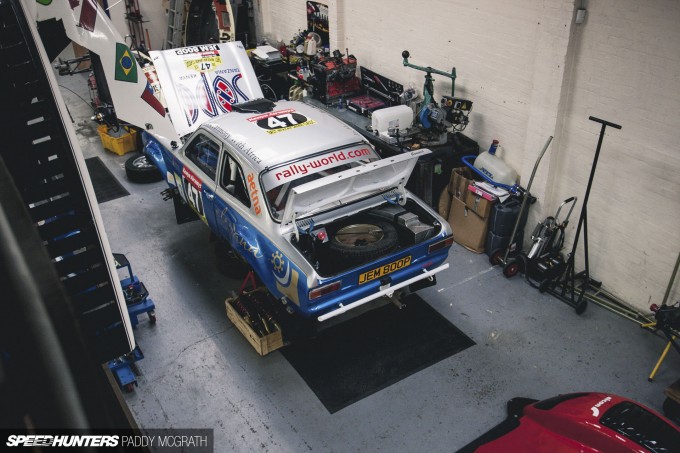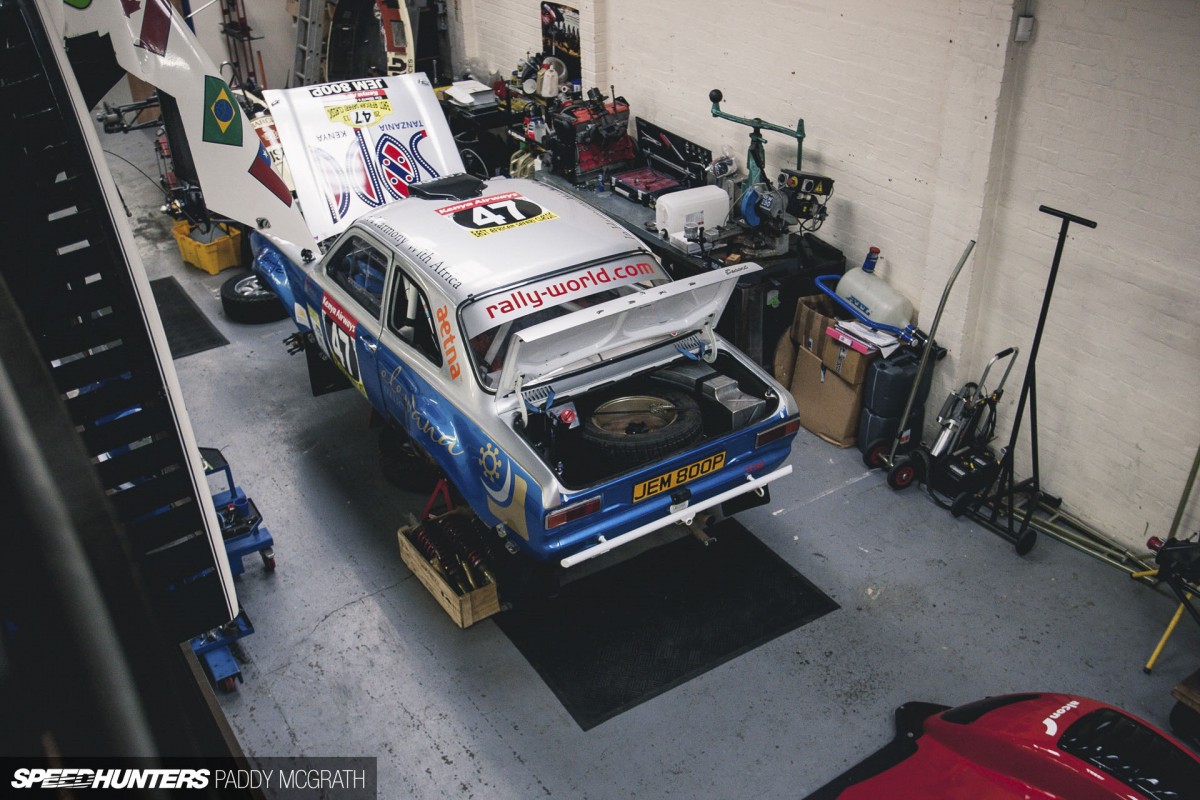 From upstairs, it was possible to get a good view of some of the other cars currently in the workshop. This Mk1 Escort had competed in last year's Safari Rally, and was sporting the sand and dirt to match.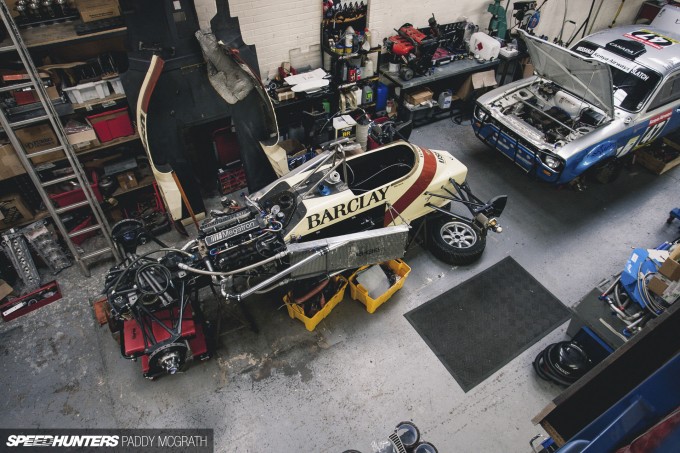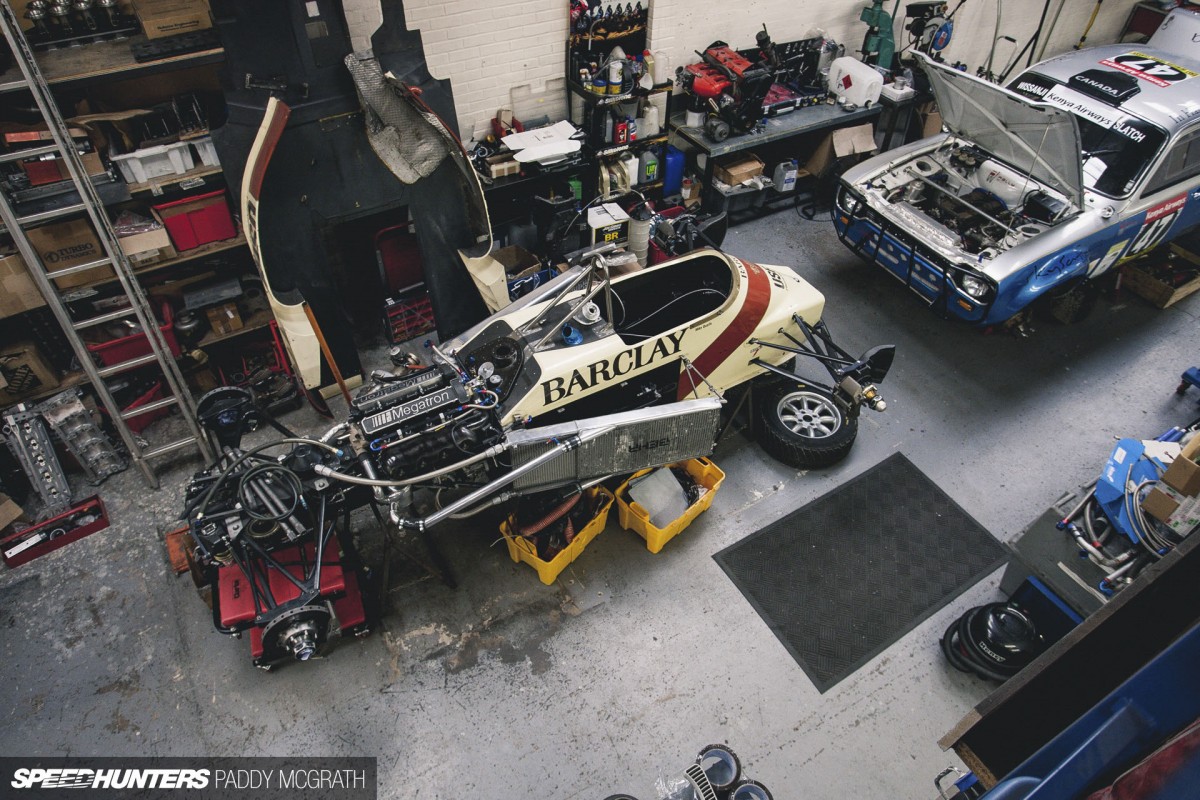 In front of it lay an A9 Arrows F1 car from 1986. This is the second of its kind to have passed through the workshop recently, but it's especially notable because of what powers it…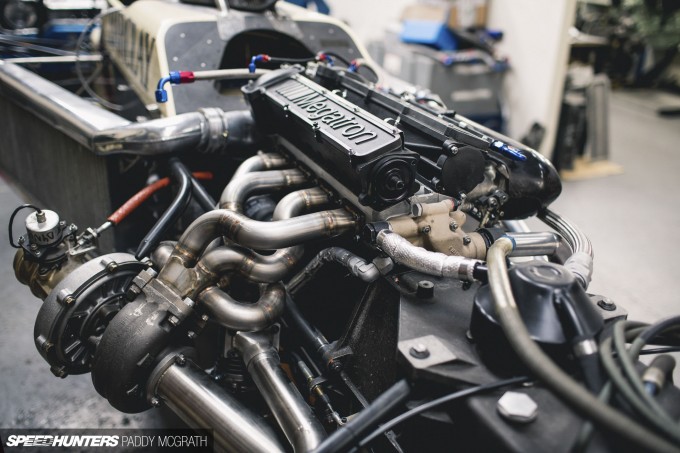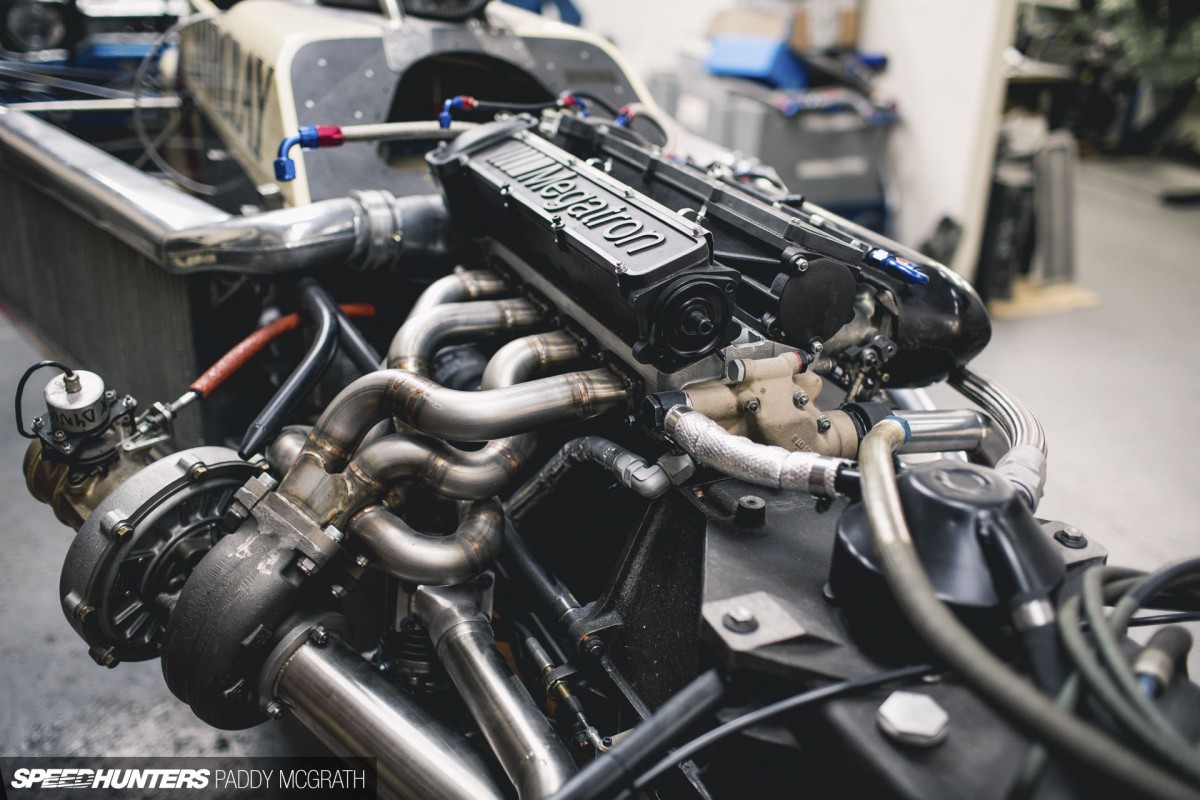 The Megatron. No, not a Transformer, but reputedly F1's most powerful engine ever. Rumours abound about the 1.5L turbo-charged inline-four producing around 1400hp at a brain-melting 5 bar of boost when turned right up for qualifying. In fact, with those power figures, maybe it is a Transformer.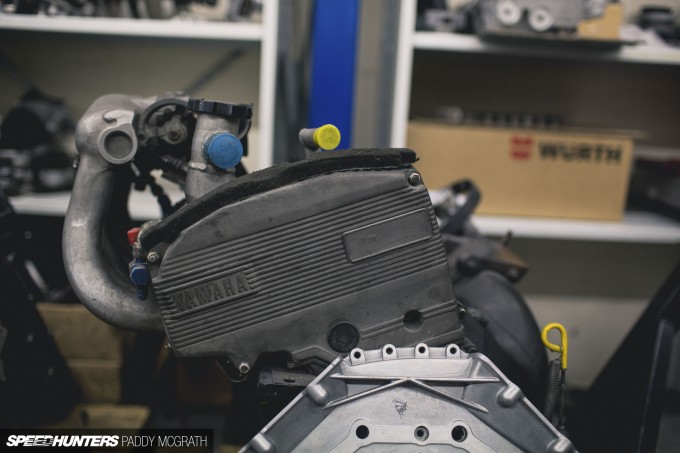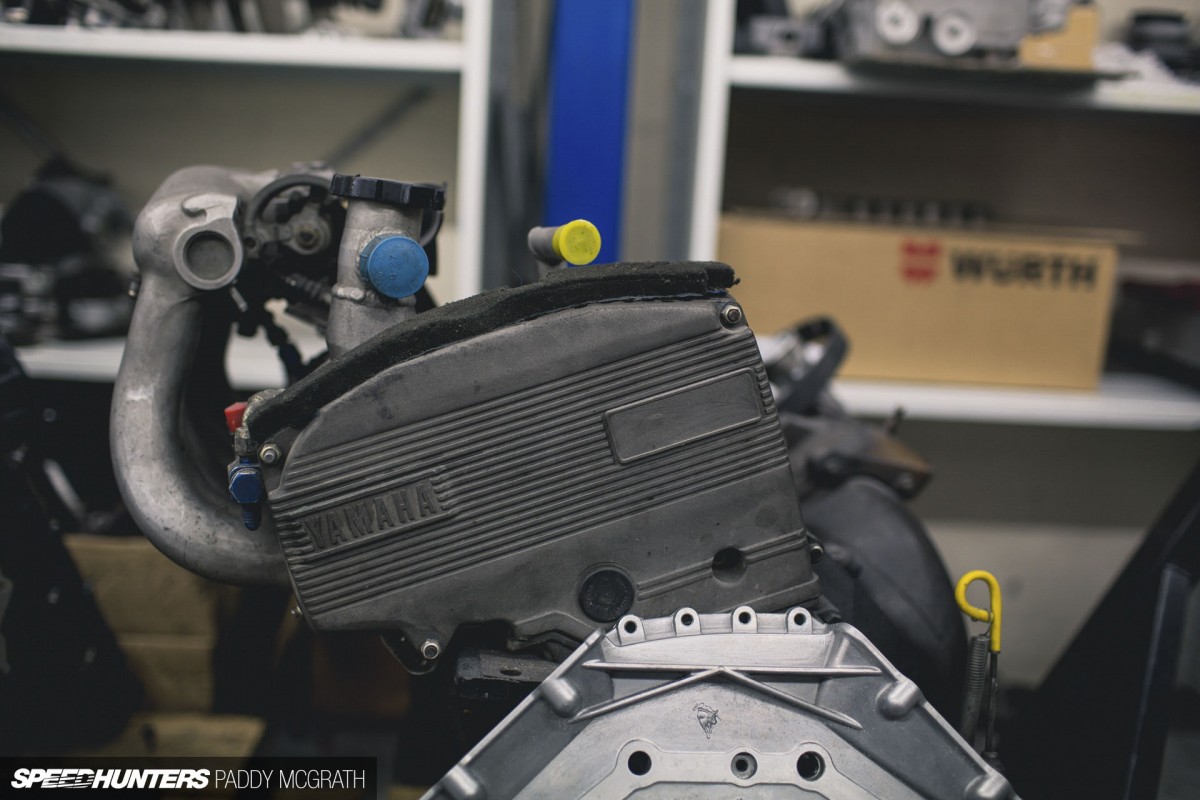 Even the engine room was awash with personalities. At one end an ex-Carlos Sainz Works Toyota engine, from his Celica WRC car, lay in wait for a refresh.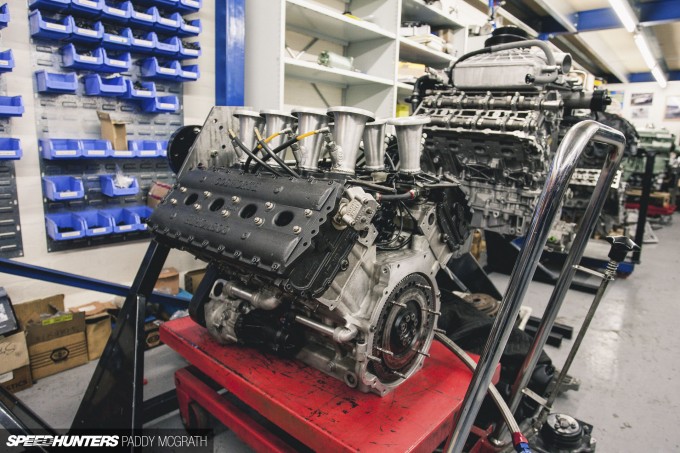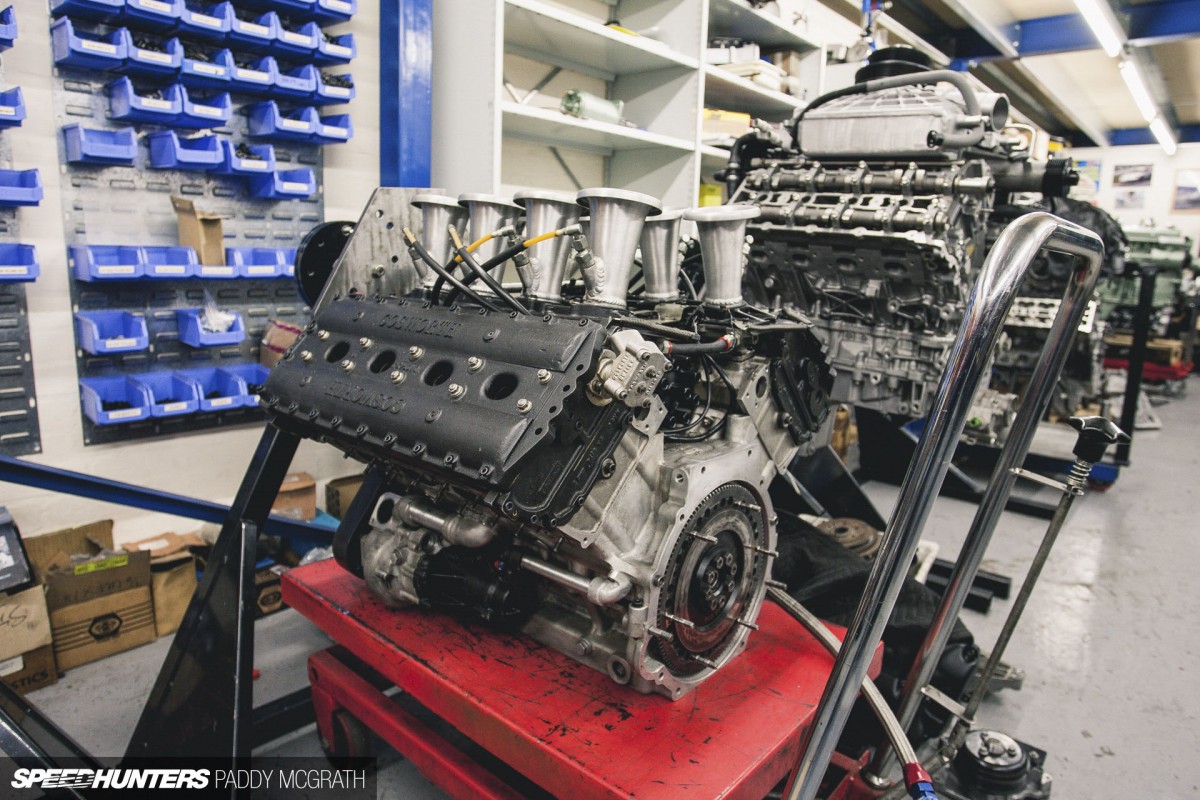 At the other was a Cosworth DFV (double-four valve) in for a rebuild. This is the most successful F1 engine ever, racking up 167 wins in a career lasting over 20 years. This particular long-stroke variant makes around 480hp, rev-limited to 10k rpm to aid reliability. Not bad for a 3L NA engine that's knocking on 50 years old! Fancy one? Today, a short-stroke version will set you back a cool £100,000 ($166,280 in USD), so get saving!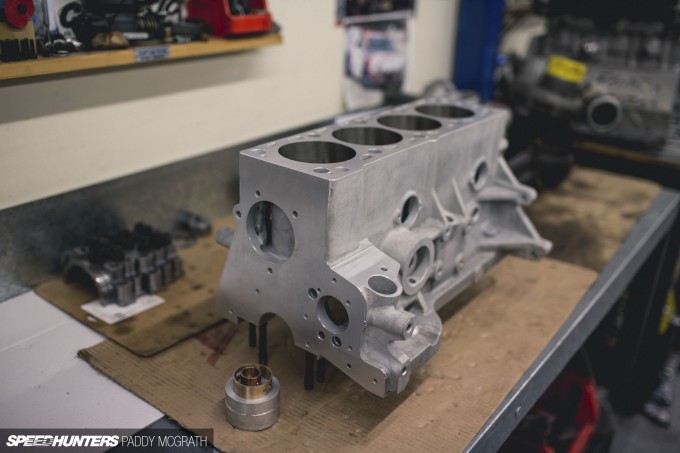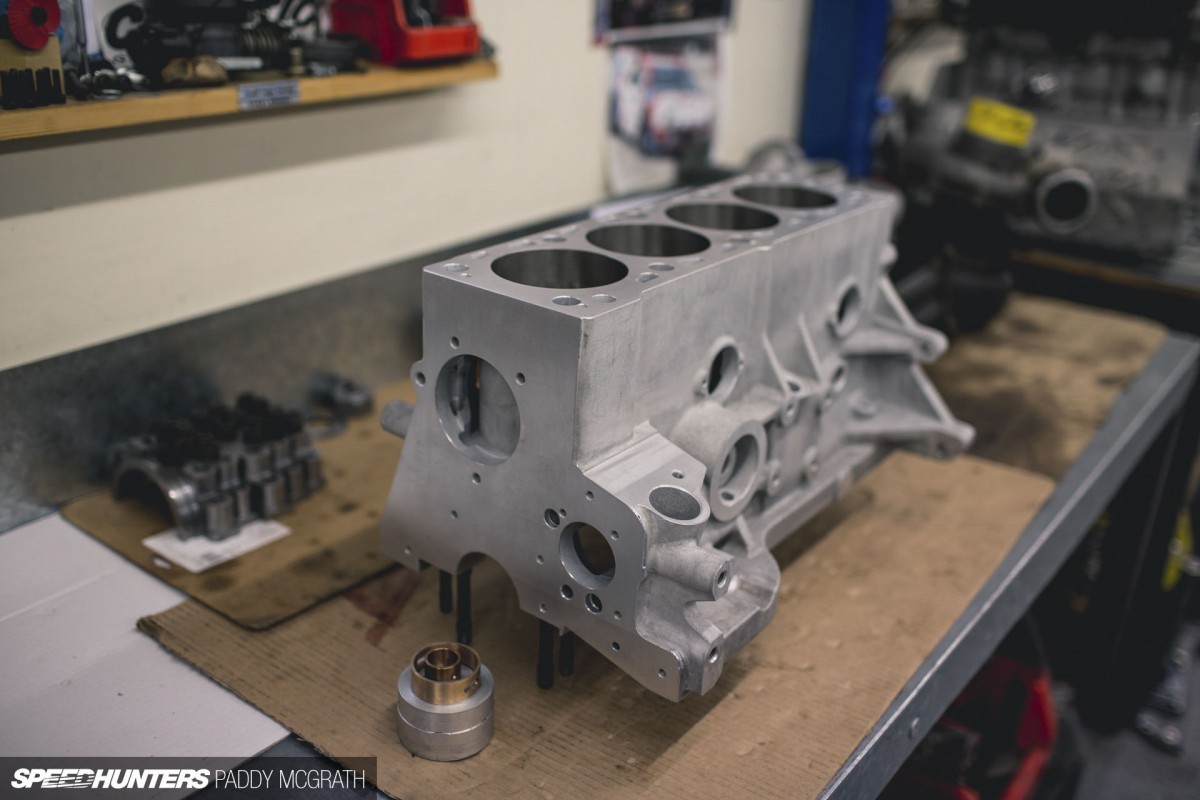 It's not all about historic work though. Geoff continues to push the boundaries with new creations too, such as this custom alloy YB block (fitted to the legendary Escort and Sierra Cosworths). It's half the weight of a standard block and has been designed to hold up to 1000hp.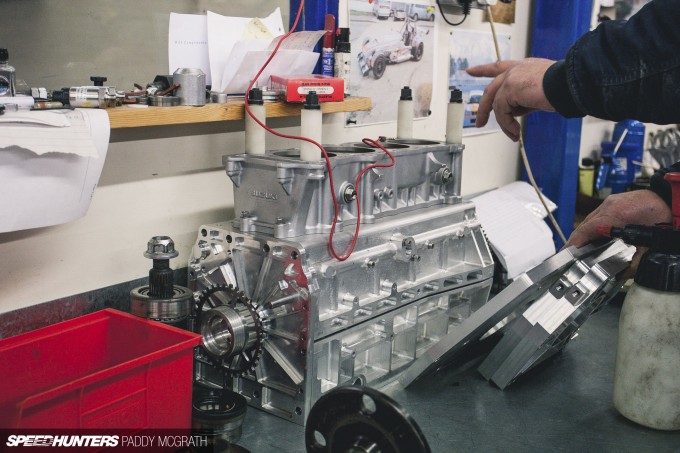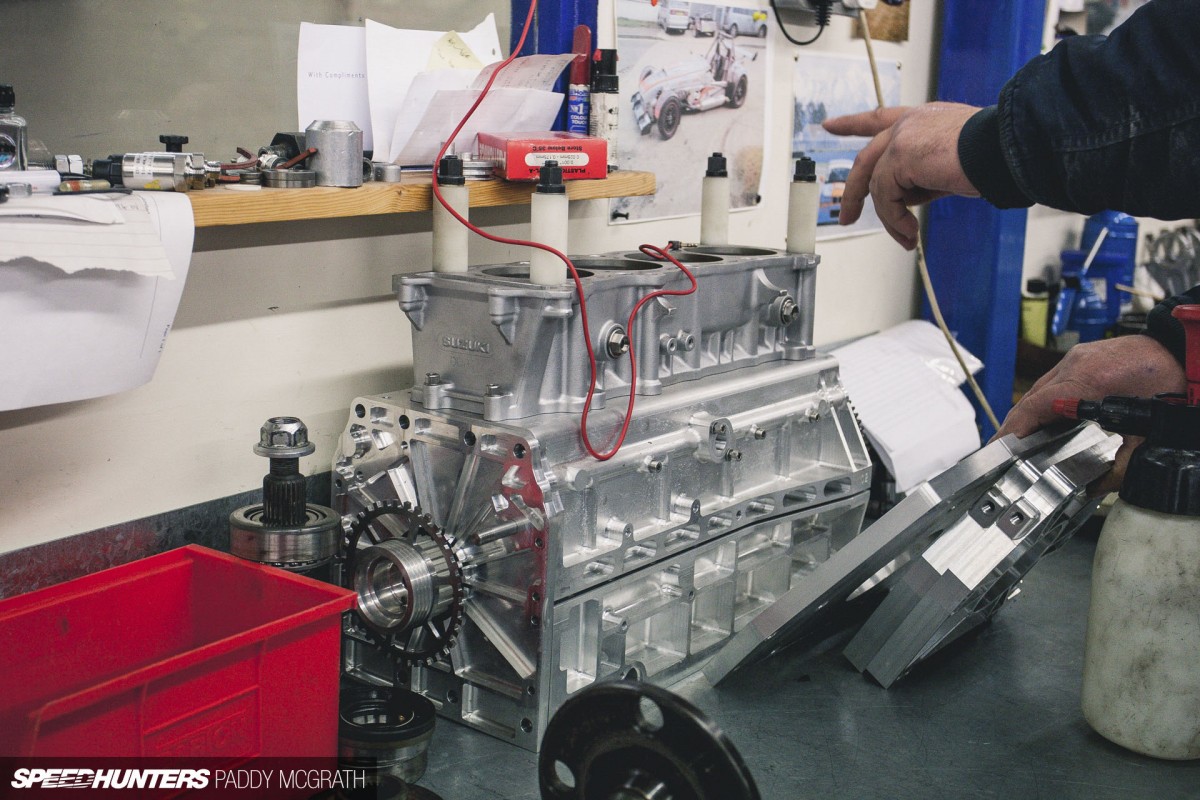 Then there's this little work of art too: a custom billet Hayabusa block, its 1500cc capacity capable of putting out a reliable 550hp. The Hayabusa engine (normally fitted in a Suzuki sports bike – the world's fastest production bike) has become a bit of a pet project for Geoff, and has found its way into some of the creations to roll out of the workshop over the years…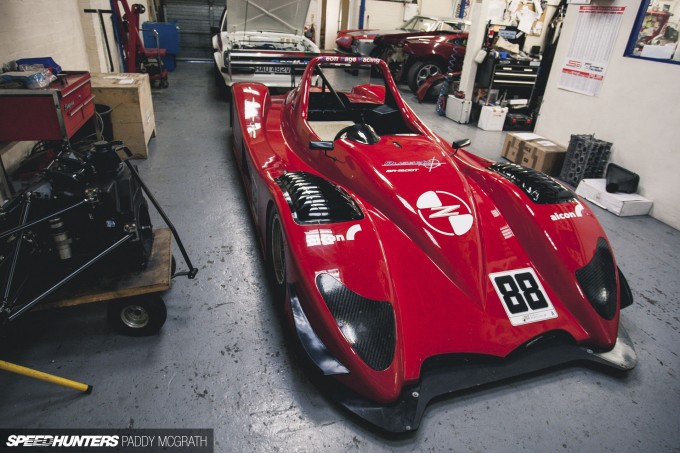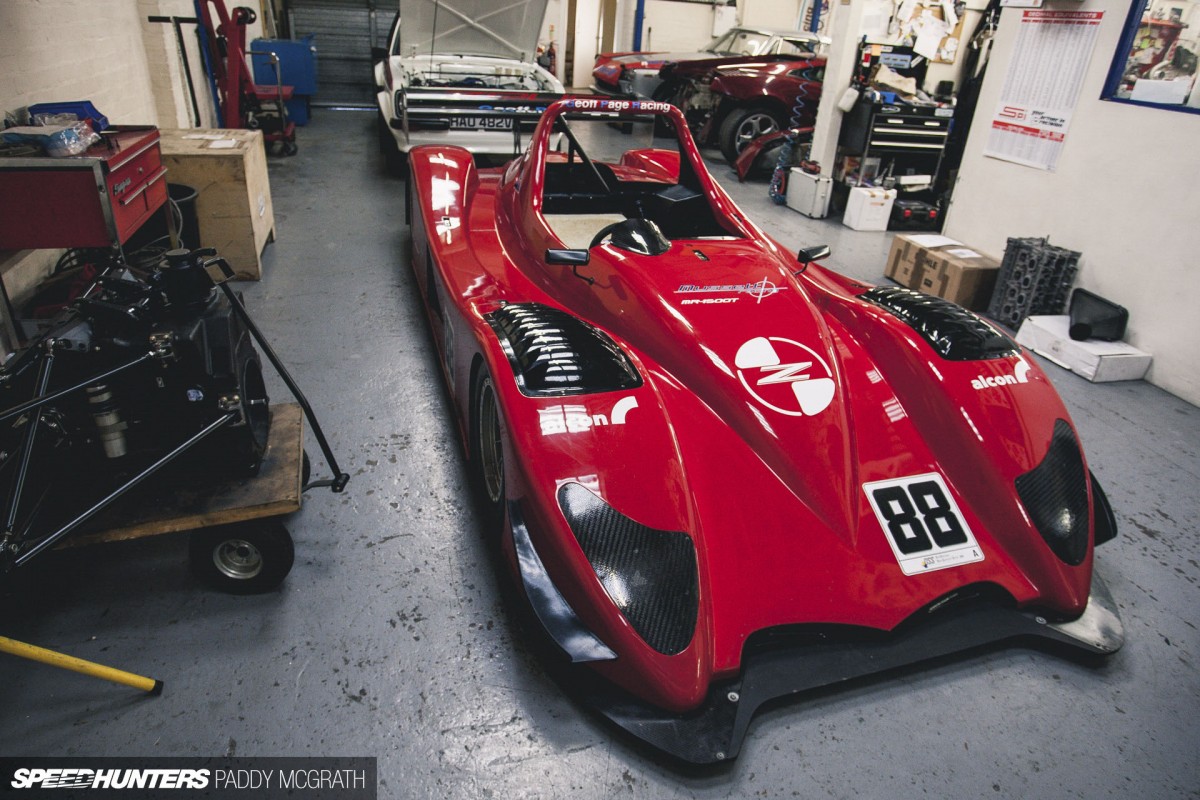 Such as this bonkers car. This Zeus Challenger is knocking on the door of being a Le Mans Prototype car – a lightweight, high downforce, tube-frame chassis race car that will compete in the Open Sports Car Championship.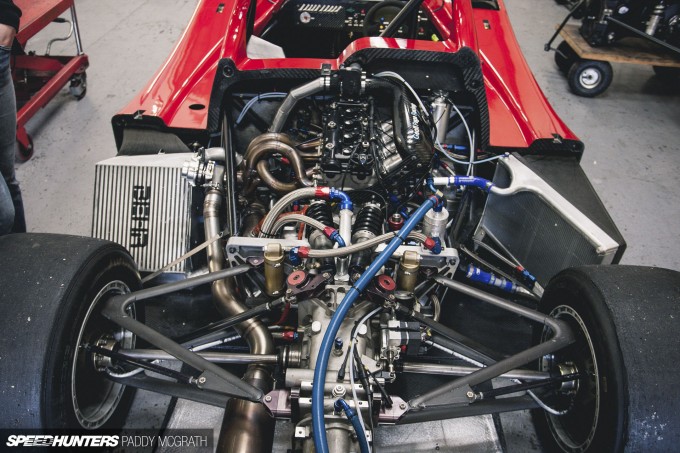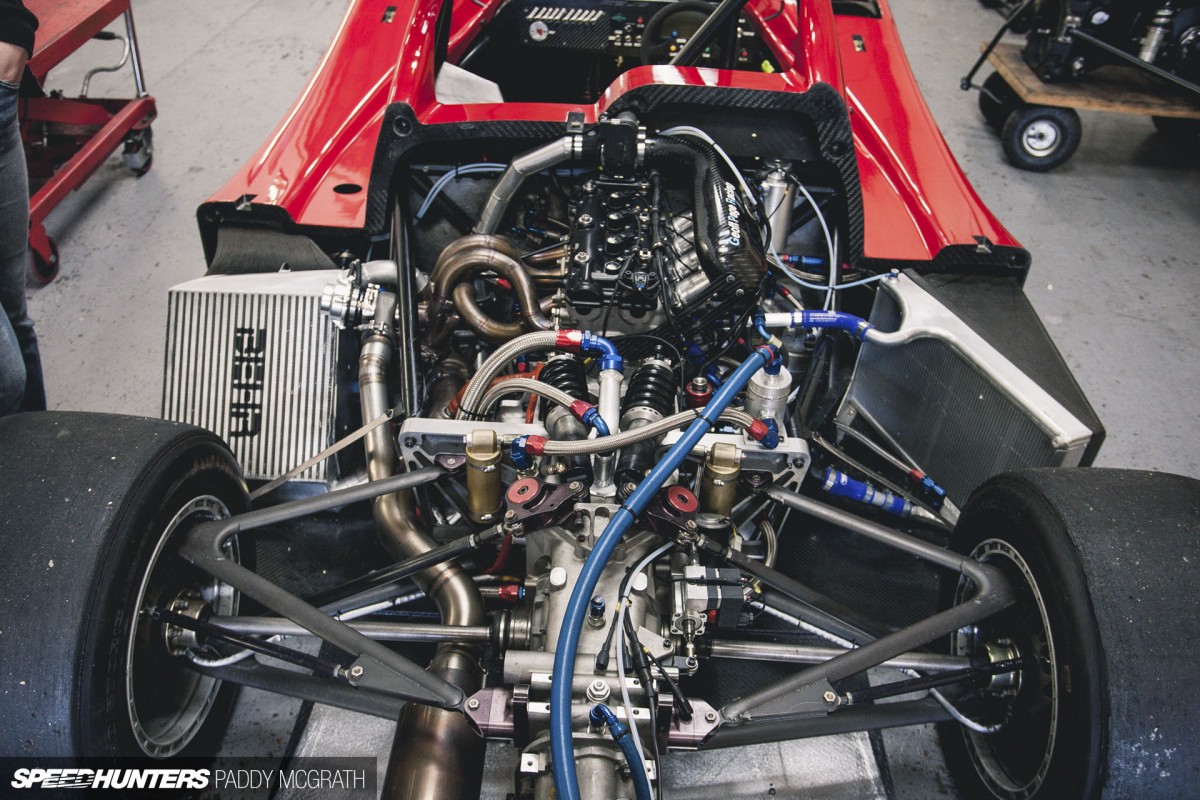 The turbo'd Hayabusa lump looks tiny sitting in the middle of the frame, but there's no arguing with the numbers. Weighing in at just over 550kg, it has 550hp on tap. That's pretty much a 1kg:1hp ratio. At Brands Hatch Indy, Geoff reckons it'll be chasing a 41 seconds flat lap time. To put that into perspective, the SVA Imports Evo VI set the time attack record there last year at 46.869 seconds and the DTM lap record is 41.896 seconds. This thing is certifiable.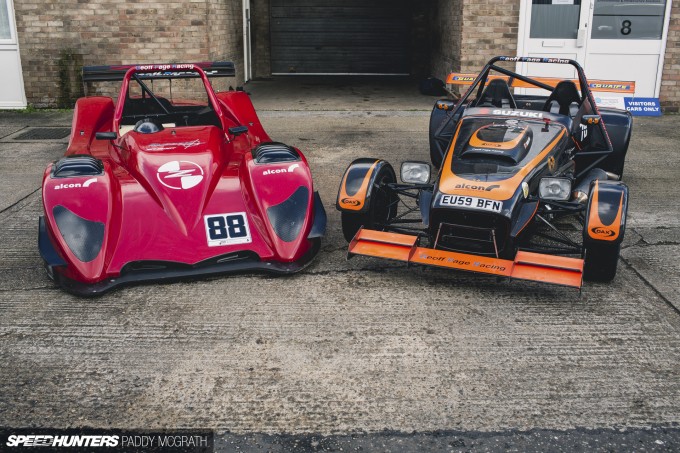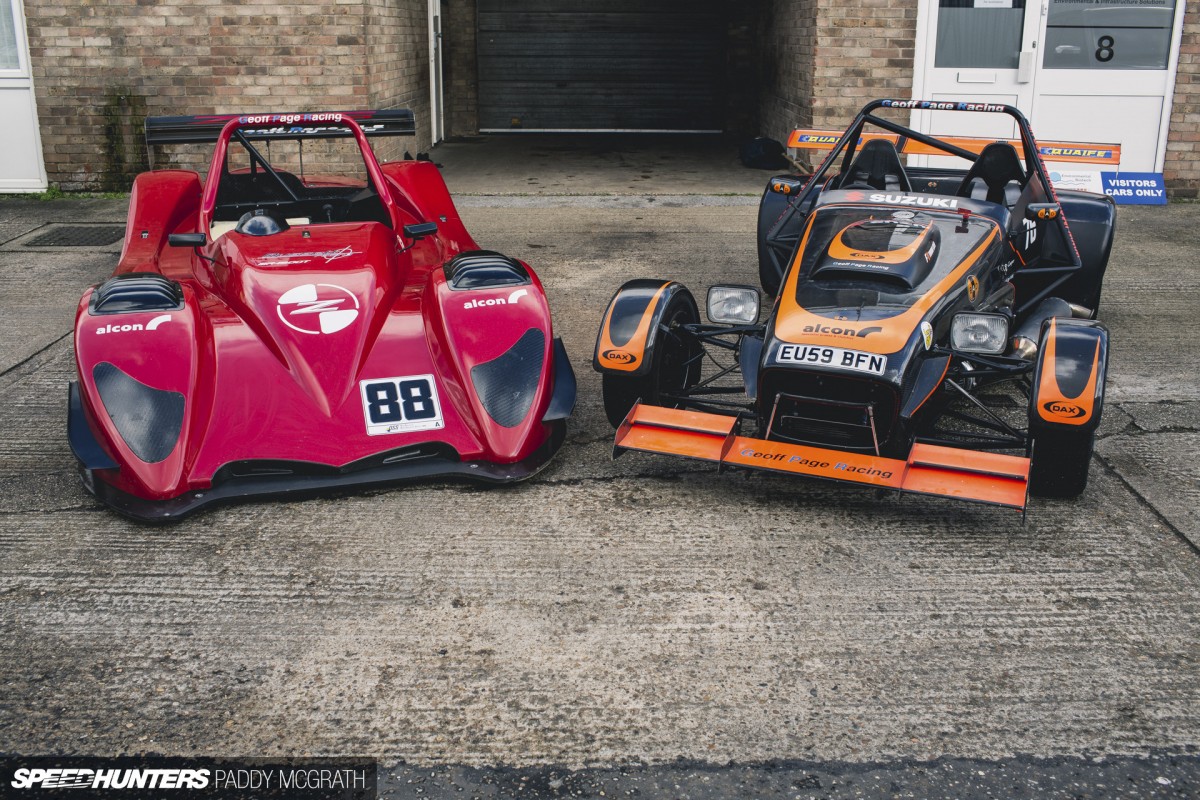 Tour of the workshop completed, we finished off by wheeling out the Zeus and Duncan Cowper's Dax Rush. With both powered by the Hayabusa engines to come out of Geoff's workshop, their lightweight bodies and quite frankly ridiculous power-to-weight ratios are a great way to show that although Geoff's moved on from Formula One, its influence has never really gone away. No compromise.
Suzy Wallace
Instagram: speedhunters_suzy
suzy@speedhunters.com
Photos by Paddy McGrath
Twitter: @PaddyMcGrathSH
Instagram: pmcgphotos
paddy@pmcgphotos.com