Subtle and stock
When choosing a selection of cars from a show, it's quite difficult to find a balance. This post could easily be filled with Golfs alone but as is the Speedhunters way, we try to find things that are maybe a little bit different. You know, the cars that are sometimes tucked away in the corner or the ones that are maybe overshadowed by some of the bigger builds.
Of course, we start with a Golf, but not just any Golf.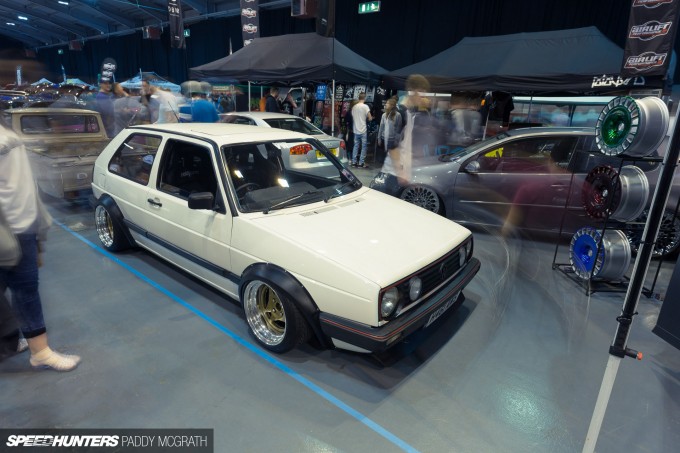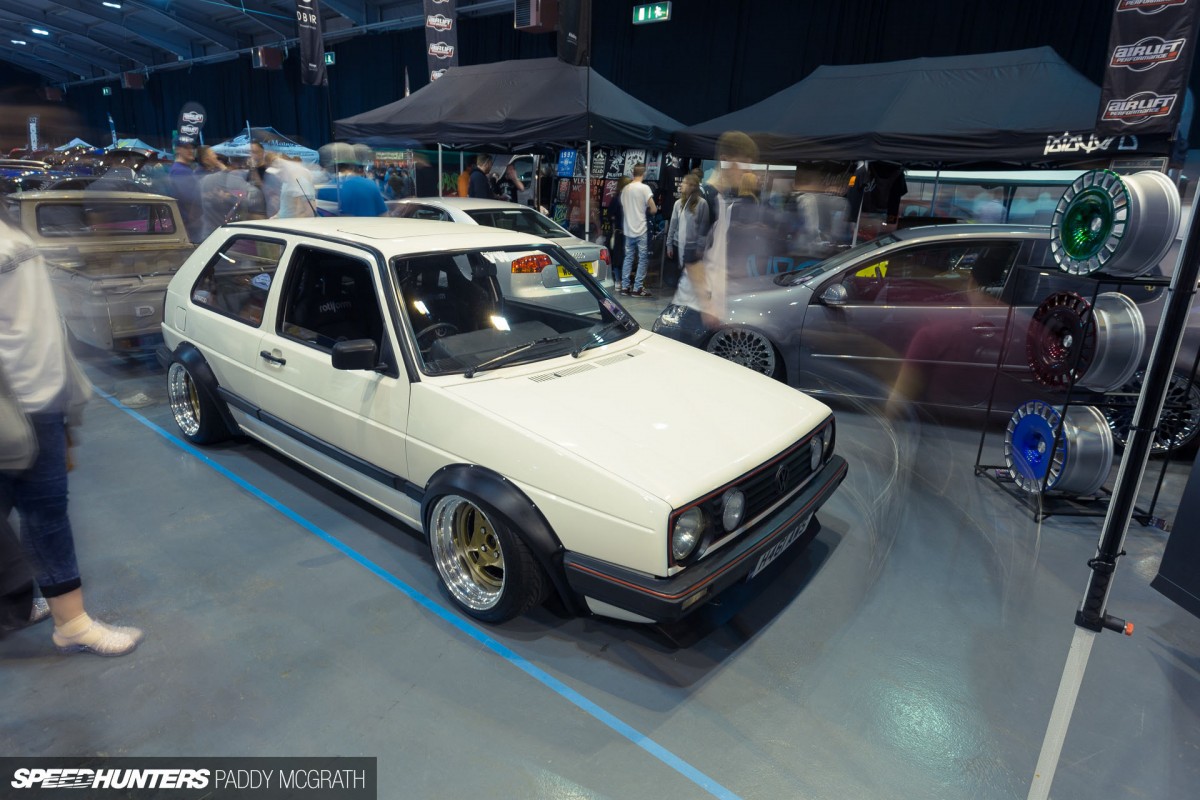 Our friends at Rotiform teamed up with Players and Euro Magic to bring us only the second Euro Magic-kitted Golf MkII on the planet.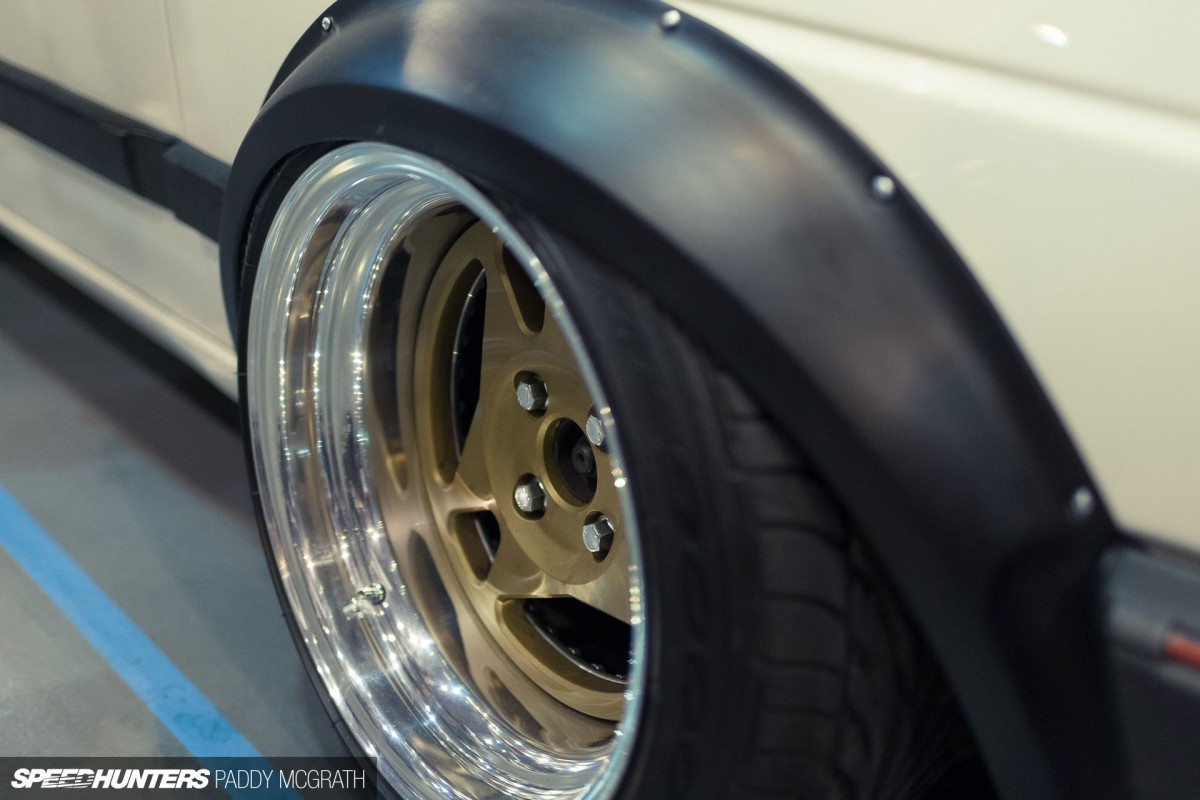 It's a look that rather suits the Golf MkII and provides an alternative to the G60 arch extensions. Sticking with their own rolling stock, 15″ Rotiform USFs sit tucked thanks to Air Lift Performance suspension.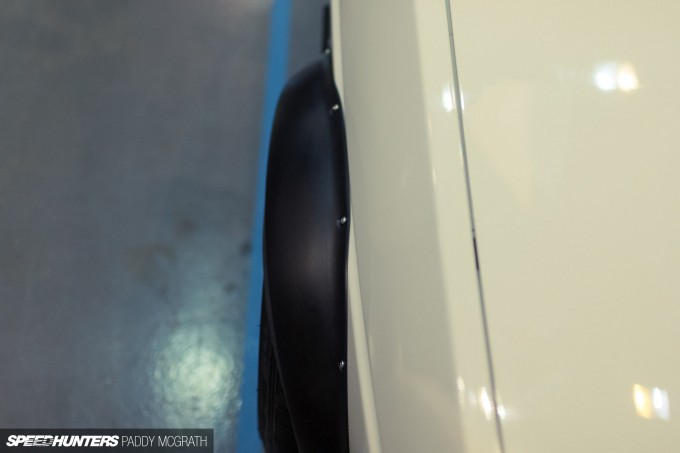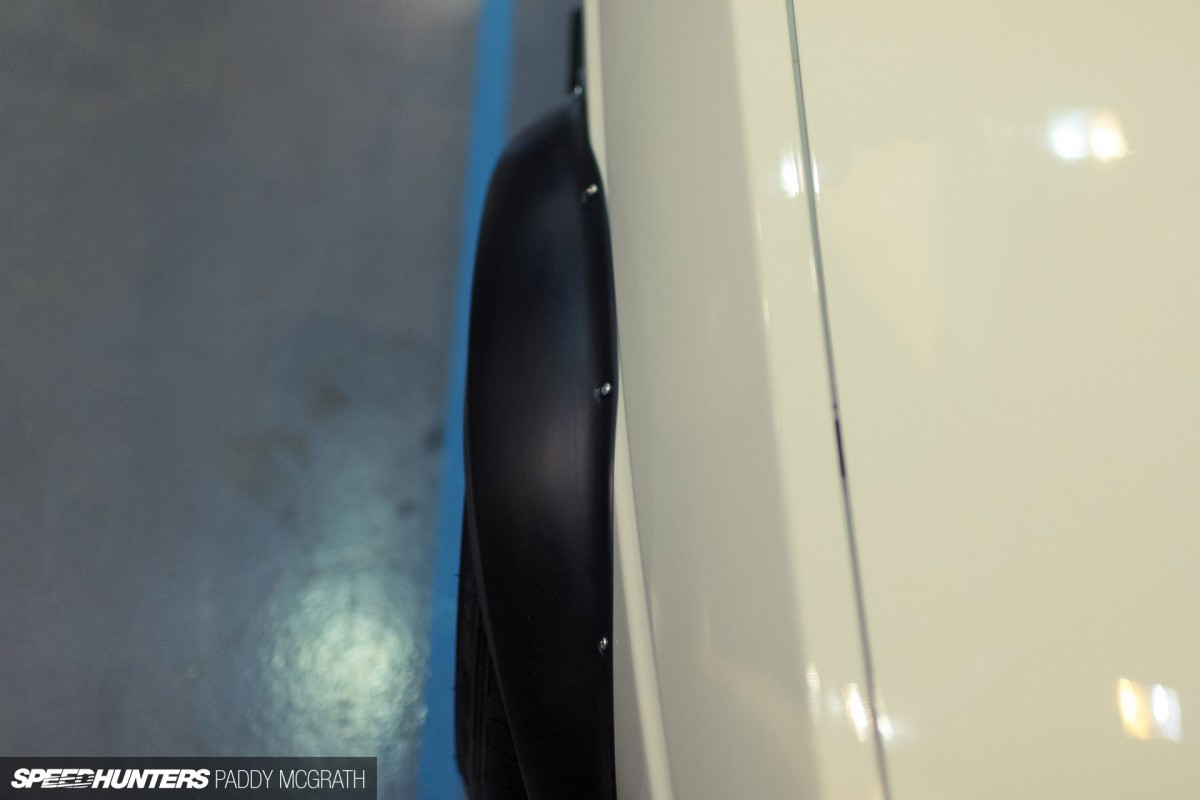 The overfenders are period inspired and look, dare I say it, rather timeless against the white bodywork. Definitely one of the more subtle over arch applications.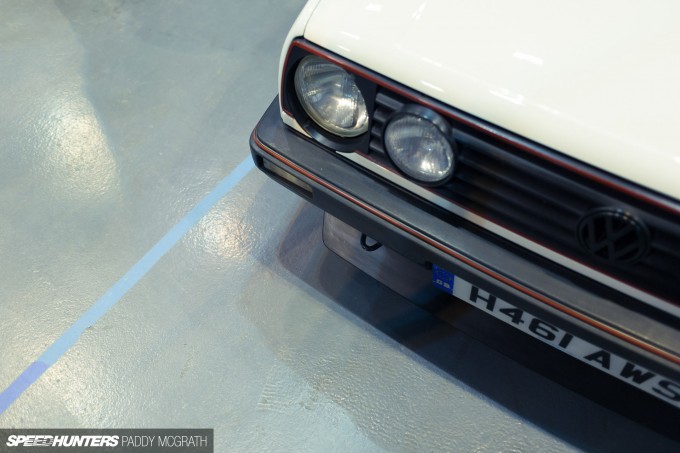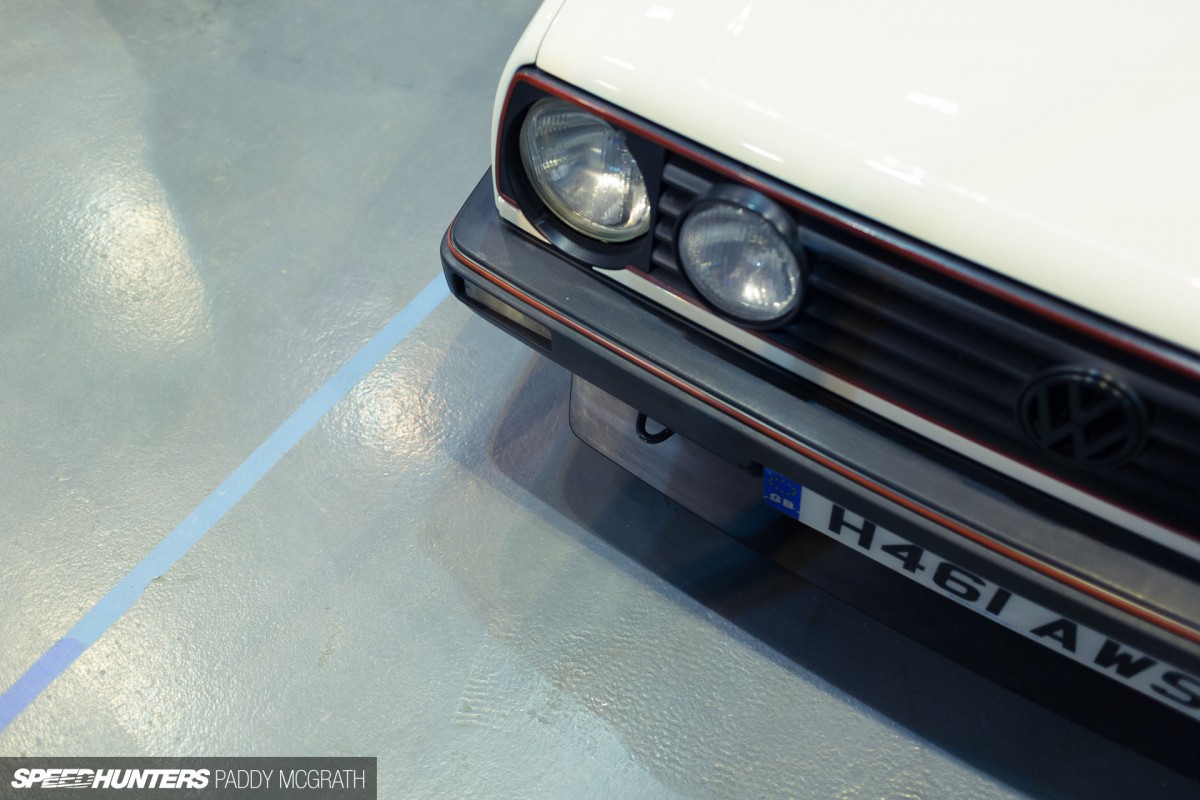 The rest of the exterior has followed the subtle approach too – even the chin spoiler could easily be missed on first look.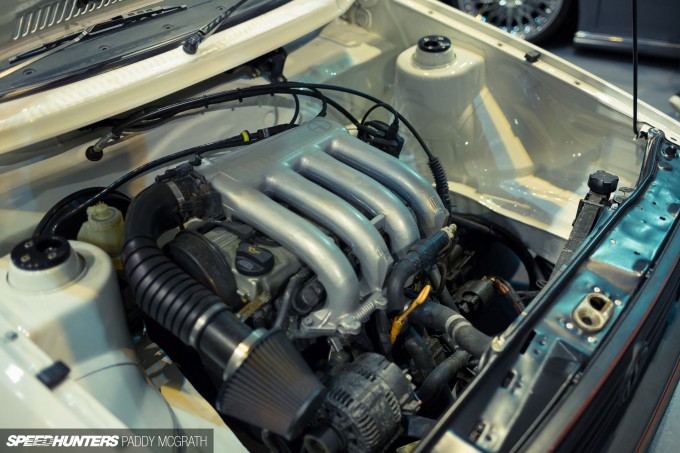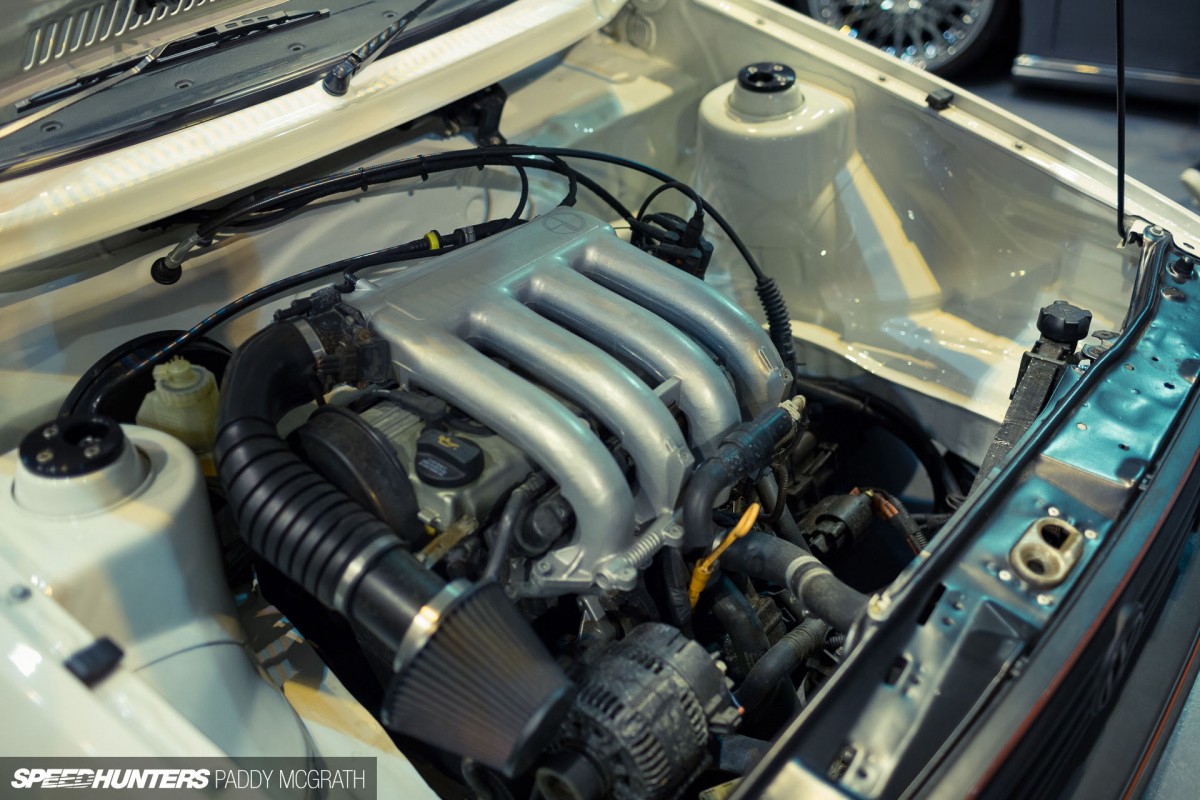 In the mint engine bay currently resides a DOHC GTi engine, but I've a feeling that's probably not going to stay that way for too long. The car was just about finished in time for the show and drove there under its own power, so I think there's still plenty more to come from this particular Golf.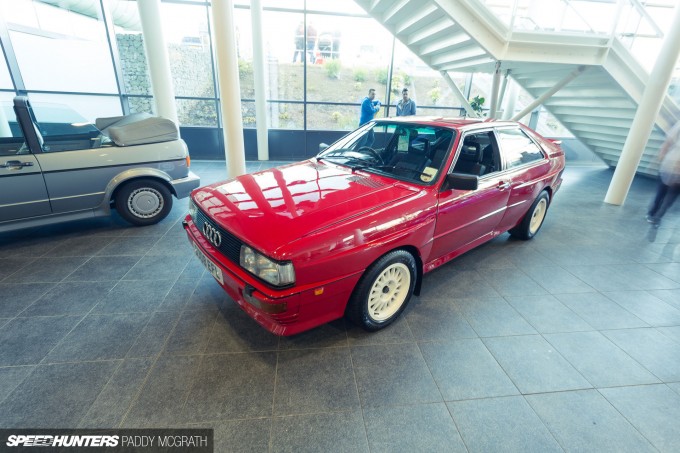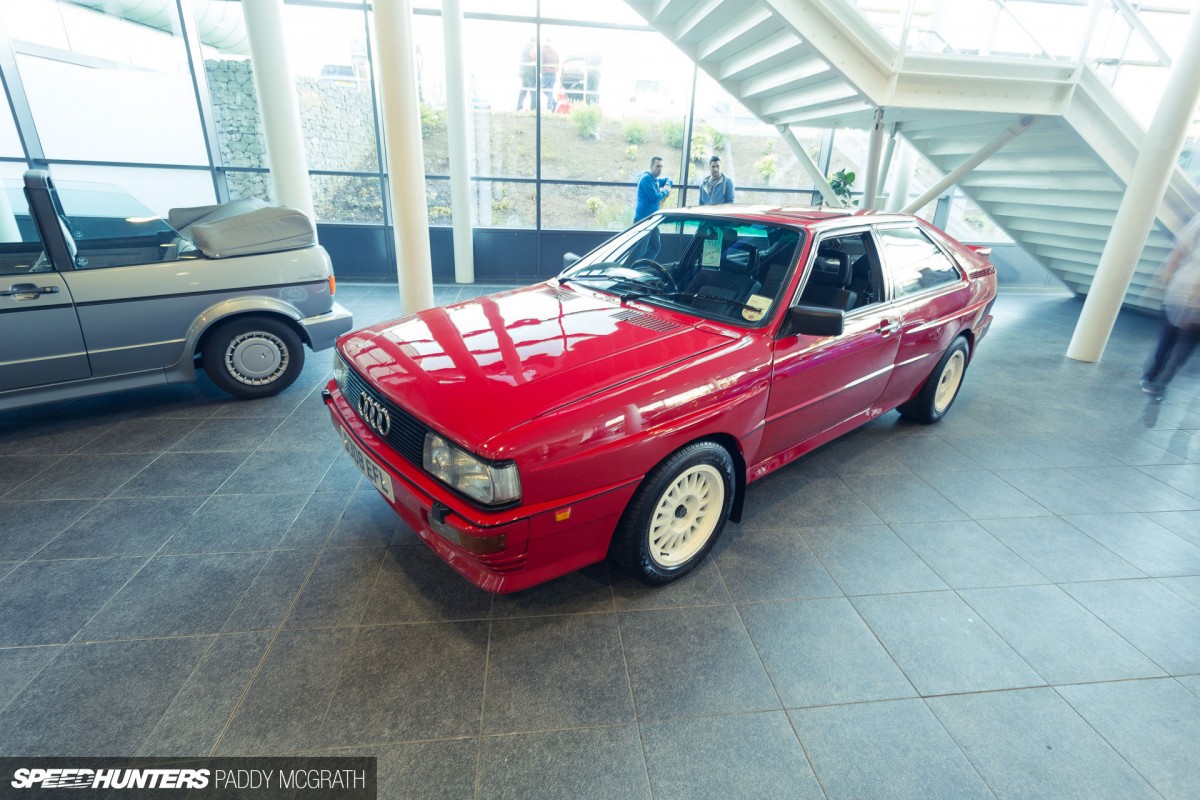 Of course, Ultimate Dubs is not just about the VW brand. One of the cars that really stole my heart was this concours specification Audi Ur-Quattro.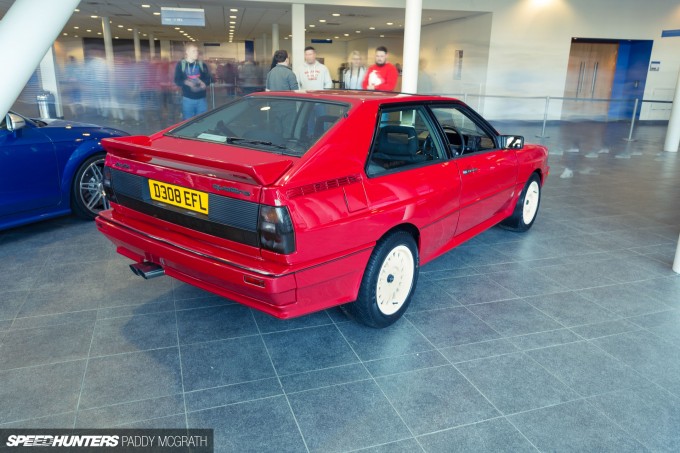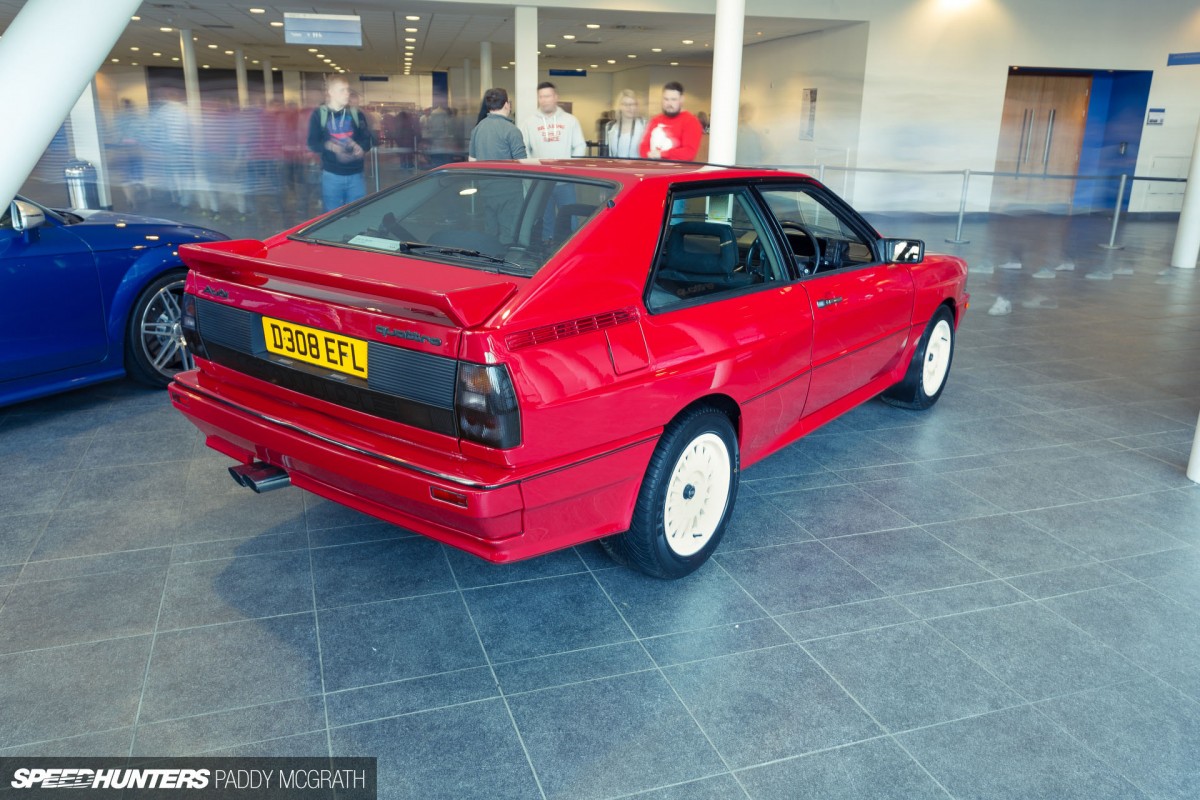 The car has been restored to completely stock using new panels where required and repainted in Tornado Red.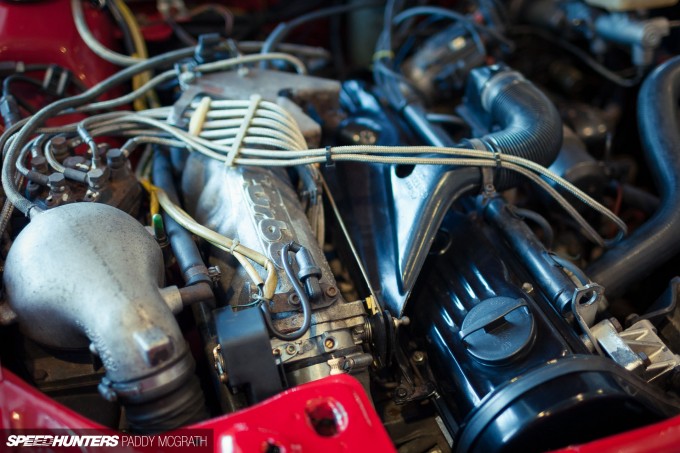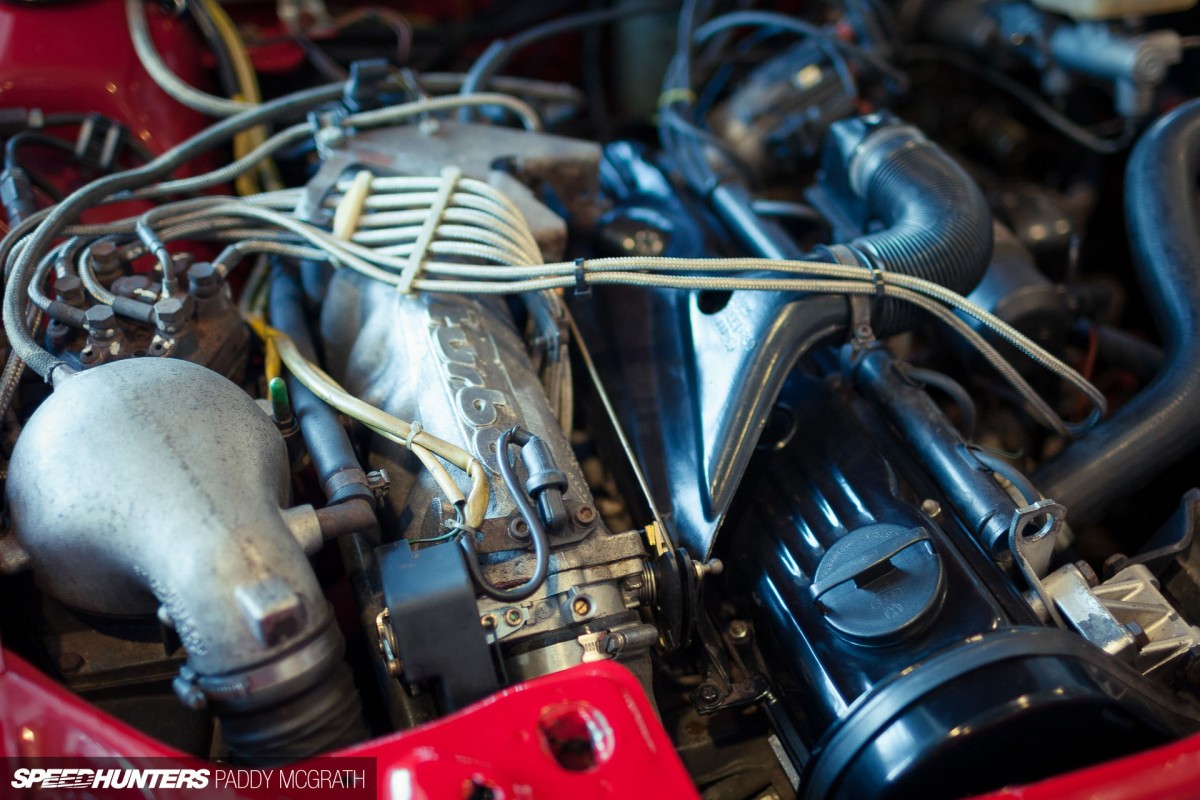 The famous five cylinder engine is still under the hood. The 2.1 litre 10v engine produces around 200hp and 210lb-ft. It doesn't sound like a whole lot, especially compared to its rally brethren, but this was a mighty amount of power in the 1980s.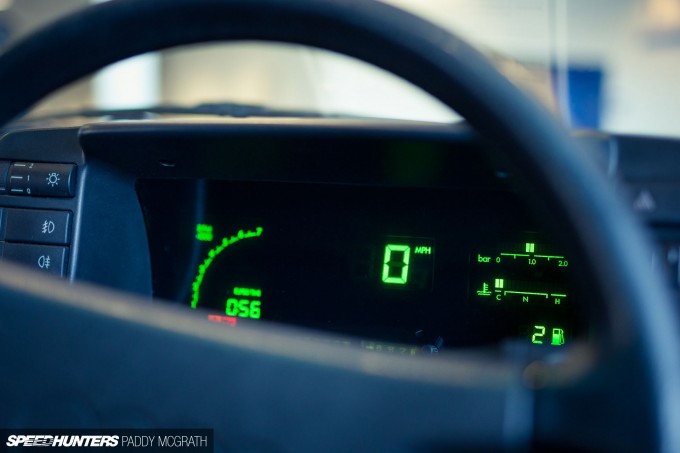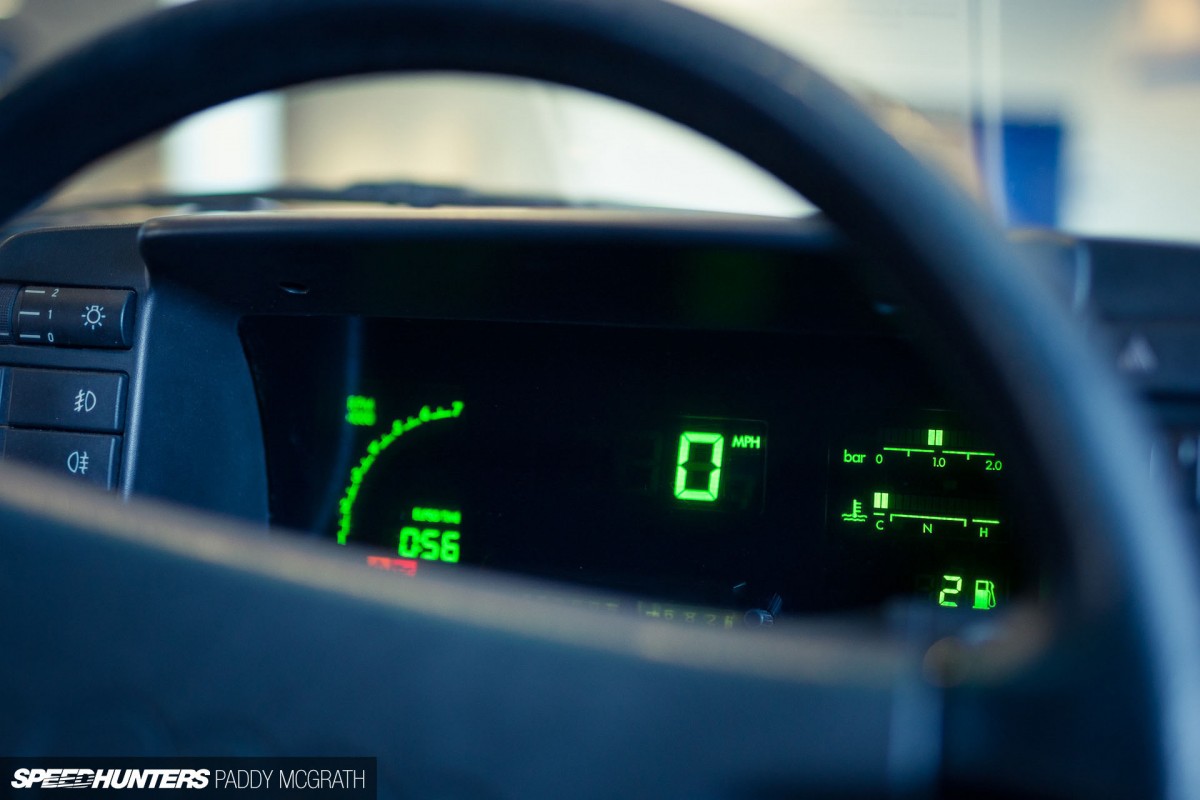 The interior, to fail to avoid the ol' car journalist cliché, was like going back in time. Digital clocks have never look better.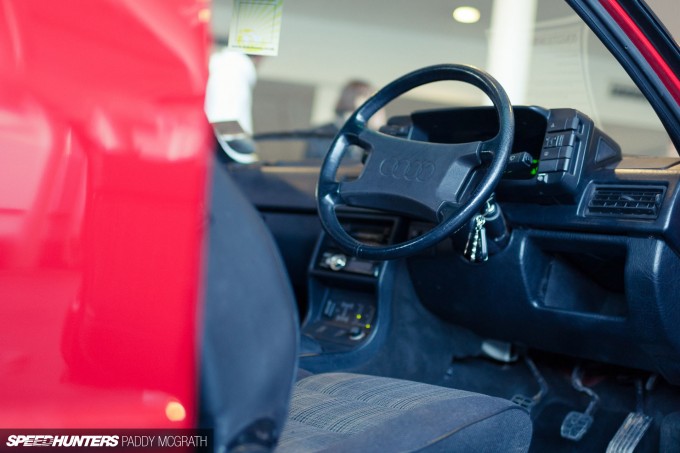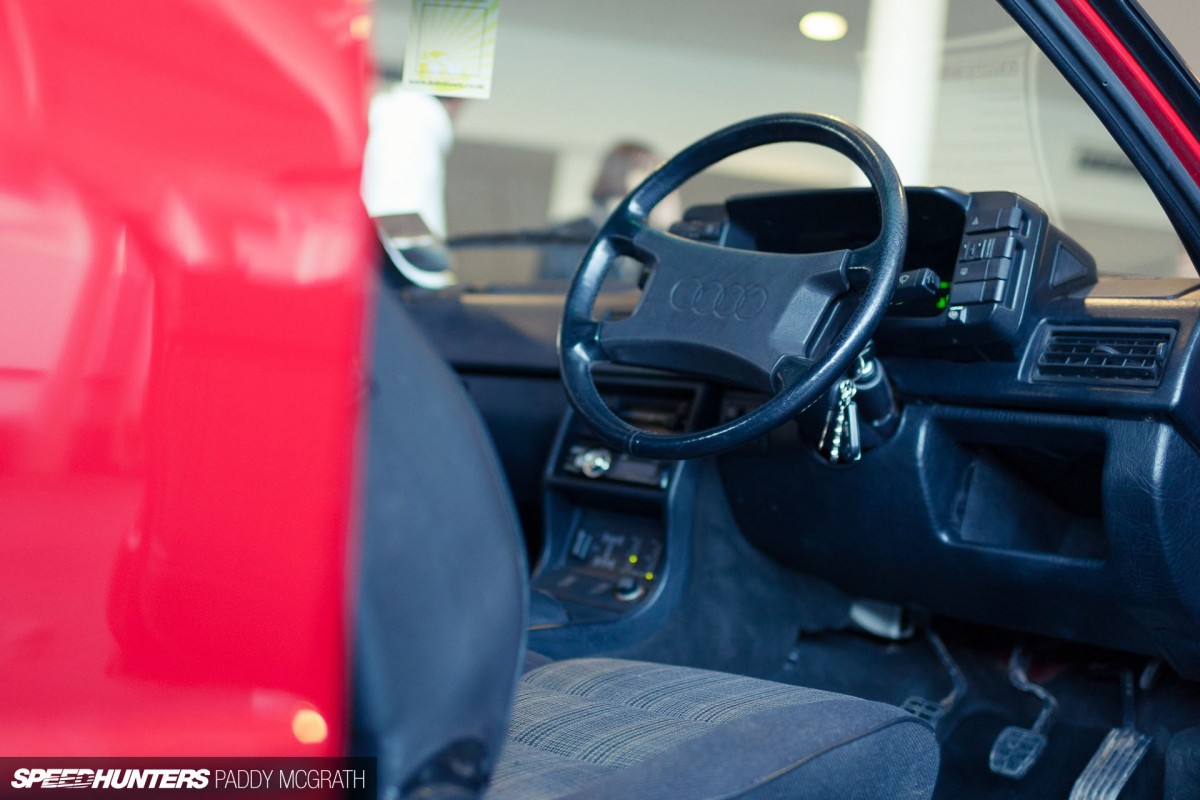 The owner, Lee, filled me in on the details of the car and even remarked about the digital dashboard's electronic voice synthesiser which talks to the driver over the car's radio to advise of any issues.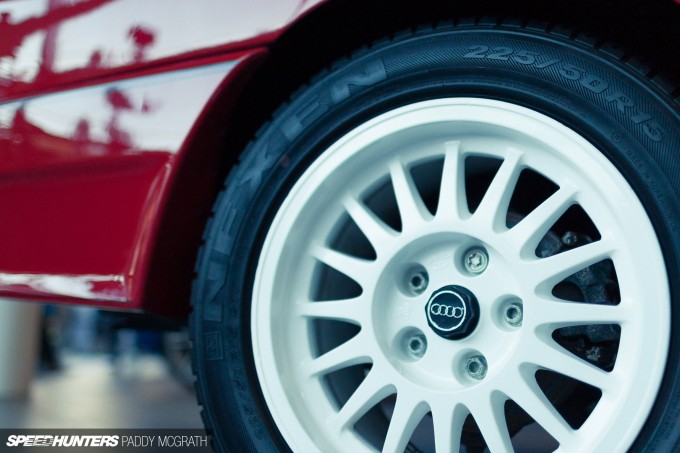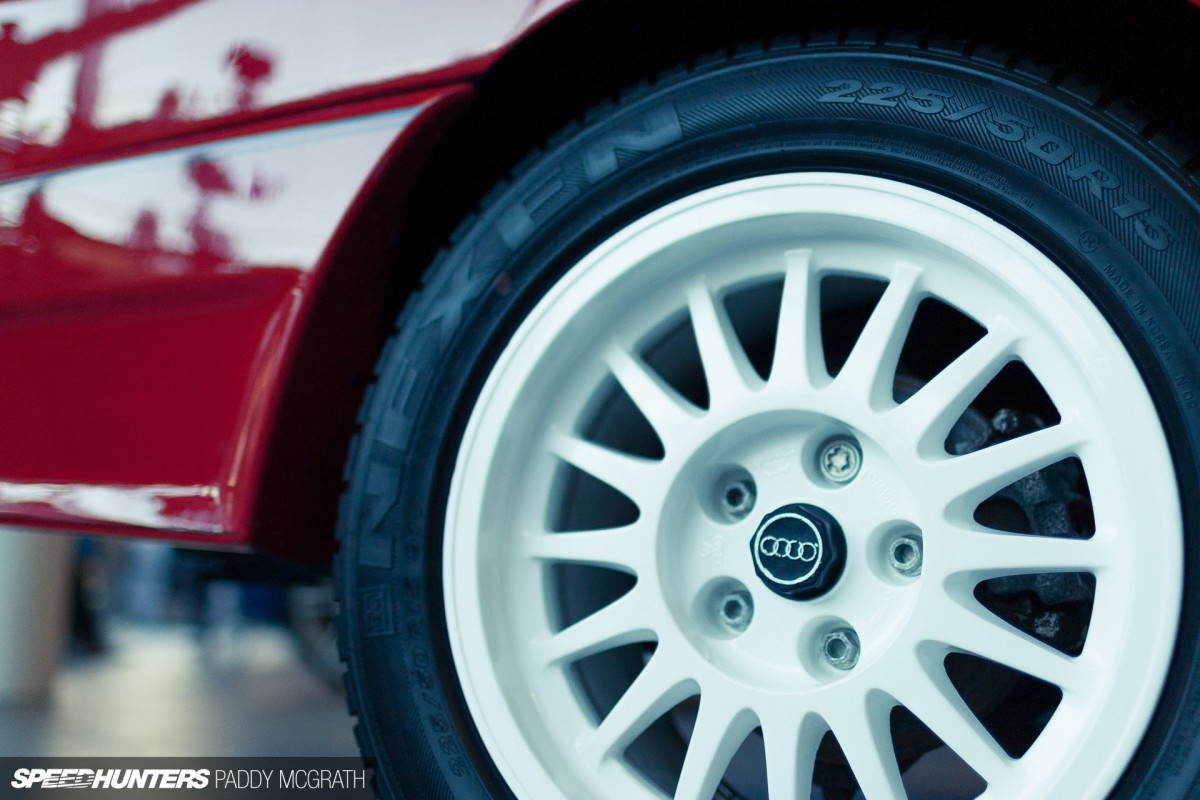 In keeping with the theme of the car, the original Ronal wheels were refurbished and powder coated white. It's funny how a completely stock car is the one that leaves a lasting impression. I've been stuck in the classifieds ever since, dreaming of finding one…
Typical and Type 2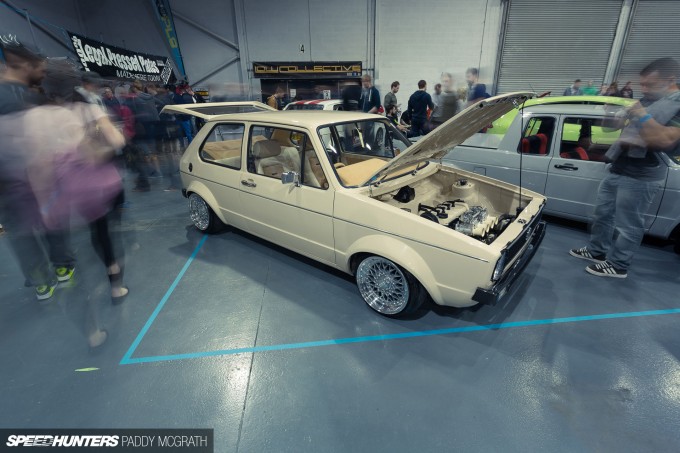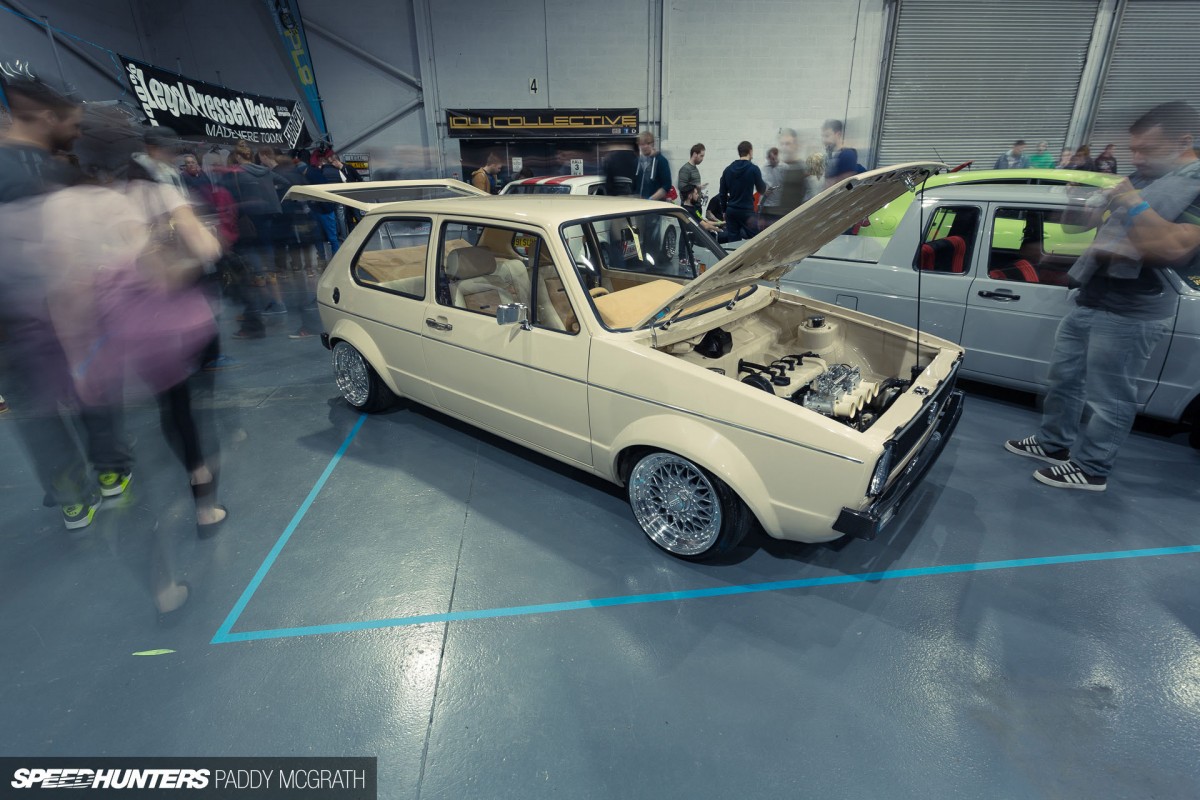 Well, I could hardly make it through the halls without finding a Golf MkI on BBS splits, but this is a great example of why it's such a good recipe.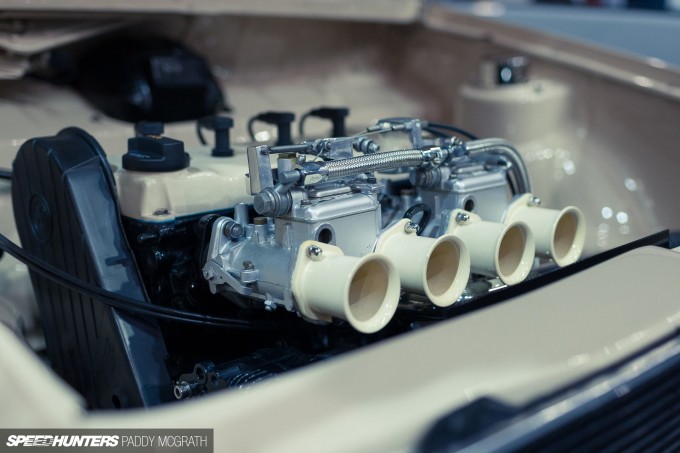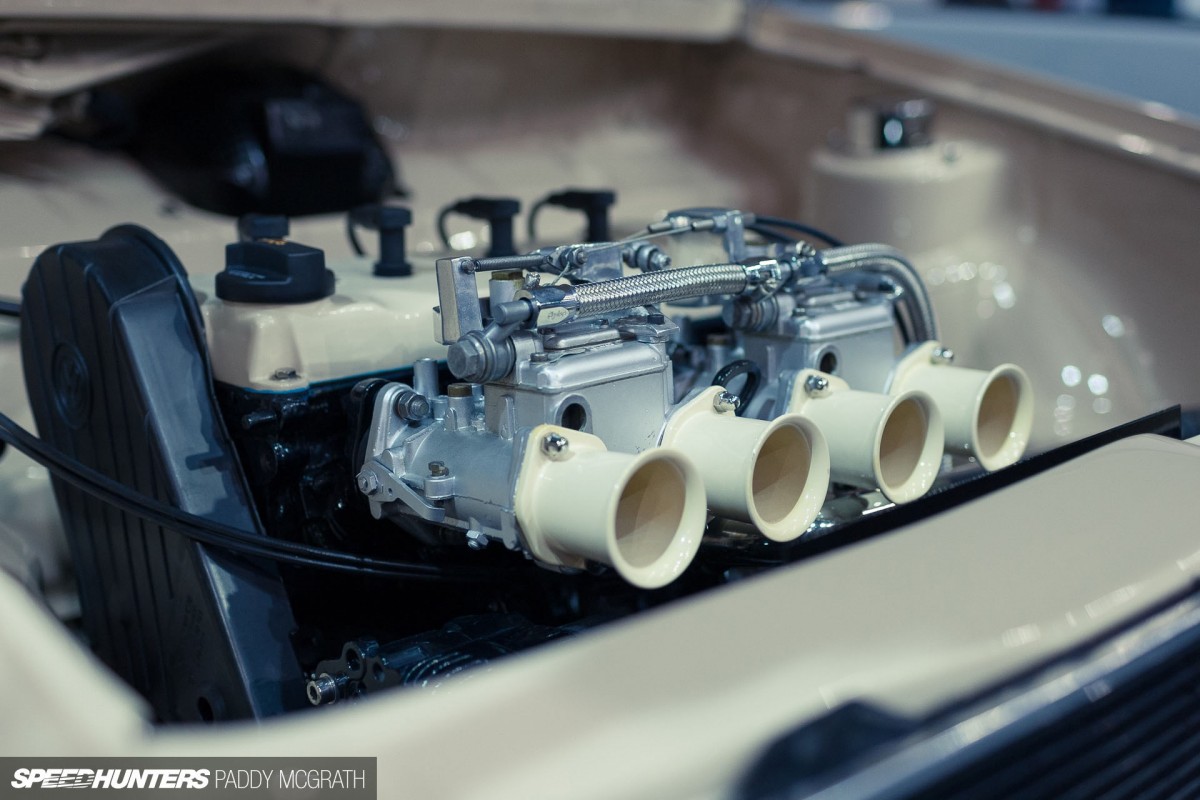 The immaculate clean and smoothed bay has what I believe to be a two litre 16v on twin-Dellorto carburettors. It almost feels like the words clean and and smooth just don't do this any justice. Can you imagine the amount of work involved in cutting, welding, filling, smoothing and painting to get it to this stage? Let alone relocating wiring and hiding everything possible. Colour-coded stacks?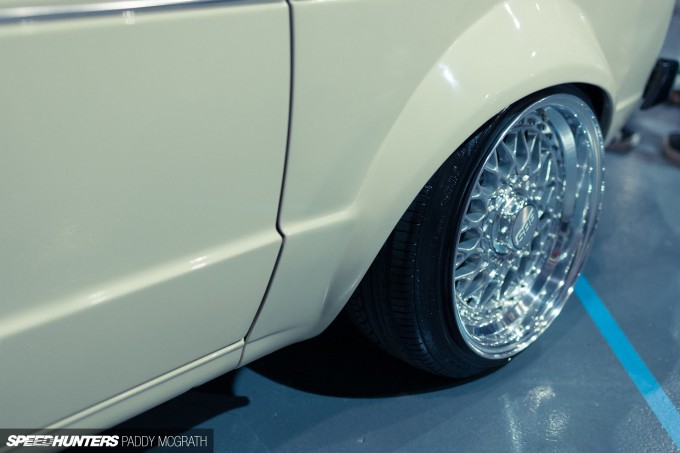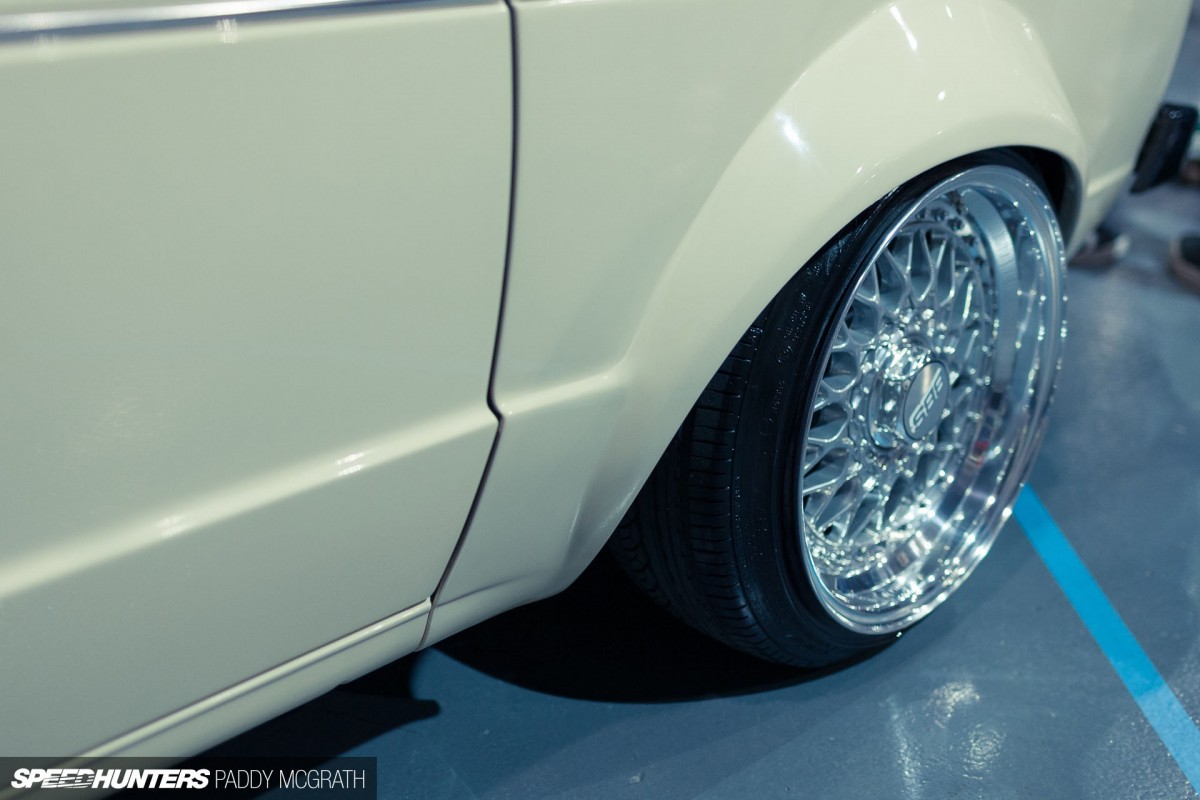 I couldn't find evidence of an air install, so will just have to assume it's static. I quite like the tucked look, certainly I find it more appealing than poke.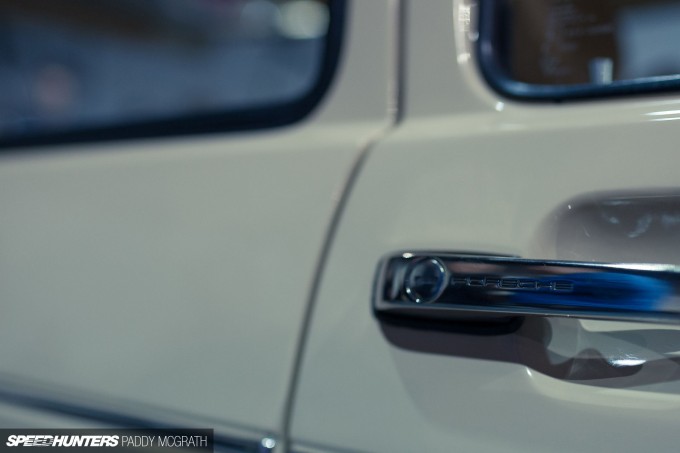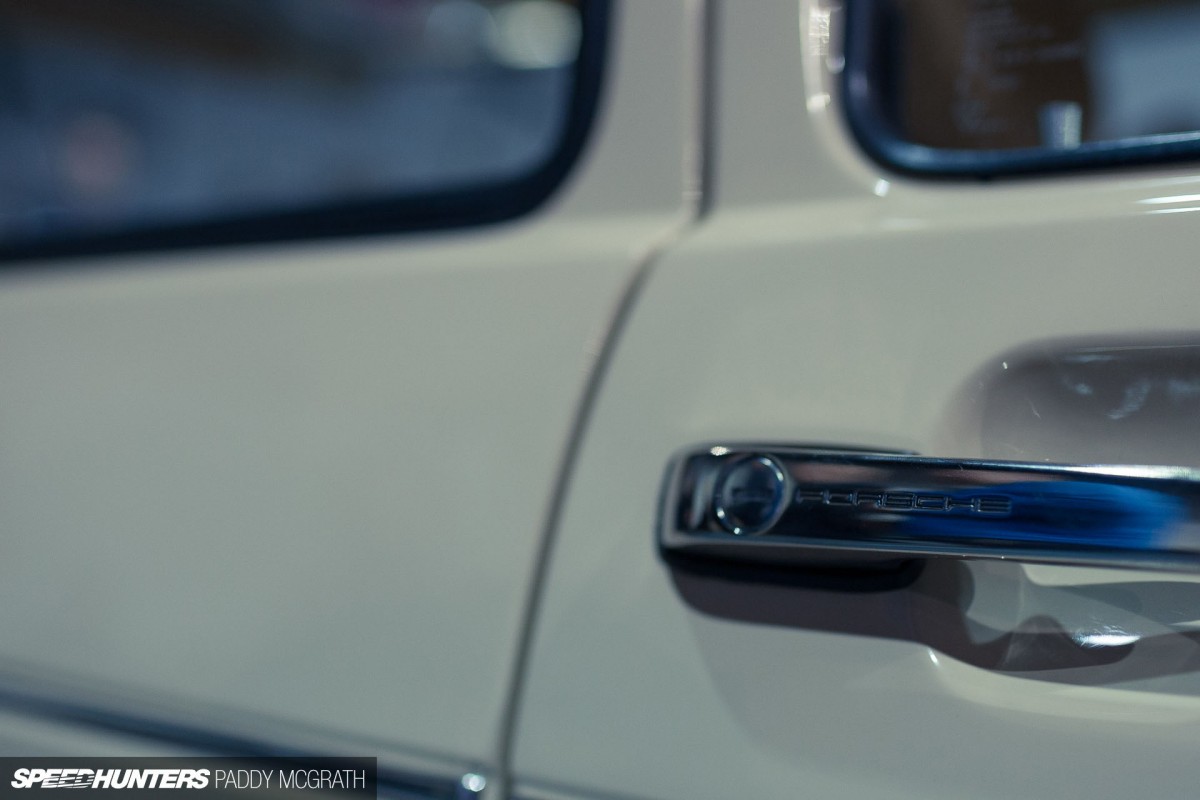 Porsche door handles are quite a common change. Subtle, but a nod towards just how vast and all-conquering the VW family is.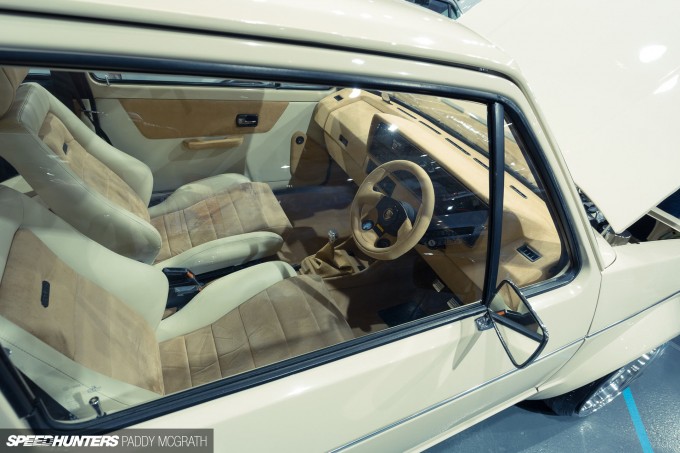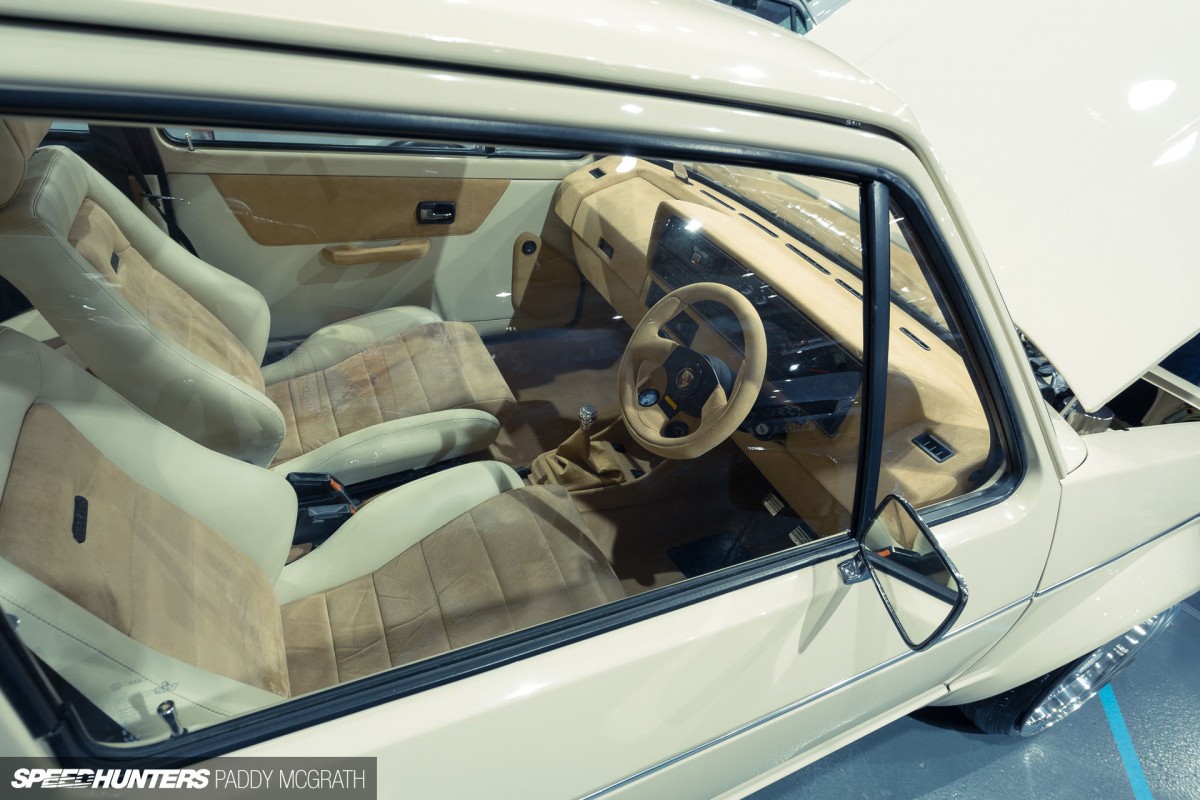 It would appear that same attention has been carried out through every nook and cranny on this car. I'd love to see it up on a lift, wheels off, to get a proper look at it. The interior in particular was special, a mixture of leather and suede, colour-coded to the exterior.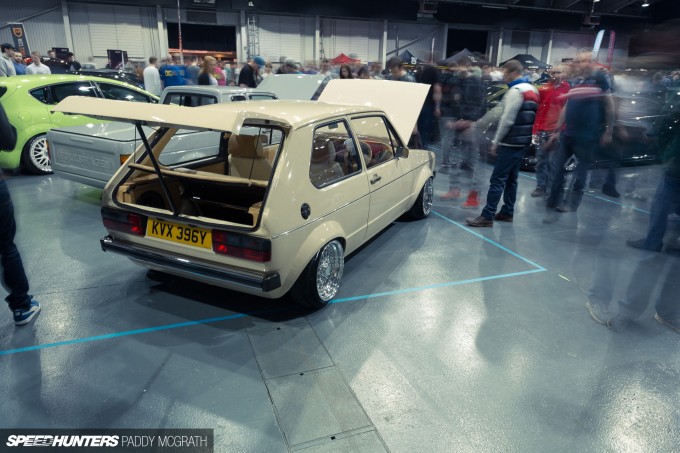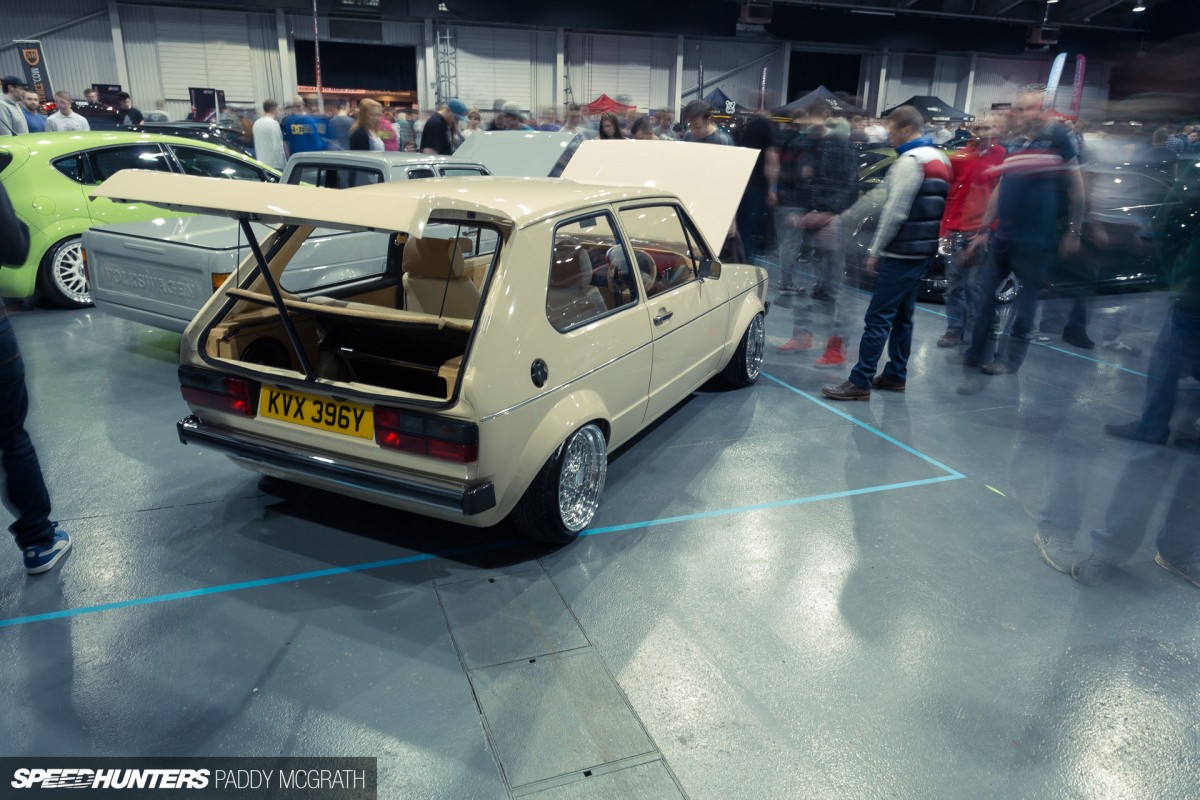 It might not be for everyone, but I can't get it out of my head just how much work is involved in getting a car to this standard. For that alone it deserves some respect.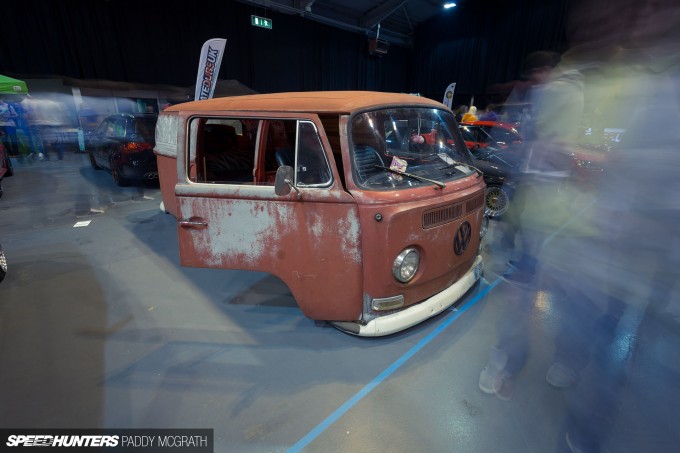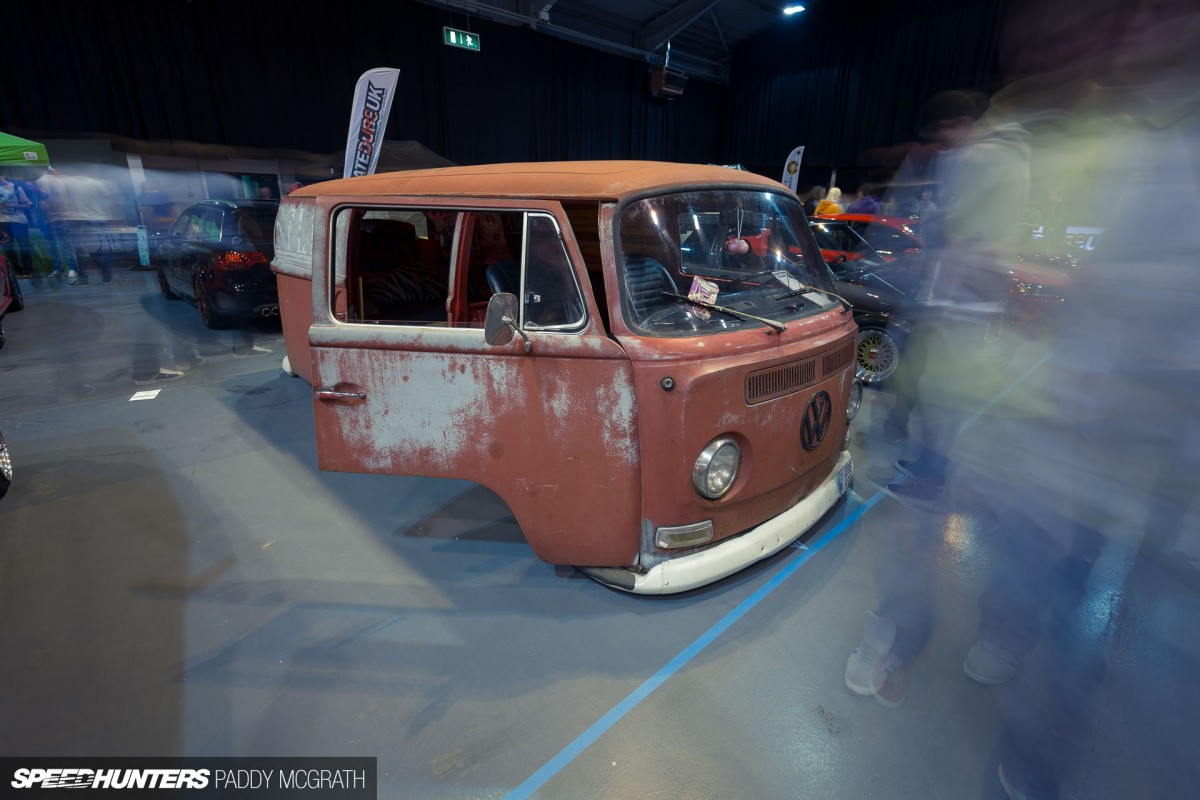 At the complete opposite end of the spectrum, and yet still equally enjoyable was this Type 2.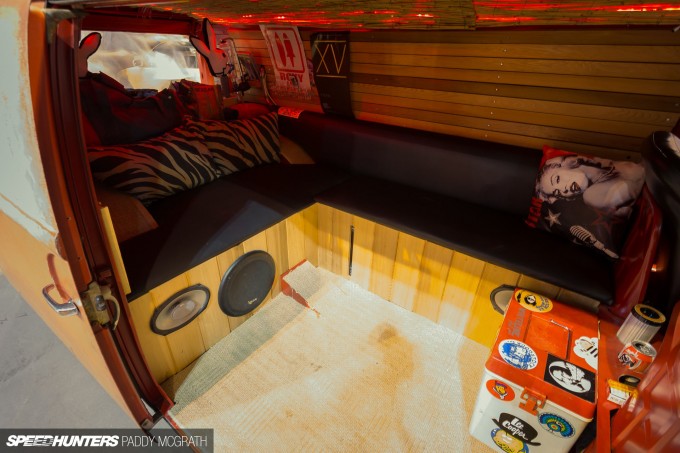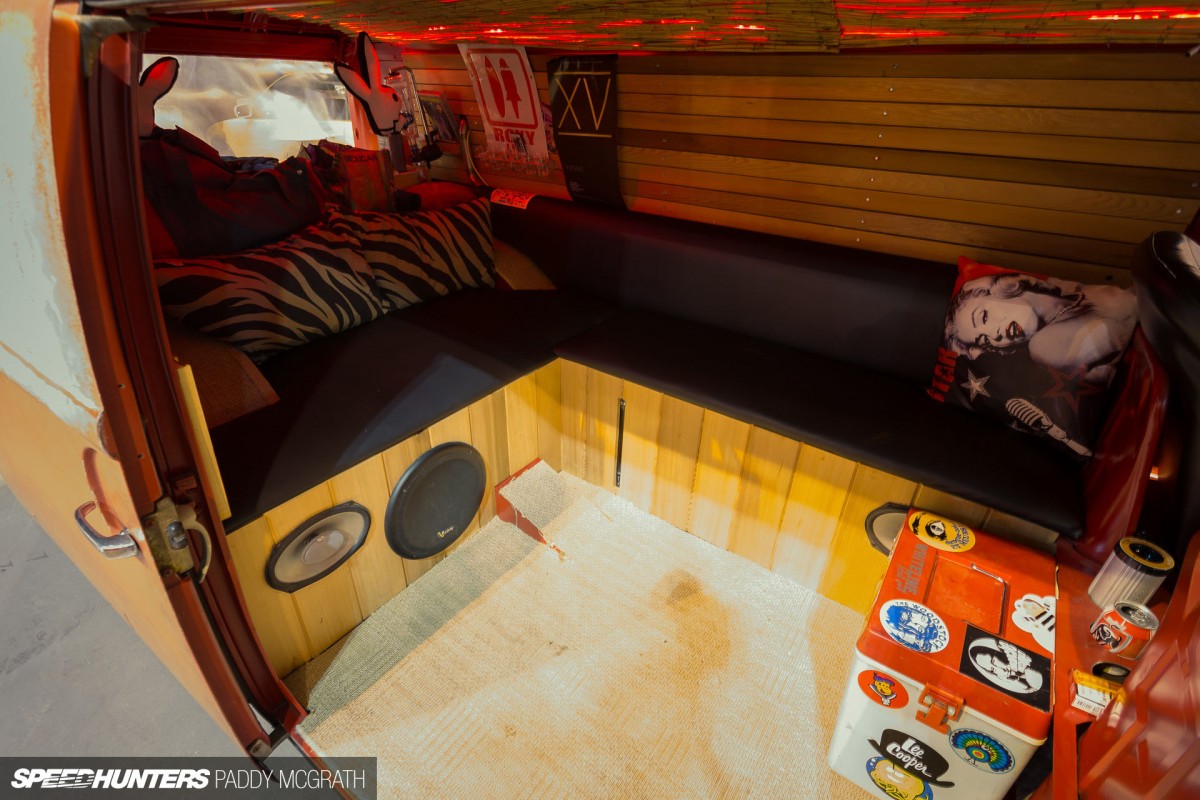 Built by its owner as a place to chill out with this friends, it has immeasurable quantities of natural character.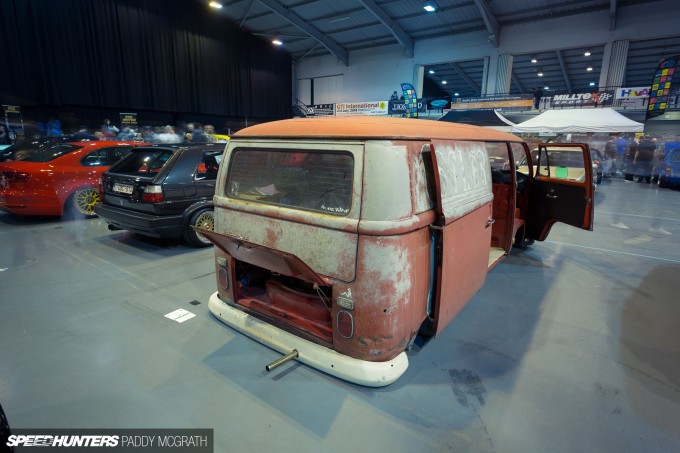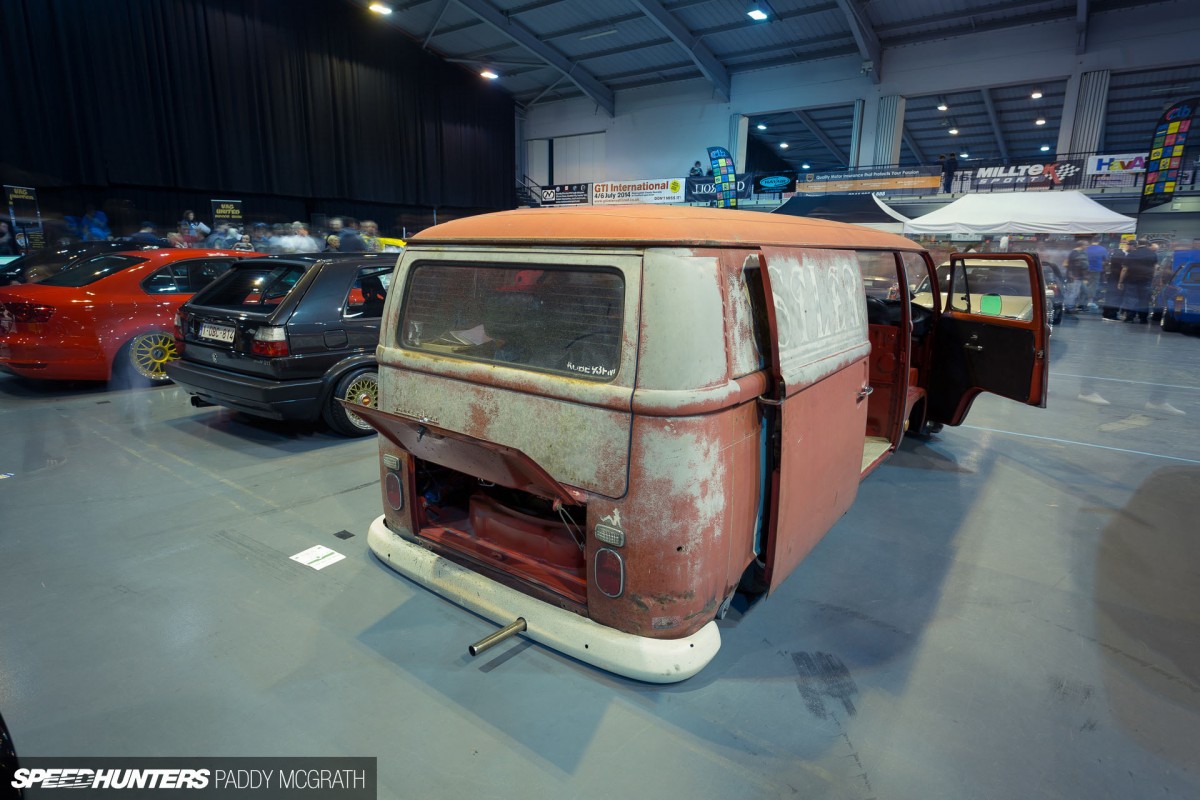 The air ride set-up was home-made too. It's only when you see people walking past and the roof is below shoulder height, that you realise just how low this Type 2 is.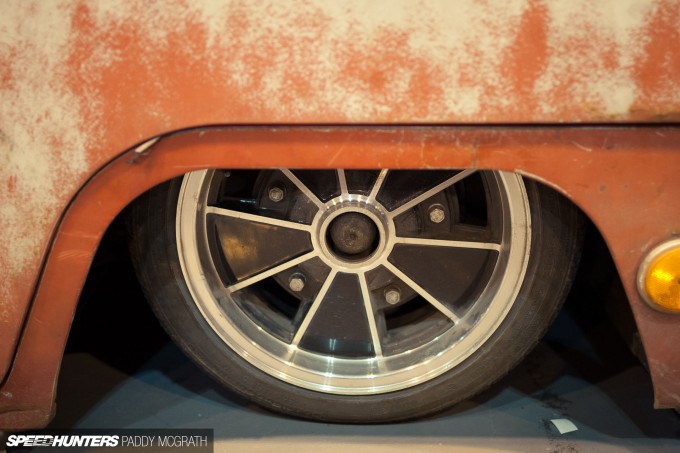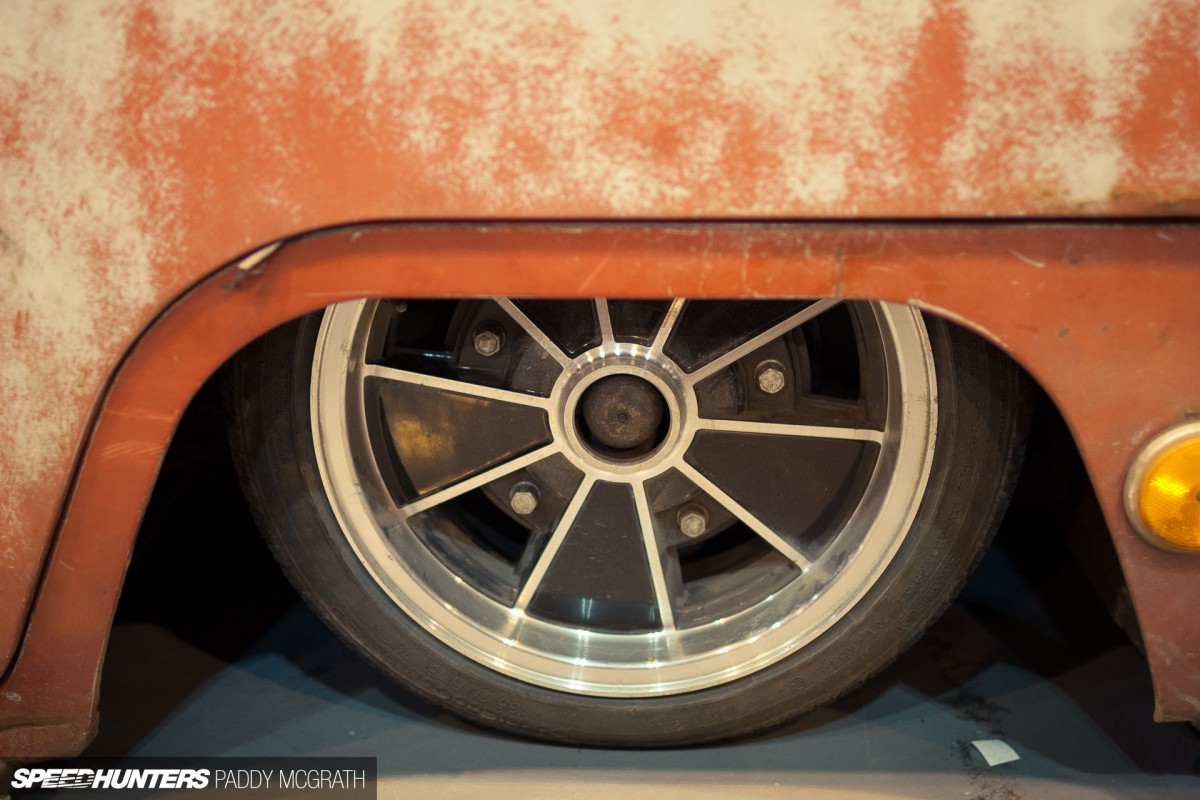 The owner describes the bodywork as being created by 'mother nature' such is its natural patina with a few choice and subtle additions by himself. Obviously, the Type 2 wasn't originally designed to run this low, so the body has been modified to allow this. The front end is tubbed, which can just be seen with the front door open, so normally the seat would sit at the same level as the arch.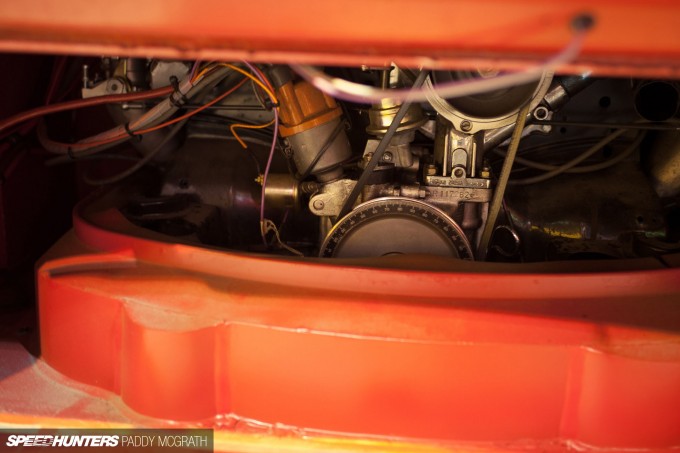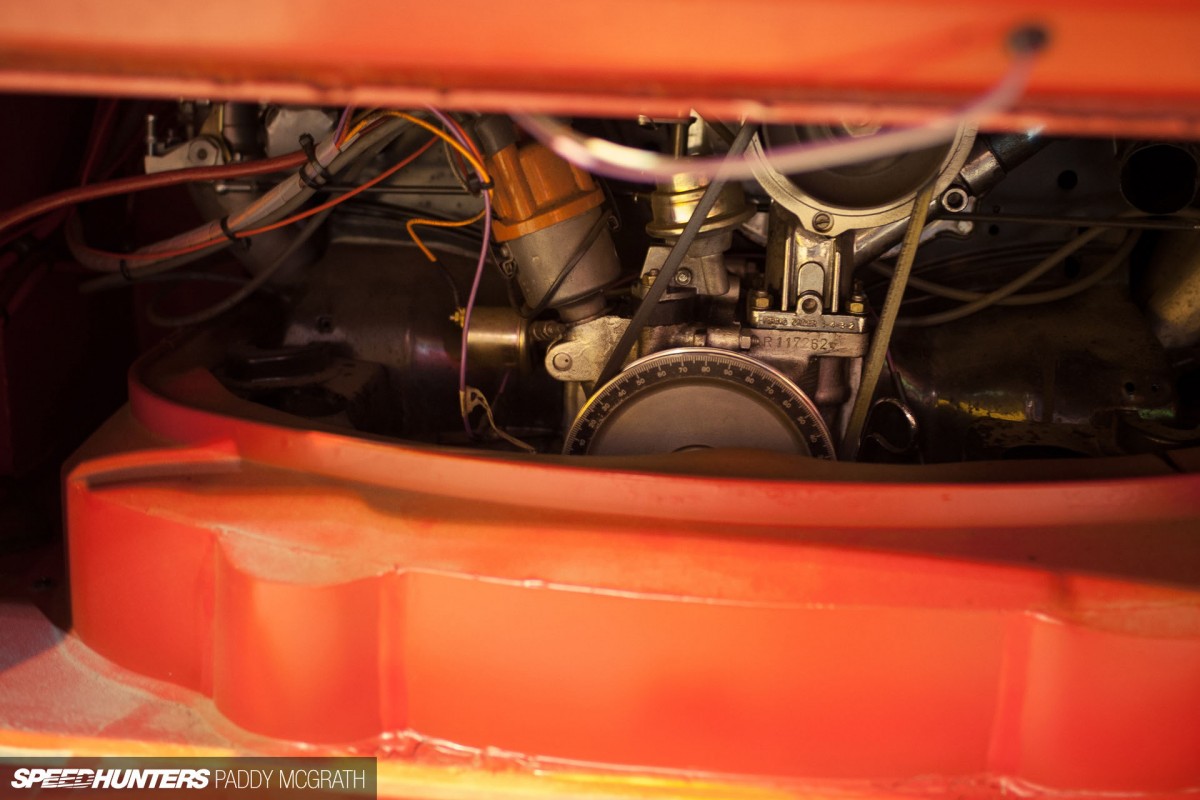 The motor is a 1.8 litre unit on Webers, producing in or around 100hp. Well, they can't all be Race Taxis I guess. That metal rise is a great indicator of how much lower the bus is.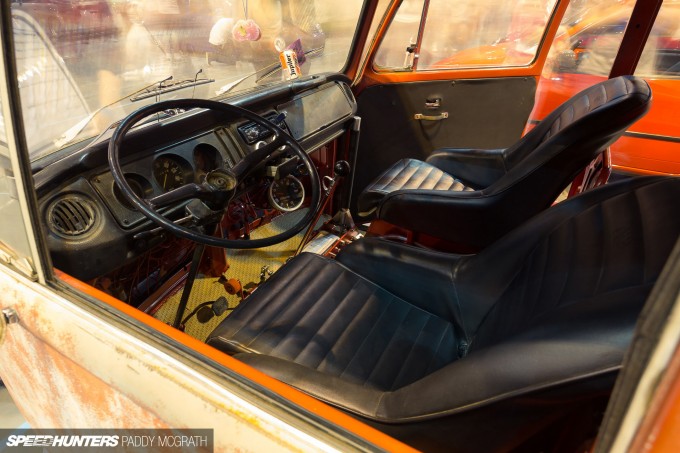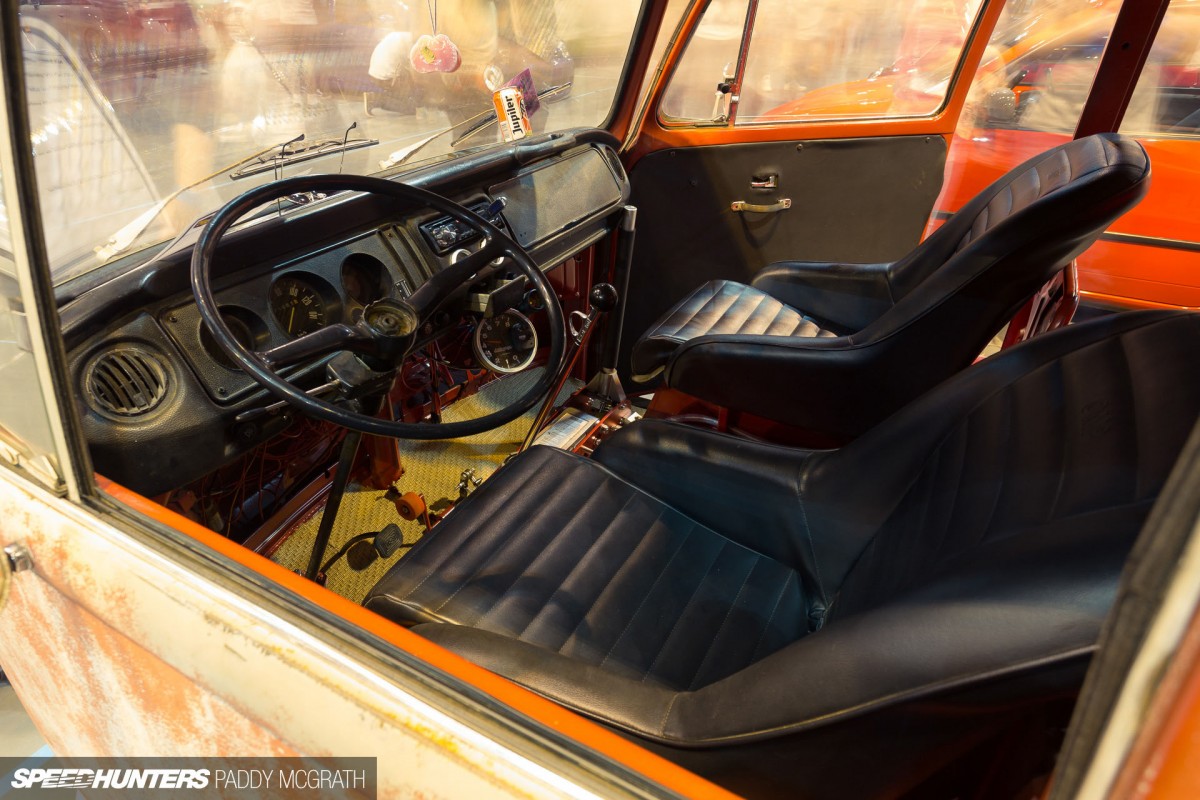 I was never a Type 2 sort of guy growing up, but there was something about this, sat amongst a plethora of immaculate builds with pristine paintwork, that just made me smile every time I walked past.
Street legal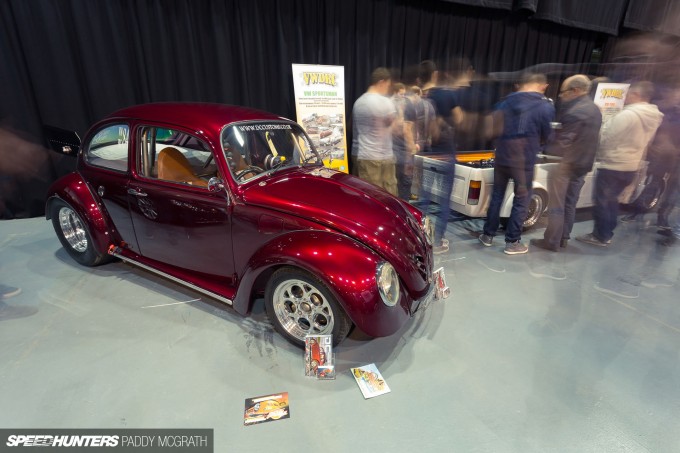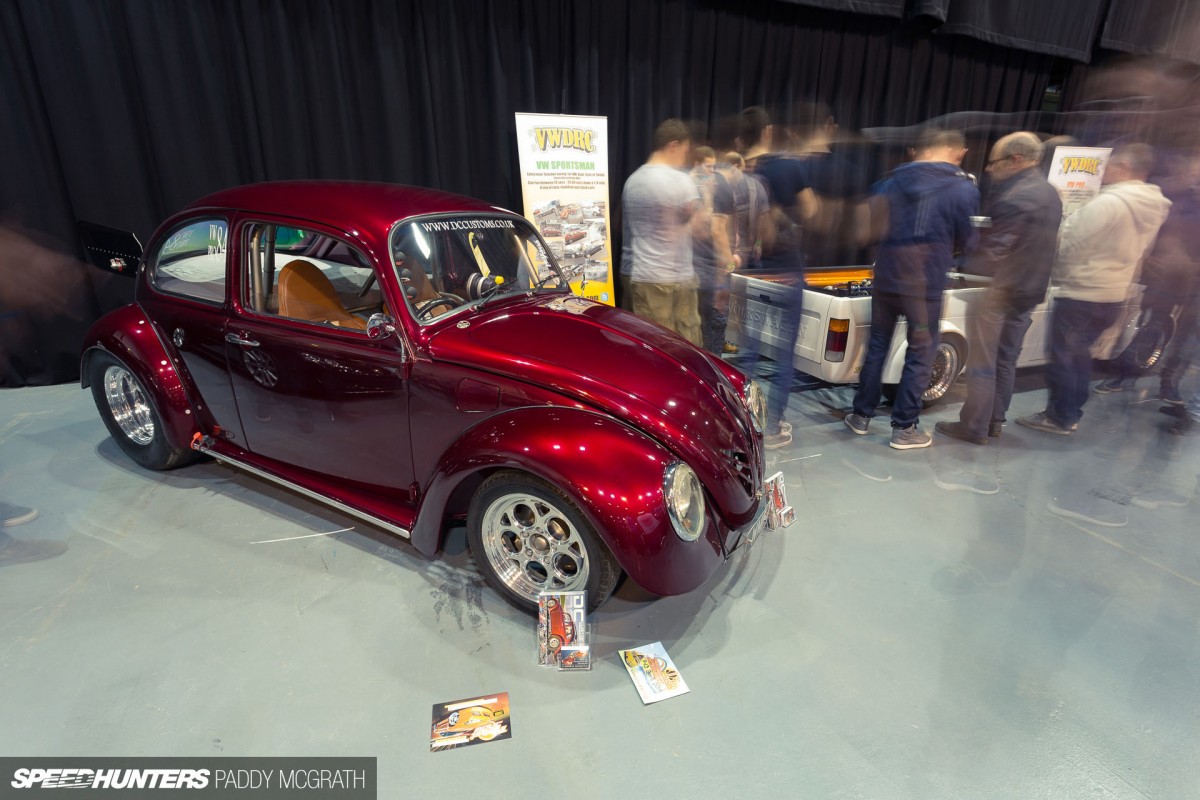 So far we've had a Golf, a quattro, another Golf and a Type 2 split. Not too bad in the diversity stakes I hope you'll agree so just to finish things off, I want to show you this Beetle.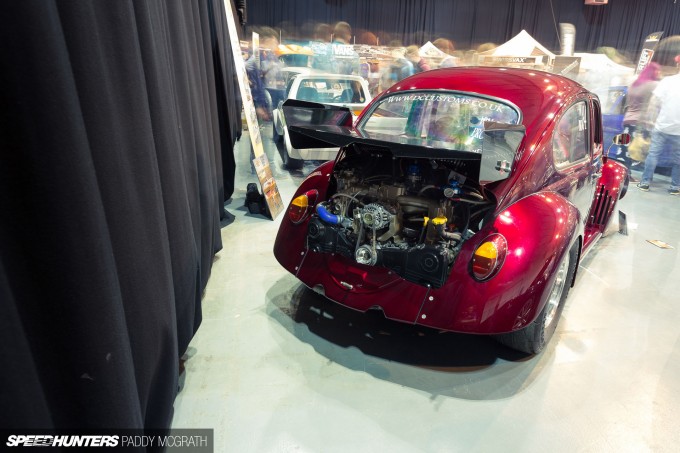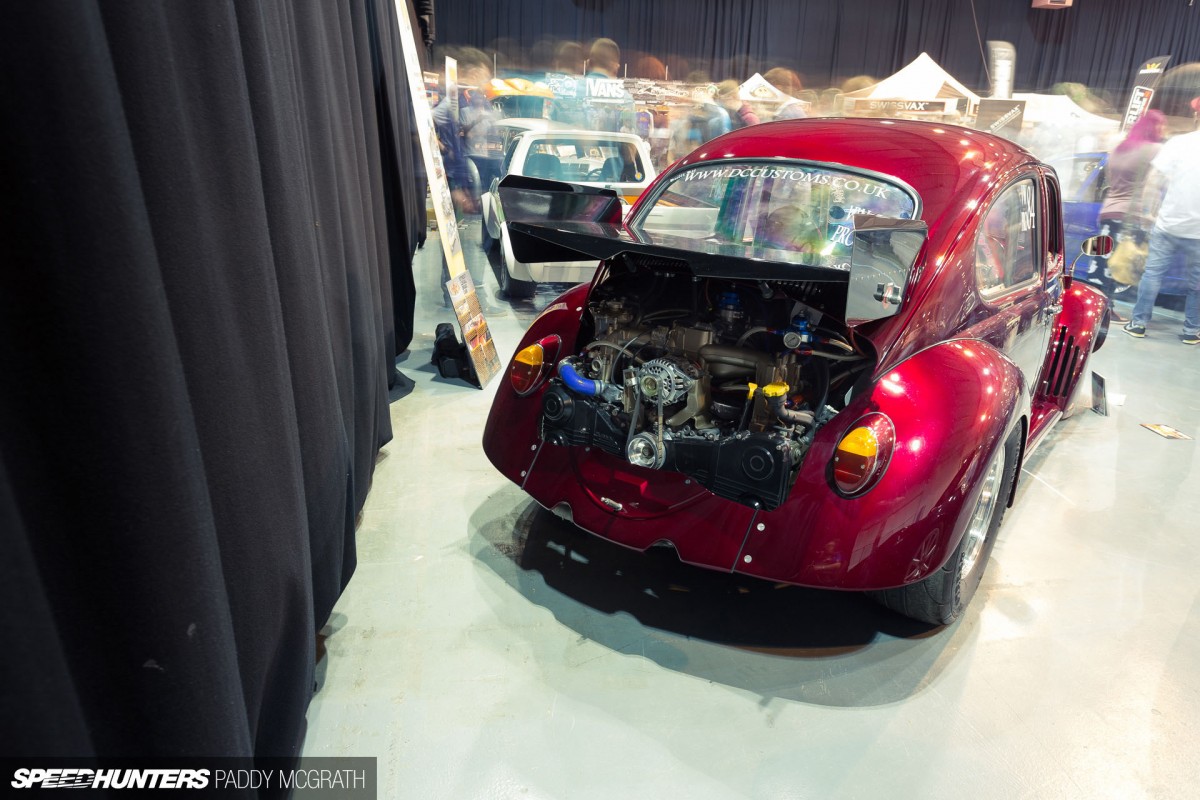 It's not just any Beetle mind you, but rather a 673hp street legal drag car that runs in the VWDRC events in the UK. I'm going to try and bring you more on the mid-engined Caddy lurking in the background in the future too – I'm not forgetting about it.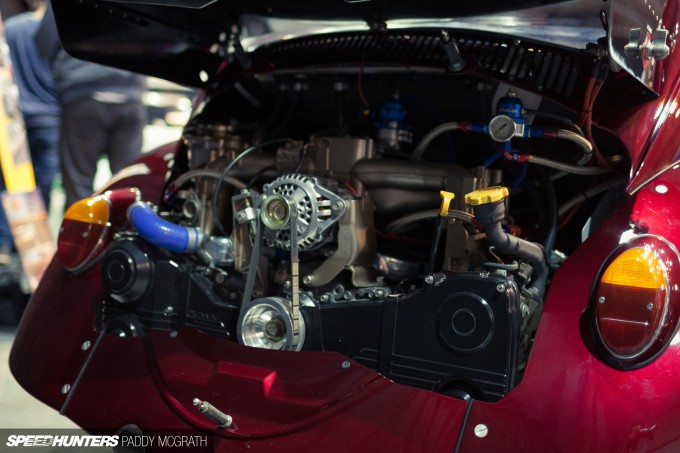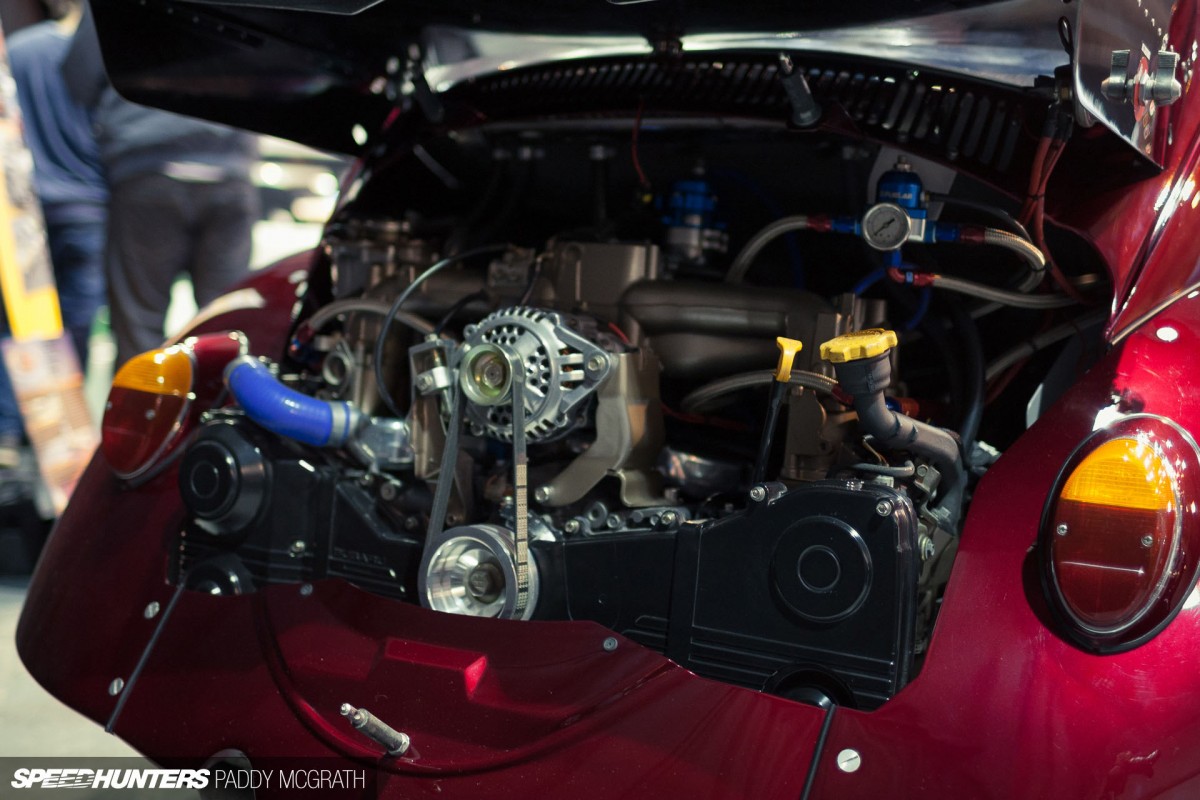 All that horsepower is created by a 2.35 litre Impreza turbo engine with a Garrett blower boosting to 2.0 bar on a mixture of pump fuel and 20% methanol.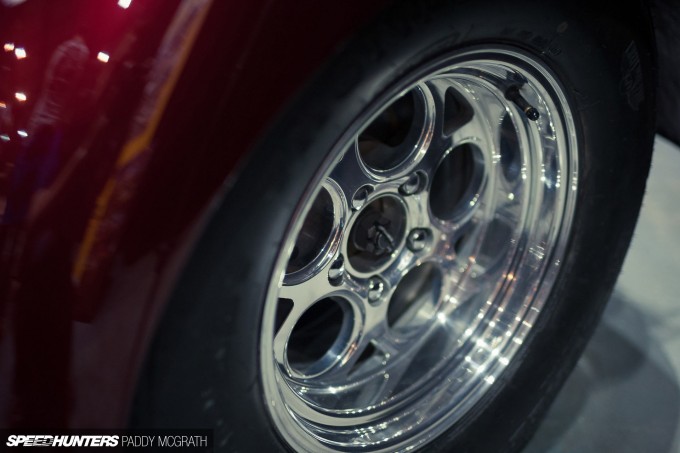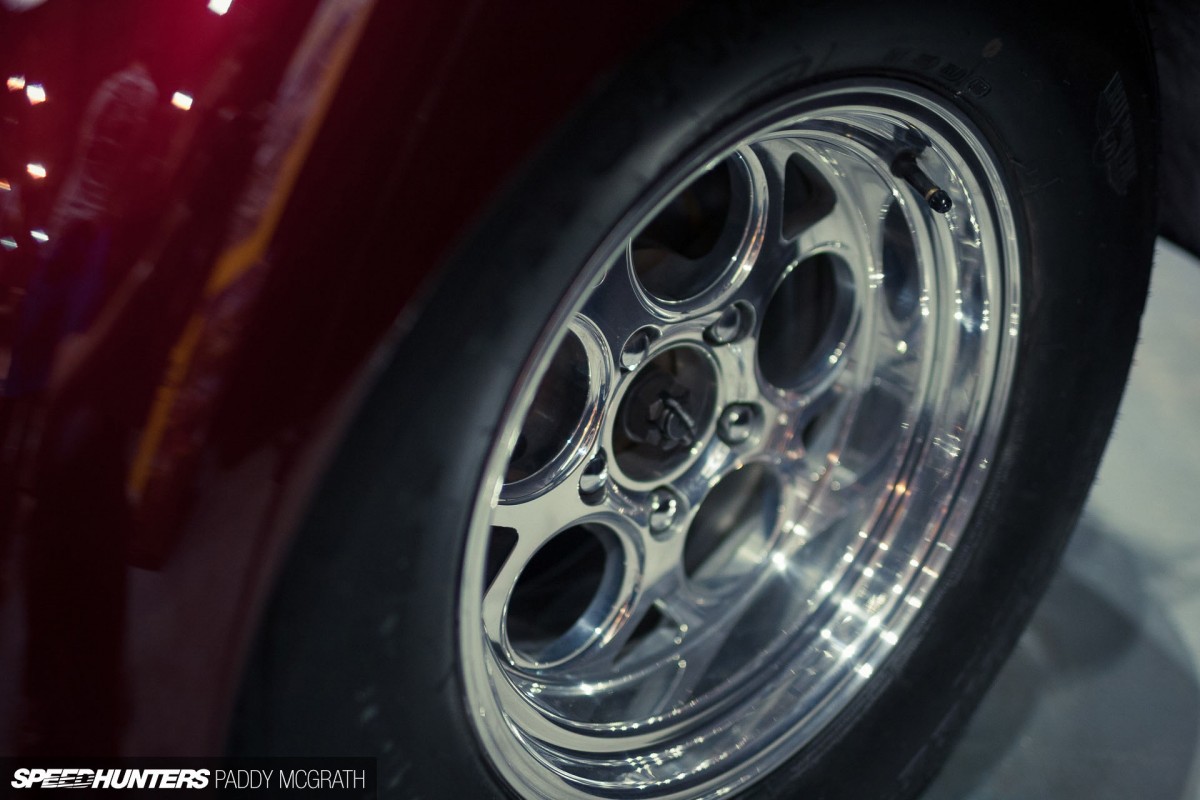 For Ultimate Dubs, the Beetle was on its street wheel and tyre combo. That is, 15×8 Centre Line REV wheels with Mickey Thompson Street Radials on the rear and 4″ on the front with Continental 145/65/15.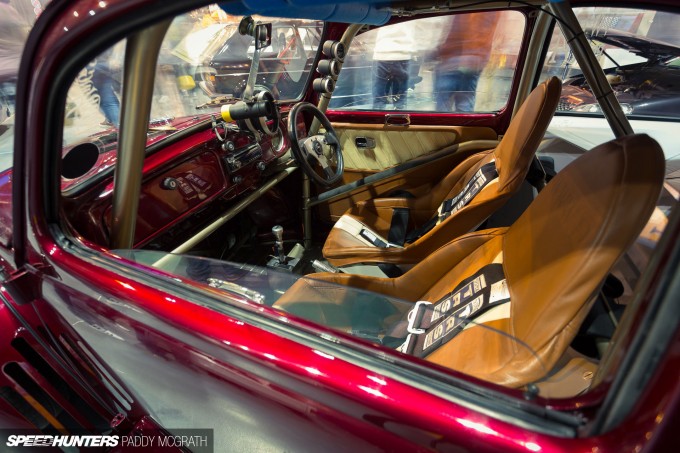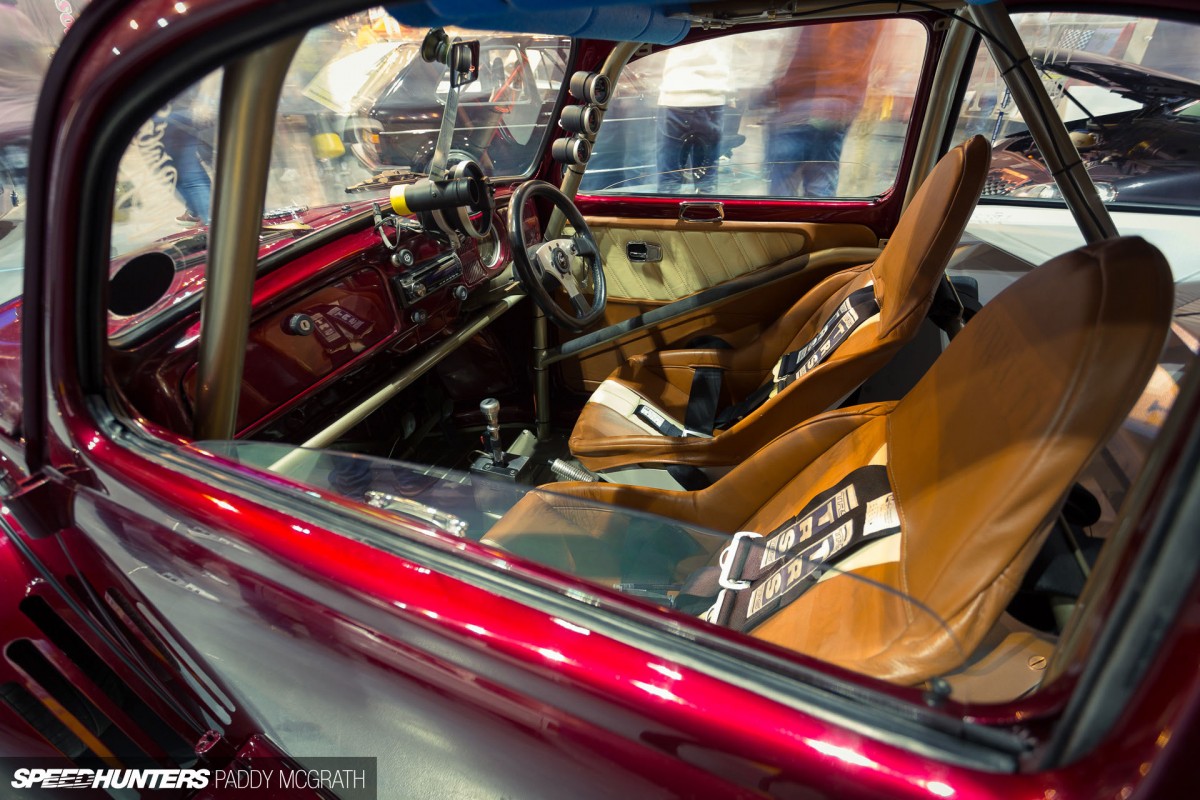 With a cage rated for up to 8.5 second passes, it's probably worth pointing out how pleasant the rest of the interior is. Leather – albeit wrapped over Jaz lightweight seats, a Sony CD player and even windows that go up and down. The rear seating area has been removed though, to allow room for the turbo and charge cooler, so it'll just be the one lucky passenger who gets to experience things from the second best seat in the house.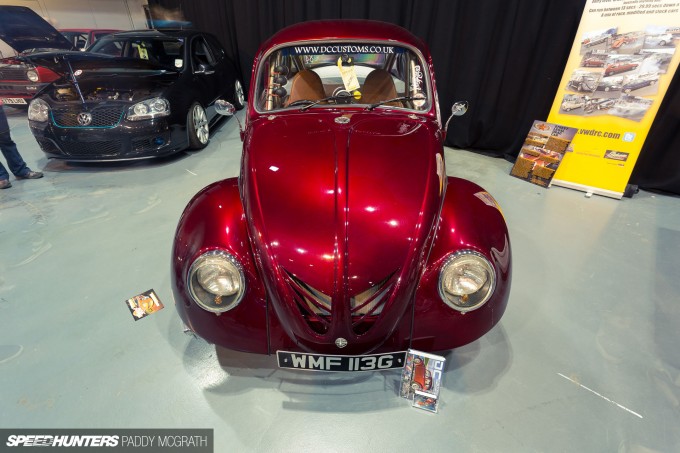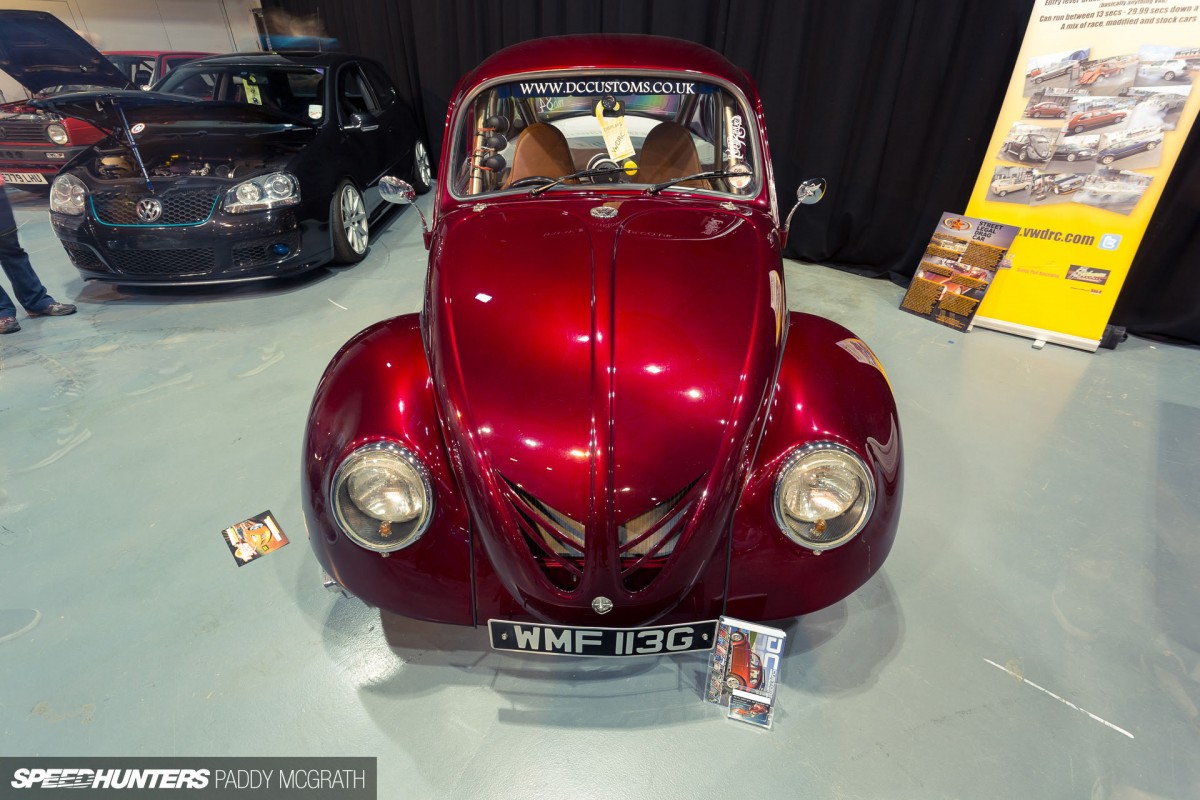 This eclectic mix is really only scratching the surface of what was on offer at Ultimate Dubs. There were certainly more cars, including some very special ones, but we made a decision to not give everything away with one event. Instead, we've already started the process of tracking down owners and shooting cars in far more detail for full features.
Essentially, this is just the appetisers. Bon appetit.
Paddy McGrath
Twitter: @PaddyMcGrathSH
Instagram: speedhunters_paddy
paddy@speedhunters.com