Looking at things a different way
Very few of us will have experienced Formula One personally; the smell, noise and circus-type atmosphere all come together around the globe to create the absolute pinnacle of motorsport. No matter which way you argue it, this series will always come out on top and for all its drama, controversy and technology-laden regulations, we always come back for more. But maybe you're not a Formula One fan? That's fine. To be completely honest with you, I don't religiously follow it or even know all the drivers competing on a seasonal basis. People will often assume as a 'car guy' that I naturally gravitate towards the sport. But no, it's never quite struck the right chord. Yet it still fascinates me… The people, the atmosphere, the rituals and differences between tracks. So when I found out there was a way I could bring you some incredible Formula One images that I knew you'd never seen before, how could I resist?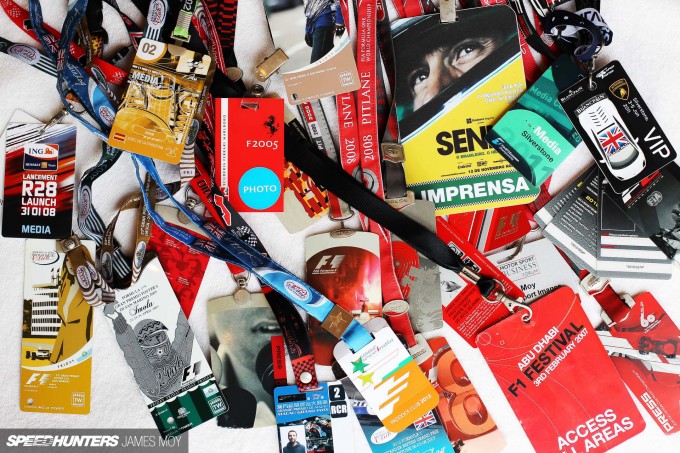 They are all courtesy of James Moy, a UK-based photographer who is also the cousin of two of my oldest friends. In fact it was my friend Pete who had mentioned James a couple of times. "You should speak to my cousin, he's a photographer", he'd say. So one day in early 2013, I jumped on the internet and did a quick search for James. Staring wide-eyed at what was coming back at me from the screen, I knew I had to meet this guy.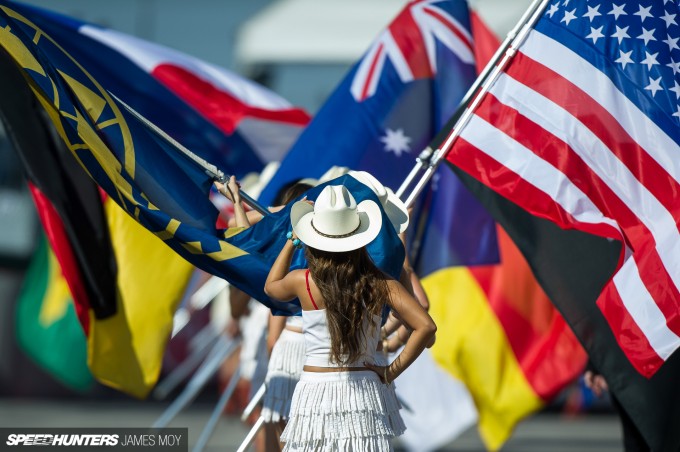 You see James is what I would call a proper photographer, in so much as he knows his craft. He understands the rules and can therefore break them, creating some incredible images in the process. It's all very well me banging on about what I think, but what I wanted to do was have James take us through some of his favourite images from the 2013 season in preparation for the incoming 2014 events. His approach fascinates me and the risks he takes are impressive too. Just wait until you see and understand the Singapore grid shot. Let's get to it…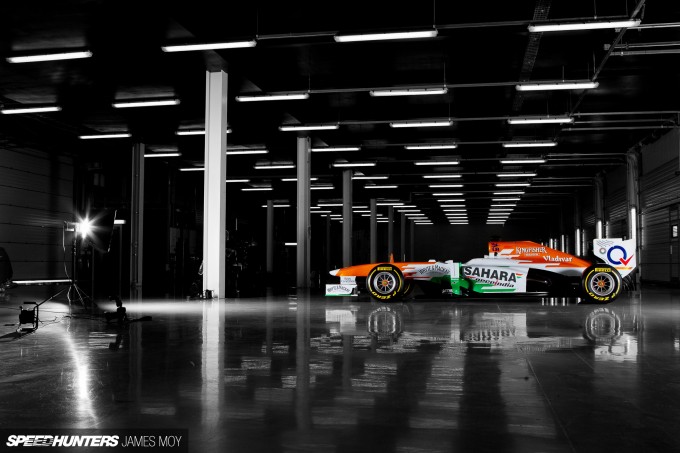 "An example of working with what you've got. I had to shoot the reveal of the new Force India car and only had the garages to shoot it in. I rarely use lighting but here it adds that drama I needed and I like the way the colours 'pop' too. This is pretty much straight out of the camera.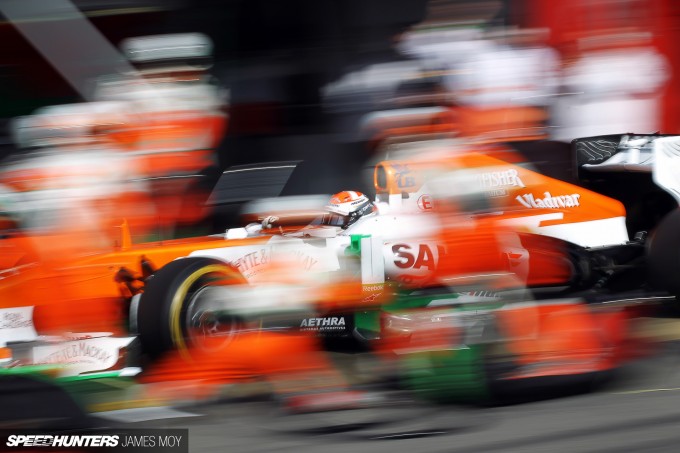 "A pit stop practice. I think Red Bull did one in 1.9 seconds to change all four wheels in 2013. So five years ago, when it would last ten seconds and you had refuelling, you almost had time to take a couple of shots. Now I almost can't get there in time; by the time they run out and it happens, it's all over. So to get pit stop images now is so much harder.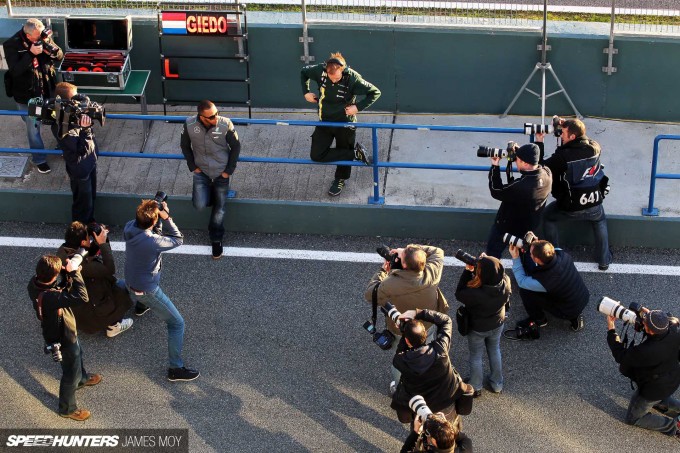 "Hamilton at Jerez; the first day of winter testing and the first time we'd seen him as a Mercedes employee. This shot shows how much, even at a supposedly quiet event like this he gets hounded; this is also shows how Lewis knows exactly what he's doing. I was on the roof waiting for a car to come and saw him taking a walk. It also shows how we work together: there's a definite pecking order as many of these will be first-timers, then you've got the permanent photographers with the numbered jackets.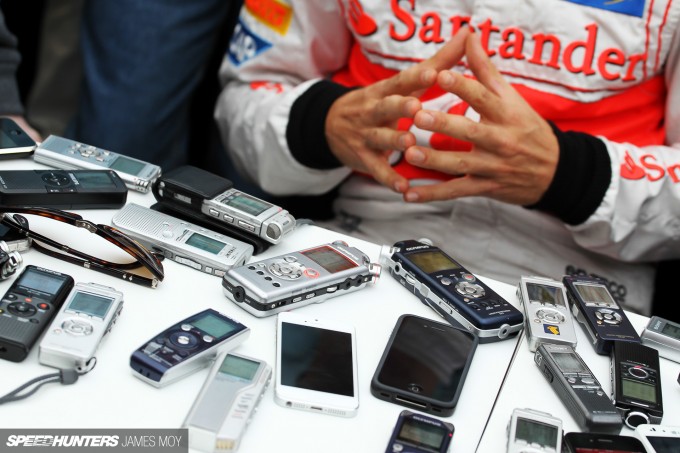 "Voicerecorders, in front of Jensen Button; this shows what drivers go through outside of the car. So this was after Jenson's first ever run in the McLaren – again it's testing and the quantity of press that want to speak to him is still massive. I could have gone for the shot of him, but actually I noticed all these devices and that makes the picture with his hands. This is as much as about the importance of his words as it is his driving.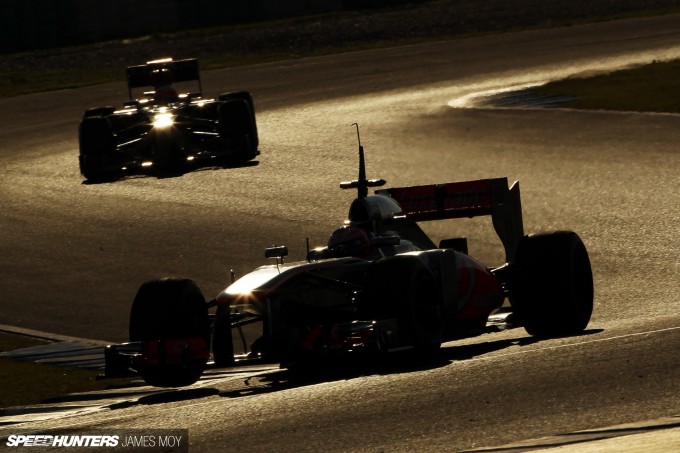 "A classic winter testing picture, maybe in the last five minutes of the day at nearly 6pm. I'm just willing them to do one more lap as the sun goes down. It's obviously very back-lit and made by the lifting of the inside wheel and flare on the nose. It doesn't matter who it is, but it's a shot you'd never get in a race. It hooks people in pre-season and it can be used commercially as you can't tell what the car is. It oozes quality.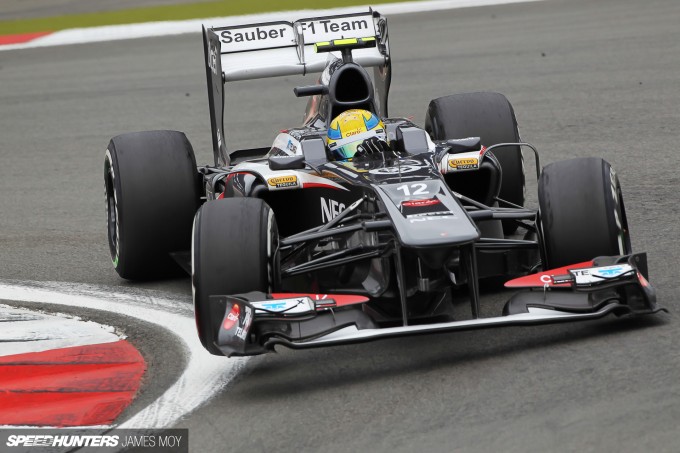 "Nürburgring: a Sauber lifting a wheel on turn one. Essentially it's about the aggression of the the Nürburgring – every single car lifts a wheel on turn one every single lap they do. It drops down roughly a metre. In a normal sports car you probably wouldn't notice it as much as you do here. Other than Monaco, this is probably the maximum amount of lock you'll see on an F1 car.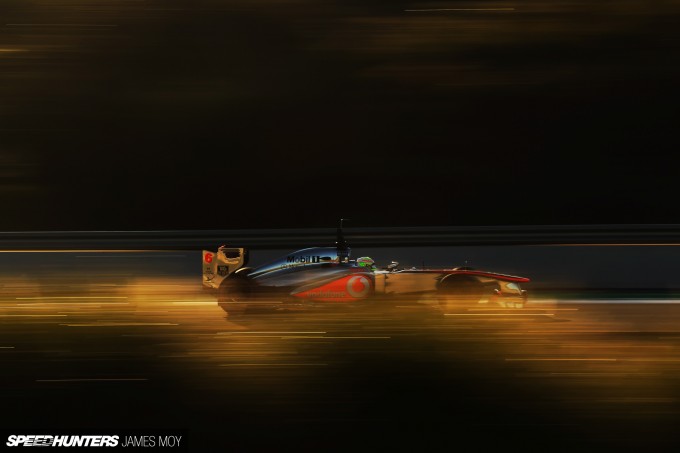 "Low, winter light. I love it. I go back to these circuits time and time again, so I know them like the back of my hand, so there are times when you use the elements around you – bushes, branches and trees. All of them change seasonally and combined with some winter light, you get something you won't see normally.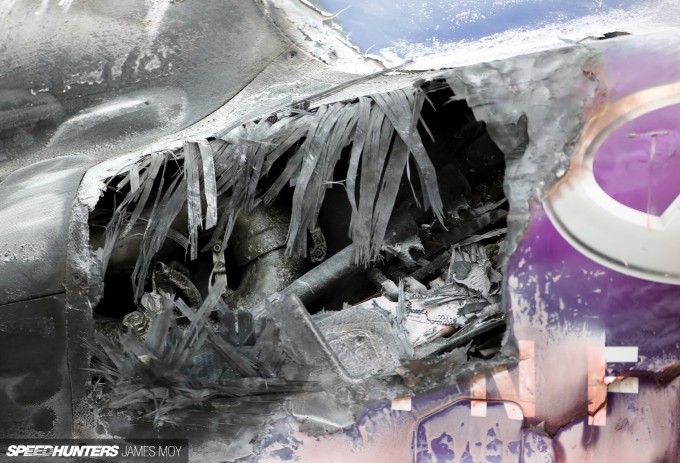 "This is Webber's burnt car in Korea. He had all the bad luck in 2013 and I suppose this works because you don't instantly know what it is; you sort of look at it and then realise it's bits of melted carbon fibre and then there's the colour too. All covered in foam and dirt.
Timing is EVERYTHING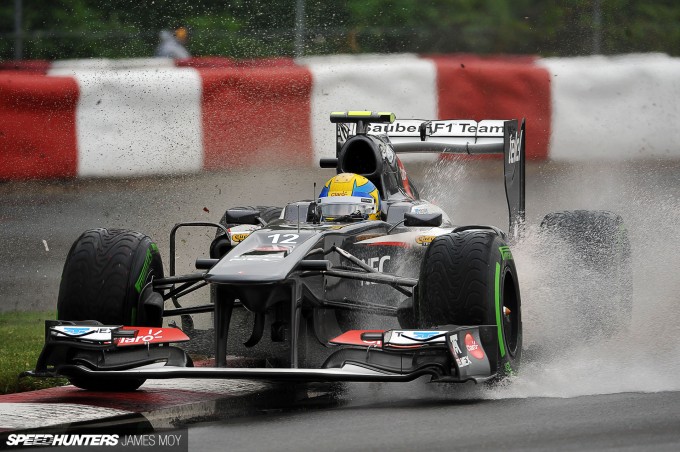 "In Montreal it rained all weekend and I noticed a big puddle on the inside of turn one. Most people avoided it except Esteban Gutierrez. I thought somebody might go for it, so you line up with the right lens on the right exposure hoping and willing somebody to make the photo for you. Then bingo!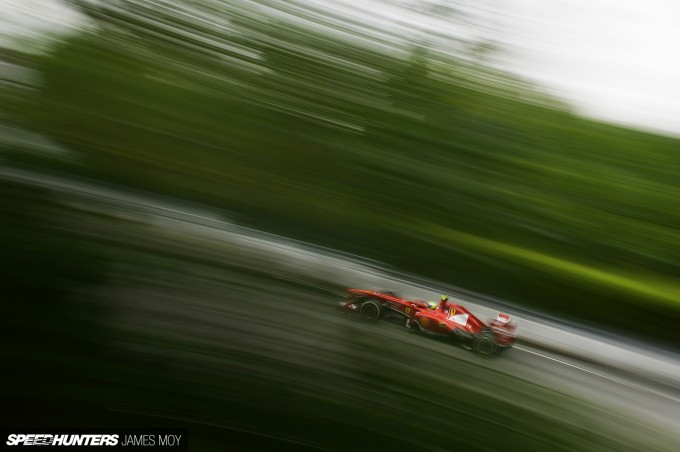 "Montreal. This is about using the environment around you. It's quite hairy because there's quite a few snakes around there, so you're aware of what's going on with your feet whilst trying to be as smooth as you can.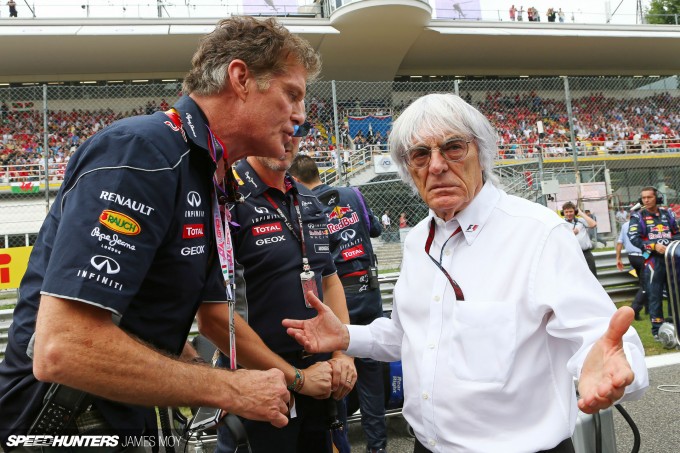 "Bernie and the Hoff! That's on the grid in Monza. The Hoff turned up on the grid quite a few times in 2013 as he's an ambassador for Infiniti, so he comes along with Red Bull. I love the expression on Bernie's face: 'And you are?' Of course he knows who he is but I'd imagine he's trying to blag another pass for his girlfriend to get on the grid.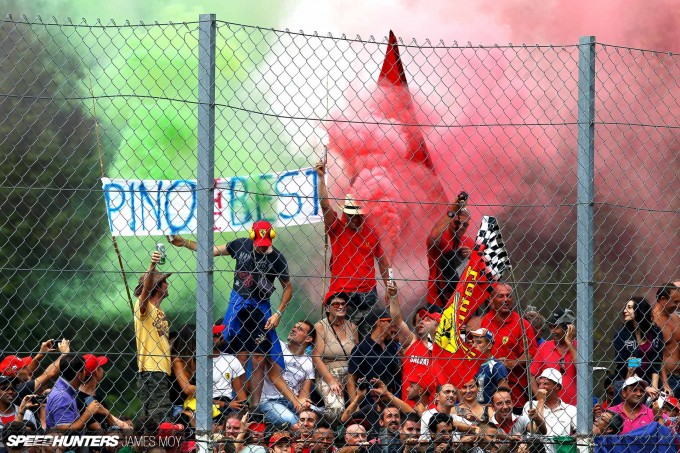 "Classic Italian Tifosi; they're the most passionate fans of wherever we go. The thing with Monza is the amount of people trackside, so if you're a marshal, you bring your wife and kids along too, and their mates too. The Police too, but on the flip side you can go anywhere. It's health and safety – Italy? They rip up the rule book. There's something unique about that and it changes the way we work – the logistics and you're constantly aware you might be pickpocketed. It's unique.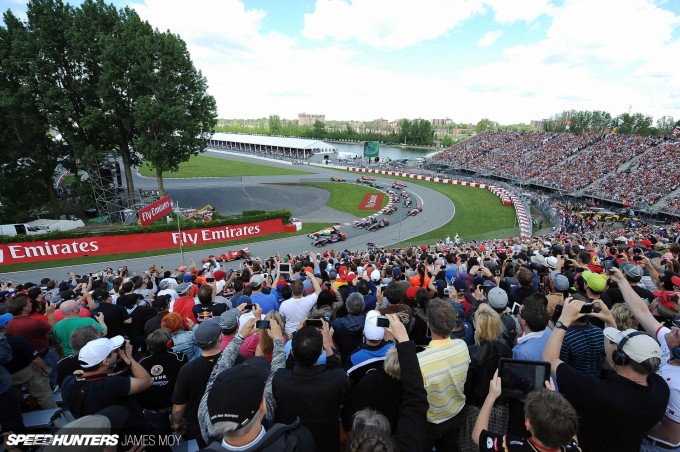 "This is the first corner at Montreal. This shows you can get shots from the public areas and you don't always need the access we get as official photographers. I realised every single person is holding up a camera of some kind; if I was a fan, I'd rather soak it all up. I thought this would make a good picture instead of being down on the corner with most of my colleagues. They're goal hanging, waiting for a crash maybe. I wanted something different, more scenic.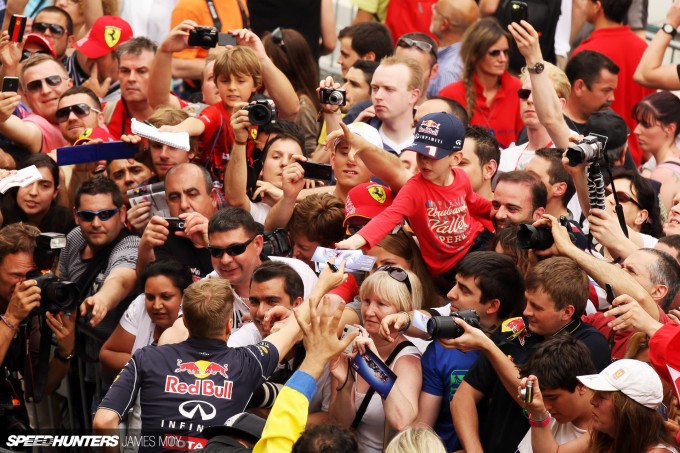 "This is Vettel with the fans in Spain. I like this because it shows the pressure he's under. He almost gets lost in that picture and then you see they're all clamouring for him.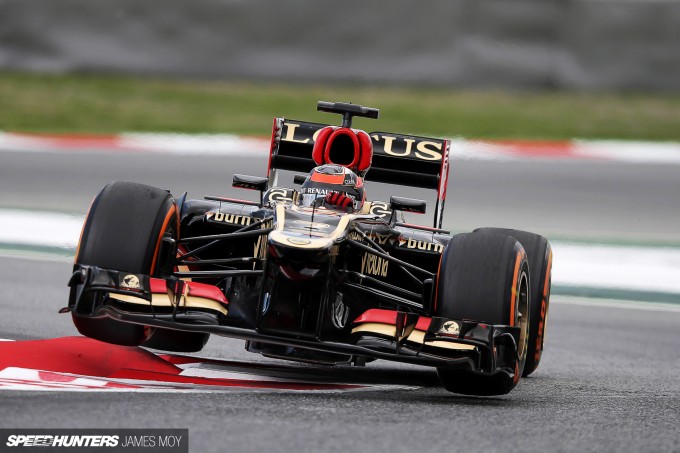 "That's the final chicane in Barcelona: it's new and I don't personally like it. It's screwed a few shots up in the past and it slows them down, so again you have to sit and wait, imagine your shot and wait for it to happen. It's not just fluke. You're on a 500mm, pre-focused. The more time you spend photographing the drivers, the more you know who will attack more. These guys may not be the fastest, but certainly they're the most dramatic.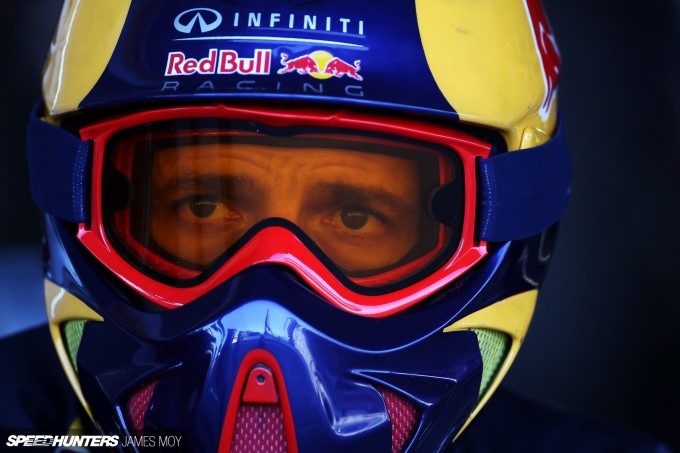 "Again this shows it's a team sport; you can see he's pensive, ready. This is probably a pit stop practice as I wouldn't be able to get that close in a race, but again you wouldn't know that from the shot. So you take the moments where and when you can.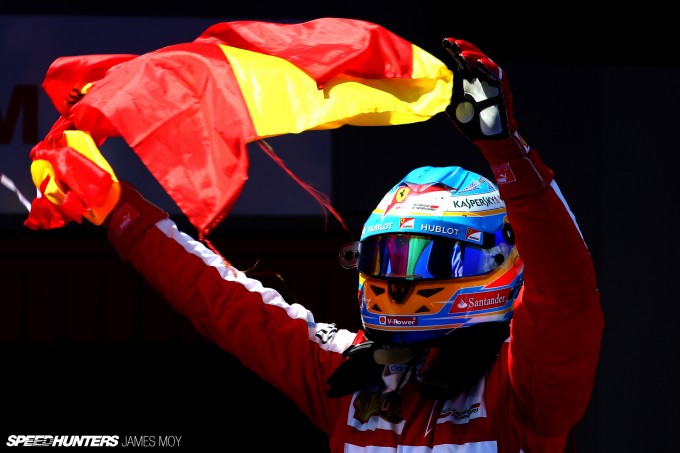 "Alonso winning his home race. I think he'd got the Spanish flag from a marshal and come in to parc fermé with it. There are a couple of things here: he's stood on top of the car and the light passing through the flag really makes it stand out. The problem with parc fermé is there are two or three cameramen in there with them who get priority and you never know what the driver will do, which way they'll run. So to get a clean head shot with the flag and no distractions was great. You just have to pick a spot and trust your instinct that you know what that driver will do, think of what they've done in the past in similar situations and start considering that whilst the race is finishing around you.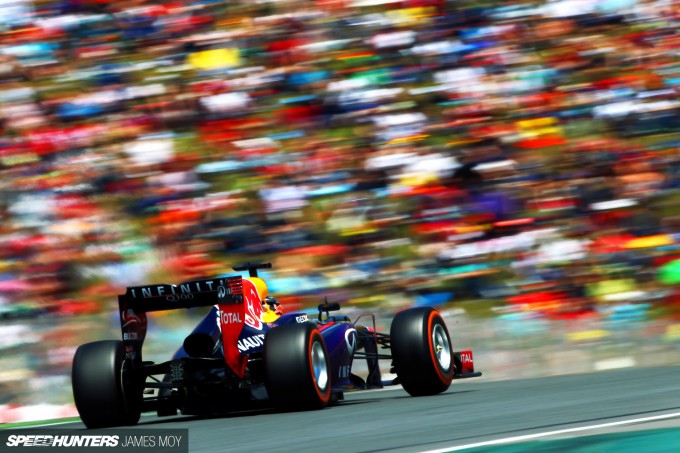 "This is Vettel in Spain. It's a shot I will only ever do during the race because I need that hillside to be covered in fans to create the colour. You can see the suspension is fully loaded up and it's traveling at around 180mph with the car approaching over my left shoulder. This is shot on a 500mm lens at 1/50th of a second at F20. I thought it was slower than that, but I usually start at around 120th and work my way down after getting my safe shots.
It's not all racing cars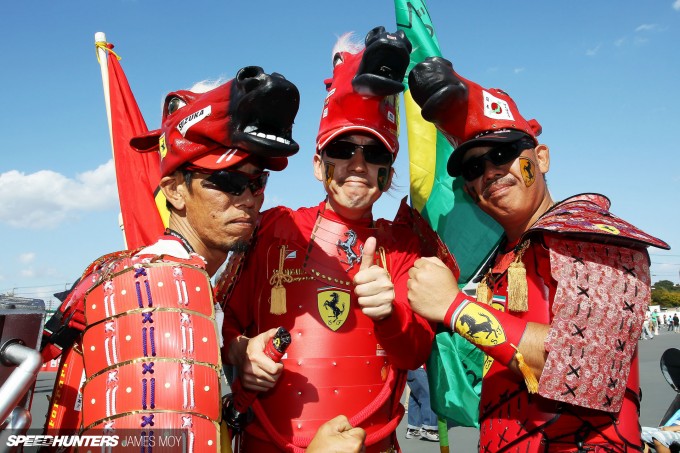 "Japanese fans in Ferrari Samurai suits. This is to show that not everything I do is cars going around in circles. My editorial clients want general pictures too, we need fans and flags and colour. Nowhere is better for that than Japan; the effort is amazing.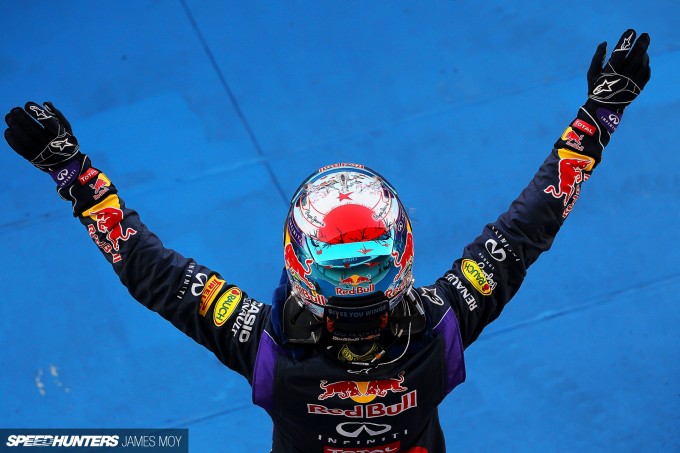 "Vettel celebrating in parc fermé. This was another gamble as I was up on a balcony above the podium and I was hoping he'd do something with his hands. Given the visual noise surrounding him, here he's pictured alone, so you can focus on the subject. I also like this angle because it shows off his limited edition rising sun helmet created especially for Japan. Formula One is frenetic and communicating it like this is something I like. Just outside of the frame, there are thousands of people.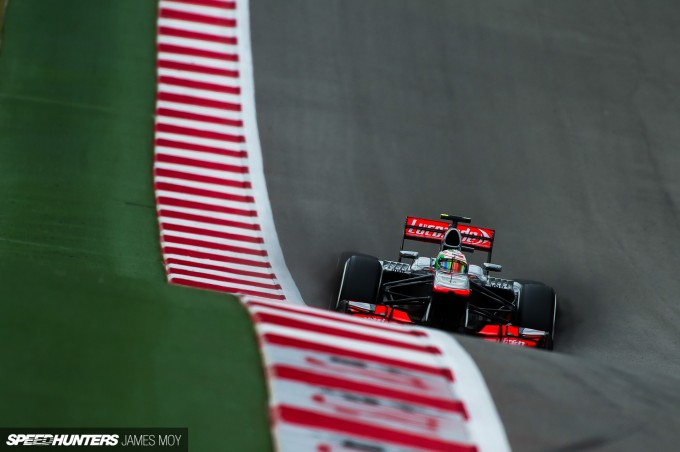 "This is in America. Because it's a new track, it's great for us as we can experiment and try to find new pictures and that's why I love new circuits. There are about 80 photographers that go to all the races and we all know each other; we're all quite good friends but there's still a massive level of competition. The next year everybody will go and do your shot and somebody else will find another… This is all about the undulation and the seriously heavy braking with the dust being thrown out.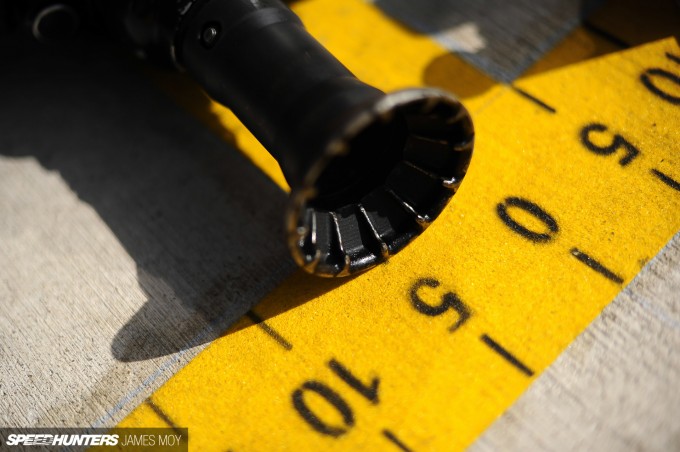 "This shows the details of the sport, the minute accuracy that the teams go to. It's a piece of tape on the ground where the cars need to stop. So effectively they can show the driver he's stopped 5cm too late. Because of course it makes a difference: this is the precision F1 goes to.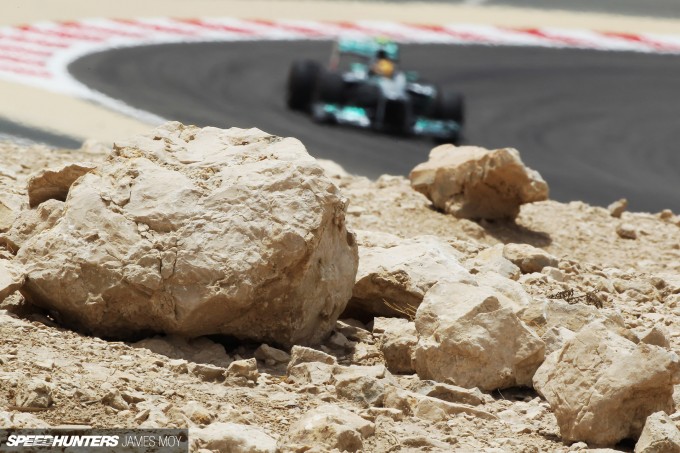 "This is Bahrain again and it's something I try to do at every race: it's showing where we are, the terrain and surroundings. After all, the cars are the same, so what's unique about where we are? Literally we're stood up to our ankles in sand. It's so far removed from and a polar opposite of the sport itself.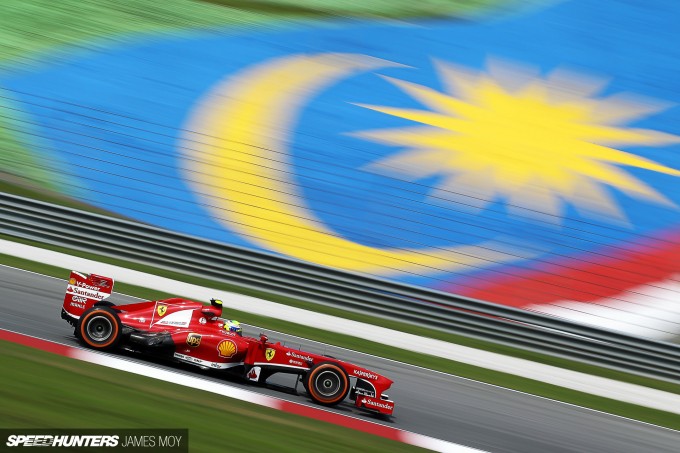 "Day one, first session. Clients will expect a shot that says 'We are in Malaysia'. Obviously the circuit designers know this. Sure it's been done by everybody but it shows the commercial element too.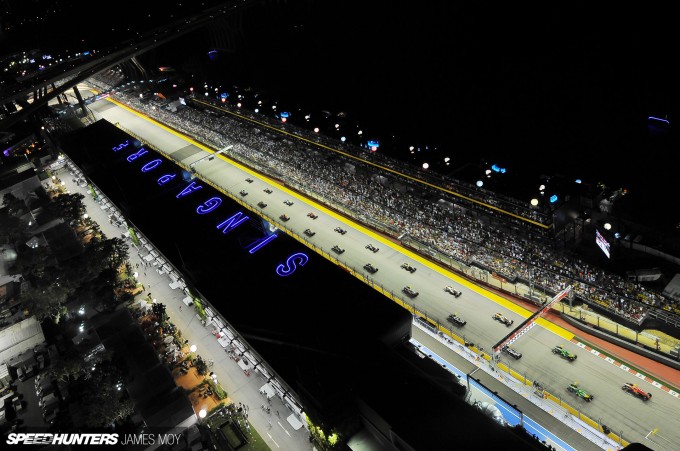 "This is an overhead shot of the grid at Singapore, which looks fairly straightforward until you realise what's involved to get it. I'm on a tourist wheel, the Singapore Flyer, and as ever it's all about timing, as you have to know exactly when the cars will be on the grid given that it's a ten minute ride up there and it'll be at least 20 minutes before I'll be back down on grid. Granted it's a risk, but what you get is a picture nobody else will have. Which makes it all worthwhile. Even though I'm wondering if I've done the right thing!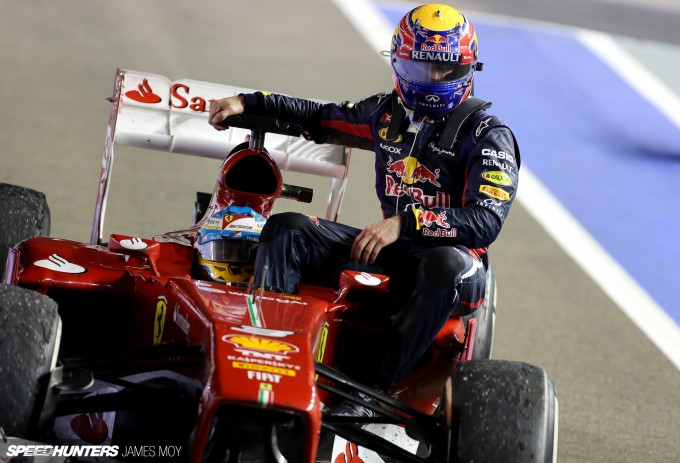 "This is Webber riding back in on Alonso's car. This is a strict no-no and against the rules, but I think he knew he was leaving and didn't give a toss. It's something we used to see a lot of back in the '80s: Senna and Berger and everybody. It shows how strong the cars are and how Webber is a bit of a rebel.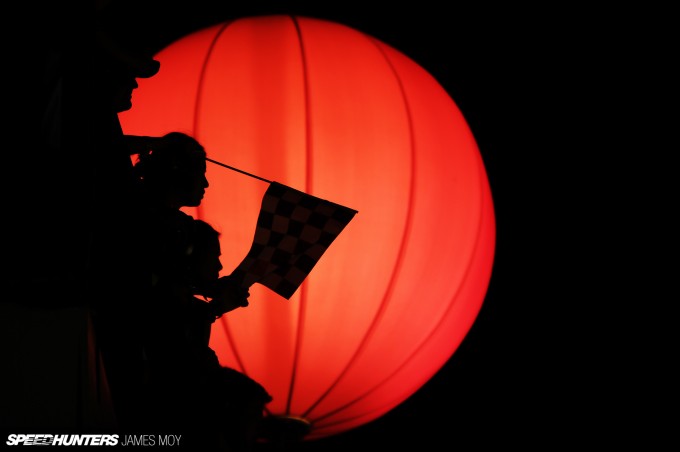 "Unique lighting from the night race at Singapore means you can get shots you won't see anywhere else. These are VIP guests up in a hospitality suite – it's quite indicative of the place.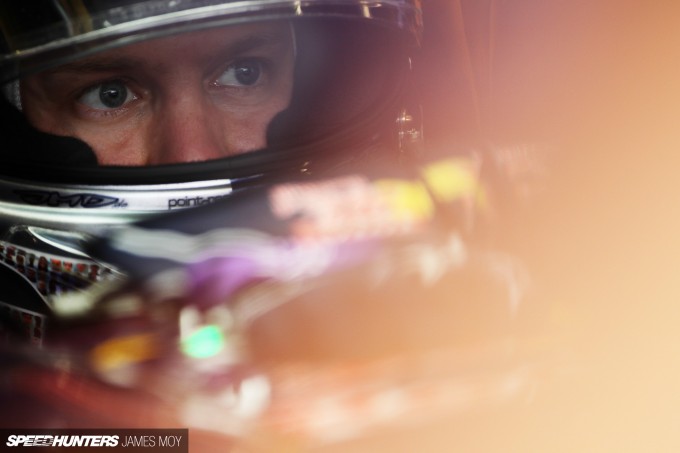 "We take hundreds of pictures like this every year. We have good access to the pit lane but you can't go in the garages unless you work for the team. So you spend a lot of time hanging around outside, waiting for the drivers who often are sat in their cars, surrounded by mechanics, with a monitor in front of them, with wires, and piles of tyres, so it's very hard to get anything clean of them. This is using a bit of a bloke's arm to blur that side of the frame; it's what most people would look at as an annoyance but you learn to use these things.
Pulling strings and being inventive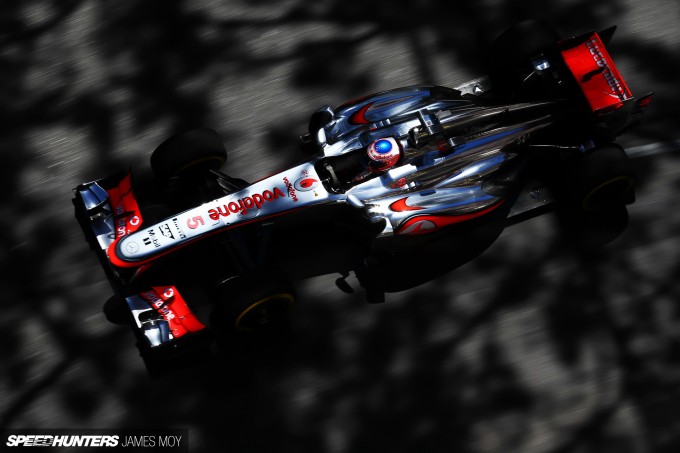 "Here is Jensen Button at Monaco. Getting access is key here. This is taken from a hospitality suite and there was this lovely dappled light. It doesn't scream Monaco – in fact it's a terrible picture but it's very rare we can get overhead, and light like that with the chrome finish? I'll try and get back up there next year!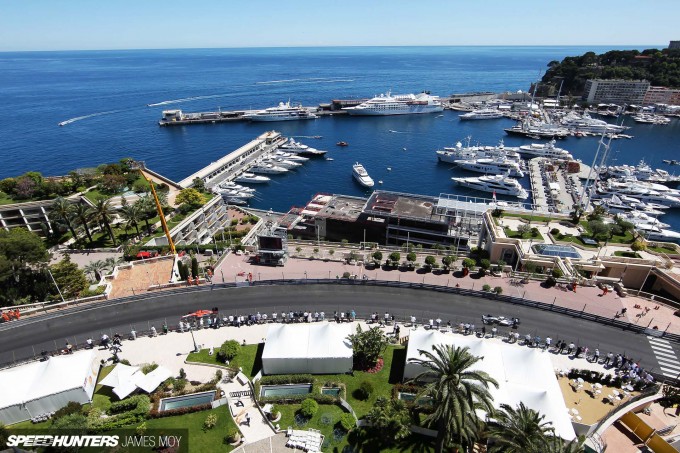 "This is obviously Monaco: the sea, the boats, the harbour, the race cars and VIPS. Like I say you need to get yourself into places – this is the Hotel De Paris. There's a funny story behind this one though: I opened up a magazine and there was a double-page advert for a motorsports travel company and I recognised it as my image. So I called them up and asked if they were aware it was mine? They'd got it from another magazine and said "What do we do?" So I said, "You pay me, I don't sue you". Phone goes down and two minutes later it rings again – it's the CEO of the company and he tells me they have 700 bedrooms booked out in Monaco for every Grand Prix and he said, "Is there anything we can help you with?" So I suggested he gets me in to every building he's got access to. Deal done. That's worth far more than a fee would ever be.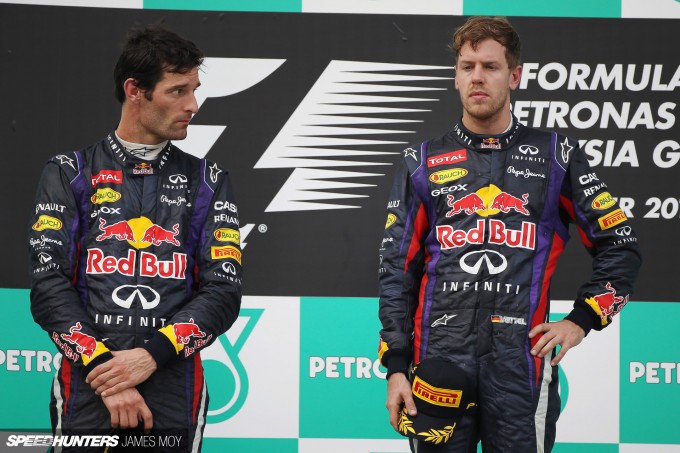 "The power of this image: Webber and Vettel on the podium at Malaysia. Vettel had ignored team orders and overtaken Webber when he was leading the race and their body language said so much. It went downhill from there on. It's not a beautiful photo, but the subject and apparent emotion is making it.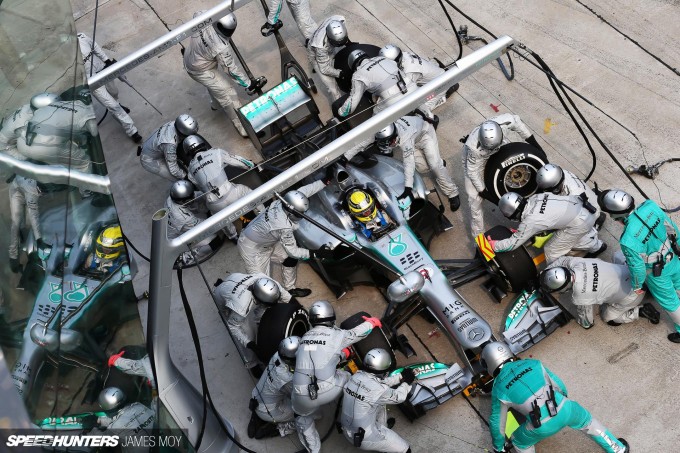 "Here we're overhead in Malaysia looking down into the pits. It's very rare to get overhead because usually it's where the VIPs are. But because it's so hot, people don't use the terraces, so you can run up and down as different teams have a stop. I like the reflection in the glass and the grey overtone with flicks of colour.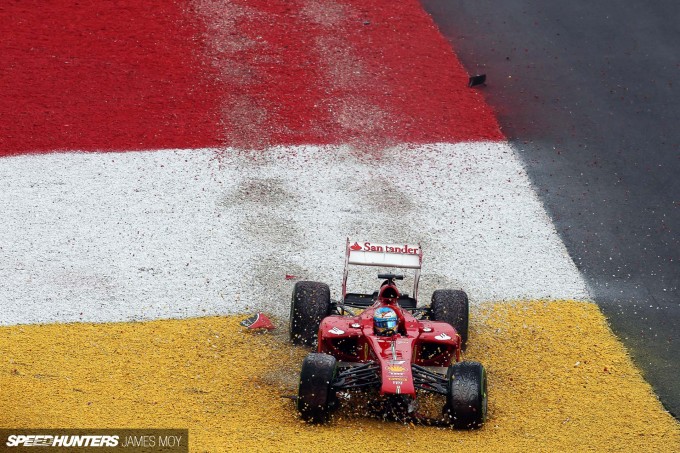 "Alonso in Malaysia. It's made by the coloured gravel at turn one. There was another similar shot to this the year before so I knew it was a spot; of course it ruined it for TV afterwards.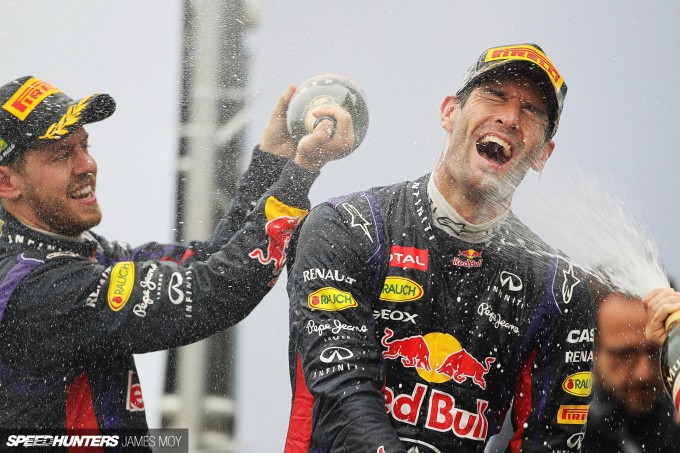 "Again, Webber's final race. After all the drama, they're still teammates and this is the final time they'd be on a podium. There's such a sense of relief in this image.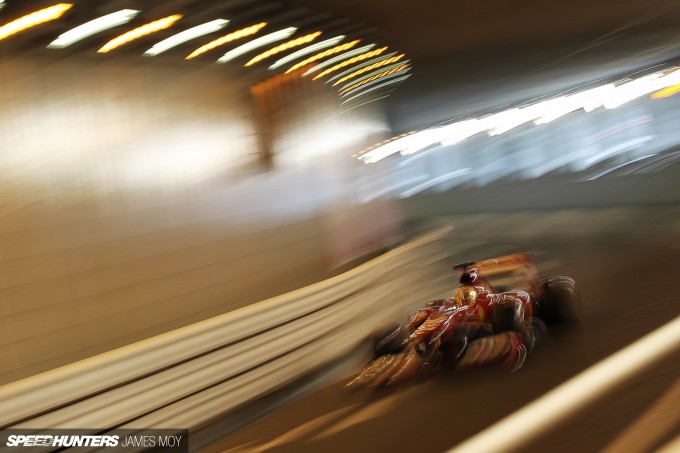 "The tunnel at Monaco is so unique in F1 and only us photographers can get access, which makes it even more insane. You stand there with earplugs in and your whole body shakes. It's dusty and dark, and it's also quite hard to get in a position to even see the track because the wall is so high. Then the minute you get out and it's all glamour and sunshine. It's almost a stolen moment between you and the drivers. The darkness means this was shot at 1/13th of a second. As a TV fan, you never realise there's a corner in there. The other amazing thing is it's the fastest part of the track, as they exit the tunnel at 210mph. It's a phenomenal place.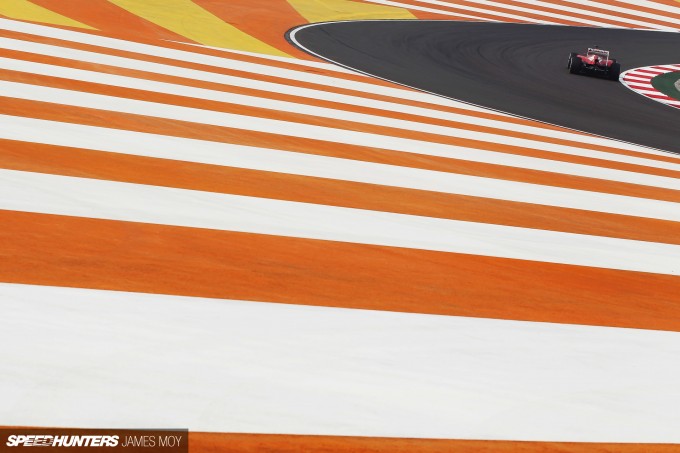 "India with a Ferrari. The new circuit is not one of the photographers' favourites really. Because it's new, it's got big run-off areas, high fences and lots of advertising hoarding. So getting something different and clean is hard, so again you use the shapes and colours to your advantage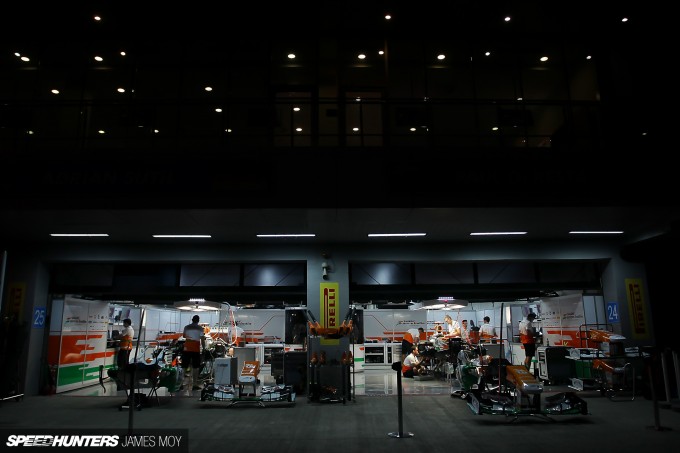 "I think this is Japan, no, India… It shows that after the fun and games on track, there are still a load of blokes working away. You've got the VIP suites above all shut up for the night and below them the teams are literally stripping the cars down. The real work often goes unseen.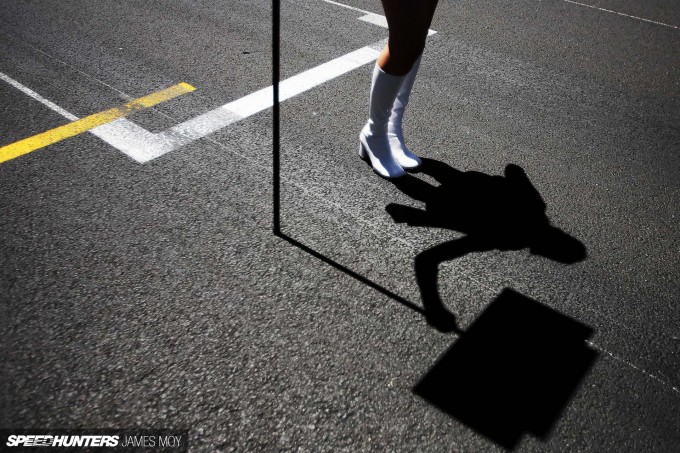 "I'd say 90% of the photographers I'm in competition with would have got on that grid and taken a photo of her face. Playing with shapes and form and I could have cropped it in even tighter; I'll admit I've done it before.
Acting on instinct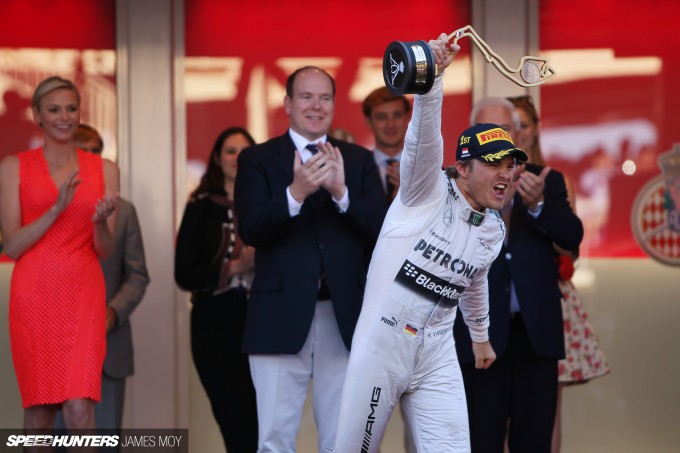 "The podium is very different in Monaco: you don't get all the corporate branding which is nice but it leaves you at a bit of a loss to know what to expect. It's also quite formal as you've got Prince Albert and his wife, and as ever you don't know what they're going to do when they get out of the car. Seeing as it's meant to be quite a prim and proper moment, it was great to see this explosion of emotion.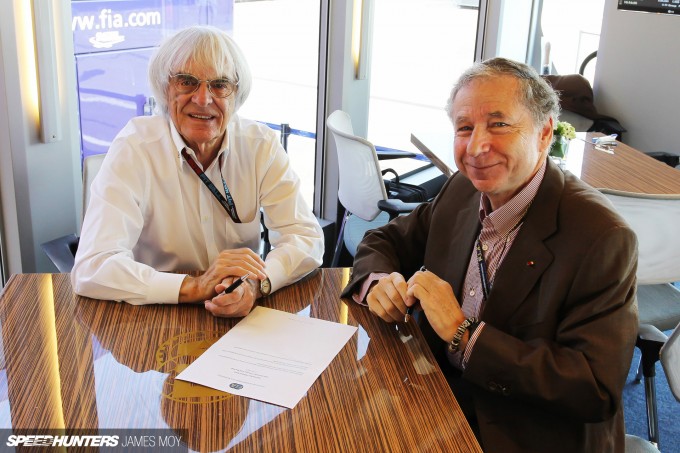 "This was in Hungary and I was loitering around in the paddock and suddenly Bernie came out of his motorhome and said, "Oi, you. Come over here". He said, "In about two minutes, I'm going to make a very important picture with Jean Todt. Can you come and take a photo?" He told me to grab two or three photographers and bring them as well, so I quickly phoned my mates from Getty and the other big agencies and four of us got in there. He sat us down and said there are seven of us in this room, can we keep a secret? He said Jean Todt and I are about to sign the Concorde Agreement and I want you to take the photo, and in an hour, release it to the world. This was a nice moment. Afterwards, Bernie wanted to find out how we'd all been affected by the recent changes to access that had been put on us after a cameraman had been hit by a wheel in the pit lane. It shows how switched on he is: how he wants to know and understand about everything. It's worth remembering here that he could own the photography rights but there's a freedom of press and I respect that.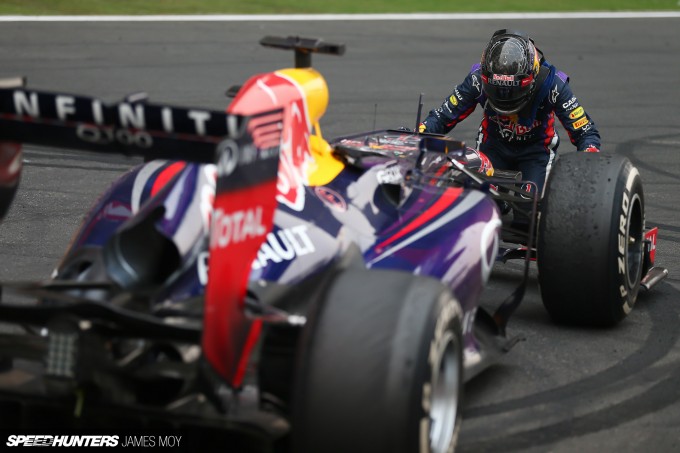 "Vettel bowing down in front of his car after sealing the championship in India. He'd done a load of donuts, which is a big no-no and he'd parked on the start finish line and bowed down. Given everything that's going on around him, this was a very special moment for him and his car.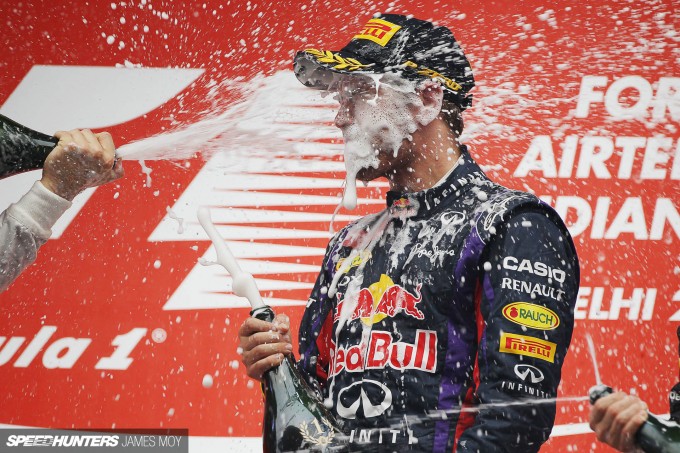 "This is the championship-winning podium in Delhi. Everybody was gunning for him. It's a very graphic image close up on his face, but I kept the hands in to give it context. This was shot on 1/400th and you never really know what speed to shoot a podium on, because you want some movement but they're jumping around a lot, so you need it sharp too. No second chances.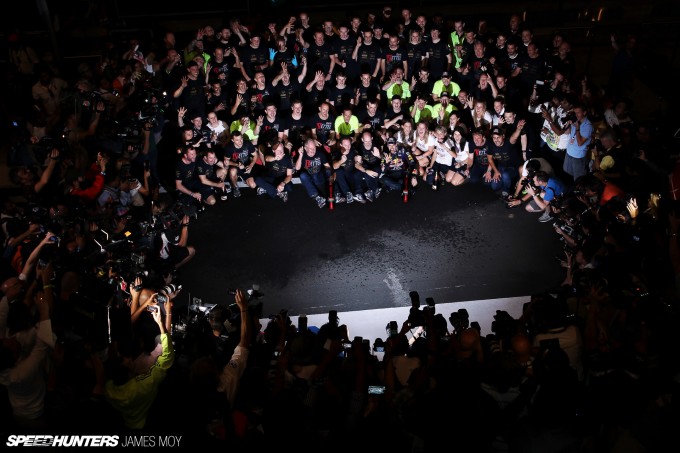 "They try and get all the mechanics in to show it's a team sport; the world sees Vettel on a podium but in reality there are hundreds of people involved. There is one of these after every Red Bull win, so I took a gamble going up on a balcony above with no flash, hoping to catch everybody else's light, which sure enough I did. There were 50 other photographers down there!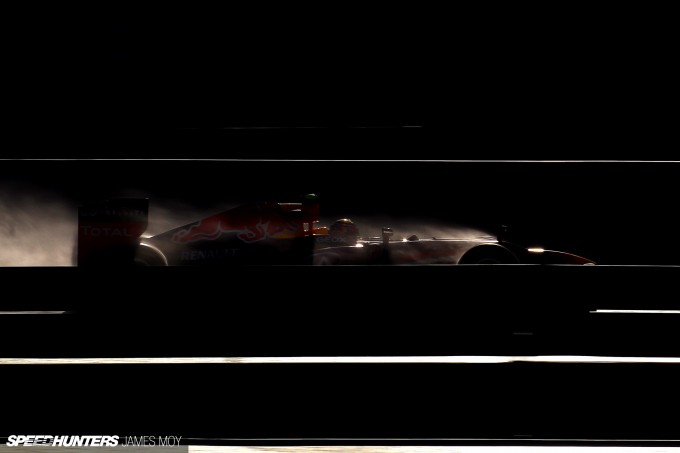 "It was wet in testing at Barcelona. I had one lap between to get this picture so I pre-focused where I think he's going to be on track and then I went for it. A nice graphic image and again, something that you'd never get in a race.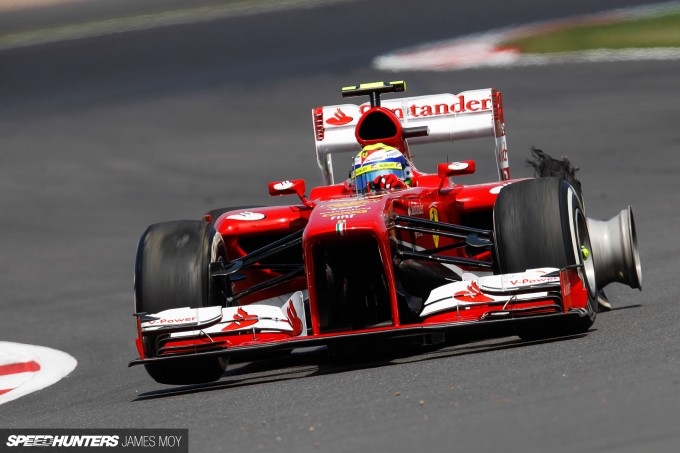 "Ahh the great tyre debacle. I feel sorry for Pirelli a bit. They were told by Bernie to make tyres that fall to pieces and they did exactly what they were told. I was at the end of Stowe straight at Silverstone where they seemed to be going, so I made sure I got as many as I could because I knew from a news standpoint, they'd sell well.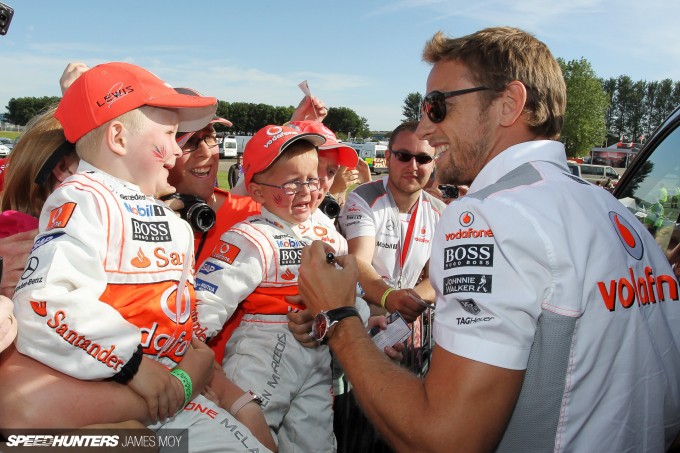 "I happened to be doing a post-event concert at Silverstone and Jenson had jumped in his blacked out van to head off, when this kid started screaming because he was leaving, so he got the driver to reverse back up, jumped out and got chatting to the family. It turned out the kid is actually called Jenson. This demonstrates the personal side to me – some of them are really good guys.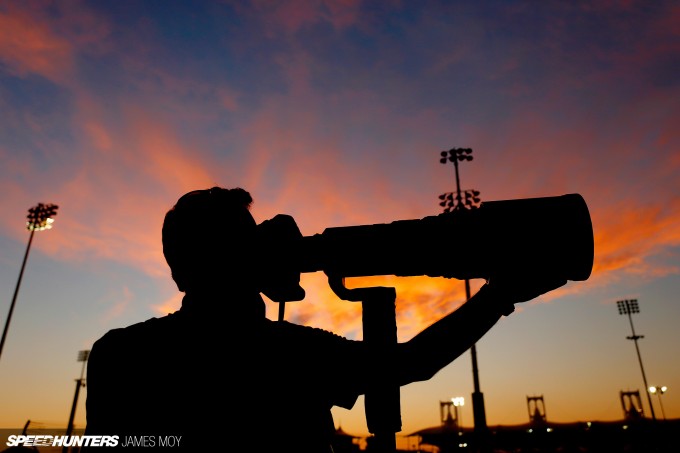 Blown away? Humbled. The great thing is James talked me through these like they were family portraits, this comes so naturally to him now.  This is what you aspire to as a photographer: the skill set to adapt to any situation and the composure to produce unique and great imagery in any situation. So I'm sure you'd all like to join me in thanking James for sharing some of his incredible images with us. Just remember, the next time you see a Formula One race advertised on TV, that somewhere nearby, James will be shooting away, before hopping on a plane and forgoing any kind of normality to capture the next incredible moment that didn't happen quite yet.
Image envy? Me? Oh yes! Thanks James, I enjoyed that. Now when's the next Formula One race? Roll on the 2014 season…
Bryn Musselwhite
Instagram: speedhunters_Bryn
bryn@speedhunters.com