Touring, Toyotas and engineering trials
Haven't heard of GPRM? I wouldn't be massively surprised. Even its team principal, Gary Blackham, admits that the wider world is probably largely unaware of just how wide-ranging their expertise is, despite the high profile programmes they're involved with. Their name has perhaps popped up more frequently recently because of their involvement with making shells and subframes for the British Touring Car Championship and a relatively recent relationship with Toyota that has led to some interesting projects with GT86s, but GPRM always seem to be in the shadows. I think that's going to change…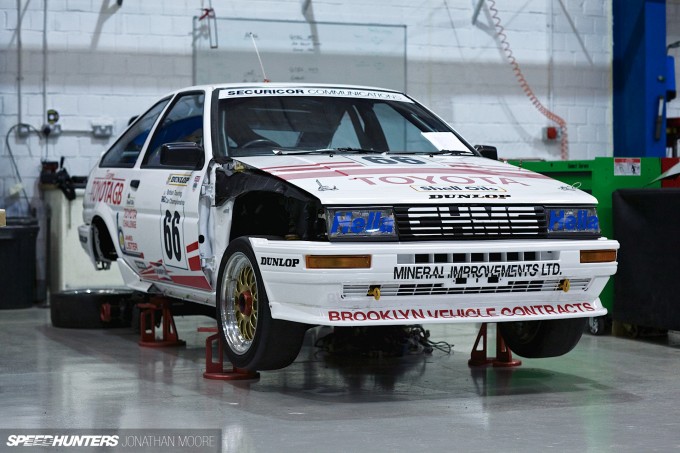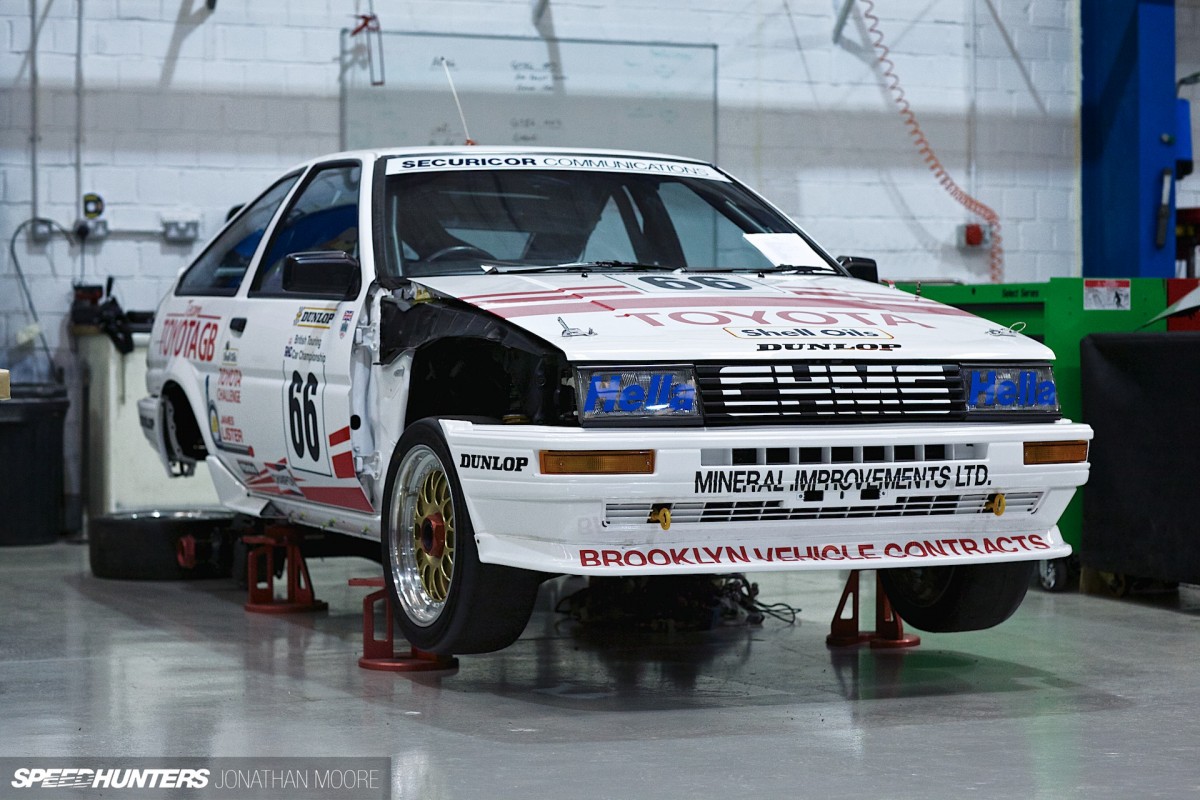 All it takes is a little delving around the spacious facilities at GPRM and a chat with Gary to realise that these guys have pretty much touched on every possible aspect of racing over the last 30 years. They only formed GPRM in 1999, but their collective CV is simply insane. Group C? Done that. Classic touring cars? Tick. Le Mans prototypes? You bet. Super tourers? Yep. Supercars? Sure. Between Gary and his co-director Roger King, you can mention most iconic UK or European motorsport teams or series and they've worked for or in them at one stage or another. Broadspeed, Spice, Audi, Champion, Cadillac, Schnitzer, Yamaha, Aston Martin, Bentley, Toyota, TWR… the list goes on.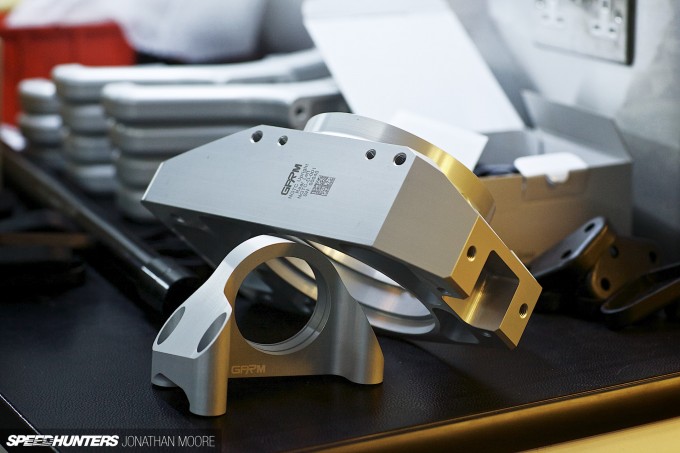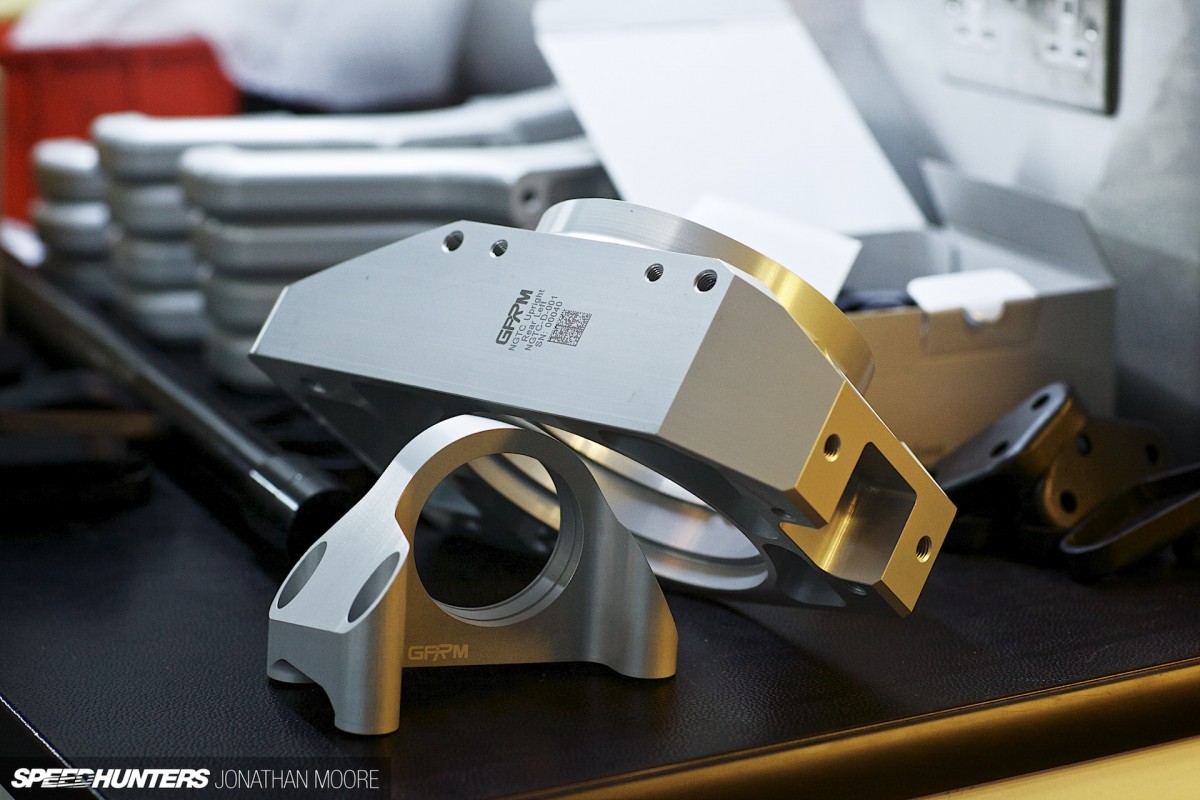 Experience doesn't run much deeper, or normally come demonstrated by such modest people. I caught up with GPRM back at the Autosport show back in January, where they were showing off their latest project: an up-gunned GT86 aimed squarely at the race track and the GT4 category. It was time to see what other tricks they had up their sleeve, and our Workshop Theme was the perfect excuse.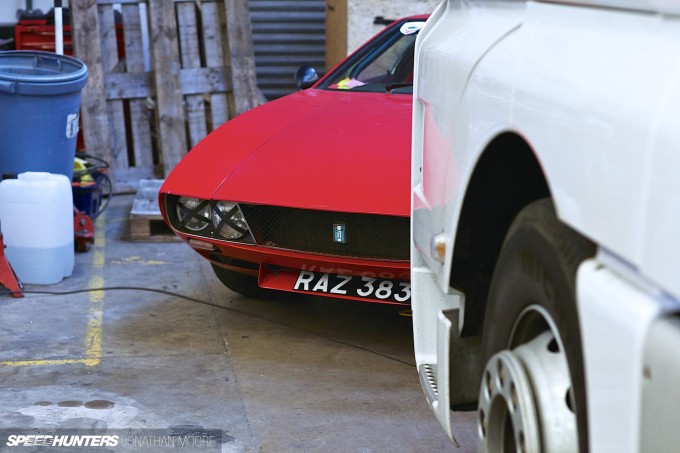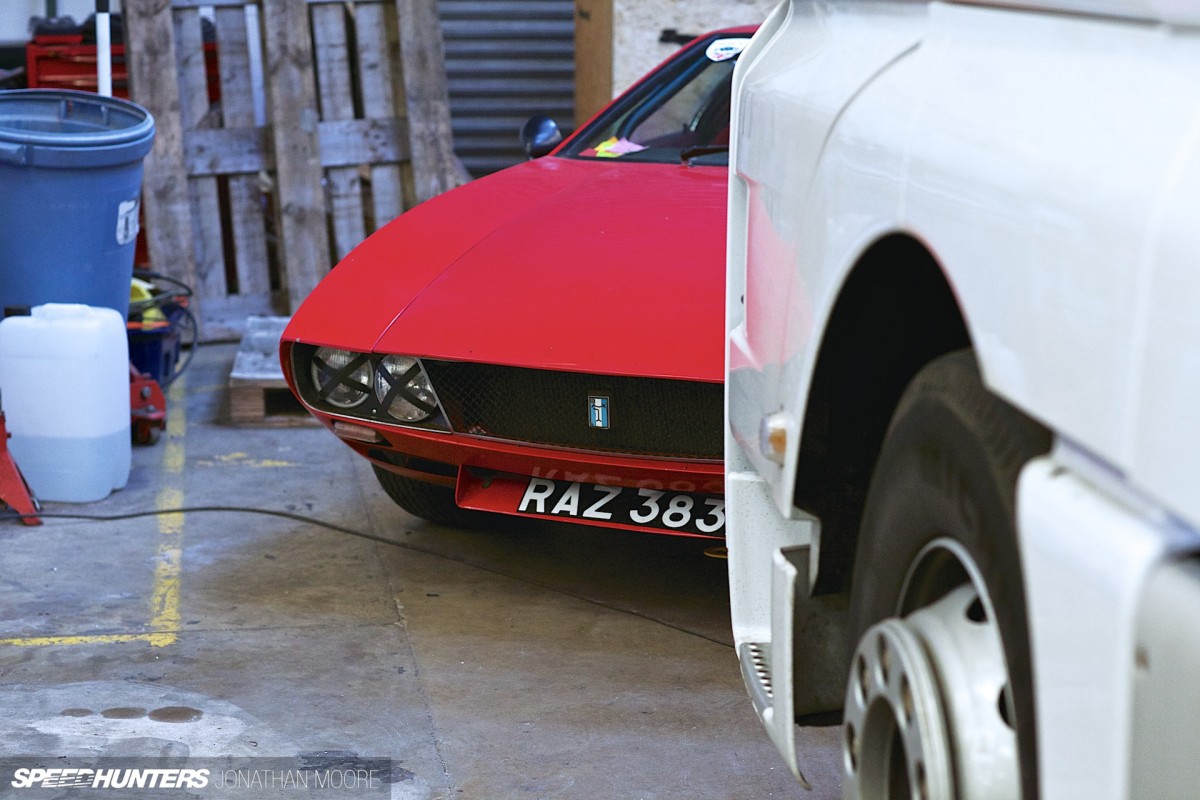 As ever with workshops of specialist teams and companies, there's always something tucked around the corner that the boss thinks is just making things look untidy, but to an outsider causes cardiac arrest.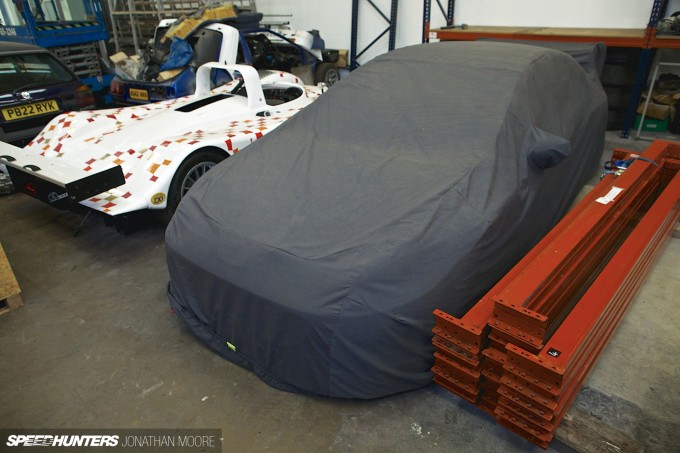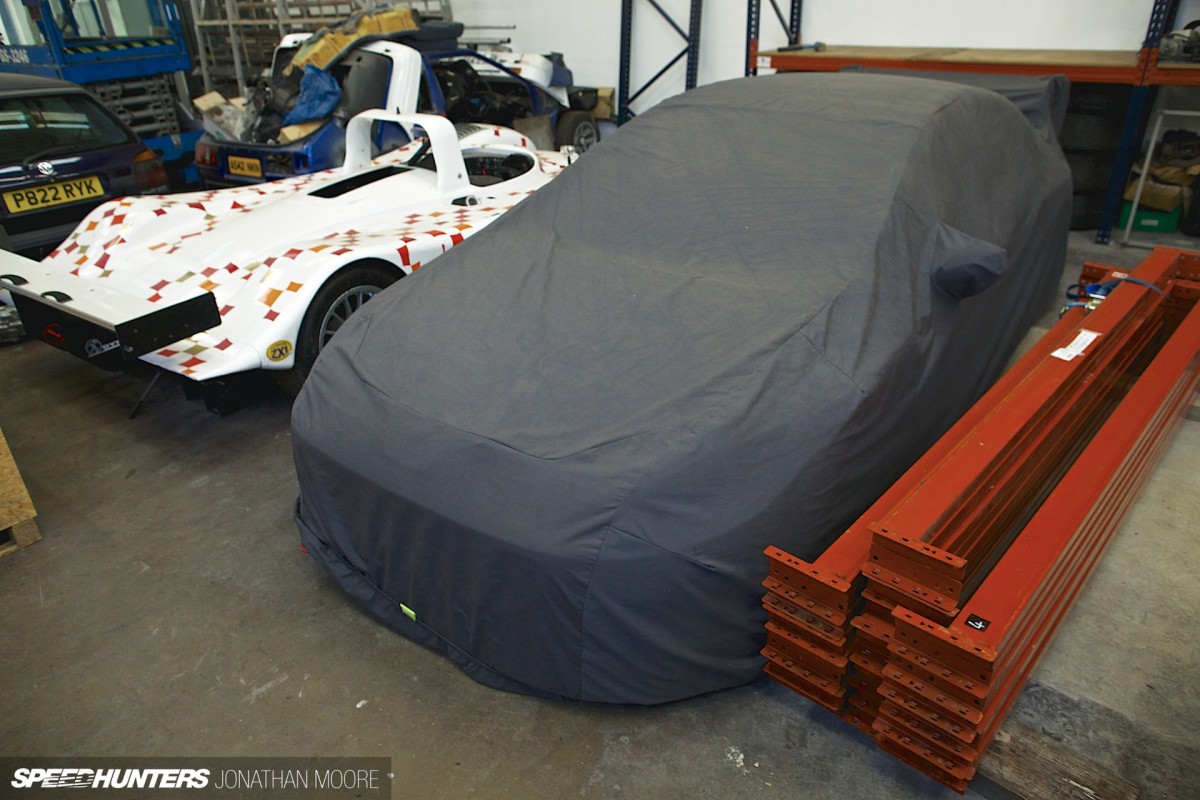 Then there are the things lurking under dust covers… Next to things which should be covered by a dust cover. So much to explore.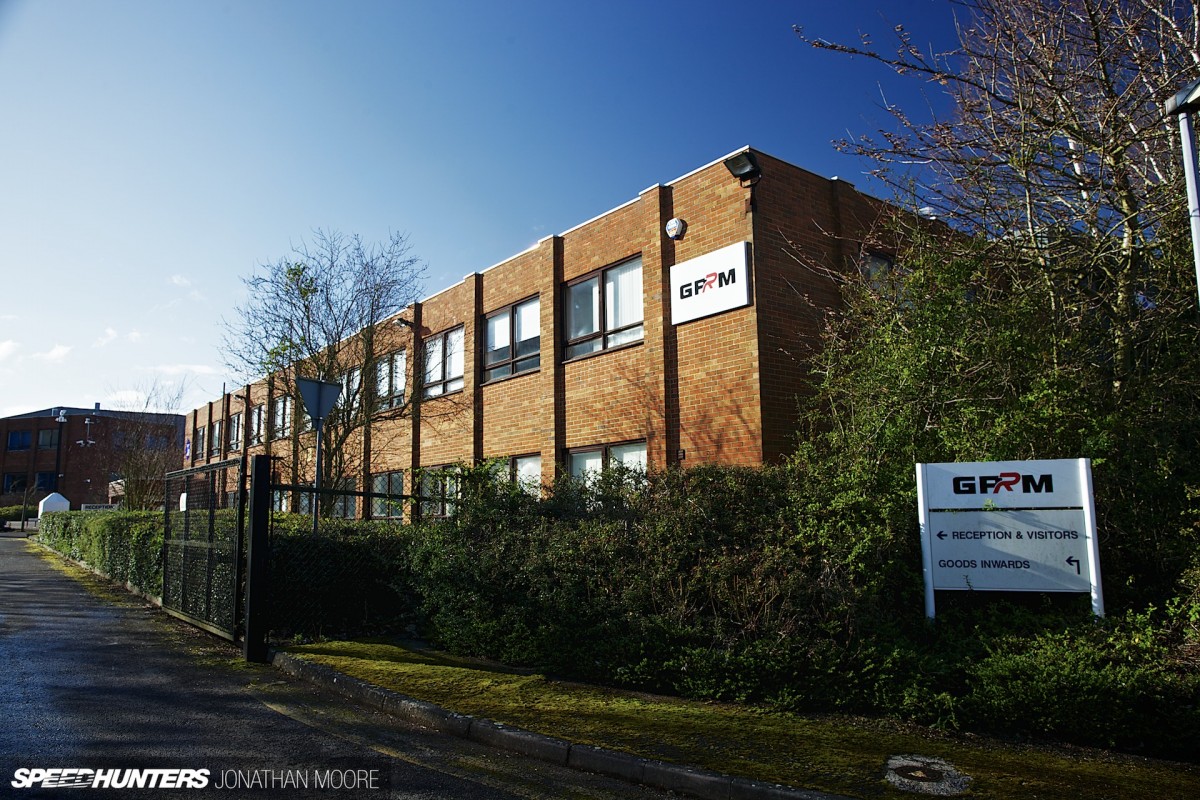 GPRM operate out of a large 25,000 square foot facility in Buckingham, just 15 minutes drive from the Silverstone Grand Prix track – right in the heart of what's known as the UK's Motorsport Valley. The surrounding area is full of Formula 1 and other racing teams and a whole host of supporting industries: engineering, composites, engines – you name it, you'll find someone doing it in the vicinity.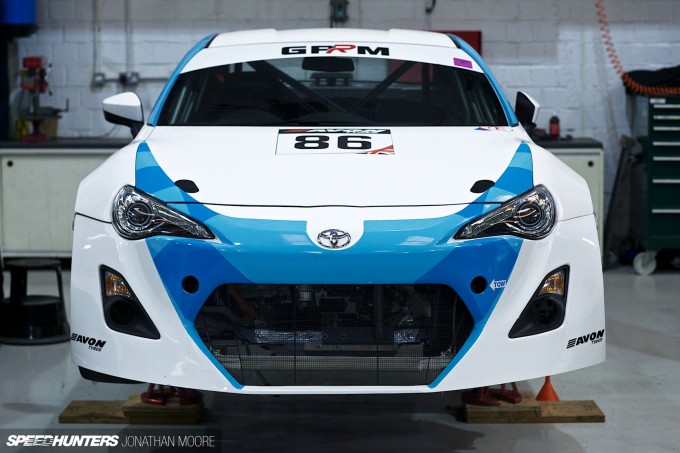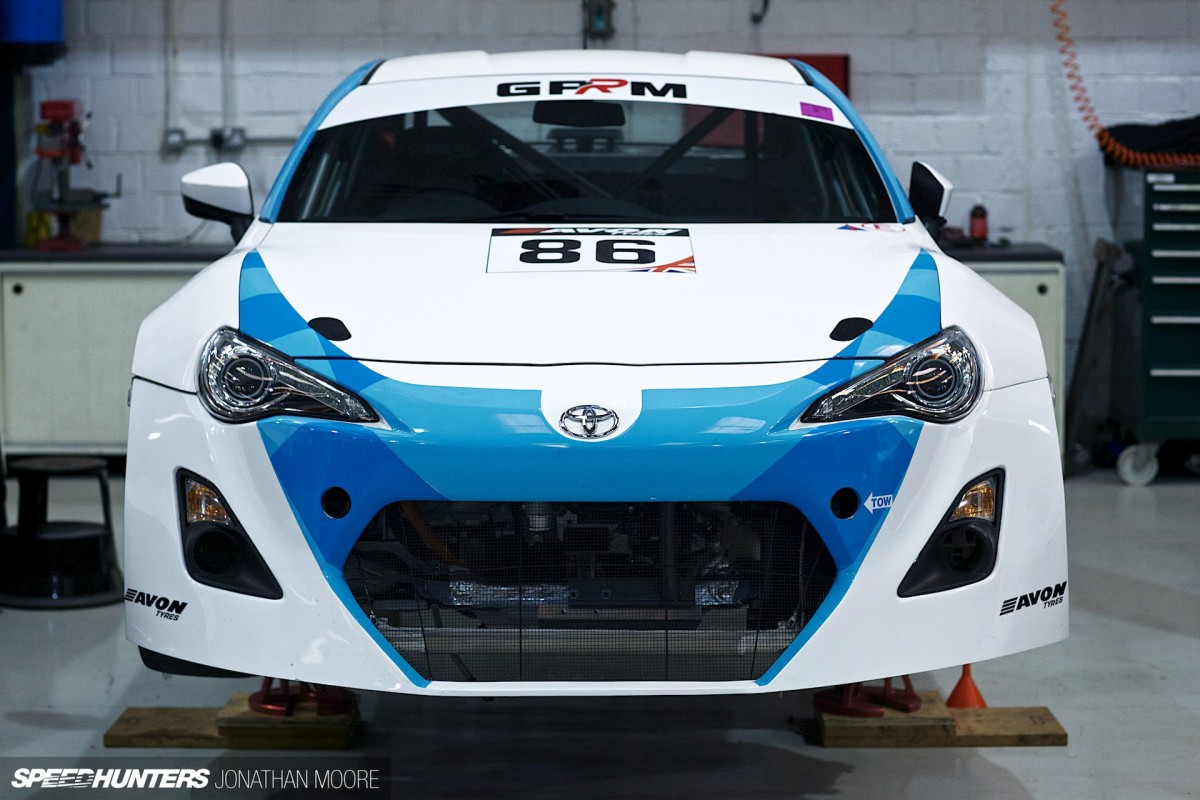 That means it's the perfect location for GPRM, a company who, because of Gary and Roger's backgrounds, tend to do the majority of work themselves, but they do farm out specialist composite or engine work. Their main workshop was currently quite a Toyota-heavy affair, reflecting the main thrust of their most recent projects.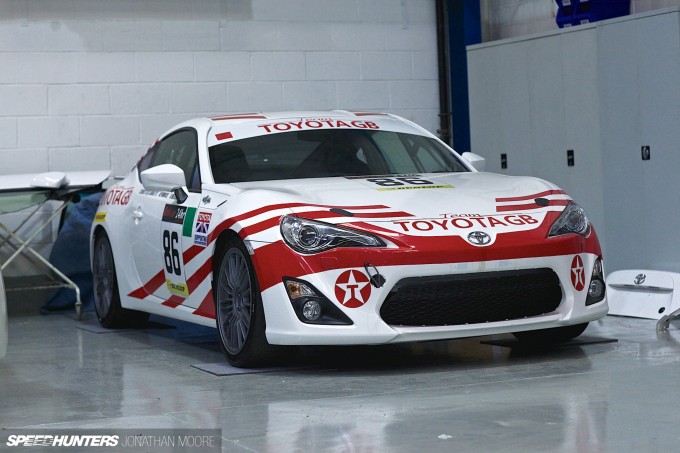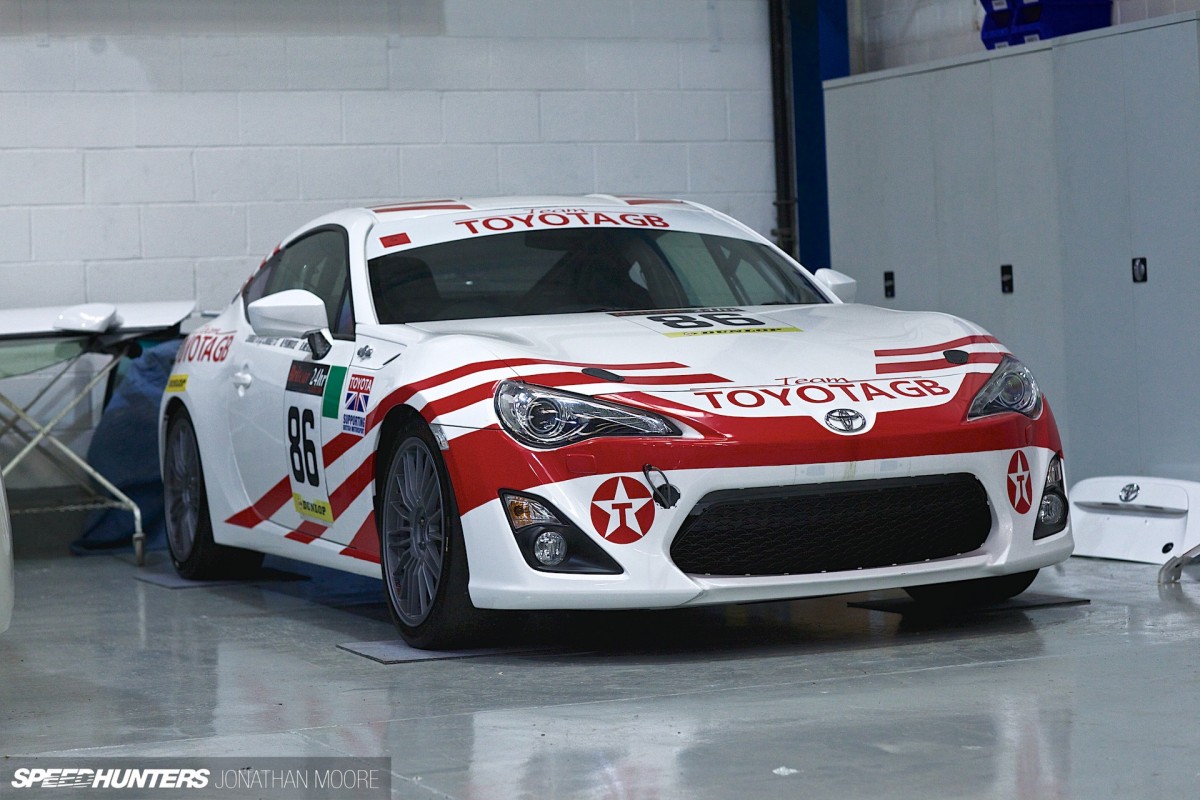 It all came from taking on a GT86 to run in Britcar, a national GT series, just as the model was released in the UK. But not any old race, or with any old livery. The race would be the gruelling marathon of the Silverstone 24 Hours, and the car would be decorated with a livery harking back to the colours run by the ultra-successful Toyota GB AE86s in the British Touring Car Championship during the 1980s. With just a ten week lead time, GPRM got their car through the 24 hours – and finished eighth to boot, beating plenty of more powerful cars.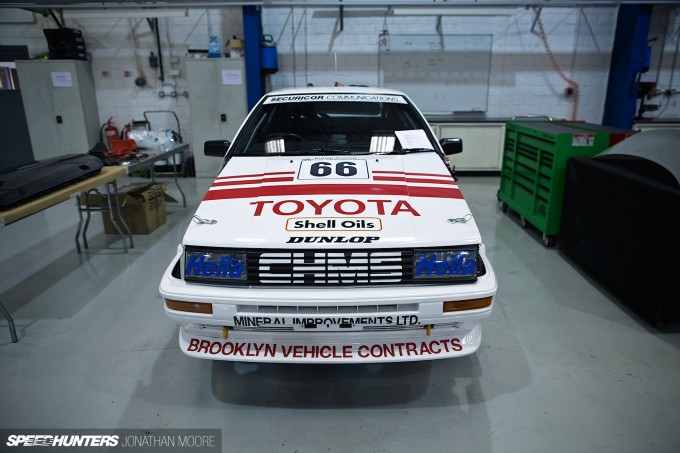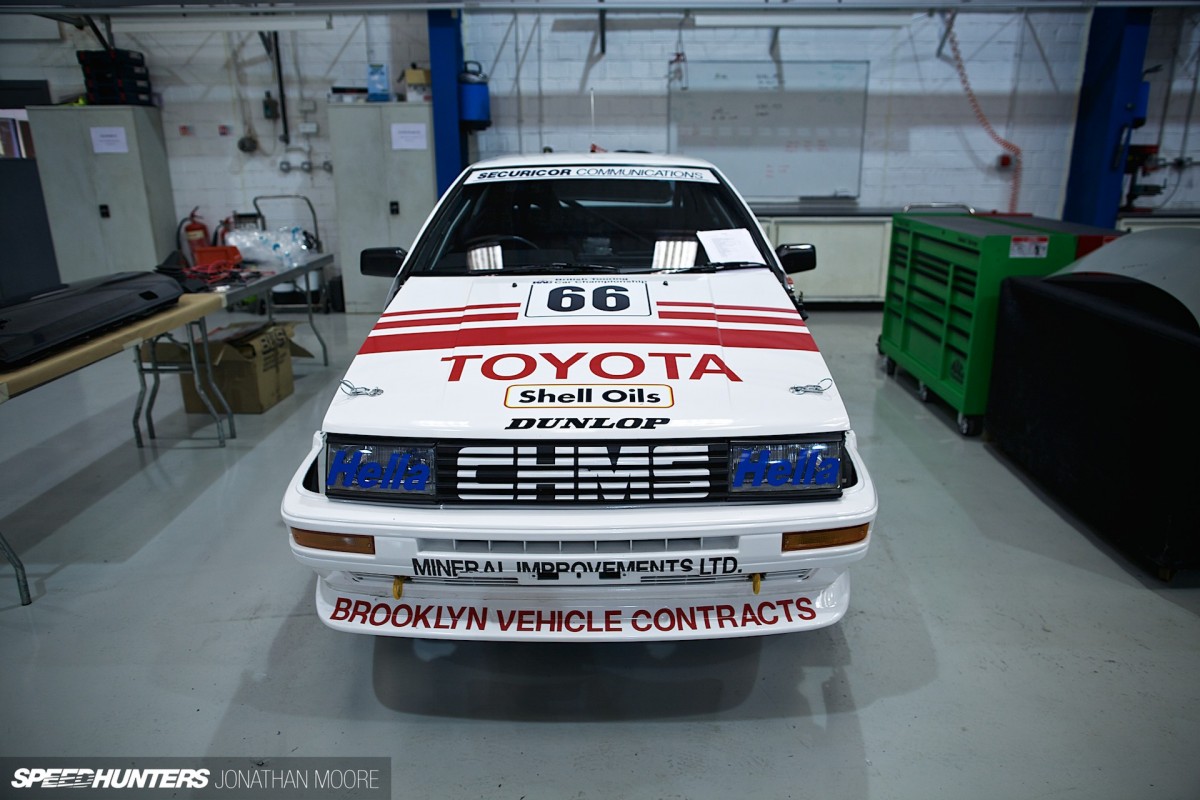 Then there's the AE86 itself; GPRM were commissioned to build a replica BTCC car to appear on the Toyota stand at the Goodwood Festival Of Speed back in 2012. Maybe the only negative thing was that the Corolla GT Coupe was getting as much love if not more at Goodwood than the new GT86 next to it!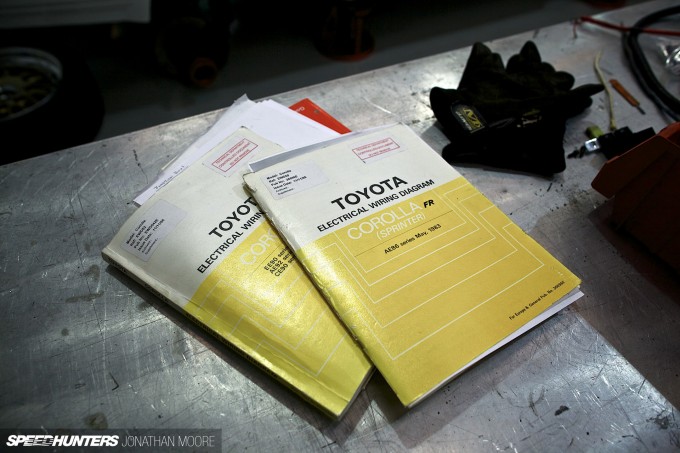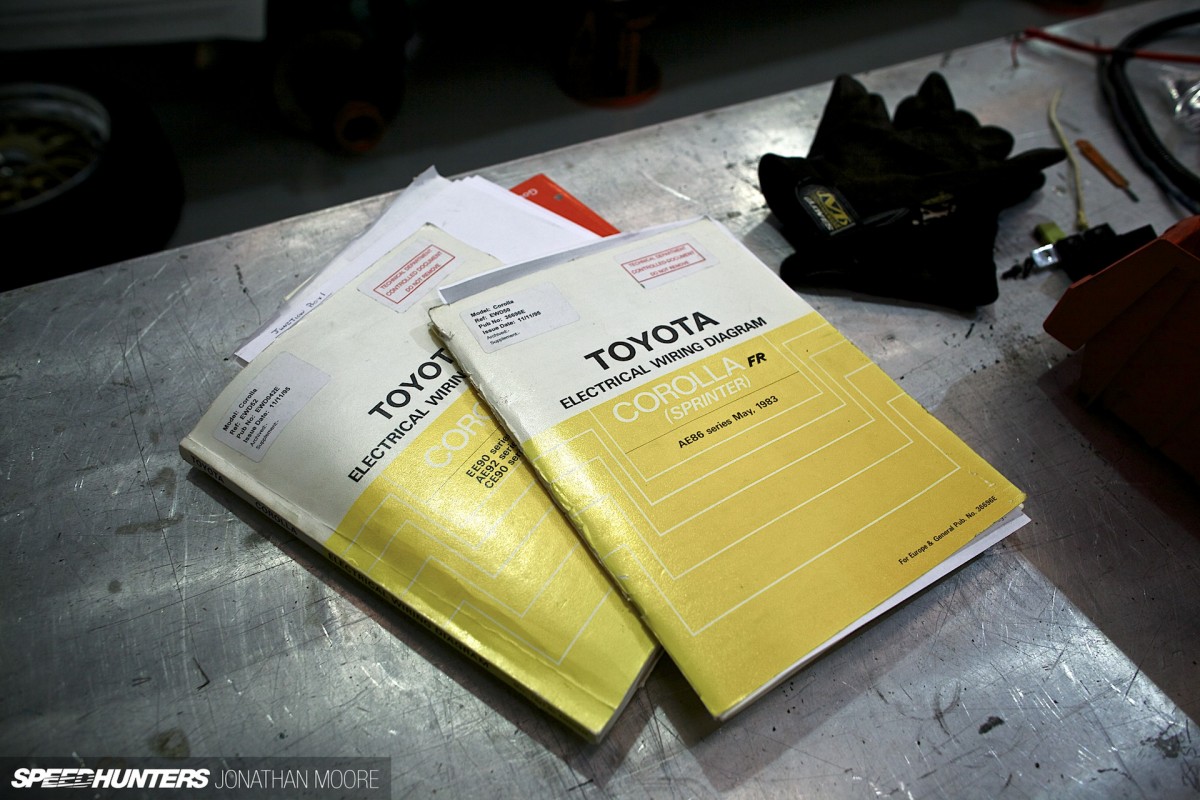 The AE86 is now back at GPRM for a full rebuild for a packed programme of PR duties this year, which has meant poring through a whole lot of period manuals to ensure everything is as authentic as possible.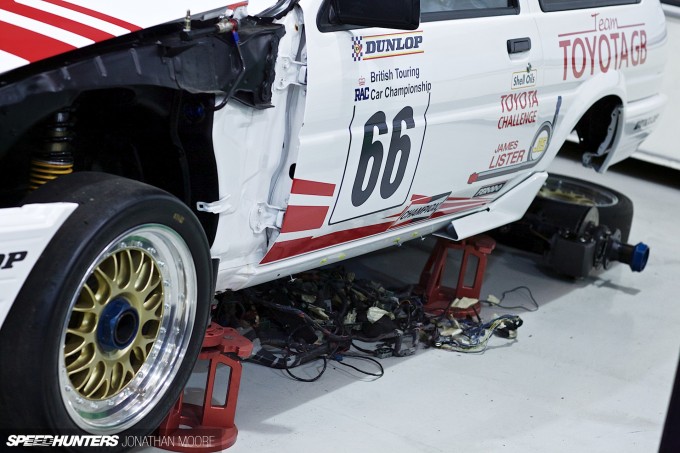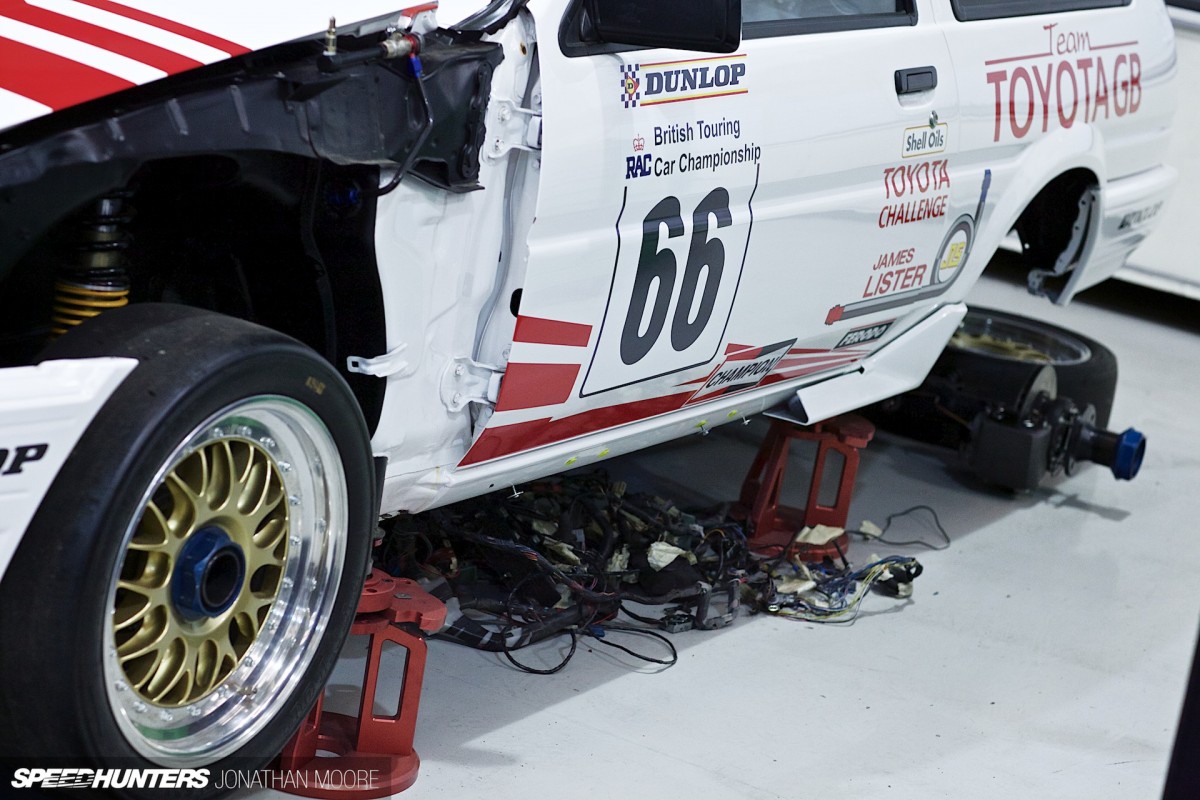 Which is rather handy when you're dealing with all this wiring…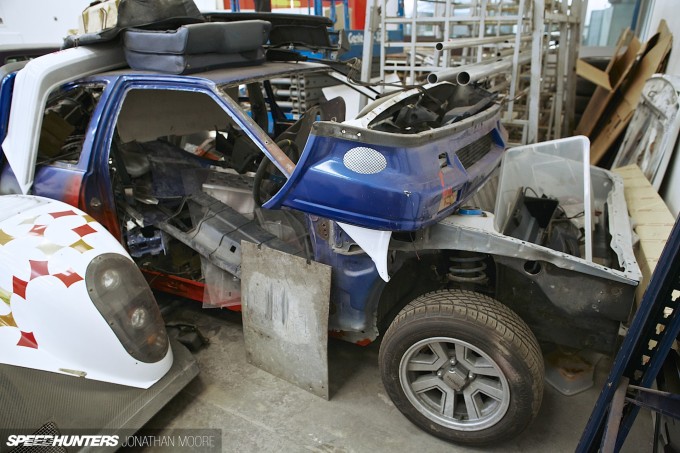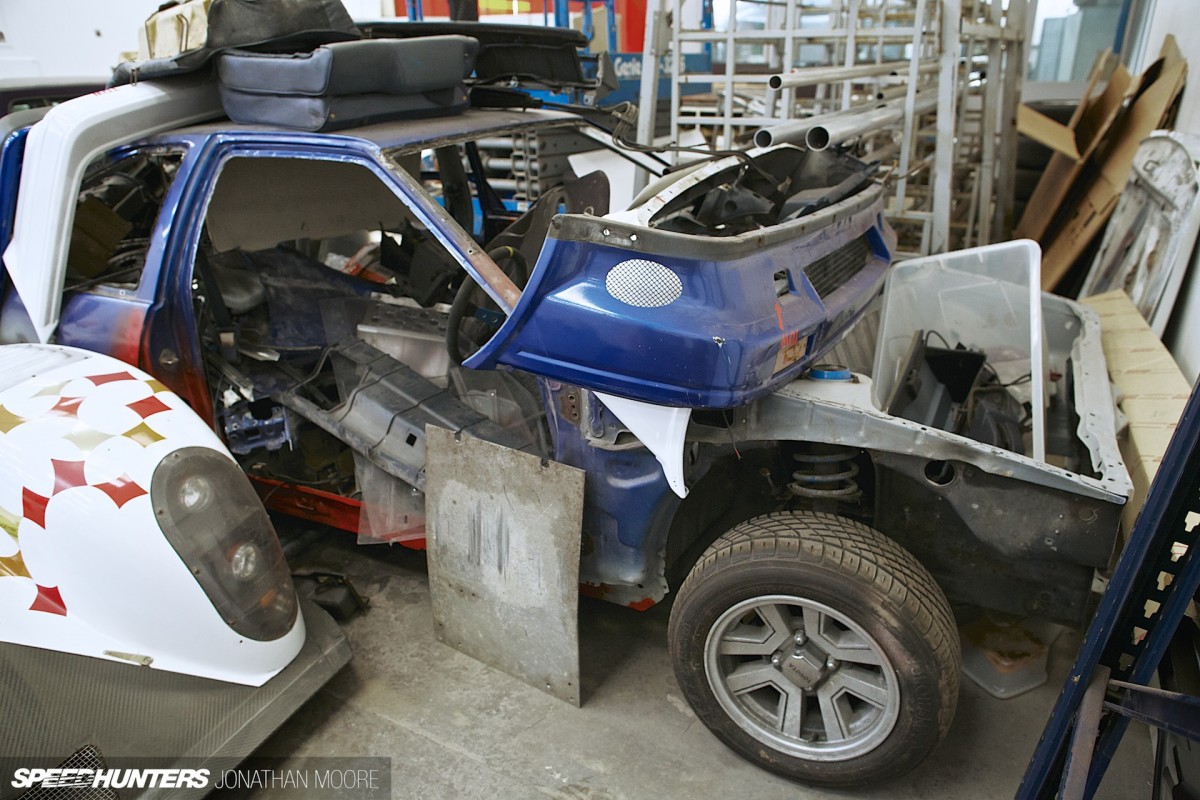 Of course for something to live, something else often has to be sacrificed. So out of the way in another workshop was this donor '86, slowly decomposing as parts were stripped off to bring the BTCC car fully back into action.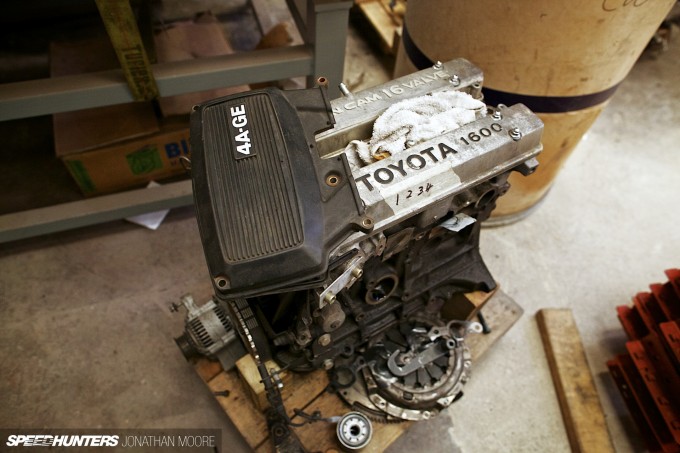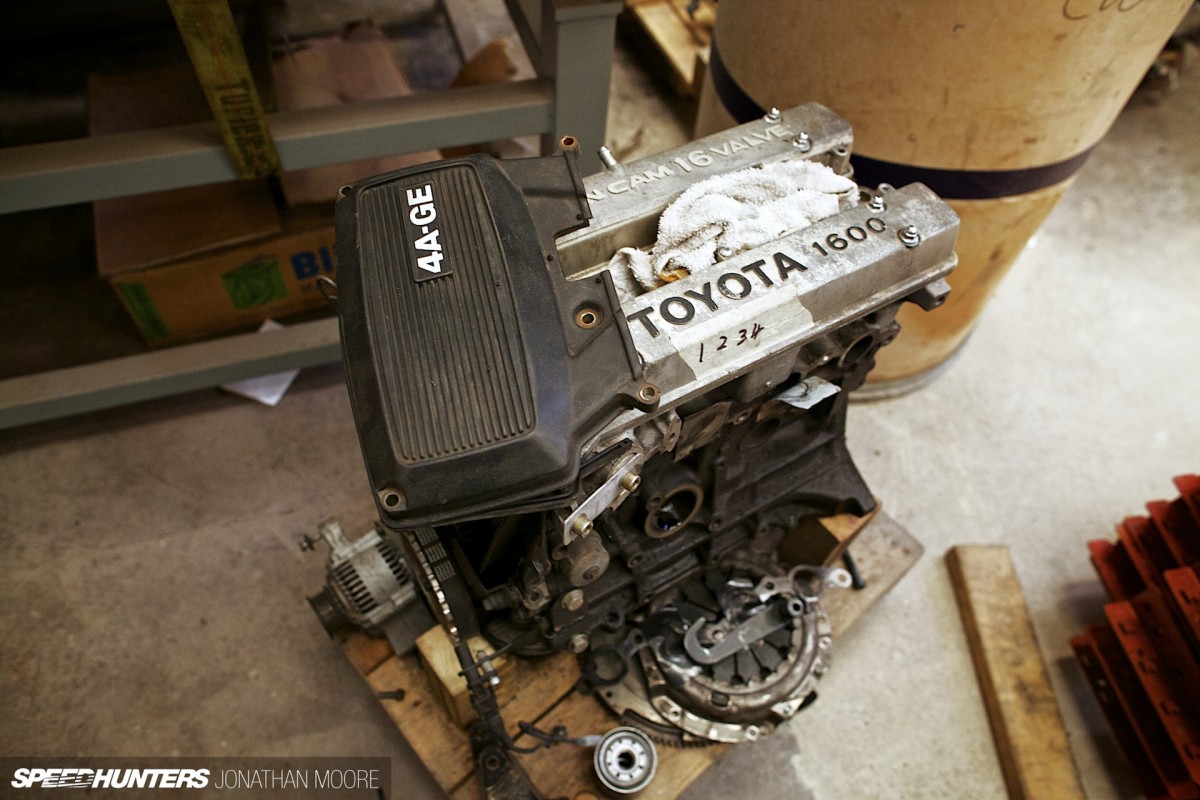 But who doesn't like a bit of recycling?
Target: the track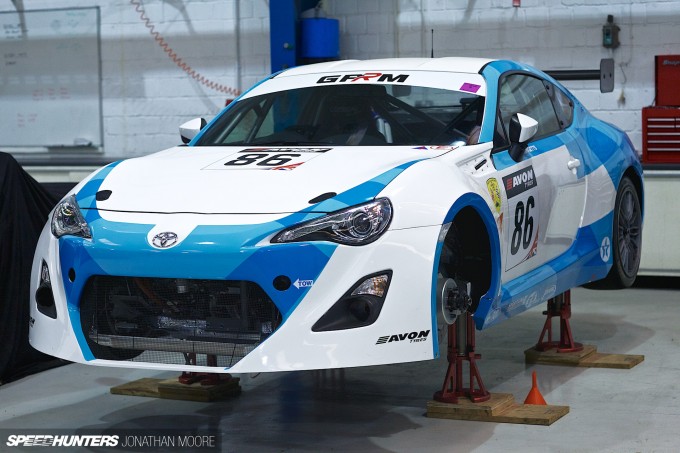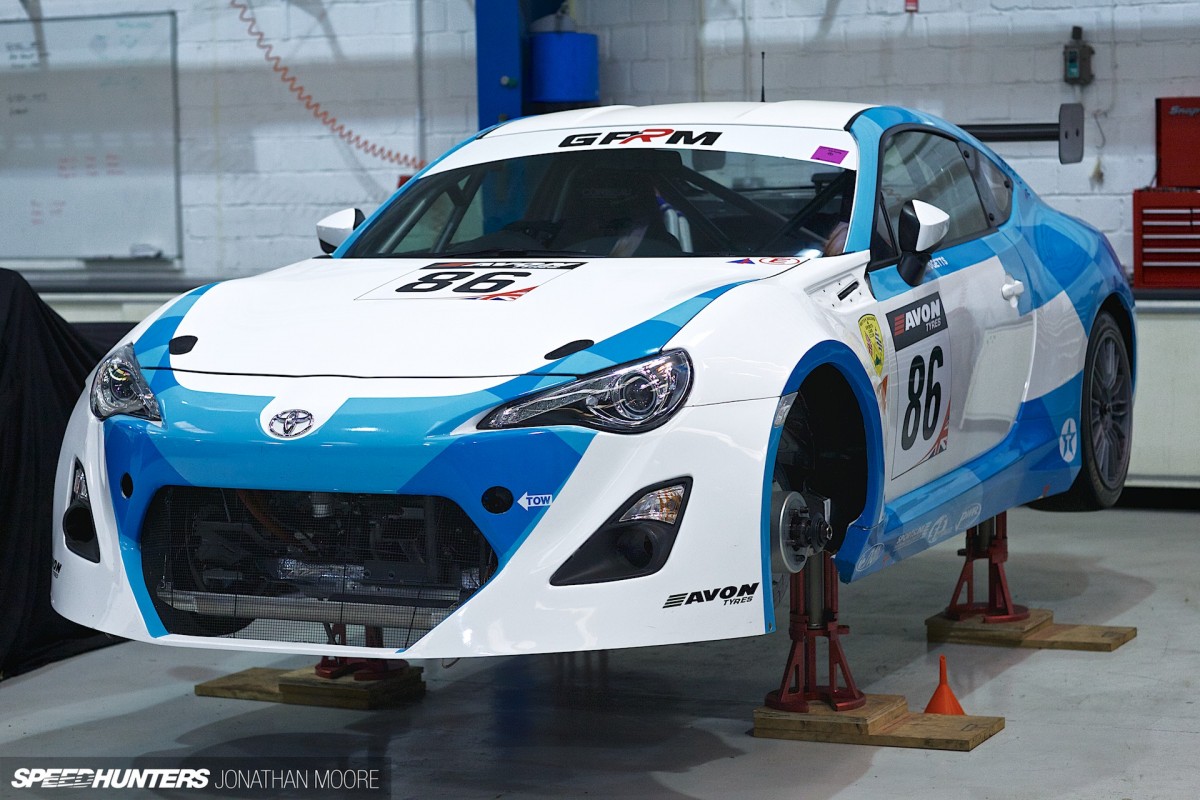 Next to the touring car programme, GPRM's other concentration is on their own pet project: the new GT4 development car. Wider and meaner, this is a proper racing thoroughbred, but one that doesn't stray too far from the original concept: one that GPRM have nothing but praise for.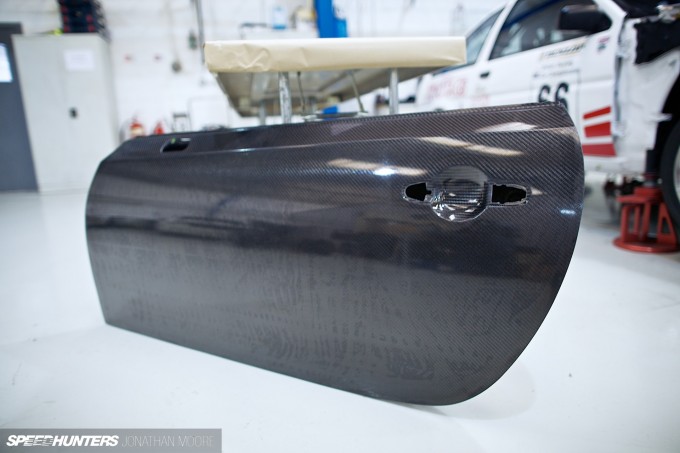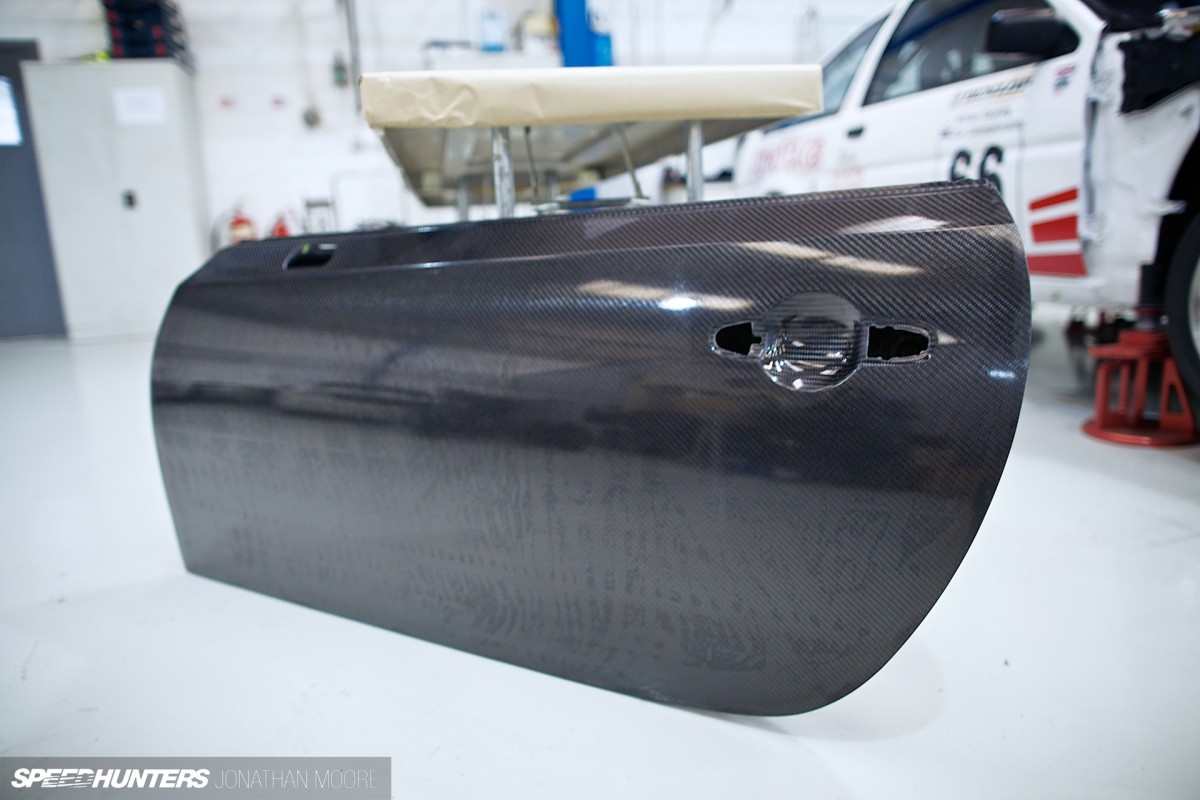 Carbon doors (weighing just three kilos) and aero parts have brought the GT4 car's weight down, the interior is stripped and a full cage installed, it features a new sequential 'box and power will be up over 400hp. Race car doors are always light, but carbon doors like this are ridiculous; you can almost make them float just by breathing on them…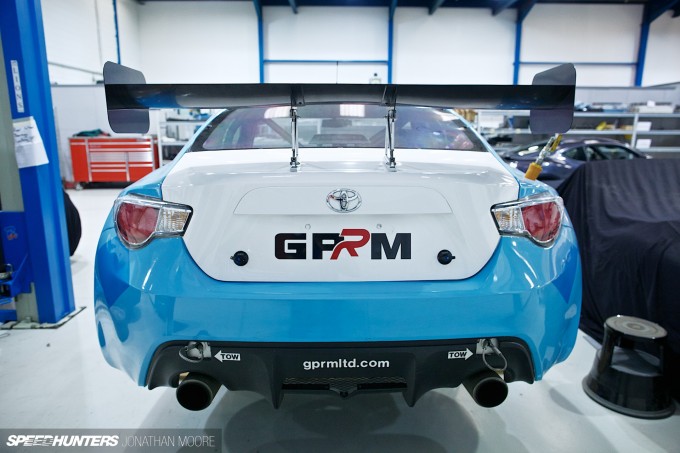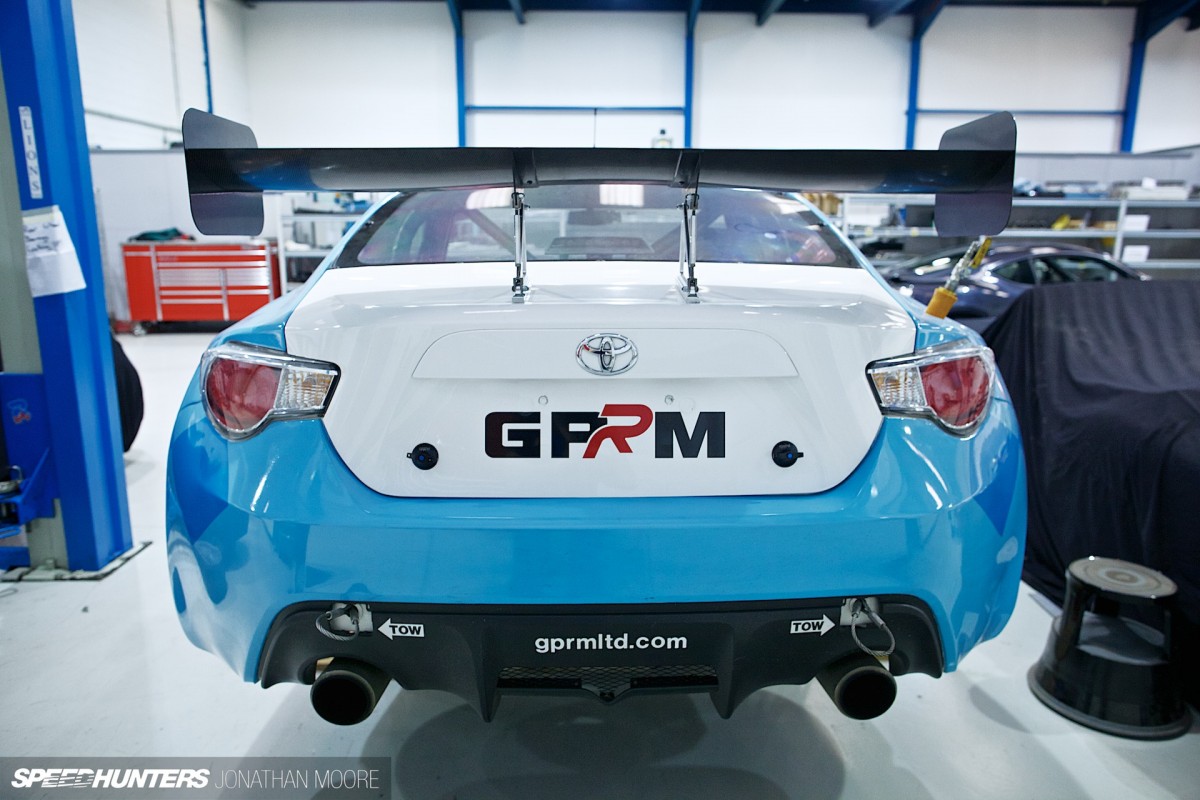 Like all the best modified GT86s, this one doesn't go too far. It's about four inches wider to accommodate the 18×10" wheels, and except for the aggressively profiled nose, the car still is unmistakably 86.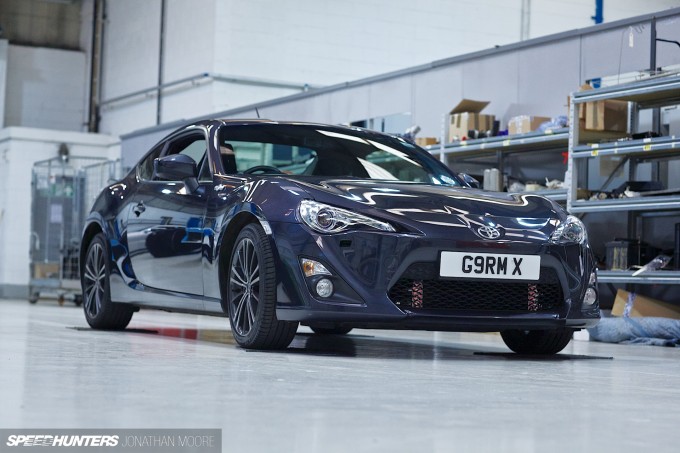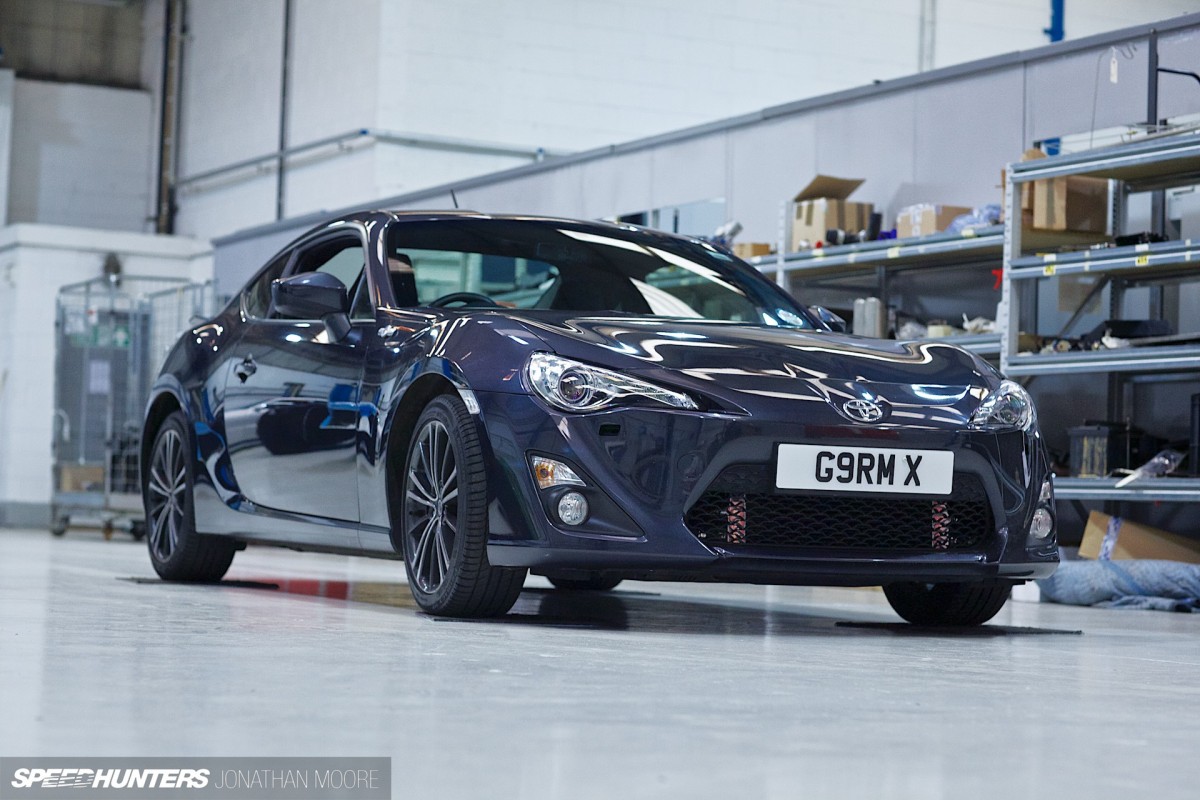 There's a good reason for that. Off the back of the racer, which they'll be taking to the track in the UK and Europe during 2014, there's also this little beauty: a supercharged development platform for a track day package GPRM are working on.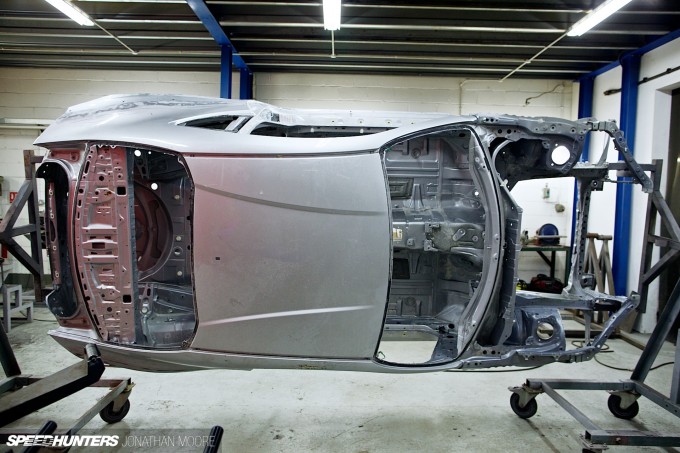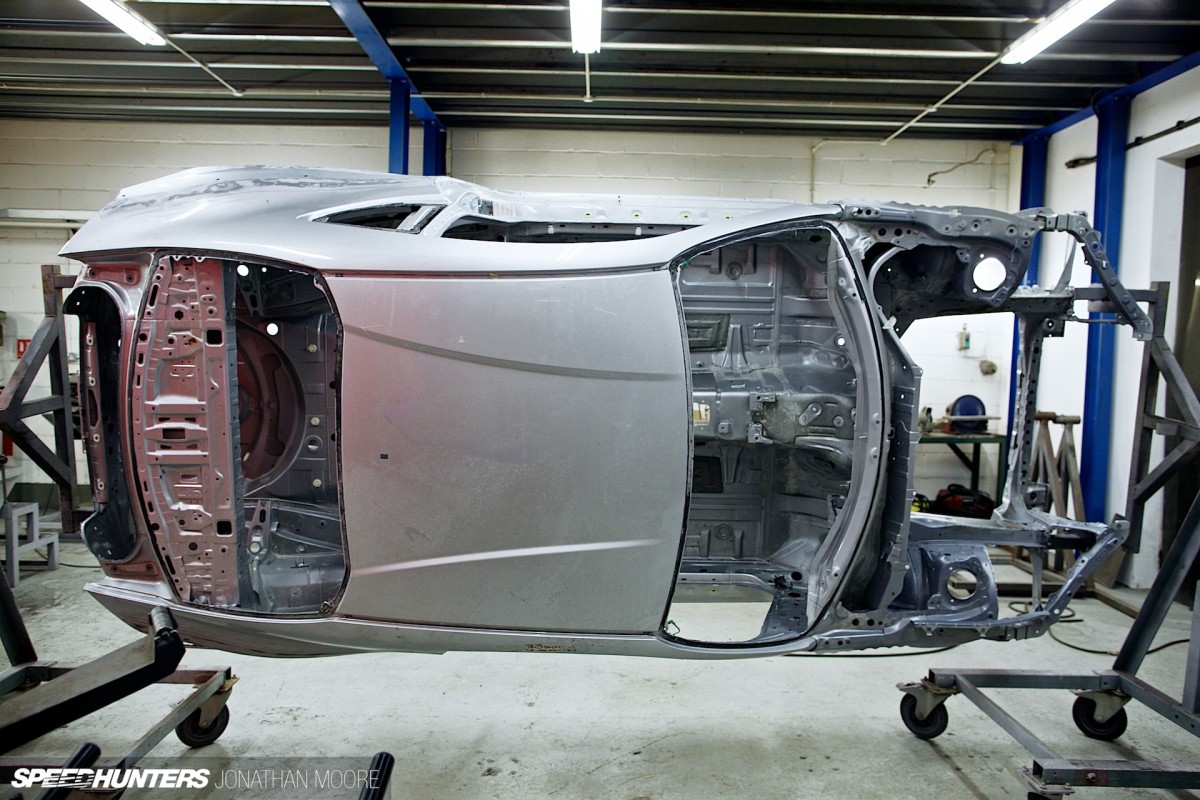 Round the corner in a build room was this stripped out 86: a pattern car for the track day project, hanging there like a model kit still on its sprue! The GPRM model will feature a half cage to keep it usable on the road, and the next phase will involve working brakes and dampers. That work with the Britcar endurance racer has provided them with a whole bunch of data to make this far more than just the aesthetic exercise that typifies so many other modified 86s.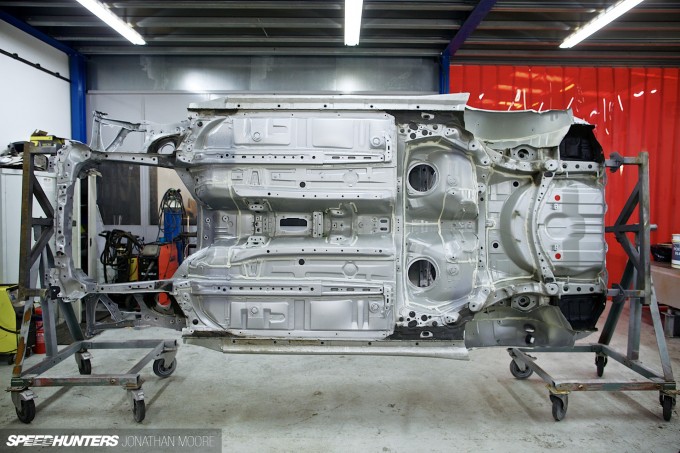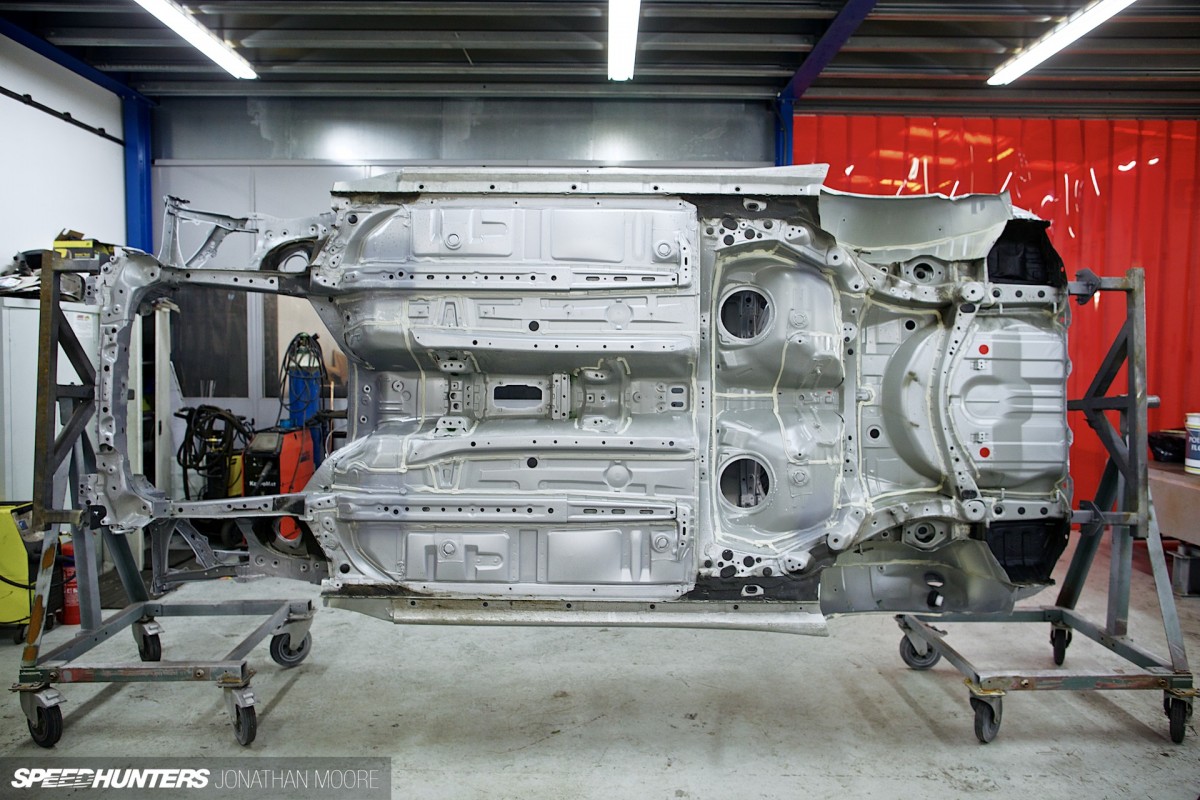 Eventually there'll be different stage tuning packages available: the market is likely to take off in the next couple of years as prices drop. You've got to remember that the 86 is in a rather higher price bracket for us Europeans than it is in the States or Japan, which hasn't helped its take-up. I'll be watching this project with interest – and hooking up with GPRM again in the near future to get a closer look at the GT4 car.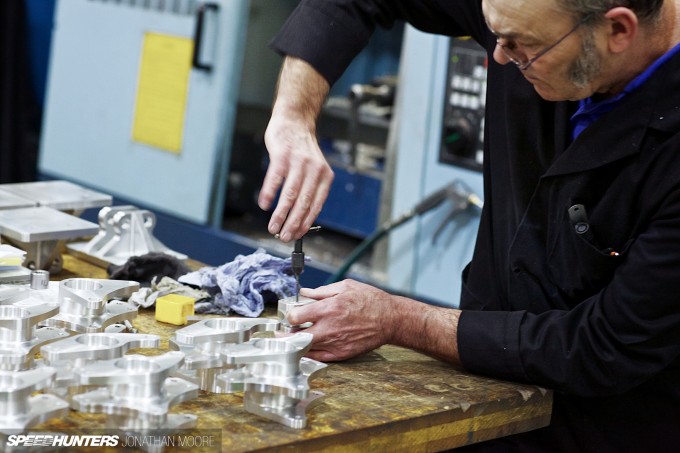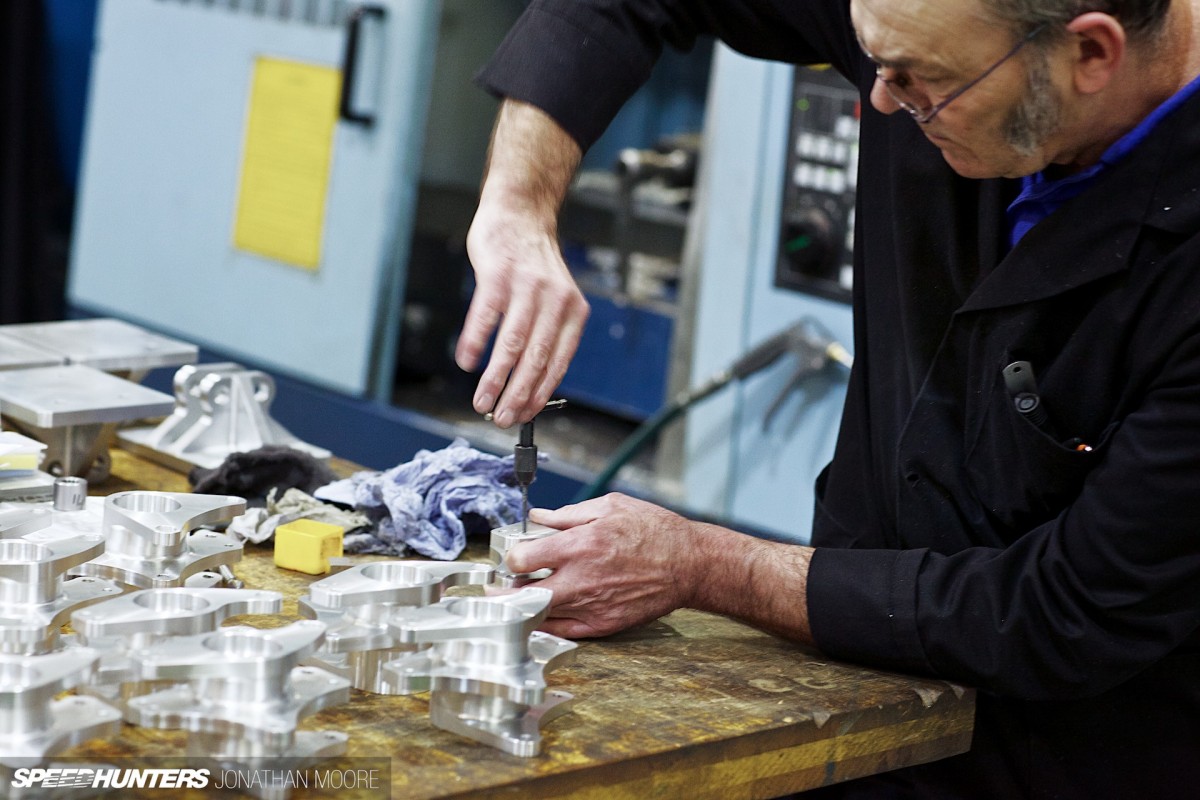 Alongside the 86s of various vintage, evidence of GPRM's important BTCC Next Generation Touring Car programme was scattered all about. There's a constant conveyor belt of parts being machined, quality checked and stored.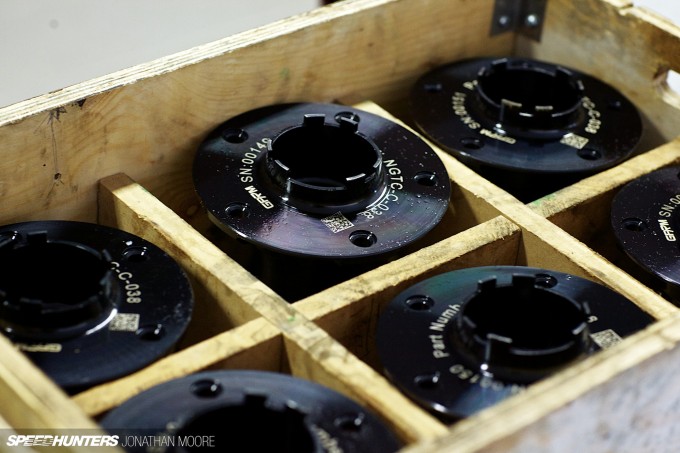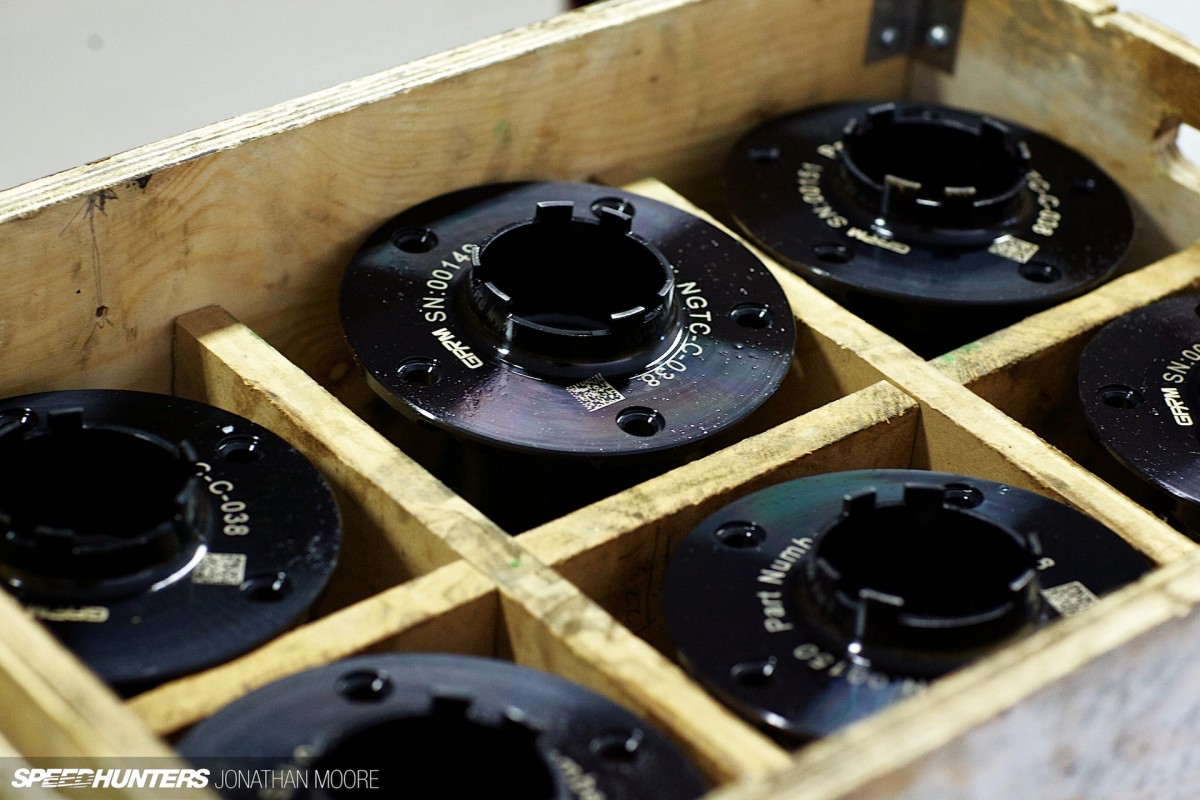 It was a touring car candy store. You can literally put together the underpinnings of an entire car from the contents of the workshop. Many cars, in fact.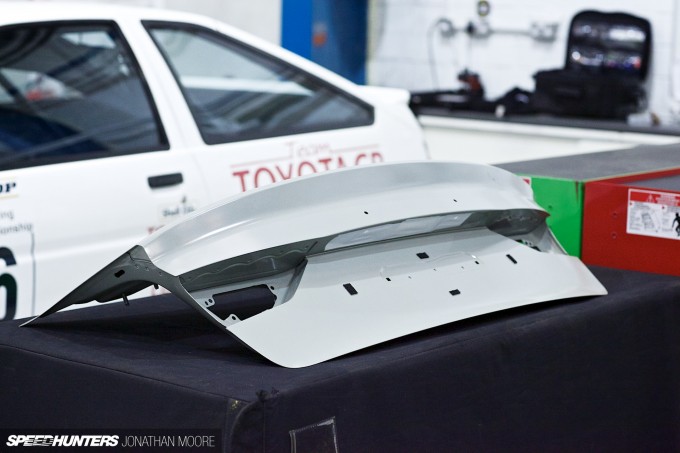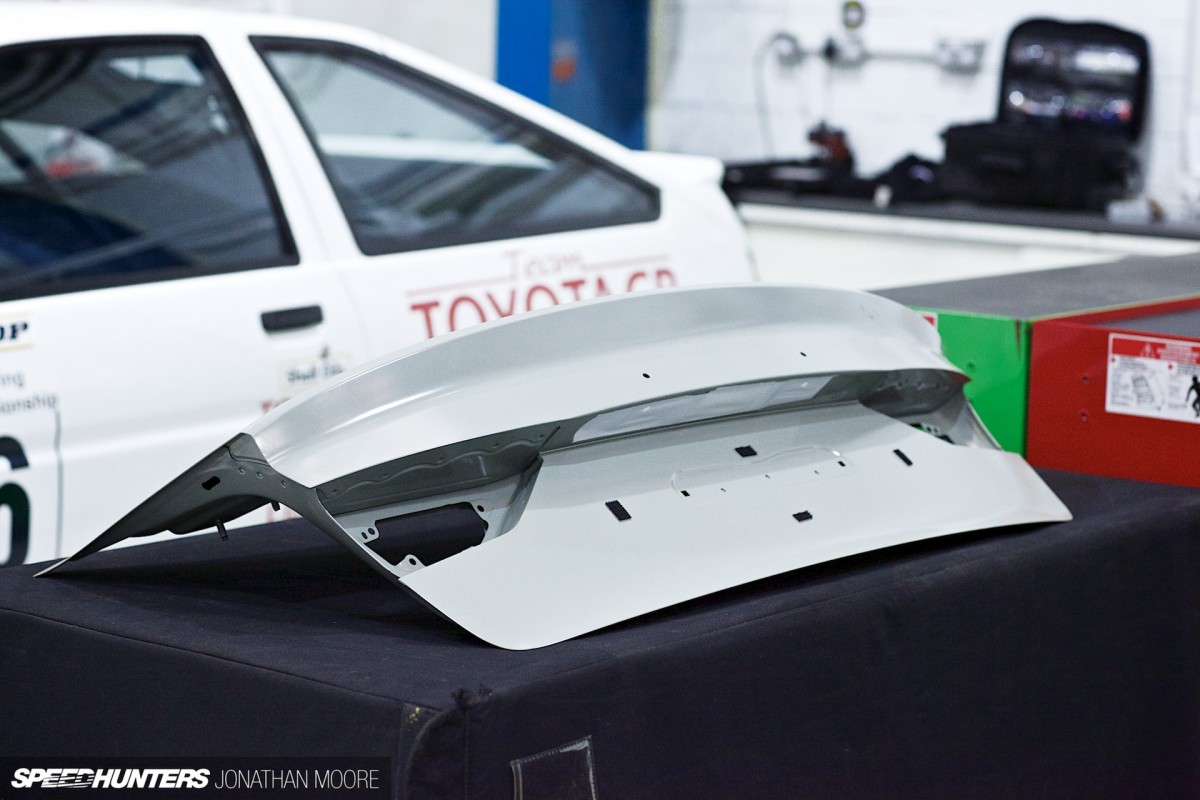 That GPRM developed the original Toyota Avensis testbed for the NGTC rules was a given, and they engineer all of the common parts that the teams use (which is pretty much everything underneath the skin of the car, remember), but they've also made the shells for a number of privateer teams.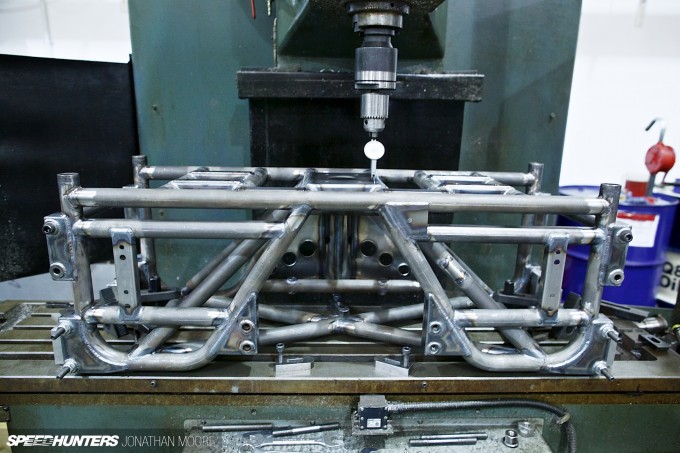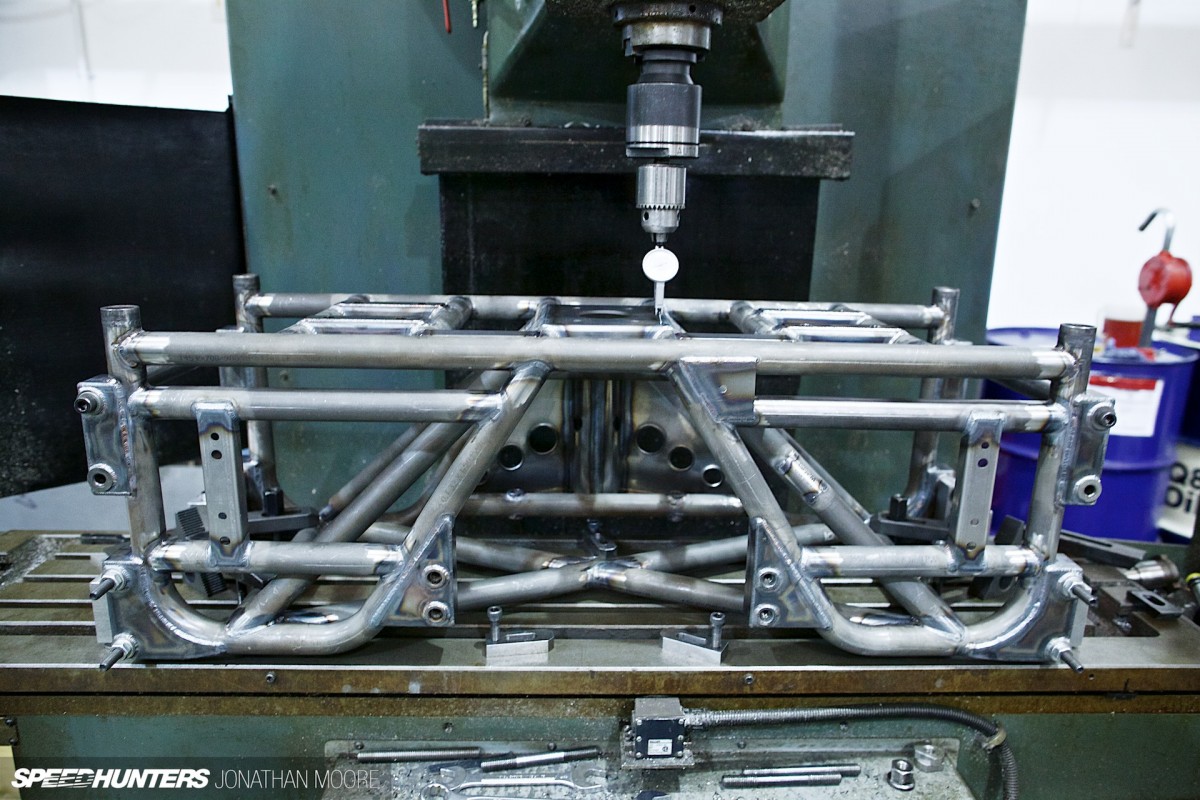 This has been one of the major success stories for NGTC. You just have to look at this year's grid to see how many small teams have been able to become manufacturers thanks to the regs – and more importantly GPRM's engineering prowess, that has allowed the subframes and components to be so flexible in application. It's not just the manufacturers who get to play – this is racing democracy in action.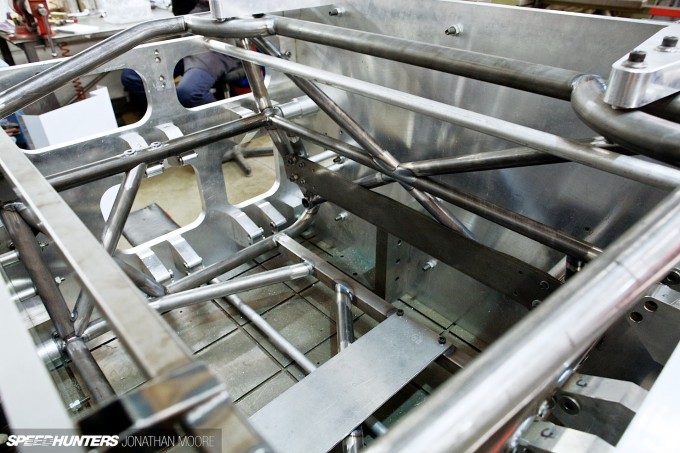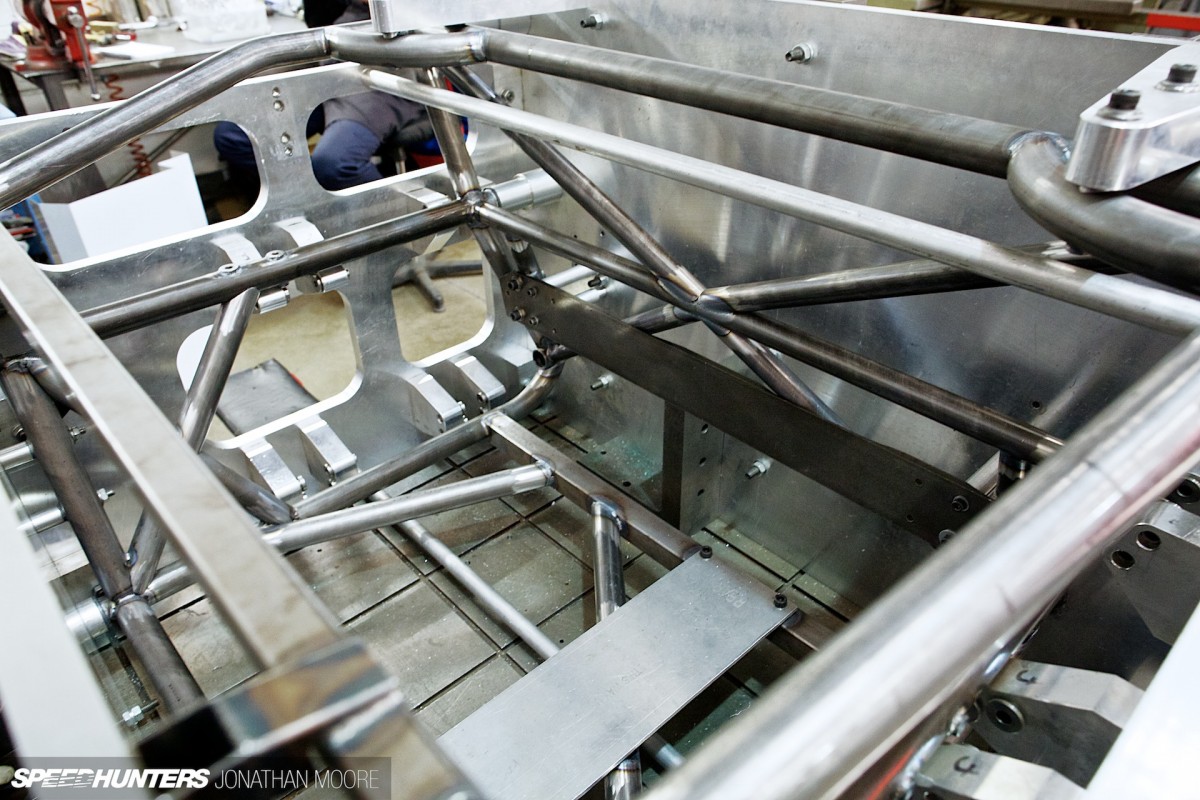 Think how different in concept the various cars are in the BTCC: the squat, cut-off rear-wheel drive BMW 1 series used by WSR; the long overhangs of the Audi A4; the snub-nosed Team Dynamics Civic… They're all so different – as Gary says, you could have a dance in the space ahead of the A4's engine – yet utilise effectively the same structures.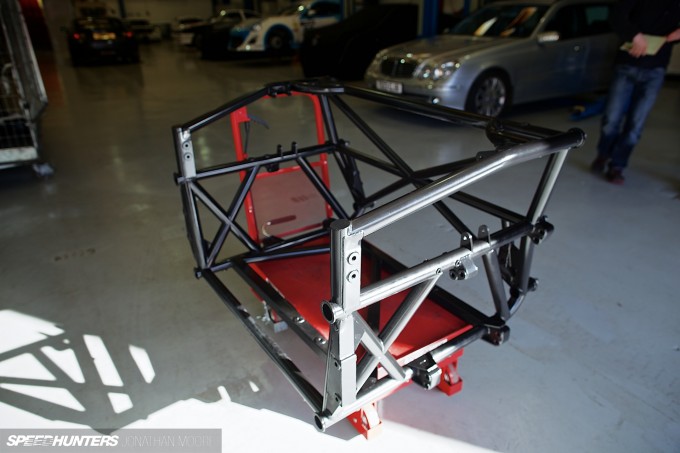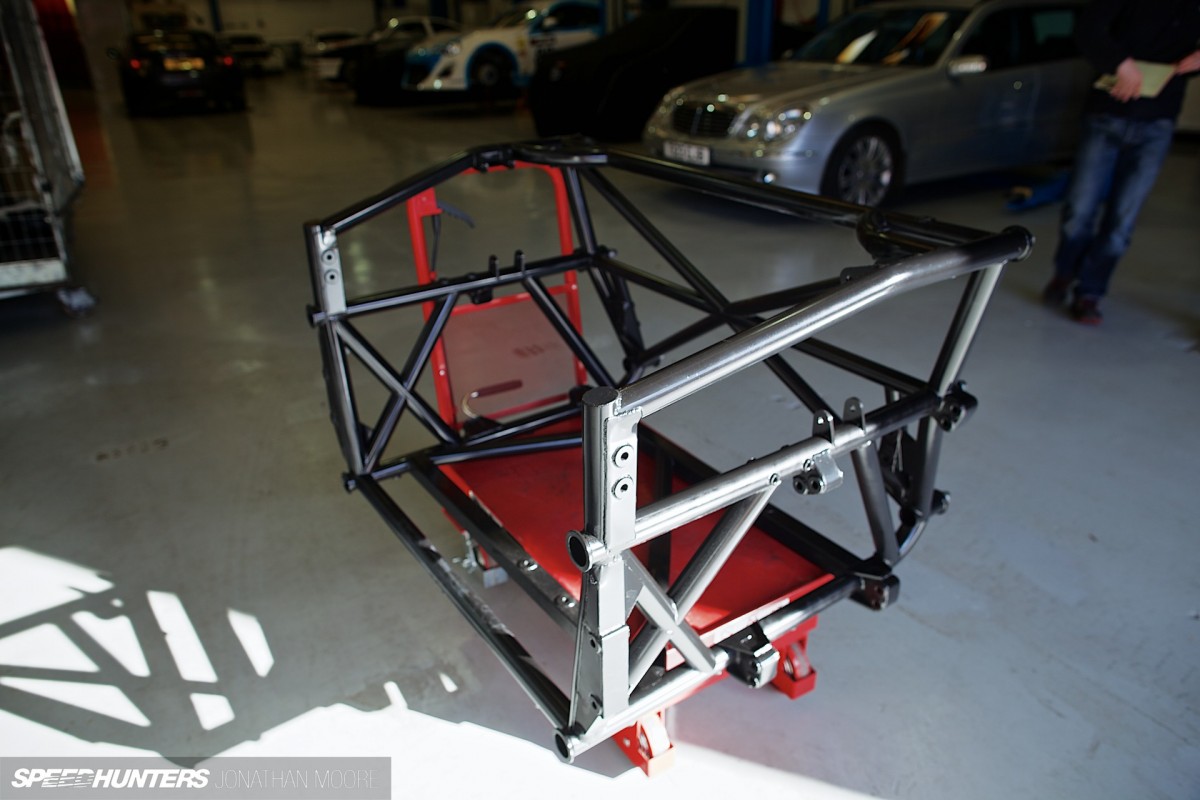 If you're interested in the engineering side of automotive, you'll appreciate just how challenging this would be to achieve. What's incredible is that GPRM manage all this with a core of just 14 specialist designers, fabricators and machinists. I thought he said 40, which sounded more realistic. But they do expand as necessary depending on workload – and are looking for mechanics and a store spares man who can drive the truck as well if you know anyone!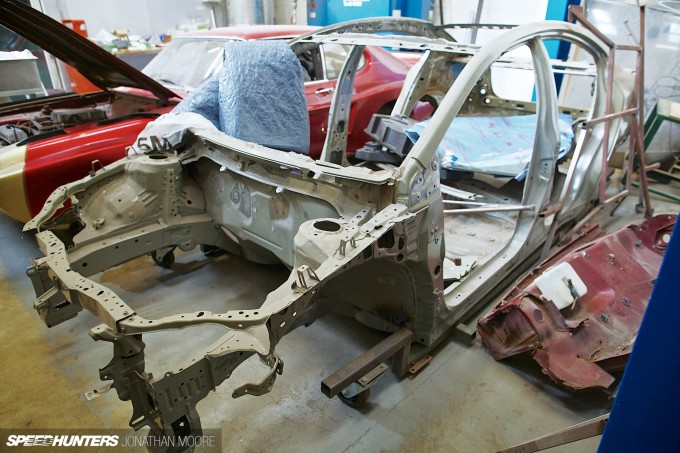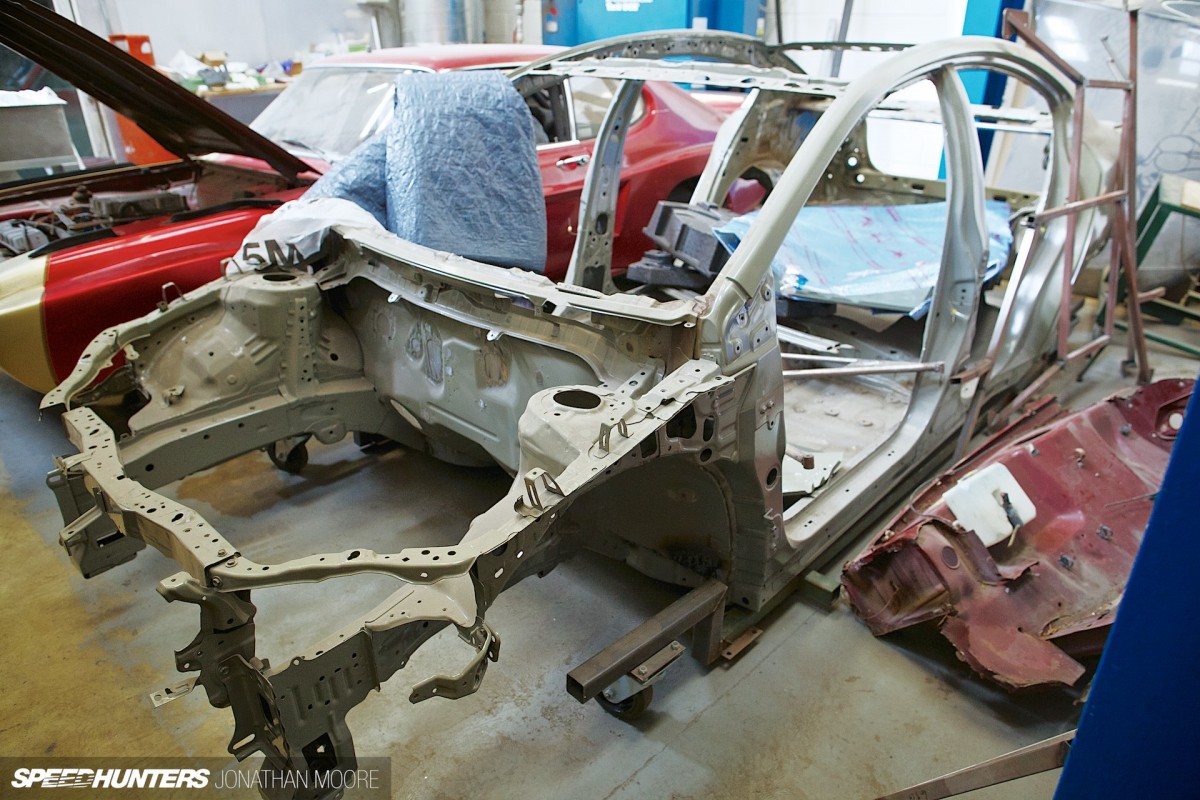 As with the cars that Gary's worked on over the years that continued to pop up during conversation, so it turns out that a fair percentage of the current BTCC grid has been gestated in this workshop. There are now six Avensis in use – a spare shell was tucked out back, next to some other interesting machinery which I'll come to later.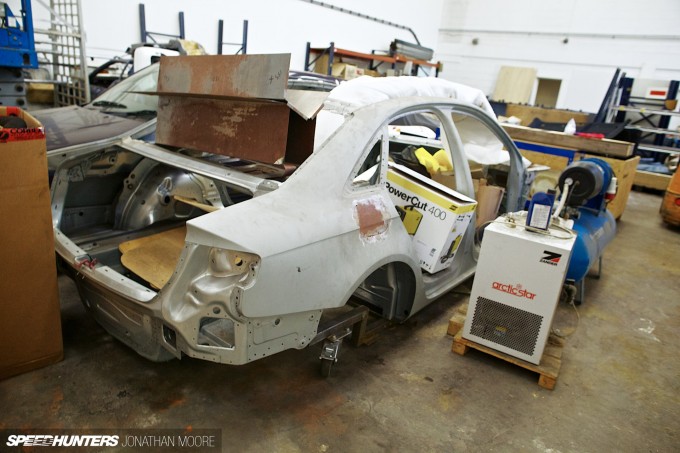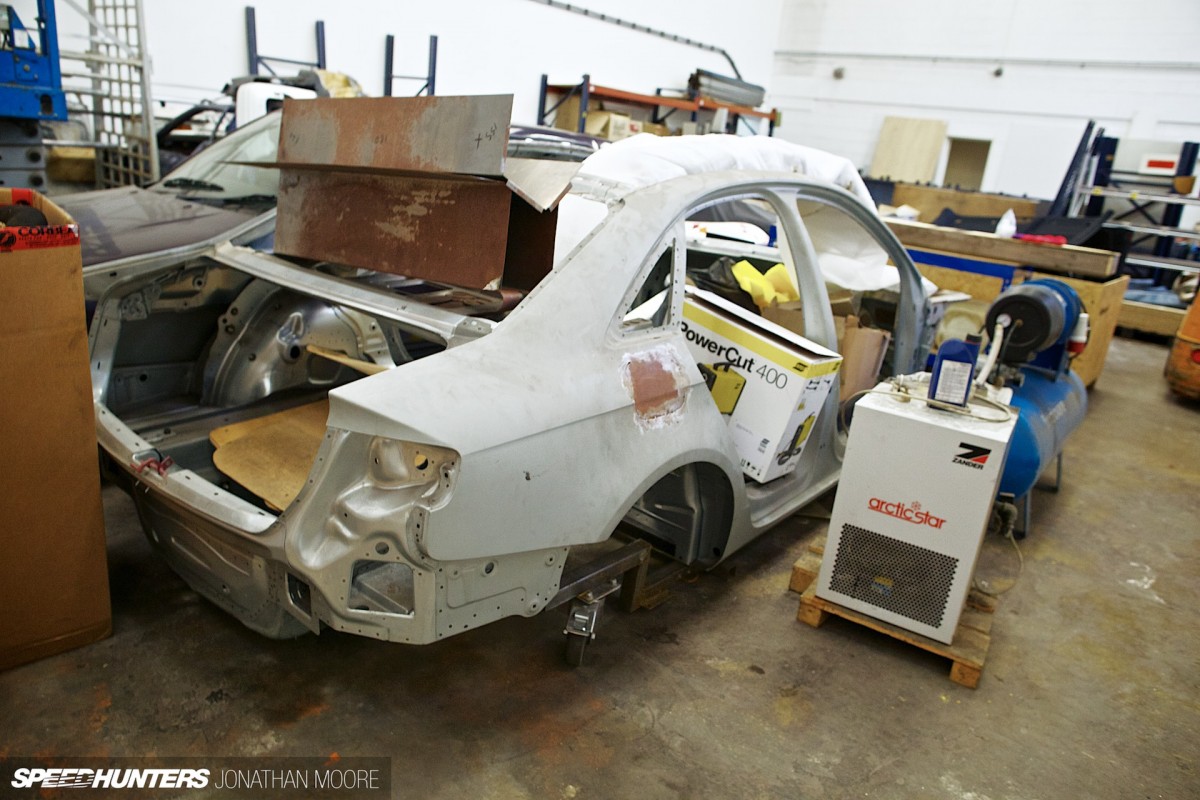 But then there's the Audi A4. This was also originated at GPRM, then the concept was bought by Rob Austin Racing, who now run two cars. The Welch Proton shell? Built by GPRM. The new Cicely A-Class? Ditto. The also new-for-2014 Audi A3? GPRM. And so it goes on…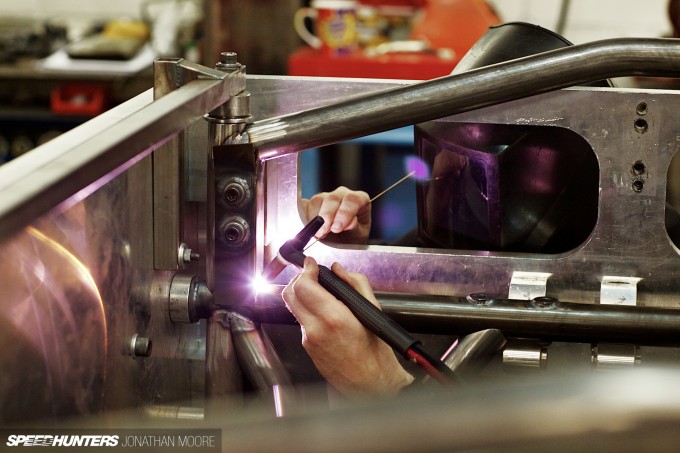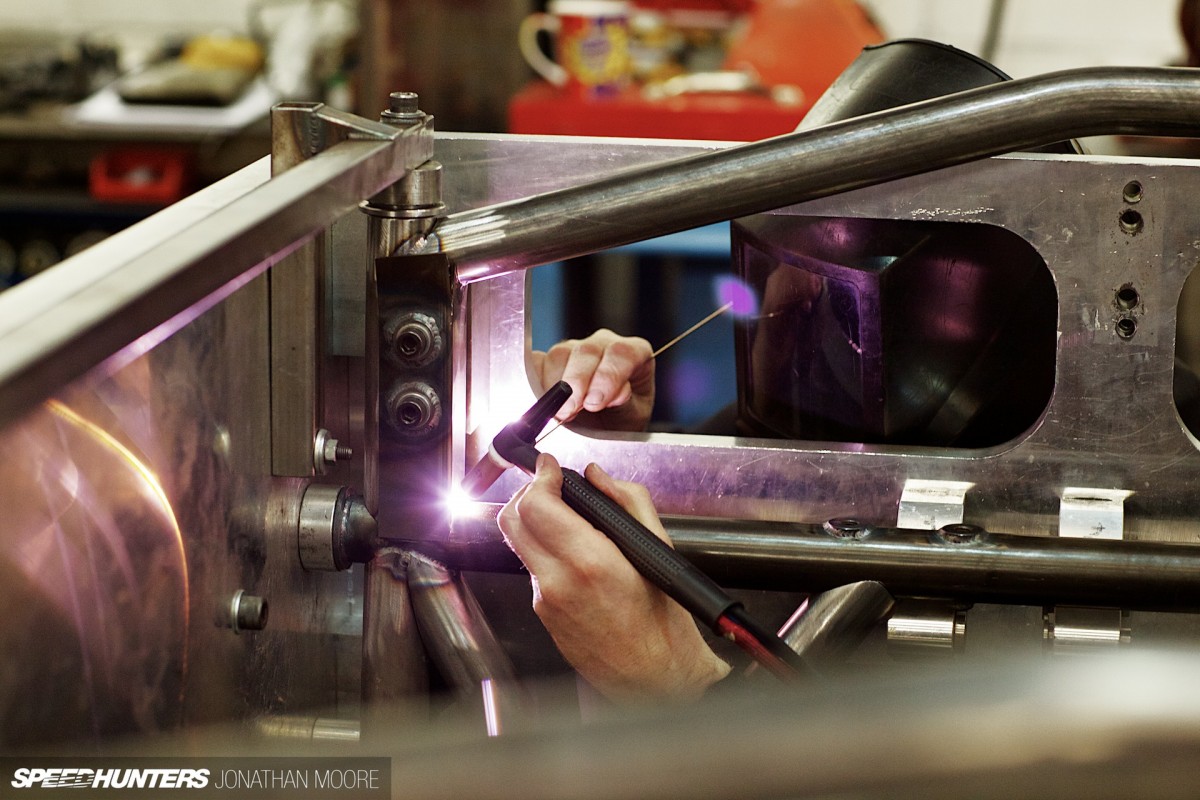 The subframes have to be continually evolved as new cars are introduced, adapting to new shells whilst improving and retaining compatibility with existing ones. From an engineering standpoint, it's a stunning piece of work.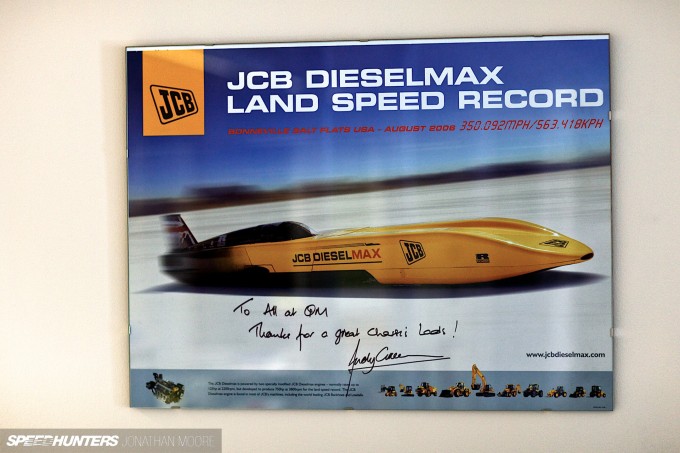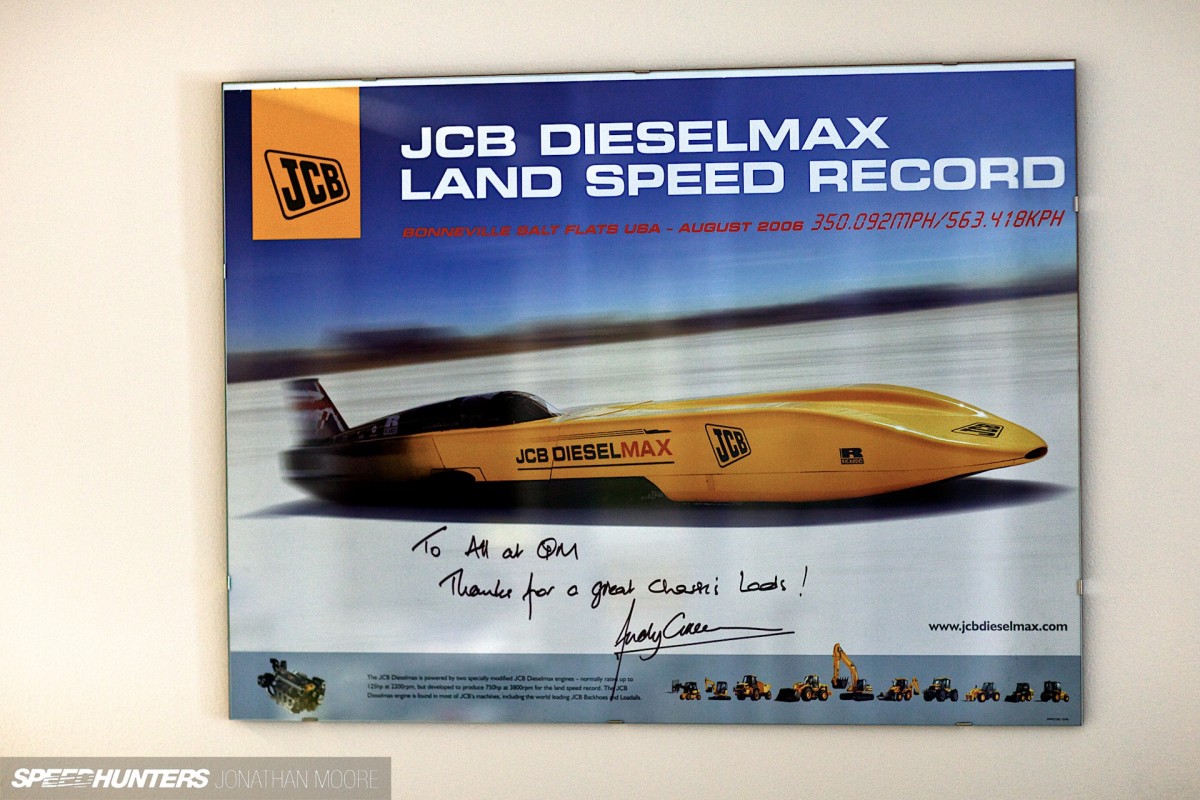 Talking about shells, Gary also dropped into conversation that they built the chassis for the JCB Dieselmax Land Speed Record car, that took the diesel speed up to 350mph at Bonneville back in 2008. That was a 6.5 metre long piece of precision engineering, built to tolerances of less than half a millimetre. Gary seemed almost bashful at bringing up all these incredible projects they've worked on…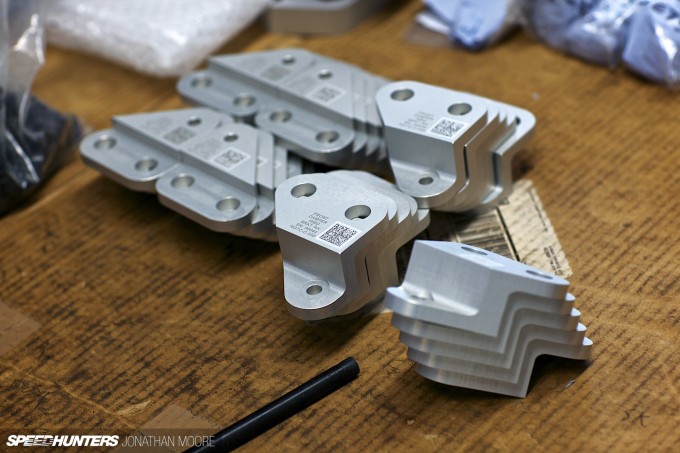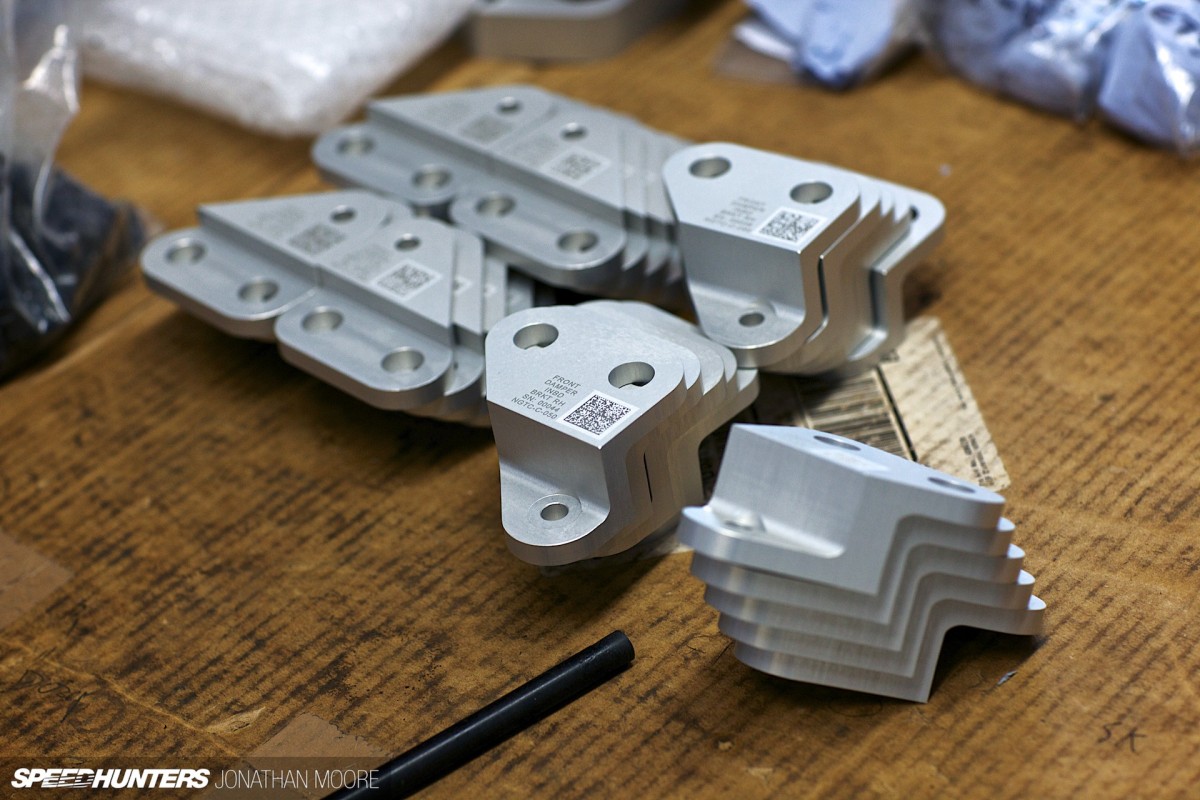 Backing up the manufacturing is a serious quality assurance and logistics operation: each part is laser-etched and 2D bar-coded with information about part numbers, batch details of materials used and anything else relevant to the item. Proper chain of origination stuff.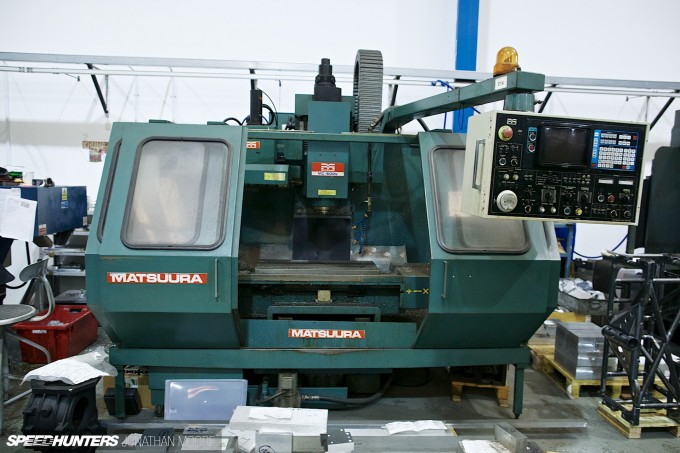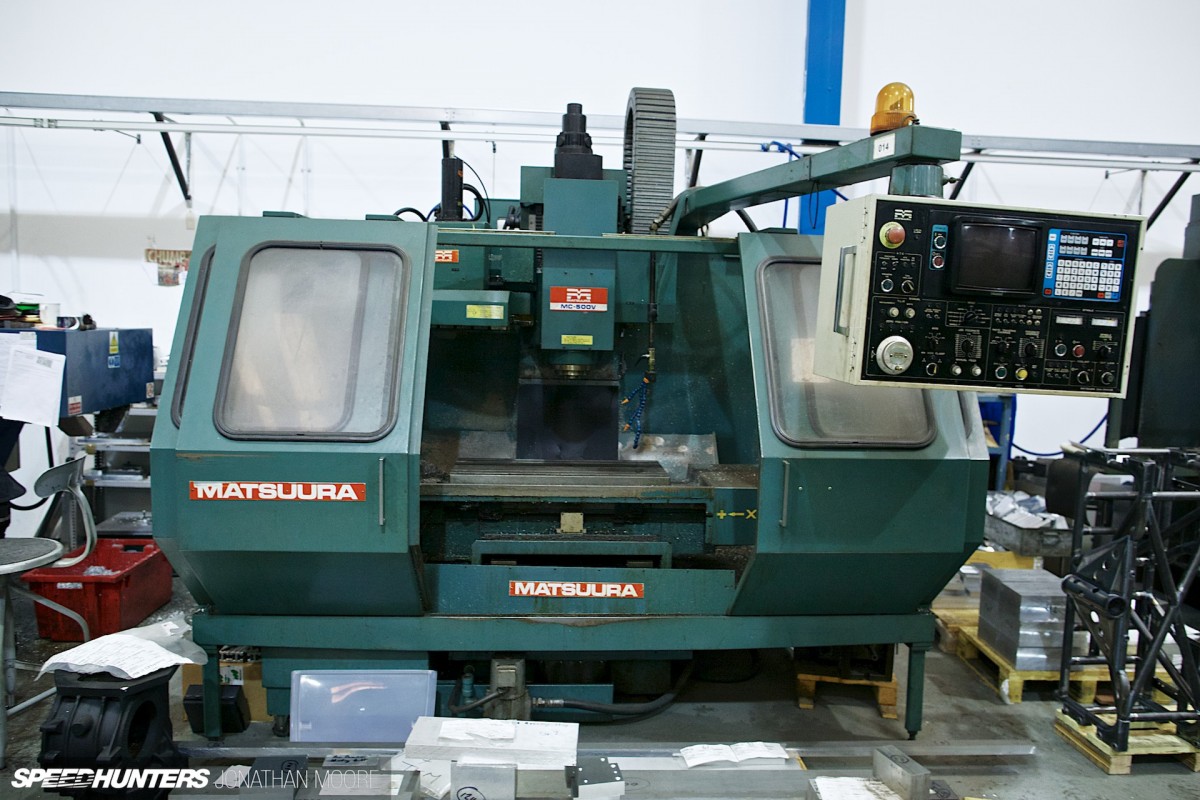 I can't help but be a sucker for engineering and machinery. Not from the standpoint of knowledge, I'm embarrassed to say, but purely from that delight in seeing serious bits of kit at work. To support all their projects, GPRM have a range of serious kit: four Matsuura machining centres (two are four-axis), two CNC lathes, two manual mills, two manual lathes, a big bed mill, a Hexagon measuring arm, Mitutoyo Coordinate Measuring Machines, 10 TIG sets, three MIG sets…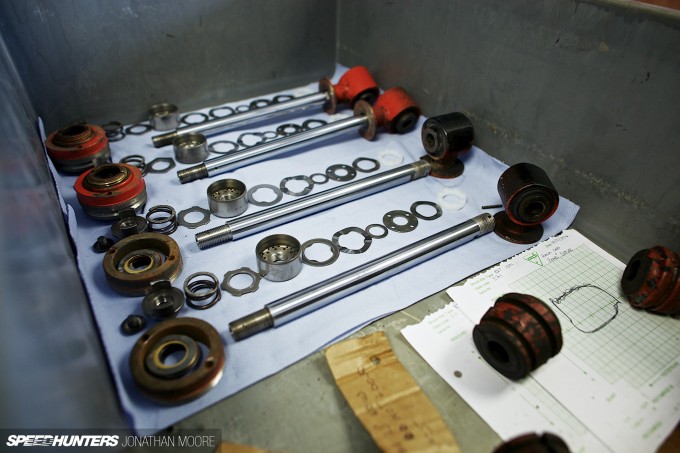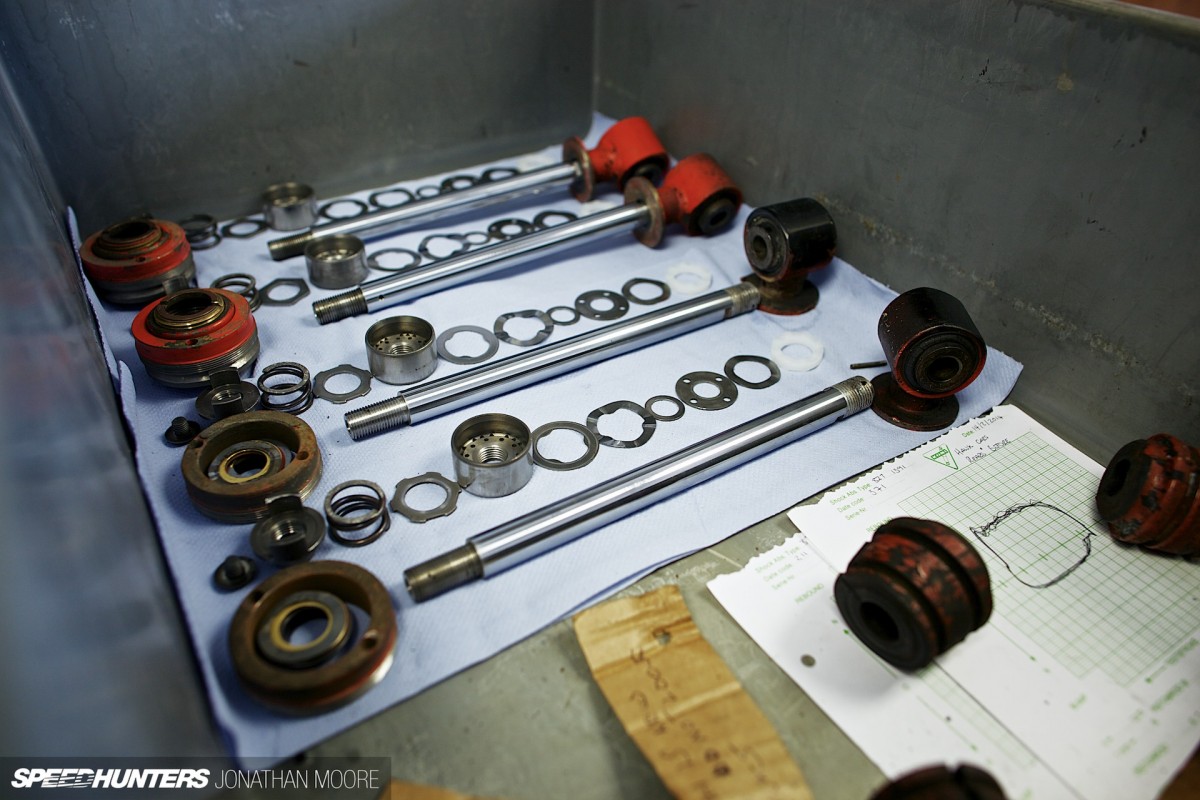 Oh, and GPRM are also specialists in Koni dampers, carrying out rebuilds and re-valves for customers with road and race cars.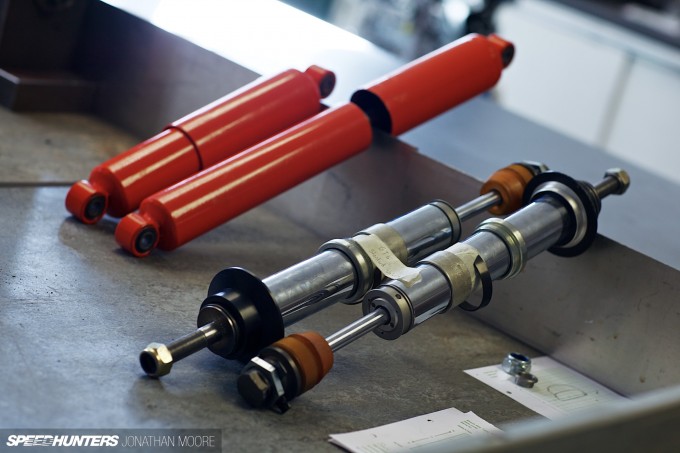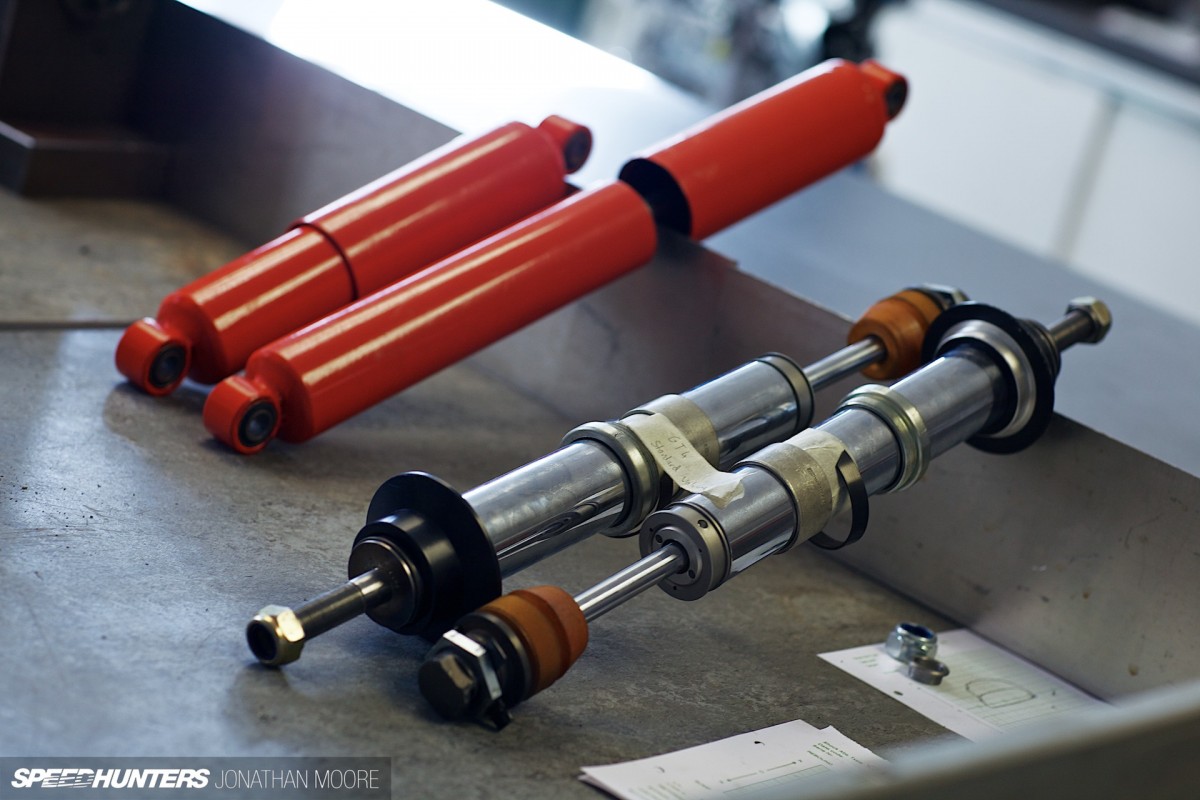 The damper shop has a full set of measuring and dyno kit, plus an area for working on transmissions.
So far so new – now for the future past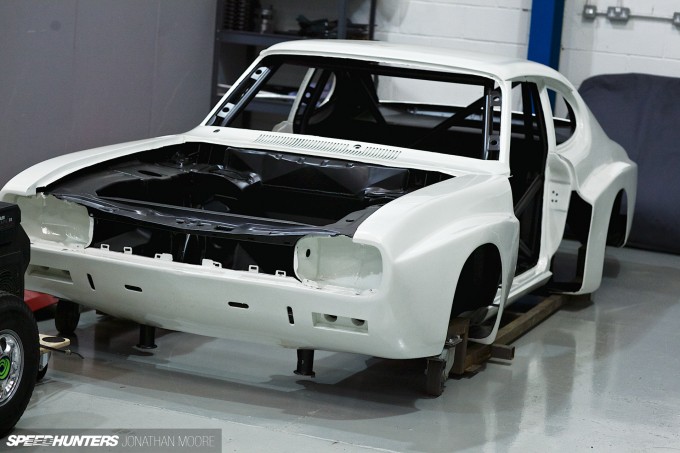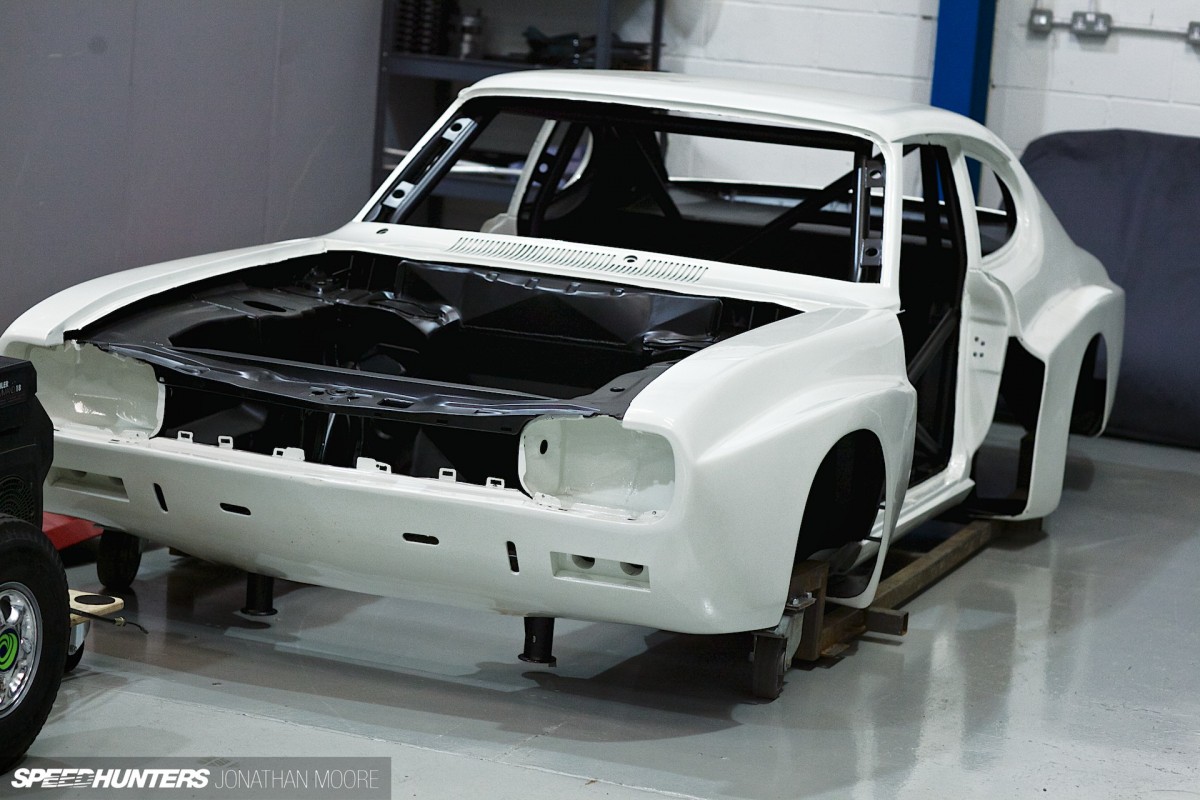 So far so new – but then another side of GPRM is rather obviously displayed, and shows the long history of the team. This is a widebody Broadspeed Capri undergoing a full restoration: it wouldn't be the only Capri in the workshop by any means. Although not core business, GPRM have prototyped and built parts for a whole range of historic cars. They built a CSL replica for instance, and a Lindrick Broadspeed Capri. The latter would have to be a replica, as this happened to the original.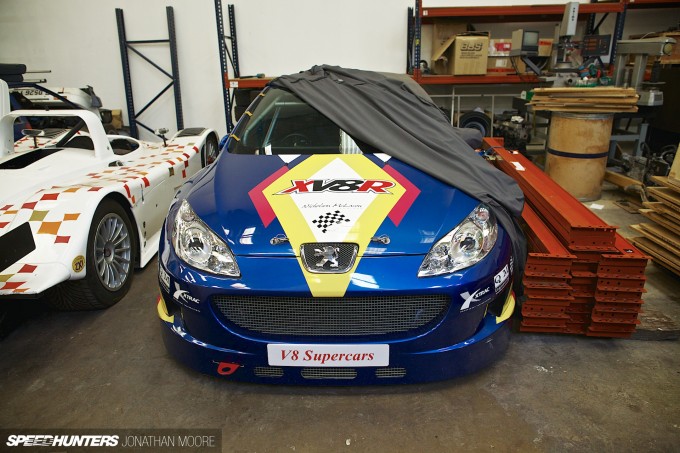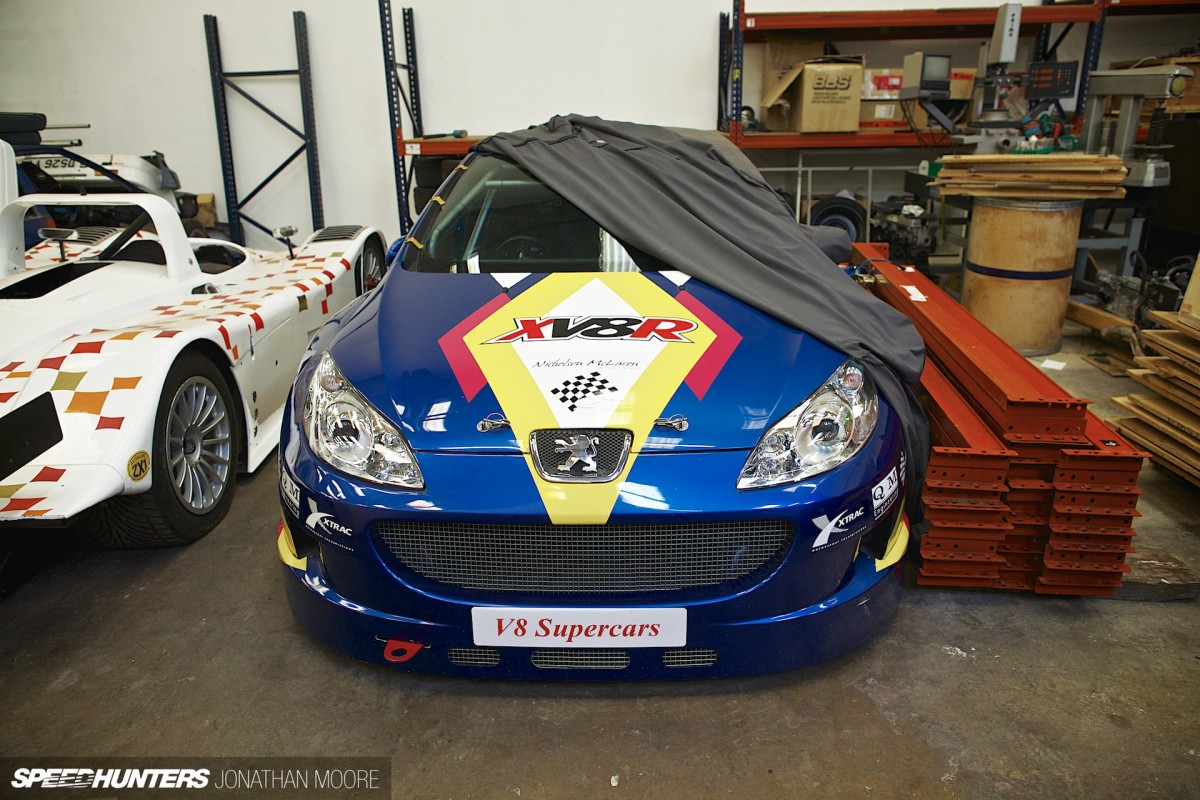 Pulling back a dust sheet in the large hangar accommodating two of GPRM's articulated race support trucks revealed this beast: a 650hp, Peugeot 407-bodied spaceframe thoroughbred racer with a DTM transaxle and Nicholson McLaren XB Cosworth engine.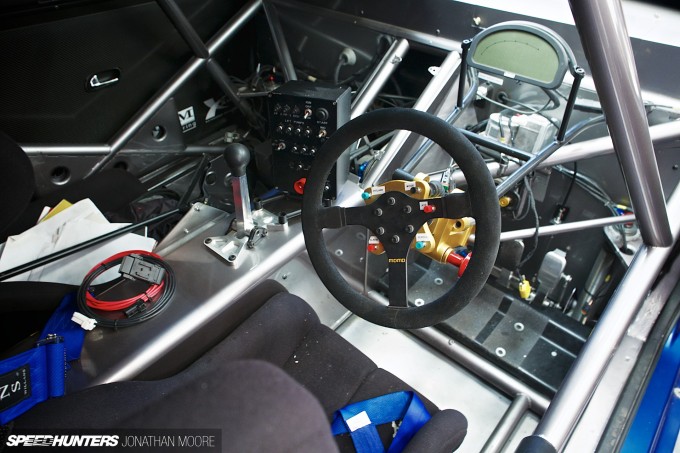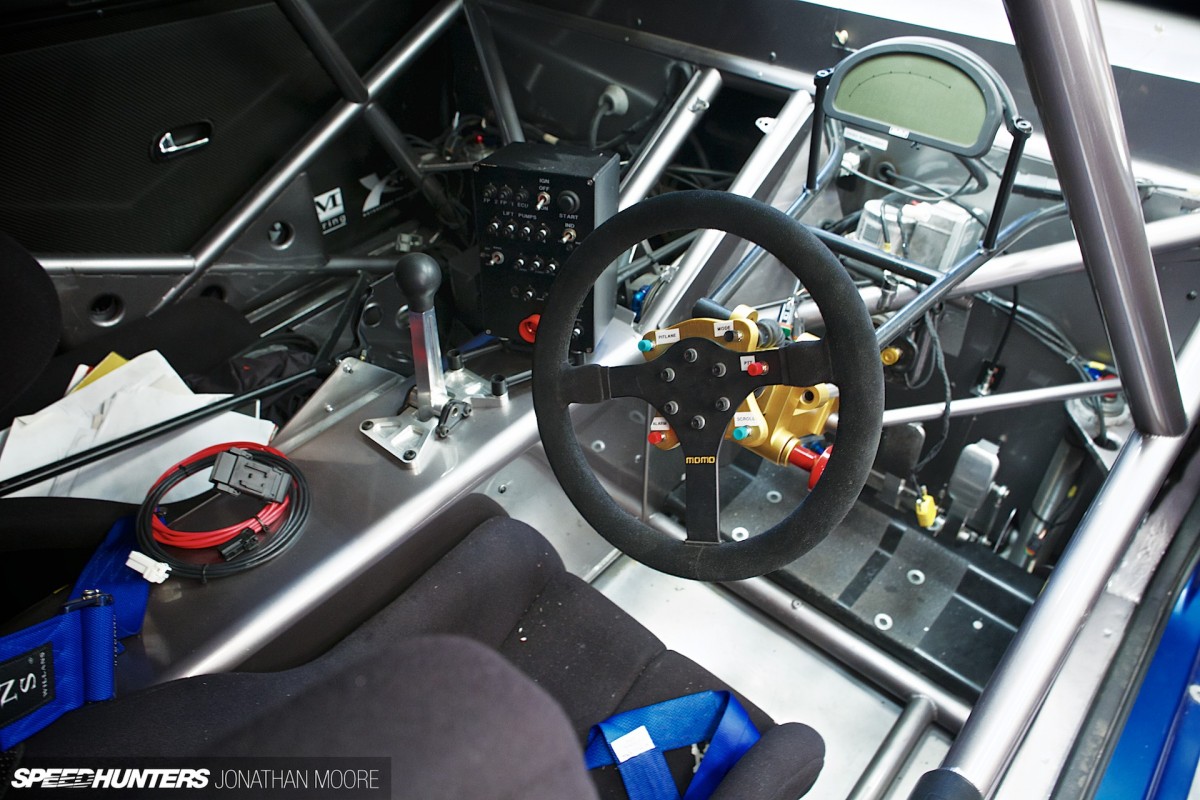 Inside the cockpit, you could see how serious this thing was: GPRM ran it in a couple of Britcar V8 races at Donington, and it won its first race by almost a lap. This is a car that needs to have the cover fully pulled back for a proper look in the very near future!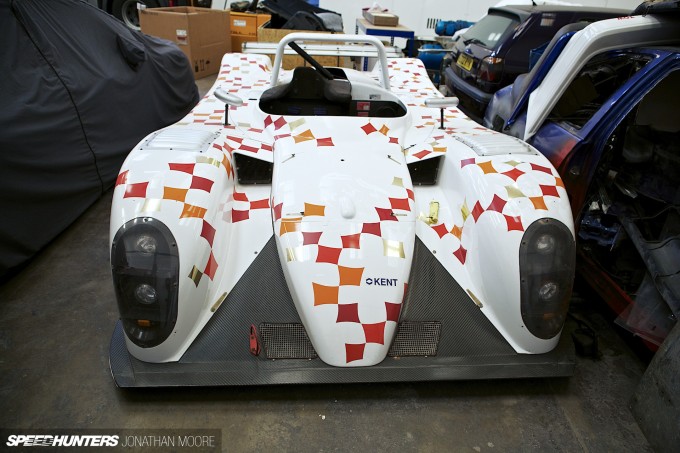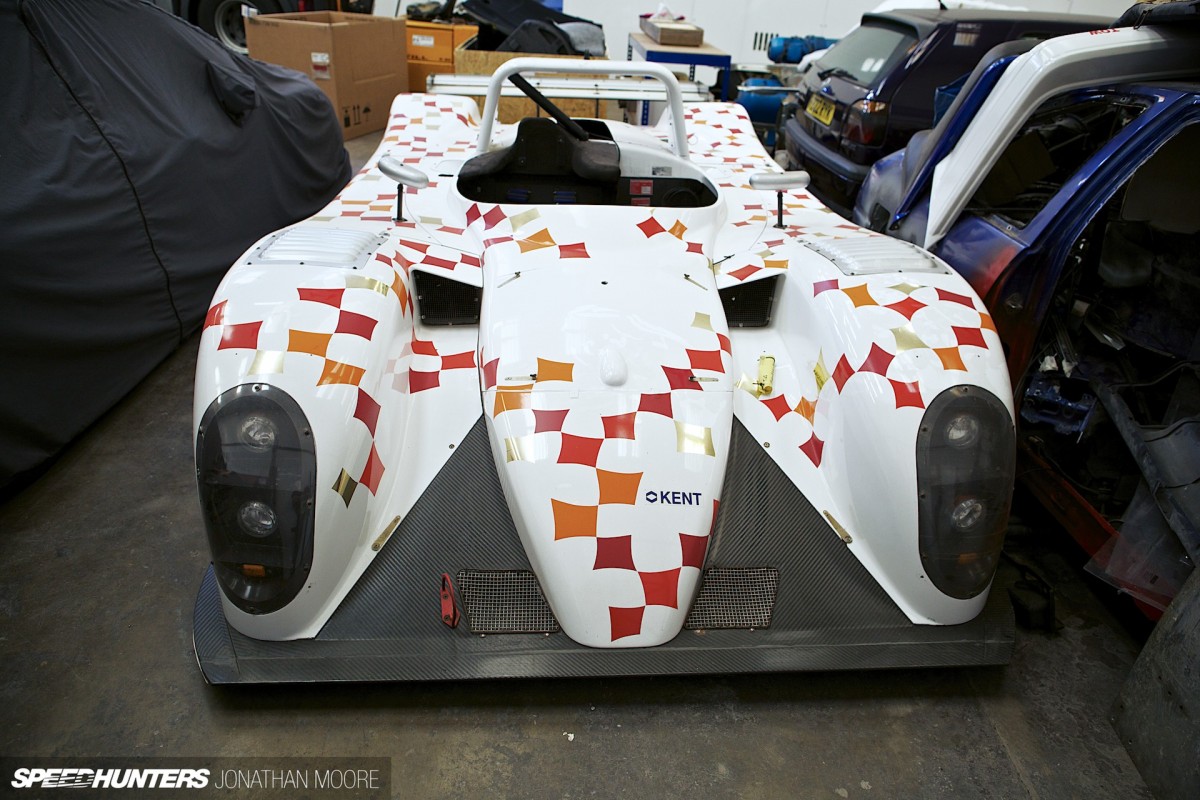 Then next door was this. An LMP900 , just sort of hanging out. Again, whilst I was picking my jaw up off the floor, Gary was insinuating that it was just taking up space… The Reynard 2KQ was actually up for sale, along with a truck-load of spares. Unfortunately I didn't have space in the back of my Alfa…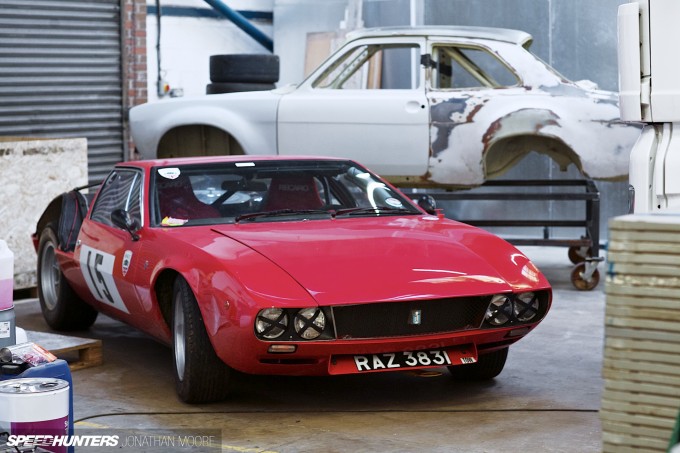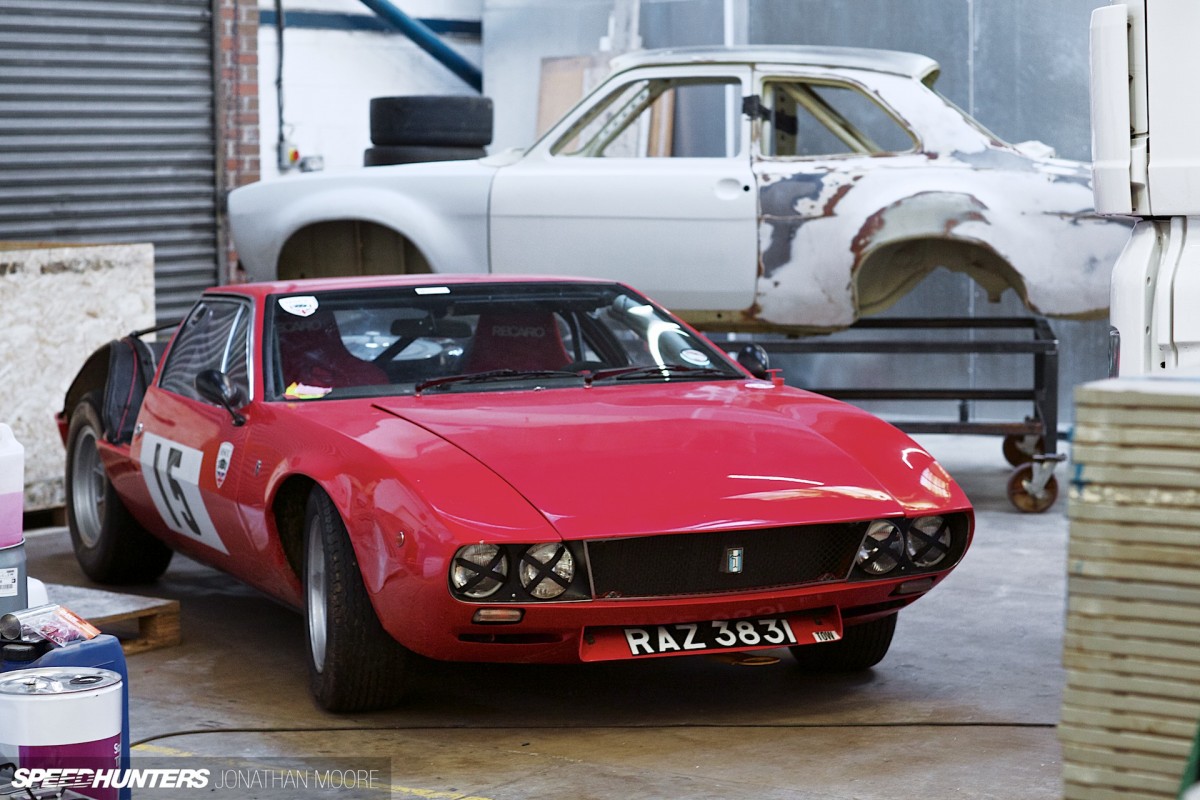 The loading bay was a literal treasure trove.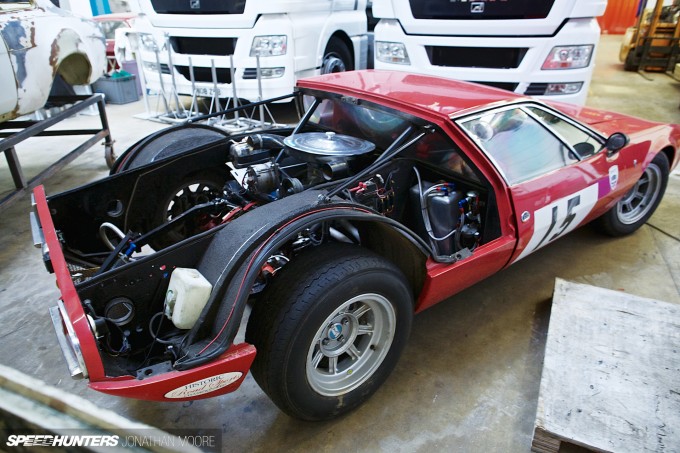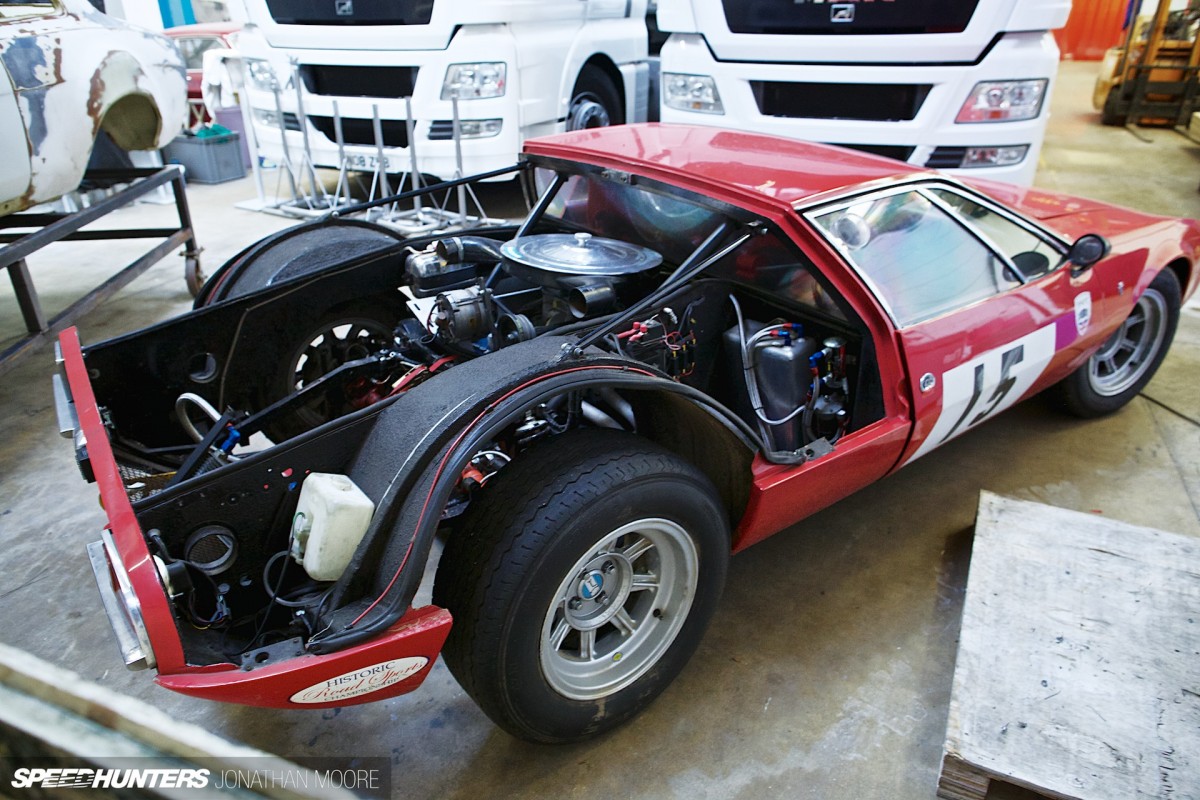 The Mangusta was another individual customer job – the gearbox had been blown up and was out for repair.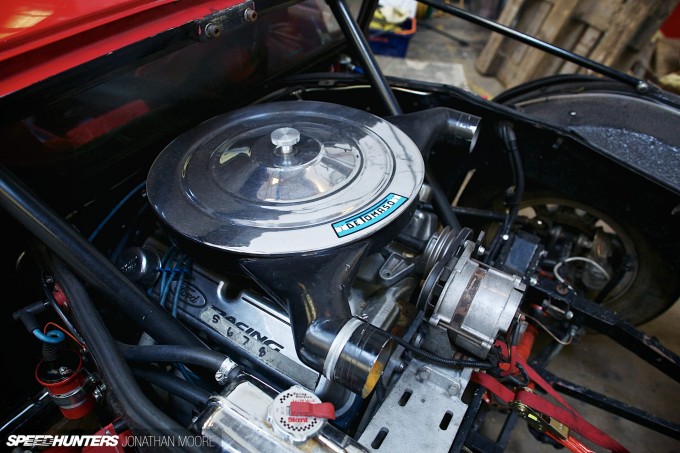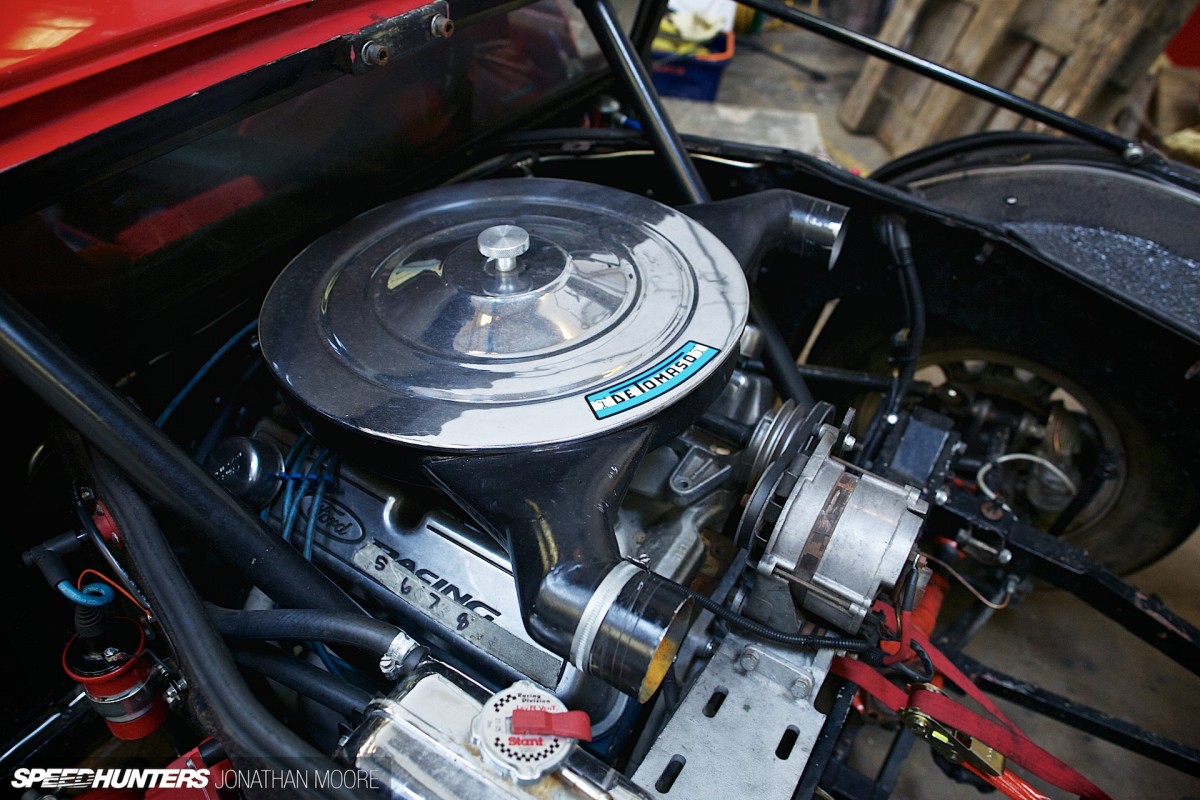 But with the unique double-door folding rear deck removed (the pieces were tucked by the Broadspeed Capri shell in the main workshop), you could get a great view of the De Tomaso's big V8. Ah, Italian looks with American muscle: a perfect combination.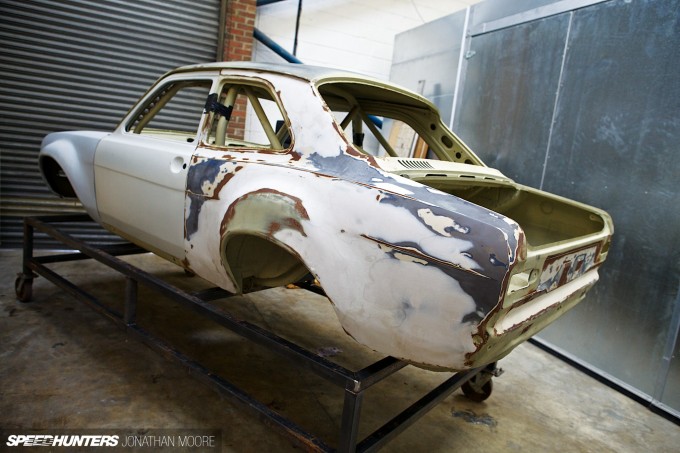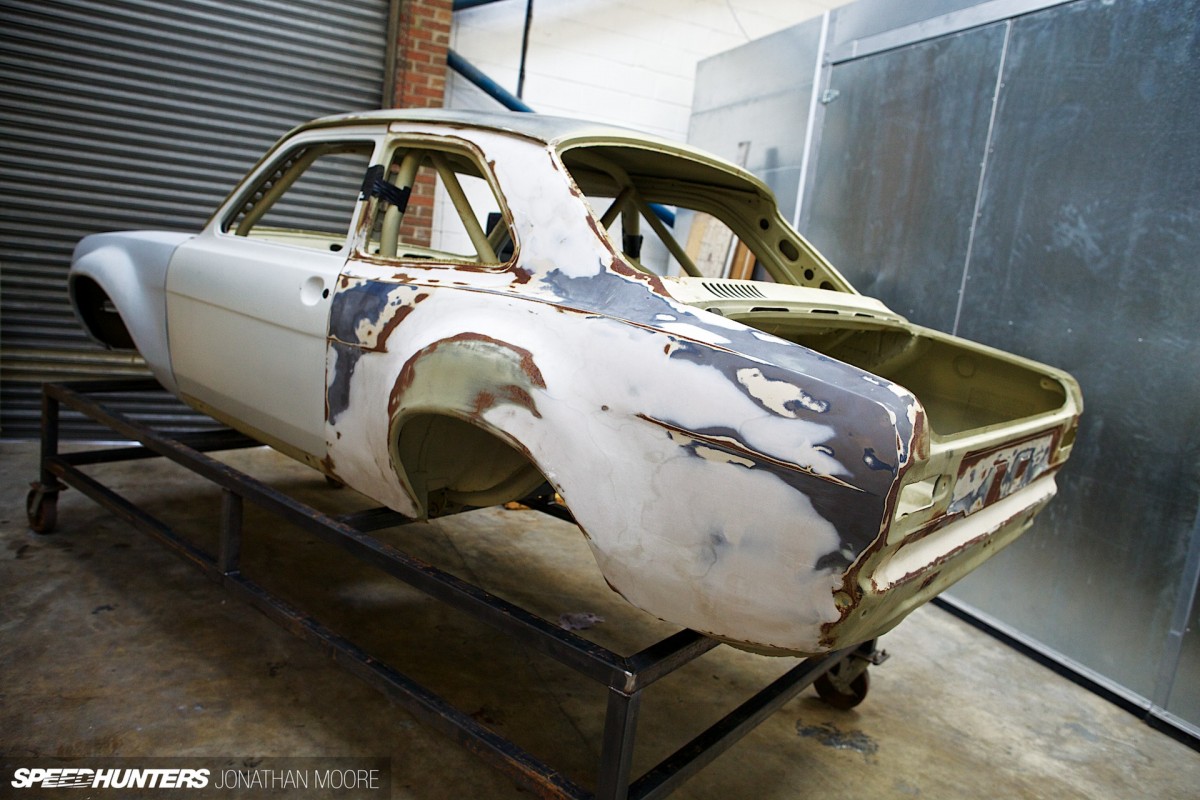 Then behind that, the magic continued… This Mk1 Escort shell had just been delivered: it was thought to be Dave Brody's original Run Baby Run racer – an iconic Escort from the '70s.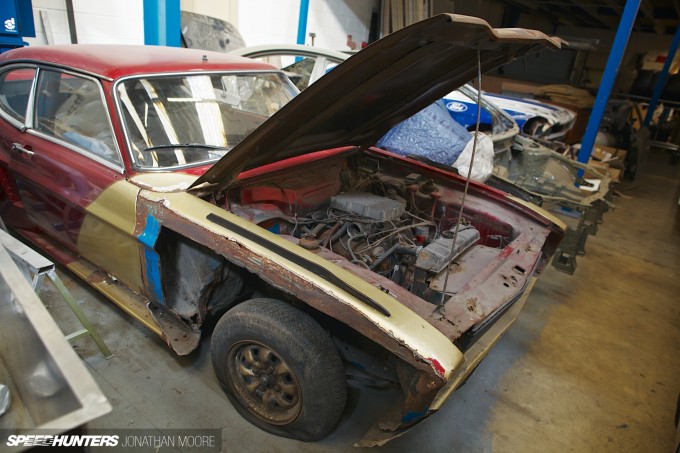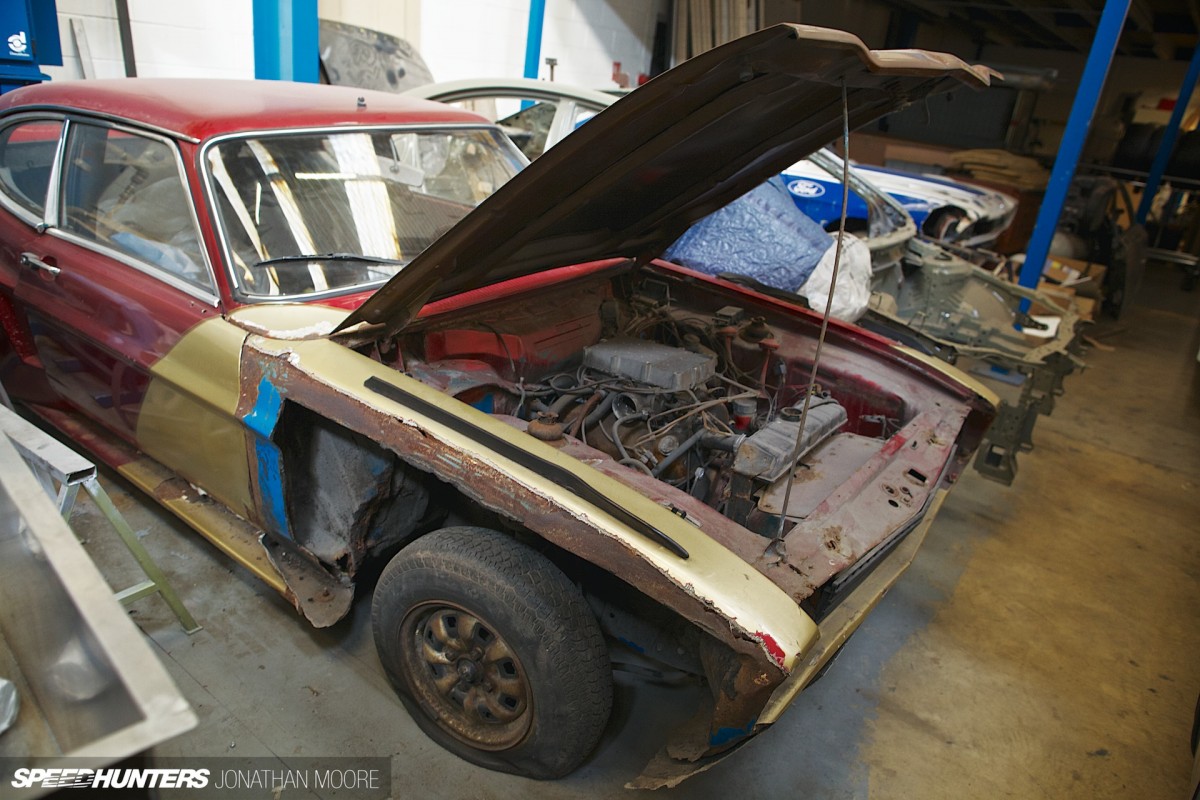 Gary hadn't specifically shown me round the back of the race trucks, but I did my usual nosing around. And I'm glad I did.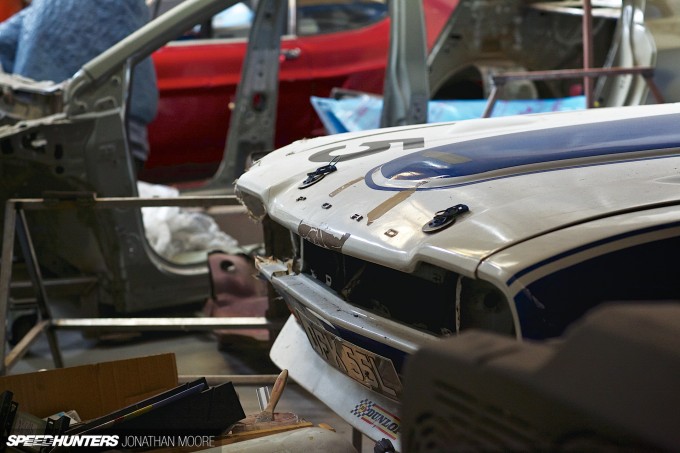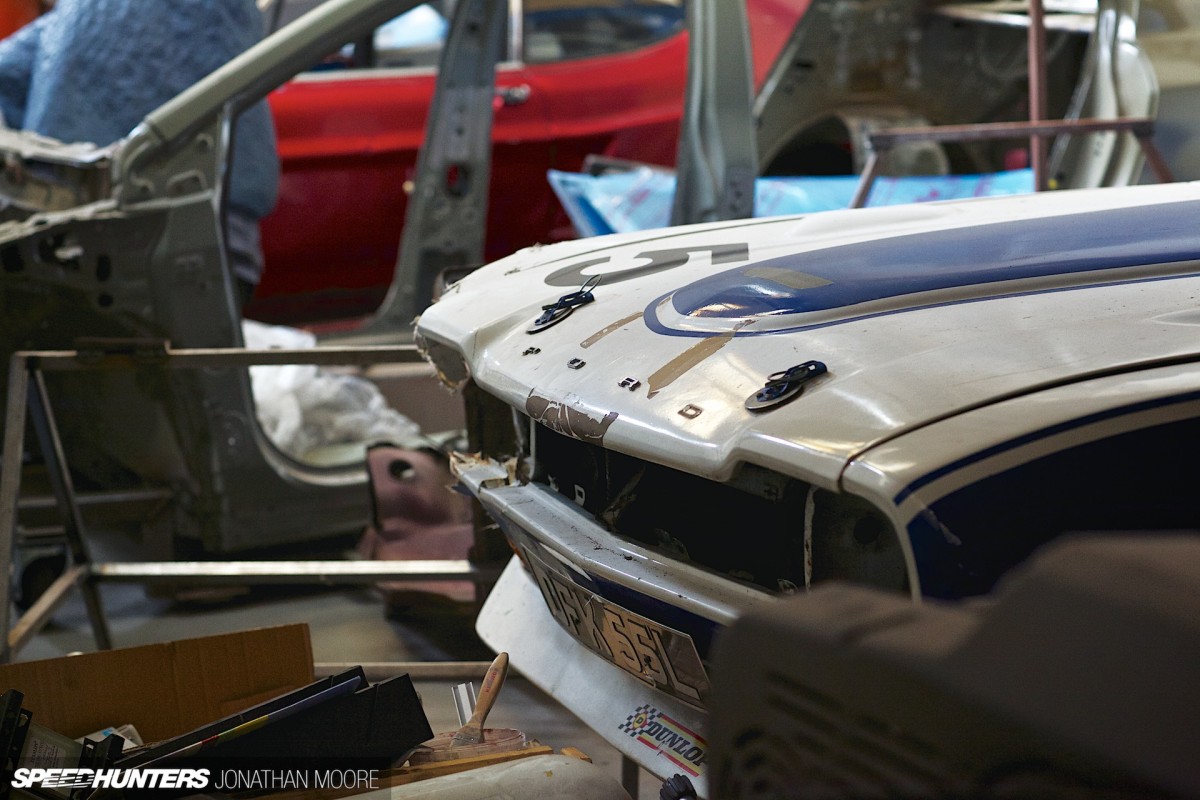 Two more Capris, looking very sorry for themselves, but waiting for foster parents to take them on and fund their rehabilitation. Help them!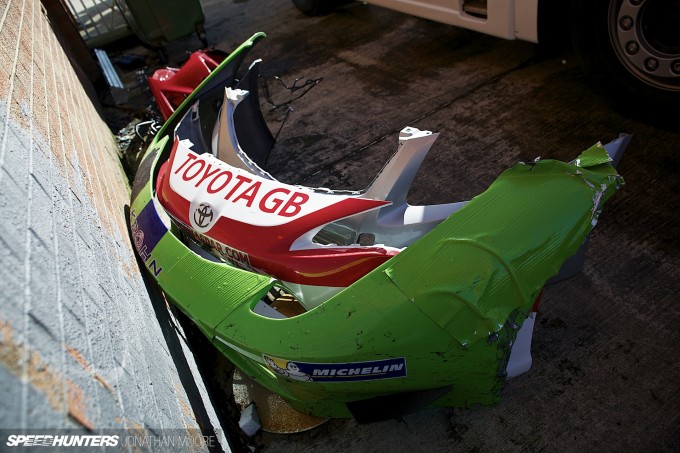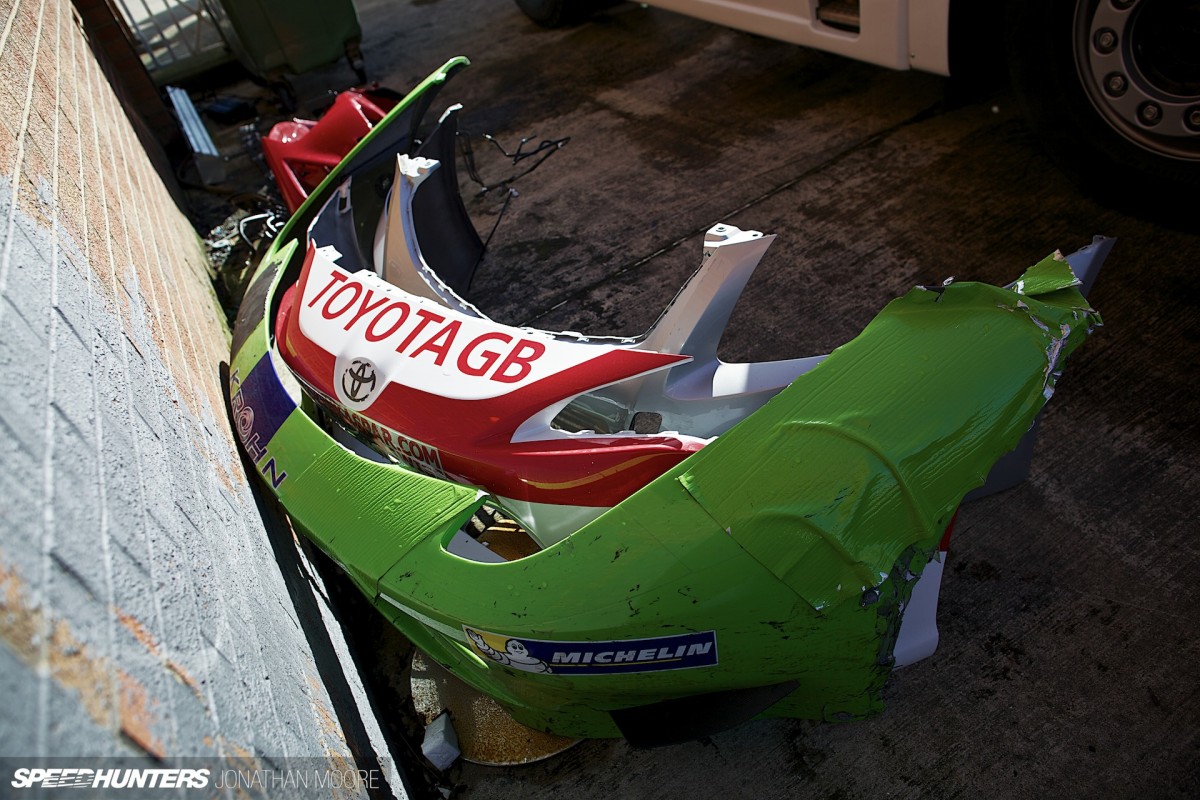 It just went on. Even in the yard outside was more kit, just lying about. Here was the nose of a Krohn racing Ferrari 458 that raced at Le Mans – GPRM provided logistics support in Europe for the American team – and evidence that the Britcar GT86 result was hard won.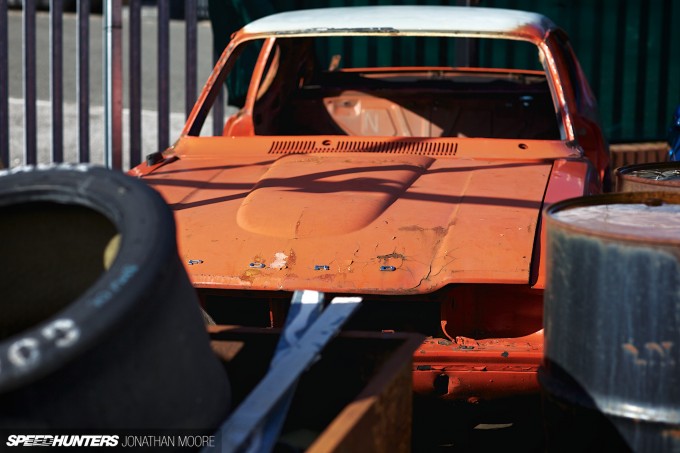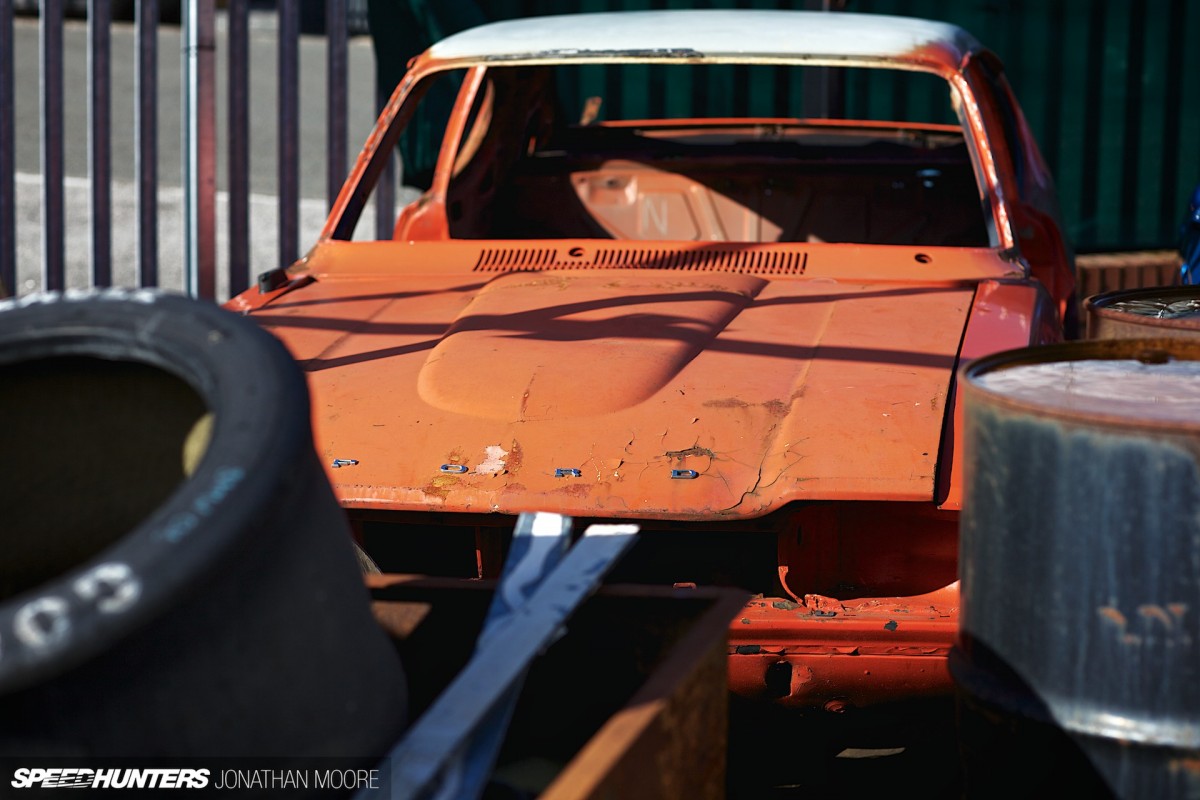 Right at the back, behind a stack of old tyres and rims, another Capri in need of TLC.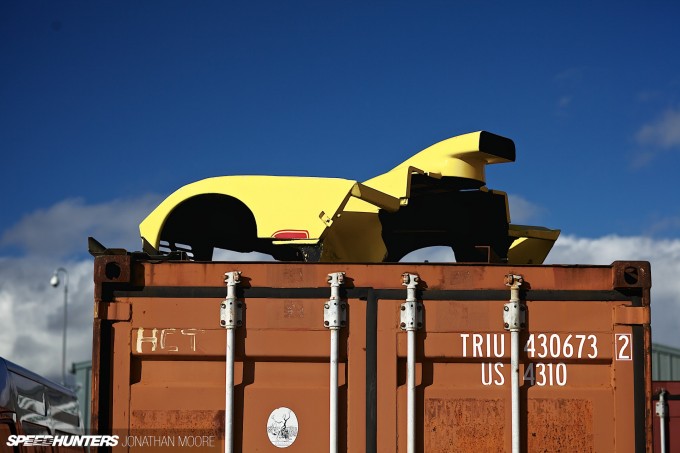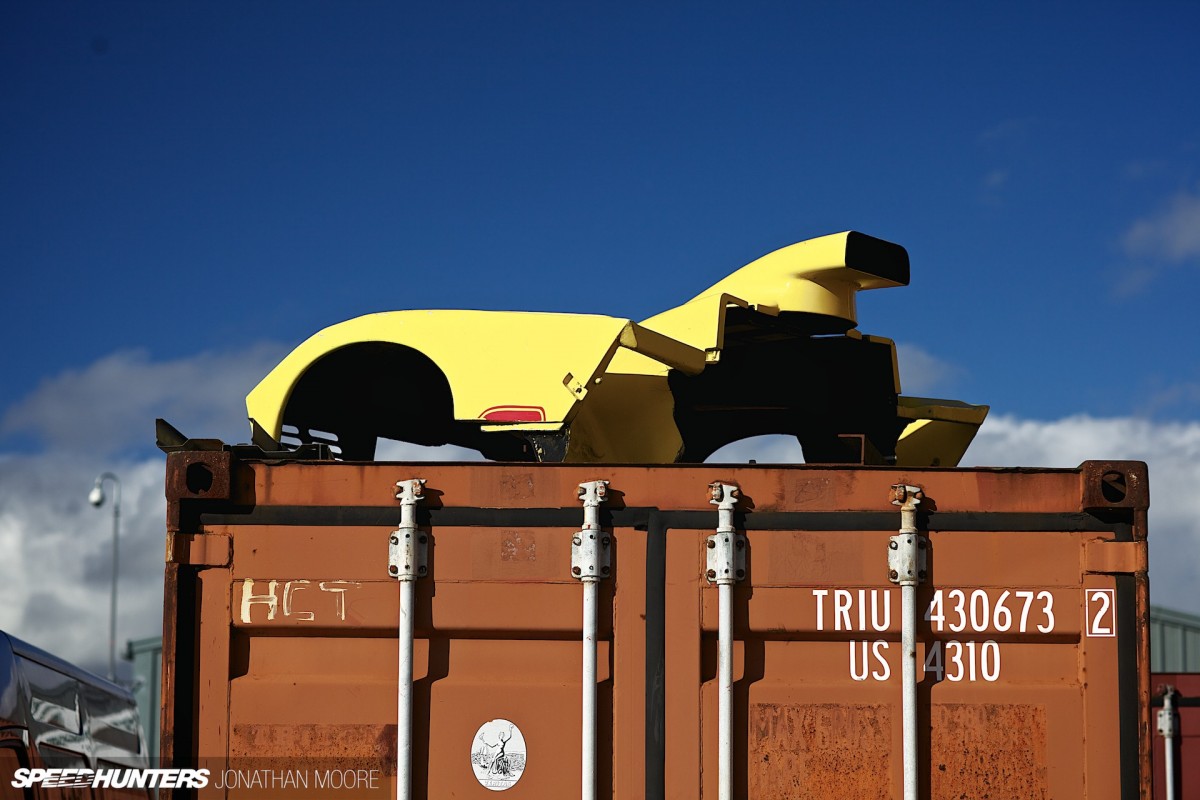 Some bits of sports car bodywork perched on top of a container.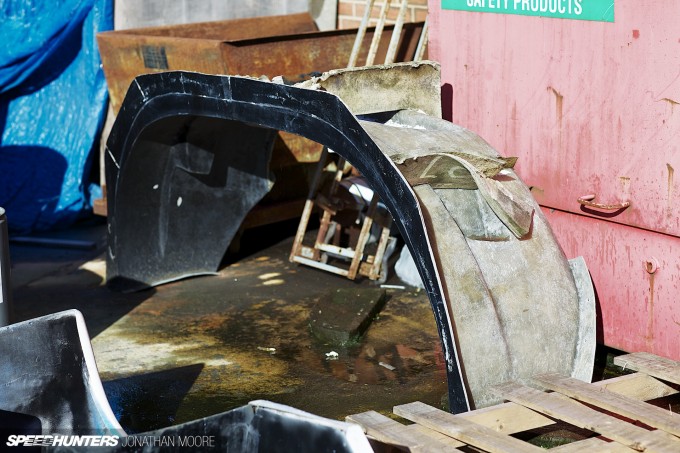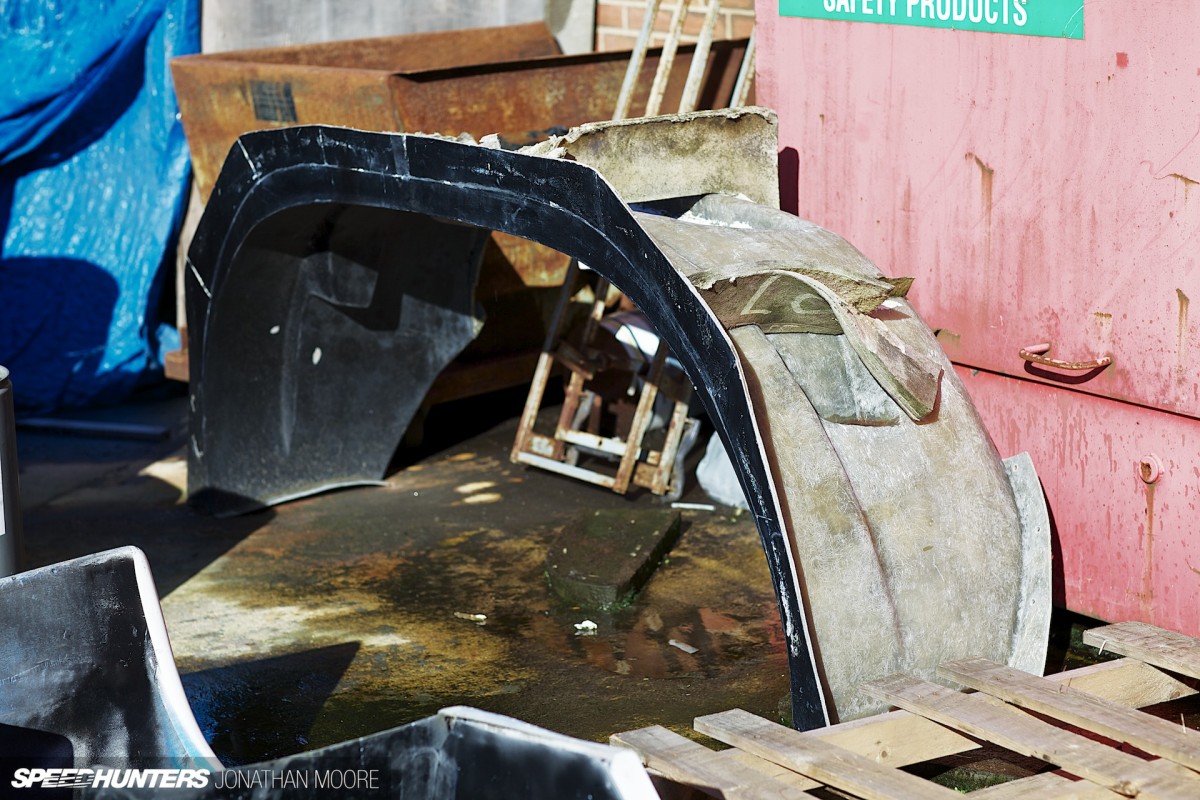 Moulds from the Spice Group C programme…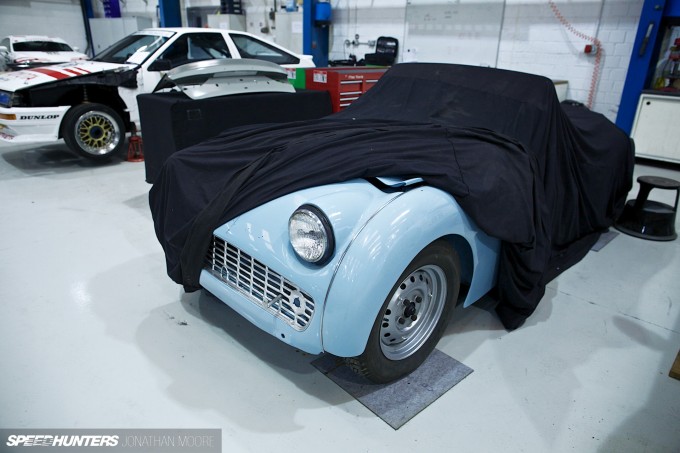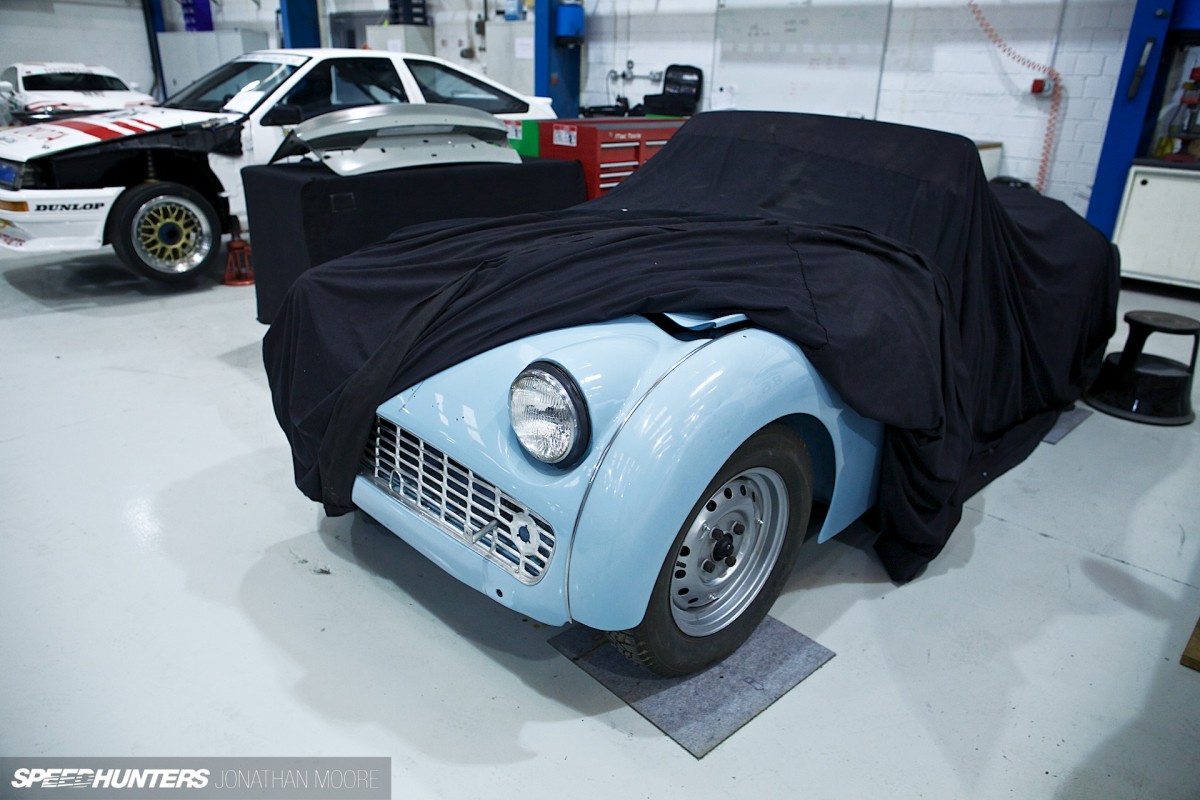 But you just can't get rid of your past when you're this passionate about racing. Under another dust sheet in the main workshop, Gary bashfully admitted to this being another project he hadn't got round to finishing: his personal Triumph TR3.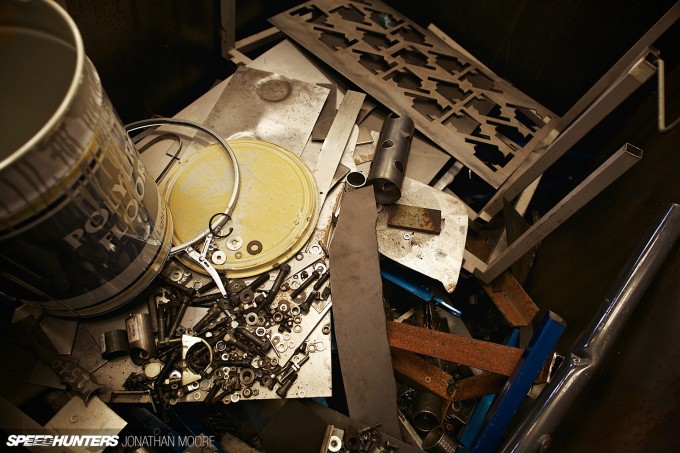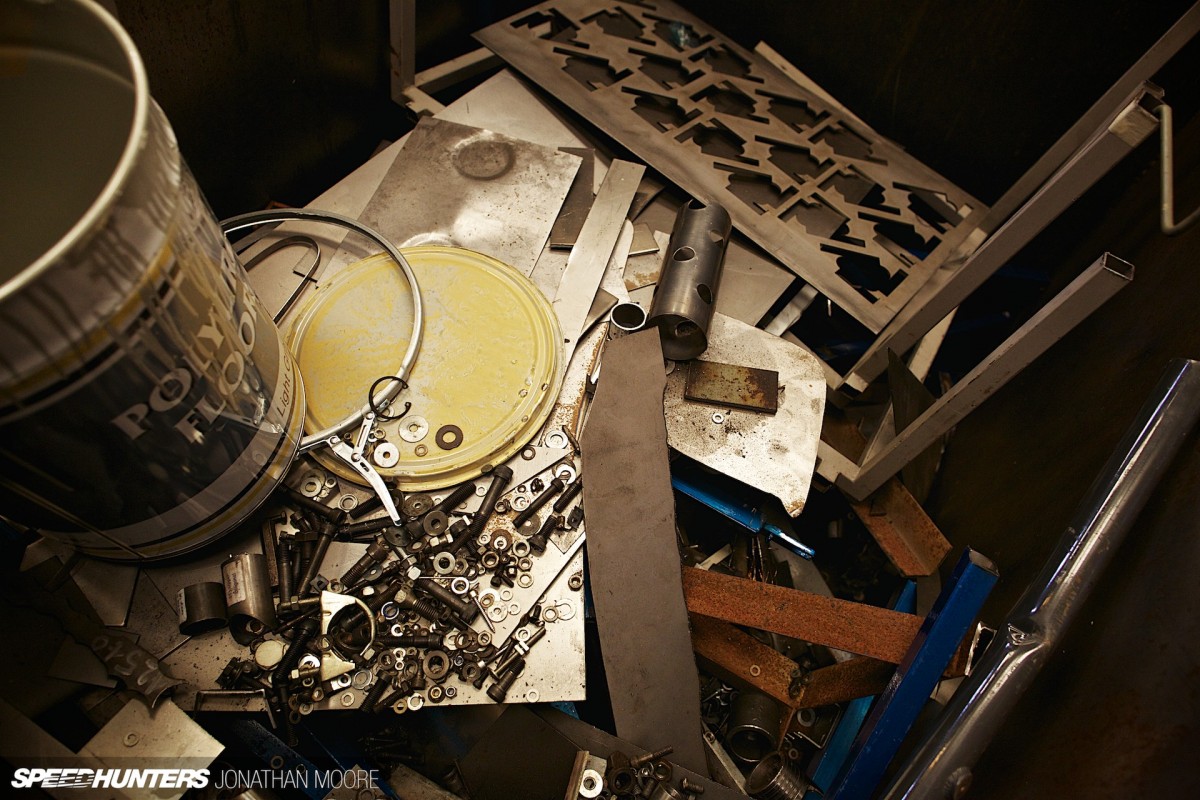 Much as a finished car gets all the attention, it's the engineering underneath that dictates success or failure. With the GT4 project well under way and the NGTC programme flourishing, plus their historic pedigree both personally and with classic builds (and those Capris needing good homes), I'd bet that GPRM's time to step into the spotlight is imminent – and overdue.
Jonathan Moore
Instagram: speedhunters_jonathan
jonathan@speedhunters.com