JDM Euro
If someone asked me to make an observation on the Japanese car scene – something big that I have noticed during my time here, I'd definitely have to point out the obvious rise in imported cars. Over the last two decades, European, and to some extent American car makers, have really been enjoying a rampant rise in sales and with this being Japan, the aftermarket industry has followed suit. And if you consider that the Japanese probably can do no wrong to cars, that's a very good thing. Bold statement I know. Don't get me wrong – even the Japanese can get it wrong at times, but I'd go out on a limb here and say that they tend to have, on average, very good taste and know precisely how to make cars look their best. Once expensive cars drop in value, it's a given that people and tuners will start to play around with them more.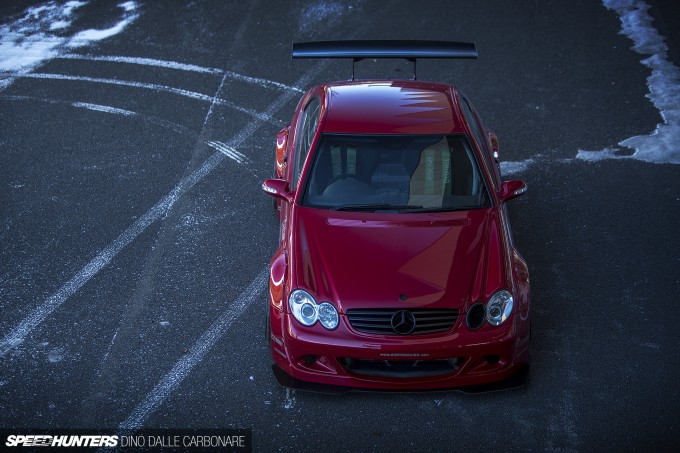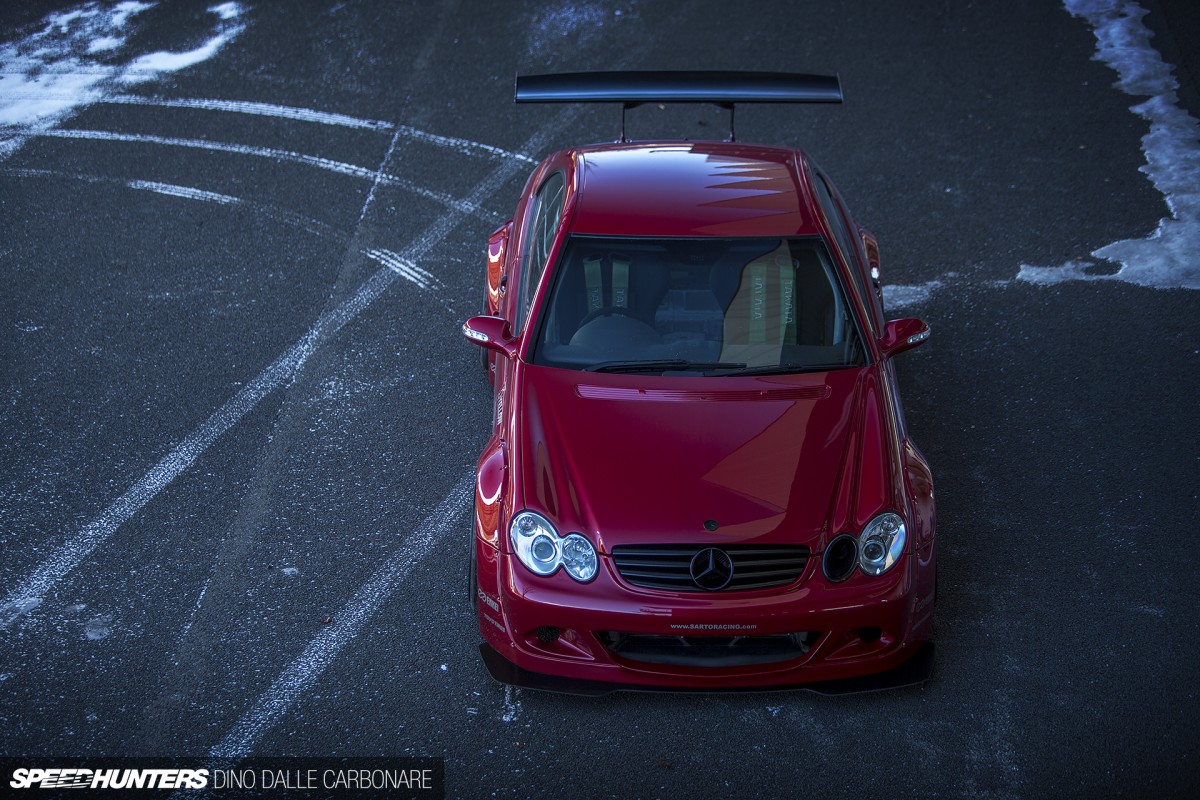 That's pretty much how Sarto Racing came to be; a brand new company, set up in November last year, making a hit on the scene with the release of their E36 widebody aero kit which was made in collaboration with Kei Miura at Rocket Bunny. The idea behind it all was to start tailoring – Sarto means tailor in Italian – custom bodykits for a variety of imports and while the BMW convertible definitely did its job well, it was their Tokyo Auto Salon car that needed to make even more of an impact.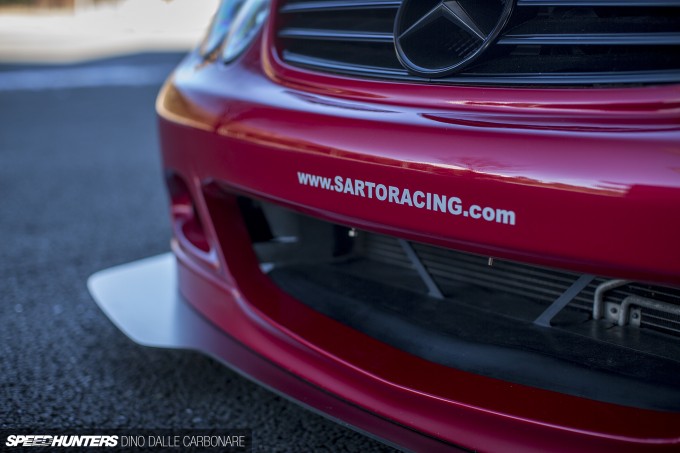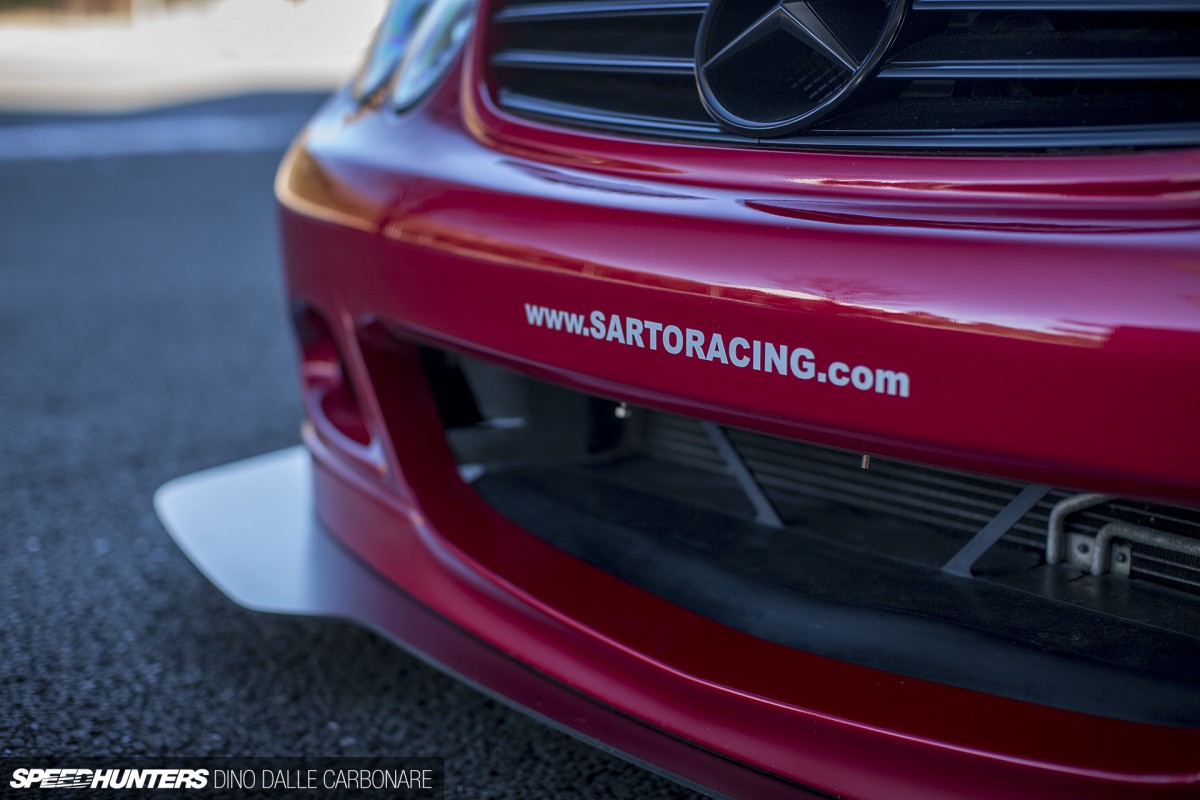 Aside from very limited edition AMG versions, I have to say I never really paid much attention to the W209 CLK. Like most Benzes, it was aimed at providing more comfort than anything else, and well, that's not particularly interesting to me at this point in my life. But once I stepped into the Makuhari Messe during the set up of the show last month, I found myself strangely attracted to the W209 you see here.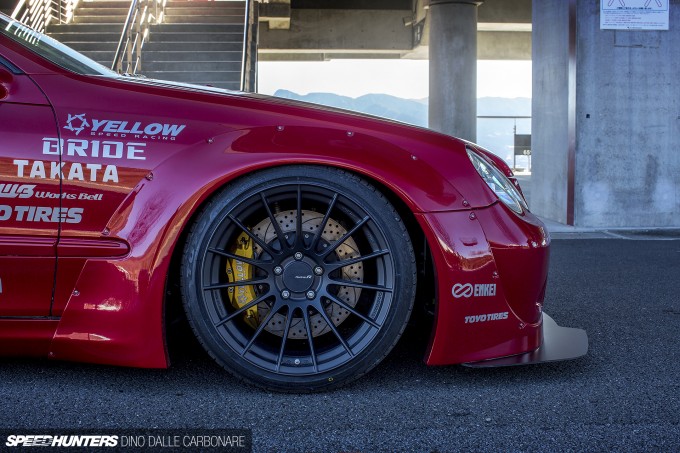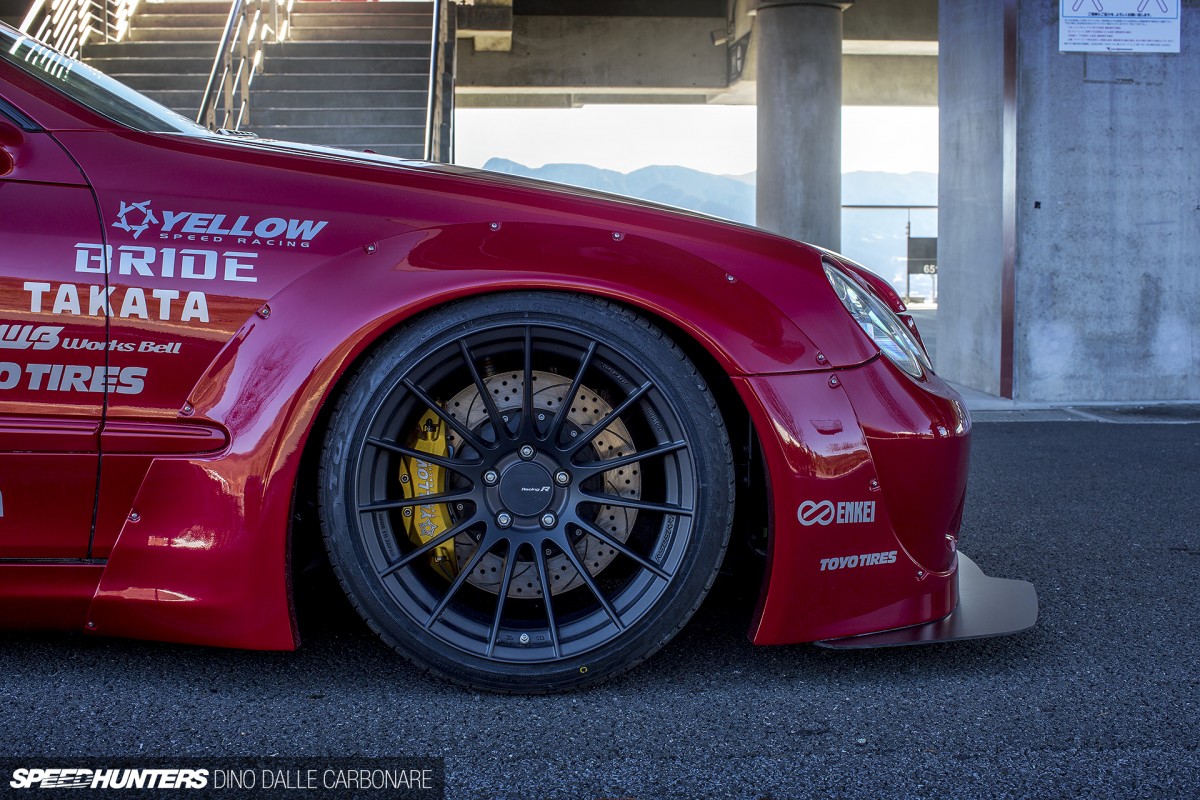 Much like a lot of people that first saw it, I didn't know what to make of it. What was it? A drift car? A time attack car? A DTM-inspired replica? I didn't really care that much as it looked sensational in the dimly lit exhibition center. Like with the latest crop of Miura-catered aero packages, the Sarto Racing conversion consists of big fat over fenders, bolted over the cut stock wheel arches for that undeniably simple yet impossibly effective instant dose of badass.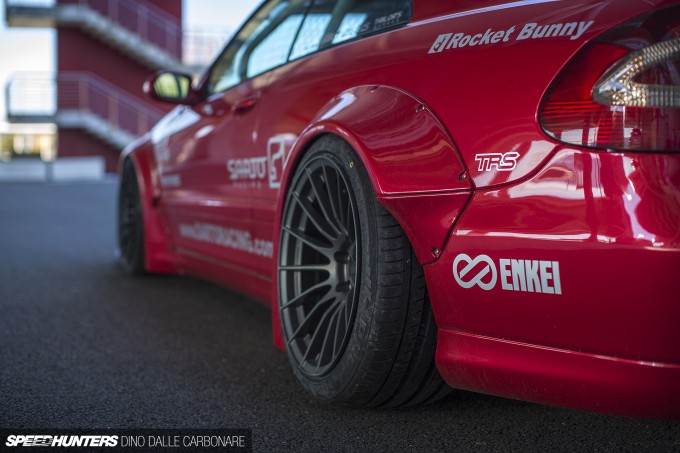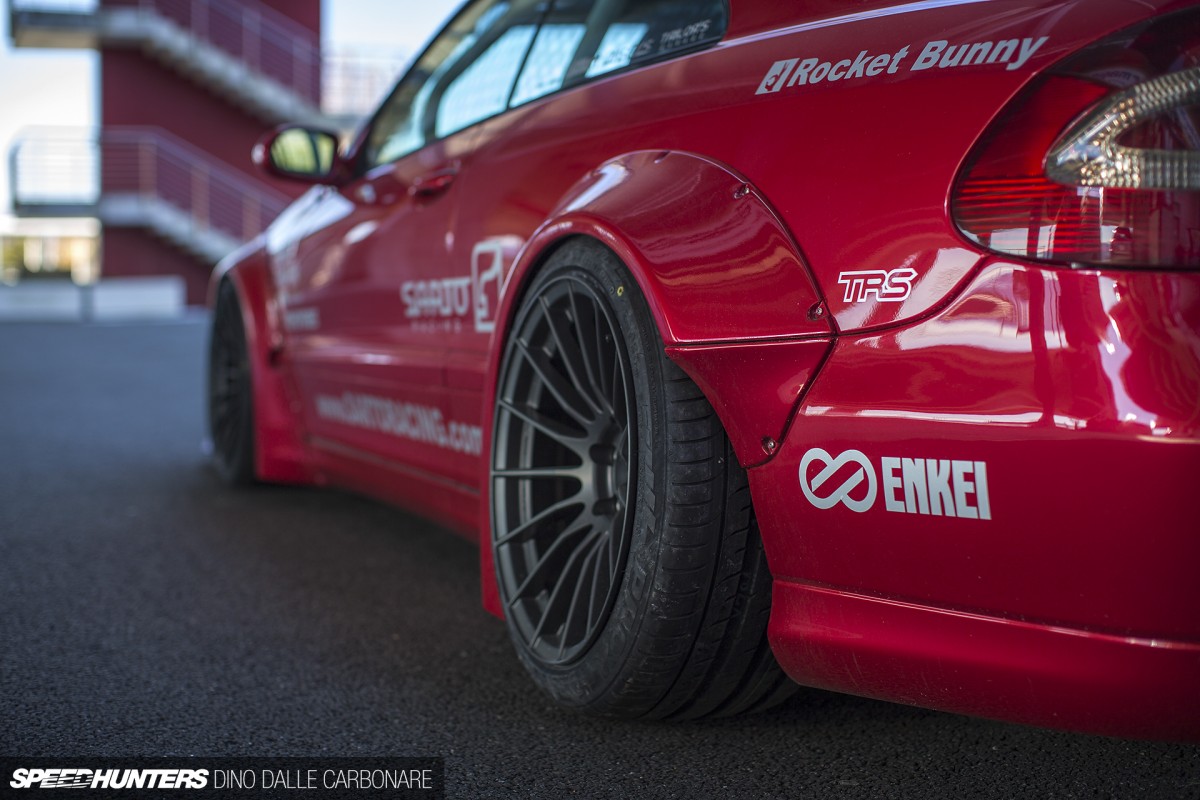 Ok, I hear you, this Rocket Bunny look is getting overly blown up lately, but be honest, is there anything wrong with it? Truth of the matter is, the rawness of the kyusha-racer Works look makes any car instantly cooler. The old recipe of pumped fenders is one which many manufacturers and tuning shops have used to spice up regular production cars and it would be wrong to simply dismiss its effectiveness because we have seen it applied to a lot of cars.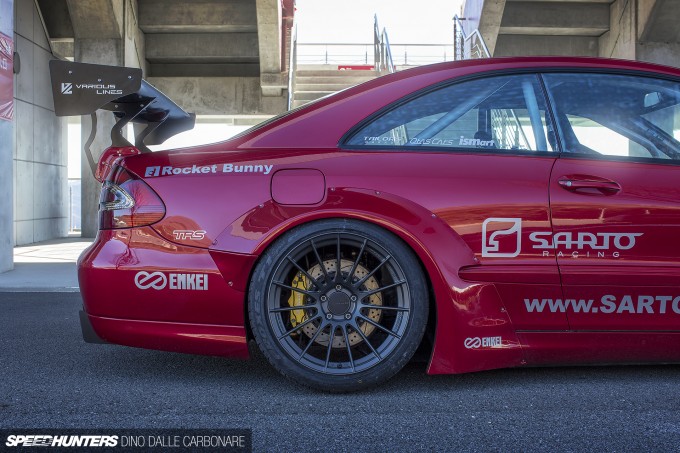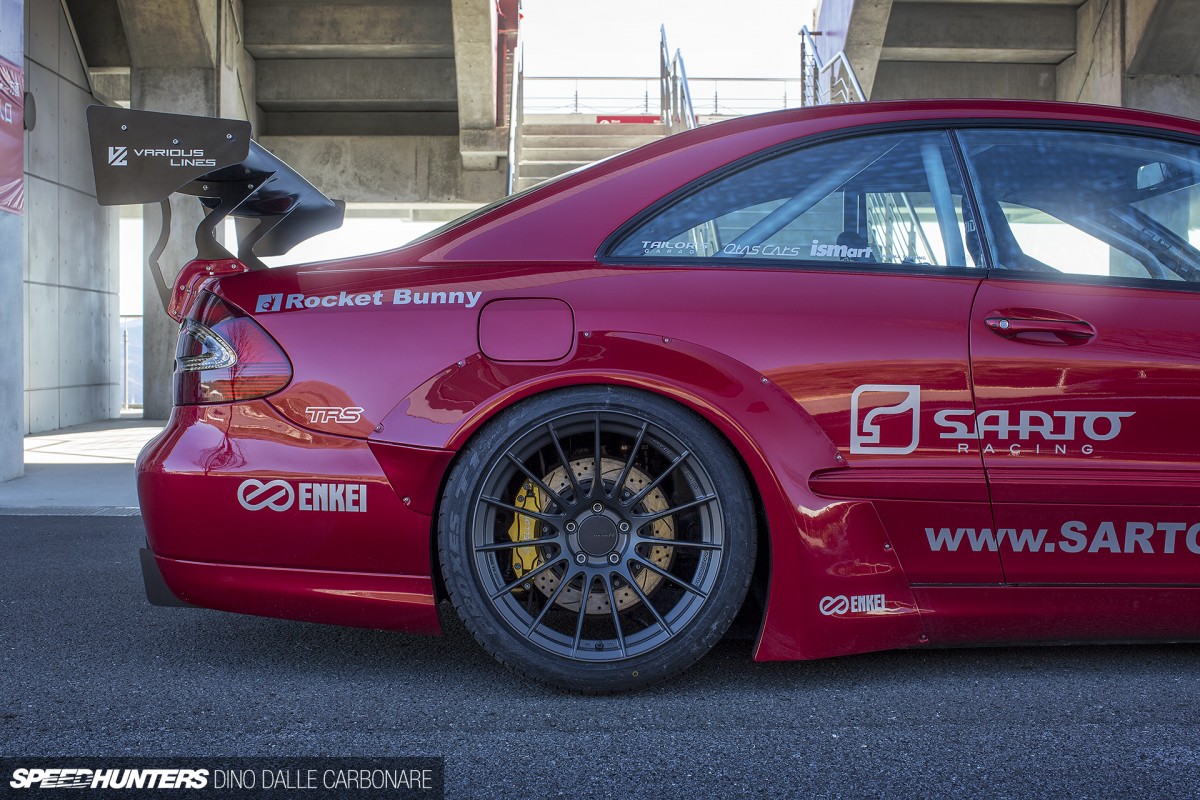 For Sarto Racing, Miura decided to keep things pretty simple, avoiding the need for side skirts and concentrating only on the large radius flares which are two-piece items for each of the CLK's four corners: a main section and a small finisher that extends the newfound wideness onto the bumper.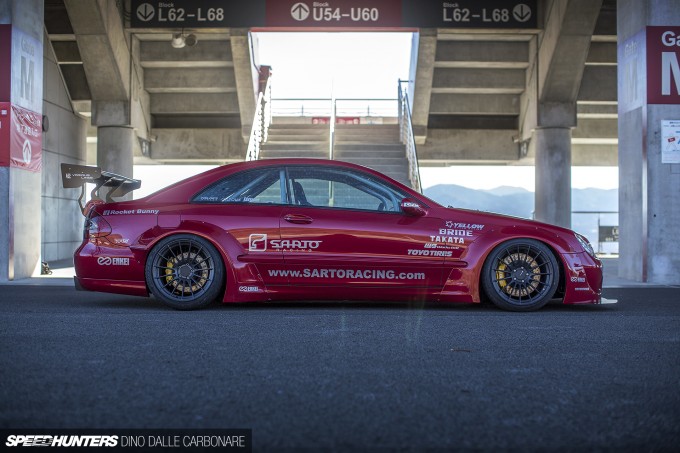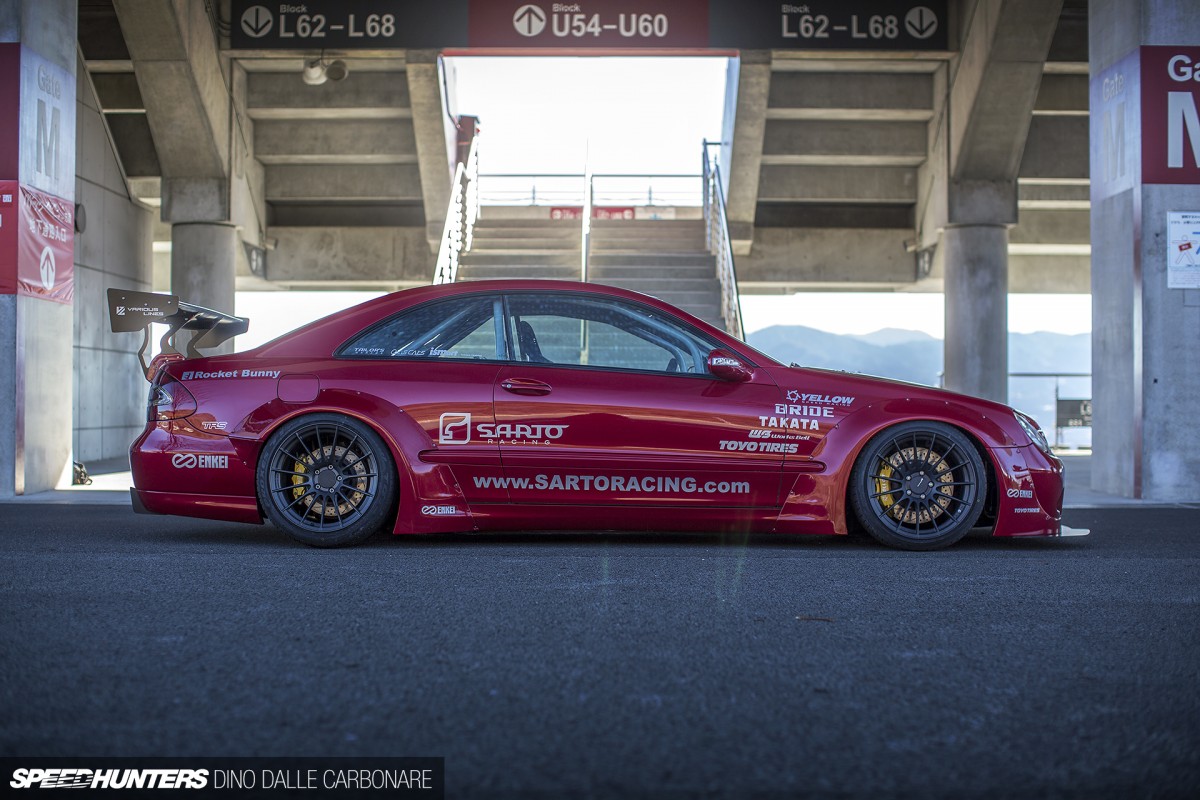 The sleek profile of the W209 is therefore altered, now more akin to a touring car than a comfortable luxury coupe. Seeing that there aren't particularly that many tuning parts for this generation of CLK in Japan, Yoshimori-san at Sarto Racing contacted Yellow Speed Racing who came on board on the project and custom-built a set of adjustable suspension, thus allowing the car to be appropriately lowered over its four wheels.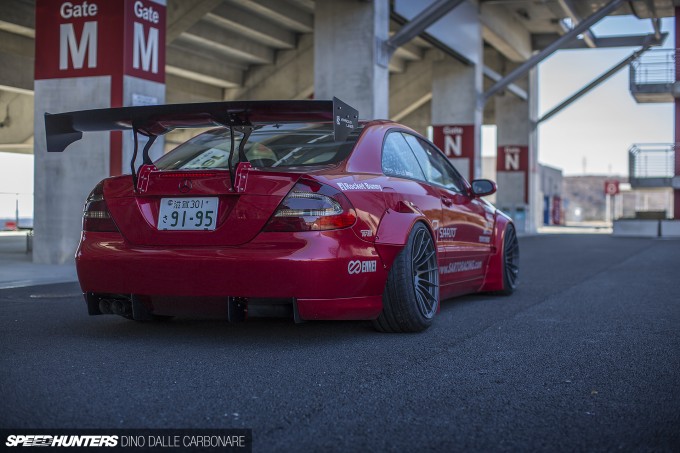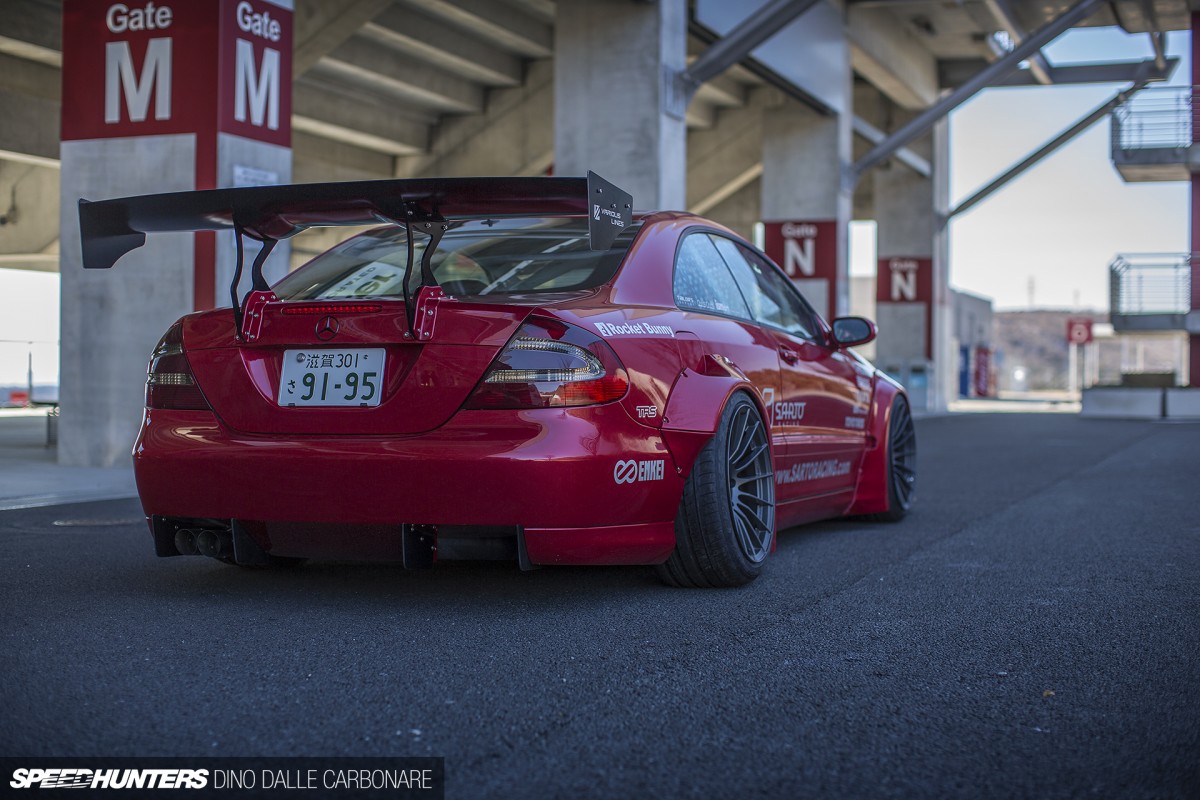 The rear end is finished off with a cut out lower bumper section with a small but visually aggressive integrated diffuser, and like every Miura creation so far, there's plenty of exposed rear tire to admire from this particular angle!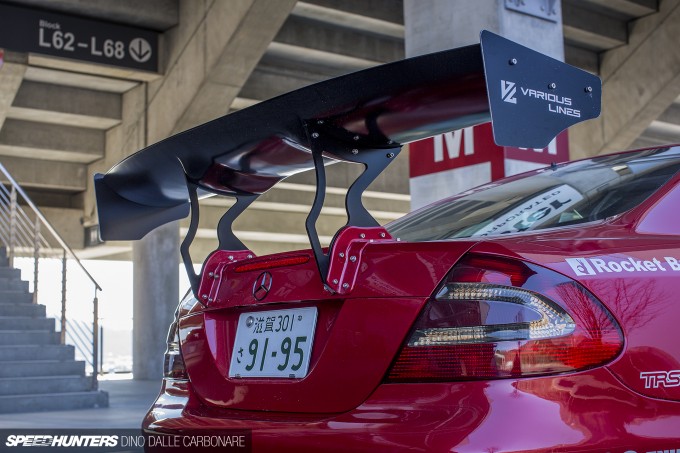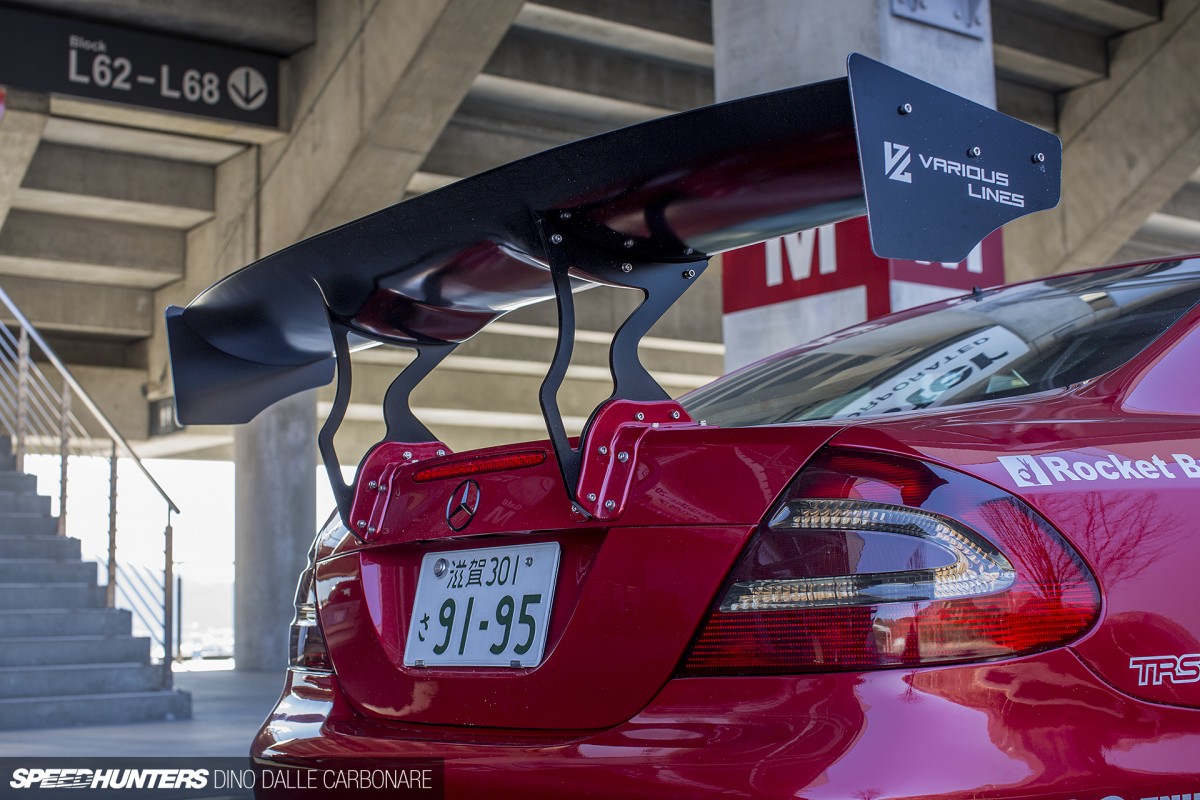 Sitting atop the trunk lid is the must-have GT-wing, held up by an originally shaped pair of stays. Now, like me, you are probably liking the lines of this kit but are also wondering what this car has actually been built for? Well, as Yoshimori-san told me at Fuji when I met up with him to shoot the car, the main idea was to devise a unique street car project, but as you'll see further down, he took the whole idea a little bit further than that.
It's all about the fenders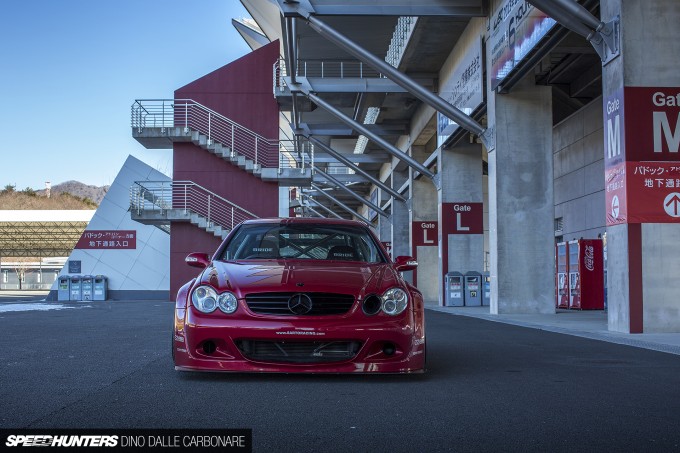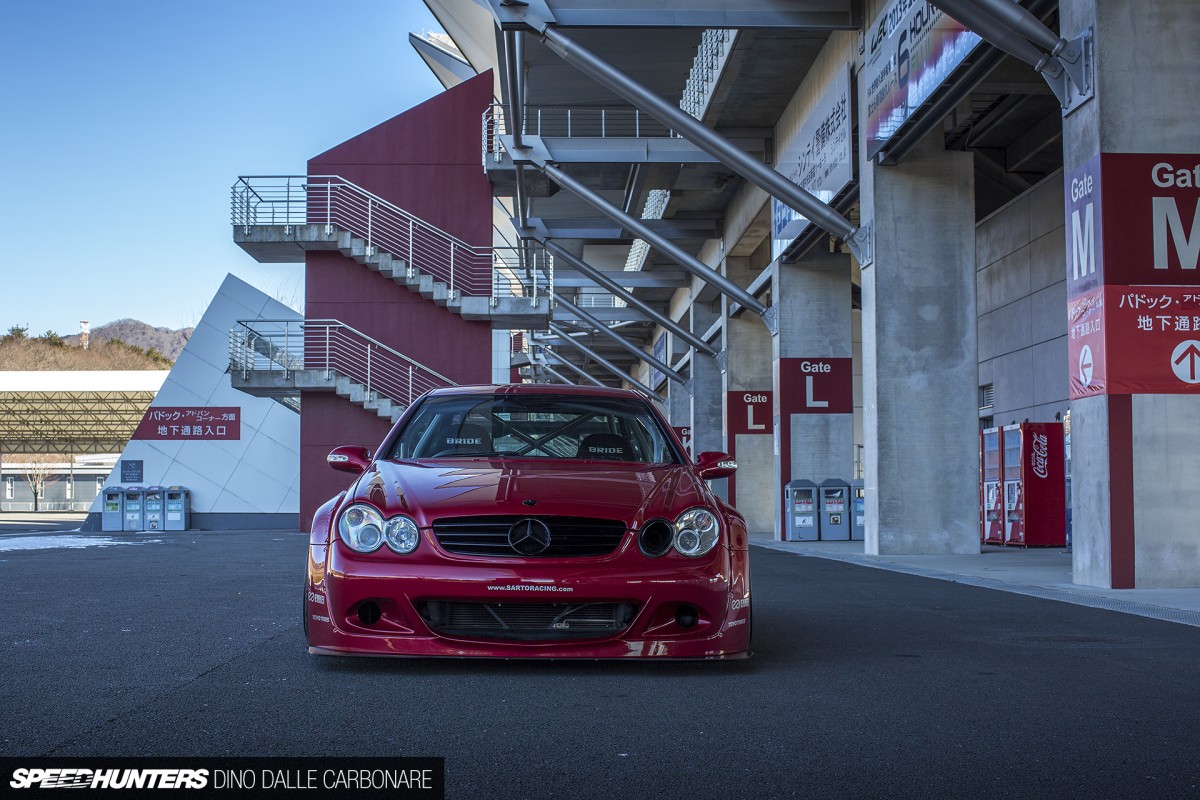 With the stock fenders cut and the aero kit test-fitted, it was time to give the body a color worthy of that intimidating stance and I have to say they couldn't have chosen a more fitting hue of candy red. In the right sort of light it really does a good job of highlighting the broad shoulders that the DTM-looking front now boasts.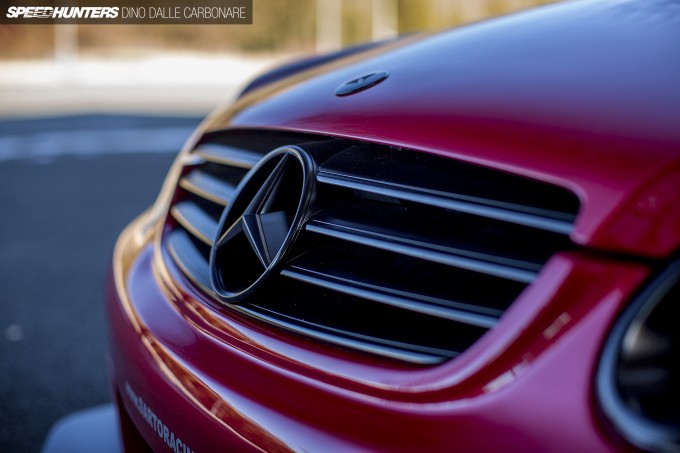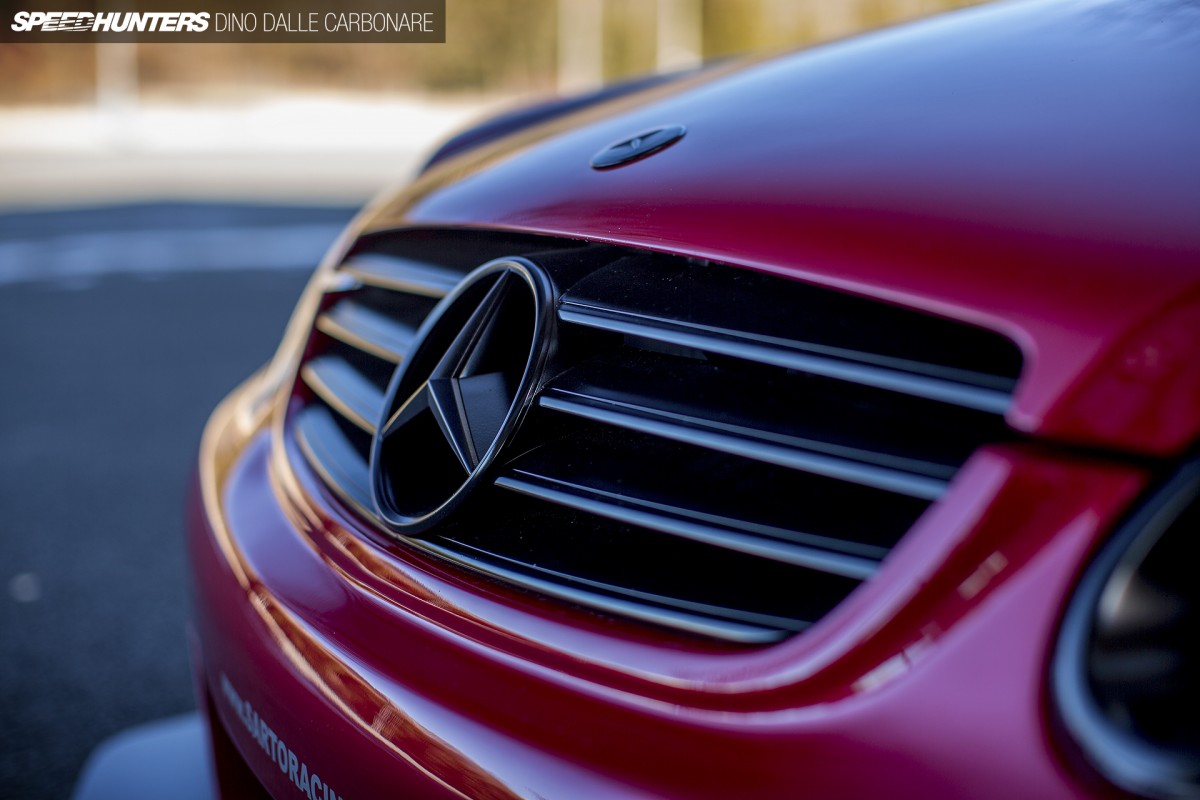 To add a touch of contrast, the Mercedes Benz grille and emblem were painted in semi-gloss black, matching parts like the front splitter and of course the wheels.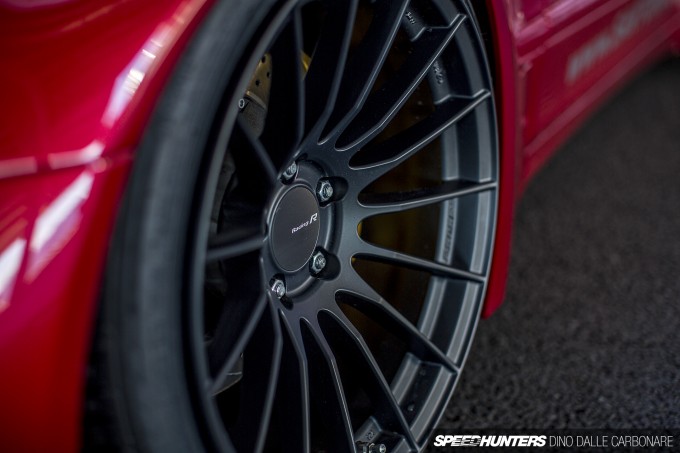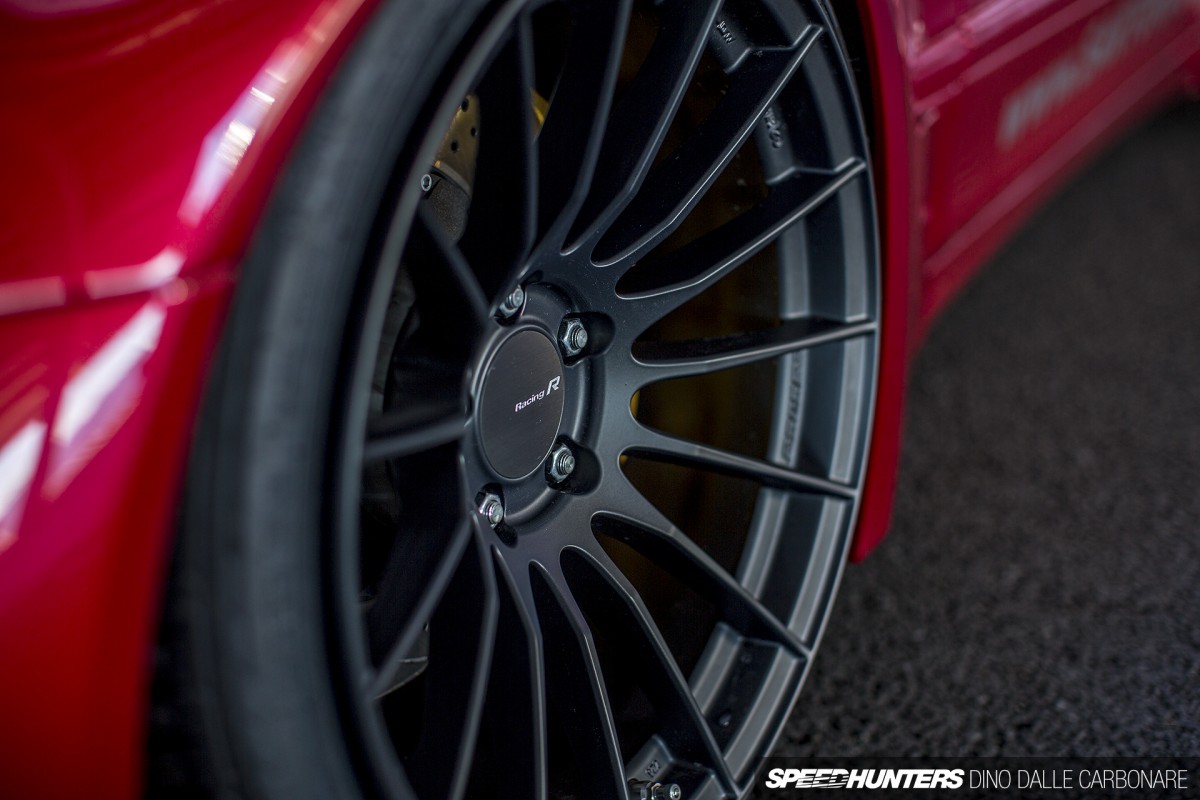 Like on a lot of show or stance-driven cars, wheels come in as probably one of the single most important aspects of the build, and that's very much the case here. The matte black 18-inch Enkei RS05RRs were carefully chosen with the right sort of offset, allowing the big flared fenders to be adequately filled up.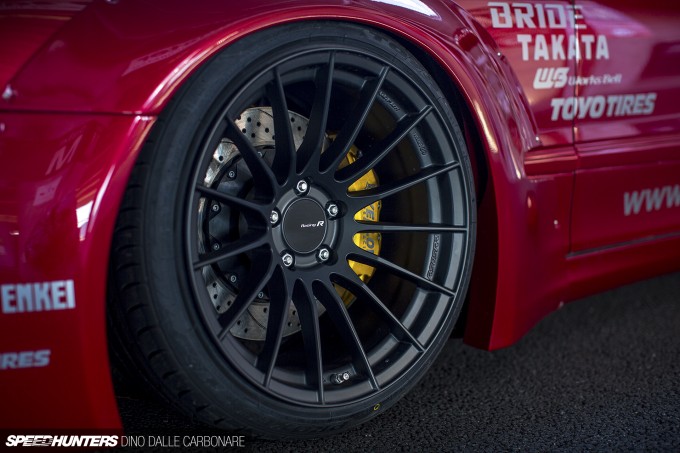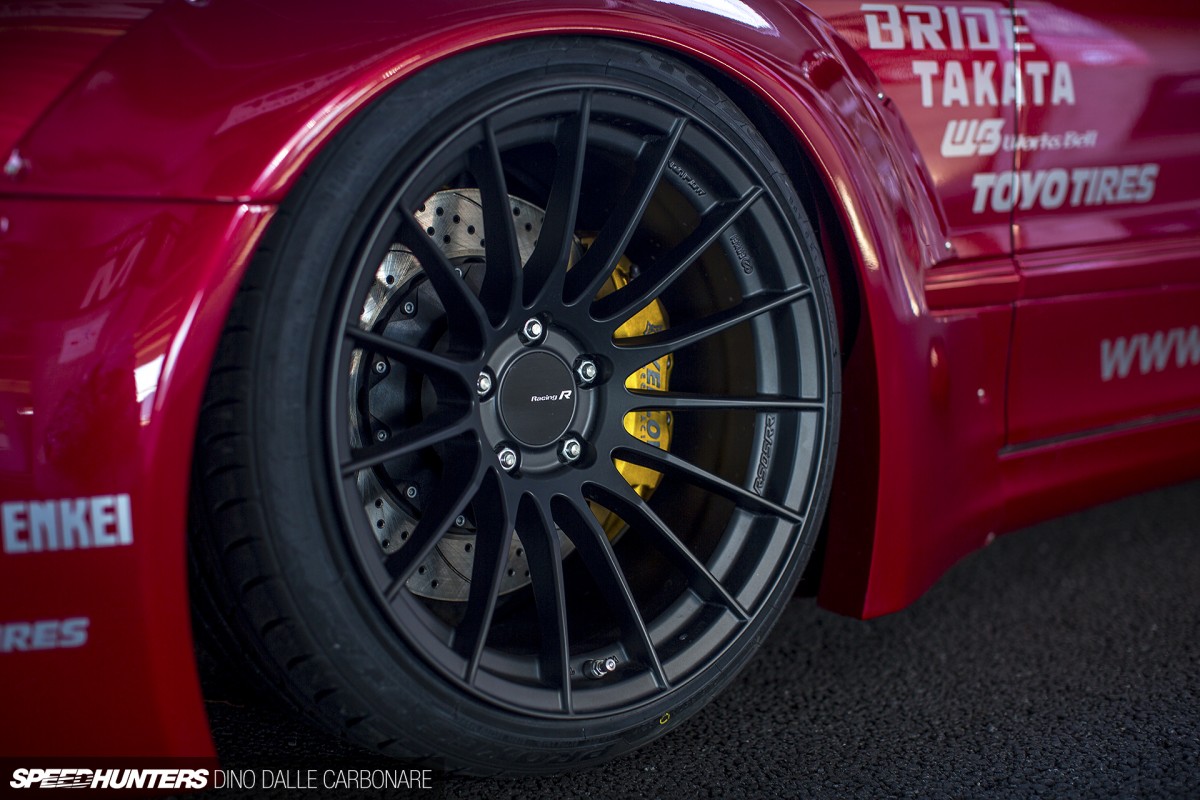 10.5 and 11-inch widths were chosen for the front and rear respectively, fitted with Toyo Proxes rubber measuring 245/35 at the fore and 275/35 aft.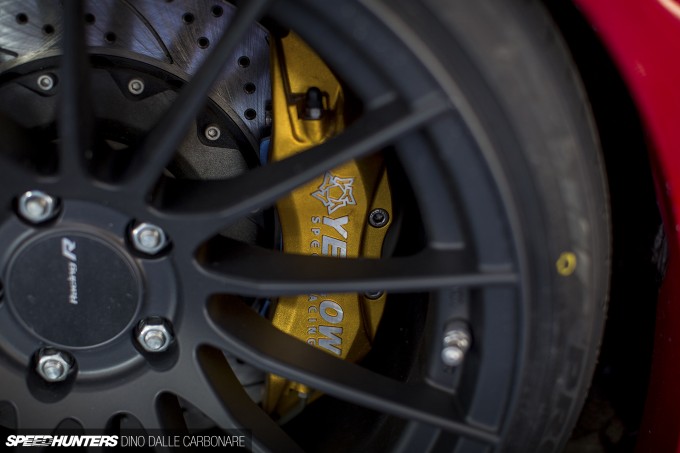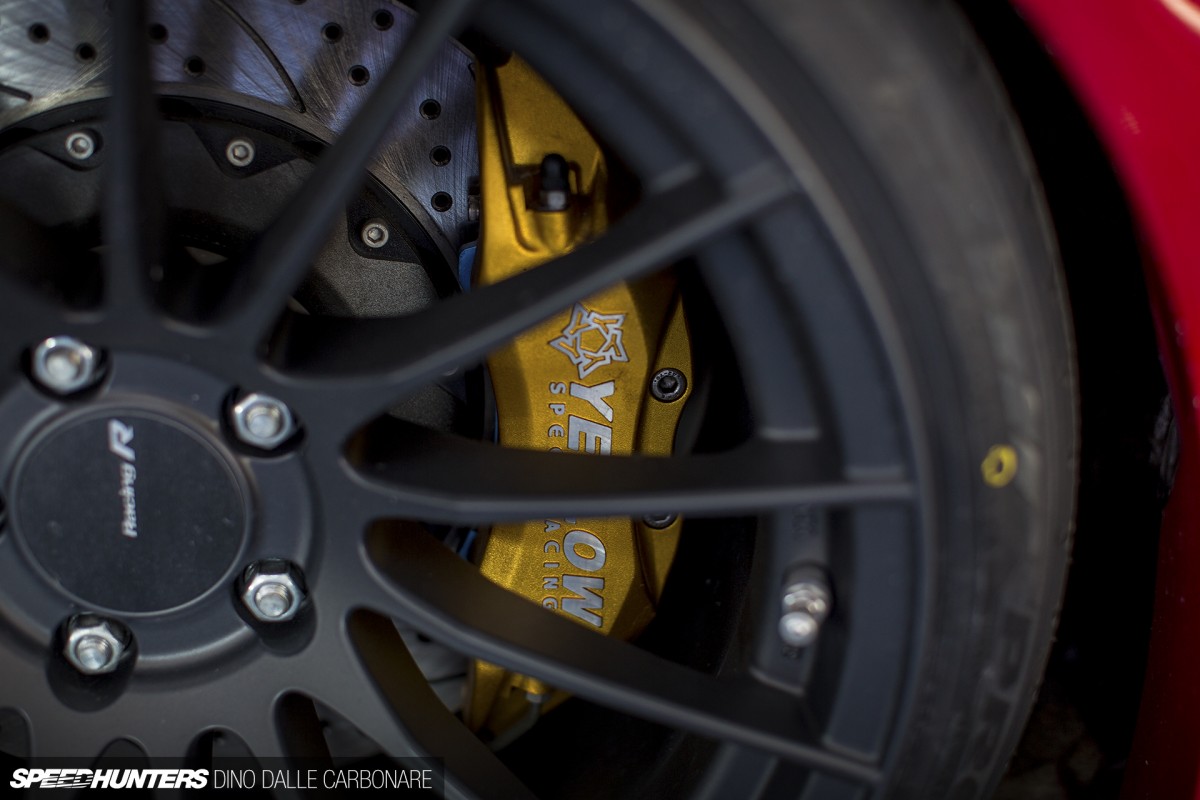 Yellow Speed Racing provided their top of the line brake package consisting of six-pot front calipers and four-pots for the rear, fitted along oversized cross-drilled and slotted rotors.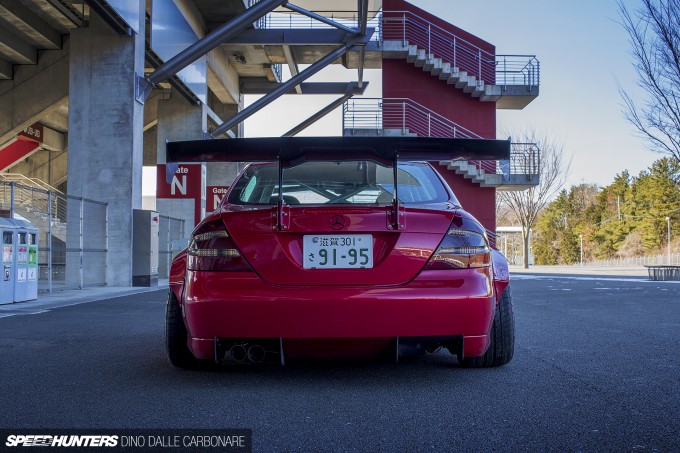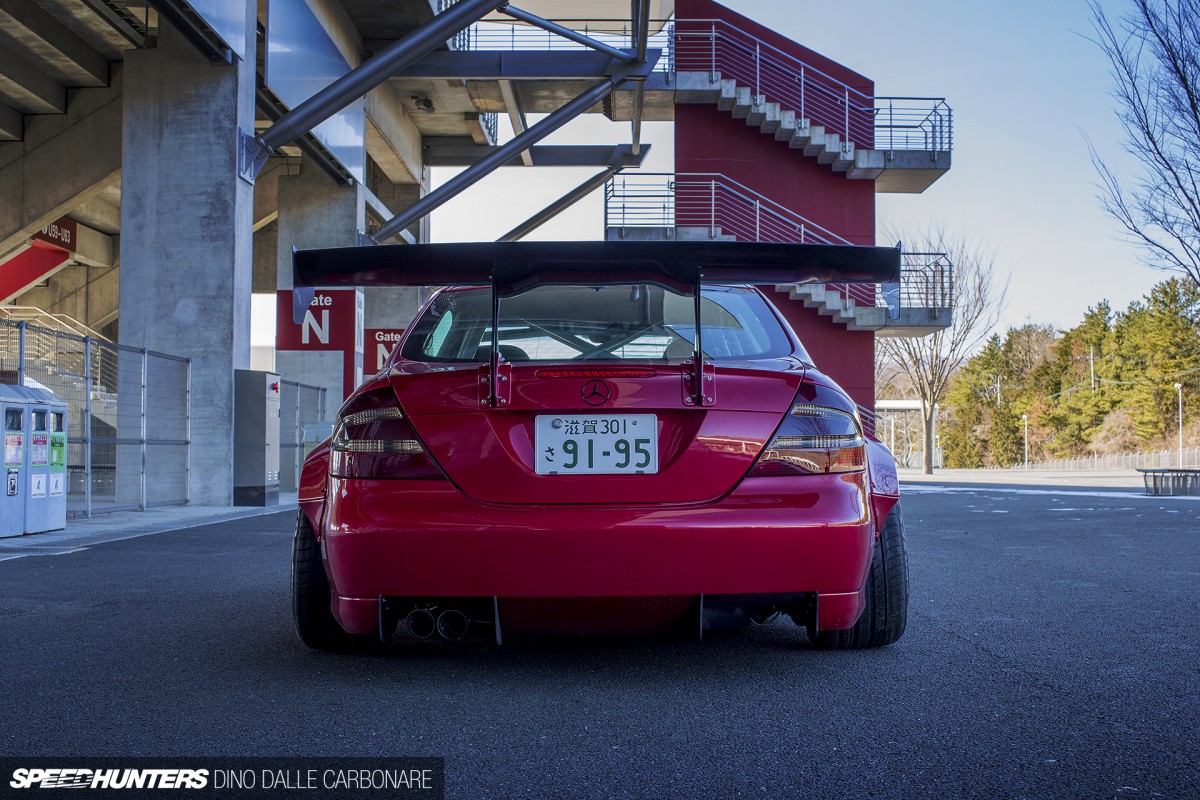 The drop in ride height has introduced a good few degrees of negative camber at the rear; not quite VIP-like onikyan, but enough to give it an even more imposing look.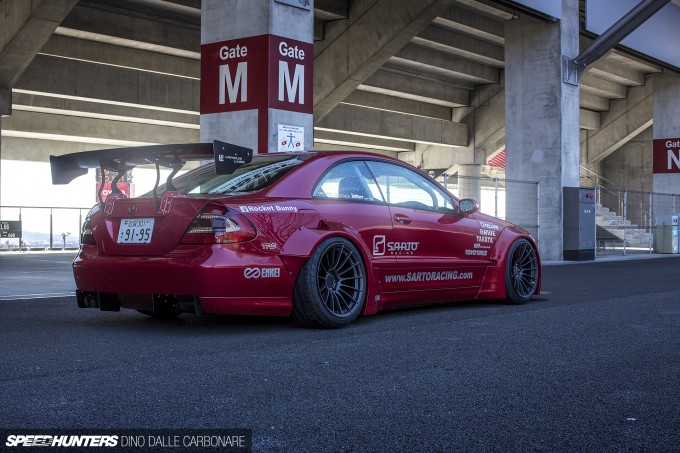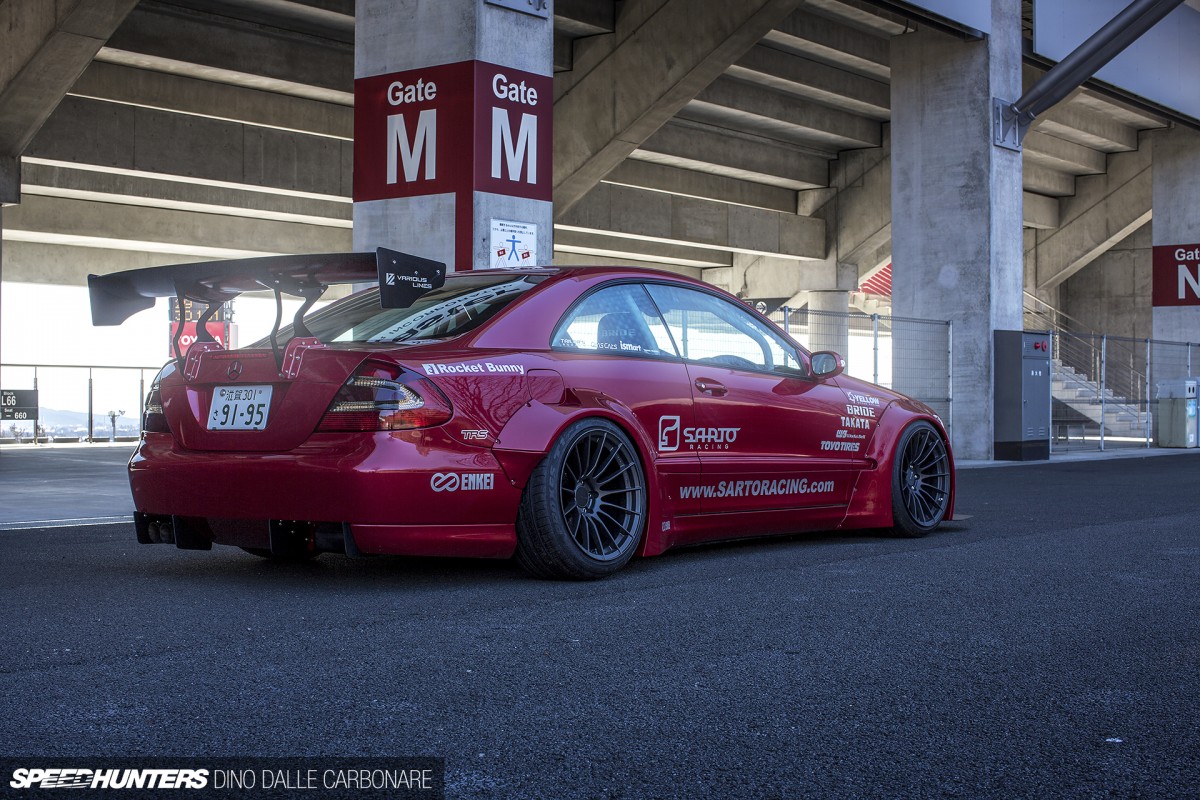 The primary goal of this car was for it to be completed in time for the Tokyo Auto Salon; create that impact to get some brand recognition and then concentrate on fine-tuning it and maximizing its purpose. For the time being, the CLK is nothing more than a wildly-styled street car but Yoshimori-san is just getting started.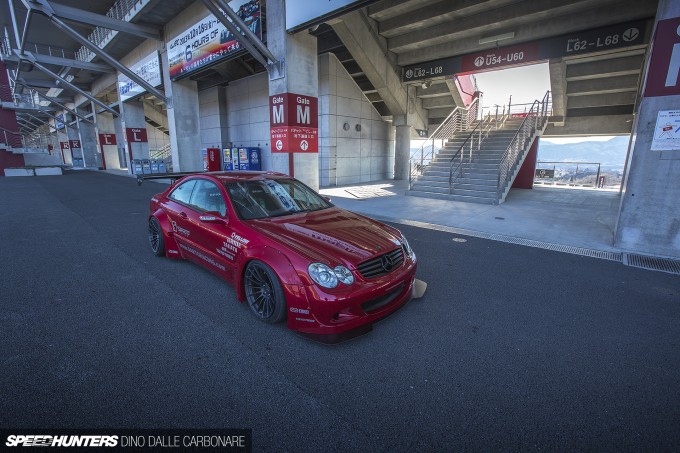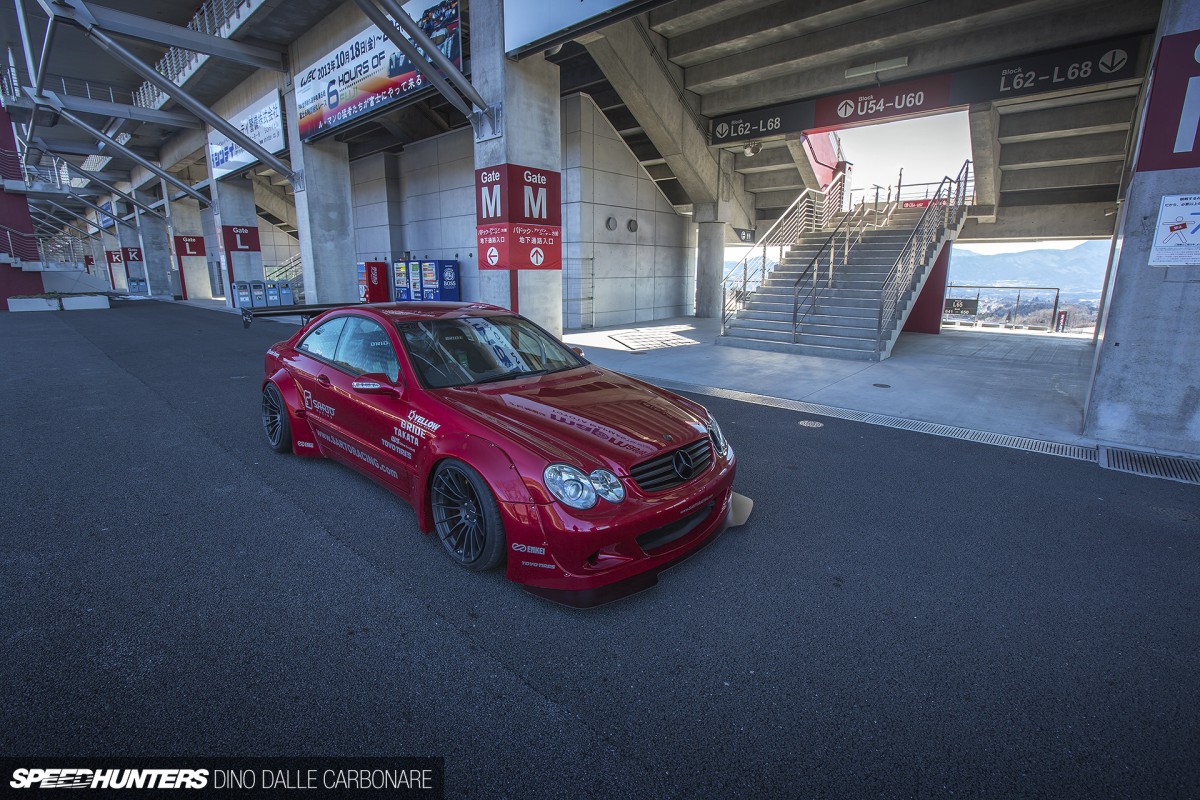 With the looks taken care of, there was one more area of the car that needed to be finalized prior to the show and that was the interior.
The engine will come next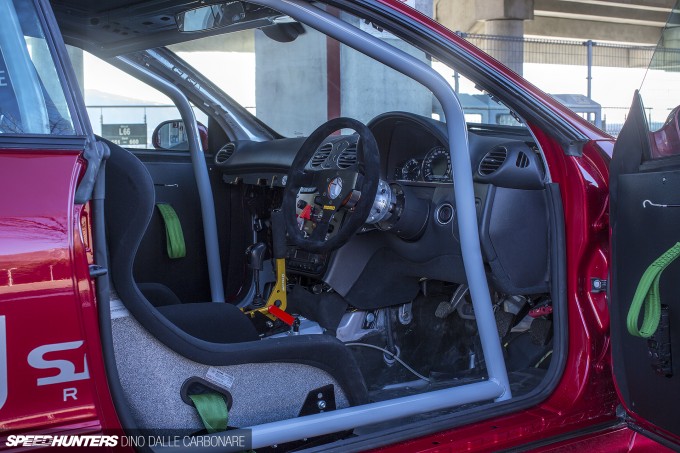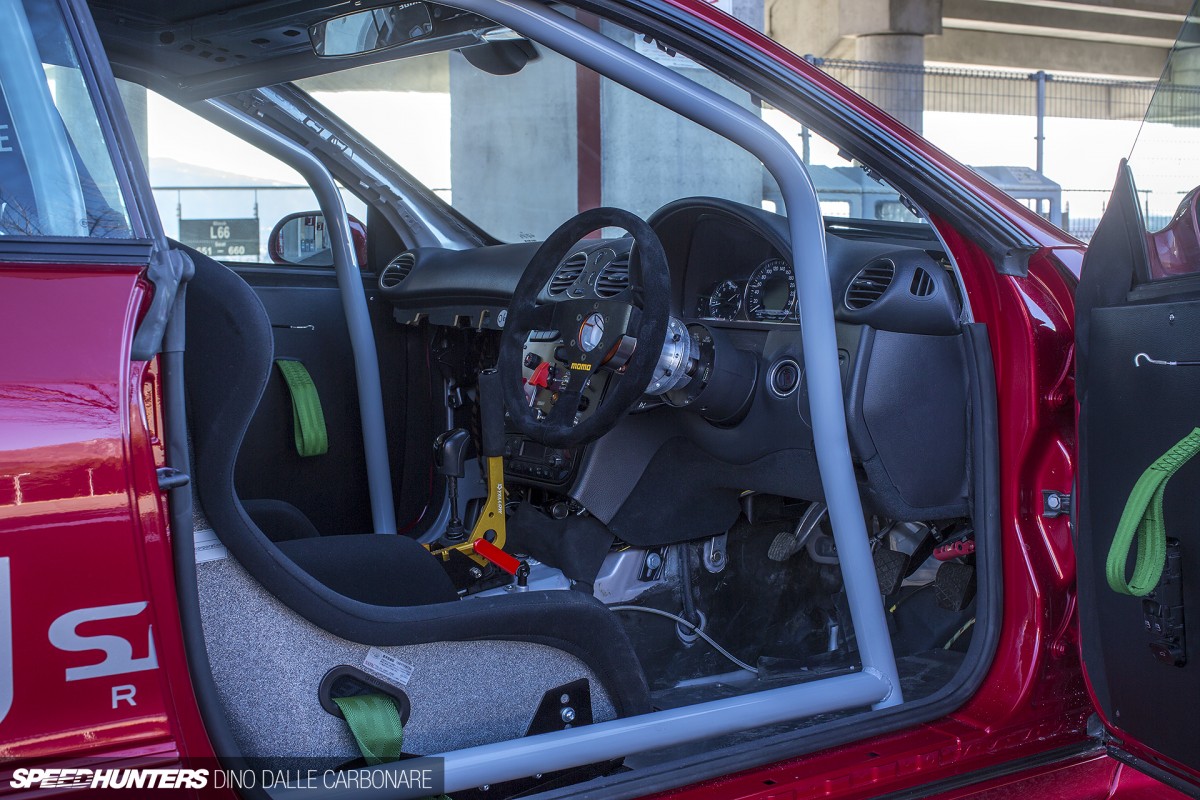 One look in here and you know that this is one project that has been approached with plenty of attention to detail. The idea was to give a sort of street-drifter feel, starting things off with a rather comprehensive gutting of the stock trim and the introduction of a basic roll cage.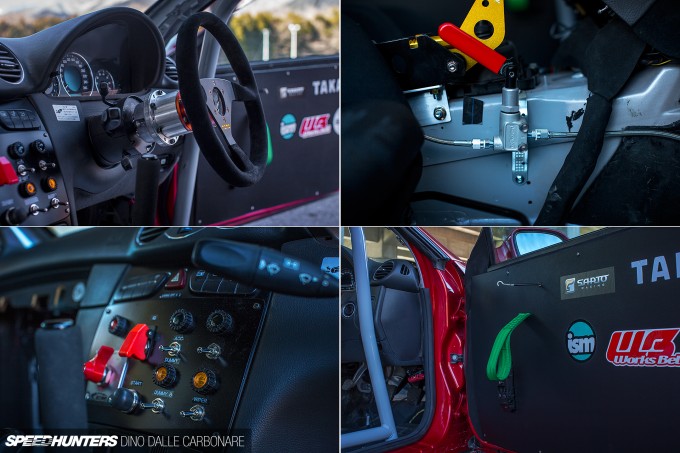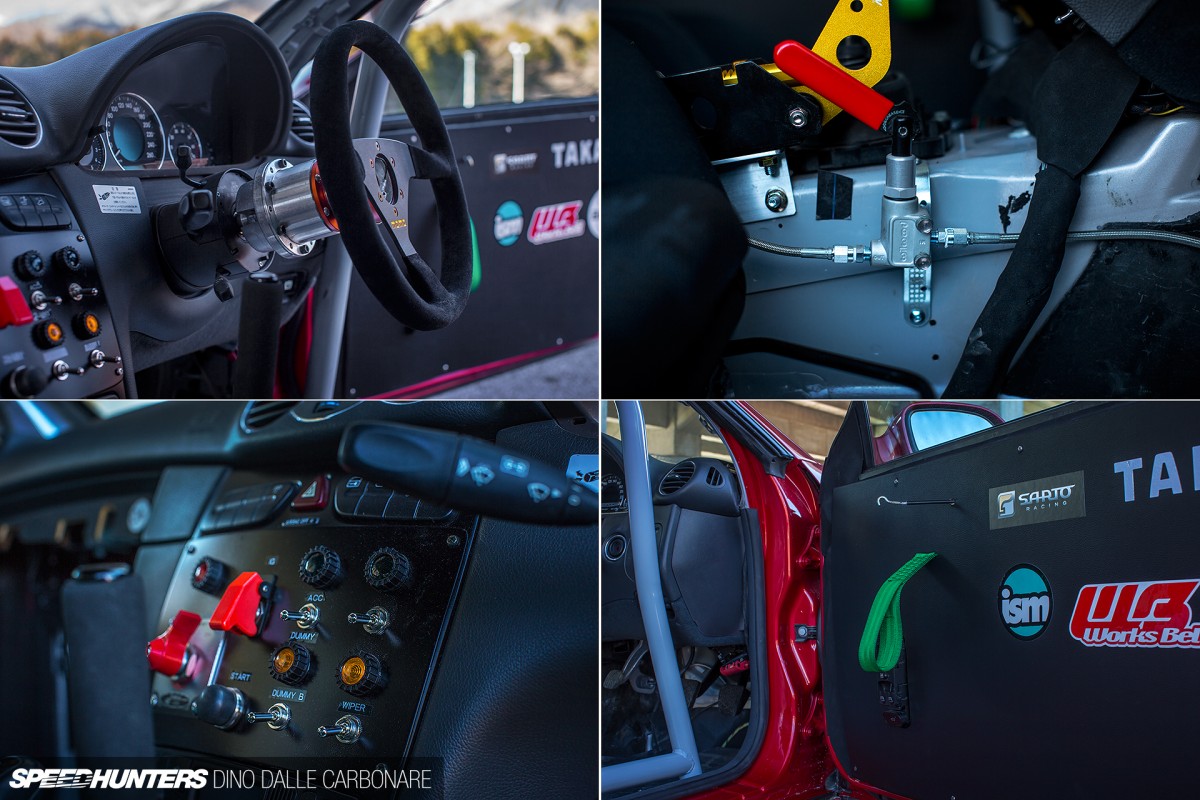 The driver and passenger sit on supportive yet comfortable Bride Zeta III fixed bucket seats, equipped with Takata harnesses for added restrain during occasional track use. The center console, where the navigation screen once used to be, has been converted to neatly group the custom switch panel that controls basic things like ignition, wipers and a cut-off switch for the electrics. A Wilwood brake bias adjuster is there to help the driver fine-tune the braking system to any given situation, while a Yellow Speed Racing hydraulic e-brake locks the rear Toyos at the slightest pull of the gold lever.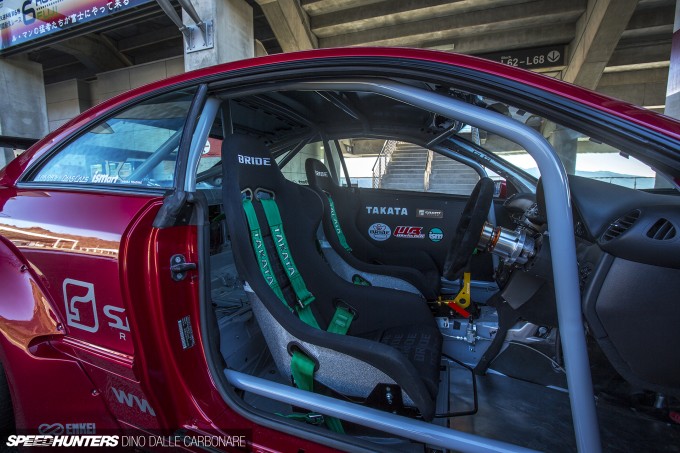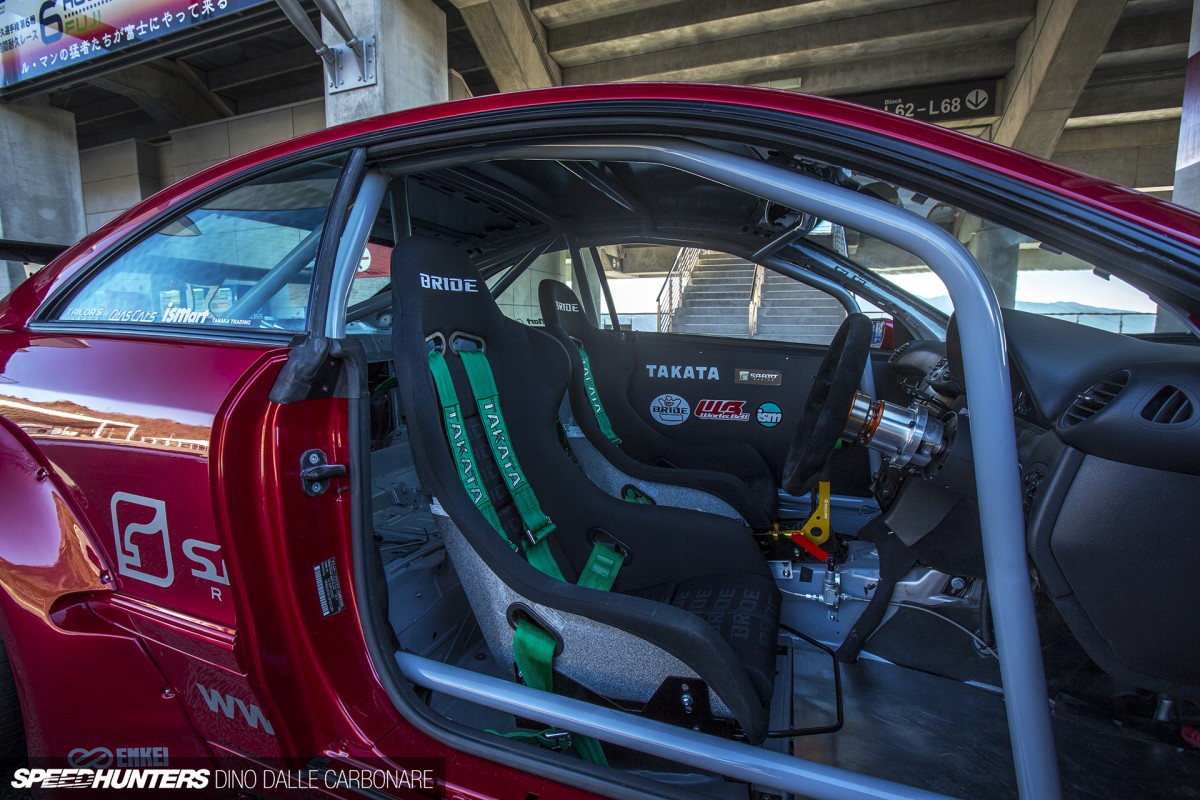 In Japan, the W209 CLK was only ever offered with an automatic transmission so Yoshimori-san had to source the six-speed manual transmission the car now runs – along with the clutch pedal/booster set-up – directly from Germany. The conversion is the first step in turning the CLK into a more performance-oriented car.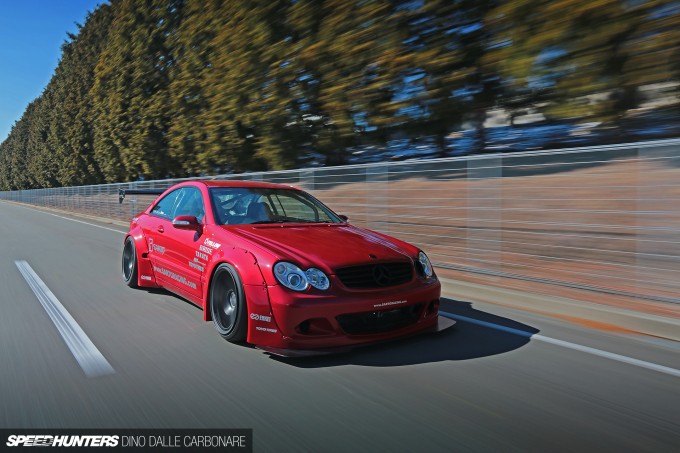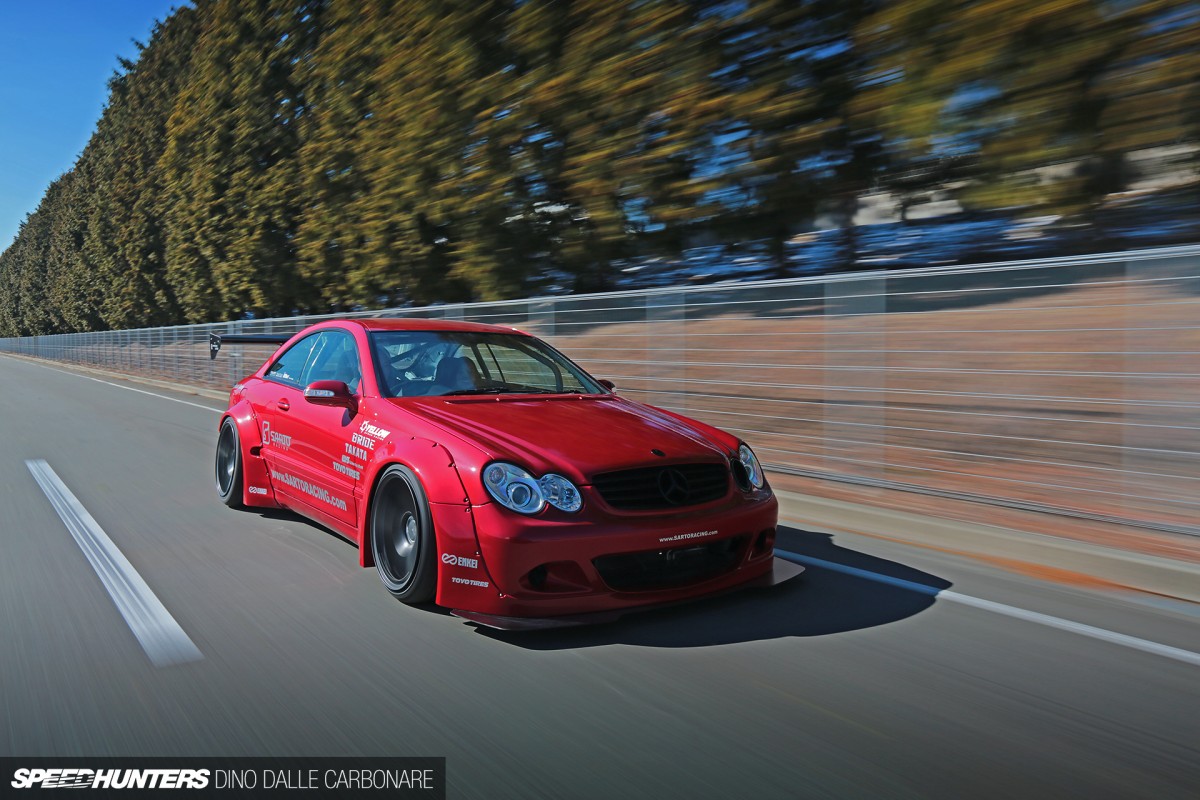 Out on the Fuji Speedway access roads, the Sarto look certainly gives a one-off feel to the sleek Benz, but by now you're probably asking yourself what is this thing hiding under the hood?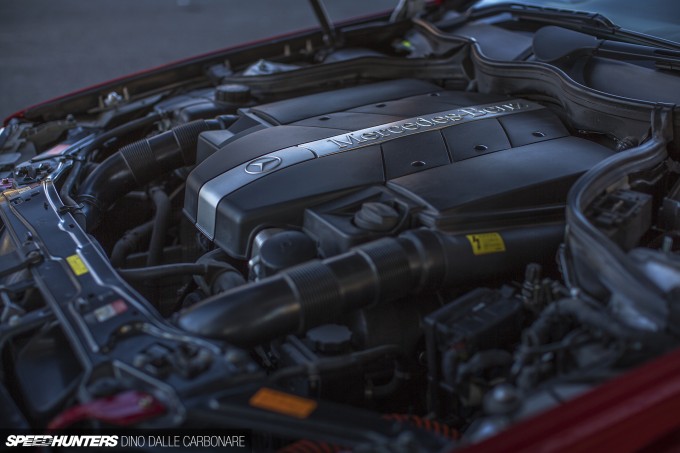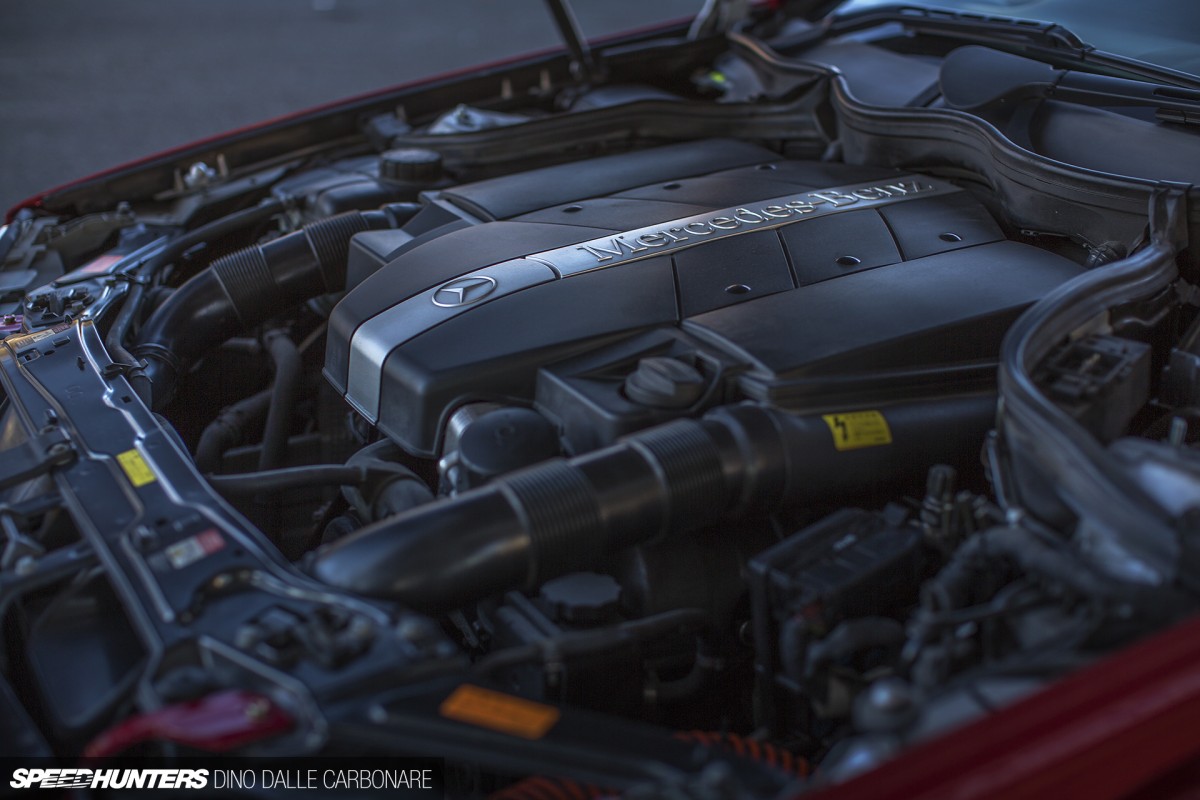 A rush to get the car finished for the show meant that the engine needed to be put on the back burner, the stock 2.6L V6 having been left untouched – for the time being.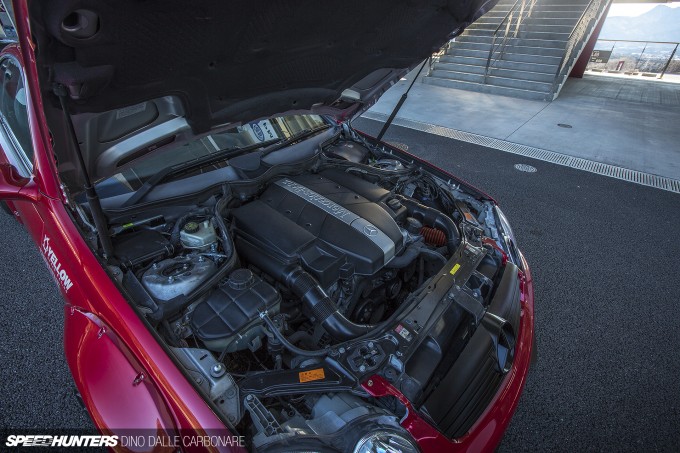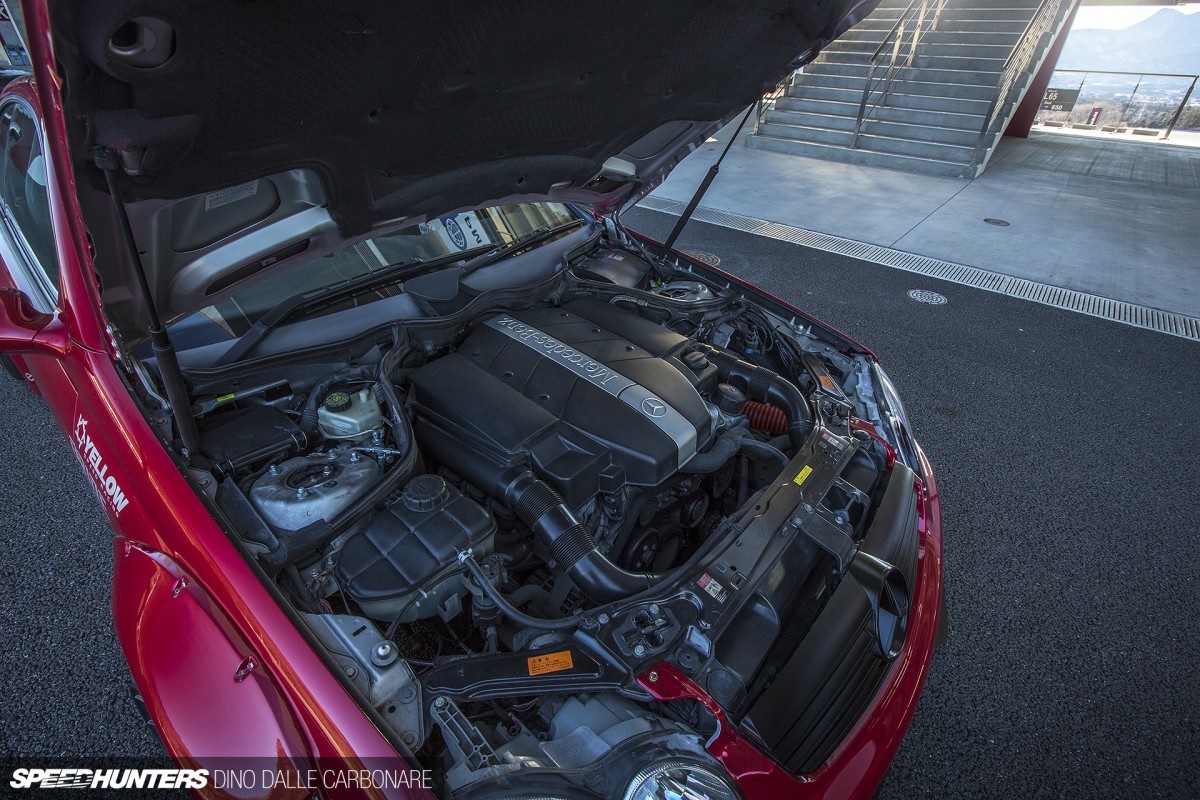 Yoshimori-san is still unsure of what engine will replace the stock 170hp unit. Anything from a big supercharged AMG V8 to a more high power V6 are being considered – something that will bring the performance up to par with the wild exterior.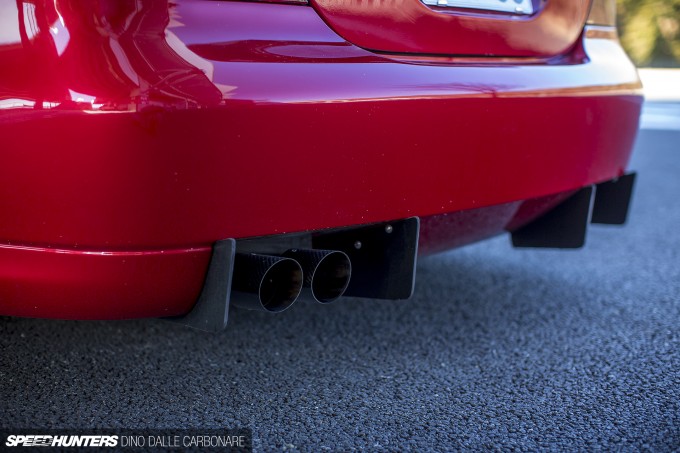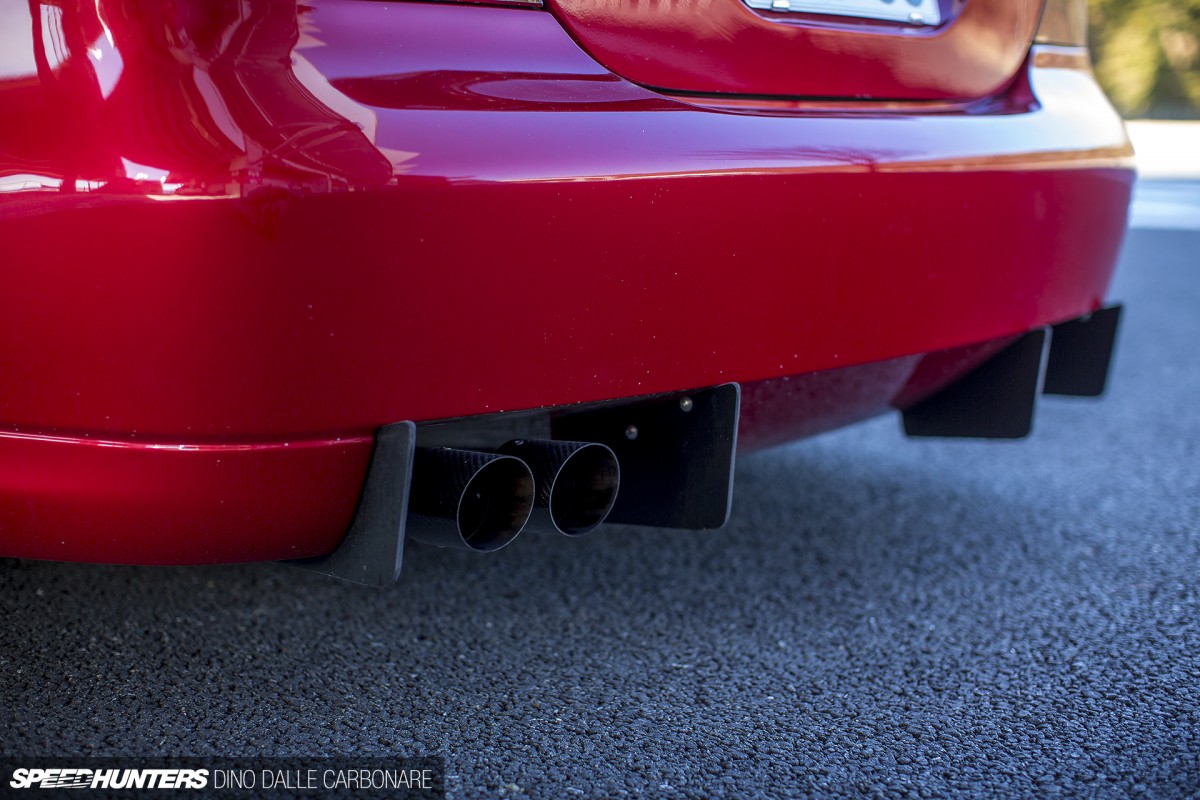 For the time being at least, a custom exhaust system with carbon-trimmed twin tail pipes has been fabricated by Ortas Cars, there to give a more raspy engine note to the somewhat asthmatic stock six-cyinder.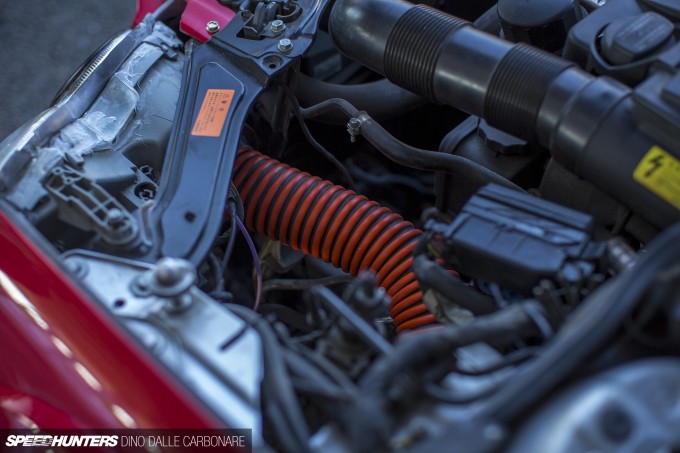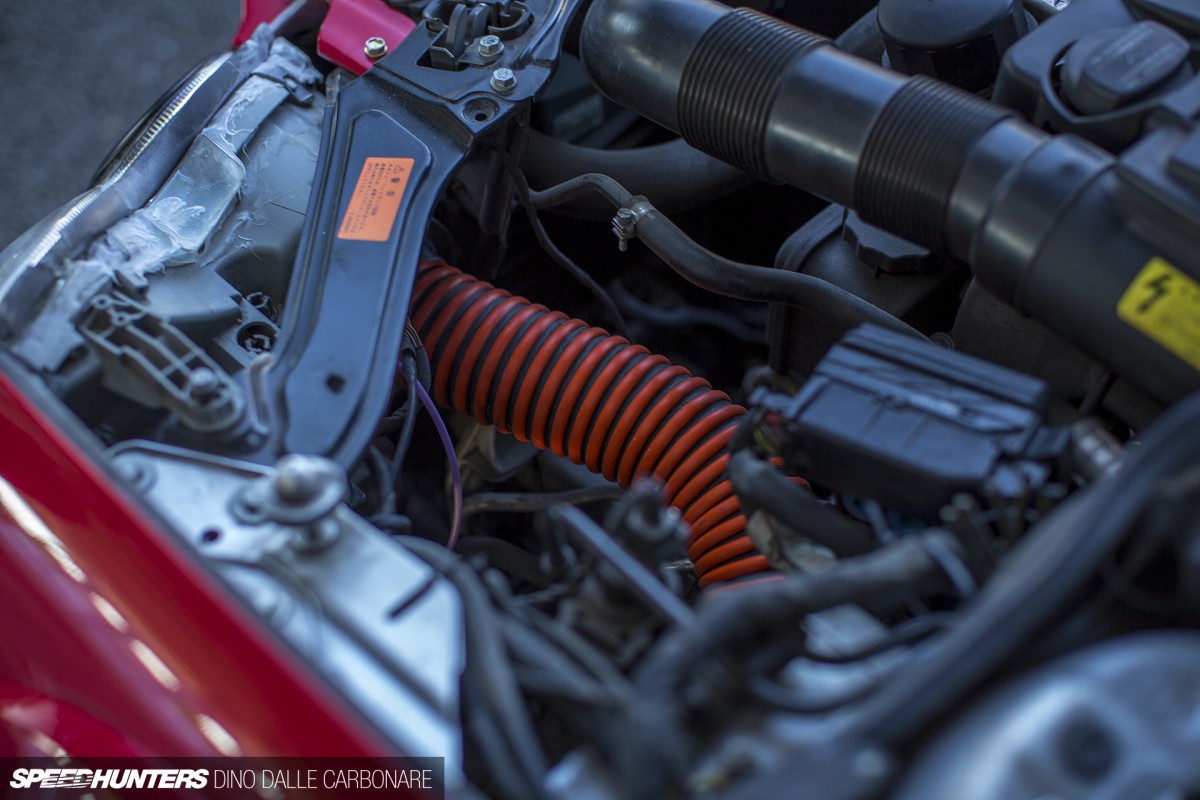 The custom headlight air intake channels air to one side of the engine, maybe not much use at the moment as there's nothing there to actually cool, but maybe Yoshimori-san is thinking ahead here? Can anyone say, turbo? Uhm, maybe a straight-six motor might make it in there. Who knows!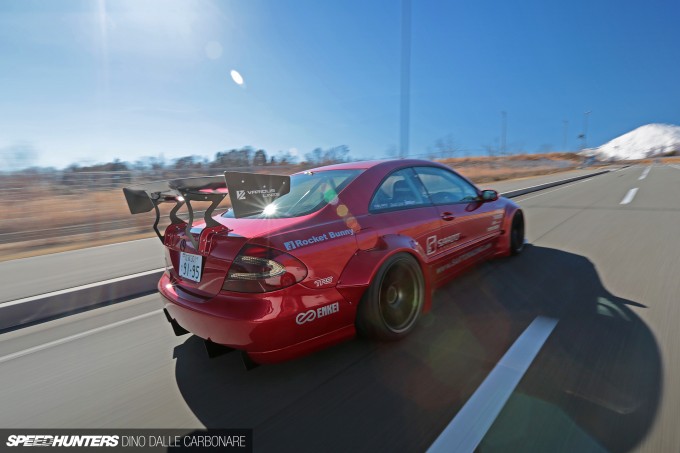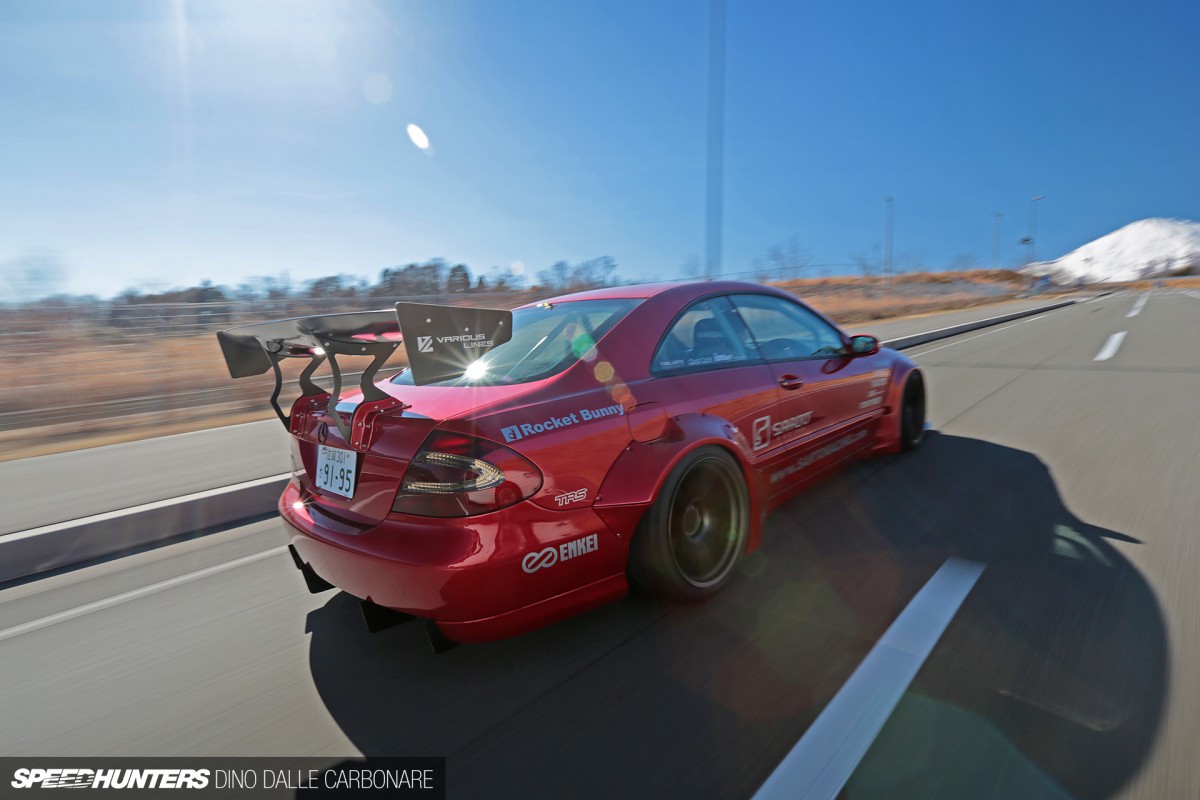 Miura-san's influence on the Japanese car scene is certainly an unprecedented phenomena; never has one man made such a difference in such a short period of time, on such a wide variety of cars. Sarto Racing may well have come up with two of the most unique projects out there and in the process made quite an impact. It goes without saying that we can't wait to see this CLK burn some rubber around a drift track once it receive a more suited power plant, but at the same time we're also wondering what car they'll work on next! 2014 is definitely set to continue the Works fender revolution, Rocket Bunny style!
Dino Dalle Carbonare
Instagram: speedhunters_dino
dino@speedhunters.com