All your supercars are here…
I love getting the inside scoop on things, don't you? It's what attracts me to automotive journalism and it's certainly the best part about working in the aftermarket industry. As enthusiasts, we naturally can't wait to see what's coming next. That's why we couldn't turn down Ravi Dolwani's offer to take Larry along for not one, but two shop visits while he was going about his business in California last month. Ravi is founder and manager of the Racing and High Performance division at CSF Cooling, his family's fourth generation manufacturing company. 
You may have noticed CSF's name on Speedhunters since we partnered with them at the end of 2013; the fact that they were already working with a whole bunch of top end shops and teams really interested us. Formula D 2013 champion Mike Essa? Yep, he runs a CSF radiator. With the meetings lined up, Larry grabbed his cameras to see how it all goes down. Because of course, there's a whole load more to this than just bolting up a replacement radiator…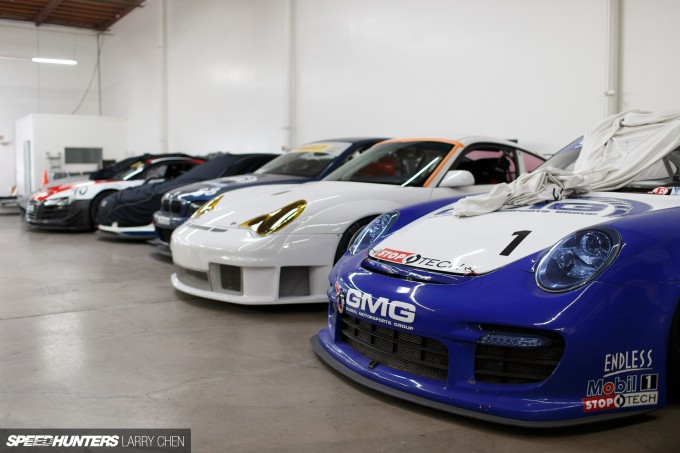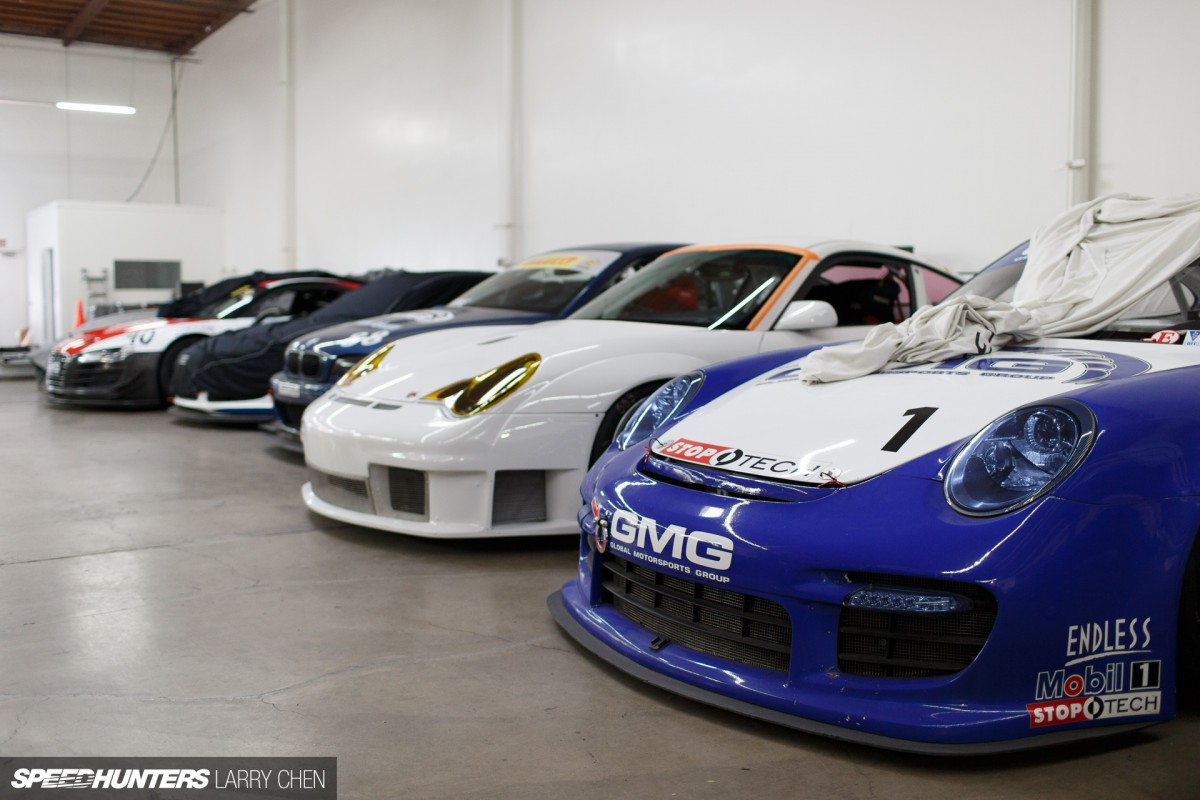 The first stop was Global Motorsport Group in Santa Ana, California. GMG have a wide customer base but they are possibly best known for their Porsche race programs. Ravi and his team have been working in this market for a while now, having put together solutions for the 996 Carrera and 986 Boxster with GSR Autosport. What I didn't realize was the importance of an aluminum version for these water-cooled boxers, until Ravi explained it.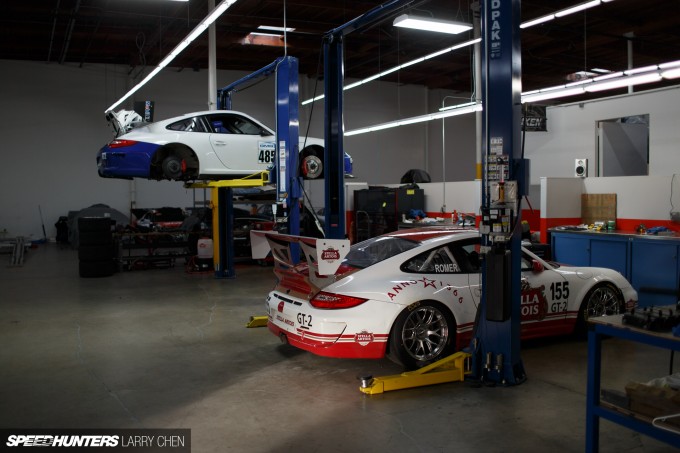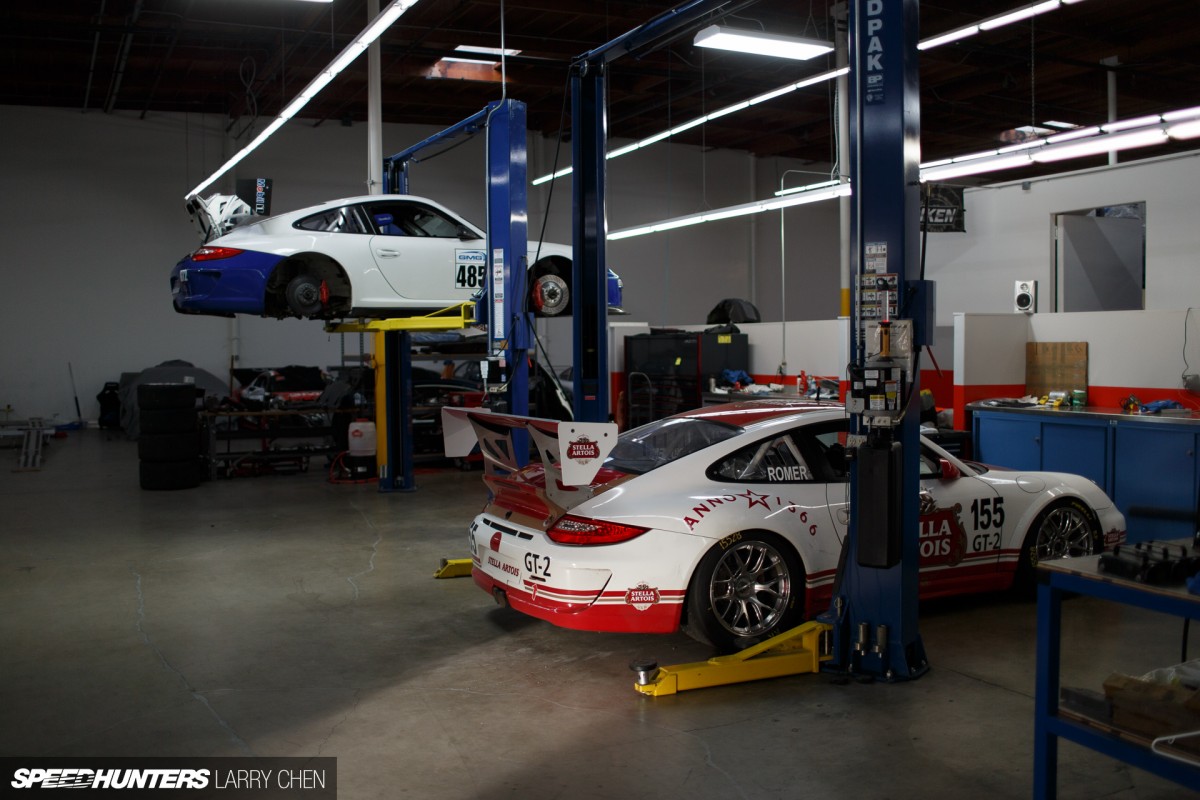 Besides the obvious cooling advantages, he's been able to address a mechanical shortcoming too. When you track any car, you're subjecting it to constant vibration, jarring track excursions, jumps over chicanes, and even sometimes door-to-door contact with other cars. Due to the low mounting location of the radiators in the front bumper, water-cooled Porsches are especially susceptible to damage. It turns out the stock plastic end tanks just don't last long in a track environment.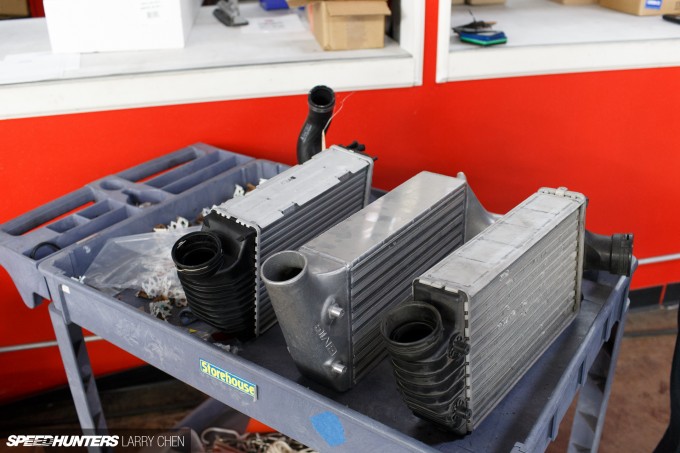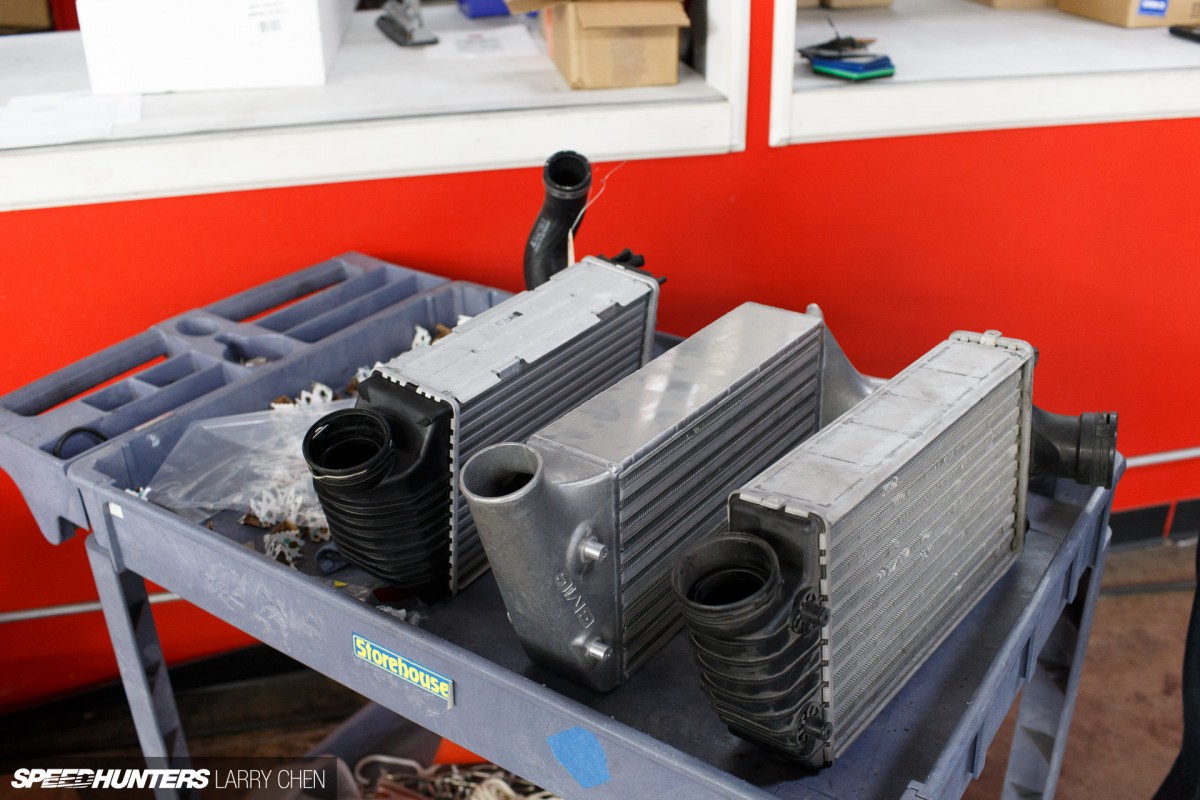 The same holds true for the intercoolers that come on Turbo 997s. Today's high horsepower builds can produce enough boost to break the plastic tanks and blow the hoses off the ends, or even shred the thin sheetmetal inside the intercooler. So CSF solves this by employing a stronger bar and plate core along with a cast end tank that won't crack under high pressure.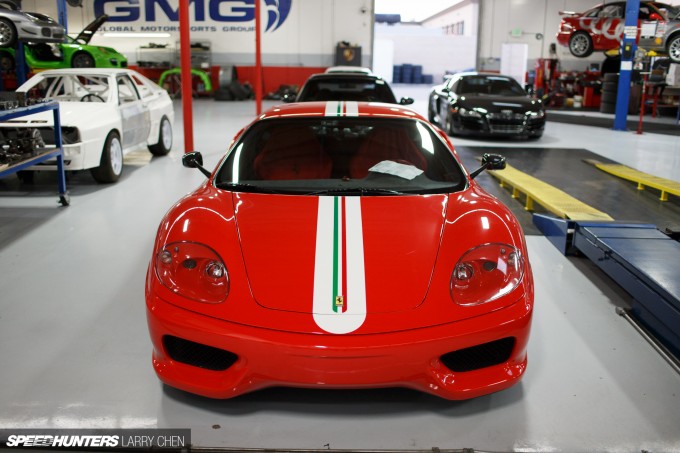 It's not all Porsches at GMG though. Larry found this Ferrari Modena waiting to be serviced. Prancing horses have their own particular problems and that's what was so interesting about the day – not only were we getting to see the end result, but also the real process behind performance tuning.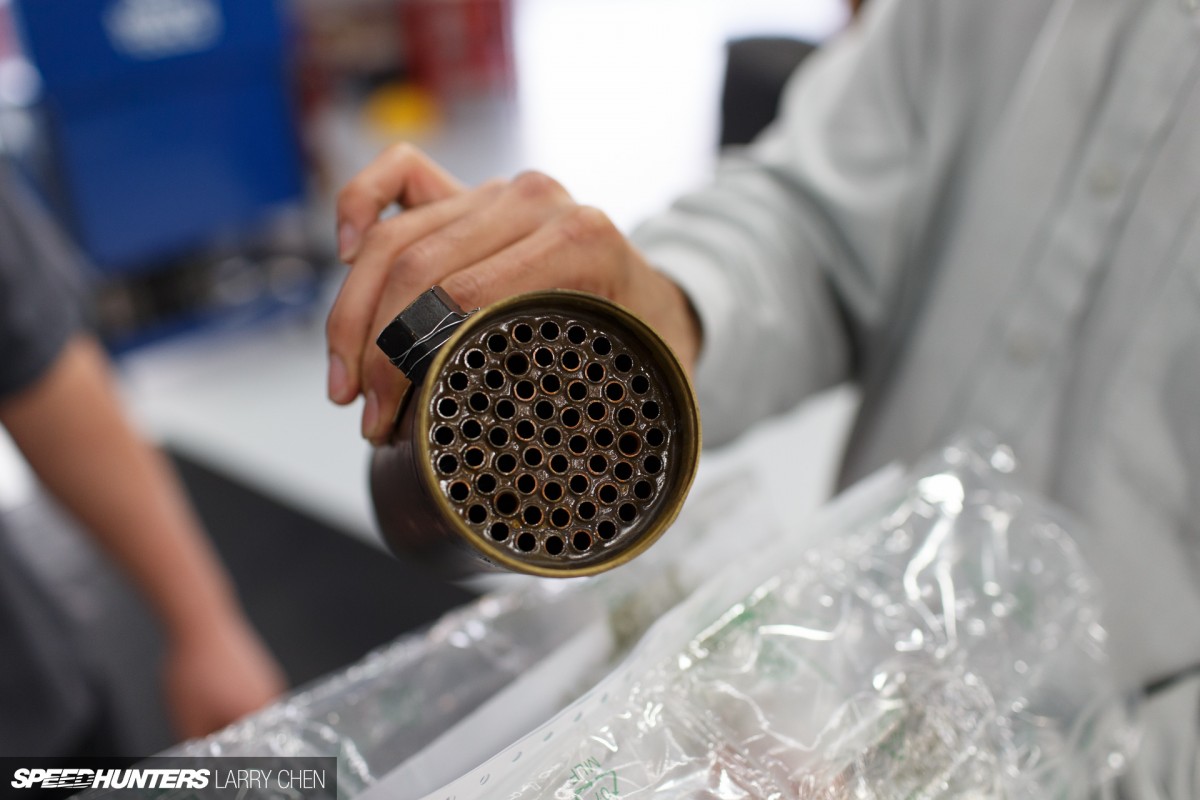 Nearby Ravi was holding this strange device. He tells me it's a Ferrari gearbox cooler that mounts inside the transmission, and they're still made the old way from cupronickel cooling tubes inside a brass casing. They work by gear oil running through those tubes while coolant circulates in the jacket around them. Of course, a lot of Ferarris don't get driven much and when oil isn't circulating through the cooler, it goes dry and corrodes. By 30,000 miles they dry out and crack, coolant mixes with gear oil, and the transmission is ruined. At US$12,000-$15,000 to repair the transmission, you can get into trouble real quick. Oh, and did I mention they're on backorder from Ferrari too? So what do you do?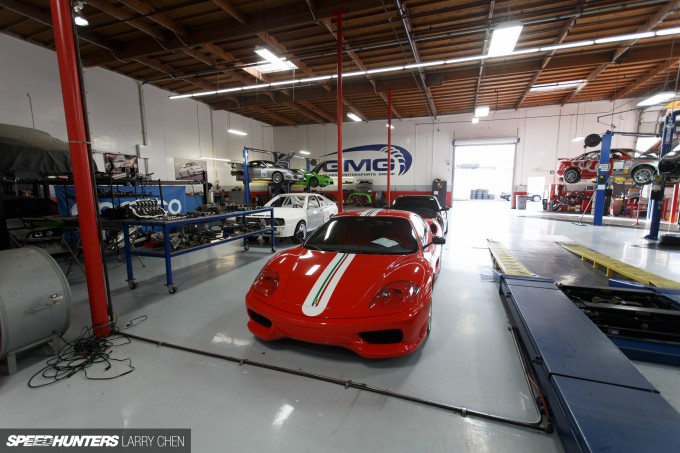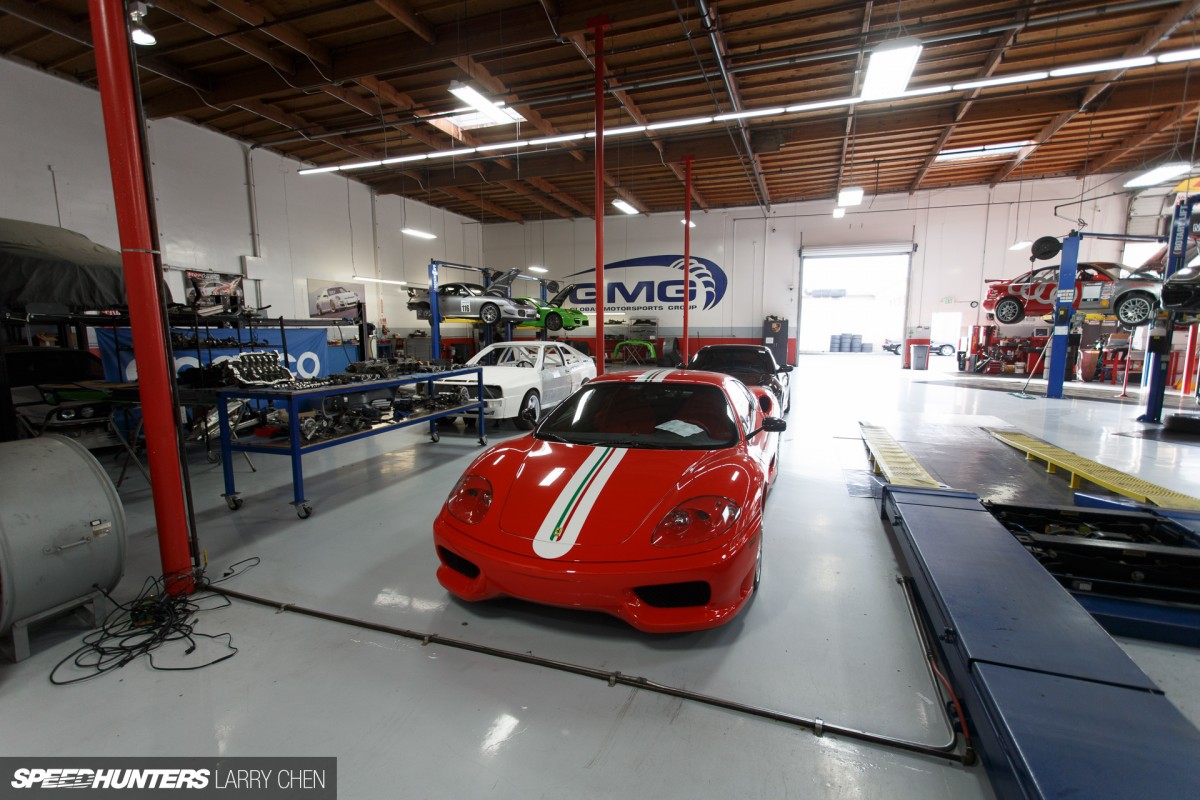 Find an expert to solve the problem of course! To reproduce the factory gearbox cooler would require old tech that almost nobody has any more – except for CSF's original factory in India that still has the capability to work in copper and brass. They used to make marine coolers for Bombardier in the '60s there, and now they're going to make an original-style replacement for the Ferrari, plus a modern performance version. Because if you're going to break something, then you might as well upgrade it, right?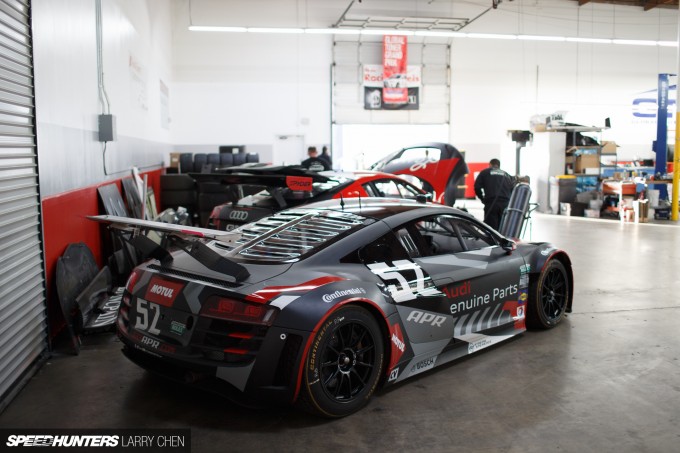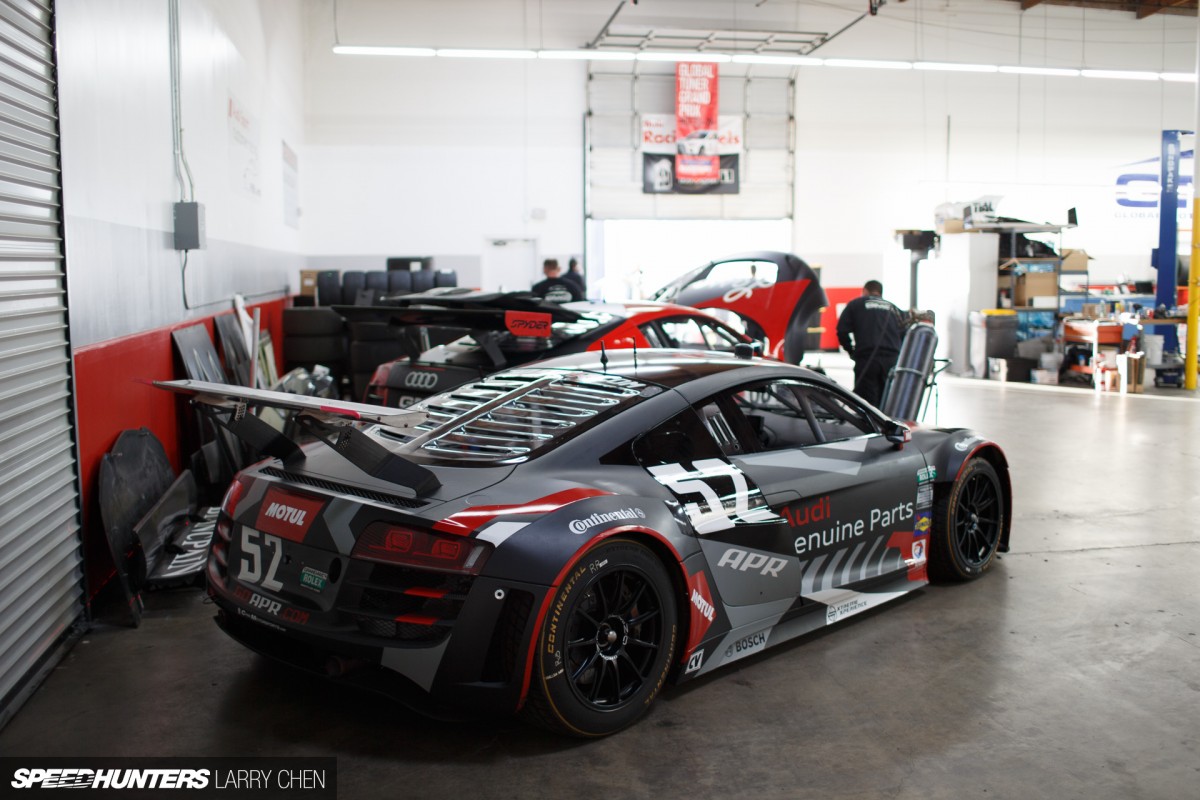 The variety of vehicles at GMG is outrageous; everywhere you turn, race hardware is being tuned, tweaked and maintained, and it's in this dream garage environment that Ravi has to make things work. As Larry snuck around the busy shop he came across the familiar Pirelli World Challenge Audis.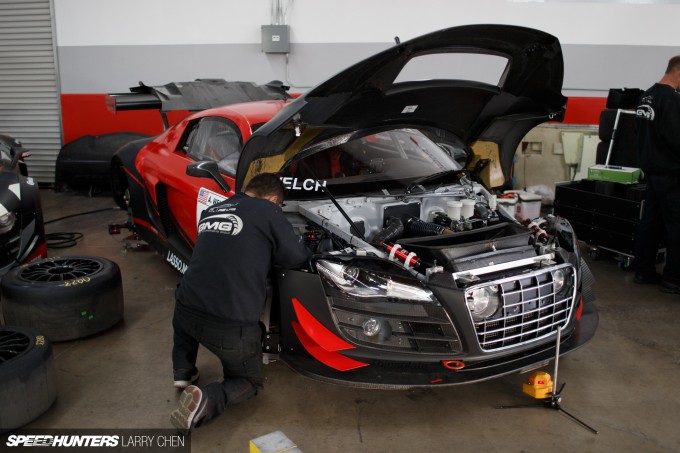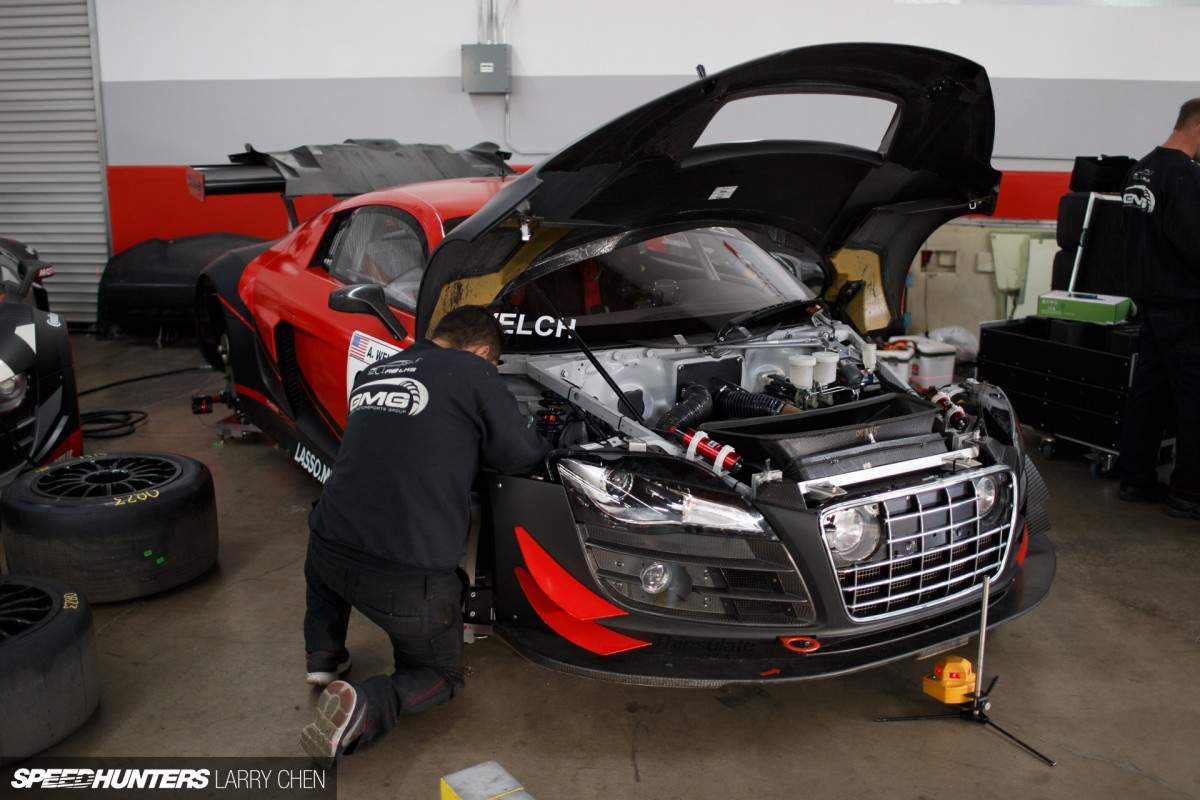 Which is why Ravi was here at GMG in the first place. You can make a radiator or cooler for your buddy's street car and tell the world how good it is, but high-end motorsport is serious business and if these guys use a component or solution, it has to work. As he grows his Race and High Performance division, he wants to align himself with the best of the best, so that means coming up with cooling solutions for these race cars too.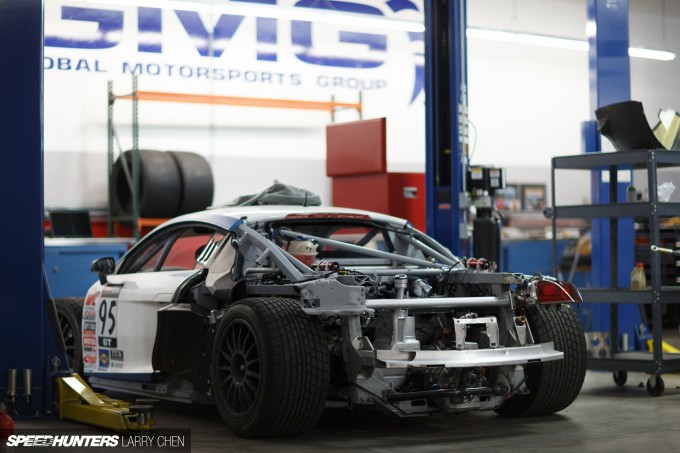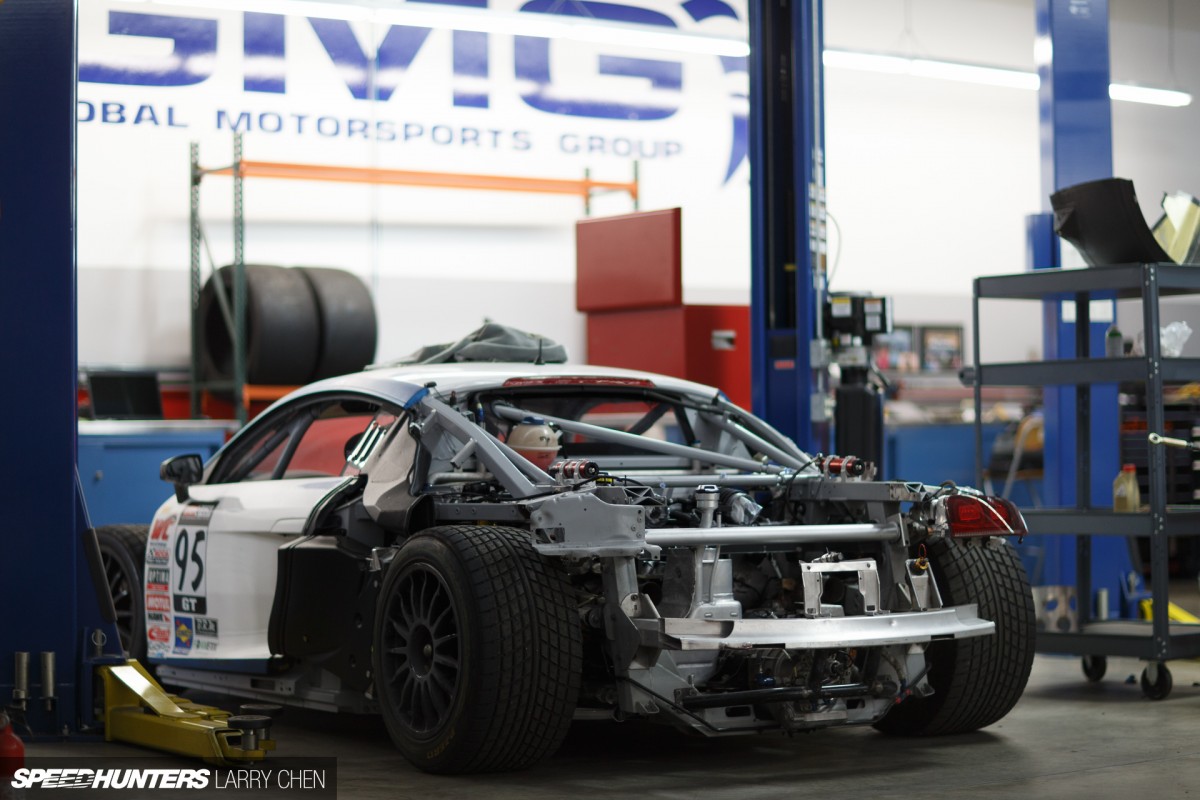 It hasn't happened just yet, but Ravi has a specific goal in mind to cool these Audi Factory Team cars for GMG.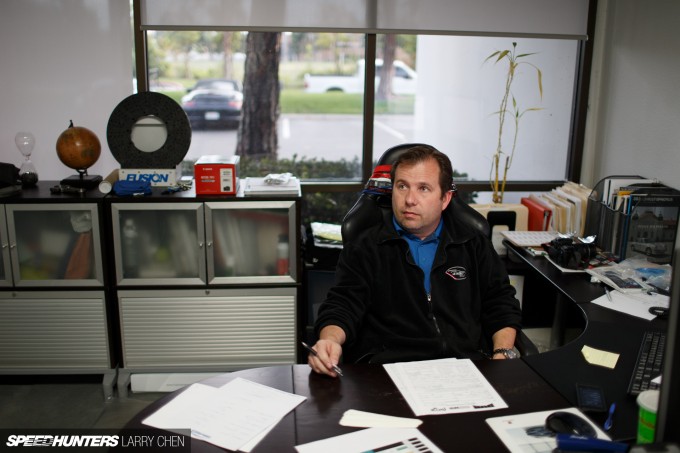 To this end, Ravi has sought out people like Fabryce Kutyba, one of the founders and owners of GMG. The feedback you can get from just one team or workshop like this is invaluable and all kudos to Ravi for going down this route. Hardcore demands mean there's no messing around and product development is right on the cutting edge.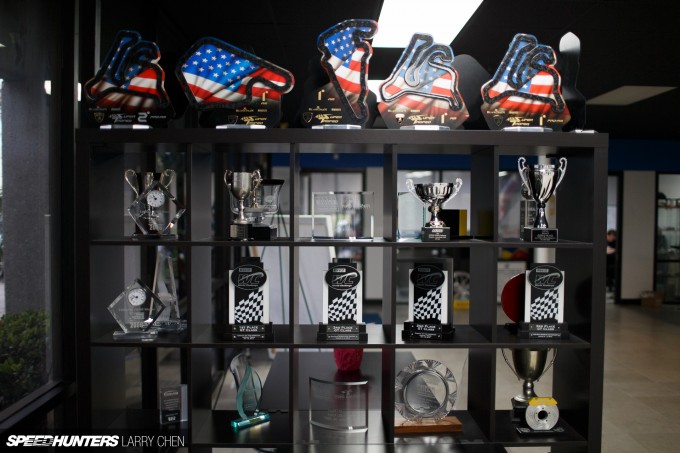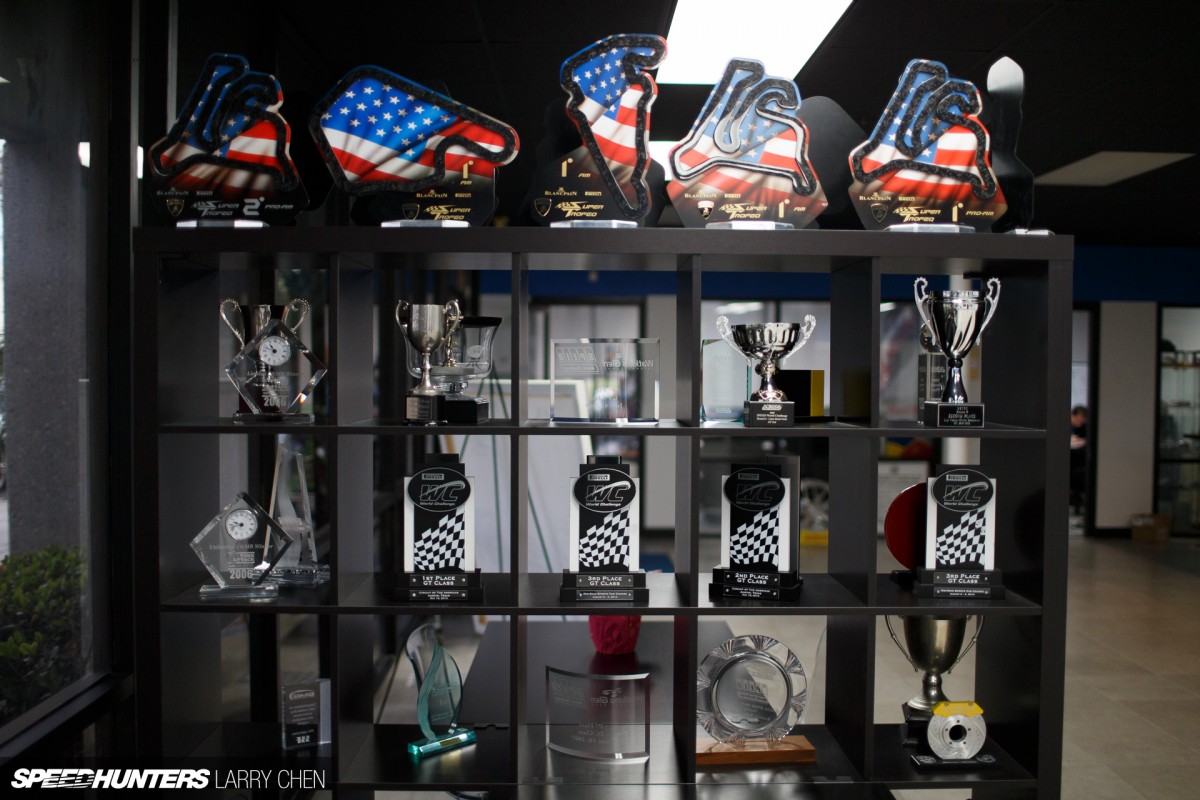 It must be pretty cool to come in to the office each morning and see a different kind of hardware like this on the shelves. You can't argue with the winning history at GMG; how could they not be of help?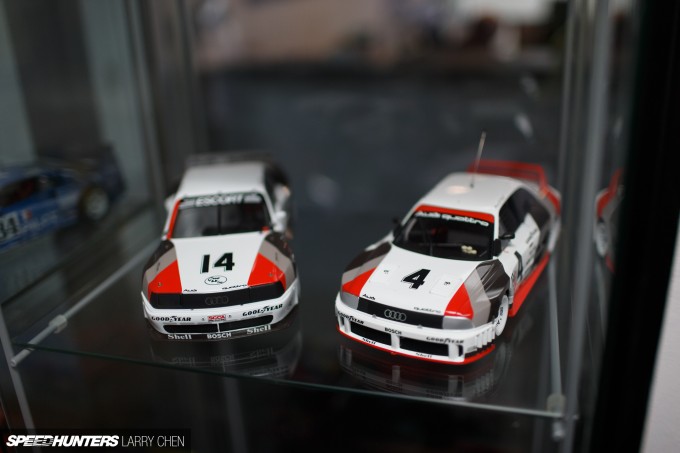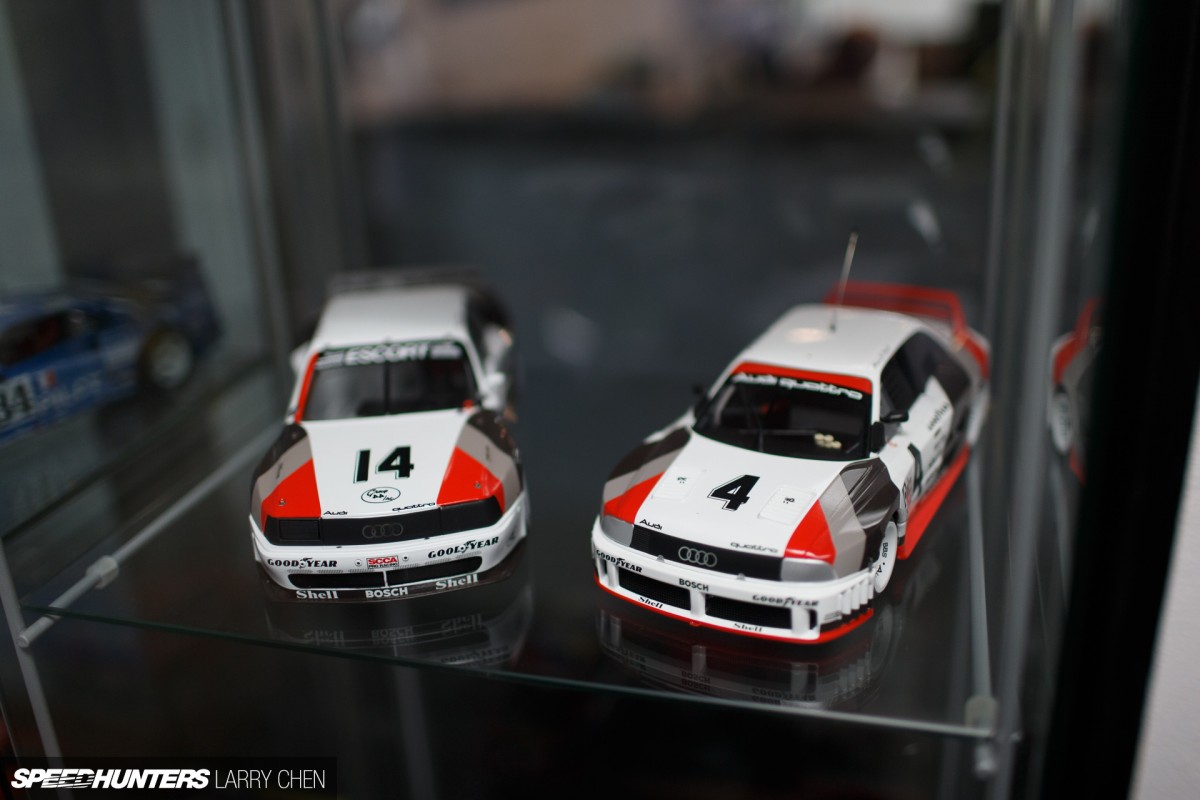 Larry found these Audi diecasts near the trophy case. Bryn saw the real IMSA cars at the Audi Forum last year, but parked nearby was the next best thing.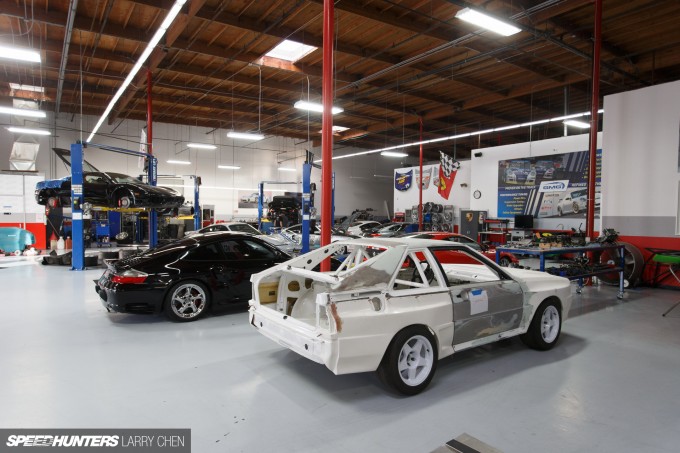 Not a diecast, but a 1:1 out in the shop! This short wheelbase Audi Sport Quattro conversion will weigh 2500lbs and pack 750hp when it's finished. This kind of build in North America is quite rare and I bet it's going to be an absolute blast to drive.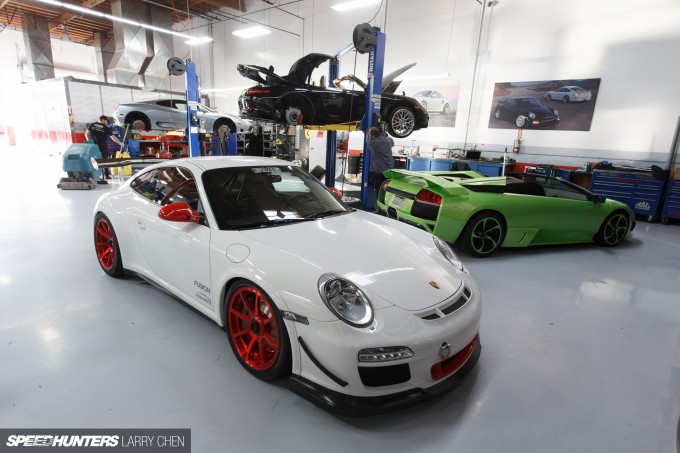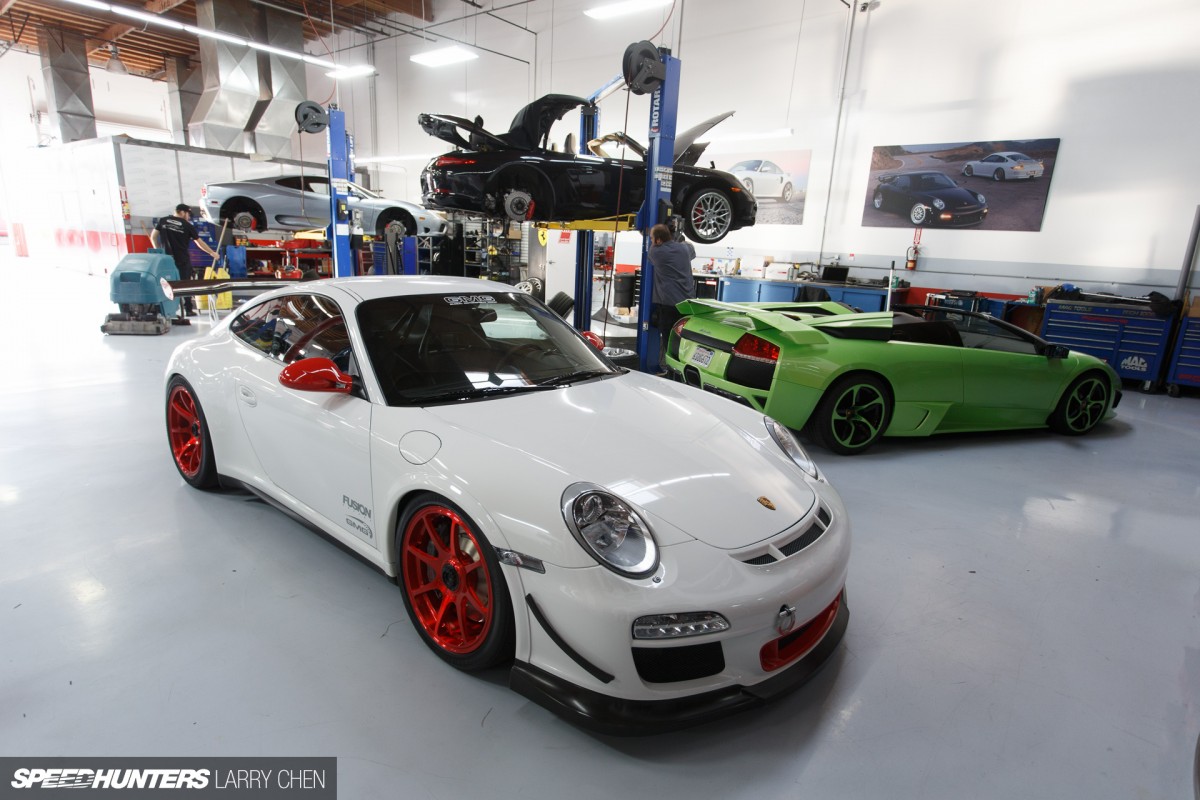 It's not all race cars here though, and it's worth remembering that although CSF may be developing product for harsher applications, the benefits will trickle down to street applications too. Among the other customer cars, Larry spotted this clean GT3 and a green Lambo that I'm told belongs to MMA fighter Rampage Jackson. More top down rather than smackdown…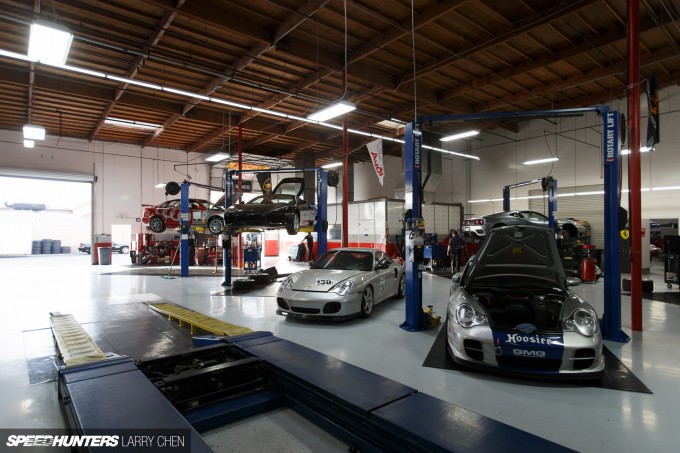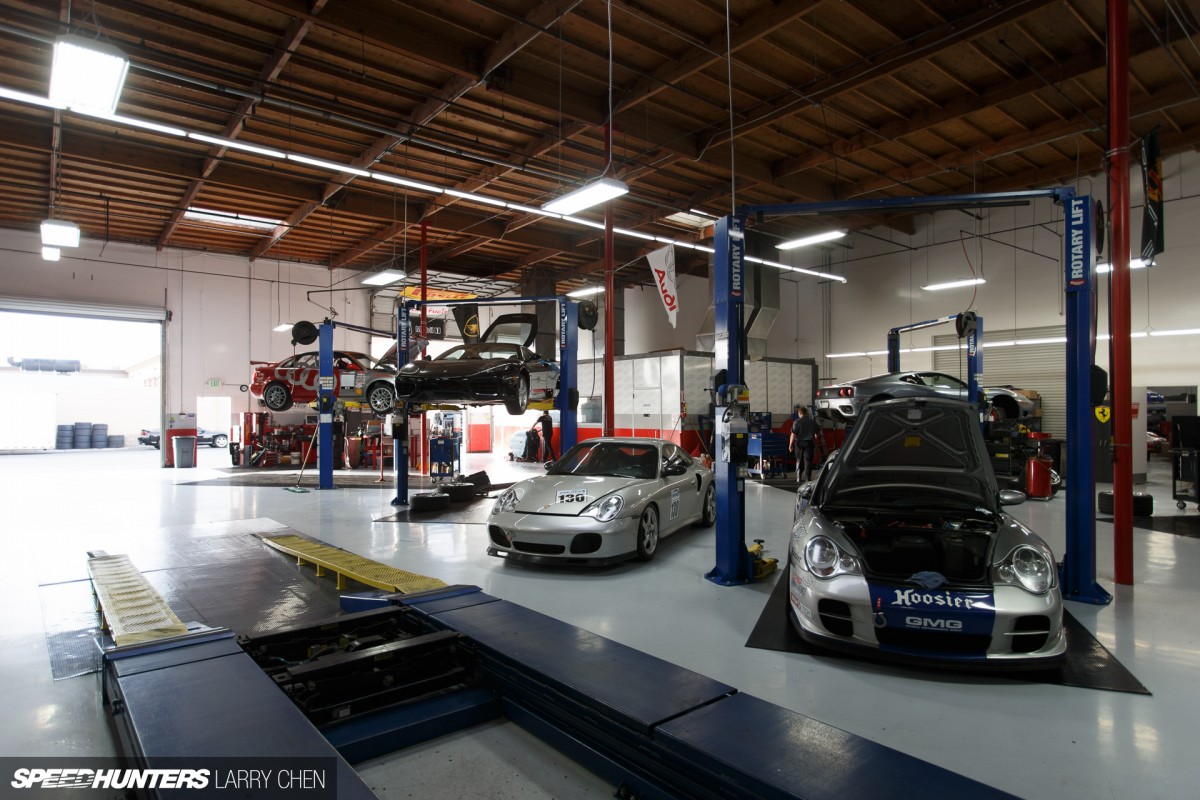 It's really quite interesting that GMG does everything from full-on race car prep to service and modifications for regular customers. Racers drive road cars too.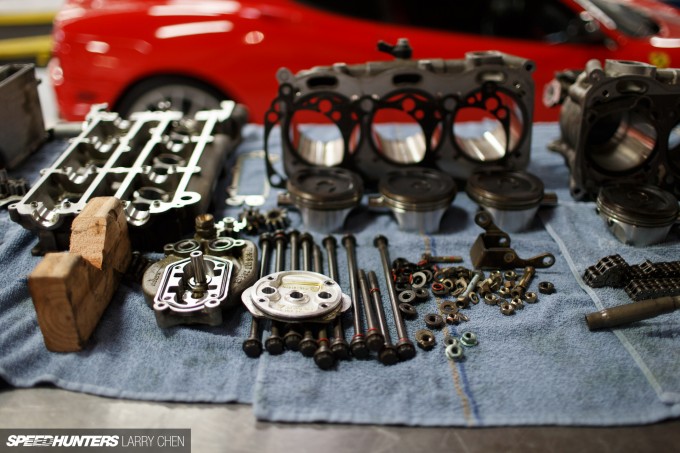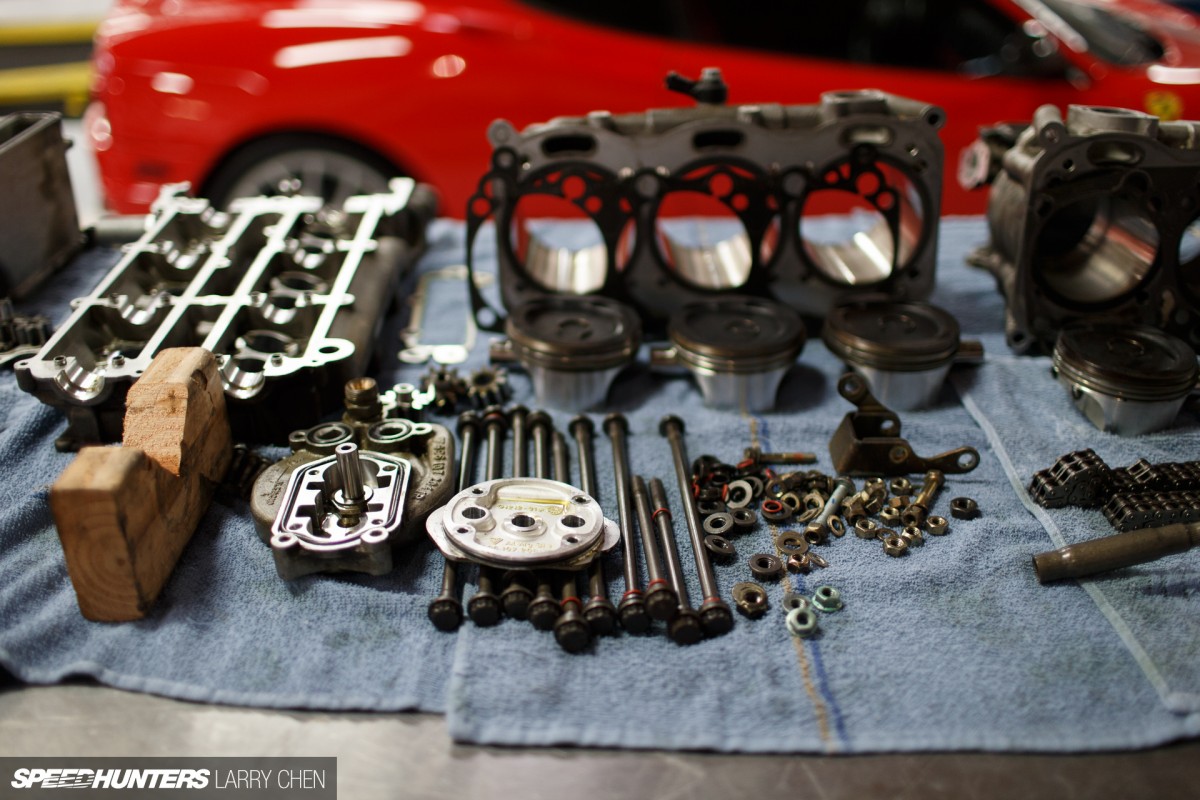 They'll change your oil, upgrade your suspension, or build you a complete motor from scratch.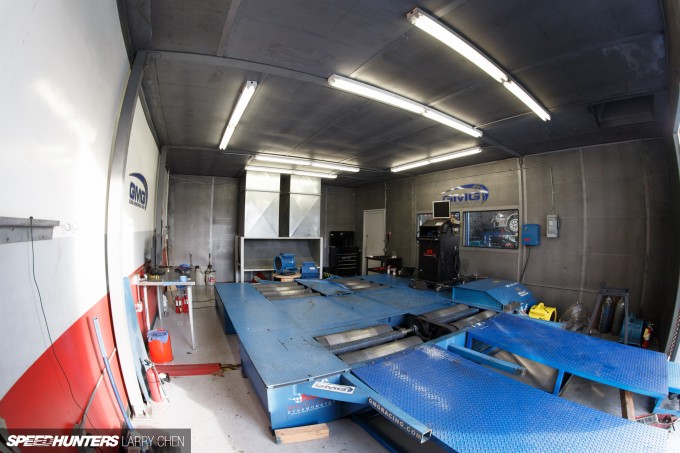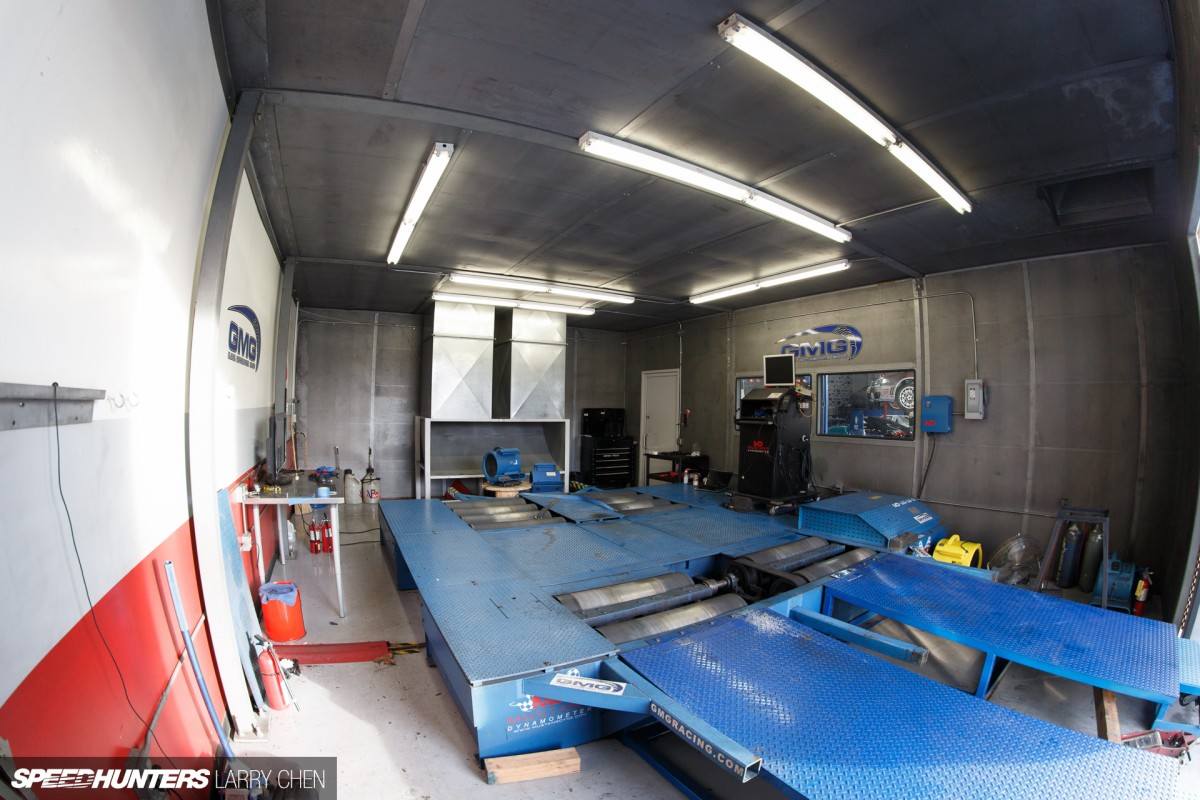 Then they'll even strap your car to an AWD dyno that can handle 2500 horsepower.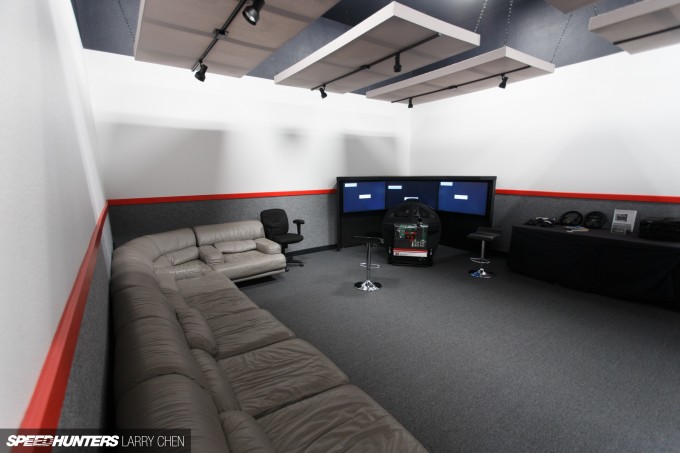 I thought maybe this was a cool waiting room with a racing game, but Ravi corrected me. It's actually a very expensive racing simulator. Yes, GMG also offers virtual driver training on site.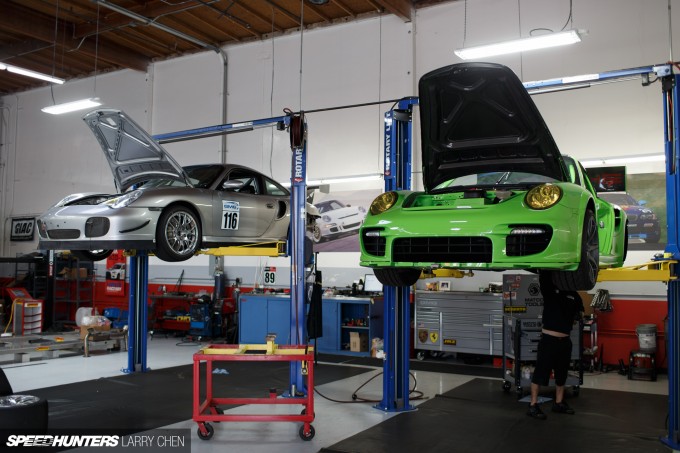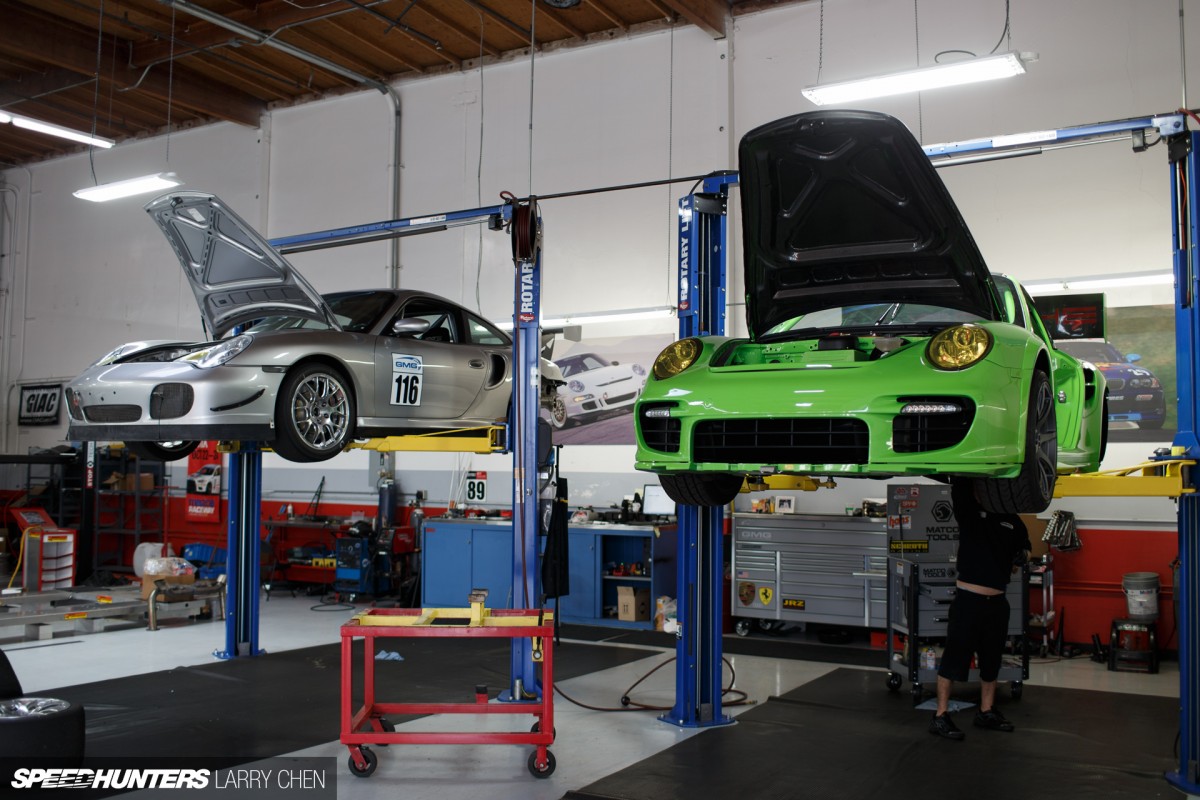 I could talk your ear off about all the cars at GMG, both street driven and track ready, but I'll leave you with this custom lime green 997 GT2.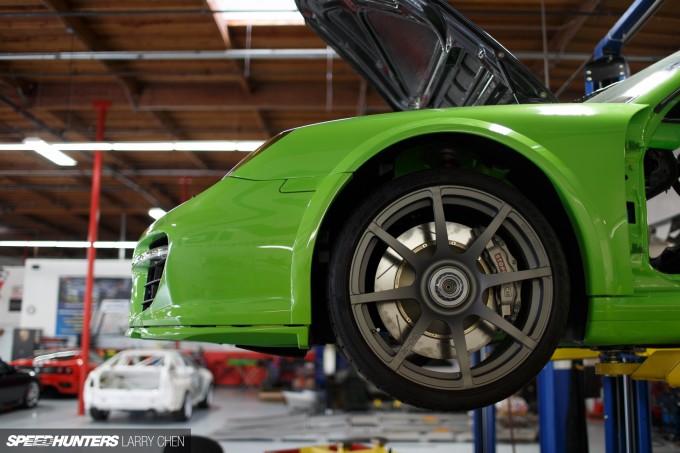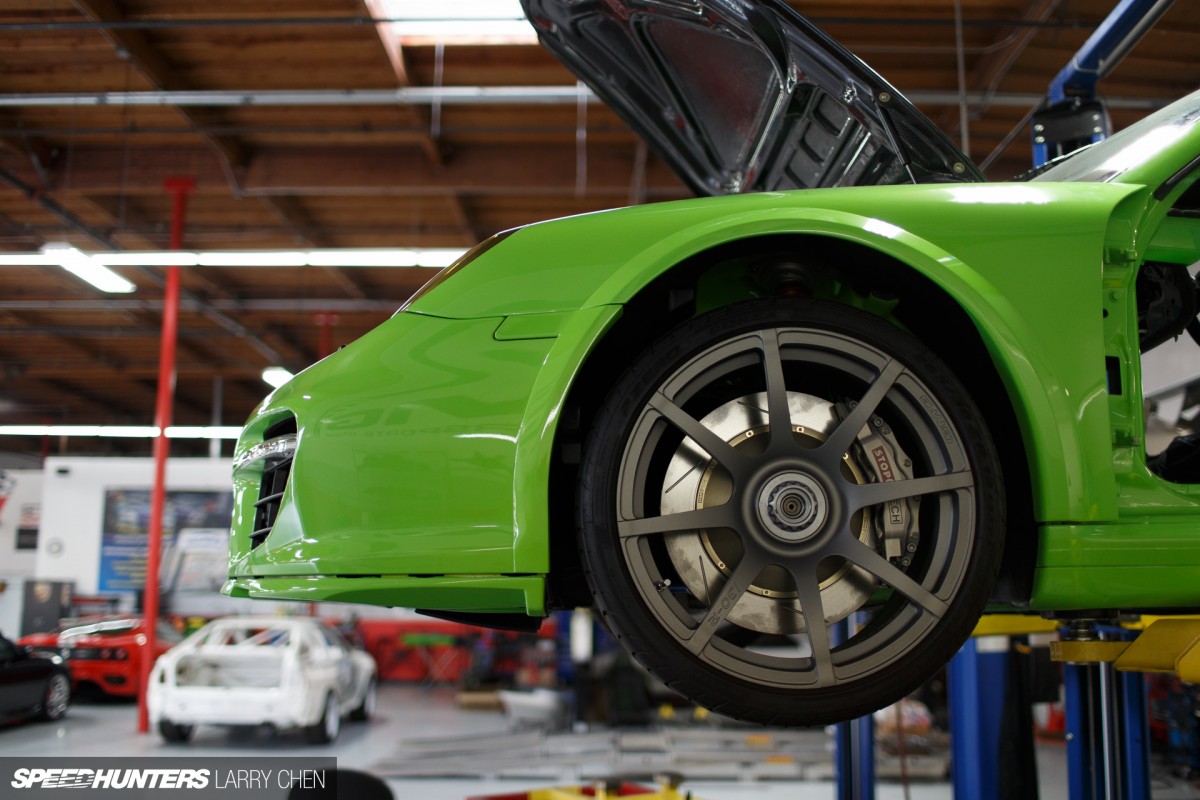 Apparently it's a complete one-off, with every exterior panel made from carbon fiber.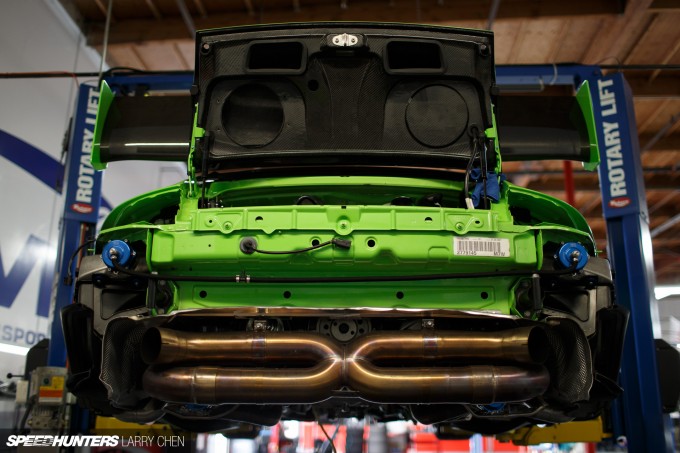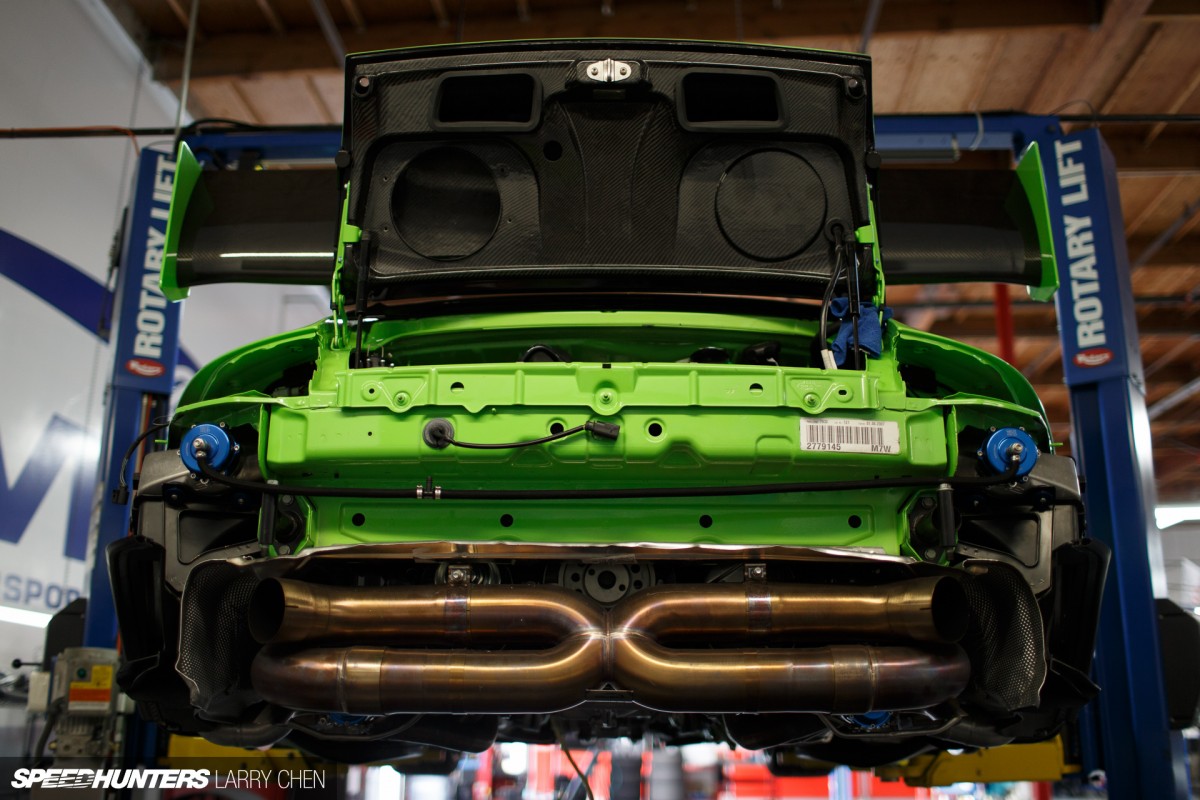 If that wasn't good enough, it's also serial number 001 and GMG installed a twin turbo 4.0L engine that makes over 950hp. I think we might need to head back to GMG at some point to check out the completed project, but at this point Ravi had to drag Larry out of the shop because they had one more appointment to keep, with a very different type of shop…
Up and out there…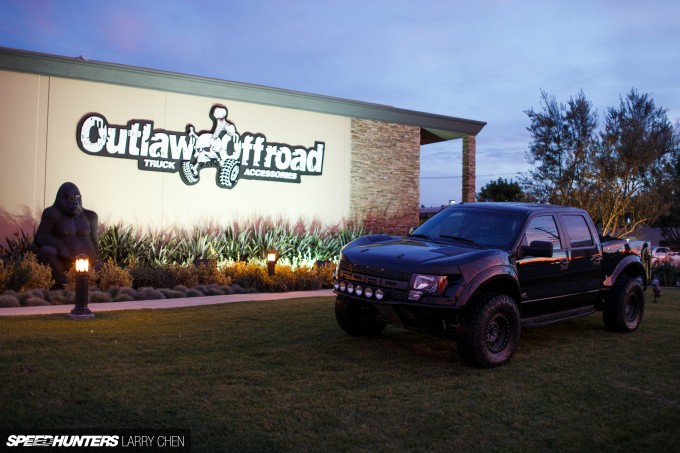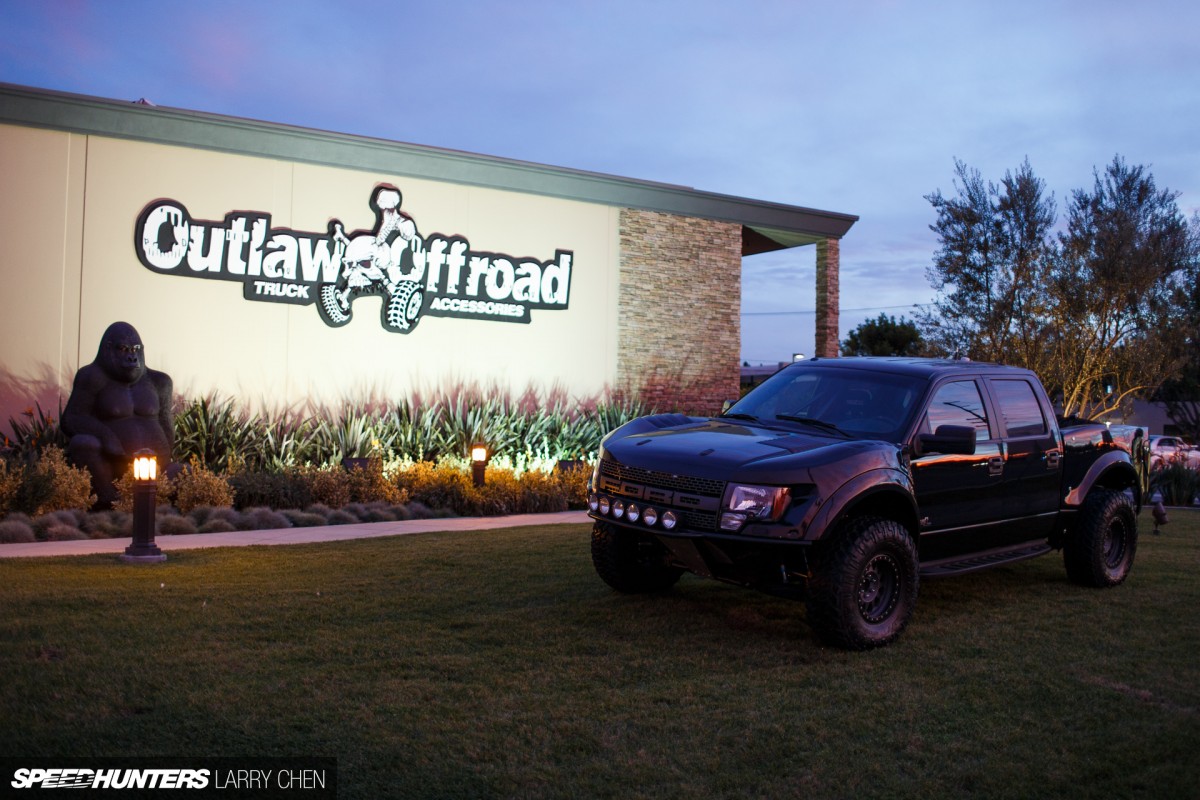 It might seem obvious when you say it, but the cooling needs of performance vehicles of any kind are pretty similar. But if the demands made by track work are arduous, the next level up must be the absolute pounding that a radiator will take off-road. Add some rocks, sticks and random debris, and you start to see why a performance option is a must. That's why Ravi went and found Outlaw Offroad. Quite simply, he saw them as being at the top of the game and wanted his parts to be on their builds.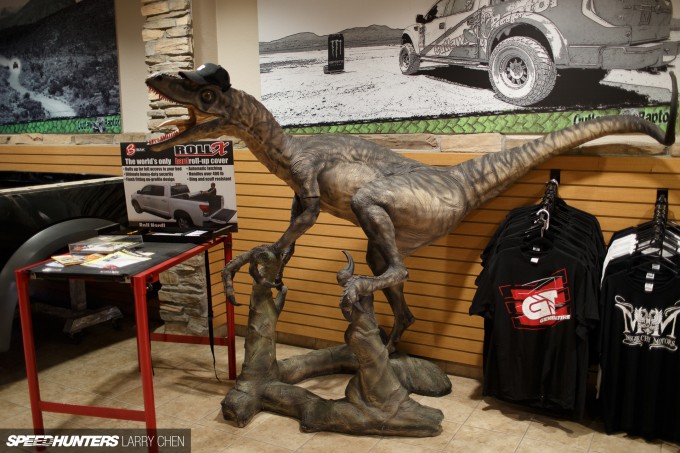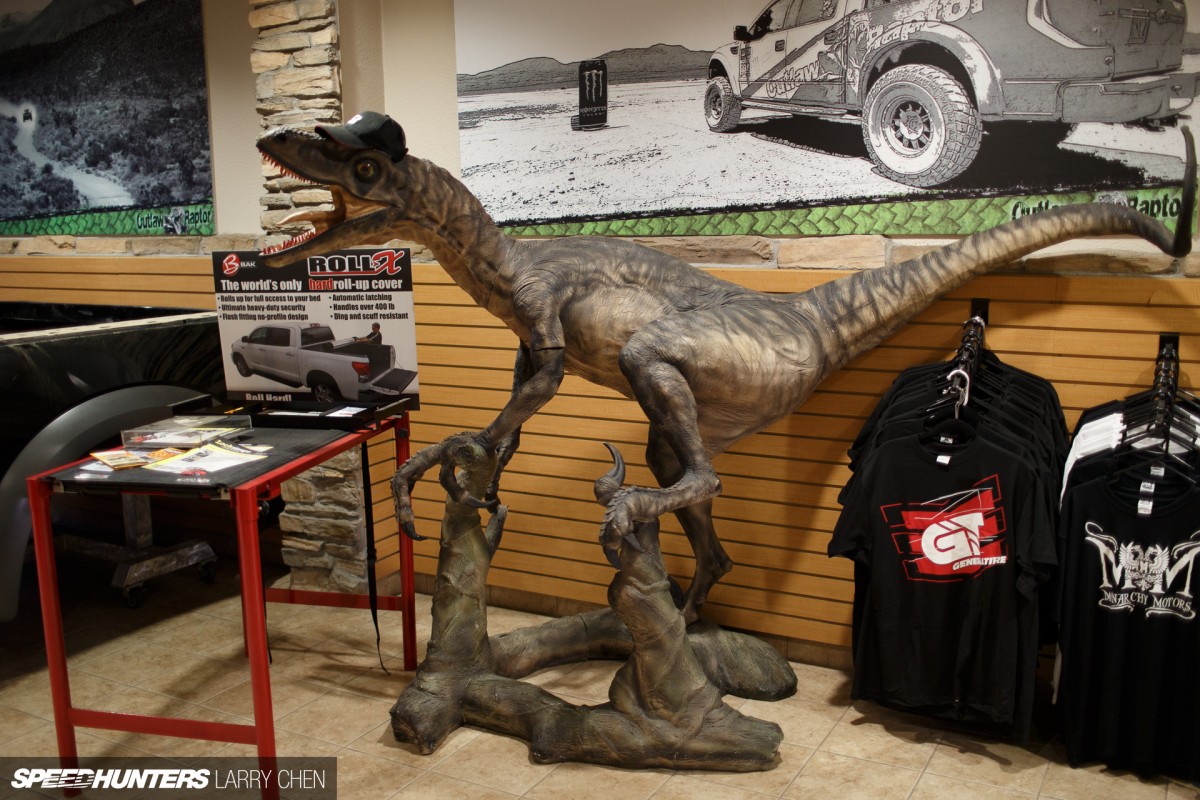 Outlaw was established back in 1999, but has since become central to the booming Ford Raptor market. I guess that's why they have this as their mascot in the showroom.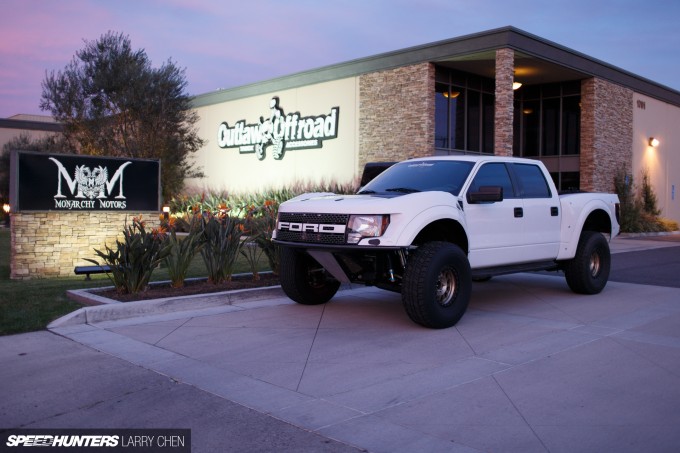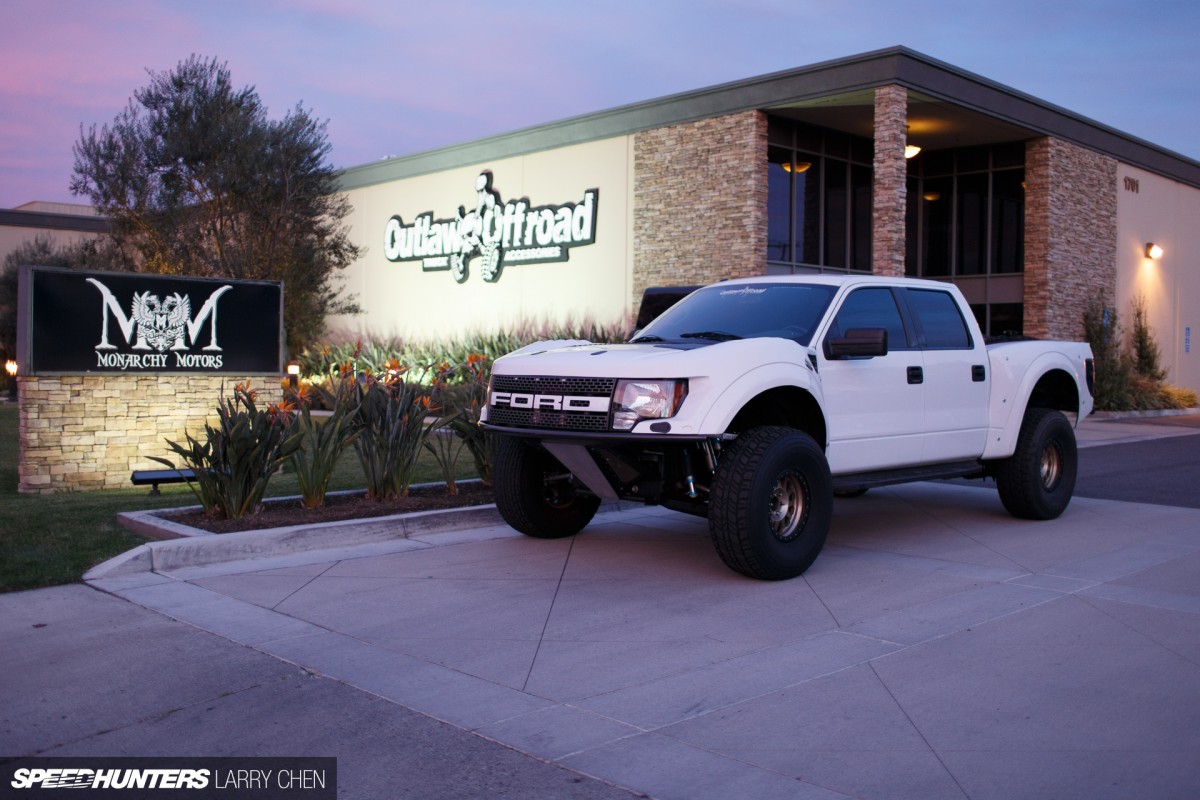 Out front, the guys found a Raptor named Yeti. This is as close as you can get to a street legal trophy truck, with Alpha1 long travel, King coilovers and a one-piece front end. Yeti is running the first prototype CSF Raptor aluminum radiator too. Ravi figures there's no better platform for testing than a truck like this, and with the heat and terrain of the inland California deserts nearby, this is a great place to be located to trial a cooling product.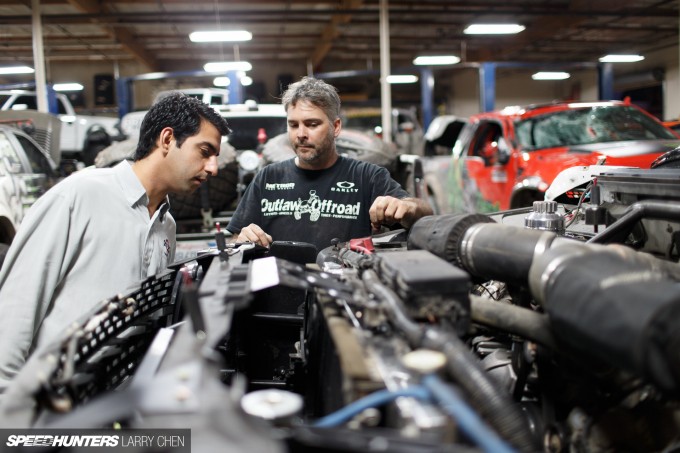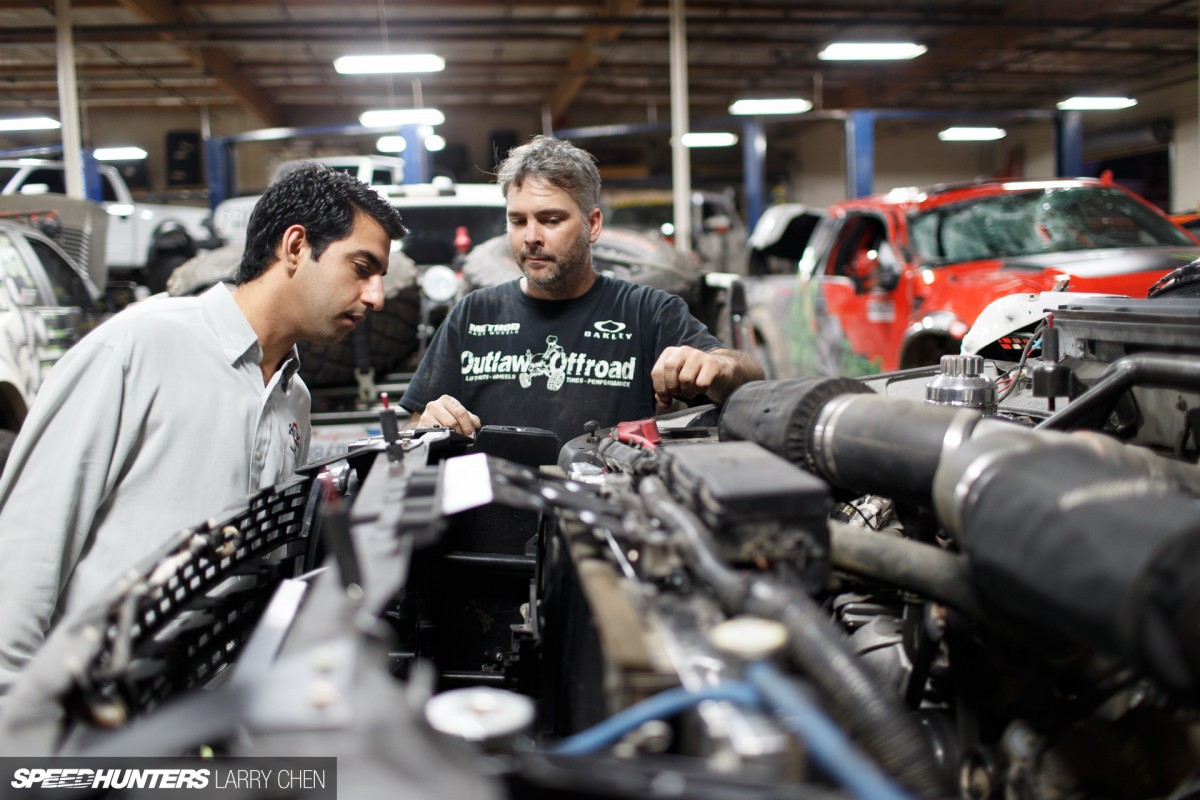 Since he's also based out of southern California, Ravi is able to walk into shops like Outlaw Offroad and work directly with them, as opposed to simply copying a stock radiator in aluminum and sending it off hoping it will work. Given that they are still at the prototype stage, Outlaw's head technician Marvin pulled Yeti into the shop and they removed the fiberglass hood to review some improvements that would be made for the production CSF radiator.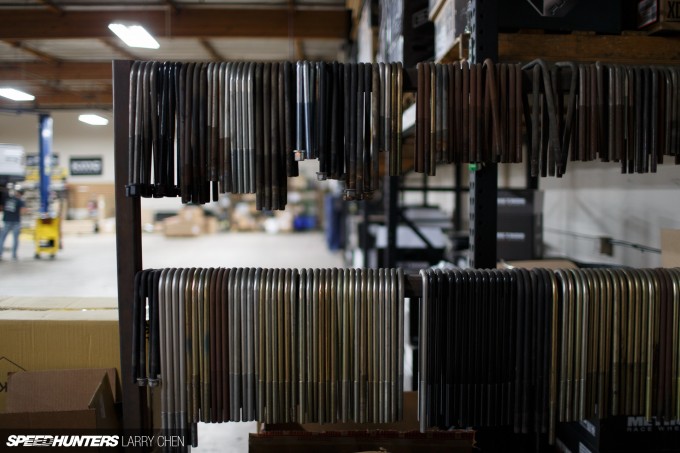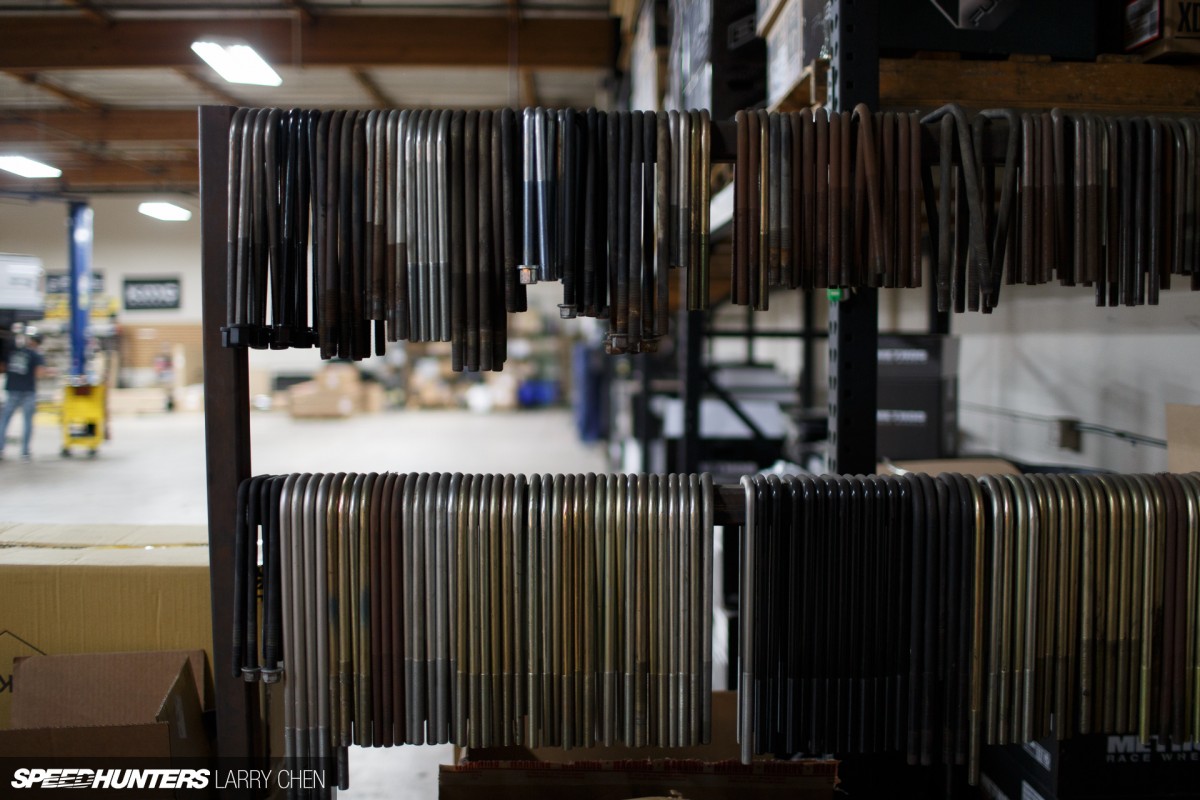 While the guys talked shop, Larry once again took the opportunity to sneak off with his camera to see what he could find. I just love how much bigger everything is when you're working on trucks, like the huge stock of u-bolts the guys keep on hand.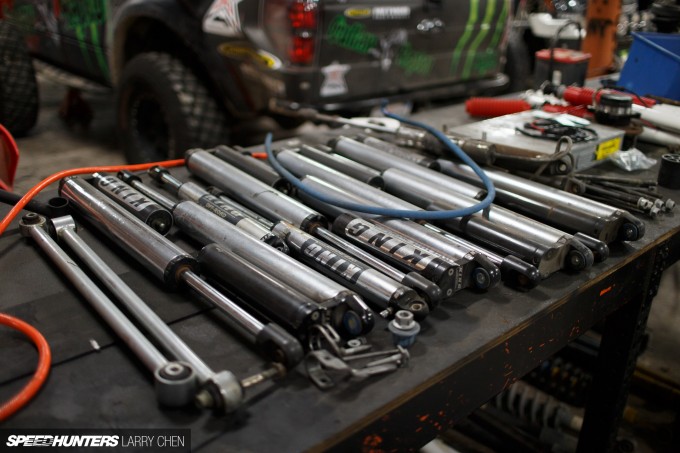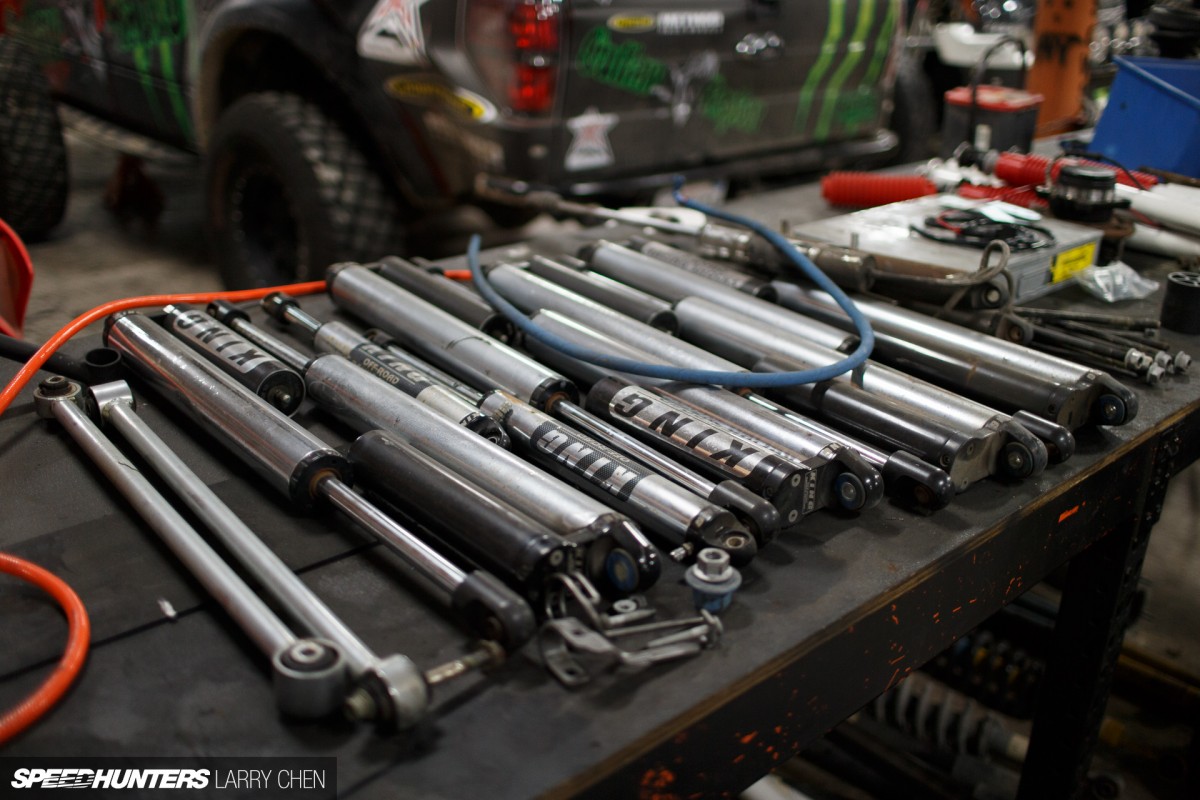 Among the hardware was this multitude of King smooth body shocks waiting to be bolted up. There's probably about a mile of combined suspension travel in this one picture. Maybe.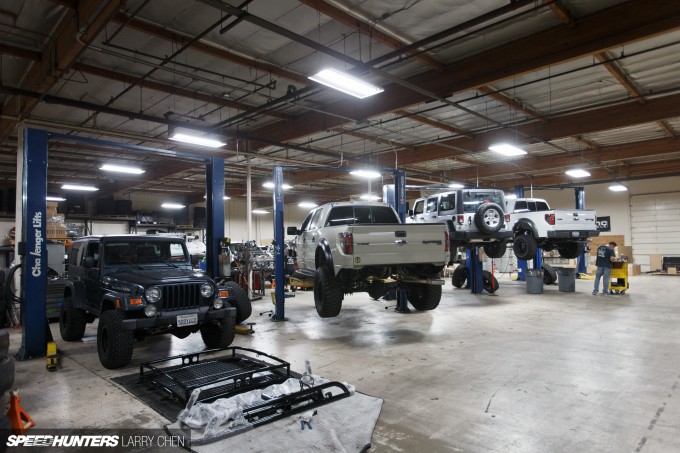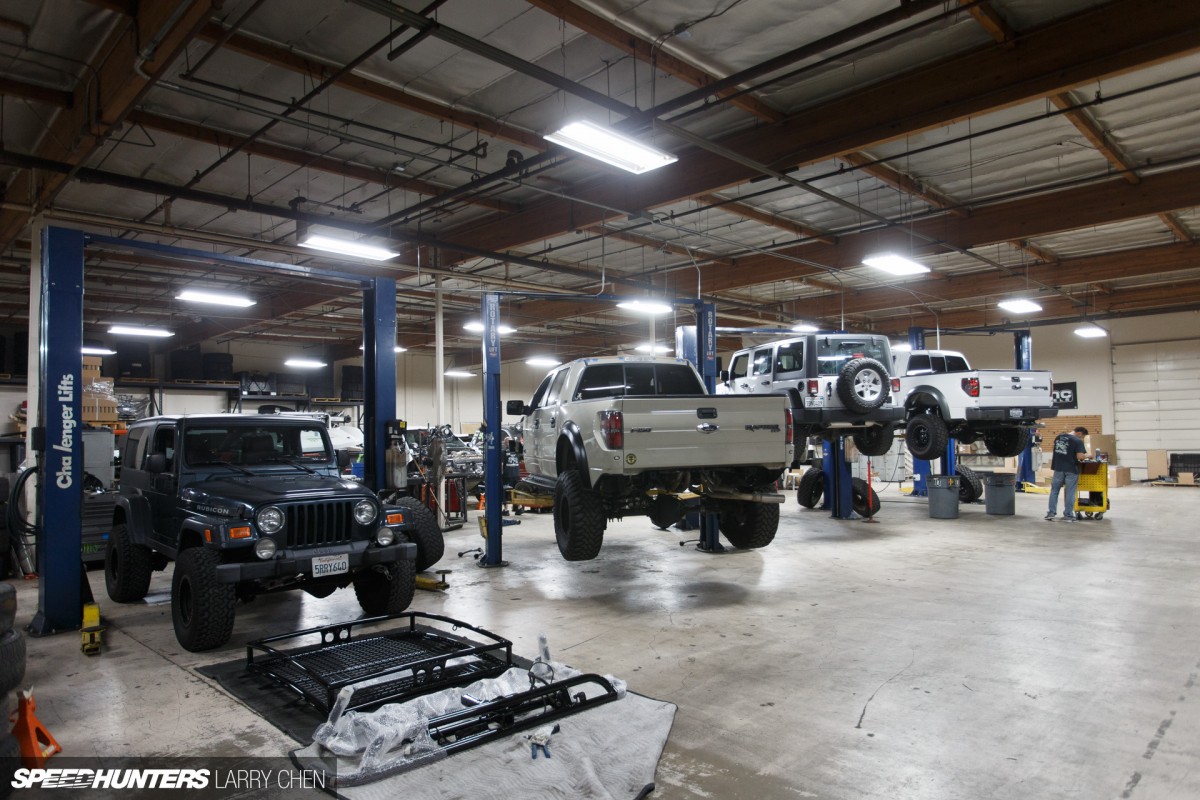 Like GMG, Outlaw's shop area is pretty spacious. The Jeep and Raptor market is huge and Outlaw like to keep ahead of the game when it comes to product development.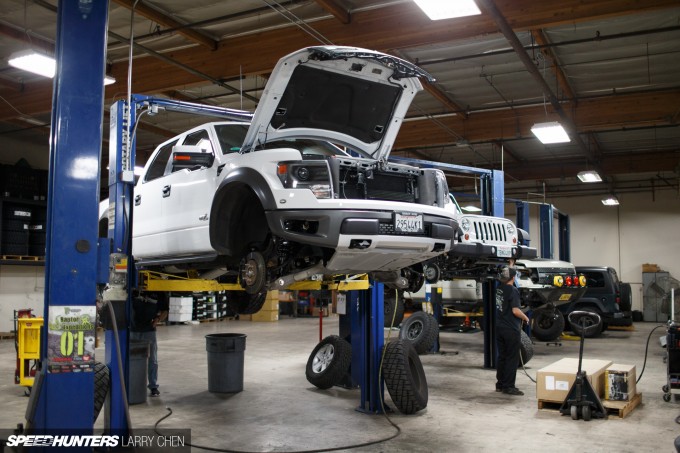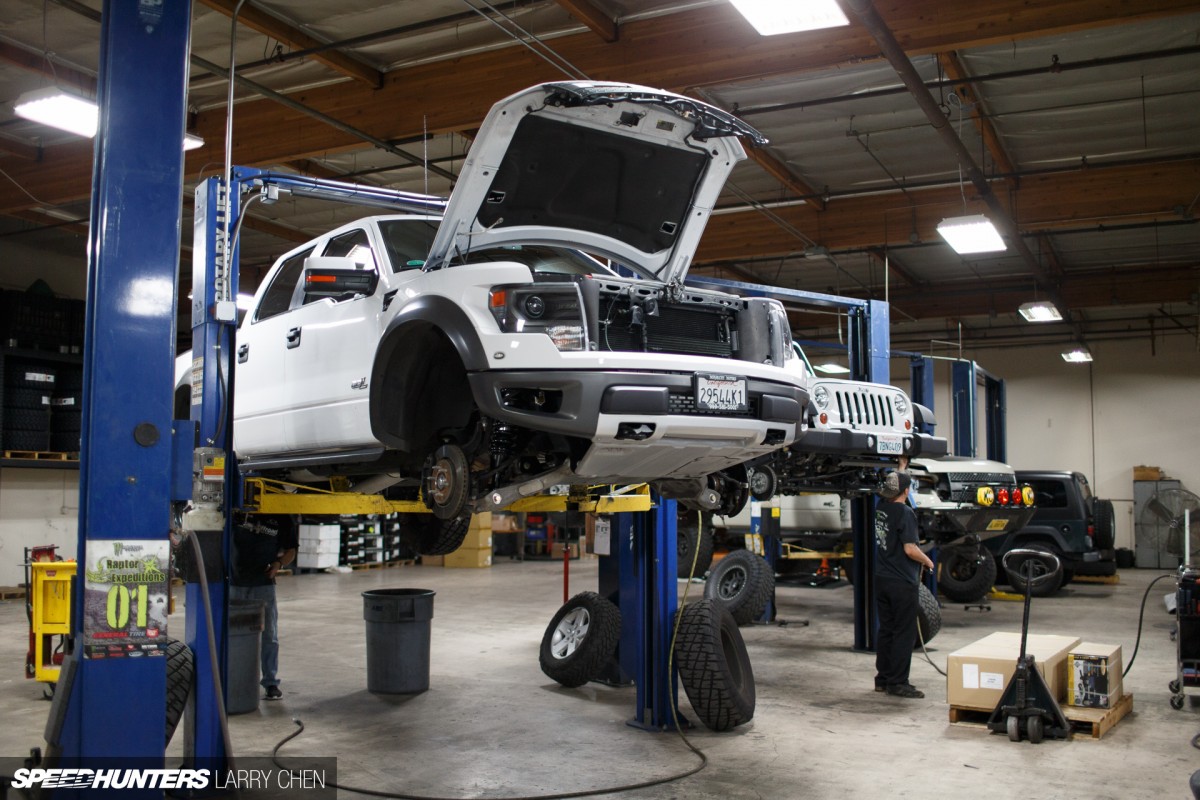 Also like GMG, they cover the whole spectrum of vehicle modification – suspension being one of the most popular areas. I guess the biggest difference is these kits make the trucks further away from the ground instead of closer.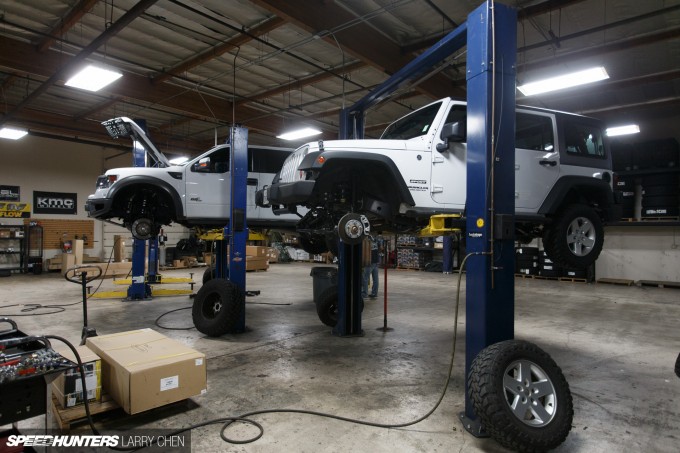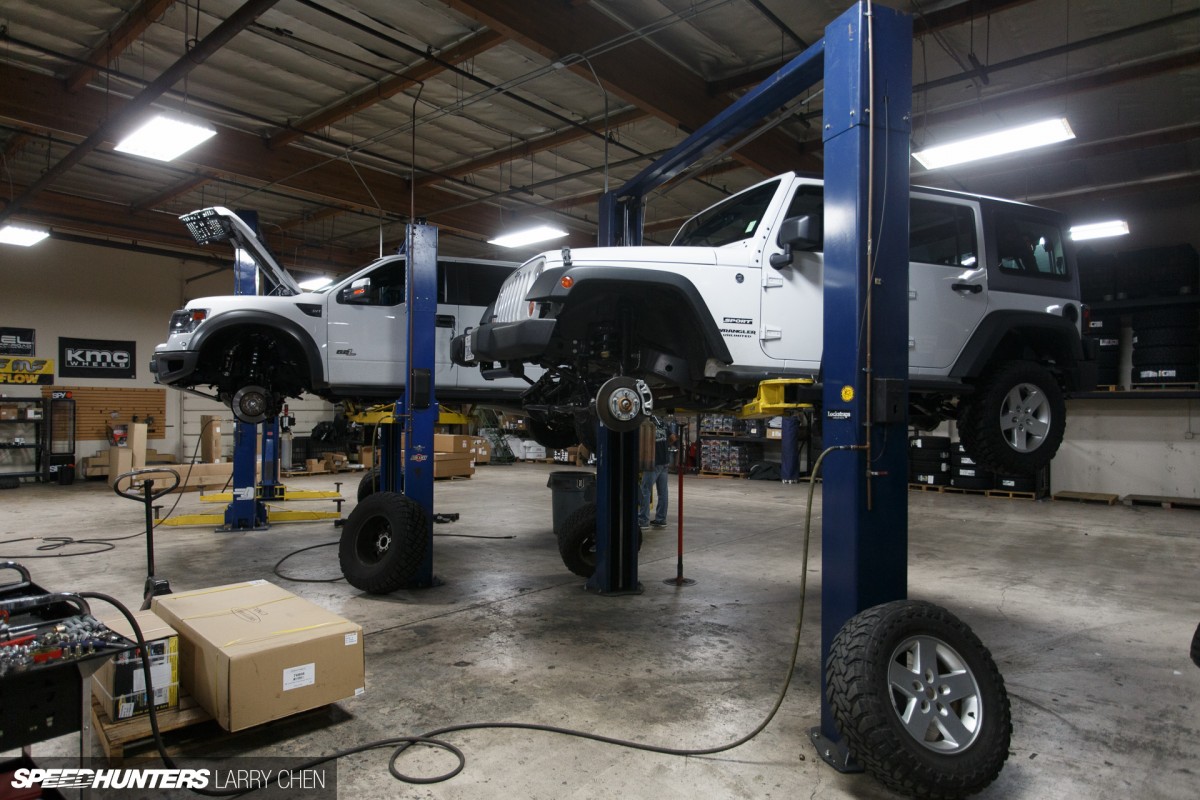 Ravi tells me aluminum Jeep radiators are some of CSF's most popular and they cover YJ, TJ and the new JK models. In case you don't speak Jeep, that means they've been fitting radiators to Jeeps since the '80s.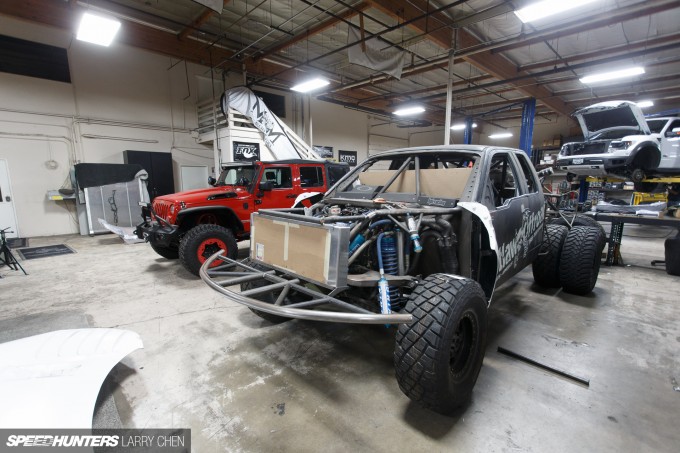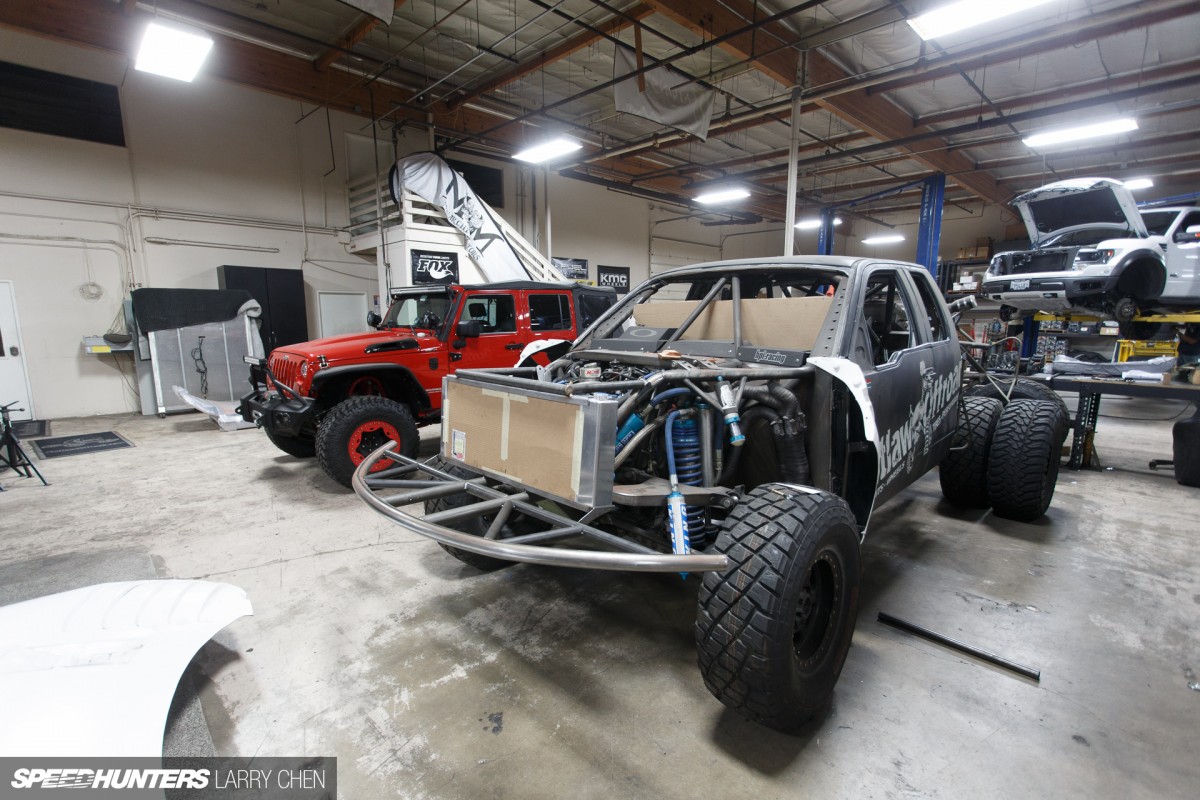 If the white Raptor named Yeti is as close to a street legal trophy truck as you can get, then this fully tubed version definitely crosses the line. Once you've pulled all the glass and cut off the front end, it's probably time to load your rig on a trailer. It might look like a dually at first glance, but that's just a spare tire sitting by the rear axle.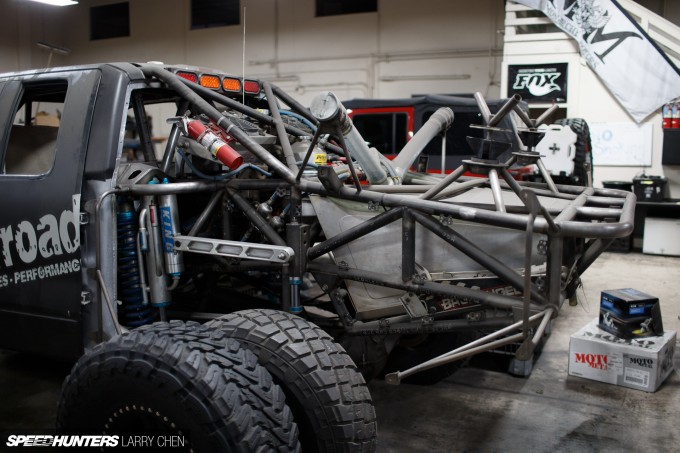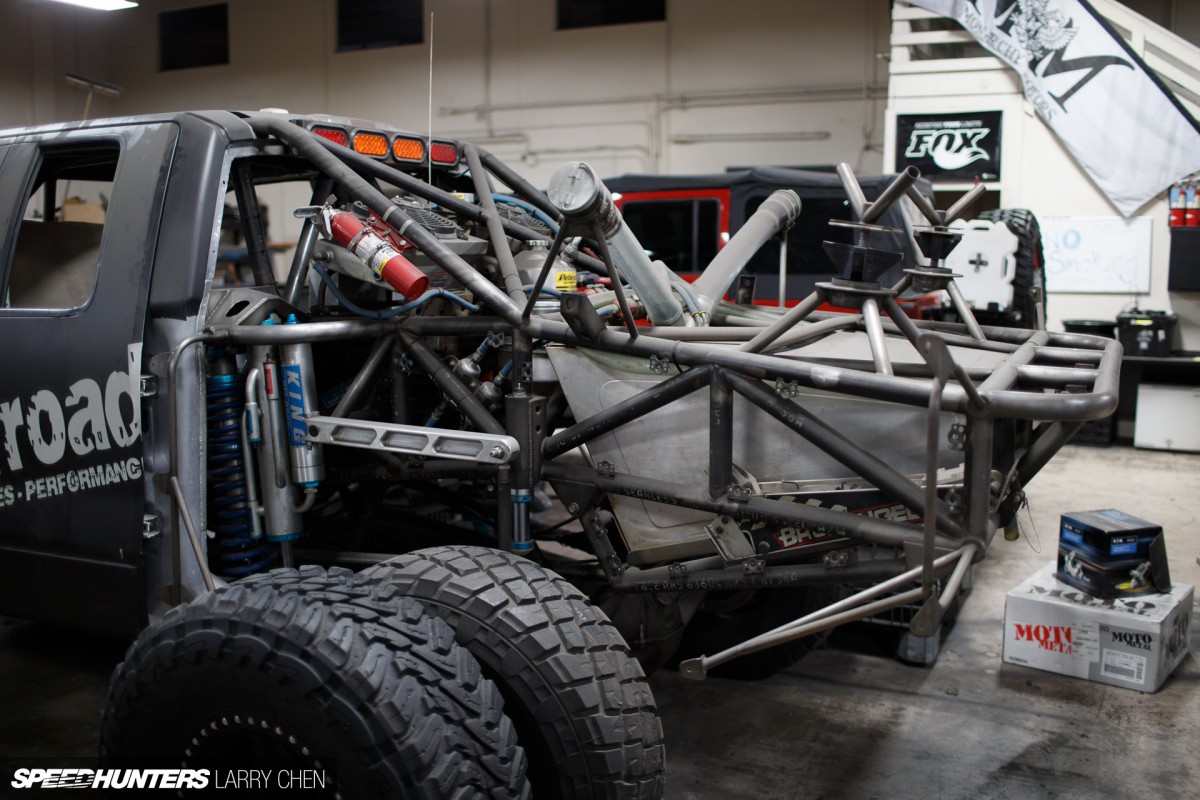 The back is fully tubed too and based on the massive fuel cell, dual spare tire mounts, jack and fire extinguishers, I'm guessing this is either built for racing or a very serious pre-runner – the latter being a truck you run the race course in to make notes and get a feel for the terrain before jumping in the race truck.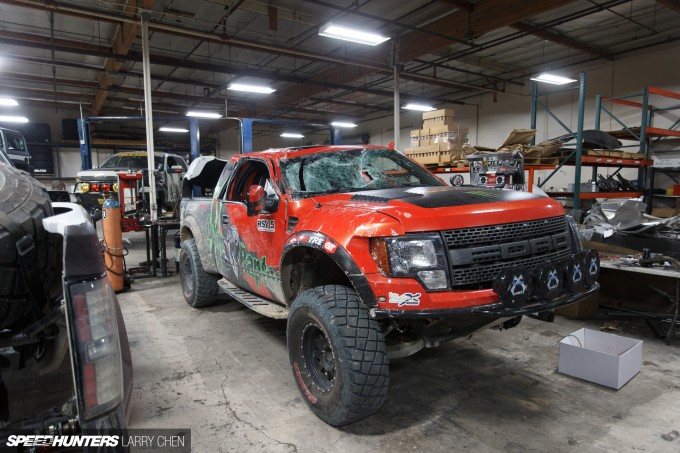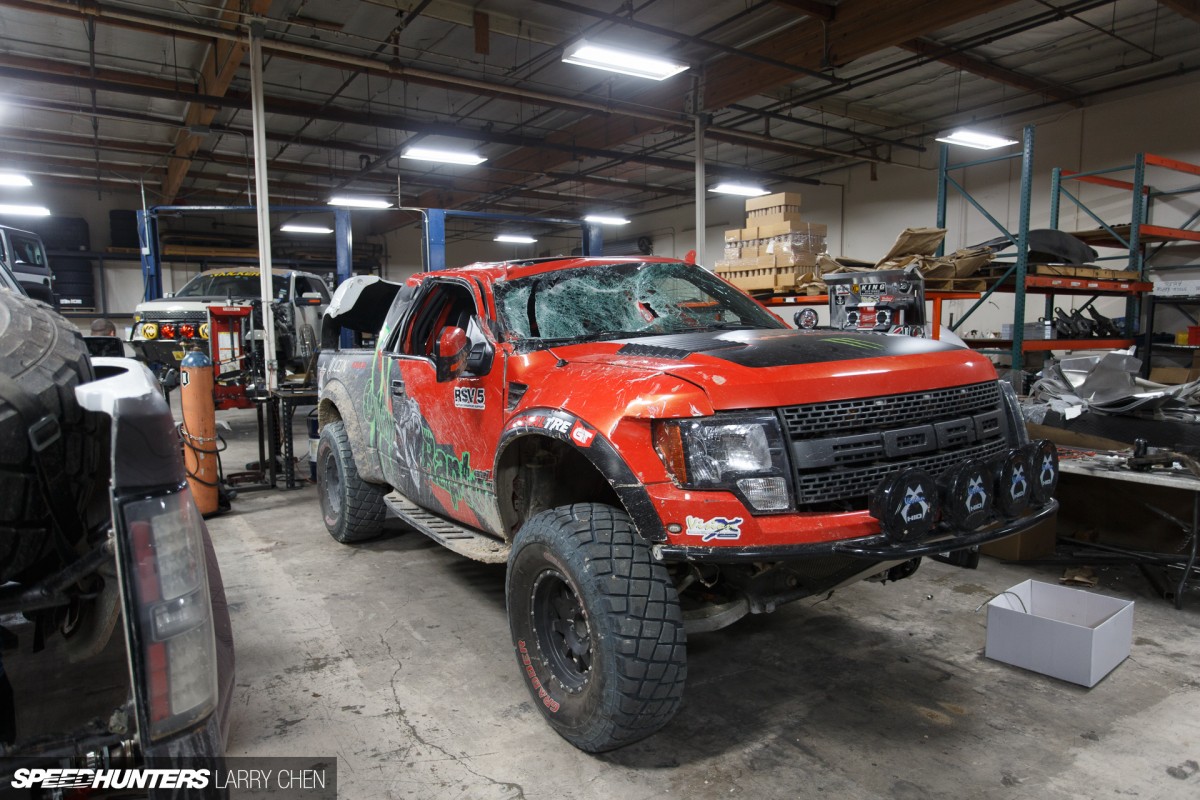 I imagine this is about the point where you make the decision to go all out with your build like the one we just saw. This customer launched his truck off a cliff, and the full Outlaw roll cage allowed both the driver and passenger to walk away.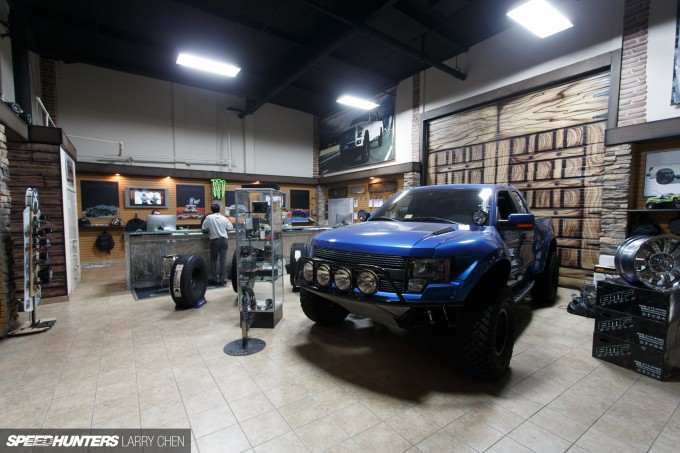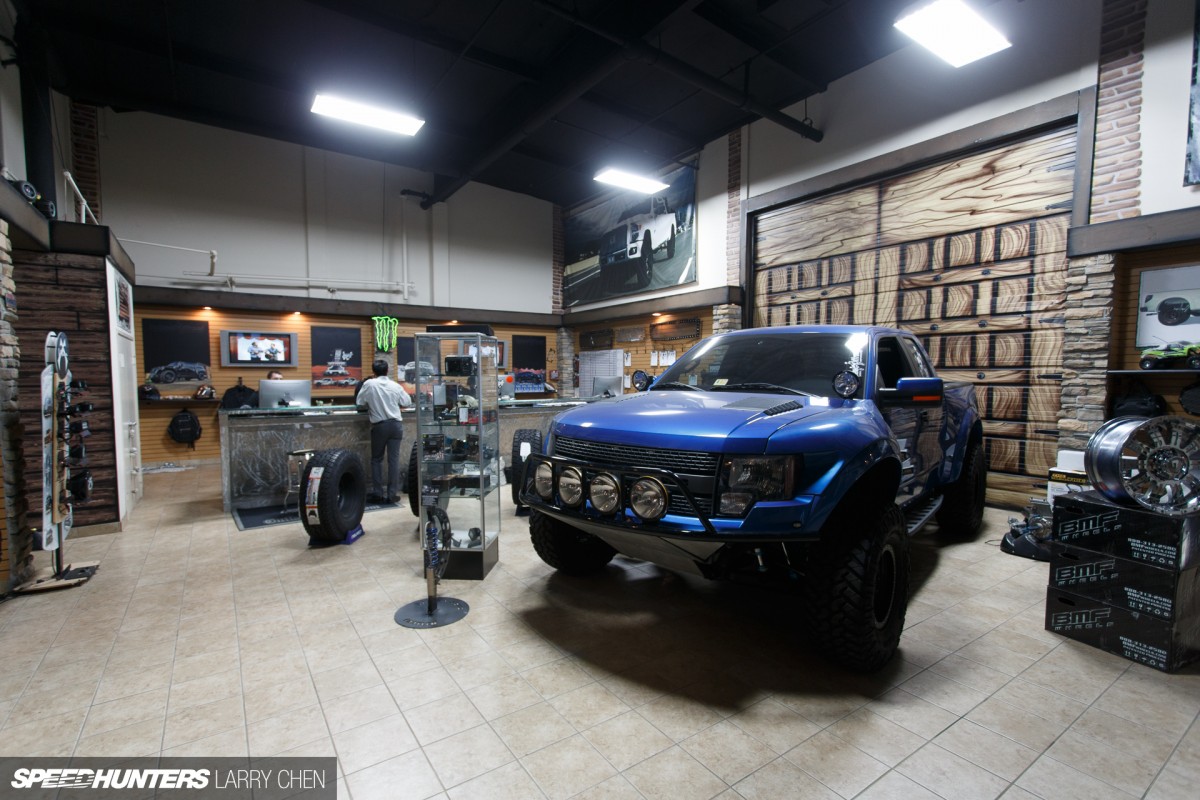 In the showroom sat a much shinier Raptor, although I'm sure it will have its day in the dirt soon too. Ford have done a killer job with the functionality and looks of this machine, but they really lend themselves to an even wider track and bodywork.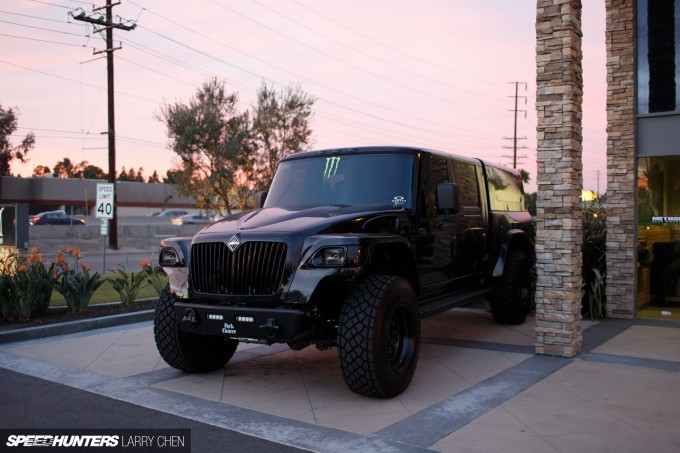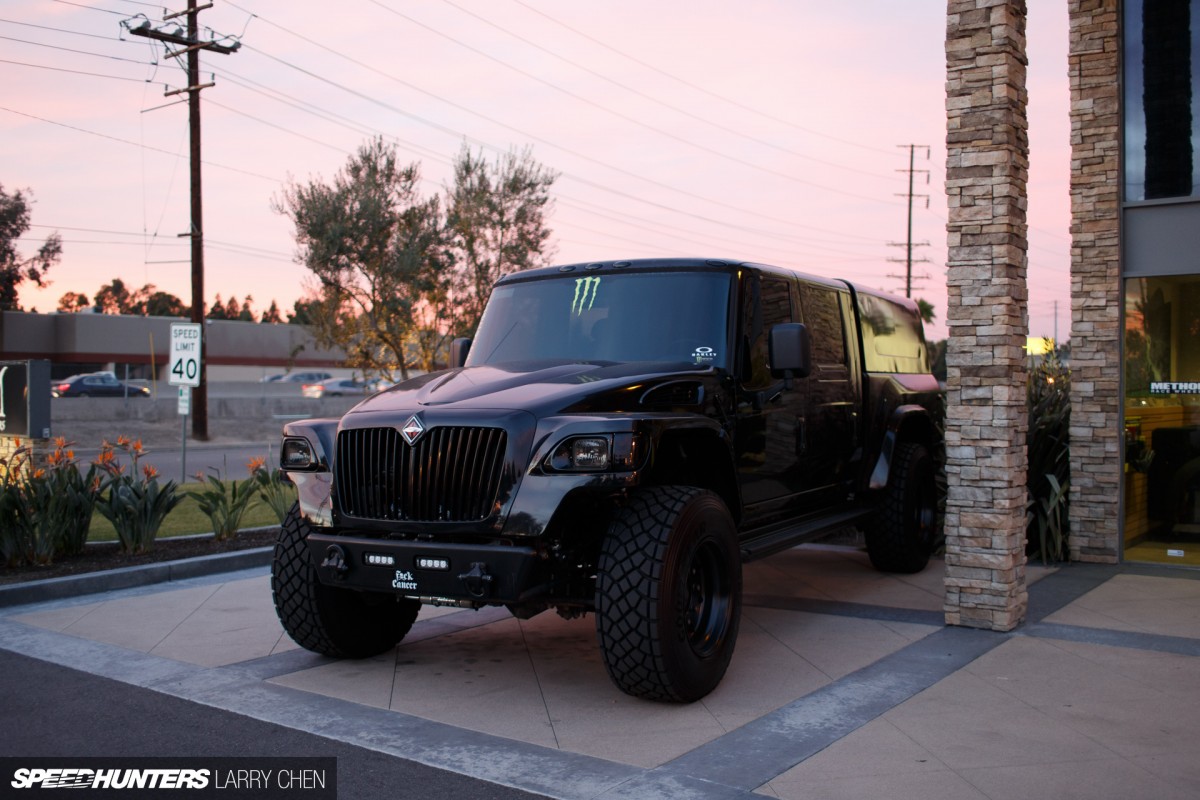 Back outside, Larry spotted this huge International MXP belonging to the owner of Outlaw Offroad. It too sits on King coilovers, but being a big rig for the street, it rolls on 22.5×12-inch Alcoa wheels.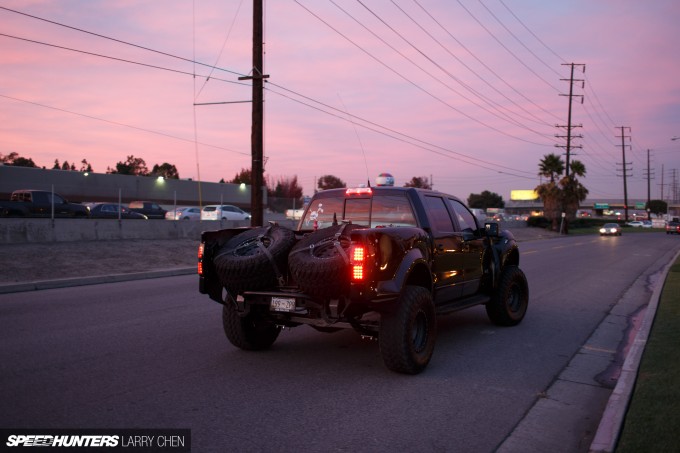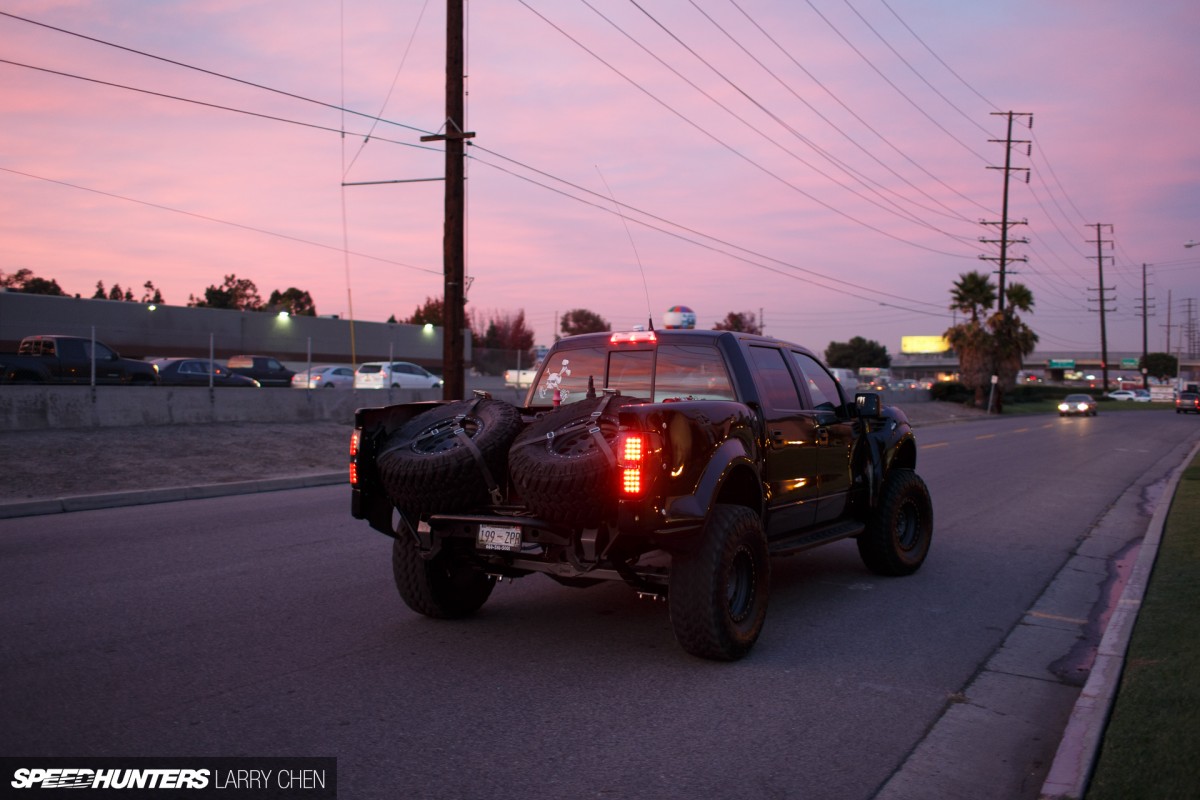 There's something that really gets me when I see plain-looking trucks with performance to rival a sports car and suspension travel measured in feet, on the street. Larry watched on as another satisfied Outlaw customer drove away in his fully-prepped desert truck.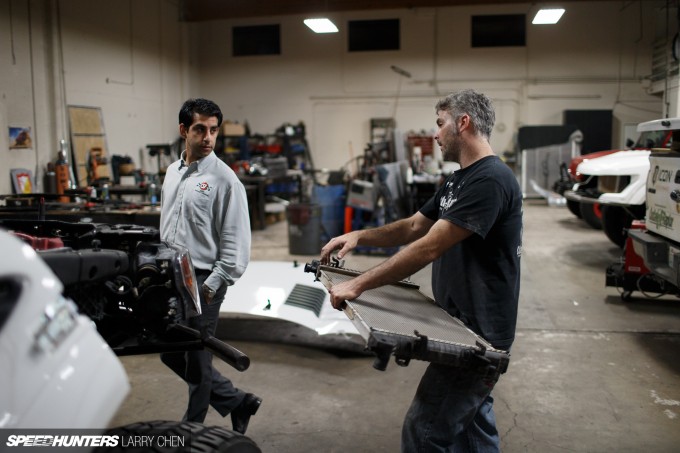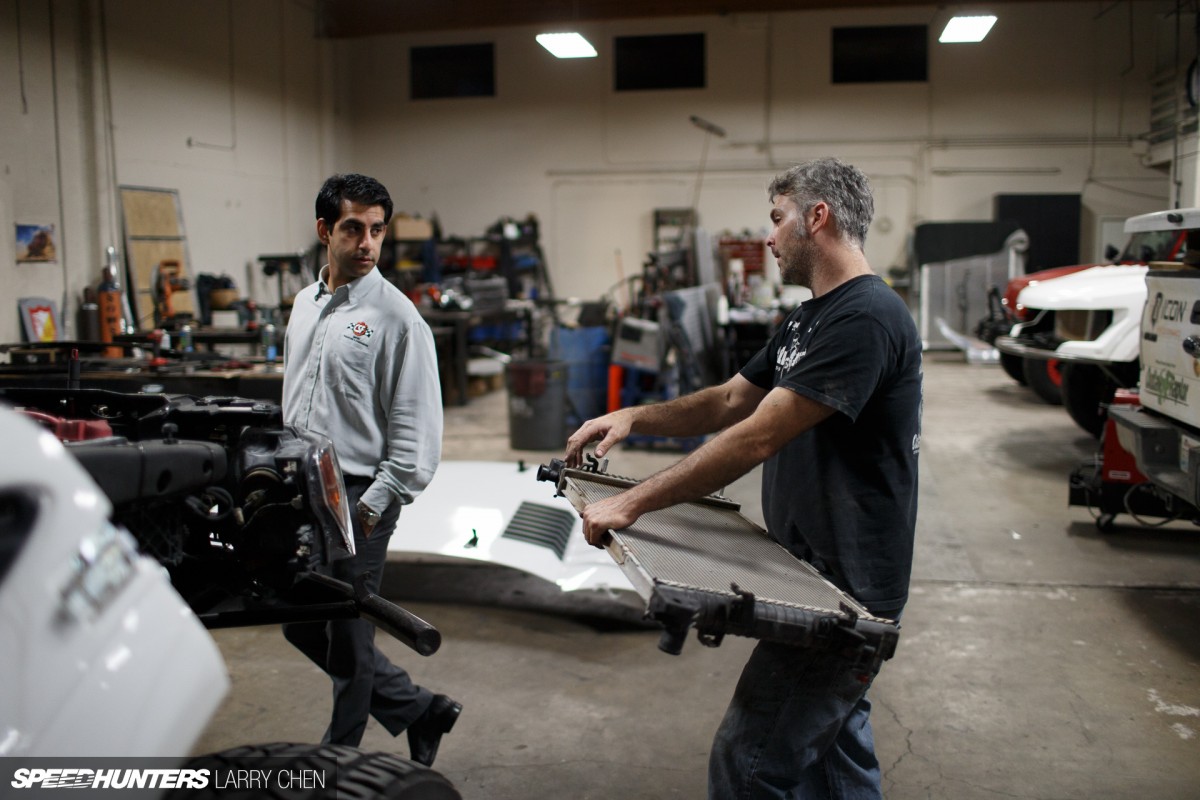 Back in the workshop, Larry caught up with Ravi and Marvin as they were looking over a stock Ford radiator and discussing the weak points that need to be addressed in the performance version.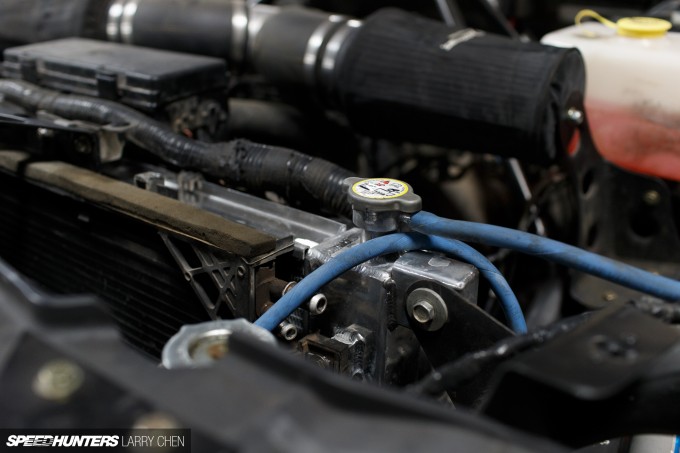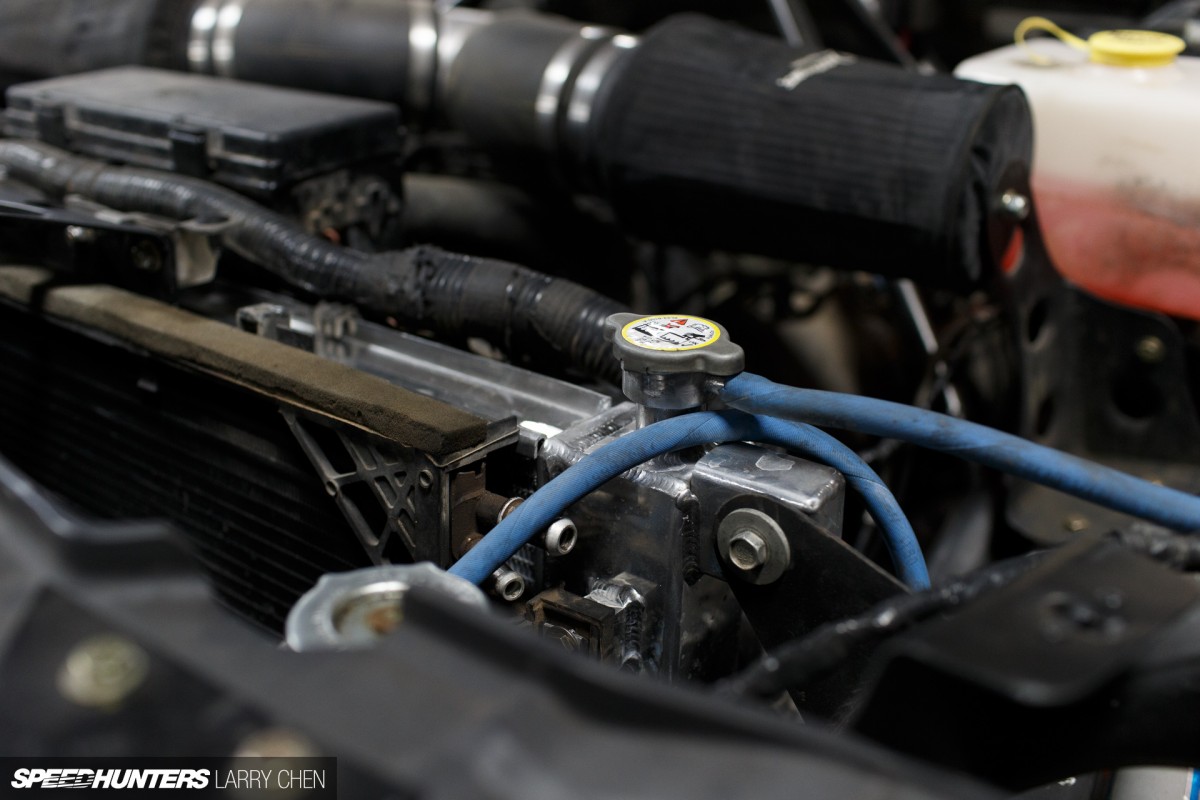 Larry also snagged a spy shot of the prototype Raptor radiator that they're currently testing.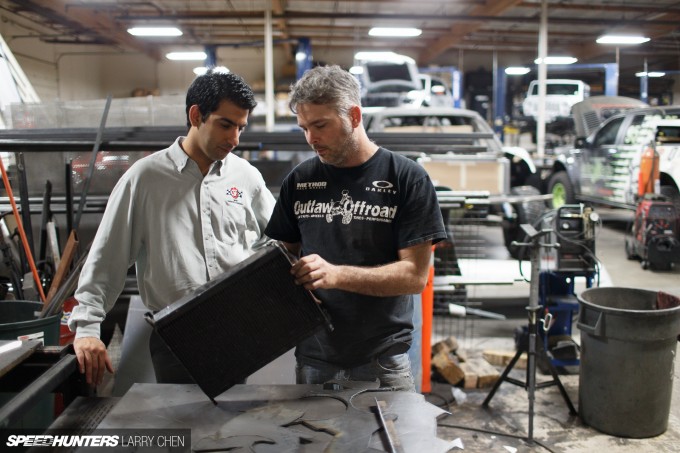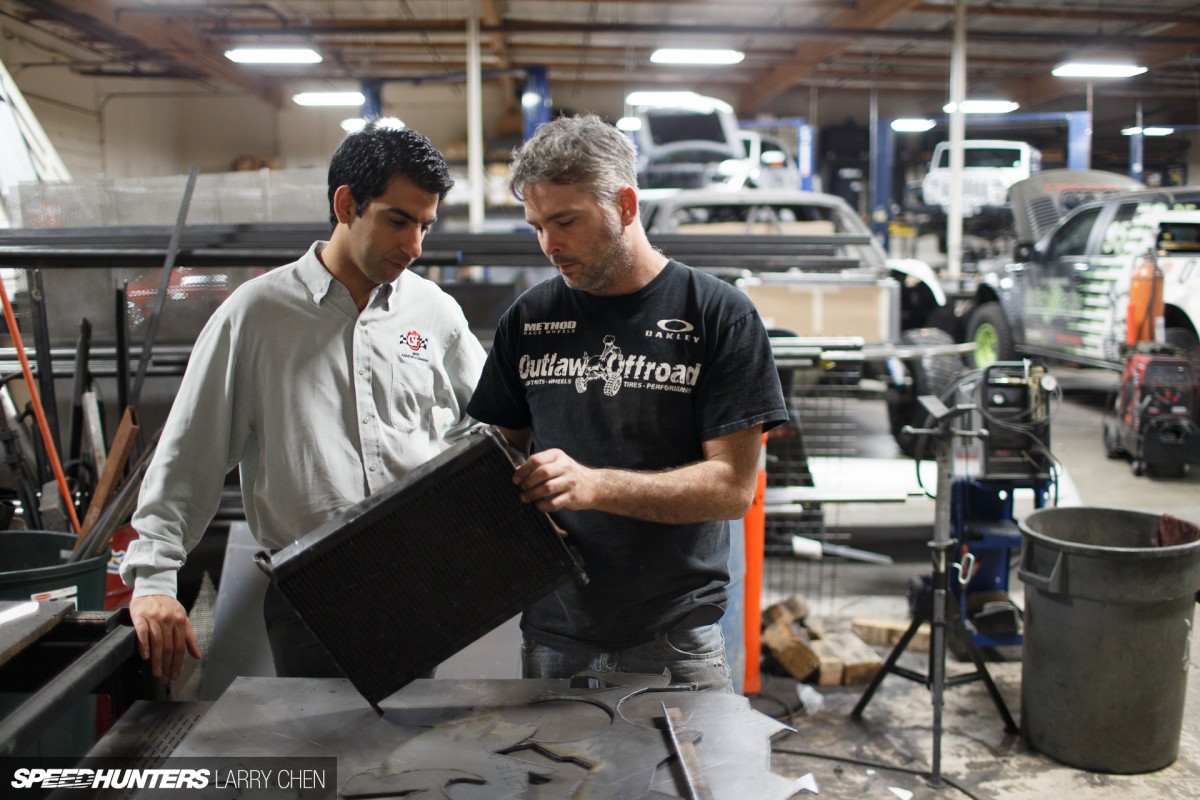 It's not all about water and antifreeze though – oil needs to relieved of temperatures too, so the last item on the agenda for the day was an oil cooler that wasn't able to stand up to rugged off-road use.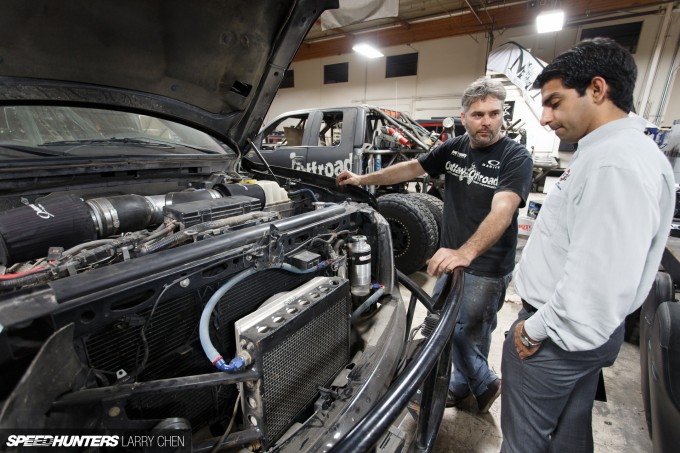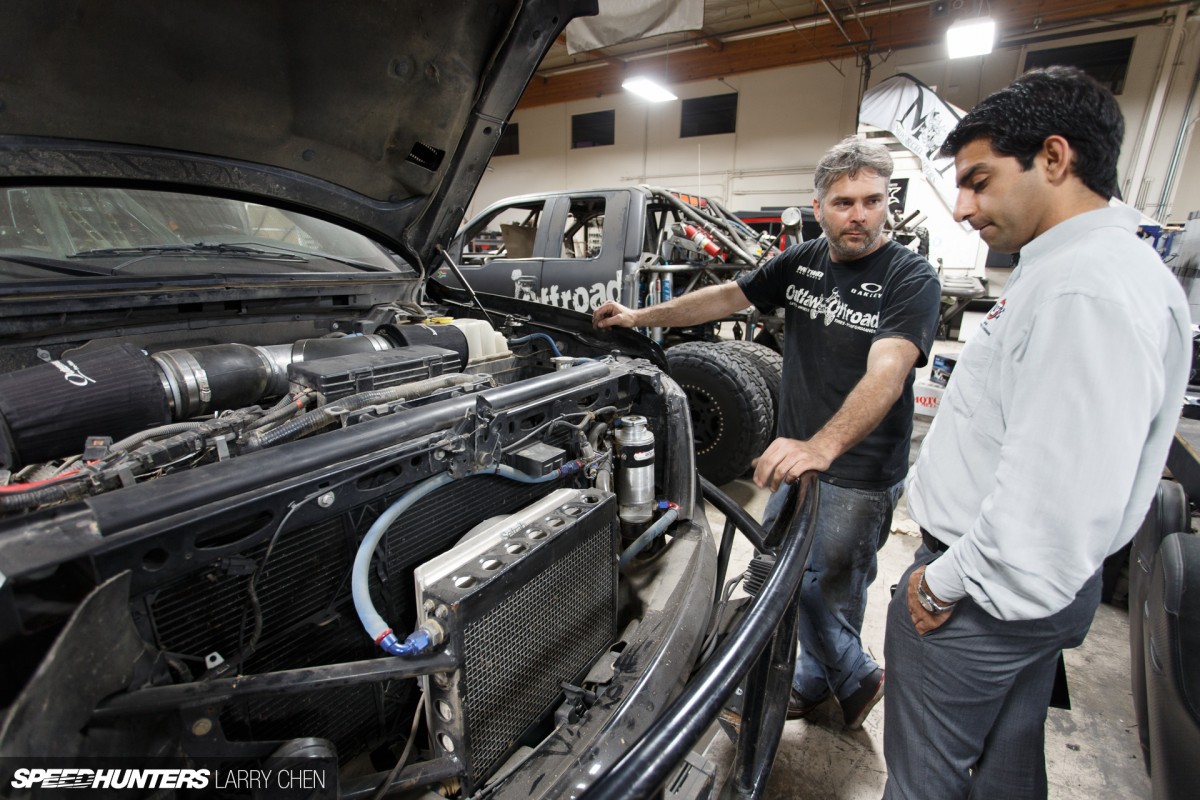 Marvin pitched the idea of a dual circuit cooler for power steering and transmission fluid, and Ravi tells me he's going to make it happen. You gotta love the role reversal taking place here. Instead of Ravi approaching Outlaw with a product that he thinks they need, it's all about working together, identifying problems, and then simply solving them. So today he's left with a challenge to create a new product that directly addresses a need. That's exactly why he's in this business.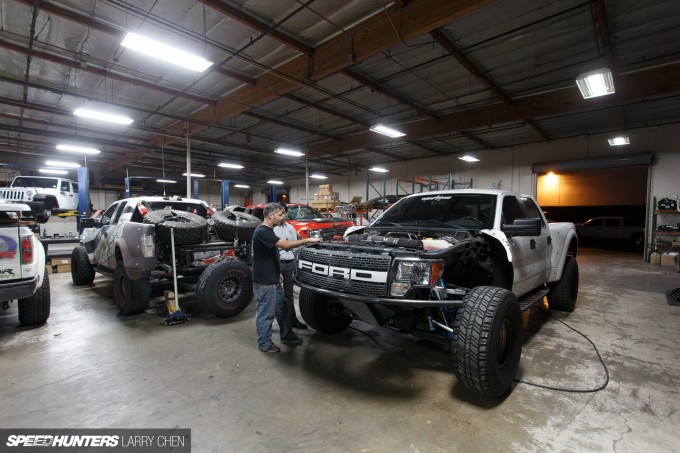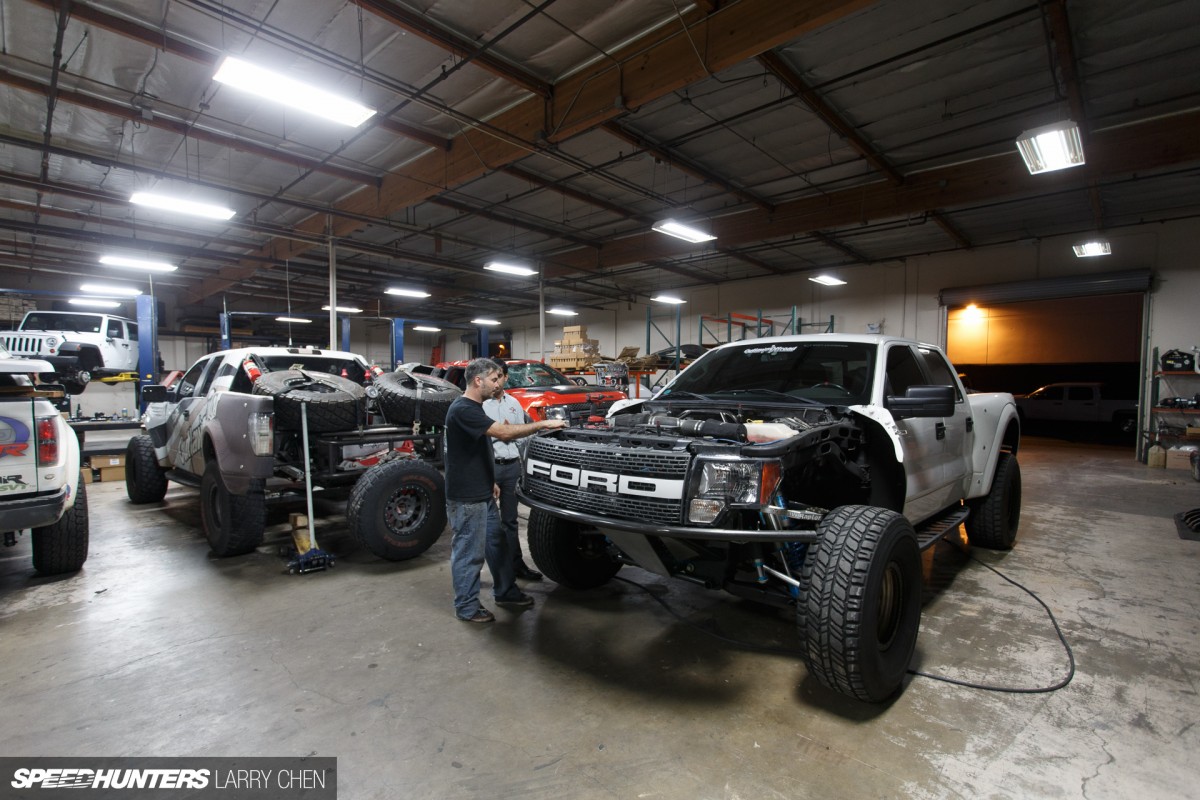 The best part about collaborations like this is that we as enthusiasts and consumers get to reap the benefits. Think about it: you have one of the foremost off-road builders and one of the most widely experienced race-prep workshops talking directly to a guy with four generations of cooling experience at his disposal, to make a radiator you can bolt into your own vehicle. And when these are just two of the many meetings involved in Ravi's day-to-day business, how can we possibly lose?
Next up I'll be fitting one of CSF's offerings to my own supercharged FRS project. With Arizona heat on its way, I might be the perfect candidate for a CSF radiator!
Keith Charvonia
Instagram: SpeedhuntersKeith
keith@speedhunters.com
Photos by Larry Chen
Instagram: larry_chen_foto
larry@speedhunters.com