Leaving Las Vegas
Keith handed me a valet ticket as we walked away from Holsteins restaurant just off the Vegas strip but I didn't put it in my pocket. I pinched it tight between my finger and thumb, eager to exchange it for freedom. The heavily meat-oriented meal I'd just wolfed down felt like the first proper food I'd eaten since breakfast on day one of SEMA. It'd been four furiously long days of photography, walking, meetings and good laughs but boy did I need to get out of there. Just hours before, we were running around and away from the Las Vegas Convention Center and now the 'Double Down' RTR Mustang was five stories below me in valet parking.
Steak and a very special RTR Mustang to play with? Maybe there is a higher power in this world.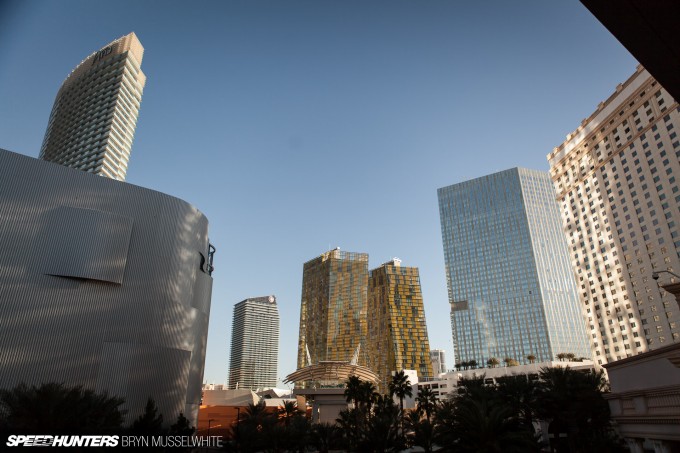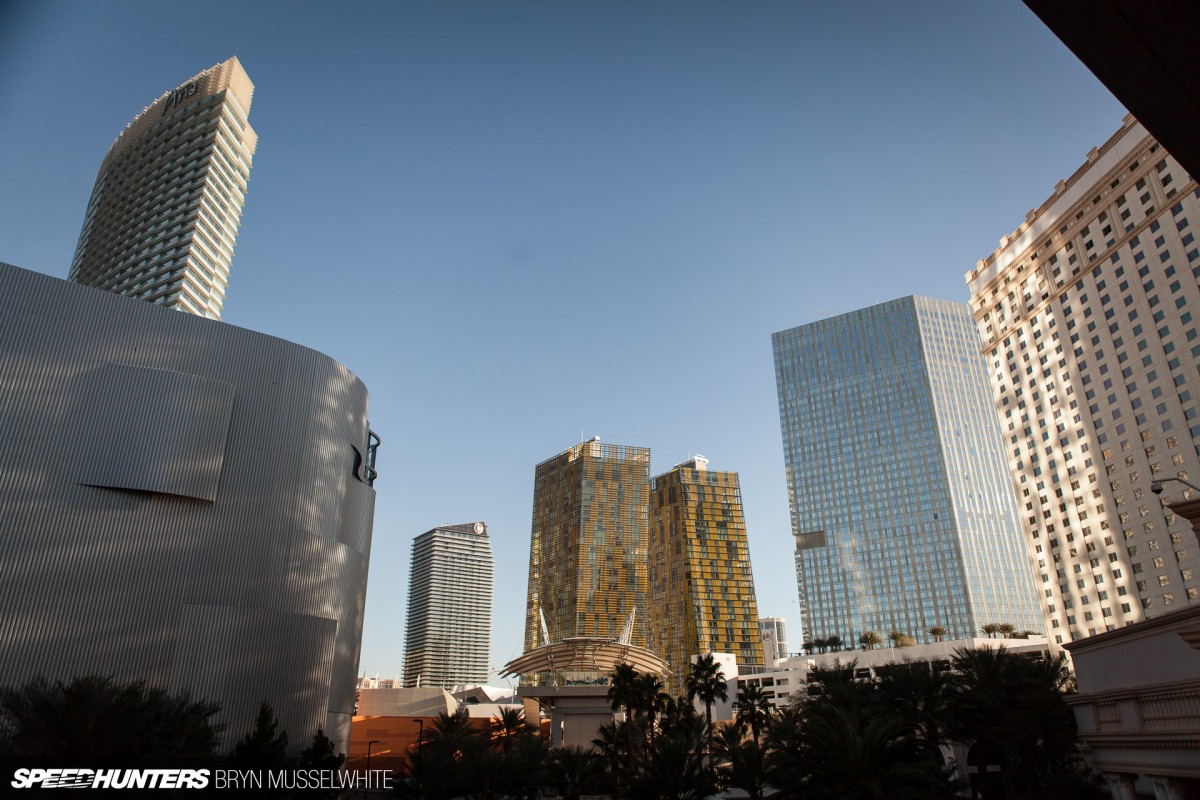 It was around 6am as I dragged my bags across the walkway from the hotel to the car park. Sleep was something I did before I took off from England six days previous and the early morning glow of a climbing sun glimmered on the glassy hotel surfaces around me. Now it was Bryn time. I love cities, I really do but the intensity of Las Vegas and the relentless pace of SEMA meant I now craved some fresh air.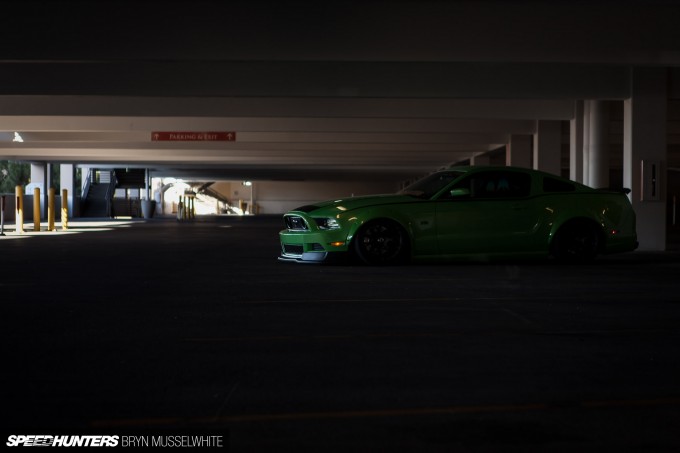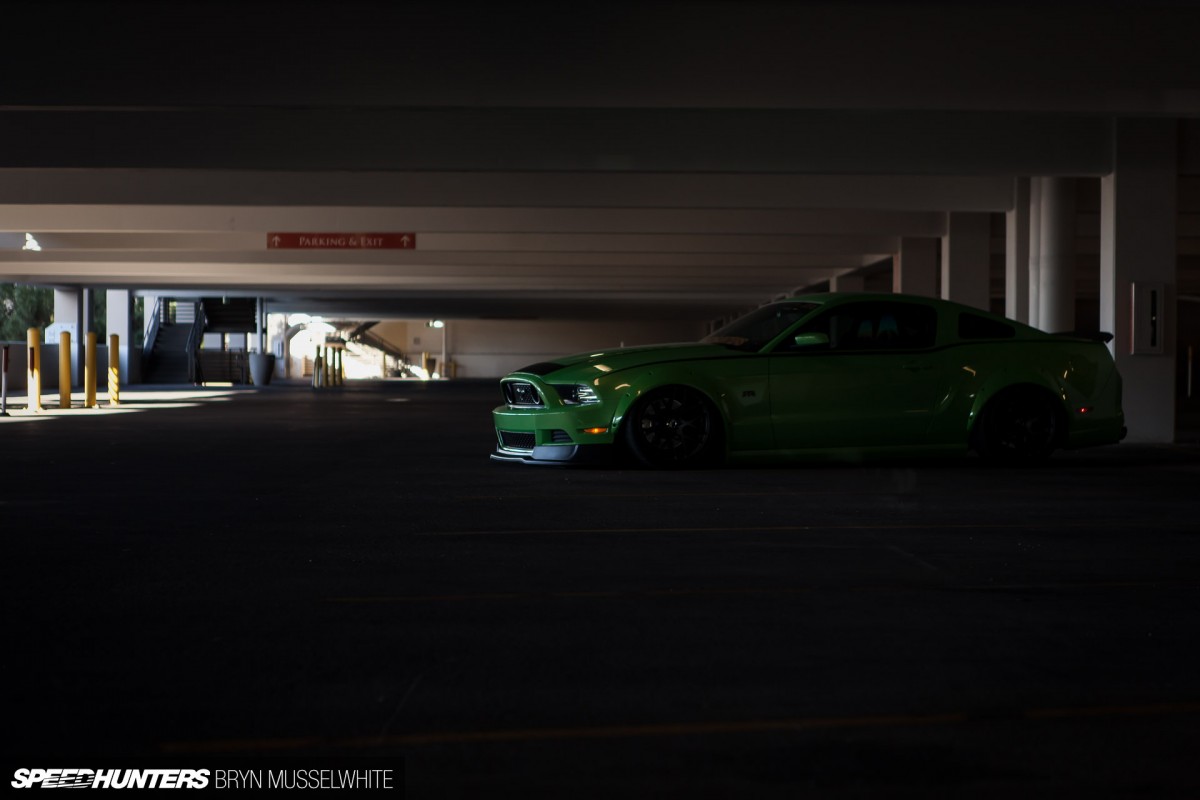 Some Nevada desert air to be precise. First I had to stop and take this picture though. I mean I just had to. I parked the Double Down in this bay the night before with the sole intention of making myself smile as I approached it in the morning. I'd released the pressure from the Air Lift Performance suspension and purposefully picked a quiet floor and side of the car park to ensure every chance of having the place to myself. Now here we are, alone.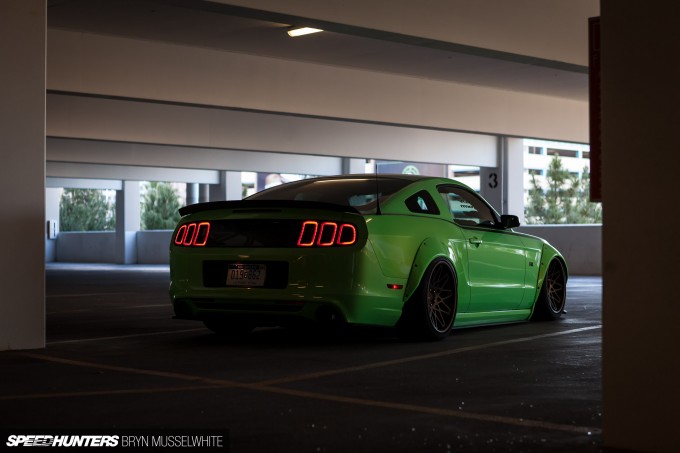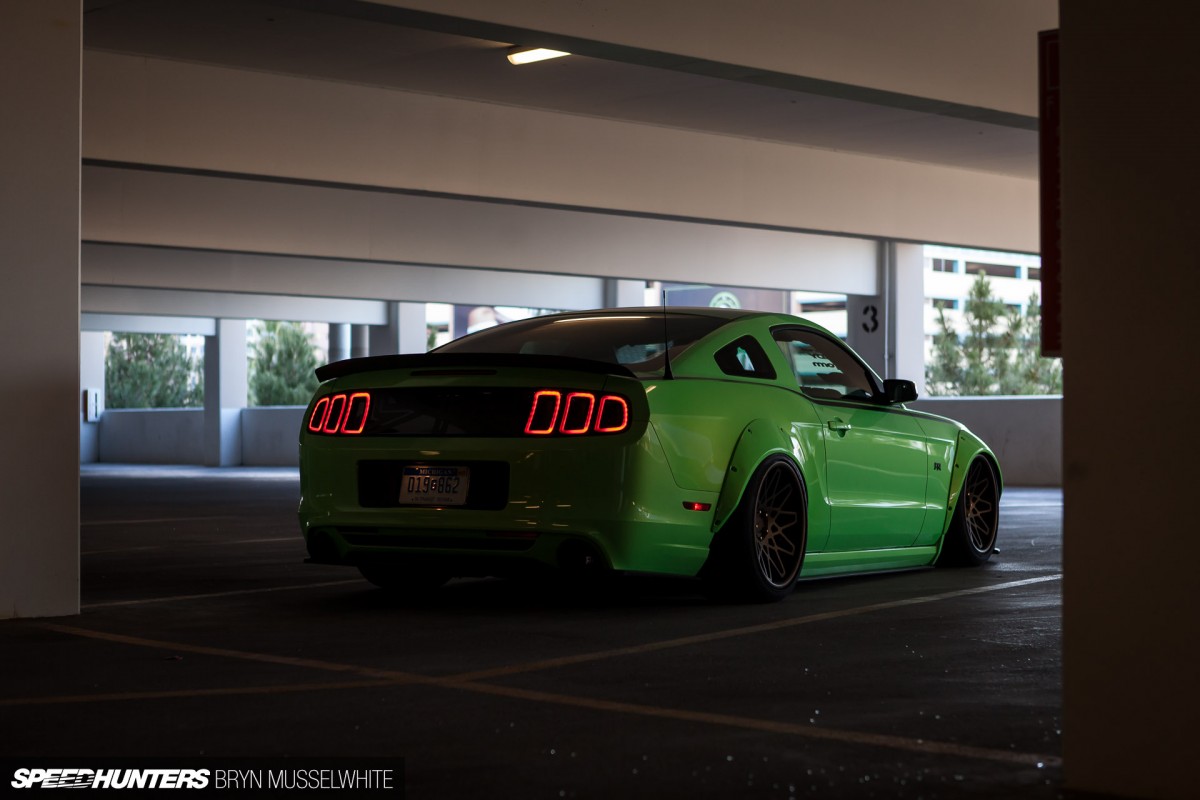 Circling around the Mustang and pressing the unlock button, the lights illuminated and so did my smile again. How good does it look from this angle? For SEMA Vaughn decided to go for a 'two face' look for the Double Down, so on the driver's side there are a pair of standard RTR wheels spaced out to fill those fender extensions, showing people what they would get from the showroom product. Then more importantly, on the passenger side are two custom-fit Rotiform BLQs, which just happen to be my favourite wheel in their line-up.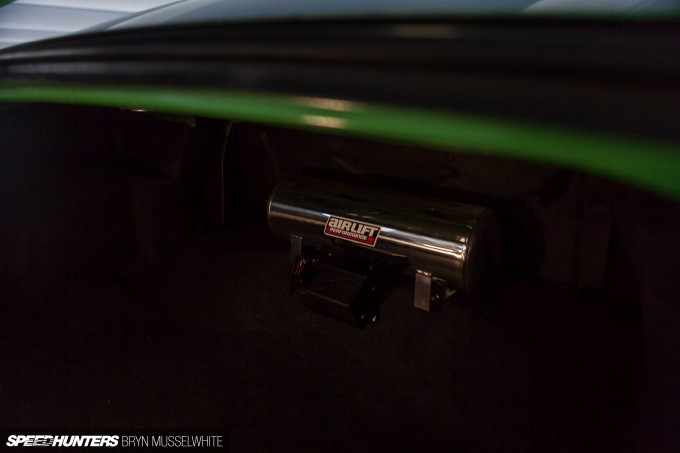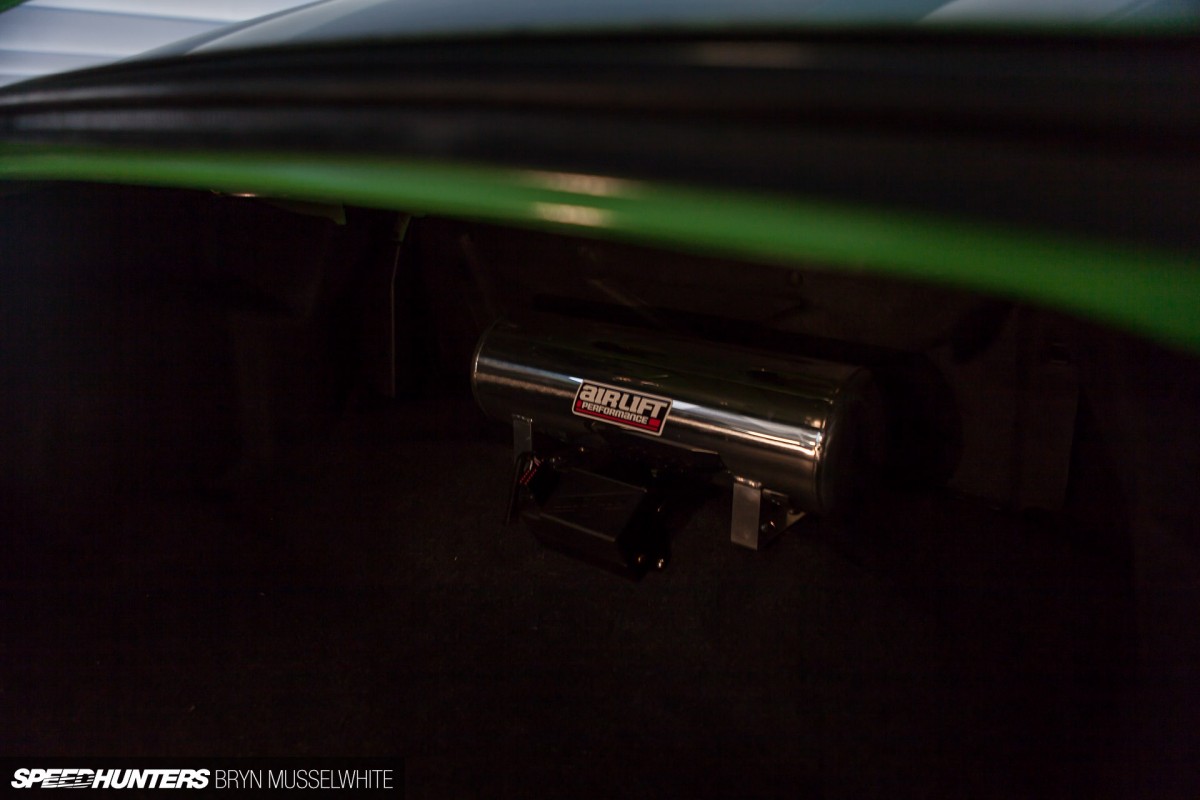 Popping the trunk (because yes, although I'm English, this is an American car and we're in Vegas) I was reminded of another reason why I wanted to escape Vegas in the Double Down. For years I've been fascinated by hydraulic and air suspension and when Air Lift came on board last year as partners I sat up and took notice. Could they be the ones to give me what I've wanted all along? Performance suspension that meant I could then lay a car out on the ground when done, stand back and admire? Now was the time to find out.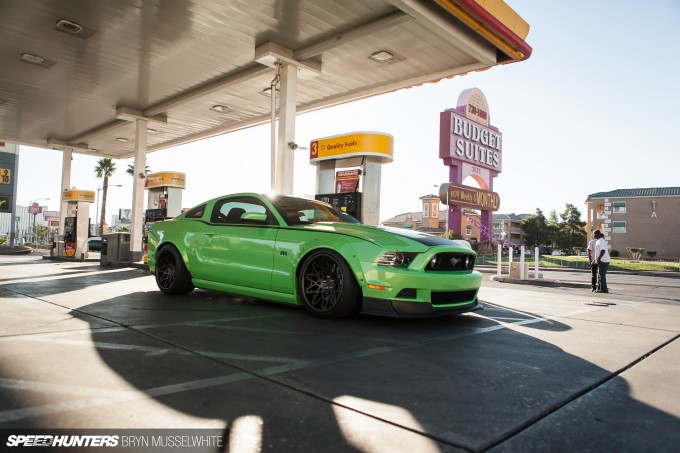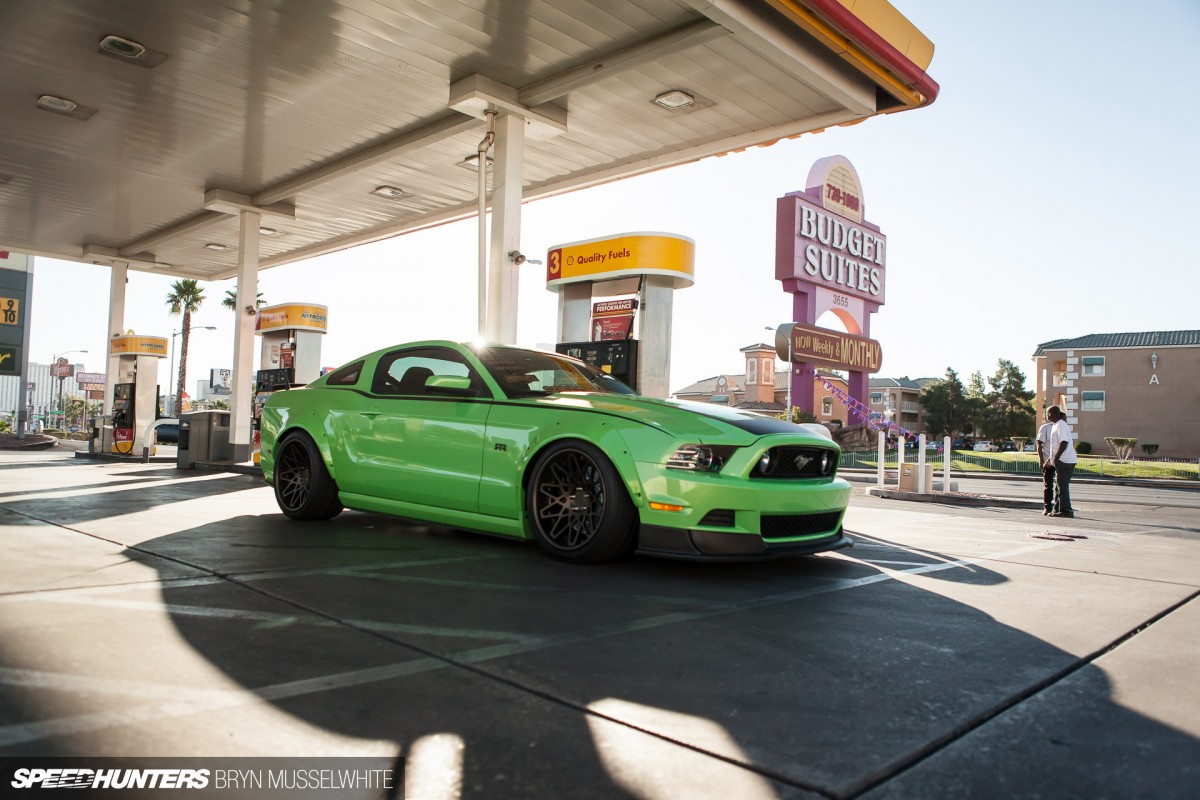 My first stop was for fuel and you can see here the normal ride height, which isn't some jacked-up, bouncing about stance, just a good amount of clearance whilst still looking good. Now this was where my ignorance as a Brit kicked in: the gauge had just started glowing yellow with the needle wallowing at the bottom end. Given that I was going to try and get a little wild if I had half a chance, I thought I'd stick $50 in which I figured would keep me going for a few hours and leave something for Keith to head back down to Arizona with.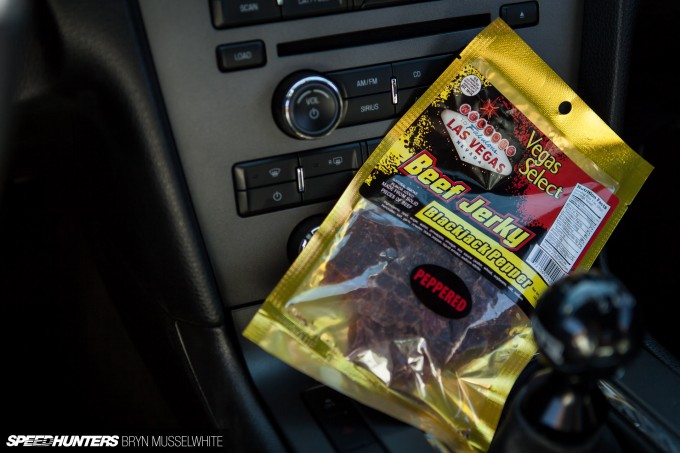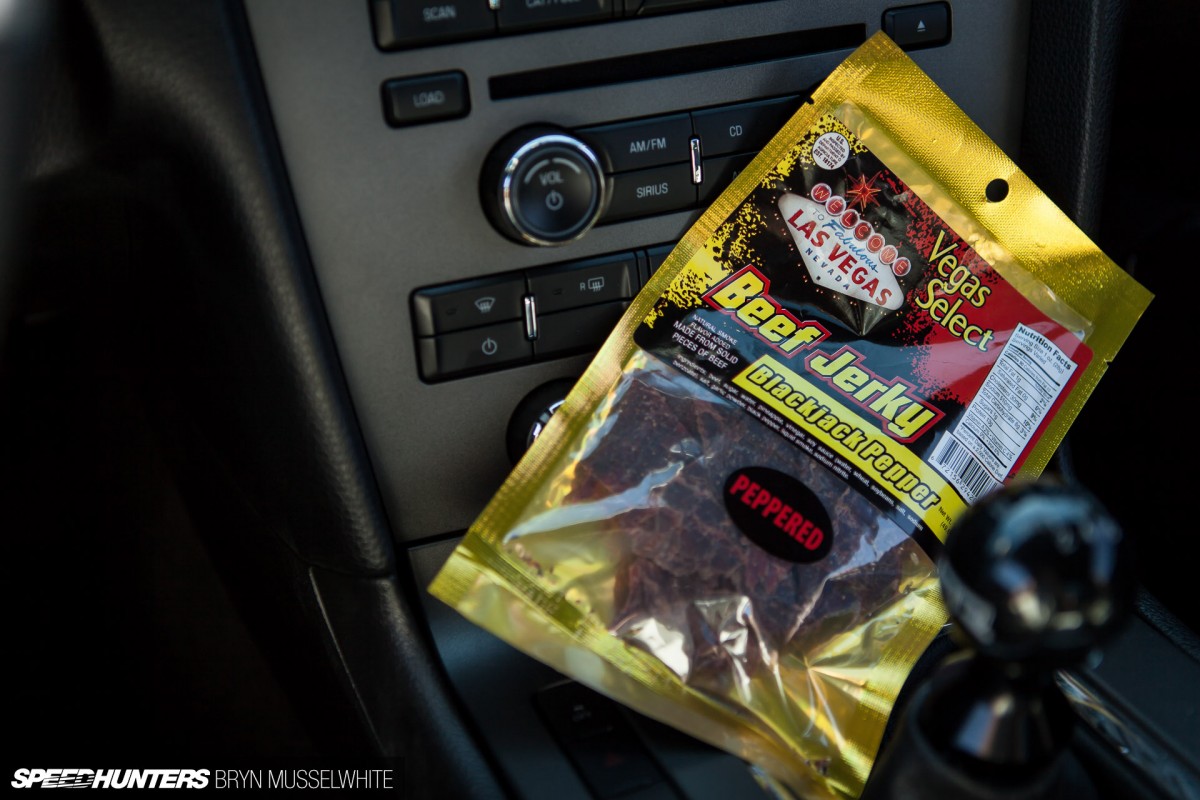 It was also a chance to pick up some breakfast. Jerky is breakfast, right? It's another thing that's painfully expensive in the UK. I didn't see any cows in Vegas, but hey, it tastes good.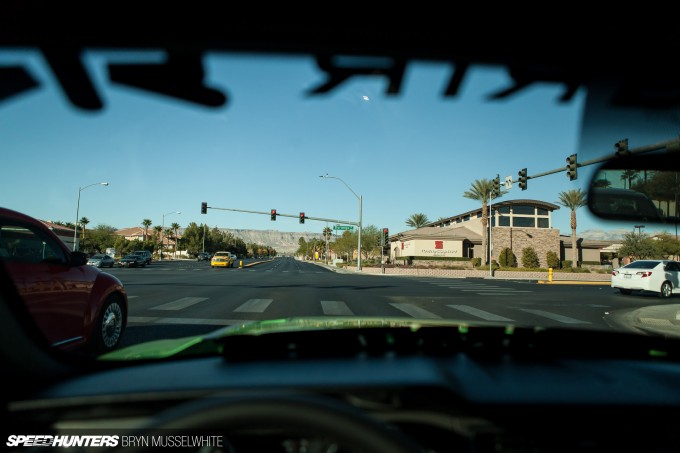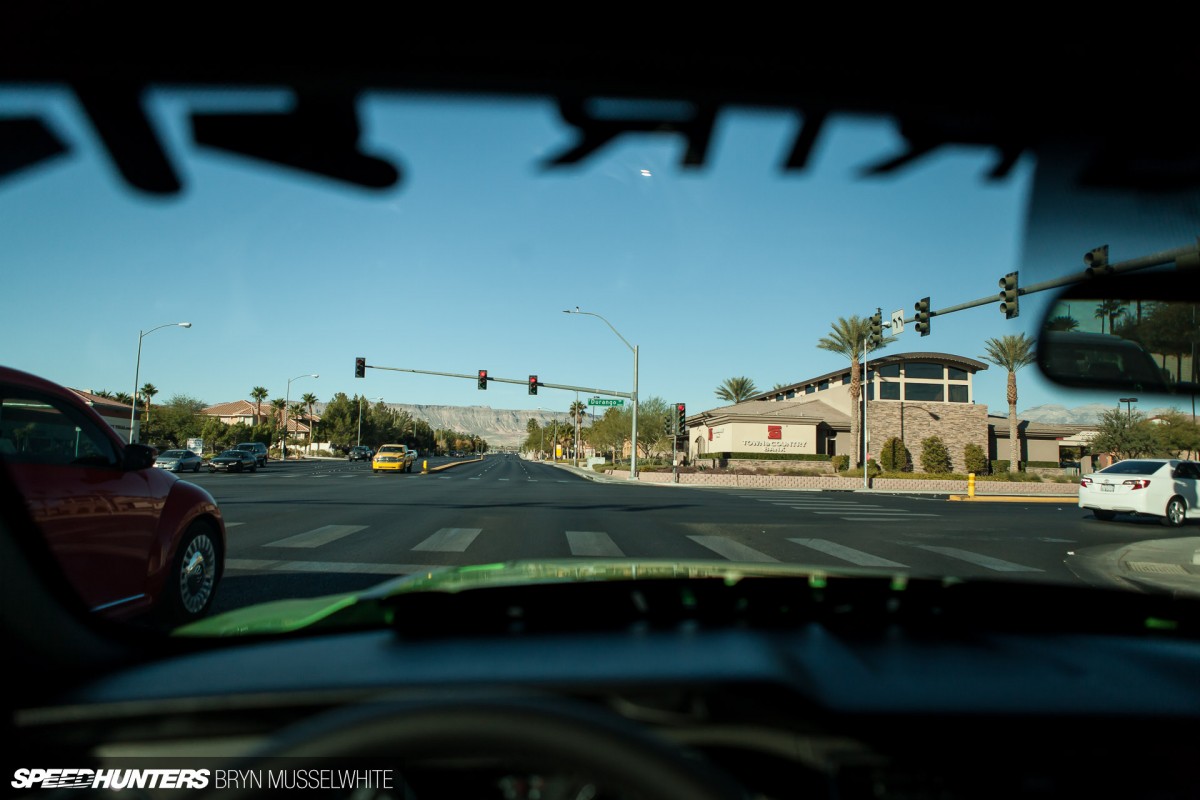 Climbing back in and heading out of town, I was amazed to see the tank almost brimmed. I'll only say it once my American friends, but you really don't understand just how cheap fuel is in your country. I've often seen and heard complaints about pricing in America, but if I told you the same fill-up in the UK would cost somewhere around $130 at current exchange rates, you can begin to understand why we don't have too many V8s as standard over here. I'll quickly add that I'd happily spend that though – in just a few short miles, the RTR and I are getting along great.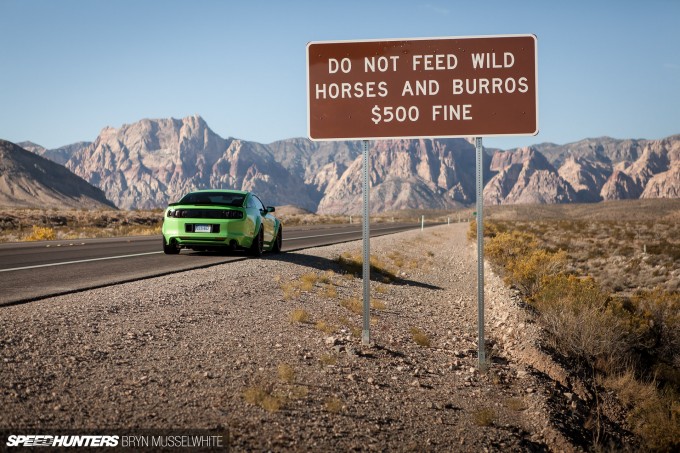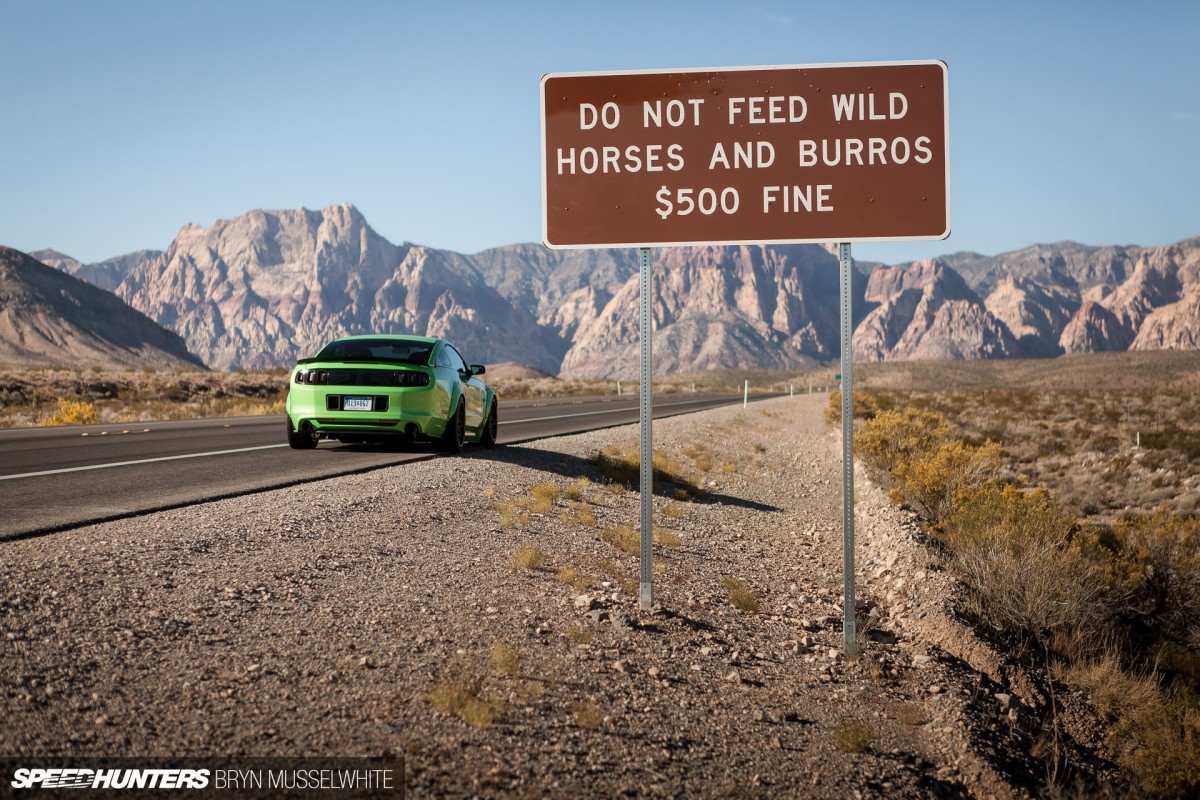 Which is just what I needed. In fact, I'm beginning to think the Double Down and myself have a lot more in common than I first thought. It was all very European in there and by that I mean well put together, considered and even a little bit luxurious. I was beginning to feel at home and at last, it really was just the two of us…
Ride the pony!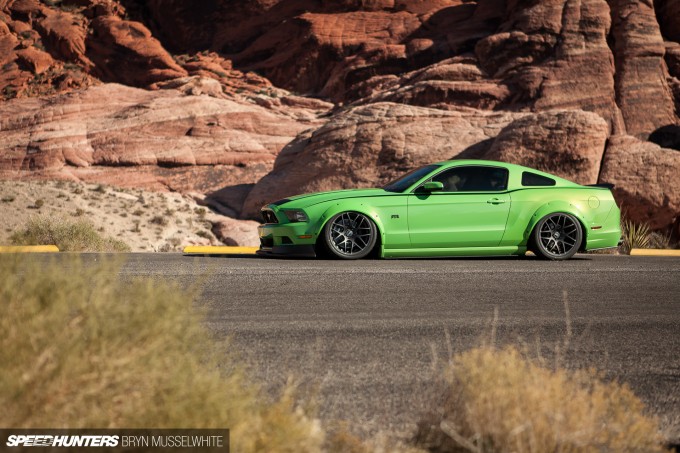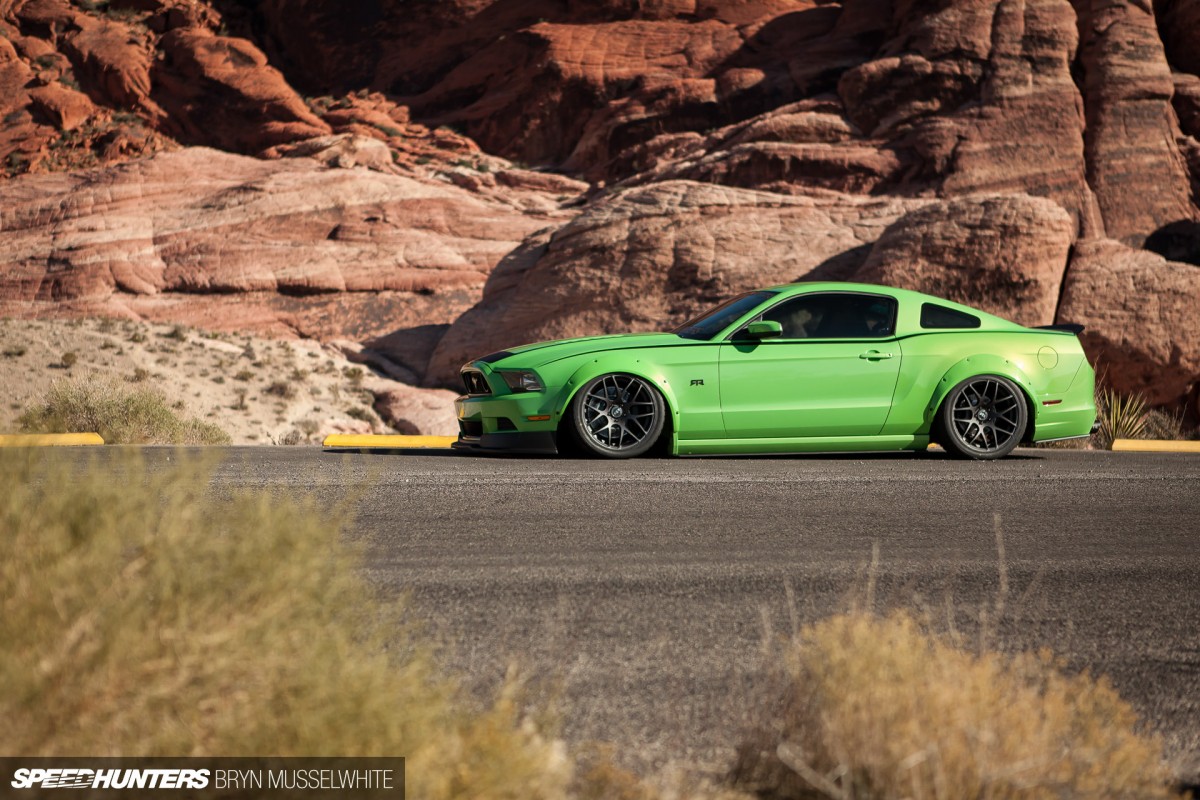 Looking at the standard RTR wheels, they have that meshed design which echoes back to the '70s and German touring car designs. I've owned a couple of '60s Mustangs and they were basic, with a flat driver's seat you slide across; loose, edgy tools that you knew would serve you well, but weren't exactly refined.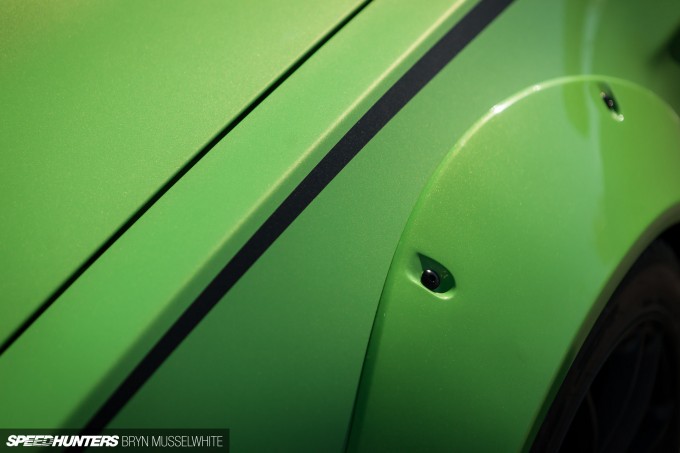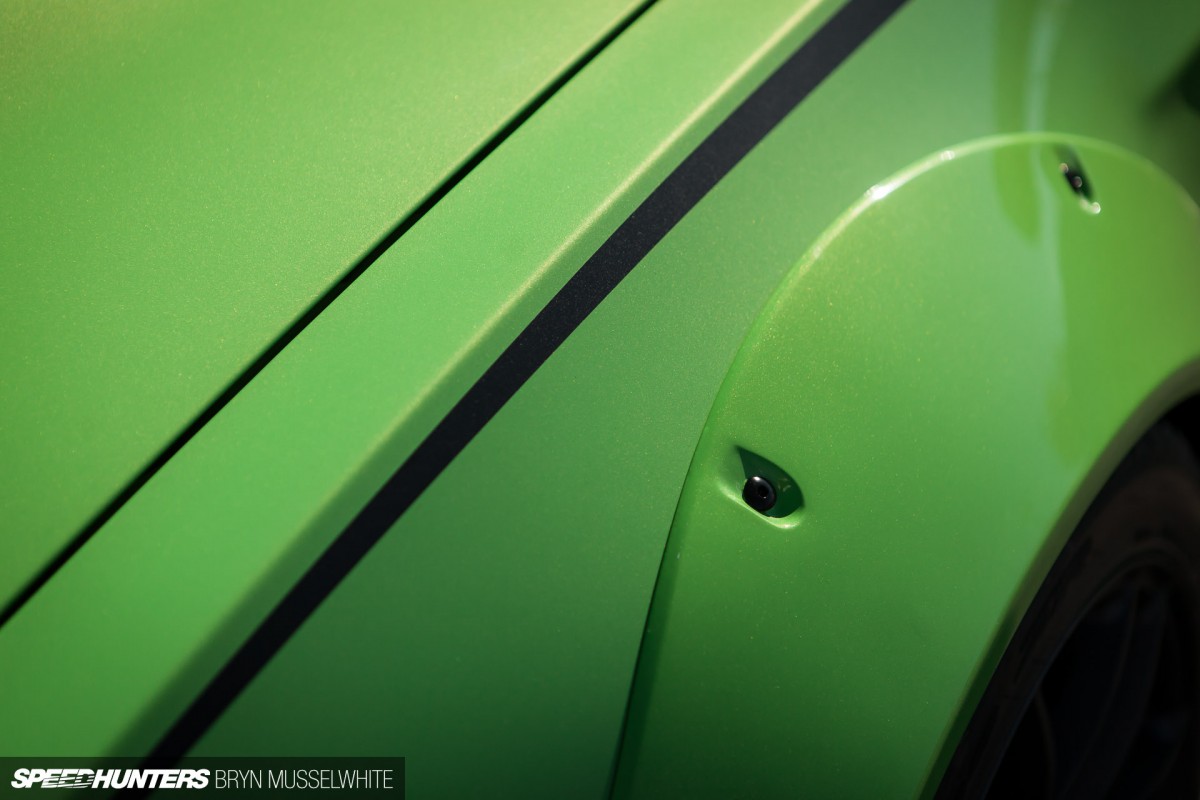 Because it's us and we love a bit of the works style, Vaughn also fitted a set of his RTR fender blisters, which really add a sense of width to that slab side view.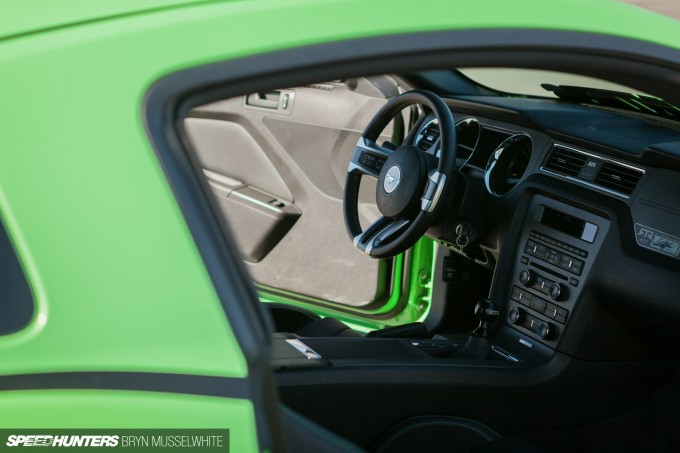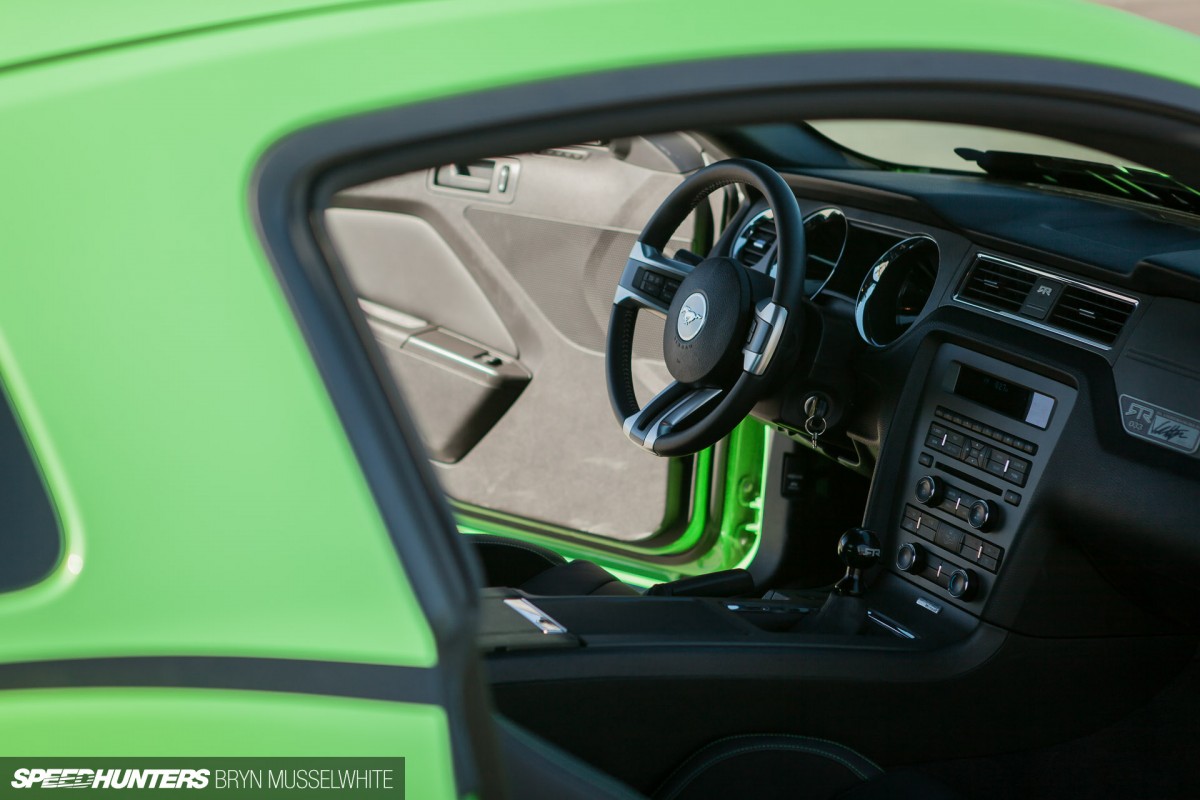 Now for all his raw, raucous, in-ya-faceness, Vaughn Gittin JR is also a well-travelled, educated guy, so it made me smile that already I was starting to see the parallels between the RTR and the man behind the concept. This is a good place to be and the standard interior of the 13MY Mustang is a great base for the project.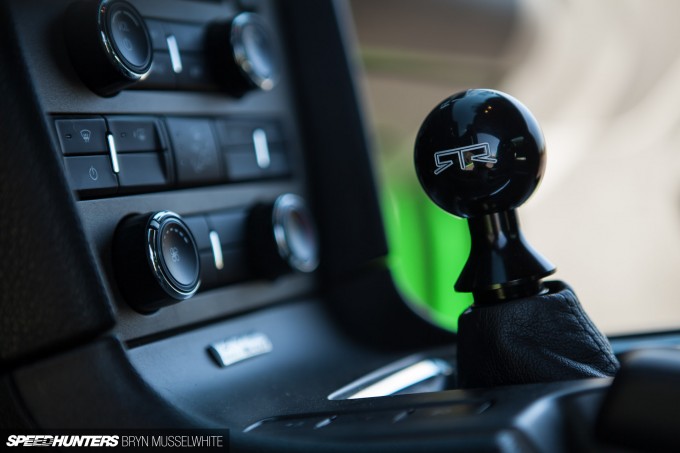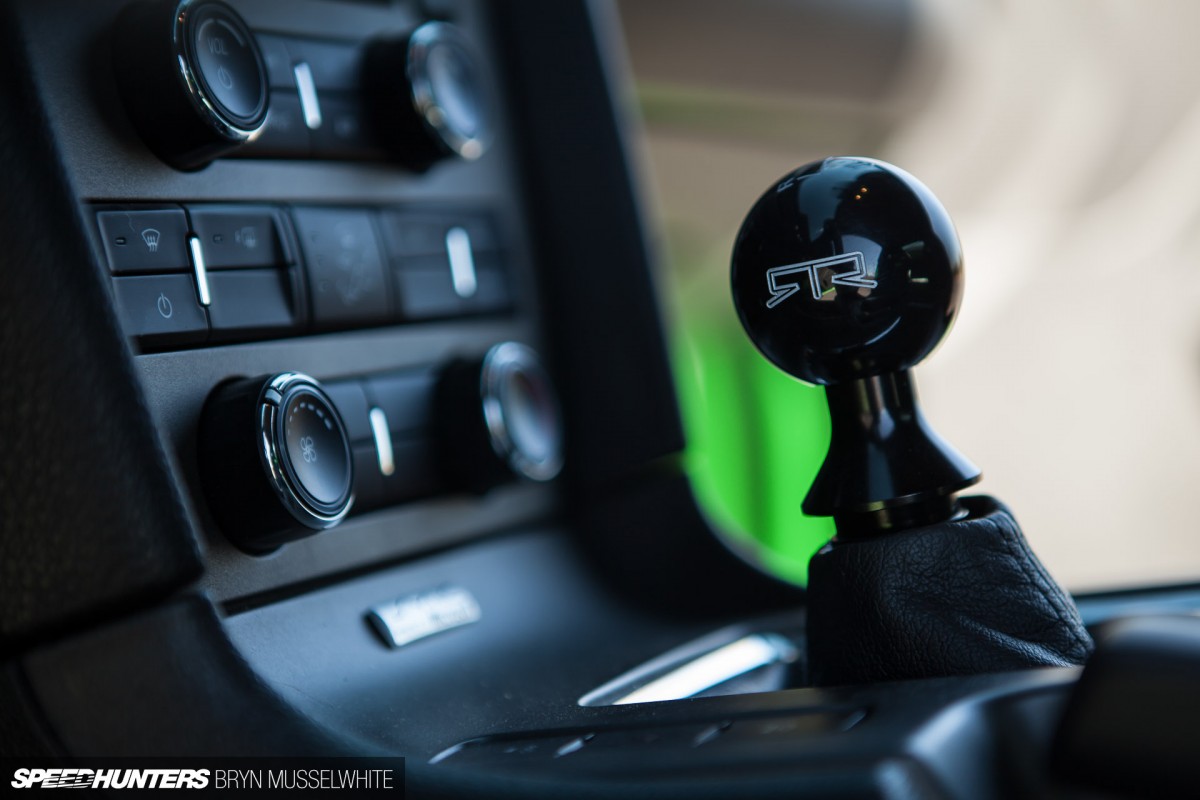 Just in case you didn't know, RTR stands for Ready To Rock so this was never going to be a V6 auto was it? Well actually it was an auto, but Vaughn had it converted to manual and an Exedy uprated clutch fitted. Being a European, I'm a massive fan of manual transmissions and I've been lucky to experience a lot of left-hand drive vehicles over the years, so sitting on the 'wrong side' doesn't mean that much to me. Shifting is shifting; the Double Down felt alive and I could feel my shoulders rolling back into the seat, the weight lifting off them with every prod of the throttle – and once I knew how cheap the fuel was, I wasn't going to be shy about using as much as I could.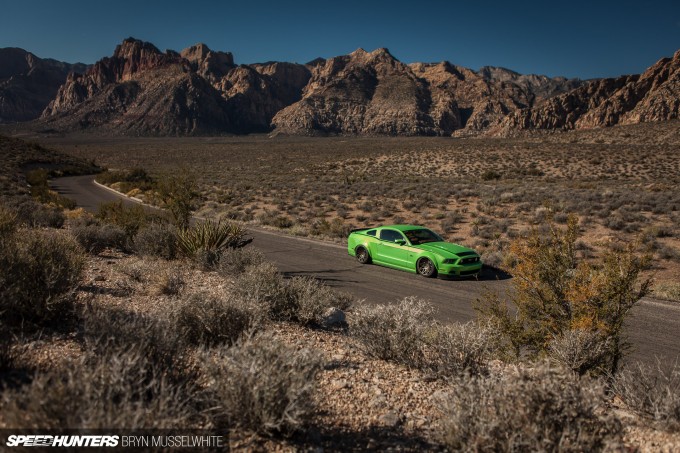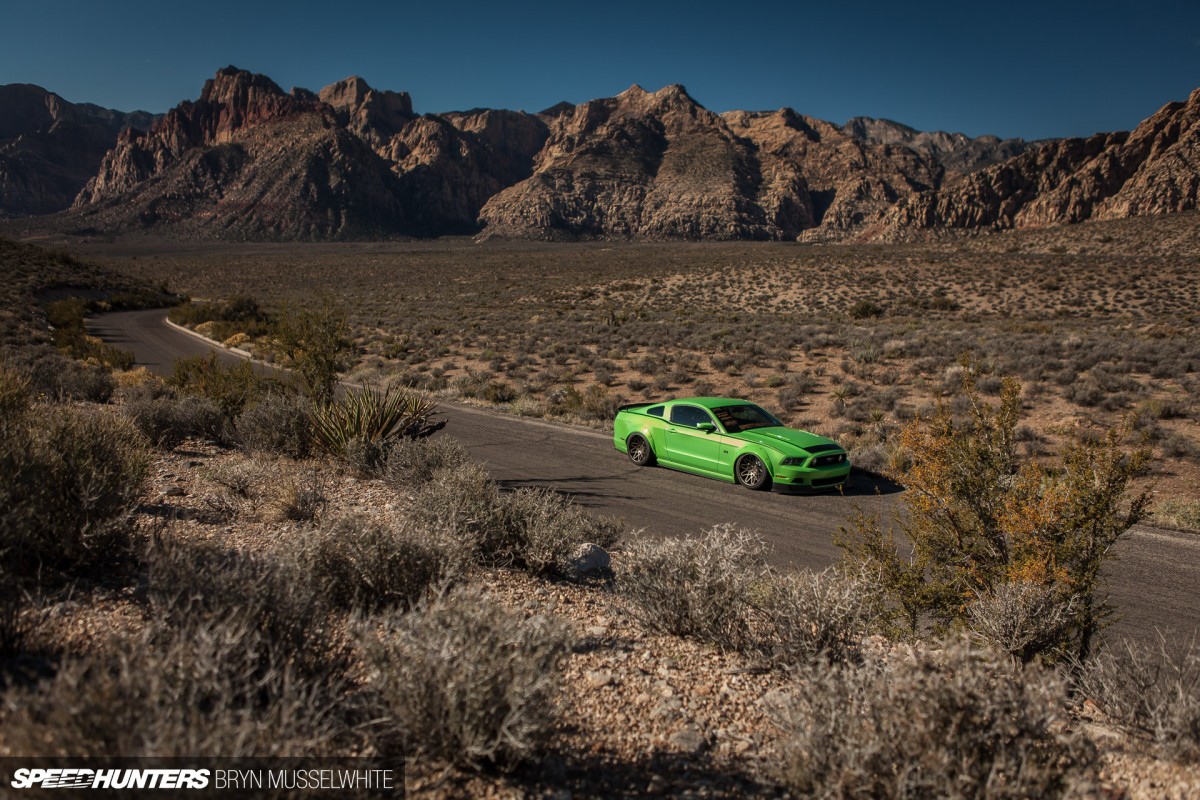 And breathe deep… Man it was good to be out of the city. I could feel my skin soaking up the early November Vitamin-D-laden sunshine – after a week of fake lighting and conditioned air, this was exactly what I needed. I'm fairly sure if anybody had seen me right then they'd think I was a little odd. Arms outstretched and head tilted back to the sky, grinning widely, surrounded by scrub and rock. With an absolutely kick-ass Mustang sat waiting for me. Maybe they'd think I'd put it all on red and come out a winner?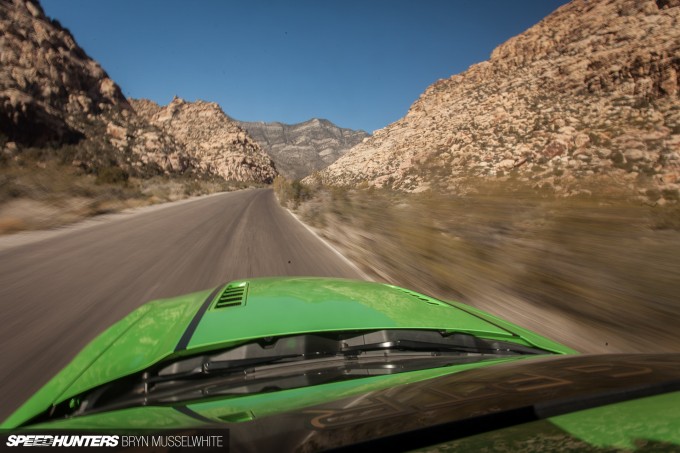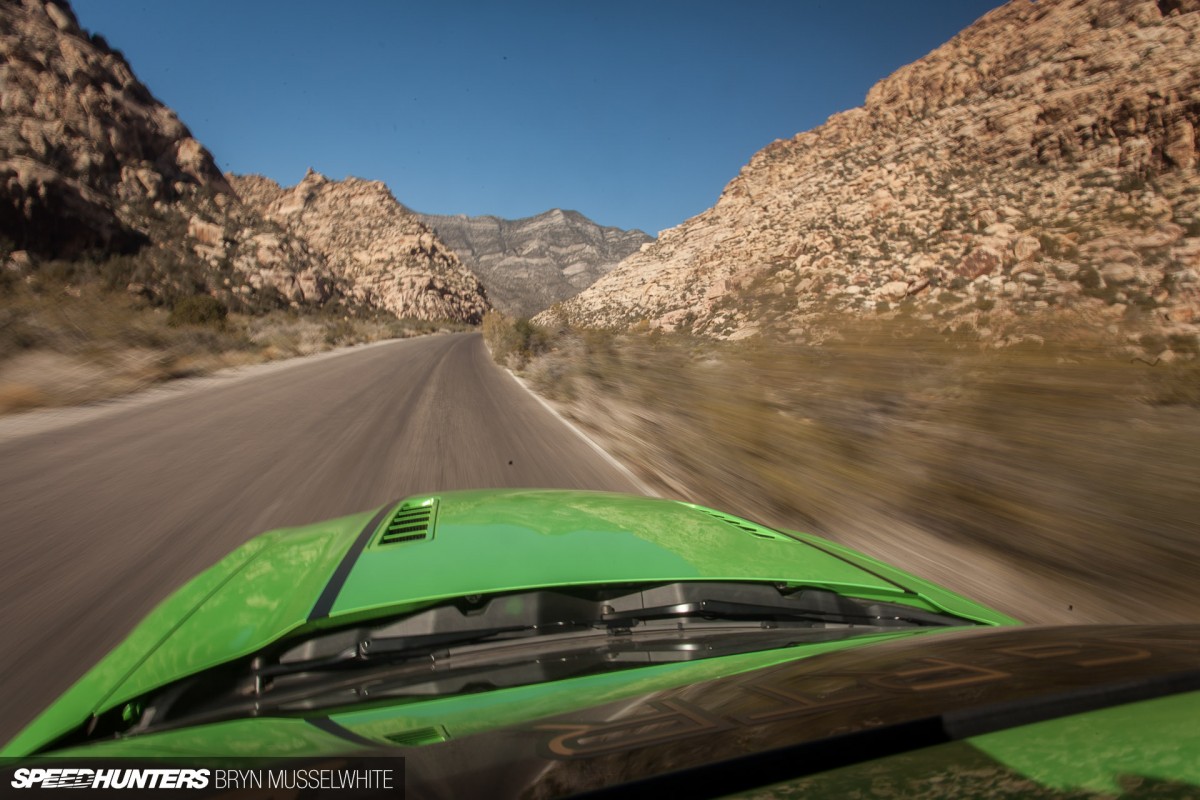 The travel that we get to do as Speedhunters is a gift, it really is. For every cramped and smelly cattle class seat I've gone numb in on a long haul, there are moments like this. The 5 litre 'Coyote' V8 gets a Ford Racing Tune which adds 16hp – a pretty random figure if you ask me but what I really noticed was the +60lb/ft of torque you get at 1500rpm.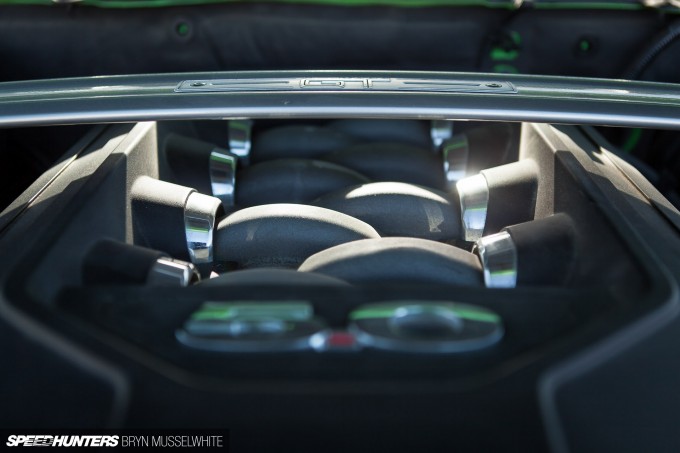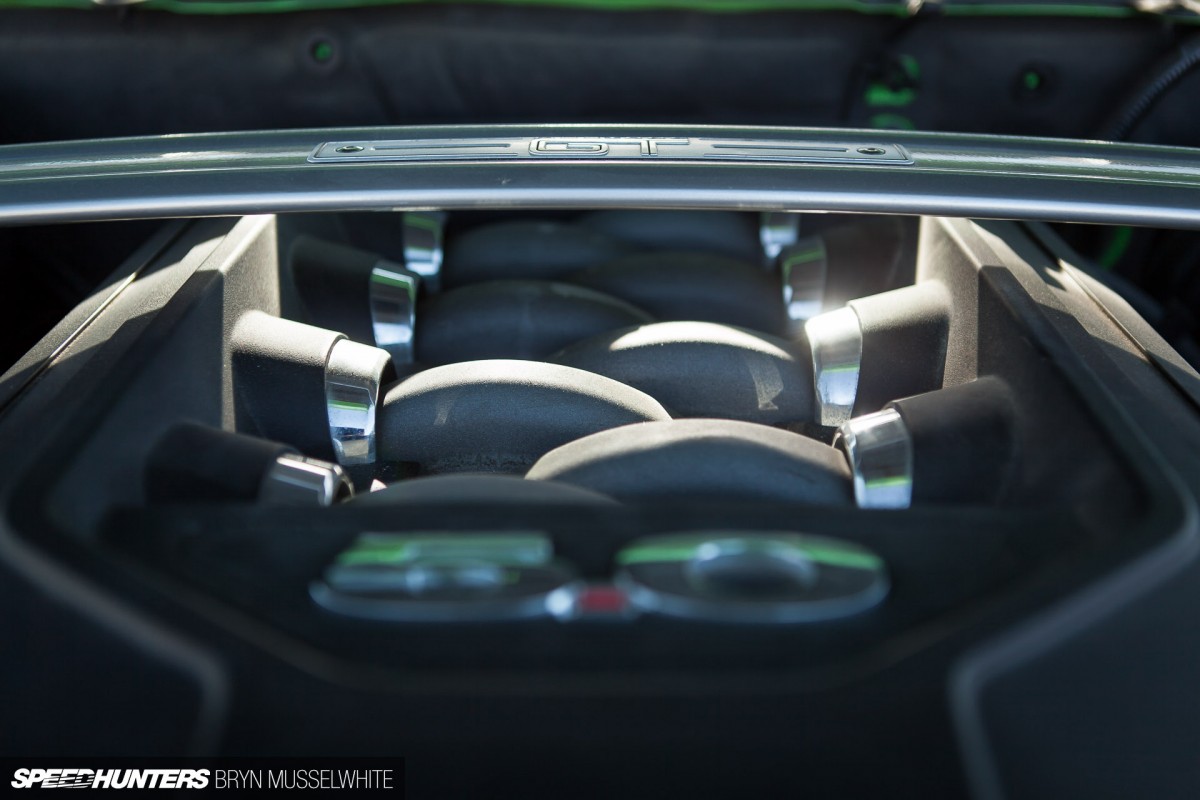 The motor gets to gulp air a bit easier with a drop-in K&N filter, but I didn't notice any intake noise over standard.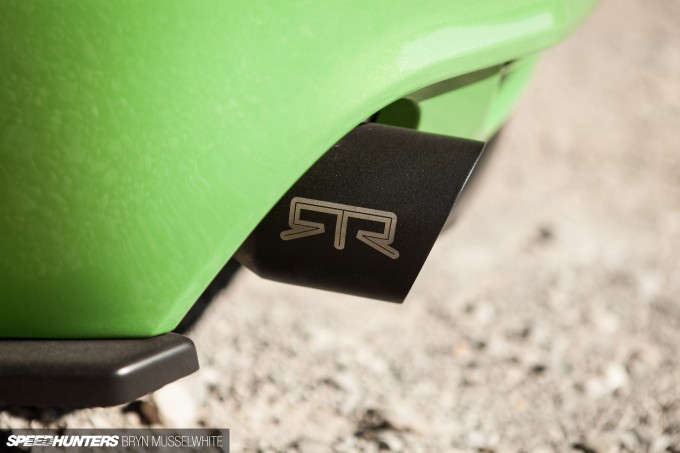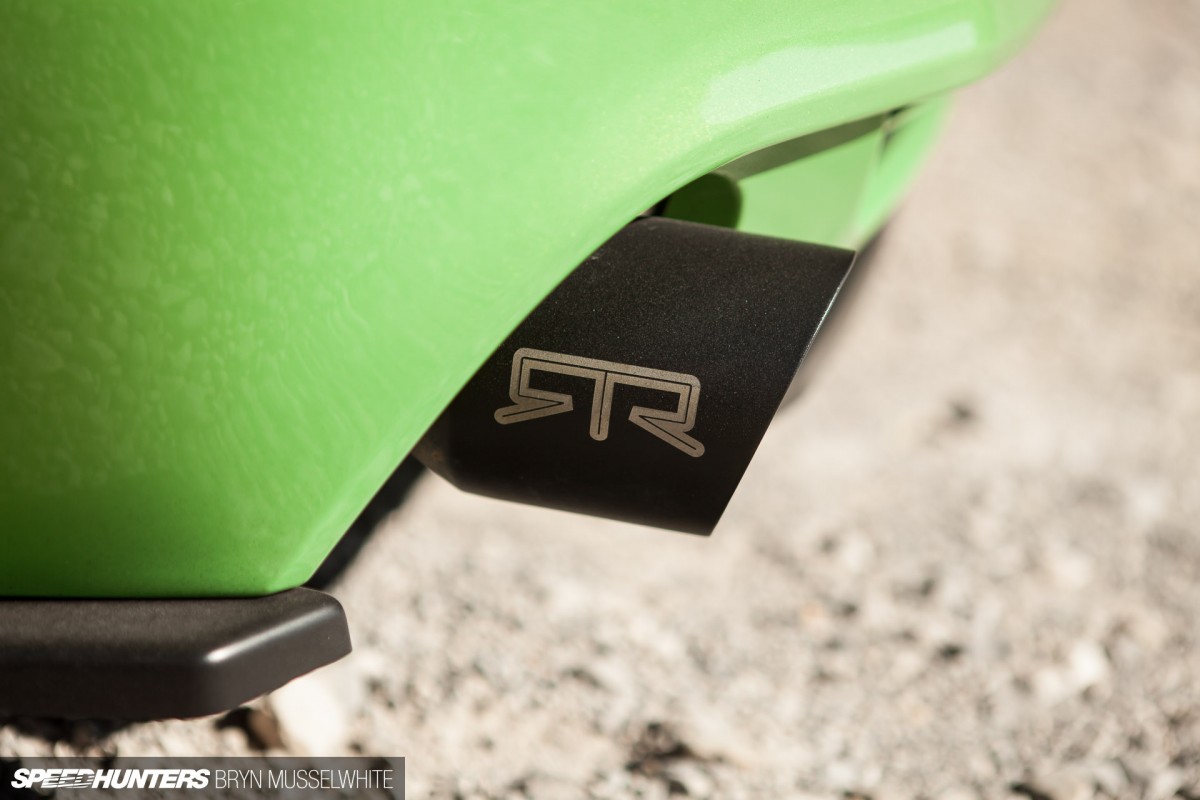 Not that I'd really hear it because I was laughing whilst driving. There's an axle-back exhaust package which gives another +9hp on the V8 model and I was far too busy jumping on the happy hammer and abusing the RTR to care about intake noise. This thing is hilarious!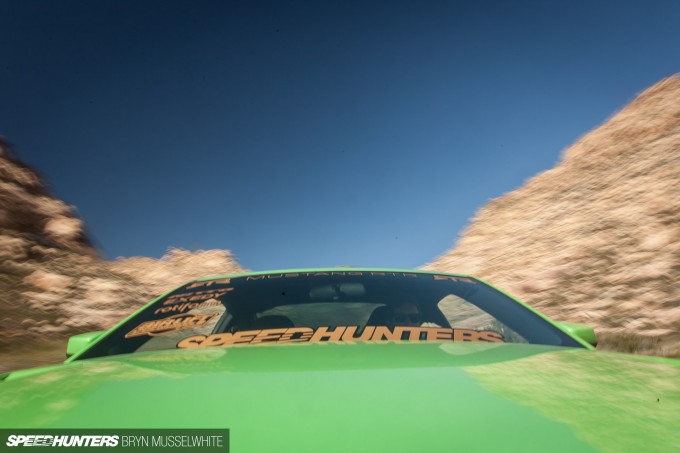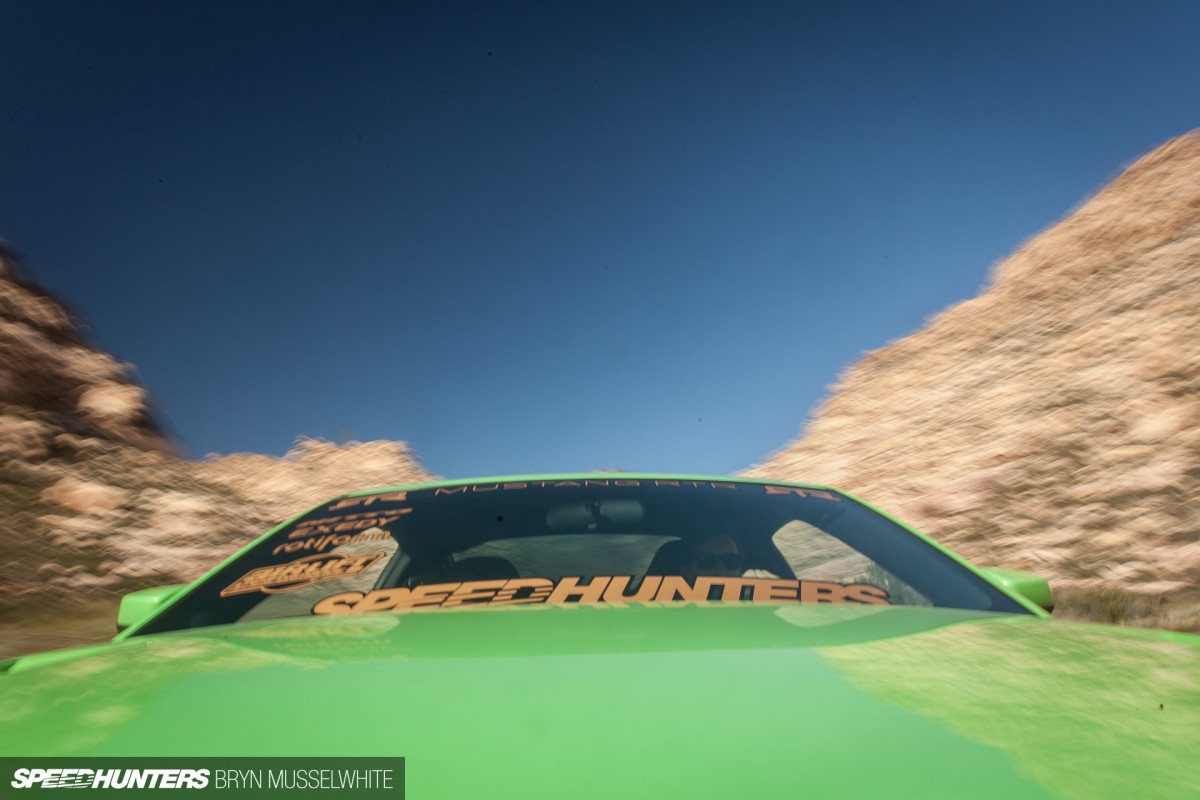 The RTR is like your best friend: normal and composed as they stand next to you, but as you prod the throttle, it's as though it says, 'Oh you want to f**k around do you? Really? Okay then…' With 420hp as standard and my bad maths to work out the additions the RTR has, we must be up to around 450 now. That's from a virtually stock engine. How much fun would this thing be with a turbo or supercharger fitted? Vaughn, what you saying?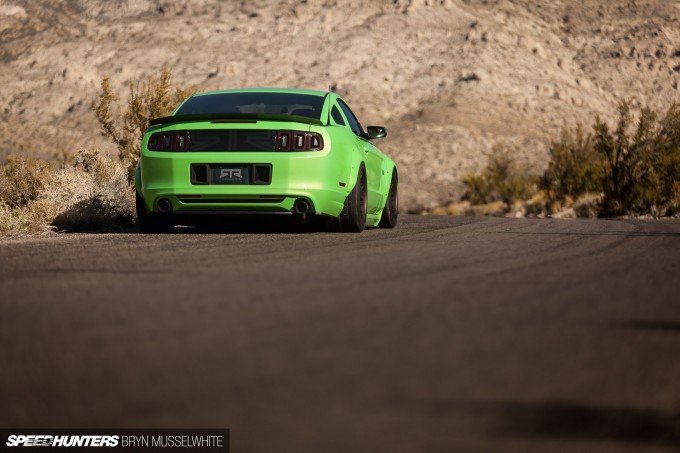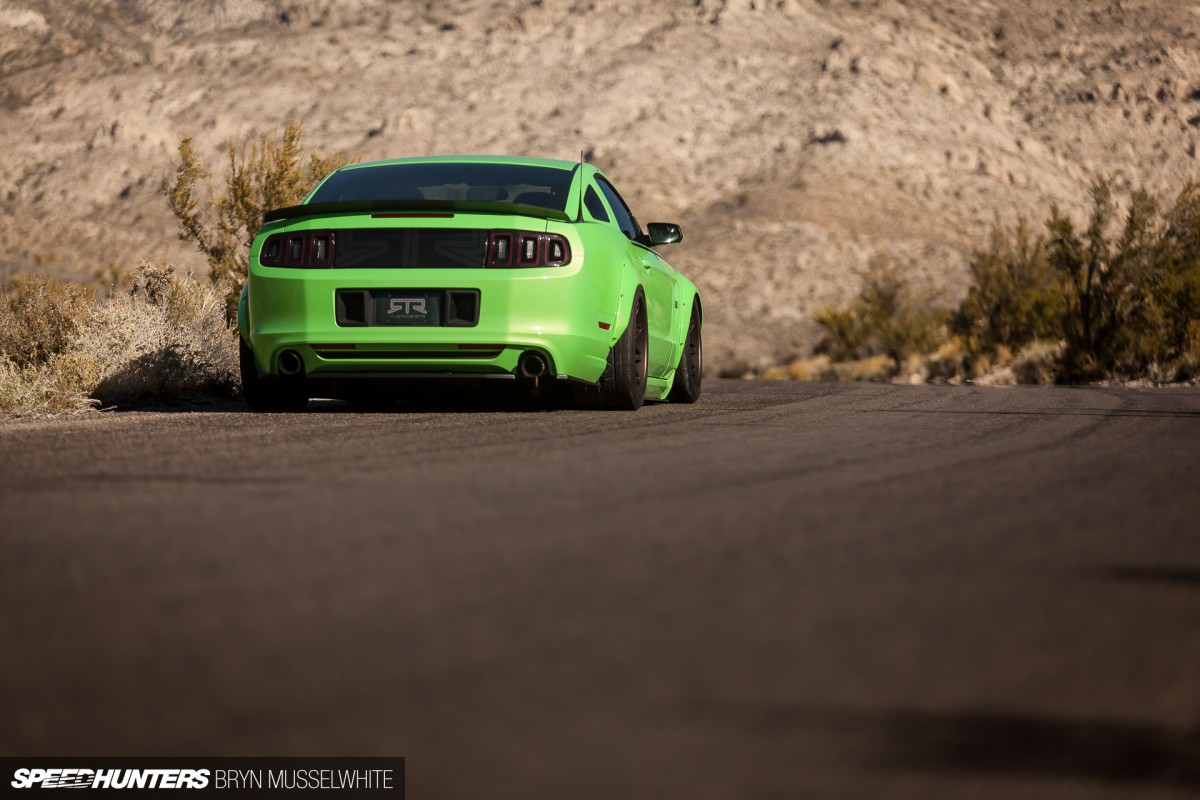 Whenever I parked up for a break and some more pictures, I just had to lay it out. It might sound childish to those of you who think it's a gimmick, but trust me, if you allow yourself to do it, the simple act of pushing a button brings a smile each and every time. Would I ever get bored? I really don't think so. When a car is designed, you don't have wheel arch gaps or ungainly ride height, so for me this is how it was intended to look!
Air lifted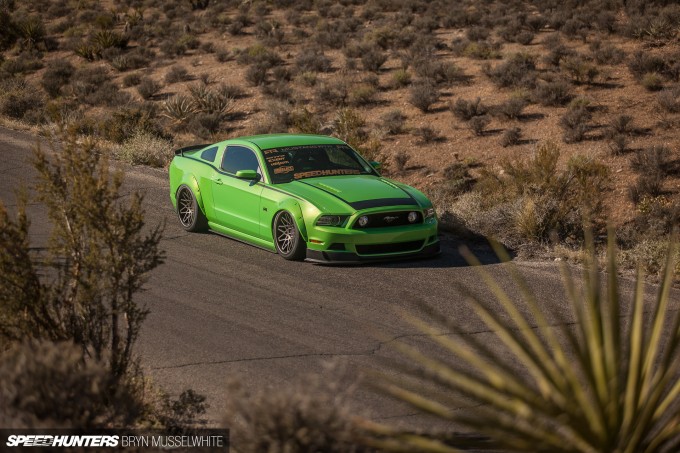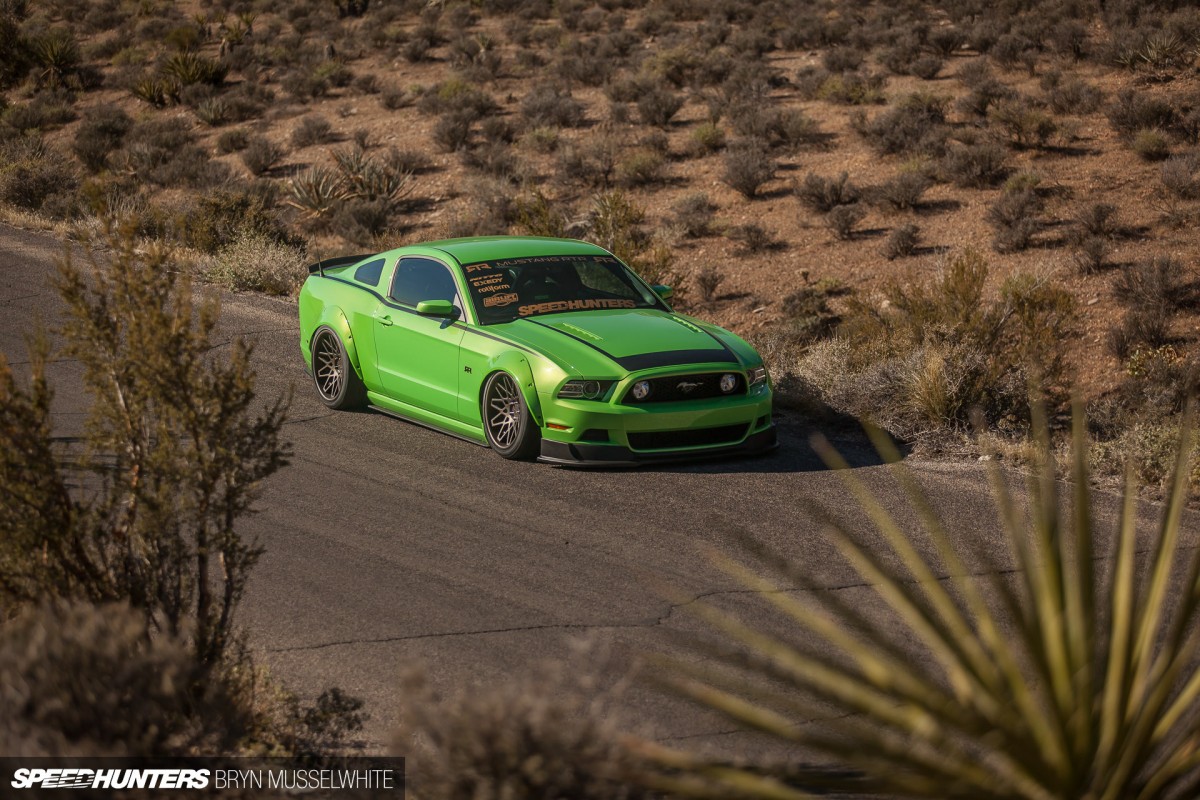 If you've wandered this far with me then I'll bet you're wondering how well the Air Lift Performance suspension works. We showed Brian from Air Lift and Keith fitting the kit in the run-up to SEMA and as yet, Vaughn is still trying to get the chance to properly beat on the Double Down and prove to himself whether it works or not. Sure Air Lift are one of our partners but our philosophy here is that stuff has to work. We're not going to mindlessly plug something because you guys would call us out on it in seconds, so it helps when you work with long-standing industry names.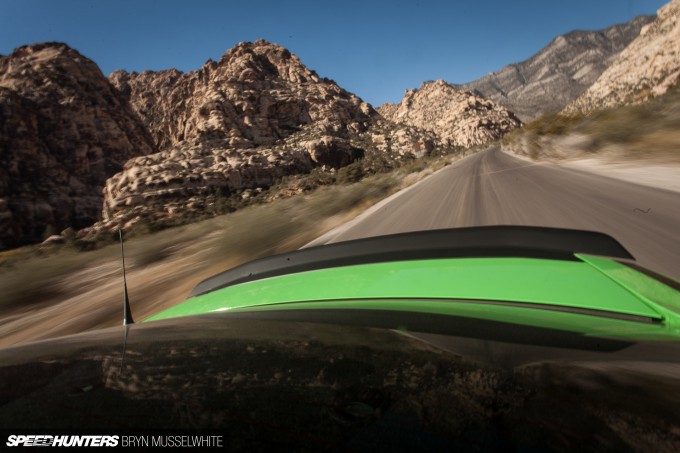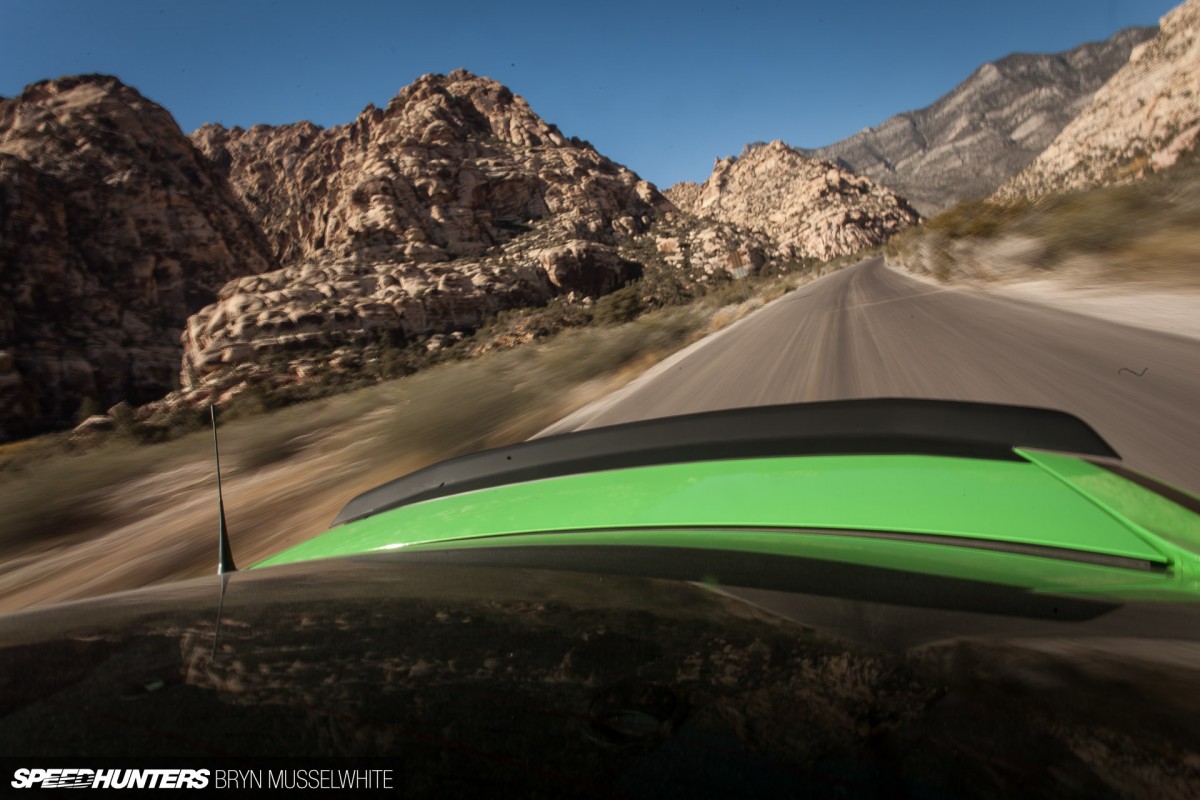 Like I said at the start of this article, I've been looking for a suspension technology that can give me great non-competitive track use, out on the road fun and not put my girlfriend off from getting in the passenger seat. Which is quite honestly what I've got here. Now I'm no Vaughn Gittin Jnr so I'll look forward to his take on things but from my point of view, this is ace. Imagine the ride a great set of coilovers gives you, but just when they run out of travel and things get all stiff, you don't get the harshness attached. Kick the throttle and the back sits down initially as you'd expect and it's as though the last 10% of travel is like a tiny crash mat absorbing any unwanted discomfort. Momentarily noticeable, but in reality?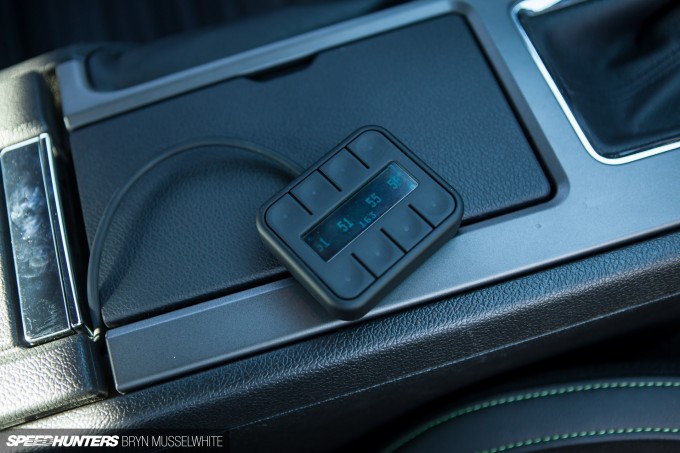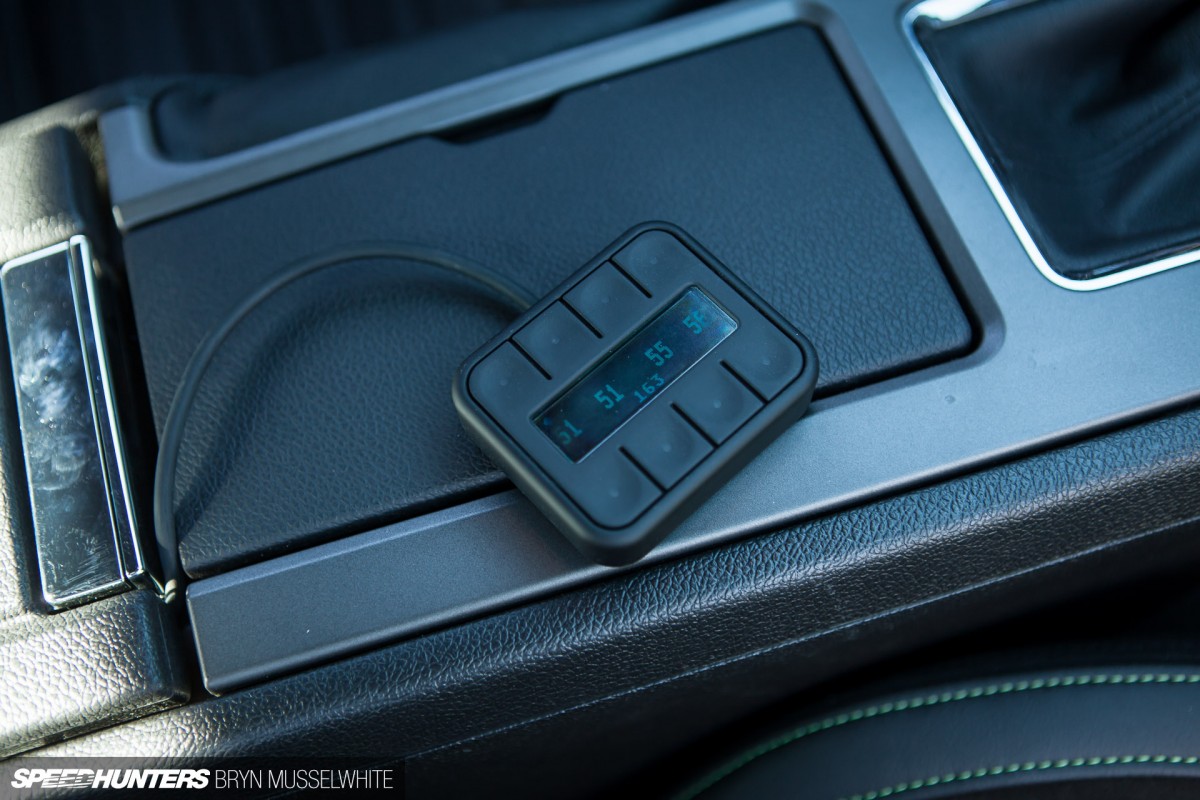 Aside from the tank in the back, the only other intrusion (if you can even call it that) is the control box hidden in the central console. Easy and intuitive, Keith ran me through its use remotely before I got to the Double Down and it was as straightforward as you'd hope from the get-go. At normal ride height, you'd never know this thing is on air.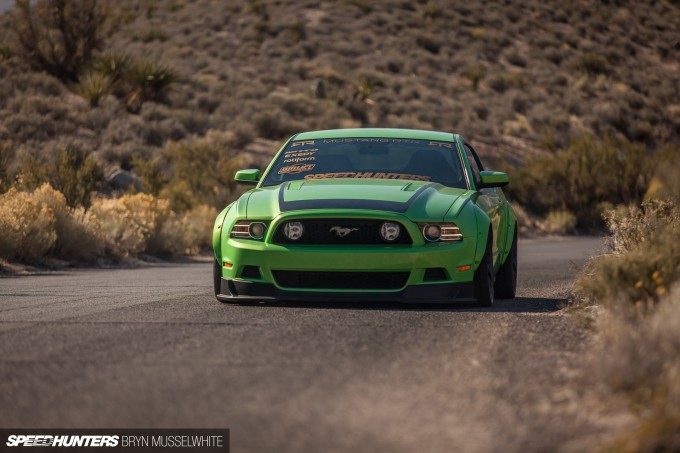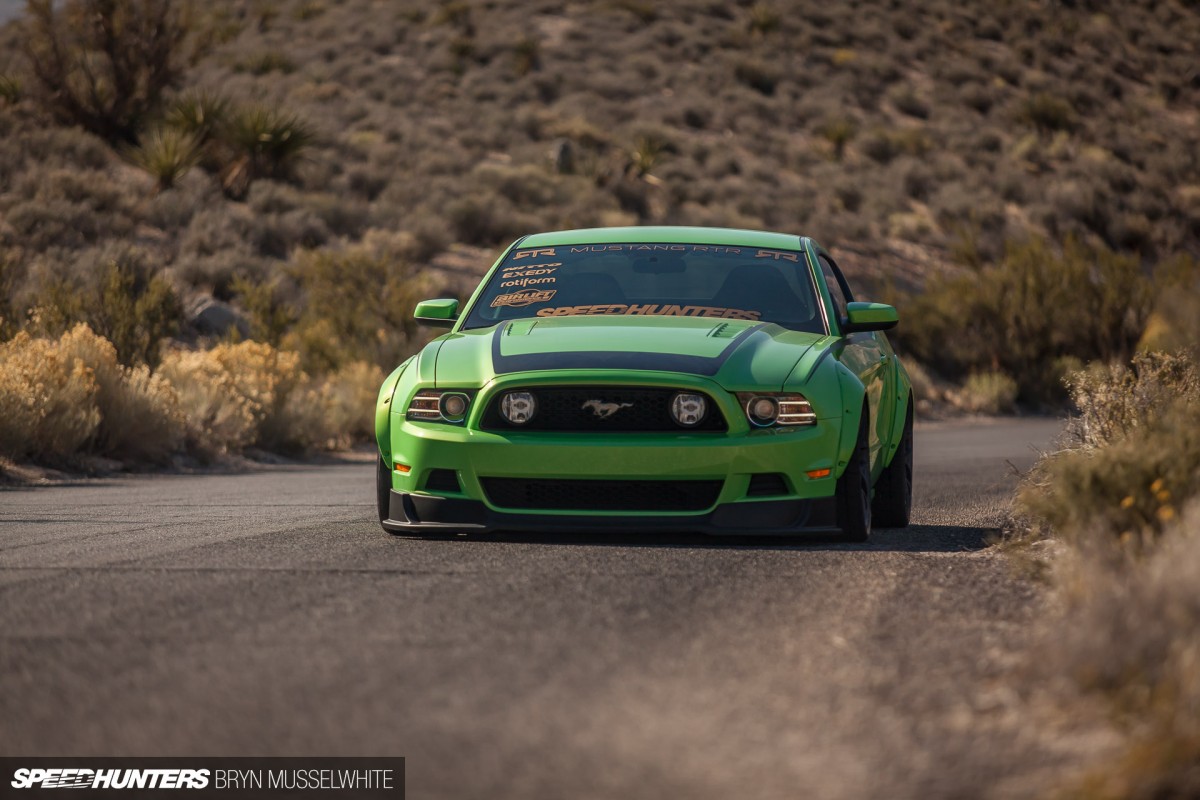 Until you park up and dump it on the ground. The front end of the RTR is so bullish, it's literally like a tired pit bull that's been out for a run and has given up and laid down for a rest. The RTR graphics are really clever, working to accent the natural body lines, with the RTR only lower lip being left in a plain black to match.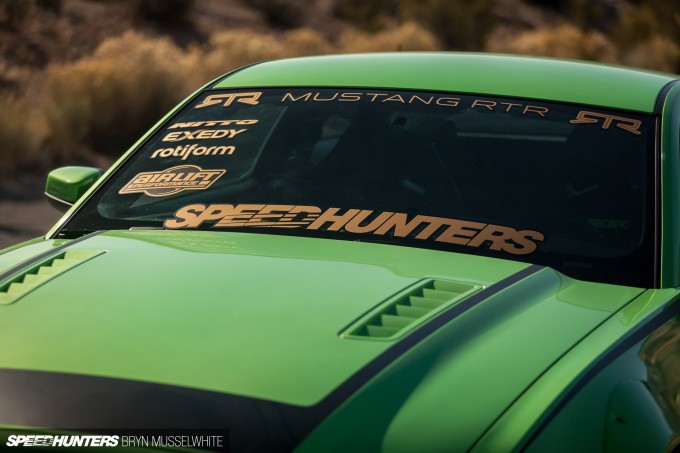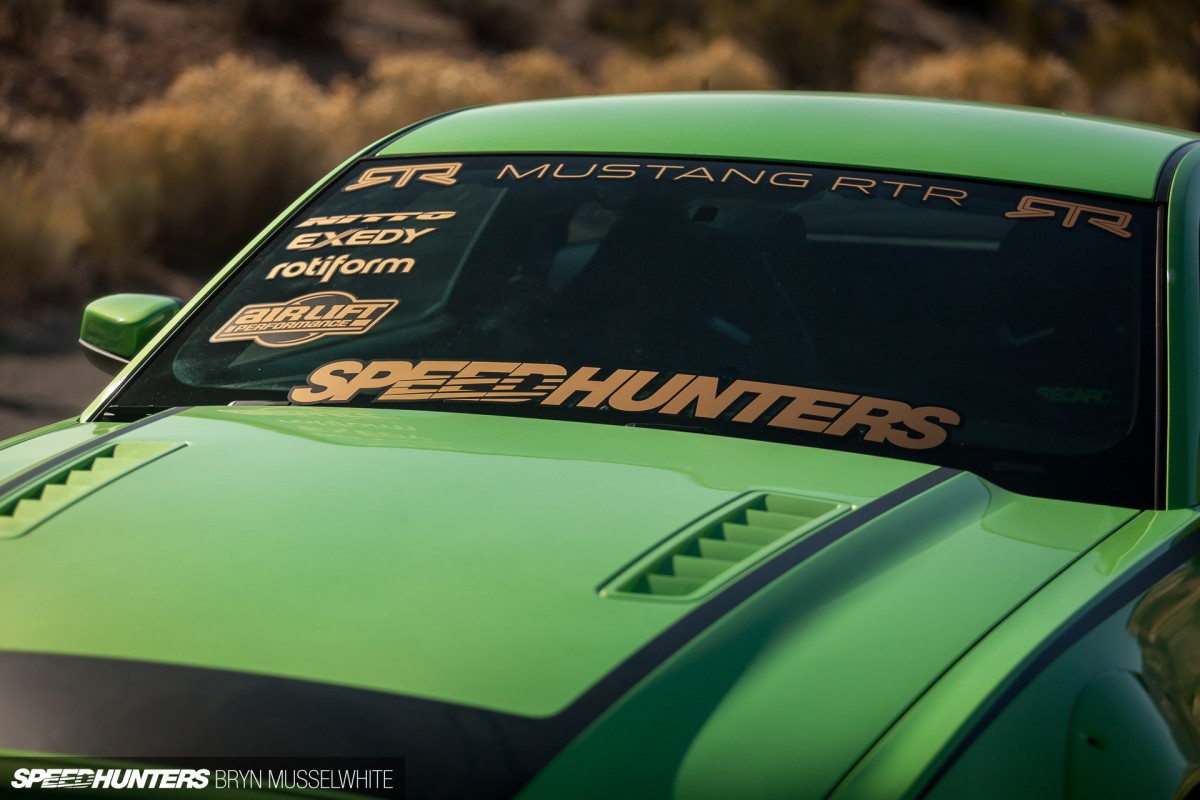 Of course the Double Down is still wearing its obligatory SEMA shopping list graphics, having done service on the show floor all week, but I will freely admit that it gives me a great sense of pride when I see that Speedhunters logo on a project like this.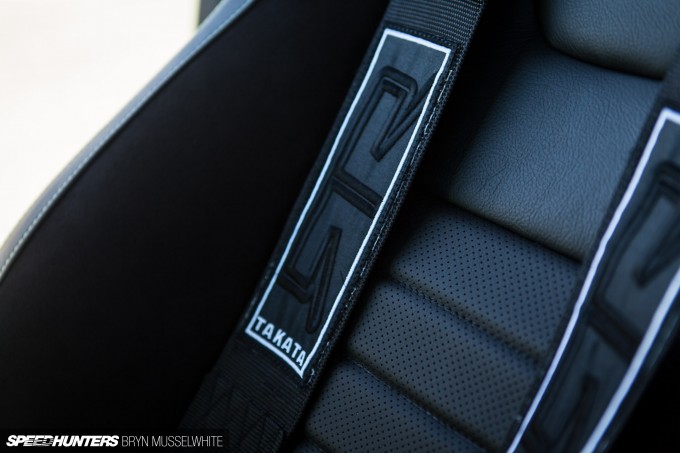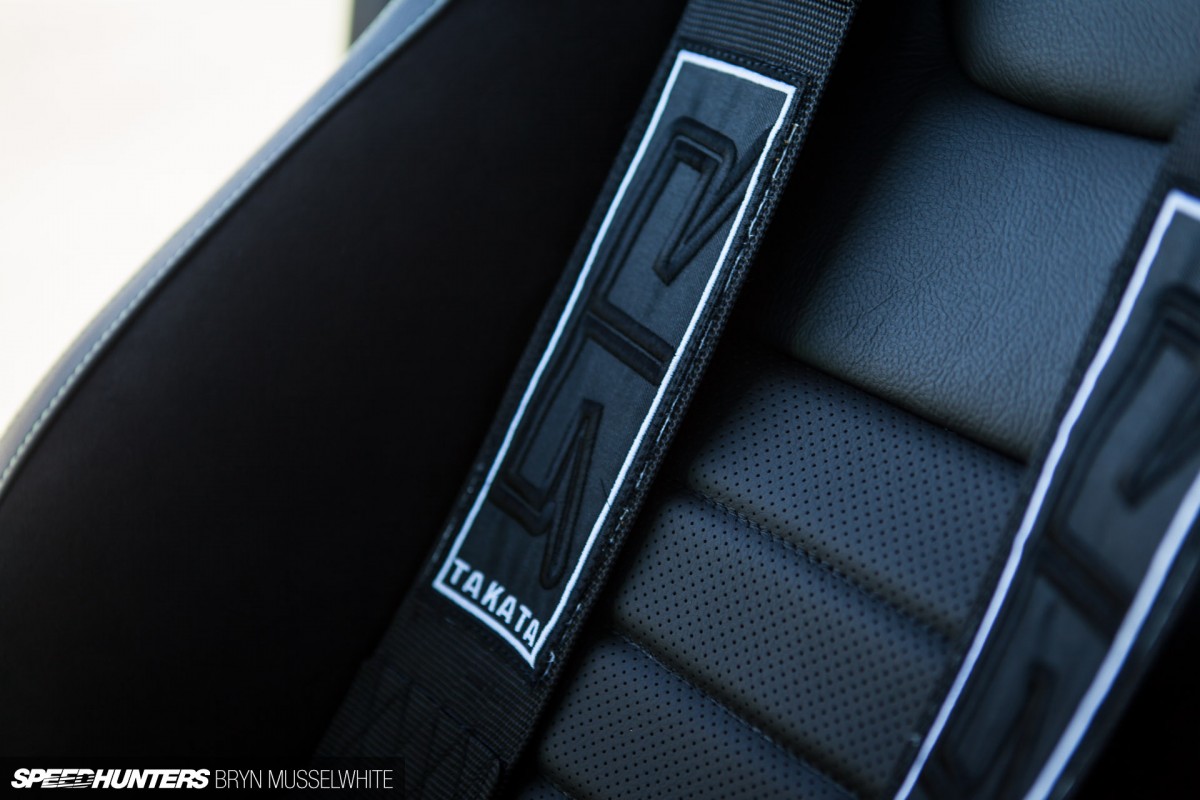 And just like the series of events that have put me in the driver's seat, I'd say the RTR is very much indicative of the newly emerging global car culture that we keep discovering. Takata harnesses, previously a name associated with the Japanese market are here in a kick-ass American muscle car.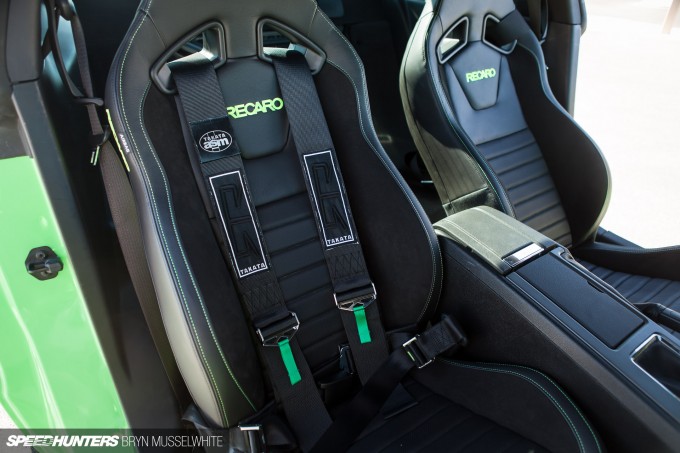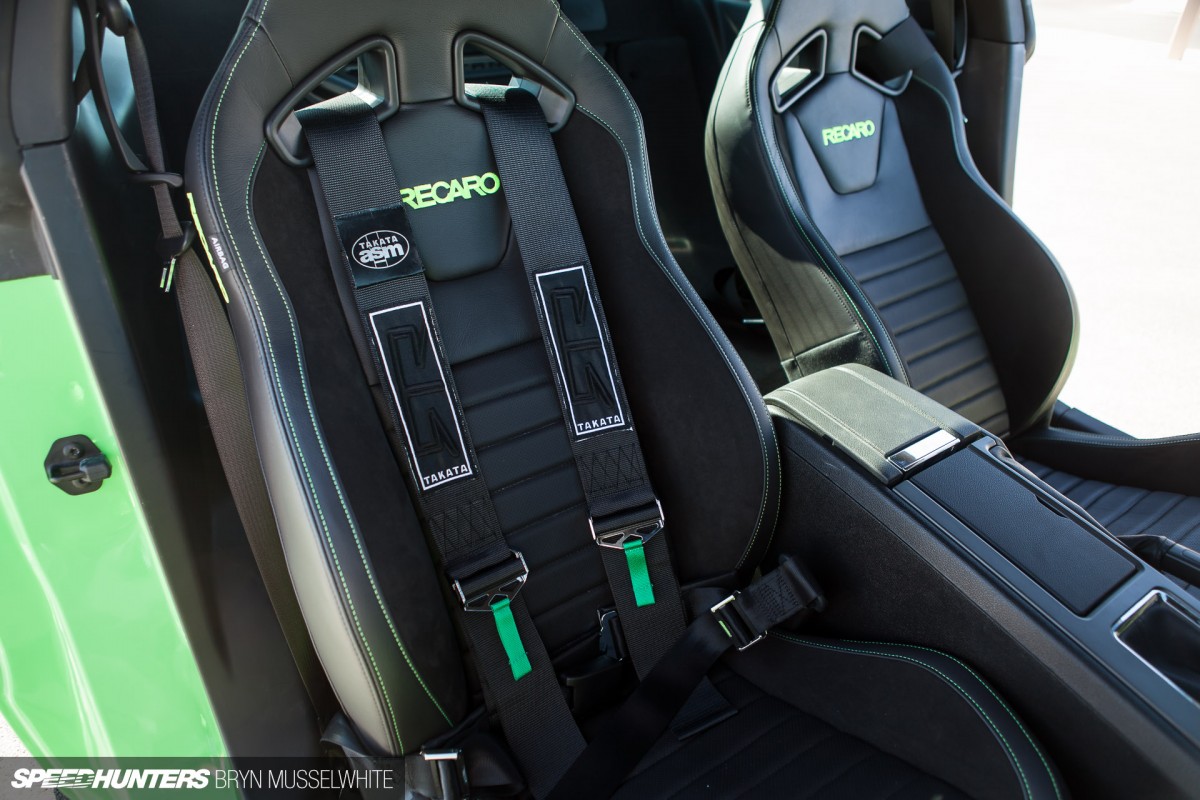 Zoom out and the grip-laden seats are Recaro – the sort of thing you'd expect to see in a Audi RS model or European Ford maybe. They work well as everyday seats but I just know that on a track, they'd be up to the job too. Which is good, because we're definitely going to find out more about that in the future. This escape story is just the beginning.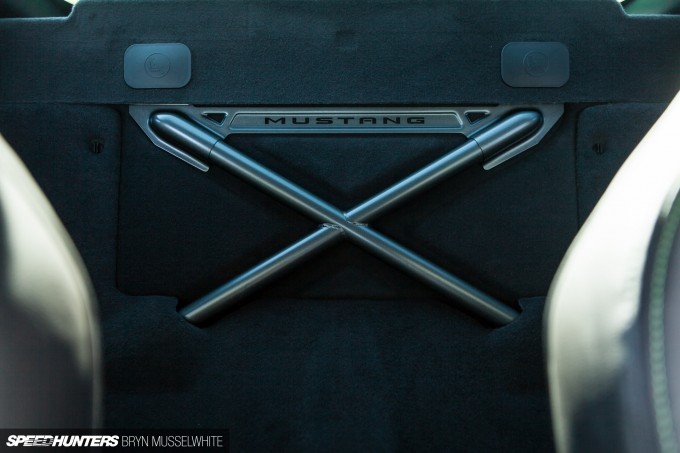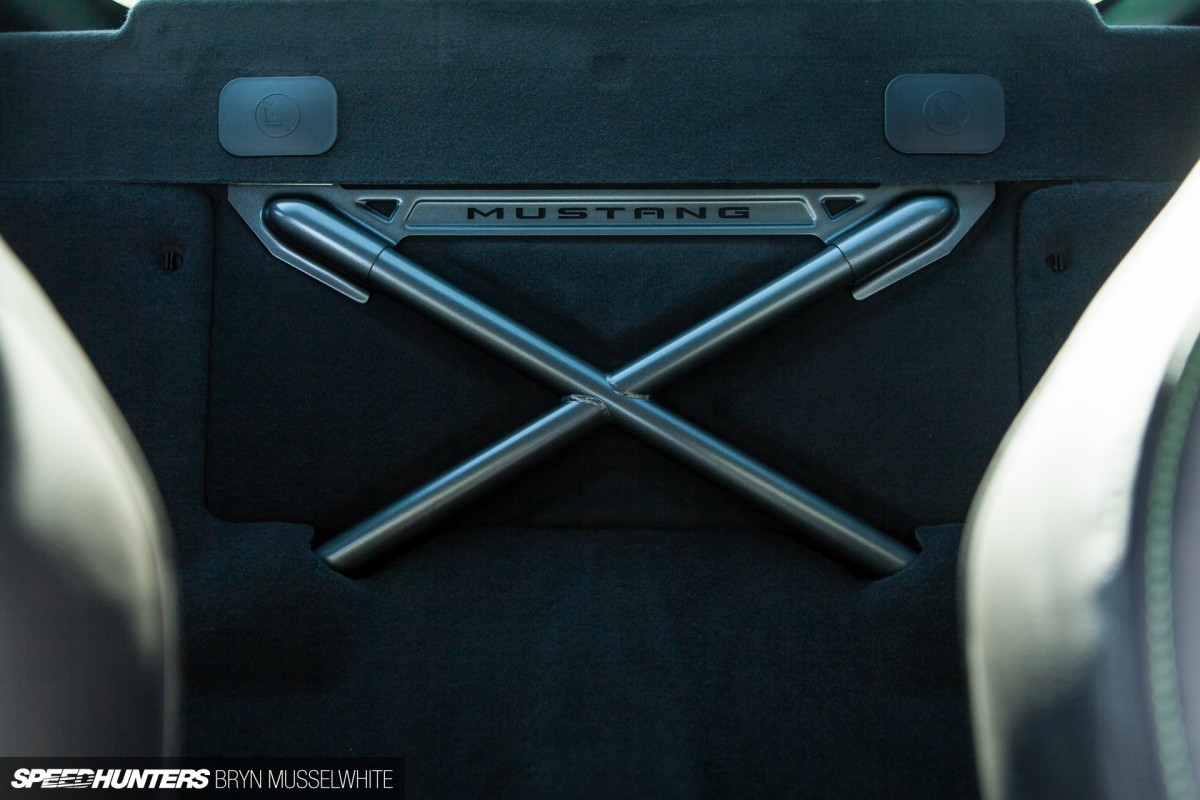 Vaughn went for the Ford Racing rear seat delete package with the Double Down, I love that you can buy it from a dealer with no back seat! It used to be one of the first mods I'd do to any old crap box car I bought, passengers? Sorry, it's a race car. Okay so in my case it was mildly tragic but here I think it fits the theme well. So even though the Recaros tilt forward, it's just so you can stow some track spares or shopping in the rear.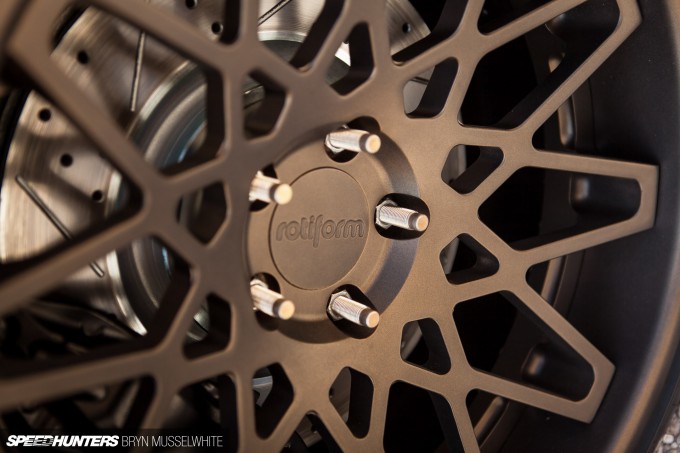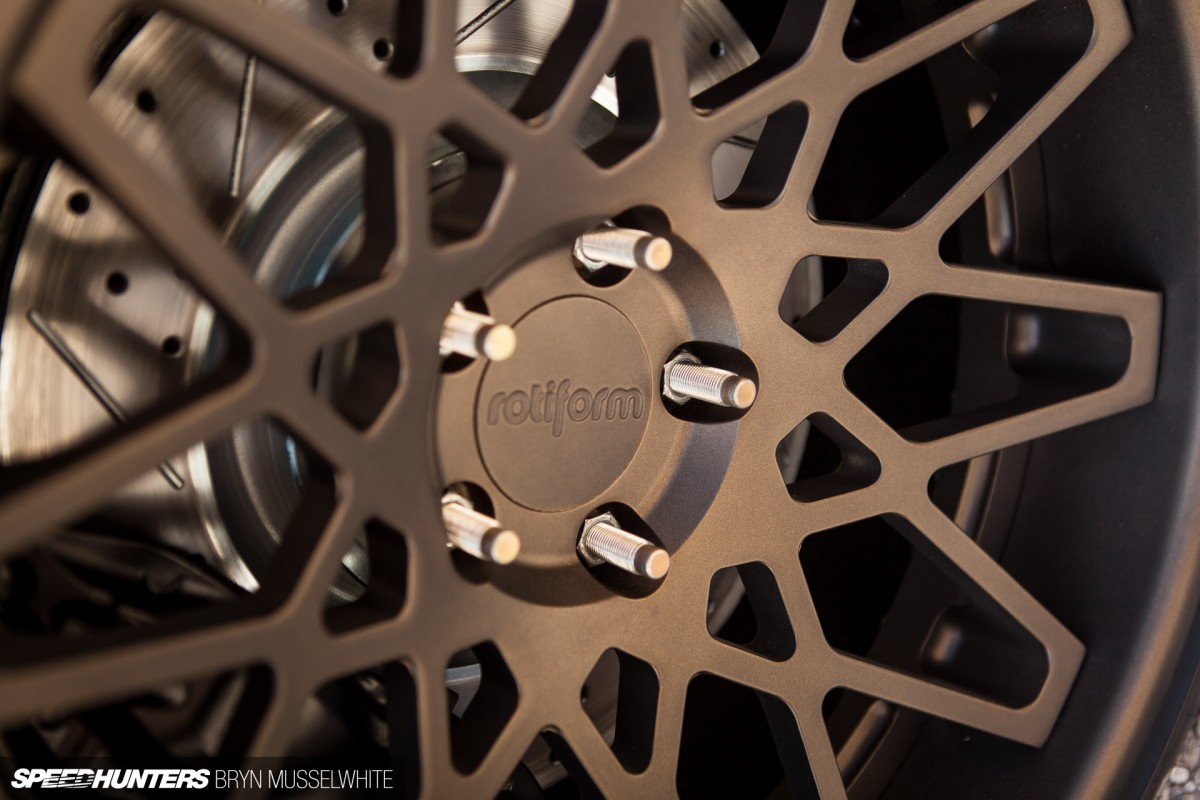 I keep on going back to the rolling stock because the wheels are very much new wave, being fully forged, three piece Rotiform BLQs. I love the deep concave design as too often on a curvaceous muscle car, you see bold slab-like designs that just don't work. These remind me of the old Can-Am race cars in the satin bronze finish and that can only be a good thing. It's all in the details with the Double Down…
Time to go home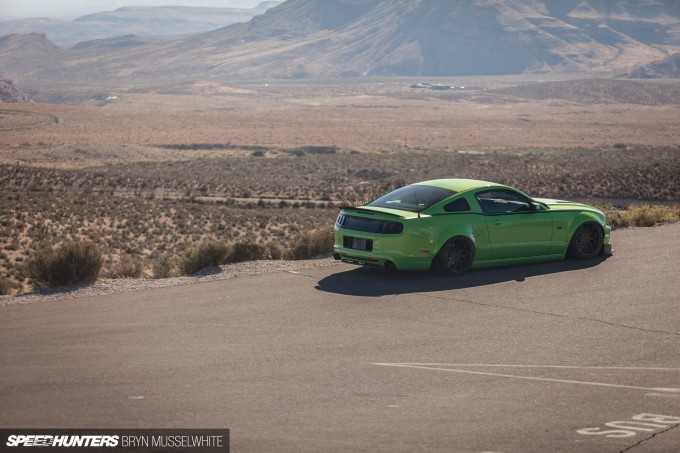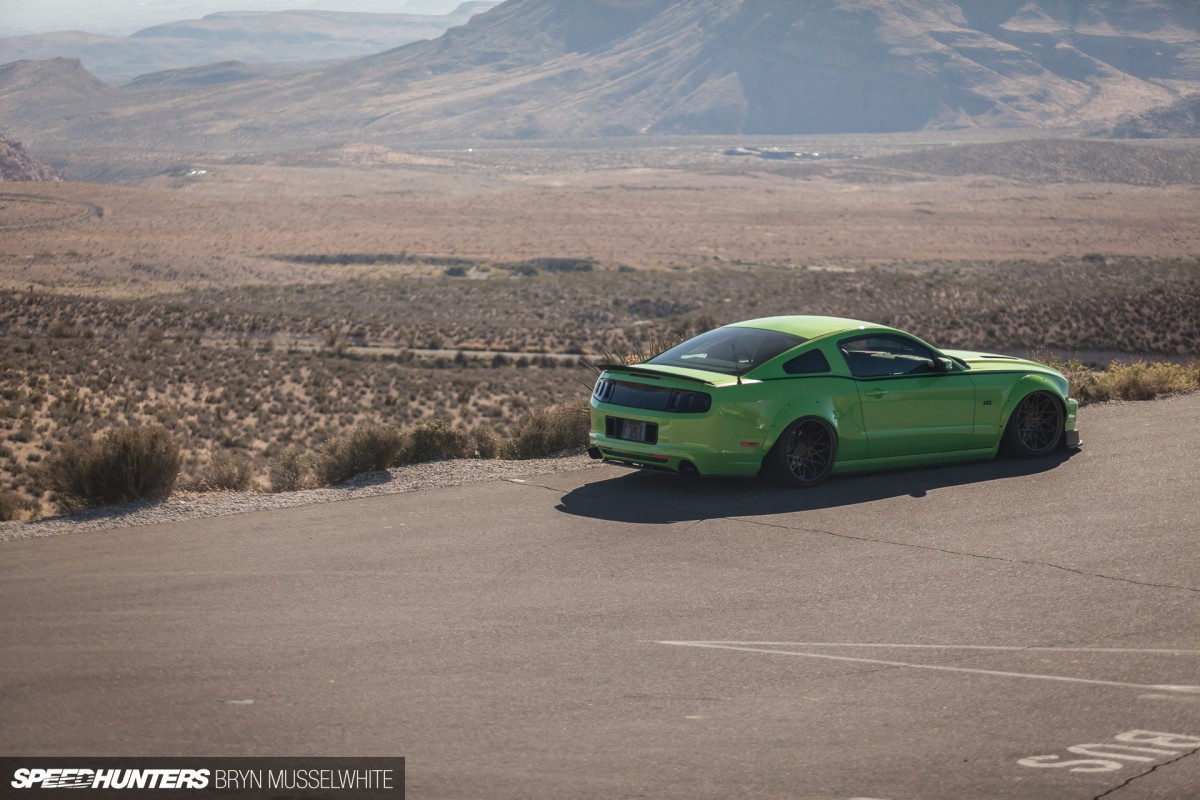 All too soon, Vegas was calling me back down the valleys again. There's more work and then a nighttime flight back to the UK via New York. Before that morning I would have fought you to not get on that plane, but now the world is a better place and I'd happily shuffle myself aboard. Plus there were more people starting to emerge now, so it's best I stop fooling around and calm down a bit.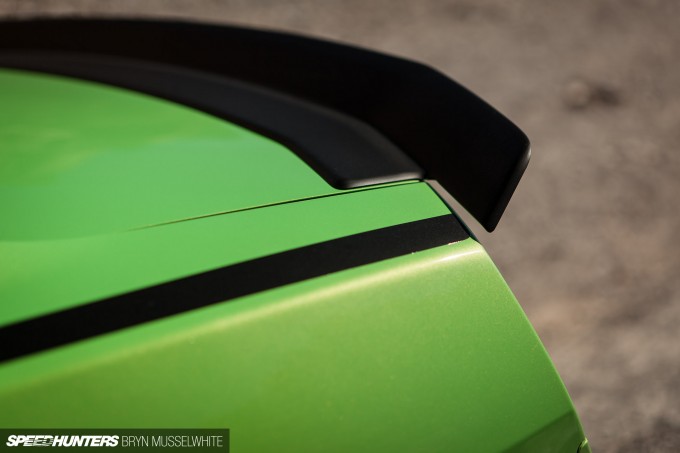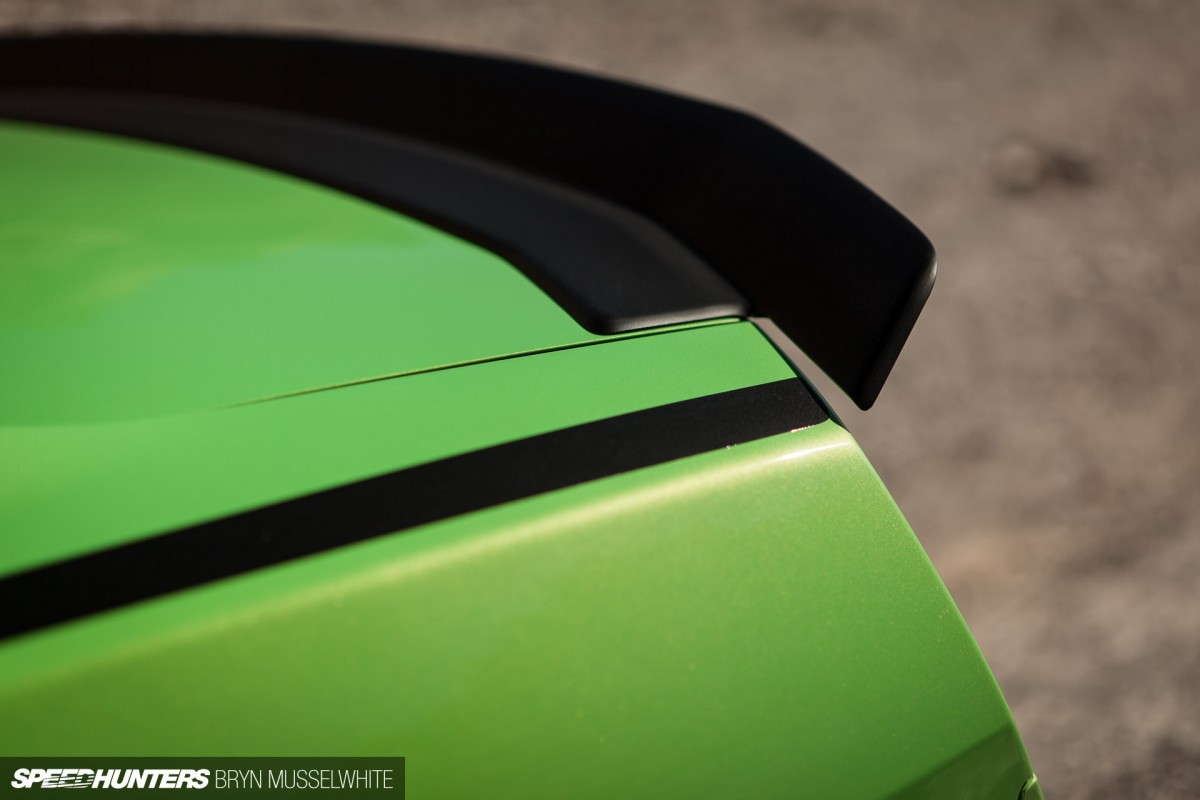 There was just time for one last walk around before heading back to the noise and intensity I left behind. The graphics linking in to the rear lip spoiler on the trunk lid.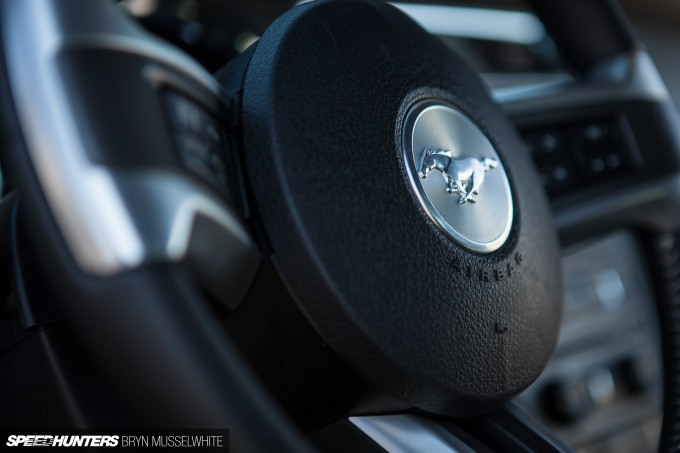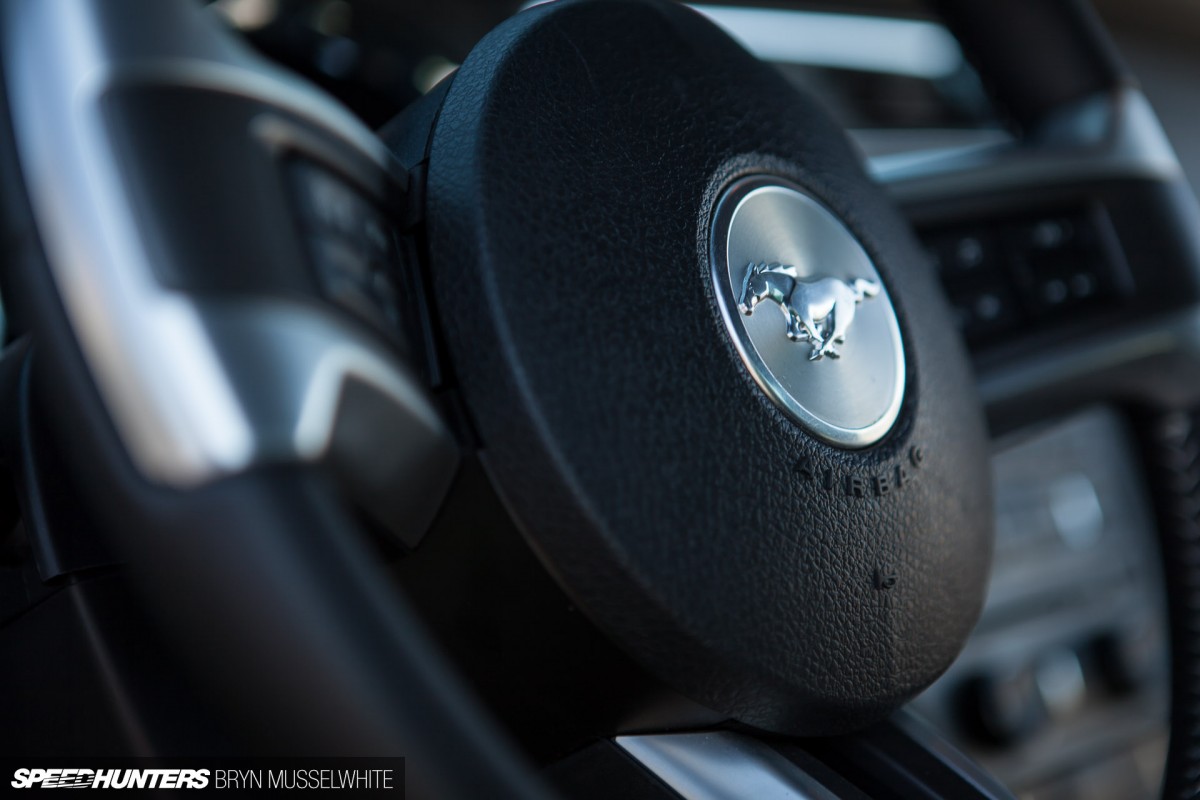 Yet there are still plenty of reminders that this is American working class royalty. This steering wheel reminds me of my old dished '60s items, so that connection to the heritage is still very much there for you to experience.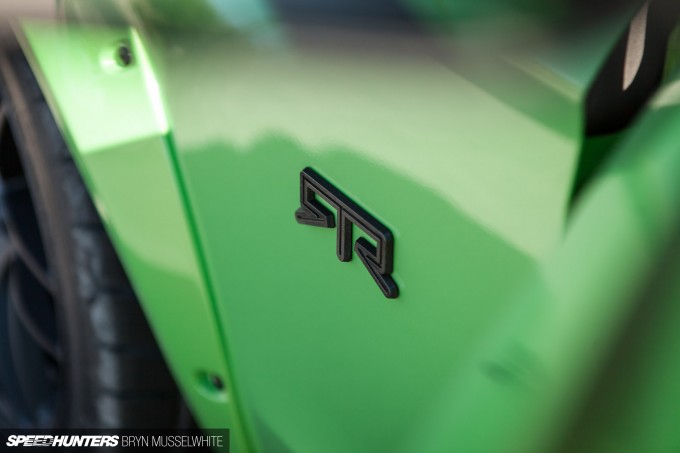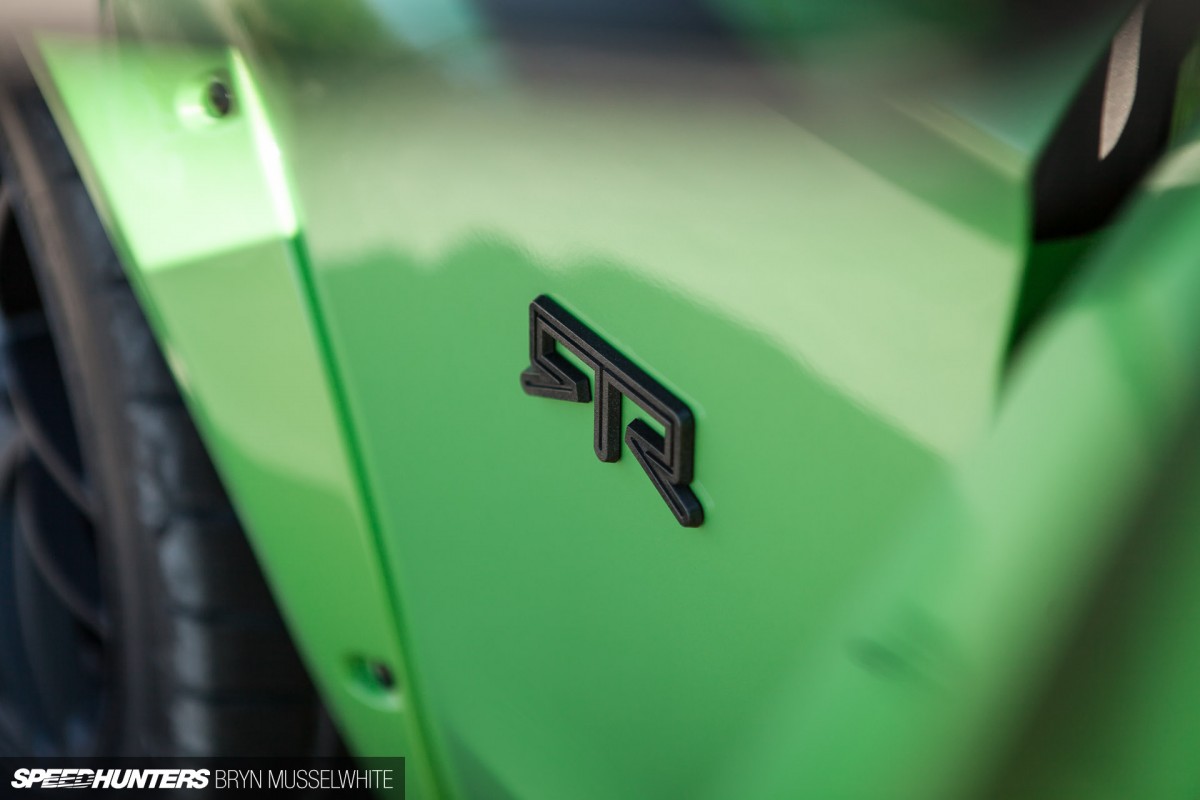 Mixed up with plenty of RTR logos of course. Is it me or does the logo look like some sort of Roman centurion's helmet? Hmm, maybe that's the desert air and lack of sleep.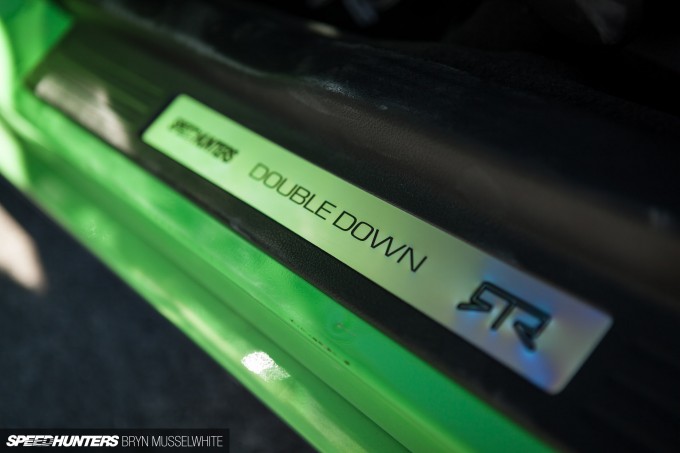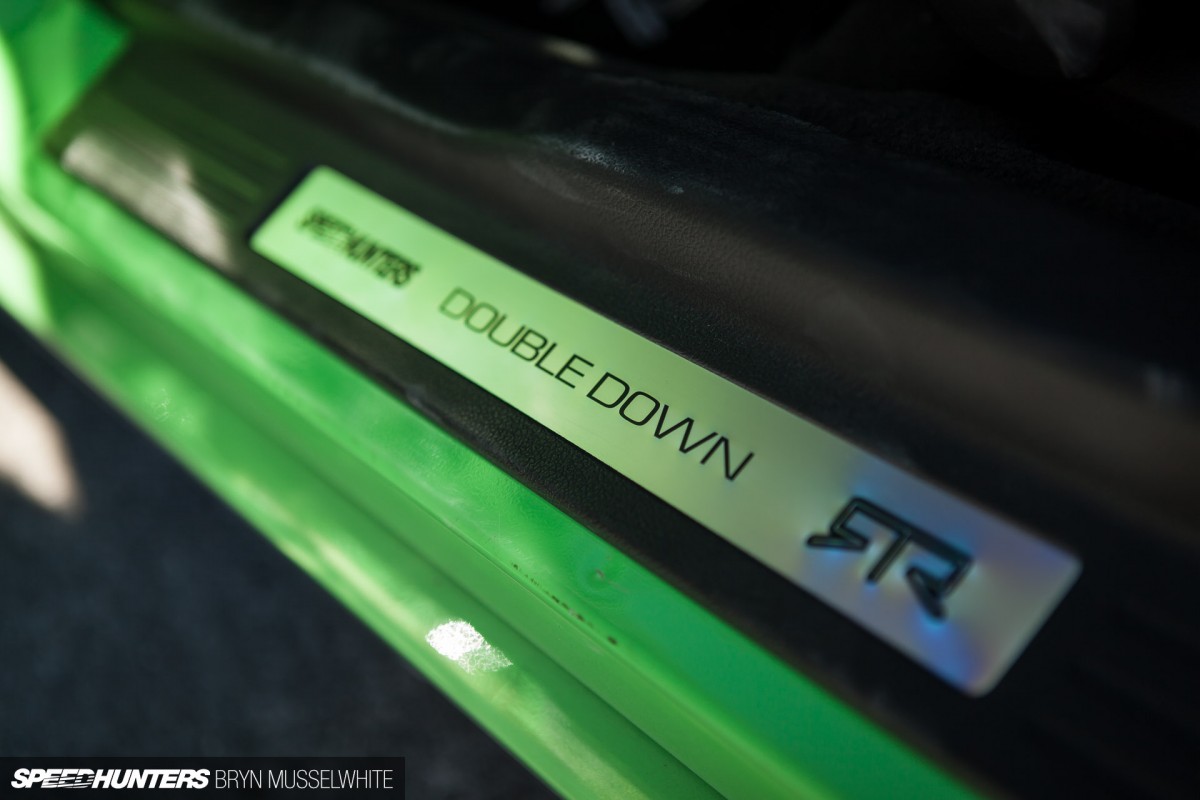 Either way, I loved my short affair with the Double Down. I'd been lusting after it all week as I walked past in the show hall and now we'd had our fun, it really is game over. I never thought I'd become attached to a modern project car so quickly but we've got some big plans for it this year and there's no reason why they won't happen. We've come this far after all.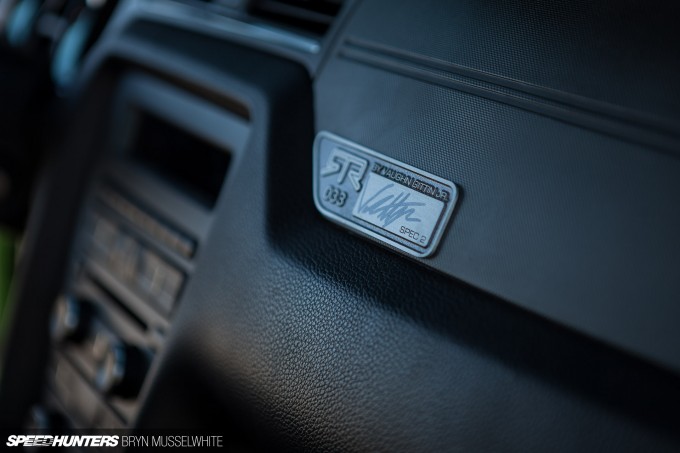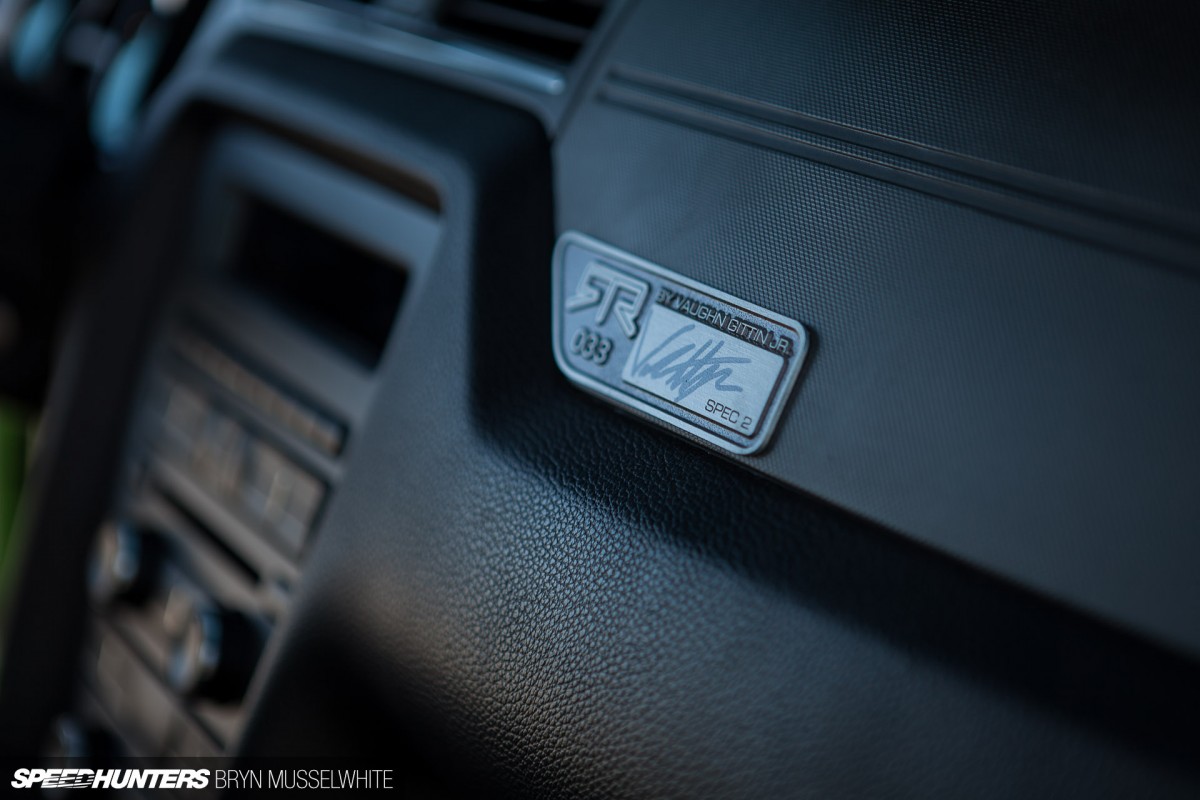 Which reminds me, I must get in contact with Vaughn. There are plans to be made!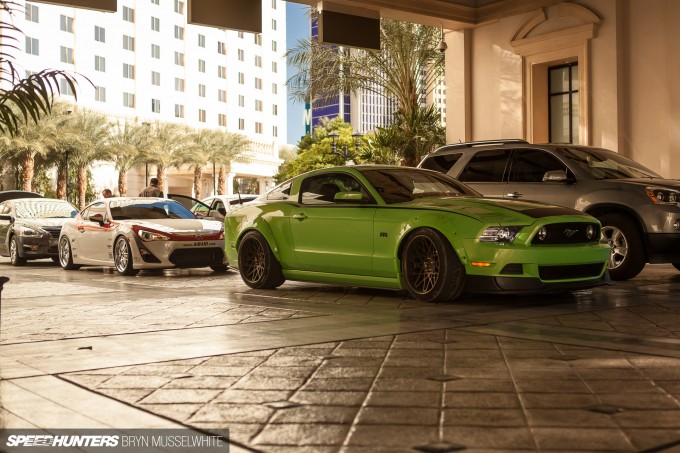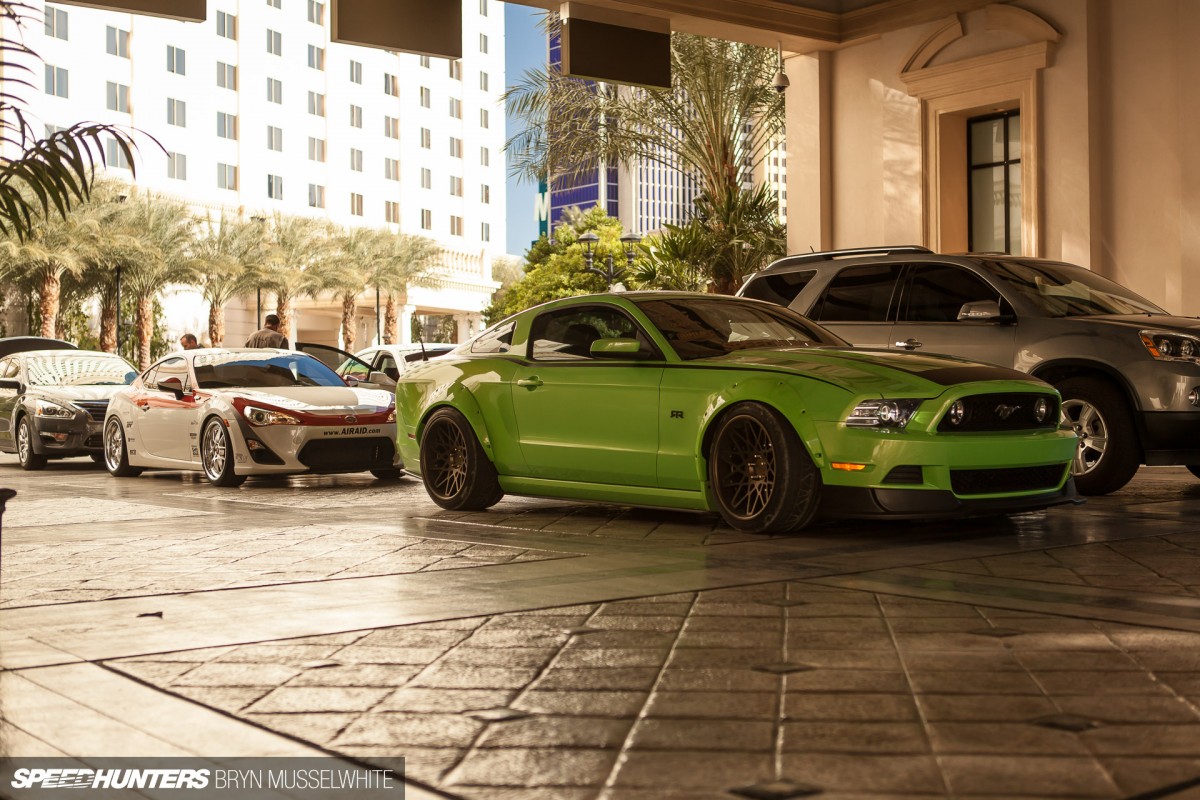 Now here I was back at the hotel; my room had probably got somebody else in it by now and all that remained was to say goodbye to Keith and his wife as they convoyed home to Arizona with his own FR-S project.
It was all about escaping Las Vegas but in reality it was anything but, because here I was back in the city again. So I guess what this was about was the escapism you can grab if you get a chance – which is what life is all about really. Making and taking chances, because you never know where you're going to end up. Stretching and turning, I decided that's exactly what I needed. Thanks Double Down, let's do it again sometime.
Bryn Musselwhite
Instagram: speedhunters_Bryn
bryn@speedhunters.com