Beastly beginnings
Do you reckon Frankenstein started out chatting his mates down the pub about how he fancied doing something a bit different? Perhaps Count Dracula gave himself a papercut as a kid and happened to quite like the taste when he sucked it? You see, there are many things in life that can get a bit out of hand. Innocent little fabrications of the truth can be blown into massive falsities, a 'quick pint' can lead to waking up in strange places and casual quips can end in broken noses. Cars are no different in this respect either. How many times have you picked up a new car and promised yourself you'll keep it standard?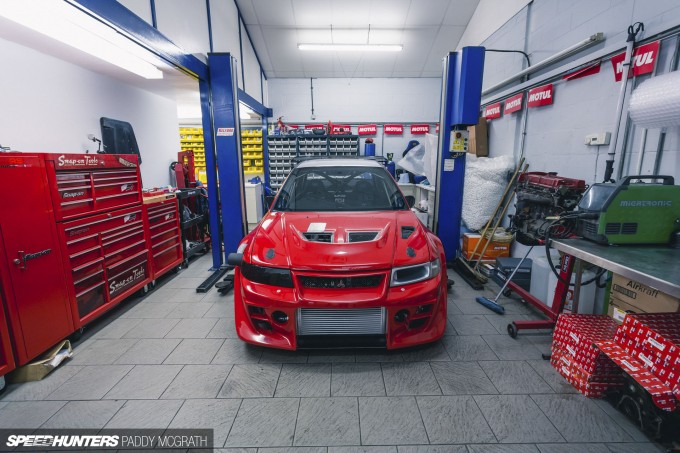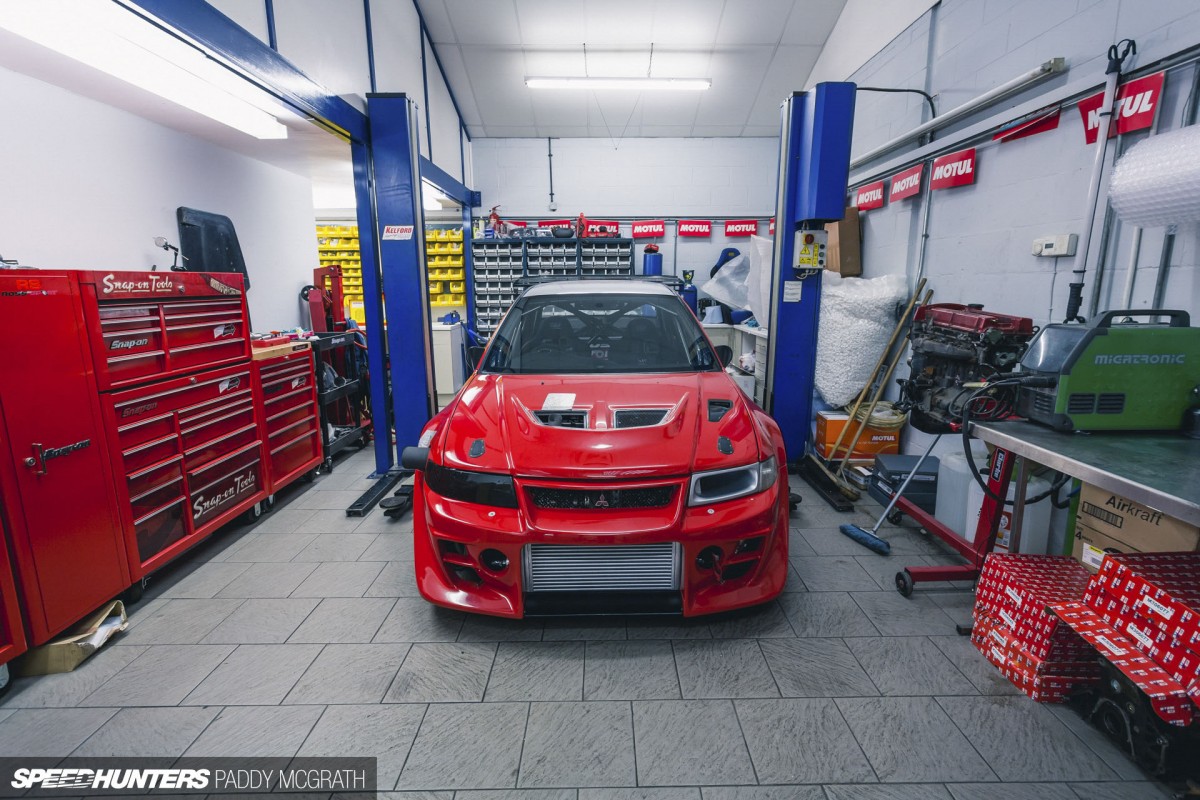 But it never works out quite like that does it? It starts off with a quick chip, filter and exhaust, one thing leads to another and before you know it, you're broke, you've spent most of the last six months locked away in a garage and your 'daily driver' has turned into a bit of a track terrorist. It's the sort of thing that might not make your popular with your other half, but it's what we thrive on here at Speedhunters – without it, our pages would be a little more sparse!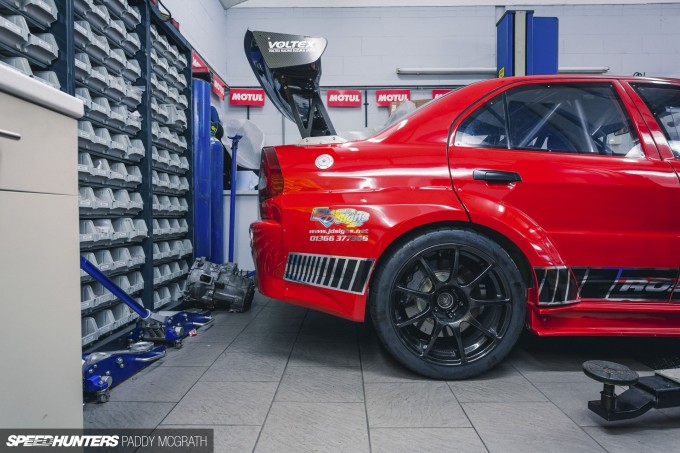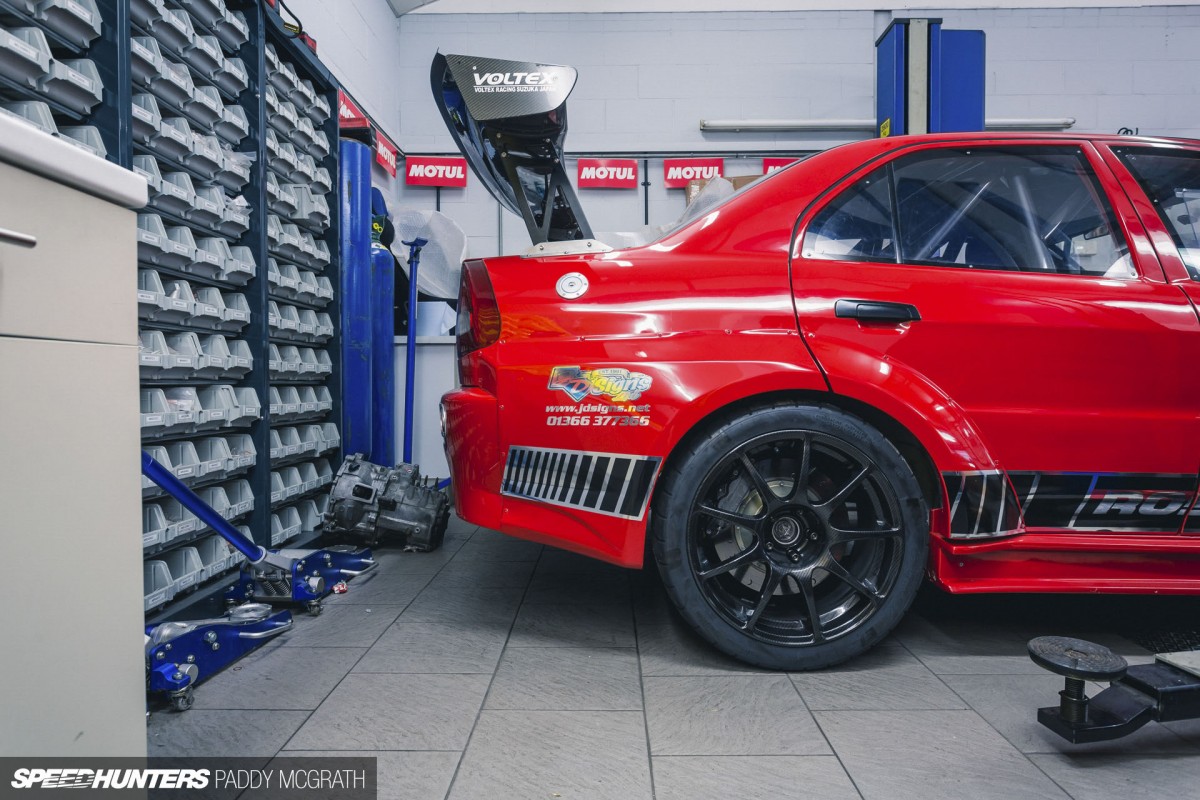 There are always extreme ends of the scale though. You might make it out with the addition of just a cheap set of alloys. Ross Walker, however, took it rather to the opposite end. When he picked his Evo VI up back in 2005, he couldn't have begun to imagine how it would have turned out. Bought as a standard car to enjoy and have a bit of fun in, it all started out innocently enough.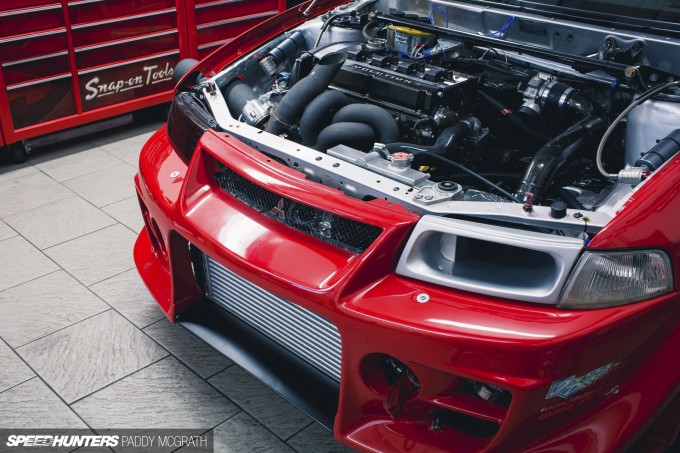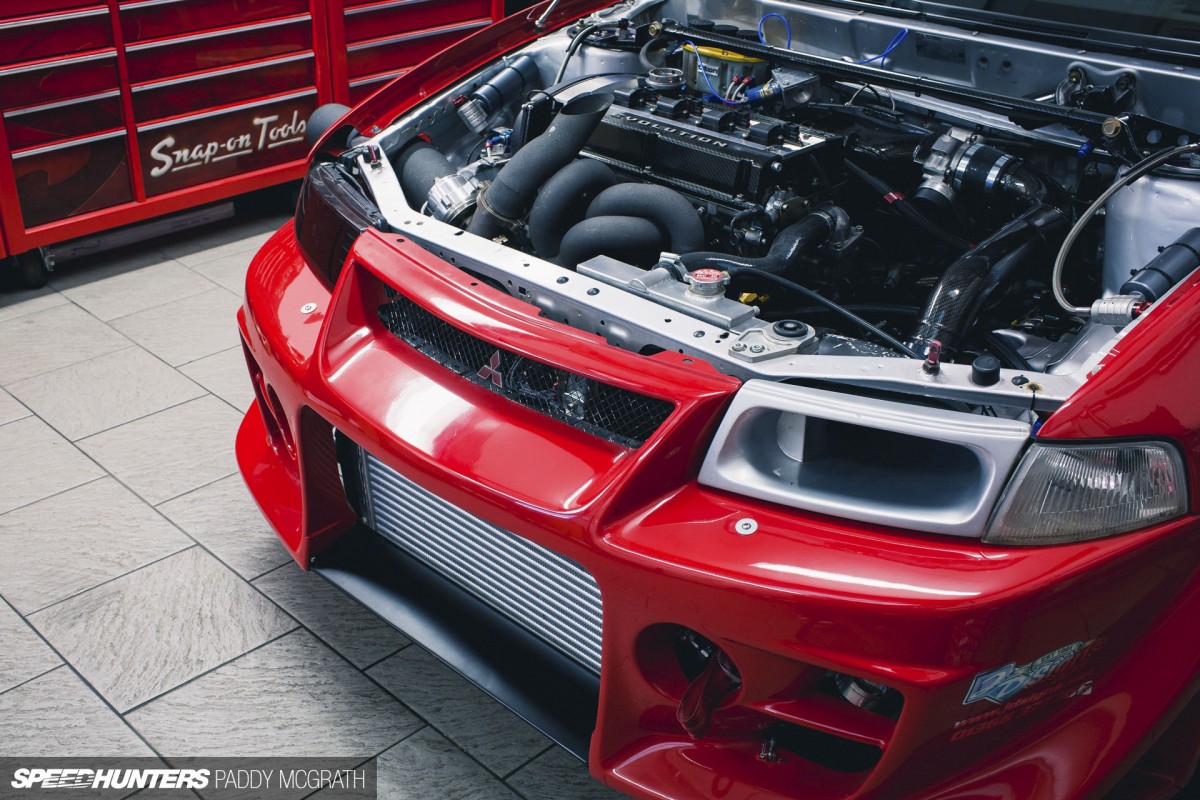 But what you're looking at now is perhaps one of the finest tuned six's in the UK, if not Europe. A bold claim you may think – but it's not unsubstantiated…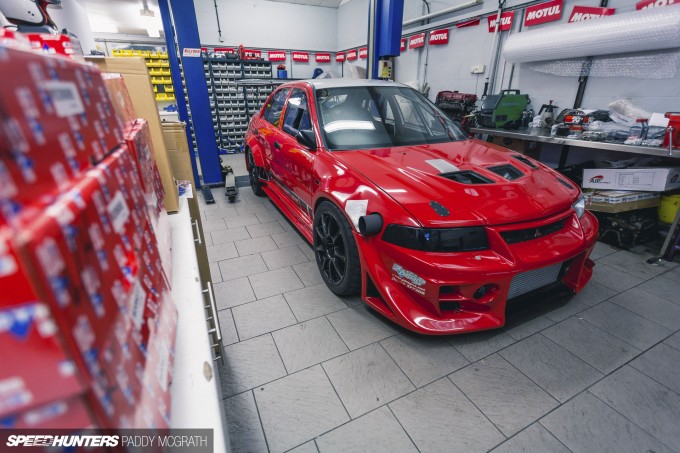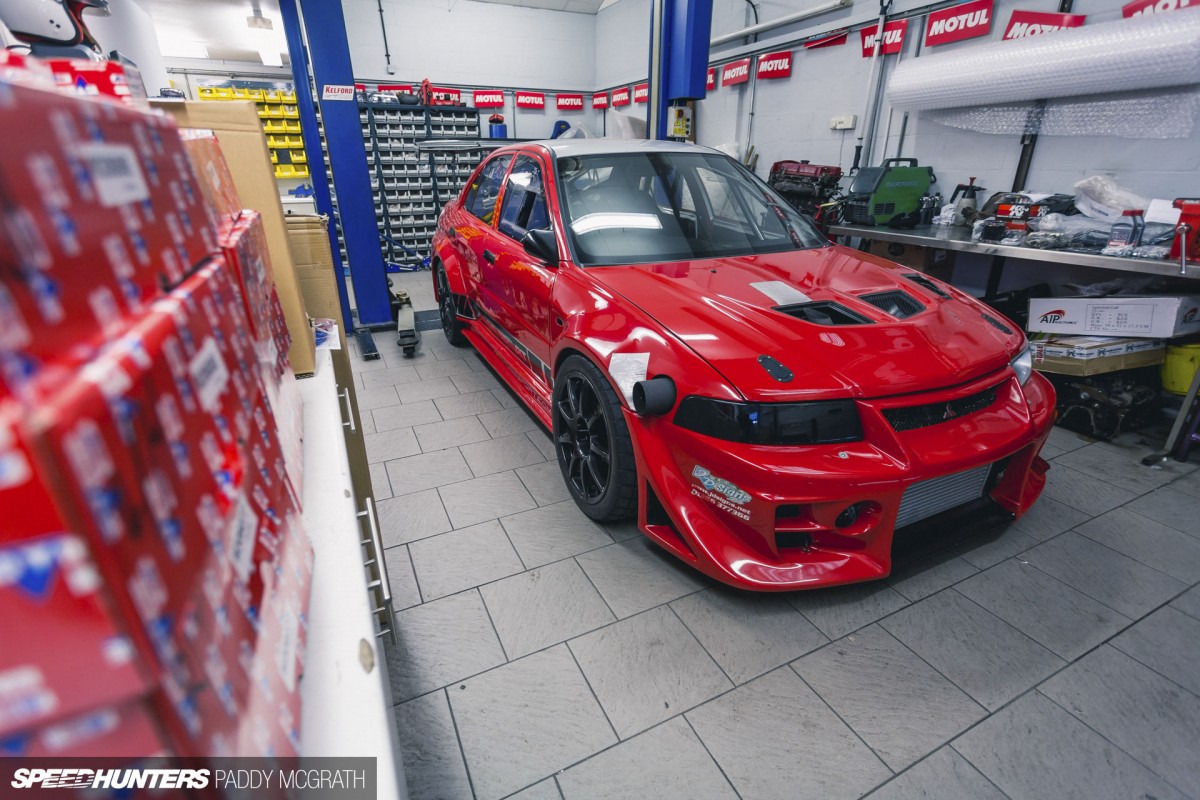 It's not always been this way though; no, it's been a gradual journey over the years. The aim was never to set out to bring to life quite such a monster. Like most of us, Ross bought the car as a personal interest. Evo tuning itself was a rather different world back in the mid '00s and Ross still had a normal job as a Sales Manager. With most of the parts only available from Japan, tuning was expensive, so Ross tinkered around with his car and some of his friends' too.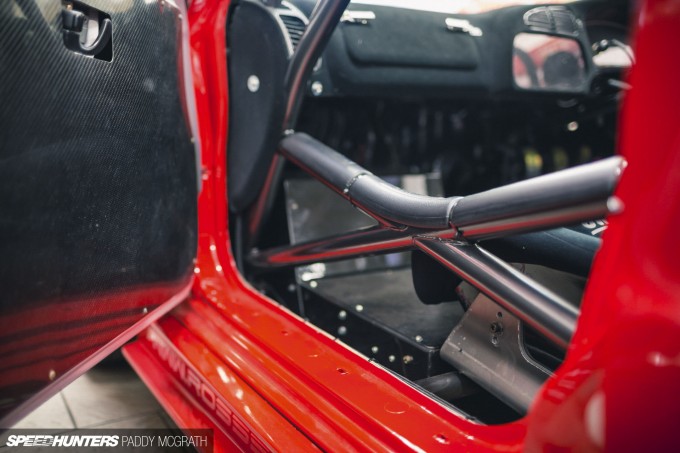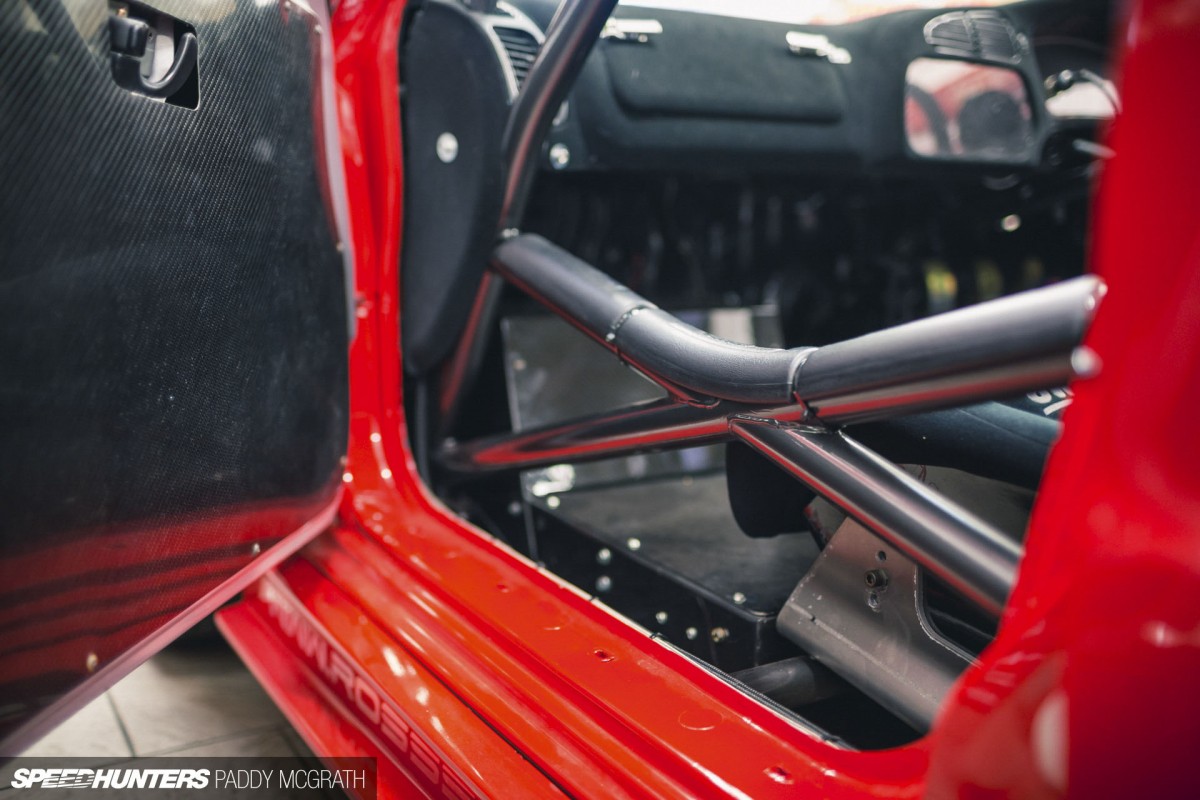 One of those friends was Gary Haywood of AP Tuning. Together they set about creating and designing parts to improve their cars, and in 2006, the competitive bug bit hard when Ross attended his first 30-130 event. An event created and run by the Mitsubishi Lancer Register,  the aim is to simply get between 30mph and 130mph in the quickest time possible.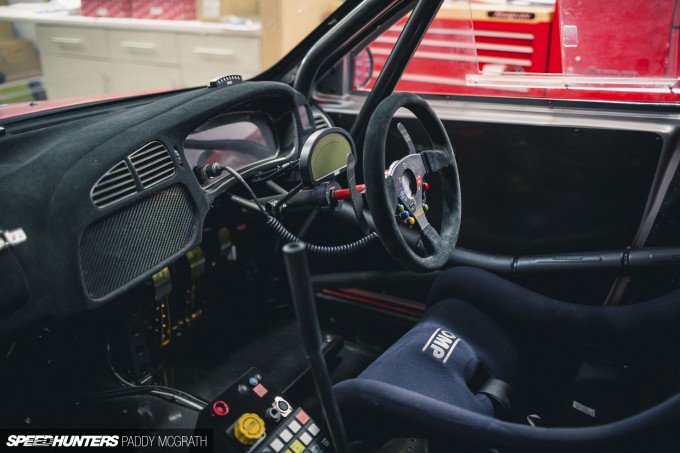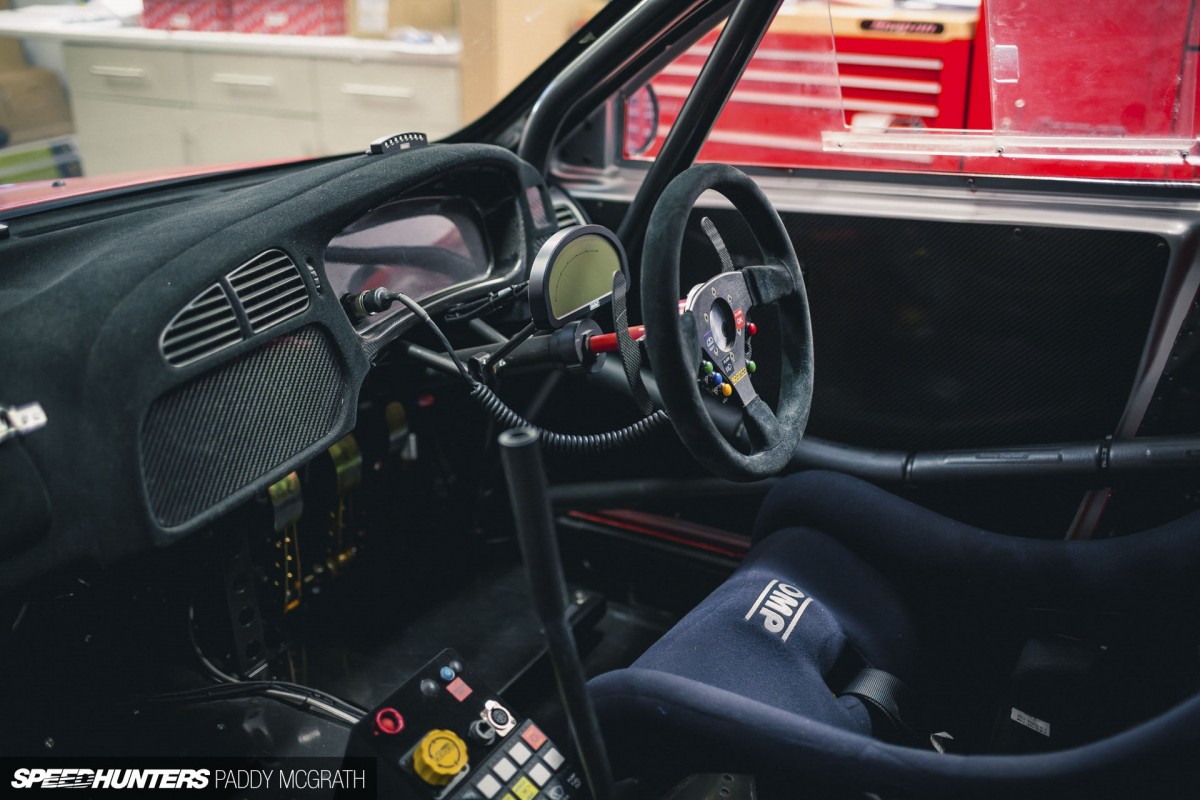 Evos might be great at getting off the line (if you know how! It's not as easy as you might first think…), but the stresses of going from standing still to ripping your face off in such a short period are hard on the driveline – perhaps one of their weakest points anyway. 30-130 avoids that, using a rolling start to minimise any stresses and strains, yet also still gives an accurate picture of just how fast your car can accelerate.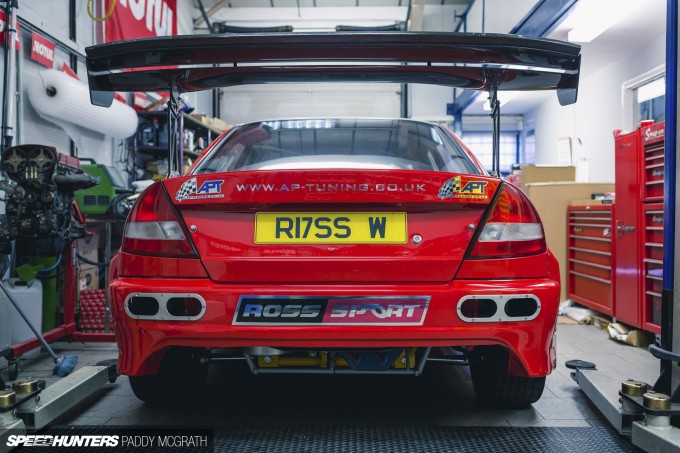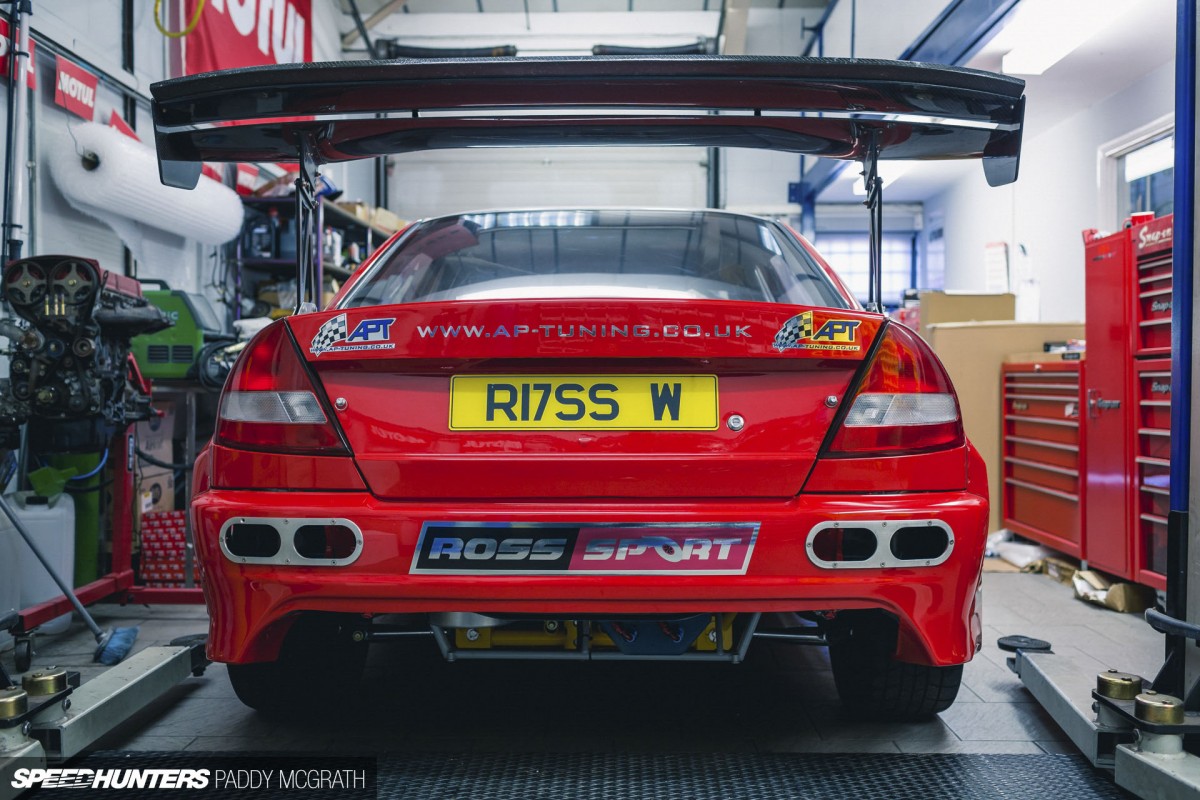 Another key point happened upon Ross's first attendance of Ten Of The Best. This British event has long been a coming together of the best of the UK tuning scene. Originally conceived as a chance to get ten of the best cars from each car club and have them compete over a handling course, drag strip and top speed run, the event has seen some of the top UK drivers and tuners win accolades over the years.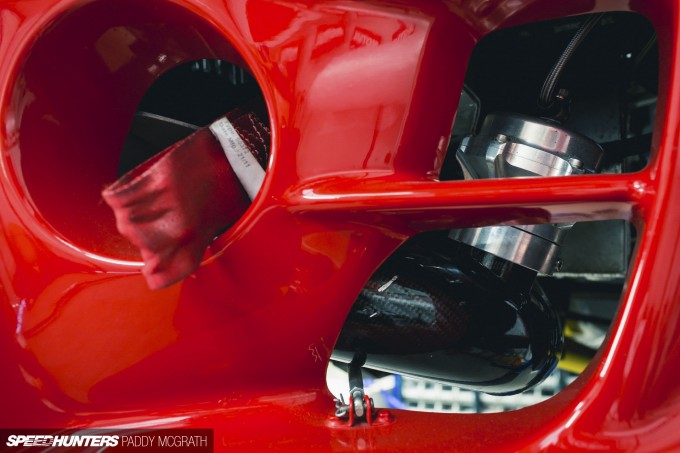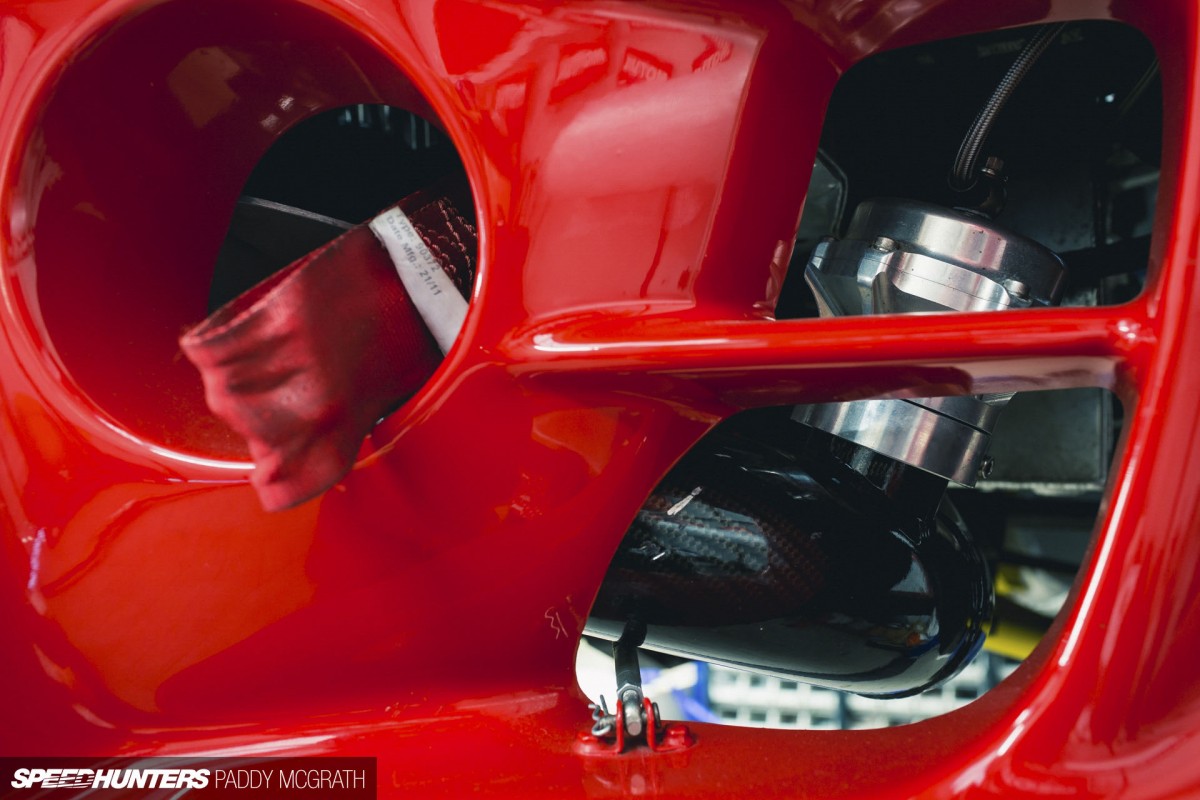 Now that the urge to do well in both of these events had well and truly sunk in, it started to define the way that Sylvia developed. In 2008, with the knowledge he'd pieced together, Ross Sport was formed – an Evo parts specialist. Problems that Ross encountered and parts that he needed were solved by using the car as a test bed, and both 30-130 and TOTB as the proving grounds.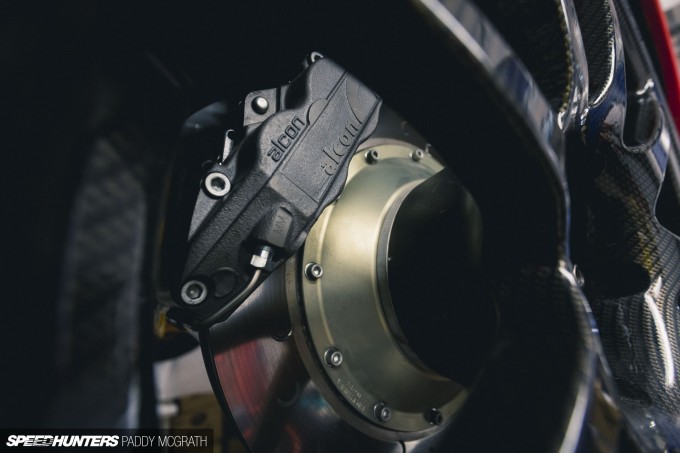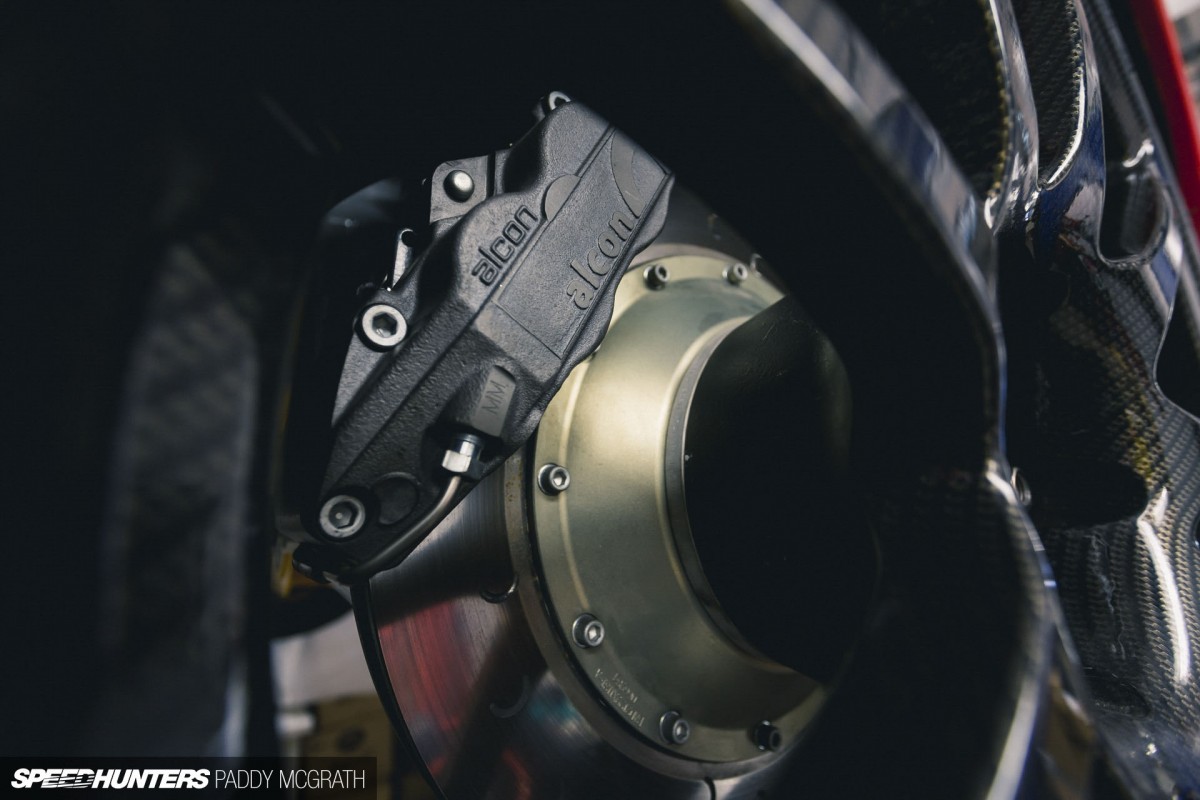 It was a strategy that yielded obvious results. In 2009, Ross went on to win 30-130, with a time of 6.92 seconds. The following two years saw him taking the title again, with his time dropping to 5.84 seconds and last year, he set a new fastest Evo-posted time of the day with a truly astonishing 4.91 seconds! Without similar events around the world, it might be a little hard to comprehend just quite how insane that is, but to put it into comparison, a stock R35 GT-R will do it somewhere in the region of 13-14 seconds!
Well that escalated quickly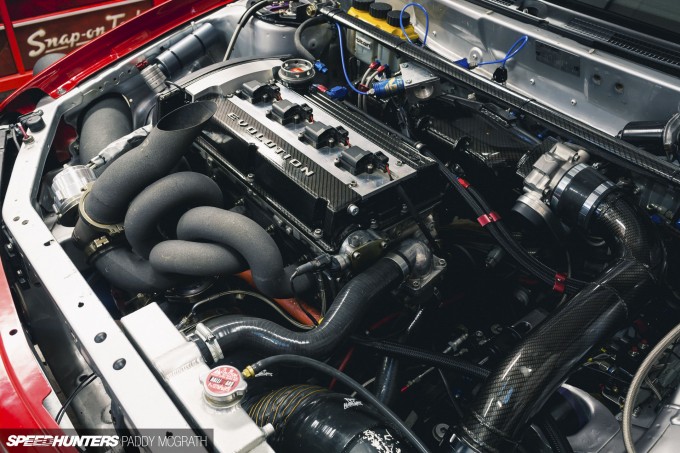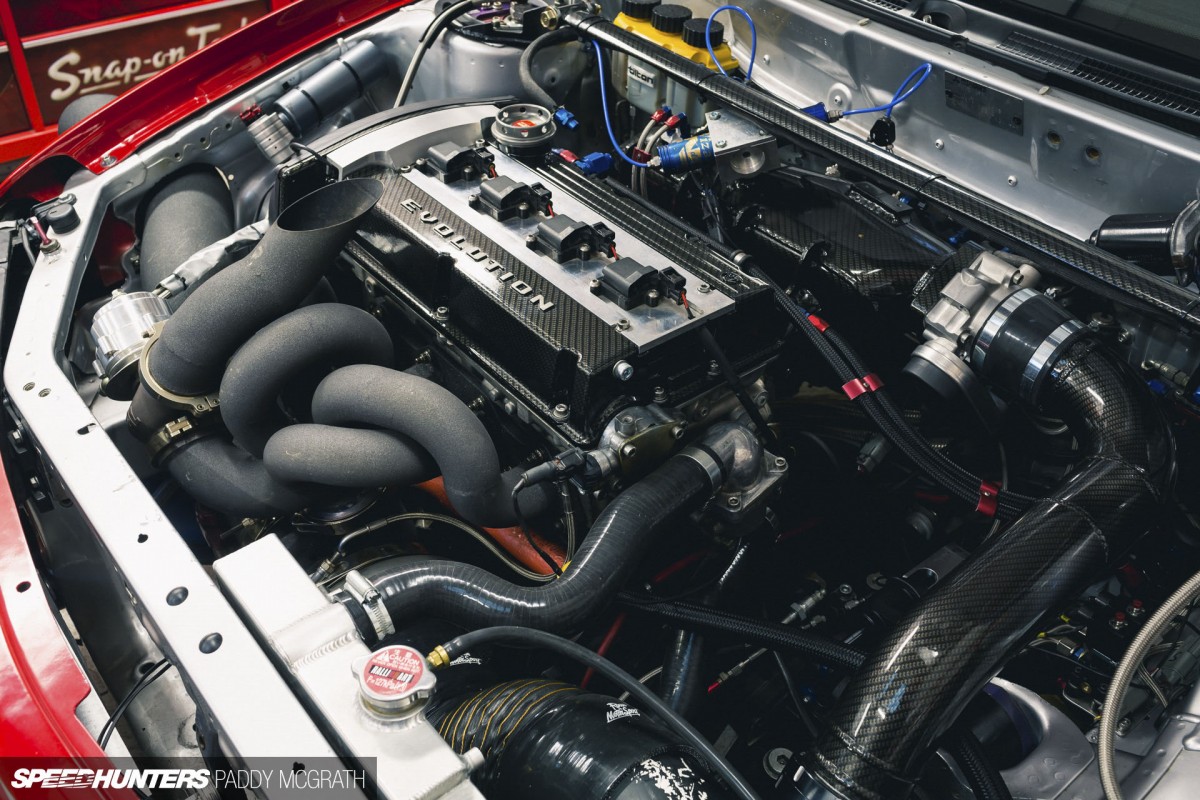 So what does it take to eek out such a savage bit of acceleration? Perhaps surprisingly, the engine hasn't been stroked but remains in its factory size of 2.0 litres – although that's pretty much the only thing that hasn't changed. The AP Tuning-prepped 4G63 long-rod has been built with alloy rods, Wiseco 1400HD pistons and a lightweight crank, and is mated to a CNC/Ross Sport big valve head, with Jun 272 cams and inlet manifold.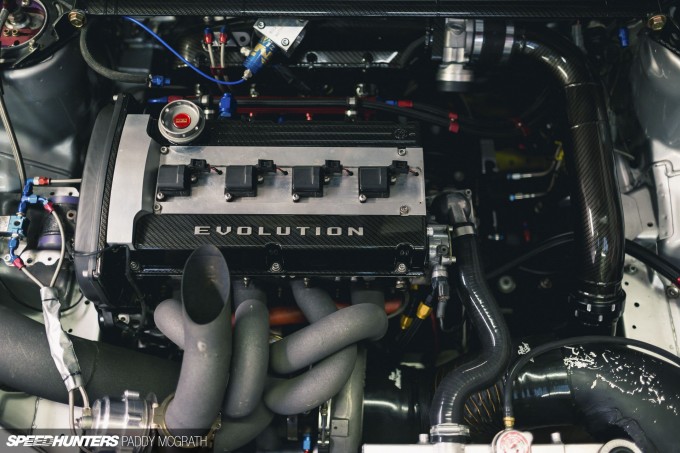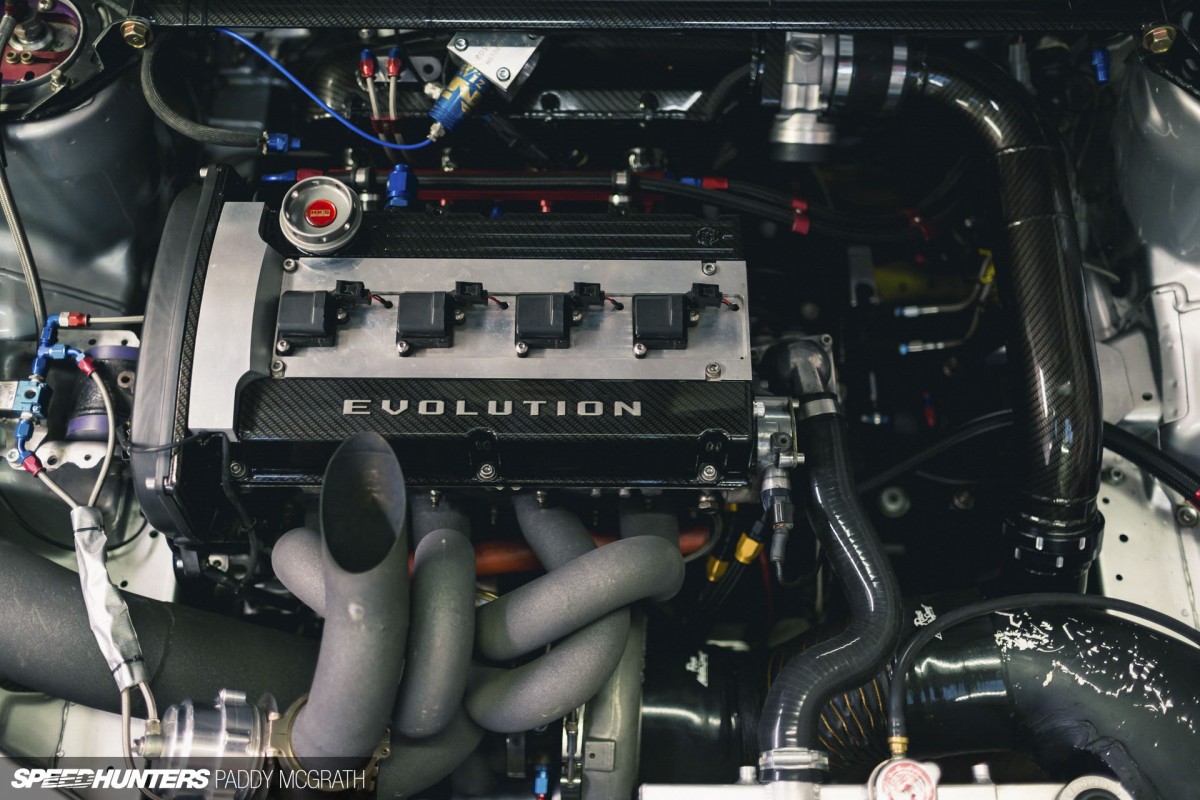 Fuelling is supplied through 2000cc injectors, an Aeromotive A1000 fuel rail and twin Bosch 044 fuel pumps, whilst the big kick in the back is supplied by a Ross Sport GT4205 turbo sitting on top of a Ross Sport Zircotec-coated exhaust manifold,and the management of it all is carried out by a MoTeC M800. Oh yeah, and there's that screamer pipe. The one to make your ears bleed.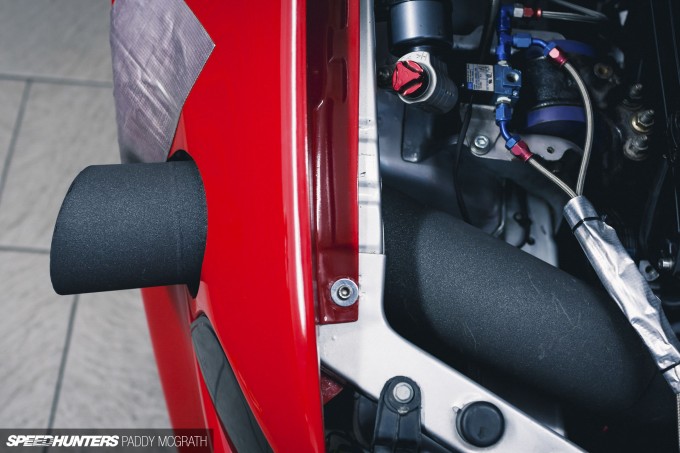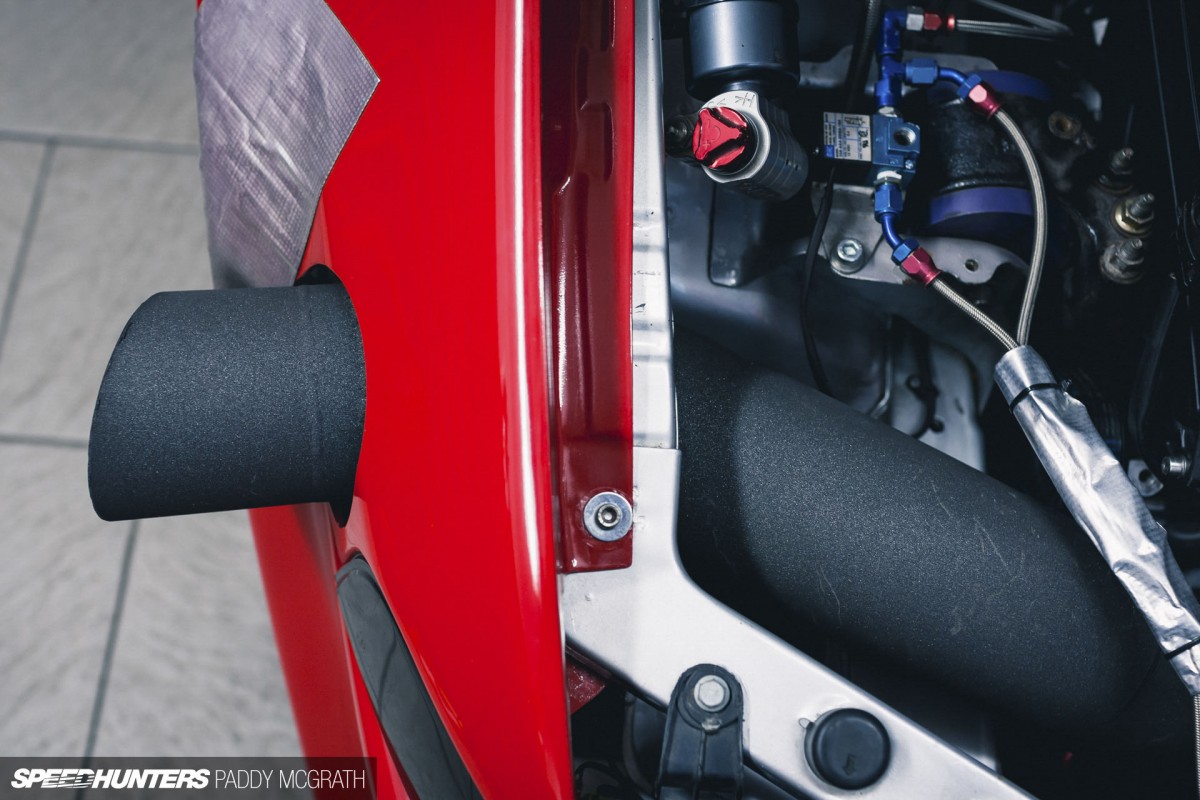 With that much power flowing through the system, it's no wonder the side-exit exhaust in the front wing needs that bit of heat protection to stop the paintwork from getting melted scorched.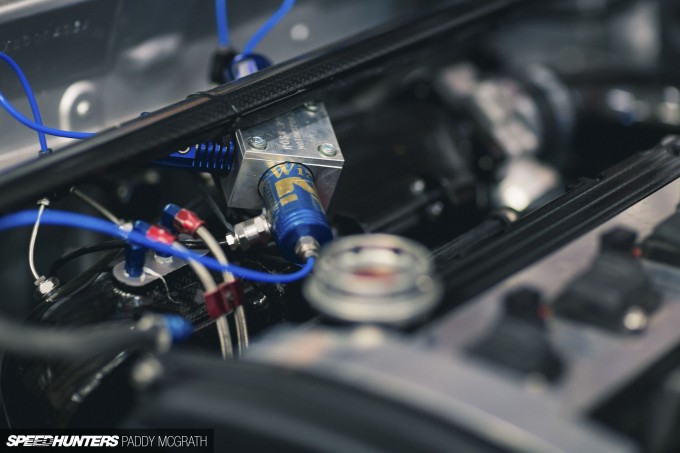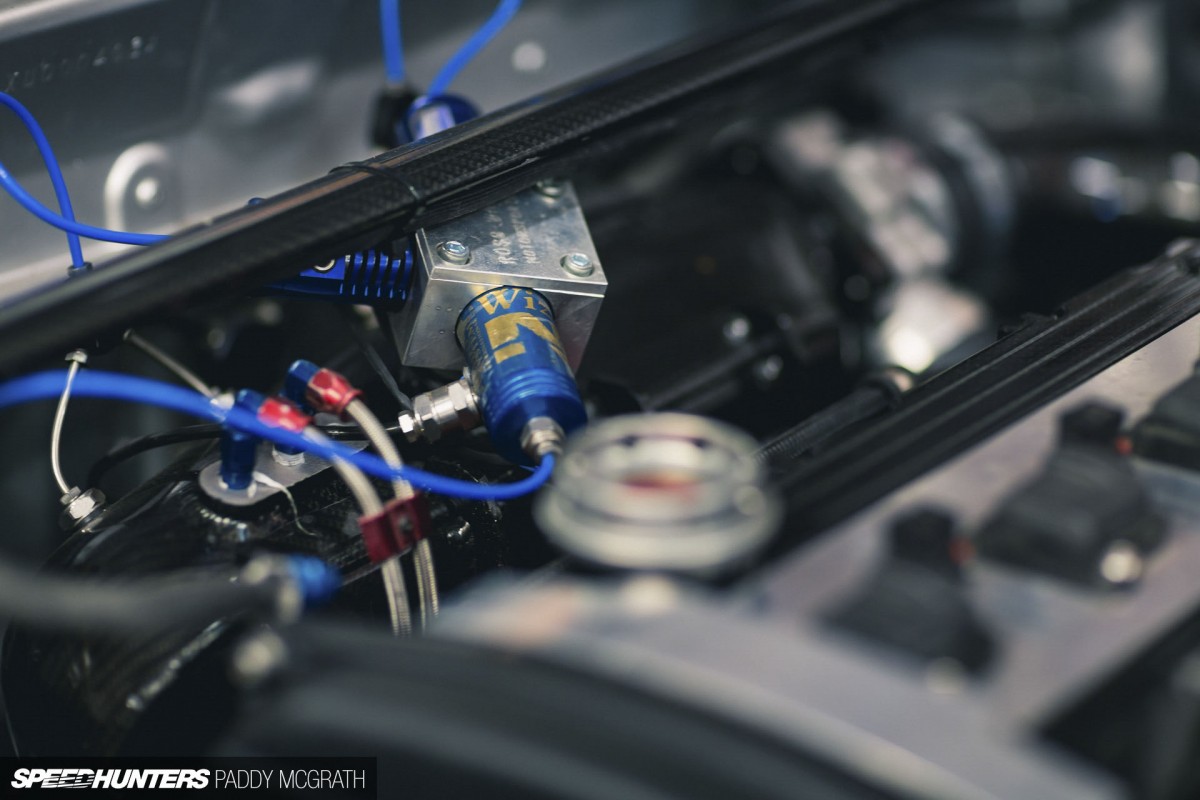 Of course, if that all wasn't enough for you, there's always the custom Wizards of NOS set-up that can be put into action to give you another 200hp shot. In total, the spec is good for about 900hp at the hubs. From a 2 litre!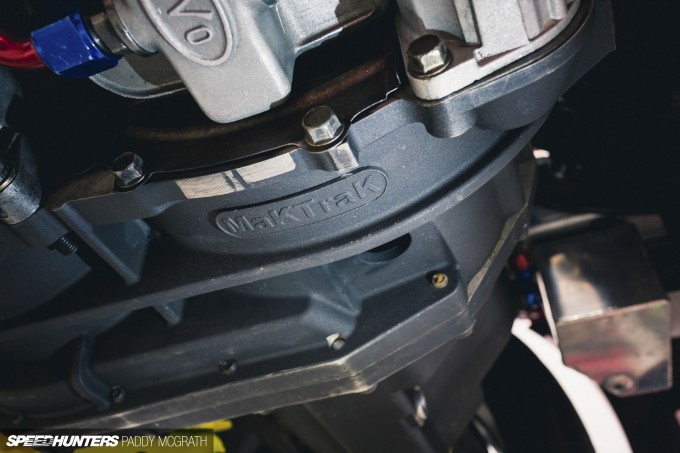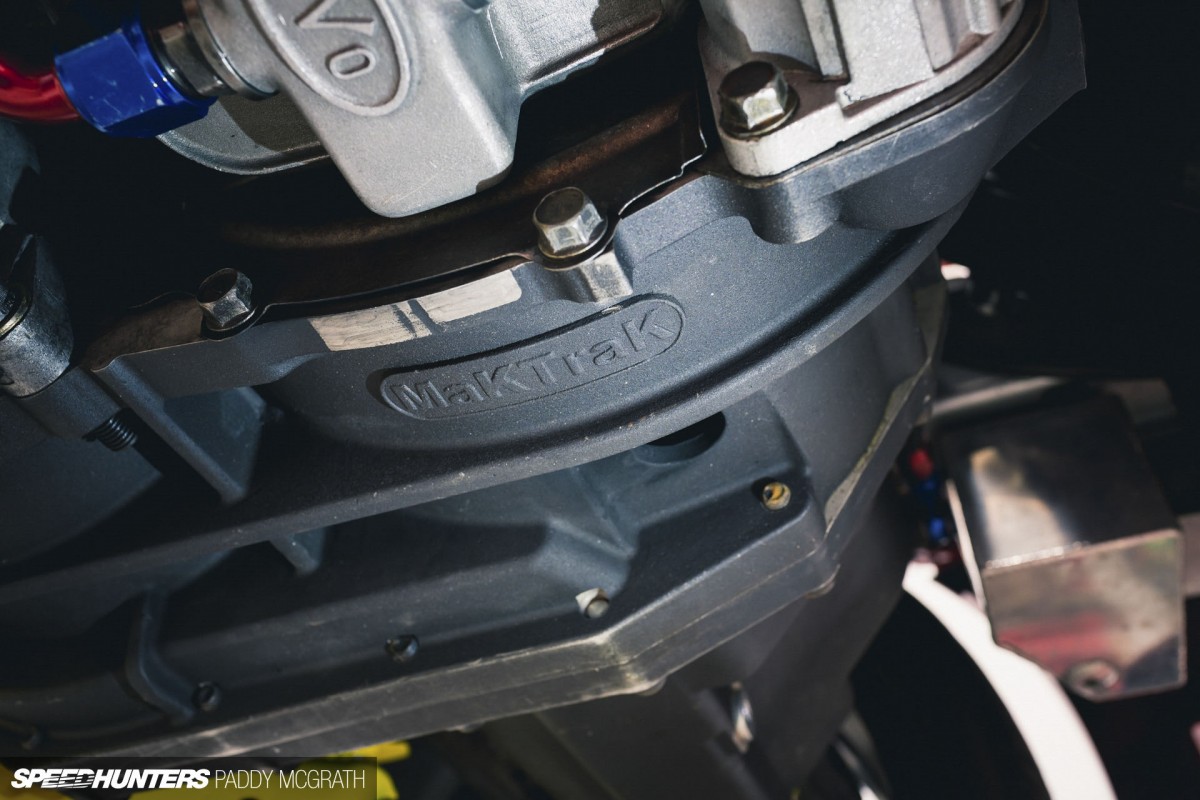 Of course, esssential to really cracking those quick times is not just a ton of power but the ability to move through the gears quickly; the MaKTraK six-speed sequential gearbox definitely comes in handy for that!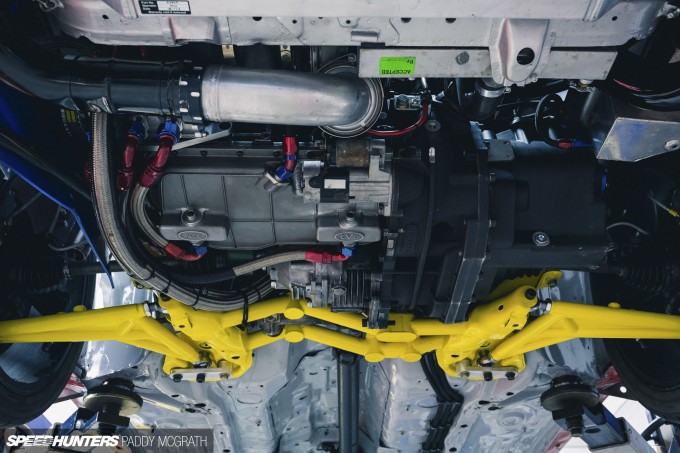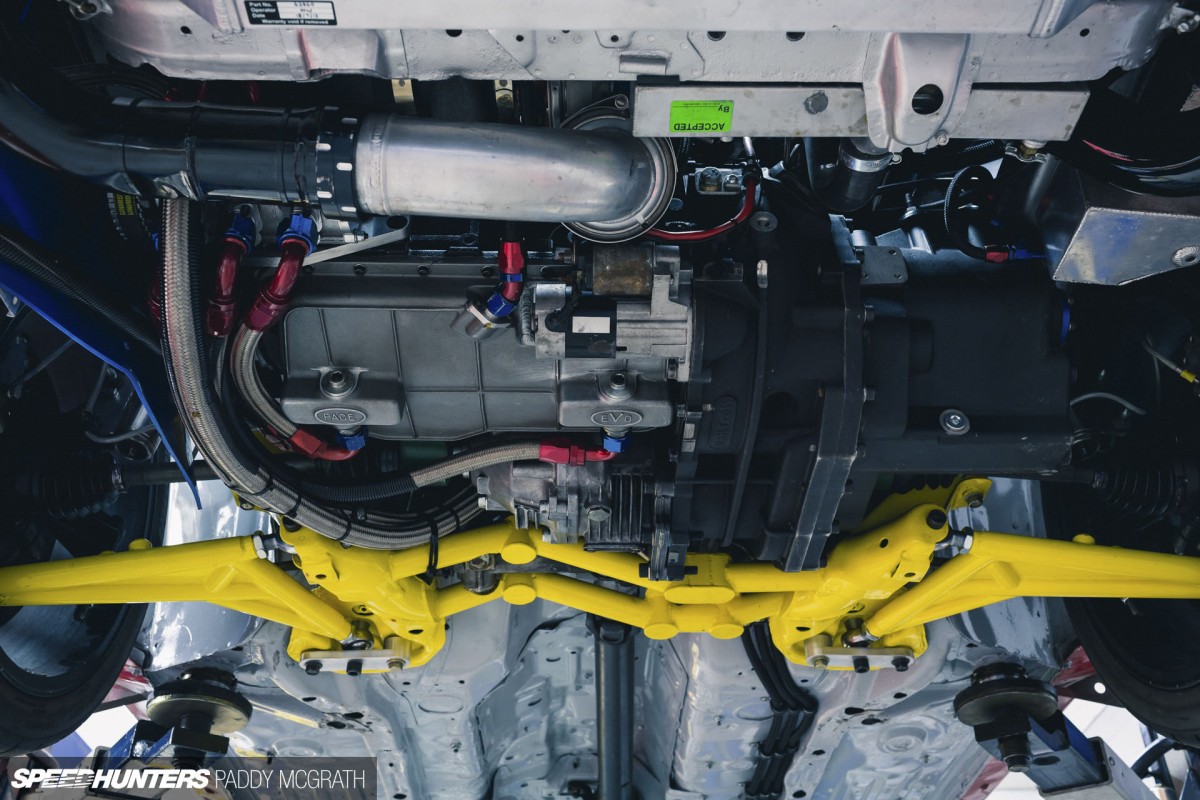 With the driveline often proving the weak point of big-power Evos, no stone has been left unturned under the VI. Power is sent from the MaKTraK through a fully treated non-ACD transfer box to a Wavetrac front diff and down the CTG carbon prop to a fully treated RS rear diff with uprated Cusco internals, with drive to the wheels then coming through uprated Drive Shaft Shop driveshafts. If it can be upgraded, improved or treated, it has been!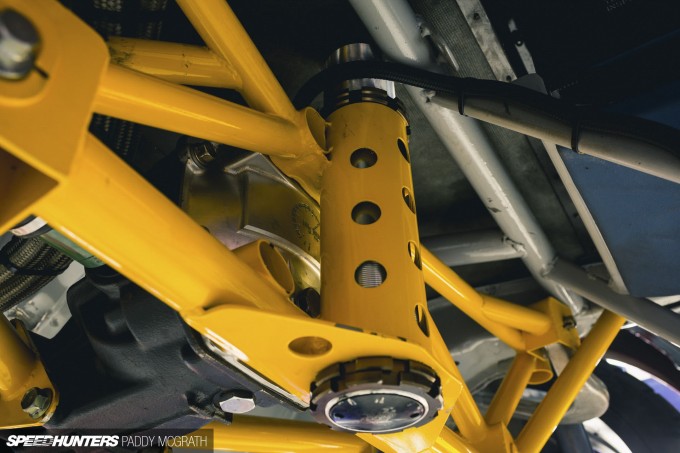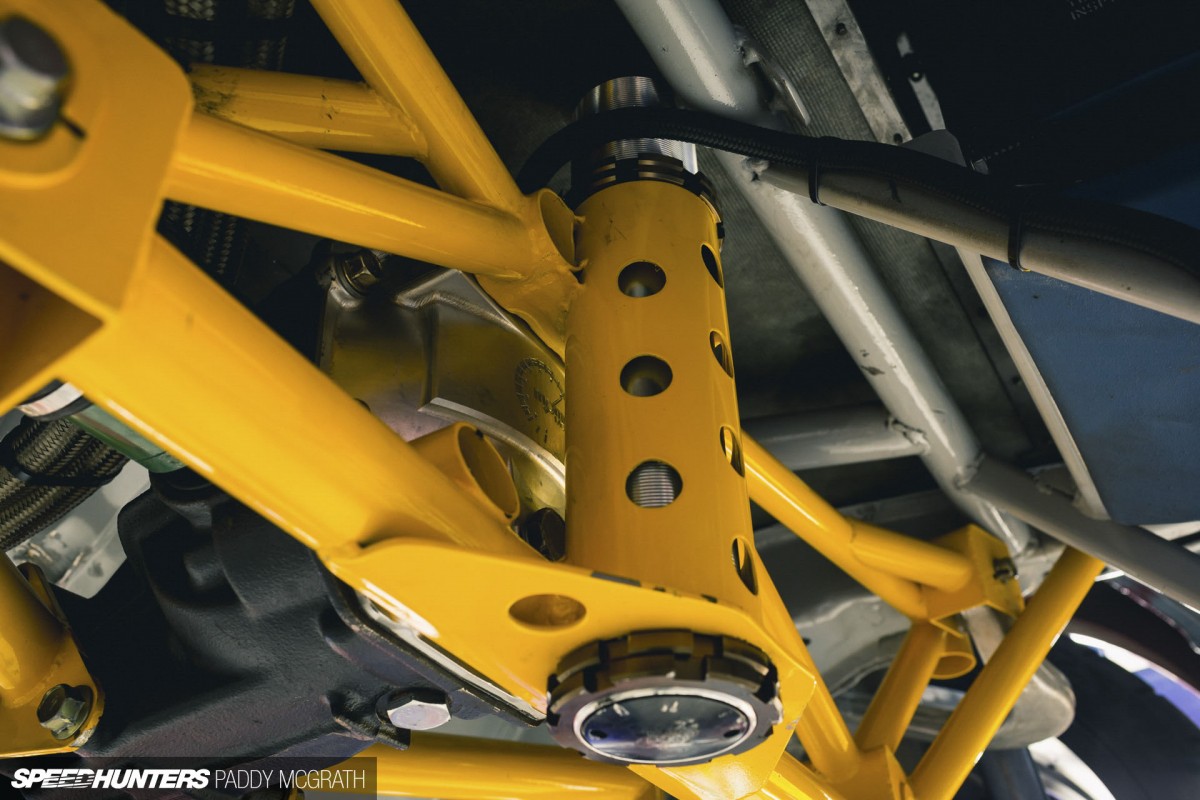 They've probably already caught your eye already – when you're under the car, you can't help but notice the bright yellow Momentum Motorsport tubular sub-frames both front and back. A weight saving of over 25kg is realised through using these, but they also increase chassis rigidity and allow the entire suspension set-up to be solid-mounted, reducing any flex in the system and allowing the car to retain its ideal geometry settings under load.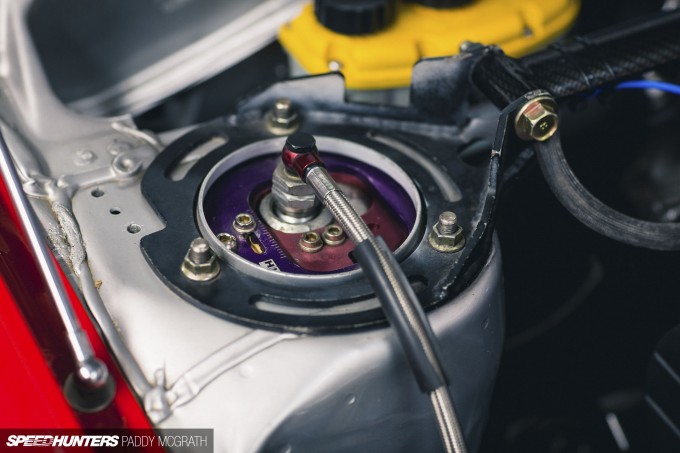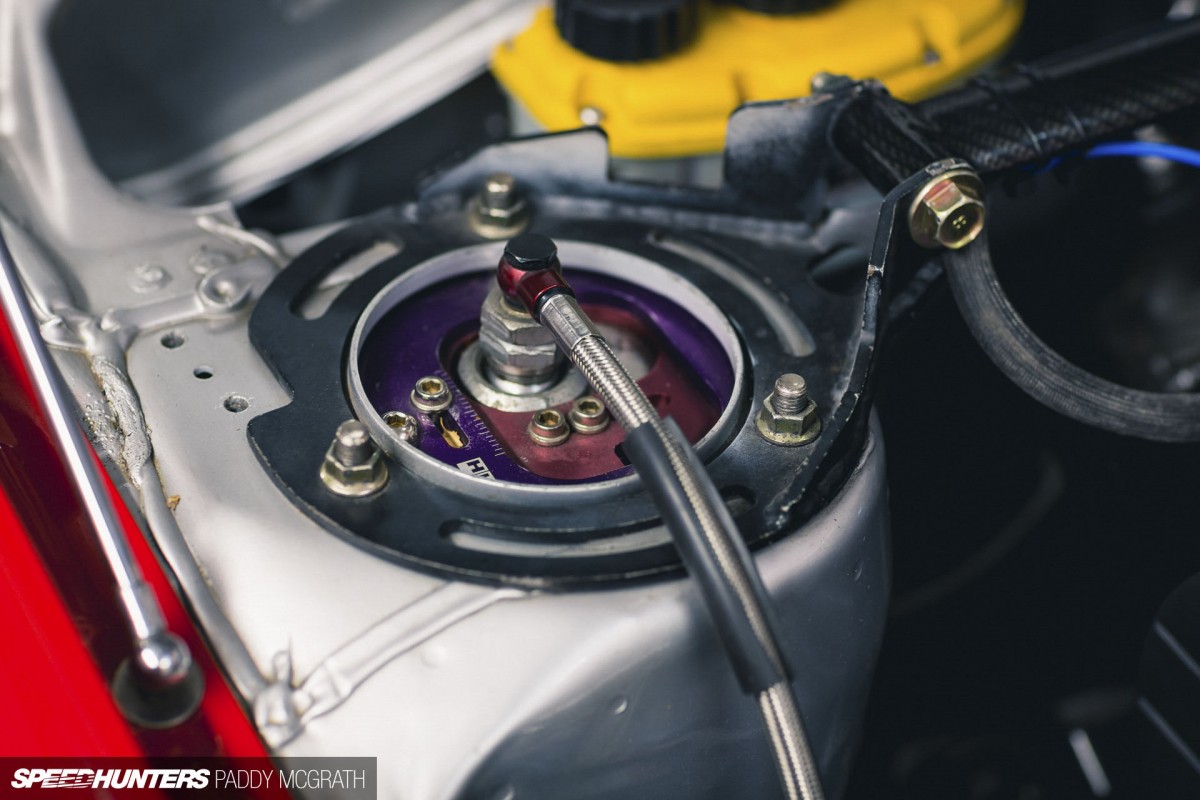 A set of Intrax 4-way adjustable coilovers with HKS top-mounts have their work cut out for them just keeping all four tyres firmly in contact with the ground.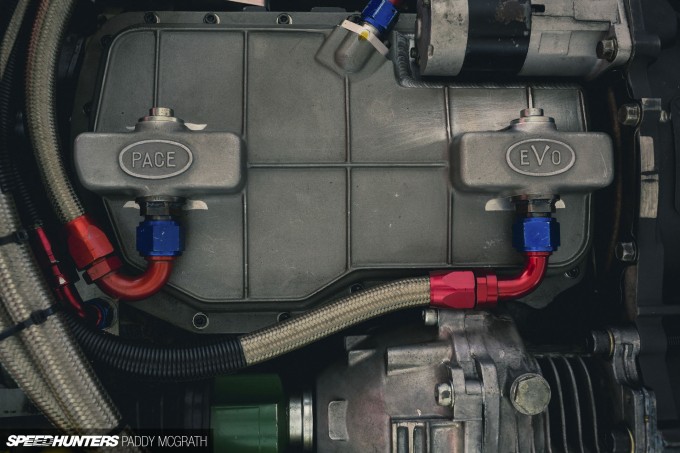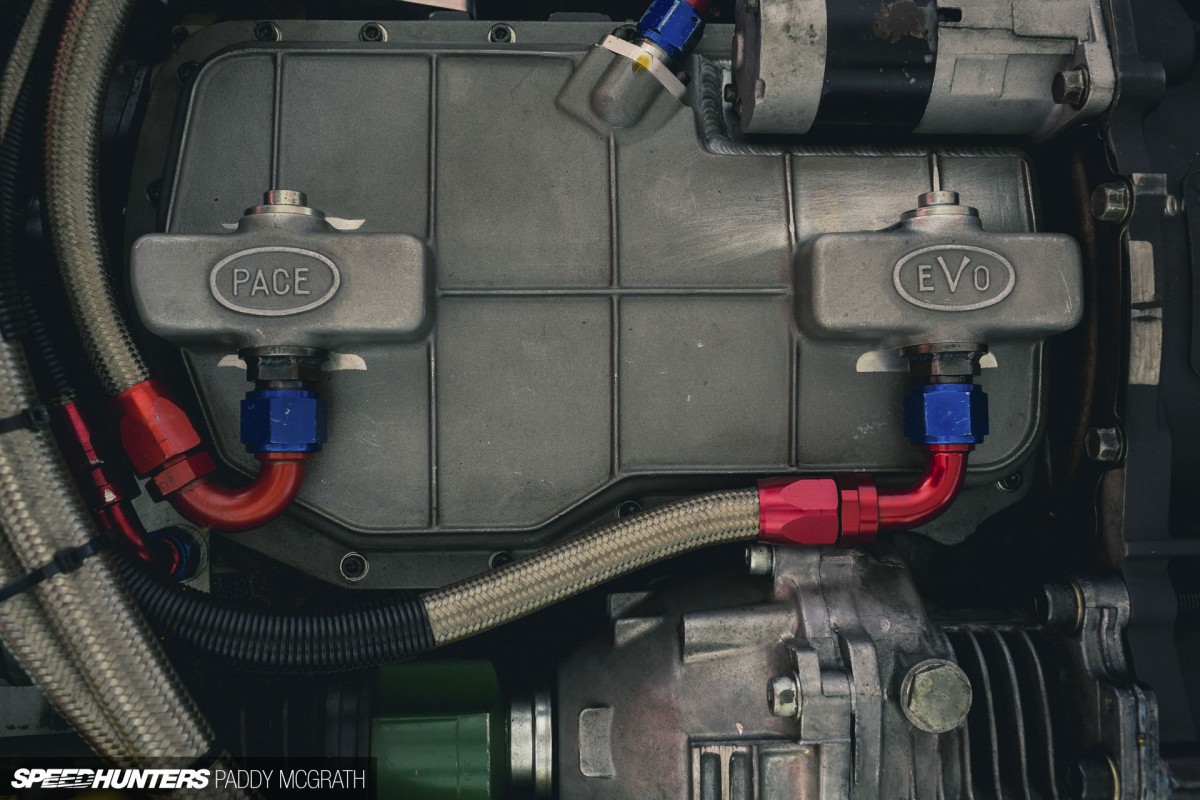 Keeping the engine protected is a Pace dry sump system to ensure the engine is never starved of oil in corners – an essential really when an engine has had this much money sunk into it. It also serves to give you a good idea of just how unbelievably immaculate the underside of the Evo is too. If you could figure a way to flip this car onto her back, you could eat off this.
Emerging from below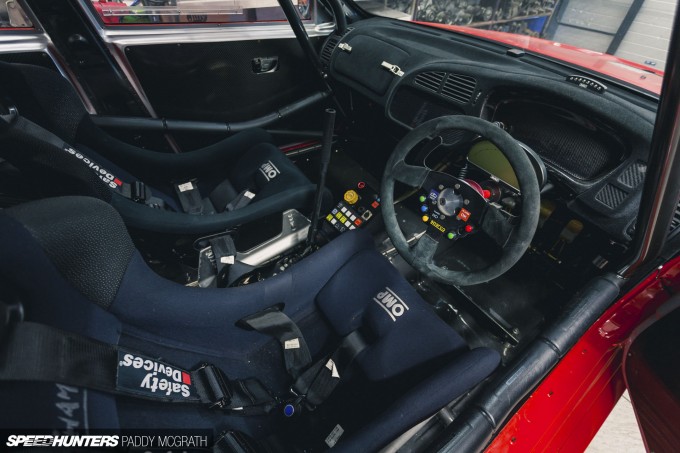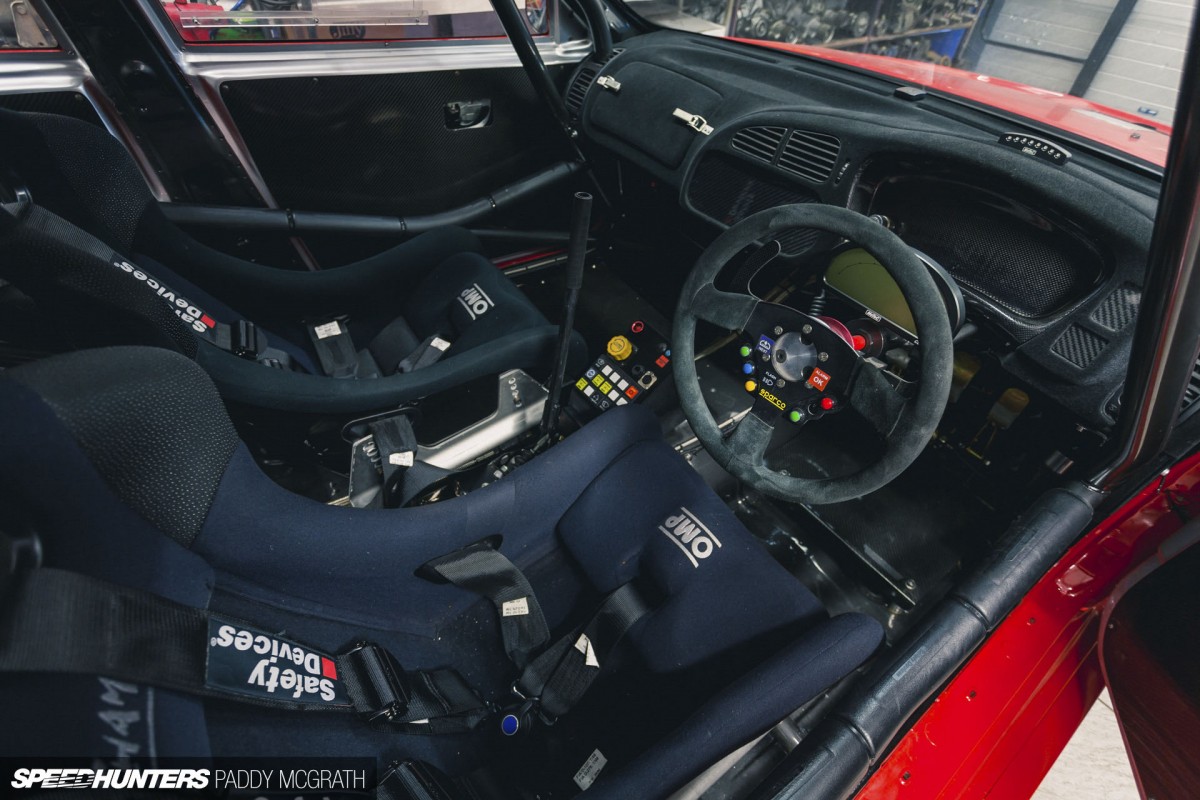 The inside's been no afterthought either. The importance of driving position wasn't lost on Ross, so after many adjustments, the seat now sits lower and further back to hit the sweet spot, with a custom steering column to keep the wheel in the perfect place.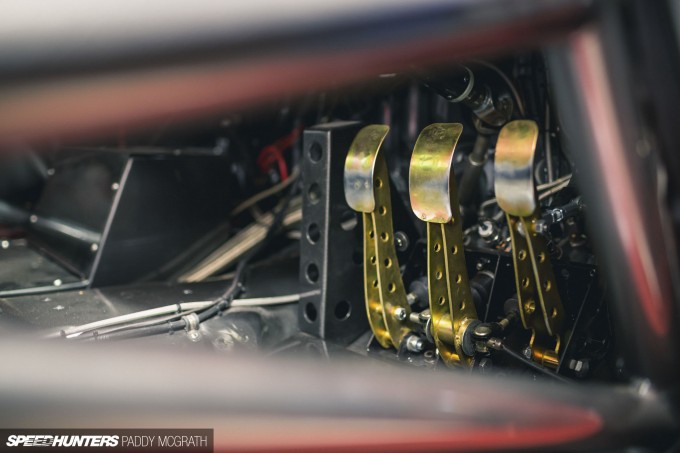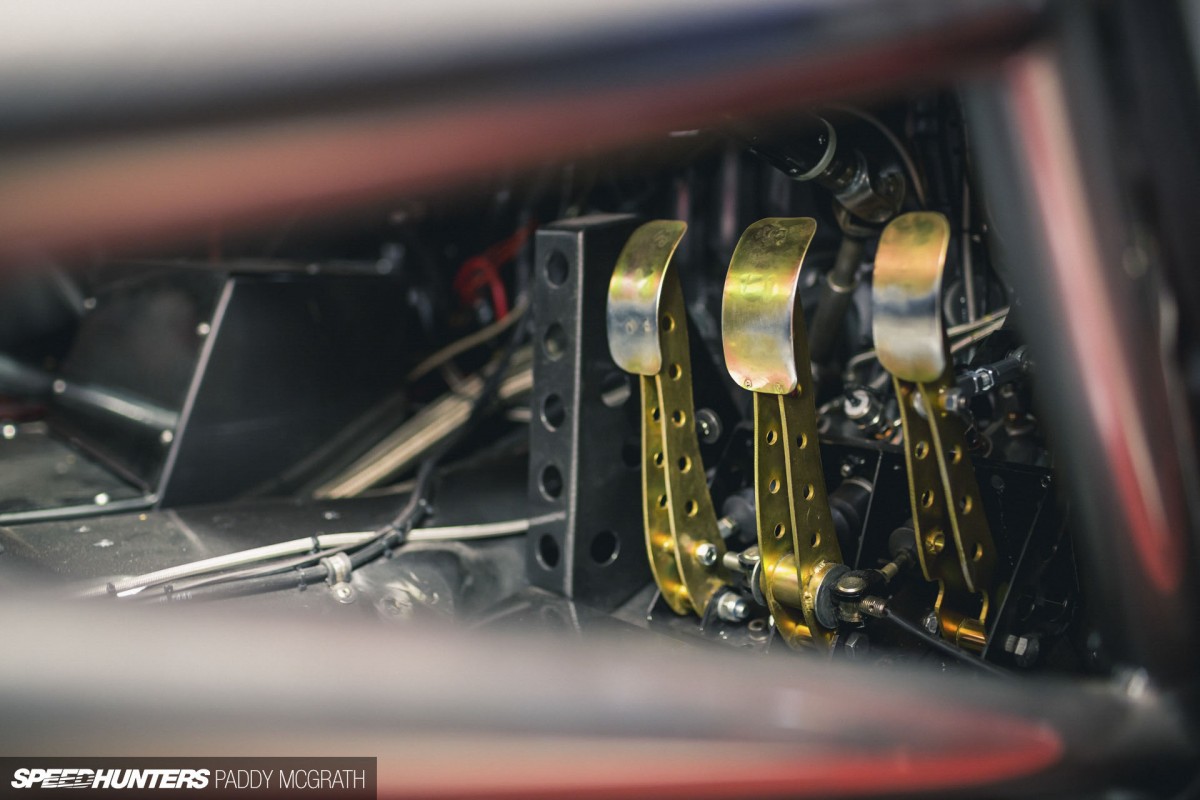 After shifting the seat, the standard pedals felt too high so it was time for a floor-mounted pedal box instead. Try as they might, Ross and Gary couldn't get it to fit quite how they wanted it, so the decision was to taken to create their own set-up instead – which is now available as an off-the-shelf part.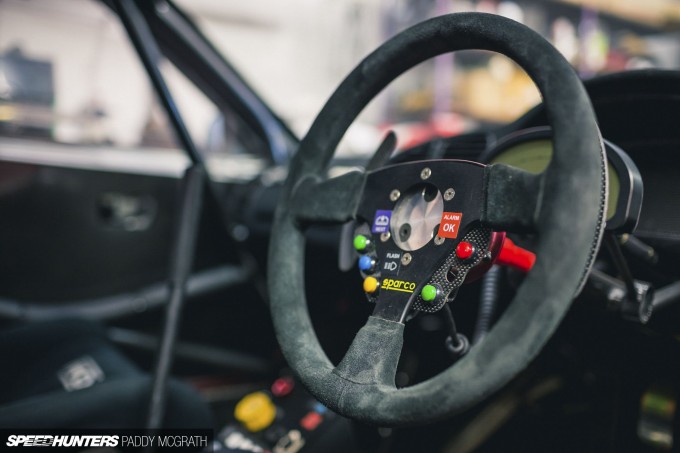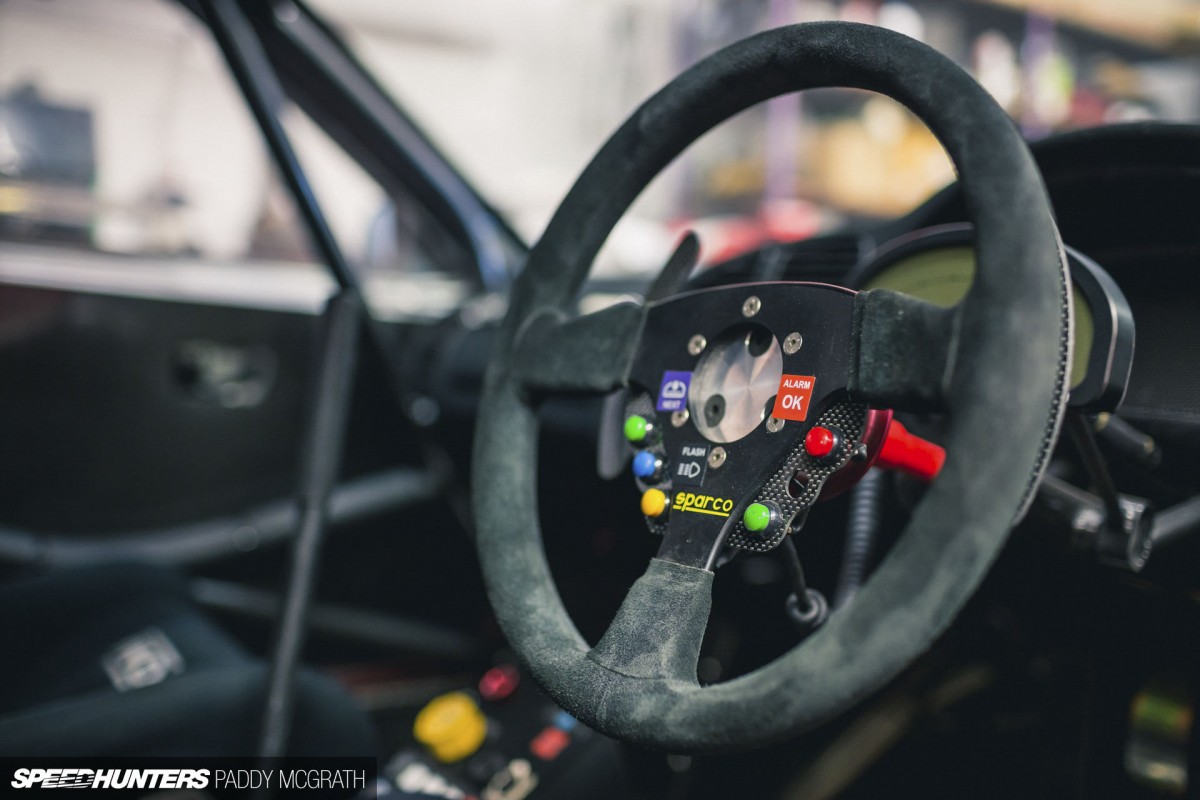 A MoTeC CDL3 digital dash provides all the information needed, including the critical rev gauge. With an engine that now screams its way up to over 10,000rpm, that information's critical, and the Sparco steering-wheel-mounted Geartronics paddle shift allow the Evo to be eased through some blisteringly quick gearchanges without ever having to remove your hands from the wheel.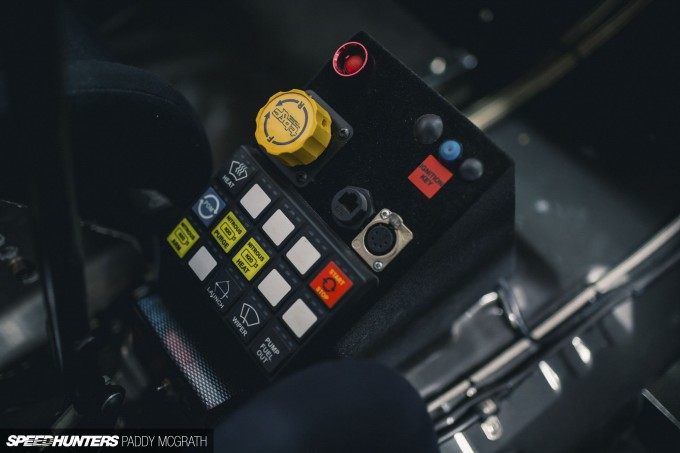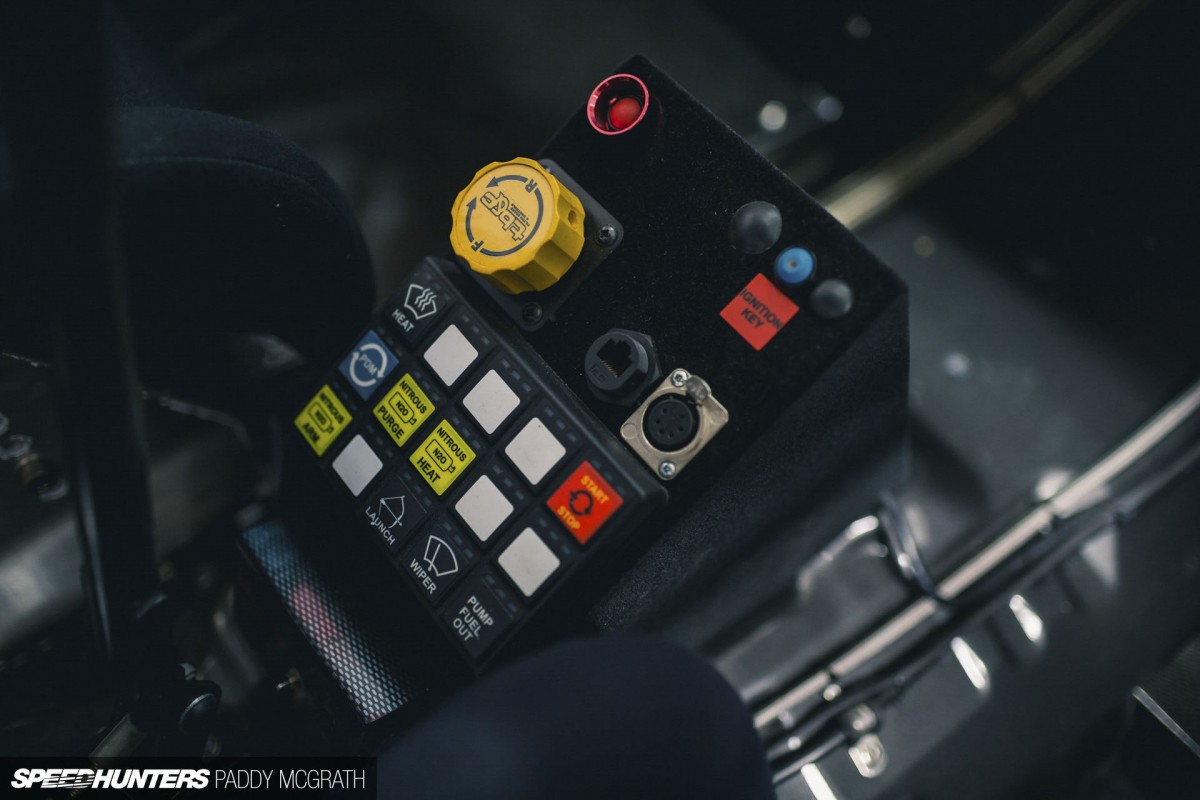 A custom panel in the centre works with a MoTeC PDM30 module to provide all the necessary electrics with a point of control. And looks pretty damn cool to boot.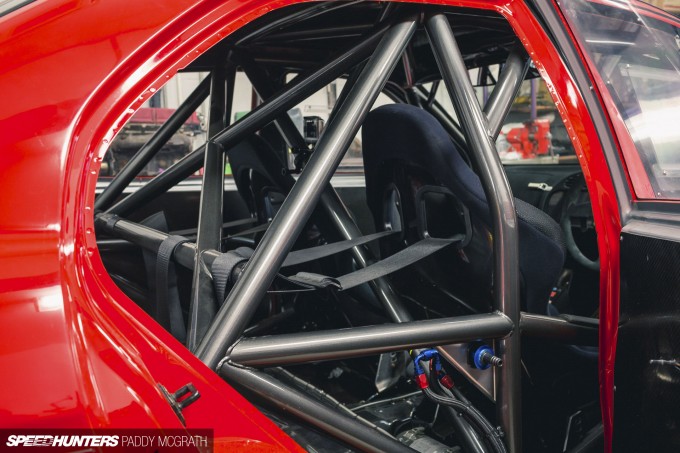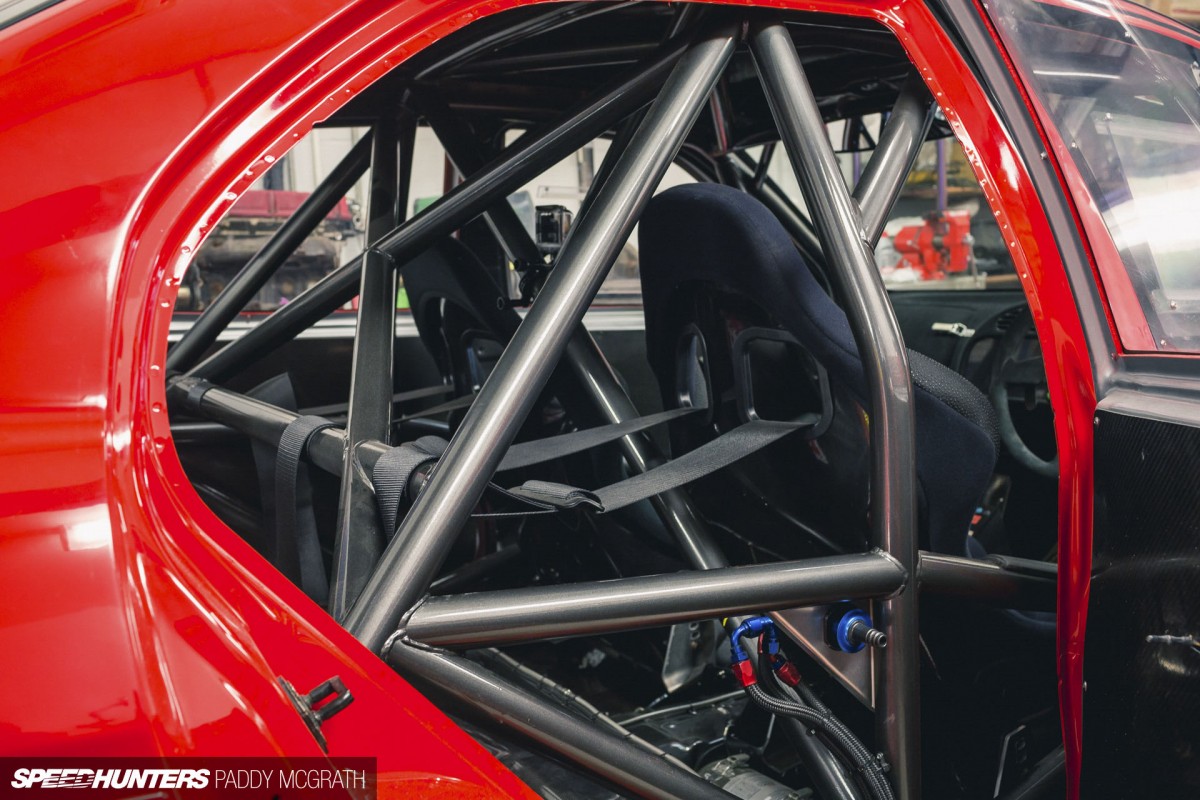 When you're going this fast, safety always has to be a priority and there's been no skimping with this custom cage. Built to FIA WRC-specs by SHP Motorsport using chromoly, it spiderwebs throughout the car. It's quite simply a work of art.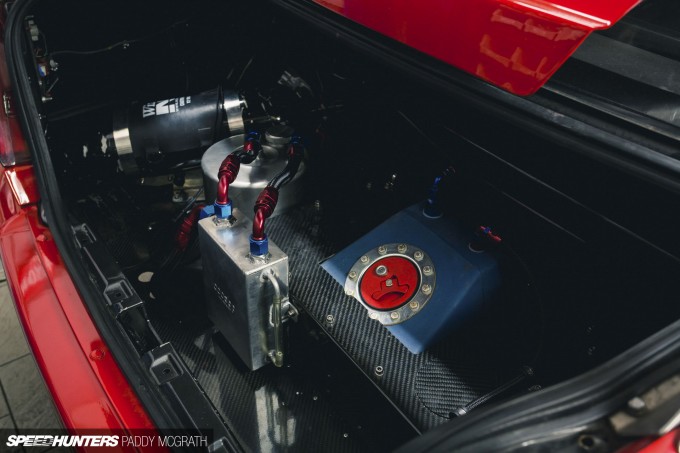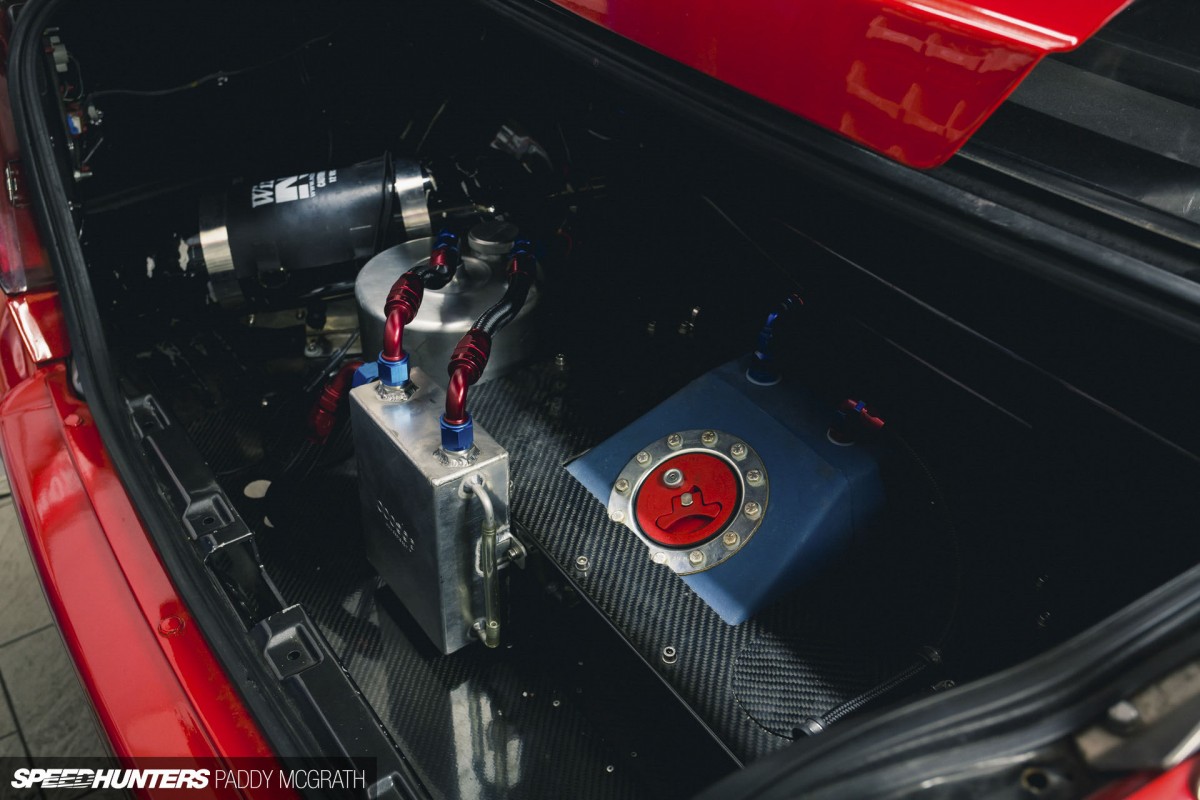 The boot set-up is pretty spectacular too. With the nitrous tank sitting off to one side and the original floor removed, both the dry sump tank and ATL fuel cell are suspended underneath the car to aid with a low centre of gravity and just the top of both peeksthrough the new custom carbon floor.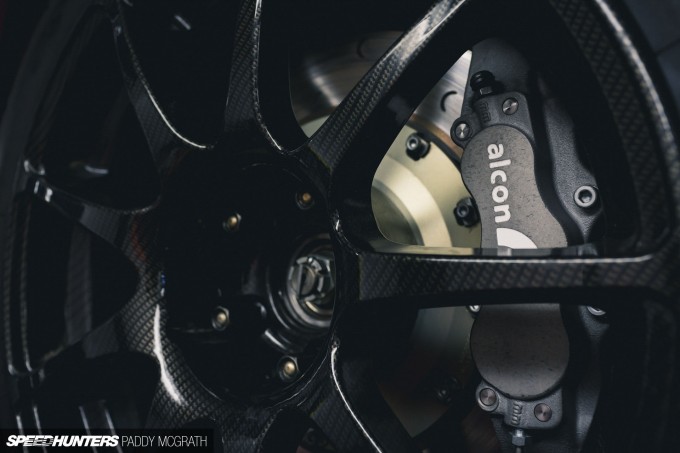 Carrying on the carbon theme, the Kali Racing multispoke forged wheels have been carbon-wrapped to provide a contrast to the paintwork. Behind them shelters some serious stopping power in the form of Alcon race-spec six-pot calipers at the front and four-pots at the rear.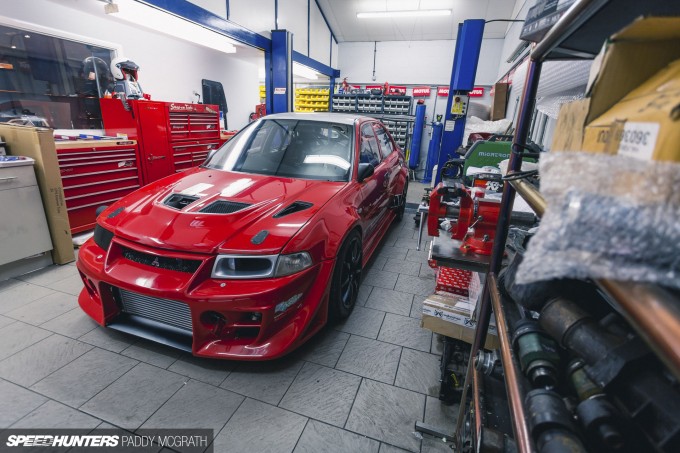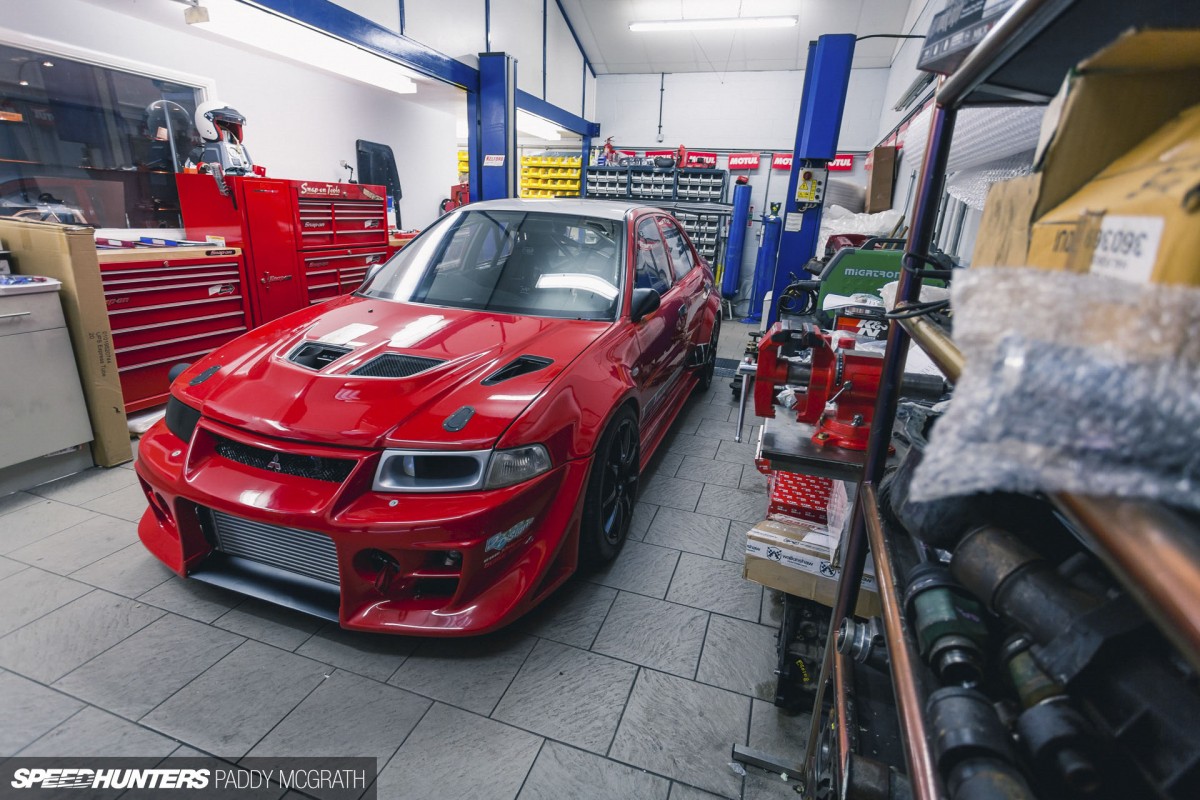 The Evo's savage performance is matched on the outside with the aggressive DAMD front bumper, composite doors, a carbon boot, KS Auto side skirts and rear bumper and those Varis rear arch extensions, as well as the headlight-mounted air intake to help with feeding enough air to that hungry 4G63. A nod has been made to Mitubishi motorsport history with the WRC Ralliart red paint job, and the end result is just the complete package.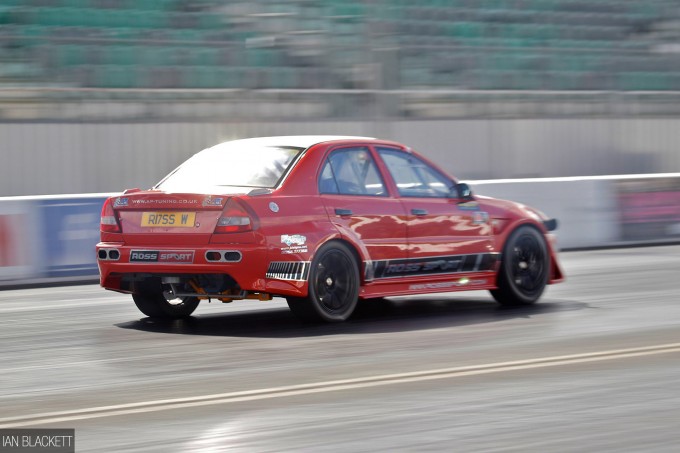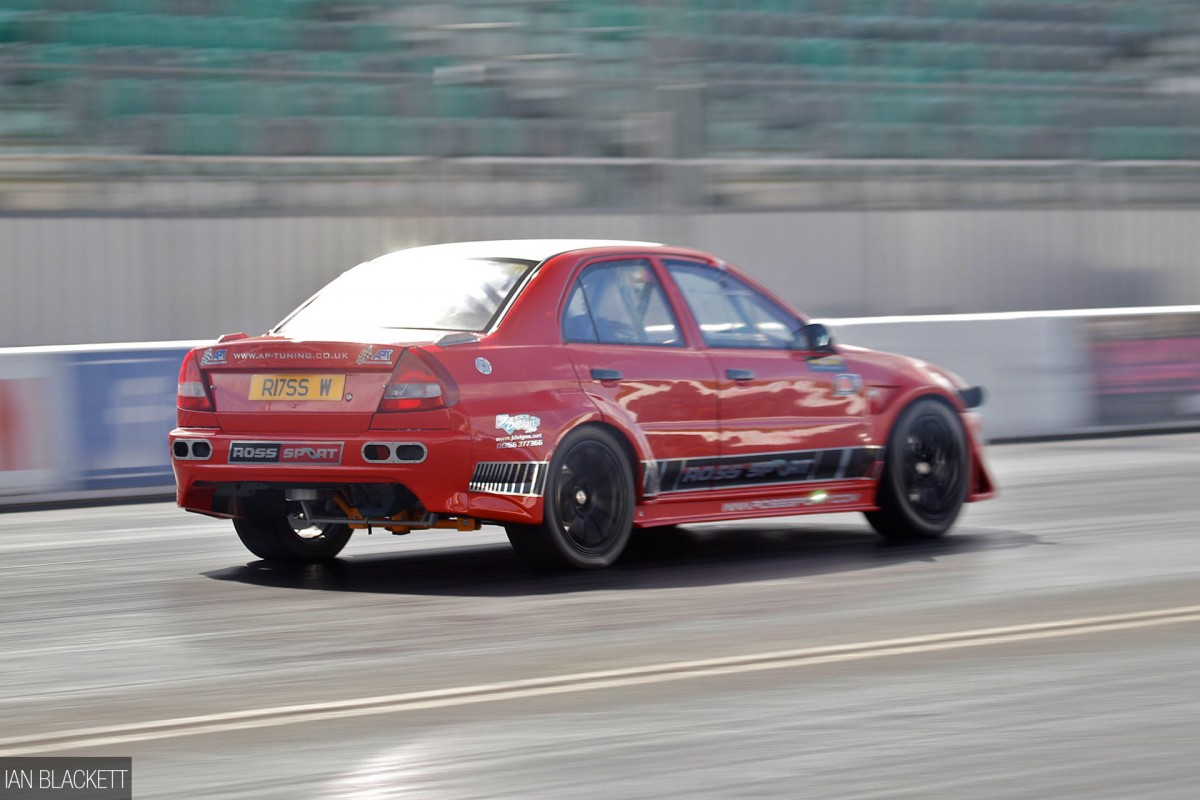 Ross is obviously a man who enjoys a challenge and with the 30-130 times looking pretty sewn up, he began to wonder how the car would perform on the strip. With the car already set up for out-and-out power, there were only minor modifications needed to the suspension set-up to enable the car to squat better off the line and get the power down. A sub 10-second pass was completed in 2012 but there was still more to come. Last September, he headed to Santa Pod and put down an impressive 8.75 second pass at 163mph.
This makes Sylvia the fastest Evo in the UK! Just watch her squat and go!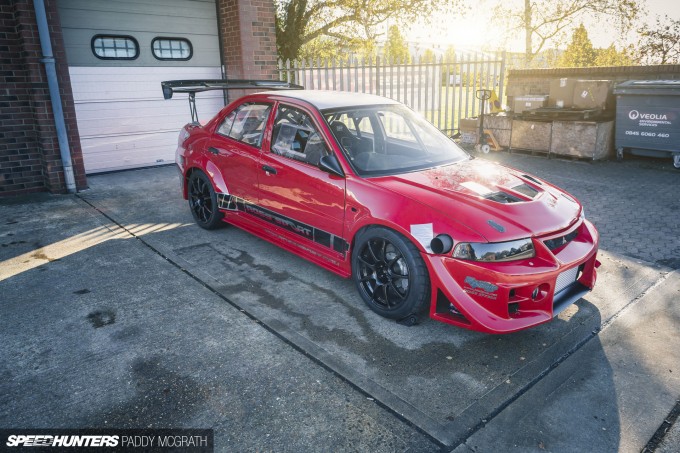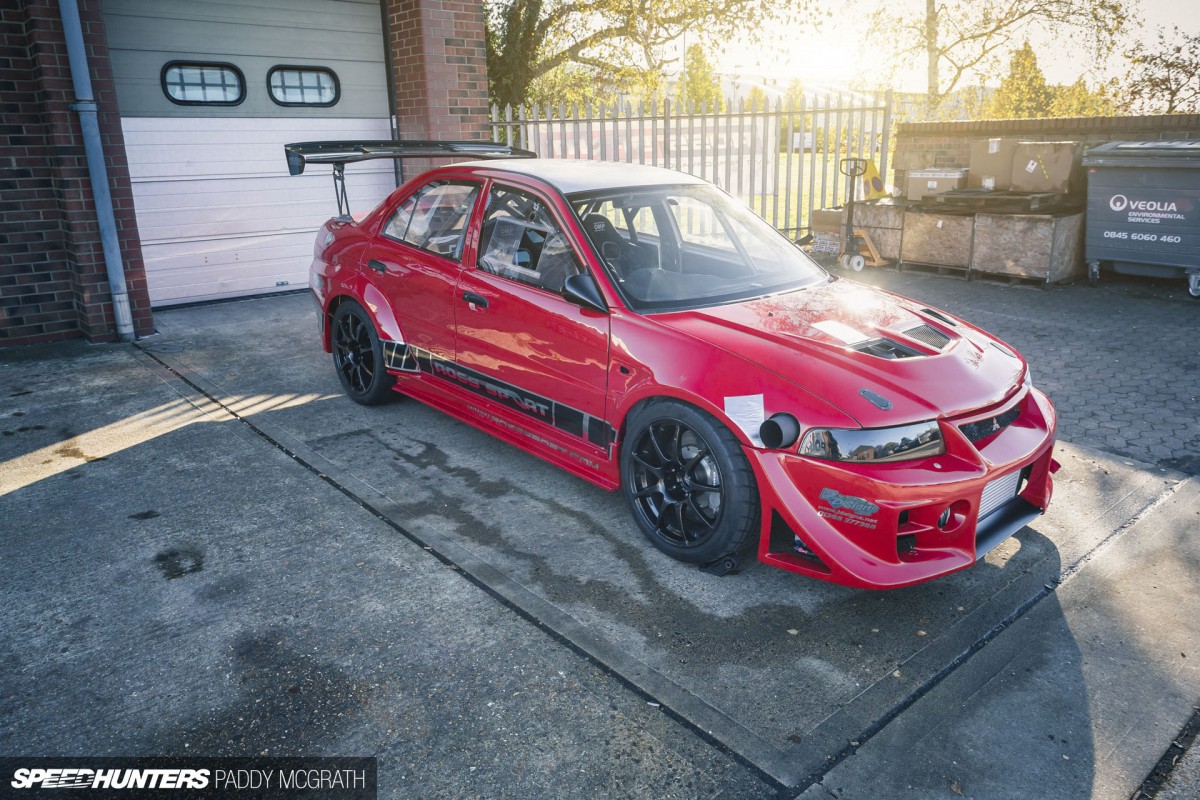 And if you're worrying that Ross is missing out on the Evo's supreme handling qualities, don't be! Although the straight line events have proved a clear way to easily demonstrate the potential of the car and the products it sports, it's no slouch on the track either. That huge Voltex Cyber Evo wing isn't fitted for nothing! With a few modifications – a swap to an FP3076HTA turbo, a remap to a much more track-friendly 600hp and that wing – the Evo is also the perfect circuit weapon.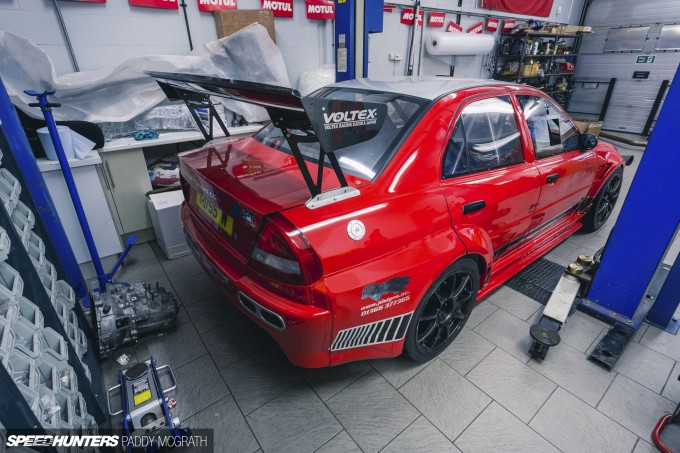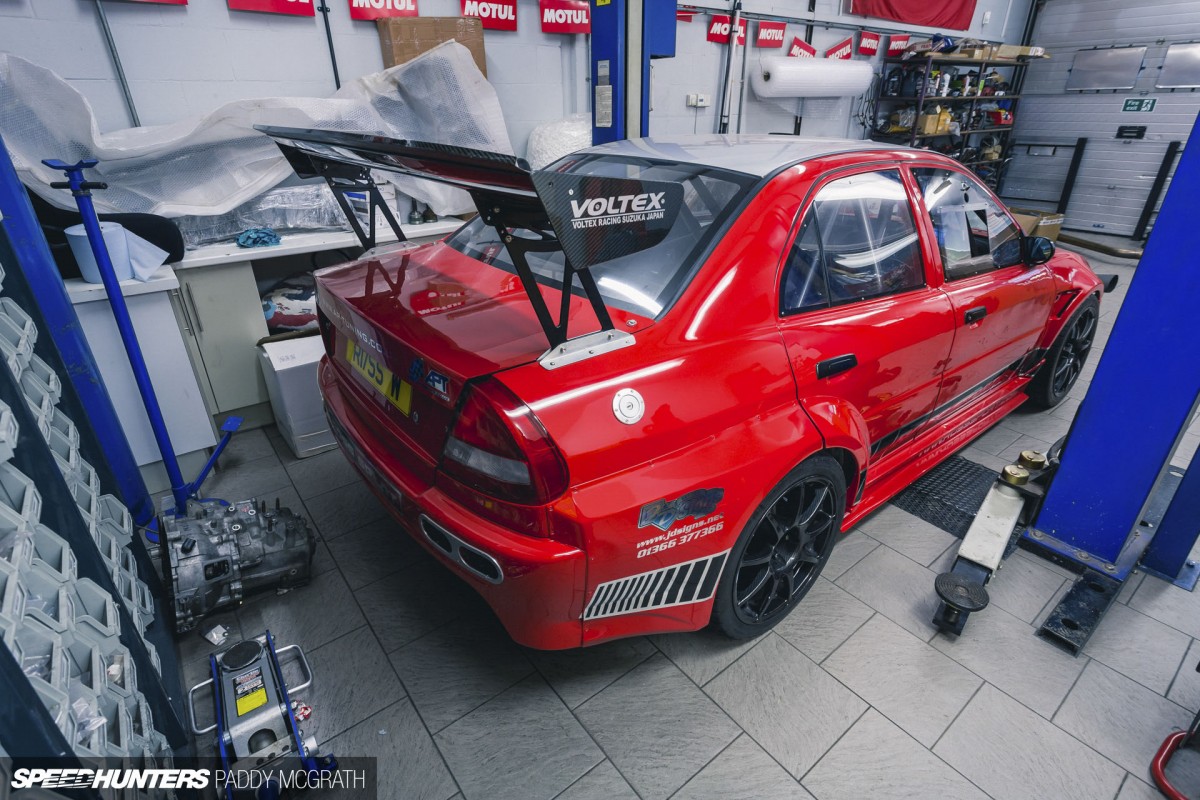 As an Evo owner myself, reading through the spec list of Ross's car is the equivalent of me writing a list of what I'd do to my car if I won the lottery. You'd think it would be easy to be jealous and a bit annoyed. But that's not the case at all. Not just because Ross is a quiet but friendly guy, but because, despite its appearance, its reputation and the records it holds, this isn't a car that was just created from the ground up with the intention of being a shop demo car. Ok, so it now does a pretty great job of doing just that but it's been built up over the years, honed and refined as Ross has experimented and learnt each lesson the hard way. Out of it has sprung a business and the car has snowballed to become what you now see before you.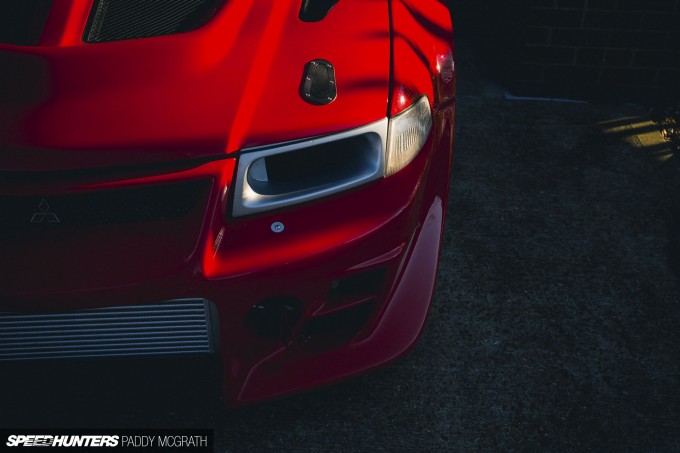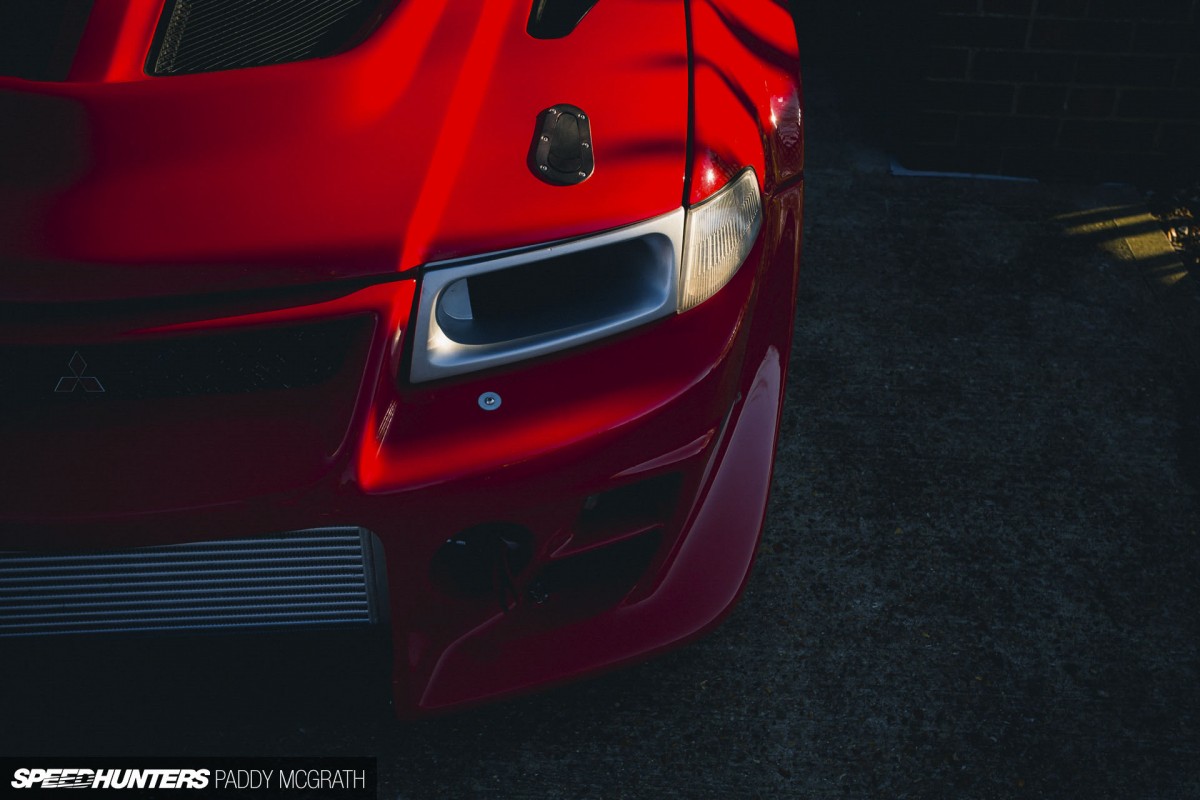 So you see, the Evo's really a pretty multi-functional animal. It was with no small amount of surprise that a conversation with Ross just a few days ago revealed that he's now parted ways with the car. Luckily, the new owner intends to run her in this year's Time Attack so I guess we'll get to really see just how well she performs on track as well. So, happy on the strip, tearing through the gears, or blasting round corners on track; but no matter what guise it's in, it's always a monster. In the UK Evo scene, it's become a legend. Forget Dr. Jekyll, there are no niceties here. There is only Mr Hyde.
Words by Suzy Wallace
Instagram: speedhunters_suzy
suzy@speedhunters.com
Photos by Paddy McGrath
Twitter: @PaddyMcGrathSH
Instagram: speedhunters_paddy
paddy@speedhunters.com
Additional Photos by Ian Blackett
www.blackettphotography.com
Ross Walker's Mitsubishi Evo VI
Numbers
Last dyno result (car has received further on-track tuning since then): 876.5hp (at the hubs)@7500rpm and 672lb/ft @6100rpm. Quarter mile: 8.75 @163mph. 30-130mph time: 4.91 seconds
Engine
APT/Ross Sport 2.0 long rod engine, alloy rods, LW crank, Wiseco 100HD pistons, Jun 272 solid cams, CNC head – Ross Sport big valve head, Pace/APT dry sump kit, JUN inlet manifold, Ross Sport GT4205 turbo (drag)/3076HTA (sprint), Tial BOV, Ross Sport Zircotec Metallic Black coated exhaust manifold, Pace intercooler, custom intercooler pipe work, Ross Sport custom radiator, custom 4″ side-exit exhaust (drag)/3.5″ exhaust (sprint), ATL fuel cell, twin Bosch 044 fuel pumps, ID2000cc injectors, Aeromotive A1000 fuel rail, Ross Sport custom fuel system install, custom 200hp NOS system, Motec M800 ECU (multi maps, mapped by Gary@APT), Motec PDM30, Motec CDL3 dash logger, Geartronics GCU – GT paddles
Driveline
MakTraK six-speed sequential gearbox, fully treated Evo 8 non-ACD transfer box, Wavetrac front diff, fully treated RS rear diff (with Cusco RS internals), CTG carbon prop shaft
Suspension/Brakes
Momentum front and rear tubular subframes, Momentum adjustable front arms, Nagisa adjustable rear lower control and toe arms, custom rear anti-roll bar, Intrax four-way suspension, Ross Sport roll centre and bump steer kit, modified front knuckles, Alcon race brake kit (365mm front, 343mm rear)
Wheels/Tyres
Carbon-wrapped Kali Racing forged 18×9 wheels (sprint)/Advan RS 17×9 wheels (drag)
Exterior
DAMD front bumper, KS Auto rear bumper, KS Auto side skirts, Varis rear arch extensions, Redbrick Racing composite doors, Monstersport carbon boot, GP Sports front wings, Momentum air intake headlight (drag), Voltex Cyber Evo rear wing (sprint), Rallytech mirrors
Interior
OMP Champ bucket seats, Sparco steering wheel, Safety Devices harnesses, flocked dash, Ross Sport floor-mounted pedal box, custom steering column, hydraulic handbrake, Ross Sport custom hydraulic plumbing, SHP Motorsport WRC-spec roll cage, Ross Sport air jack system, plexiglass windows, plumbed in Zero 360 fire system
More Evo stories on Speedhunters
More Time Attack car features on Speedhunters