No, that's not possible
I have no idea where to start with this one. In all the years I've been writing about different feature cars I've never seen anything quite this insane, or been so dumbfounded. I mean that. Right here and now, I'll freely state that the Oemmedi Meccanica Fiat 500 is quite possibly the most out there car I've had the pleasure of spending time with. A bold statement? Yes it is, but one which I've considered for a while. Every time another feature I've produced pops up in my mind, the Fiat comes back with an even more convincing argument for its case.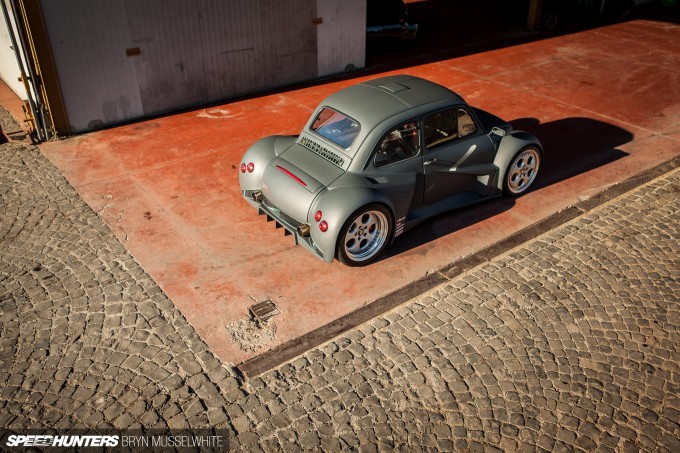 The car is outrageous, the execution flawless and the motive brilliant. So to try and make sense of it all, I'll deal with those points in that order. The first being entirely justified by the fact that this is in essence, a Lamborghini Murcielago. That's right, a proper, bonafide, kick ass supercar from a thoroughbred Italian manufacturer. Aside from some handmade bodywork that barely covers the mid mounted 6.2 litre V12 engine, this is a Lamborghini. No really, it is. With 580hp.
When I first showed this build to a friend, he made noises of disbelief, saying it was probably a lash up and not running a proper Lamborghini engine. Well for any other naysayers out there and for anybody else who has fuel pumping through their veins, click on the video and take a look. Then close your eyes. It's incredible huh?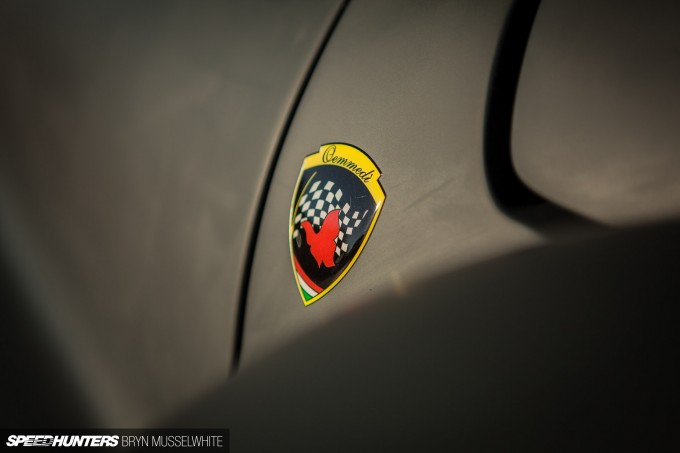 So what sort of madmen would create such a thing? Oemmedi Meccanica, that's who. They're a family run general maintenance and restoration workshop in the middle of Italy. It's roughly an hour's drive south to Rome from here and the surrounding countryside feels dry and clean.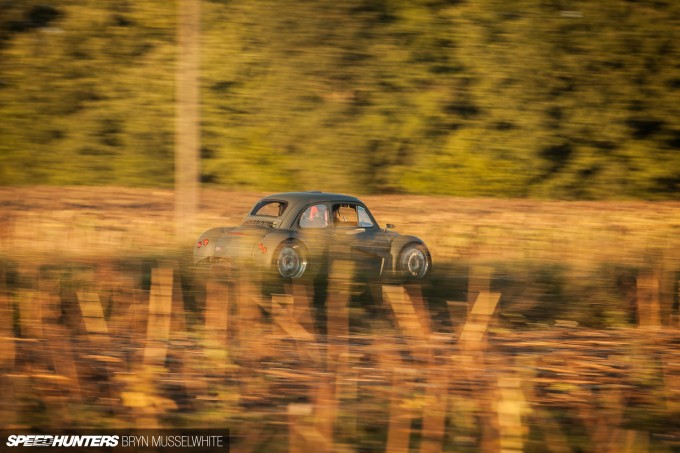 The lazy late summer air is laden with warmth; my mouth is dry and my head feels a little slow and numb after travelling over 1000 miles today to get here. But what I've found on this innocuous, hidden away industrial estate is quite possibly genius and madness mixed in equal quantities. This is what snaps me back to #MaximumAttack mode.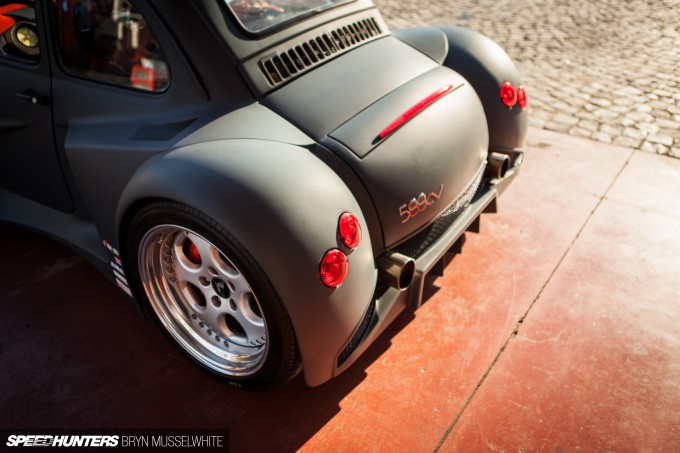 I realise quickly that I'm just circling the Fiat not really knowing where to start. Seeing pictures is one thing but I'll disappoint you now by saying it's nothing compared to experiencing it in the metal. You don't just decide to use some Lamborghini salvage one day though; you don't just wander into a bull ring and pull out a red flag wondering what will happen next. Oh no.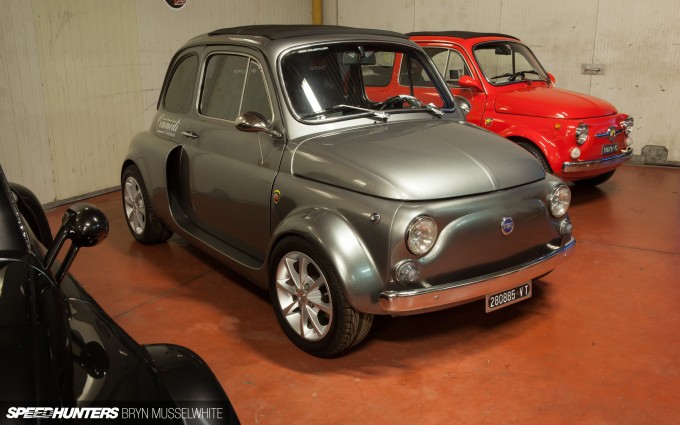 What you do is build a whole line-up of street fighters before taking on the heavyweight title; so neatly lined up in one corner of the expansive workshop are what came before the Lamborghini-engined experiment. The red car is an Abarth: the factory/aftermarket tuner take on things. Air-cooled and original save for a few modifications, the 500 is synonymous with Italy and it's easy to see why it captured so many hearts during its production run. The silver car is the first step on the mutant ladder though.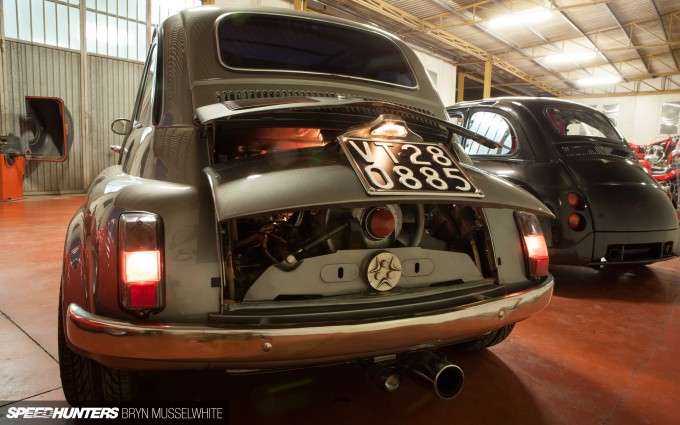 Underneath the two part electrically-operated deck lid is a Porsche flat six. Here you can see the extra girth starting to kick in – wide arches on wide arches. Now the large air intakes on the leading edge of the wings make sense. This is just Oemmedi getting started though. You see the dark grey to the right? That's hiding a Ferrari V8, and yes I did shoot it for a feature so you'll see more of it in the future. Right now I need to get back to the Lambofiat Murciequento… Well, what would you call it?
Yes it is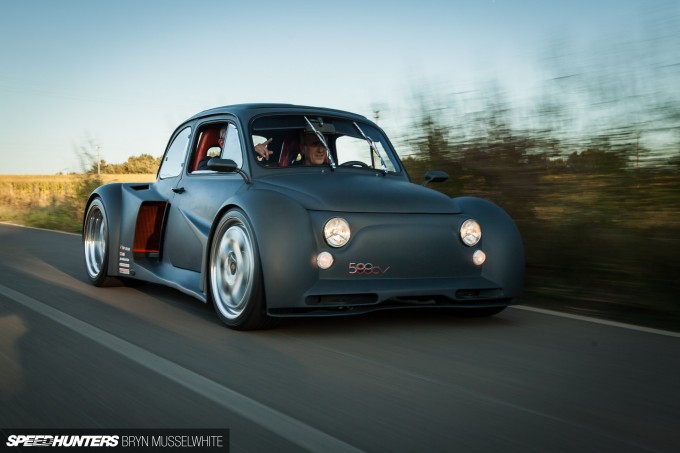 I can see why the Fiat appeals: its shape is like the Mini and the Beetle – iconic and spanning all walks of life. Now I know the history that lead to this point though, I need to understand more about just how Gianfranco Dini – the genuinely gentle man who's responsible for the line-up – went about creating this thing.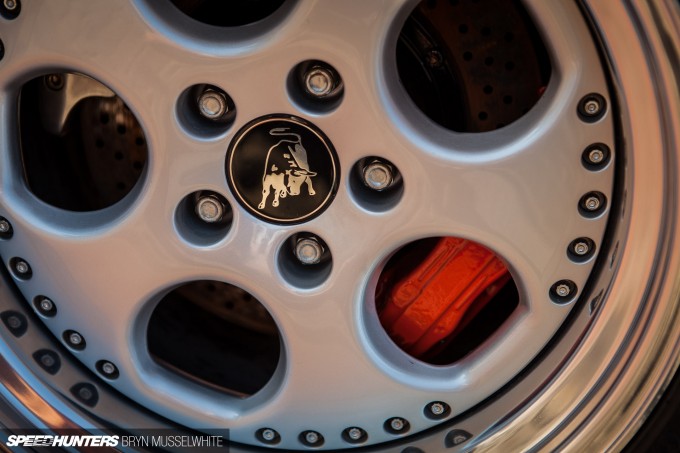 First up was sourcing the base car. Between 2001 and 2010, just over four thousand Murcielagos were built. These are supercars, so are cosseted, but I guess some end up getting damaged and that salvage has to go somewhere. Being in the car restoration and repair business means the Oemmedi team can source just about anything. Although the wheels aren't sourced from a Murcielago – instead I think they're from an earlier Diablo. Everything else has come from the later model.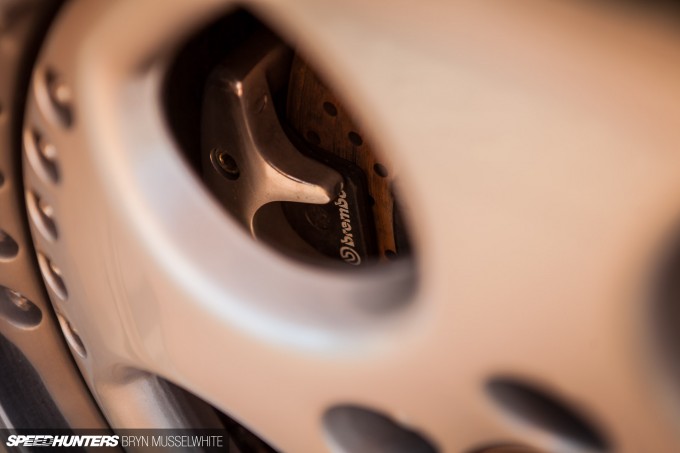 Which means all the systems should work together right? When you think about it logically, what the guys have done is to strip the body away, use the major organs and nervous system from the donor, lay it all out and then build a new structure to house it all.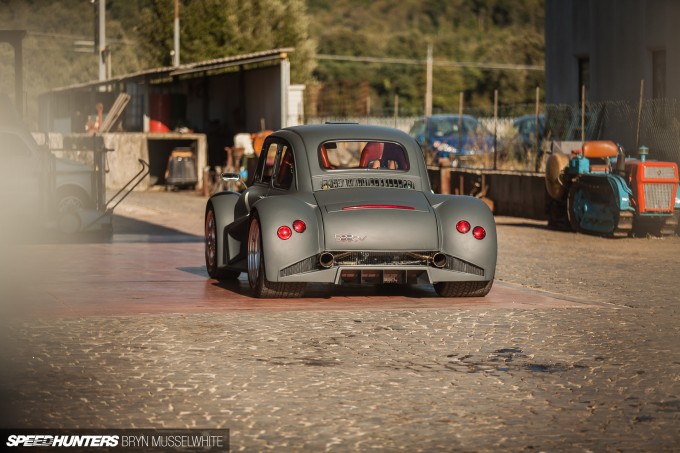 There are no aftermarket ECUs here or even parts from a whole bunch of different manufacturers where you have to blend wiring looms and fittings. Everything did have to be made smaller though. So essentially what they did is bring the four corners closer together. Now there's not much left of what Fiat originally produced.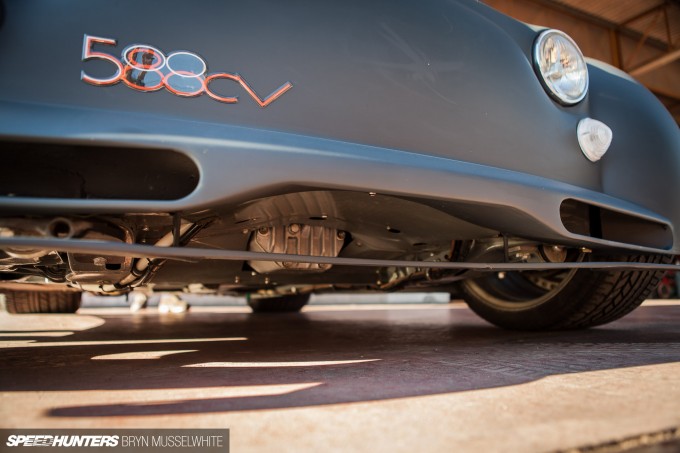 So if that's what they did, how they did it is equally as ingenious.  Here you can see the front differential, because the original 4WD system has been retained, which means two things: there's more fabrication to accommodate in the initial build, but everything works as it should. Can you imagine if this thing was two-wheel drive? How wild would that be? Given how central everything is, I'd be really intrigued to see just how good it would be on track.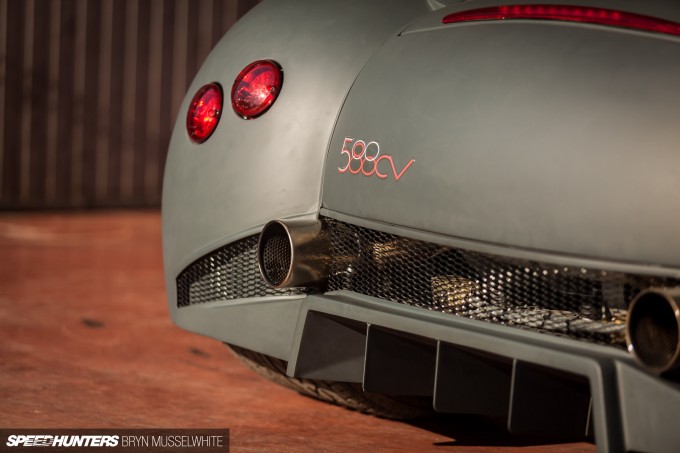 As you saw above, the underneath is as well-finished as the bodywork, and for me it's the overall design that really makes it. Let's face it, the end result could be a lot less pleasing to the eye than it is. Look at the way the mesh runs into the rear wings; those last sections purely exist for aesthetics. The miniature rear diffuser could even be partly functional, although the Fiat has got enough power to bend physics, so it doesn't really matter what the wind is doing anyway.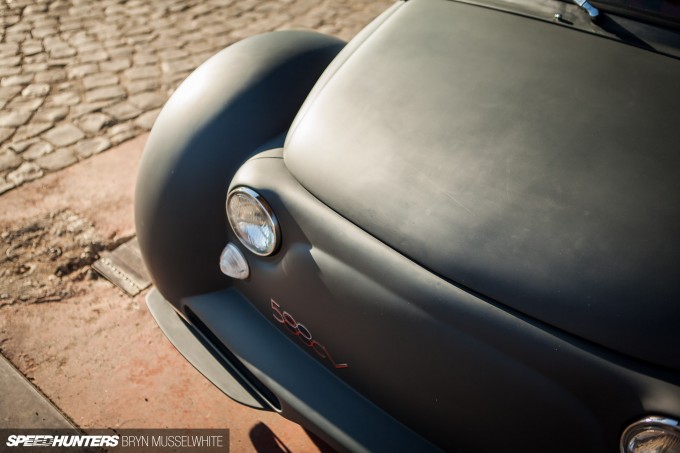 Like I said at the start, everything about this build is out there. The extra wide arches curve away from the original body lines smoothly and violently too; it's part freak, part artwork.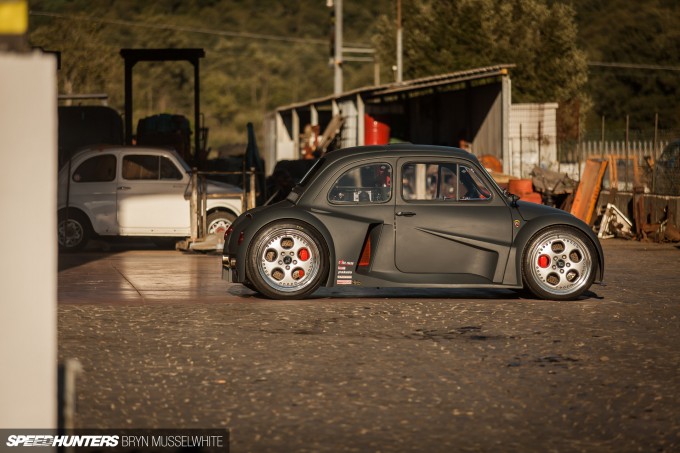 In the background you can see the profile of an original unmolested 500. See where the arches are? The scale of metalwork that's been custom made starts to become more obvious now. What I really admire is that Oemmedi have been able to use sharp lines as well as the Fiat's more organic curves.  From this view you get to imagine what it would look like with the body lifted off, so you can imagine the drivetrain layout. Because there's a genuine V12 Lambo engine in there… I'm still not kidding.
That's never coming out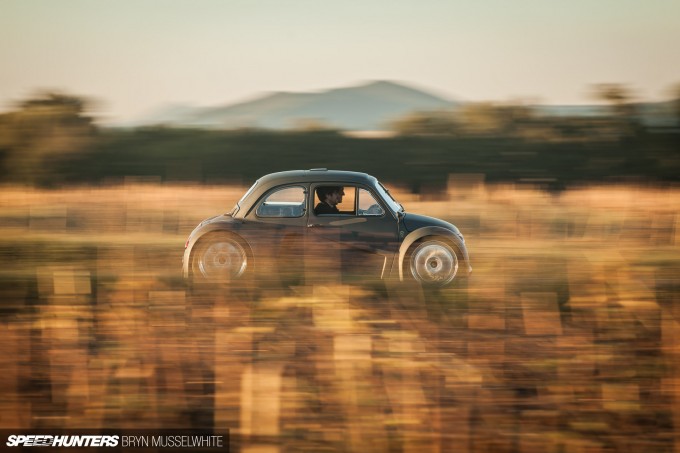 See the box behind the driver and passenger? That's the top of the engine. A proper Lamborghini V12 hides within.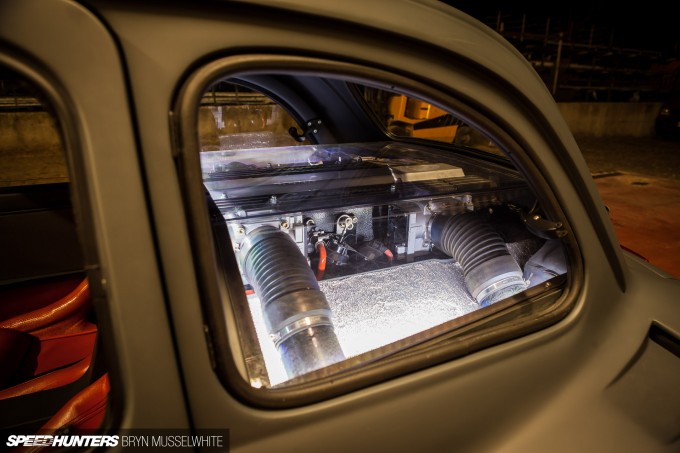 Because where else is it going to go? The rear windows come out for maintenance checks, but whichever way you look at it, the Fiat really has been built around the running gear.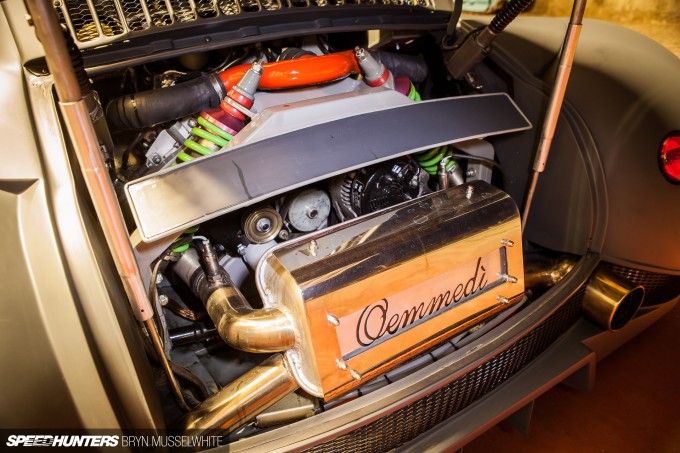 See how the rear suspension towers nestle in the mix too? The gearbox is somewhere near the bottom with the split drive transfer box off to one side. My brain can take in all the elements but the thought that must have gone in to constructing the framework to hang it all on? Then the process of physically putting it together? Damn.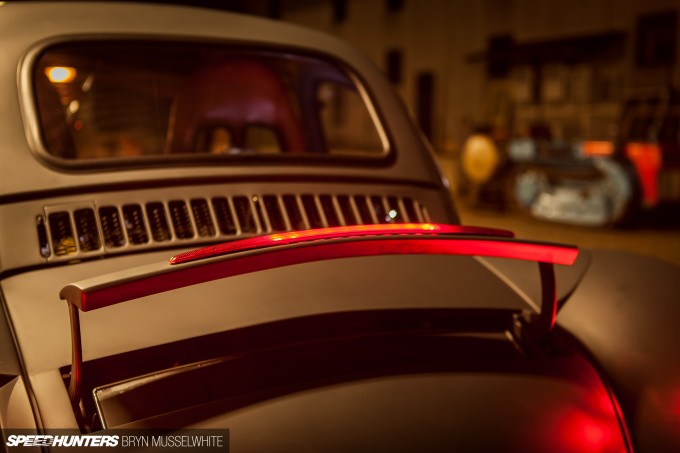 As if incredible running gear and fantastical bodywork isn't enough, there are lovely details like the electrically operated deck lid and the high level spoiler that sits above it complete with brake light. No bad wiring hanging down or messing up the lines. Remember everything you're looking at in this picture, apart from the rear window, has been custom-made.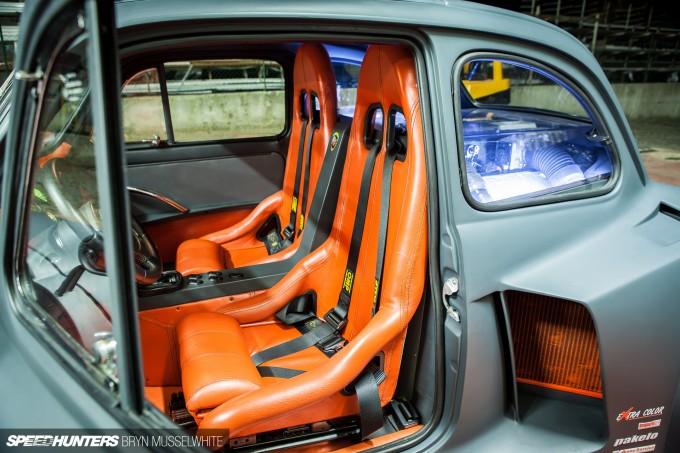 The OMP seats have had their frames modified to make them more vertical. That alone must have taken hours and then the seats needed retrimming, but then again it was worth it just for those extra inches of leg room.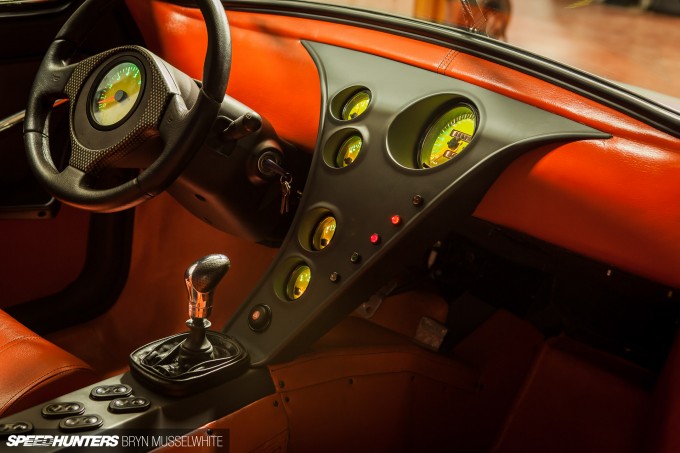 Just like the exterior, the interior has been handcrafted, and just like the running gear, it continues the theme of using all Lamborghini hardware. So those dials, switches and steering column are all used to working together.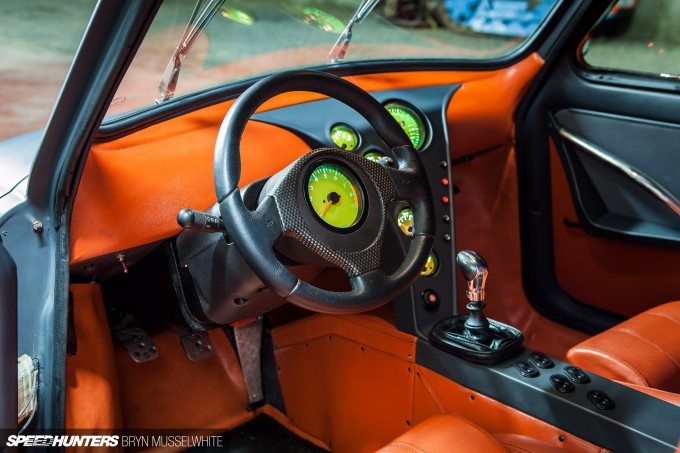 The one feature of the interior that instantly grabbed me was the centrally mounted rev counter in the steering wheel. Not only is it fully functioning but the wheel rotates around it, as the counter stays stationary. How cool is that? I guess after the rest of the fabrication work, that was a quick job while the coffee machine warmed up in the morning.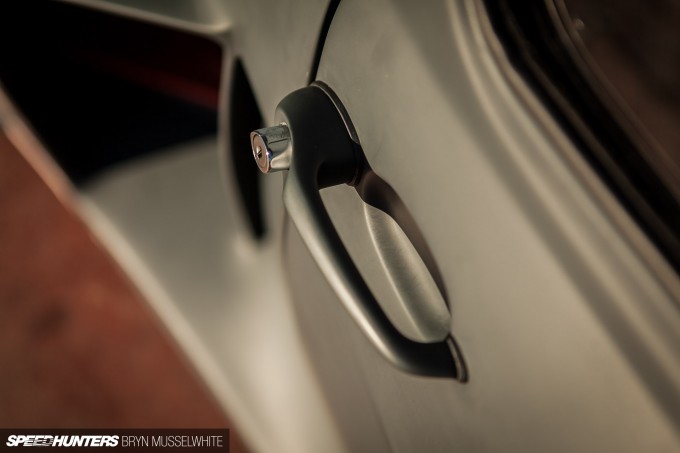 It's all very well talking about how amazing it is, but there's really only one way to experience it. From inside. I don't speak any Italian and Gianfranco doesn't speak any English, but when the head nods in the direction of the passenger seat and eyebrows raise in a questioning way, I completely understand what is being asked.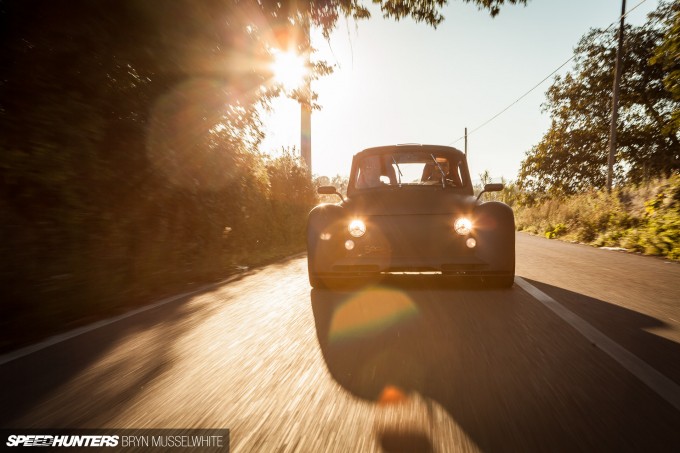 And so it was that here I am being driven through the Italian countryside, the sun blazing and breaking through the trees, in this demonic creation. If I could pat myself on the back, I would also be able to reach one bank of cylinders. This is incredible.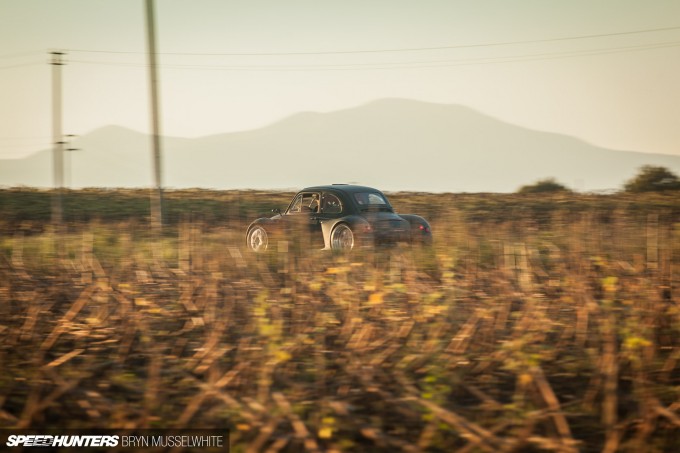 The first thing that strikes me is it's not as loud as I expected. I can't even work out why that is. Maybe it's because I just got out of the Ferrari V8-engined Fiat 500 I'll show you another time, but this one seems to be a wall of sound. A solid chunk of noise that carries across the landscape, rather than a peaky, screaming sound, it's there like a mountain.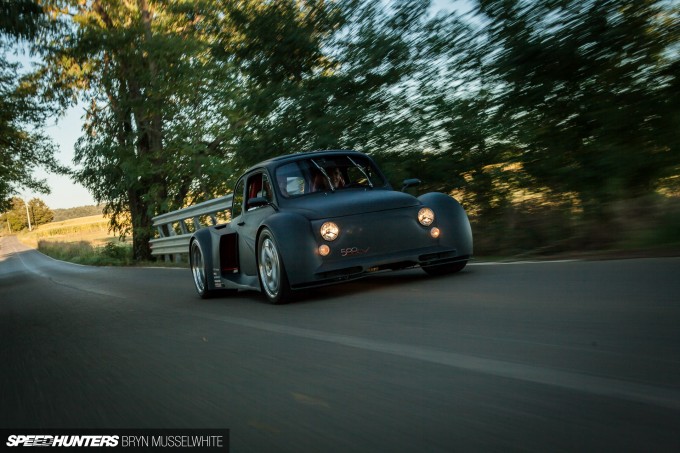 Once or twice the throttle is mashed and the speed gains so quickly, like an on/off switch. As though there's no acceleration, just slow and hyper fast. We see other traffic on the road and they stare as they pass, with good reason. You will never see anything like this anywhere else in the world. Fact.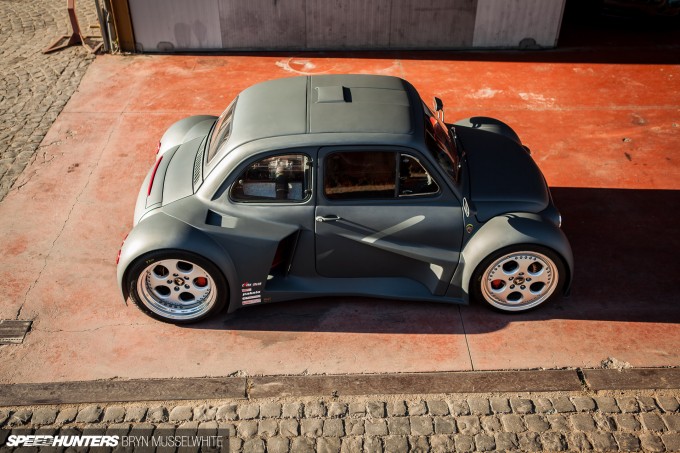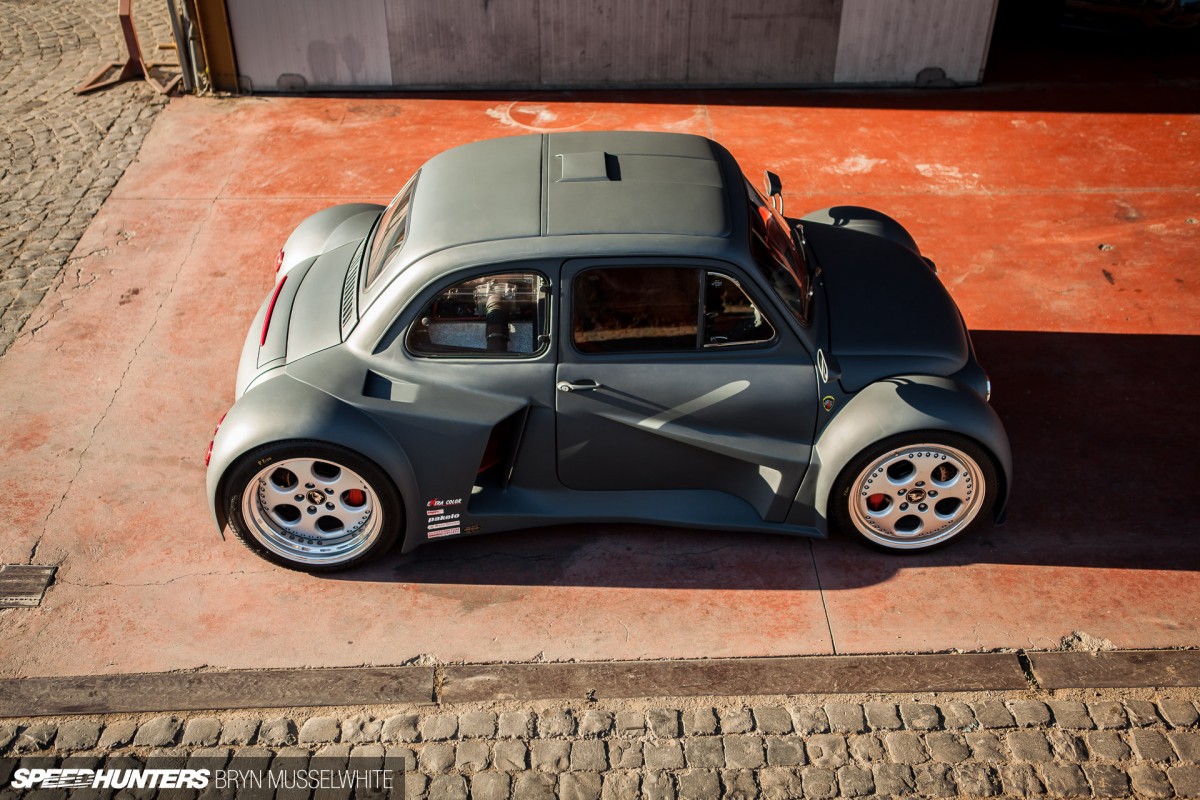 So am I justified in claiming that this is the wildest feature car I've ever seen? I think so. Hardware made from Lamborghini unobtanium, amazingly skillful body mods, tastefully executed to the highest of standards using an iconic and emotive base model.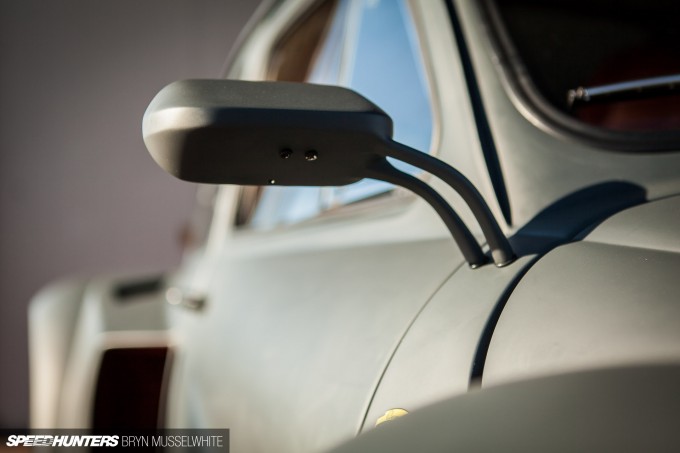 Technology, passion, speed… I could go on. Where others couldn't imagine such a thing being done, Oemmedi did. When those others said it couldn't be done, Oemmedi did it.
If you disagree, think how you'd top it. Then go do it.
(Then call us, because I'm all ears)