Race mode engage
Pay a visit to any of the big international tuning shows and you won't need to look far to find a Toyota 86. Ever since the beautifully balanced, rear-wheel drive sports coupe went on sale in early 2012, it's captivated the aftermarket like no other Japanese car has since the R35 GT-R.
Drawing inspiration from its ground-breaking Sports 800, legendary 2000GT and iconic AE86 it shares its namesake with, Toyota was never going to get it wrong with the 86. And just like those performance-focused machines from the automaker's past, it's a production car that makes a great race base too.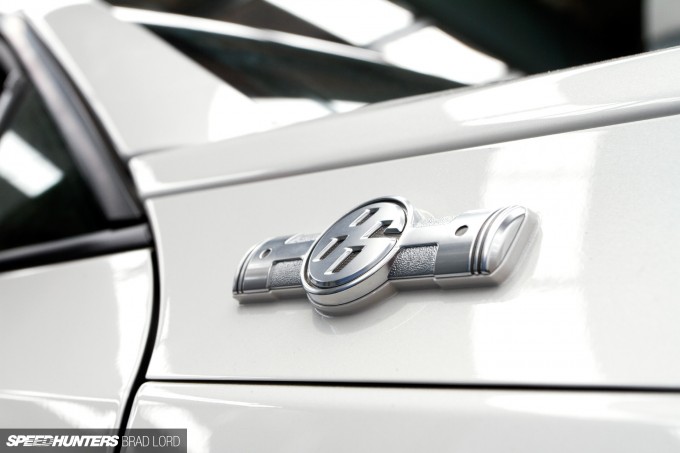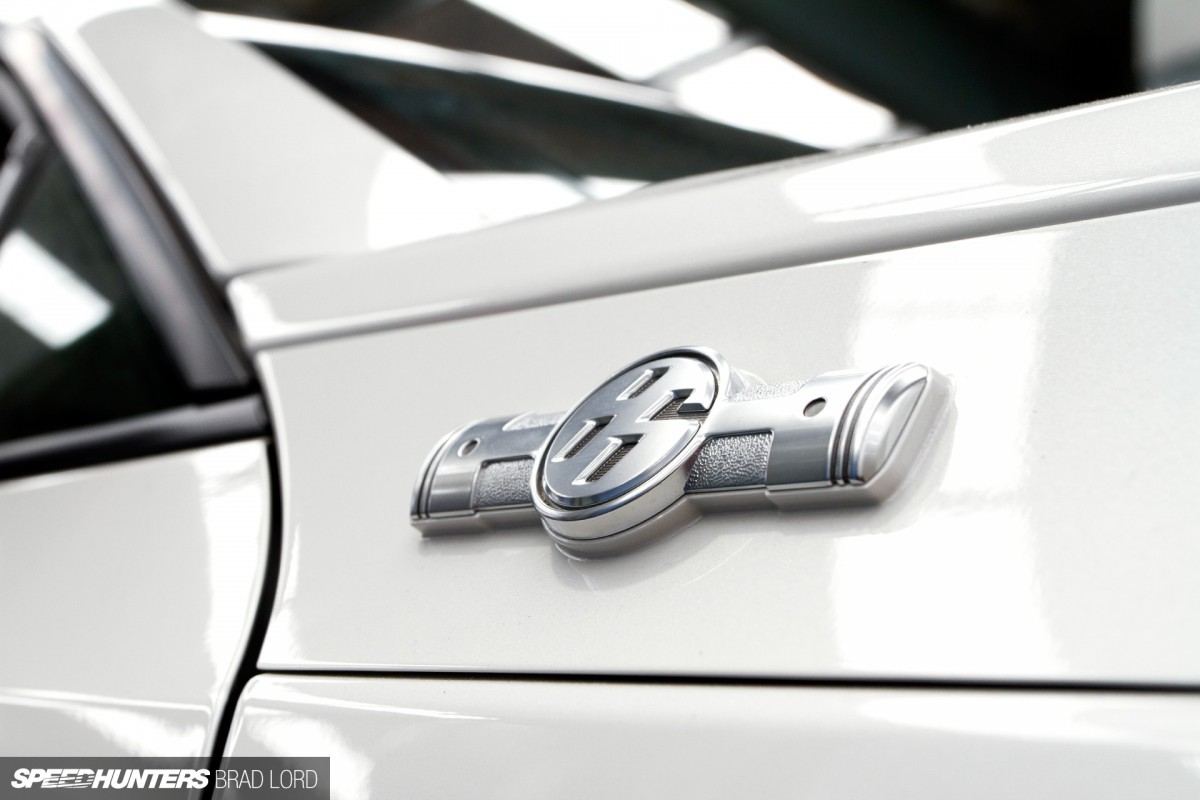 Toyota New Zealand's official motorsport wing – Toyota Racing – saw potential in the ZN6 chassis as well, and in March this year announced that it would be developing a new one-make/showroom-stock series around the car that's destined to become a future classic. It wasn't talking about a car like TRD's 86 Racing edition, but a proper track attacker.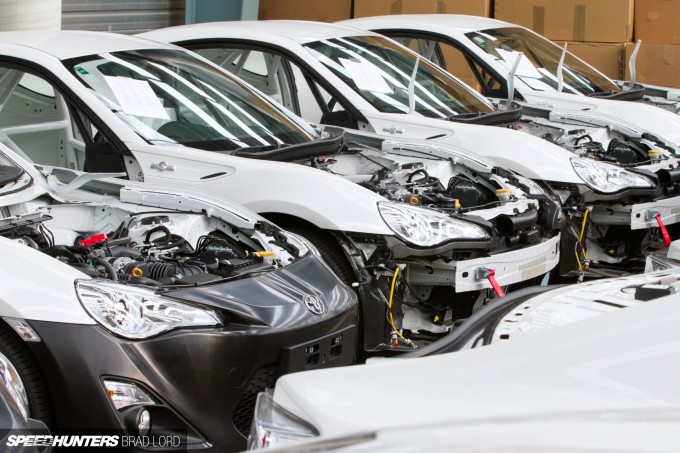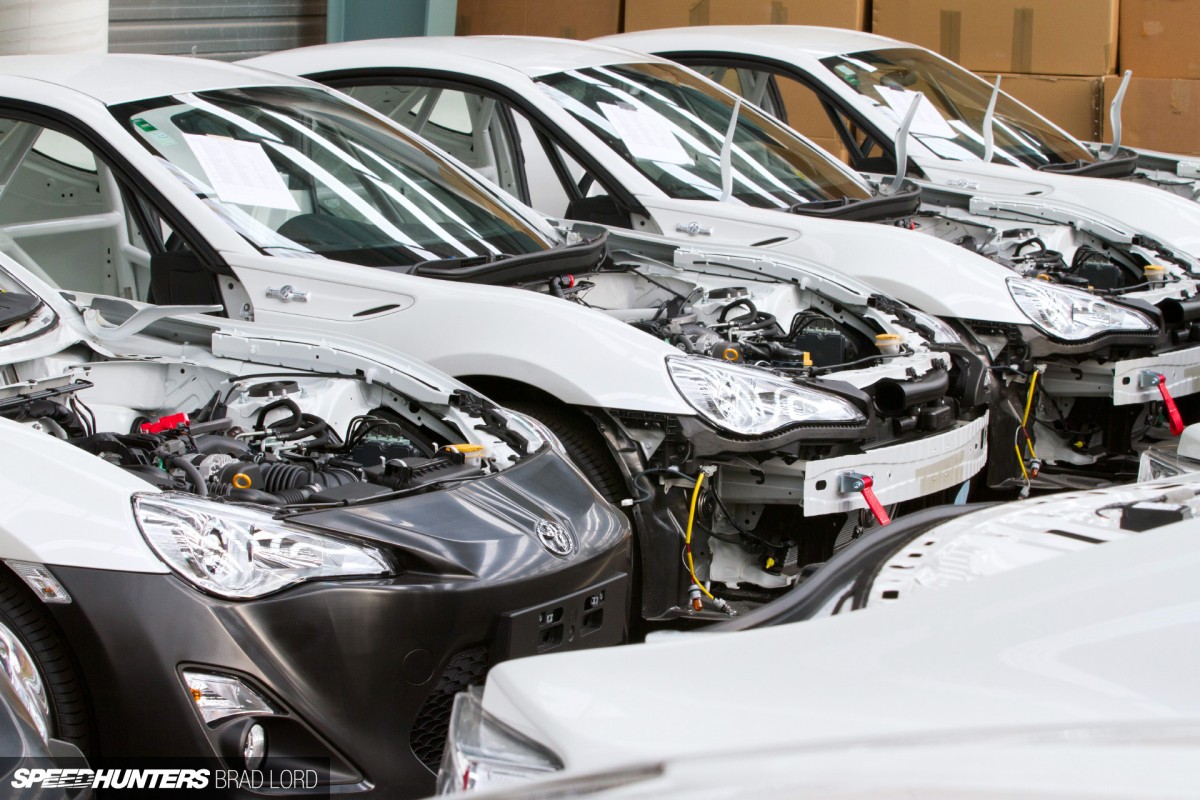 So how do you turn a production-spec 86 into a machine fit for the circuit? For Toyota Racing NZ, it was a combination of well-thought-out modifications that build on the coupe's architecture, and top-flight engineering.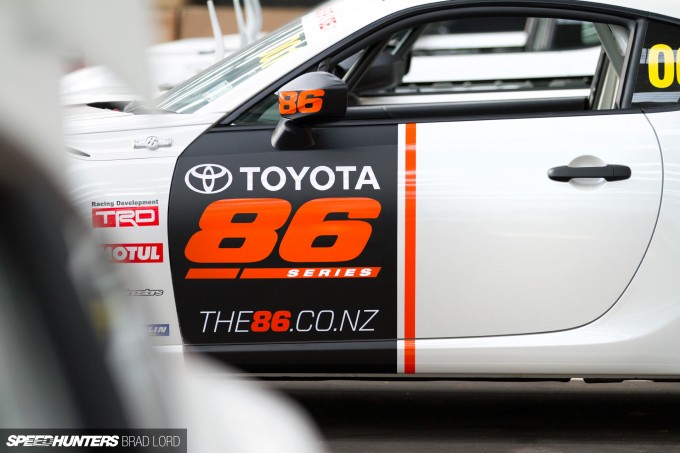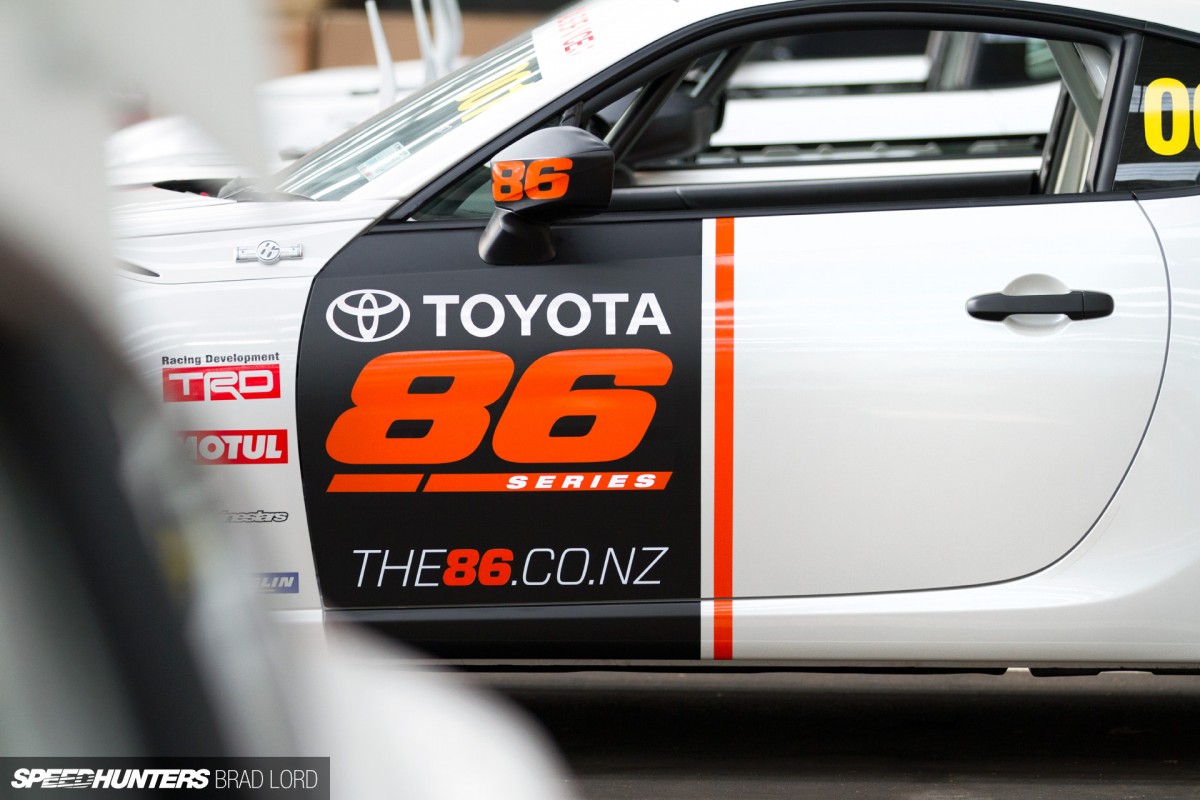 It sounded like an interesting story to me, so over the space of ten weeks I made arrangements to visit Toyota Racing HQ three times to see 20 RC-spec (that's Race Competition) 86s be transformed from road cars to race cars.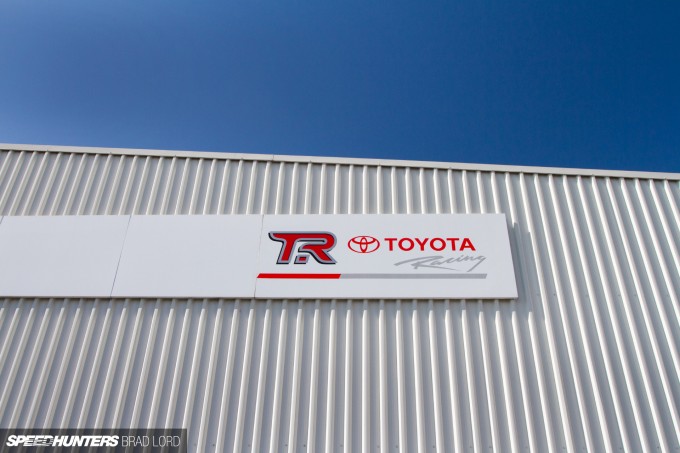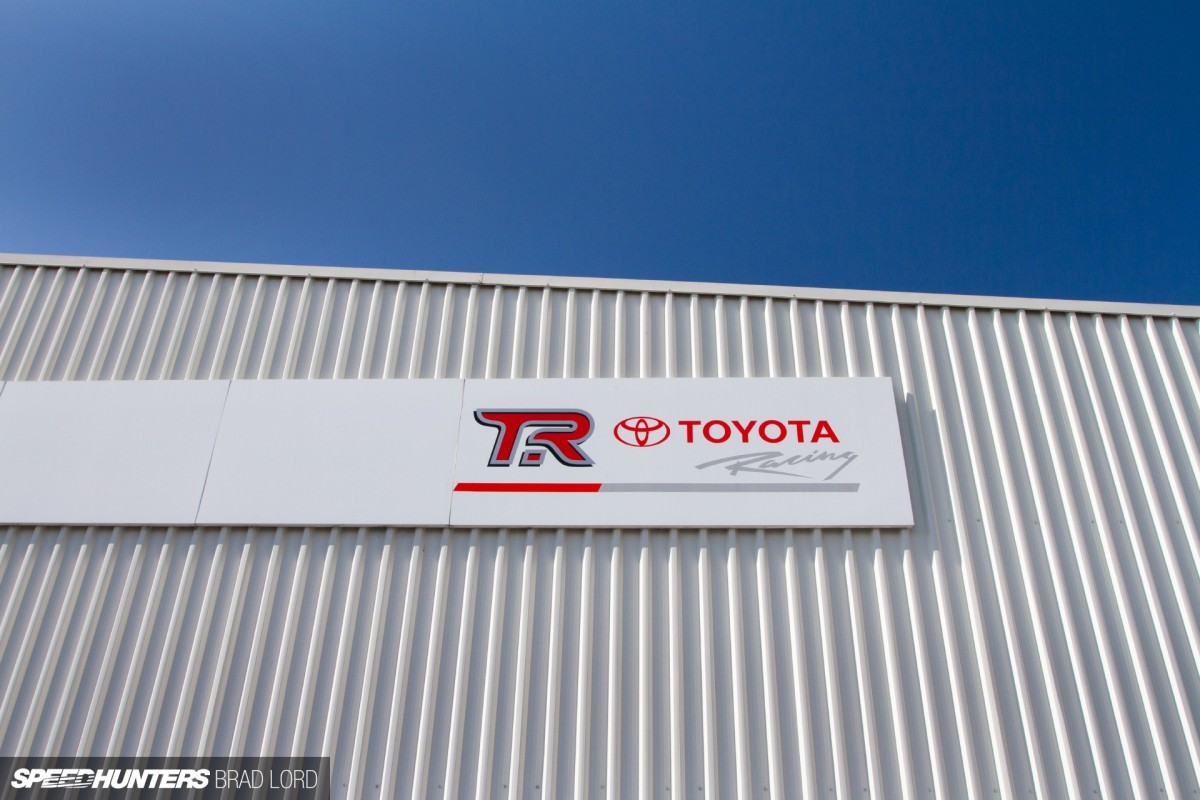 It had been a long time since my last behind-closed-doors visit to the compound in Auckland. That time, Toyota NZ had just pulled the wraps off a new 'wings and slicks' race car that quickly formed the backbone of New Zealand's premier open wheeler championship series – a place where young up-and-coming Kiwi talent could be nurtured for future endeavours on the international motorsport stage.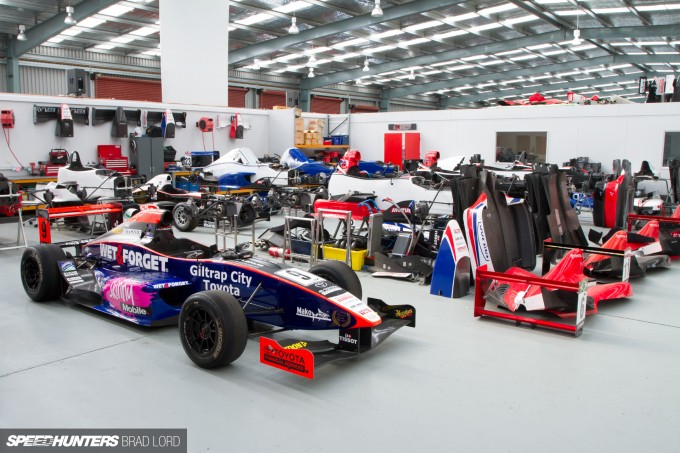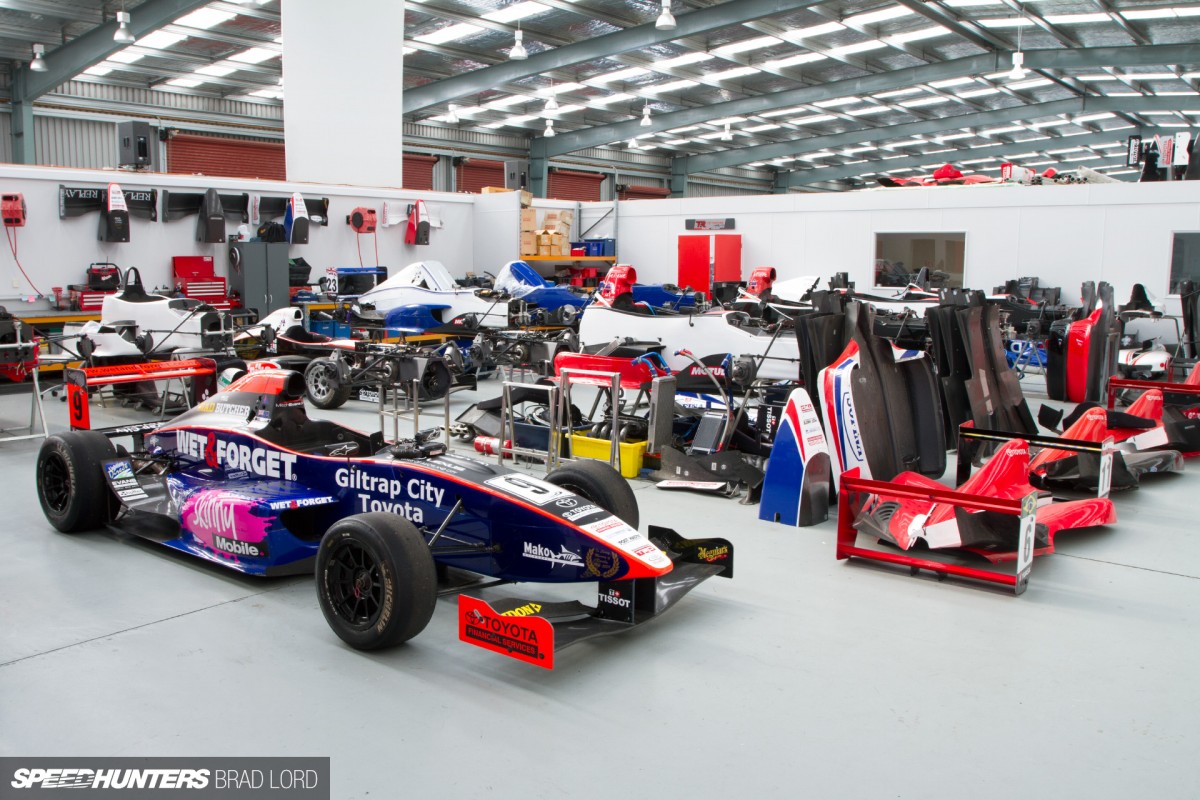 The Toyota Racing Series (TRS) is still going strong today and in 2014 will mark its tenth championship. On the lead up to the new summer series, it was a full house in the facility's main workshop with all cars in various states of rebuild.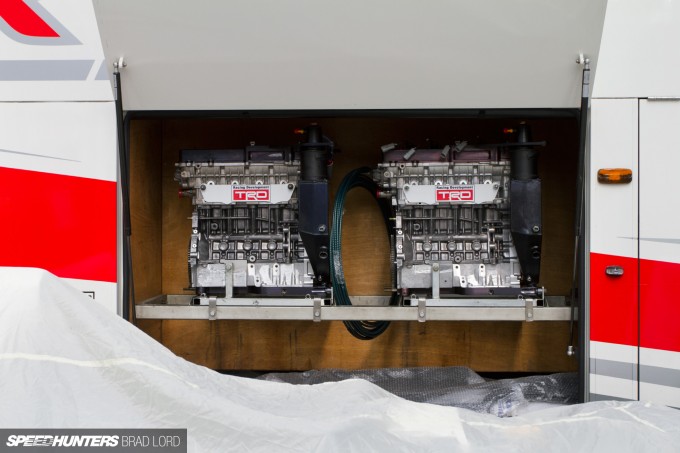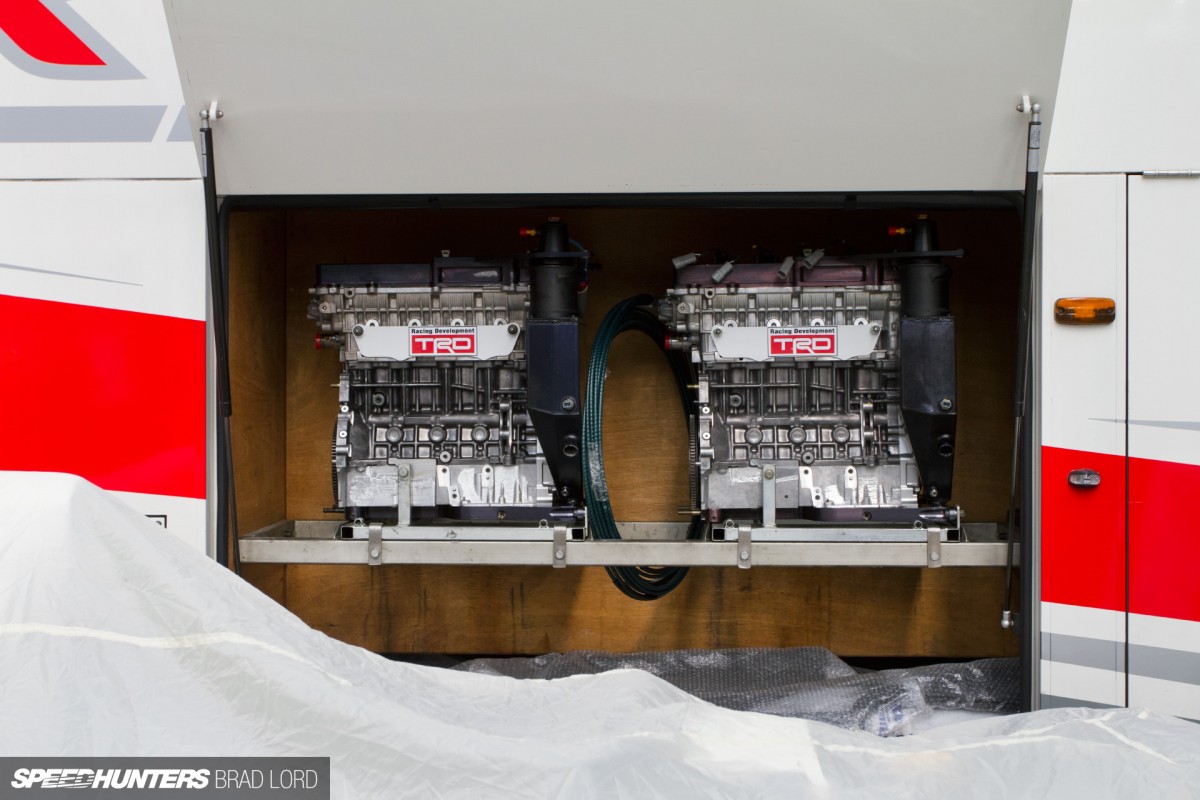 Although the cars are based on a monocoque carbon fibre chassis and body work from Tatuus in Italy, at their hearts you'll find Toyota hardware – hard-revving naturally aspirated 2ZZ-GEs to be precise – all hand-built and dyno-tuned through MoTeC engine management to precisely output 215hp. Parity across the board is imperative to the series, and as all of these car are owned and largely maintained by Toyota Racing, it's something much easier to govern.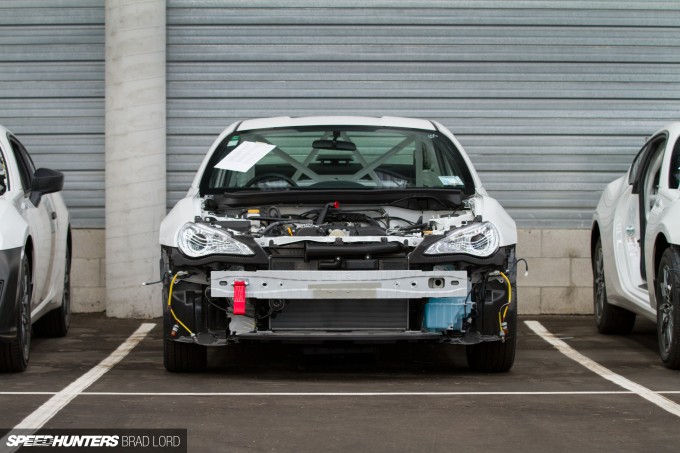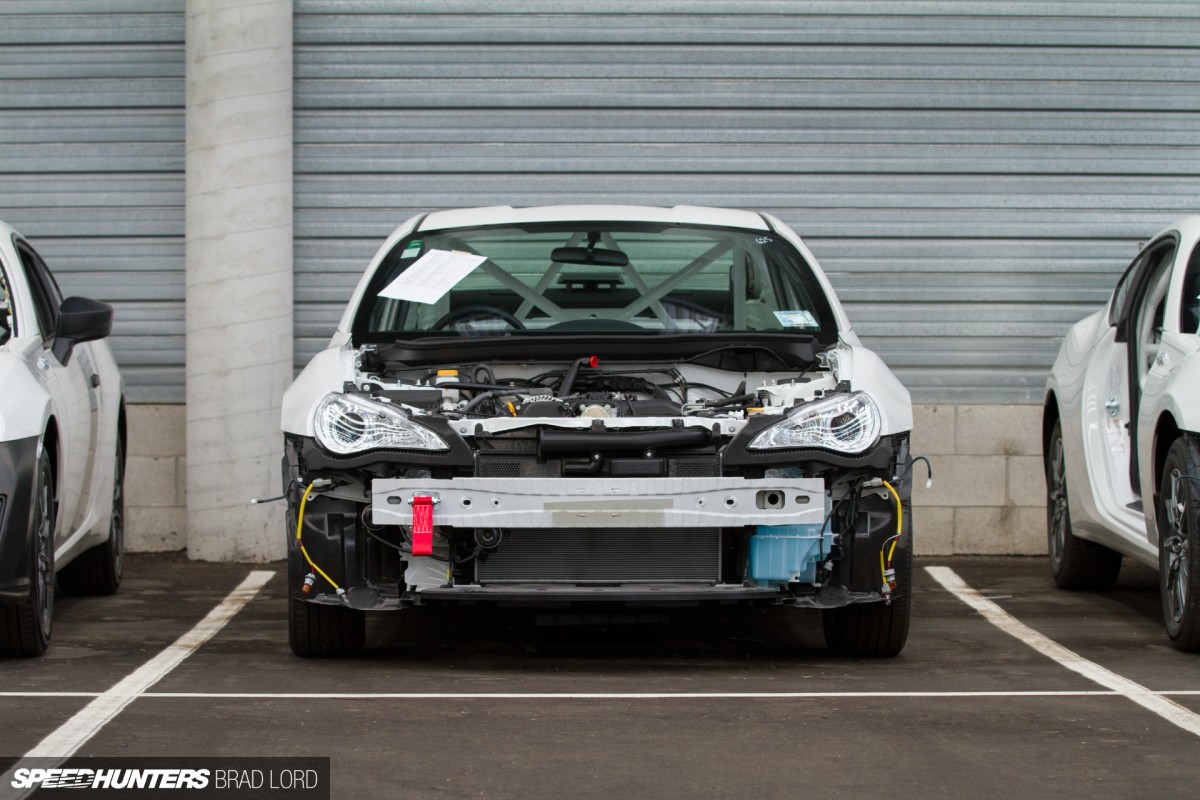 As easy as it would have been to spend my day salivating over dry sump systems, six-speed sequential transaxle transmissions and perfectly-formed carbon fibre aero parts, I had more pressing business to take care of in another part of the expansive Toyota Racing workshop…
Knock it down, build it up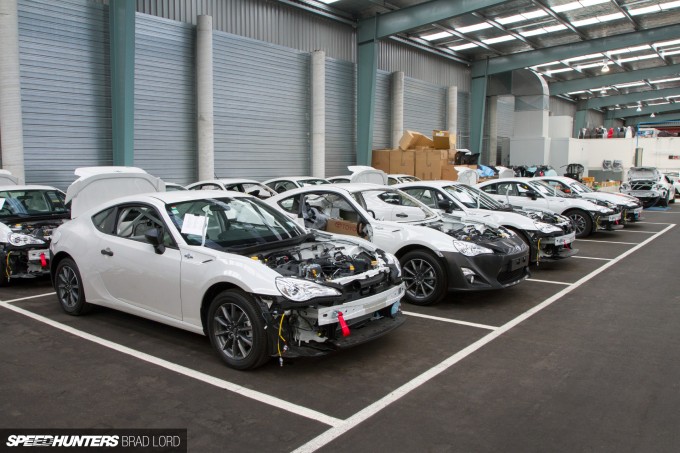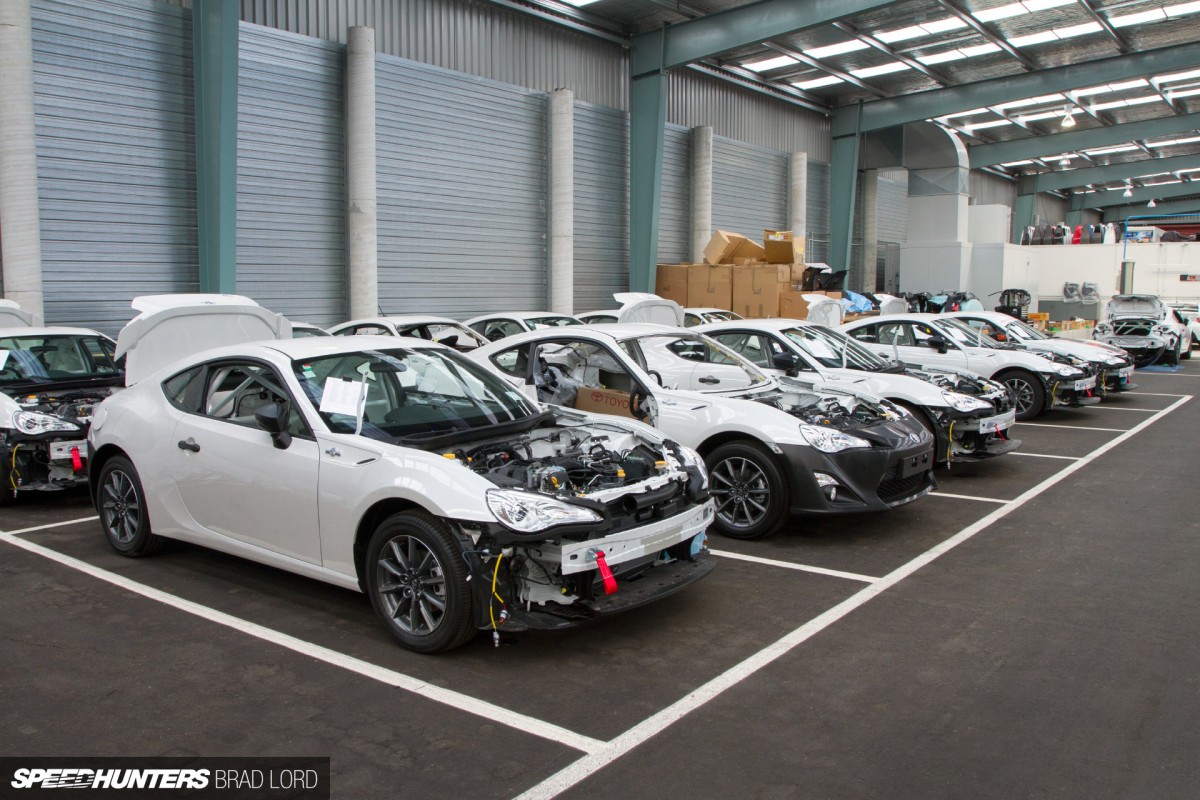 I wasn't exactly sure what to expect to find at the heart of the TR 86 operation, but it was pretty cool to see the vast majority of the 20 fresh-off-the-production-line 86s being constructed for the new series, each part-way through their transformation from road to race car.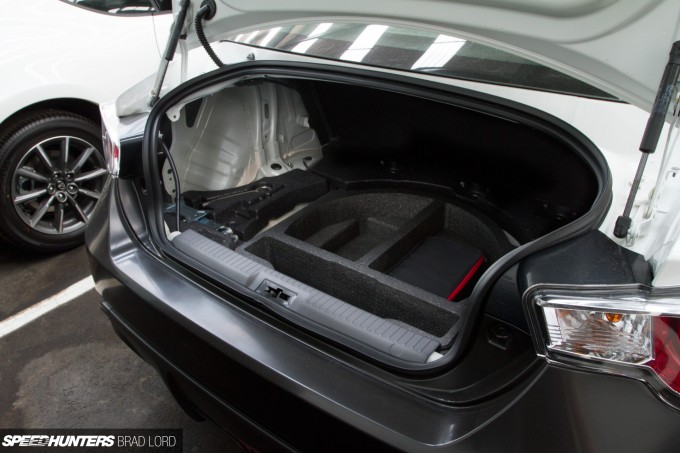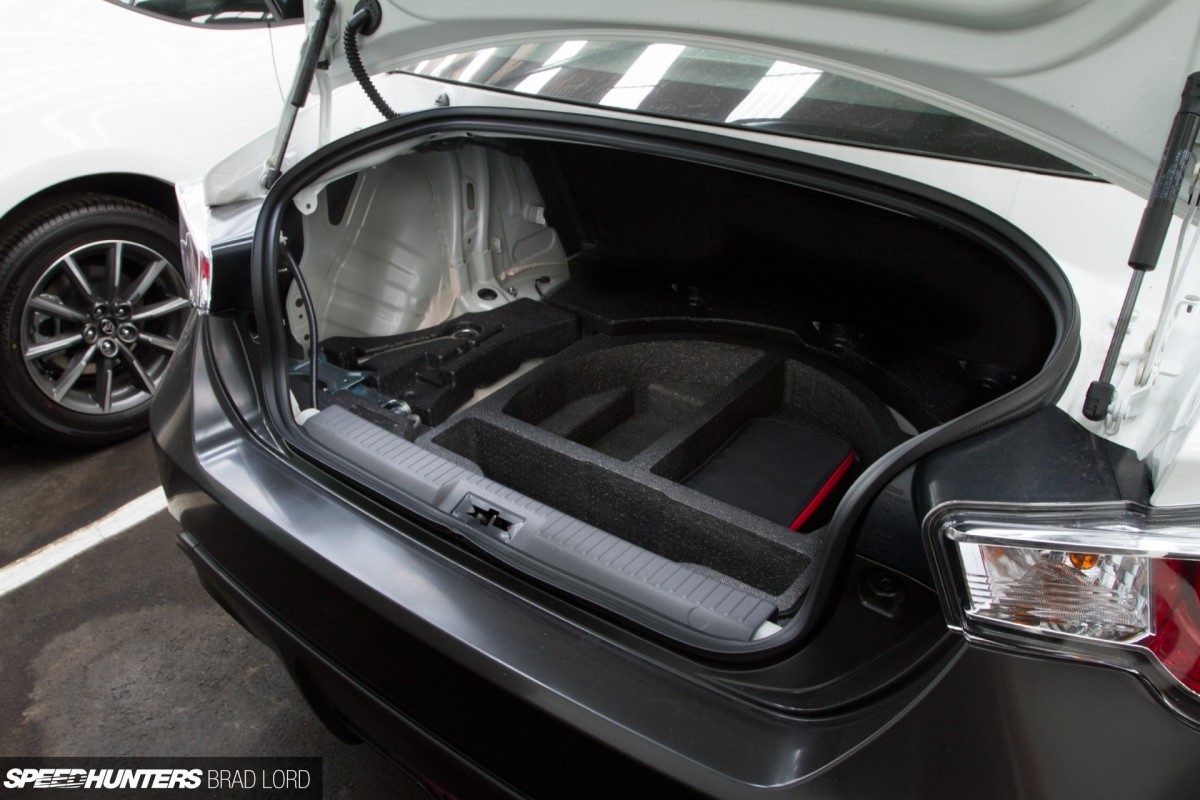 While some of 86s already had the first phase of their reinvention complete, the considerable process was just beginning for others.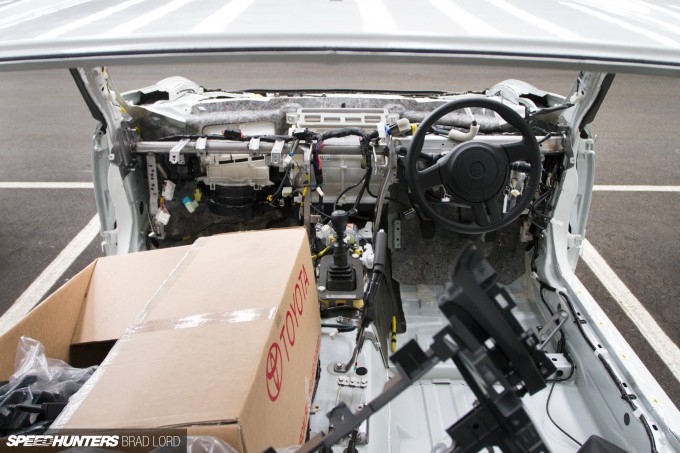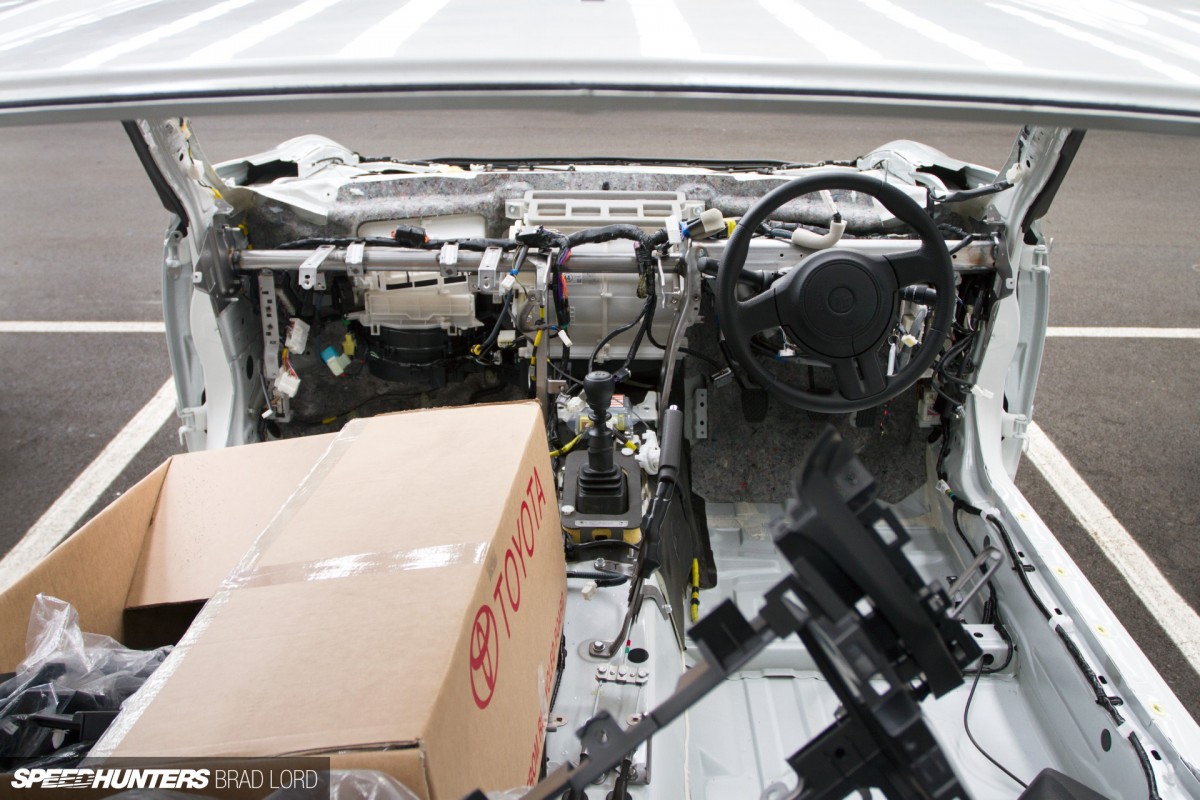 Starting out in RC-spec 86s, there was a little bit less prep work to be taken care of before each one was transported away to have its safety devices fitted and its stripped-bare interior dowsed in glossy white paint, than there would have been if Toyota Racing had begun with fully-optioned cars. But this sort of reverse engineering is, of course, primarily what the back-to-basics 86 RC was designed for.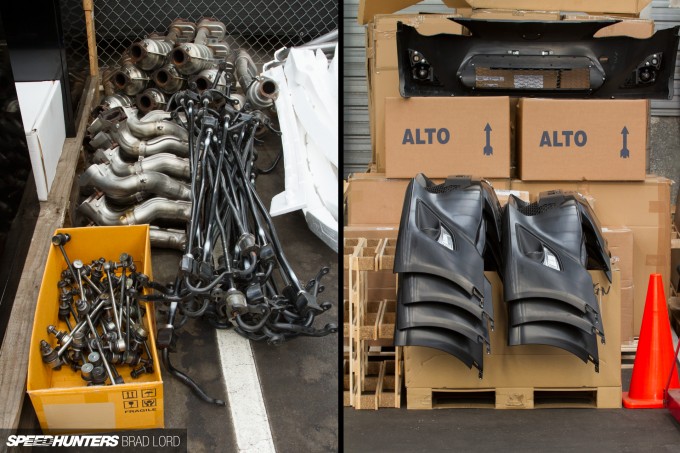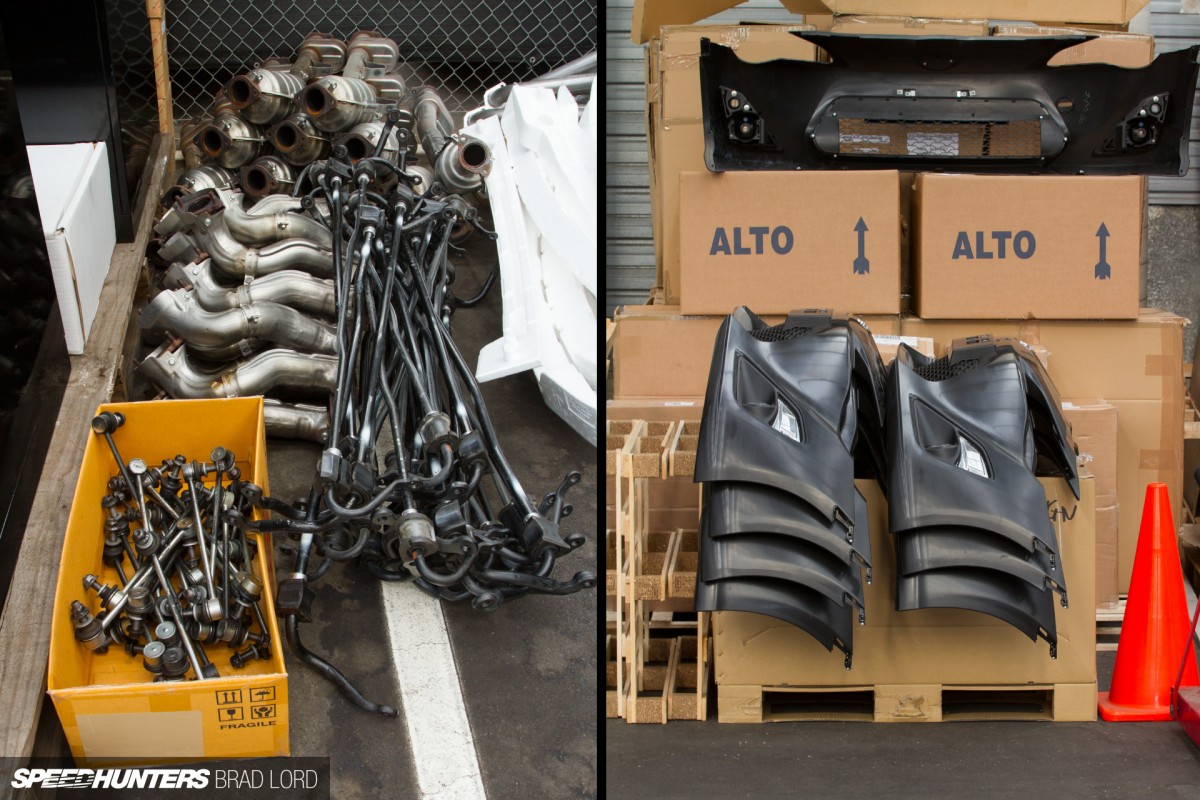 As you might imagine, with 20 cars in total going under the knife, a lot of the space around the workshop was occupied by previously removed parts.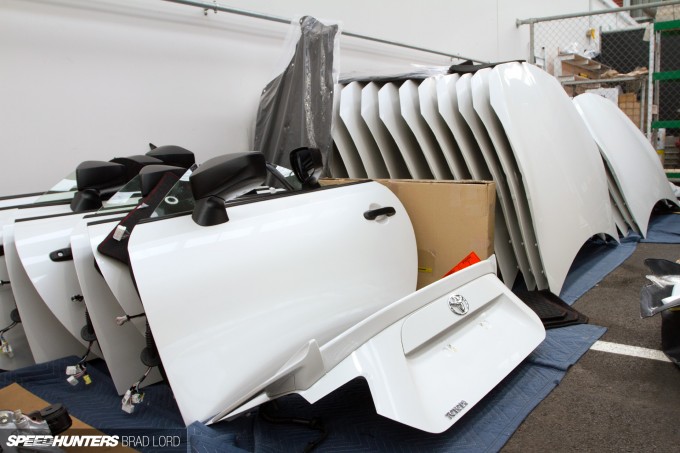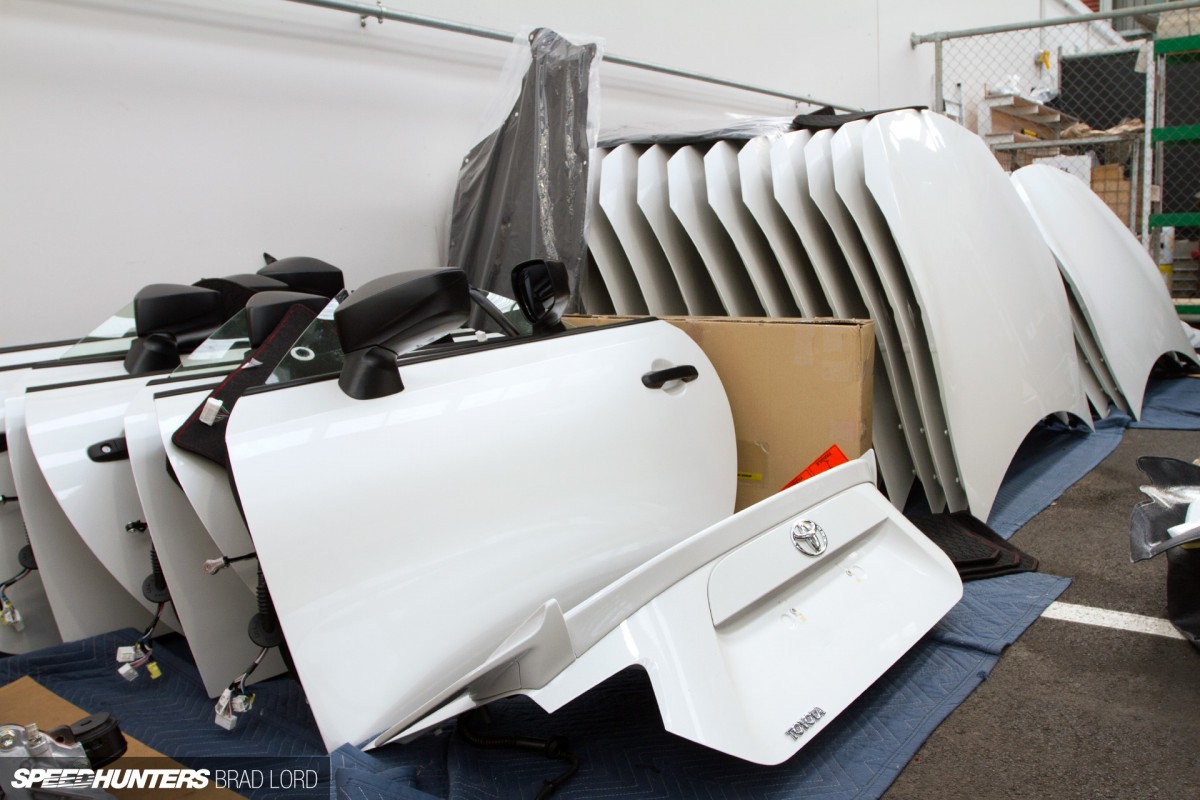 Some of them, which were primarily removed for the sole purpose of making the cars easier to work on, would eventually find their way back to their respective chassis.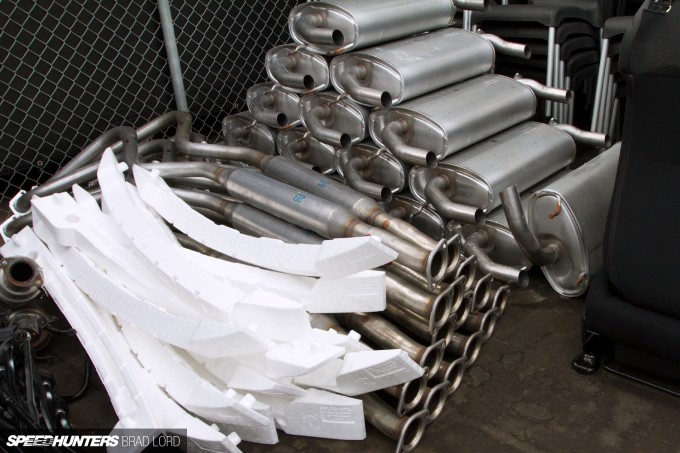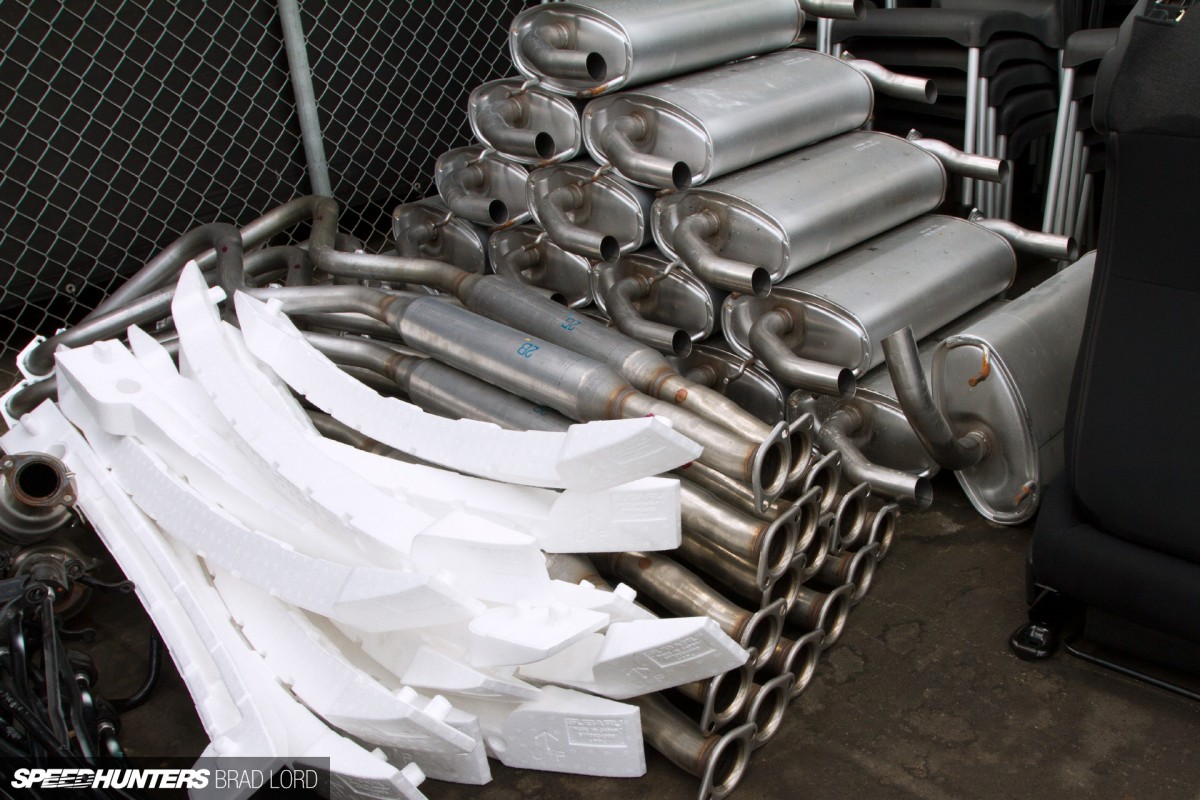 Other parts would not, and although brand new and never used, were headed to the recycling depot to eventually meet their maker and be turned into something else.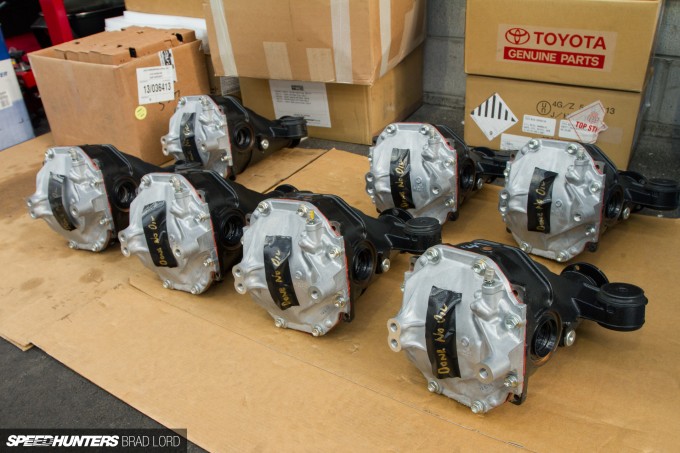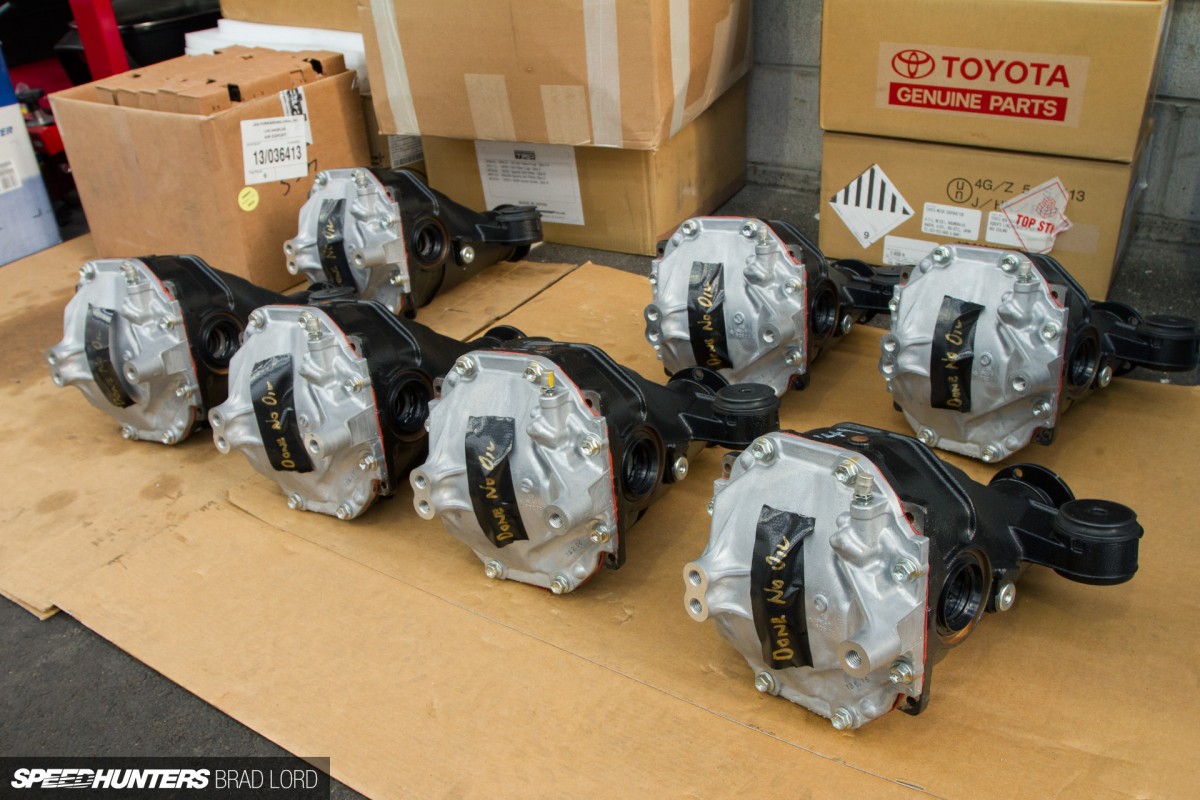 One aspect of the TR 86 spec that surprised me was the large use of  Toyota-stamped parts, especially in areas where – for racing use – you'd normally find performance aftermarket components. For instance, the factory differential housing features the 86's torsen-type limited slip diff fitted with a 4.556:1 ratio that was found in Toyota's parts bin. The crown wheel and pinion swap is possible because the 86's housing is the same as that used in the Lexus IS250 and IS300 models, which itself is an update of the venerable Toyota 8-inch G-series rear end.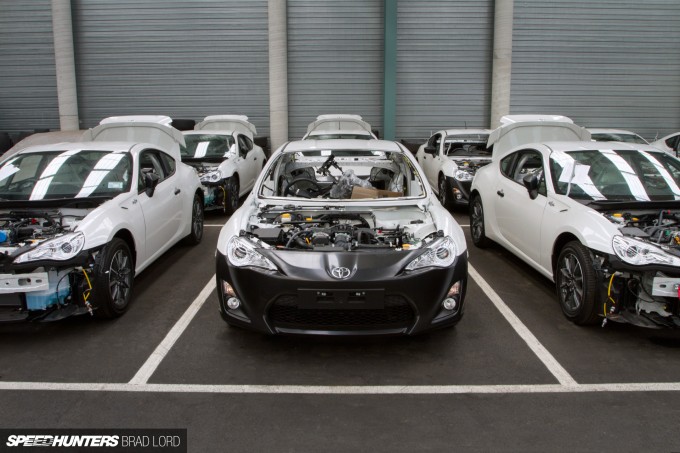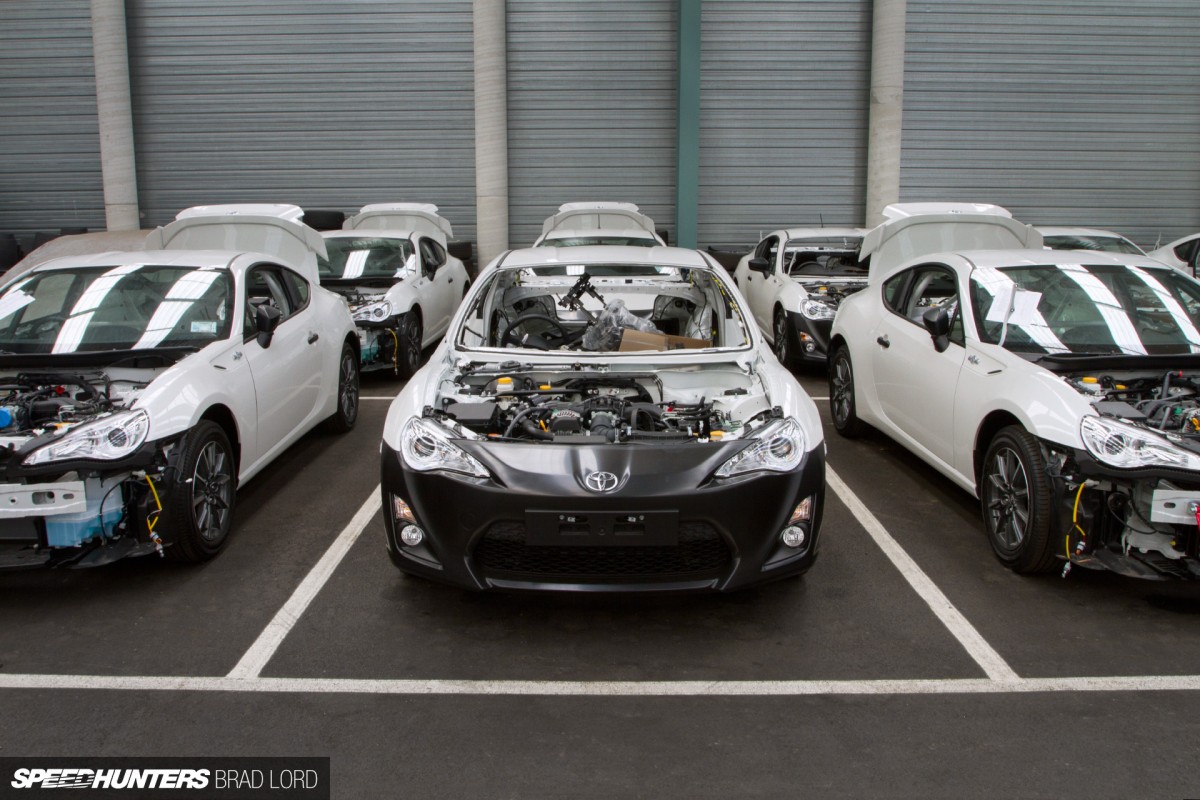 Of course, not everything you'll find added to the TR 86 has come out of Toyota, or even its official performance and competition arm, Toyota Racing Development, for that matter. Essentially, only gear deemed best suited to the specification was used.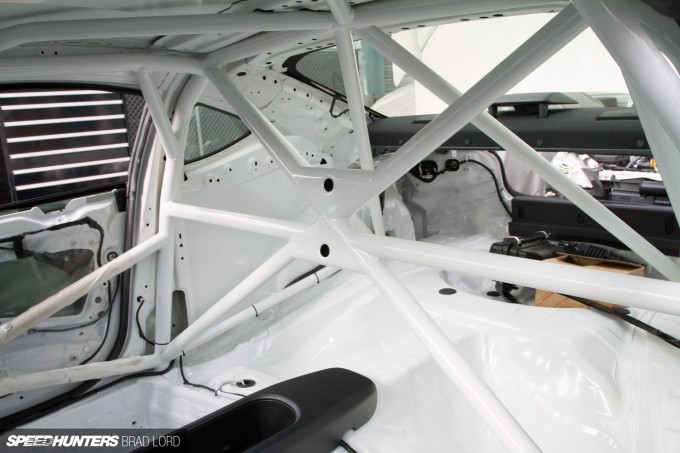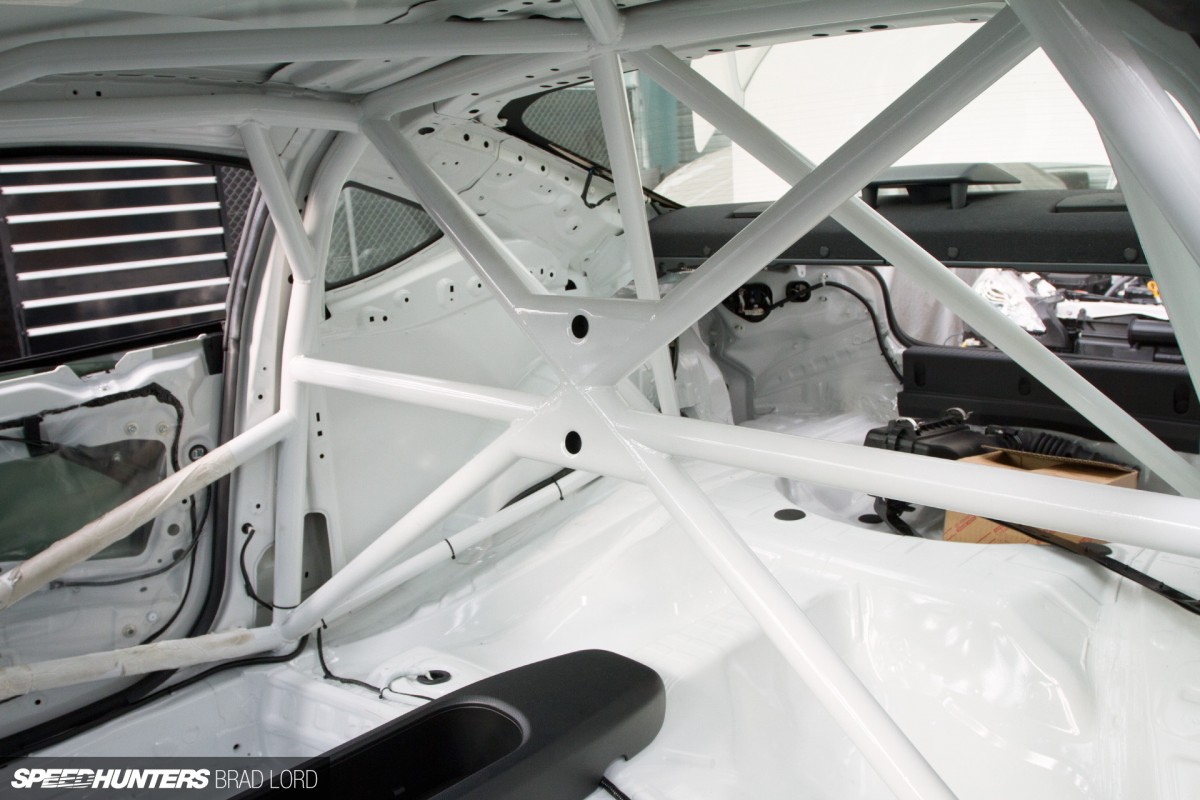 Although those things had a bearing on the cost of each car – both during their builds and in the final purchase price – compromises on quality, performance, reliability and safety were never going to be made. Call it an OEM-type approach to race car construction, as seen here through the extensive FIA-spec Custom Cages roll cage fitted in each chassis by local race and rally preparation specialist Neil Allport Motorsports.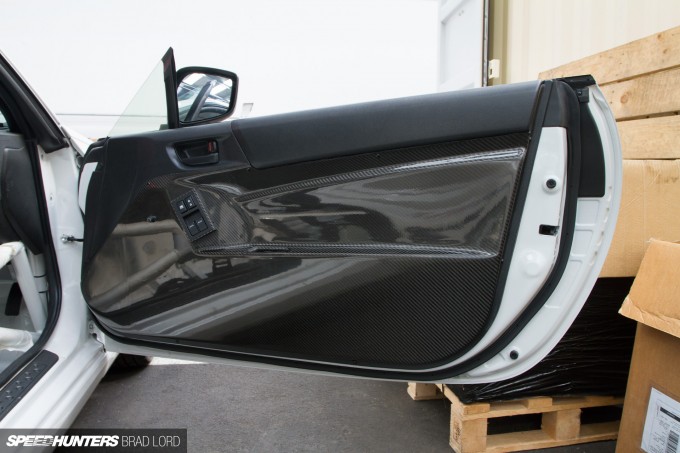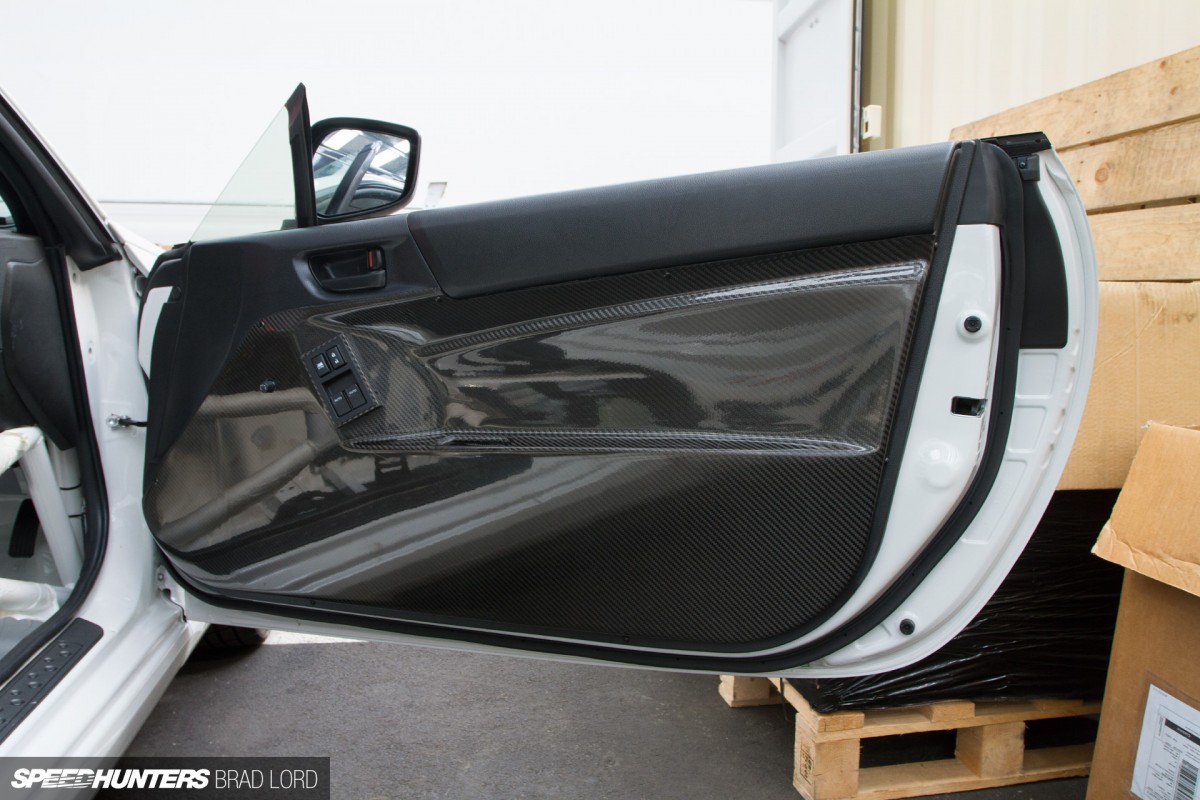 Did I mention attention to detail? Apart from allowing the doors to close against the cage's criss-cross side intrusion bars, the carbon fibre panels designed and manufactured by Toyota Racing look absolutely stunning.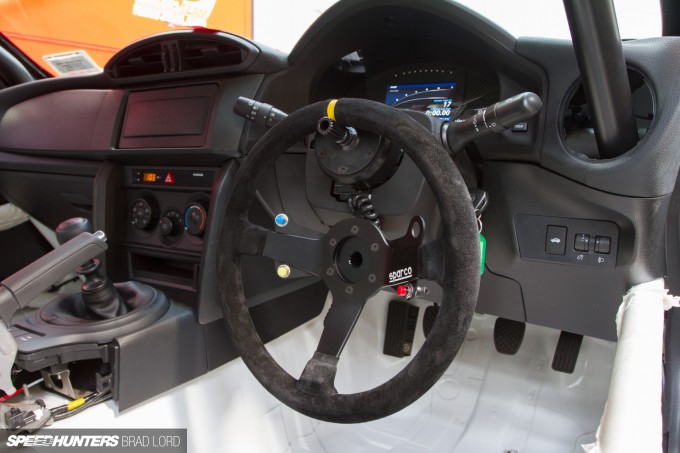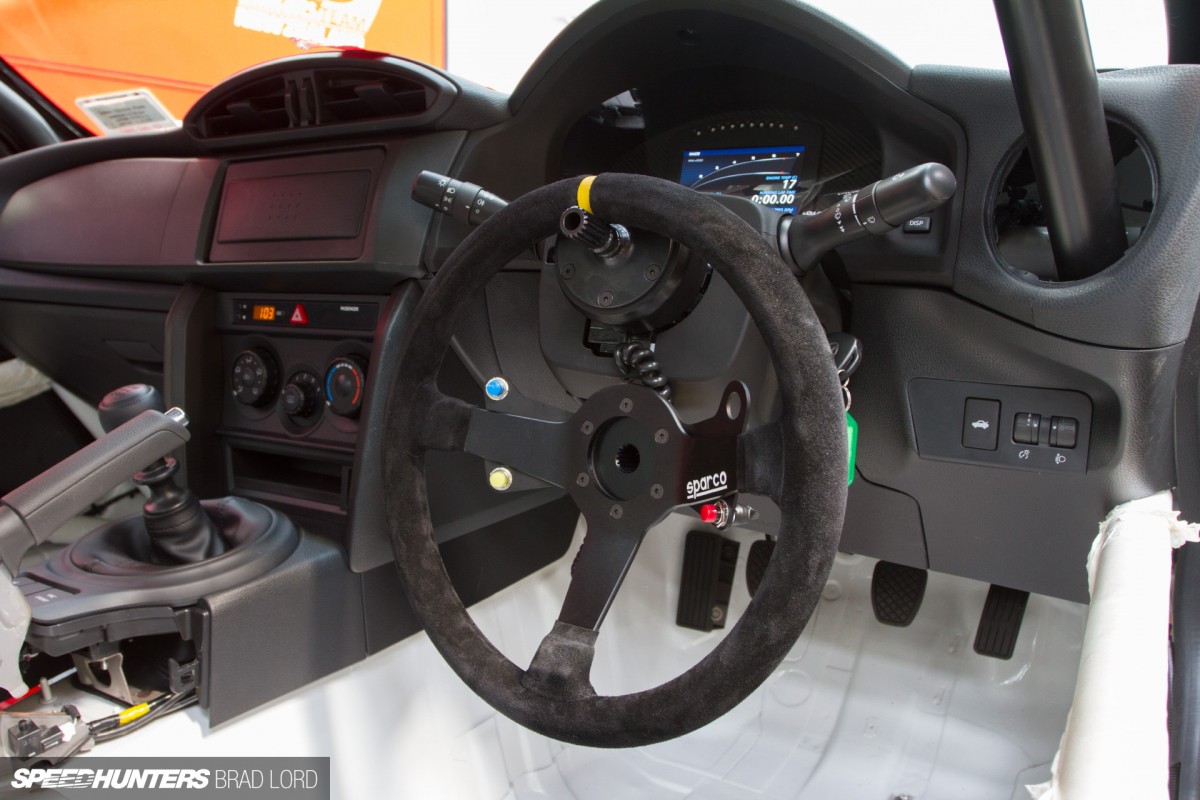 It's very neat around the dashboard too, with more quality gear from Sparco and MoTeC. As the cars have been designed to be used on the racetrack and the road if required, most of the functionality of the production car has been retained.
Circuit-bound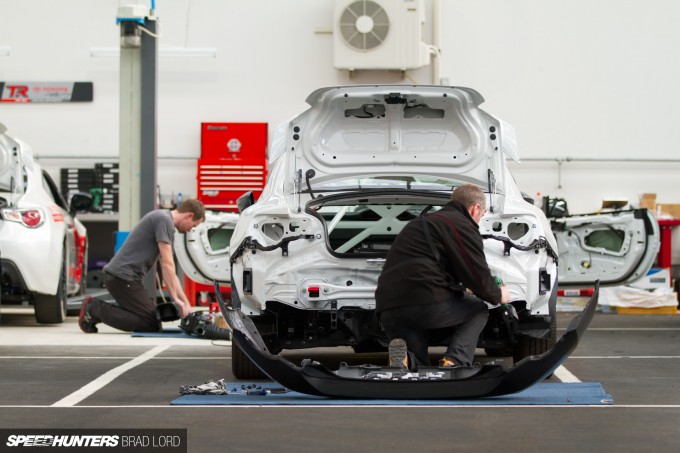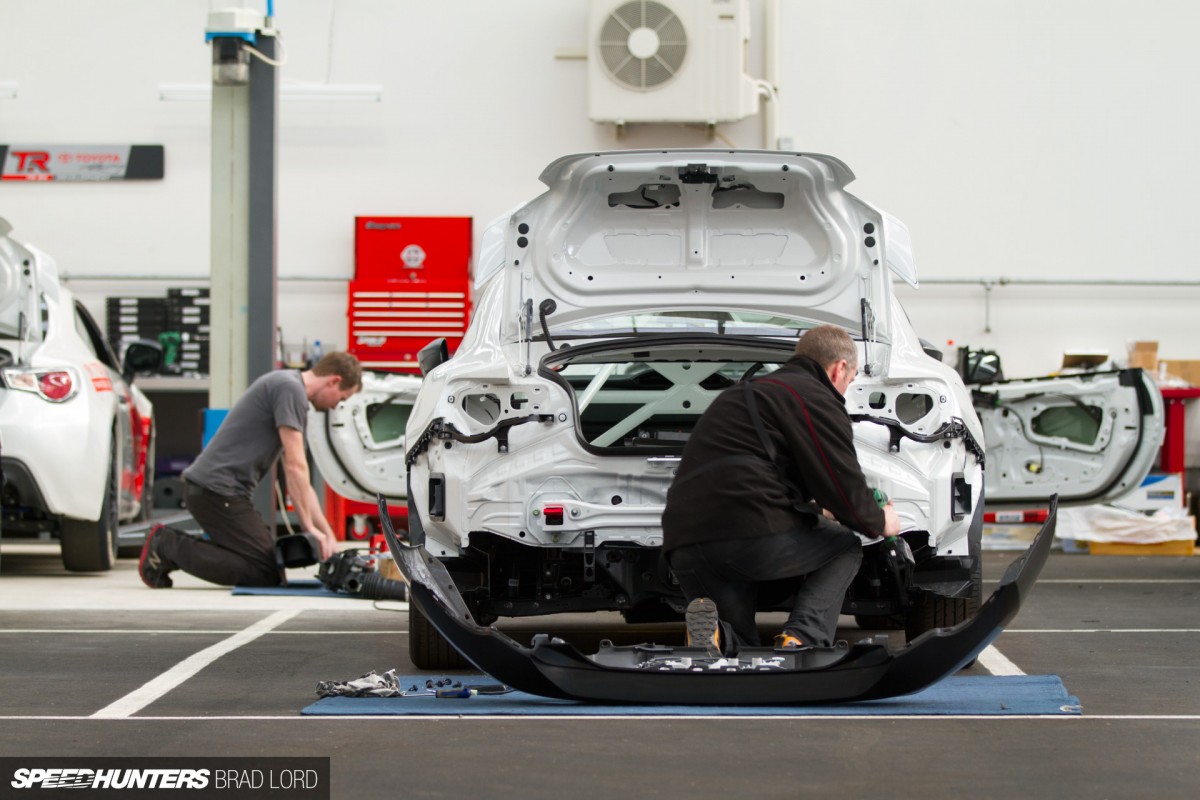 As nice as the aesthetics are, I think the real beauty of the TR 86 lies in the way it performs as a track car. As good as it is in production road car form, numerous racing upgrades have been made through the powertrain, but not entirely in a way you might expect.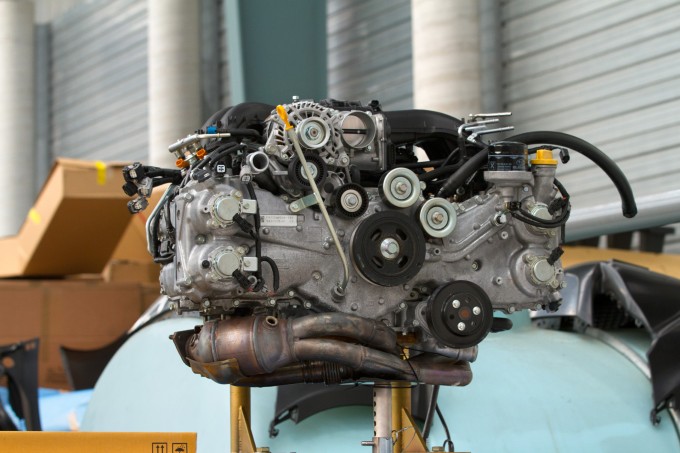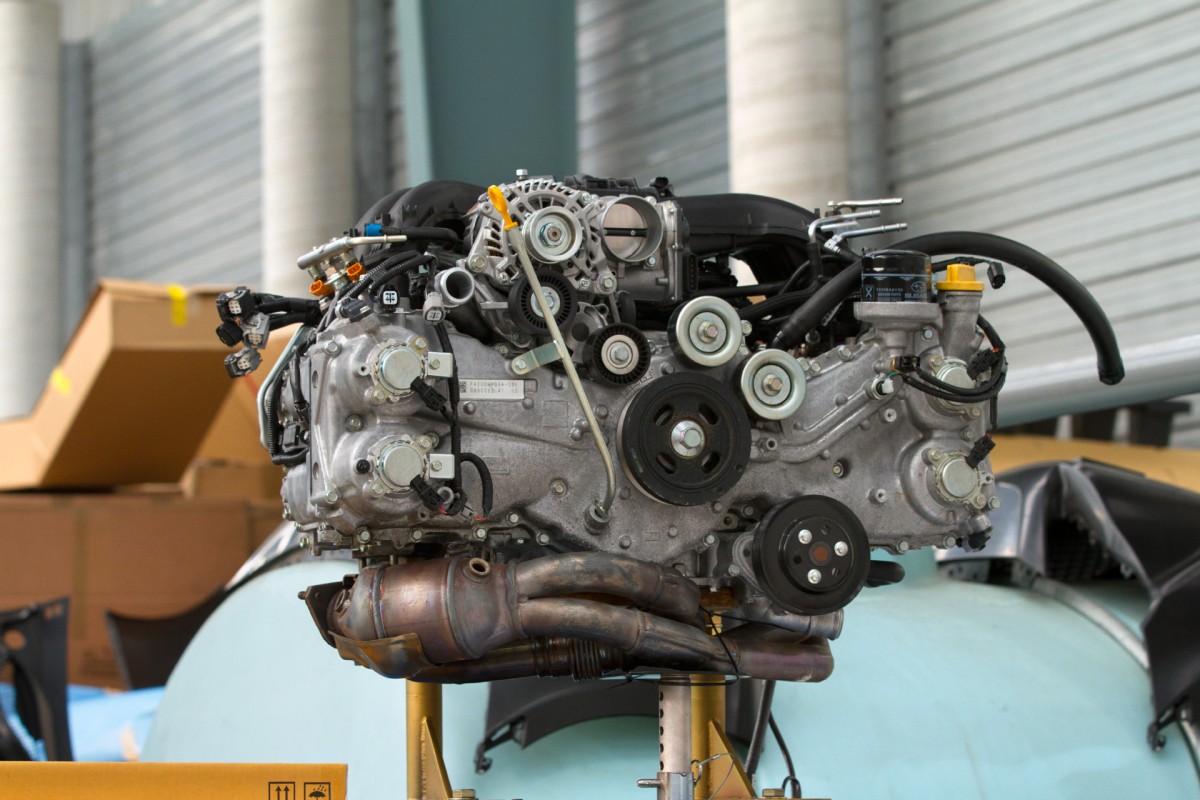 If there's one resounding gripe about the 86 – founded or not – it's a lack of power from its Subaru-derived FA20 2.0-litre boxer engine (with Toyota D4-S direct injection). With so many forced induction options on the market, it would have been easy for Toyota Racing to give the side-punching four-pot a literal boost in power and torque, but it's not the route it took.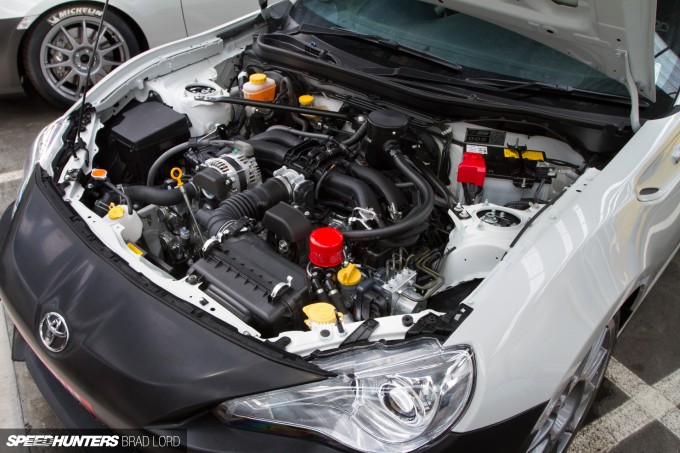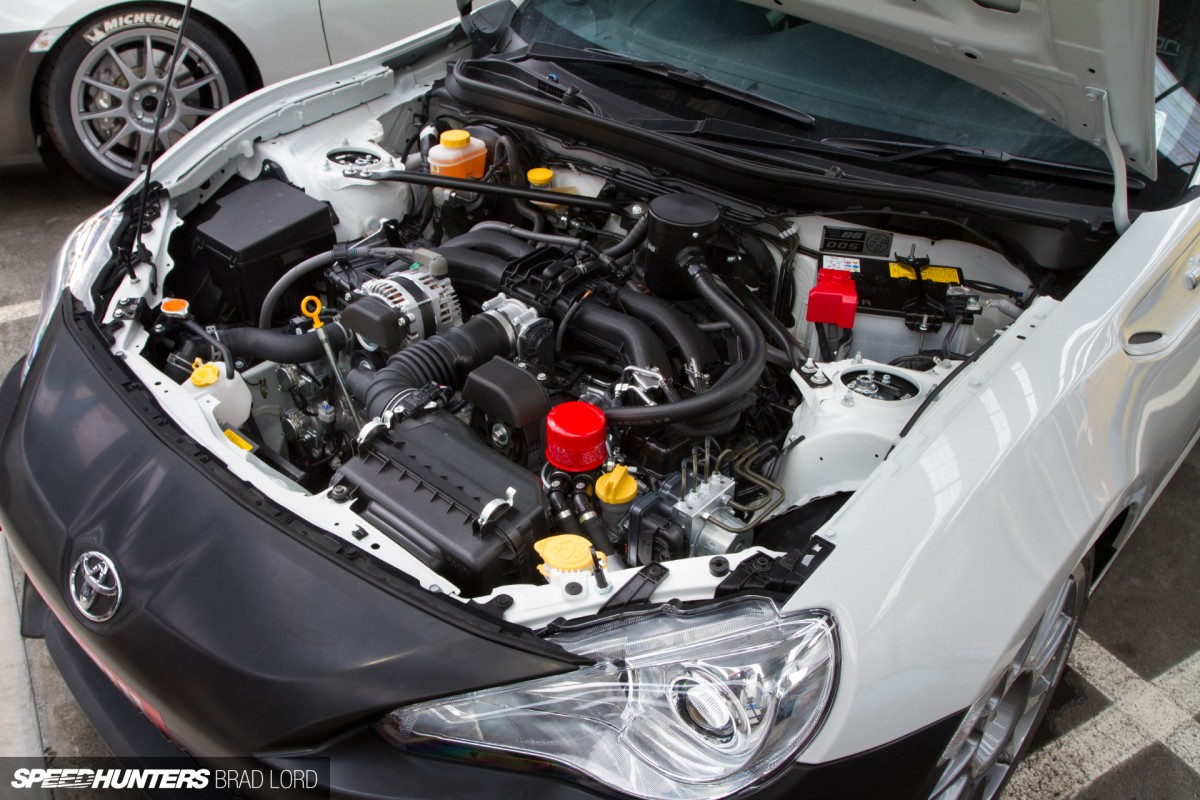 Instead the engine specification remains mostly stock, and units remained fitted in cars throughout the entire build process. That's not to say that they weren't treated to any tuning though, because they were, beginning with ECU flashing capabilities via EcuTek software.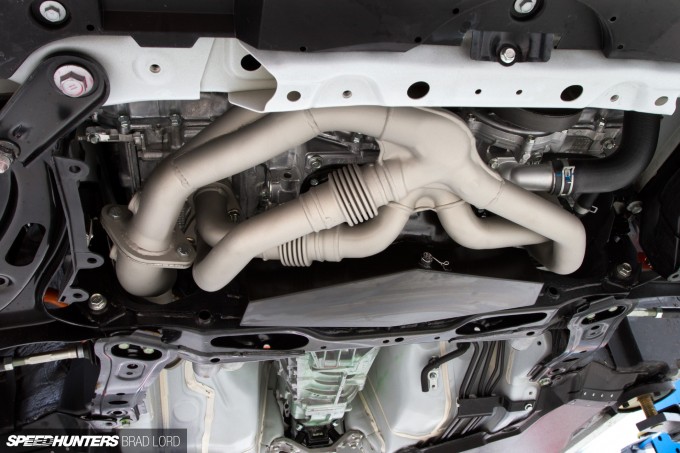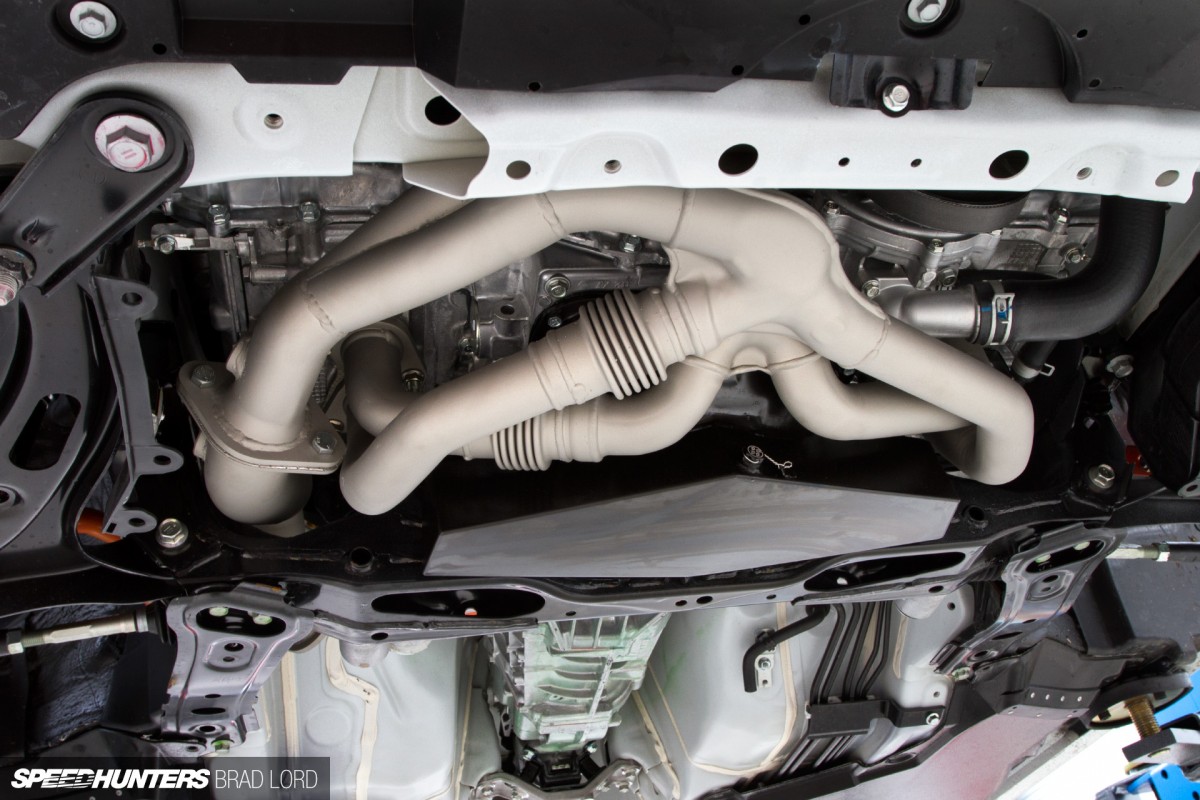 Identified as one of the key areas where extra performance could be found, the entire exhaust was upgraded. The factory header is retained, but it was treated to a thermal coating. From this angle you can also see the significantly altered sump/oil pan, which has been enlarged and baffled and modified around the pick-up to prevent surge under high cornering forces.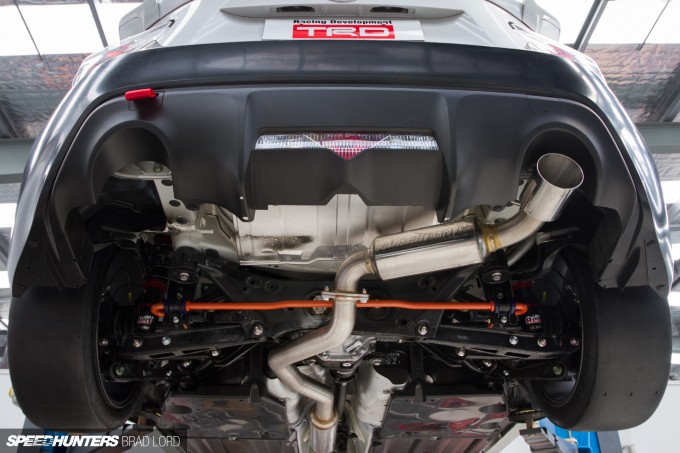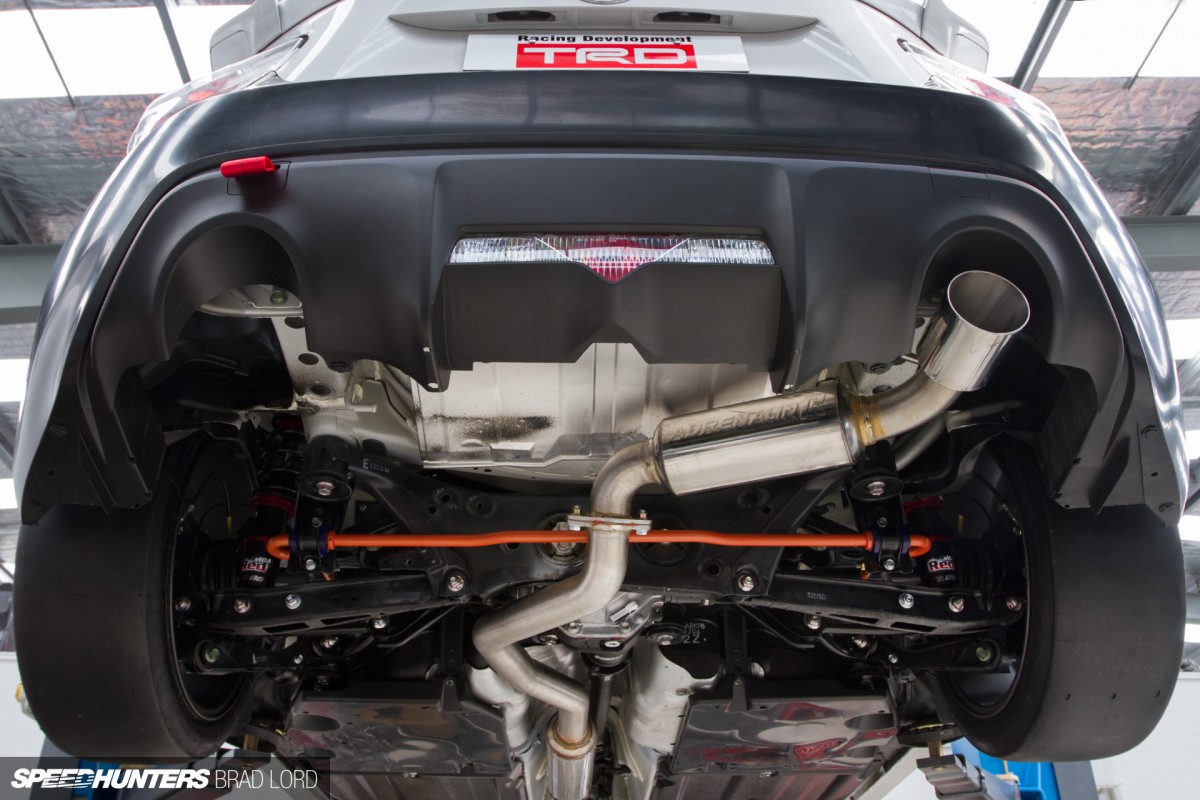 The rest of the system revolves around a larger diameter pipe following the original path with custom hand-made stainless steel mufflers and a single exit from AdrenalinR.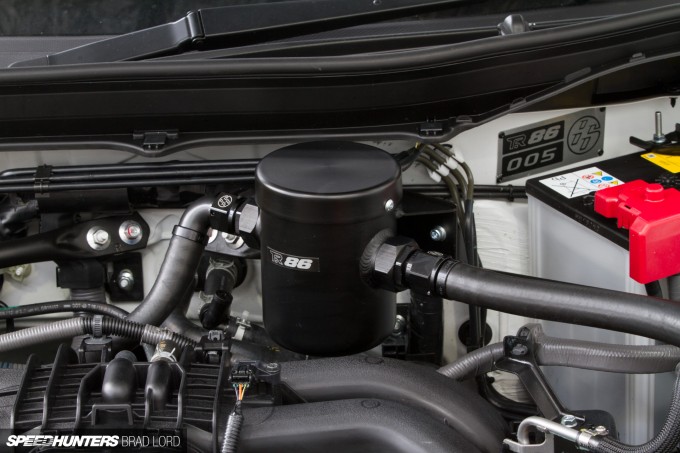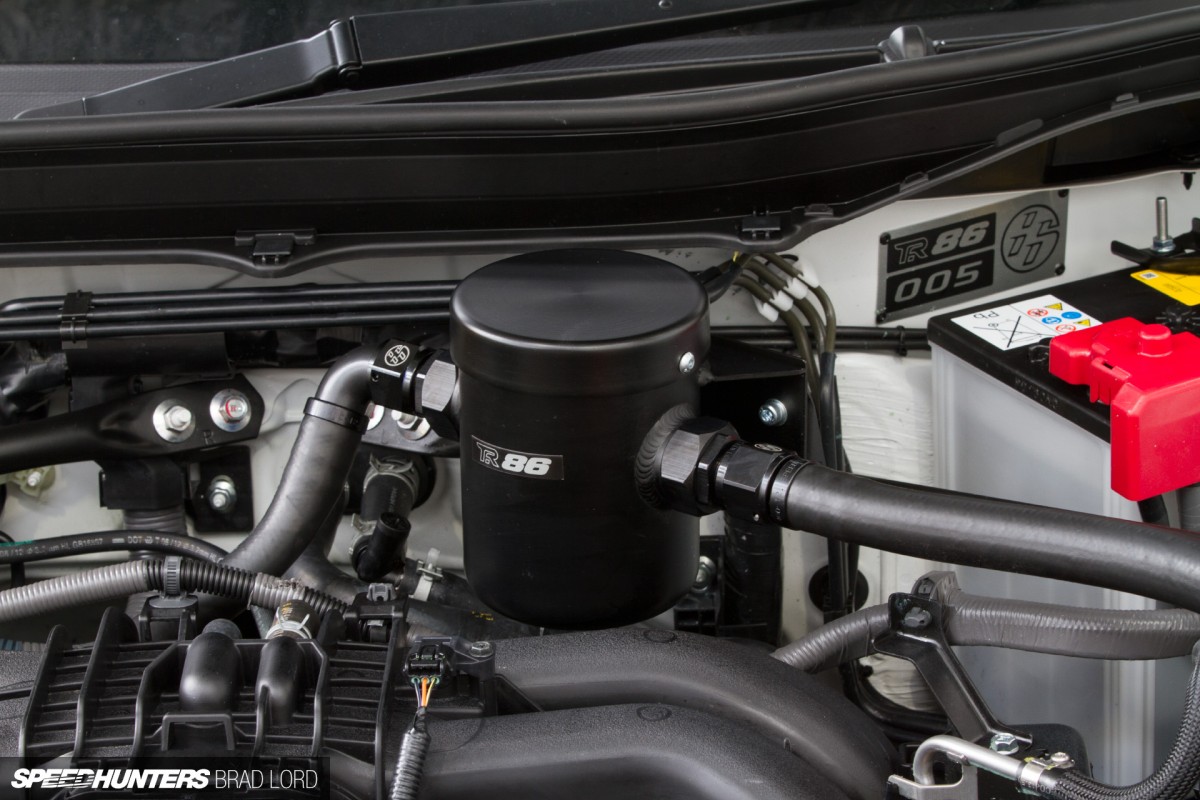 Along with a cooler, the oil system has a stealth-looking catch can added for racing homologation. There are more neat details in this corner of the engine bay too, like the can's '86' engraved couplers and a TR 86 build plate.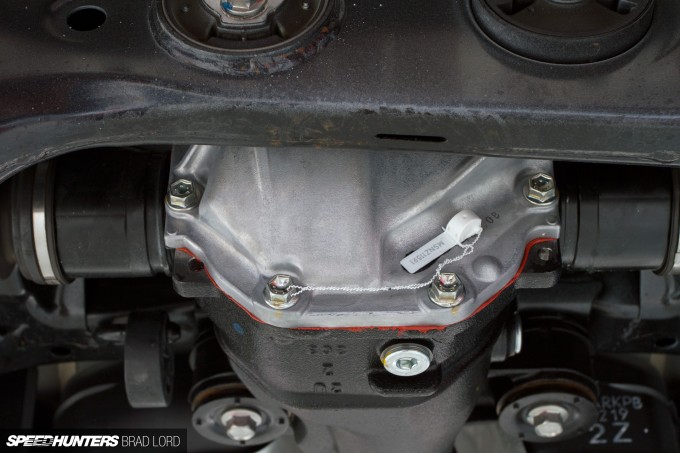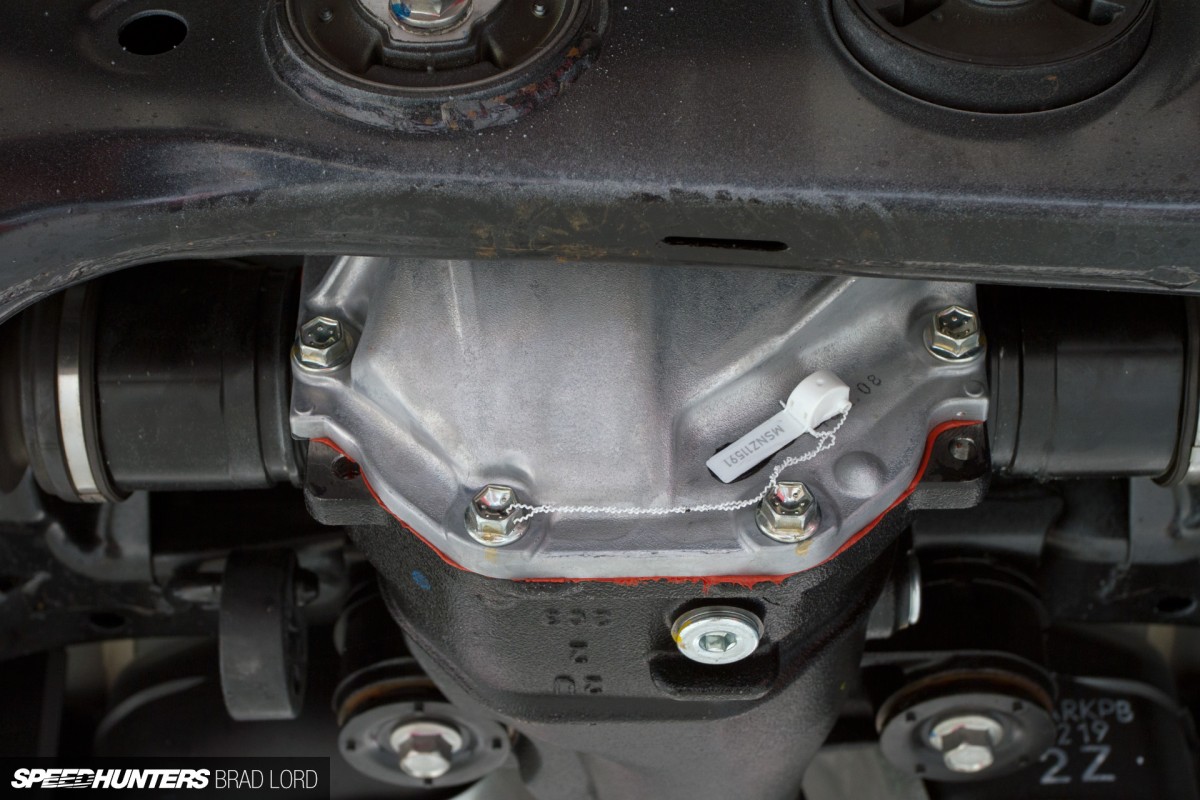 To keep the playing field as level a possible, MotorSport New Zealand tamper-preventing seals can be found in a number of places throughout the car. There's the aforementioned diff housing for starters, where a ratio swap could easily provide an unfair advantage, plus the front cover of the engine, the tail-shaft cover of the gearbox and the ECU plug and case.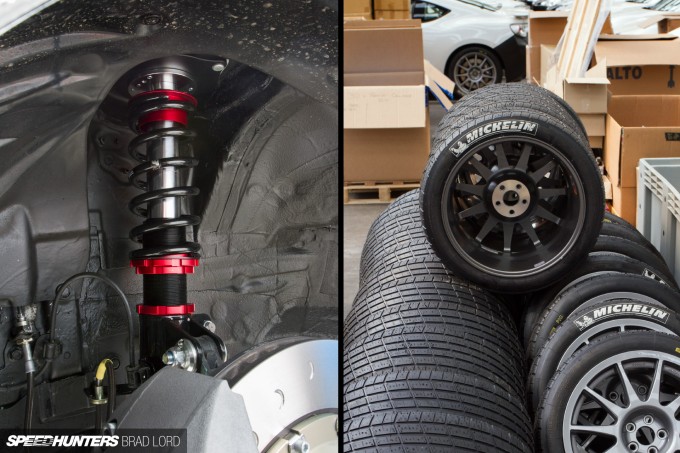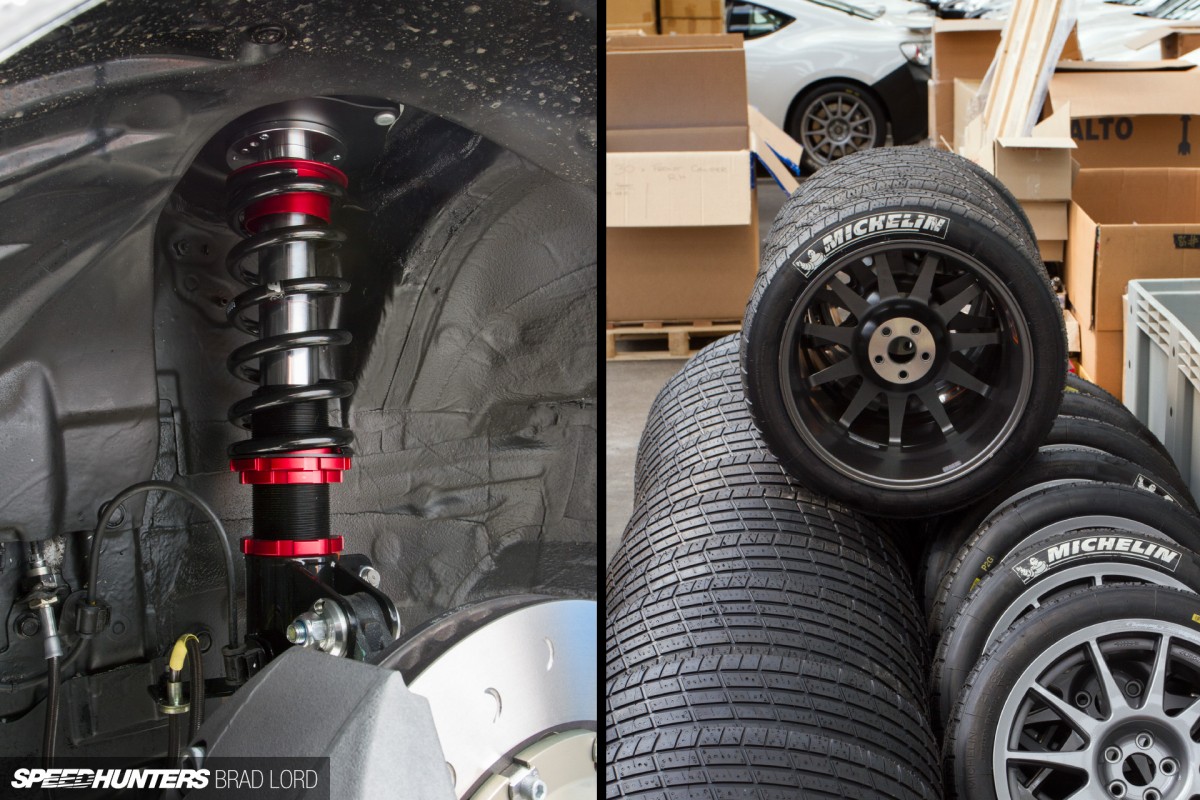 If there's one area of the TR 86 that's seen the biggest numbers of modifications though, it's under the wheel arches, where the shock absorbers and springs, brakes, and wheel and tyre combination have all been upgraded with aftermarket parts. On the suspension side, MCA in Australia – the company behind that very quick 'Hammerhead' Nissan Silvia S13 time attack machine – supplied its Red Series coilovers, complete with height, rebound and bump adjustment, and custom valving for the application.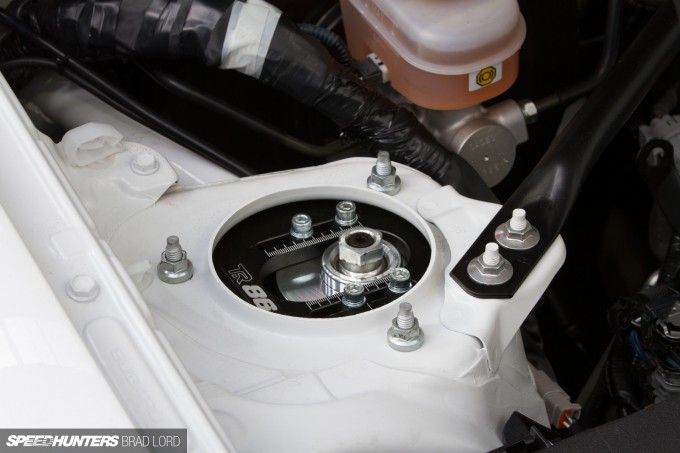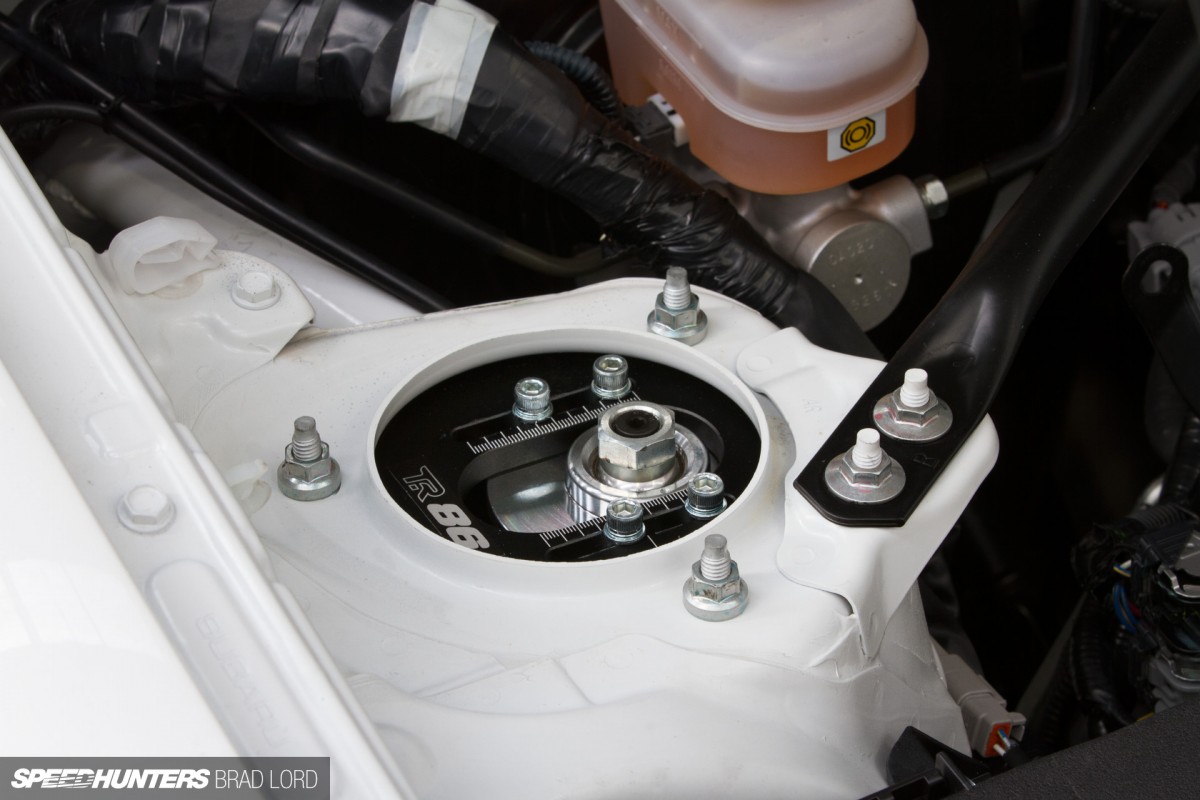 Although there's shock body adjustment too, the TR 86 series rules prevent use of the feature, plus limit other suspension parameters including minimum ride height and maximum camber angle.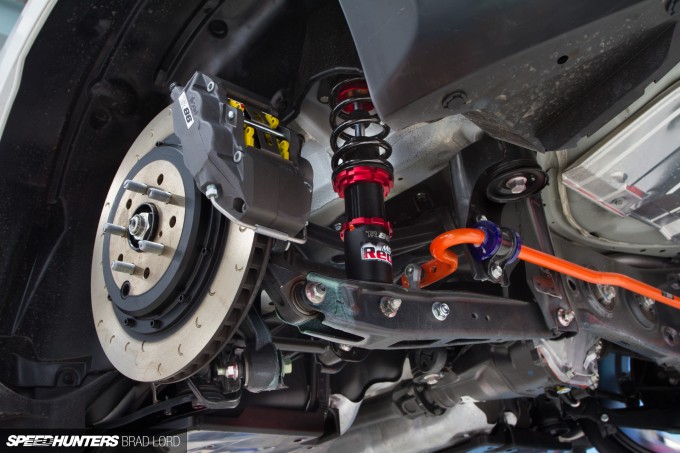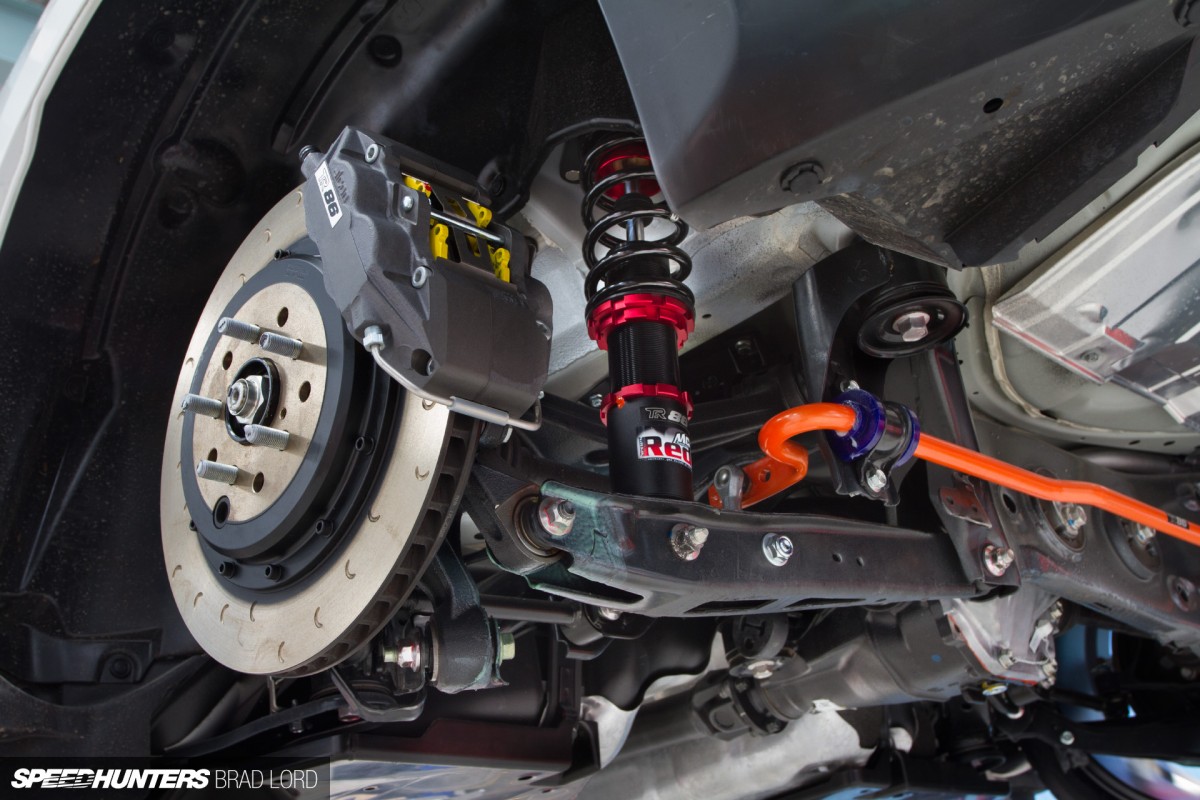 For further fine-tuning you'll find a two-way adjustable sway bar at the front and three-way equivalent at the rear, but other than that all of the arms and links remain factory true. The same can definitely not be said of the brakes, though. A defining aspect of the TR 86, the Toyota Racing package, provides six-pot and four-pot Alcon-derived calipers front and rear respectively, along with large crescent groove discs (365mm and 343mm) and Pagid competition pads.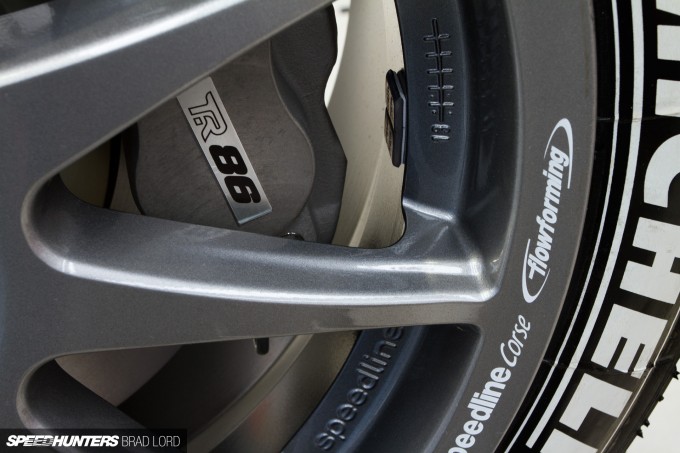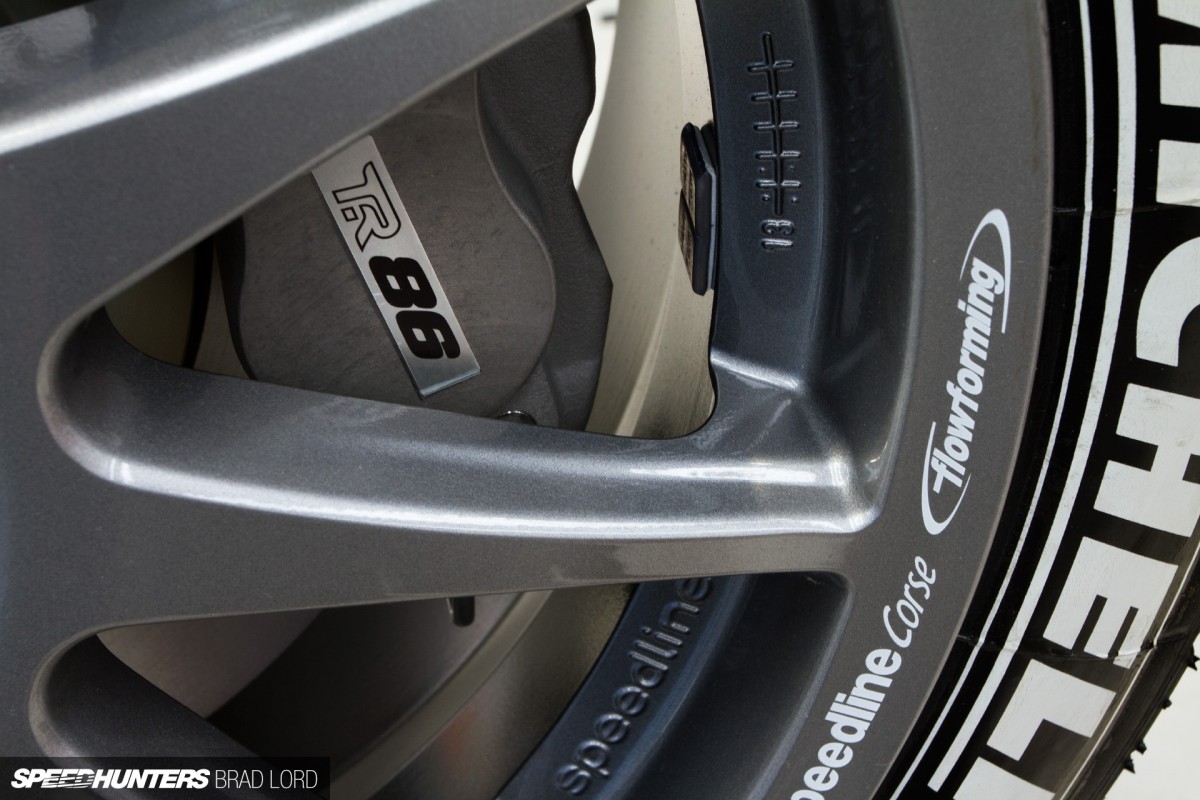 Couple all those upgrades with18x8-inch Speedline Corsa 2120 Turini form-flowed alloy wheels wrapped up in 21/65-18 Michelin race tyres (S8C slicks for the dry and P2G wets for rain) and it's easy to see why these cars have proven to be much quicker than anyone first imagined.
Ready to race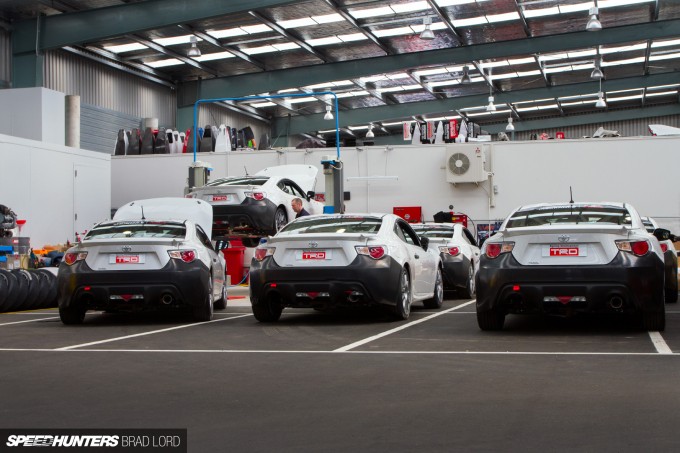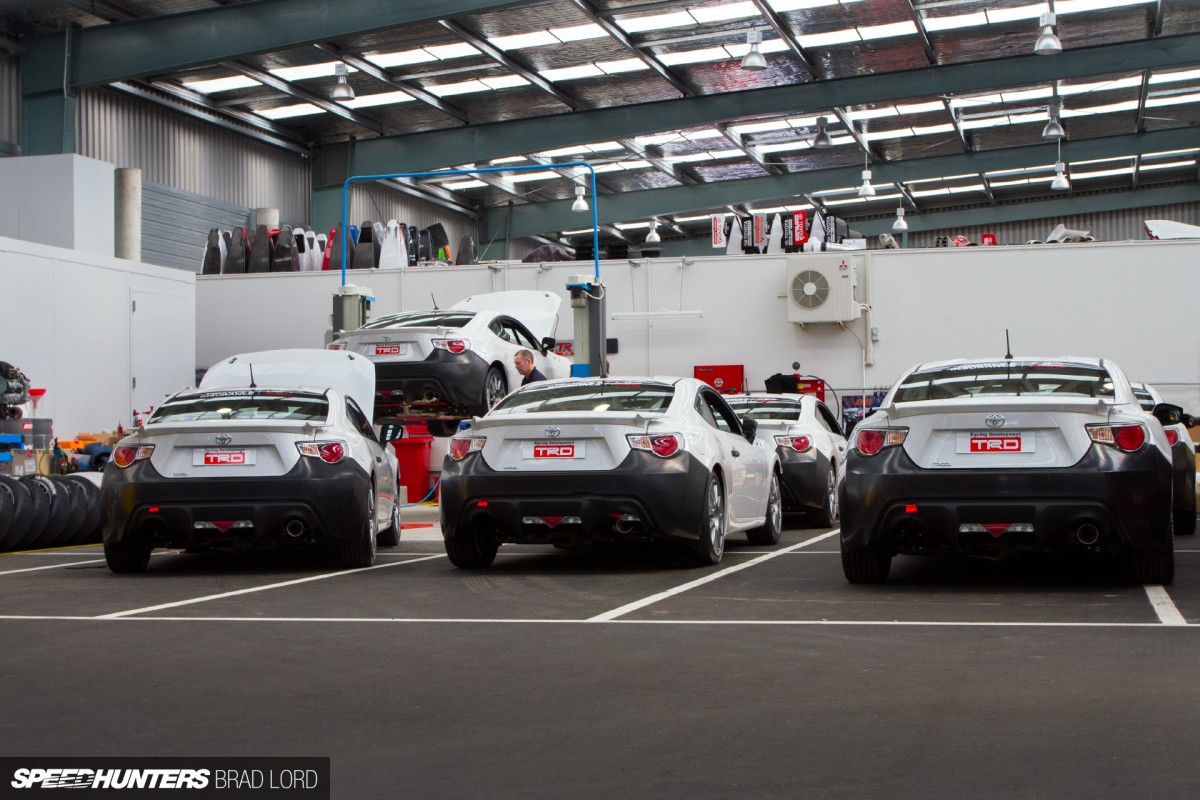 On my final visit to Toyota Racing the first of the 20 cars were undergoing their pre-delivery checks and livery applications ahead of the first official track shakedown.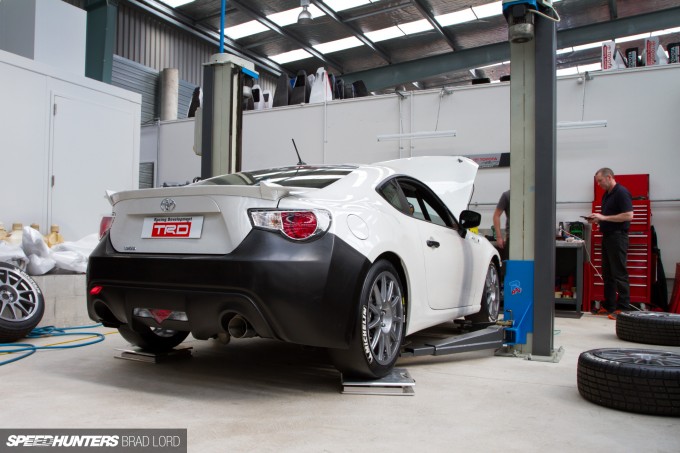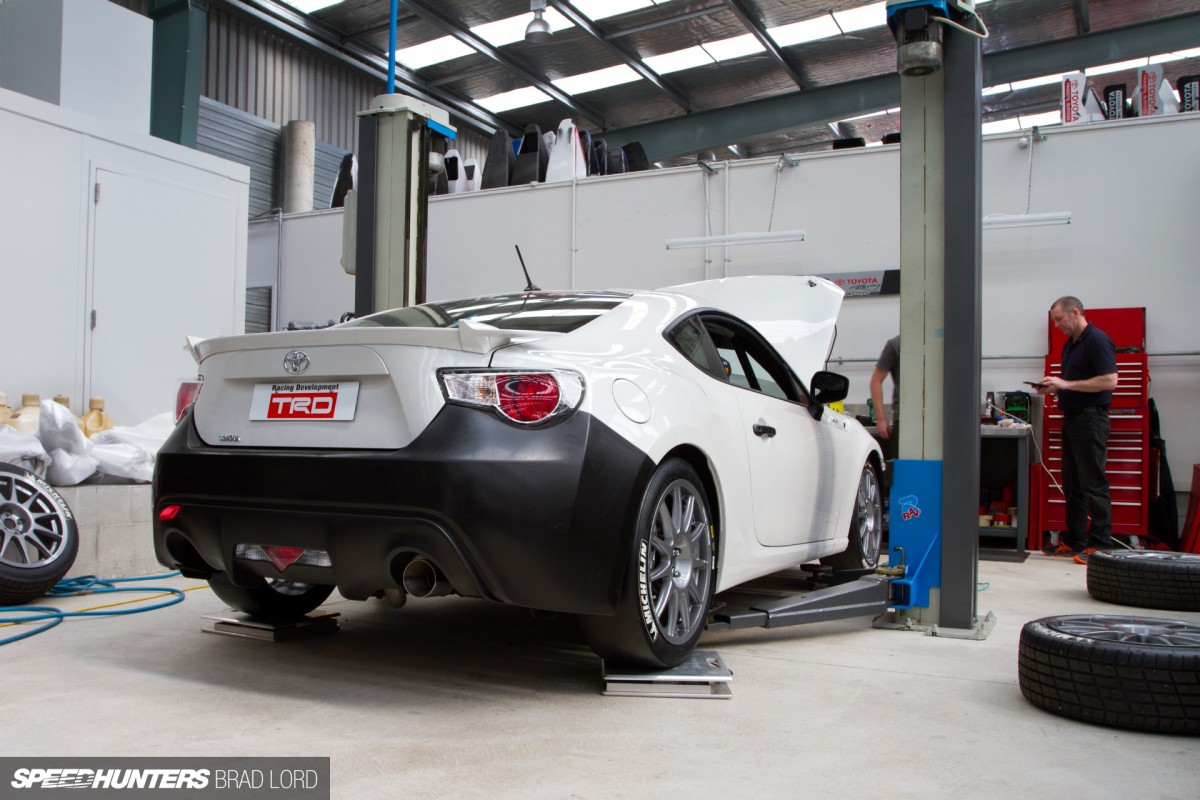 Given how much focus had been placed on handling and grip, it came as no surprise to see each car being corner weighted to truly optimise the suspension upgrades that had been made.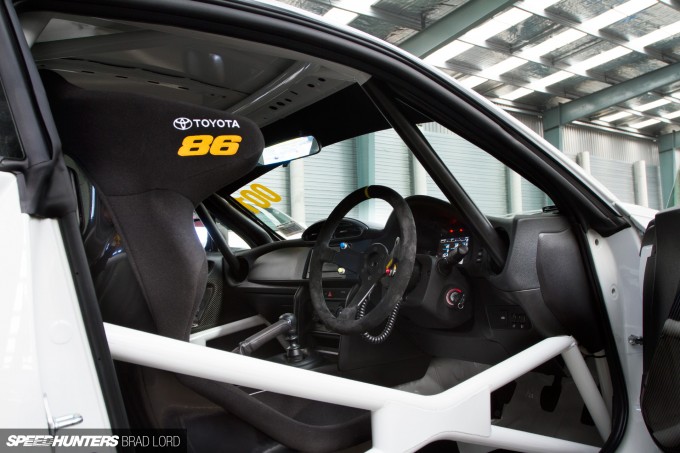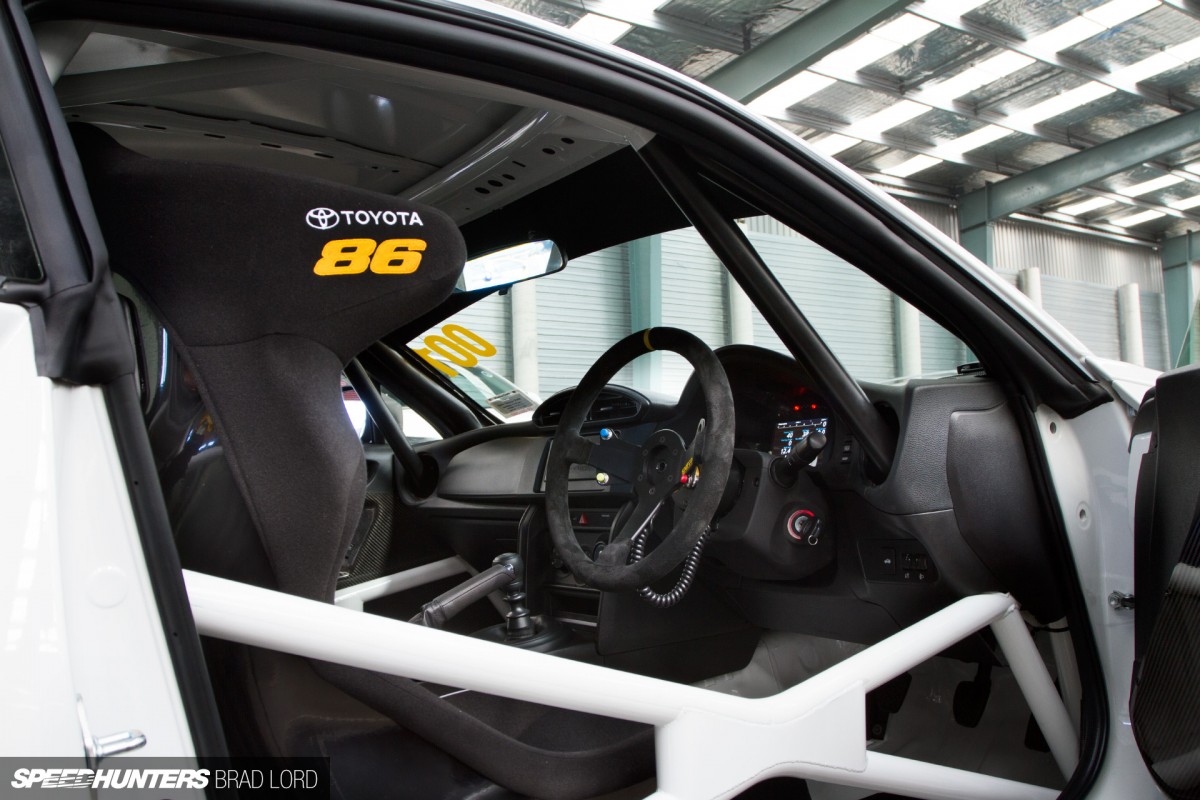 While all that was going on, I took a closer look inside the first TR 86 off the rank: the development car, aka chassis #001.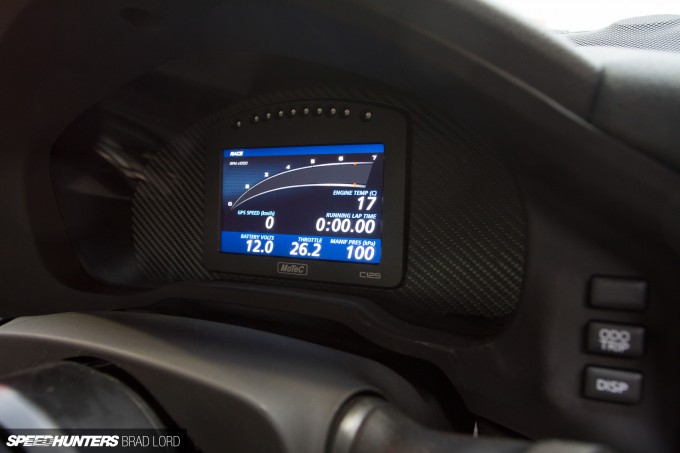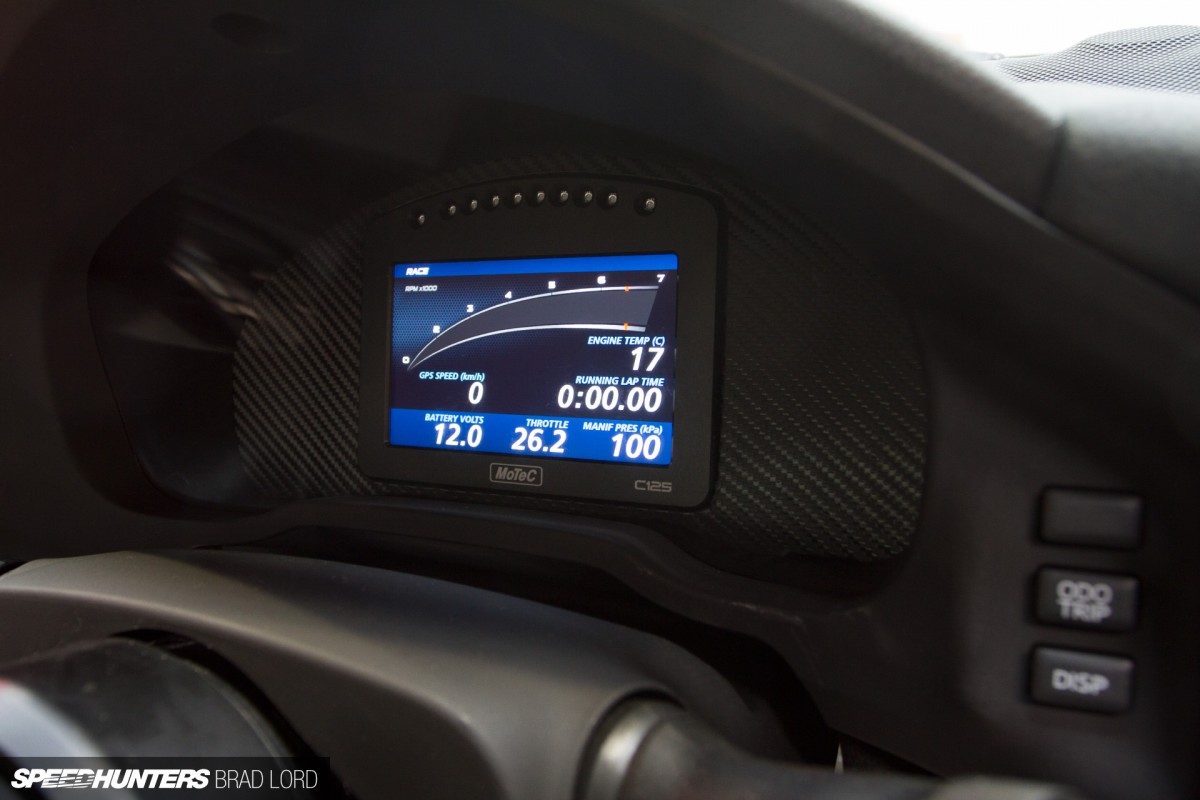 It would have been easy to build the TR 86 with just basic racing upgrades as so often is the case with one-make-race series cars, but right from the get-go the focus was on engineering a proper race car – not an afterthought. Upgrades like the MoTeC C125 full colour, digital display and data logger set into a carbon fibre shroud certainly help set the tone.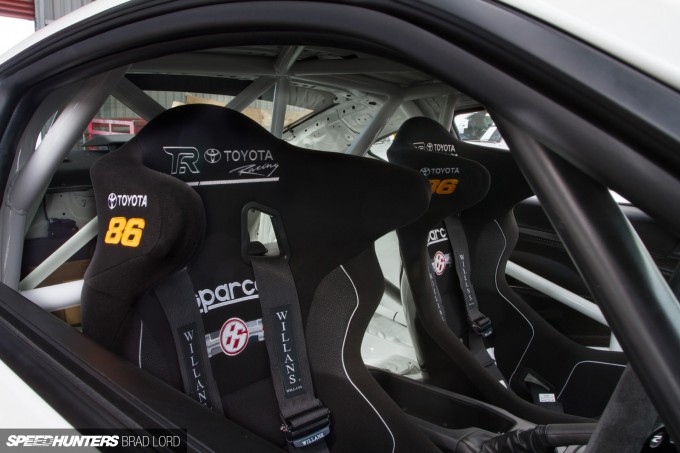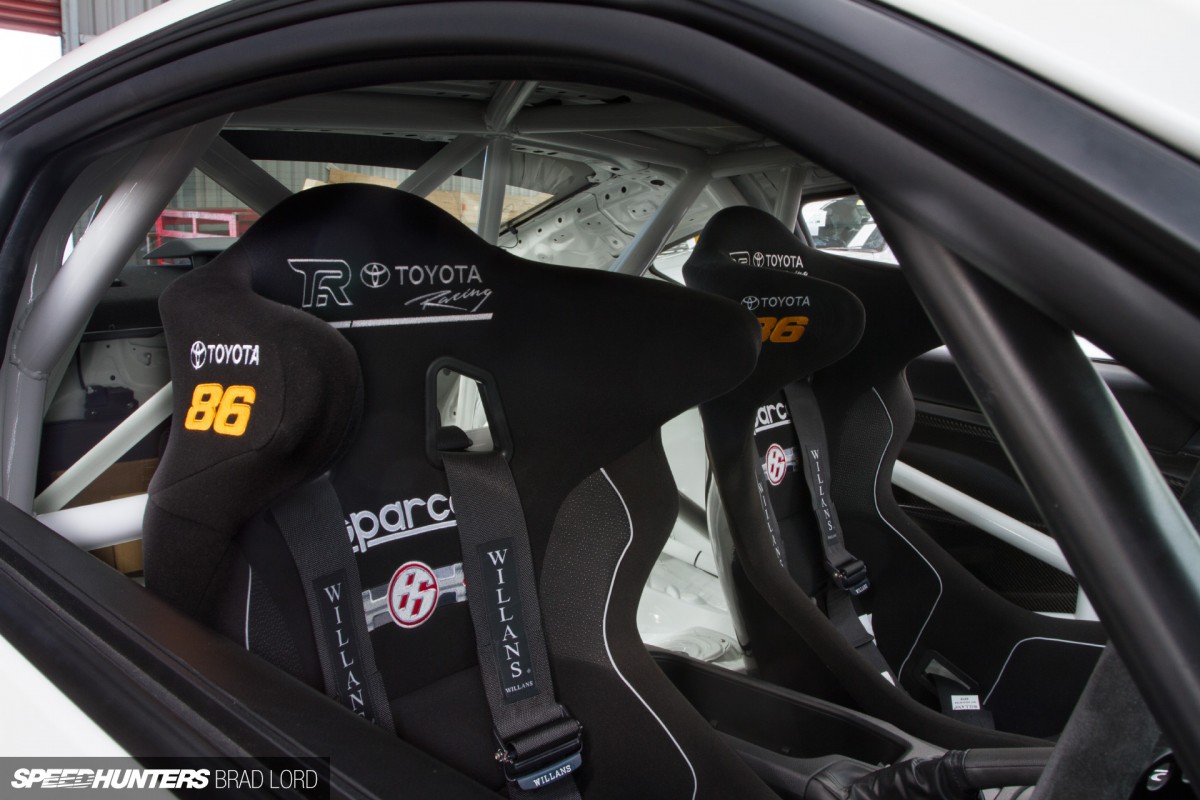 The same can be said for the Sparco Circuit FIA-approved seat (or in this case, seats) and Willans harness belts.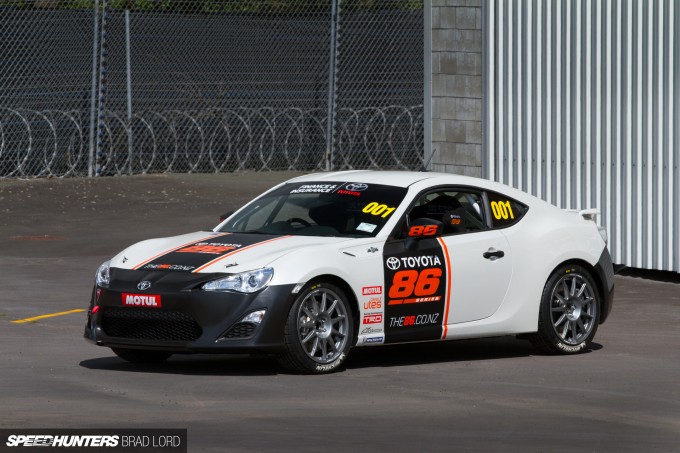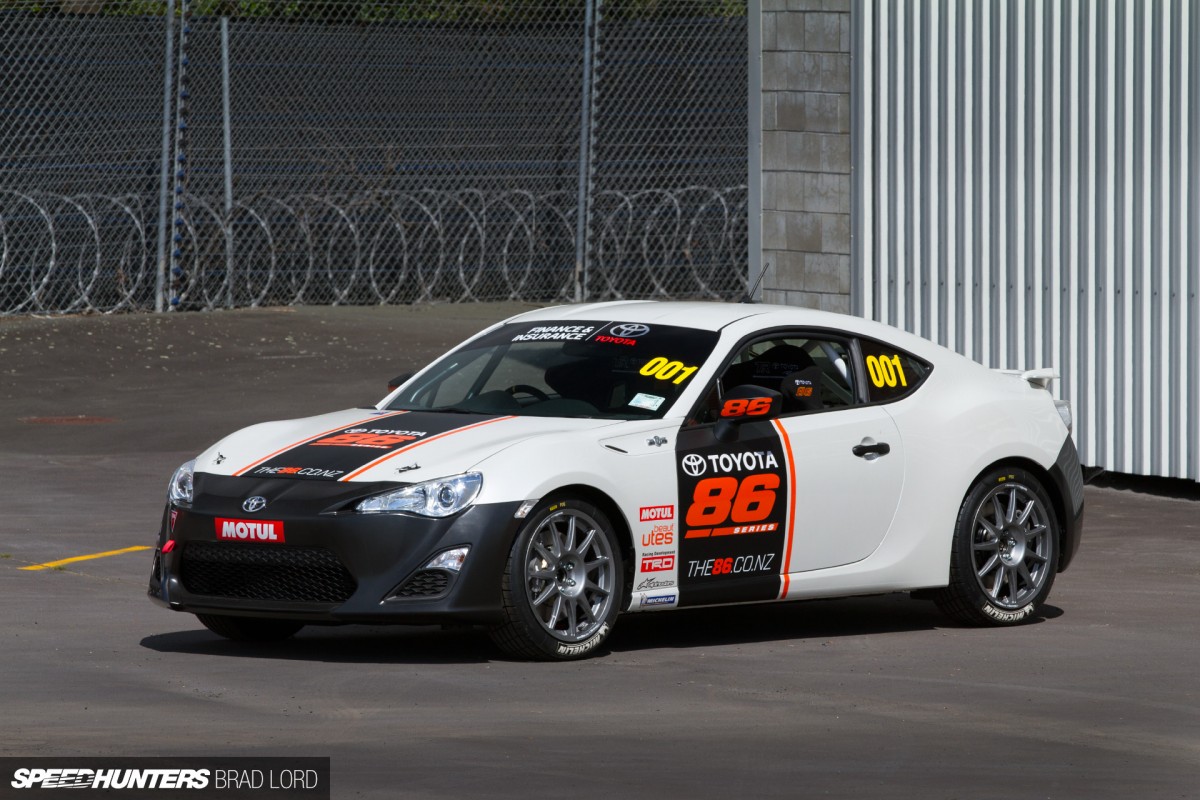 If anything though, what the TR 86 really goes to prove is the versatility of the 86 production base. With what are essentially straightforward modifications, Toyota Racing has achieved everything its set out to do with this package, and perhaps more.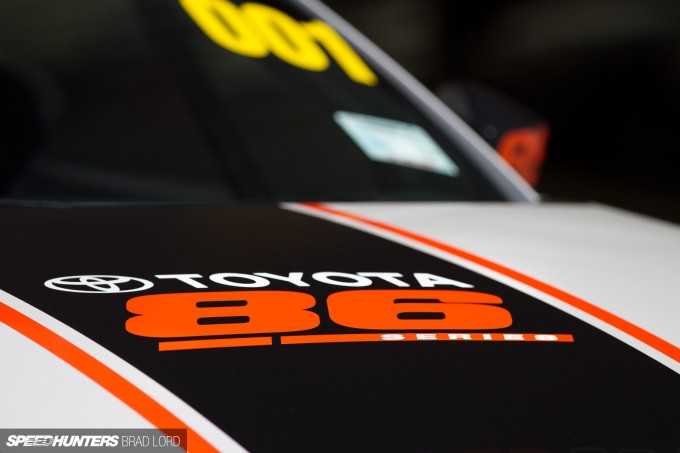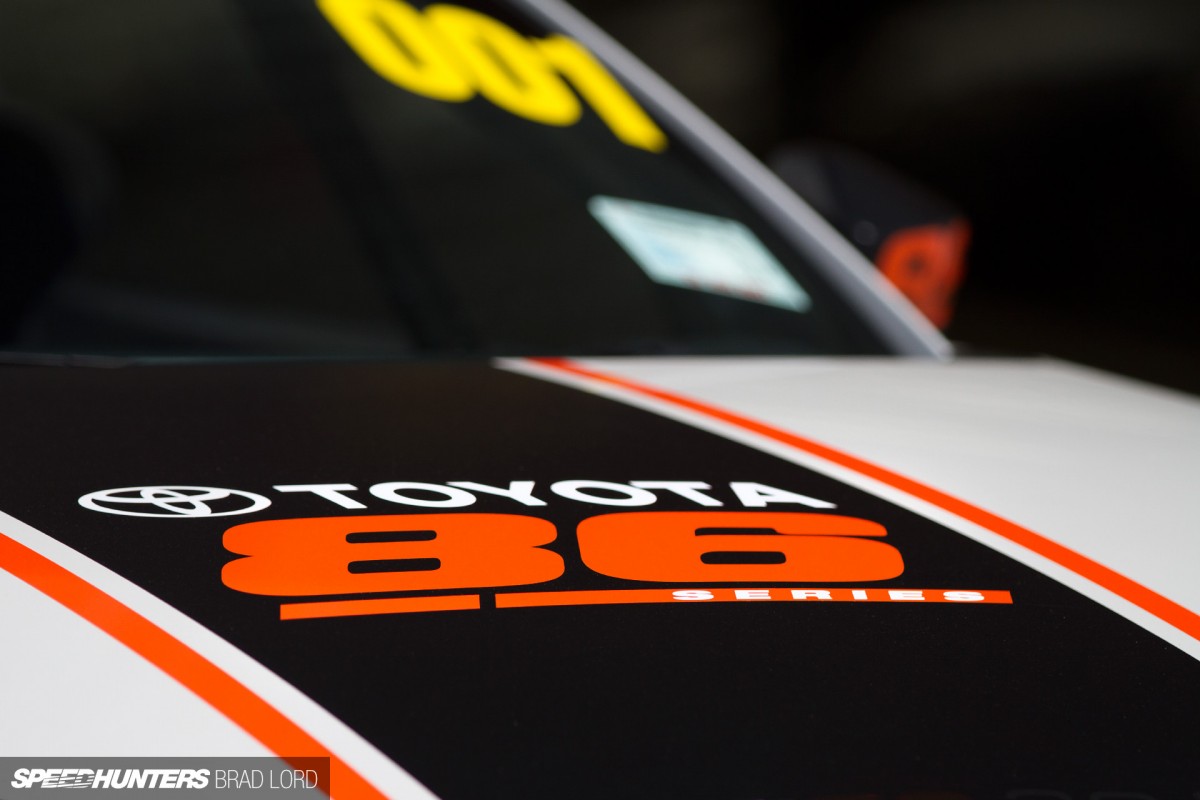 On the recently-upgraded Pukekohe Park Raceway circuit, the quickest car in the Toyota Finance 86 Championship lapped the 2.9-kilometre circuit in 1:15 – as quick as front runners in the Honda Cup series driving extensively modified K24-powered Civics and Integras. For comparisons sake, the fastest V8 Supercars lap the same track in the 1:02 zone, but that's to be expected given they're packing three times the firepower of the humble TR 86.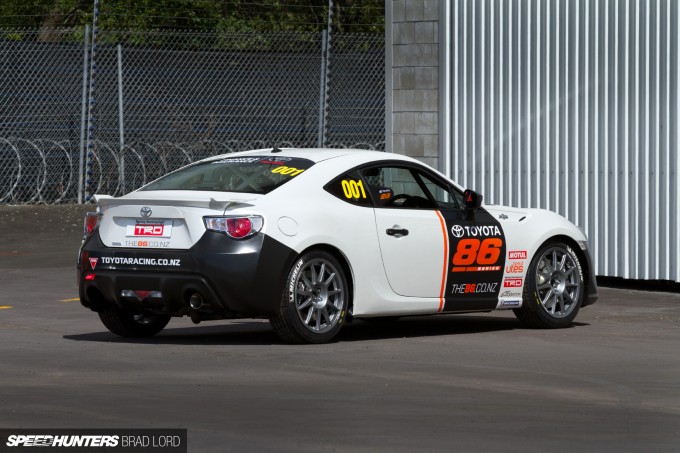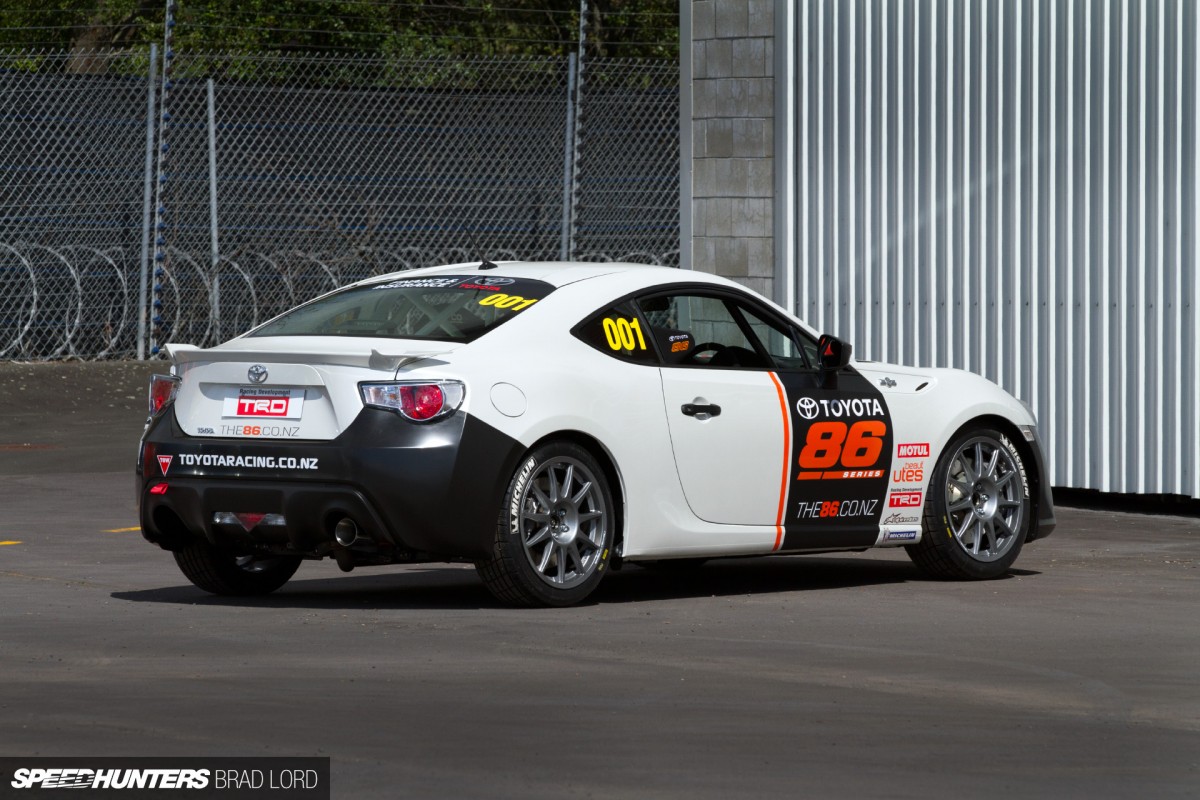 Although the TR 86 series is only two events old having kicked off late last year I'm really looking forward to seeing how far it progresses in one or two seasons time. One thing's for sure – it's definitely got a great base to work with, and better still, much more potential in it if that need ever arises…