The everyday exotic
With Honda and Acura preparing to reintroduce the NSX to the market after more than a decade's hiatus, now is a better time than ever to look back on the original NSX – a car which many consider to be one of the greatest Japanese cars of all time.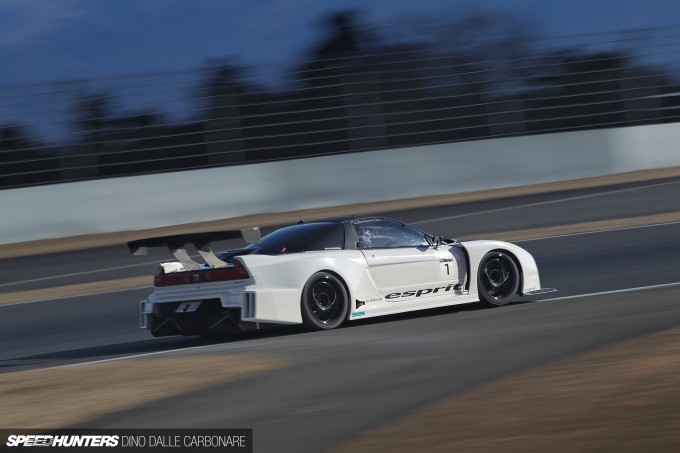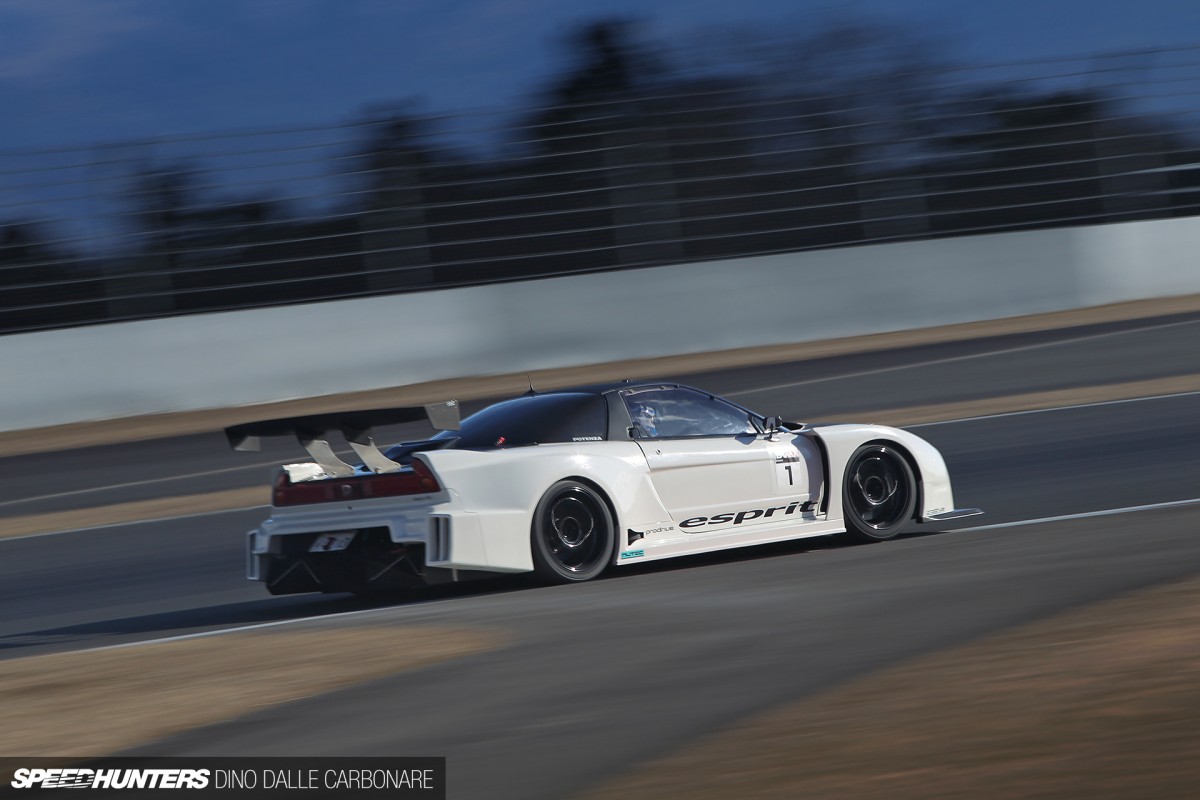 In the late '80s and early '90s, cars like the Skyline GT-R, Toyota Supra and Mazda RX-7 helped establish Japanese makers as global performance threats thanks to things like turbocharging and complex AWD systems. But when it came time for Honda to build its performance flagship car, they decided to things differently.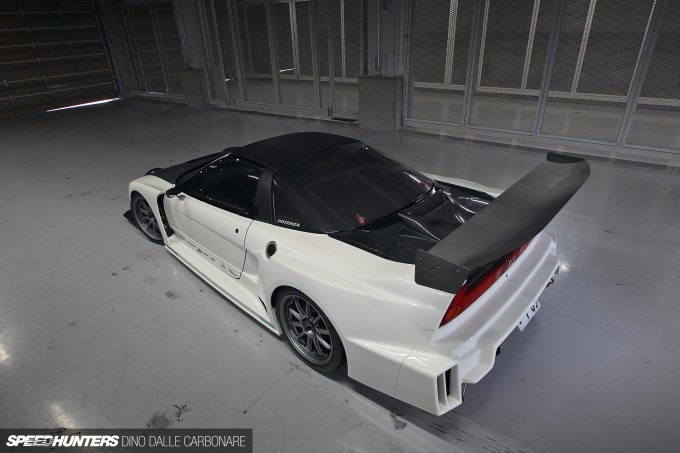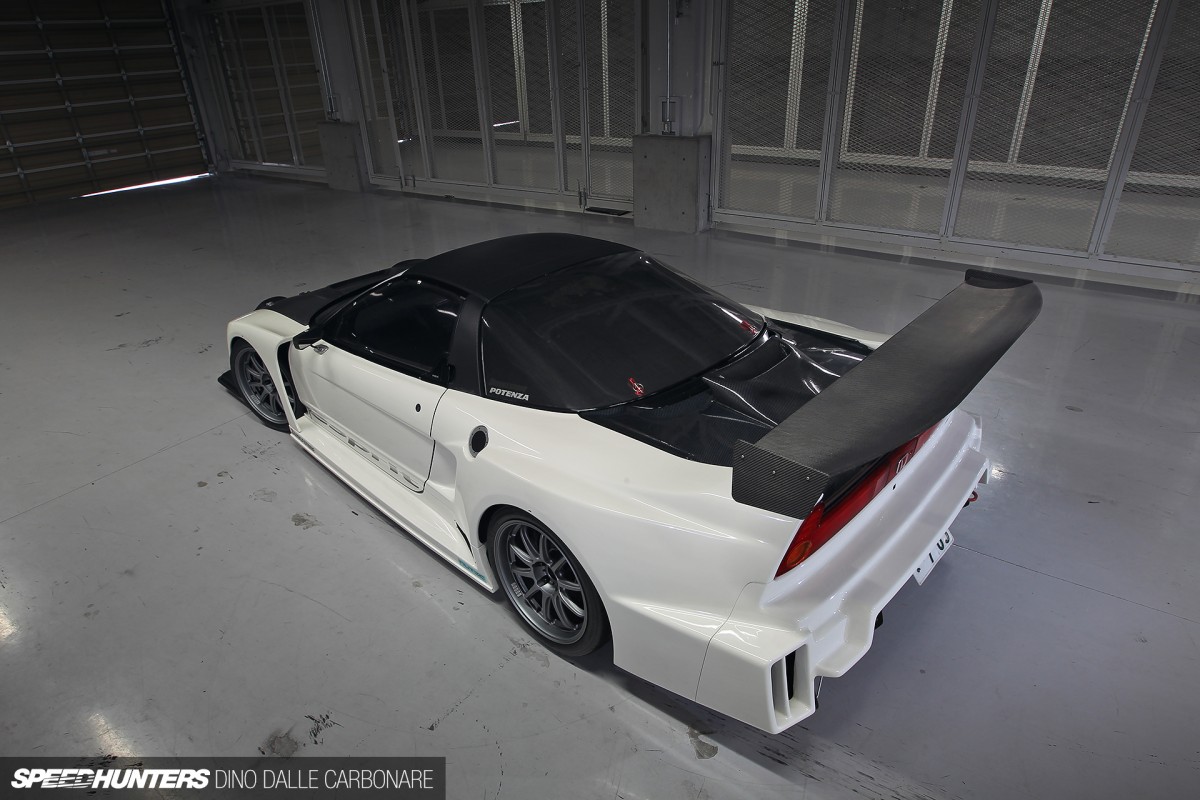 Rather than taking an established platform and filling it with high performance technology, Honda created a brand new machine from the ground up. While it didn't have turbos or AWD, it would instead be a highly advanced mid-engined halo car with plenty of Formula 1 DNA. It was called the NSX, and the rest is pretty much history.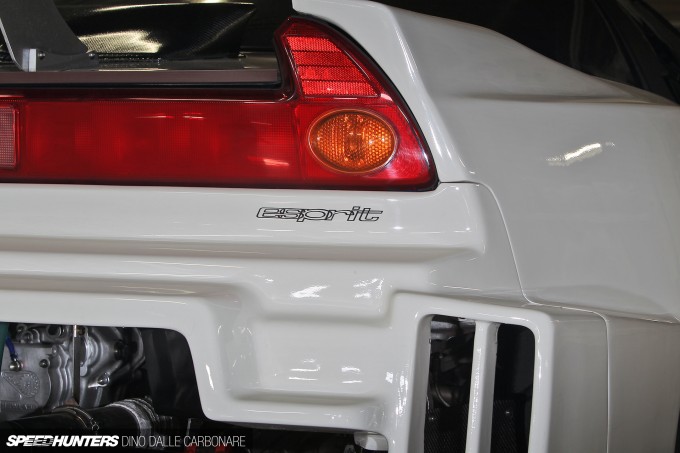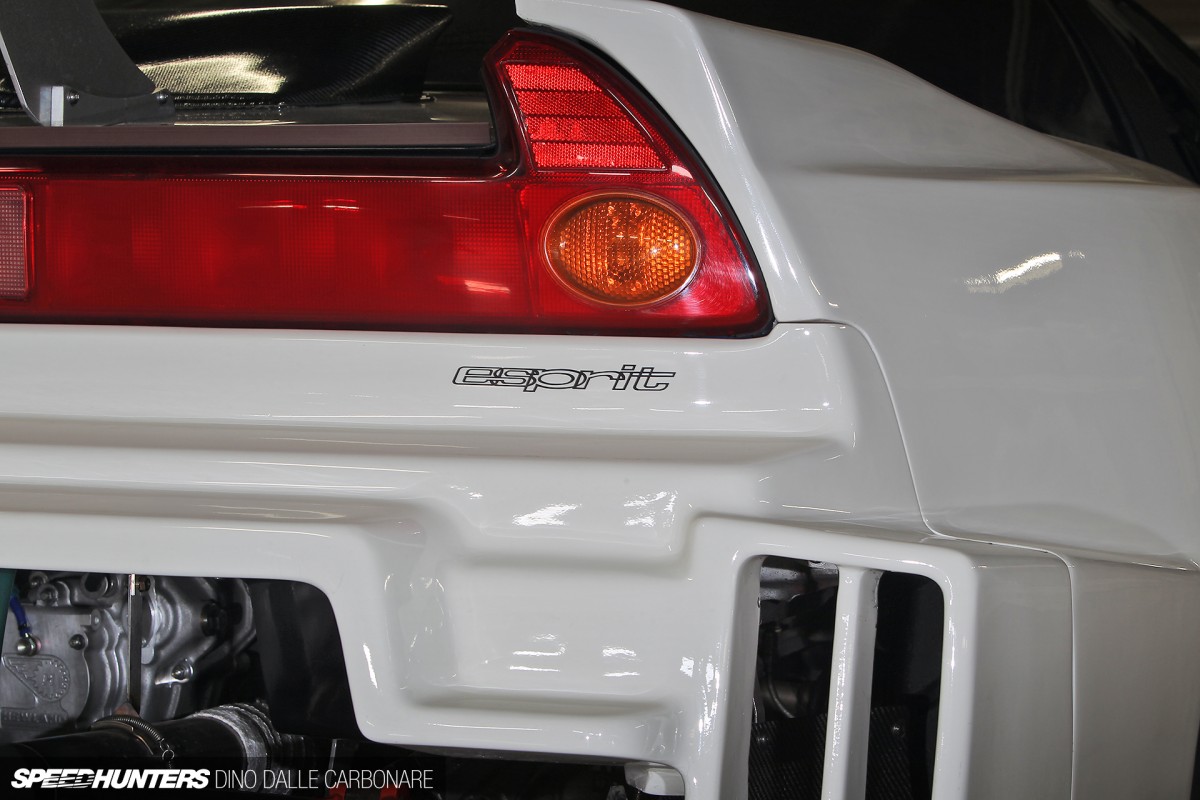 The motoring press and enthusiasts quickly fell in love with the car, praising its style, performance, driving dynamics – and perhaps most importantly, its simplicity and reliability. What they had created was an exotic car with the dependable heart of a Honda.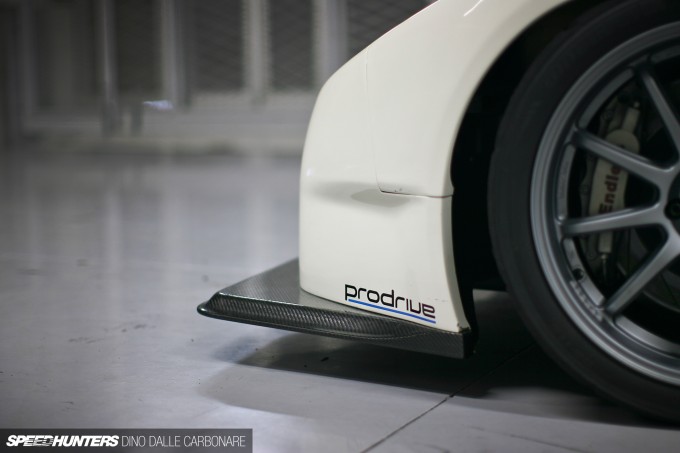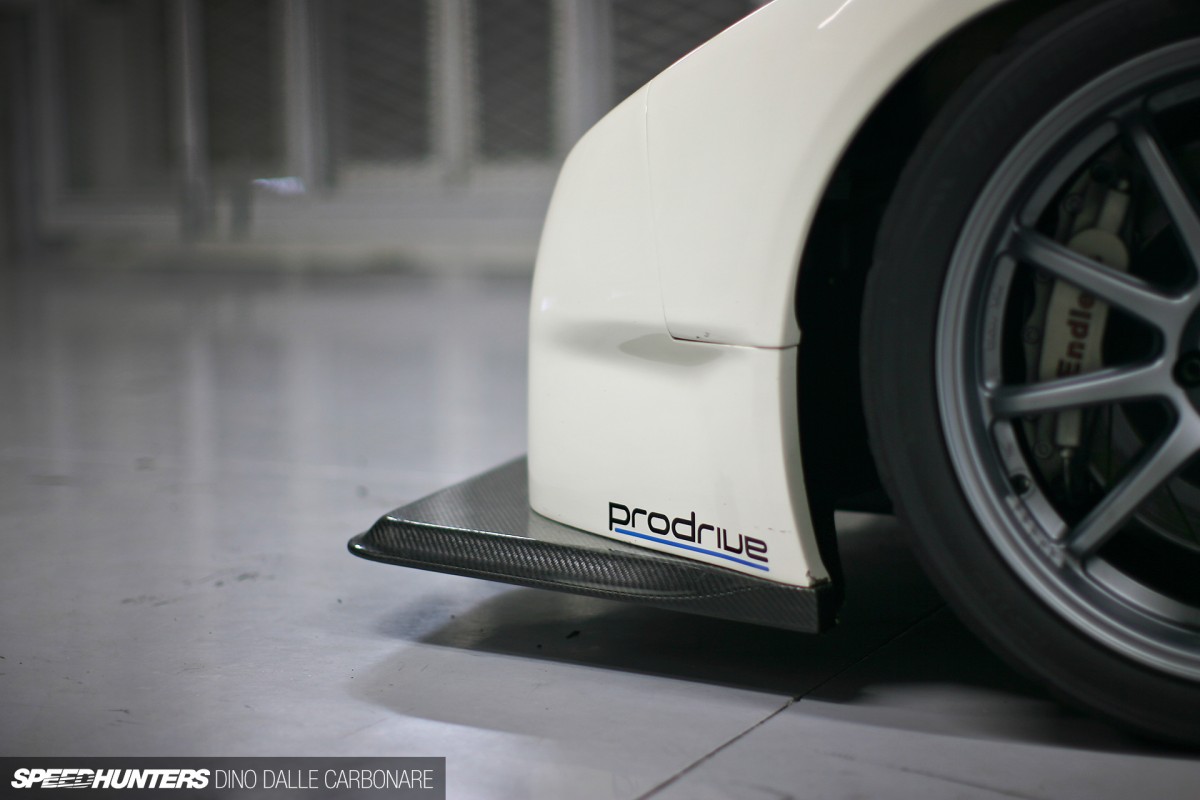 And while the NSX might have the look and feel of an Italian exotic, we've seen over the years that tuners have had no issue tearing into the mid-engined machine trying it to maker faster, cooler and better. Of these modified NSXs, few are more exciting than the time attack machine from Esprit in Japan.
Full evolution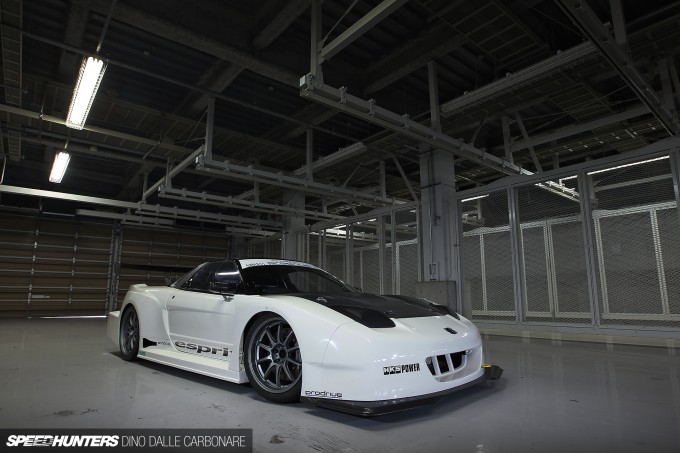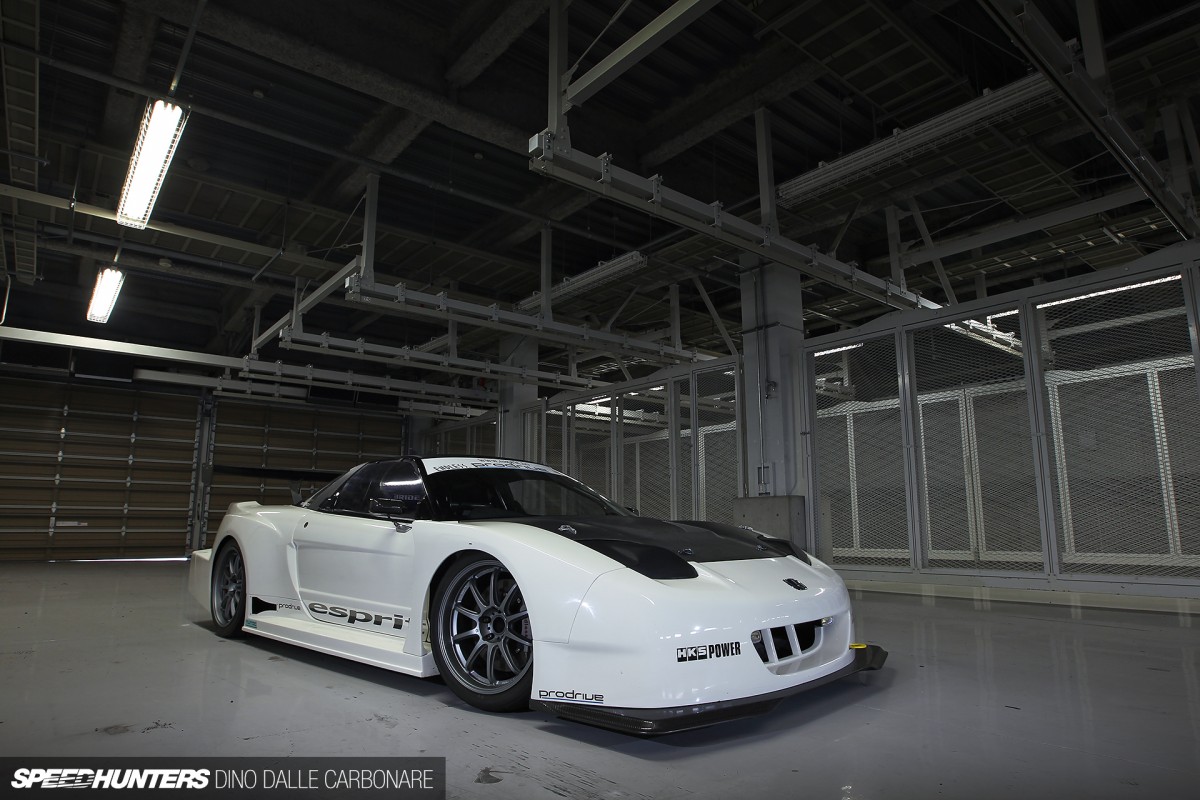 At a glance the car looks like a full-on racing machine. And well, that's pretty much what it is. But rather than just appearing like this, Esprit's NSX has slowly evolved into the mad machine you see here – all in the name of shaving fractions of seconds from its lap times.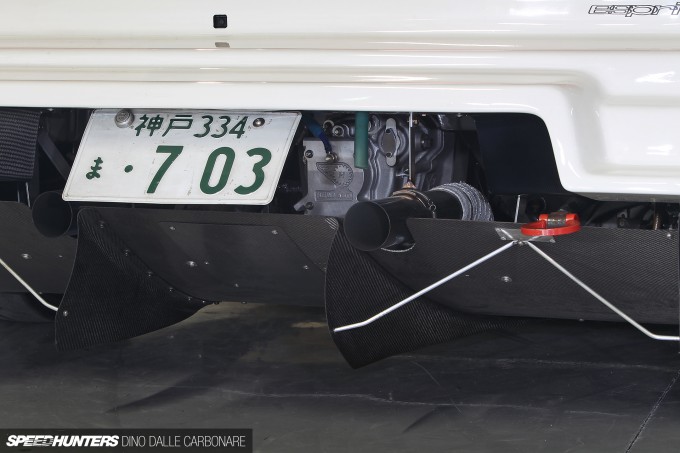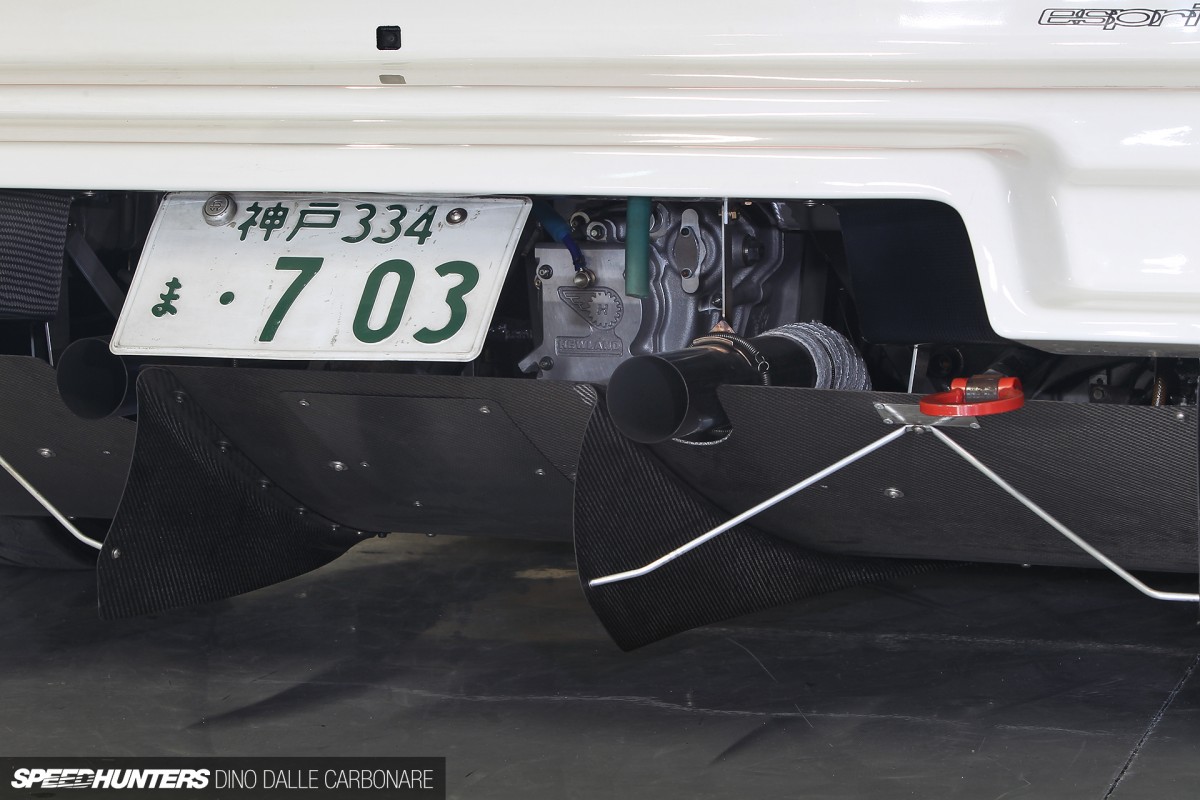 This car was once a factory fresh NA1 NSX Type S, but in the quest to go faster, every square centimeter of the car has been altered in some fashion. And while the wide-body is rather extreme looking, it's nothing compared to the work done beneath the skin.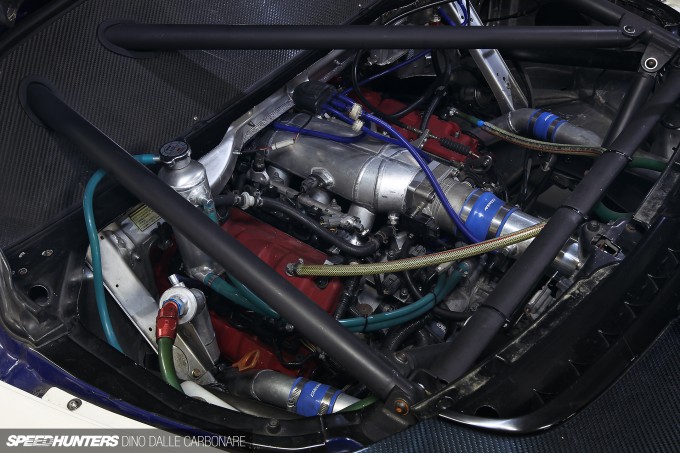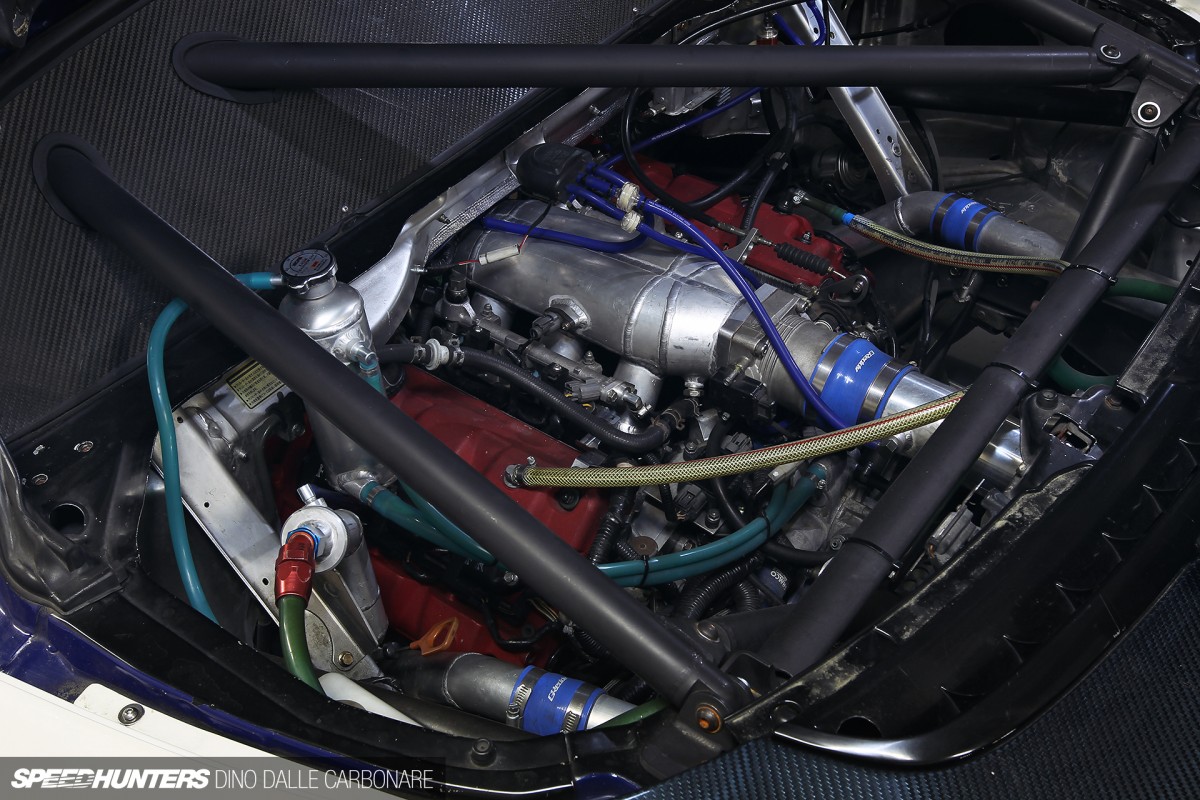 The car is still powered by a double overhead cam Honda V6, but that's about where the similarities to a stock NSX stop. For starters, the car's CA30 V6 has been flipped 90 degrees and now sits longitudinally in a custom-built subframe – the idea of course being better weight distribution along with more space…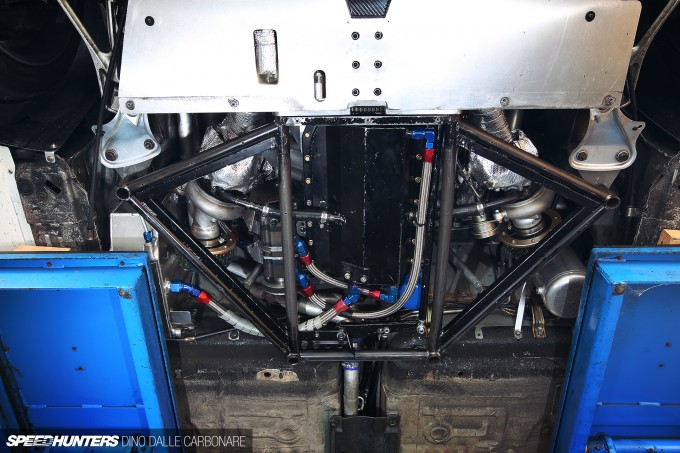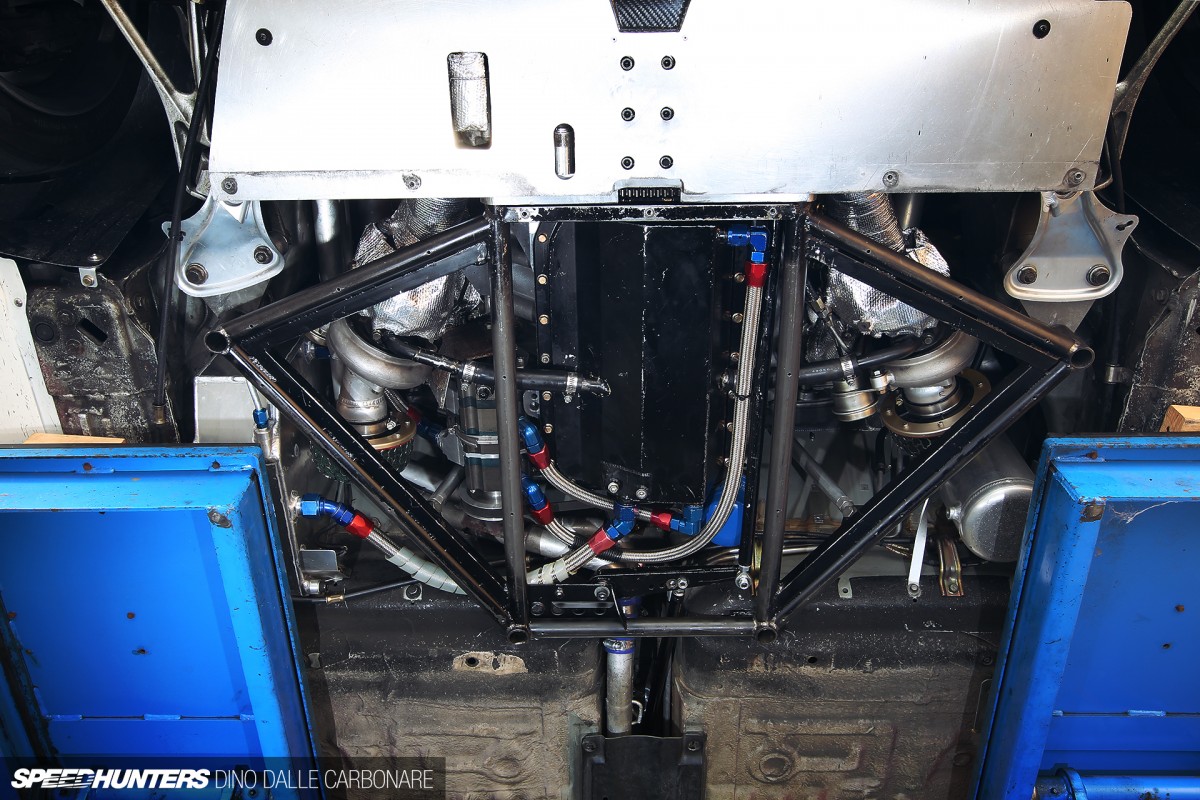 … to fit the custom-built turbo system, which uses a pair of Trust T517S snails.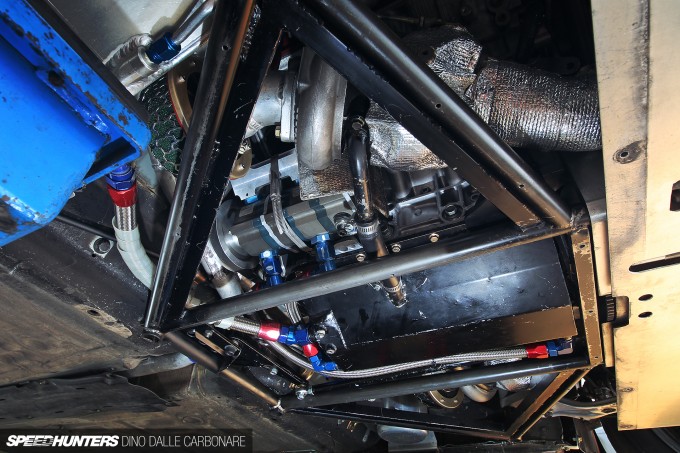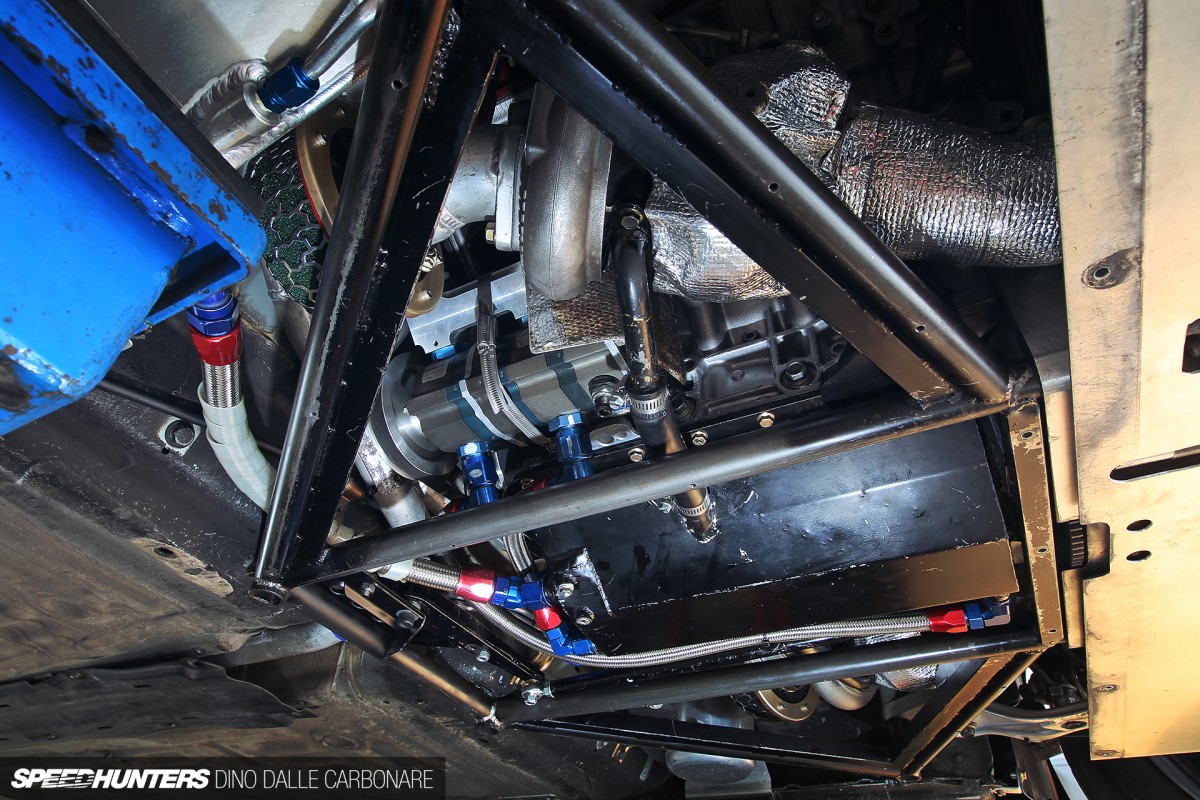 With one turbocharger on each side, everything is set low in the chassis – further aiding in the car's weight distribution.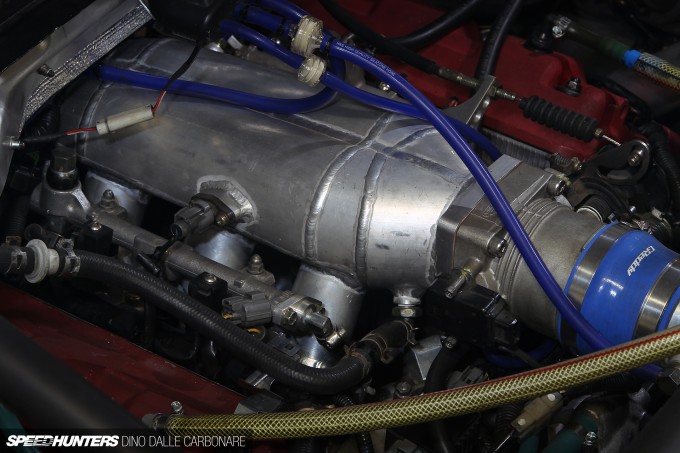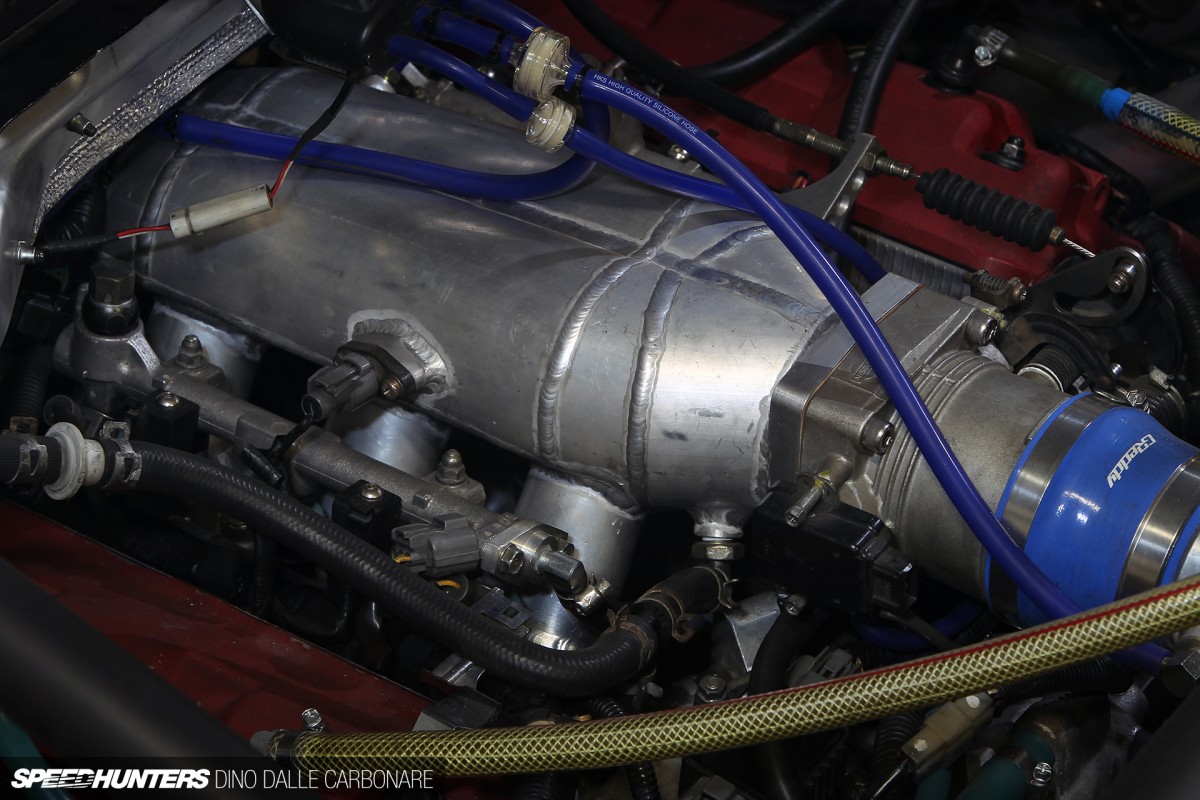 Aside from the turbochargers, the V6 has been fully strengthened internally and is running custom Esprit cams and an Esprit intake manifold, along with a custom dry sump oiling system.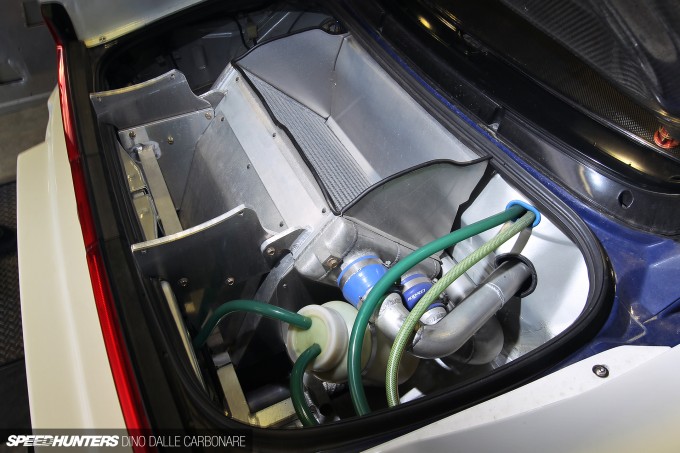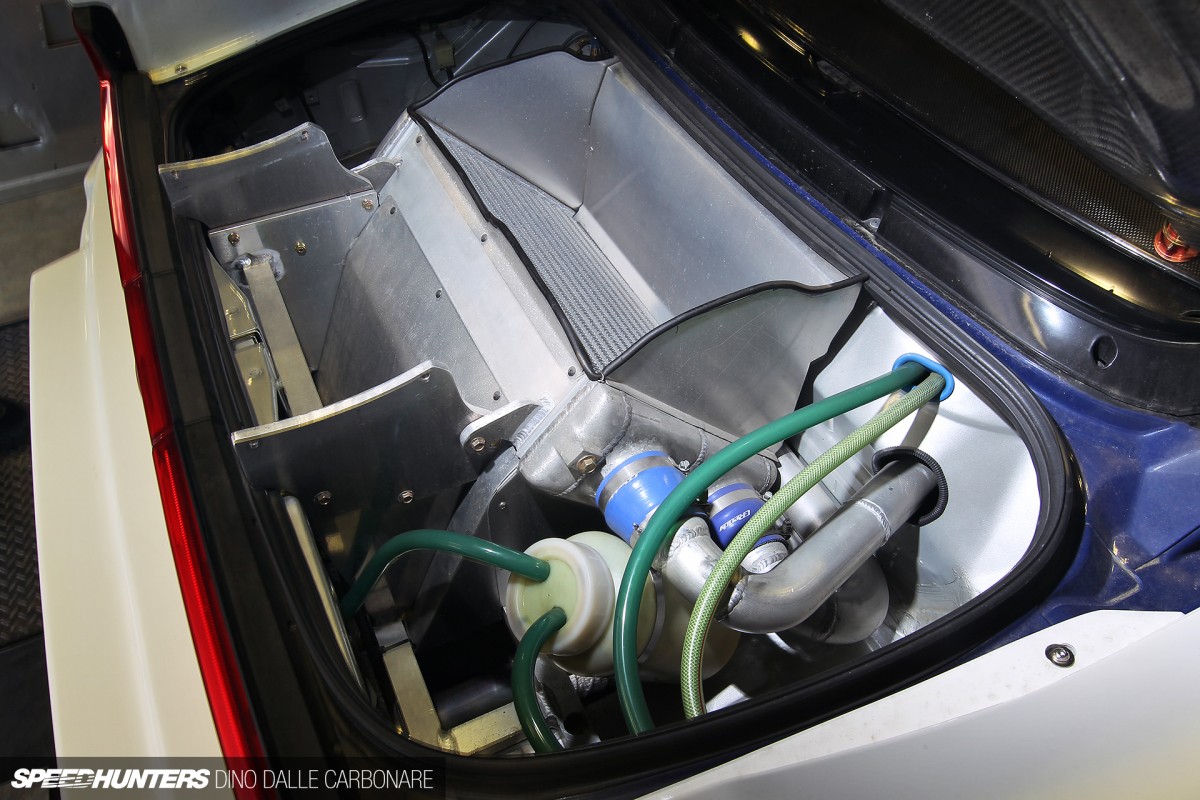 The trunk area meanwhile is filled entirely with a custom twin-entry intercooler set-up. Sorry, no space for luggage here.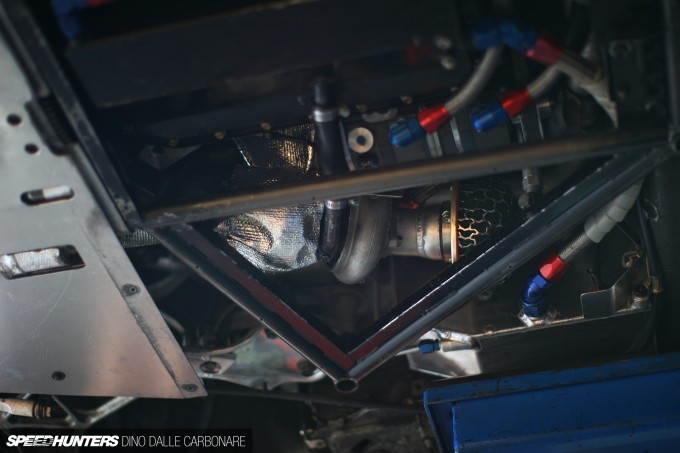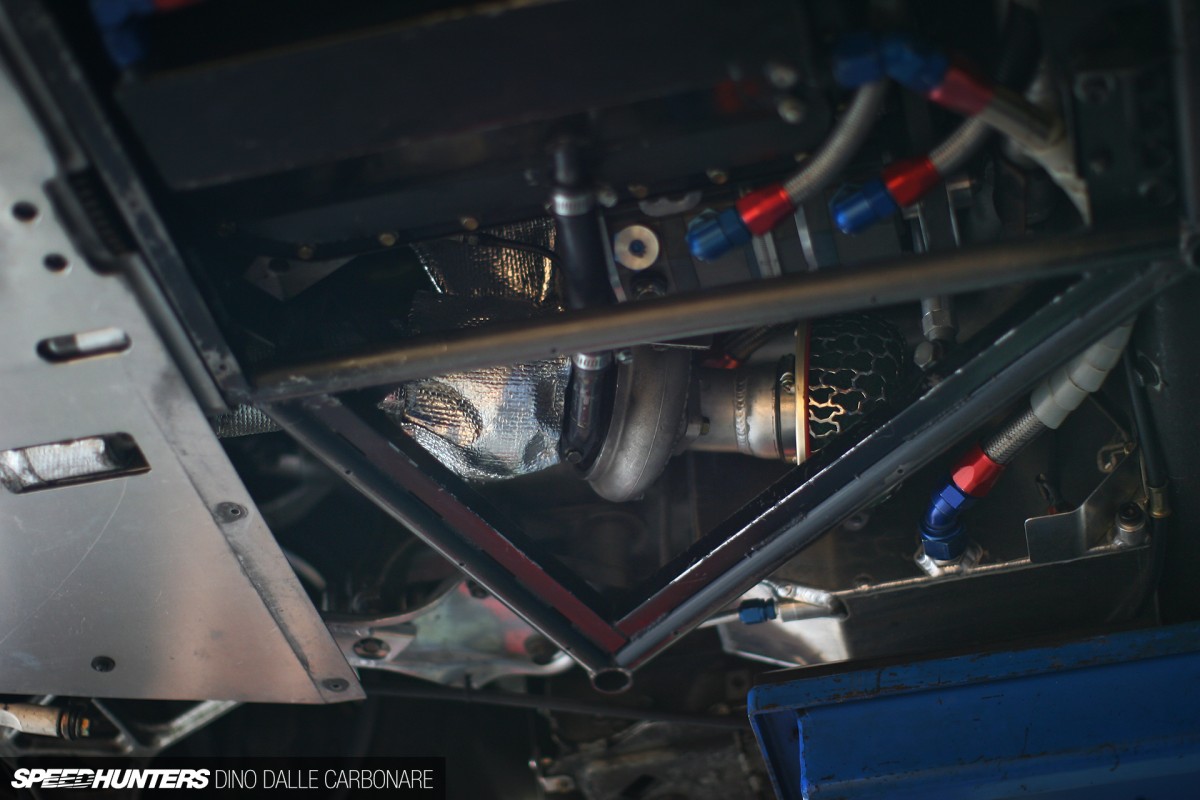 The result of all this engine work is 690hp and 496lb/ft of torque. These might not be mind blowing figures by today's standards, but we all know that time attack is about so much more than just making a bunch of horsepower.
Balance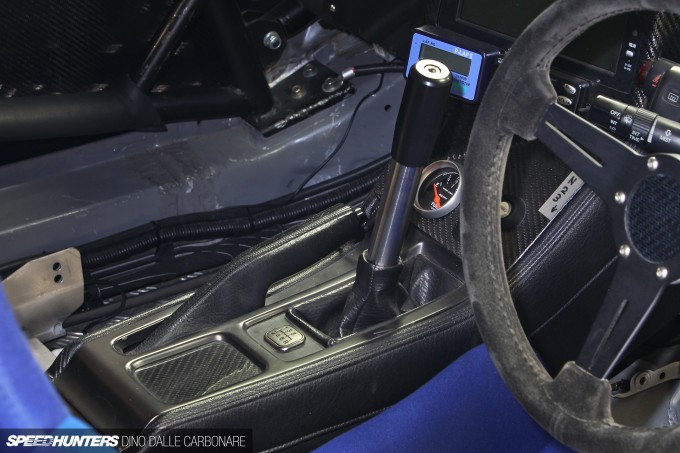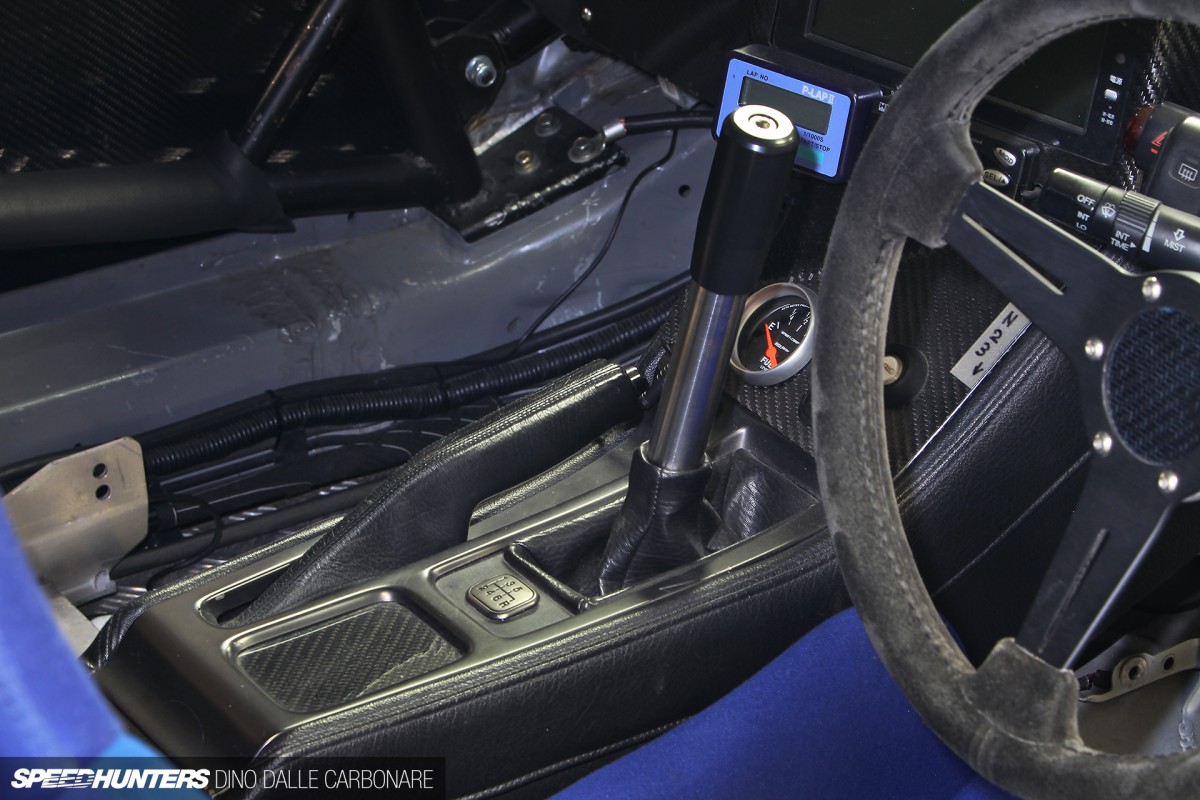 The engine is mated to a six-speed Hewland sequential gearbox which delivers both quick shifts and plenty of durability during those all-important time attack meets. From there, motive force is fed out through a heavy duty OS Giken LSD.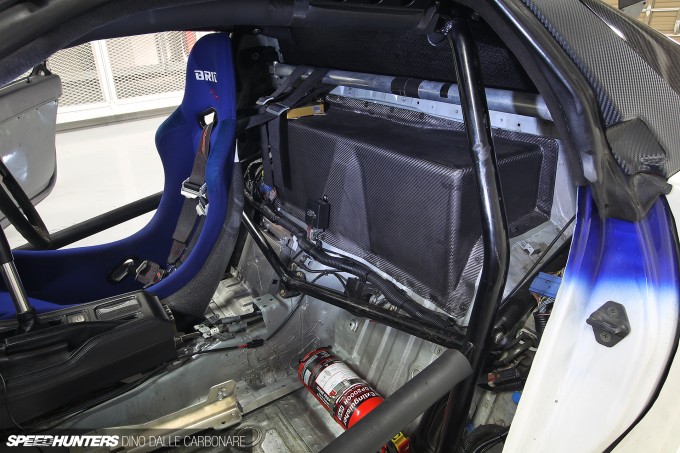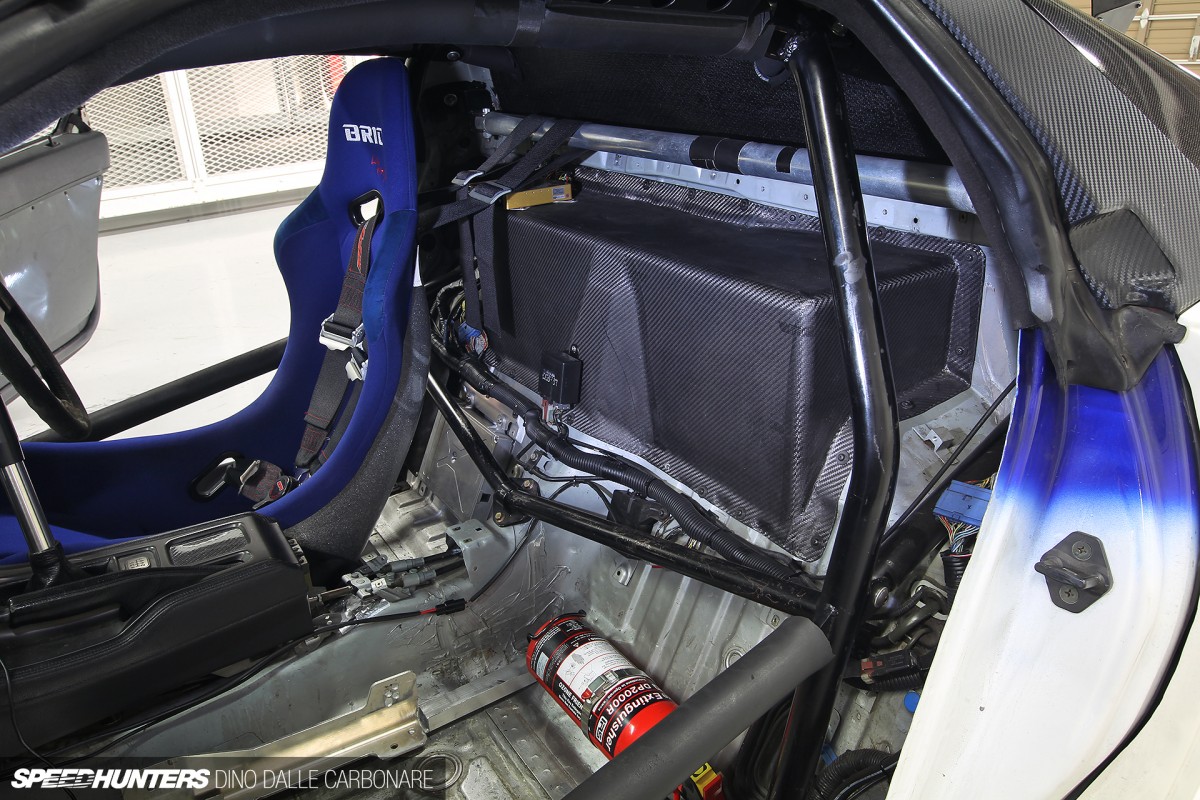 Aside from the custom rear subframe, the chassis has also been spot-welded for additional strength and fitted with a 12-point roll cage for safety and rigidity. Here you can also see the custom carbon fiber firewall that shields the cabin from the engine bay.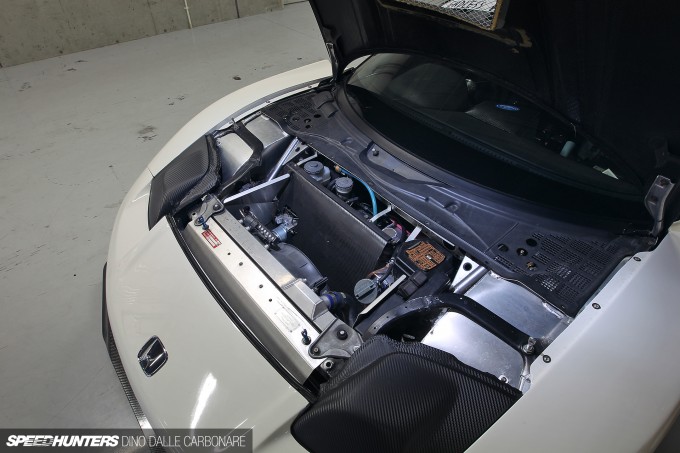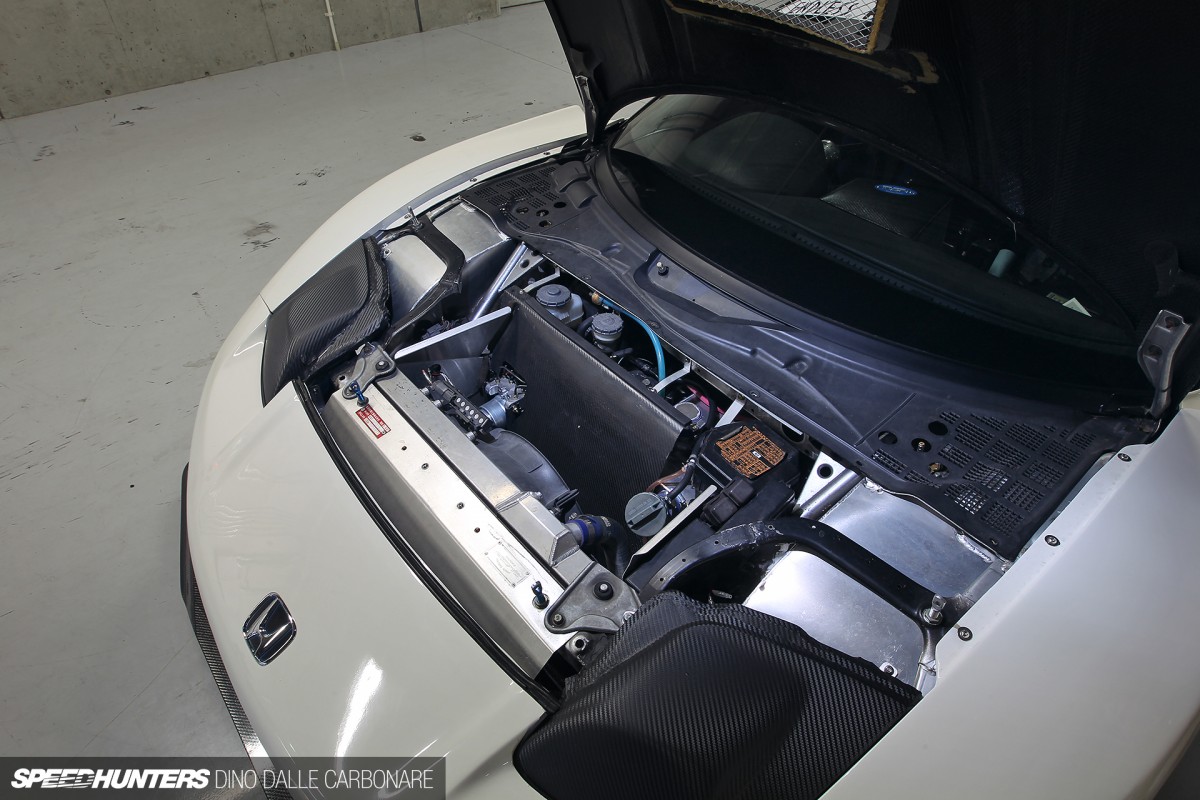 Elsewhere, the car has been fitted with a set of custom-built HKS Hiper Max Pro coilovers, while a combination of Endless six-pot and Brembo four-pot brakes help bring the NSX to a stop with ease.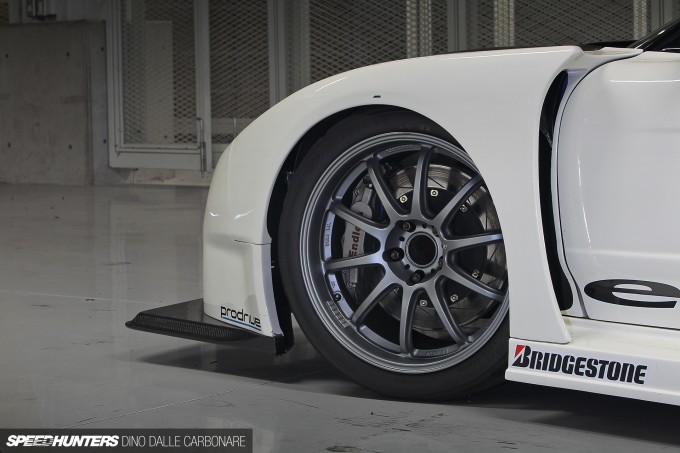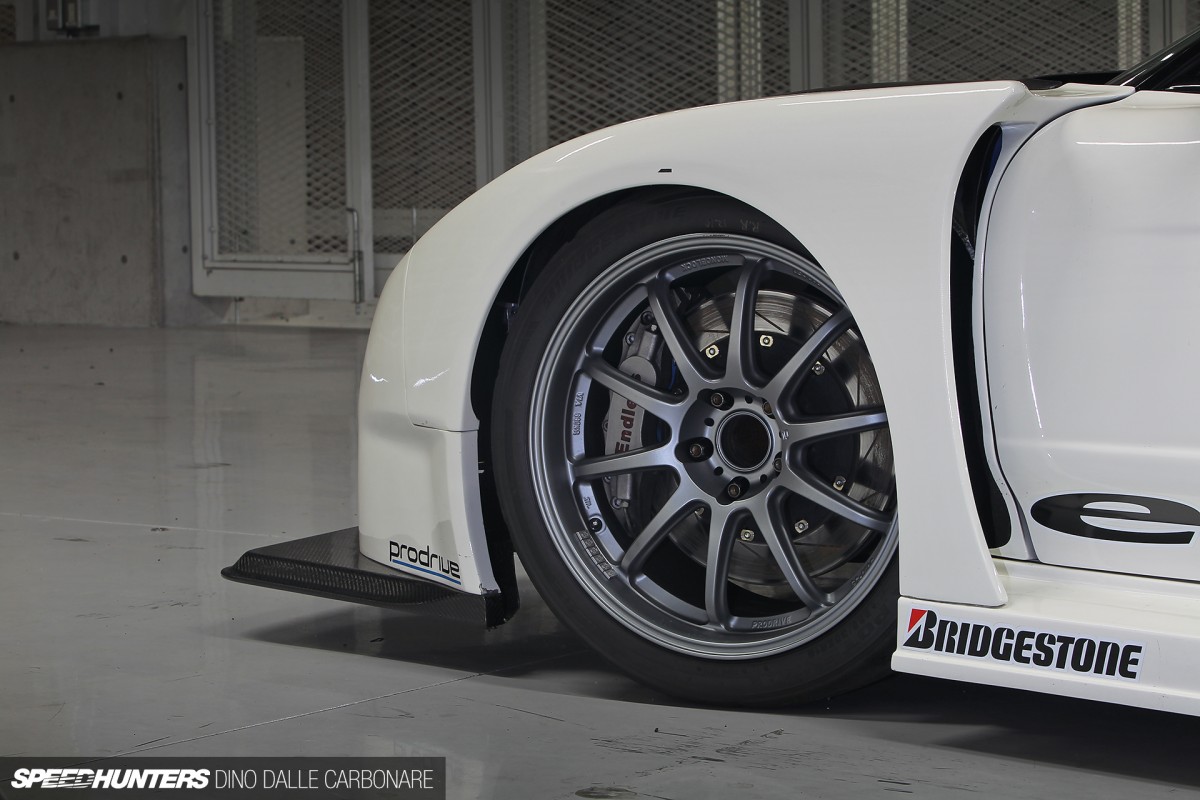 As for wheels, the car is running a square set-up with 18″x9.5 Prodrive GC-010Gs all round. Tires are the grippy Bridgestone Potenza RE11S in 265/35R18  at each corner.
Aero dreams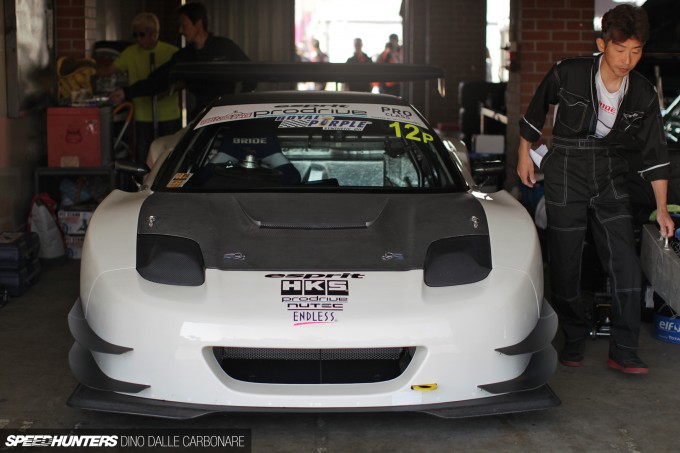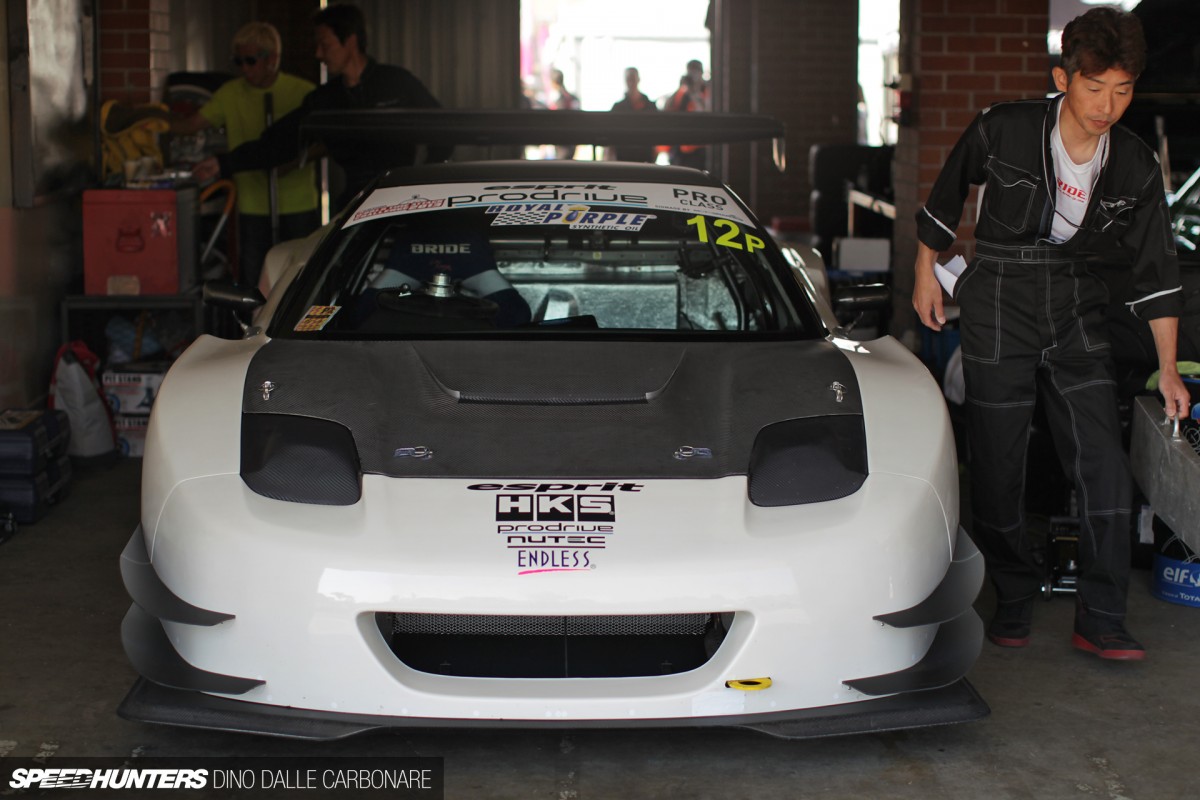 The exterior of the car has been completely reworked, and it now runs a full Esprit wide body conversion developed for maximum aerodynamics. Carbon fiber can be found all around, with the hood, diffusers, wing, doors, headlight covers and more all using CF construction.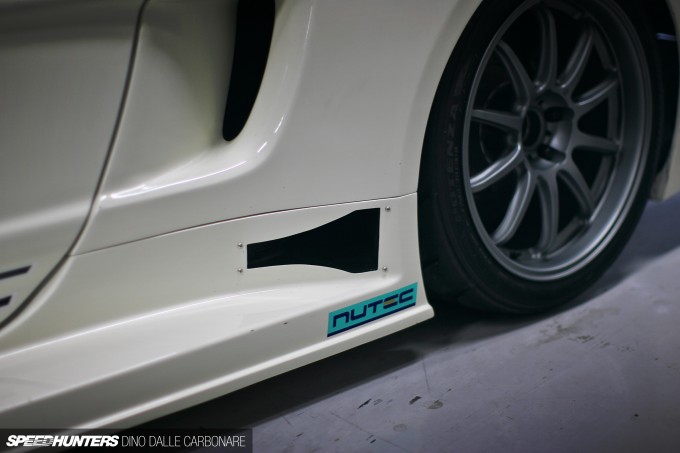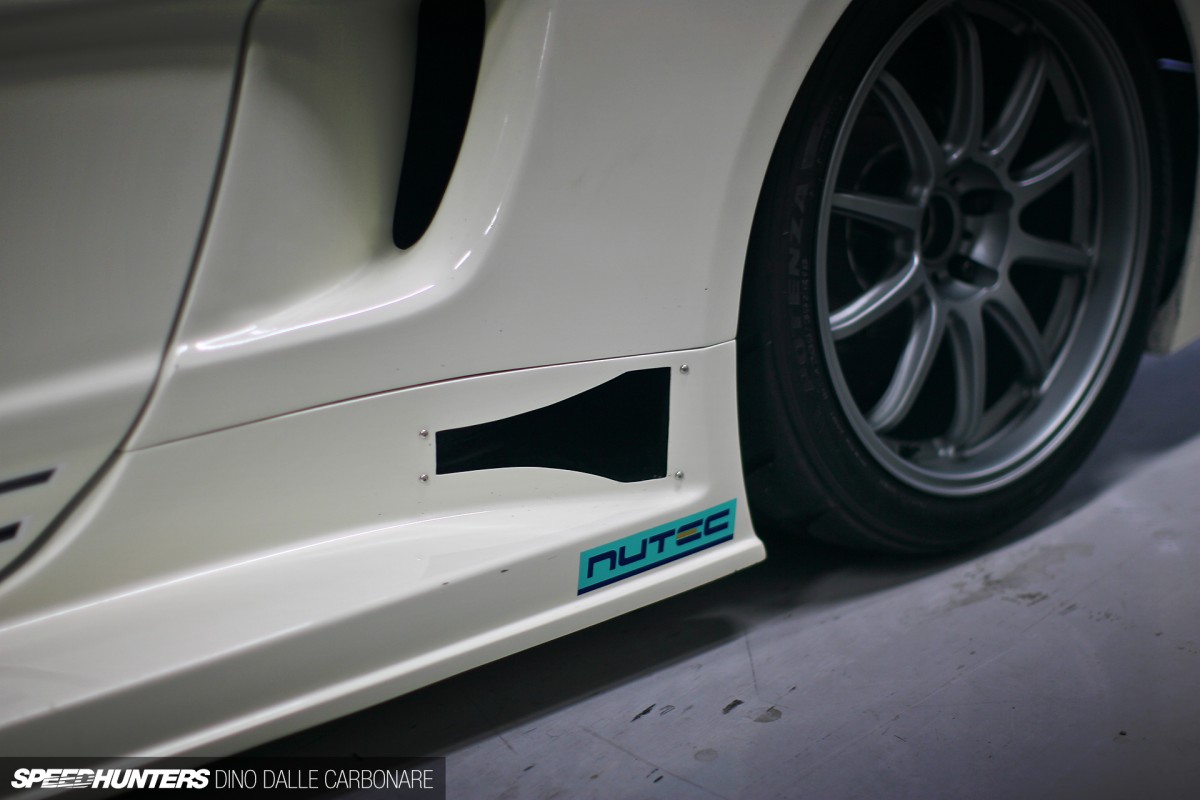 Here you can see the custom NACA ducts which send cool air directly to the rear brakes.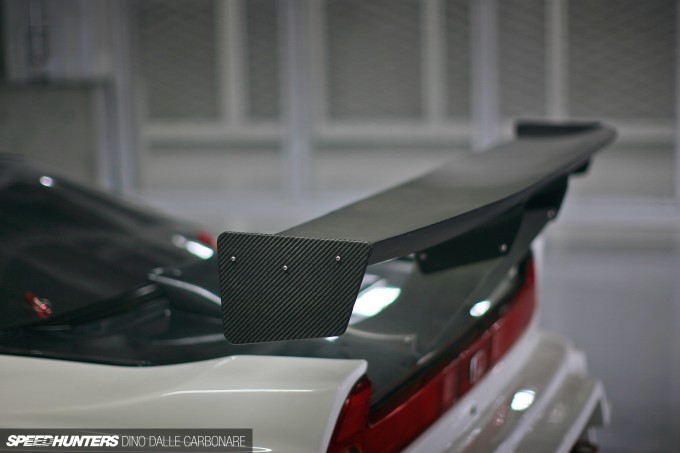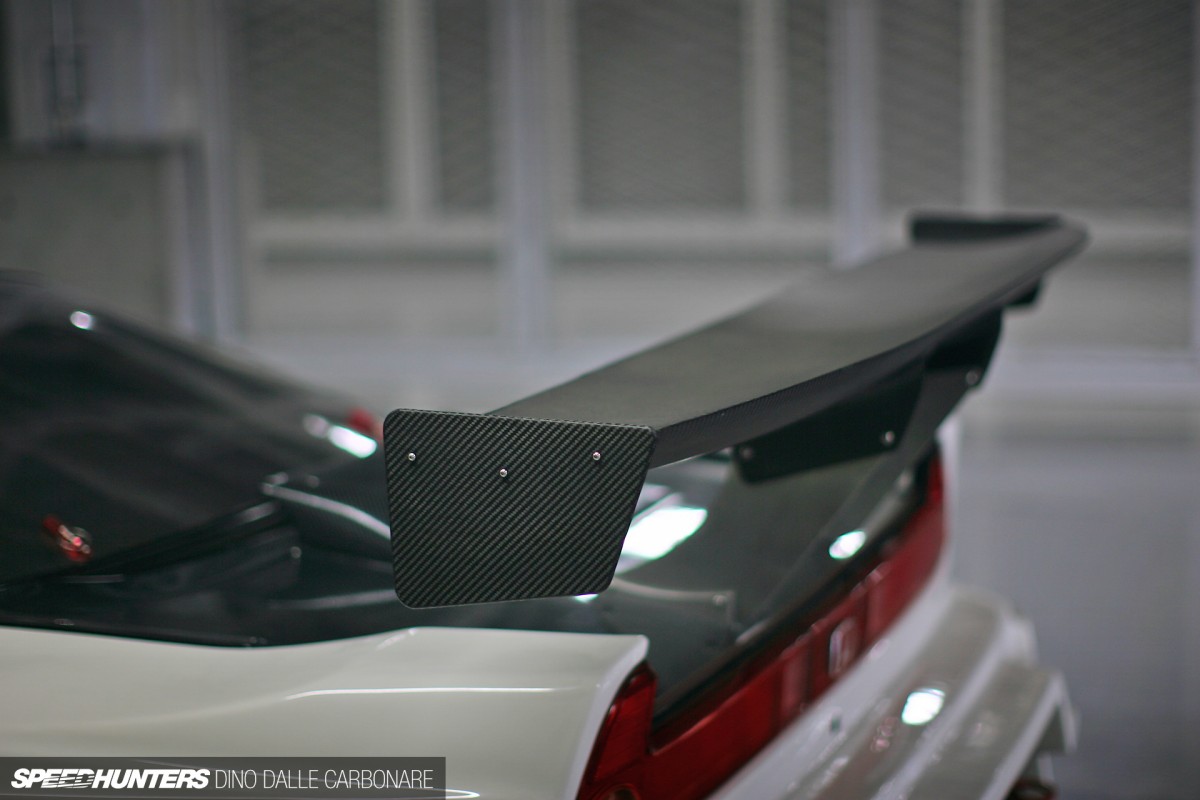 With all of the carbon fiber bits and other weight savings, the NSX tips the scales at a scant 1,100 kilograms, or about 2,400 lbs.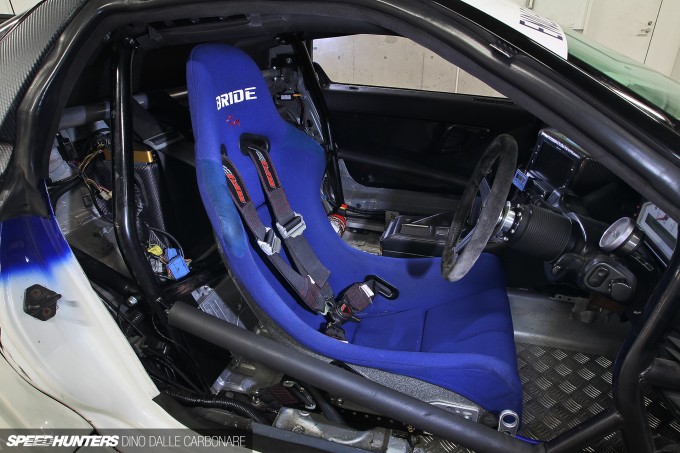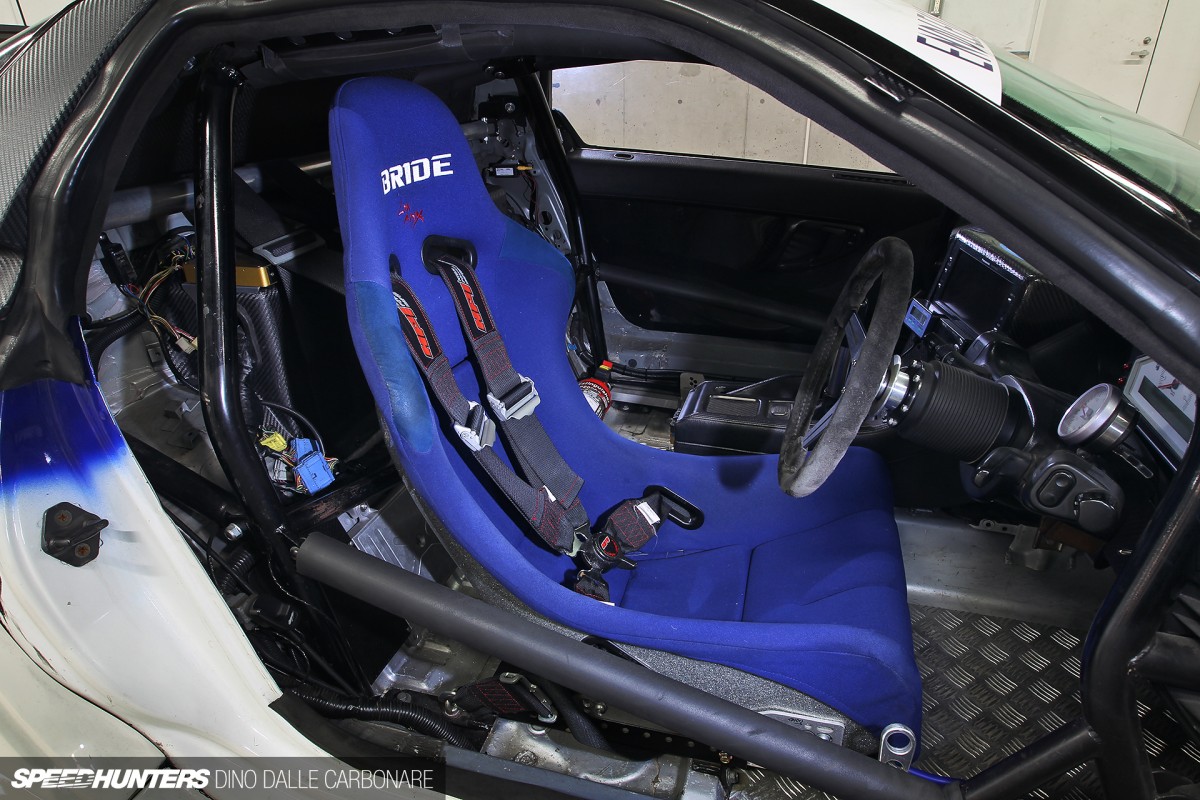 The cockpit of the NSX is basic and functional, with a single Bride Low Max bucket seat, a Momo steering wheel and a STACK dash unit.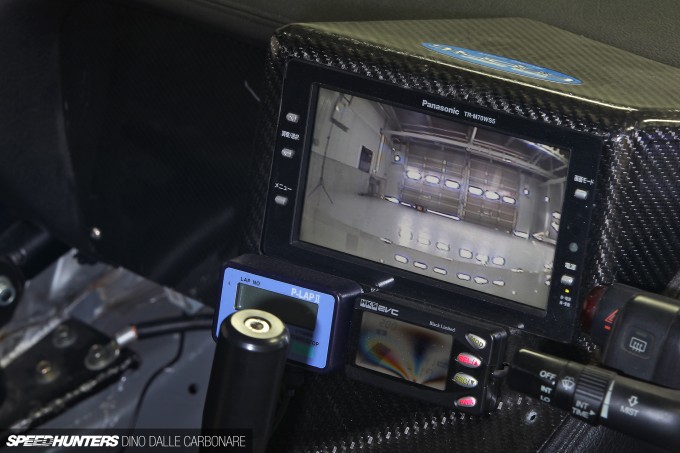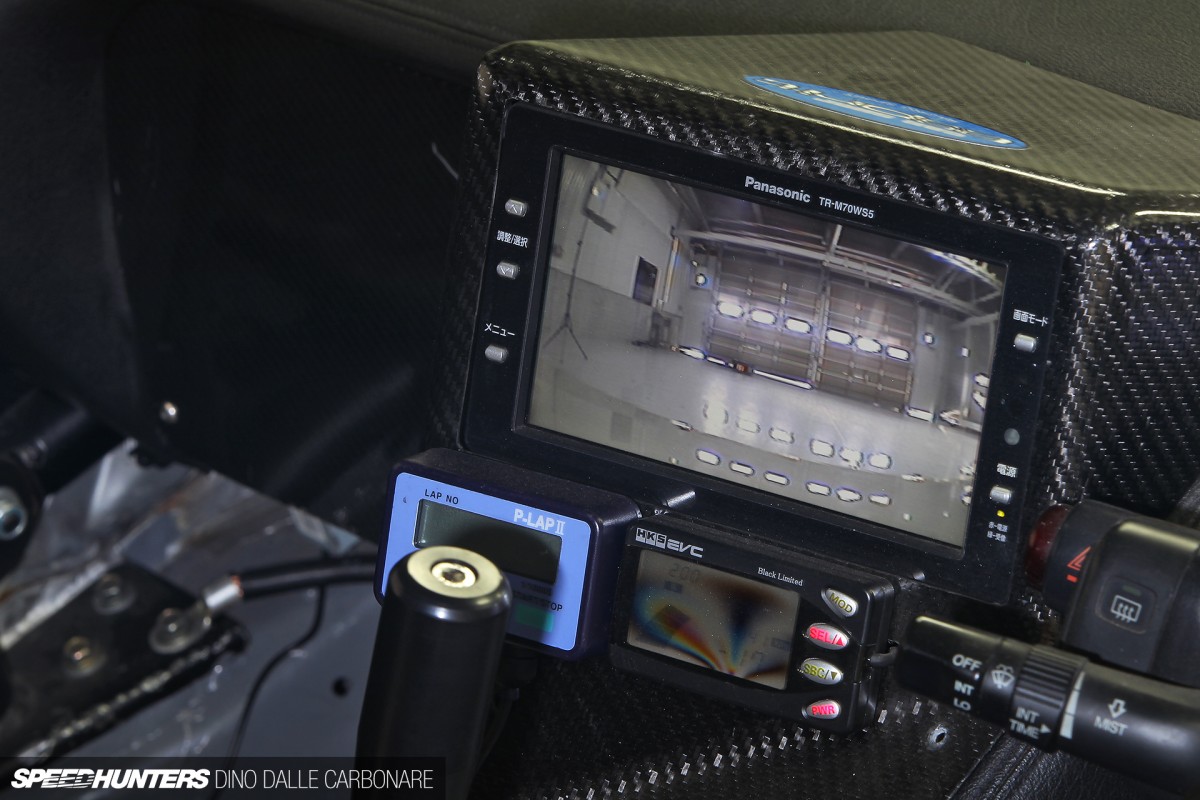 Here you can see the HKS EVC boost controller, P-Lap II timer and a monitor connected to rear bumper camera ( a necessity given the car's lack of rear visibility).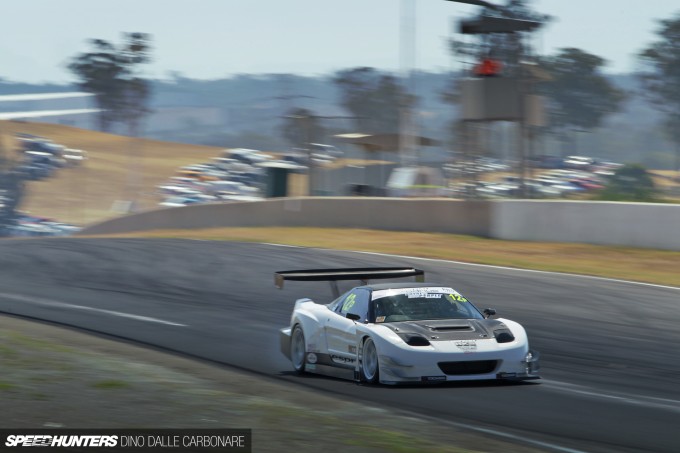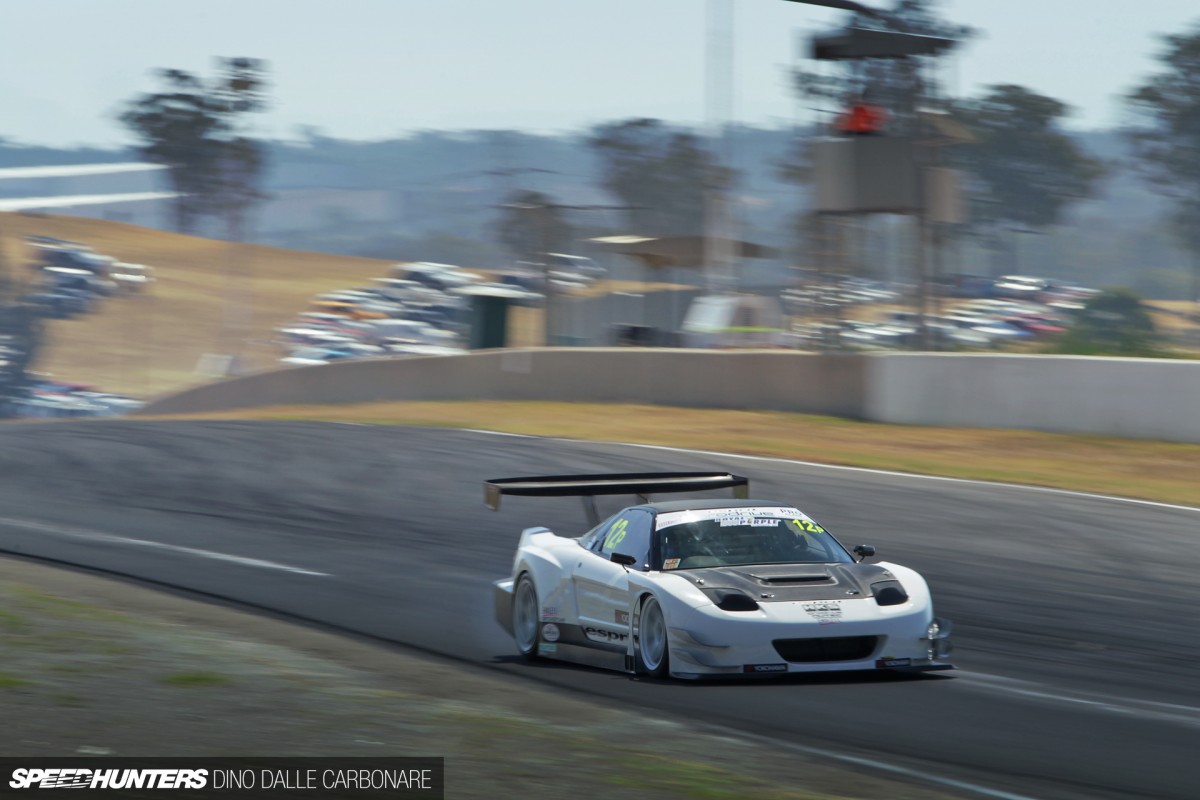 With all of these elements working under the control of Mr. Tarzan Yamada, the car has laid down record-holding 2WD lap times in Japan and has also made its international debut at Australia's World Time Attack Challenge.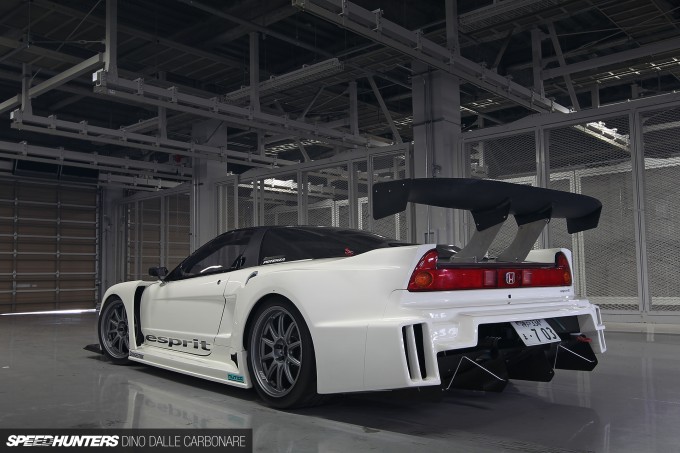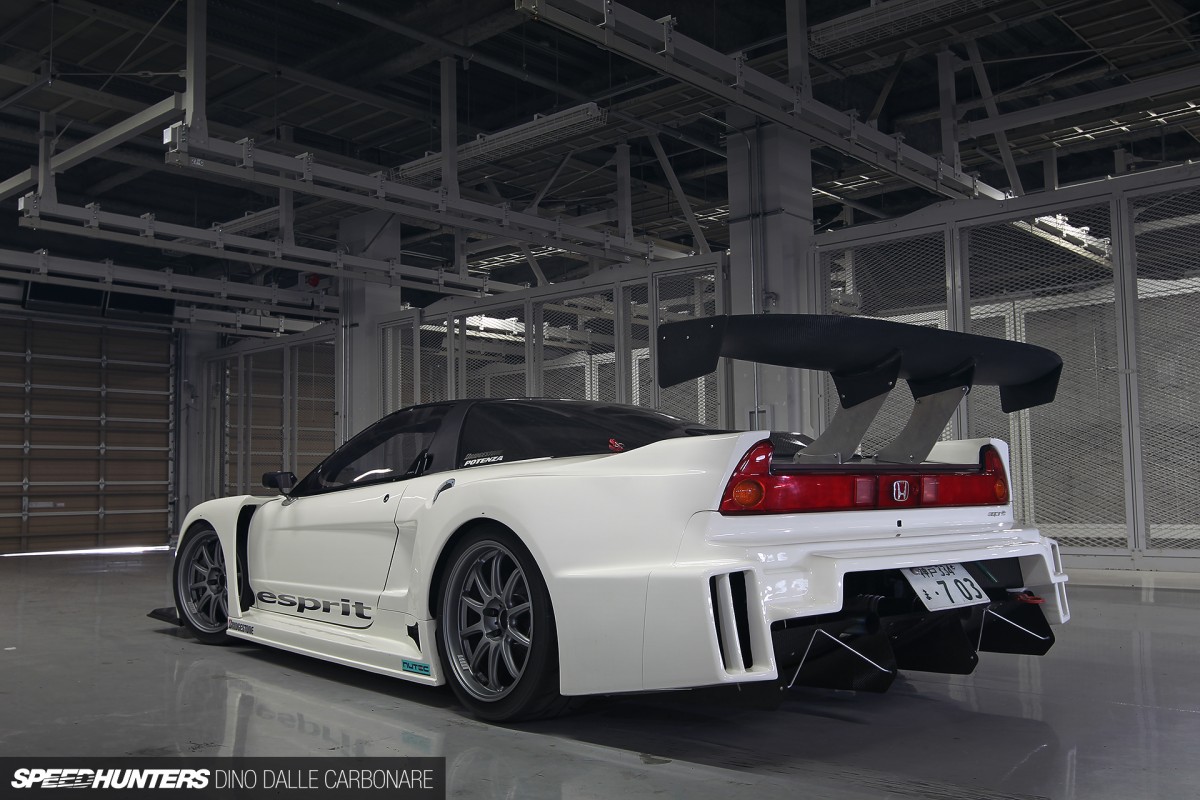 While the jury might still be out on the upcoming NSX, builders like Esprit are continuing to prove that the nearly 25-year-old original still has plenty of tricks left up its sleeve. This story is not over.