A sequel to the Z-tune?
Nismo has always had its way of doing things. Unlike AMG or M-sports they have always approached the fine-tuning of Nissan sports cars in a bit of a different way, so rather than producing Nismo versions of production models they have always stuck to offering aftermarket tuning parts and packages for cars like the Skyline GT-R and Silvia. Every once in a while, they released limited edition models, like the S14 Nismo 270R and the BCNR33 400R.  Then in 2005, three years after the BNR34 was put out of production, they built a very limited run of Z-tunes. It's all been a bit inconsistent – disorganized even- an unmistakably JDM approach to the hush hush tuning that was going on in the nineties and early 2000s. The 280PS gentleman's agreement was probably at fault here, so maybe that's the best they could do at the time with the resources they had back then. Fast forward some eight years since the Z-tune was the hot car in Japan, and Nismo have moved into all-new headquarters in Yokohama and have announced that they will be slapping the Nismo brand on more and more Nissan production cars. The Nismo 370Z came first, then followed the Juke and the March.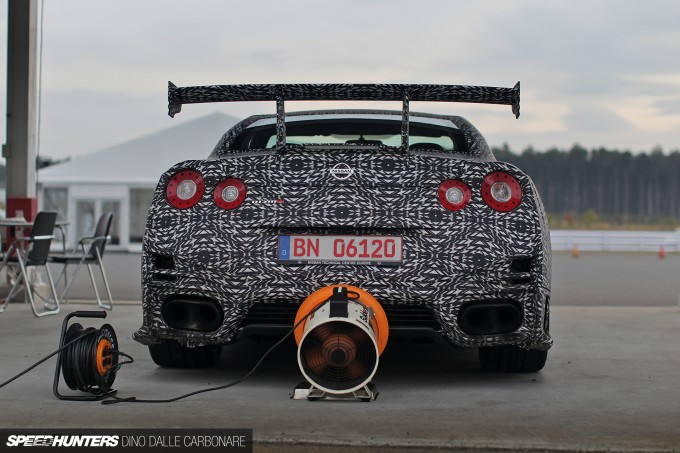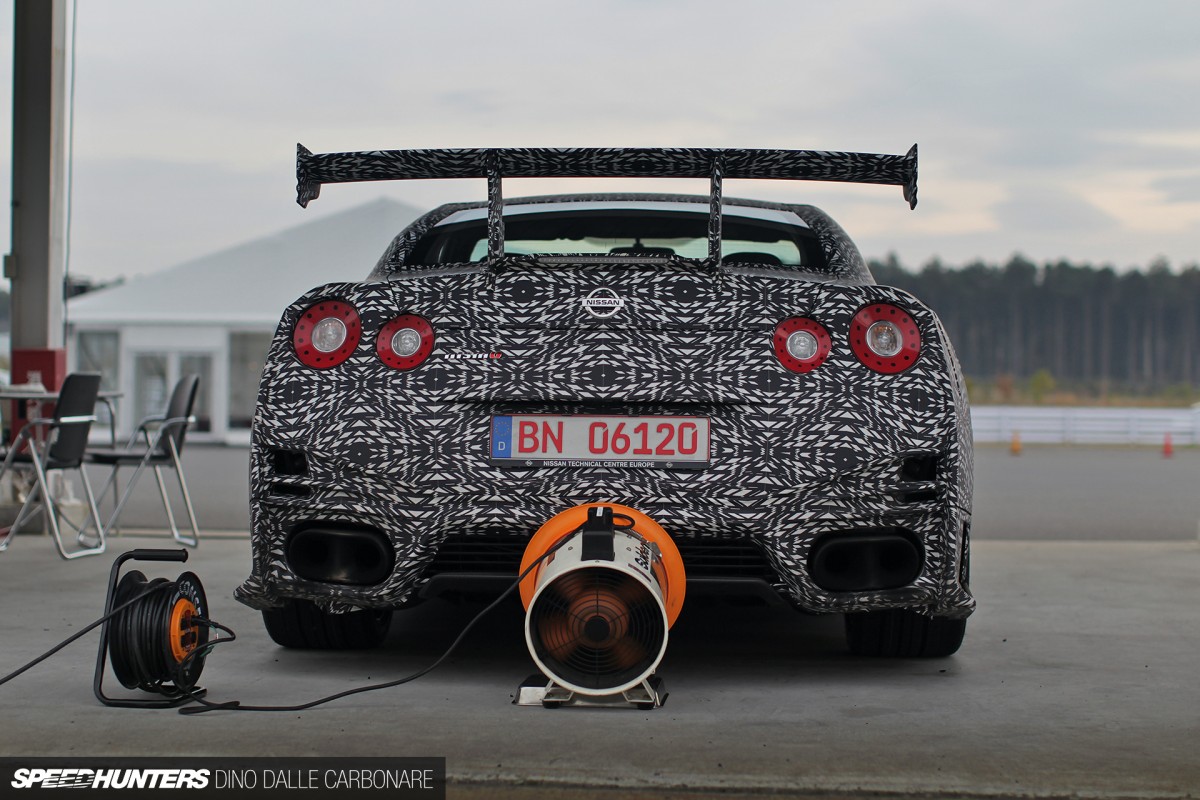 Now, as you probably saw in my coverage of the Tokyo Motorshow last month, the GT-R, the big daddy of the brand, has had the Nismo treatment. But unlike the aforementioned models, the Nismo R35 isn't a marketing exercise. It's not just a fancy bodykit, harder and lower suspension and a pair of sports seats that turn the base model into something special; there's a hell of a lot more going on – and that's a very good thing! The R35 has been on sale in Japan since December 2007, so that means it's taken Nismo six years to come up with a plan and while I'd love to emphasize my frustration with the sheer delay on getting this car out to the public, I'll skip doing so as I – like many out there – am just glad that at least it's finally here and it represents a new direction from Nissan's Motorsports division. So all of this is precisely why the other week I found myself at a very cloudy Sodegaura Forest Raceway.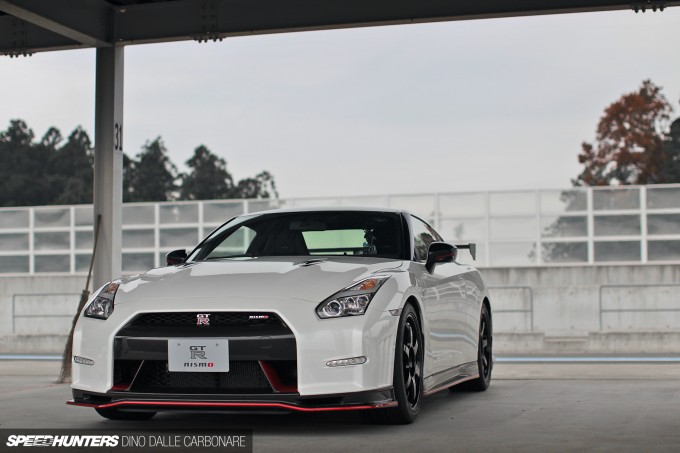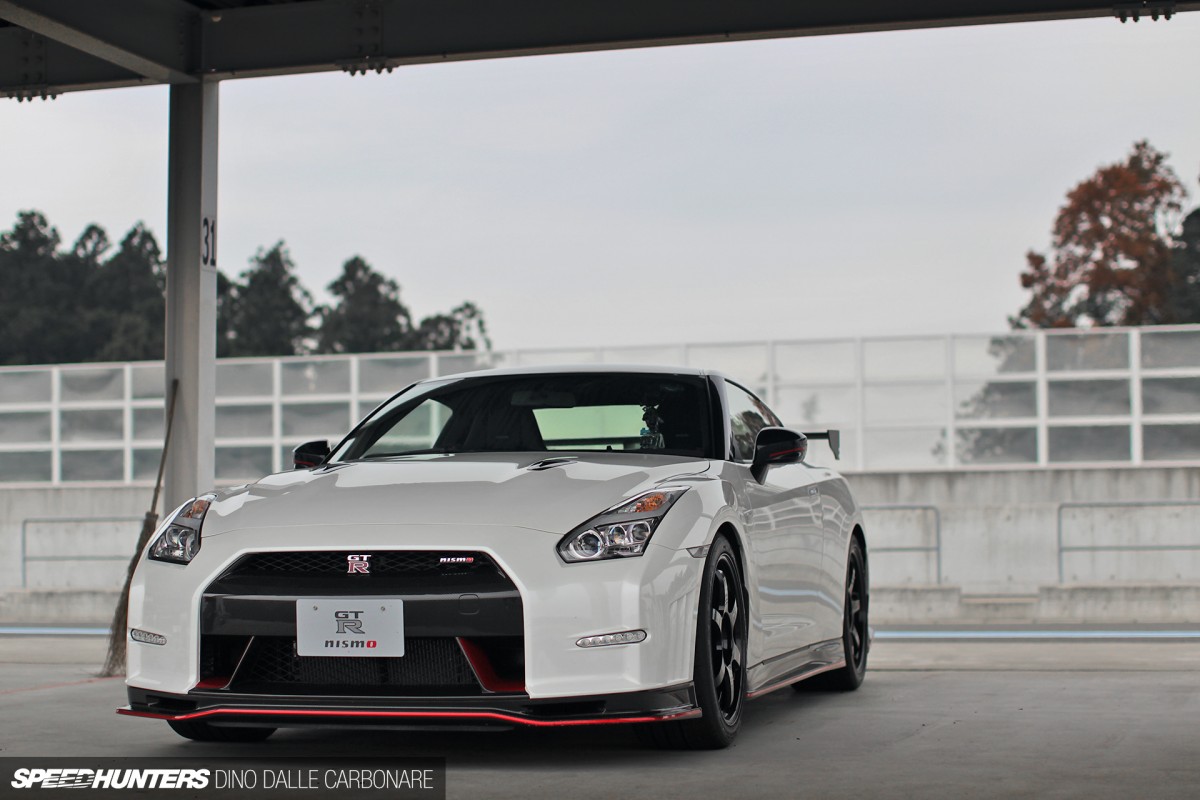 Nissan invited journalists to get a first taste of the 600hp complete car which will go on sale in February 2014 in Japan. Unlike the Z-tune and Nismo cars that came before it, this R35 will be offered in the US and Europe as well as other countries, so it won't become another of those legendary cars that were kept solely for the domestic market. That is of course a great thing because this is precisely what Nismo need to be doing with all the factory-tuned cars it will release from here on forth.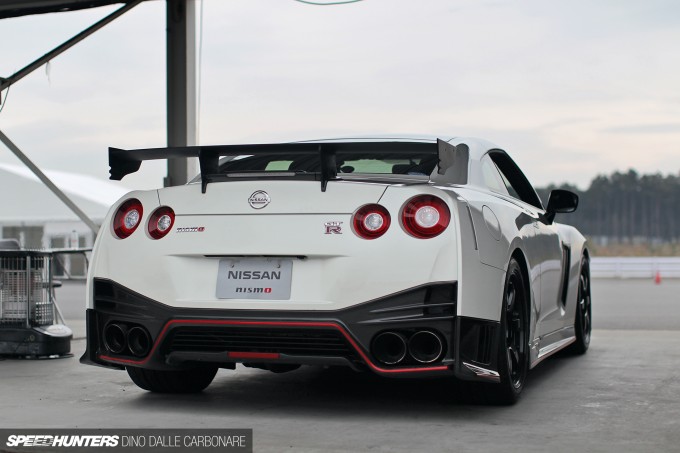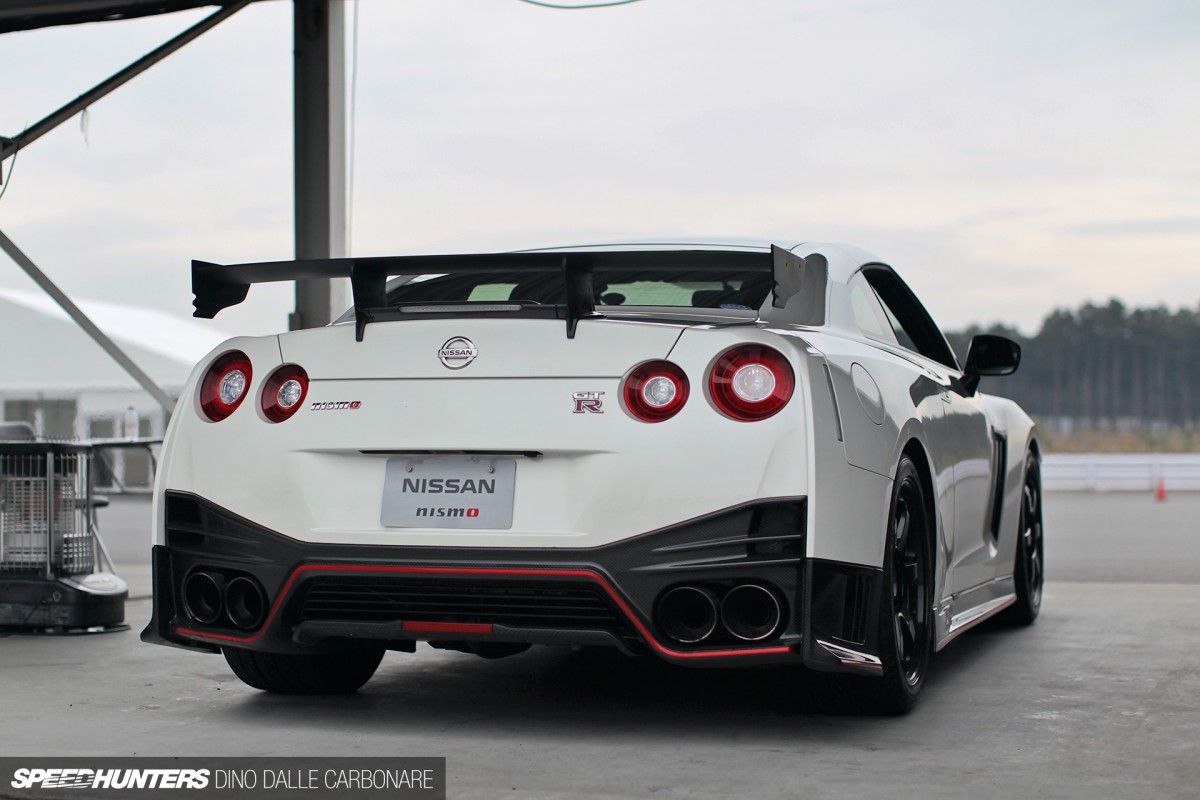 And before we get to the test drive itself, I will state the obvious: this isn't a car for everyone. We all know the potential the R35 and its VR38DETT has when it comes to tuning, so a lot of people will still prefer to take a stock GT-R and squeeze more performance out of it via the countless options that now exist in the aftermarket. On the other hand, if you are out there to own a ready-to-track, manufacturer-built, developed and backed GT-R that comes with that legendary motorsport badge, well then the Nismo version is the car for you! Aside from the obvious collector status this car will no doubt have in a few years, there is of course one other aspect that makes it rather special and that is the lap time it set at the Nordschleife earlier in the year with Michael Krumm at the wheel.
7:08.679 is a record time for a volume production car, and the pace Krumm manages to hold throughout his attempt is very substantial but as we will find out further down there was a little more to that time than what a 'stock' Nismo GT-R would be able to do.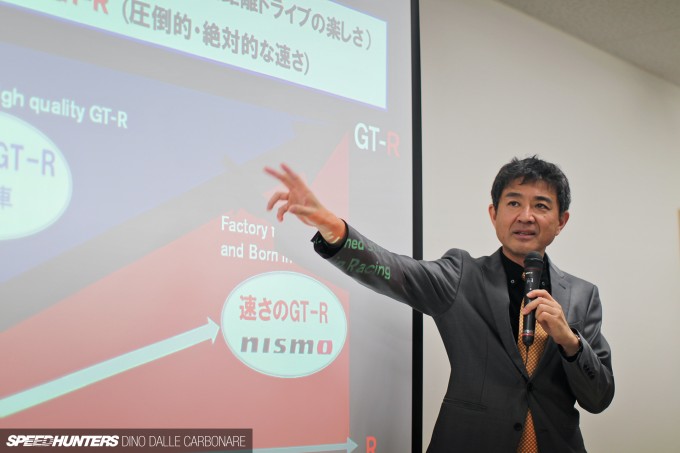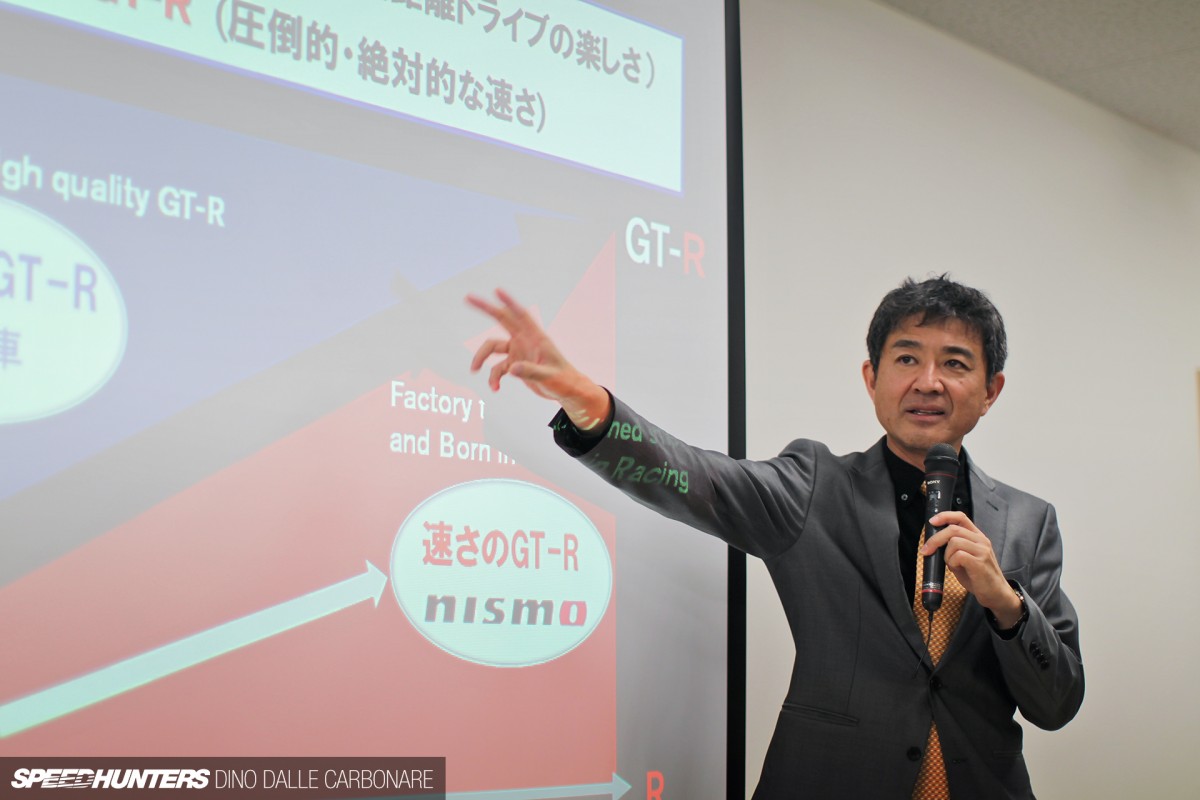 Heading the entire GT-R project as well as the future of the 'R", not to mention Nismo's integration with other Nissan models, is all part of Hiroshi Tamura's job. Once the chief product developer of the BNR34 Skyline GT-R, Tamura-san has replaced Mizuno-san and I can safely say Nisssan couldn't have chosen a better man for the job. An owner of an rather heavily modified BNR32 himself, Tamura knows all too well what the GT-R brand stands for; for years he was referred to as Mr. GT-R and now he is back where he belongs, making sure that Nissan's supercar continues to annihilate far more expensive exotics for years to come. After a quick run down of the improvements to both the 2014 model as well as the Nismo version it was time to assess the car through the challenging corners of Sodegaura.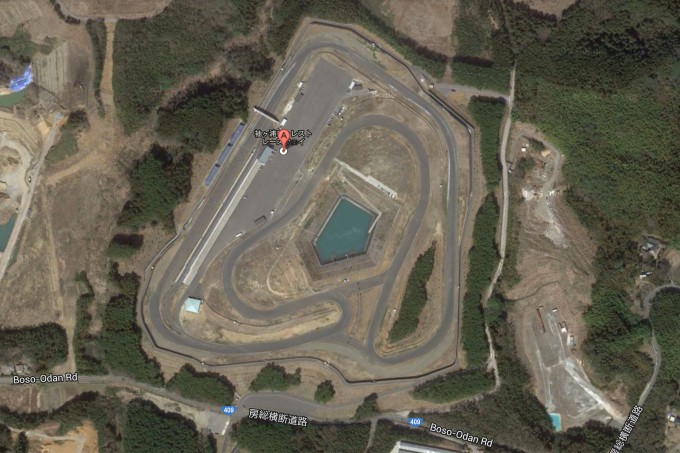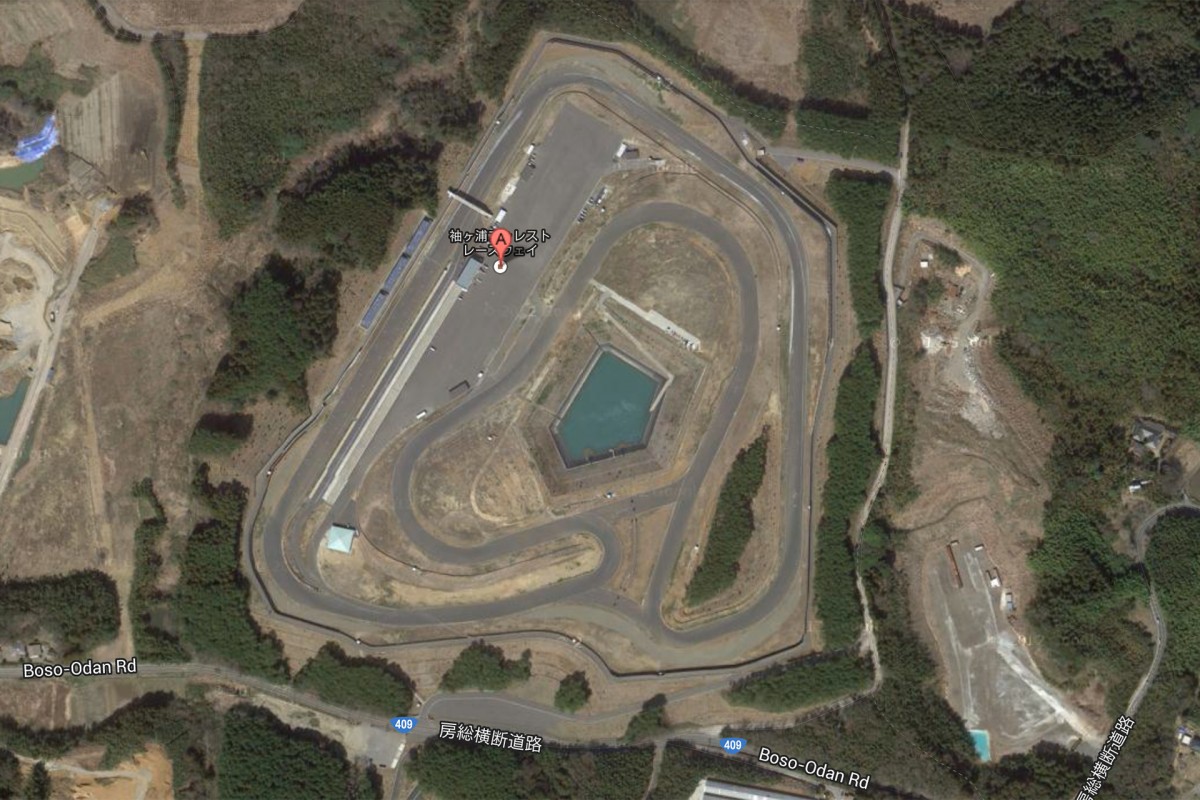 With the whole mid-section cut off it was only really the very extreme loop of the track that we would be allowed to drive on; a bit sad as Sodegaura is a track I know well and always enjoy driving. Still I wasn't complaining. I was lucky enough to sample a very important car months before it hits the dealers and I approached my five laps with a lot of concentration, ready to see how Nismo has helped to boost the entire overall performance of what is already a ridiculously fast car.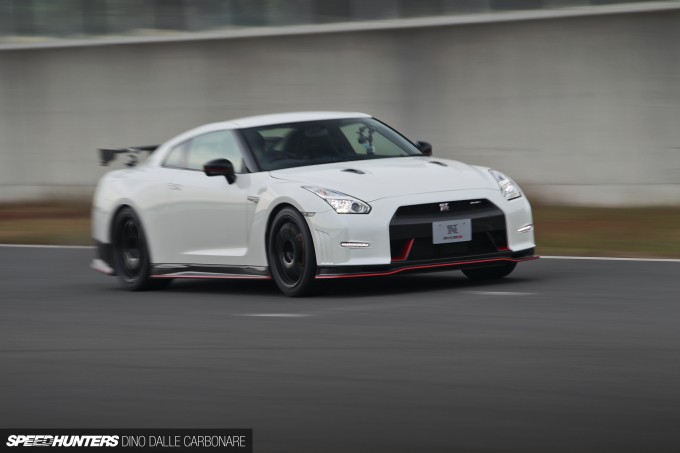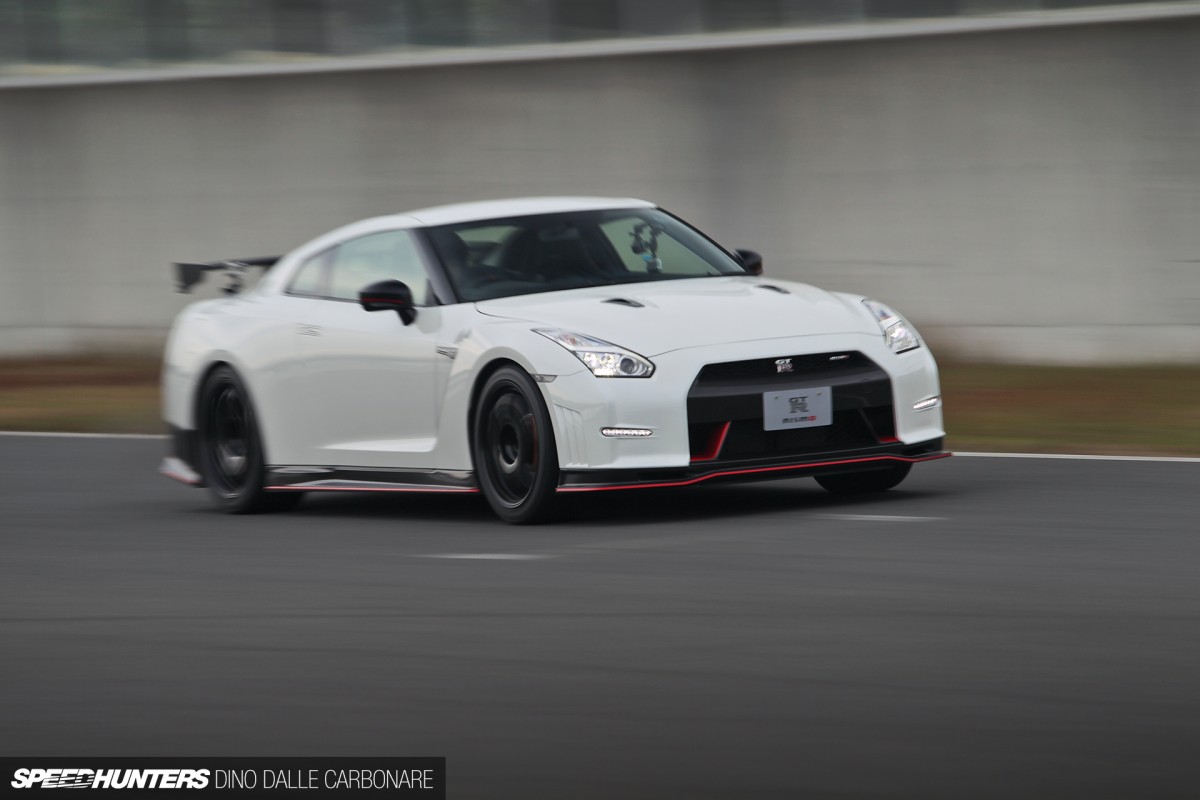 I was the first to head out and even from the moment I accelerated out of the pits I realized just how much stronger the engine felt. Accelerating down the back straight and through the first right kink which usually unsettles a lot of cars it felt planted, easily capable of taking substantially more speed. With tires not quite warmed up yet I progressively upped the pace, leaning more and more through what little corners we had to play with. But it didn't take much: the differences were instantly perceivable, the bonded and spot-welded chassis, the firmer Bilstein dampers and springs, the larger rear sway bar as well as the special Nismo version Dunlop rubber all increased the planted feel that the R35 has always had. Nismo links have also been thrown in to vary geometry with an aim to boost high speed stability and cornering performance but these would probably be more noticeable on faster courses like Fuji or the Nordschleife!
Aero counts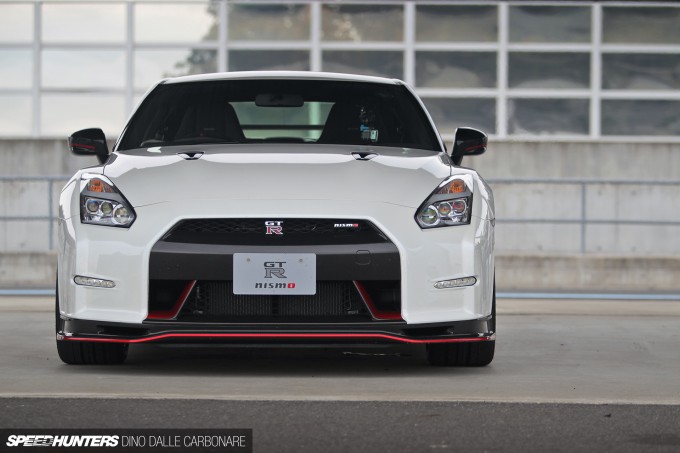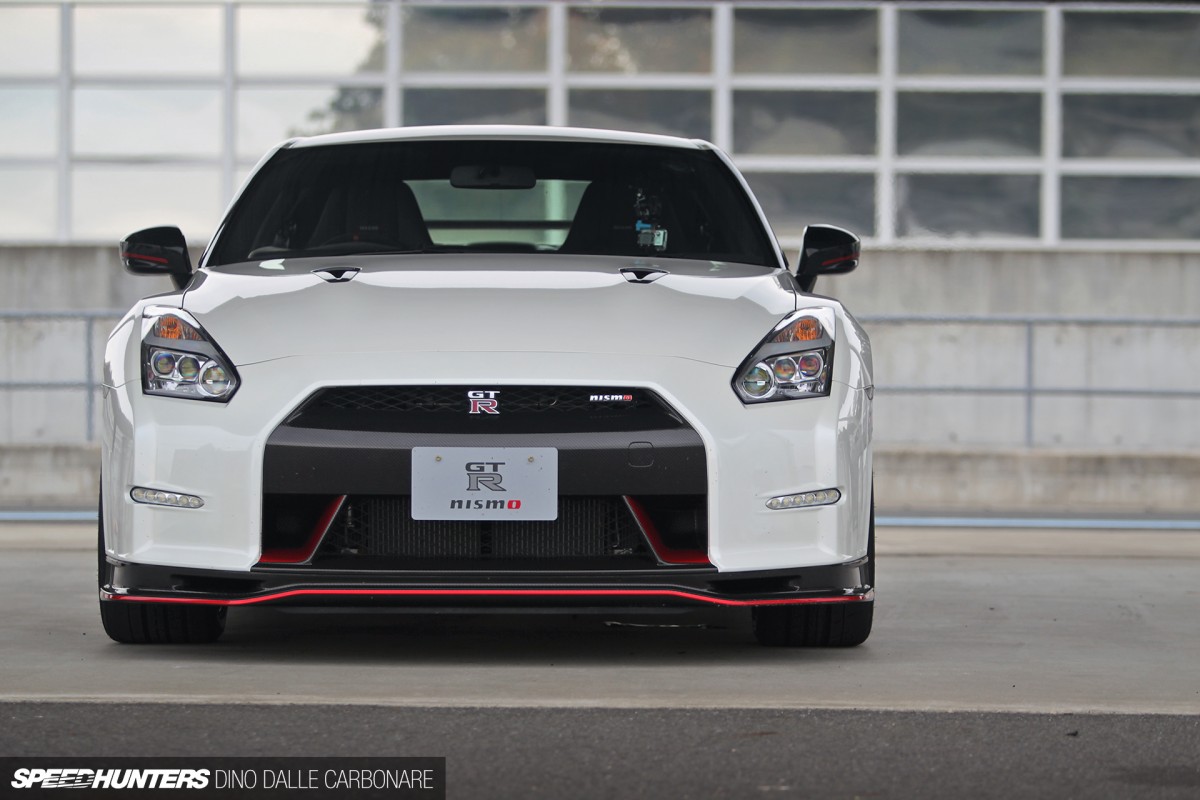 The aerodynamics package too is something you would get the most benefit from at speed, the touches starting off with a slightly redesigned front bumper with air outlets on its side to flow hot air from the coolers and direct it smoothly over the wheels and the side of the car.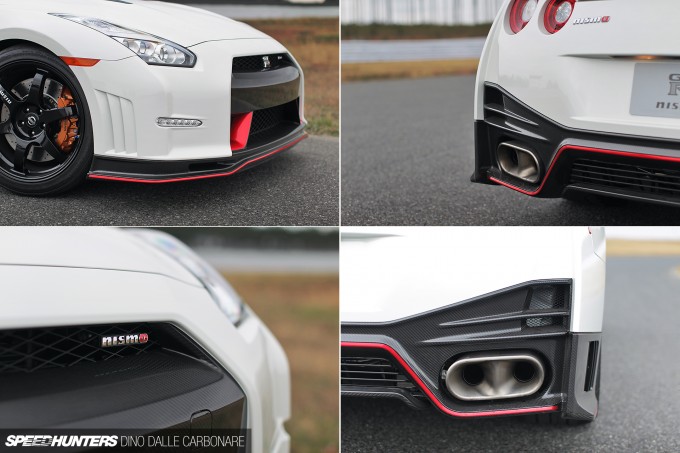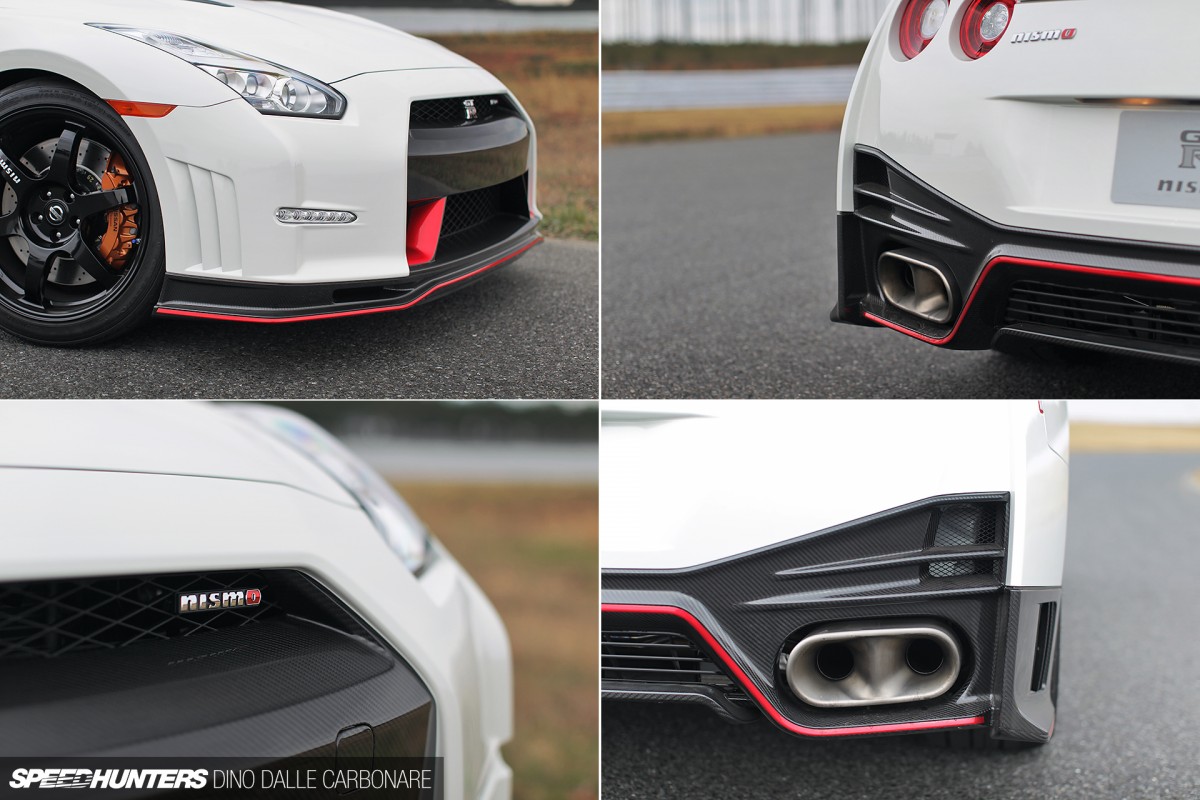 A reprofiled front lip with integrated brake ducts further helps increase overall downforce.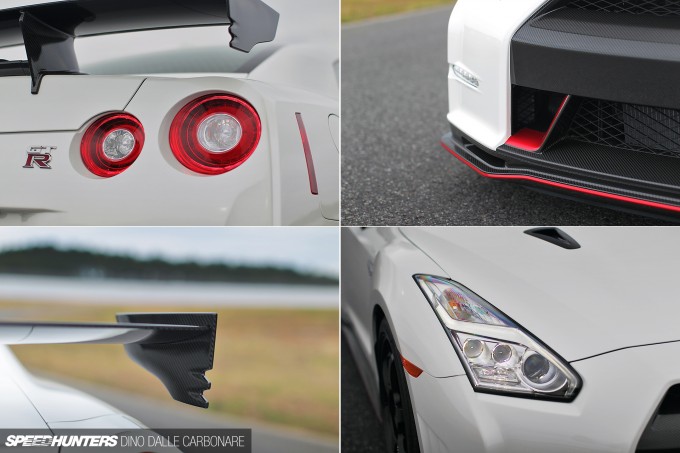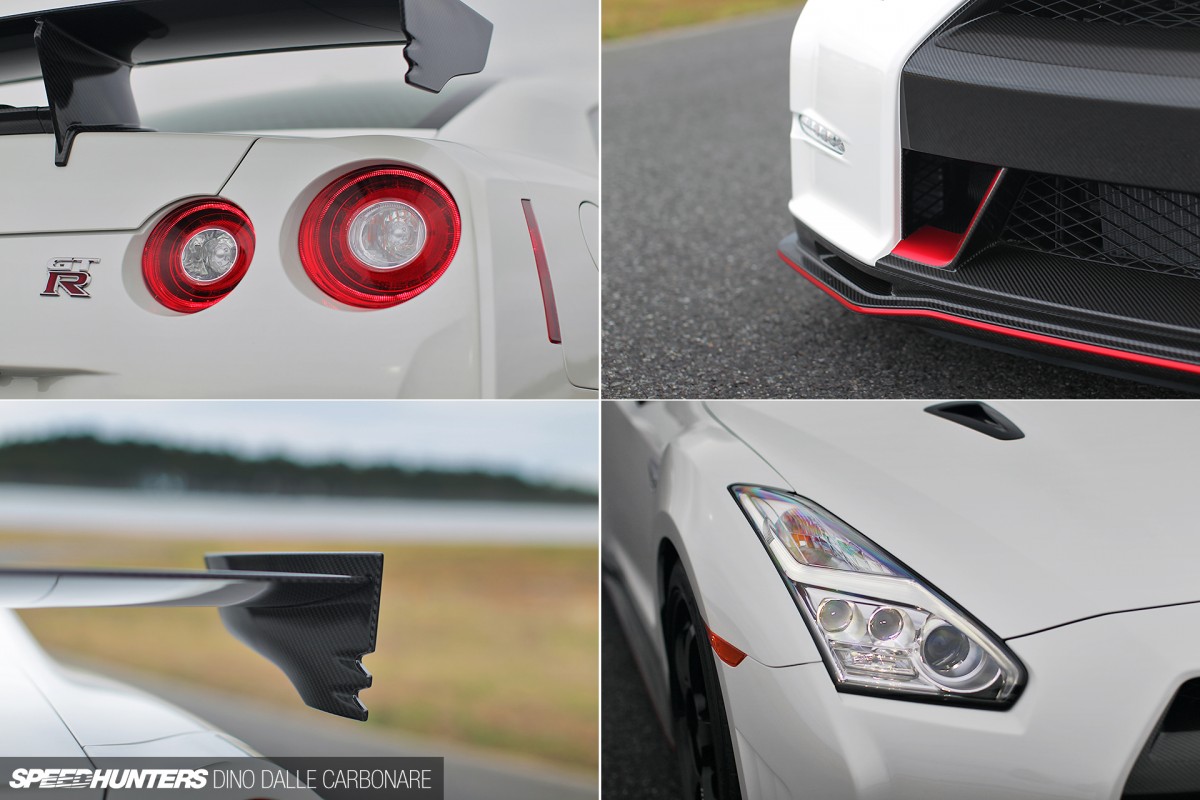 This is combined with the carbon fiber spoiler and redesigned rear bumper all helping boost downforce by 100 kg at 300 km/h (186 mph) compared to a stock 2014 car.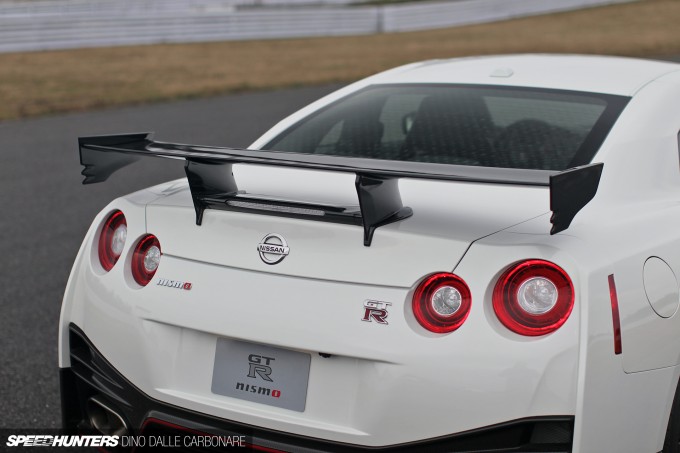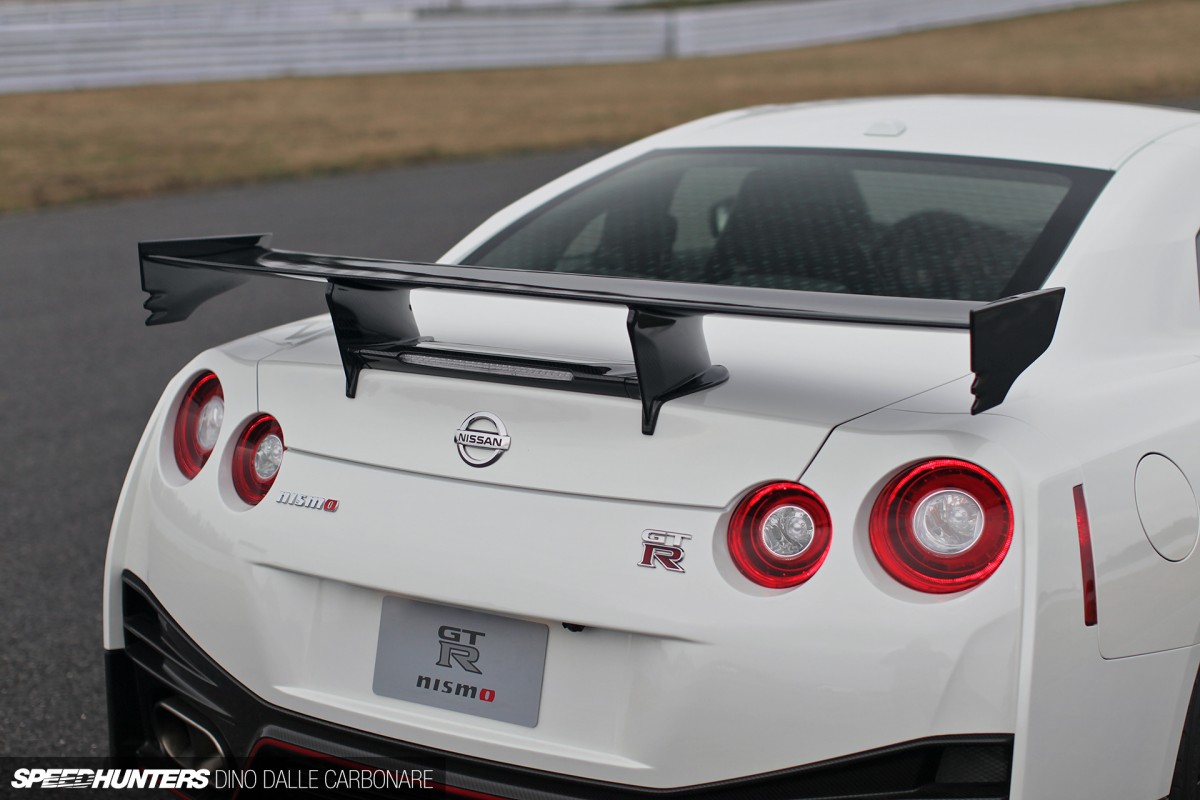 There are a lot of cool touches like the design of the spoiler end plates which are taken straight from the GT-500 GT-Rs as well as the 2014 LED head and tail lights which help give the front and rear end an extra touch of freshness if you will. Staying with the Nismo motif, red accents are added along the front, sides and back of the car: something that has been and will continue to be added to Nismo versions of Nissan cars.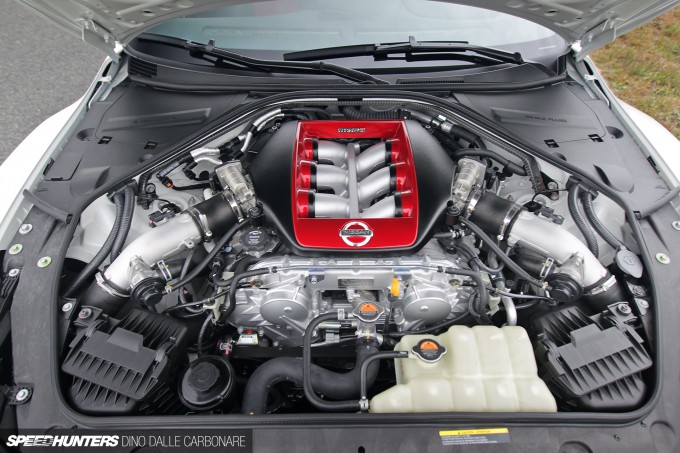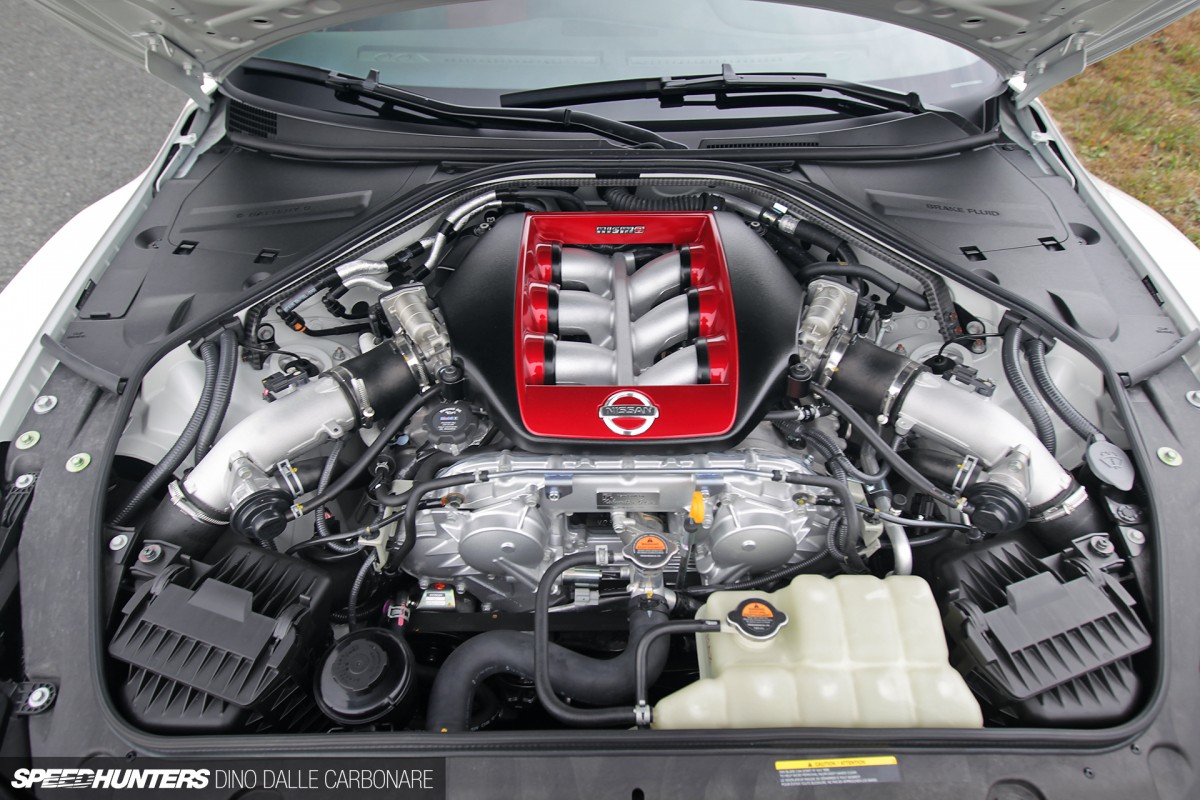 But unlike other vehicles there is more to the performance side of things than a simple exhaust system. The VR38 gets the same turbochargers that are run on the GT3 race versions of the R35, able to flow a larger volume of air yet retain that immediate response that has always characterized this engine. In the real world this simply translates as more torque and more power, more of the time. It comes on in an even more explosive fashion, boosting that crazy mid-range even more! A Nismo titanium exhaust system, the same that was used years back on the Japan-only SpecV helps relieve back-pressure and at the same time intensifies the sound across the rev range.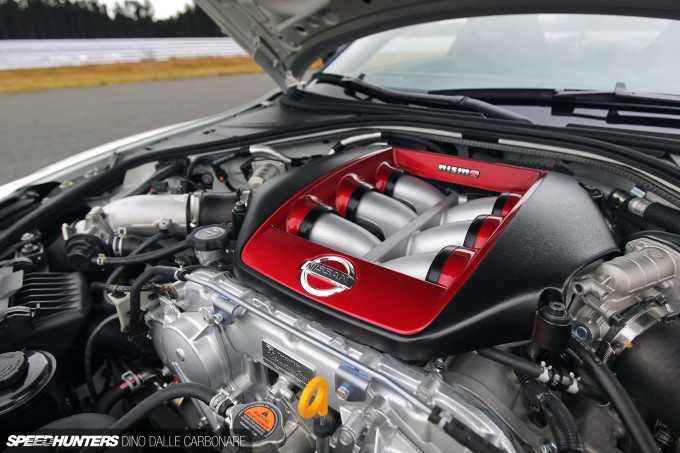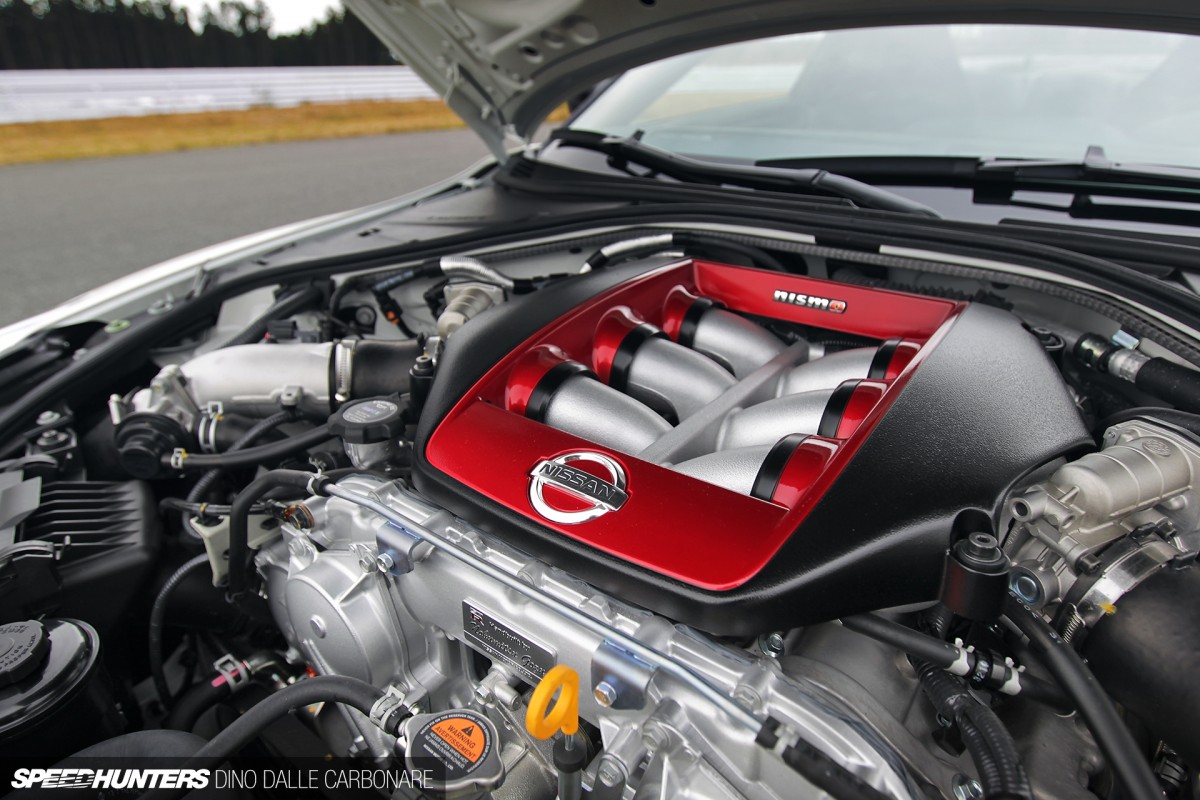 Visually there isn't much to look at to be honest: a stock engine plastic cover with a little Nismo logo is all you get but I'm just being overly critical here as for me, engines also need to look great and presentable, like the RB26 was! Ok I'll stop now.
The complete package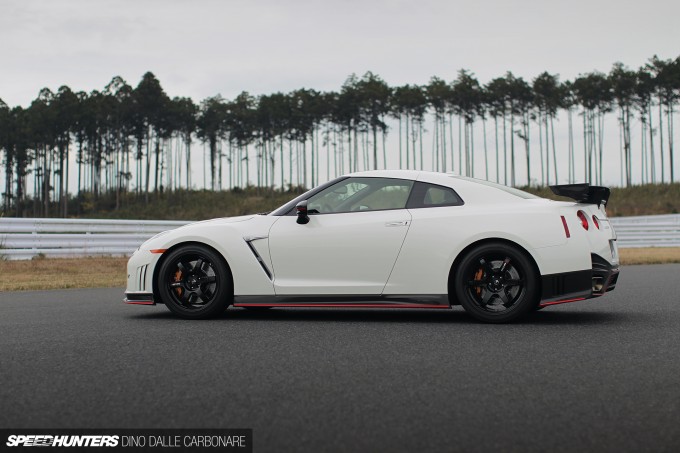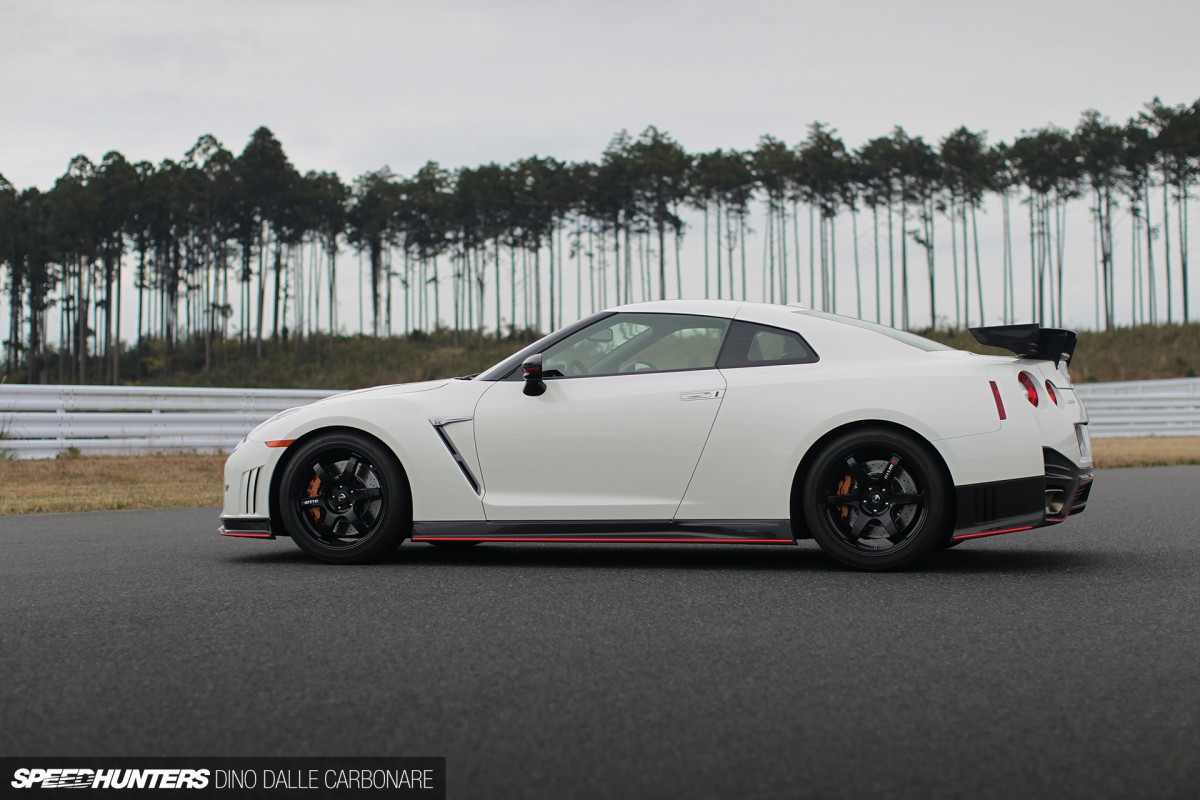 My short five laps were over before I realized what my body had been put through. By the last lap I was really taking it to its limits, limits that were just so high that it even took the bumpy last section in its stride like it wasn't even there: a series of violent undulations that would throw most cars off line and require you to lift off the gas.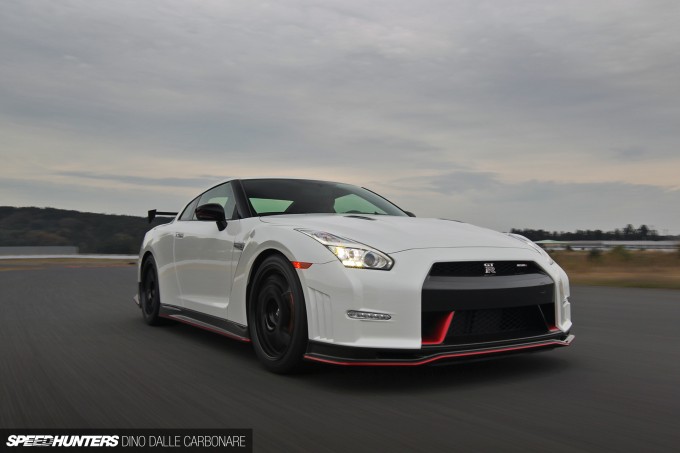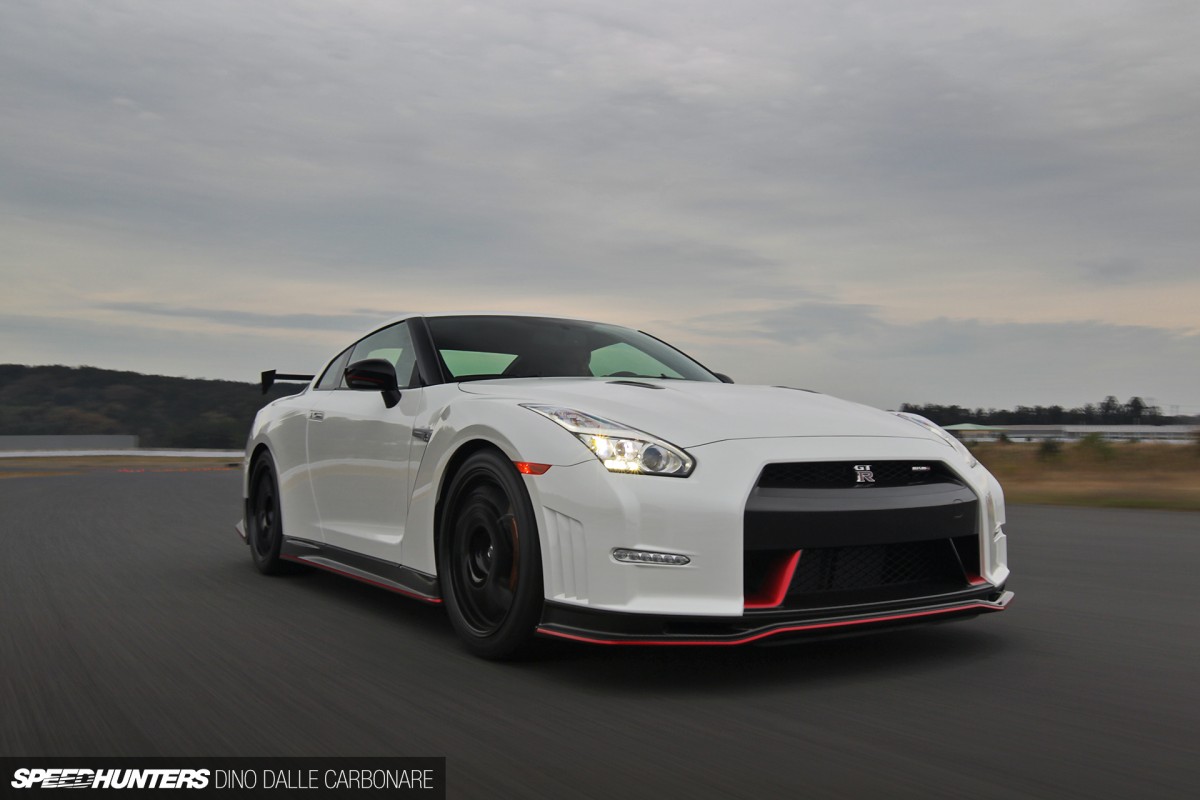 In the Nismo GT-R I was taking it flat out, my body bouncing all over the place but the car still pointing in the right trajectory and putting all that torque down without any complaints. Blown away by what I had just felt I had a ride along with GT-driver Tetsuya Tanaka in one of the Nürburgring development cars where I proceeded to realize that the car could be driven so much faster than what I was doing. I came away laughing and at the same time a little depressed of my poor attempts at really pushing the car! I guess that's why guys like Tanaka are hired to do what they do!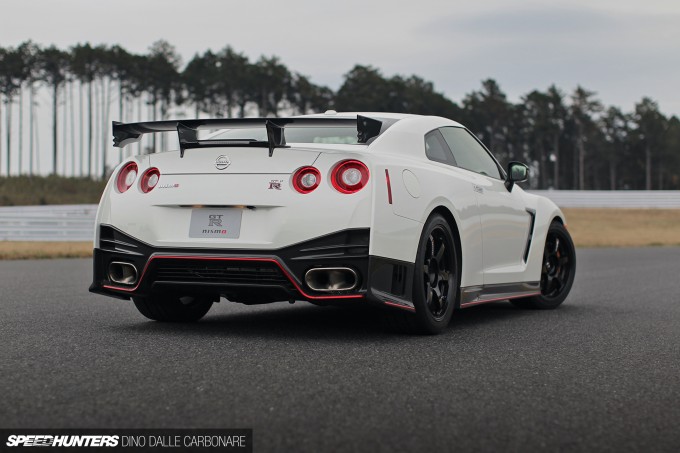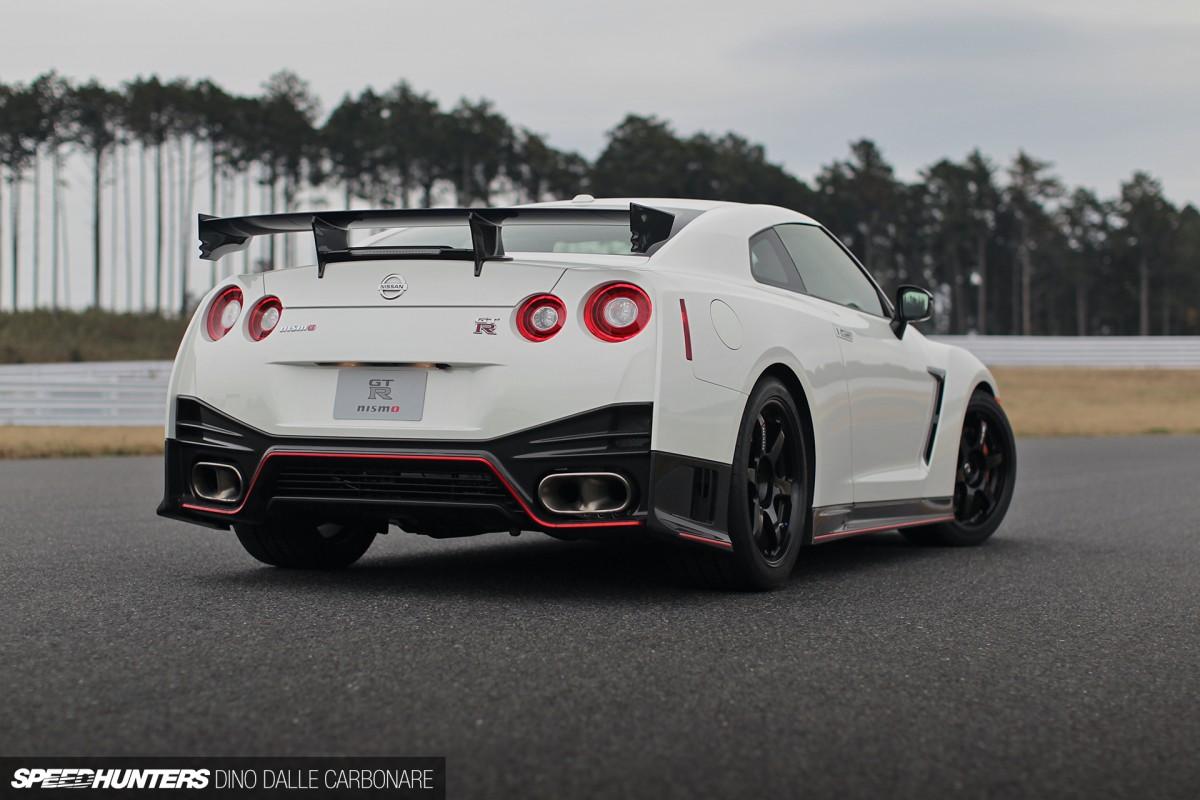 I also got a chance to spend some time with a US-spec car, taking a closer look at the work that went into the substantially redesigned Nismo rear bumper. The extremities of those angular hips have been extended rearward from the very top and increased as they meet up with the 'bowtie' lower bumper section. That was to help lower drag and also diffuse the air that is now released through the bumper openings on top of the exhaust.
Lots of wind tunnel work went into getting all of these details right as you can see on the development video of the Nismo GT-R.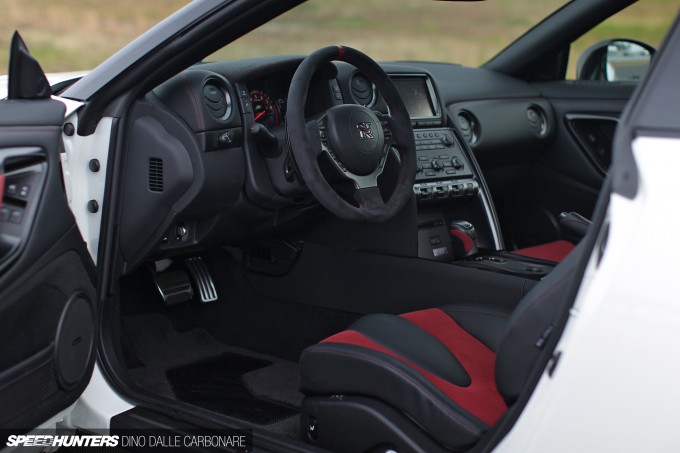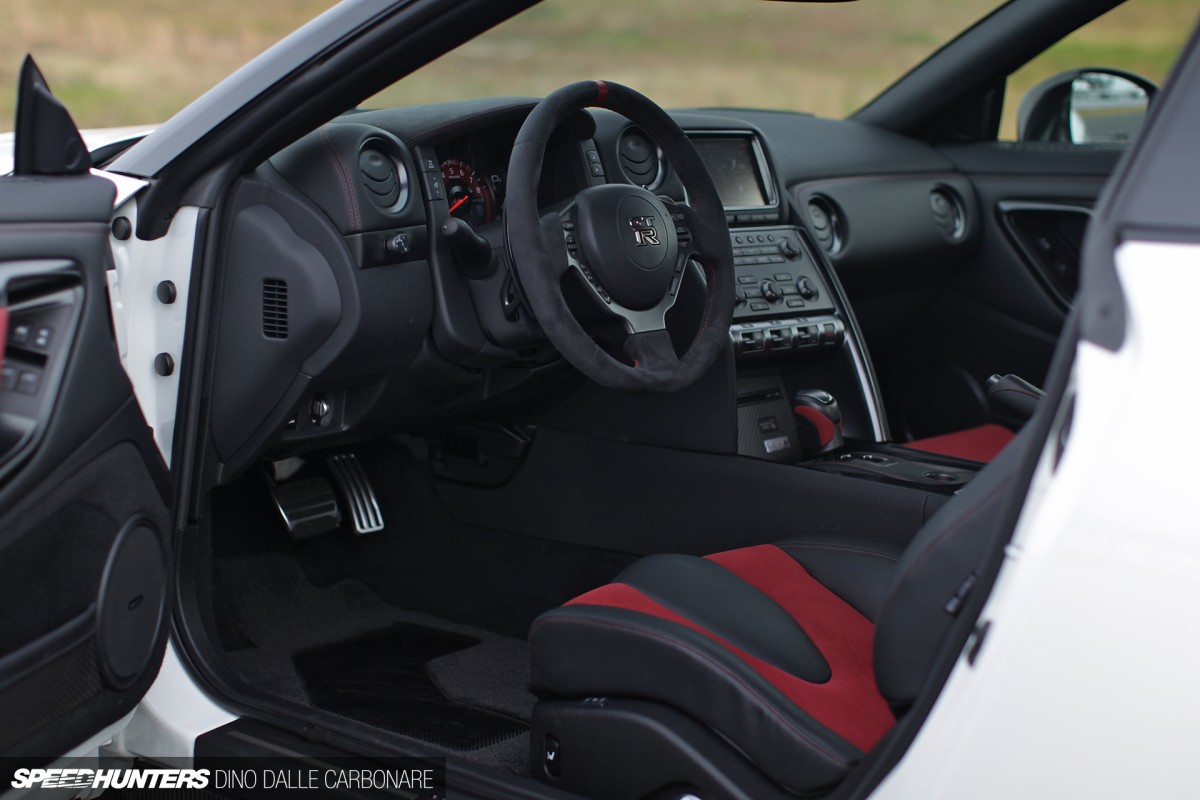 Nismo has preferred not to fettle too much with the interior, limiting itself to a few little touches. US market cars will come with simple red alcantara inserts on the stock seats to help grip your rear end and stop it from sliding around too much.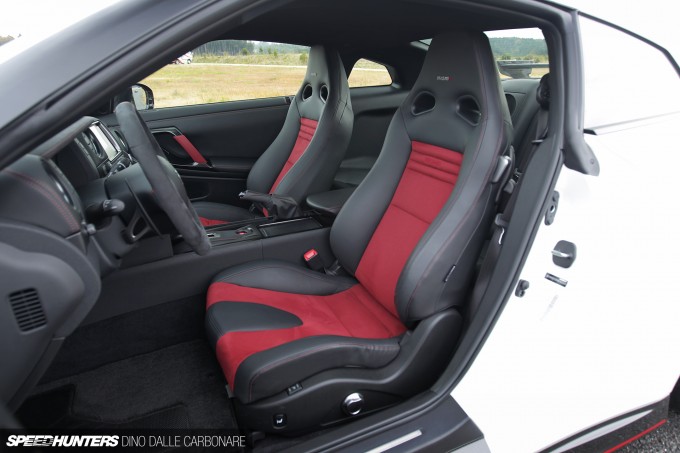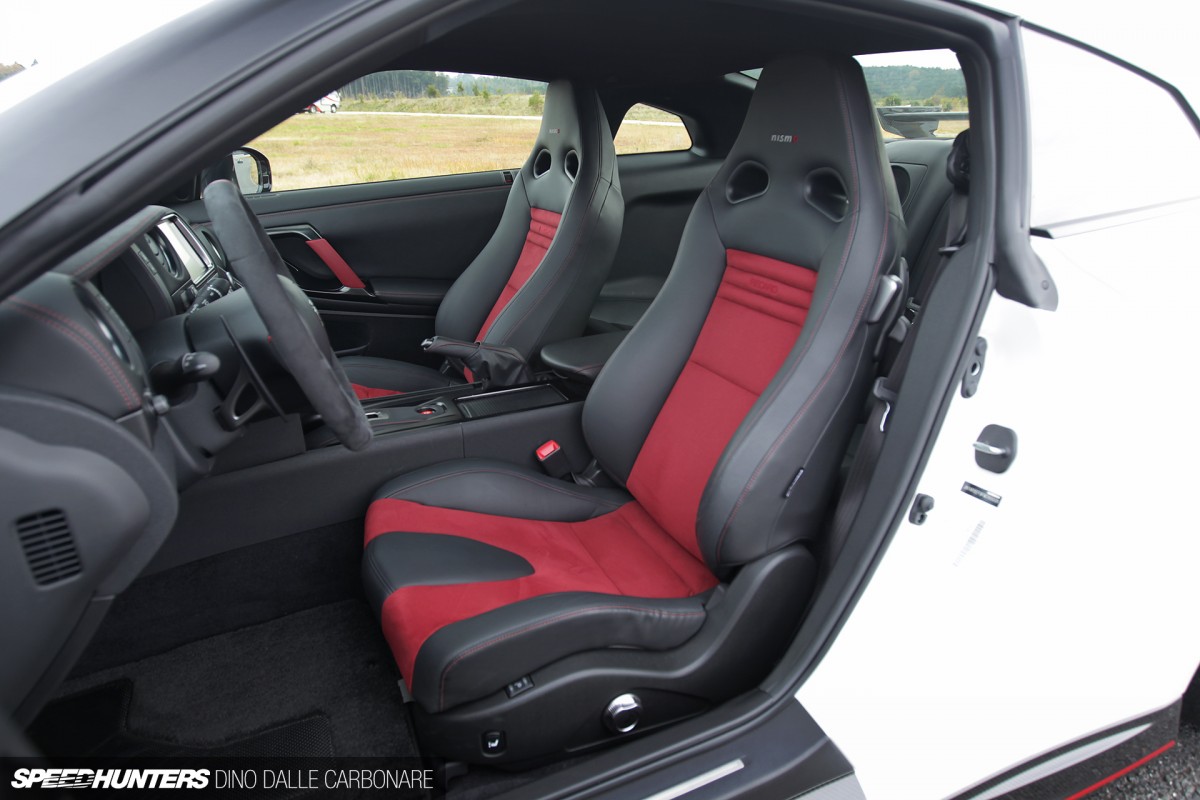 On the other hand Japanese and European cars will get carbon fiber Recaro bucket seats and a rear seat delete. To keep journalists' rear ends comfortable, the buckets weren't fitted to the two test cars we had a chance to drive however!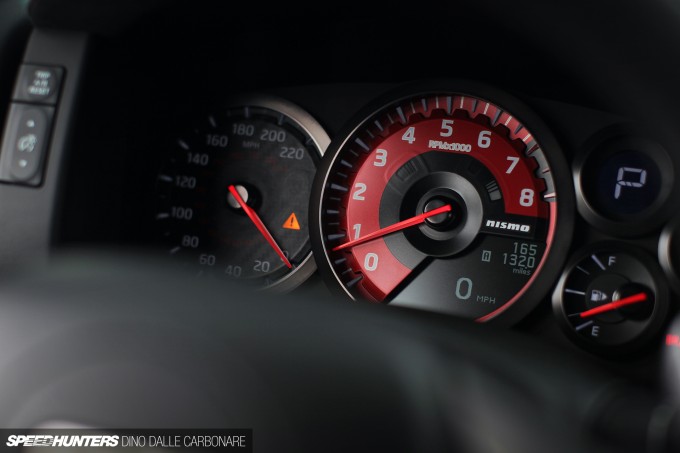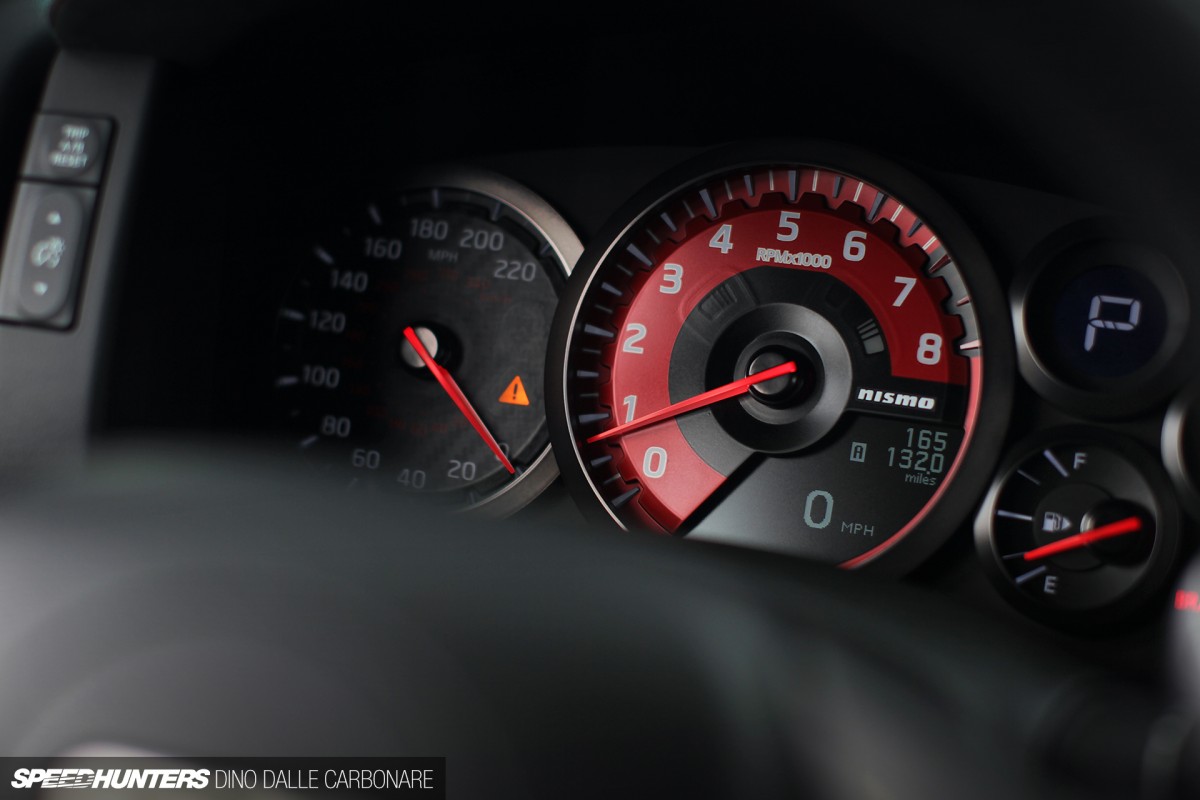 Like all Nismo cars, the rpm meter is finished off in red and the suede steering wheel gets a red strip to mark the center position. I would have personally liked to have seen some carbon fiber accents be added to spice up the caving a bit though.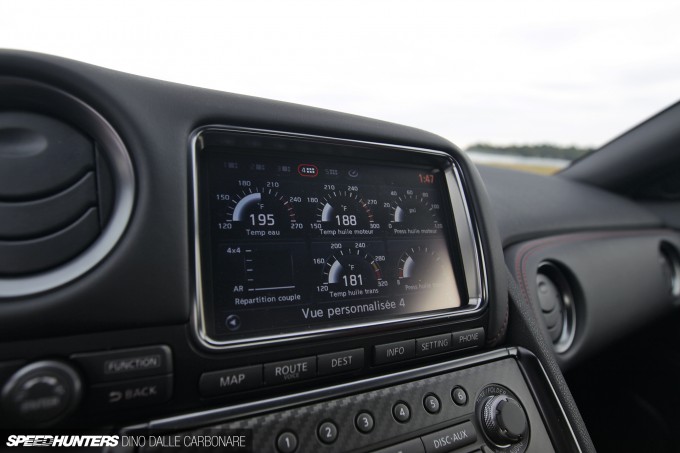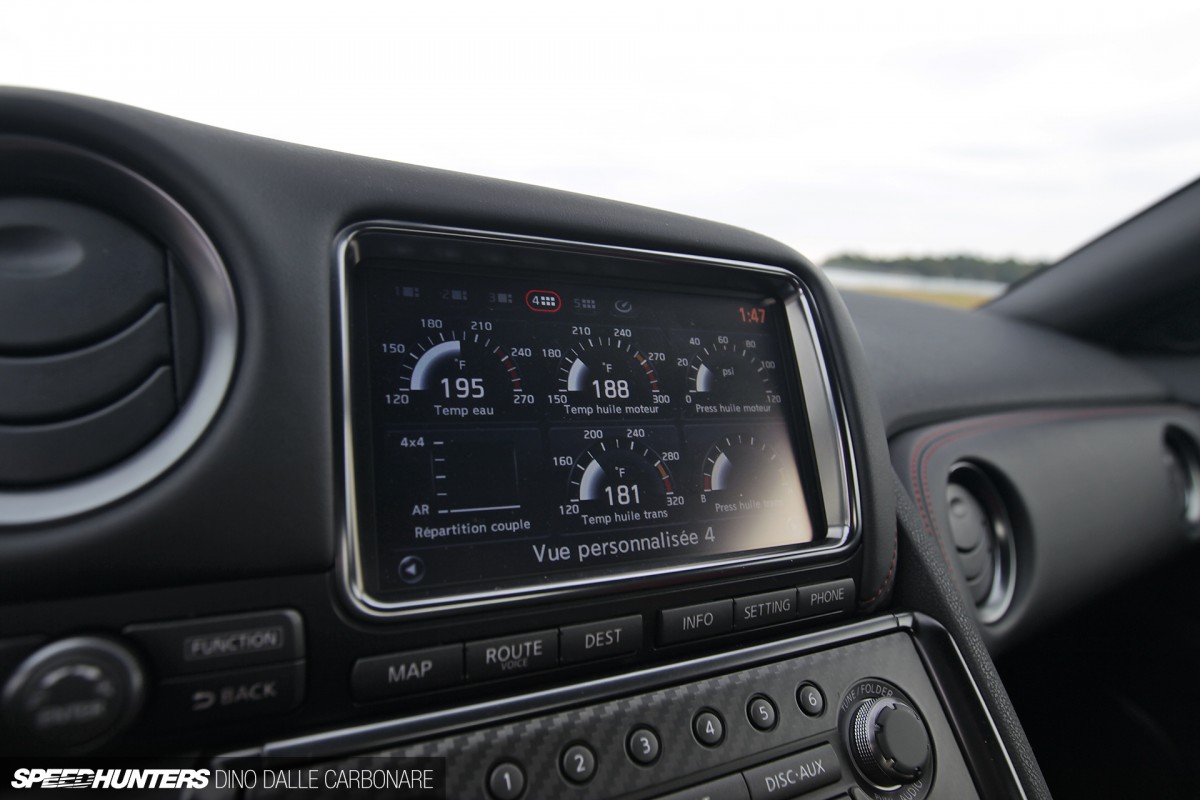 Maybe some kind of Nismo-only upgrade to the Multi Function Display screen? BNR34 owners will know what I'm talking about here!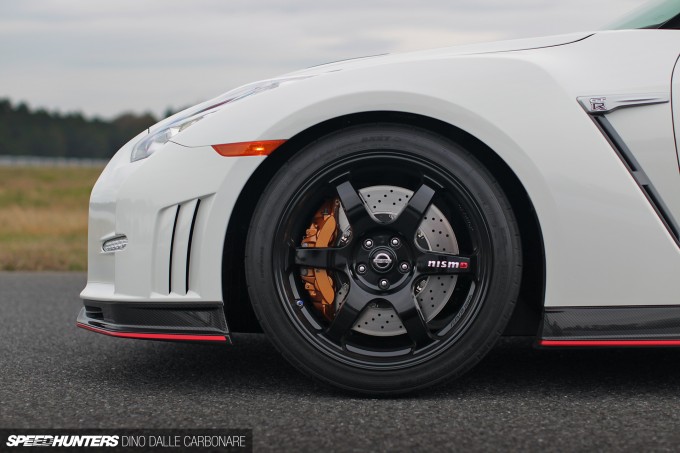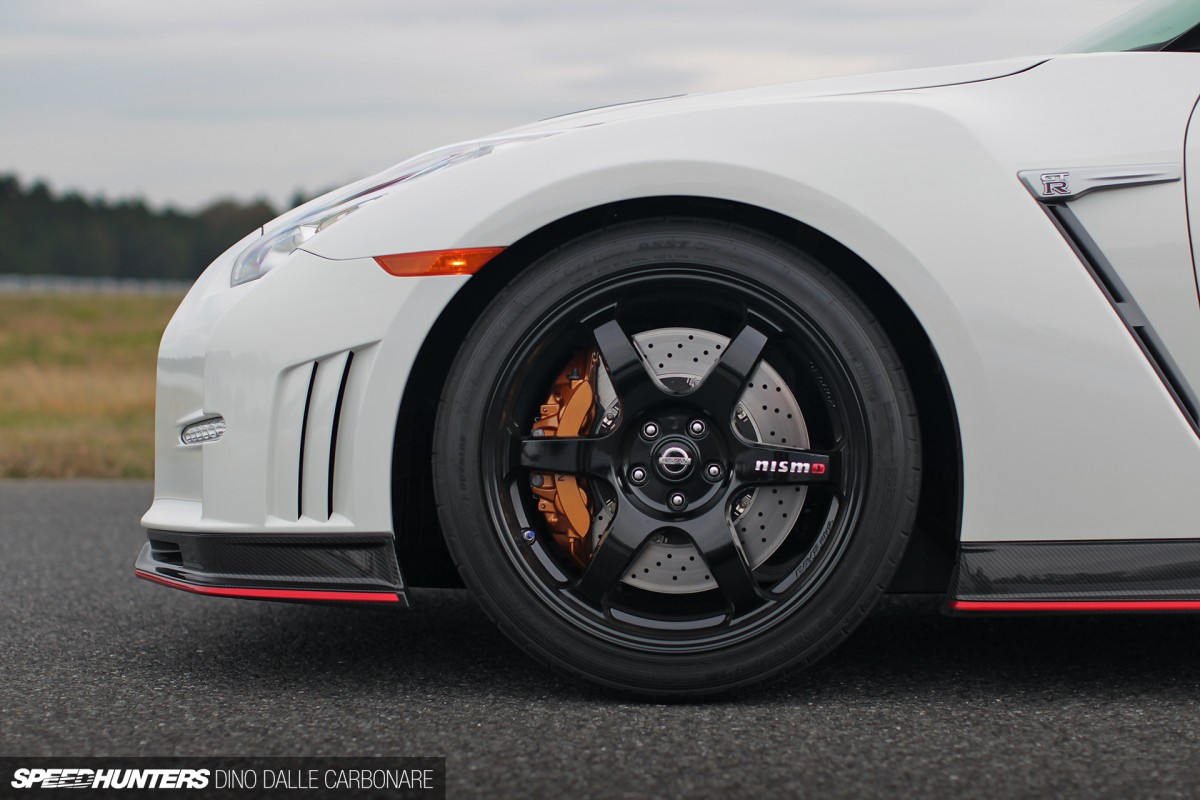 With all the nice carbon exterior touches and the lightweight Nismo wheels, it was curious to see that the stock Brembo brake package wasn't upgraded. Seeing that this GT-R is marketed as a track-ready car, this is one area I was really expecting some upgrades in, but I suppose the special Nismo pads will have to do. These stoppers are more than up to the job of taking the abuse of a track day mind you.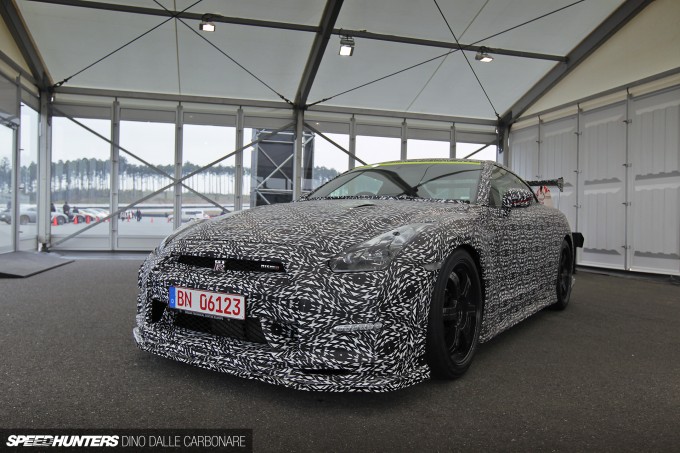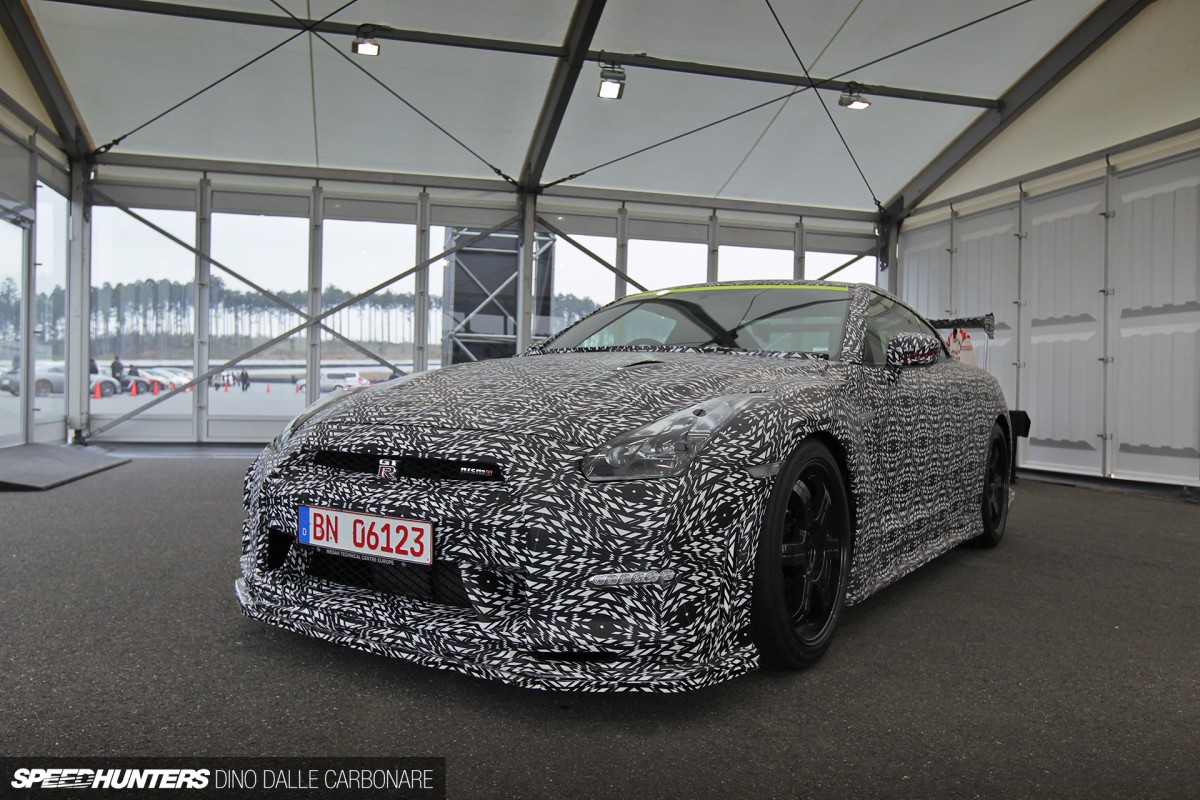 And so we get to the actual car that set the Nordschleife volume production car record. Like I touched on earlier, Nismo are not being quite honest with what they have claimed. I mean the car that set the record is a Nismo GT-R, but it runs a few little upgrades. Let's start at the front. Underneath the new lip spoiler is an additional vertical strip that helps boost front downforce.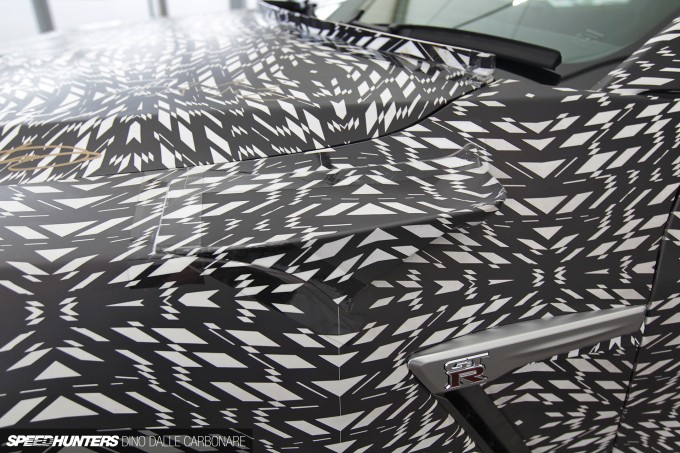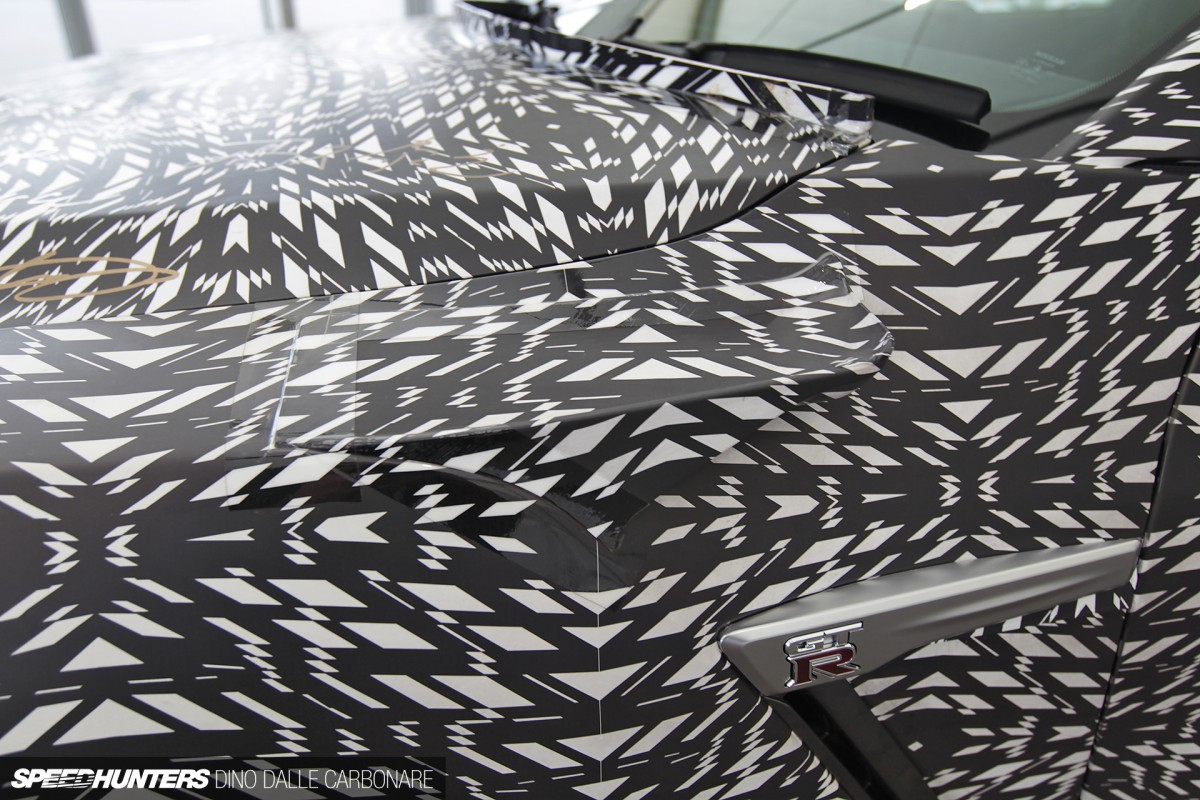 This is joined by a pretty visible gurney applied at the end of the hood and of course the most noticeable thing of all – which you actually have to look closely at due to the camo-effect of the test-car livery the car is still running – the little canard applied to the front fenders is there to give a small increment of front downforce, maybe a couple of kg per side at 300 km/h.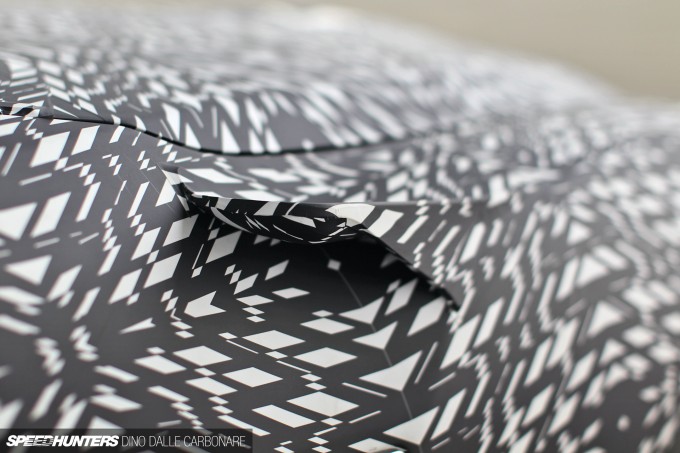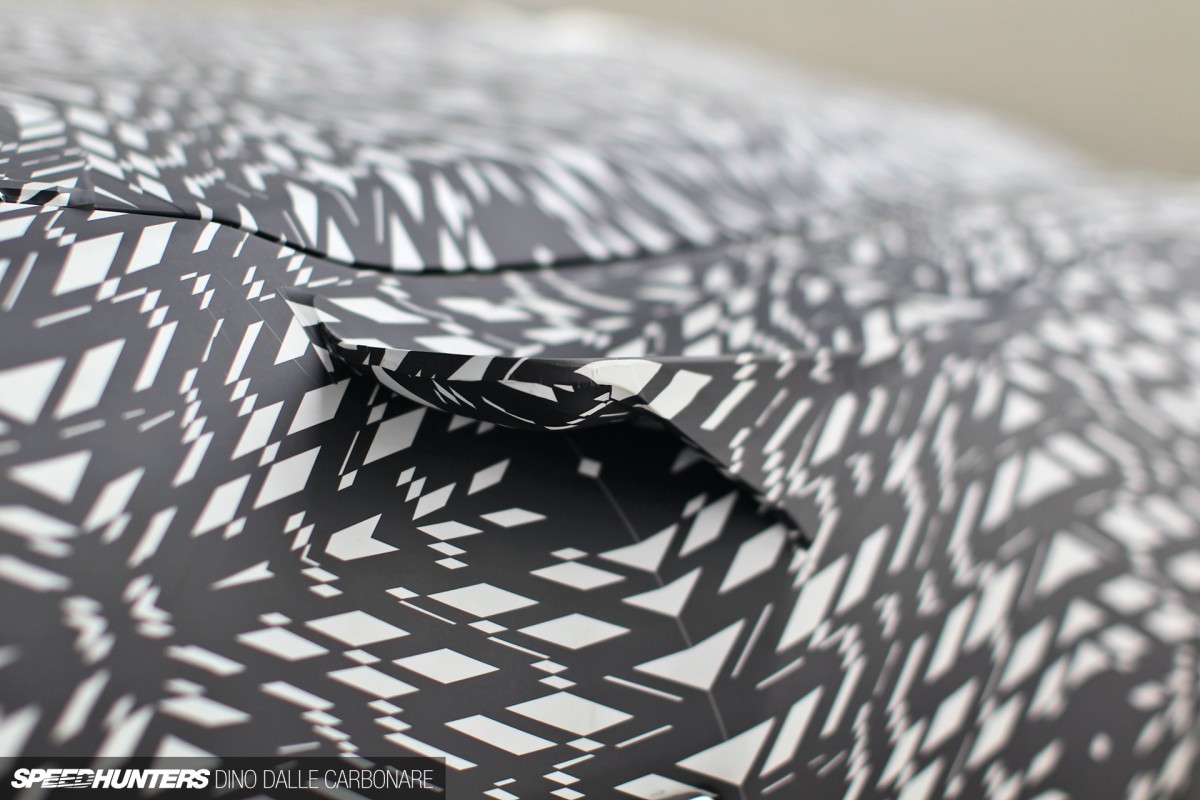 They also direct and smooth airflow up and over the rather large stock side mirrors. These alterations join a taller rear wing, adjustable race suspension and a remapped ECU. Now what makes the time still stand is that most of these upgrades should be purchasable via Nismo by the time the car is released in February. I'll go out on a limb and say that most manufactures cheat a little when it comes to setting times at the Nürburgring.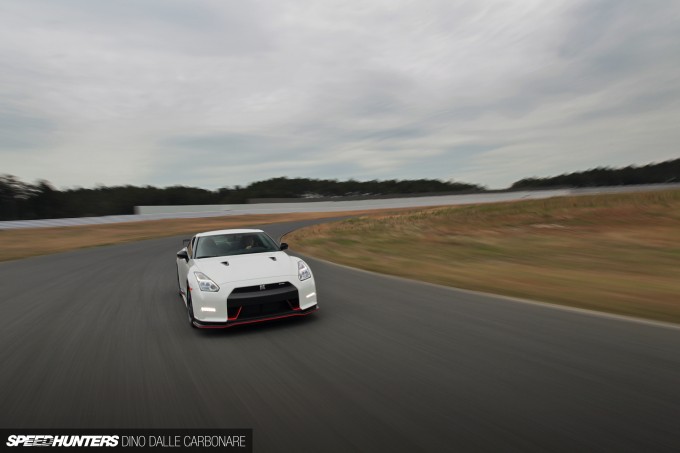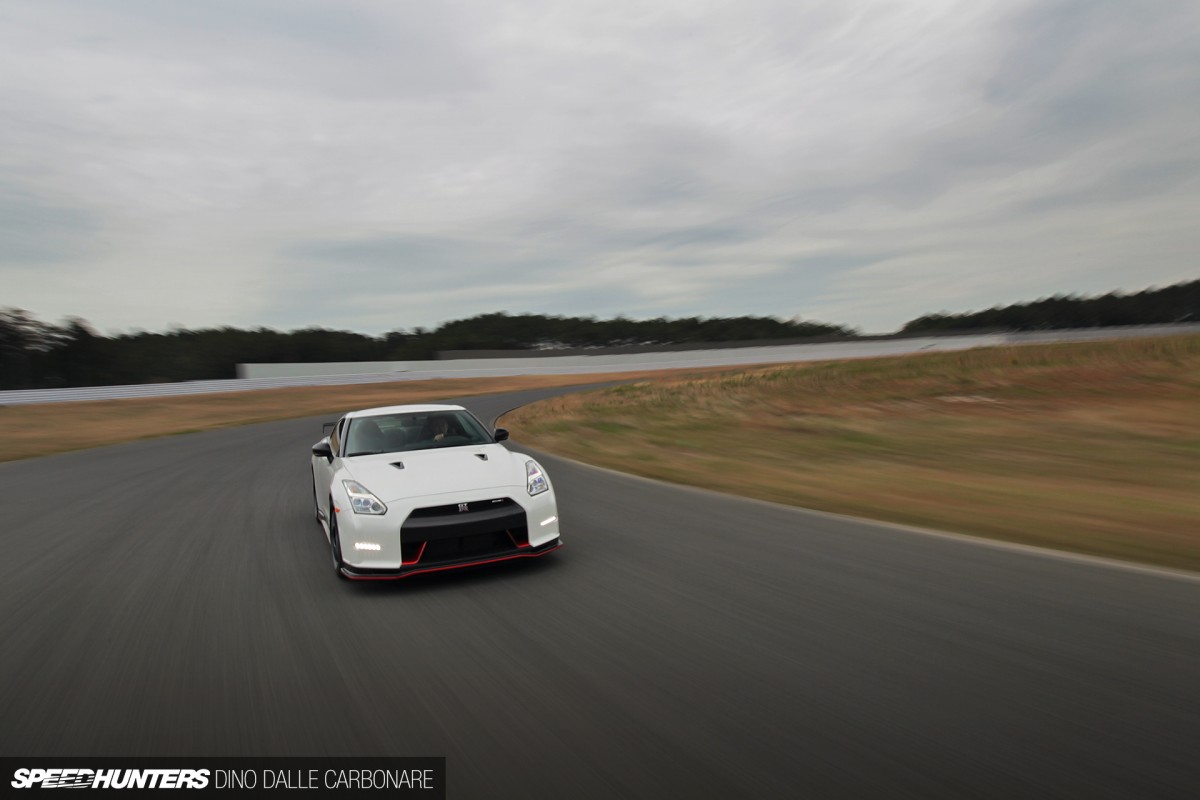 At least Nismo are coming clean with what they did to prep the car for their lap attempts. Still, it doesn't take away from the fact that they have put together a well-balanced package which builds upon the stock car's abilities and keeps it as accessible to any sort of driver.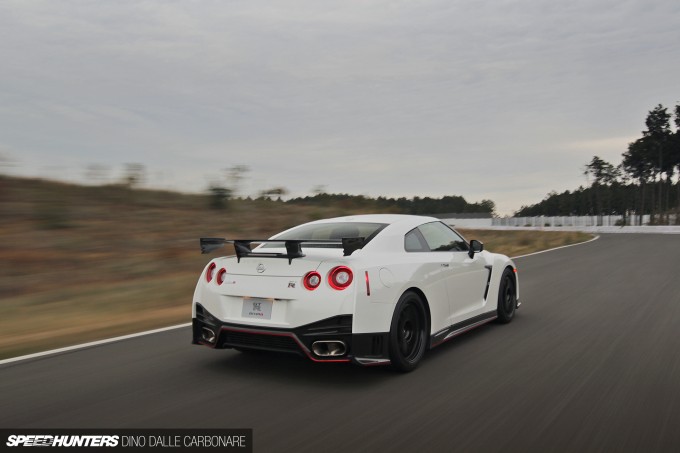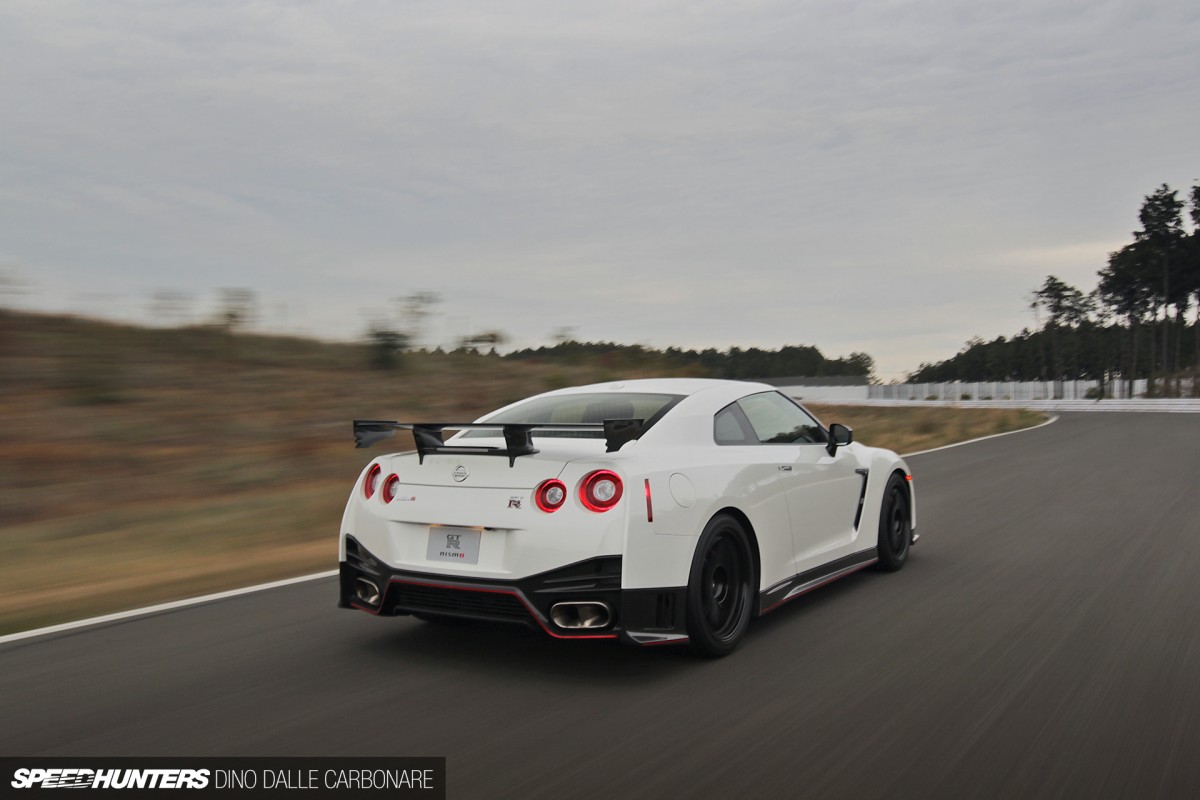 If the Nismo GT-R is the first real example of what we're to expect from Nismo in the future then I can't help but be pretty excited. Now all they have to do to keep the wave of fun and creativity flowing, is to drop the same tuned VR38 into a Fuga or Skyline and start chasing those German uber saloons up and down the Autobahn! Wishful thinking I know, but one can only dream…