Challenge accepted
There are many ways cars find their way to the World Time Attack Challenge, but it was an unplanned, off track excursion into the wall at turn one of Sydney Motorsport Park that became the catalyst for what was arguably the coolest debut at this year's event.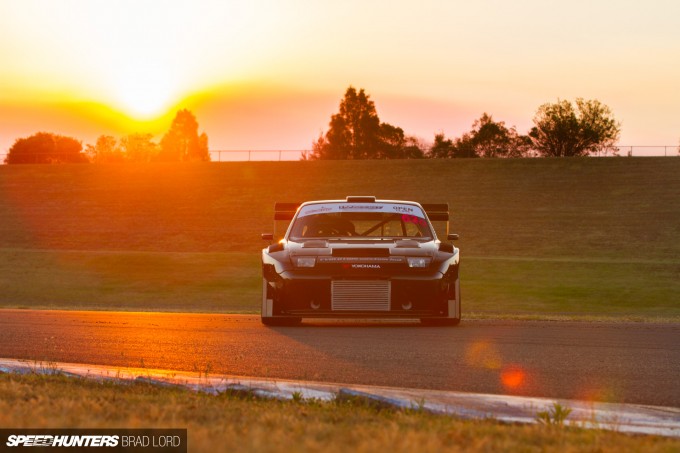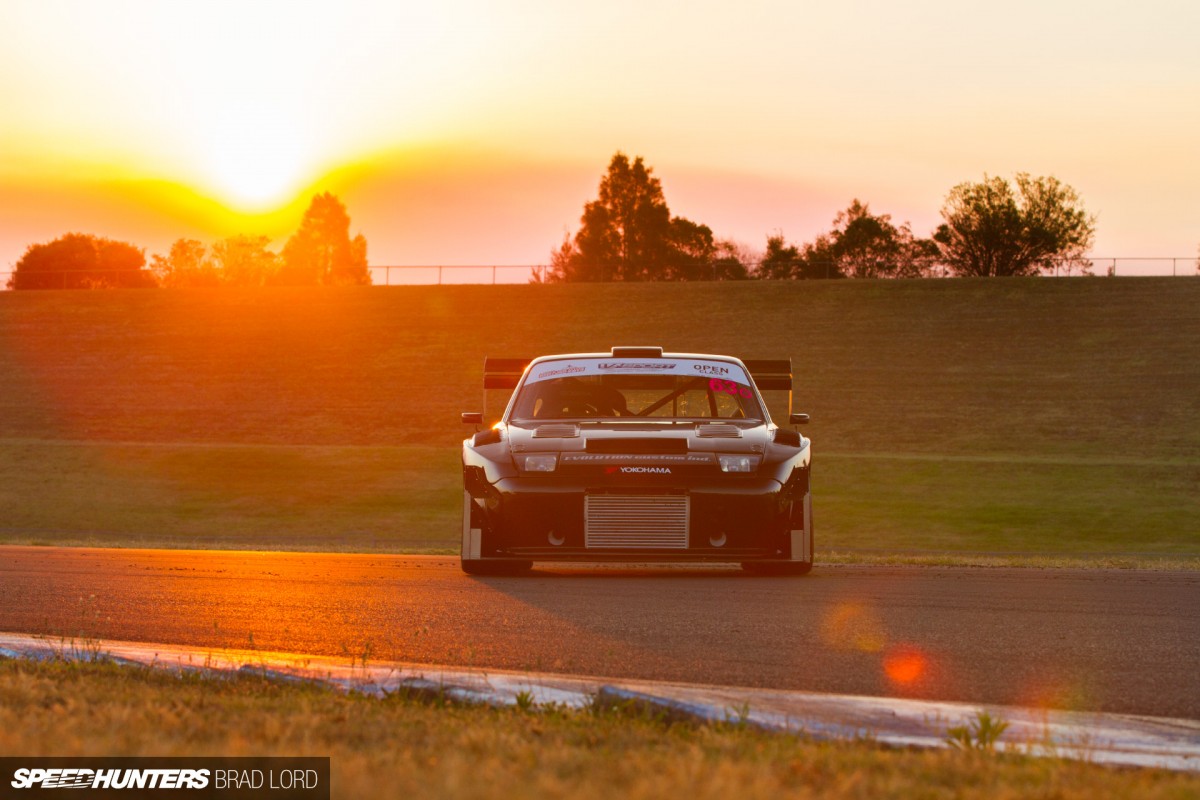 In a sea of late model Nissan Skyline GT-Rs and Mitsubishi Lancer Evolutions, this 27-year old Porsche 944 Turbo definitely wasn't hard to miss.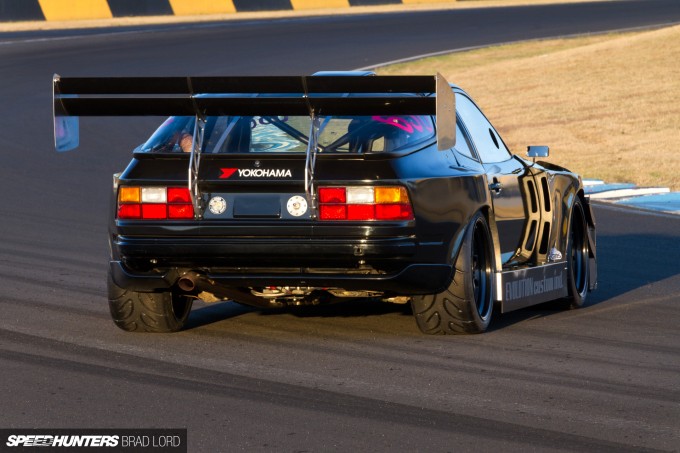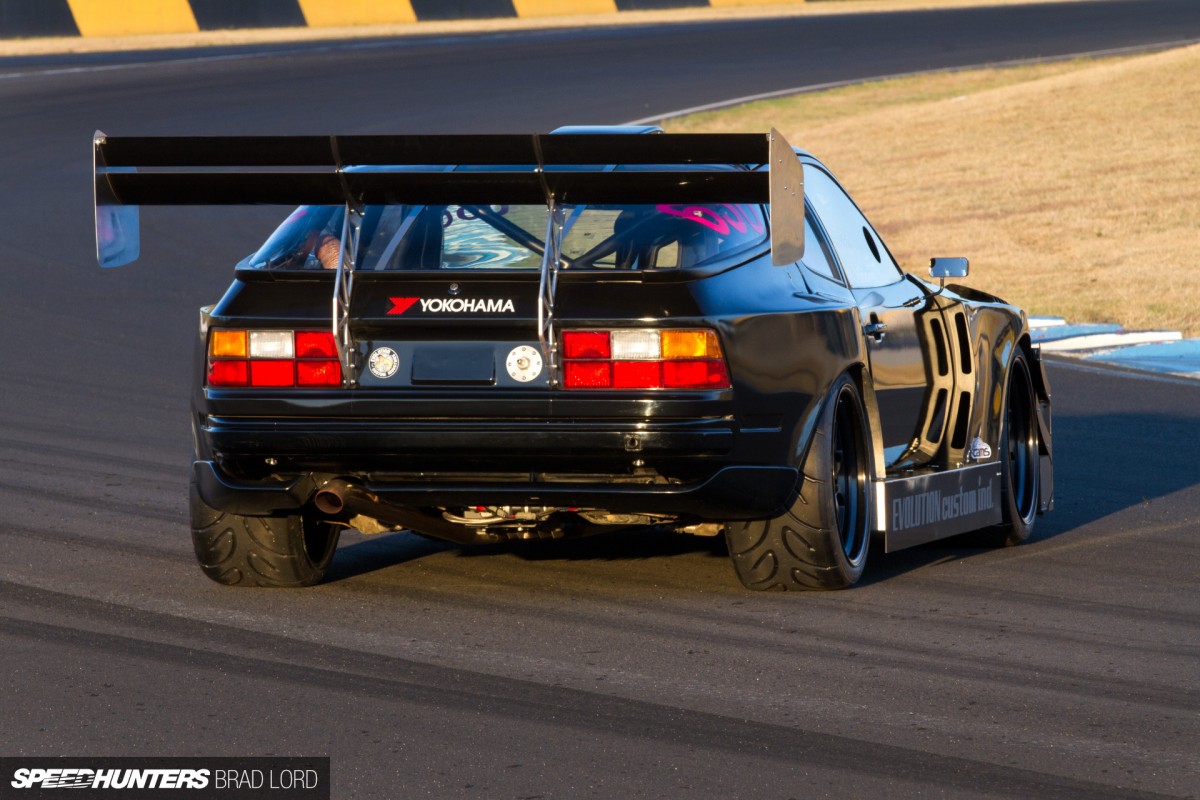 The unique build is the work of Paul McKinnon and his small, but highly talented team at Evolution Custom Industries (ECi). Although bikes and rods are the mainstay of the company, Paul's one of those guys with the skill, knowledge and talent to be able to turn his hand to pretty much anything in the automotive realm. Seriously cool time attack machines obviously included.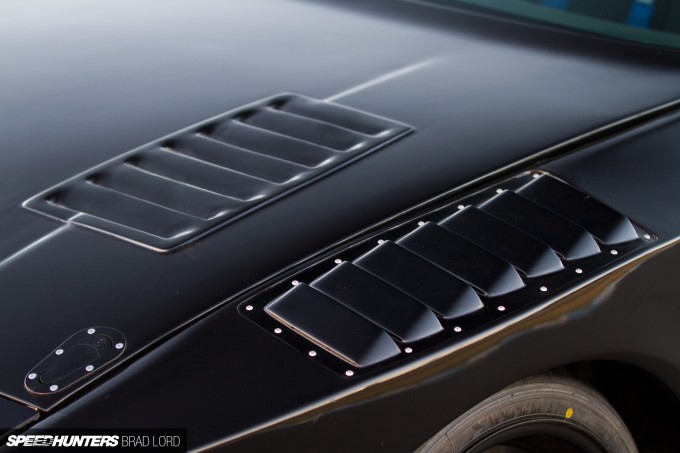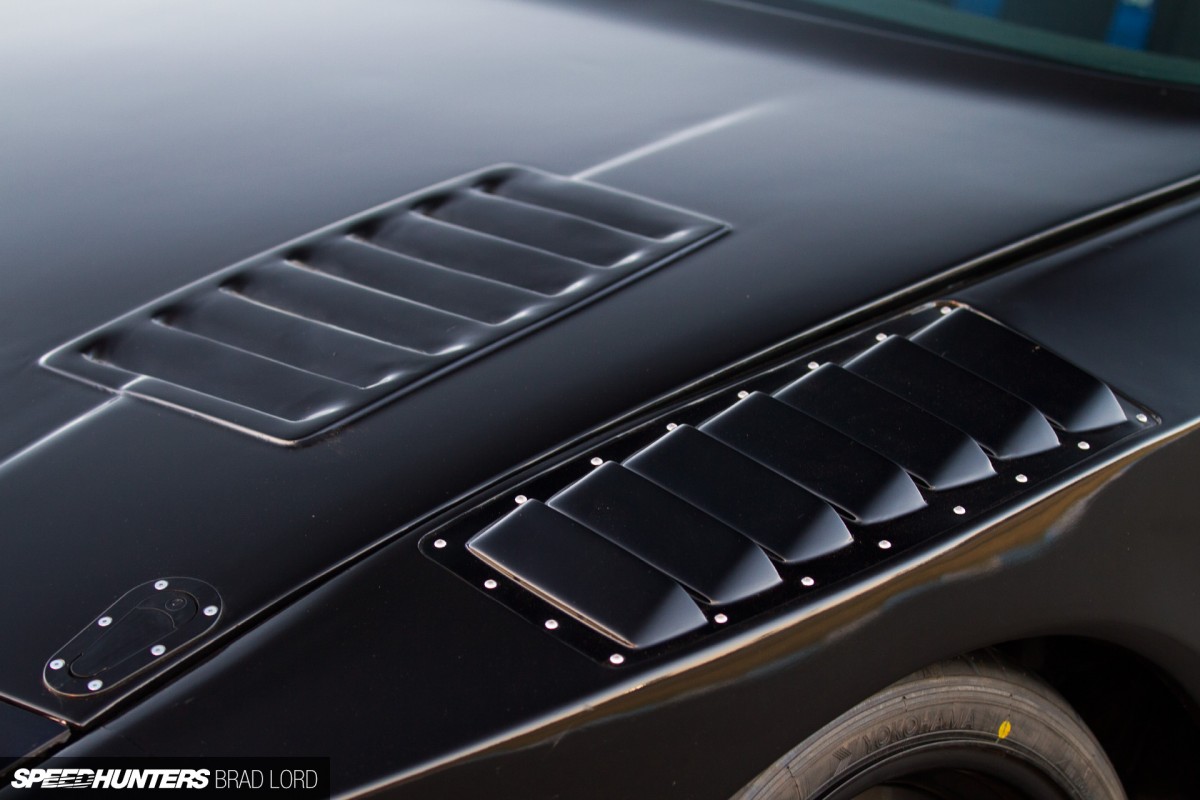 If it wasn't for Patrick Garvan's (the 944's owner) misfortune on that high speed left-hander, it's hard to know if we'd be here today taking a closer look at this evil creation. Why? Because prior to the incident on that fateful day in April 2012, the build revolved around a machine that could do double duty on the street and circuit. In other words, something much more timid than the 944 you're looking at right now.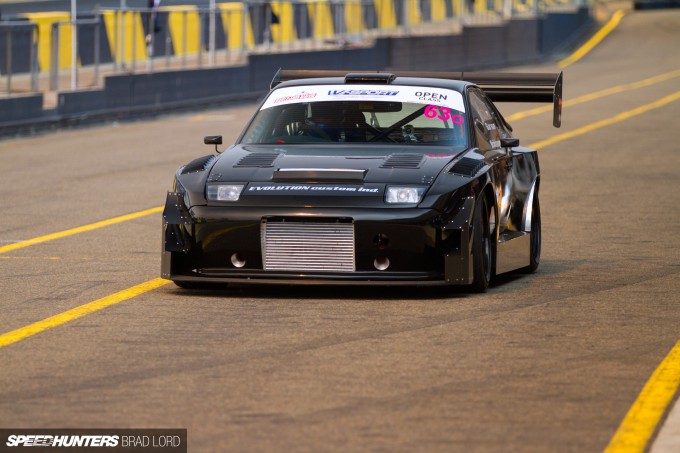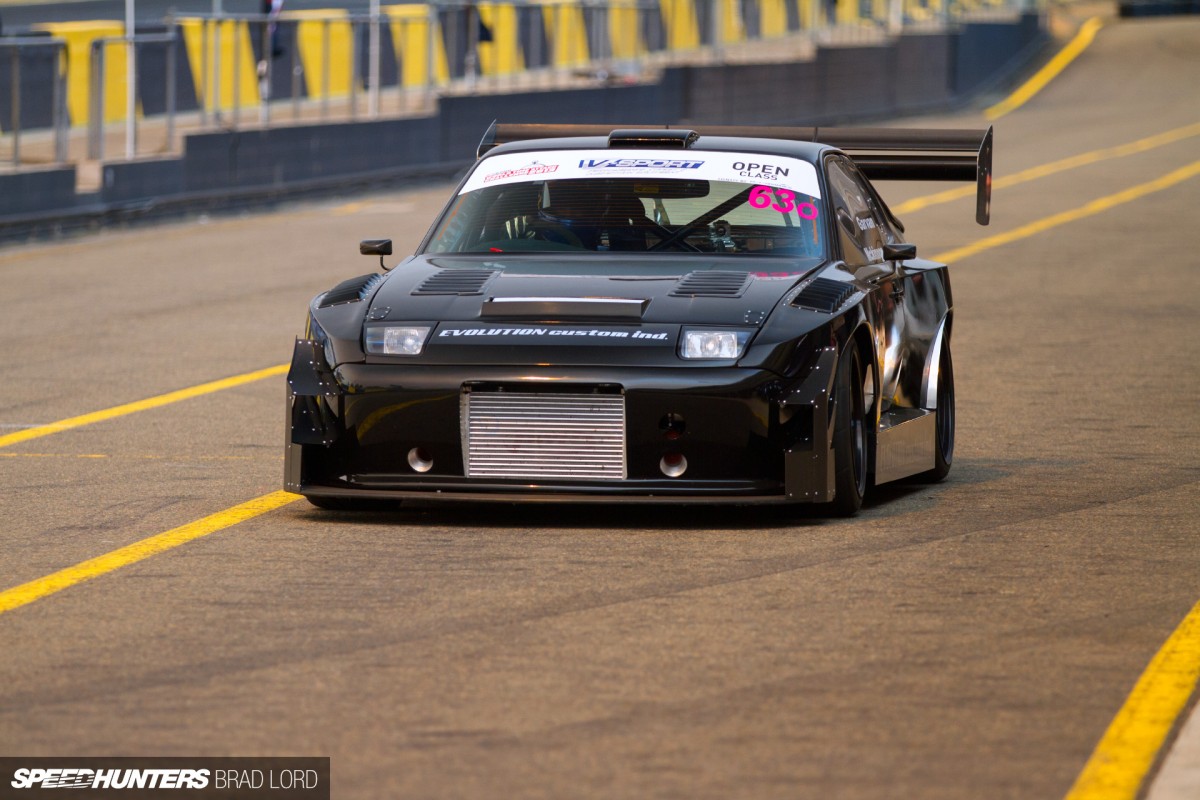 In the months following the crash, the Porsche sat on a hoist in the ECi workshop and was chipped away at whenever the opportunity allowed. That was until April this year, when Patrick decided it was time to get serious. The plan: an all-out Open class entry in the 2013 Yokohama World Time Attack Challenge.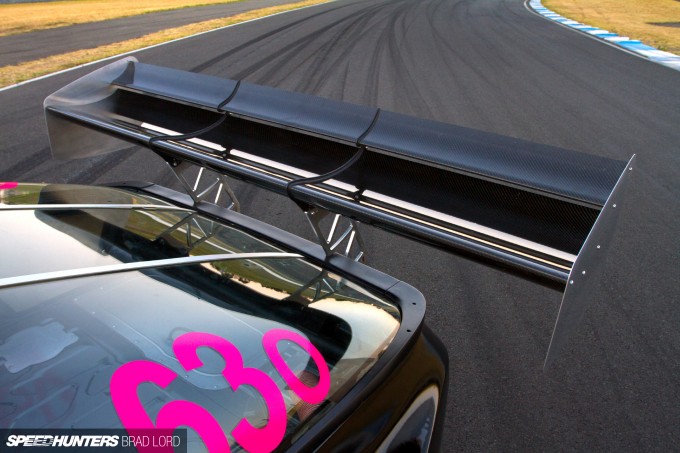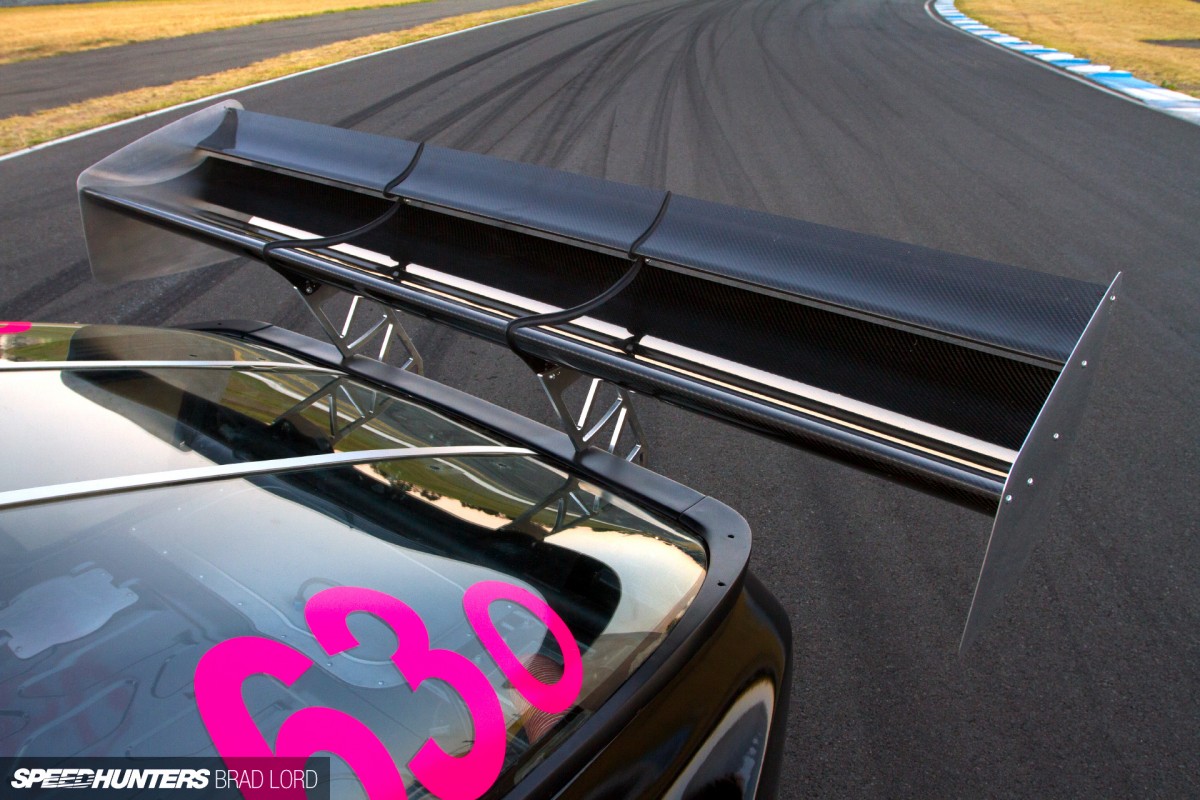 From that moment until the event, Paul had at least one of his guys working on the car full-time. As October, and the date with the 3.9-kilometer GP Circuit drew nearer, three of them were pulling 60-hour weeks apiece to ensure it was completed on schedule. Looking around the 944, it's definitely not hard to see where the time went.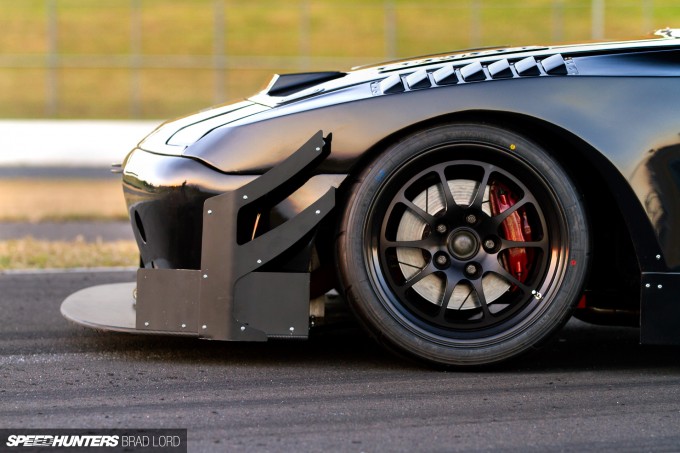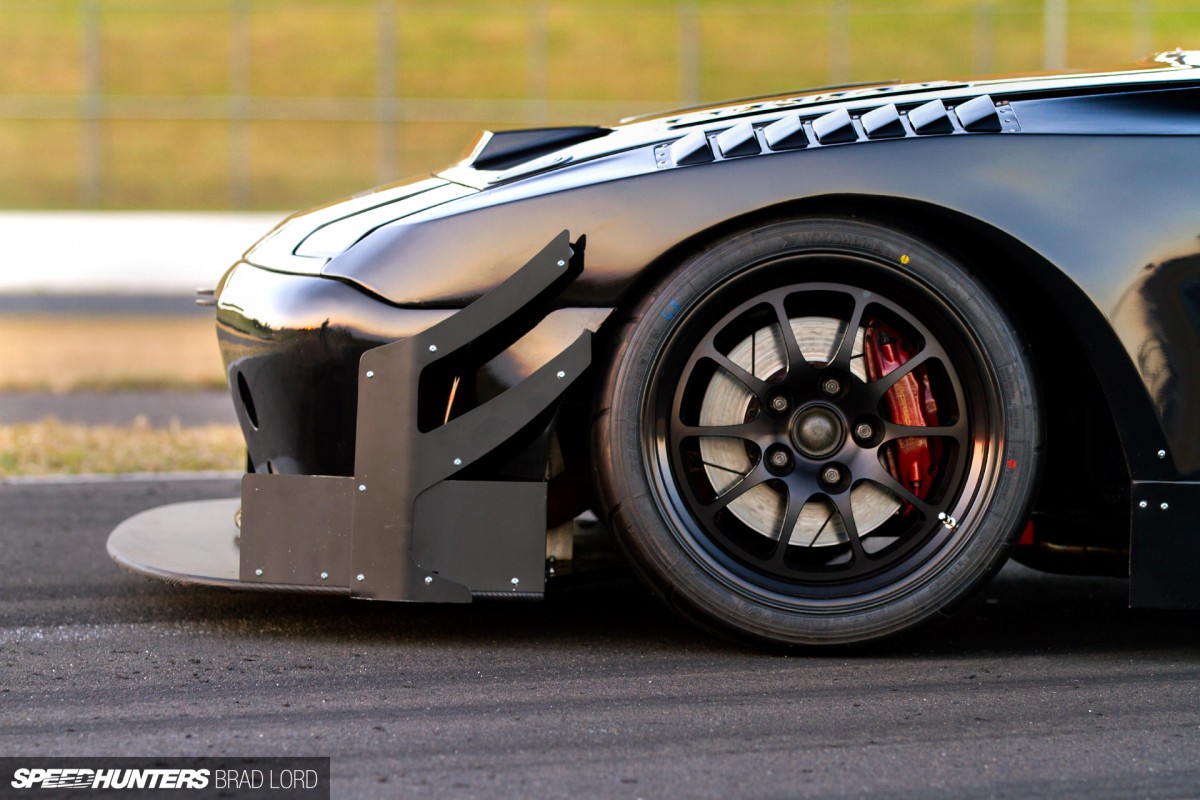 Starting with more of a conventional time attack base would have made the job a whole lot easier of course, but this build was as much about extracting the maximum potential from the platform put in front of them, as it was doing something that had never been done before in the time attack world.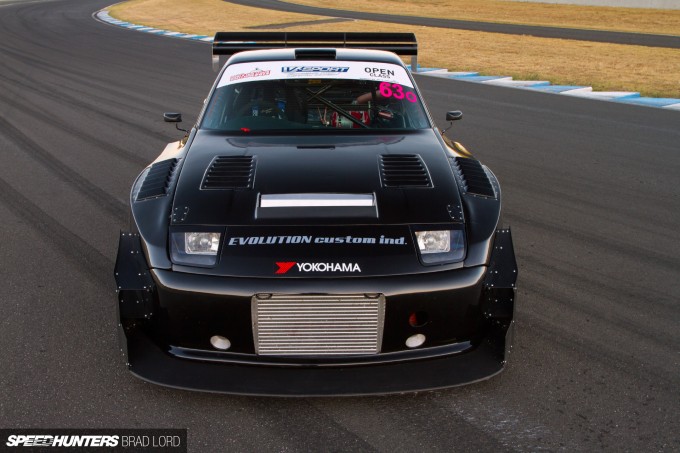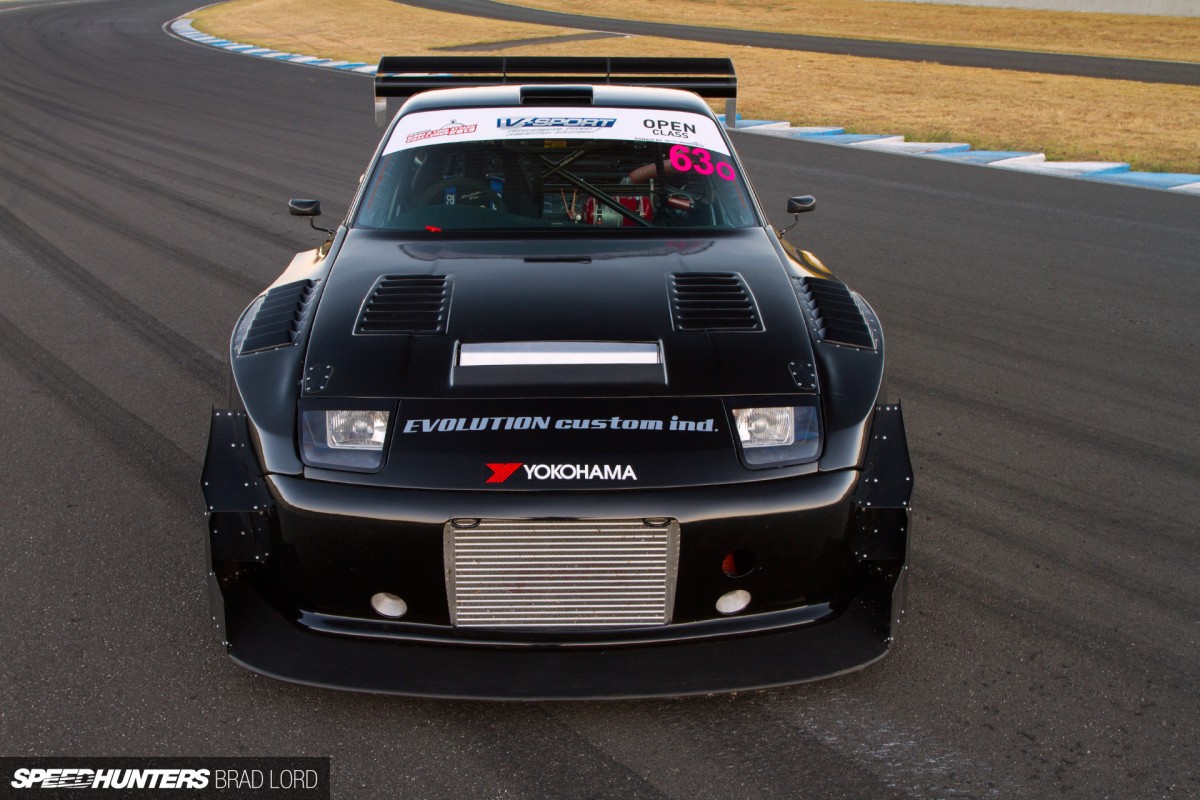 The result, as you can see, is absolutely awesome. But there's a lot more to this car than first meets the eye.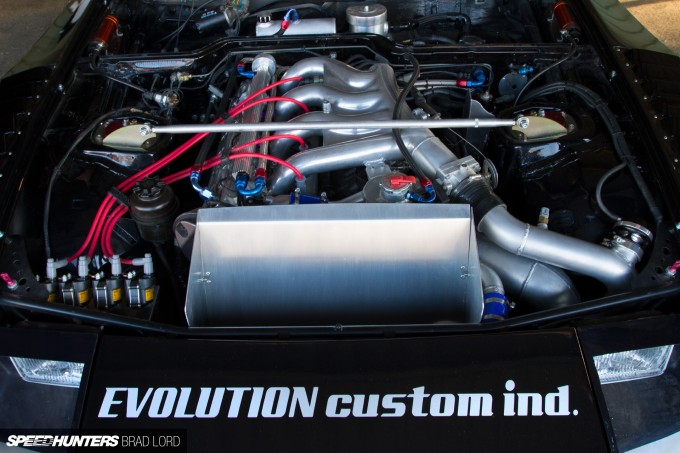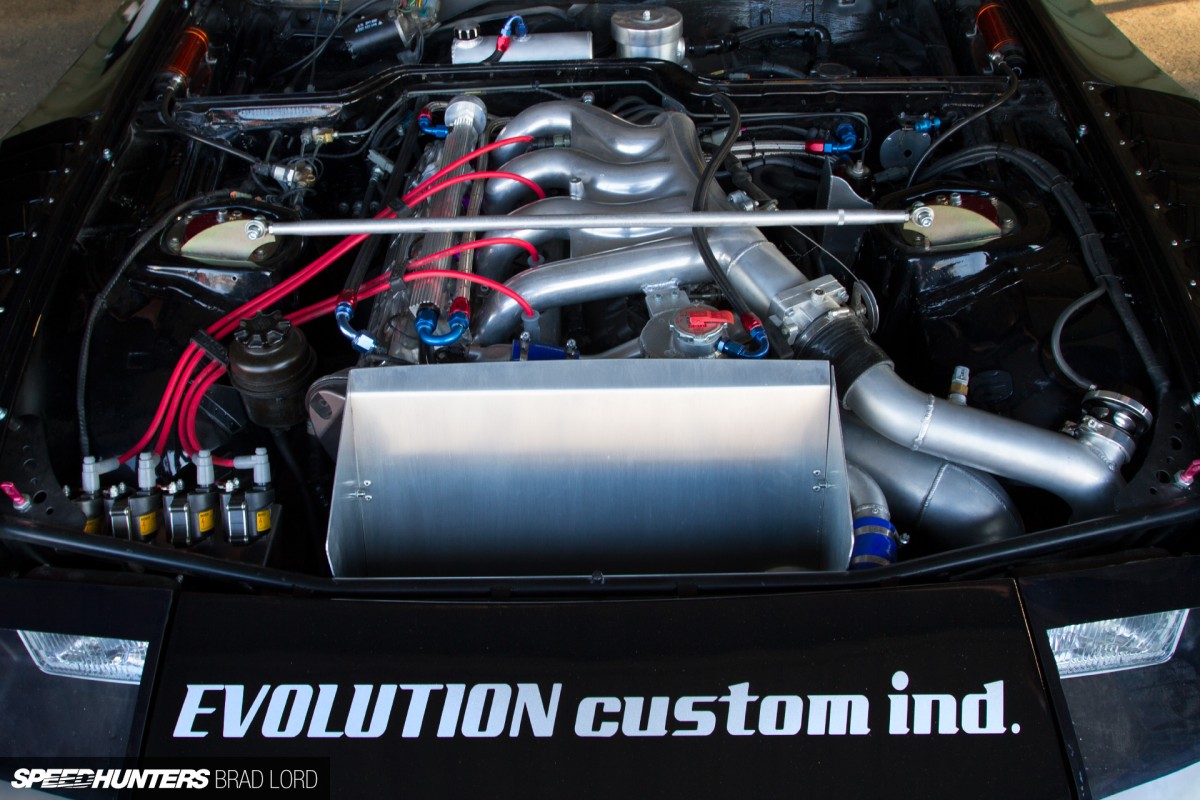 I'm not sure why, but I kind of expected to not be greeted by the sight of a Porsche engine when Paul lifted the lid on the 944. But the fact that the car still uses the same turbocharged inline-four the model was endowed with when it left the factory back in 1986, well I think that's pretty cool. As you can see though, it's far from stock and subsequently outputting much more than 217hp now.
Powered by Porsche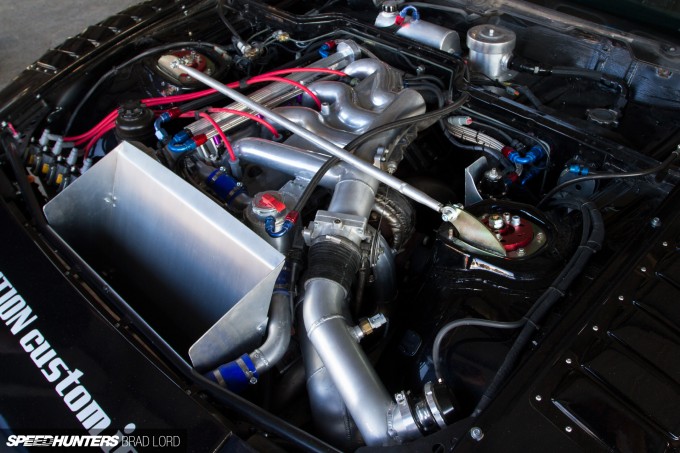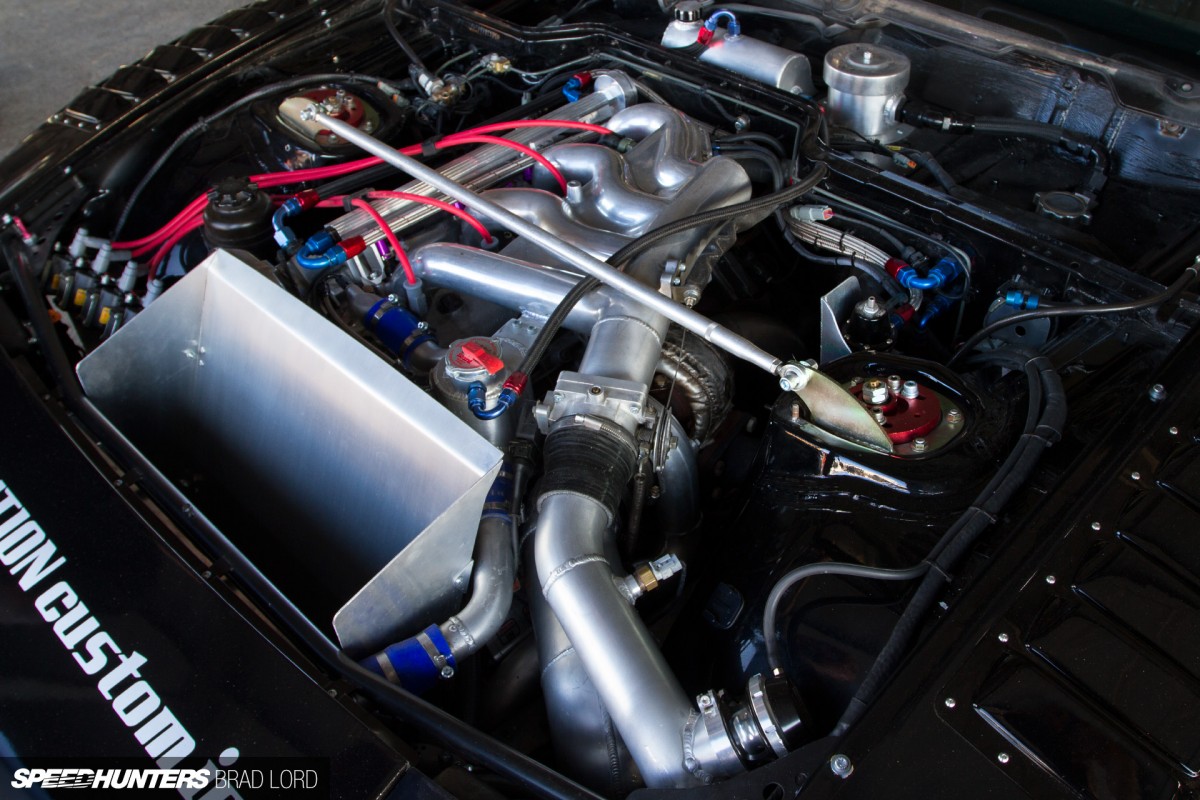 Although the engine began life displacing 2.5 litres, through some thoughtful engineering it now has a 3.1-litre capacity, though not via the usual stroker crank route. To achieve the extra 150cc per cylinder an integrated deck plate was fitted by Performance Developments accompanied by Darton sleeves allowing a 105.6mm bore and 88mm stroke. Lightweight CP forged pistons and Arrow H-beam rods, along with a knife-edged stock crankshaft and custom CEP lightened flywheel ensure that the rotating mass is considerably less than when it left the factory.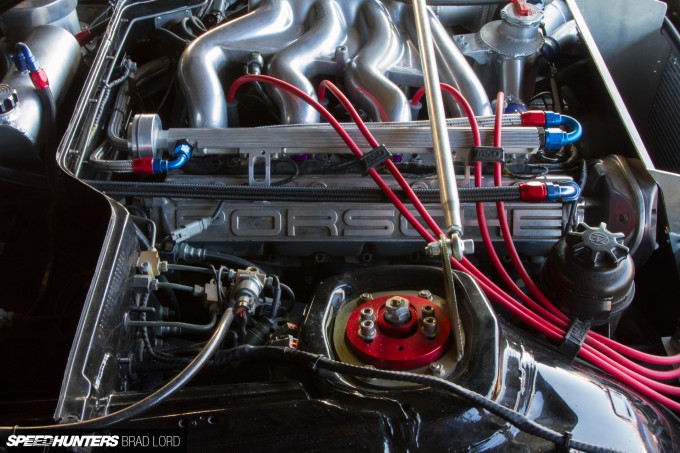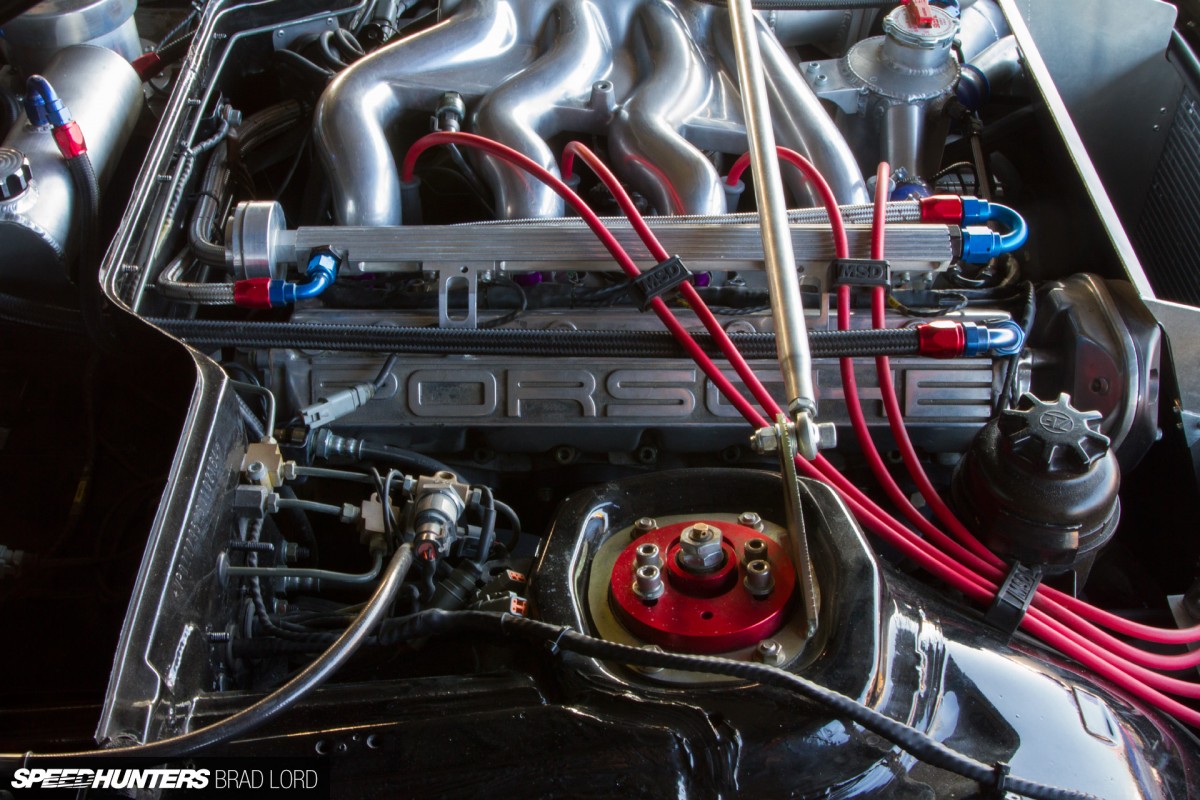 To allow the engine to breathe heavier and more efficiently, its SOHC 8-valve cylinder head was given the full treatment at Performance Development. First ported and polished and then fitted out with oversized Ferrea valves and titanium valve springs and retainers, and a large Custom Engineered Performance (CEP) camshaft. A Cometic metal head gasket and large ARP studs securely attach the worked head to the modified block.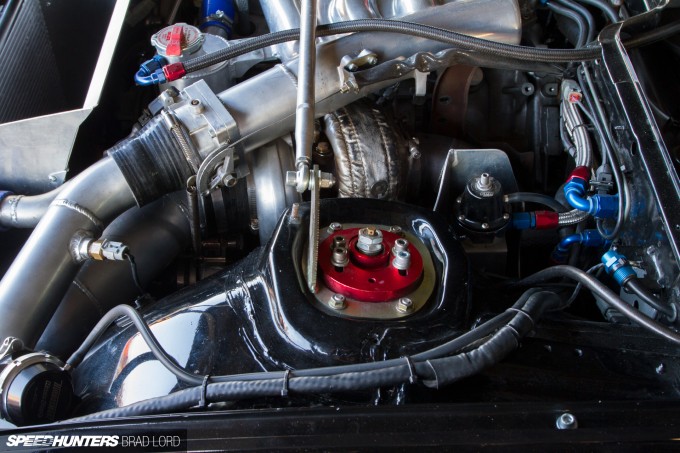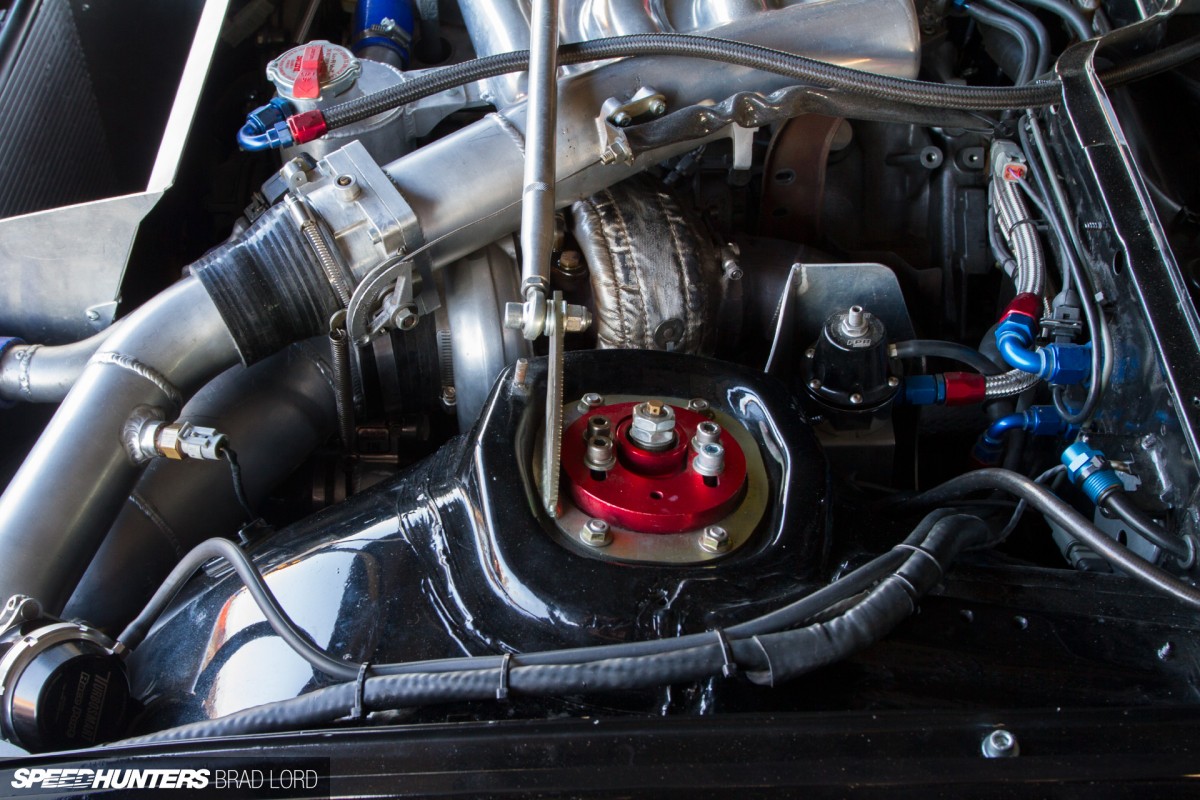 Going into the WTAC, the turbocharger supplied with the motor was the only unknown quantity. According to Patrick the hybrid BorgWarner 'Bullseye' turbo came on with a bang and ultimately went out with one too. The cause? Two bolts on the hot side backing out marginally and causing the turbo to grind to a halt. Since then the failed unit has been replaced with an off-the-shelf Garrett GTX3582R, which has proven to be a better fit by providing much more driveability. While requiring a bit of last minute custom fabrication, the bulk of the turbo system remains as Paul and his team originally pieced it together, and includes a custom CEP 4-1 tubular stainless steel header, Turbosmart wastegate and a PWR intercooler plumbed in through ECi pipes.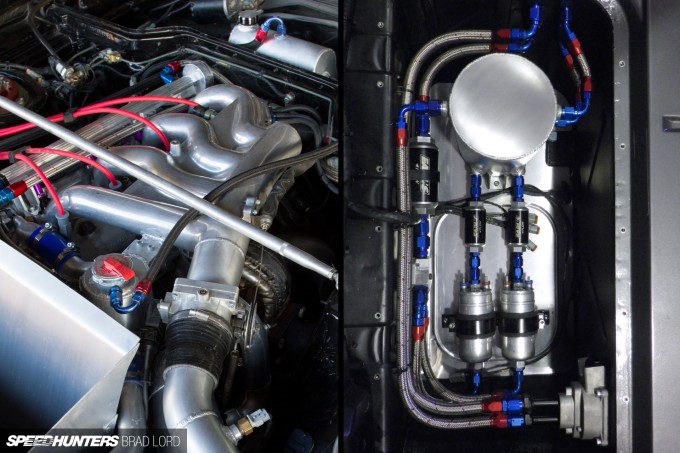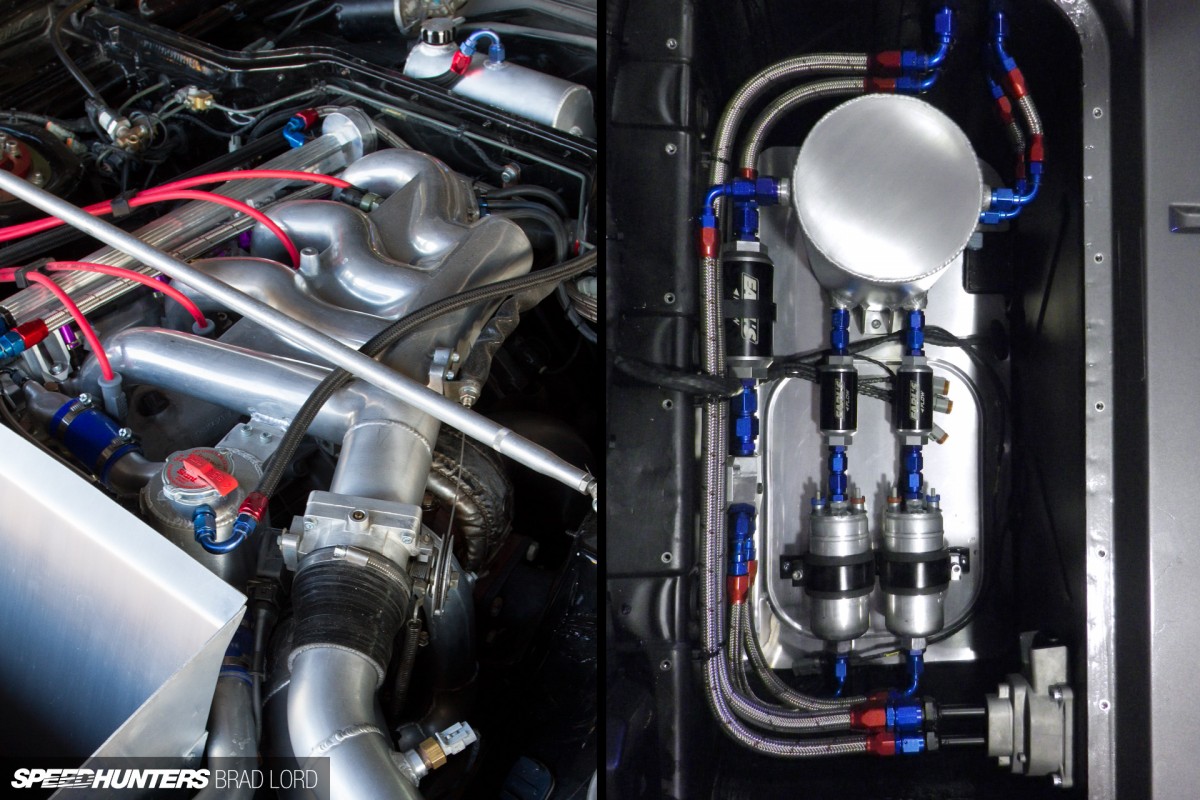 If you know your 944 Turbo (951) engines, you'll probably recognise the intake manifold as a polished-up factory item. That it is, but it's been extrude honed for extra flow and fitted with a Performance Developments CNC'd throttle body. Of course, there's a much larger fuel requirement now, and since the engine was designed to run on Sucrogen E85 biofuel, it's satisfied through an extensive system that includes three Bosch Motorsport 044 pumps (one in-tank, two external), plus an ECi surge tank, Turbosmart regulator and a CEP rail supplying four Injector Dynamics 2000cc injectors.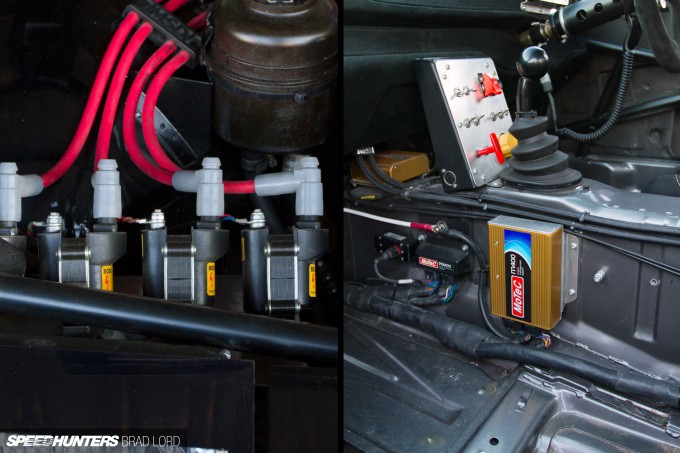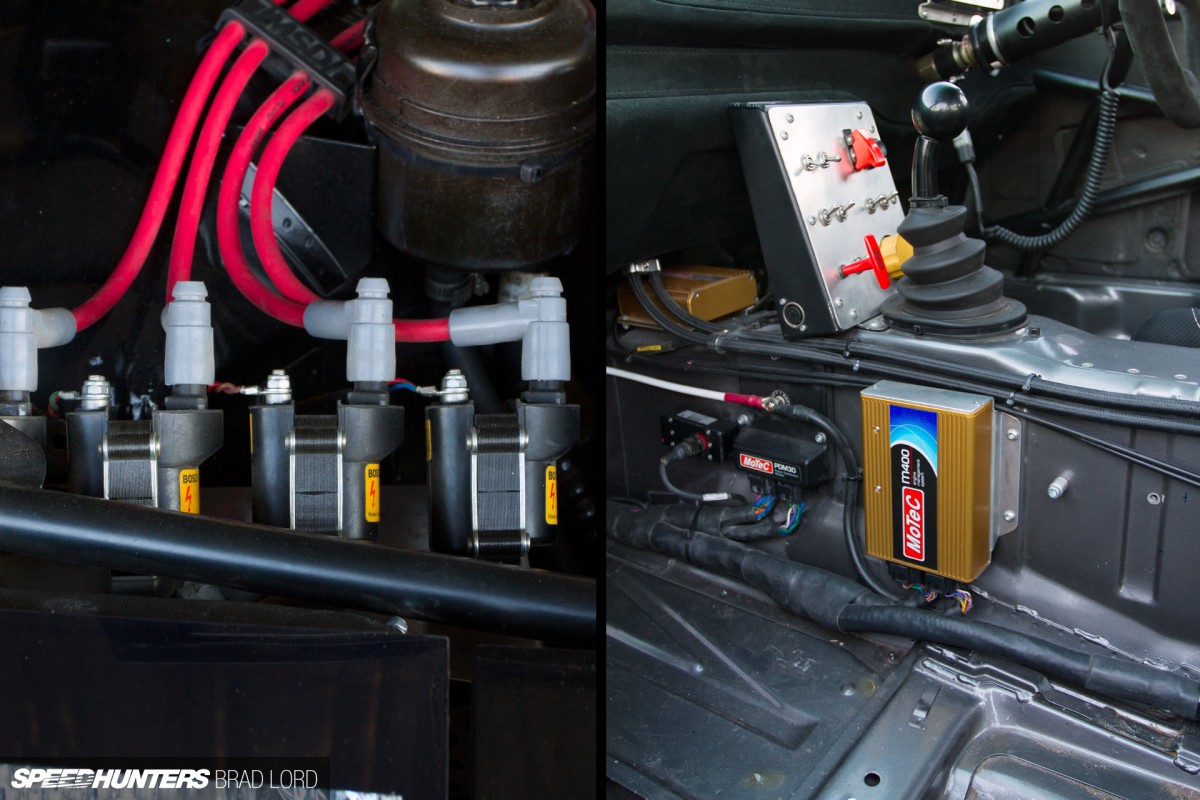 On the ignition side of things you'll find four Bosch HEC 716 coils plus a MoTeC CDI module, while engine  management comes courtesy of a MoTeC M400. The entire car has been rewired by Mark Robertson of RSport Race Engineering using predominantly Milspec and pro-grade connectors. The wiring is a work of art and incredibly light. There are many more components from the MoTeC catalogue including a PDM30 power distribution module, SLM shift light and an SKM standalone knock module, which all work in tandem with a multitude of sensors including suspension pots.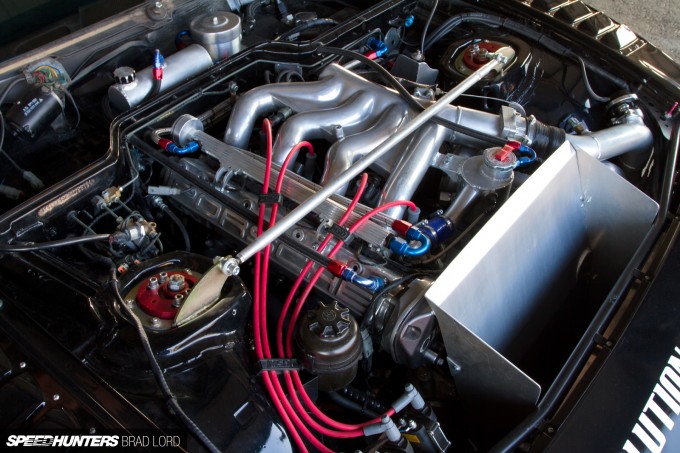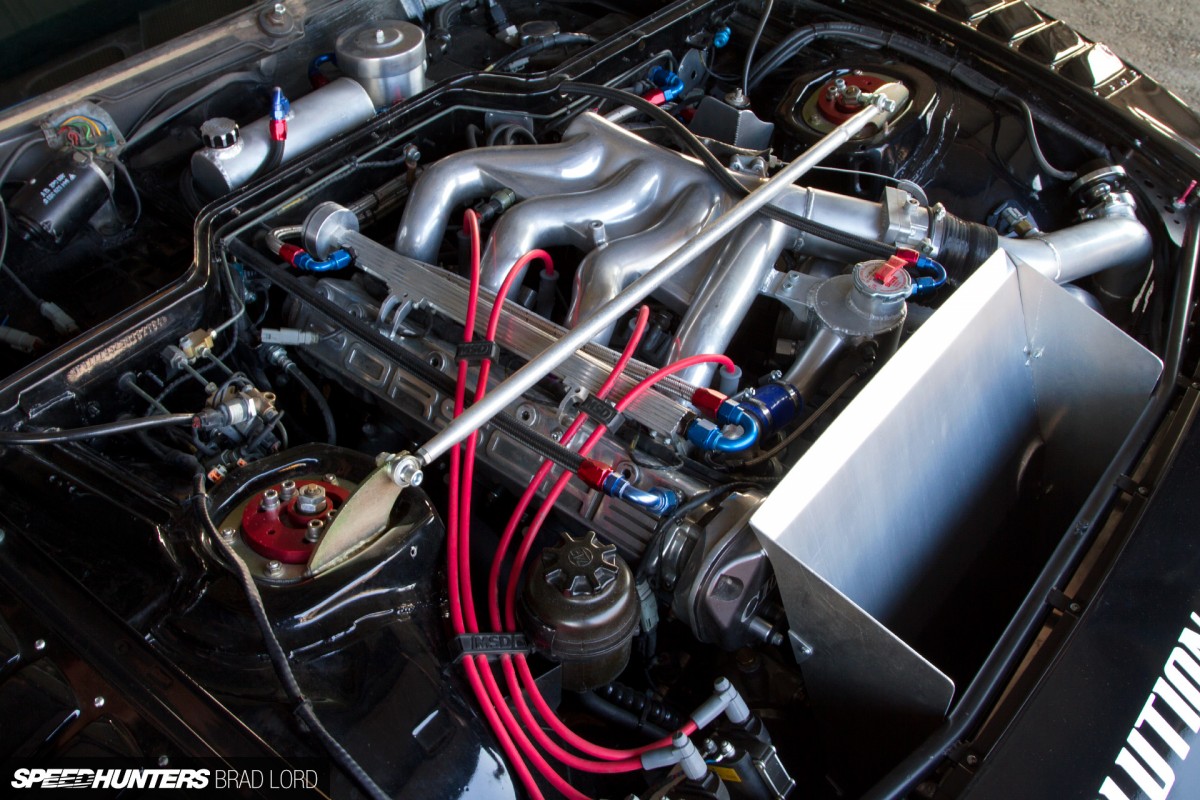 As you might expect, the 3.1-litre powerplant is making a whole lot more power now than it did in 2.5-litre factory form. Paul tells me that a solid 505hp and 640Nm was generated at the back wheels when the car was tuned by Phil Armour Motorsports. It's certainly not short of grunt then. To ensure the engine is kept that way, it's lubricated through a CEP dry sump system and cooled through Mocal oil coolers and a PWR radiator.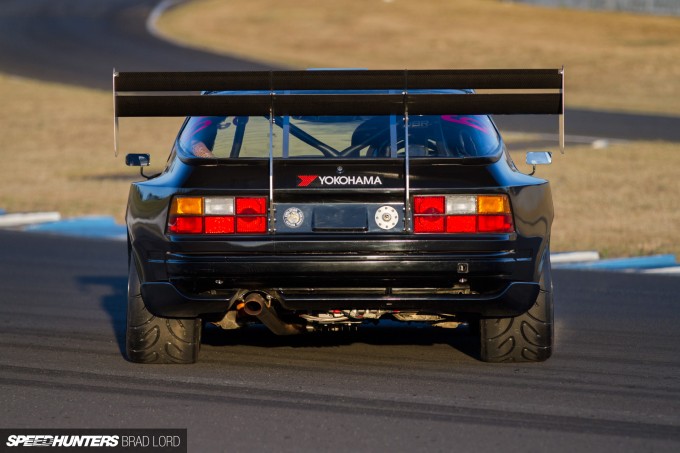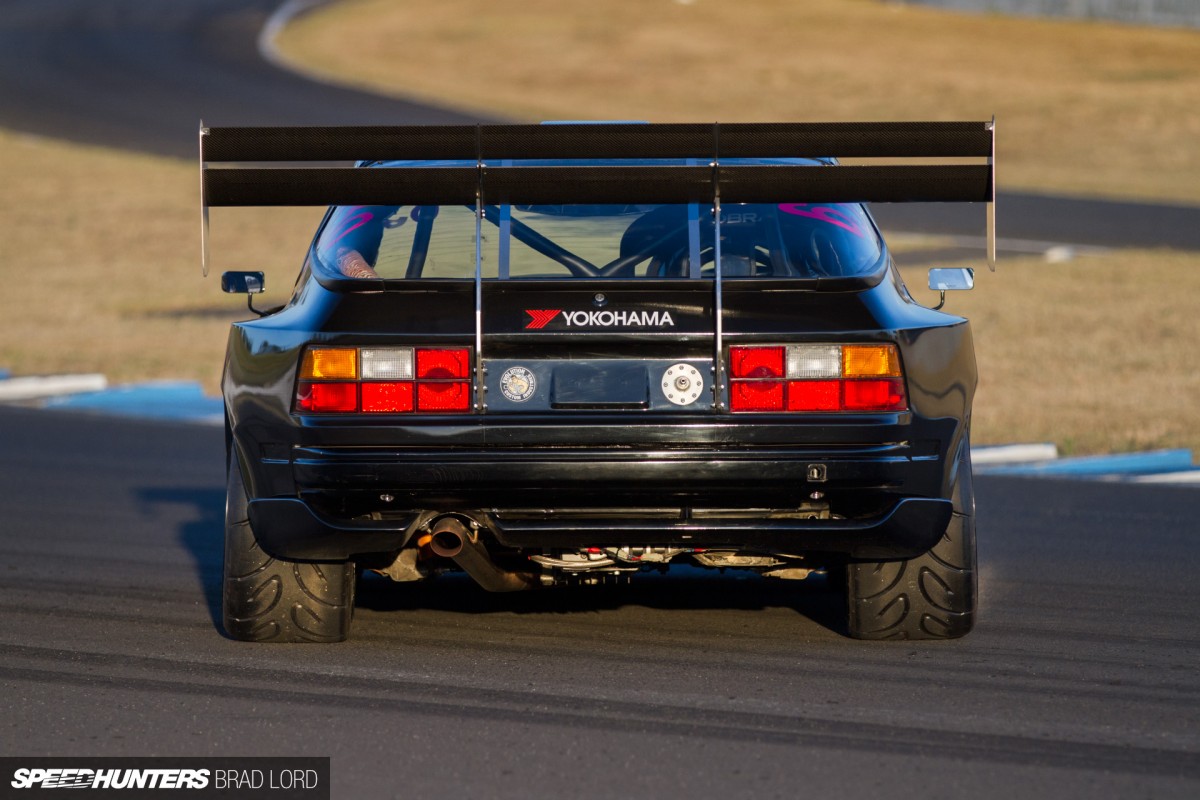 Making numbers is one thing, but seeing it to the ground is another, so of course the driveline was upgraded to suit. The biggest change made here is the gearbox – or more precisely, the transaxle – which came from a 968 and has six forward gears rather than five and ratios well-suited for track use. There's a Mocal oil cooler to keep the transmission temperatures in check, along with a KAAZ 1.5-way limited slip differential and race-spec axles from The Driveshaft Shop.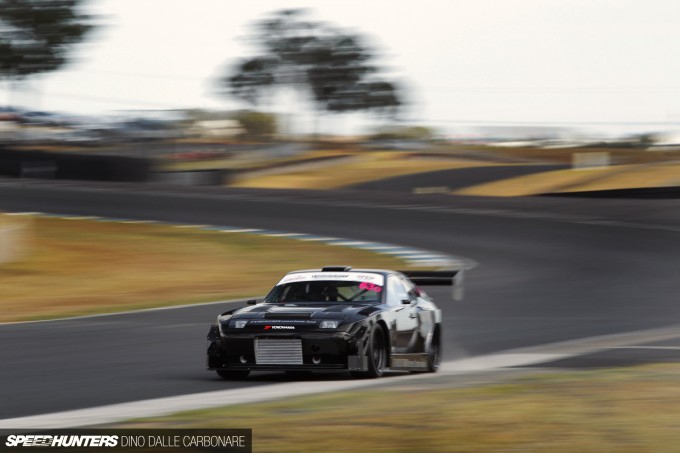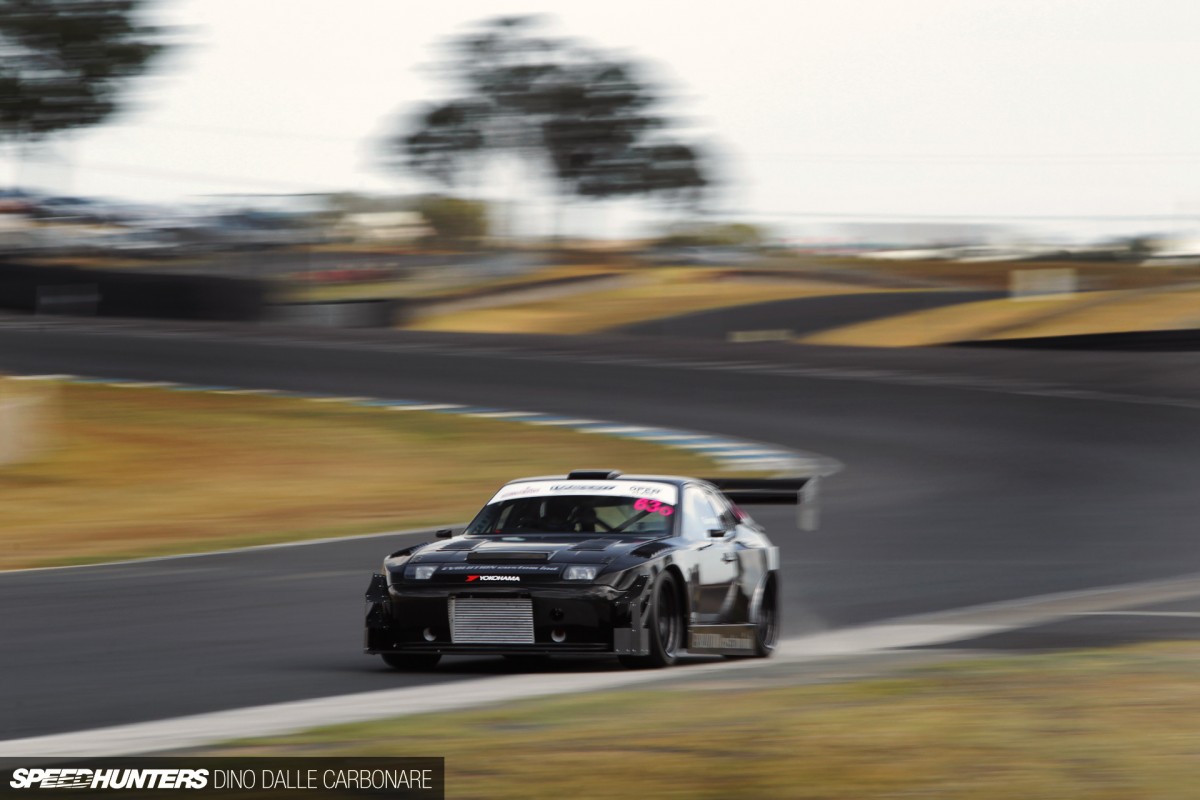 For what was essentially a brand new build going into WTAC, the Porsche looked quick as it cut laps on the Sydney Motorsport Park circuit. From what Paul tells me though, there are a few issues with the suspension tune that still need to be ironed out, but he was driving around them on the day. In particular the rear trailing arm arrangement suffers from poor geometry and induces squat, as evidenced here.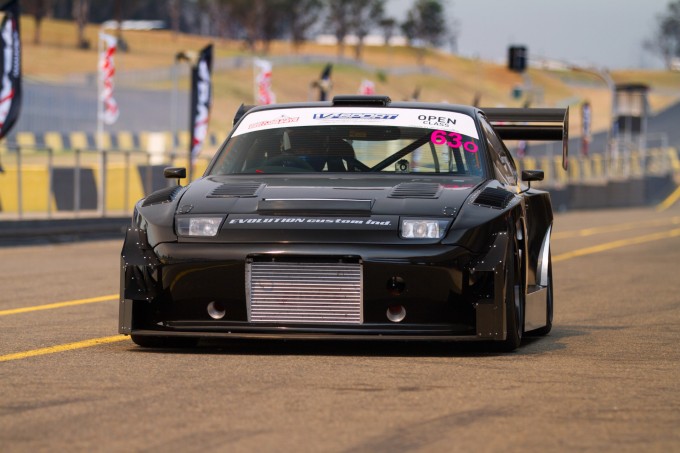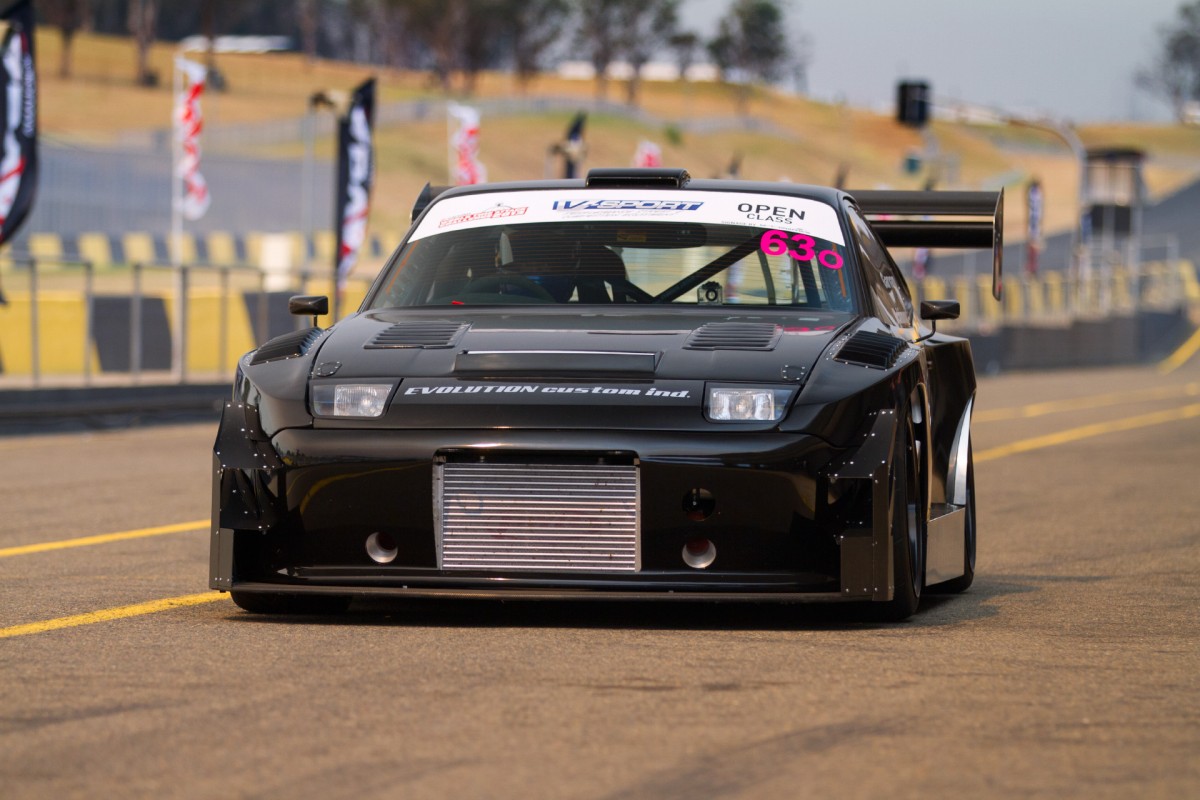 Otherwise, it's a quality fit-out with Moton two-way Clubsport coilover shocks and Eibach springs at all corners, Tarrett sway bars, and the full line-up of solid and spherical bearings from Porsche racing specialist, Racer's Edge. It stops well too, but that's to be expected when you've got Brembo four-pot Big Red calipers, CEP 320mm floating two-piece vented rotors and Performance Friction PFC-01 pads on the front end and an equally impressive set-up at the back.
Perfectly packaged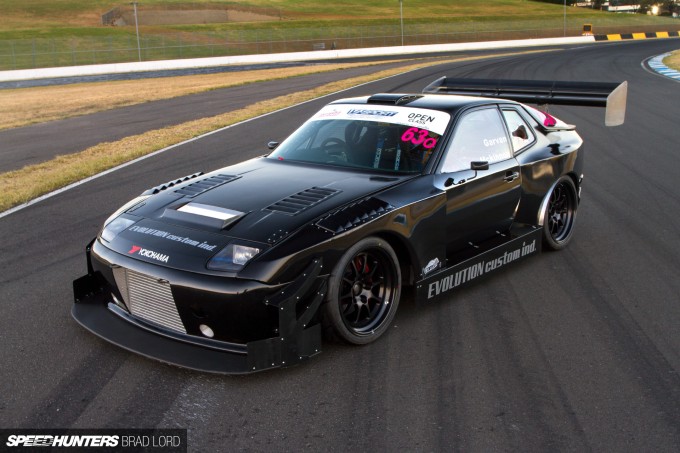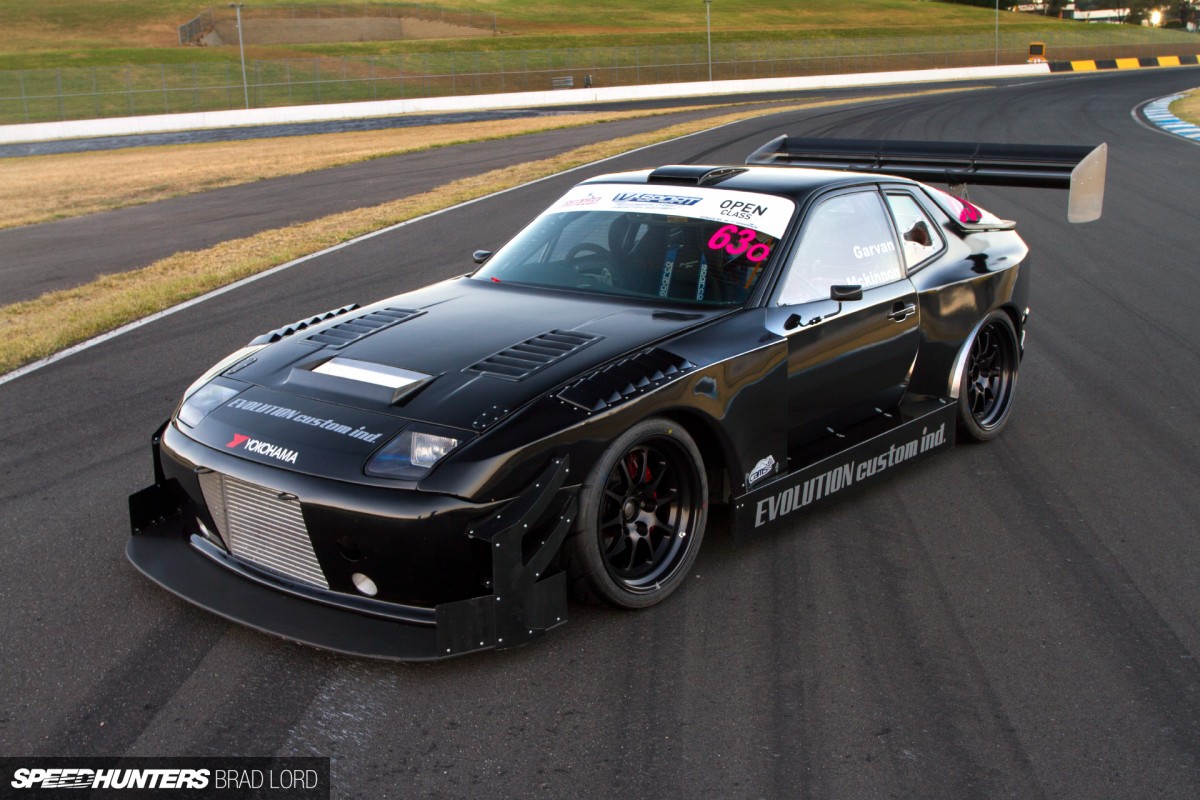 There are many layers to this car, but if you had to put your finger on its defining factor, surely that would have to be the way that it looks. I've always been a fan of the 944, but I never imagined one looking as purposeful and aggressive as this machine does. It's something achieved through the amalgamation of catalogue and custom-made parts, beginning with a Broadfoot Racing front bumper accentuated with an Evolution Custom Industries front splitter complete with integrated multi-piece canards. And those recessed D9 GTR headlights and that fluted Van Zweeden carbon fibre bonnet – just perfect!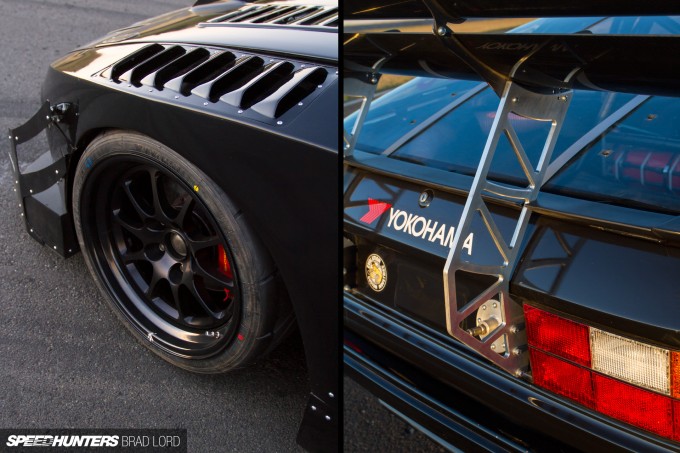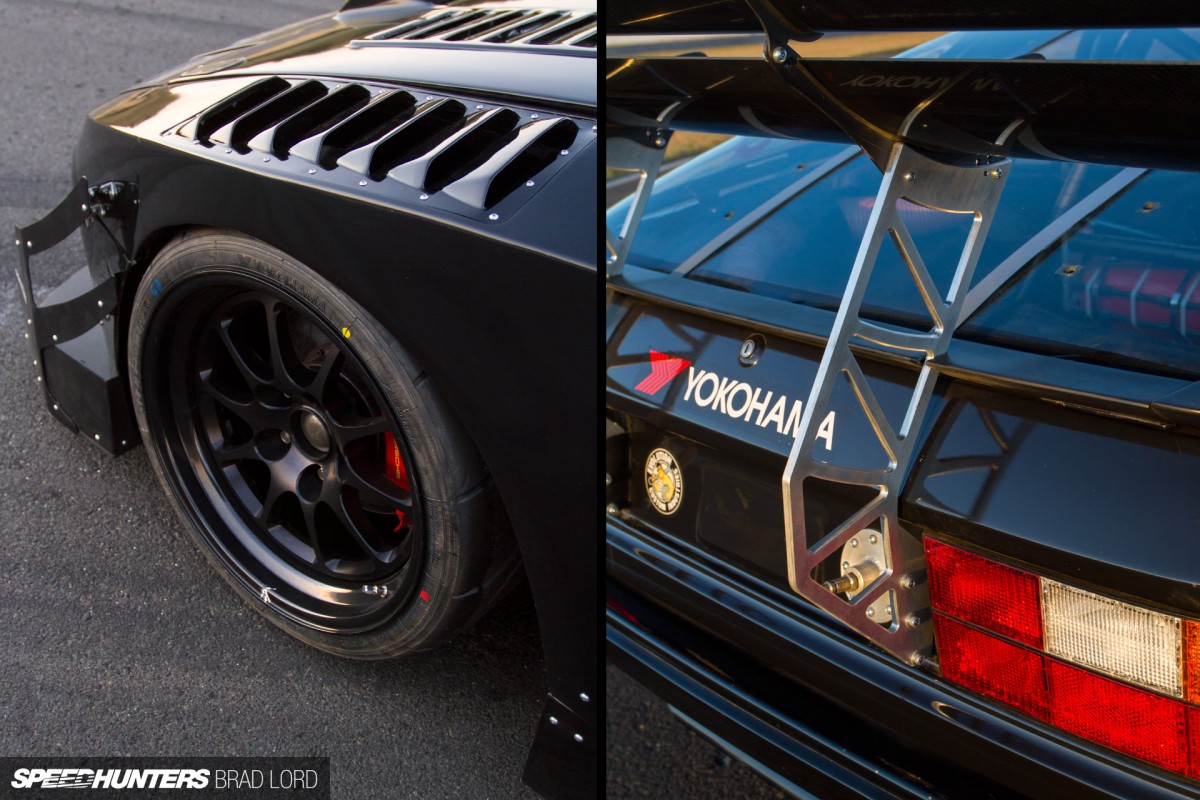 The silver rivets peppered around the body conjour up thoughts of a battle-ready war machine, but in reality that's actually not far from the truth. The custom-vented wide front guards and rocker panels from IFC Racing, and GT Racing moulded rear guards have fattened up the 944's proportions considerably. That's something only enhanced by the huge dual-element wing which was designed by Simon McBeath, supplied by DJ Engineering, and mounted to the chassis through custom CNC'd brackets by ECi.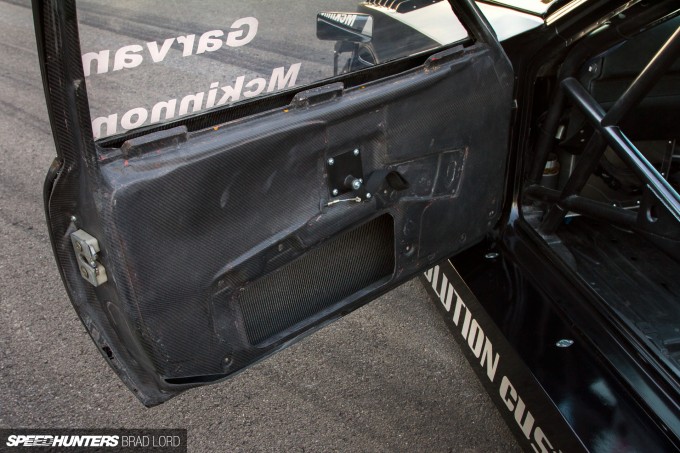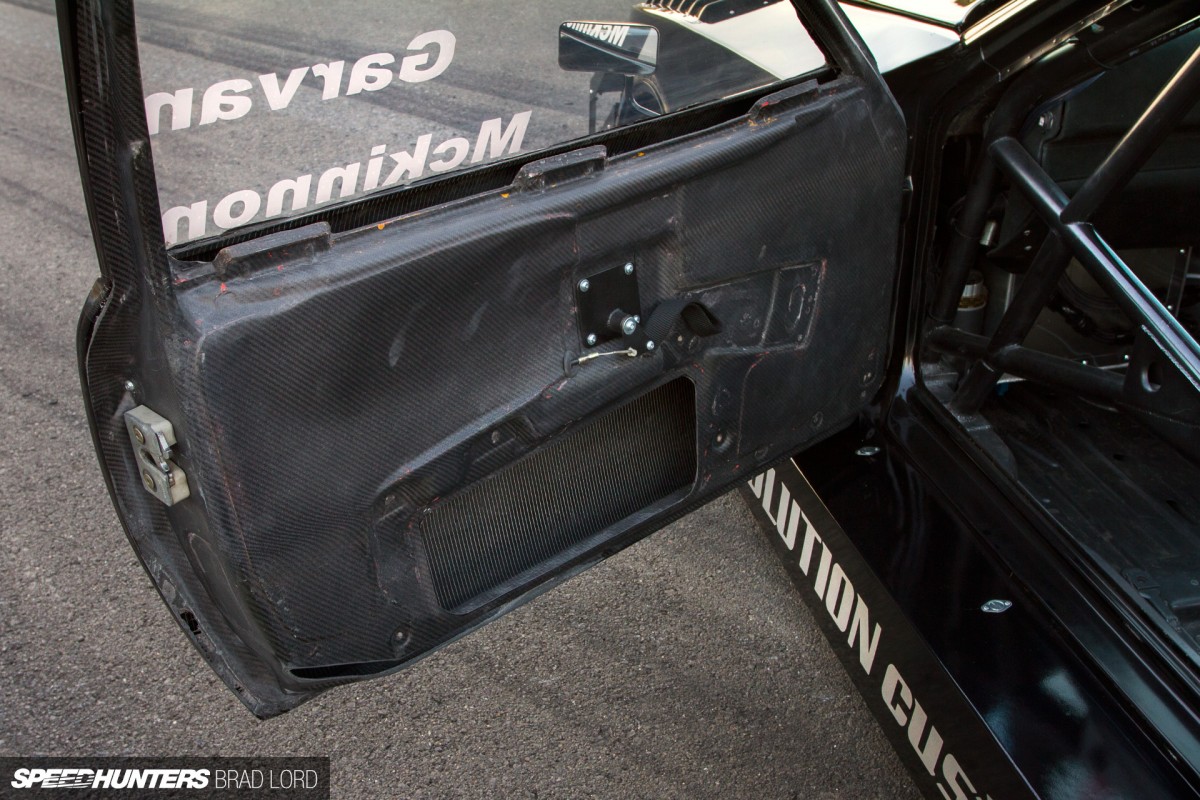 The carbon fibre and FRP exterior modifications have two-fold purpose: to improve aerodynamics – specifically downforce – and cut weight. The latter extends to the custom-made doors too, where carbon items now replace the heavy, factory steel equivalents. Combined, the mass-shedding measures have resulted in a car that weighs 1160kg wet. That's a couple of hundred kilograms lighter than a production-spec 944 Turbo.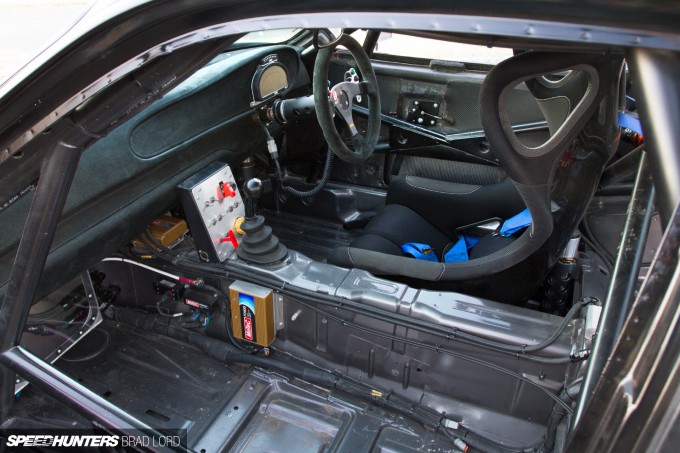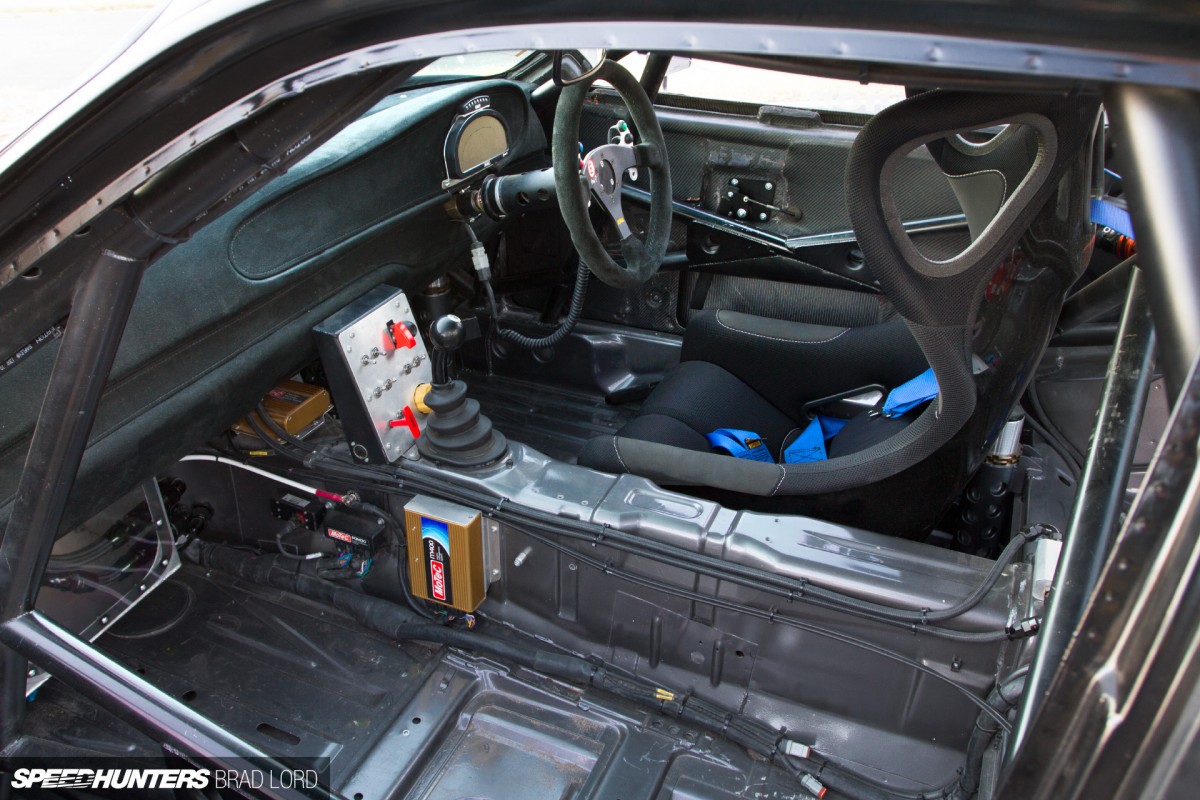 The interior space is clean and functional, and nicely laid out. Look closely behind the driver's seat and in the driver's footwell and you can see two of the car's air-actuated jacks. In the passenger's side footwell is a custom acrylic case that houses the reservoir for the dry sump system.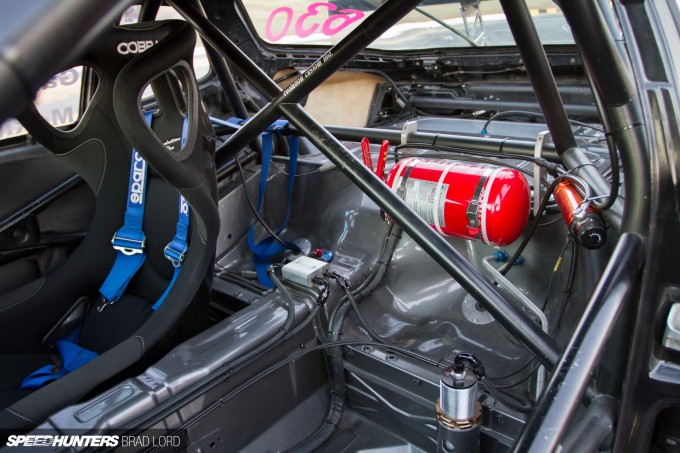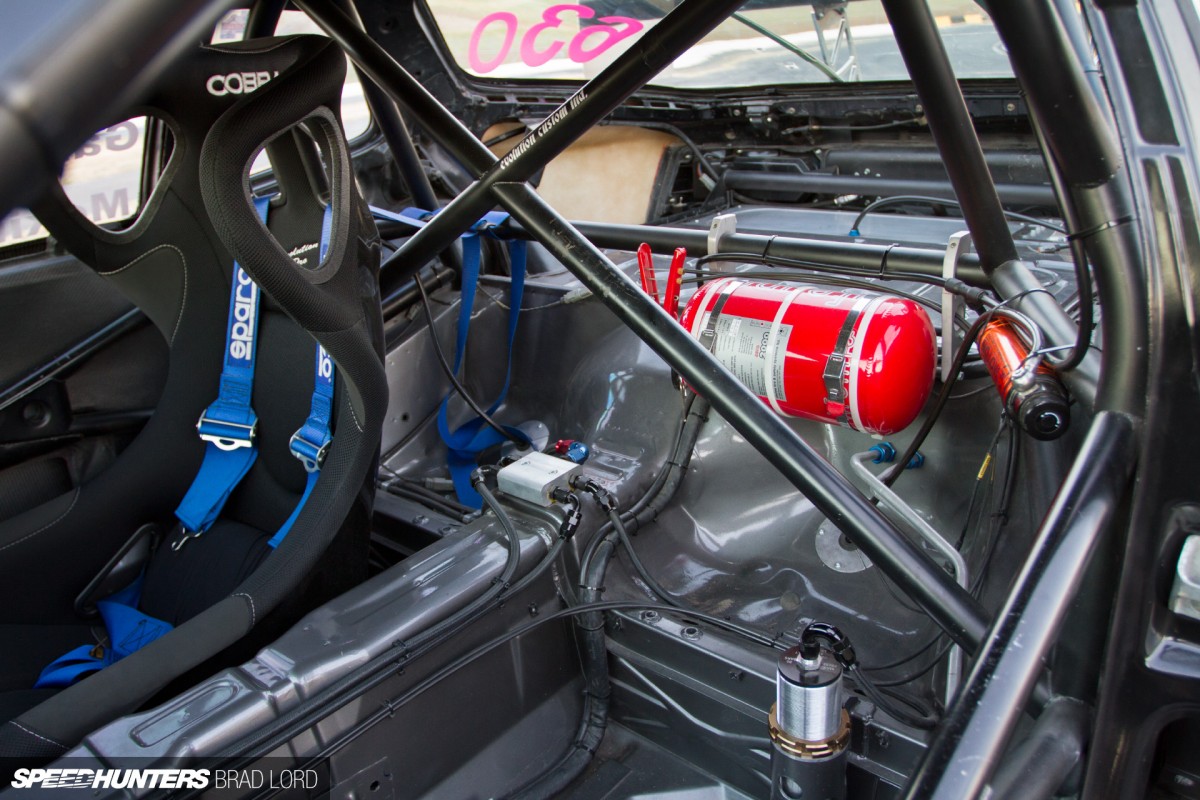 The CAMS-spec, fully TIG-welded roll cage and extensive seam welding was – like every other facet of this build except for the dyno tuning and the exterior vinyl wrap by Motographics – completed in-house at Evolution Custom Industries.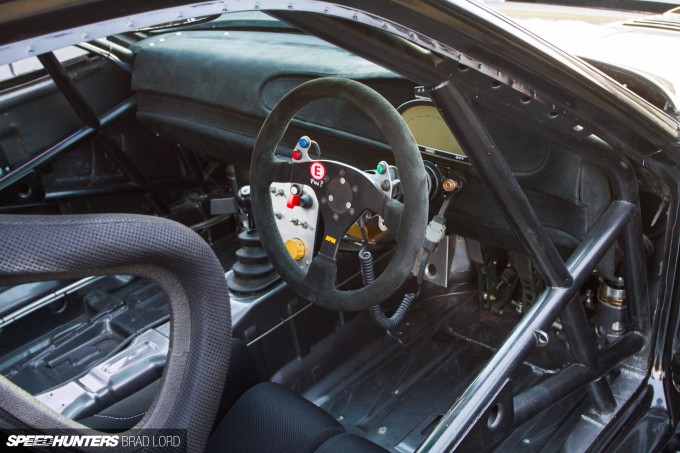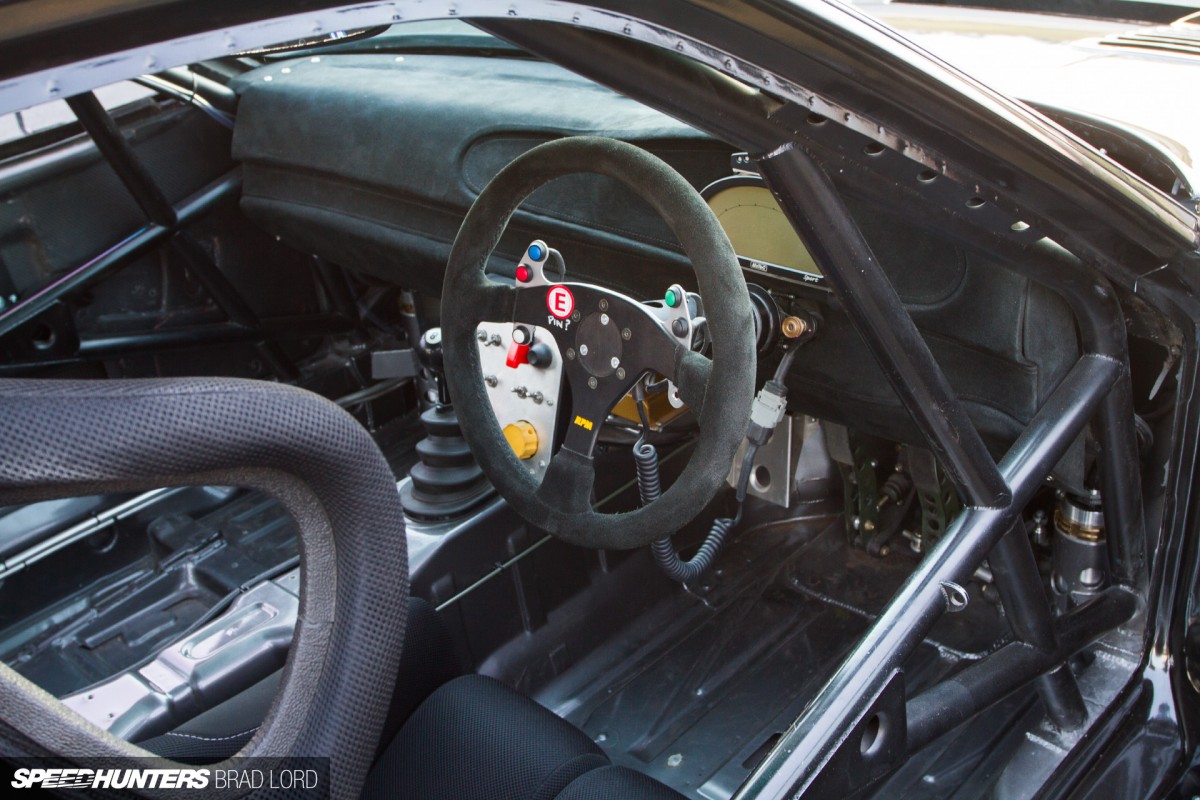 And credit where credit is due too, because in every aspect this is a very nicely engineered car. An RPM suede-wrapped steering wheel on an ECi hub overlooks the MoTeC SDL digital display/data logger which is set into a hand-stiched, suede-covered dash, and there's an ECi switch panel and an Tilton adjustable pedal box: all quality tools of the trade. Of course, I can't forget the 8-ball shift knob either – everyone needs one of those!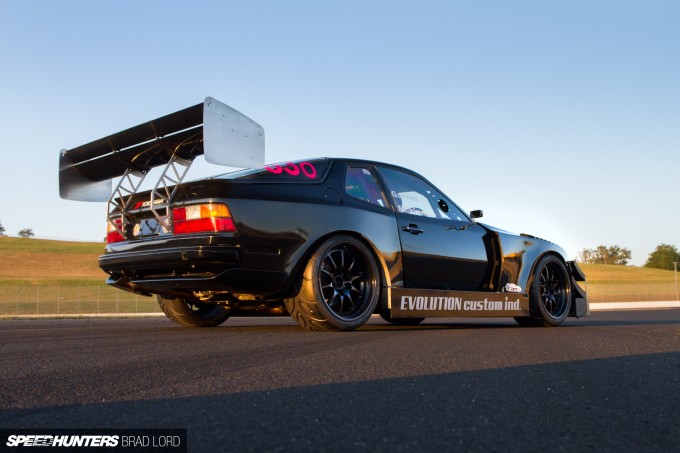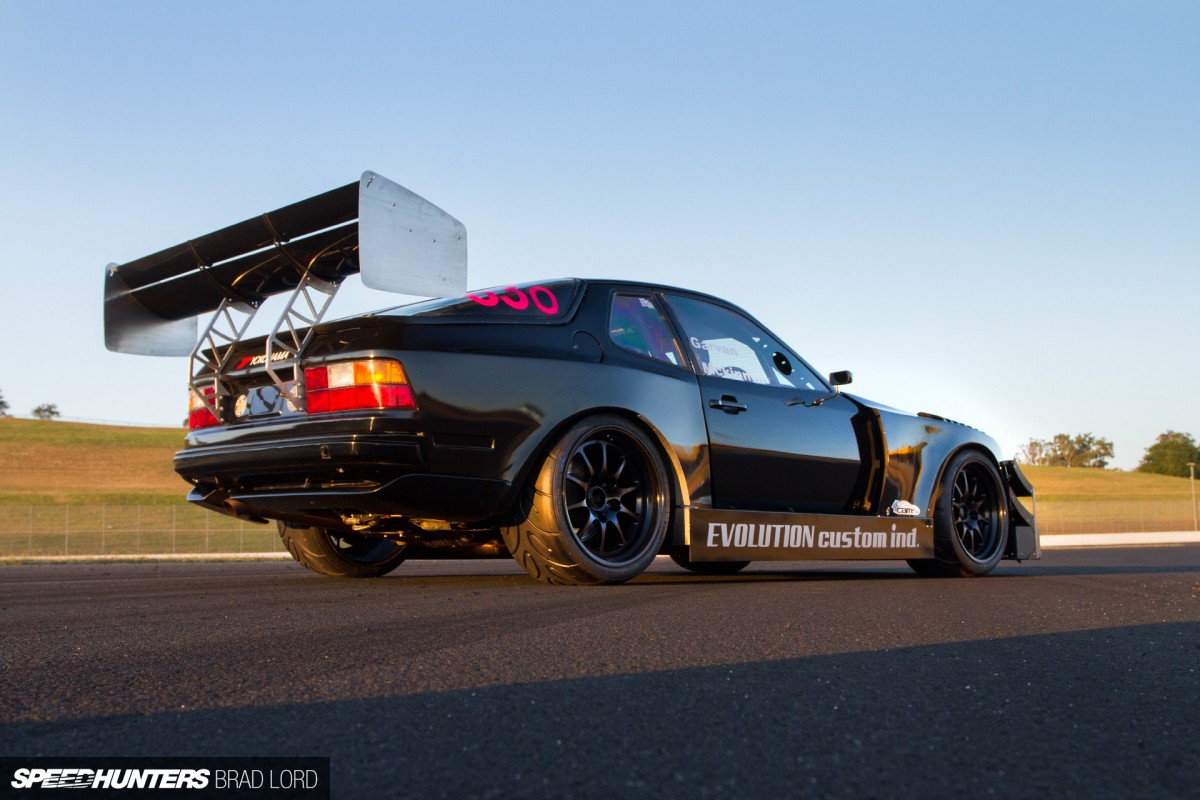 Despite a couple of promising shakedown runs before the main event, WTAC 2013 brought a mixed bag of results for the team. Paul, a former national karting champion, was on driving duty for the weekend and immediately set about trying to better the unofficial 1:34 lap time he had set in testing a couple of weeks prior. An oil spill down through turns two to six ruined any hopes of that happening in the opening session (although Paul still managed a 1:35.03), followed by traffic woes in the second. On the third attempt, the aforementioned turbo blow occurred and the Porsche was retired to the pits.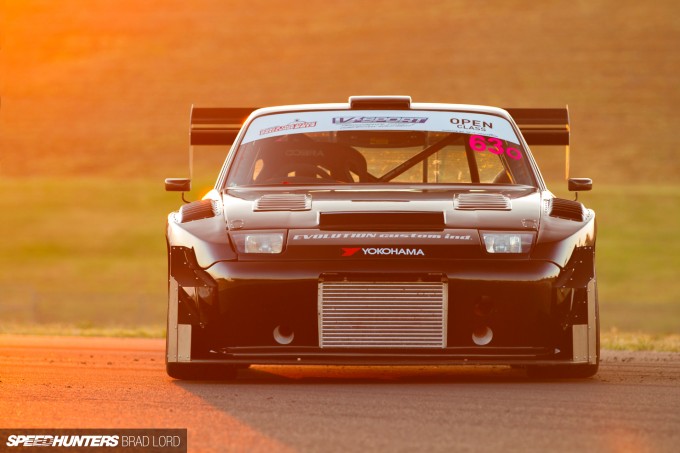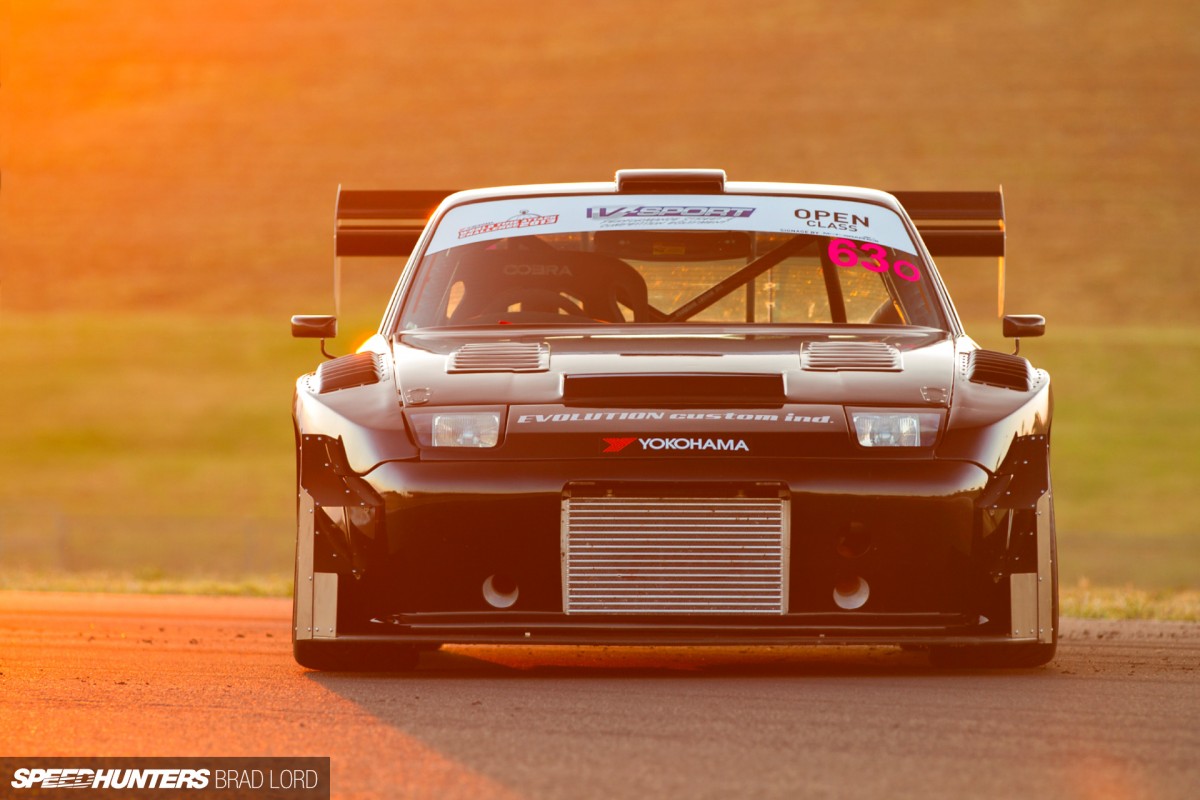 It wasn't the result that anyone had hoped for of course, but in the bigger scheme of things it hardly mattered. Getting the 944 to the track and being able to throw down some laps was just reward for eight months of solid slog. But it definitely doesn't stop there. Whether or not a naming sponsor steps up to back the car (and Patrick really hopes one will), the Porsche will be back in 2014, stronger and faster. We suggest you watch this space…