Volkswagens for life
The reasons why we choose to build cars are as varied as the makes, models and intended purpose. For some it's all about extracting the very last drop of performance and testing the the laws of physics, for others it's the simple satisfaction gained from presenting the fruits of their labour on the static show floor. Regardless of mindset, there's one aspect of automotive culture that binds us all together: the happiness that cars bring. It's something we like to call #JoyOfMachine.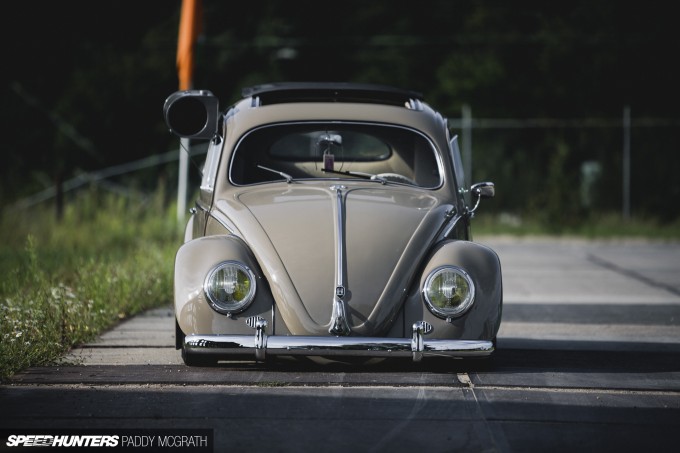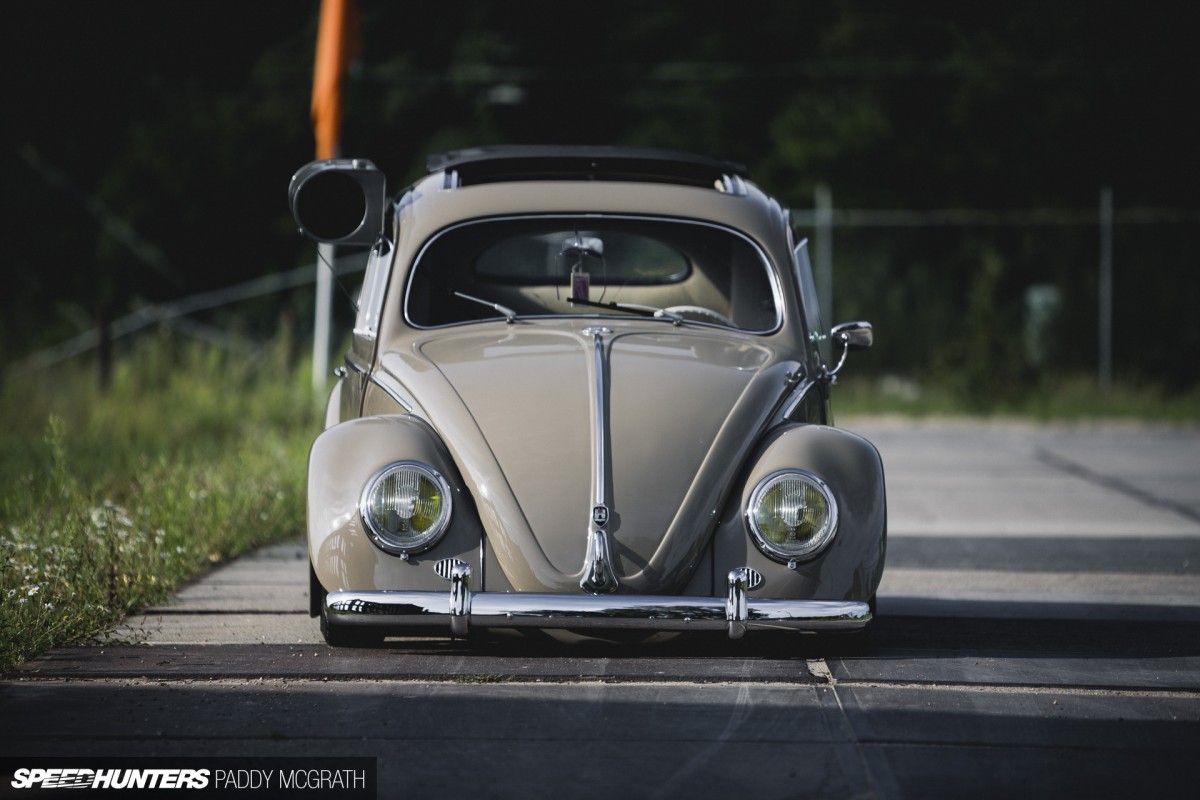 For Martijn Groters and his small, close-knit group of friends from Netherlands it always has been, and very likely always will be, about Volkswagens. Together, they've been putting their spin on humble commuters from the German manufacturer's back catalogue ever since they left school, and doing so have created some of the most well-known VW-badged cars in the country under their group banner, VWDepartment.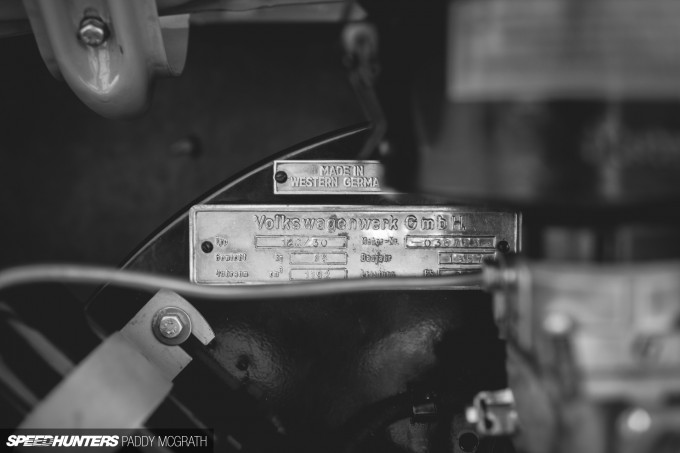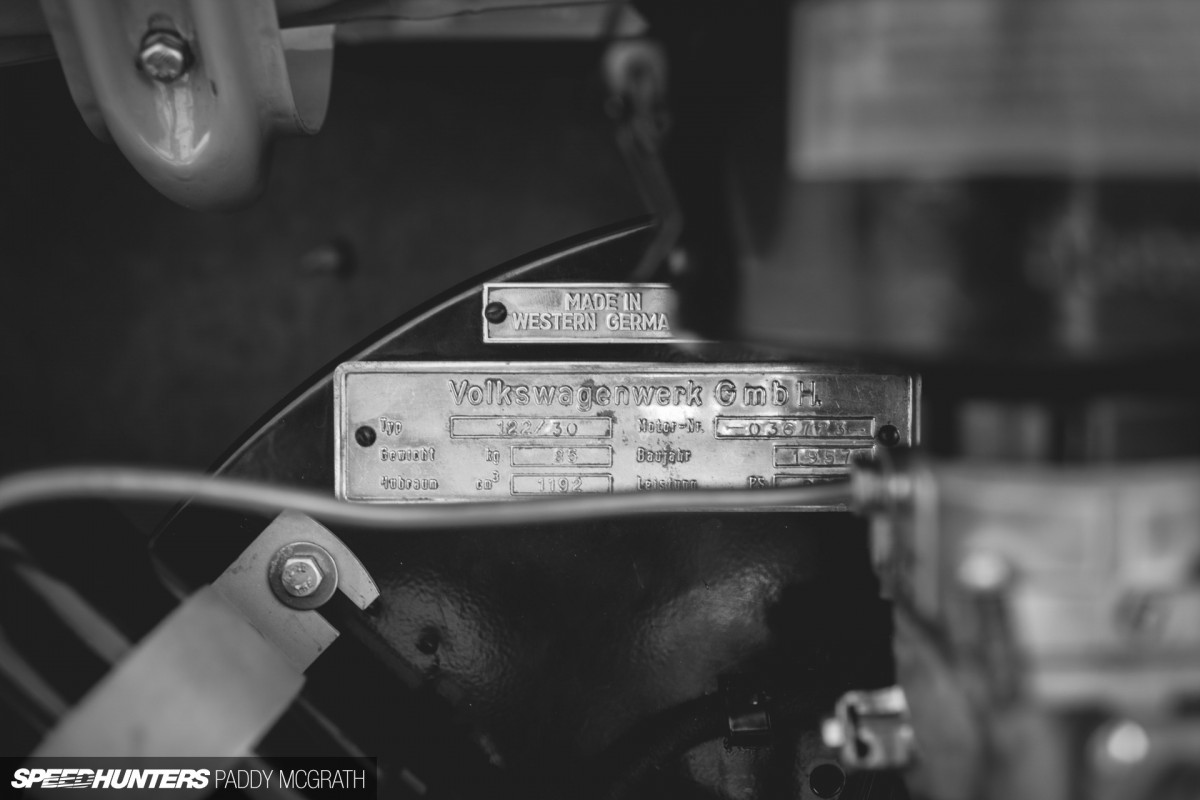 During that time Martijn has owned his fair share –including a couple of modified water-cooled cars and then a rat-styled and suitably-slammed '67 Beetle. While the Type 1 provided a first step into the world of air-cooled Volkswagens, he knew it wasn't the right car to really sink his teeth into. It wasn't 'the one'.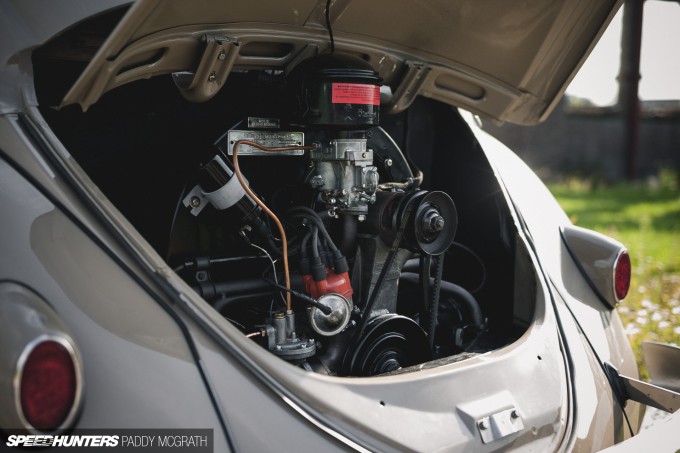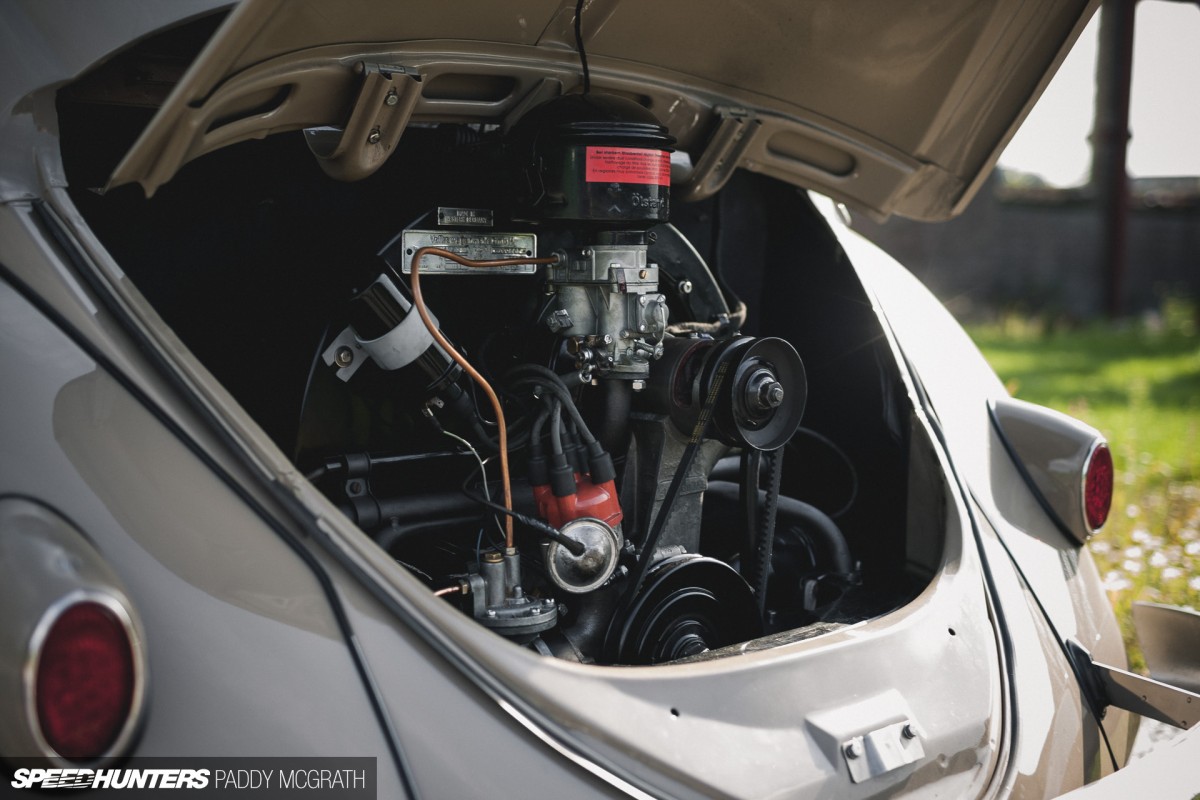 T1 panel buses consumed his thoughts for a long while, but given their rarity – and subsequent buy-in price – that idea was eventually put on the back-burner and Martijn went looking for an early oval-windowed Beetle, preferably with a ragtop and within his modest budget.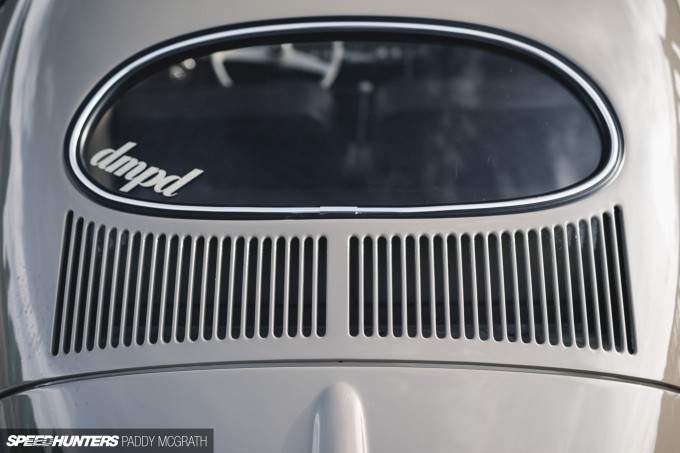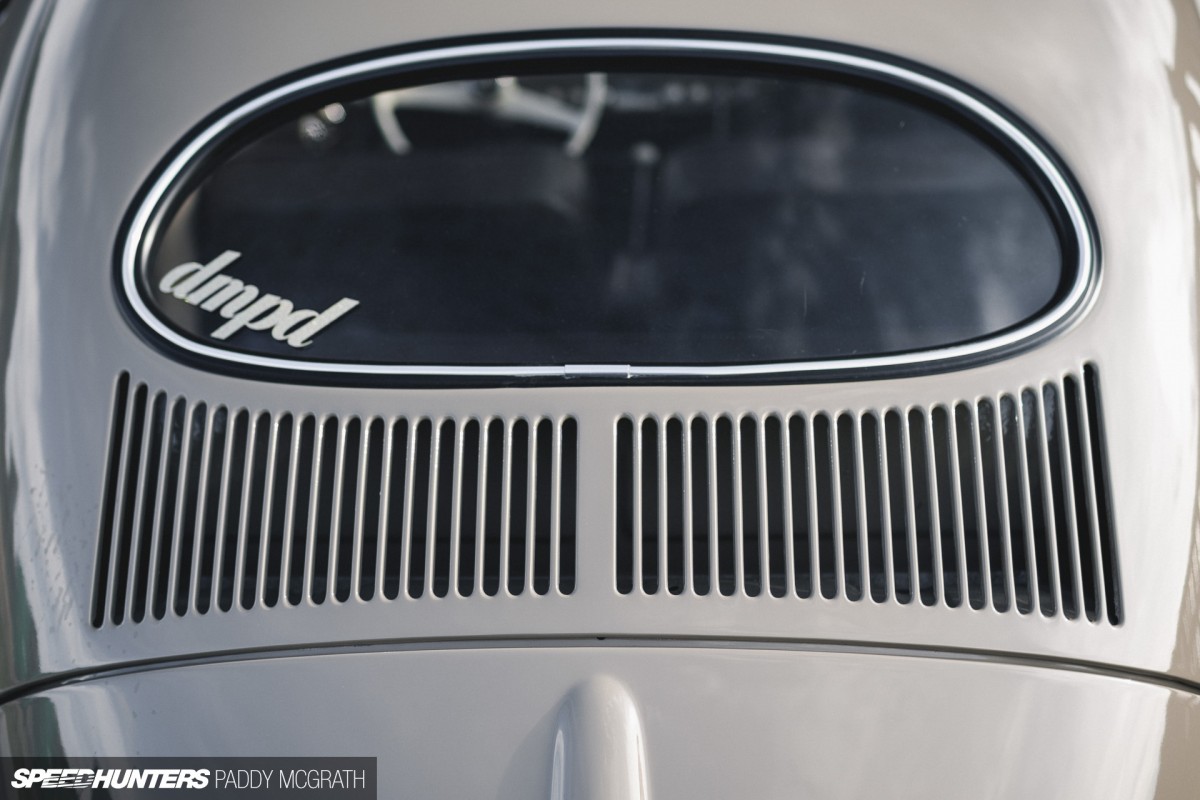 Ticking off all those boxes was never going to be an easy ask, but Martijn's patience and perseverance eventually paid off in 2005 when he received a call from his local specialist air-cooled workshop.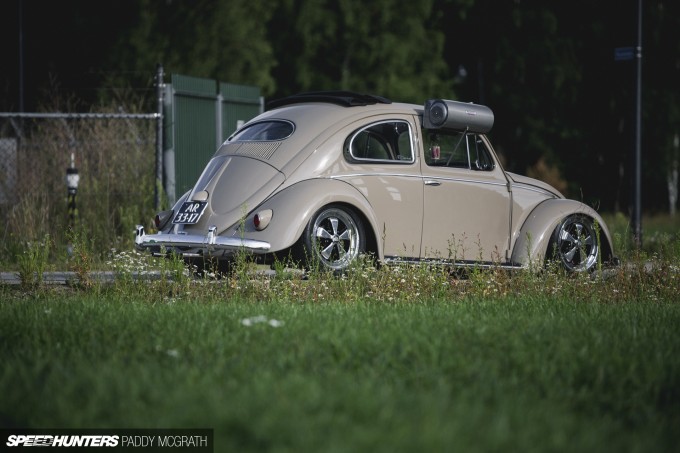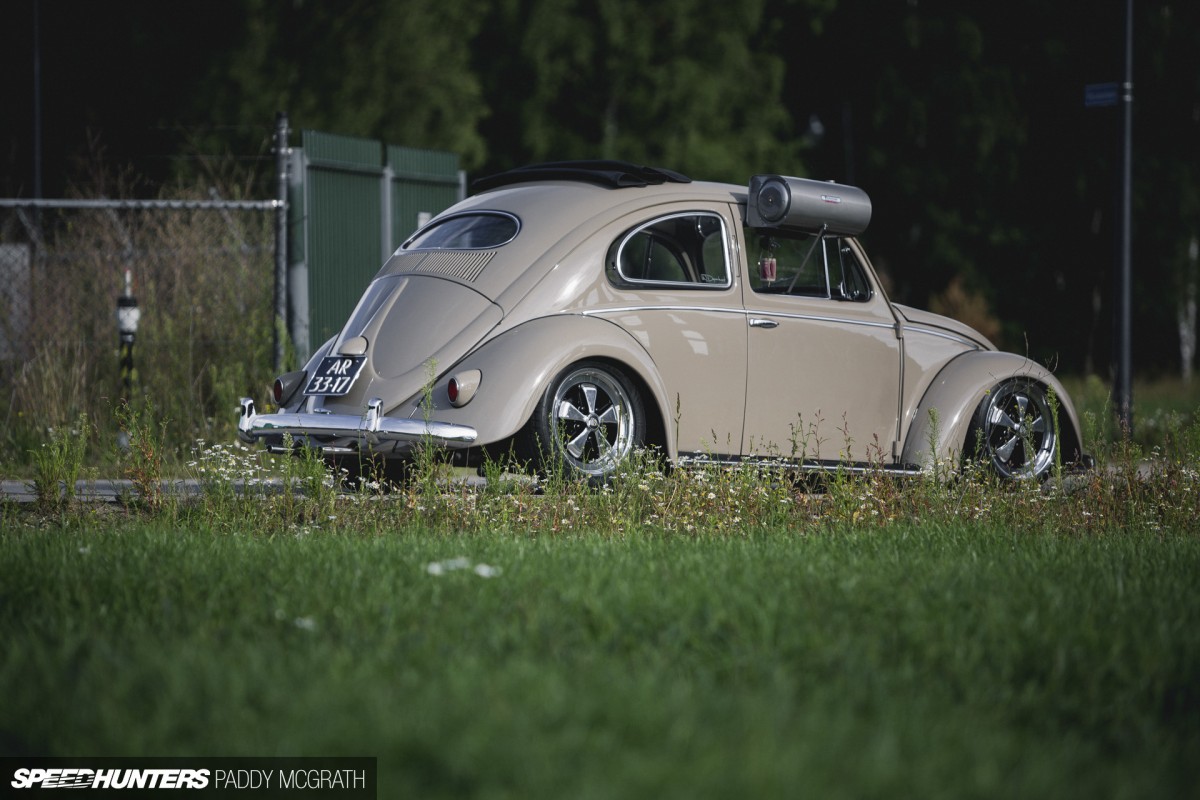 There was a car for sale – a restoration project that had only got as far as a partial strip-down. It was a '57 and therefore the last of the rear oval windowed models, it had a ragtop, and it was parked in a barn in the same spot it had occupied for the last ten years having previously been imported from California in 1990. It was all the encouragement Martijn needed to contact the owner straight away and set up a time to view the car the very next day.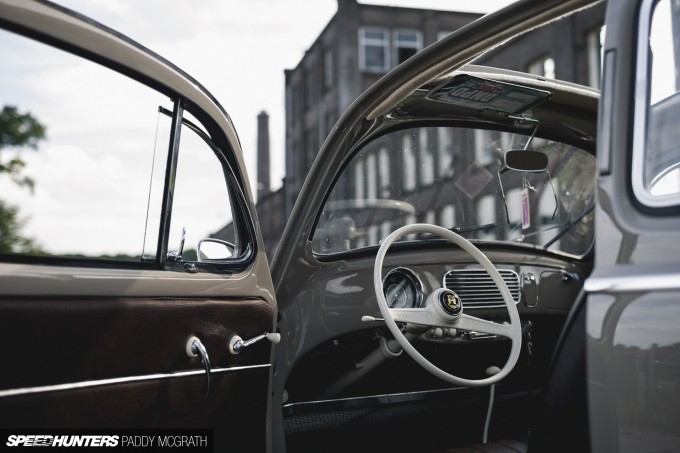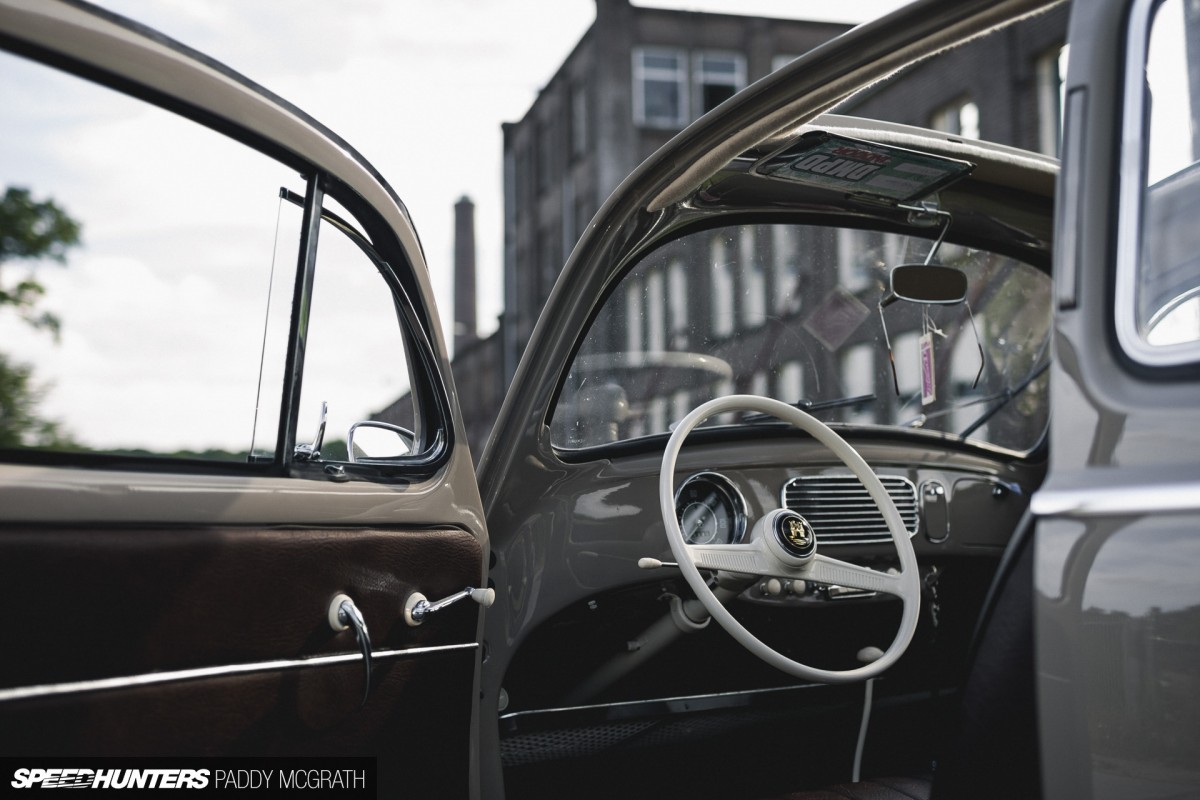 What he found wasn't that quintessential barn find we all dream of – a totally original, low mileage, one owner car sitting under a thick layer of dust. Instead he came face-to-face with an incomplete Type 1 shell that had been largely ravaged by rot. That might not sound all that appealing, but in an instant Martijn had fallen head over heels for the 'piece of rust' and secured the deal.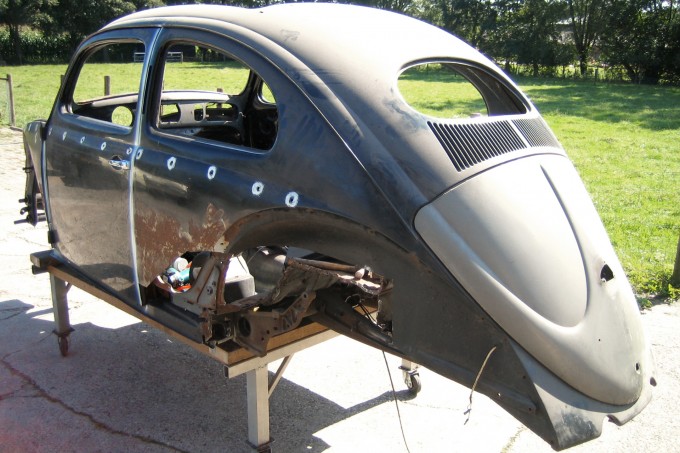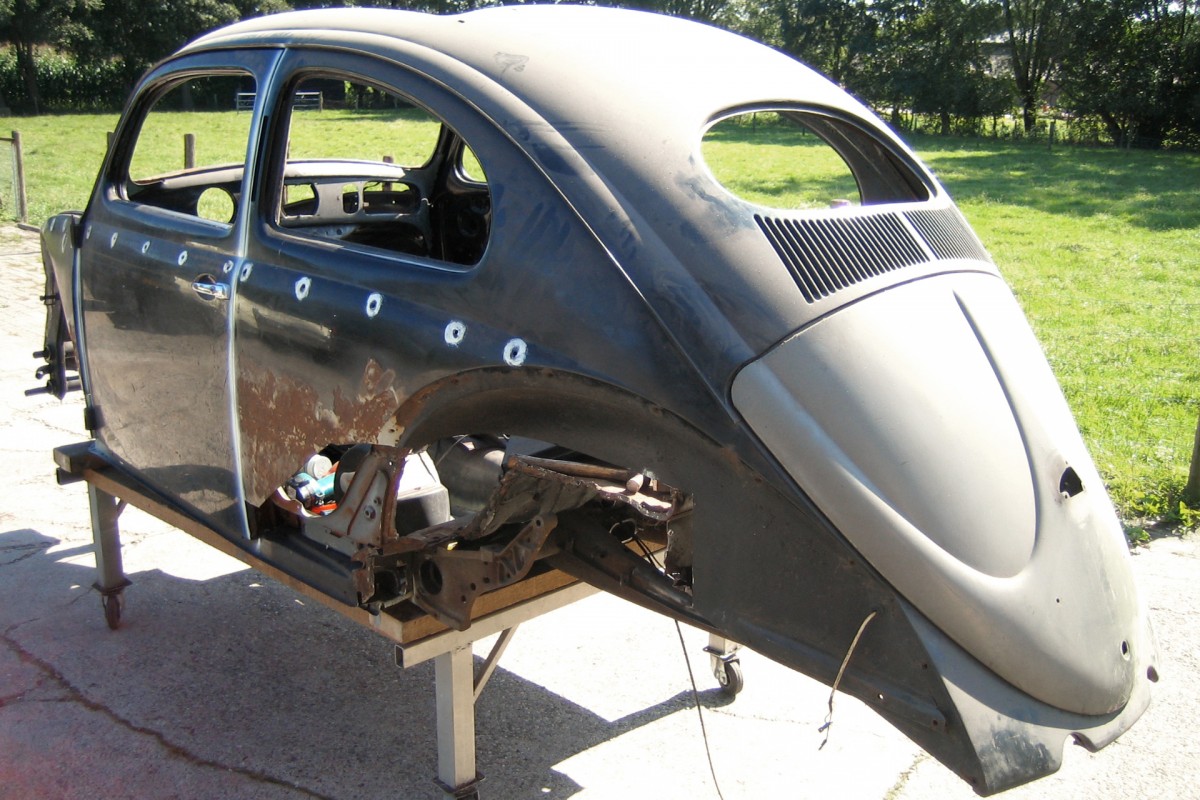 Although ovals in good, or at least complete condition fetch considerable money, but because of its ailing state, Martijn didn't need to part ways with a lot of folding in order to be able to bundle the '57 basket case up on the back of a trailer and tow it home. That bit came later, during the full off-chassis, back-to-steel nut and bolt restoration which took the better part of six years to see through, working on and off at night and in the weekends.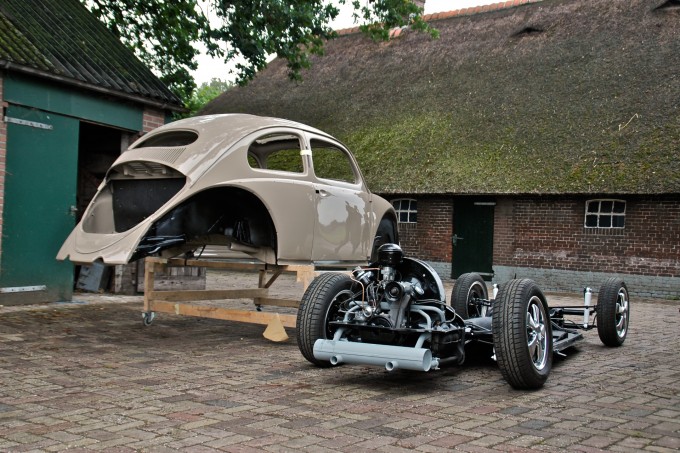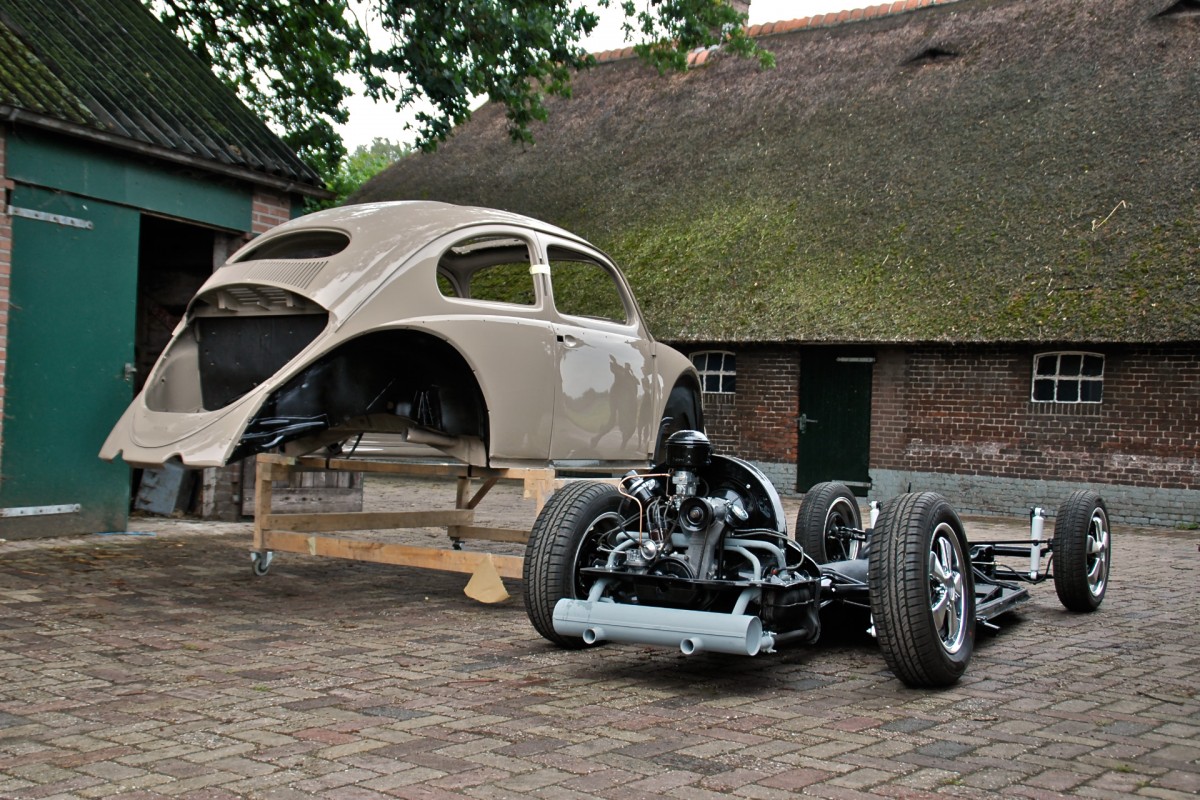 Considering he's an electrician by trade and only builds cars for a hobby in his spare time, Martijn has done an amazing job transforming the Type 1 from ruins to one of the coolest and cleanest Beetles we've ever seen. Amazingly, the paintwork was the only aspect that was outsourced; everything else, including the extensive panel repair work required to properly reinstate the body, was handled himself.
All in the details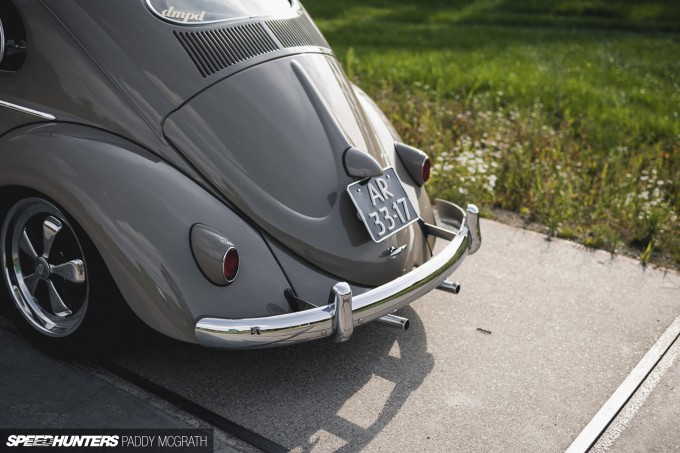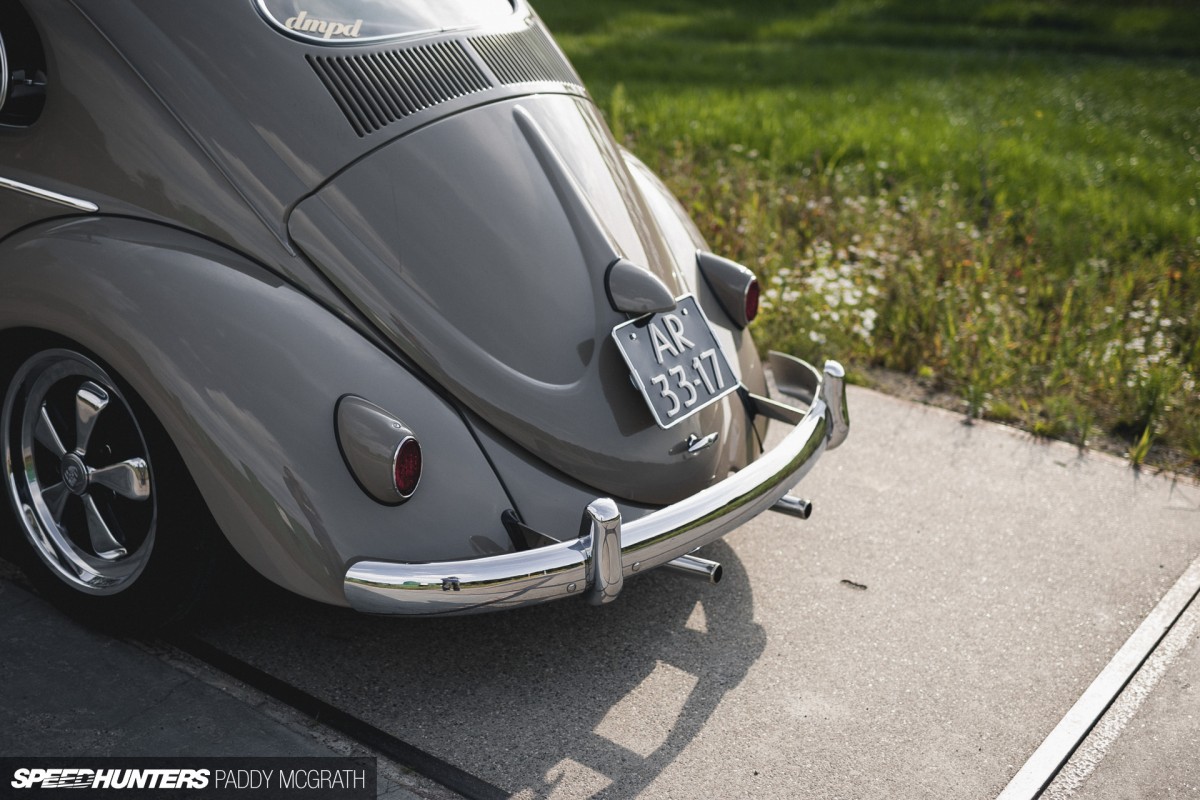 During the years he spent dreaming about T1 Buses and oval Type 1s, Martijn had a clear vision of what he wanted to achieve with the build. In fact, there were only three prerequisites: a clean and classy look, a super low ride height, and the right set of the wheels.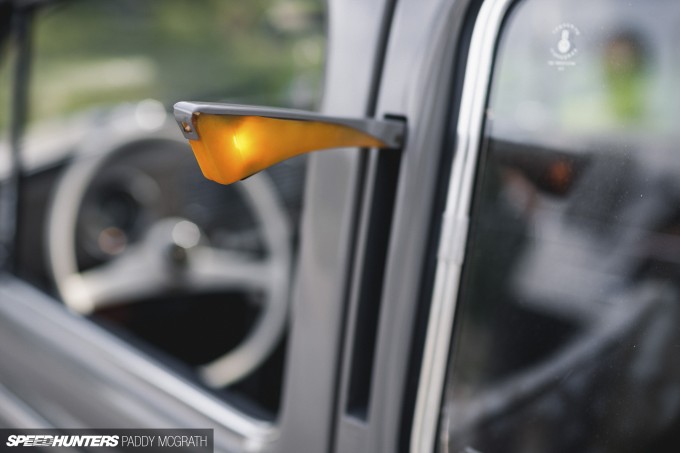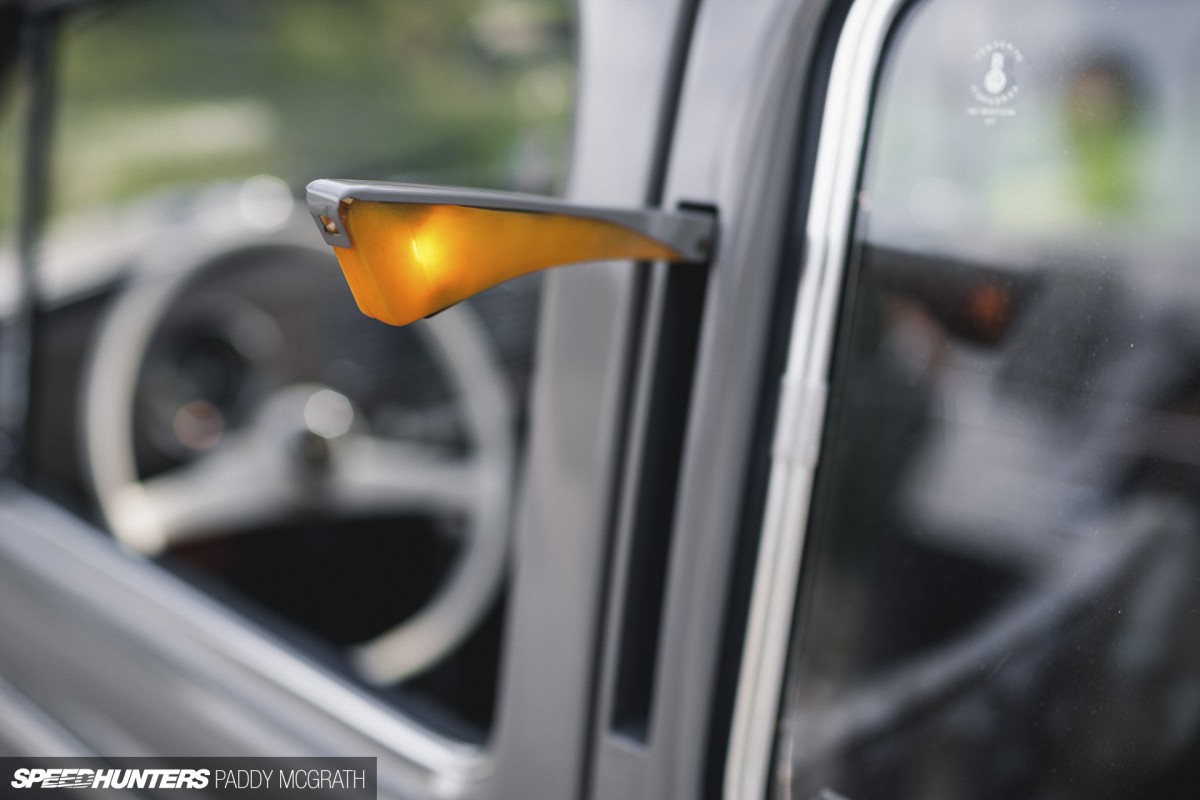 Apply that sort of thinking to any old school car and chances are you're going to end up with a good outcome, but with so many neat period touches to be found around early Beetles, the build has some beautiful details.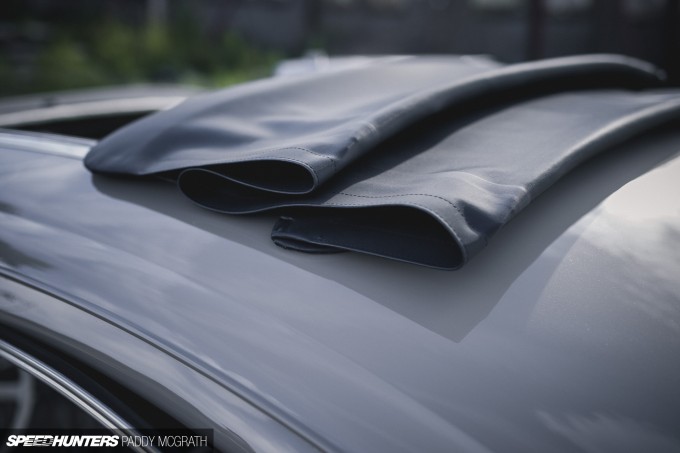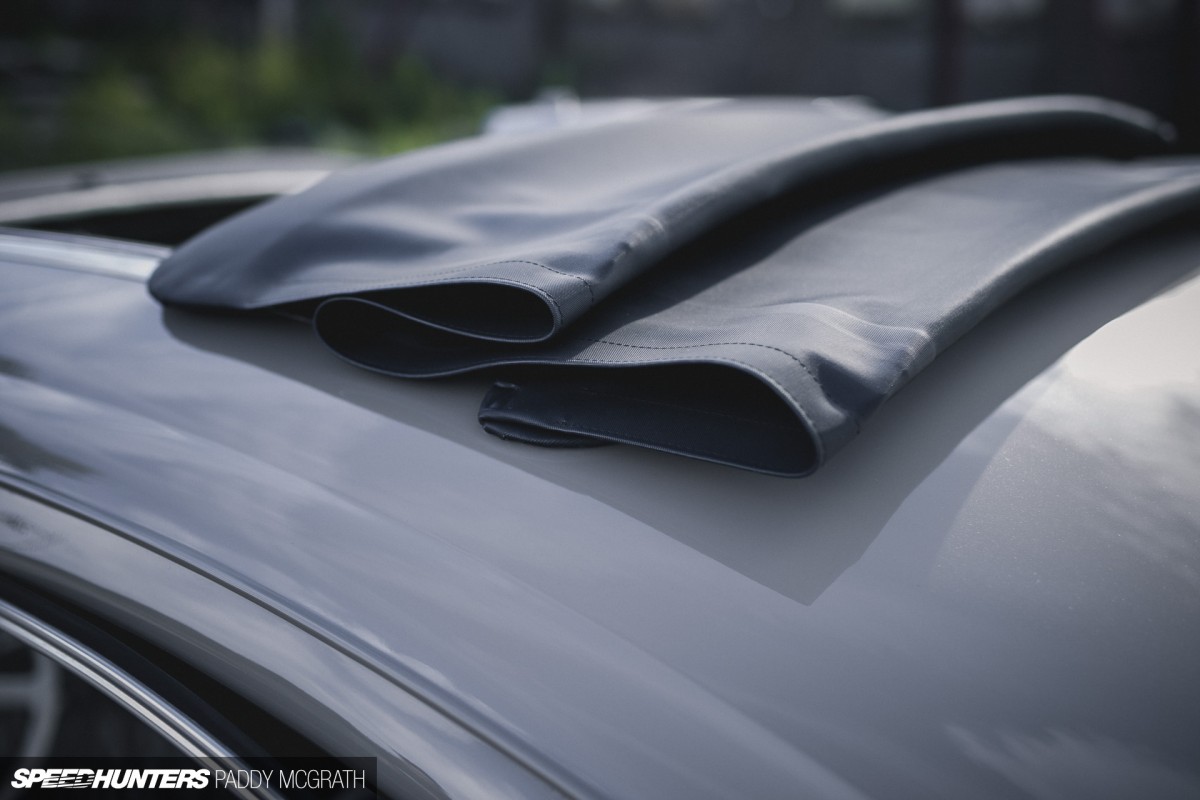 From the refashioned factory rag top…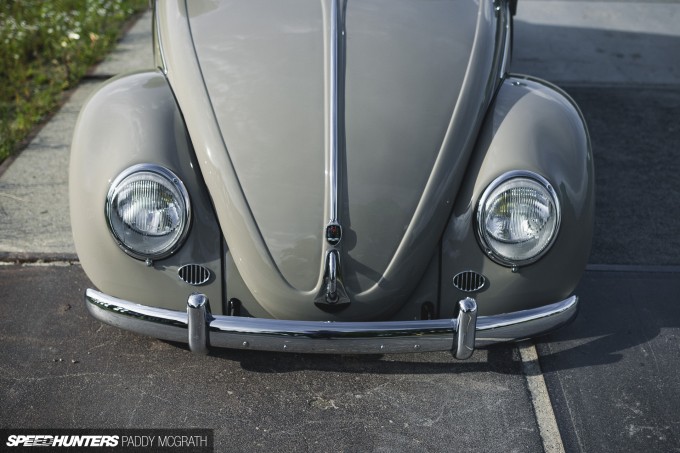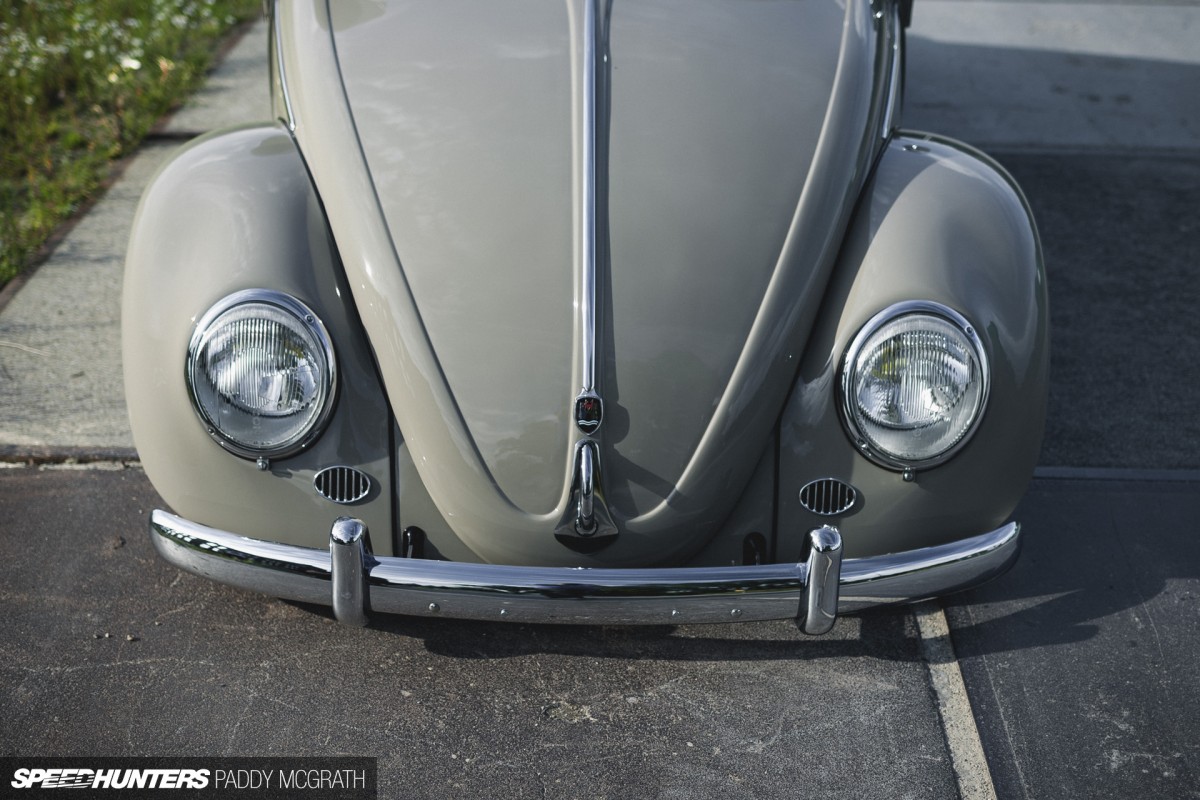 … through the inch-perfect bodywork finished in period-perfect L378 Prairie Beige paint…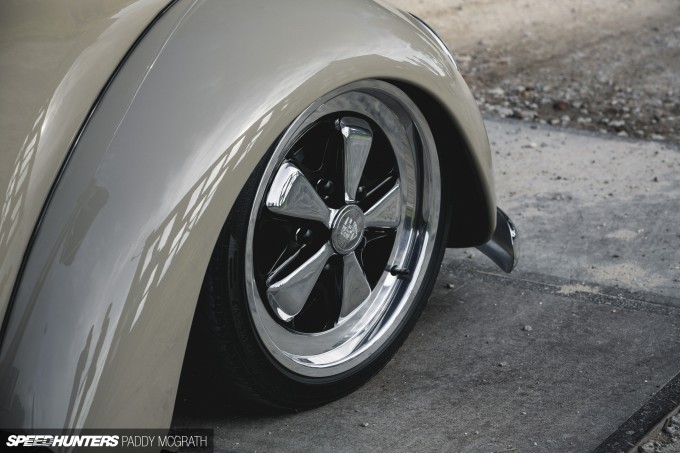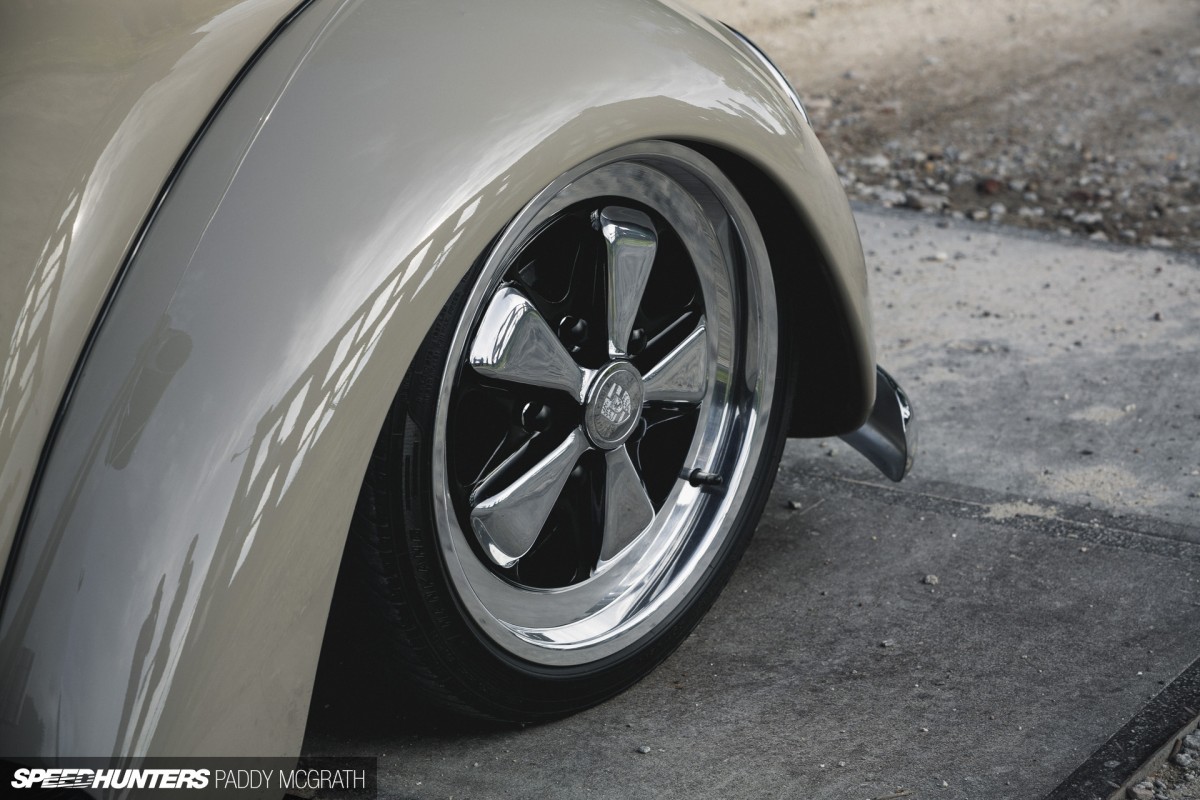 … to a set of a genuine 16×6-inch Porsche Fuchs wheels that Martijn has polished and detailed to the nth degree. I'm sure you'll agree that no other rim would have worked quite as well here as the iconic German Fuchsfelge five-spoke does.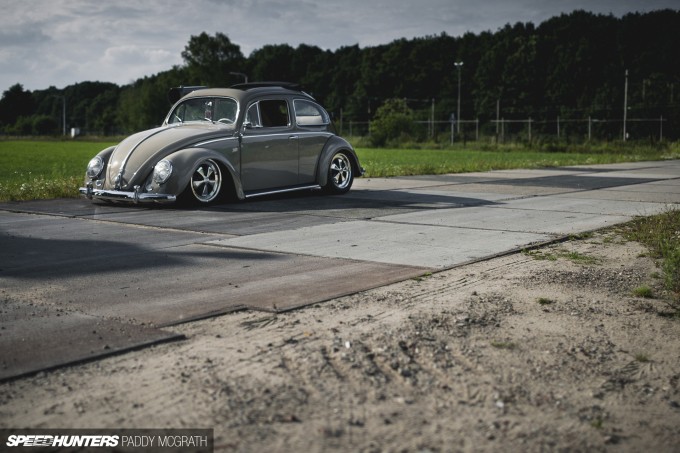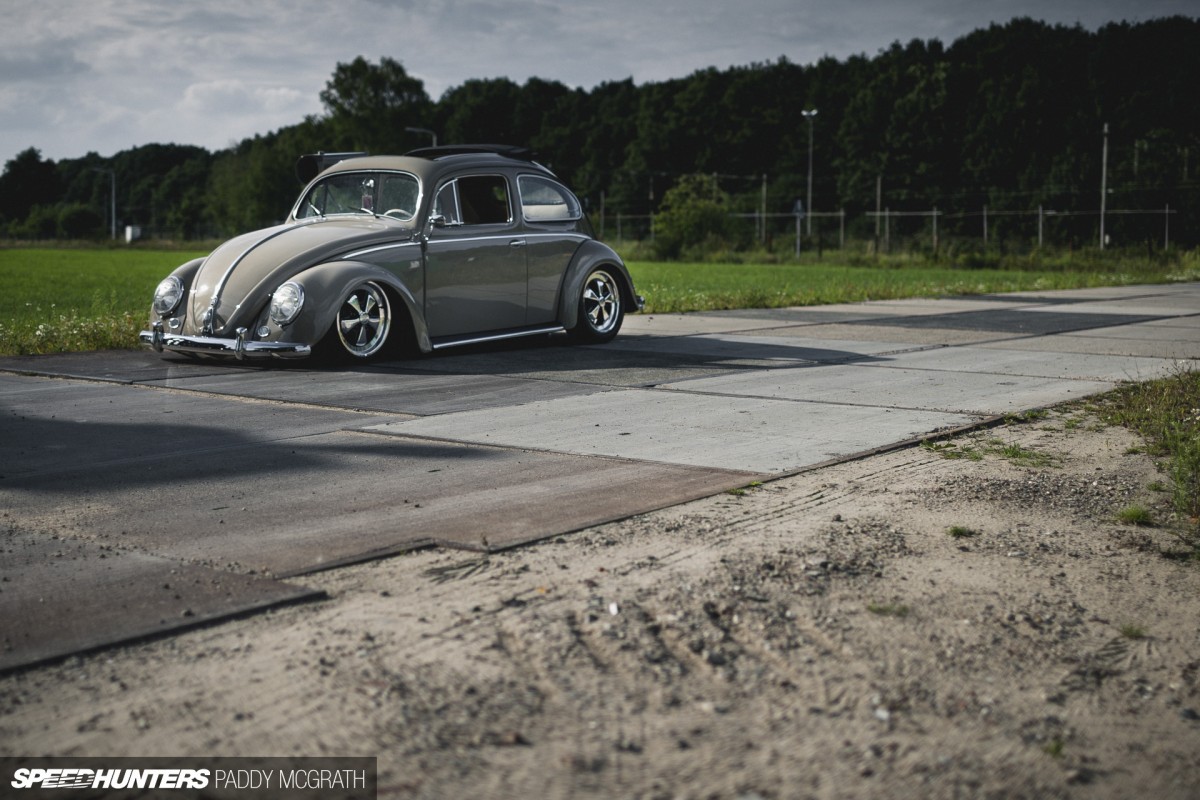 To get the wheels sitting just where he wanted them and achieve the desired ride height, Martijn narrowed the beam and modified the fuel tank to suit, and finished off the front end with a pair of Monroe air shocks. At the rear it was simple case of rotating the splines on the torsion bars to alter the height, which although much lower than standard, is raised a little more than the front for some good old fashioned rake. The combined result is rather effective. This is one low Bug.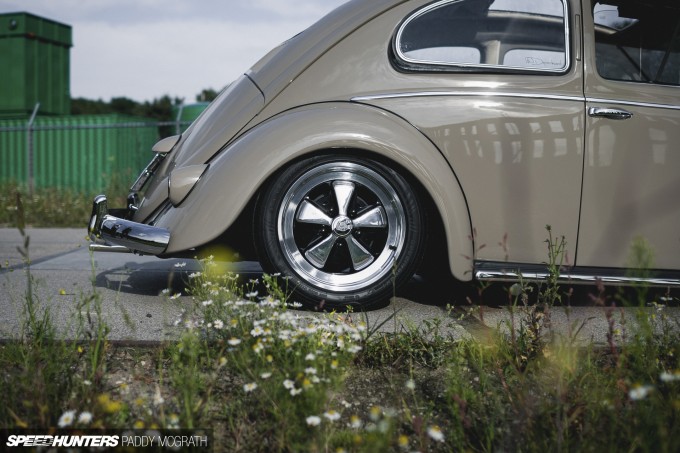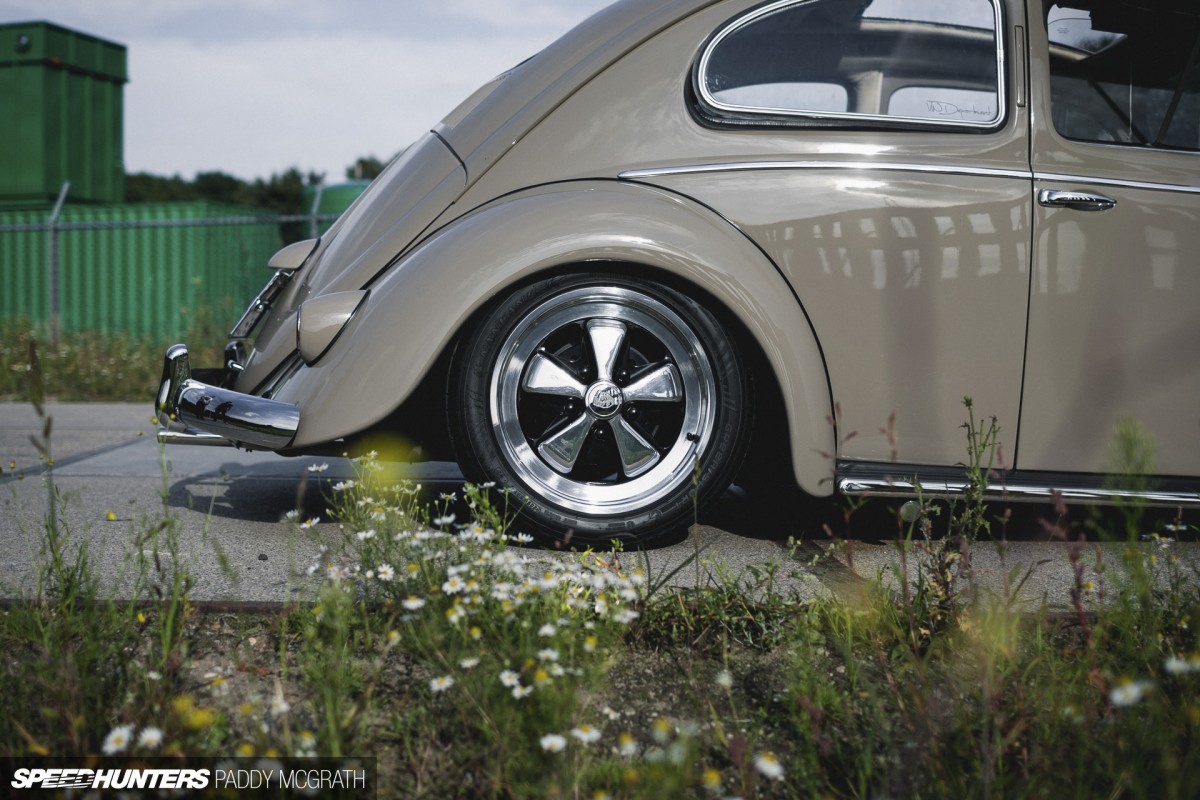 Mechanically speaking, Martijn stuck to the '57 factory script using all the correct gear for the vintage, including the manual four-speed gearbox, and 1192c flat-four engine. In keeping with the rest of the build, all components were either rebuilt or rejuvenated before being refitted.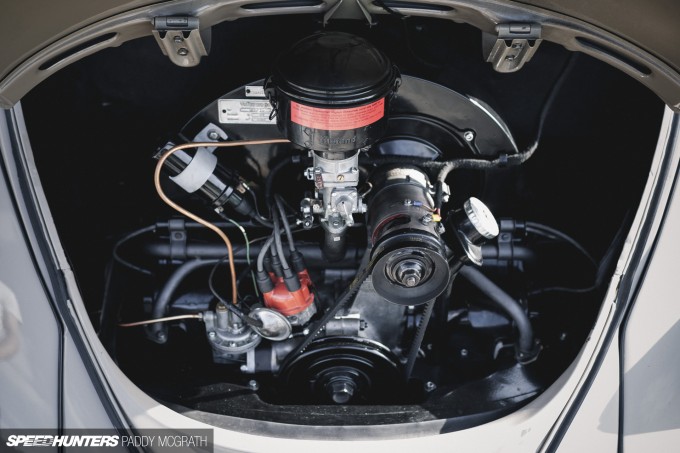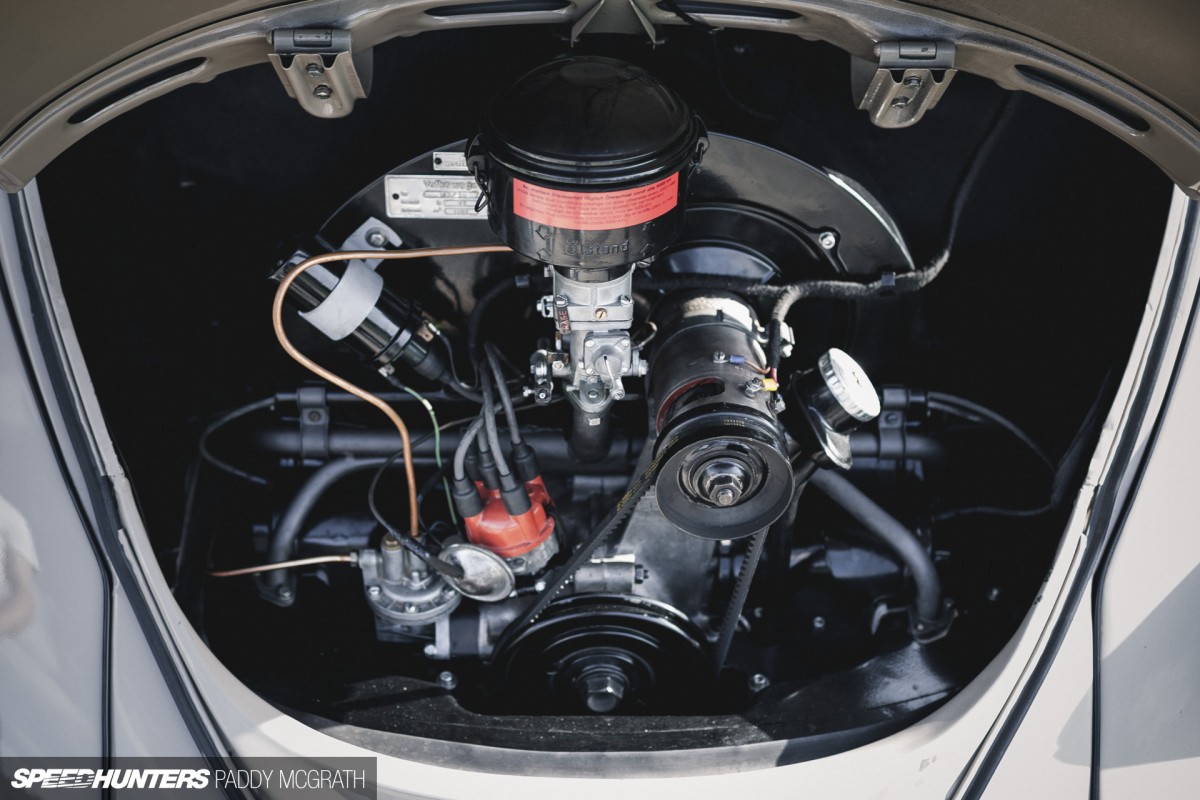 Although the set-up had all just been removed prior to our shoot, the 1.2-litre motor had previously been given some 'vintage tuning' by the way of an Okrasa camshaft, dual carburetors on a special manifold and a lightweight flywheel. It was no racing machine according to Martijn, but it certainly looked the part when you lifted the lid, and no doubt set free a few more ponies than the 36-odd horsepower the engine's now back to making in its original production guise.
The end is just the beginning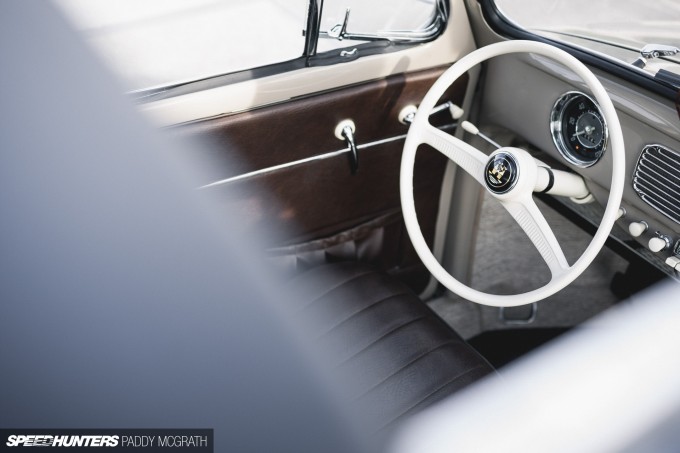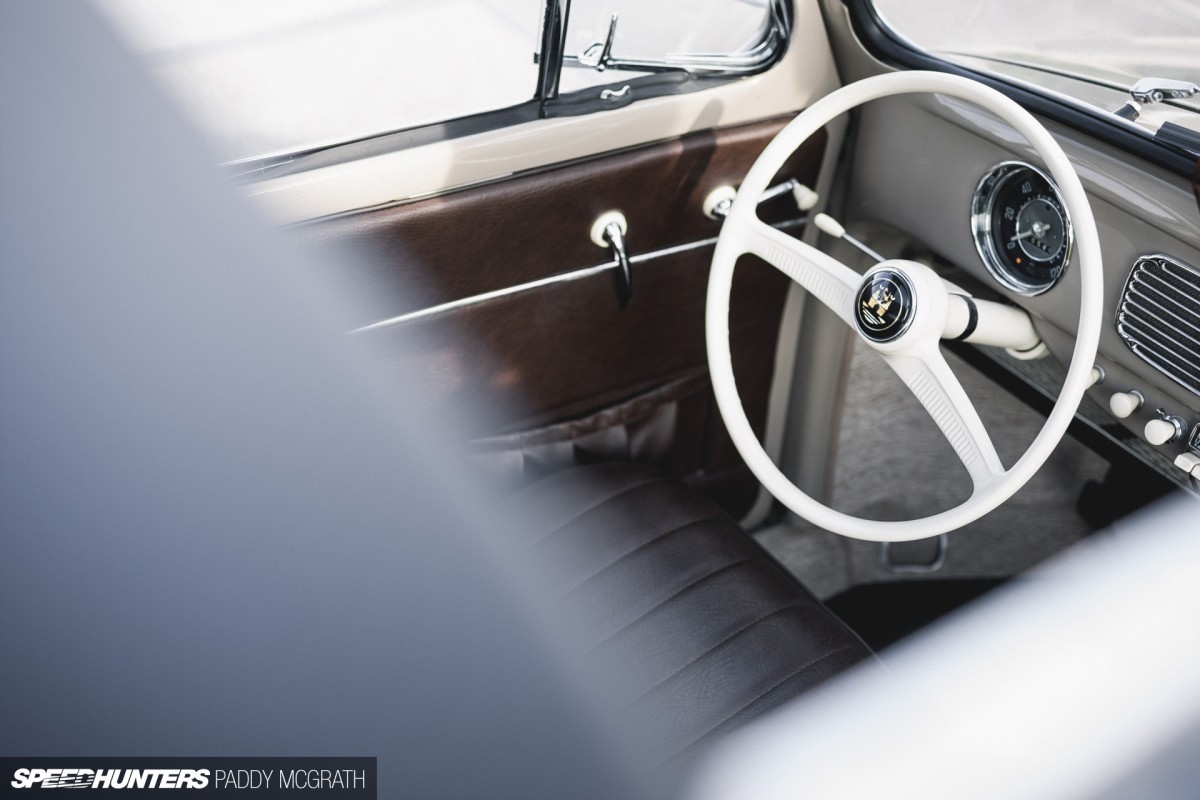 As simply laid out as the Beetle's interior is, through a quality refinish and attention to even the smallest details, Martijn has created a space that's not only totally in keeping with the rest of the car…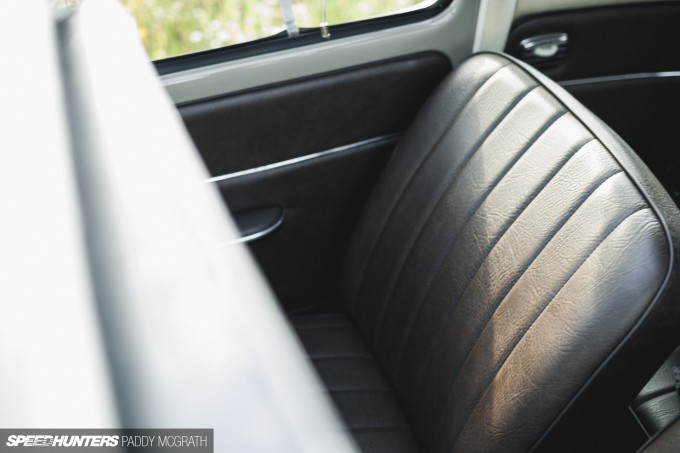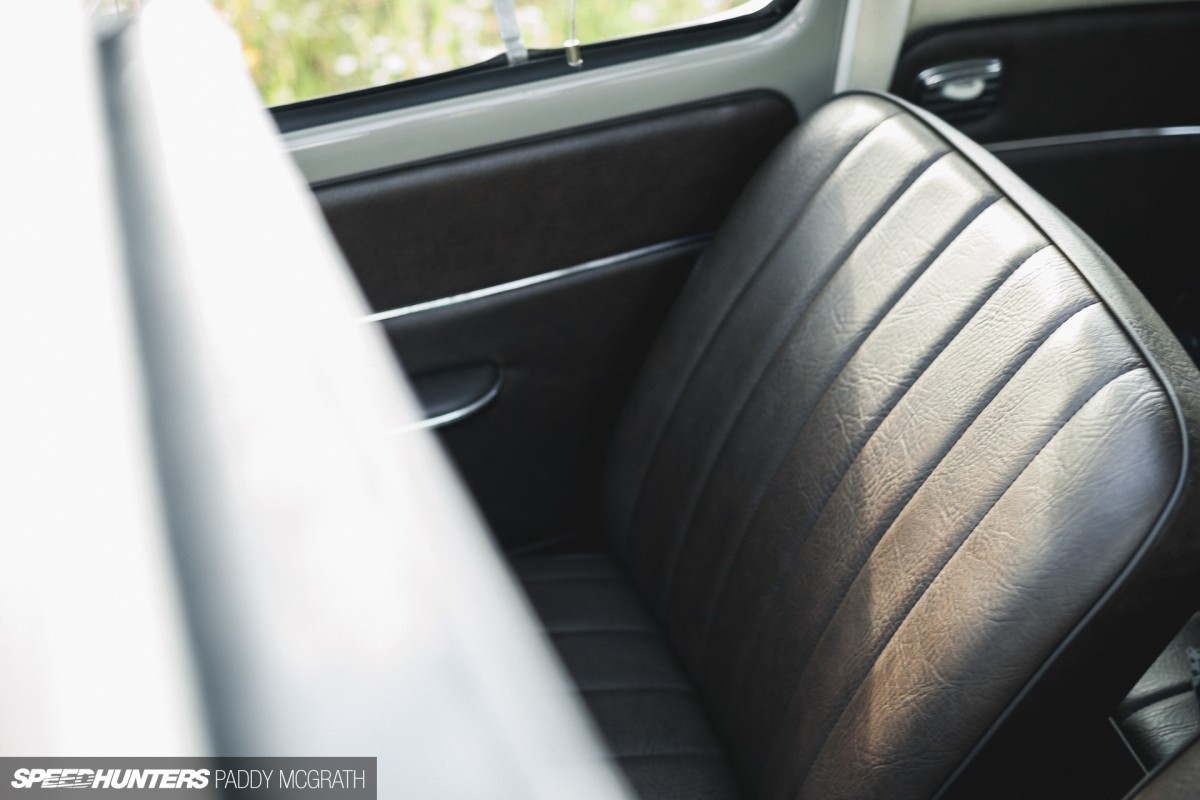 … but is also a very cool place in which to enjoy the driving experience from.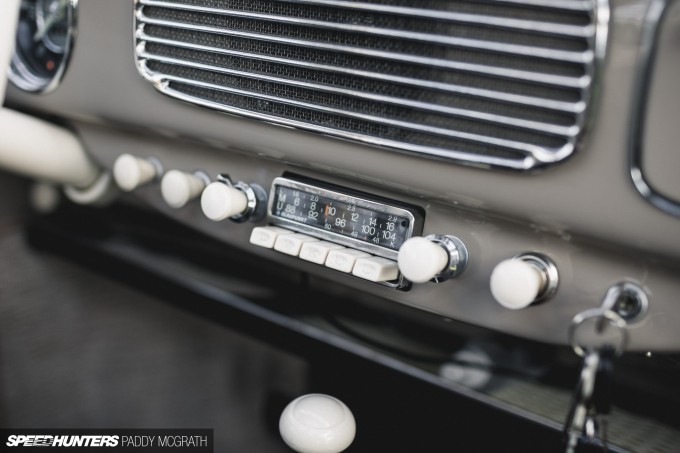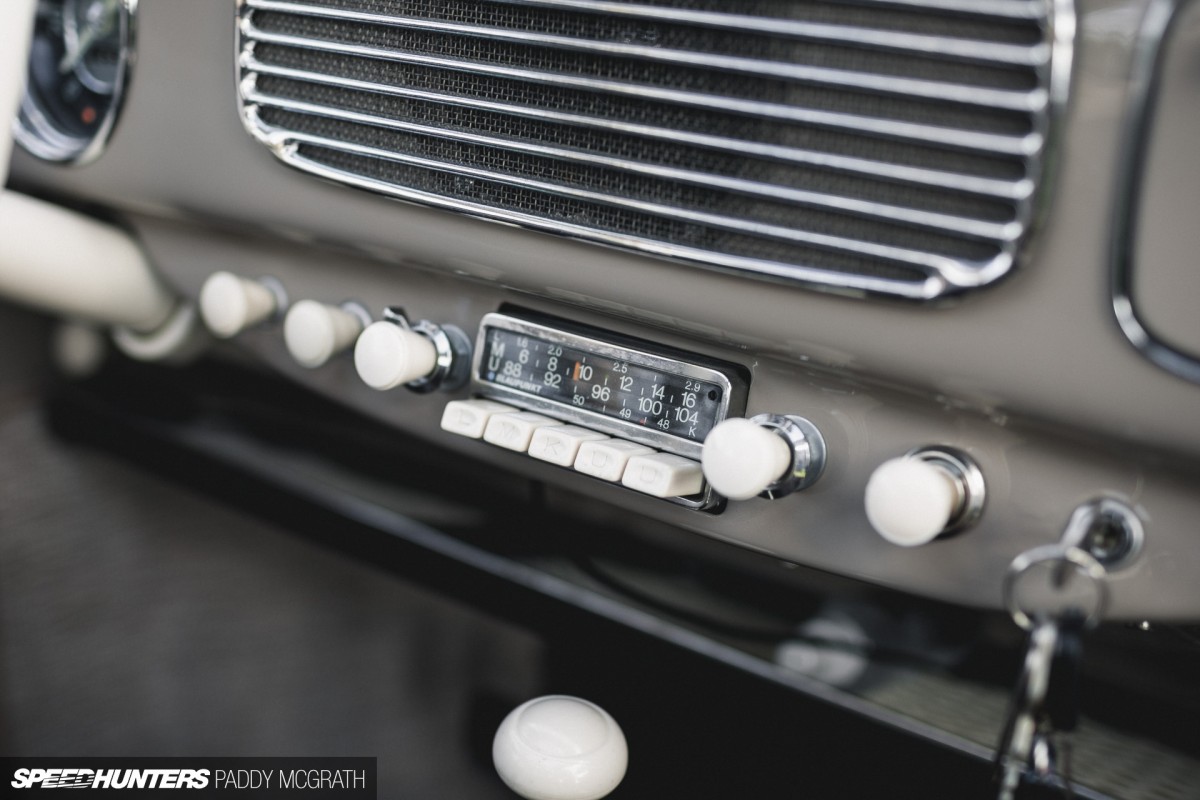 Judging by the style of that Blaupunkt logo, it's safe to assume that the analogue push-button style radio in the dash is probably not the same vintage as the car itself, but either way it certainly has a retro flavour and is nicely integrated into the mix with matching ivory trim and chrome detailing.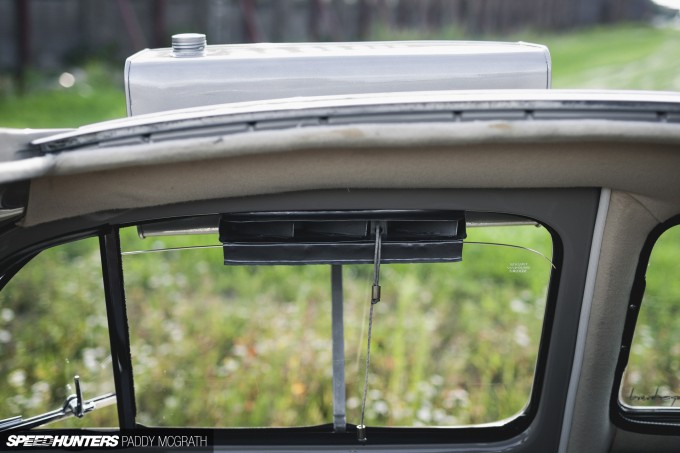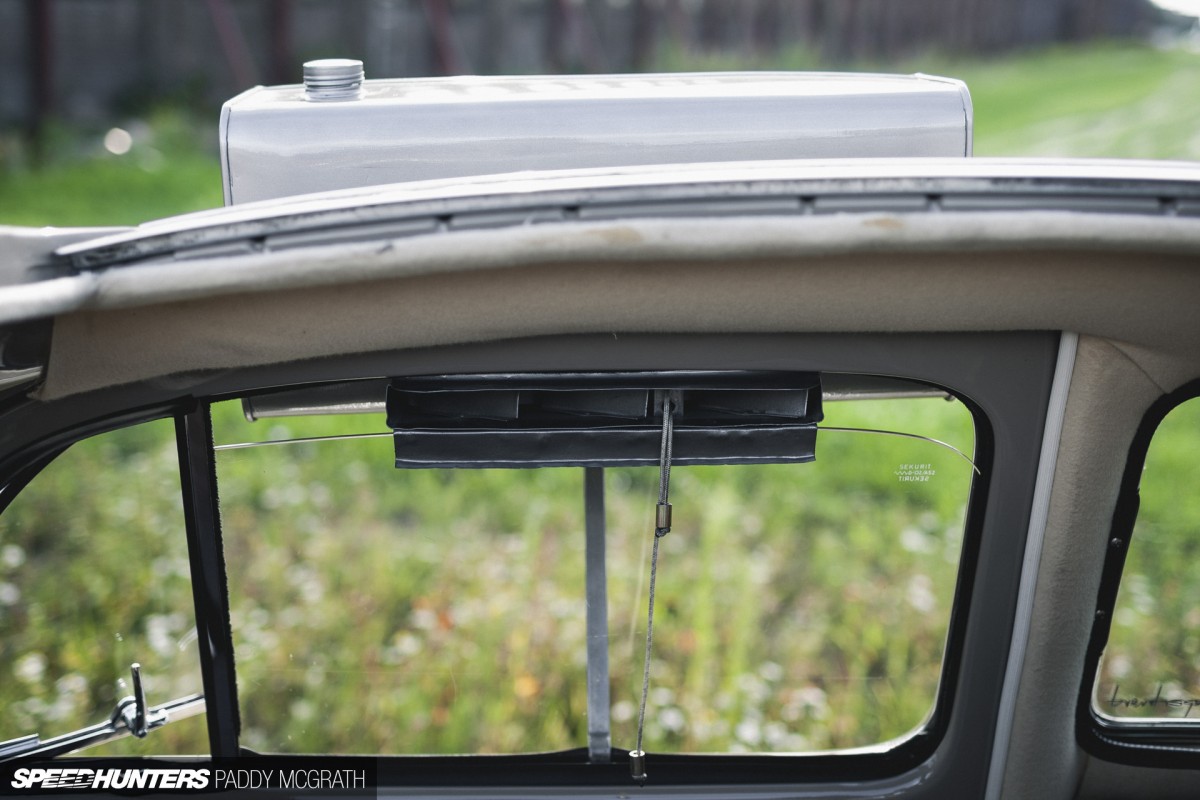 Of course, no oval Type 1 modified in this vein would be complete without the ultimate touring accessory from a bygone era of motoring: a car/swamp cooler. These large canister reservoirs that became popular from the 1930s were attached to a door, filled with water prior to a road trip, and through the process of evaporation, provided cool air flow into the cabin when the vehicle was moving.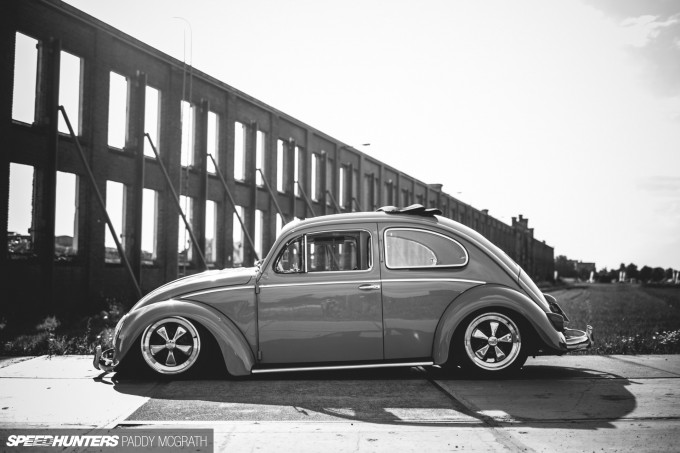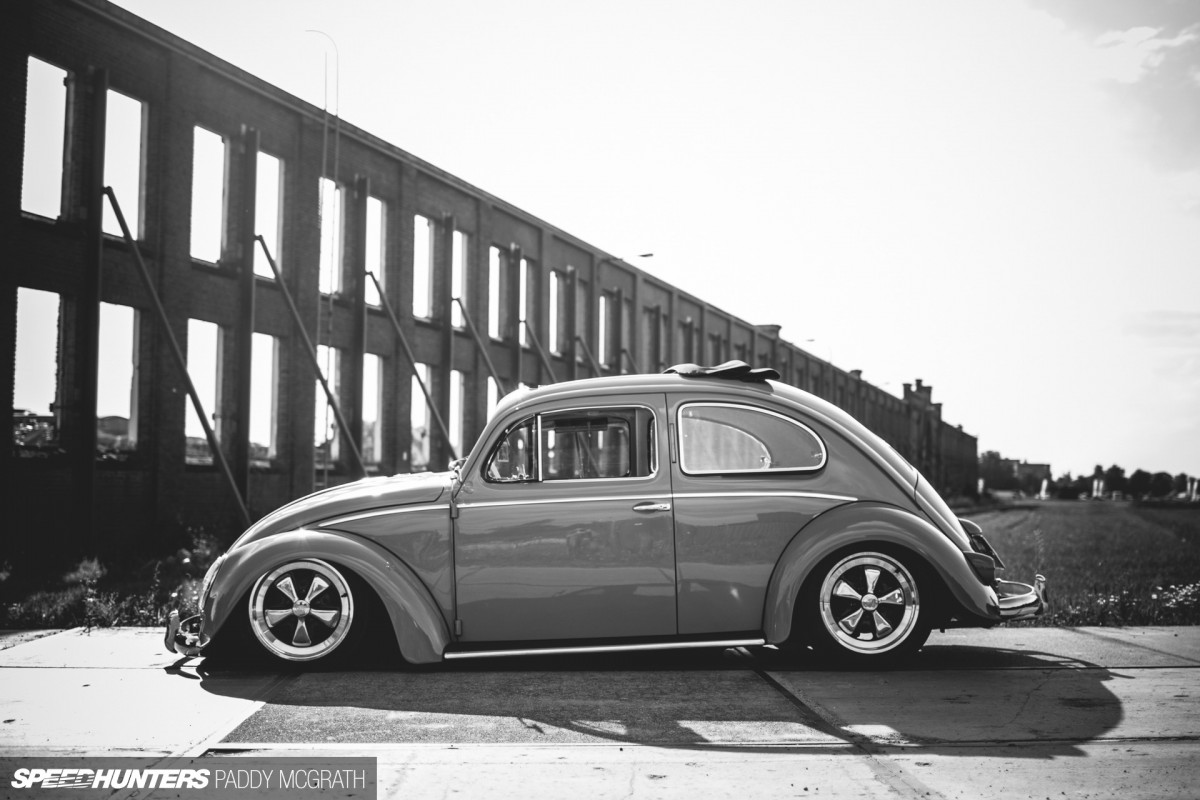 Along with the immense satisfaction that I can only imagine comes with the completion of an extensive restoration project like this one, the '57 has been the source of so much happiness for Martijn, that even a couple of years on, it still manages to put a smile on his face every time he opens the driver door, slips into the low-back seats and twists the ignition barrel to spark the side-punching four into life. It doesn't really get any better than that…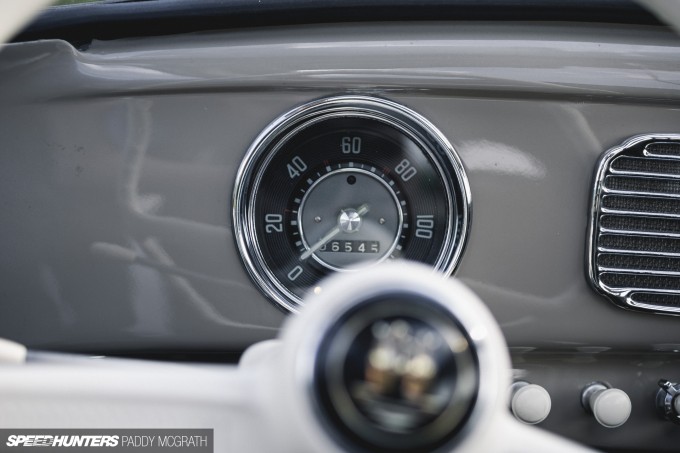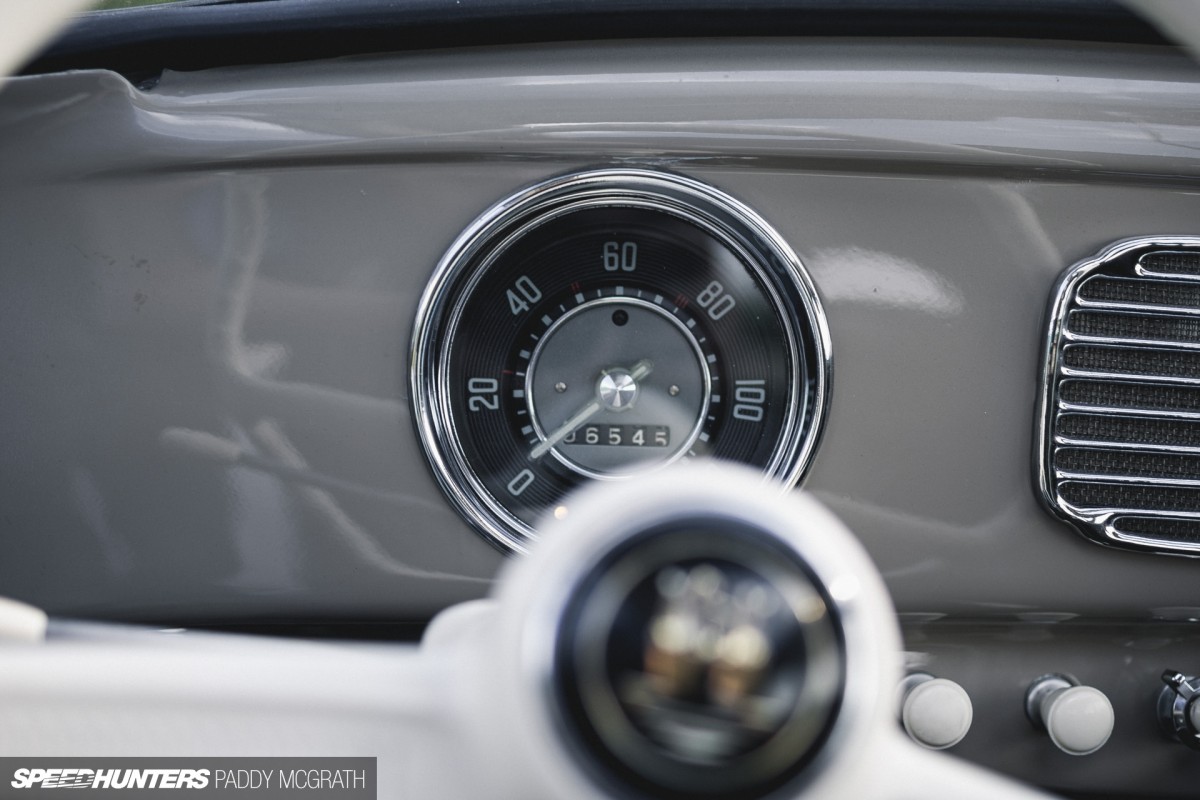 Or does it?.. Given Martijn's connection with the '57 I was surprised to learn from him a few days ago that the car had been sold on to a new owner in Switzerland and all that he had left to show from it was his beloved wheels.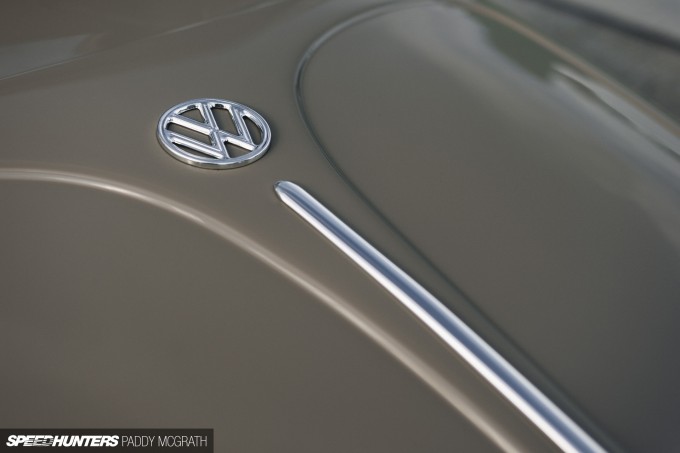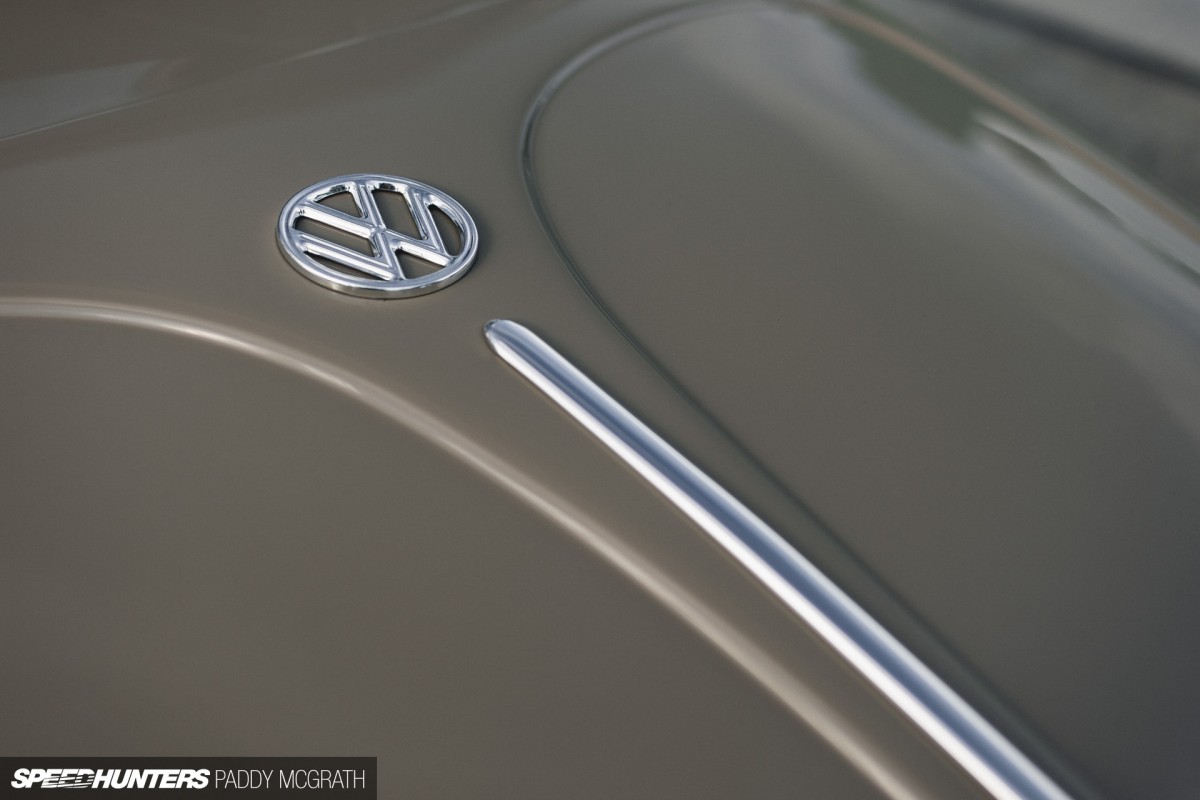 Of course, there was a very good reason he had decided to let the Beetle go, and that was to follow his original dream of owning a T1 Panel Bus. In Martijn's eyes, it's a sacrifice that had to be made. In a scenario that's already playing out like his oval barn find, he found exactly what he was looking for in an incomplete '59 project in need of some serious TLC. The plan? Original, low and rolling on the Fuchs, plus a bigger, badder engine to boot this time around.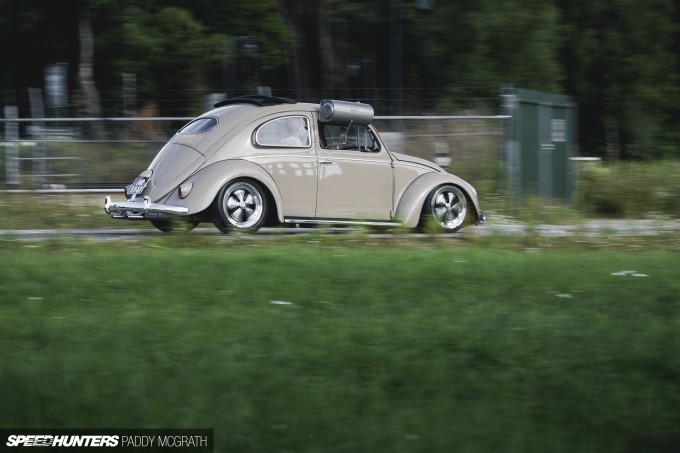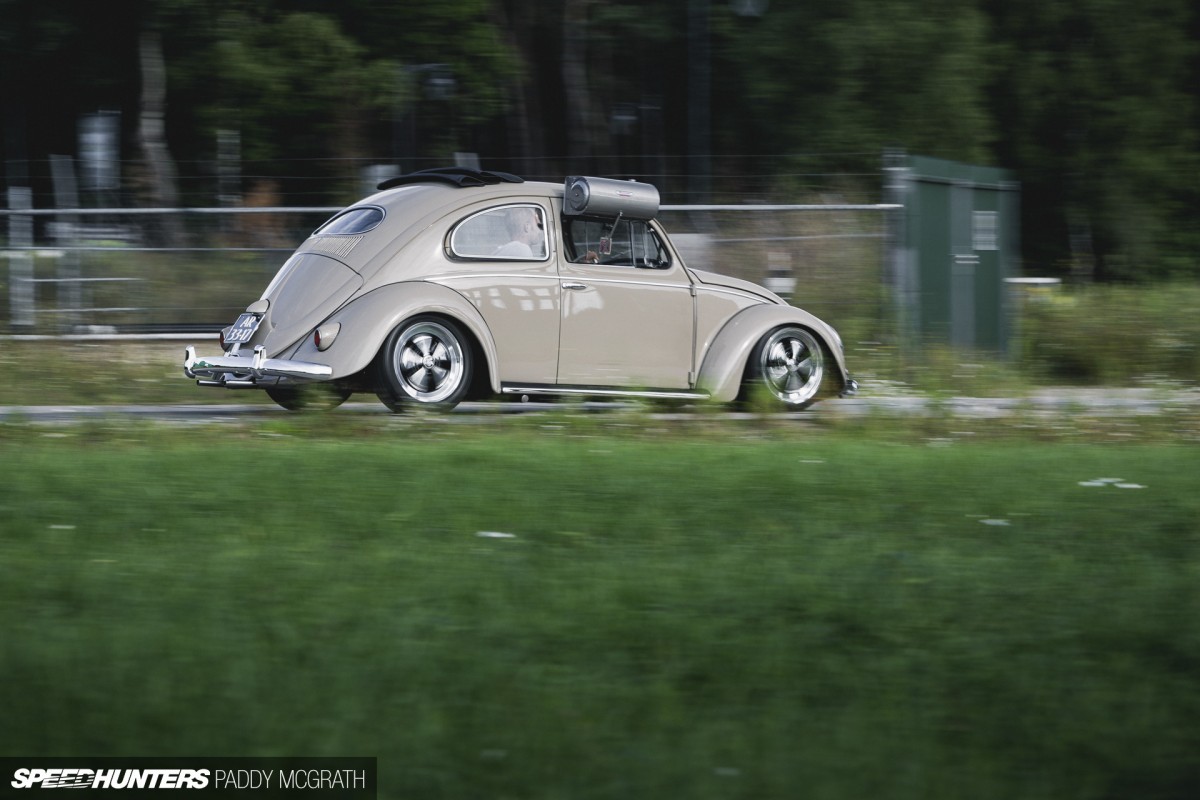 If the '57 oval is anything to go by though, it's definitely in safe hands.