Rod job
The essence of hot rodding can be found in all of our projects. From a street driven Civic EK to a ripping Holden drag car, I kid you not there has been no single enthusiast-led automotive movement with more influence over the way we treat our projects than hot rodding. Which makes us all hot rodders at heart. The movement was born out of a need to alter a standard production car to suit the needs of a specific purpose. As soon as you lay a hand on your project and work with it to become something more personal, you're working towards a common goal.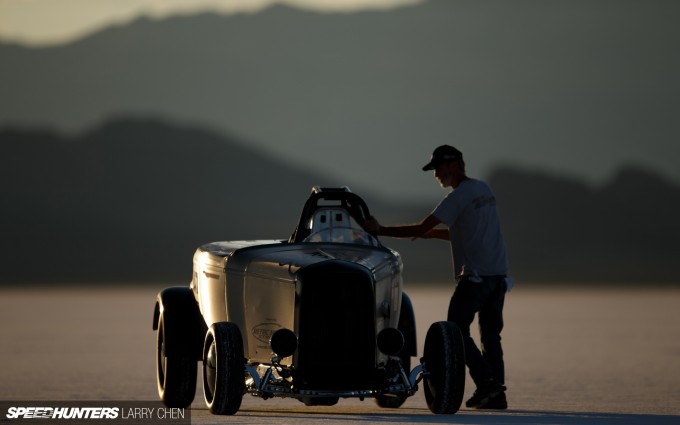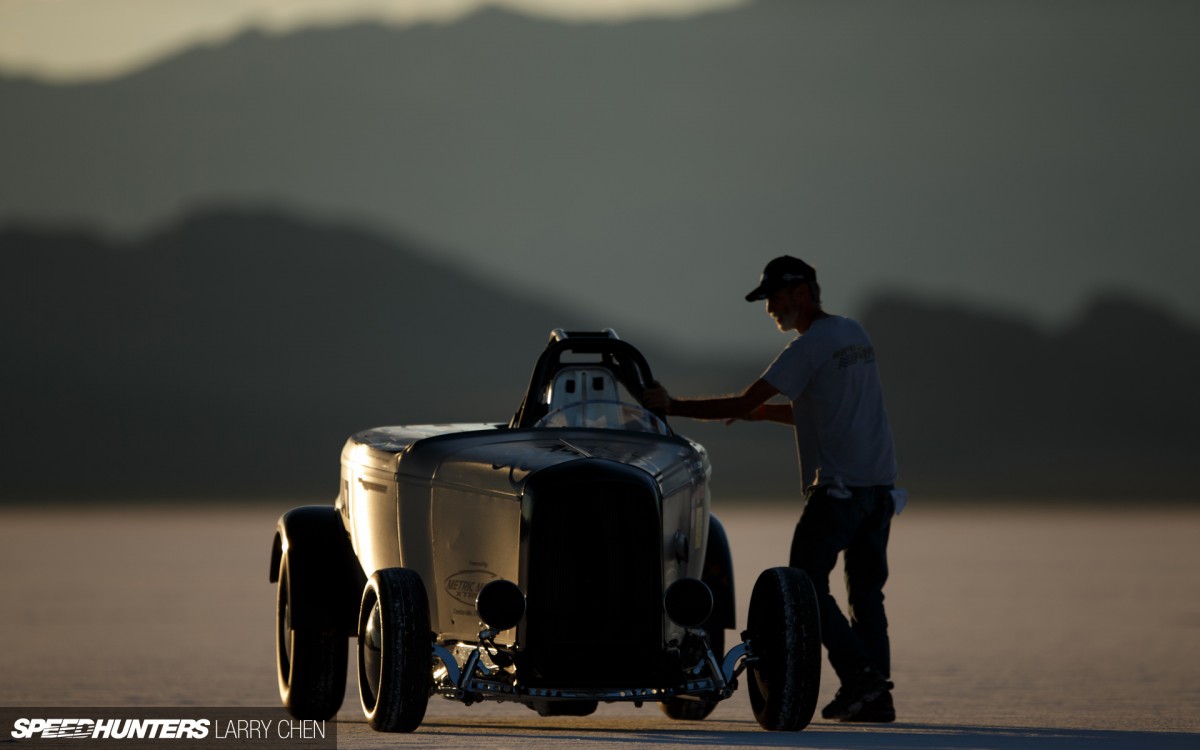 Many people might not agree and I'm prepared for that. I started off writing about hot rods and customs many years ago and there's often a set of rules and timelines applied to the name. That's always amused me given the part rebellious nature of the activity: that it should be locked down by rules and codes of conduct. But I guess that's the same wherever you look from biker gangs to mercenaries. Of course to be a hot rodder you have to have a hot rodder's name, like JD Youngblood does. Okay, so that's not strictly true but how come it always works out that way when you meet these guys? They just have the coolest cars and names.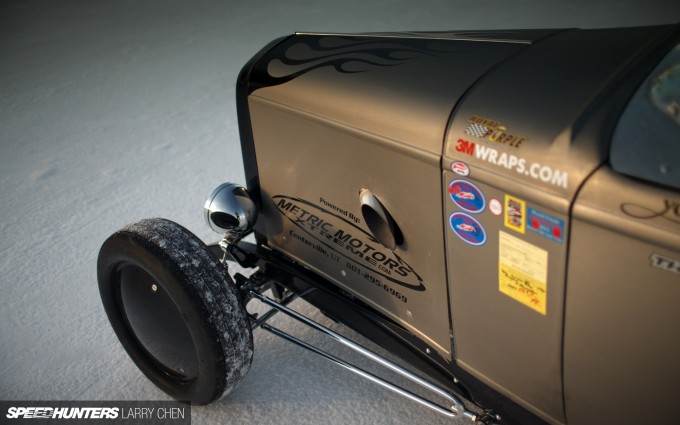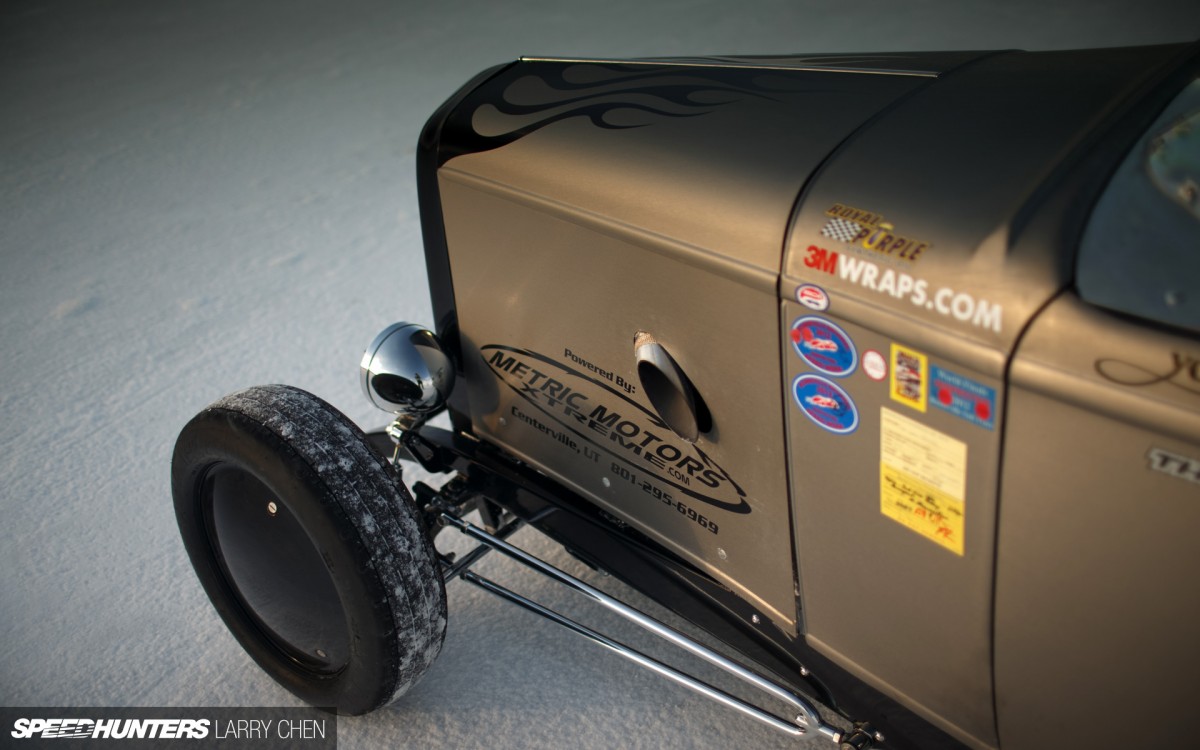 The '32 Ford Roadster you're looking at here is just about as iconic as it gets. People have been stripping down and 'hopping up' the working man's transport since it was new, taking to the dry lake beds of Southern California and the Bonneville Salt flats since before and just after the Second World War. The roadster is arguably the most definitive version due to its lack of roof, which in standard form makes it sleeker and more aerodynamic than its roof-equipped counterparts such as the coupe or Tudor.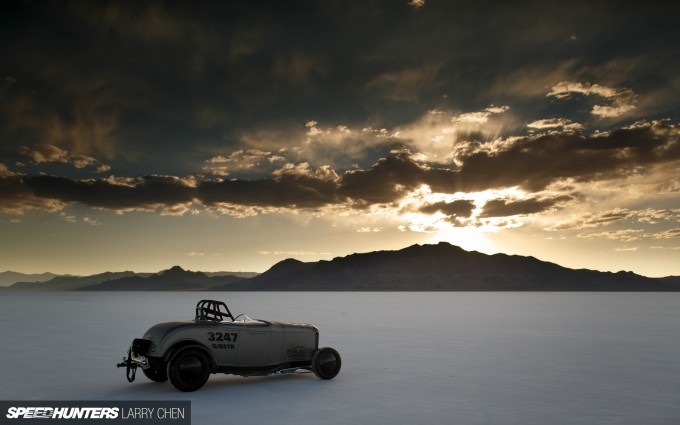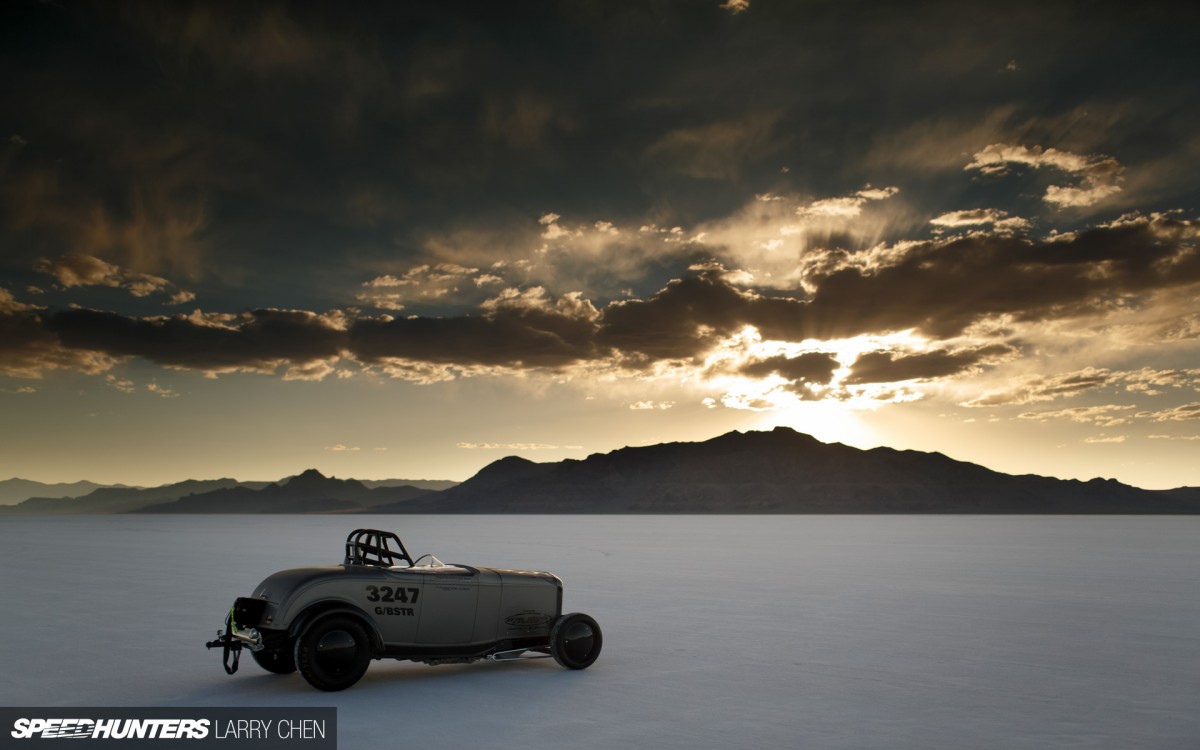 To be completely honest with you, I've always been a three window coupe kind of guy. I'd chop the roof and roll it happily looking through a letterbox-sized hole all day long. Then I look at this picture, the magnificent Utah sky and seemingly endless expanses of white crust that make up the Bonneville Salt Flats. Then I want a roadster, one to go really fast in. One to feel the wind punching my crash helmet around as I buffet my way deep into three figure speeds.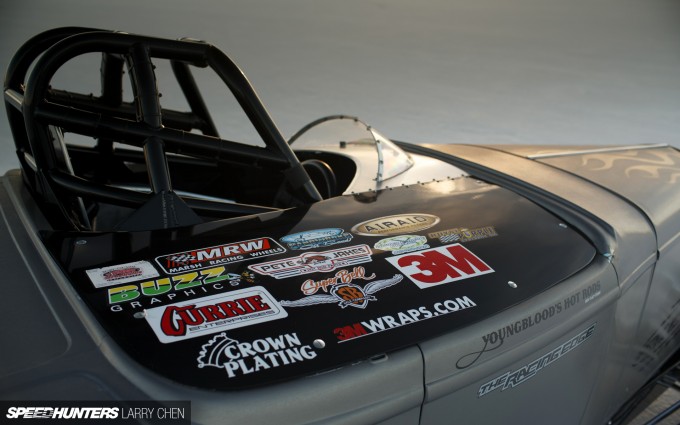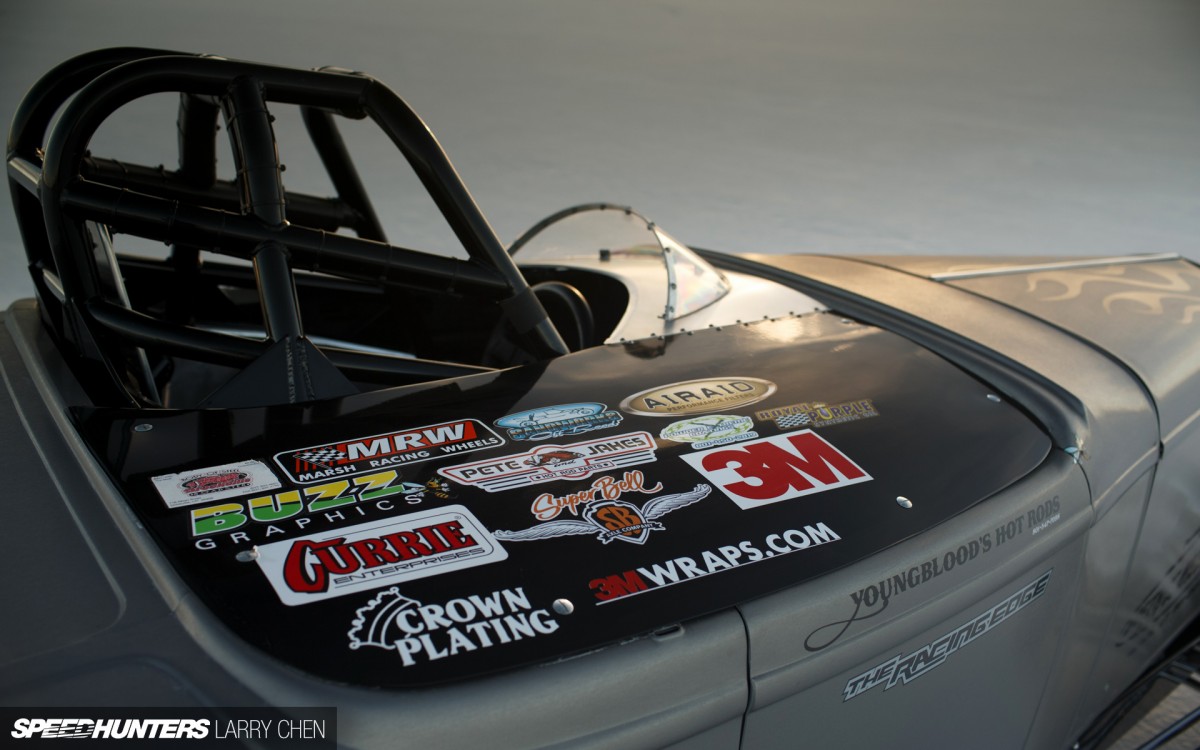 JD has used a Brookville reproduction metal body, but the lines are true to the original: that wonderfully sculpted swage that circles the simple cabin. Here a hard panel tonneau cover has been added where a passenger would have sat…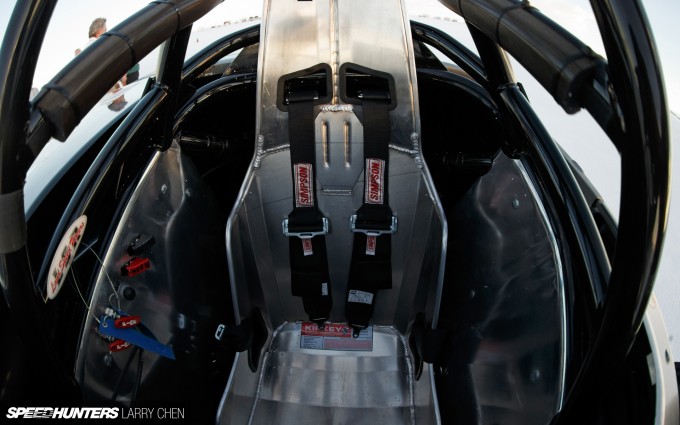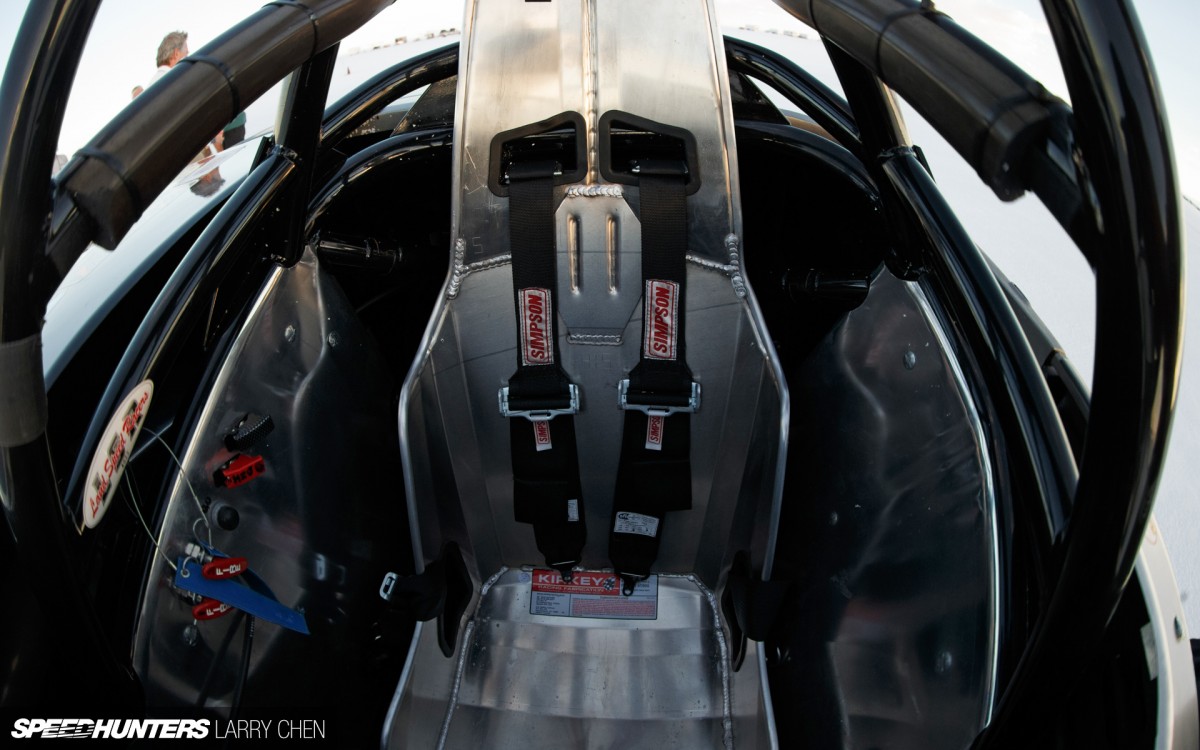 … with a Kirkey alloy seat wrapped up in the comprehensive roll over protection tubing. Regulations to run on the salt are stiff, with safety being paramount and given the speeds involved there's no questioning that. The basic alloy seat might not look that comfortable but when you're strappped down into it hard by that Simpson harness I'll bet it's the last of your concerns. Notice the pull handles here on the left of the shot, for the fire system and just out of sight…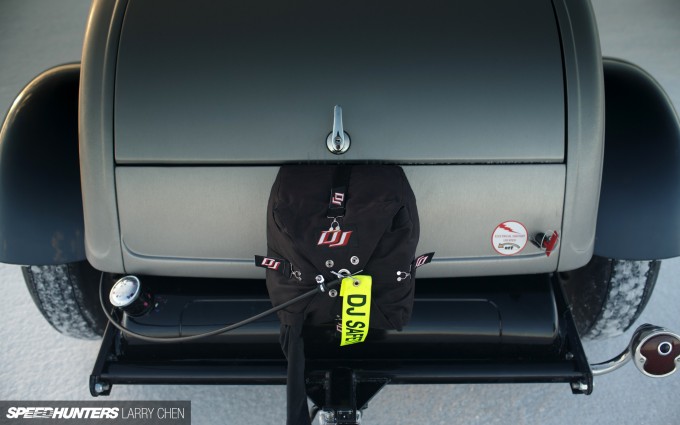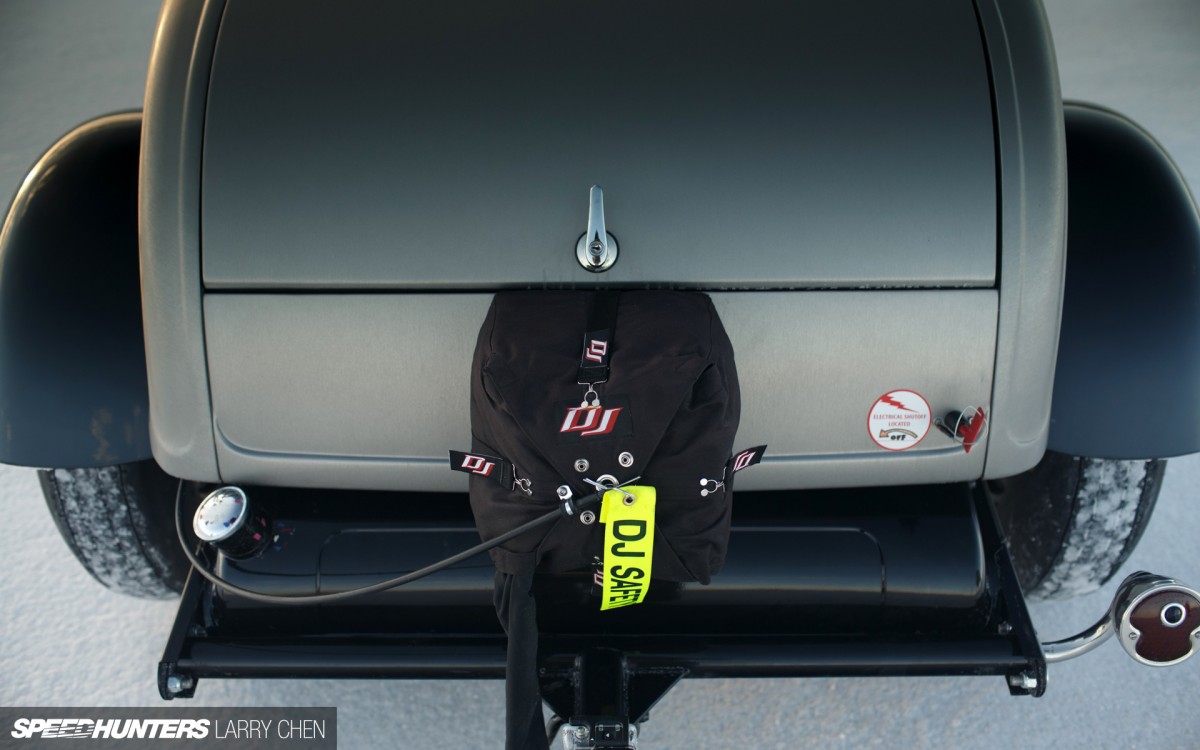 … for the parachute. Because you've got to have one of those right? Well you do when you break records like the Youngblood team have been and there's a very good reason why they've been so successful…
Running for the Skyline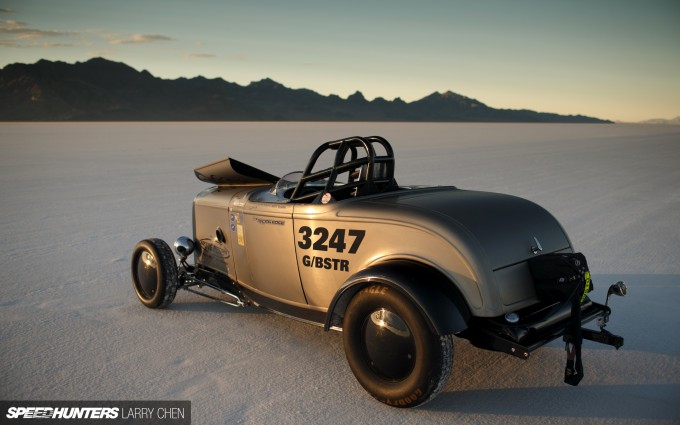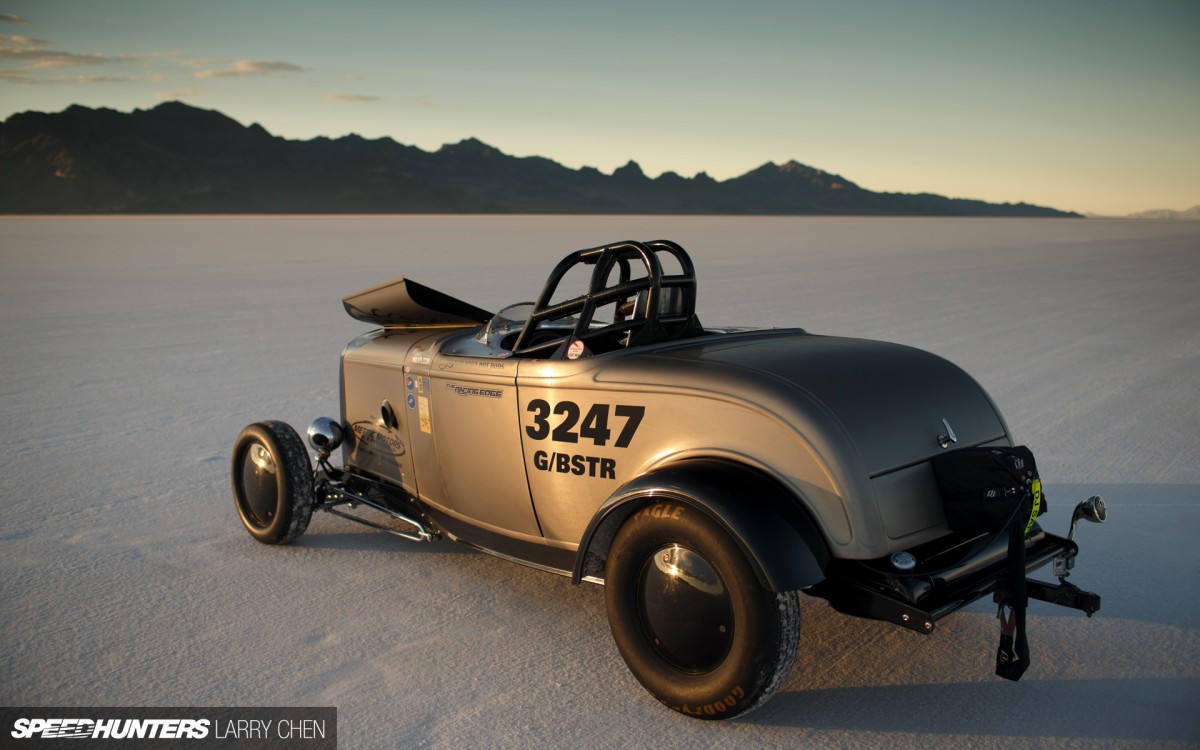 Because the engine in this moon-disc-equipped, metal-bodied slice of American history is pure Japanese genius.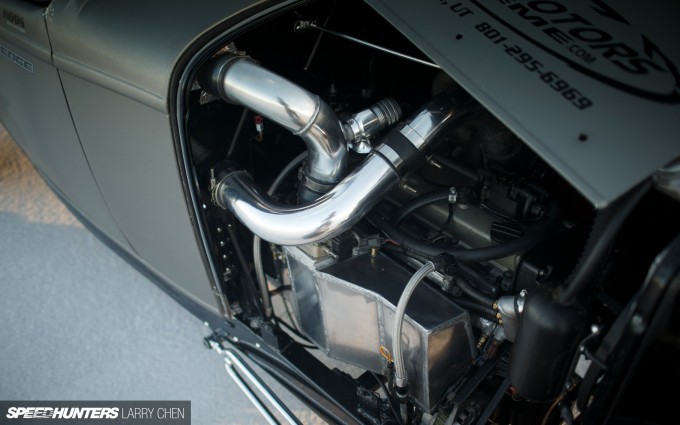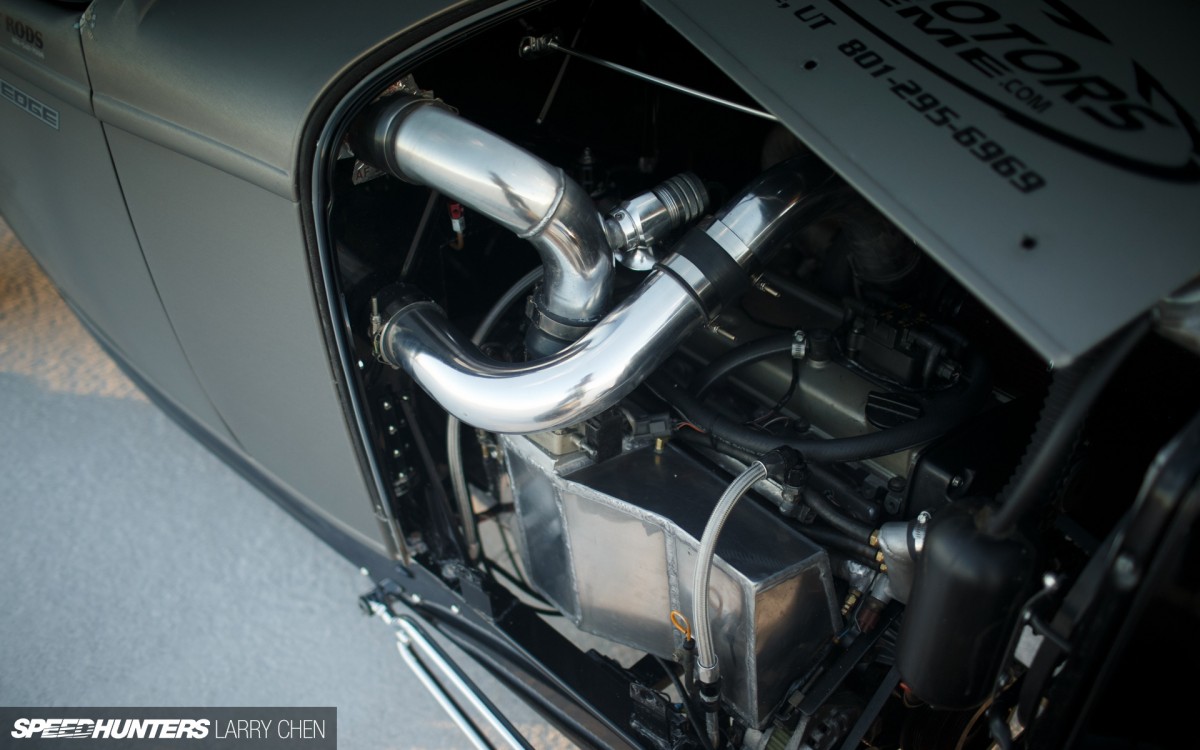 A 1992 Nissan RB20DET as you'd find in a GTS-T or similar. Originally you would have found a flathead V8 under the bonnet and more recently it's very much the nostalgic engine of choice, however the straight six engine from Yokohama was chosen for a number of reasons. The fact this one now puts out somewhere around 600hp being one of them…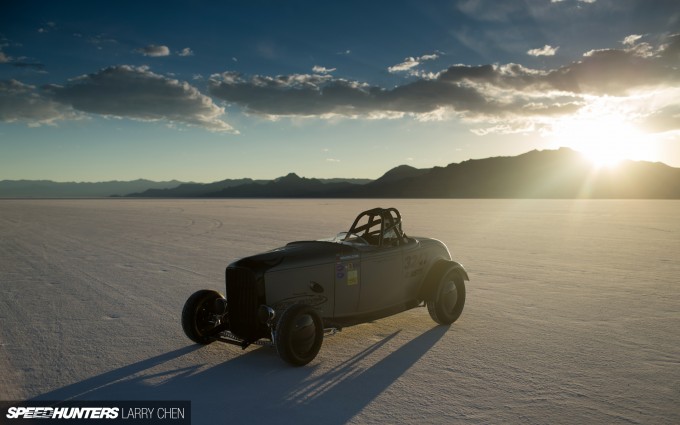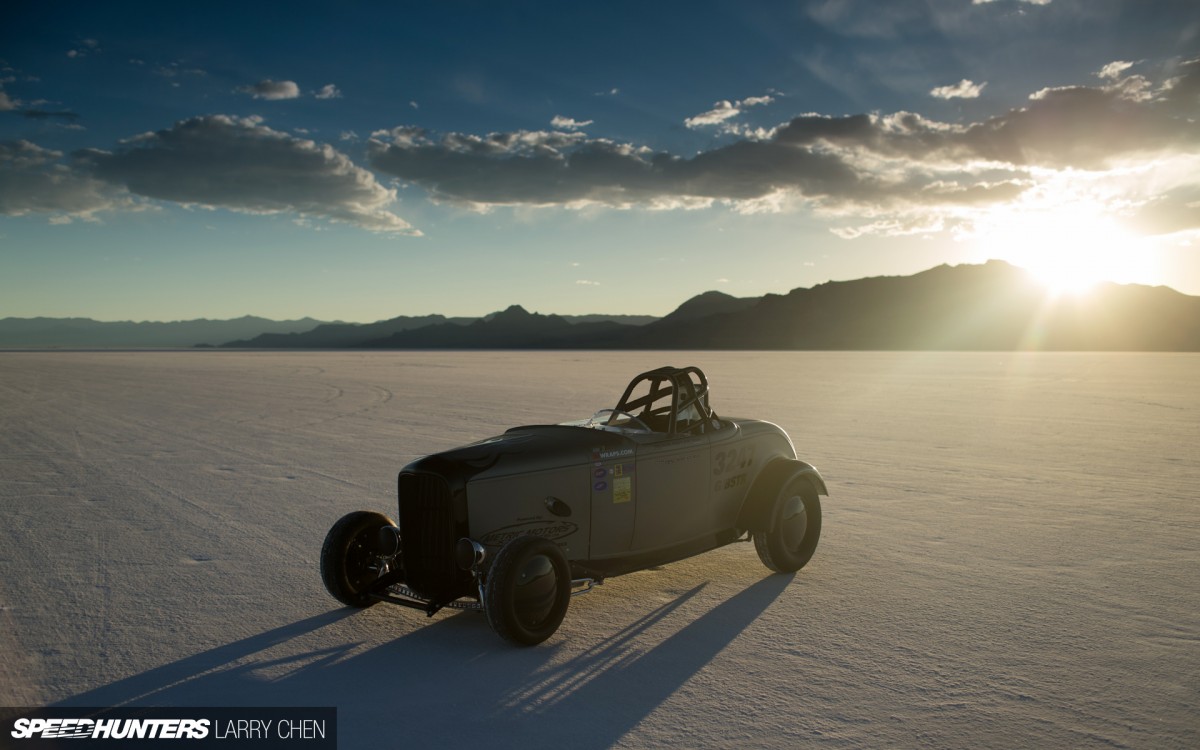 First up I should tell you that the roadster is in fact the second that the Youngbloods have campaigned. With land speed racing on the salt, a class system exists based on a couple things like body style, how the engine breathes and of course the displacement. So although the engine size may well have been bigger in the car chosen originally, you can fit whatever you like, big or small and there will probably be a class. Which is how the first '32 ended up with a naturally aspirated 1300cc Suzuki Hayabusa engine, winning it a Top 5 award at SEMA as well as upping the record in the sub 1500cc roadster class by 30mph. Sound radical? It was going to be a rotary engine until the authorities outlawed it… JD saying of the choice that they looked at the classes and what was attainable, then looked sideways and came to a logical conclusion.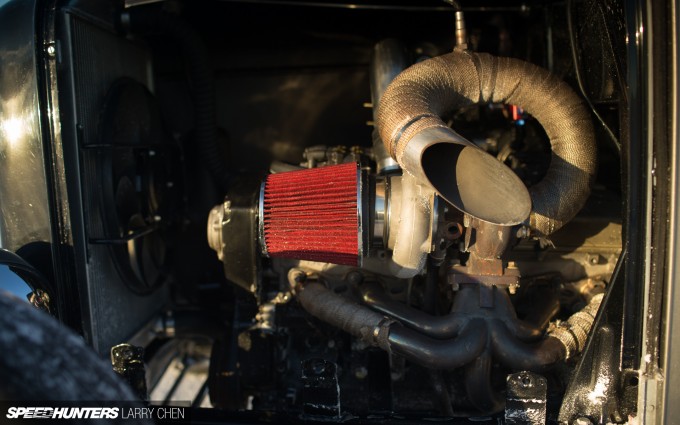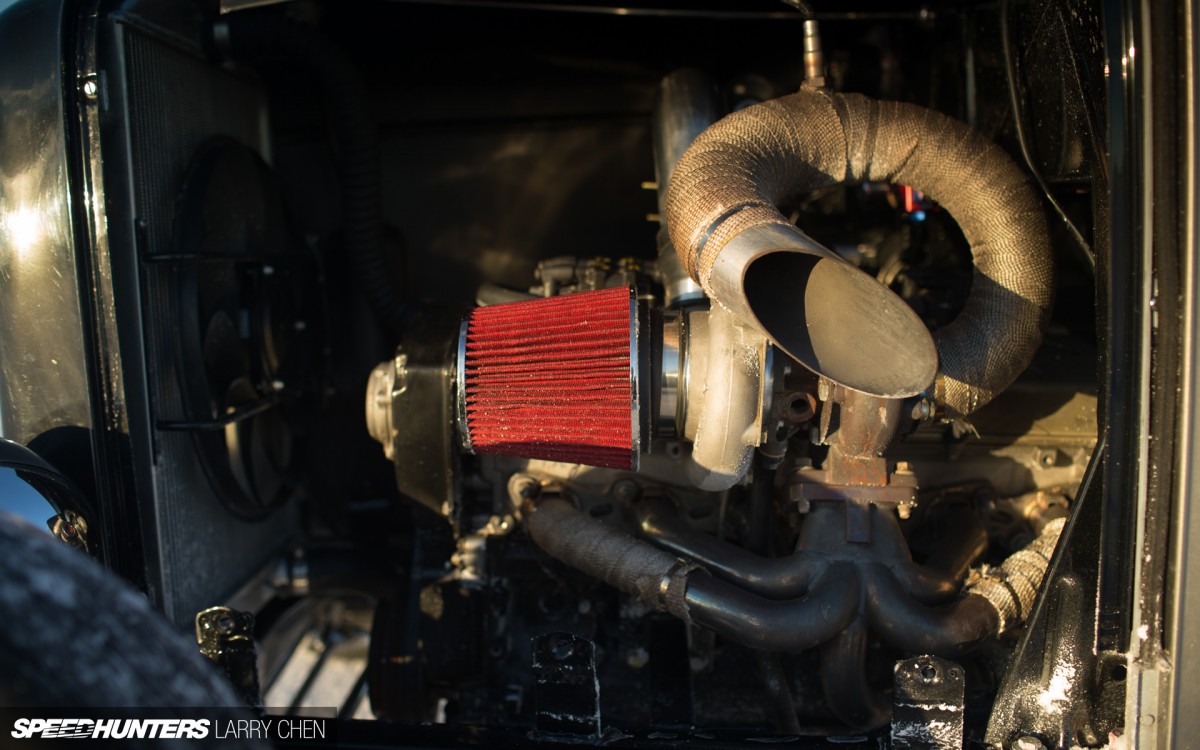 Of course, choosing a left field engine such as the bike motor and now the Nissan six is going to generate some controversy, but this goes back to my original point. Hot rodders use what is to hand and this isn't the 1930s or '50s even. This is 2013 and we have a whole world of powerplants to choose from. So when the team decided to move up to the sub two litre roadster, another Japanese engine was chosen. But why I ask?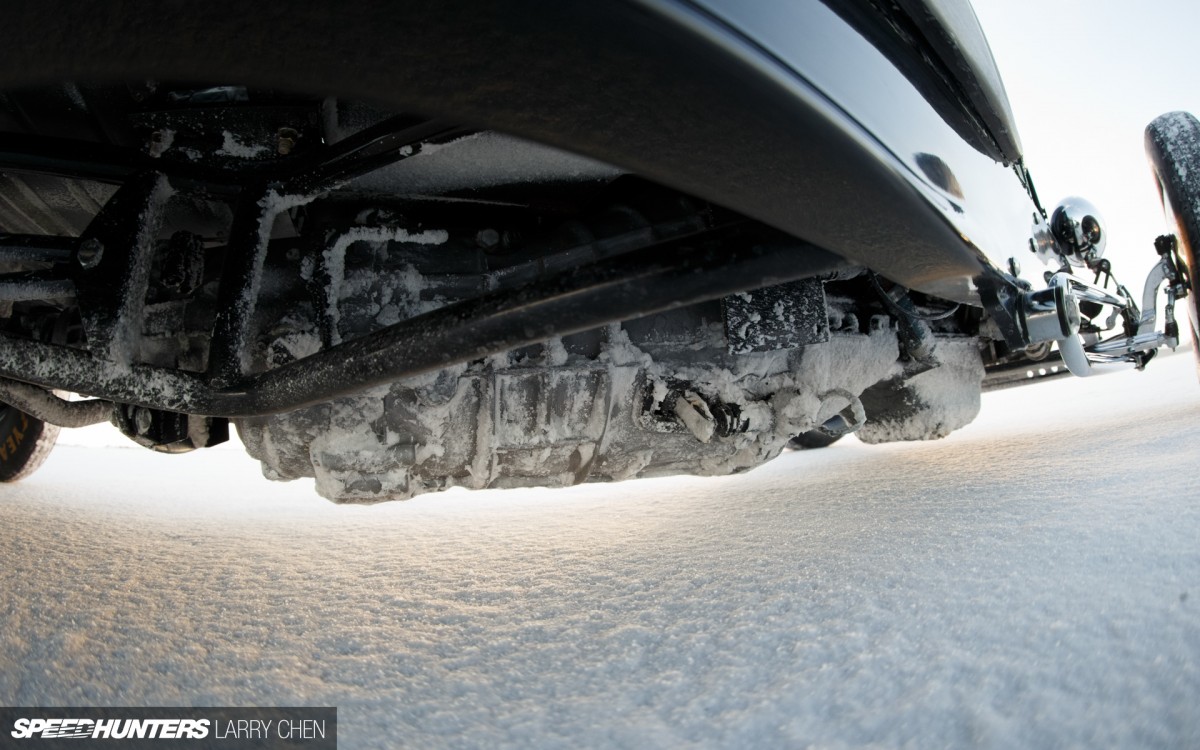 JD replies he's always loved the Skyline, which is an odd thing because living just outside Salt Lake City in Utah he's never even seen one on the road. It's been a fascination thing, with his father Don being more of a traditional kind of guy. JD also loves bikes hence the Hayabusa motor in number one.  He says it simply boils down to a power to weight ratio kind of thing, and yes the choices stir up passions but they've learnt to deal with them. It's hard to be competitive and race while taking criticism all the time, but they've won through. The engine's backed up by a stronger five speed manual that you'd usually find behind an RB25. Whilst we're under here, take a second to admire the finish on that chassis rail will you. How nice is that?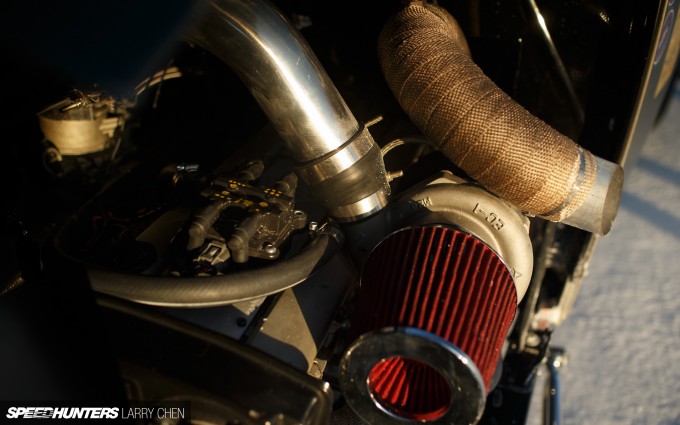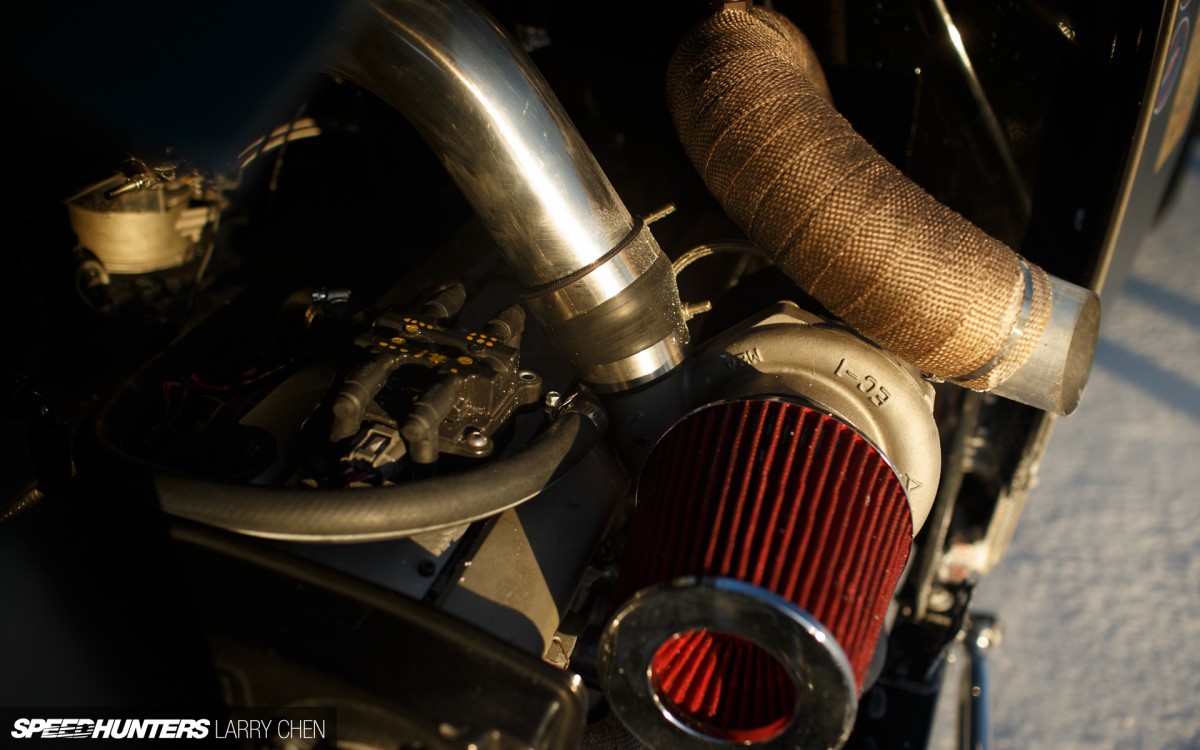 Back up top that's a Garrett GT35 mounted on a custom Youngblood stainless manifold, which means they run in the G/BSTR class. Broken down that works out like this: G  is the displacement designation, B simply means blown and STR stands for street roadster. In October of 2012, with JD's elder sister Hot Rod Ali at the wheel, the pair set a new record of 174.022mph. This was at the SCTA event and when they returned this year that speed was being achieved in the first mile with the '32 proving a handful over the full course so no new records were set. Rest assured they will be in the future though.
What comes next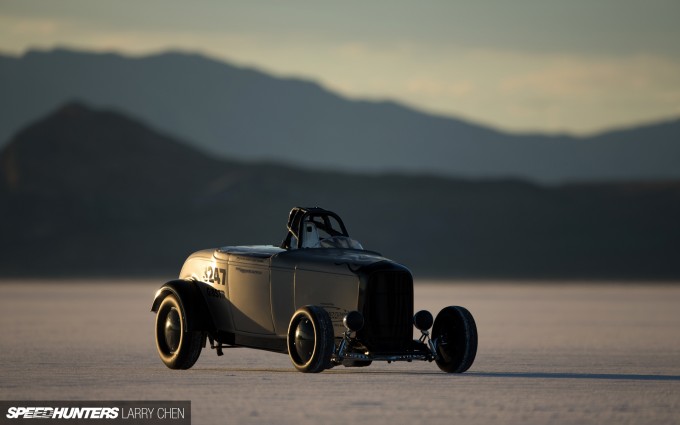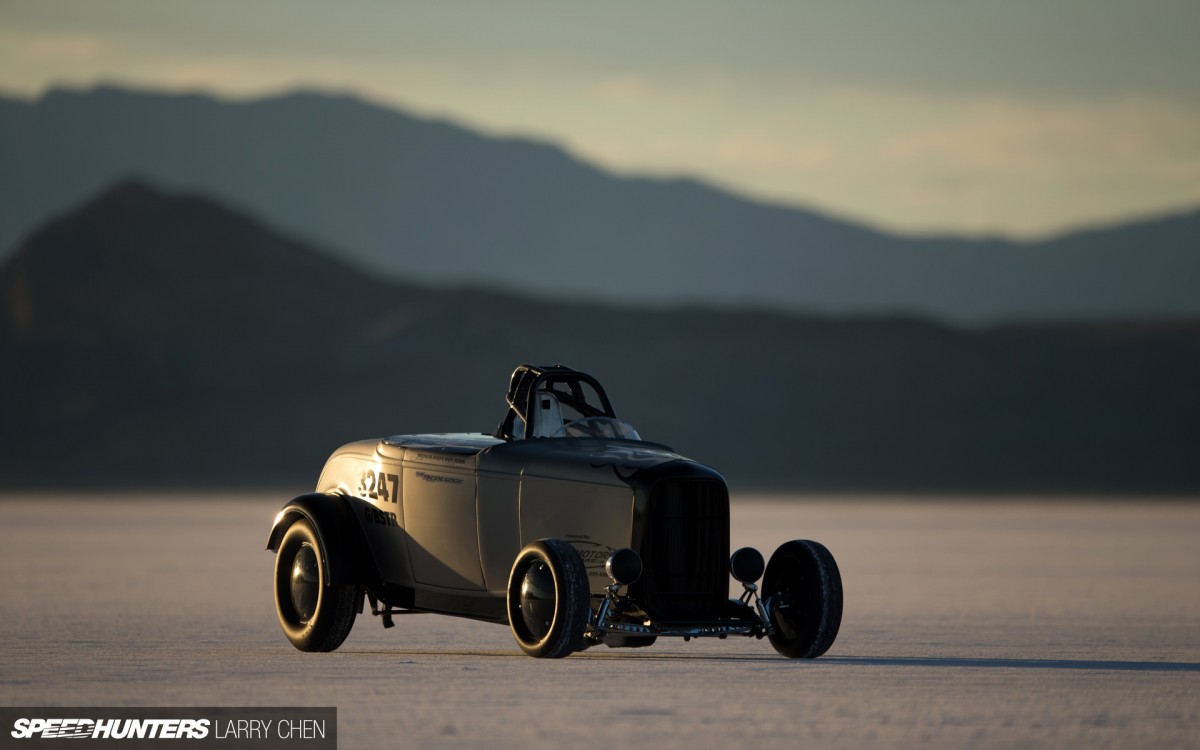 Can you imagine how that must feel sat here on the salt? Even though this is an entirely new car, the skillset and experience taken to build it has been drawn from so many different areas and decades even. In the Youngblood stable alone, they have an incredible array of '32s to draw on. Twin turbos? Yup, done that and won the prizes… Bike engines, well you read that already.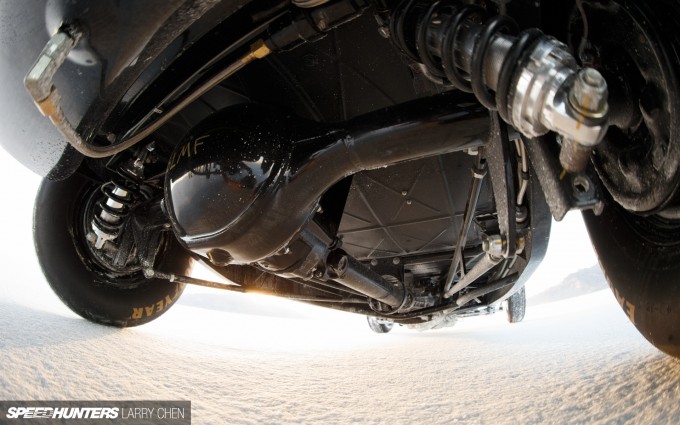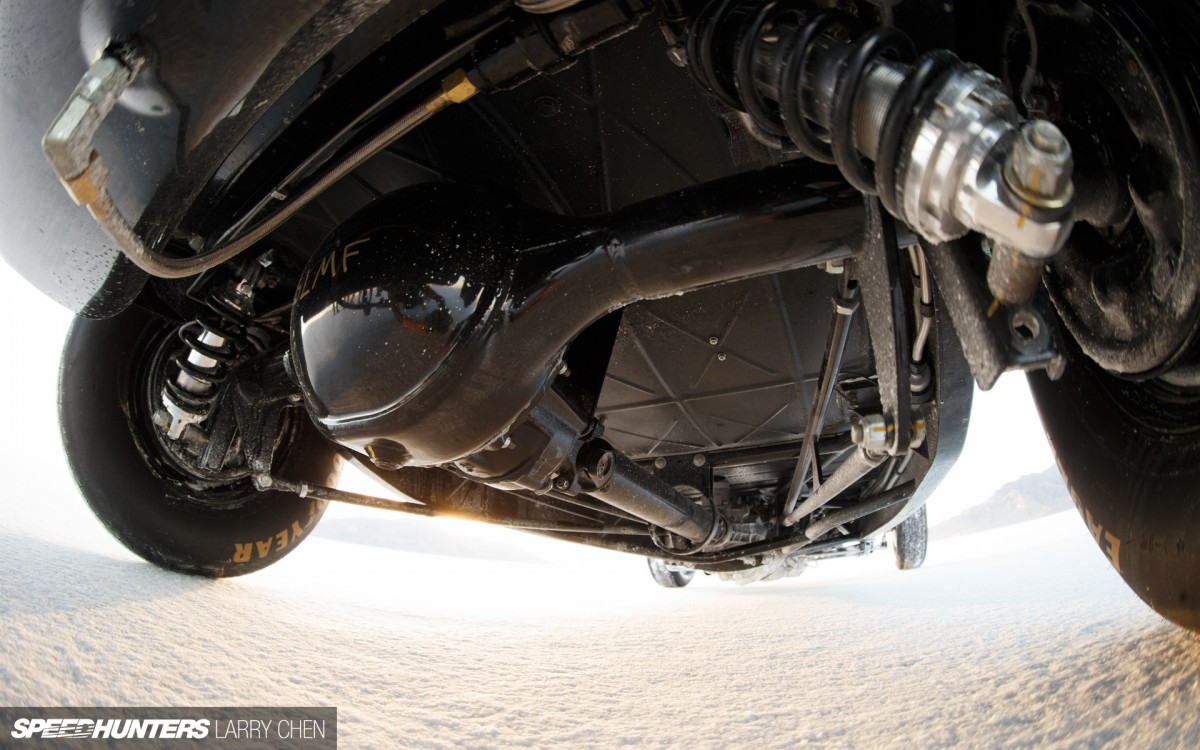 As you saw before the entire underside has some wonderful detailing for the salt to feed on: the Currie 9in diff being a traditional rear end connected to the five speed manual by some heavy duty billet yokes and a custom prop.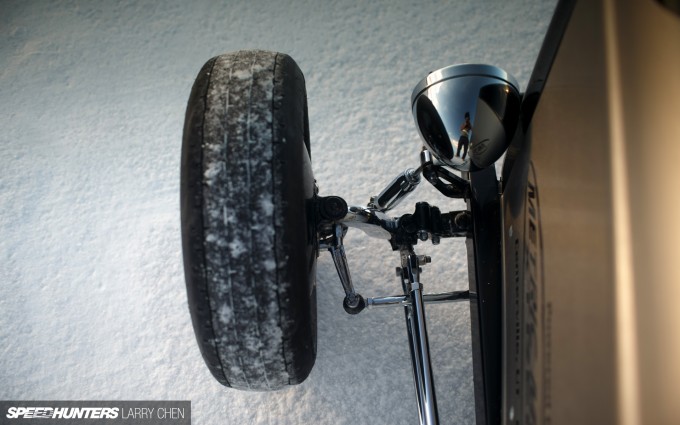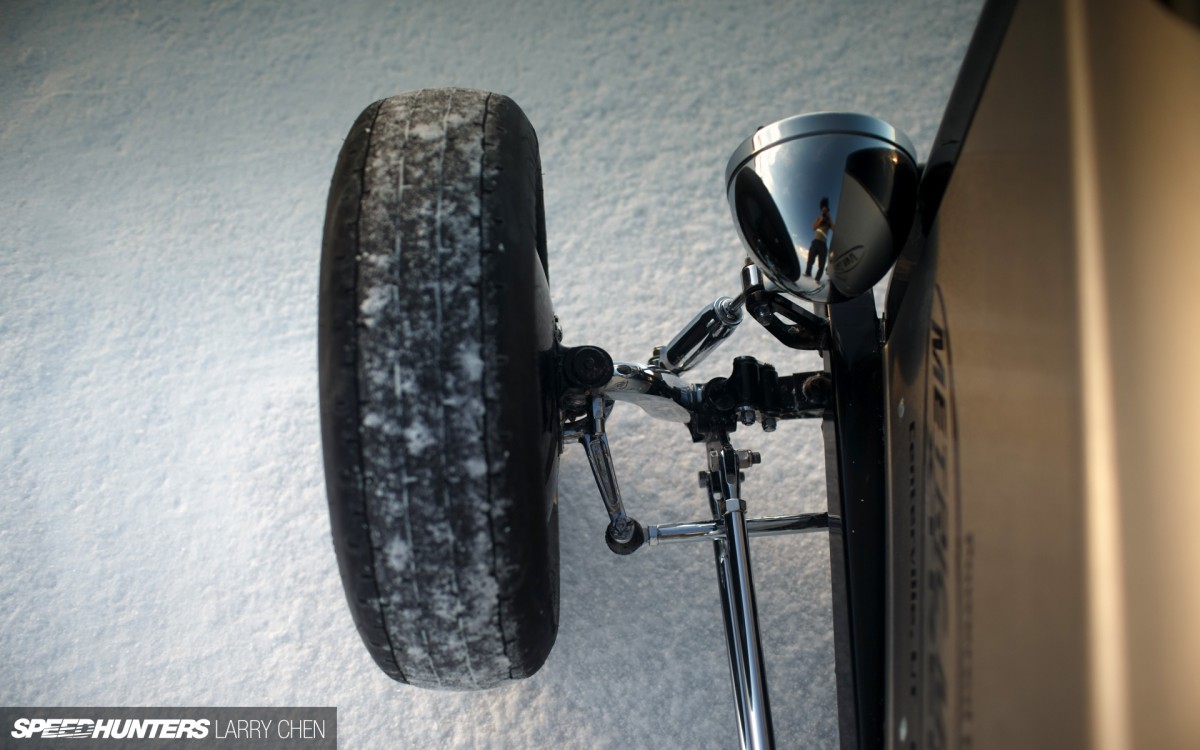 Although you may find a modern powerplant here, there's no independent front suspension or other modernities to spoil the view. No front brakes either: Bonneville shouldn't be about hard braking so the rear drums should be fine at low speeds.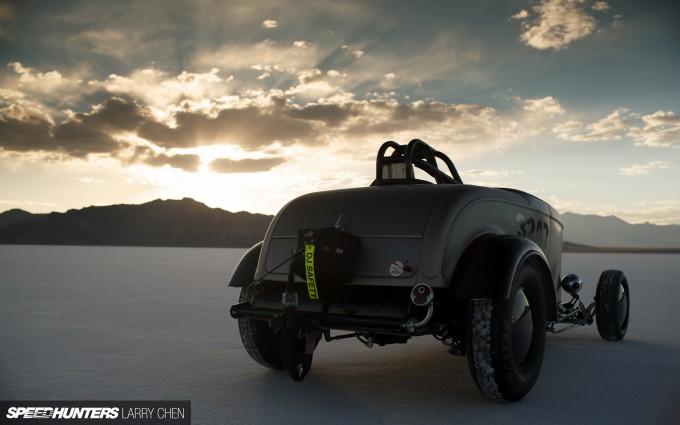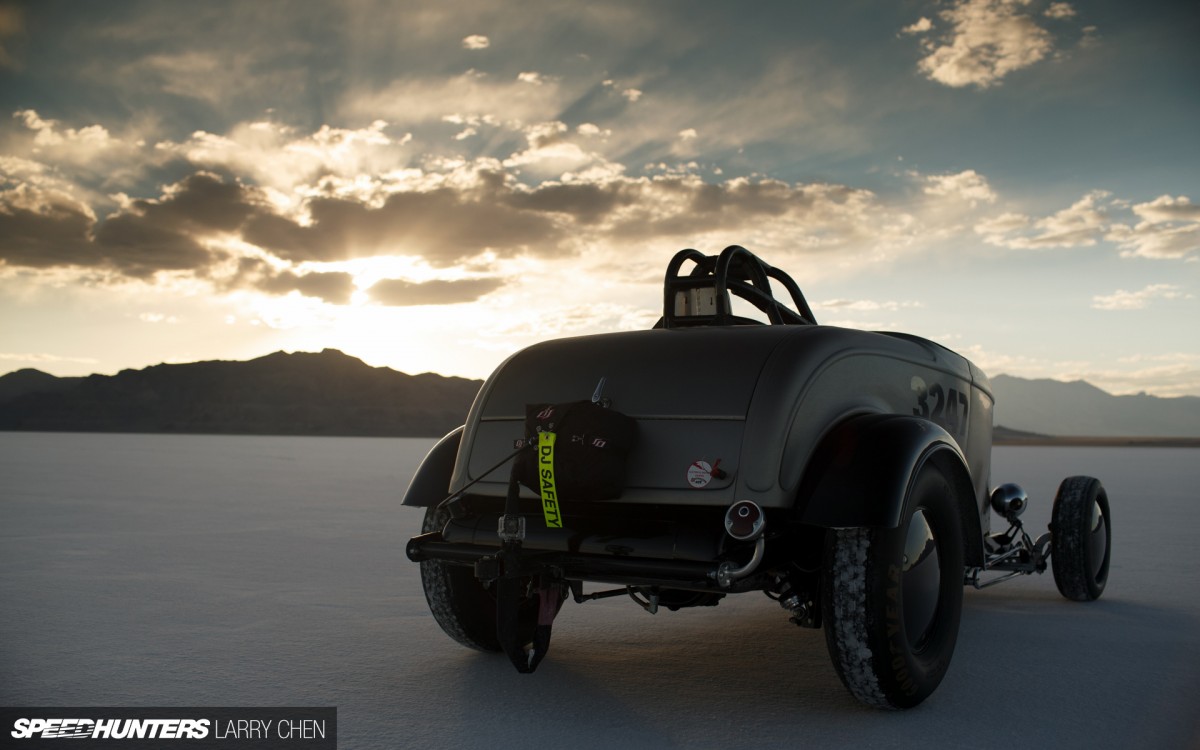 The parachute can help with the rest. That single rear light takes care of the regulations I guess, whilst saving some weight by not having an accomplice on the other side?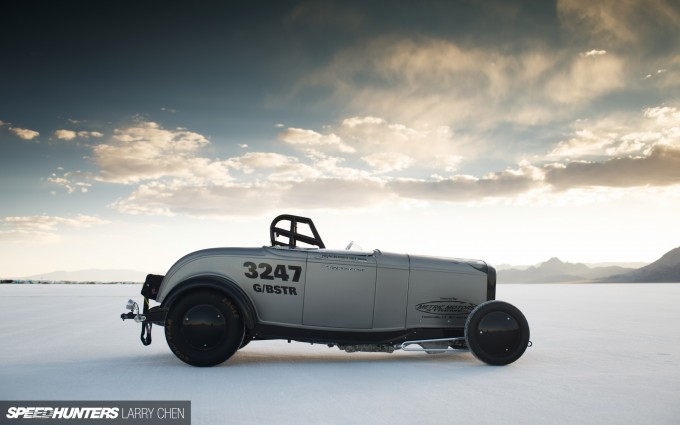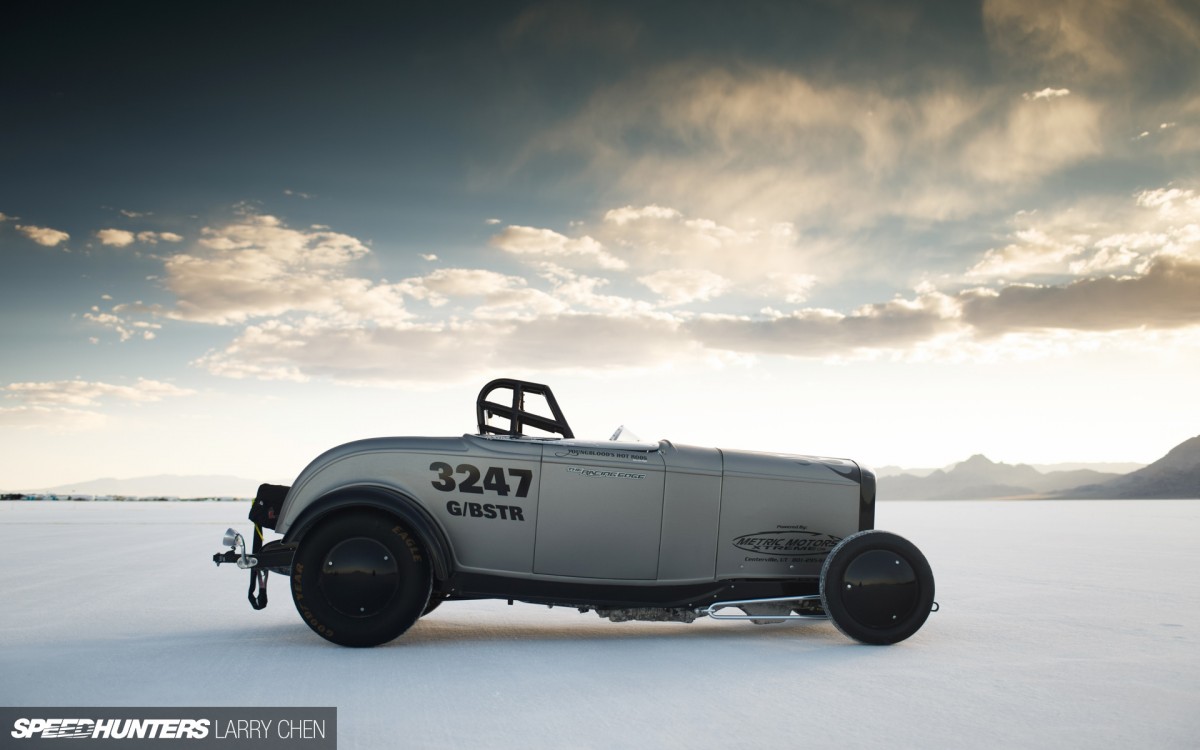 The clean, nose-down stance of the roadster is still very much intact. Hold your thumb up to the screen now and cover up that cage protruding from the profile and tell me it's not a wonderfully purposeful shape… go on. The simple black and grey 3M wrap colour scheme doesn't over complicate things and I really like the gloss-finished discs. Quite often you see fenderless rods but here the guys have kept a Wescott rear fender. I'm no aero expert but I wonder if maybe this can add a little downforce, or maybe it's cleaner than the larger spinning rear tyre?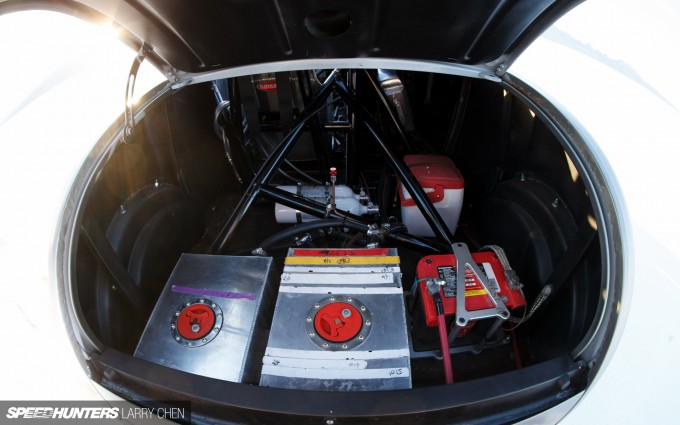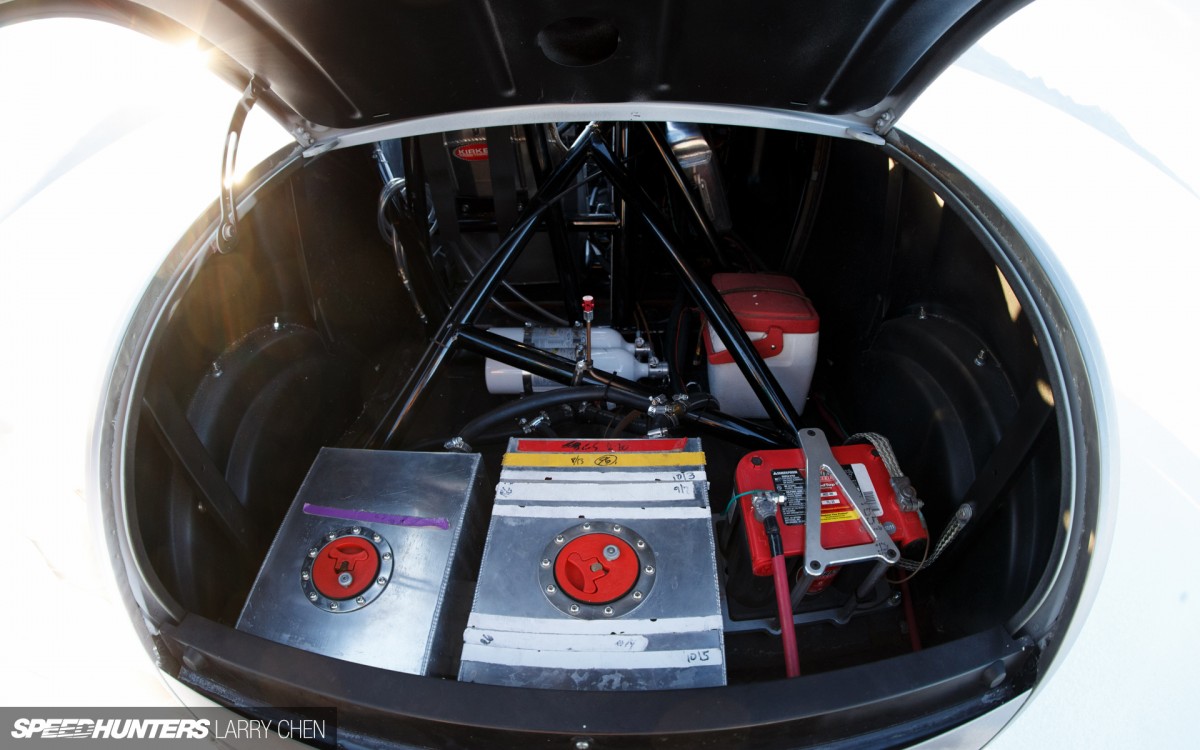 In the back it's very much about business, with alloy tanks and an Optima battery strapped safely down. You can also see the fire system in front of these with what appears to be a cool box? Stubby at the end of a run anybody?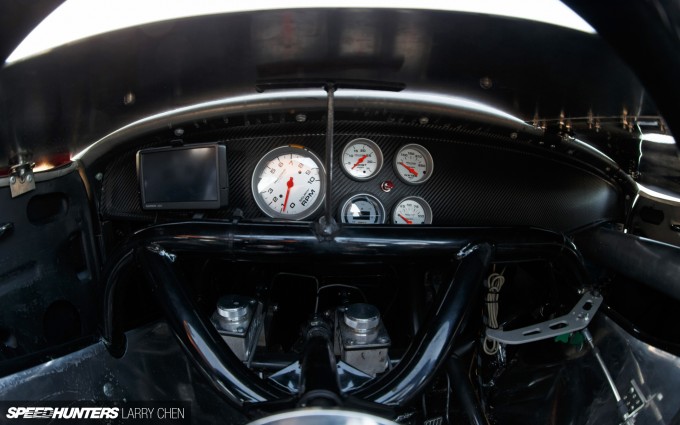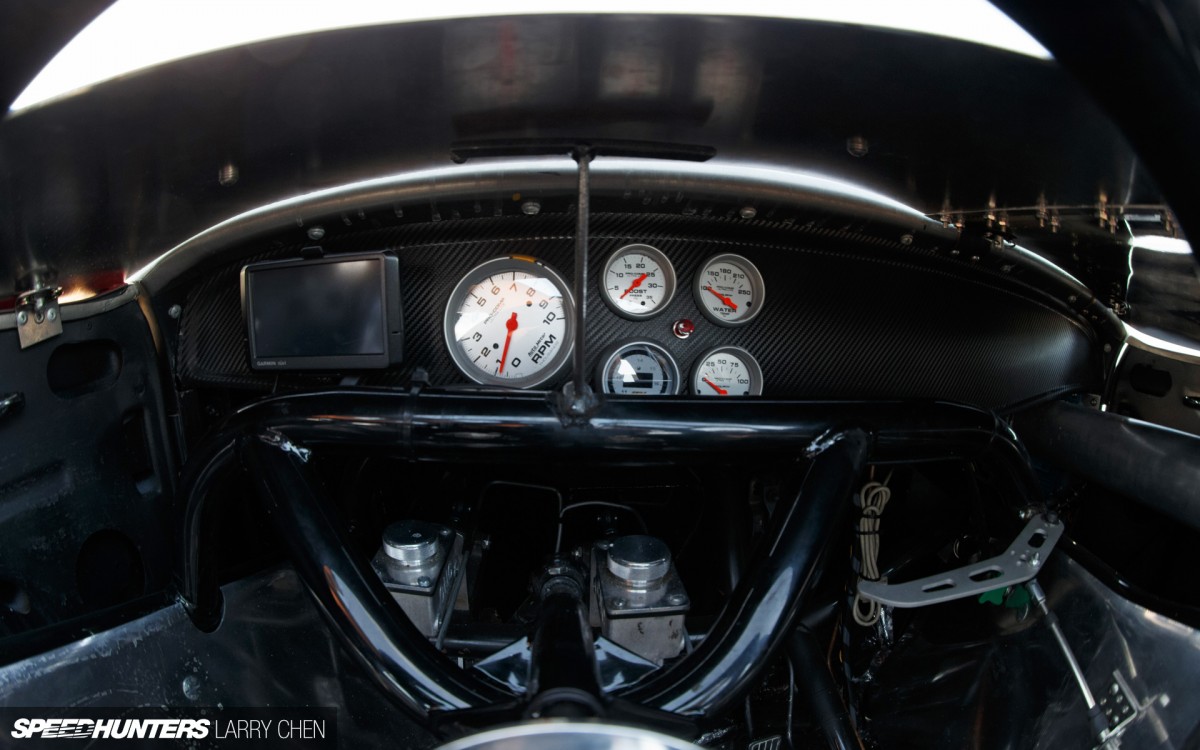 Looking at the dash in close-up, you can modern gauges giving feedback on what's happening. Just below and to the right, the safety cell that JD put together to protect his sister is very obvious here. The alloy lever to the right is the parachute release, easily to hand for when the run comes to end.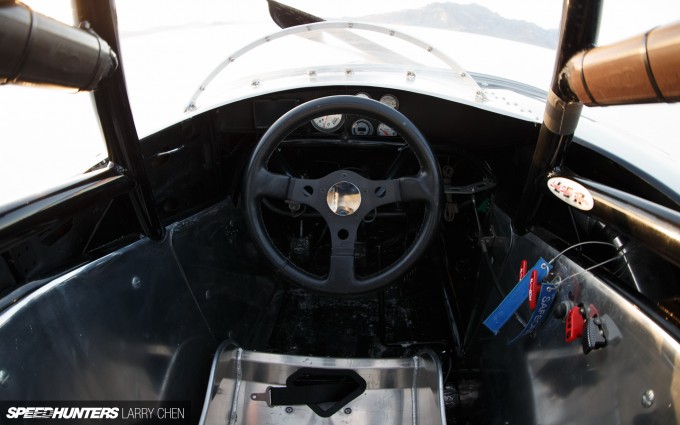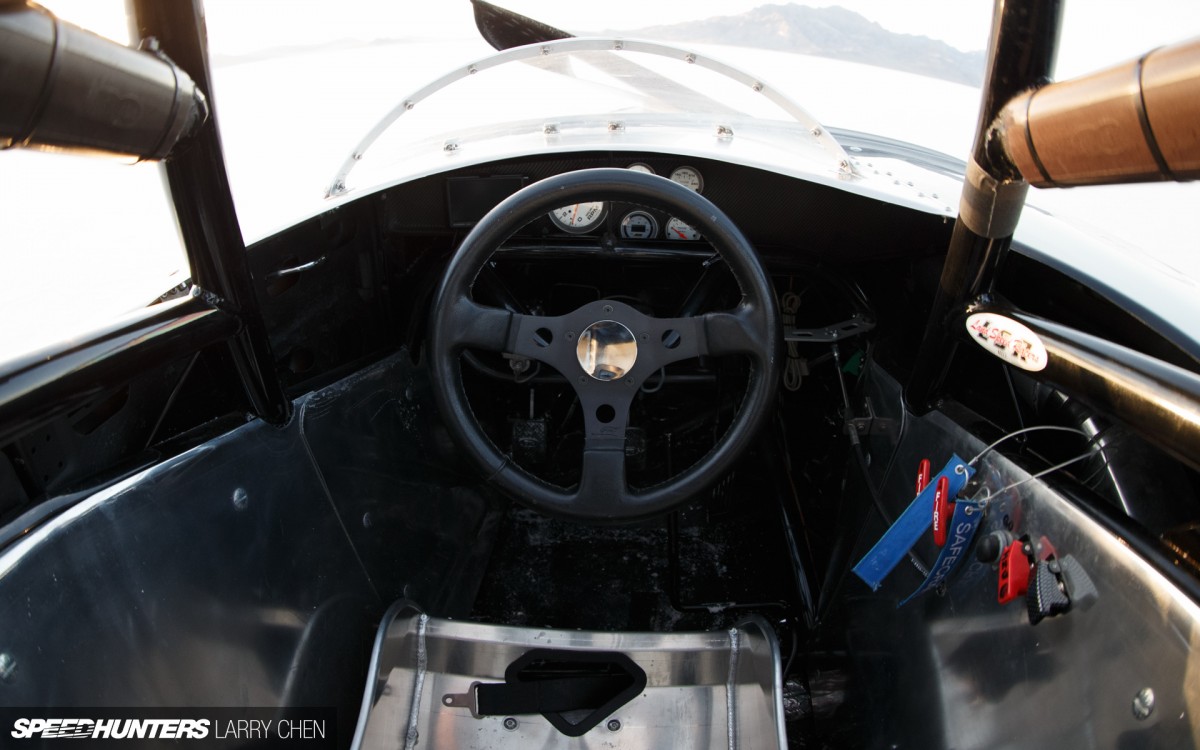 And that's pretty much it: a stripped-down, globally-inspired world record breaker.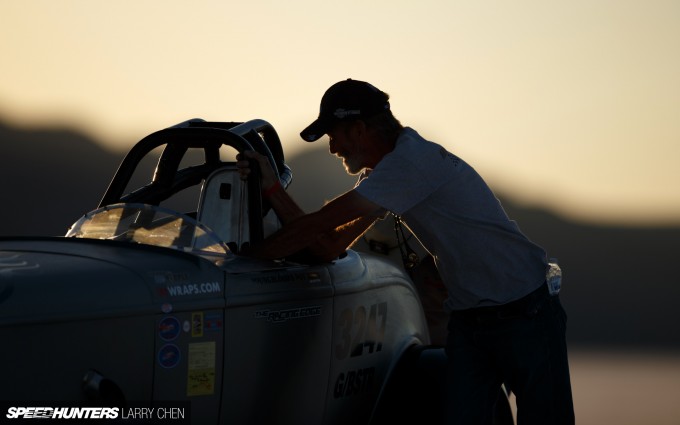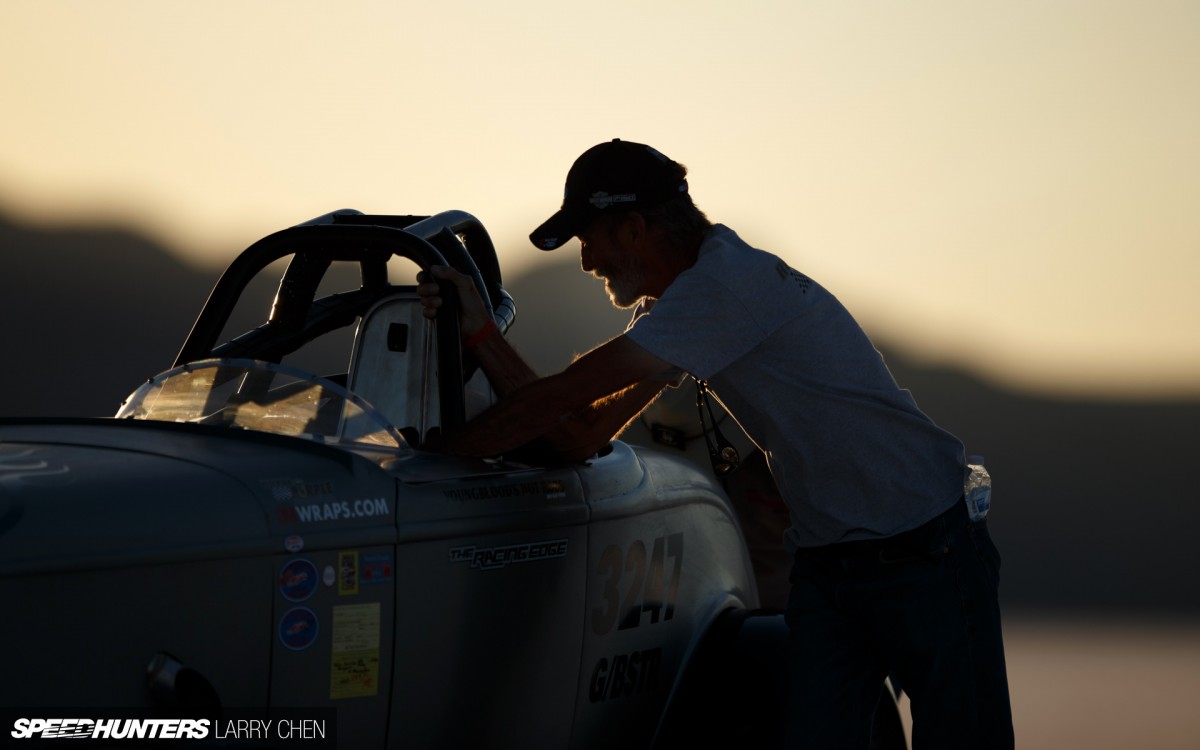 So what's next for the team? You've got to be wondering where they could possibly go after this. If you make it to SEMA 2013 you'll be able to see, as their next '32 Ford build will be on display there and we'll be tracking it down for sure. It's another ground-breaking piece of hot rodding, then I for one applaud. So keep your eyes peeled.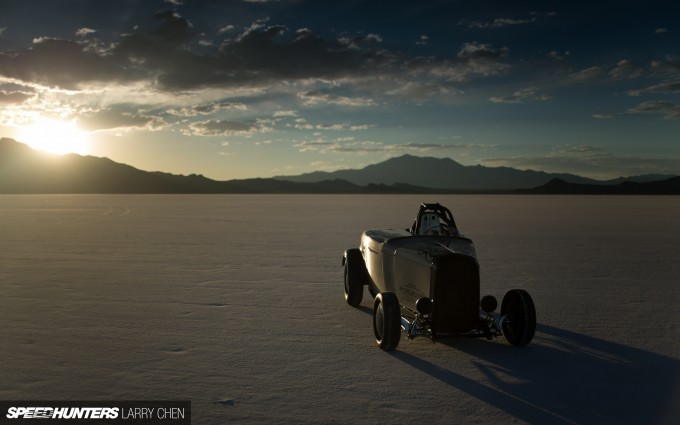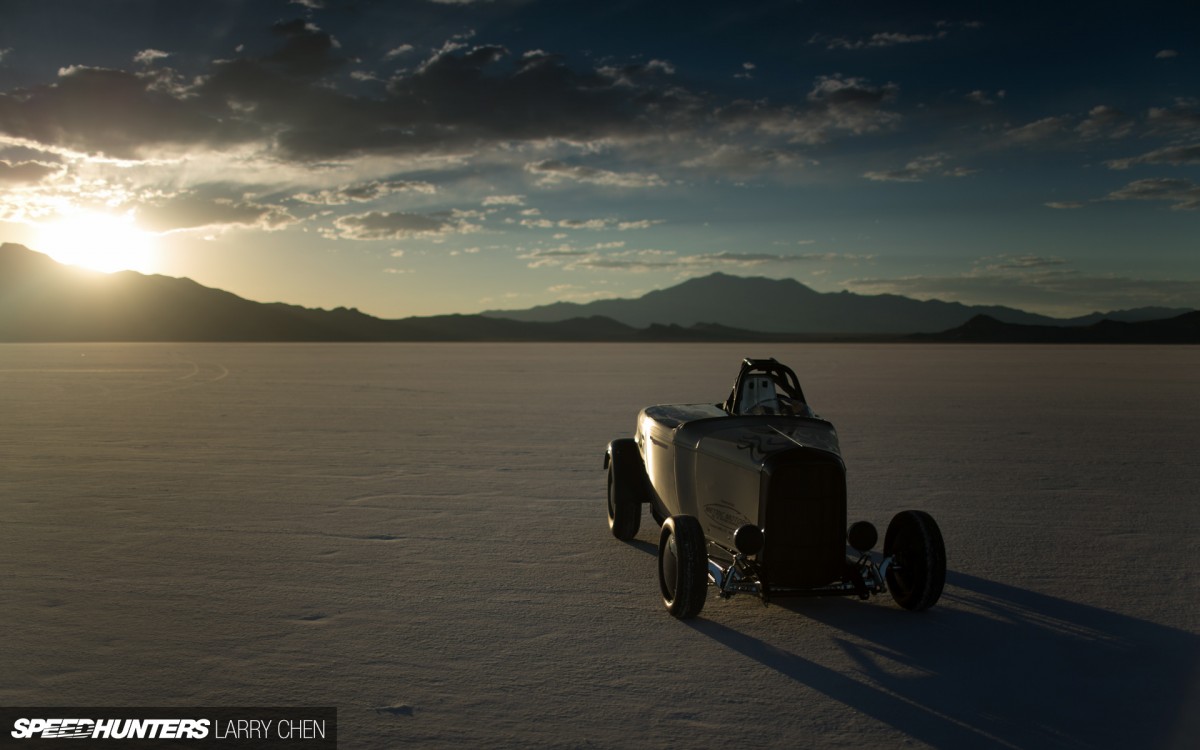 Because you'll be hearing more of the Youngblood clan, as JD and sister Ali are leaving the halls at SEMA early to head for El Mirage with this '32. There they will try and beat the current class record over a mile and a third compared to the much longer course at Bonneville. The record stands at 146 (or maybe 147) miles an hour according to JD. We suspect it might be much higher after that event… So take a little inspiration from what you've seen here today and open up your horizons – you never know what you might see. That's what JD did with his 'push the farthest you can' attitude, making me smile when he remembers somebody saying "It's the weirdest V8 I've ever heard…"
Maybe they should have listened more carefully. That's the sound of change my friend.