The streets are alive
Japan. Why is it that we can't get enough of this place? That's a question which I could dedicate countless articles to, but I think we can all agree that there's just something special about the country and its car culture. Over the years I've been fortunate enough to visit some of Japan's best events, workshops, museums and more – yet every time I visit there's a certain sense of excitement that comes with just being out on the street and taking it all in.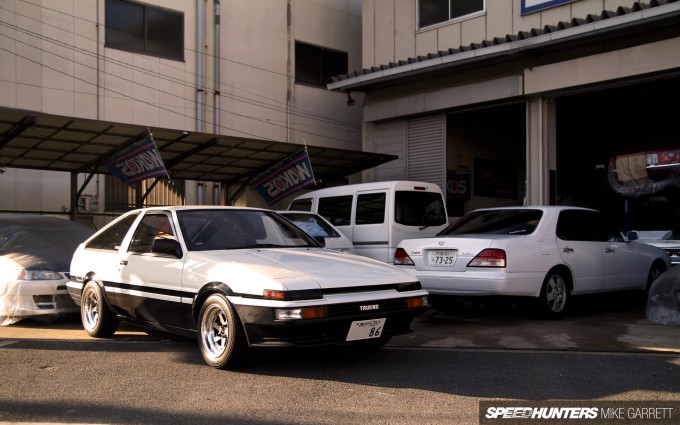 Yes, checking out the events and shops is great, but at times I think there's really no better way to experience the place than by just wandering around and seeing what you can find on the street. As you've seen in some of the posts we've done in the past, a simple stroll through the streets of Tokyo can often be better than a lot of the "real" car events out there.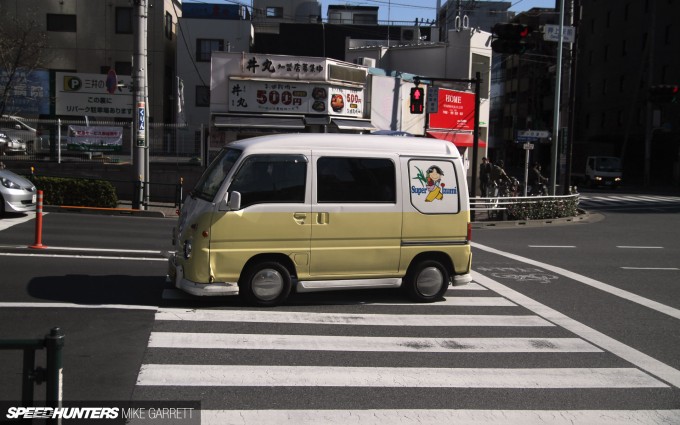 When I'm in Japan, every little grocery store run or walk to the train station becomes a carspotting adventure. Because of this I always try to have my camera nearby – even when doing the most mundane things.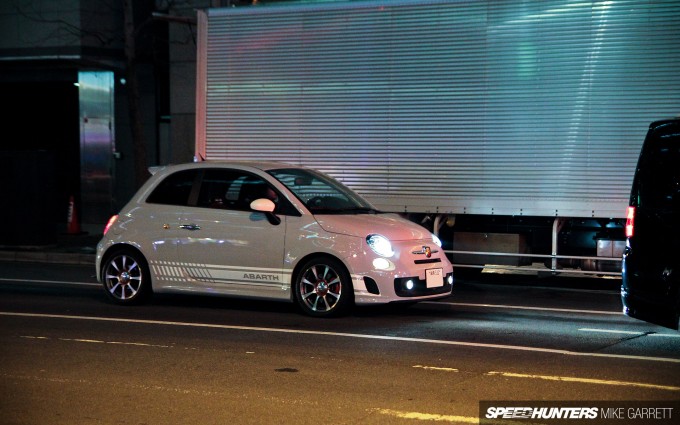 There have been plenty of times when my wife has gone into a shop or something, and instead of enjoying the heat or air conditioning I've elected to stay outside and hunt for cool cars.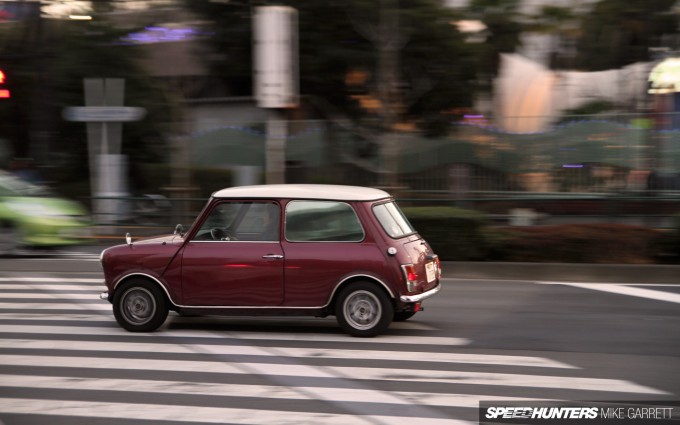 And while I'm sure most people wonder what the hell that white guy is doing standing around on street corners like weirdo, the result is being able to put together fun stories like this one.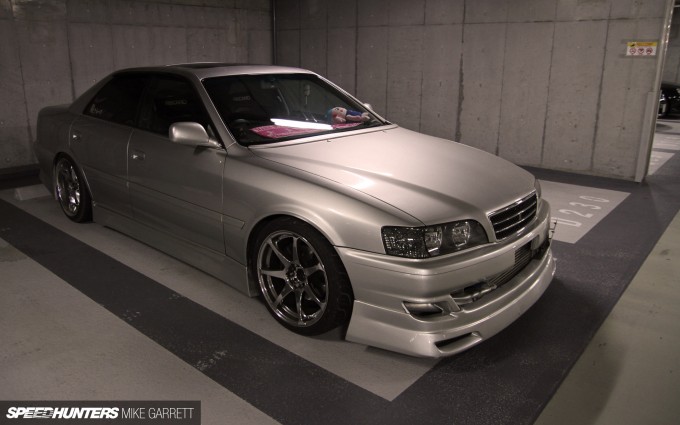 So with that said, I thought I'd go ahead and share some of the random car sightings from my Japan trip earlier this year.
JDM homeland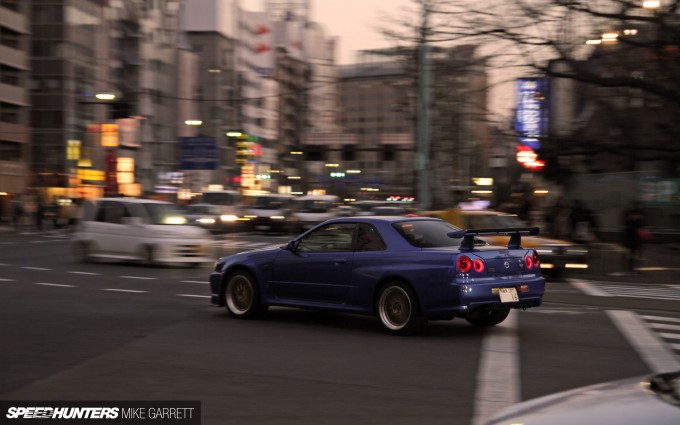 Let's begin with the iconic Bayside Blue R34 Skyline GT-R, spotted cruising near Tokyo Dome City. Does it get much more "Japan" this?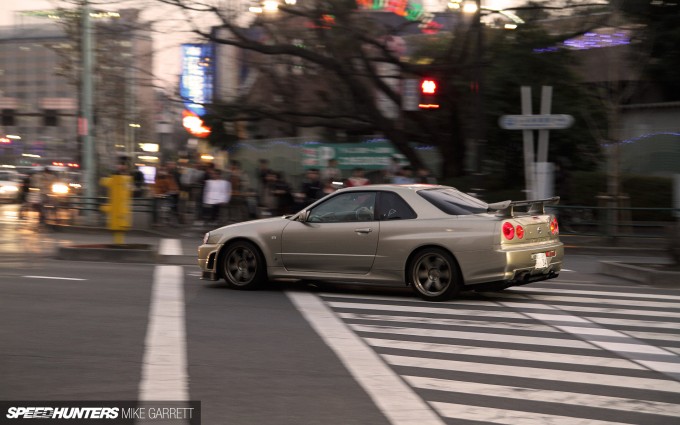 It so happens that a minute or two later, I caught another 34 GT-R rolling through the same spot, this one coated in rare "Silica Breath" gold.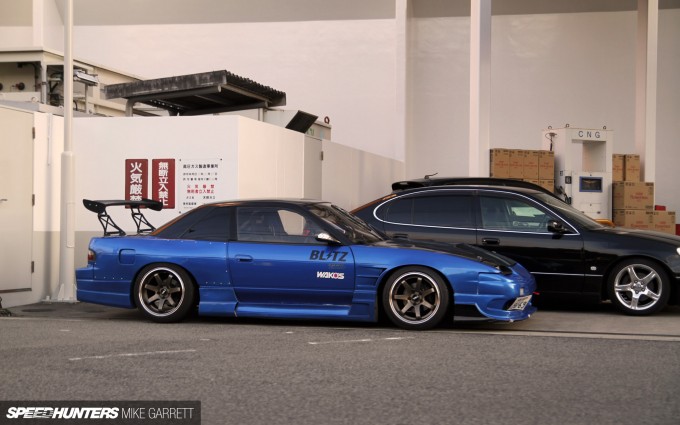 Here's a an S13 Onevia I spotted out the window while rolling around Osaka one afternoon with the guys from Tactical Art.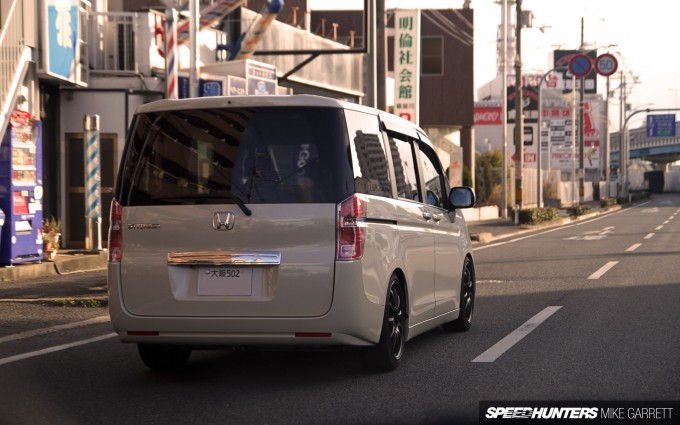 Also spotted while looping around Osaka, this dropped Honda StepWgn. I'm not sure why, but I'm just a sucker for simple boxy minivans like this one.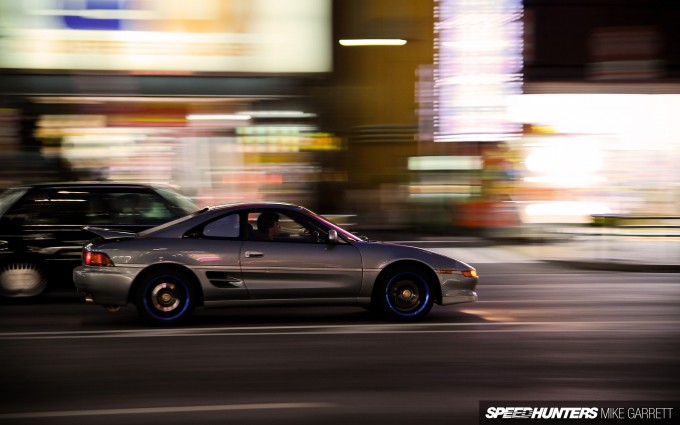 Meanwhile on the streets of Akihabara, I found this SW20 MR2 rolling around on a set of blue-lipped Super Advan wheels for that straight outta the '90s vibe.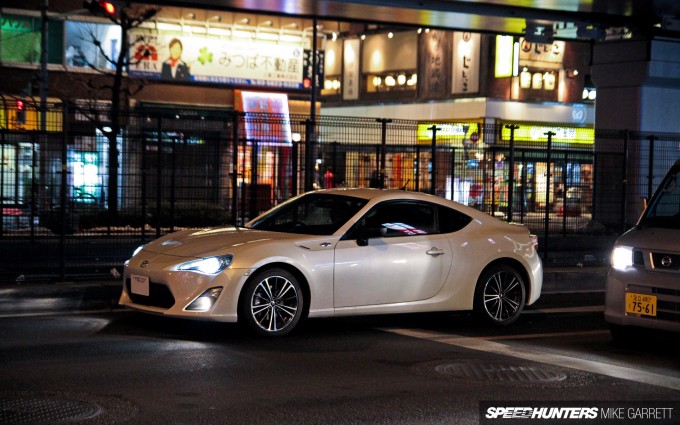 Here's one of the countless 86s and BRZs I came across.  I certainly would complain about having even a bone stock 86 as a Tokyo commuter.
International selection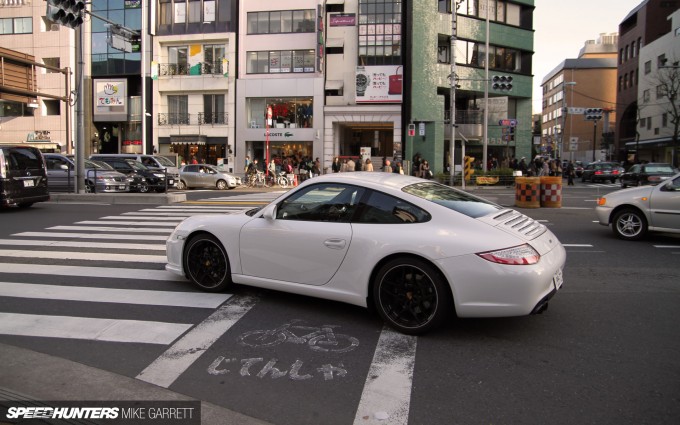 Then again domestic cars are  just one small part of the Japan carspotting experience. It's often the imported machines that truly make things interesting.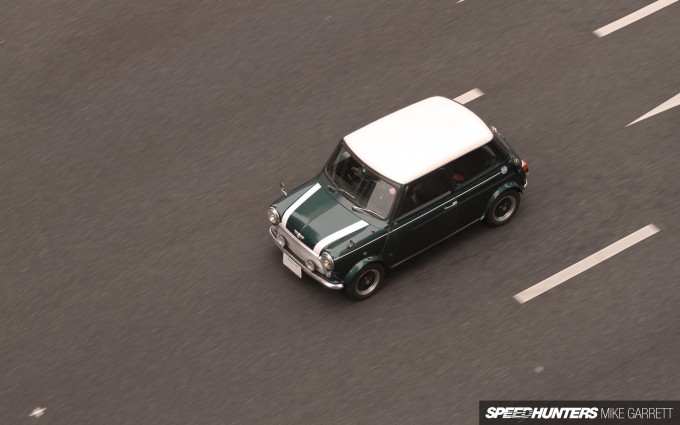 It could be something as simple as the Mini, a car which has always been a popular choice on Japan's narrow roads…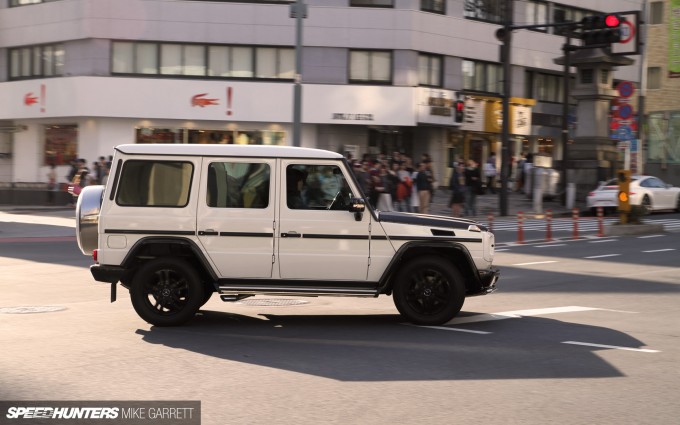 Yet there are always those who throw convention out the window and chose something big and crazy like the G-Class Mercedes. For as large as they are, high end SUVs like this are surprisingly common in Japan's big cities.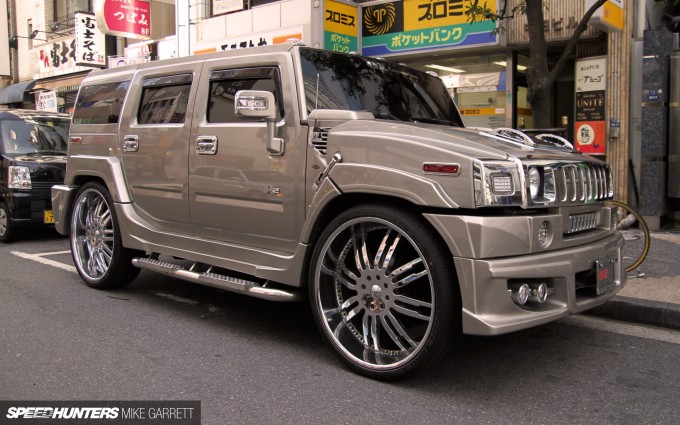 The Hummer H2 is another one those vehicles you see more often than you'd expect. Bling is alive and well in Tokyo it seems.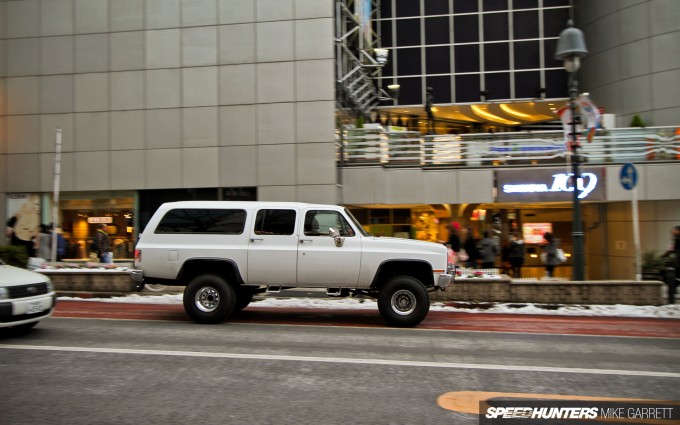 If it was me though I'd much prefer something like this lifted Chevy Suburban, which I spotted rolling by the famous 109 shopping mall in super trendy Shibuya.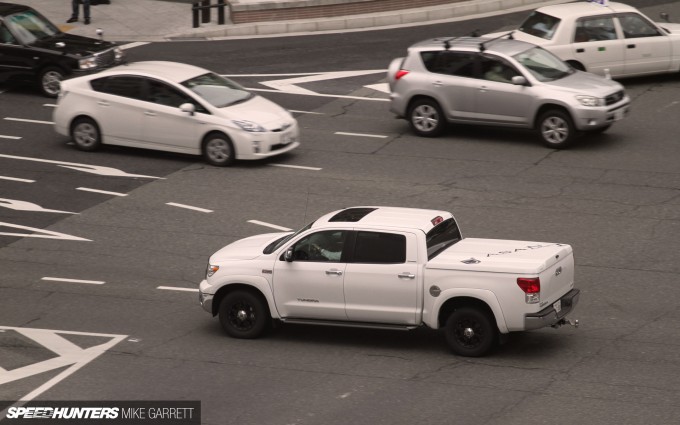 One of the things I love about Japan is that with enough money or motivation, you can really drive anything you want. Here's an American-built Toyota Tundra pickup, which isn't sold by Toyota in Japan but is readily available through importers.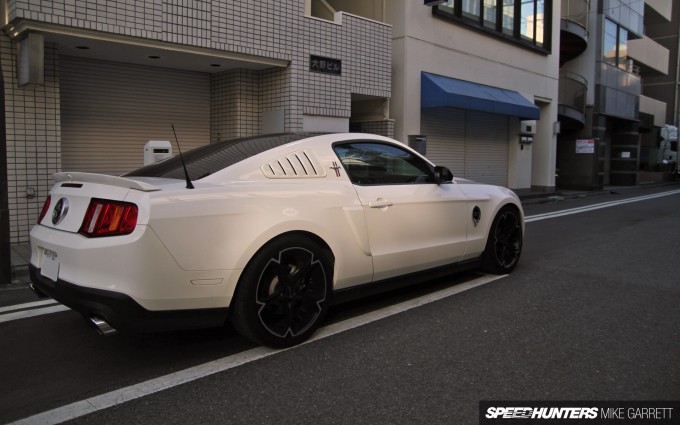 Elsewhere, we have a 5.0 Mustang GT parked on a quiet Tokyo side street early one morning.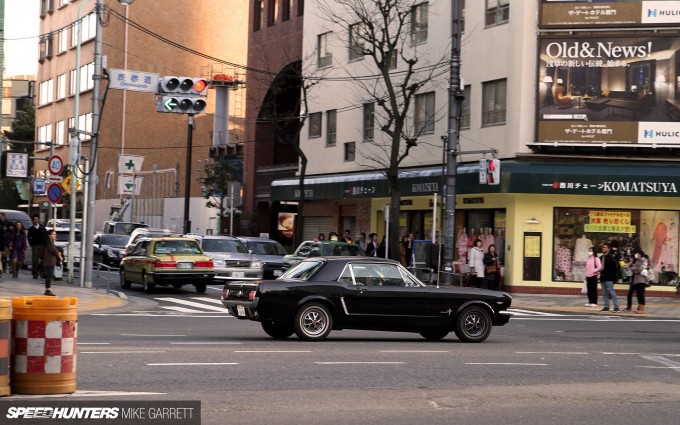 Or how about this early Mustang notchback? This was spotted in Tokyo's upscale Omotesando district on a typical weekend afternoon.
Be seen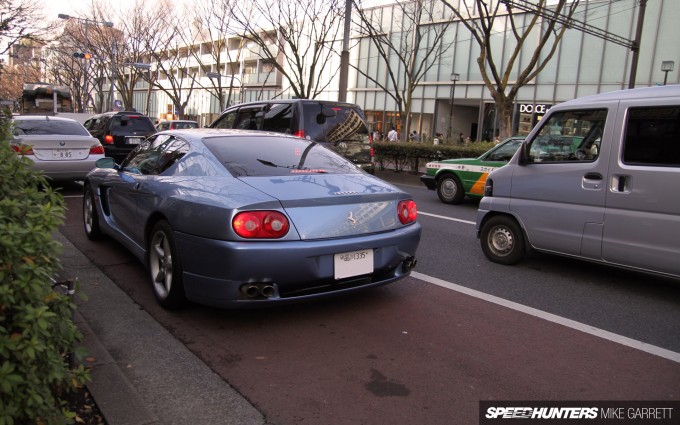 For pure automotive porn, you can't do better than heading out to a trendy area like Omotesando or Roppongi Hills and just taking in the sights.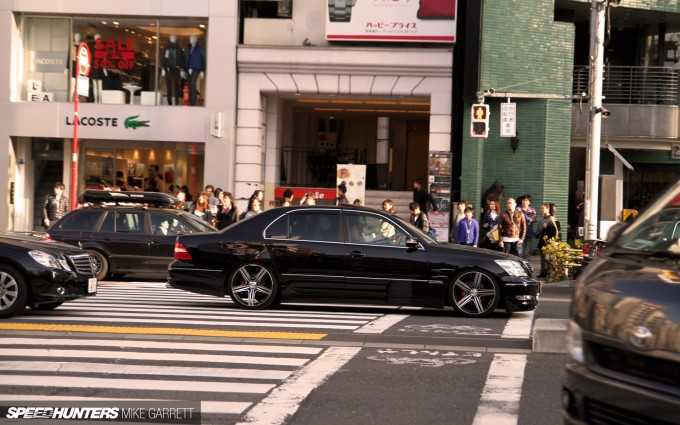 I mean, what better place to roll around in a domestic VIP sled like this Toyota Celsior?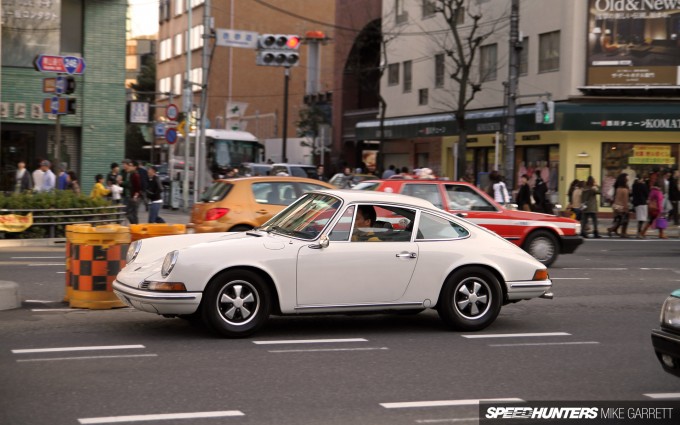 Nothing hits the spot like an early 911, especially when its cruising through a sea of Tokyo taxicabs.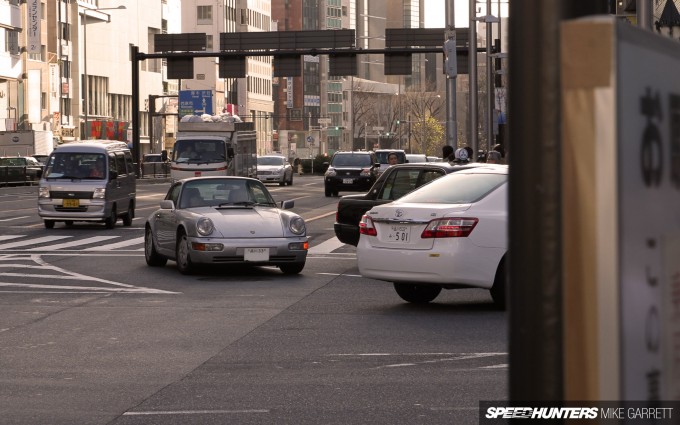 Here's an elderly gent out for a drive in his bone stock Porsche 964. I swear there are times when you think these cars were actually built in Japan.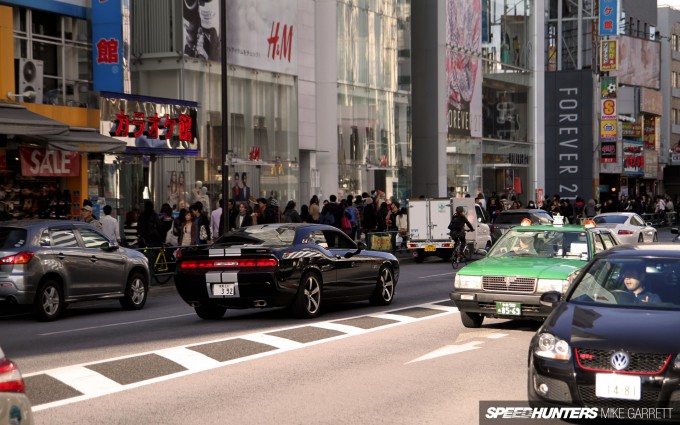 Harajuku is another place where people go to be seen, and that's where I heard the distinct V8 rumble of this 392 Hemi-powered SRT Challenger. God bless the USA.
Rare machines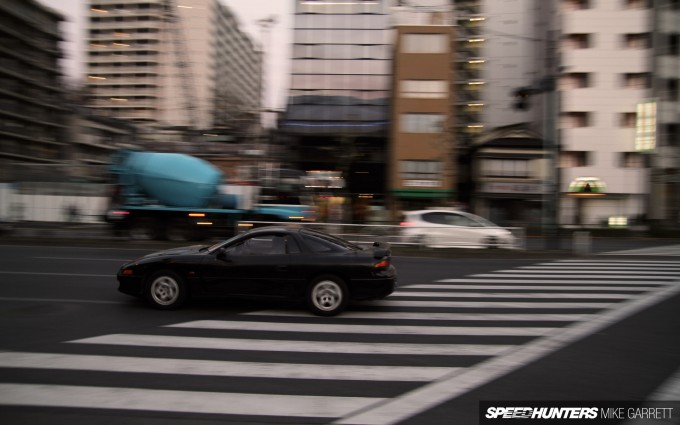 It's also fun to keep an eye out for unusual Japanese cars, either low production machines or cars that have largely disappeared – like the Mitsubishi GTO seen here. You are guaranteed to see more Hummers on the streets of Tokyo than you are Mitsubishi GTOs.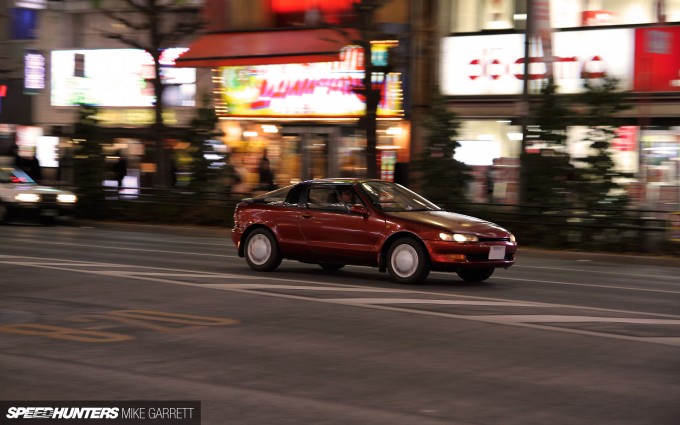 The Toyota Sera is another rarity. You know, that strange little car with the gullwing doors.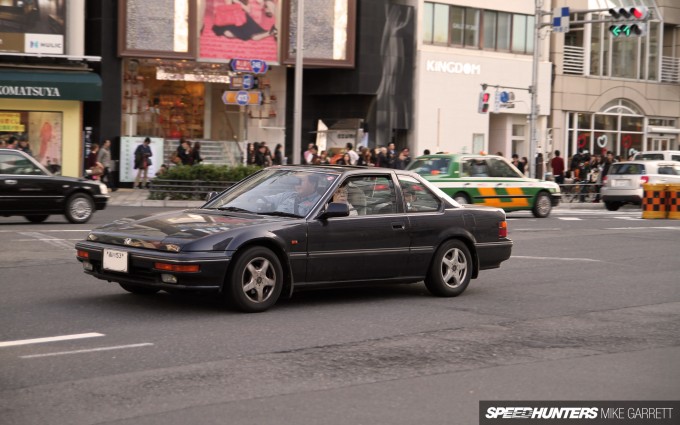 Perhaps the rarest Japanese car I spotted was this third generation Honda Prelude. I honestly can't remember if I've ever seen one of these in Japan before. Cool.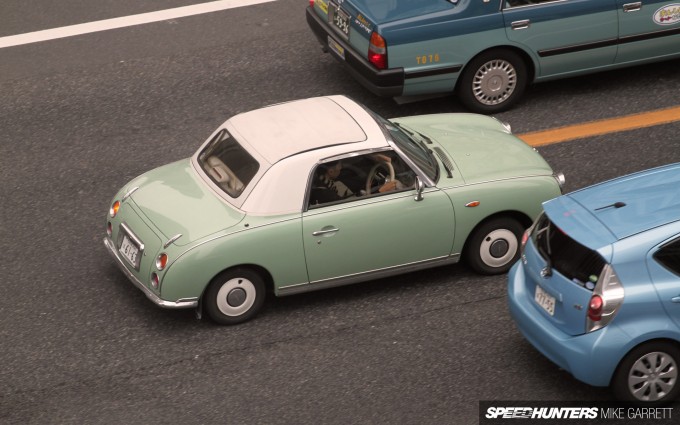 When it was first released in the early 1990s, the Nissan Figaro was one of the world's first true retro cars. Now more than 20 years later it's become a legit classic in itself.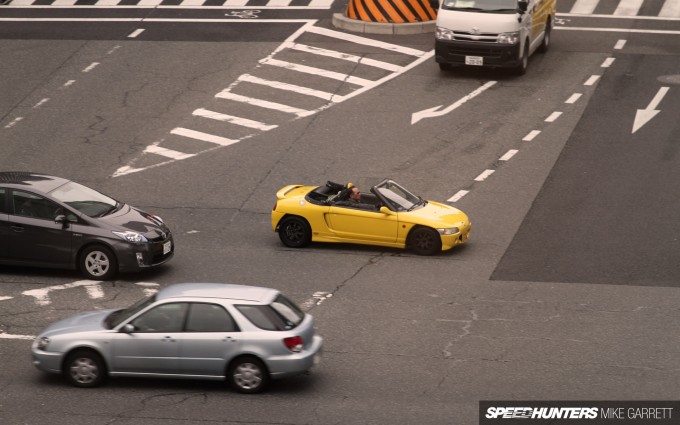 Also coming from that same great period of the early '90s is the Honda Beat, seen here cruising through the middle of Nagoya with the top down.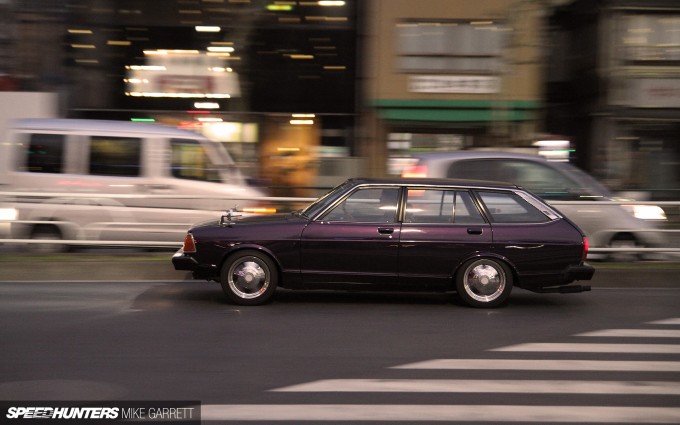 Carspotting in Japan is all about expecting the unexpected. You can be staring at an endless line of kei cars and then out of nowhere something strange like this custom 310 Nissan Sunny wagon comes rolling by.
Only in Japan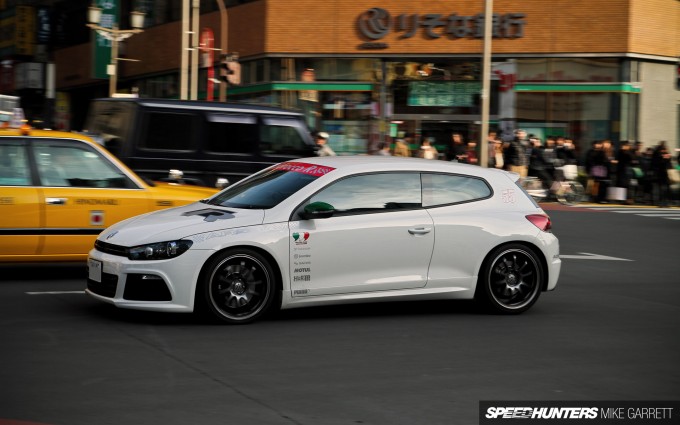 Shibuya's world famous scrambling intersection is a prime place for people watching, but I'll stick with the cars. It's here where I found this tasty looking VW Sirocco R. Looks like a company demo car of some sort.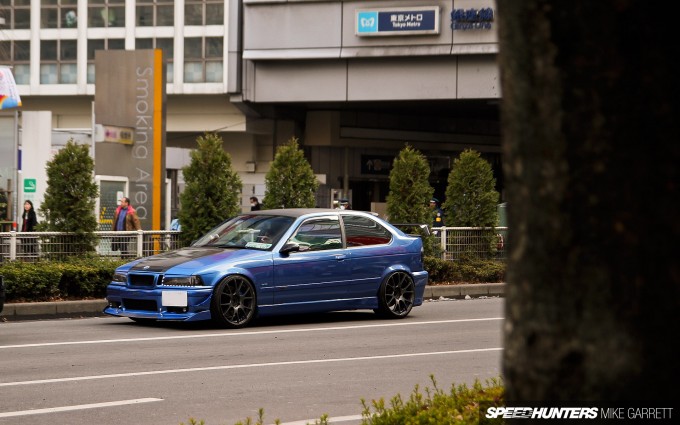 Also in Shibuya I spotted this not so common BMW 3-series Compact. You just never know what you'll see around here.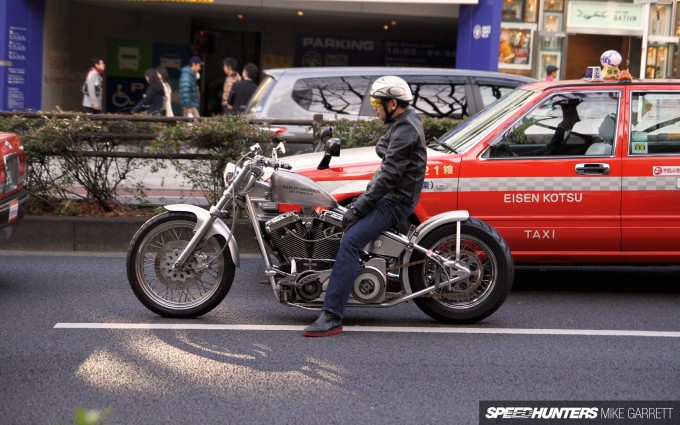 This post is about carspotting, but it also should be said that the two-wheeled machines on the streets of Japan don't disappoint either. It's all there, whether you dig choppers, cafe racers, or any other type of bike.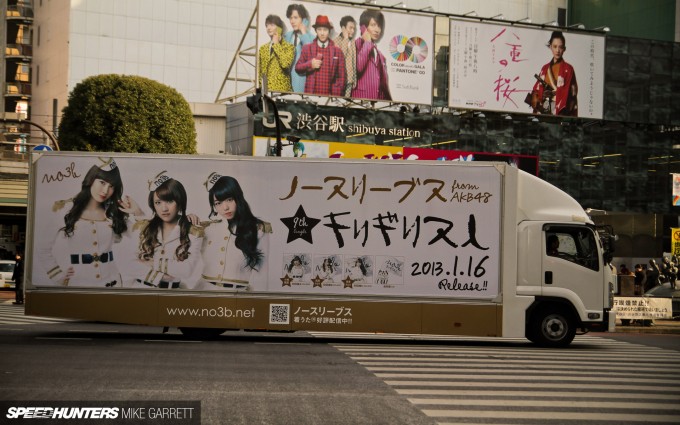 On top of all the cool cars (and bikes) – you also have the strange stuff. I'm talking about the rolling billboards for pop idols, blasting music on an endless loop. I immediately went out and bought 10 No Sleeves cds after seeing this.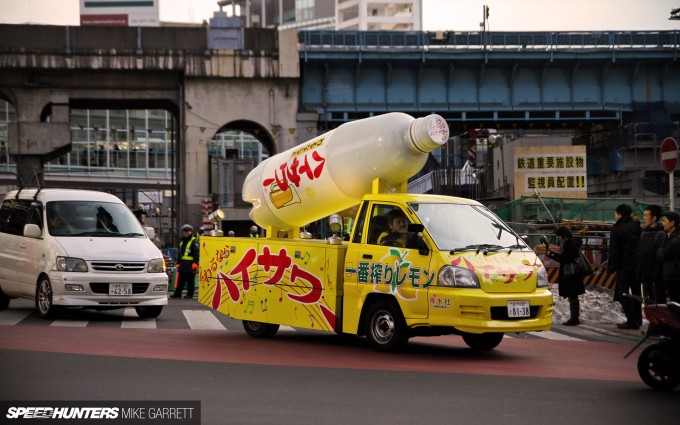 Other forms of rolling advertisement are a bit more creative in their presentation.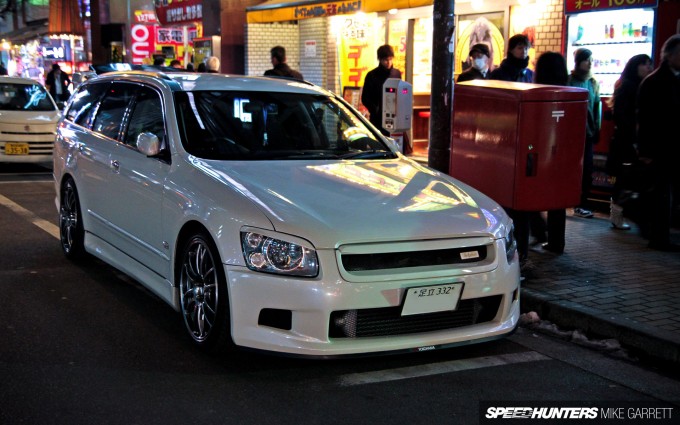 I thought it was only fitting to wrap up this little expedition in Akihabara. It's the otaku capital of the world. and also a place where you'll find some of Tokyo's most interesting cars. Here's a nicely modified M35 Stagea I found one night.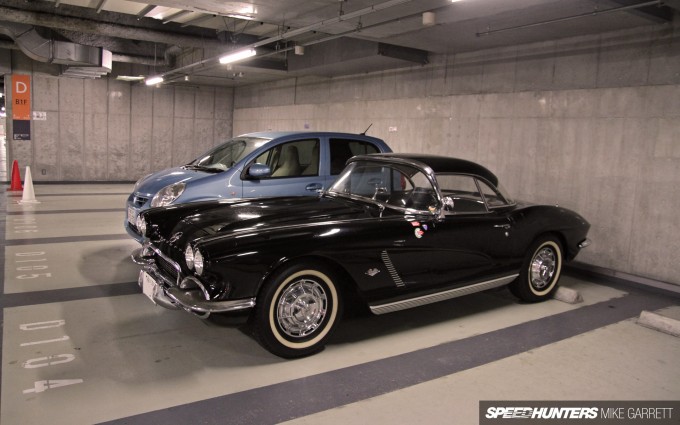 It was inside one of Akiba's parking garages where I came across this beautiful first generation Corvette parked unassumingly.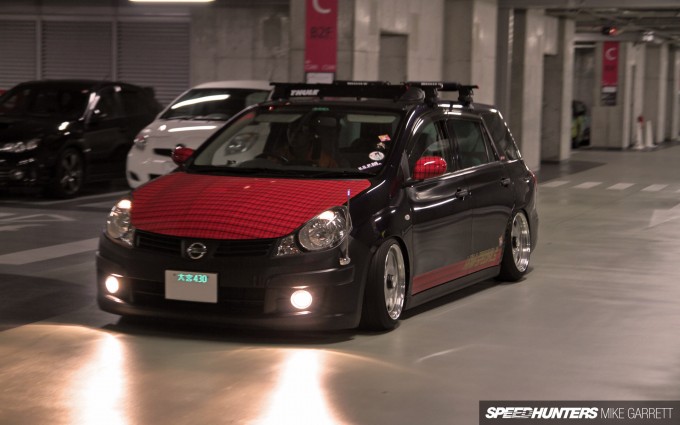 It's also where I found this cool Nissan AD Van done with a bit of a USDM touch.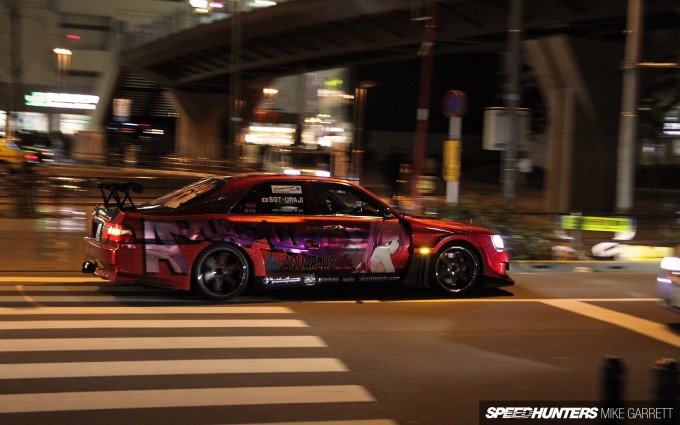 I'll wrap up one of the craziest cars I saw during my entire trip – a widebody Nissan Cima looking like the offspring of a VIP sedan, a Super GT car, and an Itasha. Only in Japan.
That will do it. Hope you've enjoyed this little batch of car sightings.
Mike Garrett
Instagram: speedhunters_mike
mike@speedhunters.com