Aiming High
If there's one thing that's important in life, it's to have goals. Whether they be ludicrous, out-there, unlikely probabilities, or clearly defined, achievable aims, what we strive towards in life defines us as people. It gives us purpose, a vision, something to aim towards. It makes us who we are.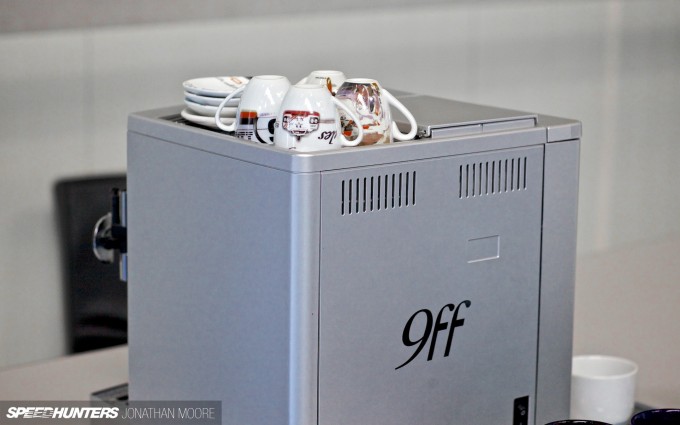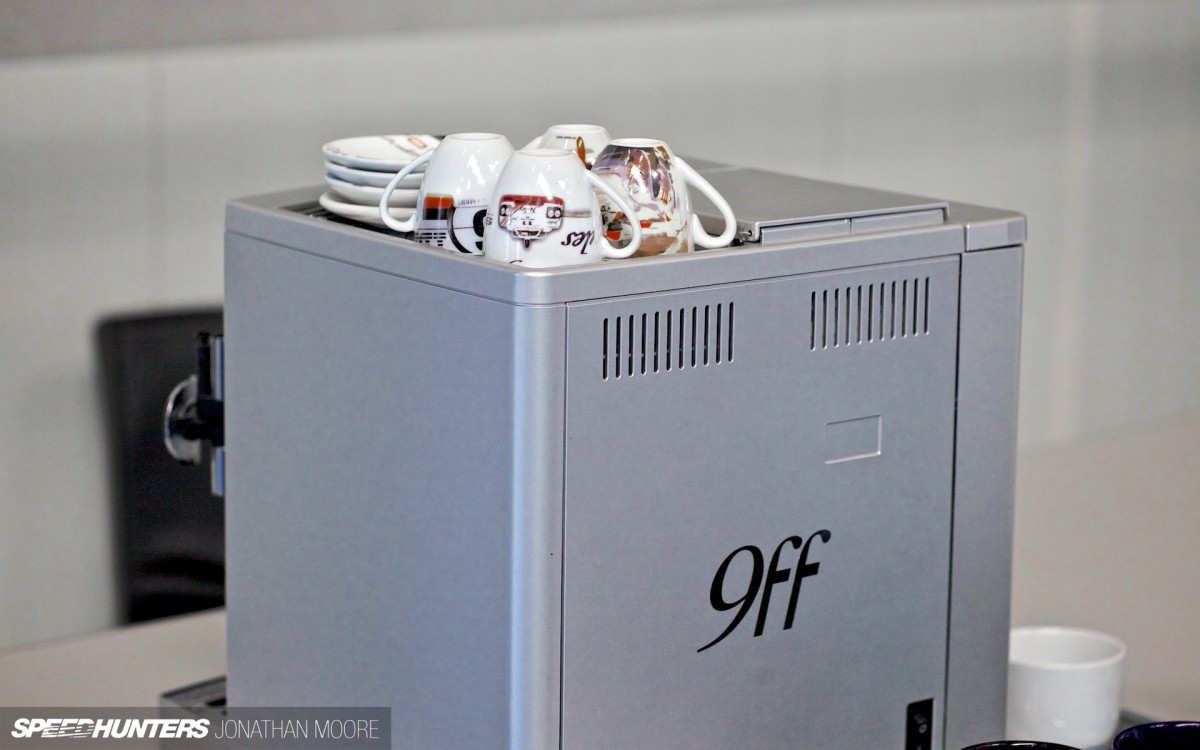 Jan Fatthauer is a man who clearly dreams big. Ever since he was a child, he's loved Porsches – it's a love that's evident everywhere you look, from the cars littering the workshop, to his Porsche-themed espresso cups and plates. Out of that passion grew the dream to build the fastest car in the world. But rather than just dreaming about it, he's gone all out to make that dream into a reality. And 9ff is the reflection of that pursuit.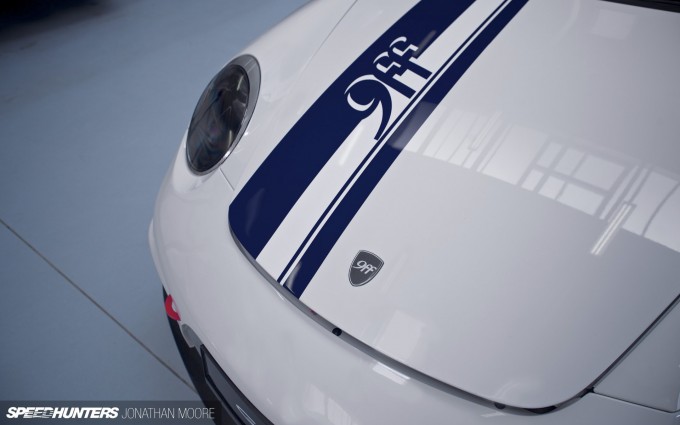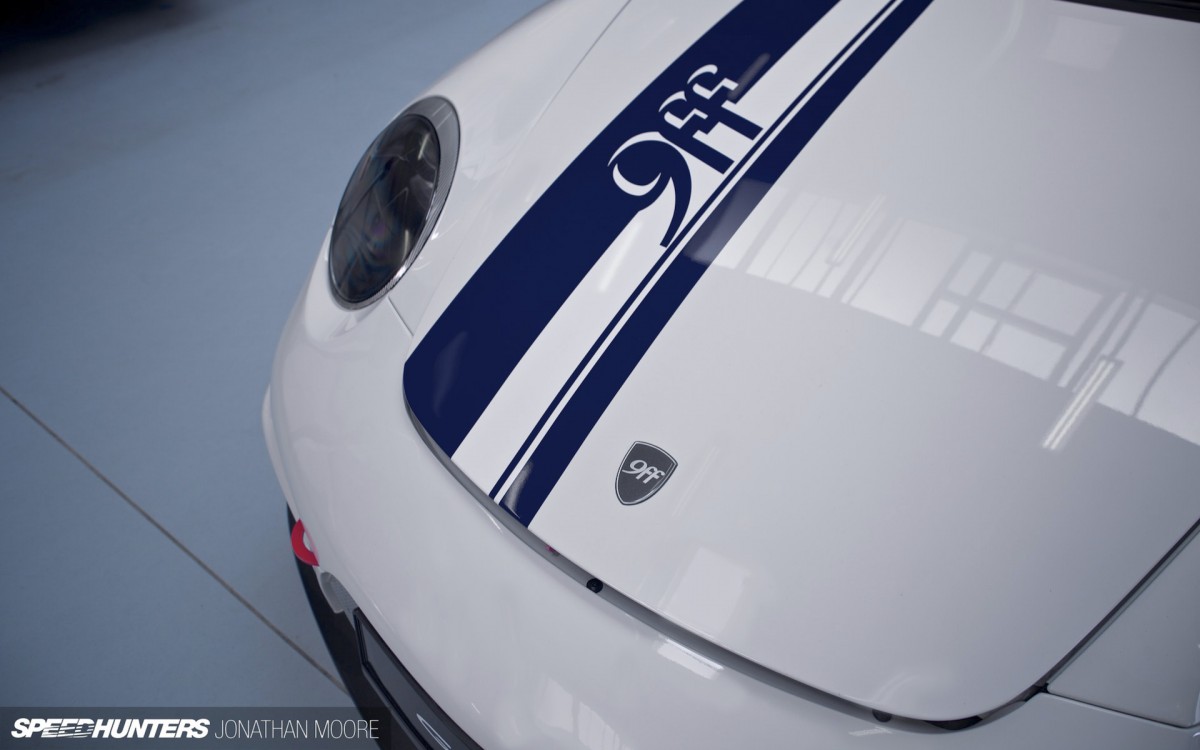 After training at Hamburg University as an engineer specialising in cars, engines and gearboxes, Jan worked at a few other notable German tuning companies, namely Brabus and RUF, before leaving to set up 9ff in 2001. Right from the very beginning, the vision for the company was to still make cars that looked like a 911. As a life-long fan of the brand, Jan would have it no other way.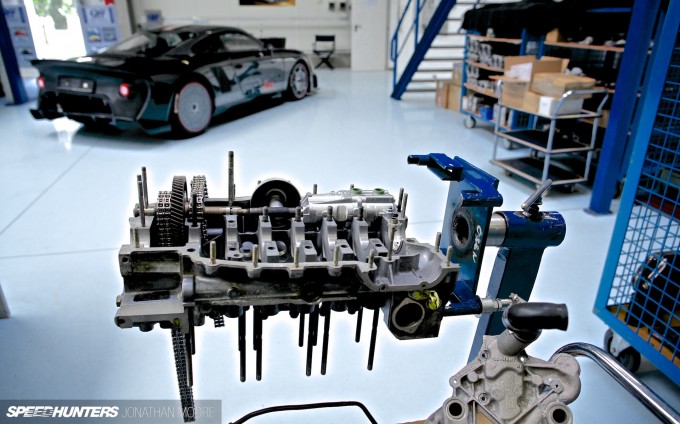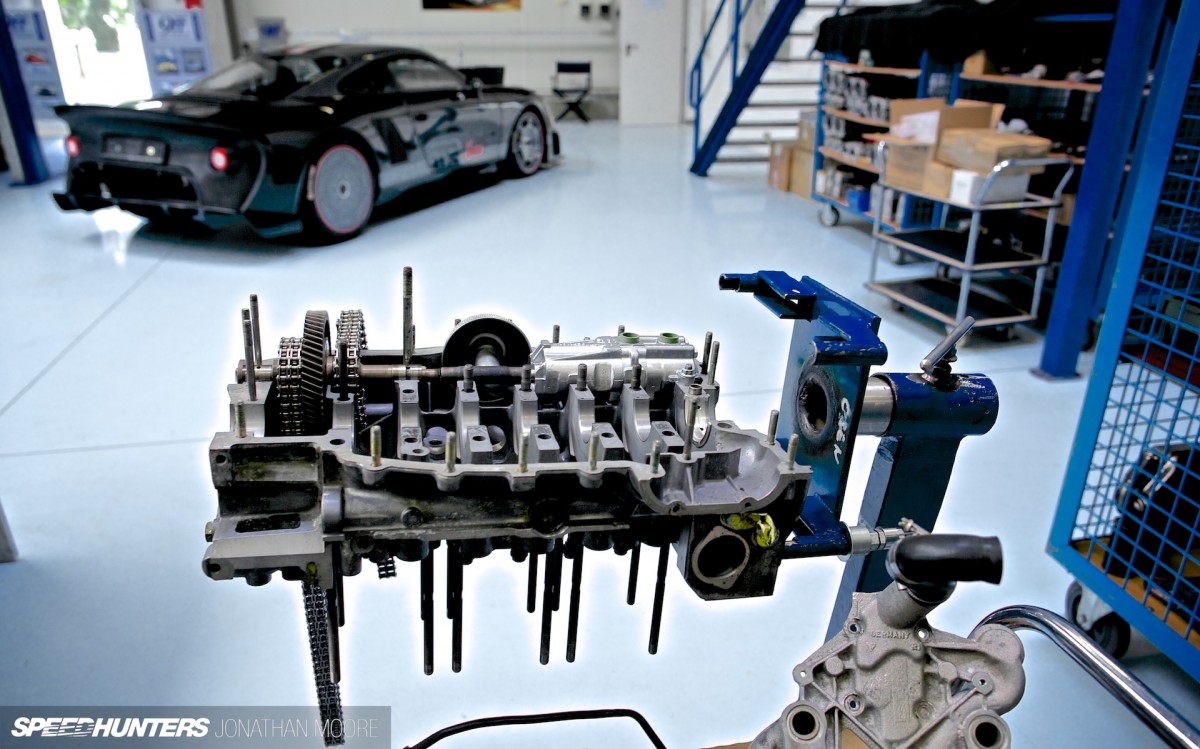 But the idea was always to focus on all of the technical aspects of the car – the engine, gearbox, suspension, wheels, and body parts – and where possible, improve them. As Jan explains, "This is what we call German tuning. From the outside you see nothing, but inside it is 1000hp. But you never have any problems with your neighbour."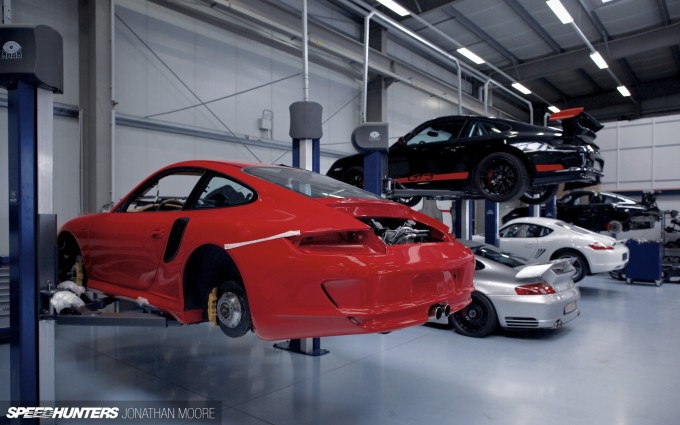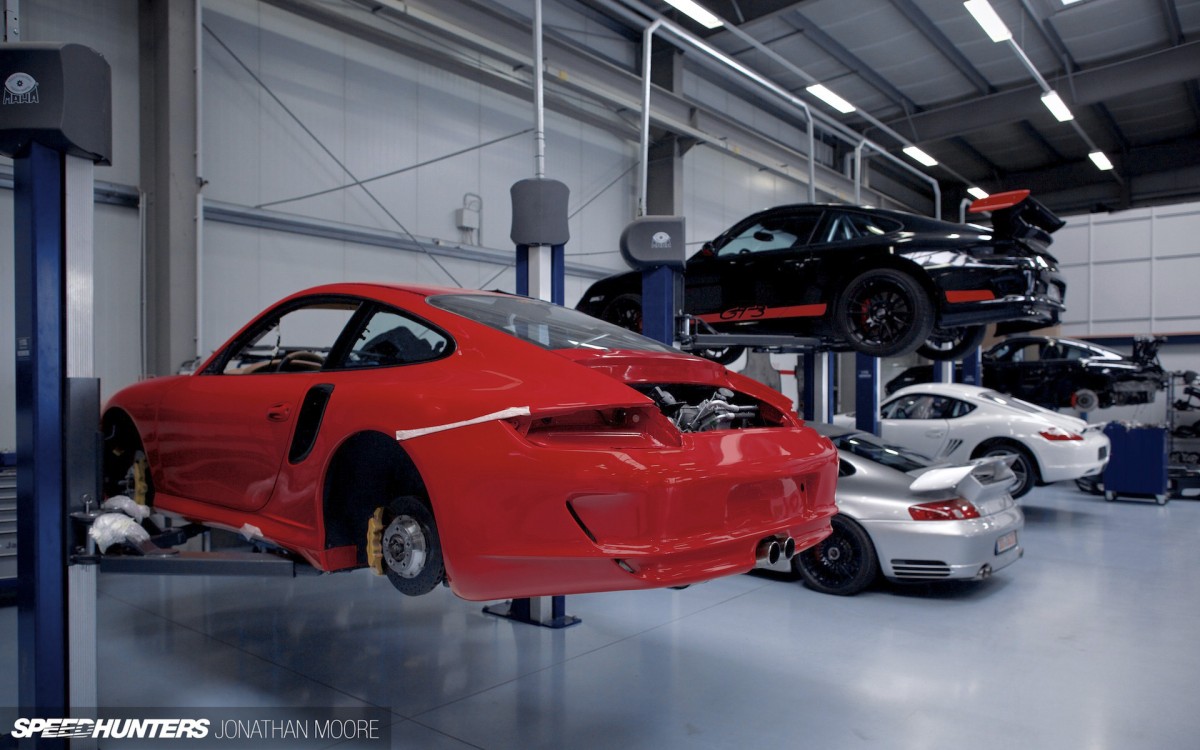 9ff's main bread and butter comes from tuning the turbocharged produce of Stuttgart's output. At any one time, there can be between 20 and 30 cars at the premises, and though it started with the 996 Turbo – still the platform for which 9ff is best known – it works on everything from the 993, to the 997, including the Cayenne.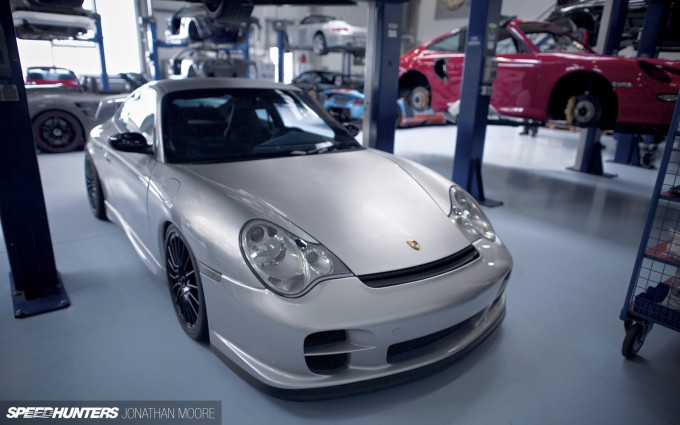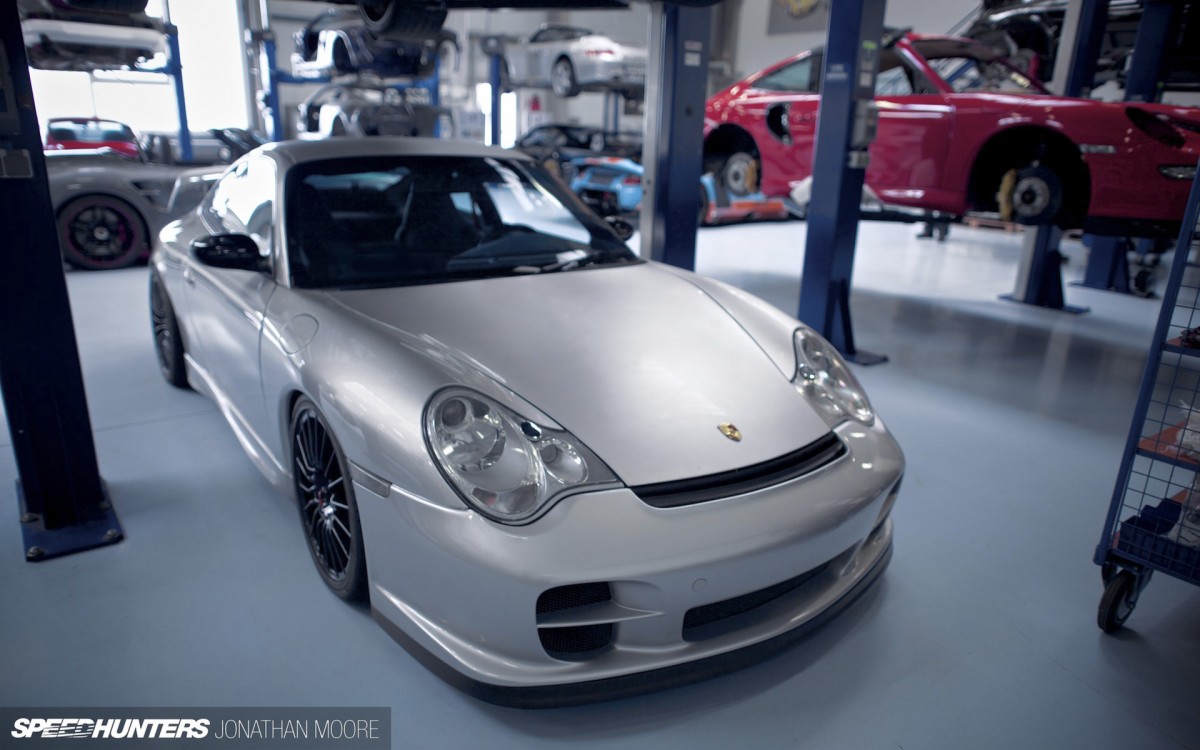 Speaking of the 996 Turbo, as Jan explains, they're an ideal tuning platform. You can pick up an example for around €30k (a good one for €35k to 45k), then spend €20k to 25k on tuning it. With an outlay topping at €70k, you would then have in your hands a car that's faster than a Veyron. For far less than a tenth of the price! This particular example is running 800hp and is up for sale. Speedhunters whip-round anybody?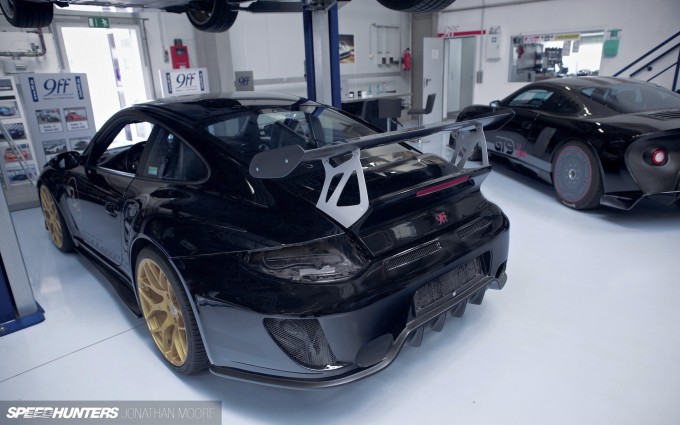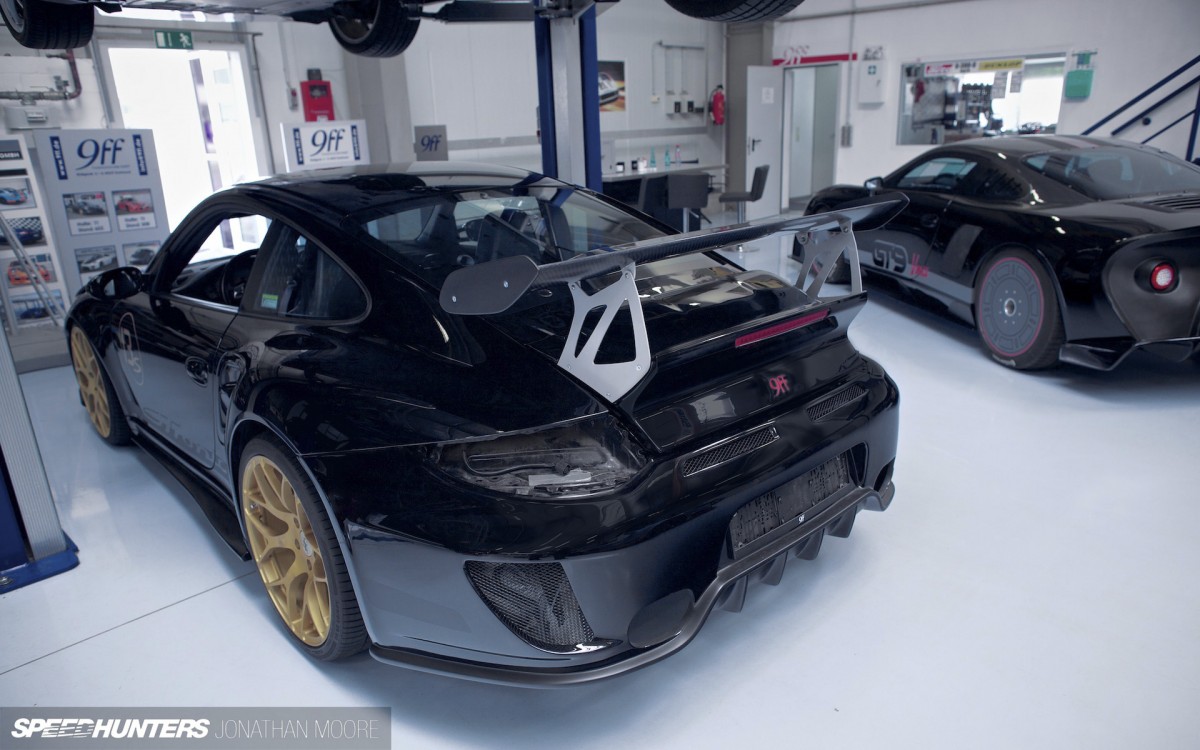 Although if you wanted the perfect base, it seems the 997 Turbo would be the one to go for. This GTronic 13S is 9ff's current flagship demo car. It has everything on it. And I do mean everything. There's a complete aero kit, comprising of custom front and rear bumpers, side skirts and rear wing. There's a special ceramic braking system with some monster 400mm discs, 9ff lightweight 20-inch billet forged aluminium wheels and custom adjustable coilovers featuring the ability to raise the front end.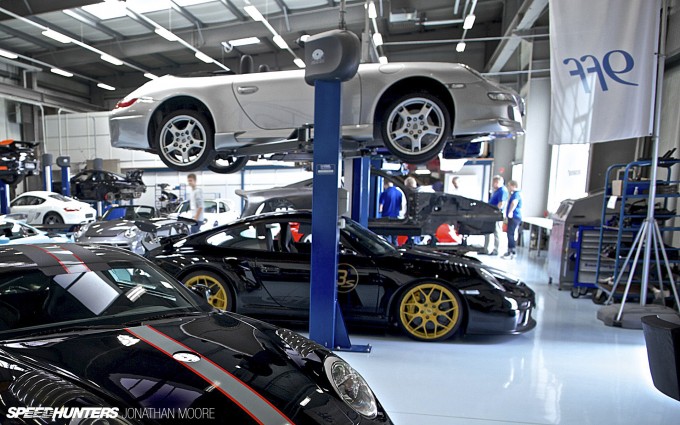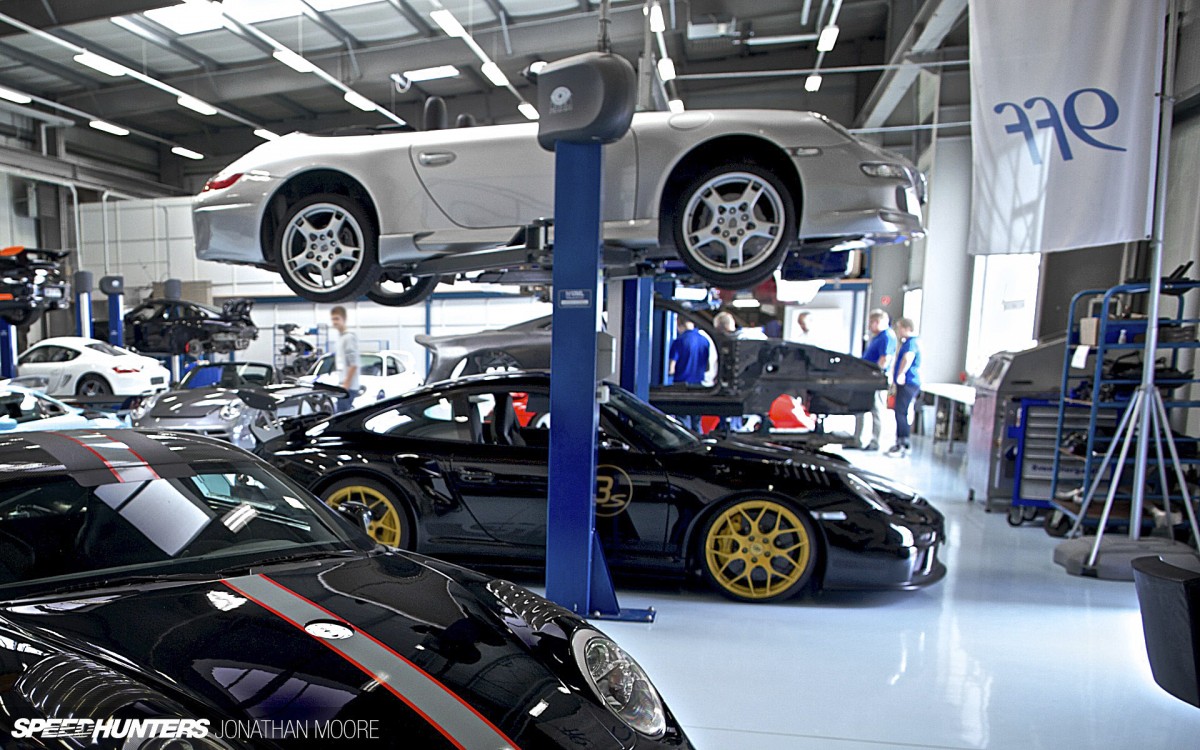 Of course, no stone has been unturned on the engine front either, with the car outputting 1200hp. Yes, that's right – 1200! It even comes with a one year/50,000km warranty! And in case you're wondering what the 13S signifies, that's the time it takes to get from standstill to 300km/h. It's only a fraction of a second slower than the Hennessey Venom GT, which holds the world record. Although not for long if Jan has his way…
Maximum Output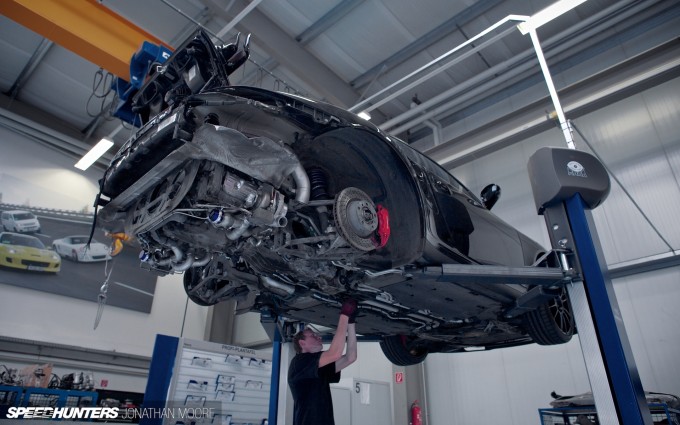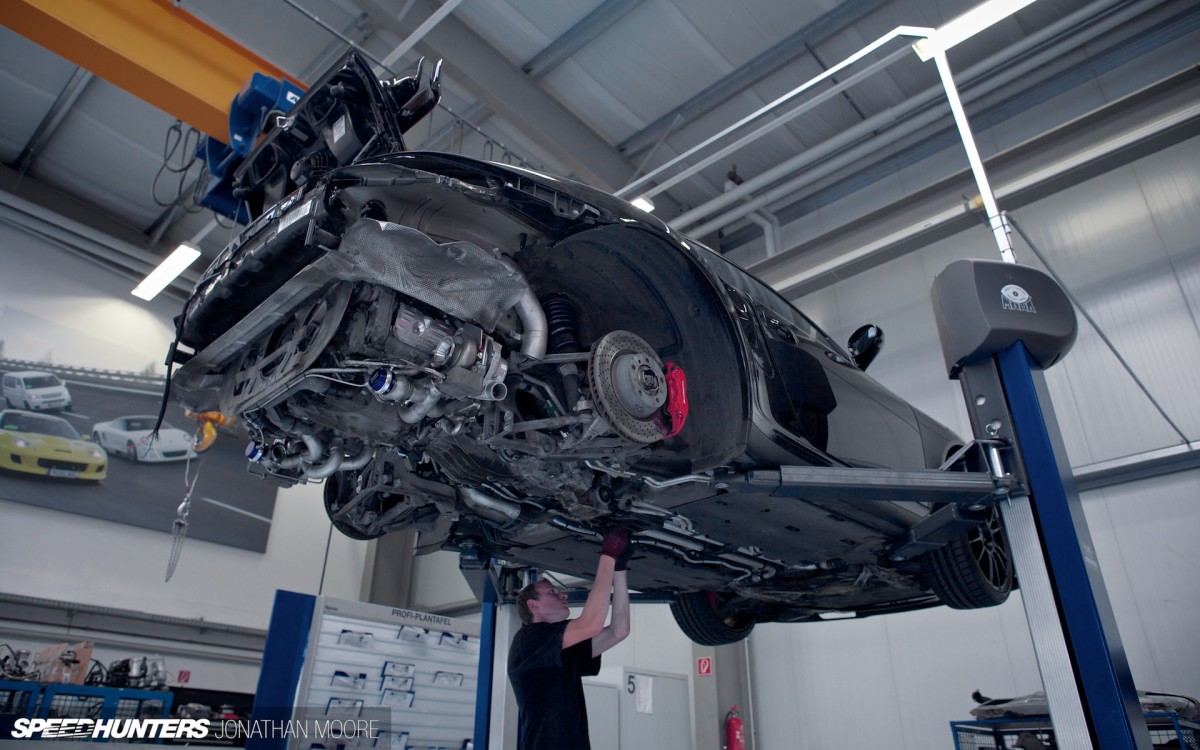 It's becoming very clear that this is a place where you have to re-adjust your definition of power. This black 997 is being worked on as we watch – it's in for a bolt-on kit consisting of uprated turbos, headers, intercooler, injectors, fuelling system and an exhaust system with throttles, to provide a very healthy 800hp. It's also having some gearbox mods, including a special airtronic system which allows for flat shifting. The 997 belongs to a regular customer who typically has around four cars at a time, all worked on by 9ff. A very good customer it seems!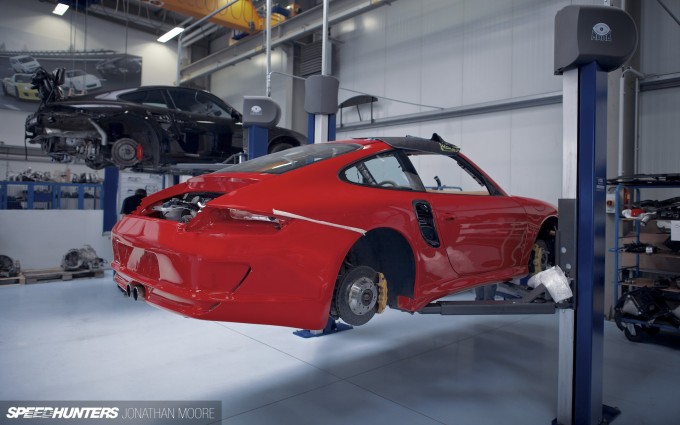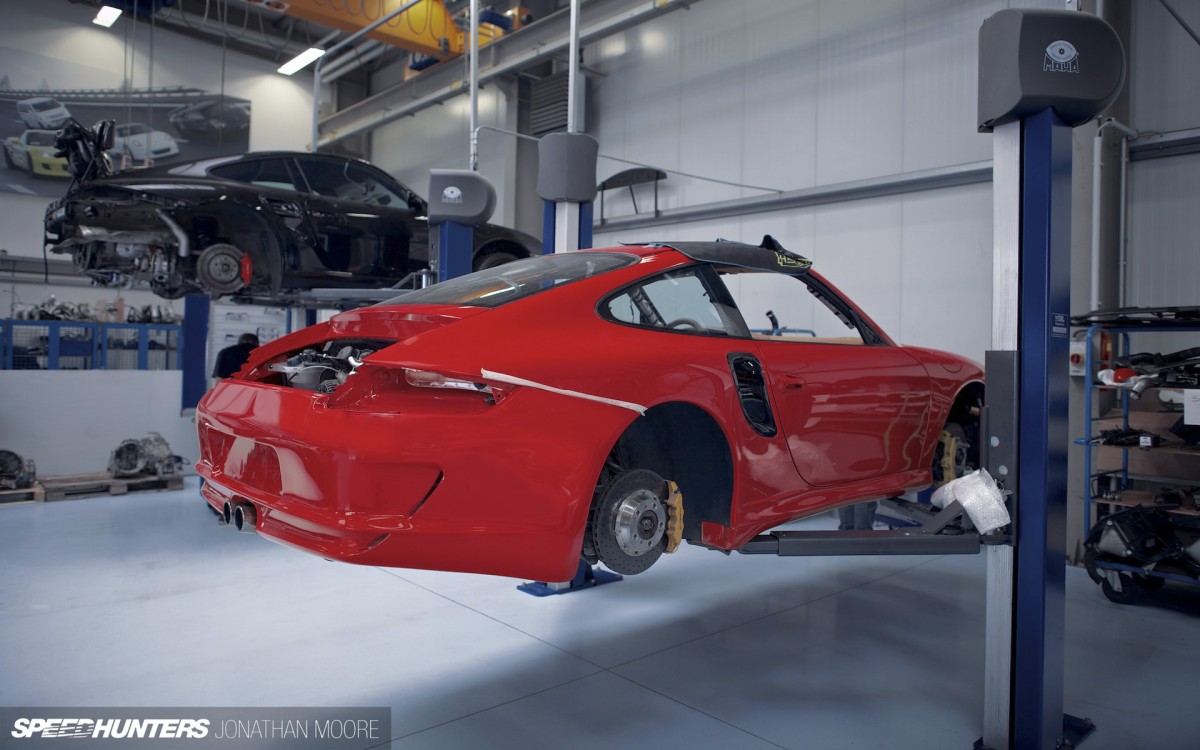 With cars leaving the premises with such huge power outputs, it's lucky that most customers are at least sensible enough to upgrade their car in steps. This 996 is a good example. Coming in originally for a minor upgrade to 580hp, it then returned and was tuned to 700hp, later coming back and being breathed on some more til it hit its current figure of 850hp. The current work in progress is to convert the exterior from a 996 to a 997, using all original Porsche body parts.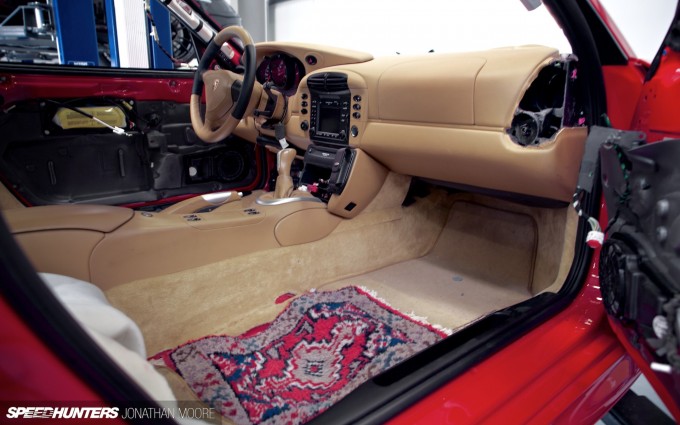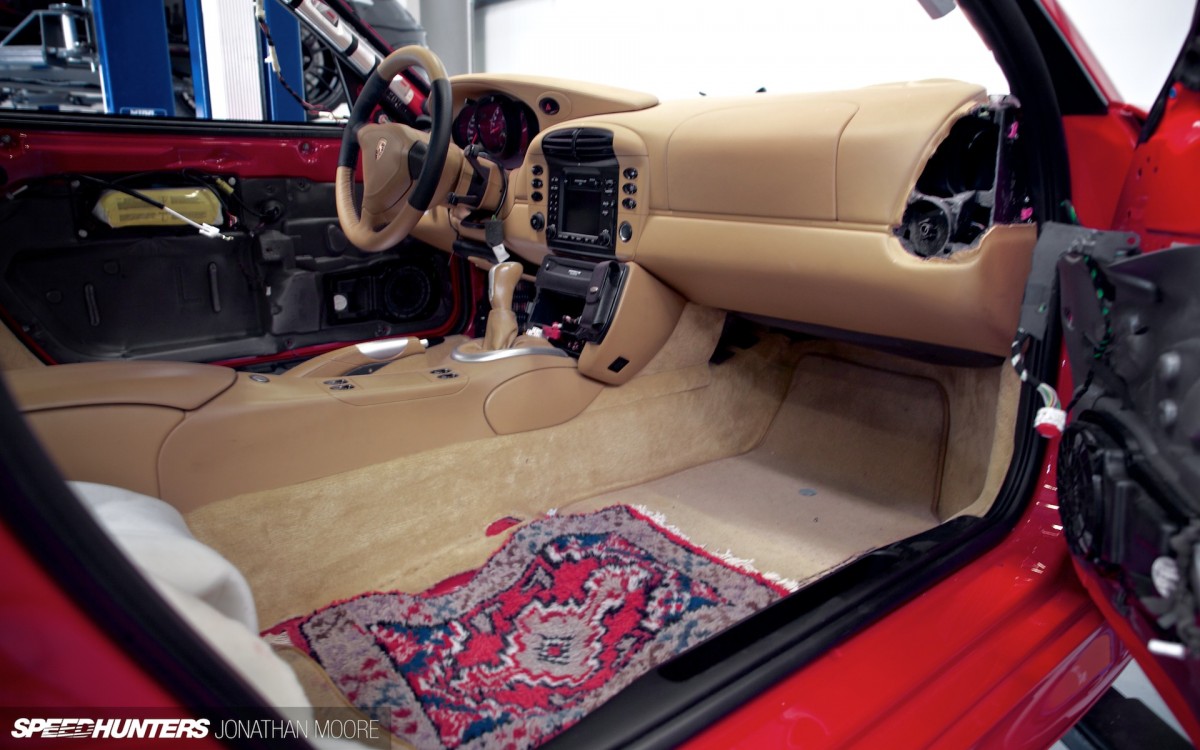 Of course, even an 850hp car needs a rug! Despite our amusement at this, it's clear that the 9ff ethos values comfort just as highly as power. Jan's keen to stress that he thinks that the minimum you need in a car is something the level of a GT3 RS. Any less (i.e. no carpets and no air-con), and he thinks you'll have less fun. It's an interesting perspective from someone who regularly builds cars topping 1000hp, but it's just another facet to the 9ff brand. Most of the company's customers are not track day terrorists, preferring instead to stretch their car's legs on the autobahns, so the marriage of the best of both worlds makes perfect sense.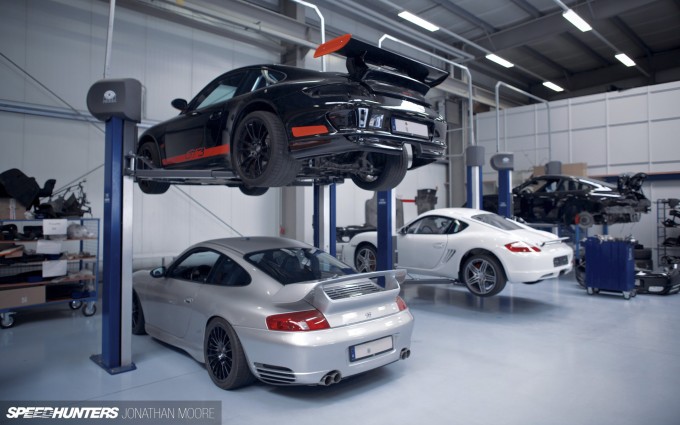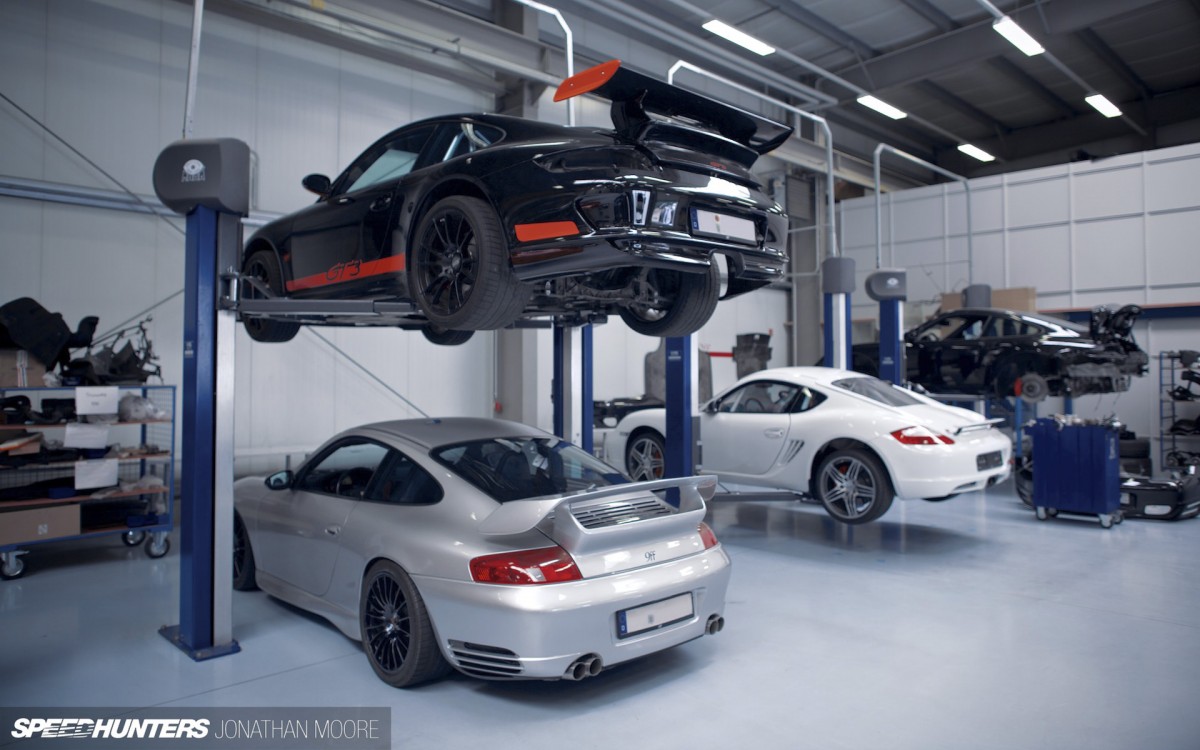 Sitting above the 996 is a finished example of the body part swap. This 'GT3′ is actually a 3.8L Carrera that's been converted to a GT3 with all original body parts, and sporting the engine upgrade to match. Despite the price to perform this upgrade being nearly as much as buying an original GT3 in the first place, the insurance is much cheaper this way, so you can see why people go for it.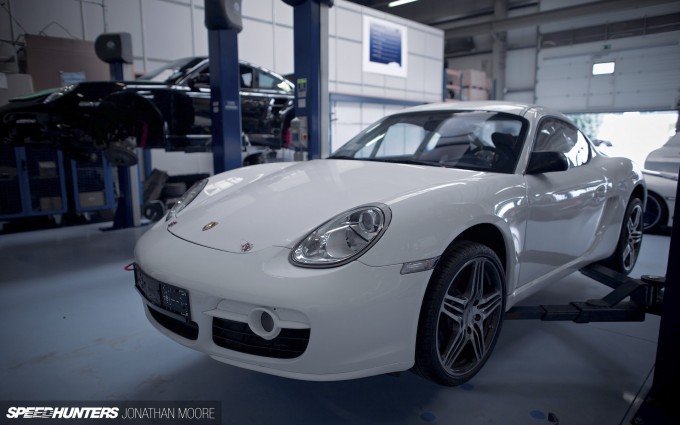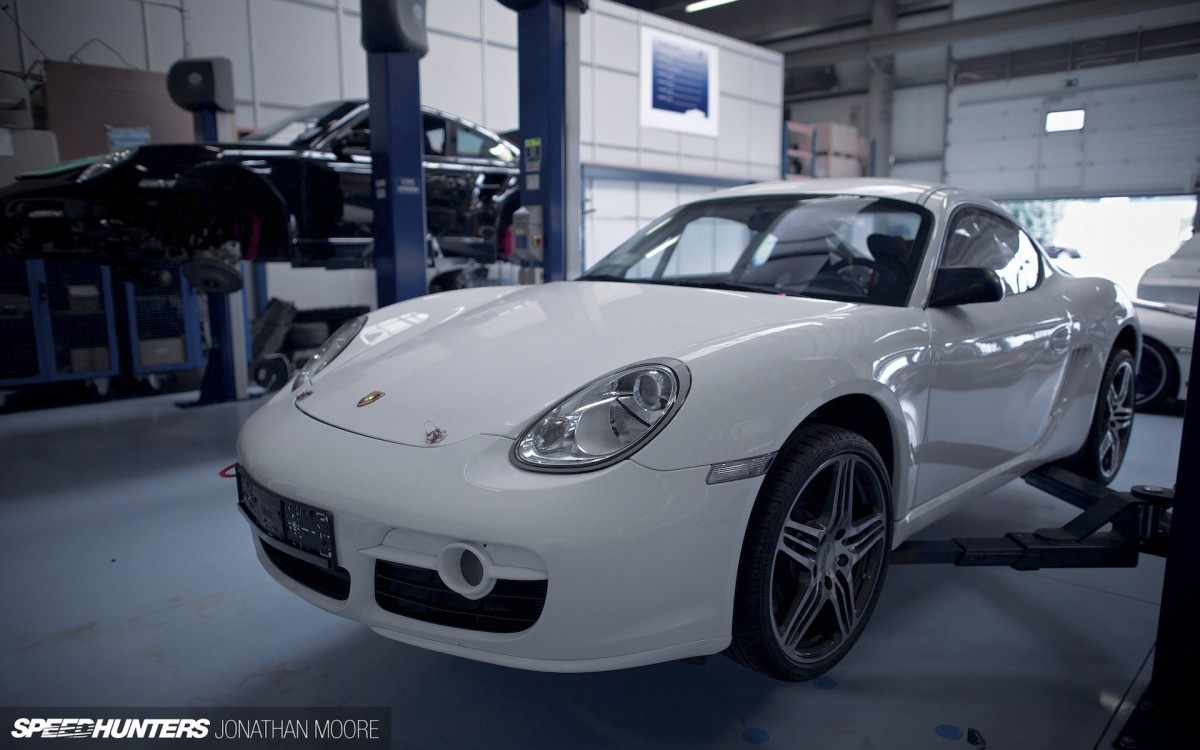 The keen-eyed among you may have spotted something that's definitely not turbo-charged in the line-up. It's no ordinary Cayman though. This customer car is a GT4 race car, having been used in the 24 Hours of Spa race for a year. It's been unused since then though – it's here to have some modifications made to it to make it more usable, for instance at a Nordschleife track day, and then be sold.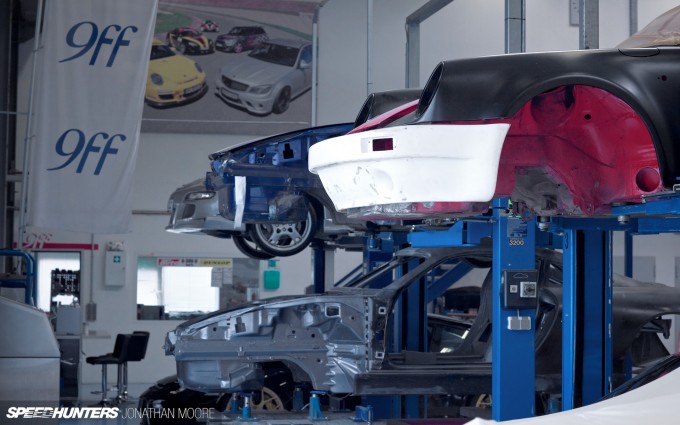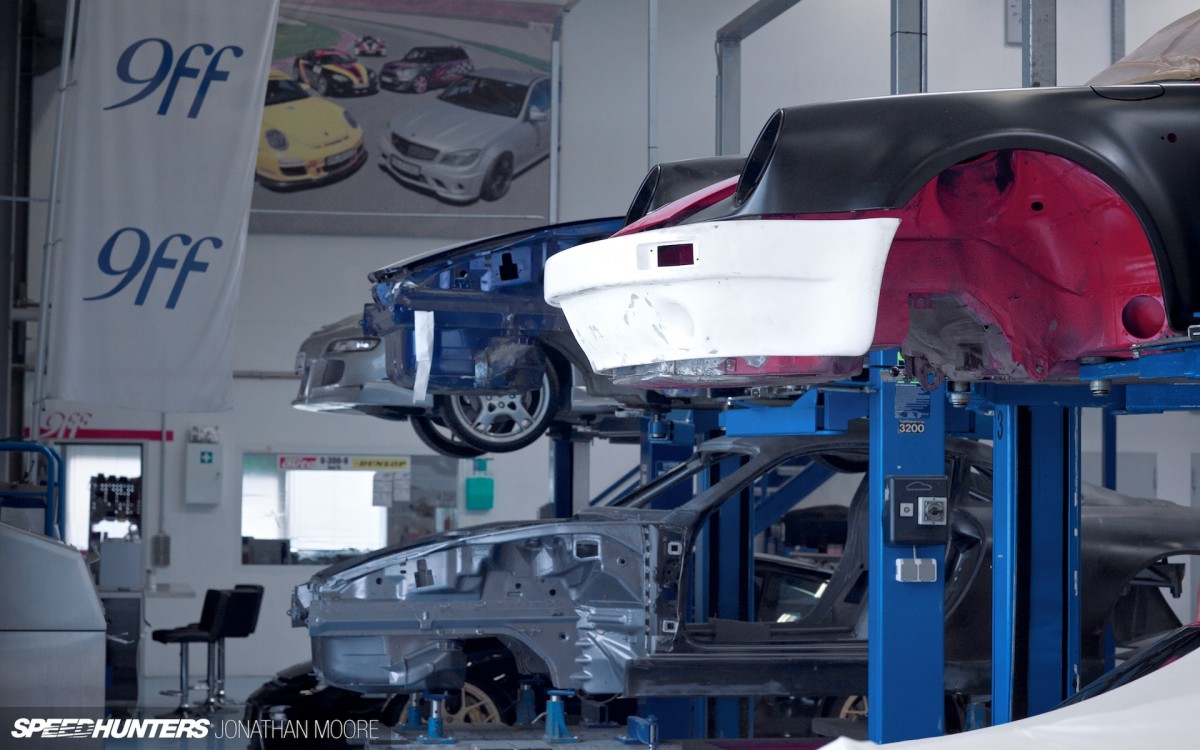 There's a couple of 993s on the other side of the workshop. On the bottom is a 993 that's in for restoration but it's the convertible above that really caught my eye. It's a being converted for a US customer to look like a 964 in combination with Speedster parts. It'll be great to see how this turns out!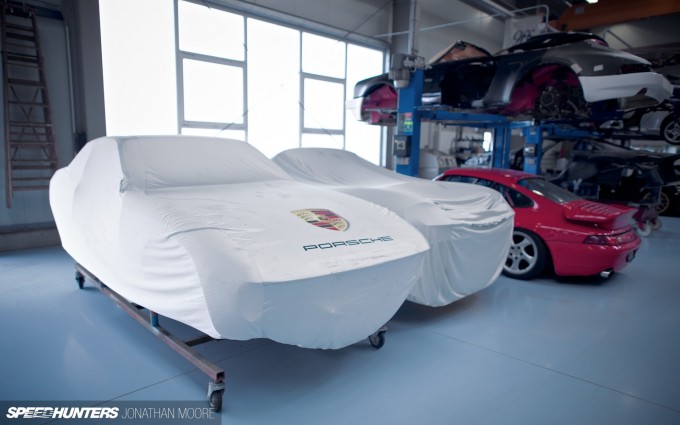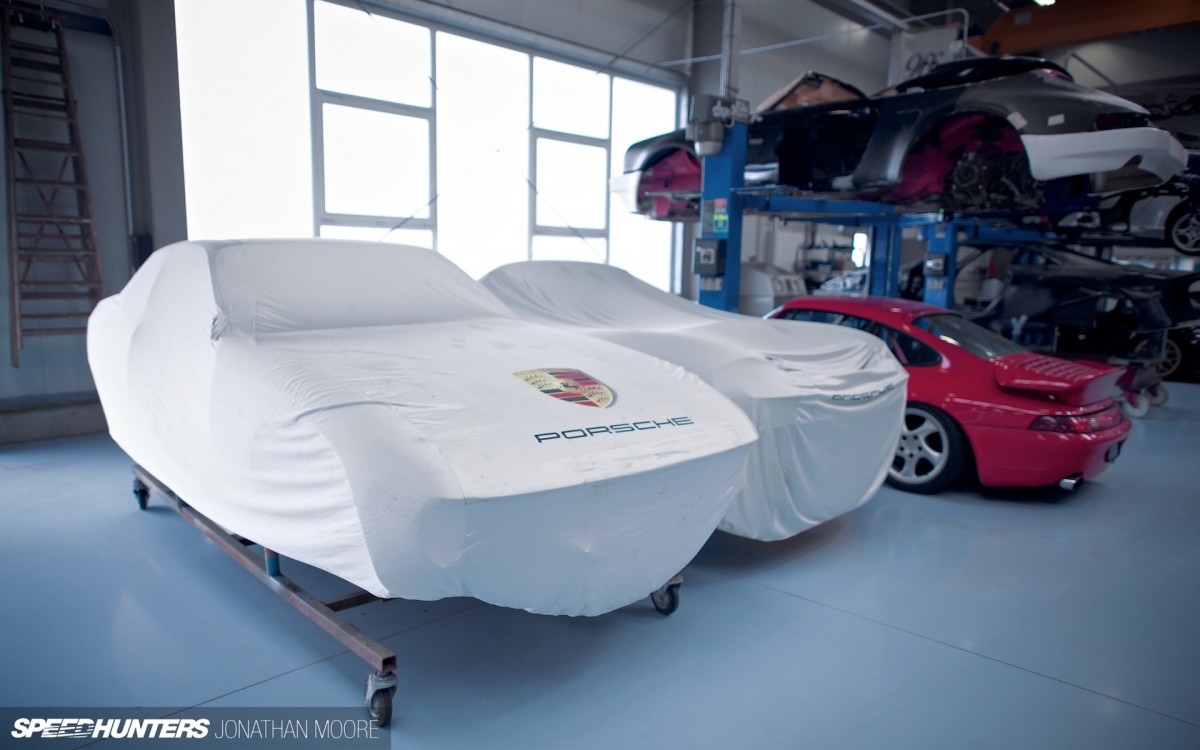 Under covers lies a Boxster shell for his 15 year-old son. Jan's promised it to him, under the condition that he finishes it. The stock cupboard at 9ff is at his disposal (and a hefty stock cupboard it is too, with 9ff's Ts & Cs saying that all replaced parts will be kept by 9ff), but the proviso is that he has to do all the work himself and there won't be any new parts being bought for it. If anything's rubbed off on him from his dad, the result could be interesting!
Under The Skin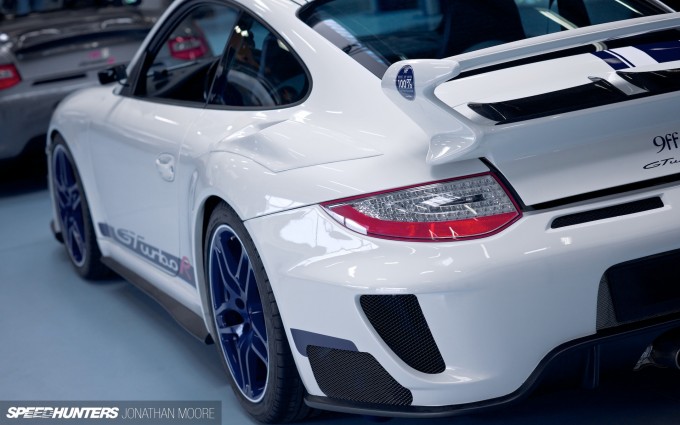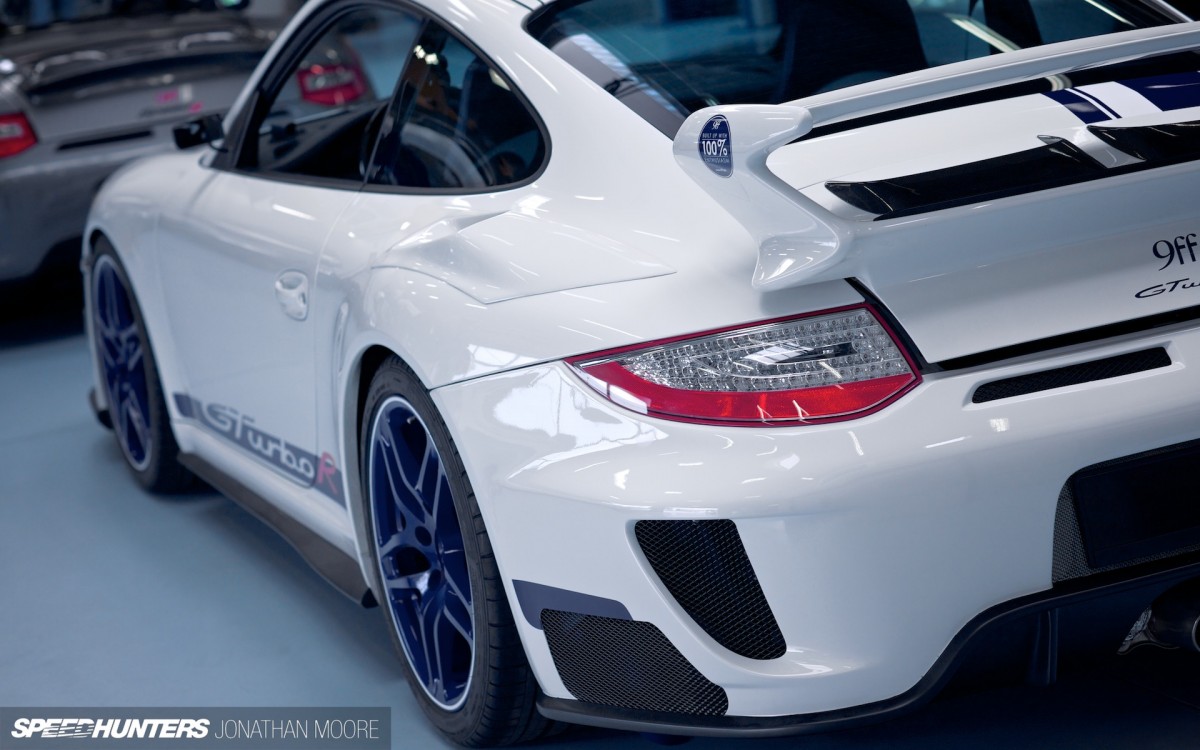 As you've probably ascertained by now, 9ff's bolt-on kits make up a significant part of its business. When it comes to bodywork, this is a much smaller area. But still one that receives no less attention. 9ff's body panels are either made of glass fibre, which is all produced in-house by a dedicated technician, or carbon fibre, which is mainly bought in from DP Motorsports.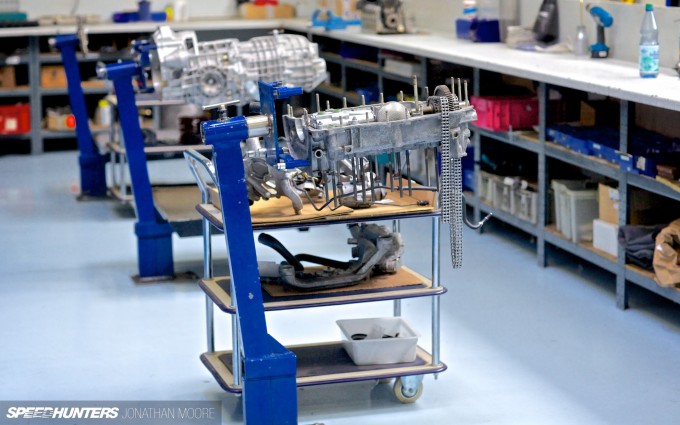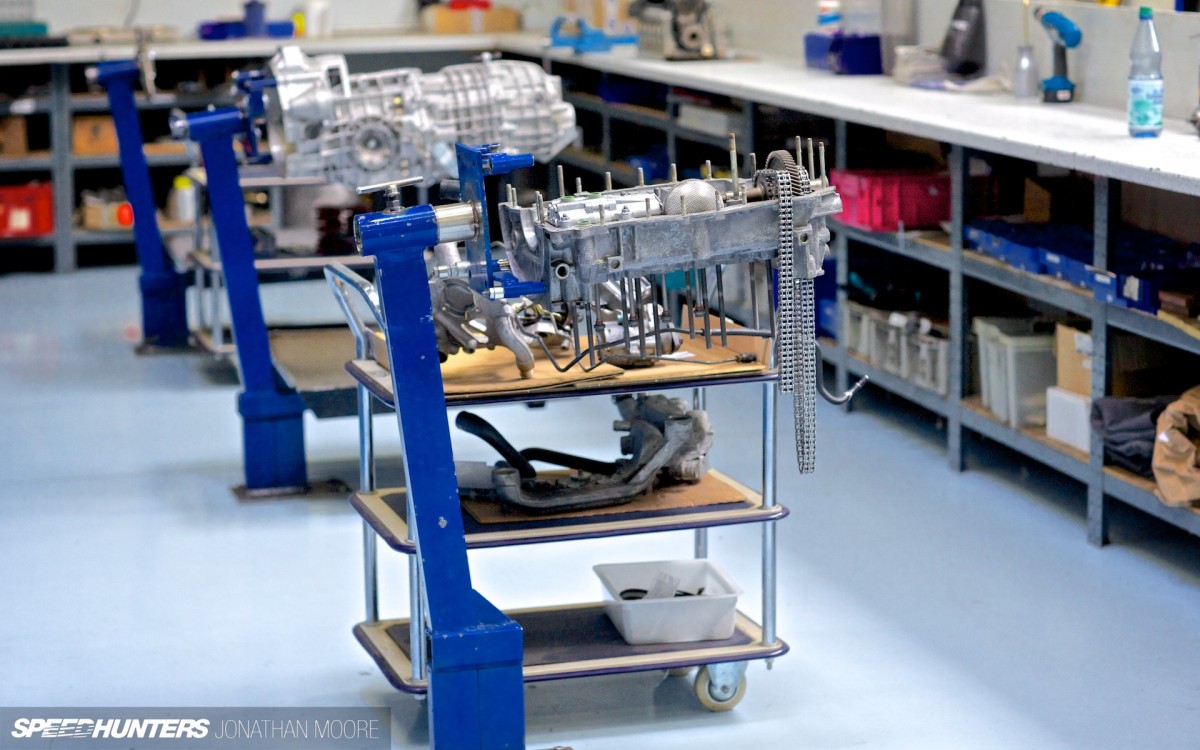 Over in the engine area, Jan explains that, amazingly, he's the only engineer at 9ff. Following on from some bad past experiences in which there were a few engine failures, he decided to take control of all engine rebuilds himself, and as expected, the number of failures has plummeted drastically, to between zero and one a year – an impressive result considering the figures that some of these engines are producing!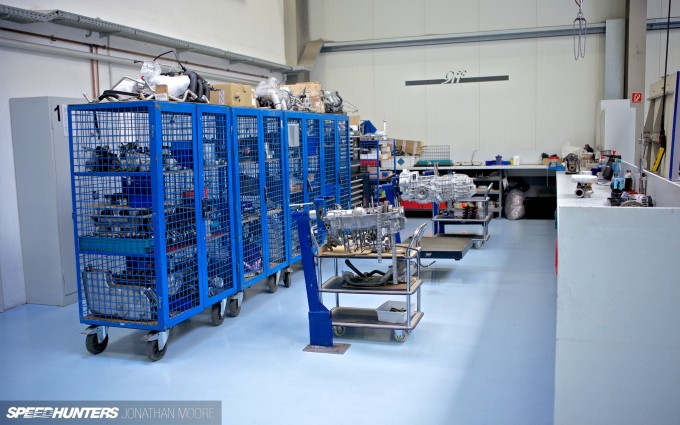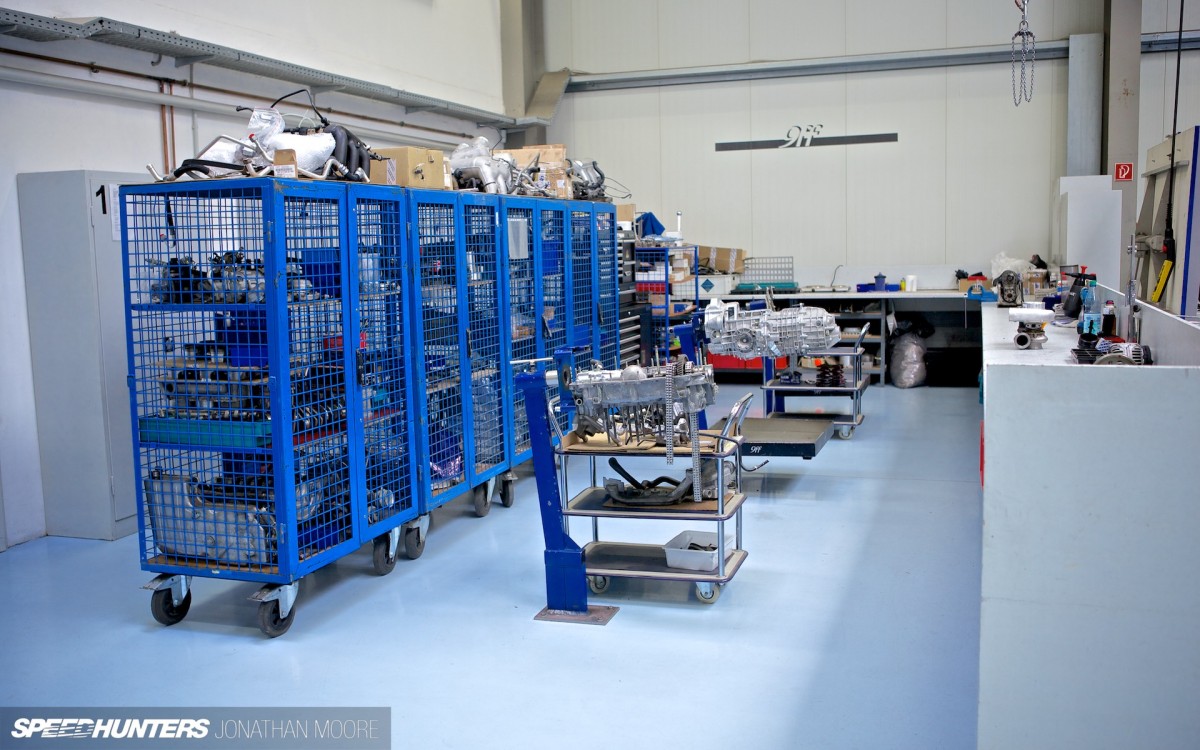 Each engine is designated with its own cage. Of course, when you're building engines to such high specs, only the best components will suffice. Jan starts pulling content out of drawers and lays out an array before us.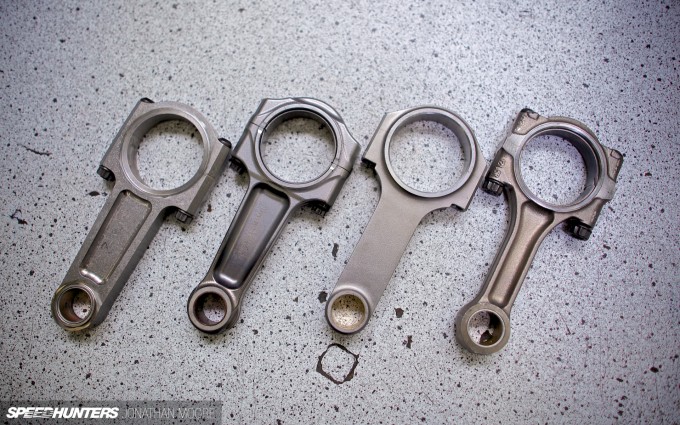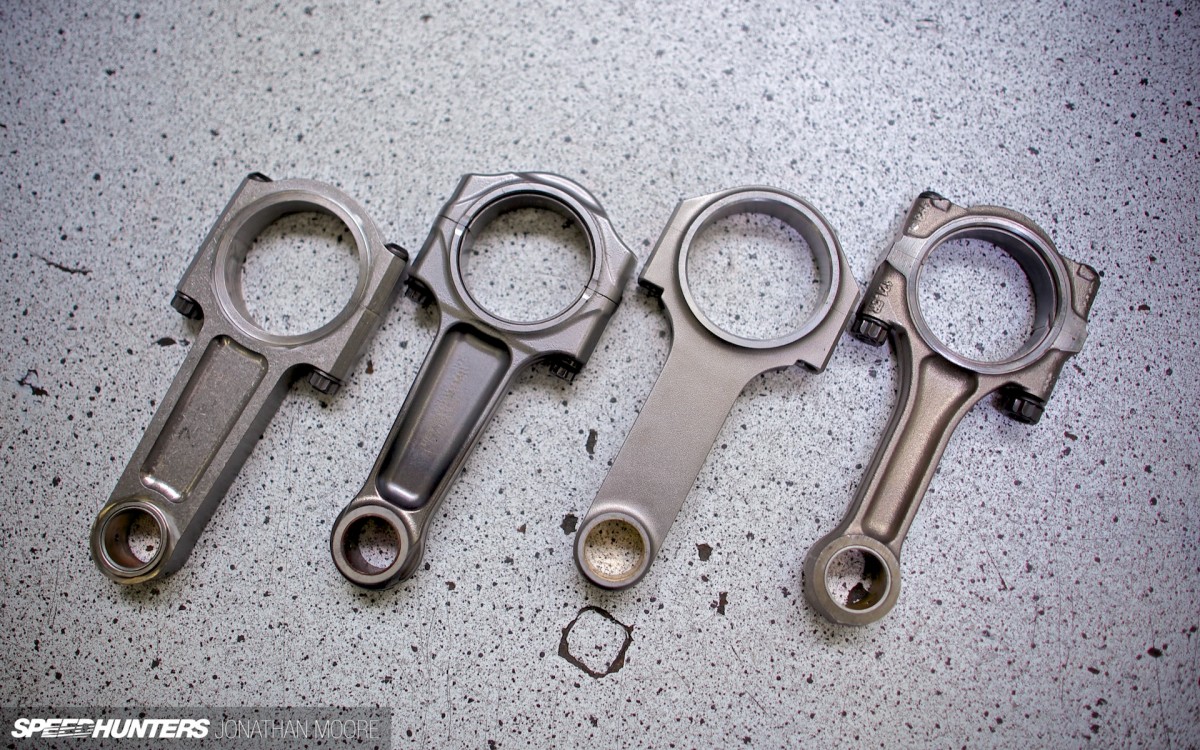 With a range of upgrades available, 9ff has to have the right parts to fit each spec. These conrods are a staunch display of just how strong the components need to be. On the far right is the standard conrod, to its left is a forged steel replacement that's good for 800hp, to the left of that, the forged titanium rod can cope with up to 1000hp, and on the far left, the billet titanium number is reserved for any maximum power applications – so far, up to 1400hp. Amazingly, despite its chunky appearance, the billet titanium one is lighter than the standard rod. It can also handle three times the power, but does cost somewhere in the region of three times the money!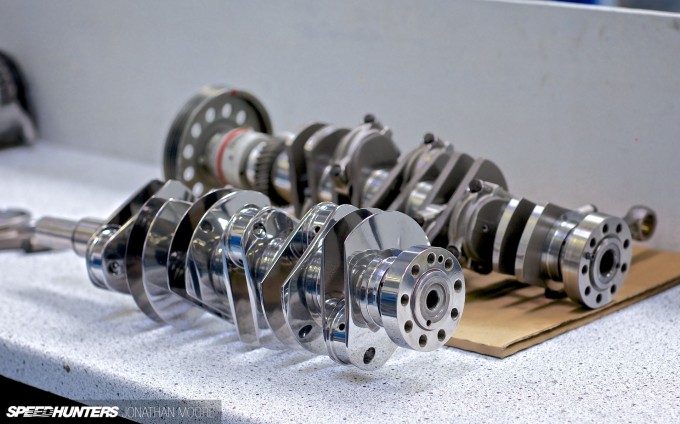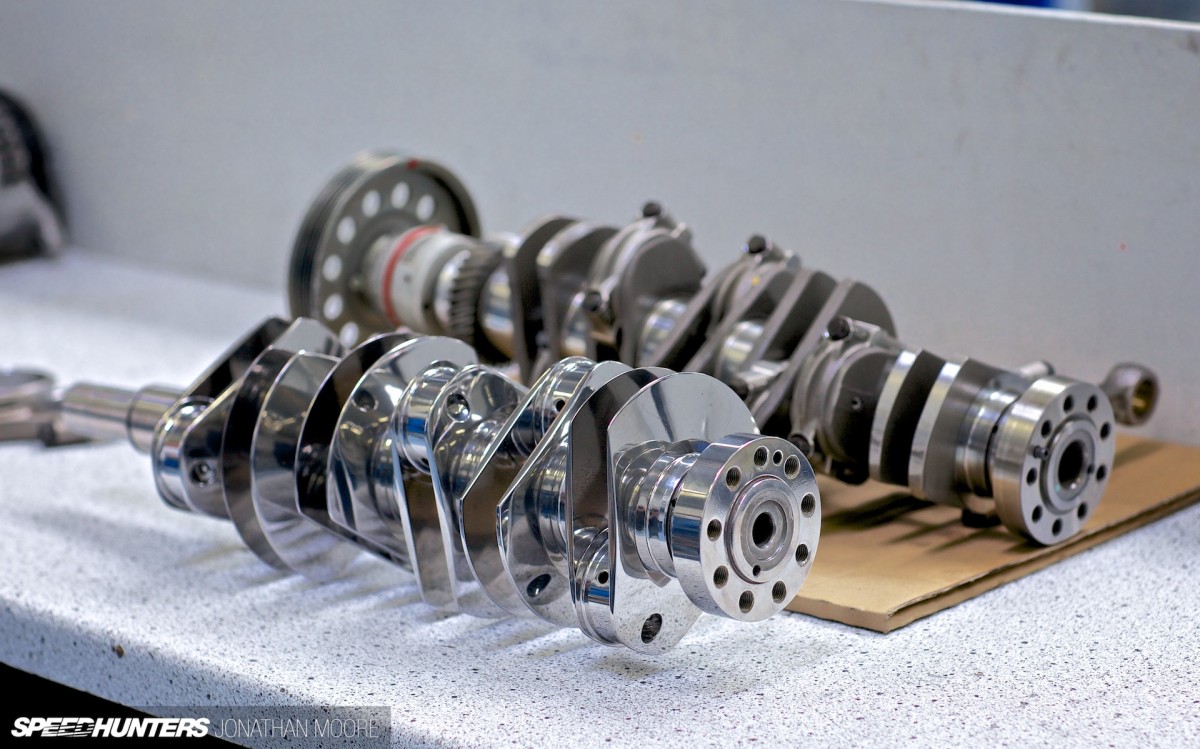 In terms of pistons, the originals are normally good up to at least 800/850hp (although one project had a customer car running standard pistons with nearly 1100hp). In order to find ones strong enough for its top applications, 9ff tested sets from various well-known companies but nearly all of them failed. Now it gets its pistons from a small US company that builds Top Fuel engines. 9ff also offers an uprated crankshaft in the form of the work of art you see above. This billet knife-edge unit has wider contour wells for counterweight balancing, offers 6mm more stroke, has wider conrod bearing for higher pressures and is of course lighter, balanced and polished against cracking. I'd hang it on my wall!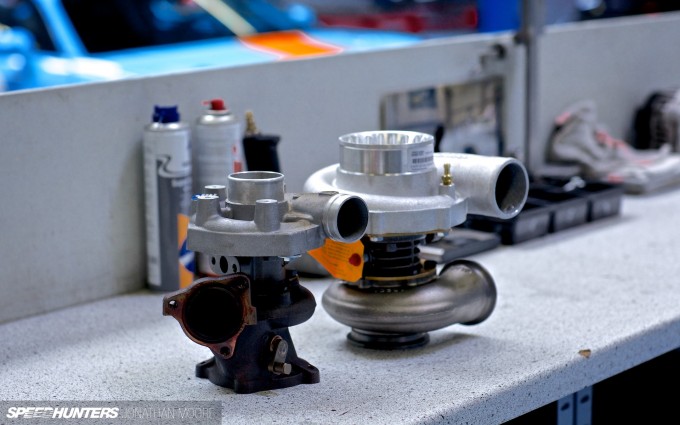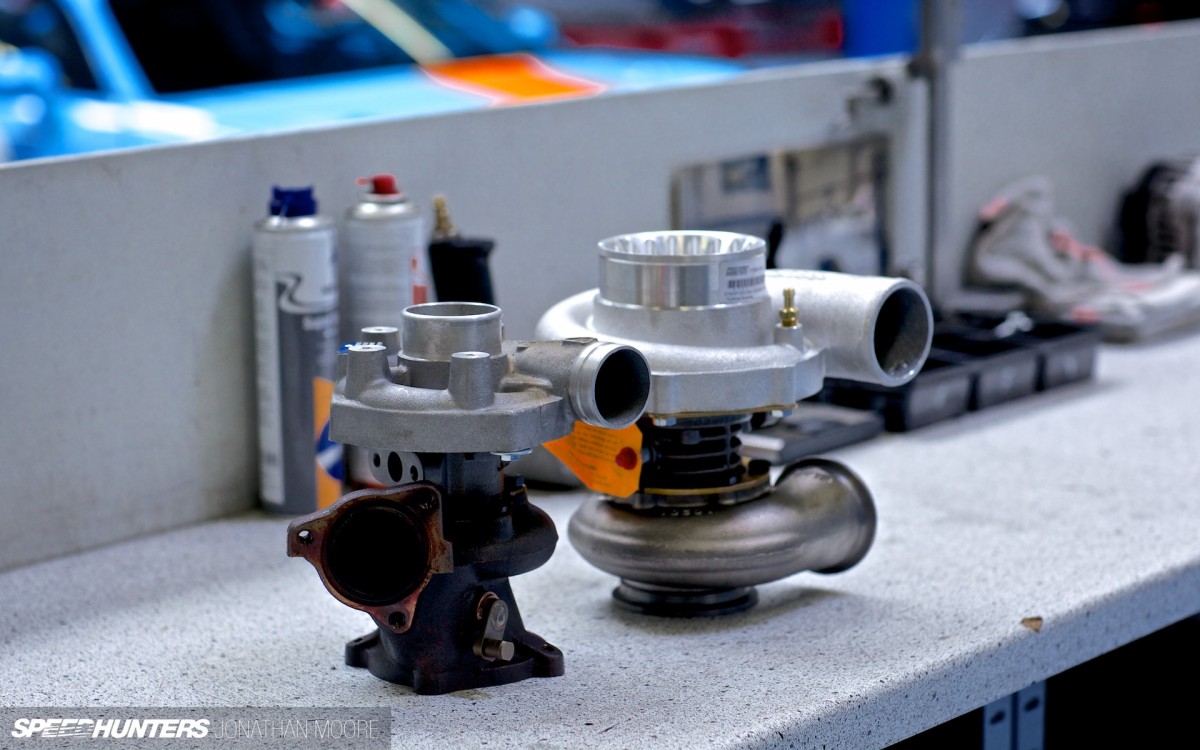 Of course, when the name of the game is forced induction, it's inevitable that a monster turbo is going to be required. Precision Turbo units are being increasingly used in the top end applications, which feature ceramic ball bearings. As Jan explains, there's so little resistance with this, that when the engine is turned off, the compressor wheel can take up to 30 seconds to stop spinning.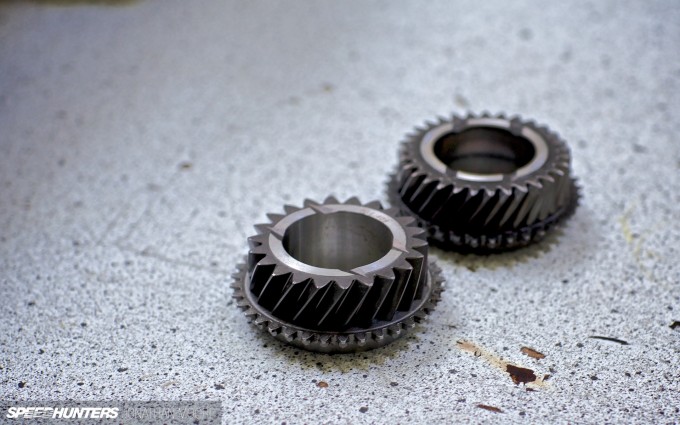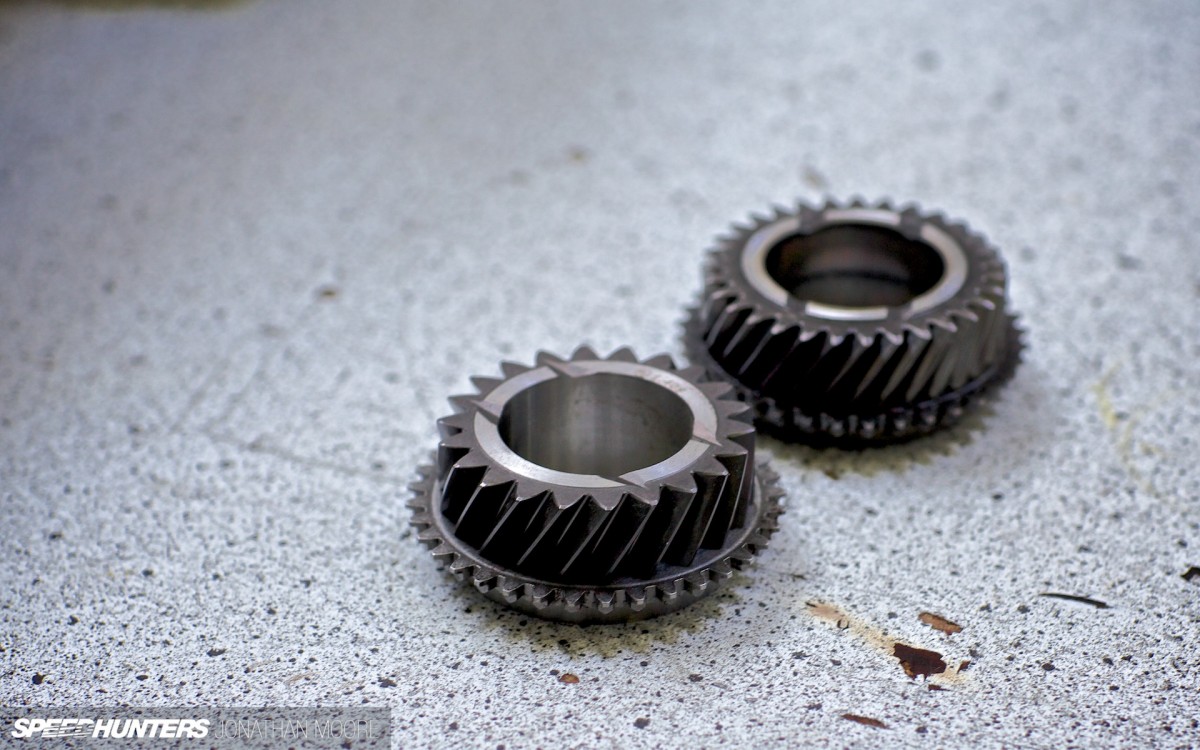 It's not just engine components that get upgraded though. Third gear can apparently be an issue, lying in the middle of the gearbox, so 9ff can supply custom upgraded gears with larger teeth to prevent breakages, as well as a range of other gearbox solutions.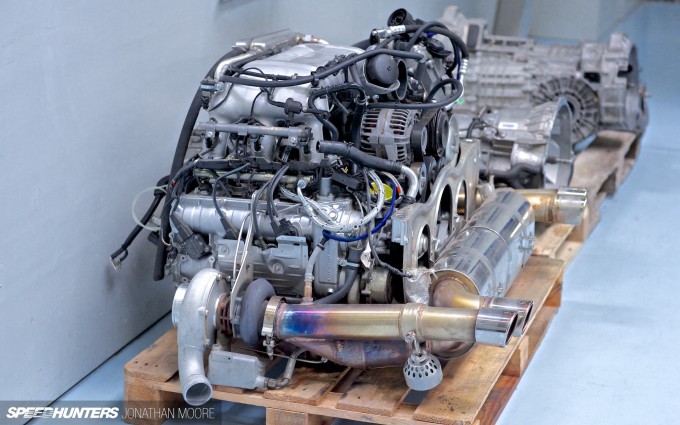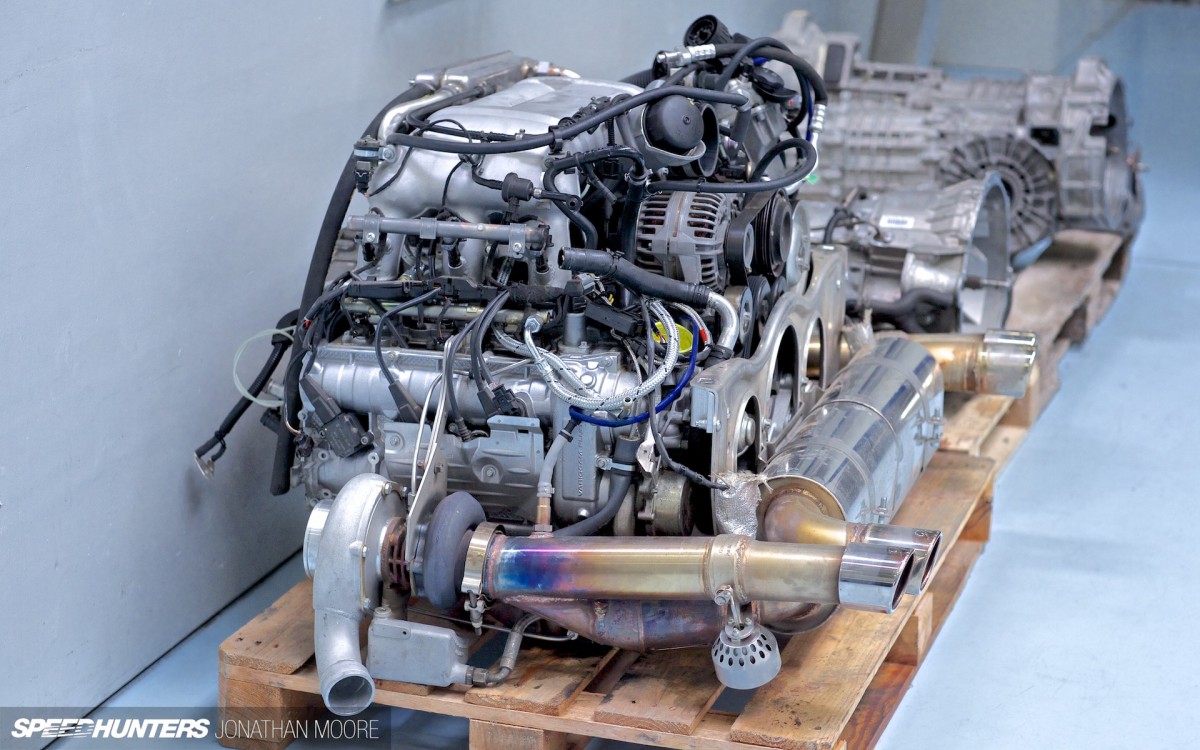 This engine handily provides a perfect look at the throttle-controlled exhaust system that 9ff offers. At low revs, the valve directs the air through the silencer at the back, but at high revs, it's free to flow straight out. What I would give to hear this in action!
Breaking Records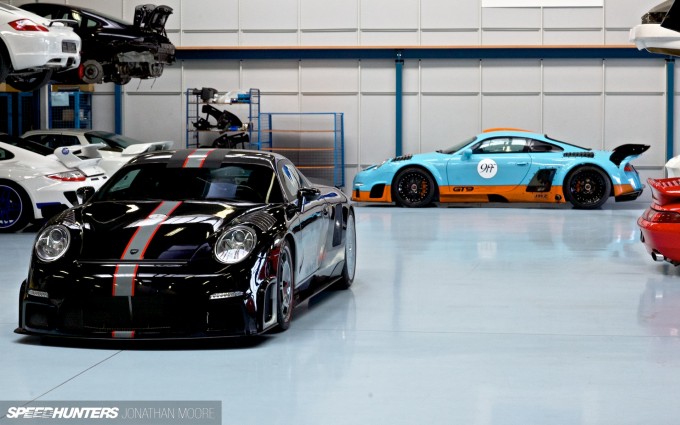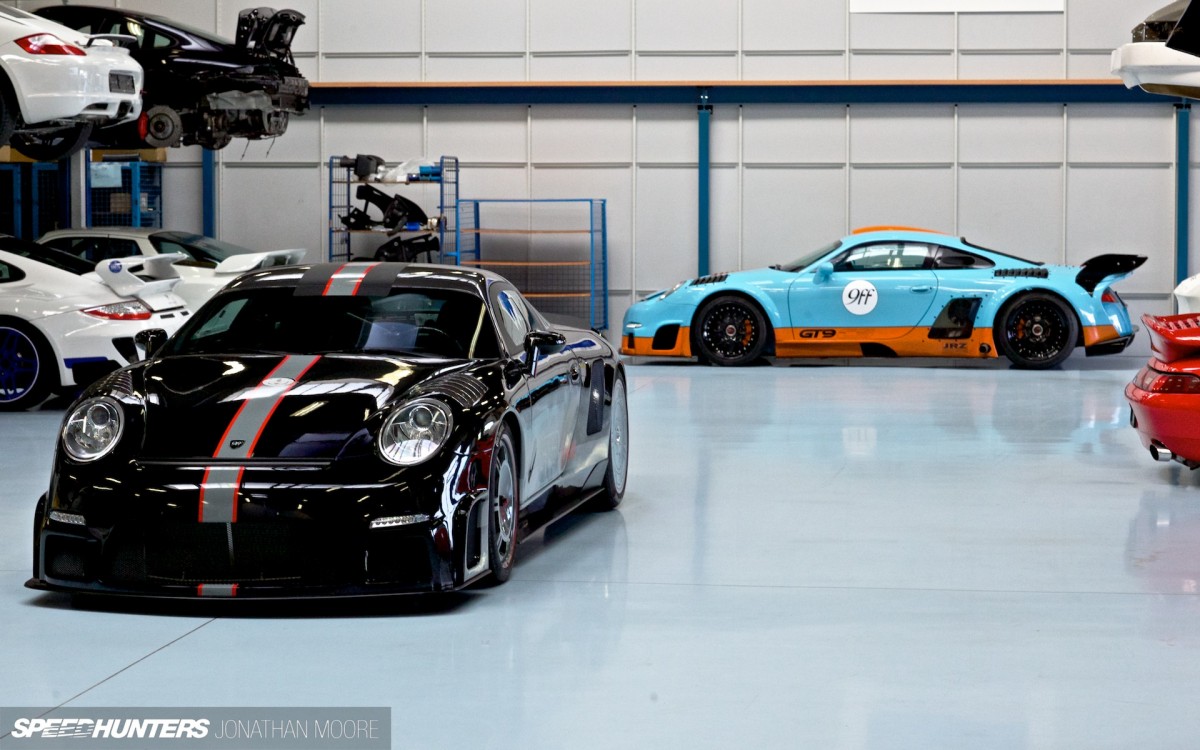 Of course, 9ff is known for doing a little bit more than just tuning, and the two GT9 models – the blue and orange ClubSport version and the black Vmax – that constantly scream for my attention as we wander the workshop are proof of Jan's determination to pursue his dreams. Back in 2004, he set out to break the 400km/h barrier. Managing to reach an impressive 372km/h, it soon became apparent that the 911 shape just wasn't designed to go that quick, so he decided to make his own body. What originally was intended to just be a lower roof soon metamorphasised into an entirely new car.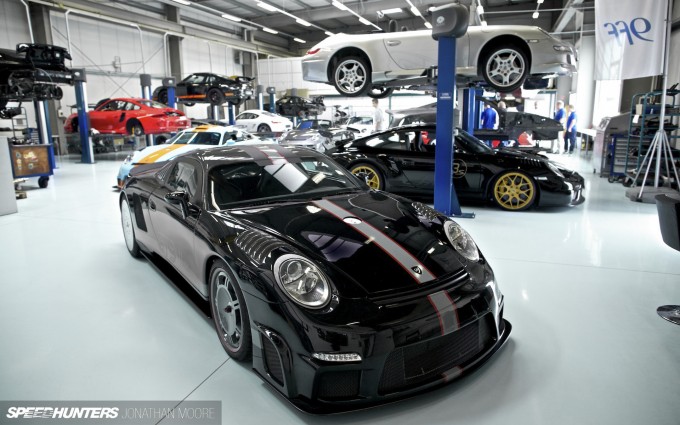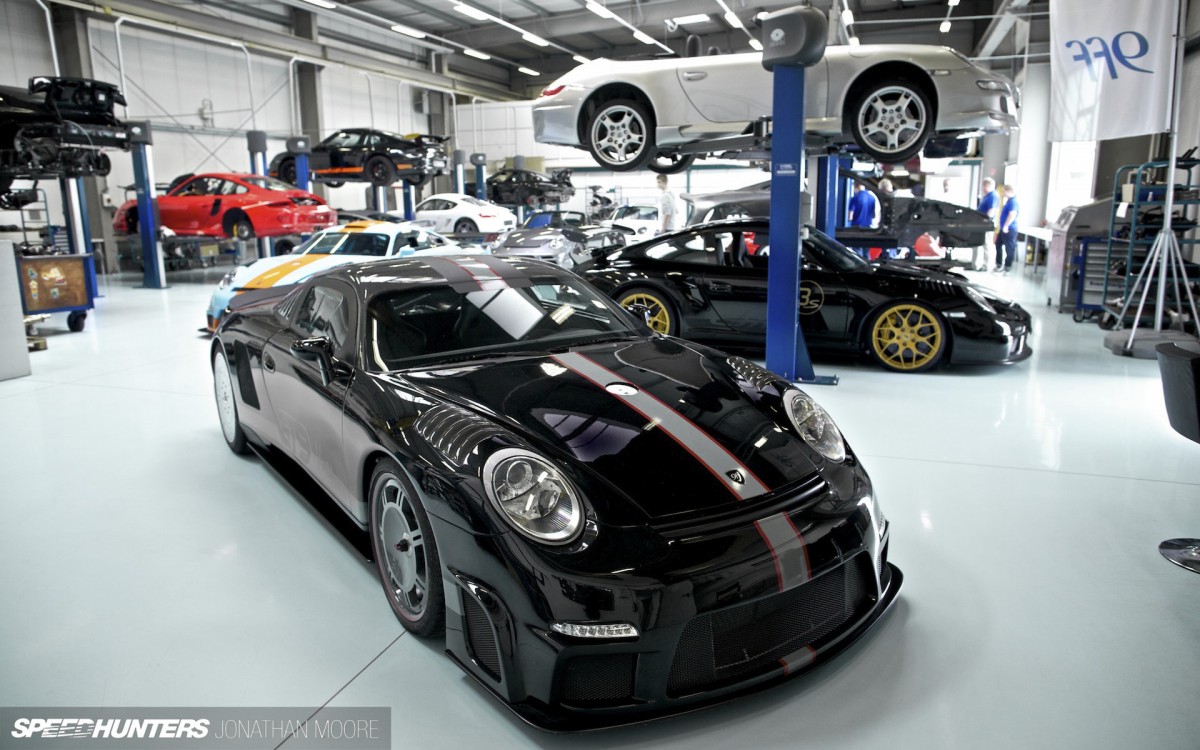 With the GT9 concept finished, and 9ff approved as an independent manufacturer, it was time to chase that record. In April 2008, the first GT9 screamed its way into the record books at 409km/h. The car itself reminds me of the vehicle equivalent of what happens when you stick your head out of the window at motorway speeds. The roof is lower, the panels elongated and smoothed, with a longer nose and tail. It looks like it's been visibly stretched by running at those speeds. You can still identify the Porsche heritage, but the car shares nothing in common with its original ancestor beyond the lights. It's all for a purpose though. Look out for a full feature on the GT9 CS tomorrow and the Vmax soon!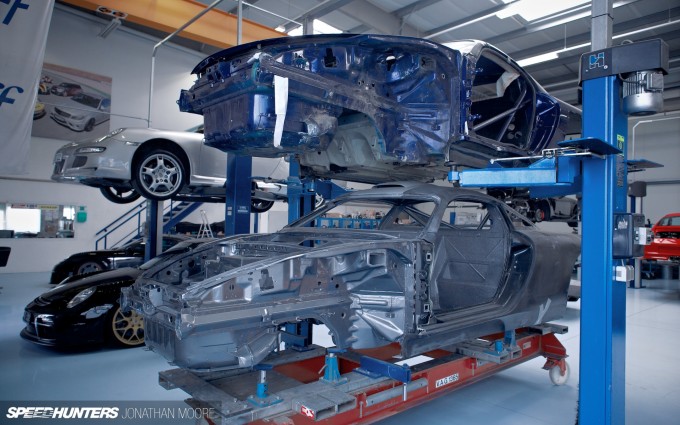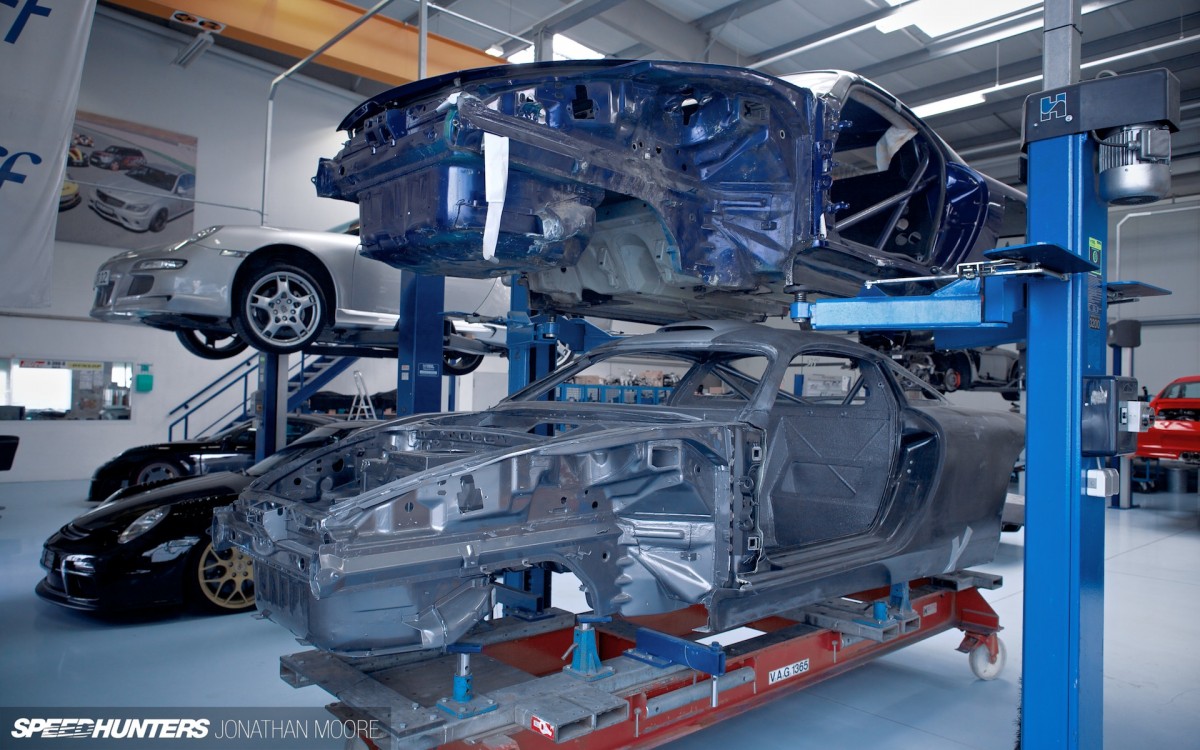 The original GT9 concept is still here too – that's it on the top lift. Although it's not quite still in running order…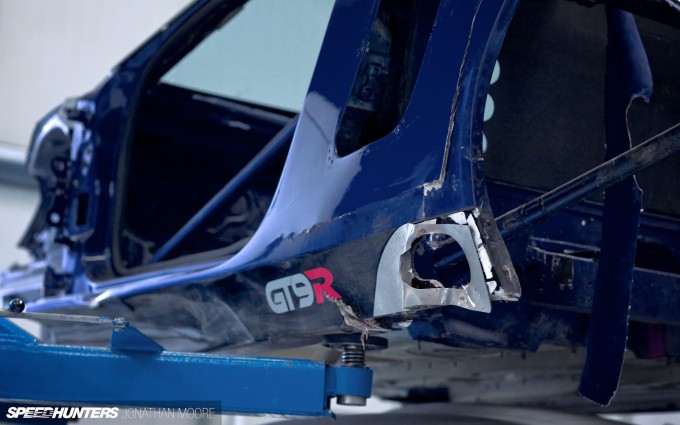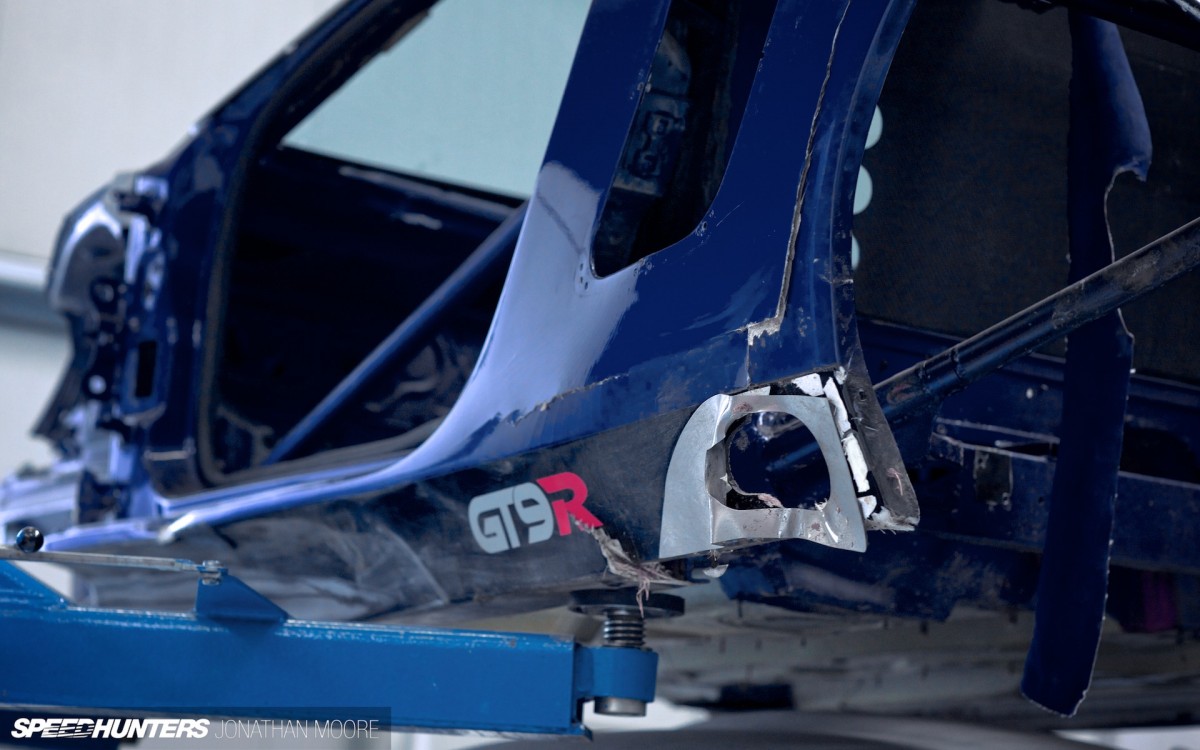 Jan was driving this prototype at Bruntingthorpe – one of the UK's longest stretches of runway which is commonly used for Vmax/top speed runs – and was at the time aiming for a new record. But when he went to brake at 360km/h, the brakes failed. Jan tried to scrub off some speed but hit the grassy bank at the end of the runway at 120km/h. Luckily he escaped unscathed but the GT9R, as this model evolved into, was destroyed. It's safe to say that Jan has since found a different brake supplier!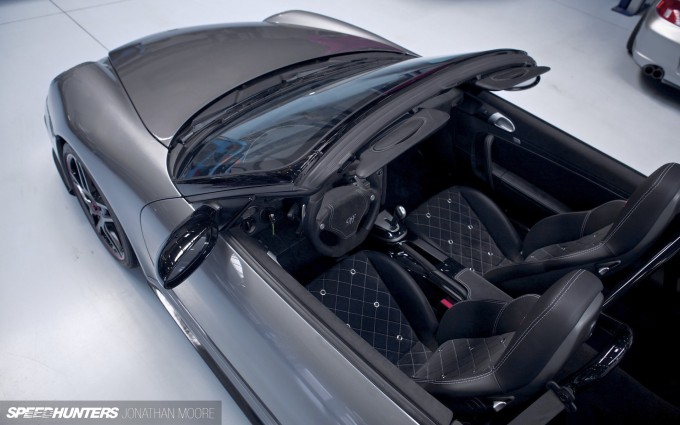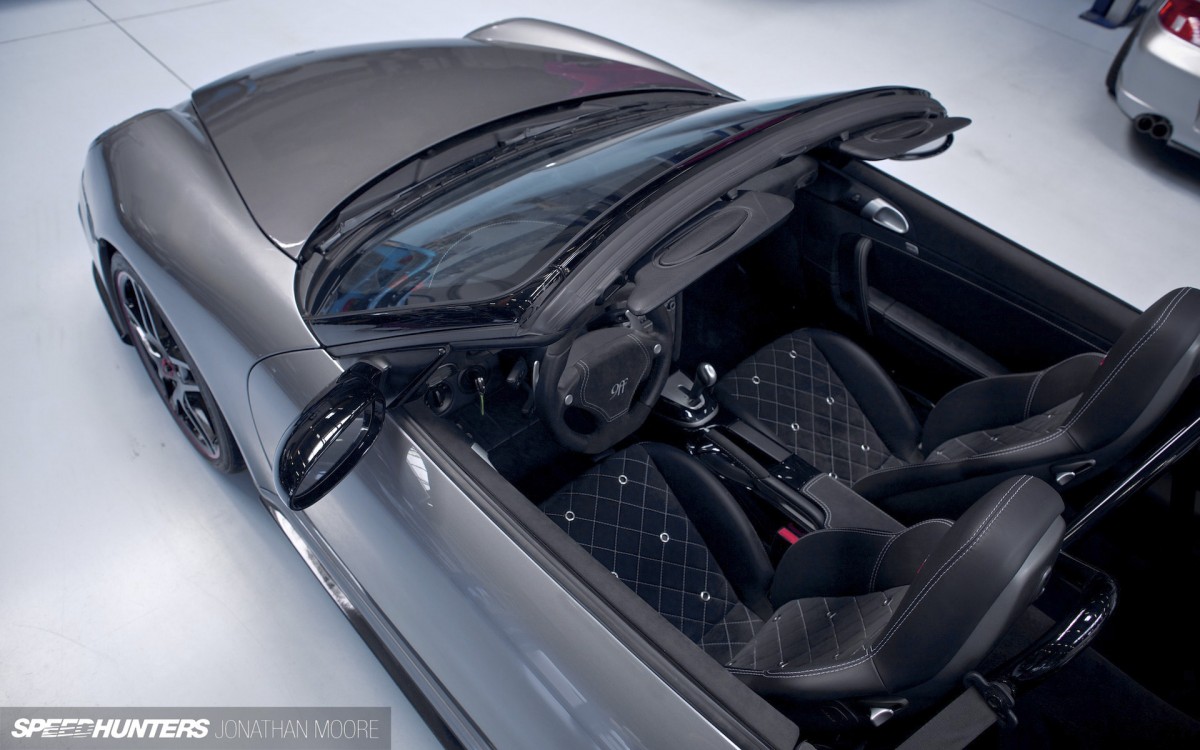 The GT9's not the only complete vehicle that 9ff supply though. This rather stunning roadster is known as the Speed9.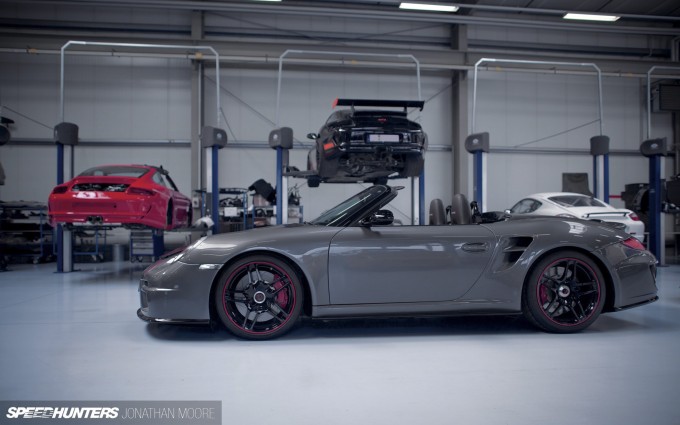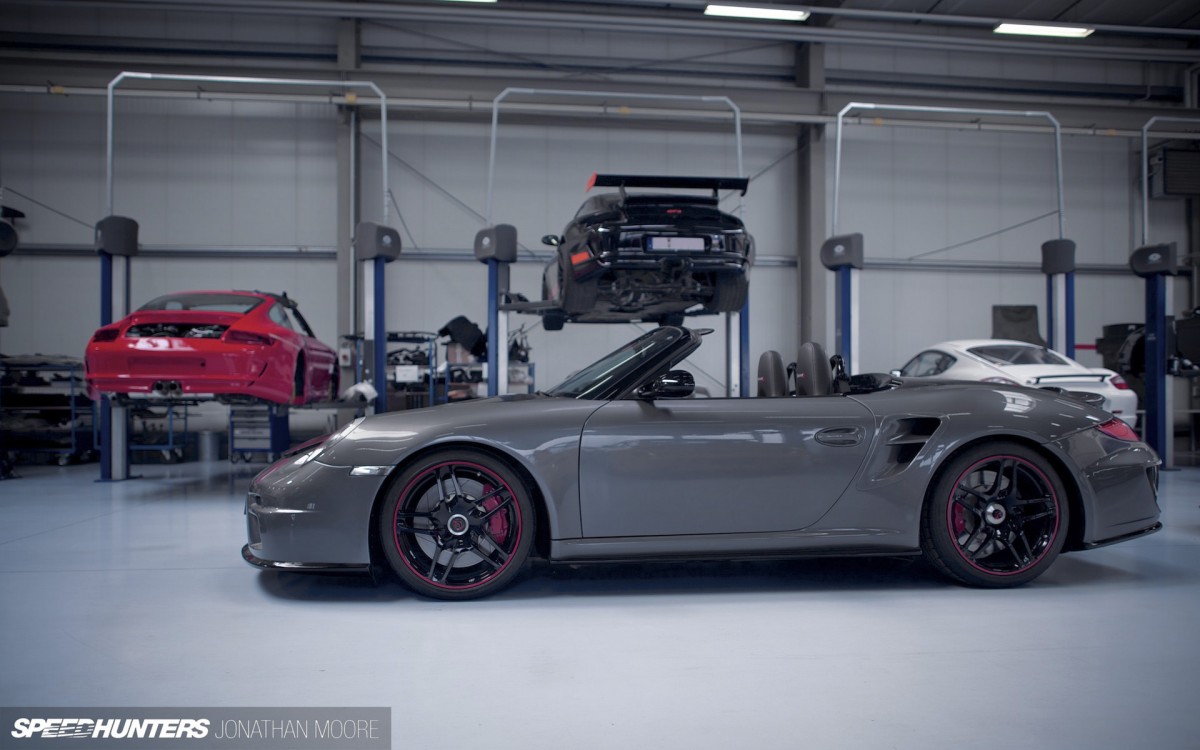 Jan wasn't keen on the standard 911 convertible as he felt the rear end was too high. Instead he prefers the Boxster shape, so the Speed 9 draws from both that and the lines of the classic 356 Speedster, to offer a much lower rear profile.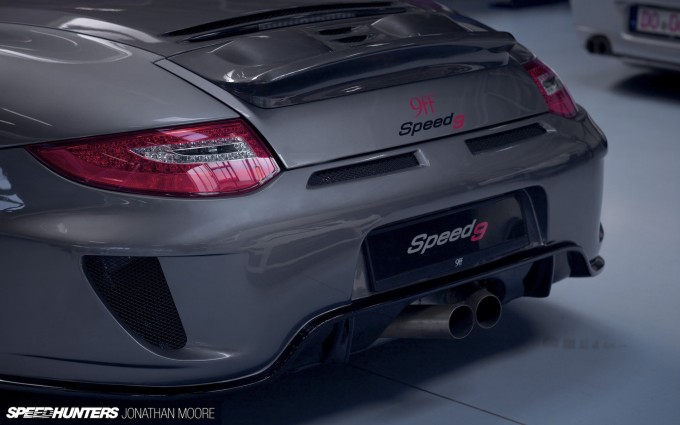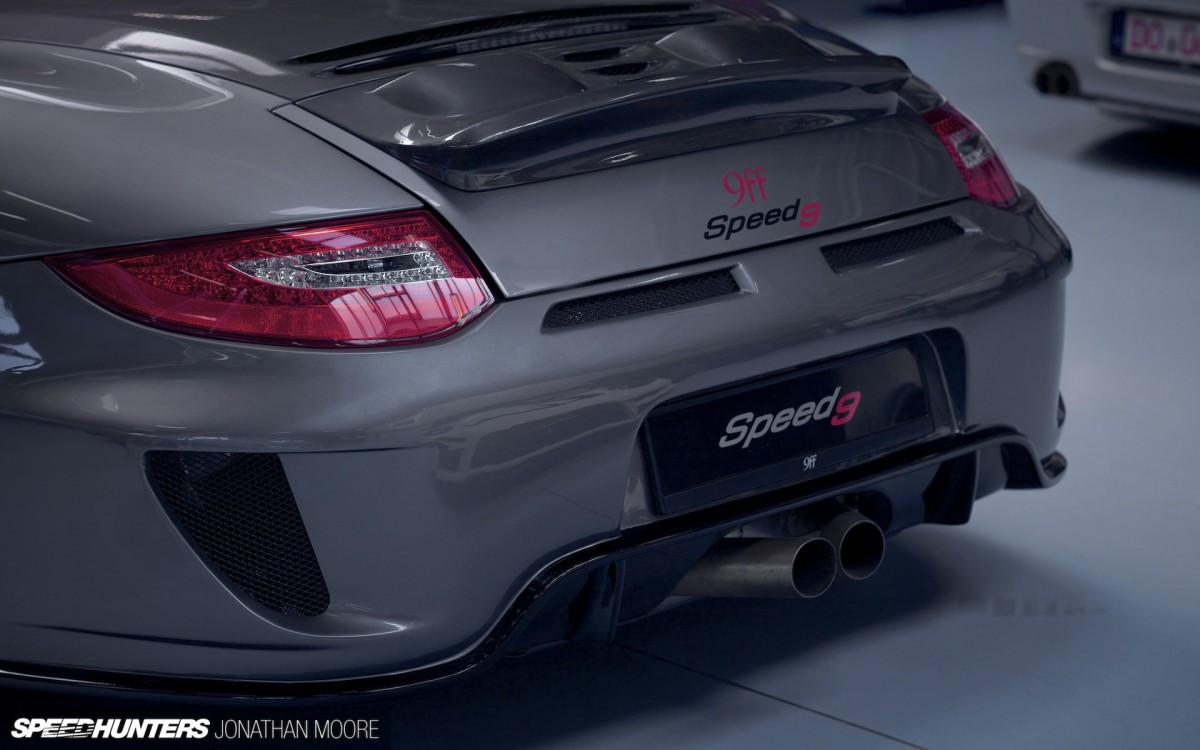 There's custom front and rear bumpers too, as well as side skirts and the result is a sleek silhouette, complimented beautifully by the subtle two-tone paint scheme. And of course, you know there's the power to back up the looks too, with 650hp on tap.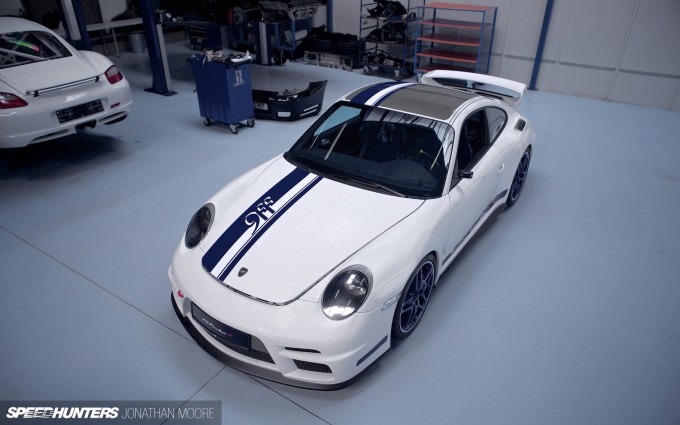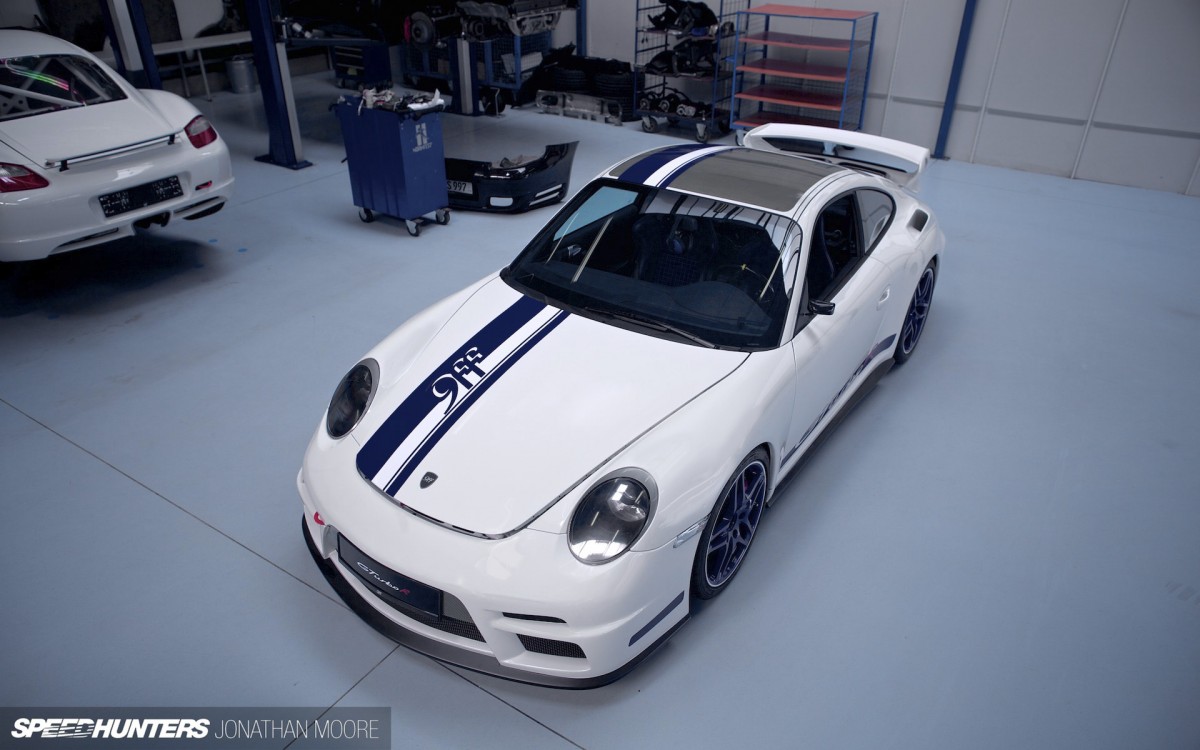 The last car in the line-up is Jan's own personal car. It's a perfect example of his philosophy of appearing unassuming from the outside, only to be sporting ridiculous power. Ridiculous power in this case being a whopping 1300hp. In a car that weighs just 1200kg! That's more than one hp/kg! When you start to look at it in detail though, you start noticing a raft of subtle exterior changes – a re-designed front bumper that's been influenced by Nissan's GT-R, rear arches sporting intakes to provide extra cooling, larger intakes above the wing, a subtly re-designed rear bumper and the mirrors being removed and replaced with a tiny racing item on the driver's side. It's all done with such care, finesse and attention to detail though that you can miss the details if you don't look carefully. It looks like it rolled out of the factory like this.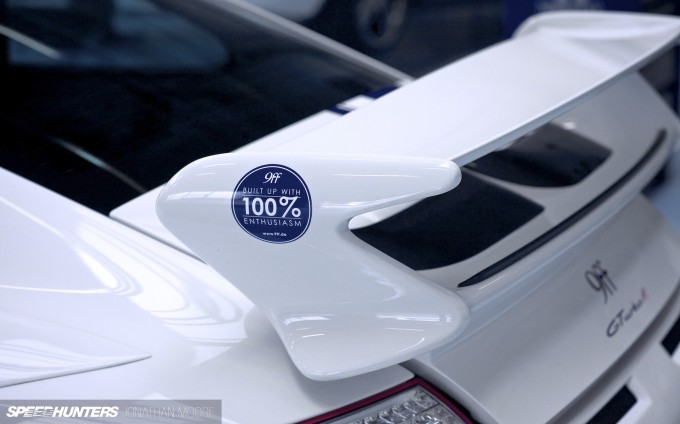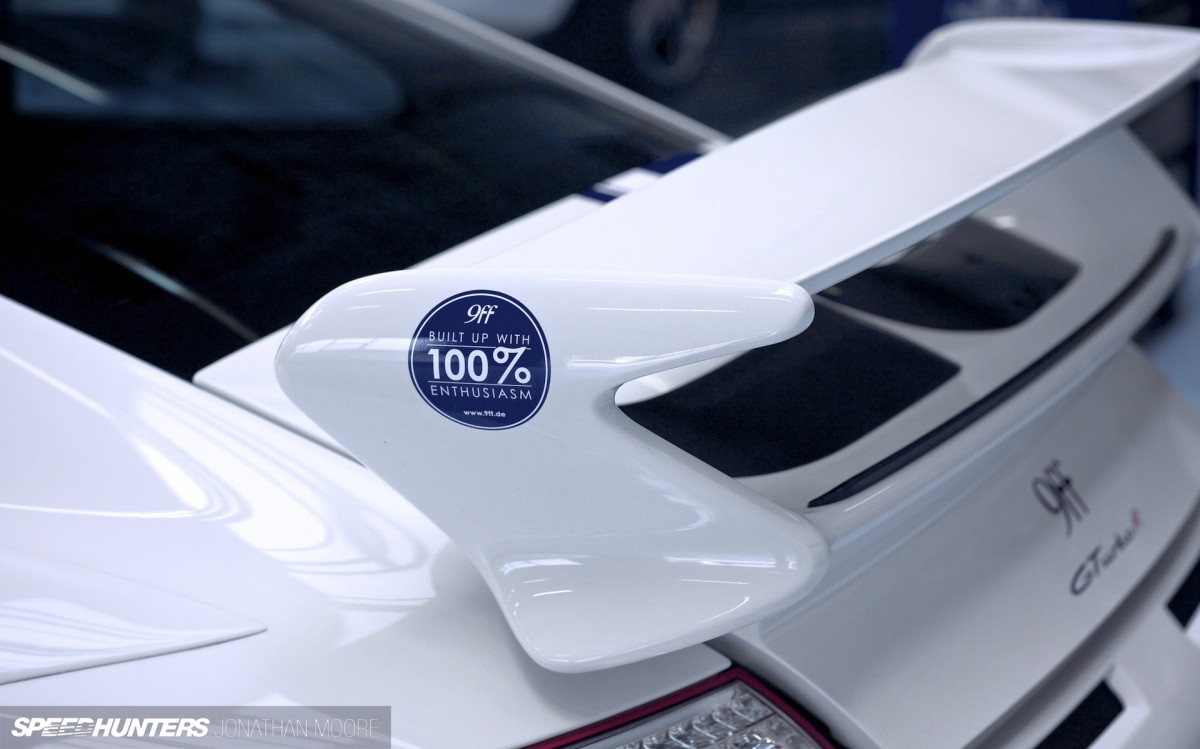 The car was built two years ago for a competition held by the German Sport Auto magazine in which the aim was to go from 0 to 300km/h and back down to 0 again. This car achieved it in a mere 21.5 seconds, beating every rival, including the Bugatti Veyron SuperSport. 100 per cent enthusiasm indeed!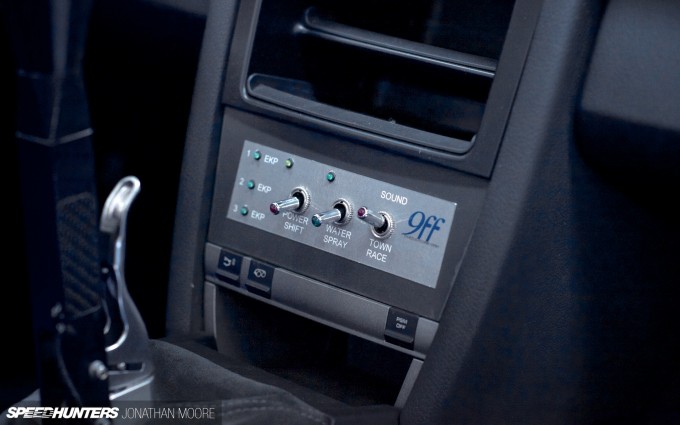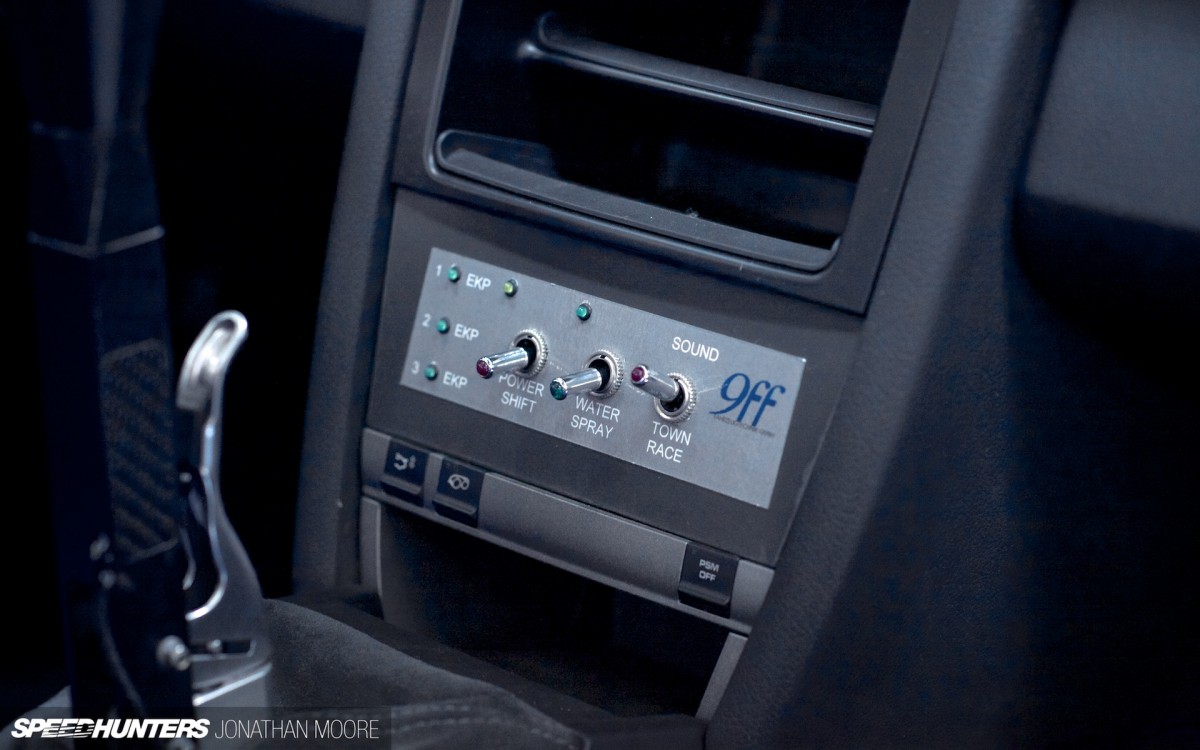 The GTurboR is a twin-turbocharged number and can be built to order in specs from 750hp to 1200hp, but as you can imagine, this one sports just about every modification possible, including a Holinger sequential gearbox to help lay down all that power.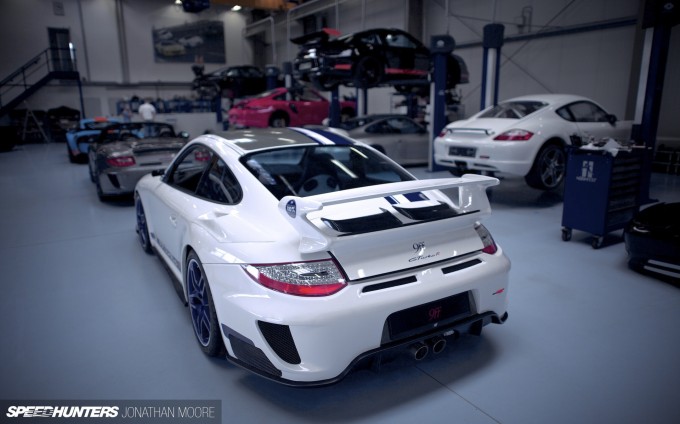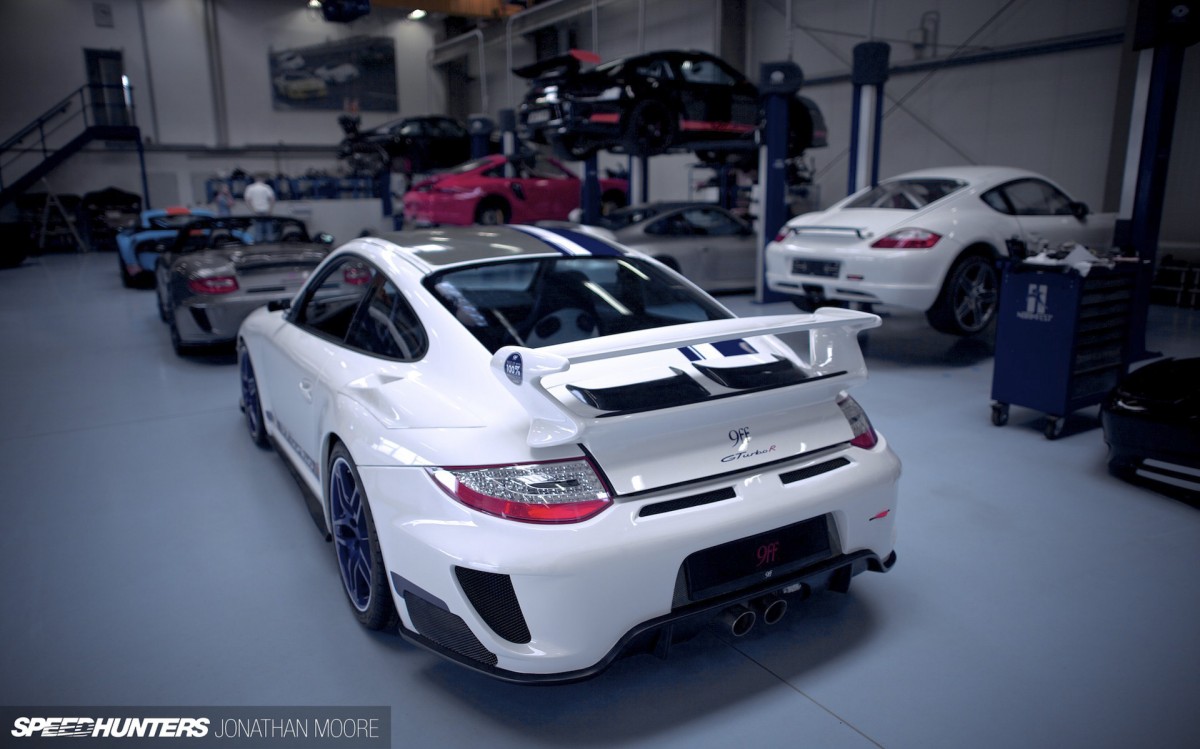 Jan's own car brings us to the end of our shop tour and as my brain struggles to comprehend all the amazing sights we've seen, there are at least some things that are clear. 9ff is clearly not just about making cars go fast. The core ethos of Porsche's design remains intact in all its creations, even the more radical ones, yet the focus is not just on pushing more power but also making it practical and reliable. For engines pushing out more than twice their original power, that in itself is an impressive feat.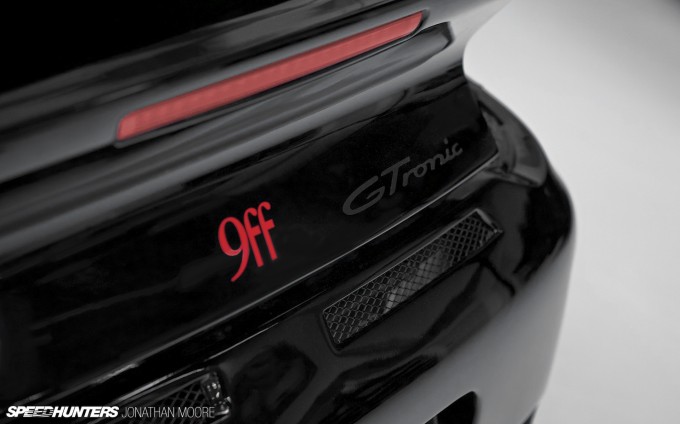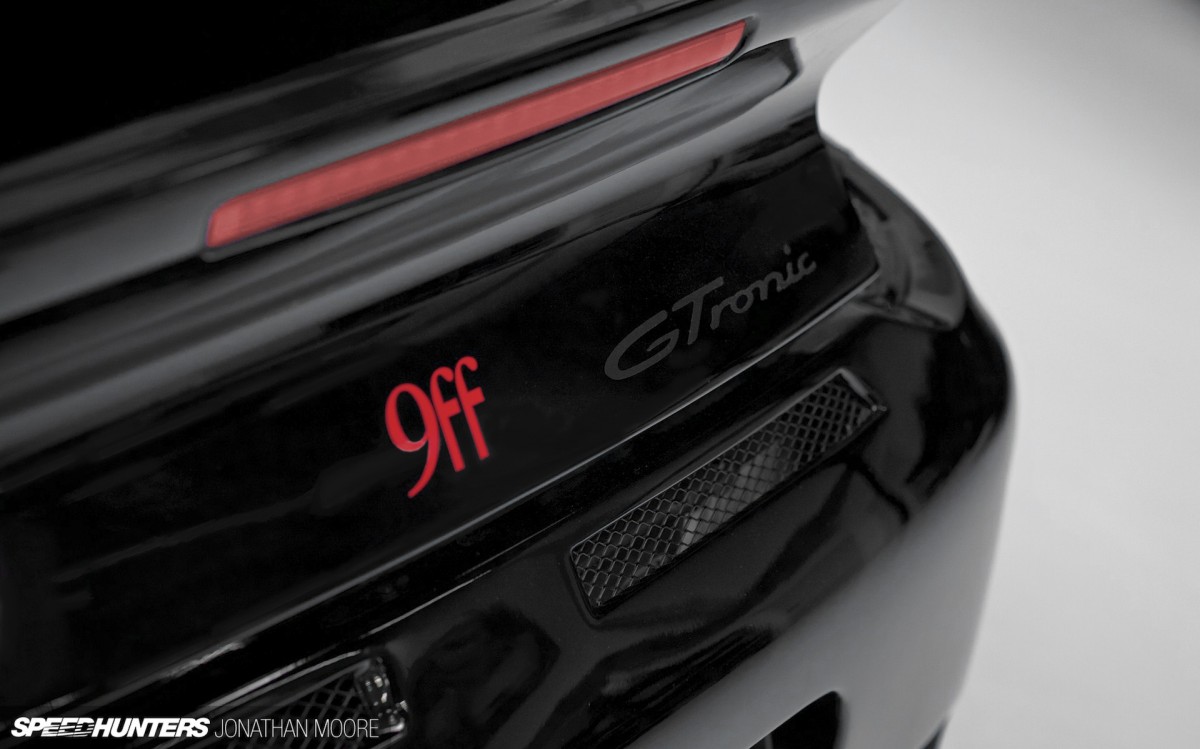 Jan's vision means that whilst a 9ff customer might be at the wheel of one of the fastest cars around, it will be just as happy cruising around town as it will defying the laws of physics on the autobahn. It's a remarkable combination and to see someone so passionately pursue their dream, and achieve it, is a real inspiration. It seems some dreams really do come true.