Extensive projects rarely turn out the way they were first imagined. Time, of course, can be one contributing factor, as can funds – or lack of. Then there are the projects that through evolutionary steps become so much more than their owners could ever imagine. The latter is certainly true of Hans Ruiterman's Nissan Silvia S14.5 from New Zealand.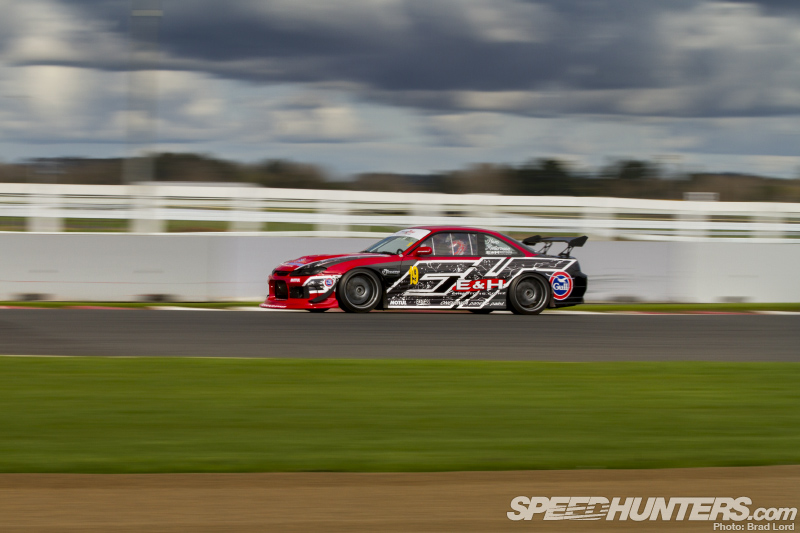 It's hard to believe now, but Hans originally built the car for drift competition, in particular D1NZ Rookie (now D1NZ Pro-Am), a feeder series for drivers with their sights set on breaking into the D1NZ Pro drifting ranks. By Hans' own admission, his 'drift hack' was nothing special – just a basic SR20DET build with supporting modifications to get the oversteer done.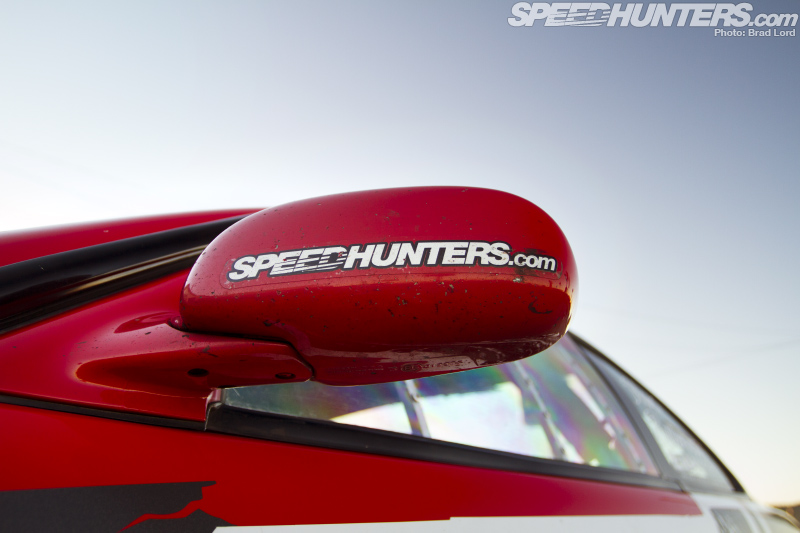 He could drive though, but that wasn't at all surprising given that his older brother Carl had well and truly stamped his mark on the Kiwi drift scene, with a clean sweep of three championship series in one year, including the D1NZ Pro title. Although drifting satisfied an itch, it wasn't until Hans tried his hand at grip racing – time attack to be specific – that he knew where he should really be channelling both his competition car building and race driving skills.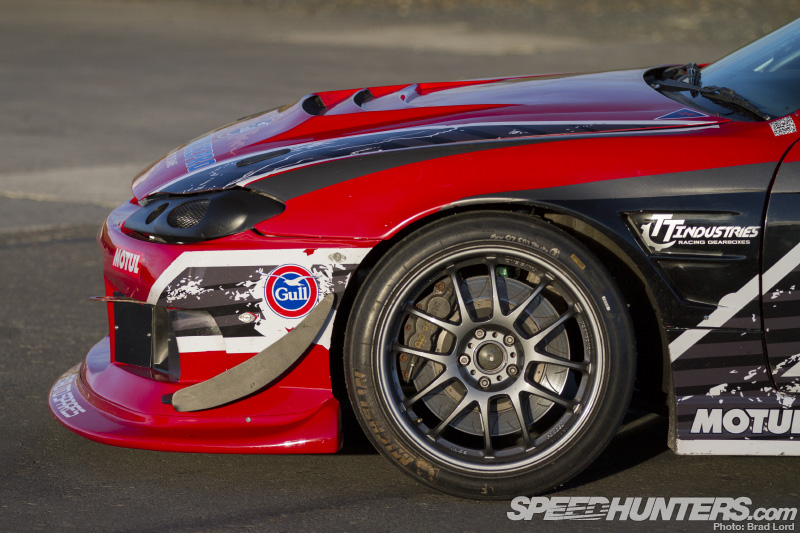 Club-level circuit racing was the natural progression, but after winning the NZ Time Attack Pro Division in 2012, Hans decided to really step up his game with an entry into the GT2 ranks of the GTRNZ series. This is a place where bespoke tube-frame GT-style creations battle it out with everything from extensively-modified V8 Supercar-based machines to hard-tuned Nissan GT-Rs and Mitsubishi Lancer Evos. There are rules surrounding safety of course, but for the most part there are no limitations on vehicle type, driveline configuration or power output. It's not hard to see the appeal.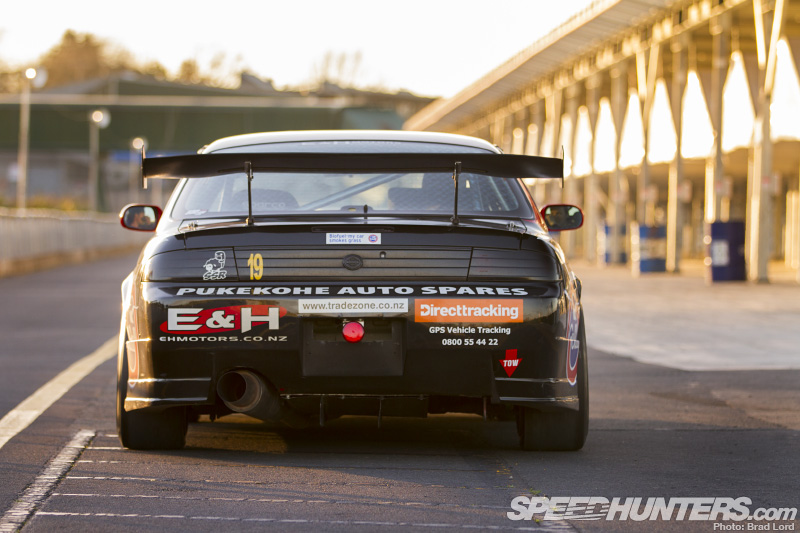 By the time Hans lined up for his first GT2 race, the Silvia had come a long way since its original drift specification. It's qualified first or second at every GTRNZ event it's been entered in, and although he ended up missing one round of the series, Hans finished up the 2012/2013 series earlier this year placing fifth overall in the class. More importantly, on many circuits, the Nissan was lapping around one second shy of the GT2 class break-out pace, and regularly beating premier GT1 class cars in the process.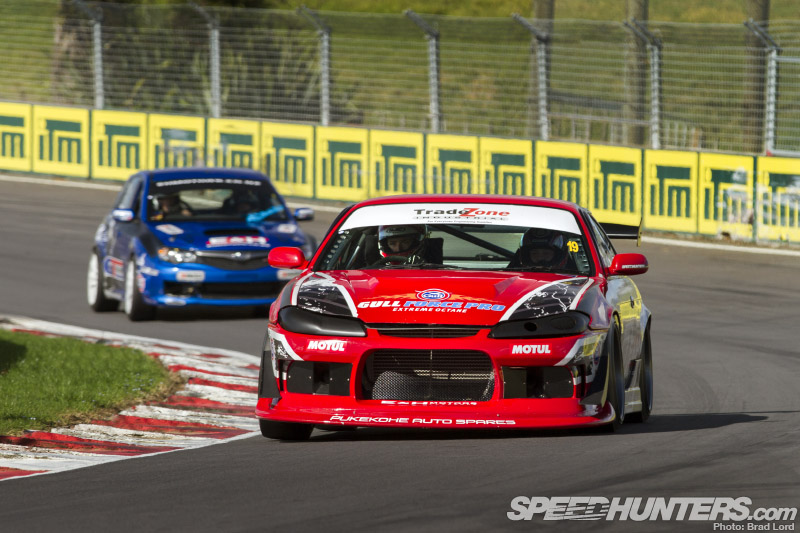 Turning a dirty drift car into the well-sorted circuit racer the Silvia is today hasn't come easy though. Hans hasn't kept tabs on how many hours have been sunk into its R&D over the last few years, but he's well aware that it never would have been possible had he not essentially built the car himself in his own spare time. Working out of his family-owned performance engineering and tuning workshop, E&H Motors, has certainly helped the cause, as have the exploits of his brother, who sometimes likes to chase Hans' Silvia down in his somewhat savage 700hp Subaru Impreza WRX STI hatch.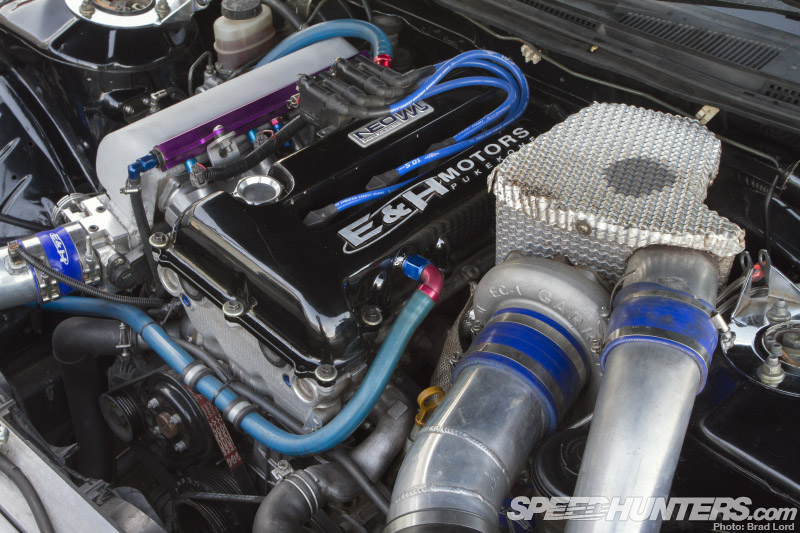 The development of Carl's other competition car – a D1NZ Pro-spec Silvia S15 running a 2.2L SR20DET – has been pivotal to Hans' build too, as has E&H's Dynapack chassis dyno, which has been exhaustingly used to map the the effectiveness of the upgrades. Funnily enough, both Carl's S15 and Hans's S14 make identical at-the-wheel numbers, but they achieve that outcome in different ways.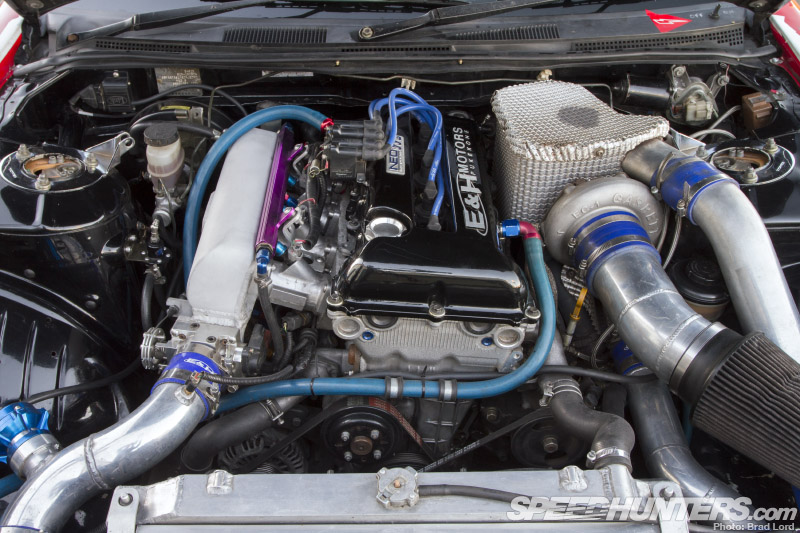 If the badge on the cam cover hasn't given it away, Hans' Silvia runs an 'SR20VET' engine – an unofficial amalgamation of an SR20DET block and an SR20VE NEO-VVL twin cam 16-valve cylinder head. The latter was borrowed from a P11 Nissan Primera and has been extensively modified for performance with port work and bigger valves. The NEO head is well suited to high power applications – it flows better and doesn't suffer rocker gear failure as SR20DET heads so infamously do. The engine's bottom end, which still displaces 2.0 litres, uses forged pistons, H-beam rods and an upgraded crankshaft specification.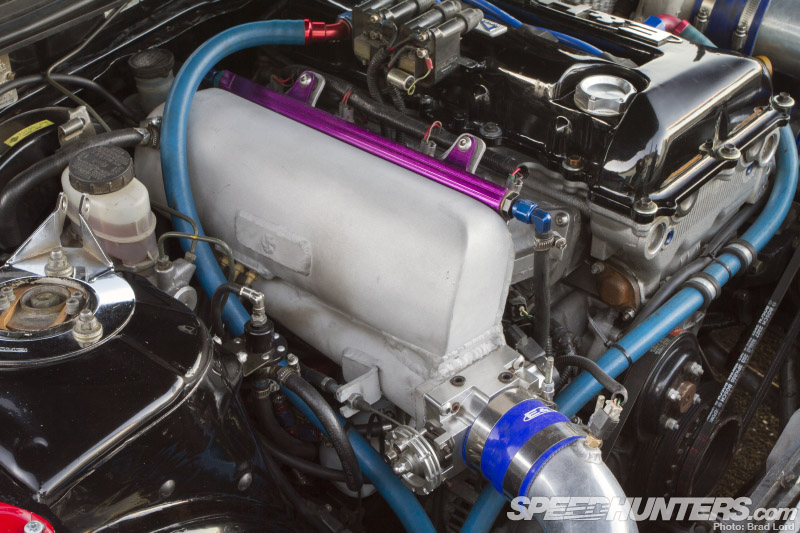 Like the engine itself, a lot of thought has gone into the ancillaries components. Hans' custom-made intake manifold for example, came about after much trial and error, and in its latest form features dual chambers with a slit to distribute the incoming air charge evenly over the inlet runners.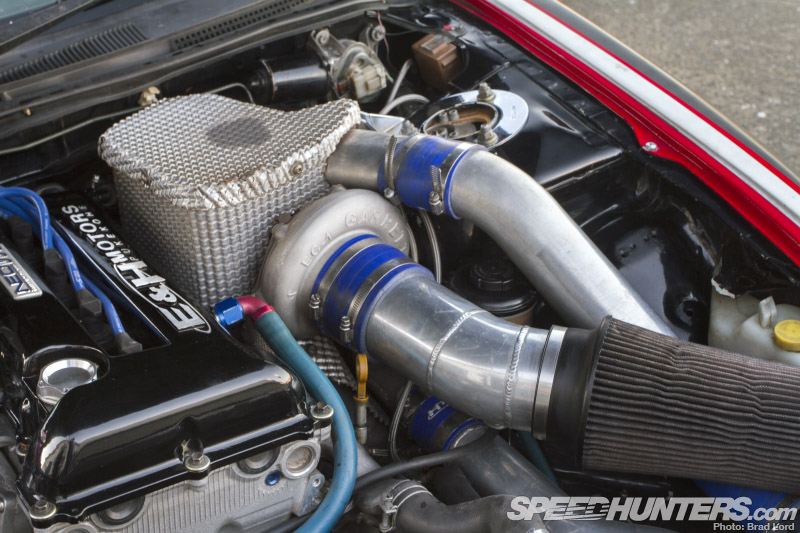 And then there's the turbo. Fitted on a hand-fabricated Sinco Customs stainless steel manifold, the system revolves around a twin-scroll Garrett GTX3582R controlled by a pair of TiAL 38mm wastegates. In an effort to alleviate the heat issues of a previous configuration, the wastegates and the turbo core are linked into the coolant system while cool air is drawn through the left-hand side headlight cover duct and gets blown into a custom shroud centered on the turbo's exhaust housing and down pipe.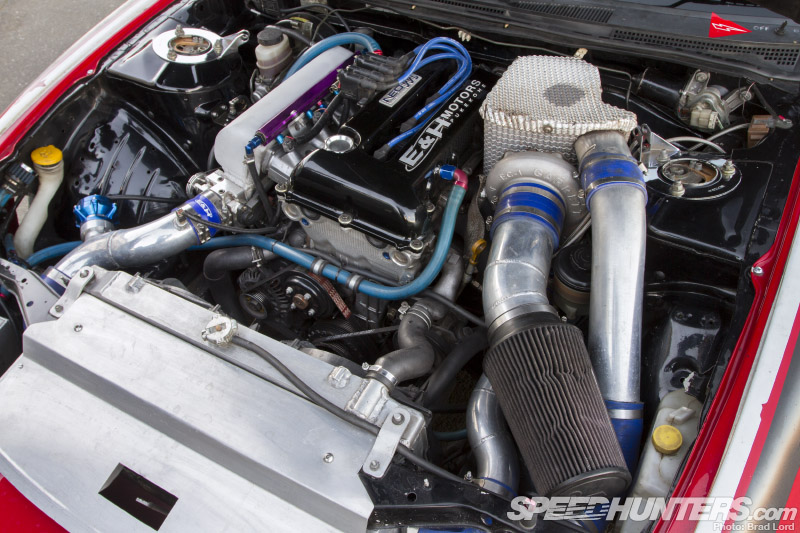 Factor in the large front-mount intercooler core, a custom 3.5-inch exhaust system and suitable fuel supply and spark controlled through a Link G4 Xtreme engine management system and the result is a solid 580hp at the rear wheels (650hp at the crank) on 26psi (1.76bar) boost. As I mentioned earlier, Carl's 2.2-litre S15 makes the same output, but it does so with a different internals, a different head, different turbo and different intake and exhaust manifolds. Bottom end torque is slightly improved in that engine, but with a new pair of cams poised to be fitted in Hans' 2.0-litre, a 40-to-50hp jump is on the cards without the need to increase boost pressure. Finding the perfect balance between power, efficiency and reliability has always been the goal with the engine, and in its current form it's something that's certainly been achieved.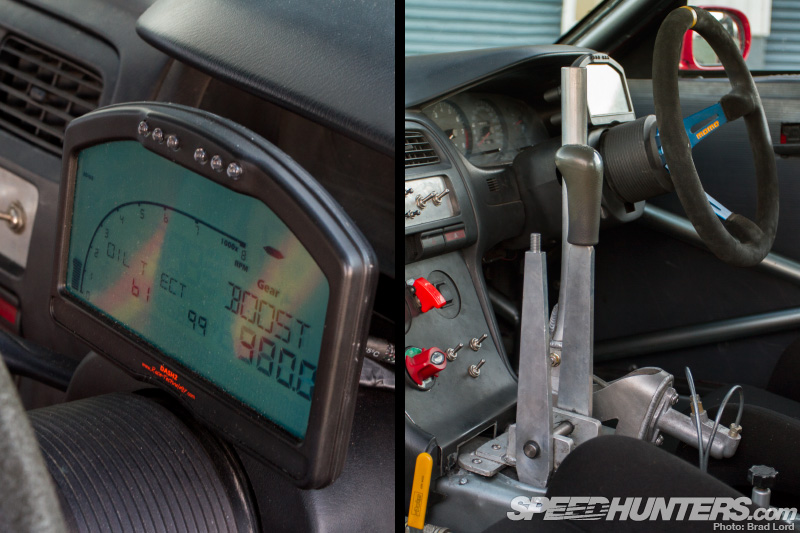 Making sure the power finds its way to the ground as effectively as possible has been of utmost importance too. In that respect, the driveline has been dealt numerous upgrades, beginning with a New Zealand-made, five-speed sequential transmission from TT Industries, and finishing with a KAAZ two-way limited slip diff equipped rear end complete with a Tilton pump and cooler arrangement. One of the more recent upgrades, the sequential 'box makes quick work of gear changes when the LED shift lights on the Race Technologies DASH2 digital display illuminate, and alone has improved lap times by two seconds around a 70-second circuit.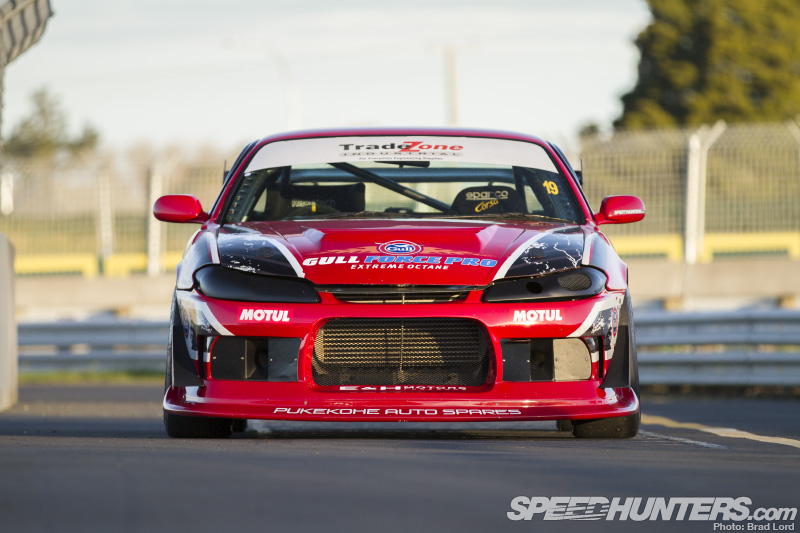 For optimum handling the position of the front subframe pivot points have been altered, as have the length of the suspension arms. Tein Circuit Master adjustable coilovers feature at all corners and upsized Whiteline anti-roll bars are used front and rear. Although subtle in comparison to other GTRNZ machines, a number of aero upgrades are incorporated too. The more slippery S15 front end treatment accommodates an M Sports front bumper, complete with canards and a custom-fitted Kevlar composite splitter from a V8 Ute racer.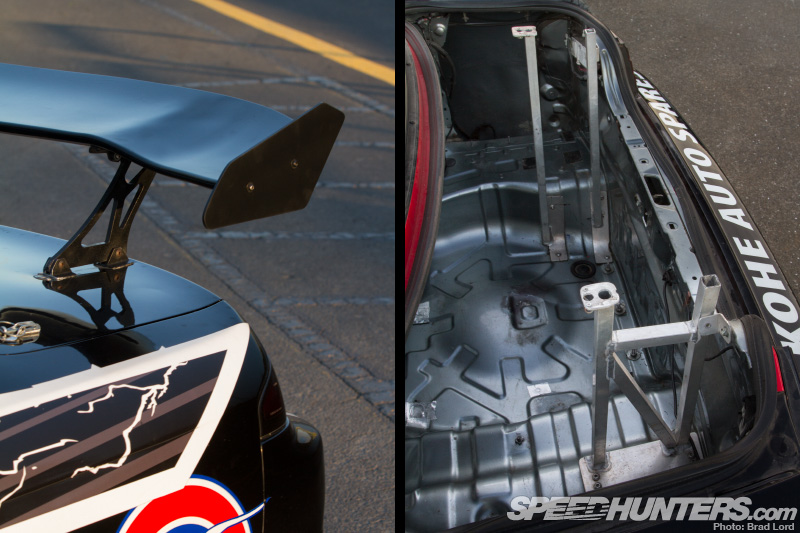 Out the back you'll find a suitably-sized GT wing with mounting points that extend all the way down to the floorpan through custom bracket extensions. Accompanied by a custom rear bumper diffuser, the simple set-up provides a lot of downforce.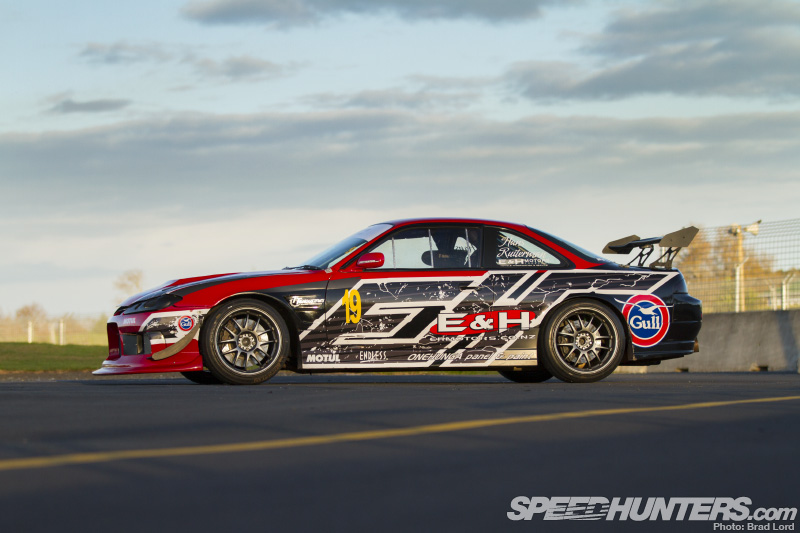 The visual result – something helped along through vinyl work by our own Mad Mike Whiddett I should add – isn't half bad either, as I'm sure you'll agree.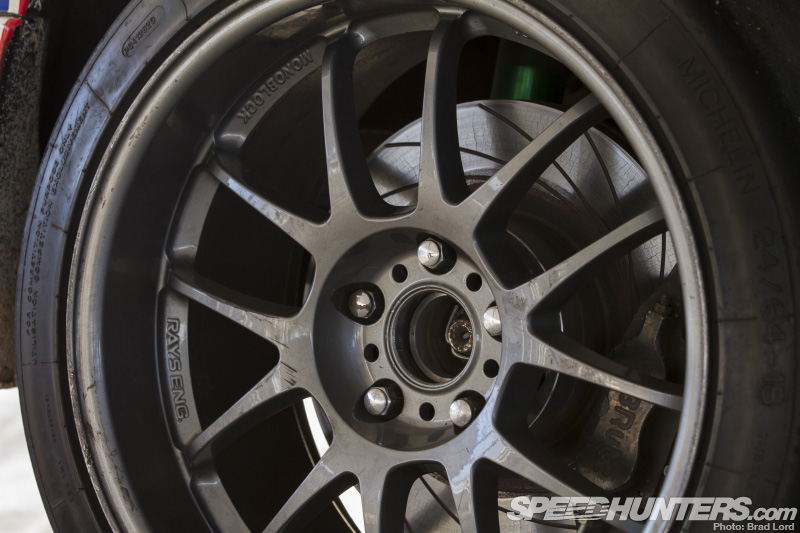 At 18×9.5 inches front and rear, the wheels – Ing's TS-06s by RAYS Engineering – fit perfectly beneath the wide fiberglass front fenders and the massaged-out factory steel rear fenders. Being of a forged monoblock design they're incredibly light and extremely strong too.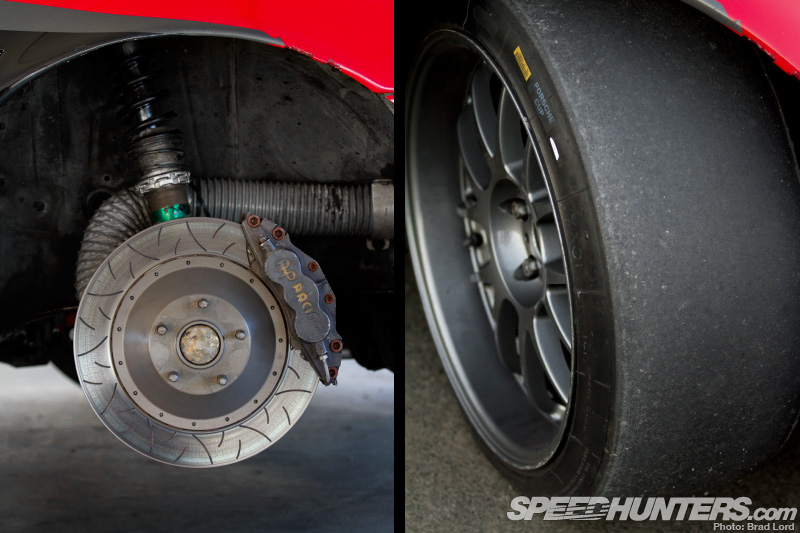 Competition-spec brakes feature at both ends, with AP Racing six-pot calipers clamping V8 Supertourer-spec Brembo Racing slotted two-piece rotors up front. Tyres are Porsche Cup-spec Michelin 240/64-18 slicks.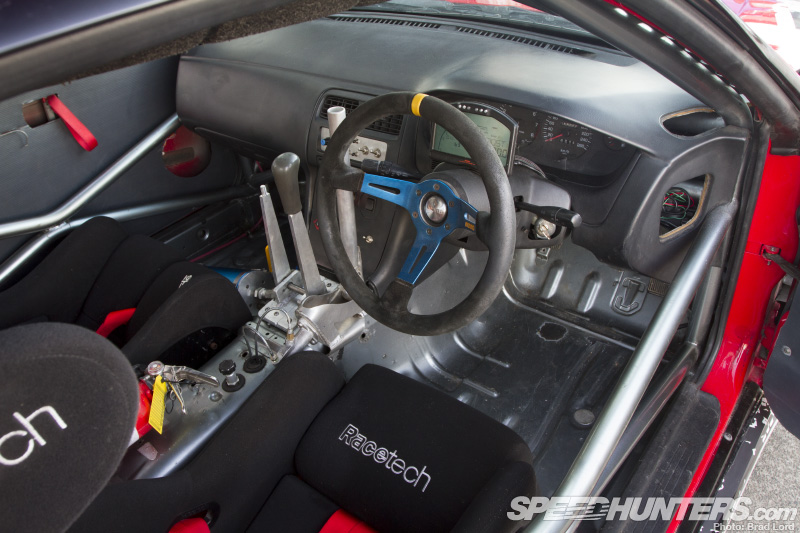 Inside, Hans has kept things pretty simple, retaining the factory dashboard (albeit in gutted form) and fitting lightweight corrugated plastic panels on the insides of the doors.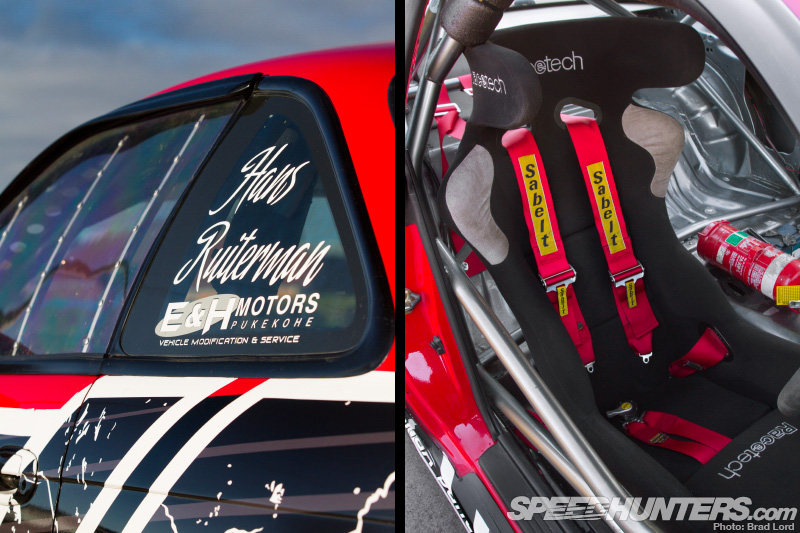 A Racetech RT4009 'tall' version seat fits Hans' six-foot-something frame perfectly. Although, a custom rear-stay was required to support the lengthened upright under acceleration, which as you might suspect, is rather violent.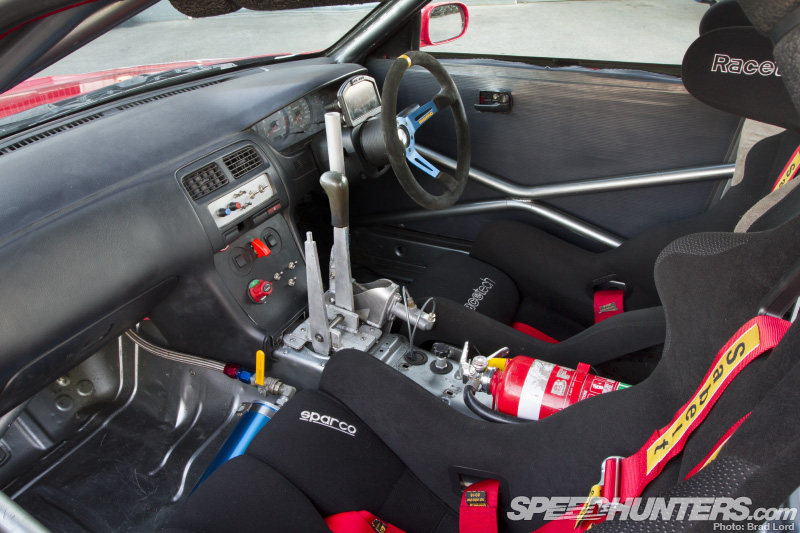 As per the original drift build, the rollcage is quite basic. Although adequate, and appropriately homologated for racing in New Zealand, if Hans had the chance to start over, it's one facet of the car he'd definitely focus on improving.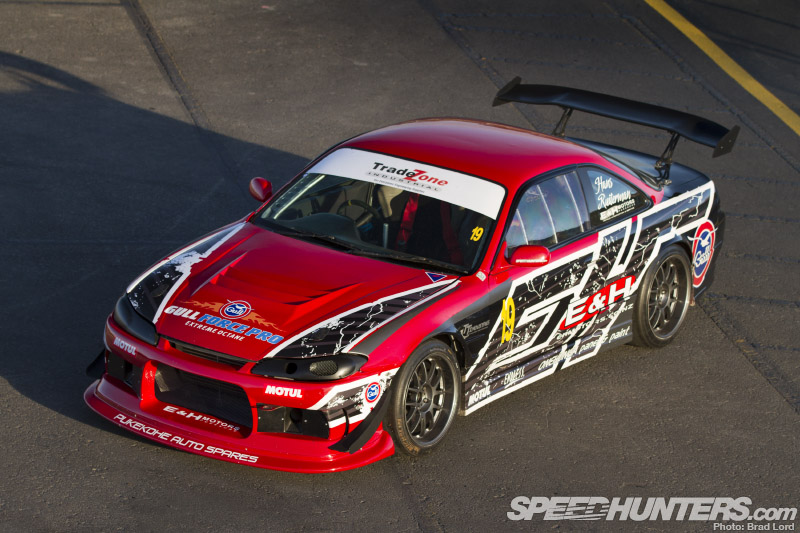 Weight is another thing, although as the Silvia's been developed it's continually shed pounds. With a full tank of fuel on board it currently tips the scales at 1220kg (2690lb), but according to Hans there's plenty of scope for more to be lost. In fact, he's hoping he can eventually get it down to the low 1100kg (2425lb) mark, which would have an undoubtably positive effect on performance.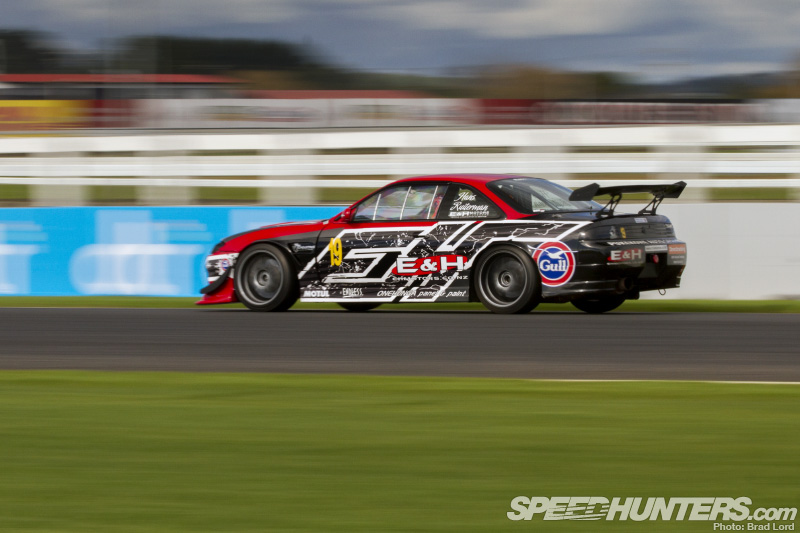 It's rapid already, but once the weight saving measures are fully realised the E&H S14.5 will be thumping on GT1's door – there's no question about it. Hans wants to get one more season of GT2 in before making that jump though, and a good result in that division will be the focus this summer. Regardless of the outcome though, what he's managed to create – in his spare time and from a car once destined to slide its way to the scrapyard no less – is rather impressive.
Brad Lord
brad@speedhunters.com
E&H Motors 1997 Nissan Silvia S14.5
Numbers
580hp at wheels (650hp at engine)
Engine
Nissan SR20VET turbocharged 2.0L DOHC 16-valve inline-four, modified SR20DET block, E&H-spec forged pistons, E&H-spec H-beam rods, E&H-spec modified crankshaft, ACL race bearings, E&H/ARP main studs, SR20VE NEO-VVL cylinder head, HKS metal headgasket, E&H/H11 head studs, modified oil pump, GReddy baffled oil pan/sump, Comp Cams Beehive valve springs, oversized valves, titanium retainers, ported/flow-matched, K&N air filter, custom 4-inch intake, custom intake manifold/plenum, 70mm throttle body, 600x300x100mm intercooler, custom intercooler pipes, Garrett GTX3582R twin-scroll turbocharger, 2x TiAL 38mm wastegates, Sinco stainless exhaust manifold, 3-5-inch exhaust system with Trust muffler, custom harmonic balancer, Link G4 Xtreme engine management system, 2x Walbro in-tank fuel pumps, Tomei adjustable fuel pressure regulator, 2000cc injectors, TiAL 50mm blow-off valve, Mitsubishi 4G63 (Evo III) coils, aluminium radiator, oil cooler, Accumsump oil accumulator
Driveline
TT Industries 5-speed sequential gearbox, KAAZ 2-way limited slip differential, custom driveshaft, E&H driveshaft loop, diff cooler with Tilton pump
Suspension/Brakes
Tein Circuit Master adjustable coil-overs, Whiteline anti-roll bars (front/rear), AP Racing 6-pot front calipers, Brembo Racing two-piece slotted rotors, custom hats (front), four-pot calipers, slotted rotors (rear), Endless pads (front/rear)
Wheels/Tyres
Ings TS-06 18×9.5-inch forged alloys wheels by RAYS, Michelin 240/64-18 slicks
Exterior
M Sports front bumper, custom-modified Kevlar front splitter, canards, M Sports vented bonnet, Slipstream side skirts, Slipstream rear bumper, custom rear diffuser, GT wing
Interior
8-point rollcage, Racetech driver seat, Sparco passenger seat, Sabelt harnesses, MOMO steering wheel, E&H hydraulic hand/e-brake, Race Technologies DASH2 digital display
More Time Attack related stories on Speedhunters
More stores from New Zealand on Speedhunters