There have been plenty of ups and downs with Project Z over the past month, mainly revolving around the importance of attention to detail. I've recently discovered just how easy it is to get carried away with restoring and modifying an almost 40-year old car. For every  'to-do' we check off the list, it seems it is replaced by two more. But that's all part of the joy of owning a project car, right? It's an addiction and I love it. My wallet on the other hand, doesn't seem to love it quite so much.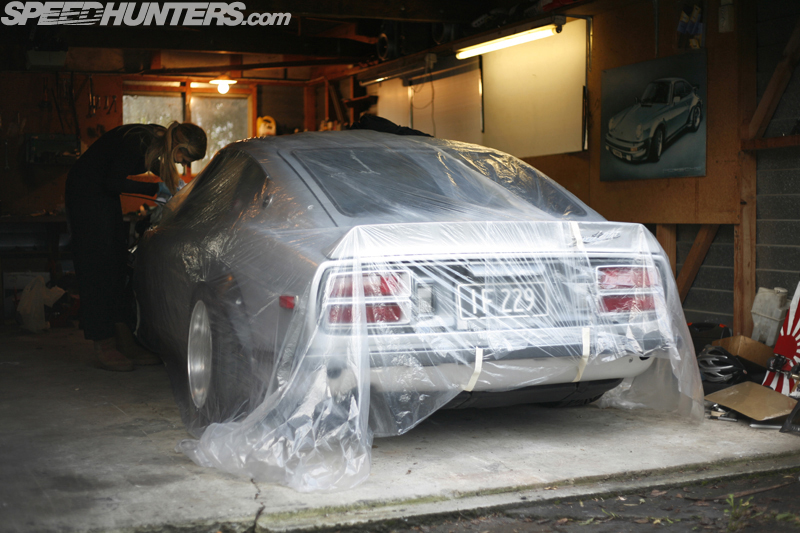 After ongoing issues with the S30's fuel system and then finding out that one of the cylinders was down on compression, the factory 2.8-litre straight-six was pulled out of the engine bay back in April, and taken apart. Over the last few months I've been acquiring new parts and have had work carried out on the block and head to give the L28 a full refresh and bring it back to it's full former glory – with some extra improvements of course.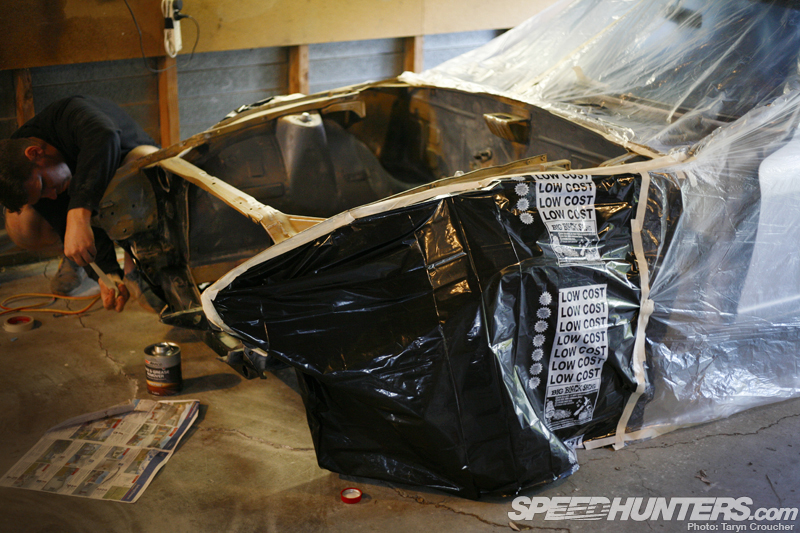 But because I'm a perfectionist and want things to be done a certain way, and to a certain standard, one thing I've personally struggled with throughout this build is fact that I don't possess the skills to be able to carry out certain jobs on my own.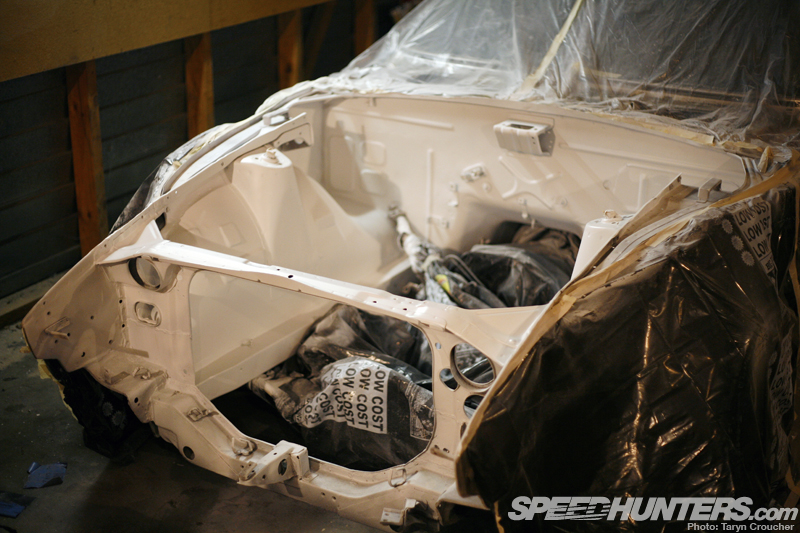 I've always believed in the motto 'If you want it done right, you should do it yourself', but I've had to admit defeat and throw this slogan out the window on several occasions recently.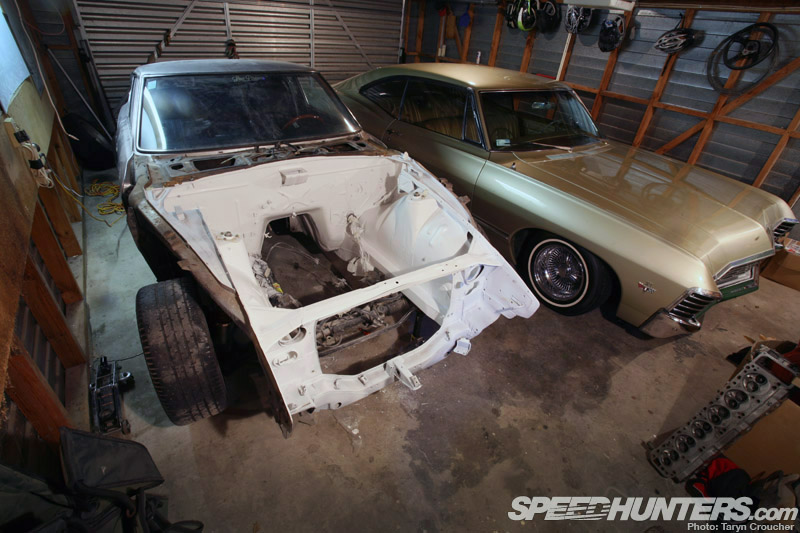 Stripping and prepping the Z's engine bay has been one of those occasions.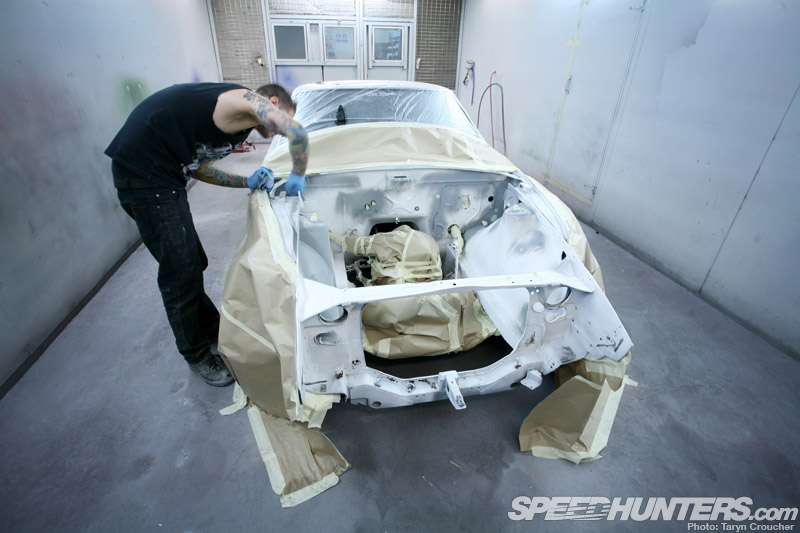 After weeks of cutting, welding, sanding and carefully layering primer before dropping the car off at the panel & paint shop, I received a barrage of hilarious (but actually really angry) Snapchat messages from my painter, Ben at GT Refinishers in Auckland, who instead of getting straight to work and spraying the engine bay had been busy pulling off flaking primer and re-doing a lot of the work that we'd done at home.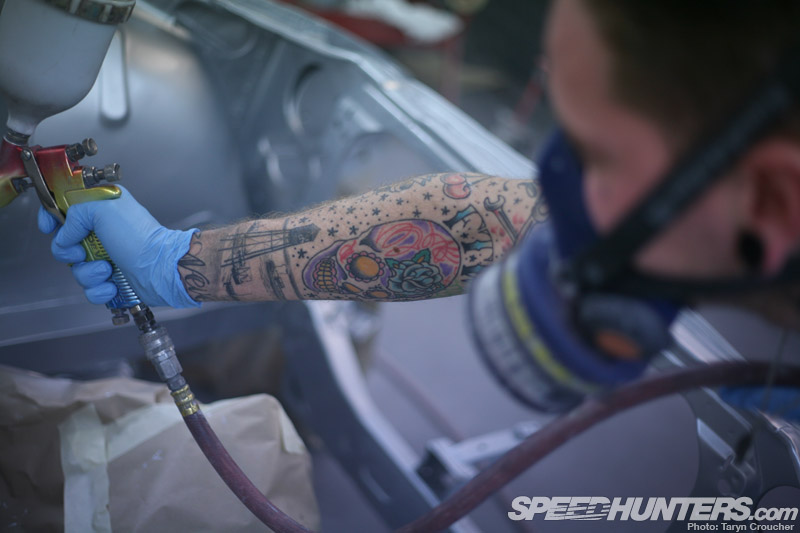 It turned out that we hadn't put enough care into cleaning up and prepping some of the harder to reach places and small bits of dust, dirt and oil underneath the primer meant that some of these areas had to be sanded back and re-primered.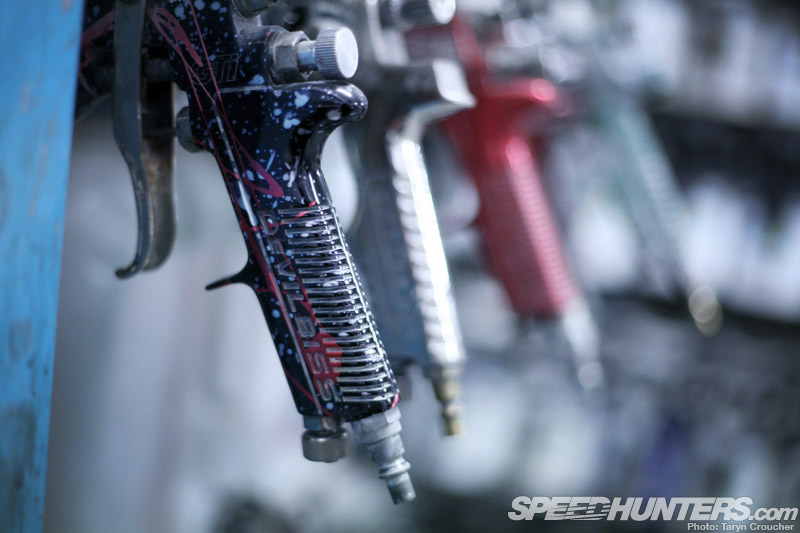 Looking back it seems like a rookie mistake (having never done anything like this before, I guess it was), but it's still been a good learning experience and I'll certainly know for next time. Failing that, there's also a lot to be said for getting a professional onboard when the time is right.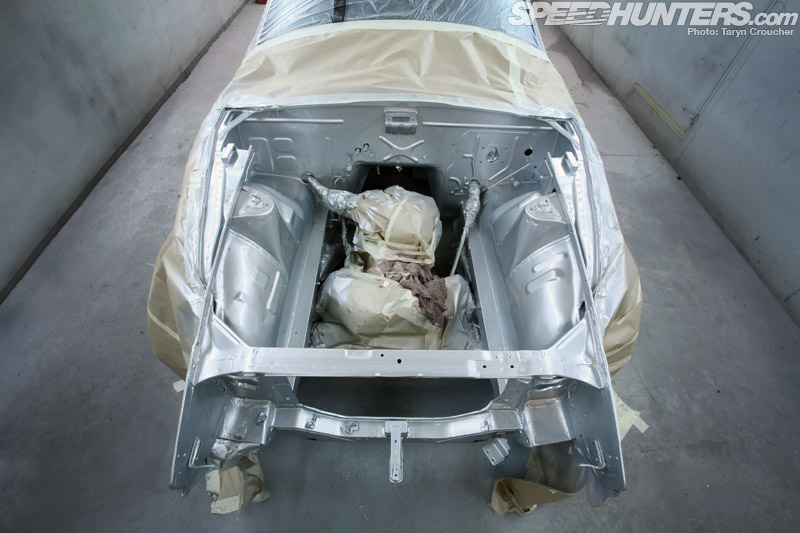 I think I'm going to have to adapt a new motto; 'Do it once and do it properly!'.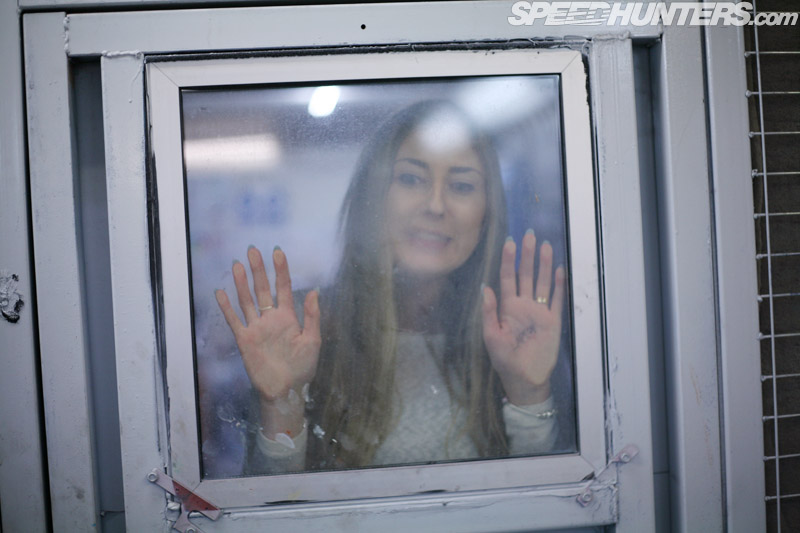 It worries me how much I look like the 'overly attached girlfriend meme' girl in this photo.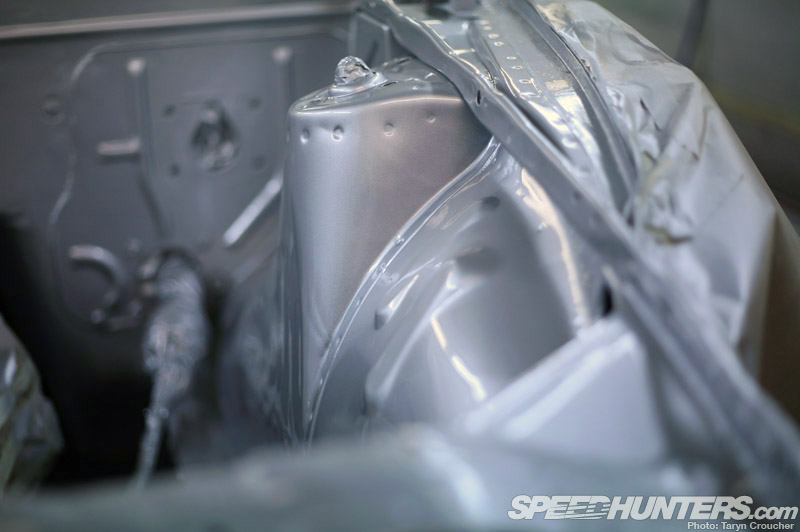 The engine bay is now coated in beautiful glossy Arctic Silver to match the body of the Z, and it looks fantastic! It feels even more satisfying looking back and comparing it to old photos from just after the engine was taken out.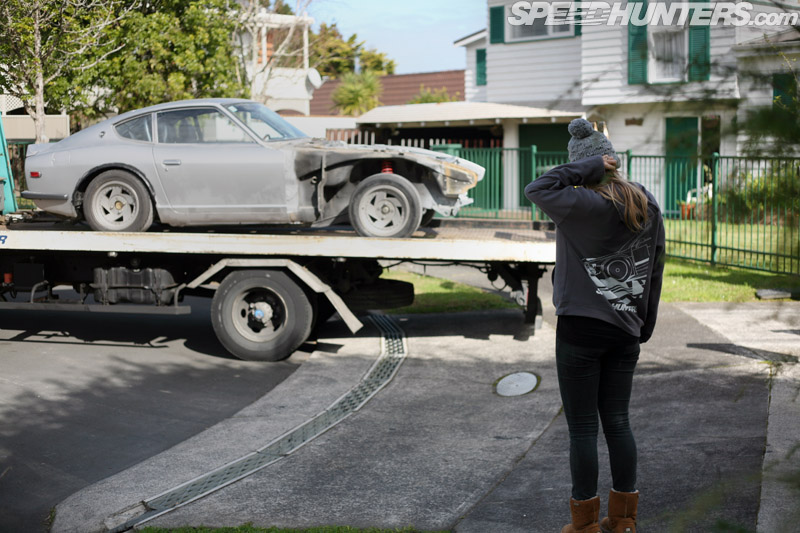 Last weekend the car came back home again and I found myself anxiously waiting out on the road for it to arrive safely. Yes, I know I'm wearing Ugg boots, but they make working on the car in the cold that much more bearable, alright? If you've never had your feet enveloped in toasty warm sheep wool then you couldn't possibly understand!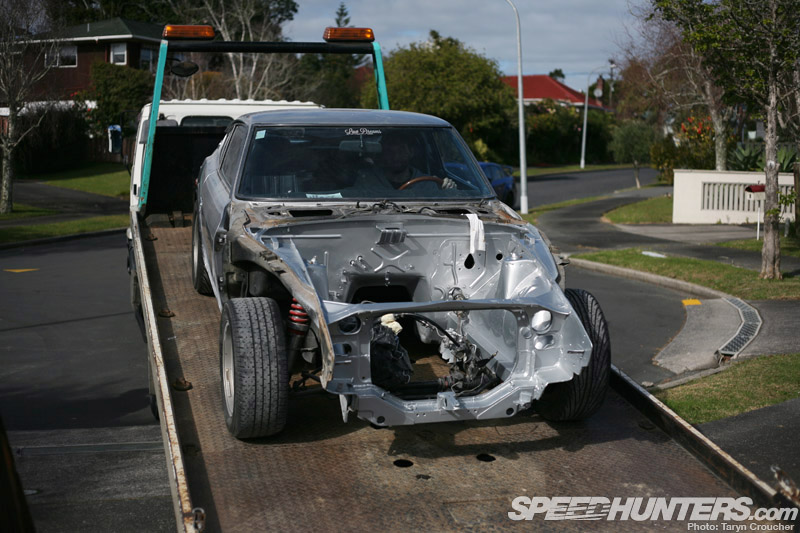 Anyway, you'll notice the rear flares are now missing as well – another step which makes me feel like things are going backwards, not forwards. But the fibreglass wasn't quite perfect on them so they are going to be redone.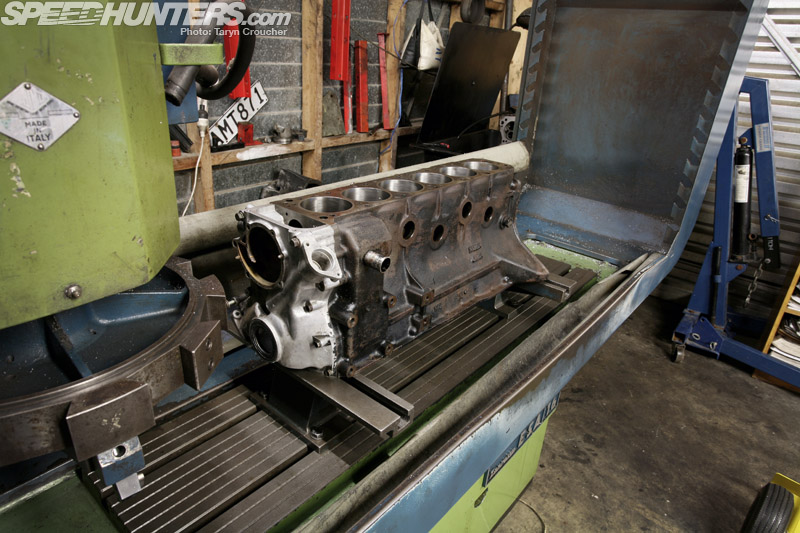 With all of the cosmetic work (apart from the fenders) complete, the big focus now is going to be the reassembly of the L28 motor.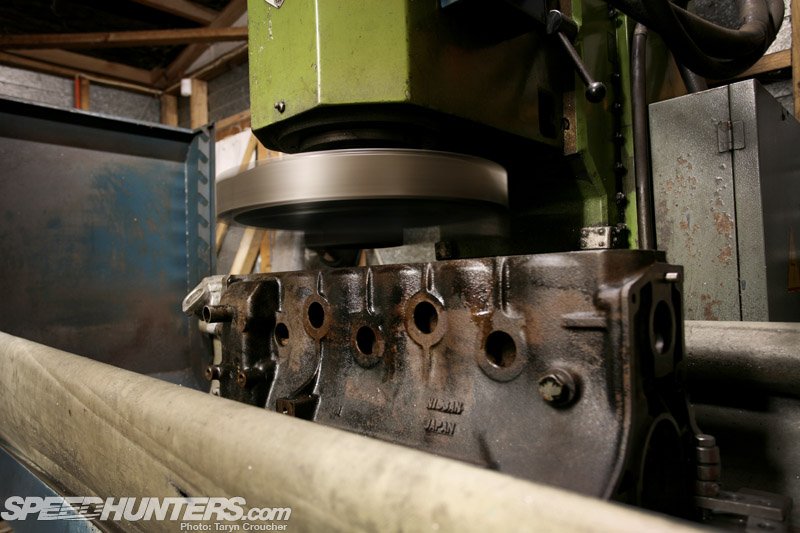 After undergoing a rebore and hone, decking the block was the last step to ensure that everything was spot-on come reassembly time.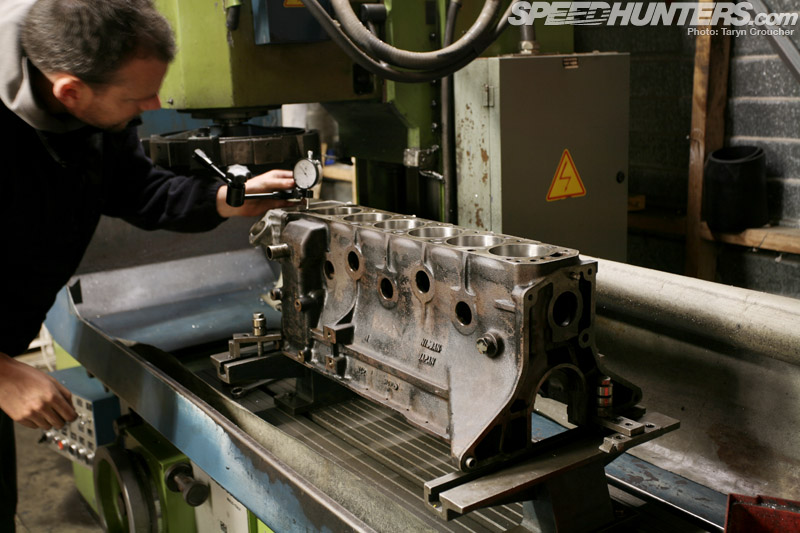 Because the new pistons come up so high we had to be really careful to make sure we didn't take too much off the surface.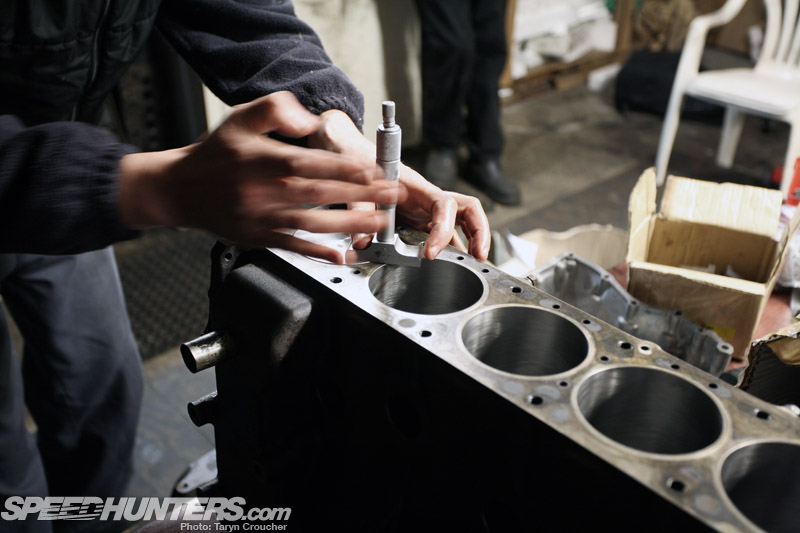 I was amazed at how precise this process was. Hearing measurements being referred to as a few 'thou' – as in thousandths of an inch – really made me scratch my head.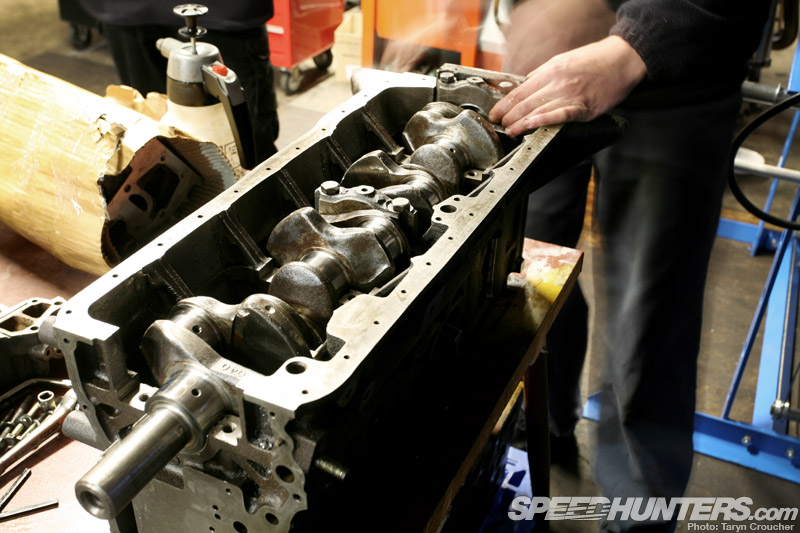 Jason (the cylinder head specialist who has been helping us) did a quick dummy-fit to see if the pistons were going to fit and the bores were given a final measure up.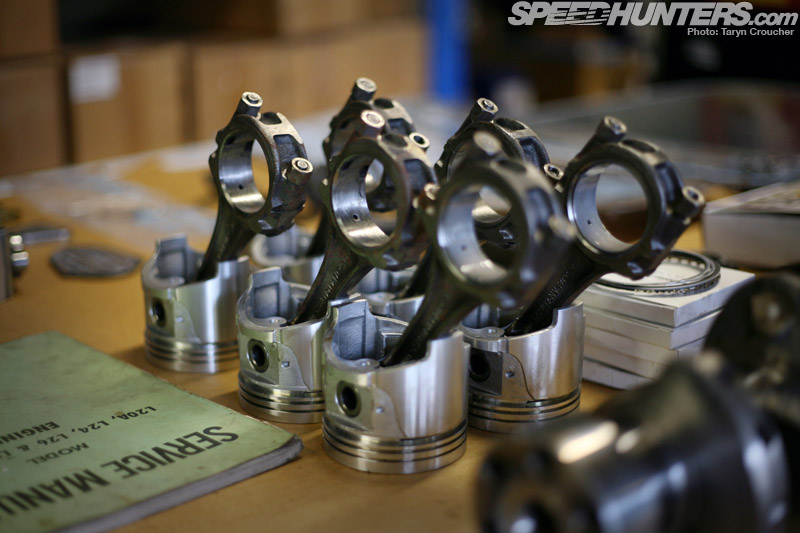 However, the test fit showed that they were coming just slightly too high out of the block, so we would need to take a few 'thou' off the tops of the new 87mm flat-tops.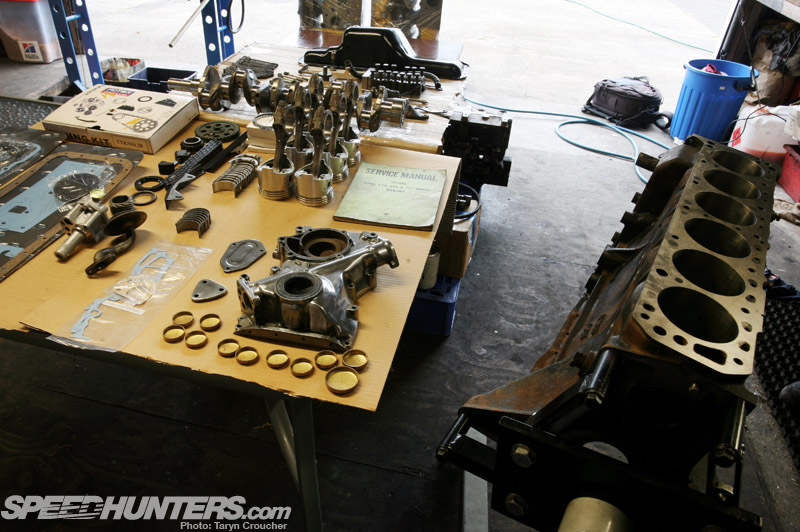 Regardless of the fitment issues with the pistons, we finally now have all the pieces of the L28 puzzle in working order and ready to put back together.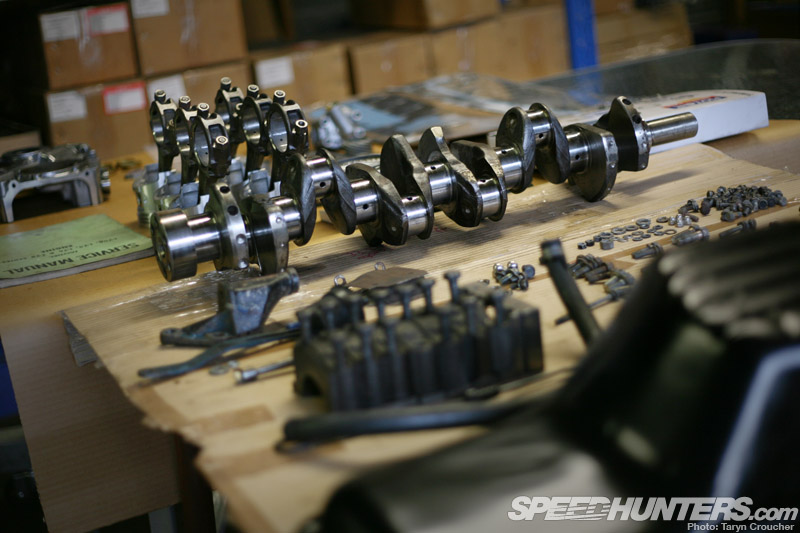 Along with the reconditioned parts, over the last few weeks we've re-sleeved the brake master cylinder, acquired new braided fuel lines and fittings, a new clutch slave cylinder and release bearing, and the flywheel is currently being lightened as I write this. It's all coming together!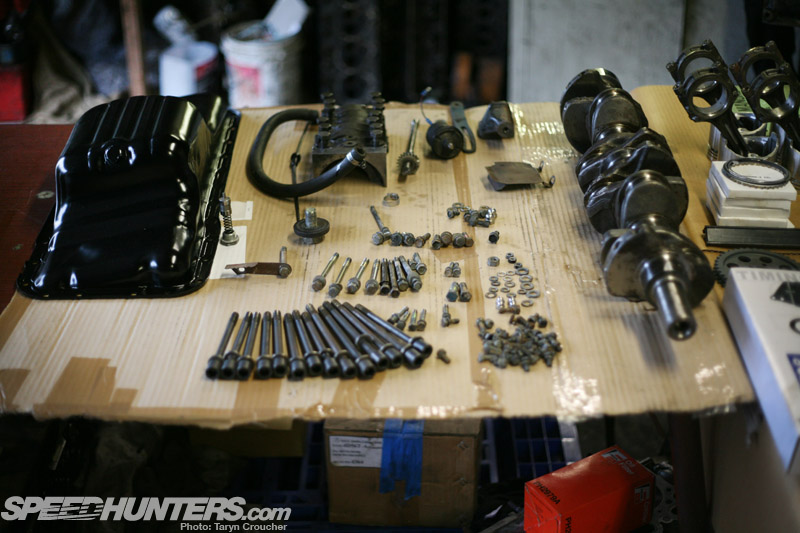 I recently cleaned up the rusty sump and repainted it (I do have a photo of me doing this but I think we've all seen enough pictures of me wearing ugg boots for today) and a new ARP head stud kit should arrive any day now to replace the old head bolts.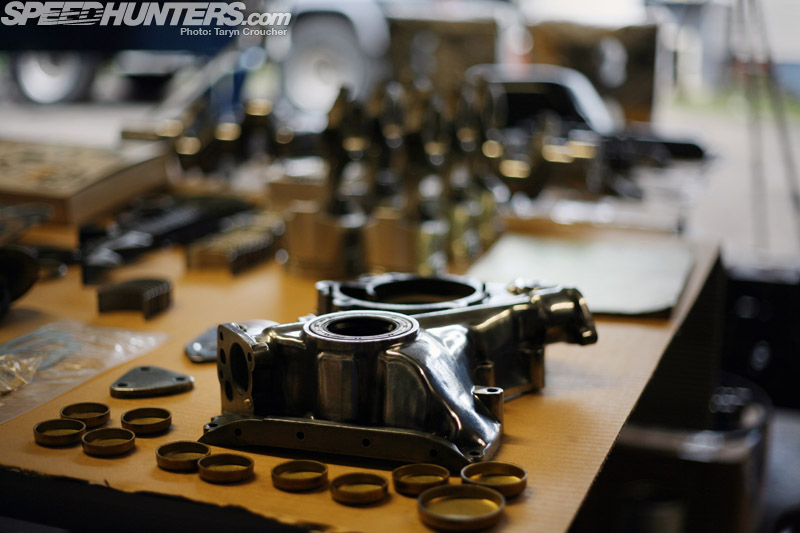 Whenever I've felt slightly lacking in motivation over the last couple of weeks I've thought back to the 240Z I saw recently in Norway and how amazing those shiny triple carbs looked popping out the side of that L28!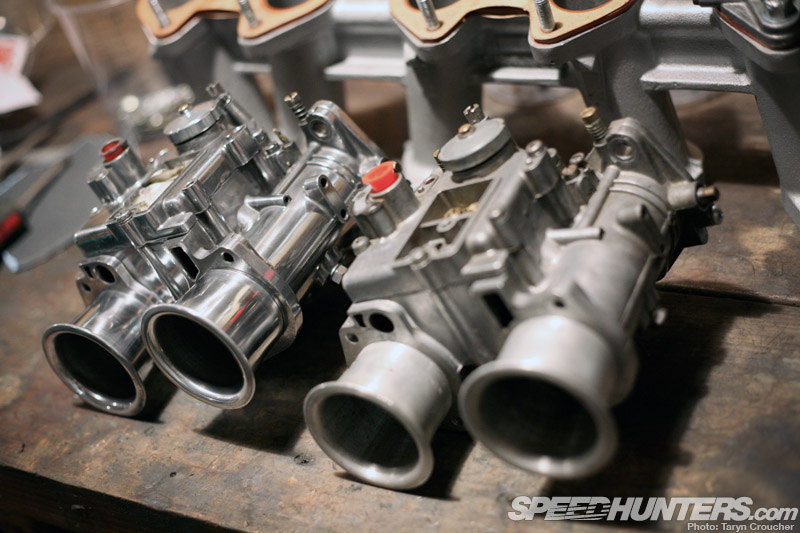 After going maximum attack on one of my 40mm Solex Mikuni carburetors with a good polish I couldn't believe how much better it looked, and we've since polished up most of the remaining metal bits and bobs. I'm pretty excited about how much of a difference all these little details will make.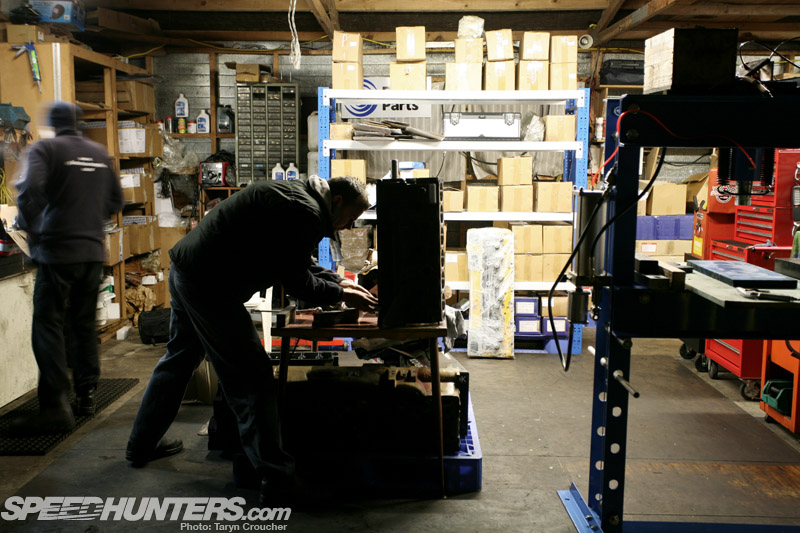 As I write this story the engine reassembly is already underway, and it's pretty exciting to think that in my next update I should be able to show you what the rebuilt L28 looks like sitting back in its home. I'm already planning the Z's first track day…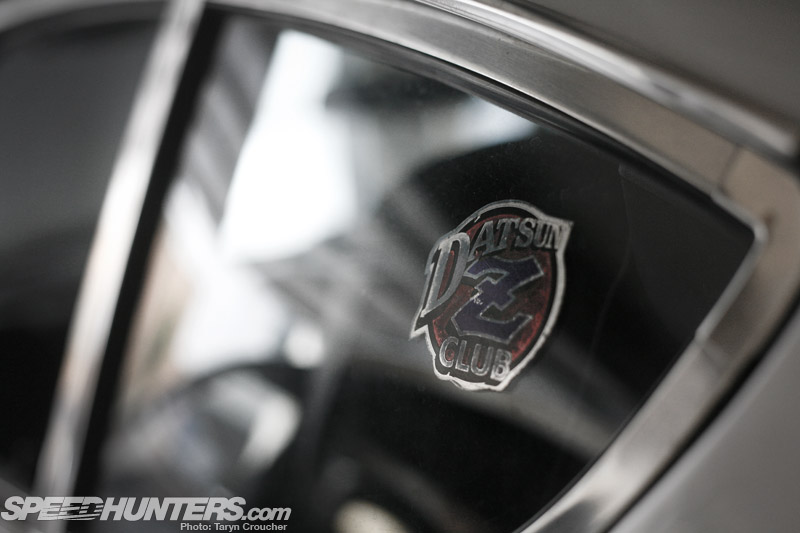 … which I've just found out will be exactly two months from today. Yikes… no pressure!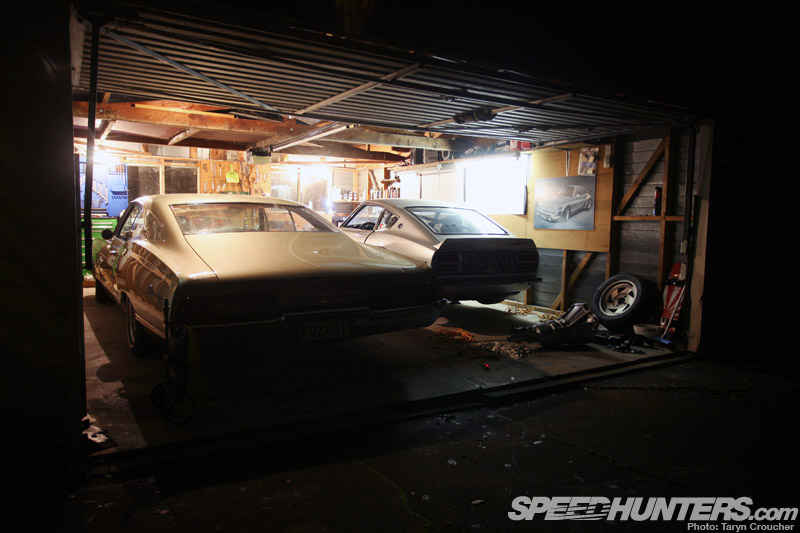 I've recently come to the conclusion that the more work that gets done to this car, the more perfect I want it to be. But maybe that's not such a bad thing? All I know is that my passion for this project is stronger than ever, and right now the annoying perfectionist within me is feeling pretty satisfied!
Taryn Croucher
Instagram: taryncroucher
Twitter: taryncroucher
More Project Car stories on Speedhunters