Back in June, we introduced the Product Showcase as a way for our partners to present their latest products to you. It's not only a way for them to demonstrate the latest goings on in their range but also an opportunity for you to keep up to date with what's new and exciting. So without further ado, we start with Air Lift's full kit for the Nissan 370Z/G37…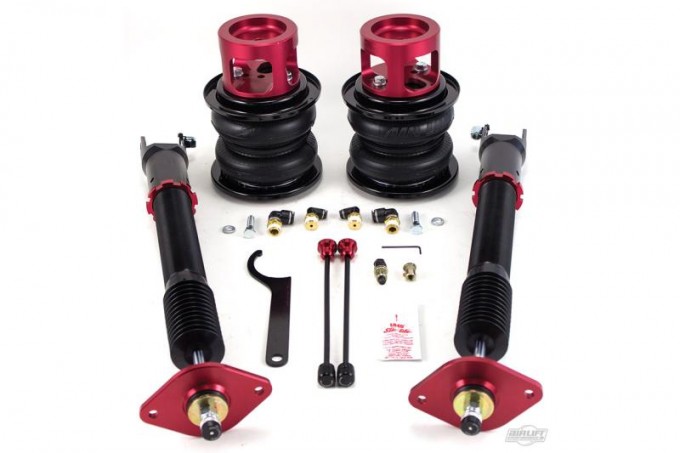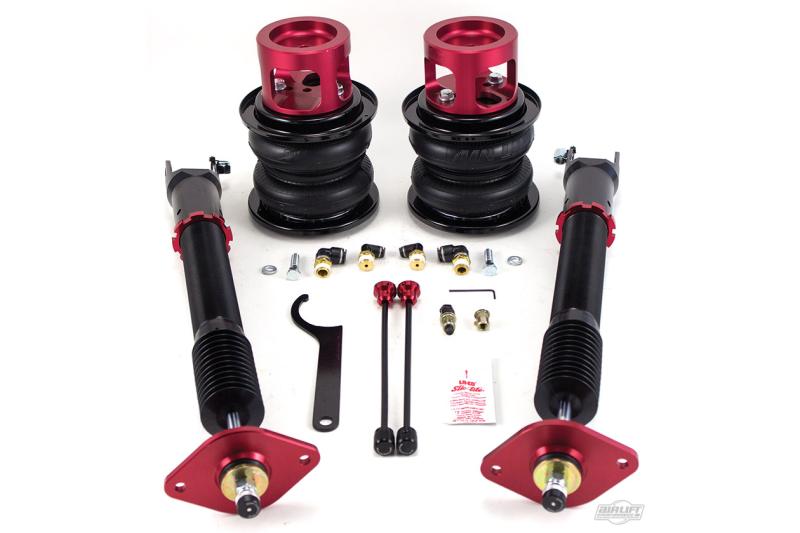 NISSAN 370Z/INFINITI G37 KIT
From: Air Lift
Air Lift Site
With our complete air suspension you no longer have to give up your luxury ride to achieve the stance you are looking for. Not only will our full air suspension give your Nissan 370z / Infiniti G37 a much needed altitude adjustment, but you will be able to carve corners with the best of them!
To achieve a 91mm drop up front (first picture) we placed our progressive rate sleeve style air spring on top of our threaded body shock. Couple this smooth riding sleeve air spring with our 30 way damping adjustable monotube shock and with the push of a button and a twist of the damping knob you can go from plush luxury to a stiff race car feel. Not only do these parts perform, but they look just as good as they function. The shocks are covered in a smooth black chrome finish and the air springs are enhanced with bright red anodized end caps.
For the rear suspension (picture above) we replace the OEM coil springs with our ultra-plush double bellow air spring allowing the rear to drop 122mm. To handle the damping duties, we replace the factory shocks with our threaded body, monotube, 30 way adjustable shocks to match the front for the ultimate in ride comfort and performance handling. With this complete air suspension, your ride will be ready for the show field as well as your favorite twisty road.
With our highly detailed instruction manuals, suspension installation is a breeze and can be accomplished, with regular hand tools, in a matter of a few hours.
As the leader in air suspension products for over 60 years, Air Lift is committed to delivering quality parts that fit, work and last. To ensure longevity for the customer, the key suspension components have been tested on a durability rig for over 1 million cycles, which equates to 100K miles. With a one year, unlimited mileage warranty, and the Air Lift Performance reputation for great customer service and technical support, you can purchase this kit with peace of mind. Ditch those coils and get to a new level of low!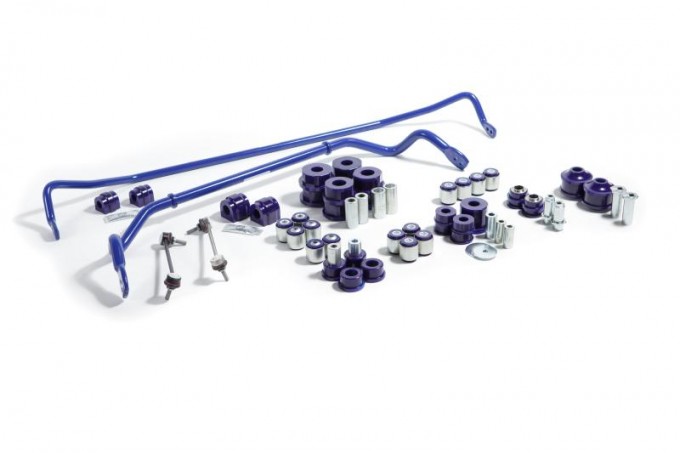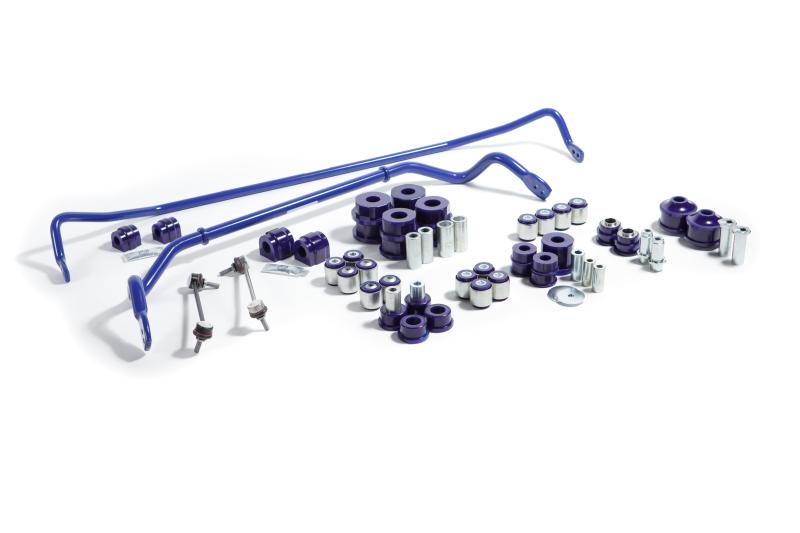 NEW MASTER BUSHING & SWAYBAR KITS FOR THE BMW 1 SERIES E81,E82,E87 & E88
From: SuperPro
The 1 Series shares its platform with the larger 3 Series E90, E91, E92 and E93 and both have become popular as a tuner car, particularly the bigger horsepower cars. This has uncovered a few issues with what is a very good chassis. The front cross member/ cradle assembly and control arms are made of rigid aluminium and provide a solid platform to build a well handling car.
SuperPro have released a complete suspension master bushing (KIT 191K) for the BMW 1 series. They have designed a set of uprated polyurethane bushes for all of the front and rear suspension arms. The front radius arm to chassis bushing has caster adjustability built in and camber adjustment is also incorporated into the front lower inner control arm bushings. The front and rear sway bars were redesigned with adjustable, uprated sway bars. The front is available in 27mm and is two position adjustable; it comes with uprated links and SuperPro bushings. The rear bar is available in 20mm with two position adjustability.
The SuperPro externally adjustable eccentric polyurethane bushings allow up to 1 degree camber change. These bushes are easily adjustable in the car with the spanner supplied in the kit. The SuperPro bush is uprated from the non-adjustable OE rubber option and gives a similar feel to the M- spec arms with the 'Hyme' type joint, but without the cost. SuperPro bushings also have the added advantage of giving a 0.25 degree extra camber change over the M-spec arms.
The strut bar to chassis bush is a cotton reel style bush, which allows full articulation and movement of the strut bar without binding. Again, it is externally adjustable for castor increase/decrease and has the advantage over OE rubber of being firmer, limiting unwanted fore and aft movement of the wheel assembly under braking and acceleration. The SuperPro kit is adjustable on the car without removing arms so the chassis can be tuned for the track or to correct alignment issues.
The SuperPro kits remove the vagueness when cornering and provide far more predictability on the limits of cornering.  The sub frame bushing replacements at the rear end are controlled and the drive is smoother with no signs of harshness.
Complete Vehicle Master Kit KIT191K Click here
Front & Rear Sway Bar Kit RC0028-KIT Click here
Contact SuperPro for more info scottb@superpro.com.au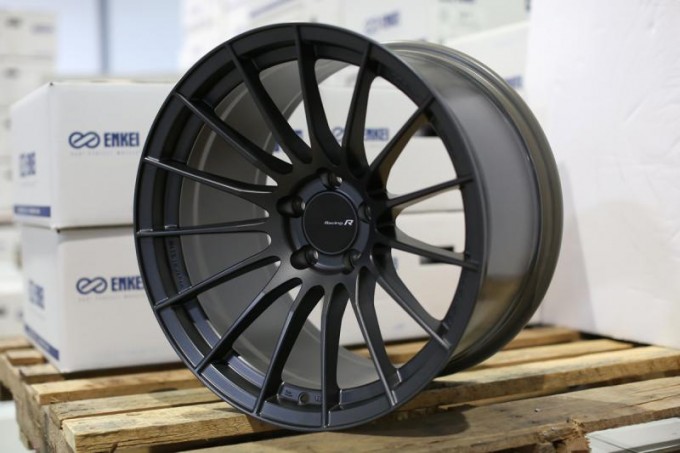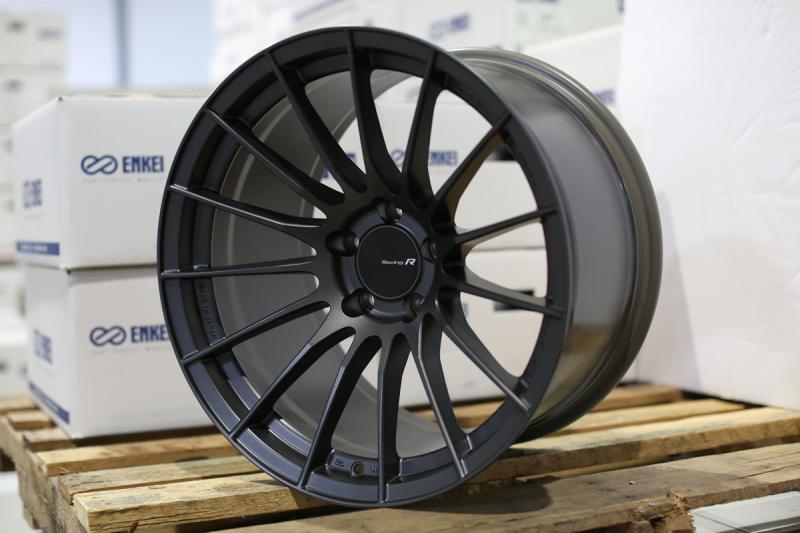 ENKEI RS05RR
From: Enkei Wheels
Enkei Website
Enkei Wheels is bringing the much anticipated RS05RR wheels to the US market this fall. Sizes will range from 18×8.5 to 18×11 with a variety of fitments. MSRP will range from $560-$660 a wheel. Available in both silver and matte gunmetal. For now, the RS05RR is special order only.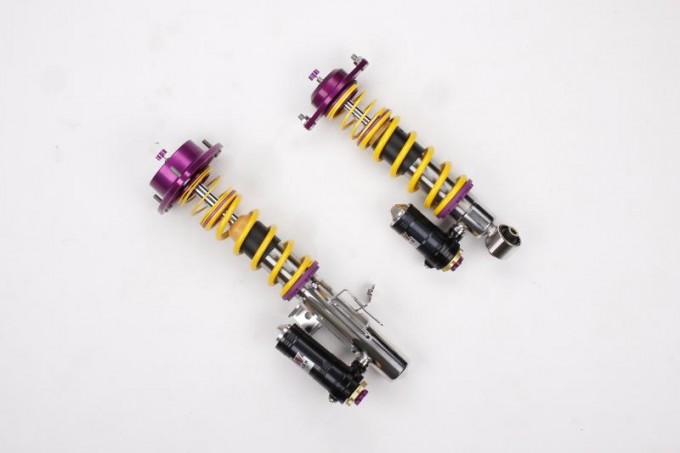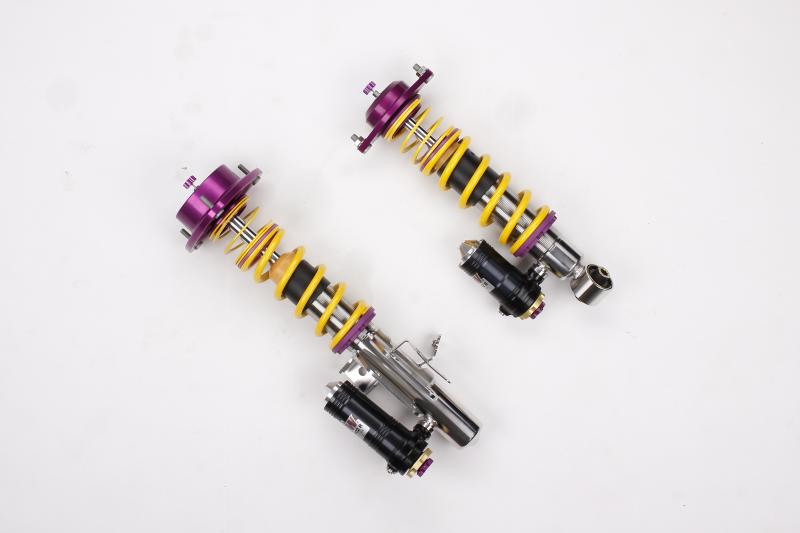 3-WAY CLUBSPORT COILOVER SUSPENSION FOR 2012 SCION FR-S & SUBARU BR-Z
From: KW Suspension
KW Online Store

KW 3-way adjustable Clubsport coilover is now available for the 2012 Scion FR-S application. KW 3-way adjustable Clubsport coilover represents the latest in monotube technology, and is designed to be used in professional motorsport. KW's 3-way solution offers one of the broadest and most significant adjustment ranges found in the industry today. Virtually unaffected by increasing operation temperatures, the 3-way system is easily maintainable and can be serviced at the track. KW 3-way systems differ significantly in valve technology compared to conventional monotube shock absorbers using shimmed valve stacks. The 3-way's rebound forces rely on preloaded jets, utilizing specific needles. The main compression forces are managed by a versatile pre-configurable blow off valve. Every 3-way system features separate low and high speed compression adjustments on the remote reservoir, with low speed rebound adjustments on the piston rod.
MSRP: $5499.99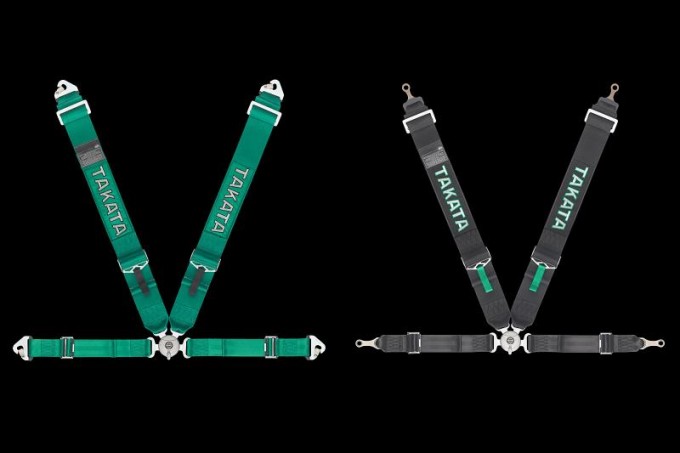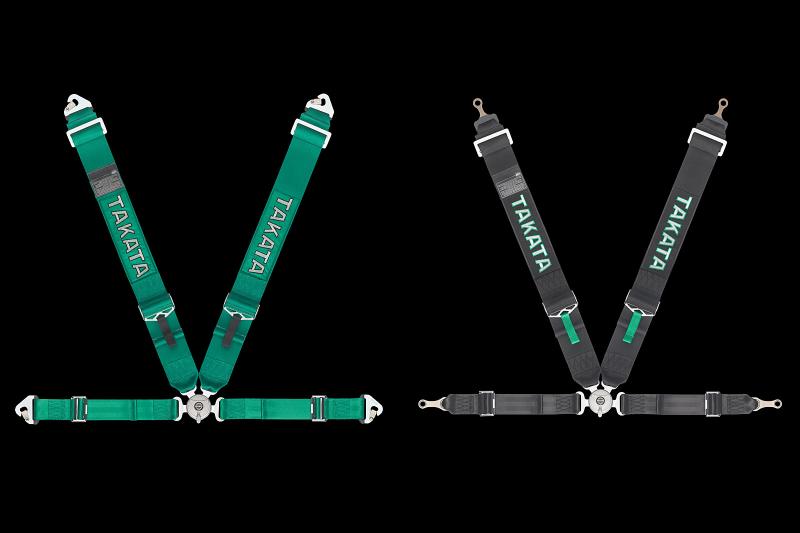 TAKATA RACE 4 ASM
From: Takata
The TAKATA RACE 4 is the benchmark harness for track day/drift/show cars. This true racing harness is fitted with the exclusive TAKATA aluminium multi-point release cam-lock buckle. Additional features include the asm® system to prevent submarining  and standard on all models 2″ lap belts which separates the TAKATA 4 point belts from other manufacturers.
2″ (50mm) Lap belts have been widely accepted by most motorsports sanctioning bodies worldwide. The 3″ webbing has less surface area by percentage than the 2″ webbing, this results in more potential bruising with 3″ webbing on impact as 'hot-spots' of force develop where the belt is making contact with the pelvic bone. Since the 2″ webbing rides inside the Iliac crest (the part of the pelvic bone that sticks out above the hips) it can be worn as much as 1″ to 2″ tighter and at the same time is more comfortable. It is also less likely to slide up above the crest and cause submarining, a condition where the body slides down below the lap belt possibly causing internal organ damage.  There is no difference in the strength of the 2″ webbing. All webbing (2″ or 3″) must meet the same specifications.
The TAKATA asm® system offers a unique safety advantage for 4-point harnesses. asm® (the acronym for anti-submarining) significantly reduces the risk to submarine (sliding underneath the lap belt), a well-known phenomenon during frontal impacts. In a severe impact, an energy converter on the shoulder belt containing the asm system expands a small portion of webbing allowing the upper torso to slightly rotate, which tensions the lap belt asymmetrically, thus preventing submarining under the lap belt. On the rebound phase with the asm® system, your 'back side' is planted firmly back into the seat similar to what you would experience with a 3-point factory belt.
A 4-point belt without asm® loads the shoulders and upper torso evenly/symmetrically on initial impact and allows the body to slide forward and under the lab belt portion of the harness. Severe injuries or death are possible using 4-point harnesses without the TAKATA asm® safety system.
FHR/HANS® devices may be used with the TAKATA RACE 4 harness belts.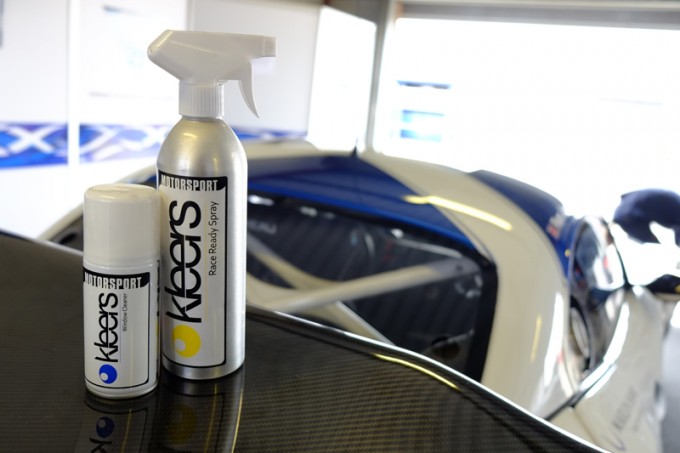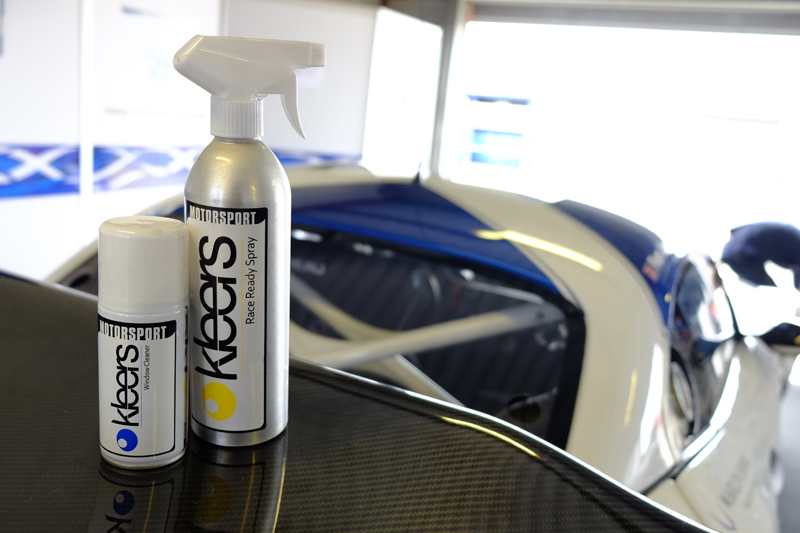 MOTORSPORT PRODUCT RANGE
From Kleers Car Care
Not only are we serious about our road cars, we also love motorsport just as passionately, it is part of our company make-up. We have actively been involved in motorsport, whether from the driving seat of a grass roots car to running a factory FIA GT1 team. From all of those fantastic experiences we established that it was frequent for a team to use a car care product designed for a road car, not a race car which seemed a little unusual when you consider the differing demands between the road and the race track. By using road car products, you'll see a team also use an array of other specialist products to prepare for the race: anti-fog, brake cleaners, rain clearing additives etc – things you don't use on your road car. So we thought it was time to make products that were needed by teams – answering the demands and needs with a product that will be trusted and used as part of a mechanic's tool kit – for racing. Products that will be used as a necessity. The Kleers Motorsport Range was born back in 2010 as an addition to our black label road car range.
One of the products in our Motorsport Range clearly demonstrates why our motorsport products differ from the road car range: Kleers Motorsport Window Cleaner. Firstly it doesn't contain any alcohol that you will find in road car products which means that it can be safely used on polycarbonate/plastic windows found in most racing cars without fatiguing the material – how often have you noted the crazed cracking around bolt holes in your windows or starring in the plastic surface? That's one of the reasons why. Secondly, it contains our anti-fog formula, therefore no matter where you use it, you are automatically treating your windows to prevent fogging as race cars generally do not have heaters or blowers for de-misting. And thirdly, it comes in an aerosol can which has a quick foaming action. The can is a deliberate small size that fits into a mechanic's pocket so during a pit stop it can be conveniently carried, foamed quickly and instantly cover the entire window with ease, ready to get wiping and cleaning before the car heads back out on track. Three key areas that make this product unique to racing, designed for the job.
Kleers Window Cleaner is part of the full Kleers Motorsport Range (look for the white label products) – Made in the UK.
Websites for more info and to buy our products:
www.kleers-usa.com
www.kleers.com
www.kleers.co.uk
www.kleers.jp
That's it for another round-up. If you have any questions about any of the products, please comment below.
This is a paid advertorial piece.