A couple weeks ago, as Sean Klingelhoefer and I spent time soaking up the Orange County sun at the Played Out Show & Shine in Huntington Beach, we were tasked with selecting a vehicle to be a subject of one of Sean's signature on-the-spot feature shoots. An enviable job, isn't it?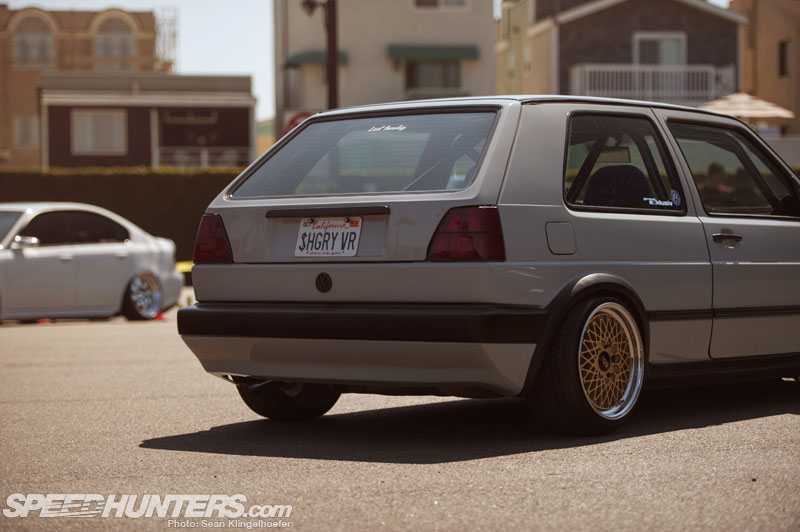 Actually, it's one of the harder things we do as Speedhunters – especially at an event like Played Out, which featured such a wide variety of cars and many different genres. The parking lot at Don the Beachcomber was filled with all manner of visually-interesting machines, but we wanted something a little more substantial than just a killer set of wheels and solid stance.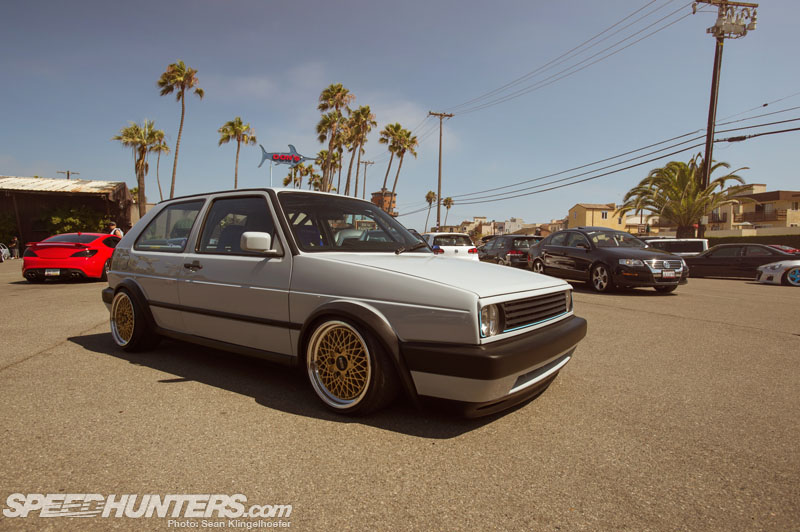 After a bit of hunting, we found exactly what we were looking for in Eadwine Webb's 1990 Volkswagen GTI Mk.II. Although it's very easy on the eyes, it was certainly one of the more subtle cars that had gathered for the meet.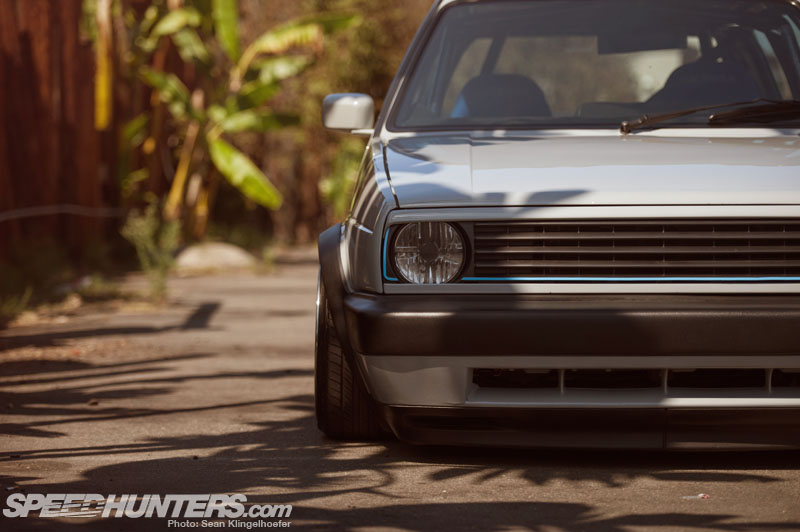 But was we chatted with Webb (as he's more commonly known) about the car and heard about the work he's put into it, everything became that much more impressive. This was no parking lot stance queen, but a well-thought out and detailed street car with a perfect mix of form and function.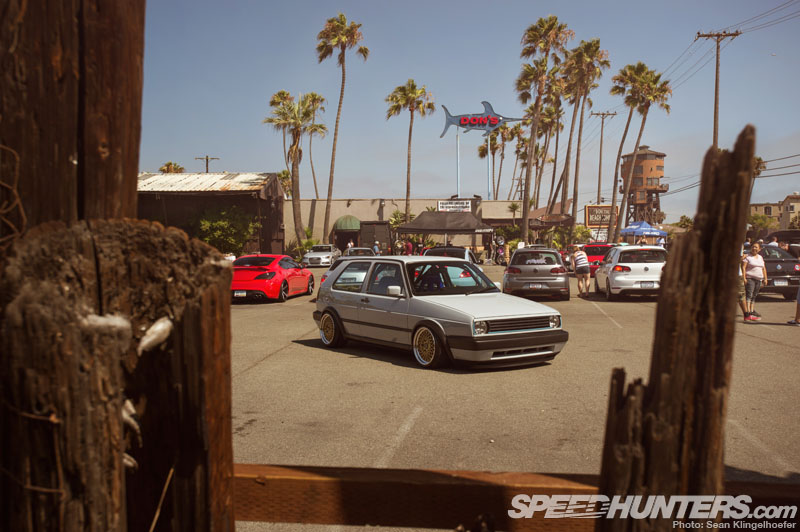 But it wasn't always a street car. Webb has actually owned the GTI for about a decade now, and at the beginning the car was used primarily for track and time attack events. Eventually though, he started a family and with those new obligations he found himself wanting a car that could be driven and enjoyed in a more casual manner.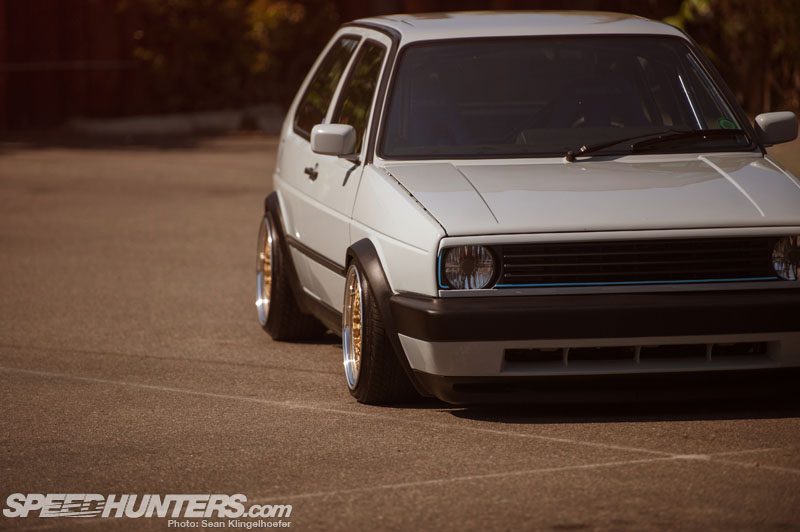 But rather than finding a new chassis to build, Webb decided he would stick the same tried and true Mk.II and remake the car into something that would fit better with his changing lifestyle. The car you see here is the result of his efforts.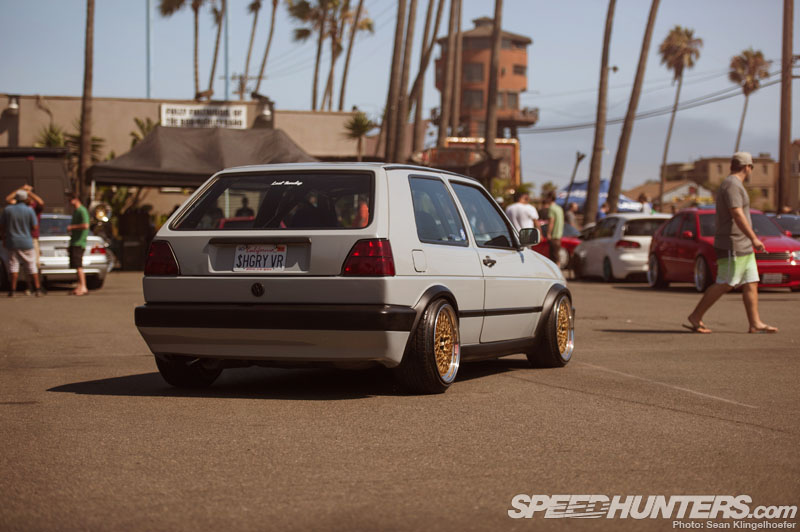 When Sean and I first came across the car, one of the first things that grabbed our attention was the GTI's very unusual body color. This was no accident – the gray color comes from the ultra-rare Porsche 997 Sport Classic that was released a couple years ago.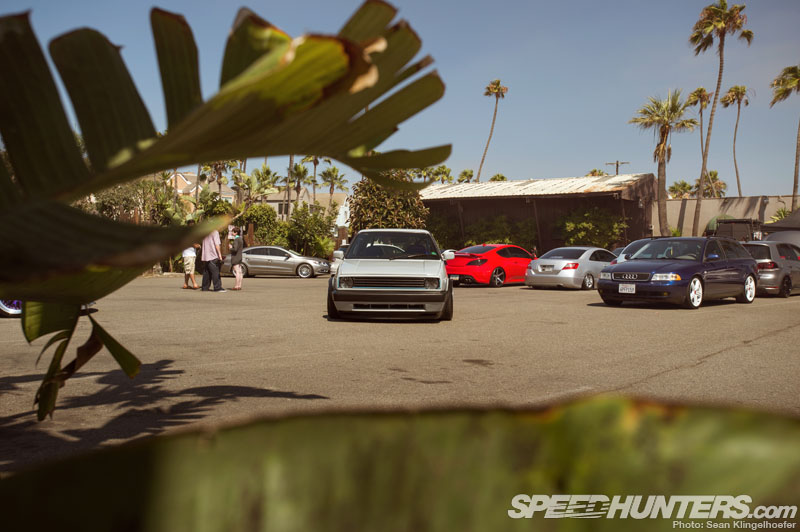 Seeing as the color came from an extremely limited production Porsche, it wasn't like Webb could just walk into his nearest body shop and ask for it. Finally though, after some help from friends in the industry, he was able to get his hands on the paint, and the finished result is more than worth the effort. The subtle hue perfectly matches the vibe of the car, and I doubt he'll ever run into another VW owner whose car is the same color.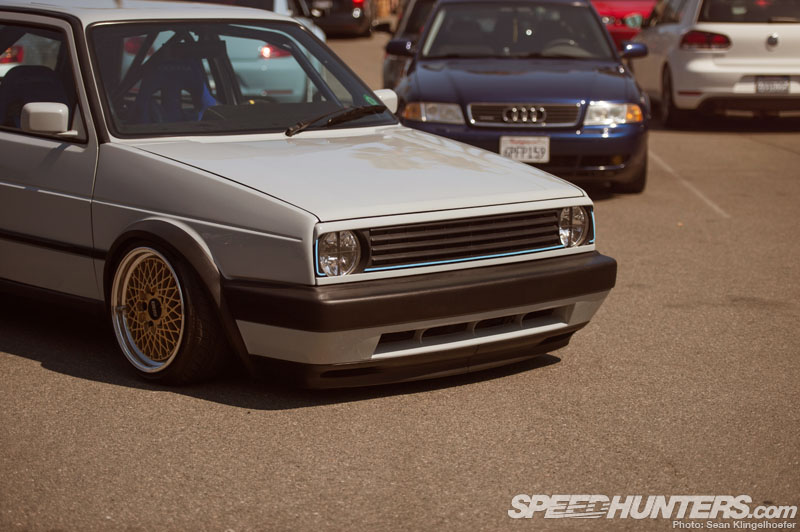 Aside from the unique color, the body also received some mild customization and other details that may or may not be noticeable depending on your knowledge of VWs. Among the things that have been shaved for a cleaner appearance are the front bumper turn signals, fog light holes, hood vents, and rear drip rails. As is so often the case with tasteful body modifications, much of it is not obvious until pointed out.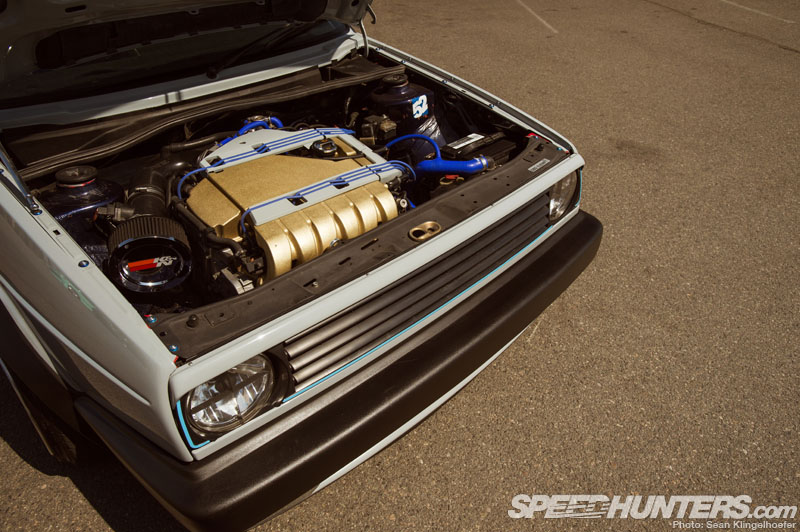 And while the car looks fantastic, Webb has given the car equal attention under the hood. It's here you'll find VW's beloved VR6 motor, as sourced from a 1995 Mk.III GTI.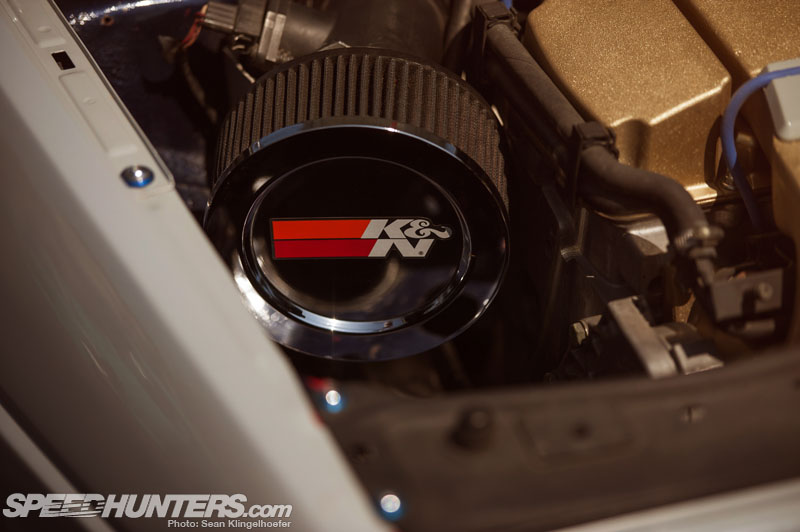 While the VR6 in Webb's car is not heavily modified, it is equipped with a few goodies like a K&N intake system, a Techtronics ECU chip, and a custom exhaust system that plays sweet VR' music through a Magnaflow muffler. It's not a tire-roasting powerhouse by any means, but the lightly breathed-on six is perfectly matched to the rest of the car.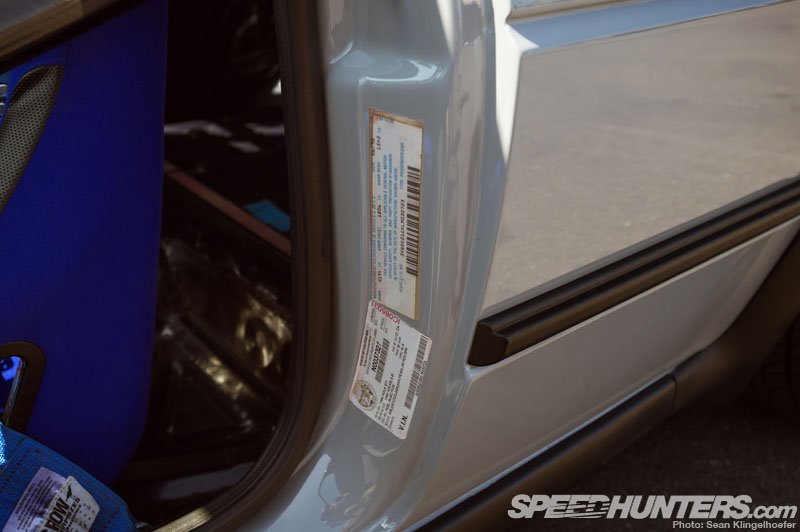 What's even more impressive is that the swap complies with California's stringent rules regarding emissions testing and engine swaps, as noted by the CARB sticker on the door jamb. This might be of a little meaning to people from outside California, but those of us who call the Golden State home know how big of a deal this is.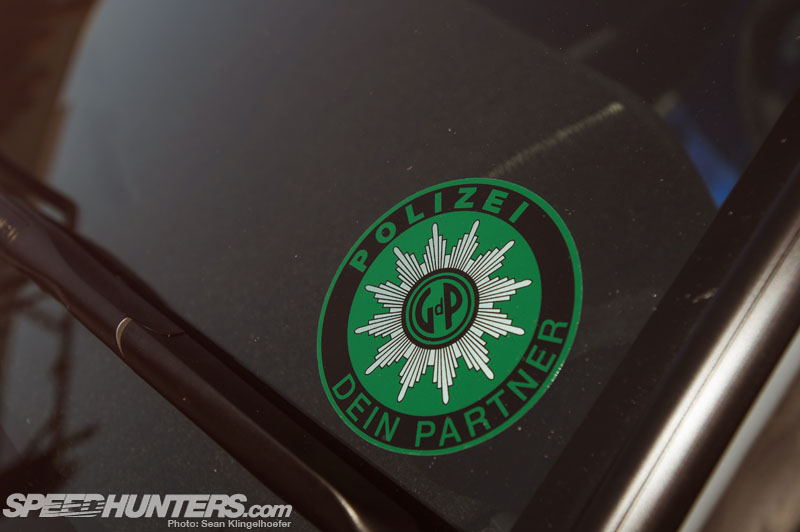 This sticker meanwhile should help Webb avoid dirty looks from the Polizei should he ever take the car road-tripping through its homeland.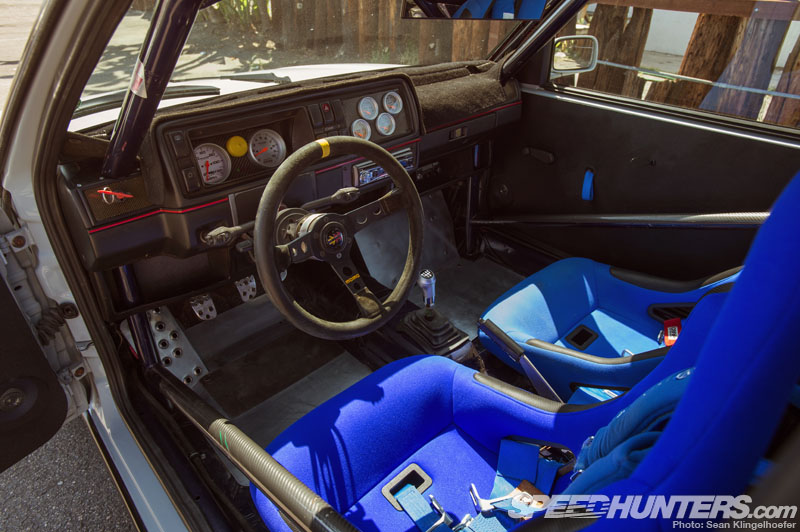 Climb inside the GTI, and you'll find a cockpit that has an equally impressive sense of detail and cleanliness.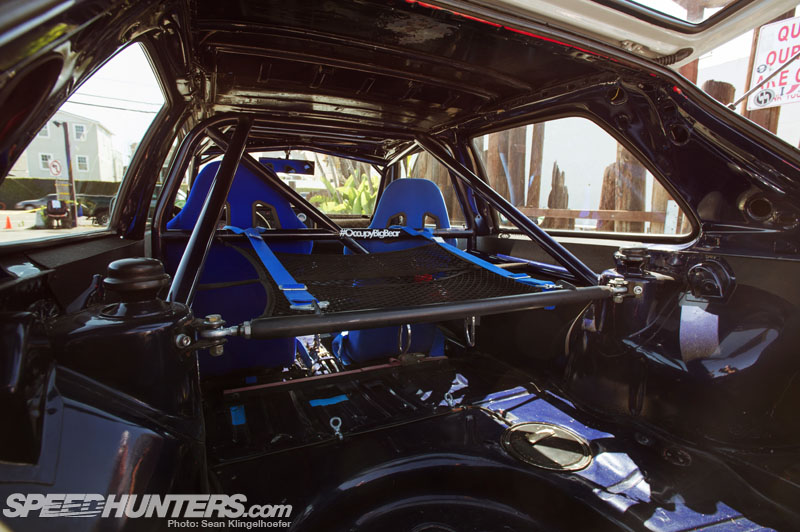 The six-point roll cage is an obvious throw back to the car's racing circuit roots…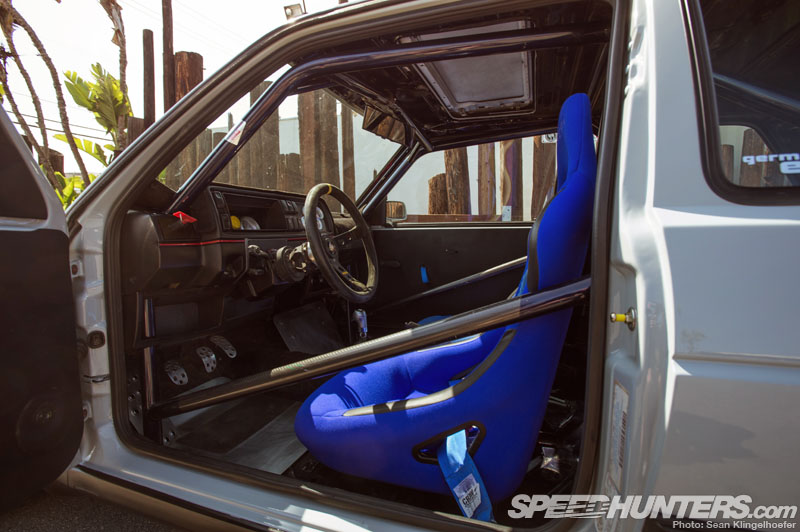 … as are the pair of Cobra Monaco bucket seats with five-point Crow Racing harnesses. All this equipment will surely come in handy should Webb ever decide he'd like to start tracking the car again.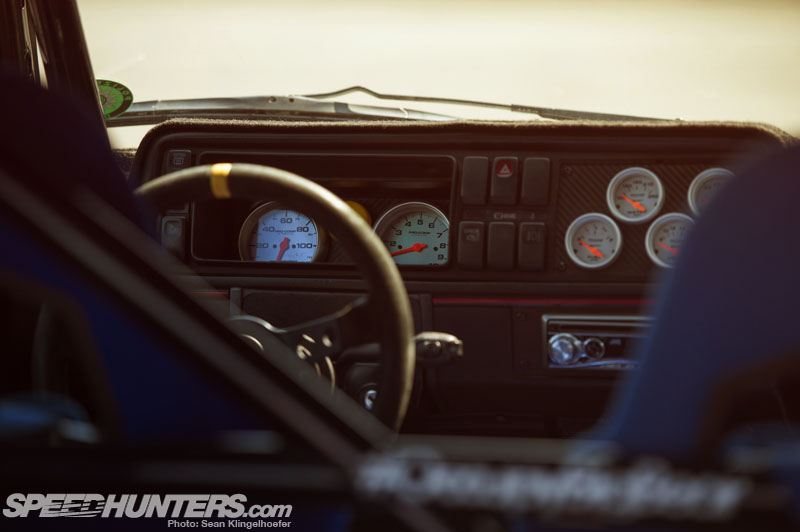 Other modifications in the cockpit include a Momo steering wheel, a full array of Auto Meter gauges and little touches like a Porsche glovebox lock cover.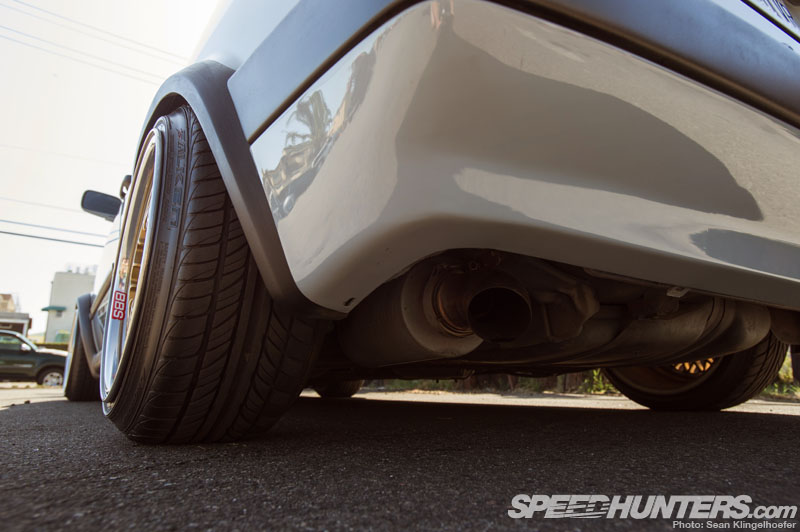 Beneath the body, the car is equipped a set of FK Silverline coilovers, along with a Neuspeed rear sway bar and a rear disc brake conversion.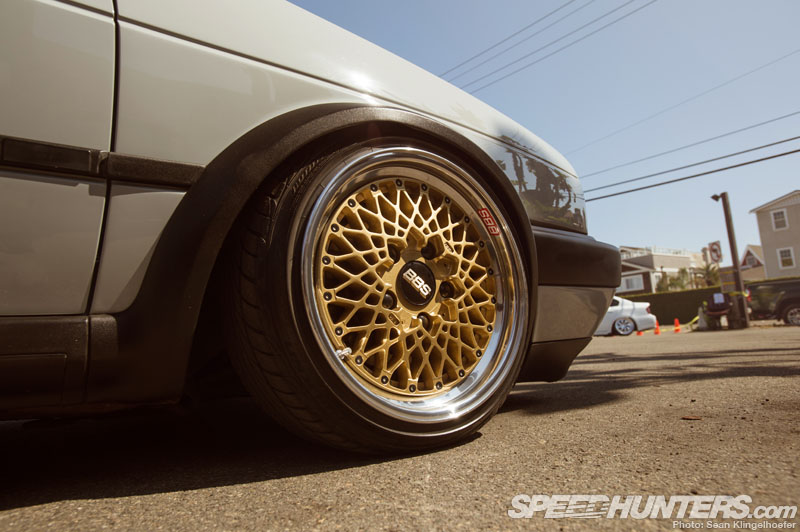 Additionally, the stock four-lug hubs have been replaced with a set of five-lug units, which allow the car to wear this set of restored Porsche-spec BBS Motorsport wheels.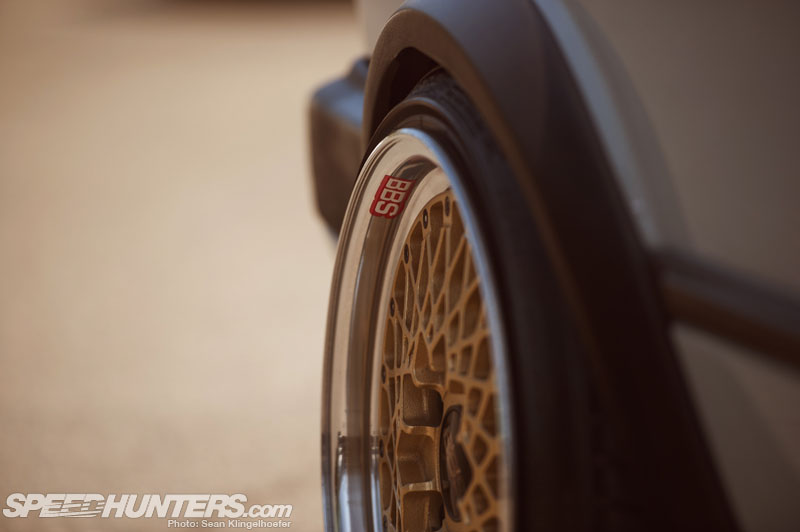 Another focal point of the build, the wheels measure 16x9J in the front and 16x10J in the rear, with Falken Ziex 205/40R16 and 215/40R16 tires respectively.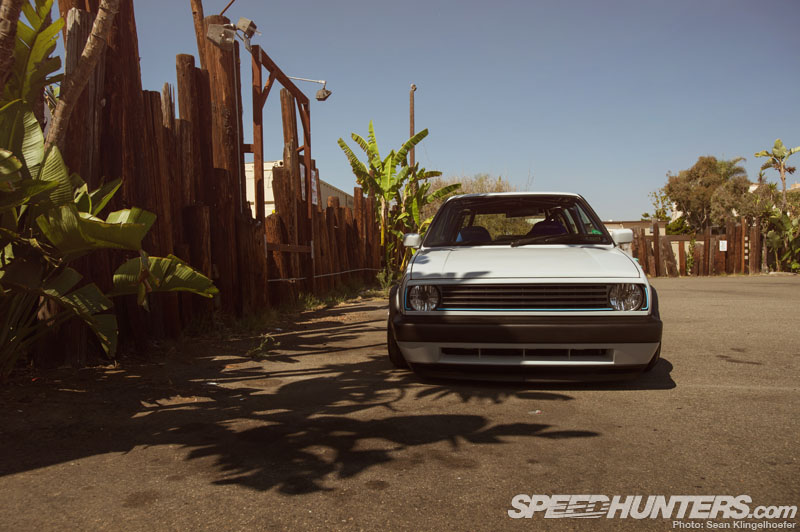 I suppose it was only fitting that Sean and I chose to feature this car at an event put on by the Players crew from the UK. With its focus details and clean style, Webb's Mk.II brought to mind so many of the great VW builds from Europe.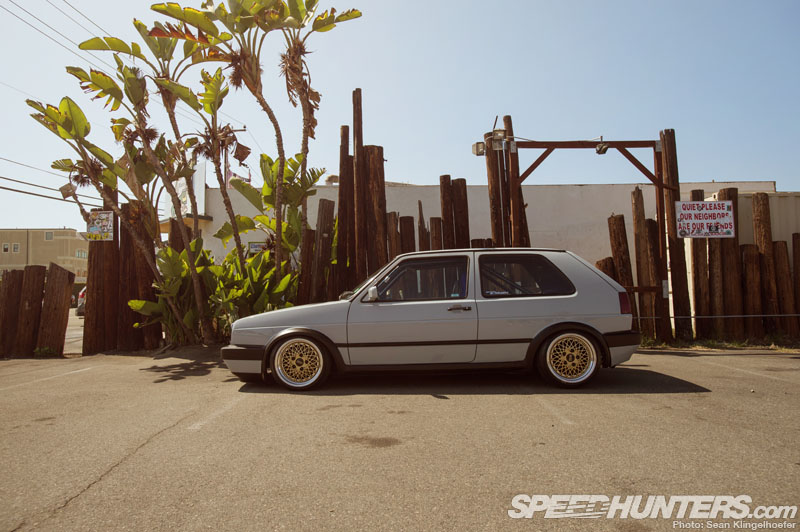 I mean, if it weren't for the perfect sunny weather and ocean breezes, we might have forgotten that we were in Southern California altogether. Such was the power of this wonderfully balanced, tasteful and unique Volkswagen.
Mike Garrett
Instagram: speedhunters_mike
mike@speedhunters.com
Photos by Sean Klingelhoefer
Instagram: seanklingelhoefer
sean(at)speedhunters(dot)com
Webb's Mk.II Volkswagen GTI

Engine
1995 VR6 swap (CARB legal), Techtronics ECU chip, K&N intake, Unorthodox pulleys, custom Magnaflow exhuast
Suspension/Brakes
FK Silverline coilovers, Neuspeed rear sway bar, custom rear tie bar, G60 front calipers, rear disc brake conversion, ABD rotors and brake lines, five-lug hub conversion
Wheels/Tires
BBS Motorsport E50 16×9J front, 16x10J rear, Falken Ziex 205/40R16 front, 215/40R16 rear
Exterior
Shaved bumper turn signals, fog light holes, hood vents, side markers, exhaust cut out, rear drip rail, Porsche 997 Sport Classic Gray paint, ABD Racing grill spoiler, aero lower grill piece & badgeless grill, '86 Golf rear glass

Interior
Six-point roll cage, Cobra Monaco seats, Crow Racing harnesses, Momo steering wheel, Auto Meter gauges, fire extinguisher