As I alluded to in my recent Temple of Speed story, Bonneville is nothing more than a vast, barren chunk of salt most of the year. It only becomes a place you would want to be once the racers, hot rodders and spectators start to roll in. Suddenly the Salt Flats springs to life.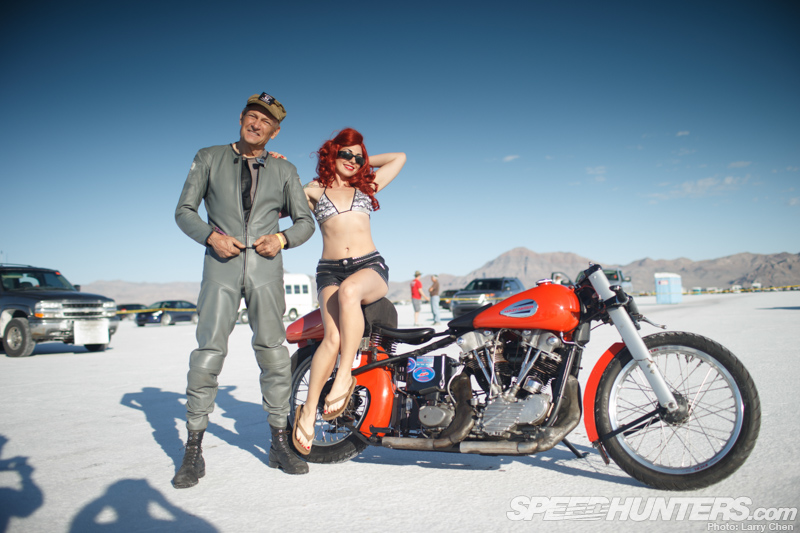 But it's the people who make the place, so Larry and I thought it would be interesting to take a look at some of the personalties who make Bonneville so epic. We'll kick things off with Bob Lewis, his 150mph Harley, and Adorabella Christina from Mitzi & Co.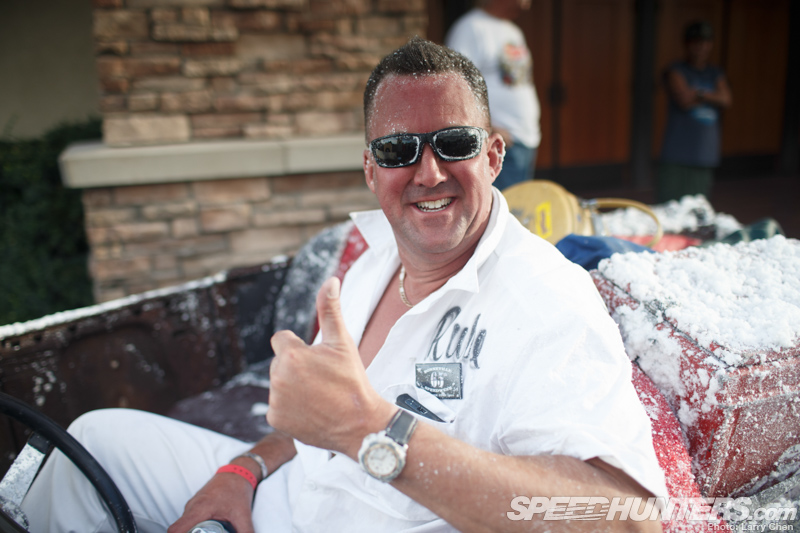 The first night we were in town we met Ryan Ruble from Black Widow Customs at The Nugget. He was hard to miss!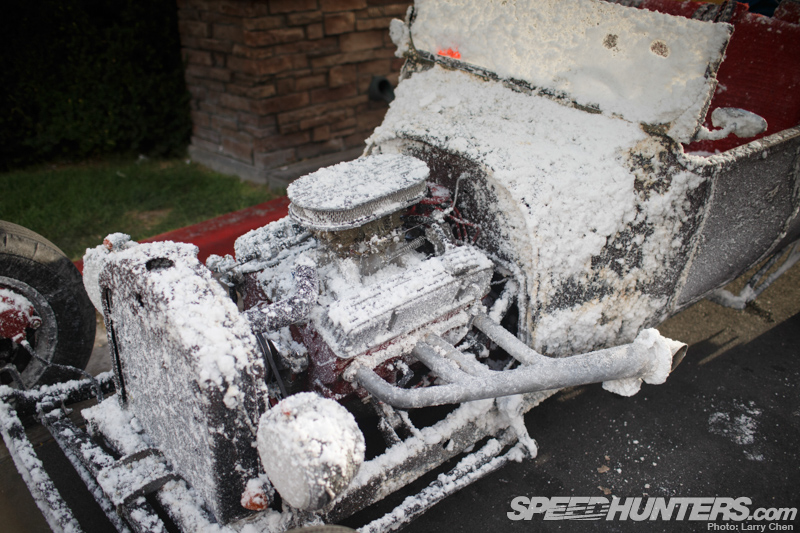 Under all that salt is Ryan's 1915 Dodge, which he built with a high-powered small-block Chevy and lots of race car parts. Turns out Ryan is a big Speedhunters fan too – he even had a shot Larry took of his other car blown up into a big poster.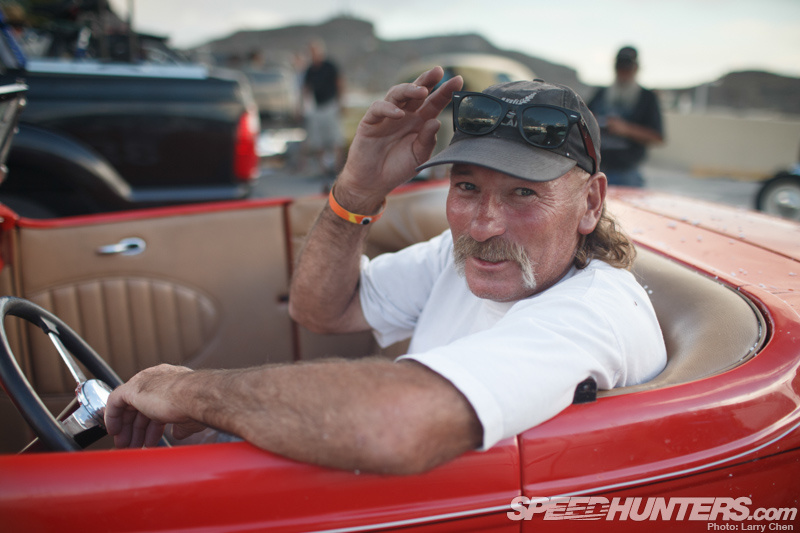 This is Sparrow sitting in his '32. He's originally from New Zealand but lives in California now.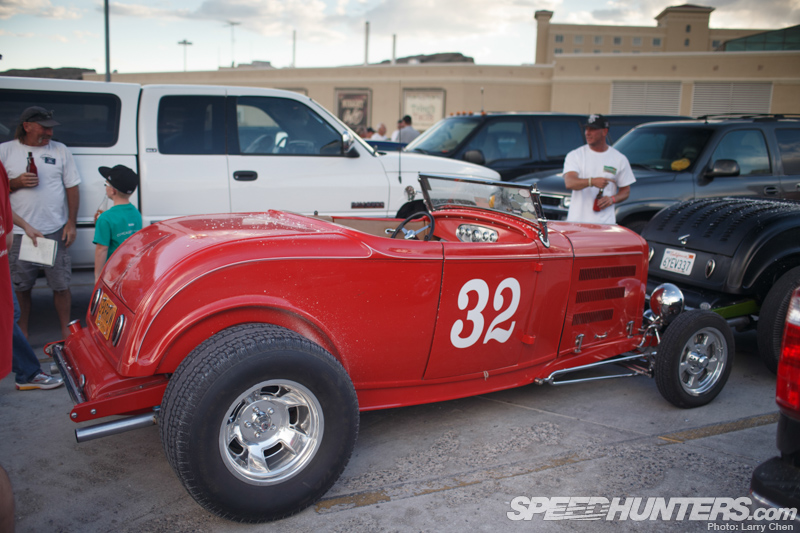 His son Scooter has a '32 of his own, the black one sitting right in front. How cool is that, a father and son team rolling out to Bonneville together in their hot rods.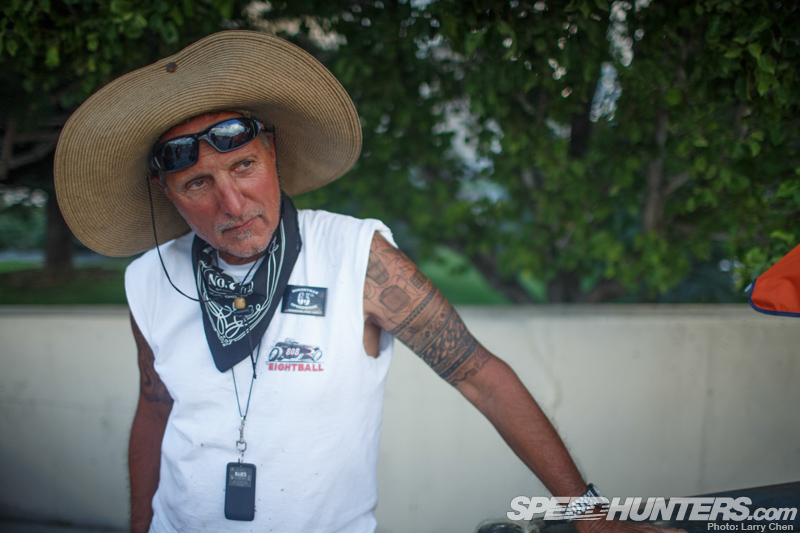 We found this eccentric rodder not far away. Ira Sealy brought out his '30 Model A this time.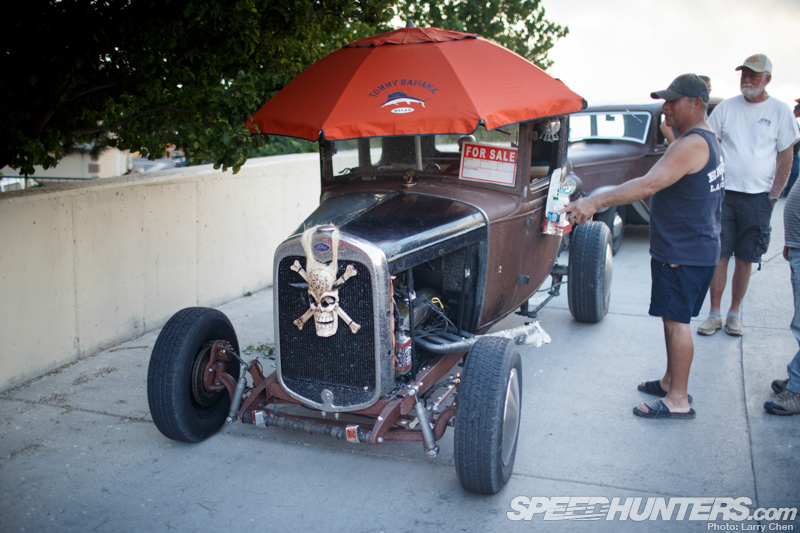 He uses a Jack Daniels bottle as the overflow tank in every one of his builds.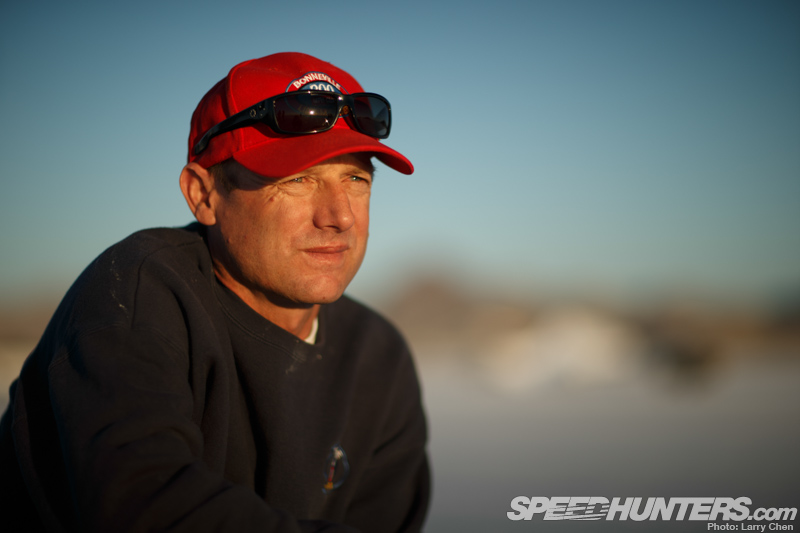 Lincoln Harris brought his race car all the way from New Zealand to compete. Notice he already has a red hat, indicating he's a member of the 200mph Club.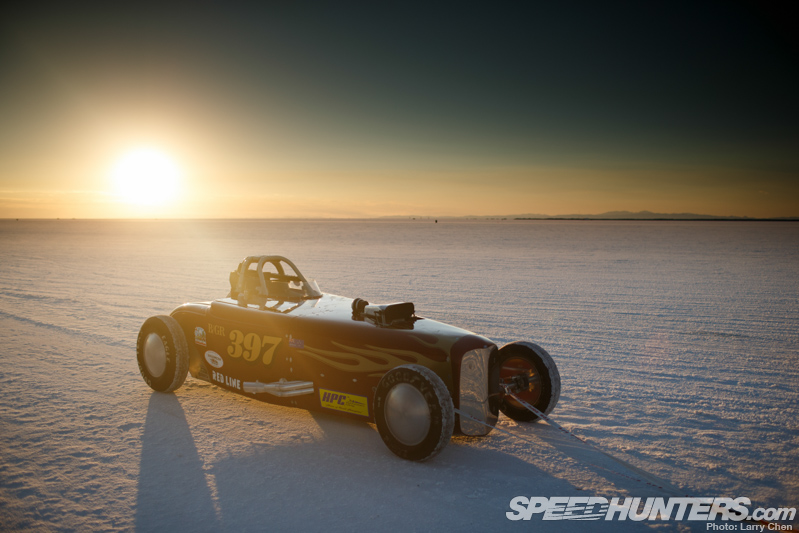 He earned his hat in '06 with a 229.308mph record in the C/Gas Roadster class. He's stepped up to a larger motor to compete in the B/Gas Roadster class this year.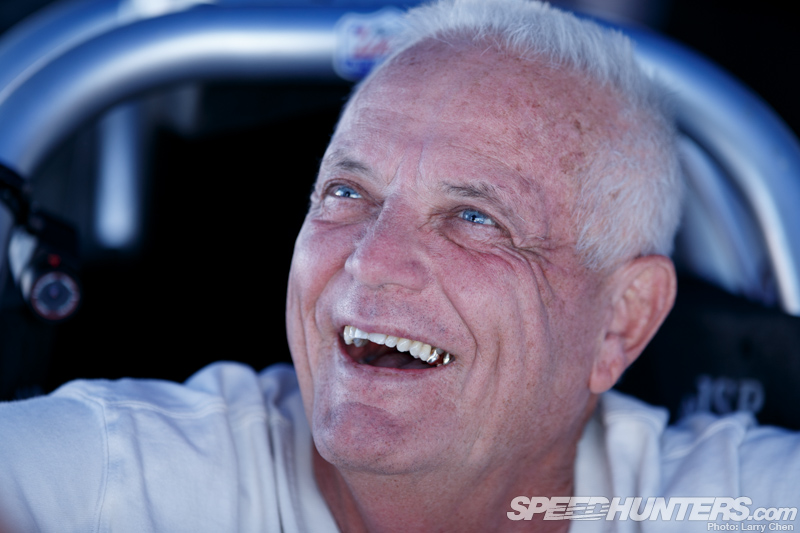 Speaking of going fast, it's hard to rival George Poteet and his Speed Demon streamliner.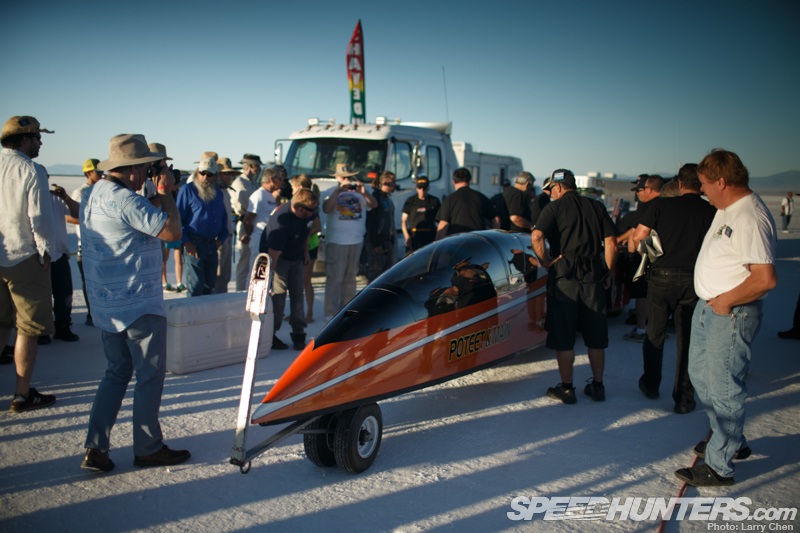 George shattered the previous 390.709mph Blown Fuel Streamliner record with a 437.183mph run this year. On top of that, he went 451.933 to set the record for world's fastest piston-engine and wheel-driven car.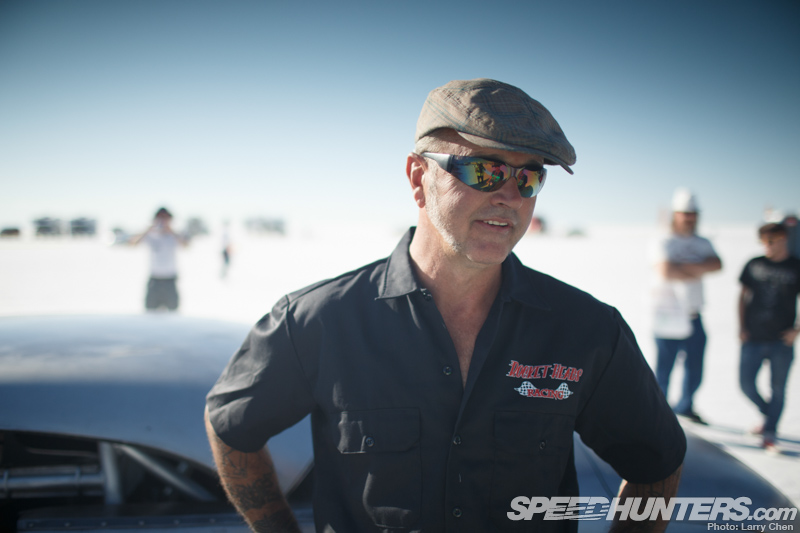 Jeff Brock is one of those unforgettable characters of Bonneville. He set his first class record in 2009 at 130mph, and is now up to 165mph with the same car…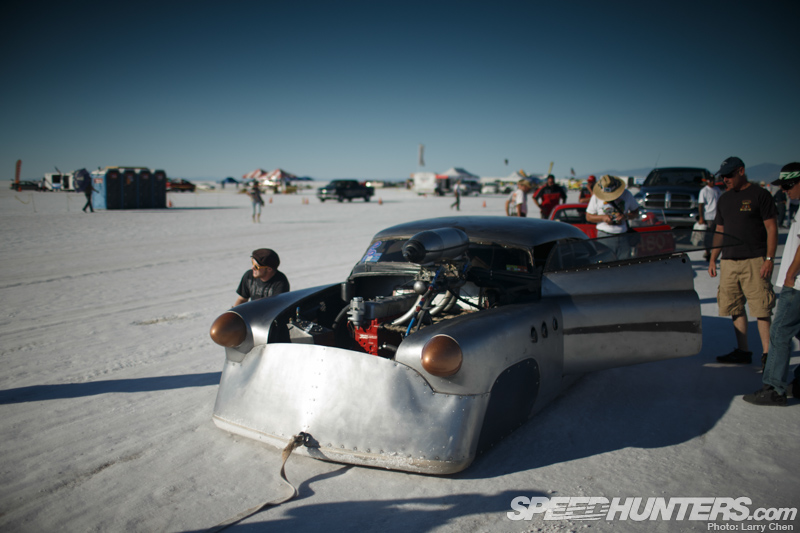 … which is known as Bombshell Betty. It's a 1952 Buick with a 320ci straight eight. Jeff's background as an artist and sculptor is obvious when you look at the work he's done on this car.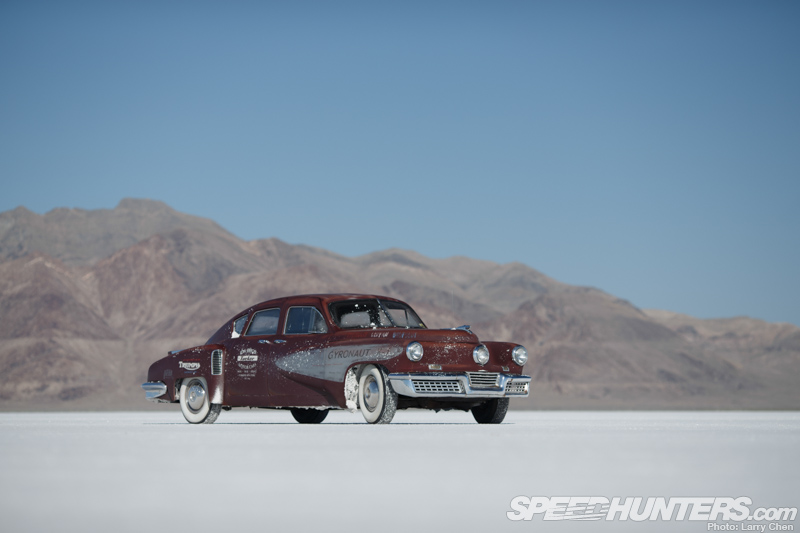 I've been following Rob Ida on Facebook and Instagram for awhile now. In addition to some very nice show cars, he builds these amazing modern Tucker continuations.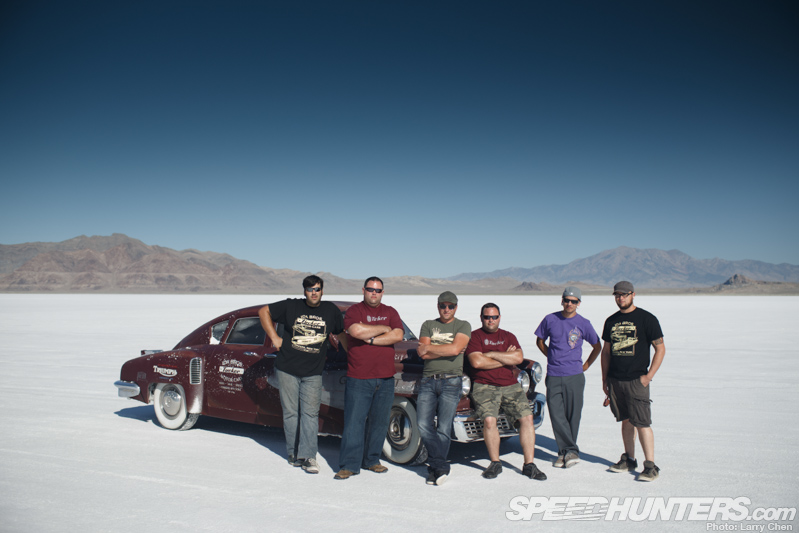 That's Rob in the middle, with Preston Tucker's two grandsons and the crew from Rob's shop. There's so much great history behind what Rob is doing. Hopefully we can visit his shop and do a full story one of these days.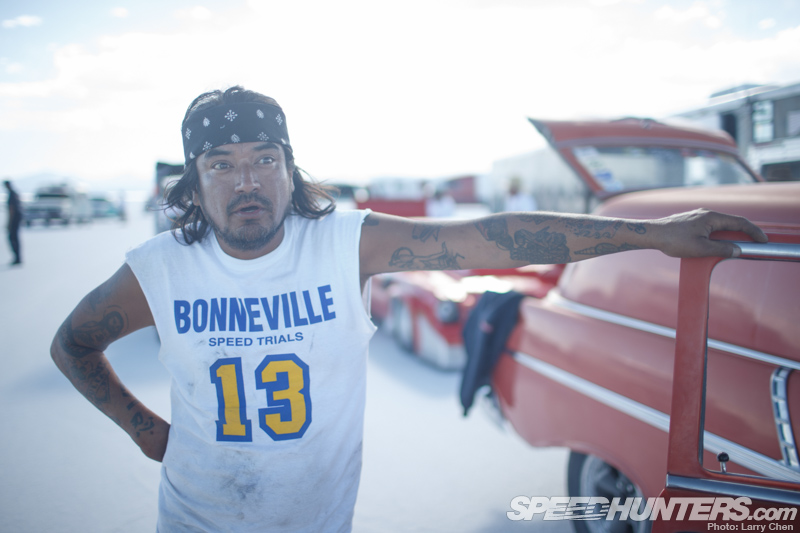 Julio Hernandez is a member of the old school club the Bean Bandits. They run a loose organization because all the really want to do is build cars and go race.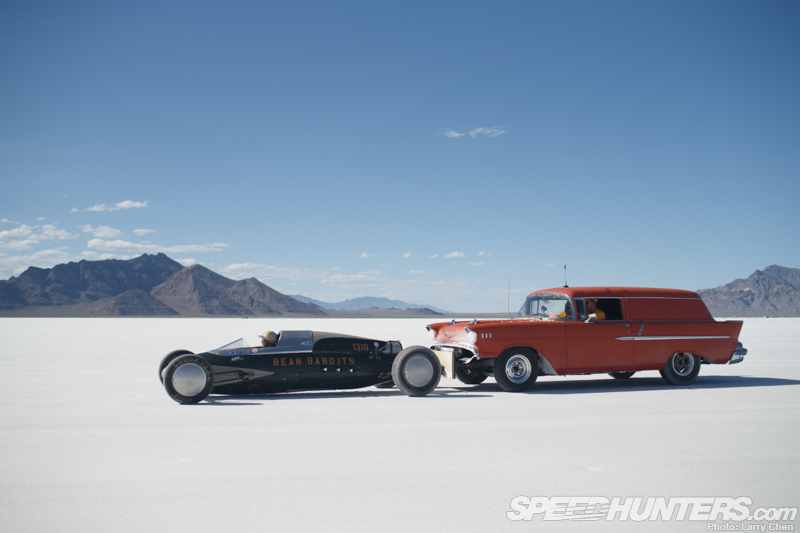 They built this kick-ass flathead-powered belly tanker that goes 150mph. This is as close to the early days of land speed racing as you're gonna get.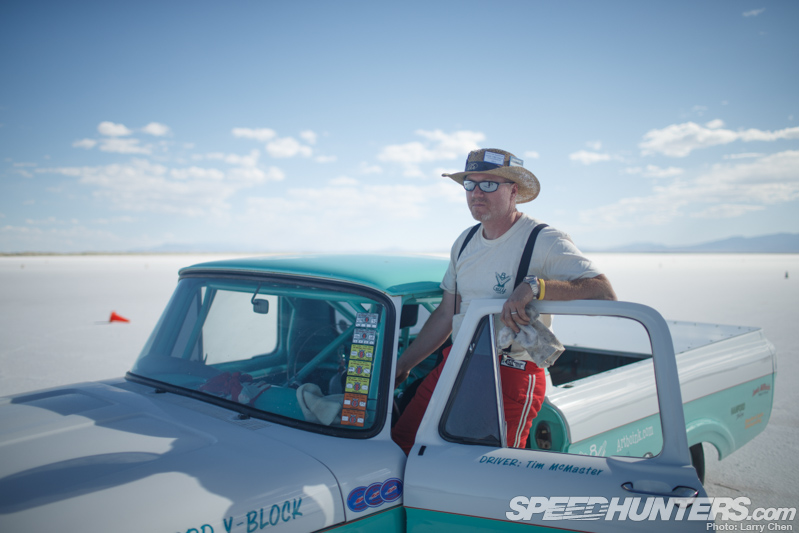 Tim McMaster is pretty well known over on the HAMB, so it was cool to finally meet him in person.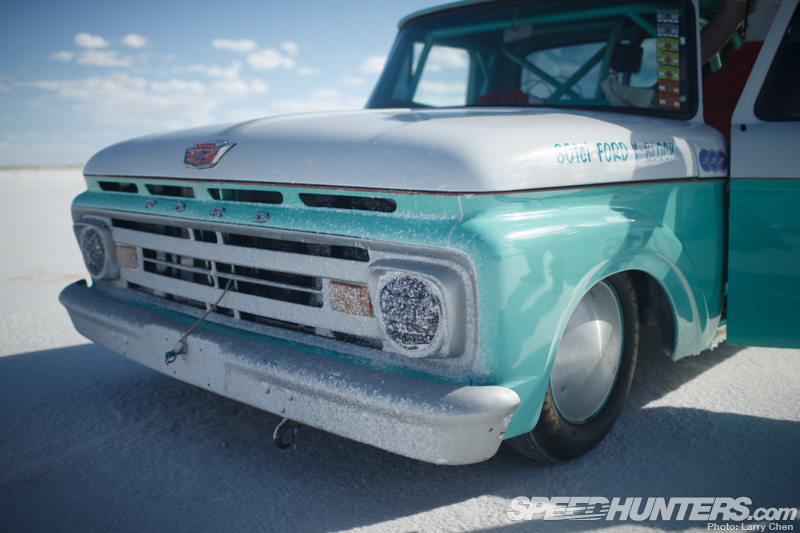 He's hardcore about racing his '62 unibody Ford and was testing and tuning its Y-block engine all week.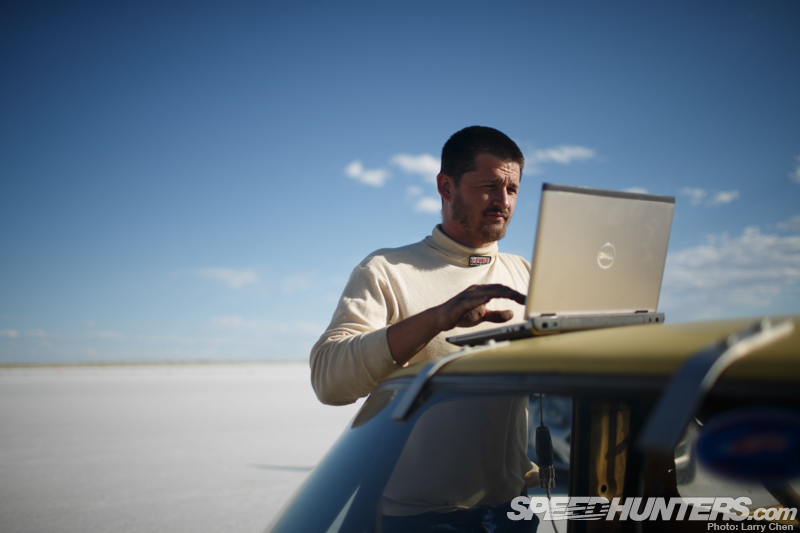 While Tim was tuning his carb, we found Chad Ausburn nearby tuning via laptop.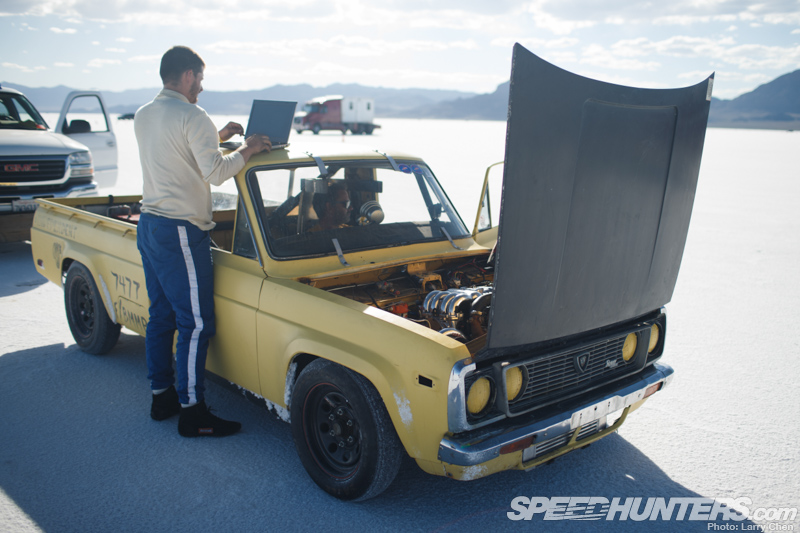 His '77 Mazda truck runs a 13B turbo engine.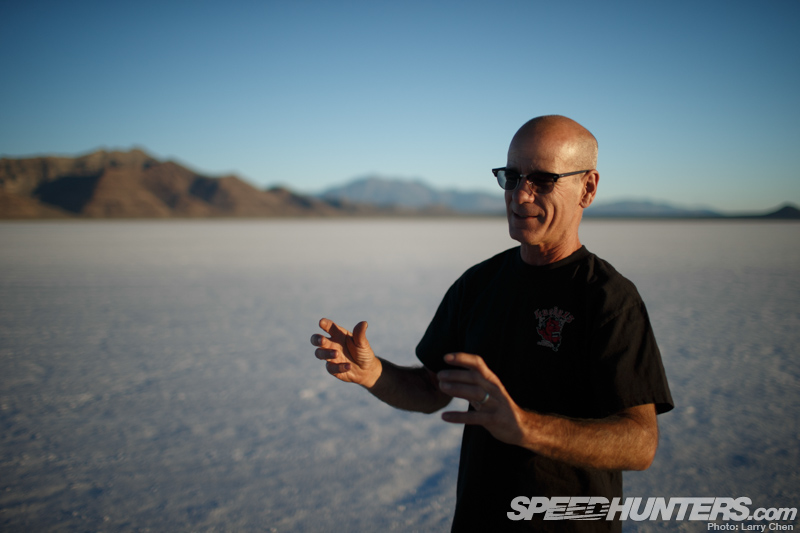 Here's another guy I won't soon forget. As Chuck Teixeira told me about building his kustom Merc, I felt like he was telling my own story back to me.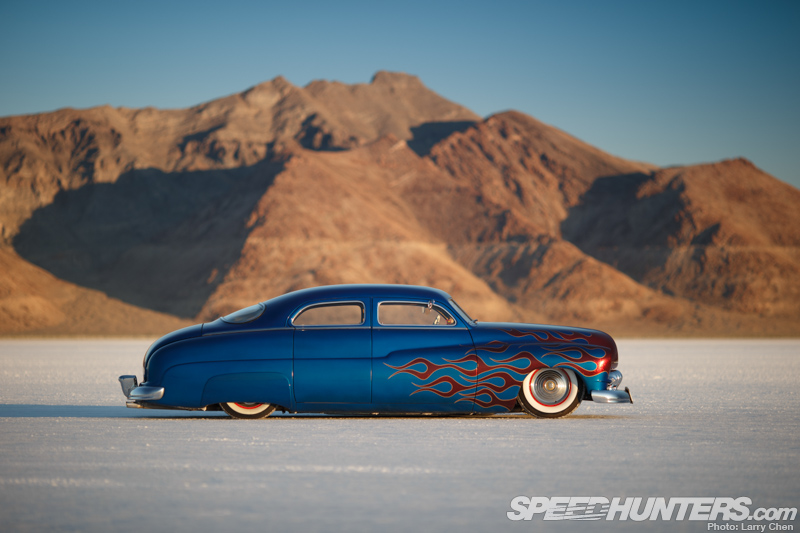 Not only did he build the entire car himself, he's also a design engineer at a well-known bicycle manufacturer. Look for a feature on this one soon!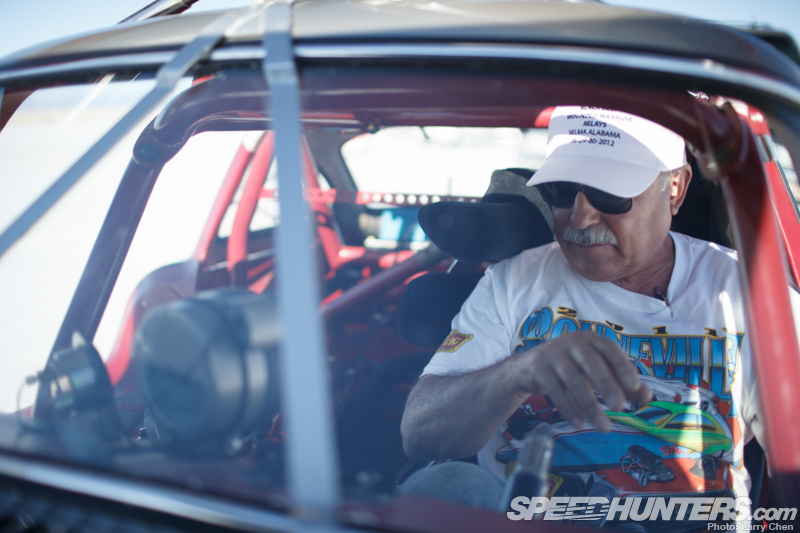 Bob Sirra runs what has to be the only land speed Gullwing Mercedes in the world.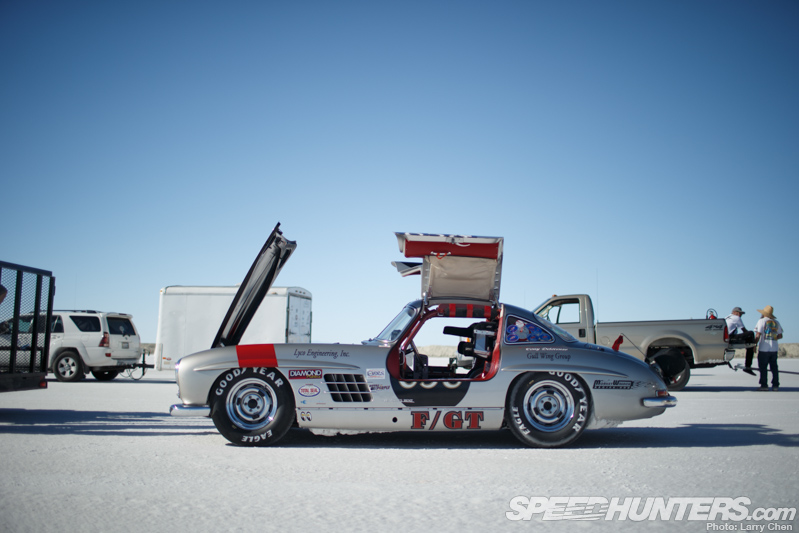 He's spent cubic dollars to squeak every last bit of speed out of this thing. He's also using his car's visibility for a good cause, helping out the Wounded Warriors project and volunteering his car for photo ops with veterans who came to Speed Week this year.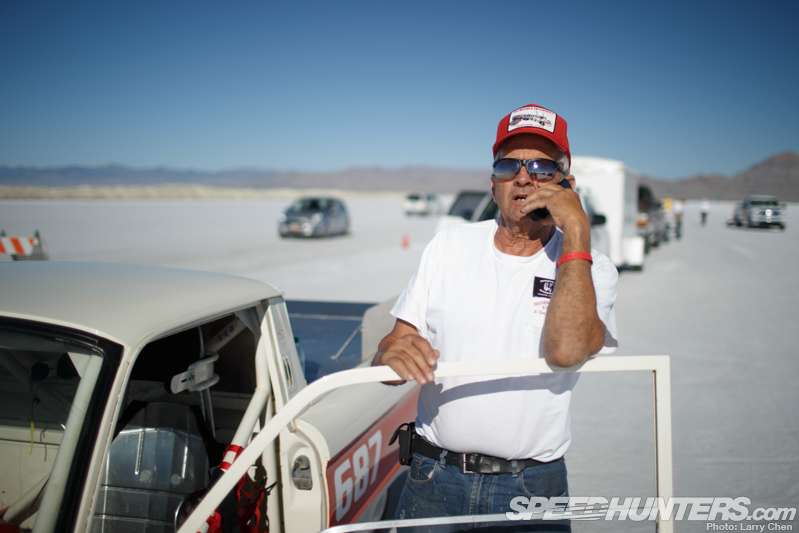 Also waiting in the staging lanes was Del Weisner, who crews for this '61 Falcon Ranchero.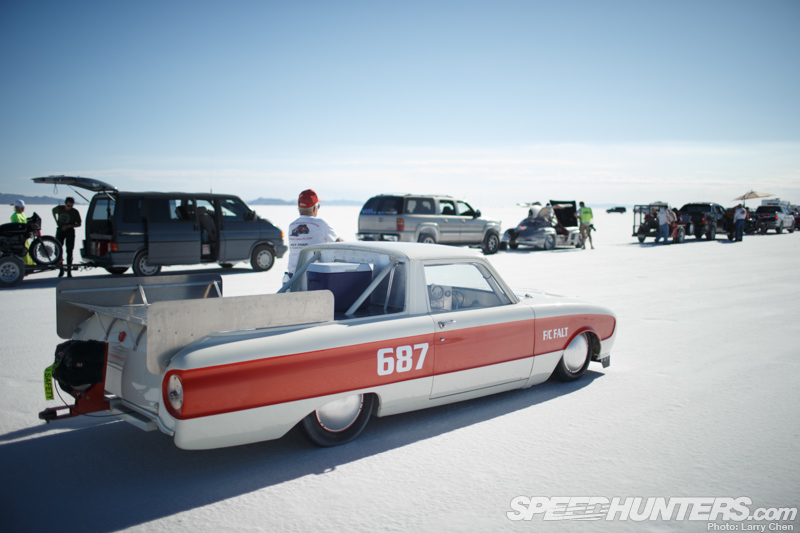 The Ranchero runs a Nissan six-banger from a 280Z!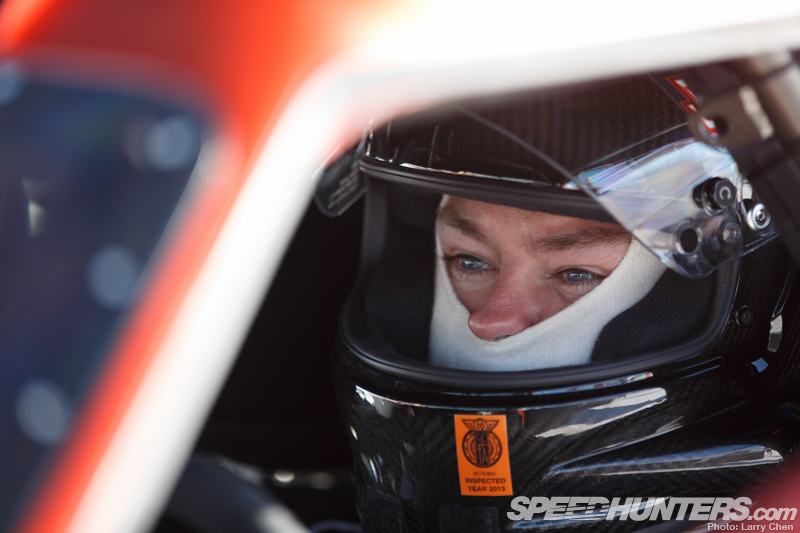 We caught Shane Phillips strapped into the new Stupidbaker Competition Coupe built by Johnson's Hot Rod Shop.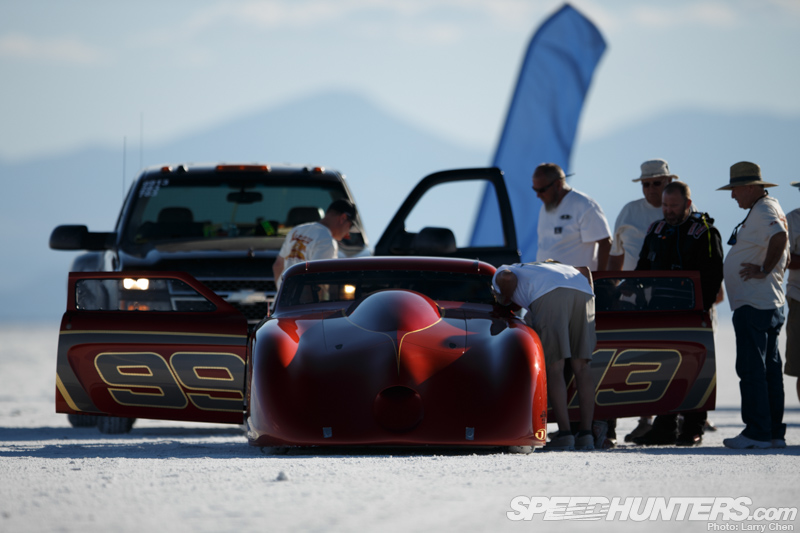 Johnson's builds some of the cleanest hot rods in existence, so it was very cool to see it build a land speed car. Alan Johnson might slap me for drawing this comparison, but Stupidbaker is very much in the same league as Blowfish from Rad Rides by Troy.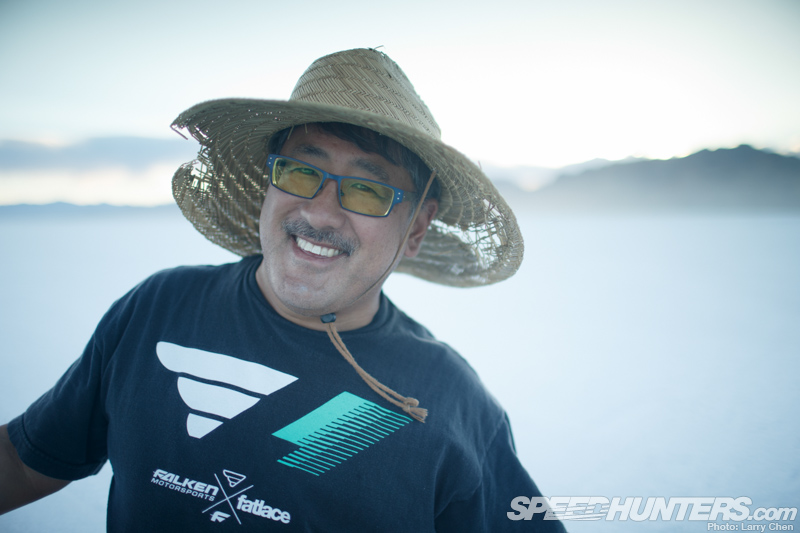 I'm sure many of you know who Mike Kojima is. I say we all pitch in and buy him a new hat!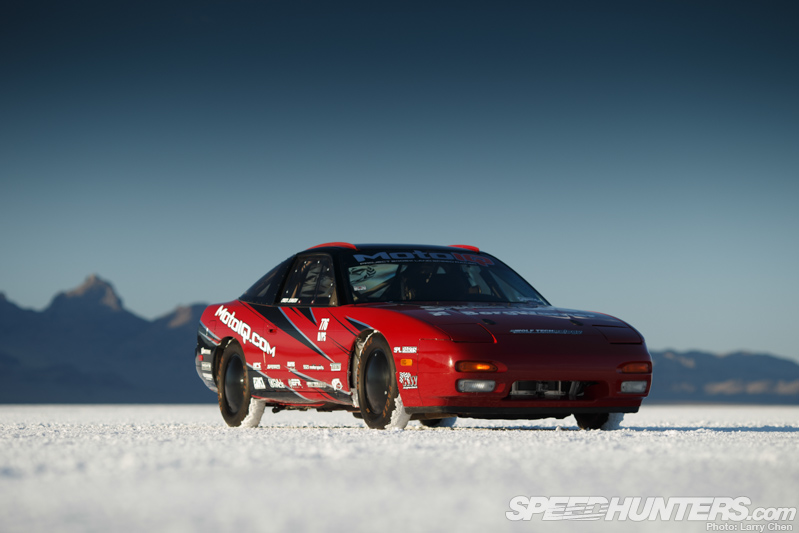 I first met Mike last year at Bonneville, where he was helping with Chuck Johnson's flat black 240SX. The car has come a very long way in only a year, with a new paint job and a new de-stroked motor. We'll be featuring this one soon, but for now you can check out this in-car footage of a record run at El Mirage.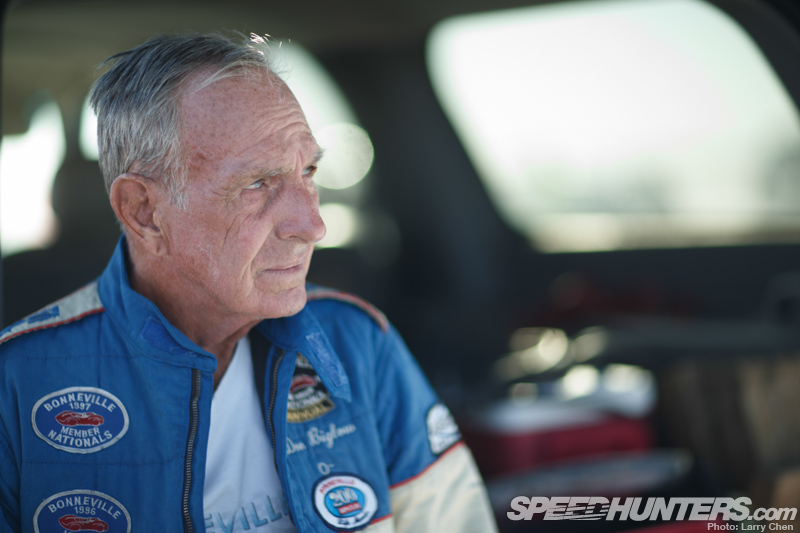 Surely you remember Don Biglow and his 314mph record pursuit.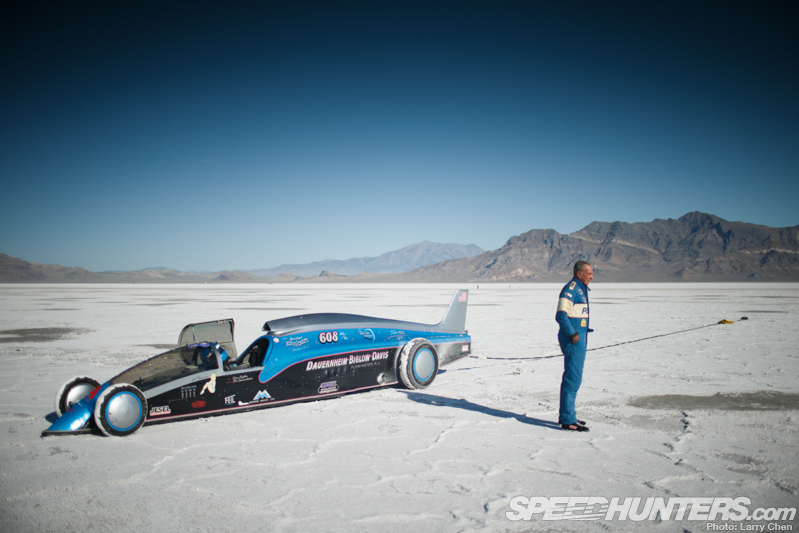 Here's a shot of Don and his lakester after a 299mph run. Interestingly, Rod Ida had a hand in the design and fabrication of the AA/GL machine's body.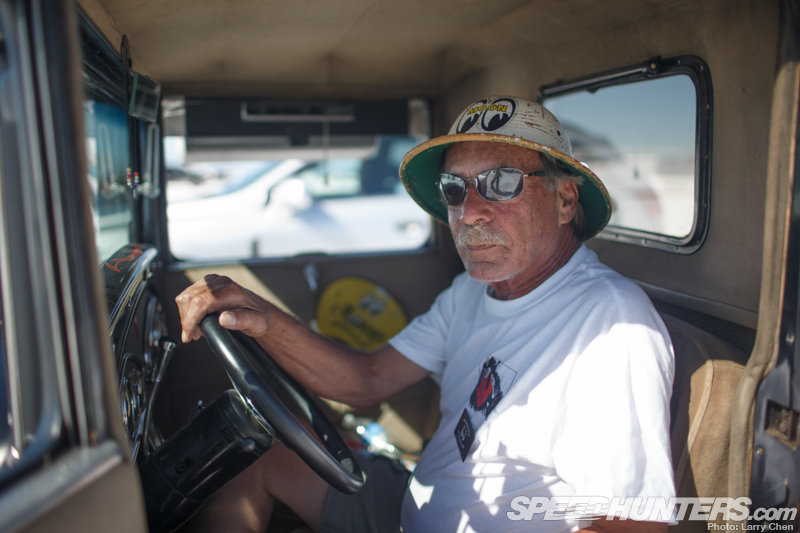 Larry and I met Al Clement from Canada on our last day.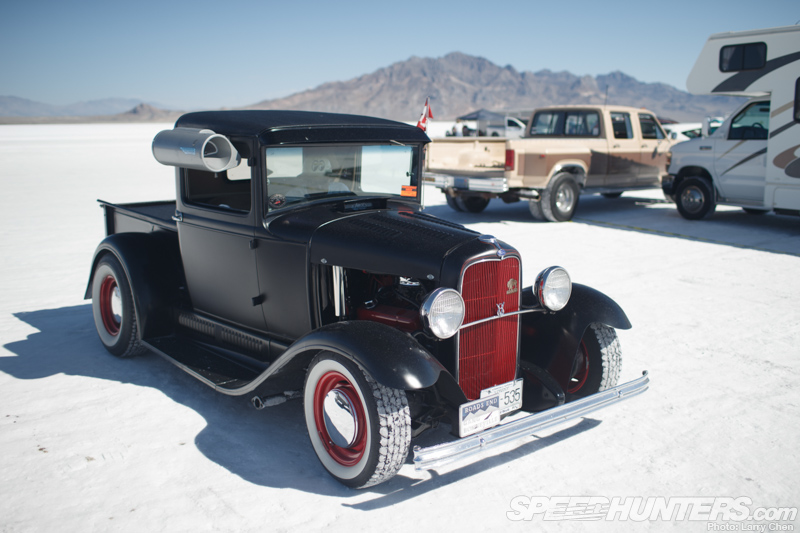 He had this super-clean '30 pickup out on the Salt.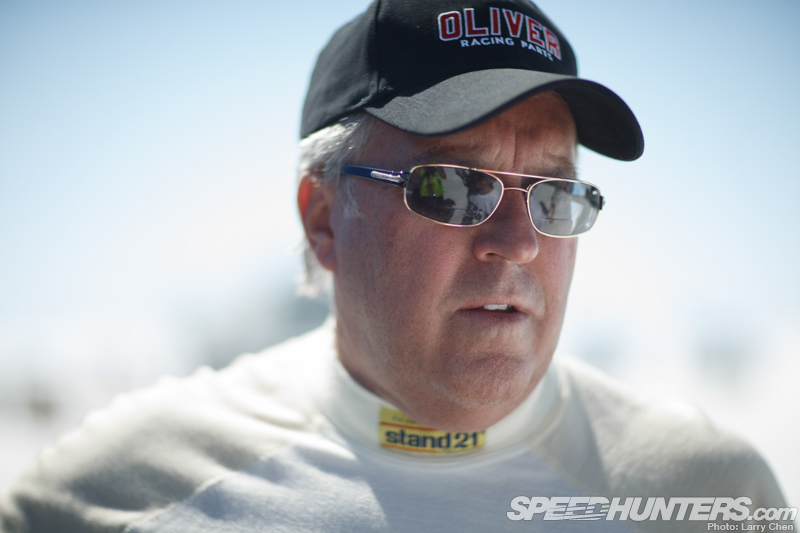 Joe Moch campaigns a Ferrari 550 Maranello, which like the Gullwing Mercedes, is a one-of-a-kind out here.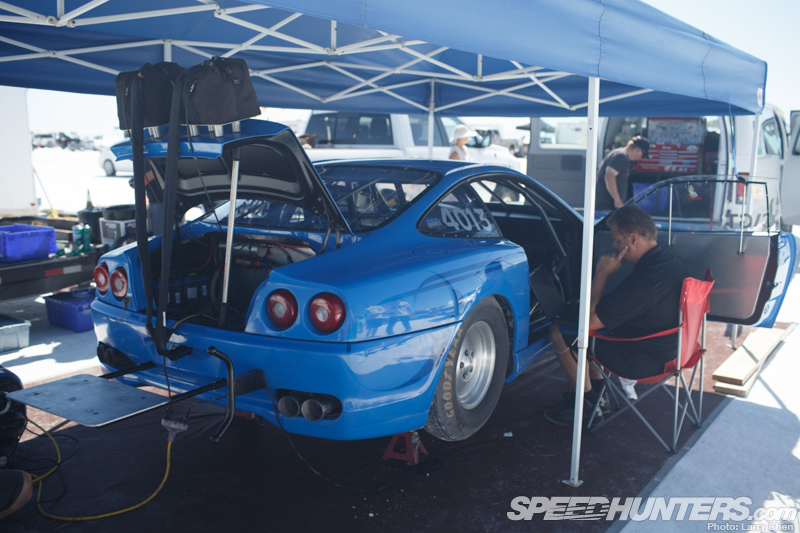 It's a serious effort, these guys have gone 242mph.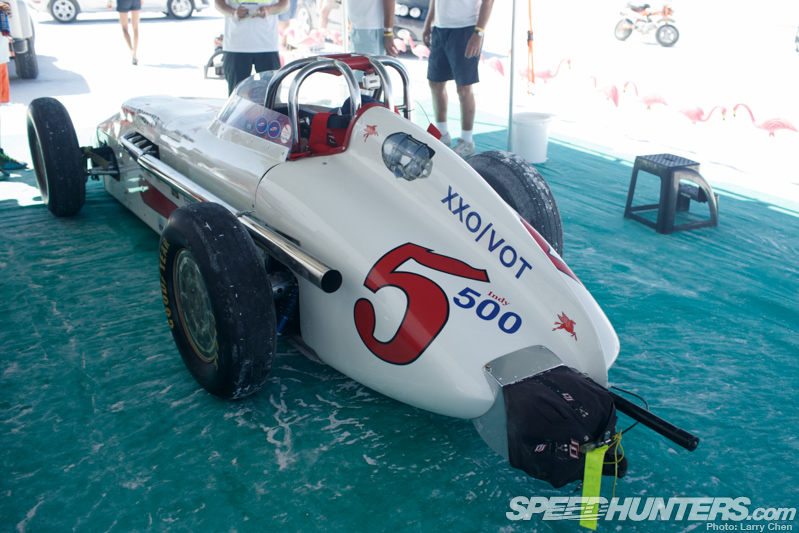 Speaking of unique cars on the Salt, these guys built their own recreation of the 1959 Watson Indy Roadster.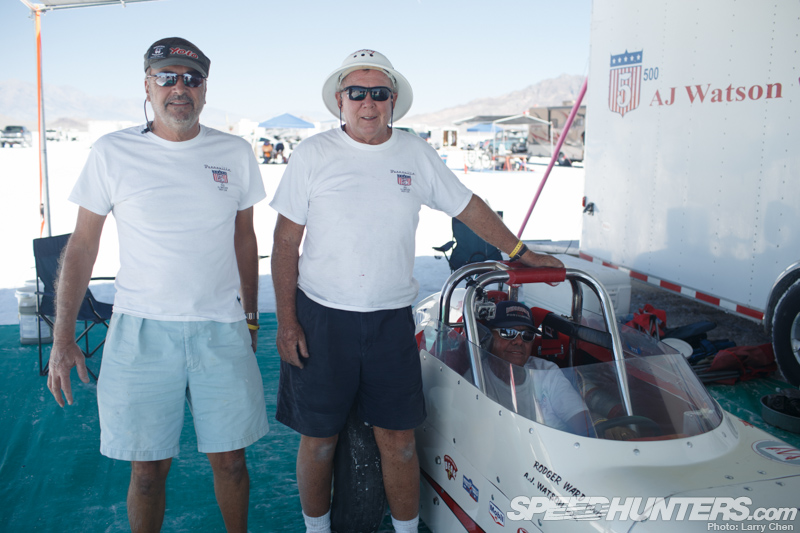 That's David Johnston, Jerry Carbone and Bill Wendt. They went 188mph with an Offenhauser 270ci.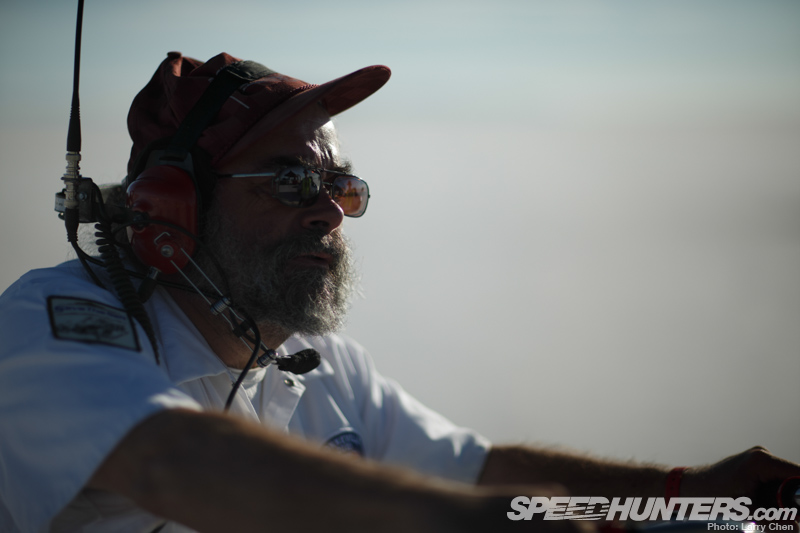 We couldn't do a story called Faces of Bonneville without showing Starter Bill Stoliker. This is the last friendly face you see before taking off on your run.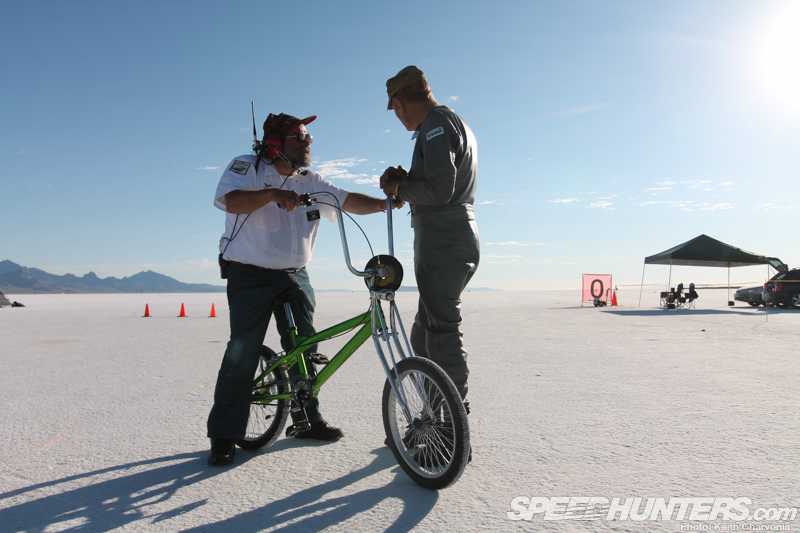 Bill gets around on this bike, complete with 'record holder' handlebars.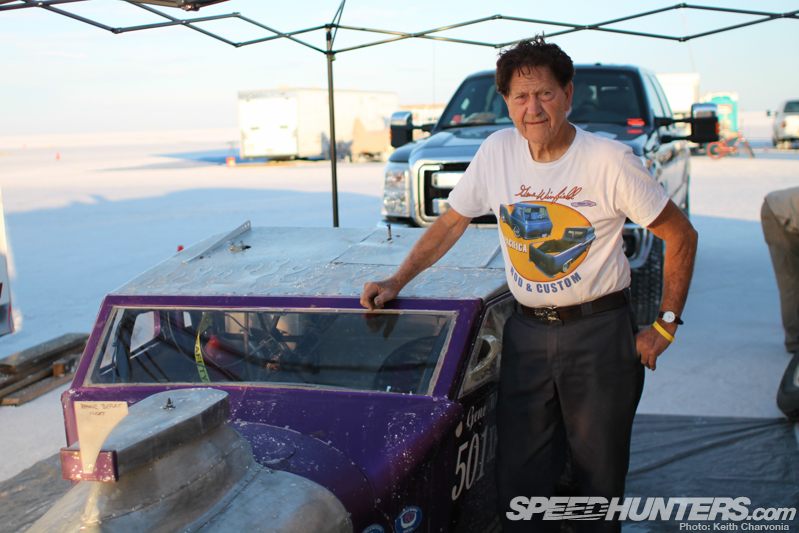 We'll end with a personal friend and hero of mine, Gene Winfield. He's owned and raced his '27 Model T known as 'The Thing' since the early '50s. Gene seems to be everywhere, so I wasn't surprised to find him out here racing. If you're sitting at your computer thinking "someday I'll make it out there…" take a look at these faces and realize that they all made the commitment to be at Bonneville for Speed Week. These are the people who are dedicated enough, nuts enough, or a combination of both to make it happen every year. It's these people that make Bonneville more than a chunk of salt, and you should be one of them.
Words and additional photos by Keith Charvonia
Instagram: SpeedhuntersKeith
keith@speedhunters.com
Photos by Larry Chen
Instagram: larry_chen_foto
larry@speedhunters.com
Bonneville: Chasing The 300mph Club

Temple of Speed: The Bonneville Salt Flats