In case you haven't noticed I'll just come out and say it; there are a lot of cool cars at Bonneville. Not just race cars, no – there's a car show going on everywhere you look. Our crazy Speedhunting schedule aside, finding Spotlights on the Salt was pretty easy, especially when a machine like this rolls by.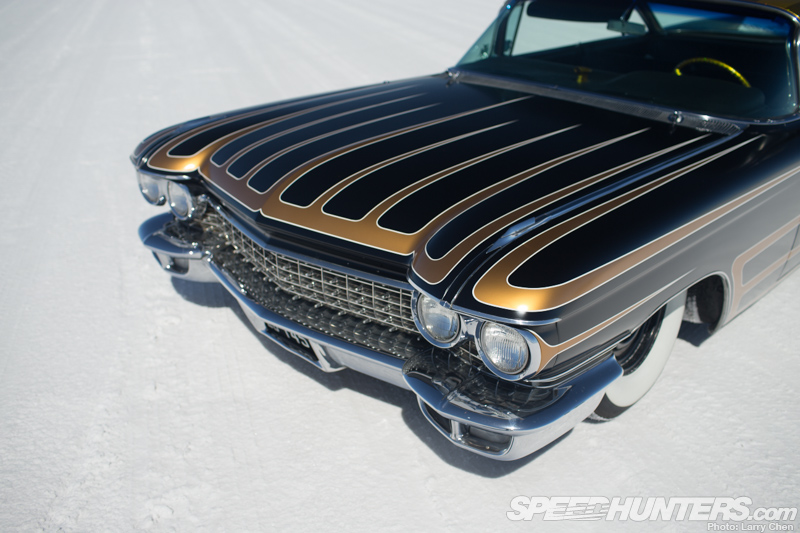 Darren Wenzel's Series 62 Cadillac looked so sick rolling across the Salt that I promptly matted our little rental car and chased him down. How could I possibly pass up taking a closer look at a bagged and scalloped Caddy?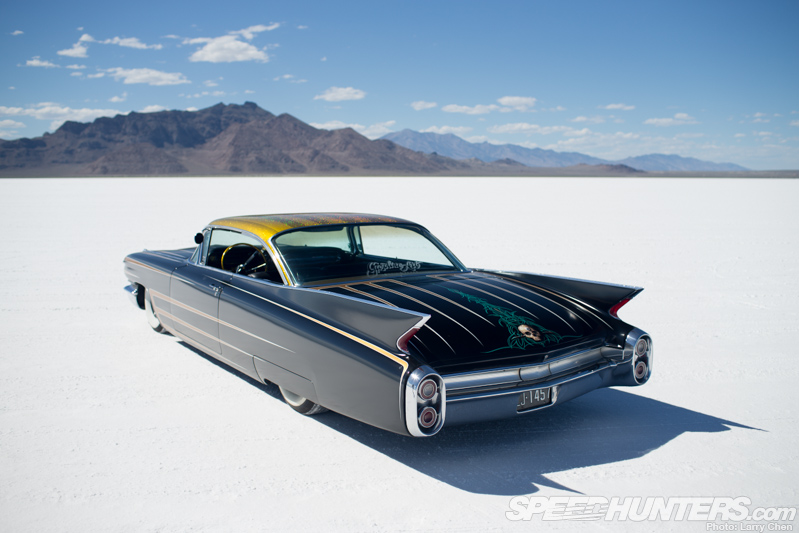 I've said it before but I really feel that most '60-'64 American cars don't need much done to them to be great kustoms. Apparently Darren also subscribes to my theory, as he knew all the car needed was a drop, some paint and a few other tasteful touches.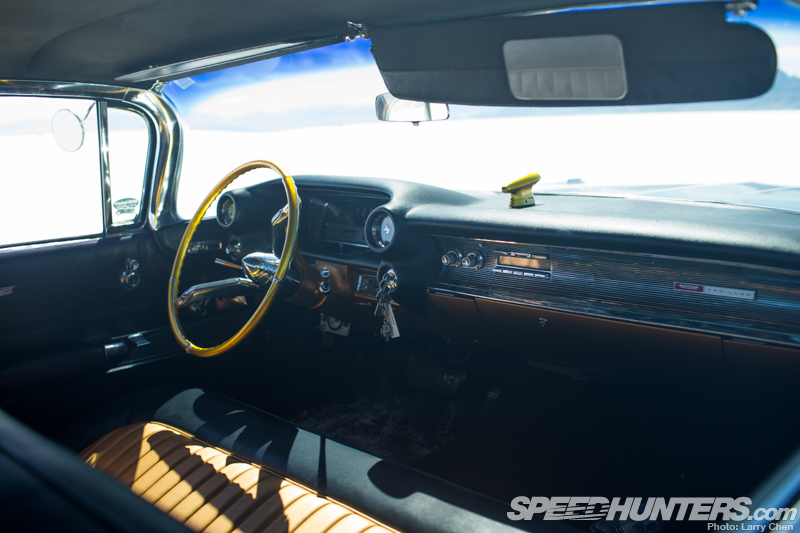 The interior was largely left alone, save for a little splash of color here and there, like painting the Autronic Eye on the dash.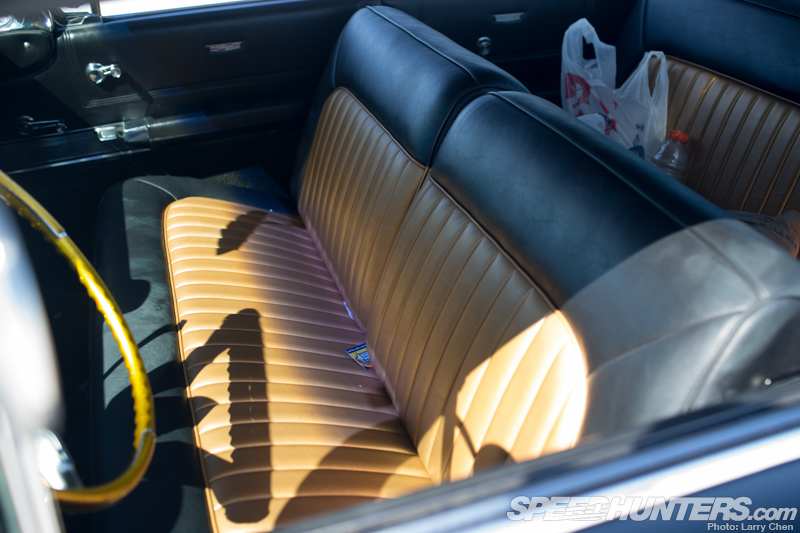 The seats were reupholstered in a nice two-tone to match the exterior.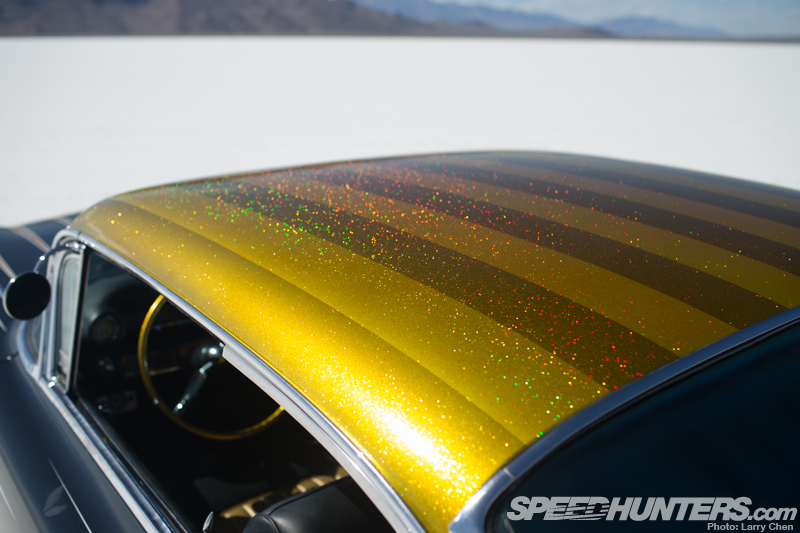 Darren owns Gasoline Art in Austin, Texas, where he applied the paint on his Caddy. Not only is the flaked roof a piece of art in its own right, but the layout of the scallops on this body style is expertly done too.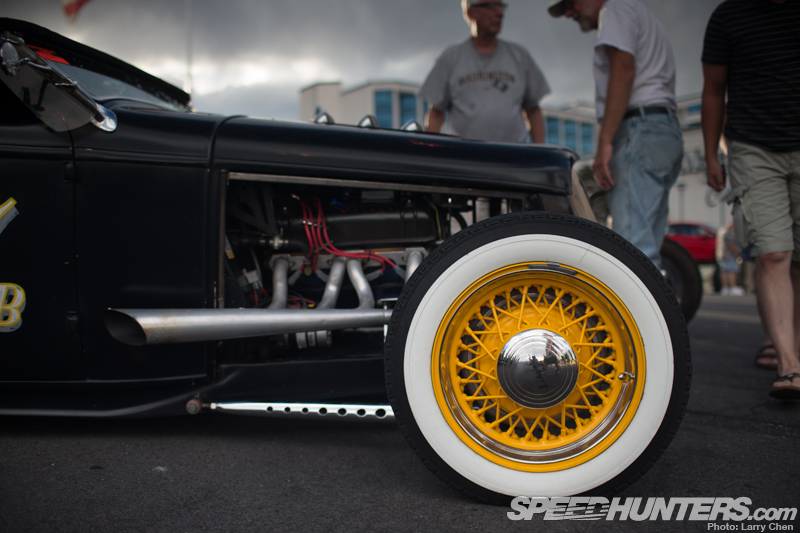 Considering that racing at Bonneville started with roadsters, it's not surprising to see so many of them there. Jim Conway's car caught my eye with its radically slanted windshield and chopped soft top. I love seeing land speed inspired mods like this at Bonneville.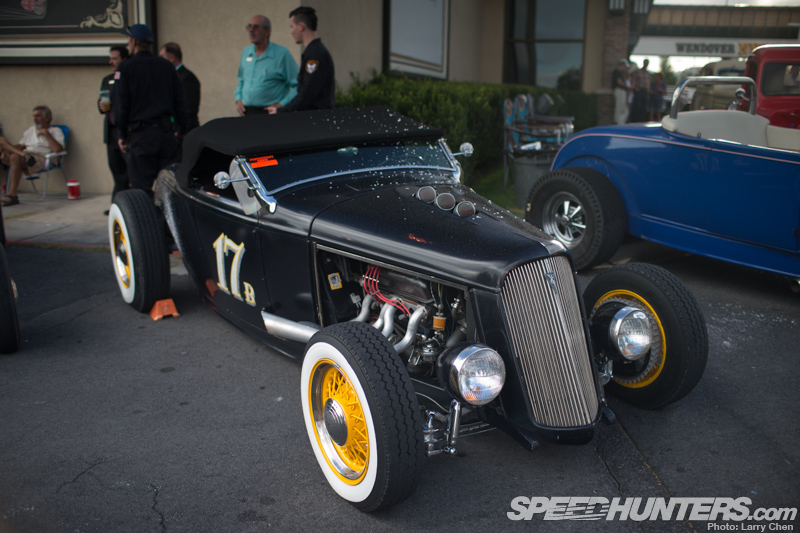 I also love learning new things from old hot rodders. This time I got schooled on the windshield stanchions and matching top. Apparently they were designed by sculptor Stan Wanless and fabricated by Dick Rodwell. The glass is even curved to match the shape of the body. If the grille looks unusual that's because it's from a '37 Chevy. The narrowed shape works well on a build like this.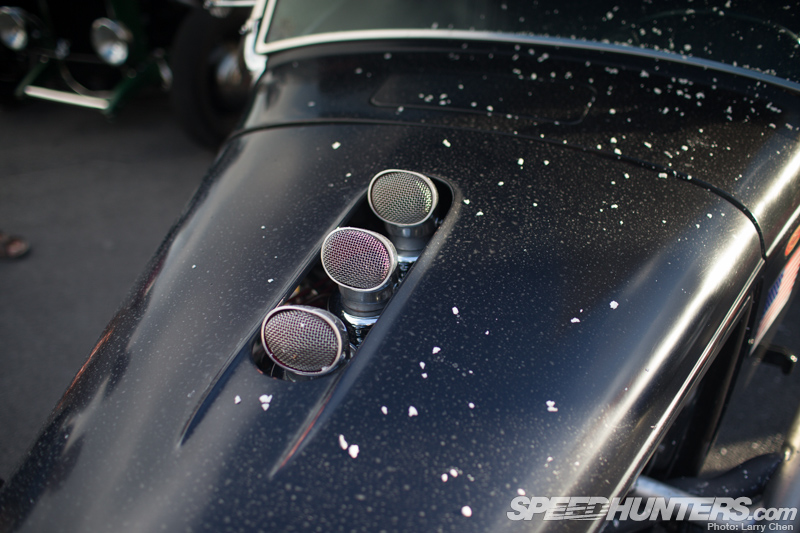 Three deuces pop through the hood. There's a nice touch with the molded detail around the opening too.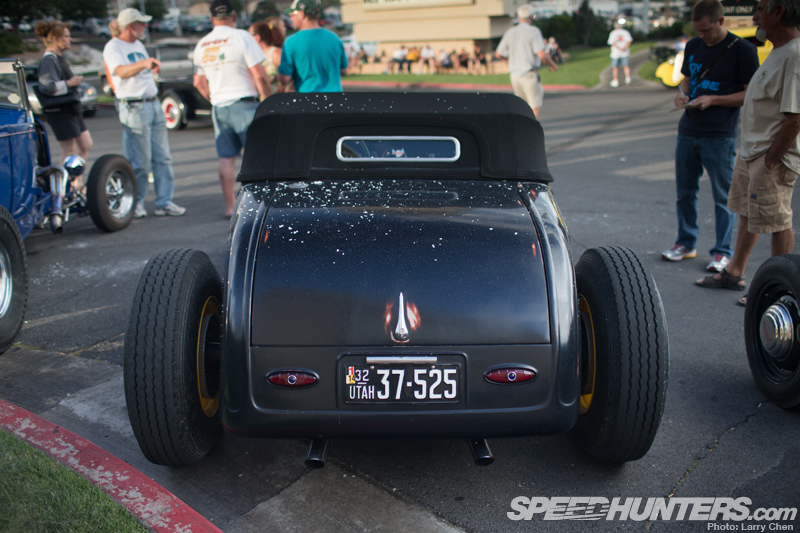 That detail continues around the extra-wide historic license plate, and shoebox Ford tail-lights tie in with their wide oblong shape.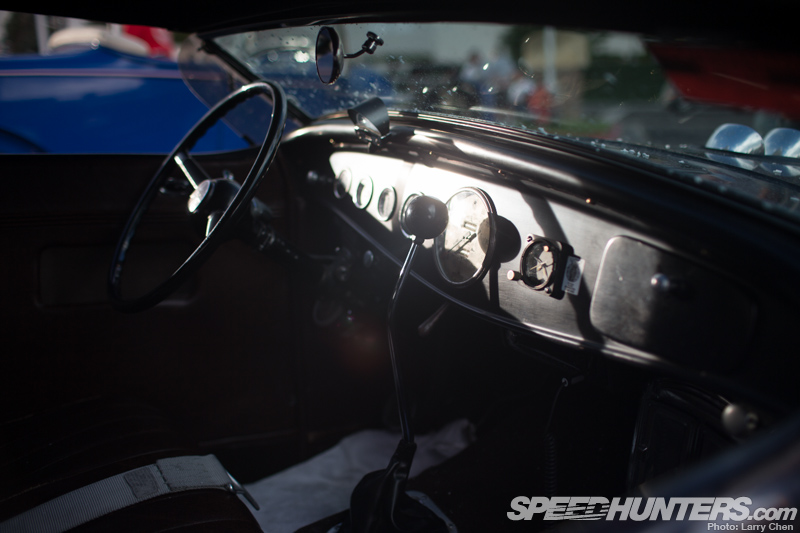 Inside Jim went with a '40 Ford steering wheel, but he put a Lincoln badge in the center to match the Lincoln hubcaps and valve covers. That's a 1937 police-issue motorcycle speedometer in the center of the dash.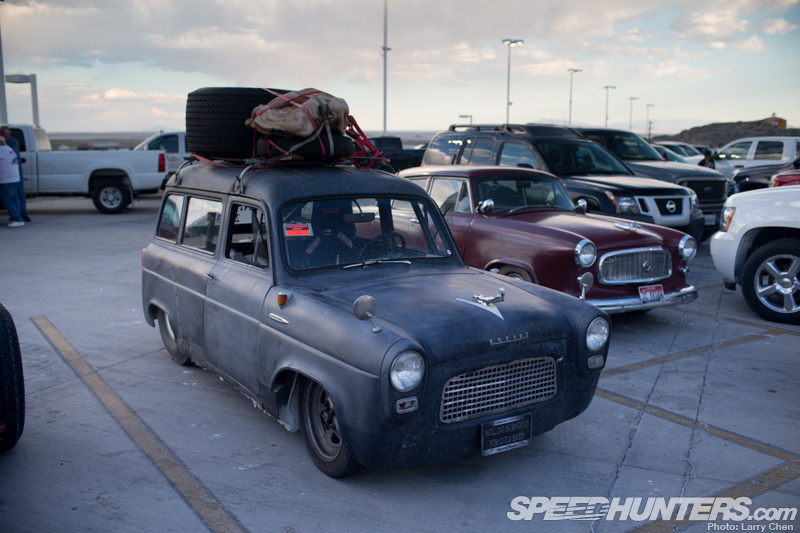 Larry and I had no idea what this was, but the spare tires on the roof were all we needed to see to start shooting. What kind of badass drives around with one drag radial and one skinny front-runner on the roof?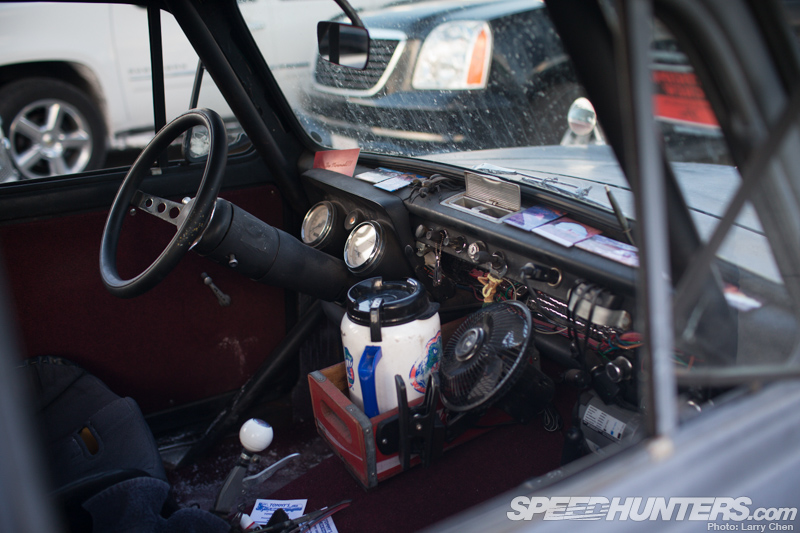 Fortunately we came across the owner out on the Salt a few days later. Tommy Gregory is a badass indeed. He road-trips his English 1957 Ford Escort for two months each year, eventually winding up at Bonneville for Speed Week.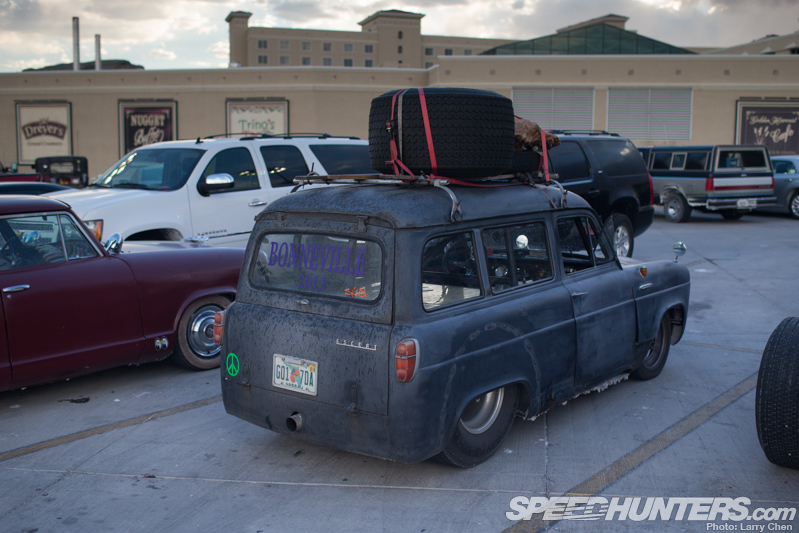 Tommy is from Florida and makes many stops to visit friends on his annual pilgrimage. The car's powered by a small-block Chevy with three two-barrel Carters and a two-speed Powerglide. I'm always amazed at guys who drive around with just a low and high gear in their transmission. They always tell me it works just fine too.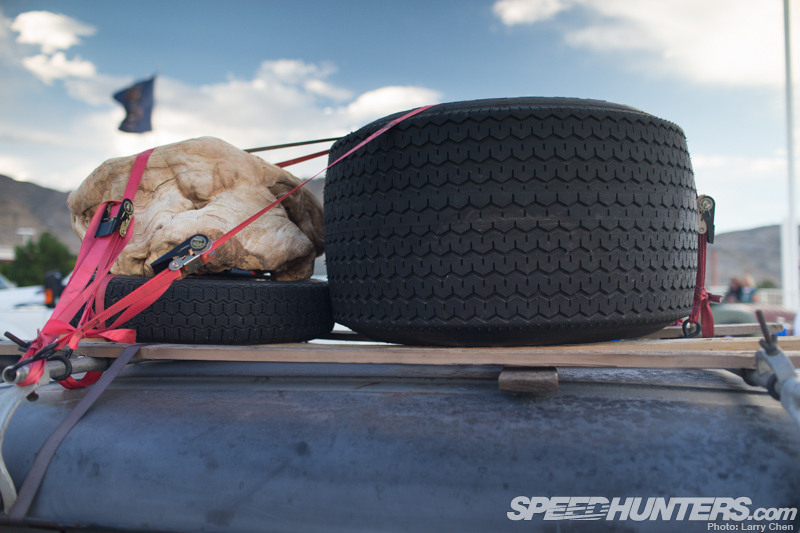 Tommy said he usually takes the tires off the roof once he get to his destination, but for some reason he left them on this time. We're glad he did.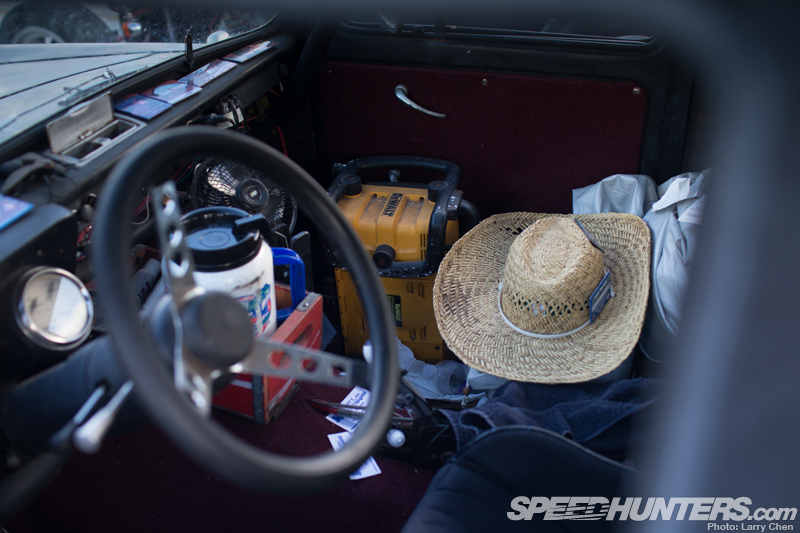 As you can see he has all the essentials – a fan, an extra large drink, even a radio. What more could a man want?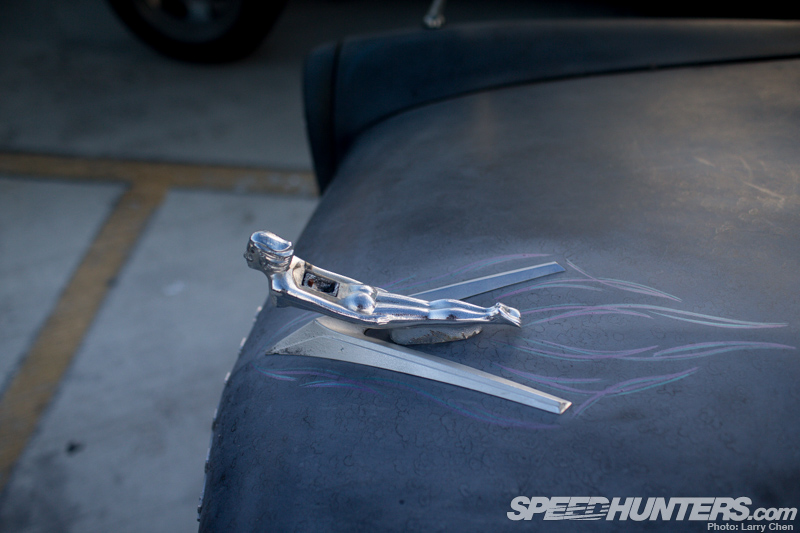 Maybe a woman to join him on the long drive? He's got that too.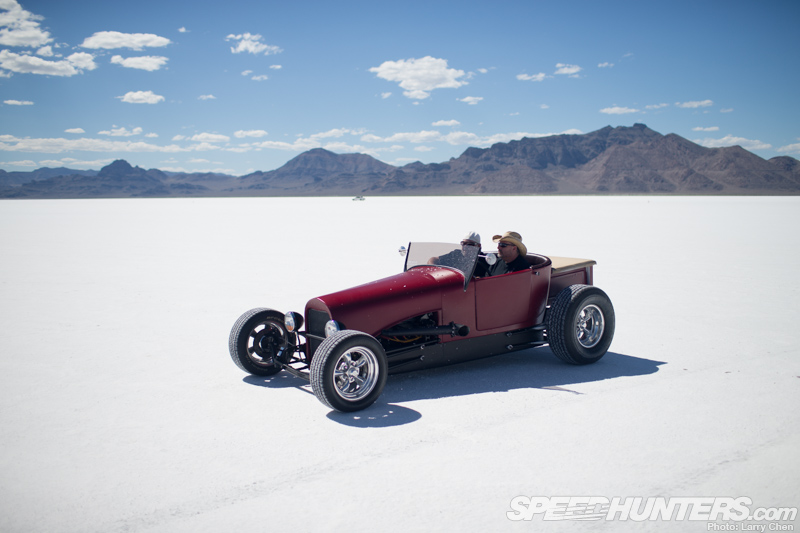 Some of you might recognize this car, it's a fiberglass hot rod body called the Zipper which you can purchase to build yourself. I thought the narrow modified-styling looked great out on the Salt.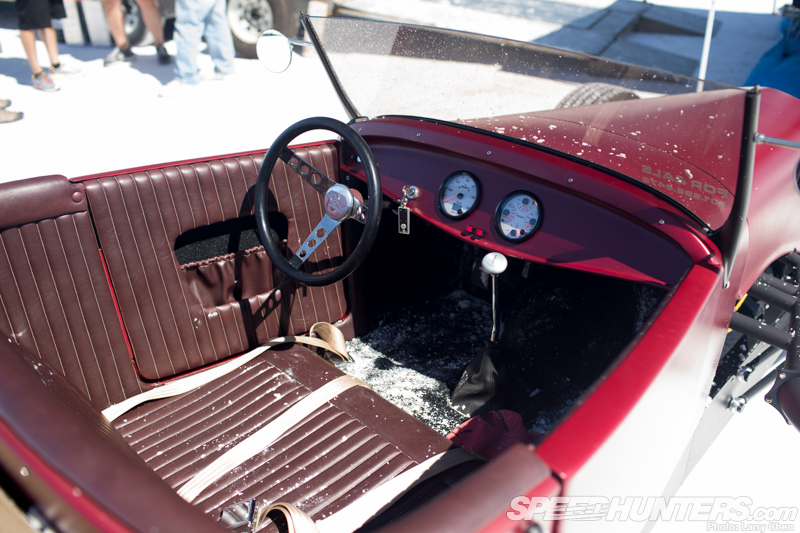 The beautiful thing about a fiberglass car is the salt can't hurt it.This might be the perfect car to drive to Bonneville without a shred of guilt.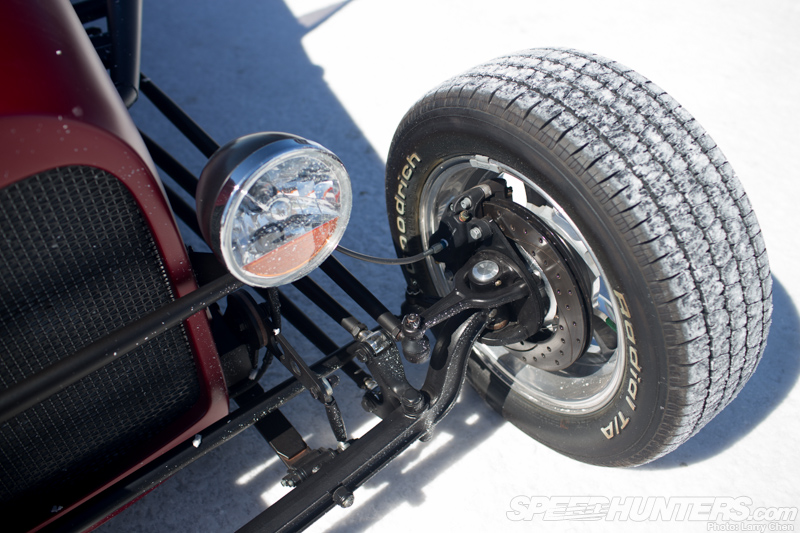 Zipper makes a few different bodies, this being the '27 Track T version. It uses good parts too, like a traditional-looking dropped axle with Wilwood disk brakes…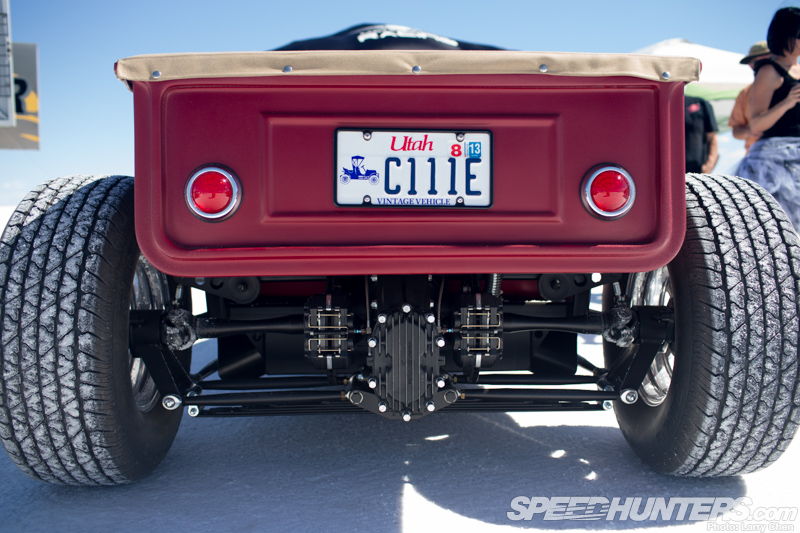 … and its own IRS with a Winters quick-change in the middle.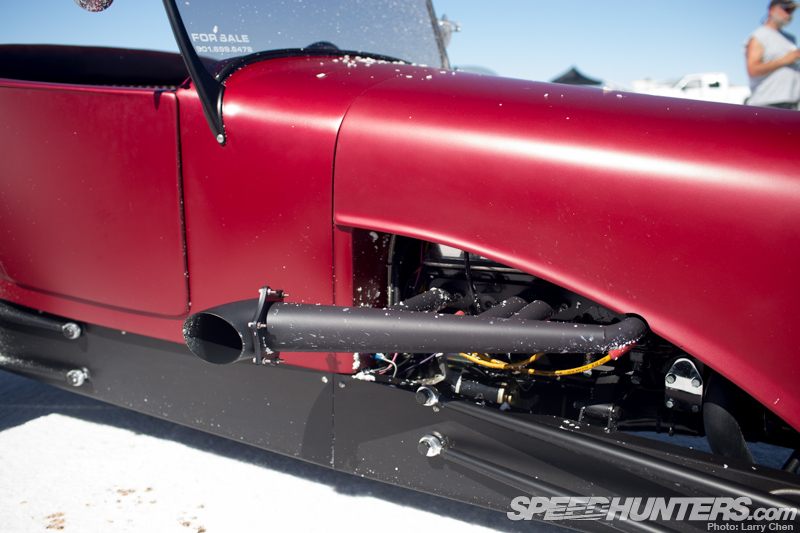 At a car show I might have walked right past this one, but I'm making the case that this is the perfect Salt Flats hot rod.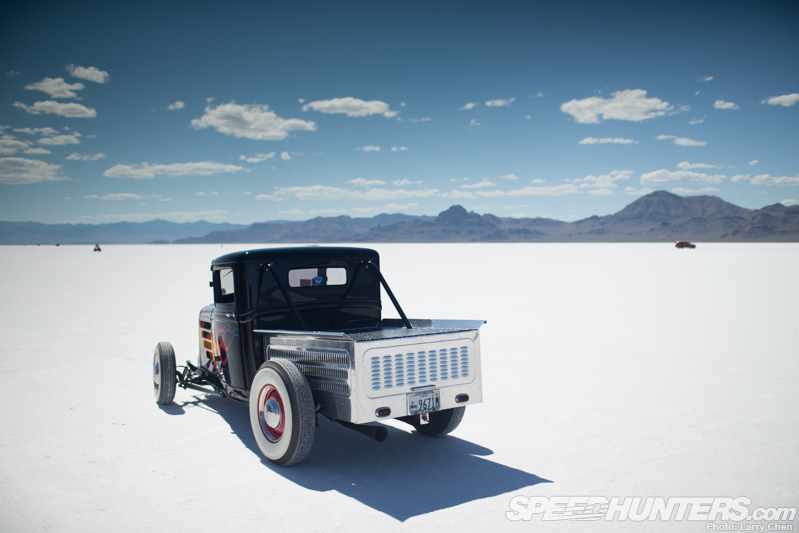 I've saved my favorite pick for last, and looking at the pictures now I'm really wishing that Larry and I had done a full feature on it. This is Scott Hammon's '32 Ford pickup, built from a genuine steel body and rails.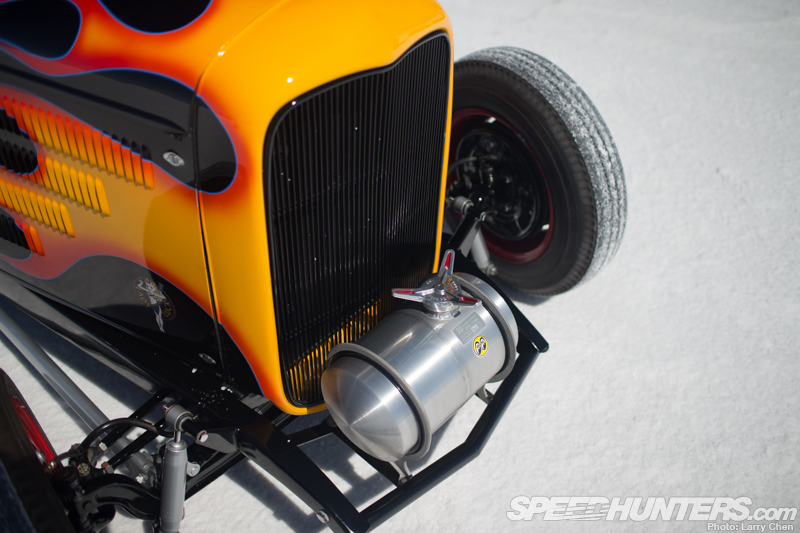 The thing that caught my eye was actually a lack of something: the headlights. Just like racers used to strip unnecessary parts off their cars once they got to the Salt or dry lakes, Scott pulled the headlights for this trip.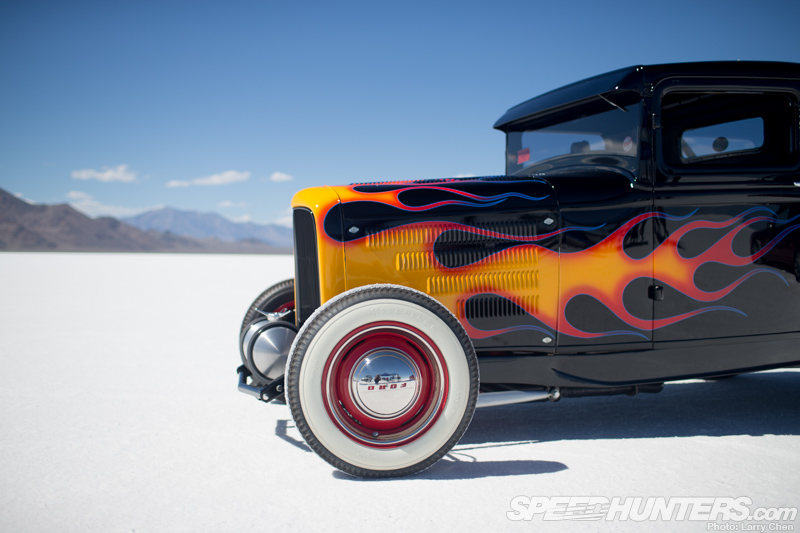 I was absolutely dumbfounded to learn that this hot rod pickup was built 20 years ago by Scott's friends Mickey Ellis and Brent Bodily. It was obviously built well, because it doesn't show its age much at all.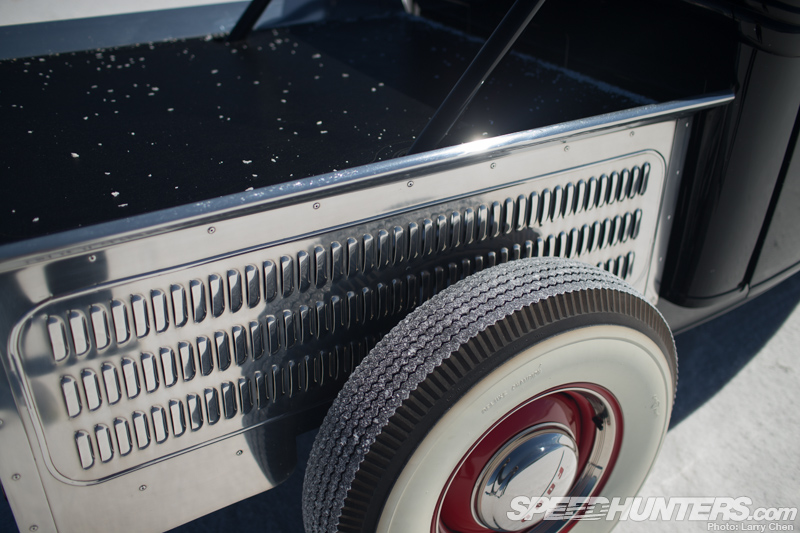 I was too impressed by the aluminum bed to notice the rollbars coming through until they were pointed out. Scott told me his truck used to be drag raced and ran high 10s.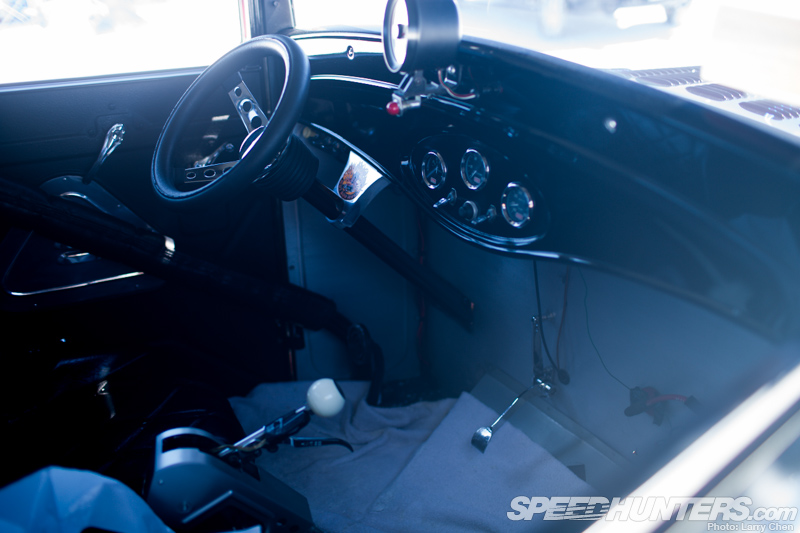 The drivetrain started to make more sense now – a 383ci, Powerglide and 4.88 gears in a nine-inch rear axle. Apparently it's plenty streetable.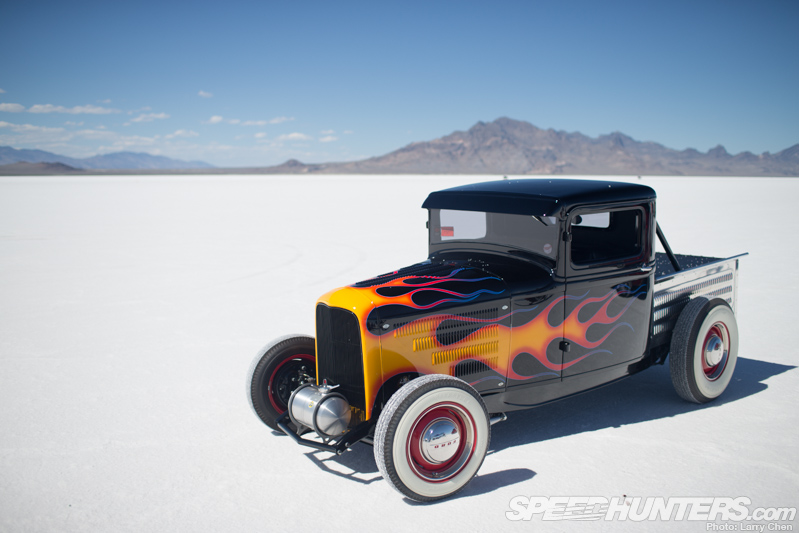 I'm running out of room to tell you why I think Scott Hammon's '32 truck is such a bitchin' little hot rod, but I have to get these last details in here. The cab has been moved back four inches, the cowl stretched four inches, and the top chopped four inches. The engine's been set back three inches. Probably should have just made it four inches..
Words by Keith Charvonia
Instagram: SpeedhuntersKeith
keith@speedhunters.com
Photos by Larry Chen
Instagram: larry_chen_foto
larry@speedhunters.com
BONNEVILLE: CHASING THE 300 MPH CLUB
TEMPLE OF SPEED: THE BONNEVILLE SALT FLATS